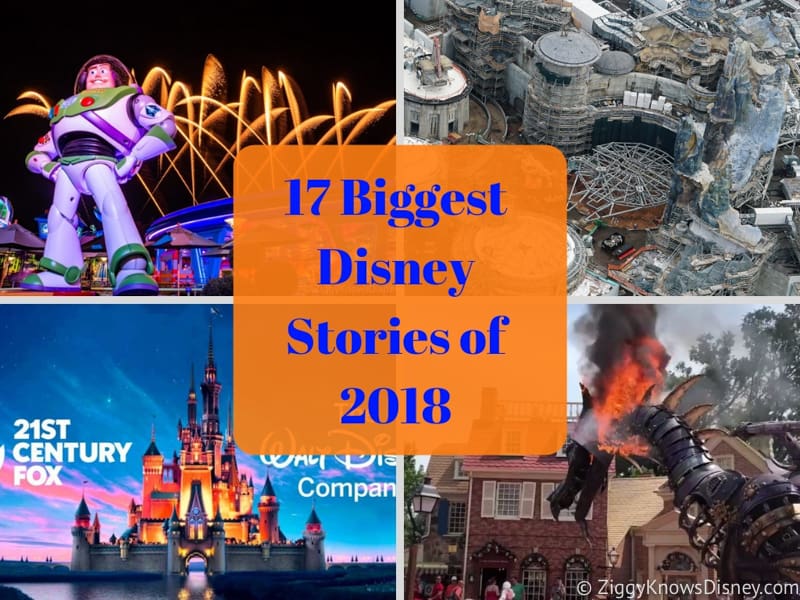 It's crazy to think that 2018 has already come and gone and a whole year of major Disney news stories has happened.  Since we are only days aways from 2019, I decided to make a list of the Biggest Disney Stories of 2018 as my Year in Review post.  I started looking through all my posts from 2018 and there were so many it was hard to narrow them down!
After writing down dozens of stories that fit, I finally got the list to 17 of the biggest stories of the year!
These are stories and events which shaped 2018 more than others and when making my list I took into consideration how many people read the stories, how many social shares they got, the amount of comments and just general buzz around them.  They are all events having to do with the Walt Disney Company either with the Parks or Movies/Entertainment.  For a fun read you can also go back to last year's list from 2017 and see how many things have changed since then too.
Going over all these stories brought back a lot of memories and great times and some really scary ones too.  I hope you enjoy my 17 Biggest Disney Stories of 2018: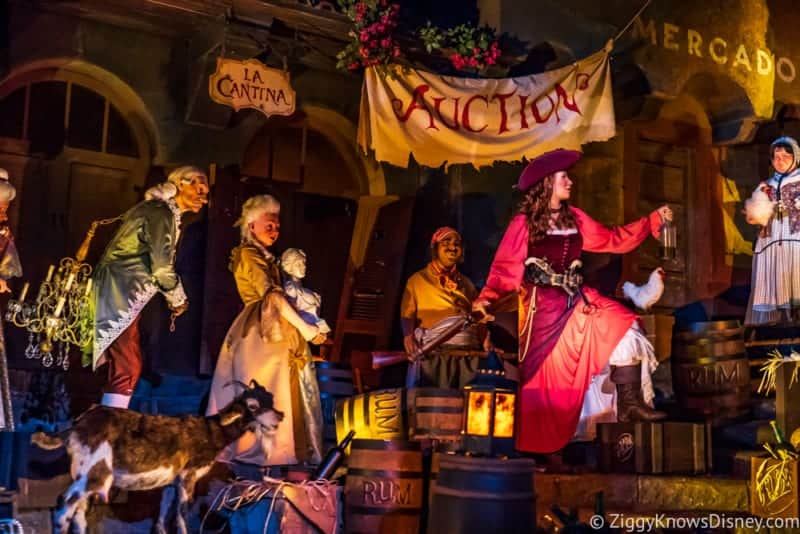 Back in March in Walt Disney World and April in Disneyland, the Pirates of the Caribbean attraction changed out one of its most famous scenes due to controversy regarding the content, and brought a divide to the Disney community.  The Auction scene included women from the town under attack being auctioned off to the highest bidder, with a sign reading: "Auction.  Take a wench for a bride."
The scene was changed out and instead of a red-headed bride we got a red-headed pirate.  In understand people being upset about the original scene, but I'm not a fan of the change.  If they wanted to get rid of the controversy then I get it, but the way it was replaced to me was too forced and doesn't look good.  They should have replaced the scene with a totally new idea imo.  The "Redd" character was also introduced as a walk-around character in Disneyland following the attraction reopen.
This change to Pirates wasn't the first and probably won't be the last as Disney tries to remain politically correct in its attractions.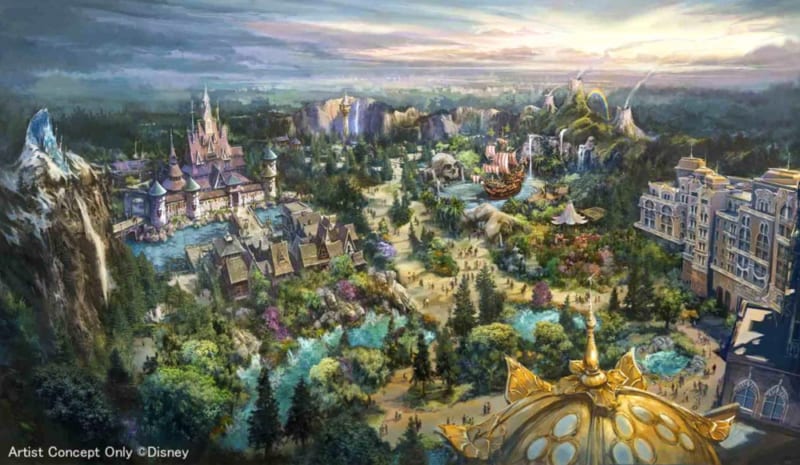 We'll get to more of the domestic expansion later on, but in 2018 Disney gave a lot of attention to the International expansion announcing new attractions to its parks worldwide.
Disneyland Paris which is now under total control of the Walt Disney Company, launched its "Summer of Super Heroes" event with Marvel characters appearing in various stage shows and meet and greets and a new Avengers stage show.  Disney announced a huge $2 Billion expansion to Walt Disney Studios Park with a Star Wars-themed land, Frozen land and they confirmed their Marvel Super Heroes land coming to Disneyland Paris in the next few years (more on that later).  This includes the Rock 'n' Roller Coaster getting a Marvel overhaul, plus brand new attractions.  Disney also expects the resort to grow tremendously over the next decade, hopefully doubling the attendance.
We learned more about the Hong Kong Disneyland expansion with their Marvel Super Heroes Land on the way, a Frozen roller coaster, plus a total reconstruction to the castle (a first in Disney history).
Even though Shanghai Disneyland just opened in 2016, it already welcomed its first expansion land in 2018 with its own version of Toy Story Land.  Though not as nice as the Hollywood Studios one, it offers some much-needed attractions for kids which were lacking before.
Lastly as if Tokyo Disneyland wasn't great enough, we found out more about their 2 expansion projects to both Tokyo Disneyland and Tokyo DisneySea.  They shared the amazing new Beauty and the Beast land, with a theater, restaurant and dark ride with possibly the most lifelike animatronics we've ever seen.  DisneySea on the other hand is getting 3 new themed-lands (Frozen, Tangled and Peter Pan) with 4 attractions!  That together with the new Deluxe Hotel and Toy Story Hotel tell us Tokyo Disneyland is going to continue having the best parks in the world!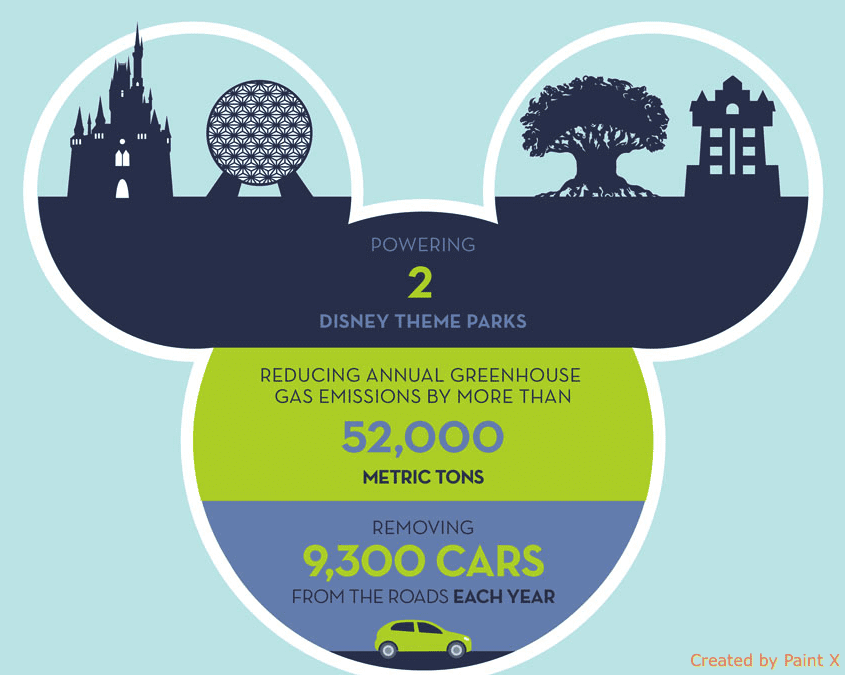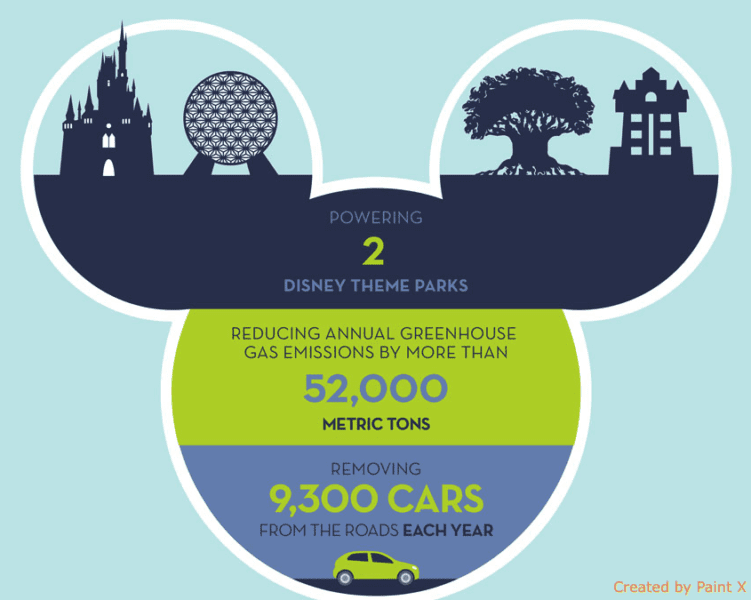 With an eye to a cleaner tomorrow, the Walt Disney Company has made a concentrated push to help their parks worldwide go green and focus on clean energy solutions.
This starts in Walt Disney World where a massive Solar Energy Farm is being built which will create enough clean energy to power two of the theme parks and 25% of the WDW needs overall.  Disney has also started eliminating plastics throughout the resort including straws, lids and plastic shopping bags.  They are hoping to totally eliminate them by 2019.  At the World of Disney store they've already started offering reusable Mickey Bags for its shoppers.
International parks have also been getting on board with a solar energy plant being built in Disneyland Paris which will power 15% of the resort there.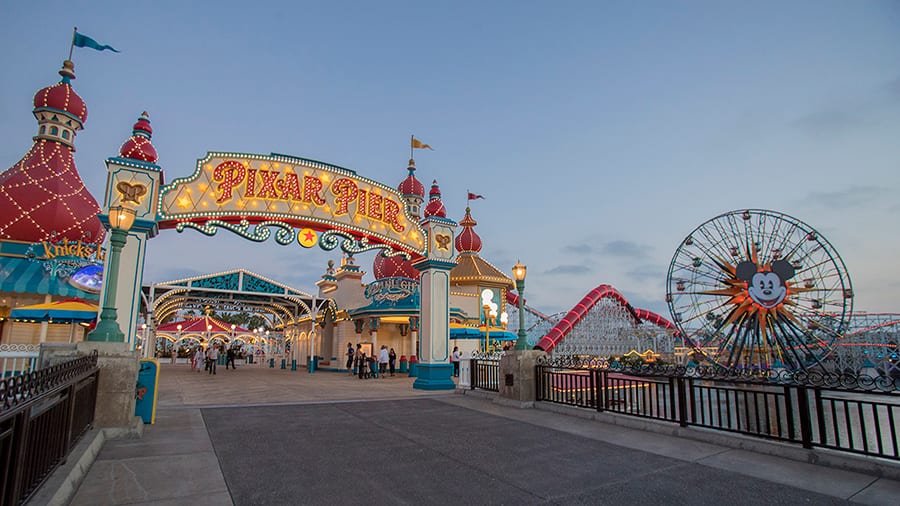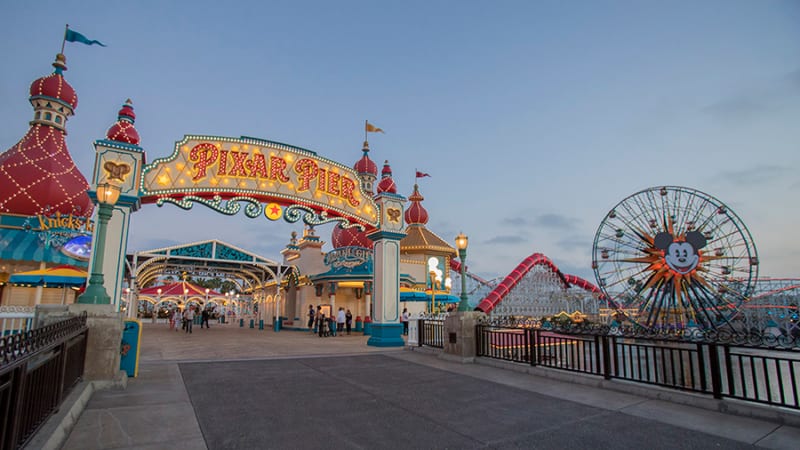 Pixar fever came over the Walt Disney Company in 2018, and it started with Pixar Fest in Disneyland over the Summer, and a big part of that was the overhaul of Paradise Pier into Pixar Pier.
To start, 4 themed-neighborhoods came to Pixar Pier, each with their own unique theming elements.  California Screamin' roller coaster was re-themed to the Incredicoaster with rave reviews from the majority of guests.  The Lamplight Lounge opened up and quickly became our new favorite dining spot in Disney California Adventure, plus dozens of yummy treats debuted all with a Pixar spin to them.
As for the rest of the resort, Pixar Fest was an incredible success with the dazzling new Together Forever fireworks show in Disneyland Park and two Pixar-themed parades to enjoy.  Did I mention Walt Disney World still doesn't have a nighttime parade??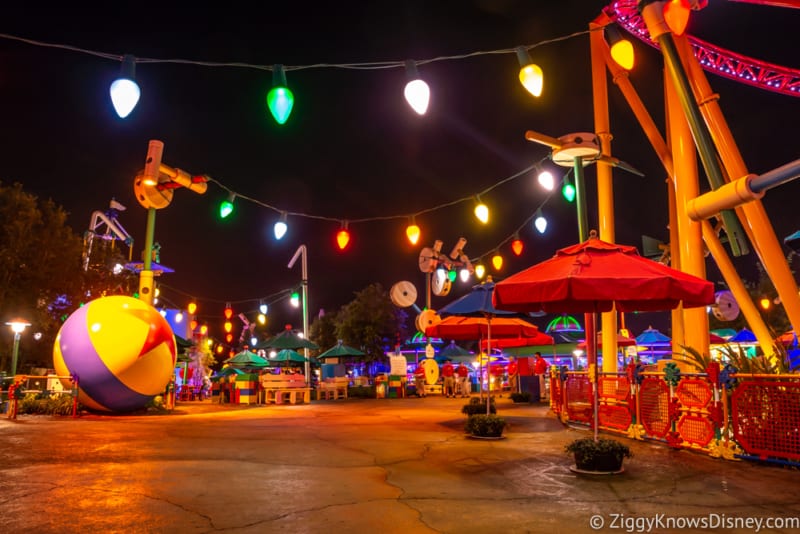 A recent trend in the Disney parks has been to offer special access, V.I.P.-type experiences and events in order to further Disney's revenue without increasing too much cost to the regular guest.  First of all Mickey's Not So Scary Halloween Party and Mickey's Very Merry Christmas Party both continue to start earlier and earlier and had more days than ever before.
Disney introduced a slew of new Dessert Parties with fireworks viewing opportunities (Rivers of Light Dessert Party and Magic Kingdom After Fireworks Dessert Party).  In order to allow guests to get entrance to the parks earlier than normal and ride the hard-to-get attractions, they opened up a variety of Early Morning Events (at Magic Kingdom and Toy Story Land)
If waking up early doesn't do it for you and you prefer staying out late, no problem.  Disney brought back its After Hours Events with late access to Magic Kingdom, Hollywood Studios and Animal Kingdom with more great opportunities to have the Disney parks basically to yourself!  Even the H2O Glow Nights at Typhoon Lagoon were a big hit!
Don't get me started on a premium event within a premium event when Disney launched the Tony's Town Square Dinner event DURING the Mickey's Very Merry Christmas Party event!
These event had mixed reviews among fans, with the price being too high for some, but the one thing that stood out for all of them was that if you don't want to waste time waiting in line, they offer a tremendous advantage to skip the lines and even do attractions like Flight of Passage as a walk-on much as 10 times in a row!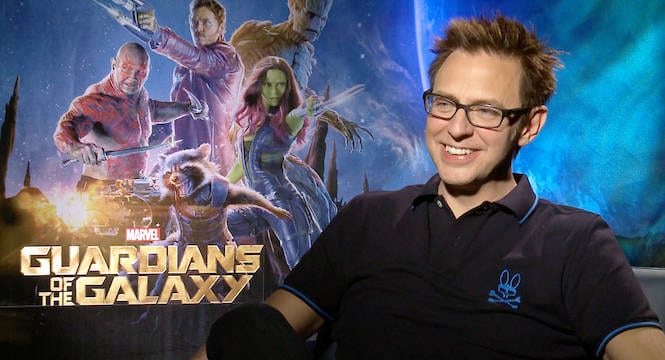 Everything was going great for the Guardians of the Galaxy franchise: 2 massive hits from a relatively unknown Marvel comic franchise, and a new E-Ticket attraction coming to Epcot which is going to be one of the longest indoor roller coasters in the world.  The third installment in the Guardians series was supposed to begin filming by early 2019 with a release date in 2020, that is until Disney fired Guardians Director James Gunn for some offensive old social media messages he wrote years earlier.
Yes what he wrote was terrible and not acceptable in any way, but honestly the whole situation was handled terribly.  First of all these messages were written 7 or 8 years ago in a social climate that was much different than the hyper-sensitive one we are currently living in.  Secondly, Disney knew about these messages BEFORE hiring James Gunn to work on the Guardians of the Galaxy films and apparently thought it was right to overlook his past mistakes and move on.  Even though the Guardians actors protested to get Gunn back, Disney didn't move.
Gunn in the meantime has left Marvel and is working for the enemy DC Comics on their next Suicide Squad project and now the beloved Guardians film series is in limbo without a director and no clue when the third installment will arrive.  Not to mention the uncertainty of another director to bring these unique characters to life in the same way Gunn did.  Not only that, but the Guardians coaster was supposed to have scenes in it that were filmed during the same time the 3 Guardians movie filmed, which now leaves in doubt what will happen to those scenes.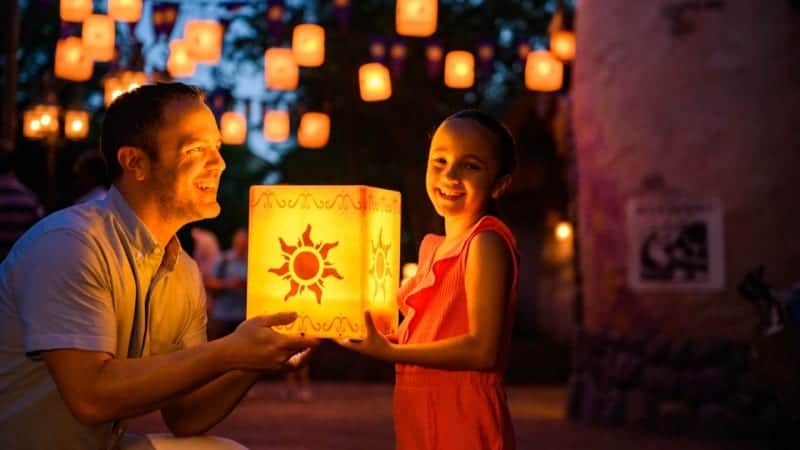 Who knew that replacing human photographers could cause such an uproar, but Disney fans made themselves heard when Disney announced an Automated PhotoPass service coming to Walt Disney World in the Magic Kingdom.
This automated PhotoPass will basically have cameras mounted which will take pictures of guests in special moments at the character meet and greets instead of a traditional photographer.  We were pretty skeptical at first, but Disney is promising this will offer even more amazing photo opportunities than before and that the Disney Photographers will be relocated to other assignments throughout the parks, saving their jobs.
As a long term play however we're skeptical that this is possible since putting automated cameras essentially replaces any need for real photographers, or at minimum majorly reduces the need.  We'll be interested to see how this plays out over the next few months and if it does end up being an upgrade in the long-run.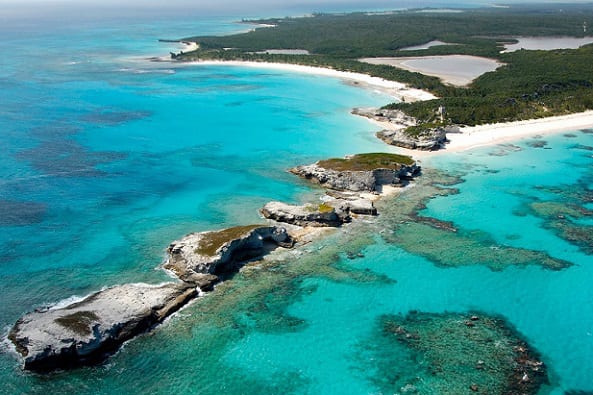 The Disney Cruise Line has long proved itself to be one of the most popular and profitable sectors of the Walt Disney Company, and their private island Castaway Cay is the crown jewel of the Disney Cruise Line.  Disney has long been searching for a second island as traffic to Castaway Cay is becoming very heavy and just a couple months ago Disney announced the Bahamian government approved their purchase of Lighthouse Point, an island on Eleuthera.
Disney hasn't yet announced its plans for Lighthouse Point, but since they have 3 new cruise ships coming to the fleet in the next few years, finding a second island to send the ships to is imperative.  The early leading idea is an island based around the Pirates of the Caribbean theme, which would offer many unique and immersive experiences and fit in when Disney makes its next Pirates of the Caribbean re-boot.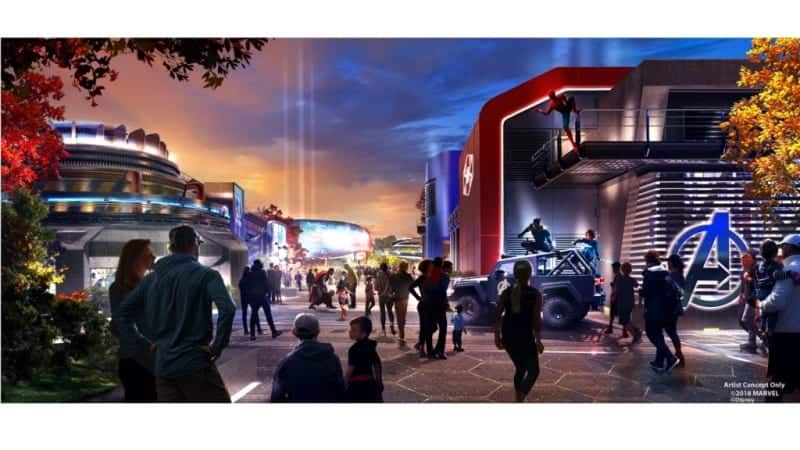 Star Wars Galaxy's Edge has been getting all the hype as it promises to be the most immersive theme park experience we've ever seen, but just like the film franchise, don't sleep on the Marvel Super Heroes lands coming to Disneyland, Disneyland Paris and Hong Kong Disneyland.
Disney made it official this year and though we still don't know all of the attractions that are coming, these lands will have new attractions based on your favorite characters from the MCU.  So far we know a Spider-Man attraction, Avengers Coaster, Ant-Man and the Wasp shooter are all some of the rides making their way into the new lands.  A Doctor Strange show, Ant-Man Brewery, and various character meet and greets will also be part of it.
This is only the beginning though as the Disney California Adventure version alone of the Marvel Super Heroes land is expected to have 4-5 attractions alone when finished.  Expect to find out a lot more about this at the D23 Expo this year!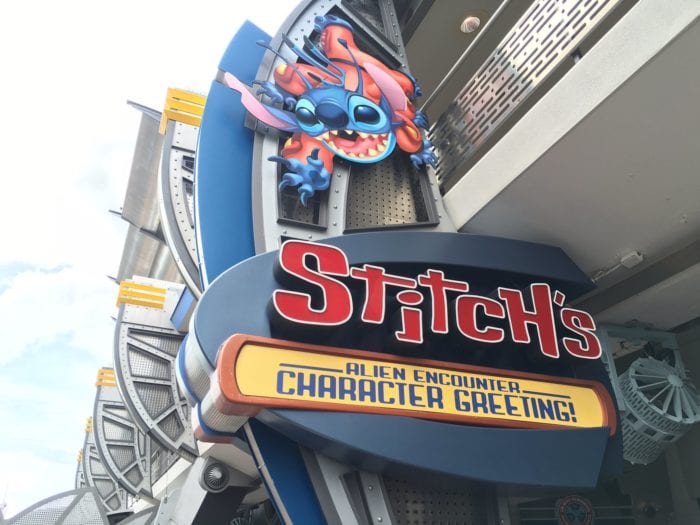 With new attractions comes closing of old ones too.  For example to make room for the Marvel Super Heroes land, we saw the end of "A Bug's Land" in September in Disney California Adventure.  No more Heimlich's Chew Chew Train unfortunately.
One of the least surprising ones was the closure of Stitch's Great Escape in Tomorrowland in Disney's Magic Kingdom as it's been open only in the busiest periods for the better part of 1 year + now.  Now it's gone for good (thank goodness) and the Stitch animatronic has even been destroyed since then.  A Wreck-It Ralph attraction is on the short-list of attractions coming to replace it.
Lastly there have been conflicting reports about Rafiki's Planet Watch which closed in October, but Disney is stating that it will reopen eventually in 2019 and it's not permanent.  We're not exactly sold on that yet and we'd be surprised to ever take the train back out there again.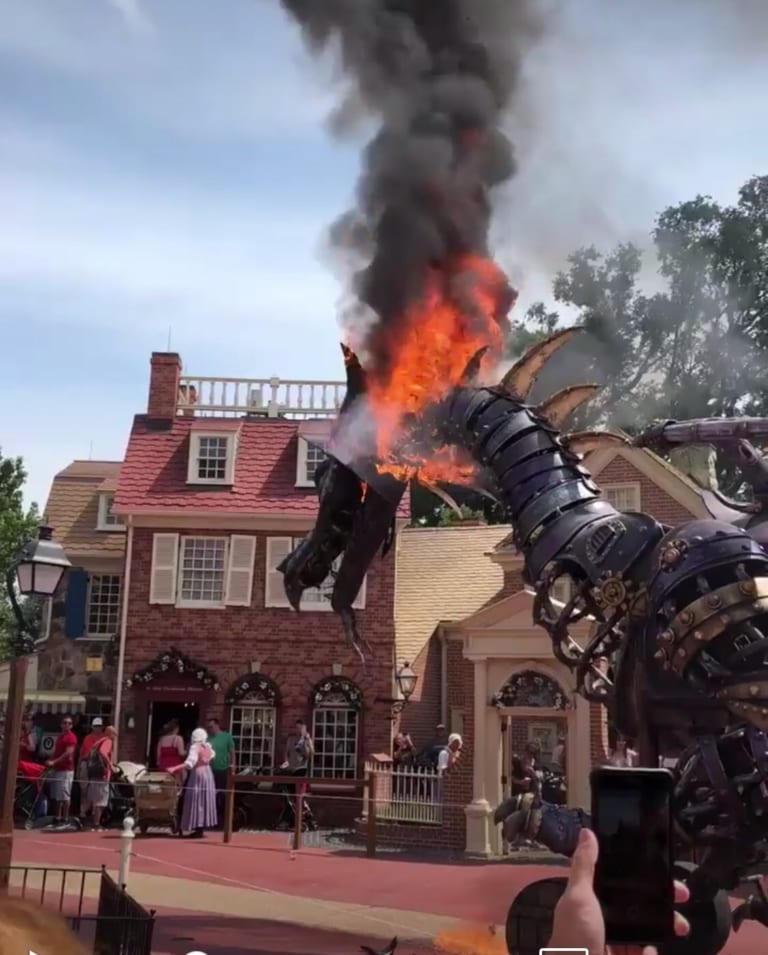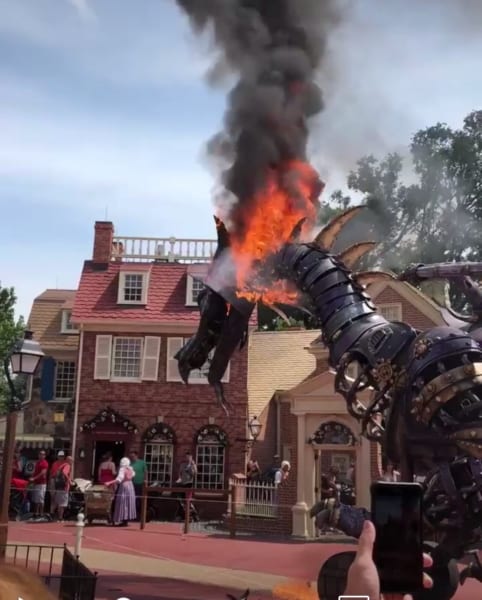 This was one of the strangest stories of the year.  A typical Festival of Fantasy Parade turned out to be not so typical when the Maleficent Dragon caught fire as it was passing through Liberty Square.  The Maleficent Dragon is one of the absolute highlights of the parade as it spews fire from its mouth, so it was shocking to see the whole head catch fire during the incident.
That was back in May and we still haven't seen her in the Magic Kingdom yet.  From everything we've heard she's almost ready to come back to the parade so we should be seeing her in the near future, though it will be without the famous fire effect most likely.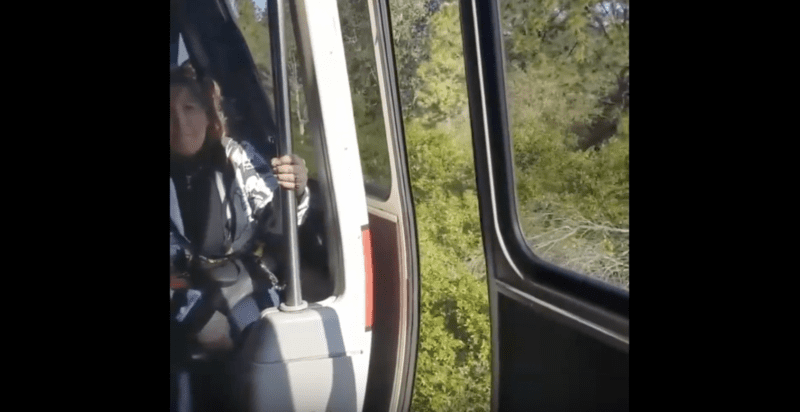 From one incident to a series of incidents that never seems to end.  The current monorail system in Walt Disney World has been in place since 1989 and is well overdue to be replaced.  This has been obvious not only from a visual aspect or from the bad smell that is present in a high number of the trains, but mostly from the long line of incidents which has plagued the iconic Disney World attraction.
In January a video went viral of one of the monorail doors staying open while the train was traveling from one station to the other.  Thankfully no one was hurt but it could have been a disaster if someone fell out.
Last month one of the monorail doors came unhinged after it was hit by a guest on a motorized scooter.  No it didn't fall of for no reason, but if all it takes is a scooter to make one of the doors fall off, what does that say about the shape they are in.
Lastly only weeks ago a group of guests were trapped on the monorail and were not able to get off as the doors didn't open up even after going from stop to stop.
Rumors continue of the monorail trains being replaced, though no proof has been shown that new monorails have been ordered yet.  Let's hope that Disney makes this a priority in 2019!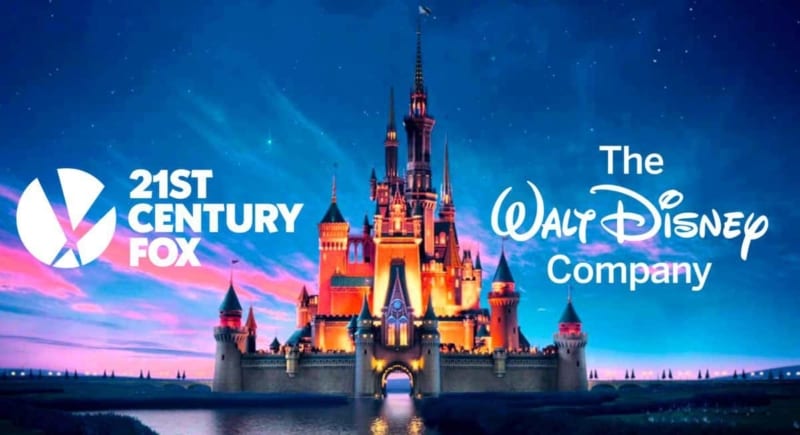 One of the biggest stories in 2017 that just happened at the end of the year was that Disney agreed to a deal with Fox to buy all their Movie and TV properties.  This came out of the blue last year but it's obvious that Disney is planning on making the Fox properties a crucial part of their new Disney Plus streaming service.
Though things are now on track for that to happen, Comcast made a play to take away the Fox properties from Disney driving up the price substantially, but in the end Disney made a higher bid and won the rights.  While the deal is not 100% complete at this time, shareholders from Fox and Disney have voted in favor of the acquisition, and lawmakers have also voted in favor of it, removing most obstacles.
It looks like the deal will be finalized in the beginning of 2019, and when it does it will give Disney access to Fox properties such as: Avatar, The Simpsons, X-Men, etc and make them big money-makers for Disney moving forward.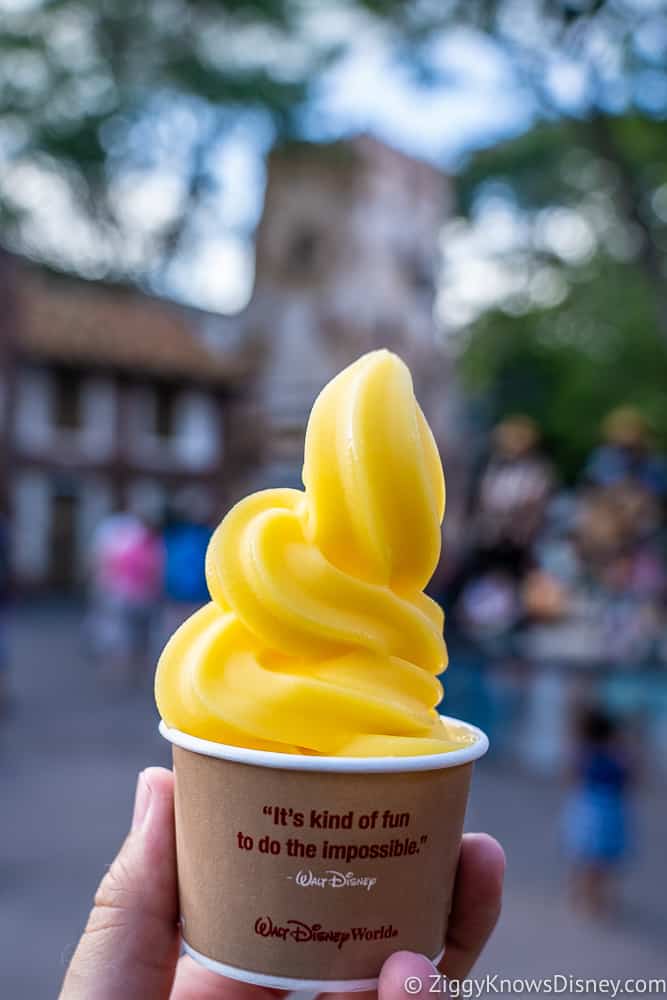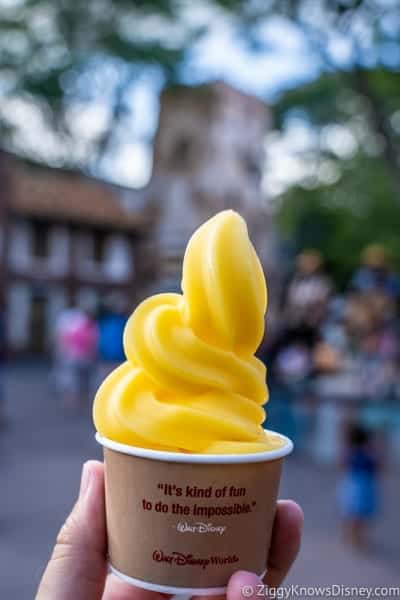 While Disney is always raising the prices in their parks, 2018 seemed to be an especially high year.
Everything started in February when Disney made its first of 2 Ticket increases during 2018.  The first was a system-wide increase to all ticket prices for Disney World and Disneyland, including Annual Passes.  Disney then introduced a second Annual Pass increase in October bringing the price to a staggering $994 per person.
That's not all.  Disney the launched a new Date-based ticketing system in October, all with a new website that prices tickets based on when they arrive meaning certain days and times of the year will be cheaper or more expensive than others.  Some days are cheaper, but for the most part it ends up being more expensive.  Expect to see more ticket increases before December 2019 when Star Wars Galaxy's Edge opens because they know people will pay.
Then back in March Disney announced that overnight hotel guests would have to begin paying for parking which sparked an online revolt.  Even though other hotel chains have always charged, this became a first for Walt Disney World hotels.  The only exception is if you were coming as a UK resident as they were offered free overnight parking.
The popular Minnie Van transportation system increased in price this year to a new per mile system.
Parking fees increased for the theme parks in October and there was a huge increase for Disney Snacks like Pretzels, Ice Cream, Soda, Churros, etc.
Things are not getting any cheaper at the Disney parks, and you can expect more of the same in 2019.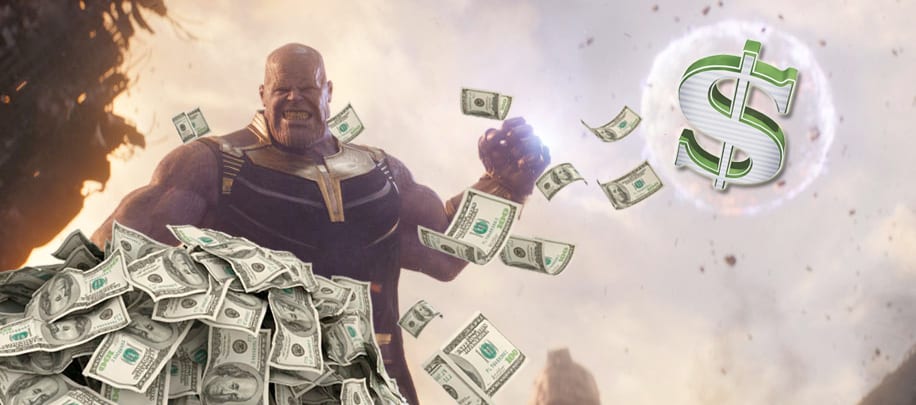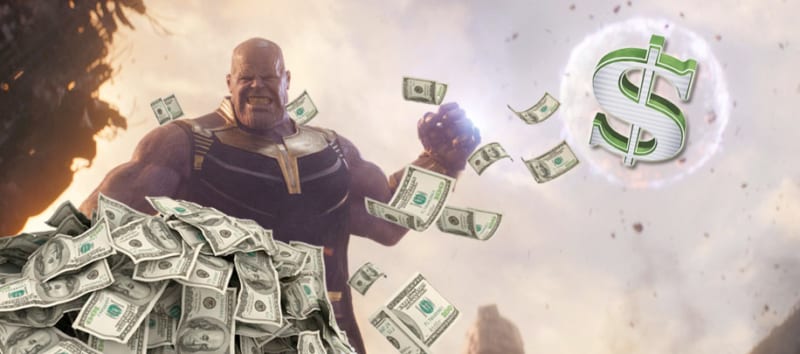 The unstoppable machine that is Walt Disney Studios continues to pump out box office hit after box office hit, and 2018 was no exception.
Yes there were a few disappointments (Christopher Robin, Nutcracker and the Four Realms, and Wrinkle in Time) but Disney hit a whopping $7 Billion+ at the box office in 2018 and will likely fall just short of it's record in 2016 when it reached $7.6 Billion.
Black Panther was a cultural phenomenon, Incredibles 2 set the animation records and Avengers: Infinity War was the 2nd highest grossing film in Disney history.  Not bad.  This trend is not slowing anytime soon and Disney has a great chance to break all records in 2019 with the incredible lineup they have coming.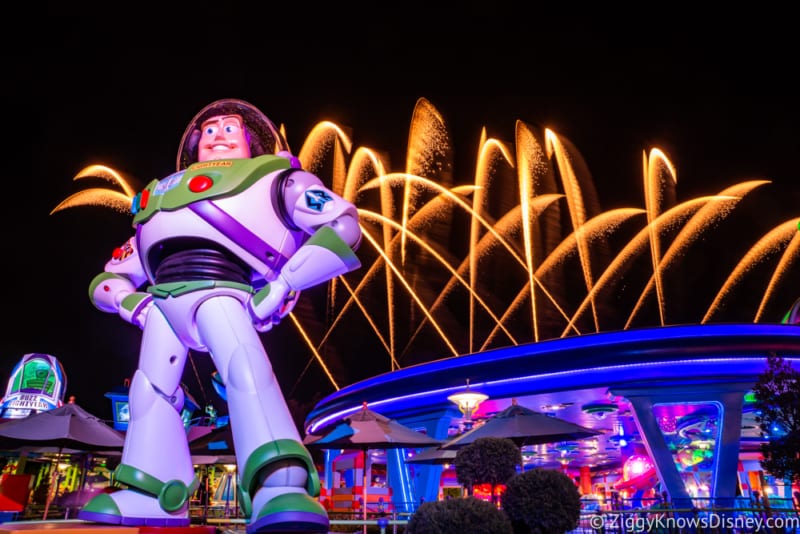 The appetizer before the main course, Toy Story Land opened in June and was the talk of Disney World during the Summer.  Yes there were a few elements that could have been better (some theming aspects were cut short) but overall I consider Toy Story Land a solid addition to the Walt Disney World lineup and it gives Hollywood Studios some well-needed attractions, especially ones that kids can get on-board with.  You can read my Full Review of Toy Story Land here.
Slinky Dog Dash is the land's main attraction and it didn't disappoint at all.  In fact was even more fun than I was expecting and a must-ride in Hollywood Studios.  Some major upgrades were made to the queue in Toy Story Midway Mania which also brought back the return of Mr. Potato Head!
Woody's Lunch Box is now my new favorite quick service restaurant in the Studios, and maybe in Walt Disney World.
The only disappointing thing to me was Alien Swirling Saucers which lacked in theming and originality (basically a knock-off of Mater's Junkyard Dash in Disney California Adventure.  It also was terribly short.
While not as high on the wow factor as Pandora was last year, Toy Story is a solid addition.  Let's be honest though, next year when Galaxy's Edge opens up, you won't have any problems getting a FastPass+ for Slinky Dog Dash!
1.) Walt Disney World Swamped in Construction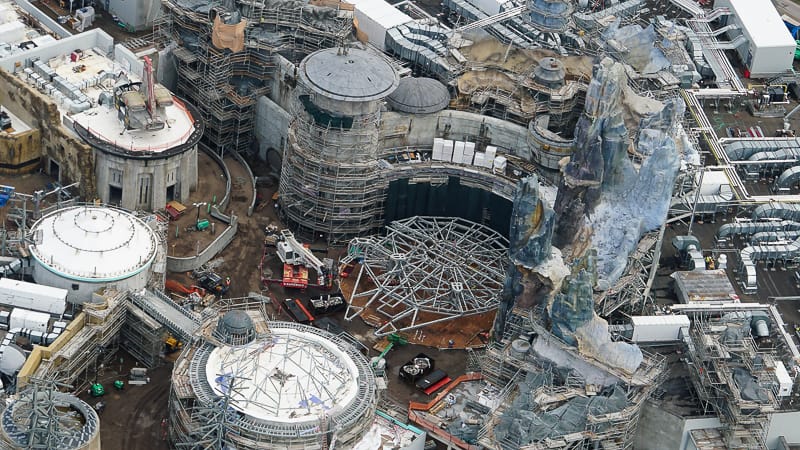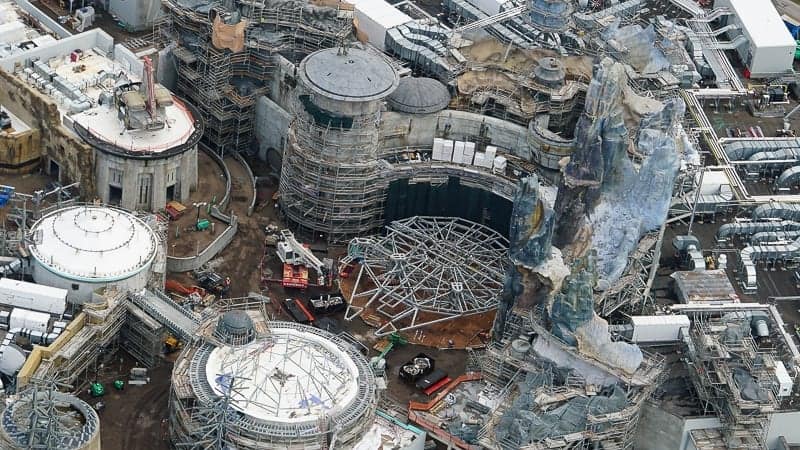 Last but not least, the construction projects around Walt Disney World dominated the news in 2018.  Let's face it, it never should have got to this point and at times it felt like you had to step over construction workers in between attractions, but in the long-run we will be reaping the benefits of the work going on over the next few years.
Disney Skyliner: This project is truly throughout Walt Disney World as this next-gen transportation system will connect Epcot, Hollywood Studios, and 4 resort hotels together on a gondola system high above WDW.  Towers went up, stations erected and now cable has been drawn linking those towers together.  This will be huge in 2019.
Guardians of the Galaxy Roller Coaster: Ever see a building blot out the sun?  Look no further than Epcot and the Guardians of the Galaxy building which is HUGE! The foundation was poured this year and steel rose to staggering heights for what will be one of the world's longest indoor roller coasters int he world.  The track has just started to be installed but this will really increase next year.
Tron Coaster: This is one of the newer projects to get started this year and we've only seen ground preparation and clearing to this point.  Things should start ramping up though soon as the Walt Disney World Railroad has been closed for the construction and the Tomorrowland Speedway doing the same shortly.
Roads and Parking lots: Hollywood Studios got a new parking lot and entrance to make way for Galaxy's Edge next year, and is still getting the new bus station put up as we speak.  Not to mention all the new roads going up throughout Walt Disney World, (Magic Kingdom and Hollywood Studios) to make way for the 50th Anniversary traffic in 2021.
Resorts: There are so many new resort projects underway right now it's incredible.  In 2018 both the Riviera Resort and the new Gran Destino Tower at Disney's Coronado Springs Resort rose to new heights.  They are both almost finished and will be ready in 2019.  A new high-end boutique hotel near the Swan and Dolphin Hotels was announced which will cater to executives and offer a luxury hotel experience.  An new nature-inspired hotel is coming to the old River Country site called: Reflections: A Disney Lakeside Lodge.  We also saw ground break on the highly anticipated Star Wars Hotel in 2018, and we learned some amazing info which make us think it's going to be a must-try hotel experience like you've never seen before!
Star Wars Galaxy's Edge: Lastly, this is what will dominate the news in 2019 as Galaxy's Edge is probably the most anticipated theme park land in the history of, well, theme parks.  So much progress was made here in 2018 and the size and scope of this land will blow your mind.  Both attraction buildings are up and the towering rock spires on top of them are breathtaking.  We also learned more about what the attractions will be like and are seeing the Black Spire Outpost of Galaxy's Edge come together before our eyes.  It's bee a joy to see the progress month after month, so stay tuned for our construction updates where we show you everything new that comes into place.
So those were the 17 Biggest Disney stories of 2018.  It was incredible covering all of them for you and I want to thank all my readers for your support over this last year.  These stories left an impact on us in 2018, and I can't wait to see what 2019 has in store.  I look forward to bringing you the best Disney coverage next year and I have a lot of awesome projects in store that are going to change the Ziggy Knows Disney brand forever and we'll continue to work towards our goal of making this the best resource for Disney News and Planning on the internet!
Stay tuned…
In the meantime, Here is my List of the 13 Best New Things Coming to Disney in 2019!
Your Thoughts:
I want to know what you think about my 17 Biggest Disney Stories from 2018…
Which one was the most important?
What will be your lasting memory of 2018 and Disney?
Let us know in the comments section below!
If you enjoyed this article, as always I appreciate it if you'd share it with others via social media.  I work hard at making this website into a useful resource for you and your family to plan your visit to the Disney Parks and I hope it can help you! Thanks 🙂