The 2019 D23 Expo is here and Ziggy Knows Disney is going to be bringing you all the News, Updates and Announcements all weekend long. It's hard to keep up with everything that goes on over the 3 days of D23 Expo, so we've made this page so you can easily find all the official announcements from the Expo and have them in one place.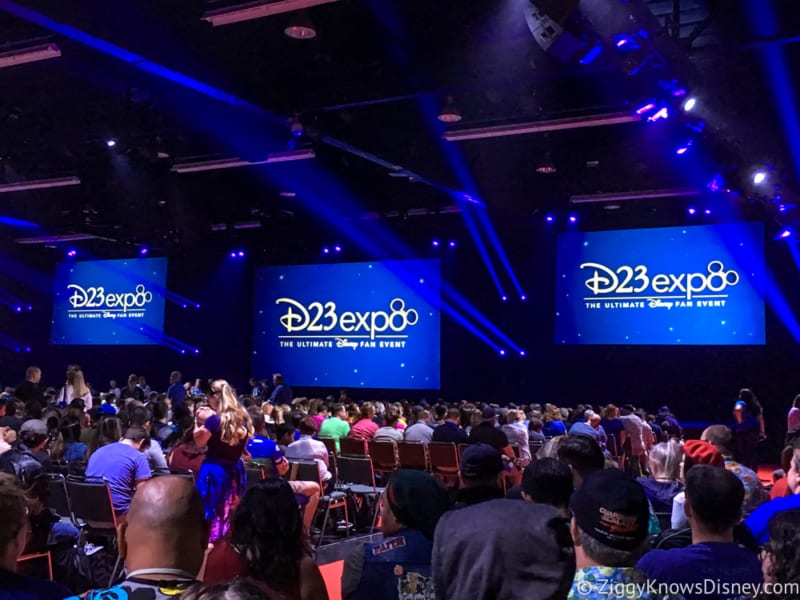 I've broken all the news into categories of announcements so keep scrolling down to see them all. As the D23 Expo continues throughout the whole weekend I'll be updating the list with links to more articles so keep checking back.
(UPDATED 8/23/19) – News added for Epcot Expansion, Marvel Land, Moana Attraction and Star Wars Hotel
Enjoy all the news from D23 Expo 2019!
Live Films:
Announcements and news about Disney's live film schedule from Marvel, Star Wars and Walt Disney Studios are probably the most anticipated things at the D23 Expo. We'll have all of them right here as soon as they come out:
Disney+:
Magic Kingdom:
We want to know more about TRON and the rest of the festivities coming to the Magic Kingdom for the 50th anniversary…
Epcot:
Epcot is in the middle of a huge park-wide transformation with a new entrance, Guardians of the Galaxy coaster, Ratatouille ride and a complete overhaul of Future World. What else is coming to Epcot?
Hollywood Studios:
Star Wars: Galaxy's Edge is coming to Hollywood Studios later this month, but what other plans about the park will get announced at D23 Expo? Stay tuned…
Mickey and Minnie's Runaway Railway Details Coming Soon…
Disneyland:
We know about Rise of the Resistance, Marvel Super Heroes Land and Mickey and Minnie's Runaway Railway coming to Disneyland, but what other details will we learn at the D23 Expo and what new projects will they announce??
Resorts:
With 4 more resorts currently under development in Walt Disney World like Disney's Riviera Resort, The Cove, Reflections: A Lakeside Resort and the Star Wars Hotel, we are sure to learn more about these projects and perhaps some new ones too!
International:
Even though the majority of news from the D23 Expo will be surrounding the domestic Disney theme parks, we also should be hearing more about the projects coming up in Disneyland Paris, Shanghai Disneyland, Hong Kong Disneyland and possibly Tokyo Disneyland.
Disney Cruise Line:
At the last D23 Expo we got the news about 3 new ships coming to the fleet, and since then we haven't heard much. Here is the latest:
Disney/Pixar Animated Films:
Want to know more about Frozen 2, Onward, Soul and the rest of the new films coming from Disney Animation and Pixar studios? We'll have it all right here:
All the Animated Film Announcements (Coming Soon)
Also, don't forget to check out all the other articles we have covering the 2019 D23 Expo including Tips and Tricks, Last-minute Rumors, and the Full Schedule of panels and events:
Your Thoughts:
I want to know what you think about the D23 Expo announcements and news…
Which announcement has been your favorite so far?
What else are you hoping to get announced?
Let us know in the comments section below!
If you enjoyed this article, as always I appreciate it if you'd share it with others via social media. I work hard at making this website into a useful resource for you and your family to plan your visit to the Disney Parks and I hope it can help you! Thanks 🙂
Meet the Author of Ziggy Knows Disney!