The 2022 D23 Expo is here and Ziggy Knows Disney is going to be bringing you all the News, Updates and Announcements all weekend long. It's hard to keep up with everything that goes on over the 3 days of D23 Expo, so we've made this page so you can easily find all the official announcements from the Expo and have them in one place.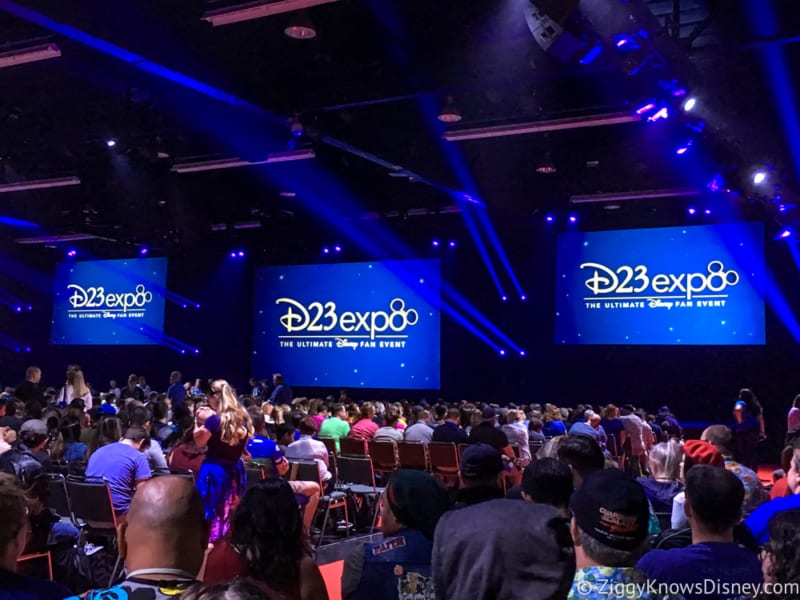 I've broken all the news into categories of announcements so keep scrolling down to see them all. As the D23 Expo continues throughout the whole weekend I'll be updating the list with links to more articles so keep checking back.
(UPDATED 9/10/22) – Now that this year's D23 Expo has started, we have all the announcements we know about so far. We will be updating all the announcements from the event, so make sure to check back in the coming days!
Also, don't forget to sign up for our FREE Weekly E-Mail Newsletter. There we'll bring you the latest D23 Expo updates and our best Disney vacation planning tips. You can sign up here: Join our E-Mail Newsletter!
Enjoy all the news from D23 Expo 2022!
Live Films (Walt Disney Studios)
Announcements and news about Disney's live film schedule from Marvel, Star Wars, and Walt Disney Studios are probably the most anticipated things at the D23 Expo. We'll have all of them right here as soon as they come out:
Mufasa: The Lion King – New movie, prequel to Disney's The Lion King. Done in the same style as John Favreau's live action film. Coming in 2024.
The Little Mermaid Live Action – Hits theaters on May 26, 2023. First look at trailer here: https://twitter.com/Disney/status/1568385352771194880
Haunted Mansion film – Starring Jamie Lee Curtis as Madame Leota. Haunted Mansion is coming to theaters on March 10, 2023.
Peter Pan and Wendy – New film coming to Disney+. Alexander Molony as Peter Pan, Ever Anderson as Wendy, Jude Lw as Captain Hook, Yea Shahidi as Tinker Bell. New trailer released only to D23 guests so far. Coming in 2023.
Disney's Snow White – Starring Rachel Zegler and Gal Gadot, coming out in 2024.
Disenchanted – The film takes place several years after Enchanted and stars Amy Adams, Patrick Dempsey, Maya Rudolph, Idina Menzel, and James Marsden. Coming to Disney+ on November 24, 2022. Watch the trailer here: https://twitter.com/DisneyStudios/status/1568374317041463296
National Treasure Edge of History – New series for Disney+
Lucasfilm/Star Wars
The latest on Indiana Jones, Willow, and all the new Star Wars series on Disney+.
Andor – Spy thriller that takes place before the events of Rogue One. Will have a run of 24 episodes. Season 2 starting production soon. Showed the final trailer. See the trailer here: https://www.youtube.com/watch?v=PboKpnin_Wg
The Bad Batch – Season 2 is 16 episodes and it starts on January 4th with a 2-episode premiere on Disney+.
Tales of the Jedi – 6 shorts premiering on October 26th. Shows the backstory of Ahsoka and Dooku. Coming to Disney+. New trailer here: https://twitter.com/Disney/status/1568656237855899648
Skeleton Crew – Jon Favreau is working on a new Disney+ series called Skeleton Crew. It's about kids who get lost in the Star Wars galaxy and takes place during he New Republic era. Stars Jude Law.
The Mandalorian Season 3 – Season 3 just wrapped up production and showed a new trailer here:
Indiana Jones 5 – New trailer was shown and the release date is June 30, 2023. Harrison Ford says: "This one is fantastic!" It's confirmed that Indy 5 will be the last one in the series.
Ahsoka – Unfortunately, they didn't say much about Ahsoka.
Willow – Debuts on Disney+ on November 30. Newly announced cast member Christian Slater. A new trailer was shown during the panel. See the trailer here: https://twitter.com/WillowOfficial/status/1568654029840068608
Marvel Studios
The latest updates on Marvel Studios' Phase 4 & 5 films and series.
Wakanda Forever – Got an exclusive look at the film and new trailer. Director Ryan Cooler said: "The King is dead, the Black Panther is gone. They have lost their protector." Coogler confirms that Shuri is the main character of the film. The trailer included lots of Namor including a fight with M'Baku. Release date is November 11, 2022.
Ironheart – This series for Disney+ is also directed by Ryan Coogler.
Ant-Man Quantumania – The first footage of the film was shown. Paul Rudd said: "This is going to be unlike anything you've seen from us. This thing is bananas." Randall Park is returning as Jimmy Woo for the film.
Secret Invasion – New original series on Disney+ coming out in 2023. Watch the new trailer here: https://twitter.com/MarvelStudios/status/1568674698028007424
Armor Wars – New series with Don Cheadle. He says it tells the story about what happens with Stark Armor gets into the wrong hands. They have not started filming yet.
Loki Season 2 – Picks up where season 1 left off. Tom Hiddleston says Loki Season 2 pivots into the whole Multiverse storyline. New trailer was shown.
Fantastic 4 – No cast announcement today. Matt shaman to direct Fantastic Four. Releases in theaters on November 8, 2024.
Werewolf by Night – Disney+ Halloween special with directing by Michael Giachinno. Coming out on October 7, 2022. Watch the trailer here: https://twitter.com/MarvelStudios/status/1568673820395077632
Echo – Released a trailer for Echo series on Disney+. Vincent D'Onofrio returns as Kingpin. They just wrapped production on the series.
Daredevil: Born Again – Charlie Cox is back as Matt Murdock/Daredevil for a Disney+ series with 18 episodes. They have yet to begin filming but Cox was on stage talking about the series.
Captain America: New World Order – Carl Lumbly will return as Isaiah Bradley in Captain America 4. Danny Ramirez returns as the new Falcon.
Thunderbolts – Red Guardian, Ghost, John Walker, Task Master, Yelena Belova, Winter Soldier, and Valentina are confirmed for Thunderbolts! Kevin Feige said: "Just because there isn't an organization like the Avengers anymore, but we now have The Thunderbolts." It starts shooting next year.
The Marvels – They showed the teaser trailer for the film.
20th Century Fox
Avatar Films – Footage from Avatar 2 was revealed. Avatar 4 has just started filming.
Disney/Pixar Animated Films
Want to know more about Inside Out 2, Elio, Wish, Strange World, and the rest of the new films coming from Disney Animation and Pixar studios? We'll have it all right here:
Wish – An all-new animated feature film that explores how the iconic wishing star came to be. Starring Ariana DeBose as Asha, directed by Chris Buck & Fawn Veerasunthorn, produced by Peter Del Vecho & Juan Pablo Reyes, and featuring all-new songs by Julia Michaels, Disney's Wish releases in November 2023.
Inside Out 2 – Announced with a Summer 2024 release date.
Strange World – Hits movie theaters on November 23, 2022. The voice cast includes Jake Gyllenhaal, Dennis Quaid, Lucy Liu, and Jaboukie Young-White.
Elemental – New poster and main characters revealed for Pixar's Elemental. "In a city where fire, water, land, & air residents live together, a fiery young woman & a go-with-the-flow guy will discover something elemental: How much they have in common." It hits theaters June 16, 2023.
Elio – Pixar's next original film is about a young boy who finds himself transported across the galaxy & mistaken for the intergalactic Ambassador for planet Earth. Starring America Ferrera as Olga Solis and Yonas Kibreab as Elio. Directed by Adrian Molina & Produced by Mary Alice Drumm. Disney and Pixar's Elio lands in Spring 2024.
Iwájú – New Original series coming to Disney+. Journey into a futuristic version of Lagos, Nigeria with this FIRST LOOK of Disney Animation and Kugali's Iwájú!
Win or Lose – New Original Pixar series coming to Disney+ in 2023. Led by Michael Yates, Carrie Hobson, and David Lally, the story "follows a coed middle school softball team in the week leading up to their championship game."
Magic Kingdom
Here are the latest announcements coming to the Magic Kingdom:
EPCOT
Epcot is in the middle of a huge park-wide transformation with a new entrance, Guardians of the Galaxy coaster, Ratatouille ride, and more. What else is coming to EPCOT? Here are some links for the things we know about so far.
Animal Kingdom
While there were no official announcements made, Josh D'Amaro was on stage with Disney Imagineer Chris Beatty and Disney Animation Chief Jennifer Lee to talk about possible upcoming attractions in the park.
Dinoland USA Transformation (Zootopia & Moana) – Concept art for the land was shown at the expo containing both Zootopia and Moana which may replace Dinoland U.S.A. The land looks like it has two attractions, a Moana boat ride and an aerial spinner ride. No more details have been given at this time.
Hollywood Studios
No significant updates were announced at this year's D23 Expo for Disney's Hollywood Studios
Disneyland Resort
So far, Disney has confirmed an Avengers E-Ticket attraction coming to Disney California Adventure. But there are also dozens of other new attractions and experiences coming to the resort in the next few years.
Disney World Resorts
No new announcements were made about the Walt Disney World Resort hotels and no new ones were announced.
International Parks
No new announcements have been made yet. Stay tuned…
Frozen Lands in Paris, Hong Kong, and Tokyo – The World of Frozen will open in the second half of 2023 and it will be the first of three Frozen-themed lands at the International Parks.
Disneyland Paris Hotel – Frozen will also have an influence in shaping the refurbishment of the iconic 5-star Disneyland Hotel in Paris. Every guest room and all the communal areas are being rethemed, taking inspiration from classics like "Cinderella," "Sleeping Beauty," "Tangled," & more.
Space Mountain Tokyo Disneyland – Work on the new Space Mountain in Tokyo Disneyland starts in 2024. The attraction is being reimagined with an entirely new story and experience. It's expected to open in 2027.
Tangled Attraction Coming to Disneyland Paris – This family attraction will be located in Walt Disney Studios Park along the new gardens leading to the new Frozen-themed land. From the concept art, it looks like a spinner ride similar to Mad Tea Party.
Zootopia at Shanghai Disneyland – More concept art was released of the new Zootopia Land coming to Shanghai Disneyland. No exact opening date was given at this time.
Disney Cruise Line
At the last D23 Expo we got the news about 3 new ships coming to the fleet, and now we know the second of those 3. Stay tuned for more…
6th Disney Cruise Line Ship – The 6th ship in the fleet was announced as the Disney Treasure. It will be adventure-themed and is scheduled to launch in 2024. The Grand Hall is inspired by the grandeur and mystery of a gilded palace, drawing on real-world influences from Asia and Africa, and paying homage to the far-off land of Agrabah. It will hold a golden statue of Aladdin, Jasmine, and Magic Carpet.
Lighthouse Point – We also learned that Disney's 2nd private island Lighthouse Point is still under development and Imagineers are working hard on bringing it to life. It will be inspired by stories of the Bahamas and 90% of its power will be solar-operated.
Also, don't forget to check out all the other articles we have covering the 2022 D23 Expo including Tips and Tricks, Last-minute Rumors, and the Full Schedule of panels and events:
Your Thoughts
I want to know what you think about the D23 Expo announcements and news…
Which announcement has been your favorite so far?
What else are you hoping to get announced?
Let us know in the comments section below!
If you enjoyed this article, as always I appreciate it if you'd share it with others via social media. I work hard at making this website into a useful resource for you and your family to plan your visit to the Disney Parks and I hope it can help you! Thanks 🙂
Meet the Author of Ziggy Knows Disney!