After years and years of waiting, Star Wars: Galaxy's Edge, the most innovative and immersive land in theme park history has finally arrived and is open in Disney World and Disneyland! In fact, it has revolutionized the way we think of and visit theme parks.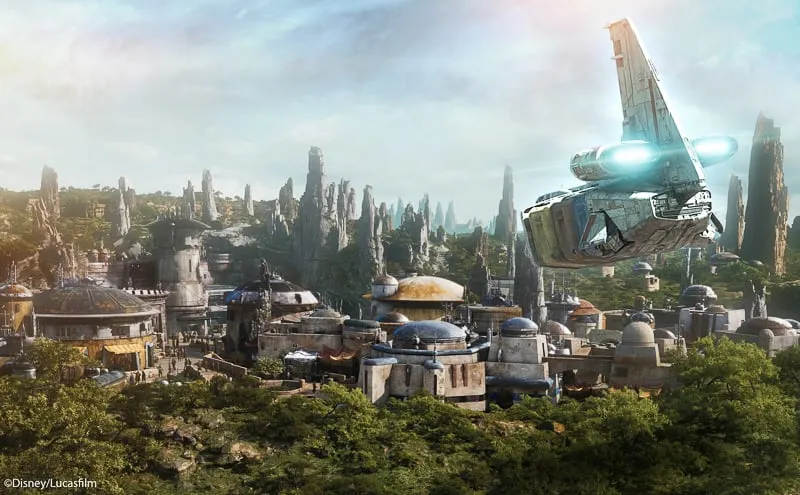 With that change, however, it means planning for you and your family's trip to Star Wars Land and the far off planet of Batuu, is going to be more crucial than ever before.
That's why we've put together this Ultimate Guide to Star Wars Galaxy's Edge for both Disney's Hollywood Studios and Disneyland to make sure you find out everything you need to know before visiting Star Wars Land!
In this post we are going to explain where it's located, everything to know about the attractions, dining, shopping and all the essential planning and tips we can give you for Galaxy's Edge.
Now that Star Wars Galaxy's Edge has been open for a while, we've had some serious time to visit and get you prepared for your vacation to Batuu. There are constant changes happening all the time to this amazing theme park land. For example, Genie+ was recently added to Millennium Falcon: Smugglers Run in Hollywood Studios which changes things a lot when it comes to planning.
We'll continue to update this guide so you have the most up-to-date information on Galaxy's Edge. Enjoy!
To read our Full Review of Galaxy's Edge click here, and for a Detailed Walkthrough with 200 pictures click here.
Also, don't forget to sign up for our FREE Weekly E-Mail Newsletter. There we bring you the latest updates on Star Wars: Galaxy's Edge including any new additions and as well as vacation planning tips. You can sign up here: Join our E-Mail Newsletter!
If you have any questions we haven't covered, please feel free to ask us below!
Star Wars: Galaxy's Edge Overview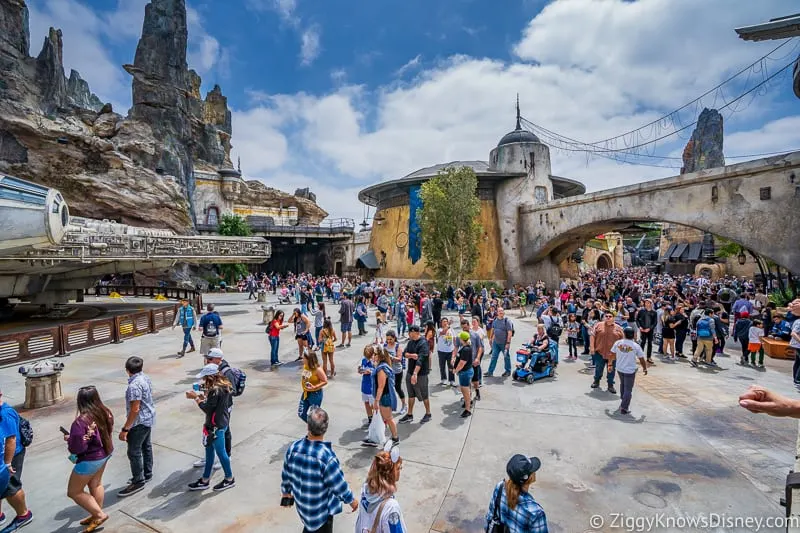 Have you ever watched a Star Wars film and thought to yourself: "I would love to go there!"? Well, now you have the chance! Disney has spent the better part of 6 years planning, developing and building this one-of-a-kind theme park destination which will make you feel like you are right in the middle of the Star Wars universe!
Very simply put, Star Wars: Galaxy's Edge is a theme park land designed and modeled after the popular George Lucas film franchise "Star Wars". Everything is themed "Star Wars," including the rides and attractions, experiences, food, shopping, and characters.
Galaxy's Edge is HUGE, a whole 14 acres, which is the biggest single expansion land Disney has ever built. It's filled with surprises, hidden secrets and Easter eggs for you to explore.
It makes you feel like you are part of that universe and is like nothing else you've previously experienced in a theme park.
Where is Star Wars Galaxy's Edge Located?
There are 2 Star Wars: Galaxy's Edge locations. One is located in Disney's Hollywood Studios in Walt Disney World in Orlando, Florida. The other is inside Disneyland Park at the Disneyland Resort in Anaheim, California.
In Disney's Hollywood Studios, Star Wars: Galaxy's Edge is located in the back of the park with entrances from Toy Story Land and Grand Avenue.
In Disneyland, there are 3 entrances to Star Wars Land. One in Critter Country past the Hungry Bear restaurant, another in Frontierland near Big Thunder Mountain and finally just past Fantasyland heading towards Big Thunder Mountain.
This is just the start and we expect to see more Star Wars Lands rolled out in Disney Parks throughout the world in the near future.
Star Wars Land Story
The story starts out with Batuu (the name of the planet in Galaxy's Edge) being a remote port located on the outer rim of space, filled with merchants, smugglers, bounty hunters and all sorts of shady space-creatures who are looking to stay under the radar.
The Resistance has set us a base in the old ruins of an ancient temple located through the forest of Galaxy's Edge and in a deep mountainous cave, long forgotten by most. This is where they've set up to come together and defeat the First Order.
Speaking of the First Order, they've just landed on Batuu and are patrolling Black Spire Outpost (the main town/marketplace in Galaxy's Edge), looking for any Resistance supporters. You are very much involved in the story and your actions have consequences, driving you towards the Light or Dark side of the force.
Why did Disney Build Galaxy's Edge?
Walt Disney World and Disneyland Park are two of the most visited vacation destinations in the world, and it's important to keep them fresh and updated. Disney chose to build Galaxy's Edge in Hollywood Studios and Disneyland because there was enough space there to meet the demand, and they were the places where it made the most sense.
Some might argue that Star Wars is not a real Disney franchise and doesn't belong in the parks. However, the Star Wars franchise is now part of The Walt Disney Company and a massive part of the company's future plans. Disney has always been focused on immersive environments, and there is none more beloved than Star Wars.
The area Galaxy's Edge occupies now was previously being severely underused. In Disney World, the area previously held: the Streets of America, the Hollywood Studios Tour, the Lights, Motors, Action! Extreme Stunt Show and Honey, I Shrunk the Kids: Movie Set Adventure.
In Disneyland, it was occupied by Big Thunder Ranch and some backstage areas. I don't think anyone can really argue against this being a massive upgrade from what was there before.
Is Star Wars Land Open?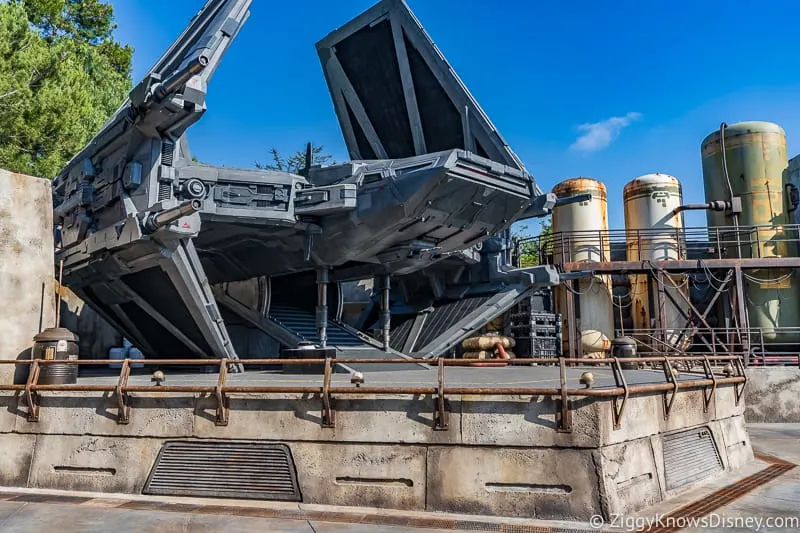 Both Star Wars: Galaxy's Edge in Disney's Hollywood Studios and Disneyland Park are now both open! *(Star Wars: Galaxy's Edge is temporarily closed due to the current theme park closure. We'll let you know as soon as it reopens.)
Star Wars: Galaxy's Edge in Disneyland Opened: May 31, 2019
Star Wars: Galaxy's Edge in Disney's Hollywood Studios Opened: August 29, 2019
Now, it's important to note that Star Wars: Galaxy's Edge opened in 2 phases, and not everything was ready for opening day. We are happy to say that both Phase 1 and 2 are now complete, and running in Disney's Hollywood Studios and Disneyland.
Disney World Galaxy's Edge Phase 2 Opening Date: December 5, 2019 (Now Open)
Disneyland Galaxy's Edge Phase 2 Opening Date: January 17, 2020 (Now Open)
Phase 2 of Galaxy's Edge introduced the second of the two attractions: Star Wars: Rise of the Resistance. Now that we know the dates, it's safe to book your vacation to Star Wars Land!
How to Get Into Galaxy's Edge and Make Reservations
Now that we know what and where it is, how do you get into Galaxy's Edge?
First, you need a valid theme park admission to enter. There is no need for a separate ticket, your ticket into the Disney theme park is all you need.
Reservations
If crowd levels are normal, no reservations into Star Wars: Galaxy's Edge are required. However, when the crowds get high, Disney has set up a sort of reservation system called: the "Virtual Queuing System."
On any given day as Galaxy's Edge reaches capacity, guests will need to make a reservation in the Virtual Queue for access. This system has been designed to limit the crowds and make visiting this far off planet a more enjoyable experience.
Think of the Virtual Queue as a digital way to hold your place in line until space opens up inside Galaxy's Edge. Your place is held in line, but you don't have to actually be there in person to do it. Guests can go visit another attraction or have something to eat and then come back when it's their turn in the queue.
Guests can get their digital "boarding pass" from:
Downloading and using the My Disney Experience App / Disneyland App.
Using one of the many FastPass kiosks located throughout the park.
The few times we've had to make reservations for Galaxy's Edge, the whole process was very quick and easy and went without any problems. It's a very convenient way to wait in line.
For an in-depth look at the Disney Virtual Queue System you can read our post which explains this system better and what to expect.
We also have a guide for the Boarding Groups for Rise of the Resistance which are crucial to getting on the ride!
Reservations for Experiences
Even when you don't need a reservation to enter Galaxy's Edge itself, you still need one for certain experiences and dining locations throughout the land.
Reservations are highly recommended for:
Reservations for these experiences can be made 60 days in advance (Disney World), and 60 days in advance (Disneyland) by using the My Disney Experience or Disneyland App.
For more information on making reservations for these specific experiences, click the individual links above which will break down the steps in much greater detail.
Galaxy's Edge Rides and Attractions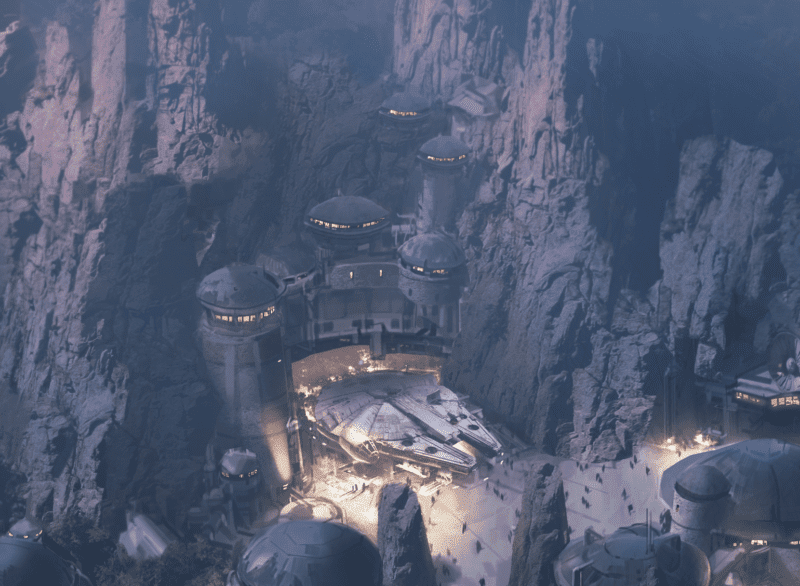 While it's true you do come for the atmosphere, the heart, and soul of Star Wars: Galaxy's Edge is its rides and attractions. There aren't many attractions in Star Wars Land (for the moment), but the ones Disney has built are both amazing, blockbuster-level attractions which are a must for anyone visiting.
The 2 Attractions in Galaxy's Edge area:
Millennium Falcon: Smuggler's Run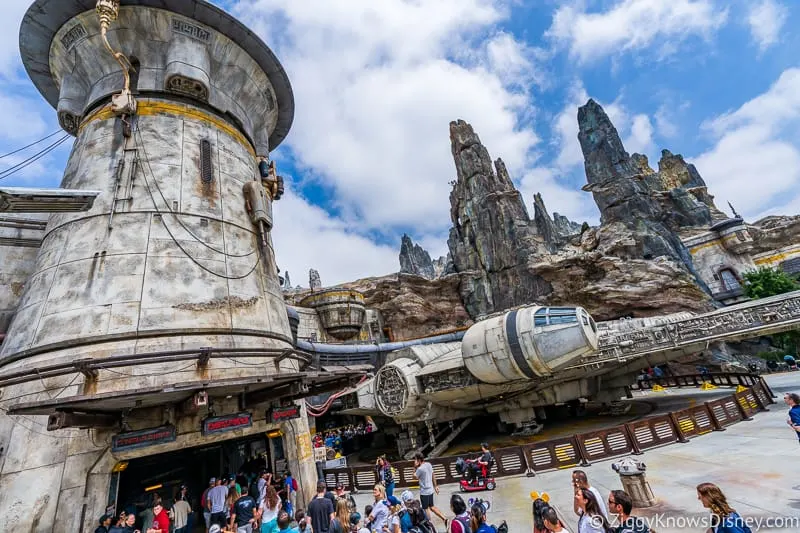 Height Requirement: 38 inches
Genie+: Yes
Have you ever wanted to board and pilot the most iconic spaceship in cinematic history? Now you have that chance!
Queue and Pre-Show –
Disney has built an elaborate pre-show for Smuggler's Run including a full-sized Millennium Falcon outside the entrance to the attraction. This ride also might have the best attraction queue in any Disney park, it's that good!
After winding your way through the queue, you're brought into Ohnaka Transport Solutions where the Hondo Ohnaka audio-animatronic is waiting for you to give you your smuggling mission. This is one of the most impressive audio-animatronic figures ever built and is rivaled only by the Shaman of Songs in Nav'i River Journey.
All of this leads to the point when you actually step foot ONTO the Millennium Falcon itself. There is then an optical illusion that makes you feel like you are really stepping onboard the iconic Star Wars ship, and it could very well bring a tear to your eye.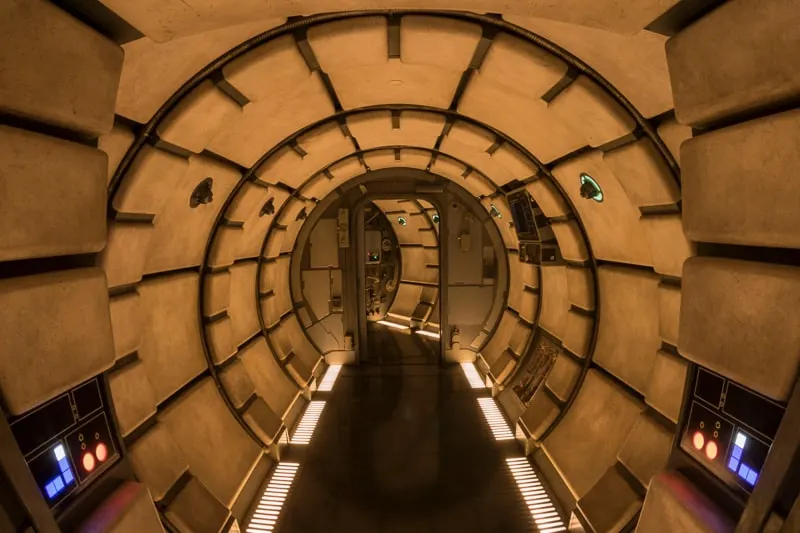 The "Main Hold" is our favorite area of the ship. The realism is incredible!
We could have spent hours wandering the halls of the Falcon, just exploring all the details to be found. We also loved sitting on this bench where you can pretend to play a game of "hologram chess" just like in A New Hope.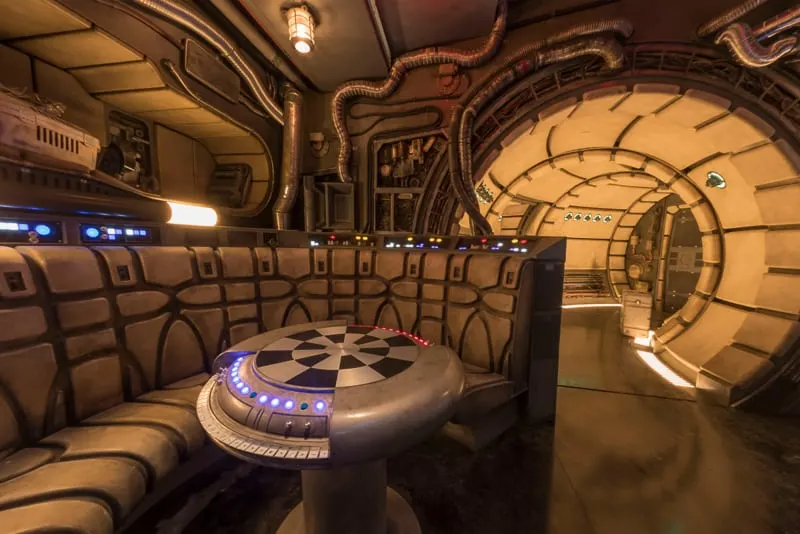 Ride System –
Once through the pre-show area, guests enter the cockpit of the Millennium Falcon in groups of 6. There are hundreds of functioning switches, buttons, and everything is built to feel like you are on the real ship.
Once you enter there are three jobs to do:
Pilots: Driving the Falcon and making the jump to hyperspace
Gunners: Shooting down the incoming TIE Fighters
Engineers: Repairing any damage taken by TIE Fighters
Everyone has to work together, each one doing their job in order to complete a successful mission. Your results in the Millennium Falcon will then have an impact on your experience in Galaxy's Edge after leaving.
You can read our Millennium Falcon: Smugglers Run Guide for a full walkthrough of the ride, tips and all the details about this awesome ride!
You can also check out our video which shows the whole ride queue plus a POV video of the attraction:
Star Wars: Rise of the Resistance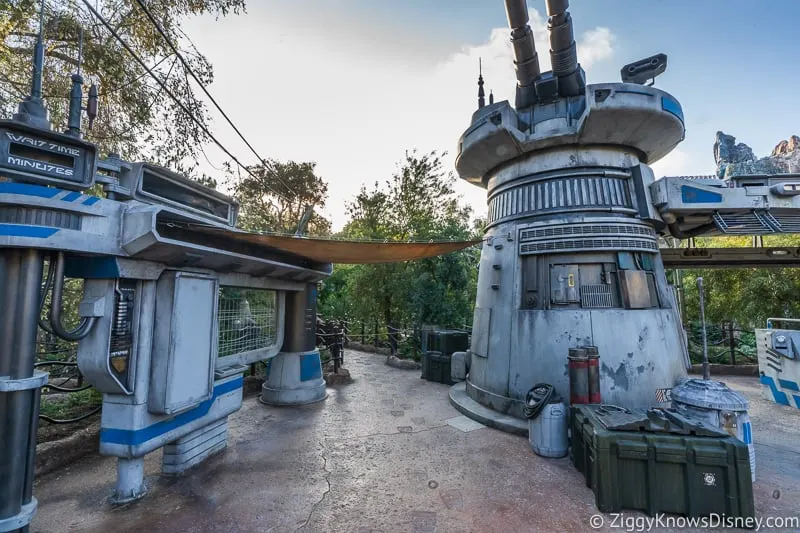 Rise of the Resistance is being hyped up by Disney as the most ambitious attraction they've ever designed, and now that it's open, I can say that it definitely lives up to the hype!
Basically, you are a resistance member who is part of a secret mission aboard a First Order Star Destroyer. Things go terribly wrong and you end up in a heated battle between the First Order and Resistance.
After the elaborate pre-show, this attraction is split into 3 parts:
Boarding a space shuttle for a secret mission than being captured by The First Order.
Escaping from your prison cell and engaging in the battle.
Escaping the Star Destroyer and heading back down to Batuu.
The size and scale of this attraction are beyond comprehension and have to be seen to be believed! The main hanger is powered by a 100-foot screen where tons of special effects take place.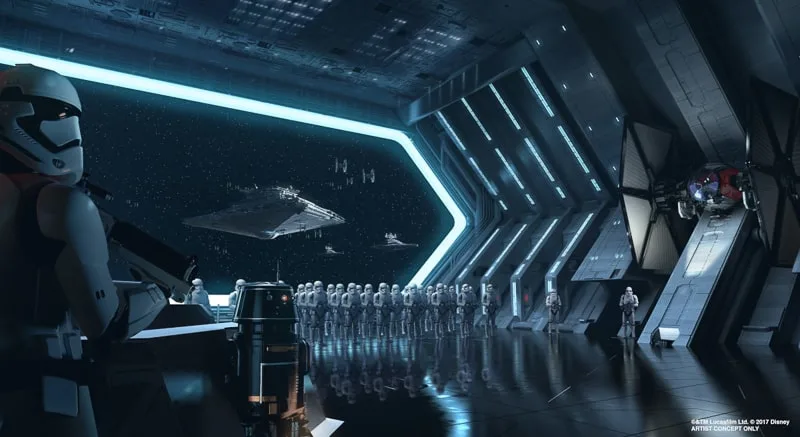 Your favorite Star Wars characters such as BB-8, Rey, Finn, and Poe Dameron make appearances during the ride and you will face off against Full-sized AT-AT Walkers, over 50 stationary, stationery and animatronic, plus Kylo Ren himself!
Star Wars Rise of the Resistance has 4 ride systems, (one of them trackless) which means that there will be lots of twists and turns that guests can't anticipate, making for a more unpredictable and fun ride.
Ride Vehicles –
The ride vehicles each hold 8 people.
Here is a look at the ride vehicle that is used: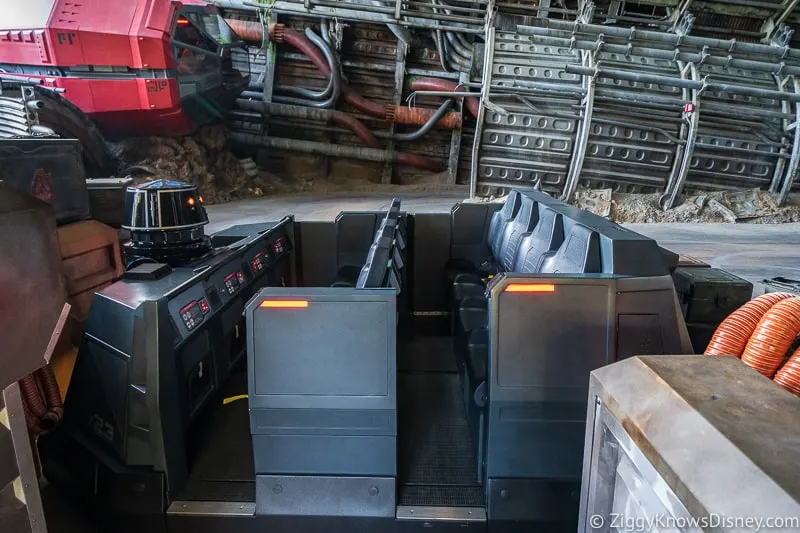 I've never been this blown away before as I was when I rode Rise of the Resistance. This might be the single, greatest attraction Disney has ever made!
Star Wars: Rise of the Resistance is NOW OPEN in Disney's Hollywood Studios, and in Disneyland!
You can read more about the details for the Star Wars: Rise of the Resistance Ride including a complete guide and walkthrough of the ride.
Also right now in order to get to ride Rise of the Resistance, you need to use the Virtual Queue. Here is our Rise of the Resistance Boarding Groups Guide which will give you a strategy on when to go and how early to arrive.
Galaxy's Edge Genie+ & Lightning Lanes
As of writing, Galaxy's Edge is currently using the Genie+ system in Disney's Hollywood Studios and Disneyland Park. In our Guide to Genie+ and Lightning Lanes we cover all the best tips to make use of this FastPass+ replacement.
Millennium Falcon: Smugglers Run is part of the Genie+ package, whereas Star Wars: Rise of the Resistance is using Individual Lightning Lane purchases if you want to skip the line.
Obviously, this change in introducing Lightning Lanes has changed the way you tour the land. If you don't want to pay for one of these services (we don't blame you) you can always use the standby queue.
You can read our full report of the standby queue for Rise of the Resistance to get an idea of how long it will take and the best times to go.
Also since you will have to wait in line for the Star Wars Land attractions when you go, check out our Guide to Galaxy's Edge Wait Times and how you might beat the lines!
Single Rider
Though not all guests want to use Genie+, there still is a way to beat the lines and shorten your wait time in queues…Single Rider!
If you aren't familiar with the Single Rider system, it allows guests who are riding solo to skip the normal attraction queue and then be placed in the empty spots in line by Disney Cast Members where needed.
This is a huge time saver if you are traveling alone or are the only one from your party going on that particular ride. You can also use Single Rider with everyone from your party, but you will not be put together on the ride.
Current Single Rider options in Galaxy's Edge include:
Millennium Falcon: Smugglers Run
What about Rise of the Resistance? We know that it is equipped with a Single Rider option, but Disney hasn't made it operational for the ride immediately at opening. We anticipate it will eventually be up and running, however, at this time there is no single rider option. When it does open up we highly recommend using it as normal wait times will continue to be long.
Galaxy's Edge Dining and Restaurants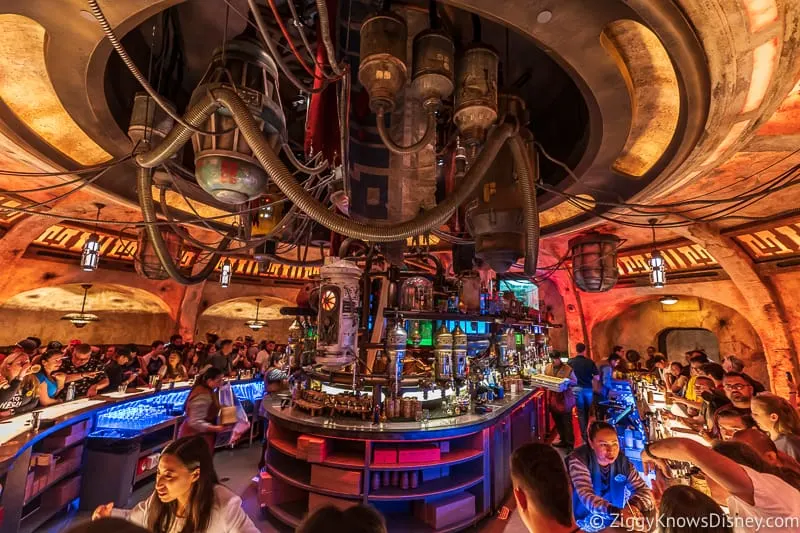 Visiting a galaxy far, far away takes a lot out of you, so it's crucial to find a refueling station. Luckily Star Wars Galaxy's Edge has all sorts of delicious-looking food just waiting for you.
In our Star Wars: Galaxy's Edge Food Guide, we take an even closer look at all the food and menus you can find, plus all the Must-Try Snacks and Drinks!
Disney has really made an effort not to include traditional theme park fare (hot dogs, burgers, pizza, etc). Don't get me wrong, I love all that stuff as much as you, but would you really find chicken tenders and fries in the Star Wars universe?? I think not.
Batuu has a deep history of "farm to table" style whole foods that utilize local cooking traditions passed down from generation to generation. The food in Galaxy's Edge is heavily focused on quality, uniqueness and they are great to look at too!
Galaxy's Edge has 2 Restaurants and 3 Snack Stands:
Docking Bay 7 Food and Cargo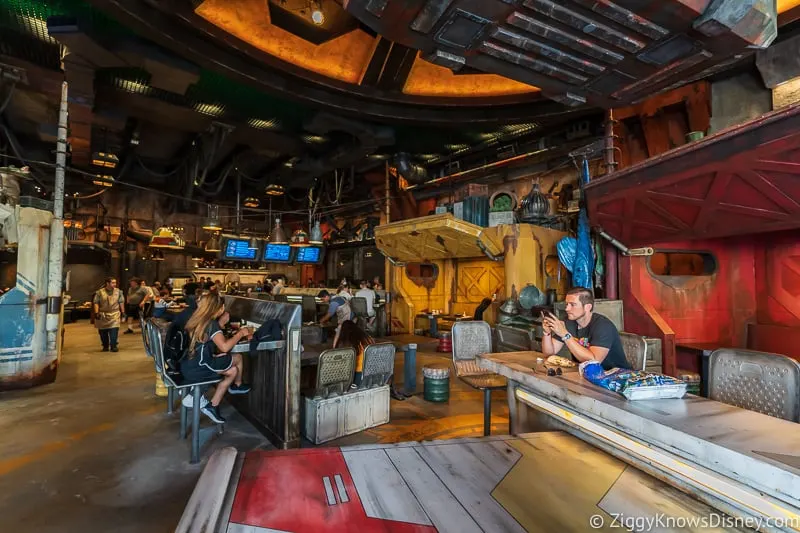 Docking Bay 7 Food and Cargo is a Fast Casual restaurant in Galaxy's Edge that belongs to Chef Strong "Cookie Tuggs" which he uses to ship cargo in and out of Black Spire Outpost.
No reservations are required and there is indoor and outdoor seating. It reminds me a lot of Satu'li Canteen in Pandora: The World of Avatar, which is a huge compliment.
The atmosphere is really cool. You're essentially in the middle of a loading dock where the tables are shipping crates. The shuttle on the roof above is loading and unloading goods to Black Spire Outpost and you are in the middle of it all.
Not only is the theming great, however, it also offers a variety of tasty food and drink, with some really stunning presentations.
Some of our favorite dishes here include:
Smoked Kaadu Pork Ribs
Roasted Endorian Chicken Salad
Felucian Kefta and Hummus Garden Spread
Basically all the entrees are incredible and we'd recommend almost every dish on the menu! You also need to try the Oi-oi Puff if you have a sweet tooth!
Docking Bay 7 serves alcohol in Disney World, but not Disneyland so your drink choices are going o be a bit different depending on which one you go to. The Moof Juice is our favorite by far and the Takodana Quencher for an alcoholic option.
Docking Bay 7 has become my new "go-to" quick service location in Walt Disney World, and I highly encourage you to give it a try!
Read more about Docking Bay 7 Food and Cargo here, including the Menu and our Full Review of the place.
Oga's Cantina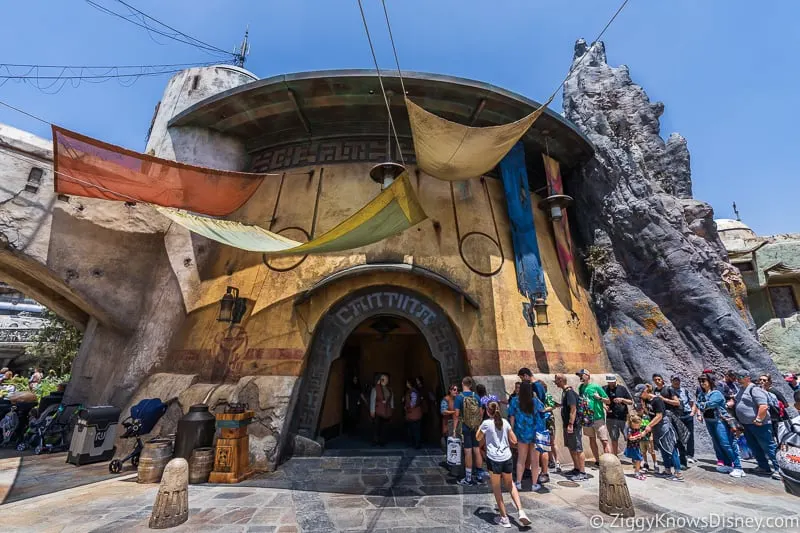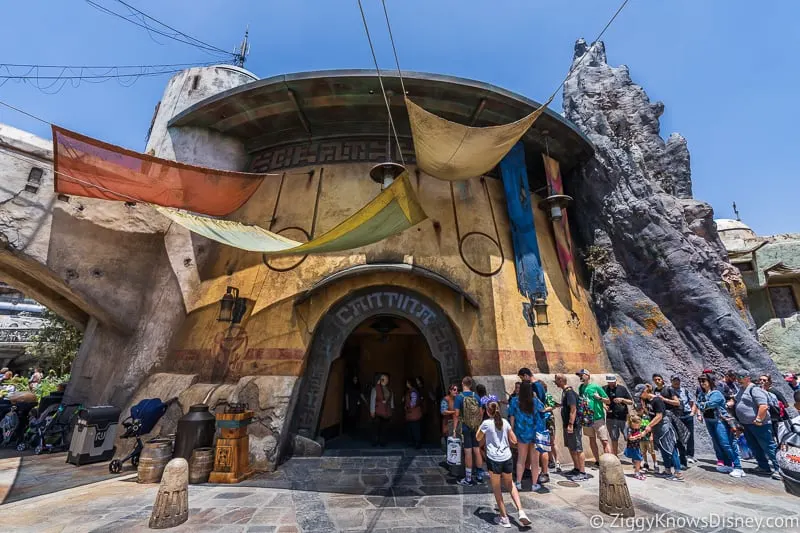 Oga's Cantina was the first of the dining locations we heard about coming to Galaxy's Edge. This a location much like the space cantina Luke and Obi-Wan go into in the original Star Wars movie, and this is where the best drinks in the galaxy are located.
Its alien proprietor, Aga Garra, has strict rules that its patrons have to live by and it has its own way of enforcing the law!
It's a lounge/bar which serves mostly drinks, however, a few more snacks have been added since the opening.
The atmosphere in Oga's Cantina is out-of-control awesome! Every time I step foot inside, it instantly puts a smile on my face. The lights, the music, the funky bar, and the awesome drinks make it THE place to be in Galaxy's Edge.
Entertainment is a big part of Oga's Cantina and the music is played courtesy of DJ R-3X who keeps Oga's rocking with the latest inter-galactic beats. He definitely has moved on to better things from his days piloting the Star Tours attraction.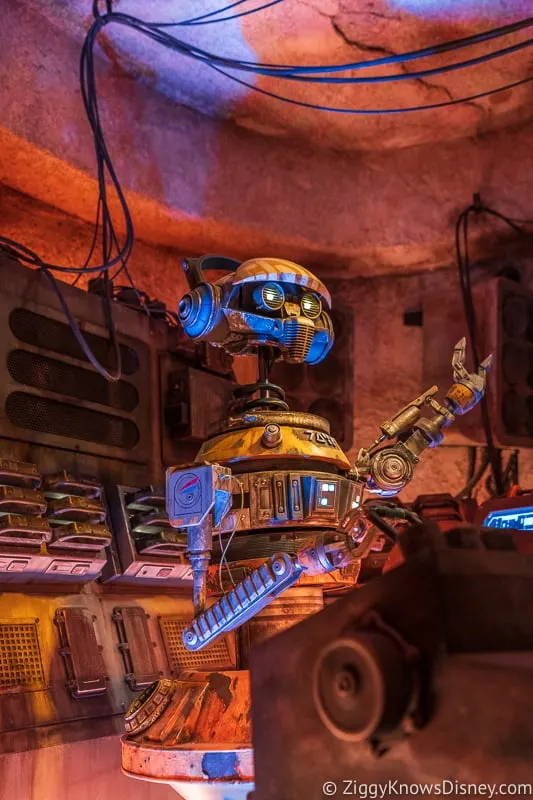 Both alcoholic and non-alcoholic drinks are featured at Oga's, and there are so many good ones, it takes a few trips back to try them all. The drinks are equally as impressive when it comes to presentation and taste. You weren't expecting "normal" looking drinks, and you won't get them here. Star Wars clearly puts its mark on them.
Our Favorite Alcoholic Drinks are:
The Outer Rim
Fuzzy Tauntaun
Jedi Mind Trick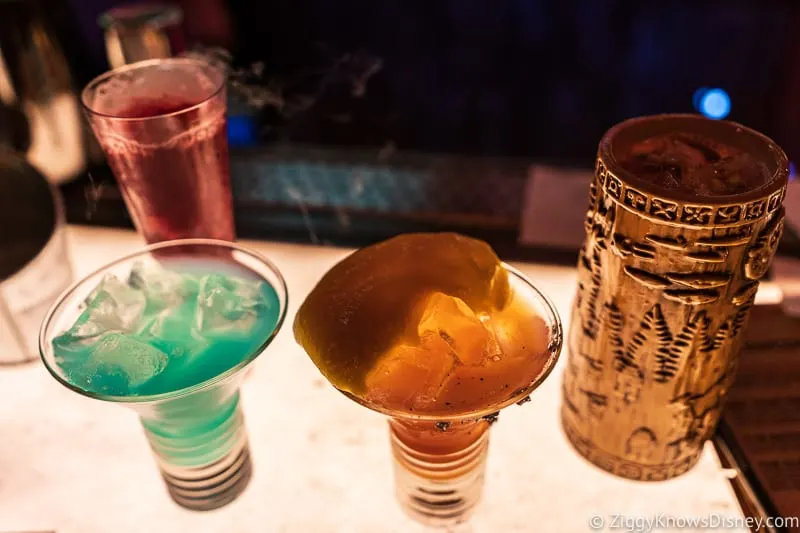 Kids will also have a great time here as there are plenty of non-alcoholic drinks which are a blast to get.
Our Favorite Non-Alcoholic Drinks are:
Cliff Dweller
Blue Bantha
Jabba Juice
As far as snacks go, don't forget to try Oga's Obsession! It's definitely on our list of the Best Food Items in Galaxy's Edge and very addicting!
This is a super fun place to just go and hang out and MUST be experienced when visiting Star Wars Land. Just make sure you get a reservation as demand is extremely high. In any case, it's a place you absolutely can't miss!
To learn more about how to make Reservations and a complete guide, read more about Oga's Cantina menu and our review here.
Ronto Roasters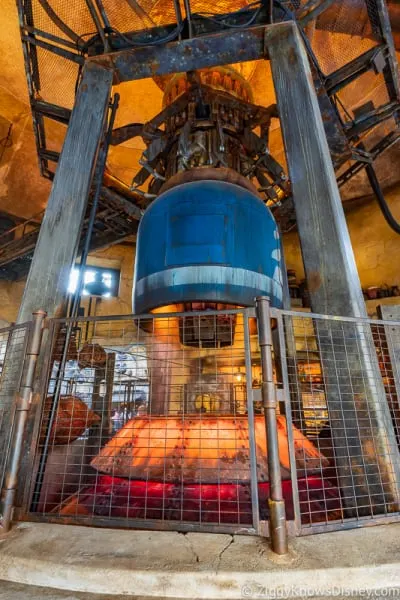 This is the centerpiece of the marketplace in Black Spire Outpost and one of the most visually interesting places you'll find during your trip to Galaxy's Edge due to the gigantic pod-racing engine/barbecue pit smack dab in the middle of the restaurant.
Droids are a part of this experience as Ronto Roasters is run by Bakkar and his droid: 8D-J8, who slowly turns a spit, roasting the meat over the barbecue pit and making for some truly mouth-watering sandwiches.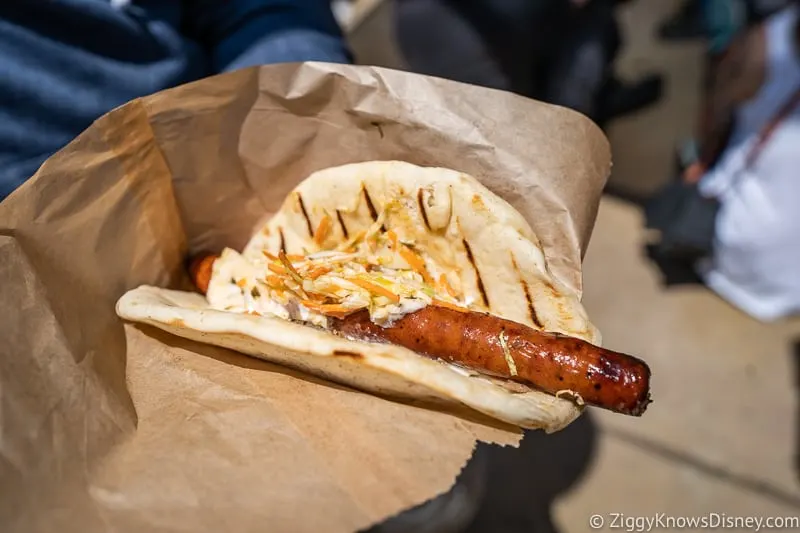 Food choices include: Ronto Wrap, Ronto Morning Wrap, Ronto-less Garden Wrap, Nuna Turkey Jerky, and Ronto Chips.
Drinks: Tatooine Sunset, Sour Sarlacc and Meiloorun Juice.
We didn't like everything here, but the Ronto Wrap is amazing (our absolute favorite thing to get in Galaxy's Edge), and must be tried!
Check out our complete look at Ronto Roasters including a Full Review and Menu.
Kat Sakas Kettle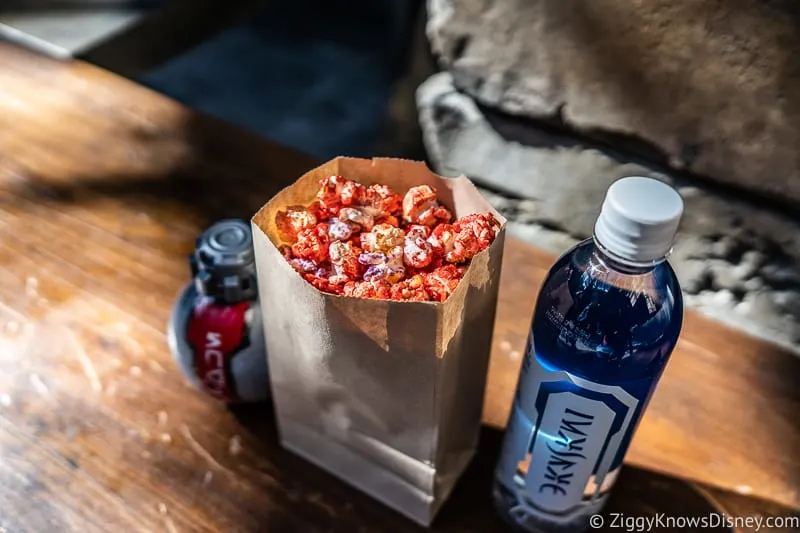 At Kat Saka's they have a specialty mix of Popcorn called the Outpost Popcorn Mix. It's like eating fruit loops and popcorn mixed which many people like but I find a bit too sweet.
Recently they also have introduced new flavors: a green-colored popcorn which tastes like butter flavor (Disneyland), and a Chocolate Popcorn with Crait Red Salt (Disney World).
I wish there was more here, but they are nice crunchy snacks if you get the munchies while visiting Star Wars: Galaxy's Edge.
Even being on a far off planet, you know soft drinks have to be somewhere in Galaxy's Edge and one of the things people have been talking about are the unique Coca-Cola products in the shape of thermal detonators: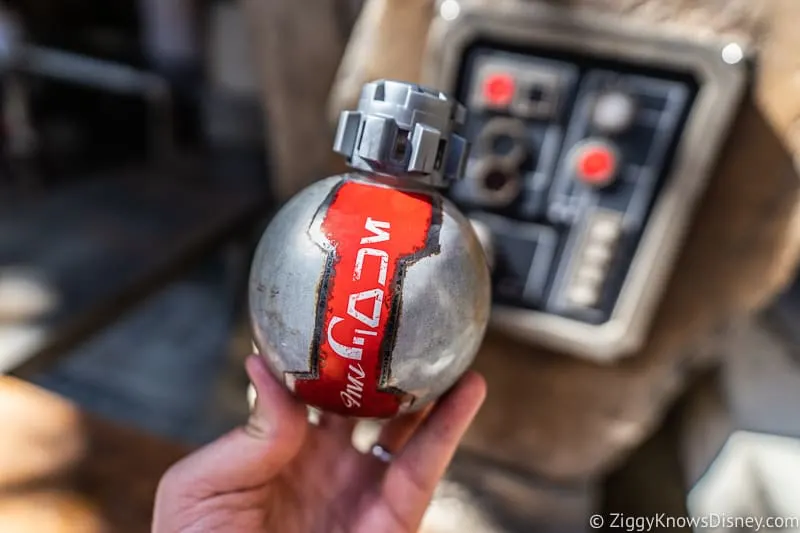 They are more expensive than regular sodas in Disneyland, but they are also way cooler. I'm more into the unique and specialty drinks you can find in Galaxy's Edge, but if you are looking for a coke, this is the way to do it!
Milk Stand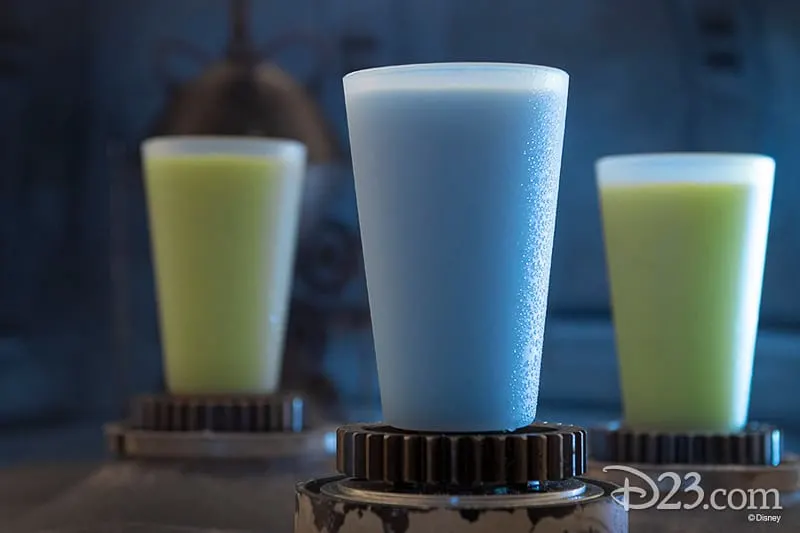 One of the things everyone tries when visiting Galaxy's Edge is the 2 kinds of milk served at the Milk Stand: Blue Milk and Green Milk. You can now drink the same stuff you've seen in the Star Wars movies, and happens to be the most controversial snack in Black Spire Outpost.
Both types of milk are dairy-free and a mixture of coconut and rice milk, but we don't happen to be very big fans of either. Try it just for the sake of trying it, but that might be all you need to do.
Check out more about the blue and green milk with a full review on our Milk Stand page.
Mobile Order
Since you will most definitely be on a time crunch while visiting Galaxy's Edge, one thing you can use to your advantage to save time is Mobile Order.
Instead of waiting in line to get food, Mobile Order allows you to order what you want ahead of time. When you are ready to eat, go to the dining location and pick up your food, essentially skipping the line altogether.
Mobile Order is available in the following dining locations in Star Wars: Galaxy's Edge:
Docking Bay 7 Food and Cargo
Ronto Roasters
Milk Stand
To use Disney's Mobile Order service:
Download the My Disney Experience app on your phone.
Browse to the dining location of your choice
Select the food items you want from the menu
Double-check your order
Purchase your order
When ready to pick up your food, tap: "I'm here—prepare my order."
Get your food
Mobile Order is a big time saver and can help you in Galaxy's Edge or any of the Disney parks!
Galaxy's Edge Shopping and Merchandise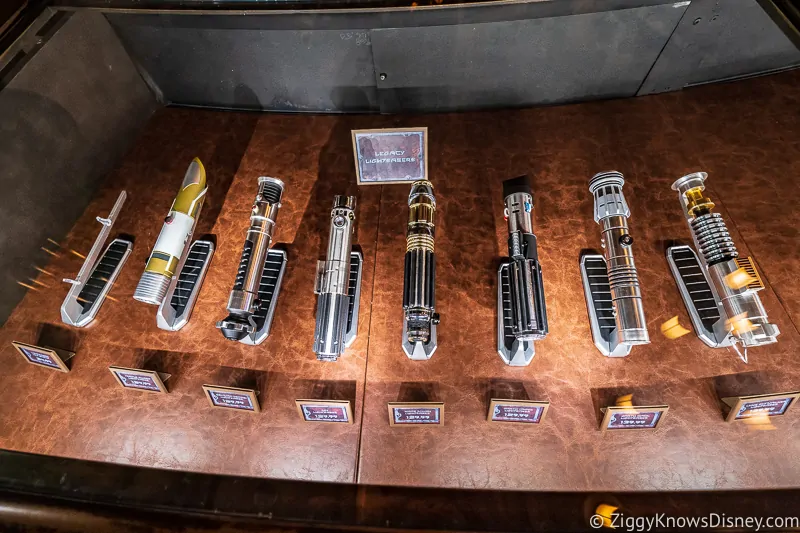 Of course, you can't leave Galaxy's Edge and go home without something to prove you were actually there. Don't worry, there isn't a shortage of merchandise unique to Galaxy's Edge and the marketplace in Black Spire Outpost is filled with shops.
Shopping here is not only limited however to simply picking something out and buying it, and besides your traditional shops, there are 2 full-on experiences for Building a Droid (Droid Depot) and Building a Custom Lightsaber (Savi's Workshop)!
Don't forget the Galaxy's Edge Legacy Lightsabers in Dok Ondar's, as well as the amazing animatronic of the proprietor himself.
Merchandise Shops in Star Wars: Galaxy's Edge include:
Black Spire Outfitters
The Creature Stall
Resistance Supply
First Order Cargo
Toydarian Toymaker
Dok Ondar's Den of Antiquities
Droid Depot
Savi's Workshop
We're going to talk briefly about all the different stores here, but you can read our full Star Wars Land Shopping and Merchandise Guide for more info on all the cool gifts you can bring home!
Black Spire Outfitters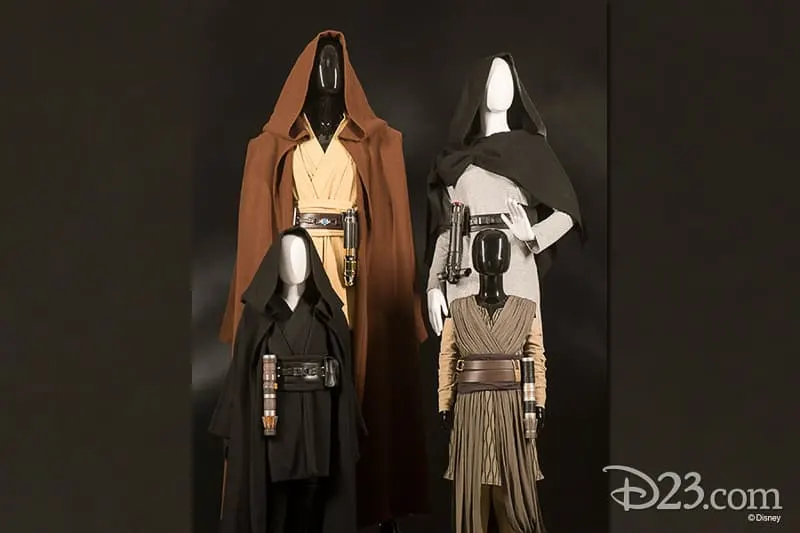 In Black Spire Outfitters you will find a variety of customizable Star Wars gear, allowing you to dress as either the Sith or Jedi. You can find gear very similar to what the cast members were.
Resistance Supply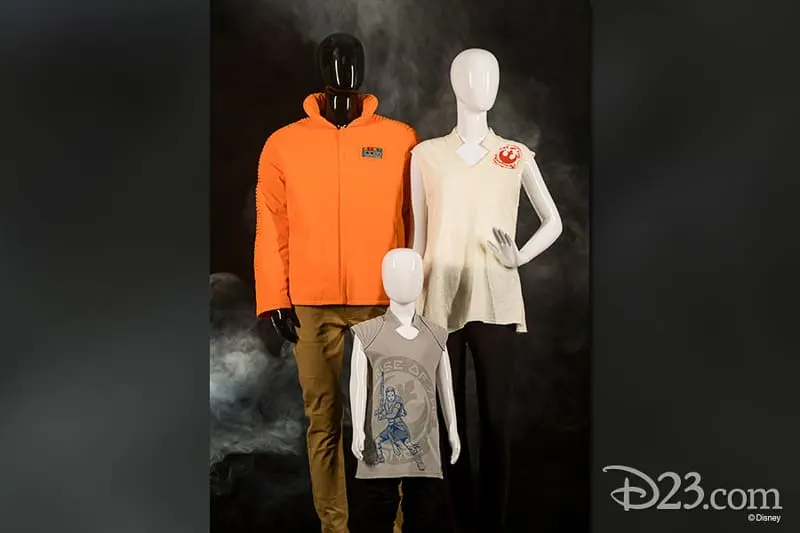 Supporters of the Resistance will feel right at home. Look for all types of clothing, badges, gear and more…
First Order Cargo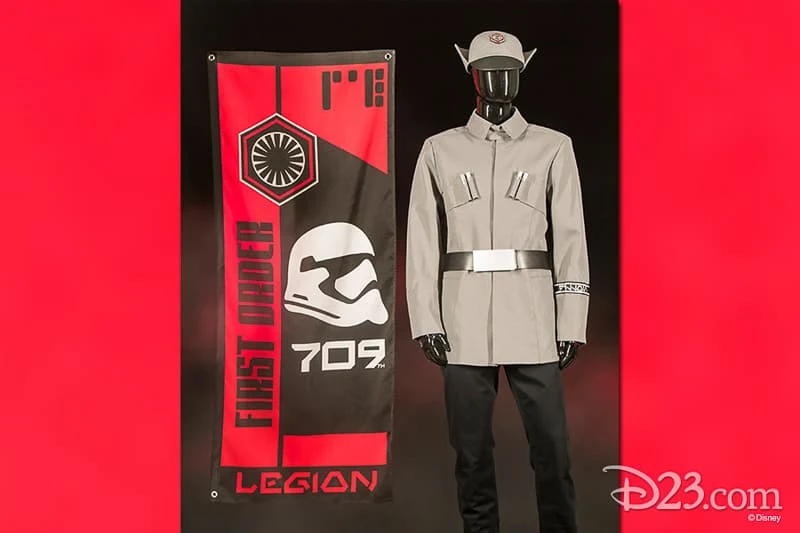 First Order Cargo is similar to Black Spire Outfitters but it's stocked with gear for those with the First Order!
Toydarian Toymaker:
Lots of Star Wars artisan-style plush characters, wood and tin toys, and musical instruments. Have you ever wanted to jam out on the instrument the aliens were playing in the Mos Eisley Cantina in "A New Hope"? Now you can!
If you don't have time to practice, no worries because the instruments can be played manually or with the already pre-programmed music.
The plushes here are pretty cool and come in the shapes of Stormtroopers, Kylo Ren, Rey, Yoda, Finn Chewbacca and more. They will be a hit for sure with young travelers to Star Wars: Galaxy's Edge!
The Creature Stall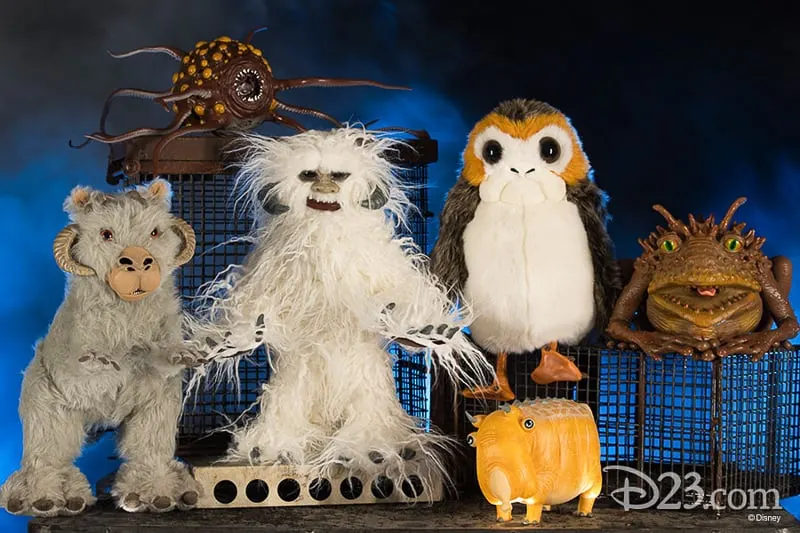 Want to take home some furry friends from Galaxy's Edge? There are plenty of plushes of recognizable characters from all the films like Tauntauns, Porgs, and Wampas, Worrts and more. They all have various functions like movements and sounds.
The Creature Stall is run by an Amani named Bina, but you probably won't find her around as she's always out looking for more creatures to sell in her shop.
TIP: Don't miss the sleeping Loth Cat in the cage in the middle of the store. Don't wake him he's sleeping, and he has some little friends with him!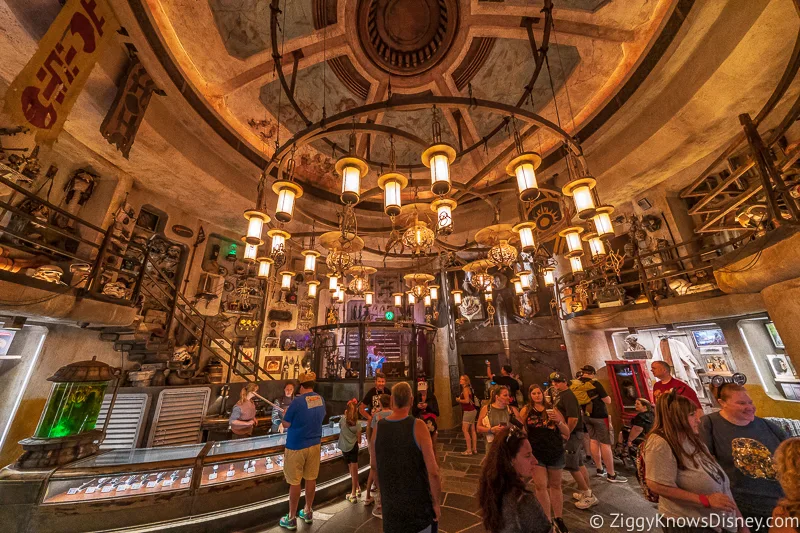 You may remember the reference of the 245-year old collector Dok-Ondar from Solo: A Star Wars Story. Well, he's in charge of the black market in Black Spire Outpost, so if you are looking for the rarest collectibles in the galaxy, this is the place to be.
You'll get to see him as he's in the store as an animatronic figure, and he interacts with guests and cast members who come near. He is one of the most impressive animatronics I've ever seen and probably even better than the Hondo figure in Smuggler's Run. Try to barter with him if you are looking for a deal.
One nice thing is that his collection is always different as Disney plans on continuously updating what he has in stock, so if you see something you like now, grab it as it might be gone next time.
The Legacy Lightsabers are the biggest draw at Dok Ondar's, as well as the Kyber Crystals that you can use to modify your custom-built lightsaber from Savi's Workshop.
Holocrons are also a big part of Dom Ondar's collection, which are ancient relics used to give power to both the Jedi and the Sith. They will hold secret information that can only be discovered by using the Kyber crystals to unlock them…
Major items for sale in Dok Ondar's Den of Antiquities include:
Legacy Lightsabers
Kyber Crystals
Holocrons
Jedi and Sith Relics
Star Wars Artwork
Jedi and Sith Busts
Star Wars Masks
This is hands down the best shop in Black Spire Outpost if you are looking for cool and interesting Star Wars collectibles. The atmosphere is awesome and you can browse around and spend hours just trying to figure out all the dozens of Star Wars Easter eggs.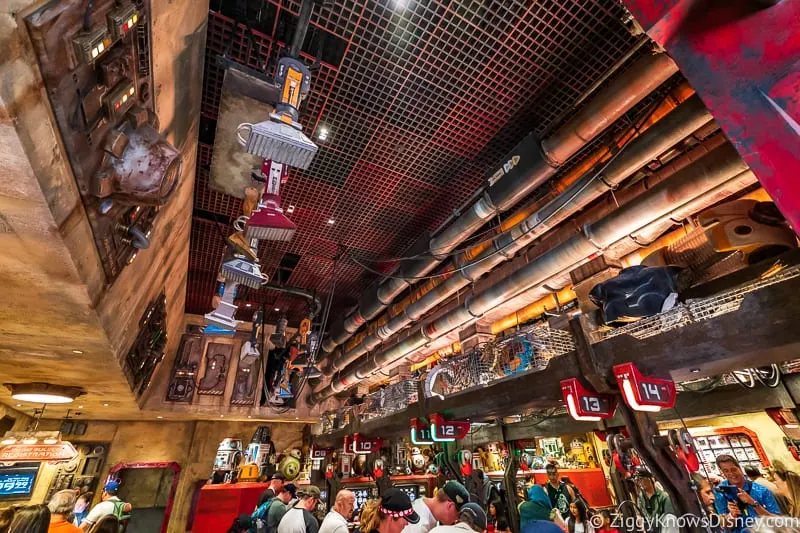 Ever want to take home your very own functioning BB-8 or R2-D2? Well now you can at the Droid Depot.
Here you build your very own R or BB Series droids from a tech-savvy Utai named Mubo. He and his helpful staff want to help you choose the perfect droid for you which will be totally customizable.
Choose the parts you want from the conveyor belt that passes overhead and follow the instructions. Each droid is approximately 12 inches tall and can be guided by remote control. The best part is the droids have interactive capabilities within Galaxy's Edge, helping you to unlock more secrets.
Build Your Own Droid costs $99.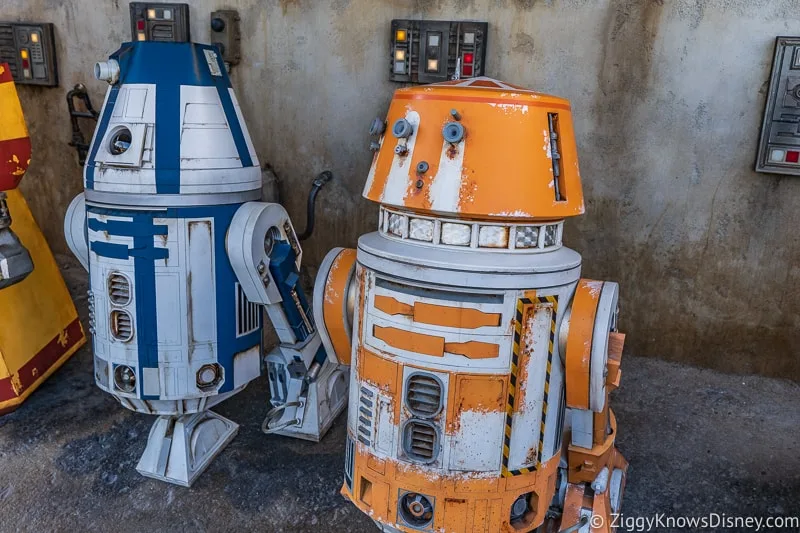 It's a really fun time and another experience that is a winner with kids!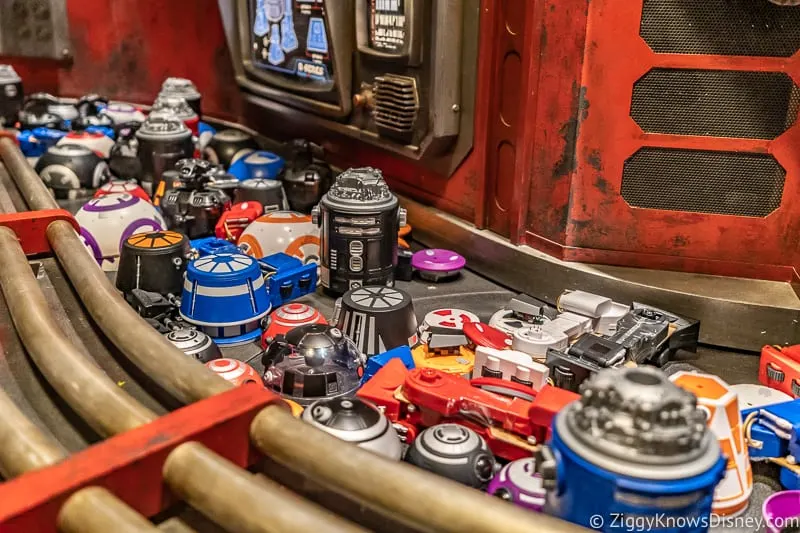 Even if you're not buying anything, a visit to the Droid Depot is totally worth the time. It's really impressive to stand there and see all the droid parts pass by either overhead or in front of you.
Read our detailed Droid Depot Guide and How to Build a Droid in Galaxy's Edge.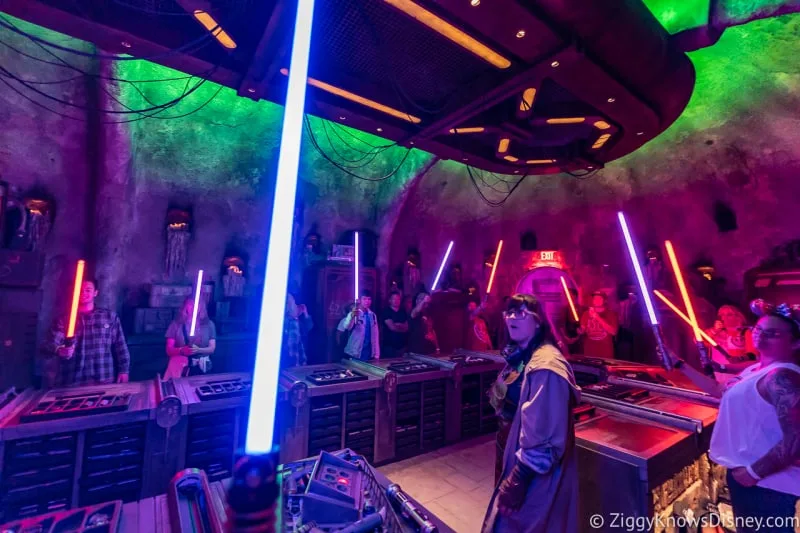 While all the other merchandise is cool, the hand-built custom lightsabers are what I wanted to get the most!
The Jedi supporter Savi, runs this workshop with fragments and parts for lightsabers he gathers from around the galaxy. His followers "the gatherers" help you choose and build your very own personalized lightsaber.
Part of a multi-step process, up to 14 guests enter around the workshop bench at a time and be able to customize wither own lightsaber. There are 4 different stories to choose from each with its own elements of the force. You then choose the type of cyber crystal you want to insert and there you have it.
Lightsabers from Savi's Workshop cost $200 (plus tax).
If you can only do one experience in Galaxy's Edge, this just might be the coolest and the one that really pulls you into the story. Even though it is expensive, it's the single coolest thing you can buy and something you will never forget!
We wrote a detailed explanation about Savi's Workshop and the lightsaber building process and our experience there if you want to know more.
Star Wars: Galaxy's Edge Maps
Of course, if you are going to get to do all these experiences in Star Wars Land, you're going to need to know your way around. Thankfully has given us a map of Star Wars: Galaxy's Edge to get around!
One way to see the map for Star Wars: Galaxy's Edge is by using the My Disney Experience app or the Disneyland app which provides the digital versions.
Here is the Star Wars: Galaxy's Edge map in Disney's Hollywood Studios: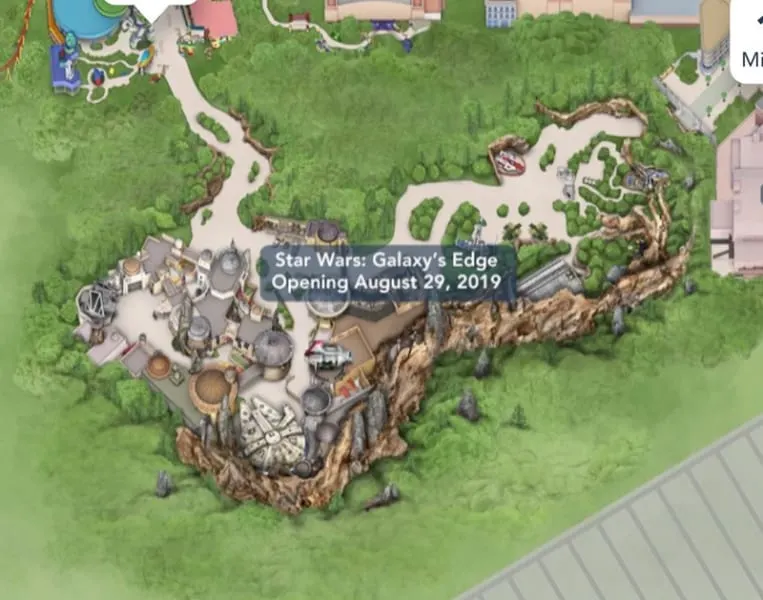 Black Spire Outpost: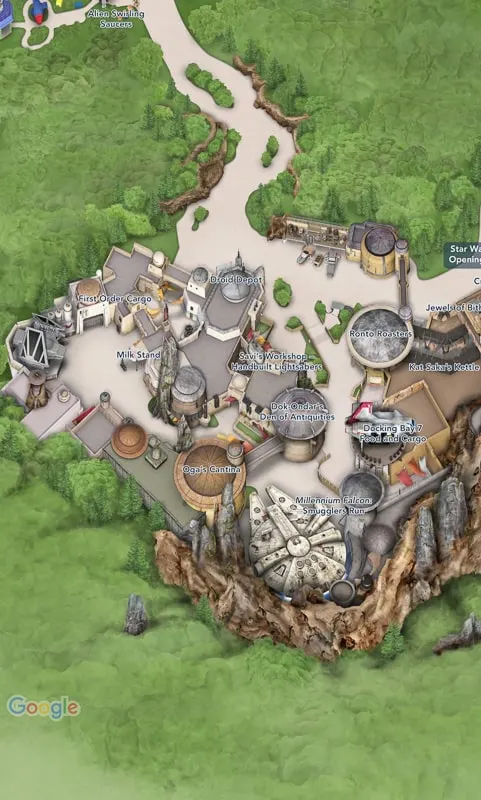 Here is the area near Rise of the Resistance: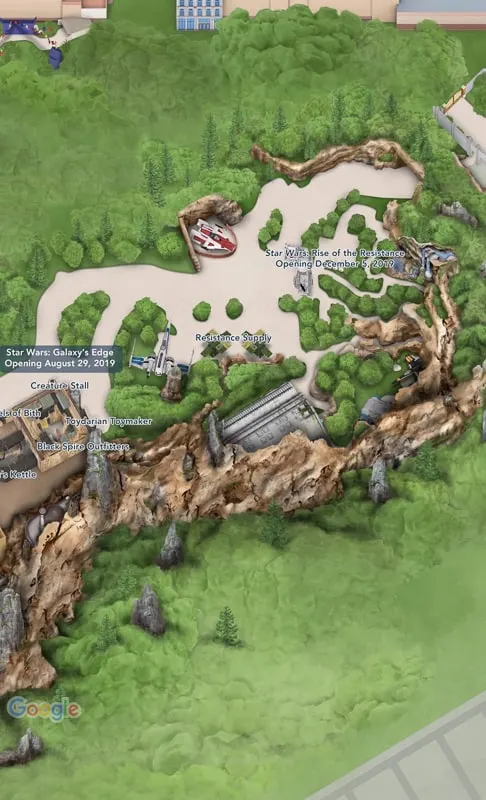 Disneyland Galaxy's Edge Map:
Here is the digital version of the map on the Disneyland app: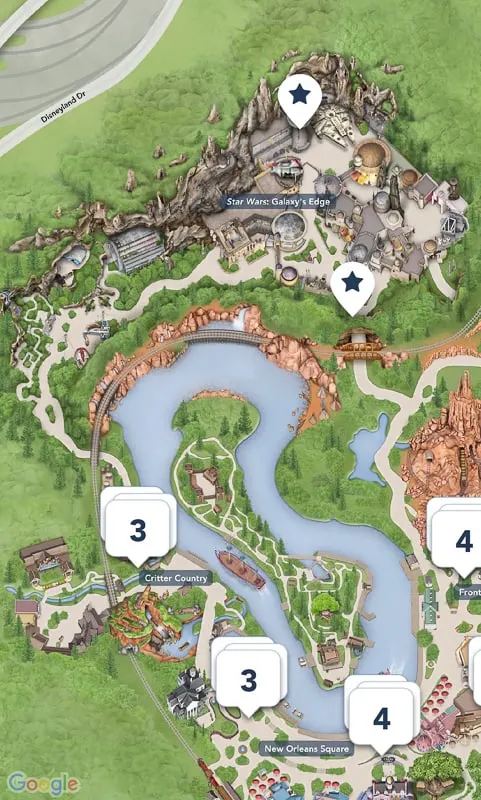 Disney has also released a Disneyland Guidemap with Star Wars Galaxy's Edge worked into the top left corner: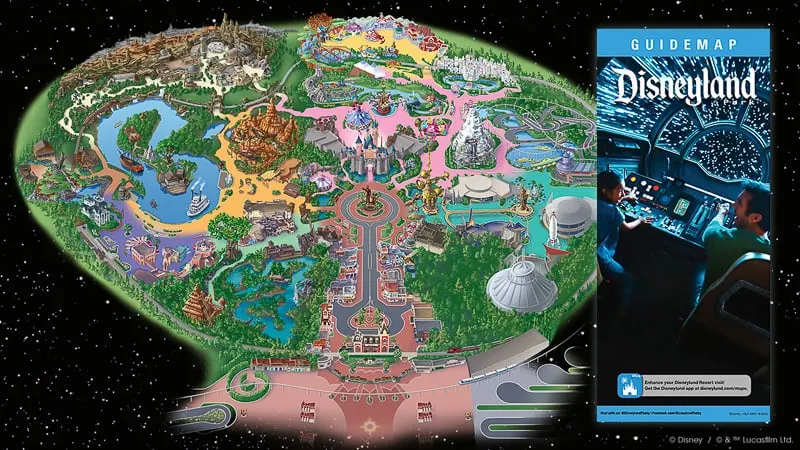 Here's a close-up view: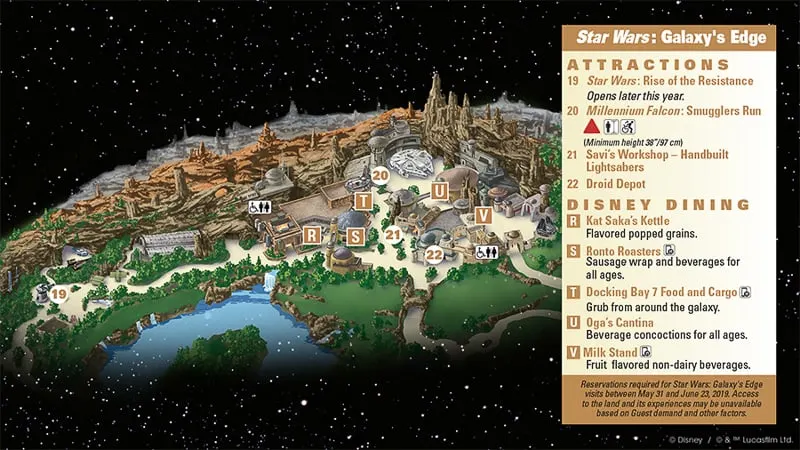 For a more detailed look, read our guide to the Star Wars: Galaxy's Edge maps here.
Galaxy's Edge Characters
Of course, it wouldn't be a real Star Wars Land if it wasn't filled with strange, alien characters, and that's what makes Star Wars: Galaxy's Edge so unique. Let's take a look at who you can expect to find on your visit there:
Which Star Wars Characters are in Galaxy's Edge?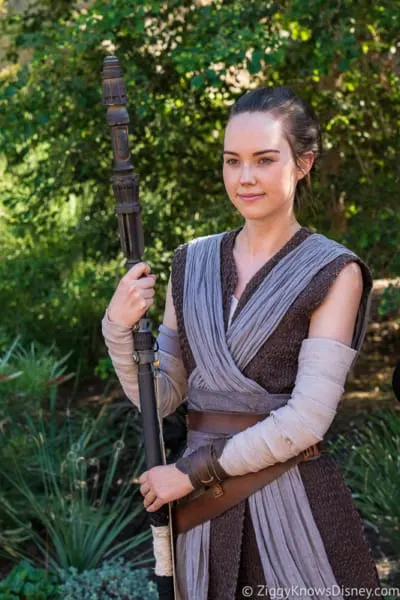 Be on the lookout for some of your favorite characters from the Star Wars films, as many of them are wandering around Galaxy's Edge and will bump into you from time to time.
Kylo Ren – Kylo is the two main characters of Galaxy's Edge (Rey is the other). At times he is walking around with an escort of stormtroopers looking to turn guests to the dark side of the force. He arrives from the parked TIE Echelon parked on the stage at the far end of the land and is really fun to watch as he interrogates people. He stays in the streets of Black Spire Outpost.
Ren is also present in Star Wars: Rise of the Resistance ride and is aboard the same star destroyer as you, and chases you around the ship trying to stop you from leaving.
Rey – Rey is a huge part of Galaxy's Edge as Disney is really promoting the characters from the new trilogy. You will find Rey as a walk-around character in Galaxy's Edge but on the Rise of the Resistance side of the land.
Like Kylo Ren, Rey is also a big part of the Rise of the Resistance ride and she gives you your mission briefing before going up to the star destroyer.
Chewbacca – I'm glad Chewbacca was included in Star Wars Land, and he is one of the only links from the old trilogy to the new one. You'll find Chewie walking around on the Resistance side of Galaxy's Edge, usually working on the starships.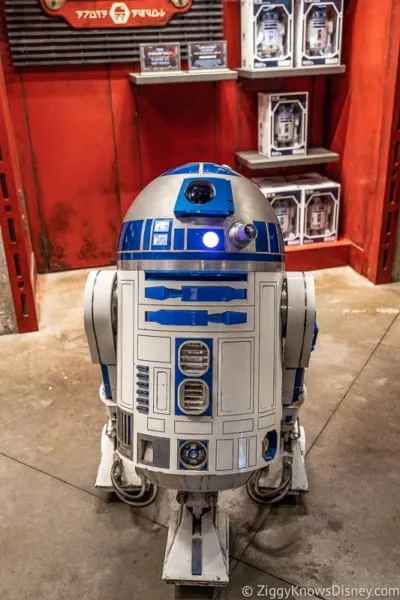 R2-D2 – He is a new addition to Star Wars: Galaxy's Edge and is the first free-roaming droid that Disney is now testing. You can meet R2-D2, take a picture with him and talk to him. Read our guide to free-roaming droids in Galaxy's Edge for more details.
Stormtroopers – These guys are hilarious and you will find them just wandering around the streets of Black Spire Outpost almost at all hours of the day. Try not to draw any attention to yourself when they are near or you might suffer the consequences!
BB-8 – BB-8 makes an appearance in the Rise of the Resistance pre-show to help Rey brief you on the mission. His animatronic is positioned high on a shelf, much in the same way the Rocket animatronic is set up in Guardians of the Galaxy – Mission: BREAKOUT!
Poe Dameron – Poe will be giving safe passage to your shuttle at the beginning of the Rise of the Resistance attraction, and will probably be a part of the Resistance forces is the end of the ride.
Finn – Finn makes an appearance in Rise of the Resistance and is part of the reason you are able to escape from the ride!
Hondo Ohnaka – You know Hondo from the animated series Star Wars: The Clone Wars and Star Wars Rebels. Now you'll be working for him on a secret smuggling mission, in the Millennium Falcon: Smuggler's Run ride. Get ready to see one of the most impressive audio-animatronic figures in the ride's pre-show area.
Dok-Ondar – Arguably even better than the Hondo Animatronic. He runs the black market in Black Spire Outpost and you can find and even barter with him in his shop, Dok Ondar's Antiquities. His animatronic is so fun to watch and I could sit there for hours watching his all subtly different head movements.
R-3X / Rex – This is hands down the most fun character in Galaxy's Edge. He's retired from being a guide on Star Tours and now you can find him entertaining guests in Oga's Cantina.
Vi Moradi – She is the Resistance spy the stormtroopers and Kylo Ren are looking for. You'll see her in the streets of Black Spire Outpost from time to time, hiding behind walls, trying not to be seen by the First Order.
Zabaka – She runs the Toydarian Toymaker shop.
Bina – She runs The Creature Stall which offers some of the rarest creatures in the galaxy. Don't expect to find her when you go, she'll be out looking for more to add to her collection.
TIP: If you run into any of the walk-around characters, make sure to go up to them and ask for a picture. Of course, depending on how you ask, you might not get a nice response, but you should be able to get a photo with them.
Cast Members
What makes Galaxy's Edge a truly unique experience is the interactivity of the cast members who each have a role to play on Batuu, all with different stories to tell. It's really fun interacting with them because they have to stay "in-character" and if you ask them something else about Disneyland or anything on the planet Earth, they will look at you strangely and pretend to not know what you are talking about.
Try to mess with them and get them to trip up, I haven't been successful yet! All this really makes you feel like you are on another planet.
Just be careful who you talk to, some are Resistance supporters, while others are loyal to the First Order!
Here's a look at their uniforms: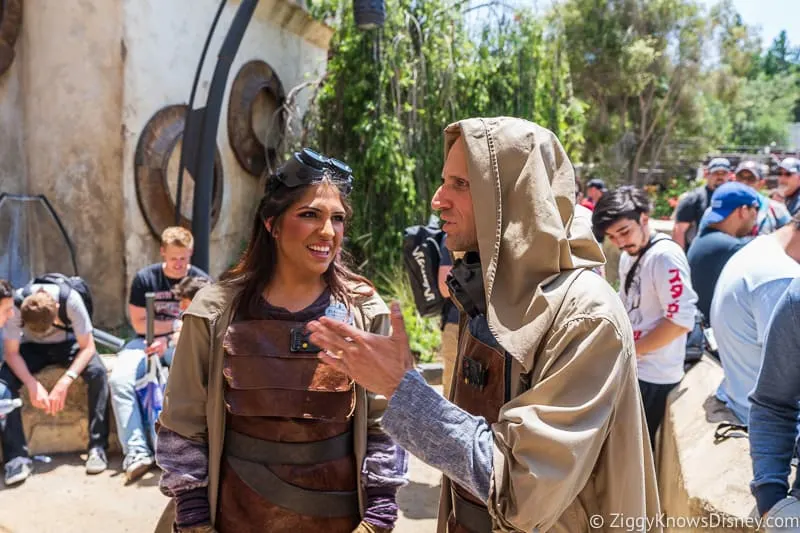 There are many different styles, and cast members are free to customize their outfits in dozens of different ways, which they can do on a daily basis.
Language on Batuu
While Batuuans are familiar with English because of the vast number of tourists visiting, their native language is Aurebesh, which even has it's own alphabet that you can read on the many signs throughout the land.
Natives to Batuu will greet you in Aurebesh and it's fun to pick up a few words before your visit which will help you to feel at home. Here is a cheat sheet for Aurebesh to English translation:
"Bright Suns" – A Morning Greeting (during the morning hours)
"Rising Moons" or "Bright Stars" – Evening Greetings
"Til the spires", "May the spires keep you" or "Good journey" – Goodbye
"Only the ancients know" – I don't know
"Datapad" – Mobile phone
"Hydrators" – Drinking fountains
"Refreshers" – Restrooms
"Ignite the Spark" – Resistance greeting
"Light the Fire" – Call back to Resistance greeting
Play Disney Parks App in Galaxy's Edge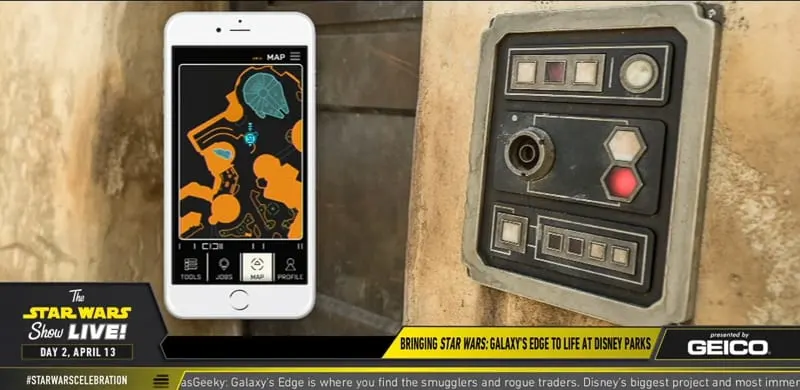 When Disney launched its new Play Disney Parks app and introduced it into current Disney attractions like Seven Dwarfs Mine Train, Slinky Dog Dash, and Peter Pan's Flight, it was all just a test for what it has brought to Star Wars: Galaxy's Edge.
The Play Disney Parks app is a way for guests to interact with Star Wars: Galaxy's Edge in dozens of locations throughout the land, plus be able to translate the Aurebesh language.
Just download the Play Disney Parks app on your mobile device and it will tell you which parts of your environment are interactive. This will add to the story and make Galaxy's Edge different every time you visit with new things to explore.
There are 4 functions you'll be able to do: Hack, Scan, Translate, and Tune. Read the native alien language, spy on the fellow residents of Galaxy's Edge, break codes and hack into surveillance boxes. There will even be specific missions for either the First Order or Resistance that can only be carried out by using the Play Disney Parks app.
We're just at the beginning of this type of interactivity and as Star Wars Land continues to evolve, expect Disney to work this app more and more into their plans.
Read all about how the Play Disney Parks app and Star Wars Galaxy's Edge interact together in our detailed explanation.
PhotoPass
Disney is always trying to look for new ways to increase the guest experience in the parks, and one guest favorite here is PhotoPass which allows you to take home memories of your time in Galaxy's Edge.
There are all sorts of cool special Star Wars shots, you can get from various spots in Galaxy's Edge including:
In front of the Millennium Falcon
Above the Millennium Falcon
In front of the TIE Echelon
In front of the X-Wing
Near the Speeders
Many of these photos are what Disney is calling: "Magic Shots" which put them right in the middle of the action. Some of these include: X-Wings flying over Batuu, Porgs, a Kowakian monkey-lizard.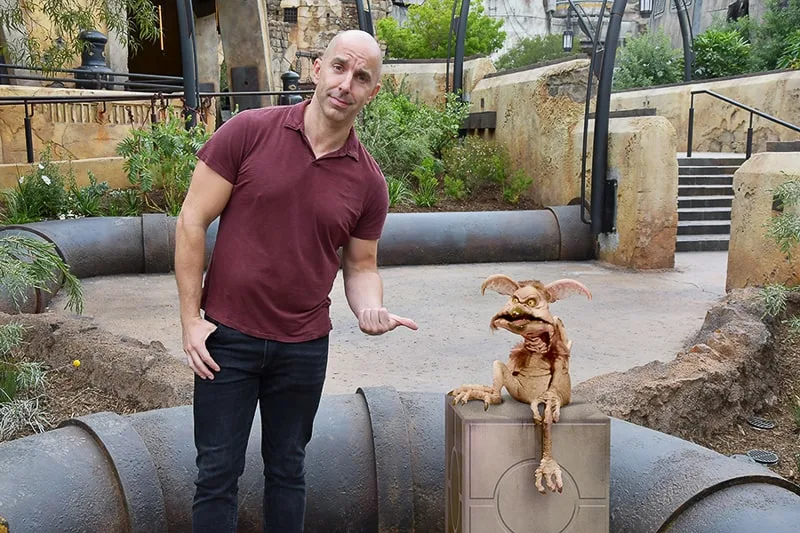 Another cool option is the Tiny World Magic Shot which captures your photo together with Black Spire Outpost and its surrounding landscape in a single image.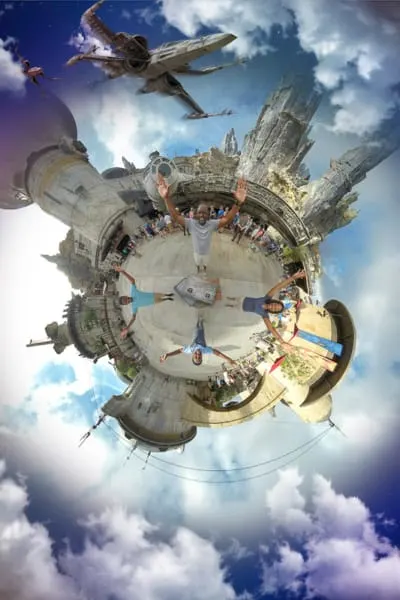 Galaxy's Edge Planning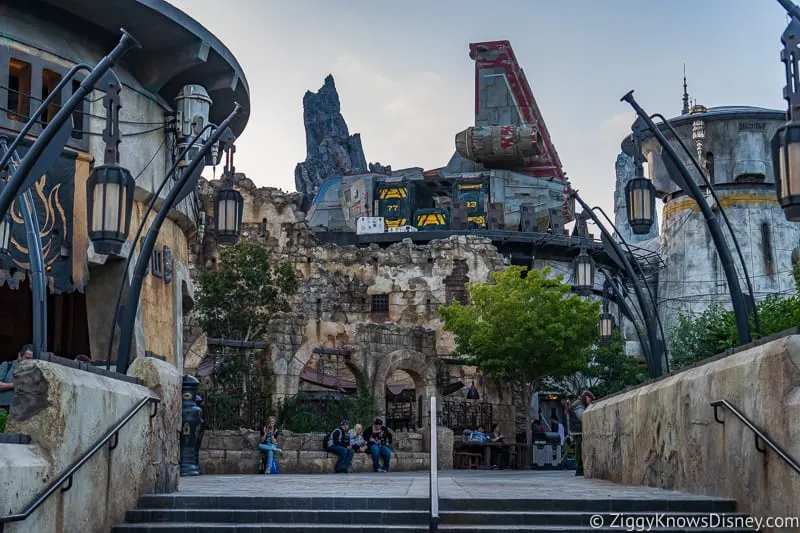 Now that you know some of the details about Star Wars Land and are excited to go, there are still some general tips you need to keep in mind before visiting Galaxy's Edge.
Come Early
This touches into our Galaxy's Edge touring strategy, but we thought it was so important to your visit, we wanted to remind you here too. Even though it isn't the best feeling in the world waking up early on vacation, if you show up early to Galaxy's Edge you will have a much superior time visiting.
This is true especially after Rise of the Resistance is now open and boarding passes are necessary to ride. If you don't come early, you won't get to ride Rise of the Resistance.
In the beginning, the lines were much shorter in the morning, however, now that isn't the case anymore. Unfortunately, if you want to ride Rise of the Resistance, you have no choice in the matter. It will be worth whatever sacrifice it takes to roll out of bed when many guests are still sleeping. Trust me.
Come Late
Wait a minute, you just said to come early, now you're saying to come late? I'm going to preface this by saying as of writing, this tip is only valid if you aren't going to be riding Rise of the Resistance.
Since the crowds have been so large since the opening of this new ride, we've found the bigger crowds tend to be in the morning, and the evenings slow down significantly. This is because a good portion of people who have already experienced Rise of the Resistance have already left for the day.
You can use this to your advantage by saving Smugglers Run and other experiences until the end of the day when there are fewer crowds and you'll have more space.
Take Your Time
This is maybe the most important to me. Disney Imagineers spent so much time to craft this one-of-a-kind world, and there are just so many hidden details around every corner. Don't be of the "check-list" mindset the whole time you are visiting, take some time to stop every now and then and take it all in.
Have a Plan
Ok, I know I just told you to take your time and explore Galaxy's Edge, and I'm sticking to that. However, you will need to have somewhat of a plan laid out before you go due to the crowds and the best experiences needing reservations.
Make a list of the most important experiences you want to do while you're in Galaxy's Edge, prioritize them, and THEN spend the rest of your time exploring and taking it all in.
Make Reservations
This goes along with having a plan, but for experiences like Savi's Workshop, Oga's Cantina and Droid Depot, making a reservation is essential and could be the difference whether you even get in or not.
In Disney's Hollywood Studios, this now includes the potential for Genie+ reservations for Millennium Falcon: Smugglers Run or Individual Lightning Lane selections for Rise of the Resistance. This might be a good choice depending on what other rides you want to do in the park.
Since reservations are simple to make and free, why not take advantage of this to make sure you get to do what you want to most.
Dress Up
Guests visiting Galaxy's Edge are allowed to dress up in their Star Wars garb and it's actually encouraged. We personally love to see when guests "get into it" here and come all decked out dressed like their favorite Star Wars characters.
There are some restrictions to keep in mind however when dressing up such as (applies to guests 14 years old and up):
No masks, face paint or elaborate headwear
All robes or military-style attire
Full character suits
There are plenty of other outfits you can wear to get into the mood while visiting Batuu, and we highly encourage it.
Read our "What Can You Wear to Galaxy's Edge?" post for more detailed rules on the dress code in Star Wars Land.
Use the Hydrators
Thankfully Disney has installed multiple water fountains (Hydrators) throughout Star Wars: Galaxy's Edge and they're a convenient, cheap way to get water while visiting.
Even better, bring an empty water bottle with you and use them to fill up during your stay there.
Spend some time by the hydrators near the restrooms at the entrance to the market. There is a creepy surprise waiting for you there, so be patient!
Best Things to Do in Star Wars: Galaxy's Edge
There are a lot of awesome things to do and see in Star Wars: Galaxy's Edge, and there are very few on the list I would say are not worth doing. However, some stand above the rest and these are my absolute must-do things in Galaxy's Edge in order.
1. Star Wars: Rise of the Resistance – I was sure about this before it opened, and I'm 100% now after the opening. I'm putting this squarely at the top of my list.

After riding multiple times, we can confidently say Rise of the Resistance might be the best attraction in any Disney theme park anywhere. That's a pretty big compliment, but this is unlike anything you've ever experienced and deserves to be #1 when you come to Batuu.
2. Oga's Cantina – This place looks like it literally just fell right out of the real Star Wars universe. The atmosphere is amazing with great music, awesome theming and just an overall fantastic vibe.
The Drinks are just as good, and there is almost nothing on the menu I would tell you to stay away from
3. Millennium Falcon: Smugglers Run – Though some are down on this ride, we are not. We think it's an excellent second attraction to Galaxy's Edge that has gotten a bad rap because it had to be the headliner for the first months.

It's a very fun ride on maybe the most iconic ship in cinematic history. It touches all the right chords for us and has to be on your list of things to do.
4. Savi's Workshop – This is Disney merchandise taken to the next level. Everything about this experience, the secretive nature before you enter, the excellent storytelling inside and the actual lightsaber itself, all make Savi's Workshop a must-do!
5. Droid Depot – If you don't want to shell out the $200 for a lightsaber, you can compromise by building your own droid at Droid Depot. Yet another super fun merchandise experience which you and your kids will love.
When Should I Visit Galaxy's Edge?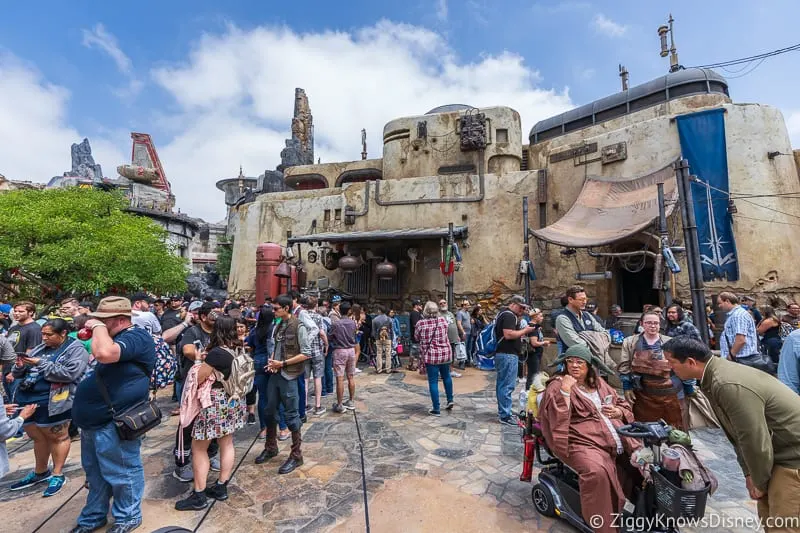 Now that you know what Star Wars Galaxy's Edge is all about and are excited about your trip, when should you go? We're going to share the current crowd forecast for Star Wars: Galaxy's Edge and when we think the best time to go is!
Before we get into the best time to go to Star Wars: Galaxy's Edge, make sure to read our post on The Best Times to Visit Disney World. Everything about choosing a date for your trip starts there and it will help you make the best decision based on your likes and needs.
Galaxy's Edge was famously in the news the whole summer in 2019 for its disappointing crowd levels. In fact, the entire theme park world was convinced that there would be record-breaking numbers of people in Star Wars Land during this time, yet that just never transpired for a number of reasons.
So what about now? When is the best time to go?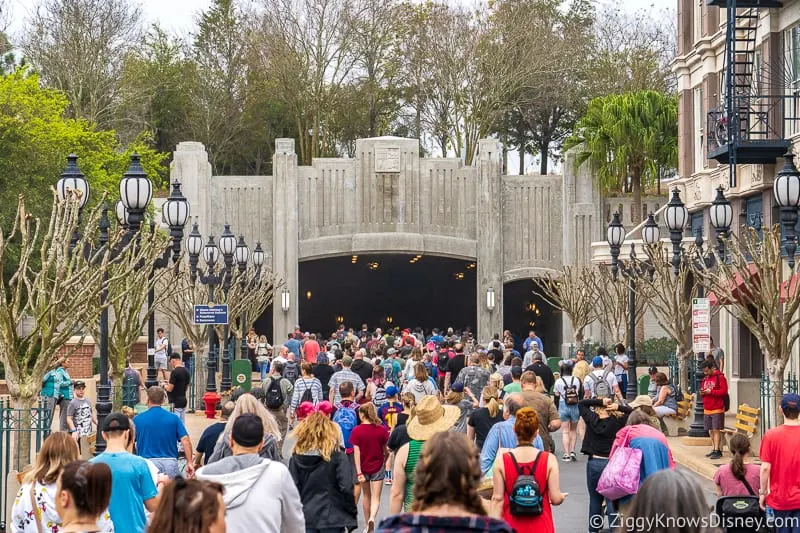 While it's true that crowds were low from June – October, already from November on, things started to pick up, including the end of that month drawing massive crowds of people into Black Spire Outpost.
Now with Rise of the Resistance open in Hollywood Studios and Disneyland, things are even more hectic.
If you are afraid of crowds, then I would wait a bit to visit Galaxy's Edge. Many guests who couldn't afford to make two trips to the Disney parks in the same year have put off going to Galaxy's Edge just for this new second attraction. That means you can expect the biggest crowds the new land has seen yet during this time.
Now if you're not scared off by crowds or this is the only time you have to visit, I wouldn't deter you from doing it. Go, and have a blast. I just feel if your schedule is somewhat flexible, you might have a better time waiting a bit.
Things have changed a bit so far in 2020. The year started off great with Star Wars: Rise of the Resistance is opening in Disney World and Disneyland, and both were having record crowds on an almost daily basis. January through mid-March were all extremely busy months, showing that fans were waiting for this new ride to visit Galaxy's Edge.
In our 2020 Disney World Crowd Calendar, we projected the high attendance to continue through the Spring and into the Summer break, with higher than normal crowds in all Disney parks in 2020. March and April are usually extremely busy months, especially during Spring Break.
That, however, all changed when the Disney parks closed down unexpectedly. Once the parks are finally reopened, we don't expect attendance to return to what it was overnight, but we do expect Galaxy's Edge to be the busiest area of Disney World, with guests returning for Rise of the Resistance.
We might even see the Virtual Queue used on all attractions if crowds get crazy.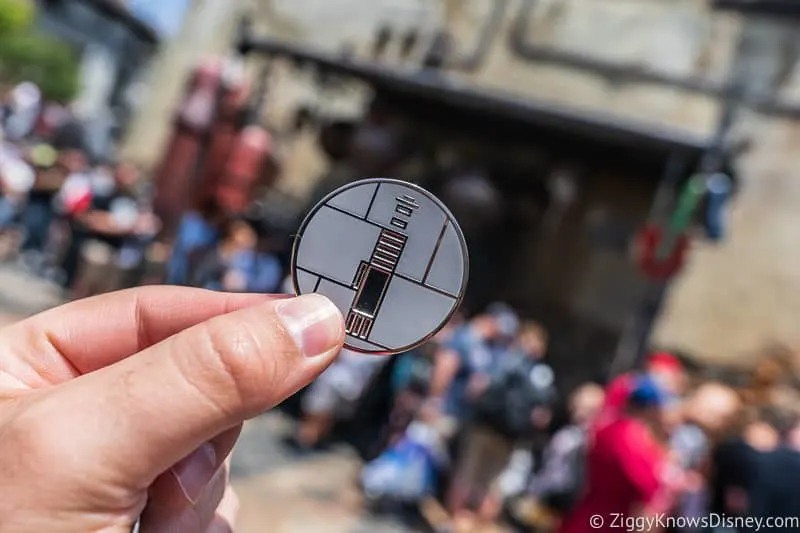 It's hard to say how many people will come back, and how long it will take attendance to return to somewhat normal levels. You might get a lull in crowds during the late Summer and into Fall. A lot depends on how the economy is doing and how many people want to travel.
Either way, If I was visiting Galaxy's Edge during any time of the year, I'd go for a mid-week date if possible.
Even though the kids will be off from school, we actually like the Summer as the best time to visit (for crowds, not heat) in 2020. People from outside Florida will be hesitant to take vacations far from home at first, and we expect the crowds to be lower than in 2019, and definitely lower than the beginning of 2020.
It's always good practice to get your hotel reservations ASAP as we don't know how many hotels will be running and it will probably be harder to get a room in the hotel you want to stay in.
2021 is definitely going to be even busier in the parks, so if you don't like crowds, you might want to go on the earlier side. In the end, you're just going to have to deal with some crowds visiting Galaxy's Edge, but more so in 2021 than 2021. It is finally a complete land, and people will come for its new revolutionary attraction.
If you are still undecided, read our post about if it's better to visit Disney World in 2020 or 2021?
However, in our opinion, Galaxy's Edge is such an awesome place that it's worth a visit no matter what!
Star Wars: Galaxy's Edge Touring Strategy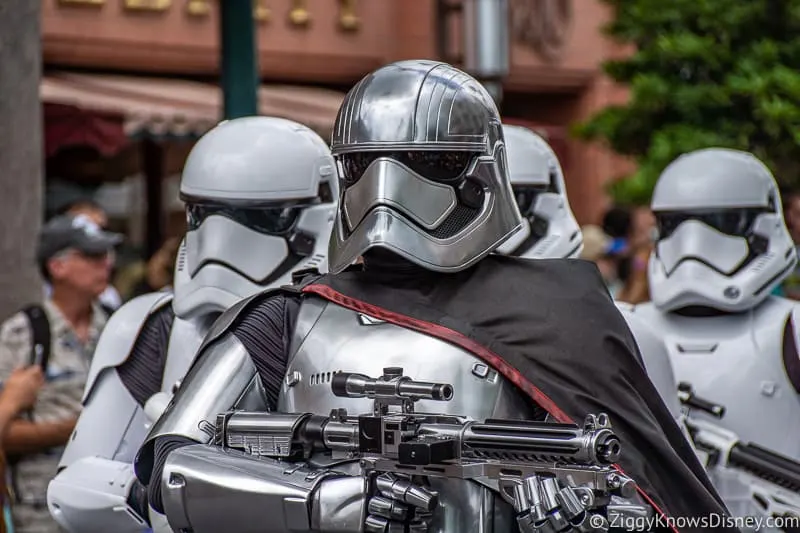 Now that you're here, what should you do when you go and in what order? How can you maximize your time while visiting Galaxy's Edge? We're going to do our best to explain to you which experiences you should do, in which order and give you a touring plan to help you cross off your checklist.
We're sharing with you two touring plans, one for Galaxy's Edge in Disney World, and another for Disneyland.
You also might want to check out our Hollywood Studios Touring Plans where we have 1-Day and 2-Day Itineraries for how to see and do everything in the park.
Disney World
The touring strategy for Star Wars Galaxy's Edge in Disney World will be slightly different from the one in Disneyland, but ultimately the same tips are going to get you the best touring strategy in both places.
First off, going early is critical. This is the absolute most important part of your touring strategy. If you go early, there will be fewer crowds for everything in Galaxy's Edge, meaning you will get more stuff done quicker. Period.
I know rolling out of bed before the sun comes up doesn't sound like the best way to spend your vacation, and I totally understand that. However, you will gain more time on the back end, and be able to enjoy Galaxy's Edge more if you aren't pushing fighting your way through the streets of Black Spire Outpost.
This becomes even more critical now with Rise of the Resistance now open. Since Rise of the Resistance is only accepting guests using the virtual queue, you will need to wake up early to secure a coveted boarding pass which allows you to ride.
If you really want to ride, you need to be inside the park by opening time. Anything after that and you run the risk of not getting on.
This is going to be the new Flight of Passage of Disney World attractions, and once it goes to a normal stand-by queue, you can expect wait times to be up in the 3, 4 and 5-hour time on busy days.
Before Rise of the Resistance, I said to do the "Experiences" like Savi's Workshop, Droid Depot or Oga's Cantina, and then leave Snugglers Run for after. But with Rise of the Resistance opening, it changes everything.
Rope Dropping Galaxy's Edge, do the things in this order:
Rise of the Resistance
Savi's Workshop
Oga's Cantina
Droid Depot
Millennium Falcon: Smugglers Run
Wander Galaxy's Edge exploring other shops, alleys, etc
Eat at Docking Bay 7 (do this at the end as it will be lunchtime
If you aren't interested in any of the building experiences, I would do Rise of the Resistance first, then Smugglers Run and then browse the other shops and get your food. This totally depends on which boarding group you get for Rise of the Resistance, so you may have to do some other things while waiting.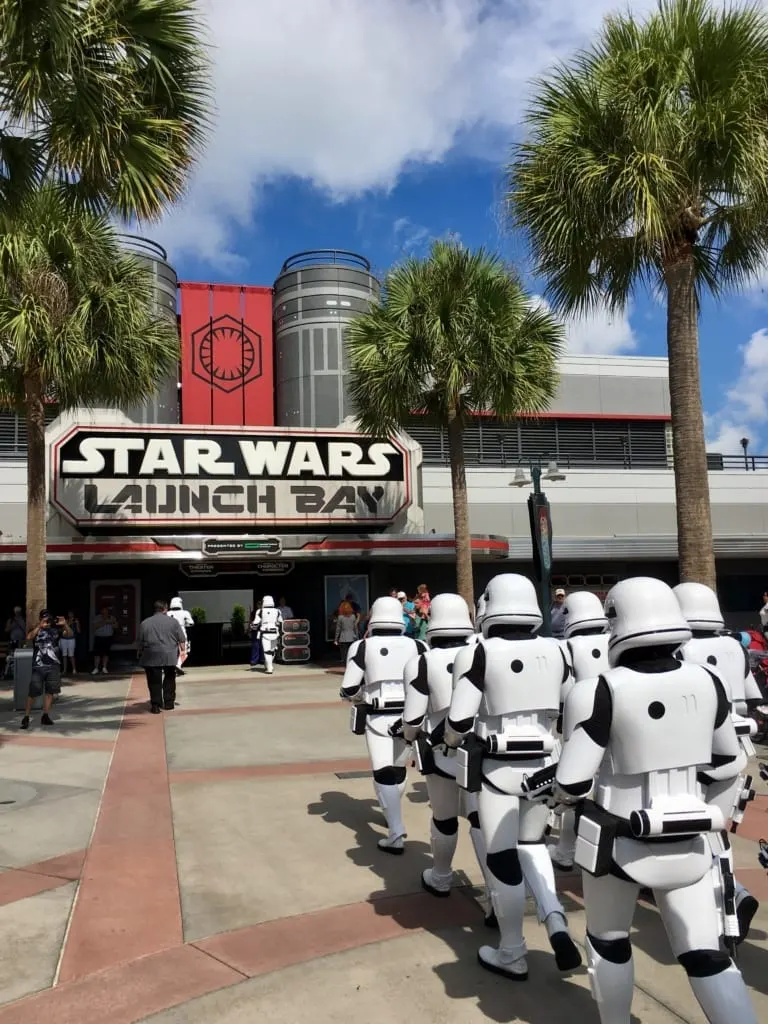 If you aren't a ride-person, rope drop one of Oga's or Savi's then do the other, and then follow my list above in order.
Read our Hollywood Studios Rope Dropping Guide for more details about how early to get to the park and what order to do all the attractions in.
Disneyland
Our touring plan for Galaxy's Edge in Disneyland is very similar to the one for Disney's Hollywood Studios.
If you want to ride Star Wars: Rise of the Resistance, you need to be there before park opening. Boarding passes sell out in minutes, and you won't be able to ride without one, so don't be late.
Assuming you get a boarding pass, you'll have to play it by ear depending on when your boarding group is called. If they are having problems with the attraction that day, even with a low number you might have to wait until after lunch, it all depends.
We would hold off doing Smugglers Run and the other experiences in Galaxy's Edge until later in the day if possible. Instead, we would concentrate on some of the other amazing Disneyland attractions while everyone heads back to Galaxy's Edge.
Our suggestions that we mentioned earlier for the order in which you should experience the Galaxy's Edge experiences in Hollywood Studios, still applies in Disneyland, so follow that for best results.
Where to Stay?
These are my hotel suggestions for visiting Galaxy's Edge in Hollywood Studios:
Disney's Boardwalk Inn
Yacht and Beach Club Resort
Swan and Dolphin
Caribbean Beach Resort
Pop Century Resort
Art of Animation
That is of course if you can visit by September 2023 and stay at the Star Wars Hotel right across the street. Guests there come to Galaxy's Edge on secret missions, giving you a completely different view of Star Wars Land. The Galactic Starcuiser is closing permanently on September 30, 2023.
Transportation
There are many transportation methods to reach Disney's Hollywood Studios and it's going to depend on which hotel you are staying at.
Bus – Walt Disney World Resort hotels provide bus services to and from all 4 Disney World theme parks, including Hollywood Studios. The bus is not my favorite transportation method in Disney World, but it's easy to do, can be taken from anywhere, and it's free. If you aren't staying close this will probably be how to get to Galaxy's Edge.
If you are trying to get to Hollywood Studios for park opening, buses start leaving from the resorts 1 hour before park opening. Make sure you are on that first bus or you won't be in that first group of guests.
Driving – If you are staying off-site or live in the Orlando area, driving to Hollywood Studios is a very popular choice.
Cars tend to back up at the parking lot entrance before park opening, so again, show up much earlier, and even though you will have to wait, you'll be one of the first in line at the turnstiles.
Disney Skyliner – By far, the coolest way to arrive at Galaxy's Edge. If you are staying at Disney's Boardwalk Inn, Yacht Club, Beach Club, Caribbean Beach, Pop Century, or Art of Animation Resorts, the Skyliner could be the best option for you.
The only thing to keep in mind is the Disney Skyliner doesn't usually open in time to get you to the park entrance early enough to be one of the first people in. So if you're planning on rope-dropping Galaxy's Edge, I'd look elsewhere for now.
Ride-Sharing / Uber / Lyft –
This is actually my preferred way of getting to Galaxy's Edge in time for opening. Yes, it costs a few bucks, but it's by far the fastest way and the least stressful, not having to deal with driving or Disney's transportation service not always being reliable.
This is definitely the best rope-dropping transportation.
Walking – This is the best transportation for you, and one that will come in handy after eating all those Galaxy's Edge treats.
This is possible from Disney's Boardwalk Inn, Yacht Club, Beach Club, Swan or Dolphin resorts. Expect anywhere from 10 to 30 minutes depending on where you are staying and how fast of a walker you are.
Star Wars Hotel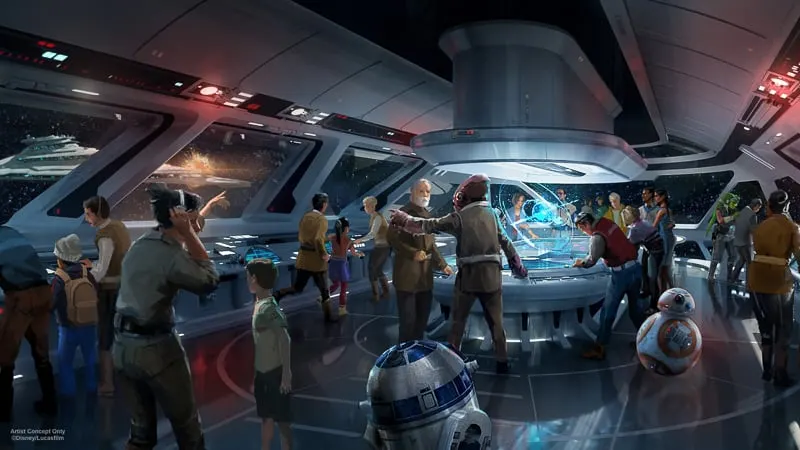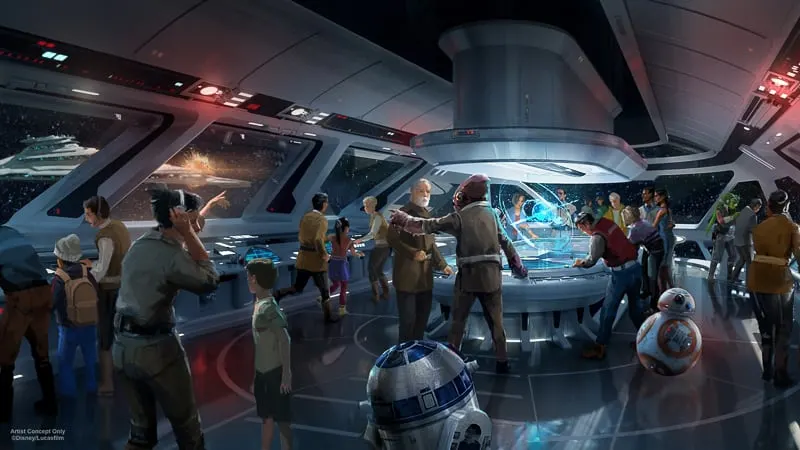 As if Star Wars: Galaxy's Edge wasn't exciting enough, Disney is also opening a new Star Wars Hotel right next door to the Hollywood Studios location, the Galactic Starcruiser.
This is going to be an all-inclusive, all-immersive hotel experience, and more ambitious than anything Disney has attempted up to this point (sound familiar?) It will be as if you are staying onboard a starship, and every window has a view out into the open of space.
It works more like a cruise line than an actual hotel, with guests coming and going all-together, as well as fixed stays of 3 days/2 nights. There are going to be guest-only experiences, lightsaber training, role-playing missions, Star Wars dining, and much, much more.
To learn all the details about this incredible new hotel, read our Star Wars: Galactic Starcruiser Hotel article which will give you all you need to know!
Future Expansion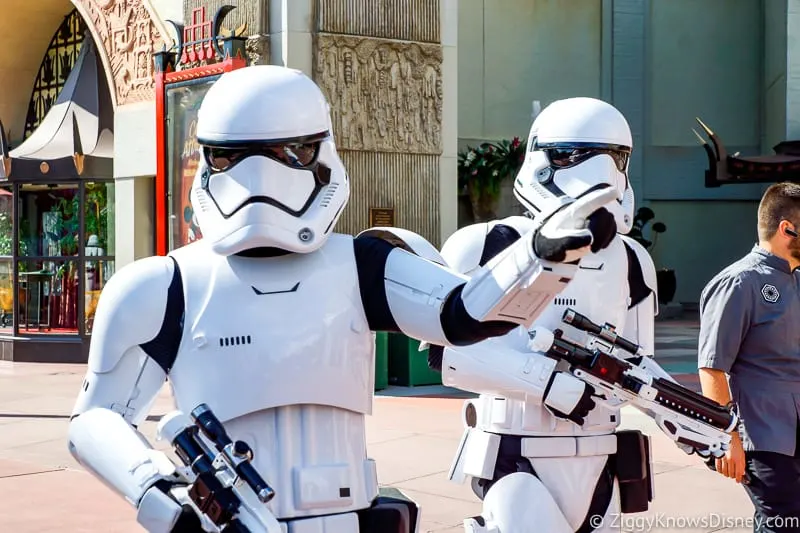 Star Wars: Galaxy's Edge is already an amazing, one-of-a-kind place, but don't think that means Disney is sitting around and only happy with the world they've designed so far. No, more is to come.
Project manager for Galaxy's Edge, Scott Trowbridge, said at a recent event that Galaxy's Edge is not done evolving and they can't wait to show fans what they have planned next for Galaxy's Edge after Rise of the Resistance.
This pretty much confirms what we already knew, that Galaxy's Edge will have another expansion in the future. In fact, there is a whole other expansion pad connected to Galaxy's' Edge, perfect for another attraction.
Trowbridge and Disney have said that Galaxy's Edge in its current form is set in the timeline of the current Star Wars trilogy, but that doesn't mean it's going to stay that way. The nice part about having a blank canvas like Black Spire Outpost is that it can adapt to new Star Wars stories in the films to come.
Right now we have multiple Star Wars trilogies being developed and multiple series coming on the Disney+ streaming service. Disney can theoretically progress through time with Galaxy's Edge also, introducing new characters and new stories to this land. Looking around Galaxy's Edge, there are so many unused buildings still and missing components from the concept art makes you realize there are many changes they could easily add.
What kind of attraction will the third one be? There is no information on this at this time, it could be anything at this point. While Galaxy's Edge will certainly get an expansion, I don't believe however that we're going to get a new attraction anytime in the next 5 years. I think Disney will take its time to see what happens with the Disney+ series and the next trilogies before making any permanent moves.
One addition we can expect to be made before an attraction is the unnamed Galaxy's Edge Dinner Show/Restaurant. There is concept art for this already, and it only got cut from the initial project due to budget concerns. The space, however, is still there, just waiting to be populated.
We'll continue to update you on any expansion news for Star Wars: Galaxy's Edge as soon as we know more.
In the end, you can drive yourself crazy with planning but at the end of the day, you can't predict exactly what will happen. No matter which park you decide to go to or when you go it's going to be an experience like nothing you've ever had before. So unless you are severely turned off by crowds, plan ahead as much as you can, suck it up and just go and have a blast! It's going to be worth it!
Star Wars Land FAQ's
What are the differences between Galaxy's Edge in Disneyland and Disney World?
The two lands are basically identical, except for a few cosmetic and logistic differences.

The Disneyland version, for example, has a slightly different queue area for Rise of the Resistance where guests enter.

The Disney World Galaxy's Edge has 2 entrances to the land, while there are 3 entrances in Disneyland.
Does Galaxy's Edge Serve Alcohol?
Yes. Oga's Cantina serves alcohol in both Hollywood Studios and Disneyland. Ironically, it's the only place in Disneyland where you can find alcohol outside Club 33.
Where will Star Tours Go Now that Galaxy's Edge is Open?
Nowhere. Both in and Hollywood Studios, the Star Tours attractions will stay right in the same place they are now.
Where is Galaxy's Edge in the Star Wars Universe Timeline?

Disney hasn't said exactly where it falls in the Star Wars timeline, but we know that Black Spire Outpost has existed for some time because it is referenced in Solo: A Star Wars Story. That puts it before the original Star Wars Trilogy.

However, the current story happening when you enter Galaxy's Edge takes place during the current Star Wars Trilogy (Episodes 7-9) because it's inhabited by both the First Order and the Resistance. There isn't an exact date to the story though which gives Disney more freedom in its storytelling for the land.

Is Star Wars Galaxy's Edge in the Star Wars canon now?
Yes, absolutely. Galaxy's Edge is now being featured in the latest Star Wars books, and comics and was even mentioned in Solo: A Star Wars Story. It's definitely in the canon now.
Why is the town on Galaxy's Edge called: Black Spire Outpost?
The answer comes from the giant petrified rock formations that line the sky high above Batuu. Every planet in the Star Wars universe has some unique geographic characteristics, and these ancient trees are what define Galaxy's Edge.

Among all of them, there is one petrified tree in the middle of the marketplace which is black, hence the village name: Black Spire Outpost.

That finishes up our Star Wars Galaxy's Edge Guide. We hope you found it both exciting and helpful in planning your trip to visit Star Wars Land.
We'll continue to add more information to this guide in the following months as we continue to refine our touring plan for Galaxy's Edge. Keep checking back here at Ziggy Knows Disney for the latest info on Star Wars Land!
Your Thoughts
I want to know what you think about our Star Wars Galaxy's Edge Guide…
When are you visiting Galaxy's Edge?
What part are you most excited about?
Let us know in the comments section below!
If you enjoyed this article, as always I appreciate it if you'd share it with others via social media. I work hard at making this website into a useful resource for you and your family to plan your visit to the Disney Parks and I hope it can help you! Thanks 🙂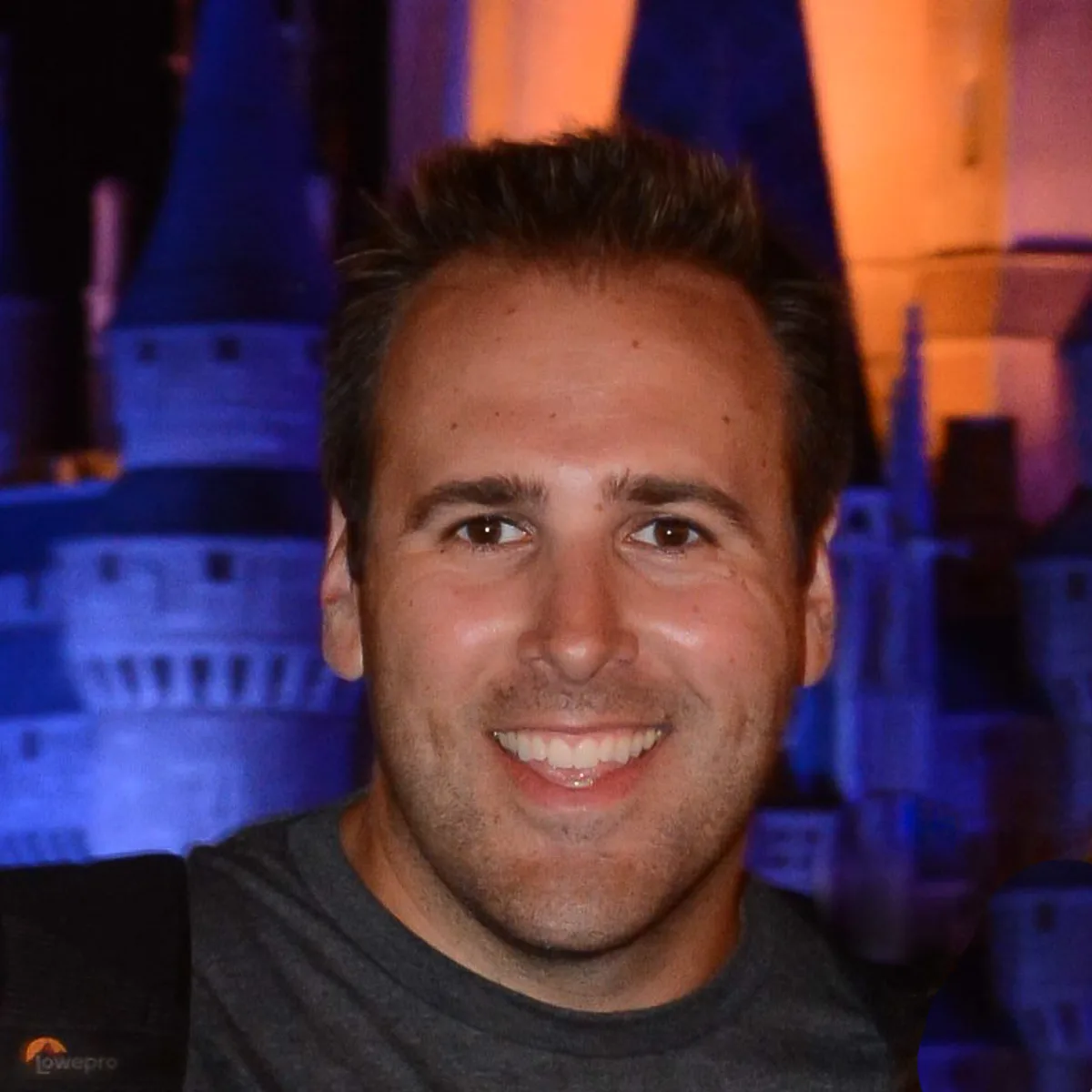 My name is Ziggy and I love Disney, everything Disney! I grew up on Disney and it has and continues to be a huge part of my life. I started young when my parents took me to Disney World when I was 18 months old. Little did they know that would be the first of an uncountable number of trips we would take. I have so many amazing memories going to Disney with my family and friends and it has been interwoven into my DNA.