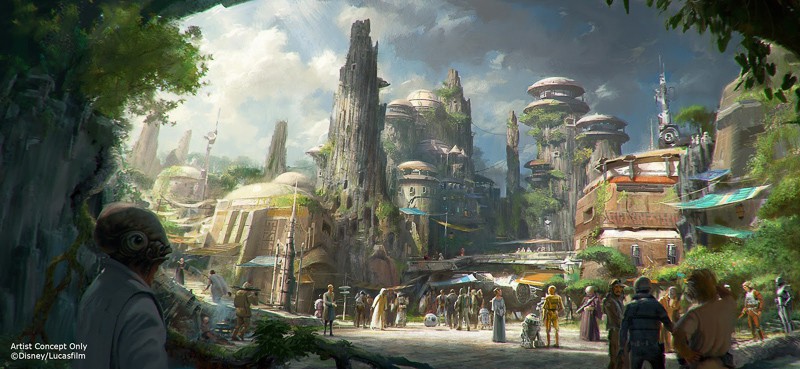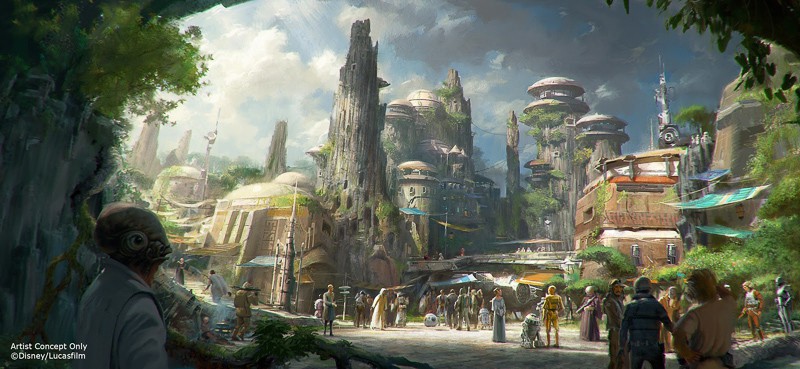 Of course guests visiting Black Spire Outpost in Star Wars Land will want to take a souvenir home with them to remember their trip by, and Galaxy's Edge has numerous merchandise and shopping experiences waiting for you, including taking home your own lightsaber or droid!
In this post we're going to break down all the merchandise and shopping options in Star Wars: Galaxy's Edge so you know exactly where to go and what to get!
The amazing thing I think about when doing my Star Wars Galaxy's Edge construction updates each month is looking at Black Spire Outpost and wondering what it will be like just to wander around the streets there and what type of characters and surprises are waiting around each corner.
Droids are a big part of Galaxly's Edge, but unfortunately right now not to the level that Disney was originally thinking. Some of the shopping experiences though are really fun and the shop keepers are especially funny. With some of them you haggle prices down, though I'm not sure how logistically feasible that is long term.
Anyway, let's take a look at some of the shopping and merchandise available in Star Wars Galaxy's Edge:
Black Spire Outfitters: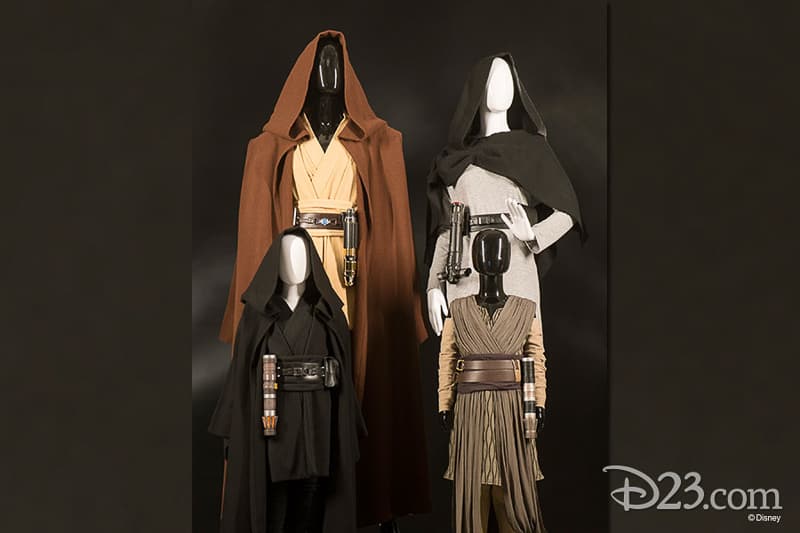 Similar to Black Spire Outfitters but for the First Order and their gear.
Resistance Supply: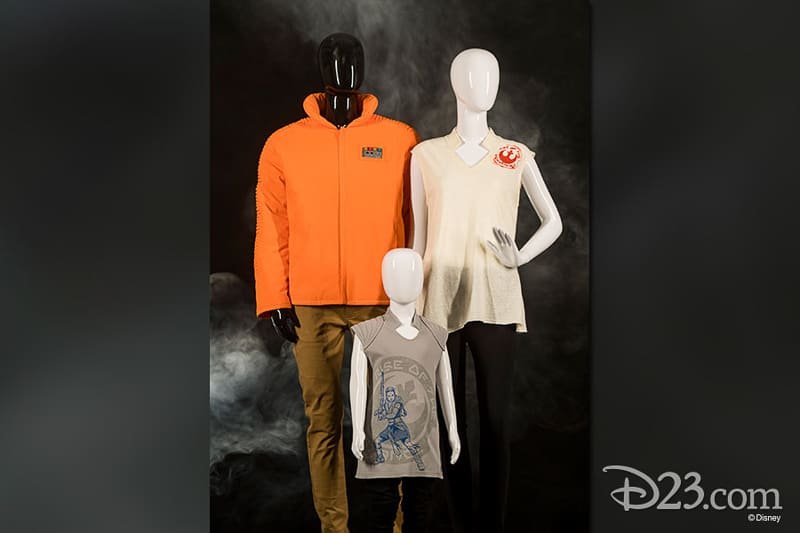 If you're a supporter of the Resistance, then you've come to the right place. Here you'll find gear, badges, clothes and more.
First Order Cargo: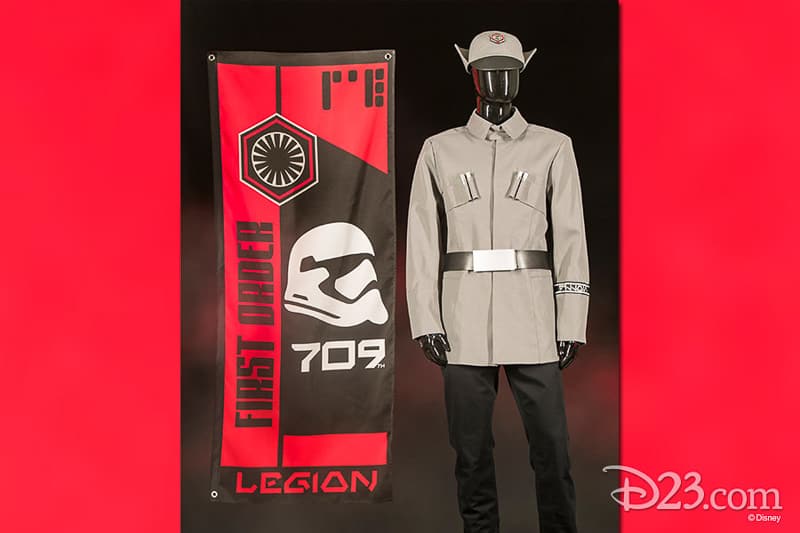 Black Spire Outfitters allows you to customize your Star Wars gear in a variety of ways, much like the costumes for the cast members will have.
Toydarian Toymaker: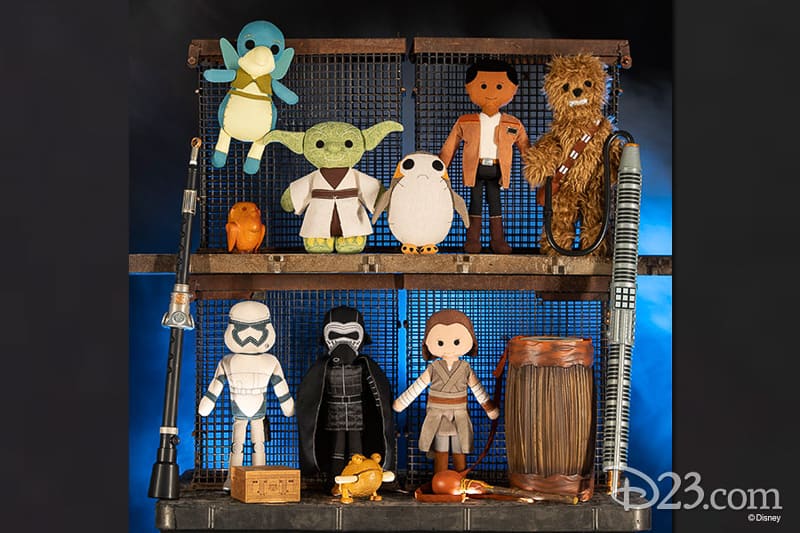 Here you'll find a variety of artisan-style plush characters, wood and tin toys and musical instruments. Remember those aliens jamming away in Mos Eisley Cantina in the original Star Wars film? Well you'll get a chance to play instruments like that, which can be both played manually or with pre-programmed music!
Seeing how immersive and detailed this world is, it wouldn't surprise me if you could sign up for lessons somewhere in Galaxy's Edge!
The Creature Stall: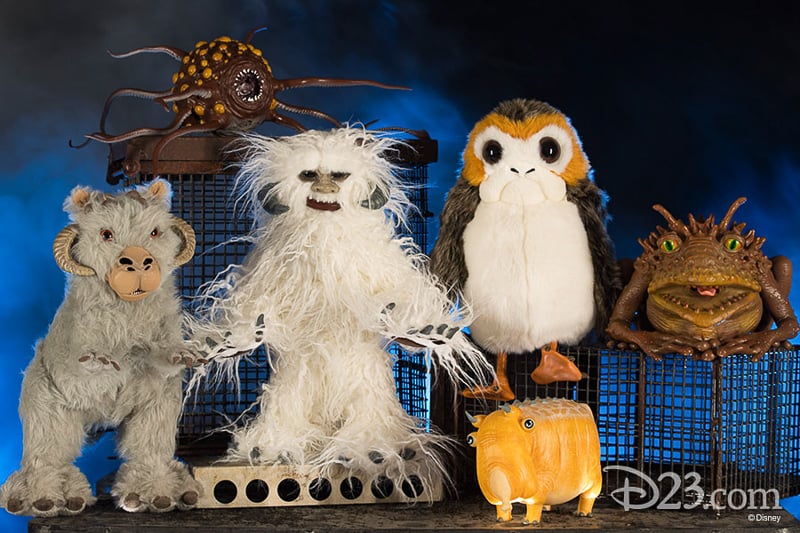 The Creature Stall is the place to go for all your Star Wars plushes with lots of recognizable characters from the films. It's run by an Amani named Bina who you won't find as she's always out looking for more creatures for the shop.
Some creatures you can find here are porgs, tauntauns, rathars, worrts and more. All the plushes in the photo are animatronic, with your basic movements and sounds. It looks like an interesting place, though I was expecting a bit more in looks from the plushes, they don't necessarily have that real "authentic" feel to me and look just like toys. We'll see if they do anything to improve them eventually…

Dok-Ondar's Den of Antiquities:
In Dok-Ondar's Den of Antiquities you'll find all the rarest artifacts from around the galaxy: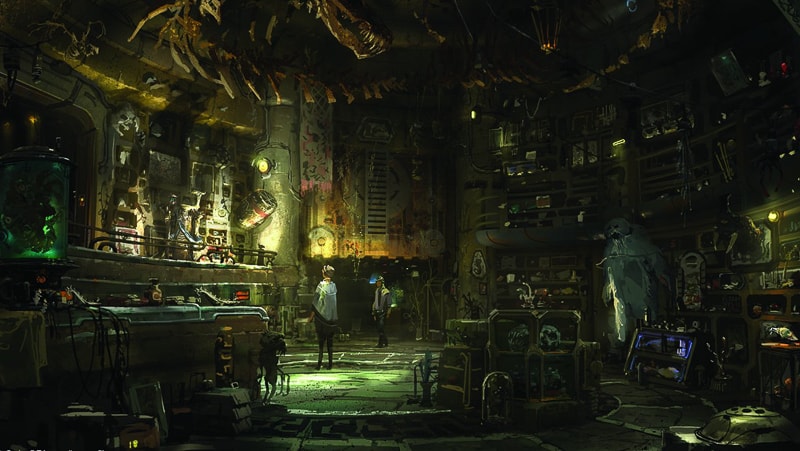 Dok-Ondar you may remember is referenced in Solo: A Star Wars Story, and is a 245-year old collector on the Black Market. You can even see him in the store as an animatronic figure which might be even more impressive than the Hondo figure on Smuggler's Run! He interacts with guests and cast members as we told you a while back.
From the concept art this place looks super cool! I especially love the huge 12-foot taxidermied wampa he has standing on the right side of the store. Disney is saying the collection is constantly changing here so we expect it to be a place you can come and find different stuff very often.
Among those are both Jedi and Sith Artifacts: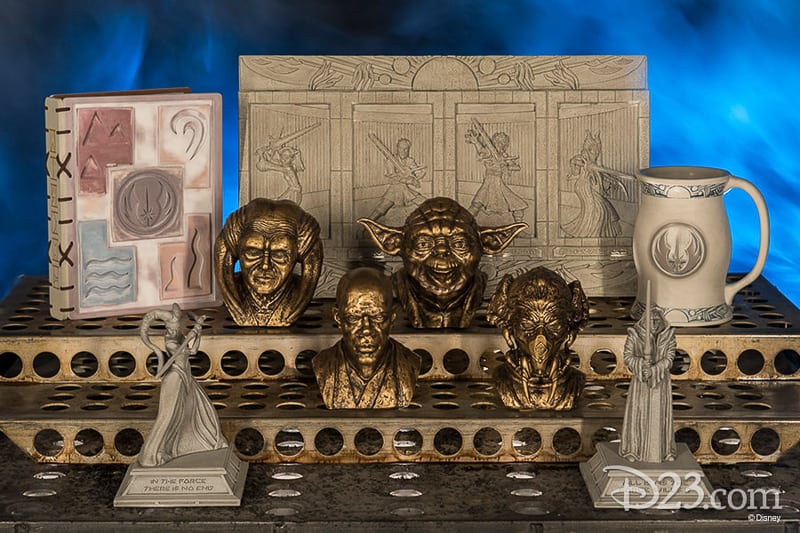 Included are busts of famous figures in the Star Wars universe like Mace Windu, Yoda, Palpatine, etc, or even a fancy boxed lightsaber of an unknown origin.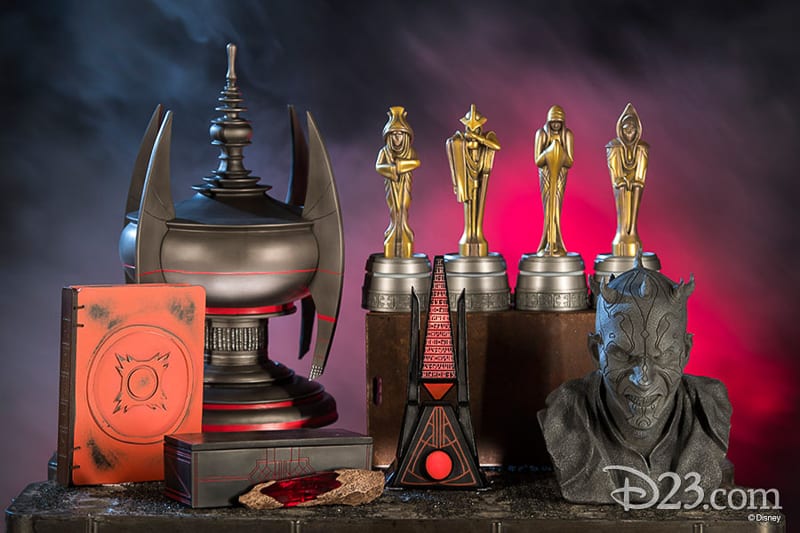 Big Star Wars fans will recognize the Holocrons which are ancients relics used to give power to both the Jedi and the Sith. They tell you information and secrets of the galaxy, which then can be combined with cyber crystals to unlock even more secrets.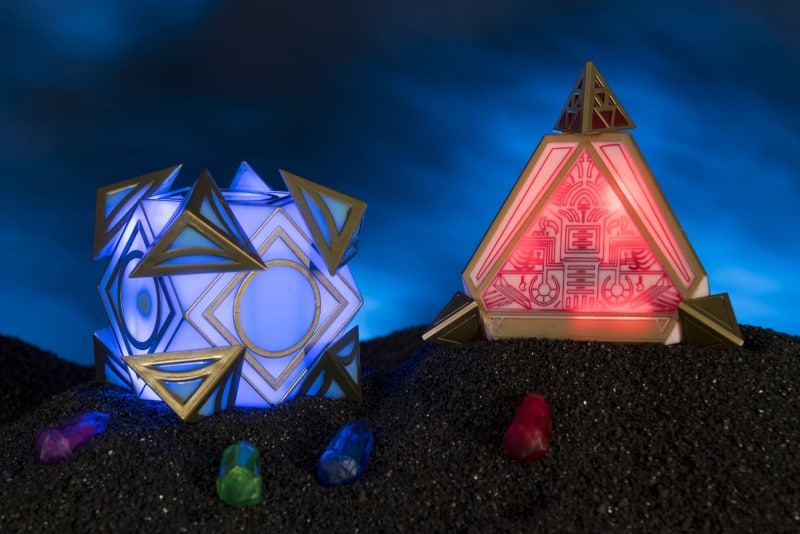 Droid Depot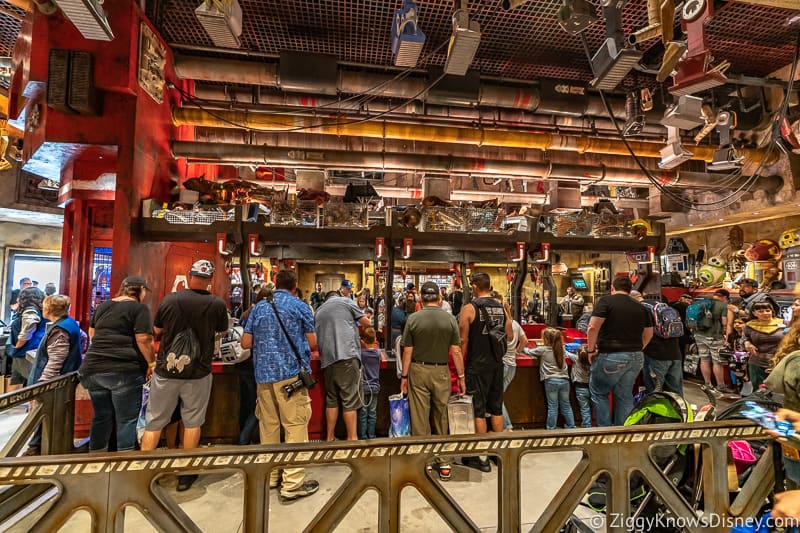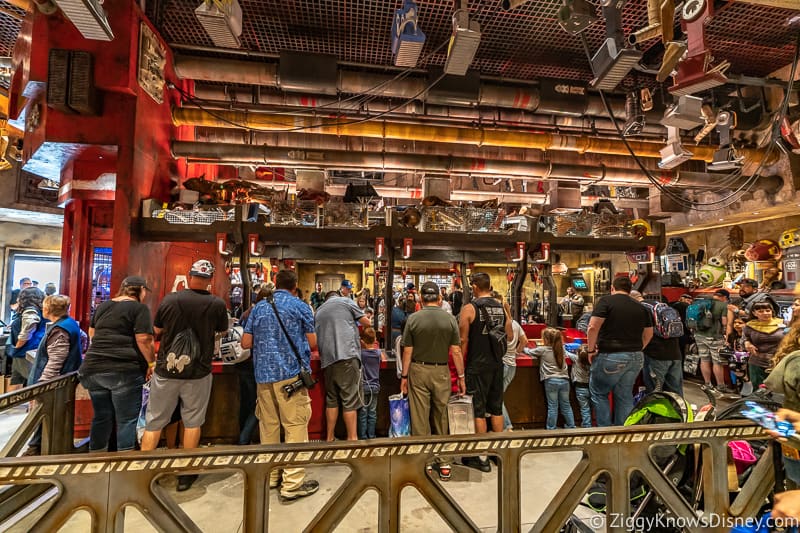 One of the coolest ideas is being able to build and take home your very own droid! Models include the R-series or BB-series droids.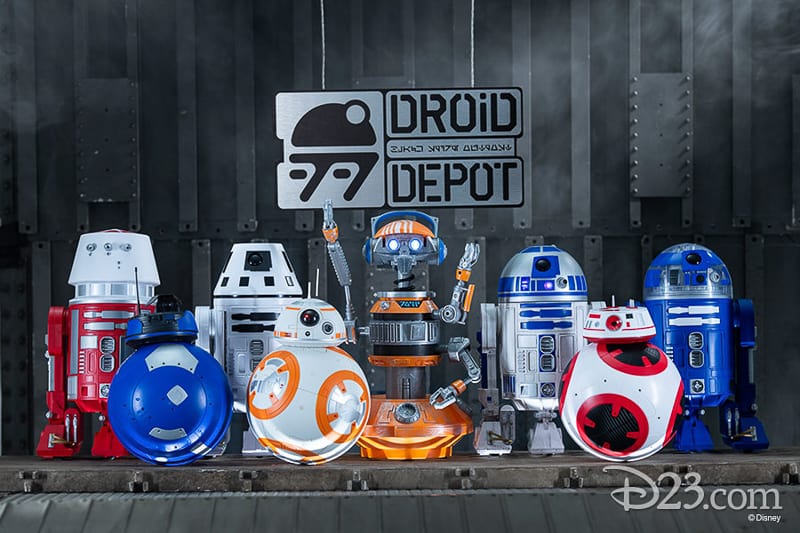 The Droid Depot is run by a tech-savvy Utai named Mubo who wants to share his knowledge of droid building with his visitors. Of course he's never in the shop, but his staff is and they are very knowledgeable and can help you choose the right droid for you.
The building process starts by choosing parts from a conveyor belt as they pass by. Next you take them to a building station and follow the instructions to build your droid. Again 2 models of droids are available (BB-series and R-series) each approximately 12-inches tall.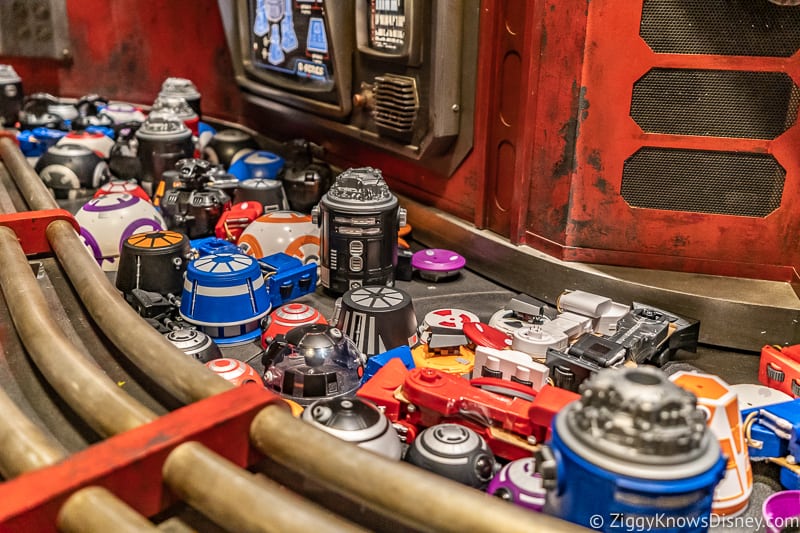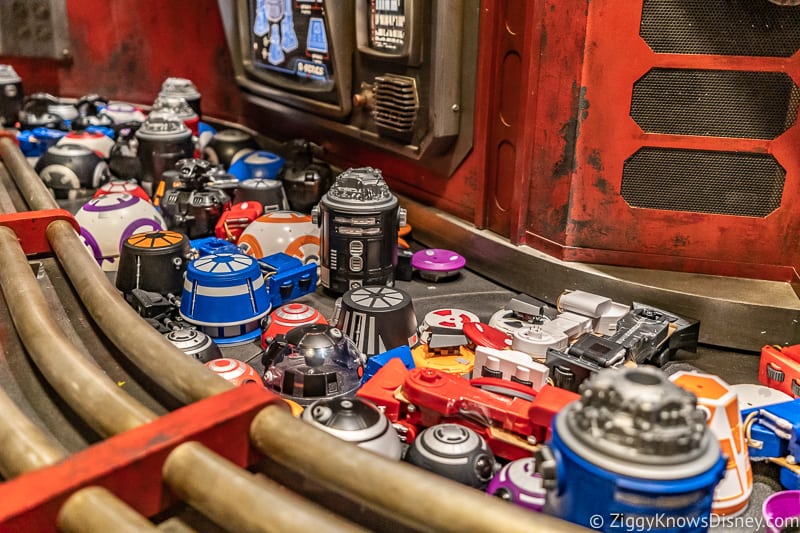 Once you choose, place your parts on the activation system and the droid will then light up and make sounds. They can be guided by remote control and each of the droids that you buy will have interacting capabilities throughout Galaxy's Edge, interacting with the environments and even other droids.
Disney however doesn't allow you to actually put your droid on the ground in Galaxy's Edge, it's not permitted. Putting your brand new droid down on the ground and risking it getting trampled over doesn't exactly sound like the best idea in the world to me. But Disney is insisting these droids will be able to take part in your story and add to the experience in Galaxy's Edge, so you can purchase a backpack for them and carry them around with you, though that is too much for me.
The whole experience of building one of the normal size droids in the Droid Depot costs $99 plus tax.
Besides the smaller, normal-sized droids which guests can buy, but also that there are huge, R2-D2-sized ones too which costs up $25,000! I don't know what makes a droid worth that much and just what exactly it will be able to do, but I can't wait to find out!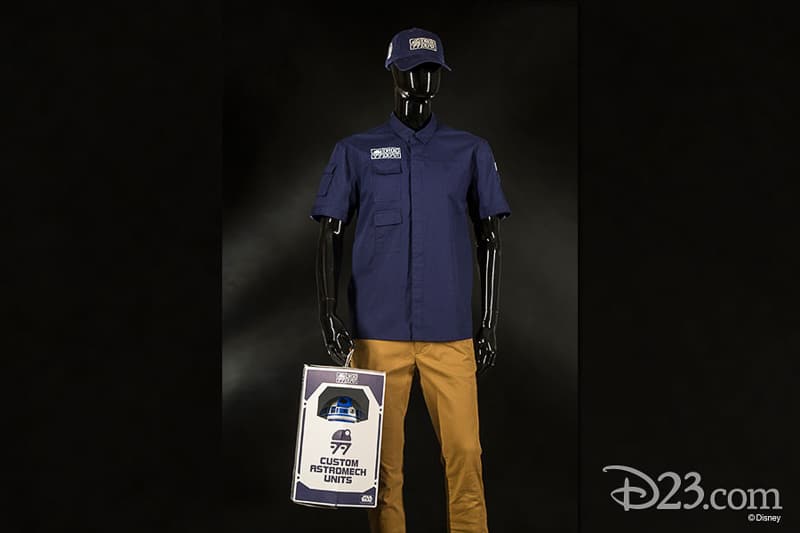 You'll notice the bag the droid is being carried out with. You won't see any standard Disney-themed bags in Galaxy's Edge, they are trying to keep everything "in-universe" so expect to find unique bags like if you were really in that world. Disney is also continuing to roll out its reusable and plastic-free bags in Galaxy's Edge, much like in all the Disney Parks to keep them environmentally friendly.
The droids could be another potential game-breaking piece of merchandise which fans are going to go crazy over like the Banshees in Pandora: The World of Avatar. Let's hope they make enough of them to keep the people happy!
We loved this experience and think it's a great addition and something you should definitely check out. Read all about the Droid Depot experience and how to build a droid.
Savi's Workshop – Handbuilt Lightsabers: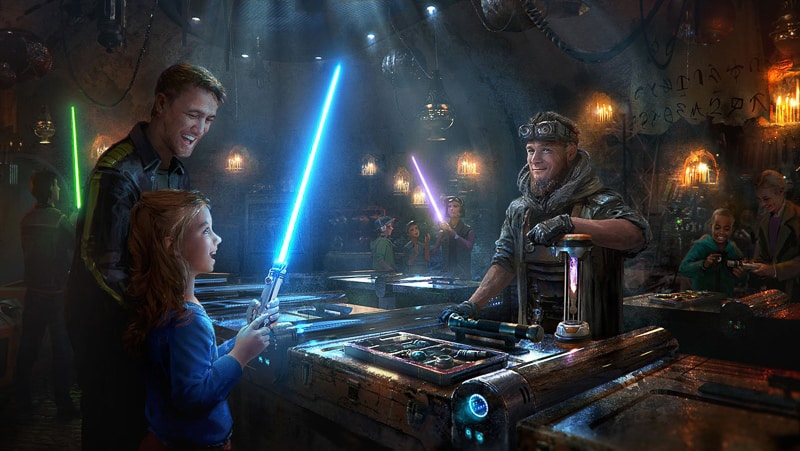 This is every kid's (and grown-up kid's) dream…being able to build your own lightsaber!
Savi, who is a Jedi supporter runs this workshop with fragments and parts for lightsabers he gathers from around the galaxy. He wants to keep the Jedi hope alive and so he's passing on this knowledge of how to build a lightsaber to you!
Building a lightsaber in Galaxy's Edge is definitely a personal experience and a multi-step process, each with different pieces. Up to 14 guests can able to fit around the workshop bench at a time and customize their own lightsaber.
First you pick which type of story you are going to have for your lightsaber: the Light (a Jedi-inspired lightsaber) or the Dark (a Sith-inspired one), nature-based (nature lightsaber pieces) or ancient (ancient lightsaber pieces). Each side focuses on different elements of the force including peace, justice, control, power, elemental, etc.
Once you choose your story and collect your pieces, you then will choose which type of cyber crystal will power your lightsaber. Choose between red, blue, green, purple and then build your lightsaber.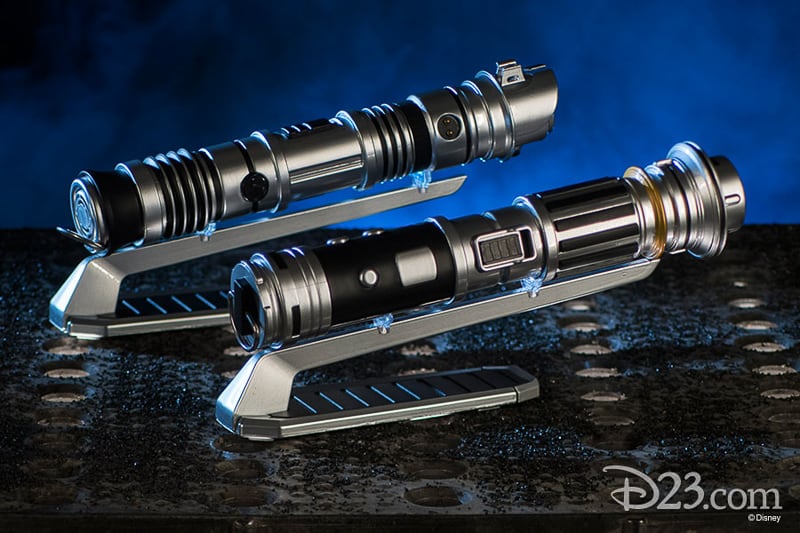 Each lightsaber will have a "personal connection" to a cyber crystal which is the driving force behind the lightsaber's power. It will be interesting to see what method Disney has in mind to help make guests feel that connection and choose the right one for them.
The price for this experience is not a small one and the whole experience costs $199 plus tax.
Read more about our experience in Savi's Workshop and how we built a lightsaber in Star Wars Galaxy's Edge.
Summary:
As I said before with both the lightsabers and droids, I think we'll have another Banshee incident on our hands and the merchandise flying off the shelves. It will be interesting to see how many Disney stocks of each item and see if they are able to keep up with demand.
Overall I'm pretty impressed with the merchandise options available in Galaxy's Edge and I think there is a lot of potential here. Since this is supposed to be a real marketplace, it would be nice to see Disney continue to create new "artisanal" items from these local merchants from time to time besides the ones already available.
For a more in-depth look, read our Complete Guide to Star Wars Land in Disney for a detailed look at the attractions, dining, planning and touring strategies.
Many have been wondering How to Get into Galaxy's Edge? We have the answer for you including how to use the virtual queue and more things you need to know before you go. Star Wars Galaxy's Edge opened in Disneyland on May 31, 2019 and is opening in Hollywood Studios on August 29, 2019.
Your Thoughts:
I want to know what you think about the new Star Wars Galaxy's Edge merchandise and shopping options…
What merchandise is your favorite?
Are you interested in either the Driods or Lightsabers?
Let us know in the comments section below!
If you enjoyed this article, as always I appreciate it if you'd share it with others via social media. I work hard at making this website into a useful resource for you and your family to plan your visit to the Disney Parks and I hope it can help you! Thanks 🙂