(UPDATED 8/22/19) – Since it was announced in 2015, the entire theme park industry has been eagerly anticipating the opening of Star Wars Galaxy's Edge in Disneyland and Walt Disney World. Well, now it's open in Disneyland, and we're just days away from the official opening in Disney's Hollywood Studios and we're going to show you everything you need to know to get into Galaxy's Edge.
How to get into Galaxy's Edge
Are their Soft Openings?
When to Go to Galaxy's Edge
We're continuing to update this post so it will be a valuable resource for you to understand all the latest details necessary to make it into Star Wars Land! Scroll down for the latest info…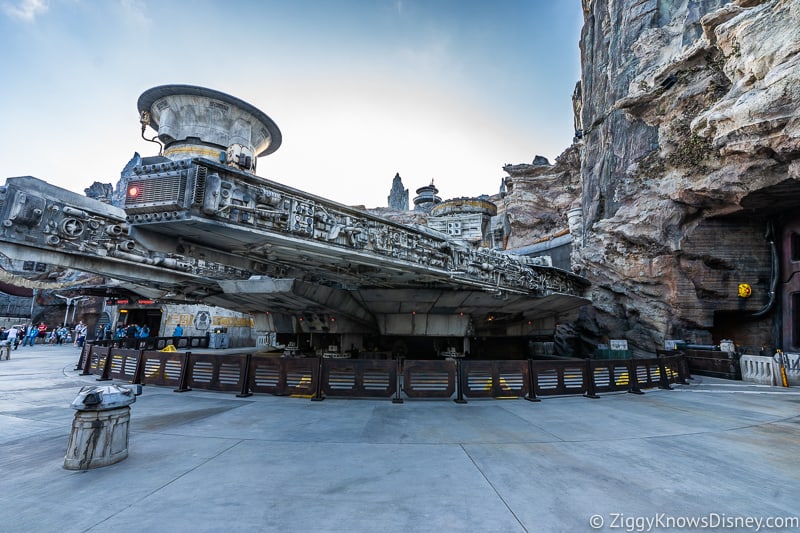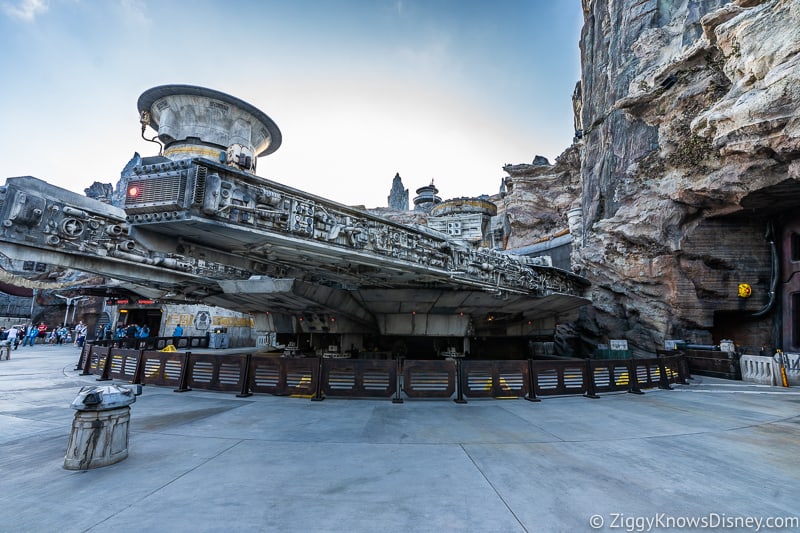 Just in case for some reason you aren't familiar with Star Wars Galaxy's Edge, it's a brand new land in the Disney Parks which fully immerses guests into the Star Wars universe, transporting them to a small outpost on the outer rim of the galaxy called: Batuu.
Disney has put everything into this project and so much of the company's future theme park success is riding on Galaxy's Edge. They are pulling out all the stops to make it unlike anything anyone has ever experienced before.
There are two attractions, one based on the iconic spaceship the Millennium Falcon (Millennium Falcon: Smuggler's Run) and the other putting you right in the middle of a battle between the First Order and the Resistance (Star Wars: Rise of the Resistance).
There are also multiple dining locations (a lounge, 2 quick service restaurants and 2 snack stands), numerous and uniquely styled shops, and so many other hidden areas to see and explore that it makes you feel like you are really going to another galaxy.
(For a more detailed look at Star Wars Galaxy's Edge read our Complete Guide with all the tips you need, and our Full Review of the land.
When Does Star Wars Land open?
This question has been on the minds of fans for years now, as many families want to plan their next trip to either Disneyland or Disney World based around this exciting new land. The answer though depends which version of Galaxy's Edge you are hoping to get into.
Both the Disneyland and Walt Disney World versions have different opening dates. Star Wars: Galaxy's Edge is already open in Disneyland, but we are still waiting on the opening in Disney's Hollywood Studios. The dates are as follows:
Disneyland Galaxy's Edge Opening Date: May 31, 2019 (Already Open)
Walt Disney World Galaxy's Edge Opening Date: August 29, 2019
Star Wars Land opening this early was a shock to everyone as no one was originally expecting to have May and August openings, but we're happy to be able to go sooner rather than later.
How to Get in Star Wars Land: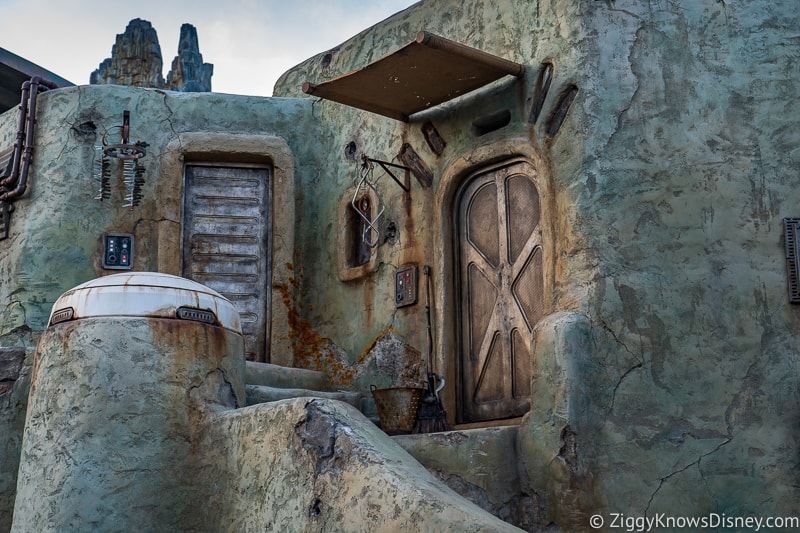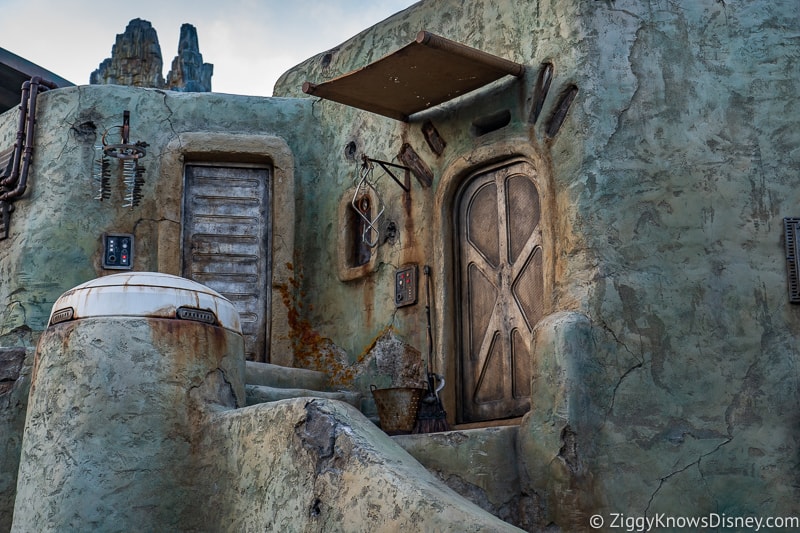 Since there are two different openings for Galaxy's Edge (one in Disneyland and one in Hollywood Studios) there are also two different ways to get into Star Wars Land. I'm going to break down how to get into both versions of Galaxy's Edge.
Disneyland:
From from opening day (May 31) through June 23 the only way to get into Star Wars: Galaxy's Edge was by reservation only. Guests that were staying in a Disneyland Hotel were automatically given reservations to Galaxy's Edge which gave them access. There was also a free online registration giving out a limited number of registrations to guests not staying on property.
There were 5 reservation groups per day and each group was time-limited to 4 hours. After that you had to leave Galaxy's Edge.
This was all done to limit crowds with Disney anticipating record numbers and not wanting to flood Galaxy's Edge and let the people there enjoy themselves more. It worked out very well and while you probably couldn't get EVERYTHING done in only a 4-hour window, it was possible to experience most things quite well.
Now Star Wars: Galaxy's Edge in Disneyland is completely OPEN to the general public and reservations are no longer necessary.
How does it work?
Virtual Queuing System: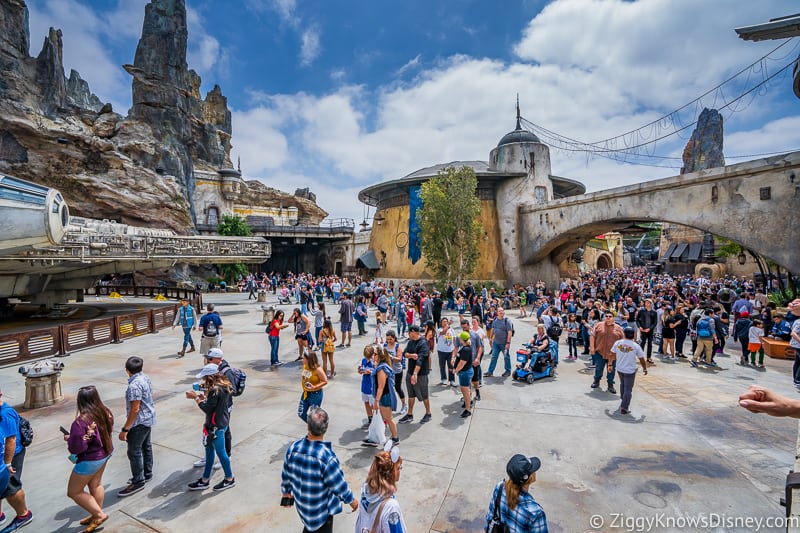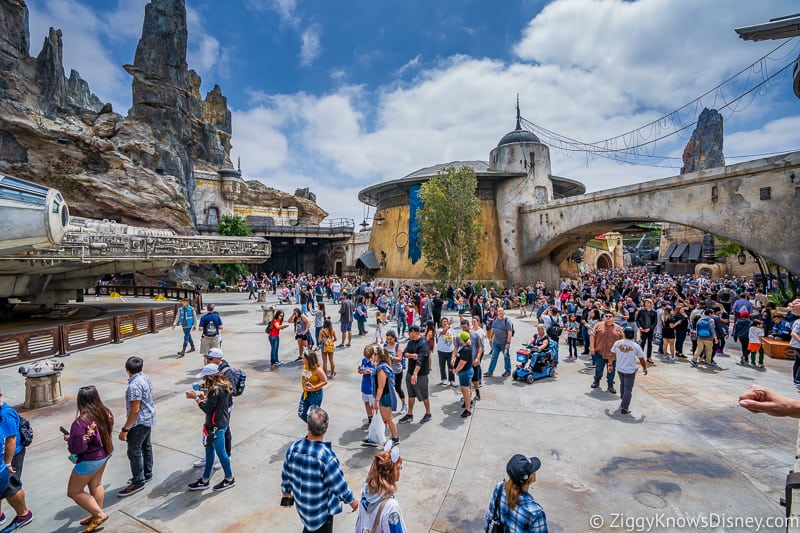 Originally Disney was expecting the crowds in Disneyland to be much bigger than they were this summer (more on that in a minute) and so they developed a Virtual Queueing system designed to keep the crowds at bay.
The virtual queuing system allows guests to avoid standing in lines that would be hours long just to get in to the land, and instead get into the virtual queue and be notified when their time slot to enter is ready.
Guests can make a reservation for their "boarding pass" with the Disneyland app on their mobile phone once they enter Disneyland Park. They also can make paper reservations in one of the kiosks throughout the park. Reservations can only be made from inside the park and not outside.
For all the official details please read our post on the Disneyland Virtual Queuing System where we explain everything you need to know about how this will work.
So far this system has not really even been necessary due to the low crowds and most days when you go into Disneyland there is no need to get into a virtual queue as Star Wars Land doesn't usually reach max capacity.
The wait times for the Millennium Falcon have gotten up to 90 minutes, but have mostly been pretty manageable between 30-45 minutes.
It's still early and Galaxy's Edge hasn't been open for very long so we'll have to see how things continue to develop.
Why have Crowds Been so Low in Star Wars: Galaxy's Edge?
Let's face it, this has not been the Summer that Disney imagined when they announced their ground-breaking new $1 Billion land opening in Disneyland, and crowds have been disappointingly low leading many in the industry to already have called Star Wars Land a failure.
While it's fun for many to jump on the bandwagon and ride this story, there are some reasons to why the crowds have been so low and what it means for the future of the parks. We certainly do not buy the rumors that now Disney is going to turn Galaxy's Edge into an Aladdin-themed land, so just stop right there.
The first, reason Star Wars Land has had such low capacity is because they opened it early, before the whole land was ready. I understand what Disney was trying to do and they figured that even though the main attraction (Rise of the Resistance) wasn't going to be ready for the Summer, they might as well open the rest of the land to the public.
While that was fine from a logistics standpoint, and guests certainly have been able to have lots of fun over the past 3 months, many people have put off their vacations because they can't afford to go to Star Wars Land multiple times this year and would prefer to experience the whole thing when it's done.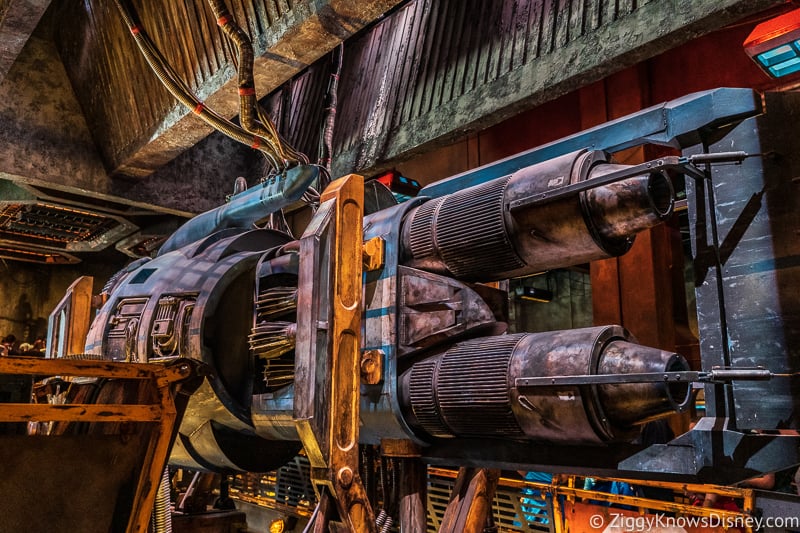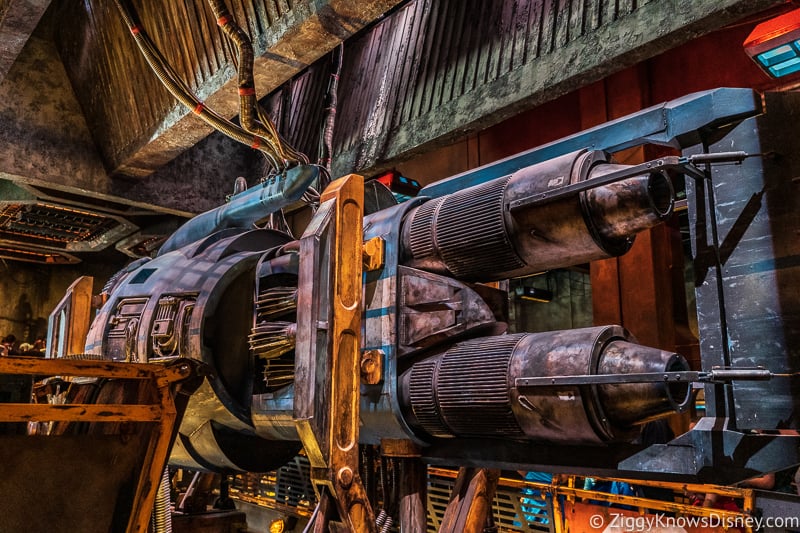 Second, the majority of Disneyland Annual Passholders have been blocked out of Disneyland for most of the Summer. Disneyland has many more Annual Passholders than Disney World, and makes up a huge portion of the guests visiting. Only in the last couple days have they been able to come. Attendance should start to go on the uptick with more AP's now able to visit.
Third, insight of the ever increasing construction costs of Star Wars Land on both costs (a $600 Million project turned into a $1 Billion one), Disney made some major budget cuts to live entertainers, droids, another restaurant. Those elements obviously would have drawn more crowds if put in, but Disney decided against it. They could still be on the table and intact we hear the table service restaurant is still getting built eventually so we'll see how it plays out.
Fourth, in the months leading up to the Star Wars Land opening, Disney made people fear that Galaxy's Edge would be the most crowded place in the world and you can't come without a reservation anyways. Talking with normal Disney fans, many of them still have it in their minds that they shouldn't visit for a long time because it's going to be crazy busy.
So while this makes for a good guest experience for those who do go to Star Wars Land, it's not what the company wanted at all.
In fact on the Disney company earnings call when Bob Iger said that Disneyland attendance is down, he did say that non-annual passholder ticket numbers were up slightly after the Star Wars Land opening, so it's not like guests have totally been avoiding it.
I don't think that the low crowds take away at all from the fact that Galaxy's Edge is an engineering marvel and a super-detailed, incredible land that will have major long-term success. I think once Rise of the Resistance opens up and the Annual Passholders return we'll see an uptick in attendance.
Things will be different in my opinion for Galaxy's Edge Disney World on the other hand…
Walt Disney World: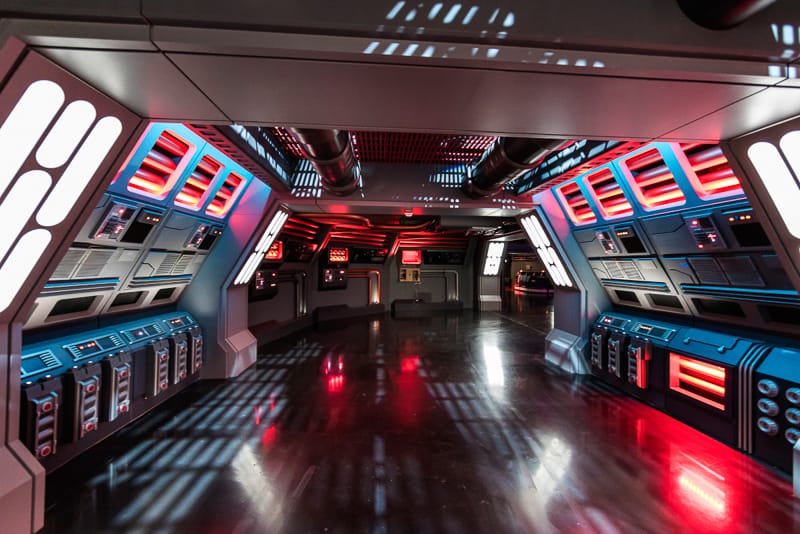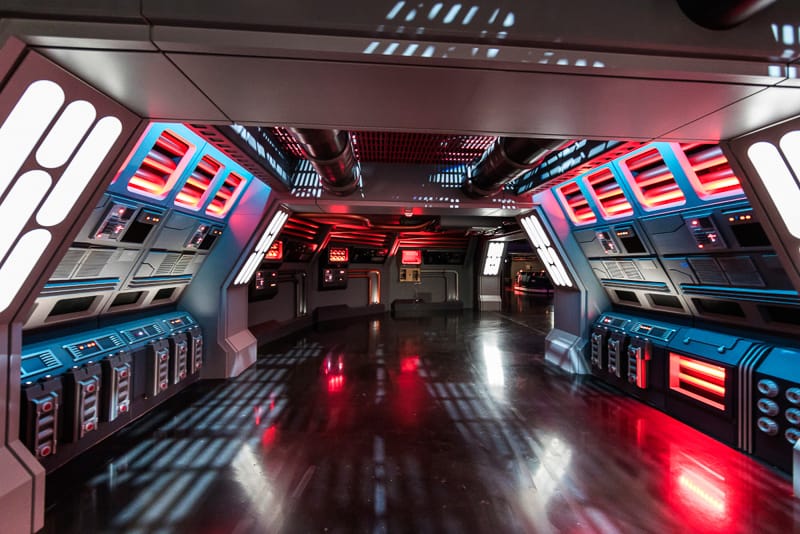 At this time it looks like it's going to be much busier to get into Star Wars Land in Disney World than it was in Disneyland at the start. Guests visiting the Disney World version of Star Wars Land will be able to queue up as normal which should lead to bigger crowds.
However Disney has announced that the amount of people let into Galaxy's Edge will be limited and there will be a virtual queuing system in place much like was setup for Disneyland.
Plus Disney World is a different crowd with many more international visitors, and out-of-towners who have planned their trips years in advance, therefore don't have the luxury to just wait until Rise of the Resistance opens up.
Crowds should be very high, especially on Star Wars Land's opening day. What do you have to do to get in?
If you want to go to Galaxy's Edge on opening day, the secret is easy. As of now, you will for sure have to wake up at a ridiculously early time and get in line before the others. If you are willing to sacrifice a bit of sleep (you can sleep when you go back home) then at least you'll be able to guarantee yourself entrance.
Right now Disney hasn't said what kind of crowd control they are going to do and when people can start getting in queue for the opening, but there will for sure be lines starting the day before on August 28, and maybe earlier. I don't think you have to get into line overnight to experience Galaxy's Edge on opening day, but I would try to arrive at least as early as 4 am if you are serious about getting in.
The nice thing about Galaxy's Edge in Disney World is that you won't have to worry about being kicked out of the land after a defined period like it was in Disneyland. You can feel free to stay as long as you want and soak up all the Imagineer's blood, sweat and tears over the last 5 years.
Disney World is not going to have a reservation system at opening, which could make the overall crowds much bigger than Disneyland had with their reservation system. There will be a limit to how many guests can enter Star Wars Land at a time and the Virtual Queue should play a role. While we don't know exactly how many guests they are letting in at the same time, just bet on waiting a lot longer in line for the attractions. That's going to make it much more frustrating for guests, but at least there are plenty of shaded spots to hang out in.
We'll see if the virtual queuing system they are setting up for Disney World ends up being necessary. Crowds should be high from opening through the holiday period, and what happens during that time will determine a lot of things moving forward.
We'll have to wait and see what happens between now and the holidays, but we'll keep you updated about any news we get from Disney…
Not All Galaxy's Edge Attractions Will Be Ready Immediately: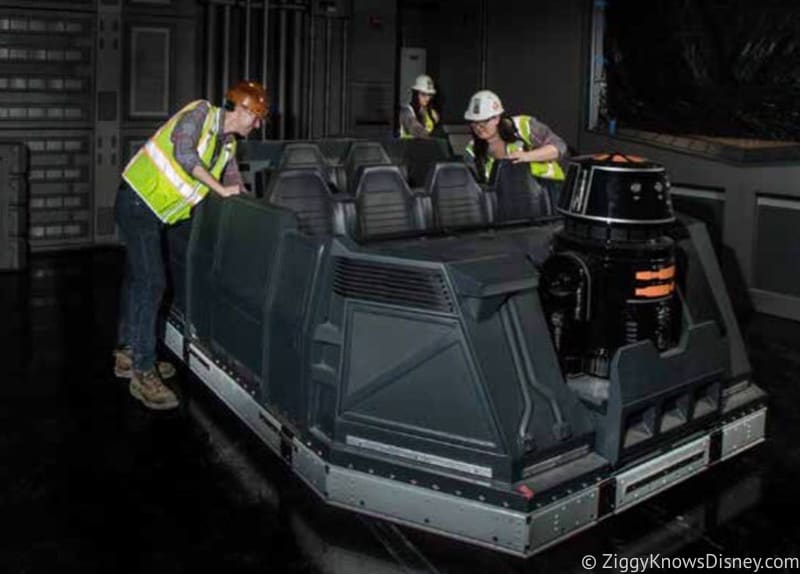 Besides the virtual queue procedure and getting into Star Wars Galaxy's Edge, there are some other factors to consider including that one of the two attractions, Star Wars: Rise of the Resistance will NOT BE OPEN for the opening of Galaxy's Edge both in Disneyland, and in Walt Disney World too.
That means Galaxy's Edge will be opening in two phases, the first with the Millennium Falcon: Smuggler's Run, and the second with Star Wars: Rise of the Resistance.
Obviously this is pretty disappointing for whoever makes the trek out to either park, but since they are opening things so early and some technical difficulties they've had with the attraction, it means you'll have to wait a little longer for what Disney is describing as the most ambitious ride they've ever built.
When is Rise of the Resistance opening? That's another thing we are waiting to hear about from Disney, but it's expected to be at least a couple months after the initial opening of Star Wars Land. Again, we'll keep you posted as soon as we hear something…
Will there be Soft-Openings for Star Wars: Galaxy's Edge?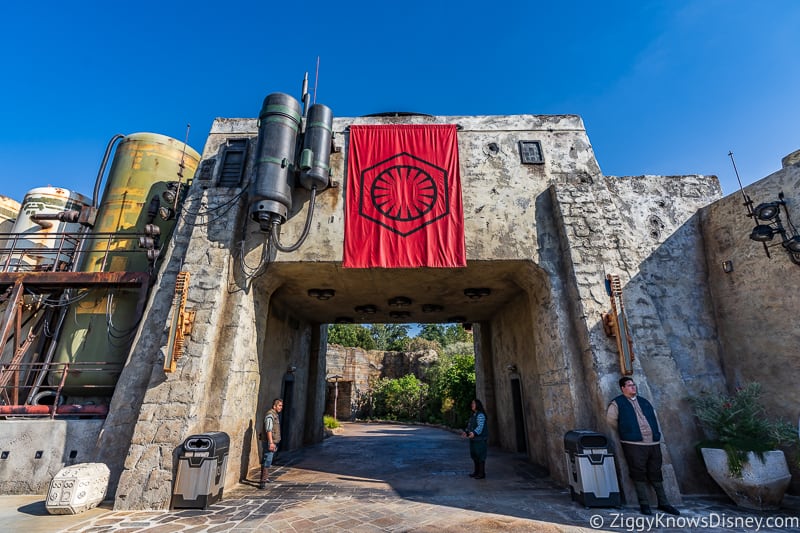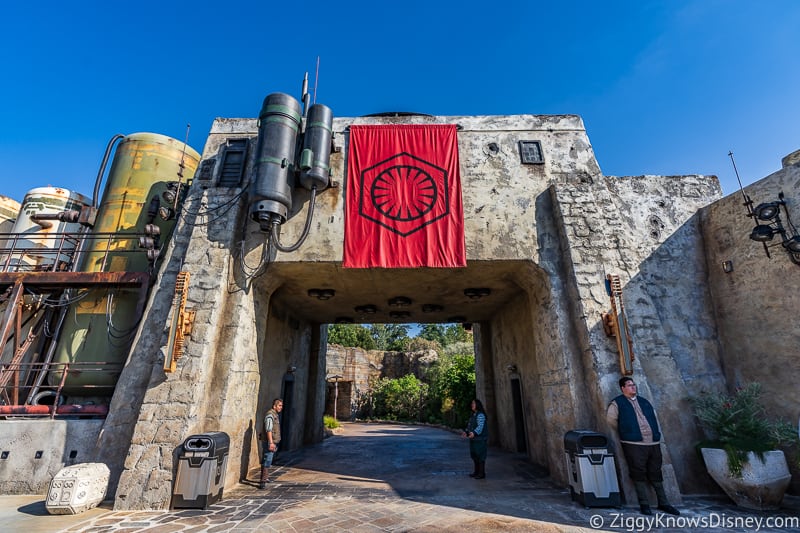 This was impossible in Disneyland as things came right down to the wire and Disney needed every available construction worker there and every day possible just to get Galaxy's Edge open in time, so there wasn't any time for preview events.
In Walt Disney World though things are a little different as they have set up Disney World Annual Passholder Previews for Galaxy's Edge which started in August. For more information read the details here.
Disneyland has done most of the heavy lifting for Disney World by opening first, and the Disney World version should run really smooth by putting into practice the knowledge they've learned over the months.
How Long Should I Wait to go to Galaxy's Edge in Disneyland?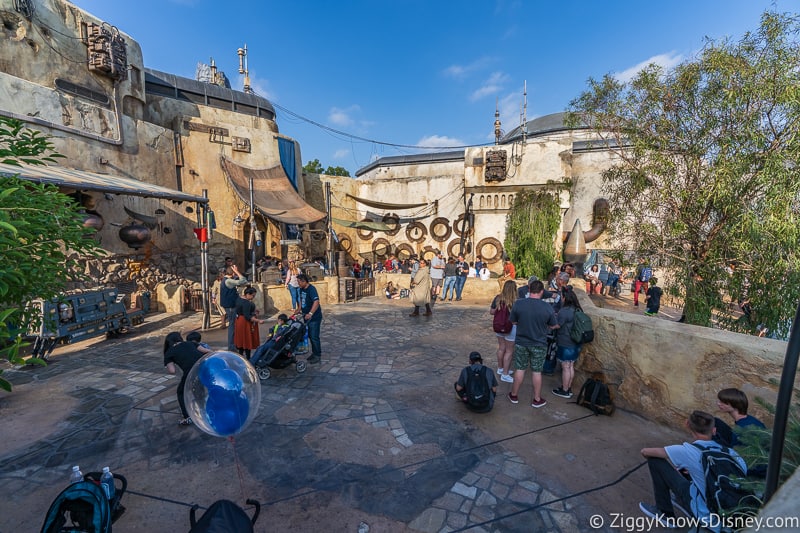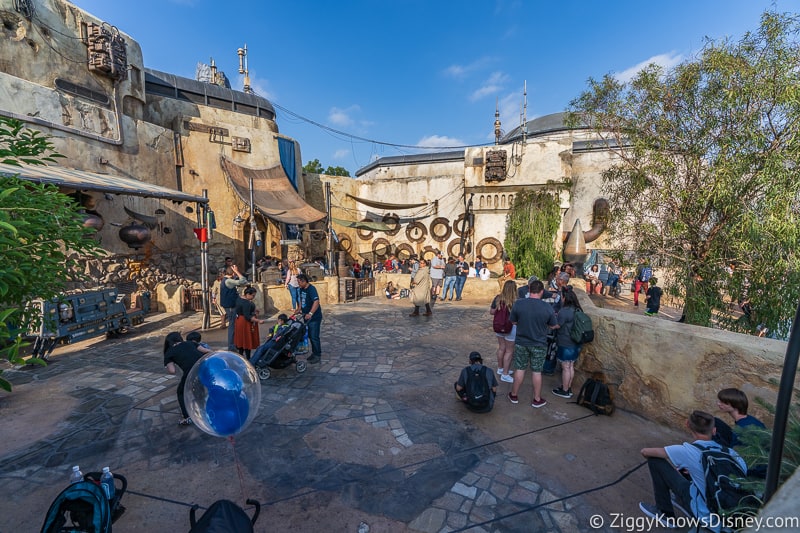 Of course people want to know right away if they should go immediately or wait until the crowds die down some. While I thought going in the period close to opening day would be just asking to suffer, it actually hasn't been that bad so far.
The crowds during the reservation period in Disneyland were not bad at all, in fact they were the lowest we've ever seen Disneyland in June in years. We'll have to see if that holds up but right now it doesn't look like the wait times for Star Wars Land attractions are going to be insane after all. So far by most afternoons the virtual queue hasn't been necessary and Galaxy's Edge has been open to enter.
I think people heard so much from the media that the crowds were going to be so bad, that it had the opposite effect and lots chose to stay away from the parks until things calmed down.
I also thought that between the two versions of Star Wars Land (Disneyland and Disney World), the Disneyland version was going to be the toughest to navigate, but Disney has done a tremendous job directing the crowds they've had and it's all be super organized. No technical difficulties or organizational problems.
All that being said, if you want to visit Galaxy's Edge there, then I think it's a great time to do so. You should really take the opportunity to visit Disneyland while the crowds are so low, because this won't last forever.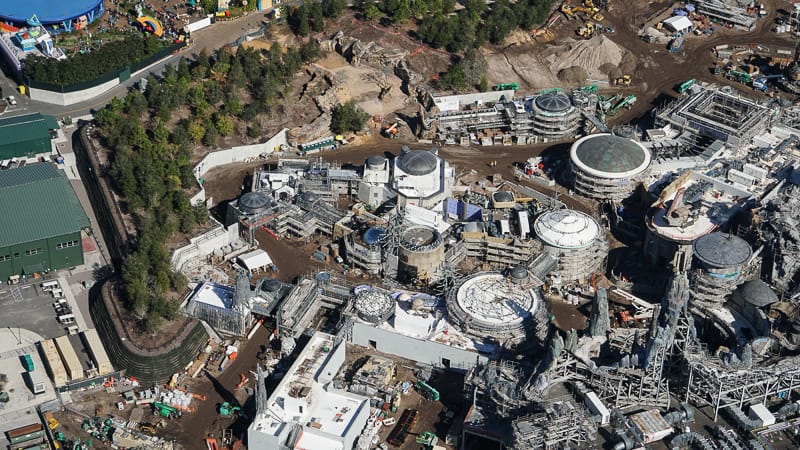 Just keep in mind that in both versions of Galaxy's Edge, ONLY the Millennium Falcon: Smuggler's Run ride will be open right away, so you're going to have to wait for the Rise of the Resistance attraction. So if that is important to you, I'd wait a solid 3-4 months after the opening in either place to make sure it will be open, and even that is no guarantee.
How Long Should I Wait to go to Galaxy's Edge in Disney World?
If you are trying to figure out when to go to Star Wars Galaxy's Edge in Walt Disney World, then some of the same things apply here too, but I think there are going to be some differences to keep in mind.
First of all, if you are planning to go during the first month of opening in Disney's Hollywood Studios, we have to think that it's going to be crowded, most likely a lot more crowded than the Disneyland version was. Keep in mind that Disneyland is basically the world's most famous regional theme park, and for that reason many of the regulars have put off going because they were afraid of the crowds and they figure they can catch Galaxy's Edge at any time.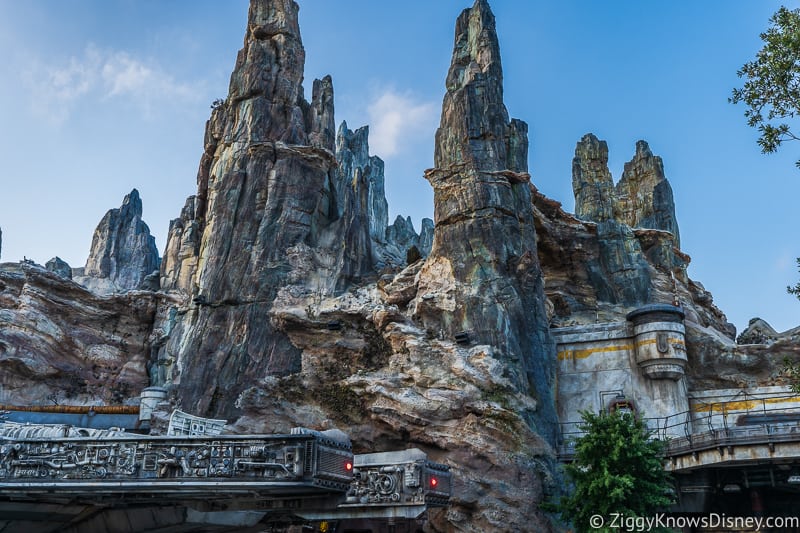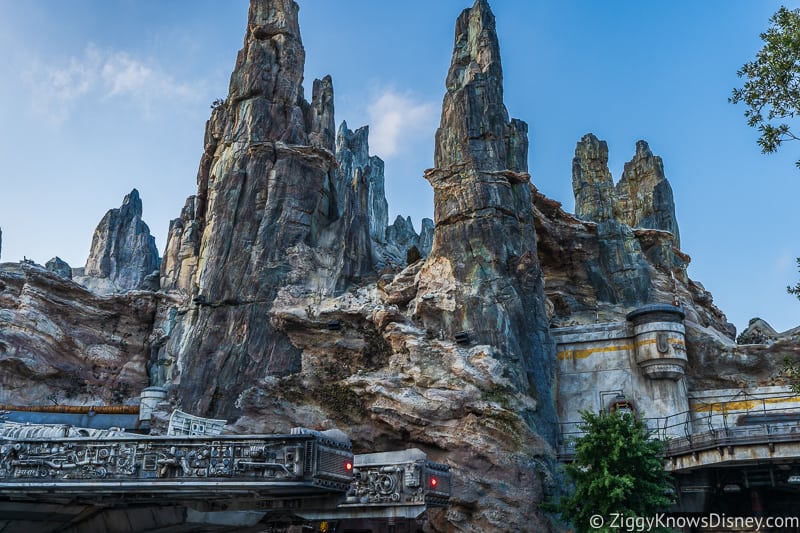 The situation is a bit different in Walt Disney World. A greater number of people that visit the parks in Orlando are vacationers who for sure aren't going to miss out on a trip to Batuu if they are in town. Yes, some vacationers have put off their trips and I don't think we'll see the biggest crowds of the year at the end of August, but it should be worse than Disneyland.
That being said, I don't think the crowds will be enough that you should avoid going to Galaxy's Edge during that period. Since it opens months after the Disneyland version, Disney will have operations worked out by then and they will be able to control crowds just fine by then.
There will be less technical difficulties and overall things should just run really smooth from the start. That plus the fact that with the initial "wow factor" happening in Disneyland, there's a chance that some people who might have gone to the Disney World Galaxy's Edge opening may have already decided instead to go to Disneyland.
Don't get me wrong, there will be massive crowds in Disney World for Galaxy's Edge too without a doubt, but I believe that they will be manageable, and definitely not worth skipping over Galaxy's Edge for if you have the chance to go. I was floored at the amazing job Disney Imagineers did building it and it doesn't disappoint at all.
The nice thing about going to the Disney World version, is that there won't be any 4-hour time limits on your visit in Batuu. You will have more time to explore Galaxy's Edge without feeling like you are being rushed and have to get x, y and z done before leaving. I mean part of the beauty of this highly interactive place is just wandering and exploring, and guests who visited Galaxy's Edge for the opening in Disneyland didn't have the chance to do much of that.
Stay tuned as we update this post to bring you the most updated info on making your Galaxy's Edge visit.
If you're looking for more info on Star Wars Galaxy's Edge you can take a look at the restaurants and dining in Galaxy's Edge, all the merchandise you can purchase like customizable droids and lightsabers, plus some killer animatronics for the attractions and the land in general.
If you want more Galaxy's Edge planning tips then read our Star Wars Land Planning Guide which will tell you all about the rides, food, and everything you need to know before going.
If you weren't interested in knowing when Galaxy's Edge is opening before, try to read that and then tell me you still aren't excited!! 😜
Star Wars Galaxy's Edge Opening Dates:
Disneyland: May 31, 2019 (Already Open)
Disney World: August 29, 2019
So those are our thoughts so far, we'll have more soon so stay tuned here at Ziggy Knows Disney and we'll continue to update you on everything Galaxy's Edge!
Your Thoughts:
I want to know what you think about visiting Star Wars Galaxy's Edge in Disneyland and Disney World…
Are you going/did you go to the opening of either one?
When do you plan on visiting Star Wars Galaxy's Edge?
Let us know in the comments section below!
If you enjoyed this article, as always I appreciate it if you'd share it with others via social media. I work hard at making this website into a useful resource for you and your family to plan your visit to the Disney Parks and I hope it can help you! Thanks 🙂