If you thought Star Wars Galaxy's Edge was awesome, just wait until you see all the details about the Star Wars Hotel coming to Disney World! Ever since it was announced that Disney was building a Star Wars: Galactic Starcruiser resort, we've been excited out of our minds knowing guests can board a starship for a multi-night adventure in what is going to be the most immersive hotel experience in the world!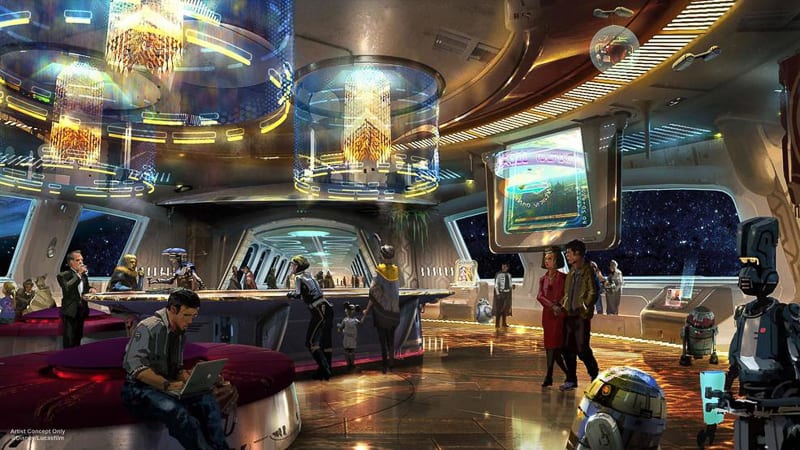 In this post, we are going to break down everything we know about Disney's Star Wars Hotel including: its name (Star Wars: Galactic Starcruiser), Location, Pricing, Entertainment, Rooms, Reservations and the Opening.
While Disney hasn't yet shared all the details, we're continuously updating this post to bring you the latest news and updates on the Star Wars Hotel in Disney World. Sit back, relax and imagine what it will be like stepping on board the Star Wars: Galactic Starcruiser!
(NEWS 5/4/21) Star Wars Galactic Starcruiser Opening in 2022, New Lightsabers
Before we get into all the details of the project, we wanted to give you the latest update on what's going on with the Star Wars: Galactic Starcruiser resort.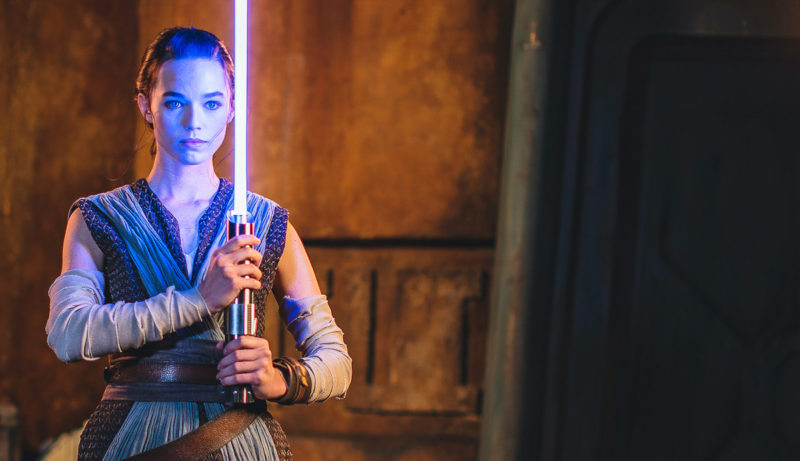 Since Walt Disney World closed in 2020, there haven't been many details released about the Star Wars Hotel project. Until Now. On this May the 4th, we finally have some good news for you.
The Star Wars: Galactic Starcruiser Hotel is opening in 2022!
Not only that, Disney has revealed brand new working lightsabers that will be one of the main attractions for the hotel! When you see these things they will blow your mind!
Disney even released a brand new video showing the impressive lightsaber in action:
We can't wait to get our hands on one of those!!
Here is a look at the Galactic Starcruiser Hotel model on display at Disney's Hollywood Studios in The Walt Disney Presents attraction.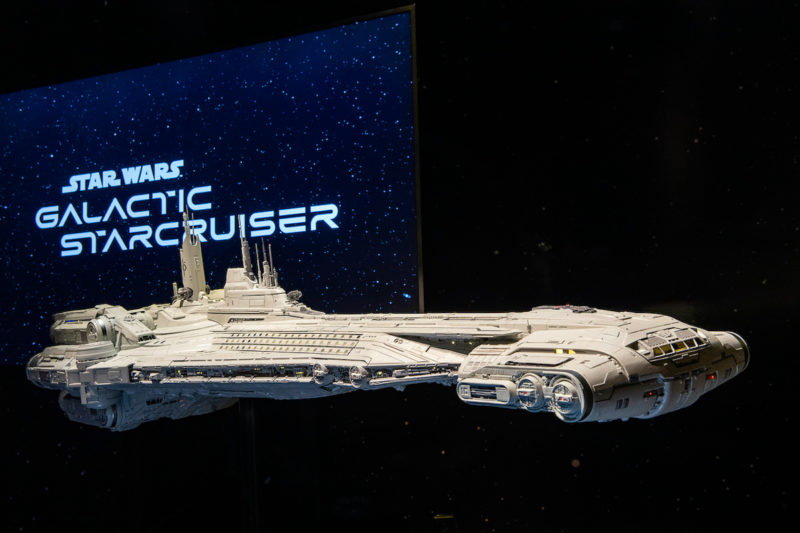 Disney also confirmed that from the moment you arrive to the moment you depart, you'll be plunged into a Star Wars story where your decisions, actions, and even the casual conversations you may have will determine how your personal journey unfolds.
So what does this mean for the future of the Star Wars: Galactic Starcruiser? When can we expect it to open now? While Disney has confirmed it will open in 2022, they still haven't given an exact date yet. That means if could be anytime during the year at this point.
The Star Wars Hotel has some very real issues that are directly tied to the current health crisis and the financial status of the company.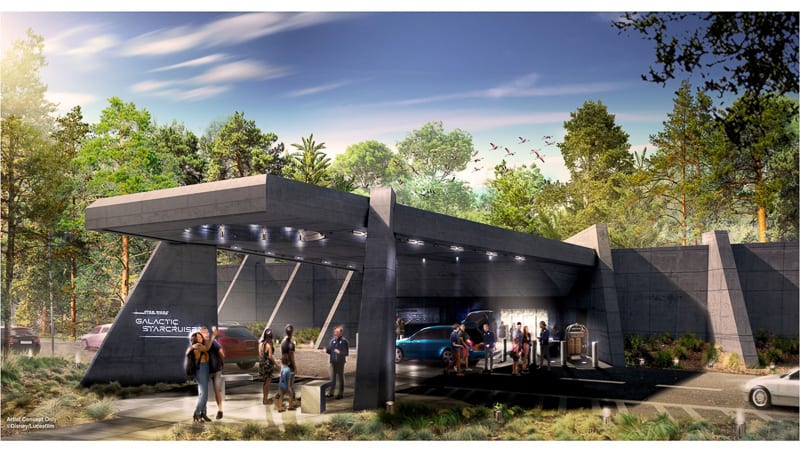 For a while, things were looking very questionable for the project. In fact, all construction on the new Star Wars: Galactic Starcruiser hotel was temporarily suspended in 2020, like all the projects around Walt Disney World. Many were speculating the future of the Galactic Starcruiser hotel, and if Disney would even go through with building it.
After all, not too long ago, Disney announced it was cutting $900 million to the construction budget for new projects. In fact, since then we've already seen some new projects get canceled or postponed in Disney World, with big cuts to the EPOCT overhaul and some older attractions canceled like Primeval Whirl and Rivers of Light.
Since the new announcements, we know the project is full-steam-ahead. However, the financial aspect is still a huge factor. The Star Wars Hotel is supposed to be a very exclusive, and very expensive experience for guests. With only around 100 rooms, the two day experience is expected to cost in the THOUSANDS of dollars to do.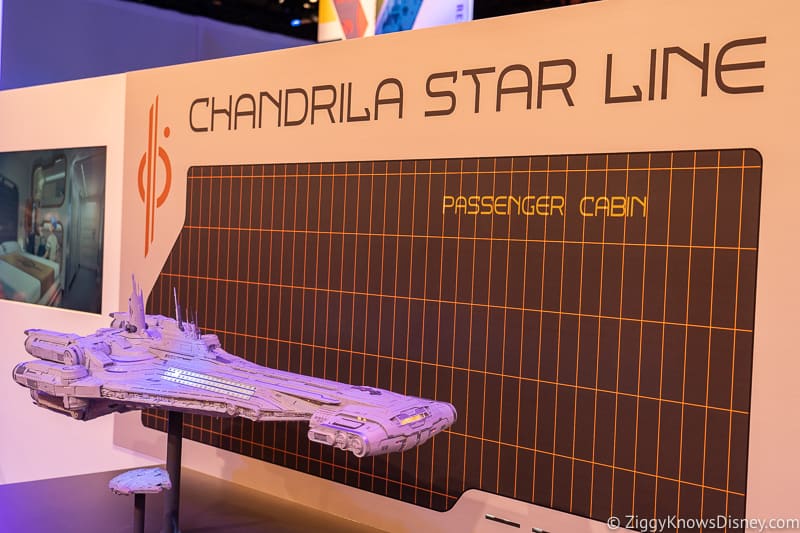 While that might have been ok to think about over a year ago, it's safe to say plenty of potential Disney World guests are in a completely different financial situation now due to the failing economy and extremely high unemployment rate in this country.
Another reason why it's been postponed is with the Galactic Starcruiser resort is the nature of the experience is to be in a closed space, in close proximity with other guests for the duration of your stay. That too is not ideal given the current health crisis and what type of activities people want to do right now.
It would be a tough sell to convince a high majority of people to shell of the kind of money it will take, all to stay in a window-less structure with almost no exposure to fresh air.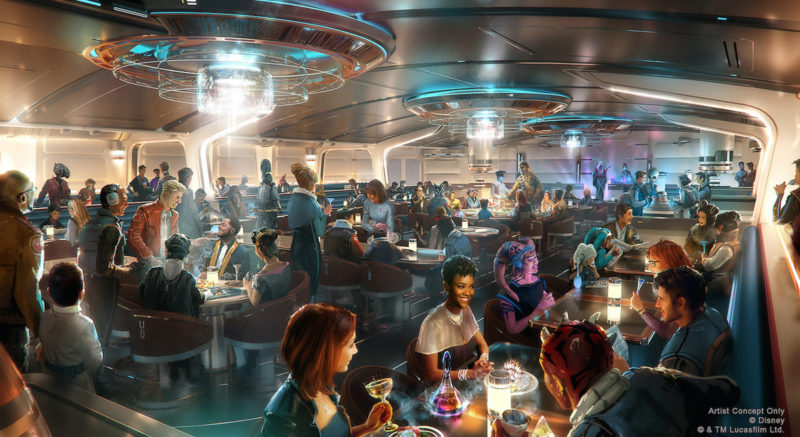 At least by pushing this out to 2022, hopefully people will be in a better situation both physically and economically.
The theme parks at Disney World are starting to pick up in attendance now. That should tell you people are no where near ready to start traveling again and experiencing a theme park, let alone an even more intimate experience like the Star Wars Hotel in Disney World.
Our best guess is that the Galactic Starcruiser hotel will open around the Summer 2022. That will give Disney more time to prepare everything, for things to get back to normal and for guests enough time to plan a trip.
Disney will probably wait a bit more to see how the world situation unfolds before locking in a specific opening date.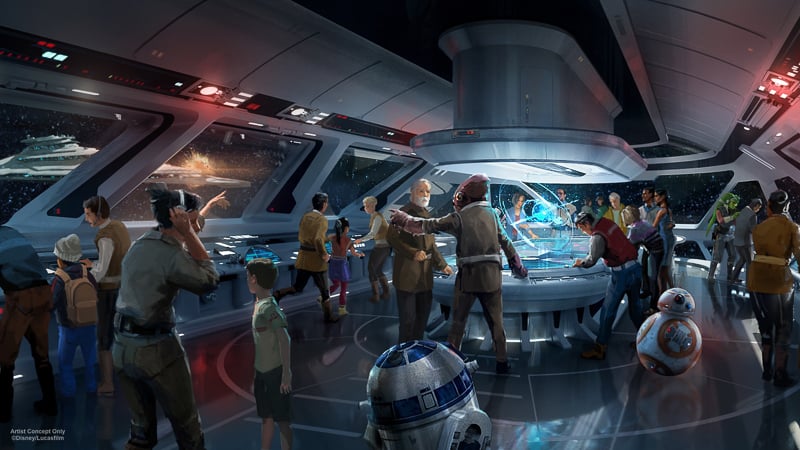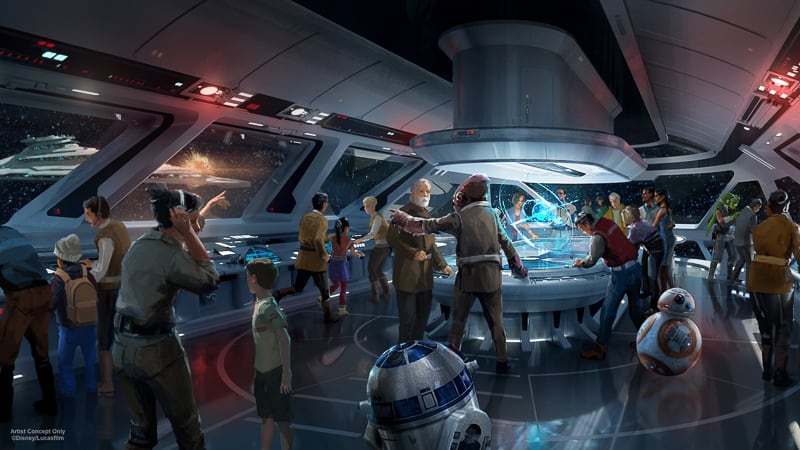 We hate to say it, we think due to the cost-cutting tear the company is on, the Star Wars Hotel will be scaled back some. Perhaps some of its more costly show sets and entertainment options will be put aside for the time being for cheaper or fewer options.
Disney hasn't yet said what kind of system guests will be used to make reservations for the Star Wars Hotel. Will it be handled like regular Disney Hotel reservations, or will there be some kind of lottery system similar to when Star Wars: Galaxy's Edge opened in Disneyland?
We have some more ideas about the reservations so keep scrolling down to read more details about the latest news for the Star Wars Hotel.
In the meantime, watch this video with Executive Producer for Walt Disney Imagineering, Ann Morrow as she explains more about what this incredible experience is going to be like:
(NEWS) First Look Inside the Star Wars Hotel Guest Rooms
We've had a lot of concept art up to this point, but now Disney has just shared a first look inside the real Star Wars: Galactic Starcruiser guest rooms, and they look out-of-this-world!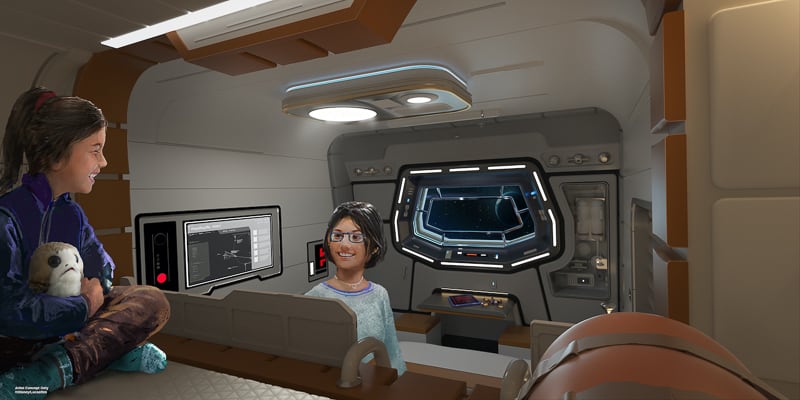 There will be two types of rooms available to stay in, a "regular-sized cabin", and the larger "Captain's Quarters" cabin.
In the photo below we get our first look at one of the regular rooms. These fit 4 guests.
Notice the queen-sized bed and the two "space bunk bed pods" on the wall: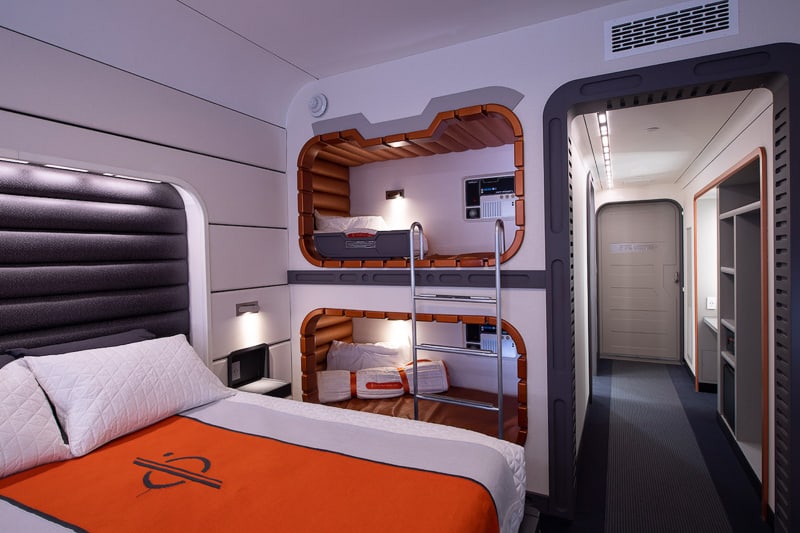 You can also see the entrance hallway with a closet, and a bathroom on the left-hand side.
Here is a view of the room from the bunk beds: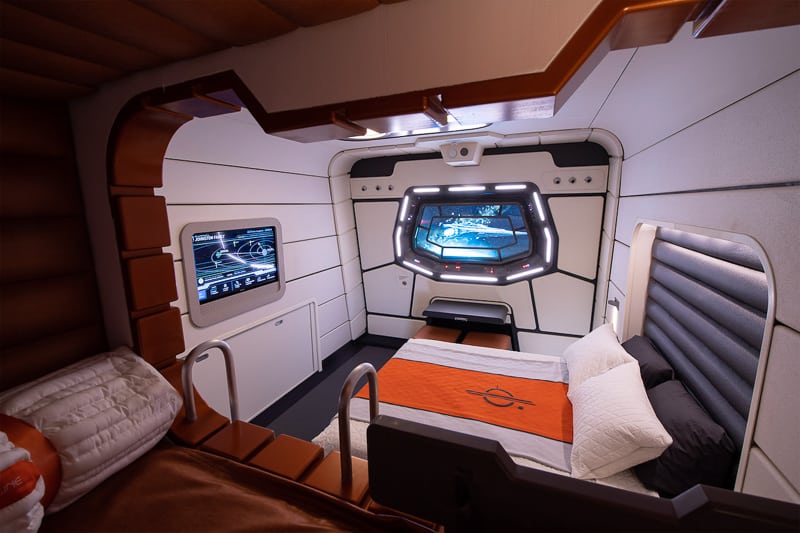 You can see the high-tech digital window on the far wall which will give you a view into outer space.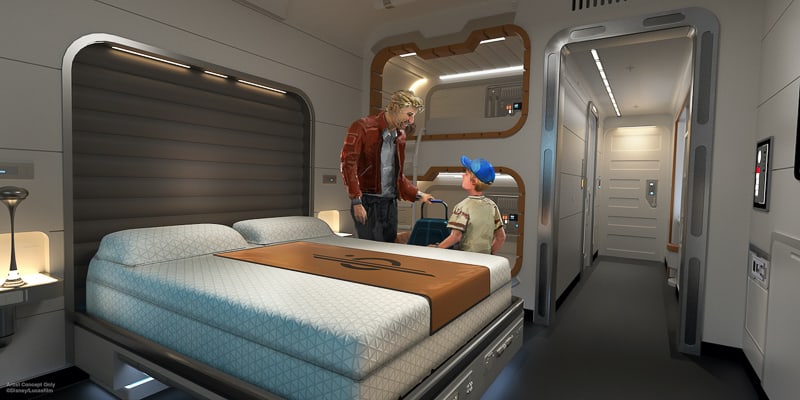 The Star Wars hotel is more like a cruise ship experience rather than a traditional hotel where guests stay for a 2-day, 2-night experience.
For more info on the Star Wars: Galactic Starcruiser Hotel, keep reading below…
Star Wars Hotel Overview
So just what is this Star Wars Hotel anyway? Star Wars: Galactic Starcruiser is Disney's new fully immersive and interactive Star Wars-themed resort. What makes this different from any other hotel Disney has done in the past, and any other hotel anyone has done, is that guests will be fully involved in their own Star Wars universe story that they will get to play out during the stay.
What also makes it unique is that it will act more like a cruise than a normal hotel, with guests coming aboard for a 2-night, 3-day all-inclusive excursion. There will be no 1-Night stays or longer than 2 Nights, and everyone will start and finish their stay at the same time, just like on a cruise.
That is something that Disney hasn't ventured into yet, and it will be unlike any other vacation experience on the planet!
"Star Wars: Galactic Starcruiser is a completely new type of experience," says Ann Morrow Johnson, executive producer for Walt Disney Imagineering. "You're going to live onboard a star cruiser…and you can get wrapped up in the larger Star Wars story."
Onboard the luxury hotel, guests will interact with characters and become active participants in stories that unfold around them onboard the ship, and even some off-ship in Star Wars Galaxy's Edge.
There will be Lightsaber Training, a Mission Control Experience where the Galactic Starcruiser ("Halcyon") gets attacked by First Order troops, Interactive Dining, Star Wars Character Interaction and numerous other Themed Activities and Experiences.
Disney Imagineer and Portfolio Creative Executive, Scott Trowbridge said: "Our guests who are part of the Galactic Starcruiser experience can think of the Starcruiser as a Star Wars space version for cruise ship with ports of call including to the planet Batuu, but it is also a story-driven experience where you are invited to go as deep as you want…
So your stories from the Galactic Starcruiser will influence what happens to you on your planetary visit and your stories of what you do on the planet will follow you back to the ship."
Disney hasn't yet shared how the stories between the Galactic Starcruiser hotel and Galaxy's Edge will be shared, but at least we have confirmation that the two will be connected!
Where is the Star Wars Hotel Being Built?
In creating an immersive experience that will work together with Star Wars: Galaxy's Edge, Disney is building the Star Wars Hotel right next to Disney's Hollywood Studios theme park.
Originally when the project was announced, it seemed like it might be attached to Hollywood Studios itself, but as construction got underway, it's clear that the location of the Star Wars Hotel is close to Disney's Hollywood Studios park, but not attached to it.
Here's a look at the location of Star Wars: Galactic Starcruiser near Hollywood Studios: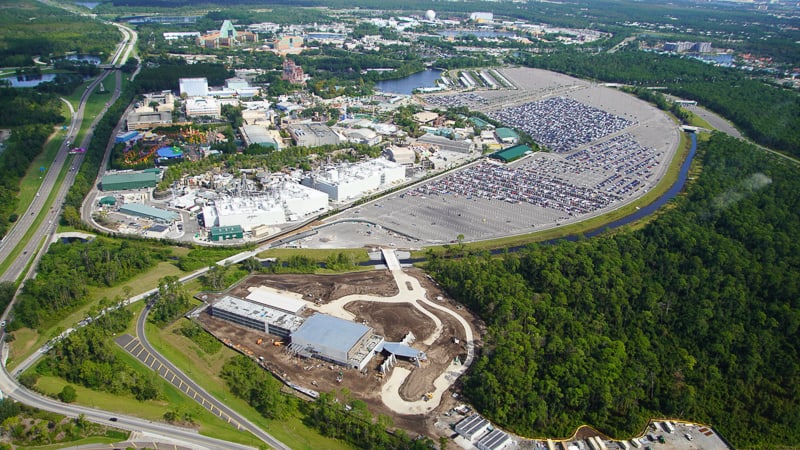 The reason Disney is building the Star Wars-themed resort right near Hollywood Studios, is to give its guests access to Galaxy's Edge nearby. Guests will seamlessly move between the hotel and Star Wars Land for "special visits" where they will carry out secret missions and have various adventures.
Star Wars: Galactic Starcruiser Name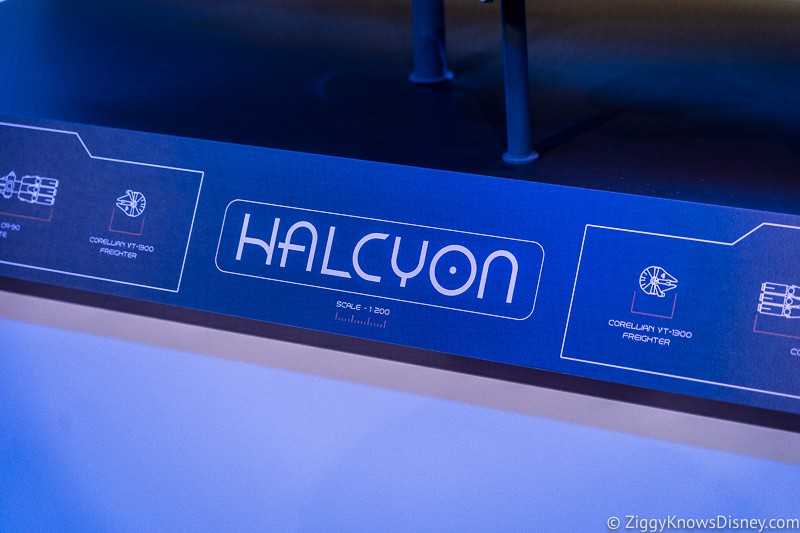 At the latest D23 Expo, a bunch of news and updates were announced including the official name of the Star Wars Hotel: "Star Wars: Galactic Starcruiser." Of course, this name is pretty fitting seeing that it's more like a Star Wars Cruise than a Star Wars Hotel, and implies that guests will be "cruising" through the galaxy while onboard.
We also found out the name of the actual ship from the Star Wars Hotel is going to be "Halcyon," and we got to see models of what the ship will look like from the outside. The Halcyon is part of the Chandrila Star Line fleet, the company that operates it.
How Big is the Star Wars Hotel?
While Disney hasn't announced the exact size of the Star Wars: Galactic Starcruiser hotel yet, we do know that it's not going to be big, rather it's small compared to other Walt Disney World Resorts. In fact, it's going to be a luxury boutique hotel with the focus on interaction and immersion, rather than sheer size.
How Many Rooms are there in the Star Wars Hotel? By looking through construction permits and blueprints we can get a sense of the exact number of guest cabins there are: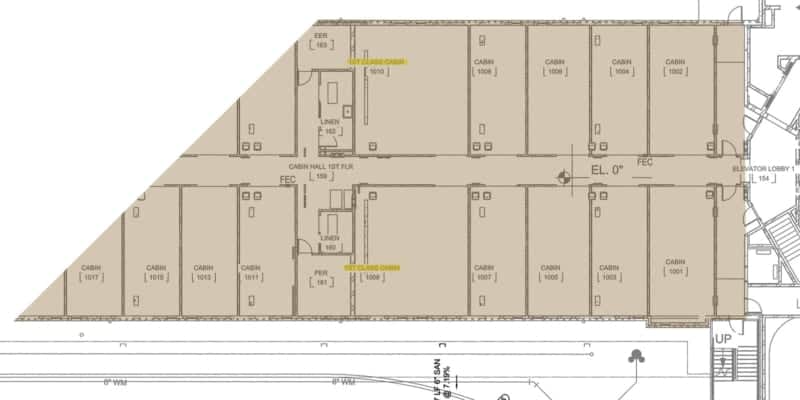 On the first floor, we can count 32 standard-size cabins like in the concept art. Besides the standard cabins, there will also be 2 1st Class cabins which will be bigger, and with more amenities. That gives us a total of 34 rooms on that floor.
Looking at the latest construction updates we can see the Star Wars Hotel has 3 floors of guest rooms, which means 3 x 34 gives us 102 rooms total. That is pretty close to the estimated 100 rooms we've been hearing for a while.
This is quite a difference from normal Walt Disney World Resort Hotels and really emphasizes how the storytelling part will be so important and how this will be a much more intimate experience than you'll find elsewhere. The emphasis here isn't on size and numbers, but on high-quality entertainment and that can only be controlled if there is a limited amount of guests onboard.
Layout of the Star Wars: Galactic Starcruiser Hotel
What will it be like on Disney World's Star Wars: Galactic Starcruiser Hotel? Thanks to Californiacoasterkings.com, we have some of the Star Wars Hotel blueprint plans showing the layout and amazing details about what the guest experience will be like, including the interior of the hotel.
We'll get into the plans in more detail as we go level-by-level through the hotel, but first, we'll go over the overall layout of Disney's Star Wars Hotel.
Here are the blueprints and plans for the overall project: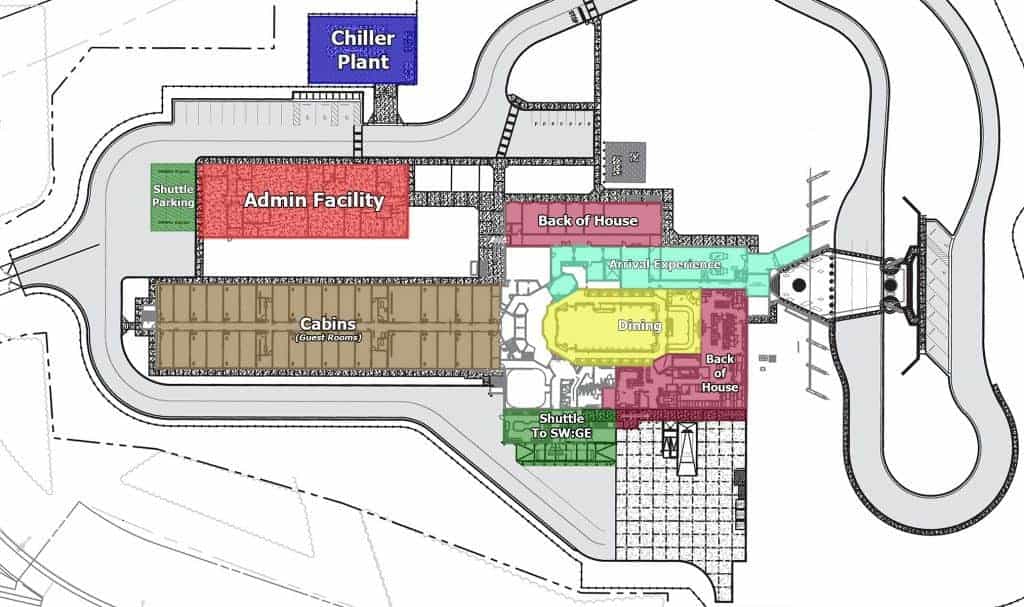 Notice the layout of the building with the driveway and drop-off point on the right and the main section of the hotel being the square part in center, with the long brown part indicating the guest cabins. These plans also show some backstage areas at the top.
Now let's go floor by floor on the inside of Disney's Star Wars Hotel starting on Level 1:
On the right in the green is where the entrance to the hotel is with guests dropping off their bags and heading into the pre-show area and eventually to the launch pod which will blast them up to the Galactic Star Cruiser.
The Brig, Engineering Room, Dojo (lightsaber training area), courtyard, restrooms and the table service restaurant all make up the main area of the first floor, with guest cabins to the left in 3 room class types: Typical, Captains Cabins and First Class Cabins.
When guests arrive however onboard the Galactic Starcruiser from the launch pod, they will arrive directly on level 2, which is the Main Lobby: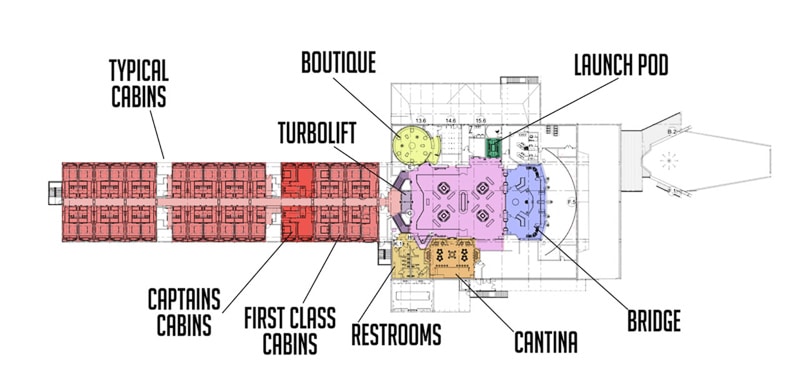 On the second floor of the Galactic Starcruiser, there will be of course the main lobby deck area in the center, followed by a boutique, restrooms, cantina, and the bridge. More guest cabins of all three classes are located down the hall.
All three floors of the Star Wars Hotel will connect by elevator (turbolift), a totally separate one than which you use to enter the hotel.
Lastly, we have the 3rd-floor plans: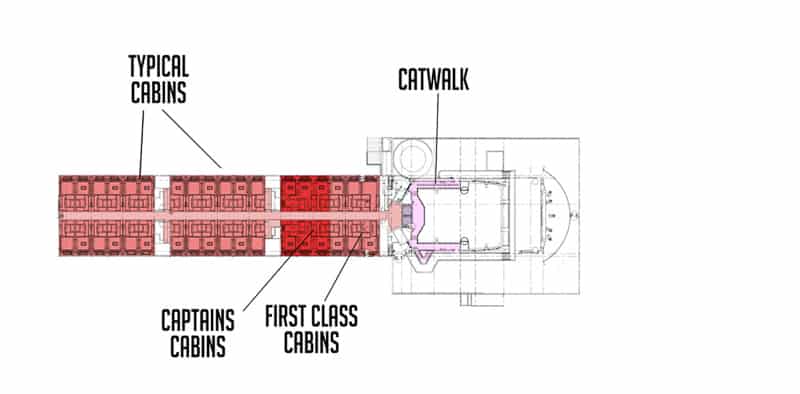 Here are mostly cabins, with a catwalk area looking down over the lobby in the center.
Now that we have an overview of the blueprints for the Star Wars Hotel, let's look at each section in more detail.
Star Wars Hotel Arrival Experience
First, we're going to look at the arrival portion of the Star Wars Hotel experience.
Of course, the premise of the Star Wars Hotel is that you are boarding a starship in outer space where you will stay, so your journey starts at the Galactic Starcruiser Terminal spaceport in Orlando, Florida where you will then embark on a shuttle which will take you up to the Starcruiser resort.
When guests pull up, they will be seeing the outside of a spaceport. Here is what that Galactic Starcruiser Terminal will look like: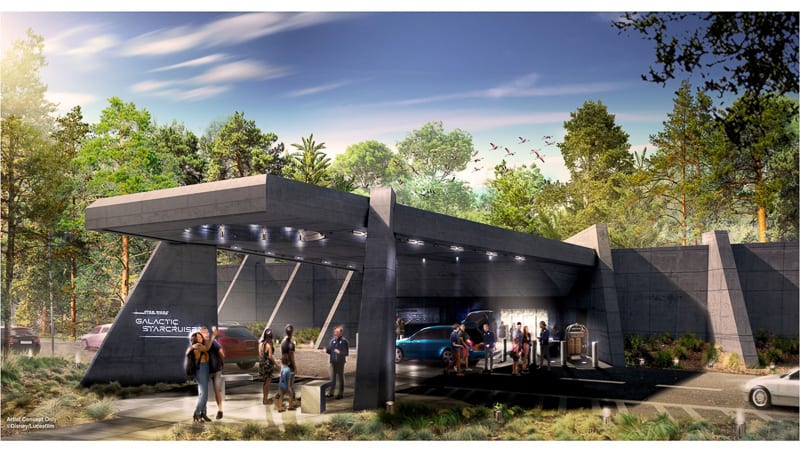 I love how the trees are completely blocking your view of the hotel from the drop-off point at the entrance. The hotel is behind the doors where you enter, but all guests can see from this part is the spaceport entrance and that's it!
This is critical to the storytelling as it would ruin the experience if you could already see the hotel from here.
This is a look at a previous version of the concept art: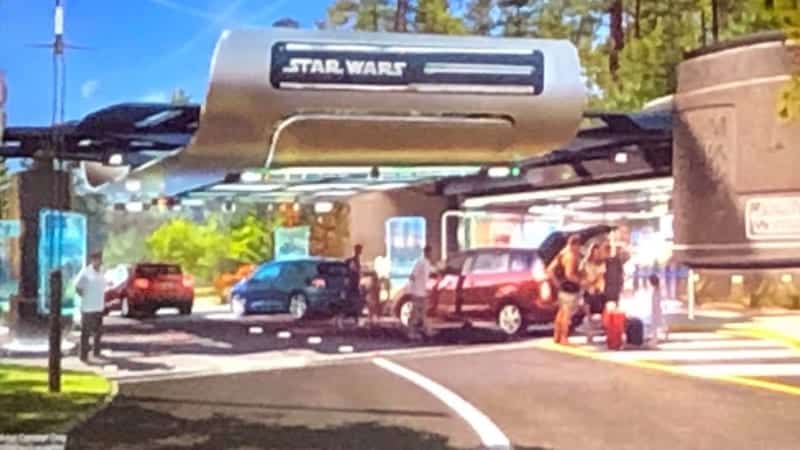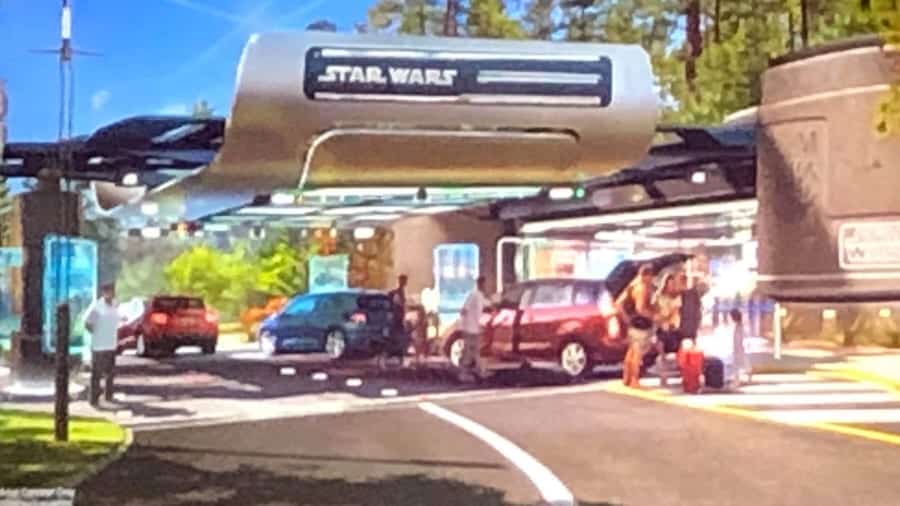 Now here is what that same entrance looks like under construction. Notice the road leading up to the drop-off point where guests will enter: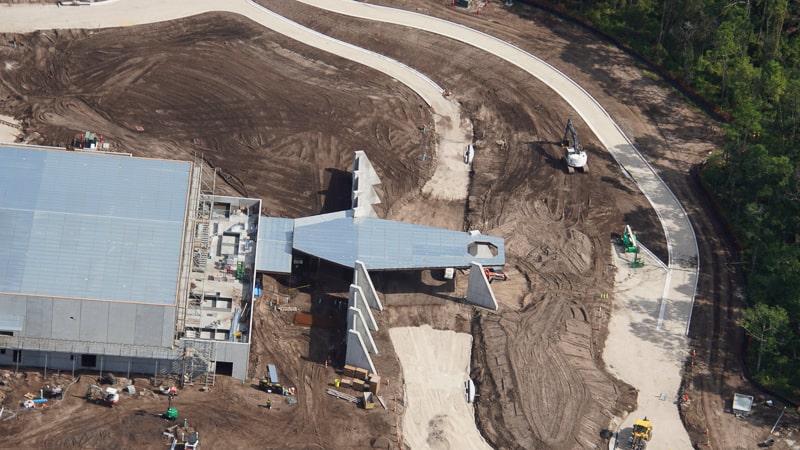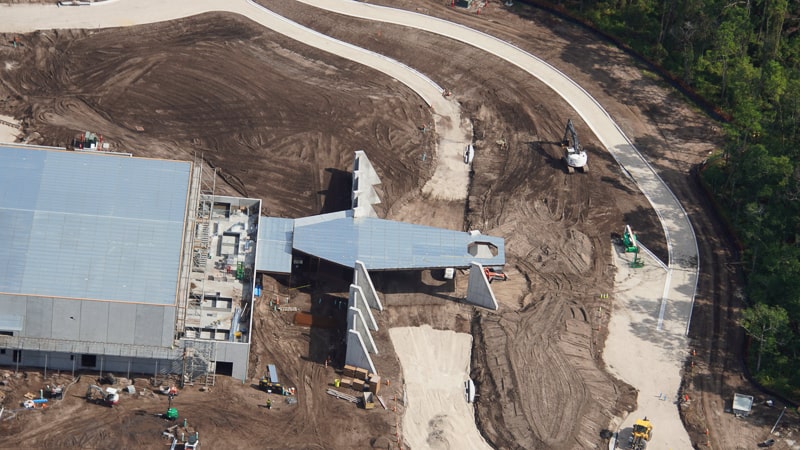 It looks like there will be limited parking for guests at the Star Wars Hotel, with a very small parking lot. Guests will leave their vehicles if they have one, otherwise, Disney will have other transportation arrangements for guests arriving to Orlando from the airport or other locations on Walt Disney World Property.
It's also here at the Galactic Starcruiser Terminal where you will check-in for your stay on the Star Wars: Galactic Starcruiser Hotel.
Now, what is the first thing you have to do when entering a spaceport before your flight? Go through security of course!

Your bags will pass through the X-Ray machines, while you will go through metal detectors. Why is this necessary you might ask? Well, once in the Star Wars Hotel, your trip to Galaxy's Edge needs to be seamless without breaking the atmosphere and going through security in the park. That means it has to be taken care of ahead of time, and once you do, you're set.
Once finished with security you will go through a room labeled "Pre-show." This will be a pre-show of some kind, explaining the mission you are about to embark out on.
Disney uses a sophisticated elevator system, like a lunch pod of sorts, which simulates space travel and makes you feel like you are really flying in a shuttle up into space aboard the ship.
Once past here, the guests will be loaded into the "Elevator Load" and then the actual "Launch Pod Elevator" where they will launch into space and up to their future home on the starship.
Here's what the inside of the launch pod you'll take up to the second floor will look like: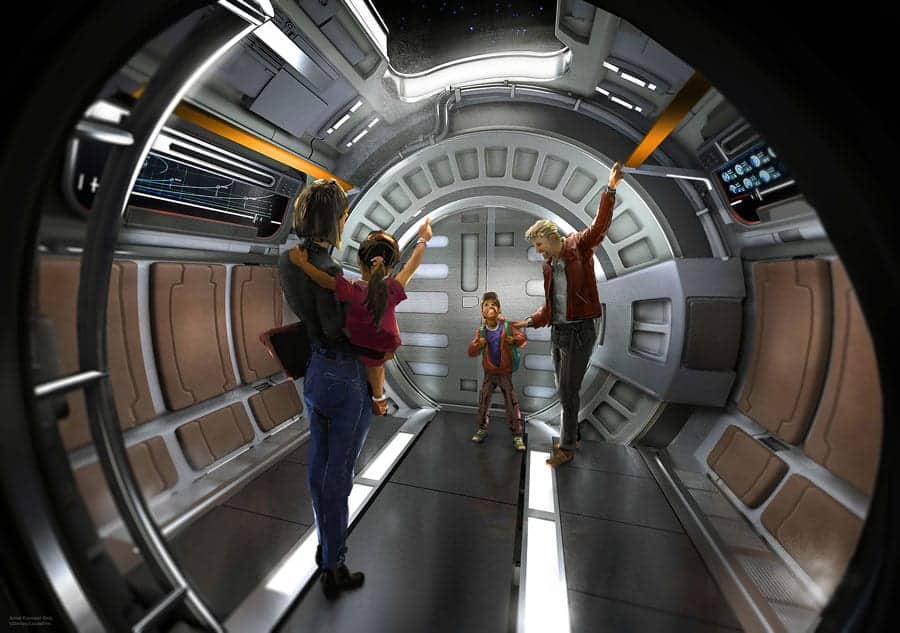 We also have a video Disney released a while back showing this sequence arriving on the spaceship:
You'll only go up one level with the launch pod, but it will seem like you traveled thousands of miles into space.
Main Deck on the Star Wars: Galactic Starcruiser
Once you get off the shuttle, you step into the elaborate Main Deck where you will start your galactic vacation experience. Disney is really emphasizing the "cruise-like" experience and all guests come aboard and exit at the same time, just like a cruise.
The concept art for the ship looks awesome with robots in the lobby, stormtroopers looking for resistance spies and even Chewbacca mingling with the guests. Guests will be interacting with each other a lot, as well as the characters onboard the ship.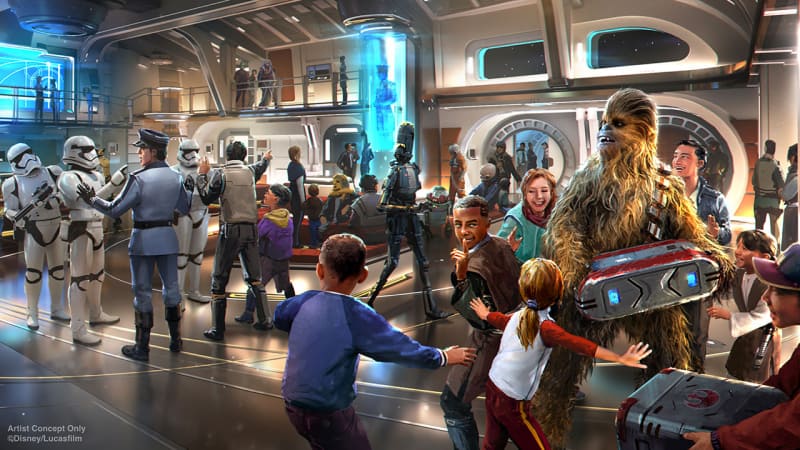 Here are some more blueprints for the main lobby area starting with the Main Level: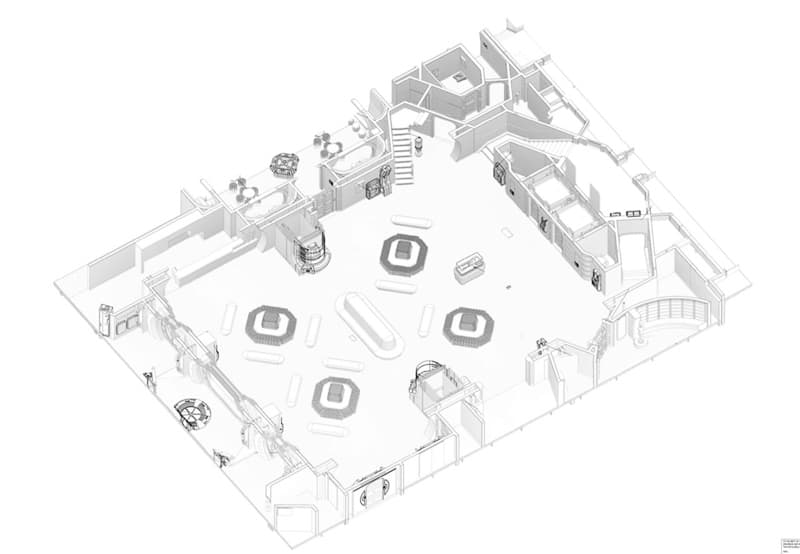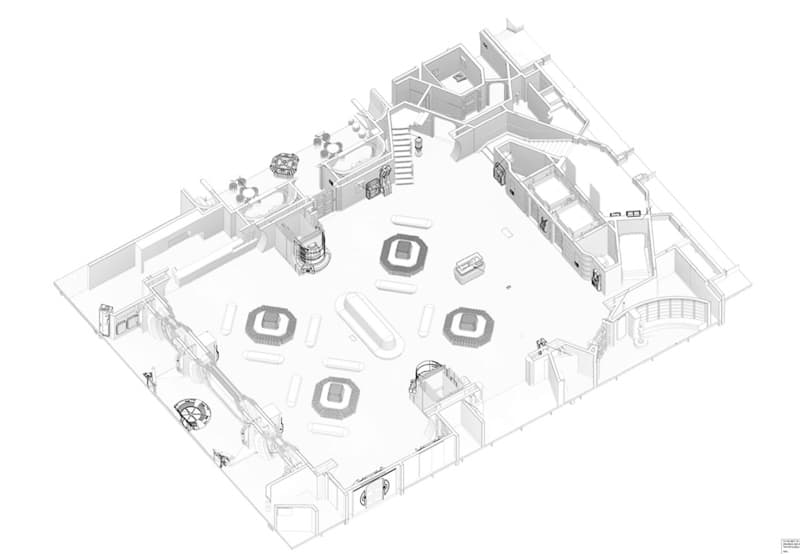 And here is the atrium level above the main level with a catwalk around the outside of it: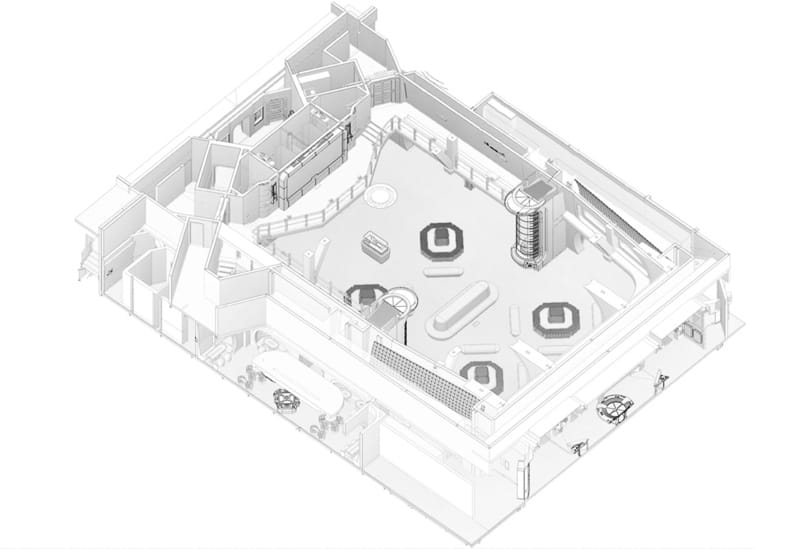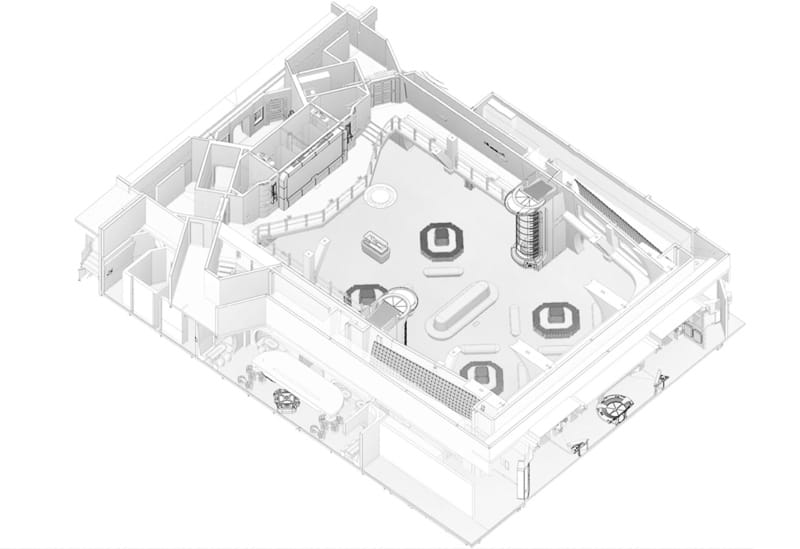 Some pretty interesting fixtures are located throughout the lobby, like the hologram tanks on either side. These will be used to communicate with Star Wars characters who will be giving you missions and announcements.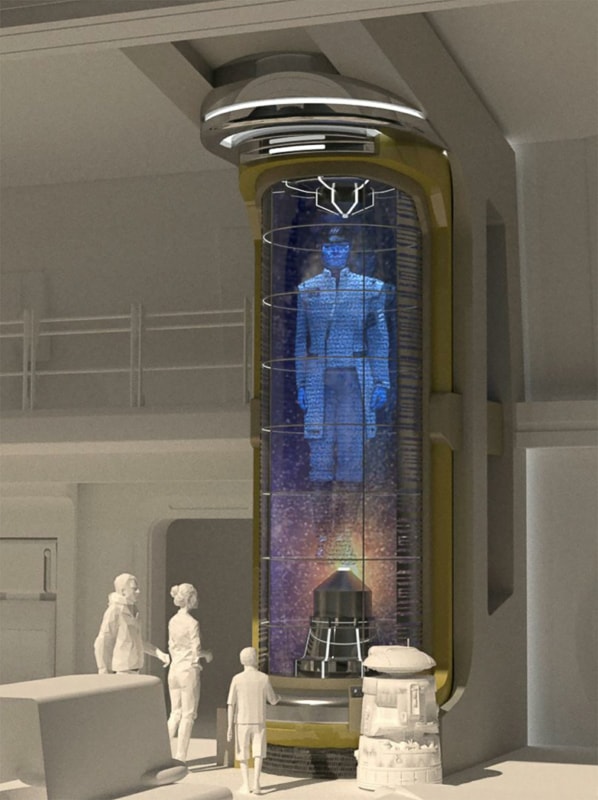 Characters like Kylo Ren will make an appearance aboard the Holcyon during an attack on the ship. There will be elaborate show sequences and in one part he will even make fixtures like this one fall from the ceiling: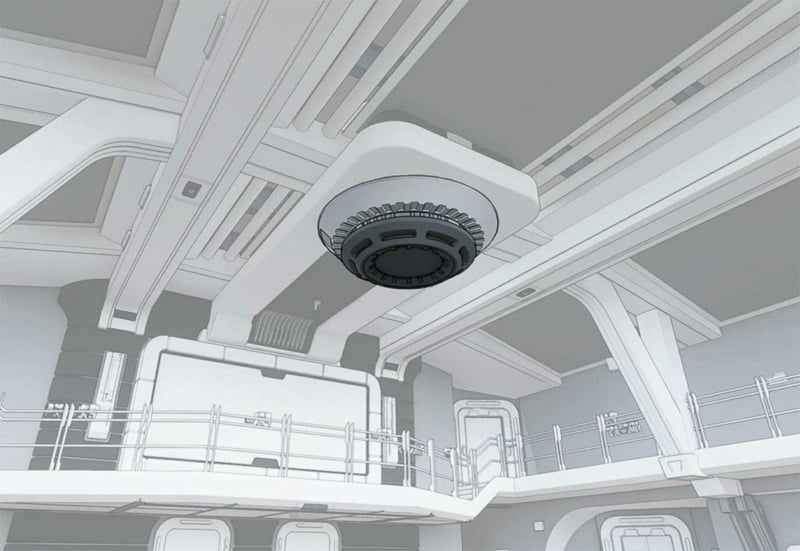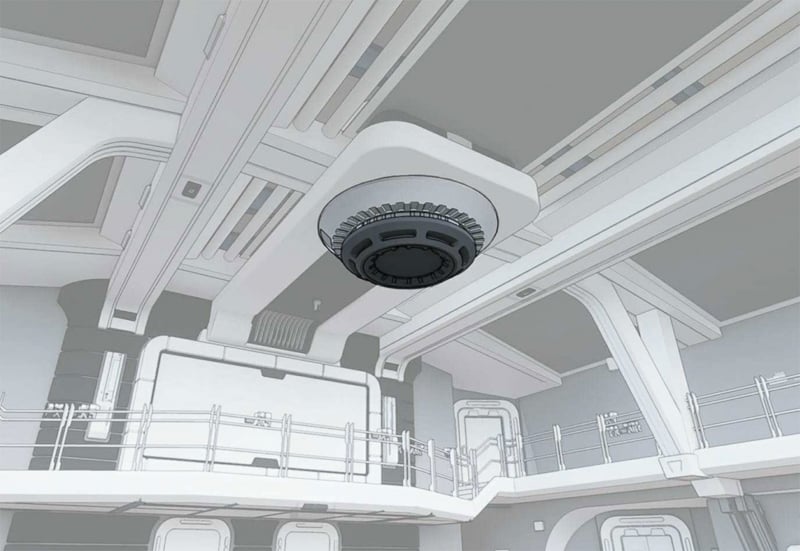 This whole time there will be giant windows looking out into the vast expanse of space, letting you know you're a long way off from your departure! In fact, there won't be any windows with a view out into the real world from the Star Wars Hotel, but they all will be these electronic ones where you can see the planets, stars and maybe even other starships!
This window technology is first being used in the Epcot Space Restaurant, which is opening in the next few months. That will give us a nice preview of what we can expect from the Galactic Starcruiser.
Rooms
Since this is a 2-Night stay in the Star Wars Hotel, guests will need a place to sleep, and that's where the many guest cabins come into play. Guests cabins come in 3 sizes: Typical Cabins, First Class Cabins and Captain's Cabins.
Here is some concept art from Disney at the guest rooms in the Star Wars Hotel: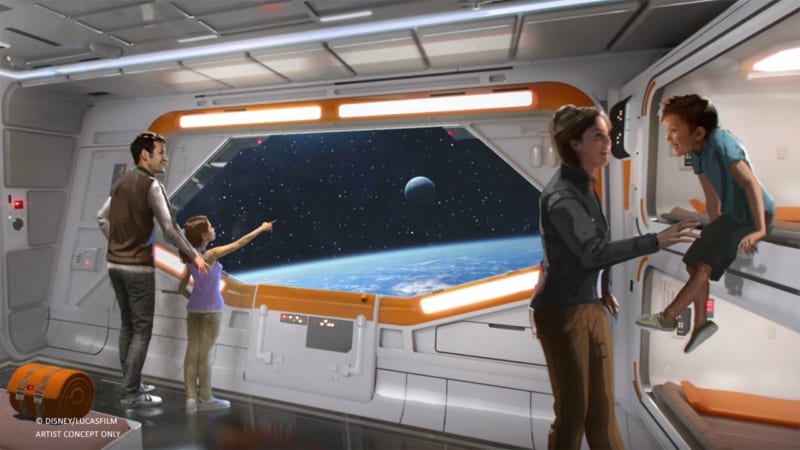 The rooms are very clean and have a distinct "space-feel" to them with white walls, and light panels and buttons everywhere you'd expect to see on a starcruiser.
Here are the blueprints for the cabins: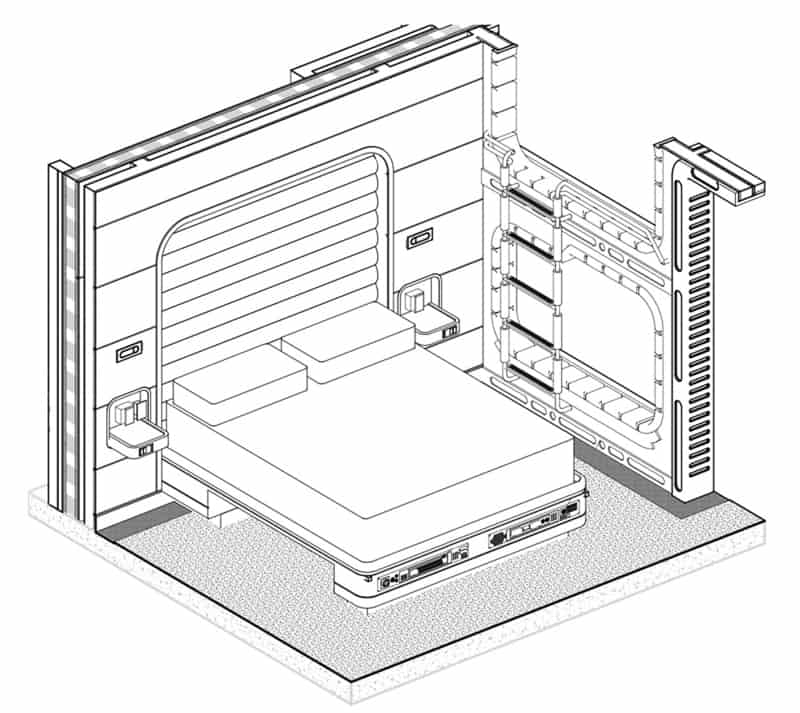 The typical guest cabins will sleep 4 and have a big bed and two bunks for the kids. Here's a side shot of the details on the bed. Those panels look awesome!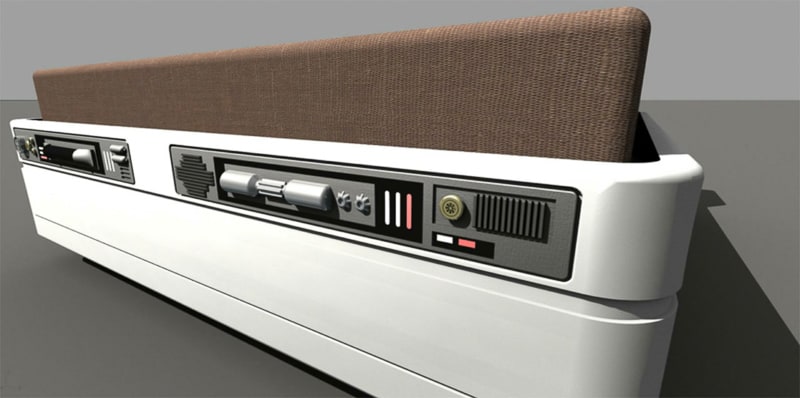 The space windows which are throughout the ship are also in each guest cabin and will provide incredible views: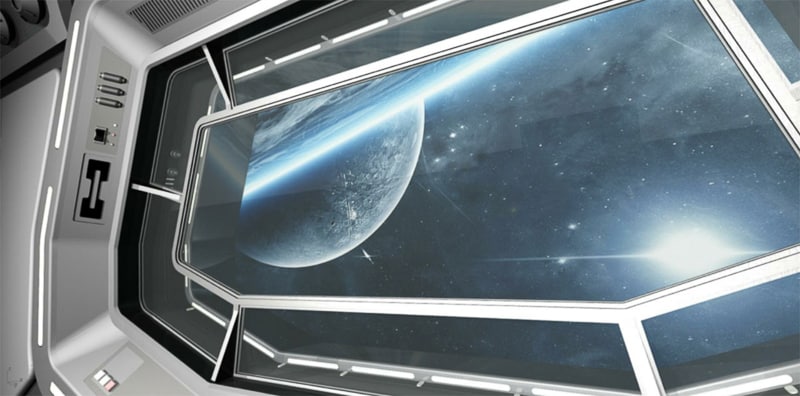 These rooms will also be highly immersive as was described in patents Disney filed for immersive multimedia for hotel rooms. Let's hope all those buttons have a function!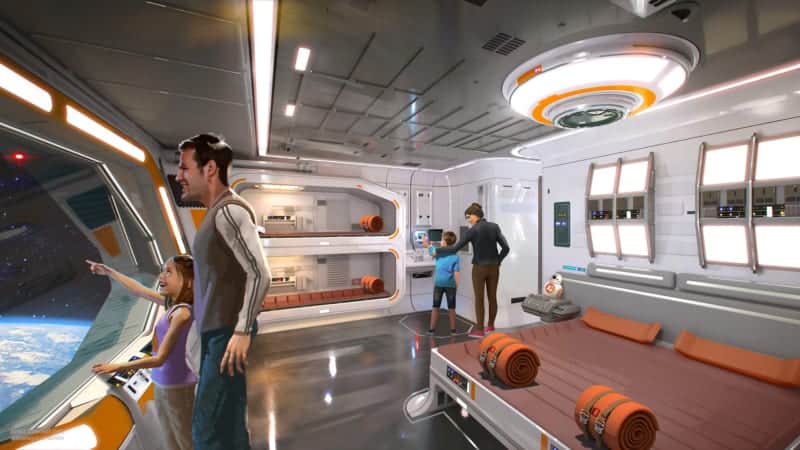 Typical Cabin Rooms will fit 4 guests, while the bigger First Class Cabins can hold bigger families. The only negative we can see so far is that the typical rooms aren't connecting, in order to accommodate bigger parties. It will be interesting to see the maximum capacity for all room types.
The rooms sound completely amazing, but what else can you do in the Star Wars Hotel?
Entertainment & Experiences on the Galactic Starcruiser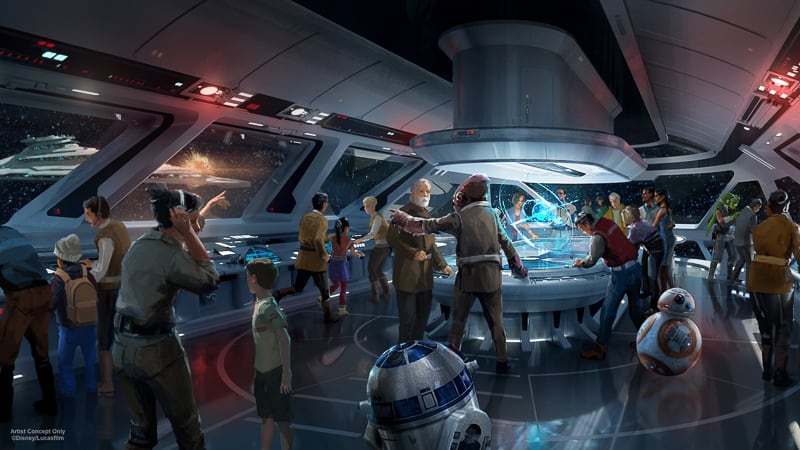 Disney hasn't given the full details yet about all the entertainment and experiences on the Star Wars: Galactic Starcruiser hotel, but we do know quite a bit of information already. We have the names and general idea behind most of the interactive experiences available.
There are some other rooms off the main lobby and down on the bottom floor where guests will be able to engage in interactive experiences. All the areas in the blueprints where it's marked: "Dojo," "Brig", "Engineering Room," "Courtyard" and "Bridge," those will all be part of the entertainment and have heavy storytelling elements.
Let's look at the ones we know about so far:
Lightsaber Training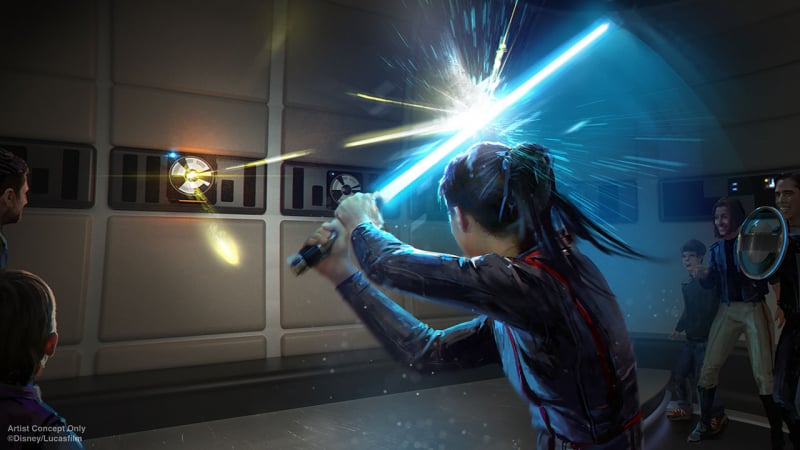 This is the Dojo we see in the plans and where young or old can put their lightsaber skills to the test as they go up against a training remote just like Luke Skywalker did in A New Hope.
What would be awesome is if guests could bring their custom lightsabers from Savi's Workshop or the Legacy Lightsabers from Dok Ondar's and use them in the Dojo lightsaber training. The lightsabers on the Star Wars Hotel though will probably be specially made to interact with the training remote, but we can dream!
Bridge Control Room Attack Sequence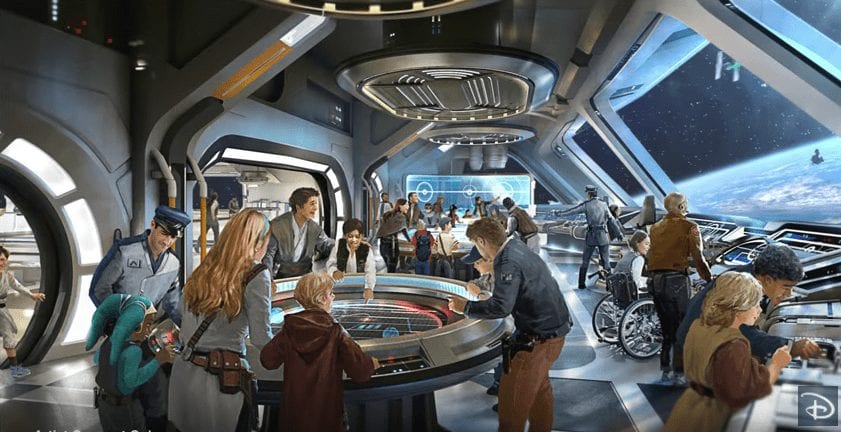 This is the one experience I'm most looking forward to on the Halcyon. You will be brought to the bridge and trained on how to use the controls and navigate the ship. This will come in handy later on in the story as the Galactic Starcruiser will come under attack during the adventure and your ability to fend off the attack will be crucial.
Engineer Room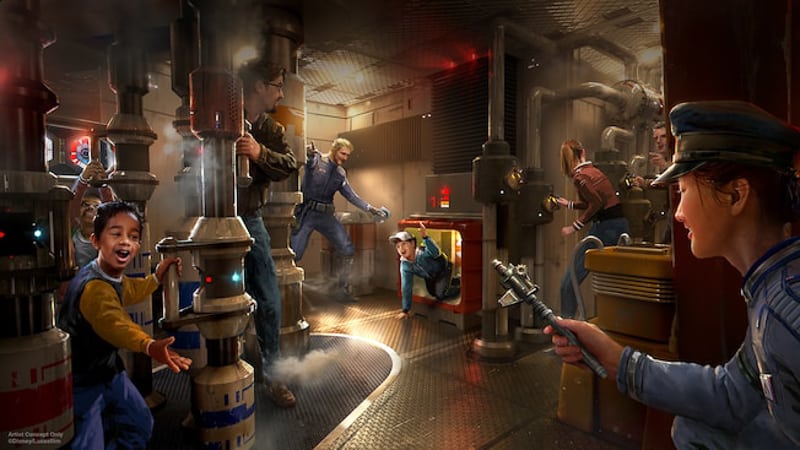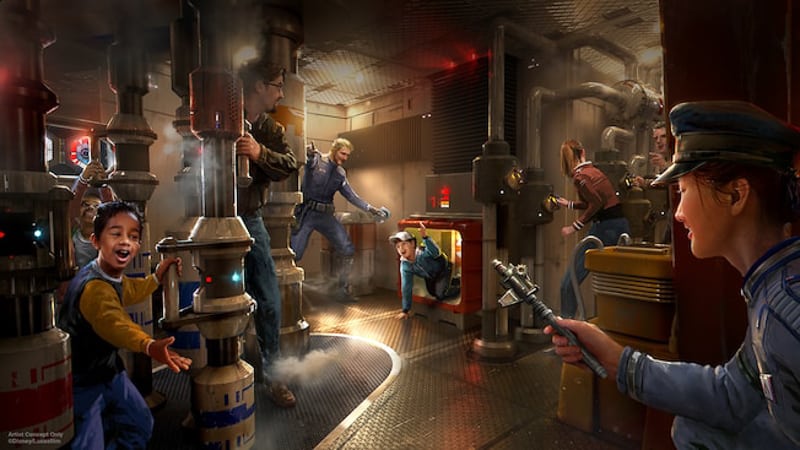 Discover the hidden secrets of the Halcyon, with secret spaces hidden deep in the mechanics of the ship. Perhaps you'll find a secret meeting or two…
Brig
No details about the Brig experience have been given yet.
Courtyard
This area off the main deck will allow guests to use their force powers, pushing and levitating rocks and other objects.
Disney has been working on this technology for a while now, and while we thought using the force might be implemented in Galaxy's Edge, it looks like it will be put to use in the Star Wars Hotel instead.
Consequences from Actions
Disney has also said that the choices you make during your adventure will help determine how your Star Wars story progresses. We've heard that before in Galaxy's Edge, and that hasn't exactly come true so far. It seems that taking a concept like that and deploying it on a theme park scale was a bit too ambitious.
However, that same concept on a much smaller scale is definitely do-able, and one of the reasons Disney is keeping it small.
What Characters Will there be on the Star Wars: Galactic Starcruiser?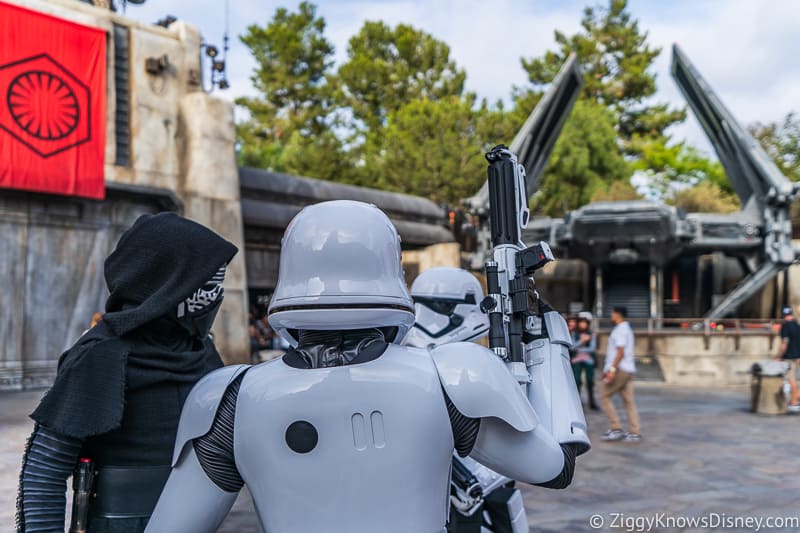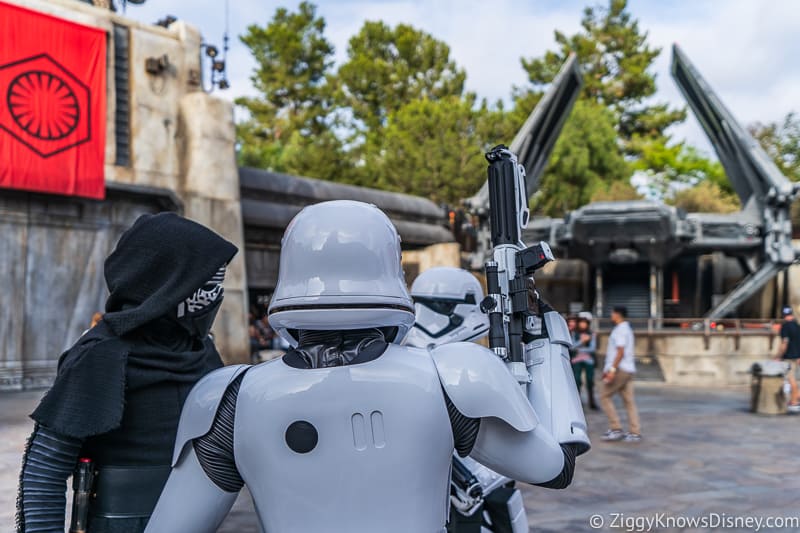 While we don't know all the characters that will be featured in the Star Wars Hotel, we do have a list of some who are definitely confirmed:
Chewbacca
Kylo Ren
Stormtroopers
Droids
Resistance Spies
The First Order characters will play a prominent role in the adventure, with Kylo Ren leading the way.
Besides those, we can't tell just who else will make an appearance, but I would say there's a pretty good chance that Rey will make an appearance seeing as she is heavily featured in Galaxy's Edge already and I don't think they would put Kylo Ren without her.
As far as old-school Star Wars characters, I don't think you can expect any (outside of Chewie). In all its recent Star Wars additions to the parks, Disney has been concentrating more on the new generation of characters that are in the newer trilogy. That means you can probably forget any appearances from Darth Vader, Luke Skywalker, Obi-Wan Kenobi or Darth Maul.
Interactive Holograms
If you've ever seen a Star Wars film before, then you know characters in hologram form appear often in order to relay important information between each other. Well according to the U.S. Patents office, Disney has filed for a patent called "Floating Image Display System."
This technology if implemented would allow guests to interact with hologram characters from Star Wars during their journey. In fact, looking back up at the concept art for the main lobby, you can see guests talking to what appears to be a hologram figure.
If they were able to pull this technology off, just think of the possibilities of where they could use this technology, not only for the Star Wars franchise but throughout the parks. (Hello Avengers Campus for example.)
Star Wars Hotel Restaurants
Dining is always a big part of any trip to Disney World, and it will be no different on the Halcyon. There are 2 restaurants/dining locations onboard the Star Wars: Galactic Starcruiser: a Table Service Restaurant and a Cantina.
In the concept art you can see the table service restaurant marked TSR: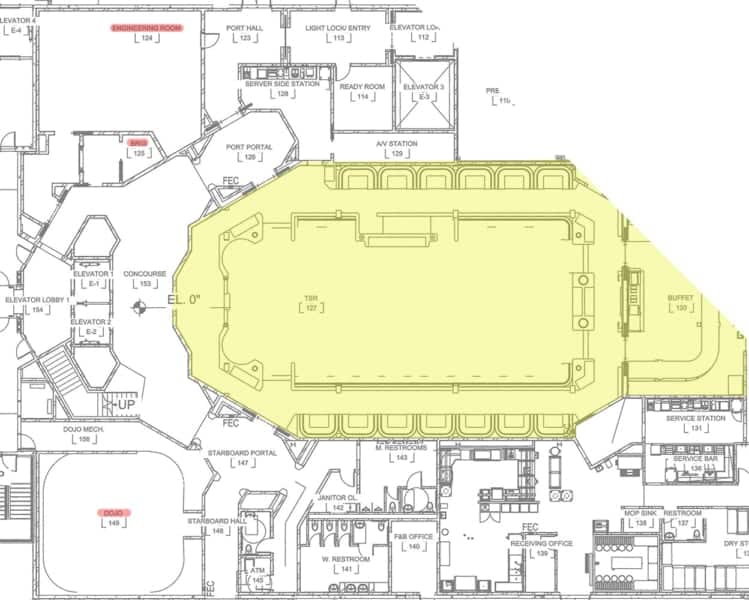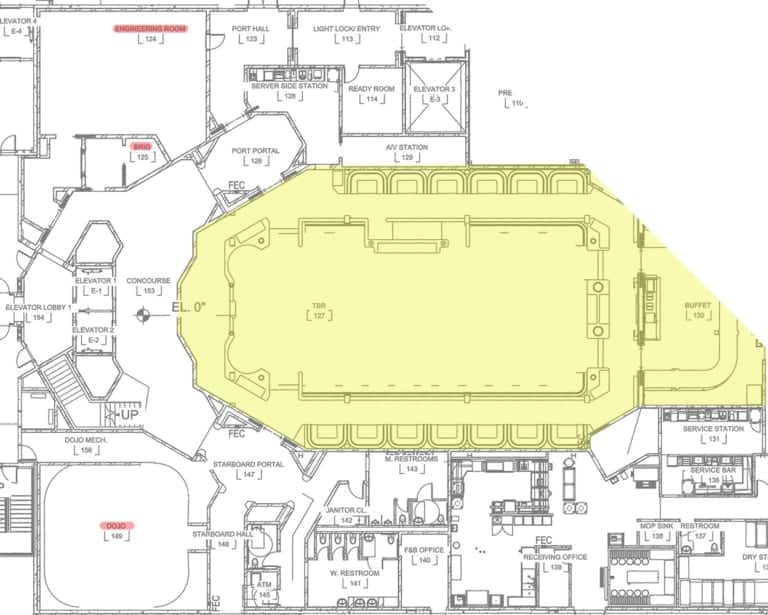 Table Service Restaurant in the Star Wars Hotel
Rumor is that the table service restaurant will be similar to the one that was originally planned for Galaxy's Edge but then later was cut due to budget concerns. It's unsure if that's the case however since it looks like Galaxy's Edge is getting that second restaurant after all.
In any case, the restaurant in the Star Wars Hotel will be a large open space with booths and tables all around the perimeter, with a dinner show or some sort included with your meal. This would be a fantastic addition, and with a small crowd, they can really create a more intimate feel.
Similar to a Disney Cruise, there will also most likely be to seatings for dinner with half the guests going in each turn. This will allow an even more intimate setting.
We aren't sure what kind of food is going to be served at this restaurant, but it's rumored to have a buffet, so we'll have to keep an eye out on this.
Cantina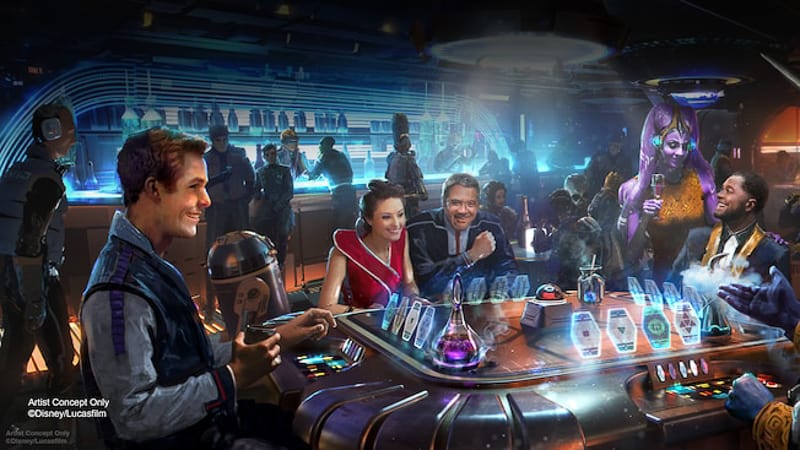 We absolutely LOVE Oga's Cantina in Galaxy's Edge, so I have no doubt that the Star Wars Hotel cantina will be just as amazing! Think of the cantina as the upscale lounge on the starship where guests can have a drink, and probably some sort of snacks too.
The most intriguing part about the Galactic Starcruiser cantina so far is the live Sabacc game that guests can play. We got a look at the concept art in the picture above, and also we have an idea about what the Sabacc table looks like from this concept art: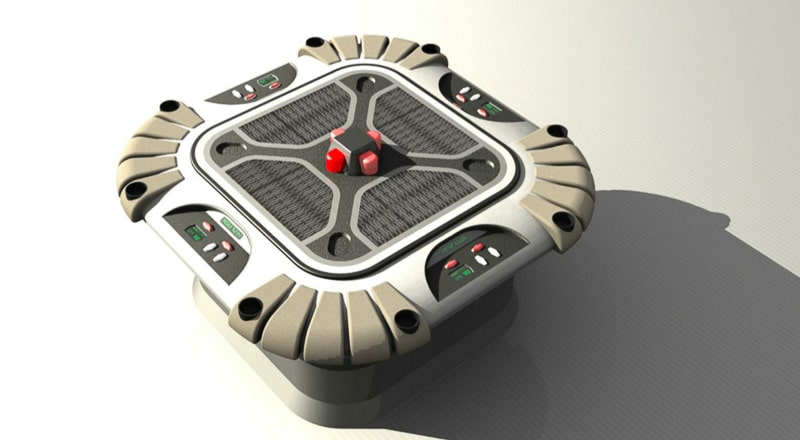 Secret Missions to Galaxy's Edge
One thing to keep in mind is that while you're staying at the Star Wars Hotel, you won't be going to any of the regular Disney World parks. Your time is going to be concentrated on board the Galactic Starcruiser, and being totally immersed in the experience you are a part of.
That said, there will be some secret missions down to Galaxy's Edge that all guests will get to partake in. We don't know exactly what type of missions there will be and what's involved yet, but we do know that Galaxy's Edge was built with this purpose specifically in mind. In fact, just walking around the streets of Galaxy's Edge, you may have noticed a bunch of doors that are not working. Or so it appears to be…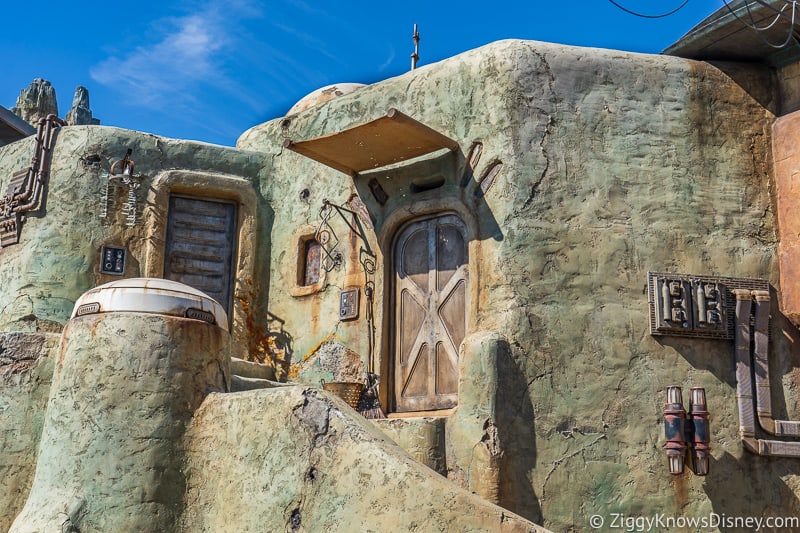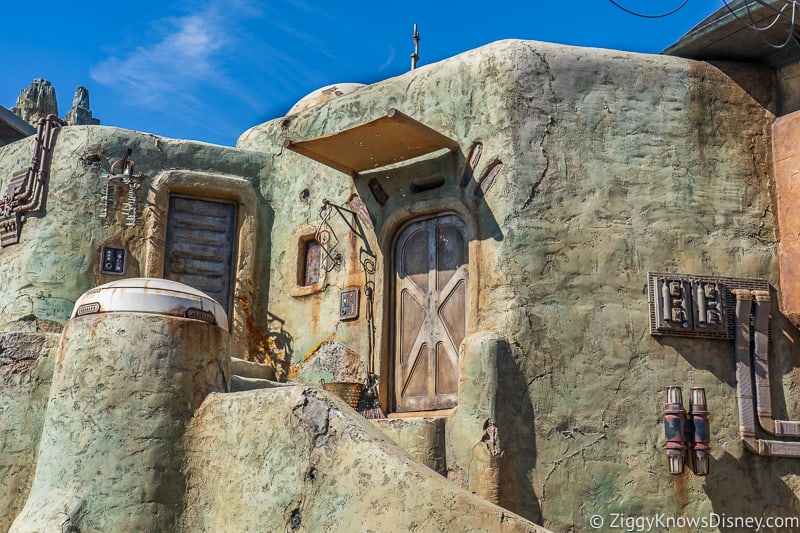 Disney will have unique interactive elements only for Star Wars Hotel guests to partake in. That means you'll be mingling in with the regular guests, but partaking in secret missions with your group.
How big will the groups be? Will you interact with the Star Wars Characters in Galaxy's Edge? These are all questions we'll keep an eye on.
Transportation to and from Galaxy's Edge
One thing we do know more about however is the way guests are going to take to get back and forth from the Star Wars: Galactic Starcruiser over to Galaxy's Edge. Disney has said it "will have seamless transportation" to Galaxy's Edge which means there won't be a regular Disney bus taking you there, but something more.
Here we can see the part of the plans marked Transport Area:
This is where guests will board their transport units from the Halycon starcruiser which will take them to Galaxy's Edge. This area is marked: "Transport Hall" and it's all the way to the southwest part of the hotel and you can even see the transport waiting to take passengers over at the bottom of the plans.
Unfortunately, there will not be any monorail or any other high-tech transportation, but it will be a bus transportation system, masked as a space shuttle. The concept art from Disney shows this a bit more: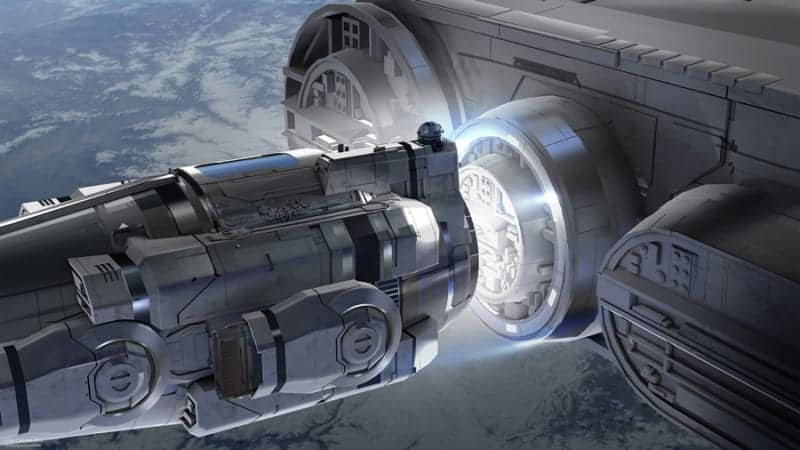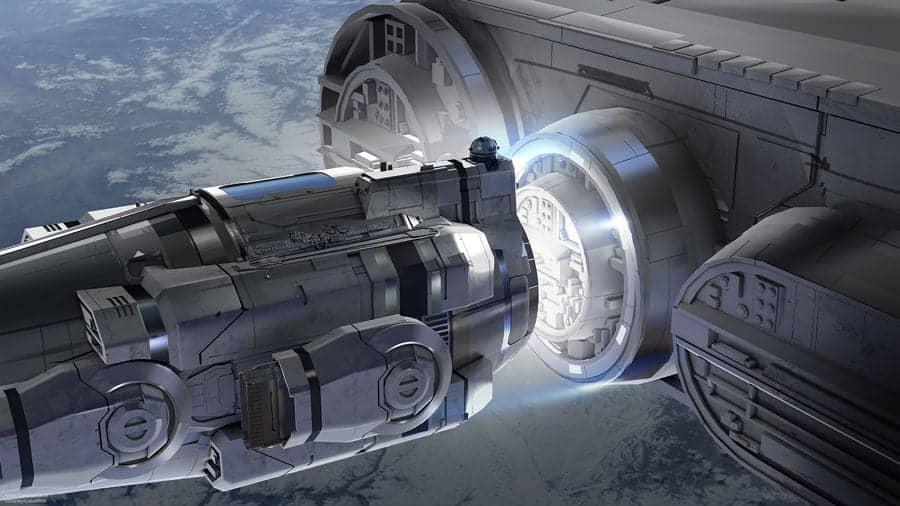 In order to keep guests immersed in the story, the buses will be disguised as more space-style transports. Disney has just released some new concept art for what the inside of the transports to Galaxy's Edge will look like: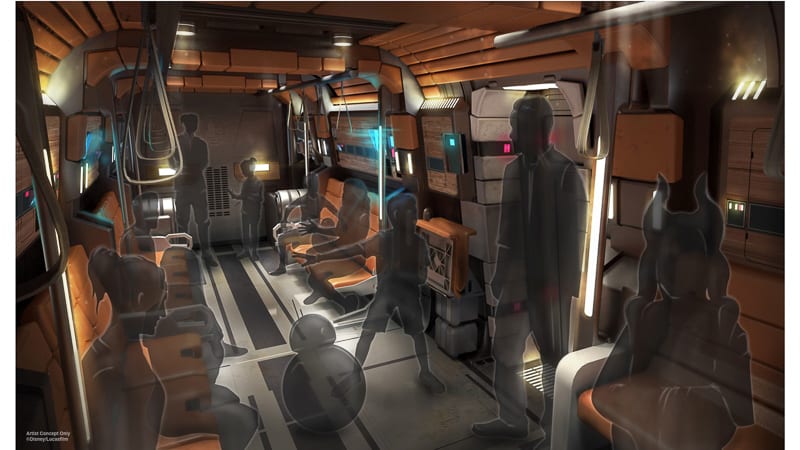 Even though it will in effect be a bus, Disney has done a good job in disguising it. It looks very hi-tech!
Also, wdwnt has some drawings for what that bus will look like on the outside and inside: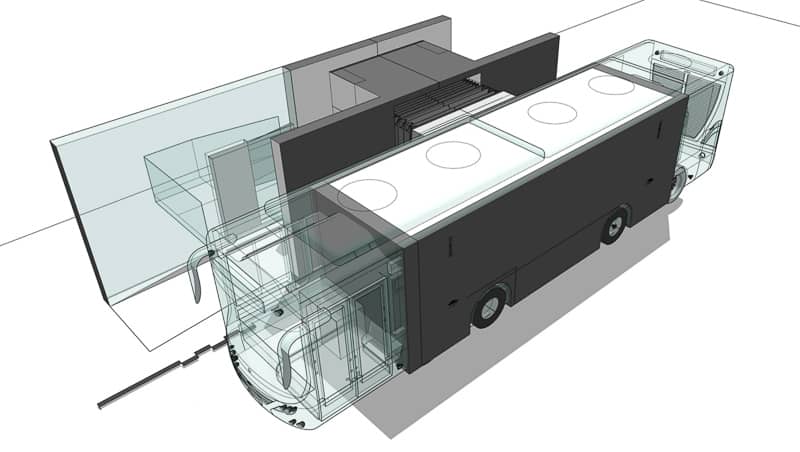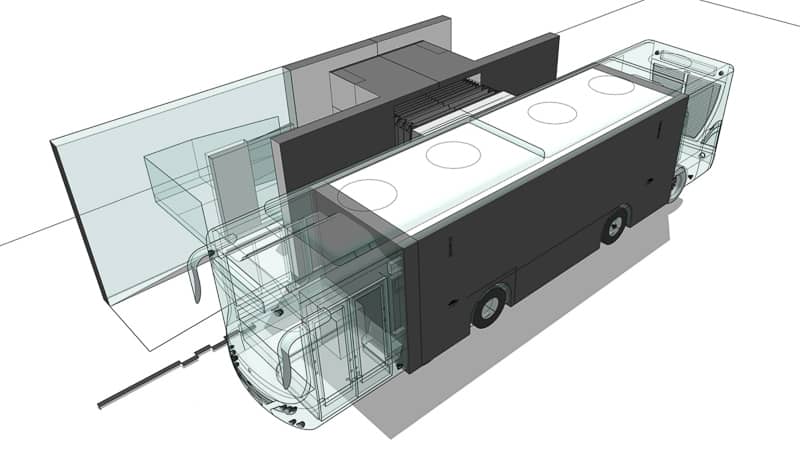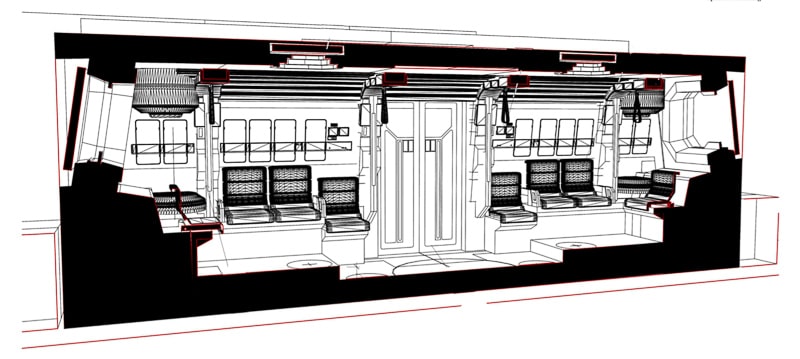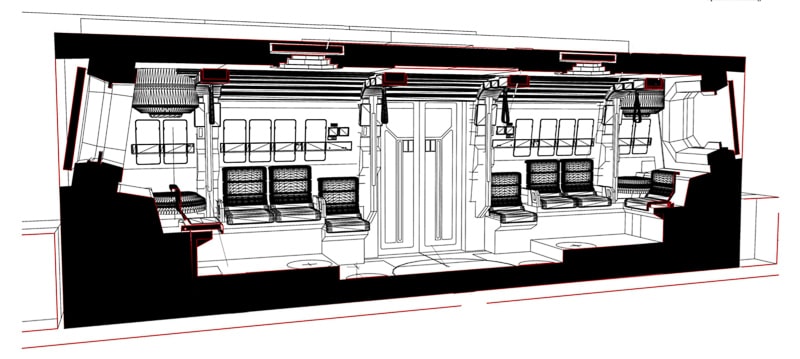 While I was hoping for a more futuristic transportation method to Galaxy's Edge, guests will get there by this supped-up bus system instead. All the windows will be the same space windows on the Halcyon, so in theory, you won't be able to see out and know you are on a bus. There will be a bridge to pass through first, over the canal, through the Hollywood Studios parking lot, and into a back entrance of Galaxy's Edge.
I'm a bit skeptical they will be able to pull it off and fool guests into knowing they are on a bus, but we'll see how they do it. I thought some kind of covered, futuristic tunnel would have been a cooler idea, but as long as Disney makes it realistic, I'll be happy.
Where will Guests be Dropped Off in Galaxy's Edge?
The guest transport from the Star Wars Hotel will bring you through a back entrance of Star Wars: Galaxy's Edge which runs between the Millennium Falcon: Smugglers Run and Star Wars: Rise of the Resistance attractions:
Here is an aerial photo showing where the drop-off point will be backstage in Galaxy's Edge: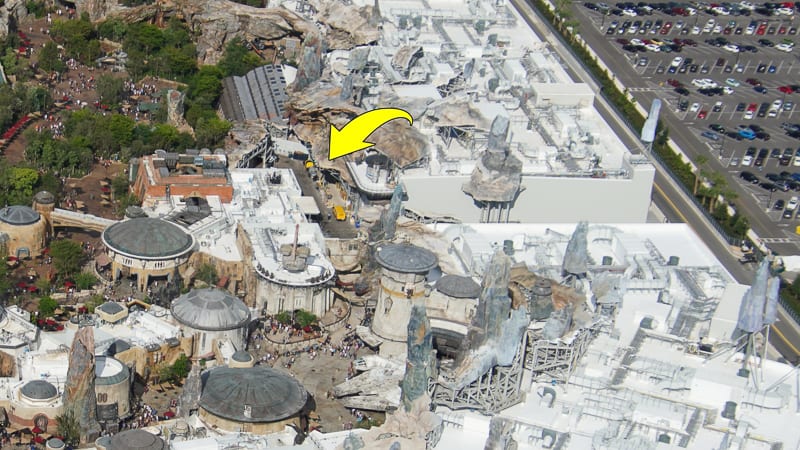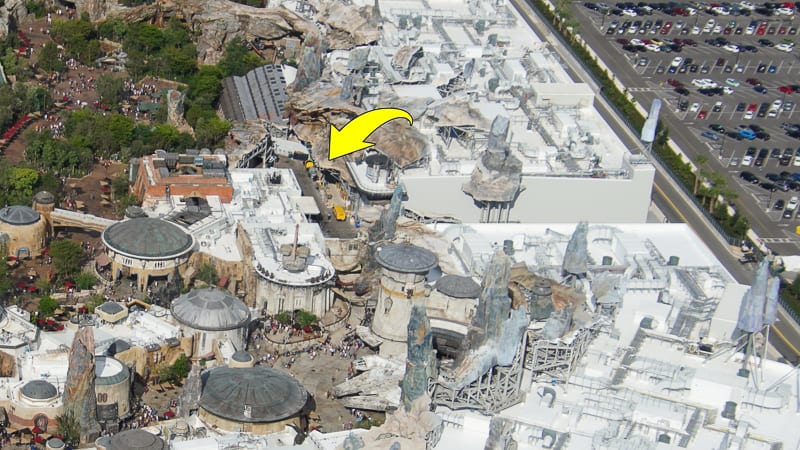 It's possible that guests will have to pass through the giant door which is visible before heading into the Black Spire Marketplace to enter Galaxy's Edge. Of course, Disney will have to make the landing area nice back there and make sure guests don't actually see the backstage part to not break the immersion in the story.
Star Wars Hotel Price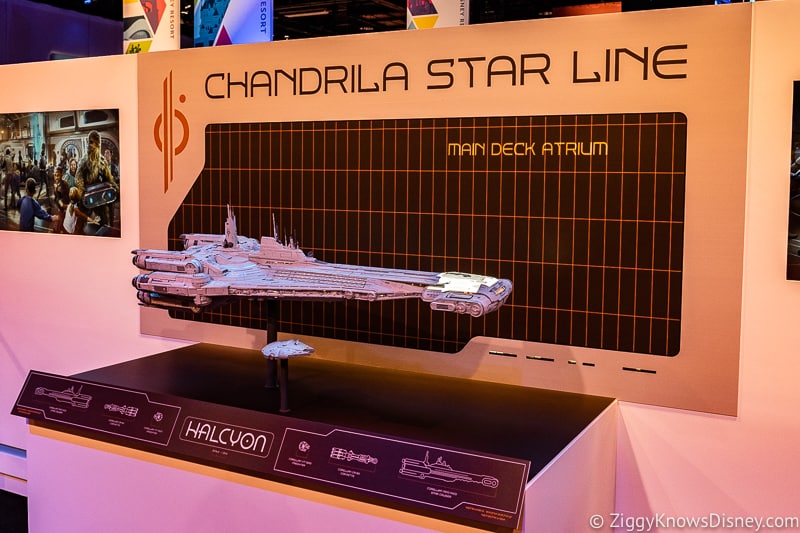 So the million-dollar question (no pun intended) is: How much will it cost to stay at the Star Wars: Galactic Starcruiser Hotel? One thing is for sure, it will not be cheap, in fact, the Star Wars Hotel is most likely going to be the most expensive hotel on Walt Disney World property once completed.
While Disney has given us some information on the entertainment, experiences, and the overall setup of the resort, they have not yet shared how much it will cost to stay there. However due to the small size, the intimate experience, the fact that it's all-inclusive with your meals means you're going to have to spend some serious cash to stay here.
Many Disney World Deluxe Hotels already cost upwards of $600 a night. I mean it costs $200 for a 20-minute experience in Savi's Workshop to build a lightsaber, what do you think it will cost for 3 days aboard a Star Wars Starcruiser?
Rumors have been going around that the price of a 2-night, 3-day stay in the Star Wars Hotel will cost between $1,400 and $3,000 per person. That price could jump up to $ 7,200 for a cabin with a family of 5.
Whatever the exact price is, it will be for a 2-Day, 3-Night stay package. There will be no 1-night stays available, and guests will all board and depart together, just like on a cruise.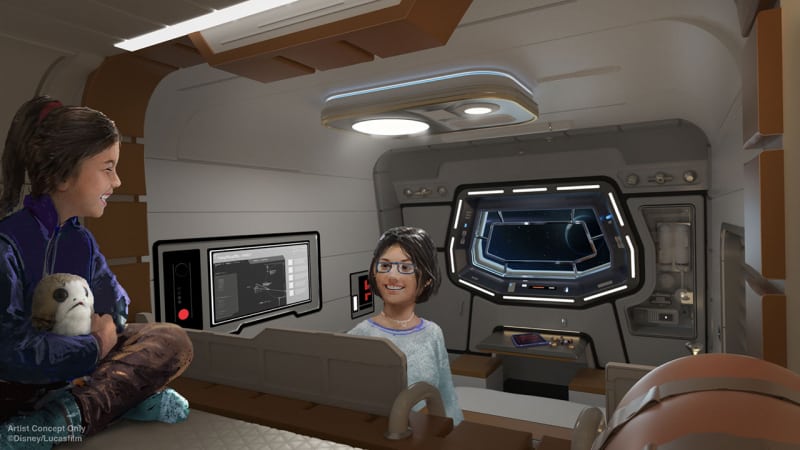 You can't think of at Stay on the Holcyon the same way you think of staying in a traditional Disney World hotel. Think of it like the Disney Cruise Line where all your food, drinks and entertainment are included in one package. That's how the Star Wars Hotel will work too.
Now it's important to note that Disney hasn't said anything yet about the price for the Star Wars Hotel, so any prices you hear on the internet are just guesses at best at this point. There are too many factors that could change between now and opening which might change the cost of staying on the Galactic Starcruiser.
Don't expect pricing to be released for the Star Wars Hotel until even 6 months before it opens to give Disney time to evaluate the economy, and how much people are willing to pay for this type of experience.
Of course, we'll keep you updated as soon as Disney tells us how much it's going to cost.
When is Star Wars: Galactic Starcruiser Opening?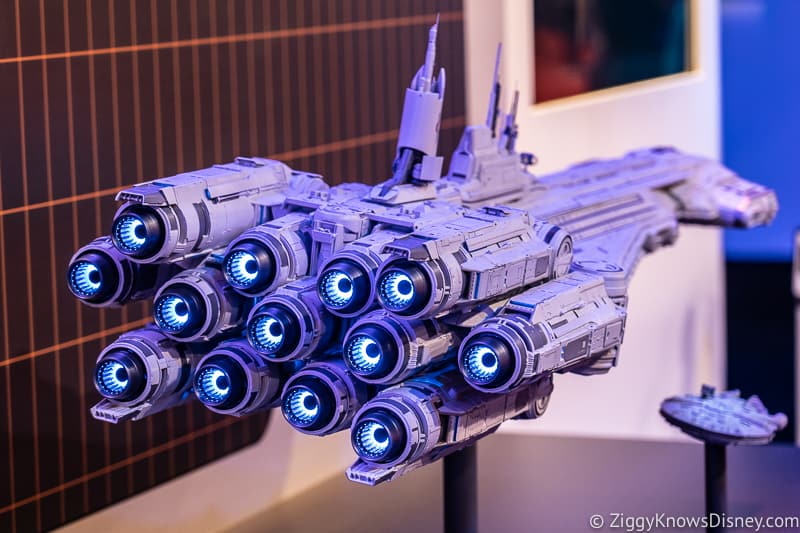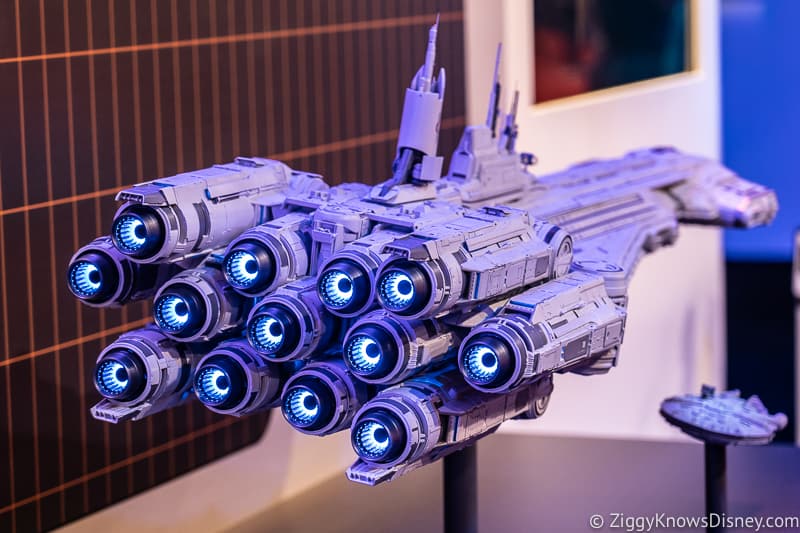 So, of course, all of this sounds amazing, and probably will be the number one hotel experience in Orlando when finished. But when will the Star Wars hotel be built?
Right now there is no opening date announced for the Star Wars Hotel, however, Disney's original plan was to open it sometime in 2021. This makes sense because Disney is going to want to make a big splash for the 50th anniversary of Walt Disney World, which is on October 1, 2021.
Now that's not to say that plans can't get changed, and that's exactly what we've seen with the Disney World closure now delaying all projects across the property. Since construction was temporarily shut down for 4 months, the Star Wars Hotel will no doubt be delayed some, but how long we don't know at this time.
We don't know when Disney was planning on opening it in 2021, but some rumors say possibly in the Spring. However, due to the current circumstances, we think that is an unreachable expectation. We could easily see the opening being pushed back until Fall 2021, or even Winter 2022 depending on how long the how quickly Disney wants to open it.
Some people have been worried about the Star Wars Hotel even being outright canceled. We don't think that's possible, and construction crews now back to work on the project and new permits submitted for the installation of show sets, confirm that the Star Wars Hotel is getting built.
We don't think it is on the list of the potential Disney attractions that are in danger of being cut, but who knows what the economic situation will be like when construction is finished and if there will be a great demand for an ultra-expensive experience like this at that point.
In our opinion, in a worst-case scenario, Disney figures out there isn't an immediate demand for the Star Wars Hotel, and the project is pushed back a year or two until the economy recovers. We think they've invested to heavily in the Galactic Starcruiser that there is no way the project will get shelved, but we'll see what happens.
The Star Wars Hotel is also a big factor for many when answering the question: "Should I Go to Disney World in 2020 or Wait Until 2021?" We break that down more in our post, but if the Galactic Starcruiser is high on your list of To-Do's, then it might be worth the wait.
Will it open in 2021? 2022? I think is too hard to pinpoint at this time, so we'll have to hang tight and wait for an official announcement from Disney. We'll update you as soon as more info about the Star Wars Hotel opening date comes out.
Star Wars Hotel Reservations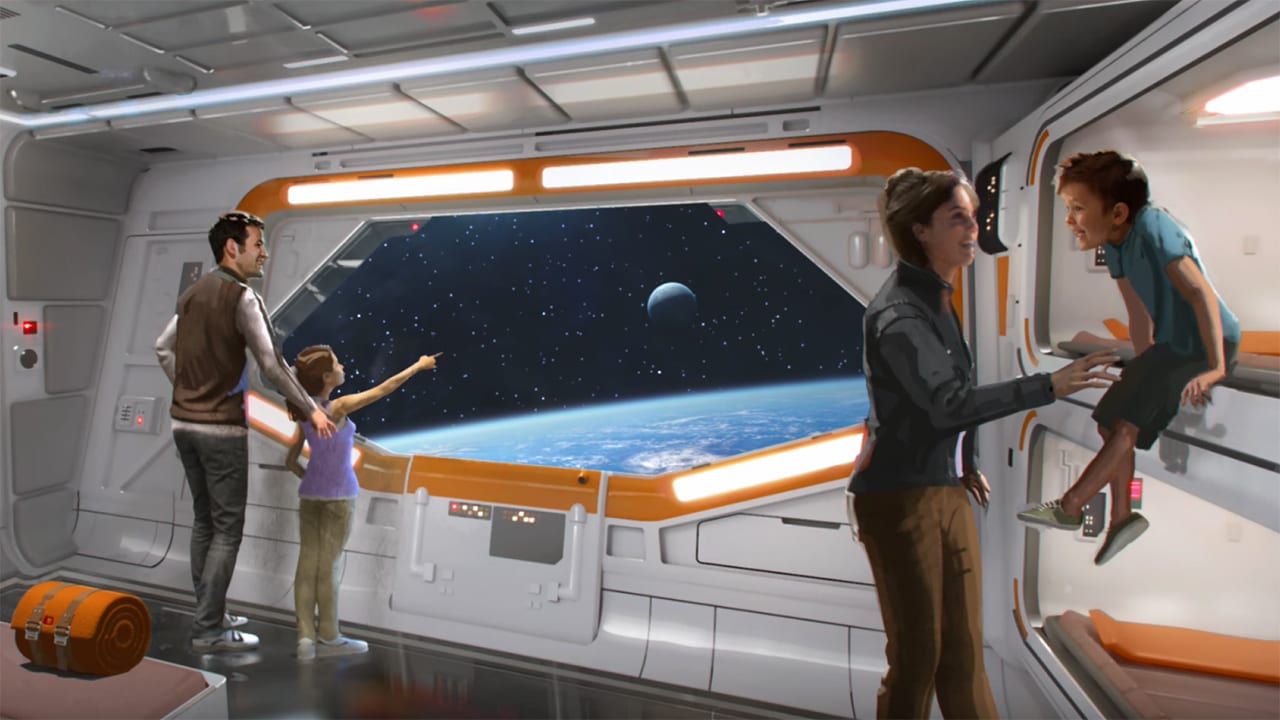 Even when we find out the opening date for Star Wars: Galactic Starcruiser, you're then going to have to deal with the challenge of actually getting reservations. If you thought making reservations for Oga's Cantina or Be Our Guest was difficult, that's not going to be anywhere close to how hard it will be to book a stay at the Star Wars Hotel.
Since the hotel will only have around 100 guest rooms and each stay is 2 nights long, that means there will only be about 1500 rooms available per night. Even at sky-high prices, those rooms are going to be booked solid for months, if not years out.
When will Star Wars Hotel Take Reservations?
Right now Disney hasn't announced when Galactic Starcruiser is opening up, and the project has been set back due to the parks closure.
Originally Disney had announced it would open sometime in 2021 and that reservations will be available for booking later on in 2020.
Will that still happen? That is still yet to be determined.
We do know that reservations will have to be available many months ahead of the opening. Walt Disney World allows hotel-only room booking 499 days out of the planned stay, which as of this writing (July 2020) that already takes us to December 2021.
Now maybe Disney won't follow the same 499-day booking window for the Star Wars hotel, but it's going to have to be at least 1 year out from the arrival date to give people enough time to organize a vacation, especially one of this magnitude. Although, the less time they give, the fewer people will be able to come, which might help calm the frenzy that will be the reservation process once it arrives.
Honestly, we don't have a clue about how Disney plans to take on this giant task of giving people a fair opportunity to book a room. It's going to be extremely limited and there will be countless disappointed fans.
The fairest way would be a lottery system like they did for Galaxy's Edge in Disneyland, but time will tell if they decide that way or come up with something else.
Make sure you sign up for our FREE E-Mail Newsletter. We'll be letting you know when the reservation process starts and how it works, along with more updates. You can do that here: Join our FREE E-Mail Newsletter
You can also go to the official starwarsgalacticstarcruiser.com website for more updates.
Will there be a Reservation Waiting List?
It's entirely possible that the demand is so high for the Star Wars Hotel that there will be a waiting list to get a reservation. How would Disney control that though? Seeing the high price point per night, there would have to be some kind of verification that people putting their name on the list are actually going to pay that price and not take someone else's spot and back out at the last minute
Maybe Disney will initiate a lottery system for Galactic Starcruiser as it did with the opening of Star Wars Galaxy's Edge. Everyone logs onto the internet at the same time and guests are randomly selected to book a room. You then could give your credit card with a non-refundable down payment in order to secure a room?
I don't know exactly how they are going to do it, but it's going to be mad chaos when the booking for Star Wars Hotel finally does open up.
You might want to try booking during one of the least-crowded times of the year for a better chance. Check out our Disney World Crowd Tracker to help figure out the least crowded times.
How Will This Affect your Stay in WDW?
Now if you're lucky enough to get a reservation and be able to stay in the Star Wars Hotel, this is going to completely change the way you and your family plan a Walt Disney World vacation and the experience you will have once there.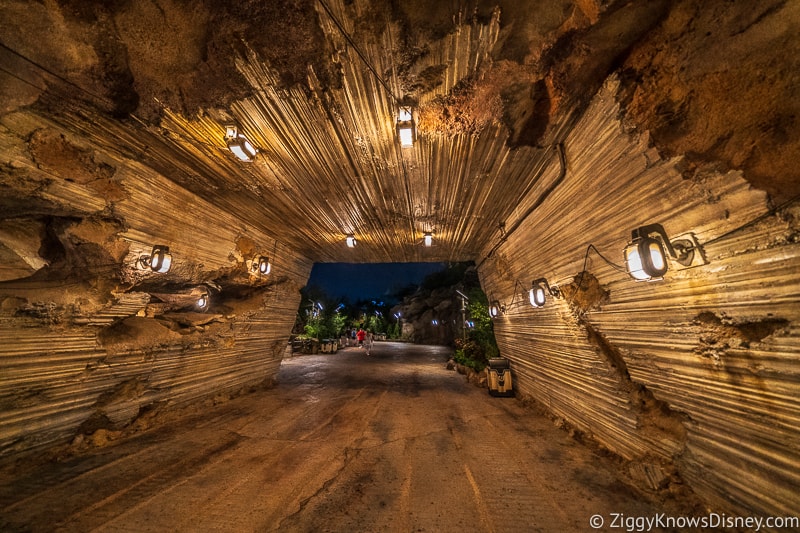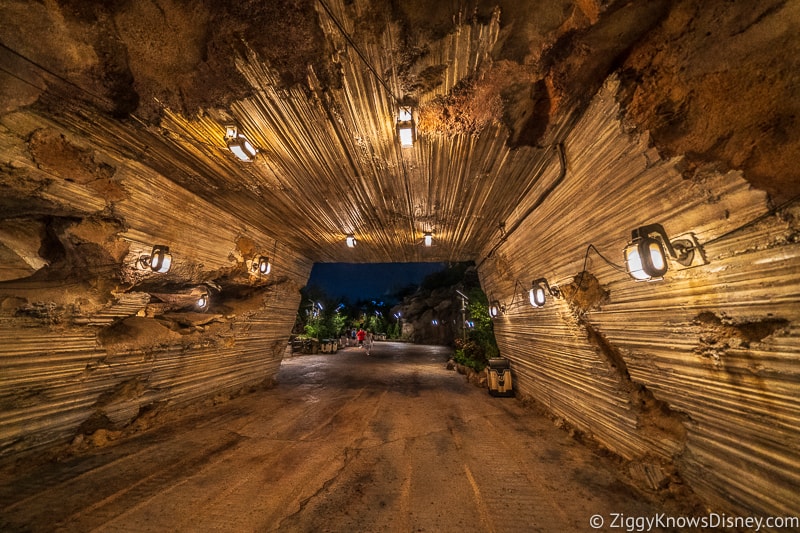 Here are some things to think about and some tips in planning your trip:
You might want to book a value resort for part of your trip – Since the Star Wars Hotel is going to no doubt be very expensive, you might not have it in the budget to stay there, plus a Deluxe resort.
If you can stay at Star Wars: Galactic Starcruiser, plus the Grand Floridian, then more power to you, but finding a value resort like one of the All-Stars for part of your trip might help you to make up some of the difference you'll be spending at the Star Wars Hotel.
Not as much time for the parks – During your experience in the Star Wars Hotel, you won't be going to any of the parks (except for special missions to Galaxy's Edge. That means you will be losing 3 days which might usually be park days.
You either are going to have to book a longer stay than normal, or just be ok with the fact that during this trip you might not get to all the parks or do everything there you normally would.
Take a couple of days to relax – All the experiences on the Galactic Starcruiser sound awesome, but they also sound super tiring and that guests will have a packed schedule. So at least for a day or two during the rest of your Walt Disney World stay, you might want to chill by the pool for a bit and catch some sleep to recover!
Construction Updates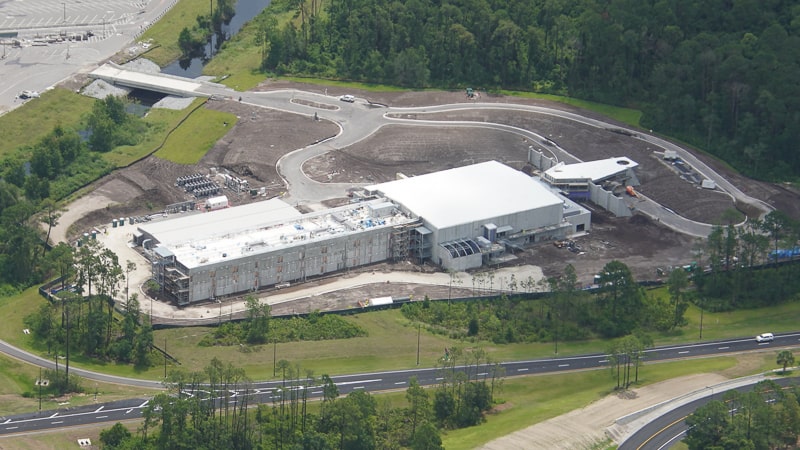 One of the cool things about this project is that we have been able to follow its construction from inception right down to the latest updates. The land for the project has been cleared and the construction of the whole building structure is basically complete.
Construction was temporarily stopped on the Star Wars hotel for approximately 4 months while Walt Disney World was closed. Crews have now started working again on the project and were recently seen painting the outside of the building.
Of course, even though much of the outside is done, there is still tons of work on the inside, but it's awesome to see the Star Wars Hotel construction finally get started back up again.
For more info and to see the latest updates, check out our Star Wars Hotel Construction page which we update regularly with new photos from the project.
Is there a Star Wars Hotel Coming to Disneyland?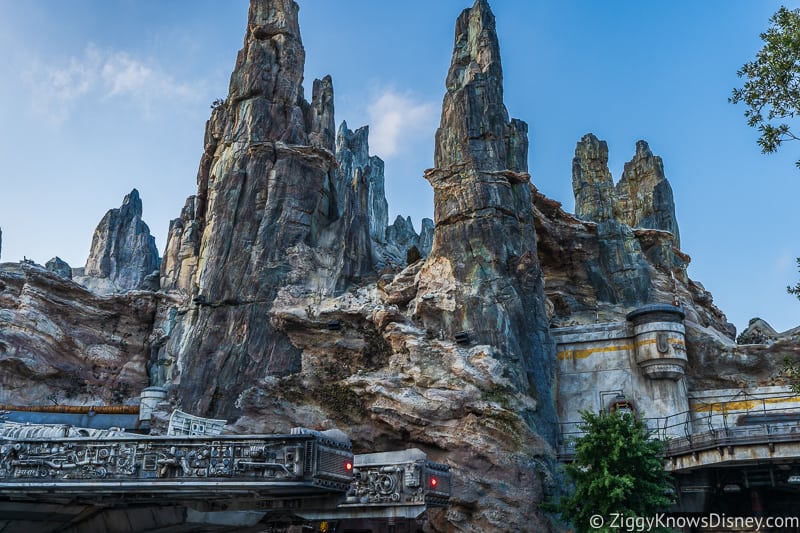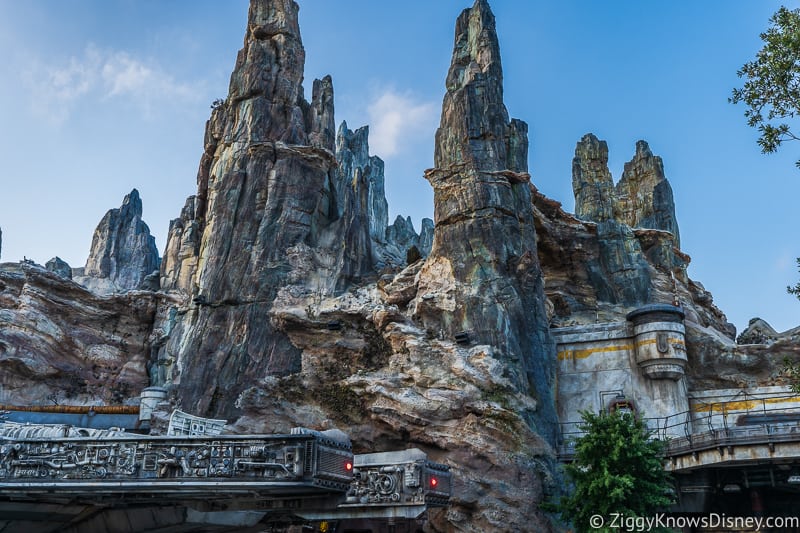 I know there is a Galaxy's Edge on the west coast, so the natural question is if a Star Wars Hotel is also coming to Disneyland? Unfortunately as of now, there are no plans for a Star Wars-themed hotel to be built in or near Disneyland.
The biggest problem there is the lack of space to build one. They already had a hard enough time finding the land to build Galaxy's Edge, let alone adding a hotel on top of it. I don't think we will see a version of the Star Wars Hotel in Disneyland for quite some time, if ever.
FAQ's
Does Disney have a Star Wars Hotel?
Yes, Disney is currently building a Star War-themed Hotel in Walt Disney World, near Hollywood Studios.
Is the Star Wars Hotel Open?
No, as of now the Star Wars: Galactic Starcruiser is still under construction and is not open at this time. No date has yet been given for the opening.
When Can I Make a Reservation for the Star Wars Hotel?
Reservations will be available sometime later in 2020. Stay tuned for more updates.
How many nights can I stay at the Star Wars Hotel?
Vacation Packages for the Star Wars: Galactic Starcrusier Hotel are for 2-Nights and 3-Days. There are no 1-Night stays and no stays longer than 2 nights. Guests will all start and finish their journey together, just like on a cruise.
That wraps up our look at the Galactic Starcruiser and everything we know about the Star Wars Hotel. There are sure to be plenty of updates about the project in the coming months so stay tuned to Ziggy Knows Disney as we bring you the latest news about the Star Wars Hotel.
We also will be bringing you more info about the newest Disney attractions coming to the parks, so read that guide for more!
Your Thoughts:
I want to know what you think about the Star Wars Hotel coming to Walt Disney World…
Are you looking forward to this new resort?
Which part of the experience sounds the best?
Let us know in the comments section below!
If you enjoyed this article, as always I appreciate it if you'd share it with others via social media. I work hard at making this website into a useful resource for you and your family to plan your visit to the Disney Parks and I hope it can help you! Thanks 🙂