(UPDATE 11/7/19): We're going to share with you everything you need to know about Star Wars: Rise of the Resistance ride coming to Star Wars: Galaxy's Edge, which Disney is saying will be the most ambitious, most epic attraction ever to come to a theme park.
We're going to share all the details about this amazing ride including: opening date, ride vehicle, a walk-through of the attraction, capacity, and length (we're hearing a 15+ minute experience!)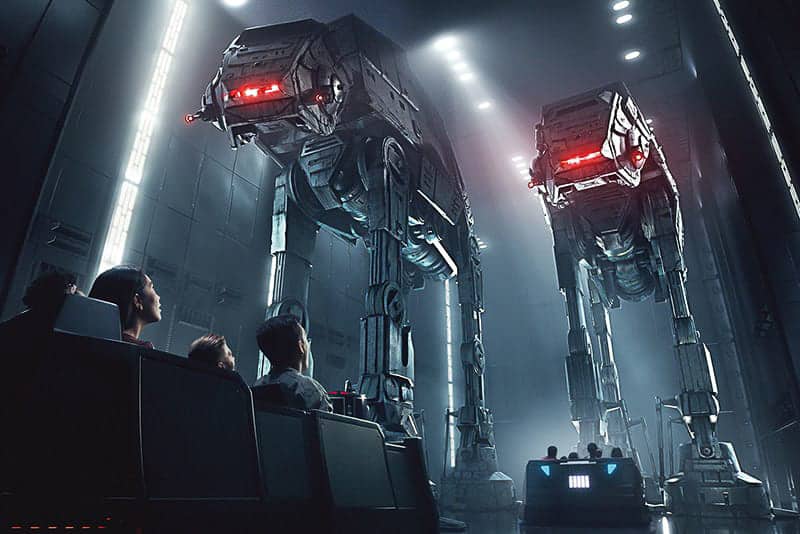 News:
Recently Star Wars: Rise of the Resistance was featured on a 2-Hour Galaxy's Edge Special on Freeform TV. They shared some new details about the attraction including ride length, characters and special effects that will be found on the ride.
Here is a short video where you can see those details:
Also recently on Good Morning America they shared some new footage from inside the Rise of the Resistance attraction. Check it out:
The inside of that show room is incredible and is the biggest one Disney has ever built for an attraction. Anyone else excited??
Star Wars: Rise of the Resistance Overview:
Location: Star Wars: Galaxy's Edge (Disneyland and Disney's Hollywood Studios)
Status: Opening December 5, 2019 (Disney World); January 17, 2019 (Disneyland)
Ride Type: Simulator, Trackless
Thrill Level: Medium
FastPass: Not at first, but eventually yes.
Ride Length: 15-20 Minutes
Height Requirement: 40 inches
Capacity: TBD
To find out more about the Rise of the Resistance ride opening date and why it was delayed, please keep reading further down where we explain it in greater detail.
What is Star Wars: Rise of the Resistance?
You've heard the excitement about this new "Star Wars Ride" everyone is hyping up, but you're probably wondering: What kind of a ride is Rise of the Resistance?
The Star Wars: Rise of the Resistance attraction coming to Galaxy's Edge is already the ride I'm most looking forward to that's coming to any Disney park in next few years, but after hearing the latest details about it, it has me over-the-edge excited!! Star Wars: Rise of the Resistance is going to be so immersive that it will be a more than 15-minute long experience from start to finish!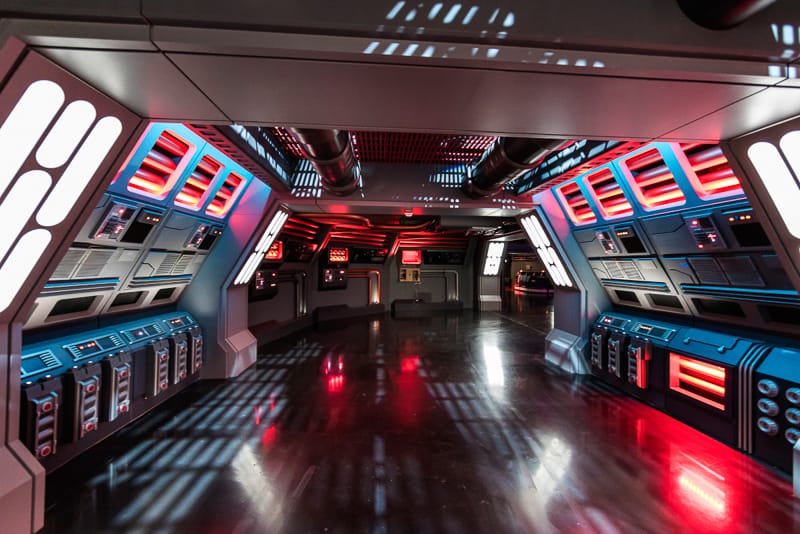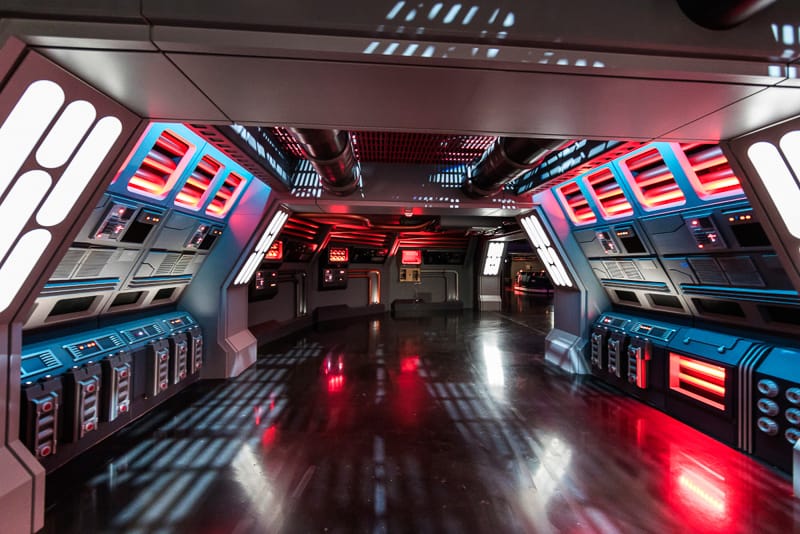 What Type of Ride System Does it Have?
Immediately we think of a roller coaster when talking about a thrilling ride in a Disney Park, but it isn't a roller coaster at all, not even close.
Star Wars: Rise of the Resistance is on a scale like nothing else you've ever seen in a theme park attraction. It's rumored to have 18 show areas and 5 ride system types in all bringing guests through the biggest attraction show building they've ever created.
In fact one of its ride systems is completely trackless, which means it can move around the show floor smoothly and seamlessly and you don't know which direction you are going in.
To give you an idea though about how detailed this interior is going to be, reportedly there will be 305 state-of-the-art animatronic figures, including the aforementioned Droids, with 100 of the figures being Stormtroopers. That would put it on par with "It's a Small World" for one of the attractions with the most amount of animatronics ever.
This of course is just one of the 2 attractions in Star Wars Galaxy's Edge. The other is called Millennium Falcon: Smuggler's Run. Here guests can step onboard the iconic Millennium Falcon and take control of the ship, actually flying it and working together as a team to complete the mission given.
You can read more details about the Millennium Falcon: Smugglers Run here, including our full walk-through and review.
Which Parks is it Coming to?
Thankfully Star Wars: Rise of the Resistance is not coming to only one park, but it's being built in both Galaxy's Edge lands, one Disney's Hollywood Studios in Walt Disney World and also in Disneyland Park.
If the ride is a success, it's very possible Disney will build Rise of the Resistance in Disneyland Paris and at least one of the Asian Disney parks too. A lot is riding on it to be a big hit and Disney has gone all in on this one.
Ride Length:
So far it sounds awesome, but how long is the ride time for Rise of the Resistance? There are conflicting reports on the exact ride length of Star Wars: Rise of the Resistance, but one thing is for sure…this ride is long, one of the longest in Disney World and Disneyland.
Disney Parks President Bob Chapek was interviewed for the Galaxy's Edge special on Freeform TV recently and he indicated that Rise of the Resistance is going to be at least 15 minutes long.
These are his exact words from the special:
"Imagine being chased for 15 minutes by Kylo Ren and the First Order. Lightsabers everywhere, stormtroopers coming after you. It's going to be fantastic!"
Some earlier reports said that the Rise of the Resistance ride would be over 20 minutes long. Bob Chapek's comments seem to contradict that, but there is some room for interpretation. It is possible that Chapek was only talking about the time spent inside the Star Destroyer when you are getting chased by the First Order and not the initial pre-show before boarding the shuttle.
According to an earlier report from Alicia Stella of Theme Park Stop the actual ride-time of the Rise of the Resistance attraction is going to be 4 1/2 minutes, but the experience itself is going to be so grand that it will take a full 20+ minutes to get through it all!
Disney Imagineers have come out and said that it won't be quite 28 minutes long as we previously thought, but they left it open where the actual number probably isn't quite so far off from that. At least we now know that it's for sure in the 15+ minute range.
This is music to my ears and seeing that the line to get on this thing could be in the 6-hour + range when it first opens, it will feel more rewarding with the experience being this long! We'll update you as soon as the actual time comes out.
Ride Vehicle:
At this year's Star Wars Celebration in Chicago we got a sneak peak at the ride vehicle for Star Wars: Rise of the Resistance!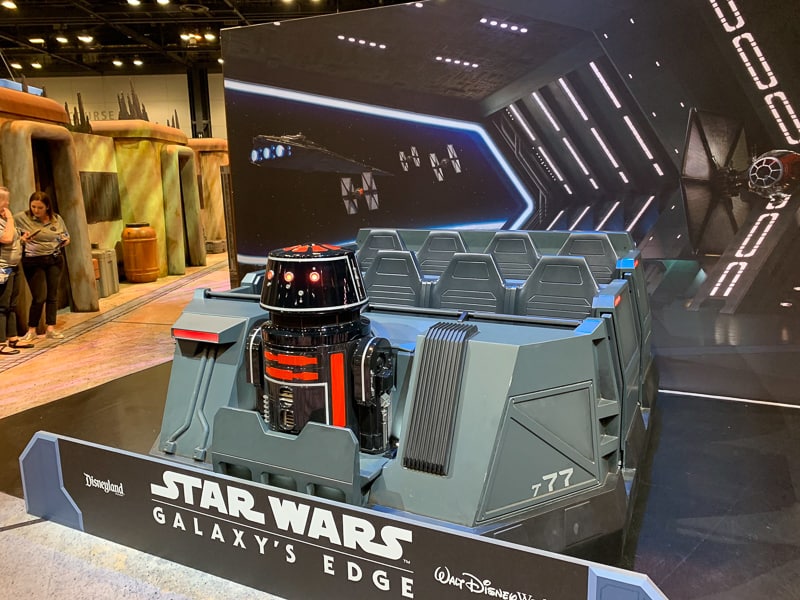 Guests were allowed to get inside the vehicle and try it out for themselves.
It's 2 rows of 4 people for a total of 8 passengers. It even has an R5 droid in the front who will be your guide throughout the adventure: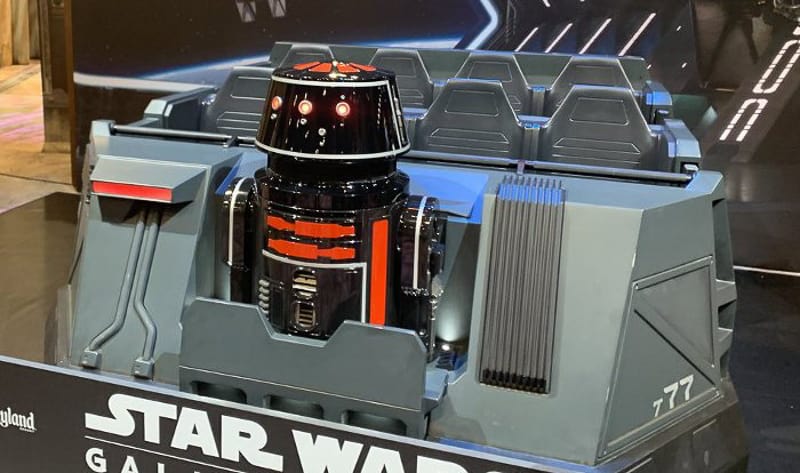 It uses trackless technology like Remy's Ratatouille Adventure coming to Epcot and Mickey and Minnie's Runaway Railway, which means that the vehicle doesn't have a visible path it will take, making it much more unpredictable.
Expect lots of unexpected twists and turns with the potential of a different experience every time you ride it. I've been in this ride vehicle and I can say it really adds a lot to the ride experience because there is no track and therefore you can't prepare yourself for what's coming next. That means more surprises and more re-rideability for everyone.
We got a preview of the model back at D23 Expo 2017, but now we can see exactly how the ride vehicle for Star Wars: Rise of the Resistance is going to be inside the attraction in Disneyland: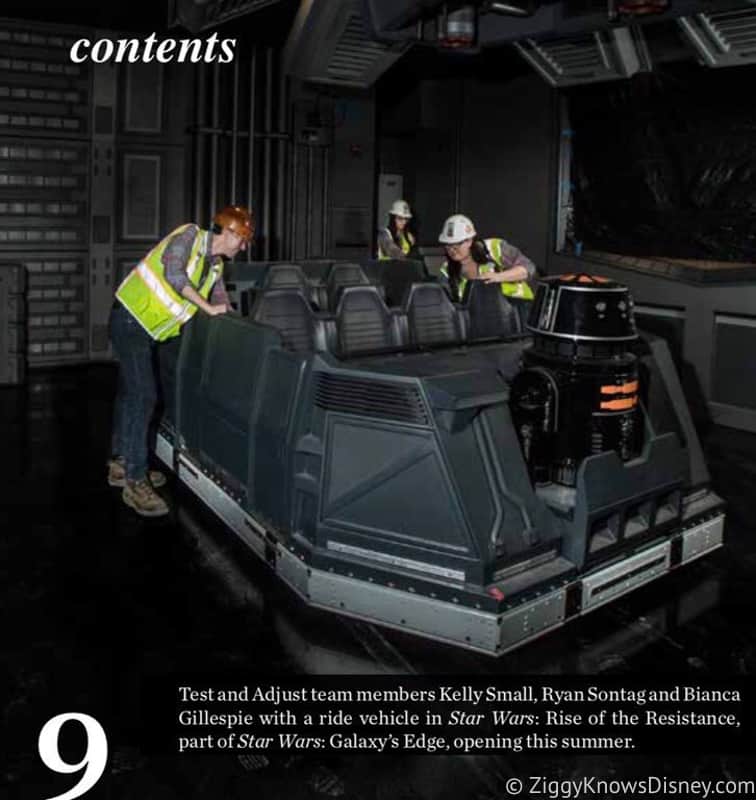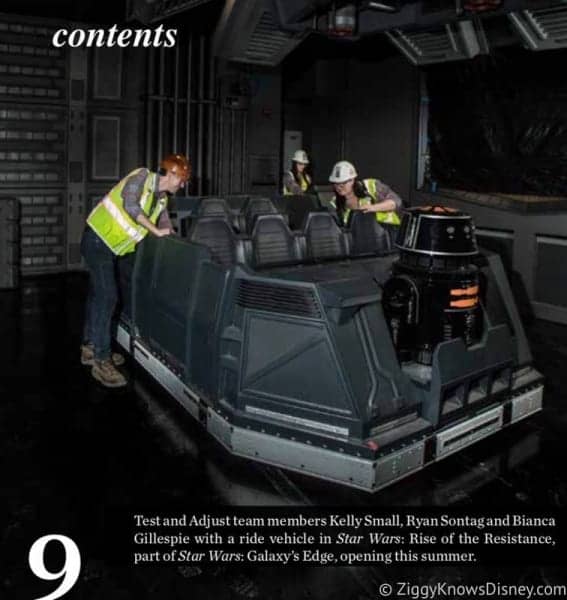 The ride vehicle is practically identical to the model from D23 Expo, just a bit darker: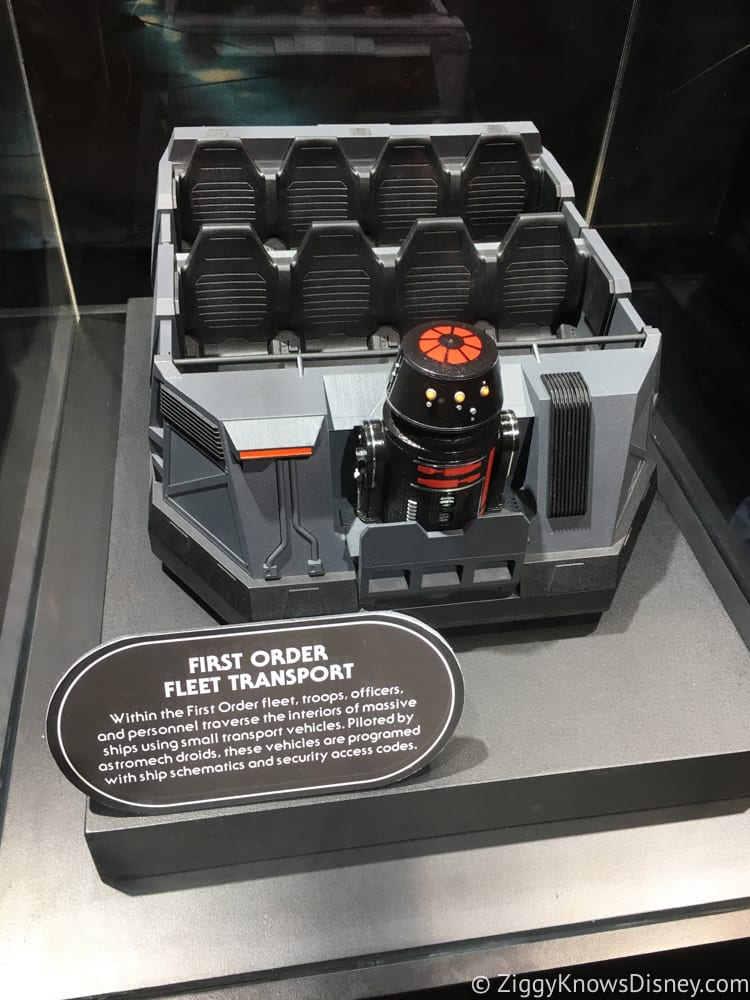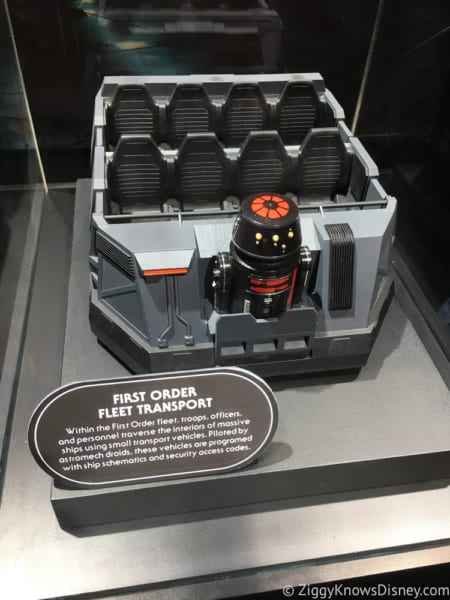 Keep in mind there are 4 ride systems for Rise of the Resistance, but this ride vehicle will be the primary one you travel around the star destroyer with. It then also connects with two of the other ride systems, woking hand in hand to deliver this realistic simulation.
From what Disney Imagineers have said, there are 38 total ride cars and 36 cars can be in the "show space" at one time. Riders will only briefly see each other during the loading/unloading process, but not during the ride.
Height Requirement:
Even though Star Wars: Galaxy's Edge is going to be fun for the whole family, recent info reveals that not all will be able to experience at least one of the attractions. There is going to be a minimum 40-inch height requirement for the Star Wars: Rise of the Resistance ride when it opens later this year in Hollywood Studios and Disneyland.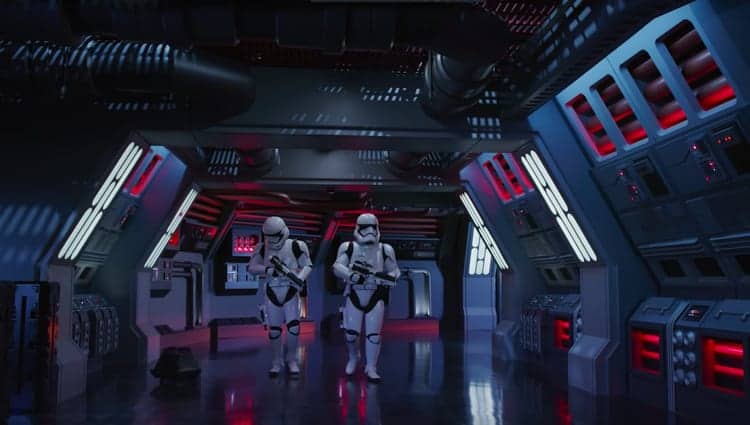 Rise of the Resistance having a height requirement of 40 inches means unfortunately your smaller family members won't be able to ride. This is not out of the norm as it's the same height requirement you find on other Disney attractions like: Splash Mountain, Big Thunder Mountain, Soarin' and Test Track.
In comparison riders have to be 38 inches tall to ride Smugglers Run.
This means Rise of the Resistance is going to be a pretty intense ride, and not something you want to do if you have severe health problems. The info comes from a yet to be posted sign which will be stationed outside of the attraction once up and running.
It states: "Join us on an exhilarating mission to stop The First Order! This mission includes rapid motion, sudden stops, sharp turns, and a swift drop as you evade capture from The First Order."
It then goes on to read that the minimum height requirement for Rise of the Resistance is 40 inches.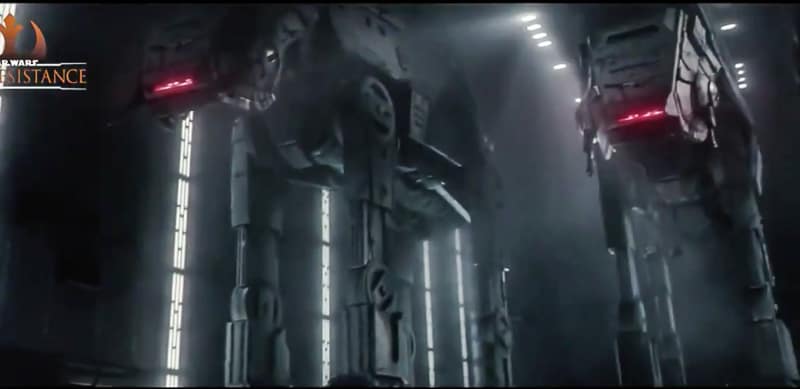 This is a bit surprising seeing as the attraction is based on the same trackless ride system found in the Ratatouille ride in Disneyland Paris for example. However there are no "drops" on that ride. Trust me, otherwise my wife would never have done it!
So that leads to wonder, just what will this "drop" be like? We know the attraction will have you boarding a space transport leading you up to a First Order Star Destroyer, and the drop occurs in the escape pod on the return descent to Black Spire Outpost. It won't be anything too crazy, but it must be just intense enough that not all guests will be able to handle it.
How Scary is the Rise of the Resistance Ride?
I wouldn't say it's going to be as scary as Expedition Everest or Tower of Terror, but you should be prepared for loud blasts, explosions, and intense battle scenes.
Something else to keep in mind is Star Wars Rise of the Resistance does have a "drop" that brings you back down to Batuu from the star destroyer. How high will the drop be? From the latest reports the final drop on Rise of the Resistance will be just around 20 feet, though it will feel like much more.
We're hearing it's a straight down drop like in Tower of Terror, only not nearly that high. 20 feet isn't huge, but it isn't small either so keep this all in mind when bringing little kids who frighten easily or big adults who do the same. 😉
There are some conflicting reports with the drop being as high as 40 feet, but while a drop of that magnitude is possible, it looks like the 20-foot drop is the more likely at this point.
It's too bad this news won't affect the expected time to wait in line for the attraction. I'm afraid the Galaxy's Edge attractions will still probably have a 5-6 hours wait time to get on.
Personally I'm happy with this move as it means Rise of the Resistance is going to be a pretty intense ride, and not for little kids.
What Characters are in Rise of the Resistance?
One of the cool parts about Star Wars: Rise of the Resistance ride is that it's full of your favorite characters from the actual Star Wars films. These are not voice doubles either, they got the actual same actors you see in the Star Wars films to reprise their roles for the ride.
Here is the list of characters that we know about so far that are in Rise of the Resistance:
Rey
Poe Dameron
Finn
BB-8
Kylo Ren
Nien Nunb
General Hux
Vi Moradi
Hundreds of Stormtroopers
These are only the characters we know about so far and there could be some surprises along the way.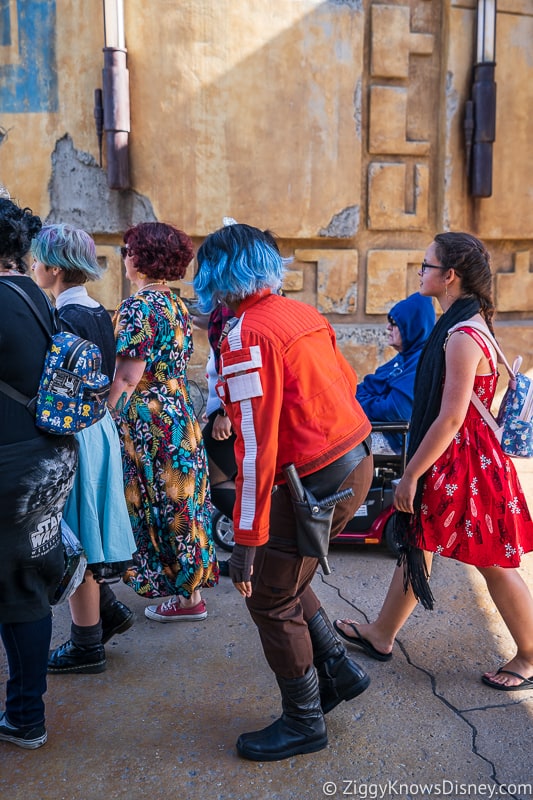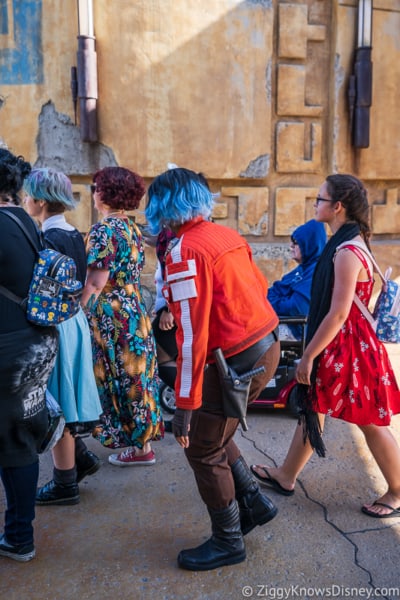 If you're wondering who Vi Moradi is, she's the resistance spy hiding in Black Spire Outpost that the stormtroopers and Kylo Ren are always looking for. She has a role in the new Star Wars attraction and welcomes guests while warning them of the dangers that lie ahead. I think this is a really cool idea to introduce a new character to the Star Wars universe through a ride and also have her walking around the land!
BB-8 and Rey play a big role in the pre-show for the ride, and Poe Dameron and Nien Nunb accompany you on your mission. While up in the First Order star destroyer in Rise of the Resistance you'll run into Kylo Ren and hundreds of stormtroopers who will be chasing you and trying to stop you from escaping.
Here's a look at the Kylo Ren animatronic that has been made for the ride: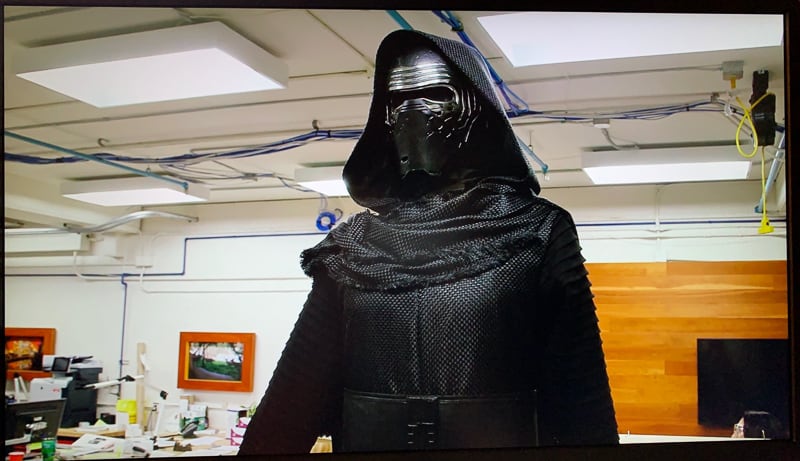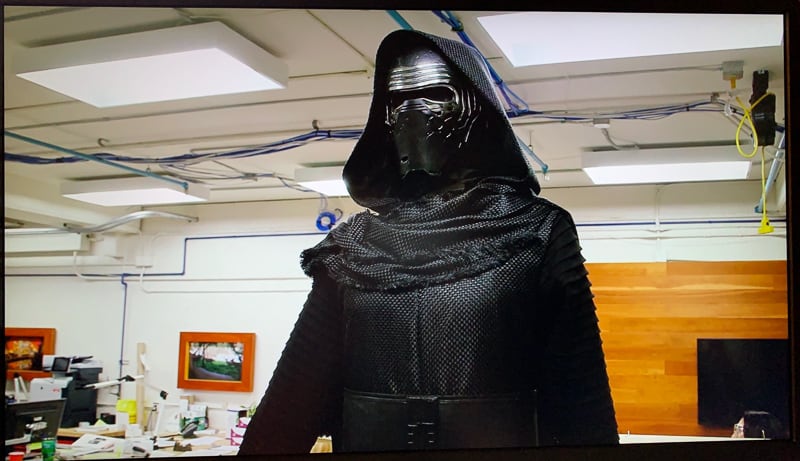 Finn also has a big in the ride and has a secret plan for you to escape. If you want to read more about the roles these characters play in Star Wars Rise of the Resistance then read the walkthrough further down.
Ride Layout and Walkthrough:
The Star Wars: Rise of the Resistance ride is HUGE and it's going to be like 4 attractions built into 1 with guests boarding various ride vehicles, transports, and even walking the halls of a Star Destroyer as a prisoner.
We going to give you a walkthrough of the Rise of the Resistance Ride and share as many details with you as we know so far. Just as a warning, the below description is quite detailed so if you don't want to know anything and would rather be surprised when visiting Galaxy's Edge yourself, now is the time to back out.
Ok, everyone ready? Let's start with the ride queue:
Queue:
Everything starts outside the the giant show building on the planet of Batuu where Galaxy's Edge is based and a Resistance outpost. Of course the Resistance is going to have an encounter with the First Order and that's where you step in. Here outside the attraction is where your journey will begin.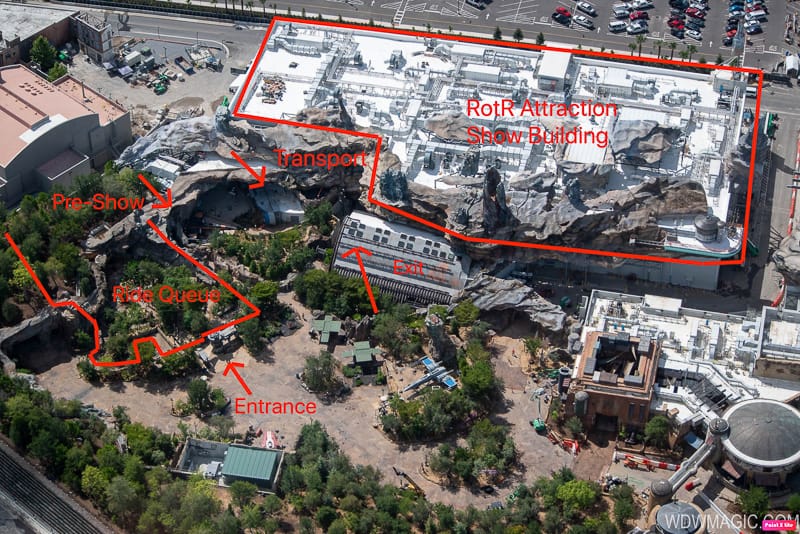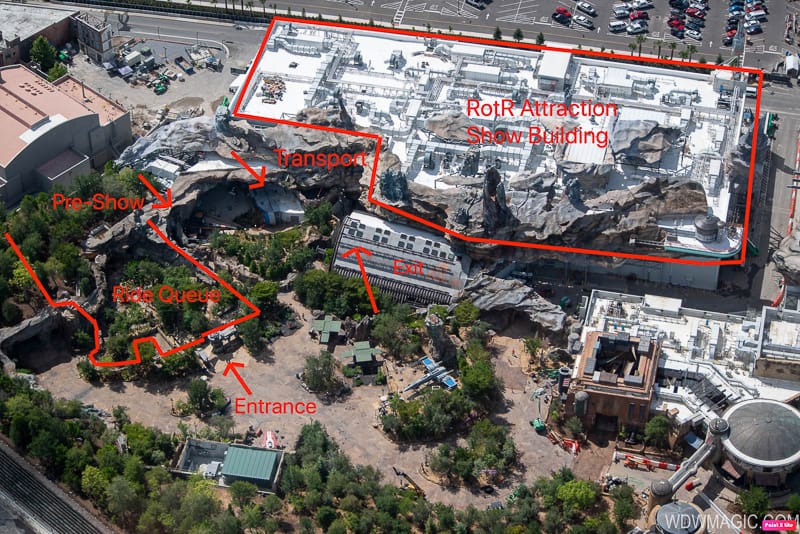 In the model you can see the layout for how everything will be.
The backstory for Galaxy's Edge is that the Resistance have built a new base on the remote planet of Batuu by carving out a cavern which is thousands of years old with lasers, to form their new base. It's located just on the outskirts of Black Spire Outpost giving it natural camouflage so as not to be discovered easily by First Order Troops.
To enter the queue you pass through the turret station outside: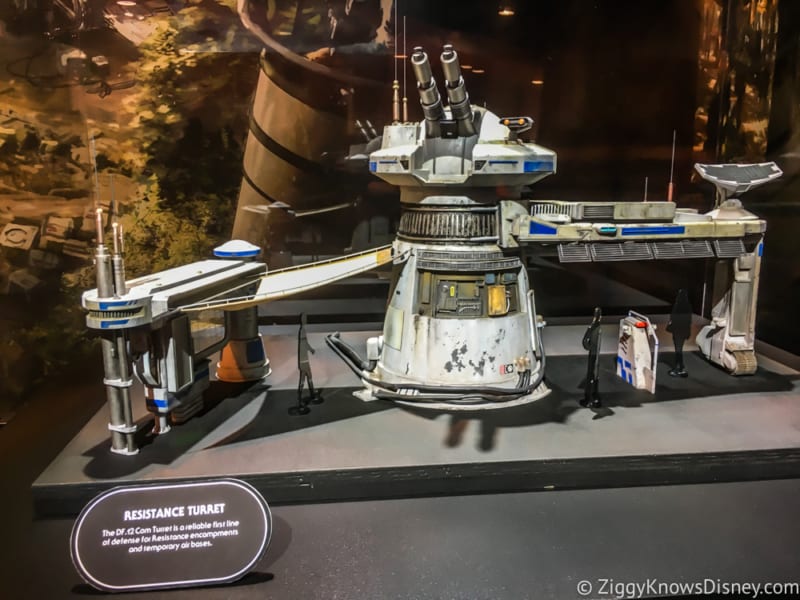 Rise of the resistance will have a FastPass system and a single rider option, though is doesn't look like either FastPass or single rider will be available immediately at the ride's opening. They will both be available in the future however because as you can see in the model above, a FastPass scanner is set up on the right side and the line is divided.
In our visit to Galaxy's Edge we got to see the real turnstiles, but they were guarded and no one allowed through: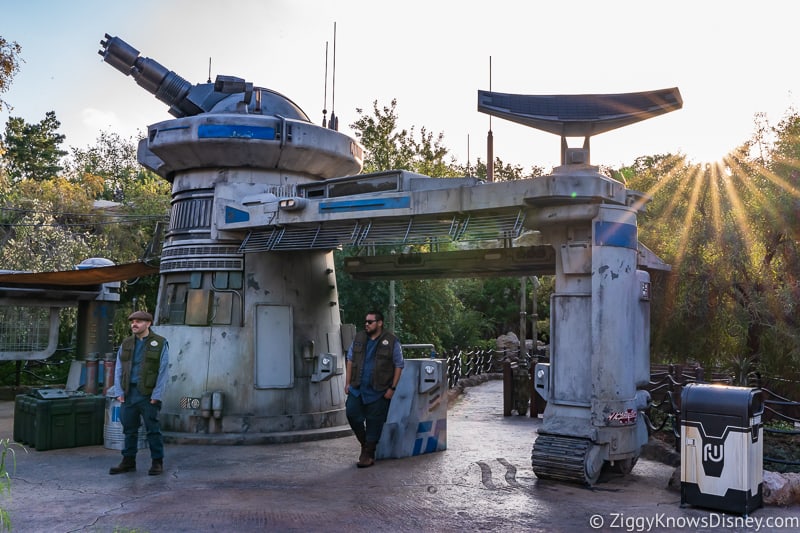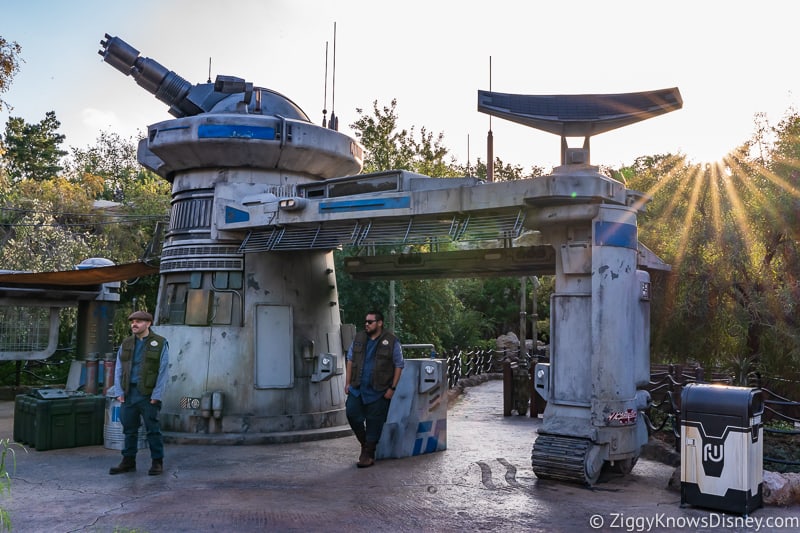 Once you pass through the turnstiles your journey begins and the attraction queue winds in and out of the cavern, taking you deeper and deeper inside. You'll walk past an X-Wing and an A-Wing on your way into cavern.
There you find weapons rooms, and other connections back to Black Spire Outpost. In fact all of Galaxy's Edge will be filled with secrets and Easter eggs to explore, many of which could bring you on other missions throughout the land.
The new Play Disney Parks app is going to interact with Star Wars Galaxy's Edge in both of the attraction queues. By playing you'll learn more about the attractions which will help you to complete your mission and win credits. You can then spend those credits later on in Galaxy's Edge.
Pre-Show:
Star Wars Rise of the Resistance is expected to be revolutionary and the next chapter in how queues and pre-shows are integrated into a ride. This is the highest form of immersion and the ride and story start from the pre-show.
Towards the end of the queue, the FastPass+ and Standby lines merge together into groups of 45-55 people and are gathered in rooms. This is where the mission briefing gets underway and a BB-8 animatronic droid appears who briefs you and brings you to the next room where a hologram of Rey appears asking you to join their cause in fighting the First Order.
This is your first exposure to the many characters throughout Rise of the Resistance as Rey, Finn, Poe and other characters from the new series are going to be playing a big part in this attraction. Once the briefing is over you leave you board a shuttle with 30-50 guests at a time, where Poe Dameron then personally escorts you on your mission in his X-Wing.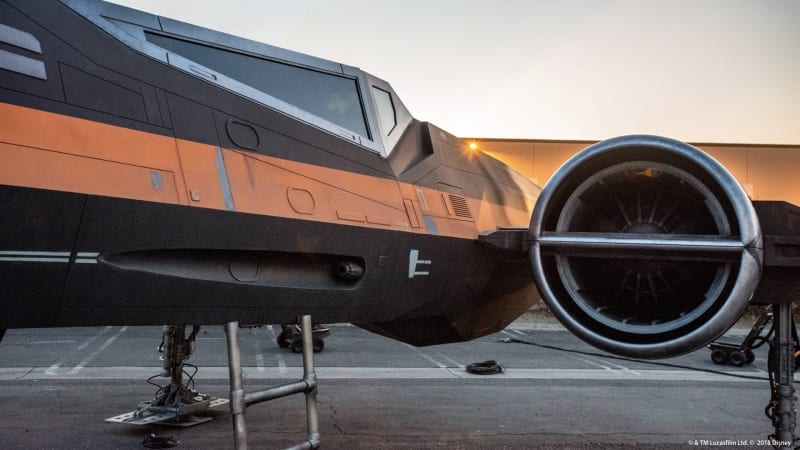 Poe Dameron's X-Wing is the black and orange one we've seen photos of and can only be seen in the queue for Rise of the Resistance, you can't see it from anywhere else in Galaxy's Edge.
Here is a video that Disney just filmed showing what Poe's X-Wing looks like up close:
The Shuttle:
After the briefing from the Resistance you'll be boarding a shuttle to take you on your mission and this is where the fun begins! The shuttle is this one that we saw at the Galaxy's Edge model in Hollywood Studios: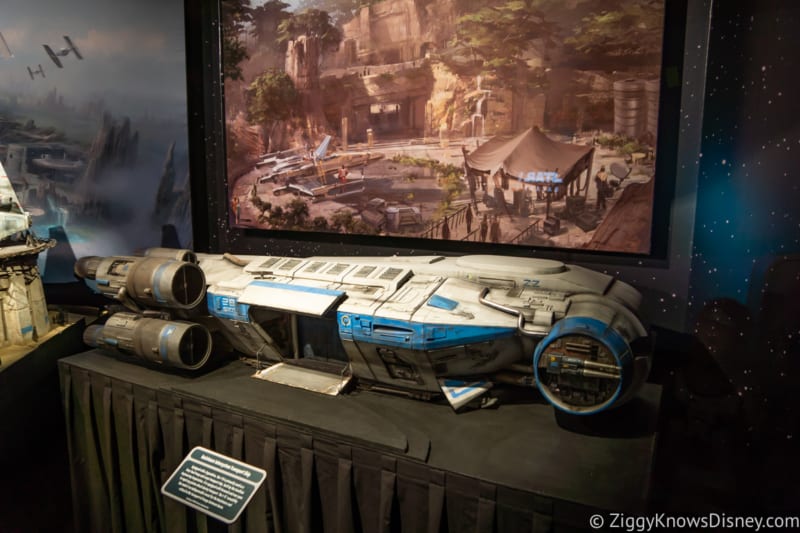 And here is what it looks like life-sized: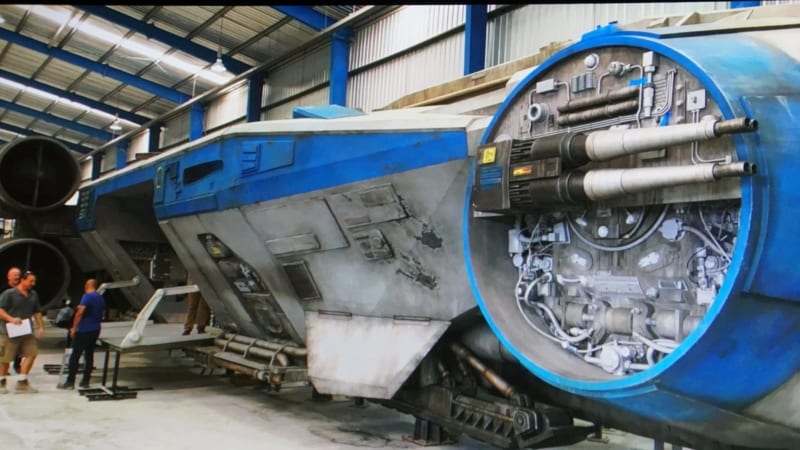 Guests will enter the side door of the shuttle which holds between 30-50 passengers. Once you enter the shuttle you see a Nien Nunb animatronic figure is waiting at the wheel to take you to your mission. You won't be sitting down however, you'll be standing for the whole ride.
Take off commences and a very realistic space travel simulation begins. The amazing part though is how realistic all of this is. The shuttle will simulate space travel and be very convincing to make you feel like you are traveling through space. Guests can even feel the ground shaking underneath their feet as the ship takes off to bring you to your mission.
Of course things go wrong and the shuttle gets intercepted by a First Order Star Destroyer, being sucked into its bay with a tractor beam. This is where the payoff is.
Disney imagineers pull off one of the first "tricks" they play on guests during Star Wars Rise of the Resistance and has been likened to the Haunted Mansion's "stretching room" scene. Of course you entered the shuttle from the ground level and think the shuttle its moving and rising in height, but it never leaves the ground.
The shuttle is actually on a giant turntable and unknowingly to guests slowly rotates the pre-show space shuttle vehicle 180 degrees. When the doors to the shuttle open you find yourself in the middle of a gigantic, First Order star destroyer bay! Looking back on early construction photos of the Rise of the Resistance attraction, you can see the mechanism which will make this trick possible.
Imagine opening the shuttle door and seeing this scene!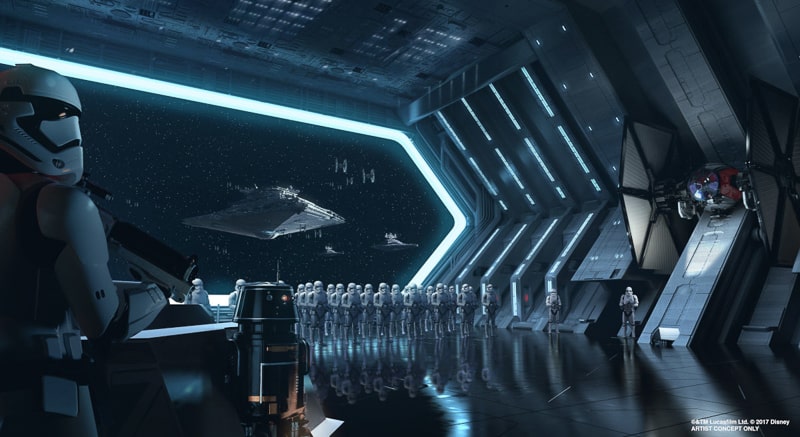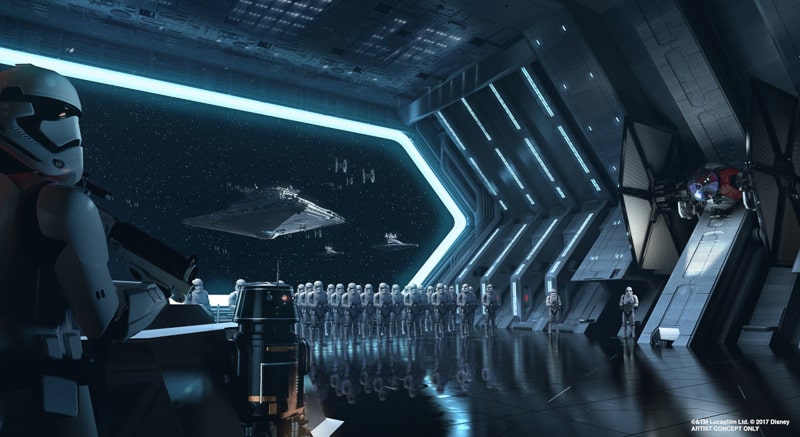 Once you enter the Star Destroyer hanger is where things really start to get crazy! The scale of everything in this room is INSANE and bigger than anything every seen in a Disney ride. The room is filled with 50 stormtroopers, and even a TIE Fighter mounted on the wall ready for action.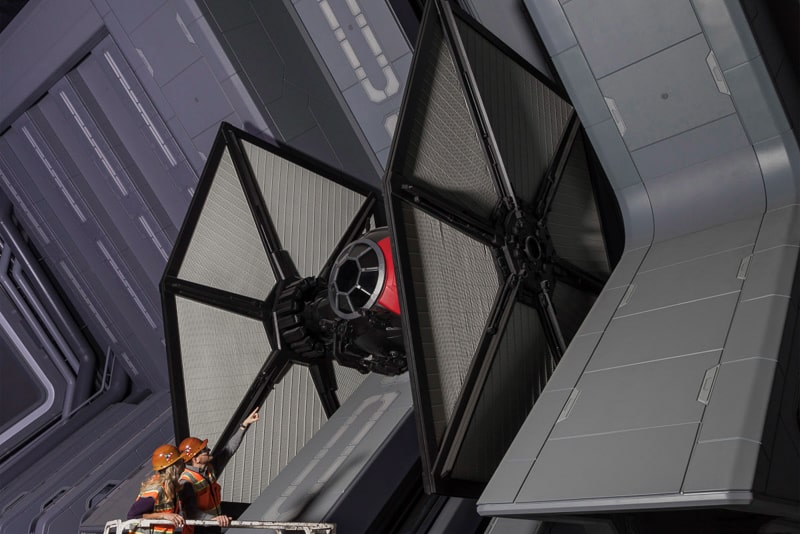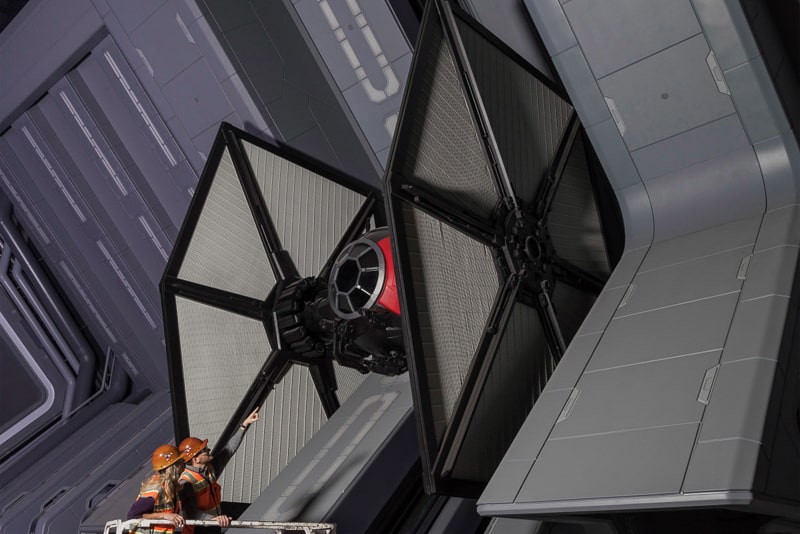 Disney makes this all possible using screen technology, and a giant high-definition screen over 100 feet long which will even simulate open space through the hanger door with First Order ships flying by!
I haven't personally been in the space yet, but from talking with friends who have, they said it's bigger than any attraction room Disney has ever built before and it's so realistic feeling. Some of the over 50 stormtroopers in this room are animatronic and some real actors.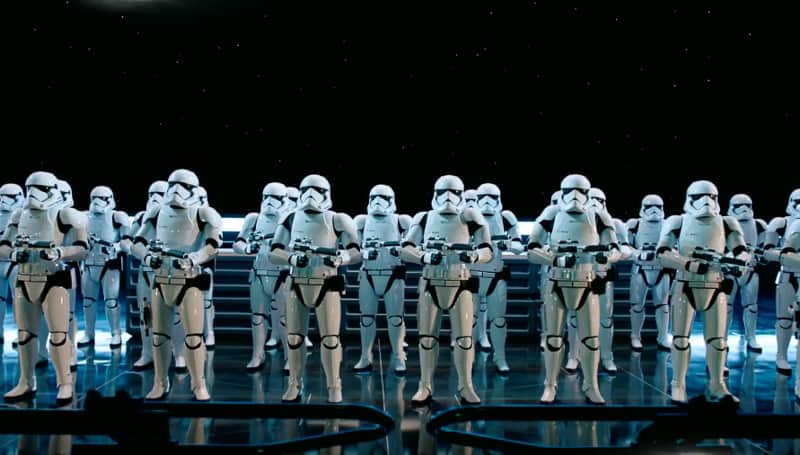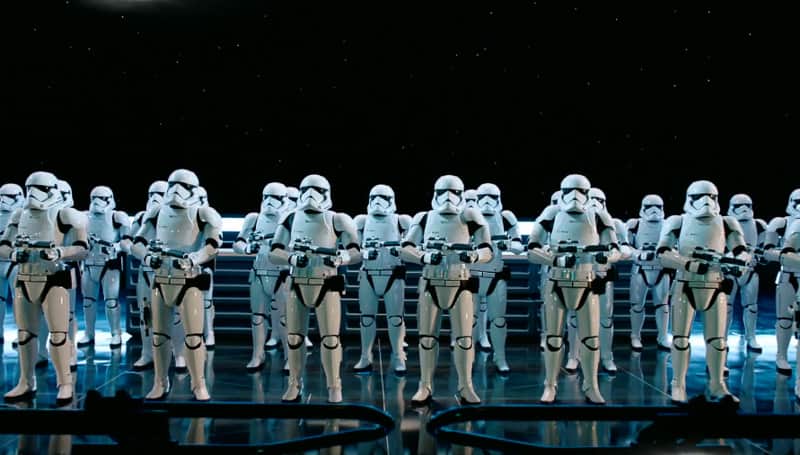 Guests are escorted off the shuttle and have to walk to a small queue where they wait to board a trackless ride vehicle which will take them through the Star Destroyer to the detention blocks like in "A New Hope." It will be interesting to see how Disney plans to pull this off and how long it takes people to move from one ride vehicle to the next in a fast and orderly fashion.
How long with the wait time be in that queue? At least this is happening inside the hanger bay which will give some nice eye candy to look at.
The Ride vehicles have an "onboard droid that reacts to its surroundings" which are supposed to be taking you to your detention cells. It's unclear if you ever make it into those detention cells or not because at this point, The Resistance mounts an assault on the Star Destroyer to break you out and more madness ensues. Guests will take part in the battle against the First Order with other Resistance troops who come to save you, and that's where the trackless ride vehicle we showed you before really starts to be fun.
Here are the ride floor prints for Rise of the Resistance. There are going to be 2 floors, and these are the plans for Floor 1: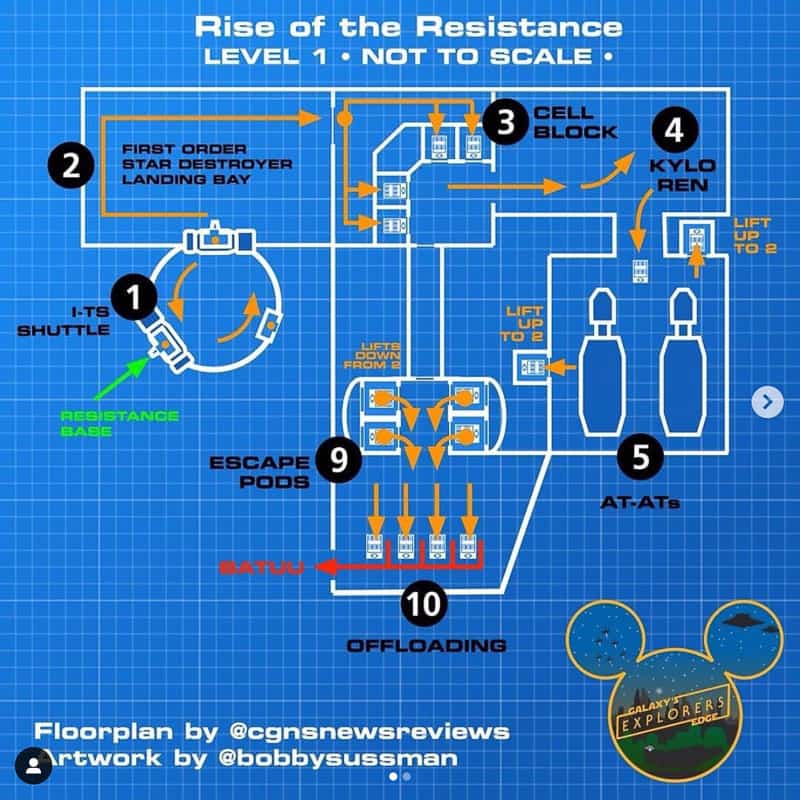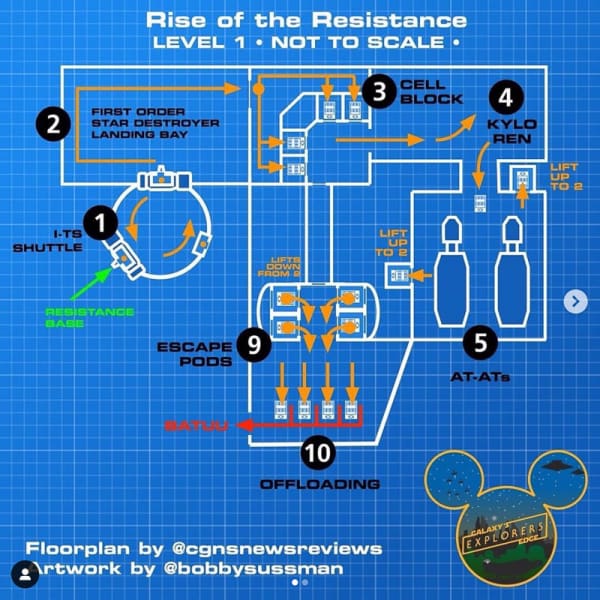 Floor 2: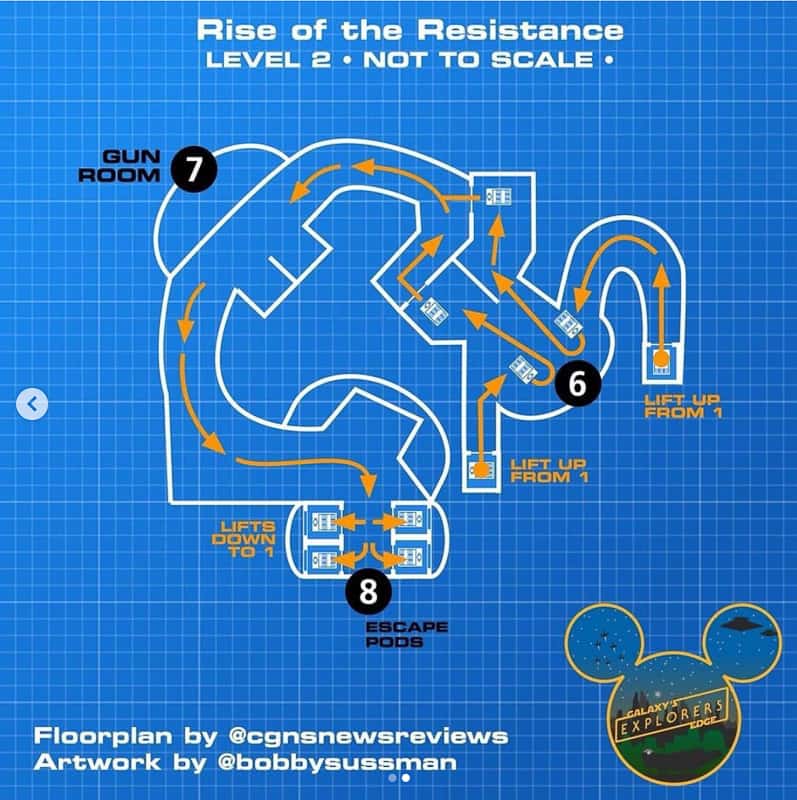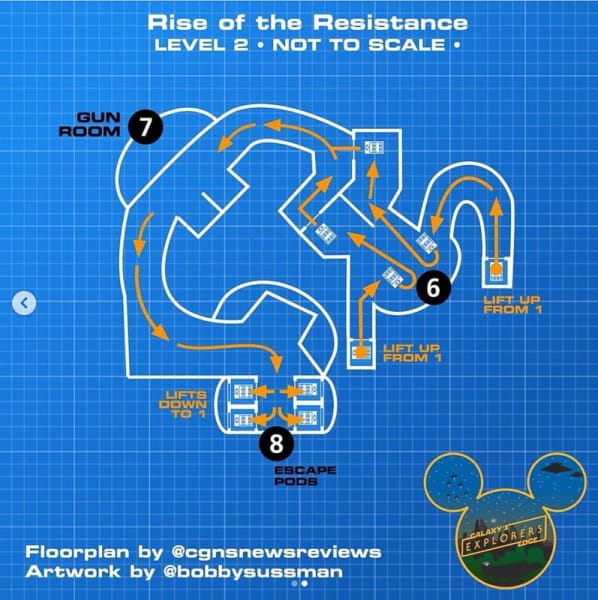 All of this will be done in your ride vehicle that we showed you earlier. You can read our more detailed post on the Rise of the Resistance ride layout which goes further in-depth.
You'll board your ride vehicles, and ride through the halls looking to escape. Each vehicle holds 8 people and you'll be traveling through the star destroyer 2 vehicles at a time, yours and right along side another one. Along the way you'll run into a whole bunch of stormtroopers, human and animatronic, through which you'll have to fight your way out!
Disney hasn't explained yet how guests will take part in the battle, but there will be some sort of interactivity where you have to participate in order to escape.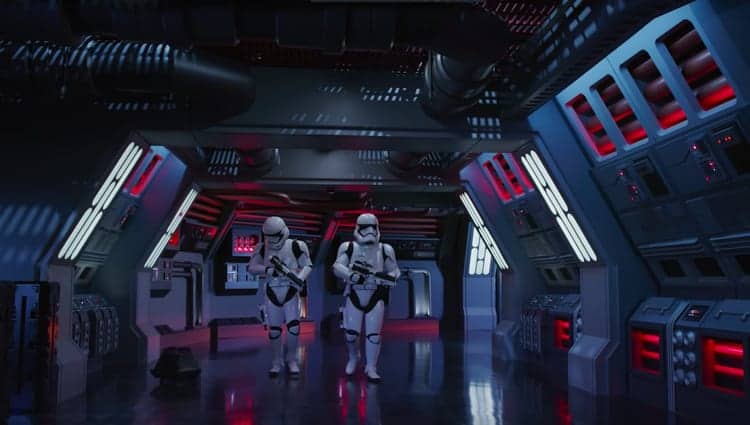 Disney has even developed a technology which simulates laser blast moving through the air, so get ready to do a lot of ducking to dodge the incoming Stormtrooper fire.
One of the coolest scenes in the whole Rise of the Resistance ride though is when you make it into the room Disney has built holding 2 giant AT-AT walkers! When they find you trying to escape, they open fire on you. It looks so amazing! Here is the model from Hollywood Studios: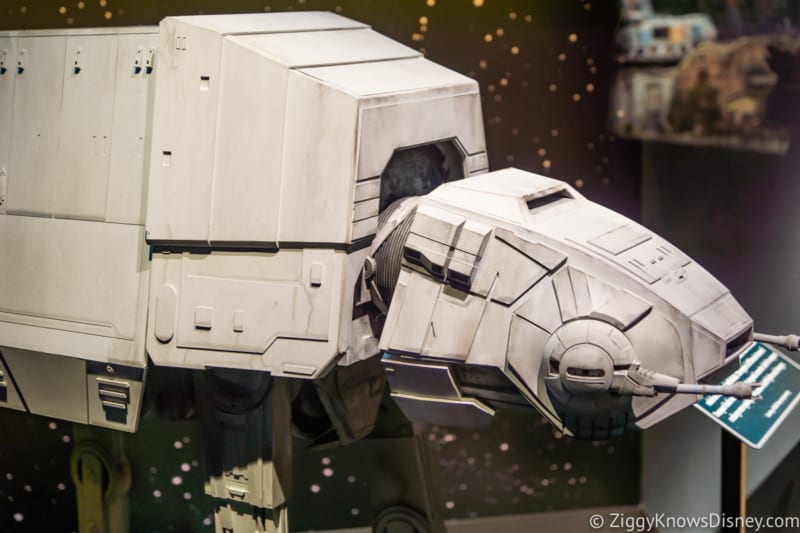 Just how big are they? Look at these cool shots from inside the Rise of the Resistance attraction, taken back when the construction was in the early stages: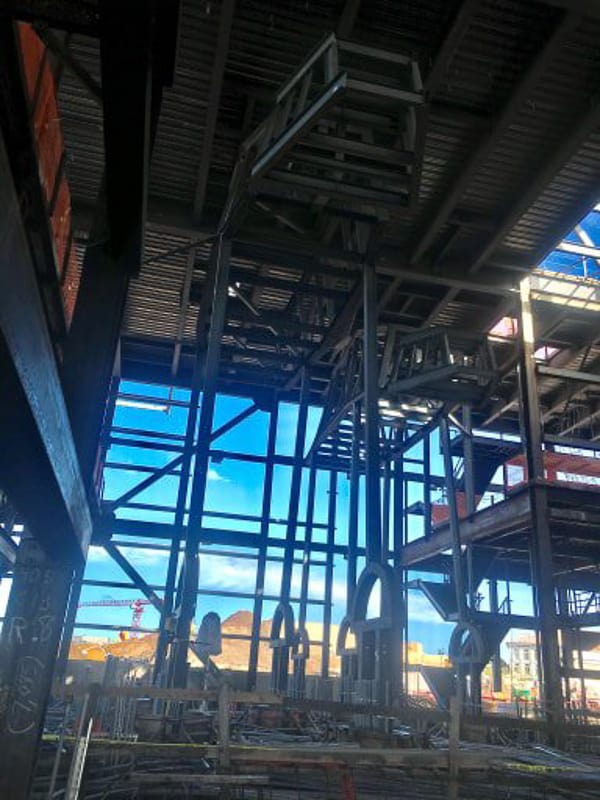 They show the giant AT-AT walkers that will be greeting guests trying to escape!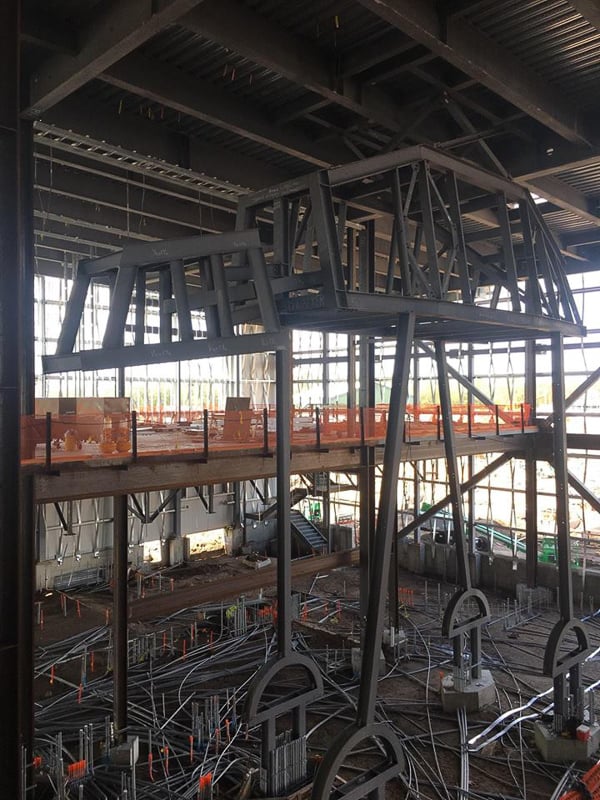 At various points in the attraction you will actually have an encounter with Kylo Ren. In fact Kylo will make multiple appearances throughout the ride, chasing after and trying to stop you from escaping. It looks like the first encounter with Kylo happens in Room #4, and then probably again at the end.
In the room with the AT-ATs the two trackless vehicles become separated, and each goes up a separate elevator shaft on opposite sides of the room, where you are transferred up 40 feet into the second floor of the attraction building.
This part is super scary as right when it looks like you're getting away, Kylo Ren slices his lightsaber into the ceiling of the room trying to stop you.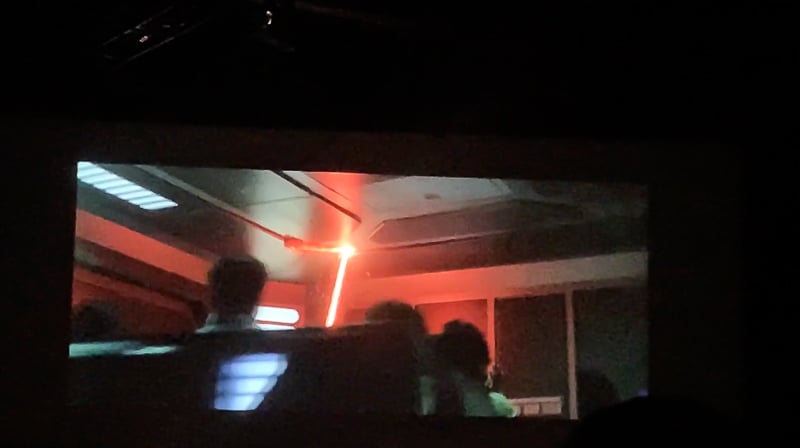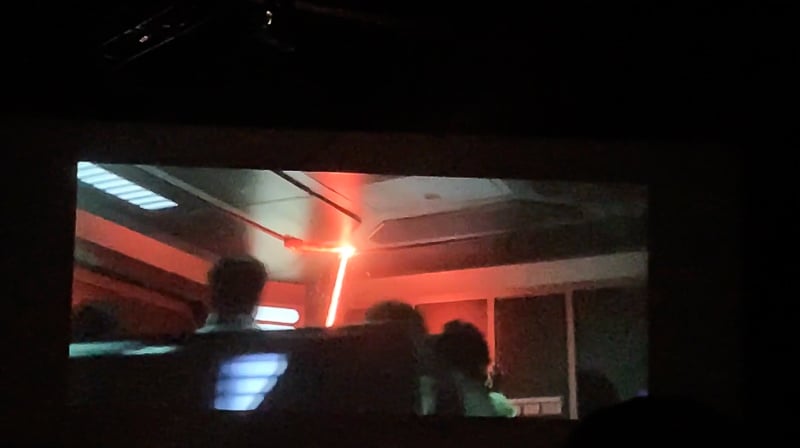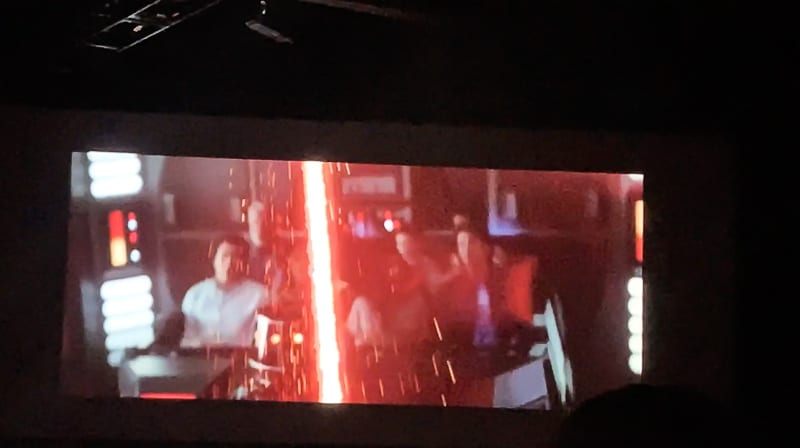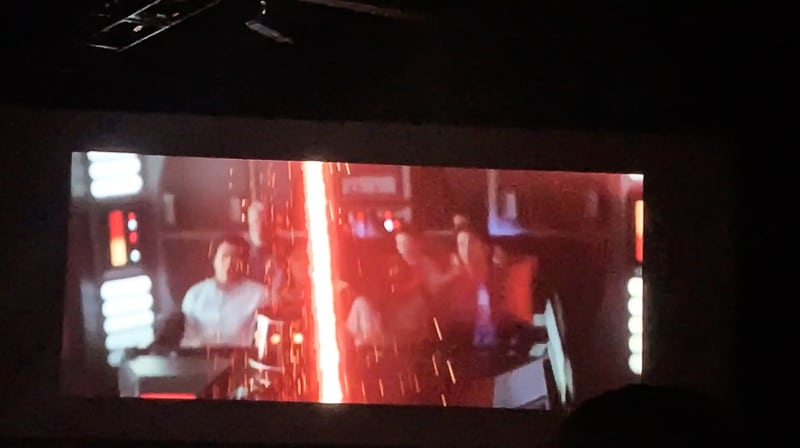 On the second floor there is a gun room, and lots of winding halls that will no doubt be filled with bad guys as the battle continues. All the while during this time, Kylo Ren is still chasing you and it looks like you're going to be captured, when Finn arrives giving you special instructions on how to escape.
Kylo Ren is distracted as the ceiling falls down around him and you make your way towards the escape pods to leave the ship before The Resistance blows the whole thing up, and fly back down to Batuu.
This might be the most epic and thrilling part of the ride as Disney has said there will be a "drop" here while the escape pods fly back down. There will be only 1 drop in the escape pod, and it's only 20 feet high, but it feels like much more due to the advanced simulation that Disney has created for this part of the ride. They really wanted you to feel like you were jettisoned from a star destroyer.
Here is a look at what the escape pod is supposed to look like: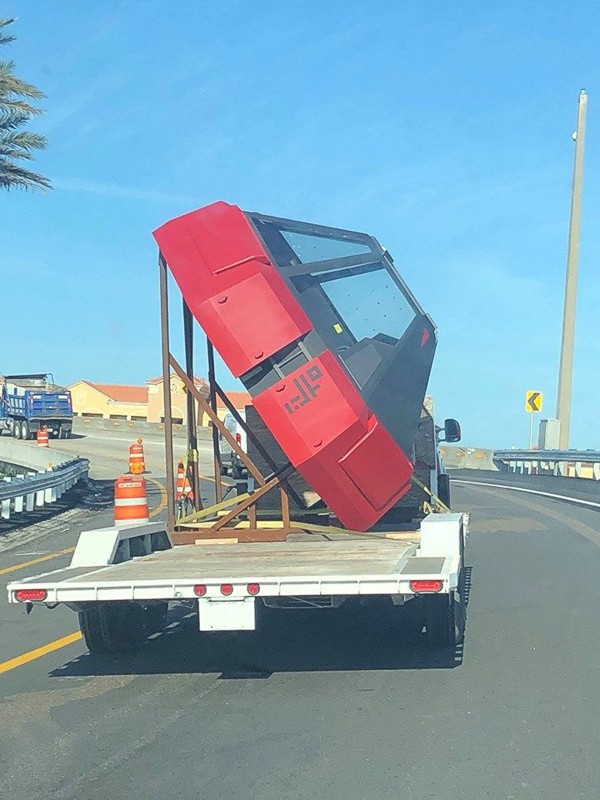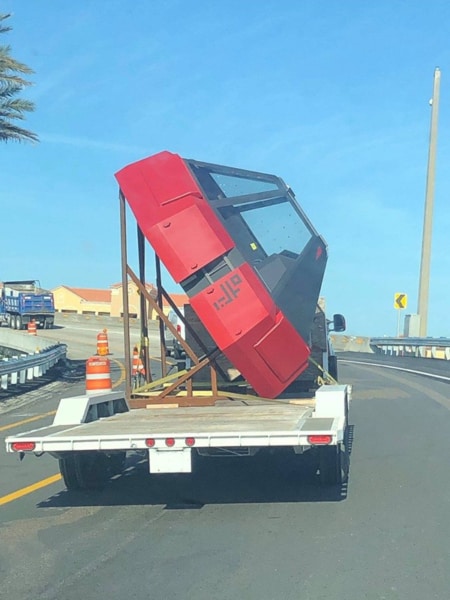 You can see the nose of the escape pod sticking out from the wreck which has landed back down on Batuu when you leave the attraction: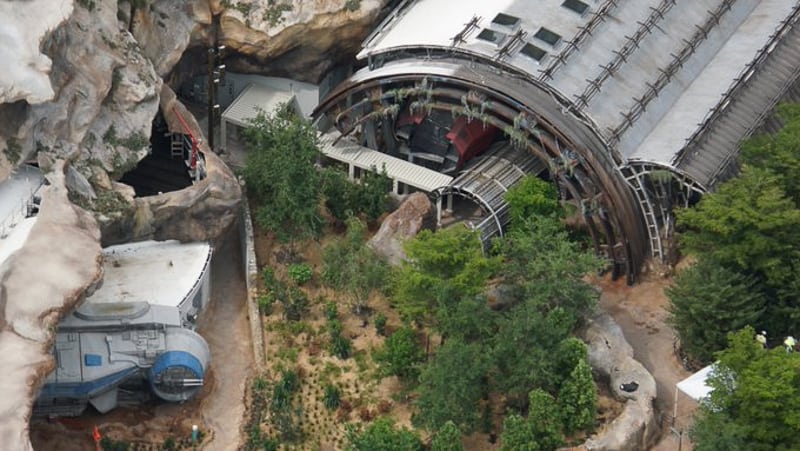 Once you arrive on Batuu, you will then be recognized ass a Resistance hero and having had an instrumental part in taking down The First Order!
Does Star Wars Rise of the Resistance Have FastPass?
It will definitely have FastPass and FastPass+ options available in the future, but the Rise of the Resistance attraction will not have FastPass in either Disney World or Disneyland when it first opens up.
This is the same thing they did with the Millennium Falcon for the opening of Galaxy's Edge. That still doesn't have a FastPass option either, but both Galaxy's Edge rides will eventually.
Videos:
We've assembled a collection of Rise of the Resistance videos for you so you can see all the footage from the ride so far:
Disney released this video about the Star Wars: Rise of the Resistance ride which shows some of the climatic scenes from the attraction:
In case you missed the video from the Christmas Special, here is an inside look at the Rise of the Resistance attraction, complete with 2 giant AT-AT's waiting for you!
This is the Rise of the Resistance Sneak Peek which was shown at the D23 Expo:
This video is from the most recent FreeformTV special on Galaxy's Edge:
FAQ's:
Is Rise of the Resistance Open?
No, Rise of the Resistance is not open yet. It opens December 5, 2019 in Disney's Hollywood Studios and January 17, 2020 in Disneyland Park.
Is the Rise of the Resistance Ride Scary?
Rise of the Resistance isn't like going on It's a Small World, that's for sure. It is an intense ride with very realistic battle scenes with laser fire, explosions and loud noises. There's also a "drop" during the ride but we don't know how high it is yet.
What is the Height Requirement for Rise of the Resistance?
Riders for this attraction must be at least 40 inches tall and not have any serious medical issues.
How Many Ride Systems does Rise of the Resistance Have?
It will have 4 different ride systems, all different and all forming one epic storytelling experience.
Is Star Wars Rise of the Resistance a Roller Coaster?
No, it's a combination of different ride systems, but a roller coaster is not one of them.
Review:
Star Wars: Rise of the Resistance is not currently open so we haven't had a chance to review this attraction yet. Once it opens we will have a full review ready for you!
When is the Rise of the Resistance Ride Opening?
So this all sounds fantastic and we can hardly wait to experience it for ourselves, but When does Rise of the Resistance open? Unfortunately the epic ride did not open with the grand opening of either Star Wars Galaxy's Edge in Disneyland on May 31 nor Disney World on August 29. Those are being called: "Phase 1" of Galaxy's Edge.
Instead Rise of the Resistance opens during the "Phase 2" part of Galaxy's Edge. Thankfully, Disney has already announced the opening dates for Rise of the Resistance:
Disney World: December 5, 2019
Disneyland: January 17, 2019
But wait, didn't Galaxy's Edge open in Disneyland before the one in Hollywood Studios? Now you're telling me it's opening first in Disney World??
It is shocking and the fact that Star Wars: Rise of the resistance is opening first in Walt Disney World comes as a big surprise to many, seeing as Galaxy's Edge in Disneyland has been open since May 31, and the Disney World only since August 29. They've had a whole three months more than the Hollywood Studios version of the ride to get it ready, and yet it's opening 1 month later?
Disney hasn't given an official reason for the bigger delay at Disneyland, but the extra time apparently doesn't matter. I'm not sure what the exact problem with the Rise of the Resistance ride in Disneyland is and why there's a difference between the two but we have a couple things it could be that we'll get into later.
Ironically December 5 is Walt Disney's birthday so no doubt Disney chose this date with a specific purpose in mind.
The Delayed Opening:
A couple months back Disney CEO Bob Iger made the shocking announcement during a conference call where the Galaxy's Edge opening dates were announced. The phone call was already filled with bombs once we found out Galaxy's Edge was opening earlier than previously thought, but finding out the epic Star Wars: Rise of the Resistance attraction is delayed was certainly a huge pill to swallow.
This delay is applicable for both the Disneyland and Walt Disney World versions of Star Wars Galaxy's Edge.
In fact, Galaxy's Edge is opening in two phases, and Rise of the Resistance is not included in that initial openings in either park. The first phase will includes Oga's Cantina, Docking Bay 7, the other food kiosks, shops and the other attraction in Galaxy's Edge, Millennium Falcon: Smuggler's Run.
However there is going to be a separate opening for Star Wars: Rise of the Resistance at a later time.
Why is Rise of the Resistance Delayed?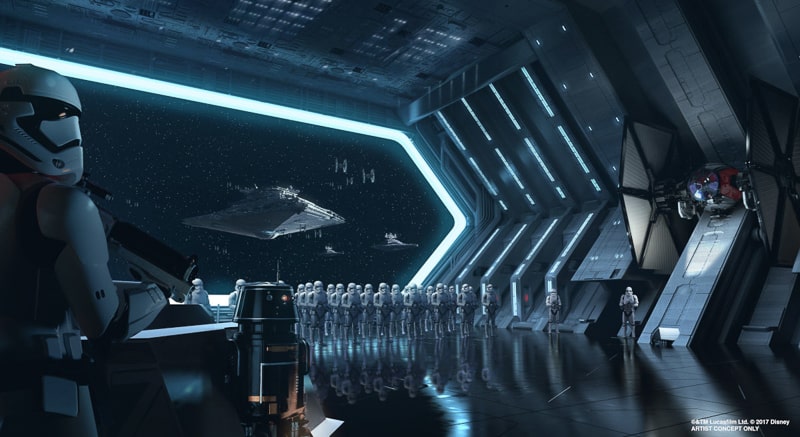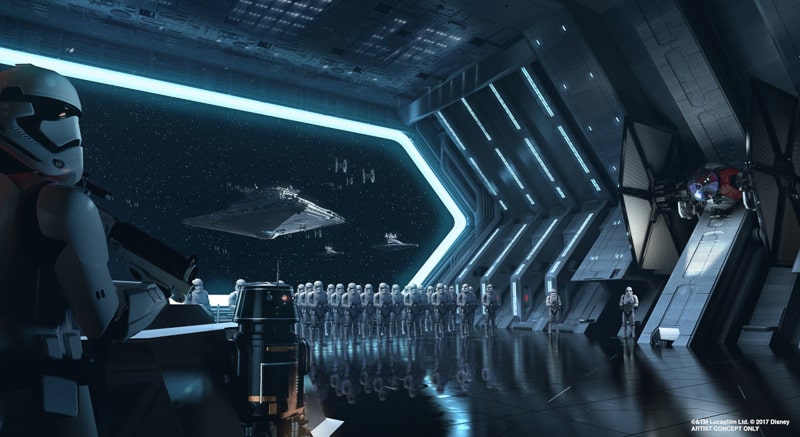 There are multiple reasons for the delay, but the main reason is that Disney is having trouble with the trackless ride system for Rise of the Resistance, and couldn't get it ready in time for the opening of Galaxy's Edge. Word on the street is that it's been very problematic, and difficult to keep running correctly.
The problem is with 4 different ride systems in play, all working together, if one of them goes down, the whole ride goes down. So keeping such a complex system working in unison has been a challenge.
Another reason is that there just isn't enough man power to go around to do the work quick enough. All hands were on deck to get the rest of Galaxy's Edge ready in time for the opening in Disneyland and Disney World, and there just weren't enough workers.
Lastly, according to @sw_edge on Twitter, the ride vehicles themselves area big reason for the delay. Apparently the ride vehicles were not fitted for ADA originally which has led to a complicated process of cutting the doors in half and adding hinges so they can open properly. Since there are 38 ride vehicles to do this with, we're talking about months of work.
If this is accurate I'm not sure why this wasn't thought of to begin with, and it's been a big waste of time and money to fix it…
Since the opening of Galaxy's Edge in Disneyland, the company was really hoping for an August opening date to coincide with the D23 Expo when the whole world will be watching Disneyland.
Obviously now that isn't going to happen and again the Phase 2 opening dates for Galaxy's Edge are:
Disney World – December 5, 2019
Disneyland – January 17, 2020
They are both a bit later than we were expecting honestly, and we was hoping to see phase 2 happen in September/October in Disneyland, and maybe a late 2019 opening in Hollywood Studios towards December. The Disney Parks Blog at one point announced that the Rise of the Resistance ride was opening in both Disneyland and Walt Disney World THIS year in 2019.
Only half of that came true and the Disneyland version landed just outside 2019 into January 2020. Again, there must have been more problems since that statement.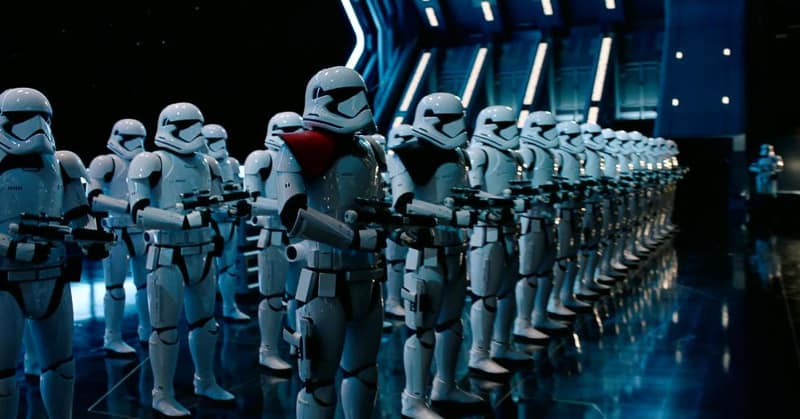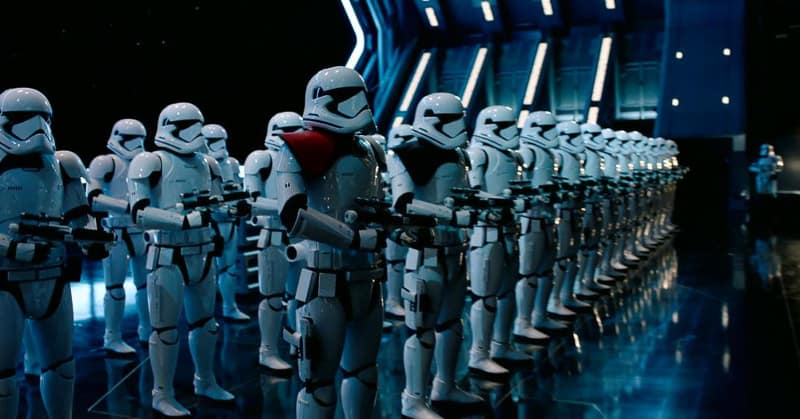 It's also interesting to note that in the specific press release by Disney they mentioned when the work is done on Rise of the Resistance in Disney World, Imagineers will head back to California to complete their mission at Disneyland Resort. This tells me that they made Disney World a priority over Disneyland and their best people are going to focus on that version first, and then get back to Disneyland after.
I'm not sure the exact reason for it, maybe we'll hear more, but I'm not holding my breath. Oh well, it's all water under the bridge now and as of writing we have very few weeks left until we can experience this ride for ourselves.
My only concern now is when it opens, if it will actually work properly, and for long period of time without too much down time, or are we going to have another Hagrid's coaster on our hands here soon?
With all the extra time they've taken, it should actually work. If waiting longer means they were able to fix all (most of) the bugs, then I'm all for it. n if we are waiting longer than we had originally thought, I'd rather get a working and 100% Rise of the Resistance than one that has to wait until noon to open (Hi Universal).
The last thing you want is to make a trip all the way to Disney for this ride, only to have it close every day. Imagine the riots in the streets of Batuu if you're waiting in line 5 hours and you don't get to ride!
So if the imagineers have to make us wait a little longer to make that happen I'm cool with it. After all Star Wars: Rise of the Resistance is being billed as the most ambitious and potentially most amazing attraction you or I have even been on, and I prefer if I actually feel that way the first time I ride.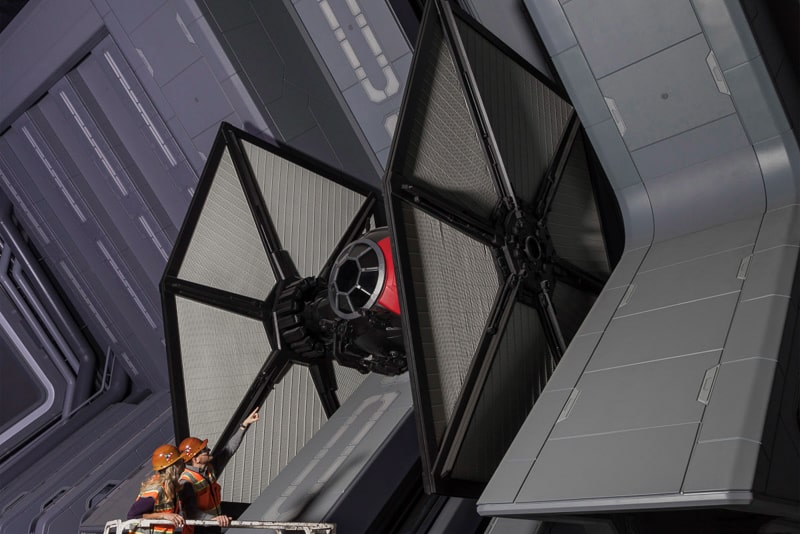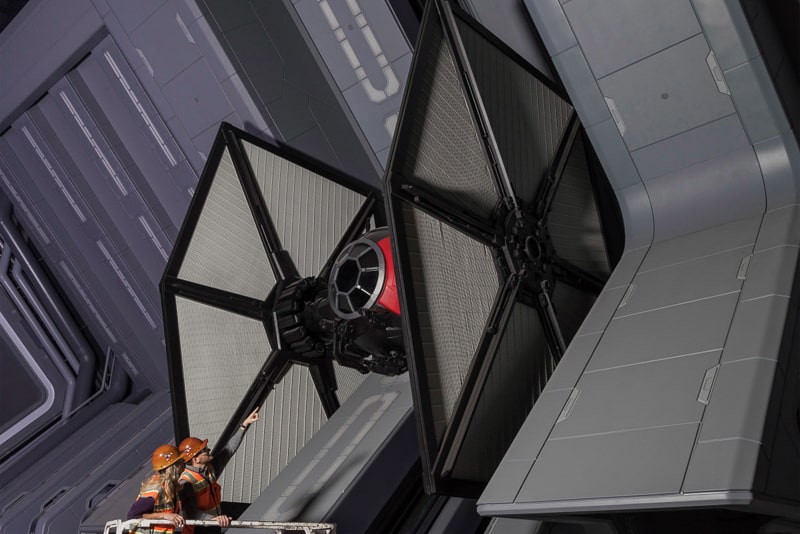 If you've been waiting and waiting to book your trip to Disneyland or Disney World because you wanted to know first when the Rise of the Resistance attraction is opening, you can make your reservations with confidence knowing the opening dates.
I don't think you have to worry much about whether or not Disney will meet the dates. Lately Disney has been very cautious about announcing dates until they are 100% sure. Yes there are always things you can't predict, but if they say the ride will be open in December and January then I feel really good about that and so should you.
If you want to be extra careful, then booking a trip in February is also a good option, just to be safe.
I'm just hoping that when Rise of the Resistance does open up they've worked out all the kinks in it and things go as smoothly as possible. There are so many moving parts in this attraction, I think a big part of the reason for the delay has been trying to get everything perfect for guests.
Will there be Soft Openings for Rise of the Resistance?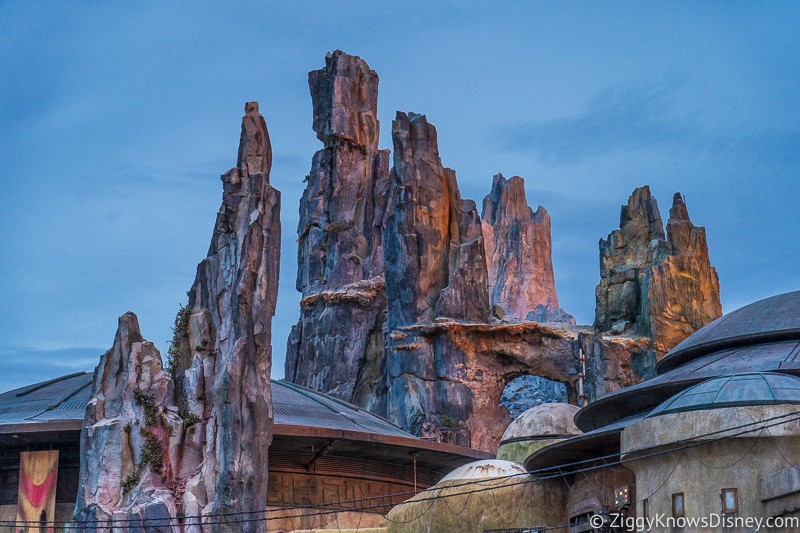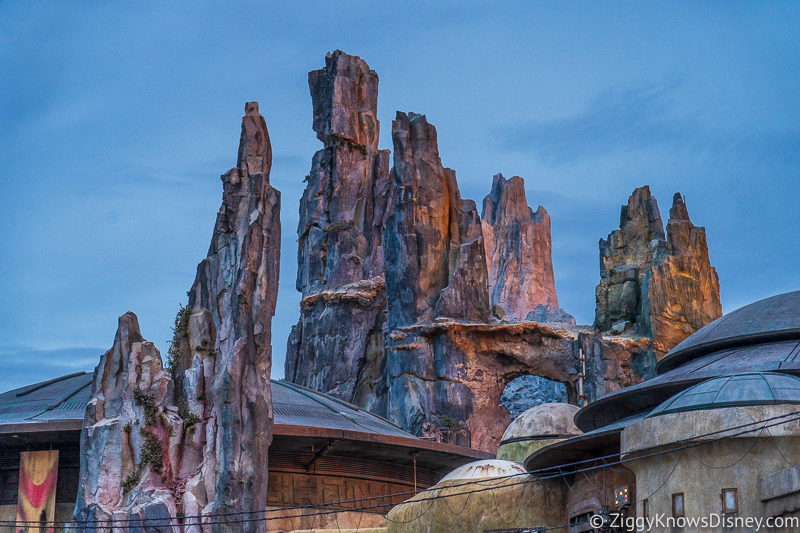 Disney hasn't mentioned this at all yet, but I think there is a good possibility that there will be some soft openings or previews for Rise of the Resistance. With the attraction being so complex, Disney will be doing cast member previews of the ride before opening for sure to test things out, especially the wait times.
It's not out of the question for them to also do some Annual Passholder previews either. Again, Disney hasn't said anything about this yet, but some rumors are going around that there will be testing and previews for Rise of the Resistance sometime in November. There may be Annual passholder previews or soft openings around Thanksgiving, and Cast Member previews could start in mid-November.
This is unconfirmed and only rumors at this time, but if Disney does say something we'll be sure to let you know!
That does it for now, we hope you've learned everything you need to know about Star Wars: Rise of the Resistance, and we hope you are just as excited about it as we are. Make sure to keep checking back as we'll update you with any new info we have!
Also for more info on Star Wars Land in general, read our Complete Guide to Star Wars: Galaxy's Edge for a detailed look at the attractions, dining, planning and touring strategies.
Latest Rise of the Resistance News:
Here are the latest news items about the Rise of the Resistance ride in Galaxy's Edge:
What's the longest you've ever waited for a theme park attraction? 2 Hours? 3? Whether it's more or less, it's very interesting to sit down and look at what the wait times in Galaxy's Edge have been like so far and what we think you can expect moving forward. In this post we'll explain what […]
Your Thoughts:
I want to know what you think about the details for the Star Wars: Rise of the Resistance ride in Star Wars Galaxy's Edge…
What part are you most excited about?
Which attraction in Galaxy's Edge do you think will be the best?
Let us know in the comments section below!
If you enjoyed this article, as always I appreciate it if you'd share it with others via social media. I work hard at making this website into a useful resource for you and your family to plan your visit to the Disney Parks and I hope it can help you! Thanks 🙂
Need help planning your Disney Vacation? Contact René from Show You the World Travel for all your trip planning needs. All of the agents there are certified Disney Travel Agents and are super helpful with all your planning needs. I highly recommend them and the best part about it is they are FREE to use!