The day is finally here, Star Wars: Rise of the Resistance is now open in Star Wars: Galaxy's Edge, the most ambitious, most epic attraction ever to come to a theme park. We're going to share with you everything you need to know about this ground-breaking new ride!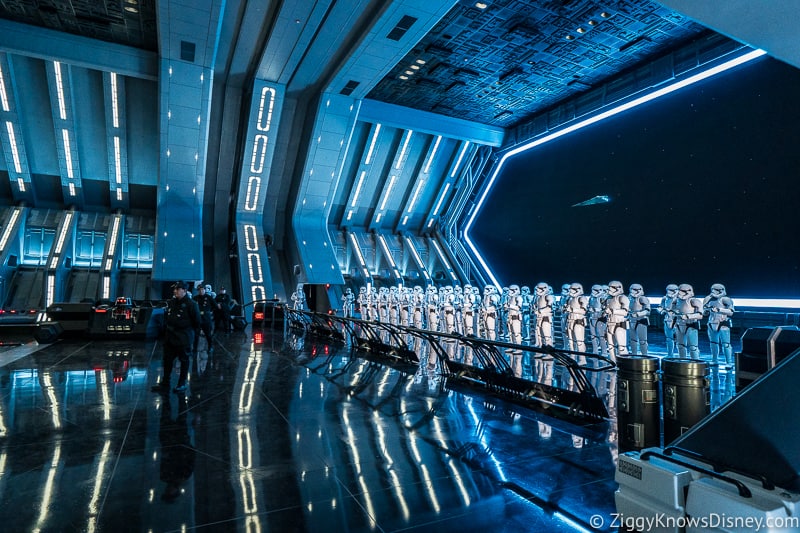 In this post you will find all the details about the Rise of the Resistance ride including: opening, ride vehicle, a walk-through of the attraction, capacity, length and many other FAQs you might have.
We're also going to share with you our thoughts and a review on the new ride after having finally gotten a chance to ride it! Make sure to scroll down to that subheading to see just exactly what we think of Rise of the Resistance and if it lives up to expectations.
If you want to see everything that happens on the ride, we have a Rise of the Resistance Full Ride POV Video showing the entire attraction from start to finish!
Please read our Using Rise of the Resistance Boarding Groups and Virtual Queue if you are looking for information about how to ride Rise of the Resistance, and a detailed look at the whole reservation process.
Also, don't forget to sign up for our FREE Weekly E-Mail Newsletter. There we bring you the latest updates on Star Wars: Rise of the Resistance including riding strategies, as well as vacation planning tips. You can sign up here: Join our E-Mail Newsletter
Star Wars: Rise of the Resistance Overview
Location: Star Wars: Galaxy's Edge (Disneyland and Disney's Hollywood Studios)
Status: Opened December 5, 2019 (Disney World); January 17, 2019 (Disneyland)
Ride Type: Simulator, Trackless
Thrill Level: Medium
FastPass: Not right now, but eventually yes.
Ride Length: 15-20 Minutes
Height Requirement: 40 inches
Capacity: 1,500 – 1,700 per hour
To find out more about the Rise of the Resistance ride opening and a full walkthrough of the attraction, please keep reading further down where we explain it in greater detail.
News UPDATED 10/29/20 – New Rise of the Resistance Changes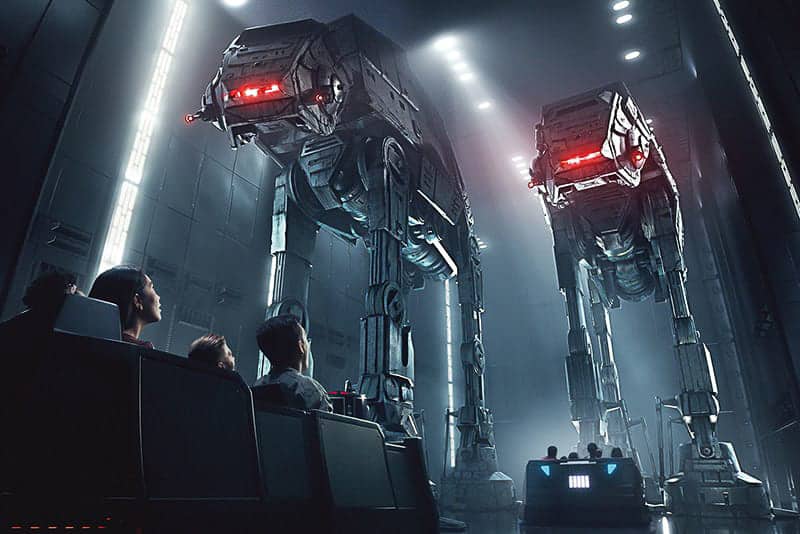 Some good news for guests who are tired of how Rise of the Resistance uses boarding groups as Disney has made some big changes to the whole procedure.
Guests still need to use the virtual queue to ride Rise of the Resistance, but instead of doing it in the park, distribution for the first groups begins at 7:00 am each day, and it can be done from outside Hollywood Studios, either at your Disney hotel or a nearby location.
The procedure for the second distribution time at 2:00 pm remains the same and guests still need to be in the park for that.
The other big news around Star Wars: Rise of the Resistance is that Disney has added plexiglass dividers to the ride vehicles. This means more than one party at a time can load the vehicles.
This will allow for much faster loading, decrease wait times to be called, and increase overall capacity for the attraction. Ultimately, this means more people are going to be able to ride Rise of the Resistance each day than over the last few months.
We are extremely happy about these two changes and they improve what has been a very frustrating guest experience for one of the best Disney attractions ever built.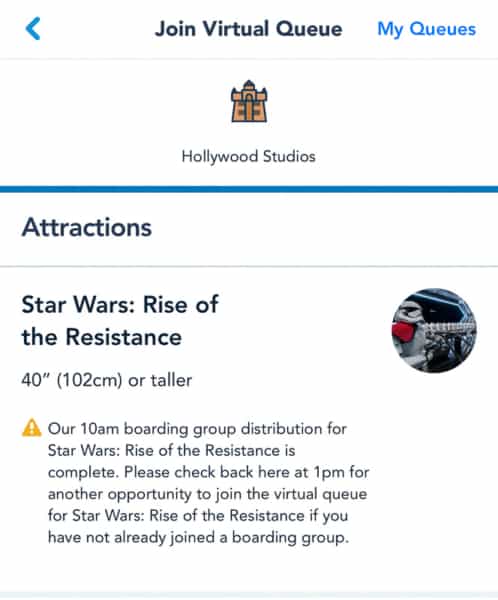 We'll keep you updated on how these changes are coming.
This will change your touring strategy somewhat, so please scroll down where we go further in-depth on what time you need to be at the park.
No news yet about the Disneyland version. We assume that it will also resume using the Virtual Queue system once the Star Wars dark ride reopens.
Right now we are still waiting to hear when Disneyland will reopen, so until that happens, we don't know when Rise of the Resistance will be back either.
Read the following posts which will give you a summary of how the system works and help you to be able to ride:
What is Star Wars: Rise of the Resistance?
You've heard the excitement about this new "Star Wars Ride" everyone has been hyping up, but you're probably wondering: What kind of a ride is Rise of the Resistance?
Star Wars: Rise of the Resistance is the newest attraction in Star Wars: Galaxy's Edge in Disney World and Disneyland.
It's the most ambitious and immersive ride that Disney has ever built, and is more like an experience rather than only a ride. It completely sucks you in for the entire more than 15-minute long experience from start to finish!
The Star Wars: Rise of the Resistance attraction in Galaxy's Edge is the ride I've been looking forward to more than any other ride coming to the Disney parks in the next few years. Now after having ridden it, I am completely speechless!!
It's definitely among the best new Disney World attractions, and in our opinion is number 1!
What Type of Ride System Does it Have?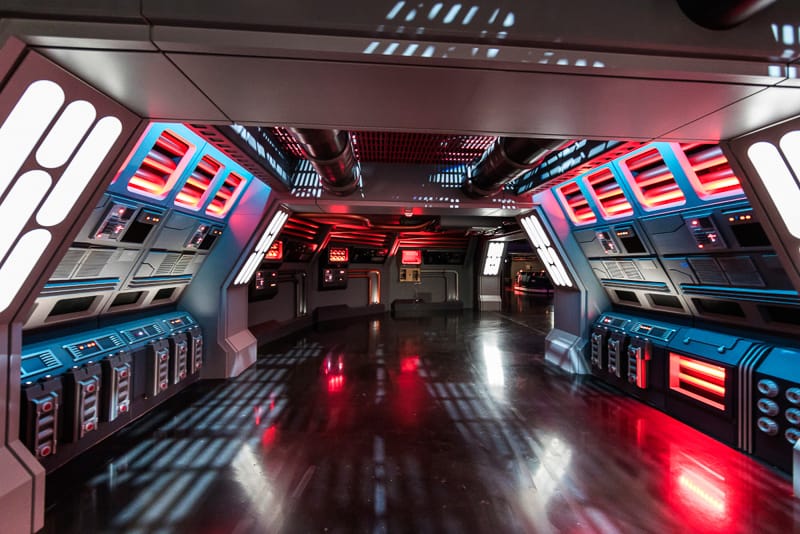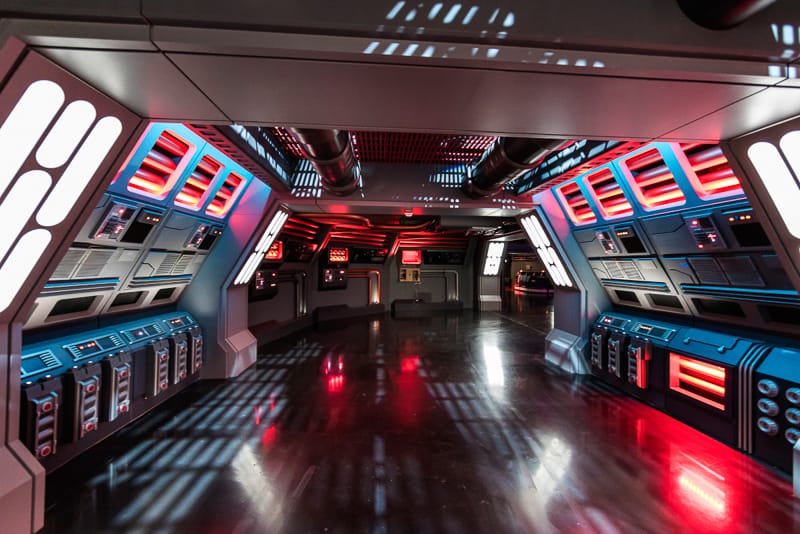 Immediately we think of a roller coaster when talking about a thrilling ride in a Disney Park, but it isn't a roller coaster at all, not even close.
Star Wars: Rise of the Resistance is on a scale like nothing else you've ever seen in a theme park attraction. It has 18 show areas and 4 ride system types in all bringing guests through the biggest attraction show building they've ever created.
In fact, one of its ride systems is completely trackless, which means it can move around the show floor smoothly and seamlessly and you don't know which direction you are going in. This creates an element of surprise with every ride through it.
Rise of the Resistance is set up with a 3-Act Structure:
Act 1: The caves systems of Batuu and ride Pre-Show
Act 2: Ascent into space aboard the I-TS shuttle
Act 3: Escape from the Star Destroyer
To give you an idea though about how detailed this interior is, there are more than 65 state-of-the-art animatronic figures, including the Droids and Stormtroopers.
That makes it one of the attractions with the most amount of animatronics ever, behind "It's a Small World."
Which Parks is it Located in?
Thankfully Star Wars: Rise of the Resistance is not coming to only one park, but it is located in both Galaxy's Edge lands, one Disney's Hollywood Studios in Walt Disney World and also in Disneyland Park.
If the ride is a success, it's very possible Disney will build Rise of the Resistance in Disneyland Paris and at least one of the Asian Disney parks too. A lot is riding on it to be a big hit and Disney has gone all-in on this one.
Is Rise of the Resistance the Only Ride in Galaxy's Edge?
Star Wars: Rise of the Resistance, is just one of the 2 attractions in Star Wars Galaxy's Edge. The other is called Millennium Falcon: Smuggler's Run.
There guests can step on board the iconic Millennium Falcon and take control of the ship, actually flying it and working together as a team to complete the mission given.
Smugglers Run is located on the opposite side of Galaxy's Edge, in the center of Black Spire Outpost. You can read more details about the Millennium Falcon: Smugglers Run here, including our full walk-through and review.
Ride Length
So far it sounds awesome, but how long is the ride time for Rise of the Resistance? It's hard to calculate the exact ride length, but one thing is for sure…this ride is long, one of the longest in Disney World and Disneyland.
From our experience riding it, Rise of the Resistance is about 18 minutes long. That takes into consideration the pre-show before boarding the shuttle and all ride elements. Sometimes it is slightly longer due to short delays, but if everything is running smooth, 18 minutes is what you can expect.
A while back when Disney Parks President Bob Chapek was interviewed for the Galaxy's Edge special on Freeform TV, he indicated that Rise of the Resistance was going to be at least 15 minutes long.
These are his exact words from the special:
"Imagine being chased for 15 minutes by Kylo Ren and the First Order. Lightsabers everywhere, stormtroopers coming after you. It's going to be fantastic!"
Some initial reports had Rise of the Resistance being more than 20+ minutes long. While it doesn't quite reach that level, we think it is more than long enough and you definitely feel like you got enough time in the attraction space.
Ride Vehicle
The ride vehicle for Star Wars: Rise of the Resistance has 2 rows of 4 people for a total of 8 passengers. It even has an R5 droid in the front who will be your guide throughout the adventure: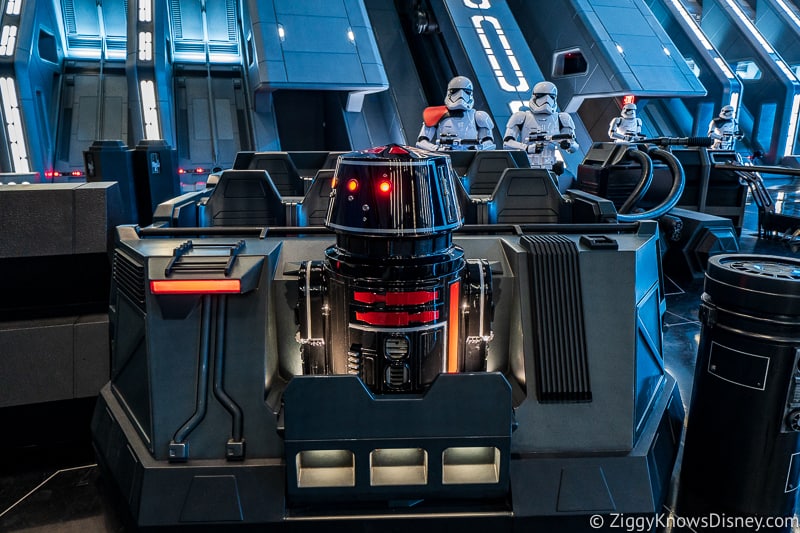 (Update) – Since reopening in July, the ride vehicle for Rise of the Resistance was only carrying one party at a time. Even if you are the only member of your traveling party who is riding, Disney was not putting other guests will you and you had the vehicle to yourself.
Since then, plexiglass dividers have been added to each vehicle and they now can hold 2 groups of guests.
It uses trackless technology like Remy's Ratatouille Adventure coming to Epcot and Mickey and Minnie's Runaway Railway, which means that the vehicle doesn't have a visible path it will take, making it much more unpredictable.
Expect lots of unexpected twists and turns with the potential of a different experience every time you ride it.
I've been in this ride vehicle many times, and I can say it really adds a lot to the ride experience because there is no track and therefore you can't prepare yourself for what's coming next. That means more surprises and more re-rideability for everyone.
Now we can see exactly how the ride vehicle for Star Wars: Rise of the Resistance looks from end of the attraction: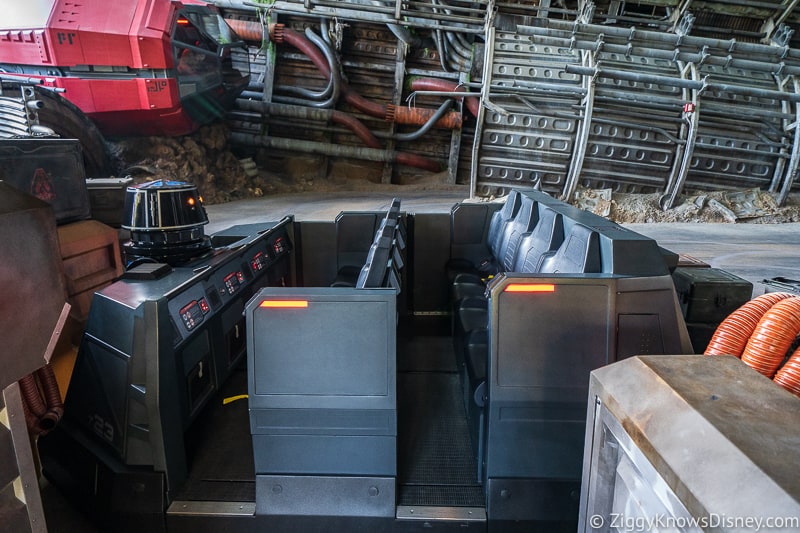 The ride vehicle is practically identical to the model from D23 Expo, just a bit darker: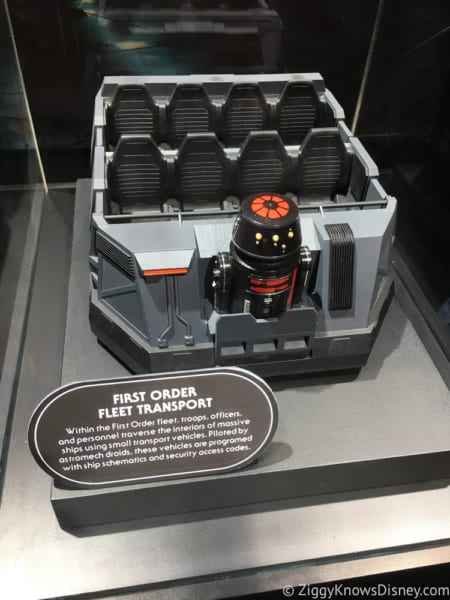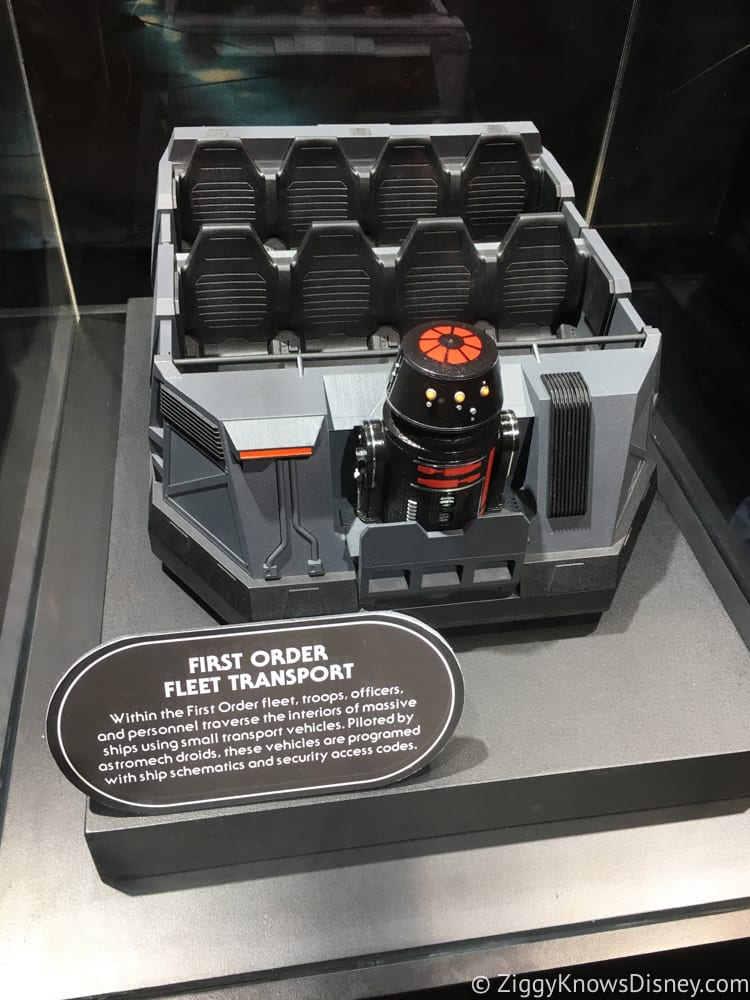 Keep in mind there are 4 ride systems in Rise of the Resistance, but this ride vehicle will be the primary one you travel around the star destroyer with. It then also connects with two of the other ride systems, working hand in hand to deliver this realistic simulation.
From what Disney Imagineers have said, there are 38 total ride cars and 36 cars can be in the "show space" at one time. Even though there are so many cars, you only see other riders briefly see each other during the loading/unloading process, and in one or two scenes during the ride.
Height Requirement
Even though Star Wars: Galaxy's Edge is fun for the whole family, keep in mind that not all will be able to experience at least one of the attractions. There is a minimum 40-inch height requirement for the Star Wars: Rise of the Resistance ride in both Hollywood Studios and Disneyland.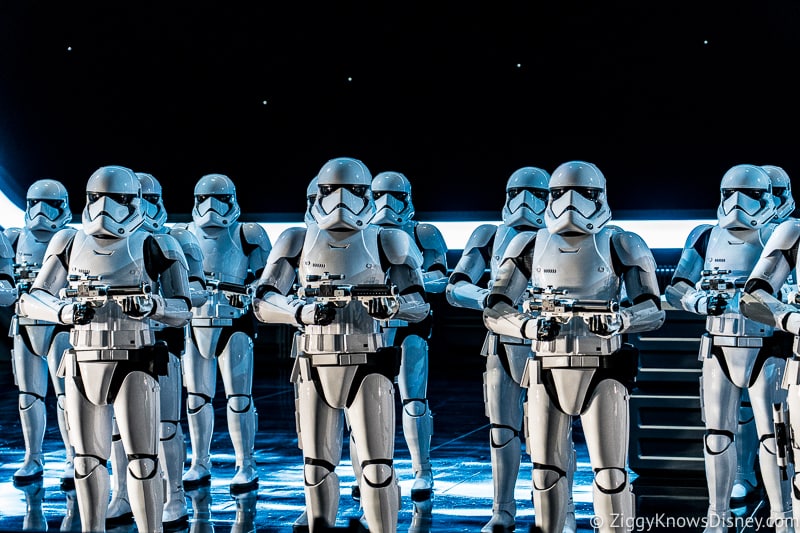 Rise of the Resistance having a height requirement of 40 inches means, unfortunately, your smaller family members won't be able to ride.
This is not out of the norm as it's the same height requirement you find on other Disney attractions like: Splash Mountain, Big Thunder Mountain, Soarin' and Test Track.
In comparison, riders have to be 38 inches tall to ride Smugglers Run.
Rise of the Resistance is a moderately intense ride, and not something you want to do if you have severe health problems. You can find the height requirement on a sign stationed outside of the attraction entrance.
It states: "Join us on an exhilarating mission to stop The First Order! This mission includes rapid motion, sudden stops, sharp turns, and a swift drop as you evade capture from The First Order."
It then goes on to read that the minimum height requirement for Rise of the Resistance is 40 inches.
This is a bit surprising seeing as the attraction is based on the same trackless ride system found in the Ratatouille ride in Disneyland Paris for example. However, there are no "drops" on that ride. Trust me, otherwise, my wife would never have done it!
How Scary is the Rise of the Resistance Ride?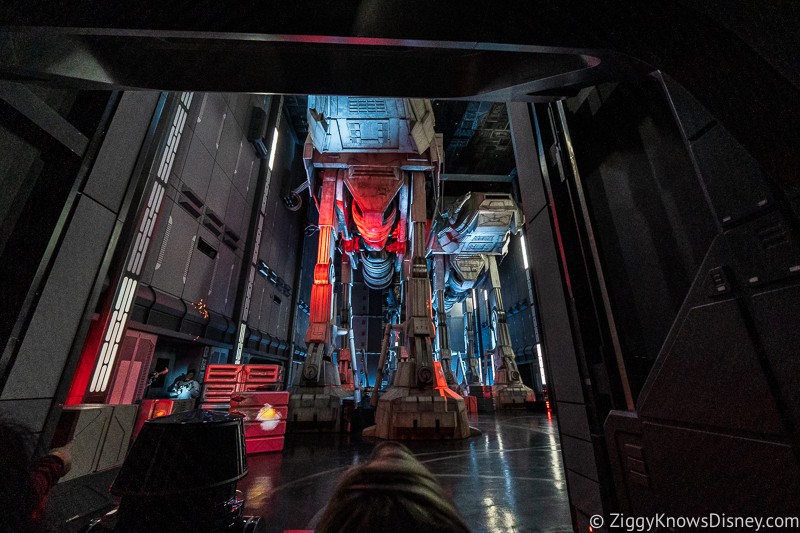 Star Wars: Rise of the Resistance is a moderately scary ride, but not as scary as Expedition Everest or Tower of Terror. That said, you should be prepared for loud blasts, explosions, and intense battle scenes.
Something else to keep in mind is Star Wars Rise of the Resistance does have a "drop" in the escape pod that brings you back down to Batuu from the star destroyer. It isn't anything too crazy, but it is just intense enough that not all guests will be able to handle it.
How high is the drop? The final drop on Rise of the Resistance is between 10 and 20 feet, though because of special effects it can feel like more.
It is a straight down drop like in Tower of Terror, only not nearly that high. 20 feet isn't huge, but it isn't small either so keep this all in mind when bringing little kids who frighten easily or big adults who do the same. 😉
A lot of people thought it was going to make the ride scary, but personally I don't think it's intense enough and almost everyone will be able to handle it no problem.
Will this Ride Make Me Sick?
This depends on what type of rides make you sick. There are many different ride systems throughout Rise of the Resistance, but none of them are overly fast or do jerky motions which you might normally think of getting sick from.
The main ride vehicle does slide through the hallways, turning the car in unexpected ways, but we never felt that it was overly fast and didn't make us sick at all. It's not like riding the Tea Cups for example.
Safety Information
Of course, you want to consult the board at the front of the ride entrance to read any warnings regarding health.
Riders must be in good health without high blood pressure, heart, neck or back issues. Motion sickness or other conditions may occur if you have a sensitivity to rapid motion, sudden turns, abrupt stops, and a "swift drop!"
Expectant mothers should not ride and children under the age of 7 must be accompanied by a person aged 14 or older.
Does Rise of the Resistance Have a Drop?
There is one small drop at the end of the attraction, but it's not overly high, only about 10-20 feet. It's over so quickly that you don't even realize it's happening before it's already over.
Even if you don't like drops, this is not something to be concerned about as it's very small.
Does it Go Upside Down?
There are no loops or inversions in Star Wars: Rise of the Resistance, so if that makes you nervous, there is no need to worry about this attraction.
Is Rise of the Resistance Kid-Friendly?
There is a height requirement of 40 inches, but Star Wars: Rise of the Resistance is definitely kid-friendly. There are a lot of amazing animatronic figures, special effects, blasts and vehicles to look at which children will love.
If your kids are Star Wars fans, this is the ultimate ride for them!
Can I Opt-Out of Riding Once in the Queue?
If for some reason you get in the attraction queue and change your mind about riding Rise of the Resistance, you can opt-out and tell a Cast Member there at the end that you prefer not riding.
If you don't want to ride the final part in the actual ride vehicle, it will at least give you an opportunity to see the pre-show, the space shuttle, and the Star Destroyer hangar bay. At that point just tell a Cast Member you don't want to do the rest of the ride.
Does Star Wars Rise of the Resistance Have FastPass?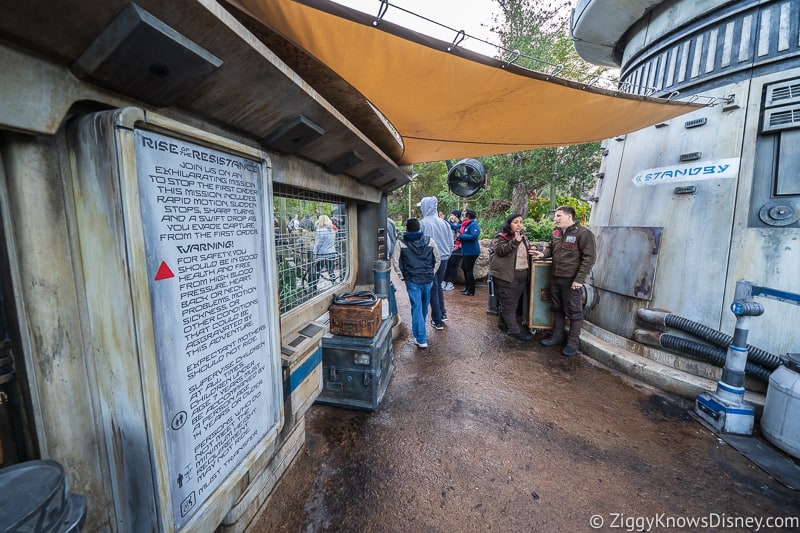 It will definitely have FastPass and FastPass+ options available in the future, but the Rise of the Resistance attraction does not have FastPass in either Disney World or Disneyland at this time.
This is the same thing they did with the Millennium Falcon for the opening of Galaxy's Edge. The Hollywood Studios version has FastPass+, while the Disneyland one still does not. Both Galaxy's Edge rides will have FastPass eventually though.
Right now Disney is using the Virtual Queue and boarding groups for Rise of the Resistance. How long they continue to do this remains to be seen.
Read our Galaxy's Edge FastPass guide to see which attractions are available now, and the best tips and strategy using it.
Does Rise of the Resistance Have a Single Rider Line?
While Rise of the Resistance does have a Single Rider line, at this time they are not using it. In the future, this will change, but for the time being, even single riders have to get into a boarding group and go through the queue like the rest of the guests.
Does it Have Rider Switch?
For parents visiting Rise of the Resistance with small children, Disney offers the Rider Switch program (also called "Child Swap") to allow both adults to ride.
This allows you to take turns with one person going on the ride and the other staying behind with your little ones, and then switching, all the while not having to wait the full time in queue.
You will need to get a boarding pass as usual, but then when you arrive at the queue, see a Cast Member for more assistance.
How Long is the Attraction Queue?
Star Wars: Rise of the Resistance has one of the most interesting and detailed ride queues we've ever seen in a theme park and it will keep you busy for the entirety of your wait.
Once you get into the queue from the entrance, the wait is not very long. Right now Disney is using a virtual queue and boarding groups instead of a traditional stand-by line, and wait times are usually between 30 and 40 minutes.
Guest Accessibility
Just because you might ride around Disney in a wheelchair or scooter, doesn't mean you can't experience Star Wars: Rise of the Resistance like everybody else. Disney is more than happy to accommodate guests who have special needs.
Star Wars: Rise of the Resistance is accessible for ECV's, Wheelchairs, and any other accessibility device.
The entire attraction queue is ECV-friendly and guests can stay in their wheelchairs, scooters or other accessibility devices up until the actual ride vehicle portion of the attraction. This includes the pre-show, space shuttle and Star Destroyer hanger portions of Rise of the Resistance.
Just ask assistance from a Cast Member and they will then direct you to the loading area.
Guests can use ECVs (scooters, essentially) and wheelchairs up until boarding the ride vehicle and then must transfer.
If you're unable to transfer from your ECV you can still enjoy the in-queue interactivity, initial capture, and scope out the Stormtroopers in the airlock hangar, but you'll be required to take the last chance exit before boarding the actual "ride" portion.
Does Star Wars: Rise of the Resistance Accommodate Disability Access Service (DAS) card?
The DAS Card is designed to accommodate guests who aren't able to wait in a conventional queue environment due to a disability (including non-apparent disabilities).
The DAS Card is accepted on Rise of the Resistance but there are a limited amount of riders it will take each day.
Guests using the DAS card still need to go through the same Virtual Queue Boarding Group System as all the other guests in the park. That means every member of your group must be present in Hollywood Studios to make a reservation.
Once your boarding group is called, go to the FastPass return line and you will be accommodated through the attraction queue.
What Characters are in Rise of the Resistance?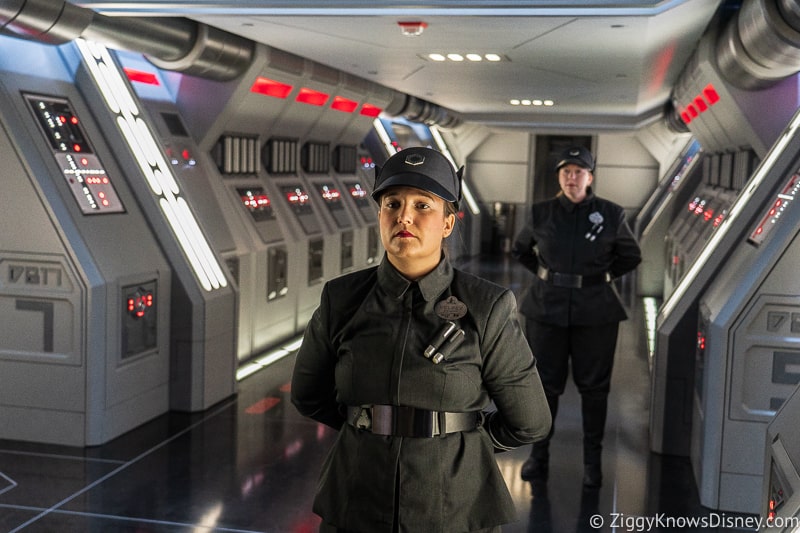 One of the cool parts about Star Wars: Rise of the Resistance ride is that it's full of your favorite characters from the actual Star Wars films. These are not voice doubles either, they got the actual same actors you see in the Star Wars films to reprise their roles for the ride.
Adam Driver, Daisy Ridley, John Boyega, and Oscar Isaac all make appearances.
The characters on Rise of the Resistance come in the form of animatronics, holograms, videos and live actors.
Here is the list of characters that we know about so far that are in Rise of the Resistance:
Rey
Poe Dameron
Finn
BB-8
Kylo Ren
Nien Nunb
Lieutenant Bek
General Hux
Vi Moradi
Over 50+ Stormtroopers
Dozens of First Order Officers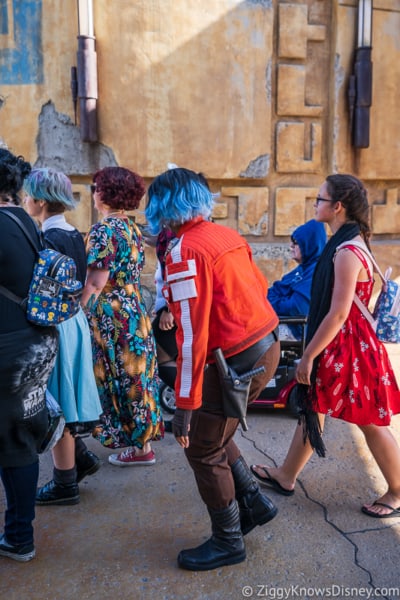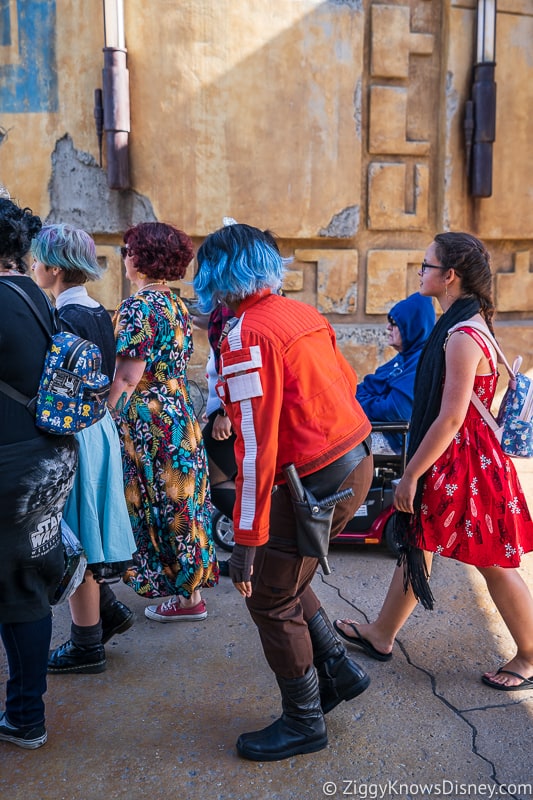 If you're wondering who Vi Moradi is, she's the resistance spy hiding in Black Spire Outpost that the stormtroopers and Kylo Ren are always looking for. She has a role in the new Star Wars attraction and welcomes guests while warning them of the dangers that lie ahead.
I think this is a really cool idea to introduce a new character to the Star Wars universe through a ride and also have her walking around the land!
BB-8 and Rey play a big role in the pre-show for the ride, and Poe Dameron and Nien Nunb accompany you on your mission.
While up in the First Order star destroyer in Rise of the Resistance you'll run into Kylo Ren and dozens of stormtroopers who will be chasing you and trying to stop you from escaping.
Finn also has a big in the ride and has a secret plan for you to escape.
Here's a look at the Kylo Ren animatronic that has been made for the ride: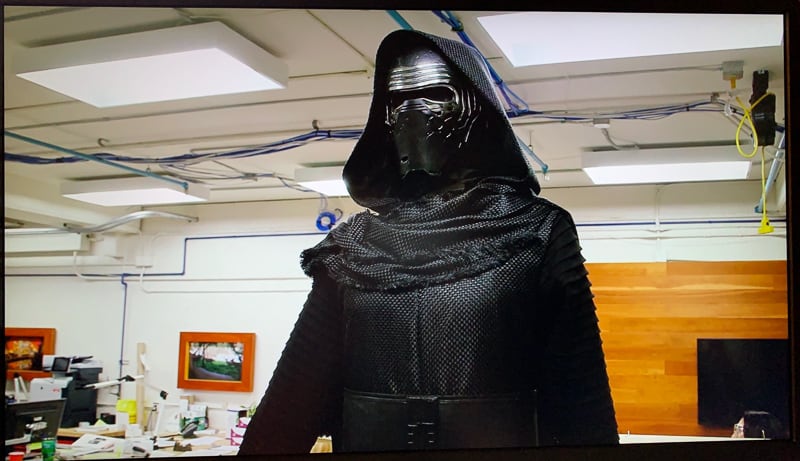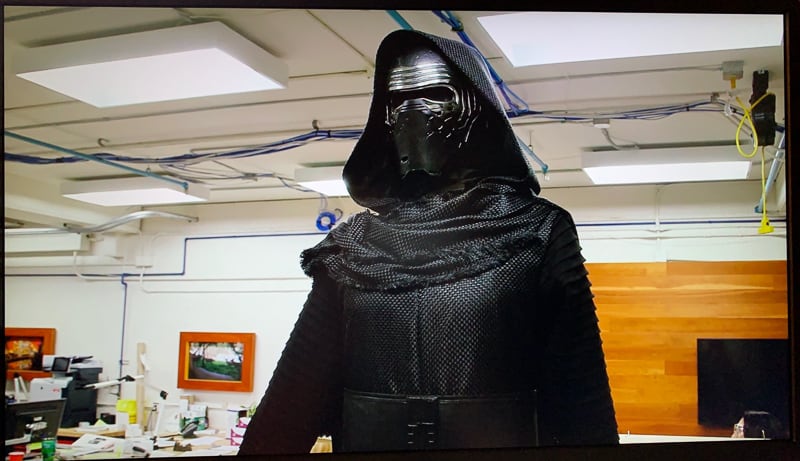 This is one of the most impressive animatronic figures ever built and is part of the new A1000 series model which is a revolutionary step forward in AA figure design. These new audio-animatronics use "pancake" motors, making or much more realistic human-like movements.
Disney has also partnered up with Panasonic to develop custom-made projectors and lenses which increase lifelikeness throughout the ride and have you wondering which characters are real people and which fake.
If you want to read more about the roles these characters play in Star Wars Rise of the Resistance then read the walkthrough further down.
Sign Up For Our Newsletter Today!
Ride Layout and Walkthrough
The Star Wars: Rise of the Resistance ride is HUGE and it's essentially 4 attractions built into 1 with guests boarding various ride vehicles, transports, and even walking the halls of a Star Destroyer as a prisoner.
We going to give you a walkthrough of the Rise of the Resistance Ride and share details and photos of every scene throughout the attraction.
Just as a warning, the below description is quite detailed so if you don't want to know anything and would rather be surprised when visiting Galaxy's Edge yourself, now is the time to back out.
Ok, everyone ready? Let's start with the ride queue:
Queue
(Update) – Since the Disney Parks have reopened, Disney has installed ground markers allowing for guests to keep 6 feet of distance from other groups. Also plexiglass barriers have been installed at certain points of the queue where lines of people intersect.
These are just a few of the changes and new safety measures in the Disney Parks at this time to protect guests and Cast Members.
Everything starts outside the giant show building on the planet of Batuu where Galaxy's Edge is based and a Resistance outpost. Of course, the Resistance is going to have an encounter with the First Order and that's where you step in.
Here outside the attraction is where your journey will begin.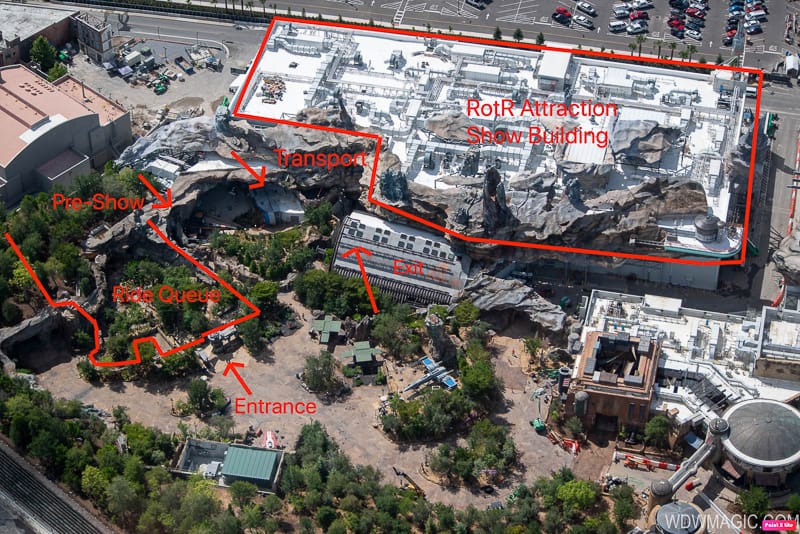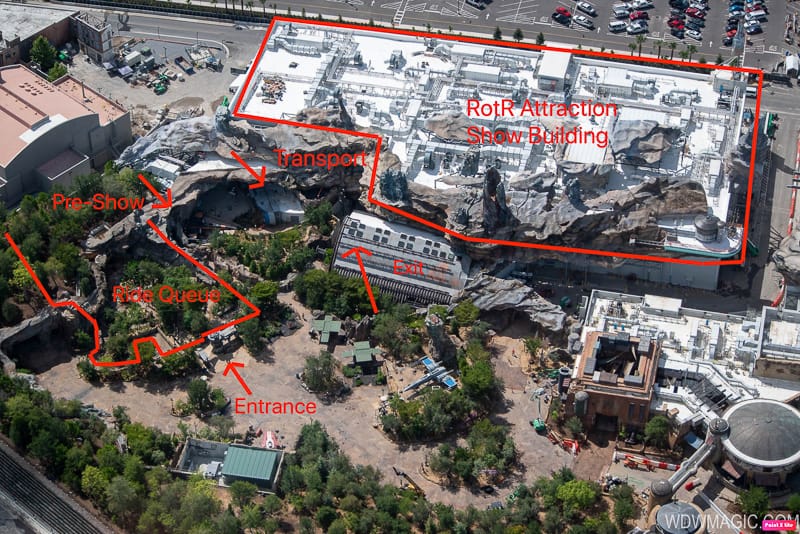 In the model, you can see the layout for how every section of the ride is.
The backstory for Galaxy's Edge is that the Resistance has built a new base on the remote planet of Batuu by carving out a cavern which is thousands of years old with lasers, to form their new base. It's located just on the outskirts of Black Spire Outpost giving it natural camouflage so as not to be discovered easily by First Order Troops.
To enter the queue you pass through the turret station outside: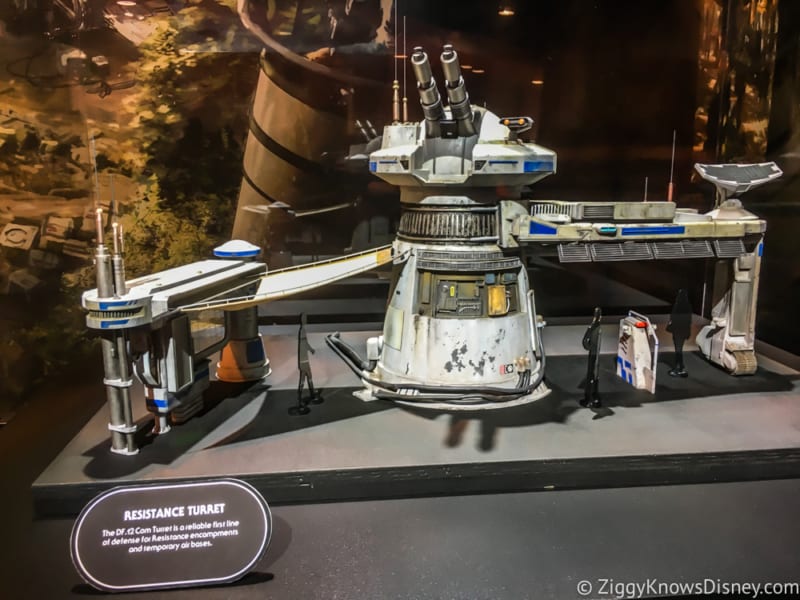 In the future, Rise of the Resistance will have a FastPass system and a single rider option, though neither FastPass or single rider is currently available since the ride's opening. They will both be available in the future however because as you can see in the model above, a FastPass scanner is set up on the right side and the line is divided.
Here is what the real attraction turnstiles look like and where you enter: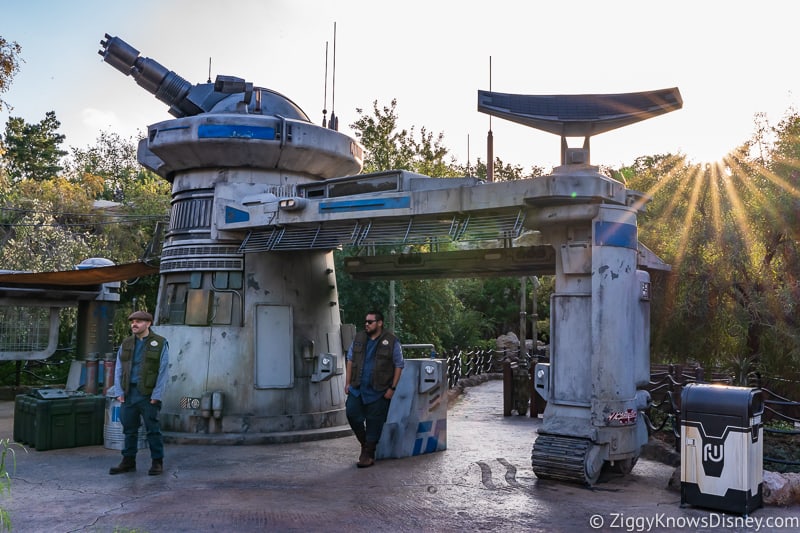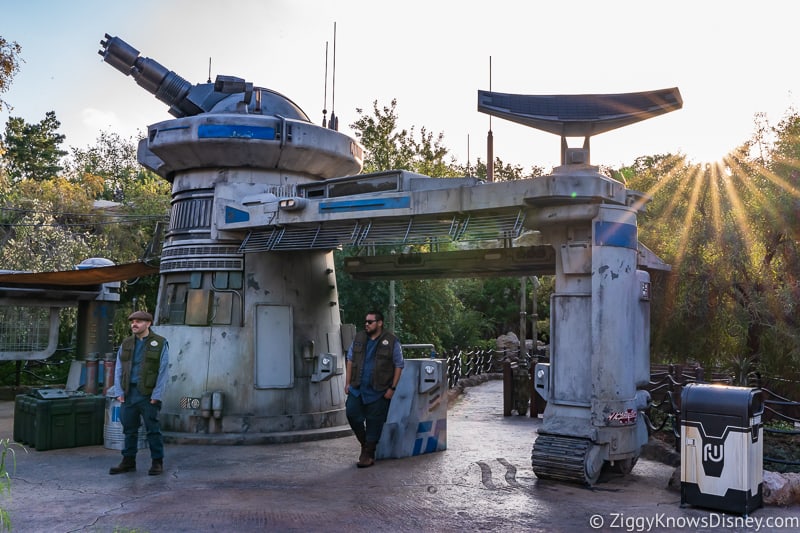 Once you pass through the turnstiles your journey begins and the attraction queue winds back and forth outside for a considerable amount of time. This is a good place to look at the mountains from the outside that you will soon be entering.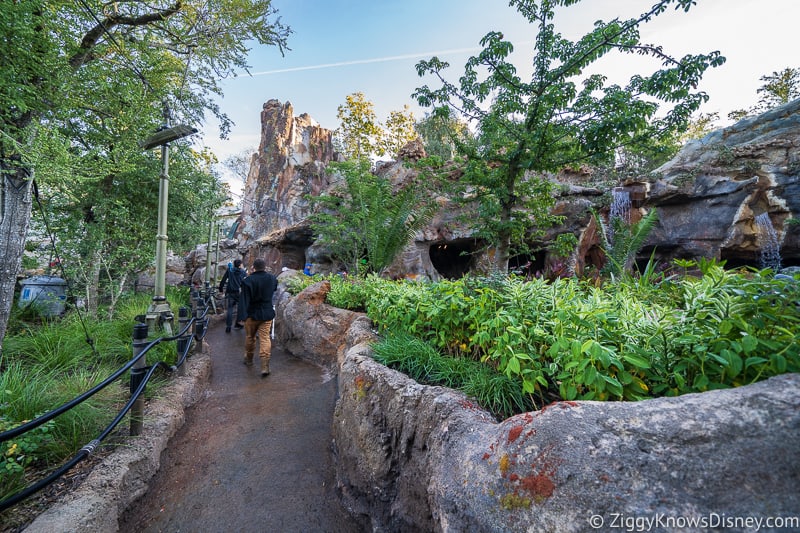 As you follow the path you enter into the first part of the caverns and behind a waterfall visible from the outside. You immediately get the sense you are about to stumble upon something special.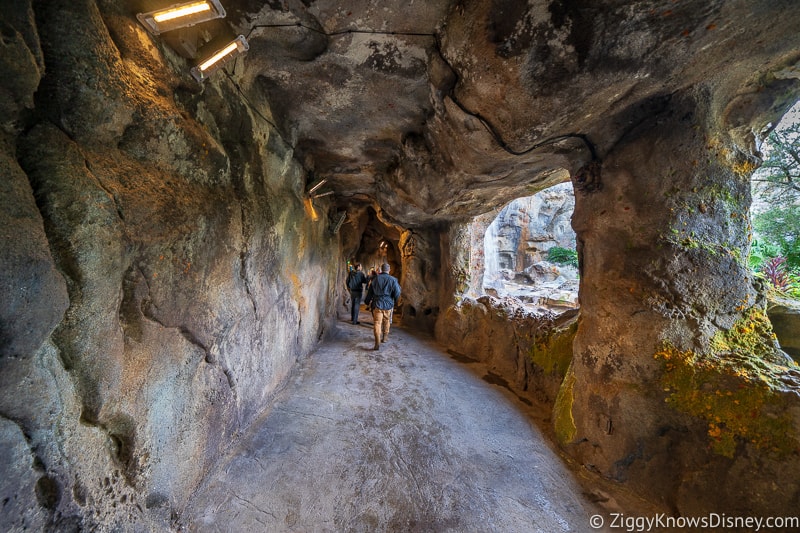 As you enter the caverns, the beginnings of a Resistance base are immediately present. There are crates with supplies, wires running along the ceiling and exposed air ventilation systems.