Welcome to Ronto Roasters where you can taste some of the most exotic meats and other snacks, this side of the galaxy. This quick service dining location home to the famous "Ronto Wrap," is located in Star Wars: Galaxy's Edge in both Disneyland and Walt Disney World. We have all the latest info on Ronto Roasters including Menu info, Prices, Food and Drink options and more…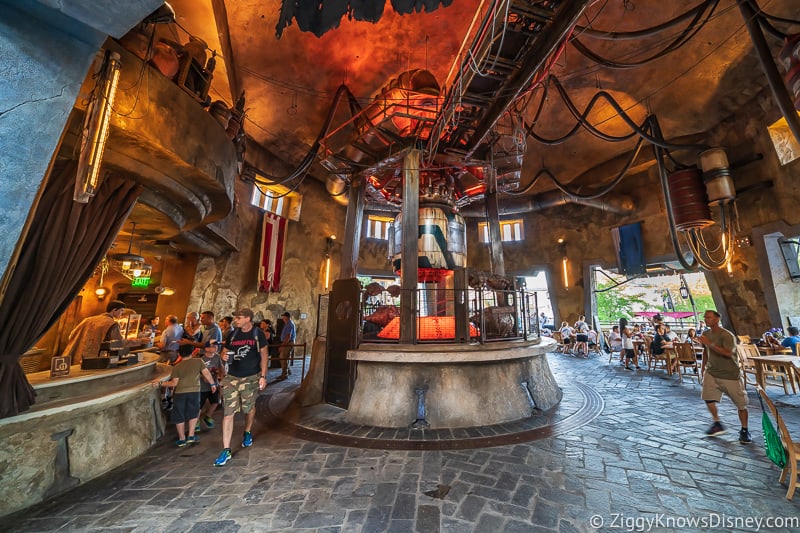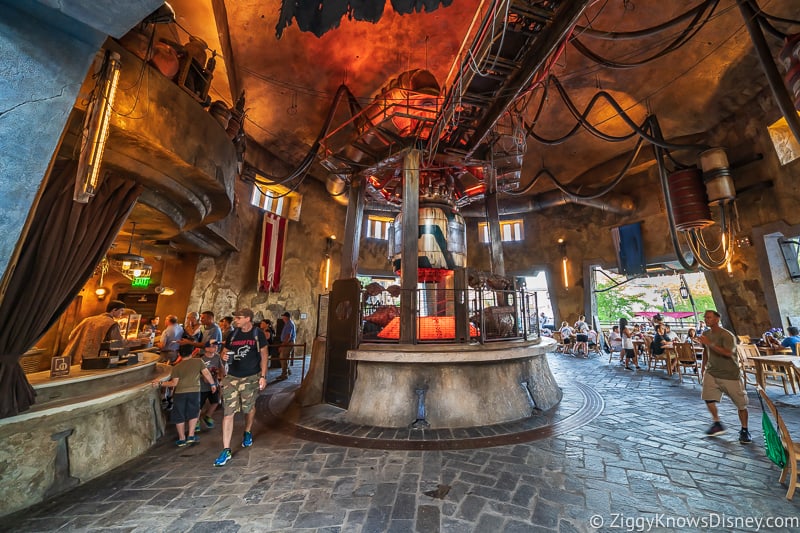 (UPDATED 10/30/19): Ronto Roasters has some new menu items: Chicken Ronto Wrap and Ronto Chips in Hollywood Studios and Ronto-less Garden Wrap (vegan) and Kyryll Pork Rinds in Disneyland. Let's check it all out!
Ronto Roasters Overview:
Location: Star Wars: Galaxy's Edge (Disneyland and Disney's Hollywood Studios)
Type: Quick Service Dining
Price: $
Cuisine Type: Sandwiches, Drinks, Snacks
Meals: Breakfast, Lunch and Dinner
Mobile Order: Yes
Ronto Roasters is a quick service dining location in Star Wars: Galaxy's Edge, specializing in exotic meats and famous for its mouth-watering sandwiches.
It's open in the morning for breakfast where you can expect to find the Ronto Morning Wrap which is the more filling option, or to go lighter there is the Rising Moons Overnight Oats.
For lunch and dinner there are a few more options with the famous Ronto Wrap getting most of the spotlight, but there also is a vegan version called the Ronto-less Garden Wrap (Disneyland only) and a Chicken Ronto Wrap (Disney World only).
There are some snack items at Ronto Roasters if you don't feel like a wrap like Ronto Chips, Pork Rinds and Nuna Turkey Jerky. Don't forget the drink options, and there are even two alcoholic drinks available in the Disney World version.
Setting/Theming:
The backstory for Ronto Roasters is that it is owned and operated by big pod racing fan Bakkar. His love for the sport you can see on display throughout by the Podracing flags hanging from the ceiling and most of all, the giant, modified pod racing engine on display in the center of the restaurant, which is used to roast the huge slabs of ronto meat and nunas.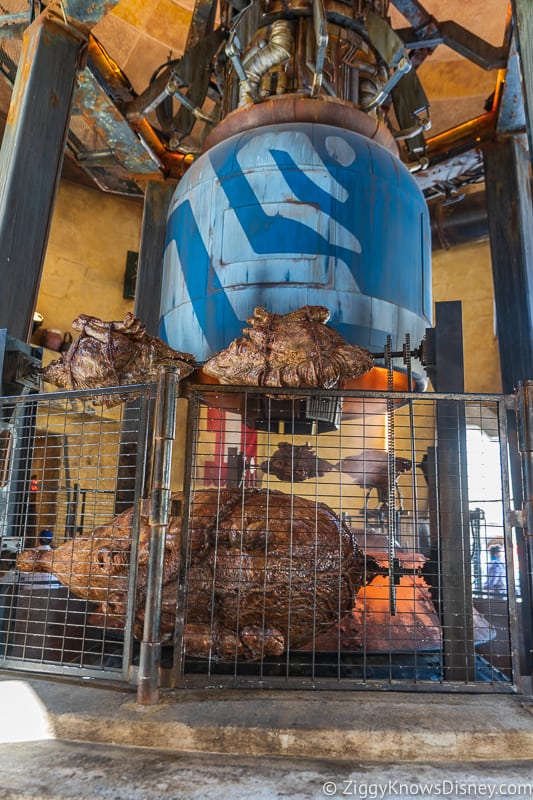 The restaurant is in an oper-air space being located right at the end of the marketplace. There is a lot of foot traffic that comes through here and it's always a busy place. The ceiling is very tall and there are chairs and tables for seating along the terrace wall, and down the steps in a covered area.
In the center of the room the pod racing engine is fun to watch as it fires up from low to high blast every so often, shaking and fuming, with bright red lights imitating what the fire would be like. Not only that but the former smelter droid 8D-J8 is working for Bakkar, and you can see him slowly turning the rotisserie spit to roast the meat.
Disney Dining Plan (Disney World):
Yes, Disney Dining snack credits are accepted at Ronto Roasters but no Quick Service credits at this time.
Discounts:
Tables in Wonderland – No
WDW Annual Passholder – No
Disneyland Annual Passholder – Yes, 10-15%
Disney Vacation Club – No
Disney Rewards VISA – No
Ronto Roasters accepts Disneyland Annual Passholder discounts, but there are no discounts available in the Disney World version at this time.
Location/Directions:
Ronto Roasters is located in Star Wars: Galaxy's Edge in both Disneyland Park and Disney's Hollywood Studios in Walt Disney World.
How do you get to Ronto Roasters? It's located right in the center of Galaxy's Edge, in Black Spire Outpost. If you come into the marketplace from the Rise of the Resistance side then follow it down all the way to the end and it's the last stop. If you are coming from the Millennium Falcon, then it's just past Dok Ondar's as you enter the marketplace.
Hours of Operation:
Ronto Roasters serves Breakfast, Lunch and Dinner so you can come any time from park open to close:
Disneyland
Breakfast: 8 am – 10:00 am
Lounge: 10:05 am – 11:00 pm
Disney World
Breakfast: 6 am – 10:00 am
Lounge: 10:05 am – 10:00 pm
Ronto Roasters Menu:
*(Last Updated 10/24/19) – If you have any Menu updates or corrections please let us know!
Breakfast Specials:
Ronto Morning Wrap
Scrambled Eggs, Grilled Pork Sausage, Shredded Cheddar, and Peppercorn Sauce wrapped in Pita Bread
$12.49

Rising Moons Overnight Oats
Oats, Dragon Fruit, Yogurt, Seasonal Fruit
$6.99
Food:
Ronto Wrap
Roasted Pork, Grilled Pork Sausage, Peppercorn Sauce, and Tangy Slaw wrapped in Pita Bread
$12.99
Chicken Ronto Wrap (Hollywood Studios Only)
Marinated Chicken, Cucumber Relish, Herb Feta Yogurt Sauce
$12.49
Ronto-less Garden Wrap (Disneyland Only)
Plant-based sausage, spicy kimchi slaw, sweet pickled cucumber, and Gochujang spread wrapped in Pita Bread
$12.99
Kyryll Pork Rinds (Disneyland Only)
Cinnamon-Sugar Chicharrones
$7.49
Nuna Turkey Jerky – Spicy
$7.49
Nuna Turkey Jerky – Sweet
$7.49
Ronto Chips (Hollywood Studios Only)
Turkey Jerky, Plaintains, Blue Potato Chips, Pork Rinds, Rice Cracker
$9.99
Ronto Chips in Droid Bucket (Hollywood Studios Only)
Turkey Jerky, Plantains, Blue Potato Chips, Pork Rinds, Rice Cracker
$19.99
Kyryll Pork Rinds in Souvenir Droid (Disneyland Only)
Cinnamon-Sugar Chicharrones served in MSE-6 Series Repair Droid souvenir vessel
$19.99
Drinks (Non-Alcoholic):
Sour Sarlacc
Minute Maid® Limeade with Raspberry and Spicy Mango
$5.49
Tatooine Sunset
Gold Peak® Unsweetened Tea, Odwalla® Lemonade with Melon and Blueberry
$5.49
Meiloorun Juice (Disneyland Only)
Barrilitos® Aguas Frescas Pineapple, Simply Lemonade® with Blueberry, White Cranberry Juice, Lemon Juice, and Desert Pear
$5.49
Drinks – Alcoholic (Hollywood Studios Only):
Trandoshan Ale – Concrete Beach Brewery HS
16 oz draft Spiced Wheat Ale
$13.00
Coruscant Cooler HS
Maker's Mark Bourbon, Luxardo Maraschino Liqueur, Carpano Antica Sweet Vermouth, Cranberry, Lime Juice
$15.00
Ronto Roasters Review: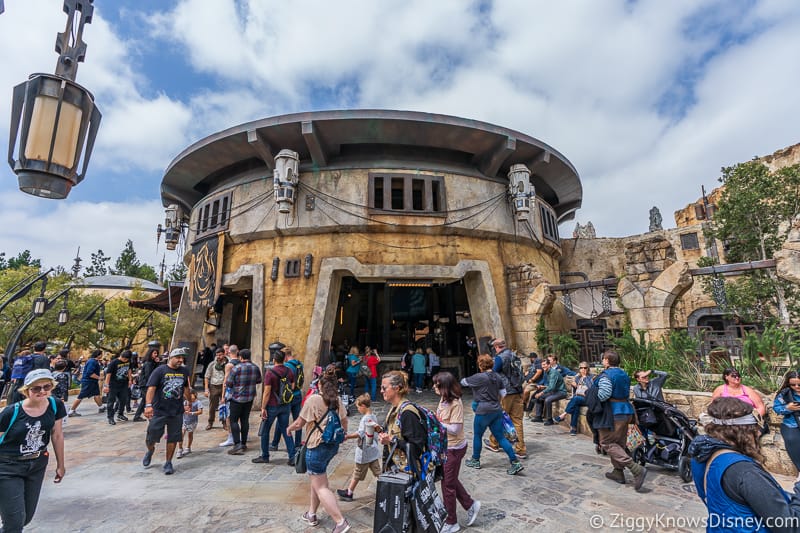 Right when I first started seeing concept art of Ronto Roasters coming to Star Wars Land, I knew it would be a pretty cool place to visit. I mean, show me a bit fire pit and tell me there are going to be delicious sandwiches to eat and I'll be there in a heartbeat.
Without question then, we were eager to head over to Ronto Roasters and see if it lives up to the hype. We've since been back countless times, and it gets better and better as Disney has added even more menu items since its opening!
If you aren't familiar with Ronto Roasters, it's a quick service dining location inside Disney's Star Wars Land in both Disneyland Park and Disney's Hollywood Studios. If the idea of delicious wraps filled with roasted meats (hello Ronto Wrap!) and some meat-less ones appeals to you, then this is the place. It's even debatable that this is the best place to get something in eat in Galaxy's Edge.
Is that really the case? Follow along with me in our review of Ronto Roasters and we'll find out…
Atmosphere:
It's really hard to miss Ronto Roasters, it's smack in the heart of Galaxy's Edge and Black Spire Outpost. It's located at the end of the Marketplace and kind of wedged between there, Docking Bay 7, Savi's Workshop and Dok Ondar's.
It's impossible to miss the huge round building at the end of the marketplace!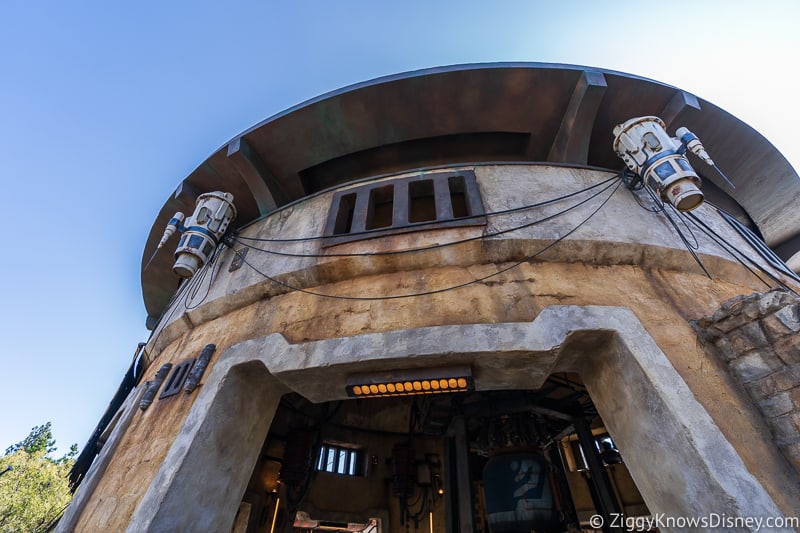 You'll notice the giant open doors on each end of the building, and the podracing banners hanging on the walls. Those are from the quick service dining location's proprietor: Bakkar
When you step inside Ronto Roasters you might not even realize it's a restaurant right away, especially since the huge pod racing engine in the middle of the room is what gets all the attention: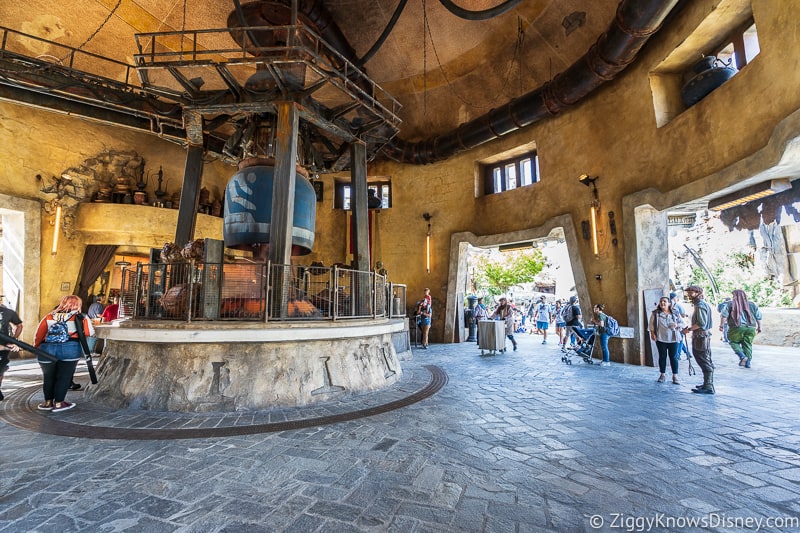 Galaxy's Edge is full of fun and interesting theming elements, and this I have to say is definitely one of the coolest! The engine is there to cook the meats rotating on the rotisserie spit. The rotisserie is operated by Bakkar's personal and former smelting droid: 8D-J8.
We've heard that he's a little disgruntled from his job, after all I'd be angry too if I had to sit there all day, rotating the spits, and cooking up that yummy Nuna Jerky, and the sausages that are used in the Ronto Wraps, without being able to eat any!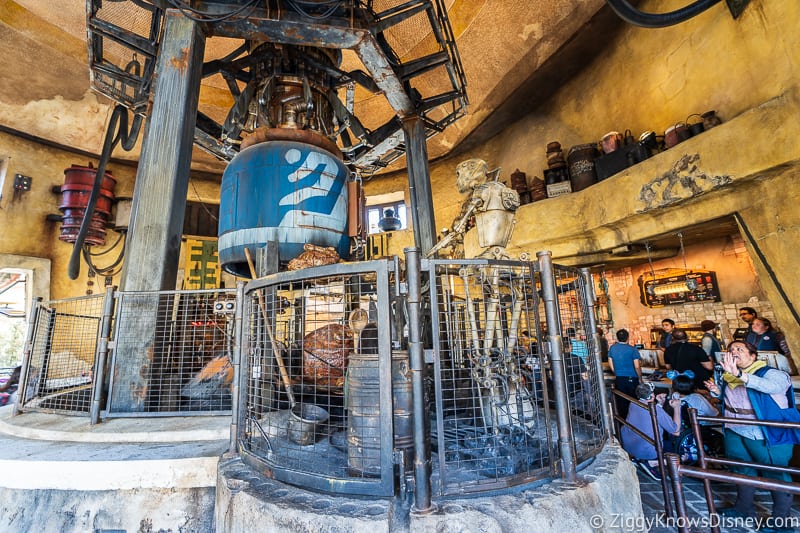 Ok, so he doesn't actually cook the meats, but the effect is pretty cool! It's fun to just sit there and watch him bouncing up and down while he works: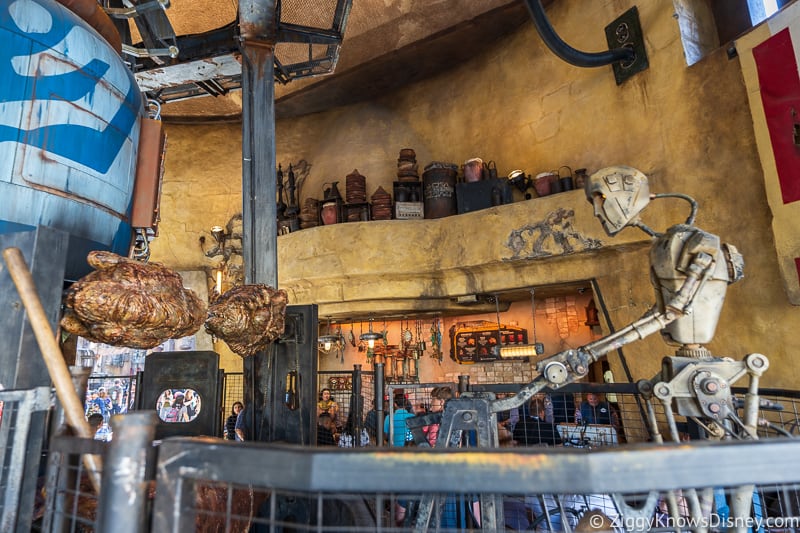 What is a Ronto you ask? They are these four-legged beasts native to Tatooine which you may remember from the films: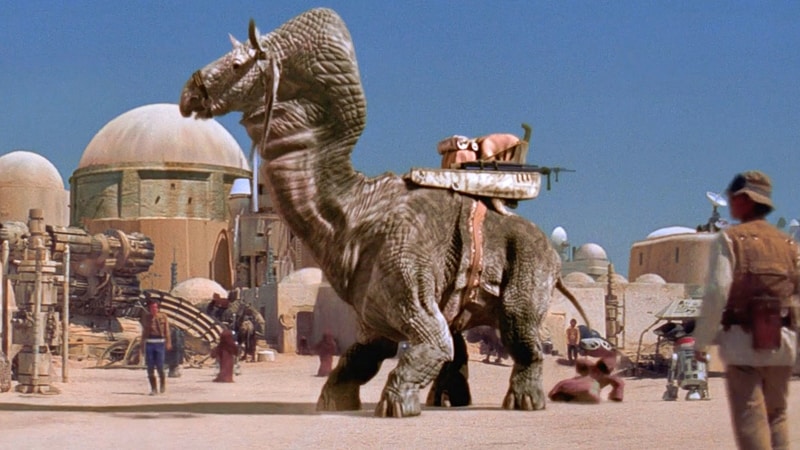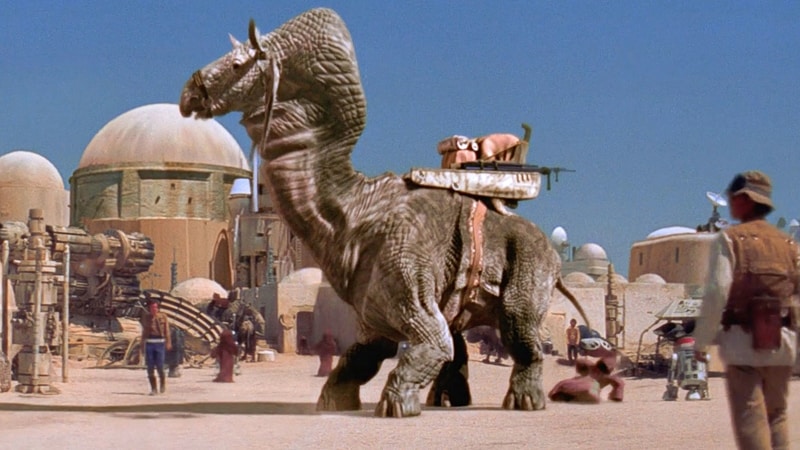 Don't worry, that's not all they are cooking up here. A look inside this workshop off to the side shows all sorts of creatures that have been captured, and are drying out before they are ready to eat: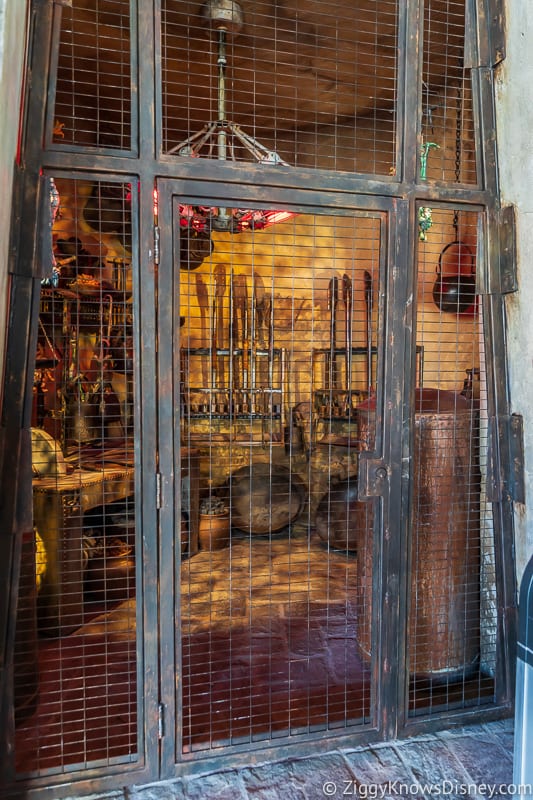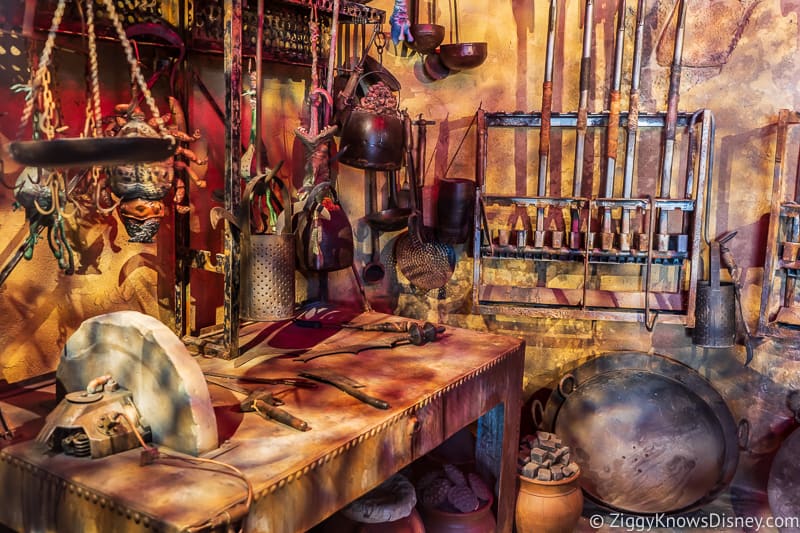 There are two seating locations. The closest are the tables and chairs off to the side on the terrace. There is another set of tables down below that in a secluded little area: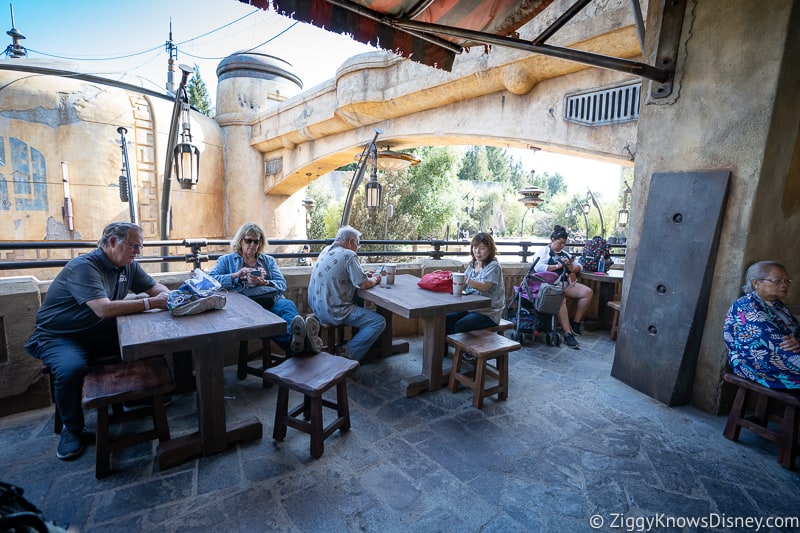 After visiting Ronto Roasters in both Disneyland and Disney World, we have to say we prefer the seating in Disneyland. The tables for a long time were not in theme in Disney World (though this has changed). There usually is space, unless you are there on a really crowded day.
Ok, let's get in line for some food! Here is the beginning of the queue, right behind 8D-J8: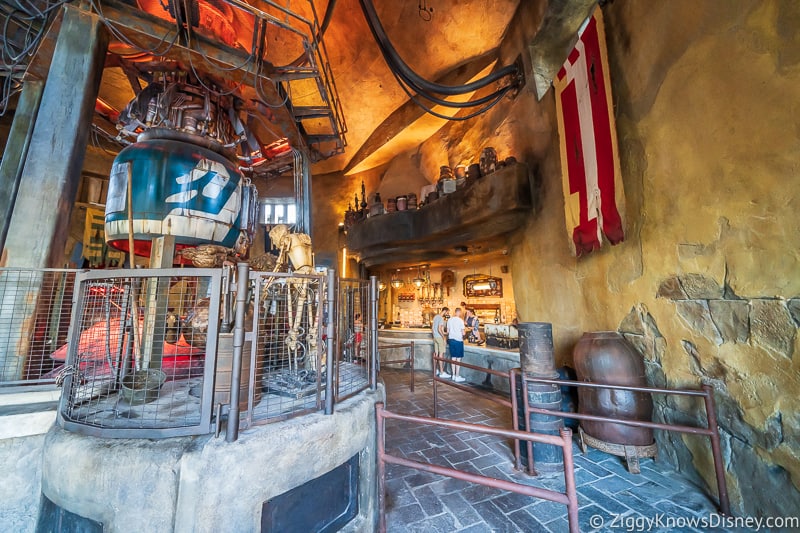 When you get up to the counter you can place your order: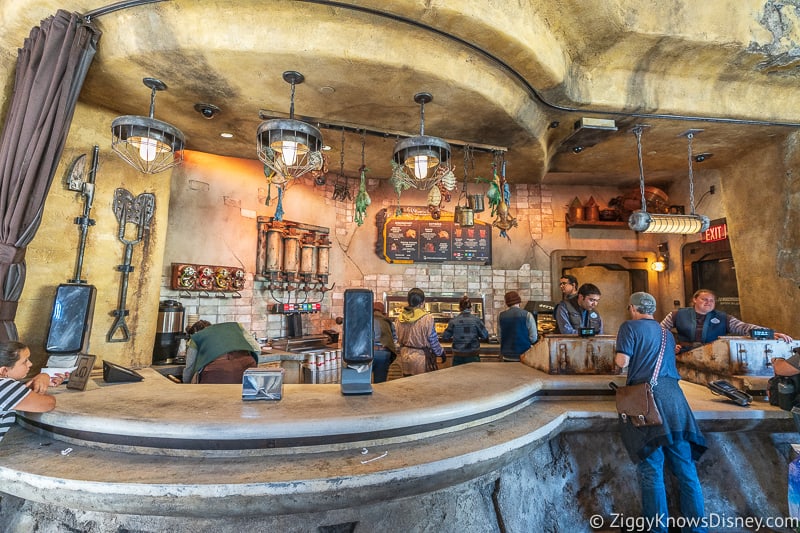 I don't know about you but I'm starving after exploring Galaxy's Edge, so let's see what they have to eat at Ronto Roasters!
Breakfast:
If you get to Galaxy's Edge in the morning, Ronto Roasters is actually our favorite spot, more so than the offerings in Docking Bay 7 at that time. Breakfast starts with park opening whether it's 6am, 8am, or in between.
There are two food items on the menu during breakfast: Ronto Morning Wrap and the Rising Moons Overnight Oats.
Ronto Morning Wrap – $12.49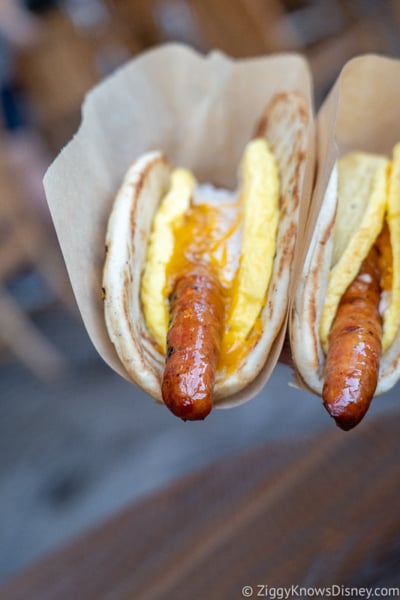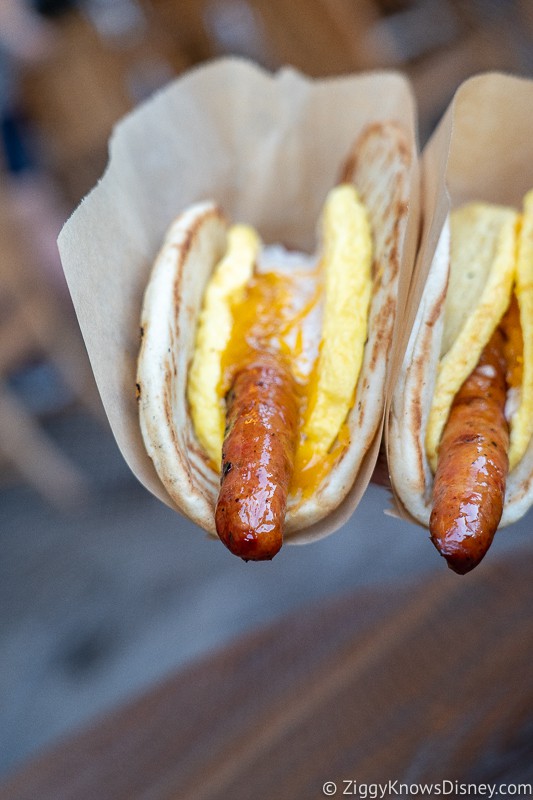 This is a breakfast version of the famous "Ronto Wrap" that is served at lunch and dinner. The Morning Wrap has scrambled eggs, cheddar cheese, and one of those seasoned pork sausages, all wrapped up in a warm pita and covered in a peppercorn sauce.
Honestly we absolutely LOVE this, almost as much as the Ronto Wrap. The egg is a fast food egg, but actually not rubbery tasting. The cheese and peppercorn sauce are great, but the star is the ronto sausage which is just as juicy and flavorful as always. A must try!
Moons Overnight Oats $6.49
This is made from Oats, Dragon Fruit, Yogurt and Seasonal Fruit. The Oats are flavored, in this case it seems like blueberry, and served with a side of fruit. They are basically the same as the ones in Docking Bay 7 so you can check out our review there to see more. A nice, light snack to start your day.
Lunch/Dinner:
The lunch and dinner menu is bigger than the breakfast one, though even then I wouldn't call it big. There are only 5-6 items on the menu for food, but they are all pretty good.
Ronto Wrap – $12.99
This is the star, what we all have heard about for so long! I'll never forget my first bite of Ronto…ok I'm exaggerating a bit, but we really LOVE the Ronto Wrap and it is our single favorite food item in Star Wars Land.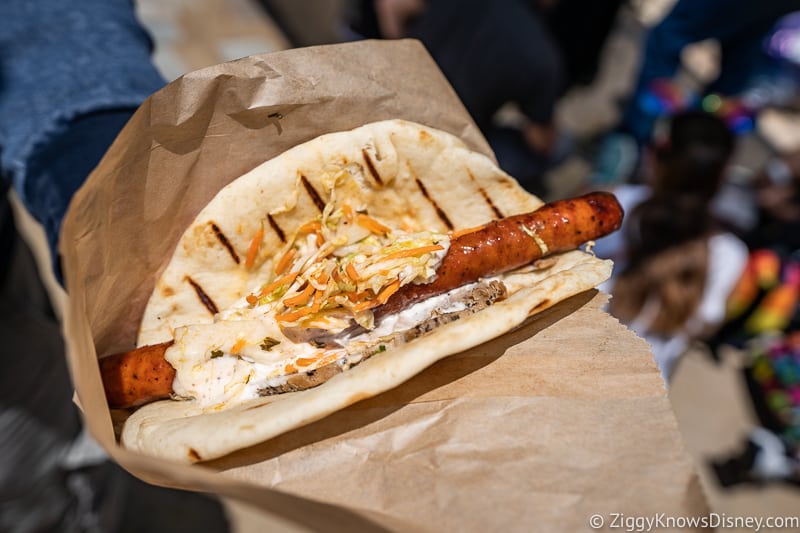 This is Galaxy's Edge's version of a hot dog, but way better. I wouldn't call it spicy, but the sausage definitely has a bite to it, in a good way, and snaps with every bite! Not only that, it's wrapped first in a thinly-sliced pork loin, which is also moist and seasoned well.
We're usually not big slaw people, but this actually works pretty well with al the other flavors.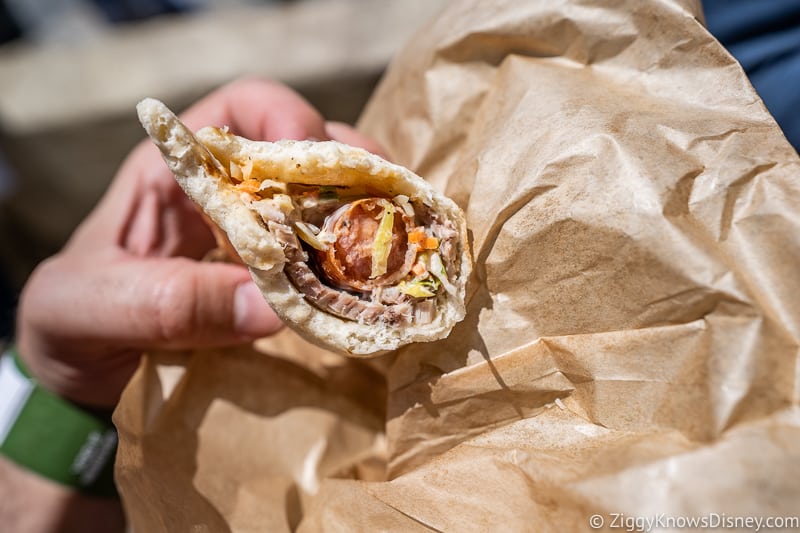 Everything comes wrapped in a warm pita like at breakfast, which is the perfect consistency, not too thick, but doesn't let all the sauce seep out either.
Everything about the Ronto Wrap is awesome, we only wish the sausage was slightly bigger in comparison to the wrap, but that is a very minor complaint.
Nuna Jerky (Spicy and Sweet) – $7.49
We love some beef jerky, but the Nuna Jerky is actually made from Turkey. That's ok, we're still willing to give it a shot!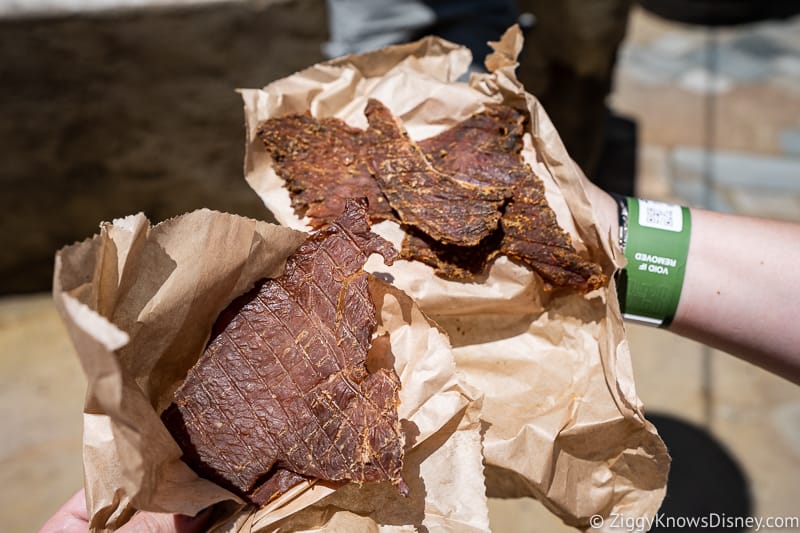 We have to say, the Nuna Jerky really hurt our teeth, it was very tough. Too tough even for Jerky standards. The flavors were not very strong honestly, and we had a hard time telling the two apart.
I would say out of the both of them, the spicy one is slightly better, but I wouldn't go out of my way to get them again. They are good if you are trying to eat low carb while in Disney, but there are too many other options nearby that are better choices imo.
Summary:
To us Ronto Roasters is a hit and a place that's definitely worth stopping by. While they don't have quite as many overall options as Docking Bay 7 does, what they have they do well and the Ronto Wrap right now is our hand-down favorite food item in Galaxy's Edge.
I think the jerky could be a little less crunchy and more flavorful, but besides that I have few complaints about the place. Since we've done our review they've added a chicken wrap and an impossible sausage wrap, so we can't wait to get back and see how those stack up.
Make sure you make Ronto Roasters a must-stop on your next trip to Star Wars: Galaxy's Edge and thank me later!
Food Quality -

8.9/10

Price/Food -

8.3/10

Atmosphere -

8.8/10

Extra Disney Magic -

8.4/10
I love to write Restaurant Reviews of Walt Disney World and I hope you found this one to be informative and helpful. If you liked this review then please visit my Disney Dining Reviews Page where I have many other Restaurant Reviews.
Your Thoughts:
I want to know what you think about Ronto Roasters in Star Wars Galaxy's Edge…
Do you like it?
Which item is your favorite?
Let us know in the comments section below!
If you enjoyed this article, as always I appreciate it if you'd share it with others via social media. I work hard at making this website into a useful resource for you and your family to plan your visit to the Disney Parks and I hope it can help you! Thanks 🙂