"When will Disney World reopen?" We are finally able to say the good news that Walt Disney World is NOW OPEN, as it reopened July 11, 2020! Now that it's opened back up though, Disney World has a lot of changes and it will be much different from the last time you visited.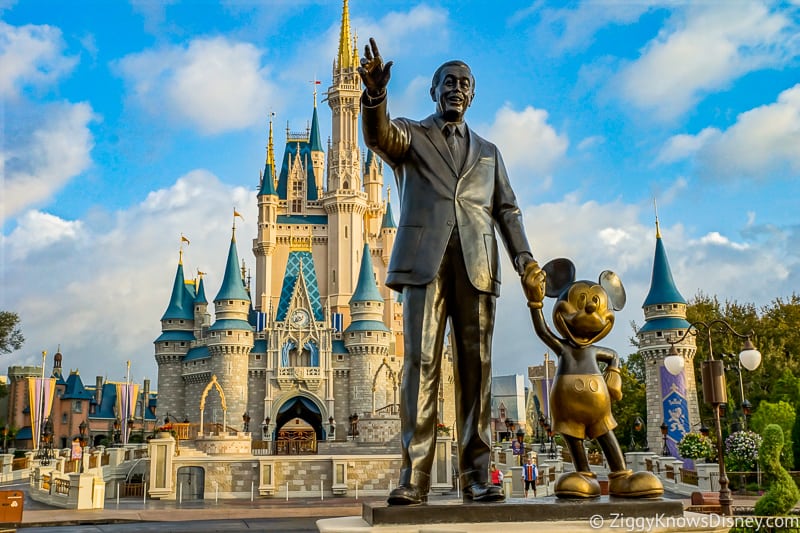 We can't even believe that after months of talking about it, the Disney World theme parks have now actually opened back up! Since announcing its plans months ago, however, Disney has released a flood of new information and guidelines for guests leaving them more confused than ever!
Since there are so many changes to learn, we thought it would be a good idea to go more in-depth into the reopening of Disney World to find the answers to all your Disney World reopening questions.
Disney World is now officially OPEN! Disney's Magic Kingdom, Animal Kingdom, EPCOT, and Hollywood Studios are now open to visitors.
(Updated 8/11/21) – Disney has updated the theme park hours through October with extended hours for some dates. Also, fireworks are now back at Walt Disney World!
Read on for more info on all these stories in the News section below…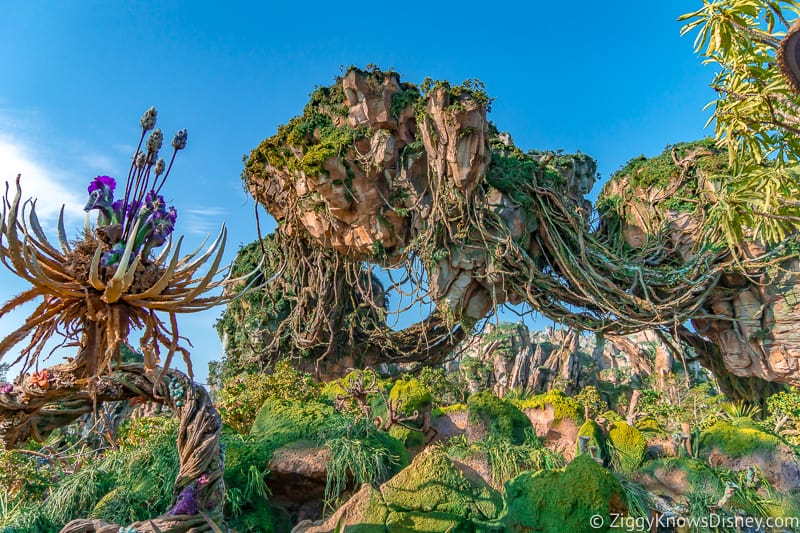 In this post, we are going to talk about the Disney World reopening and answer any questions you might have about it. We'll let you know about the new safety guidelines, park capacity limits and how to get tickets with the new reservation system.
While Disney World is now open and you are now able to go, it's important to know that the new safety measures will greatly change the guest experience, and it won't be what you are used to when visiting.
Not everything is opening at the exact same time, so we have the latest on just which attractions and experiences are opening up and a preview of the 4 Theme Parks, Water Parks, and the Disney World Resort hotels.
Any changes Disney makes to the guest experience, including the way guests interact with the attractions, shows, and restaurants will be updated here.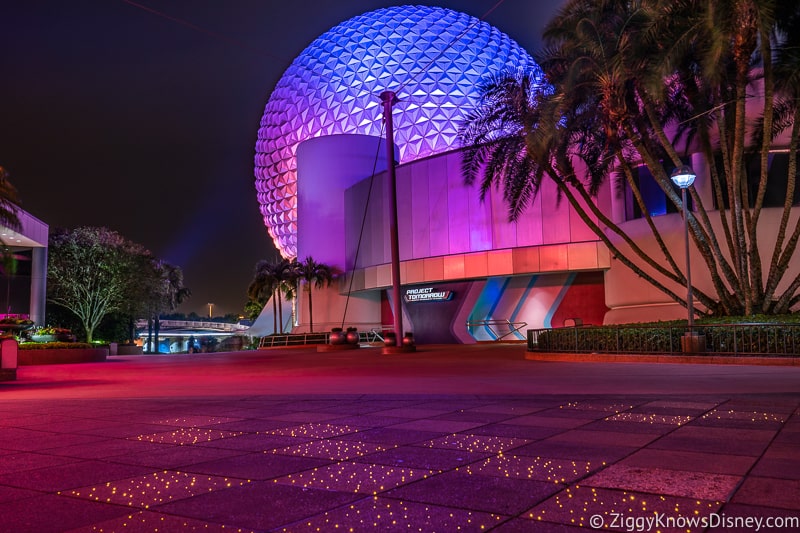 Also, we do have to warn you, just because Disney World has opened back up, it doesn't necessarily mean that it will definitely stay that way. We'll talk about how likely it is that Disney World will stay open without any further closures happening, plus estimated crowd levels and the best time to reschedule your trip.
Before we get started, here are some links to the most important articles around Disney World vacation planning during the reopening phase:
Also, read our guide to the Disney World closure if you are looking for information about how to get a refund, reschedule your vacation or find out the latest updates about that.
If you want to know general trip planning info, read our 2021 Disney World Vacation Planning Guide for everything you need to know.
Also, to be updated about the latest Disney World Reopening Info, including all the changes and a first-hand guide to the parks, sign up for our FREE Weekly E-Mail Newsletter here: Join our E-Mail Newsletter
(NEWS 8/11/21) Updated Disney World Hours through September
Since The Walt Disney World theme parks reopened last year they have been operating under reduced park hours, however, those hours are constantly changing depending on the season and the crowds.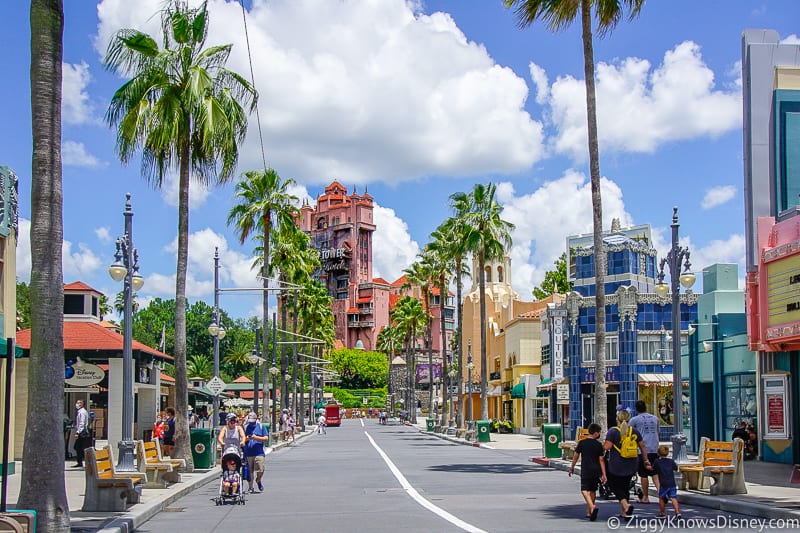 Now Disney has just announced the theme park hours through October 23. We'll take a look at those, as well as the reduced park hours for the theme parks from August – October.
So far, there have been many changes to the standard operating park hours with times varying throughout August, September, and October. Here is the latest:
Park Hours Through October 23
Magic Kingdom –
9:00 am – 9:00 pm (Most Days Aug 8 – Sep 6)
9:00 am – 8:30 or 9:00 pm (Most Days Sep 7 – Oct 23)
EPCOT –
11:00 am – 9:00 pm (Now – Sep 30, Monday to Thursday)
11:00 am – 10:00 pm (Now – Sep 30, Friday to Sunday)
10:00 am – 10:00 pm (Oct 1 – Oct 23)
Disney's Hollywood Studios –
9:00 am – 9:00 pm (Now – Oct 23)
Disney's Animal Kingdom –
8:00 am – 7:00 pm (Now – Oct 23)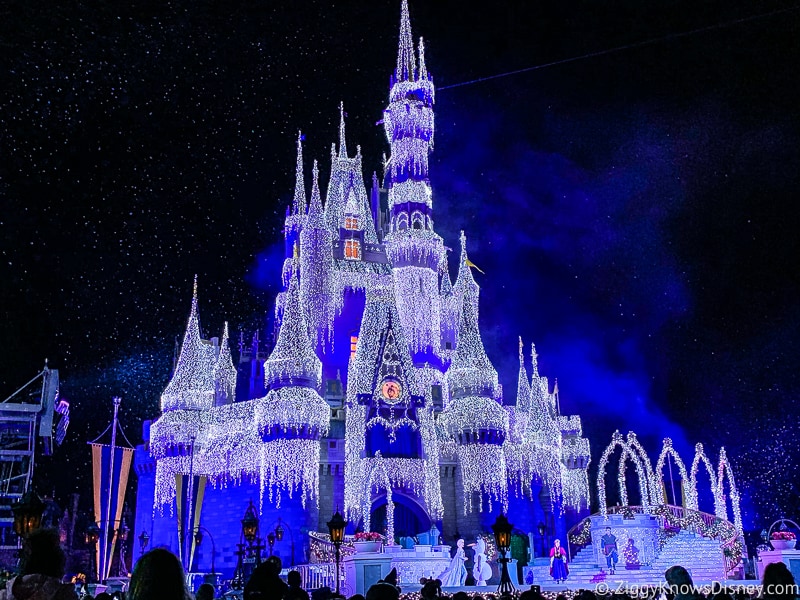 Disney's Magic Kingdom will be extending park operating hours once again in August, and September. The park is staying open a little later throughout the summer until at least 9:00 pm daily.
In August the park opens at 9:00 am and runs until 9:00 pm or 10:00 pm. This could mean Disney thinks there will be an increase in attendance during the rest of the summer since the parks are open later than previously listed.
Disney has been extending hours week by week and as they have a better feel for exactly how many guests will be coming more dates could get extended hours.
EPCOT has some hour changes in August and September. Starting August 1 weekdays from Monday to Thursday are open 11:00 am to 9:00 pm. From Friday to Sunday EPCOT is open from 11:00 am to 10:00 pm. This is to accommodate more locals coming for the Food and Wine Festival.
Then in October, EPCOT opens at 10:00 am, one hour earlier than what it has been this summer.
Disney's Hollywood Studios will be open from August 1 through October 23 from 9:00 am to 9:00 pm. That's 1 extra hour of park time compared to recent months.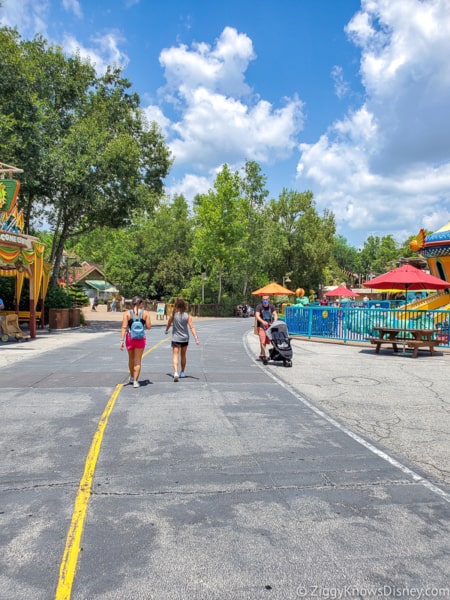 Disney's Animal Kingdom is running from 8:00 am – 7:00 pm on most days from now through the end of October.
Hours for all 4 theme parks should remain at least at these levels during the summer and we can see Disney is slowly adjusting its strategy as more people are expected in the parks.
At this point, we could still imagine more adjustments being made during the next few months as Disney tries to understand the crowds, and they will extend things if they feel the need is there.
As soon as we have more we'll let you know.
Need help planning your Disney Vacation? Contact René from Show You the World Travel for all your trip planning needs. All of the agents there are certified Disney Travel Agents and are super helpful with all your planning needs. I highly recommend them and the best part about it is they are FREE to use!
(NEWS) Blizzard Beach Water Park Now Open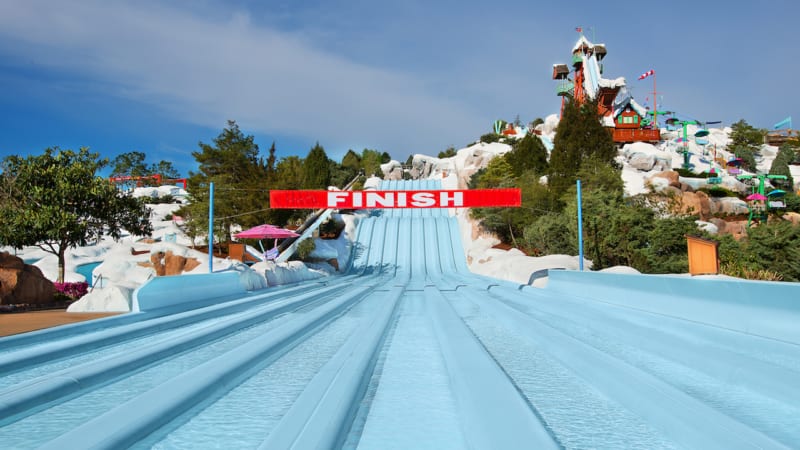 All 4 Walt Disney World theme parks have been open now since July, but the 2 water parks have remained closed since March. That changed on March 7, 2021 when Disney's Blizzard Beach reopened for the first time in since last March.
Obviously, Disney wants to provide a safe experience for its guests and they have guidelines that emphasize health and well-being. For that reason, many of the same safety guidelines required in the theme parks are also being enforced when Blizzard Beach reopens.
Some of the guest safety guidelines include:
Wearing a Face Covering (in certain situations)
Reduced Capacity
Physical Distancing
1-Day Tickets to Blizzard Beach are now available for $69 + tax for adults and $63 + tax for children (ages 3-9). Tickets can be purchased online and are valid through December 31, 2021.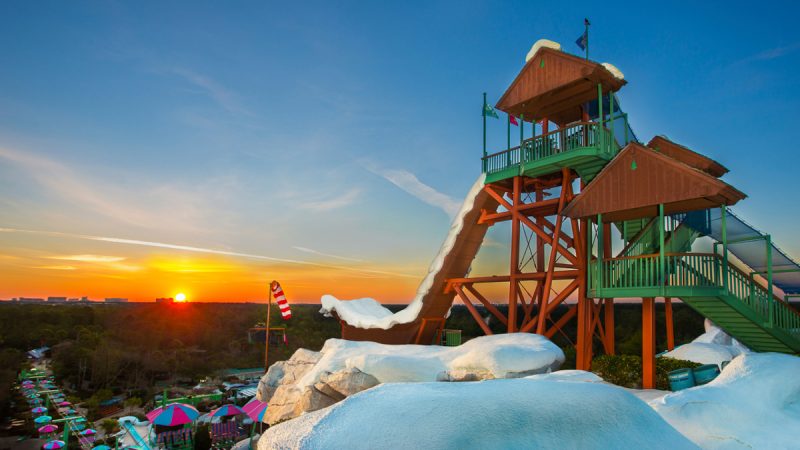 Guests already holding passes will be affected by the water parks reopening including guests with the following ticket types:
Premier Passport
Platinum Plus Pass
Water Parks Annual Pass
Water Parks After 2 Annual Pass
Tickets that include the Park Hopper Plus Option or Water Park & Sports Option
Annual Passholders – Guests will be given a partial refund for the price of the water parks.
Water Park Annual Passes – Guests with this ticket type will be automatically extended for the period the water parks are closed. Guests can request a full refund for their pass by calling (407) 939-2732
Water Park Tickets – Unused, unexpired 1-Day Disney Water Park tickets will be extended through December 31, 2021. If you can't visit by December 31, 2021, you can use the whole value of the purchased ticket toward the purchase of a new ticket for a future date. You can also choose to cancel your ticket and get a full refund by calling (407) 939-2732
Water Park Ticket Add-Ons – Tickets including the Water Parks add-on can be modified, canceled or use the ticket with the existing add-on options at other experiences during your visit. Call (407) 934-7639 or (407) 566-4985 to make these changes.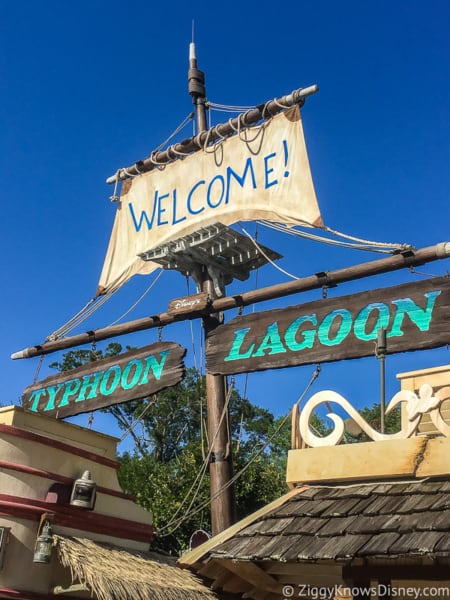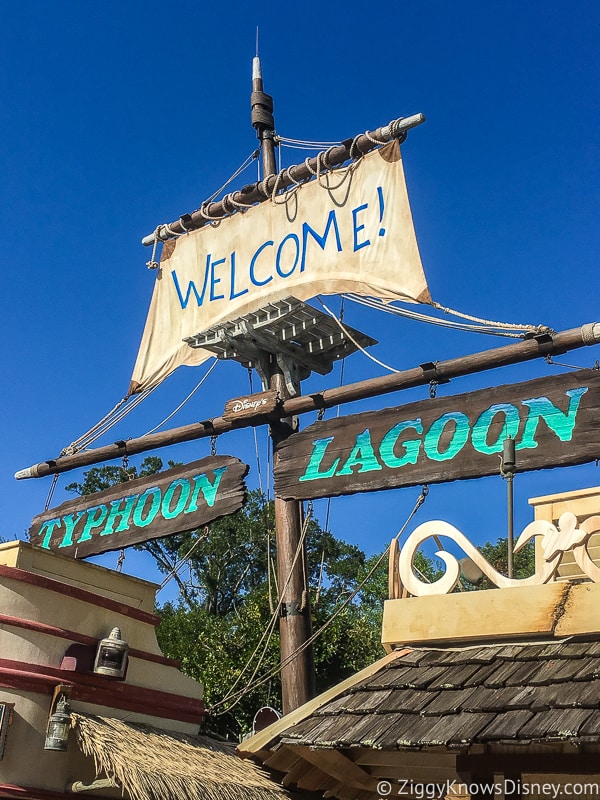 Now that we know when Blizzard Beach is reopening, we are still waiting to hear about Typhoon Lagoon. With overall attendance being low right now, it wouldn't be surprising if Disney only runs one water park at a time for a while.
We'll let you know as soon as more is announced abut Blizzard Beach and Typhoon Lagoon. See The Walt Disney World Website for more information.
When Is Disney World Reopening?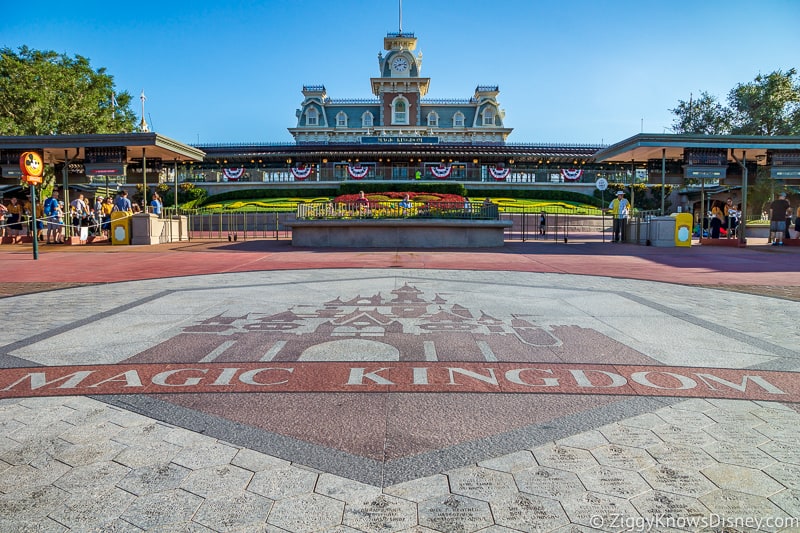 Can you believe The Walt Disney World parks were closed for 4 months?? There is good news, however, as Walt Disney World started a phased reopening on July 11, 2020.
"When is Disney World reopening?" was probably the most searched for question in Google for Disney fans during those months, and it's nice to finally have an answer to that.
Disney's reopened the Disney World theme parks in phases. First Disney's Magic Kingdom and Animal Kingdom reopened on July 11, followed by EPCOT and Hollywood Studios on July 15.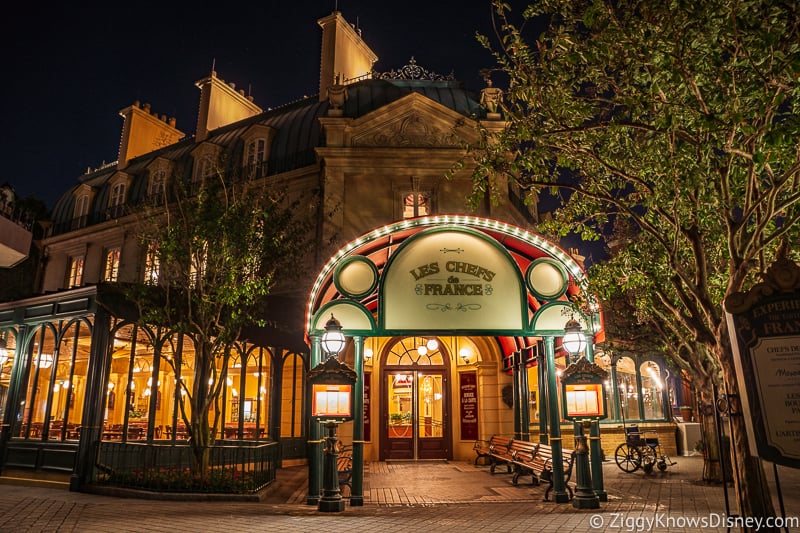 Soft Openings
A few days before the official July 11 opening, there were Cast Member previews, followed by other soft openings for Annual Passholders, DVC members, and Club 33 members.
What About the Hotels?
The Walt Disney World Resort Hotels began reopening on June 22, 2020 starting with Disney Vacation Club Resorts only and Disney's Fort Wilderness Resort & Campground.

Disney World Non-DVC resorts started a phased reopening on July 10 at Disney's Contemporary Resort and Disney's Pop Century Resort. Disney World Resort hotels will slowly reopen in the coming months depending on the demand.
What You Need to Know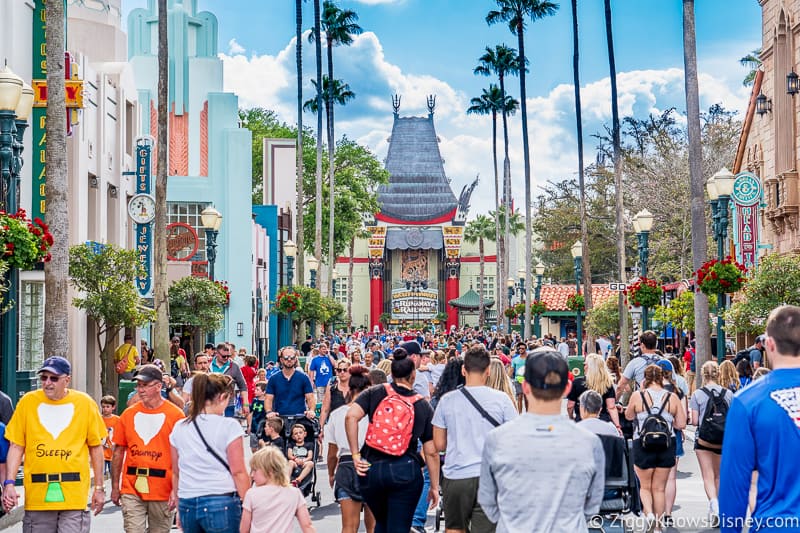 While more details are always coming out, we do have a lot of info about the reopening and how things are going so far in Disney World.
Disney Parks worldwide are using the same reopening and operating methods, some of which were taken from the way Shanghai Disneyland reopened in May 2020. These procedures have been replicated in Tokyo Disneyland and Disneyland Paris.
Here is what you need to know…
Safety Guidelines
Guests visiting Walt Disney World will have to comply with the various new safety measures in place. This includes face masks, increased cleaning and sanitization, and other safety measures. (More on these below.)
Limited Park Capacity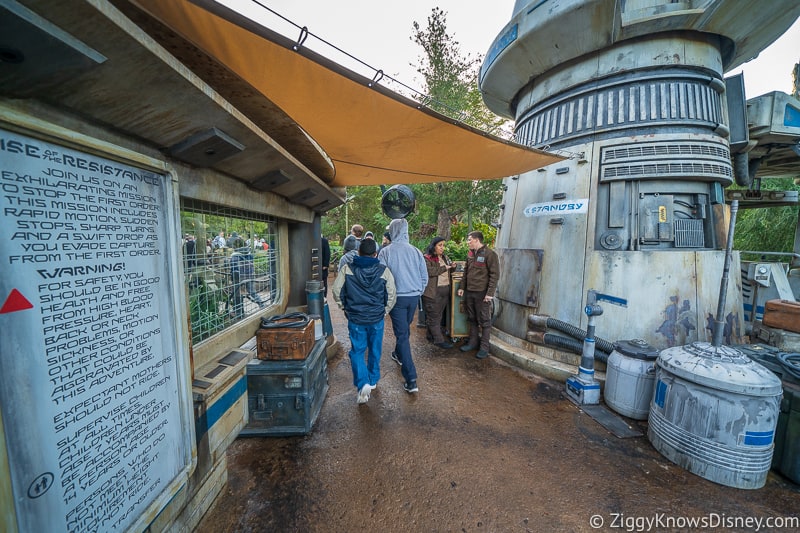 The Disney World parks are running at a lower capacity than what they can normally handle. This is to reduce guests, making it easier to adhere to distancing and other safety measures.
Disney recently said that the park capacity percentage has been increase to higher than 35% of normal capacity and that it has been raised multiple times since reopening.
Disney wants to slowly increase capacity as they go along, until finding the "new maximum" as long as restrictions are in place.
Park Reservations
The Walt Disney World Resort has introduced a new park reservation system that guests need to use to have entrance to the theme parks.
The reservation system is how Disney controls the crowds and keeps capacity down to an acceptable level. If reservations sell out for a specific day, no more guests will be given reservations.
Disney is holding 3 separate reservation inventories and splitting up available passes between Disney World Resort Hotel guests, Annual Passholders, and Park Ticket Holders.
Reservations are NOW AVAILABLE.
For a complete guide to how it works, read our post on the Disney Park Pass Reservation System.
Hotel Reservations & Ticket Sales
2021 Disney World vacation packages and hotel rooms are now available for booking with dates from January 1, 2021, through December 31, 2021.
How many 2021 theme park tickets Disney sells will depend on what park capacity ends up being and based on the availability of park reservations.
Not Everything Open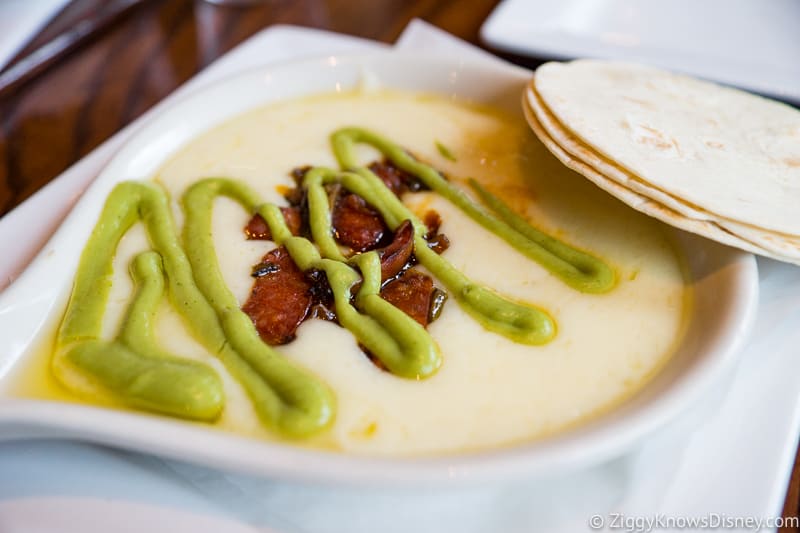 One thing that's important is not every area of Walt Disney World is open at this time. Right now all 4 Disney World theme parks are open, but the water parks are not. Also, many of the restaurants, hotels, and shops are still closed. Things will remain this way until more people start coming to Walt Disney World.
Attractions – Most of the Disney World attractions and rides are open, with a few still closed.
One Water Park Open – Right now all 4 theme parks are open, and one of Disney World's 2 water parks, Blizzard Beach is now open. Typhoon Lagoon remains closed without a reopening date.
Entertainment and Shows – In order to comply with new safety guidelines, some shows, and other entertainment will not be opening during the reopening phase. For the moment, this includes some fireworks shows, nighttime spectaculars, and closed theater entertainment.
Restaurants – Most restaurants in Disney World have reopened but some remain closed still. With lower attendance, it doesn't make sense financially to keep all the restaurants open. Certain restaurant types like dinner shows and character meals are also temporarily suspended or modified.

All restaurants and dining locations need to abide by the new regulations including distancing tables and lower overall capacity.
Reduced Park Hours – Since there will not be any nighttime spectaculars when Disney World reopens, the theme parks have reduced park hours compared to what they normally have. This includes later openings and earlier closings.
Character Meets – There will not be any character meets in Disney World during the reopening phase since they don't provide adequate distancing between the guests and characters.
Suspended Services & Perks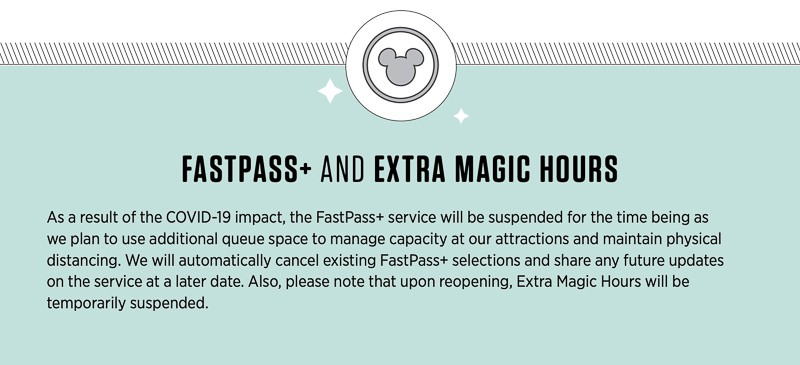 Many of the common services and perks you are used to on a Walt Disney World vacation are not going to be running during the reopening phase. Here are some of the biggest changes:
FastPass+ – All FastPasses have been canceled during this time. The entire FastPass+ system has been suspended. This is to allow more space in the attraction queues to be used for distancing between guests.

Right now, guests will only use stand-by queues to enter the attractions.
Extra Magic Hours – This is temporarily suspended, and "Early Theme Park Entry" is taking its place later in 2021. It lets Walt Dinsey World Resort hotel guests enter the parks 30 minutes before the general public.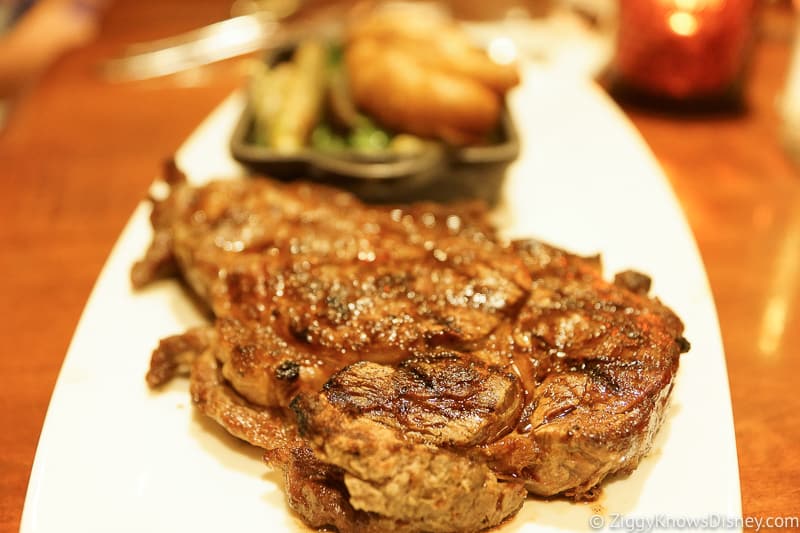 Disney Dining Reservations – Disney guests are now able to make dining reservations with some changes:
Reservation windows have been decreased from 180 days to 60-Day windows allowing guests to make reservations closer to their arrival date.
New Disney Dining Reservations are now available for All Guests starting 60 days from your hotel arrival date or dining date.
Special Experience Bookings – All special events and experience bookings have been canceled at this time through the end of 2021. Disney will give more information about booking these special events at a future date.
Disney Dining Plan – All Disney Dining Plans have been canceled for now. Guests who purchased a Disney dining plan and tickets for dates between May 28, 2020, and September 26, 2021, will receive an automatic cancellation and refund of their Disney dining plan.

The Disney Dining Plan is coming back, we just don't have a return date yet, but it won't be until late 2021 at the earliest.
Free Dining – The Disney Free Dining Plan has been canceled from now through September 26, 2021. Guests who had already booked the Free Dining Package will receive an automatic cancelation and can book at a later date with a 35% room discount.
New Guidelines Overview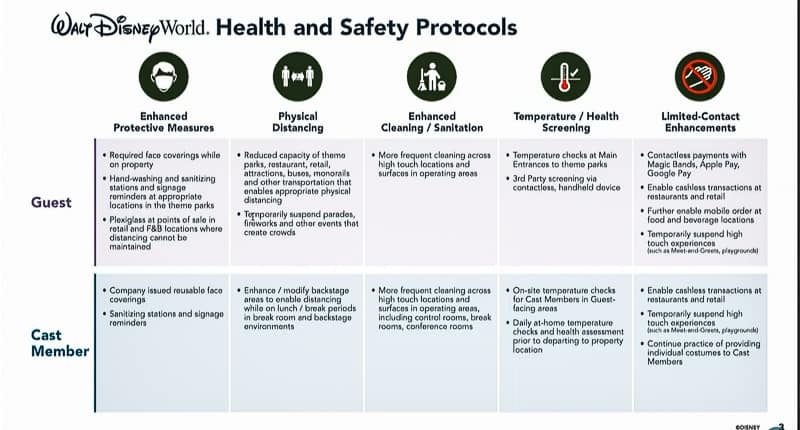 Many people thinking about taking a trip to Disney World when it finally reopens are wondering: "Is Disney World still safe?" Just what is Disney doing to protect its guests and Cast Members?
In order for Disney World to reopen, there are new guidelines in place for theme parks, hotels, restaurants and stores. Disney has shared more about these guidelines with an official list. These rules are enforced for guests and Cast Members alike.
Here is a list of all the guidelines you need to be aware of before going to Disney World:
Requiring Face Masks (Both for Vaccinated and Unvaccinated Guests)
Increased Sanitization
Cast Member Safety Training
Safety Signs
Additional Hand-washing & Hand Sanitizer Stations (these have been discontinued)
Distancing Ground Markers in Queues (this is being discontinued)
Limiting Attraction Availability and Capacity
Limiting Entertainment Options
Plastic Dividers at Checkout
Touchless Transactions at checkout
Disney World staff has been trained to employ physical distancing and the rest of the safety measures. They will continue to receive training to improve protocols and things change.
Disney's health protocols are based on three principles: Education, Communication and Engagement.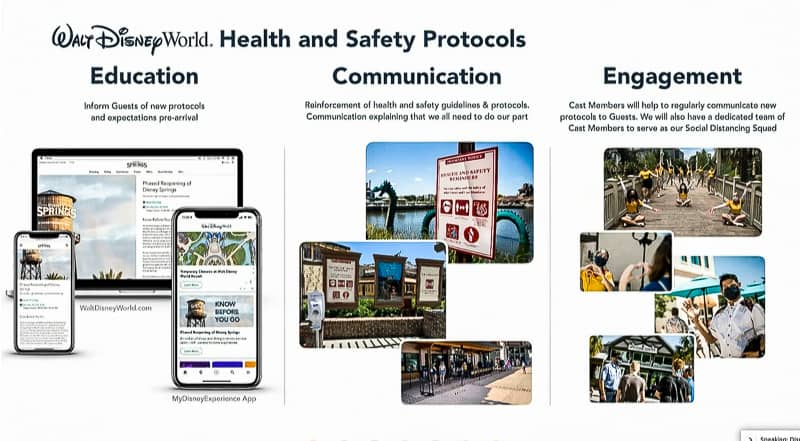 Face Masks
The most widely contested new safety guideline in Disney World has been the face masks. Currently, face masks are required in all Disney theme parks, though with some exceptions.
Vaccinated and Unvaccinated Guests 2 years and older and Cast Members are required to wear face masks in all indoor locations, including attractions and Disney transportation. Face masks are optional in all outdoor areas, while dining, or swimming.
Thankfully, you no longer have to wear a face covering while walking around outside in the 90+ Florida heat. However, if you are interested in visiting Walt Disney World during the reopening phase, face coverings are required indoors, on all attractions and on Disney transportation.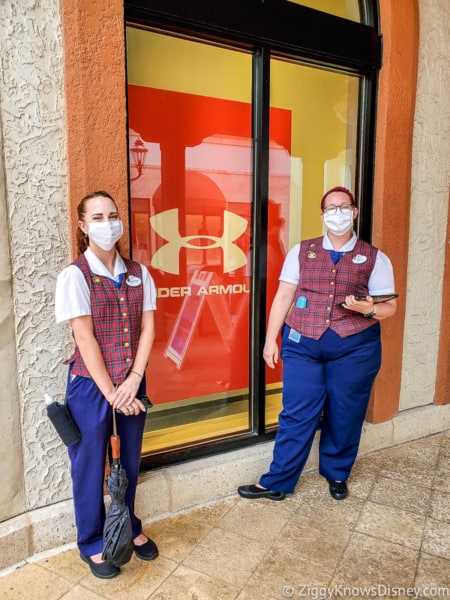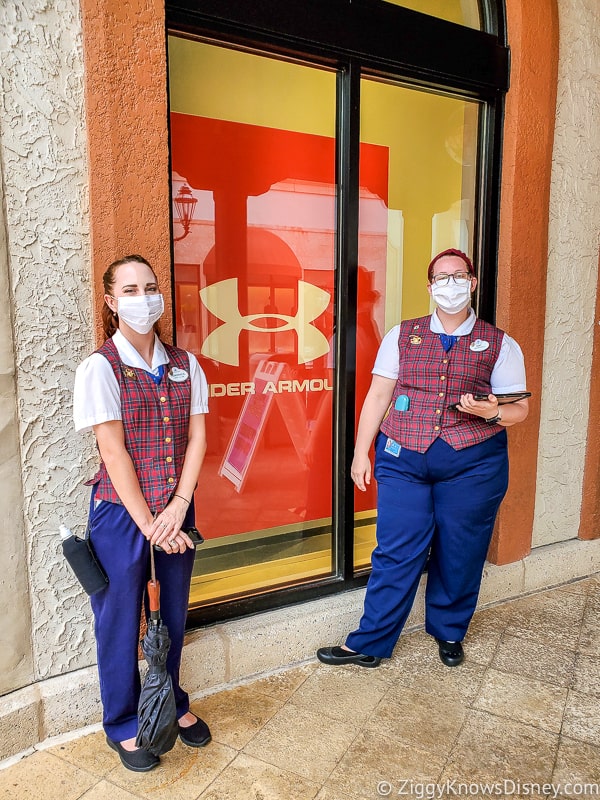 What if you have a Medical Condition that prevents you from wearing a face covering?
We understand that some guests can't wear a face mask due to a medical condition.
Unfortunately, at this time ALL guests are required to wear a face mask indoors even if you have a medical condition. If you don't want to wear a mask then it's probably just best to wait until this safety measure is no longer in place to come.
When will the Face Mask requirement End?
Disney CEO Bob Chapek commented recently that they will likely be required through 2021, but not in 2022. The policy has loosened in recent months which is positive news, though no one currently knows for sure exactly when it will completely go away.

Disney is going to follow the guidelines given by the local health authorities, so as long as they are recommending face coverings, Disney will err on the side of caution.
Read our Guide to Face Masks at Disney World for a more detailed look and the latest updates.
Relaxation Areas
(UPDATE): Relaxation areas have been removed from the theme parks.
One place in Disney World where guests don't have to wear face coverings are in the designated "Relaxation Stations" located throughout the parks. These are roped-off areas where guests can go mask-free.
Here are the main points to know about these mask-free zones in the parks.
There are 2-3 relaxation stations in each theme park.
Distancing is still required in these relaxation stations.
The max guests in each relaxation station changes from location to location.
Some are indoor, some outdoor.
Indoor relaxation stations provide a break in the air conditioning.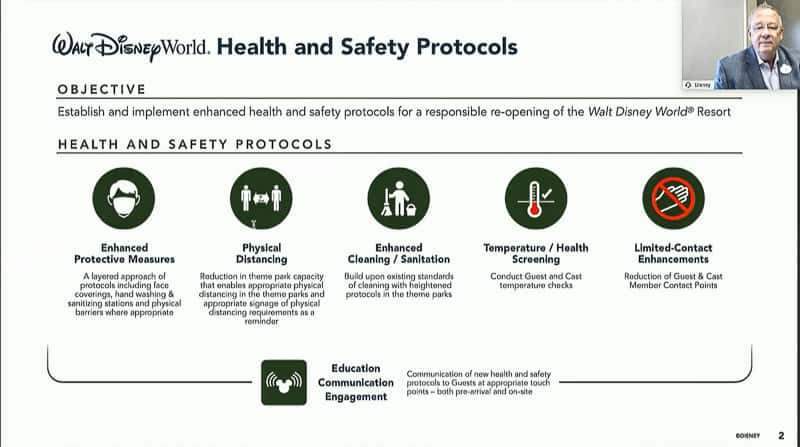 Temperature Screening
All guests and Cast Members are no longer required to undergo temperature screening upon arrival at the entrance of the theme parks and Disney Springs.
Increased Cleaning and Sanitization
One of the most important ways they are preventing germs from spreading around Walt Disney World is increased cleaning and sanitization throughout the parks, hotels, restaurants, rooms, and just about anywhere you can think of.
Disney is training cleaning staff and housekeeping in improved sanitization methods, as well as paying extra attention to all high-traffic areas including tables, doors, benches, handrails, escalators, restrooms, and more.
Physical Distancing/Queues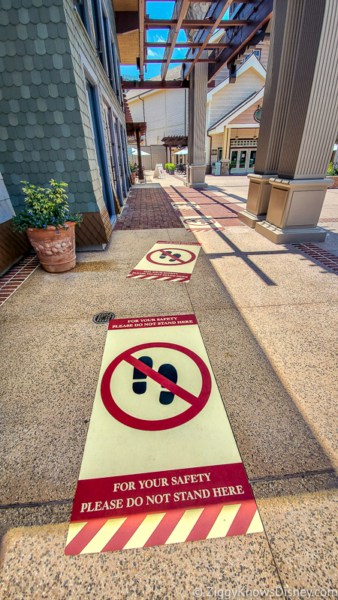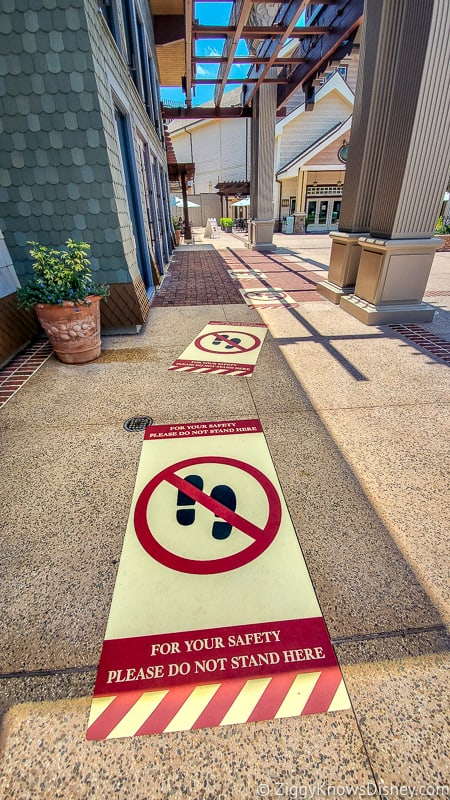 Recently, the physical distancing policy has been greatly relaxed. Guests are recommended to keep a safe distance between them and people not in their traveling party, though it is no longer strictly enforced as before.
To help guests practice physical distancing, Disney installed ground markers in all locations where people would usually form a line. This includes attractions, shops, etc. These markers tell guests where to stand to keep a safe distance from others.
Disney has starting to remove these ground markers in many locations around the parks and the queues are going back to normal again.
Handwashing & Hand Sanitizer Stations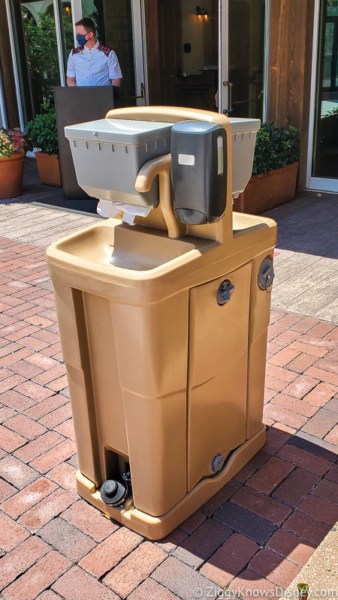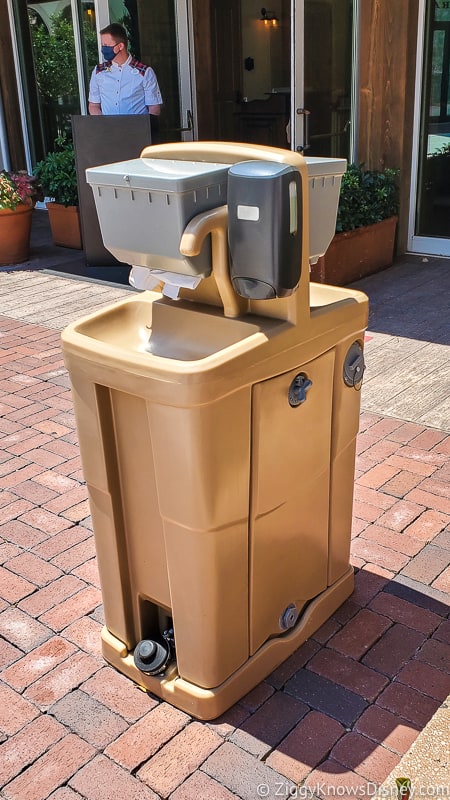 Washing your hands is one of the key ways to limit the spread of germs and guests can play their part by washing up as much as possible. There used to be hand washing stations set up strategically around the parks, however Disney has recently discontinued these.
Signs
Distances in the queues for attractions, restaurants and shops must be respected, but in order for the rules to be followed easily, guests need to understand them and see them visibly in the parks.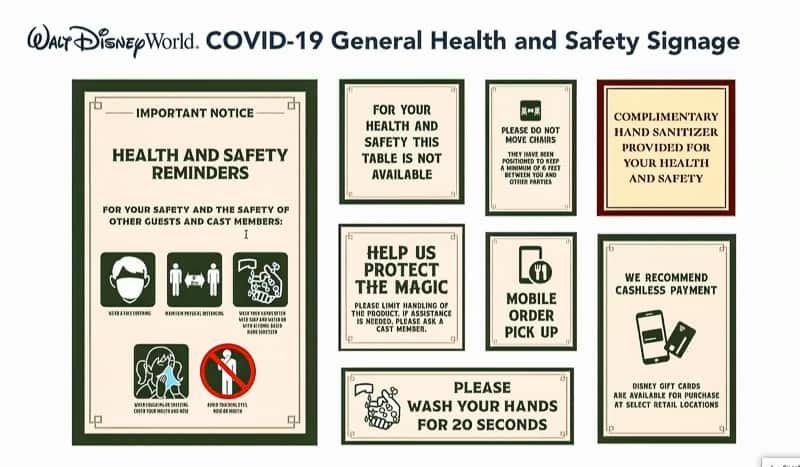 Numerous signs have been installed throughout the parks and resorts advising guests of the various safety reminders and guidelines to follow.
Protective Barriers
In order to limit physical contact between guests and Cast Members, physical barriers made of plexiglass have been added in certain locations. These include cash registers, Guest Relations, etc. They also have been added to attraction queues to separate guests while waiting in line to ride.
Cashless Transactions
Cash transactions are discouraged in Disney World during the reopening phase. Guests should use contactless payment options when possible such as credit cards, debit cards, gift cards, Apply Pay, Google Pay, Samsung Pay, etc.
This is a brief look at the changes in policies and guidelines in Disney World. Read our guide to Disney World Changes and Safety Measures for even more info on what to expect.
Who Can Even Go to Disney World Right Now?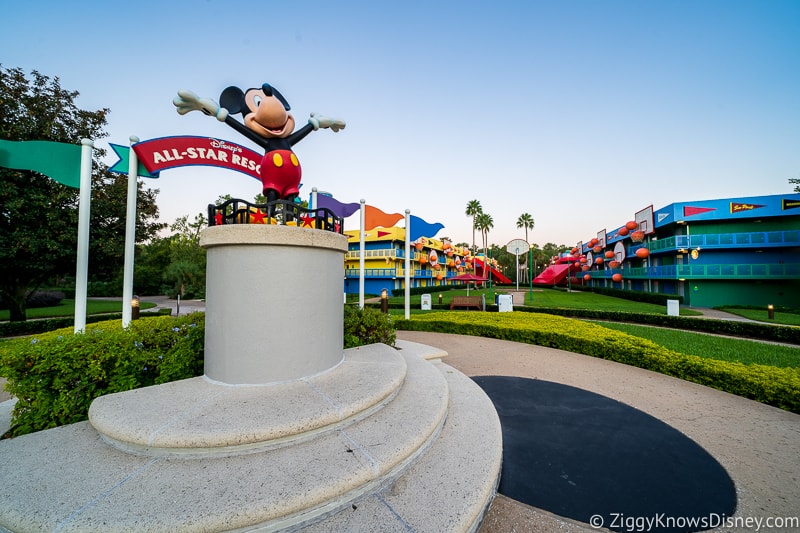 One idea that was being thrown around was that Walt Disney World wouldn't open to the general public at first and that it would limit guests to Florida Residents and locals. That did not end up happening after all and Disney World is open to everyone, sort of…
Is Disney World Open to Everyone?
Technically, yes. The public reopening of Walt Disney World happened on July 11, 2020. Since that time, the parks are open to anyone who wants to visit but a reservation is required.
New 2021 hotel reservations and ticket sales have resumed so that should make it easier for more guests to get in right now. 2021 packages are available for booking at this time.
So while Disney World is opening to "everyone," Disney is limiting theme park guests to ones with Park Pass reservations, so make sure you have one if you are planning on going.
Restrictions on Travel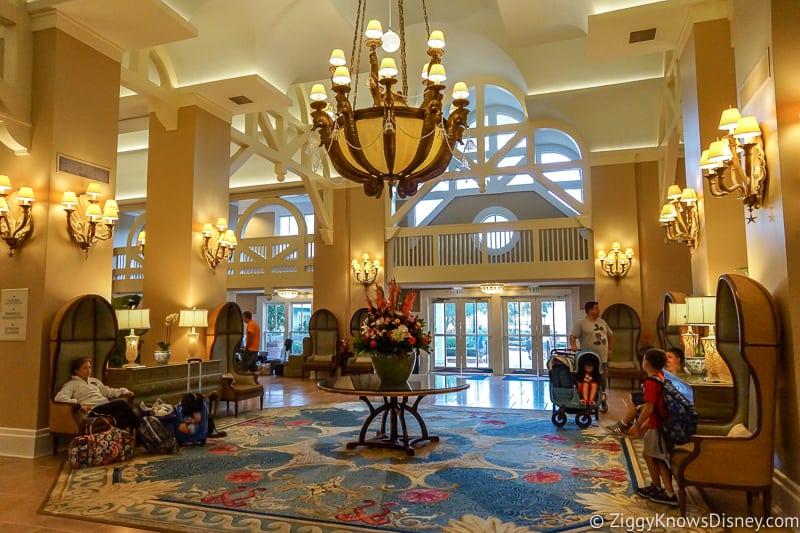 Another problem that people were running into for a while was not actually being able to travel to Florida and go to Disney World. This was a problem if you are coming from the Northeast U.S. since the state was requiring a 14-Day quarantine for anyone coming from the Tri-State area of New York, New Jersey, and Connecticut.
That meant if you came down, you would have had to first be isolated for 14 full days BEFORE being able to visit Walt Disney World.
This is no longer an issue as Governor Ron DeSantis has lifted the restrictions and visitors from the Tri-State area can come to Florida as they please. The same is not necessarily true for the return trip home.
Return Quarantine to the Tri-State Area
When new cases started increasing across the country, the Tri-State area states of New York, Connecticut, and New Jersey were requiring anyone coming from the "high-risk" areas to quarantine for 14 days. This is no longer an issue but you should check with your local authorities to see if there are any mandatory quarantine restrictions in your home state.
International Travelers
The CDC has periodically announced travel restrictions for international passengers traveling by air. You should check the latest travel restrictions to se if you are required to show a negative COVID-19 test when traveling.
Read our recent post to learn more about the new travel restrictions.
Tickets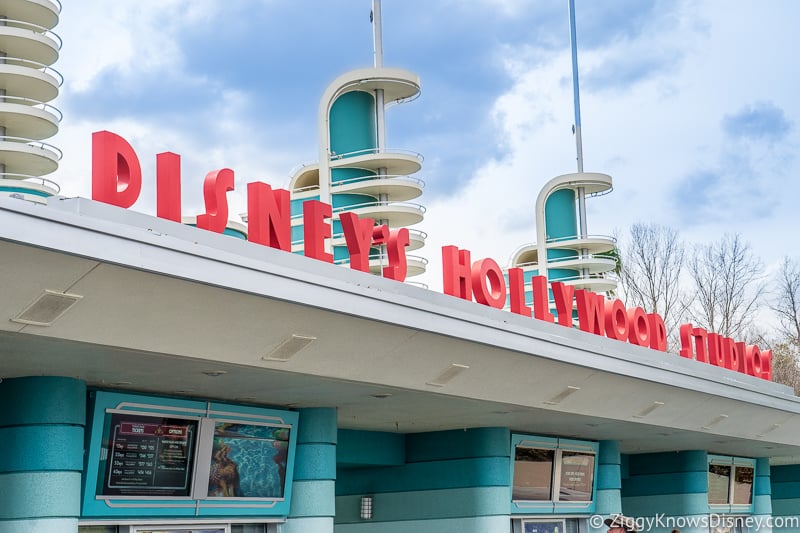 When Are New Ticket Sales Starting?
2021 Disney World theme park tickets are now available to the public to purchase. 2021 vacation packages with tickets are also on sale for dates January 1, 2021 – December 31, 2021.
Can I Get a Refund for Tickets?
Disney is not giving full refunds for unused theme park tickets during the closure period. Instead, Disney is extending the expiration on those tickets from their original use dates. Most tickets are being extended to use from the opening through September 26, 2021.
Check the official Walt Disney World website for more info on ticket refunds.
What About Park Hopper Tickets?
Right now, the Park Hopper option is back at Disney World. Because of lower park capacity, Disney will require guests to make a park reservation before visiting each park.

Read our on Disney Park Hopper Tickets for the latest info.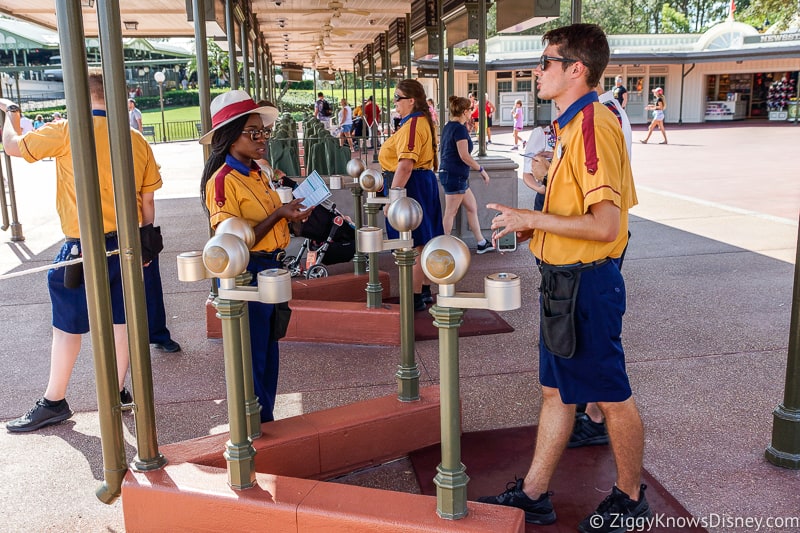 Are There Lower Ticket Prices Because of Fewer Attractions, Entertainment & Reduced Hours?
While this would be nice, don't expect the changes in the Disney Parks to lower park ticket prices. Disney is not in the habit of lowering ticket prices, and we don't expect them to start now. The more likely scenario is they will continue to offer some discounts on hotel rooms instead.
How Many Days Have Annual Passes Been Extended?
Disney World annual passes were extended by the number of days Walt Disney World was closed. The parks closed on March 15 and reopened on July 11. By our count, that's roughly 117 days, which means Disney should have added roughly that amount of days to your annual pass.

Disney also addd an additional month to all annual passes, so in total, annual passholders received roughly a 147-day extension or around 5 months.
When Will My New Annual Pass Expiration Date be Updated?
Right now, the new annual pass expiration date shoould be reflected in the passholder's account already.
Making Park Reservations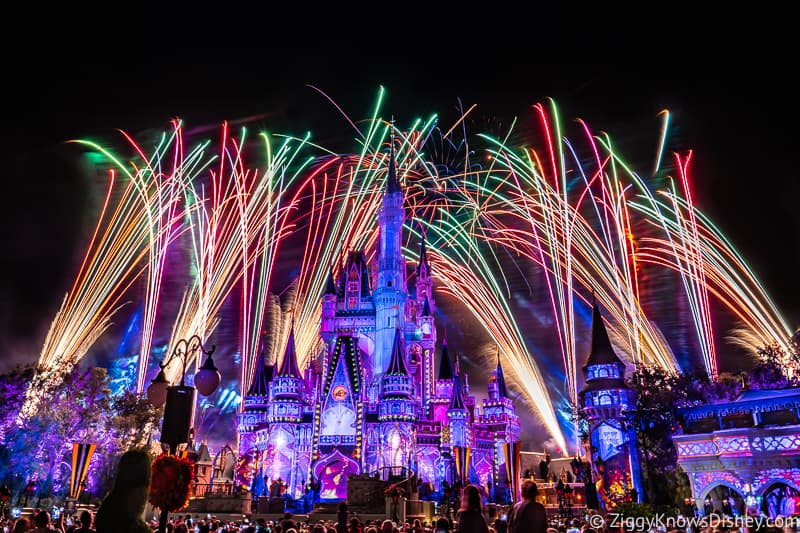 As a direct result of keeping theme park capacity down, Disney has come up with a brand new online park reservation system for guests during the reopening phase.
Guests must make individual reservations for the park they want to visit on a given date.
Park reservations are FREE.
All guests are required to make BOTH a park reservation and have valid theme park admission to have entrance to the parks.
There are limits on how many park reservations you can have at one time.
When Does the Reservation System Go Online?
The Disney Park Pass system is Now Online and accepting reservations on the Walt Disney World website.
Annual Passholders Need Park Reservations – Even Annual Passholders will be required to make park reservations for the days they want to visit. Annual passholders and they are limited to ONE PARK PER DAY. You also need to check availability when park hopping to the second theme park of the day.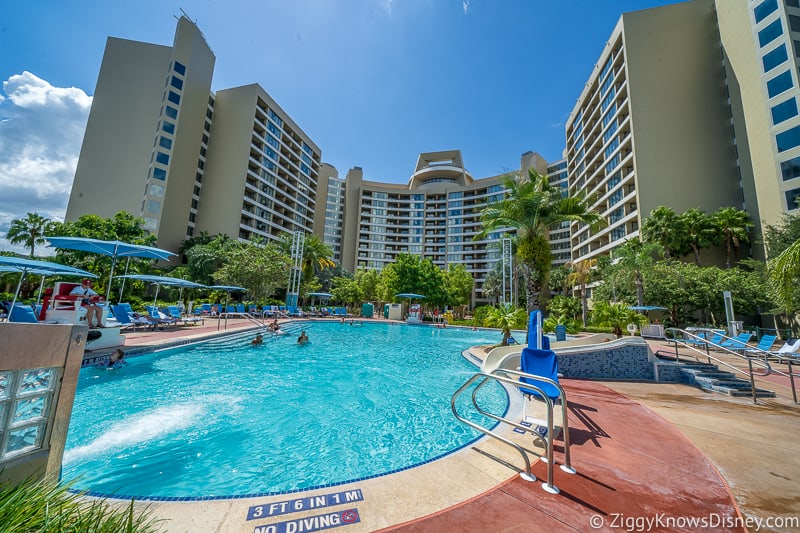 Who Has Top Priority for Park Reservations?
Guests with a Walt Disney World Resort hotel reservation generally have priority in making park reservations over guests staying off-site or visiting for the day. Up to this point, Disney has made sure there is enough park pass availabilty for guests staying at the resorts to make sure they get into the parks.

This makes sense since they are in Florida spending thousands of dollars to go to the parks, whereas many Annual Passholders are Florida locals and have more opportunities to go.
Who is Guaranteed a Reservation?
No one. Walt Disney World Resort hotel guests and Annual Passholders are NOT guaranteed a park reservation. Guests are encouraged to make park pass reservations as soon as they know their travel dates as availability is limited.

As time goes on, Disney will better understand what the demand for the parks will be, therefore allocating the ideal number of passes per group.
Read our post to learn How to Make Disney World Theme Park Reservations. Disney will be releasing more info on this system in the days to come.
What is Open in Disney World?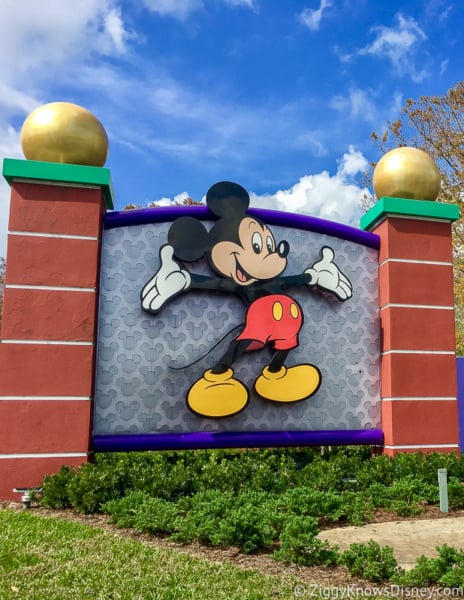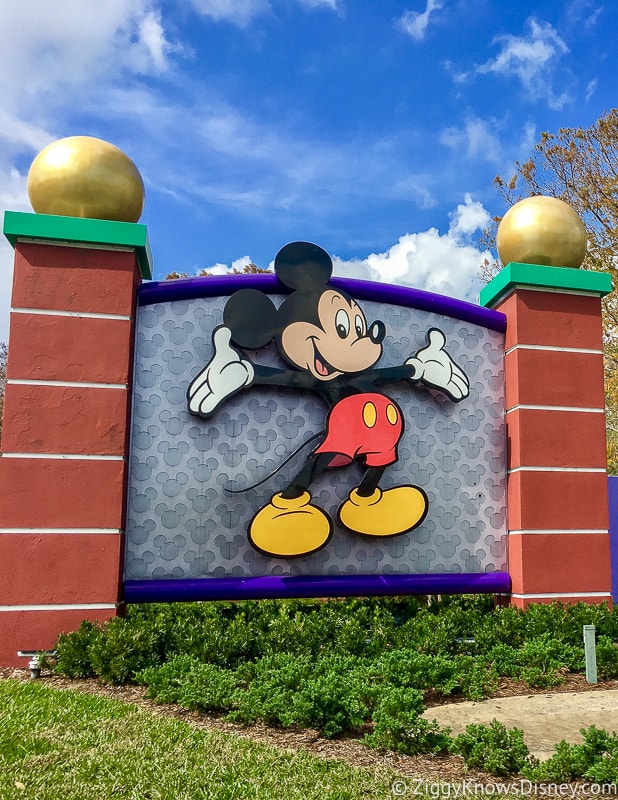 Though the majority of things are currently open in Walt Disney World, including the theme parks and many of the resorts.
Below you'll find all the latest reopening information we have for Walt Disney World including:
Disney Springs (NOW OPEN)
Resorts (DVC Resorts NOW OPEN, Non-DVC Disney World Hotels Phased Reopening with some NOW OPEN)
Magic Kingdom (NOW OPEN)
Animal Kingdom (NOW OPEN)
EPCOT (NOW OPEN)
Hollywood Studios (NOW OPEN)
Water Parks (Blizzard Beach NOW OPEN; Typhoon Lagoon TBD)
What Attractions and Entertainment are Open?
It's important to note that the theme parks will open in phases and without the full lineup of attractions, shows and restaurants. That means some rides might not be running when you go, plus some character meets, fireworks shows and other entertainment will not be open.
When Will Those Higher-risk Experiences Reopen?
Disney has slowly been introducing more shows into the theme parks as safety guidelines loosen. Fireworks are coming back to Disney World starting July 1, but only at Disney's Magic Kingdom and EPCOT. As more info comes out we'll update you about what is open and what's not.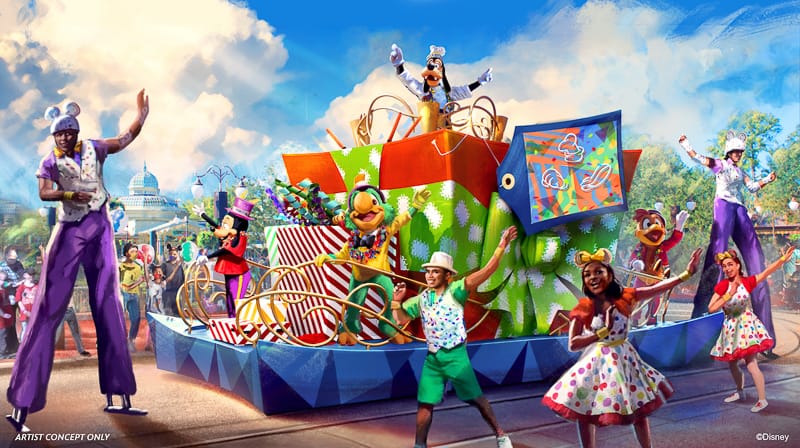 New Character Cavalcades
All 4 Disney World theme parks have new Character Cavalcades to make up for the missing character meets in the parks. Characters go by and greet guests from a safe distance.
These special cavalcades take place down the Magic Kingdom Park parade route, sailing the waterways of Disney's Animal Kingdom Theme Park, processions along the World Showcase promenade at EPCOT and motorcades on Disney's Hollywood Studios' Hollywood Boulevard.
Some of the characters in the parks include:
Buzz Lightyear (Magic Kingdom)
Captain Jack Sparrow (Magic Kingdom)
Anna and Elsa (EPCOT)
Resistance Members (Hollywood Studios)
Not only that but several musical groups are entertaining guests such as:
Main Street Philharmonic (Magic Kingdom)
Mariachi Cobre (EPCOT)
JAMMitors (EPCOT)
These are just some of the attractions and entertainment you can expect to find in the parks when you visit. To find out more, read our post on the Full List of Reopening Disney World Attractions.
Magic Kingdom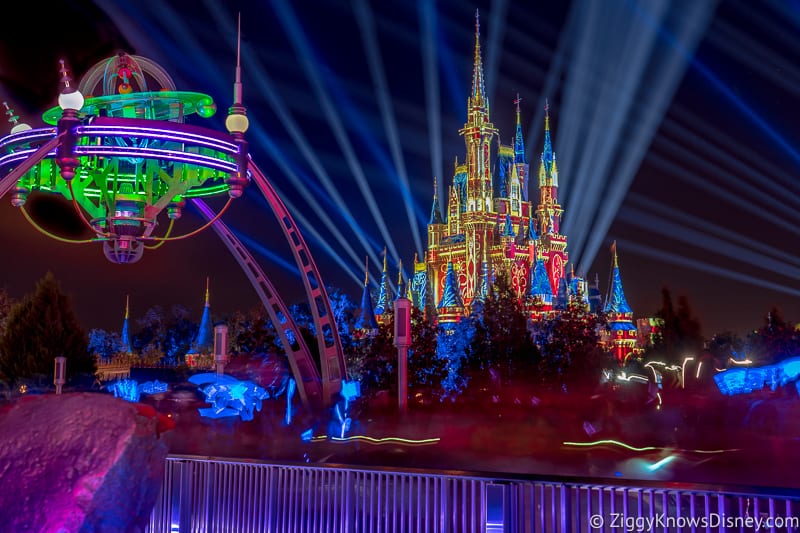 Disney's Magic Kingdom Park is NOW OPEN. It reopened on July 11, 2020. It was one of the first two Disney World parks to reopen (along with Disney's Animal Kingdom).
Guests now have to make a Disney Park Pass reservation to get access to the park. More details on how that works below in the "Making Park Reservations" section.
Magic Kingdom Park Hours – For most days park hours will be from 8:00 am to 9:00 pm. This fluctuates with some days opening at 9:00 am and some days closing a bit earlier than 9:00 am.
Both Morning and Evening Extra Magic Hours are not running in the Magic Kingdom during the phased reopening. Early Theme Park Entry is replacing Extra Magic Hours and lets guests in the parks 30 minutes before the scheduled opening.
Some attractions and entertainment are limited.
The fireworks show Happily Ever After is returning July 1, 2021.
Festival of Fantasy Parade will not be running at this time.
Even though character meets have been suspended for the time being, new character cavalcades will make their way down the normal parade route including Main Street U.S.A. The characters will greet guests from afar even though you can't get up close to take a photo with them or get an autograph.
Read our Magic Kingdom Reopening Guide with a full list of all attractions, restaurants and entertainment options, as well as touring tips after reopening.
EPCOT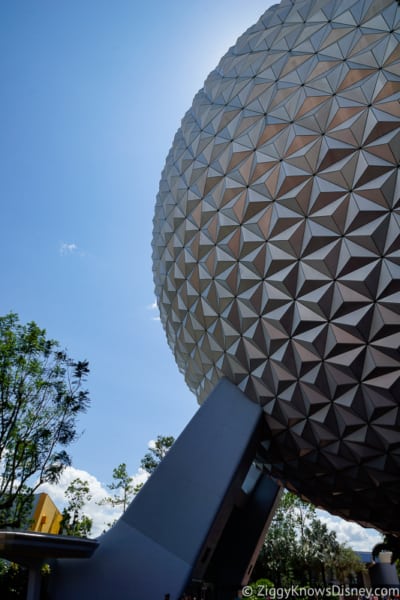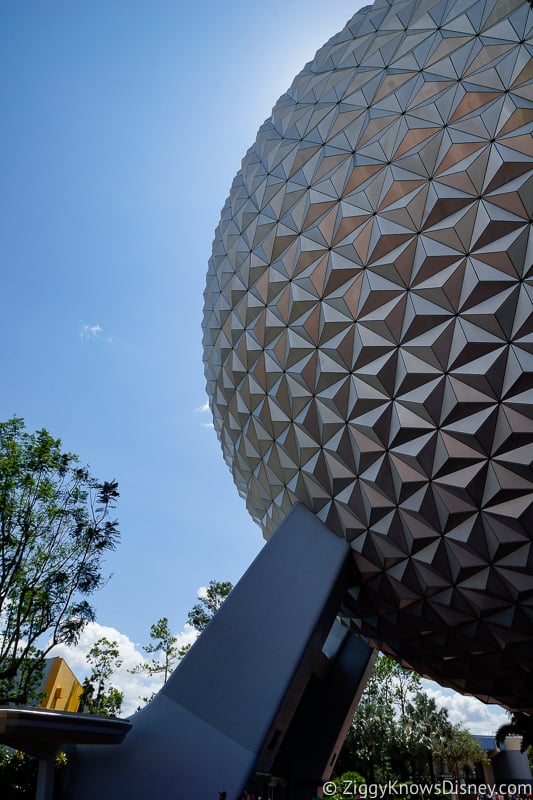 EPCOT reopened on July 15, 2020. It is part of the second group of WDW theme parks to open along with Disney's Hollywood Studios.
Guests will have to make a reservation to get access to the park. More details on how that works below in the "Making Park Reservations" section.
EPCOT Park Hours – For most days park hours will be from 11:00 am to 9:00 pm or 10:00 pm. Some weekends and holidays have been extended.
Both Morning and Evening Extra Magic Hours are not running in EPCOT during the phased reopening. Early Theme Park Entry is replacing Extra Magic Hours and lets guests in the parks 30 minutes before the scheduled opening.
Some attractions and entertainment are limited. Please check back soon for more info on the opening including rides, entertainment, and dining.
The EPCOT fireworks show "EPCOT Forever" is coming back starting July 1, 2021.
EPCOT of course is famous for its festivals and those have continued even after the reopening. The Festival of the Arts started off 2021 in January and goes until February. The Flower and Garden Festival is also coming back in March and will run through June.
The EPCOT Food and Wine Festival was back last year and started early on July 15. The EPCOT Festival of the Holidays also came back in 2020. We are still waiting for the 2021 dates for both of these festivals.
Read our EPCOT Reopening Guide with a full list of all attractions, restaurants and entertainment options, as well as touring tips after reopening.
Hollywood Studios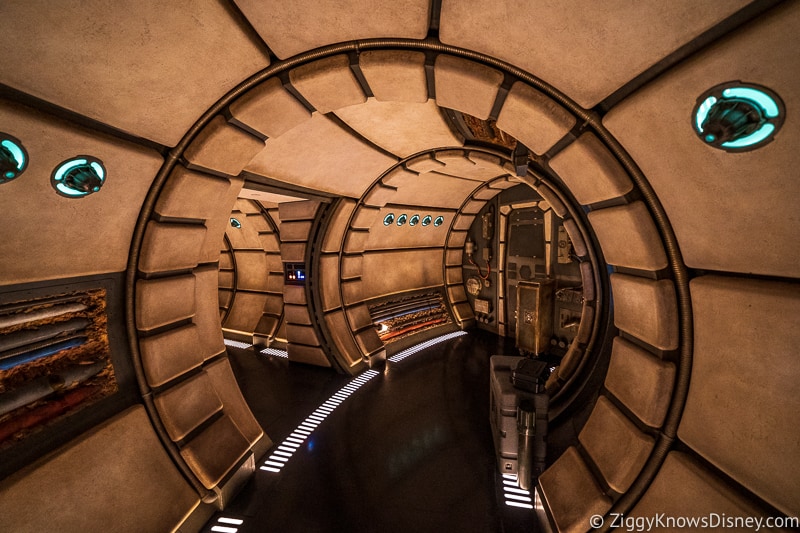 Disney's Hollywood Studios is NOW OPEN. It reopened on July 15, 2020, and was part of the second group of WDW theme parks to open along with EPCOT.
Guests have to make a reservation to get access to the park. More details on how that works below in the "Making Park Reservations" section.
Hollywood Studios Park Hours – Normal park hours are from 9:00 am to 7:00 pm or 8:00 pm. Some weekends have been extended by one or two hours.
Extra Magic Hours are not running in Hollywood Studios during the phased reopening. Early Theme Park Entry is replacing Extra Magic Hours and lets guests in the parks 30 minutes before the scheduled opening.
Some attractions and entertainment have been limited. Please check back soon for more info on the opening including rides, entertainment, and dining.
Nighttime spectaculars like "Fantasmic!" and "Star Wars: A Galactic Spectacular" are not performing during the reopening period.
Another big change is Star Wars: Rise of the Resistance will be using the virtual queue, but the experience has been changed with multiple boarding pass distribution times. In the end, however, getting a boarding pass for Rise of the Resistance was the hardest thing to do in Disney World before the closure, and still is.
Read our Hollywood Studios Reopening Guide with a full list of all attractions, restaurants and entertainment options, as well as touring tips after reopening.
Animal Kingdom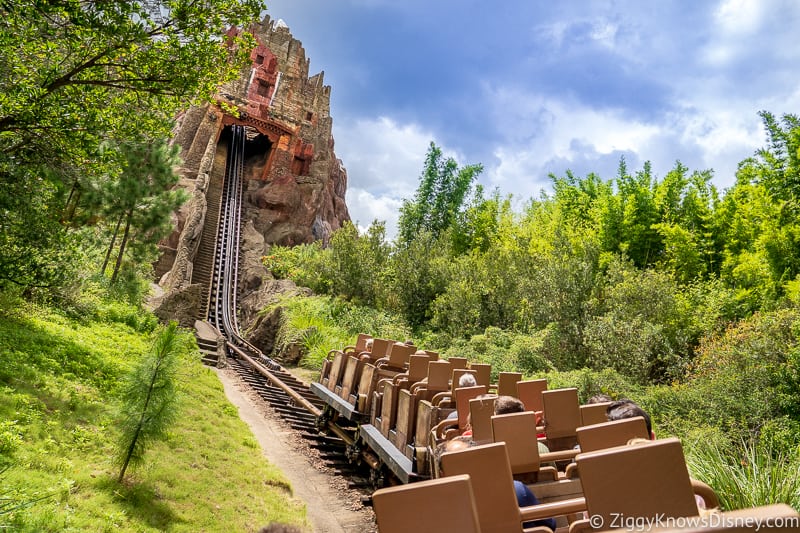 Disney's Animal Kingdom is NOW OPEN. It reopened on July 11, 2020. Along with the Magic Kingdom, it was in the first group of Disney World parks to reopen.
Guests now have to make a reservation to get access to the park. More details on how that works below in the "Making Park Reservations" section.
Animal Kingdom Park Hours – Park hours are from 8:00 am to 7:00 pm. During the slower months the park closes as early as 6:00 am but during the holiday season it has extended hours opening as early as 7:00 am and closing as late as 8:00 pm
Extra Magic Hours are not running in the Animal Kingdom during the phased reopening. Early Theme Park Entry is replacing Extra Magic Hours and lets guests in the parks 30 minutes before the scheduled opening.
Some attractions and entertainment are limited. Please check back soon for more updated info on the opening including rides, entertainment, and dining.
The nighttime spectacular "Rivers of Light: We Are One" has been permanently closed.
Read our Animal Kingdom Reopening Guide with a full list of all attractions, restaurants and entertainment options, as well as touring tips after reopening.
Disney Springs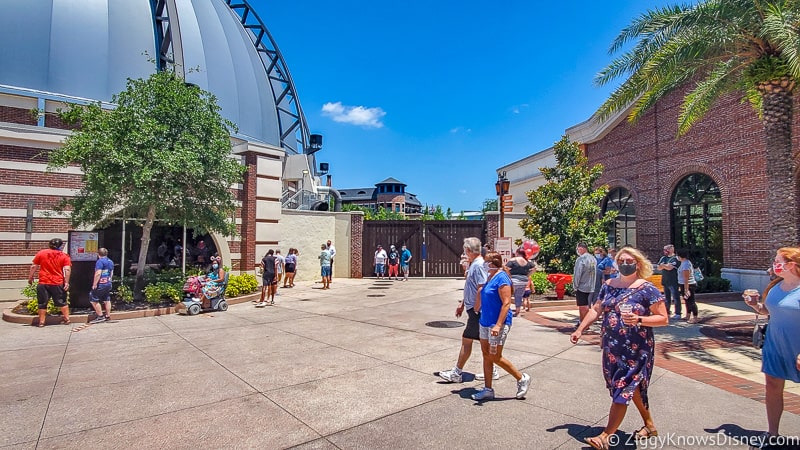 Disney Springs is NOW OPEN. It has been back since May 20, 2020, and it was the first area of Walt Disney World to reopen after the long closure.
Not every area in Disney Springs is currently open, but the majority of shops and restaurants have already reopened with only a few still closed. Disney Springs is reopening in phases and is currently in its first phase.
Disney Springs Hours:
10:00 am – 11:00 pm – Sunday through Thursday.
10:00 am – 11:30 pm – Friday and Saturday.
Parking available in Disney Springs is the Lime Garage, Orange Garage, and some surface lots.
When parking at Disney Springs, please arrive at least 60 minutes before any scheduled event, show or reservation. Digital message boards along Buena Vista Drive will indicate when garages and surface lots are full.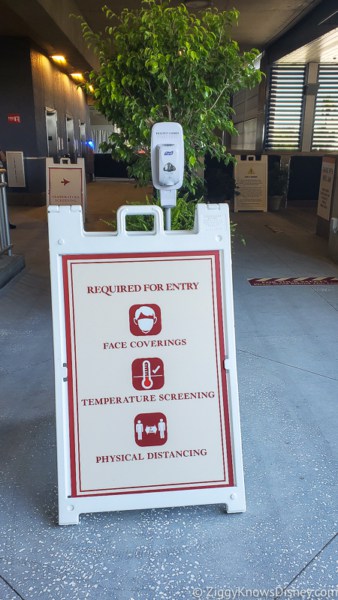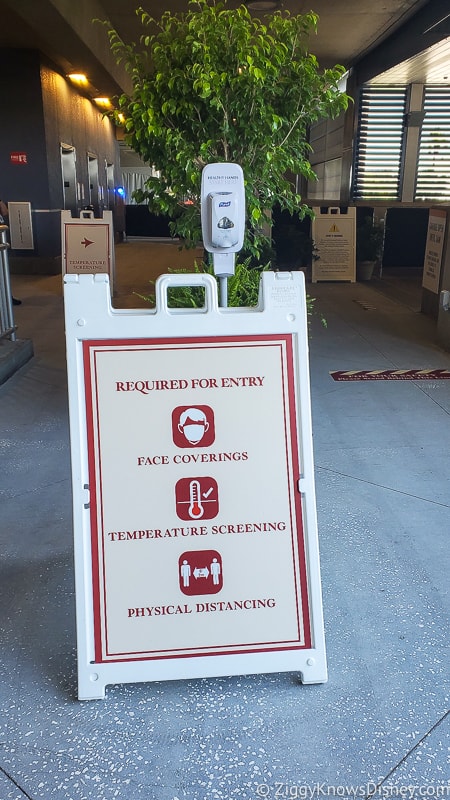 Disney Springs is enforcing the same new safety measures and guidelines in place at the theme parks. These apply to all guests and Cast Members:
Face coverings required for all guests in indoor areas.
Physical distancing practices are highly recommended.
Temporary operation modifications, including reduced hours at select locations and no scheduled entertainment offerings or high-touch interactive areas.
An increased focus on disinfecting and sanitation, including the addition of hand-washing stations and hand sanitizers in key areas.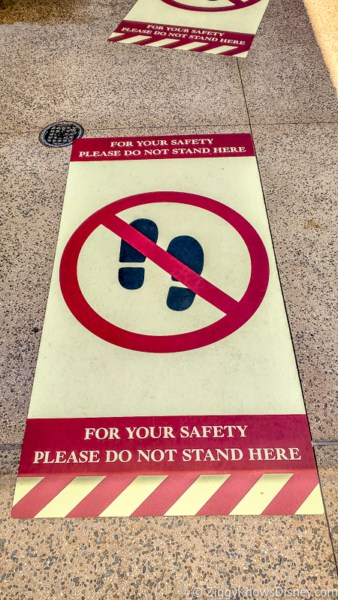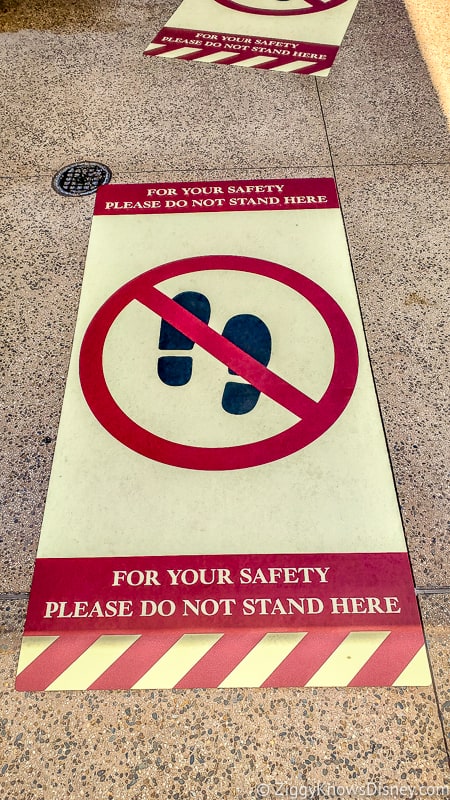 New signs and safety warnings are posted all around starting in the parking garages, on the walkways, and near restaurants and shops. These signs explain the health risks of being in public and explanation of the safety guidelines like distancing, wearing face masks, and hand washing.
As Disney Springs is reopening in phases, so are the restaurants and shops. Some opened right away and some are still waiting a bit.
Restaurants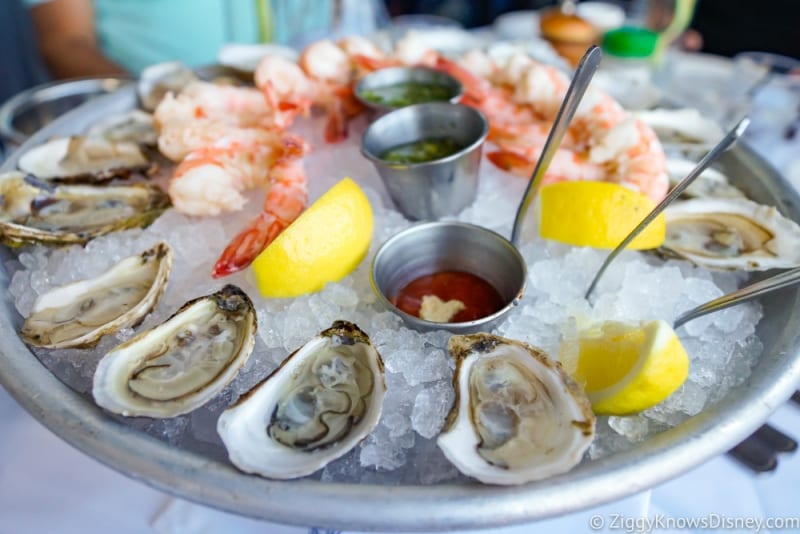 Currently OPEN:
Amorette's Patisserie
AristoCrepes
The Basket at Wine Bar George
B.B. Wolf's Sausage Co.
Blaze Fast-Fired Pizza
Chef Art Smith's Homecomin'
Chicken Guy!
Coca-Cola Store Rooftop Beverage Bar
Cookes of Dublin
D-Luxe Burger (Mobile Order Only)
The Daily Poutine
Disney Food Trucks
Dockside Margaritas
Earl of Sandwich
The Edison
Erin McKenna's Bakery NYC
Enzo's Hideaway
The Front Porch
The Ganachery
Ghiradelli Soda Fountain and Soda Shop
Häagen-Dazs®
House of Blues
Jaleo by José Andrés
Jock Linsey's Hanger Bar
Joffrey's Coffee and Tea Company
Joffrey's Handcrafted Smoothies Kiosk
Lava Lounge at Rainforest Cafe
MacGUFFINS
Maria & Enzo's Ristorante
Marketplace
Marketplace Snacks
Morimoto Asia Street Food
Paddlefish
Paradiso 37, Taste of the Americas
Pizza Ponte
The Polite Pig
Raglan Road
Rainforest Cafe
Splitsville Luxury Lanes
Sprinkles Cupcakes
Starbucks (Marketplace)
Starbucks (West Side – Outdoor seating only)
Sunshine Churros (Both Marketplace and West Side locations)
T-REX
Terralina Crafted Italian
Vivoli il Gelato
Wetzel's Pretzels (Both Marketplace and West Side locations)
Wine Bar George
Wolfgang Puck Bar & Grill
Yesake
Shops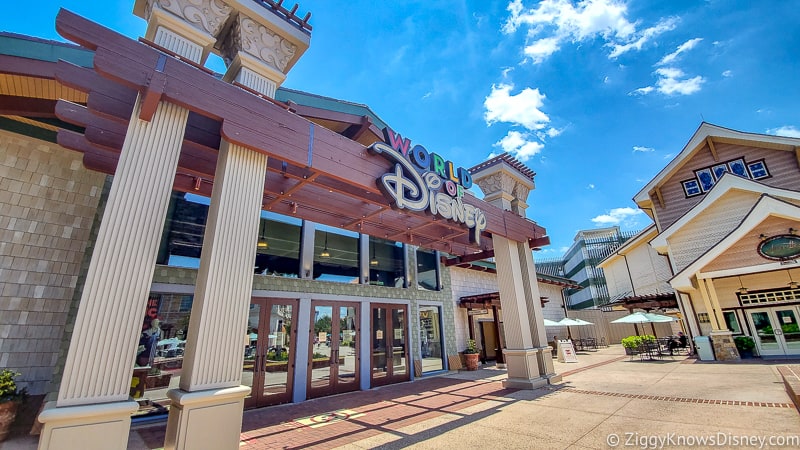 Currently OPEN:
Anthropologie
Aerophile – The World Leader in Balloon Flight
American Threads
The Art Corner by Artistic Talent Group
Basin
Chapel Hats
Coach (store front pick up only)
Columbia Sportswear
Crystal Arts by Arribas Brothers
Duncan Yo-Yo
Edward Beiner Purveyor of Fine Eyewear
Everything But Water
eyCatchers Cart
francesca's®
Free People
Happy Hound
Havaiana's
JOHNNY WAS
Just for Fun Socks
kate spade NEW YORK
Kiehl's
Lacoste
The LEGO Store
Lefty's
Levi's
Lily Pulitzer
Lucky Brand
Luxury of Time by Diamonds International
Marketplace Co-op (with Virtual Queue)
Na Hoku – Hawaii's Finest Jewelers Since 1924
Once Upon A Toy
Pandora® Jewelry
Pelé Soccer
Pop Gallery
Ron Jon Surf Shop®
Royally Yours by Arribas Brothers
Rustic Cuff
Rubio Arts Balloons
Sanuk
Savannah Bee Company
Sephora
Shore
Sosa Family Cigars
The Spice and Tea Exchange
Sugarboo & Co.
Sunglass Icon®
Tommy Bahama
TUMI
UGG®
UNDER ARMOUR BRAND HOUSE
UNIQLO
UNOde50
Vera Bradley
Volcom
World of Disney (with Virtual Queue)
ZARA
Read our post with a photo tour of Disney Springs on opening day and find out more info about what's open there and to see all the changes.
Water Parks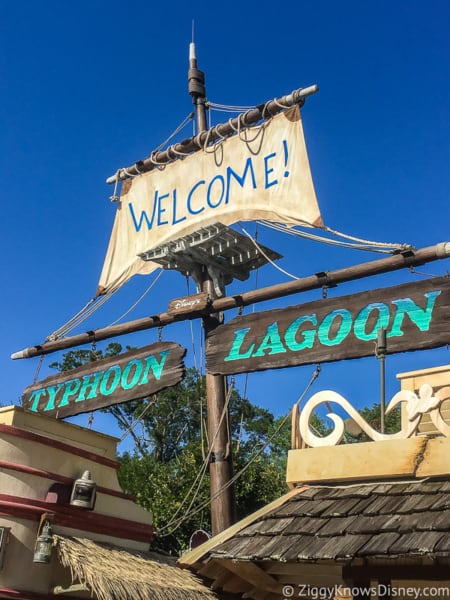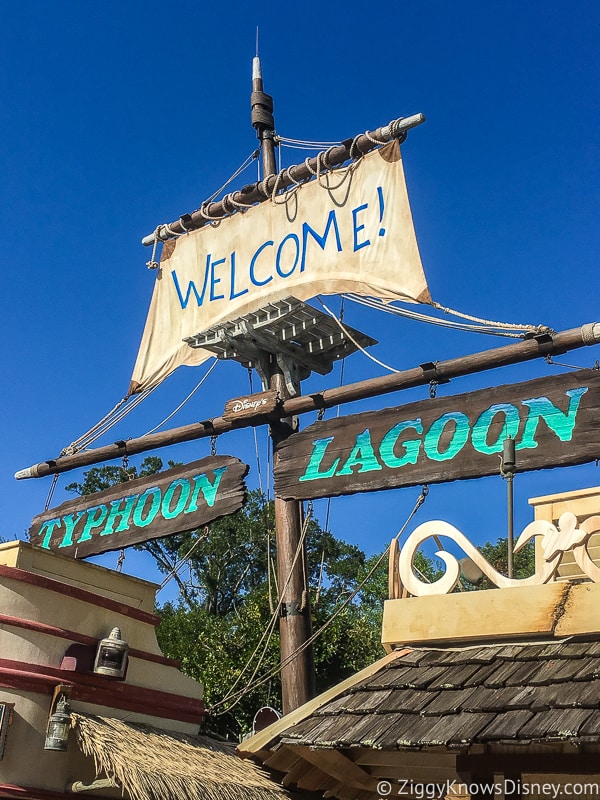 Of the two Walt Disney World Water Parks, Blizzard Beach is currently open while Typhoon Lagoon remains closed. Please check back soon for more info on Blizzard Beach and Typhoon Lagoon.
When are Blizzard Beach and Typhoon Lagoon Reopening?
Blizzard Beach reopened on March 7, 2021, but they haven't said when Typhoon Lagoon is reopening. At least Disney World guests will have an option when the warm weather returns after the Winter. We'll let you know as soon as we have more.
Hotels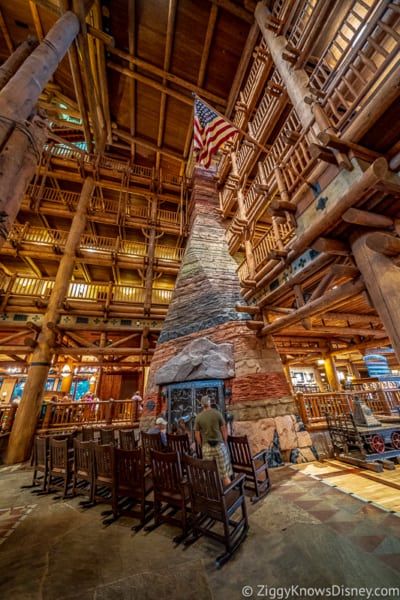 The Walt Disney World Resort Hotels are currently reopening in phases:
Disney Vacation Club Hotels (DVC) and Disney's Fort Wilderness Campground – Now Open! (Opened June 22, 2020).
Non-DVC Walt Disney World Resort Hotels started a phased reopening on July 10 with reopening dates through Summer 2021.
Hotel Access
Guests arriving at a Disney World hotel no longer need a confirmed hotel reservation or dining reservation to enter. If you are staying at a Disney World Resort hotel, important information will be sent to you by email about your stay.
Face Masks – Vaccinated and unvaccinated Guests 2 years old and up are required to use face masks throughout indoor areas in the resort hotels. While dining, swimming or in outdoor areas, face masks are not required.
Online Check-In – Another way to eliminate people getting too close to each other is by using Disney's Online Check-In service. This is a quick and convenient way for guests to check-in to their hotel room, without ever having to go to the lobby and do it. Guests will be highly encouraged to use Online Check-In whenever possible.
Which Walt Disney World Hotels Are Open?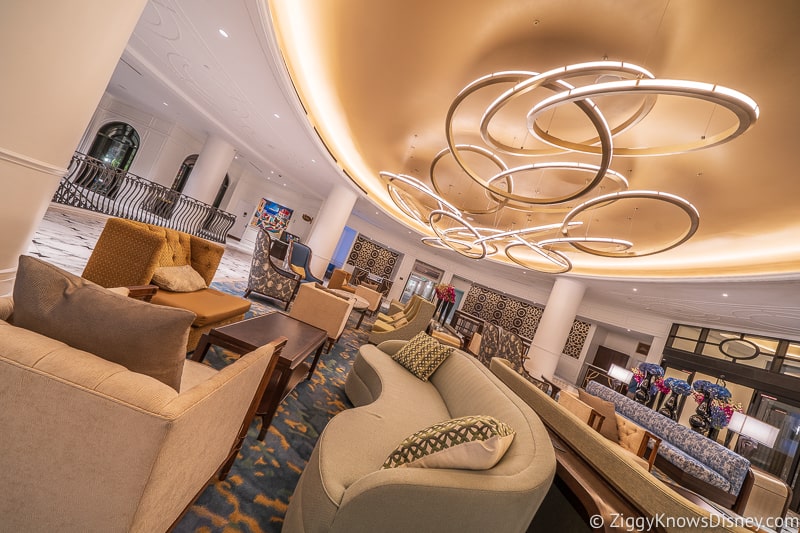 Here is a list of The Walt Disney World Hotels currently open:
Bay Lake Tower at Disney's Contemporary Resort
Boulder Ridge Villas at Disney's Wilderness Lodge
Copper Creek Villas & Cabins at Disney's Wilderness Lodge
Disney's All-Star Movies Resort
Disney's Animal Kingdom Villas – Jambo House (DVC Guests Only)
Disney's Animal Kingdom Villas – Kidani Village
Disney's Art of Animation Resort
Disney's Beach Club Villas
Disney's BoardWalk Villas
Disney's Caribbean Beach Resort
Disney's Contemporary Resort
Disney's Coronado Springs Resort
Disney's Fort Wilderness Resort & Campground
Disney's Grand Floridian Resort & Spa
Disney's Old Key West Resort
Disney's Polynesian Villas & Bungalows
Disney's Pop Century Resort
Disney's Riviera Resort
Disney's Saratoga Springs Resort
Disney's Yacht Club Resort
The Villas at Disney's Grand Floridian Resort & Spa
Disney World Swan and Dolphin Hotels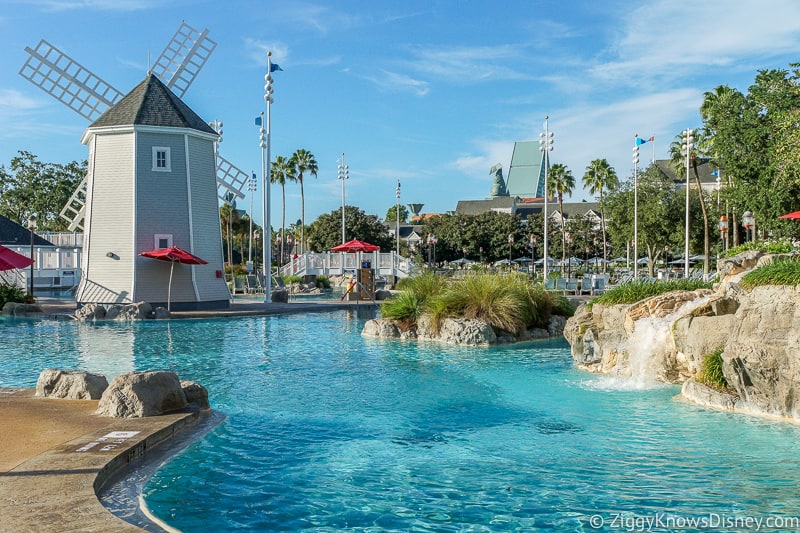 When Will the Rest of the Disney World Hotels Reopen?
The remaining Walt Disney World Resort Hotels started a phased reopening on July 10 which is scheduled to continue through Summer 2021.
Here is the current list of hotels and dates when they are reopening:
Disney's Boardwalk Inn – July 2, 2021
Disney's Polynesian Village Resort – July 2021
Not all Walt Disney World hotels have announced reopening dates yet, and we are still waiting to here when the following are reopening:
Disney's All-Star Sports Resort
Disney's All-Star Music Resort
Disney's Animal Kingdom Lodge – Jambo House
Disney's Port Orleans Resort French Quarter
Disney's Port Orleans Resort Riverside
Obviously with very low occupancy and attendance limits in the parks, there is no rush to open all the remaining Disney World hotels. As soon as attendance picks up, we will start to see the remaining hotels reopening.
Hotel Reservations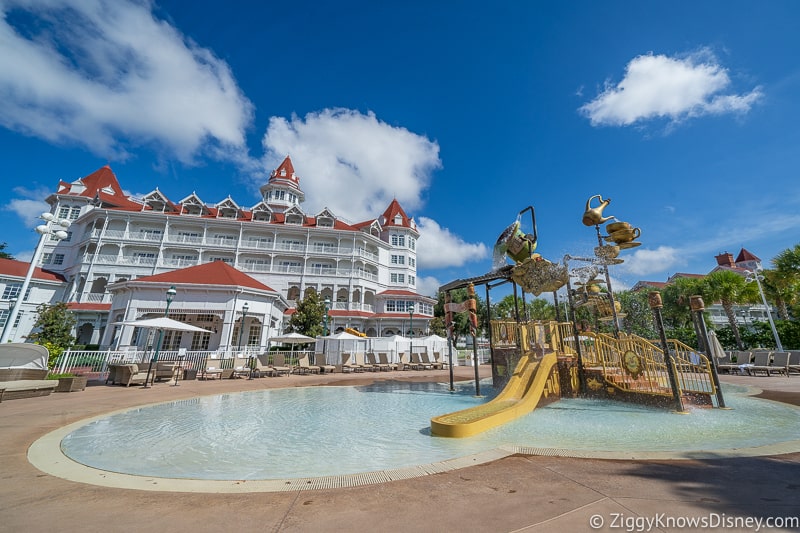 Disney World has now reopened new hotel reservations. For a while they had paused new reservations to service guests with existing reservations first before taking on new ones.
When Can I Make a Disney World Hotel Reservation?
Now. 2021 Walt Disney World Resort Hotel reservations are now available with dates through December 31, 2021, also available for booking.
How Many New Hotel Reservations Will Disney Allow?
We don't know. Because of park capacity limits, Disney will put a limit on the amount of new hotel reservations they take too. They don't want a bunch of guests to show up to the hotel and not have Park Passes.
Cancellation Policy
Disney has currently waved all cancellation fees on hotel reservations. You can book a hotel or vacation package and Disney will provide a full refund if you change your mind or can't make the trip. Disney's Flexible Cancellation Policy has been extended through April 30, 2021.
Will My Hotel Reservation Get Cancelled?
Disney is canceling some hotel reservations if those resorts aren't yet open. How far into the future depends on how long those Disney World hotels are closed for. If your reservation is canceled, you will get a notice from Disney. If that happens you will be given the chance to reschedule to a later date.
Park Reservations
A Disney World Resort Hotel Reservation does NOT guarantee theme park access, but it definitely gives you a better chance (more on this in a moment).
No More Free MagicBands
It seems like Disney is phasing out the MagicBand system and since January 1, 2021, they are no longer offering free MagicBands to guests arriving in a Walt Disney World Resort hotel. Read more about what this means in our post about Disney MagicBands.
Please check back soon for more info.
Cleaning
Disney is making a concentrated effort to increase cleaning a sanitization throughout the resort hotels in all areas.
Guest rooms will be fully sanitized before their arrival.
All common areas of the hotels will be cleaned with higher frequency, especially high-traffic areas including: doors, handles, tables, elevators, escalators, buttons, restrooms, handrails, benches, etc.
More hand sanitizer stations are being added.
Improved In-Room cleaning protocols and staff training.
Modified housekeeping schedules.
Here is a guide to some of the new in-room cleaning guidelines: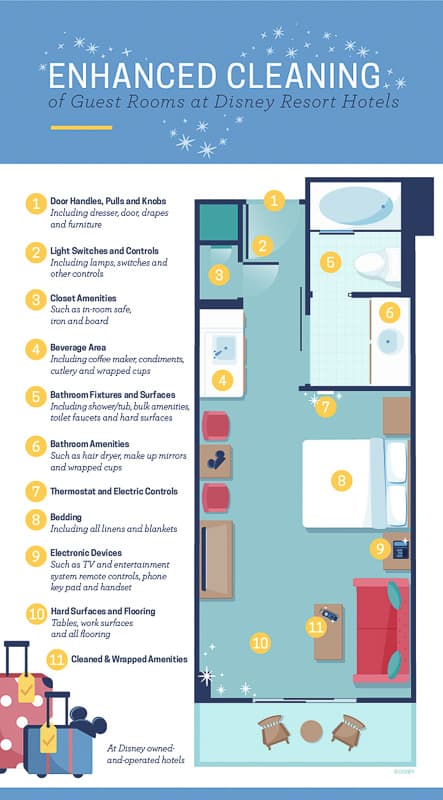 Amenities & Experiences
Are Hotel Pools Be Open?
Yes, most Disney World Resort hotel pools are open during this phase, with a few exceptions. Pools also have reduced hours and limited capacity.
Other Important Info:
Bell Services – They will still deliver but luggage to your room, but separately from the guests to comply with distancing rules.
Club Level – is not be operating for now.
Electrical Water Pageant – will not be available for the time being.
Fitness Centers – have reduced operating hours.
Resort airline check-in – this will be unavailable from your hotel.
Valet Parking – This will not be available.
Automatic Checkout – Guests will be automatically checked out of their rooms at the end of their stay. There will be no need to visit the front desk unless you have an unresolved issue on your account.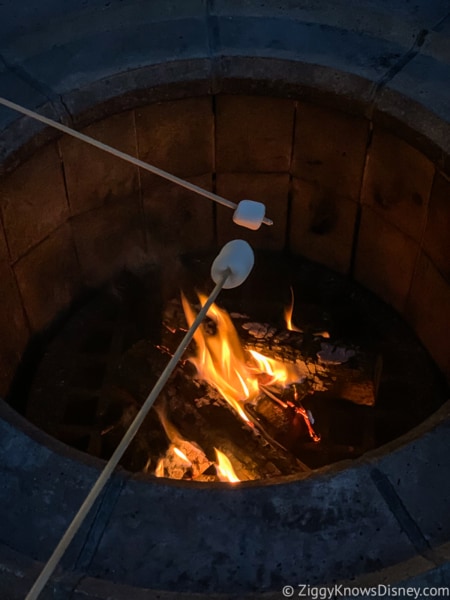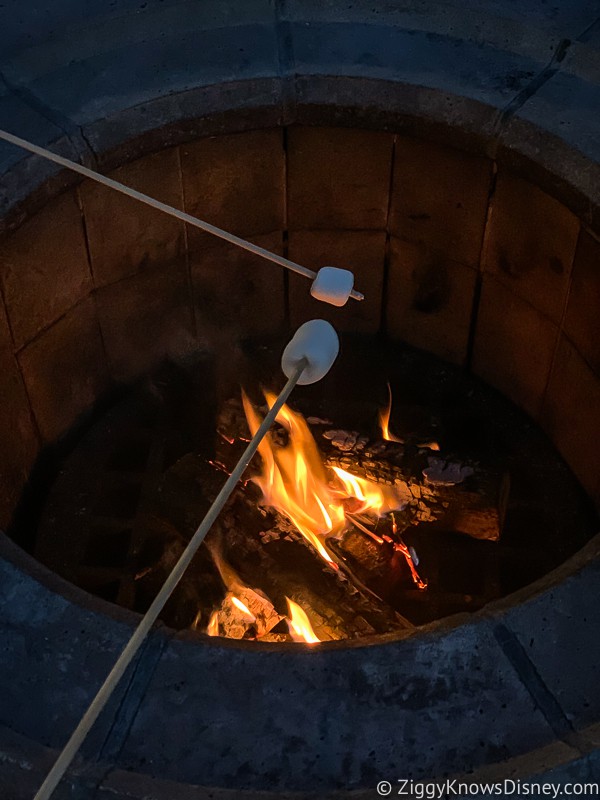 Temporarily Unavailable: A bunch of resort activities and experiences will not be available during the reopening period including:
Arcades
Campfires
Character experiences
Dog parks
Electrical Water Pageant
Fireworks voyages and tasting cruises, including the Pirates and Pals Fireworks Voyage
Fun runs
Hula lessons
In-room childcare services
Marina rentals
Mermaid school
Pin trading
Playgrounds
Spas, salons and Bibbidi Bobbidi Boutique
Special classes and programs – including culinary, cultural and animal programs
Wonderland Tea Party at Park Fare
This is just a preview of the hotels. If you want a more detailed look, check out our Disney World Hotels Guide during the reopening phase where we explain more in detail everything you need to know.
Transportation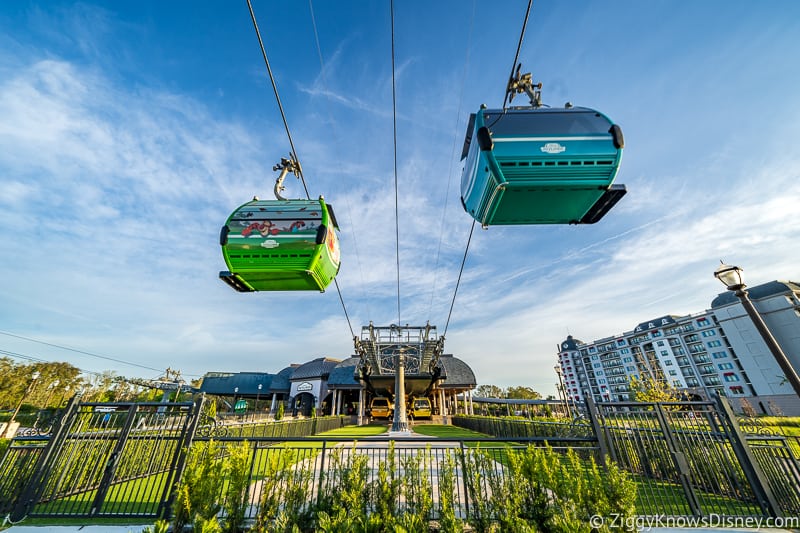 Disney World transportation started operating on June 22, 2020. Right now it is running for Walt Disney World Resort hotels only.
During the reopening periods, transportation is provided from all the resorts to Disney Springs and the Disney theme parks. This includes buses, boats and monorails.
Buses (Now Open)
Monorail (Now Open)
Magic Kingdom Ferry Boats (Now Open)
Disney Skyliner (Now Open)
Minnie Vans (Closed Permanently)
Friendship Boats (Now Open)
Disney World buses are now running to take guests to Disney Springs and the parks. Other transportation methods currently running are the Monorail, Disney Skyliner, and the Magic Kingdom Ferry Boats.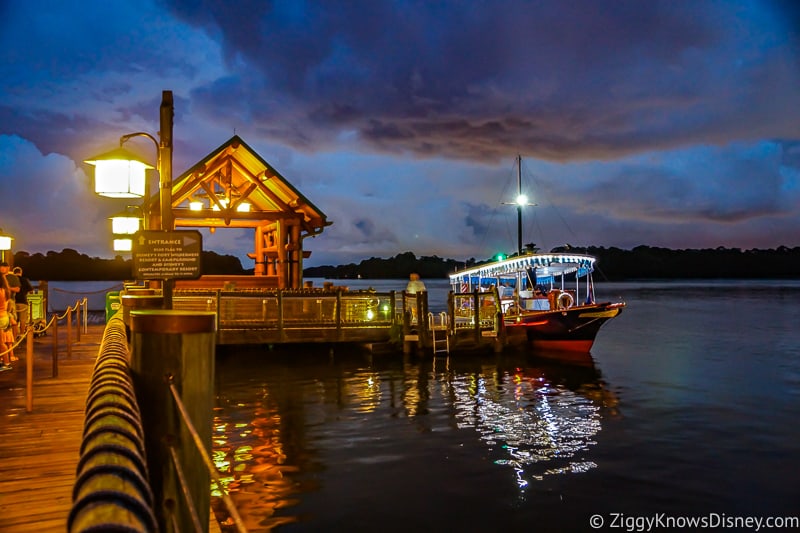 What Safety Measures Does Disney Transportation Have?
In order to promote guest safety, Walt Disney World transportation enforces some of the same guidelines coming to the theme parks.
Transportation vehicles run on reduced capacity to allow for physical distancing.
Increased cleaning and sanitization to vehicles.
Some seats are blocked off and in some transportation, like the Disney Skyliner, only guests of the same party are allowed in the same transportation car.
Disney's Magical Express
Getting to Walt Disney World from the airport is still be possible on Disney's Magical Express for resort guests. This free airport shuttle service is currently running from now through January 1, 2022, at which point it will be discontinued.
Read our post about Walt Disney World Transportation during the reopening period for a more detailed explanation of changes and a first look at the safety measures.
Dining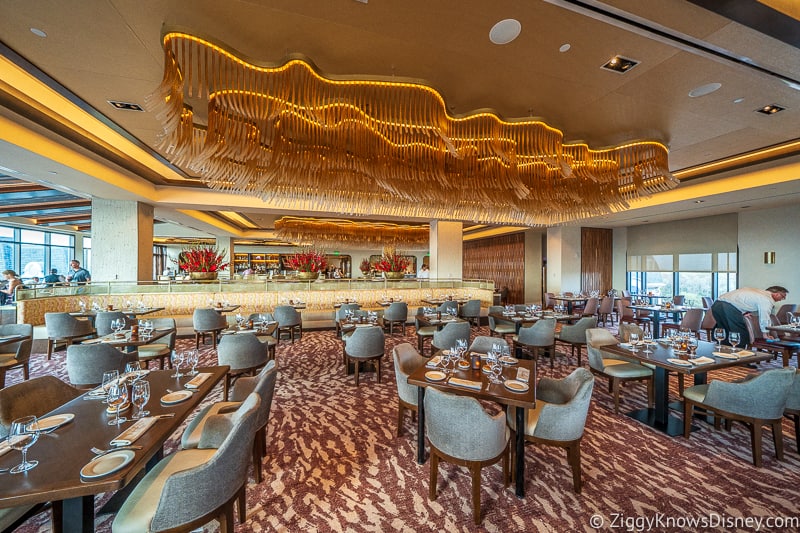 There are also some big changes happening with The Walt Disney World restaurants both in the theme parks and at the resort hotels during the reopening period. Here is what to expect:
Safety Guidelines – Disney World restaurants are following the same safety measures as the parks and resorts. Masks are necessary, except when seated at your table to eat.
Limited Capacity – Restaurants are operating with a lower than normal capacity. This could make it harder to get a reservation.
Limited Restaurants and Experiences – Some restaurants will remain closed at this time, as well as some experiences like character dining and dinner shows.
Technology – Disney is utilizing new technology to help guests stay safe while dining. These include: contactless payments, digital menus, Disney Mobile Ordering, Disney Mobile Dine Waitlist, and Disney's Mobile Dine Check-In, which will allow guests to skip the host stand at restaurant entrances and go directly to their tables.
Dining Reservations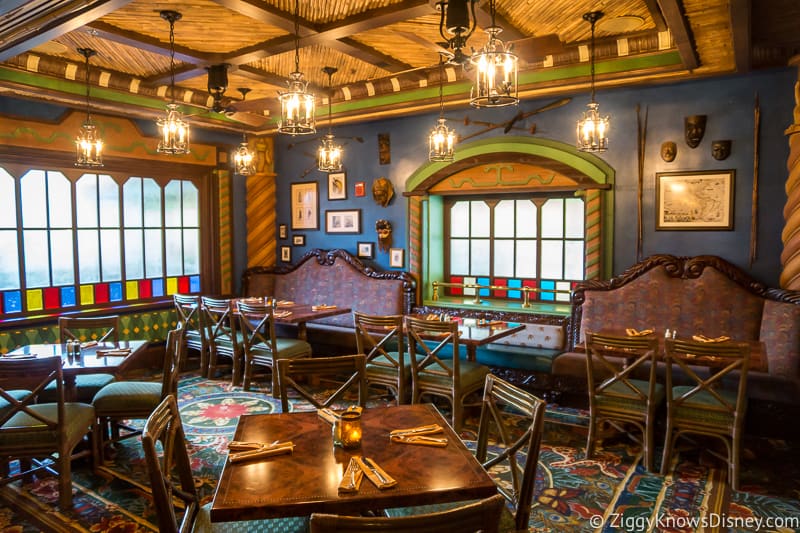 One of the biggest changes to dining in Walt Disney World has been the cancellation of dining reservations. All guests are starting over and will have to re-book their restaurants before their trip.
The good news is that the Disney World dining reservation system is now open and All Disney World guests can once again book restaurants. Here are some of the guidelines:
New Disney World restaurant reservations are now available to book starting 60 days from your hotel arrival date or dining date.
Table Service Restaurants require an Advanced Dining Reservation.
Reservations can be made Online or by Phone.
Read our Disney Advanced Dining Reservations guide for everything you need to know about booking restaurants in Disney World.
Disney Dining Plan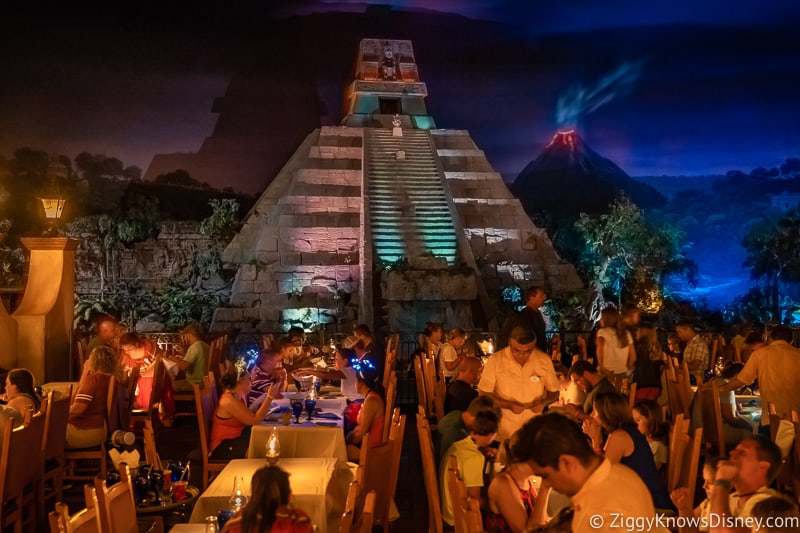 What Happened to the Disney Dining Plan?
Disney has temporarily suspended the popular Disney Dining Plan at this time. With restaurants operating under limited capacity it didn't make sense to keep using it since some guests might not get a chance to use all the points. Guests who have already paid for the Dining Plan will automatically get a refund.
When Will the Disney Dining Plan Return?
Right now, we don't know when the Disney Dining Plan is coming back, but we do know it's coming back eventually. Dining plans have been canceled already through September 2021. At this point it doesn't look like Disney will use the dining plan before then, and we will have to wait a while to find out.
If you are looking for more info on dining in Disney World, including a full list of which restaurants are open, read our Guide to Disney World Restaurants after the reopening phase.
Special Events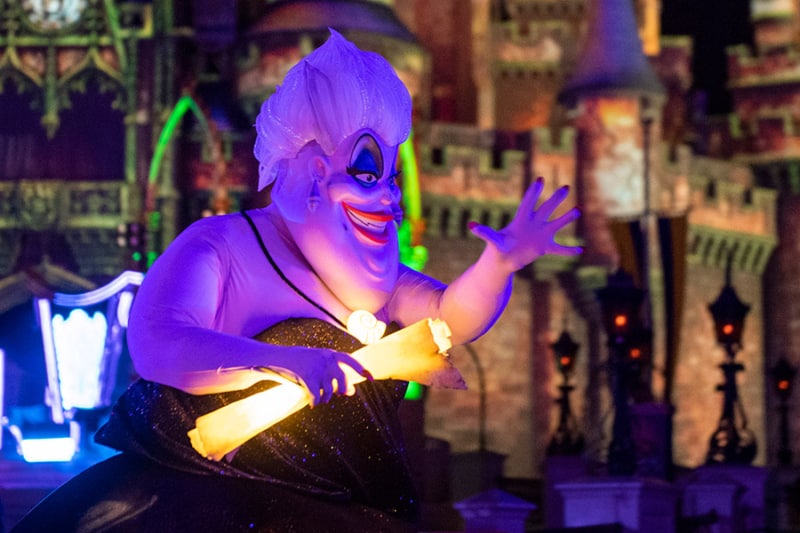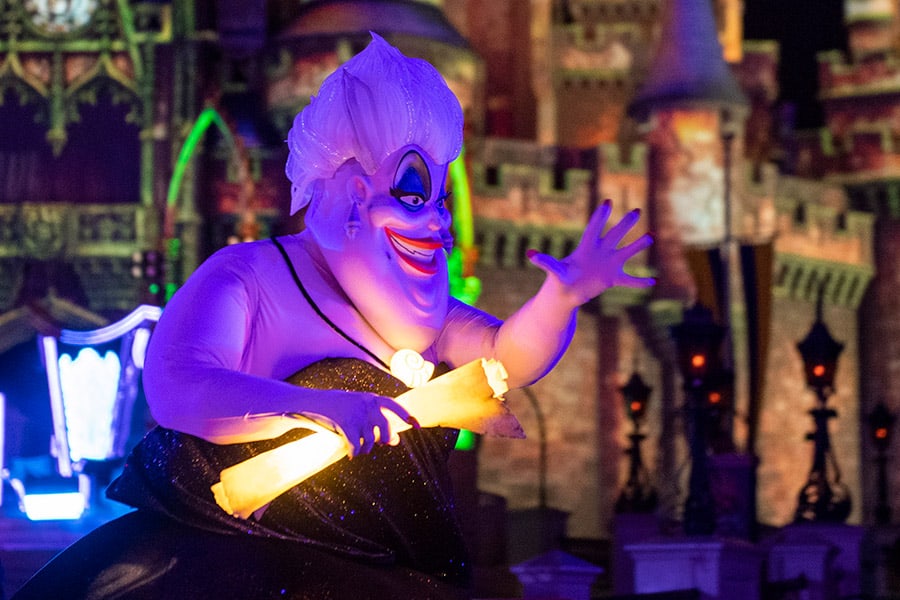 Is Mickey's Not So Scary Halloween Party Still Happening?
All Mickey's Not So Scary Halloween Party dates were canceled for 2020. With fireworks shows and parades canceled and no character meets, it made the most sense to cancel it. For 2021 Disney has introduced the Disney After Hours Boo Bash, a lighter version of the normal Halloween party.
Is Mickey's Very Merry Christmas Party Canceled?
Yes, for now it is. Mickey's Very Merry Christmas Party was canceled in 2020, as well as the Candlelight Processional in EPCOT. We are waiting for info in 2021.
What About Other Special Events?
Right now, the majority of other Walt Disney World events have already been canceled, including Disney After Hours events, Disney Villains After Hours, Disney H2O Glow Nights at Typhoon Lagoon and Disney Early Morning Magic.
The following experiences have also been canceled in Disney World:
Bibbidi Bobbidi Boutique
Captain Hook's Pirate Crew
Character Couture
Perfectly Princess Tea Party
Pirate Adventure Cruises
Pirates & Pals Fireworks Voyage
Wonderland Tea Party at 1900 Park Fare
Tours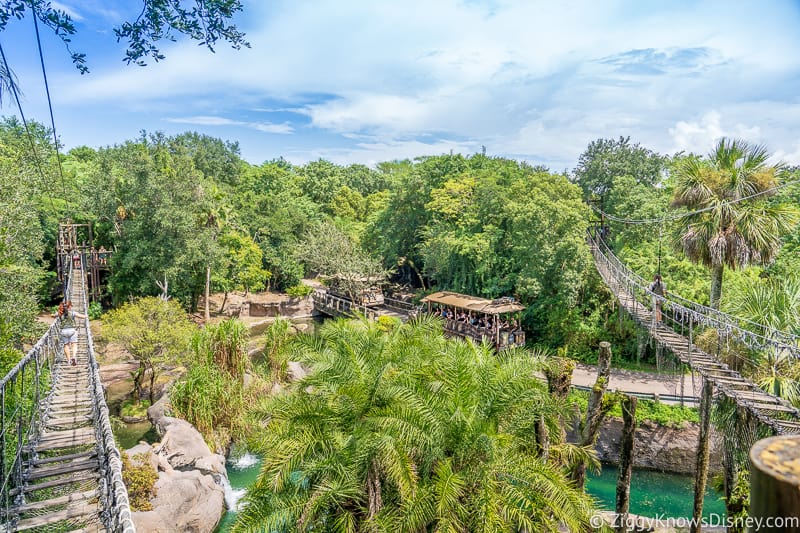 Most of the tours are not possible to run with the new distancing rules and therefore are unavailable. Here is a full list of the tours that have been canceled:
A Path Less Traveled Tour
Backstage Magic
Behind the Seeds
Caring for Giants
Dine with an Animal Specialist
Disney Private VIP Tours (Opening up in Late August)
Disney's Family Magic Tour
Disney's Keys to the Kingdom Tour
Disney's The Magic Behind Our Steam Trains Tour
Epcot Seas Adventures – Aqua Tour
Epcot Seas Adventures – DiveQuest
Epcot Seas Adventures – Dolphins in Depth
Savor the Savanna: Evening Safari Experience
Sense of Africa at Disney's Animal Kingdom Lodge
Starlight Safari at Disney's Animal Kingdom Lodge
Taste of Magic Kingdom Park VIP Tour
The UnDISCOVERed Future World
Ultimate Day of Thrills VIP Tour
Ultimate Disney Classics VIP Tour
Ultimate Nights of Adventure VIP Tour
Up Close with Rhinos
Walt Disney: Marceline to Magic Kingdom Tour
Wanyama Safari
World Showcase: DestiNations Discovered
Wild Africa Trek
Wild Africa Trek (Morning)
The only tours we have a reopening date for are VIP Tours, which are coming back in Late August. No reopening dates have been given for the rest of the canceled events and tours. Disney will continue to monitor the situation and reopen them when possible.
Stay tuned as Disney releases more info on these events and more coming soon.
Financial Factors Around Reopening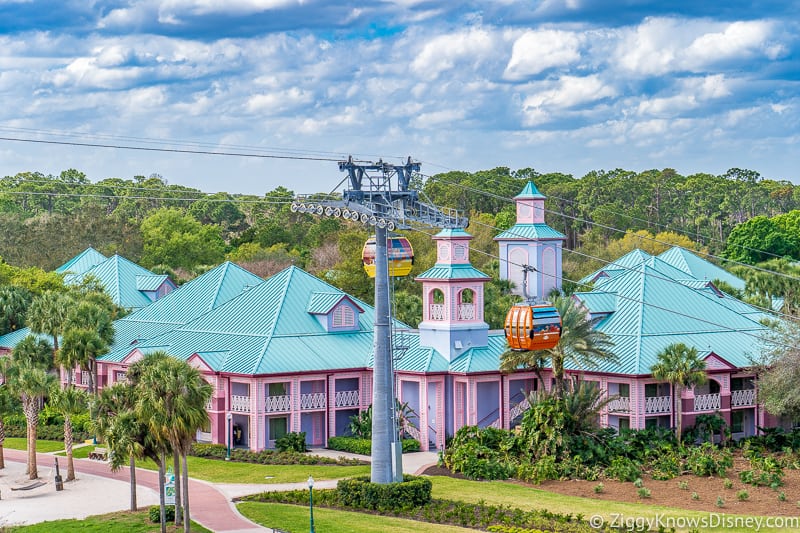 Of course, Disney wouldn't have opened the parks back up until it's safe to do so, but with the financial strain being put on the company, you can be sure they have taken whatever measures possible to expedite that opening and making it safe for guests again.
Disney went through quite a rough patch in 2020 when the parks closed down, but they were able to navigate the storm and have stabilized financially, at least in the short-term.
In 2019 when things were normal, Disney had $6.1 Billion in revenue in the Parks, Experiences and Products division of the company in Q2 alone. Think about what losing almost all your sources of income in that division for possibly months will do to their bottom line. When all is said-and-done we are talking about losing billions of dollars. Billions, with a capital B.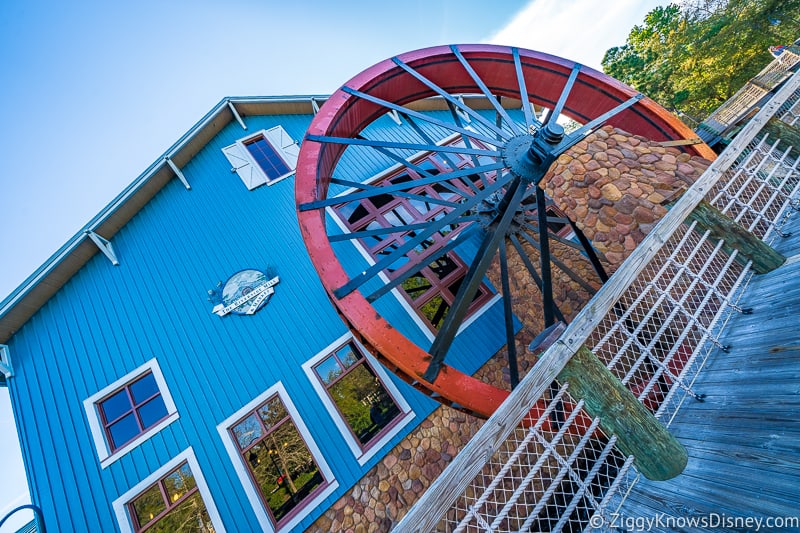 Disney CEO Bob Chapek recently said on the Q1 Earnings Call that the closure of the parks cost them $2.6 billion in that quarter alone.
This is like what happens when a hurricane hits Disney World, only to every park, hotel and entertainment venue Disney owns all at the same time and for an extended period of time. That's not to mention the revenue from the Box Office which has dried up and greatly reduced income coming from the Media division too.
Last year, Disney realized they would need some help in the short term and they announced another debt offering of $11 billion, bringing the total amount of new debt to $23 billion.
Disney will use this to bring up their cash reserves and for "general corporate purposes." This means they know they need more cash flow to weather the storm, which could go on for a while.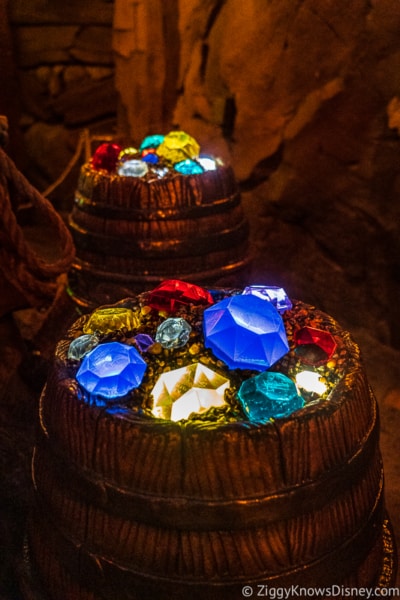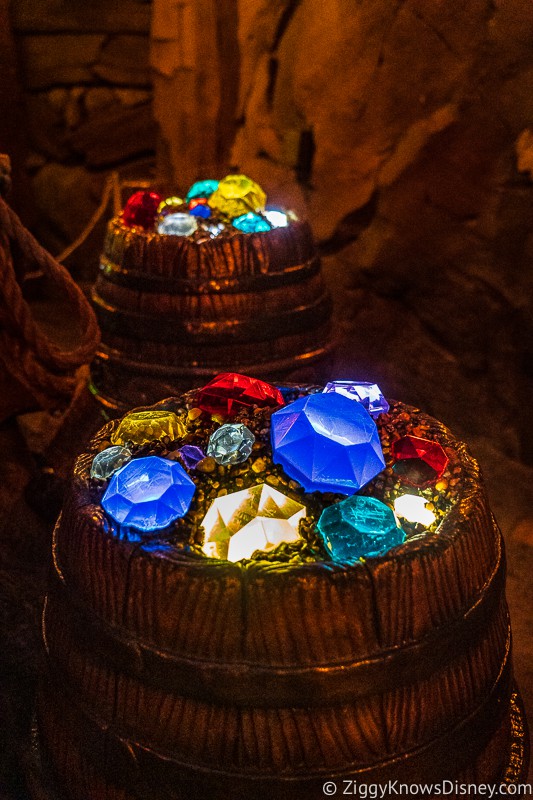 According to Moody analyst Neil Begley: "This transaction will add to Disney's significant liquidity as it will free up revolving debt capacity otherwise assumed set aside to back outstanding commercial paper and near-term maturities, and essentially removes any question that the company has robust liquidity to help carry it through this 'black swan' cycle."
Even though Walt Disney World is now open, that doesn't mean the company's financial problems are over. It could take years to fully recover and get attendance and revenue back to pre-closure levels.
Because of this, Chapek announced that he will be going over all expenditures with a "fine-toothed comb" and Disney is significantly reducing investments in the parks in 2021, cutting the number by 43%. This comes after already cutting $700 million in expenditures toward new construction in 2020.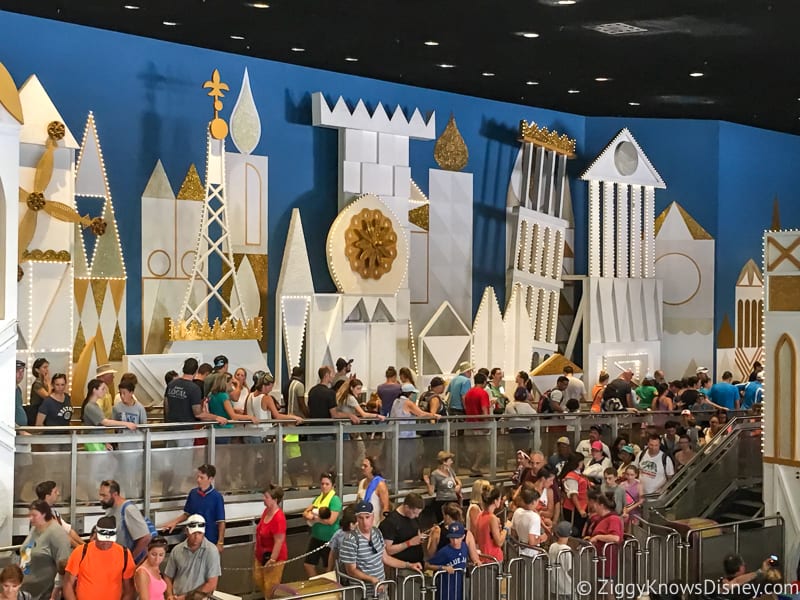 If the losses pile up too high, there are a lot of upcoming Disney projects and attractions that could be cut or delayed to save money at the current time.
Yet despite all the financial worries, Disney is stabilizing, thanks in large part to the success of Disney+ which they announced already has almost 100 million subscribers.
This, plus the debt offerings have allowed Disney to take its time to reopen and do things right. Disney has taken steps to allow guests to return to Disney World, while still keeping high levels of guest safety.
What are the Crowds Like Now That Disney World Has Reopened?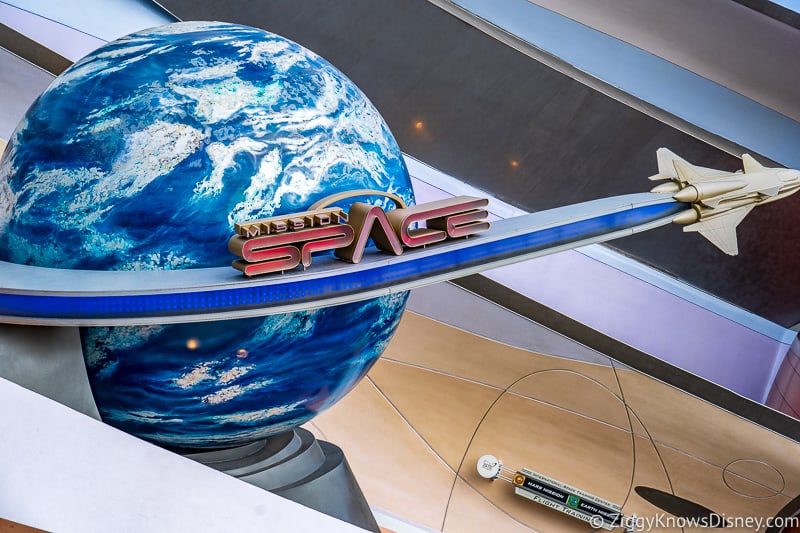 Figuring out the crowds since Walt Disney World opened back up has been one of the hardest things to do. While it's true that the parks were at record lows last year, in 2021 attendance has picked up dramatically as tourism increases.
Crowds at Disney World have been split into two groups: tourists and locals.
By far Orlando locals and Florida residents have made up the vast majority of guests who have visited Walt Disney World since reopening. Many people are bored and are itching for something to do. Walt Disney World is a convenient distraction for them since it's close and many are already Annual Passholders.
Many tourists on the other had to cancel their prior reservations and haven't been able to come yet during the reopening phase. All last year Disney World crowd levels were low and will probably continue to lower than normal for a while.
First of all, Disney is limiting the number of guests that can go to the theme parks each day. Once the pre-booked reservations are gone for a specific day, that's it. This allows Disney to control crowds and keep the crowd levels decently low.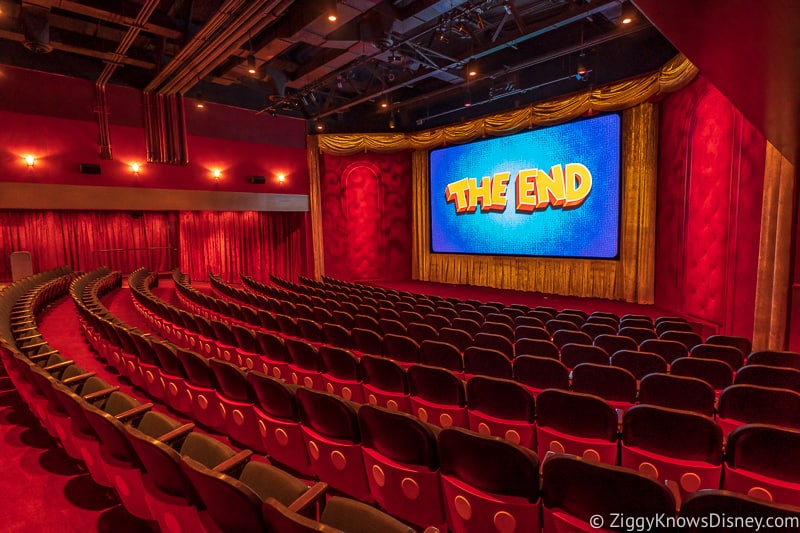 Besides that system, much of the U.S. is still in the reopening process. Included in that number are states like New York, New Jersey, Massachusetts, Illinois and other states that Disney relies heavily on for visitors.
As these restrictions are lifted, that has given a boost to attendance.
Then there is the economy…
After the stock market drastically fell from all-time highs, the economy right now has gotten much better, employment improved as well as consumer uncertainty. We are a ways from the beginning of 2020 when the U.S. had its worst Unemployment Report EVER with almost 40 million Americans losing their jobs in a span of some weeks.
So far financial experts feel we have avoided a large recession, now let's see if that holds.
As the economy increases and restrictions diminish, there is nothing that many Americans (and international visitors) would like to do more than relive the nostalgia and the warm, comfortable feeling Disney World gives you after going through such a rough period of time.
One issue is that many countries have grounded airlines meaning international visitors might not be able to go to Disney World because they are stuck in a country where they can't even take a flight to the U.S. if they had the money.
Visitors from England, Brazil, Canada, etc, make up a huge portion of Disney World visitors annually, and most can't currently come to Florida.
In 2020 we saw the lowest crowds we've ever seen in Walt Disney World. Hotel occupancy is down greatly, and the demand just hasn't been there, though it's getting better.
Looking ahead to the Summer and Fall, we think crowds will continue to increase with fewer restrictions, pent-up demand and Walt Disney World's 50th Anniversary looming.
Disney increasing park capacity is a good sign and means there is an increased demand to visit, and it should only get stronger into 2022.
Touring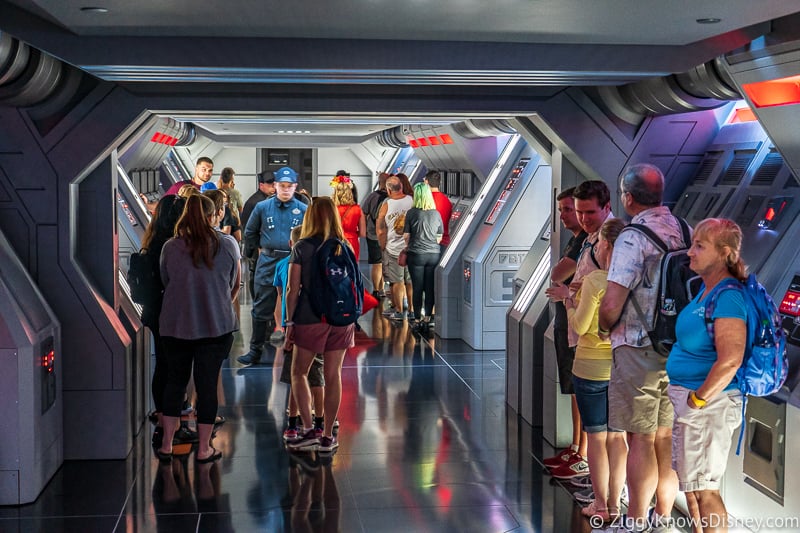 Without a doubt, all the changes happening with the Disney World reopening will have a big effect on touring the theme parks. We've been able to spend some time in the parks since reopening, and here are a few things to know about touring the Disney parks now.
Virtual Queues
One of Disney World's biggest challenges after reopening is keeping people from grouping up inside the attraction queues. They've already suspended FastPass+ and will instead use that space to distance guests while waiting in stand-by queues.
What about the Virtual Queue system? At this time the only attraction that will use a Virtual Queue and boarding passes is Star Wars: Rise of the Resistance, just like before the closure, but with multiple boarding group distribution times.
This came as a big surprise to us since one way to help keep fewer people in the ride queues is to use virtual queues and boarding groups. It was heavily rumored that more attractions would be using it, but for now, it's not happening.
Star Wars: Galaxy's Edge opened up in Disneyland with a virtual queue, and Rise of the Resistance has been using boarding groups and the virtual queue for months now, so the infrastructure is already in place for more expansion.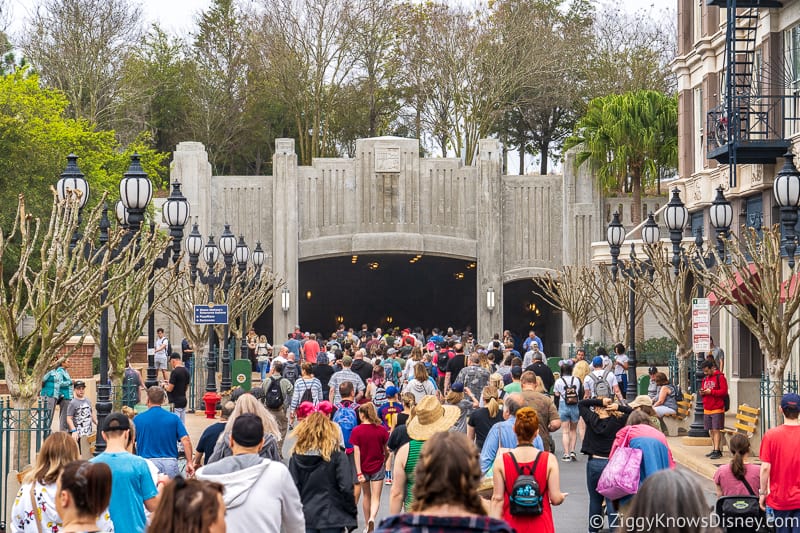 The way it works is guests reserve a spot in the queue using the My Disney Experience app, which then notifies them when it's their turn in line. At that point, they start walking toward the attraction and get in the physical queue. This change allows Disney to have more control over the lines and how quickly and how many people they let enter at once.
I've been a big supporter of the Virtual Queue ever since Disney started using it and I think it's a big time-saver for guests. They can go off and explore the park, grab something to eat and not have to wait hours in line. Once Disney started using it, we predicted that it would slowly get worked into other attractions outside of Galaxy's Edge too.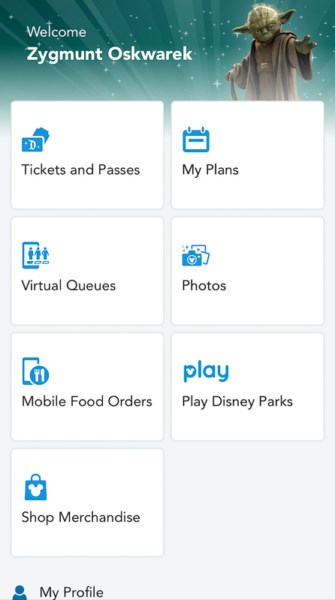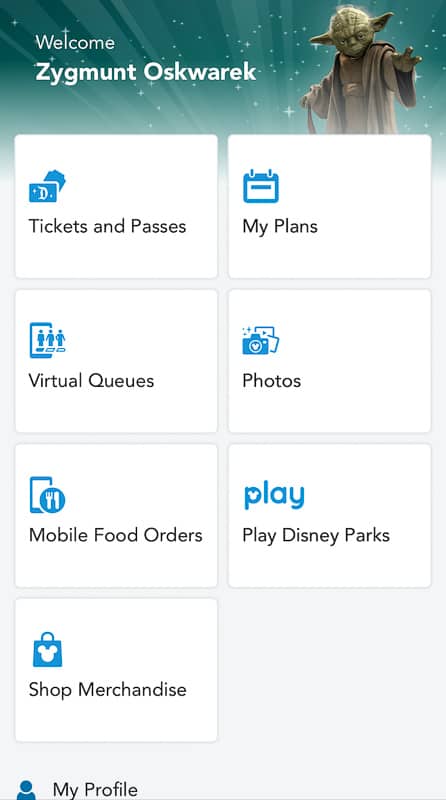 A while back, the Disneyland app was displaying the words: "Virtual Queues" and "My Queues" in the various sections within the apps, which would indicate more are coming down the line. Maybe the system is not yet ready to roll out across all 4 parks, or maybe Disney realized with no one waiting in lines the walkways would be too crowded.
Our guess is that so far, Disney has been able to control crowds enough just using the standard stand-by queues. Once capacity is increased and the crowds get bigger, that might be when we start to see more rides using the Virtual Queue system.
Disability Access Services
Many Disney World guests rely on the Disability Access Services (DAS) in order to experience the attractions in the parks. It's good to know that DAS is operating the same way it did before Disney World closed in 2020.
That means you can still use DAS and ride the attractions the same way as before. Just go to Guest Relations to obtain the Disability Access Service pass on your MagicBand. You can then go to any attraction you like and receive a return time to ride.
For more info contact Disney World's Disability Services at (407) 560-2547 or email them at disability.services@disneyparks.com.
No Single Rider
Since Disney is currently using the FastPass+ queues as stand-by, that essentially eliminates the Single Rider option. Disney has officially announced it and we can assume it won't come back until FastPass+ does too.
What Kind of Deals are there Since Disney World Opened Back Up?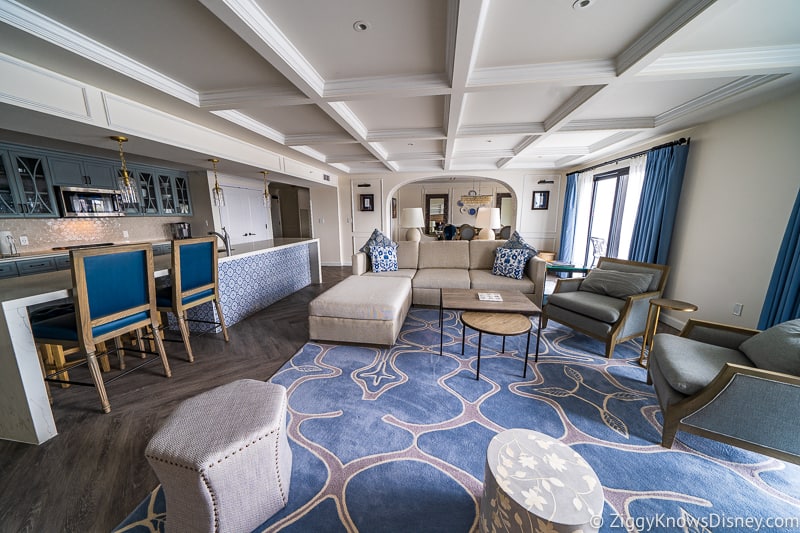 With lower crowds also comes another benefit for guests going to Disney World: Lower Prices. There have been some offers so far and we expect to see more deals on vacation packages, hotel rooms, and even park tickets as the months continue.
Whenever the demand is low for vacations, Disney World has to offer deals to entice more guests to come and visit. It's why usually in a normal year you can get a lower price during September and January, when there are fewer people wanting to go to Disney World, instead of December when demand is through the roof.
Again, looking back at 9/11 and The Great Recession, gave us a good idea of what to expect once this current set of circumstances is also behind us. Both times the crowd level for the parks was extremely low and Disney was offering some amazing deals to get people to come back.
So far, the deals have been decent, but not on the same level as after those previous two events. After 9/11, people weren't traveling because they were afraid of their safety. After the last financial crisis, people weren't traveling because they didn't have any money.
The current set of events seemed to be a perfect storm of both scenarios but Americans have been able to save a ton of money during the last months and fear of travel is lessening by the day.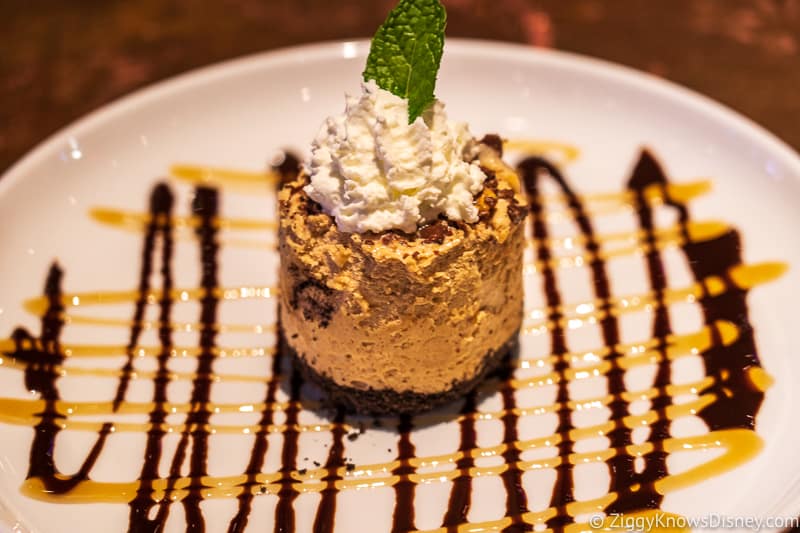 It's true that Disney is very much associated with being expensive, and this has deterred some people to instead opt for someplace closer and cheaper instead of Disney World.
On the other hand, Disney World has seen a large increase increase in hotel bookings in recent months, with it only getting stronger. Because of this, Disney hasn't had to offer as deep of discounts as one would hope.
What impact will this have long-term? That remains to be seen. Disney has been so used to people pouring into the parks no matter what they charge, will that stay the same even in the next couple of years?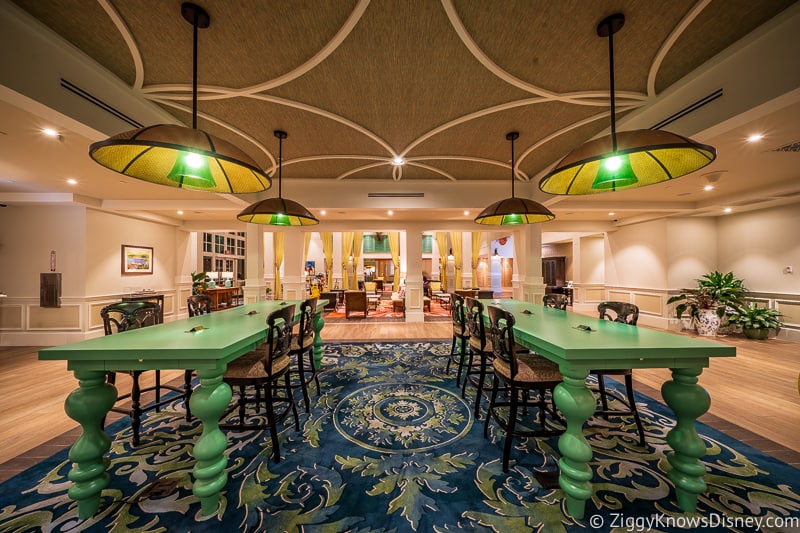 The company needs to handle this the right way or they risk alienating a good portion of their most loyal fans, as has been happening in recent years.
One thing to keep an eye on is the Disney Free Dining promotions. Usually, when Disney World wants to make some appealing offers to guests, they offer Free Dining which is always a huge hit and brings people to the Resort.
However, Disney has canceled all booked Free Dining packages and refunded the money paid for them and we still don't know when this will come back.
So far the discounts have been ok, but not great. Disney has created the "Magic Is Here!" package, which can save up to $500 on a 4-night package complete with tickets. This deal is "ok", but when you factor in the price you pay for the hotel rooms in this package, there isn't that much money to save.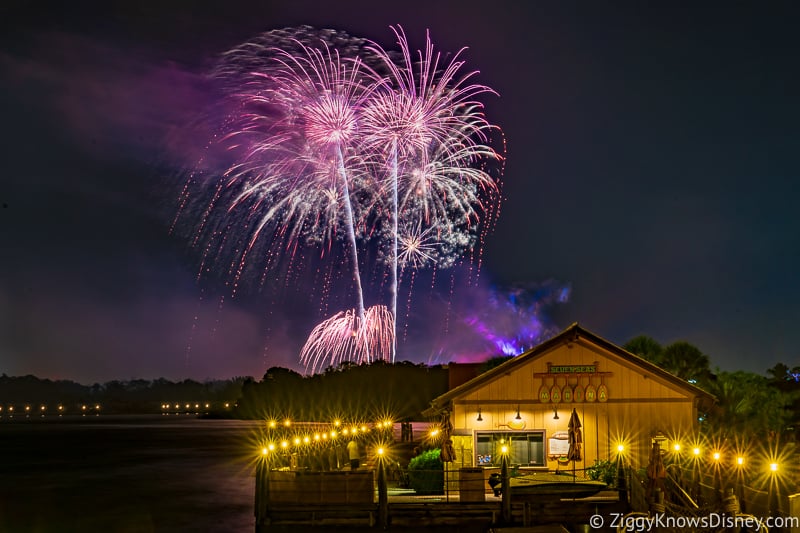 They now have another offer for all guests giving up to 25% off select Disney hotel rooms in Summer 2021. It's for stays July 11, 2021, through September 29, 2021, but it doesn't offer a great value in our opinion.
The last, and best offer is for Annual Passholders, which gives them up to 35% off Disney World Resort Hotel rooms. This deal is good from now through mid-July. It is a good deal and we've seen stays at Pop Century for $122 and the Yacht Club for $330.
Depending on how attendance responds during the Summer will determine if we get more offers later in the year and into 2022. We'll have a much better idea if Disney is going to dig even deeper into the well by then.
Keep checking back as we'll continue to update you with any new deals that come out.
Will Disney World Stay Open or Close Again?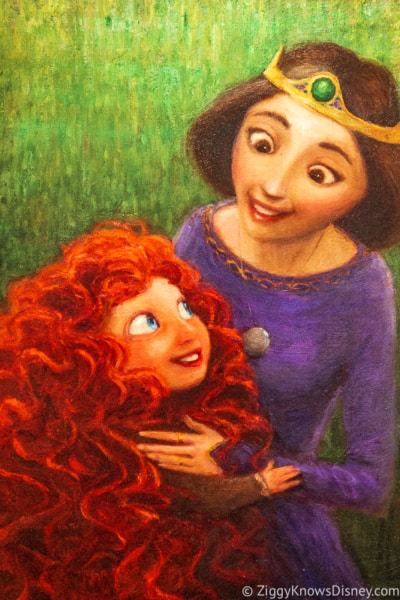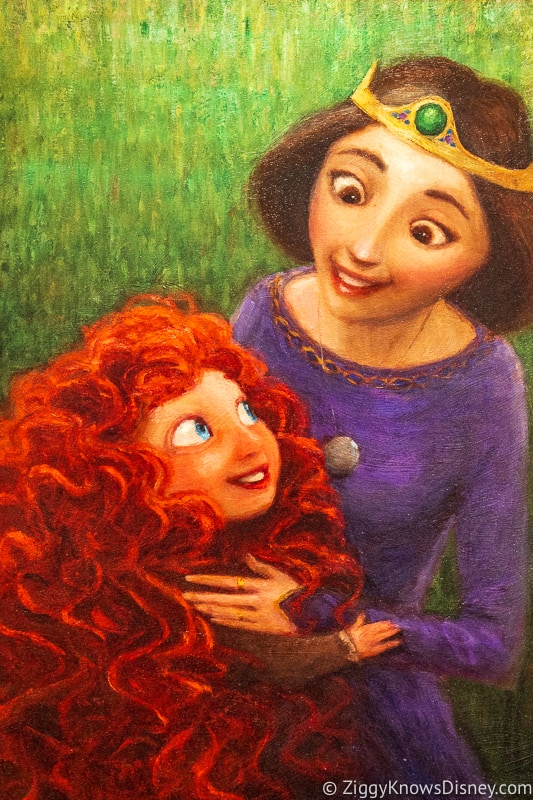 Though we are super-excited that Walt Disney World is now open, many are wondering if Disney World will stay open, or if it will be forced to close once again?
It seems like a strange question to ask when Disney World has been reopened now for a year. Originally, when the parks first reopened there was some doubt whether or not they would close again.
An update on the Disney World website said: "Upon reopening, theme parks, Disney Resort Hotels, restaurants, attractions, experiences and other offerings may be modified and will be limited in capacity and subject to limited availability or closure, based on direction from health experts and government officials to promote physical distancing."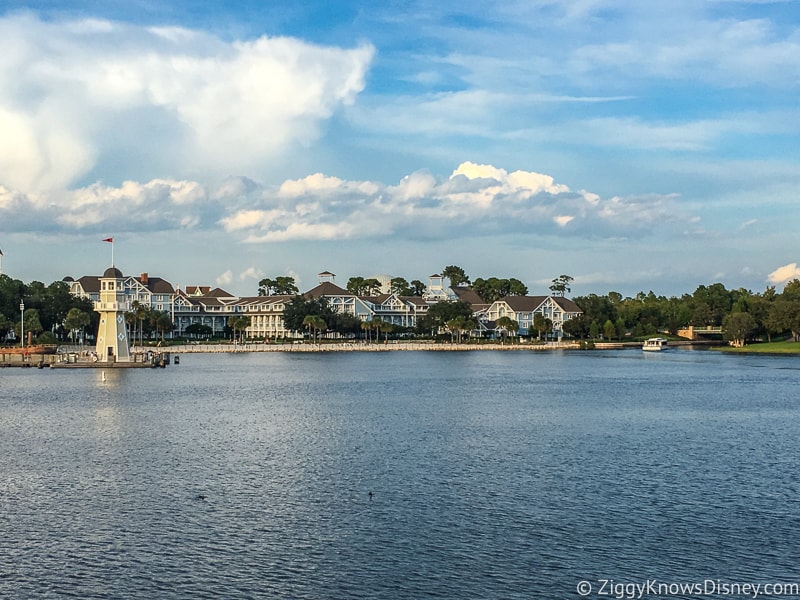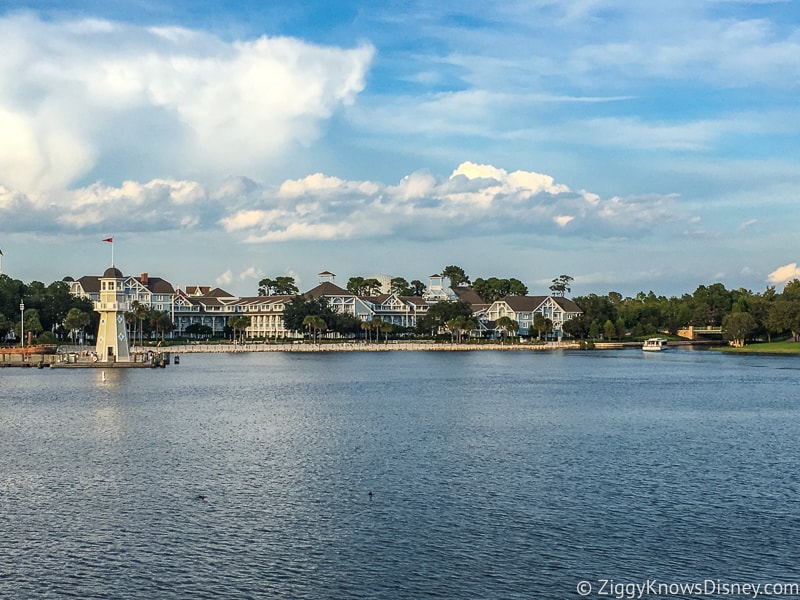 Things have come a long way since then however and with the majority of the world in the middle of mass vaccination, we don't see a big risk anymore in the parks shutting down again.
With that in mind, guests should be aware that things can change in the future and they'll have to be flexible with their reservations.
Disney has to cover its bases and obviously, without knowing exactly what will happen we can't be 100% sure.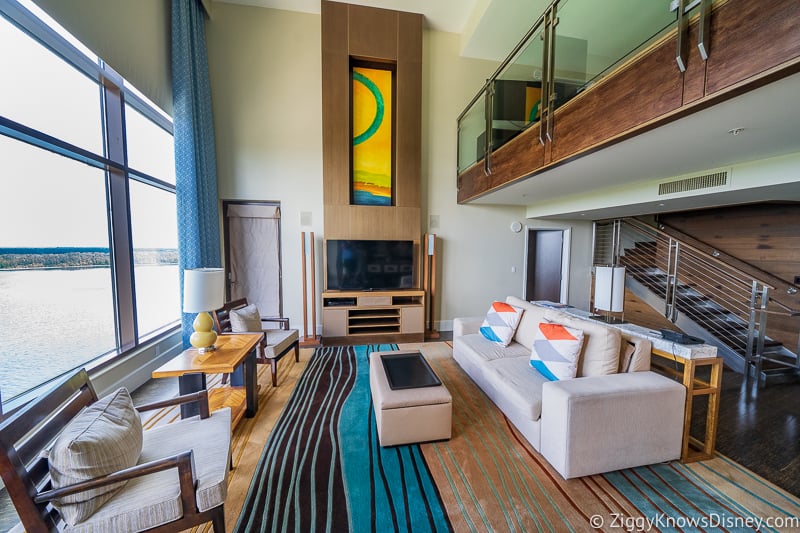 However, right now things are going smoothly in Walt Disney World since the reopening, and Disney is only concentrating on opening up more, not re-closing. It would take another cataclysmic event to shut down the parks again, and Disney has shown a high tolerance to risk and a willingness to keep things open no matter what.
Personally I don't think Disney World will close again, but you never know. At this point, none of us can predict the future and know for certain when the health crisis will be completely resolved, but until that happens, anything is on the table, including Disney World closing again. If we've learned anything from 2020 and 2021, it's to expect the unexpected.
Read our post on "Could Disney Close Again?" for a more in-depth look at the subject.
Cast Members
One interesting question is what Disney will do with the Cast Members who were part of the college program and international program? They were required to leave their housing complexes back in April and they also had their internships terminated.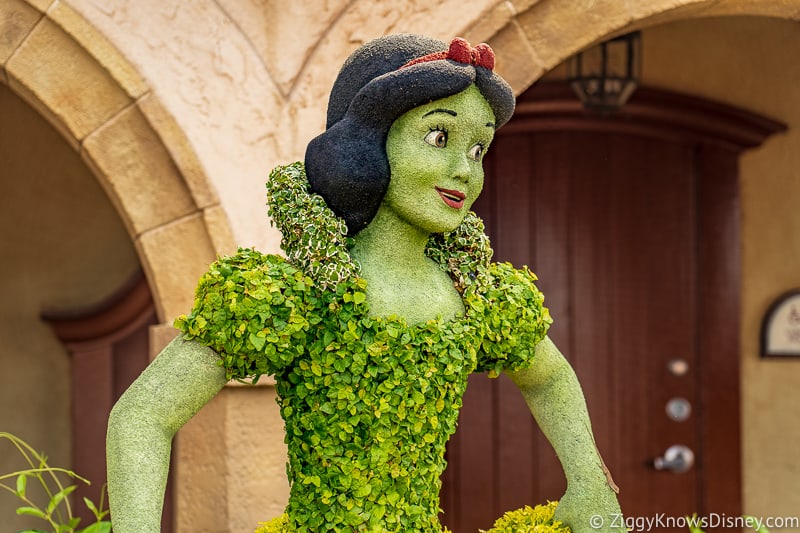 Right now, Disney is choosing to bring back its furloughed Cast Members who live locally first, and then slowly bring back the college and international students at a later date.
However, Disney has already started opening back up the college program and international cast members should also start coming back soon. No time frame to return was given, but travel restrictions continue to complicate things a great deal.
Disney has temporarily filled World Showcase with Cast Members who are not culturally accurate until the situation is resolved.
It takes a lot of time, money, and effort to train these students, not to mention the liability in doing so. Even when they do decide to bring them back it will not be an overnight thing and will take a lot of time to get things organized. Look for the program to start up again in 2021.
When Should You Book Your Next Disney Vacation?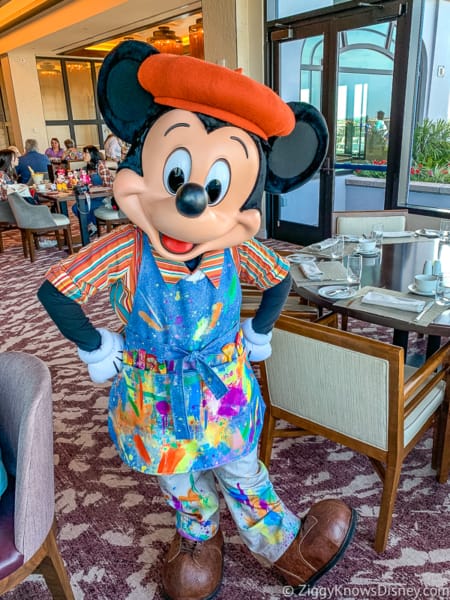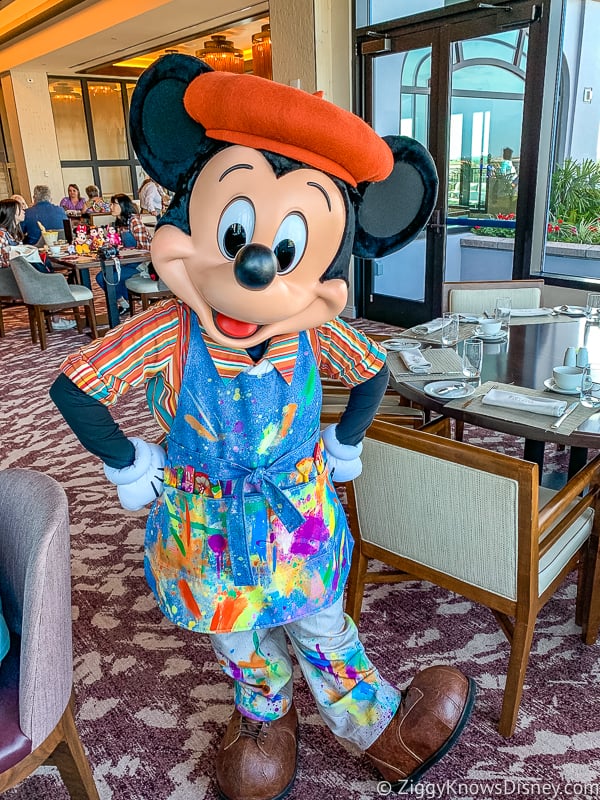 Now that Walt Disney World is open again, you may be wondering when is a good time to visit? This is a good question for you, especially if you already have a Walt Disney World vacation coming up in the coming weeks or even months or had to cancel one recently.
Before we talk specifically about this situation you should read our guide to the Best Times to Visit Disney World. That helps you to make the best decision based on all the factors like weather, crowds, events, etc, as well as ranking every month.
Also, our 2021 & 2022 Disney World Crowd Calendars are great at identifying the least crowded times of year to visit, while also saving you money!
Since the closure, we've had many readers tell us they have an upcoming vacation to Walt Disney World and they don't know whether they should postpone their upcoming trip or go on with their current plans. We also have a lot of readers who had their trips canceled during the closure period.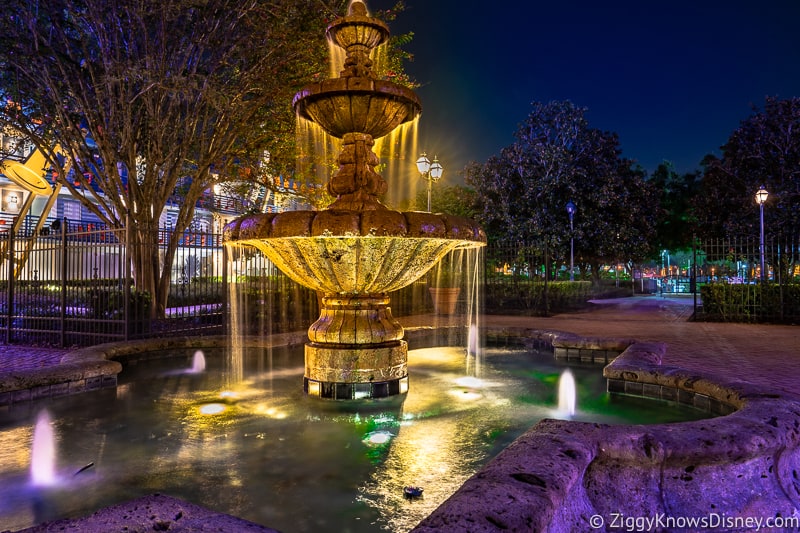 First, let me say I hear you and I feel really bad for anyone who was looking forward to a trip to Disney in the coming weeks and had it canceled. As adults, we are obviously disappointed not to go, and how your kids must have felt after something they've looked forward to so much was canceled. It stinks big time.
Just try to understand that closing Disney World has been for the health and safety of you and your family and the millions of other guests going, plus the thousands of cast members working there.
Thankfully at least, we now know that Walt Disney World is open, and this lets you continue planning your Disney vacation once again.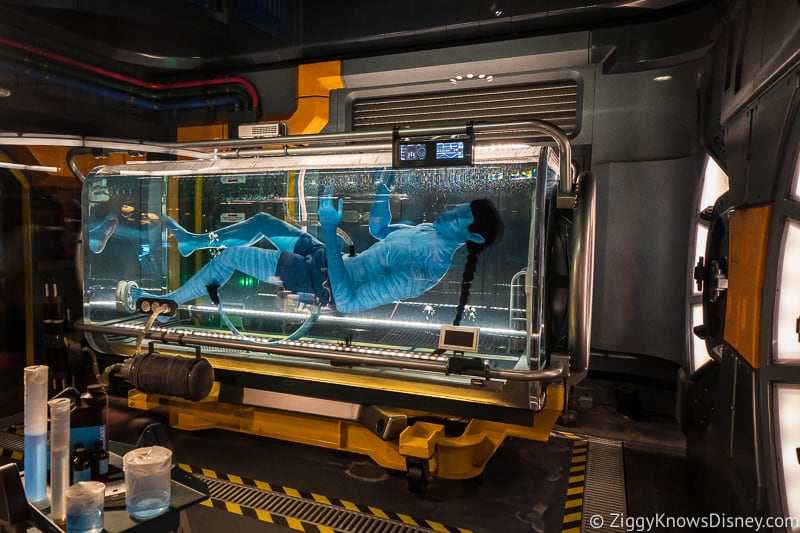 When is a "safe" date to reschedule your Disney World vacation to? Now that Disney has reopened up 2021 hotel reservations and ticket sales, you can technically choose whenever you want to go.
2021 Walt Disney World vacation packages and hotel rooms are available to book, so you can get a jump start on planning your trip for later this year already.
We do want to say that just because you CAN make reservations again for the rest of 2021, it might be a better idea to push off your trip off until 2022. This is especially true if you are nervous about traveling right now.
By looking out to Winter 2021/2022 or beyond, at least you'll get a jump on the empty rooms and beat the majority of the other guests trying to do the same thing.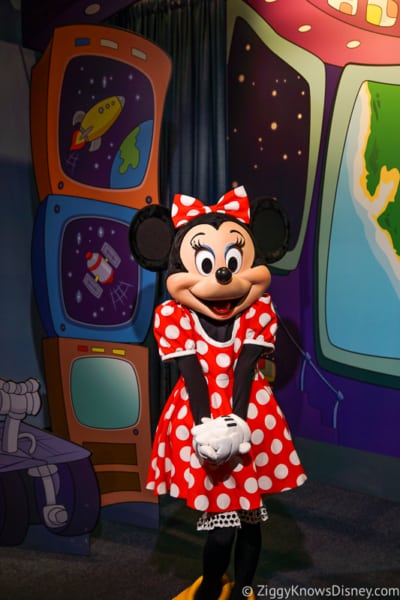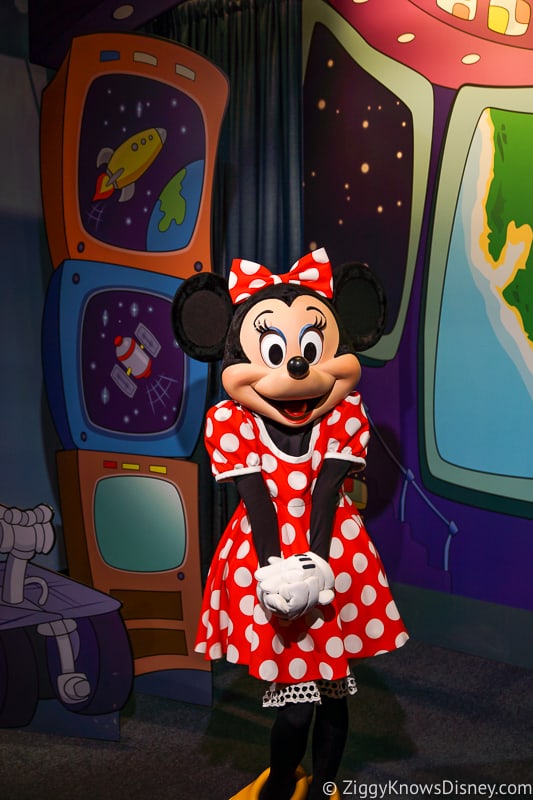 Don't worry about a future trip getting canceled by Disney. If Disney ever has to close again when you have a future arrival date, Disney will fully compensate you and you will get your money back or get to reschedule your trip without paying any fees or penalties. There is very little downside to booking something if you desire to go.
If I were planning a trip for my family as a first-time visitor, the very earliest I would personally start thinking about booking would probably be early 2022. Yes, the parks are open now, it just depends on what type of visitor you are and how averse you are to traveling right now.
My biggest problem with going right now is the lack of entertainment options, shows, characters, fewer open restaurants and reduced menus in the ones that are open. If you are a long-time Disney-goer then you might not mind, but if you are a first-time visitor or you go once every 5 years, it would be better to wait.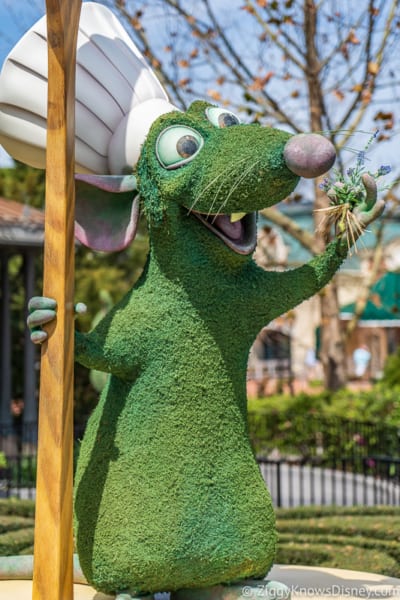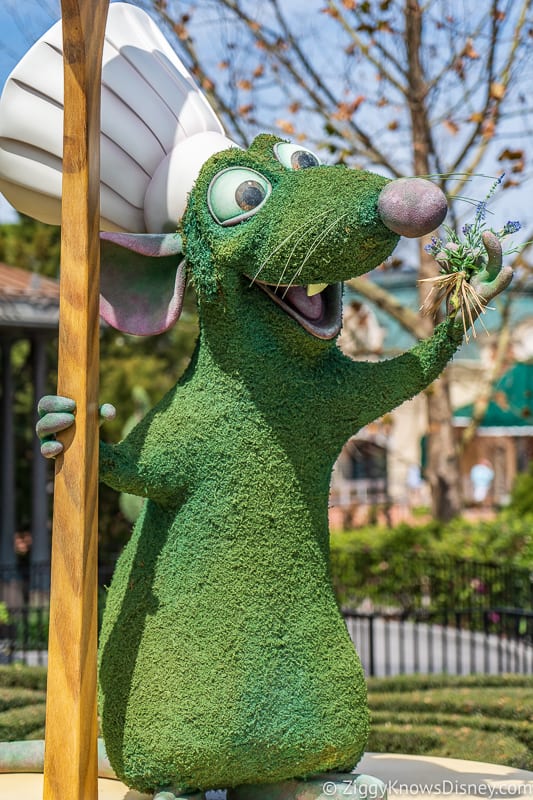 We also don't know when all the new attractions will reopen. It was announced that Remy's Ratatouille Adventure is opening October 1, 2021, but that's one of the only ones.
I think planning for Winter 2021/2022 would be a great time to go. By then, some of the safety measures could be gone, and it will also give Disney some time to open some of the new construction projects. More restaurants will be open and maybe even some of the shows.
If you really want to go this year, you can go for Disney World's 50th Anniversary in 2021. We don't know the exact dates yet, but anywhere in Fall 2021 should be fine. There will be new entertainment, attractions and lots of festivities.
If you are trying to figure out when the best time to plan your next vacation is, we have a post that answers the question "Should I Go to Disney World in 2021 or 2022?" and it breaks down the pros and cons of planning each of them.
We are happy that Disney World is finally open, and we've had fun so far, it just may not be for everyone right now.
Our Thoughts
"When is Disney World reopening?" was probably the most searched for question in Google for Disney fans during 2020, and it's nice to not have to worry about that anymore.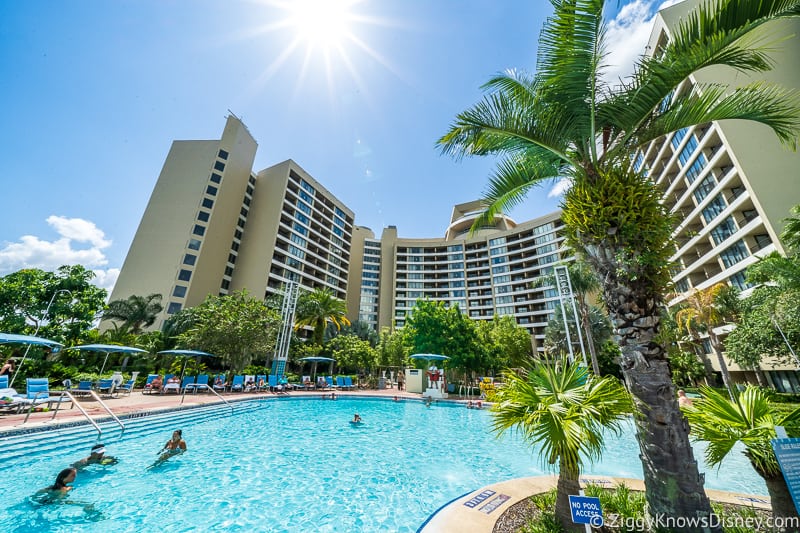 It feels like a huge weight has been lifted off our shoulders now that we finally have the parks open again.. When the closure first happened back in March, we never thought it would have lasted that long!
We really missed going to the Disney Parks this year and it feels good to be back. It is a surreal moment when you step foot onto Main Street U.S.A for the first time again, something we definitely won't take for granted anymore.
Disney has done a great job with almost everything surrounding the reopening of its parks and resorts, and have handled it the best they can given the circumstances. All the Cast Members have been super friendly, more so than in years, and have made our stays feel almost normal again.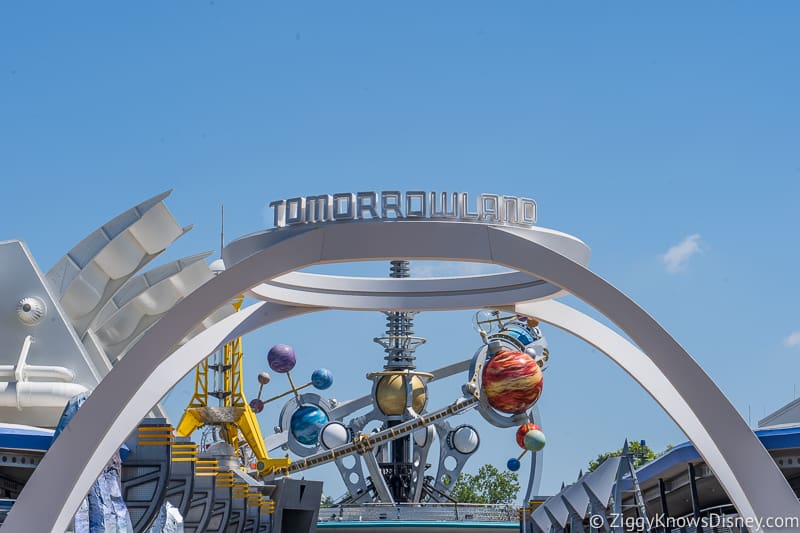 There was a ton of work that went on and continues to go on behind the scenes just to have the parks back up and running for us. We certainly appreciate all those who work hard to make this possible, in anything but favorable circumstances.
While we do love short lines for the attractions and taking pictures of empty Disney sidewalks, we look forward to when things are totally back to normal again.
We are pleased with the way Disney has handled things, they have Disney moved very cautiously in our opinion, and will procede to do so as we move into other phases of the reopening in the next months. They have the biggest reputation to keep up while at the same time still giving guests the authentic "Disney experience" as Bob Chapek said.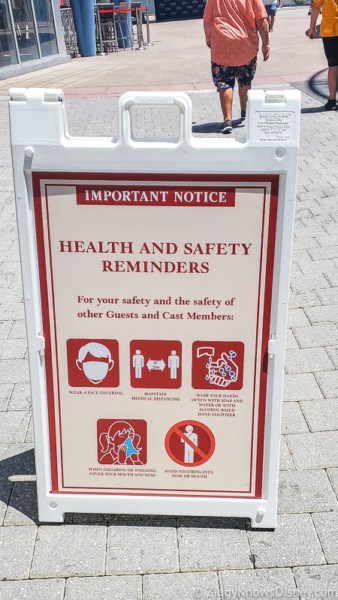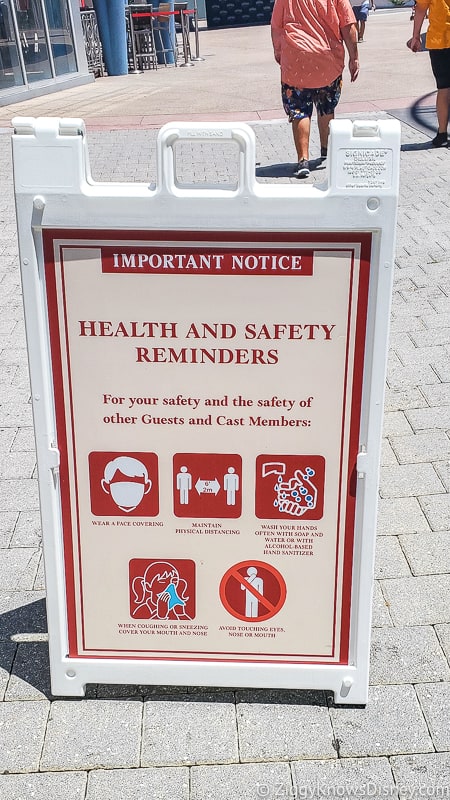 The fact that Disney World is reopening in phases and keeping crowds down does not surprise us at all. Logistically speaking, it makes more sense to reopen the resort slowly, keeping things small until they get more experience with the new setup.
We are pleasantly surprised to see crowds bouncing back so quickly and we see only positive developments in this regard for the next year or so.
Disney has even increased park capacity to more than 35% and they say they will keep increasing it in the coming months. That plus increase hotel occupancy are all great signs for getting back to normal.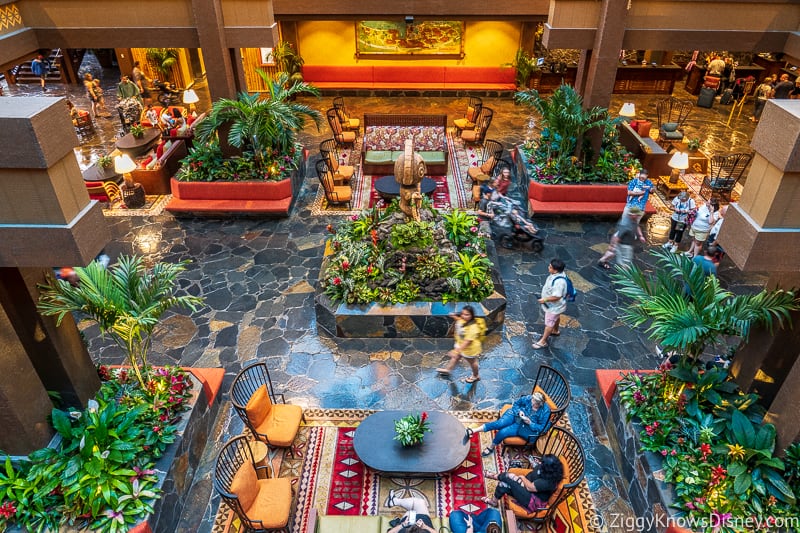 The new reservation system has been much criticized by fans, but from a company standpoint, it's the perfect way to limit crowds to the level you want. That helps Disney be prepared in knowing exactly how many Cast Members they will need to have on hand on a given day.
Though the Disney Park Pass system in Disney World got off to a rough start, it's been working fine recently and is easy enough to use. Disney has also been replentishing park availability, which may point to them already starting to increase capacity from when they opened in July.
The hardest park to get reservations for right now is Hollywood Studios. We'll see if they continue distributing more inventory to guests to help out here.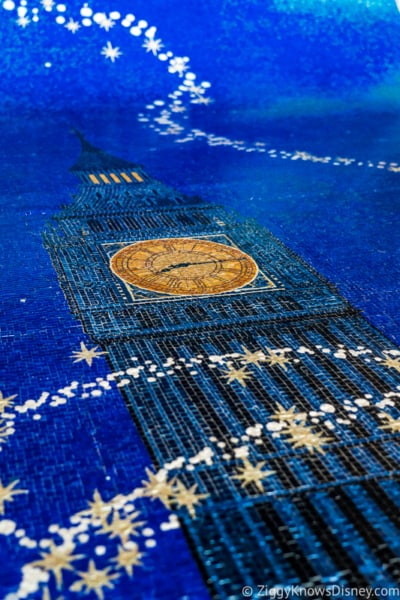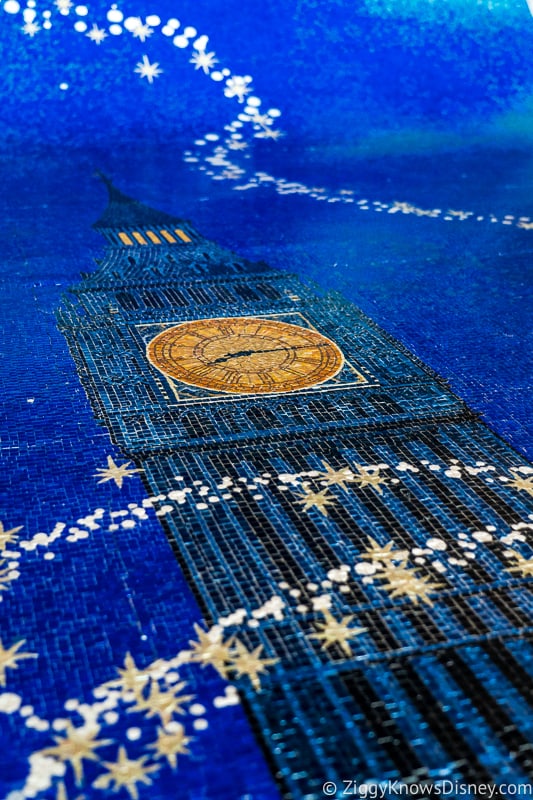 The reduced safety restrictions for face coverings and physical distancing are encouraging and mean progress. It seems like Disney has a pretty firm grip on the new safety guidelines and feels confident on how to handle the crowds coming to the parks.
We're curious to see how long they'll be able to enforce the current restrictions and when they will be completely eliminated.
Going to the parks with a face mask, and not all entertainment options or attractions available obviously is not optimal. It's not as big of a deal for the locals, but it is especially bad if you are coming to Florida specifically for a Walt Disney World vacation.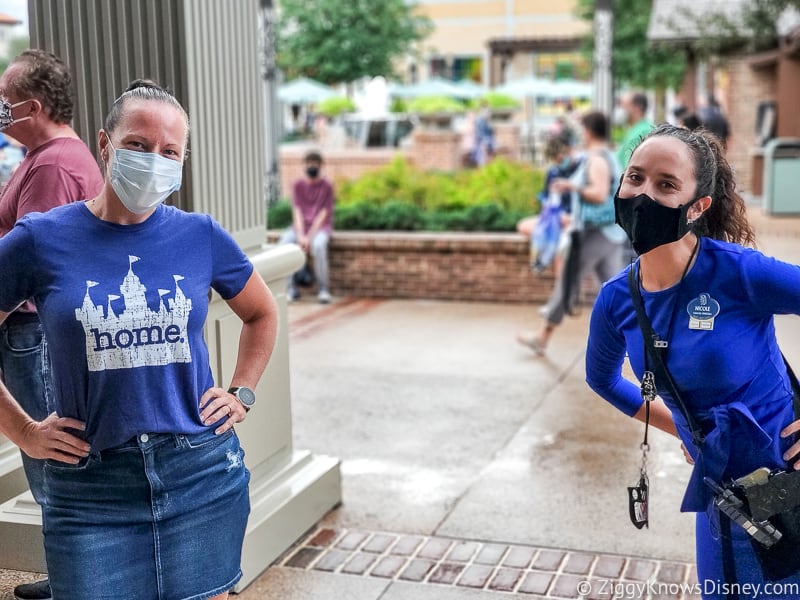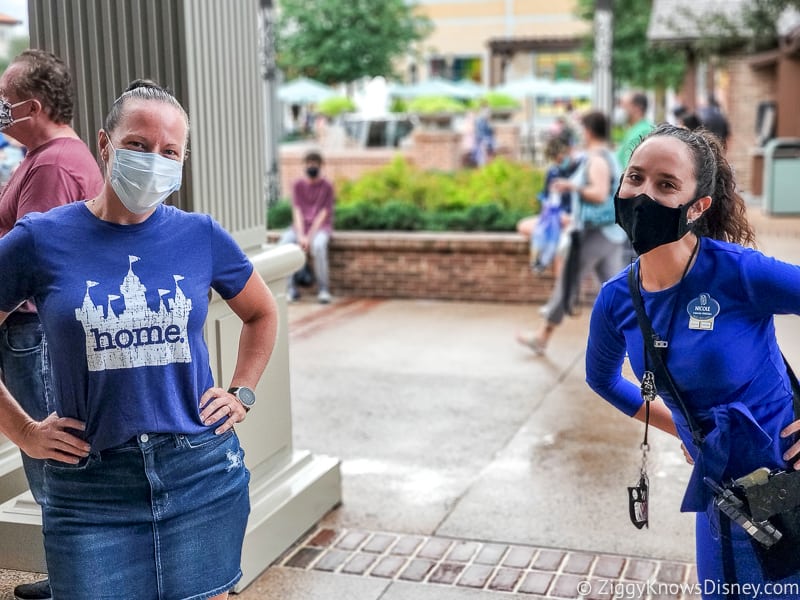 This is all part of how the "Disney World experience" has been affected. It's not what any of us have in mind when visiting the most magical place in the world, but right now this is the way it is.
I know not having some of the entertainment, attractions, etc is not ideal, but ultimately, things have to happen one step at a time if we are going to get back to normal, and this is the first step towards that. At least we now have some of the fireworks shows back which is great news!
I'm at least happy to have the Disney parks reopen, no matter what the restrictions are.
Disney has the right to make whatever kind of rules they want in their theme parks, and if they feel it will improve public safety, we should cooperate with them. Disney World will still be there when this situation is finished, so if you don't want to go during this time, that is your choice to make.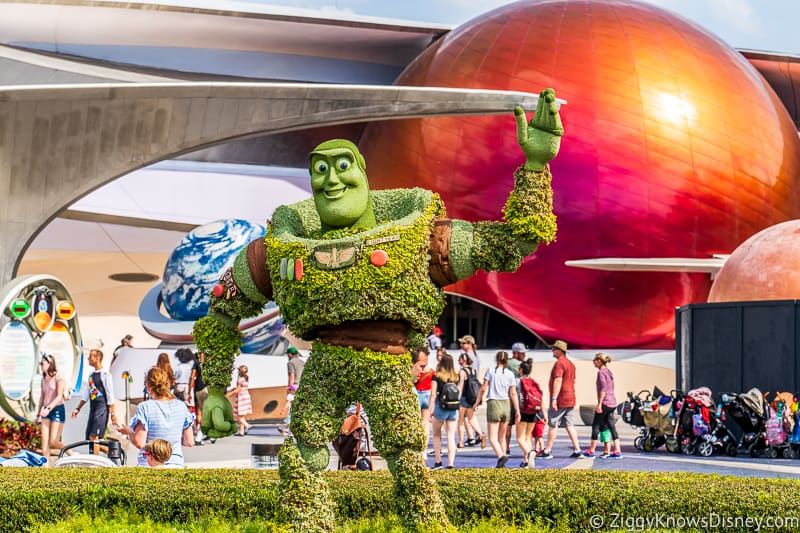 They have been working hard to open the parks and keep them open, and from our point of view, most of these procedures are really good ideas and will help do that.
While I'm excited and think going the parks is attractive for Florida residents and people that go multiple times a year, I wouldn't recommend going right now to first-timers or people who rarely visit.
With some of the changes and restrictions still in place, I'm not sure I could recommend a family to pay the amount of money it takes to go on a Walt Disney World vacation knowing that they wouldn't really get the full experience. Not even close to that.
Disney management will continue to evaluate things over the coming weeks and months and if everyone cooperates, we should keep getting the ropes loosened moving forward. I just hope that in the meantime guests going to Disney World will continue to cooperate with management, which will make for a more pleasant experience for everyone.
We'll have to see how things shake out over the next weeks and months.
Read our Disney World Vacation Planning Guide for more info and tips on planning your next trip!
Sign Up For Our Newsletter Today!
FAQs
Is Disney World Open?
Yes. The Walt Disney World theme parks and resort hotels have reopened.
Which Parks are Open?
Right now all Walt Disney World theme parks are open including Disney's Magic Kingdom, EPCOT, Disney's Hollywood Studios, and Disney's Animal Kingdom.
What is different now that Disney World is open?
Disney has created a modified guest experience which will help increase the safety of guests. Some examples include wearing face masks, hand washing stations, and more. So far guests have reacted well to the new changes and have followed the guidelines for the most part.
What Else is Open?
Disney Springs is currently open, including the majority of restaurants and shops. Also, many Disney World Resort Hotels and Disney World DVC resorts are open. More will be opening periodically.
Your Thoughts
I want to know what you think about Disney World opening back up…
Have you been to Disney World since reopening?
What changes would you like to see implemented in the parks?
Let us know in the comments section below!
If you enjoyed this article, as always I appreciate it if you'd share it with others via social media. I work hard at making this website into a useful resource for you and your family to plan your visit to the Disney Parks and I hope it can help you! Thanks 🙂