(UPDATE 6/22/19): You're probably excited about the Disney Skyliner Gondola system, the upcoming new transportation system in Walt Disney World. We have some exciting new details to share with you about the project including a look at the inside and outside of the Gondola cars, the air-cooling system, when the Skyliner is opening and future expansion map.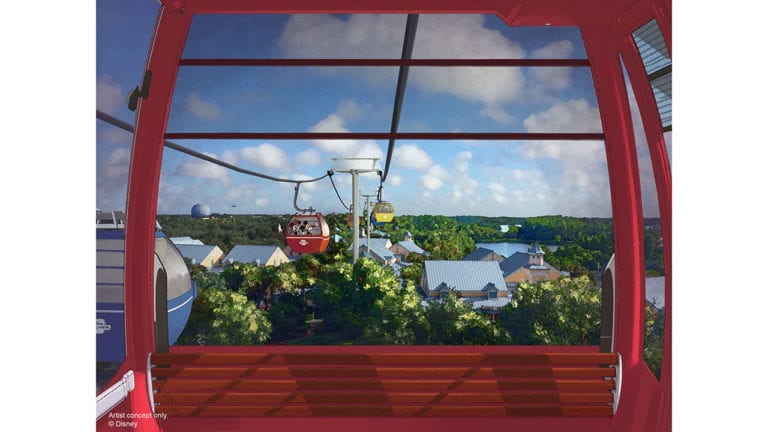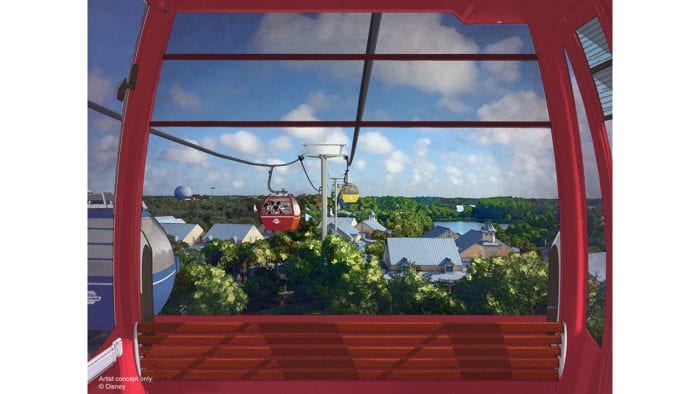 Our goal with this post is to help you understand everything you need to know about the Disney Skyliner Gondola project, what it is, where it's going to stop, the speed of the gondolas, car capacity, travel times, and what future expansion plans are coming in the future.
If we leave something out please send us a question below and we will answer it for you!
What is the Disney Skyliner Gondola System?
The Disney Skyliner Gondolas are the newest transportation system in Walt Disney World, roughly based on the old Disney Skyway buckets in the Magic Kingdom. These however are much bigger, and built to carry guests from hotels to parks and are an alternative to the Disney bus system or other forms of public transportation.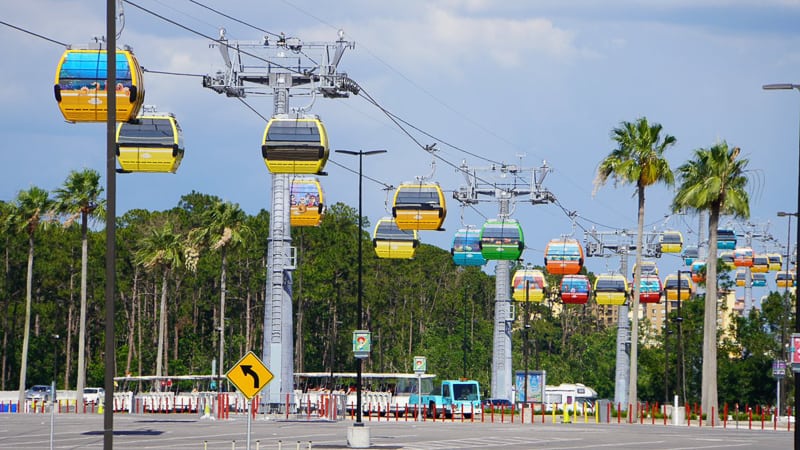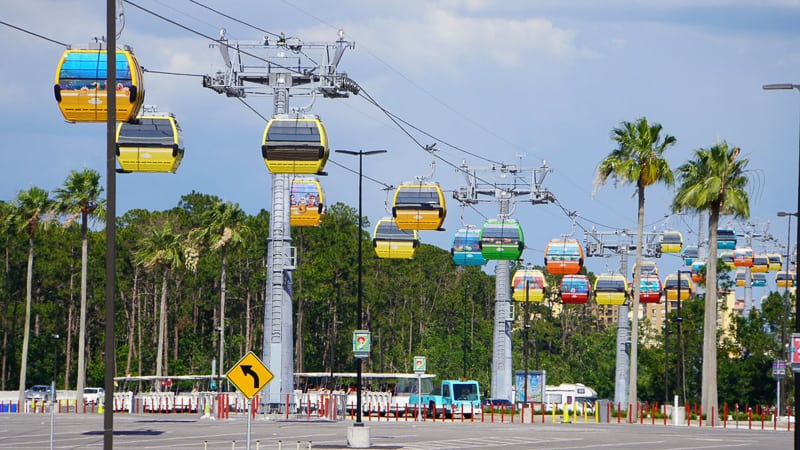 They are being designed by the Doppelmayr Garaventa Group which is an Austrian company that manufactures chairlifts, gondolas and cable cars for ski and amusement parks. They also have experience building urban people moving systems, and have produced over 14,600 installations in 89 countries
The Skyliner was announced in 2017 at the D23 Expo when Bob Chapek explained Disney's commitment to improving transportation in Walt Disney World, and construction began on the Skyliner in 2018.
Riding in the Disney Skyliner will be a unique transportation experience in Walt Disney World because being in an elevated position will allow guests to have a bird's eye view of the resort in places they've never seen like that before. Think the same way the Monorail system allows you, but in new places.
Contrary to what was originally thought about the Disney Skyliner Gondolas, this newest transportation to the Walt Disney World Resort will NOT have air conditioning as has been confirmed by Disney, however it does look like there will be significant airflow through them.
Where Will the Disney Skyliner Go?
The Disney Skyliner Gondola system will transport guests to and from many Walt Disney World locations including theme parks and hotels. During the initial launch there will be 6 Skyliner stations including the following:
Epcot Park
Disney's Hollywood Studios
Disney's Caribbean Beach Resort
Disney's Riviera Resort
Disney's Art of Animation Resort / Disney's Pop Century Resort
Turn Station (you can't actually get off here)
Epcot Station: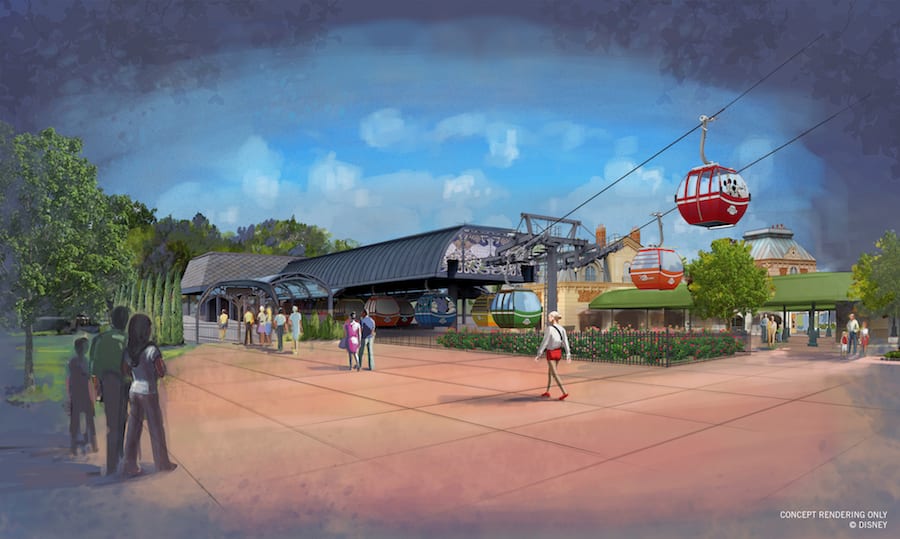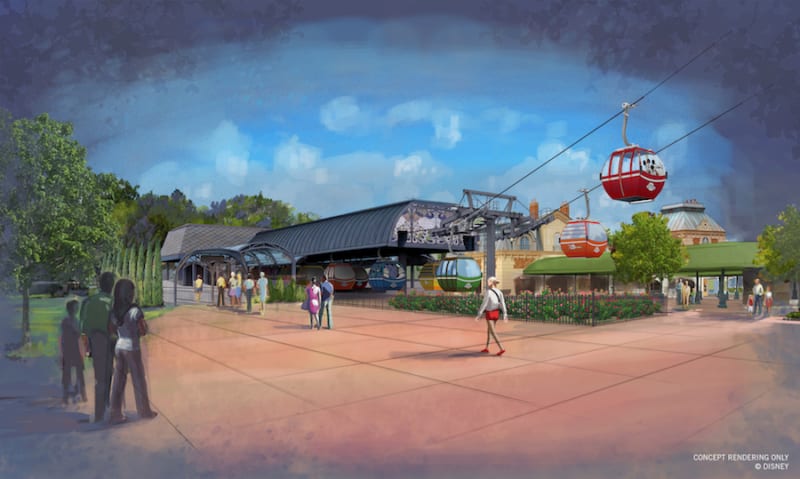 The Epcot station is located right outside the International Gateway and brings guests to the back door of Epcot in between France and the UK. Perfectly located for guests staying at the Yacht and Beach Club Resort, The Boardwalk Inn, or Swan and Dolphin.
Hollywood Studios: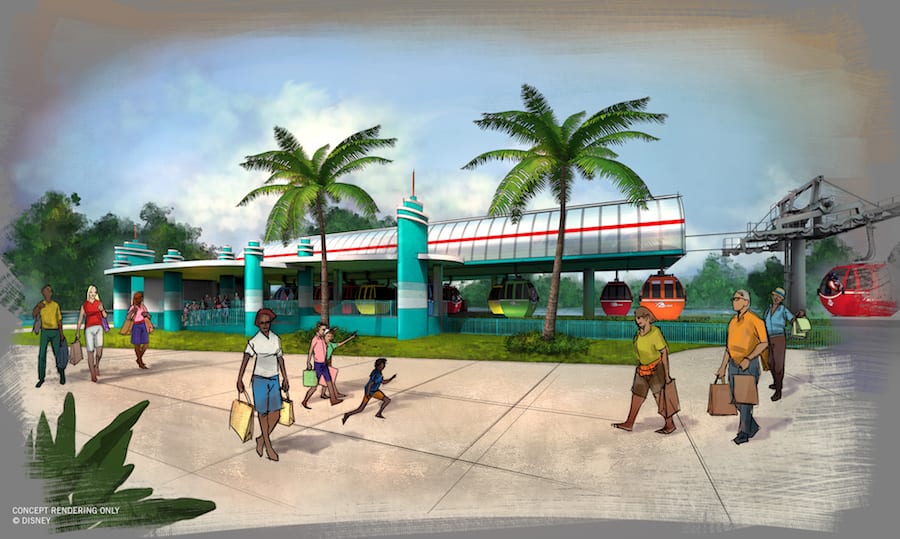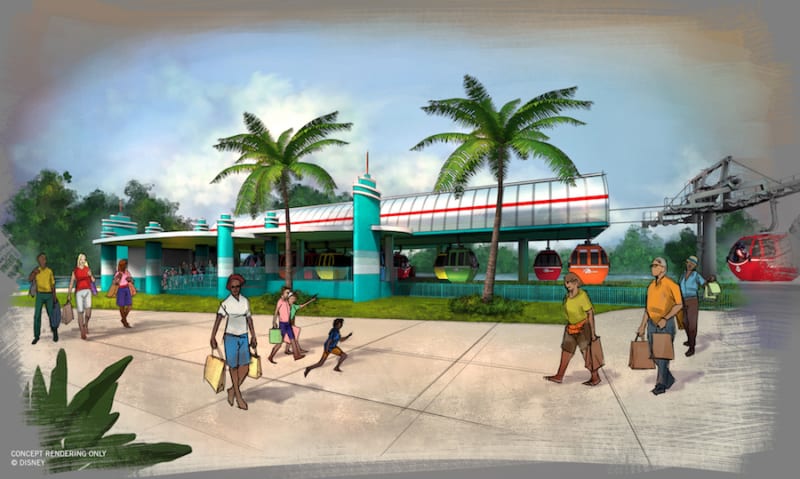 This might be the busiest station and be the one with the longest lines once Star Wars Galaxy's Edge opens up. It will be awesome though to see Batuu from the sky as you land at the station.
Caribbean Beach Resort: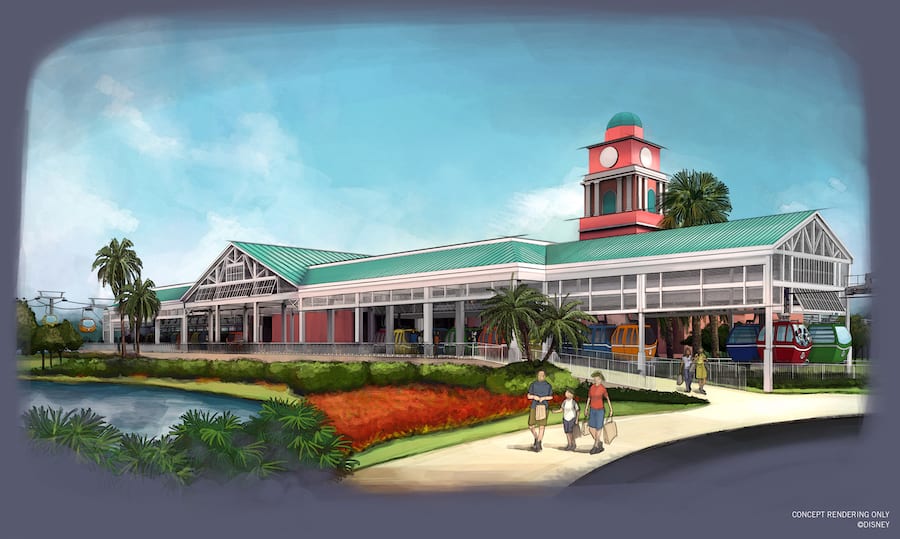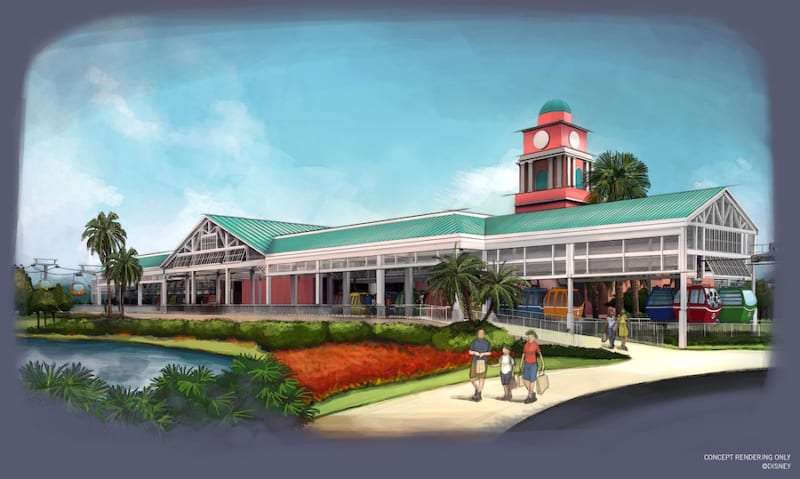 The Caribbean Beach Skyliner station is the "main hub" so to speak of the Disney Skyliner with all three lines departing from here. Guests going almost in any direction will eventually land here and then exit their gondola and choose the direction they want to go in next.
Riviera Resort: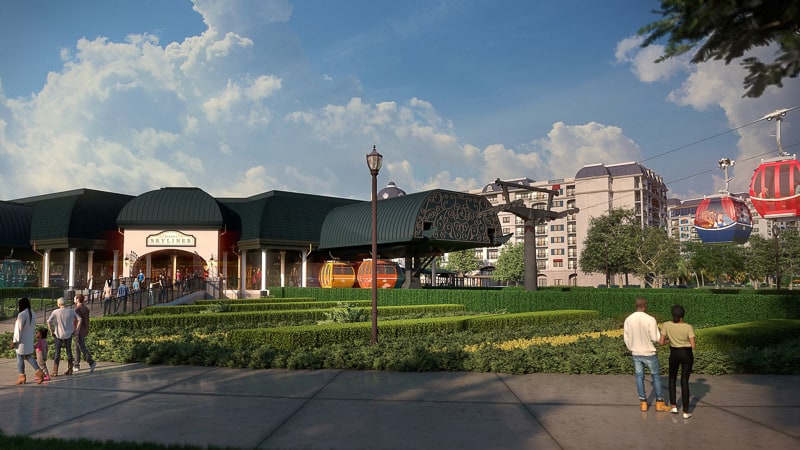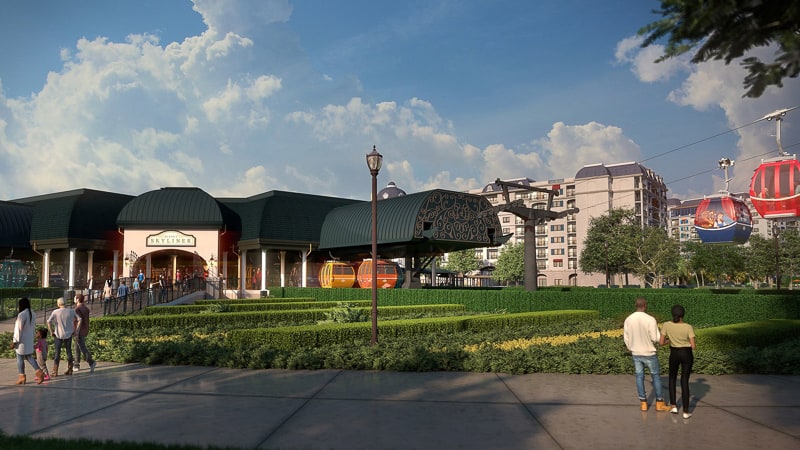 Once of the main benefits of staying at Disney's newest DVC resort, Disney's Riviera Resort, is that you are right on the Disney Skyliner line perfectly positioned between Epcot and Hollywood Studios.
Art of Animation Resort and Pop Century Resort: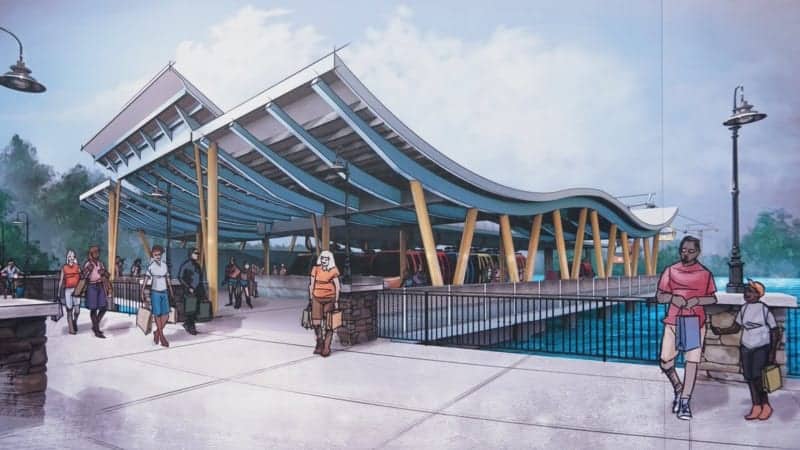 The Art of Animation and Pop Century Resorts share this Skyliner station which is positioned right in the middle of a walkway linking the two resorts together over a lake. A perfect move to have two of the biggest resort hotels on property accessible to the Skyliner.
This initial launch of the Disney Skyliner transportation system is only the first phase in what's likely to be a multi-phase roll-out to other parks and hotels around Walt Disney World property. We'll go further into Phase 2 for the Disney Skyliner later in the article…
Disney Skyliner Route Map:
We've created a map for you to follow to see the exact route of the Disney Skyliner showing all 6 stations. It doesn't matter where you start, most every line will bring you to the Caribbean Beach station in the middle where you will decide which line to get on: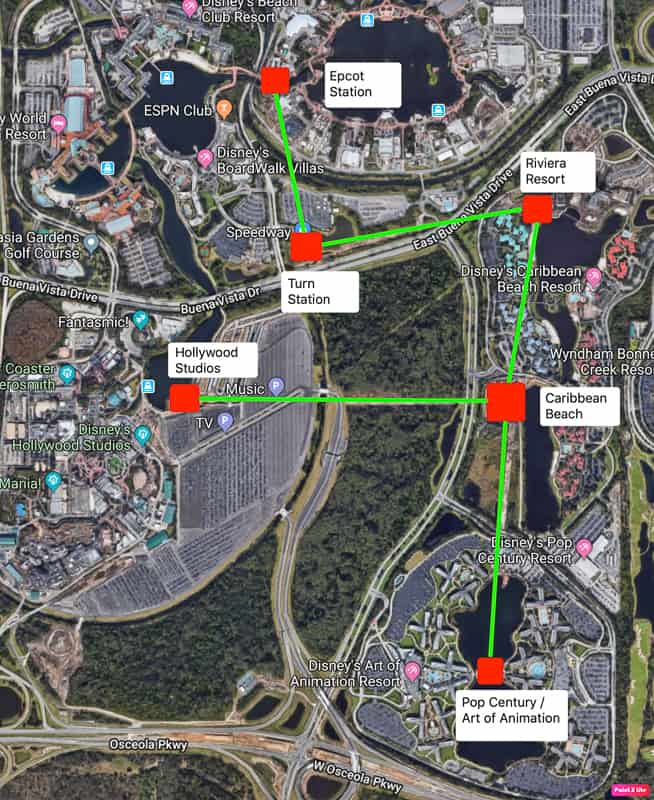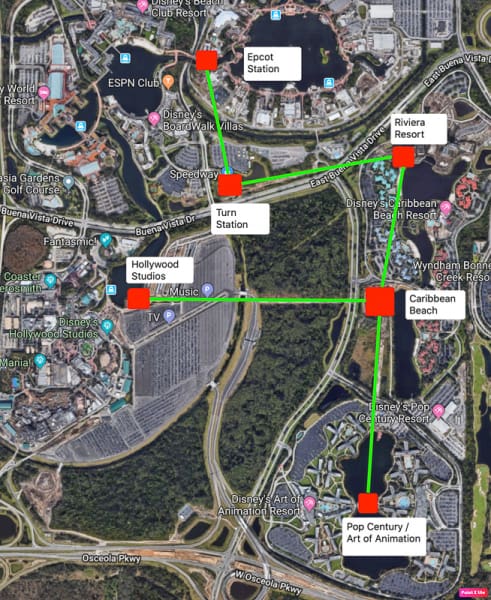 Skyliner Gondola Cars Outside:
There are going to be 2 types of Skyliner gondola cabins, ones with solid colors, and the other with the Disney characters on them. The characters unfortunately are not going to be on all of the gondolas, but only select ones. This is probably to leave things open for future characters to be added who don't even exist yet, and a question of saving money.
This one has Mickey, Minnie and Pluto on it!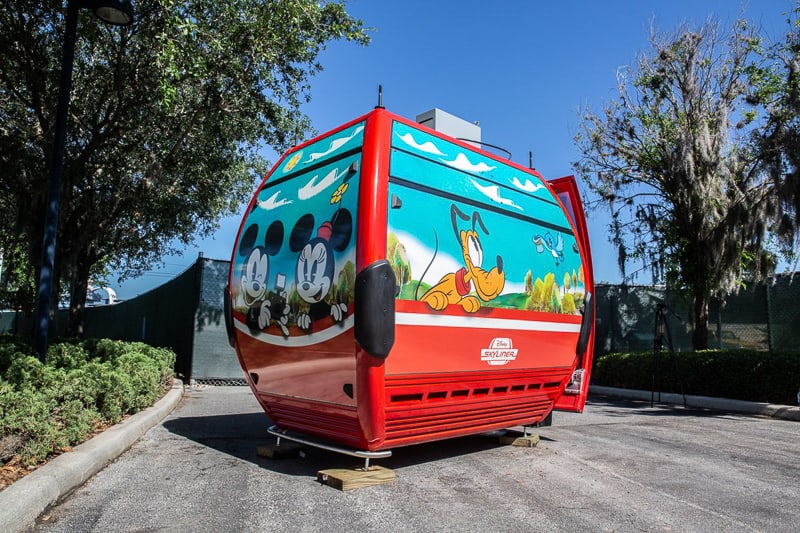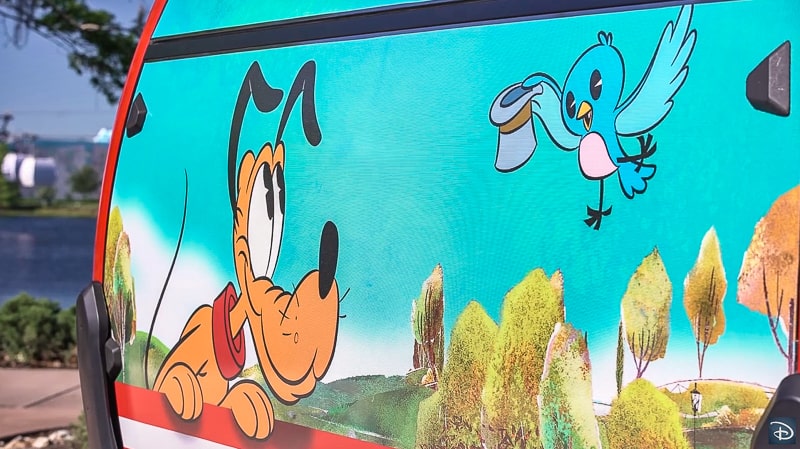 It's going to be great to ride around in these and it will be fun to wait for your favorite Disney characters!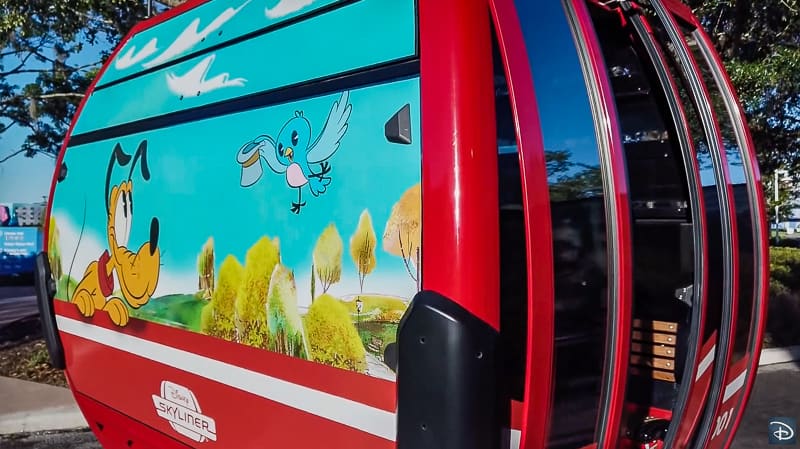 Here are some of the Skyliner Gondola lifts in the sky with the characters on them: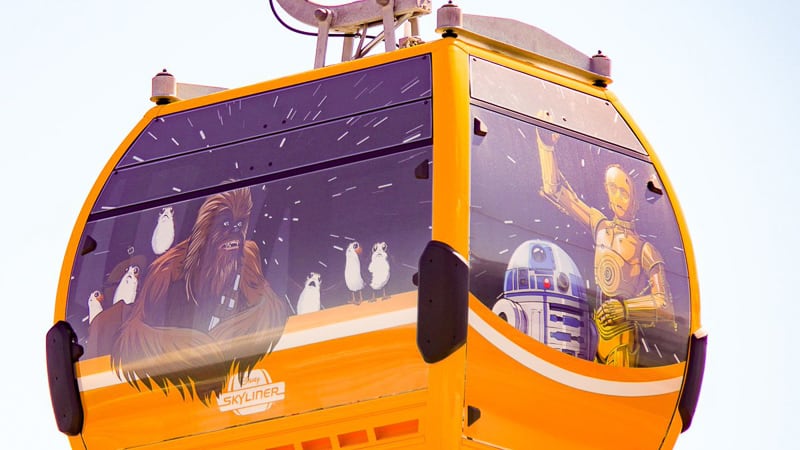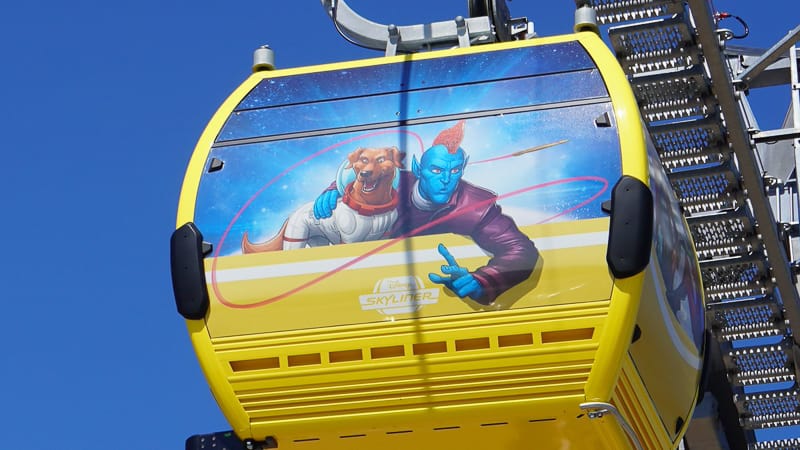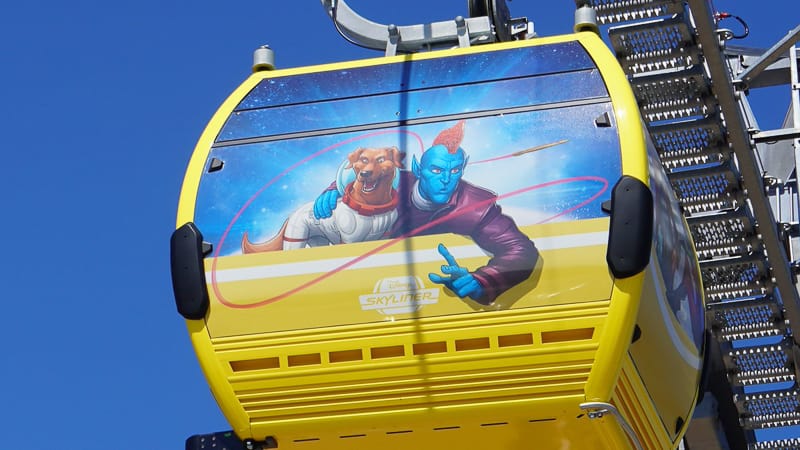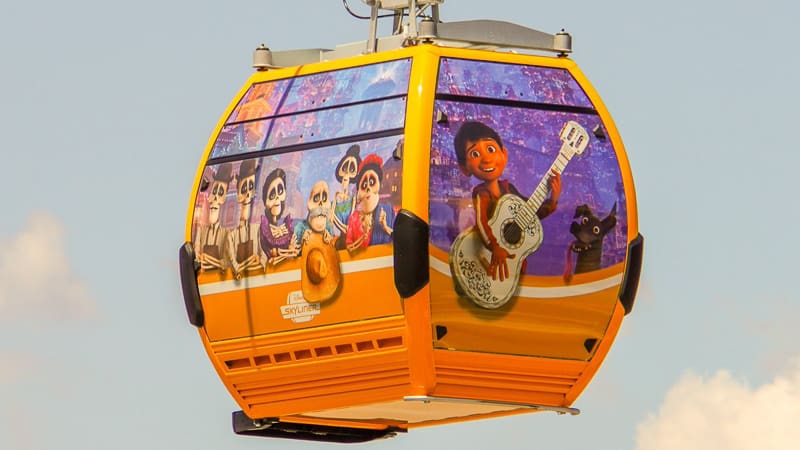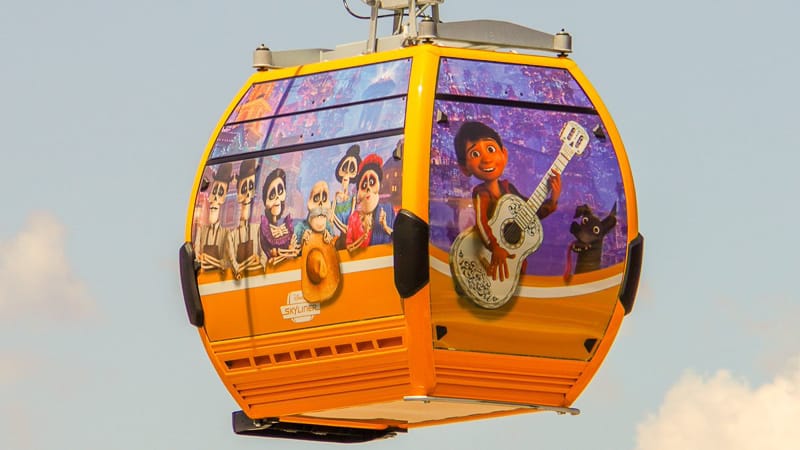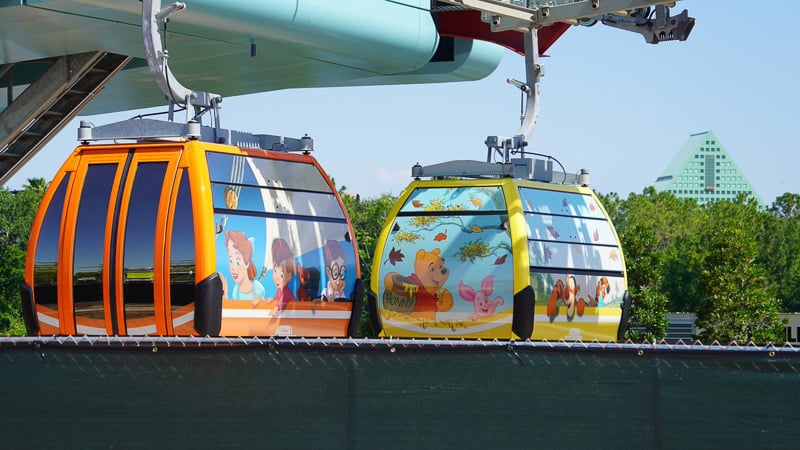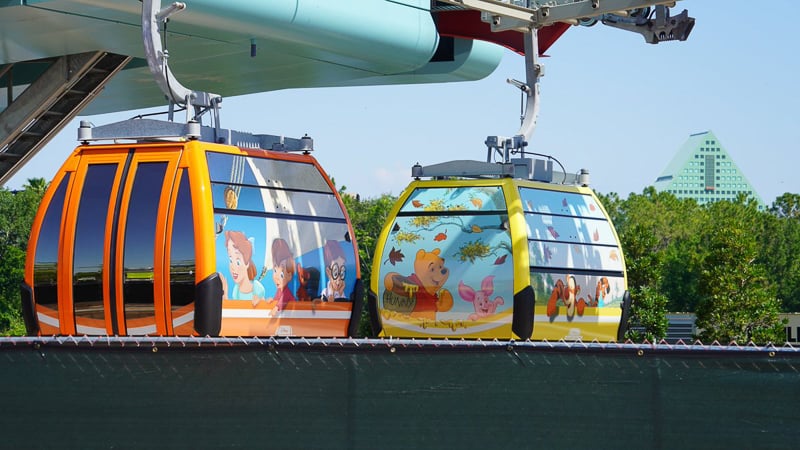 You can read our article which has the breakdown of all the Disney, Pixar, Marvel and Star Wars Characters that are going to be on the Disney Skyliner that we know so far…
Inside the Disney Skyliner:
Disney also just released a video showing off the inside of the Gondola cabins and they look amazing:
The Orlando Sentinel had some great photos in their latest article, including what the inside is like: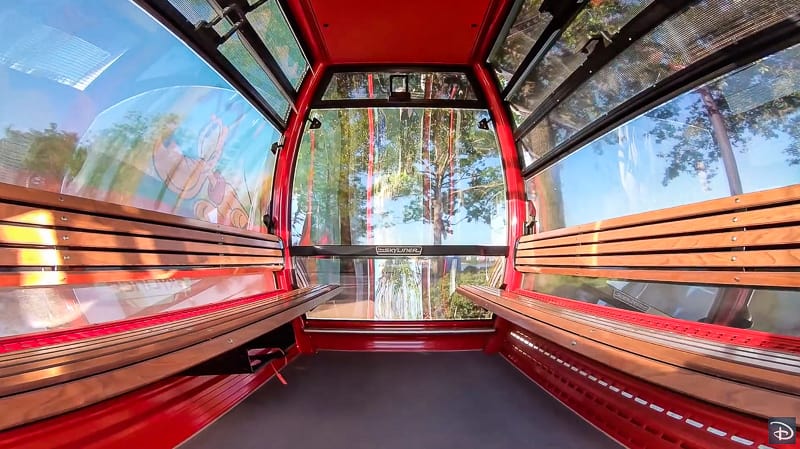 Looks pretty spacious from this angle with two large wooden benches: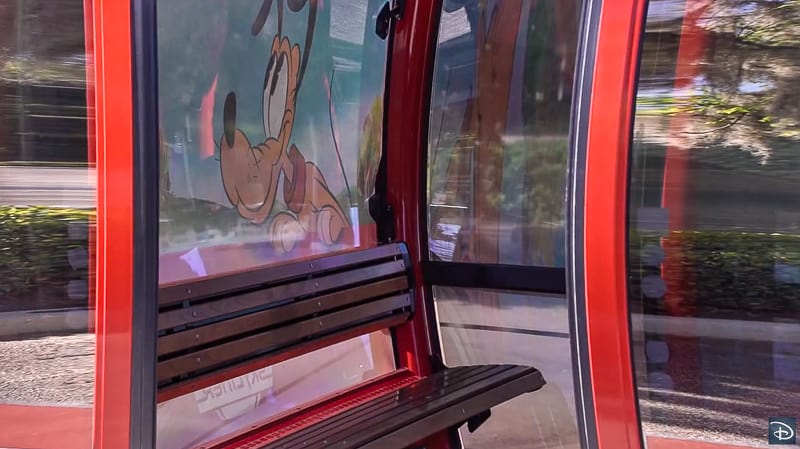 No Air Conditioning, but Air-Cooling:
One of the biggest questions on everyone's mind has been whether or not the Disney Skyliner will have air conditioning. It doesn't take a genius to realize that it's hot in Florida and sending up hundreds of passengers to cook under the baking sun in a metal can might not be the most pleasant experience.
Unfortunately the Disney Skyliner WILL NOT have air conditioning after all. This is kind of upsetting as I didn't think Disney would risk having people melt inside the Skyliner cars. Disney though has commented that the air-flow system that will be installed should be more than enough to keep guests comfortable.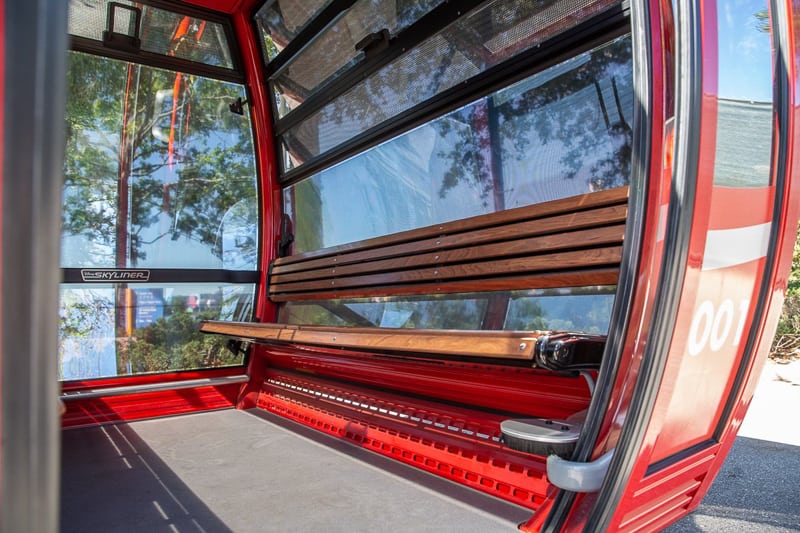 If you look at this photo you can see there are panels which are able to tilt out on both sides which should let a cross-breeze in. The reflective windows should help with the blazing sun!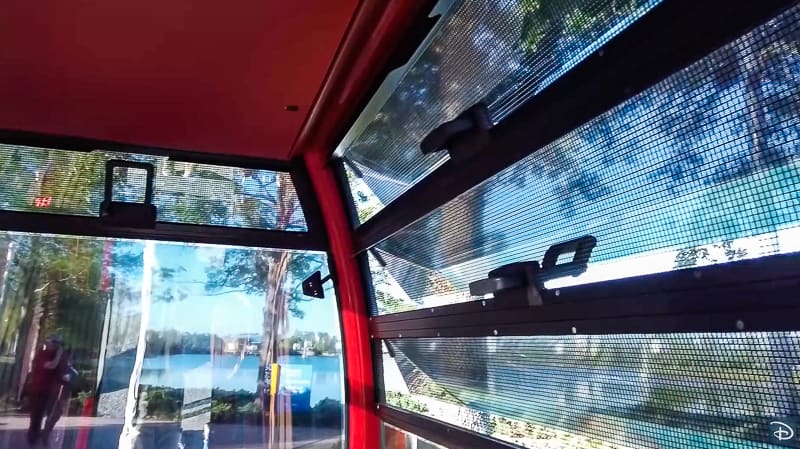 We'll have to see how it turns out…again, this is Florida after all and it does get super hot, so how this holds up from June to August remains to be seen…
Skyliner Capacity:
Another big topic has been how big will the Skyliner cars be? Most reports earlier had said 8 people. Well now we know that the Disney Skyliner will hold 10 passengers, and there will be twin wooden benches.
The 10 passengers are what fit on the two benches, but one would assume you can stand too if you prefer which may allow for even higher capacity during peak hours. They will also be able to hold passengers in wheelchairs. That size is about we thought, and again makes much more sense considering the high traffic level these will have.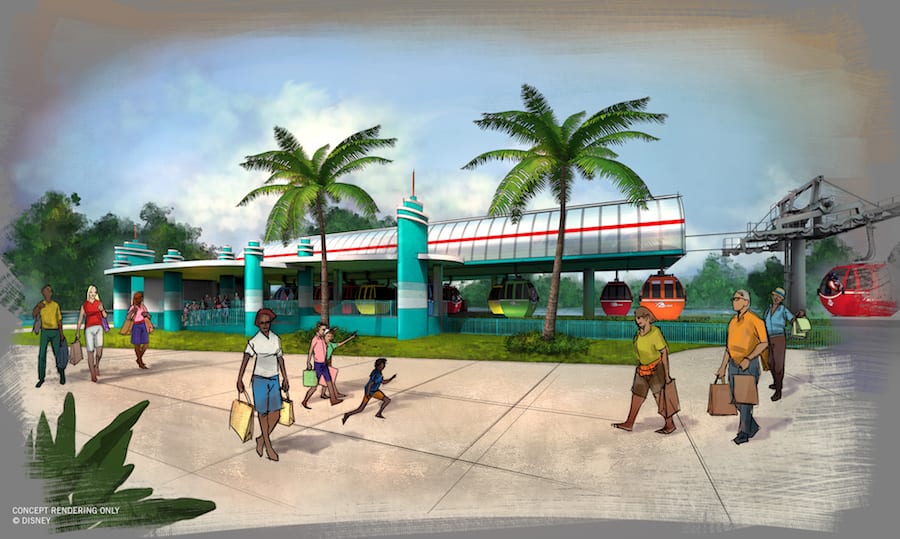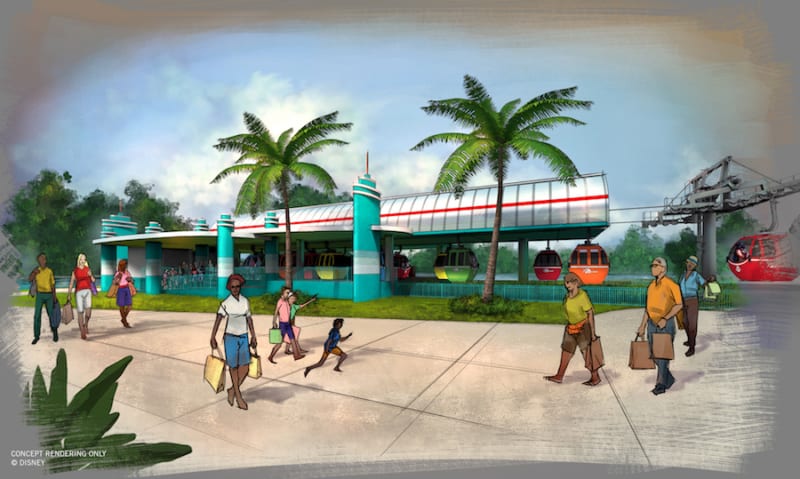 Now how often will the cabins have everyone standing in them? That's another question and I don't know how they will control that. Will Disney leave it up to passengers? Will they make people stand up when there are a ton of people waiting in line in order to get people going quicker? It's gonna be hard to control especially due to the high number of people who might need to sit for one reason or another. We'll keep an eye on this to see how Disney handles it.
Speed and Ride Time Length:
Disney's official estimated ride times for the Disney Skyliner are rides between 5-15 minutes, though most will be quicker than 15. There will be more than 300 gondolas in the Disney Skyliner fleet and they will travel at heights of up to 60ft.
The Disney Skyliner cars are going to move pretty fast. They will have a cruising speed of 11mph and will slow down to about 1mph when arriving at the station and people are exiting and loading. It will be like an omnimover attraction (think Spaceship Earth) where it never really stops but Cast Members can pause or slow down the gondolas to give guests as much boarding time as needed.
Estimated Disney Skyliner Ride Times are:
Disney's Caribbean Beach Resort to Disney's Pop Century Resort or Disney's Art of Animation Resort: less than 6 minutes
Disney's Caribbean Beach Resort to Disney's Riviera Resort: about 5 minutes
Disney's Caribbean Beach to Disney's Hollywood Studios: about 6-7 minutes 
Disney's Riviera Resort to International Gateway at Epcot: about 9 minutes
Disney's Caribbean Beach Resort to International Gateway at Epcot: about 15 minutes
Most of these times are taken from the Caribbean Beach station since that will be the main hub for the Disney Skyliner and guests will be getting on and off here.
From that we learn 2 things. One, it's going to be a very fast and effective way of getting around property, though I think those time estimates are pretty conservative.
For example it's about 1.75 miles using the projected Disney Skyliner path from Epcot to Pop Century/Art of Animation. That means it should be around 10 minutes or so going 11mph at that distance if the gondolas didn't stop.
Guests will have to get off and back on to change directions to wherever they want to go at the Caribbean Beach station which slows it down a bit. So add a few min for loading and going from Epcot to Pop Century is still pretty fast!



Second, the cars keeping moving while at the station during the loading/unloading process means Disney is putting a priority on efficiency and speed.
Will the Disney Skyliner be Accessible to Wheelchairs and Scooters?
Disney has confirmed that wheelchairs will be allowed on the Disney Skyliner and fit in quite nicely. The level of the cars is going to be the same as the platform which means it will be really easy for anyone in a wheelchair or whoever has a stroller to get on/off. This is really good to hear and should minimize wait times.
As for scooters, we know they are a super popular way to get around in Disney World, but unfortunately we don't have any info yet about whether or not they will be allowed on the Skyliner. In Disney's last update they said: "Each cabin can accommodate up to 10 Guests, including those traveling with wheelchairs or assistive devices."
What exactly do they mean by "assistive devices?" If scooters are included in that category then they will be allowed.
My gut feeling is they will allow them seeing that a big number of families have at least one member who uses a scooter, and it shouldn't be a problem loading them in the gondolas imo. I'll keep you updated as soon as I hear more!
Disney Skyliner Future Expansion Map:
Right now during this phase of the Disney Skyliner construction project there are going to be 5 stations: Epcot, Disney Riviera Resort, Caribbean Beach, Hollywood Studios and Pop Century/Art of Animation. The key word though is "this phase" because if everything goes smooth with the Skyliner, Disney has plans to expand it out to other parts of Walt Disney World Resort in phases.
Below I have a map of the current Disney Skyliner Route and the potential expansion routes for the future. Red is the current Skyliner plans. Green is future: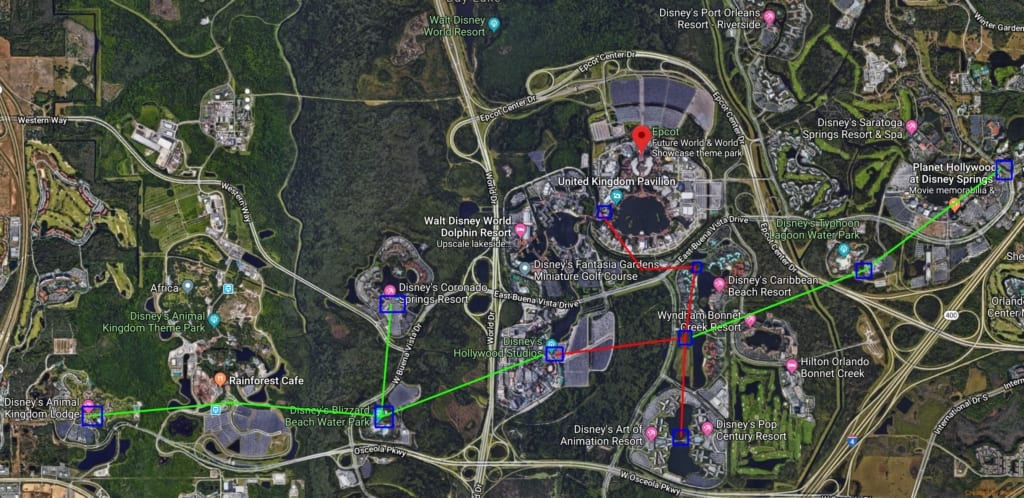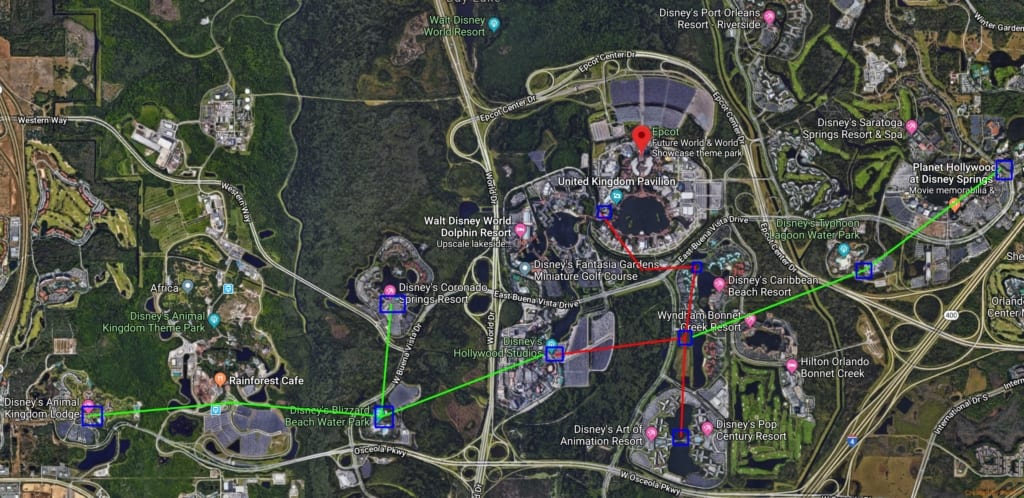 Right now the Skyliner runs through the center of the Walt Disney World Resort. However one expansion would bring the Disney Skyliner west out to Disney's Animal Kingdom with potential stops at Blizzard Beach, Coronado Springs Resort, Animal Kingdom Park and Animal Kingdom Resort (with a stop even going to Kidani Village!)
The second expansion would be east of the current infrastructure and bring you to Typhoon Lagoon and up to Disney Springs. Supposedly the stop at Disney Springs would be on the far side close to Rainforest Cafe. That would allow guests staying at Saratoga Springs Resort and Hotel Plaza to use the Skyliner. For both of these expansions we're probably looking at about 5 years down the line if everything goes well with the first phase.
This is a lot of information and makes it clear that Disney doesn't view the Disney Skyliner as some little toy model, but as a realistic, viable solution to their transportation needs for the long-term. Disney hired a transportation expert who was in charge of the system in San Francisco some years back, and the Disney Skyliner they decided is a big piece of the puzzle for the future of the resort.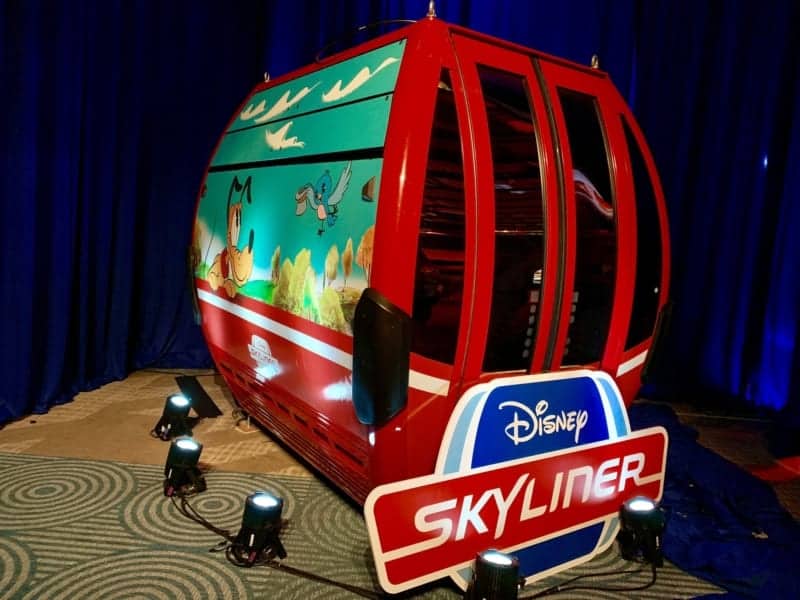 Once it opens up, the Skyliner is going to provide quick transportation from some of Disney's biggest hotels to and from the parks, and it will also keep traffic from overcrowding the Walt Disney World highway system which is taxed right now.
Also much like San Francisco has, it gives Walt Disney World an iconic transportation system moving into the future. You know, that thing that people have to try while here on vacation and gets them talking to others about it back home. Years ago it was the Monorail system, but now people talk about that only for negative reasons.
We still don't know when new monorails are coming to Walt Disney World and they are a complete mess right now. Supposedly there's also a plan eventually to bring the Disney Skyliner to the Magic Kingdom, but that's very far off and may or may not happen depending on a lot of other factors.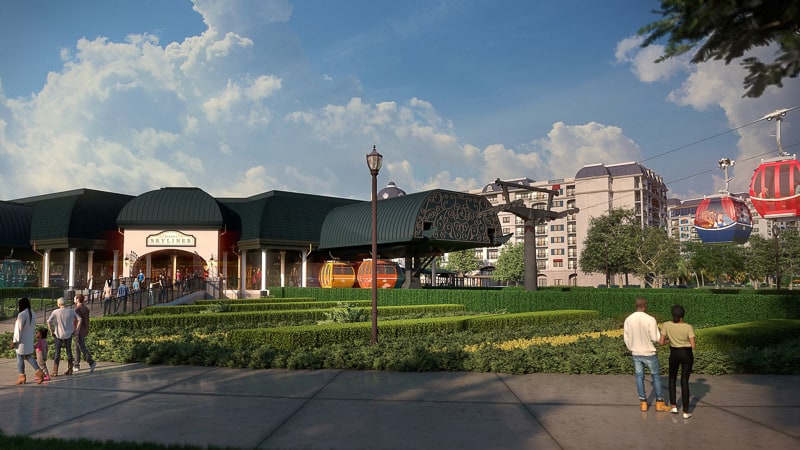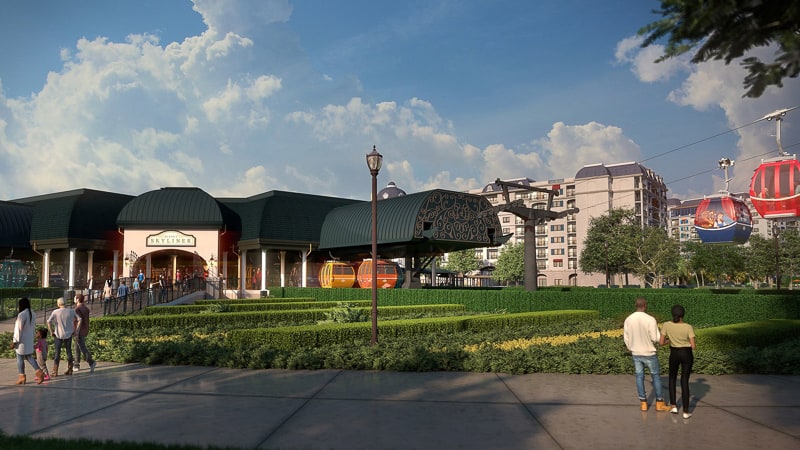 The only question left is what Disney is going to do about lightning, considering this is the lighting capital of the country. They're going to have to really be on point with watching the weather systems coming to to avoid potentially dangerous situations. And in the case the Skyliner isn't running, will they have buses on call to pick up all the remaining guests?
Disney must be very sure that the Skyliner is going to be a success because they are investing hundreds of millions of dollars into it. They have to have already figured out all the solutions to any potential problems.
Ultimately I think anyone just looking at the Disney Skyliner as this small, little toy transportation system is missing the point. It's an attraction in of itself. It's going to make a huge impact on the way guests move around the Walt Disney World Resort for the next decades and in light of these new details, that choice is seeming better and better.
When is the Disney Skyliner Opening?
That's a question that we are anxiously waiting for, and progress on the project has been moving at light-speed with testing going on every day.
The Disney Skyliner doesn't have an exact opening date yet, and Disney officially is still saying Fall 2019.  We know it has to be open in time for Star Wars Galaxy's Edge which opens August 29, 2019, but we expect the Skyliner will be open before that for sure, possibly in July.
The speed at which the Skyliner project is moving makes me think that we're likely to continue seeing extensive testing of the gondolas in June and July with a possible late-July or August opening.
Stay tuned at ZiggyKnowsDisney.com for more info on the Disney Skyliner as we'll keep updating you as soon as we know more! Our latest Disney Skyliner construction update also shows the progress being made!
In the meantime you can check out our updates on some of the other construction projects going on in Walt Disney World and track their progress!
If you need help planning your next Walt Disney World vacation, our friends at Show You the World Travel are certified Disney Travel Agents and are super helpful with all your planning needs. I highly recommend them and the best part about it is they are FREE to use!
Your Thoughts:
I want to know what you think about the new Disney Skyliner details: not having air, the look of them inside and out, future expansion around property, etc
Are you looking forward to the Skyliner?
What other locations around Walt Disney World do you want it to go?
Let us know in the comments section below!
If you enjoyed this article, as always I appreciate it if you'd share it with others via social media. I work hard at making this website into a useful resource for you and your family to plan your visit to the Disney Parks and I hope it can help you! Thanks 🙂

---
---