You've probably heard about the Disney Skyliner Gondola system, the brand new transportation system in Walt Disney World. We are excited to share all the details with you including a full tour inside and outside of the Disney Skyliner Gondola cars, the air-cooling system, the future expansion map, route information and more!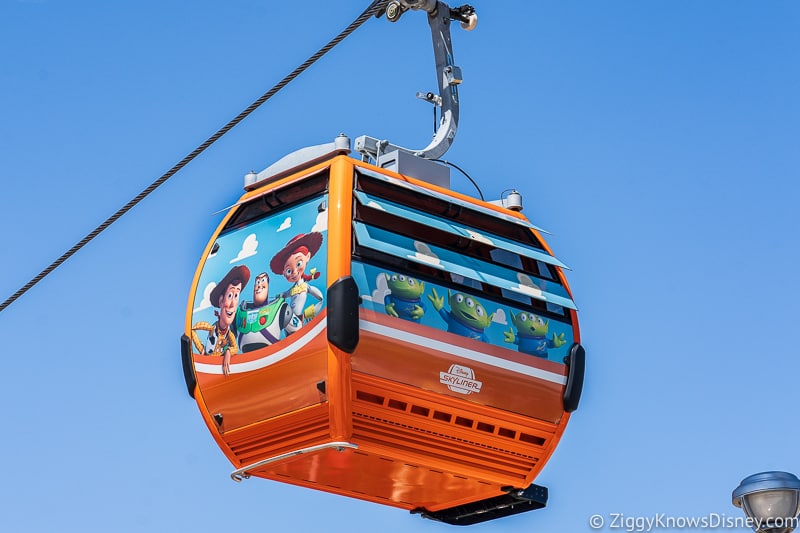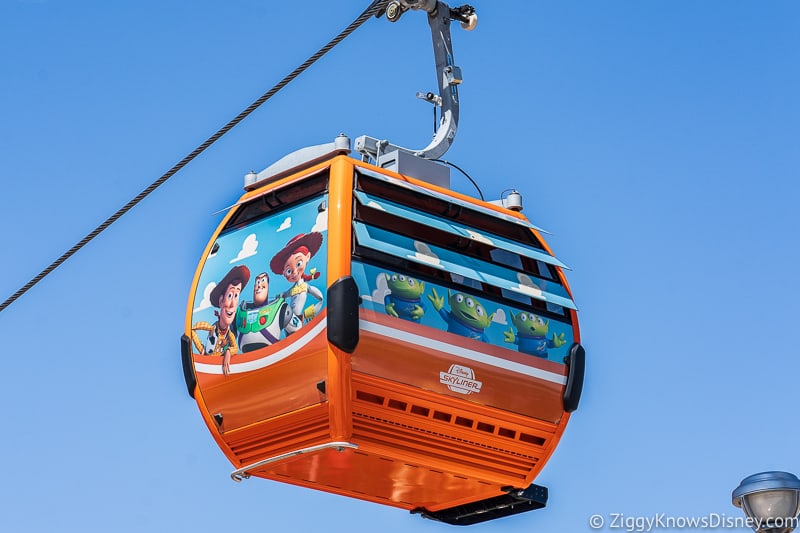 (Update 9/10/20) – Operating Hours for the Disney Skyliner have been changed due to the reduced operating hours for the Disney World parks. Read more in the NEWS section.
Think of this as everything you need to know before riding the Disney Skyliner Gondolas in Disney World. Our goal with this post is to give you all the information before riding the Disney Skyliner. We'll let you know about:
Skyliner Map
Operating Hours Schedule
Stations
Capacity
How Long it Takes to Travel with the Skyliner
Guest Accessibility
Future Plans
and all FAQs
Disney World's newest transportation system is already operational, having opened on September 29, 2019. Since we've had a chance to ride the Disney Skyliner for ourselves, and it has definitely become our preferred way of traveling to and from the parks.
It offers guests some of the best views in Walt Disney World, carrying them high above the treeline and even passing over some of the hotels. You might say this is the "most magical flight on Earth." We're also going to share with you our thoughts and a review of the Disney Gondolas and let you know why it meets the hype.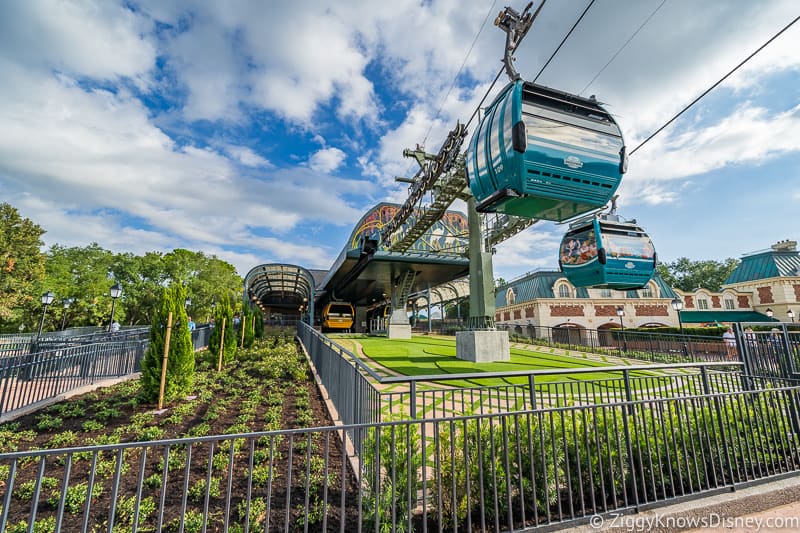 You may have heard some negative things about the Skyliner before riding too. In this article, we are also going to talk about whether the Disney Skyliner is safe and if you should worry when riding it or not.
We also are including the latest updates for the Disney Gondolas to keep you informed of any changes happening. In the latest update, we've included the answers to many more Disney Skyliner questions so be sure to check them out. If we leave something out please send us a question below and we will do our best to answer it for you!
Also, don't forget to sign up for our FREE Weekly E-Mail Newsletter. There we bring you the latest updates on the Disney Skyliner Gondolas as well as the latest Disney Parks news. You can sign up here: Join our E-Mail Newsletter
Are you ready to take a ride with us? Let's find out what the hype is all about…
Disney Skyliner Overview
Location: Walt Disney World
Status: Opened September 29, 2019 (Temporarily closed during Disney World closure)
Transportation Type: Gondolas/Suspended Cable Cars
Capacity: 10 guests per car (temporarily limited to one party per gondola)
Number of Stations: 5
Number of Gondola Cars: Approximately 300
Number of Connected Theme Parks: 2
Number of Connected Hotels: 4
Tickets: No tickets required
Ride Length: 3 to 15 Minutes
Fun Level: High
To find out more about the Disney Skyliner, please keep reading further down where we explain everything in greater detail.
(NEWS 9/10/20): Disney Skyliner Operating Under Reduced Hours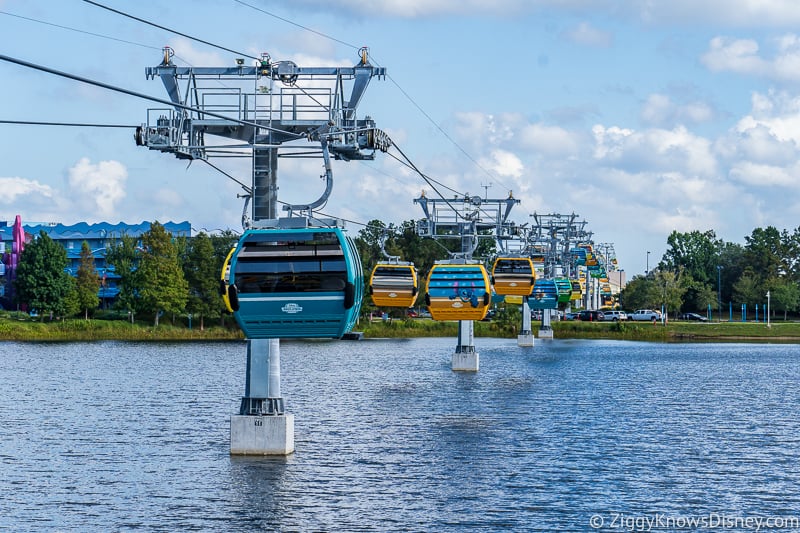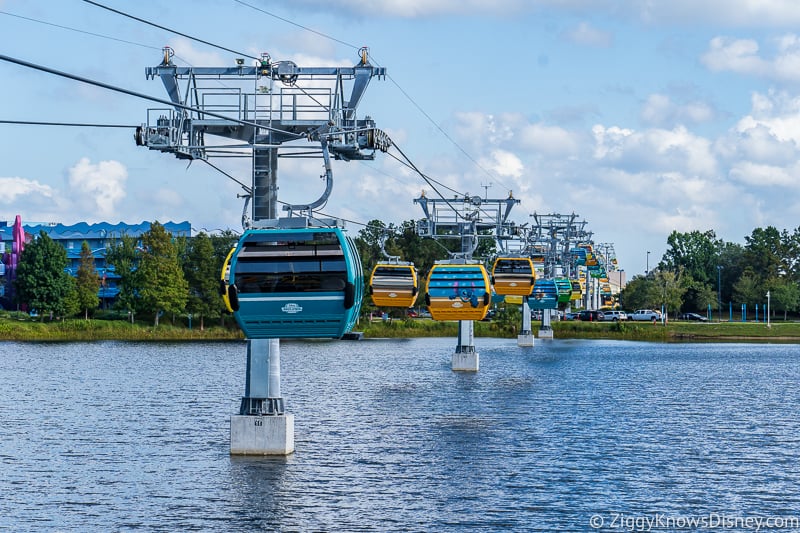 Disney has just announced reduced operating hours for the Disney Skyliner Gondola system effective immediately. Since The Walt Disney World theme park hours have been reduced, transportation methods like the Skyliner are also following suit.
Here are the new Disney Skyliner Hours for each of the 3 lines:
Disney's Hollywood Studios: 9:00 am to 8:30 pm
EPCOT International Gateway: 10:30 am to 8:30 pm
Disney's Pop Century Resort & Disney's Art of Animation Resort: 9:00 am to 8:30 pm
The Disney Skyliner will continue to close 1.5 hours after EPCOT and Hollywood Studios, which are both now closing at 7:00 pm.
This change of course is normal as it doesn't make a whole lot of sense to keep the Skyliner open if guests aren't going back and forth to the parks. I guess that late-night Skyliner Bar-hop schedule will have to wait for the moment.
Once parks increase their operating hours again, likely near the holidays, we expect the Disney Skyliner hours to be extended too. Stay tuned for more soon.
What is the Disney Skyliner Gondola System?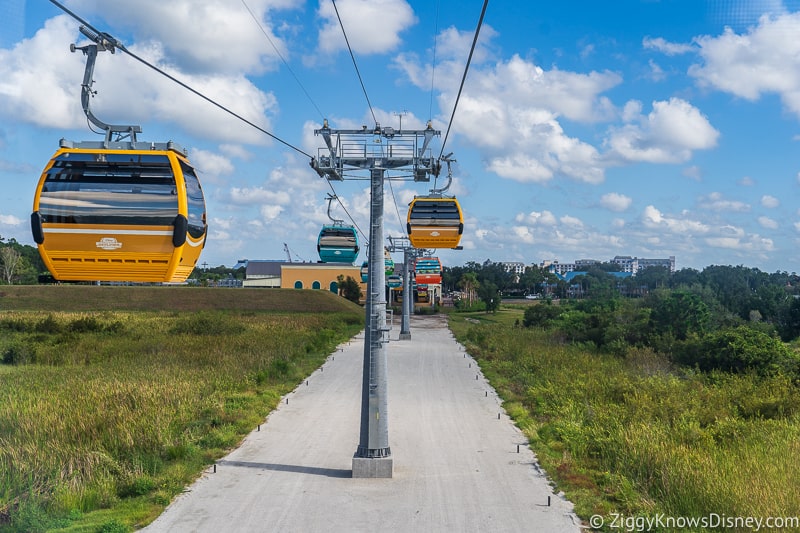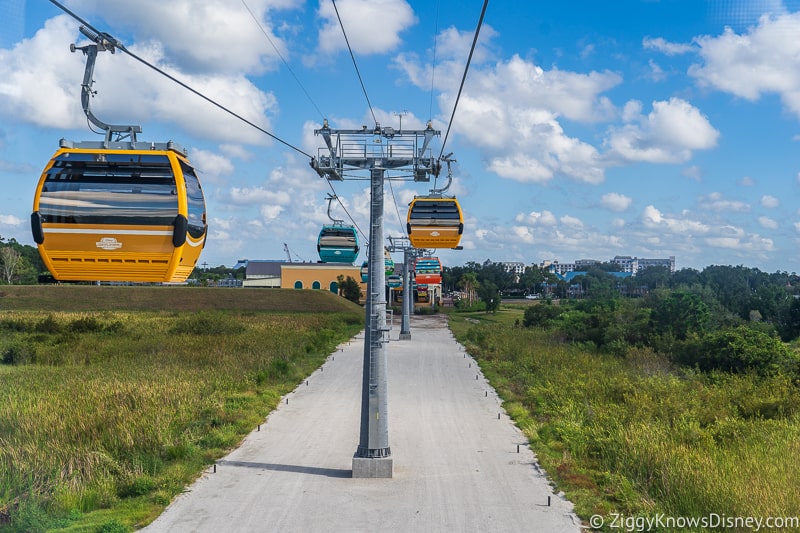 The Disney Skyliner Gondolas are the newest transportation system in Walt Disney World, roughly based on the old Disney Skyway buckets at the Magic Kingdom. These, however, are much bigger, and built to carry guests from hotels to parks and are an alternative to the Disney bus system or other forms of public transportation.
They are designed by the Doppelmayr Garaventa Group which is an Austrian company that manufactures chairlifts, gondolas and cable cars for ski and amusement parks. They also have experience building urban people moving systems and have produced over 14,600 installations in 89 countries
The Skyliner was announced in 2017 at the D23 Expo when Bob Chapek explained Disney's commitment to improving transportation in Walt Disney World, and construction began on the Skyliner in 2018.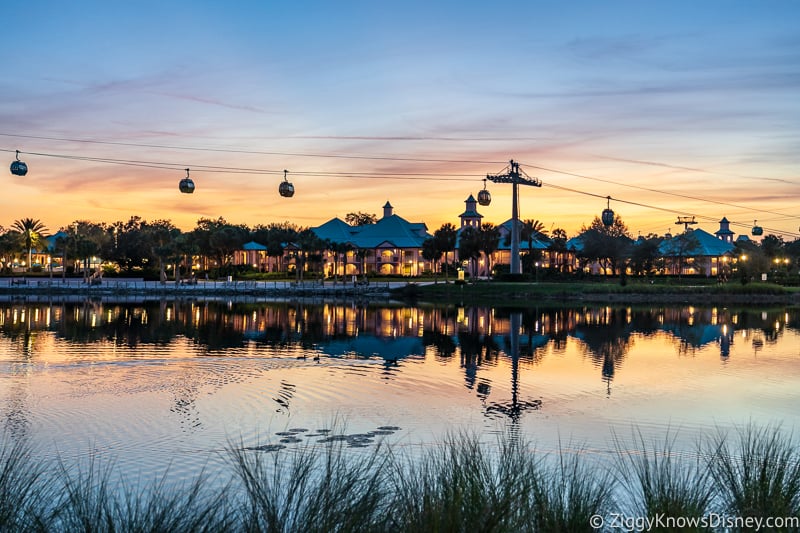 Riding in the Disney Skyliner is a unique transportation experience in Walt Disney World because being in an elevated position allows guests to have a bird's eye view of the resort in places they've never seen like that before. Think the same way the Monorail system allows you, but in new places.
Contrary to what was originally thought about the Disney Skyliner Gondolas, this newest transportation to the Walt Disney World Resort does NOT have air conditioning however with the speed it moves at, it does let significant airflow through them.
Disney Skyliner Stations: Where Does the Disney Skyliner Go?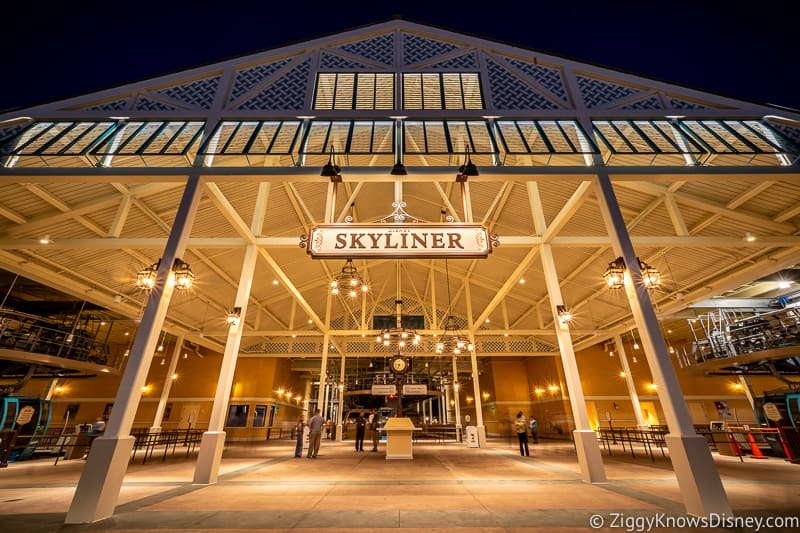 The Disney Skyliner Gondola system transports guests to and from many Walt Disney World locations including theme parks and hotels. During this initial launch, there are 6 Skyliner stations and it goes to the following locations:
Disney's Caribbean Beach Resort
Disney's Riviera Resort
Disney's Art of Animation Resort / Disney's Pop Century Resort
Turn Station (you can't actually get off here)
Epcot Station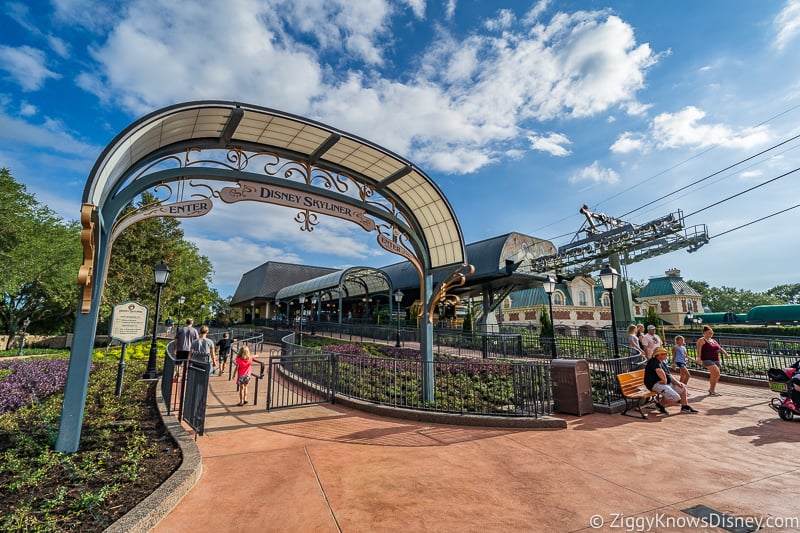 The Epcot station is located right outside the International Gateway and brings guests to the back door of Epcot in between France and the UK. Perfectly located for guests staying at the Yacht and Beach Club Resort, The Boardwalk Inn, or Swan and Dolphin.
Hollywood Studios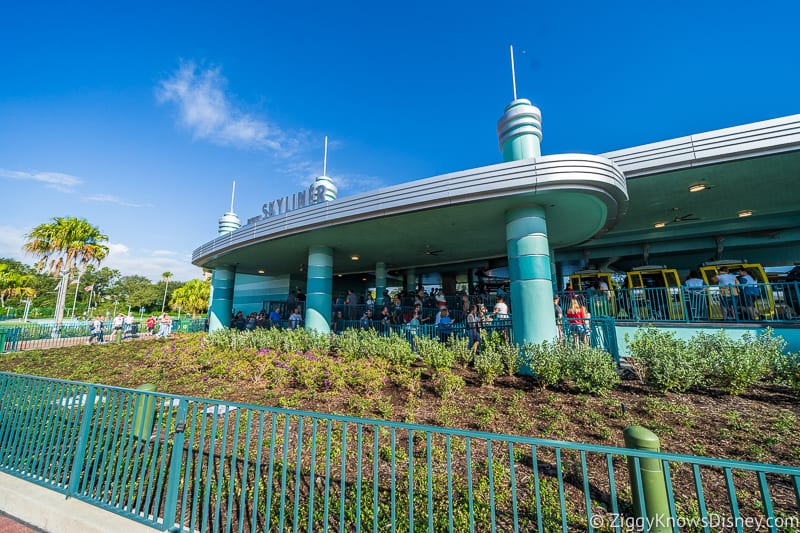 This might be the busiest station on the Skyliner route, and be the one with the longest lines now that Star Wars Galaxy's Edge is open. It's amazing though to see Batuu from the sky as you land at the station.
Caribbean Beach Resort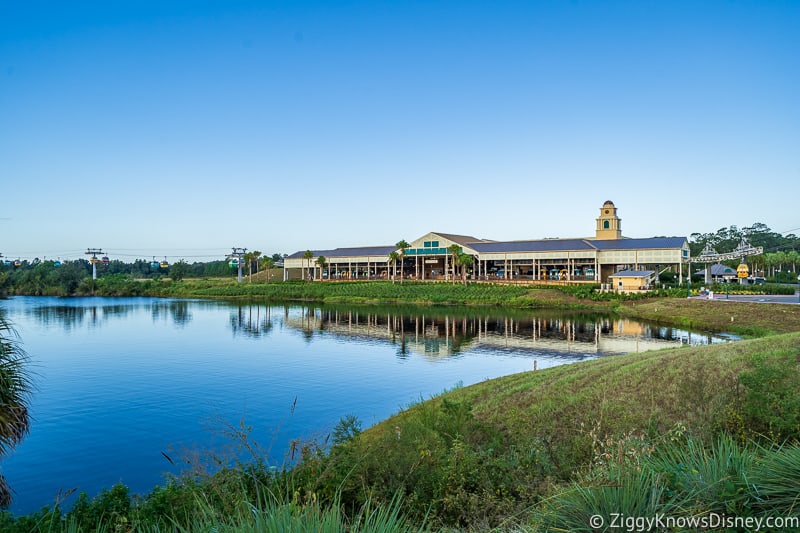 The Caribbean Beach Skyliner station is the "main hub" of the Disney Skyliner with all three lines departing from and arriving here. Guests going almost in any direction will eventually land here and then exit their gondola and choose the direction they want to go in next.
Riviera Resort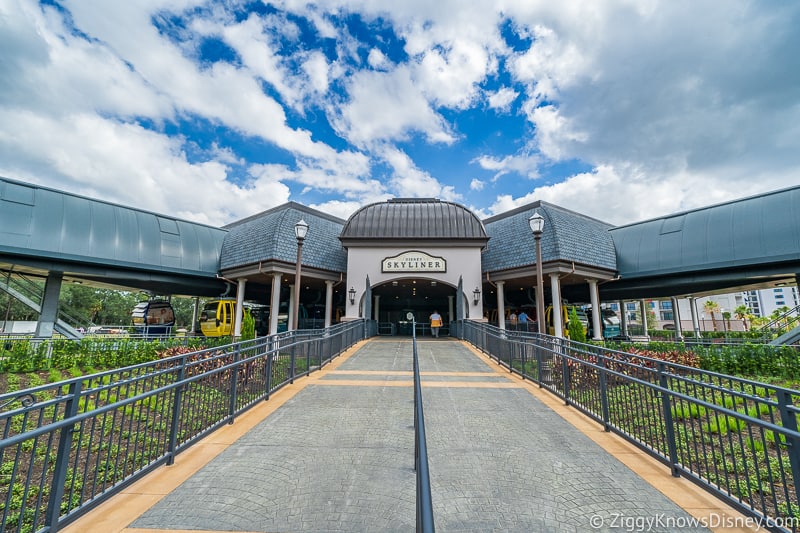 One of the main benefits of staying at Disney's newest DVC resort, Disney's Riviera Resort is that you are right on the Disney Skyliner line, perfectly positioned between Epcot and Hollywood Studios.
Art of Animation Resort and Pop Century Resort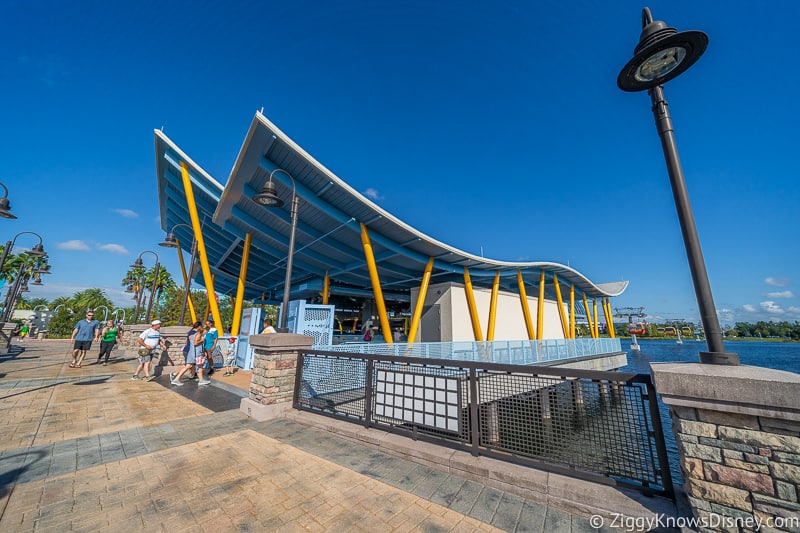 The Art of Animation and Pop Century Resorts share this Skyliner station which is positioned right in the middle of a walkway linking the two resorts together over a lake. This is a great move and allows two of the biggest resort hotels on property access to the Skyliner.
This initial launch of the Disney Skyliner transportation system is only the first phase in what's likely to be a multi-phase roll-out to other parks and hotels around Walt Disney World property. We'll go further into Phase 2 for the Disney Skyliner later in the article…
We'll also have a tour of each station so check that out for a closer look at each station.
Disney Skyliner Gondola Transfers
So now that you know all the stations, it's important to know that some stations require a transfer from one gondola to another. Knowing this ahead of time is important because in Disney World every second of your vacation counts and knowing potential delays is crucial!
Can I Stay On the Skyliner When I Arrive at a Station?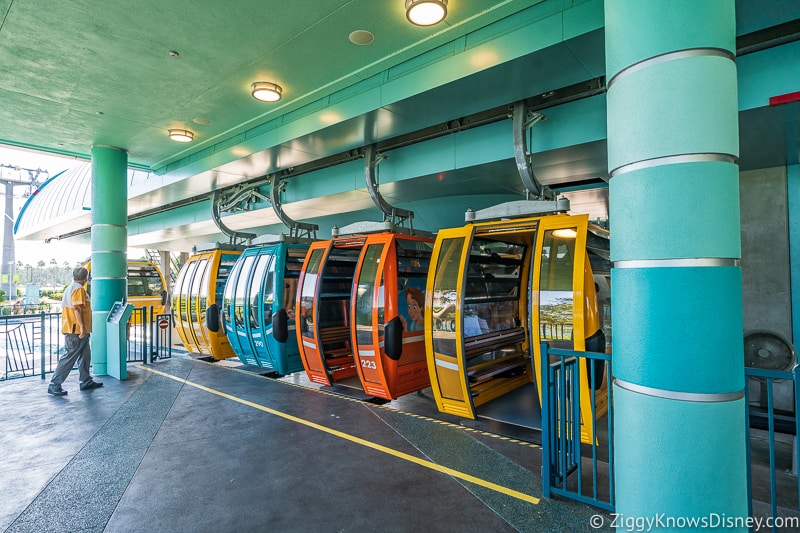 Yes and No. When you arrive at an end-of-the-line station (Art of Animation/Pop Century or Epcot) you aren't allowed to stay on and continue your journey, you MUST get off and exit the gondola. This is also true at the Caribbean Beach station.
Disney is not allowing guests to ride continuously without getting off. Once you arrive at one of these locations you have to exit the Skyliner. If you want to get back on and keep riding that's no problem. You can go back where you came from, exit the Skyliner and get back in line to take another gondola.
Here is an explanation of each station and transfer rules:
Art of Animation/Pop Century:
This is the beginning or end of the line depending on your journey and if arriving here you must disembark your gondola. You can always get back on again to go back and continue your ride.
If you are going to Hollywood Studios from here, you will not be required to exit at the Caribbean Beach station, you can continue right on to Hollywood Studios. If you are going to Epcot or the Riviera Resort you will need to transfer at the Caribbean Beach station.
Caribbean Beach:
This is the central hub station of the Disney World Skyliner system. Like Rome, all roads lead here. Regardless of your final destination, if you are getting on the Skyliner here you will be taken directly to your destination without having to get off. This includes going to Hollywood Studios, Riviera Resort, Epcot or Art of Animation/Pop Century.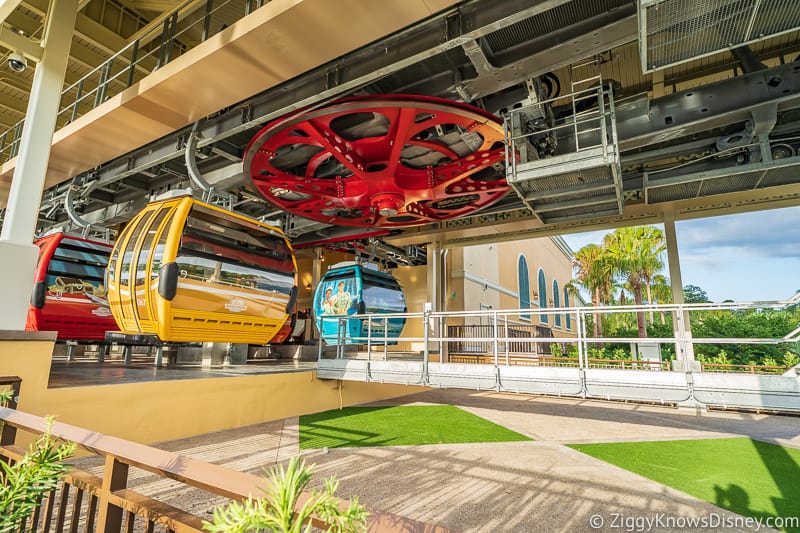 Hollywood Studios:
If you board at Hollywood Studios and are going to the Art of Animation/Pop Century, Riviera Resort or Epcot, you must get out at the Caribbean Beach station and transfer lines to continue on to your destination. Otherwise, you can get out at and stay at the Caribbean Beach Resort.
Riviera Resort:
If you get on here and are going to Epcot, then there are no transfers required. If you are arriving from Caribbean Beach and going on to Epcot, you can also stay in your car without exiting.
If you are going to the Hollywood Studios, Caribbean Beach or Art of Animation/Pop Century, you will need to disembark at the Caribbean Beach station.
Epcot:
If you are arriving here you must disembark the gondola.
If you are going to the Caribbean Beach, Hollywood Studios or Art of Animation, you need to stay on the Gondola at the Riviera Resort station and then get off at the Caribbean Beach station to transfer gondolas.
Do I have to Get Back in Line When I Transfer?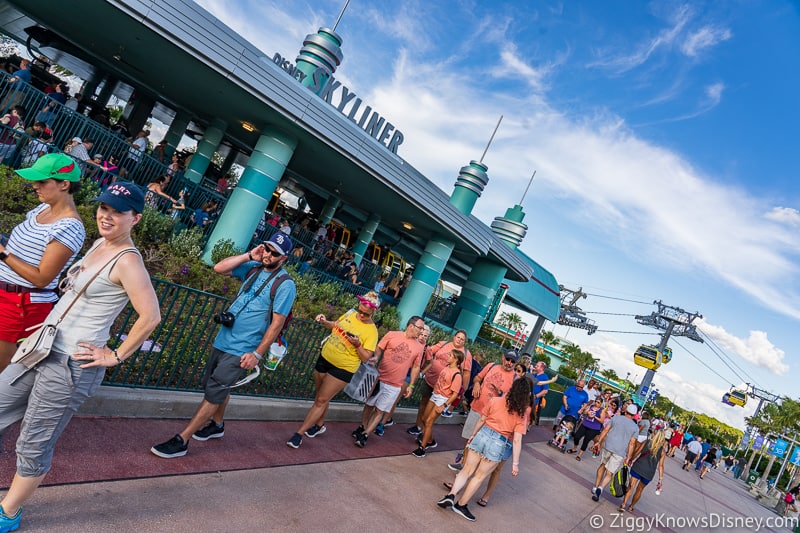 If you have to transfer to the Caribbean Beach station, it obviously would be a lot more convenient and save time if you didn't have to get back in line there and could just step into another Skyliner gondola.
However, that's not how the stations are set up. If you arrive at Caribbean Beach and want to take another Skyliner route somewhere else, the lines are there in the station, so you pick where you want to go and get in that line. No line cutting.
This does add some time to your trip if you go at peak park times (mid-morning and park closing), but there is no other way around it. Honestly, it's not that bad and will probably just take you another 5-10 minutes max.
What is it like When the Skyliner Slows Down and Stops?
Honestly, the take-off and landing are my favorite parts of a ride on the Disney World Skyliner!
The Skyliner is deceptively fast and has a fast acceleration. You definitely can feel the motion when the gondolas take off and they rock a bit. The same is true when pulling into one of the stations. The slow down from the fast speed is felt and they go from 11 mph to about 2 mph in a short time.
Can Guests Get Off at the Riviera Resort Station?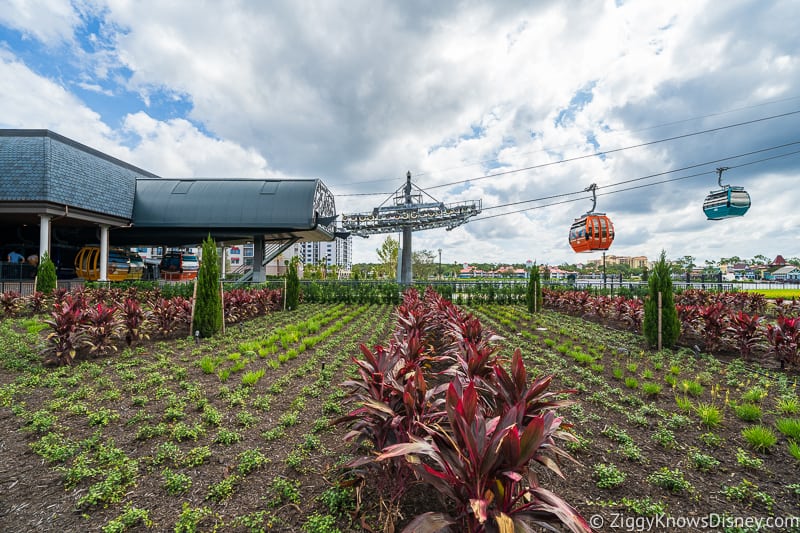 The Skyliner station at Disney's Riviera Resort is unique because of its positioning and can be convenient for guests staying at that resort or even at certain rooms at the Caribbean Beach Resort. Guests arriving here can definitely get off and visit the resort if they like.
Due to its position, this station is actually closer to some rooms at the Caribbean Beach Resort instead of going all the way down to where the central station is. This is especially true if staying in the "Aruba" section of the resort.
The Riviera Resort station is not a transfer station, however, so if you are continuing on to either Epcot or the Caribbean Beach Resort from the Riviera, you do not switch gondolas here.
If guests want to get out at the Riviera station, they need to let the cast members know at the station, and they will let you out.
Disney Skyliner Route Map:
We've created a map for you to follow to see the exact route of the Disney Skyliner showing all 6 stations. It doesn't matter where you start, almost every line will bring you to the Caribbean Beach station in the middle where you will decide which line to get on: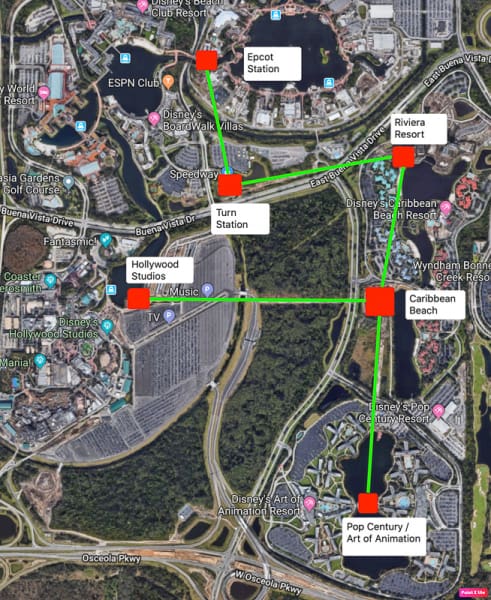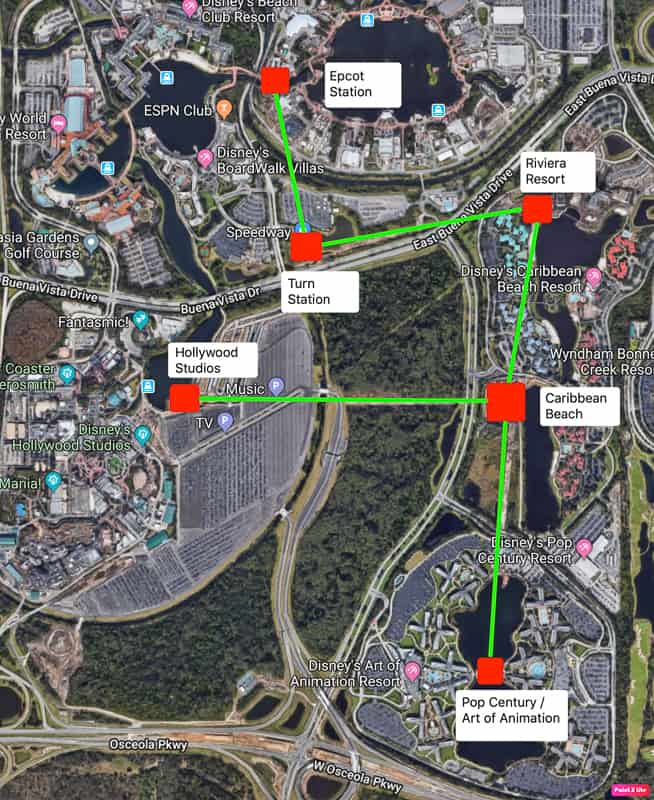 Everything looks really close on the map of the Skyliner, but those gondolas are moving some good distances at a quick pace! We're hoping Disney releases an official Disney Skyliner map on paper, so we'll keep you informed about that.
In the meantime Disney also has a digital map of the Disney Skyliner system on the My Disney Experience app, check the link so you can see it on there too.
Is the Disney Skyliner Open?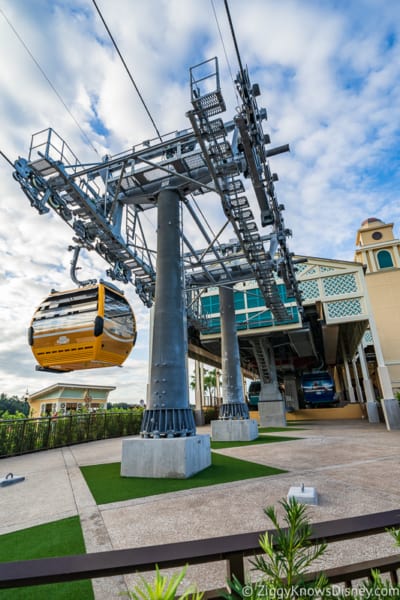 Yes, the Disney Skyliner Gondola system in Disney World is now officially open! The opening date for the Disney Skyliner was September 29, 2019! That means as of reading this, the Skyliner Gondolas has already brought millions of people back and forth from the resorts to the parks.
It was a bit surprising that the Disney Skyliner wasn't open in time for Star Wars Galaxy's Edge which opened August 29, 2019. Apparently Disney didn't feel like there was it was going to be ready in time.
The Disney Skyliner was closed for about a week in October 2019 due to an incident caused by a technical issue in the system. It then reopened about one week later.
(The Disney Skyliner is temporarily closed during the Walt Disney World Resort closure. As soon as Disney World reopens, so will the Disney Skyliner.)
How Much Does the Disney Skyliner Cost? Tickets?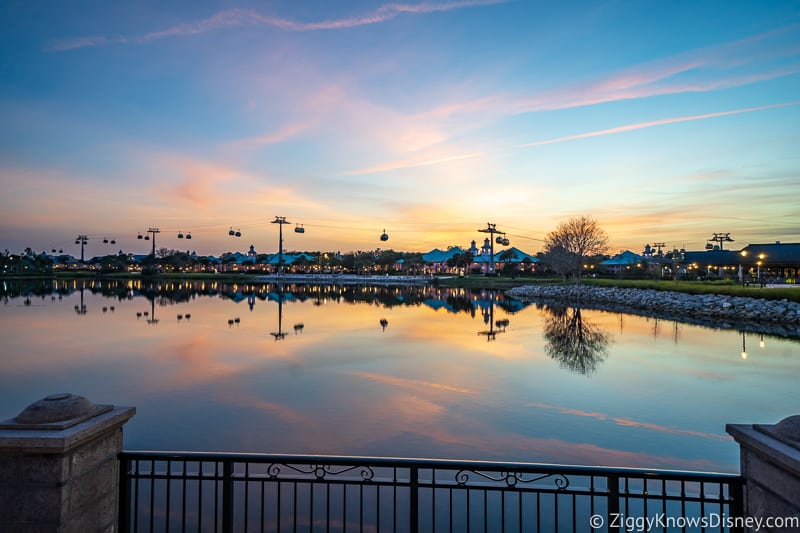 The best part about the Disney Skyliner Gondolas is that they are 100% FREE to ride. Just like the Monorails or the buses, you can get on the Disney Skyliner without paying anything.
There are no tickets required for the Disney Gondolas either, just walk up to the station, get in line and get in.
In fact, riding the Skyliner is one of our favorite Free Things to Do in Walt Disney World! It makes for a great activity to do on a non-park day and you can ride from hotel to hotel, explore the resort grounds or grab something to eat.
Can Anyone Ride the Disney Skyliner?
Anyone can ride the Disney Skyliner that wants to. You do not need to be staying at a resort that has a Skyliner station on-site to ride. You don't even need to be staying at a Walt Disney World Resort hotel to ride the Disney Skyliner.
It's not like the hotel pools where you can only go in the hotel where you are staying, anyone who wants to ride the Skyliner is free to do so any time it's open.
Can I Park My Car at a Disney Skyliner Hotel and then Go to the Parks?
This would be a great option if true, but no you can't park at a Disney Skyliner hotel to go to the parks, or at least not for free.
Complimentary standard self-parking is available for Guests visiting Disney Resort Hotels, but only to enjoy select dining, shopping, entertainment and recreation experiences.
TIP: If you have a dining reservation they give you 3 hours of free parking. That should be enough time to grab something to eat at one of the restaurants in one of the resorts and then take a ride around the Skyliner.
Disney Skyliner Times and Schedule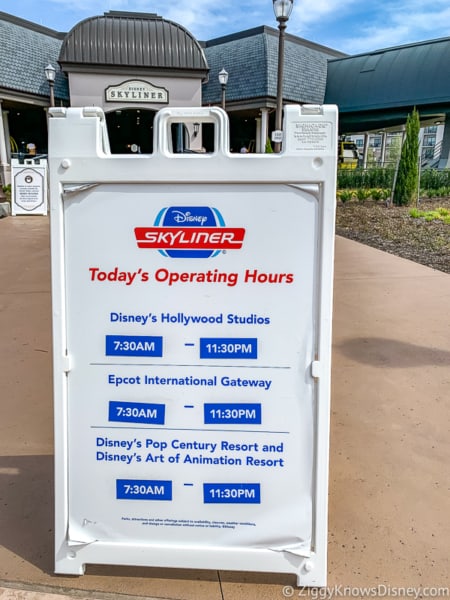 When does the Disney Skyliner open every day? The answer right now is: Early. Disney has just reduced the Disney Skyliner hours due to early closing hours for EPCOT and Hollywood Studios.
Right now Disney Skyliner Hours are:
Disney's Hollywood Studios: 9:00 am to 8:30 pm
EPCOT International Gateway: 10:30 am to 8:30 pm
Disney's Pop Century Resort & Disney's Art of Animation Resort: 9:00 am to 8:30 pm
For the most part, the Skyliner operates just like any other form of Disney transportation in that it will open 30-60 minutes before park opening and close 1 – 1 1/2 hours after park closing every day.
There are no set "official Disney Skyliner operating hours," so you have to base it on when the parks are opening on the day you plan to ride. If the parks are listed to open at 9 am, the Disney Skyliner should be operational by 8:00 – 8:30 am that day.
Last year, the Disney Skyliner was operating at times from 6:45 am to 10:30 pm, which was to handle the early mornings at the parks during the holiday rush. This change in the Skyliner schedule was to accommodate the new earlier opening hours at Disney's Hollywood Studios.
Disney Skyliner & Rope Drop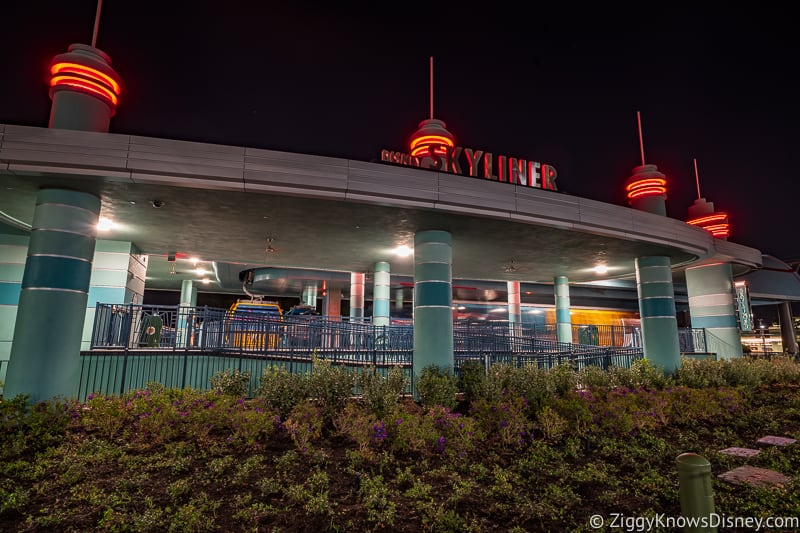 Demand for the Skyliner increased with the new Rise of the Resistance ride, which has been incredibly popular thus far. And since guests need a boarding group to ride Rise of the Resistance, it's crucial to arrive at the park before opening.
To secure a boarding pass, you need to be at Hollywood Studios a minimum of 30 minutes before the park opens, and even that is cutting it close. On most days, the Disney Skyliner doesn't open early enough to get you there in time to do a Hollywood Studios rope drop.
Right now we don't recommend using the Disney Skyliner to get to Hollywood Studios or Epcot for that matter if you want to be there for the park opening. Driving, walking or ride-sharing are all better options at this point.
The Disney Skyliner operating hours continue to change. We'll continue to update this as Disney publishes its latest schedule.
Will Disney Skyliner Gondola Wait Times be on My Disney Experience?
As of now Disney hasn't commented on whether or not wait times for the Skyliner will be on My Disney Experience, however, it's likely that it will be added soon. It's possible to see the bus schedule times in the app, so one would think they'll put wait times for the Skyliner eventually too.
Skyliner Gondola Cars Outside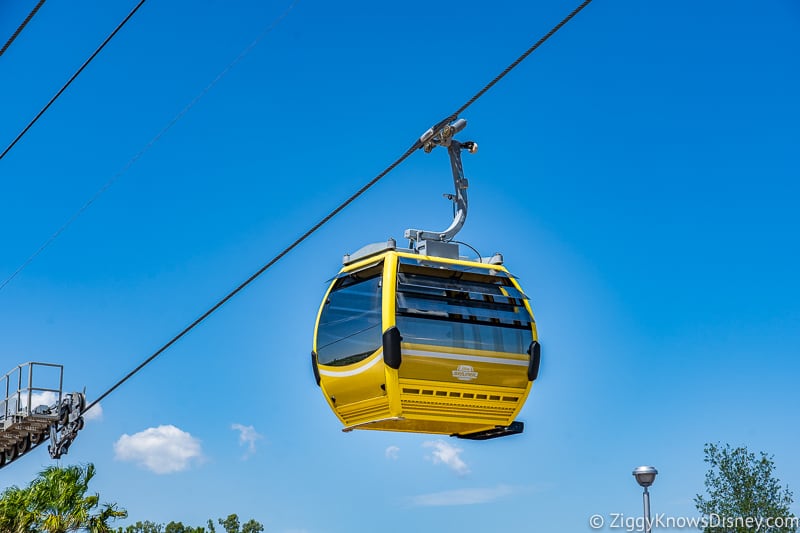 There are 2 types of Disney Skyliner gondola cabins:
Ones with solid colors.
The other with the Disney character wraps on them.
The characters are not on all of the gondolas (thankfully), but only select ones. This is probably a combination of a few things like leaving it open for future characters to be added who don't even exist yet, a question of saving money.
There are 7 different colors including the ones with character wraps. Blue, Red, Green, Yellow, Orange, Purple and Teal. And there are 22 different character gondolas to ride in.
Here are a few examples of the gondolas with character overlays. This one is Star Wars themed and has Chewbacca, R2-D2, C-3PO and the gang on it: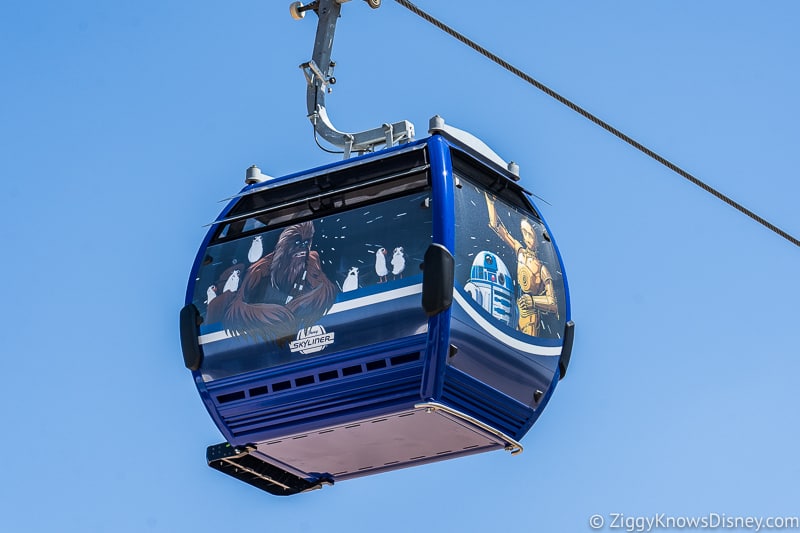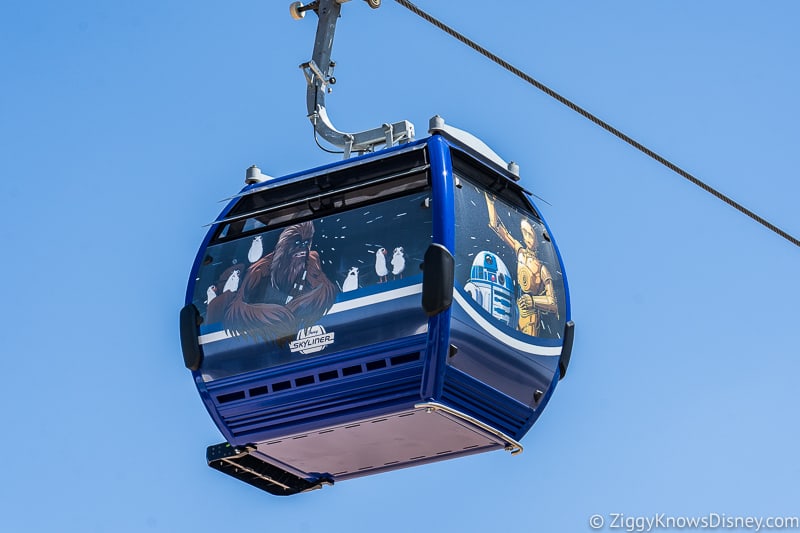 This one is Pluto: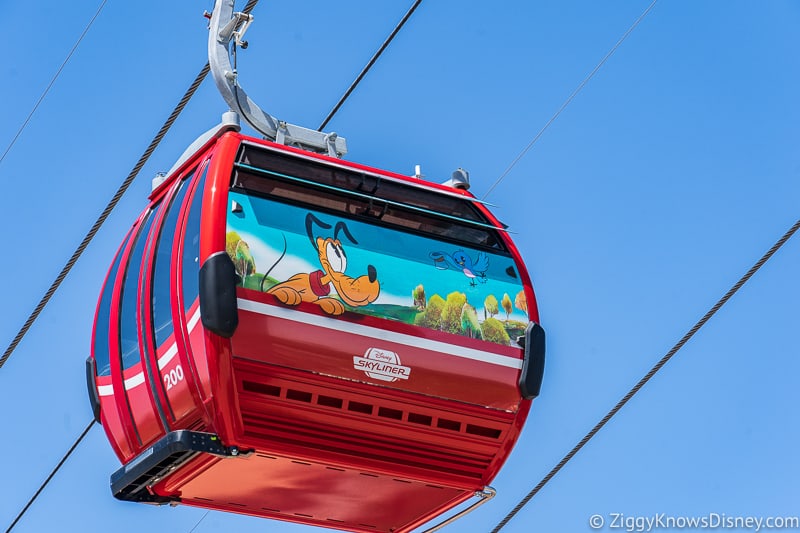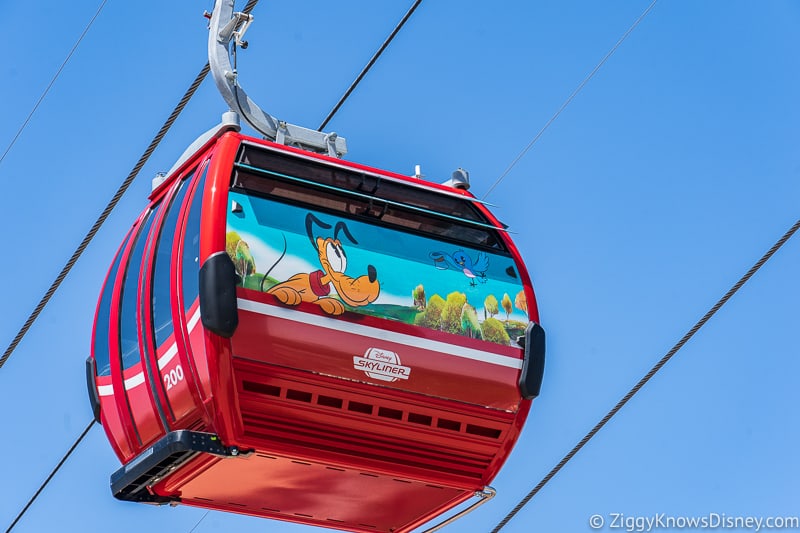 Gamora and Star-Lord from Guardians of the Galaxy: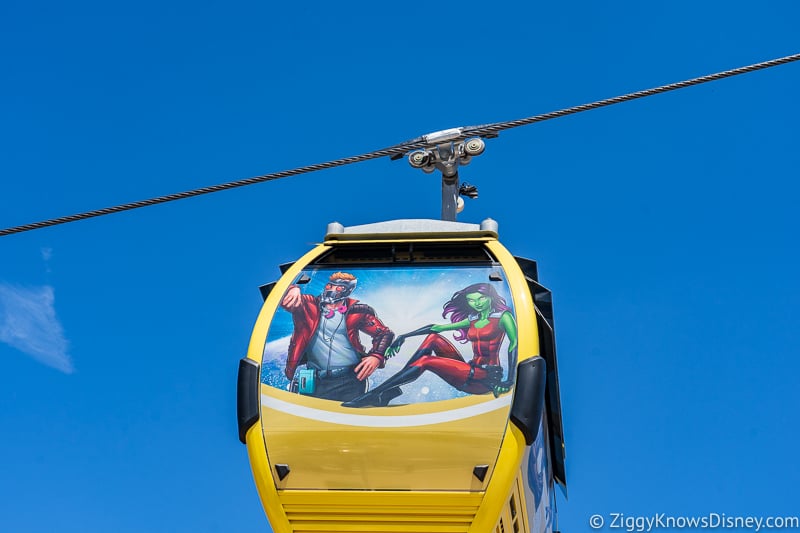 Beauty and the Beast: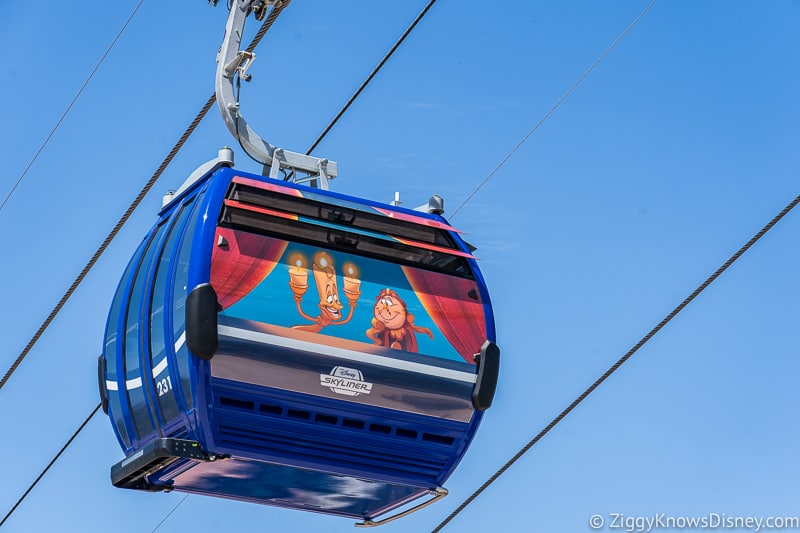 They are a lot of fun to both ride around in, and to watch from the ground where you can see all your favorite Disney characters!
You can read our article which has the breakdown of all the Disney, Pixar, Marvel and Star Wars Characters that are on the Disney Skyliner so far. We've counted 22, what about you?
Can I Choose to Ride in a Specific Character Gondola?
If there is a gondola with a specific character you would like to ride in, you can tell the Disney Cast Member working at the Skyliner that you are willing to wait and would like to ride (or don't want to ride) in that gondola. If they are able to accommodate you then they will tell you to wait to the side until that gondola is available.
Inside the Disney Skyliner
We've had many rides in the Disney Skyliner and want to show off what they look like. Here is the inside: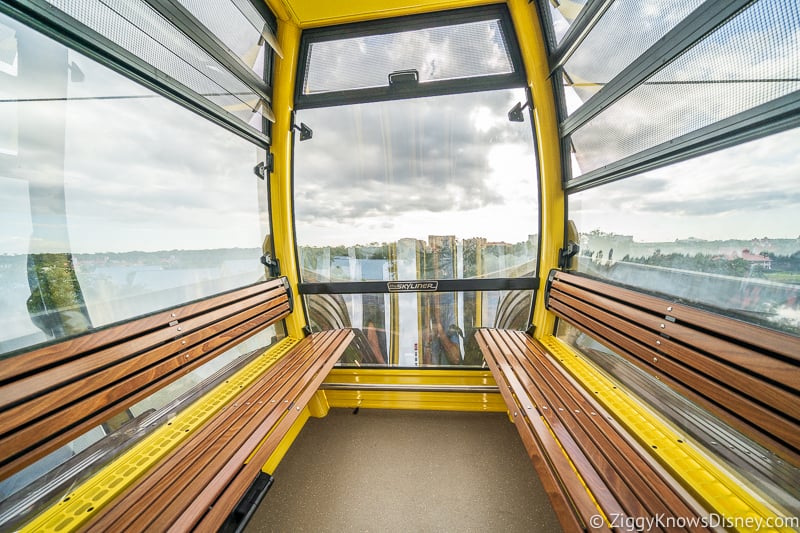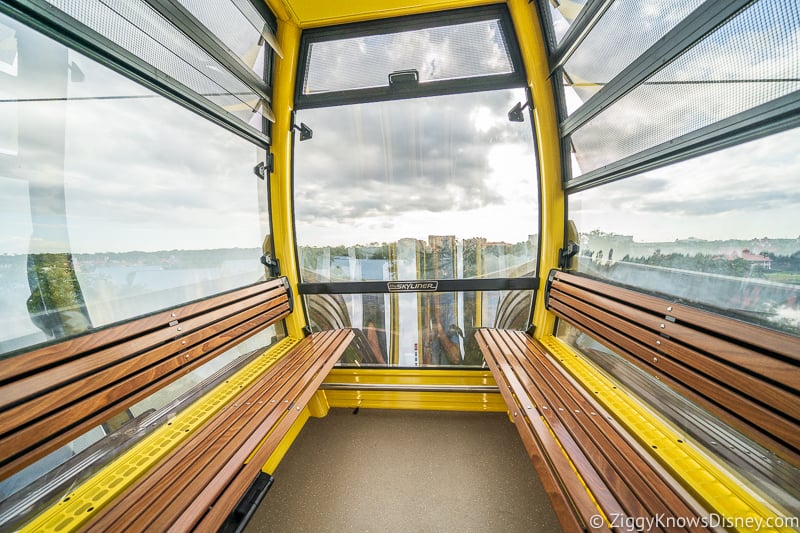 I have to say they are pretty spacious, and unless it's packed to the gills, you have decent space.
This is one of the gondolas with a character wrap from the inside: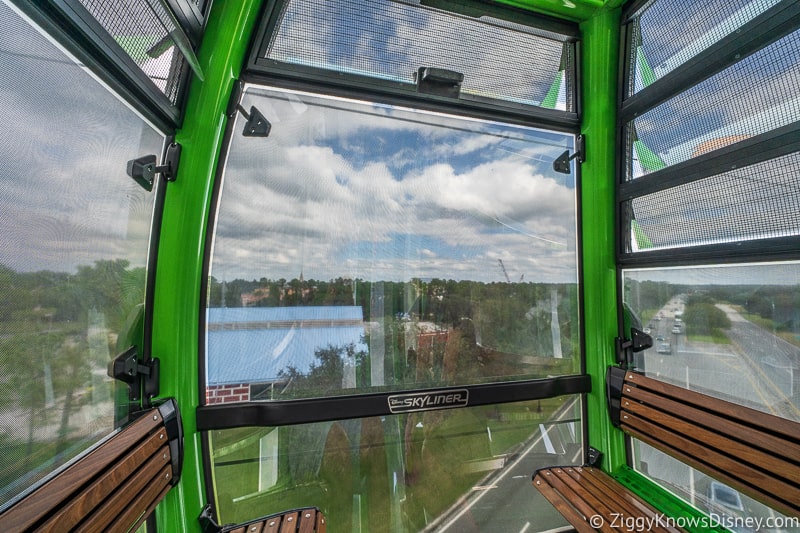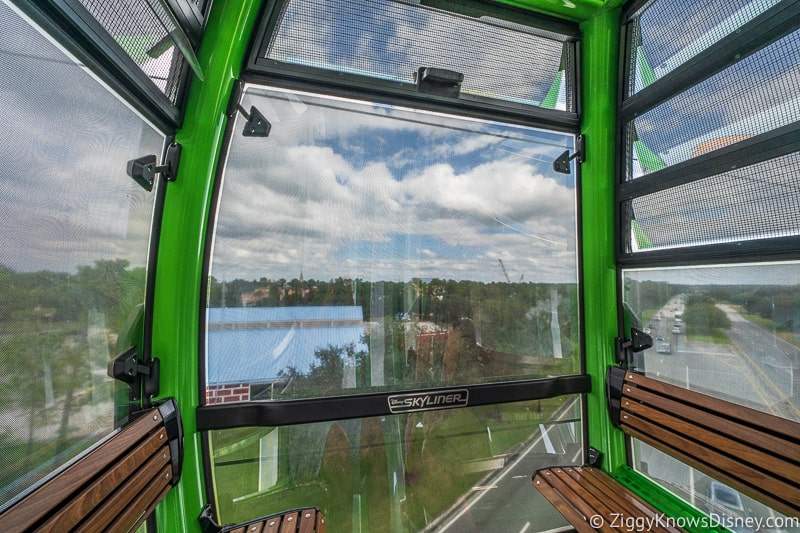 TIP: The Disney Skyliner offers some really incredible views from that height, but If you want the best view from inside the Disney Skyliner Gondolas, ask for a car without the character wrap. It's hard to see out of the cars with the characters as the coating used to stick them onto the window obstructs the view and without will help your photos to come out much better.
If you are more concerned with seeing outside, then ask for a gondola with no characters on it.
On the other hand, if you are afraid of heights, the character gondolas are better because it obstructs your view.
No Air Conditioning, but Air-Cooling
One of the biggest questions on everyone's mind has been whether or not the Disney Skyliner has air conditioning. One would think that it's hot in Florida and sending up hundreds of passengers to cook under the baking sun in a metal can might not make for the most pleasant experience.
Unfortunately, the Disney Skyliner DOES NOT have air conditioning after all. At first, this was kind of upsetting as I didn't think Disney would risk having people melt inside the Skyliner cars. However, they have installed an air-flow system that we have to say keeps guests comfortable 95% of the time.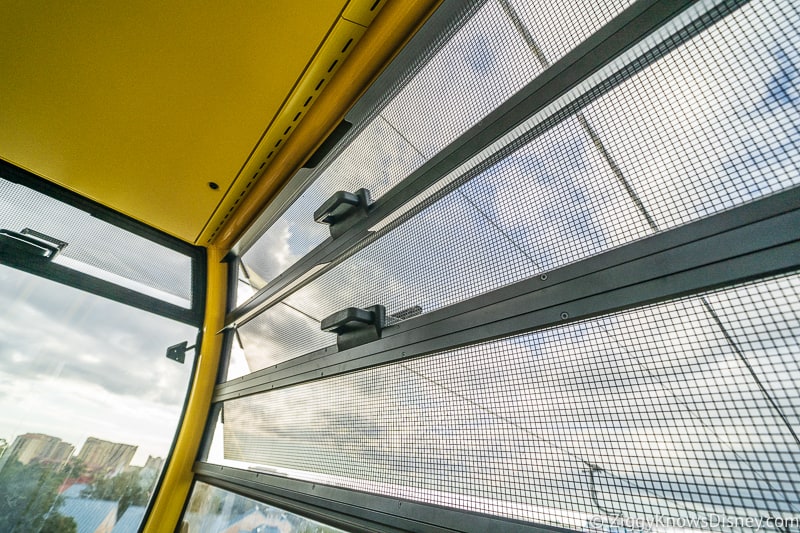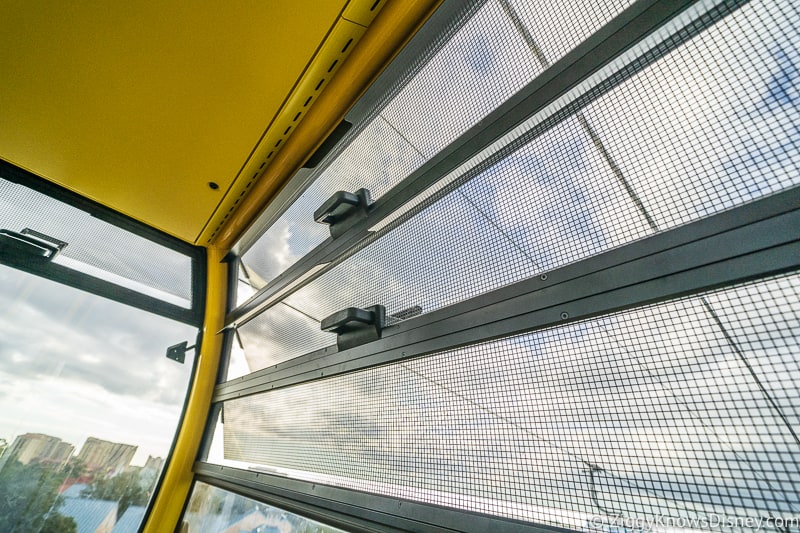 If you look at this photo you can see there are panels which are able to tilt out on both sides which should let a cross-breeze in. The reflective windows help with the blazing sun!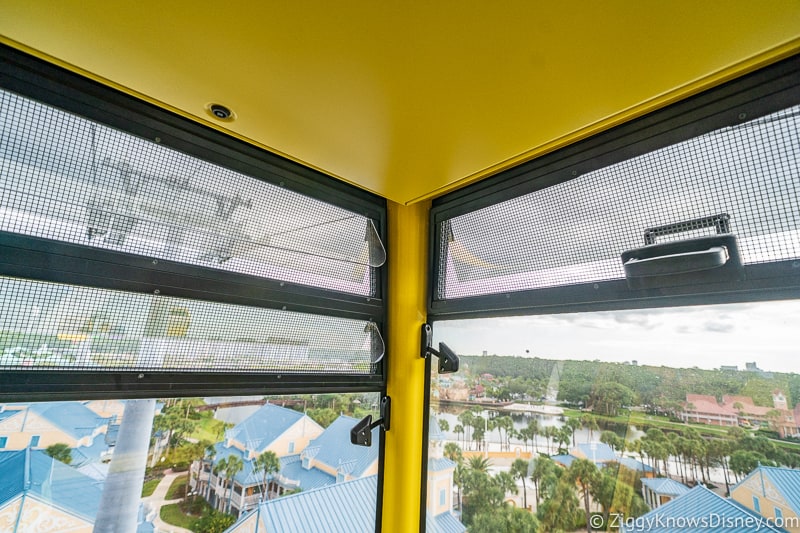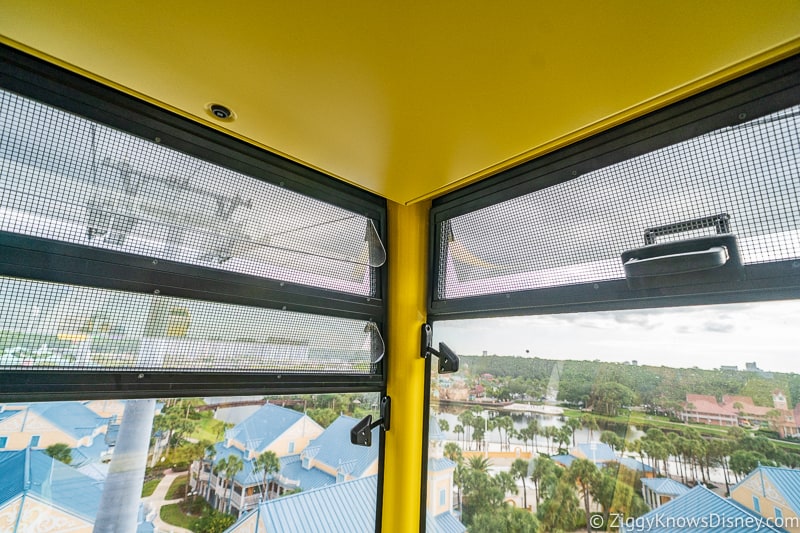 Overall the air ventilation system works surprisingly well and the Skyliner doesn't suffer much from not having air conditioning. Of all the rides we've take in them, we've only been uncomfortable once.
When the gondolas are moving, airflow is not a problem and you are going to be cooler in here than one of the Walt Disney World ferry boats for example. For the strongest breeze, ride seated facing forward. The people riding facing backward will still get some breeze, but definitely not as much.
The biggest problem we've experienced with the ventilation system isn't the temperature, but the rain. At times when it rains, the water can get in through the open panels making the inside a bit wet. Now you can close the vents, but if it's a hot day when this happens, you cut off the ventilation and the temperature rises significantly.
Temperature Inside the Skyliner
The temperature inside the Skyliner is obviously important to many, and even though there isn't air-conditioning, all early reports are positive with temperatures inside not exceeding the outside temperature for the most part.
Even with the sun blazing, the reflective glass on the gondola windows, the cooling system keeps it relatively cool despite everything. Most of the time we've ridden it, even when outside was blazing hot, the inside temperature doesn't get too much above the high 80's. That's with the sun is blazing too.
This is Florida after all and it does get super hot, so how this holds up from June to August remains to be seen. We'll continue to monitor the temperatures inside the Disney Skyliner so stay tuned.
Skyliner Videos
If you want to see just what riding in the Disney Skyliner is like, take a look at our POV Disney Skyliner Gondola Tour where we visit all 5 stations.
Skyliner Capacity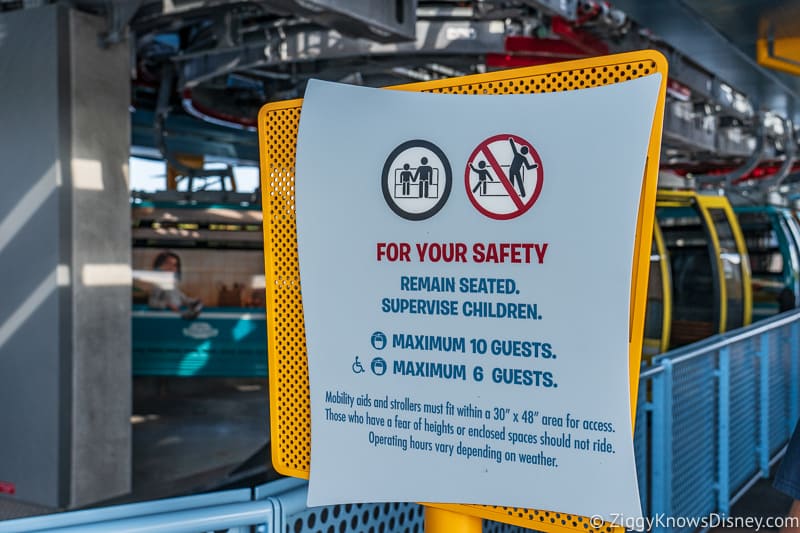 Another big question that's on a lot of people's mind is been how big the Skyliner cars are and how many guests they can transport? The estimated capacity of the whole system is 4,500 guests per hour. The Disney Skyliner fleet has 300 cabins, more of half of which are on the Epcot/Riviera Resort line.
The Disney Skyliner accommodates 10 passengers per gondola and there are twin wooden benches in each car for guests to sit on, and each wooden bench fits 5 passengers. The wooden benches are actually quite comfortable.
There is NO STANDING on the Disney Skyliner according to signs for the transportation system. Guests are required to remain seated at all times.
Is it Too Crowded?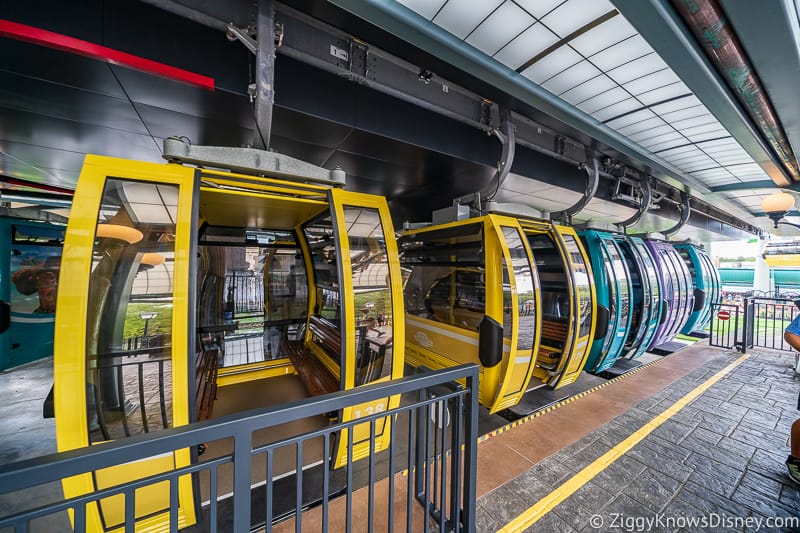 For the most part, Disney isn't filling the cars to the max 10 people each time, even in peak season. The Disney World Skyliner holds 10 people but obviously 5 children on a bench fit different than 5 adults, so things can get a little cozy up there depending on the size of the group.
Of all the times I've been on the Skyliner, the most people that we've had at once is 8, and even then it feels pretty comfortable.
I would say that 10 passengers are a decent number and if Disney can continue to improve the loading/unloading down relatively quickly, things move right along. There are big lines at times (during park opening and closing) but it's a big enough number to move guests through at a good speed.
With the Skyliner rules being posted, Disney has made it clear they do not want people standing in the Gondolas. I think this was a pretty smart move all around, and we haven't been in any gondolas where people were disobeying the rules.
Will guests stand if they feel too crowded? We'll keep an eye on this to see how Disney handles it.
Are there Height Restrictions to Ride the Disney Skyliner?
There are no height restrictions to ride the Disney Skyliner, and young and old, big and small can ride.
Can Children Ride without an Adult present?
Children must be 14 years or more to ride alone on the Disney Skyliner. Children 13 and younger must have someone 14 years older or more with them to ride.
Speed and Ride Time Length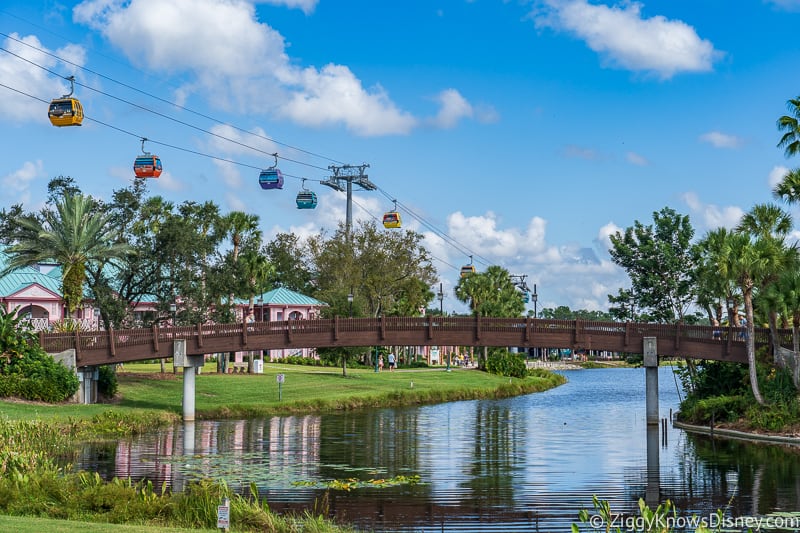 Disney's official estimated ride times for the Disney Skyliner are rides between 5-15 minutes, though most will be quicker than 15. There are more than 300 gondolas in the Disney Skyliner fleet and they travel at heights of up to 60ft.
The Disney Skyliner cars also move pretty fast with a cruising speed of 11mph and slow down to about 1mph when arriving at the station and people are exiting and loading.
Typical Estimated Disney Skyliner Ride Times:
Disney's Caribbean Beach Resort to Disney's Pop Century Resort or Disney's Art of Animation Resort: less than 4 minutes
Disney's Caribbean Beach Resort to Disney's Riviera Resort: about 2-3 minutes
Disney's Caribbean Beach to Disney's Hollywood Studios: about 5 minutes
Disney's Riviera Resort to International Gateway at Epcot: about 9 minutes
Disney's Caribbean Beach Resort to International Gateway at Epcot: about 10-12 minutes
Most of these times are taken from the Caribbean Beach station since that is the main hub for the Disney Skyliner and guests will be getting on and off here.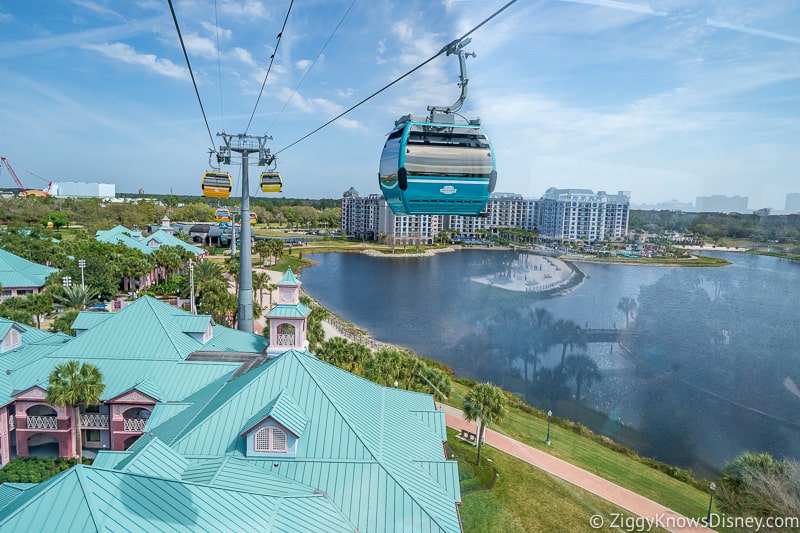 From our experience, it's a very fast and effective way of getting around property, and the original estimates from Disney are very conservative. When there are no delays, the Skyliner moves super fast and beats all of the times listed above.
Sometimes though there are delays, so make sure to leave an extra 5-10 minutes space if you are in a hurry. If you are late for dinner reservations, we recommend getting an Uber or other ride-sharing rather than relying on the Skyliner.
The longest ride is from Epcot to Pop Century/Art of Animation, and going 11mph at that distance the ride is still right around way less than 15 minutes with no delays. That's really good and you'd be hard-pressed to get around this fast on the buses.
How Long do I Have to Wait in Line for the Disney Skyliner?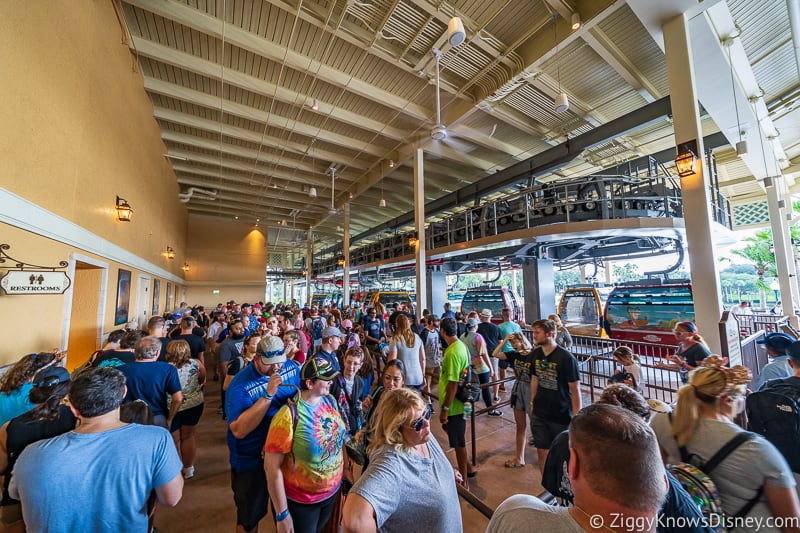 This is going to depend on which station you are getting on at, and what time of the day it is. On all our rides we've found that early morning rides are the best, with hardly any wait. You can get right on.
Once it gets after 9 am till early afternoon, the crowds pick up. Usually, you're looking at about a 5-10 minute wait, with some waits as long as 20 minutes, especially if there are any delays.
In the evening at park closing things get very crowded and this is where the worst lines are and the longest waits. Epcot is the worst offender, and going on the Skyliner just after the Epcot fireworks are finished is always a bad idea. We've seen waits well over 30 minutes during that time.
The stations make a difference and of course, the Epcot, Hollywood Studios and Caribbean Beach stations are the busiest and have the longest lines. Pop Century/Art of Animation and Riviera Resort stations are much quieter.
It also matters what time of year you are visiting. If you go during one of the busiest times of the year in Disney World, then it will definitely be more crowded.
Does Wait Time Include Waiting in Line?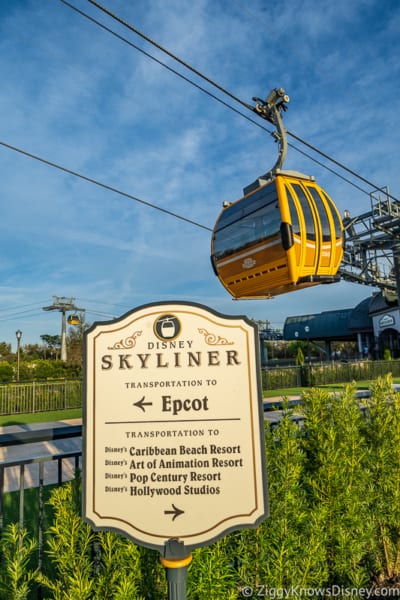 Guests have to get off and back on to change directions to wherever they want to go at the Caribbean Beach station which slows it down a bit. So add a few mins for loading and going from Epcot to Pop Century is still pretty fast!
Second, the cars keeping moving while at the station during the loading/unloading process means Disney is putting a priority on efficiency and speed.
Loading the Skyliner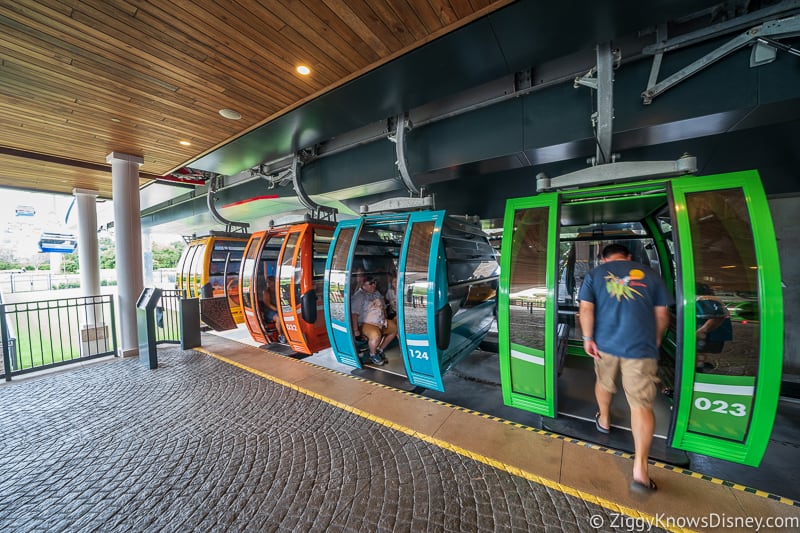 The Disney Skyliner is like an omnimover attraction (think Spaceship Earth or the PeopleMover) where it never really stops but Cast Members can pause or slow down the gondolas to give guests as much boarding time as needed.
The gondolas slow down dramatically when inside the stations making it easy to get inside. In our experience loading is not a problem for the most part.
Is the Disney Skyliner be Accessible to Wheelchairs and Scooters?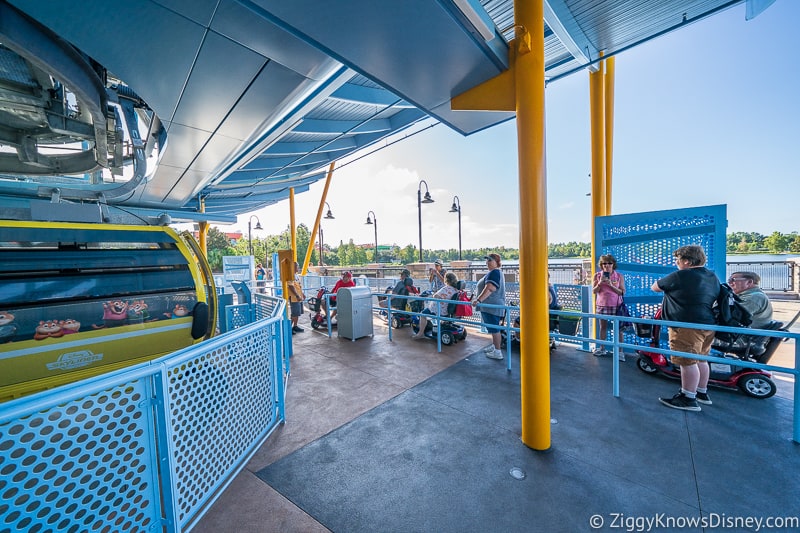 Wheelchairs and scooters are definitely allowed on the Disney Skyliner and fit in quite nicely. There are special gondolas fitted to accommodate wheelchairs, ECVs, and other mobility devices.
Normally each Disney Skyliner gondola car can fit 10 guests, however, gondolas fitted to accommodate any wheelchairs, mobility devices or ECVs will be limited in capacity to 6 guests per cabin.
Strollers and mobility aids must fit within a 30″ x 48″ area to board the Disney Skyliner. The benches fold up making for easy access, but they still need to be small enough to get in the doors.
The level of the cars is the same as the platform which means it will be really easy for anyone in a wheelchair or whoever has a stroller to get on/off. For wheelchairs they even have special wedges to put behind the wheels to keep them immobile.
Separate Loading Area for Guests needing More Time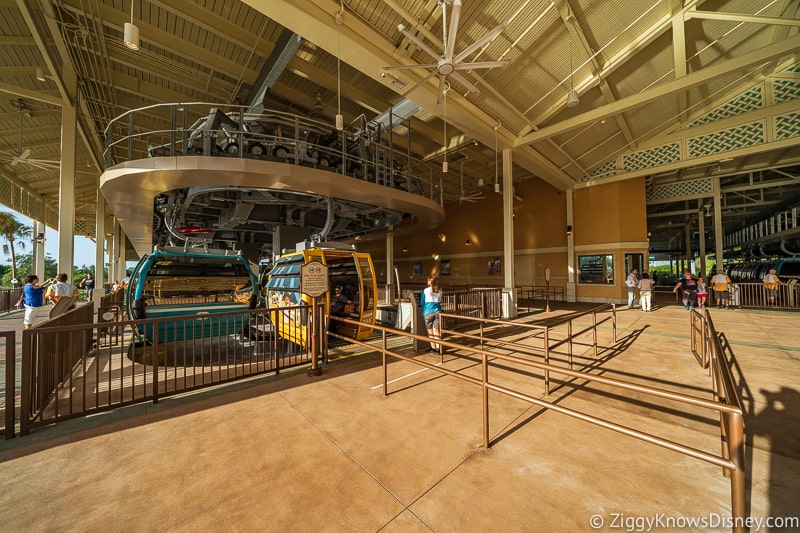 Another nice thing is that Disney has built a seamless second loading area for guests with mobility issues or using wheelchairs, scooters, etc. Specially marked Gondolas exit the normal loading loop onto a separate track where it's easier to load.
The Gondola comes to a complete stop here and loading is no longer an issue. Guests need to inform a cast member upon arrival and they will be put in a special queue where they can load the gondola at their leisure.
TIP: If you are planning to use the assisted loading area, show up early as the line can move slow. You might show up and be the only one getting on, but we like to allow an extra 10 minutes just to be safe.
Can I Use the Special Loading area even Without a Wheelchair/Scooter?
Absolutely. Guests who need more time to load for whatever reason have their own line and can enter these still gondola and take their time.
All of this is really good to hear and helps to minimize wait times. We'll keep you updated as we watch this more closely.
Can I Bring a Stroller on the Disney Skyliner?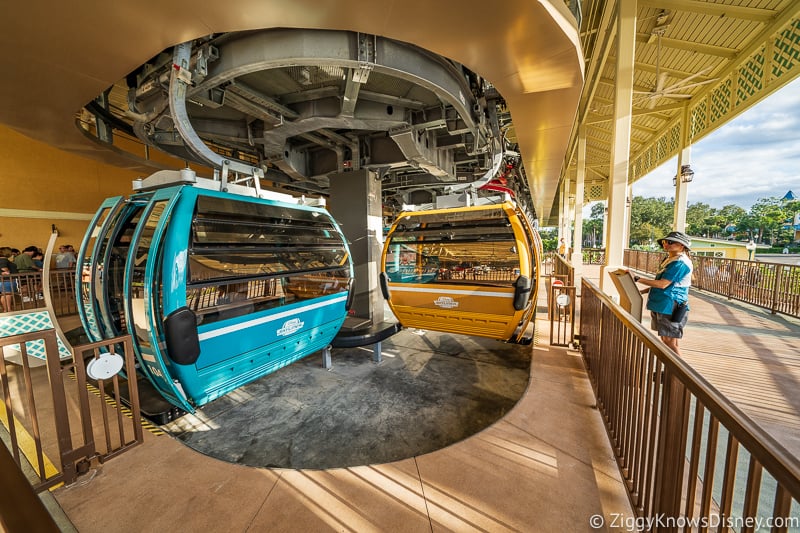 Parents absolutely can bring strollers on the Disney Skyliner. There is no need to fold it up either as long as the stroller fits in the 30″ by 48″ space when unfolded. If the stroller is larger than the designated size, they must be folded up to fit.
The whole process is very similar to the Monorail, and most parents can just wheel their children into the gondolas with no problem.
Can More than One Mobility Device Go in a Gondola at a Time?
No. Each Skyliner Gondola car is limited to one mobility device (Strollers, ECVs, Wheelchairs, Scooters, etc.) If you have 2 or more of these in your party, you will have to split up and go in separate gondola cabins.
Does a Child in a Stroller Count as a Passenger?
Yes, they do. The Disney Skyliner has a capacity limit of 6 when strollers are in use, and children seated in strollers are counted as passengers. That means if you are a family of 4 with 1 child in a stroller, you count as 4 passengers.
Only 1 stroller, scooter or other mobility device is allowed in a gondola at a time. That means if you have multiple strollers or scooters in your group, you will need to take separate gondolas for each device.
Do I Have to Ride with Other People in the Gondolas?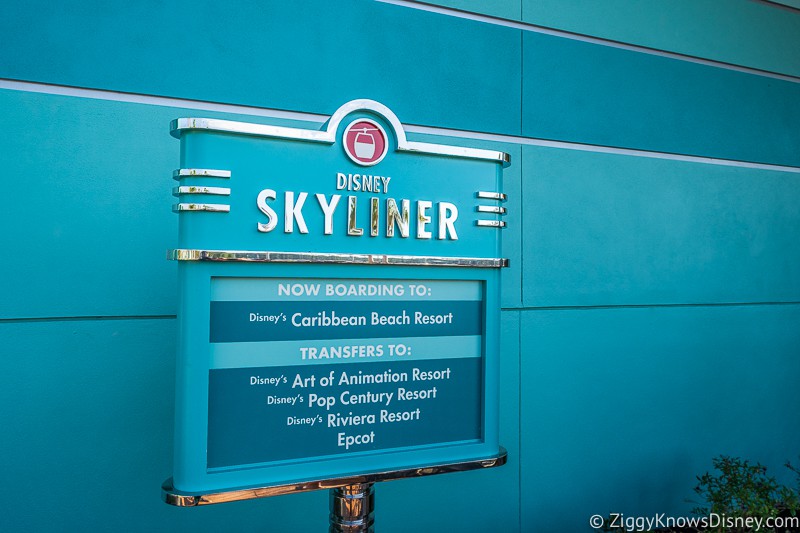 This is going to depend a bit on how busy the Skyliner is when you visit, but in general, the cast members will not force other people into the gondola with you, if you have a group. Let's say you have 6 people in your party, typically you will ride alone and not be forced to ride with 4 other people.
On the other hand, if you are a single rider, it's likely that they will put more people into the Skyliner with you. Again everything depends on the current capacity and how busy it is at the time you ride.
Is the Disney Skyliner Scary?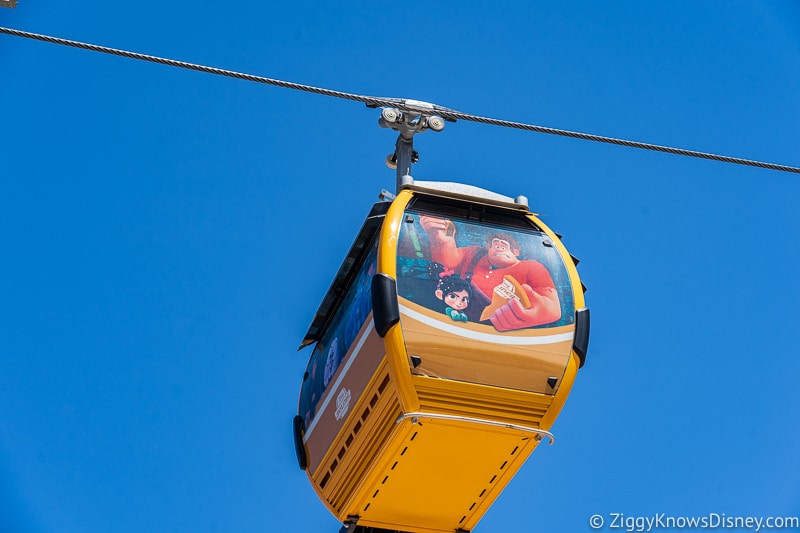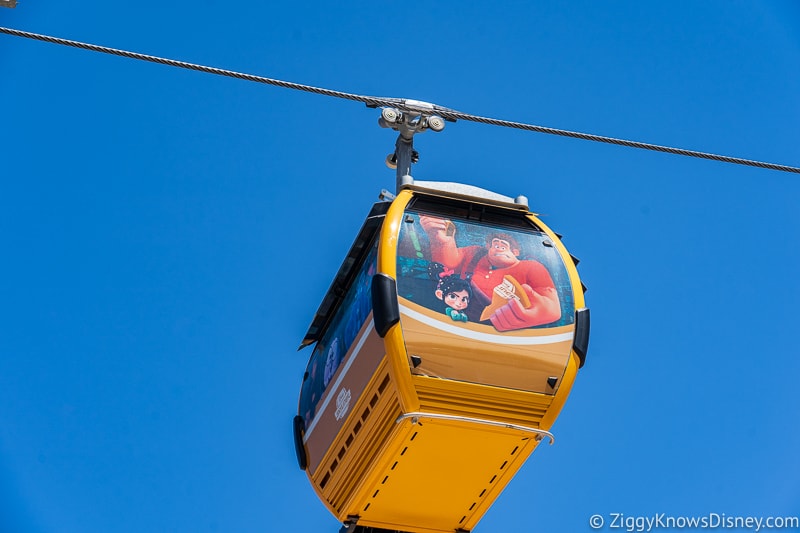 This depends on your point of view, but Disney has not made the Disney Skyliner to be scary on purpose, it's a transportation system designed to get people from their resort hotel to the theme parks, not as a thrill attraction.
That said if you have certain phobias, then you might want to reconsider riding the Disney Skyliner.
Heights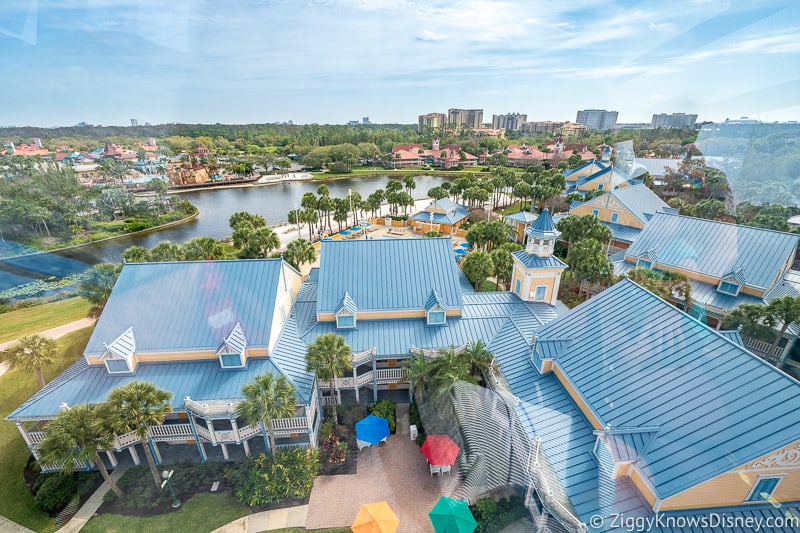 Each Gondola car is suspended approximately 30-50 feet above the ground at any time, with some parts reaching a maximum height of 60 feet. It's also hard to ignore the fact you are so high seeing that the glass windows are so big inside the gondolas, everywhere you look you can see out. If you have a fear of heights this might be scary for you.
Though riding in one of the character gondolas makes this experience a little less scary as it impedes your vision outside to a certain degree.
Disney has already posted signs outside of the Disney Skyliner stations recommending guests who have a fear of heights to not ride. So it's up to you but if you feel nervous about any of these scenarios, it's probably best not to go.
Movement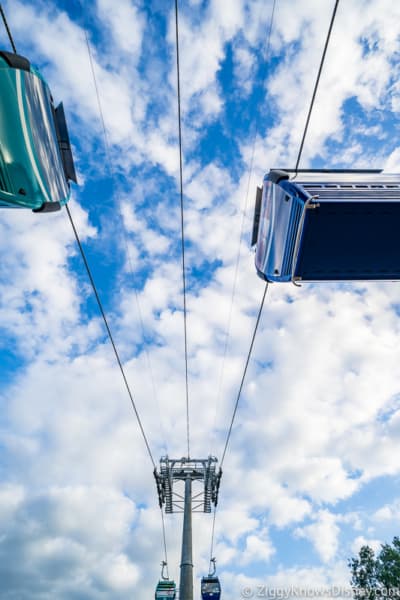 The Gondolas are connected to a wire and suspended above the ground. That means that when there is a bit of wind, or if people are moving around inside the gondola cars, there is a small bit of a natural rocking motion taking place which might make some guests uneasy or nervous.
We don't find that it moves very much ourselves, it's actually less than we thought it would be but it might bother some who suffer from severe motion sickness.
TIP: For the least amount of motion sickness, choose a forward-facing seat.
Claustrophobia
Just like being in an elevator, this is a small space. It holds 10 people, but with 10 it could get pretty tight at times. So if you don't like closed spaces then you might want to skip it.
Is the Disney Skyliner Safe? Disney Skyliner Accident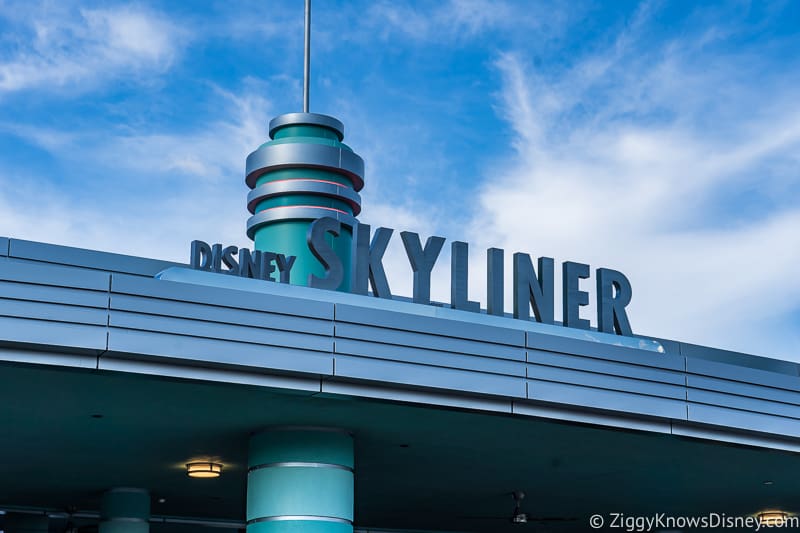 One of the biggest questions we get asked is if the Disney Skyliner Gondolas are safe. This is mostly due to the famous accident that happened in October 2019.
Only one week after its original opening, the Disney Skyliner had to be temporarily shut down for more than a week due to a small accident at the Disney Riviera Resort station. Since the accident, Disney and the Skyliner manufacture thoroughly examined the system, fixed any potential issues, and the Skyliner has been back up and running without any big problems.
We are confident that the Disney Skyliner is safe and in all the times riding it ourselves, we have never felt uneasy that anything was likely to happen. Disney continues to put guest safety first, and their track record has shown that whatever issues the system had at the beginning, have been resolved.
If you are interested in reading about that incident, what happened and our thoughts moving forward you can read our Disney Skyliner accident summary.
Does the Disney Skyliner Close for Bad Weather or Lightning?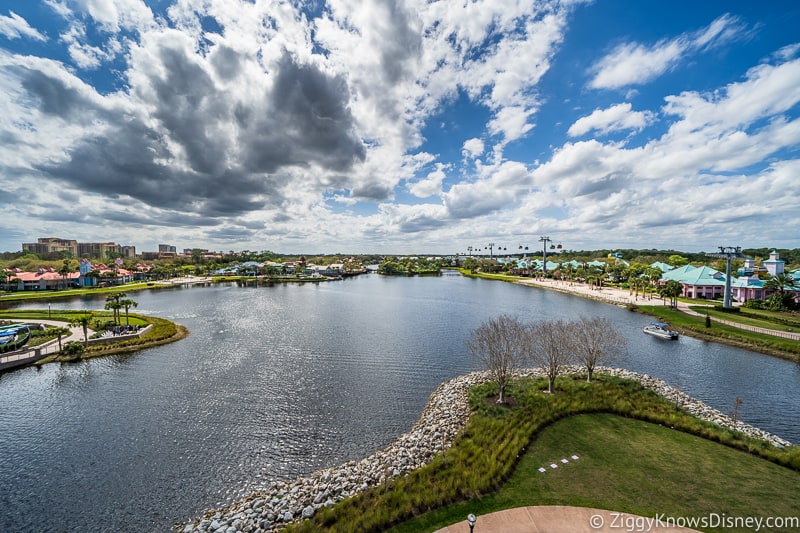 Yes, the Disney Skyliner system does absolutely close for bad weather, especially lightning. In fact, Disney has posted on signs that operating hours vary depending on the weather. That means if there is a storm coming you might have to wait a while.
Obviously they are very cautious about passengers getting stuck out on the line between stations, and they have to anticipate bad weather conditions far in the distance because they can't allow people to get stuck out there.
Disney Cast members explained to us that they are extra careful about lightning and the Disney Skyliner closes for lightning 6 miles out. Disney has its own radar system and closely monitors lightning here as it does in every other place on property.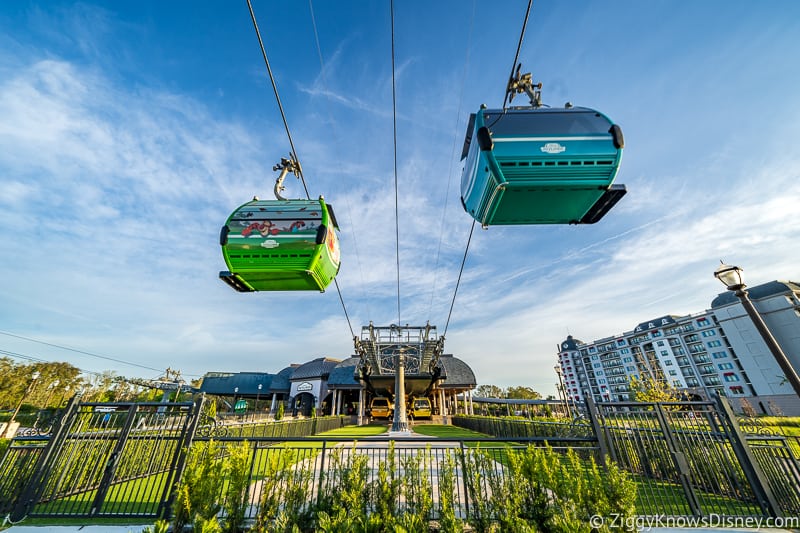 The distance between most stations will be under 10 minutes, so that should be enough time to foresee bad weather moving in, and take the necessary precautions for guest safety.
Also, Disney is always really good about handling bad weather situations already with attractions and swimming pools. Whenever a storm is in the area they shut down rides like Test Track, Expedition Everest and evacuate the resort swimming pools. You can expect the same prudence with the Disney Skyliner.
During the testing period for the Skyliner, we saw the gondolas being tested for their reliability during bad weather conditions. They stopped when it was raining very heavily, or during lightning storms and heavy winds. So obviously Disney has been testing the effects of these weather conditions and is gathering information to decide when it's necessary to shut down the gondolas.
Overall I wouldn't fret about it. Again, Disney is very good about safety and keeping track of the weather conditions already with outdoor attractions and they will be on top of things.
Other Potential Delays or Problems?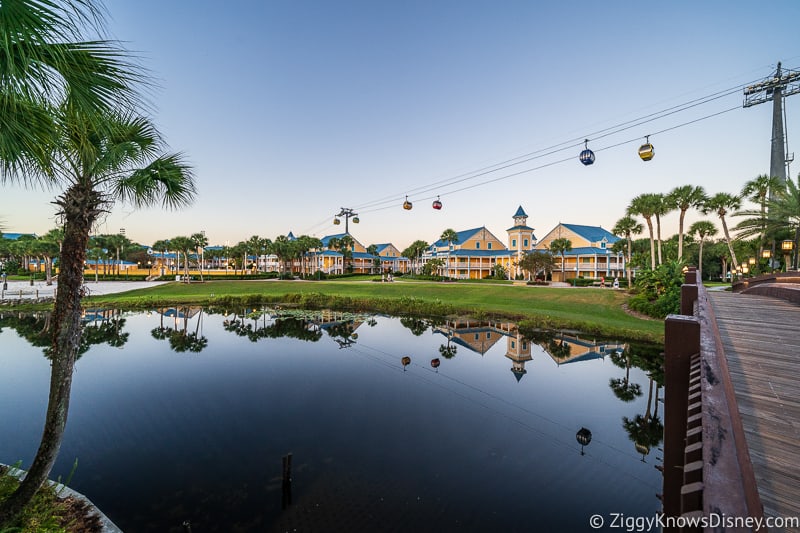 What happens if you have to get off the Skyliner at a station before your destination because of bad weather? – This is the most likely worst-case scenario when riding the Skyliner. This could be a problem because you could have hundreds of guests now at a location they don't want to be in and trying to make other plans to get to their destination.
The Caribbean Beach Resort has its own dedicated Bus Stop right next to the Skyliner station where you can go to catch a bus if you are stuck there.
Taking a bus from your current location to your new one is the cheapest way to get there. If the wait is too long, your best bet is to use ride-sharing (Uber, Minnie Van, etc). It will be interesting to see how Disney handles this over time. In the case the Skyliner isn't running, will they have buses on call to pick up all the remaining guests?
When you have Dining Reservations – If taking the Disney Skyliner when you have dining or other reservations, allow for enough time in case of weather delays. We'd encourage you to look at the weather forecast and avoid it if things aren't looking good.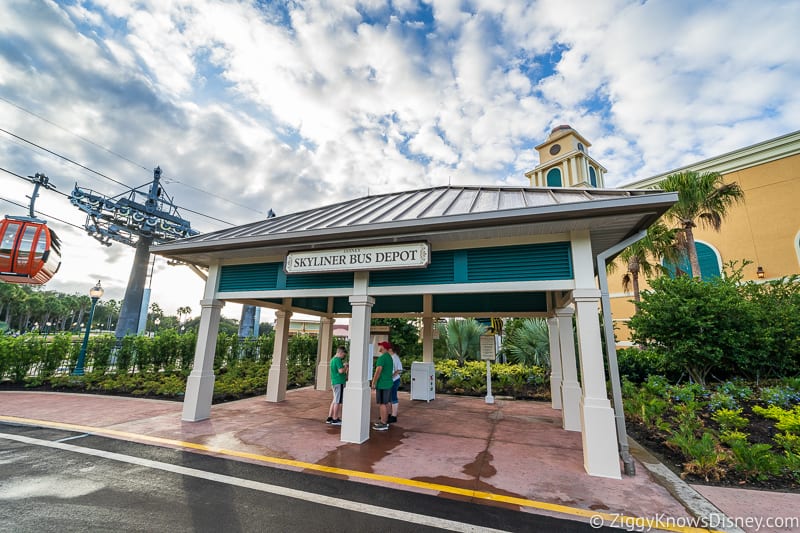 What if You're Stuck on the Skyliner? – In the unlikely scenario, you are stranded between Skyliner stations still in a gondola, Disney has emergency rescue services in place to come and get guests much like they do for the Monorail system.
Disney has installed a Disney Skyliner Guest Services line inside the Skyliner gondolas. This is a phone number that guests can call if they get stuck up in the Skyliner while riding. The number has been placed in every gondola car.
The Emergency Disney Skyliner Guests Services number is: 407-827-2515
Downtime on the Skyliner is still common at times for short lengths of time, and this number can be reached at any time while riding by calling it from your mobile phone, and will help riders to get a sense of what is happening in case of an outage or downtime.
Even Over Water? – Yes, even if the Disney Skyliner gets stuck over water, you will be able to get down. For example at the Art of Animation and Pop Century station guests will have to travel over Hourglass Lake. Not to worry, Disney has a rescue barge nearby and motor riders to bring guests to safety in the case these gondolas ever need to be evacuated.
Disney is very sure that the Skyliner is going to be a success because they are investing hundreds of millions of dollars into it. They have to have already figured out all the solutions to any potential problems.
Emergency Kit
In the event of an emergency on the Disney Skyliner, there is an emergency kit under the bench in every gondola car. Of course, you hope you'll never have to use one, but inside each kit you'll find:
Nausea/Bathroom Bags
Cooling packs
Water
a Notepad
Lightsticks
Cups
There is also an emergency button that will get you in contact with Disney officials if you have an emergency situation while onboard.
Restrooms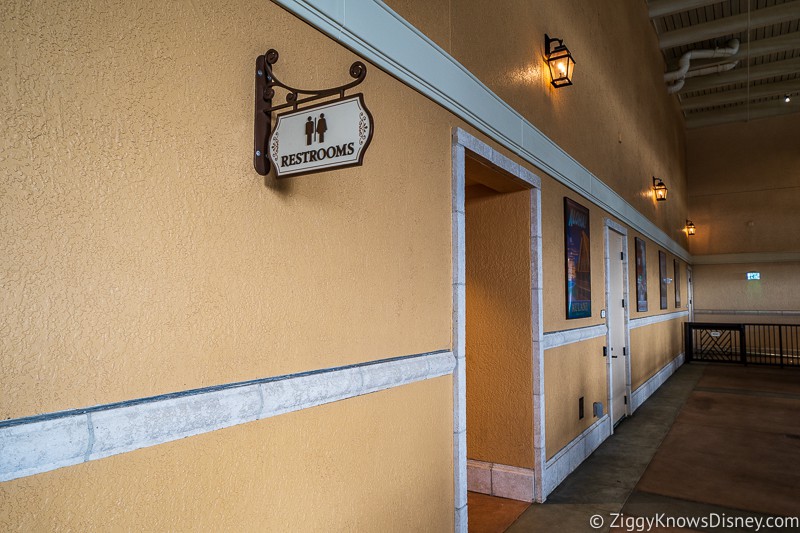 Are there restrooms in the Skyliner? Well, there aren't in the actual Skyliner Gondolas themselves. However, if you need to use the facilities you're in luck because four of the Skyliner stations have restrooms in them (Epcot, Riviera, Hollywood Studios and Caribbean Beach).
There are no restrooms at the Art of Animation/Pop Century station at this time, but a restroom is currently being built. For now, you can use the restroom at either hotel nearby.
Security Checks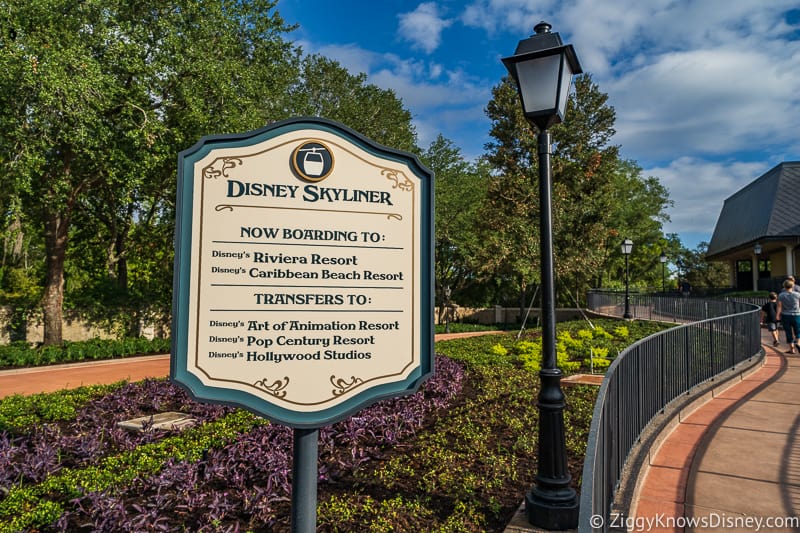 Another common question is whether or not there is a security check before getting on the Disney Skyliner. At this time there are no security checkpoints before getting on the gondolas.
This one is interesting because while there are security checks for guests before getting on the Monorail system going to the Magic Kingdom. Those checks make it quicker to get into the park becuase when you arrive, you are already past the security checkpoint.
Instead, the Disney Skyliner drops guests off outside the edges of park security at Epcot and Hollywood Studios so guests going through two security checks would not be necessary in that case.
We'll keep an eye on this and update you if this changes.
Cast Member Costumes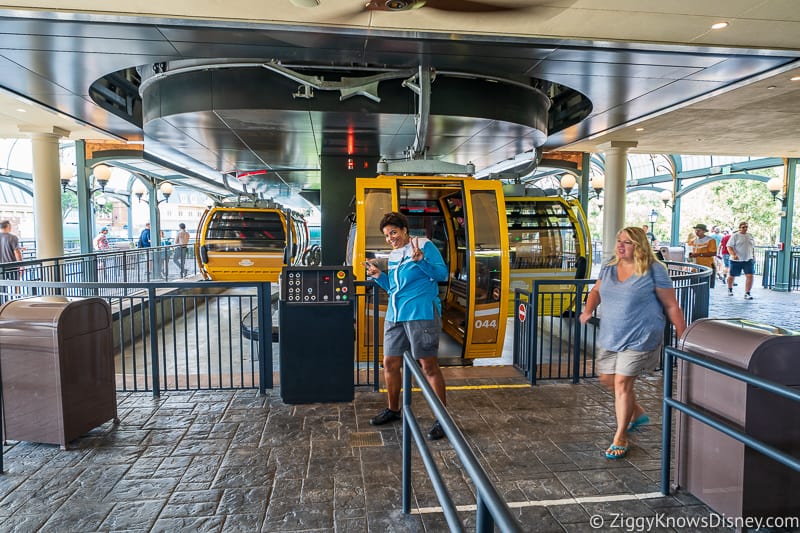 There is more to the Disney Skyliner Cast Member costumes than meets the eye. First of all, there are two colors for the costumes: Blue and Orange.
You might have noticed that the distinct style with the bold white stripes going through the middle of the outfits is inspired by the stripes on the Skyliner gondola cabins. The material is extremely lightweight, adapted for the Florida heat. They also have a row of hidden buttons down the front.
Read more about the cast member costumes for the Disney Skyliner for a better look at the design and hidden features.
Best Resort to Stay at for Disney Skyliner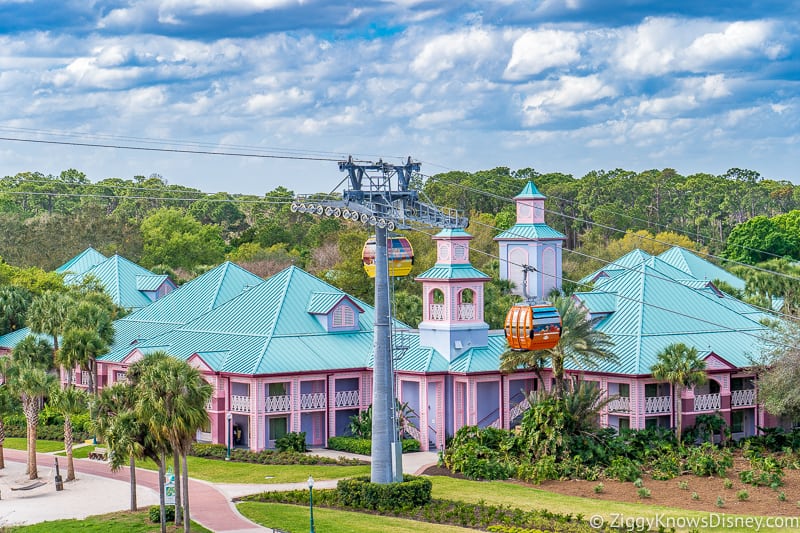 Which is the best Disney World Resort hotel to stay at for using the Disney Skyliner? Right now there are 4 hotels currently on the Disney Skyliner line:
Disney's Art of Animation Resort
Disney's Caribbean Beach Resort
Disney Pop Century Resort
Disney's Riviera Resort
Which one is best to stay at is largely affected by your budget. If you aren't limited by money, we think hands down the Riviera Resort is the best choice of all the Skyliner hotels. It's the most luxurious hotel on the line, and has beautiful views of the Disney Skyliner. It's also the closest hotel to Epcot and only a 7-minute ride to Hollywood Studios.
In some ways, it's not fair to compare the Riviera Resort to the others considering it's a Deluxe level resort while the others are either Value or Moderate. The Caribbean Beach Resort is our second favorite hotel on the line. It's positioned well and it has the central Skyliner station so it is a convenient location.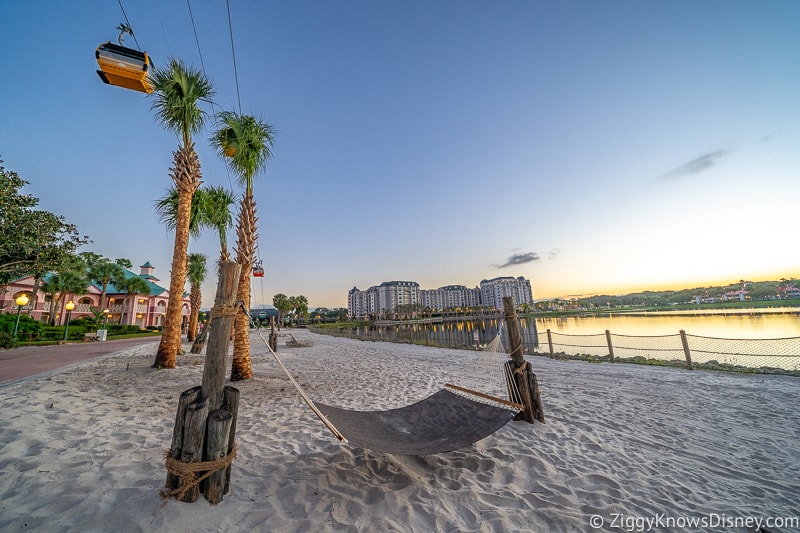 The Art of Animation and Pop Century Resorts are a tie as they are both at the far end of the Disney Skyliner line. They are cheaper than the other two however, with Pop Century being the best if you are on a budget.
If I were putting the best Disney Skyliner hotels in order I would go:
Disney's Riviera Resort
Disney's Caribbean Beach Resort
Disney's Art of Animation Resort
Disney Pop Century Resort
They are all good in their own way, again, it just depends on your budget and which park you want to be closest to.
Closest Rooms To The Disney Skyliner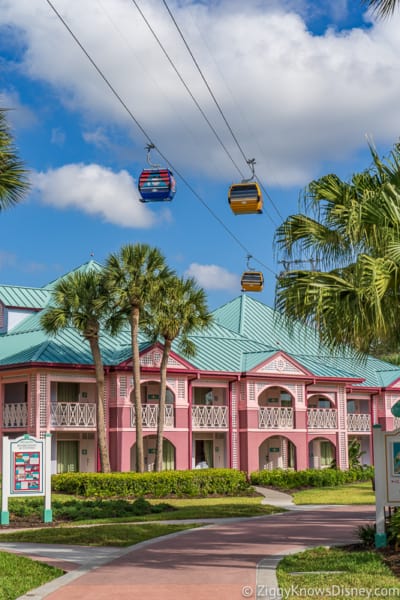 Just because you are staying in a hotel on the Disney Skyliner line, it doesn't mean that you will actually get a room that is close to the station. In fact, if you are staying at any of them besides the Riviera Resort, you may end up with a room that is up to 10 minutes away from the closest station.
When you check in to your hotel, make a specific request to have a room that's close. Here is a cheat sheet of the closest hotel rooms to the Disney Skyliner Gondolas:
Riviera Resort – All the rooms are relatively close to the Skyliner station here, but the closest rooms are located in the West Wing.
Caribbean Beach Resort – Depending on which rooms you are staying in at Caribbean Beach, you might be closer to the main station, or it may be easier to get to the Riviera Resort station.
If you are going to be spending more time at Epcot, the Aruba section in buildings 55 and 56 are the closest ones to the Riviera station.
If you are going to Hollywood Studios more, Jamaica buildings 41-43 are the closest to the main station.
The Caribbean Beach Resort also has an internal bus system, so you can use that to get back to the front lobby and main bus stop for the other parks.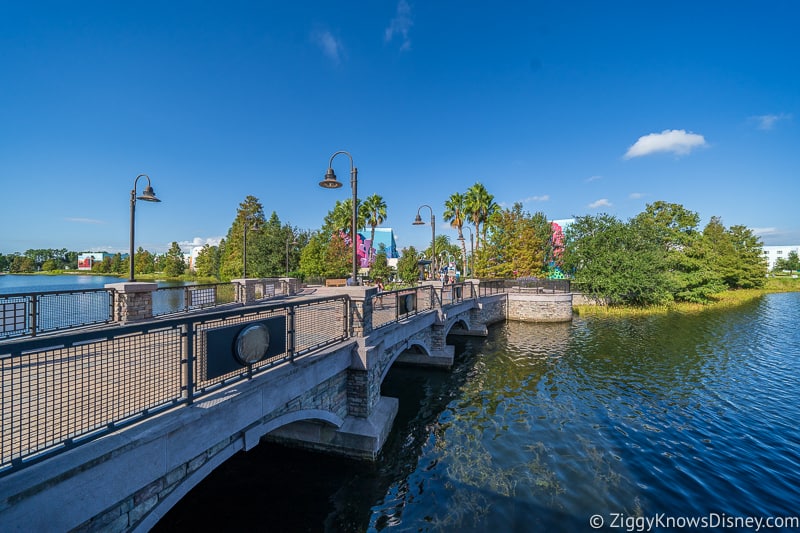 Art of Animation Resort – Ask for a room with a water view. The Finding Nemo rooms or The Lion King building 6 or Cars building 3 are all close to the station. The suites are the closest.
The only downside is you will be further from the main building and the bus stops. Compare how much you plan on using the Skyliner vs. Buses to make your choice.
Pop Century Resort – Same as Art of Animation. Water view rooms have the best view, but again you will be far from the buses. Choose to be closer to whichever you will use more.
Disney Skyliner Gondola Bar Crawl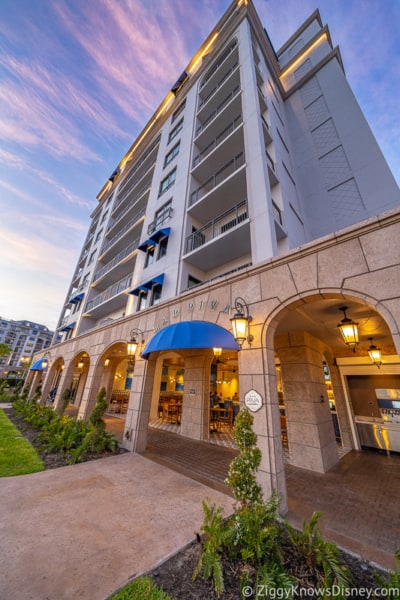 One activity that can be super fun is riding the Disney Skyliner and getting on and off to go to a bar/pub at each stop. We call this the "Disney Skyliner Pub Crawl."
Here is a list of some of the bars you can go to along the Disney Skyliner Gondola line:
Epcot –
Rose & Crown Pub
La Cava del Tequila
Choza de Margarita
Tutto Gusto Wine Cellar
Hollywood Studios
Oga's Cantina
Hollywood Brown Derby Lounge
BaseLine Tap House
Disney's Riviera Resort
Bar Riva
Topolino's Terrace (Bar)
Disney's Caribbean Beach Resort
Disney's Pop Century and Art of Animation Resorts
The Drop Off Pool Bar
Petal's Pool Bar
Disney Skyliner Future Expansion Map
Right now during this phase of the Disney Skyliner project, there are 5 stations: Epcot, Disney Riviera Resort, Caribbean Beach, Hollywood Studios and Pop Century/Art of Animation. The keyword though is "this phase" because if everything goes smooth with the Skyliner, Disney has plans to expand it out to other parts of Walt Disney World Resort in phases.
Below I have a map of the current Disney Skyliner Route and the potential expansion routes for the future. Red is the current Skyliner route. Green is the future: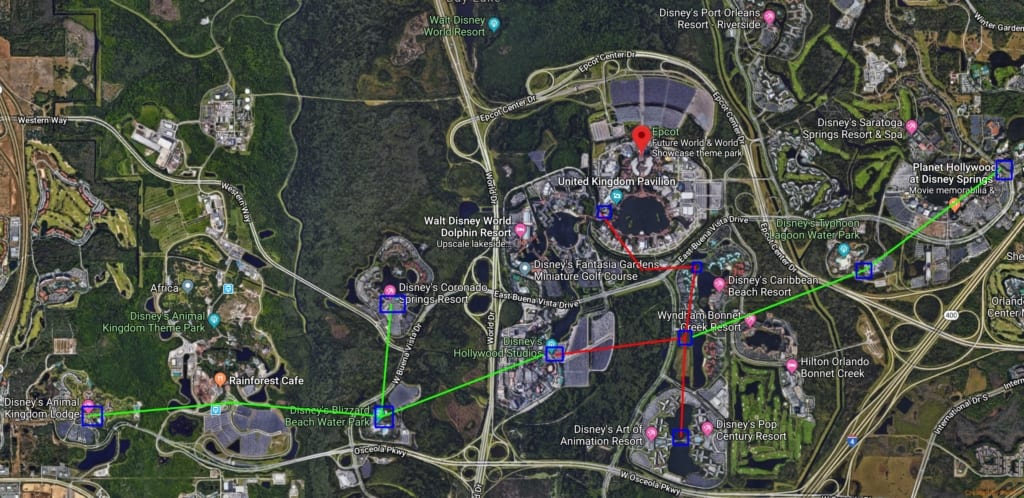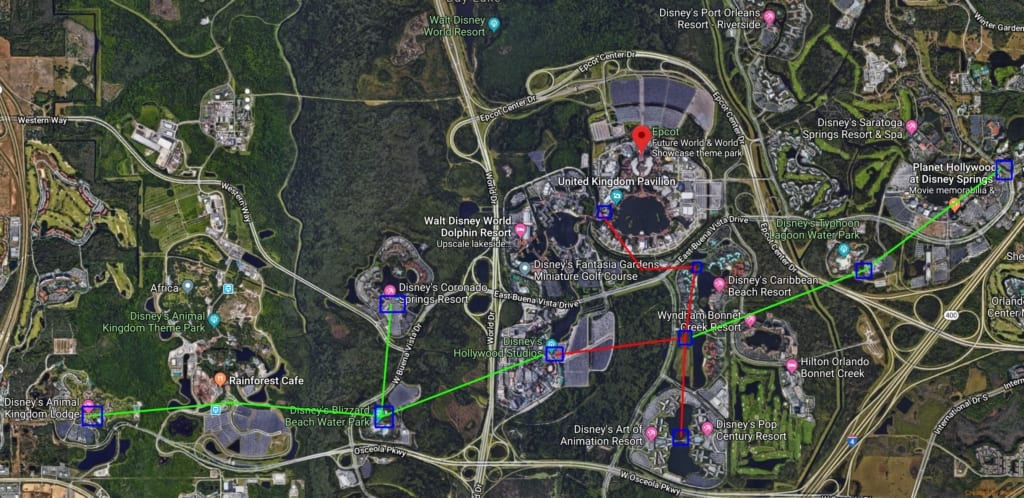 Right now the Skyliner runs through the center of the Walt Disney World Resort. However, one expansion would bring the Disney Skyliner west out to Disney's Animal Kingdom with potential stops at Blizzard Beach, Coronado Springs Resort, Animal Kingdom Park and Animal Kingdom Resort (with a stop even going to Kidani Village!)
The second expansion would be east of the current infrastructure and bring you to Typhoon Lagoon and up to Disney Springs. Supposedly the stop at Disney Springs would be on the far side close to Rainforest Cafe. That would allow guests staying at Saratoga Springs Resort and Hotel Plaza to use the Skyliner.
For both of these expansions, we're probably looking at about 5 years down the line if everything goes well with the first phase.
This is a lot of information and makes it clear that Disney doesn't view the Disney Skyliner as some little toy model, but as a realistic, viable solution to their transportation needs for the long-term.
Disney hired a transportation expert who was in charge of the system in San Francisco some years back, and the Disney Skyliner they decided, is a big piece of the puzzle for the future of the resort.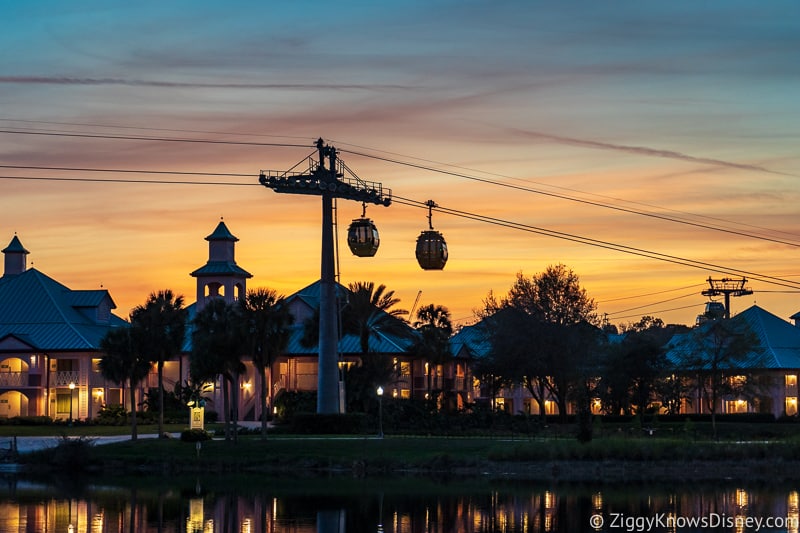 The Skyliner provides quick transportation from some of Disney's biggest hotels to and from the parks, and it should also keep traffic from overcrowding the Walt Disney World highway system which is taxed right now.
Also much like San Francisco has, it gives Walt Disney World an iconic transportation system moving into the future. You know, that thing that people have to try while here on vacation, and gets them talking to others about it back home. Years ago it was the Monorail system, but now people talk about that only for negative reasons.
We still don't know when new monorails are coming to Walt Disney World and they are a complete mess right now. Supposedly there's also a plan eventually to bring the Disney Skyliner to the Magic Kingdom, but that's very far off and may or may not happen depending on a lot of other factors.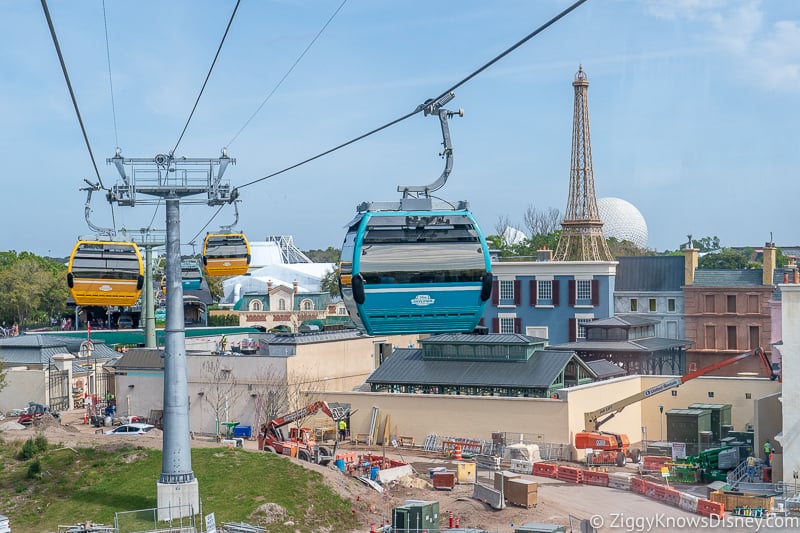 Ultimately I think anyone just looking at the Disney Skyliner as this small, little toy transportation system is missing the point. It's an attraction in of itself. It's going to make a huge impact on the way guests move around the Walt Disney World Resort for the next decades and in light of these new details, that choice is seeming better and better.
Disney Skyliner FAQ's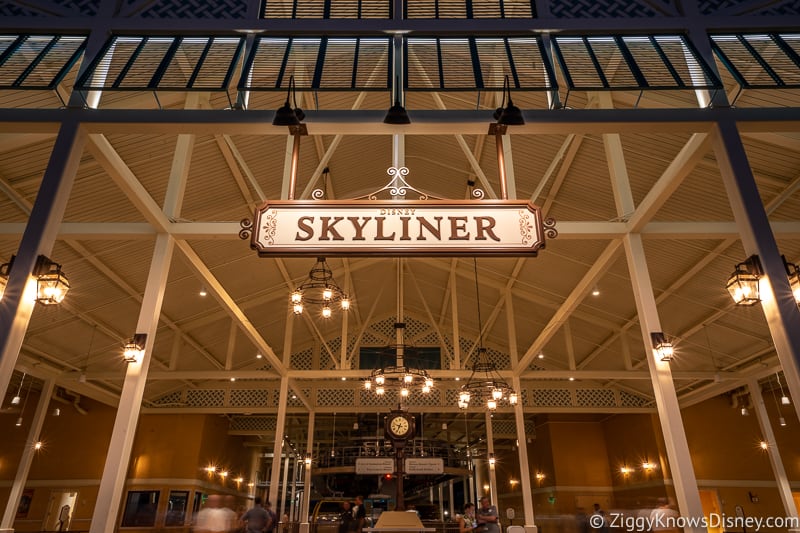 Here are some other common FAQ's about the Disney World Skyliner System:
What Is Disney Skyliner Transportation?
This is Disney World's newest transportation which is similar to high-speed gondolas popular in Europe. It will take guests from select resorts to the theme parks. They are similar to the old Skyway Buckets in the Magic Kingdom only bigger and faster.
Is the Disney Skyliner Open?
Yes, at this time the Disney Skyliner transportation system is now open. It opened on September 29, 2019. (The Skyliner is temporarily closed during the Walt Disney World closure)
Are the Disney Skyliner Air-Conditioned?
Unfortunately, the Disney Skyliner does NOT have air-conditioning in its gondola cabins. There is an air ventilation cooling system though that from our experience inside keeps guests cool.
How Long did the Disney Skyliner Take to Build?
From the announcement at the D23 Expo, it was just over 2 years to build the Skyliner when it opened in September 2019.
How Long Does the Disney Skyliner Take to Get Around?
That's a more complex question as going from one station to the other is different depending on where you want to go. On average gondola rides are between 5-15 minutes, but please refer to our Ride Length guide above for more details.
Is the Disney World Skyliner free to ride?
There is no charge for riding the Disney Skyliner Gondola system, just like other forms of Disney World transportation. All guests are allowed to ride whether staying at a Walt Disney World Resort hotel or not.
Are there Restrooms on the Skyliner?
No, there aren't any restrooms on the Disney Skyliner itself, however, there are restrooms in some of the Skyliner stations, so you can go right before or after riding. it's also helpful that the ride times are very short so this shouldn't be an issue.
Is there Wi-Fi on the Disney Skyliner?
While there is Wi-Fi available in many locations throughout Walt Disney World, there is no Wi-Fi on board the Disney Skyliner. You might be able to pick up a signal at certain points of the ride, but there will be outages in usage.
Can you Eat and Drink on the Skyliner?
While we haven't seen any official rules on this yet, we have seen guests with coffee riding the Skyliner, and have brought snacks on it ourselves without cast members saying anything to us.

There is a Joffrey's Coffee stand right outside the main Skyliner station so I don't think this its a problem. This may change though as Disney tightens up their policy so we'll keep an eye out on this.
Merchandise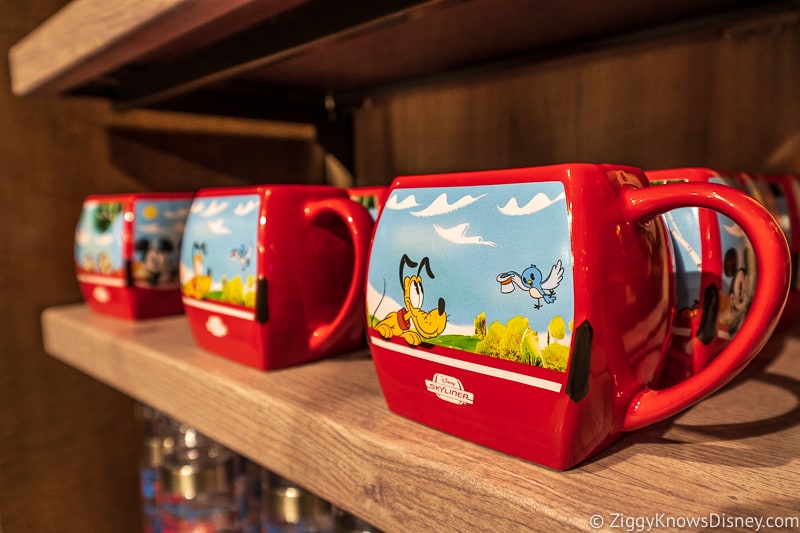 Just like theme park attraction, Disney has created an entire Disney Skyliner-specific line of merchandise that's available in the parks and hotels. Shirts, hoodies, toys, MagicBands and more are all available, along with some special Annual Passholder Merchandise too.
Read our Disney Skyliner Merchandise post for more information.
That wraps up our coverage of the Disney World Skyliner Gondolas. We hope you enjoyed the tour and we hope that we answered as many questions as possible about Disney's newest transportation system. We think the Skyliner is a truly amazing way to get around the Disney theme parks and hotels and we can't wait to see what the future holds for it.
Stay tuned at ZiggyKnowsDisney.com for more info on the Disney Skyliner as we'll keep updating you as soon as we have new information more!
In the meantime, you can check out our updates on some of the other construction projects going on in Walt Disney World and track their progress!
Also, make sure to read about What's Coming Next at Disney World, and learn which are the best new rides you'll fall in love with!
Sign Up For Our Newsletter Today!
Need help planning your Disney Vacation? Contact René from Show You the World Travel for all your trip planning needs. All of the agents there are certified Disney Travel Agents and are super helpful with all your planning needs. I highly recommend them and the best part about it is they are FREE to use!
Your Thoughts:
I want to know what you think about the new Disney Skyliner Gondola system…
Do you like riding the Disney Skyliner?
What other locations around Walt Disney World do you want it to go?
Let us know in the comments section below!
If you enjoyed this article, as always I appreciate it if you'd share it with others via social media. I work hard at making this website into a useful resource for you and your family to plan your visit to the Disney Parks and I hope it can help you! Thanks 🙂