Ever want to build your very own customizable, authentic Star Wars lightsaber? Well now you're going to have that very chance in Star Wars Galaxy's Edge when you visit Savi's Workshop – Handbuilt Lightsabers.
We're going to walk you through everything you need to know about Savi's Workshop, how to build your custom-built lightsaber, the price, making reservations and our review of the entire experience which will tell you if it's worth the $200 price tag or not!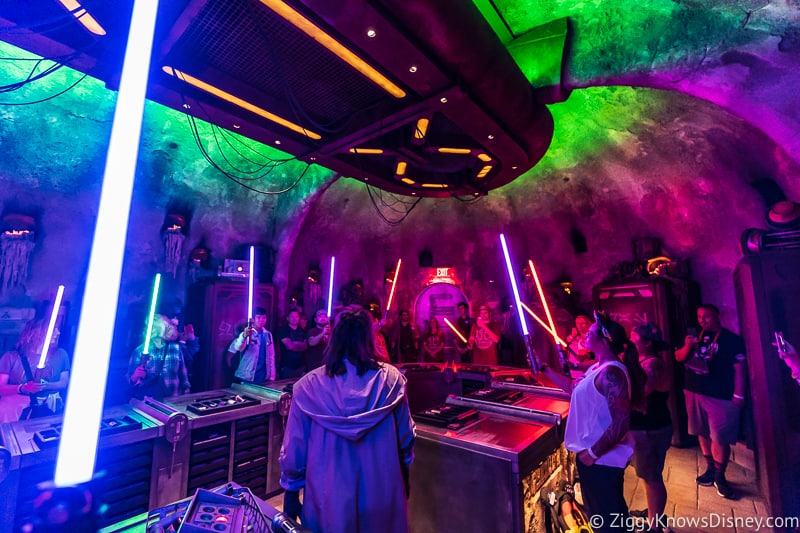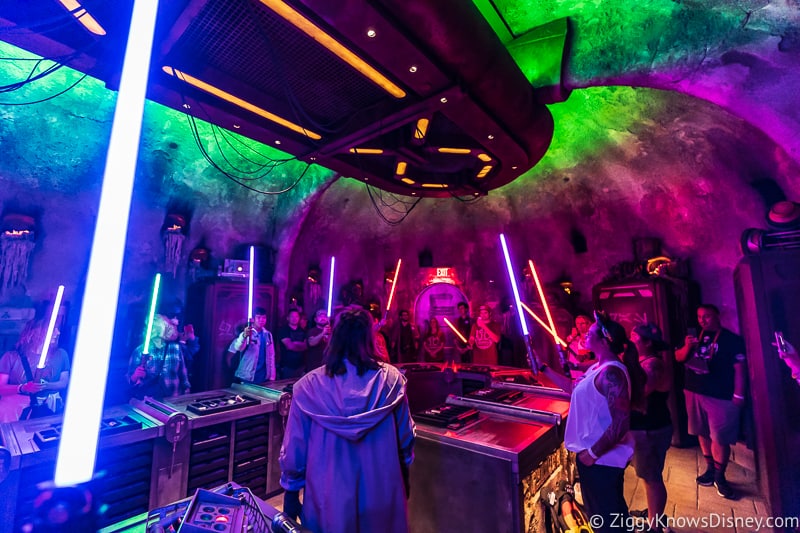 We're also going to show you all the options available in Savi's Workshop for your custom-built lightsaber, lightsaber blade types, designs and more, so you can come home from Disney World or Disneyland with the ultimate souvenir!
(Update 9/9/20) – After being unavailable for months, the lightsaber experience at Savi's Workshop is coming back starting September 20, 2020. Read more in the NEWS section…
To watch the Full Experience of building a Lightsaber at Savi's Workshop, scroll down to watch the full video during our visit which shows the entire process!
Locations:
Disneyland – Opened May 31, 2019 – (temporarily closed)
Hollywood Studios – Opened August 29, 2019 – (Reopening September 20, 2020)
Savi's Workshop – Handbuilt Lightsabers is a shop in Star Wars: Galaxy's Edge. Savi's Workshop opened in Disneyland's version of Star Wars Galaxy's Edge on May 31, 2019. The Hollywood Studios version opened in Galaxy's Edge on August 29, 2019.
In our review and walkthrough of Savi's Workshop we're going to show you exactly everything you need to do to build your Galaxy's Edge lightsaber, the entire process from start to finish and what the lightsabers look like when functional.
Once you learn the basics, scroll down for our full review and video from our experience at Savi's Workshop…
(NEWS 09/9/20) – Savi's Workshop Lightsaber Building Experience Returns September 20
Great news for lightsaber fans, Savi's Workshop Lightsaber-building Experience returns to Galaxy's Edge on September 20, 2020.
Disney's Hollywood Studios reopened on July 15, however, Savi's Workshop, the popular lightsaber-building experience in Galaxy's Edge did not reopen right away with the park, or at least not like before.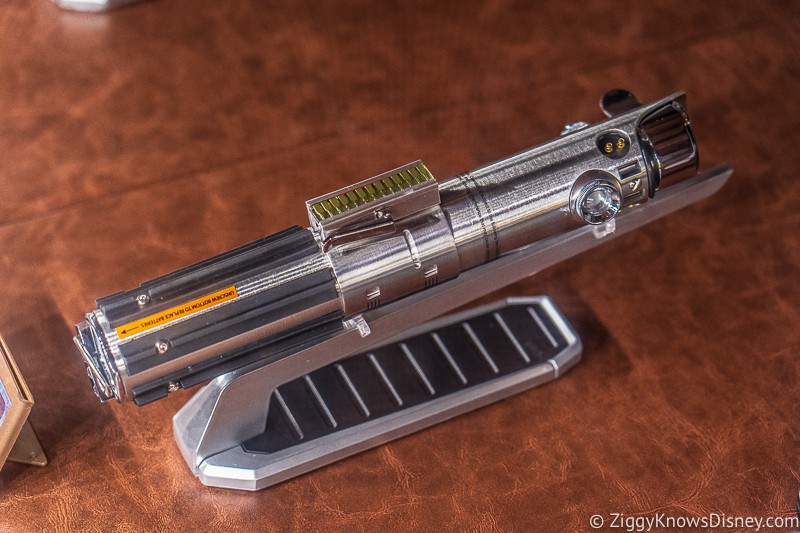 Disney decided to use Savi's Workshop temporarily not for guests to build their own custom lightsabers, but instead, the legacy lightsabers that were previously located in Dok Ondar's Den of Antiquities were relocated to Savi's Workshop.
On September 20 however, everything is going back to normal and the custom lightsaber-building will return to Savi's Workshop. We're happy about this new because the lightsaber-building experience was one of the coolest things about Galaxy's Edge, and it's been a bummer to not have it up and running for guests.
To get into Savi's Workshop to build a custom lightsaber, you will need a reservation for the experience, plus a Disney Park Pass reservation for Hollywood Studios on that same day. Reservations will open on September 16 in the My Disney Experience app. Walk-up may also be available on the day of your visit depending on the demand that day.
Normally Savi's Workshop can hold up to 14 parties of 2 guests each to build a lightsaber. The experience will be run with a reduced number of guests to be able to operate using distancing, though Disney hasn't said at this time how many will be allowed in at once.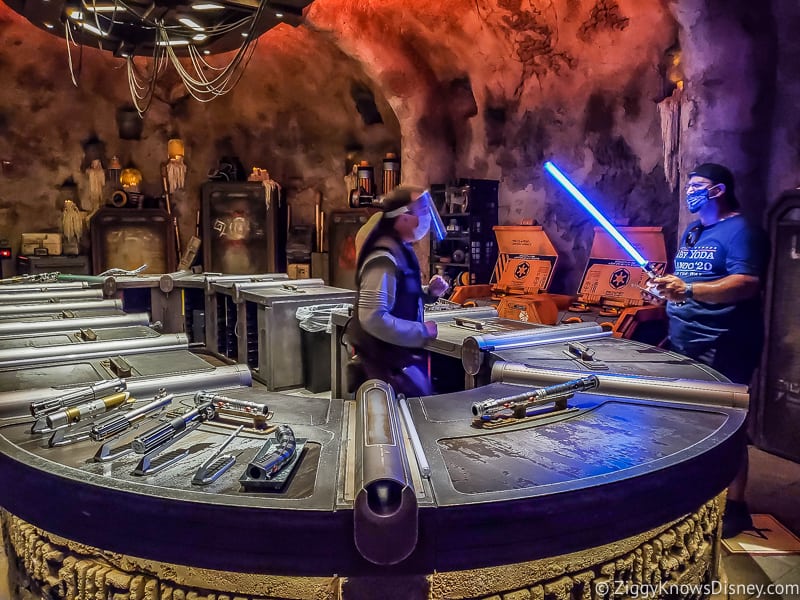 Until Savi's Workshop reopens it will continue to be used as a showplace for the legacy lightsabers.
To get into Savi's Workshop right now, just follow the ground markers outside the building telling you where to wait in line.
A Cast Member outside will provide a QR code where you can virtually access the "Legacy Lightsaber" price menu. There you can read the details and prices of each lightsaber.
Once it's your turn, you enter the chamber and can pick out your lightsaber you want to purchase.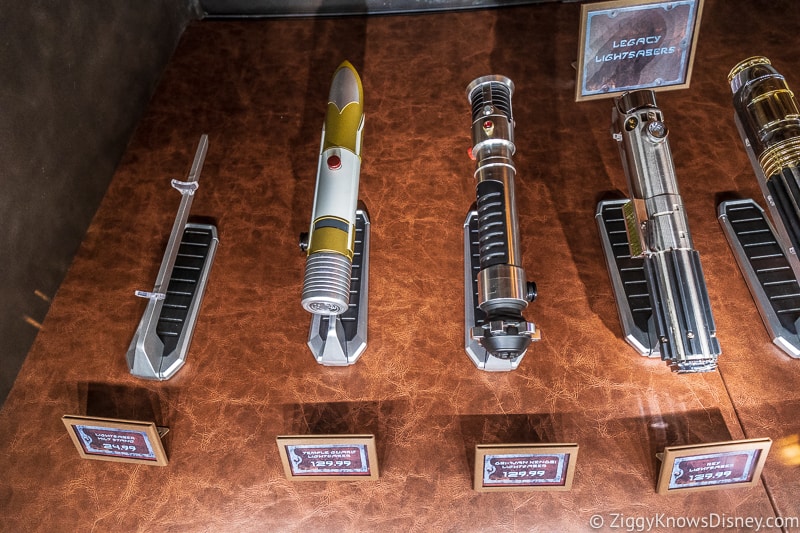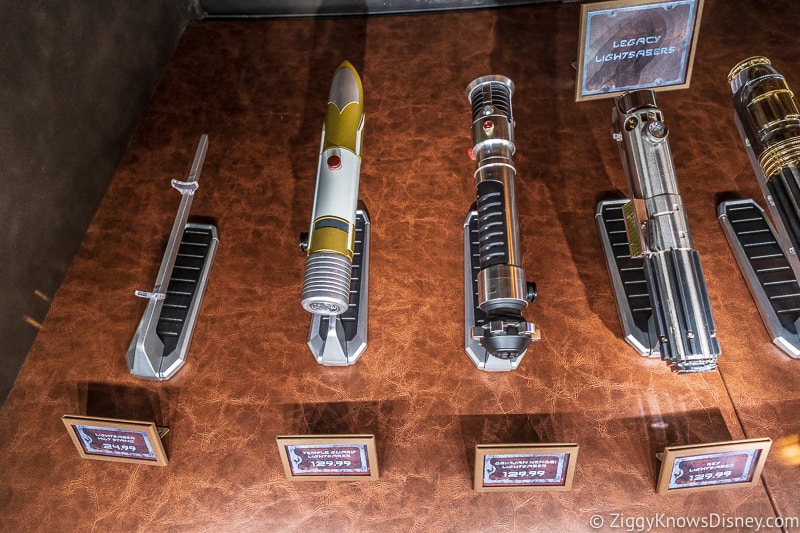 All of the same lightsabers that were in Dok Ondar's are now located here. If you want more info, you can read our original post about all the Star Wars Legacy Lightsabers in Galaxy's Edge where we give a full description and have all the photos of each saber.
The Droid Depot is also open during this initial phase so guests in Star Wars Galaxy's Edge can still build at least one of the popular souvenirs to take home with them until September 20 gets here.
We'll update you as soon as Savi's Workshop returns back to normal and if there are any other changes to the experience. Below is the original Savi's Workshop experience so you can see what it's usually like and what to expect when it goes back to normal.
Savi's Workshop Story: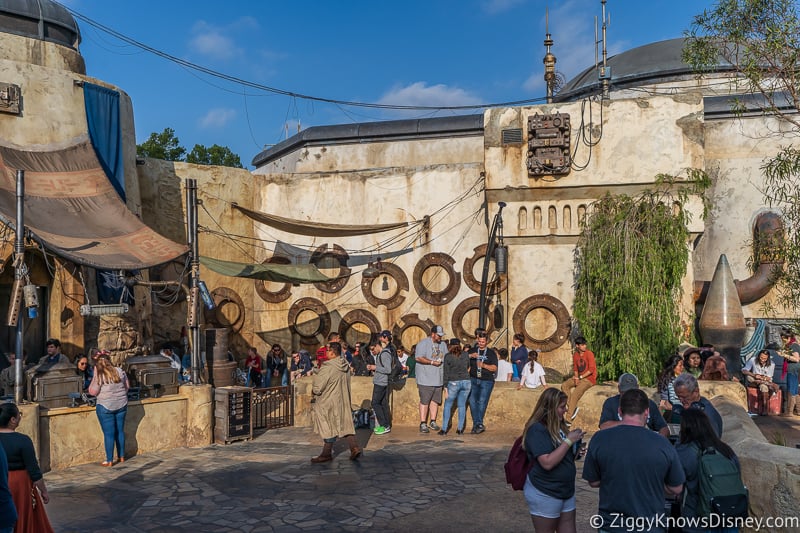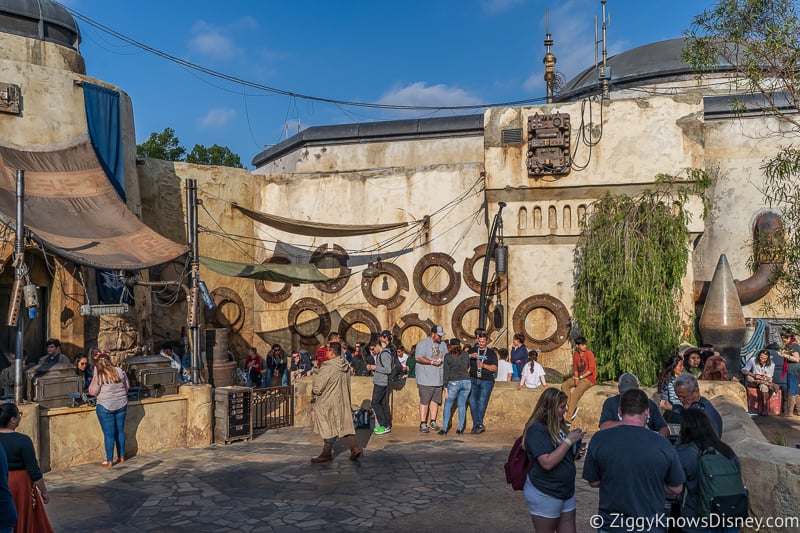 Savi, who is a Jedi supporter runs this workshop with fragments and parts for lightsabers he gathers from around the galaxy. He wants to keep the Jedi hope alive and so he's passing on this knowledge of how to build a lightsaber to you!
First however you'll have to actually find Savi's Workshop as its location is being kept secret so as not to be discovered by the First Order. Once you make it to Black Spire Outpost, an unusual group called the "Gatherers" brings you into a secret workshop filled with unusual parts and pieces they've collected from all over the galaxy.
They are going to help you to build your own lightsaber customizing it with these various parts which will prepare you for your very own journey to the farthest known places in the galaxy!
How to Make Reservations:
How do you get into Savi's Workshop? While you don't need a reservation to enter Star Wars Galaxy's Edge, you will definitely need one to do some of the more popular experiences in this amazing new land like Oga's Cantina and Savi's Workshop.
Here are a few things to keep in mind while making your reservations for Savi's Workshop in Disneyland, and Disney World:
Due to limited space and high demand, reservations are highly recommended to enter Savi's Workshop and build a custom lightsaber. This experience is subject to availability.
A valid, accepted credit card number is required at the time of booking. All payment must be made at time of booking.
Reservations are non-transferable and may not be sold or bartered.
A valid, accepted credit card number is required at the time of booking.
A custom-built lightsaber from Savi's Workshop costs $199 plus tax ($212).
You are not required to pay for the lightsaber at time of booking, however you will need to give a credit card to hold your reservation.
You must cancel at least one day prior to your reservation to avoid a penalty. If you fail to do so, you will be charged the full $199 builder fee plus tax (per builder on the reservation).
There are also some specific reservation instructions special to Disney World and Disneyland:
Disney World
Reservations can be made 180 Days in advance. It's highly recommended to book this 180 days out, especially if you are planning on going to Savi's Workshop in the busiest times of the year.
Make your reservations in the My Disney Experience App or on DisneyWorld.com
Disneyland
Reservations can be made 60 Days in advance. Again highly recommend booking it ASAP.
Make your reservations in the Disneyland App or on Disneyland.com
Some additional same-day reservations are released at 7:00 a.m. PST every morning.
TIP: If you have a reservation for Savi's Workshop when the virtual queue is in use, you don't have to use the virtual queue. Instead you will be given access to Galaxy's Edge at least an hour ahead of your reservation time, no boarding pass required.
Please visit the following links for more important details on reservations:
Walt Disney World – Savi's Workshop Reservations
Disneyland – Disneyland.com/SavisWorkshop
Building your Lightsaber: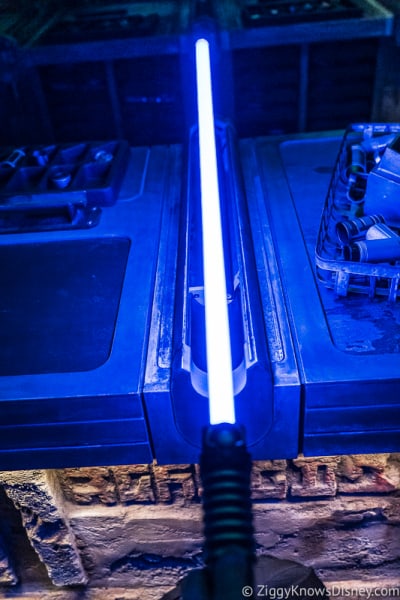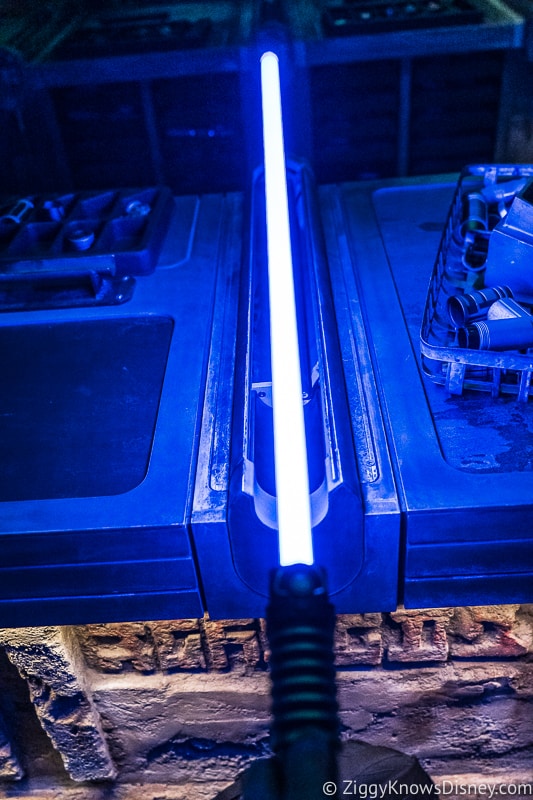 So, how does Savi's workshop work? First it's important to know that there are two types of lightsabers you can buy in Star Wars Galaxy's Edge.
One is a custom-built lightsaber like the ones found in Savi's Workshop.
The other are called legacy lightsabers and can be found in a separate shop: Dok-Ondar's Den of Antiquities. These are based on famous blades from the Star Wars canon.
Right now we are going to focus on the hand-built custom lightsabers you build yourself here at Savi's Workshop.
Building a lightsaber is a personal and intimate experience and a multi-step process, each with different pieces. Up to 14 guests are allowed into Savi's Workshop at a time and will gather around the workshop bench (or "build chamber") to build and customize their own lightsaber.
The experience is limited to One lightsaber builder, along with one guest.
At least one person must be 14 years old or more.
Arrive on time. If reservations are required, late arrivals may not be allowed entrance.
The whole experience of building a lightsaber takes about 20 minutes give or take.
The Hilts: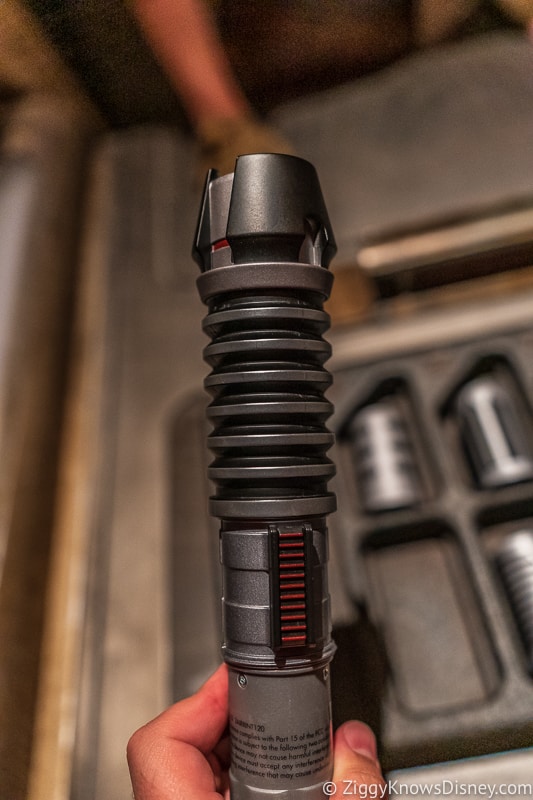 First you pick which type of story you are going to have for your lightsaber hilt: the Light (a Jedi-inspired lightsaber) or the Dark (a Sith-inspired one), nature-based (nature lightsaber pieces) or ancient (ancient lightsaber pieces). Each side focuses on different elements of the force including peace, justice, control, power, elemental, etc.
Peace and Justice
Salvaged scraps from fallen Jedi temples and crashed starships in these Republic-era designs honor the galaxy's former guardians.
Power and Control
Originally forged by dark side warriors, this style features rumored remnants from the Sith homeworld and abandoned temples.
Elemental Nature
This theme embodies the Force—an energy created by all living things, like Brylark trees, Cartusion whale bones and Rancor teeth.
Protection and Defense
Hilt materials bear mysterious motifs and inscriptions that reconnect users with the ancient wellspring of the Force.
The thing to notice here is that these lightsabers are super realistic. This isn't your cheap Star Wars imitation lightsaber you can find in a toy store. It's heavy and feels like a real replica from the films.
Kyber Crystals: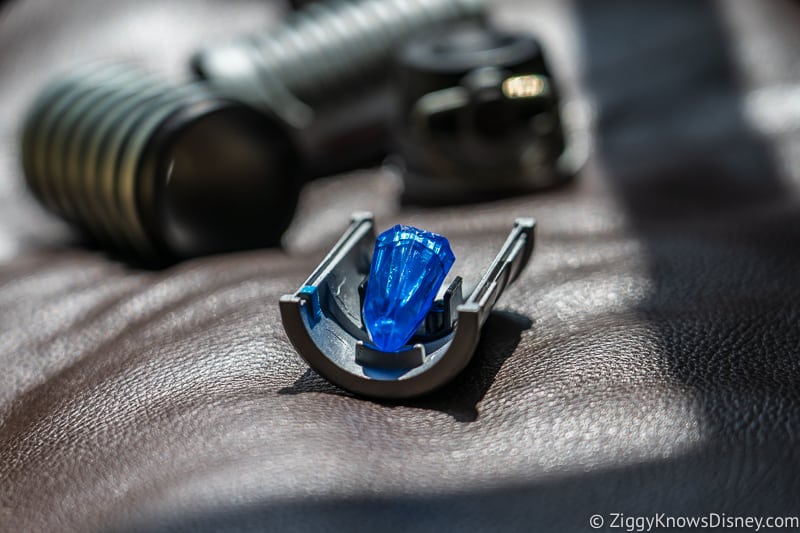 After choosing your hilt, you ned to select the heart of your lightsaber: the Kyber Crystal. There are 4 colored crystals to choose from, all relating to a Jedi or Sith from the past:
Blue: Obi-Wan Kenobi, Anakin Skywalker, and Rey
Green: like that of Luke Skywalker, Yoda, Qui-Gon Jinn and Ahsoka Tano
Violet: Mace Windu
Red: Darth Vader, Darth Maul, and Kylo Ren
Each lightsaber has a "personal connection" to a kyber crystal which is the driving force behind the lightsaber's power. Each lightsaber builder forms a unique bond with their lightsaber during the building process which is really well done by Disney and that you have to see for yourself.
Both the legacy and the custom lightsabers are compatible with a universal blade system. Each of the blades are available in different lengths and sizes, and each one lights up in a different way with different colors depending on the hilt you attach it to.
Accessories:
With your base hilt and kyber crystal now chosen, it's time to put it all together! Depending on which hilt you choose, the Gatherers will bring you a box of parts to complete your lightsaber hilt. These parts include:
1 hilt
4 sleeves (pick 2)
2 emitters (pick 1)
2 pommel caps (pick 1)
2 sets of activation plates and switches (pick 1 set)
The Gatherers will connect the lightsaber to a 36″ blade and all lightsabers come with a carrying case. The lightsaber can be customized further with items from Dok-Ondar's Den of Antiquities.
Can I Purchase Spare Parts for my Lightsaber?
Let's say you go through the Galaxy's Edge lightsaber building process and you want to further customize your new saber, or even blend to styles together. What if you want a new blade color? No problem, all of these extras are possible so your lightsaber can continue to evolve with the force.
Extra Kyber Crystals – This is what gives your custom-lightsaber its color. Just go over to Dok Ondar's where you can purchase additional kyber crystals which you can interchange in your blade, giving your different color options. Kyber Crystals cost $12.99 each and come in individual packaging in the following colors:
Blue, Red, Purple, Green, White or Yellow. Don't forget the mysterious Black Kyber Crystal, available in random Red packs.
TIP: Dok Ondar's doesn't always have a full supply of Kyber Crystals, so make sure you keep checking if the color you want isn't immediately there.
Extra Hilt Pieces – Customizing your lightsaber doesn't just stop at the Kyber Crystals though, you can also buy extra pieces for your hilt, aka: "Scrap Metal." This allows you to further change your blade's hilt, or even merge a light side and dark side style together!
Just go to the outside of Savi's Workshop and tell them you are looking for "scrap metal" and they will then show you the extra hilt pieces from the 4 different kinds of lightsaber styles (Peace and Justice, Power and Control, Elemental Nature and Protection Defense).
Each piece of scrap metal costs $19.99.
Lightsaber Price: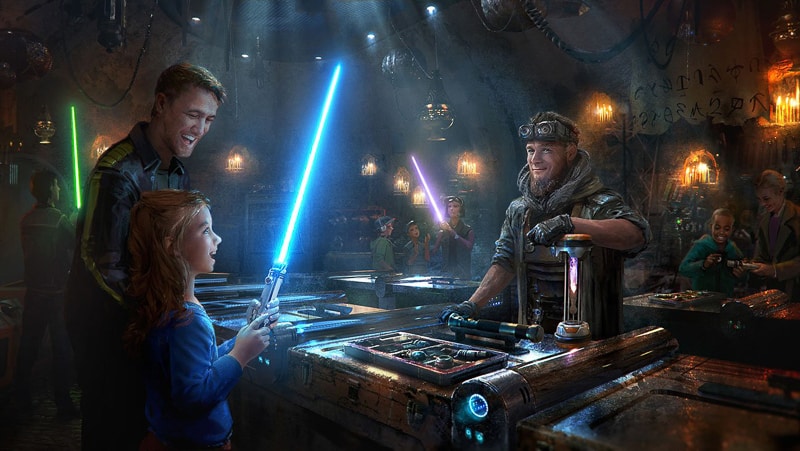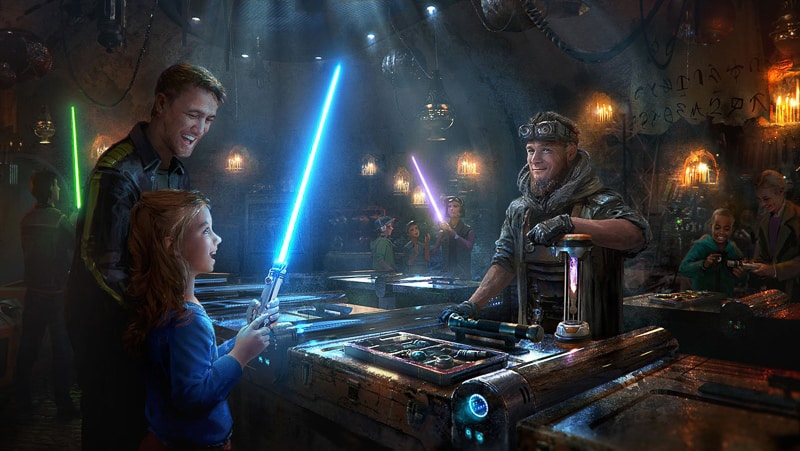 How much is a lightsaber at Savi's Workshop? These custom-built lightsabers don't come cheap. Prices are $199 each, which is $212 after tax. That's no small chunk of change for guests to Galaxy's Edge, but seeing the exclusivity of the experience and the high demand to get into Savi's Workshop, that price has been and will continue to be paid by thousands of park goers.
Carry case included
Custom lightsabers are nonrefundable
No Annual Passholder or other discounts
Additional customization items (different colored kyber crystals) can be purchased at Dok-Ondar's Den of Antiquities.
Age Recommendation: 5+
While over $200 does seem extreme to many, again these lightsabers are the real deal. They are heavy in your hand and are as close to a real lightsaber from the Star Wars films that you will find. From my personal experience with the lightsabers, Disney hasn't spared any expense in making them, so if ever a lightsaber was worth $199, this is it.
As I said before with both the lightsabers and the droids from the Droid Depot, I think we'll have another Banshee incident on our hands and the merchandise flying off the shelves. It will be interesting to see how many Disney stocks of each item and see if they are able to keep up with demand.
Though I thought the lightsabers in Galaxy's Edge would sell out shortly after opening, so far it seems like Disney has had enough of a supply on hand to meet the demand. It helps that it is a limited experience so they are able to know ahead of time approximately how many lightsabers they will sell per day. I don't imagine they will have a problem meeting demand…
What do the Lightsabers look like?
So what do these lightsabers look like exactly? Thankfully we got a detailed first-look at them during our experience at Savi's Workshop in Galaxy's Edge. Here is the whole lightsaber with a custom-built "Power and Control" hilt: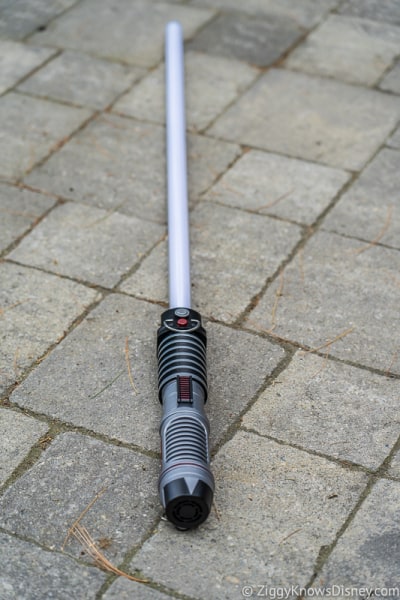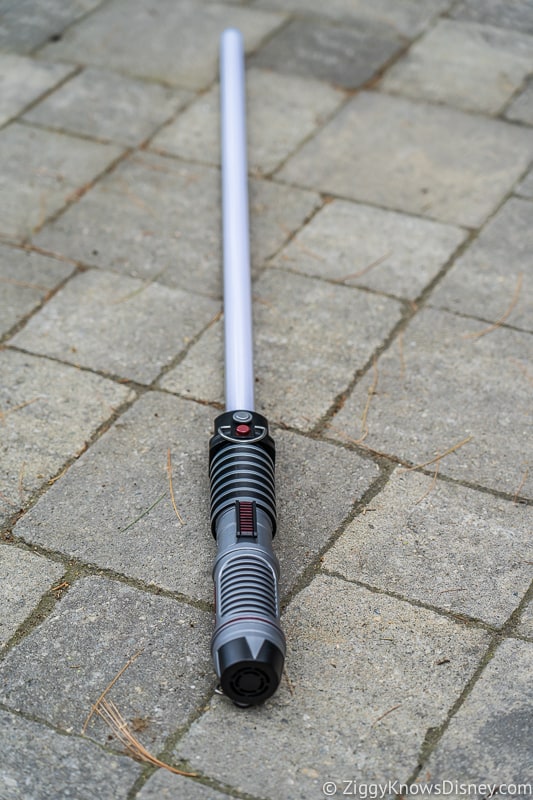 A close-up of the hilt: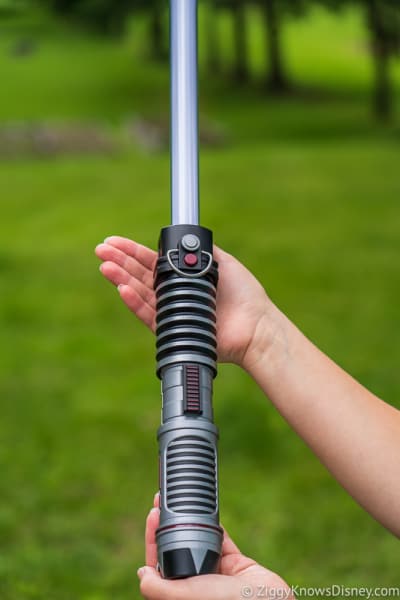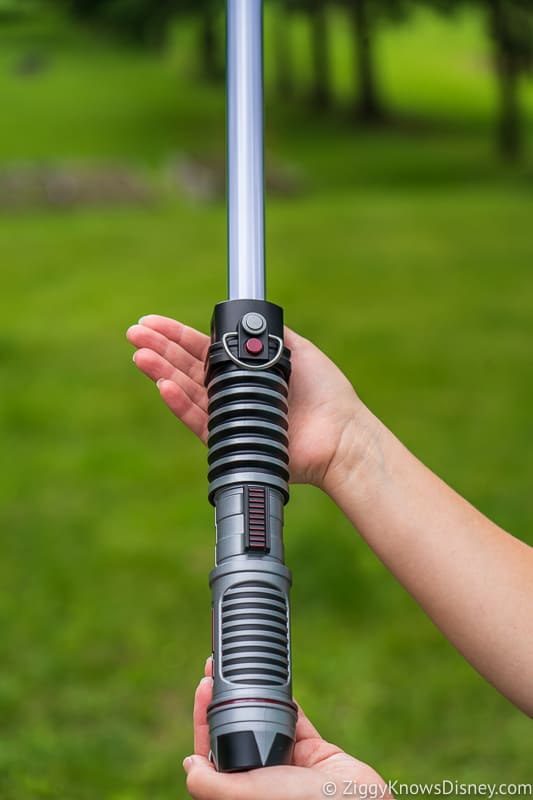 Every lightsaber comes with a carrying case you and put over your shoulder and carry with you around Disneyland: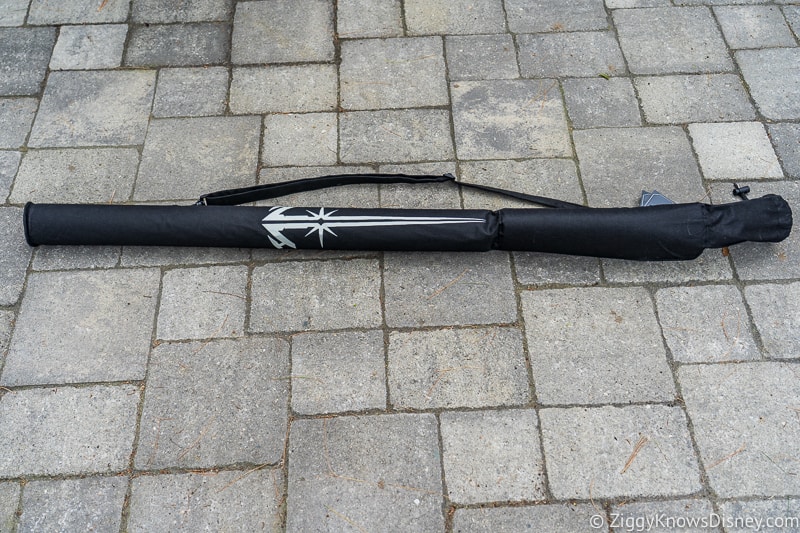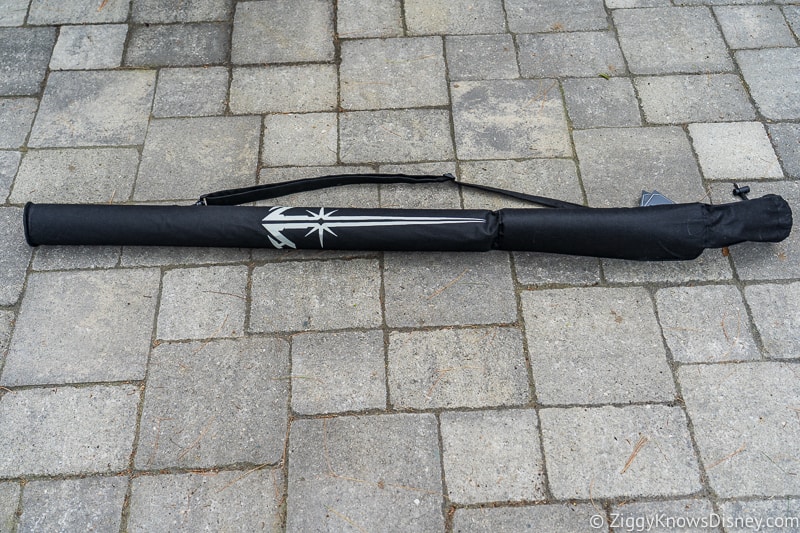 But it looks a lot cooler all lit up though!!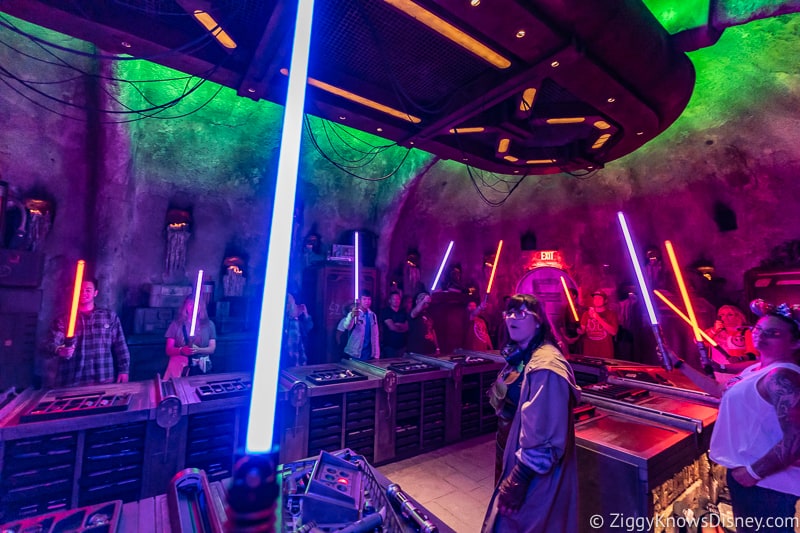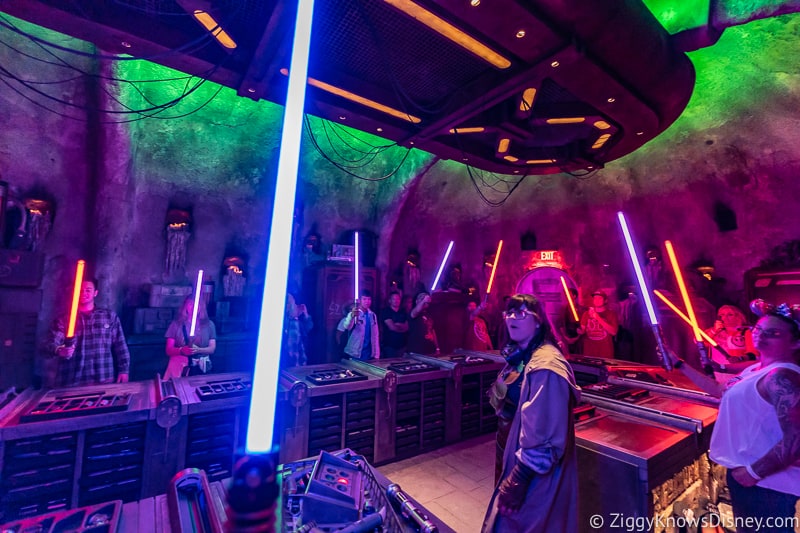 If you want to see how all the pieces of the lightsabers are put together then read my full review of Savi's Workshop below:
VIDEO: Galaxy's Edge Lightsaber Experience:
Here is when we built a lightsaber in Savi's Workshop in Galaxy's Edge:
Savi's Workshop Review:
Now that you know the basics about building a lightsaber we're going to share with your our full review of the experience at Savi's Workshop: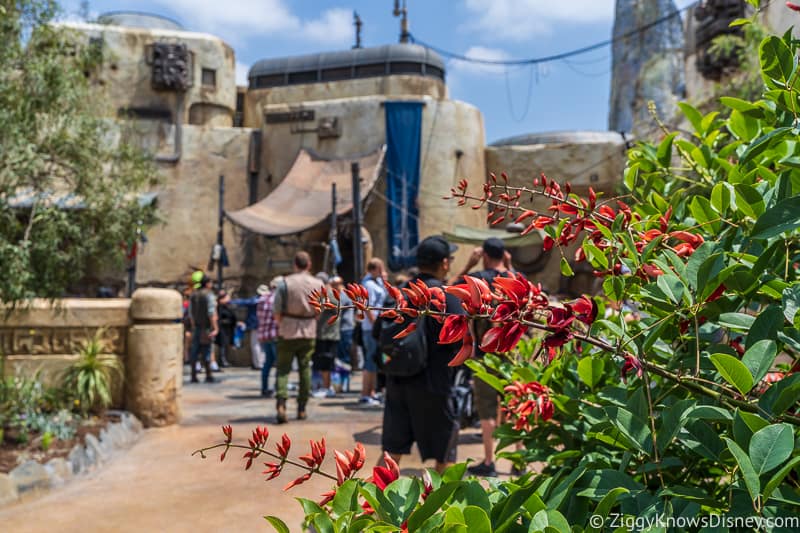 The cool thing about Savi's Workshop is that it's hidden. The gatherers who run Savi's don't want to get caught by the First Order who recently landed in Galaxy's Edge and is patrolling the area, so to get to it is a secret they keep from most people, except you…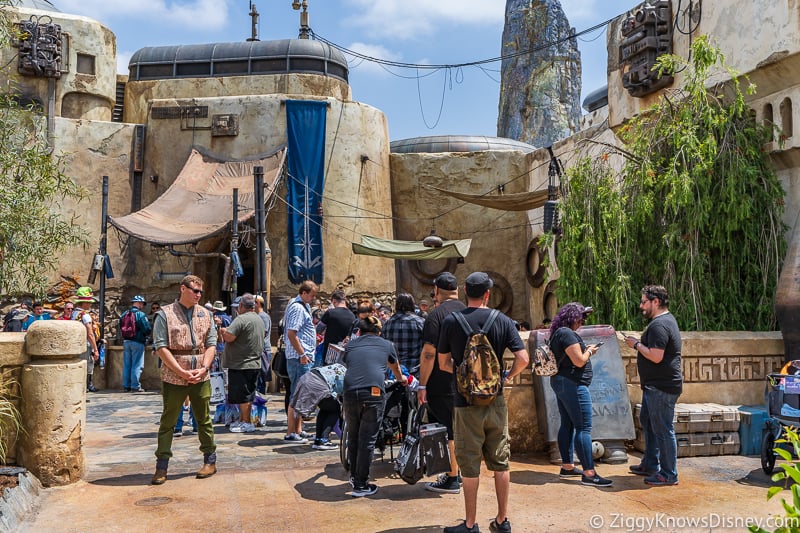 Ok, maybe just follow the huge line in this courtyard…?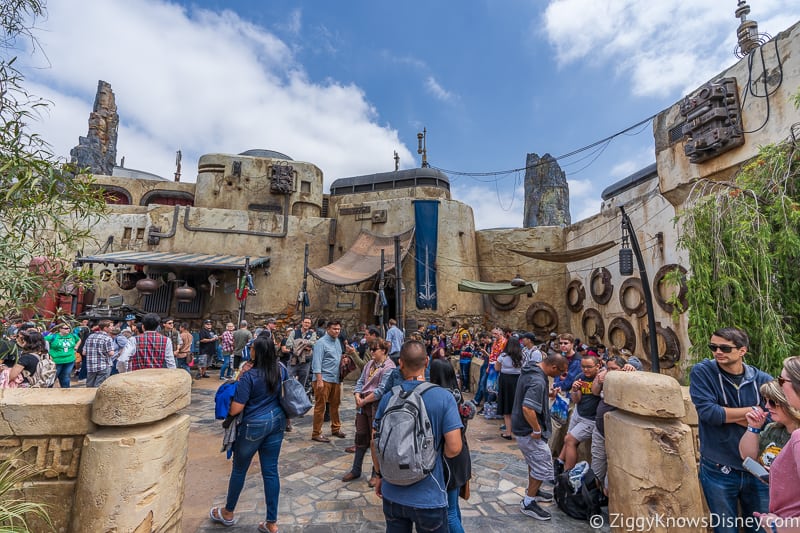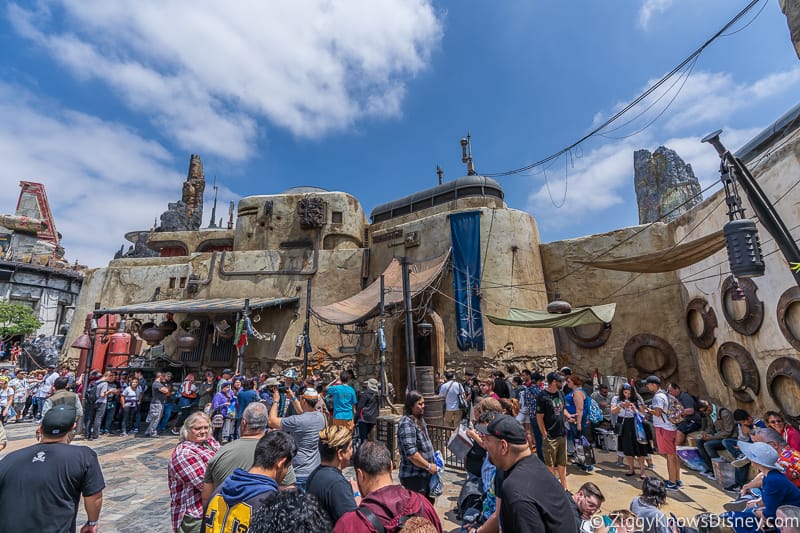 During the first few days of Galaxy's Edge there were more people waiting outside Savi's. Now Disney has gotten better about assigning return times to guests so they can go out and experience more of Galaxy's Edge while waiting.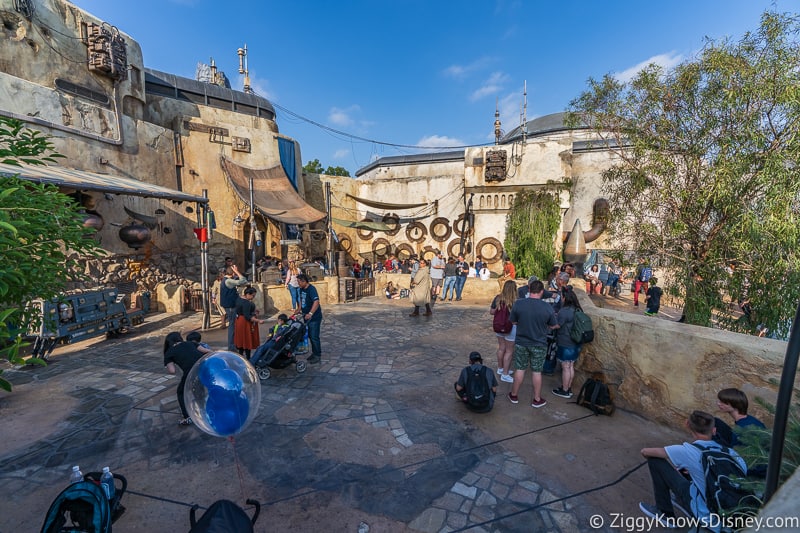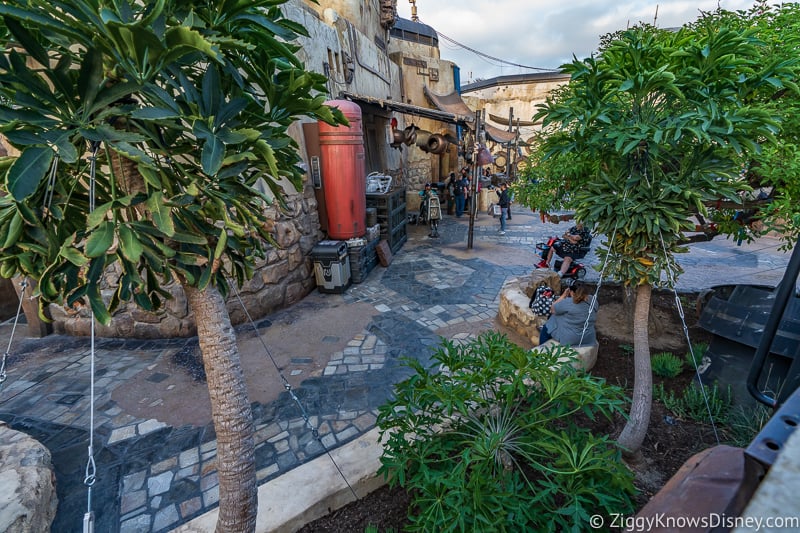 First though you have to bear the line to pay for your lightsaber, then you will be given a return time: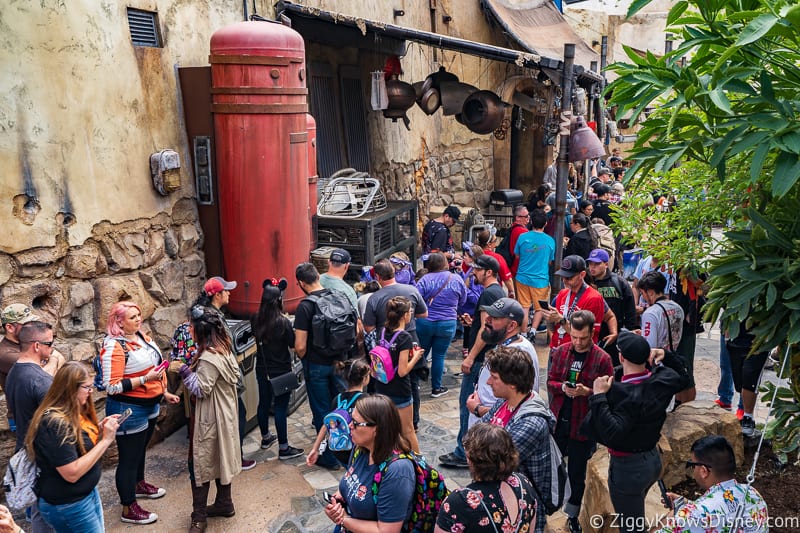 We waited probably 1 hour before paying and getting our reservations: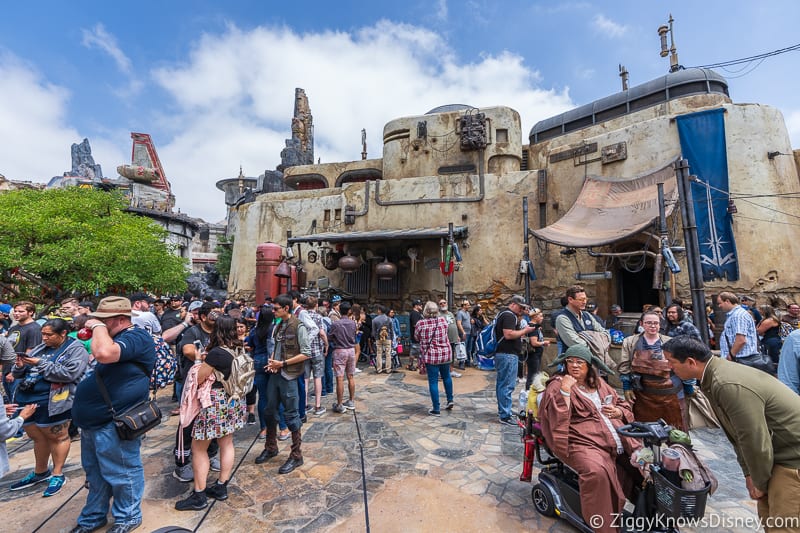 Look around and take in some of the details outside Savi's while you're waiting. This place is undercover from the First Order as a "scrap-metal shop" so the outside is obviously decorated appropriately: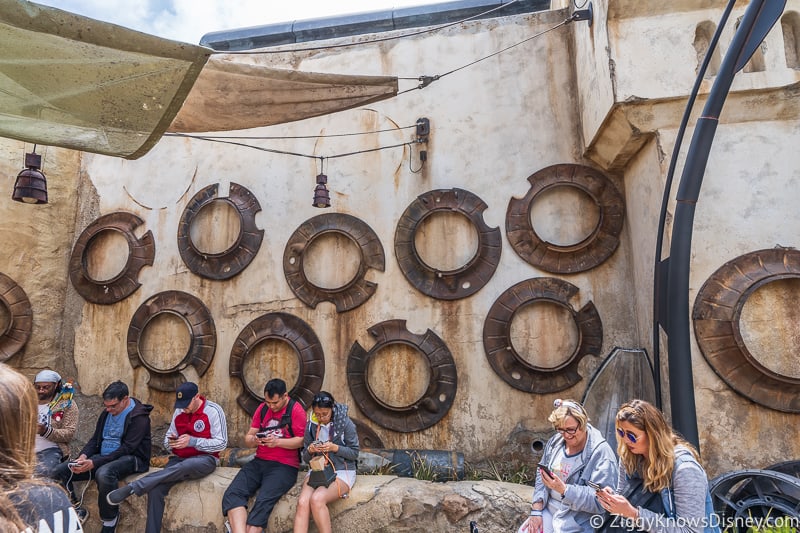 You can look all over the courtyard and there are a lot of cool items, made from scrap metal of course: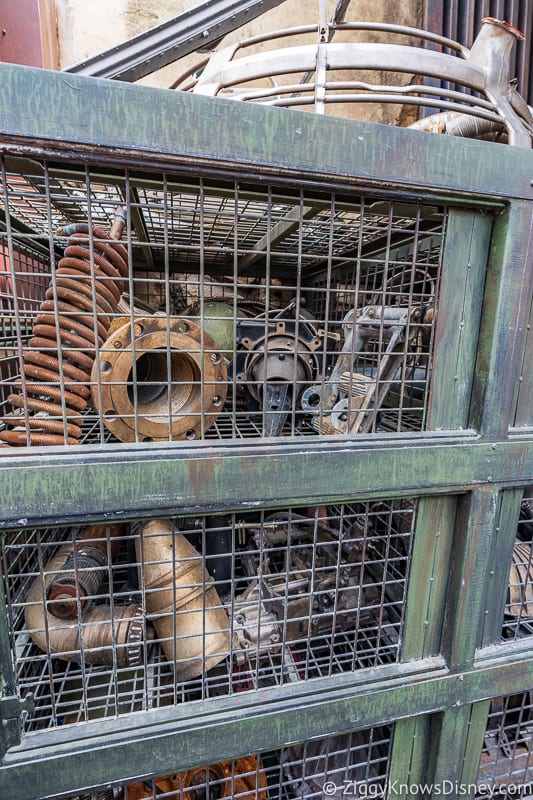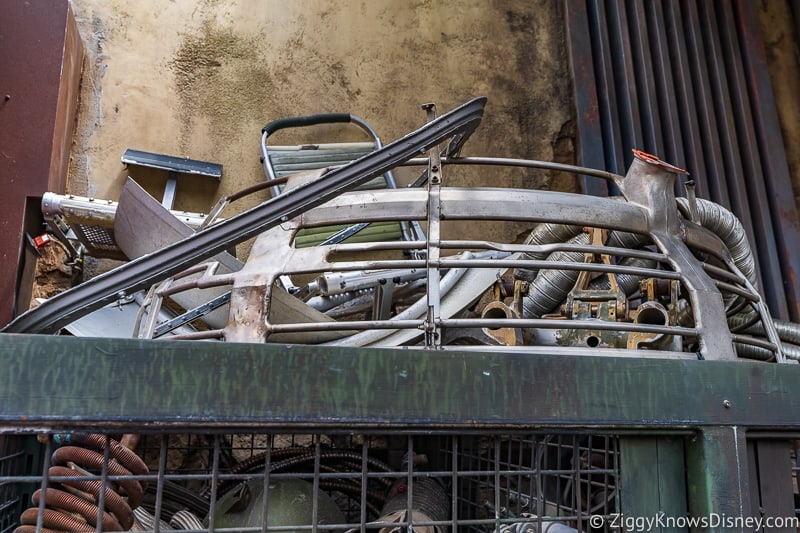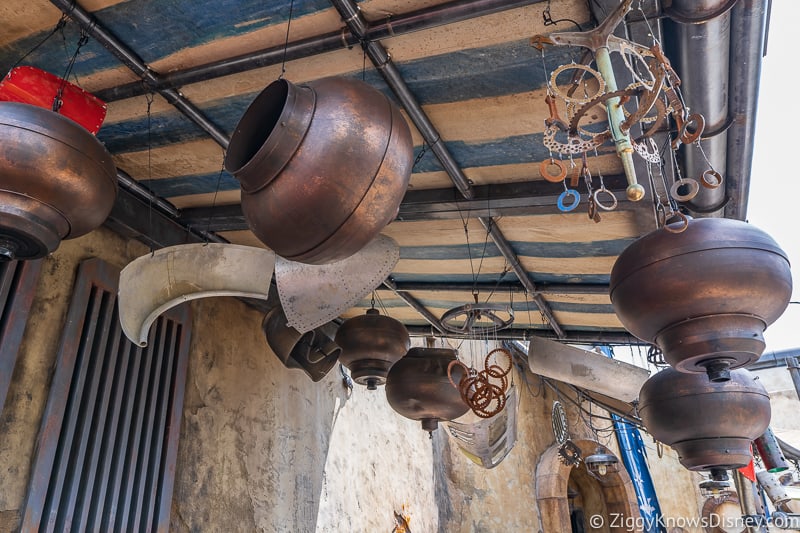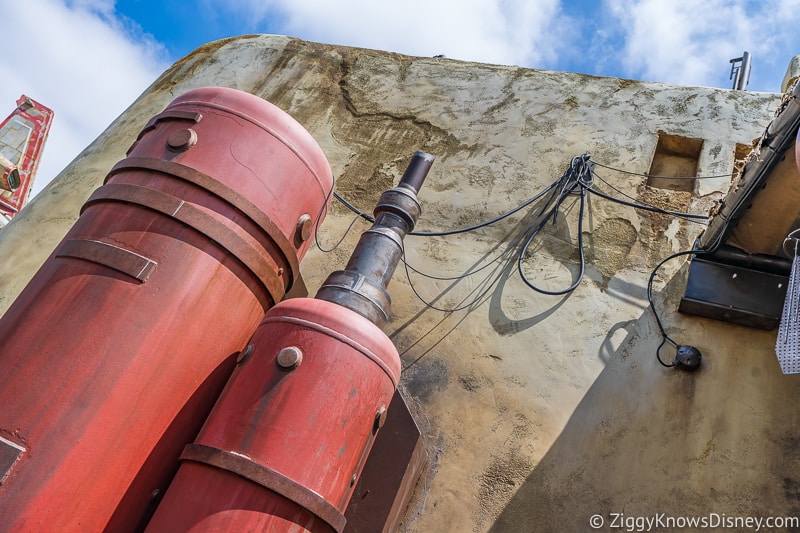 I really love the floors in general in Galaxy's Edge. Workers spent a lot a time in this area working on the stone floor and it certainly shows! Beautiful and worn…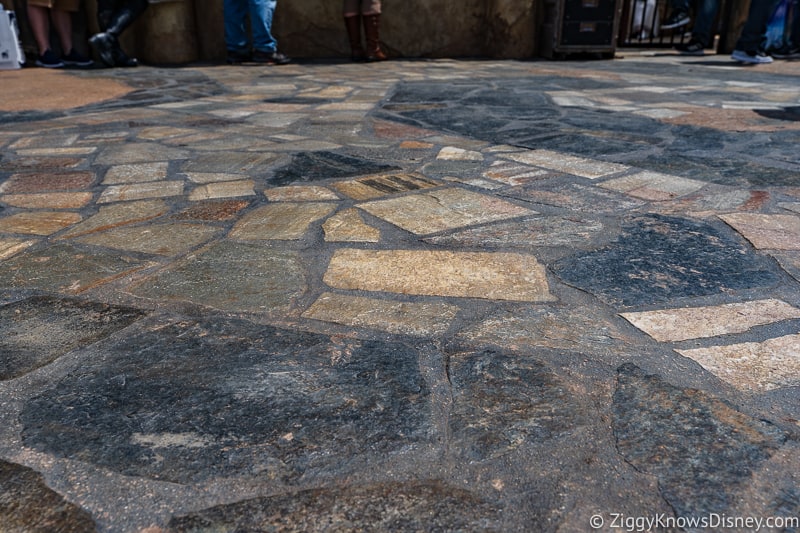 Looking here it seems to be the remains of some poor alien splattered on the wall: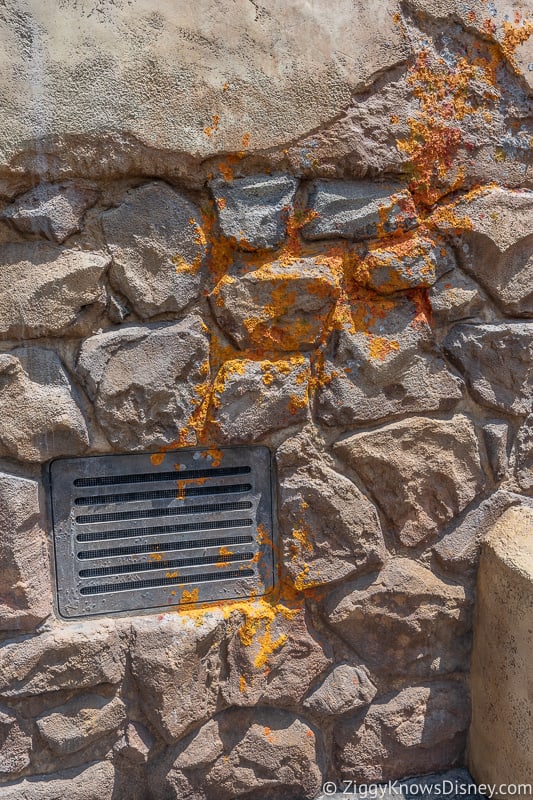 More scrap metal that is being repurposed…
It's the small details that have been put into Galaxy's Edge like this that I absolutely love!!
While you're waiting in line you will be approached casually by one of the gatherers about which type of "scrap metal" you would like to purchase. They will show you the various lightsaber hilt combinations so you can choose the style of hilt you want: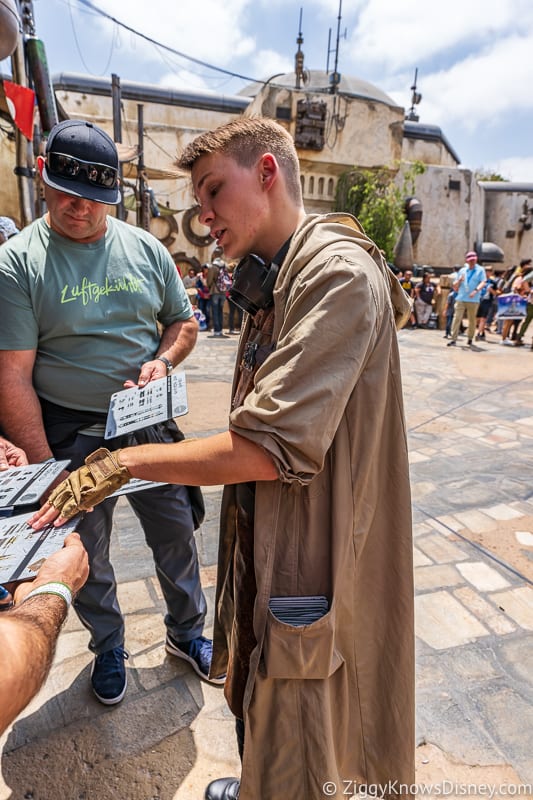 There are 4 lightsaber hilt styles available at Savi's. First you choose the style: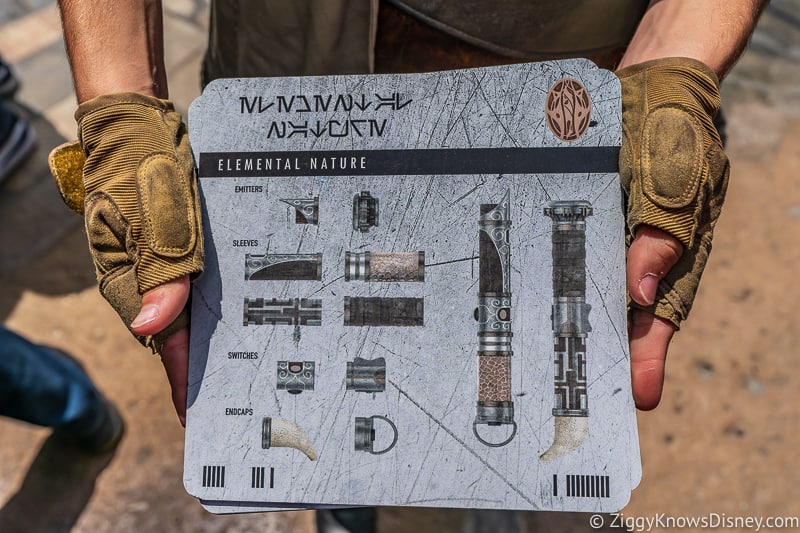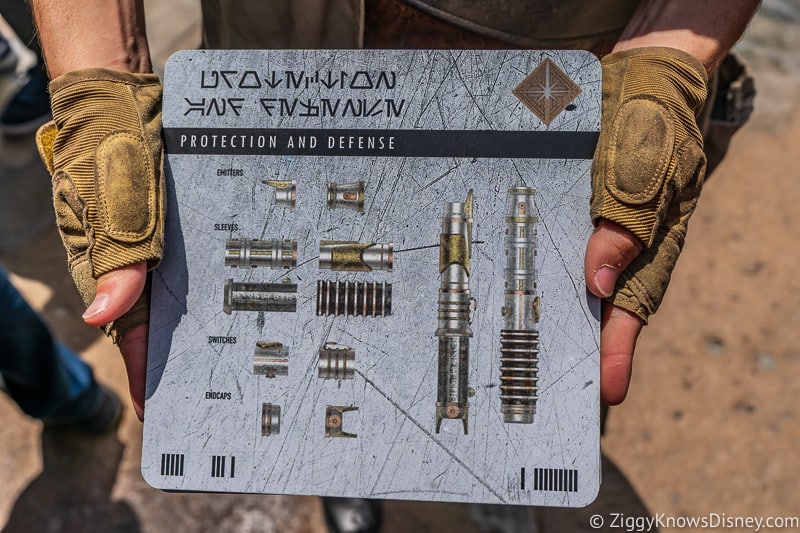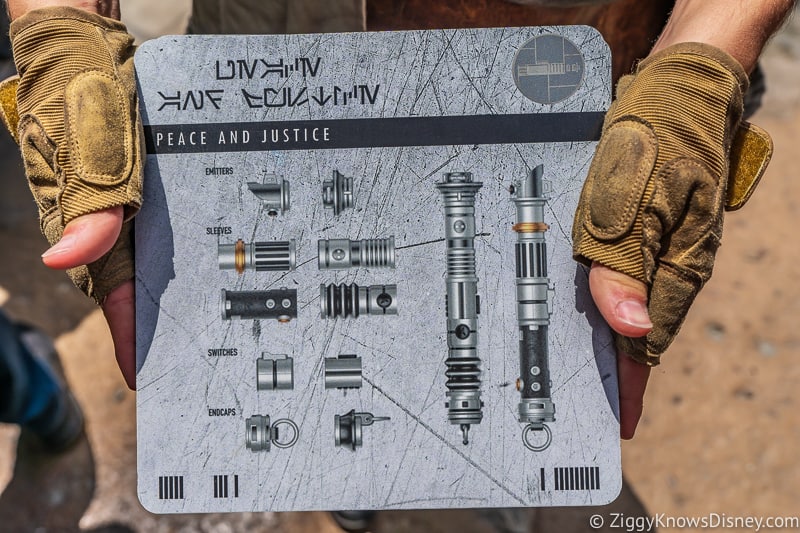 Once you choose the style lightsaber you want, you will be given a card reflecting that choice which you will then take with you to the cash register to pay for: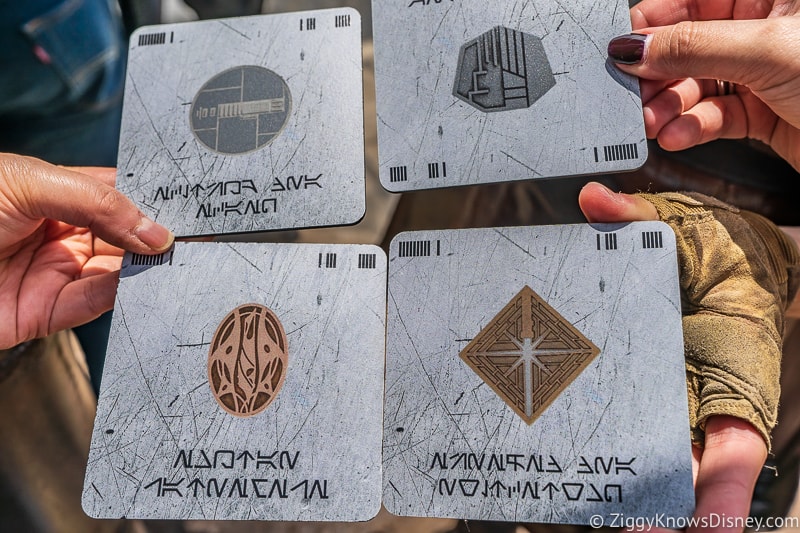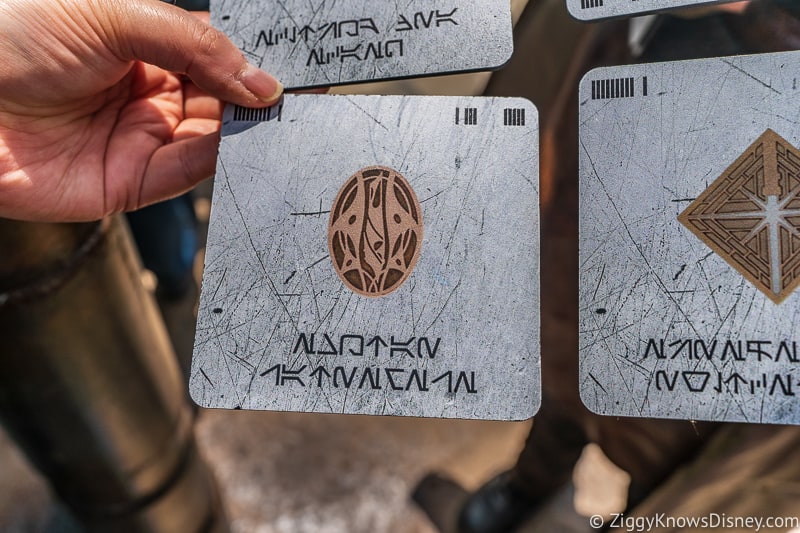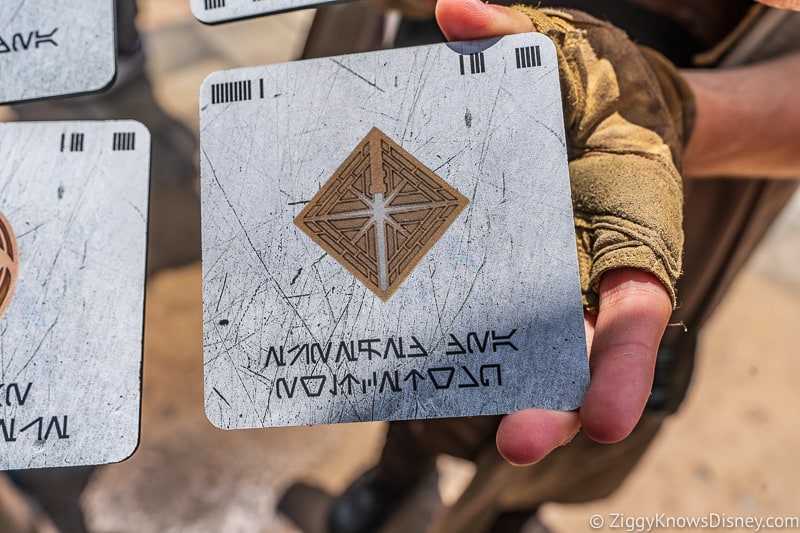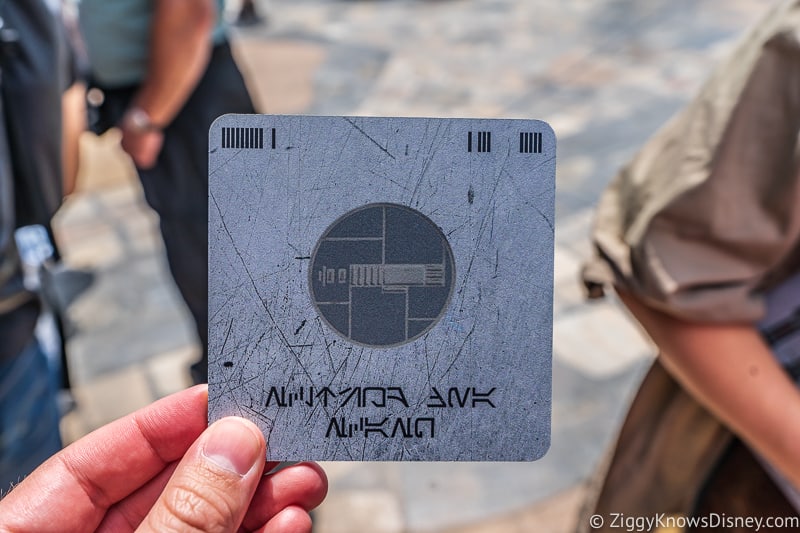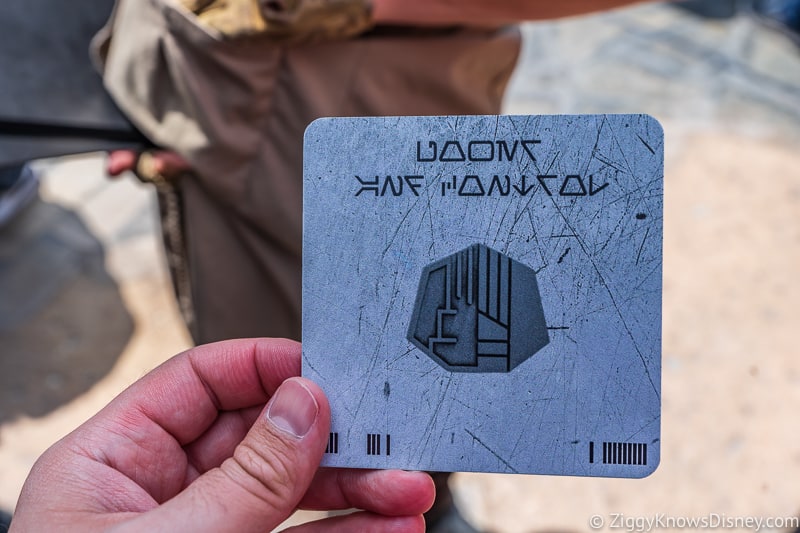 Don't know which style lightsaber to choose? Have a look at the parts inside the drawers of this container to see them all: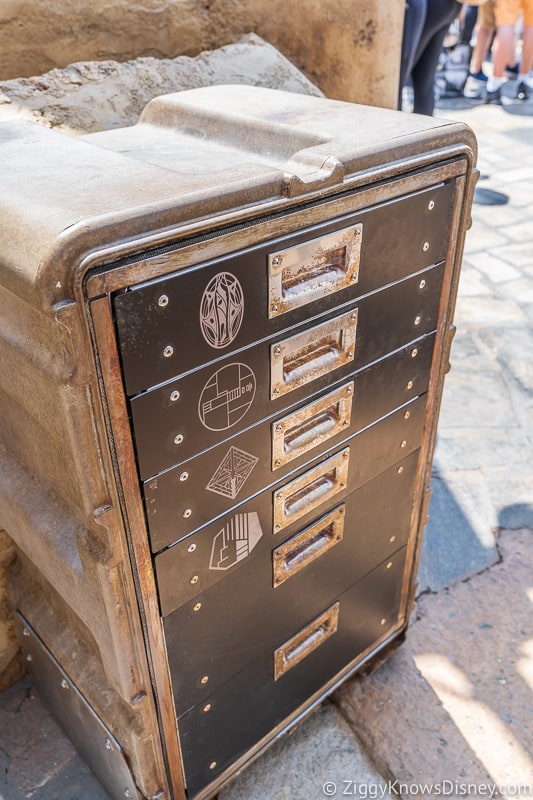 Here are the lightsaber parts for the Elemental Nature style: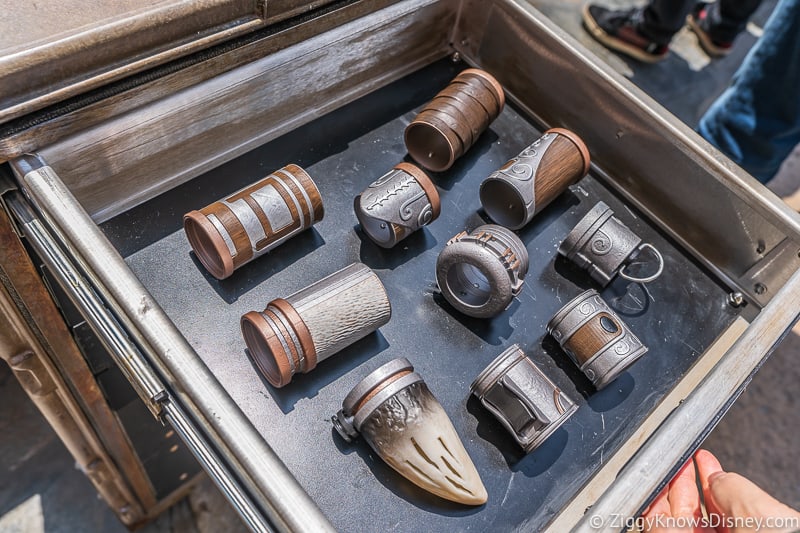 Peace and Justice: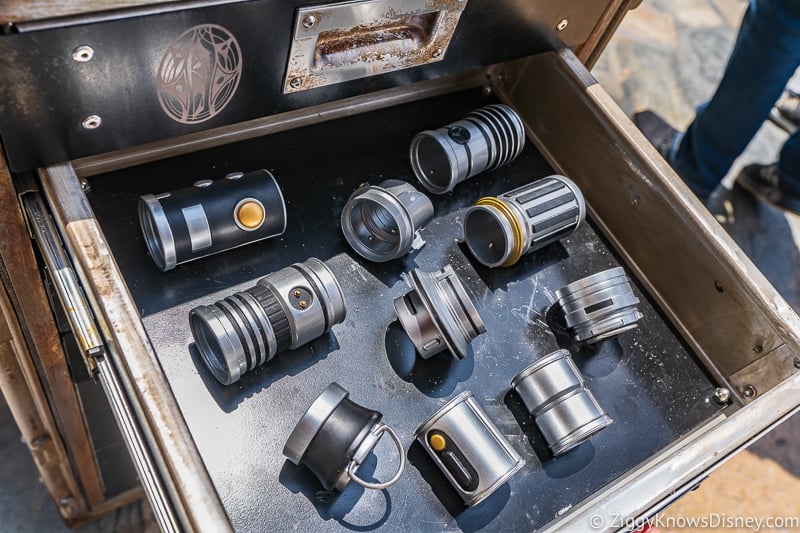 Protection and Defense: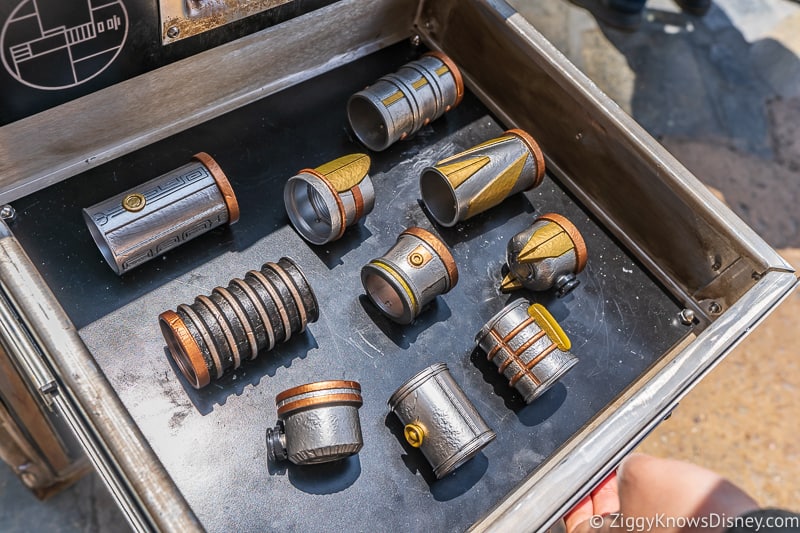 Power and Control: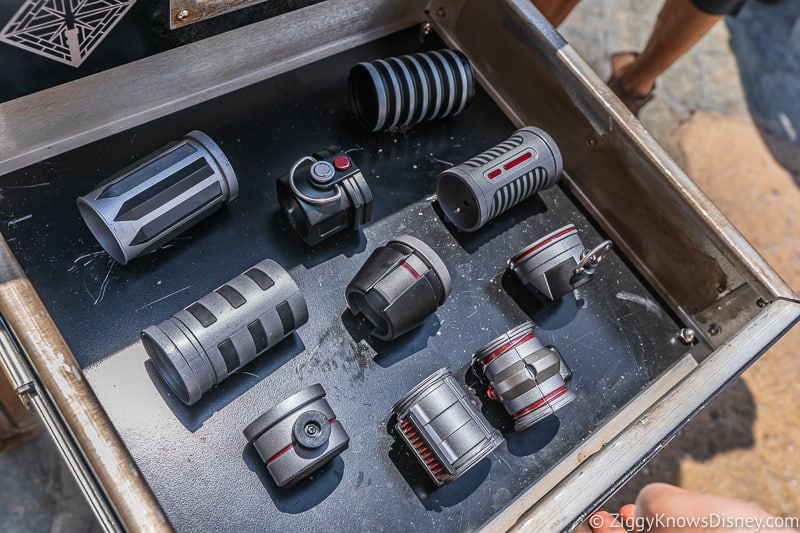 It's a hard choice between them all, but once you choose head over to the register to pay for your lightsaber: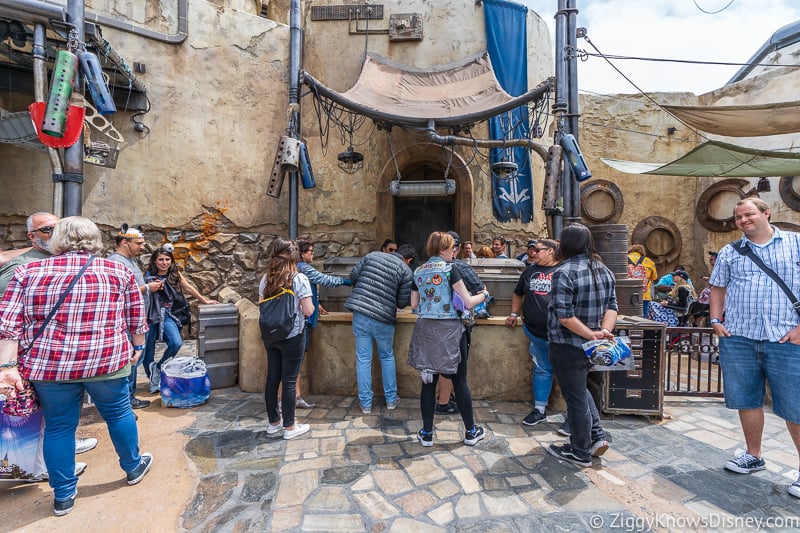 At this point we'd been waiting in line for about 1 hour, so keep that in mind when budgeting your time in Galaxy's Edge. You go to the checkout, tell them which lightsaber hilt design you want and pay: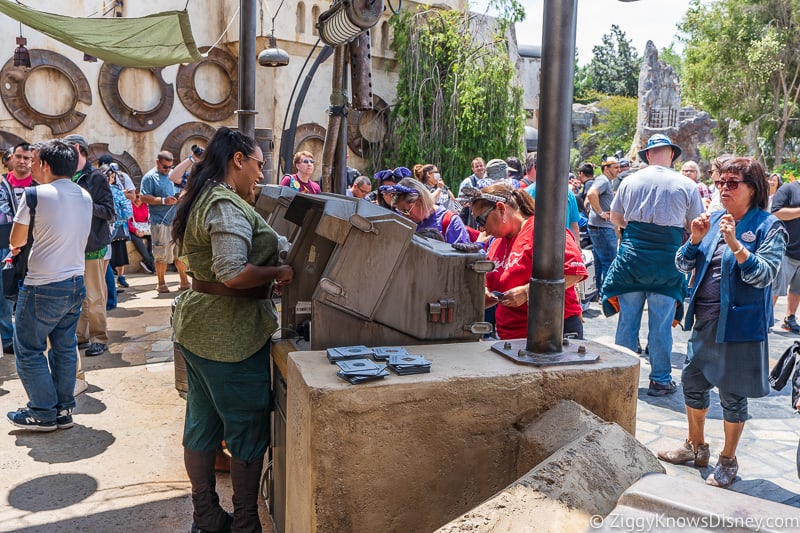 The credit card machines in Galaxy's Edge are really neat looking and make it REALLY easy to take your wallet out for all the cool merchandise you can buy: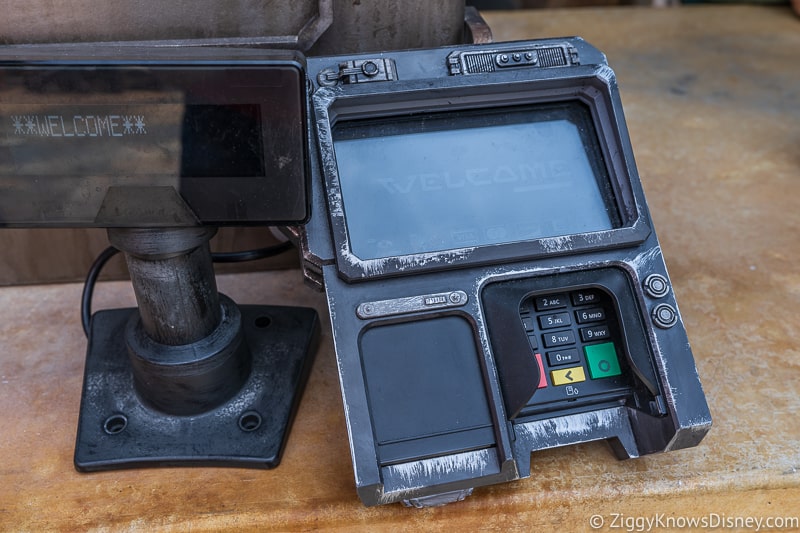 At this point we have to talk about the price because if you didn't know before, the Lightsabers from Savi's Workshop in Galaxy's Edge cost $199 before tax ($212 after). That is not a cheap price by any means and will no doubt turn away a whole bunch of guests. The only question is are the lightsabers worth that price?
My gut feeling is yes, if you are a huge Star Wars nut and would really like a cool collectible to take home with you from Galaxy's Edge, then the lightsaber is about the pinnacle of what you can buy (besides the $25,000 droid that is…)
I'll let you know at the end of the review… 😉
One thing to keep in mind when visiting Savi's Workshop is that lightsabers are limited to one per guest. So you can't buy 5 of them and sell them on eBay, you can only buy one.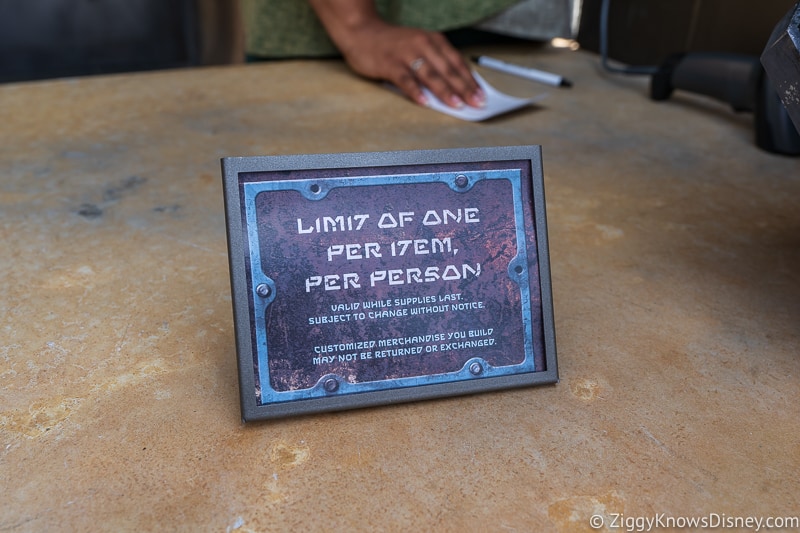 Another thing to keep in mind is that access to the lightsaber building experience is limited to one builder and one guest. That means that you can only bring one guest with you in to the experience, not the whole family.
Once you buy your lightsaber, you'll be given a pin which coincides with the lightsaber style you've chosen: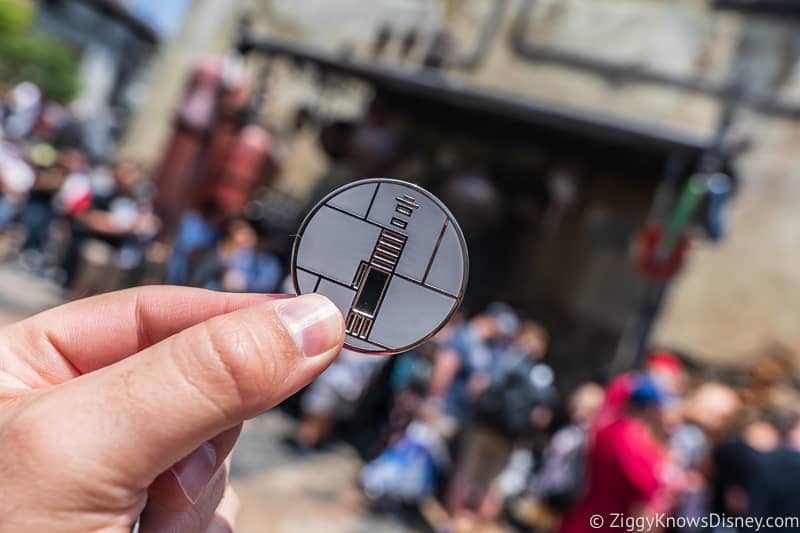 Groups entering the Savi's Workshop lightsaber experience are organized in groups of 14 builders per time. After you pay, you're given a card indicating which waiting group you are in and they will tell you approximately how long you have to wait until you group's turn.
Our turn started about an hour after we paid so we took the opportunity to go and visit a bit more of Galaxy's Edge while we were waiting.
TIP: Make sure you are back in time to enter the experience with your building group. If you show up late then you will NOT be given entrance and you will lose the $199 you spent to buy the lightsaber. You have been warned.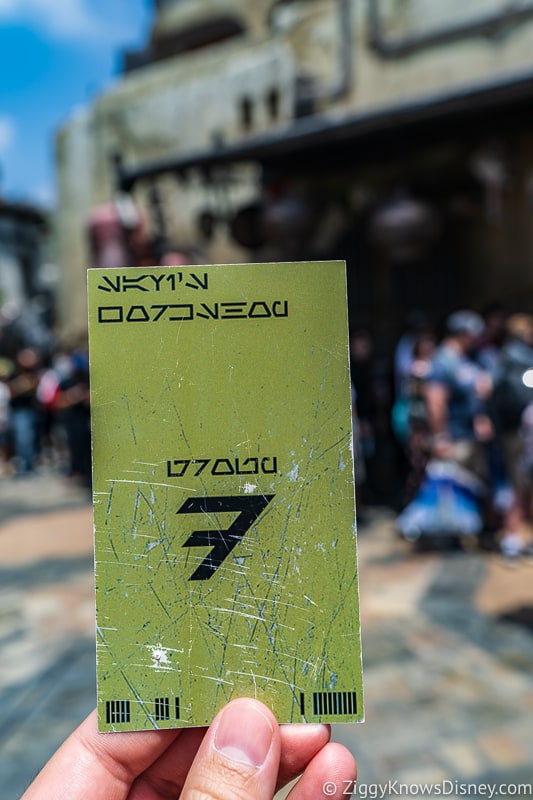 There is usually a few groups already in line so I don't expect the wait to be shorter than an hour for you either (at least not for a while) but make sure to ask about the wait time.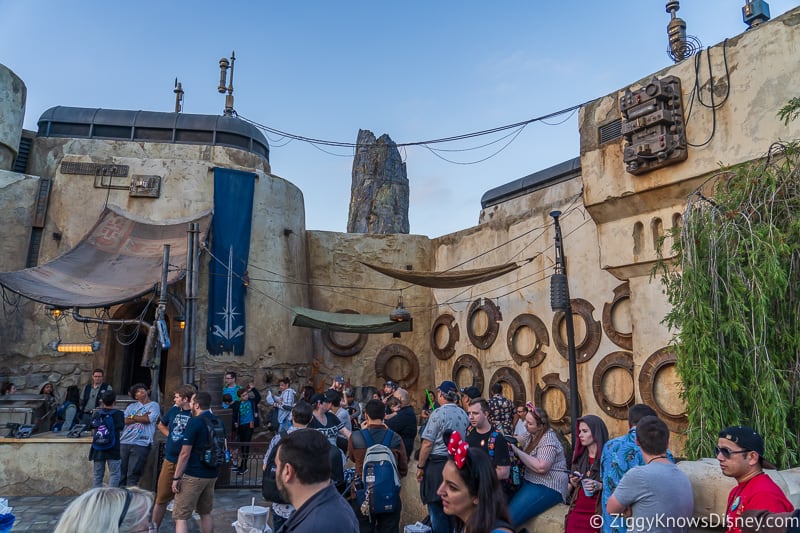 At least while you are in line the gatherers working at Savi's are super entertaining and keep you laughing the whole time.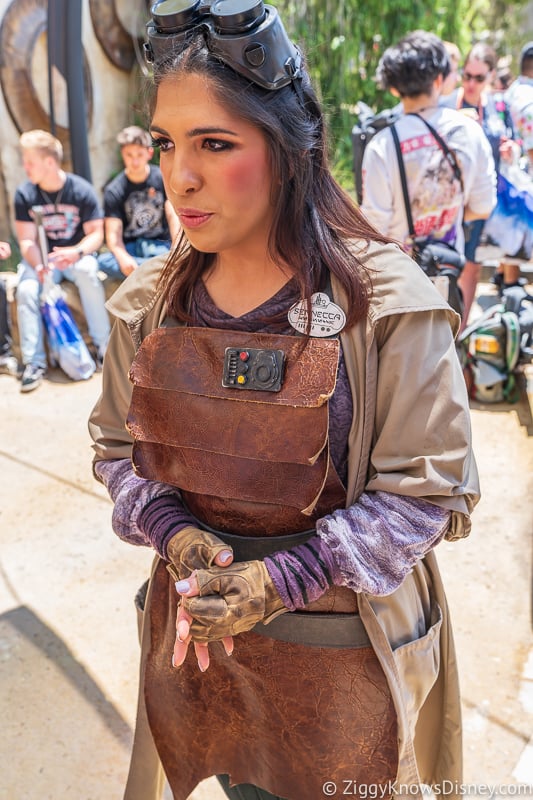 Our cast members were extremely entertaining and they never broke character once! They were asking questions about how many stomachs cows have, what Earth is like and what sound dogs make. They get an A+ for their performance and they did a tremendous job with the crowds: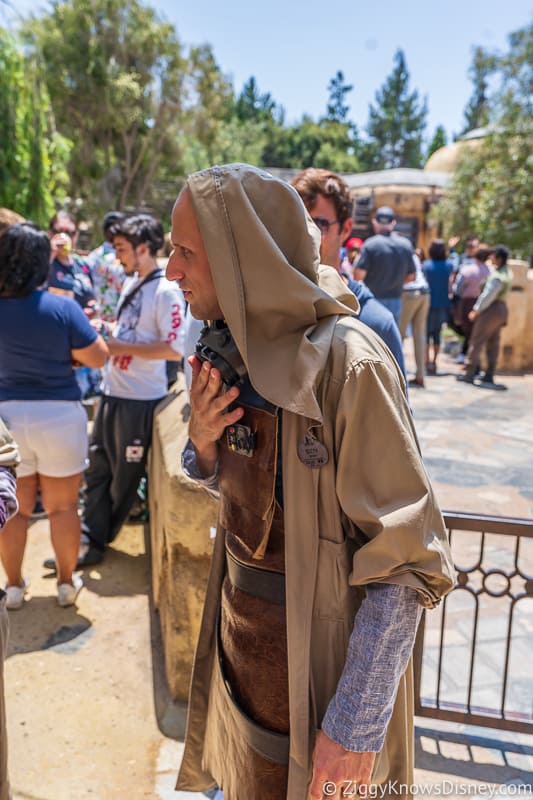 Once the wait is over the gatherers will call your group and it will be time to enter. Follow the door into Savi's secret workshop…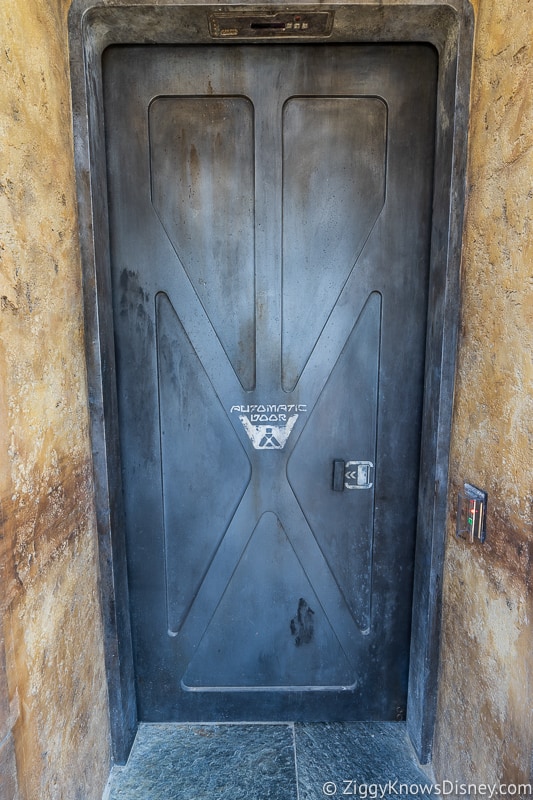 Right when you walk through you'll see some interesting scraps that Savi has salvaged. The space-style coffee maker especially made me laugh!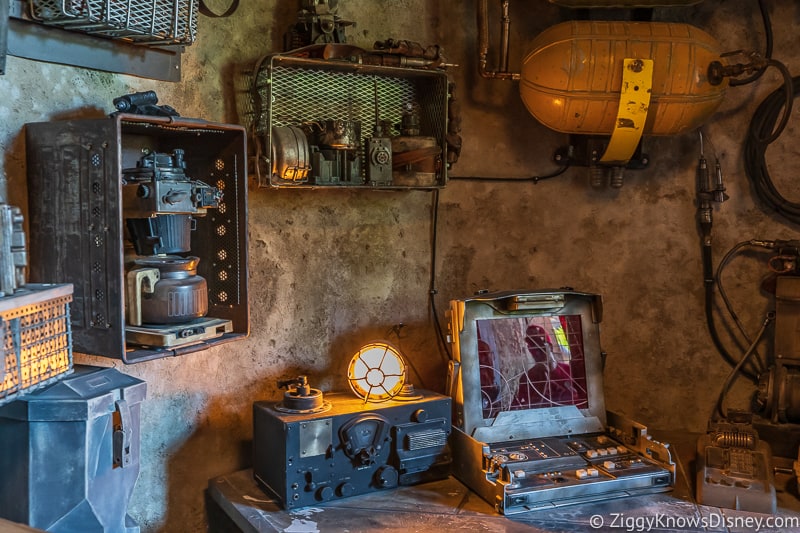 All Savi's parts he uses are hanging on the wall of his workshop entrance: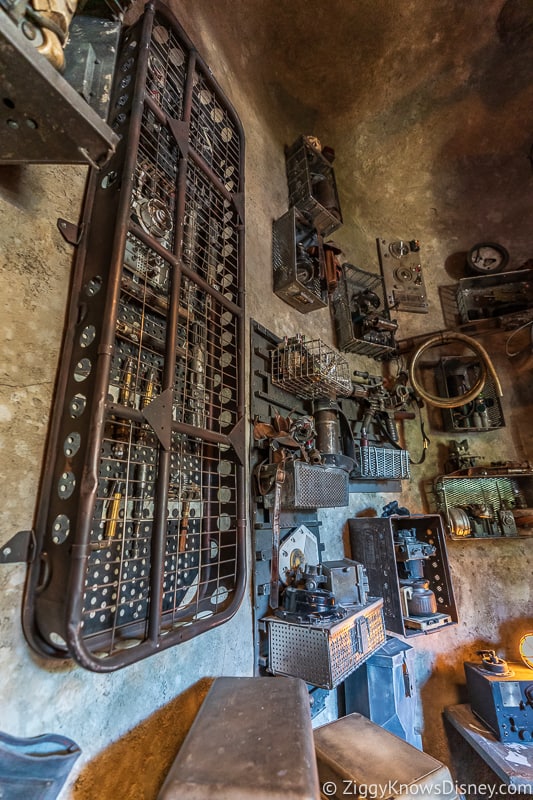 It's all a front though and the Gatherers then sneak you through a hidden door into another secret room…
This is where the real work begins…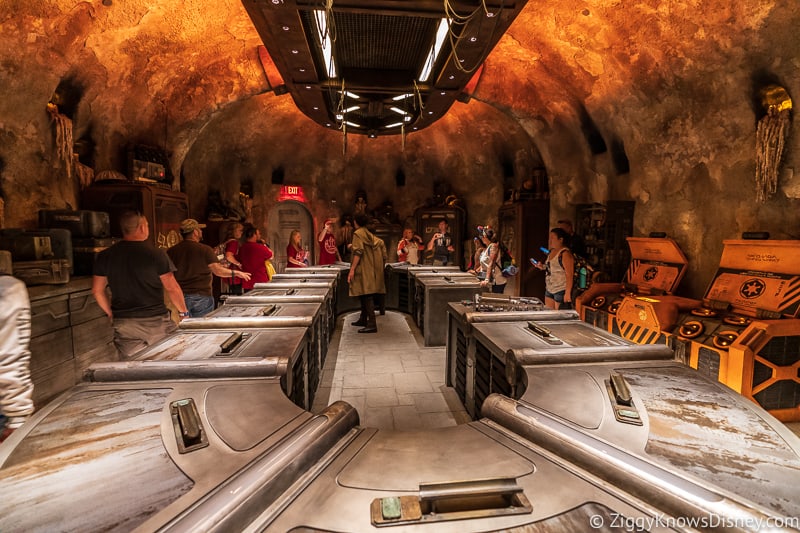 The Gatherers hustle around the workbench to prepare the kits of scrap metal which will be used in making your custom-built lightsaber!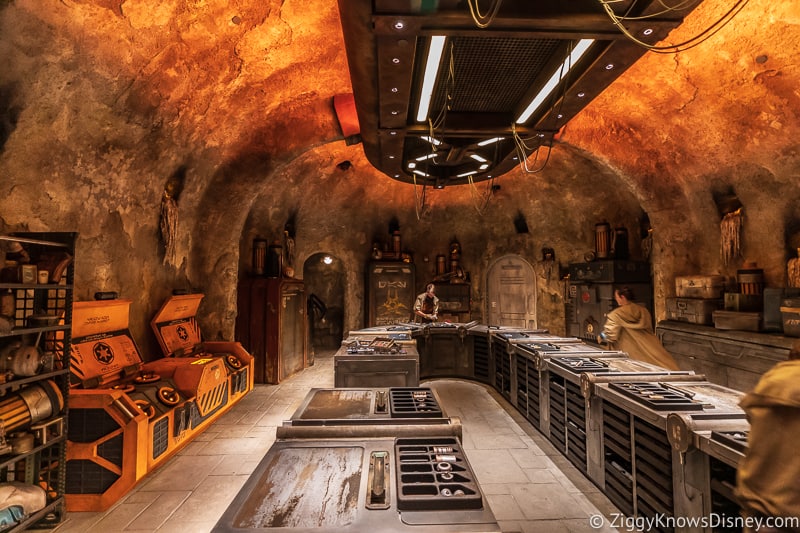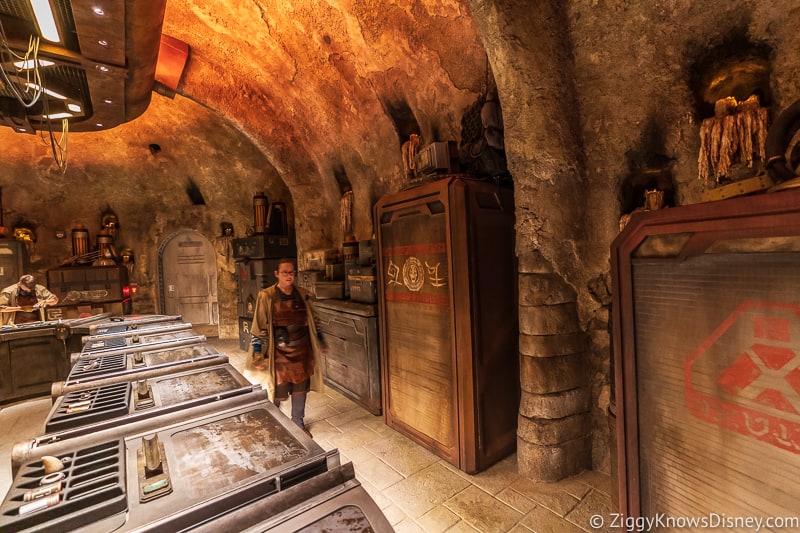 These are the chambers that hold the life force of a lightsaber….Kyber Crystals: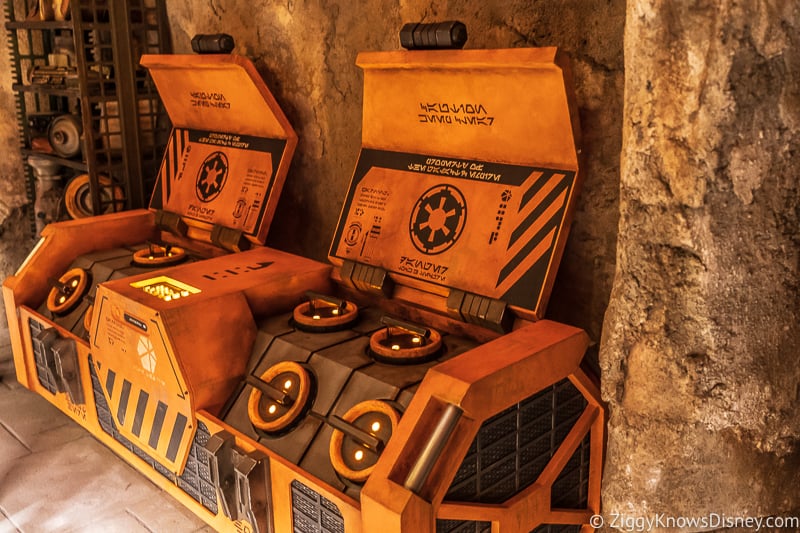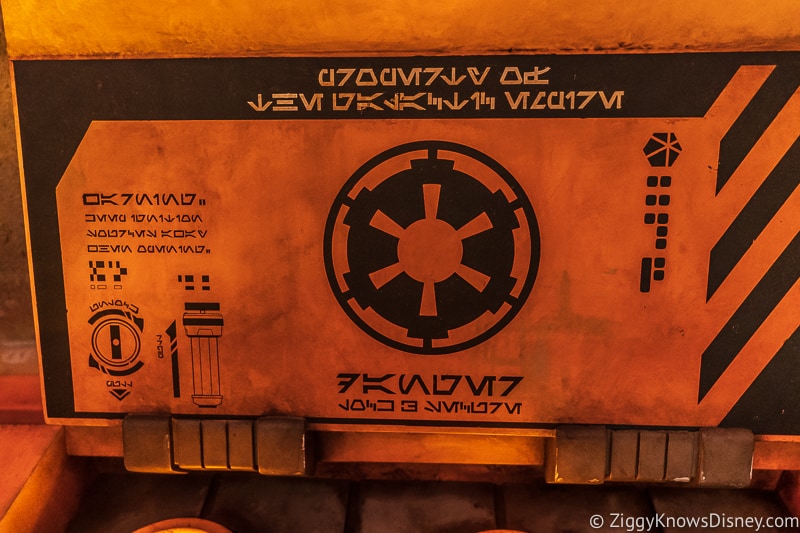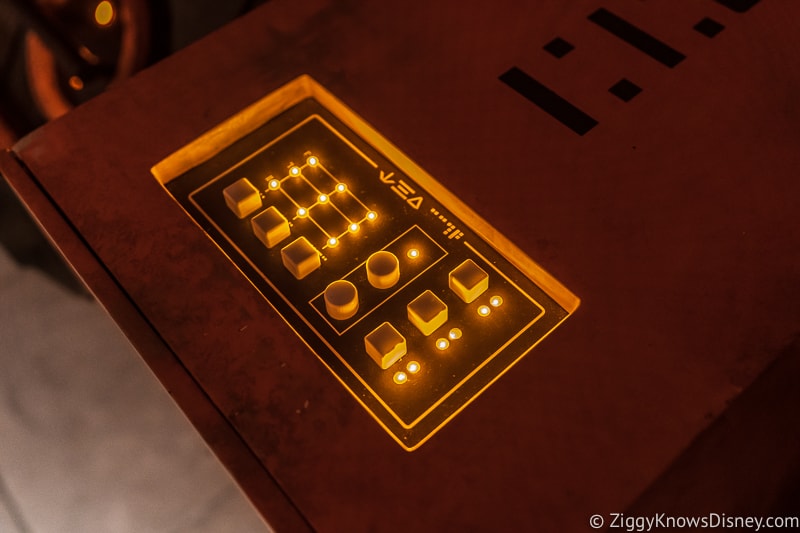 Each chamber pulls out holding the kyber crystals: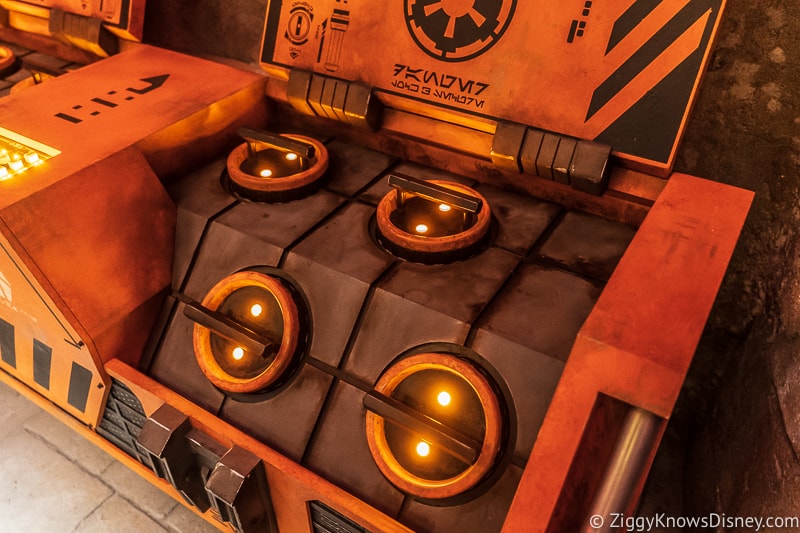 Some already used canisters are on top of the shelves: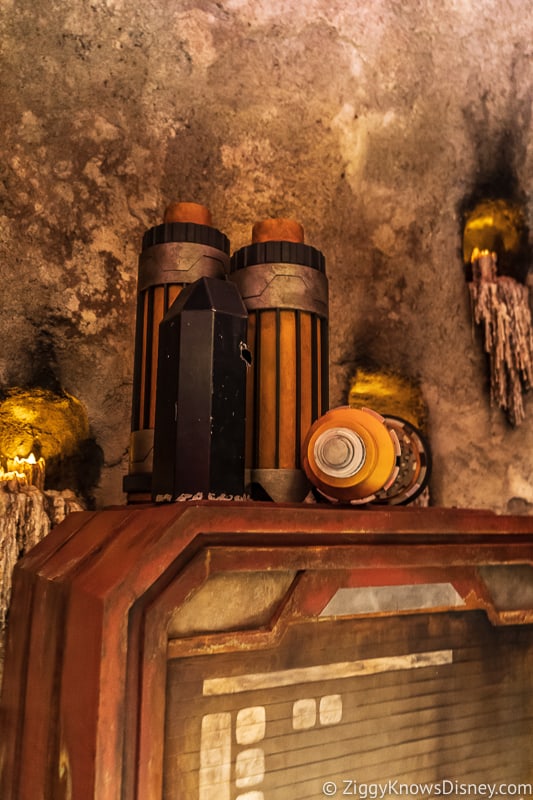 Up to this point we were excited about building our own lightsaber, but stepping into the room took that excitement and tripled it! This is starting to get really cool!!
As we head over to the workbench baskets of lightsaber parts are laying on the table: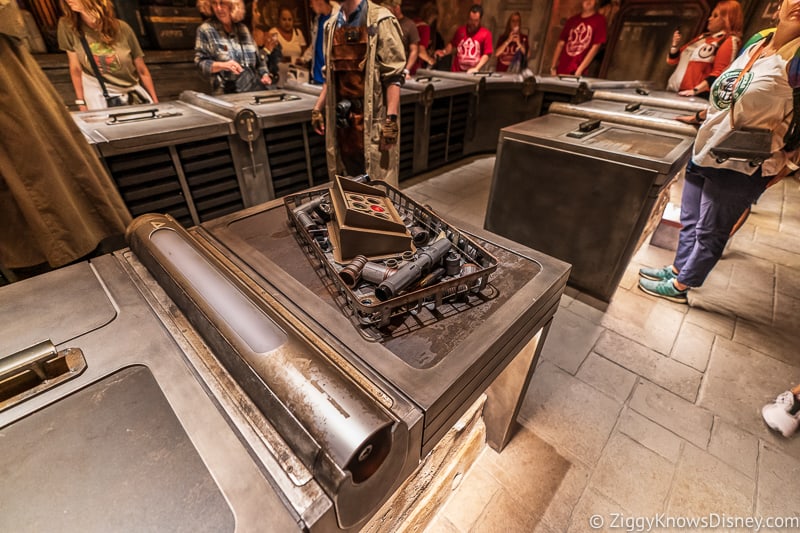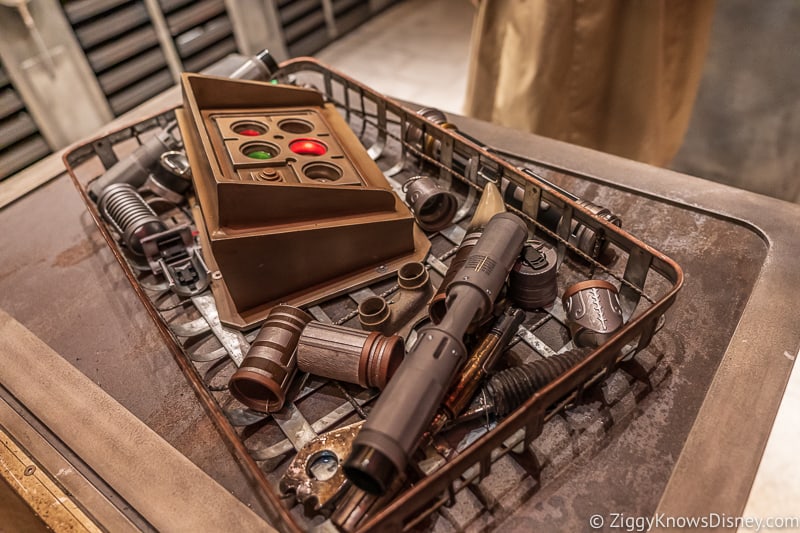 Are we ready to do this?? I can't believe we're going to build a custom lightsaber!!!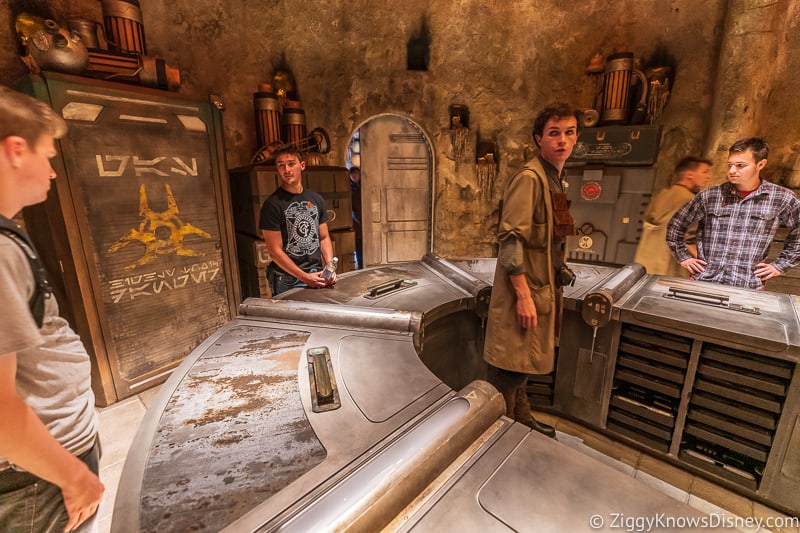 Building your lightsaber:
Ok, we're at our station and ready to get building!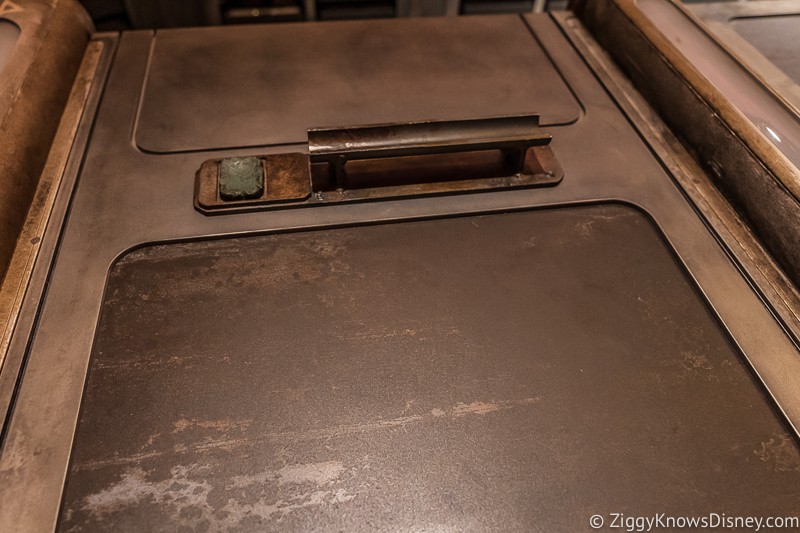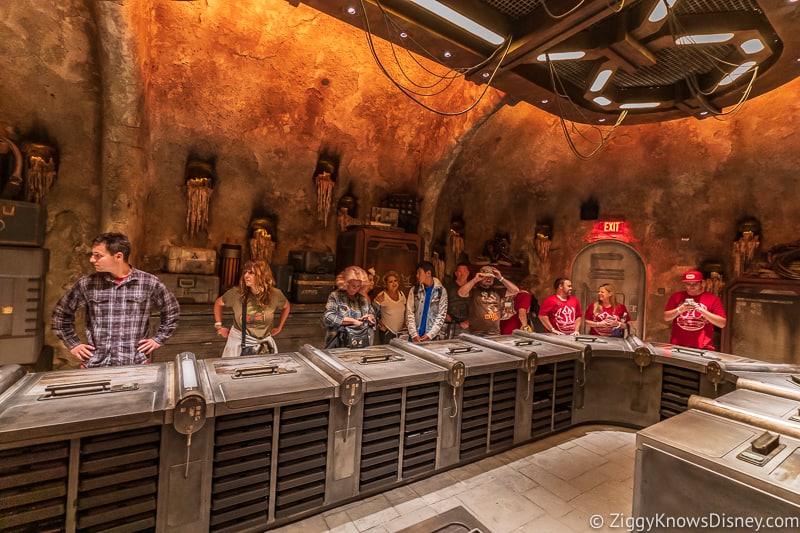 One of the gatherers tell us the story about lightsabers and how a builder must become "one" with the lightsaber. Each person forms a special bond with their lightsaber so choose your parts carefully…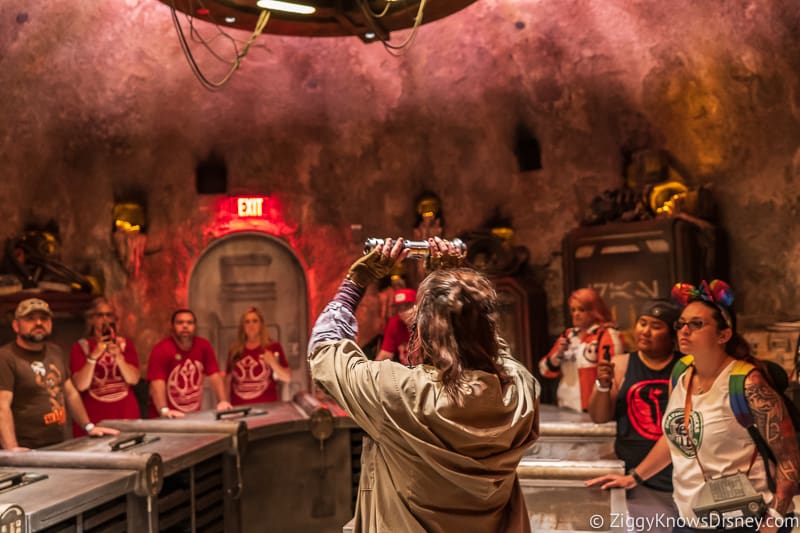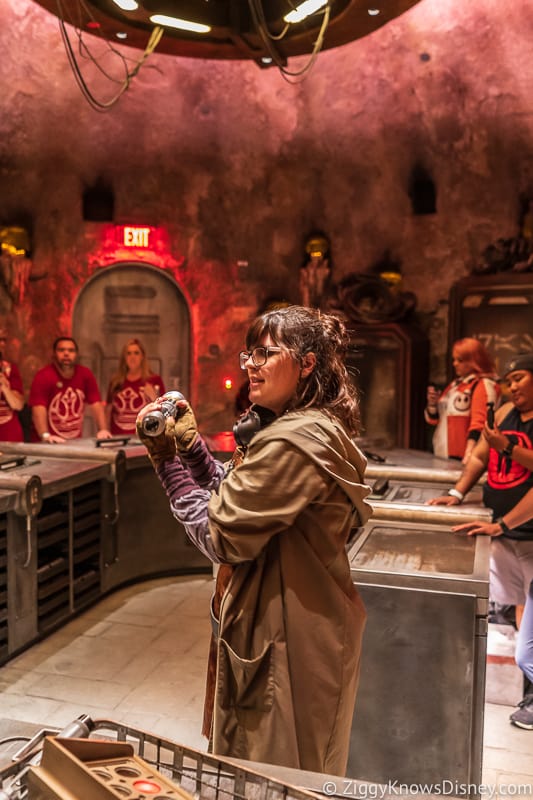 The Kyber Crystals are the driving force behind a lightsaber's power and when you're building a lightsaber at Savi's Workshop you have 4 different color choices:
Blue: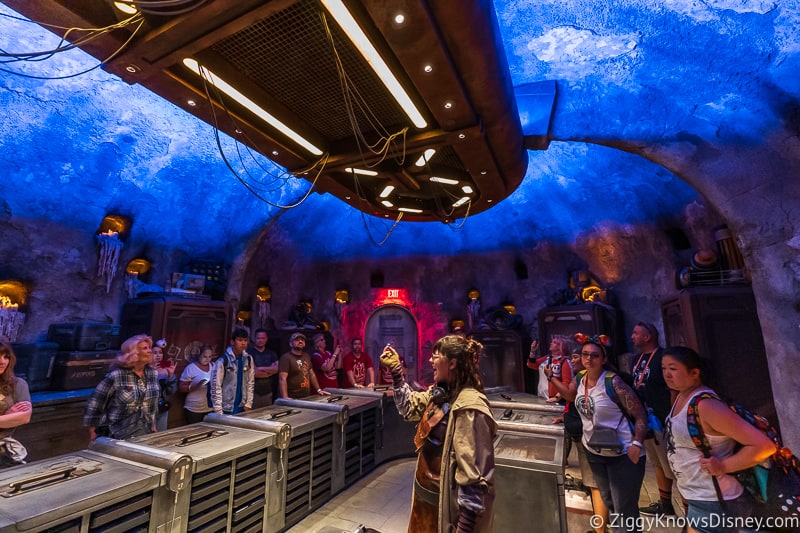 Green: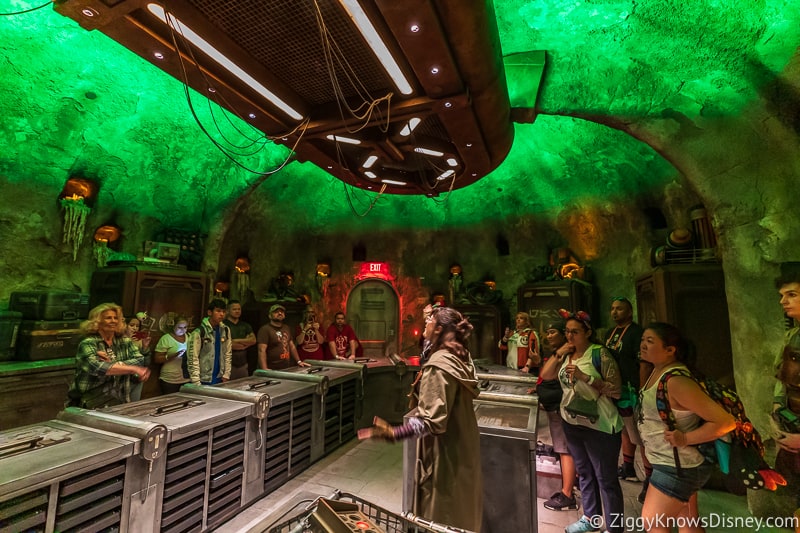 Purple: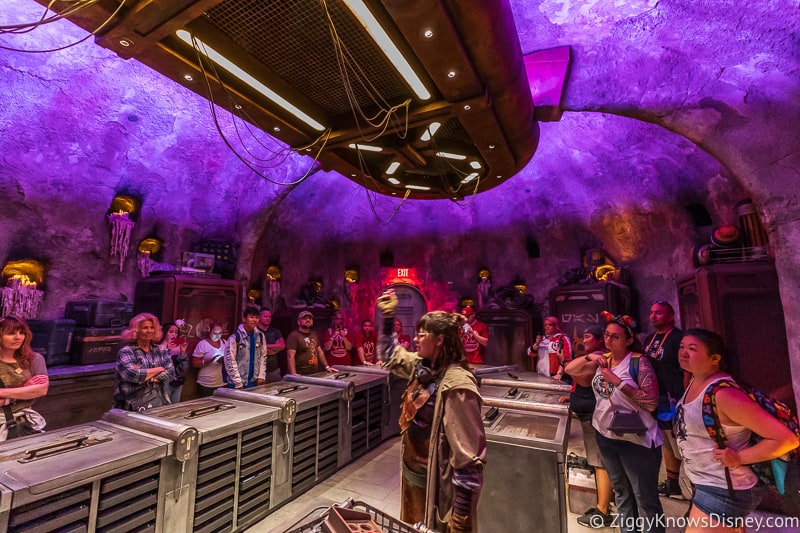 and Red: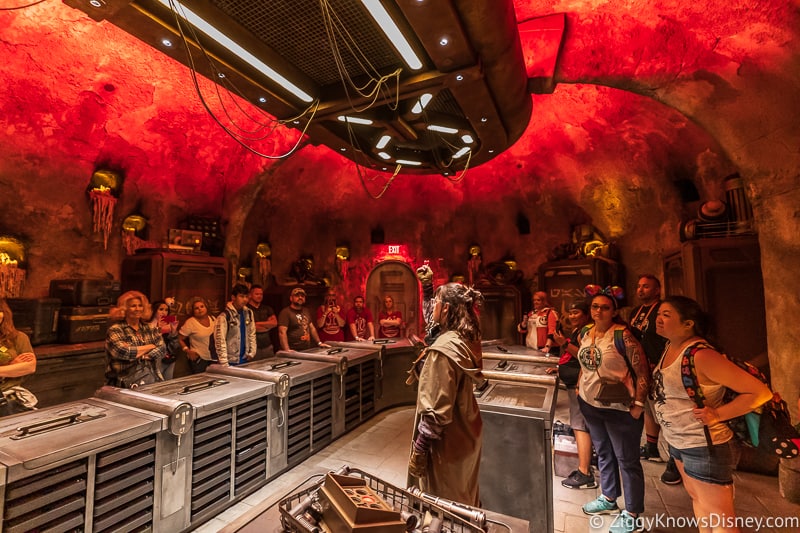 There are more colors available at Dok Ondar's Den of Antiquities like Yellow, White and Black if you are lucky enough to find them.
Here is the canister of Kyber Crystals: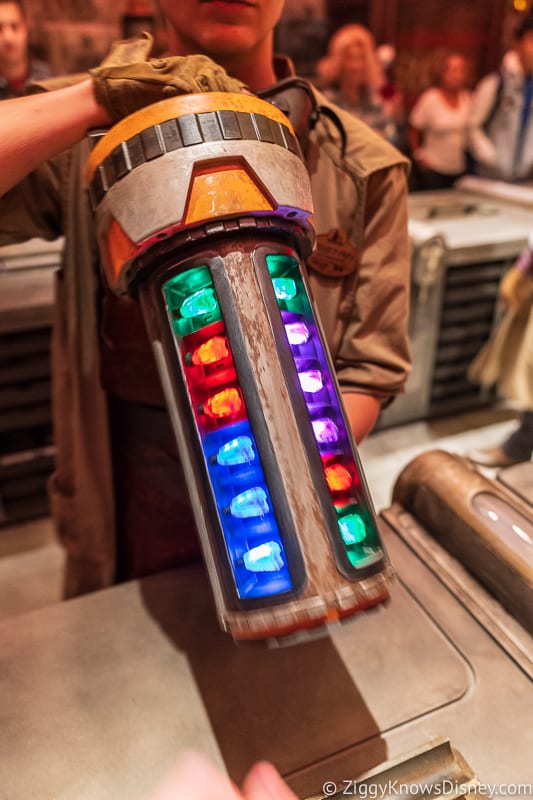 We chose blue because, well it's awesome! It's the standard color for a Jedi lightsaber and the same color as Obi-Wan Kenobi and Anakin Skywalker so that's good enough for us!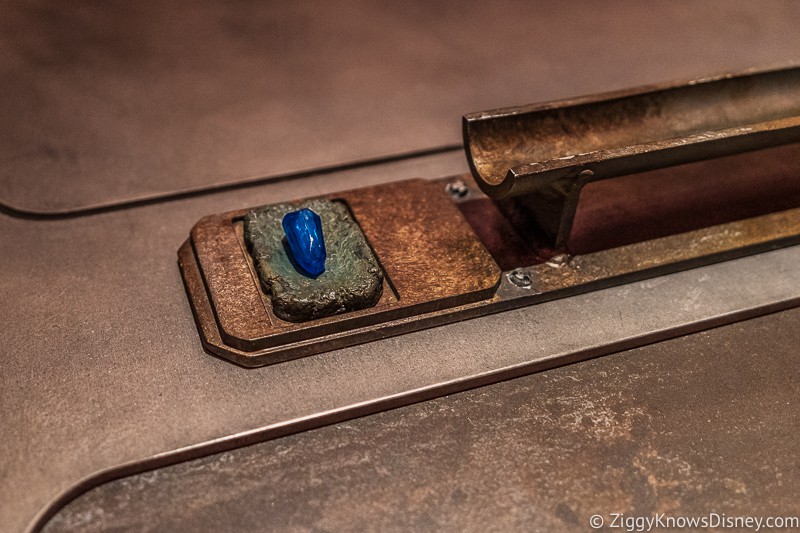 So I just want everyone to pay real close attention to the hilt set you are given and make sure it matches the one you bought before entering the workshop. I ordered a "Justice and Peace" one which is in the style of Luke Skywalker but they accidentally gave me the "Power and Control" one which is a Sith or Dark Side user saber:
I honestly didn't even notice until after I was already outside Disneyland because I was just so excited about the whole experience. Make sure they give you the one that you asked for when you go…
Either way they are all really awesome and these pieces are just as cool.
There are 5 different sets of parts for each lightsaber (not including the hilt itself). They give you a tray which holds two options for each of the 5 set pieces and you can mix and match them however you want.
These the parts that go in the middle of the saber: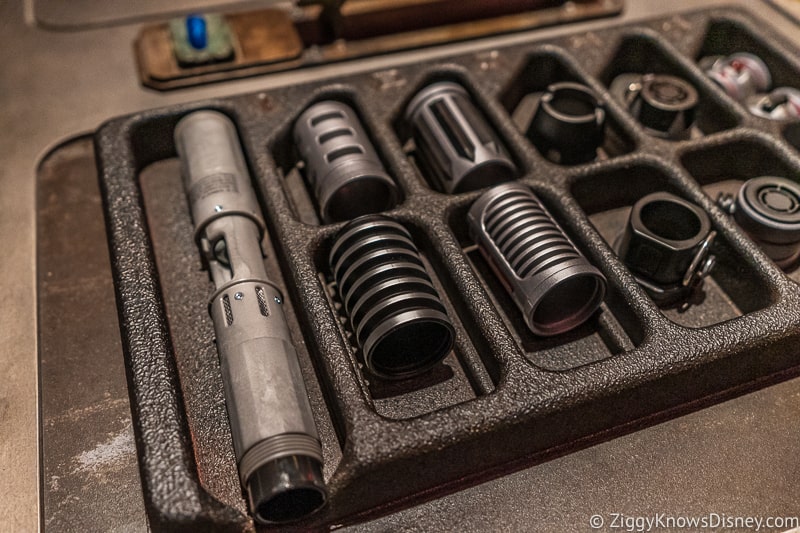 and these are the two sets of end pieces and the actual switches to turn the lightsabers on and off: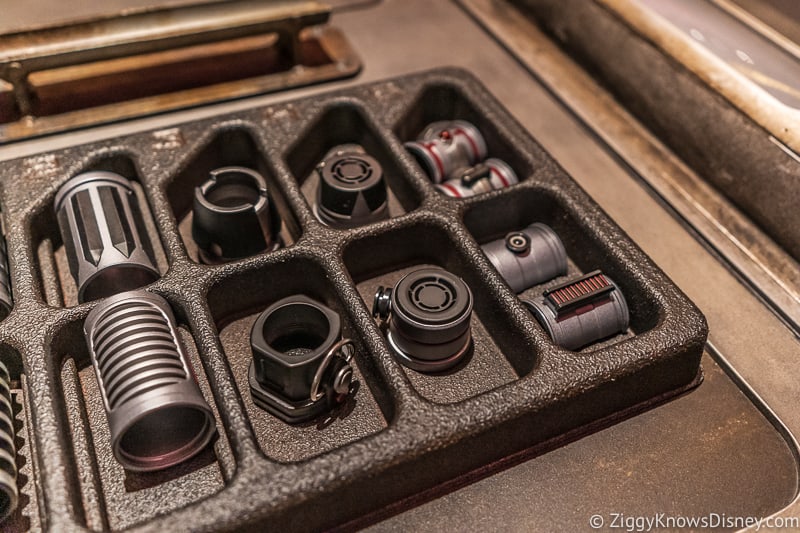 Right when we pick it up we can see that this is the real deal and it's not made of cheap plastic. Even without all the pieces it's heavy and very sturdy.
We insert our blue cyber crystal into the lightsaber which powers it. Actually it runs on 3 AAA batteries but we won't tell anyone. It is a pretty cool trick though that whatever color kyber crystal you put inside the lightsaber hilt, actually changes the color on the blade. So this one is blue, but if I pop a red one in, it becomes red!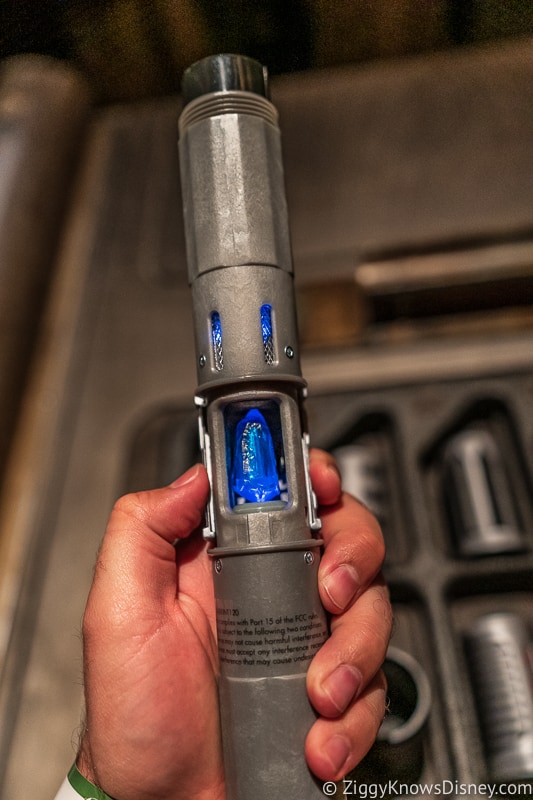 It's fantastic to feel the solid materials that are used to build this lightsaber and we are more and more impressed the more we hold it. Next issue time to snap on the power switch: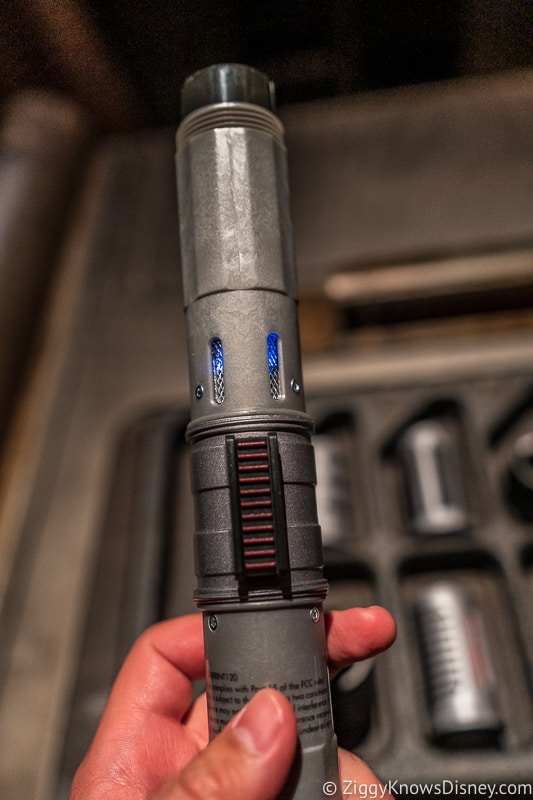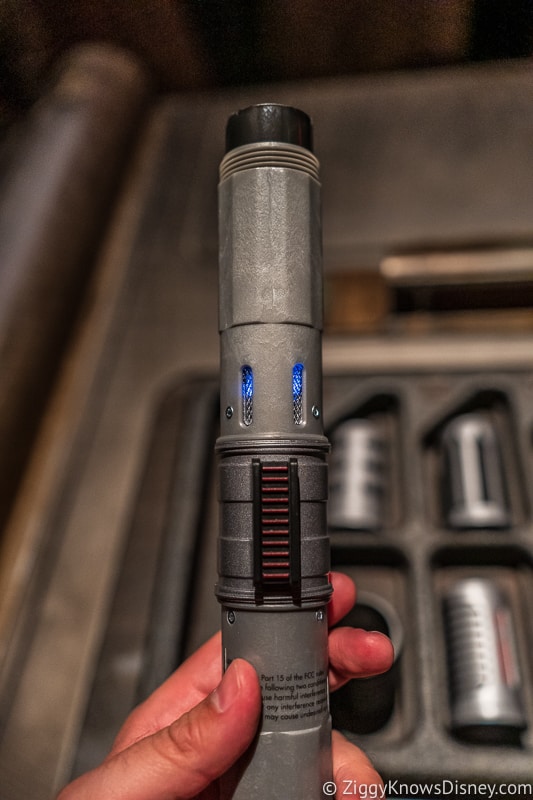 After that we slide on one of the grip bands over the top which is also very solid and made of metal: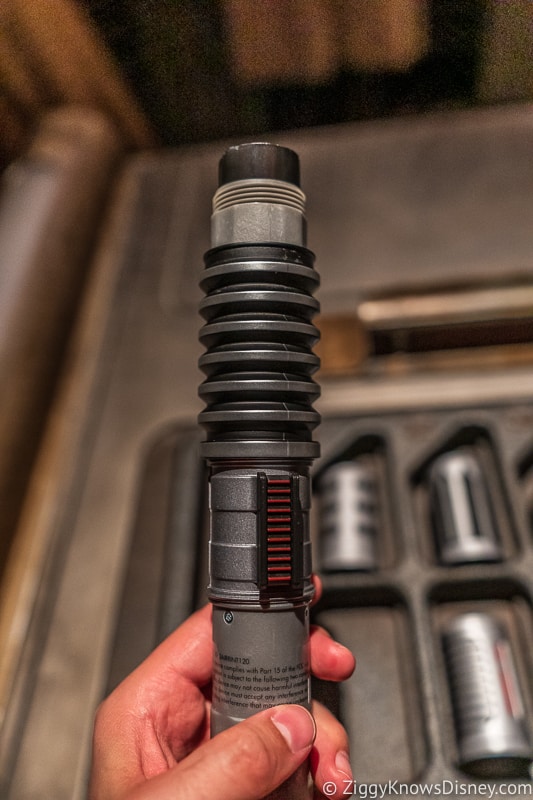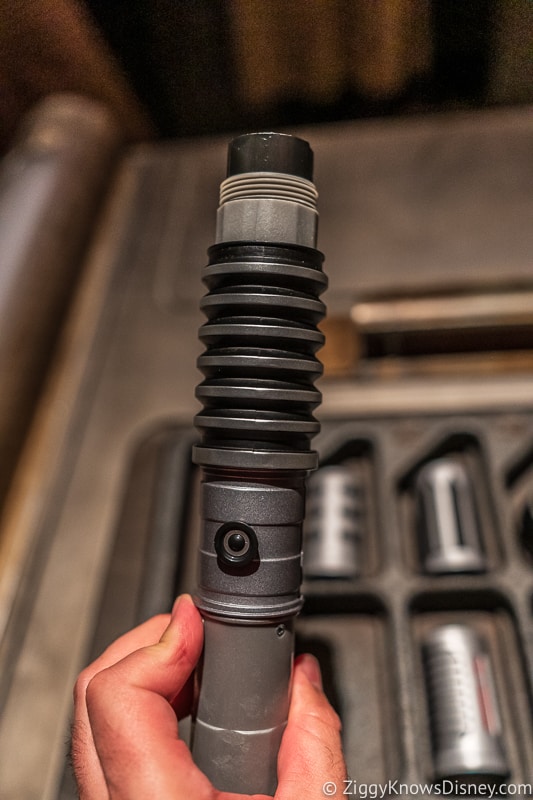 and the top piece which has a clip on it you can attach to your belt holder: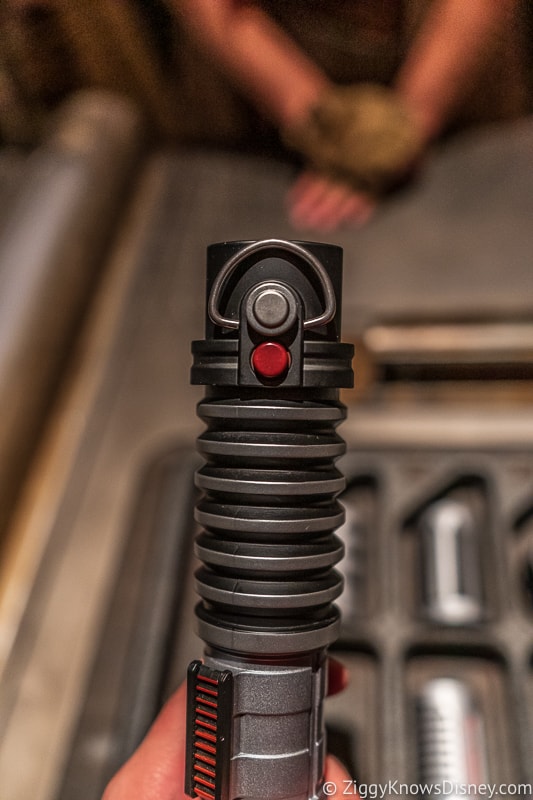 Here is the other option for the top piece: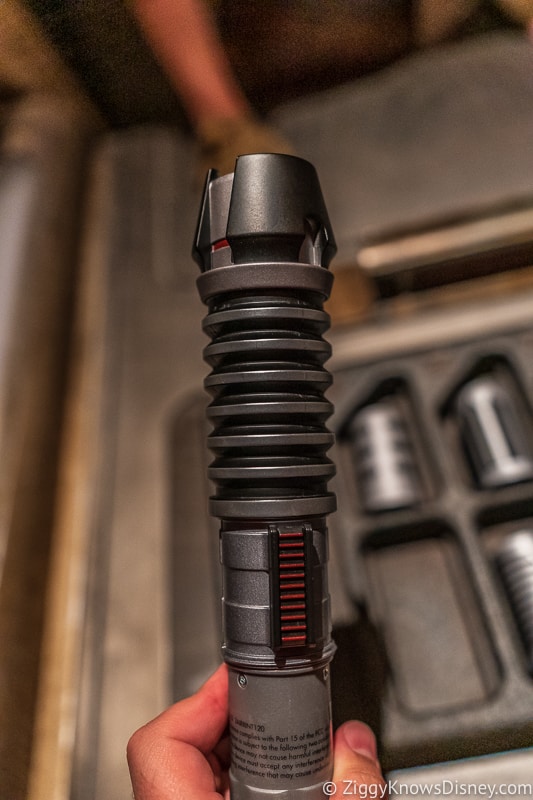 We found it pretty simple to attach the various pieces on the lightsaber hilt, you just snap on the switch, then slide the top two on and then the bottom two. Each piece screws on to the other before it and they are easy to put on or take off: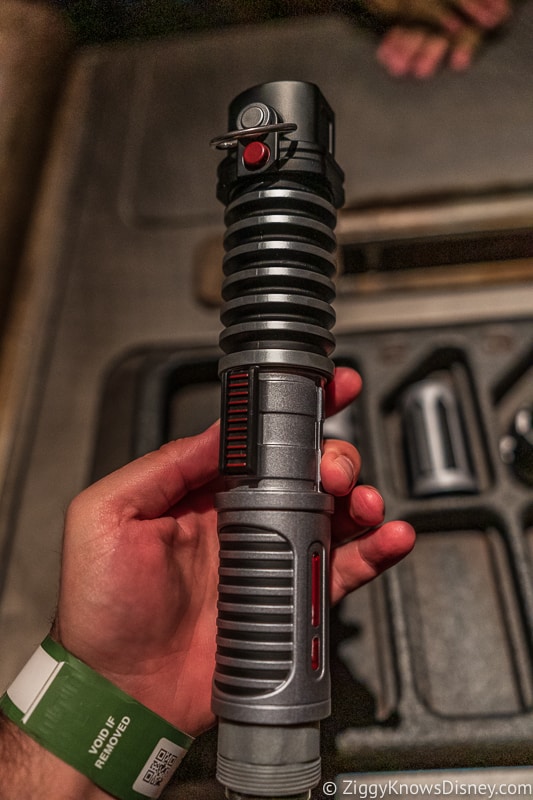 Here is the bottom: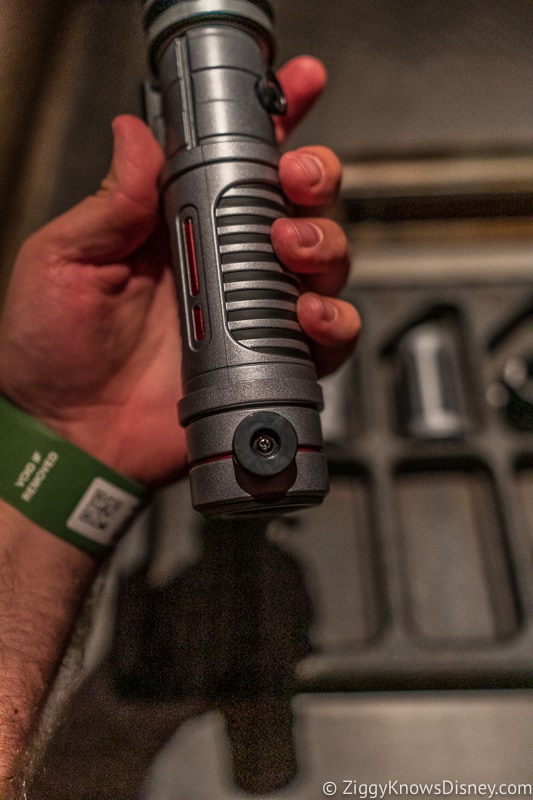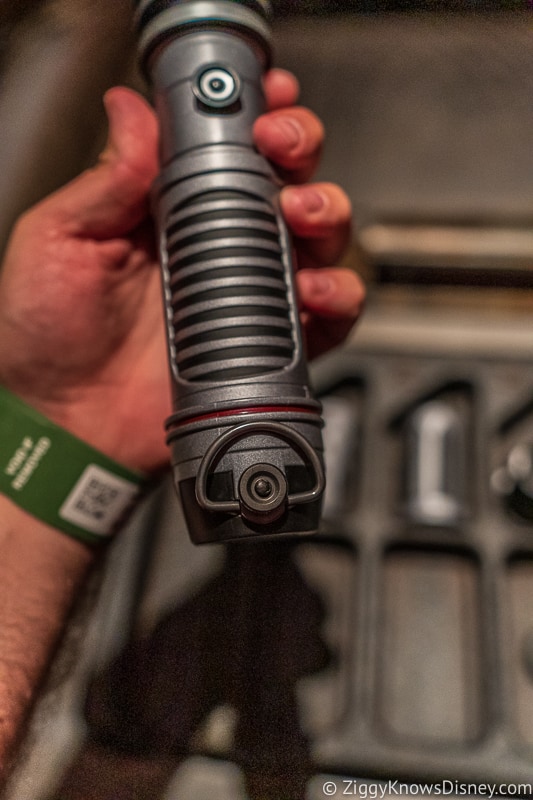 Ok, our lightsaber is DONE! and we're ready to attach the blade: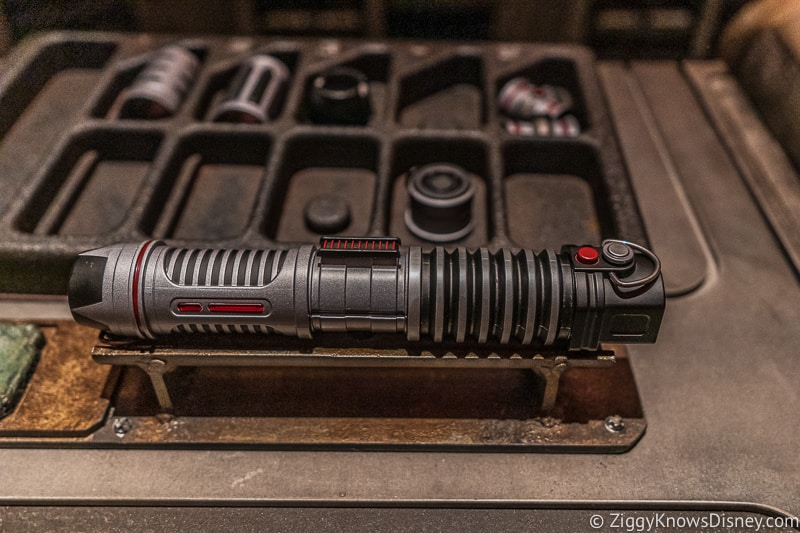 Insert your lightsaber into the holder on the workbench and wait to see what happens next…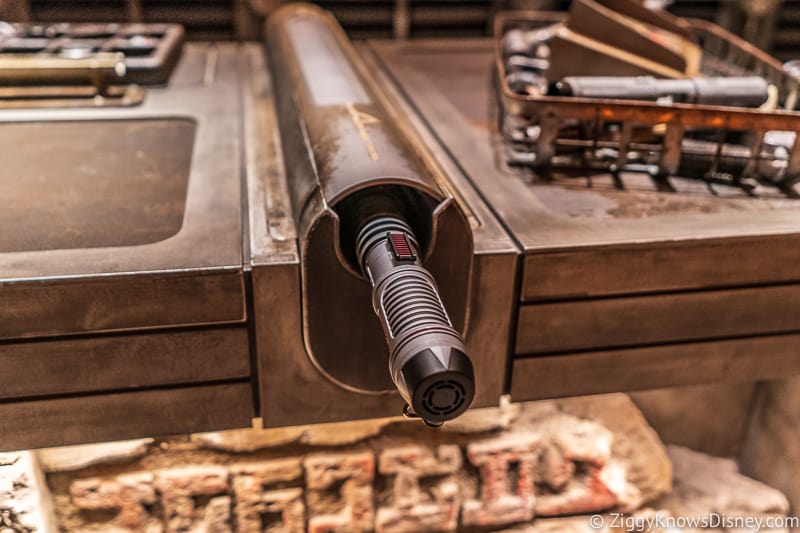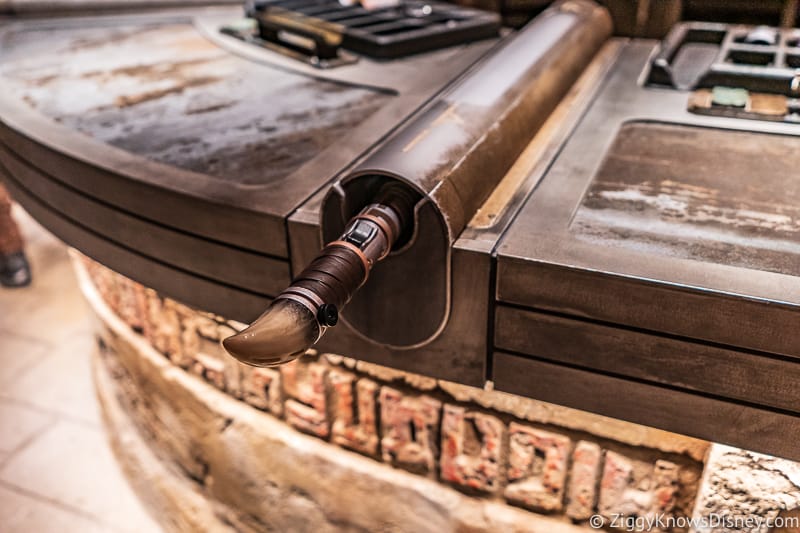 The lights go down, you grab your lightsaber and flip the switch and become one with your blade: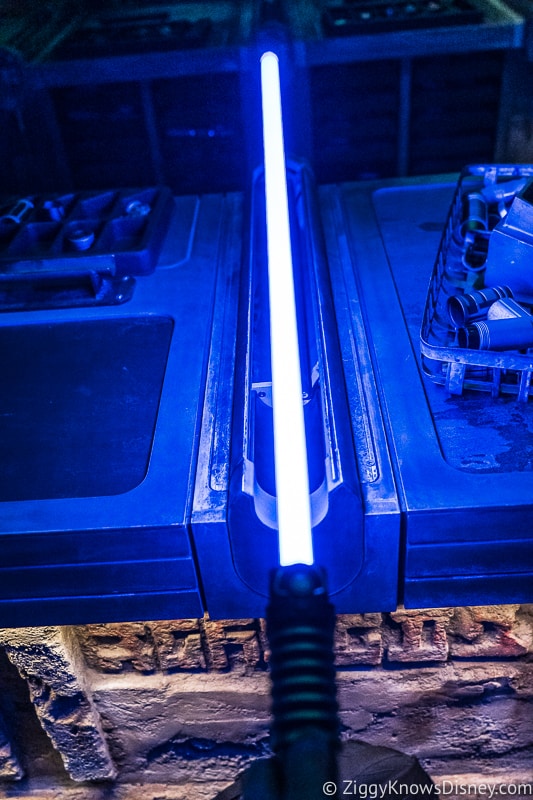 I have to say I was skeptical about the $200 price tag for these lightsabers from Savi's Workshop, but honestly this moment made the whole thing worth it. It was magical!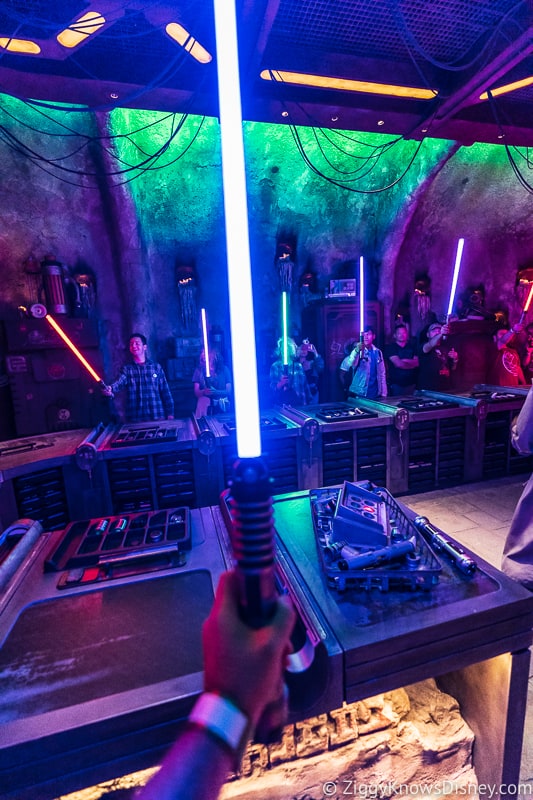 Here's what the blade looks like back down in the holder: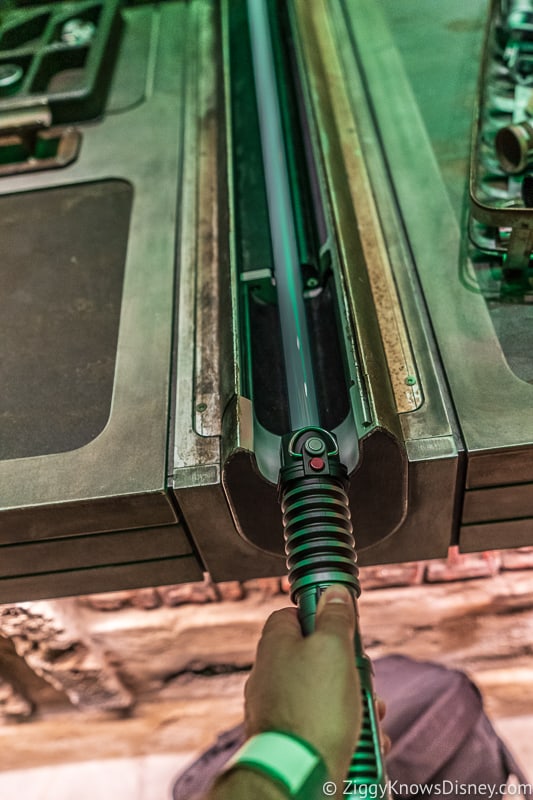 There was something so cool about seeing the expressions on everyone's faces when they turned on their lightsabers, something I'll never forget: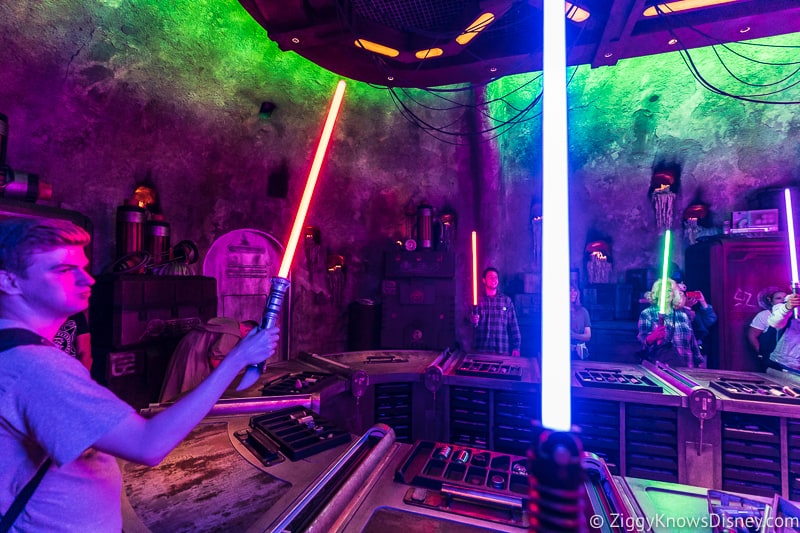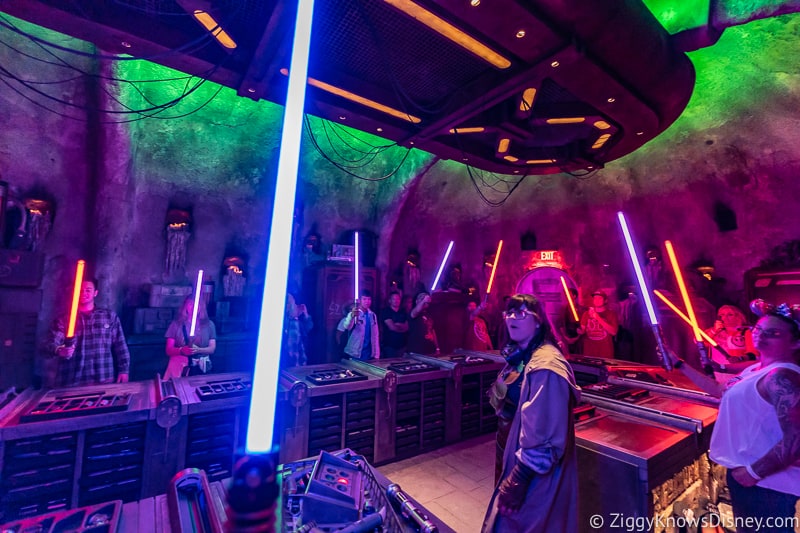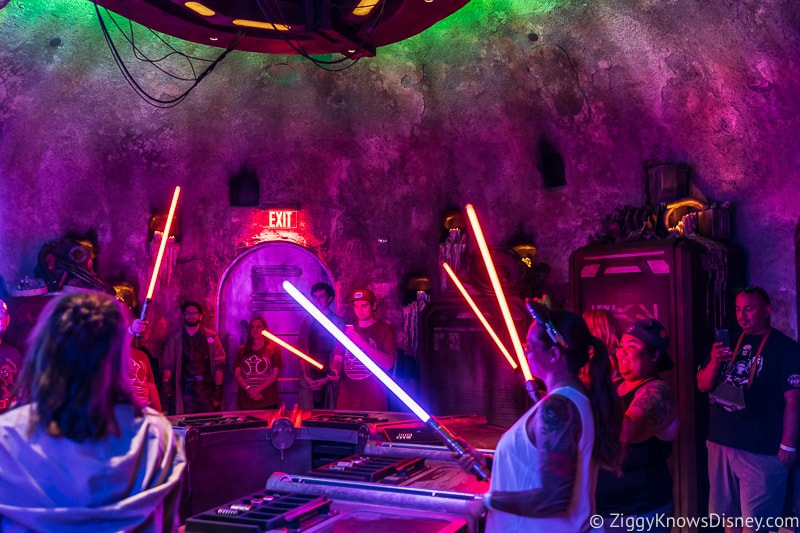 Are the Lightsabers in Galaxy's Edge worth the $200 price tag?
The short answer for me is YES. It's not going to be for everyone of course, but I'm going to say if you have a little bit of spending money then this is going to be something you never forget. They do such a great job of selling you the story of Savi's Workshop and you really feel like you are doing something secret, like in the days of prohibition or something, it's a really cool feeling.
As I mentioned before the lightsabers are really well built and didn't feel cheap in any way. They are real sturdy and the hilt is pretty much all metal which feels amazing in your hand. They are much heavier than I previously imagined before picking one up.
The blades themselves are bright, but very hard to see in bright daylight. Inside though they shine and stand out nicely. They also make realistic sounds when you turn them on and have that distinct "buzzing" sound that they make in the films. Then even make swooshing sounds when you swing them.
I've woken up my dad and also my sister in the middle of the night on occasion with these lightsabers and I can say they were genuinely terrified.
One of my only complaints is that the swooshing sound isn't responsive enough and sometimes I'll swing the blade and it will make the noise a half second or more later which throws off the realism of them just a bit. If they could improve that it would be amazing!
They are super easy to change cyber crystal colors and also to change the batteries when you eventually have to do that.
I'm not familiar with other custom lightsaber companies that have been around for a while and already make something similar. From what I've seen, those seem to some of those lightsabers cost even upwards of $300, but you can actually have lightsaber duels with them and the blades are more resistant. They also make clashing sounds when you go blade to blade with someone which is not the case with the lightsabers from Savi's Workshop.
If you are a huge Star Wars geek like myself then I say just go for it and you will have an amazing keepsake you can show off to your friends and family back home of an experience you'll remember forever!
Is it Better to Build a Droid or Lightsaber in Galaxy's Edge?
This is a loaded question and it totally depends on your taste and budget also. The build-a-droid experience at Droid Depot is really fun and the droids are really cute. But in our opinion, the Galaxy's Edge lightsaber experience wins hands-down every time.
Savi's is much more exclusive (you can just walk in and see everything at Droid Depot), and more emotional experience, plus who wouldn't want to have their own lightsaber to bring home??
The only hesitation is that the Droids cost $99 and the Lightsabers $199. If you have it in your budget though, we'll recommend Savi's first, it's something you'll never forget!
Savi's Workshop FAQ's: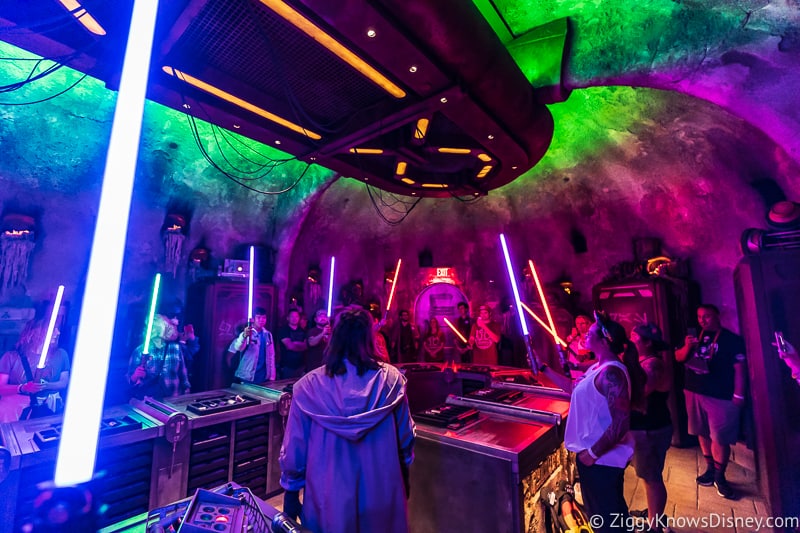 How many people can fit in Savi's Workshop at a time?
Up to 14 guests will be allowed to custom build their own lightsaber at a time in this unique experience. Each lightsaber builder can bring one guest.
How much do lightsabers cost in Star Wars: Galaxy's Edge?
The custom-built lightsabers from Savi's Workshop cost $199 each, plus tax.
Do you need to make reservations for Savi's Workshop?
Yes. When you arrive in Galaxy's Edge, head to Savi's Workshop and buy your lightsaber, you will then be given a reservation with a time to come back and build your lightsaber. Please be back in time for your building experience or you will lose the experience and your money will not be refunded to you.
How big are the lightsabers?
Each lightsaber blade is 36 inches tall, not including the hilt.
How can I carry around the Lightsaber in Star Wars Galaxy's Edge and Disneyland?
Yes. You have the option to carry your lightsaber on your hip with the blade detached, or in the individual carrying case supplied with each one.
Can you bring a lightsaber into Galaxy's Edge?
If you want to bring your lightsaber back into Galaxy's Edge to take pictures, or just walk around with it, yes you can. However it's going to be somewhat of a pain since the blade is so long. But if you don't mind walking around with it then are certainly can.
Can I bring the lightsaber home with me on the plane?
Yes you can. All the lightsabers from Savi's Workshop in Galaxy's Edge are TSA approved which means you can bring it on the airplane as a carry-on personal item. It fits in the overhead compartments in most planes.
What are the Lightsabers at Galaxy's Edge made of?
The lightsabers at Galaxy's Edge are very sturdy and made from a combination of metal and plastic. They are much heavier than you think before picking one up. At the heart of the lightsaber is a cyber crystal, which powers it and helps you to become one with your saber.
Overall I'm pretty impressed with the lightsabers coming to Savi's Workshop. I love all the customizable options that each one has, and the whole idea that your building it is being done in secret away from the First Order. I think this shop is going to continue to be a smash-hit with guests, even despite the extremely high price tag.
For more info about the merchandise in Galaxy's Edge, our shopping guide shows you all the shops there.
Many have been wondering How to get into Star Wars Galaxy's Edge and the Check-in Procedure once you get there. In our post it explains how to get into Galaxy's Edge for more info on that.
For a more in-depth look, read our Complete Guide to Star Wars Land in Disney here for a detailed look at the attractions, dining, planning and touring strategies.
Stay tuned here at Ziggy Knows Disney for more information on Savi's Workshop and everything in Star Wars: Galaxy's Edge!
Your Thoughts:
I want to know what you think about Savi's Workshop and the handbuilt lightsabers available there…
Are you going to get a lightsaber?
Which style lightsaber and which color would you get?
Let us know in the comments section below!
If you enjoyed this article, as always I appreciate it if you'd share it with others via social media. I work hard at making this website into a useful resource for you and your family to plan your visit to the Disney Parks and I hope it can help you! Thanks 🙂