You've seen it hundreds of times in the Star Wars movies. You've played with toy versions of it (models I mean…). But how many times have you ever dreamt of jumping into the pilot seat of the Millennium Falcon and throwing it into hyperdrive? Well now you get that chance in the Millennium Falcon: Smuggler's Run ride in Star Wars Galaxy's Edge in Dinseyland and Disney's Hollywood Studios.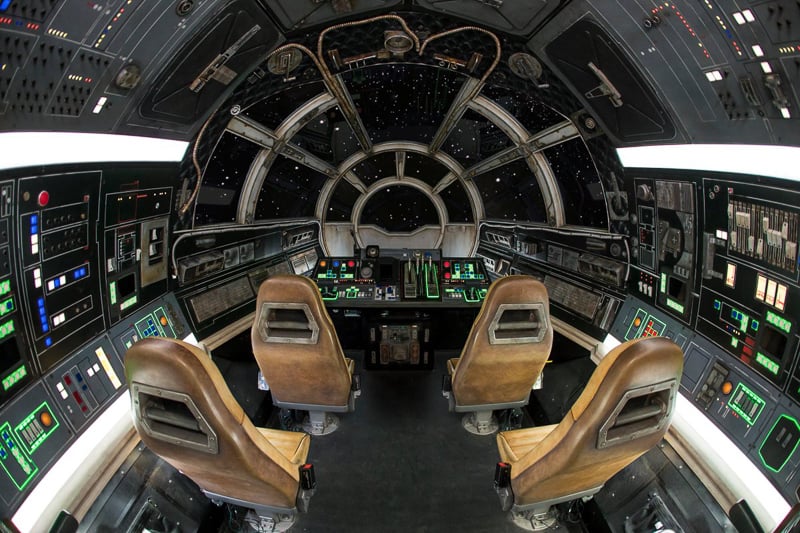 We're going to break down everything you need to know about the Smuggler's Run attraction including the ride system, story, our review and give you a walkthrough of the ride queue and inside of the famous ship.
Scroll down for the Millennium Falcon: Smuggler's Run Ride Full VIDEO Walkthrough and Review…
Overview:
Location: Star Wars: Galaxy's Edge (Disneyland and Disney's Hollywood Studios)
Status: Open in Disneyland; Opens August 29, 2019 in Disney World
Ride Type: Simulator
Thrill Level: Medium
FastPass: Not now, but eventually yes
Ride Length: 4 Minutes 30 Seconds
Height Requirement: 38 inches
Capacity: 1,500 per hour (est.)
What is Millennium Falcon: Smuggler's Run?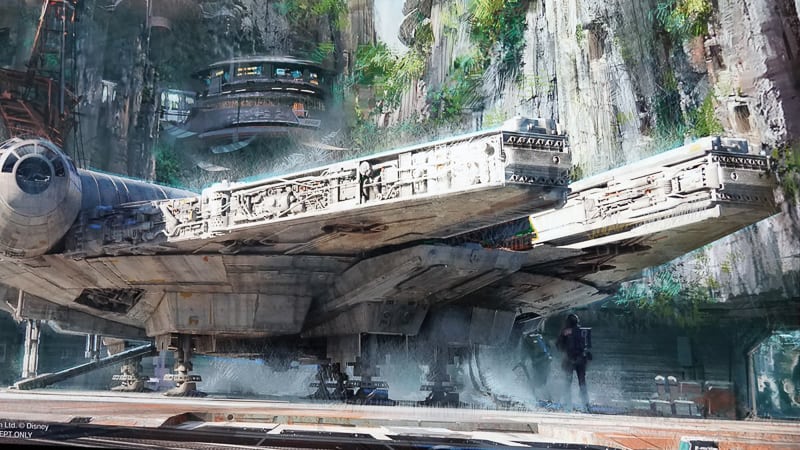 The Millennium Falcon: Smuggler's Run ride is a dream come true for Star Wars fans as it puts you in control of the most iconic spaceship in film history. Guests board the Millennium Falcon for a special mission given by smuggler Hondo Ohnaka who you know from the Star Wars animated series "Rebels."
Take control of the ship in one of three roles: Pilot, Engineer or Gunner with real consequences that will have an effect on your experience in the world of Galaxy's Edge once you're finished.
Everything about this experience is going to be as realistic as possible as Disney has built a full-sized, 100-foot replica of the Millennium Falcon, complete with an interior that looks identical to the one in the movies.
Ride System:
The Millennium Falcon features 7 "pods" each holding 6 guests, giving a total of 42 guests per ride. Inside each pod it will look and feel exactly like being inside the Millennium Falcon cockpit with dozens of working lights, levers and switches to mess with, all interacting with the environment.
This of course is just one of the 2 rides in Star Wars Galaxy's Edge. The other is called Star Wars: Rise of the Resistance which will simulate a heated battle you get stuck in the middle of between the First Order and the Resistance.
You can read more details about the Rise of the Resistance ride and how Disney is describing it as the most ambitious attraction they've ever built!
Ride Length:
The actual attraction for the Millennium Falcon: Smuggler's Run ride is approximately 4 minutes and 30 seconds long from beginning to end. It's pretty close in length to Star Tours.
However this doesn't include the ride's extensive queue and pre-show which is almost an attraction all on its own. You're entertained almost from the minute you step in line for the ride and it's one of the best attraction queues in any Disney park worldwide.
Height Requirement: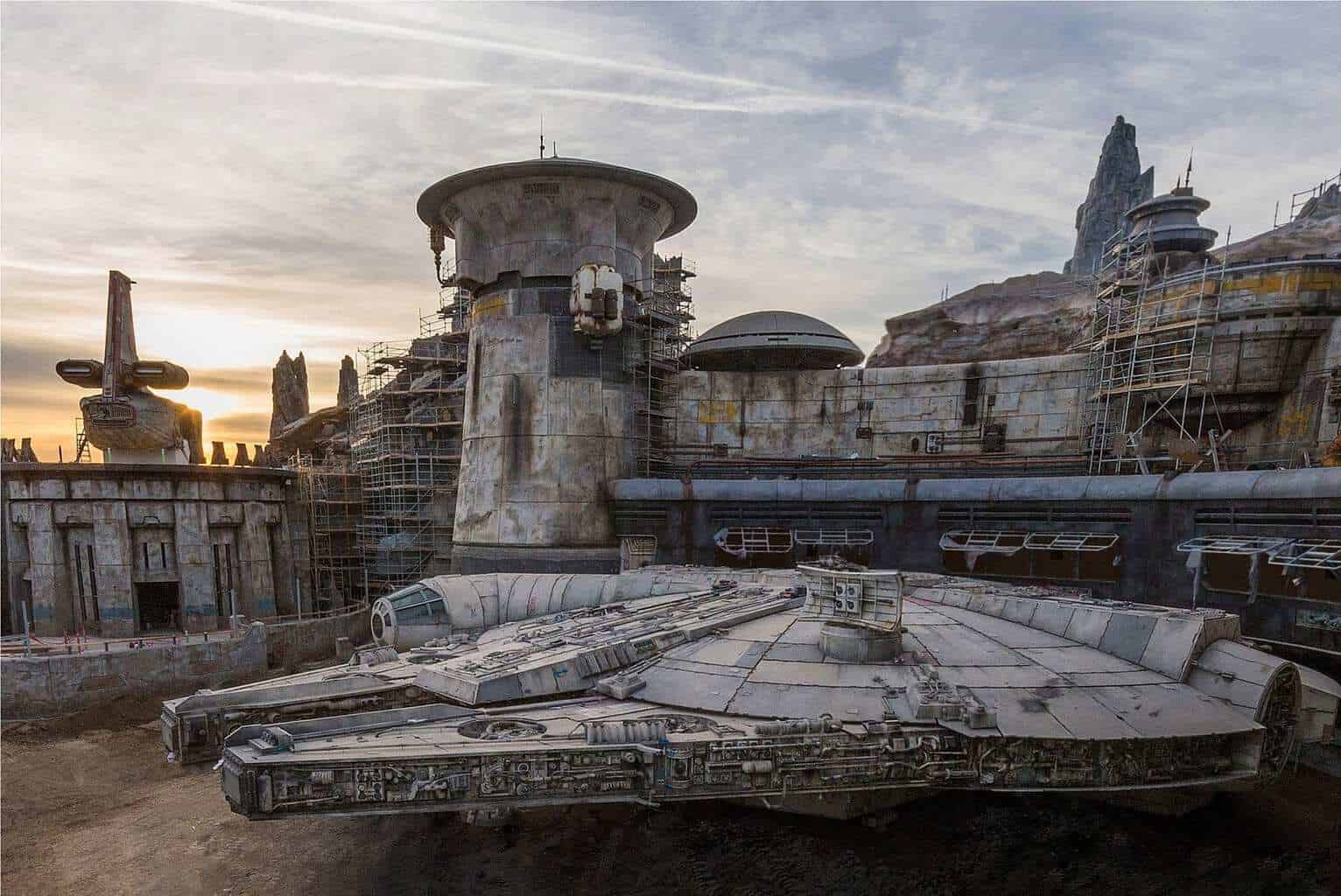 Millennium Falcon: Smuggler's Run has a height requirement of 38 inches. That means it's thrilling, but not so much that little kids won't be able to handle it. If they like going on Star Tours then they will like this, it's just a more interactive version.
Does Smuggler's Run have FastPass?:
Smuggler's Run doesn't have FastPass yet, Disney has decided that it's a better idea to not have it available for at least the beginning of when Galaxy's Edge is open. They haven't commented on how long the no-FastPass rule would be in place, but it will be at least through the initial opening period till the end of June in Disneyland.
It won't have FastPass available in the Hollywood Studios version either when that opens in August, and there's no telling how long it will last. My initial though it that it will be a few month at least for each park. We'll update you more when we get more information.
Is Millennium Falcon: Smuggler's Run Scary?
That all depends on what kind of rides you like, but in general I wouldn't classify Smuggler's Run as scary, no. It's a flight simulator so expect lots of bumpy movements and sharp turns throughout, but this is also somewhat affected by whoever the pilot is.
Though it's not scary, it's definitely exciting and if you are someone that suffers from motion sickness then you'll want to think twice.
Ride Review and Walkthrough: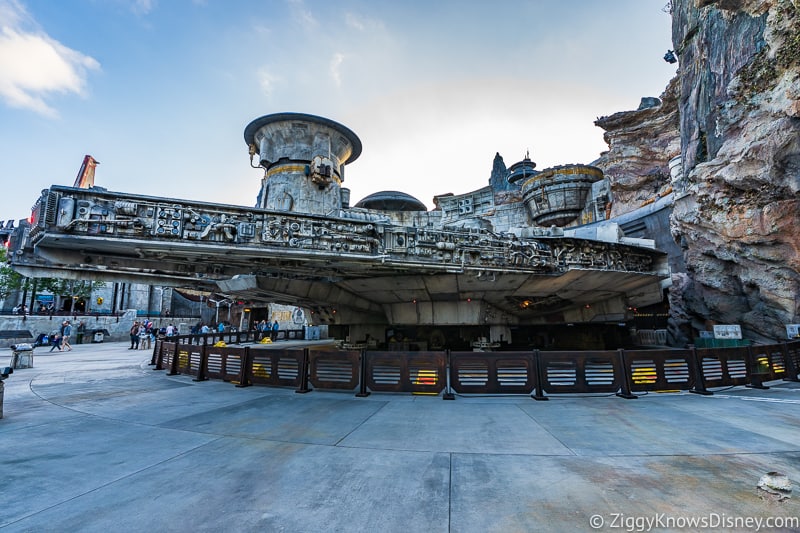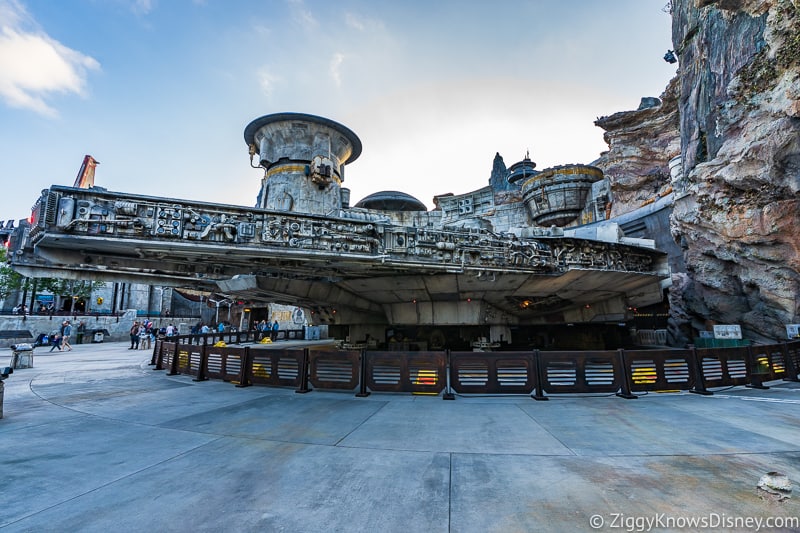 We just went on the Millennium Falcon Smuggler's Run Ride and we're going to give you a full walkthrough of the ride queue, and ride vehicle (cockpit really) and show you all the details there. We're also going to give you our full review on the attraction and a description of what to expect when you go.
Here is our Video Walkthrough of Smuggler's Run from our experience there:
Now we're going to give you a full walkthrough of the Millennium Falcon: Smuggler's Run including our review of the ride. To be clear if you don't want to be spoiled by any of the details and would rather be surprised then now is the time to get out.
Ok, sticking around? Let's blast into hyperspace!
Story: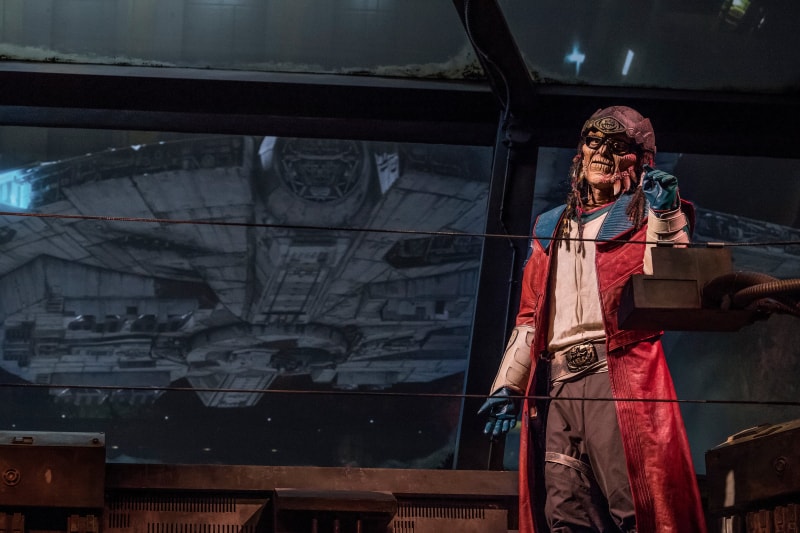 The Millennium Falcon: Smuggler's Run has a pretty extensive and interesting backstory you'll want to pay attention to as you walk through this hyper-detailed area. Everything starts in Black Spire Outpost, the main village on Batuu and where most of the attraction happens.
If you aren't familiar with Hondo Ohnaka, he's a character from the Rebels TV series and he will. Play a critical role in Smuggler's Run. Basically Chewbacca has lent Ohnaka Transport Solutions the Millennium Falcon to make some "deliveries," and Hondo hires you to help make sure they get where they need to go, and on time.
If you're used to Hondo from rebels, this is a slightly older version of the character, but still voiced by Jim Cummings. We're going to show you what he looks like in a little bit…
Ride Queue: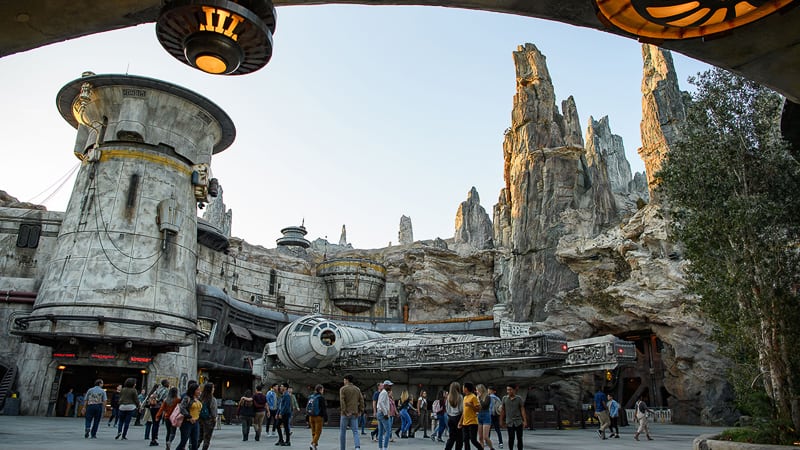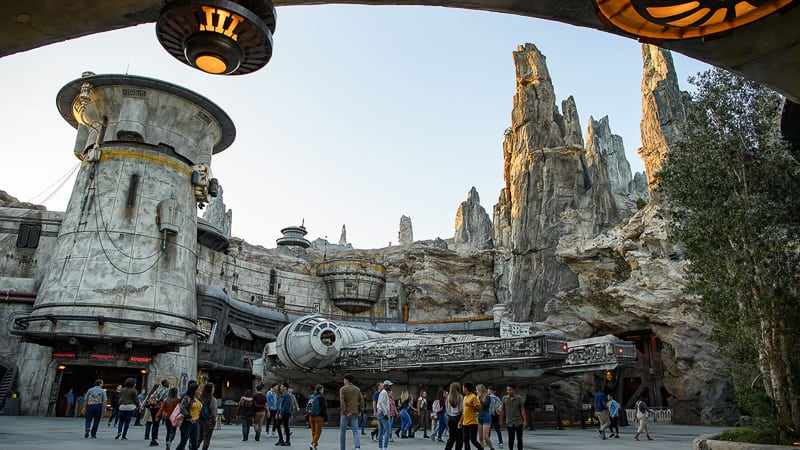 Most attraction queues start out slowly and as they lead you towards the beginning of the attraction, there's a build-up to the most interesting part of the queue. Not true on Smuggler's Run. The queue's crown jewel is by far the Millennium Falcon itself parked right outside.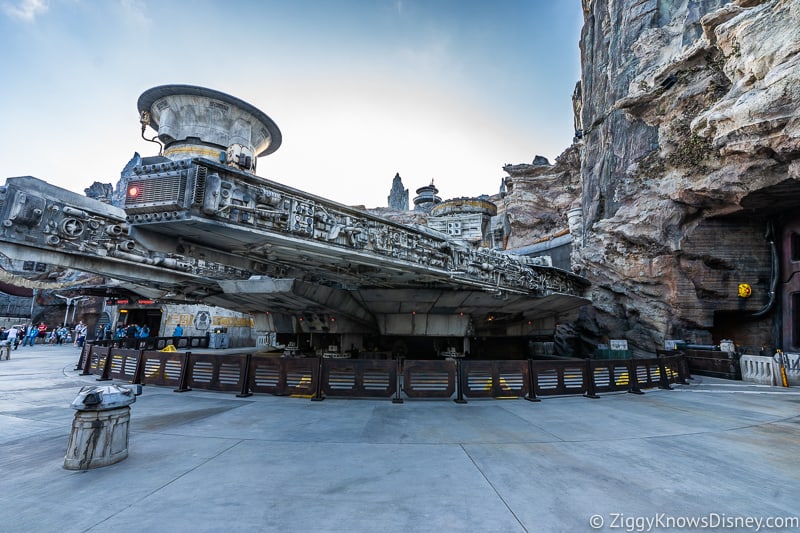 I know by now you've seen a million photos of the Falcon before even stepping into Galaxy's Edge, but this is beyond impressive. It serves as the castle-like object that is the main focal point in Galaxy's Edge, and impossible to miss or not be impressed by.
It will literally take your breath away, trust me: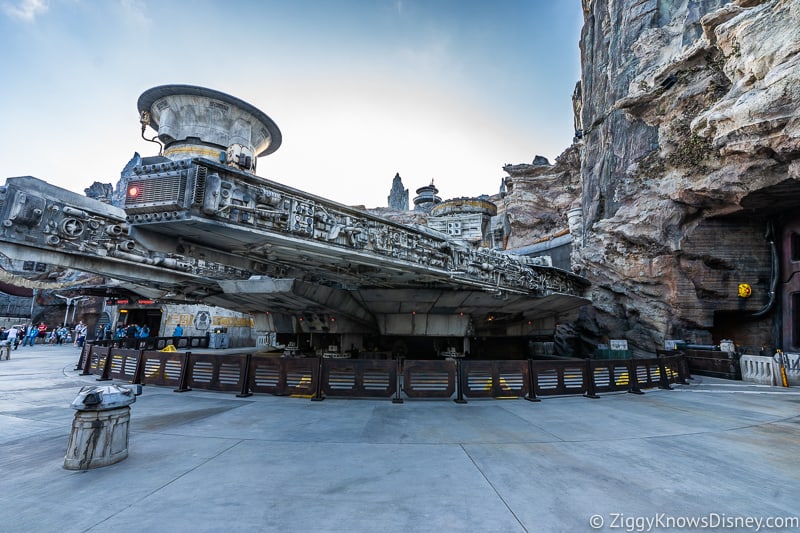 Before you even get going inside the queue, a shot next to the famed Millennium Falcon will be a right of passage in Galaxy's Edge and your first photo stop.
First of all it's HUGE at 112 feet long. As you get up close to it you can see that Disney spared no expense in making it as realistic as possible. It sits outside a spaceship maintenance bay with 135-foot petrified trees standing tall above it.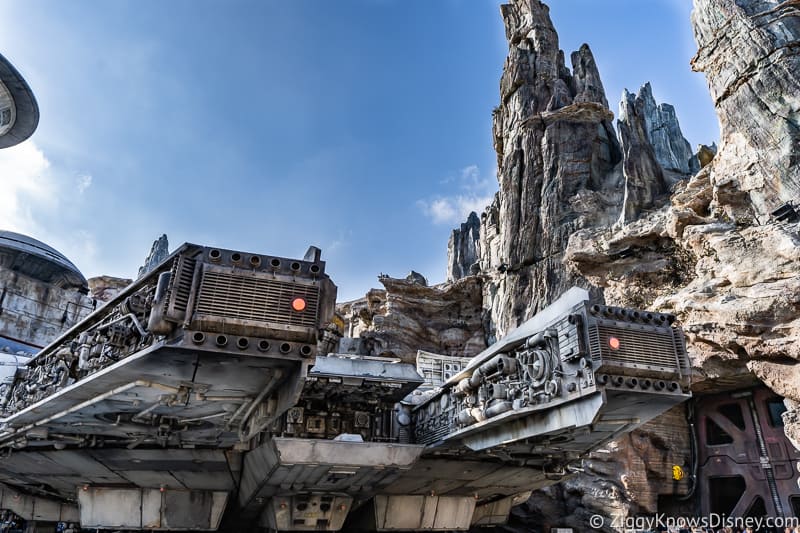 It's breathtaking and don't be surprised to see a few grown men shed a tear or two for its beauty.
The details are incredible. You can even hear its engines spooling up and the vent thrusts gassing while docked outside, and you might just see Chewbacca looking for the right parts to get it up in space again.
Look at these close ups and how realistic it is: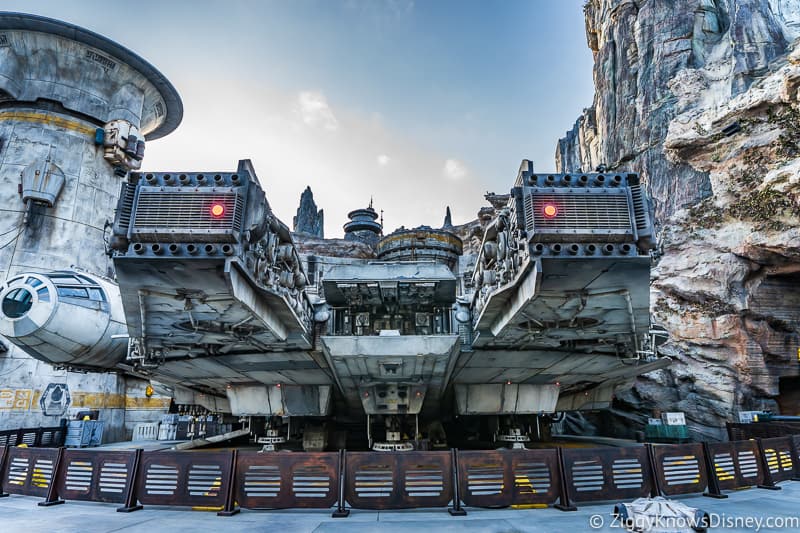 I was thoroughly impressed in every way with how realistic it is. Just amazing!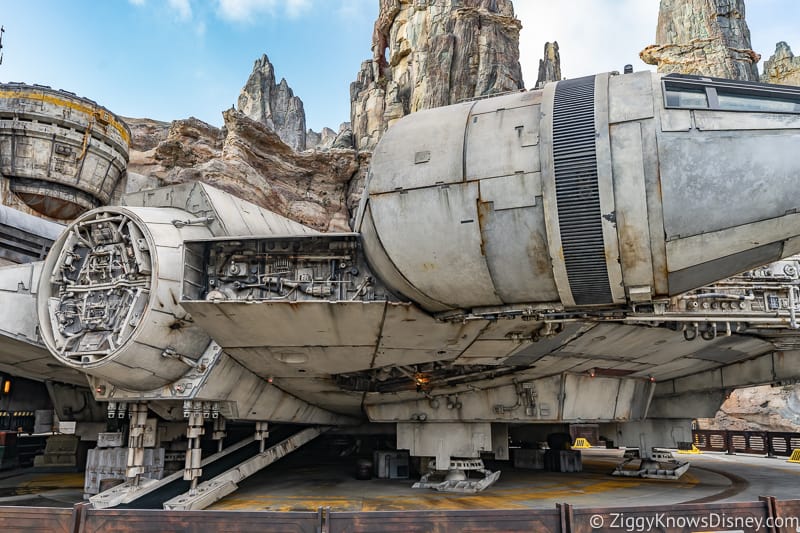 Now let's go inside and get in the queue: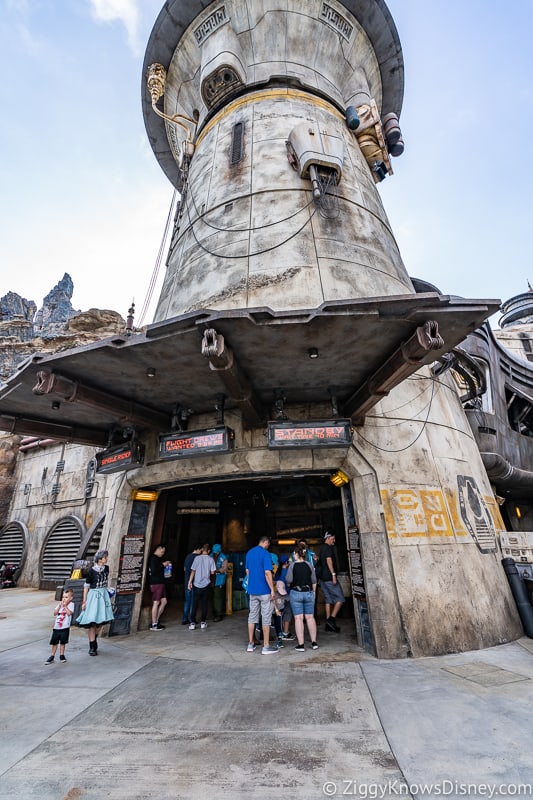 As you move to the left of the Falcon a door leads you inside Ohnaka Transport Solutions into a highly detailed and themed environment that's on par with the queue for Flight of Passage. That's saying a lot since that is my favorite Disney queue of all time, but it really is awesome!
The queue starts on the outside of the Falcon and wraps around the back: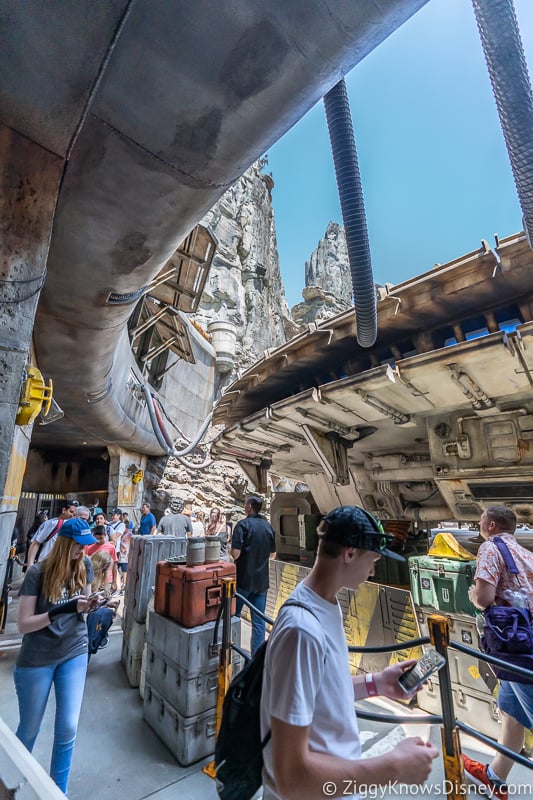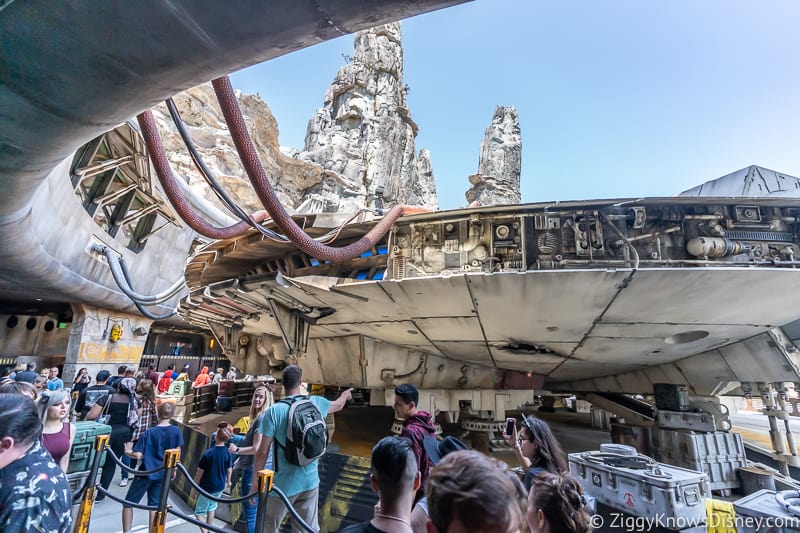 If you look down you can see under the Falcon and how it's being propped up on its landing gear: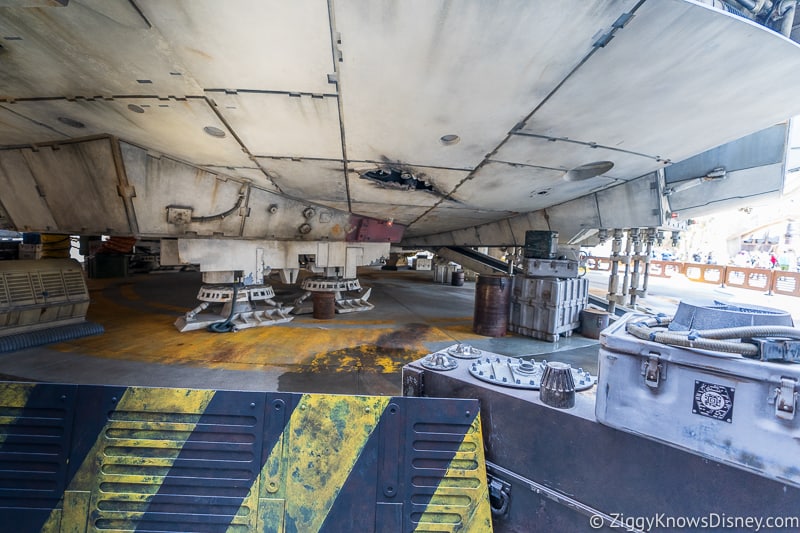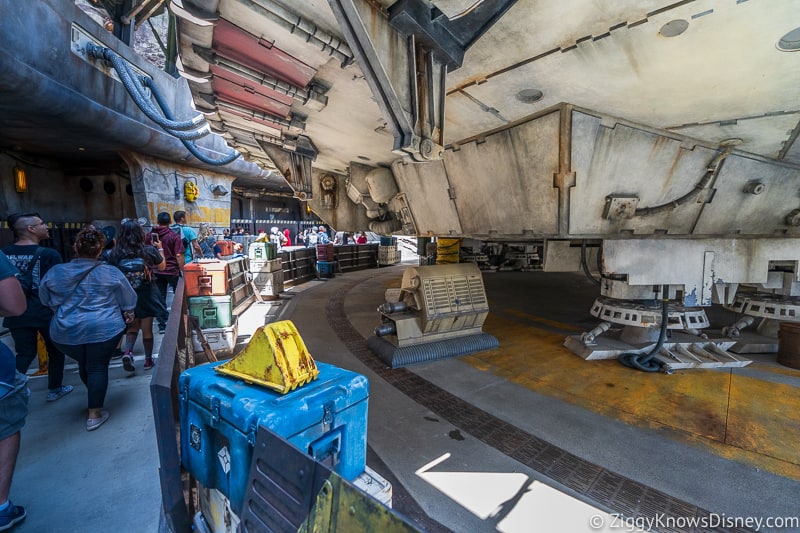 Is this real right now?? We're really up close with the Millennium Falcon!!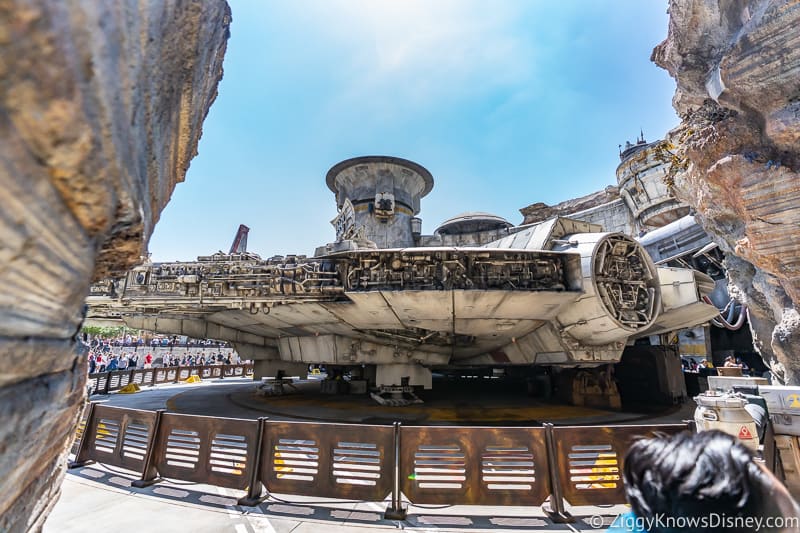 Once you pass the Millennium Falcon you end up in this corner where you switchback to do it all again: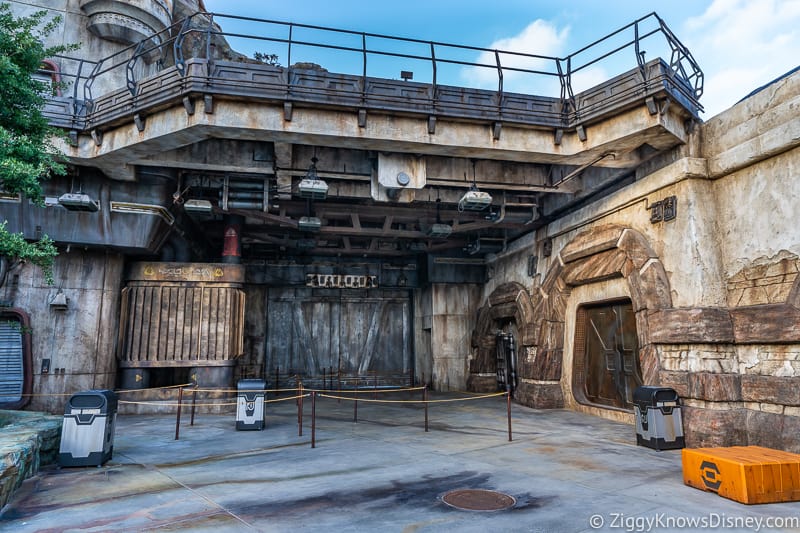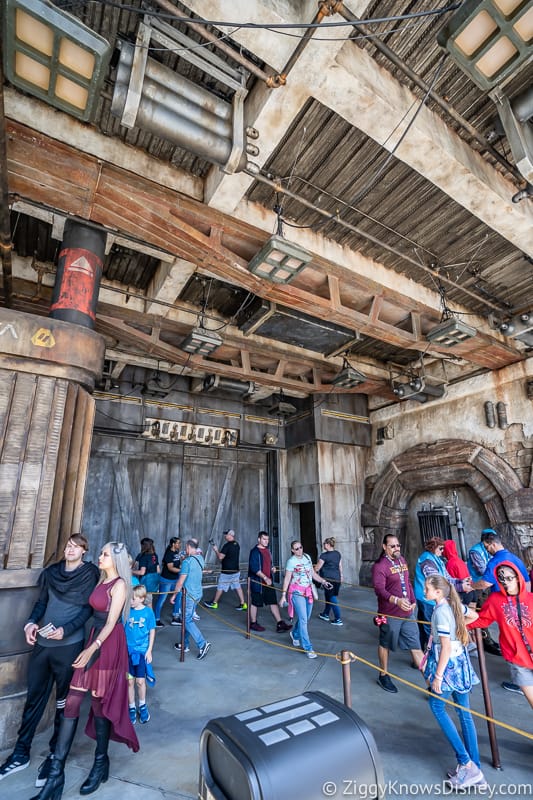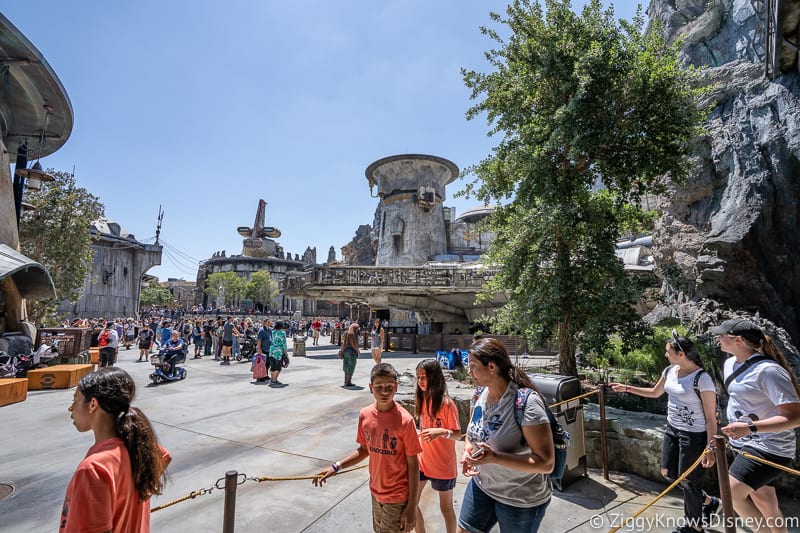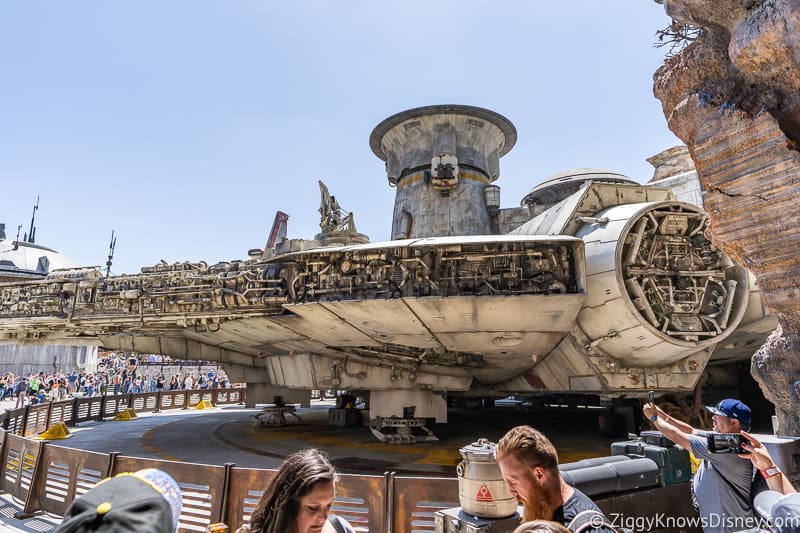 This is our first close look at the rockwork and it's almost identical, barely noticeable that it's not real stone. Look at those colors in it: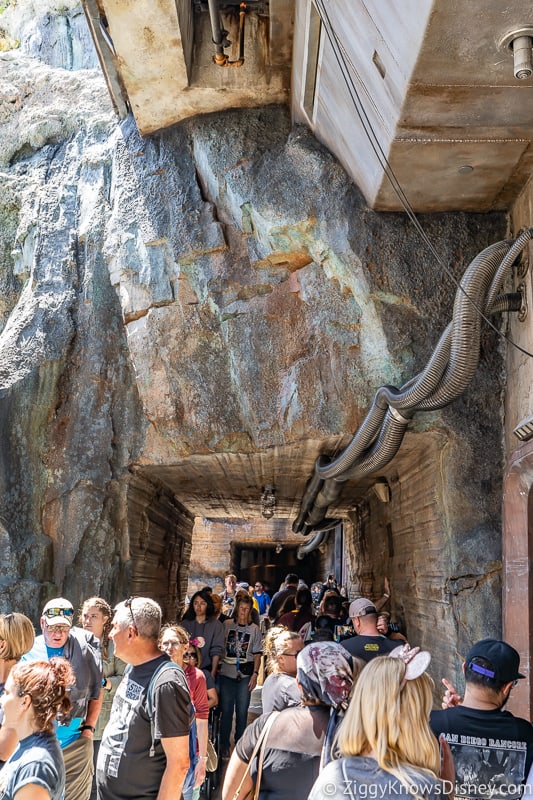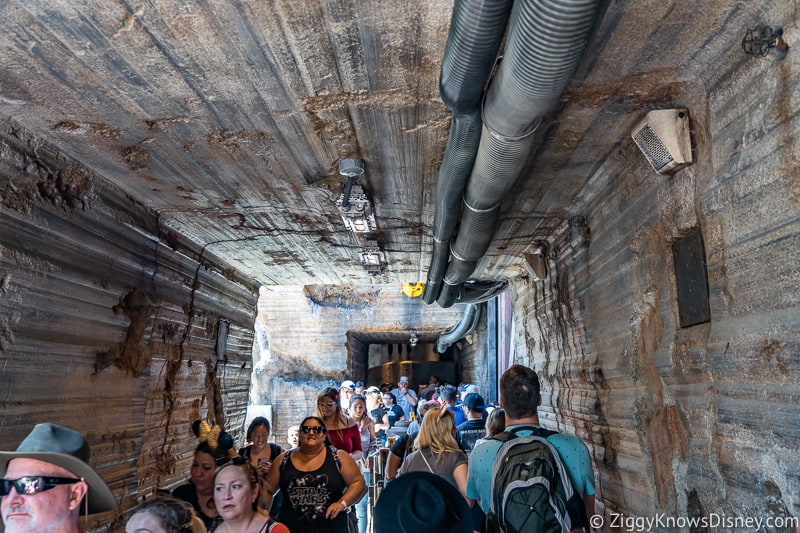 Look at all the cool details above you like this loudspeaker and those exhaust cables coming out of the wall: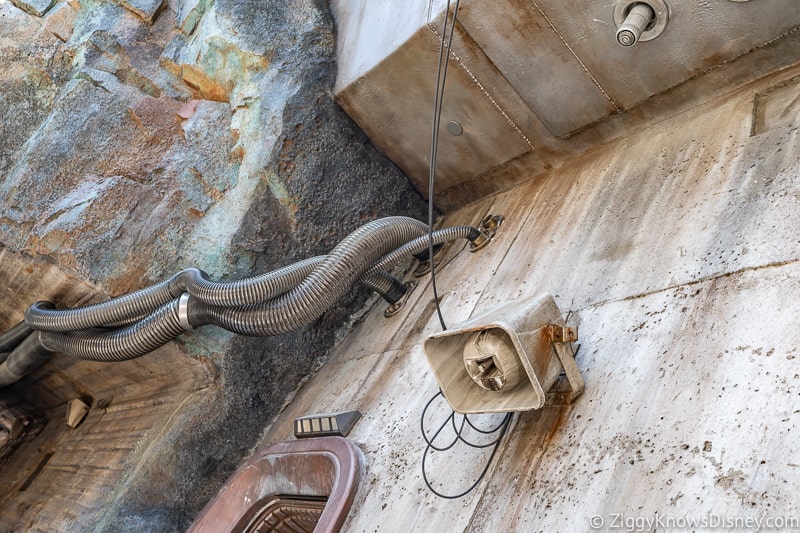 A huge window which we'll soon see the inside of that looks out at the Falcon: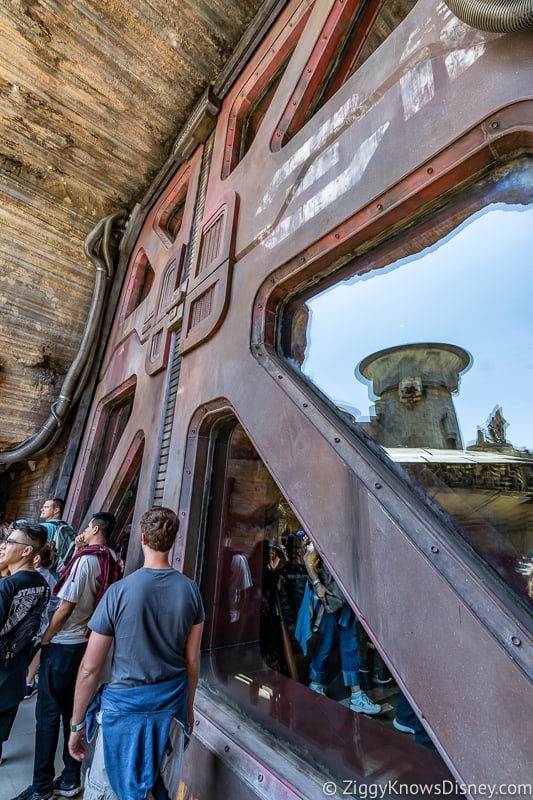 And some writing in the official language of Batuu, Auerbesh: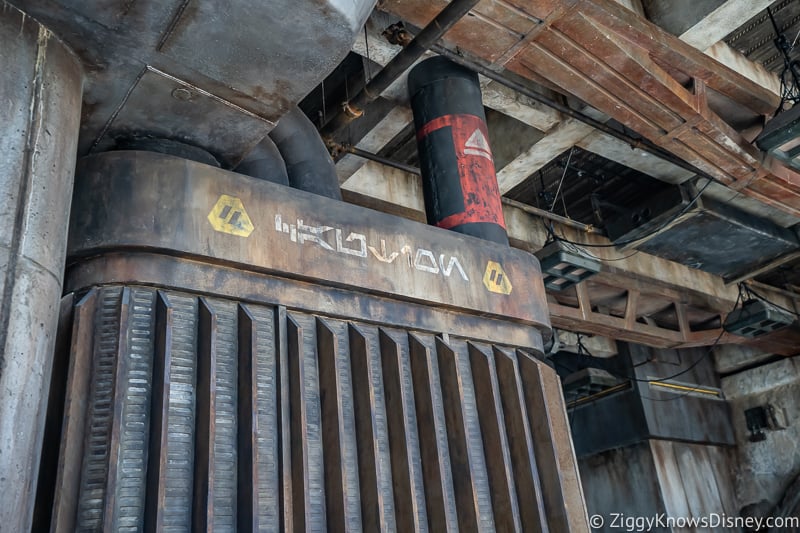 TIP: I feel like this is a good time to tell you to make sure you have your Play Disney Parks app turned on and ready to go because there are so many interactive spots in this ride queue you will have a blast trying to find them all while waiting!
Let's go towards the entrance to Ohnaka Transport Solutions: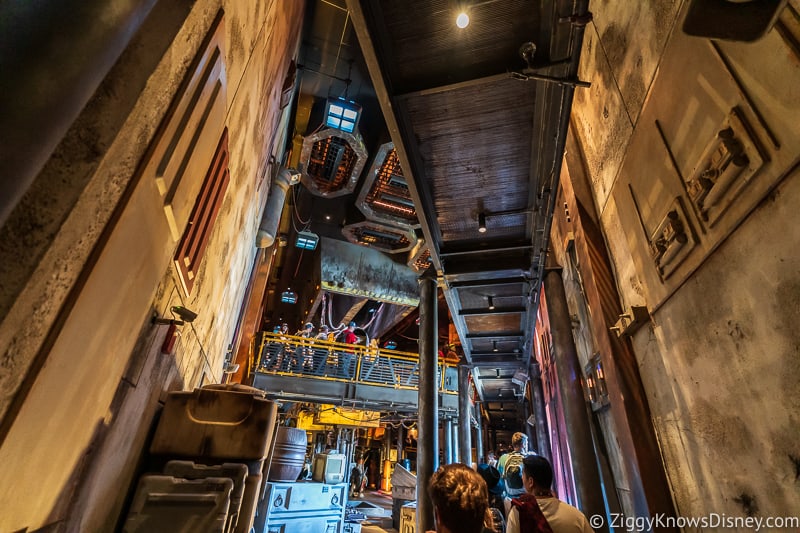 This is supposed to be the mechanic's shop for Ohnaka Transport Solutions and that is made evident the further into it you go: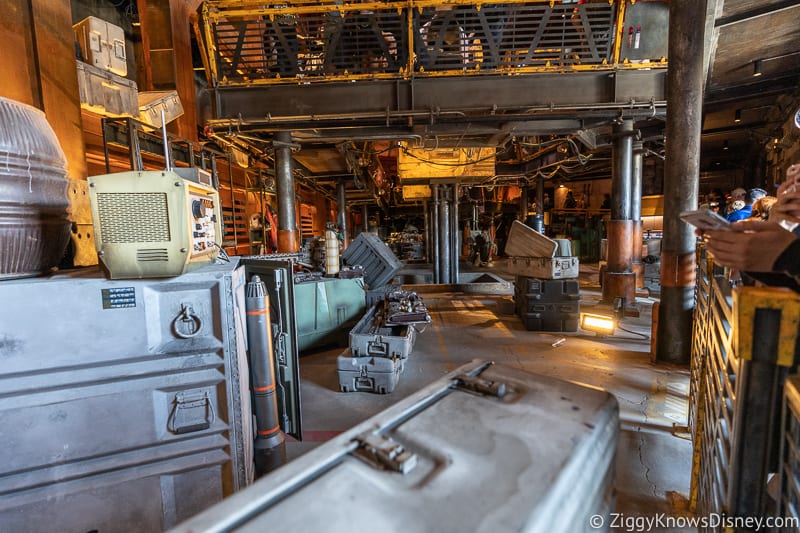 All around there are easter eggs that Disney imagineers left for you to find and you get a real taste for the shady type of business Hondo is running. There is equipment all around the rooms, stormtrooper armor used for smuggling, blaster holes in the walls and big grease stains on them that will leave your imagination running wild.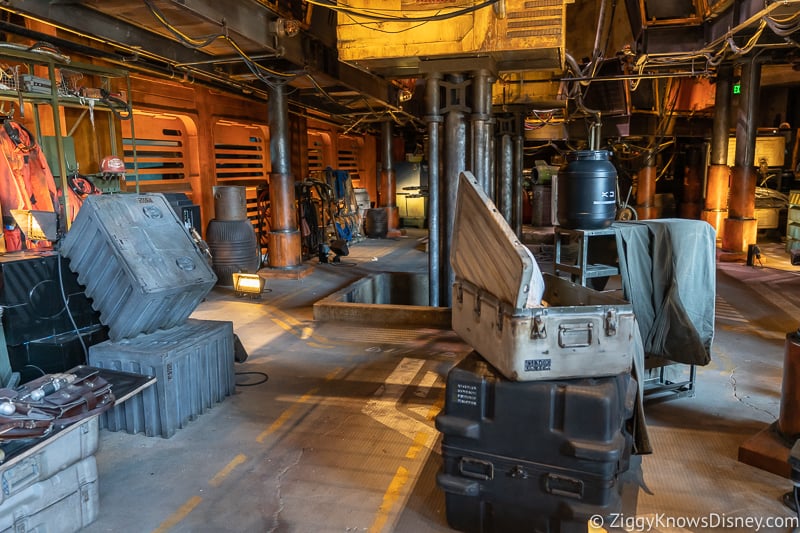 Here are some boxes probably full of parts to fix whatever ships come in.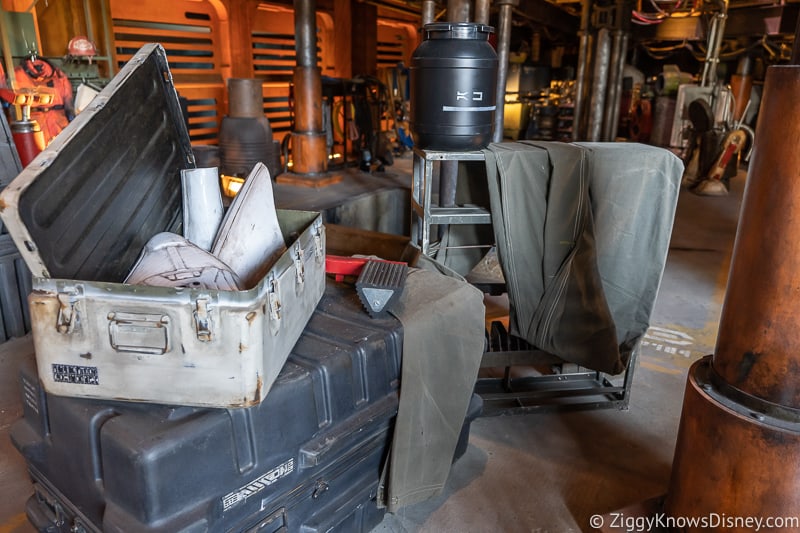 You start on the ground floor and you can see the underside of the lifts used to work on engines and the like: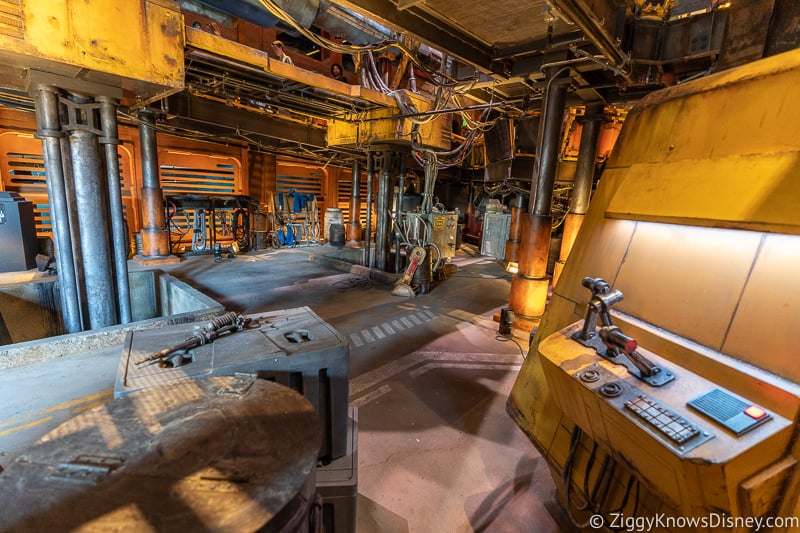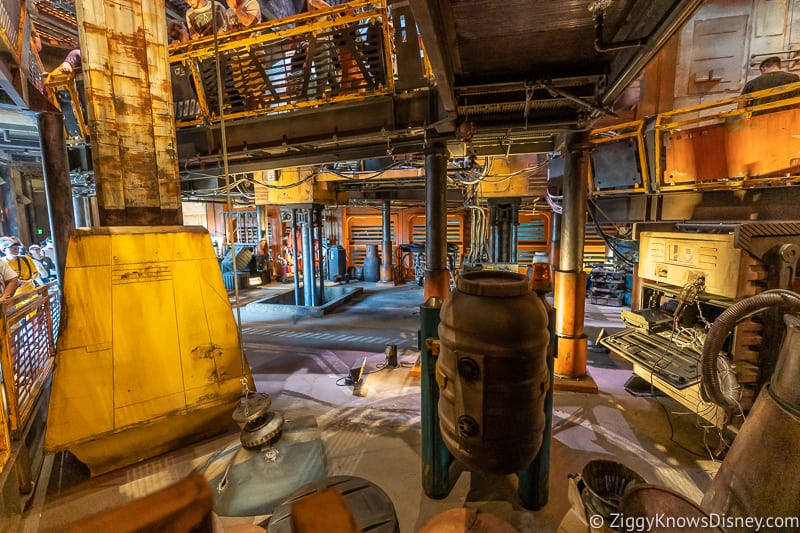 The queue goes along the right side of the room until the ramp starts taking you to the upper level: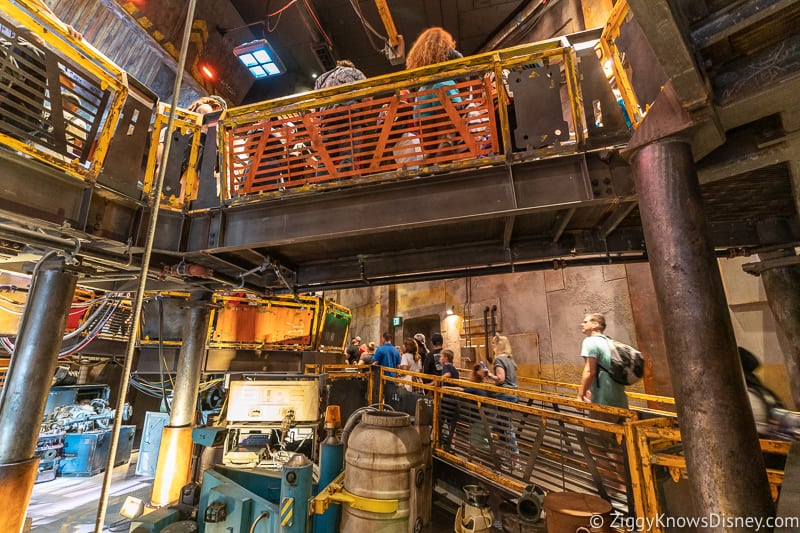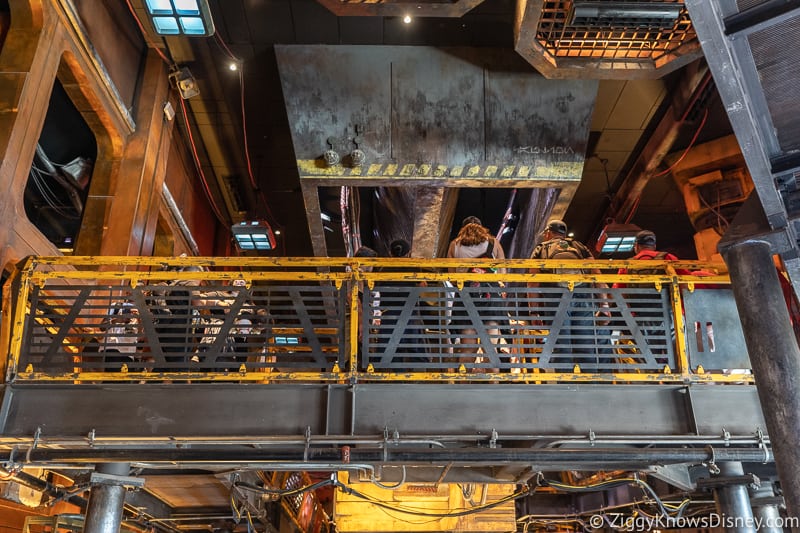 There are so many hidden doors in Galaxy's Edge, this one though is an emergency exit: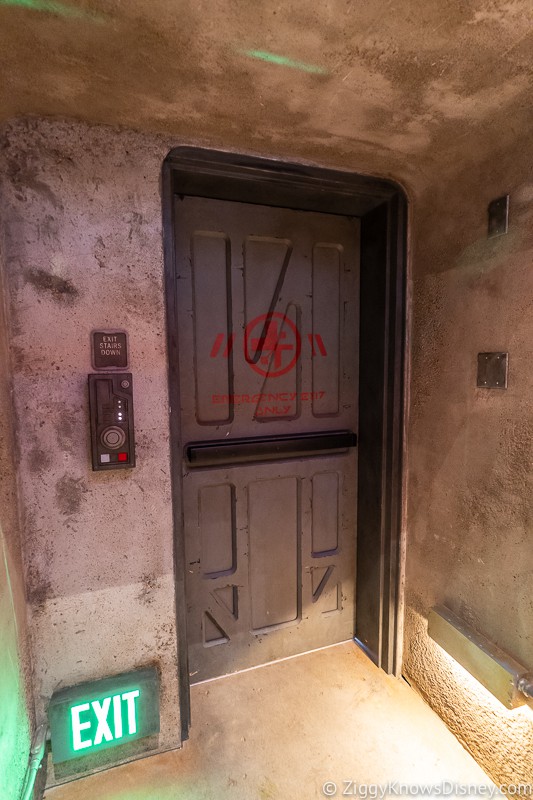 The ramp takes you up to the second floor into the mechanic shop where an animated blaster-riddled starship engine suspended from the ceiling glows a pulsating red, and other ships being repaired.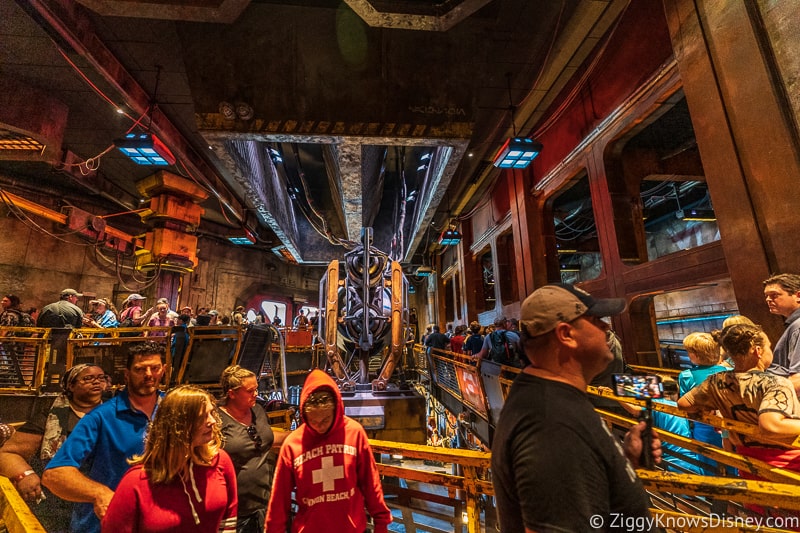 A look back down on the ground floor: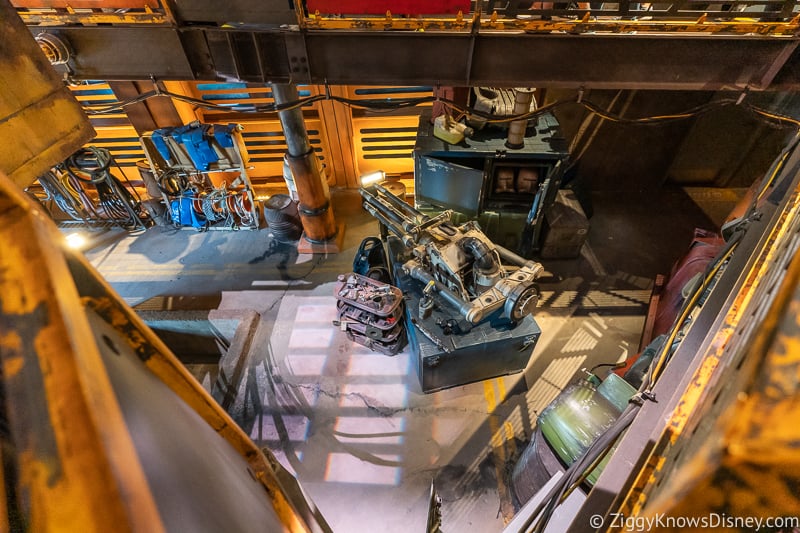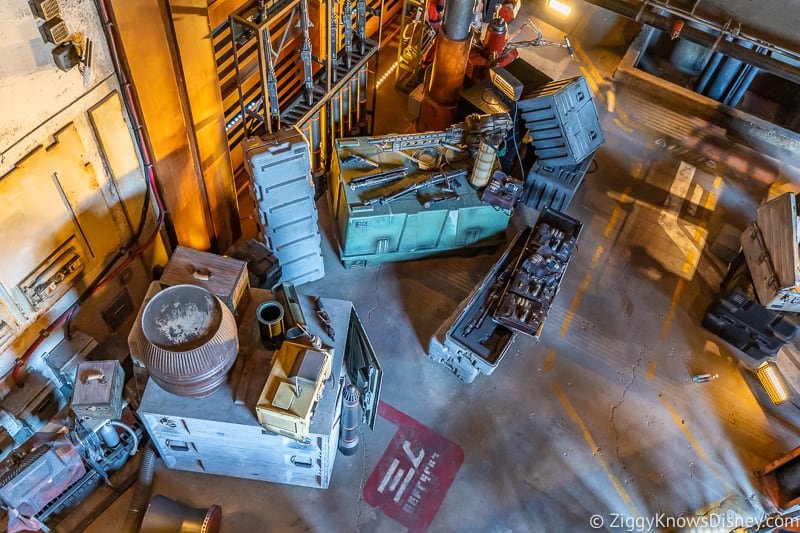 The picture doesn't do it justice but this room is enormous!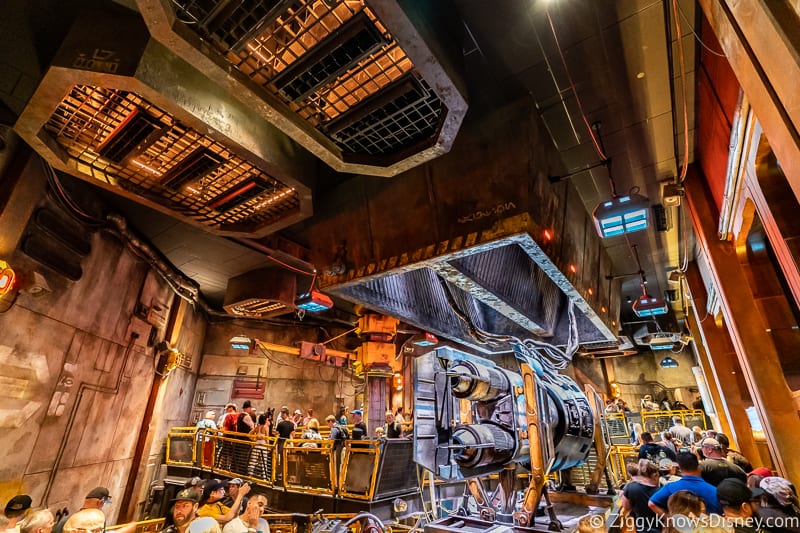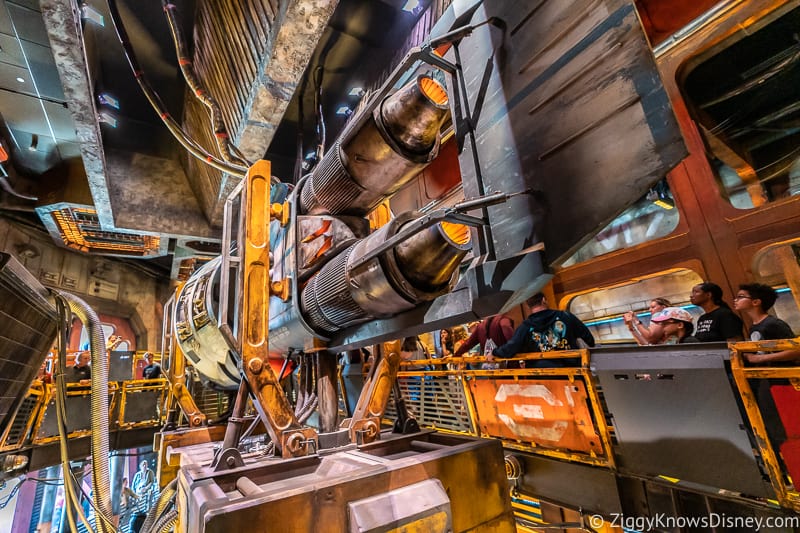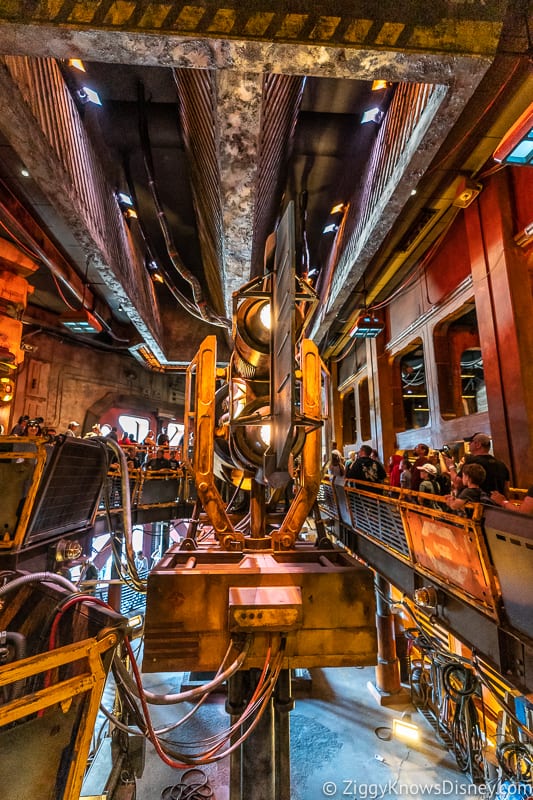 This engine is so cool and every once and a while it revs up and starts malfunctioning so you think it's going to explode or something. Such a cool effect!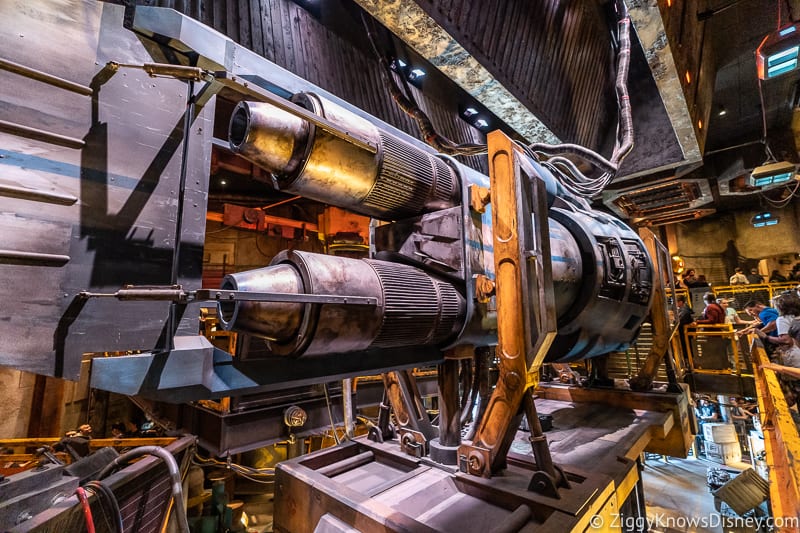 Looks like a real spaceship engine, again going to an extremely detailed level: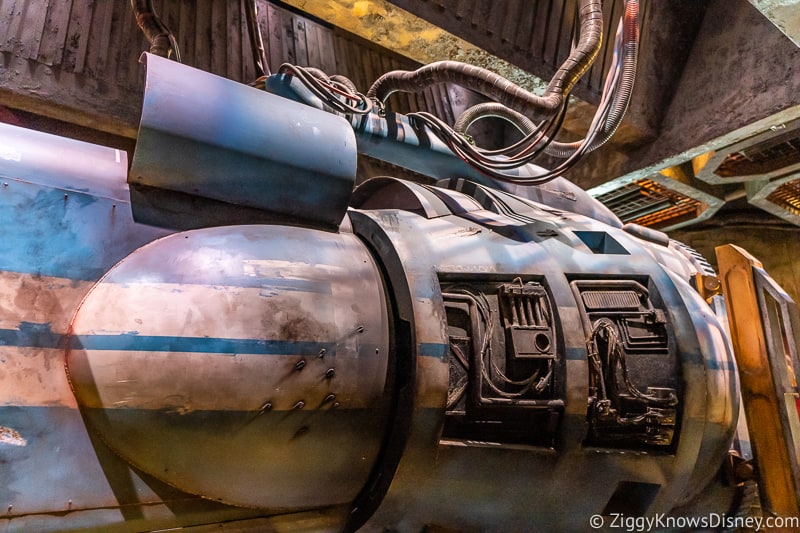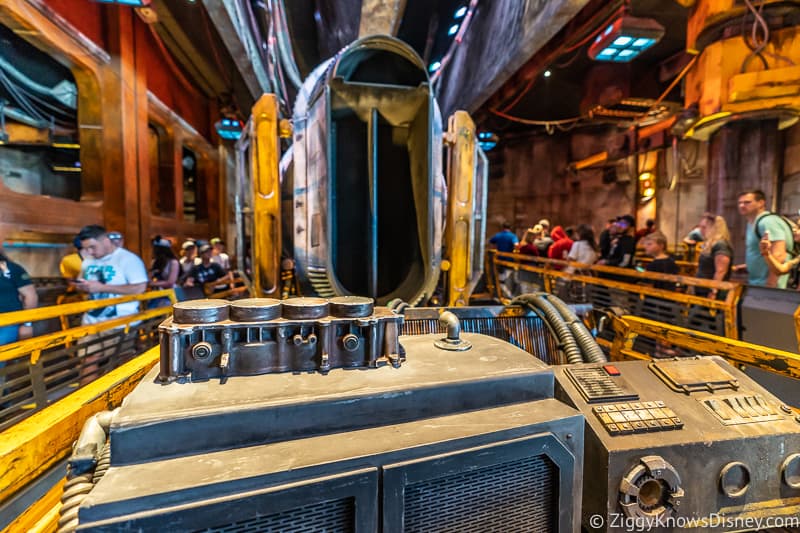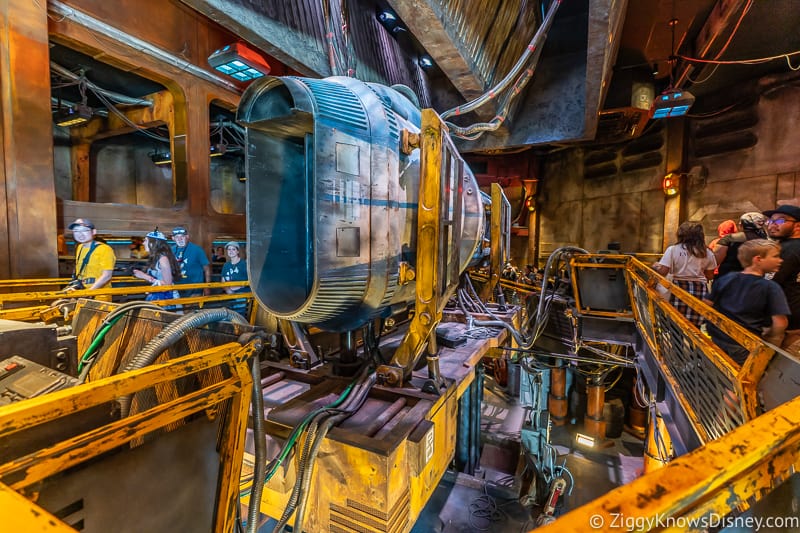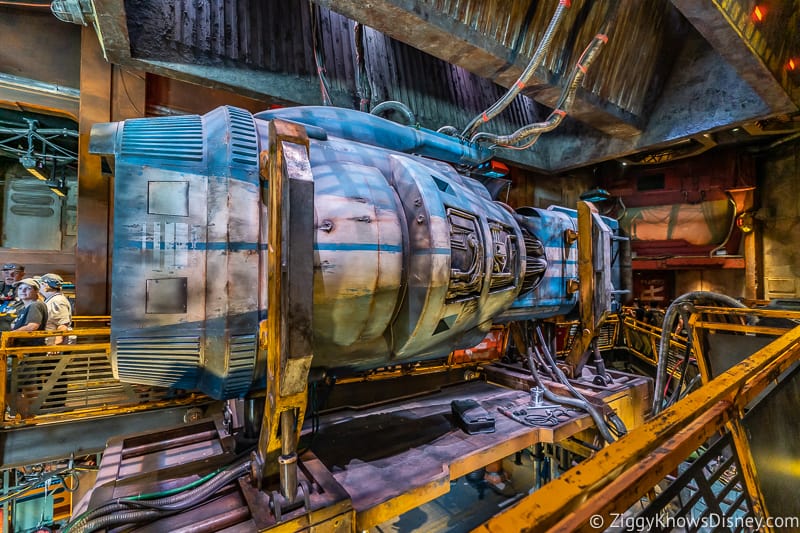 Though we would like to stay in here all day, we can't wait to see what's coming next!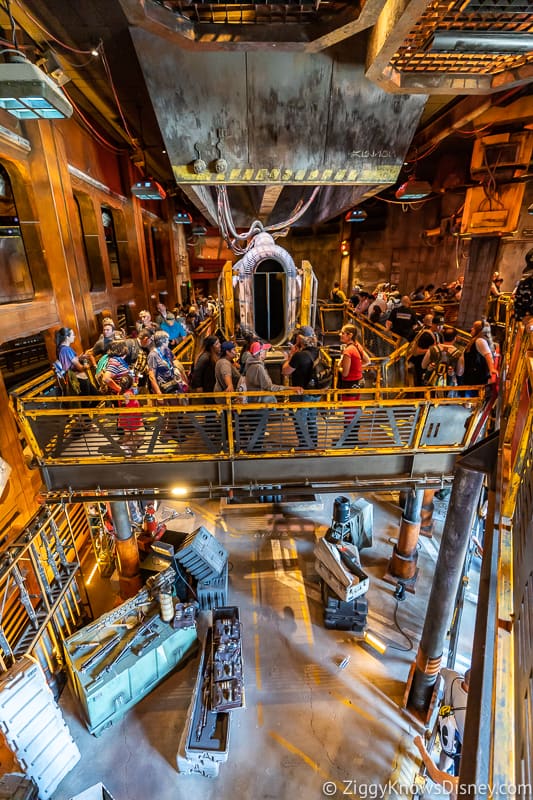 By this point in the Millennium Falcon ride about 30 minutes had gone by I'd say, but there was so much to look at it didn't feel like more than 10. We felt like we had whiplash we kept turning our heads in every direction trying to soak it all in. So far, so good!
The next room has some huge windows with amazing views of the top of the Falcon and the rest of Black Spire Outpost. Check out all those hoses filling up the Falcon outside: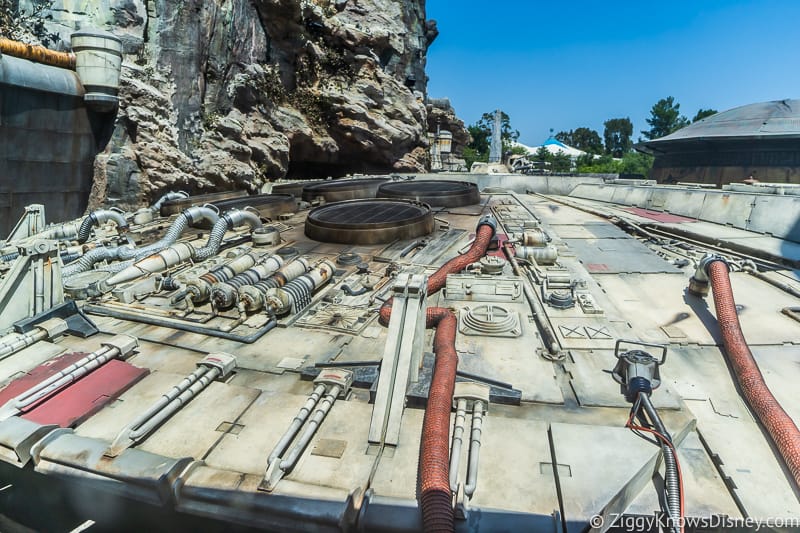 This is one of the only spots in Galaxy's Edge that you can see something from the rest of Disneyland Park. Look in the picture below and you can see just a bit of Big Thunder Mountain peaking out over the Millennium Falcon.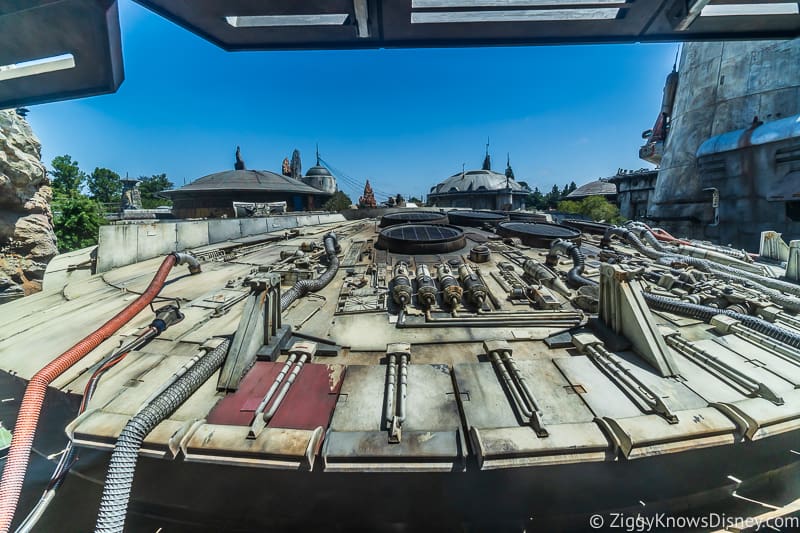 More cool details at the end of this room with lots of storage containers and cargo getting ready to be loaded up and smuggled out: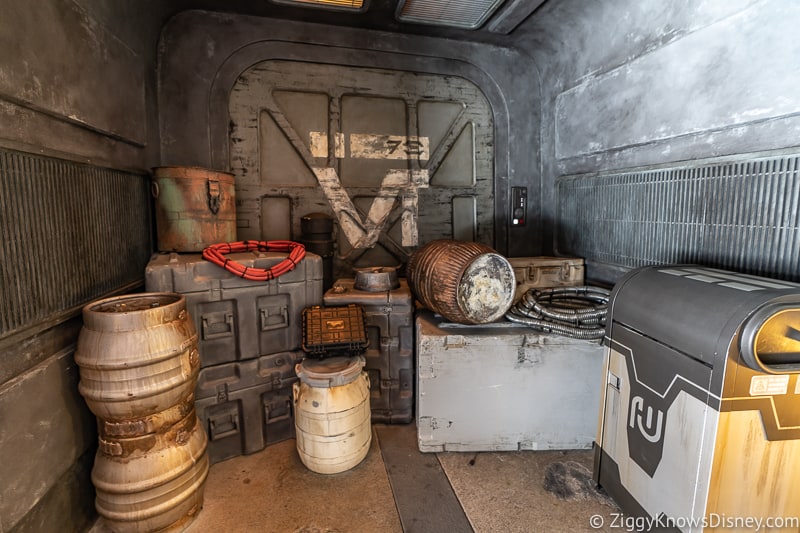 Some of the wall panels along the way. Incredible stuff here, looks like we are in a real transport center: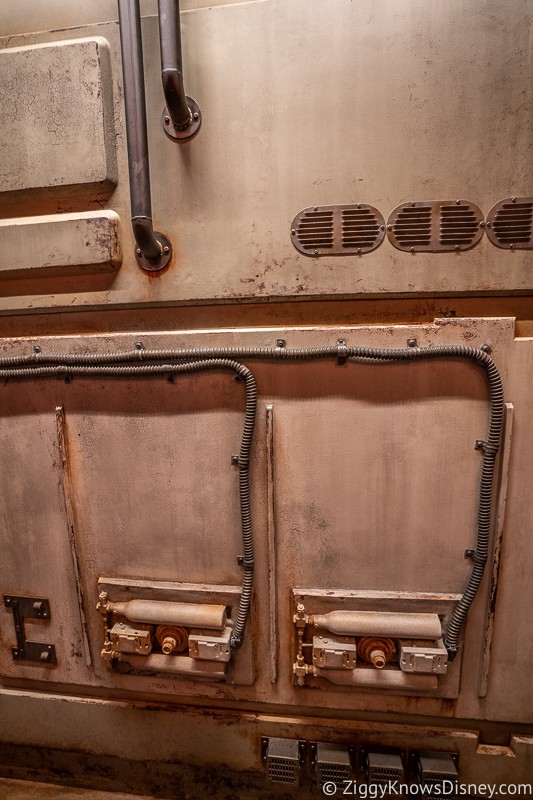 The line stops at this point and you wait to move into a holding room, so there must be a show scene coming up next: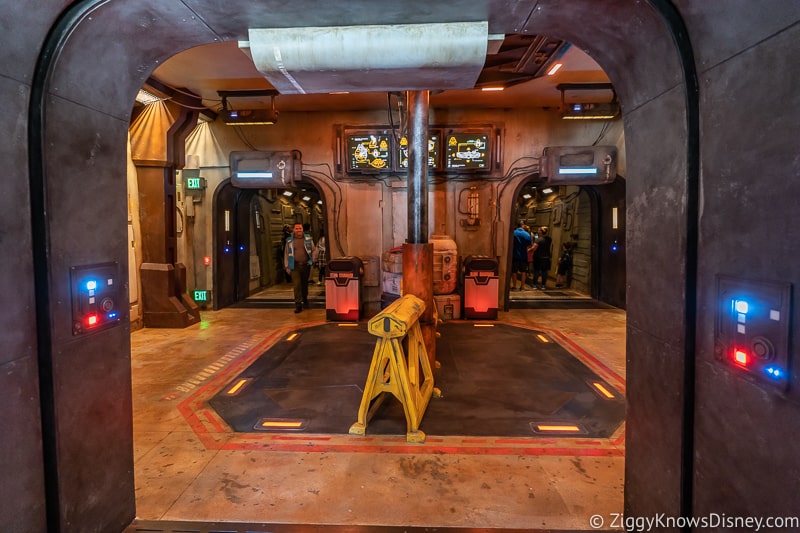 Display panels on the wall show the details of the Millennium Falcon: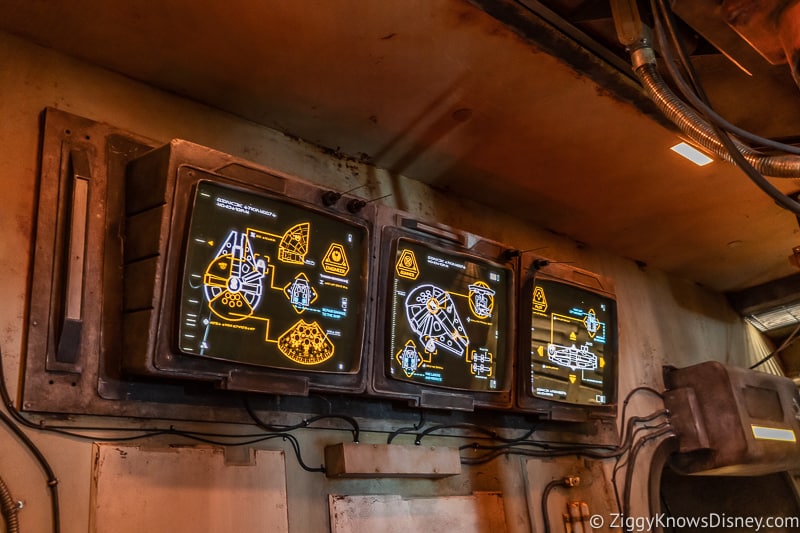 It was easy to tell something big was coming next. Now we get to one of my favorite parts of the queue…
Hondo Animatronic Figure:
Up to this point the queue for the Millennium Falcon: Smuggler's Run had been amazing, and going to toe to toe with Flight of Passage for the best Disney queue, but it was about to get even better through those doors: where you meet the Hondo Ohnaka animatronic figure waiting for you find in the briefing room: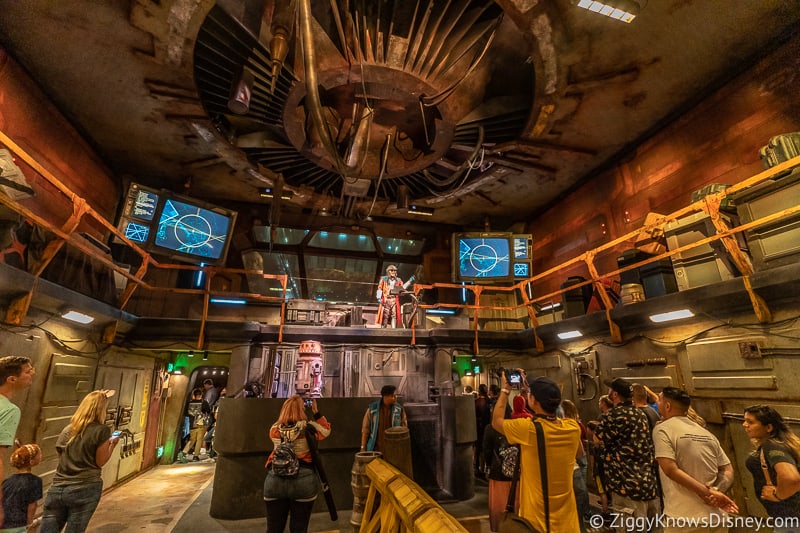 A look at the back of the room: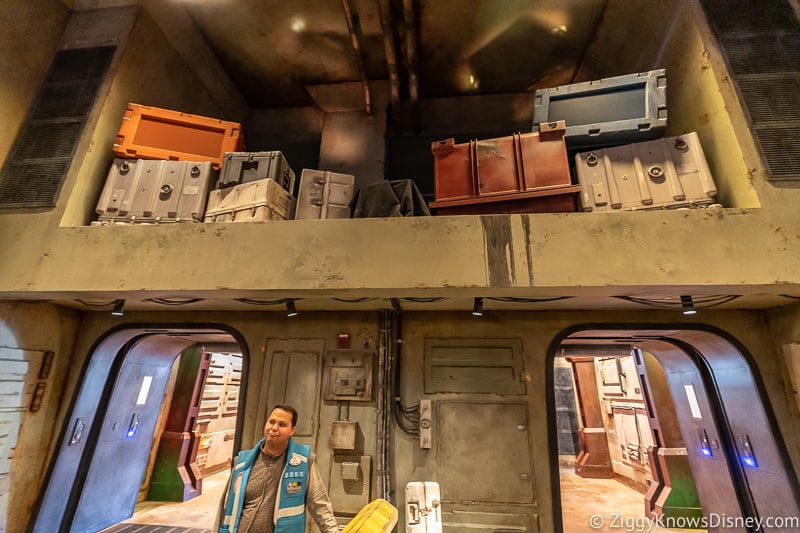 Disney attractions are known for their amazing audio animatronics, but the Hondo Ohnaka figure in Smuggler's Run is something special. If you like the Shaman of Songs from the Na'vi River Journey, then prepared to be blown away again by Hondo:
Hondo isn't alone here, he is also accompanied by his R5P8 droid with him in the command center and even talks to him which is really awesome to watch. This is where you get your briefing for the mission.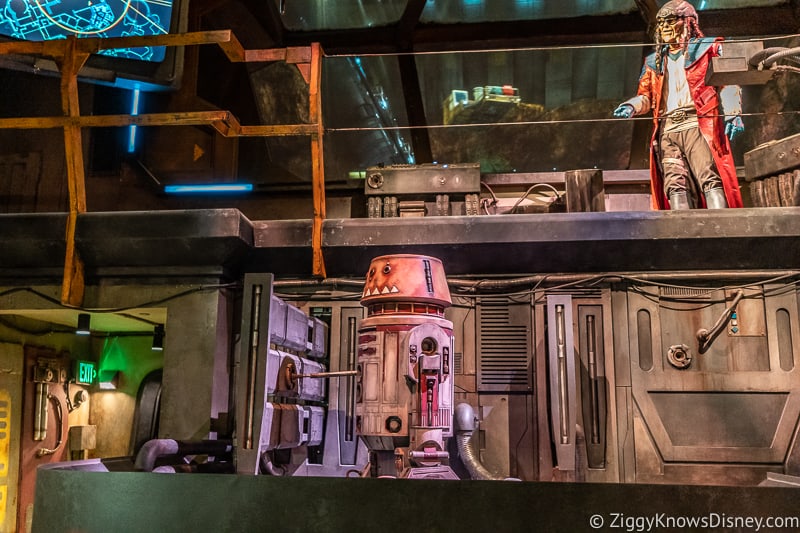 The way Hondo moves is so realistic and smooth it's insane, it's hard to remember he's not a real person. This is one of the most advanced audio animatronics figures ever built. It has around 50 functions in total (movement points) is 7 feet tall and uses new electric motors to power for its movements instead of hydraulics. Only the Shaman of Songs in Pandora is more advanced.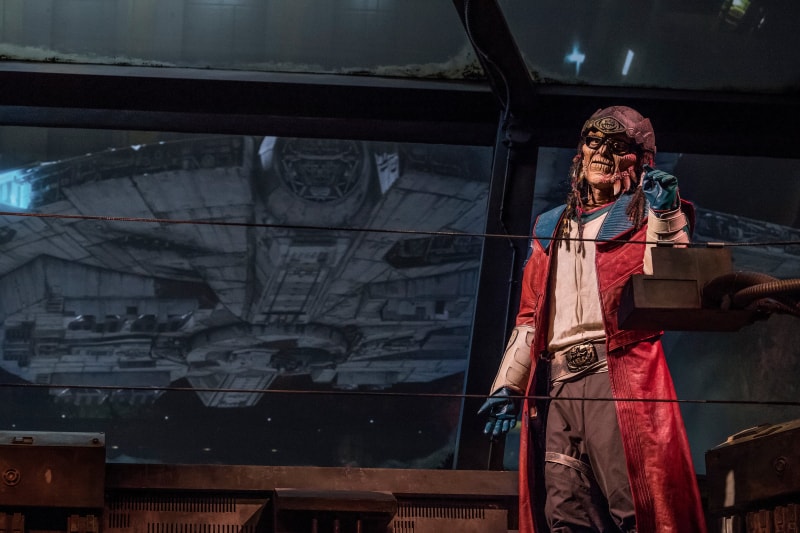 Everything about Hondo is impressive from the way Disney Imagineers have been able to synch up the audio with his movements to the smoothness of his facial features and fluidity of his motions. It's really special and something you have to see in person to fully appreciate.
Here's a behind the scenes video showing the technology behind the Hondo Animatronic figure:
Behind Hondo once he's done with the mission, the Millennium Falcon is lowered down from its "parked" position outside the attraction into the hanger bay to where you and your fellow crew will board the iconic spaceship.
It's amazing how Disney can pull this off because it seems like the Millennium Falcon is being lowered down from it's place outside and into the interior docking bay. It's all just an illusion though as it's all done with video and the real one never moves.
I thought the whole scene was fantastic and while I knew the Falcon wasn't being lowered down, they sold the illusion pretty well imo: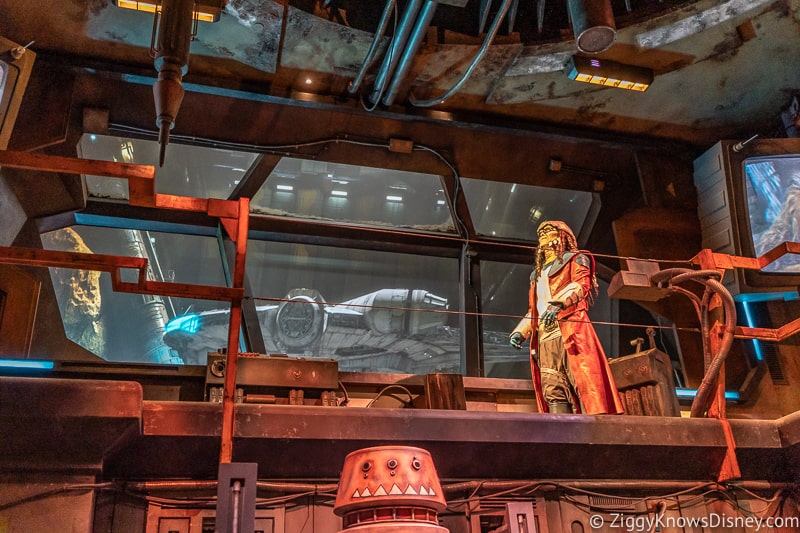 Up to this point the Hondo figure was the highlight for me, but that was soon about to change…
Inside the Millennium Falcon:
It's here where the crew prepares the Millennium Falcon for its mission. Once you clear the long hallway after Hondo you'll meet a crew member who let's you onto the Falcon and explains the process: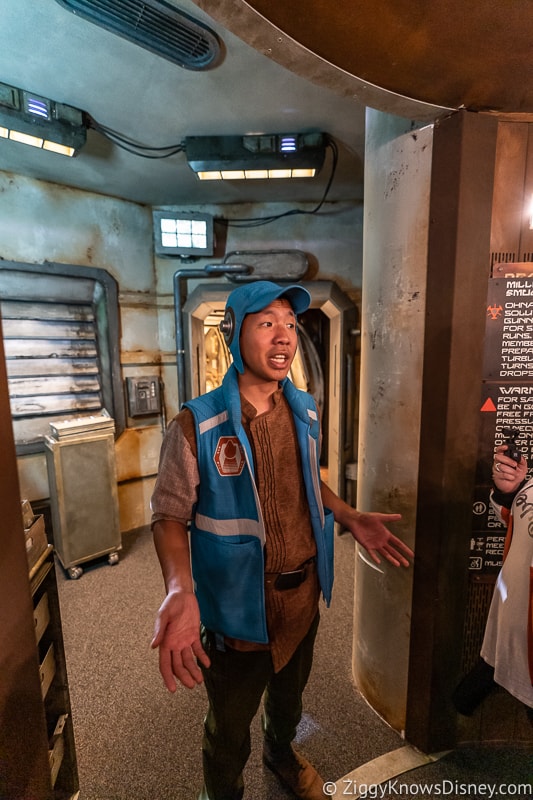 There are 6 people to each boarding group and each person is given a boarding card with the role they will be performing during the mission. I got gunner even though I was really hoping to get pilot for my first flight: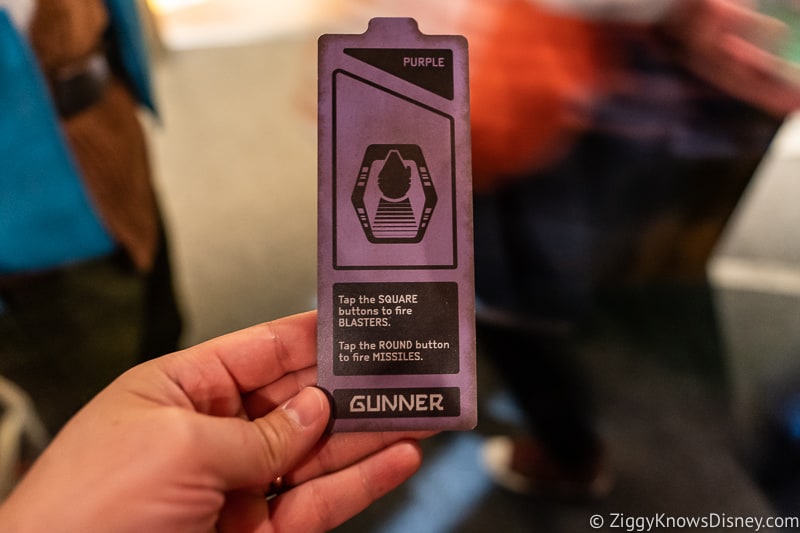 Unfortunately there was no walk up the traditional ramp into the Millennium Falcon like I was hoping for but at a certain point it hit me that I found myself walking right in the hallways of my favorite spaceship of all time!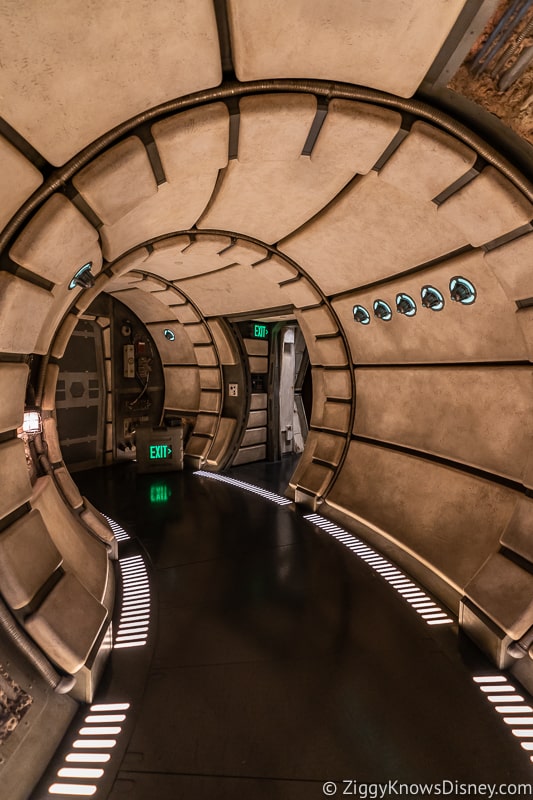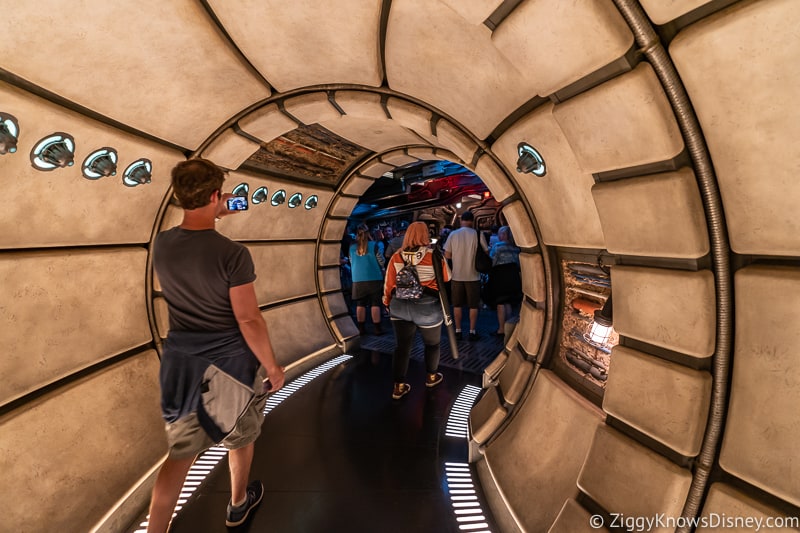 Once you board the Falcon you will be sent into the "main hold" which you will recognize as the "chess room" from the Star Wars films.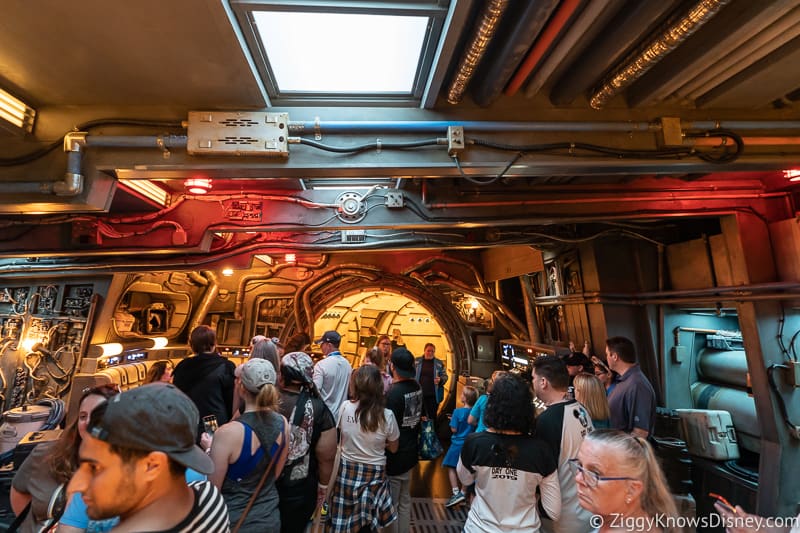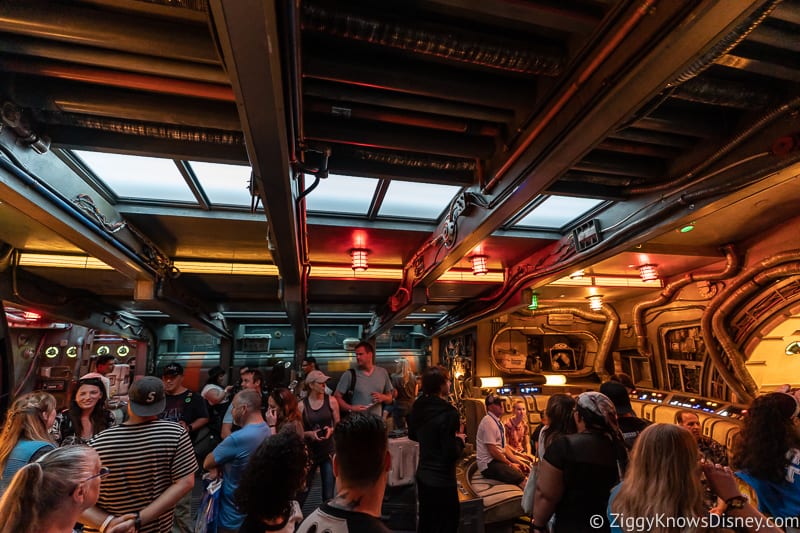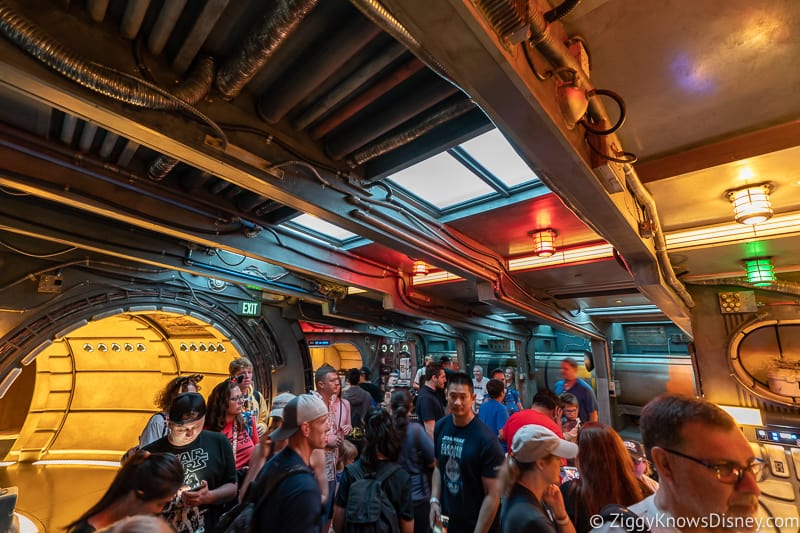 While you are waiting here you can sit down at the table next to a Dejarik board, "hologram chess" just like the one they play in A New Hope.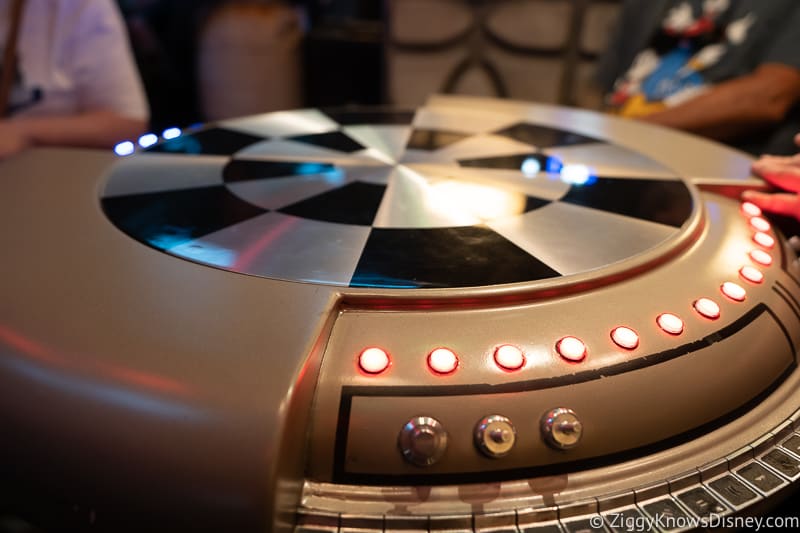 You'll have a good 10 minutes or so in here so try to take your time and soak everything in. It's too much to see on the first trip and you will be star struck and feel out of sorts if you are a big Star Wars nut like myself.
We were taking selfies while chilling out on the couch, and and just going crazy with everything there was to look at!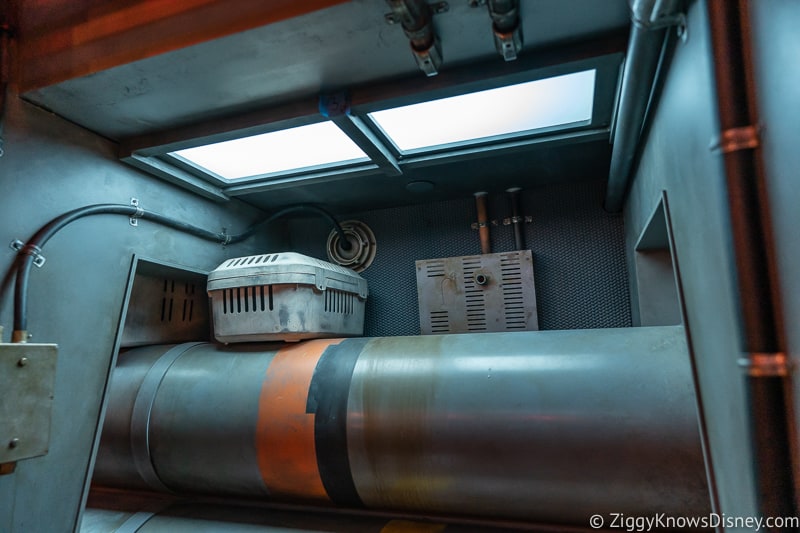 There are so many Easter eggs in this room with props from some of the Star Wars movies. Can you find them?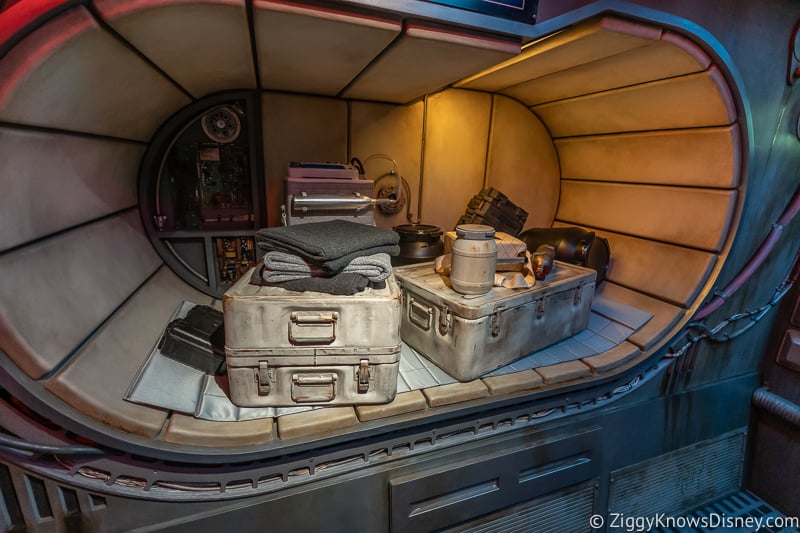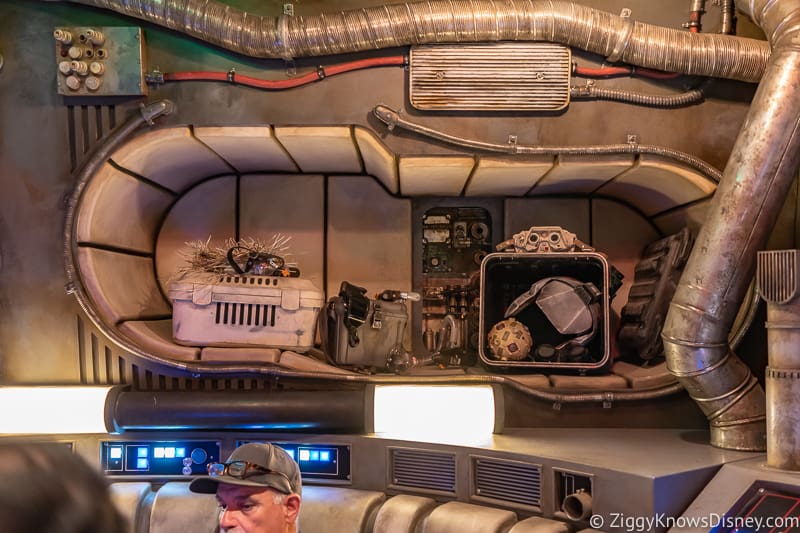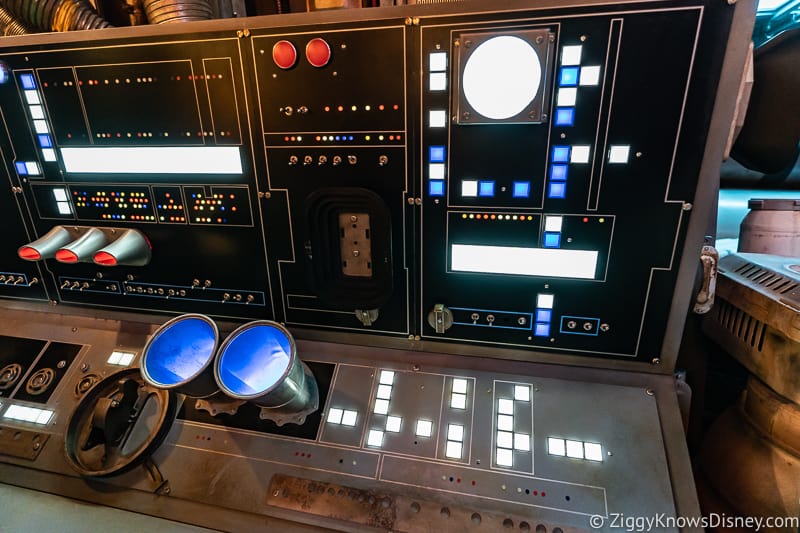 I absolutely LOVED this room and it was actually the highlight of the whole ride (more on that in a minute). The whole ride queue leads to this point and you will be hard pressed to not have a smile on your face the entire time!
Once they are ready for you, make your way down the next hallway. We're getting closer to the cockpit, I can feel it…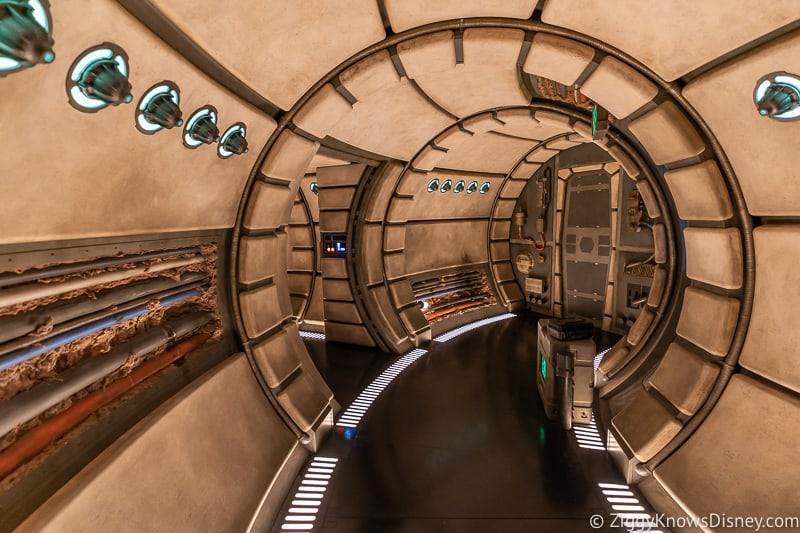 I love again all the small touches in the hallway, especially the exposed pipes going through the wall. Hey, this ship has seen better days.
The Ride:
Right outside the cockpit Hondo reappears on a monitor explaining your pre-flight specifics and the details of your mission. The missions vary which is nice so each time you go on it will be a somewhat different experience.
The moment of truth is here…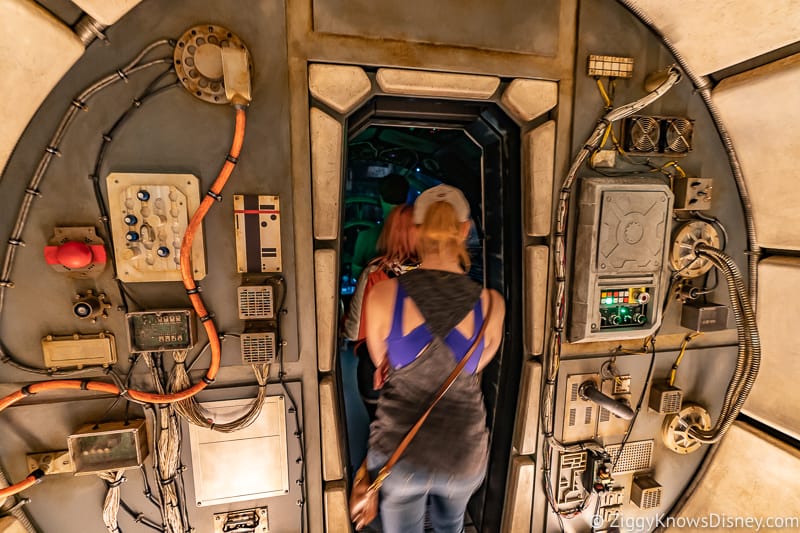 The Millennium Falcon cockpit!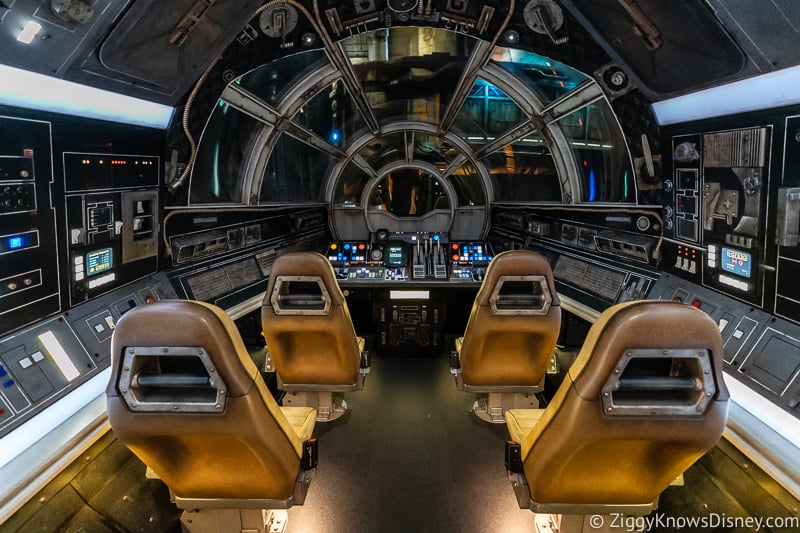 It's definitely smaller than it feels in the movies, but it was a moment I will never forget stepping inside.
The windshield is the classic divided look from the films and you can step up and sit down in the pilot's seat!
Each cockpit holds 6 riders, and each guest has a critical role to play in the success or failure of each mission. It will be setup in 3 rows: pilots in the front, gunners in the middle, and flight engineers in the last row.
The roles for the crew members are as following:
Pilots: Making the jump to hyperspace
Gunners: Shooting down the incoming TIE Fighters
Engineers: Repairing any damage taken by TIE Fighters
There are dozens of cockpit buttons, switches and levers, each making sounds and having flashing lights, etc. I literally was jamming every button and switch I could get my hands on for a good minute or more, and there are a ton of them!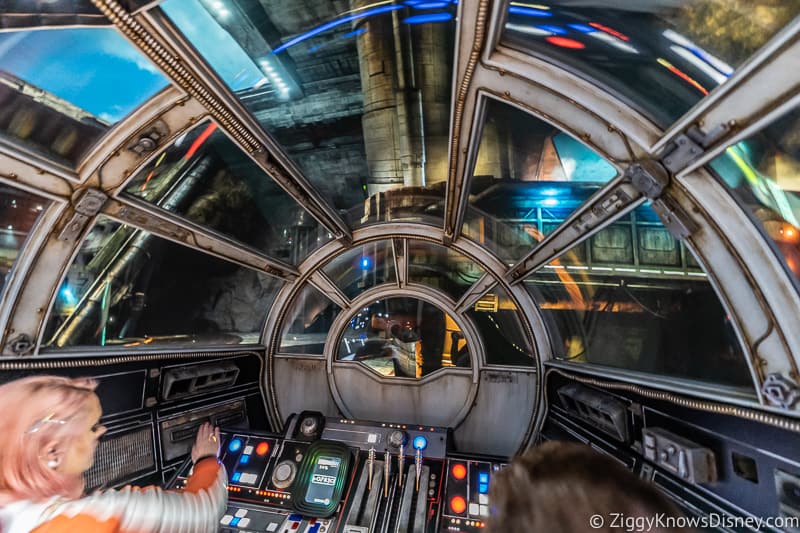 The missions on Millennium Falcon: Smuggler's Run are randomized and variable which mean you will get different missions each time kind of like Star Tours. The future possibilities are awesome here to continue making new missions relevant to the new Star Wars movies, which I fully expect Disney to continue to do.
Having multiple missions and multiple roles to play make it highly re-ridable and something you can keep coming back to over and over again with a different experience each time.
Once everyone is strapped in and ready to go, you take off! You see the Ohnaka Transport Solutions hangar bay where you just were projected onto a domed screen outside the cockpit windows and you take off for your mission.
From our experience the gameplay is a bit difficult at times (especially for the non-video game generation) but after a couple of rides you start to get the hang of it. I think Disney did as good of a job as they could with balancing the difficulty of the ride as well as possible.
Yes it would have been better if it was a bit more difficult and immersive in the engineer and gunner roles, but it was just to hard to get everything to work right with 6 people of all age groups (who potentially could all not know each other) to be able to work together to complete a mission.
Out of all the roles I think the pilot is by far the most fun. It's definitely the most immersive of the 3, and you feel like you are in control. Piloting is divided in two roles with one pilot controlling the vertical movement and the other controlling horizontal. It takes some getting used to but you get used to it.
Pilot is overwhelmingly favorite job, followed by gunner and then engineer. I thought the other two were just a bit boring because a lot of the ride you are just looking down and smashing buttons and you don't get to follow the action on screen. It felt a bit repetitive in the gunner or engineer positions and I thought they lagged way behind being a pilot.
The action is still pretty fun and I love little details like your ship actually taking damage during the mission depending on how you fly it. You can crash the ship into other ships and when it takes damage it's up to the engineers to respond to the flashing lights and fix the damage.
After completing your mission, Hondo will reward you and the other cabin crew according to how well you did on the mission. If you beat up the Millennium Falcon too much, then the hallways outside that you entered through will also be flashing hazard lights and you see the damage taken. Such a cool effect!
If you did well then you'll be rewarded with galactic credits that you can spend in other experiences and interactions throughout Galaxy's Edge. It'd be cool if you could use them towards FastPasses or something similar, but I haven't seen it yet. If you crash the Falcon though or lose the precious cargo then watch out, Hondo will send a bounty hunter after you with a price on your head!
Overall I think that Millennium Falcon: Smuggler's Run is a great addition to Disneyland and a nice ride for Galaxy's Edge. The queue is probably my favorite ever, even more than Flight of Passage and there is just so much to explore there. I could walk there for days.
The actual ride though was good but not great. Let's just call it an interactive version of Star Tours with a little better graphics. That's pretty much what it is. That's not bad, but it's not a headliner attraction that can sustain a land on its own. It's a very good B attraction in a secondary role which is what it will be in a few months when Rise of the Resistance opens up.
I think you're going to really the Millennium Falcon: Smuggler's Run ride, and overall I thought it was a great experience, something I've been dreaming of since I was a boy and something I won't ever forget!
The other attraction coming to Galaxy's Edge is the Star Wars: Rise of the Resistance ride. Find out more about why we think it's going to be the best ride Disney has ever built:
For more info on Star Wars Land read our Guide to Visiting Star Wars: Galaxy's Edge for a detailed look at the attractions, dining, planning, touring strategies and everything you need to know.
FAQ's:
Is the Millennium Falcon: Smuggler's Run scary?
I would say for the most part no. It's not a super-thrill ride and overly intense. It does however have a bumpy and rough ride at times like Star Tours, so if you get motion sickness easily this isn't for you.
What is the height requirement for Millennium Falcon: Smuggler's Run?
The height requirement is 38″
Your Thoughts:
I want to know what you think about the Millennium Falcon: Smuggler's Run ride…
What are your thoughts on this attraction?
Which role is your favorite to play?
Let us know in the comments section below!
If you enjoyed this article, as always I appreciate it if you'd share it with others via social media. I work hard at making this website into a useful resource for you and your family to plan your visit to the Disney Parks and I hope it can help you! Thanks 🙂