You've seen it hundreds of times in the Star Wars movies, but how many times have you ever dreamt of jumping into the pilot seat of the Millennium Falcon and throwing it into hyperdrive? Well now you get that chance in the Millennium Falcon: Smugglers Run ride in Star Wars Galaxy's Edge in Disney's Hollywood Studios and Disneyland.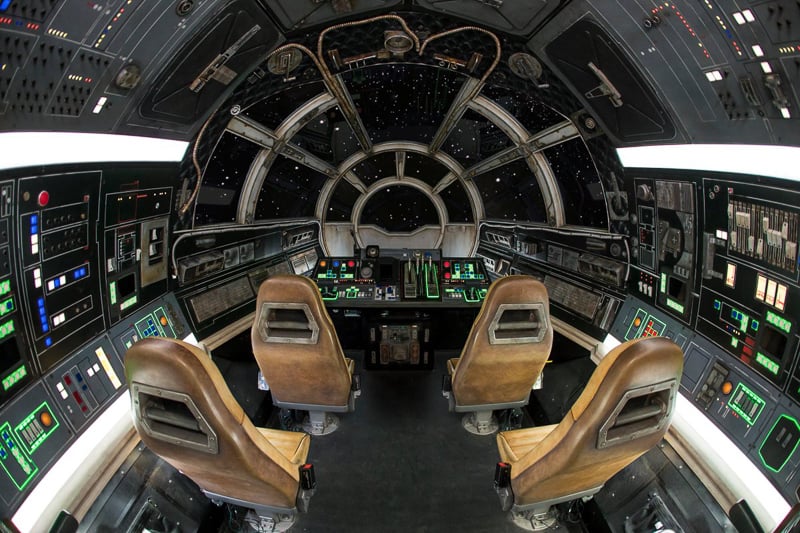 We're going to break down everything you need to know about the Smugglers Run attraction including the Ride System, Backstory, Tips, Full Review and give you a Complete Walkthrough of the ride queue and inside the Millennium Falcon!
We'll even show you how to unlock secret hacks like "Chewie Mode!"
Overview
Location: Star Wars: Galaxy's Edge (Disney's Hollywood Studios and Disneyland)
Status: Open
Ride Type: Simulator
Thrill Level: Medium
FastPass: Not now, but eventually yes
Ride Length: 4 Minutes 30 Seconds
Height Requirement: 38 inches
Capacity: 1,500 – 1,800 per hour (est.)
(NEWS): Unlocking Secret "Chewie Mode"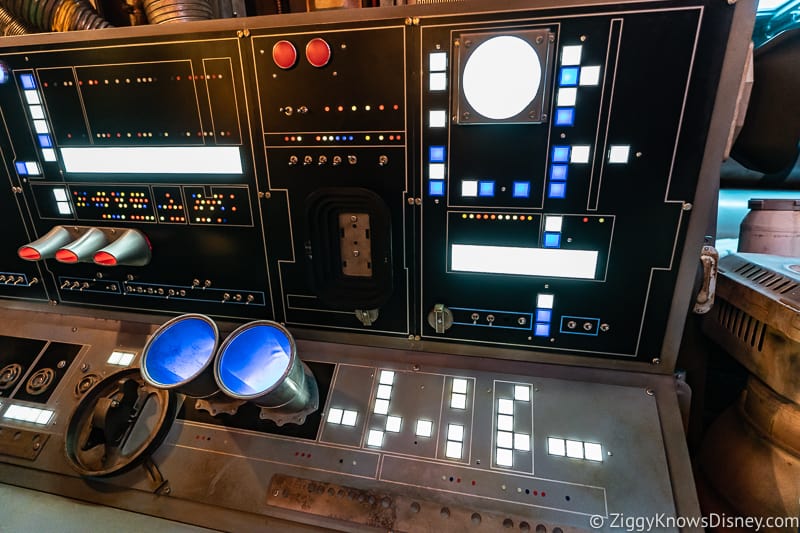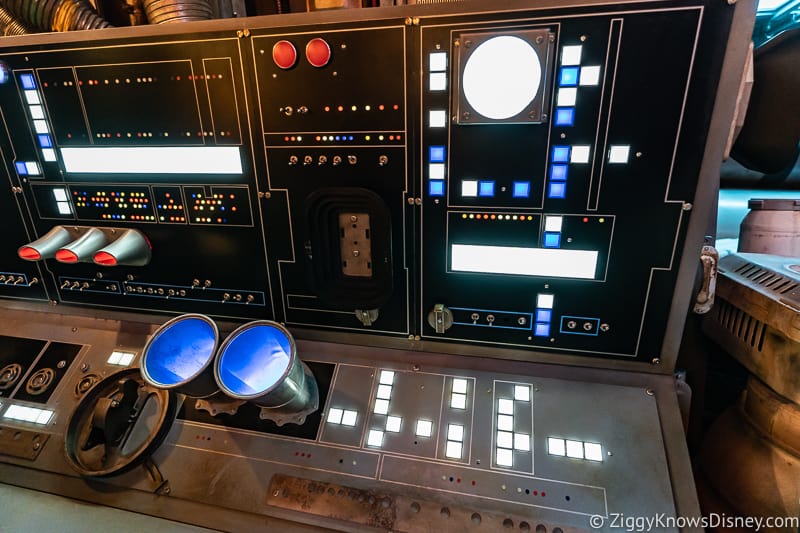 Even if you've been on Smuggler's Run 100 times, there is a secret mode that you might not have ever unlocked that will completely change the ride experience for you called "Chewie Mode." This secret hack for the Millennium Falcon: Smugglers Run ride that allows you to listen to Chewbacca the whole time during your flight instead of Hondo.
It's awesome to do and so much cooler as Chewie yells at you telling for every mistake you make.
How do you unlock "Chewie Mode?"
Basically, how it works is during the initial flight pre-check on Smugglers Run, each rider is asked to fulfill a list of pre-flight checks on their control panel in front or to the side of them. Usually, guests are obedient and follow Hondo's orders, pushing the correct buttons he tells you to before take-off.
However, it's what happens when you don't listen to him that makes this one of the coolest ride hacks in all Disney World. Here are step-by-step instructions to make Smugglers Run enter Chewie Mode.
Ride Smugglers Run with a full cabin of 6 guests. It won't work with less.
Before the ride starts, do NOT activate your position right away.
First, the left and right pilots need to push their control sticks to the far left or right and far up and down.
Once the pilots do this, they need to push their activation button.
Engineers and Gunners also ignore the pre-flight instructions and hold down one of the white buttons on their control panel, and then hit the activation button.
Make sure all the guests on the ride with you follow these instructions or it won't work. Once this happens and if you follow everything in order, you will enter into "Chewie Mode" and you will then hear Chewbacca's voice for the whole attraction instead of Hondo.
It's quite thrilling to see done, and it makes the whole experience feel much more like actually being in the Falcon.
The Disney YouTube channel Fresh Baked attempted the Chewie Mode hack three times before getting it to work and documented the whole experience. Check it out here:
Go ahead and try "Chewie Mode" for yourself next time you ride Smugglers Run. Let us know if you were successful or not.
(NEWS): Smugglers Run FastPass
(Update 2/11/20) – Since it opened back in May 2019, Smugglers Run has only used a standby queue. However, Disney has just announced that FastPass and MaxPass are going to soon be available for the Millennium Falcon: Smugglers Run ride at the Disneyland Resort.
Smugglers Run will join the more than 20 attractions in Disneyland that now use the FastPass and MaxPass system. That means no more standing in line which will make visiting here even more fun!
There is no current date set for when the change to FastPass will go into effect, Disney is only saying this will happen "soon." We'll keep an eye on this for you.
This new comes on the heels of Disney also announcing that the Disney's Hollywood Studios version of Millennium Falcon: Smugglers Run ride is now accepting FastPass+ reservations.
For guests planning a visit to Galaxy's Edge starting February 19, 2020, or after, they can use the My Disney Experience app to make FastPass+ reservations like most of the big attractions in Disney World.
In Hollywood Studios, Millennium Falcon: Smugglers Run will become a Tier 1 attraction along with Slinky Dog Dash.
It's important to note that Rise of the Resistance does NOT have FastPass available in either park and is continuing to use the Virtual Queue with boarding groups at this time.
For a more detailed explanation of what this means for visitors, scroll down to read more. We will continue to update our strategy for touring Galaxy's Edge with this change so stay tuned as to what it means for you and your family.
Scroll down for the Millennium Falcon: Smugglers Run Ride Full VIDEO Walkthrough and Review…
What is Millennium Falcon: Smugglers Run?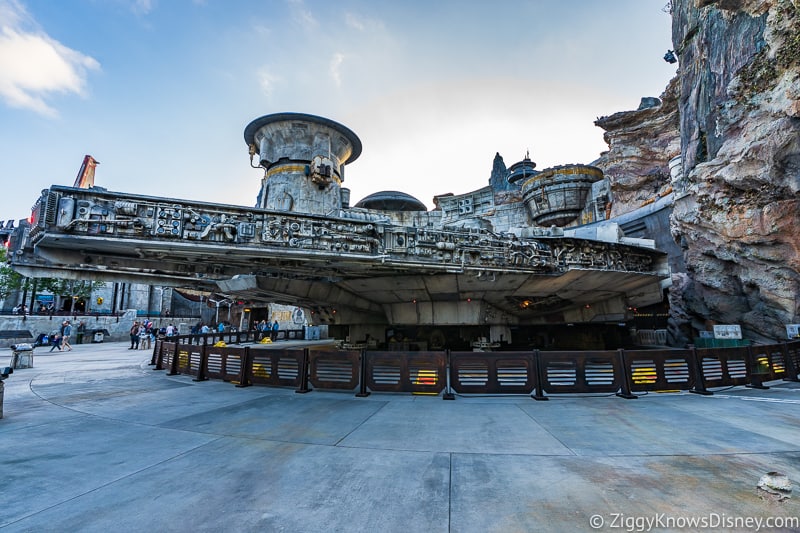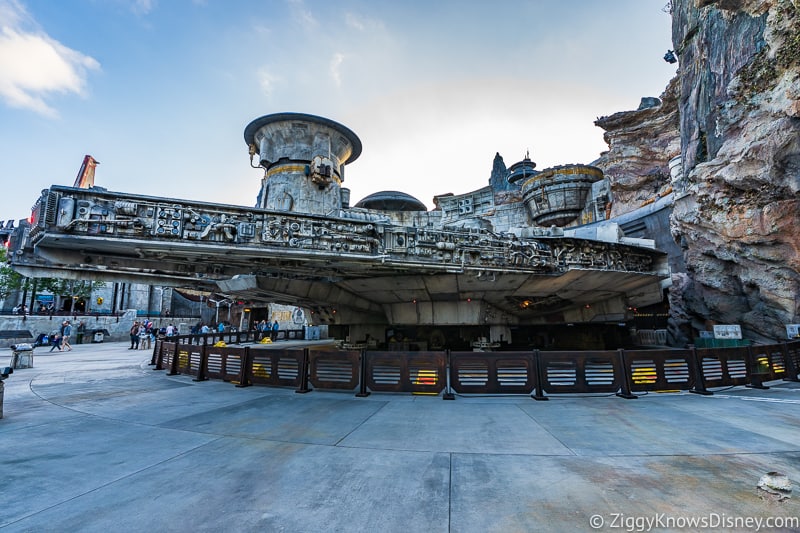 The Millennium Falcon: Smugglers Run ride is a dream come true for Star Wars fans as it puts you in control of the most iconic spaceship in film history. It's one of newest Disney E-Ticket attractions found in Star Wars: Galaxy's Edge.
Guests board the Millennium Falcon for a special mission given by smuggler Hondo Ohnaka who you know from the Star Wars animated series "Rebels."
You then control of the ship in one of three roles: Pilot, Engineer or Gunner with real consequences on whether the mission is a success or if the ship turns to scrap metal once you're finished.
Everything about this experience is made to be as realistic as possible. In fact Disney has built a full-sized, 100-foot replica of the Millennium Falcon, complete with an interior that looks identical to the one in the movies.
Which Parks is it Located?
Millennium Falcon: Smugglers Run is located in Star Wars: Galaxy's Edge in both Disney's Hollywood Studios in Walt Disney World and also in Disneyland Park. With a Star Wars Land coming to Disneyland Paris, we may get Smugglers Run there too eventually.
To get to Smugglers Run from inside Galaxy's Edge, follow the paths to the center of Black Spire Outpost. If you are coming from the market, head towards Docking Bay 7 Food and Cargo, and you will see the Millennium Falcon sitting down in the courtyard below you. It's impossible to miss!
Is it the Only Ride in Star Wars Land?
The Smugglers Run ride is the first of two attractions in Star Wars Land. The other attraction coming to Galaxy's Edge is the Star Wars: Rise of the Resistance ride which opens on December 5, 2019 (Hollywood Studios) and January 17, 2020 (Disneyland).
In that ride, guests will be caught in the middle of a heated battle between the First Order and the Resistance, and then you have to break out!
Find out more details about why we think it's going to be the best ride Disney has ever built:
Ride System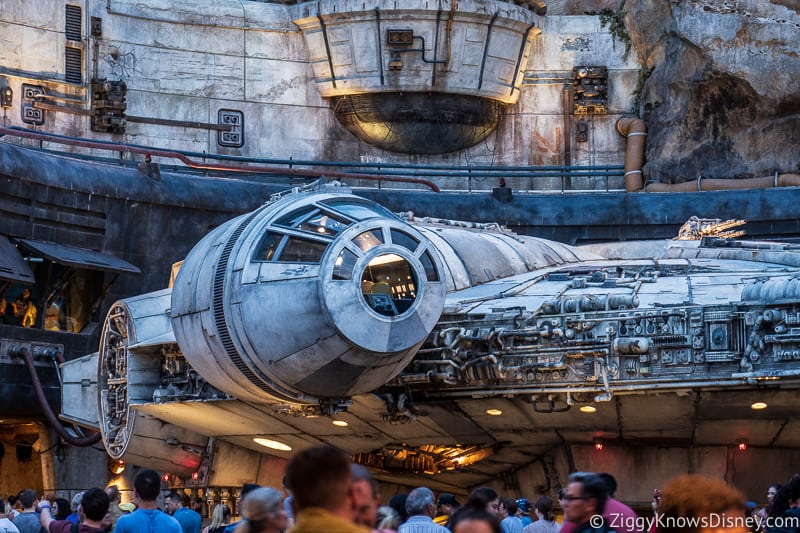 What kind of a ride is Smugglers Run anyhow? Many people even wonder if Millennium Falcon Smugglers run is a roller coaster. Let's talk about the ride system and how it works:
What Kind of Ride is Smugglers Run?
Millennium Falcon: Smugglers Run is a motion simulator attraction in Galaxy's Edge, based on the iconic George Lucas film franchise "Star Wars."
Guests enter the iconic Millennium Falcon starship for a secret interactive smuggling mission, with each passenger playing a role in the completion of the mission. It's almost as much video game as it is a ride, with dozens of buttons and levers to push to complete your tasks.
Is Millennium Falcon Smugglers Run a Roller Coaster?
Smugglers Run is not a roller coaster, but a motion simulator ride. There is no track and you do not move forward, only shake side to side and up and down.
Don't worry if you don't like roller coasters. I've been with many guests who don't ride coasters, but they loved this attraction.
Is it like Star Tours?
The Star Wars Smugglers Run is a very similar ride to Star Tours: The Adventures Continue.
The premise is the same. Guests enter into a ride vehicle, which is a motion simulator. They are then strapped into their seats and watch the screen in front of them which brings them to their destination, with a lot of action along the way.
There are some differences:
Star Tours is a little more bumpy and intense of a ride.
Star Tours also has multiple missions to go on, so almost every time is different. Millennium Falcon: Smugglers Run has just the one mission.
Think of Smugger's Run as a more interactive version of Star Tours: The Adventures Continue. The two ride systems are very similar, with Smugglers Run obviously pushing the technology to another level.
Is it like Mission: SPACE?
There are some similarities between the two rides. Both attractions are motion simulators, which give guests the feeling of flying and they both have interactive elements to them with the guests having to carry out tasks to complete the mission.
The interactivity in the Millennium Falcon ride however is much more complex and detailed, with hundreds of switches and buttons to press within the cockpit.
Also, Mission: SPACE is a much more intense ride than Smugglers Run, which is easier to ride for the whole family.
How does Millennium Falcon Smugglers Run Work?
The Millennium Falcon features 7 "pods" each holding 6 guests, giving a total of 42 guests per ride. Inside each pod it will look and feel exactly like being inside the Millennium Falcon cockpit with dozens of working lights, levers and switches to mess with, all interacting with the environment.
The ride system utilizes a rotating platform with identical ride cars, allowing a faster load/unload sequence, therefore increasing capacity, but decreasing wait time. Once the first group or riders finish their journey, the turntable has done a complete revelation on the turntable, which then is ready for the next group of guests.
This new system was designed by Disney specifically for Smugglers Run, and improves the overall guest experience.
Does Smugglers Run Spin?
The Millennium Falcon doesn't really spin, but like Star Tours, moves side to side and shakes, simulating movement left and right and forwards and backwards.
How Long is the Smugglers Run ride?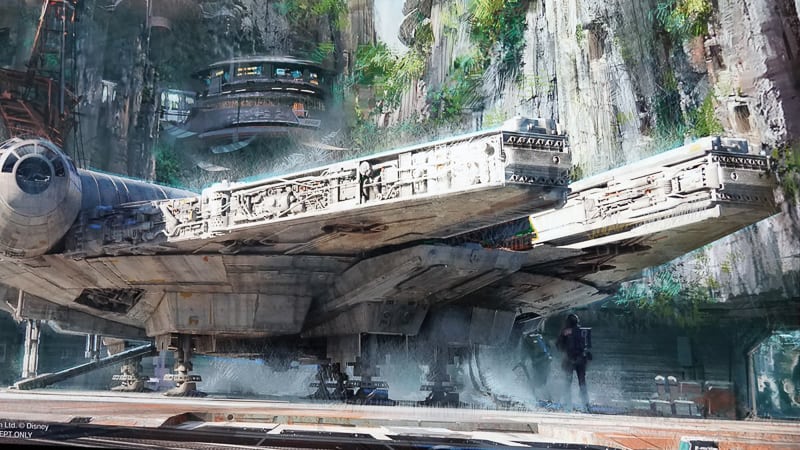 The actual ride length for the Millennium Falcon: Smuggler's Run ride is approximately 4 minutes and 30 seconds long from beginning to end. It's pretty close in length to Star Tours.
This, however, doesn't include the ride's extensive queue and pre-show which is almost an attraction all on its own. You're entertained almost from the minute you step in line for the ride and it's one of the best attraction queues in any Disney park worldwide.
Is Millennium Falcon: Smugglers Run Scary?
That all depends on what kind of rides you like, but in general I would not say that Smugglers Run, no. It's a flight simulator so expect lots of bumpy movements and sharp turns throughout, but this is also somewhat affected by whoever the pilot is.
Though it's not scary, the Millennium Falcon ride is definitely exciting, and there are moments of intense action which are very stimulating.
Will Smugglers Run Make Me Sick?
If you are someone that suffers from motion sickness then you might be affected on the Smugglers Run ride.
The ride vehicle makes a lot of turns and ups and downs, plus the pilots affect a big part of the smoothness of your flight on the Millennium Falcon, and if they are bad drivers you could get very sick.
Does Smugglers Run Have Drops?
Though the ride vehicle for Millennium Falcon: Smugglers Run is not on a track, there are some movements that simulate a sharp drop downwards action.
The part when you find the coaxium and start your escape feels like a big drop down, and then you crash at the bottom of the room. Again it's not a real drop, but the sensation of one is there.
Does Smugglers Run Go Upside Down?
There are no inversions or loops on Smugglers Run, so no need to worry about that.
Height Requirement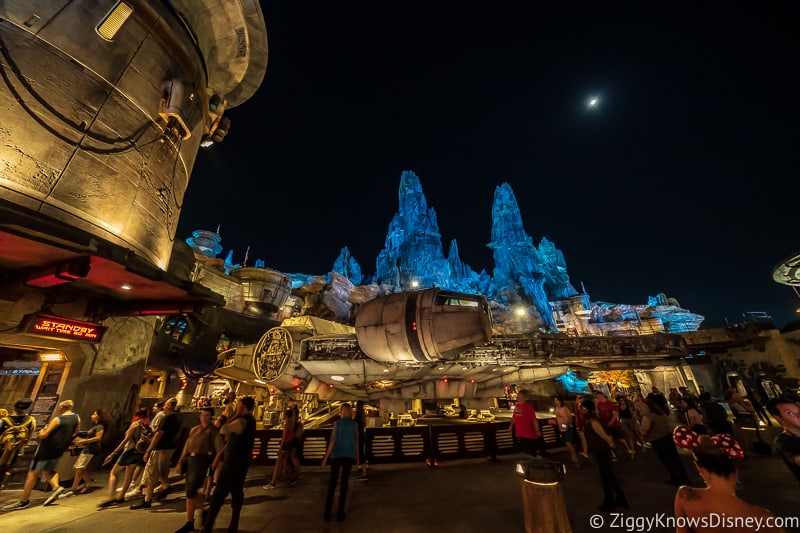 Millennium Falcon: Smuggler's Run has a height requirement of 38 inches. It's a moderate-level simulation ride, meaning it's thrilling, but not so much that little kids won't be able to handle it.
Since you have to be 38 inches tall to ride Smugglers Run, there are signs outside the ride which show the height requirements and where your child can be measured to see if they are tall enough to go on it.
Does Smugglers Run have FastPass?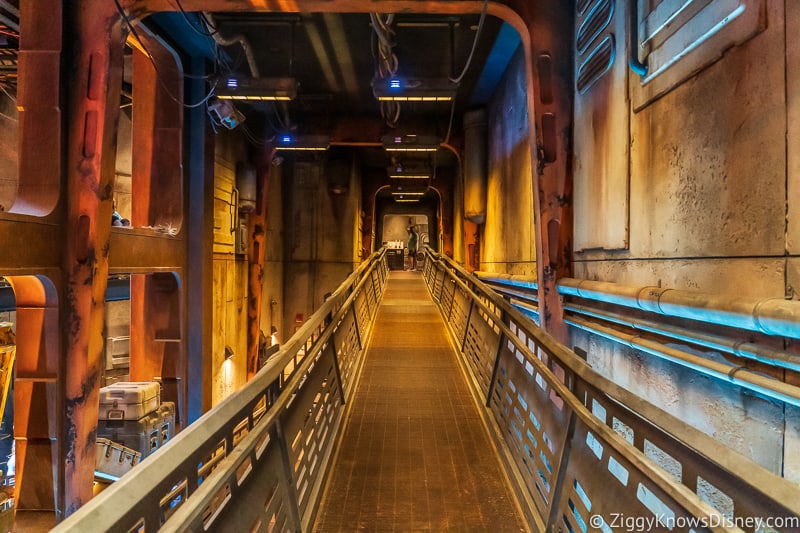 Yes, it does. In the beginning, Disney decided that it was a better idea to not have it available for at least the first phase of Galaxy's Edge being open.
Not having FastPass immediately available follows the same pattern Disney has used in many major E-Ticket attractions in the last few years, making the initial opening of the rides stand-by only.
Just recently, however, Disney has started using FastPass+ in Hollywood Studios for guests visiting February 19, 2020 and all dates after that. They can be booked using My Disney Experience or on the Walt Disney World website.
They also recently announced that FastPass and MaxPass are both coming soon to Smugglers Run in Disneyland Park. Disney hasn't commented on exactly when that is going to happen and we're waiting for a date.
Now that some time has passed since the opening, we should be hearing more soon about when FastPass and FastPass+ are coming to Smugglers Run in Disneyland. We've also just updated our Galaxy's Edge FastPass strategy for you, so make sure to read through that to make the best use of your time.
You also will want to read our Hollywood Studios FastPass+ Guide which will give you all our best suggestions when touring that park. Stay tuned for more.
Does Smugglers Run Have a Single Rider Line?
For guests who are visiting Galaxy's Edge alone or are the only one in the group who wants to ride the Millennium Falcon: Smugglers Run, the Single Rider option is available. This allows you to skip the majority of the line, and greatly reduce wait times for the ride.
If you decide to use the Single Rider option for Smugglers Run however there are a few things to keep in mind:
Guests entering the Single Rider line will be separated from the rest of their group during the ride experience. If two people together enter the Single Rider line, they will NOT be able to ride together in the same Millennium Falcon cockpit.
A large portion of the ride queue will be skipped. This can be a good thing if you have seen the queue before. However, if it is your first time riding, I highly suggest you go through the main attraction queue to get the full Smugglers Run experience. There are many interesting things you need to see there at least once.
Don't ask to switch roles. Even though you might desperately want to be the pilot, single riders are seat-fillers and it's mad manners to ask other riders to switch roles with you. Take what you are given and be happy.
What Role will I Get as a Single Rider?
Since you are a seat-filler and won't get the priority, the majority of times as a single rider you will get the Engineer role since it's the least desirable. You may luck out and get to be a pilot, but try to be happy with whatever role you are given.
How Long is the Wait as a Single Rider?
Usually as a single rider you can make it into the Millennium Falcon cockpit within 15-20 minutes. This depends on how busy Galaxy's Edge is the day your visiting and how many other people have entered the Single Rider queue.
What Will I Miss by Using Single Rider?
As we mentioned, the Millennium Falcon: Smugglers Run queue is one of the most detailed and interesting queues in any Disney park, and if you choose to use the Single Rider option, unfortunately, you will miss part of it.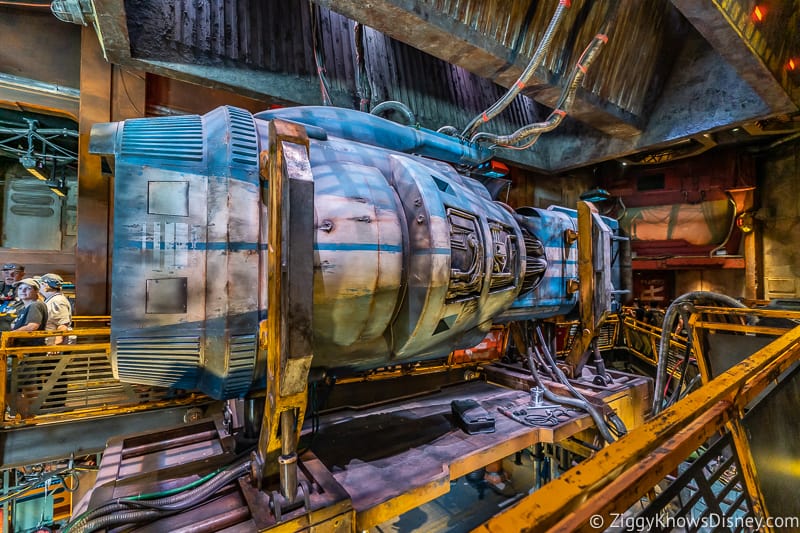 Here is what you WON'T see:
Millennium Falcon up-close, both from the outside below the Falcon and inside from the windows above. Both are great photo opportunities.
Hondo Onahka Animatronic figure. This is definitely one of the highlights of the entire Smugglers Run experience and the Single Rider option puts you out past him already so you miss the whole pre-show area with him.
Engine Room/Mechanic Shop. Having up in the middle of the mechanic shop there is a huge engine that fires up and then breaks down, with some cool effects.
Single Rider picks up after the pre-show with Hondo, so you immediately go to the part of the queue when you're already INSIDE the Millennium Falcon. You enter in the "Main Hold" (aka the chess room) and can still take a picture at the table or in any of the Falcon's hallways or corridors.
Does Smugglers Run have Rider Switch?
The same way as it works for many Disney attractions, if you have a young one in your party that is not tall enough to ride the Smugglers Run attraction, you and your partner can choose to use the Rider Switch program (also called "Child Swap").
This allows you to take turns with one person riding and the other staying behind with your little one, and then switching, all the while not having to wait the full time in queue.
How Does it Work?
Approach a cast member at the entrance to Smugglers Run with your whole party present and tell them you would like to use the rider switch program.
The guest in your group going second will be given a card saying they can use the rider switch.
Guest number 1 goes through the standby queue as normal and rides the attraction.
Once you mission is over, guest one goes back to guest 2 to take the young child.
Guest 2 gets in line but can bypass the main ride queue, saving a ton of time.
This should save you a bunch of time and make it so you don't have to have both guests waiting the full amount of time in line.
Guest Accessibility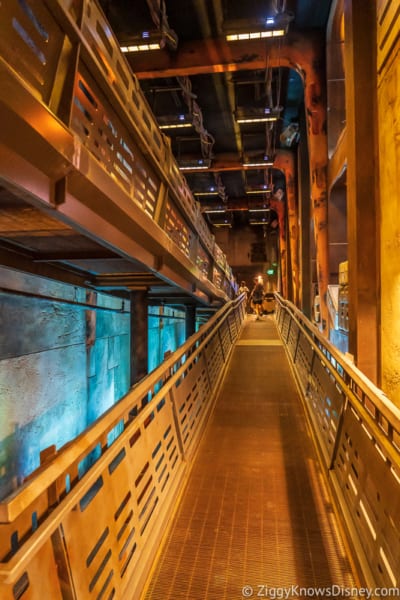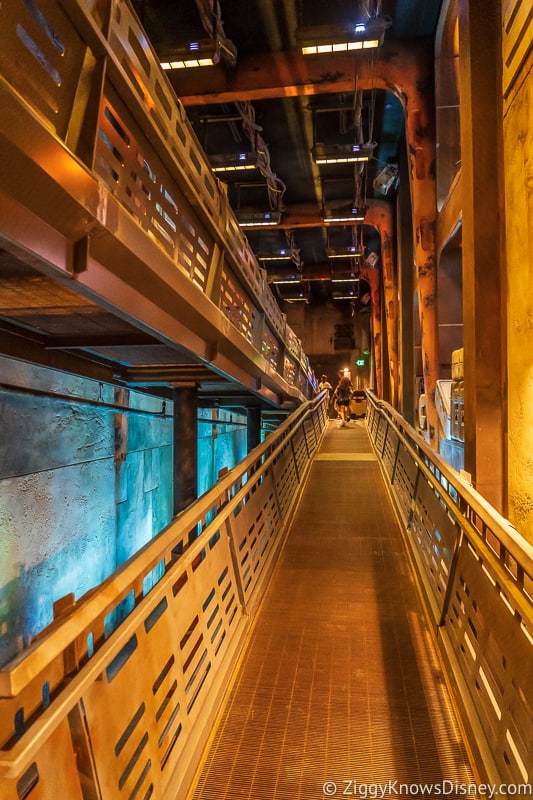 Just because you might ride around Disney in a wheelchair or scooter, doesn't mean you can't experience Millennium Falcon: Smugglers Run like the rest of the guests. There are plenty of ramps and elevators which you can take up into the loading area.
Smugglers Run is accessible for ECV's, Wheelchairs, and any other accessibility device.
Just ask assistance from a Cast Member and they will then direct you to the loading area.
Depending on if you need an elevator or just the ramps will determine how much of the queue you are able to see. You will definitely see:
Hondo animatronic figure and pre-show
"Main Hold" – Chess Room
If you take the elevator you will miss:
Mechanic props and
Millennium Falcon up close and through the windows.
Millennium Falcon: Smugglers Run Roles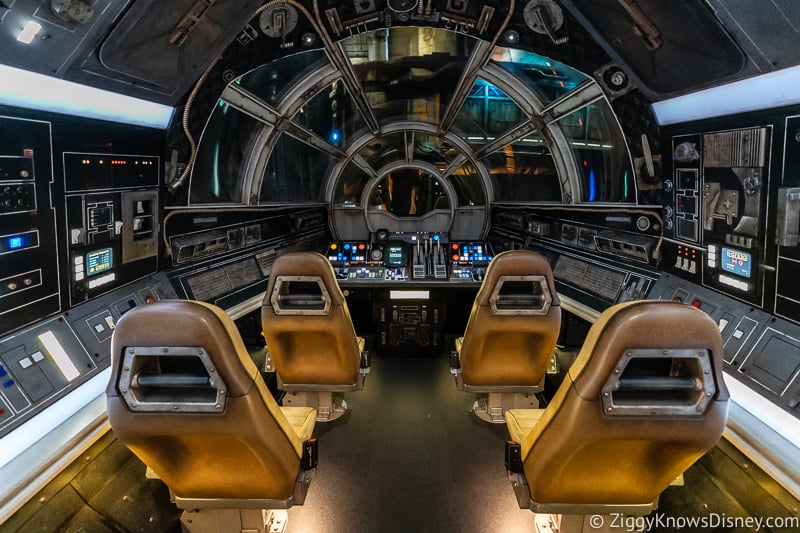 Each guest onboard the Millennium Falcon will have a specific role required for your group to complete their mission. The different roles are as follows:
Pilots: Steering he ship and making the jump to hyperspace
Gunners: Shooting down the incoming TIE Fighters
Engineers: Repairing any damage taken by TIE Fighters
The Millennium Falcon cockpit holds 6 crew members, 2 for each of the 3 roles listed above.
The cockpit is set up in 3 rows: pilots in the front, gunners in the middle, and flight engineers in the last row.
How Does It Work?
Just before entering the Millennium Falcon, guests are split into boarding groups. There are 6 people to each boarding group and each person is given a boarding card with the role they will be performing during the mission.
Then, right outside the cockpit Hondo reappears on a monitor explaining your pre-flight specifics, the role of each rider and the details of your mission.
Riders enter the cockpit: Pilots first, Gunners second and Engineers third. Buckle up and get ready for the wildest ride in the galaxy!
Which Role is Most Fun?
This is subjective and it depends if you want to have a more passive experience and sit back and enjoy the ride, or if you want to be more active and have a greater outcome on the success or failure of the mission.
Pilots have the most difficult job, but perhaps the most rewarding. They have to steer the ship, which ultimately will determine if you are successful or not.
This is my favorite role as it's the most stimulating, and you have the most control over the ride experience. The Millennium Falcon in the hands of the wrong pilot will be a very bumpy and unpleasant ride.
Gunners have a lot to do in firing at incoming enemy ships, but the experience can be somewhat boring at times. It's a lot of smashing the same button over and over as fast as you can and gets old after a couple of minutes.
Engineers are in the back row and have the best view of the cockpit, getting to see all the action. The most passive of the 3 roles, but I find it more enjoyable than being a gunner.
General Tips for the Roles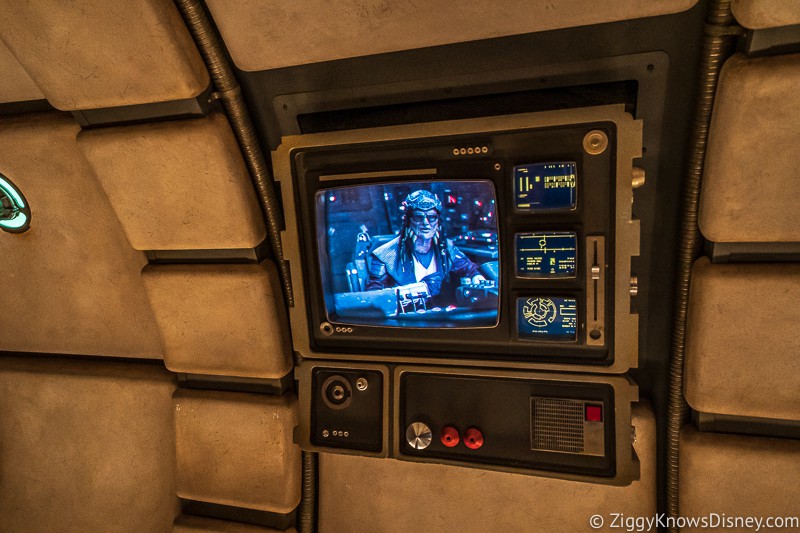 Pilot –
Most difficult of the 3 jobs for beginners
The left pilot controls the left to right direction of the Falcon, while the right side pilot controls the up and down movement.
You can purposefully crash into things during the mission if you want to give the rest of the crew some action.
Remember, forward on the controls makes the Falcon go down, pulling it back makes the Falcon go up.
Gunner –
The most boring of the jobs
Can make your hand tired continuously smashing the fire button
Auto-gunner will take over for you if you don't play along
Try to site on the side of the cockpit which corresponds to your dominant hand. Sit on the right side if you are right-handed, left side for left-handed. This way you will tire out less quickly.
You can choose between "Manual" or "Automatic" mode, Manual being much more complicated with multiple buttons involved.
Engineer –
Most relaxing of the 3 roles
Engineers have the highest seats and the best view. If you are shorter, this is a good place to be.
The shape of the seat however is uncomfortable for guests over 6 feet tall.
Can I Switch Roles Once they are Assigned?
As long as the other members of your group are willing, yes, you can switch crew member roles in the Millennium Falcon. Once the crew member hands you and your crew your color cards, you are free to switch them amongst yourselves.
Which Spot is Best for Kids?
The best spot for kids on Smugglers Run is going to depend on their age and what they like to do.
Being a pilot is the most difficult job to do, so if they are under 10 years old they might find it difficult to perform well. If they are a teenager then they will probably love to fly the Millennium Falcon.
Gunner or Engineer are both easier to do and really only require your kids to smash buttons, something any young one is already used to playing video games.
The first time through I would suggest giving them one of the easier jobs, then as you ride a second time, leave it up to them to decide what they want to try.
Ride Review and Full Walkthrough
We've been on the Millennium Falcon Smuggler's Run Ride now countless times, and we're going to give you a full walkthrough of the ride queue, and ride vehicle (cockpit really) and show you all the details there. We're also going to give you our full review of the attraction and a description of what to expect when you go.
Here is our Video Walkthrough of Smuggler's Run from our experience there.
Now we're going to give you a full walkthrough with pictures of the Millennium Falcon: Smuggler's Run from the very first time we rode it.
CAUTION: If you don't want to be spoiled by any of the details and would rather be surprised, now is the time to get out.
Ok, sticking around? Let's blast into hyperspace!
The Story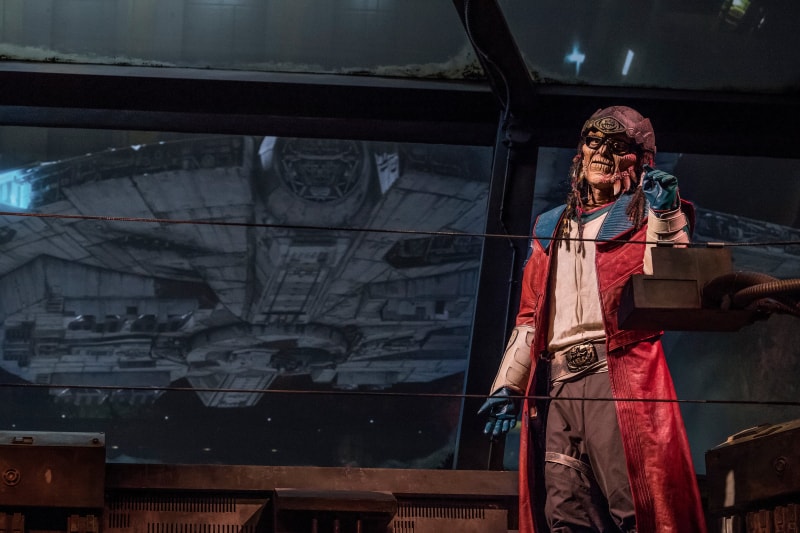 The Millennium Falcon: Smuggler's Run has a pretty extensive and interesting backstory you'll want to pay attention to as you walk through this hyper-detailed area. Everything starts in Black Spire Outpost, the main village on Batuu and where most of the attraction happens.
If you aren't familiar with Hondo Ohnaka, he's a character from the Rebels TV series and he will. Play a critical role in Smuggler's Run. If you're used to Hondo from rebels, this is a slightly older version of the character, but still voiced by Jim Cummings.
What Does Hondo Want?
Hondo is now running a "legitimate business" out of the spaceport, called Ohnaka Transport Solutions in Black Spire Outpost. He tells you in the pre-show that he has more cargo than he can handle, and he wants your help making the runs for him.
Chewbacca has lent Ohnaka Transport Solutions the Millennium Falcon to make these "deliveries," and Hondo hires you to help make sure they get where they need to go, and on time.
Just make sure not to ask too many questions about the cargo or how Hondo acquired it. And make sure you don't lose it either, you don't want to see him mad!
Ride Queue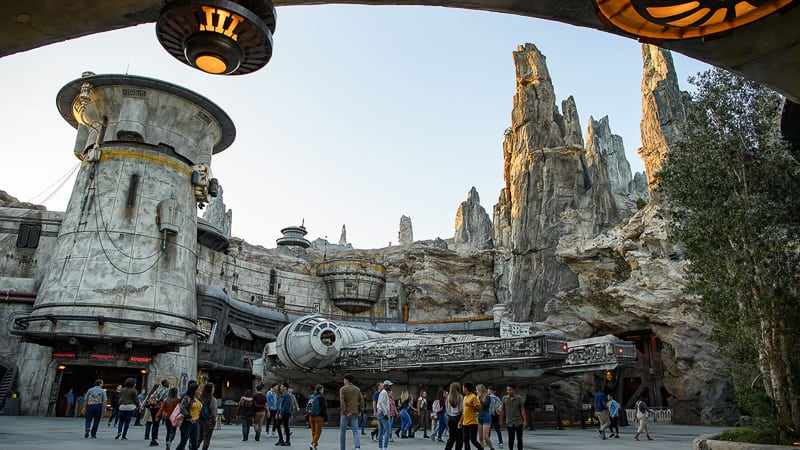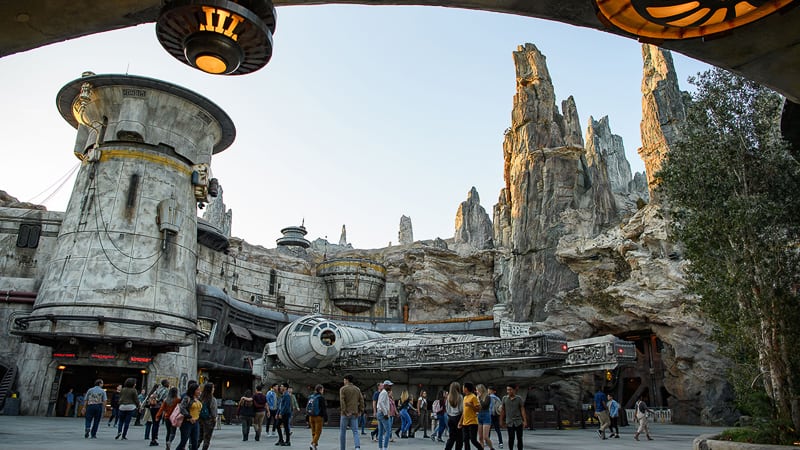 Most attraction queues start out slowly and as they lead you towards the beginning of the attraction, there's a build-up to the most interesting part of the queue. Not true on Smuggler's Run. The queue's crown jewel is by far the Millennium Falcon itself parked right outside.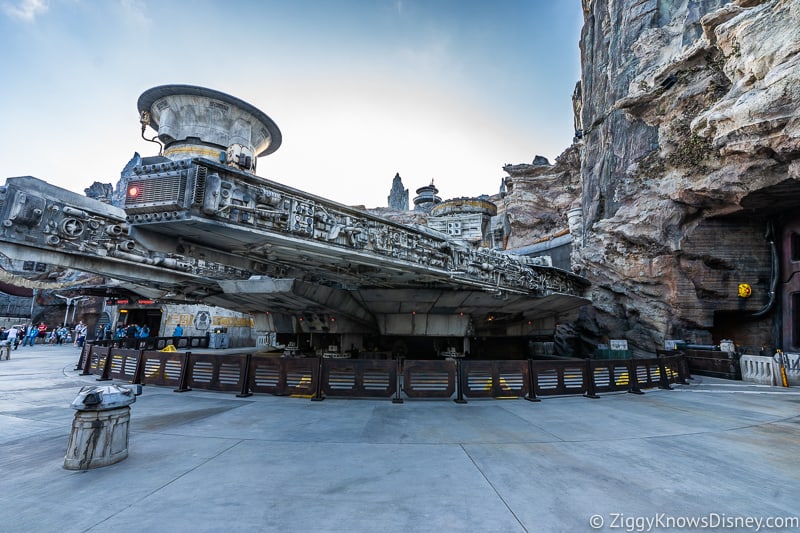 I know by now you've seen a million photos of the Falcon before even stepping into Galaxy's Edge, but this is beyond impressive. It serves as the castle-like object that is the main focal point in Galaxy's Edge, and impossible to miss or not be impressed by.
It will literally take your breath away, trust me: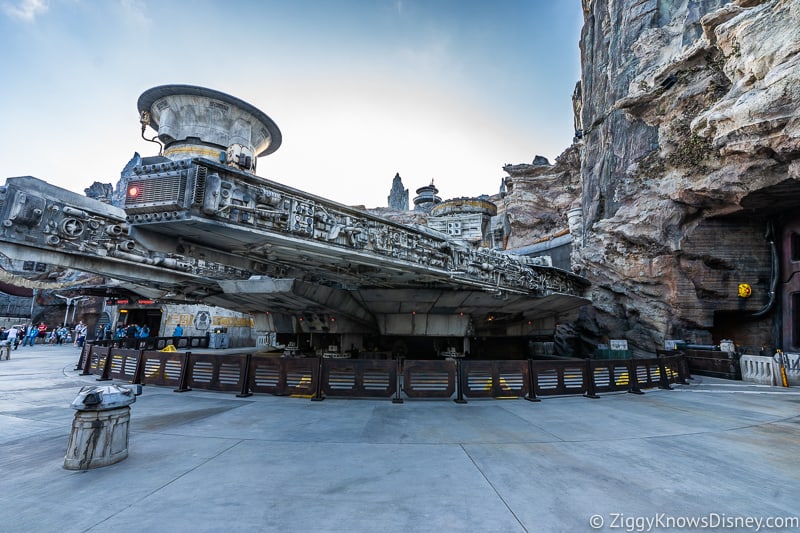 Before you even get going inside the queue, a shot next to the famed Millennium Falcon will be a right of passage in Galaxy's Edge and your first photo stop.
First of all it's HUGE at 112 feet long. As you get up close to it you can see that Disney spared no expense in making it as realistic as possible. It sits outside a spaceship maintenance bay with 135-foot petrified trees standing tall above it.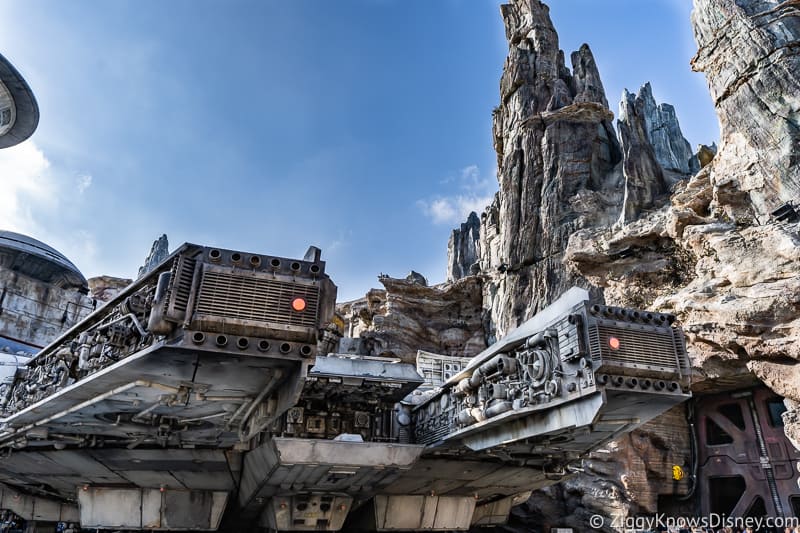 It's breathtaking and don't be surprised to see a few grown men shed a tear or two for its beauty.
The details are incredible. You can even hear its engines spooling up and the vent thrusts gassing while docked outside, and you might just see Chewbacca looking for the right parts to get it up in space again.
Look at these close-ups and how realistic it is: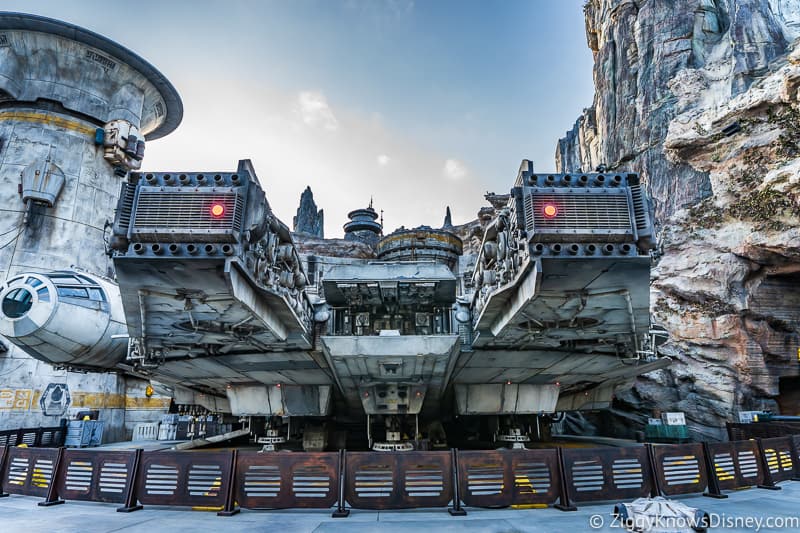 I was thoroughly impressed in every way with how realistic it is. Just amazing!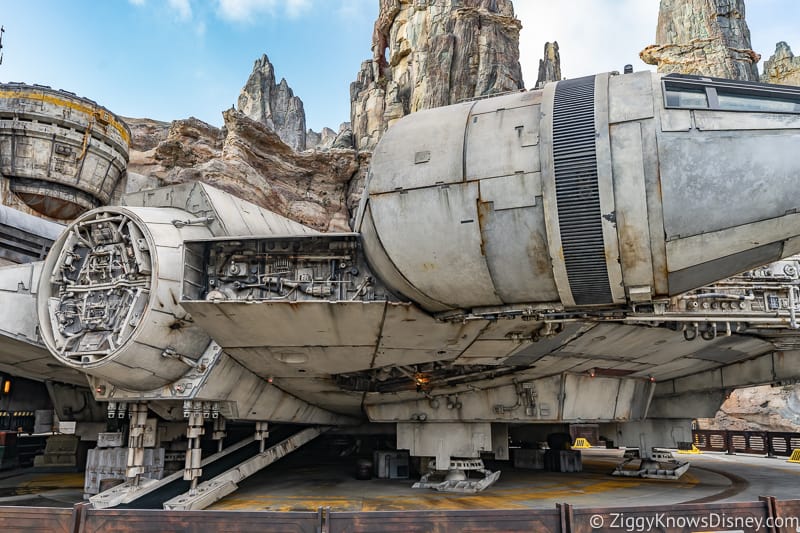 Now let's go inside and get in the queue: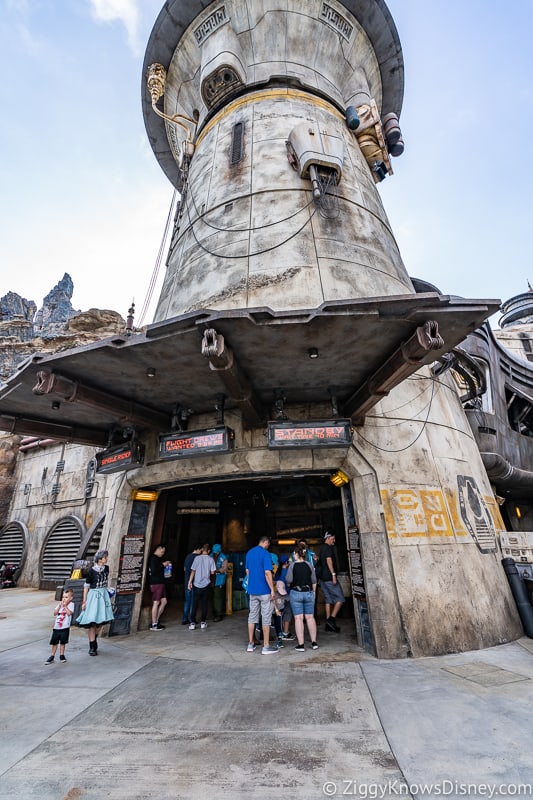 As you move to the left of the Falcon a door leads you inside Ohnaka Transport Solutions into a highly detailed and themed environment that's on par with the queue for Flight of Passage. That's saying a lot since that is my favorite Disney queue of all time, but it really is awesome!
The queue starts on the outside of the Falcon and wraps around the back: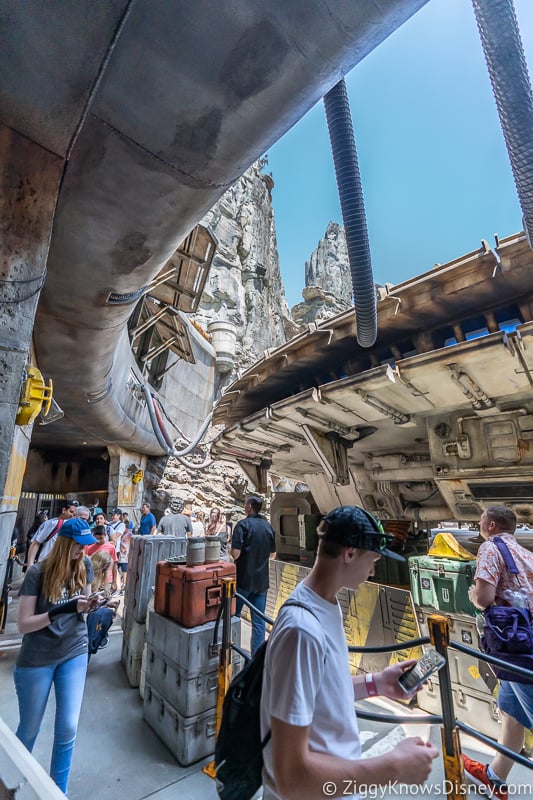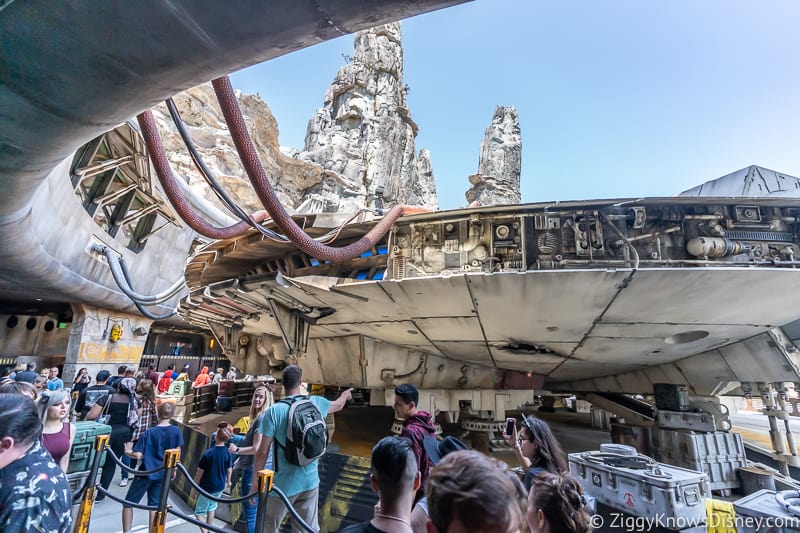 If you look down you can see under the Falcon and how it's being propped up on its landing gear: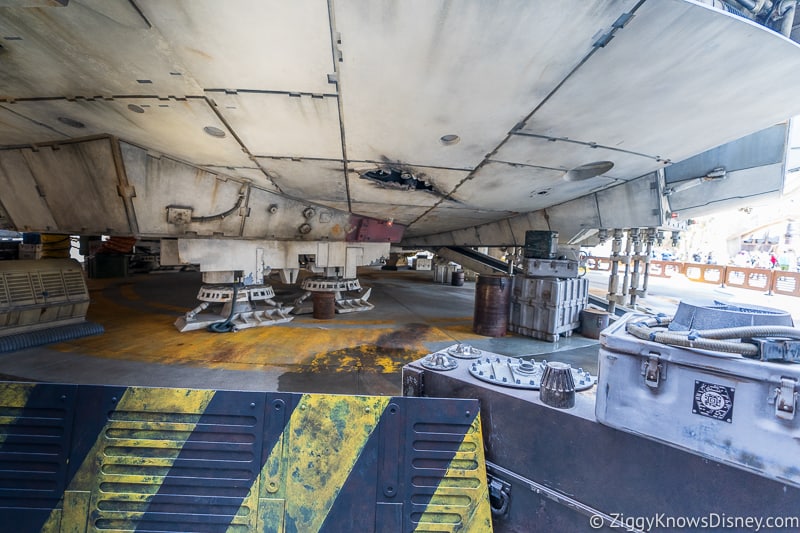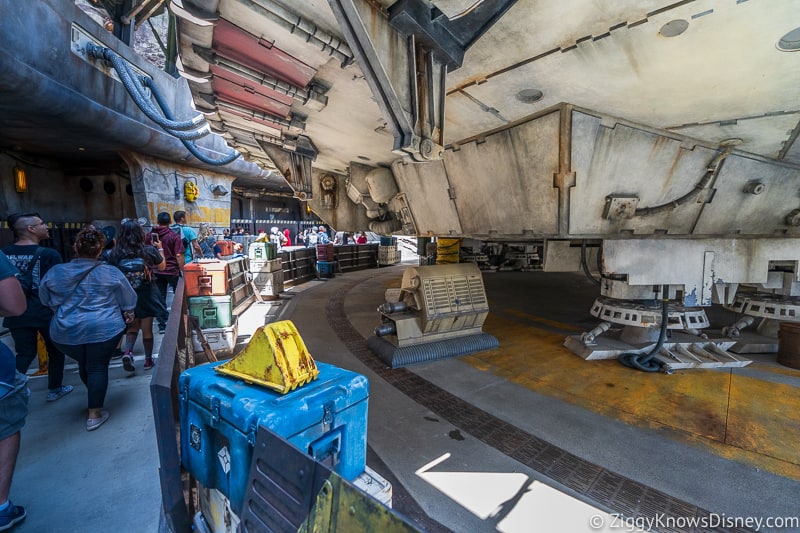 Is this real right now?? We're really up close with the Millennium Falcon!!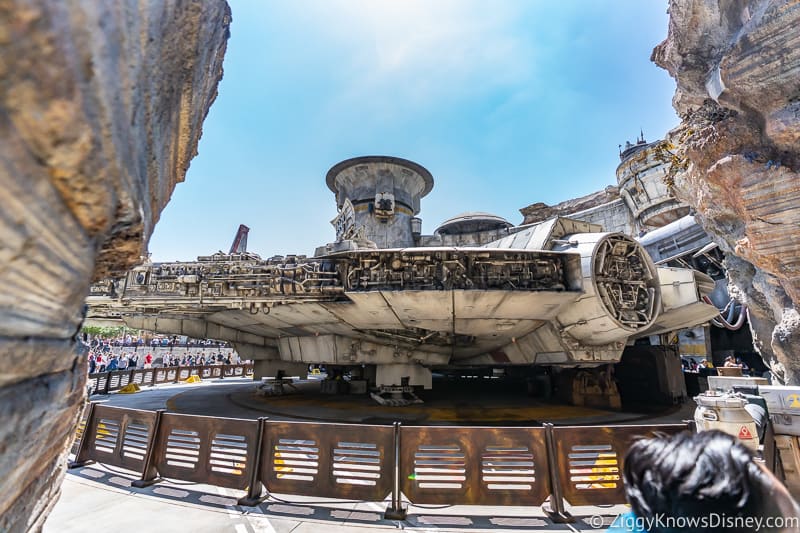 Once you pass the Millennium Falcon you end up in this corner where you switch back to do it all again: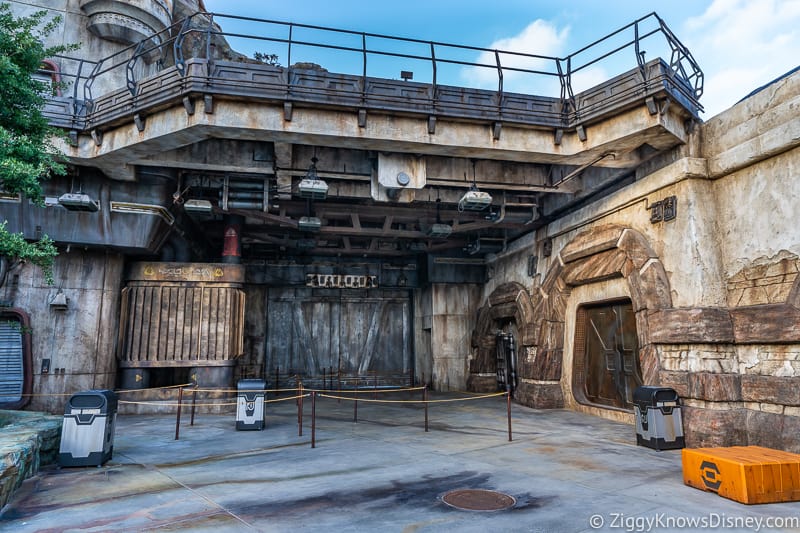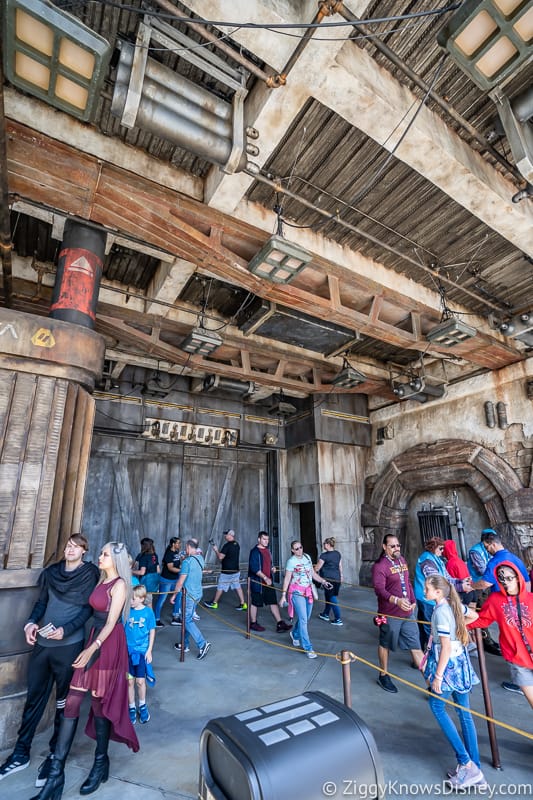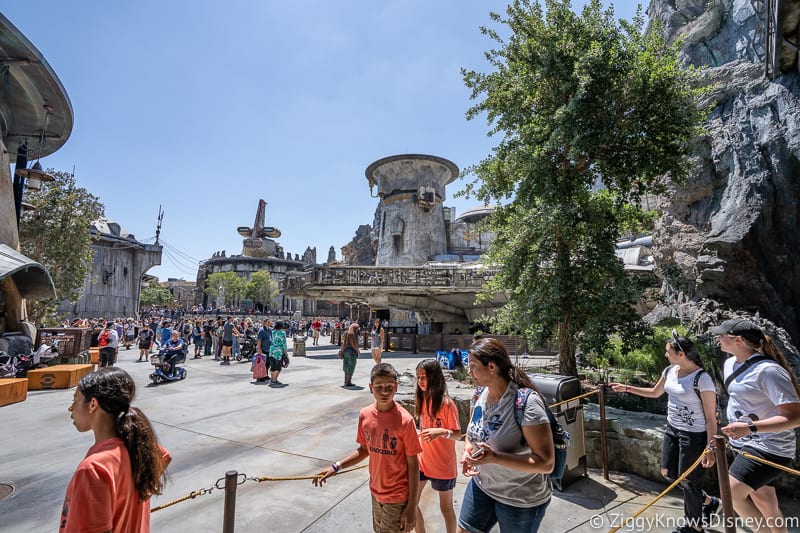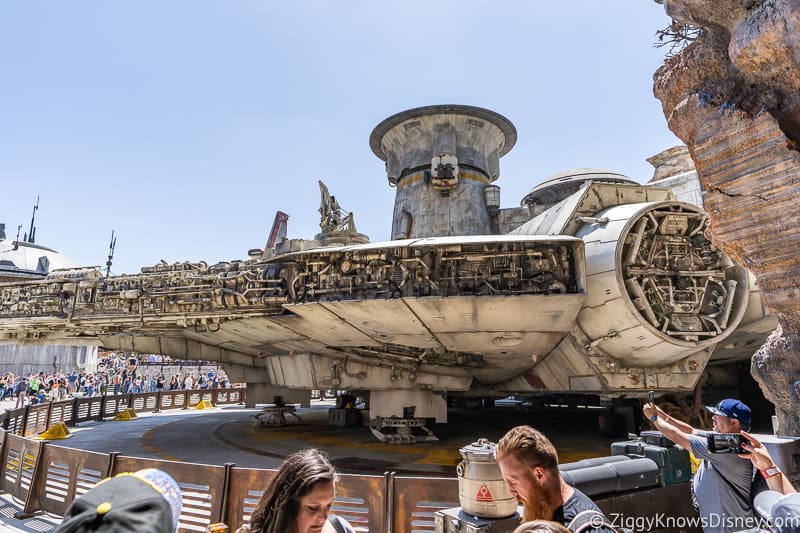 This is our first close look at the rockwork and it's almost identical, barely noticeable that it's not real stone. Look at those colors in it: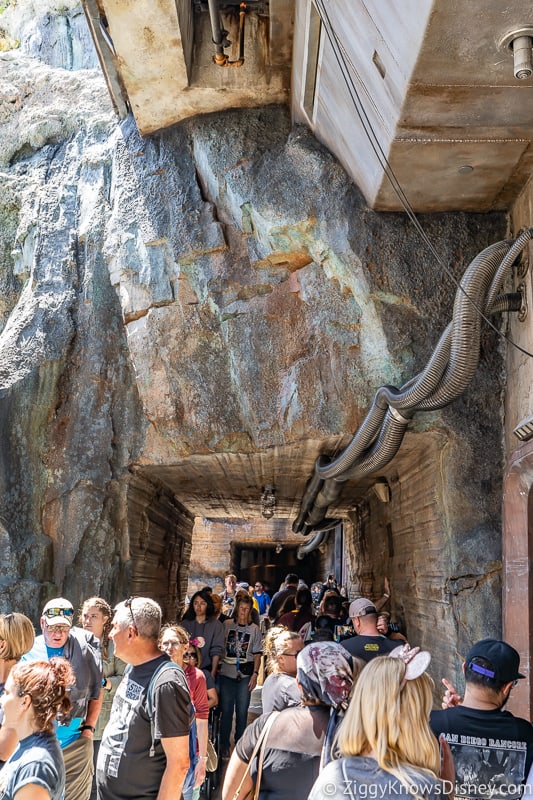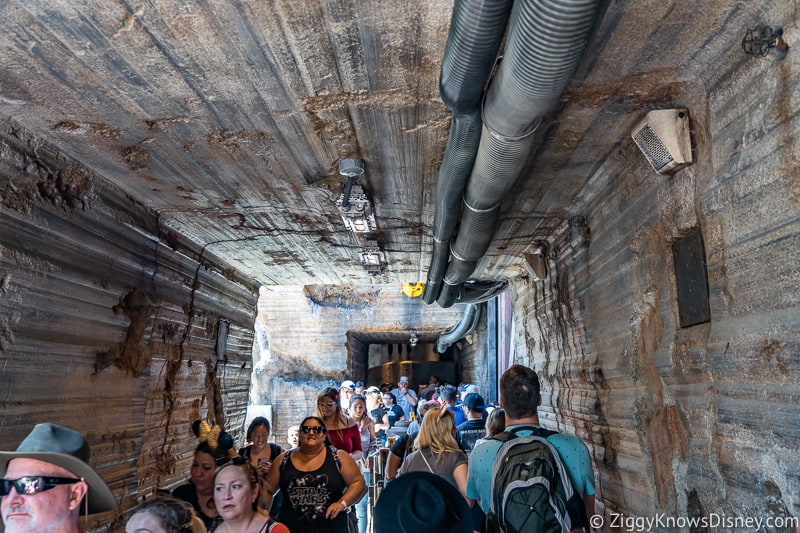 Look at all the cool details above you like this loudspeaker and those exhaust cables coming out of the wall: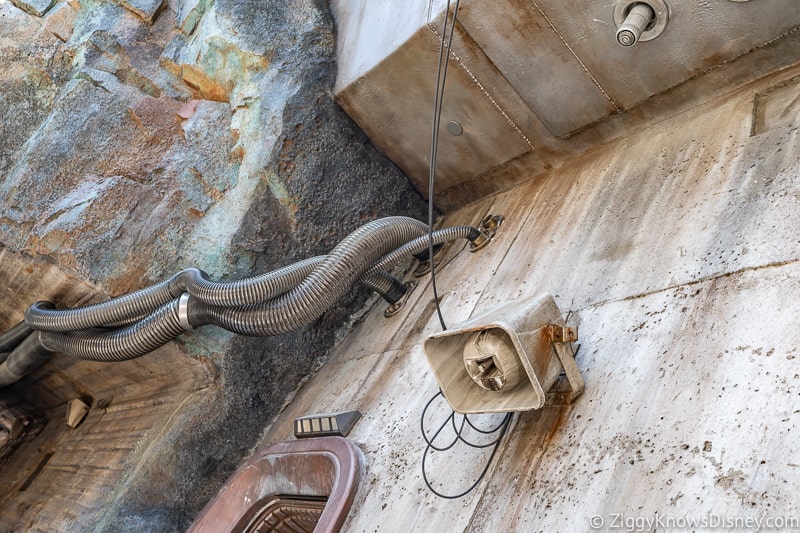 A huge window which we'll soon see the inside of that looks out at the Falcon: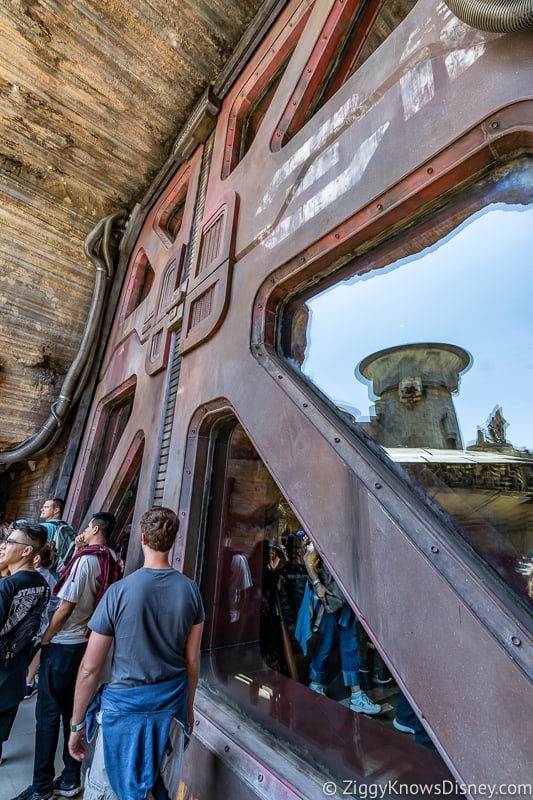 And some writing in the official language of Batuu, Auerbesh: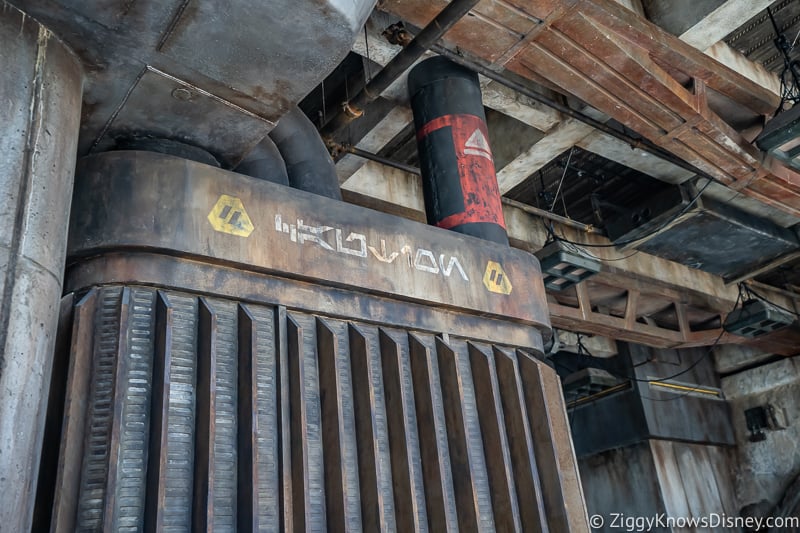 TIP: I feel like this is a good time to tell you to make sure you have your Play Disney Parks app turned on and ready to go because there are so many interactive spots in this ride queue you will have a blast trying to find them all while waiting!
Let's go towards the entrance to Ohnaka Transport Solutions: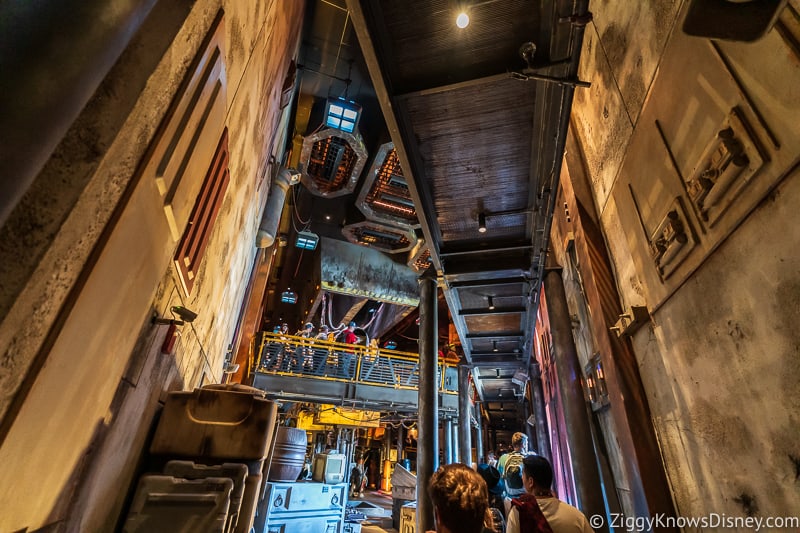 This is supposed to be the mechanic's shop for Ohnaka Transport Solutions and that is made evident the further into it you go: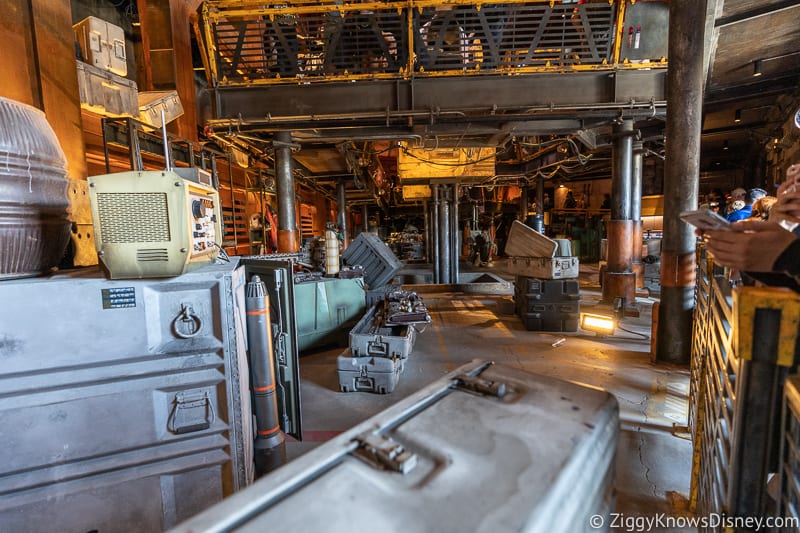 All around there are easter eggs that Disney Imagineers left for you to find and you get a real taste for the shady type of business Hondo is running. There is equipment all around the rooms, stormtrooper armor used for smuggling, blaster holes in the walls and big grease stains on them that will leave your imagination running wild.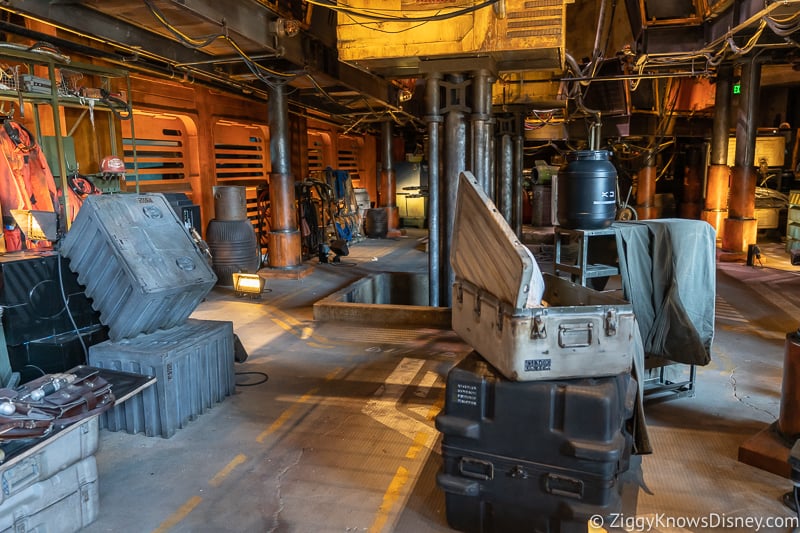 Here are some boxes probably full of parts to fix whatever ships come in.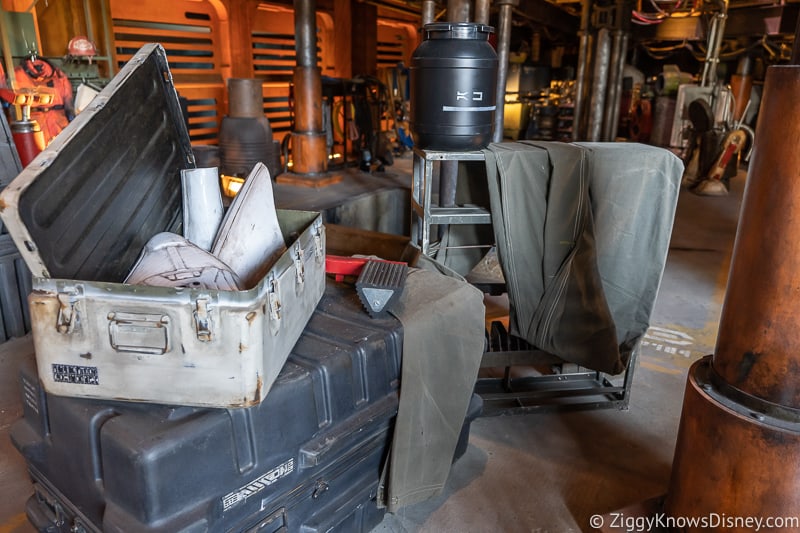 You start on the ground floor and you can see the underside of the lifts used to work on engines and the like: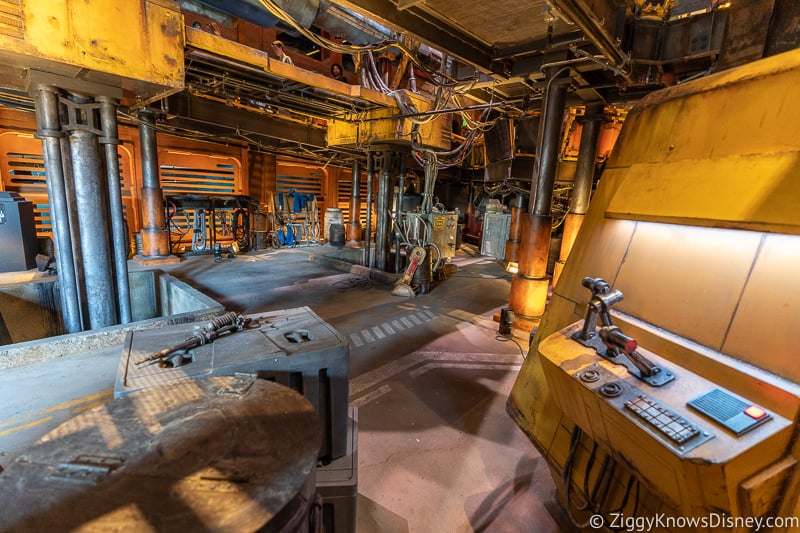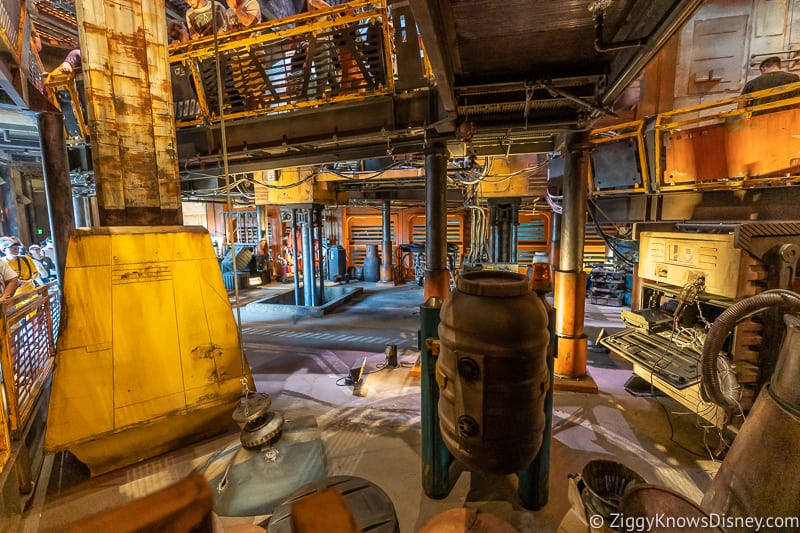 The queue goes along the right side of the room until the ramp starts taking you to the upper level: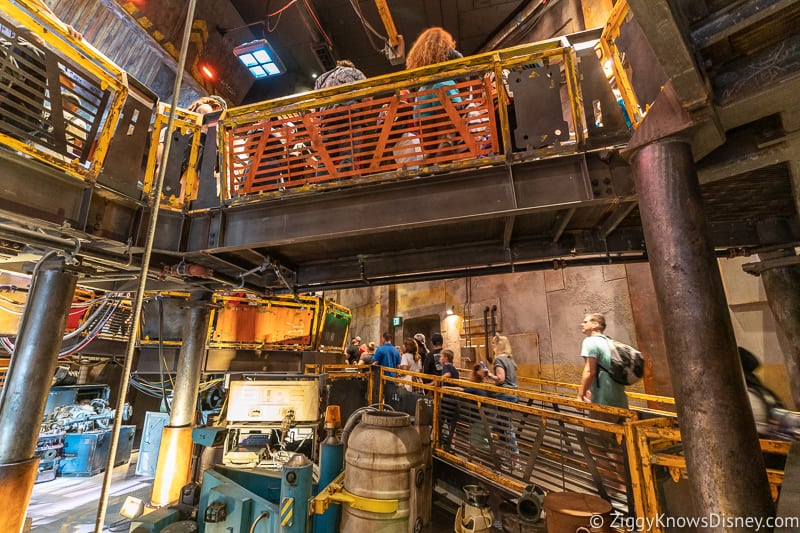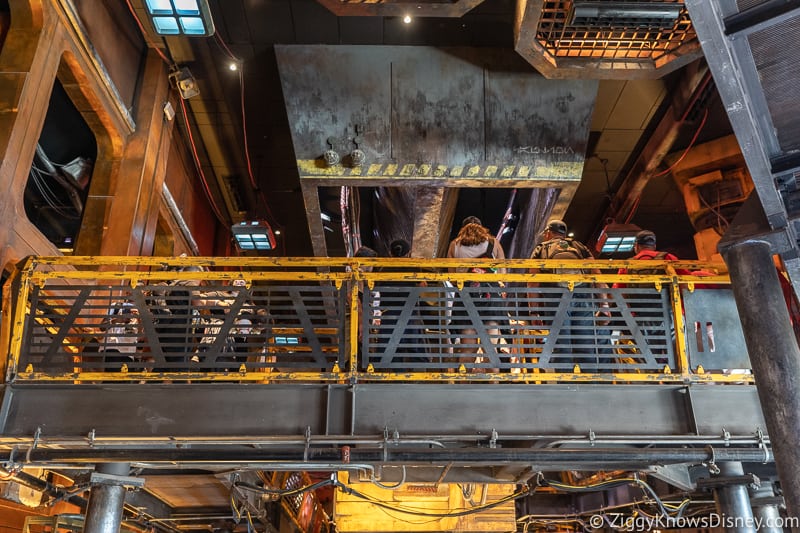 There are so many hidden doors in Galaxy's Edge, this one though is an emergency exit: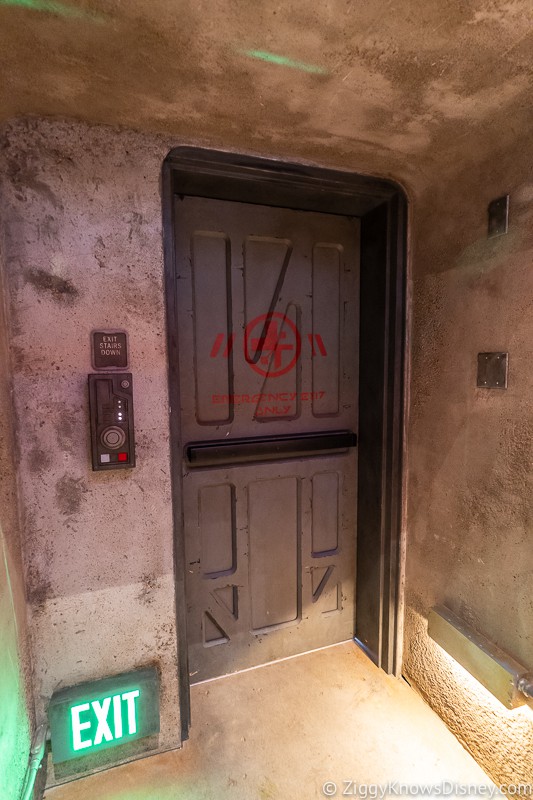 The ramp takes you up to the second floor into the mechanic shop where an animated blaster-riddled starship engine suspended from the ceiling glows a pulsating red, and other ships being repaired.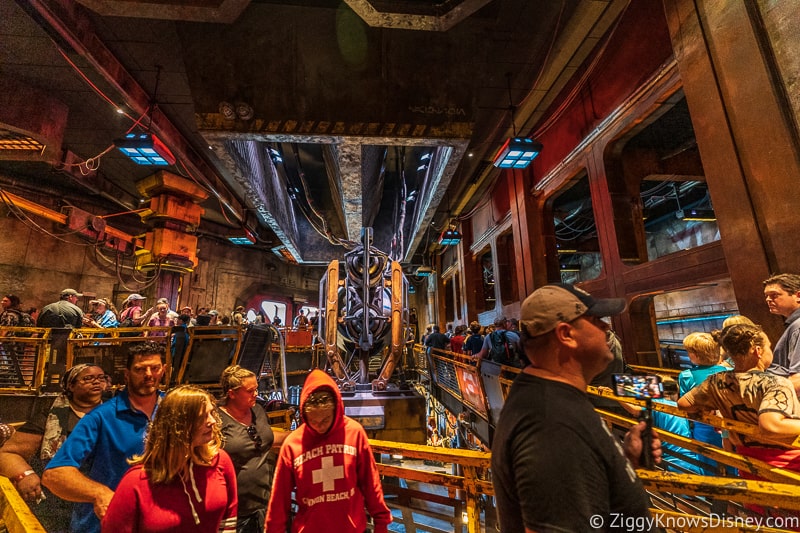 A look back down on the ground floor: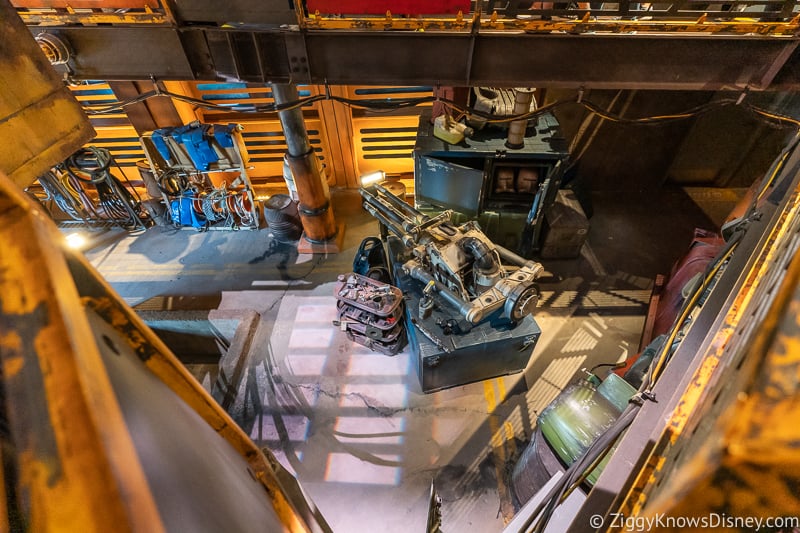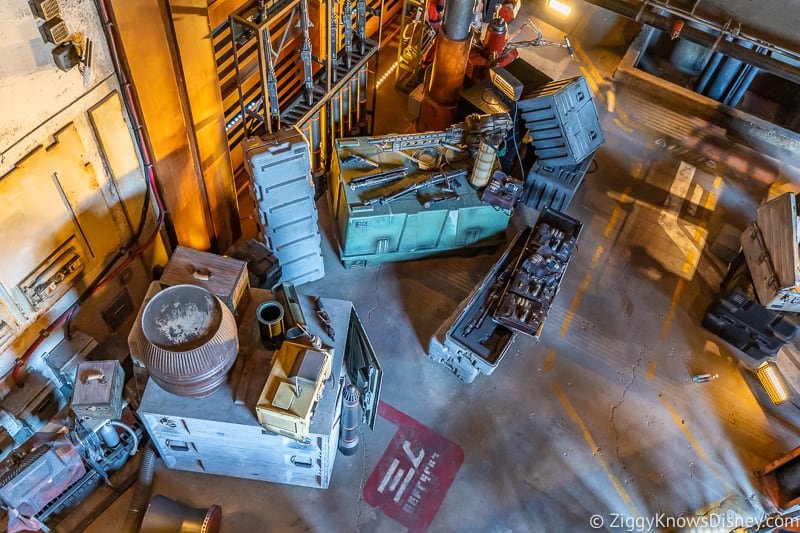 The picture doesn't do it justice but this room is enormous!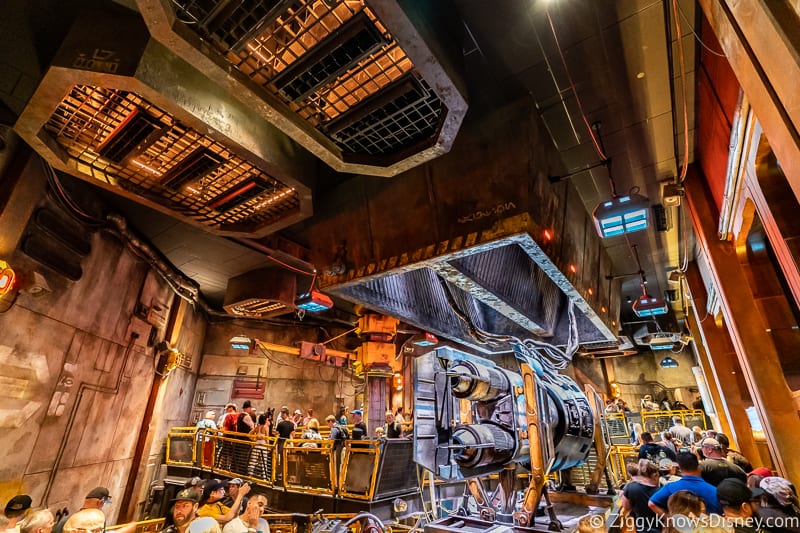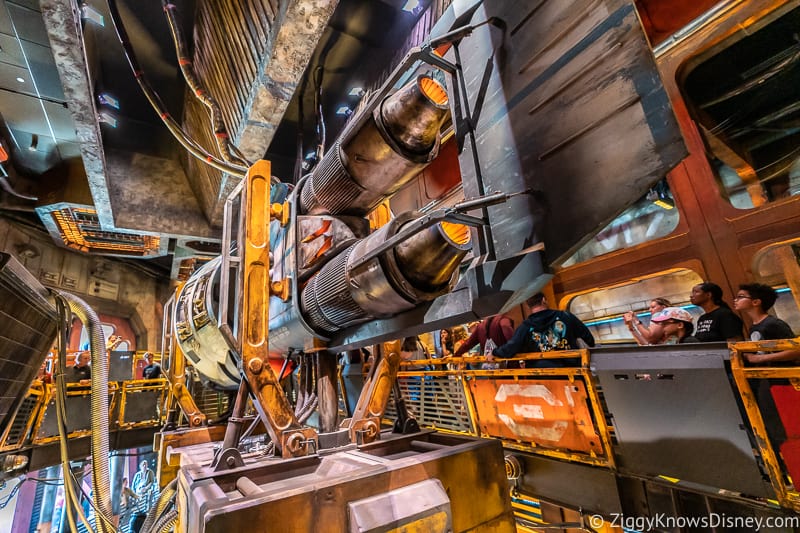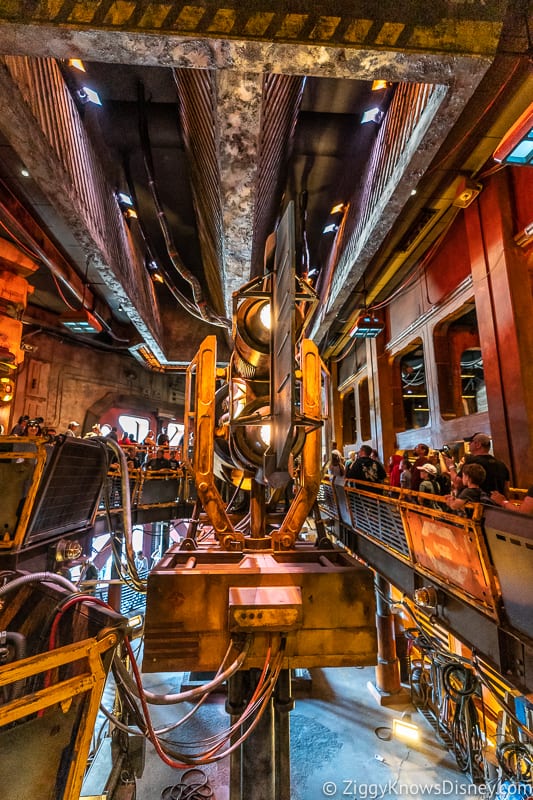 This engine is so cool and every once and a while it revs up and starts malfunctioning so you think it's going to explode or something. Such a cool effect!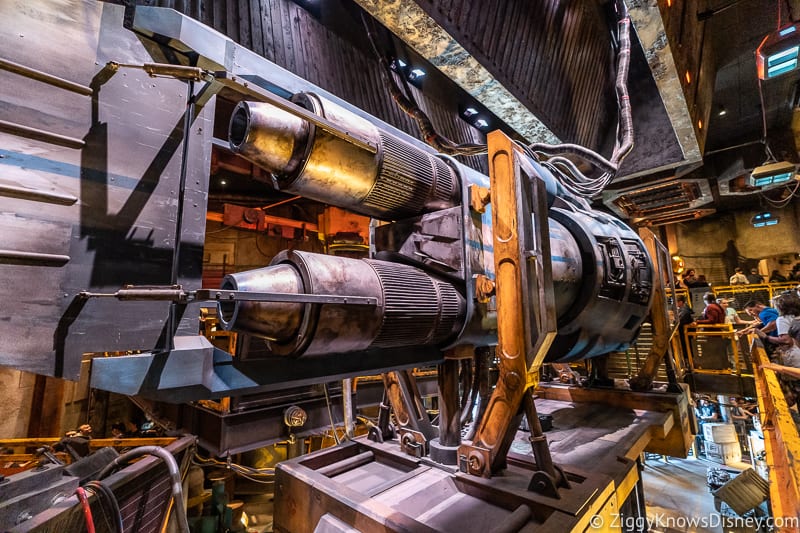 Looks like a real spaceship engine, again going to an extremely detailed level: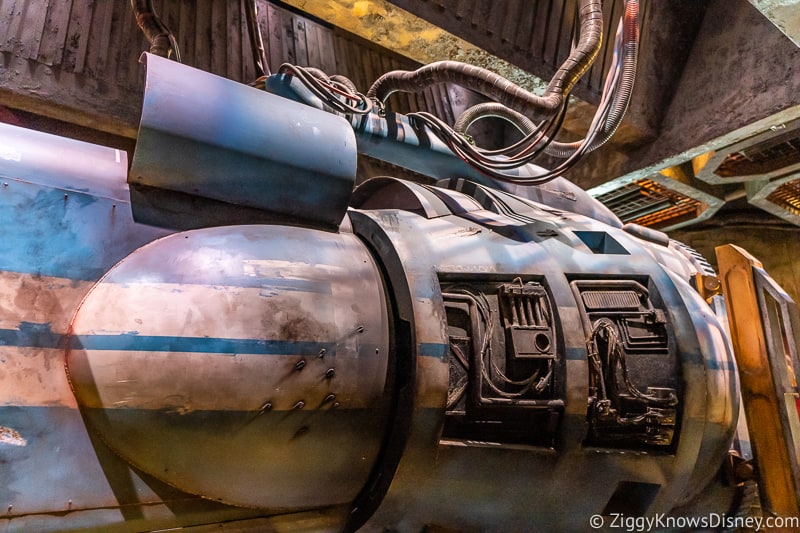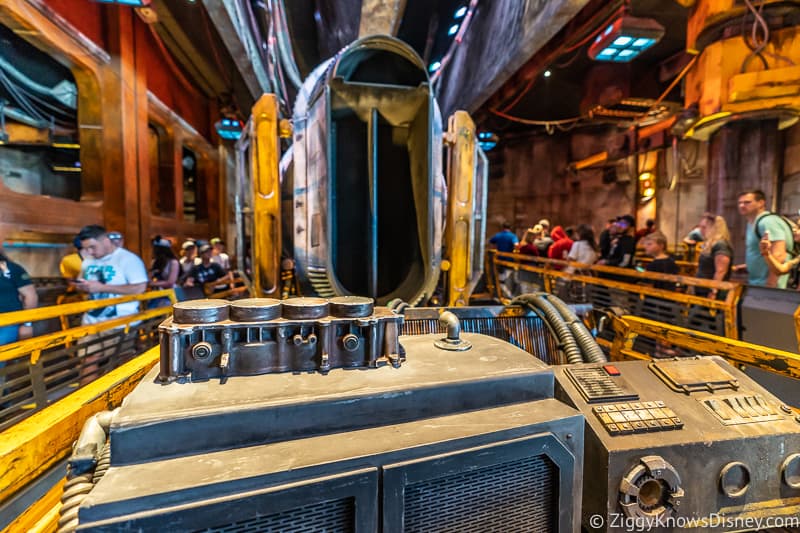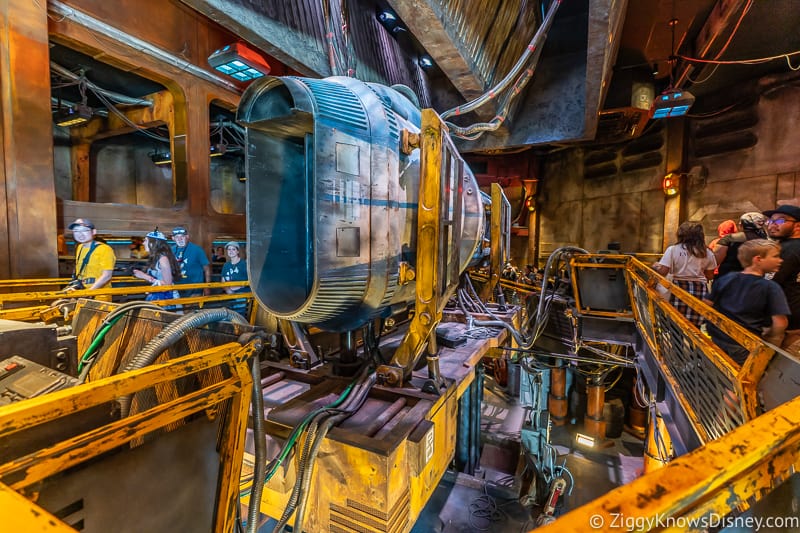 Though we would like to stay in here all day, we can't wait to see what's coming next!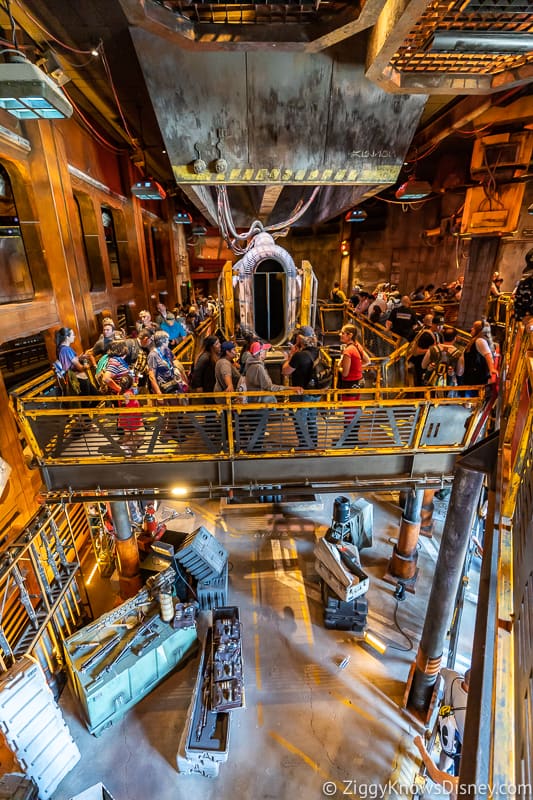 By this point in the Millennium Falcon ride, about 30 minutes had gone by I'd say, but there was so much to look at it didn't feel like more than 10. We felt like we had whiplash we kept turning our heads in every direction trying to soak it all in. So far, so good!
The next room has some huge windows with amazing views of the top of the Falcon and the rest of Black Spire Outpost. Check out all those hoses filling up the Falcon outside: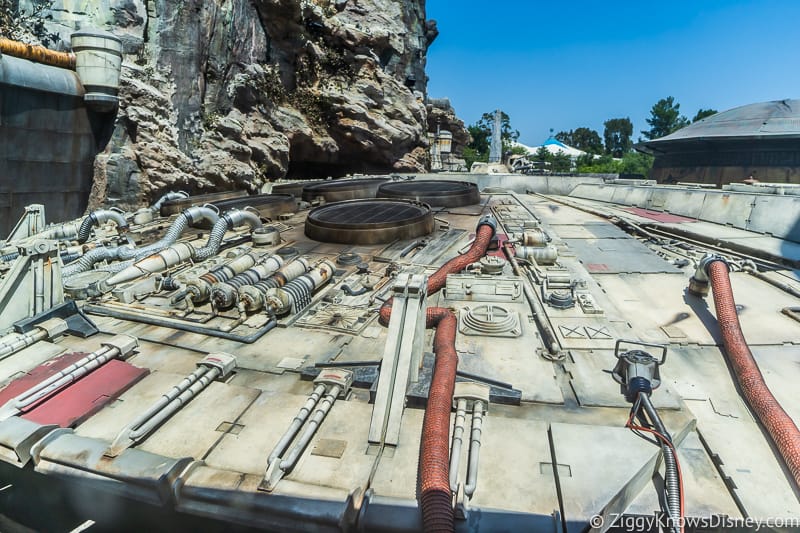 This is one of the only spots in Galaxy's Edge that you can see something from the rest of Disneyland Park. Look in the picture below and you can see just a bit of Big Thunder Mountain peaking out over the Millennium Falcon.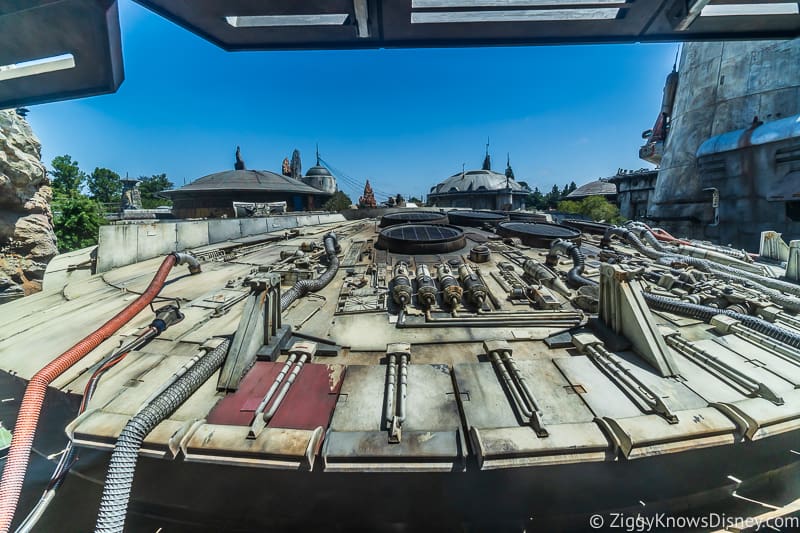 More cool details at the end of this room with lots of storage containers and cargo getting ready to be loaded up and smuggled out: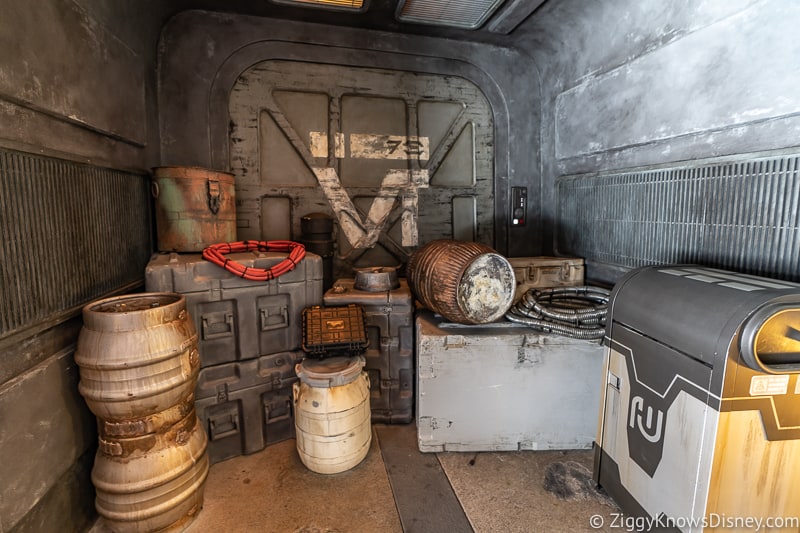 Some of the wall panels along the way. Incredible stuff here, it looks like we are in a real transport center: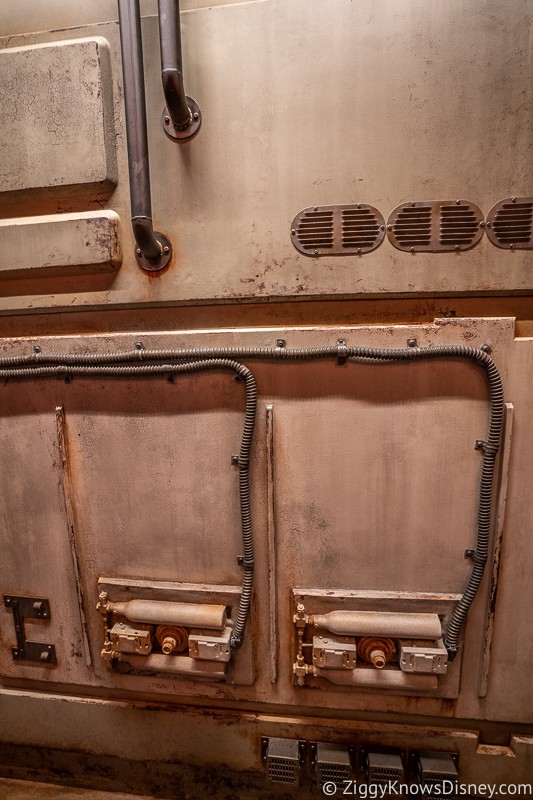 The line stops at this point and you wait to move into a holding room, so there must be a show scene coming up next: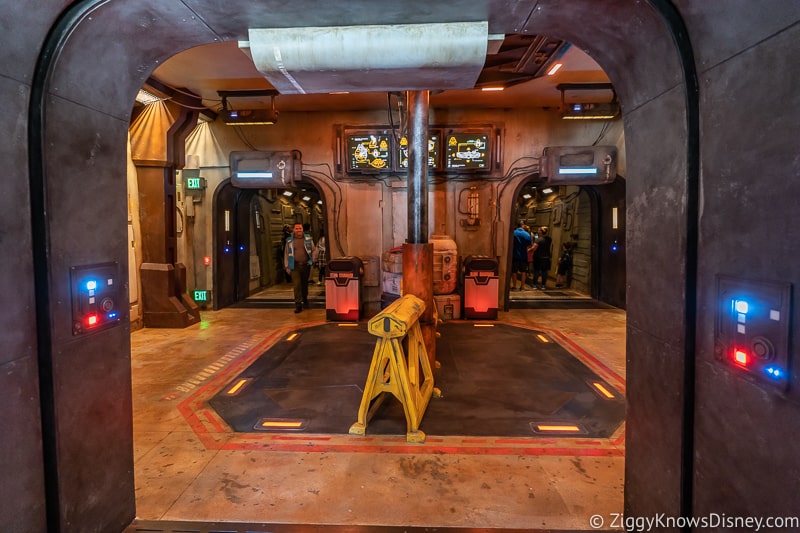 Display panels on the wall show the details of the Millennium Falcon: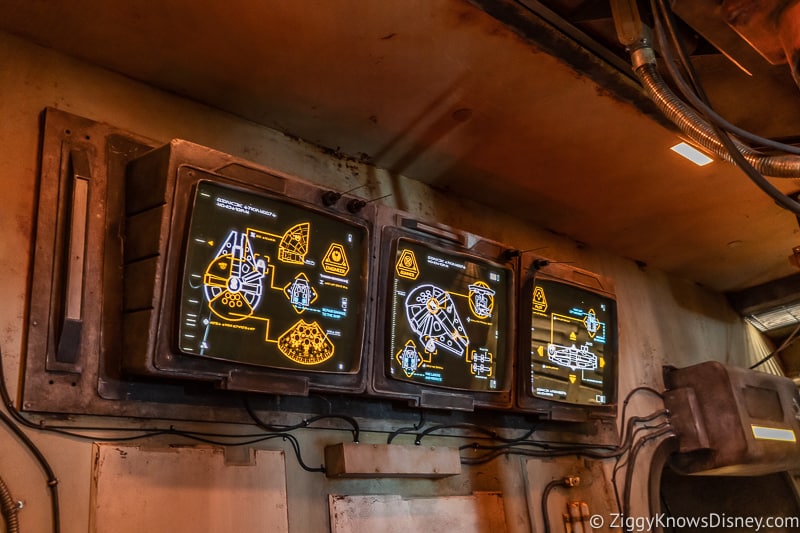 It was easy to tell something big was coming next. Now we get to one of my favorite parts of the queue…
Hondo Animatronic Figure
Up to this point the queue for the Millennium Falcon: Smuggler's Run had been amazing, and going to toe to toe with Flight of Passage for the best Disney queue, but it was about to get even better through those doors: where you meet the Hondo Ohnaka animatronic figure waiting for you find in the briefing room: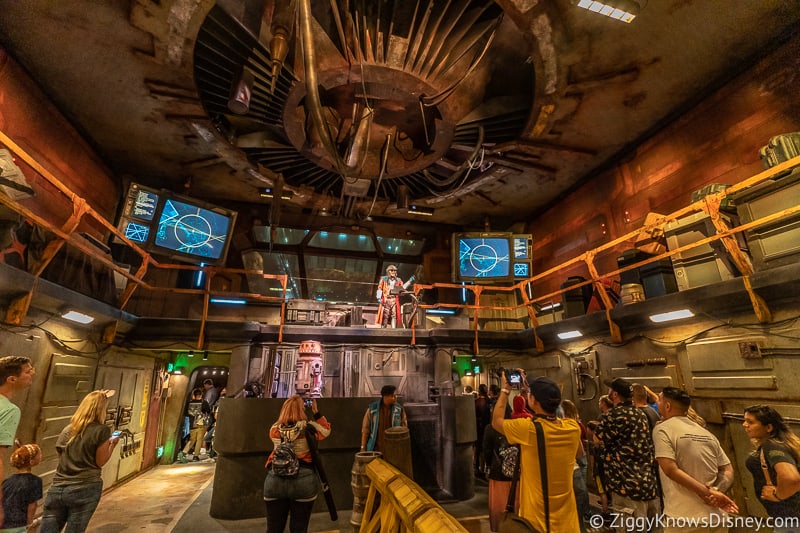 A look at the back of the room: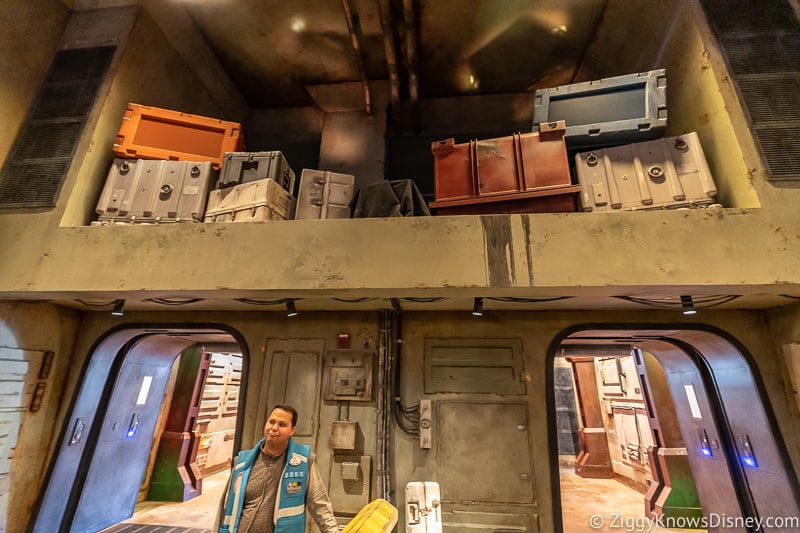 Disney attractions are known for their amazing audio-animatronics, but the Hondo Ohnaka figure in Smuggler's Run is something special. If you like the Shaman of Songs from the Na'vi River Journey, then prepared to be blown away again by Hondo.
But Hondo isn't alone here, he is also accompanied by his R5P8 droid with him in the command center and even talks to him which is really awesome to watch. This is where you get your briefing for the mission.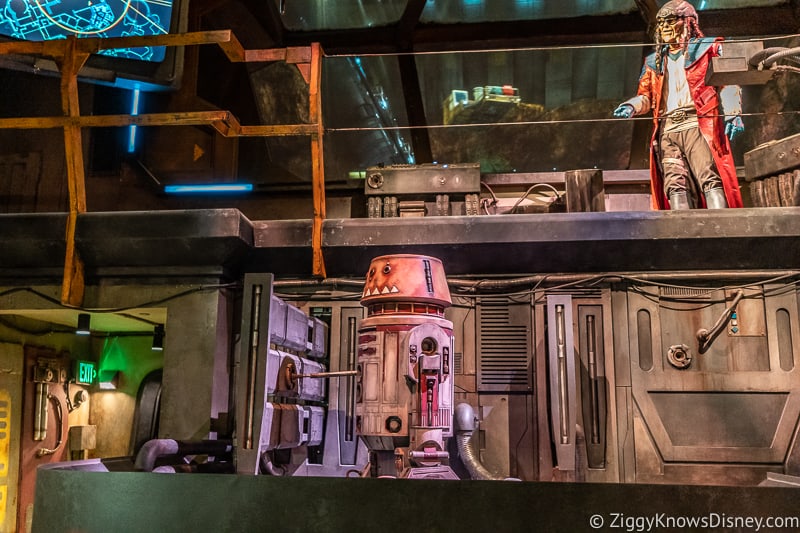 The way Hondo moves is so realistic and smooth it's insane, it's hard to remember he's not a real person. This is one of the most advanced audio-animatronics figures ever built. It has around 50 functions in total (movement points) is 7 feet tall and uses new electric motors to power for its movements instead of hydraulics. Only the Shaman of Songs in Pandora is more advanced.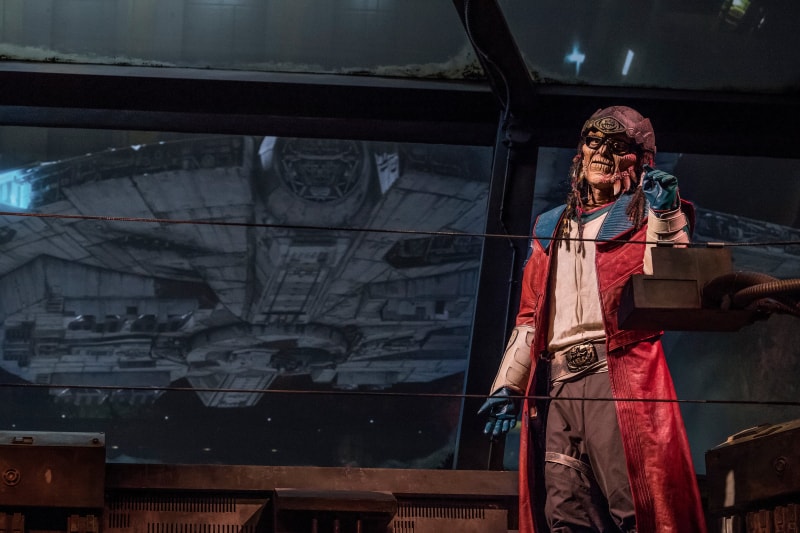 Everything about Hondo is impressive from the way Disney Imagineers have been able to sync up the audio with his movements to the smoothness of his facial features and fluidity of his motions. It's really special and something you have to see in person to fully appreciate.
Here's a behind the scenes video showing the technology behind the Hondo Animatronic figure:
Behind Hondo, once he's done with the mission, the Millennium Falcon is lowered down from its "parked" position outside the attraction into the hanger bay to where you and your fellow crew will board the iconic spaceship.
It's amazing how Disney can pull this off because it seems like the Millennium Falcon is being lowered down from its place outside and into the interior docking bay. It's all just an illusion though as it's all done with video and the real one never moves.
I thought the whole scene was fantastic and while I knew the Falcon wasn't being lowered down, they sold the illusion pretty well imo: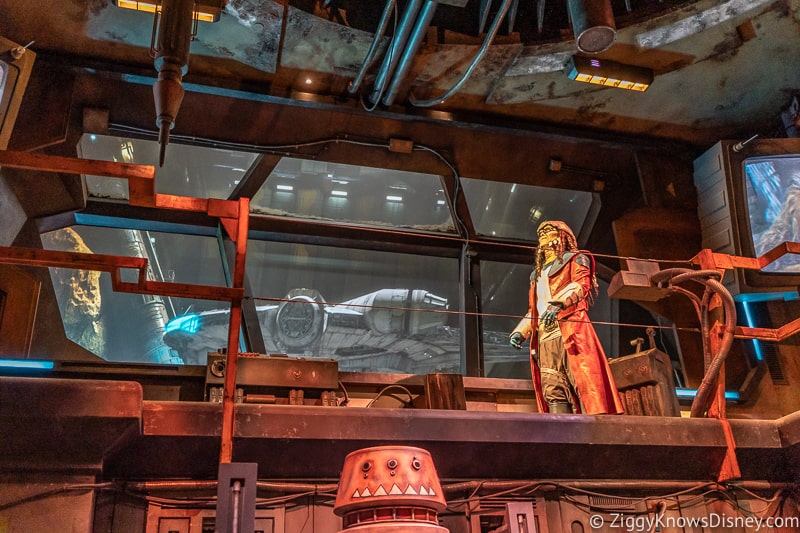 Up to this point, the Hondo figure was the highlight for me, but that was soon about to change…
Inside the Millennium Falcon
It's here where the crew prepares the Millennium Falcon for its mission. Once you clear the long hallway after Hondo you'll meet a crew member who lets you onto the Falcon and explains the process: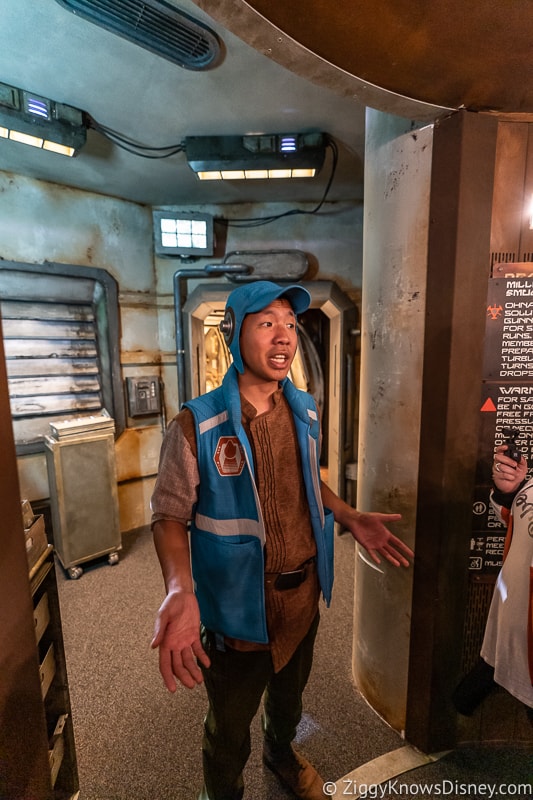 There are 6 people to each boarding group and each person is given a boarding card with the role they will be performing during the mission. I got gunner even though I was really hoping to get pilot for my first flight: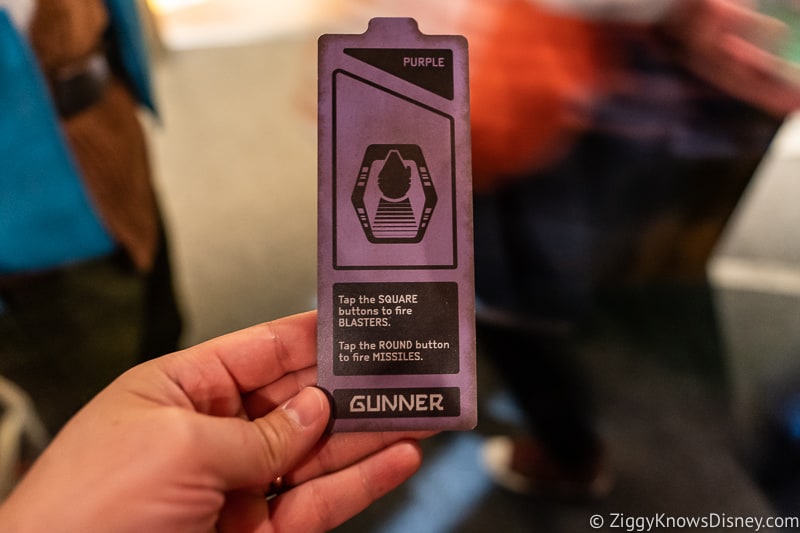 Unfortunately, there was no walk up the traditional ramp into the Millennium Falcon like I was hoping for but at a certain point, it hit me that I found myself walking right in the hallways of my favorite spaceship of all time!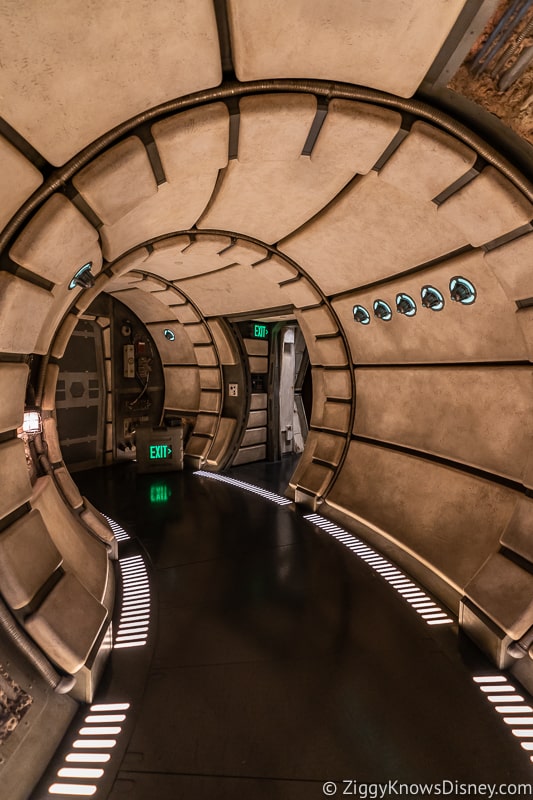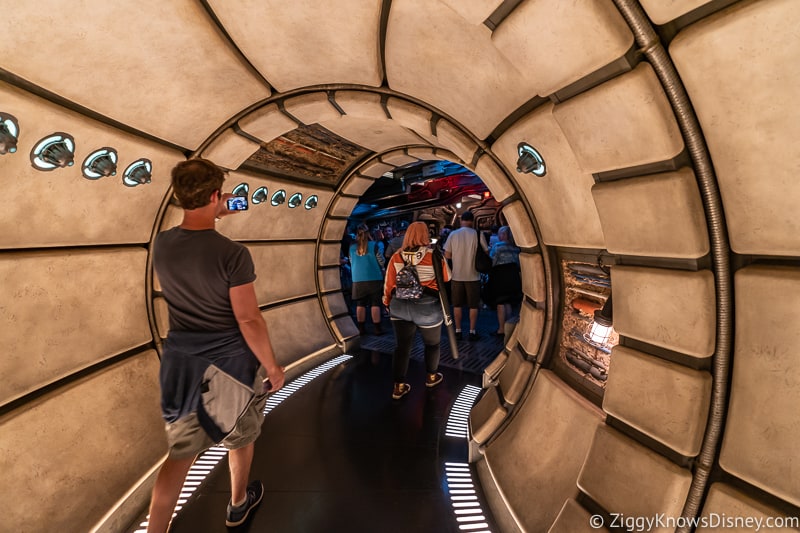 Once you board the Falcon you will be sent into the "main hold" which you will recognize as the "chess room" from the Star Wars films.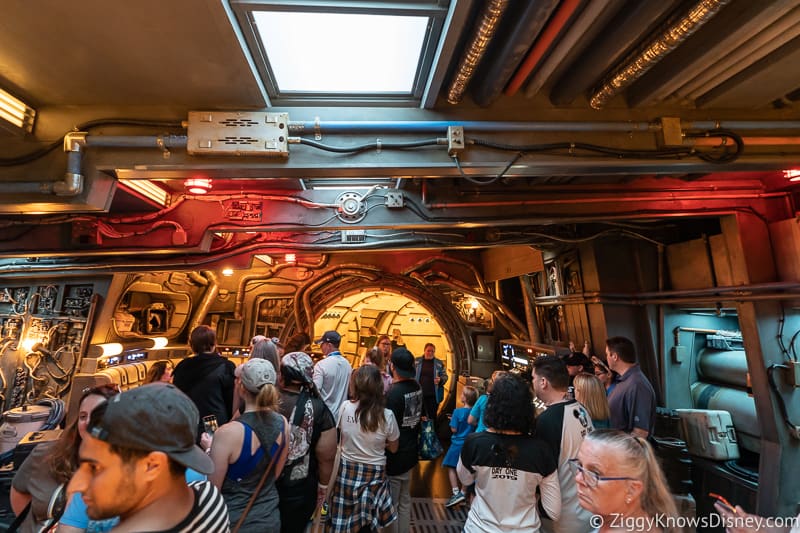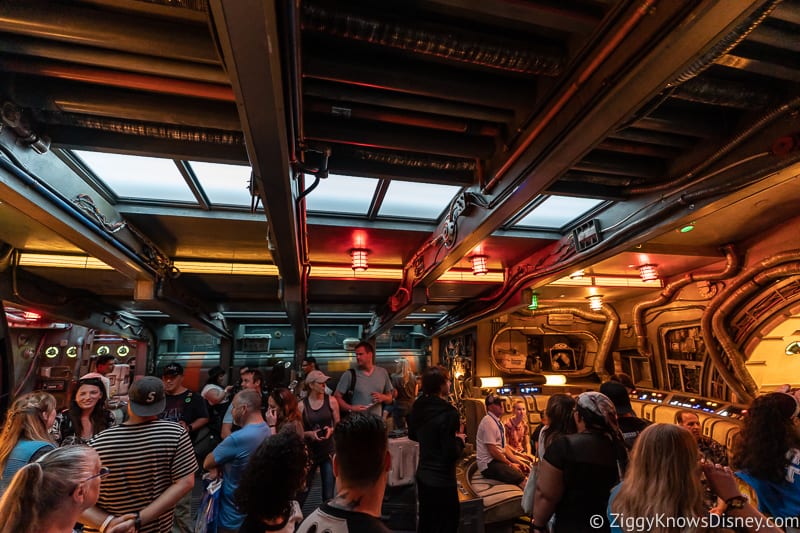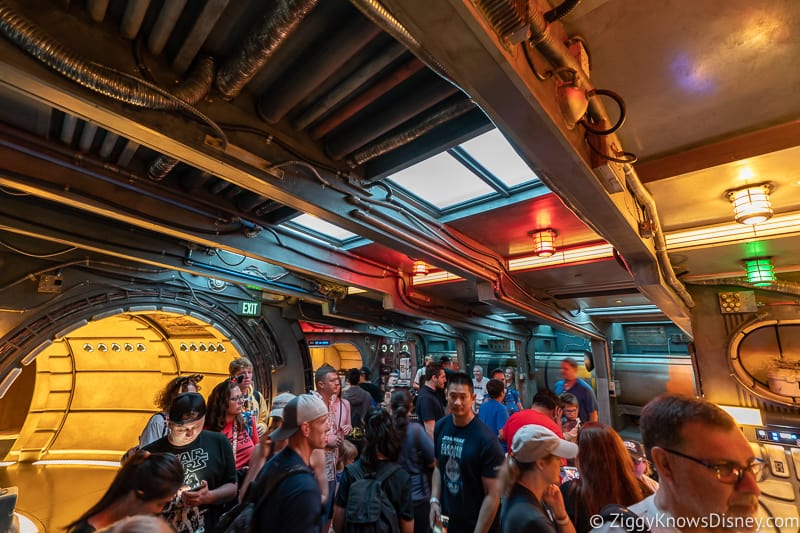 While you are waiting here you can sit down at the table next to a Dejarik board, "hologram chess" just like the one they play in A New Hope.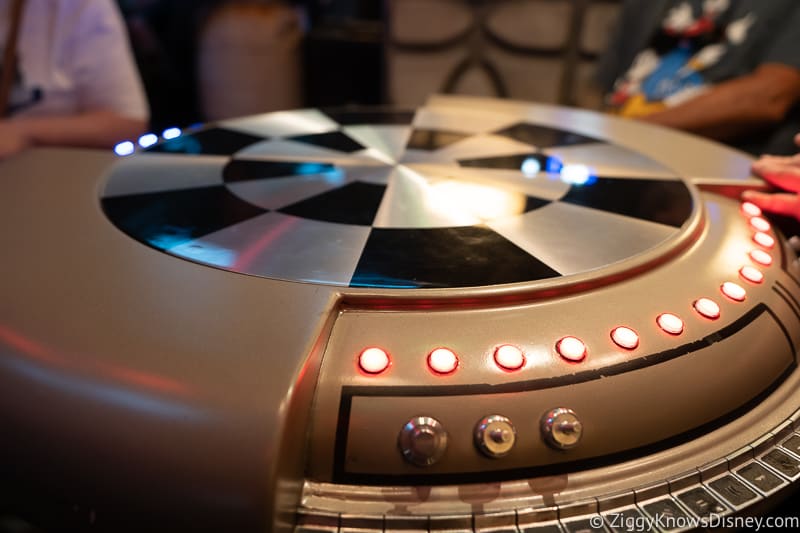 You'll have a good 10 minutes or so in here so try to take your time and soak everything in. It's too much to see on the first trip and you will be star-struck and feel out of sorts if you are a big Star Wars nut like myself.
We were taking selfies while chilling out on the couch, and just going crazy with everything there was to look at!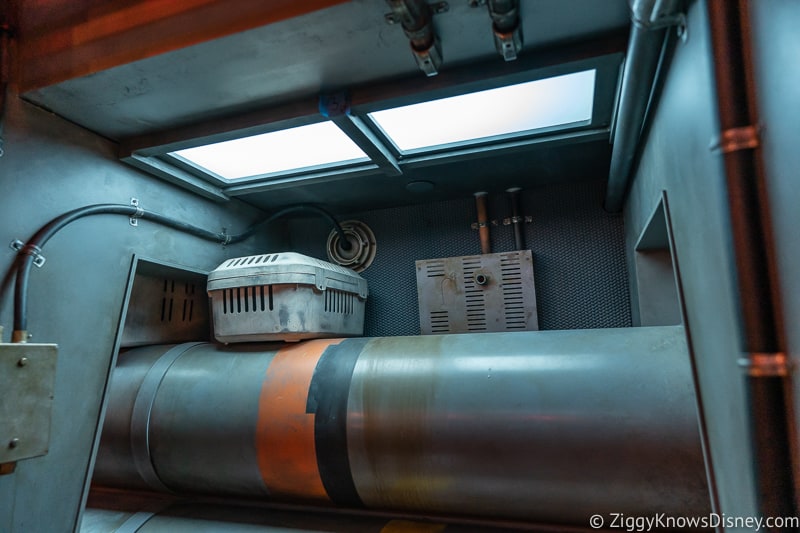 There are so many Easter eggs in this room with props from some of the Star Wars movies. Can you find them?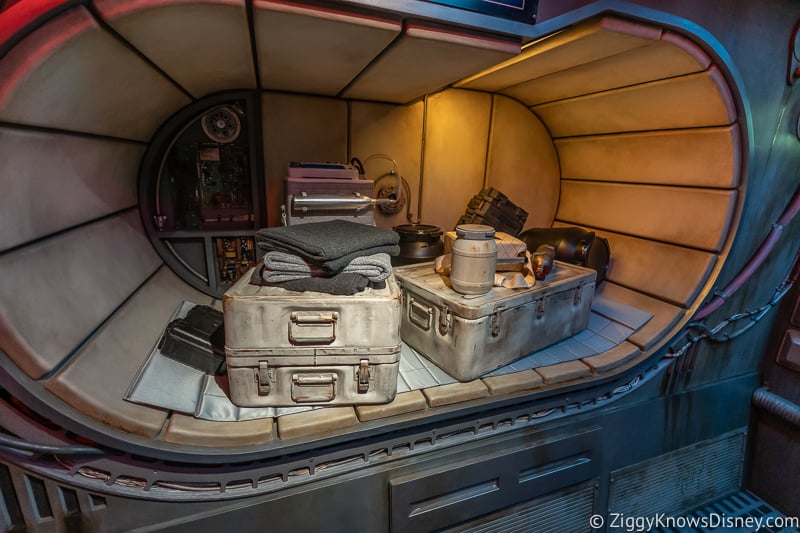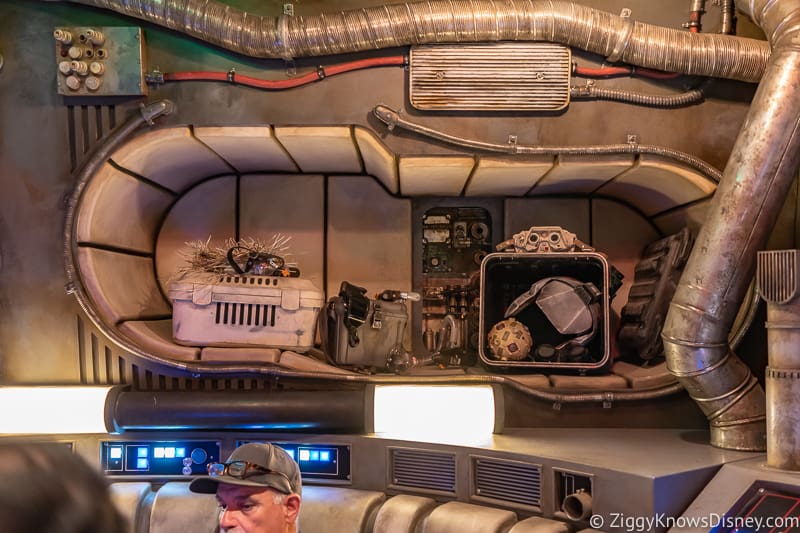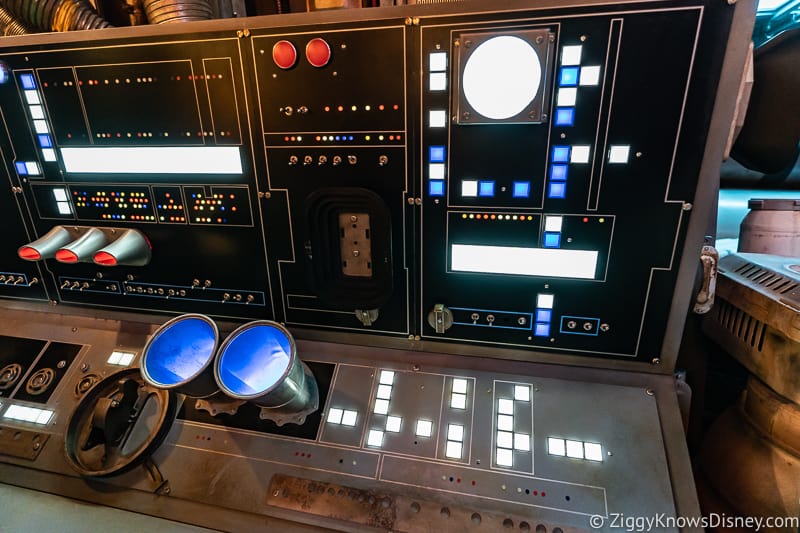 I absolutely LOVED this room and it was actually the highlight of the whole ride (more on that in a minute). The whole ride queue leads to this point and you will be hard-pressed to not have a smile on your face the entire time!
Once they are ready for you, make your way down the next hallway. We're getting closer to the cockpit, I can feel it…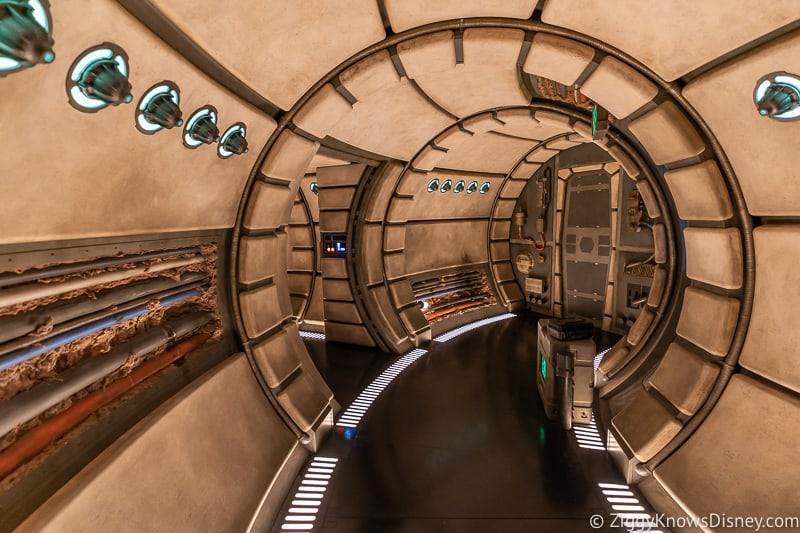 I love again all the small touches in the hallway, especially the exposed pipes going through the wall. Hey, this ship has seen better days.
The Ride
Right outside the cockpit, Hondo reappears on a monitor explaining your pre-flight specifics and the details of your mission. The missions vary which is nice so each time you go on it will be a somewhat different experience.
The moment of truth is here…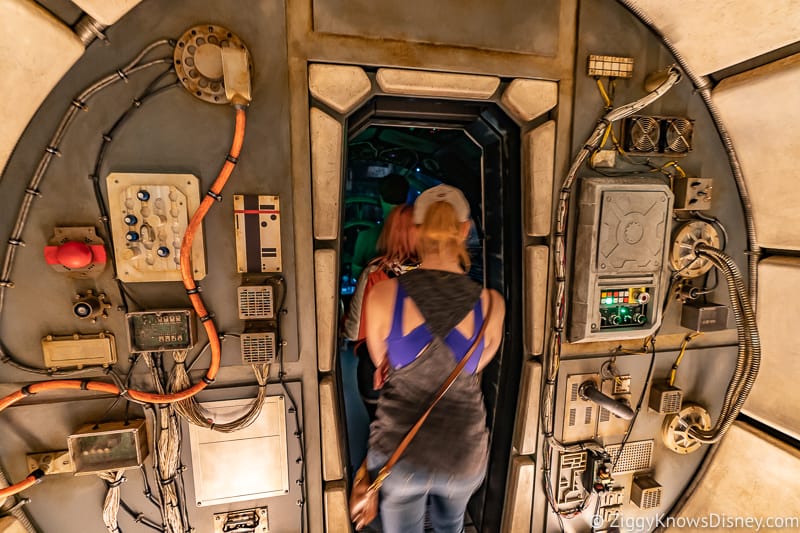 The Millennium Falcon cockpit!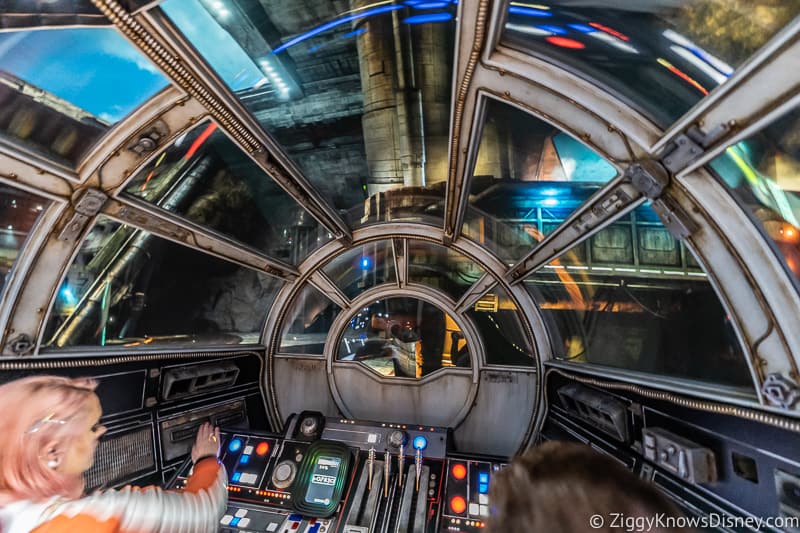 It's definitely smaller than it feels in the movies, but it was a moment I will never forget stepping inside.
The windshield is the classic divided look from the films and you can step up and sit down in the pilot's seat!
There are dozens of cockpit buttons, switches, and levers, each making sounds and having flashing lights, etc. I literally was jamming every button and switch I could get my hands on for a good minute or more, and there are a ton of them!
Read the "Millennium Falcon: Smugglers Run Ride Roles" section above for a detailed look at each role and which is right for you.
The missions on Millennium Falcon: Smuggler's Run are the same and don't have different missions like Star Tours does. That makes the deployability not quite as fun, though this I expect to change with an update in the future.
Having multiple missions and multiple roles to play however means that at least the ride will change somewhat for you each time until you get to the point when you've been many, many times.
Once everyone is strapped in and ready to go, you take off! You see the Ohnaka Transport Solutions hangar bay where you just were projected onto a domed screen outside the cockpit windows and you take off for your mission.
From our experience, the gameplay is a bit difficult at times (especially for the non-video game generation) but after a couple of rides, you start to get the hang of it. I think Disney did as good of a job as they could with balancing the difficulty of the ride as well as possible, but the difficulties remain nonetheless.
Yes, it would have been better if it was a bit more difficult and immersive in the engineer and gunner roles, but it was just too hard to get everything to work right with 6 people of all age groups (who potentially could all not know each other) to be able to work together to complete a mission.
Out of all the roles, I think the pilot is by far the most fun. It's definitely the most immersive of the 3, and you feel like you are in control. Piloting is divided into two roles with one pilot controlling the vertical movement and the other controlling horizontal. It takes some getting used to but you get used to it.
The pilot is the overwhelmingly favorite job, followed by the gunner and then engineer. I thought the other two were just a bit boring because a lot of the ride you are just looking down and smashing buttons and you don't get to follow the action on the screen. It felt a bit repetitive in the gunner or engineer positions and I thought they lagged way behind being a pilot.
I also like the fact that the take-off and landing sequences are different and correspond to whether it is day or night when you are riding. If you go during the day, the screen will show Batuu lit up by the sunlight and at night the sky is dark and lights emirate from the building below. Nice touch.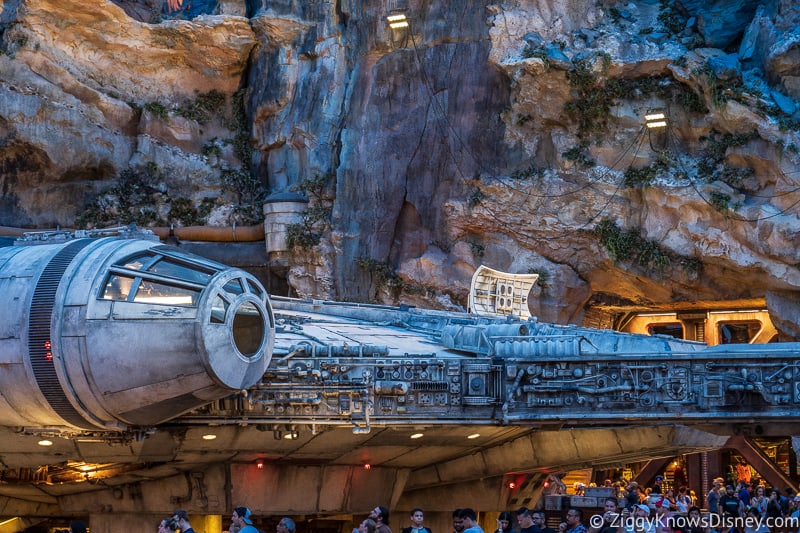 The action is still pretty fun and I love little details like your ship actually taking damage during the mission depending on how you fly it. You can crash the ship into other ships and when it takes damage it's up to the engineers to respond to the flashing lights and fix the damage.
After completing your mission, Hondo will reward you and the other cabin crew according to how well you did on the mission. If you beat up the Millennium Falcon too much, then the hallways outside that you entered through will also be flashing hazard lights and you see the damage taken. Such a cool effect!
If you crash the Falcon though or lose the precious cargo then watch out, Hondo will send a bounty hunter after you with a price on your head!
Before the Millennium Falcon ride opened, Disney promised us that the credits you earn on Smugglers Run, you'd be able to spend on other experiences in Galaxy's Edge after the ride was over. It'd be cool if you could use them towards FastPasses or something similar, but I haven't seen it yet, and at this point, I'm not sure they will ever implement it.
Is it Worth It?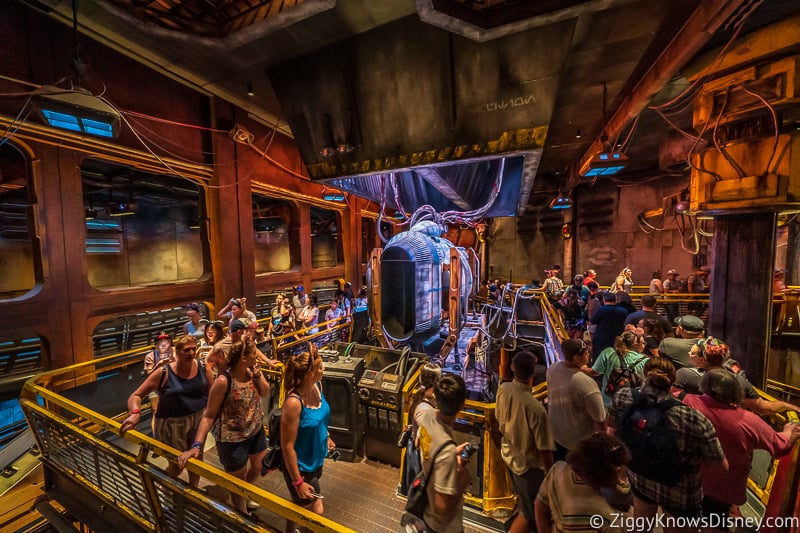 Overall I think that Millennium Falcon: Smuggler's Run is a great addition to Hollywood Studios and Disneyland and a nice ride for Galaxy's Edge. The queue is probably my favorite ever, even more than Flight of Passage and there is just so much to explore there. I could walk and look inside there for days.
A lot of people have been really down on the ride, and complain that it's not nearly as nice as they thought it would be. To some degree they are right.
The actual ride is good but not great, though it's grown on me over the last few months. It's an interactive version of Star Tours with better graphics. That's gotta count for something right?
It's not nearly as bad as some would like you to believe. Every time I've been on it, all the people inside the cockpit with me have been screaming with joy and laughing the whole ride. I've brought big-time Star Wars friends on the ride, who were overjoyed by the whole experience.
Maybe it's not the headliner attraction for Galaxy's Edge, but it's definitely among the best rides in Hollywood Studios, and one that is a must-do if you are visiting there or Disneyland.
I think all the hate comes from guests coming to Galaxy's Edge for the first time, expecting Smugglers Run to be a headlining E-Ticket attraction. That is never what it was supposed to be, and the narrative got portrayed that way because of the delayed opening of Rise of the Resistance, which is the REAL headline attraction for Star Wars Land.
I think Smugglers Run it's a very good B attraction in a secondary role which, is what it will be when Rise of the Resistance opens up. It certainly is fun, and it will improve in the future when Disney decides to make upgrades to it, introducing multiple missions.
I think you're going to really the Millennium Falcon: Smuggler's Run ride, and overall I thought it was a great experience, something I've been dreaming of since I was a boy and something I won't ever forget!
Smugglers Run vs Star Tours: The Adventures Continue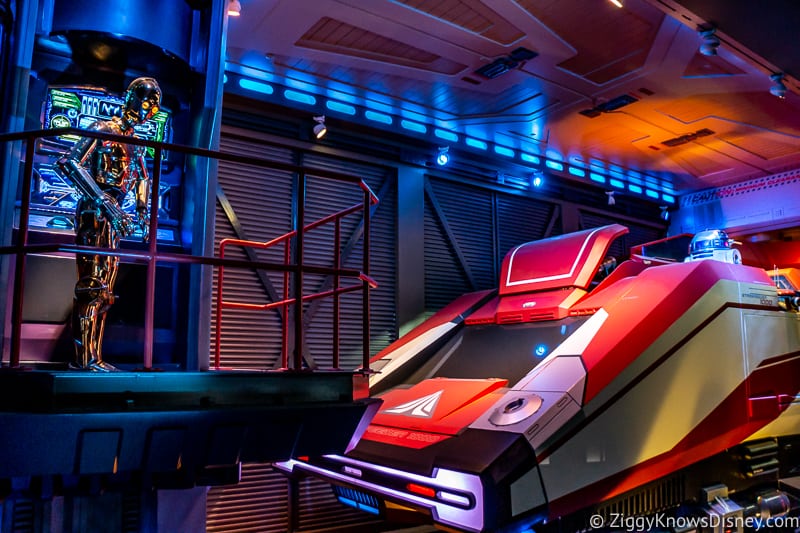 Of course, you are going to compare Smugglers Run to Star Tours: The Adventure Continues. They are both flight simulator rides, and they are both based on the Star Wars franchise.
In fact, when thinking of another Disney attraction that compares, Star Tours is probably the closest one you're going to find.
In both attractions, you are in a closed space made to look like a spaceship/shuttle of some kind and both have a mission that you have to complete.
That said, there are still some differences between the two Star Wars rides.
Smugglers Run is interactive and Star Tours is passive. On Star Tours, you don't have any part in the completion of the mission. Instead on Smugglers Run, each guest is assigned a job they must perform if you want the mission to go well.
Star Tours has multiple missions. This is the thing I would give Star Tours the edge in, and having multiple, random missions to go on, means you can ride dozens of times and never get bored. Smugglers Run has one mission and gets quite repetitive after a few rides.
While both rides have queues themed to Star Wars, the Millennium Falcon ride queue is on a totally different level and is among the best queues ever created in a theme park.
Which ride is more fun? We're going to give the nod to Smugglers Run.
While it does get repetitive at times, it has the better queue, superior technology and is also interactive. That wow factor you get walking onboard the Millennium Falcon into the chess room, and then into the cockpit is something many guests have been dreaming about since childhood!
Smugglers Run vs Flight of Passage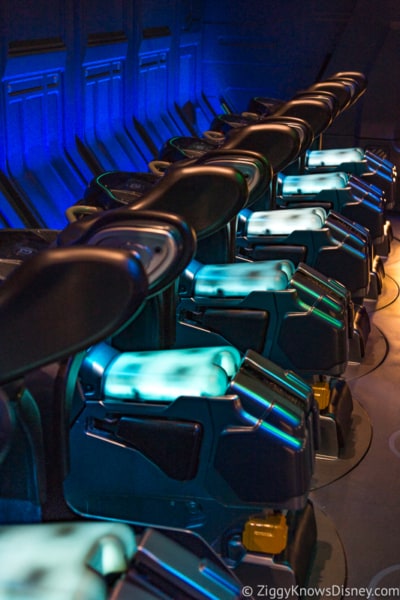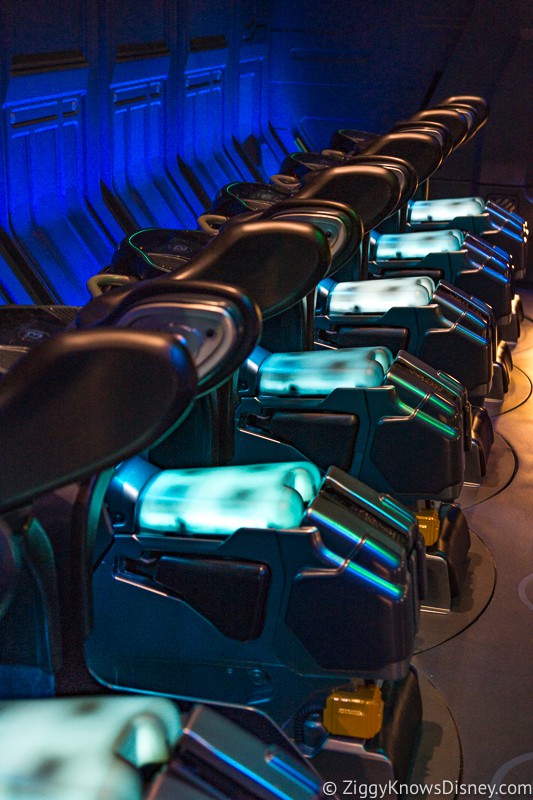 If you thought before going on that Smugglers Run was going to be on the same level as Flight of Passage, then I understand why you would be disappointed after riding it. This is the problem why people are disappointed.
The two rides are similar in the sense that they are both simulator attractions and give you the sensation of flying. They both also have really nice attraction queues leading up to the ride. That is where the comparison ends.
Ride Vehicles – These are totally different. On Flight of Passage, you are riding a banshee, and the position you ride in makes you feel more like you are on a motorcycle. You ride alone and are completely exposed with no walls around you.
On the Millennium Falcon ride, you are in a cabin with 5 other people, sitting in a normal seat, in a close-quarters space.
Scariness – This is also completely different for both rides. Flight of Passage is much more intense of a ride, with bigger drops (simulated) and more moments that might make some guests terrified.
Smugglers Run is much tamer, and riders never feel like they are in any danger. It's much more similar to Star Tours in this regard.
Overall Fun Factor – This again is no contest. Flight of Passage is the most fun ride in Walt Disney World, and even after dozens of times riding, there is something new to see and I always leave with a huge smile on my face. Smugglers Run is still a fun ride, but I wouldn't put it on the same level.
If you've been on Flight of Passage and are expecting the same type of experience on Millennium Falcon: Smugglers Run, get that out of your head now and lower your expectations. Enjoy it for what it is.
Will there be a Ride Update?
Our biggest complaint about the Millennium Falcon: Smugglers Run ride is that there is only one mission to carry out. It's a fun mission no doubt, however, after about the 3rd or 4th time you do it, there starts to be some staleness to it.
Will Disney ever update the Smugglers Run ride with new missions? New missions would certainly make the attraction a much more fun, and repayable experience.
While Disney hasn't commented on this yet, there certainly is the possibility for them to do this in the future. Millennium Falcon: Smugglers Run is essentially a big video game, and we know game developers come out with updates all the time. They could do the same here.
The only problem I can see besides just taking the time to record the audio tracks, sound effects and program the actual game sequences, would be the rotating turntable loading system. In the future, each car on the same turntable would probably have to run the same mission to make the timing right, but I'm surer Disney has already thought of everything in this aspect.
The future possibilities are awesome here to continue making new missions relevant to the new Star Wars movies, which I fully expect Disney to continue to do.
Smuggler's Run Wait Times
Wait times originally for Smugglers Run were supposed to be much higher than they have been so far. For a good part of the time it's been open so far, Smugglers Run has had wait times mostly under 60 minutes, sometimes as low as even 30 minutes!
That number has led many to call it, and Star Wars Land a failure. However factoring in the ultra-efficient ride system which loads/unloads guests fast, plus the fact many guests have been waiting to visit are both reasons for low wait times. The ride can put through up to 1,800 guests per hour, which is a lot considering the technology and newness of the ride.
It's also been a very reliable ride up to this point, with very few breakdowns.
Now that the holiday season has come and gone, however, we've seen ride times for Smugglers Run increase dramatically, even reaching as high as 120 minutes during the day. Also, the massive popularity of Star Wars: Rise of the Resistance nearby has dramatically increased the number of visitors to Batuu, therefore making Smugglers Run busier than before.
We can expect that trend to continue through the end of the year and into early 2020.
Lastly, now with FastPass+ being added to Smugglers Run in Hollywood Studios, the wait time should also increase slightly since the FastPass queue always slows down the stand-by queue a bit and reduces overall ride capacity some. I think our days of sub-60-minute waits are going to be gone for the most part, at least for a while, until some of the excitement from Rise of the Resistance wears off.
Read our Star Wars Land Wait Times Guide for more detail on the wait times for Star Wars Smuggler's Run ride and other attractions and experiences there.
Rope-Dropping Smugglers Run and Touring Strategy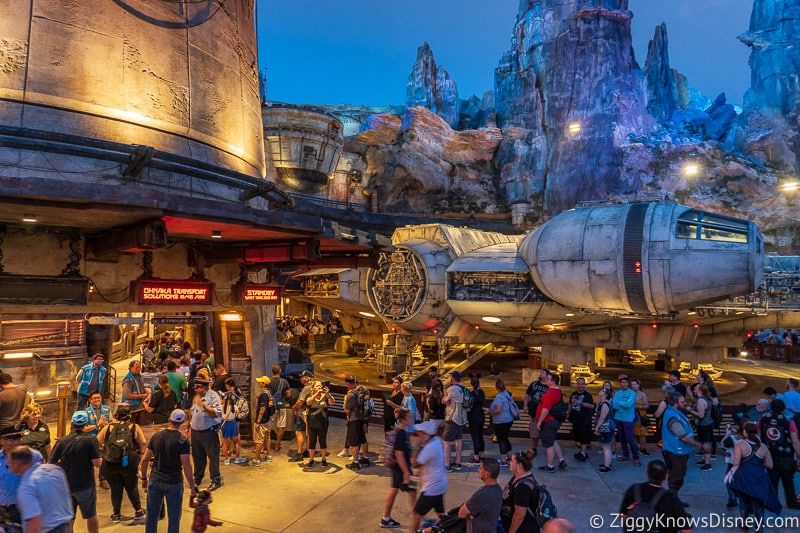 Figuring out a touring strategy for Millennium Falcon: Smugglers Run hasn't been a very hard thing to do so far since its opening. Many times lines have been under 60 minutes, making a complex strategy not really necessary.
However things have started getting busier, and with the opening of Rise of the Resistance, you can expect Smugglers Run to have an influx of new guests, and with them, longer lines.
We've already started to see this happening, and much bigger lines have been forming as of recent. Add this to the fact that FastPasses have now become available for the ride and it might leave you frustrated if you don't know when to go.
What is the Best Time of Day to Ride Smugglers Run?
So what is the best time of day to ride then? From our experience, Galaxy's Edge, in general, is better experienced either early in the day, or late at night. If you rope-drop Millennium Falcon, you will have minimal waits, and on a good day, get to go back on a second time without waiting all that long.
This means plan on getting to Hollywood Studios or Disneyland at least 30-60 minutes BEFORE the listed opening time. If the opening time is 8 am, plan on getting there by 7:00-7:300 am. Cast Members let guests into the park before the listed time so that a line can start forming. That plus going through security means you want to be there and in position well before all this happens.
If you prefer sleeping in, you can also wait until the end of the night and take a chance of jumping in line right before park closing. Crowds also tend to be lower during that time and you won't have to wait like you do in the middle of the day.
FAQ's
Is the Millennium Falcon: Smugglers Run scary?
I would say it's not very scary, no. It's not a super-thrill ride and overly intense. It does, however, have a bumpy and rough ride at times like Star Tours, so if you get motion sickness easily this isn't for you.
What is the height requirement for Millennium Falcon: Smuggler's Run?
Any guest 38″ inches or taller can ride Smugglers Run
Is there FastPass?
FastPass+ is now available for Smugglers Run in Disney's Hollywood Studios. It is also coming soon to the Disneyland version, however, we are still waiting on the exact date.
Is Millennium Falcon Smugglers run a roller coaster?
No, Smugglers Run is not a roller coaster, it's a motion simulator ride which gives riders the feeling of flying.
Is there a Single Rider Line?
Yes, single riders can skip the majority of the line, drastically reducing the wait time.
Does Smugglers Run have Photo Pass?
Unfortunately at this time, the Star Wars Smugglers Run attraction does not have a Photo Pass option. No on-ride photos to take home.
Can You Fail Smugglers Run?
You can't really fail in the truest sense of the word, but if you do not follow directions your score will be extremely low, and you don't want to make Hondo angry!
Does Smugglers Run Close for Bad Weather?
Millennium Falcon: Smugglers Run is an indoor attraction and is not affected by bad weather, rain or thunderstorms. It's, in fact, a great place to go when there is bad weather.
Is Smugglers Run in 3D?
If you get motion sickness, you'll be happy to know that the Millennium Falcon: Smugglers Run ride is NOT in 3D.
That wraps up our detailed tour and guide to the Millennium Falcon: Smugglers Run ride. We hope you learned everything you wanted to know. If you have any more questions, please feel free to ask below and we'll do our best to answer them.
For more info on Star Wars Land read our Guide to Visiting Star Wars: Galaxy's Edge for a detailed look at the attractions, dining, planning, touring strategies and everything you need to know.
While we love Smugglers Run, there is even more in store in the coming years. Read about what other new rides are coming to Disney World in the next few years, and check our post on Going to Walt Disney World in 2020 vs 2021 which will help you decide which year is best for you.
Your Thoughts
I want to know what you think about the Millennium Falcon: Smugglers Run ride…
What are your thoughts on this attraction?
Which role is your favorite to play?
Let us know in the comments section below!
If you enjoyed this article, as always I appreciate it if you'd share it with others via social media. I work hard at making this website into a useful resource for you and your family to plan your visit to the Disney Parks and I hope it can help you! Thanks 🙂