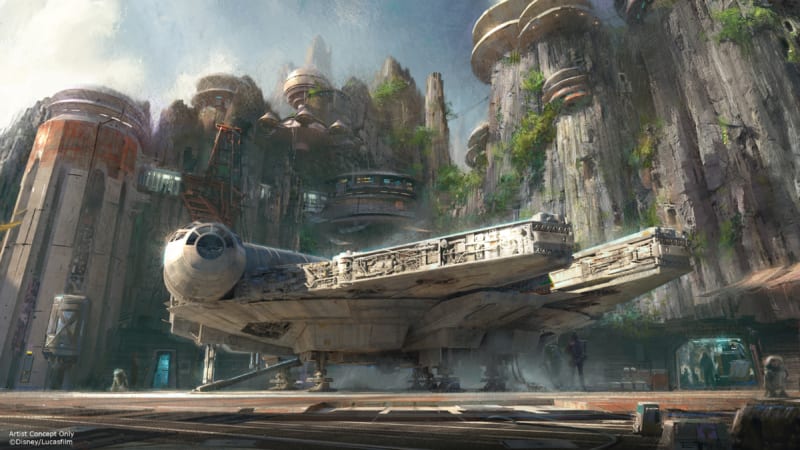 What's the longest you've ever waited for a theme park attraction? 2 Hours? 3? Whether it's more or less, Disney is betting that you'll be willing to pass your personal record when they open the most anticipated theme park land in history in Disneyland later this month. Based on estimates the wait times in Galaxy's Edge are going to be beyond what we've ever seen.
In this post we'll explain what our latest estimates are for Star Wars Land wait times including the rides, shops, restaurants and experiences that are coming to this incredible new land and how we think Disney is going to be able to handle it all. We'll cover both the Disneyland and Disney's Hollywood Studios versions of Galaxy's Edge.
Early reports were saying that the Star Wars Galaxy's Edge attractions could have up to 6+ hour waits! This seemed pretty likely at the time seeing how high the expected popularity of this land is going to be.
Now is a 6+ Hour wait time unprecedented? Not at all. All you have to do is look back at some of the Disney attractions that have opened in the last few years and you can find multiple examples.
Frozen Ever After in Epcot and Flight of Passage in Pandora: The World of Avatar each had lines of 5+ hours in the first days of operation, with Flight of Passage's queue keeping lines of 5+ hours even weeks after opening. Seeing that Star Wars Galaxy's Edge is hyped up 10x as much as those, it's not hard to imagine worse scenarios coming in 2019 and beyond.
However, for the first month in Disneyland is going to have a reservations system for Galaxy's Edge and guests are going to be limited to 4-Hour time windows. That means Disney is limiting the overall capacity of Star Wars Land to well below what its peak capacity is and it won't get as crowded as early reports were suggesting. Even after there will be a virtual queue in place to limit the land's capacity.
That doesn't mean though that everything is wonderful and you aren't going to have to wait. No, with a limited time allotment in Galaxy's Edge it's going to be even more important to plan your time down to the last minute to make sure you get the most out of those 4 hours.
Before we get into the Galaxy's Edge wait times you can read my Star Wars: Galaxy's Edge Complete Guide for more info on all the rides, restaurants, tips and strategies for touring Star Wars Land.
Galaxy's Edge Capacity:
Everything hinges on this. Whether or not the wait times get out of control or are manageable all depends on how many guests Galaxy's Edge holds and how many Disney is going to let in at a time. Let's look at what we know:
Star Wars Galaxy's Edge is 14 acres in size in both Disneyland and Hollywood Studios. That is a huge footprint but we don't know how many people it will hold exactly.
If the queues for each attraction are really long like Flight of Passage (which they absolutely have to be) and hold 5+ hours worth of guests eventually, that means you might be able to get 7,000 – 8,000 people in the space of each attraction.
2 restaurants, shops and walking paths, I think we're looking at 15,000 – 20,000 guests at any one time in Galaxy's Edge at max capacity. However with the reservation system, Disney is surely going to have less people than that.
There are 5 reservation windows: 8:00am – 12:00pm, 11:00am – 3pm, 2:00pm – 6:00pm, 5:00pm – 9pm, and 8:00pm to Midnight.
My guess is that Disneyland is going to limit each group to about 3,000 people. That means in one day you will have a total of 15,000 visitors and during the one hour periods when there are two groups inside Galaxy's Edge you'll have a total of 6,000 at one time.
The other thing is that since these windows of 4 hours are overlapping with each other, unless you are in the first group of the day, when you enter Galaxy's Edge you will always find people in line wherever you choose to go first. All that means long wait times.
Of course things are going to be a bit different once the reservation period is over, so let's look at both.
Attractions:
Let's dive into the numbers for the attractions. Star Wars Galaxy's Edge is going to have 2 attractions: "Star Wars: Rise of the Resistance" and "Millennium Falcon: Smuggler's Run."
However the Rise of the Resistance opening has been delayed and won't be up and running when Galaxy's Edge opens in either park, which is one of the main reasons Disney is limiting capacity. It also means that people are going to have one less option to go to, and Smuggler's Run is going to get most of the attention in the land.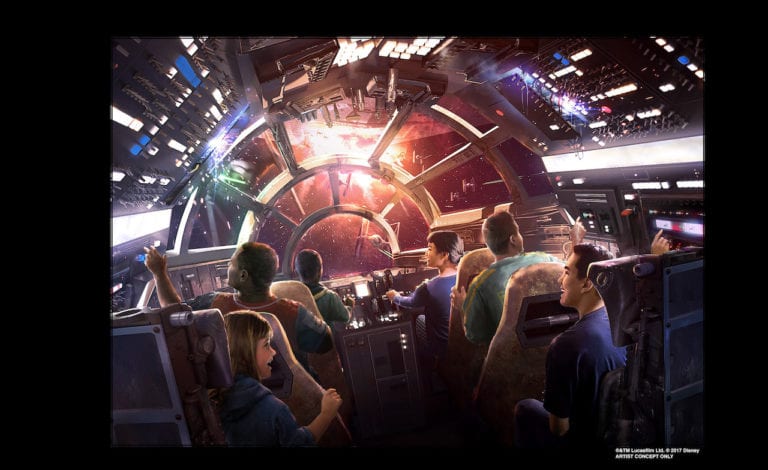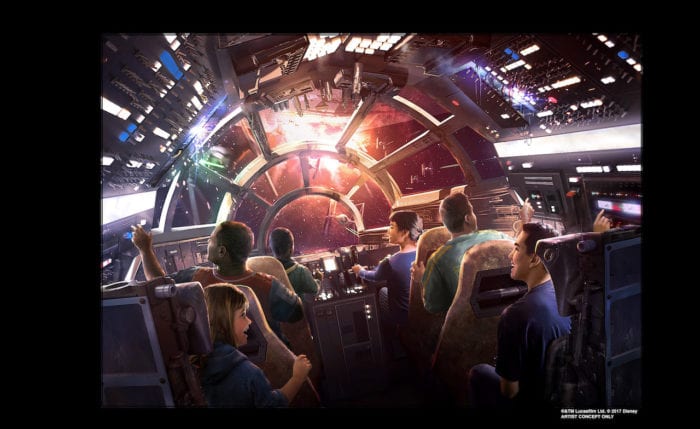 Estimated Wait Time: 1-2 Hours During Reservation Period; 3-4 Once Rise of the Resistance opens
This is a flight simulator which will take guests on a unique and randomized mission in the most iconic spaceship in cinematic history. Each guest on board will have their own responsibility to do and will have a part in whether the mission turns out a success or not. Think of it as Star Tours on steroids with up-to-date advanced computer processing power as the engine behind it. It's pretty awesome tech.
From what we understand, each cockpit on the Millennium Falcon: Smuggler's Run will hold 6 guests. In the whole attraction there will be 4 turntables, with 7 cockpits on each one. 4 x 7 = 28 x 6 guests each = 168 guests at a time.
Disney is planning on the attraction being able to handle 1,800 guests per hour, which means we're looking at a total ride time somewhere in the 5:30 – 6 min per ride in order to reach 1,800 in an hour. It's also estimated that the Smuggler's Run ride queue can hold upwards of 5,000 people at a time. Most likely we won't see that number during the reservation period though.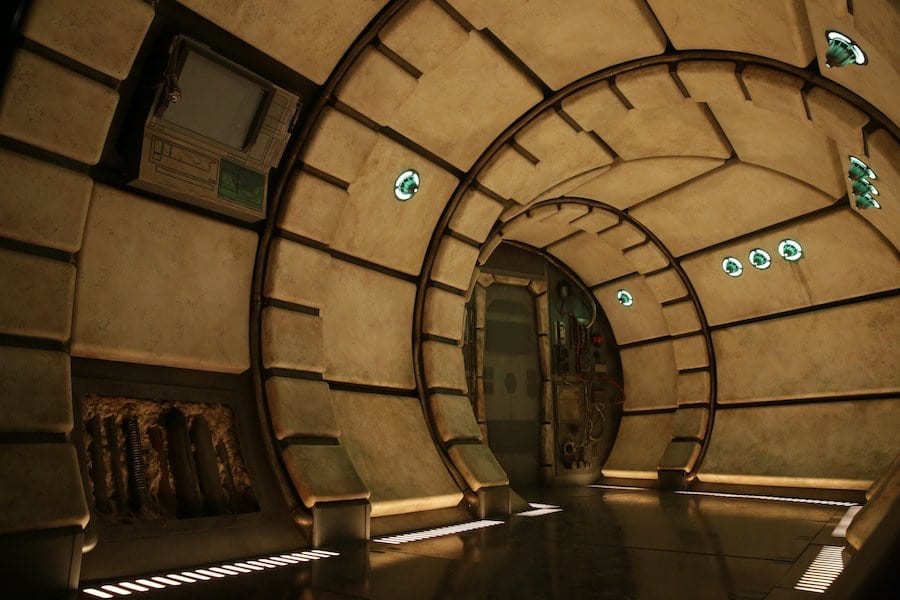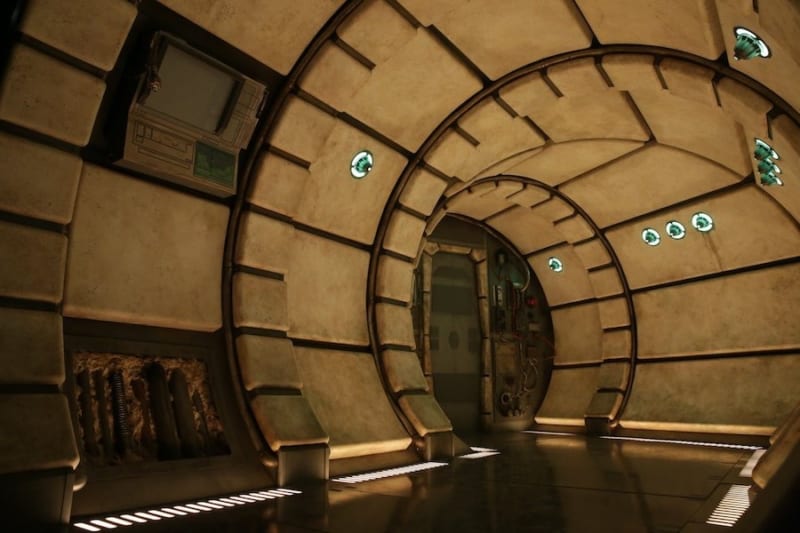 The problem is that like with Flight of Passage in the beginning, those numbers sound great on paper, but in reality, they're never able to meet them exactly the way it's planned and it ends up being longer. Plus with an attraction like Smuggler's Run, you're going to have 6 people per ride vehicle who all need to work together to complete the mission.
The problem with the attraction being in Disneyland (and even more so in Walt Disney World) is you will have a lot of people in the same vehicle who aren't in the same party and who don't speak the same language. That means some are going to have a real problem understanding the instructions of what they have to do, leading to more questions and longer load times.
My guess, especially at the beginning is that instead of 1,800 per hour, we're looking at closer to 1,600 instead.
Where does that rank compared to other Disneyland attractions? Some other big E-Ticket attractions include:
Pirates of the Caribbean (2,800 riders per hour)
Big Thunder Mountain (2,200)
Haunted Mansion (2,100)
Splash Mountain (1,600)
Matterhorn (1,500)
Star Tours (1,300)
That puts Millennium Flacon Smuggler's Run down in the middle or lower when comparing other attractions, but can't really be compared to a ride like Pirates of the Caribbean which is infinitely easier to load and unload than Smuggler's Run will be.
Now even if Disney can hit 1,800 riders per hour it's not going to come close to letting every guest in Disneyland on a given day ride it once the reservation period is over. Let's say the park was open from 8am – 12 Midnight, that's 16 hours of operating time. 16 x 1,800 guests per hour = 28,800 that will be able to ride the Millennium Falcon.
Our guess is that during the reservation period the Millennium Falcon will have wait times of 1-2 hours. During the overlap period you could see that tick up to 2-3 hours but if there are a max 6,000 people in Galaxy's Edge, it should never get higher than that.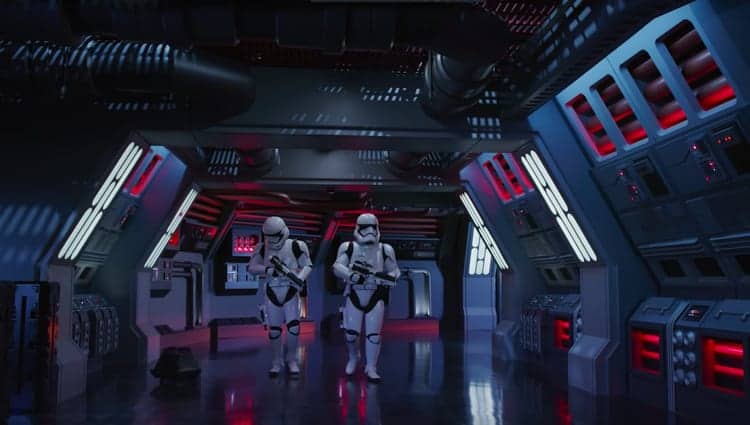 Star Wars: Rise of the Resistance:
Estimated Wait Time: 3-4 Hours (once it opens)
We don't yet know the capacity estimates for Rise of the Resistance, and we still don't know when it's going to be open. We do know however that it will be split into 2 parts, one in a traditional ride vehicle that holds 8 people, and another part of the attraction where guests will actually have to get out of the vehicle and supposedly do part of the mission on foot.
It's hard enough to get people to move INTO a ride vehicle, but if you have to move them along without them stopping in the middle it's going to be even longer. While we don't know the numbers, it has to be a high capacity attraction and similar in numbers to the Millennium Falcon: Smuggler's Run.
So what does this mean for your chances to get on one, or both attractions once the reservation periods are up? In 2017 the average number of guests in Disneyland was 50,000+ per day and the reported maximum capacity for Disneyland is 80,000, which you can expect to be tested in the second half of 2019 once Galaxy's Edge is open.
If you can somehow squeeze 30,000 – 40,000 guests in Galaxy's Edge throughout the day, between the 2 attractions you might be able to get on one of them, but both is going to be super difficult. Touring Plans, which specializes in attendance and attraction data backs this up saying guests could find 4-5+ hour waits eventually for each attraction in Galaxy's Edge.
You're going to need to go early and be in the first group in, period.
Restaurants:
There are going to be 2 restaurants in Galaxy's Edge along with 3 food stands. The thing is, there is going to be wait times to get into every one of them and with a 4 hour limit it's going to be hard, if not impossible to get into them all.
Here is our initial estimate for the wait times:
This is a Bar/Lounge and the smaller of the two "restaurants." Reports are that it will hold 100-150 people with time limits of possibly 30 minutes per guest.
Estimated Wait Time: 60 – 90 Minutes
Docking Bay 7 Food and Cargo:
This is a Fast Casual restaurant which has the biggest quantity food choices in Galaxy's Edge. No word yet on capacity, but bigger than Oga's, probably 300.
Estimated Wait Time: 30 – 60 Minutes
Milk Stand, Ronto Roasters, Kat Saka's Kettle:
These are only food stands/carts but expected wait times are also up to 30 minute for each or more.
Shops / Experiences:
Not only the attractions and restaurants are going to have wait times, but also the shops. Who knows how crazy people are going to go for some of this Galaxy's Edge merchandise once they see it.
Droid Depot:
This where you build you customized droids. No word on how many people can fit inside or how long the droid building process is yet.
Estimated Wait Time: 30-60 minutes
This is by far going to be the most difficult experience to do in my opinion. First of all tons of people are going to want to build a custom lightsaber. Secondly, this experience only holds 14 people at a time and the experience is 20 minutes long.
I'm not sure if there is only going to be one workshop or two, but if there is only one we are talking about a meager 42 people an hour out of the 3,000 or so in Galaxy's Edge at one time. You could spend your whole time in line here possibly if things get out of control.
Estimated Wait Time: 60 – 90 minutes:
What this means:
The overall problem you're going to have in the first month in Disneyland is that you're really going to have to choose which experiences you want to do the most and forget about the others. It's going to be near impossible to do even 75% of the things in only 4 hours.
This is a real pity because Disney Imagineers worked so hard on creating a Star Wars Land that most people won't be able to walk around and explore its natural beauty for the fear of having to get in line if they want to be able to drink that blue milk.
Once the reservation period is up in Disneyland or when it opens in Walt Disney World (more on that in a moment) the problem is that once guests get into Star Wars Galaxy's Edge, you're gonna have a really hard time convincing them to leave, so even if Disneyland reaches 70,000+ people in a day, how many are actually going to step inside Galaxy's Edge? 40,000?
My suggestion, and the only way I think you're going to get onto either of the attractions at that time, let alone both in a day, is to be one of the first 15,000 – 20,000 people in Disneyland that day. That means there are going to be a lot of early risers in the first 6 months – 1 year. If you don't show up hours before opening then don't plan on getting into Galaxy's Edge imo.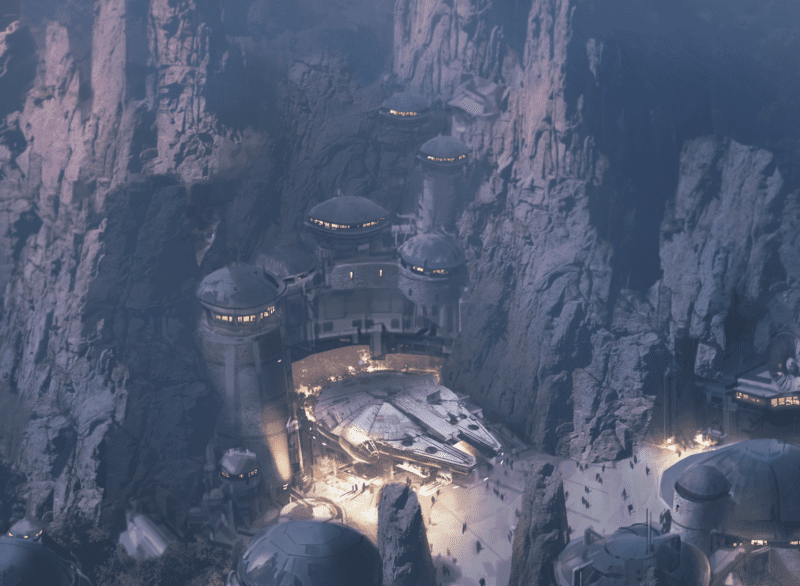 Disney's Hollywood Studios:
Hollywood Studios is going to face the same problems when Galaxy's Edge opens in Late Fall 2019, but Disneyland is the park that's going to take the brunt of the learning curve and when the Hollywood Studios versions opens hopefully they'll be able to apply the lessons to help facilitate better crowd movement.
The Hollywood Studios version will not have a reservation period (as of writing) and there won't be any time limits but you'll have longer to wait in line.
Of course having a FastPass for one of the attractions would help a lot, but Disney has already said they won't be offering FastPass during the initial opening period. No word yet on how long that will last and they will be quite near impossible to acquire anyways, so you may as well come to peace with that reality now and know you'll be waiting.
It'll also be interesting to see what improvements Disney makes to their Play Disney Parks mobile app to allow interactive entertainment for guests waiting in line for the Galaxy's Edge attractions. The more they improve, the more guests will have to do while waiting.
In the super long wait times aren't going to deter me from visiting Star Wars Galaxy's Edge early on and neither should it you if you are a huge fan. I think the excitement and buzz in the air is going to outweigh the downside of waiting in line for so long and I know my personal record waiting in queue is going to be beaten, probably doubled or tripled!
The official opening dates for Star Wars Galaxy's Edge are May 31, 2019 for Disneyland and August 29, 2019 for Walt Disney World.
Check out my Walt Disney World construction updates page for the latest Star Wars Galaxy's Edge Construction Update to see the life-size Millennium Falcon being built outside the attraction!
Your Thoughts:
I want to know what you think about the potential of the Star Wars Galaxy's Edge attraction wait times….
Which attraction / experience would you be more willing to wait a long time for?
What's the longest you'd be willing to wait in line for an attraction?
Let us know in the comments section below!
If you enjoyed this article, as always I appreciate it if you'd share it with others via social media. I work hard at making this website into a useful resource for you and your family to plan your visit to the Disney Parks and I hope it can help you! Thanks 🙂
Source: Orange County Register, Photo Credit: Disney