What's the longest you've ever waited for a theme park attraction? 2 Hours? 3? Whether it's more or less, it's very interesting to sit down and look at what the wait times in Galaxy's Edge have been like so far and what we think you can expect moving forward.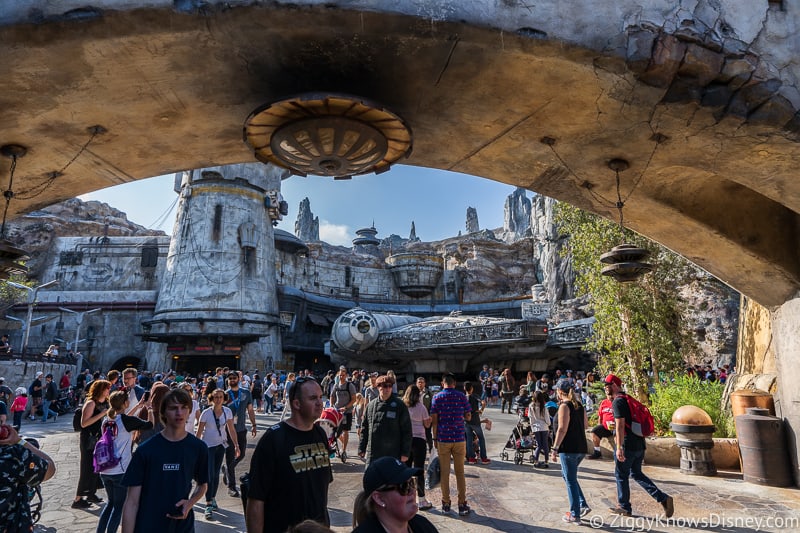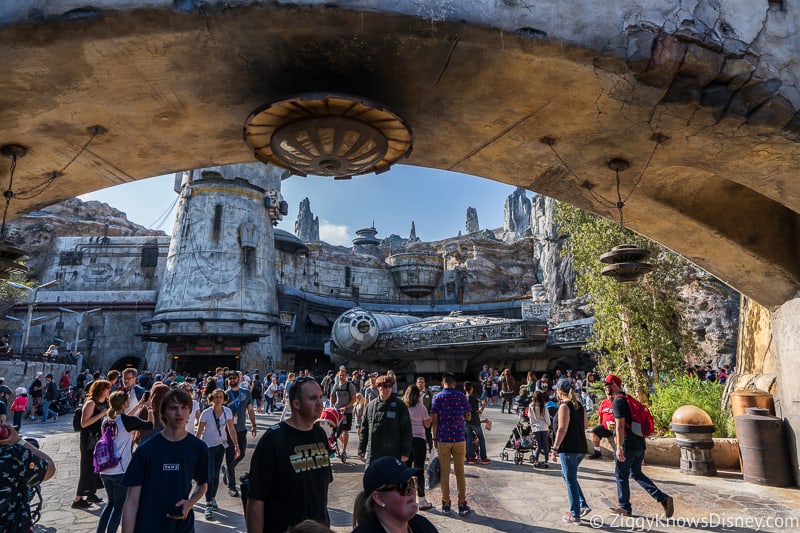 In this post, we'll explain what our latest estimates are for Star Wars Land wait times including the rides, shops, restaurants, and experiences that are available in this incredible new land and how we think Disney is doing handling it all. We'll cover both the Disneyland and Disney's Hollywood Studios versions of Galaxy's Edge.
Before we get into the Galaxy's Edge wait times you can read my Star Wars: Galaxy's Edge Complete Guide for more info on all the rides, restaurants, tips and strategies for touring Star Wars Land.
Also be sure to read through our Hollywood Studios Touring Plans so you can come up with the best strategy for your visit, as well as our Hollywood Studios Rope Drop strategy which will help you know when to get to the park.
Current State of Galaxy's Edge Wait Times
(Updated 1/24/20) – Just a few months ago everyone was saying how low the attendance was and that Galaxy's Edge was a flop. That's looking pretty silly right now…
When Star Wars: Galaxy's Edge opened in 2019, Disney anticipated tremendous wait times, for what was supposed to be the most anticipated land in theme park history. The wait time estimates were all supposed to be beyond what we'd ever seen in a theme park before.
Early reports were saying that the Star Wars Galaxy's Edge attractions could have up to 6+ hour waits! This seemed pretty likely at the time seeing how high the expected popularity of this land was going to be.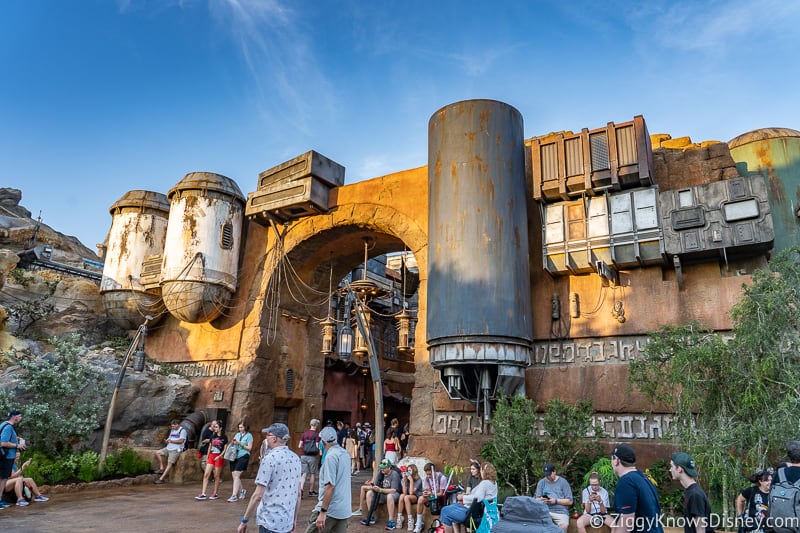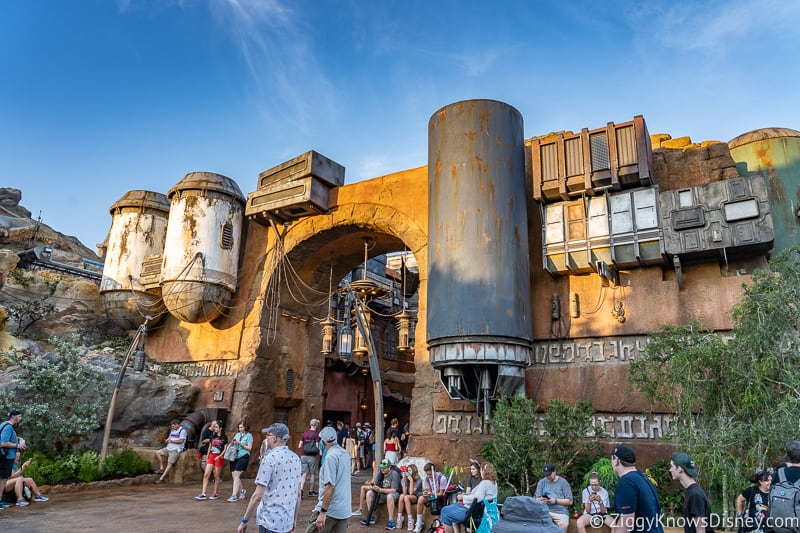 Now is a 6+ Hour wait time unprecedented? Not at all. You just have to look back at some of the Disney attractions that have opened in the last few years and you can find multiple examples.
Frozen Ever After in Epcot and Flight of Passage in Pandora: The World of Avatar each had lines of 5+ hours in the first days of operation, with Flight of Passage's queue keeping lines of 5+ hours even weeks after opening. Seeing that Star Wars Galaxy's Edge was being hyped up 10x as much as those, it wasn't hard to imagine worse scenarios coming in 2019 and beyond.
That didn't happen in the beginning, and Galaxy's Edge wait times were actually surprisingly low. All summer long, and into the Fall, journalists have been piling on top of Disney's newest additions, saying that Star Wars: Galaxy's Edge is a failure due to lower than expected attendance numbers.
In ridiculous speculation, some have even suggested that Galaxy's Edge will be re-done into an Aladdin themed land if attendance doesn't pick up soon. This is not going to happen period. Star Wars remains Disney's 2nd most important franchise, and with all the new trilogies and Disney+ series the company has planned, Star Wars isn't going anywhere, and neither is Galaxy's Edge.
Ever since Star Wars: Rise of the Resistance has opened up in December however, the crowds in Galaxy's Edge have increased tremendously.
Right now Rise of the Resistance isn't using a traditional stand-by queue, so the wait times can't get that long, but if they were using one, I think we'd be breaking records on a daily basis.
Are Wait Times and Attendance Low or Increasing?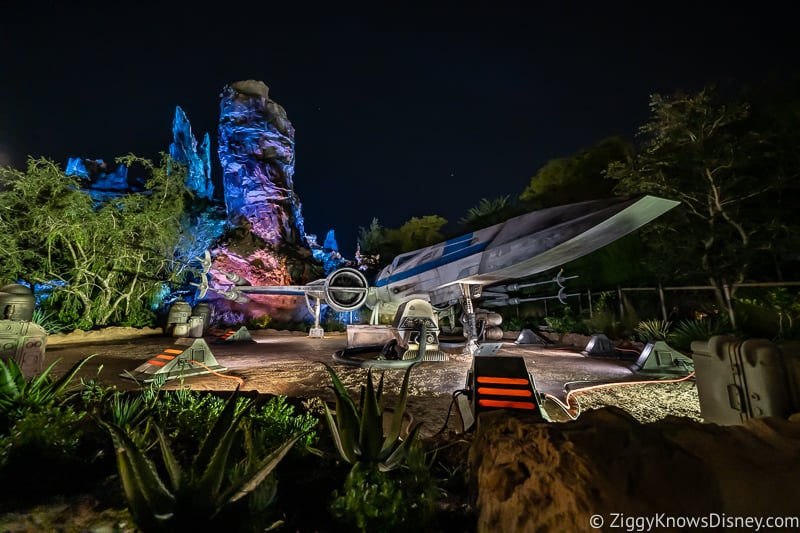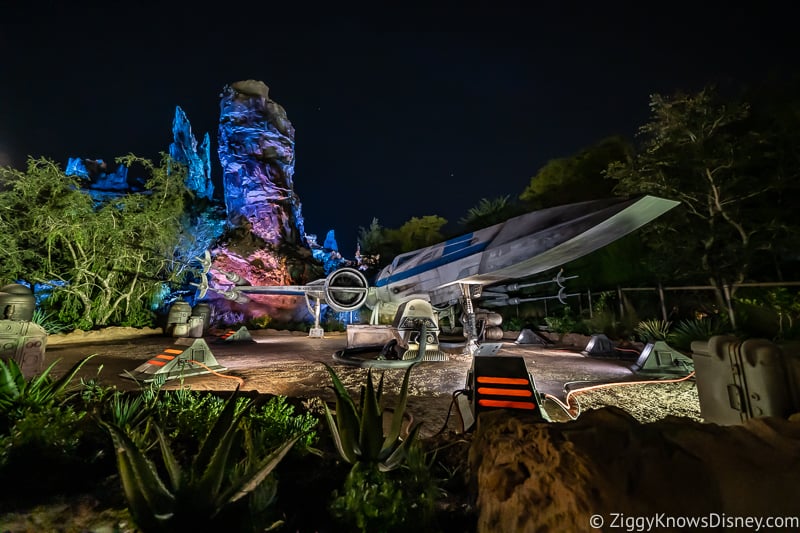 The answer to this question has shifted dramatically in the recent months. Galaxy's Edge attendance WAS low, and it was that way for a variety of reasons.
One reason is that they were using a reservations system in Galaxy's Edge for the first month which limited guests to 4-hour time windows. That really kept crowds down quite low.
Disneyland had many annual passholders blocked out for basically the whole summer, also limiting the number of people that could enter Disneyland.
The biggest reason, however, is that Disney opened Galaxy's Edge too early, and the entire land just wasn't complete. Disney wanted to get this multi-billion project on both coasts launched, and they underestimated the impact it would have to open the land without the main attraction.
Bob Iger has said as much in a recent interview when he hinted at they might have opened too soon, and guests were waiting to come until Rise of the Resistance is done. Even though that's true, the Smugglers Run attraction already welcomed more than 5 million guests, before that.
On December 5, 2019, Star Wars: Galaxy's Edge was complete as the Rise of the Resistance attraction opened, and so did the flood gates of fans into Hollywood Studios (and then Disneyland in January).
In the weeks and months following the opening of Rise of the Resistance, guests have been lining outside the park entrance as early as 4:00 am, just in order to get onto the attraction. Not just a few people either. There are thousands of visitors desperately waiting to get in when the gates open every day, and it isn't slowing anytime soon.
Reservations for Savi's Workshop and Oga's Cantina have always been busy, but Millennium Falcon: Smugglers Run has also seen a boost in crowds from this new influx of guests.
Things are looking positive for the 1st quarter of 2020 as hotel bookings in Disney World are up for the next few months. With Star Wars: Rise of the Resistance having such tremendous success, and then moving into the Spring and Summer crowds, Galaxy's Edge won't be slowing down anytime soon.
Let's talk about the attractions and how long you can currently expect to wait in Galaxy's Edge.
Galaxy's Edge Capacity: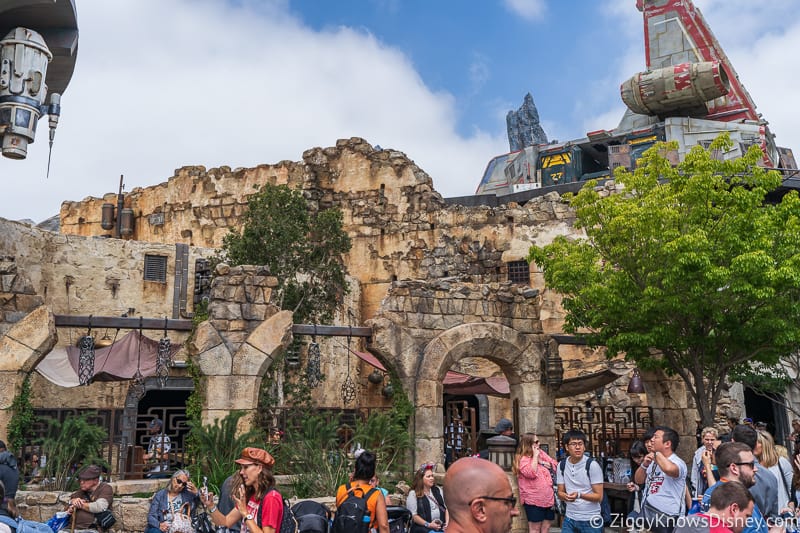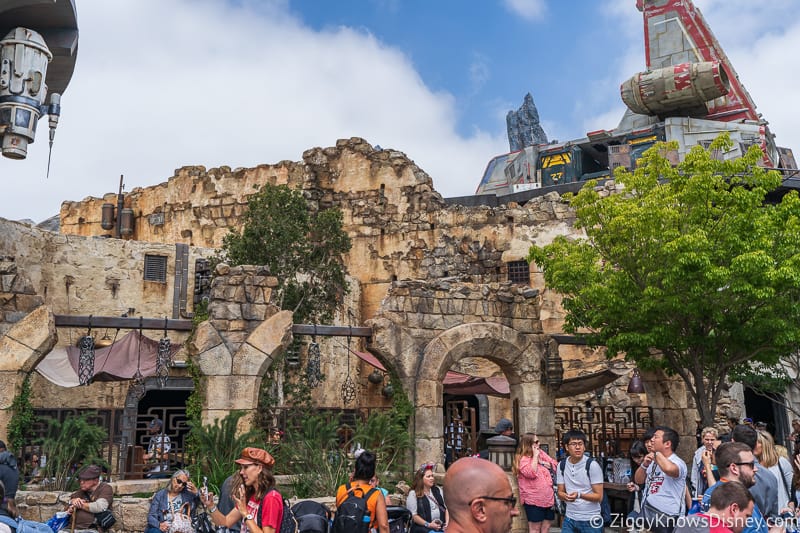 So right now the wait times are being held in check for Rise of the Resistance, but what happens when that comes off the Virtual Queue? How many people can fit into Galaxy's Edge?
Whether or not the wait times get out of control or are manageable all depends on how many guests Galaxy's Edge holds and how many Disney continues to let in at a time. When Disney was using the Virtual Queue for entrance to Galaxy's Edge, they never let in an extremely large amount of people which has made crowds manageable.
What is the capacity of Galaxy's Edge? Let's look at some of the stats:
Star Wars Galaxy's Edge is 14 acres in size in both Disneyland and Hollywood Studios. That is a huge footprint but we still don't know how many people it holds exactly. I don't know the numbers for sure but in my time there is seems like Disney has been keeping things limited to no more than about 7,000-8,000 guests at a time.
The ride queues for both attractions are extremely long and built to hold around 4-5 hours worth of people at any one time which is easily 3,000+ people each.
So if you want to talk about true max capacity with 2 restaurants, shops and walking paths, and both attractions up and running, I think we're looking at roughly 15,000 guests at any one time in Galaxy's Edge at max capacity. However with the virtual queue system in place for Rise of the Resistance not all the guests are coming into Galaxy's Edge at once.
So with all these numbers what does it come out to in wait times so far? Let's take a look…
Attractions:
Let's dive into the numbers for the attractions. Star Wars Galaxy's Edge now that it's complete, has 2 attractions: "Star Wars: Rise of the Resistance" and "Millennium Falcon: Smuggler's Run."
Rise of the Resistance opening was delayed originally, but it has since opened in both Disney's Hollywood Studios (December 5, 2019) and Disneyland (January 17, 2020).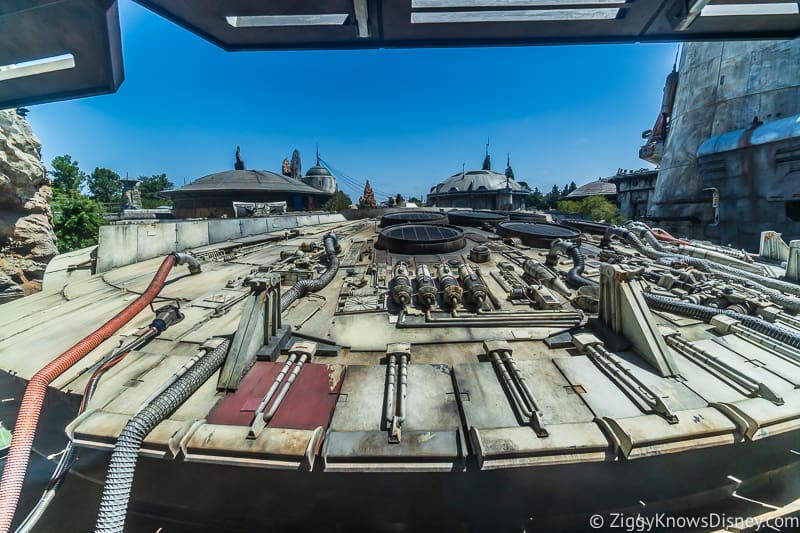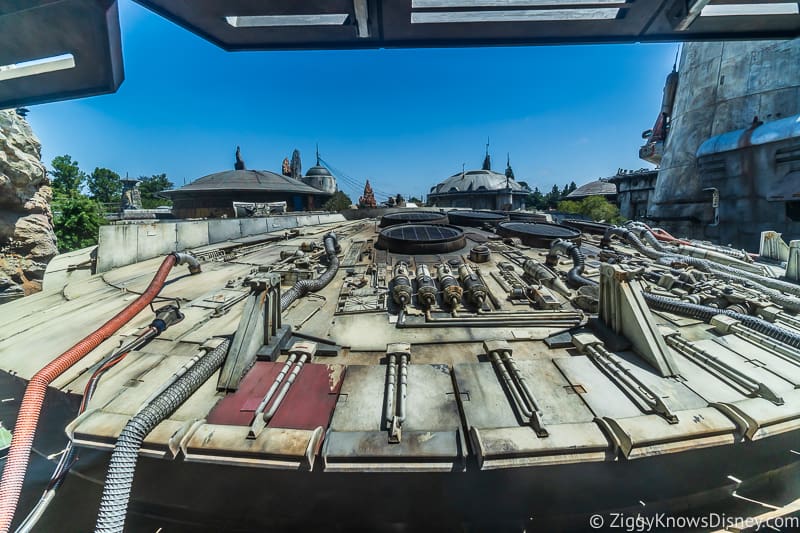 Normal Current Wait Times: 45 – 90 minutes
This is a flight simulator which takes guests on a unique mission in the most iconic spaceship in cinematic history. Each guest onboard has their own responsibility to perform and has a part in whether the mission turns out a success or not. Think of it as Star Tours on steroids with up-to-date advanced computer processing power as the engine behind it. It's pretty awesome tech.
Each cockpit on the Millennium Falcon: Smuggler's Run holds 6 guests. In the whole attraction, there are 4 turntables, with 7 cockpits on each one. 4 x 7 = 28 x 6 guests each = 168 guests at a time.
Disney built the attraction to be able to handle 1,800 guests per hour, and with loading and unloading and that actual ride, the total ride time is somewhere in the 5:30 – 6 min per ride. That comes out to 1,800 in an hour. It's also estimated that the Smuggler's Run ride queue can hold upwards of 4,000 – 5,000 people at a time. I don't think they've reached that number yet so the max has yet to be put to the test.
Usually, the problem is that like with Flight of Passage when it first opened up, those numbers sound great on paper, but in reality, they very rarely are able to meet them exactly the way it's planned and it ends up being longer. Honestly, it hasn't been bad so far and Smuggler's Run has been a pretty reliable attraction with few breakdowns to this point.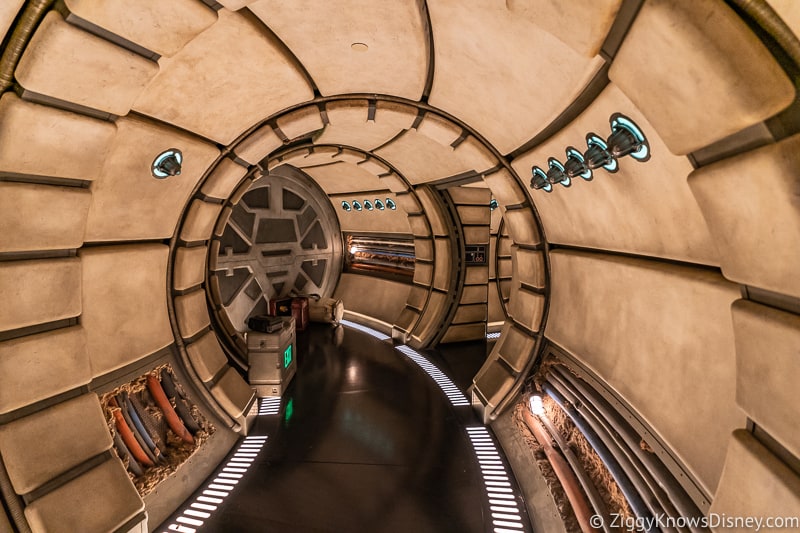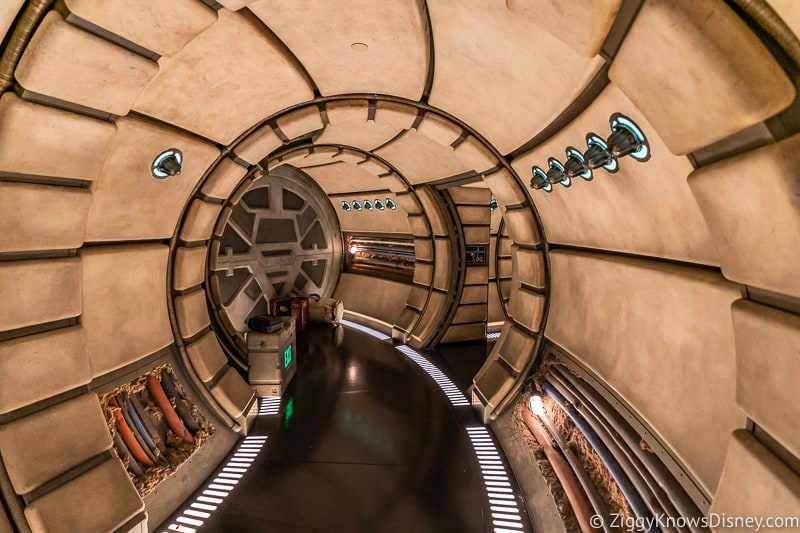 One thing to keep in mind with an attraction like Smuggler's Run is that you have 6 people per ride vehicle who all need to work together to complete the mission.
In both versions of the ride in Disneyland, and even more so in Walt Disney World, you can have a lot of people in the same vehicle who aren't in the same party and who don't speak the same language. That means some are going to have a real problem understanding the instructions of what they have to do, leading to more questions and longer load times.
Up to me I haven't experienced this, but have heard from others who have. From the initial projection of 1,800 per hour, I'd say Disney has been pretty close and is probably hitting between the 1,600 and 1,700 range consistently which is commendable.
Where does that rank compared to other Disneyland attractions? Some other big E-Ticket attractions include:
Pirates of the Caribbean (2,800 riders per hour)
Big Thunder Mountain (2,200)
Haunted Mansion (2,100)
Splash Mountain (1,600)
Matterhorn (1,500)
Star Tours (1,300)
That puts Millennium Flacon Smuggler's Run down in the middle or lower when comparing other attractions, but can't really be compared to a ride like Pirates of the Caribbean which is infinitely easier to load and unload than Smuggler's Run is.
So what do all these numbers translate to in real wait times? On most days before the holiday season, average wait times were between 30-60 minutes, and sometimes as low as 30 minutes.
Now that Rise of the Resistance has opened up, that time has been pushed up some and the average wait time is between 50-90 minutes.
How to Avoid Waiting in Line
It seems like the wait times are higher in the earlier part of the day when Galaxy's Edge first opens until early afternoon. Our experience has been that if you go later in the day you will usually find the lowest wait times.
If I was planning to go, I'd prioritize other things like Savi's Workshop and Oga's Cantina early in the day and then go to Smuggler's Run later on. Get reservations for those when you can and fit Smugger's Run in around them.
Just recently Disney has started offering FastPass+ for Millennium Falcon: Smugglers Run in Hollywood Studios, so if you are fortunate enough to get a FastPass reservation, that, of course, will help you avoid waiting in lines.
Read our FastPass Guide for Galaxy's Edge and Hollywood Studios FastPass+ Guide where you can learn more about our recommendations and some tips that will help you plan your trip to Galaxy's Edge.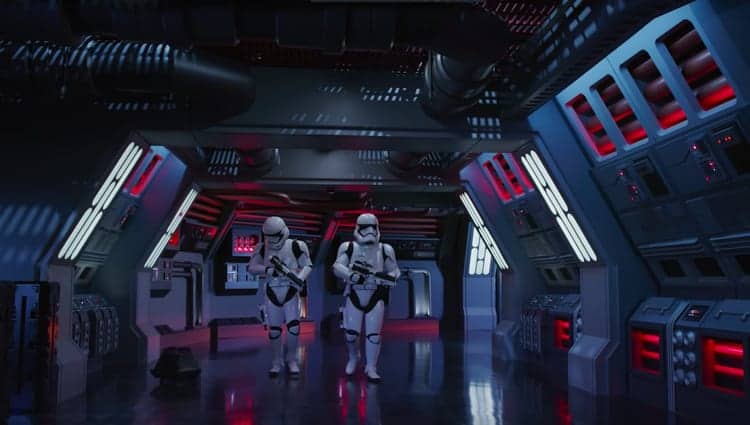 Normal Current Wait Times: Not Valid, Uses Virtual Queue System
Even though Star Wars: Rise of the Resistance is now open, we still don't know the full capacity for the ride, the queue or how many people can go through per hour.
While we don't know the numbers yet, it is high capacity attraction and similar in numbers to the Millennium Falcon: Smuggler's Run. There are a lot of moving parts, however, and more places where things can break, again, causing delays. This has been the case thus far, and both versions of the attraction have been plagued with delays and downtime.
This has caused Disney to delay opening the attraction on many days, or dumping the queue, and delaying the calling of the next boarding groups. When they do this, all the people that were in line, then need to be given vouchers to come back, and all of this takes time.
Surprisingly guests have been pretty well behaved so far on Rise of the Resistance. Even though you are sent from room to room on multiple occasions during the experience. Of course, everyone wants a selfie with the stormtroopers in the star destroyer hanger bay, but for the most part, they tend to move through fast enough.
For now, Disney will continue to use the Virtual Queue until they can get the technical and mechanical issues under control and it becomes a more reliable attraction.
How long will the wait times be when it finally has a normal stand-by queue? That's anyone's guess. The fact that Flight of Passage has been open now for years and still draws crowds of 3+ hours, Rise of the Resistance will surely be in that range if not 4+ hours.
Make sure to read our guide on How to Get a Boarding Group for Rise of the Resistance, which will explain that system in more detail which is critical for you to get to ride while they are still using it.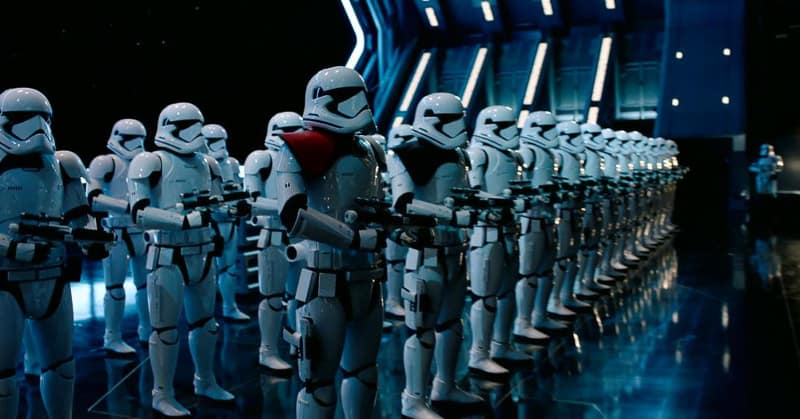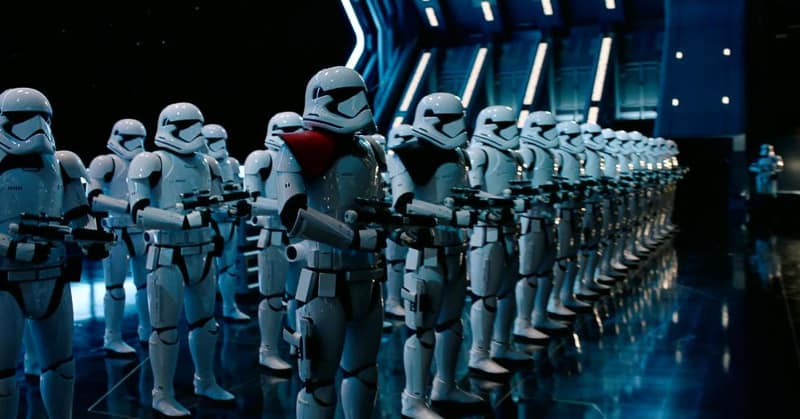 Will I Be Able to Do Both Rides in the Same Day?
Currently, it's not a concern, but what does this mean for your chances to get on one, or both Galaxy's Edge attractions once they are both open with normal stand-by queues?
In 2017 the average number of guests in Disneyland was 50,000+ per day and the reported maximum capacity for Disneyland is 80,000, which you can expect to be tested later on in 2019 and towards the holiday season.
If you can somehow squeeze 30,000 – 40,000 guests in Galaxy's Edge throughout the day, between the 2 attractions you should be able to get on both of them, but Rise of the Resistance is such a wild card and many visitors might just be holding off until it's open which could really test things.
The bottom line though for riding Rise of the Resistance is that your best bet is to go early and be at the beginning of the day to be sure to get on both. Make Rise of the Resistance your number 1 priority in the day!
Restaurants:
There are 2 restaurants in Galaxy's Edge along with 3 food stands. The thing is, there are wait times to get into some of them and reservations involved too.
Here is the rundown from what we've experienced in Galaxy's Edge ourselves…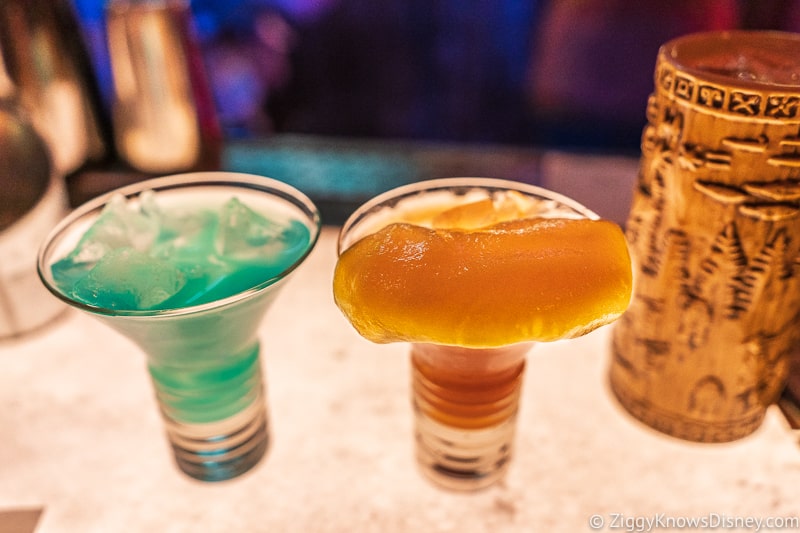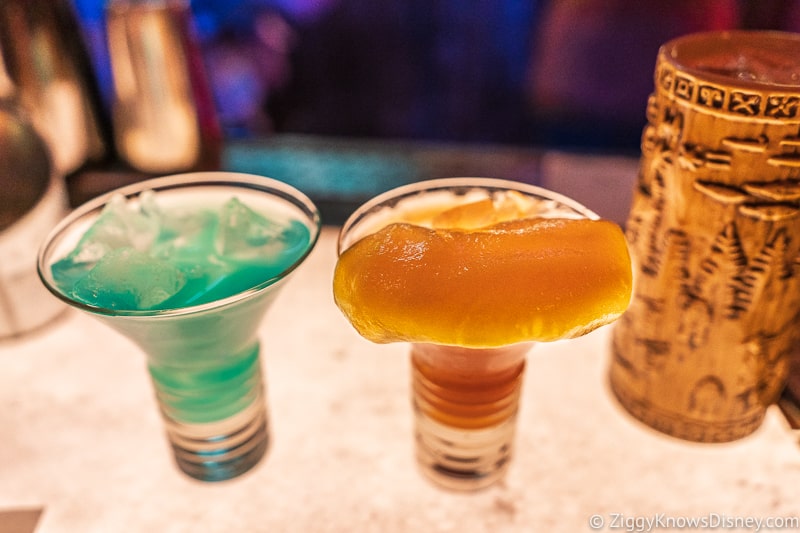 Normal Current Wait Times: Walk-ins are not always accepted and reservations highly recommended.
This is a Bar/Lounge and the smaller of the two "restaurants." Oga's Cantina holds about 100-150 people with time limits of 45 minutes and 2 drinks per guest.
During the first few days, Oga's Cantina was the hottest ticket in Galaxy's Edge and lines were HUGE up to almost 2 hours at times. Now Disney has made reservations pretty much required to enter which can be made 180 days ahead of time in Disney World and 60 days ahead in Disneyland.
Reservations can sell out immediately, so make it a priority to wake up early and get online or on the app to book it. Once you are at Oga's Cantina, you wait your turn until your name is called. If you show up on time you only have to wait a few minutes to get in.
I like the way Disney is handling Oga's and I hope they continue it this way for the foreseeable future.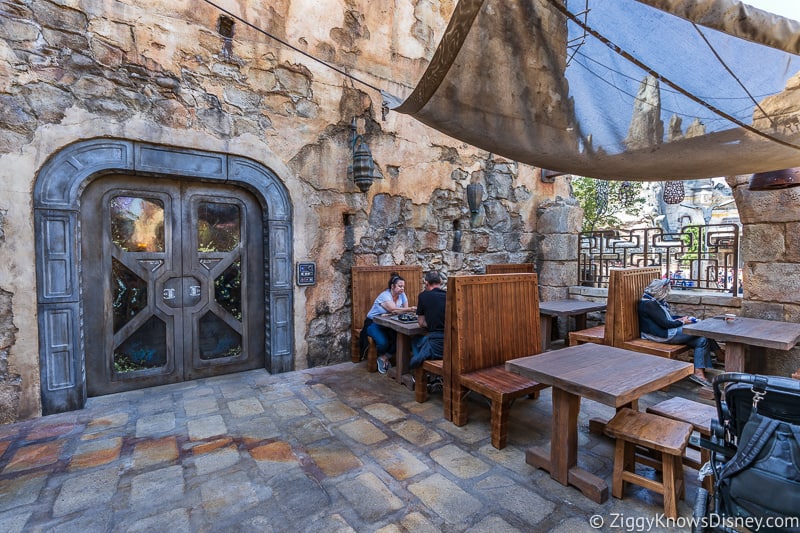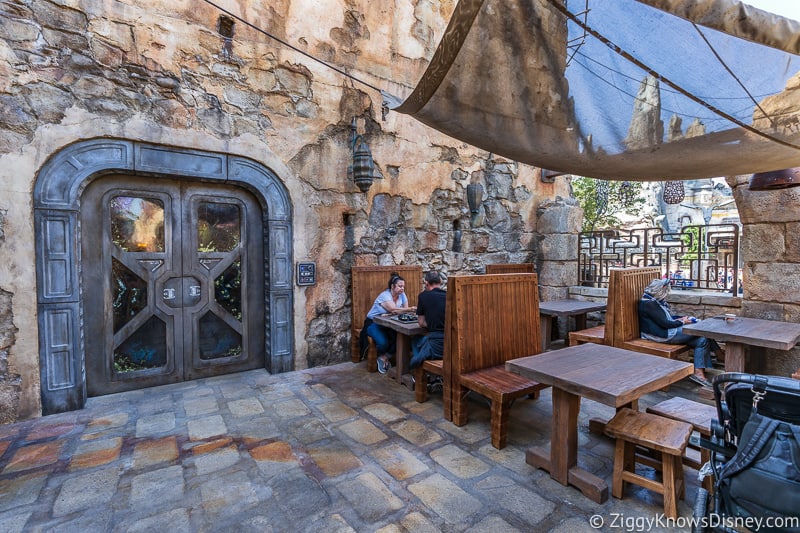 Normal Current Wait Times: 5 – 10 minutes
This is a Fast Casual restaurant that has the biggest quantity of food choices in Galaxy's Edge. Definitely bigger than Oga's and if I had to guess I'd say it probably holds about 300 people or so.
Waits here haven't been bad at all and usually go from 5 – 10 minutes, depending on what time of day it is, maybe up to 20 if it's close to Lunch or Dinner. I think having 3 registers open has helped a lot and we're not getting the same slowness you typically see at Woody's Lunch Box.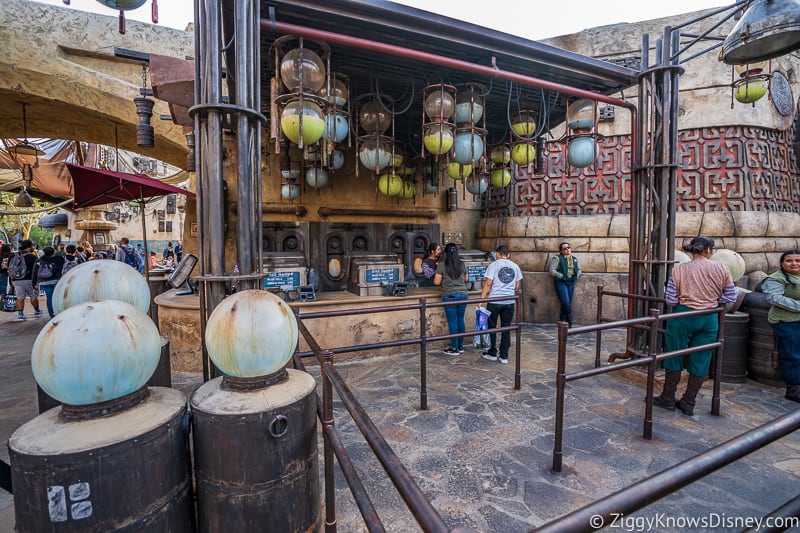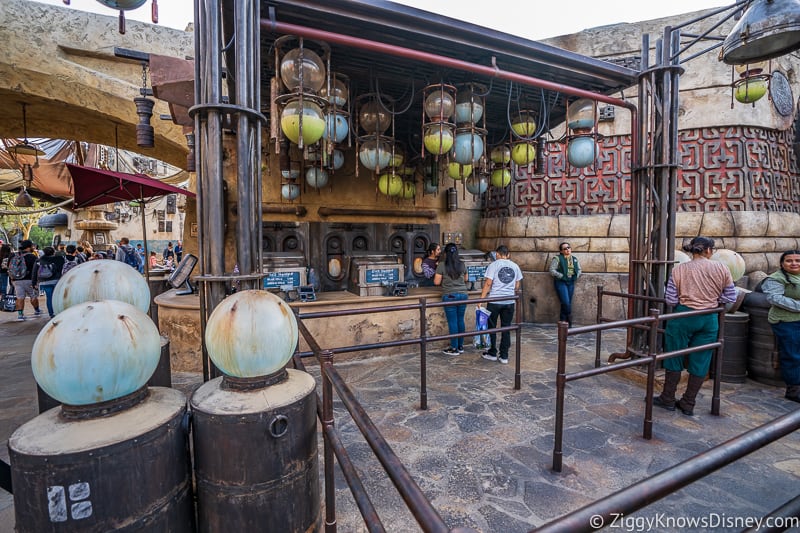 Normal Current Wait Times: 5-10 minutes
These are only food stands/carts but expected wait times were supposed to be up to 20 minutes for each or more. The wait times haven't been nearly this long though and the Blue and Green Milk at the Milk Stand has definitely been a disappointment so far. Kat Saka's is fine, but don't expect there to be extremely long lines for popcorn.
The Blue and Green milk taste just ok at best, and that $7.99 price tag has been scaring off enough people where the lines never really go past a handful of people except at the busiest times.
The popcorn at Kat Saka's Kettle is one of the more interesting food items in Galaxy's Edge which, of which they now have two flavors in each park. Lines here are never bad though.
Ronto Roasters is a great quick service location and a must-stop in Galaxy's Edge, but again except at mealtimes the lines here don't really get bad either so nothing to worry about.
Shops / Experiences:
Not only the attractions and restaurants have wait times, but also the shops. Even though some have been disappointed with guest attendance, sales of Galaxy's Edge merchandise have been booming and spending is up in the parks because of this.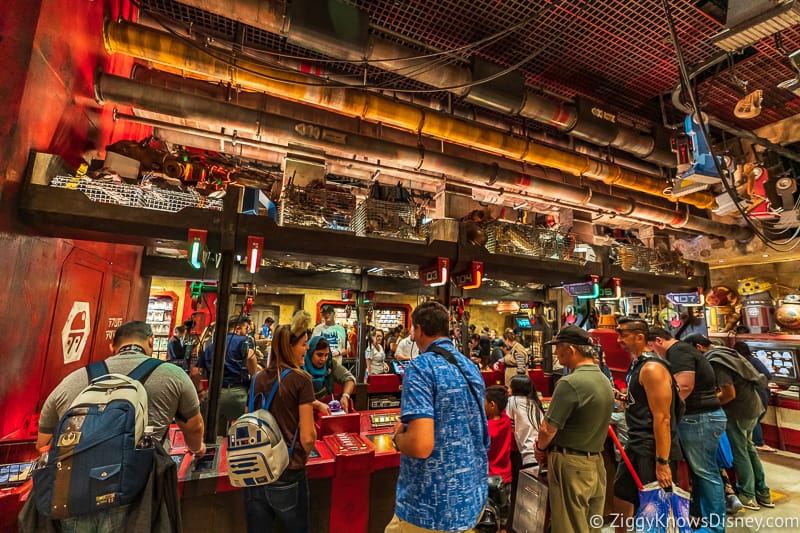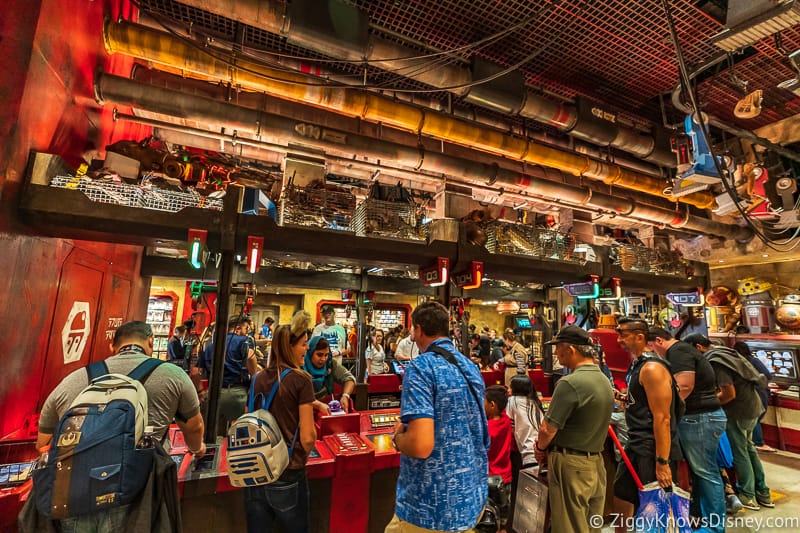 Normal Current Wait Times: 0 – 15 minutes
This where you build your customized droids you can take home. Early on the Droid Depot was filled with people, but if you go later in the day you could literally be the only person in there at times.
No worries here, do this when you have time.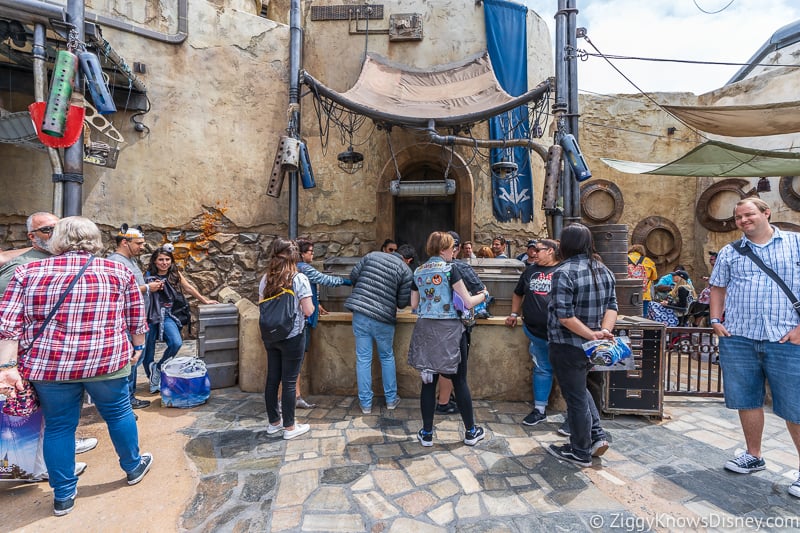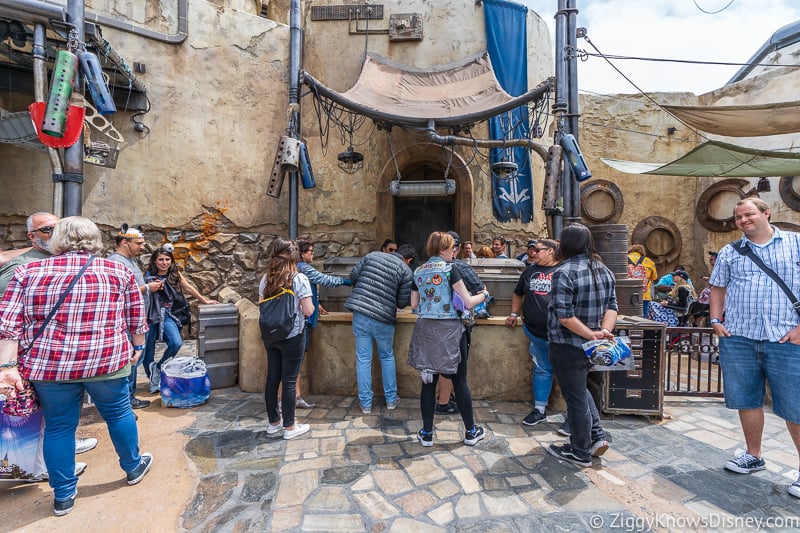 Normal Current Wait Times: Reservations Required (20-30 minute wait when you show up)
This is by far the most difficult experience to get into in Galaxy's Edge. First of all tons of people want to build a custom lightsaber. Secondly, this experience only holds 14 people at a time and the experience is about 20 minutes long with entering and exiting.
There is only one workshop, and so we are talking about a meager 42 people an hour out of the thousands that visit Galaxy's Edge in a day.
Now Disney has made reservations required for Savi's Workshop, which like Oga's Cantina you can do online using the My Disney Experience or Disneyland app. It's highly important you do this BEFORE you visit because it's easy for reservations to sell out. If you are interested in the Star Wars Legacy Lightsabers, you can find them at Dok Ondar's.
You should definitely show up early for your reservation because if you miss your window, that's it, you lose your turn and your $200. That means you should expect to wait a solid 30+ minutes before getting into your reservation.
Tips to Avoid Waiting in Line
Because Disney Imagineers worked so hard on putting in countless details when creating a Star Wars Land, most guests should take plenty of time to walk around and explore its natural beauty without the fear of having to rush.
Here are a few small tips that will help you save some time while visiting Galaxy's Edge:
Go Early for Rise of the Resistance, Later in the day for Millennium Falcon – This will let you do other busier attractions early on, and have minimal wait times for Smugglers Run. It's also great to see it lit up as Star Wars Land takes on a new life at night.
Make Reservations for Experiences – Making reservations ahead of time for Savi's Workshop, Oga's Cantina and Droid Depot are going to save you valuable time. Don't skip this.
Use Mobile Order – In places like Ronto Roasters, Docking Bay 7 and the Milk Stand, you can order your food ahead of time using the My Disney Experience app or the Disneyland app. This will save you valuable minutes instead of waiting for blue milk.
Keep an Eye on the Wait Times – Throughout the day, monitor the wait times for Smugglers Run. If you see it at 30 minutes or less, it's a good time to head over there and get in line. If it's 60 or above, keep waiting for a more opportune time.
What this means in Disneyland: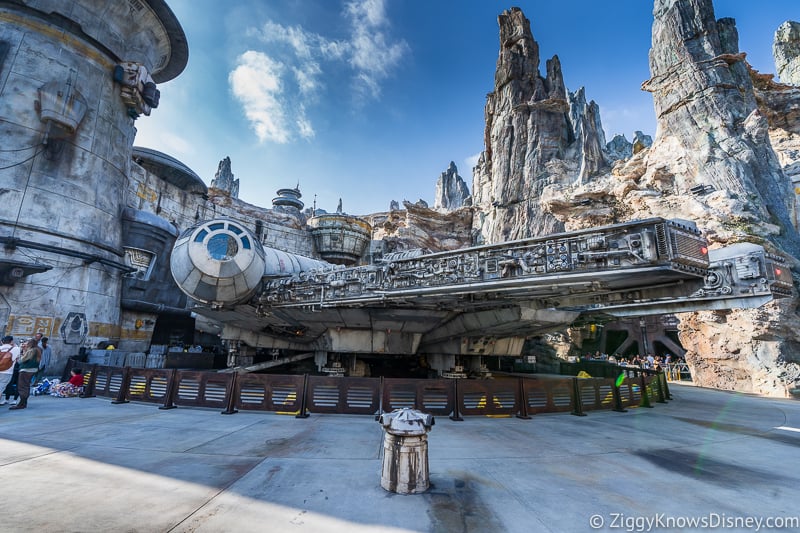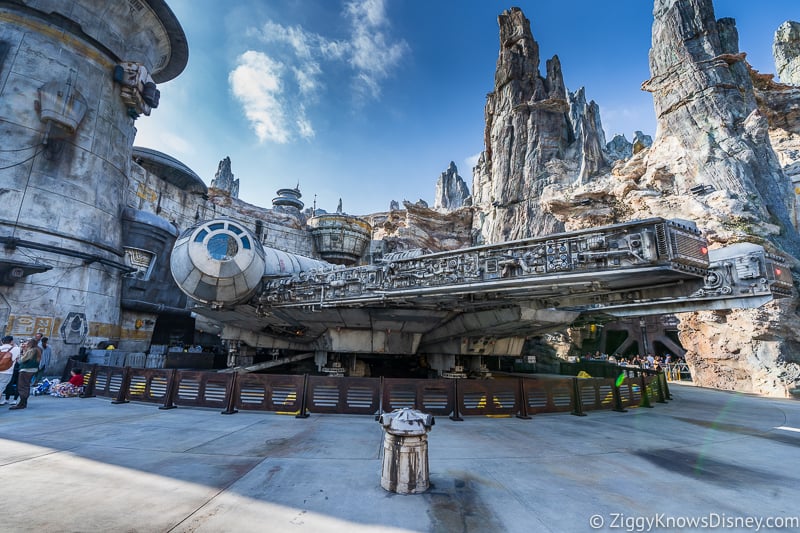 Wait times weren't a problem for the first few months, but now that Rise of the Resistance is open, everything is more crowded than before. You'll be able to do everything in one day, but it helps to have some good planning.
Right now if your goal is to get on Rise of the Resistance, you have no choice but to go in the morning. Boarding passes sell out within minutes, so being in the park is essential at that time.
You don't necessarily have to do everything in Galaxy's Edge right away, however, and it is more beneficial in our opinion to do some of the other popular Disneyland rides first while crowds are lower and most people are concentrating on Galaxy's Edge.
Of course, you'll have to return once you're called to ride Rise of the Resistance, and then decide from there whether to stay or not. It's going to depend also on what time you booked Oga's Cantina, or the Droid Depot and Savi's Workshop.
If it's your first time, I would say it's cool to see both in the day and at night so make an effort to see it a bit in both.
I would spend my early morning doing other things outside Galaxy's Edge, then return at night to do Smugglers Run. This is when the wait time is always the lowest and you won't run into any big waits.
We'll update you when Rise of the Resistance gets a standby queue as well and what strategy that requires.
Disney's Hollywood Studios: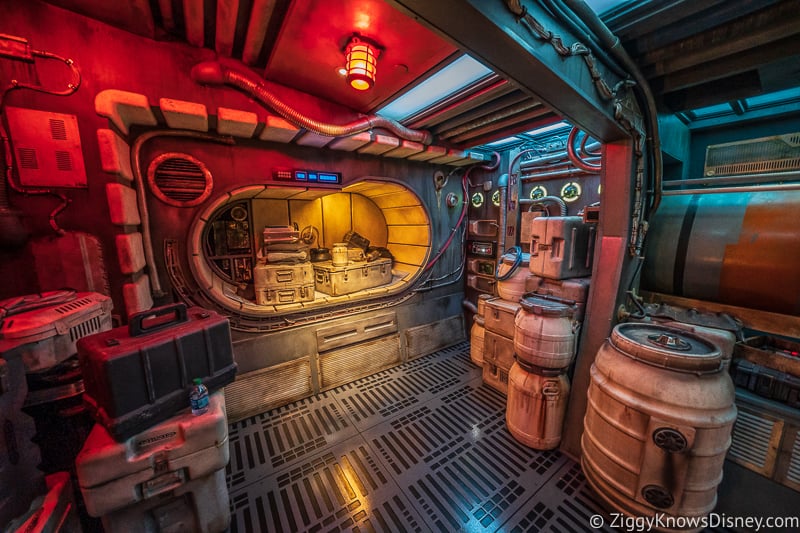 Much like over in Disneyland, the crowds in the Hollywood Studios version of Star Wars: Galaxy's Edge have been picking up and are almost to the level that was originally anticipated.
On opening day in Hollywood Studios Galaxy's Edge was packed and wait times for Smugglers Run were up to 300 minutes, however, things later calmed down and were much more manageable for a while.
Since the beginning of November and into the holiday season, we have seen crowds get much higher
The elephant in the room is Rise of the Resistance, and we anticipate Hollywood Studios is going to continue with very high attendance numbers even into February and beyond because of that.
As we told you before you can get a FastPass now for Smugglers Run, but we'd advise against that. Instead, you should follow similar advice here in Hollywood Studios to what we suggested in Disneyland.
Go early, get your boarding pass for Rise of the Resistance, and then do some of the other rides in Hollywood Studios. This will be a much better use of your time. Then later in the day come back for Smugglers Run when the crowds die down some.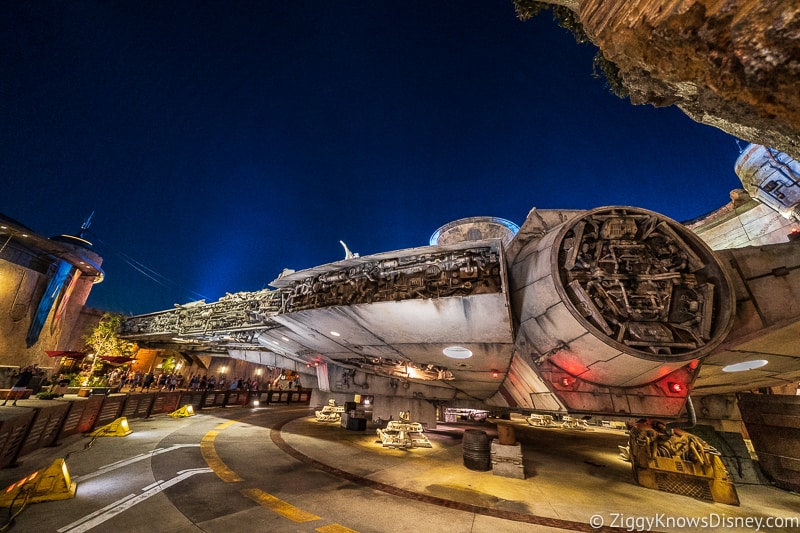 It'll also be interesting to see what improvements Disney makes to their Play Disney Parks mobile app to allow interactive entertainment for guests waiting in line for the Galaxy's Edge attractions. So far their efforts in Galaxy's Edge have been a mixed bag, but the more they improve, the more guests will have to do, which will give them more to do in line, but also keep people in Star Wars Land longer.
The thought of big crowds and super long wait times shouldn't deter you from visiting Star Wars Galaxy's Edge in the next few months, especially if you are a huge fan. I think there is a lot of buzz in the air for the new ride, and attendance will continue to be high all throughout the Spring and Summer, but don't let that deter you. You can still tour everything manageably if done right.
Make sure to look through some of our Hollywood Studios Touring Itineraries which have 1-Day and 2-Day plans in them to help you know what to do.
Stay tuned as we continue to update more info on the Galaxy's Edge wait times as time goes on…
For more info read our Complete Guide to Star Wars: Galaxy's Edge for a detailed look at the attractions, dining, planning and touring strategies.
Your Thoughts:
I want to know what you think about the current Star Wars Galaxy's Edge attraction wait times….
Which attraction / experience would you be more willing to wait a long time for?
What's the longest you've waited in line in Galaxy's Edge?
Let us know in the comments section below!
If you enjoyed this article, as always I appreciate it if you'd share it with others via social media. I work hard at making this website into a useful resource for you and your family to plan your visit to the Disney Parks and I hope it can help you! Thanks 🙂