From the very first time you saw Star Wars, who hasn't wanted to bring home their very own droid? Now you're going to get that chance in Star Wars Galaxy's Edge when you visit the Droid Depot! In this post we're going to share with you everything you need to know to build your own customizable droid unit, how to build them, the units available and the price!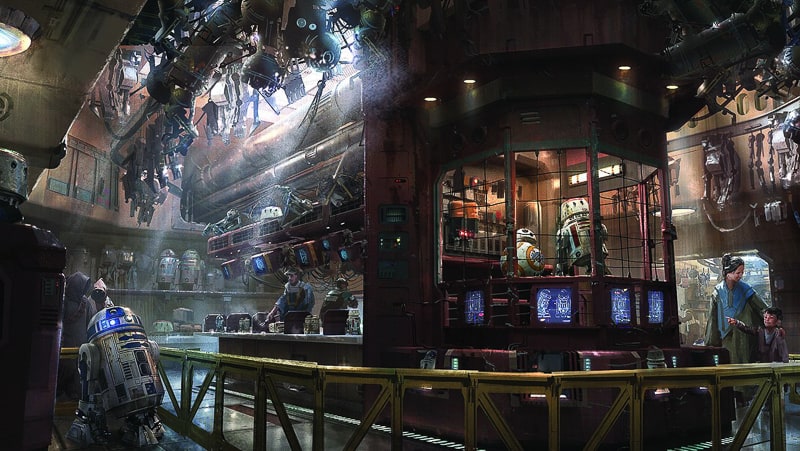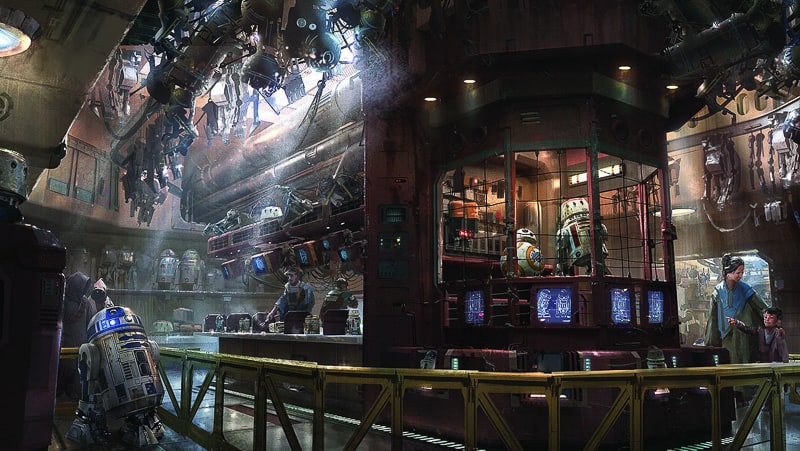 Locations and Summary:
Disneyland – Opened May 31, 2019
Hollywood Studios – August 29, 2019
The Droid Depot is a shop in Star Wars: Galaxy's Edge, but it's more than that. Much like Savi's Workshop, the Droid Depot is an experience in itself, and Disney even has it listed under: "attractions" on the park guide map.
The Droid Depot opened May 31, with Star Wars Galaxy's Edge in Disneyland, and will soon open in the Hollywood Studios version of Galaxy's Edge on August 29, 2019.
Droid Depot Story and Theming:
The Droid Depot is run by a tech-savvy Utai named Mubo who wants to share his knowledge of droid building with his visitors. Of course he's never in the shop, but his staff is and they are very knowledgeable and can help you choose the right droid for you.
Droids are a huge part of Galaxy's Edge and even before you enter the Droid Depot, is very clear where you are just by looking at the outside of the building and all the droids located there.
These are the ones outback behind the Droid Depot: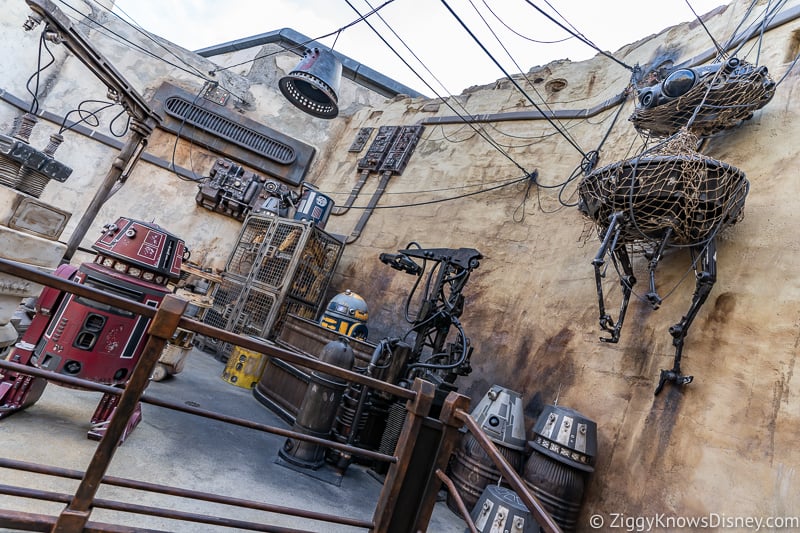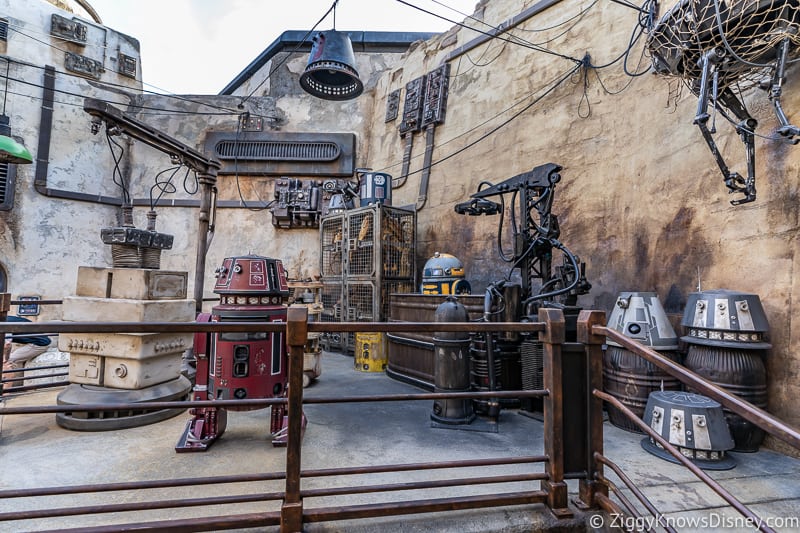 There are four audio-animatronic droids lined up outside that you can interact with while you're waiting to enter. They beep and make all sorts of noises and it's going to be a very popular spot for pictures!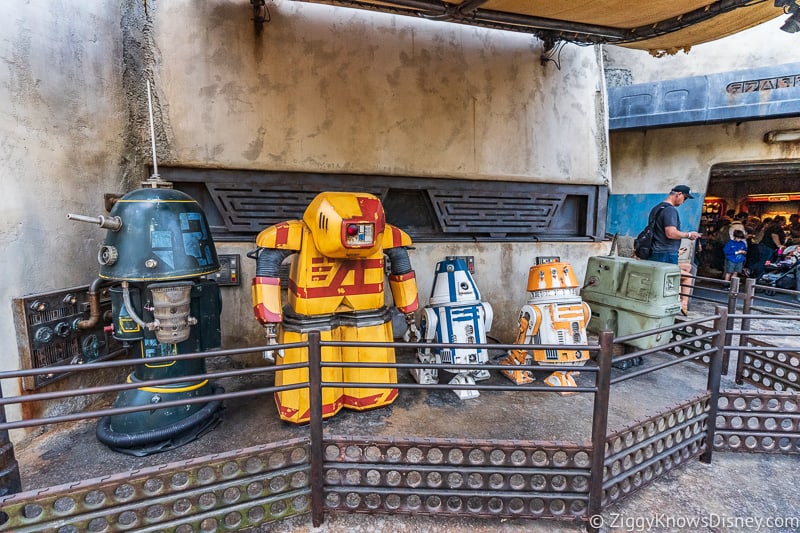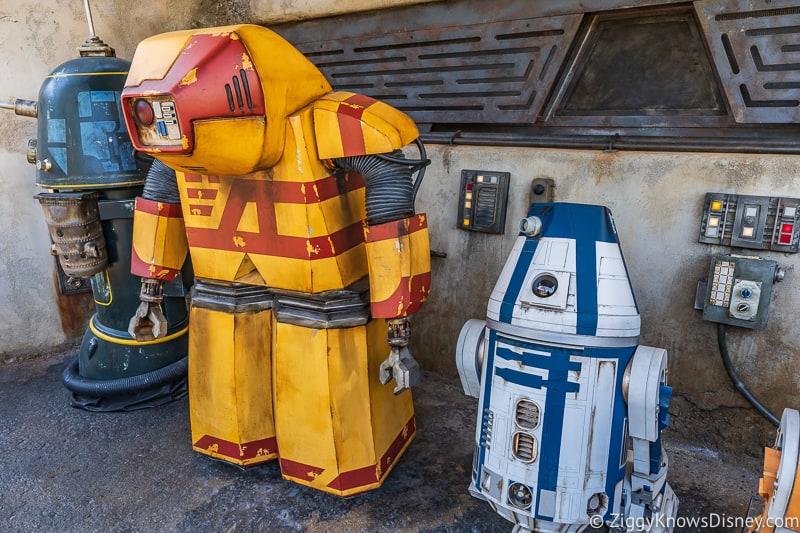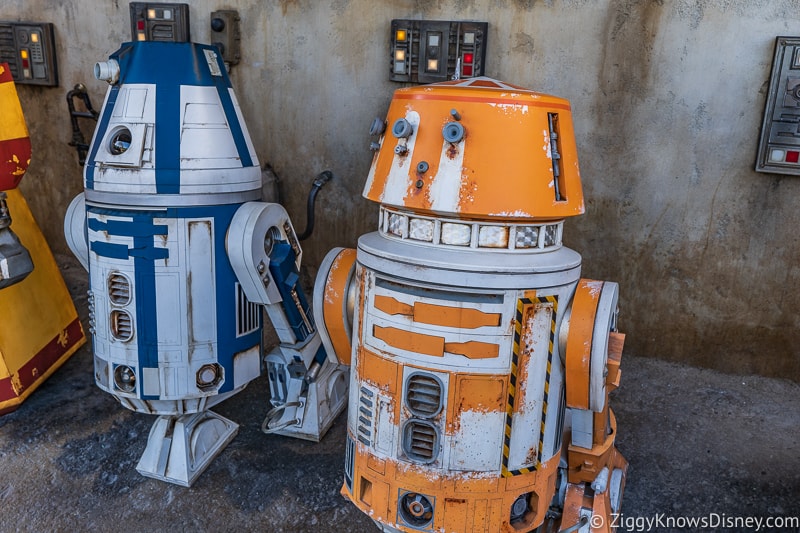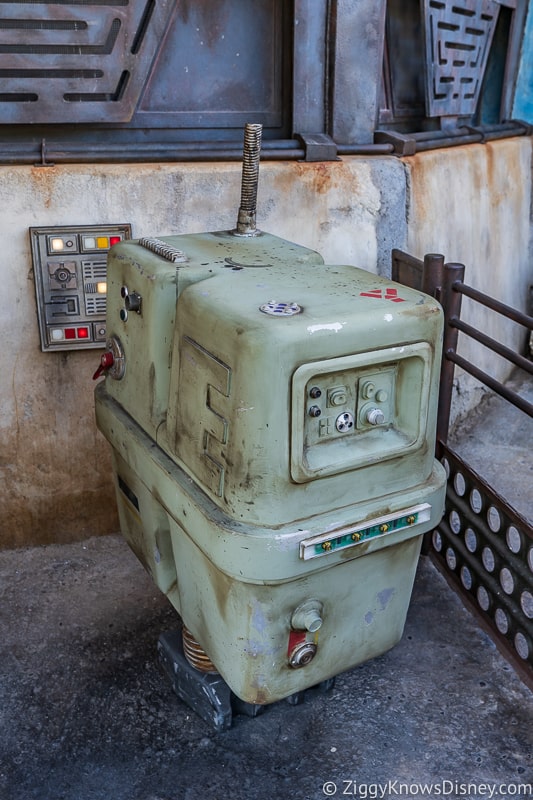 Let's go inside and take a look: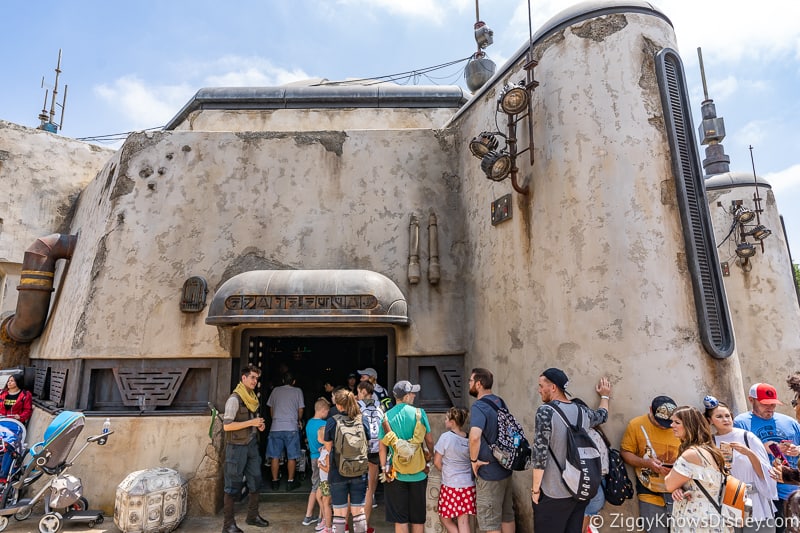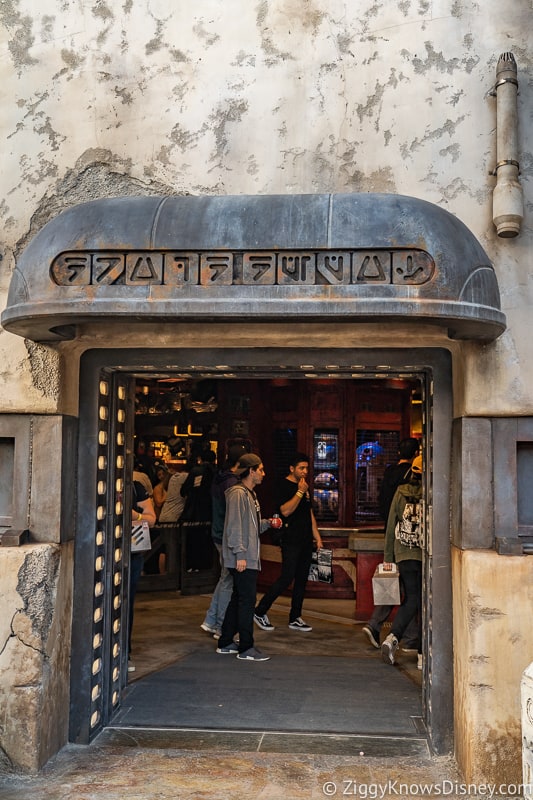 This is not a regular shop or what you might think of for "toy" droids. The Droid Depot is a highly-themed environment that will make you stare around in amazement while looking at all the crazy details throughout the room. There are droids everywhere, of every size and shape and you'll find lots of audio-animatronic droids moving around in the background and on the walls.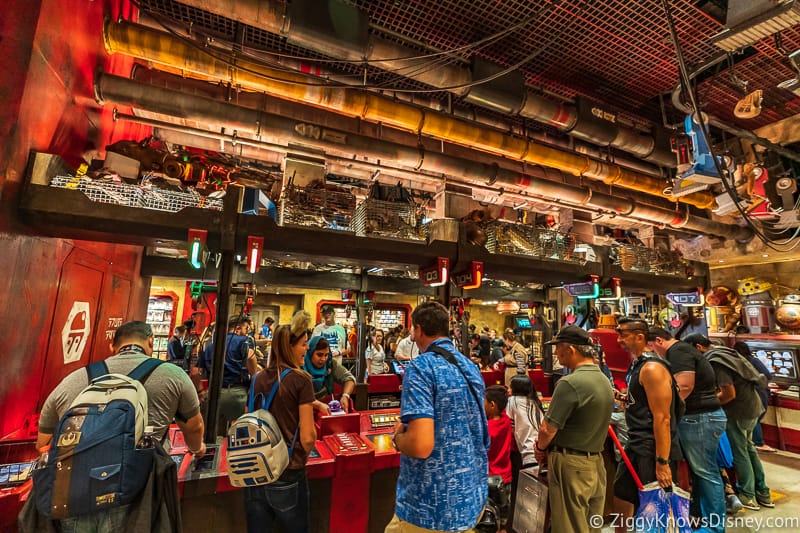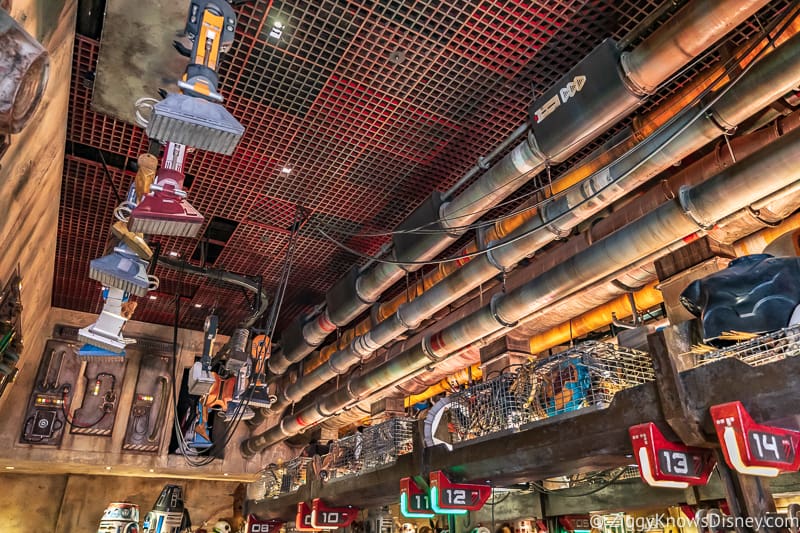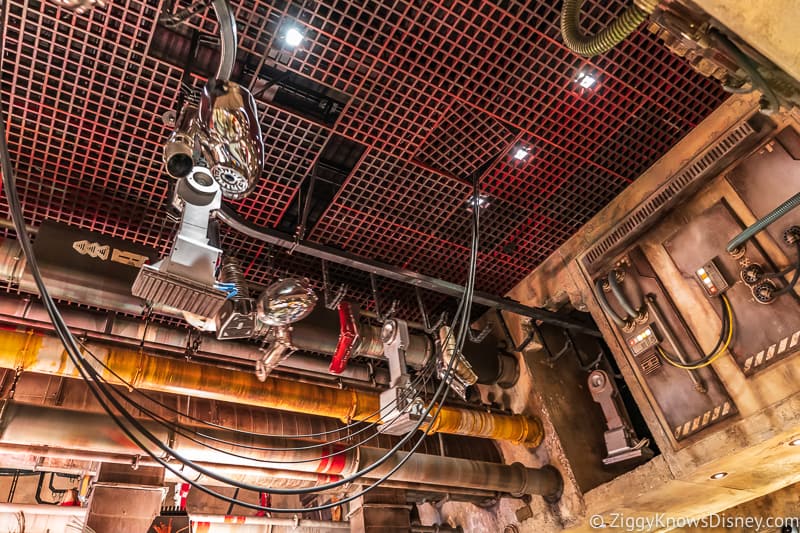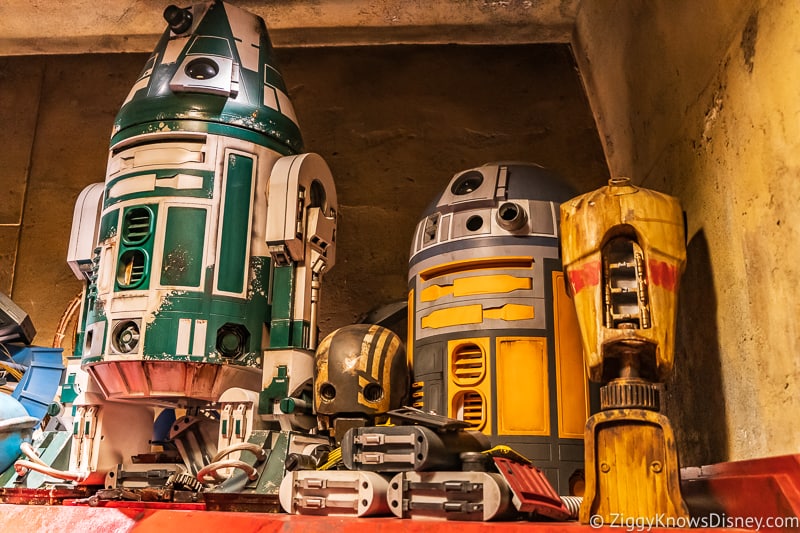 Wait Times and Reservations:
Like just about every attraction, shop and restaurant in Galaxy's Edge, the Droid Depot is going to be crowded for quite some time. If you get there early enough or if the crowds aren't too bad, you can walk right in. Otherwise you need to make a reservation for this experience. We will share more detailed information on how to make reservations once Galaxy's Edge opens up.
The experience is limited to One droid builder, along with one guest.
At least one person must be 14 years old or more.
The Droid Depot experience is subject to availability and reservations may be required.
Arrive on time. If reservations are required, late arrivals may not be allowed entrance.
If you are going during the reservation period when access to Galaxy's Edge is limited to only 4 hours, you're going to have to be selective of the experiences you choose to do. Wait times for the Droid Depot will probably be around an hour or so which is a big part of your time. We'll update this with more accurate numbers when it opens up.
Droid Types: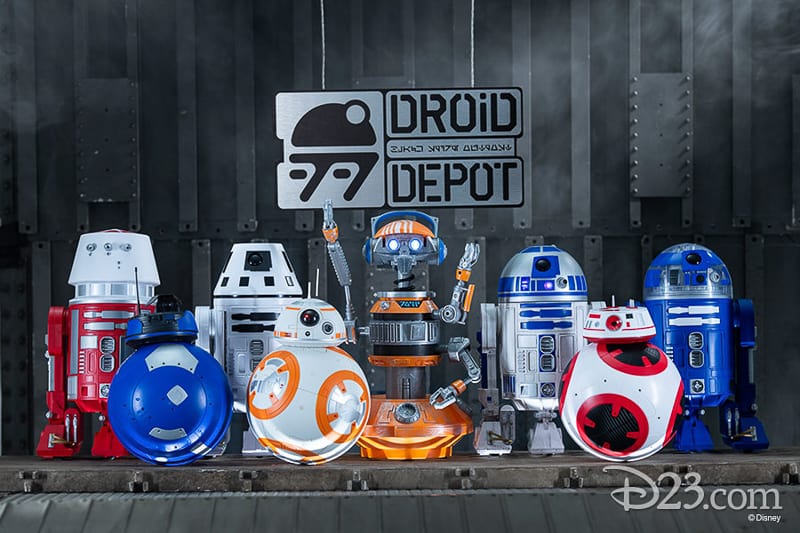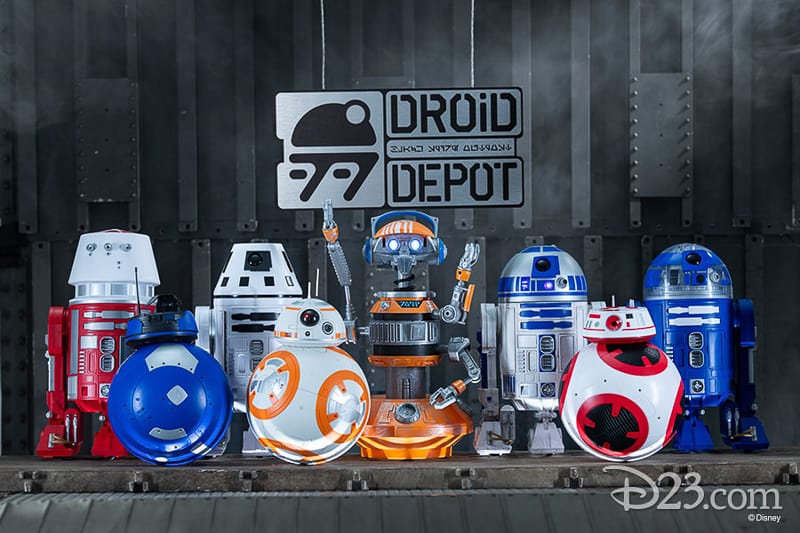 It's important to know there are multiple types of droids in the Droid Depot to build. Choose from model kits, pre-made droids and premium droids. These range in size from small, medium to real authentic replicas of the droids from the Star Wars films.
Right now we are going to focus on the regular astromech droids which will be the main focus of customers entering the Droid Depot. There are two types of astromech units: R-series (this is the classic R2-D2 style) and the BB-series made famous by BB-8 in the recent trilogy.
Before getting started are are a few important things to keep in mind:
Also the experience and offerings available are subject to change without notice, so it's possible they could be out of a certain type of part or droid unit during your time there. This is going to depend on how popular the droids are.
These droids use Bluetooth® technology to communicate with other astromech droid units as well as certain other elements and objects on Batuu and at Disney Parks and Resorts.

Here is a video preview of the droids that are available:
Droid Pricing:
So all of this sounds awesome, but how much it cost to build a droid in the Droid Depot? Here is the price and what comes with your droid:
$99.99 per astromech droid unit, plus tax
Carry box and instructions – used for carrying your droid around the park with you
Personality-affiliation chips – these give your droid personality and make him come to life, but they are NOT include with the normal price and are an extra charge.
Nonrefundable – once you build your custom astromech droid unit, that's it. You can't get your money back so choose wisely.
Discounts – there are NO discounts available for the droids, including annual passholders.
So to build one of the customized droid units costs $99.99, plus tax. That includes the instructions and carrying case. That's a high price, but honestly I was expecting more, especially after seeing how much the lightsabers from Savi's Workshop cost.
However that price is without any of the accessories or personality chips which can add up fast. A fully decked-out droid will set you back $200-300 easy if you really want to customize it.
But the customizable droids aren't the only ones you can buy in the Droid Depot, if you've brought your American Express Platinum Card with you Disney is selling full-size remote controlled R2-D2 droids that you can fully customize to your liking. It looks and acts just like it in the Star Wars movies. It's selling for a meager: $25,000.
I'm sure it's awesome but I'll be sticking with the normal $99 version thanks. Now let's find out how to build one!
Building your Droid: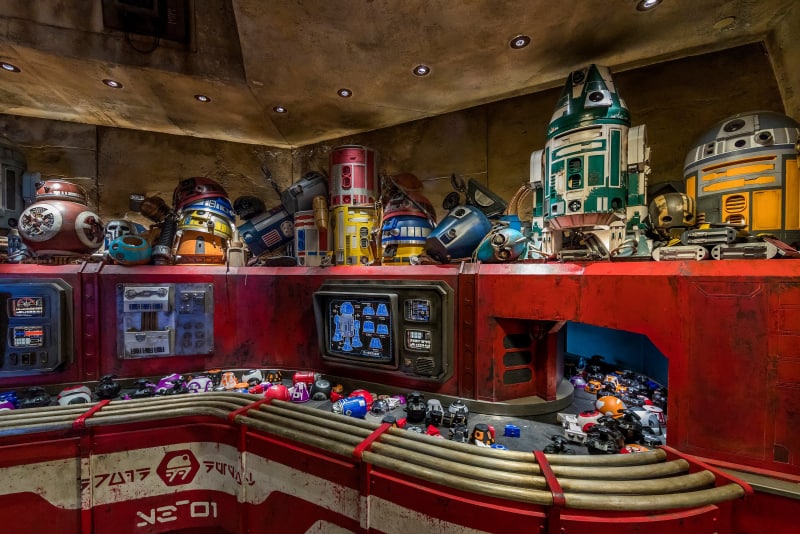 First you need to pay for your droid. Head to the clerk and choose between the BB-series or R-series.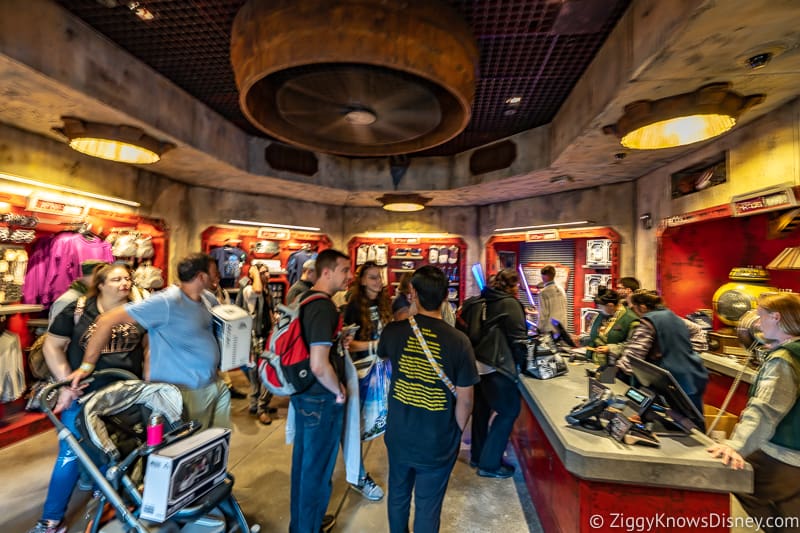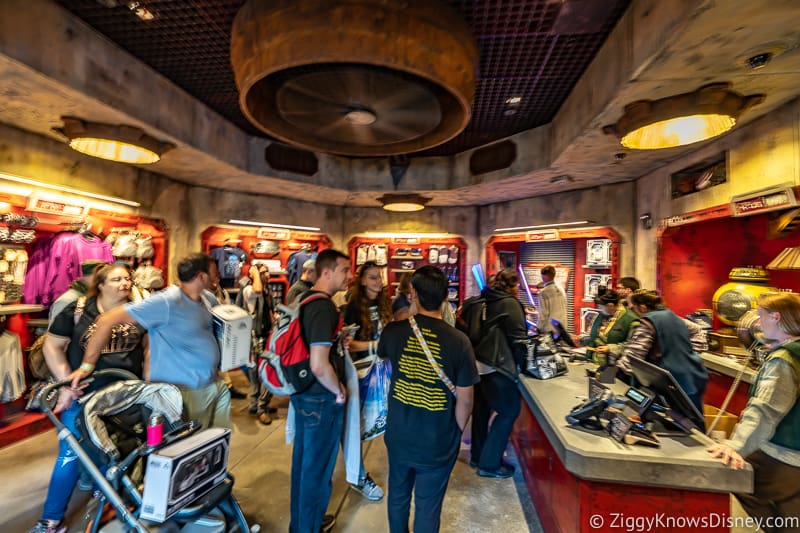 Once you do that they will give you the blueprints to build it, and a basket to collect the parts in. Once you have these things, head over to the parts station to start the building process.
Parts Station:

Once you select the type of droid you want, you'll choose from a variety different droid parts which come to you on a conveyor belt. Each style of droid has 4 different parts you need to choose from to customize yours. They are:
BB-Series
Dome
Dome Connection Plate
Body Sphere
Motivator
R-Series
Dome
Body
Center Leg
Set of Side-Legs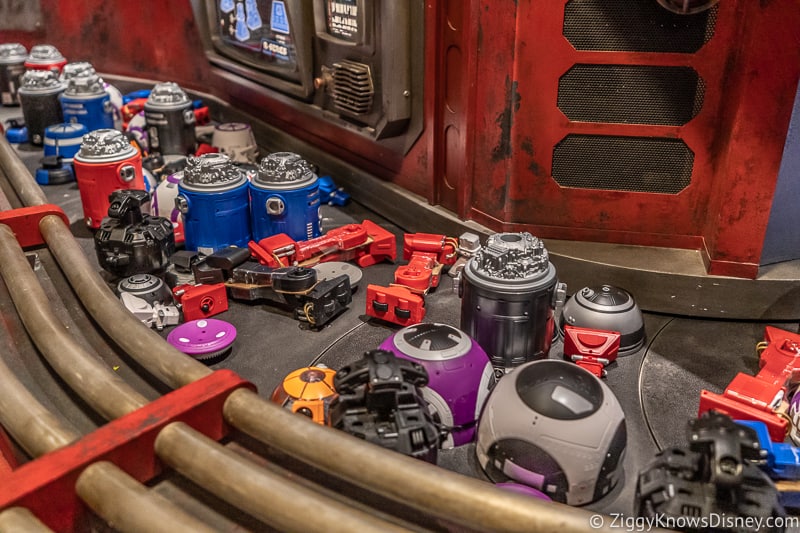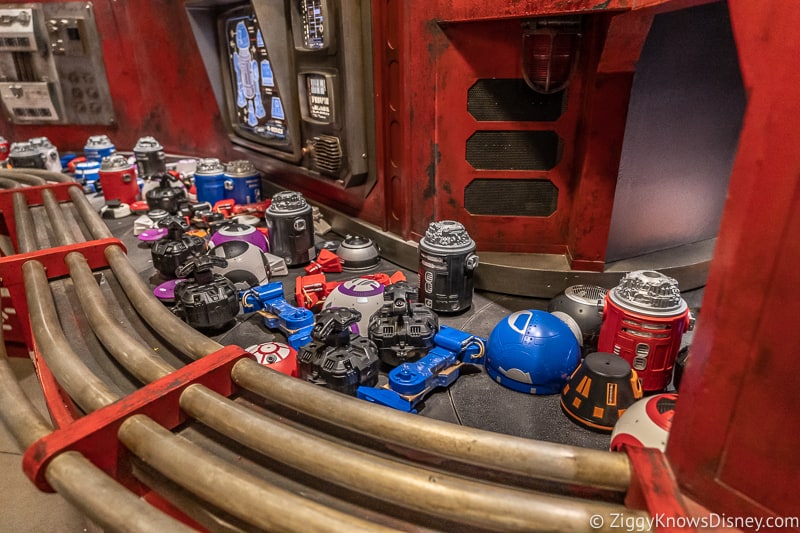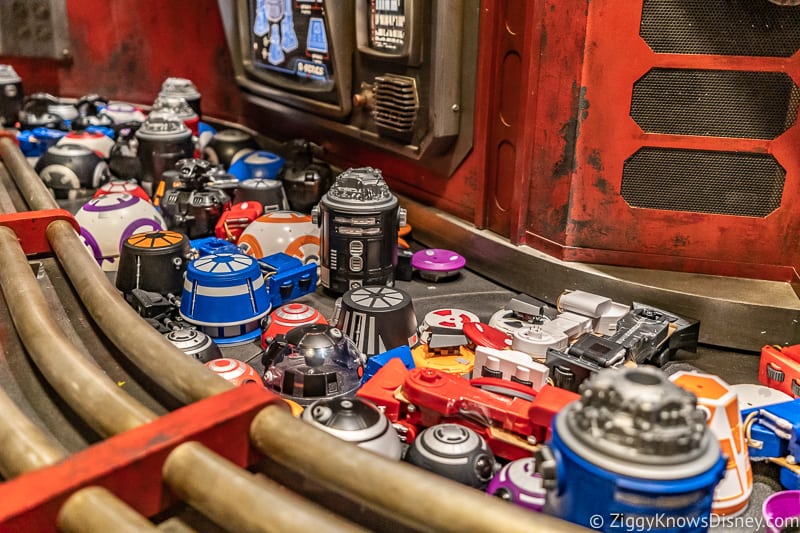 There are tons of different styles for each part type, so mix and match however you like. Just make sure you choose one style of each part type. Once you finish, it's time to put it all together…
Build Station:
Follow the directions on the "placemat" in front of you, or up on the monitor displays which will walk you through putting it all together in the right order. Once you've completed building your droid you are given a remote control which you can use to activate it and watch it come alive and then start using it!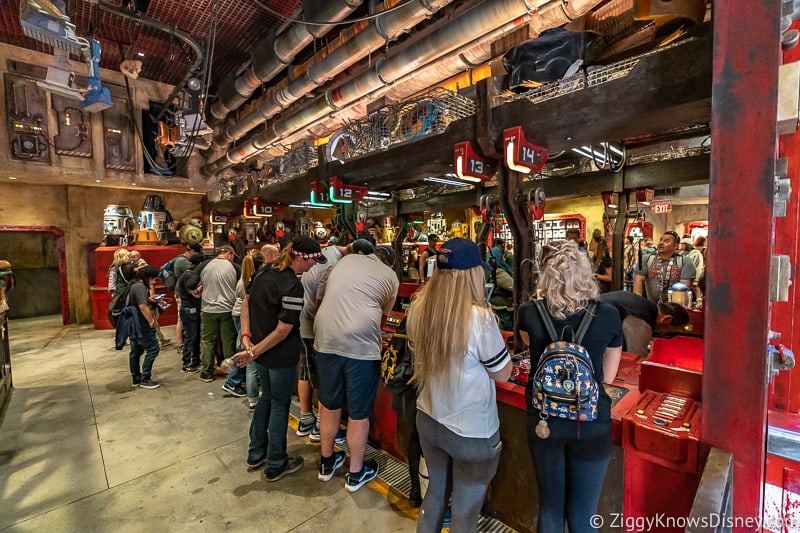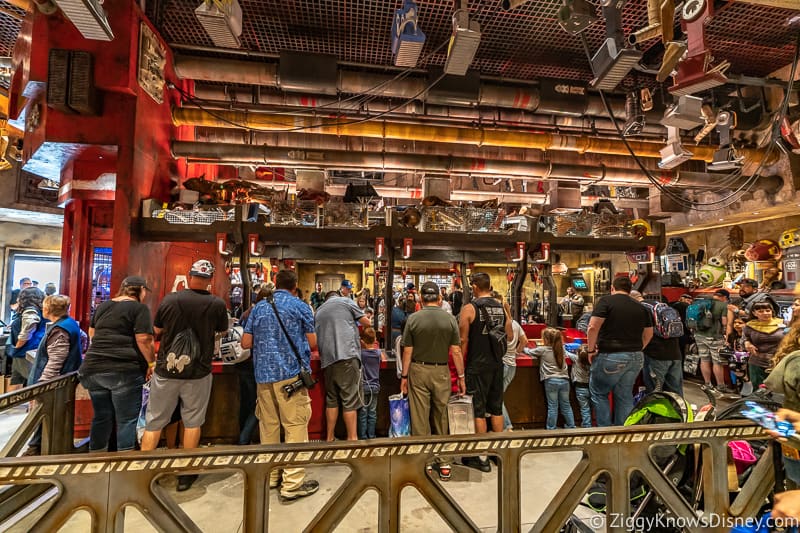 If you want to further customize your droid you have the opportunity to purchase additional accessories to add-on to it like the personality chips. I'm curious to see how the droid personality chips will play into everything: How many of them there are and what difference they make. Supposedly they will be easy to put on and take off, only requiring a matter of seconds to do.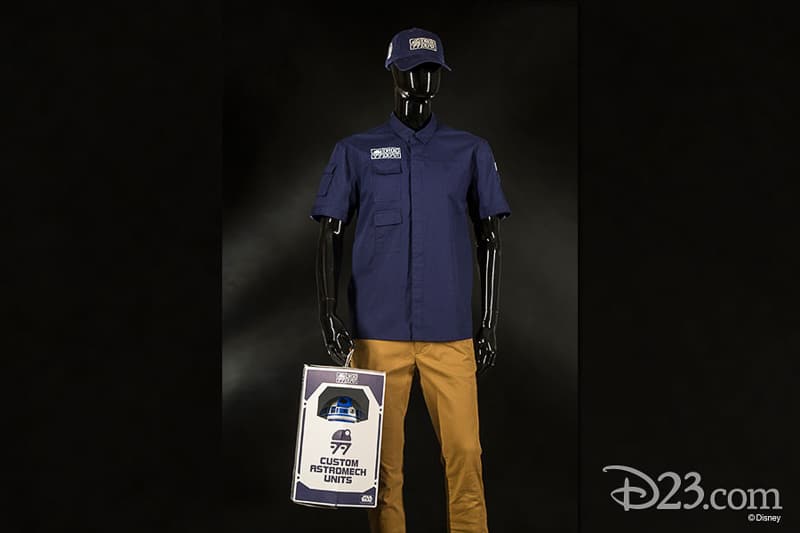 You'll notice the bag the droid is being carried out with. You won't see any standard Disney-themed bags in Galaxy's Edge, they are trying to keep everything "in-universe" so expect to find unique bags like if you were really in that world. Disney is also continuing to roll out its reusable and plastic-free bags in Galaxy's Edge, much like in all the Disney Parks to keep them environmentally friendly.
The droids are another potential game-breaking piece of merchandise which fans are going to go crazy over like the Banshees in Pandora: The World of Avatar. Let's hope they make enough of them to keep the people happy!
What Can You Do with the Droids?
Disney has designed the custom-built droids to interact with your surroundings in Star Wars Galaxy's Edge. They use bluetooth technology to recognize various points throughout the land with are interactive and can share information and secrets about Galaxy's Edge.
Right as you leave out the back door of the Droid Depot, there is a small courtyard where two more animatronic droids are waiting for you. In this highly-themed environment is where you'll have your first chance to try out your newly built droid unit and see how he interacts with the droids here.
After leaving the courtyard you can bring your new droid through the streets of Black Spire Outpost to find more places to explore with him. Your droid can interact with the other droids in Galaxy's Edge (there are many of them stationed throughout the land) and also answer to your own prompts.
If you choose to purchase the personality chips for your droid then he'll take on whatever personality that chip has and react to his surroundings in Galaxy's Edge in like manner. That has a ton of possibilities with him being scared, or curious for example.
Part of the theming of Galaxy's Edge was supposed to include fully-functional droid units roaming around the land and interacting with people. That has been cut from the project as of now due to safety concerns. However as soon as Disney is able to implement them, your custom built droid will most definitely be able to interact with these too! Who knows what other technology Disney has in store that they'll be interacting with.
Can you Drive the Droids?
Yes and no. They are definitely remote-controlled so you can drive them around. Unfortunately even though they are remote controlled, you can't drive the droids around Galaxy's Edge or in the Disney parks. You'll have to use the carrying case and bring them that way. We'll have to see how the crowds ultimately respond to it.
I don't think this aspect will be received very well because it's one thing to be able to drive them around, but carrying them is a lot more work and I don't think too many people will be doing this. I understand why Disney won't allow it, because it would be dangerous to have hundreds of these things around your feet at all times, but it's a shame anyway.

Droid Depot FAQ's:
Can I use my droid in Star Wars Galaxy's Edge?
Yes you can, but you cannot drive your droid around while inside the park, this is strictly prohibited. The droids can interact with the surroundings in Galaxy's Edge but you must carry your droid around with you in its case to do so.
Are there any discounts on the droids for Annual Passholders?
No, there aren't any annual passholder discounts at this time.
Can I upgrade my droid in the future?
Yes, absolutely. You can continue to add new parts and further customize your droid at any time.
How much do accessories cost?
Personality Chips are $12.99, there are 6 total, and the Backpack is $39.99
As I said before with both the lightsabers and droids, I think we'll have another Banshee incident on our hands and the merchandise flying off the shelves. It will be interesting to see how many Disney stocks of each item and see if they are able to keep up with demand.
I have a feeling these are going to sell out shortly after opening (maybe weeks). However Disney might have things calculated seeing only a certain amount of people can enter and do the experience per day, so this might have been all part of their plan to limit them at least in the beginning until they get a better idea of how fast the droids sell.
Since the opening, many have been wondering how to get into Star Wars Galaxy's Edge? Read our guide on the best way to get in and what to do when you arrive in Galaxy's Edge. The Disneyland version opened on May 31, 2019 and is opening in Hollywood Studios on August 29, 2019, and that post goes into more depth about the dates.
For a more in-depth look, read our Complete Guide to Star Wars Land in Disney here for a detailed look at the attractions, dining, planning and touring strategies. Or read the Galaxy's Edge shopping guide to see all the other unique merchandise being sold in Star Wars Land.
Stay tuned here at Ziggy Knows Disney for more information on the Droid Depot and everything in Star Wars: Galaxy's Edge!
Your Thoughts:
I want to know what you think about the Droid Depot in Star Wars Galaxy's Edge and all the droids available there…
Are you going to build one?
What type are you going to build?
Let us know in the comments section below!
If you enjoyed this article, as always I appreciate it if you'd share it with others via social media. I work hard at making this website into a useful resource for you and your family to plan your visit to the Disney Parks and I hope it can help you! Thanks 🙂