A trip to Walt Disney World is one of the best vacations you can take, but the time you put into planning it will make all the difference in how well it turns out. That's why we've put together our list of the Best Tips for Walt Disney World which will maximize the magic you have.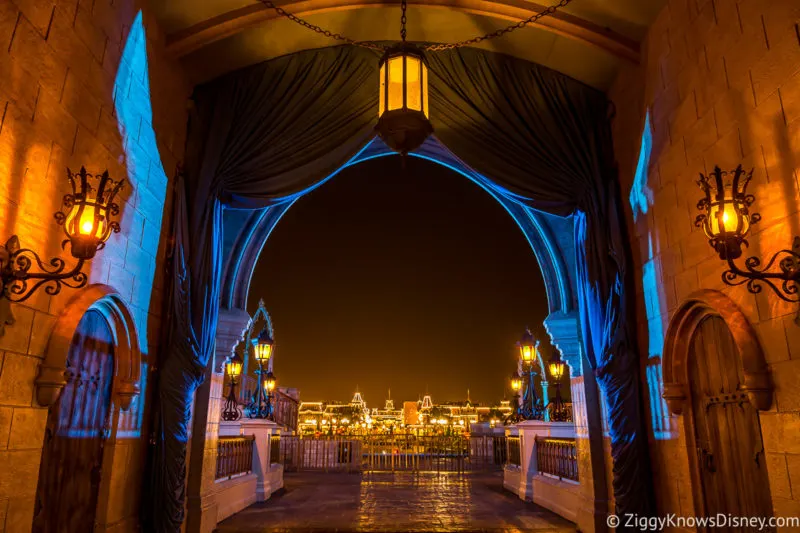 In this post, we will cover the Top 150 tips for planning a trip to Walt Disney World and having a blast once you are there. The tips that we give here are not only for first-time visitors but also Disney veterans who have been to the parks dozens of times.
After all, things are constantly changing at Walt Disney World, and the things you had to plan for just a year or two ago have probably changed drastically since. That's why it's important to keep updated on all the latest planning strategies for your upcoming trip.
Of course, not all vacations are the same of course, but we guarantee that no matter how many times you have been to Disney World, you will find some tips here that will help you get the most out of your vacation.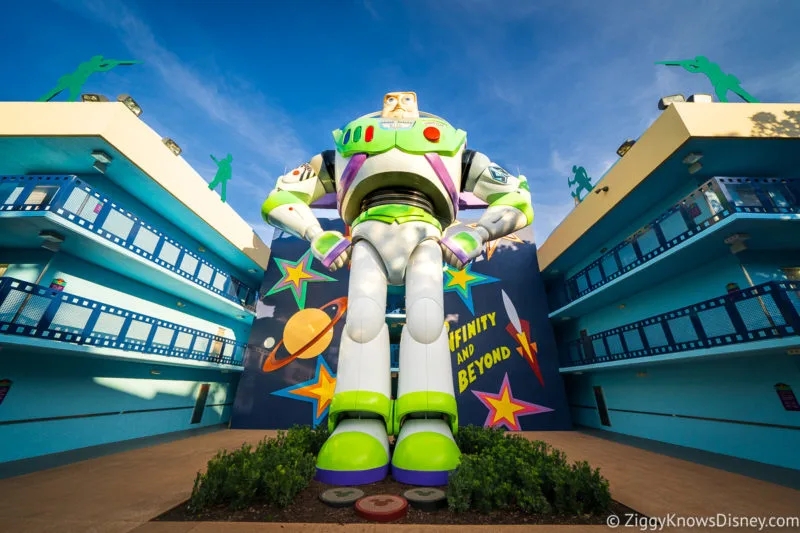 We've broken down our 150 tips into different categories including tips for beginners, booking, transportation, park touring, rides, dining, hotel tips, and saving money, just to name a few.
Of course, this is just scratching the surface of what you need to know. We've tried to make each tip brief, but we've included links to articles that cover each topic more in-depth if you want to learn more about it.
I'll just say, you get out of a Disney World vacation what you put into it. If you fly by the seat of your pants, I can't guarantee you will get the exact vacation you wanted. Instead, applying these tips to your touring strategy, you will get much more value for the money and time you are spending!
Before we get started, don't forget to sign up for our FREE Weekly E-Mail Newsletter. There we bring you the latest Disney vacation planning tips including how to save money, where to stay, and the best things to do. You can sign up here: Join our E-Mail Newsletter!
Tips for Beginners
In this first section, we will touch on some of the important aspects of your Disney World Vacation. These include things that first-time visitors or guests that haven't visited in years!
These tips are vital for you to get the most out of your trip. They might sound basic, but they are perfect ways for beginners to start prepping now!
1. Learn the Basics
When it comes to a Disney World vacation, it can be overwhelming! When it comes to things such as park reservations, 60-day dining reservations, park maps, and wait times, you're probably wondering "Where do I begin?"
The point is, you need to learn the basics. Our 2024 WDW planning guide is a good place to start. Read it. Learn the basics before branching off in the various planning phases of your trip.
Even if you think you know everything you need to know, trust me, you probably don't! It's always good to do a refresher and touch up on things if you need to. Disney World is an ever-changing place that is in a constant state of flux and even I have a hard time keeping up with all the changes.
2. Learn the Disney Vocab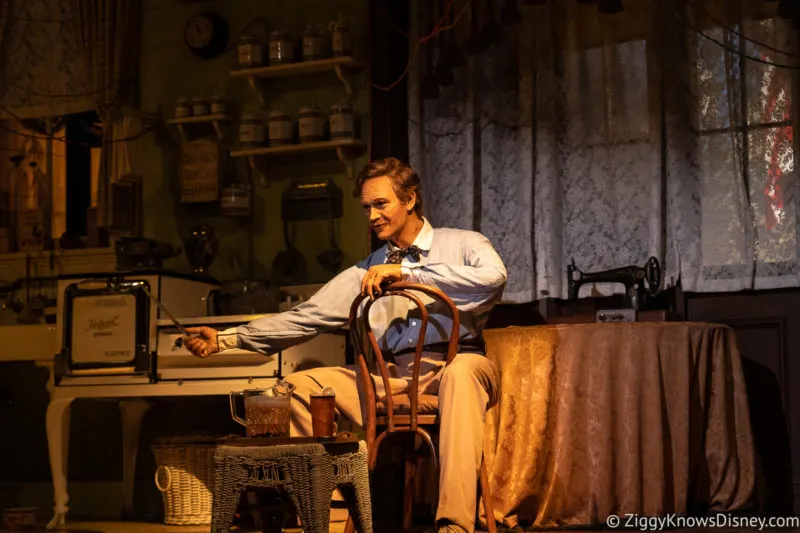 Something new visitors to Walt Disney World can easily take for granted is the Disney Vocab! You'll hear popular acronyms such as ADRs (Advanced Dining Reservations) or DVC (Disney Vacation Club), that many experienced Disney Visitors don't even think about anymore!
Learn the most important ones such as:
Annual Passes – Passes that allow guests to visit the parks all year.
Cast Members – Disney Employees.
Genie+ – A ride reservation service to skip the lines.
Magic Bands – All-in-one devices you wear on your wrist that get you into your hotel room AND the parks.
Monorail – The popular 'Highway in the Sky' that takes guests to three different Disney Resorts and Magic Kingdom.
My Disney Experience – Disney's popular app that basically allows you to do and plan everything.
Park Hopping – The ability to visit multiple parks in one day.
PhotoPass – A paid photo service that Disney offers in which dedicated Cast Members take pictures of you throughout your days in the parks. This also includes ride photos as well.
Pin Trading – A popular pastime of Disney Cast Members and visitors is trading Disney Pins.
Quick Service (or Counter Service) – Disney's term for quicker dining meals. These can include snack stands or restaurants in which guests walk to a counter and bring their meal to their table. These do NOT include waiter service restaurants.
Table Service – Disney's term for sit-down restaurant offerings. These include all restaurants that involve sitting and getting waiter service.
The Skyliner – The newest mode of transportation that transports guests on an overhead gondola-style system. Guests can visit both EPCOT and Hollywood Studios via The Disney Skyliner.
These just scratch the surface of the many popular terms and lingo used by guests. These are the most important ones but don't worry you'll pick up quickly.
3. Disney Requires Research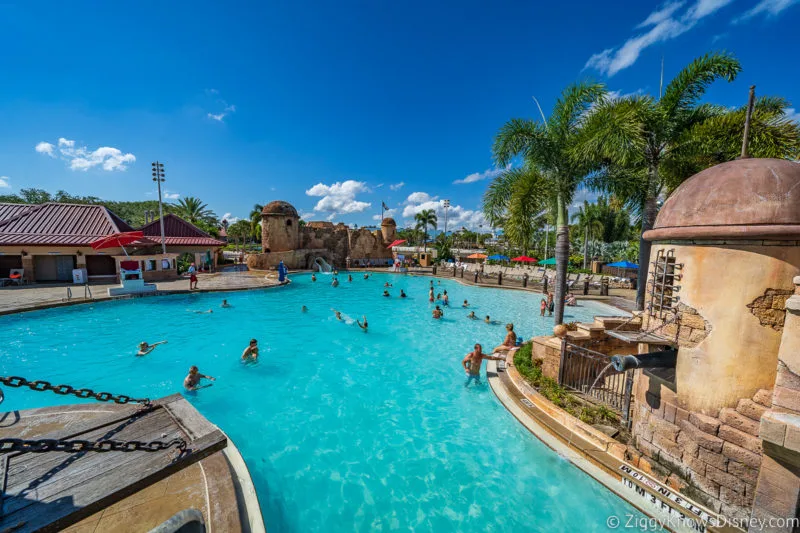 Whether it comes to dining options that your family finds exciting or maximizing your park days, research is imperative!
The fact that you're on my website is a great start, and it shows that you know that research for a Disney World Vacation is necessary these days. When you take the time to research you set yourself up for the most success.
The most tedious research involves picking your Disney World Hotel if you're staying on-site or what nearby hotels are great options if you choose not to stay on-site. Here are our picks for the best on-site resorts and off-site hotels throughout Disney World.
4. Set Up My Disney Experience App Before You Go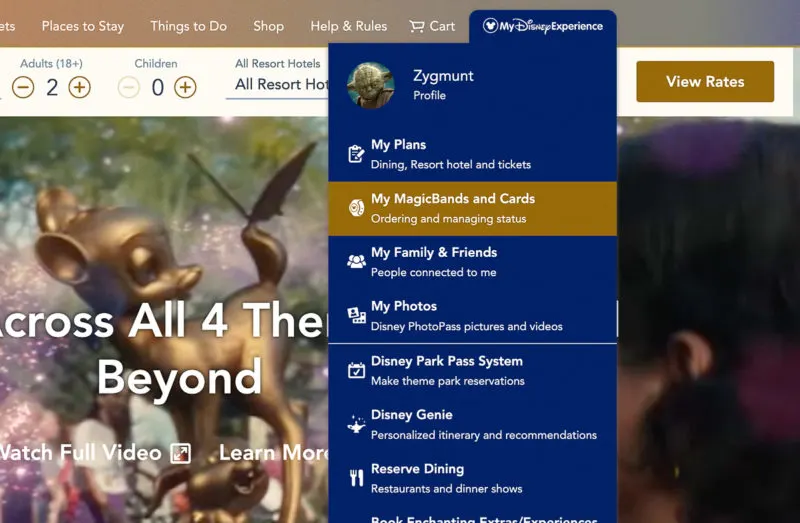 One of the key things you do immediately is set up a My Disney Experience account for each family member. While it's not imperative to do it for small children or babies, it's definitely essential for all of the older kids and adults in the group.
It's a quick process and it allows the entire family to have fun planning and looking ahead to your trip. The My Disney Experience app is the easiest way to do this but you could also do it on the website as well.
Simply put, the My Disney Experience app allows you to do the following:
Looking at and connecting your hotel reservations
Planning out your park days with park maps and park reservations
Look at wait times each day you are in the parks
Order mobile food at any of the mobile food quick service locations
Put your name in for a table-service restaurant without physically go there
And SO much more!
5. Ask for a Special Occasion Button
If you're celebrating an important date with someone in the group or family, be sure to tell a Disney Cast Member that you'd like a special occasion button! Whether it's a 1st visit, an anniversary, or a honeymoon, by getting a special button let everyone else celebrate with you.
Also, by wearing this special occasion button you might occasionally get a little extra Disney Magic…just wait and see!
6. Bring Comfortable Shoes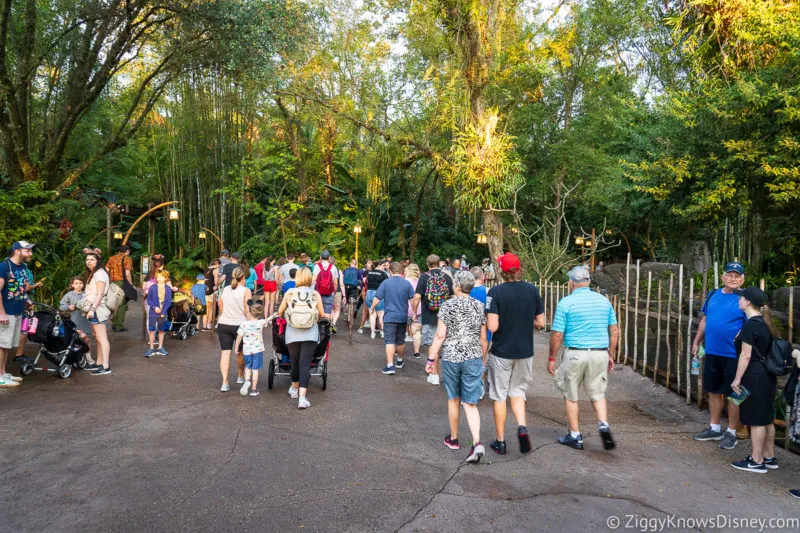 For people that aren't used to walking a lot, a trip to Disney World can bring a lot of wear on your feet! In fact, it's not uncommon for our family to walk 10 miles on some of our longer days! While you might not walk as much as us, it's certainly vital that you wear comfortable shoes.
Wearing flip-flops or sandals with little support will wreak havoc on your feet, and can cause you to lose some enjoyment on those longer days, limiting your ability to enjoy the rest of your trip. So bring the most comfortable walking shoes you can find.
7. Understand Disney World is Huge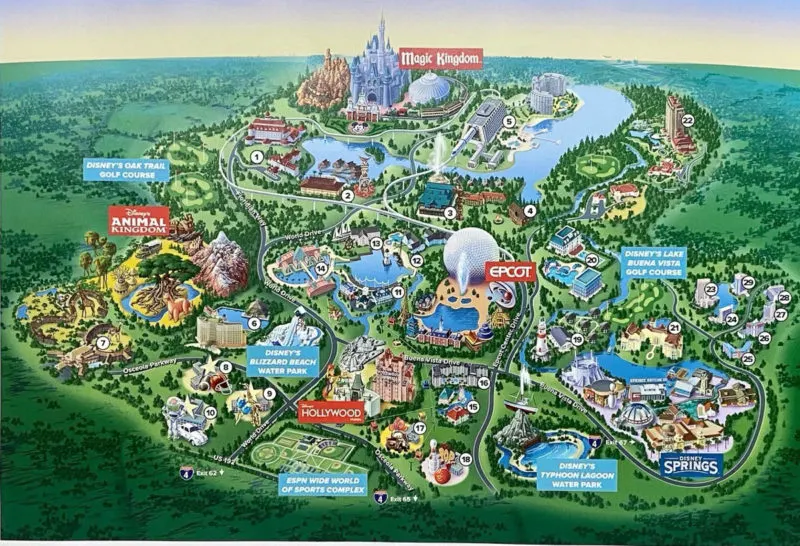 There's a reason that it's called Disney World, and it's certainly a world of its own. It's hard for people to wrap their minds around how sprawling the Disney World campus is. It feels like an entire city, in fact, it's more than 25,000 acres or 40 square miles.
In case you don't know how big that is, Walt Disney World is roughly the size of San Francisco, California!
With four theme parks, two water parks, a massive shopping complex (Disney Spring), and over 25 hotels, visiting Disney World can be overwhelming for unsuspecting visitors.
8. Make a Packing List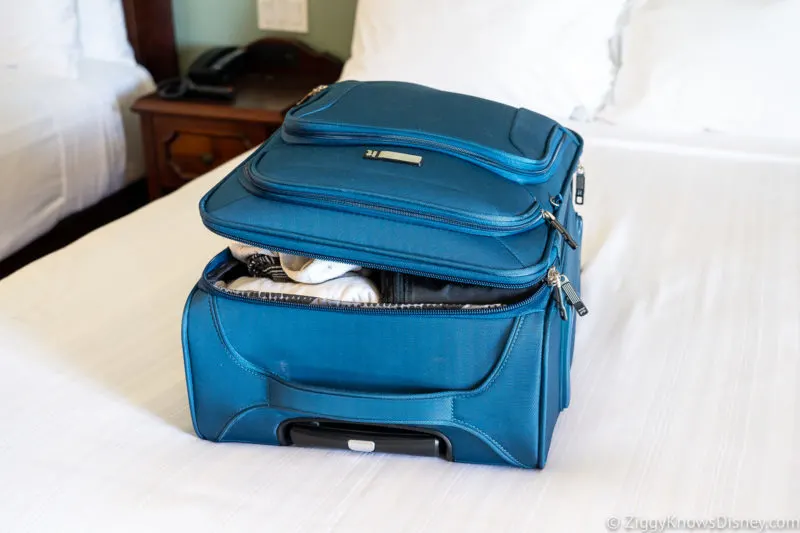 Making a packing list for essentials on your Disney World Vacation. Needing to buy things in Disney World is never normally a smart idea, due to the fact that everything is marked up 2-3 times what you'd pay at home!
Make sure you bring the Florida essentials such as:
Sunscreen
Sunglasses
Umbrellas
Ponchos
Bathing suits
Light and airy clothes
All of these things you'll likely need on your trip especially if you are traveling during the hotter months of the year, which is basically 10 months in Florida! You'll likely have many more things on your list, but this is a good place to start!
Booking Walt Disney World Vacations
We just considered things prior to booking your Disney World Vacation, now we will consider the actual important things to look at WHEN you book your Disney Vacation.
When it comes to booking a Disney World Vacation, it's crucial to look at these things first, otherwise, you could make a massive mistake!
9. Prepare with Our Disney Newsletter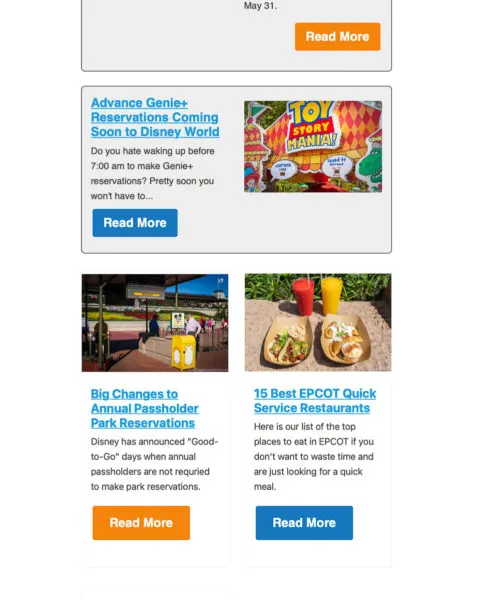 Disney World is in a neverending state of change and improvement as Walt once famously said about Disneyland "It will continue to grow as long as there is imagination left in the world." And boy is that true about Disney World.
If you don't constantly research and look into "what's new" it can be overwhelming to keep up with all the changes.
Here's a tip – For something even easier to give you all the imperative, vital information you need: Sign up for my newsletter here. We share the most important Disney parks news and latest planning tips and that will allow you to be kept up to date without needing to read and research constantly.
10. Go During the Least Busy Times of the Year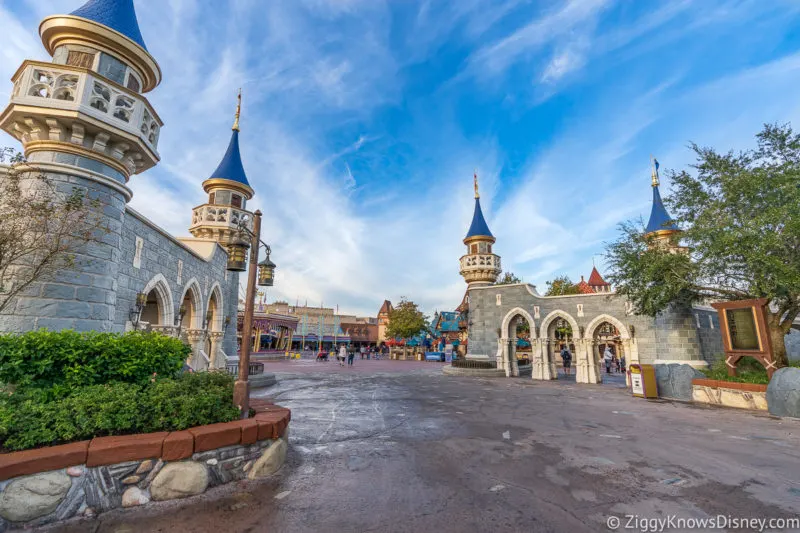 While our family has needed to go at both busy times and non-Disney times, I'll tell you this: if at ALL possible, go during less busy times of the year. You will enjoy it so much more, and it'll feel more like a vacation.
So what are the least busy times of the year?
Avoid popular holidays and school vacations. We understand this isn't possible for some, and we totally understand that! But if you can, the best months to visit are January, mid to late August, and September. The crowds will be far lesser, and you'll be able to fully maximize your time.
Consult our Disney World Crowd Calendar before picking any dates to see the least crowded times of the year.
11. Make Park Reservations IF You Need To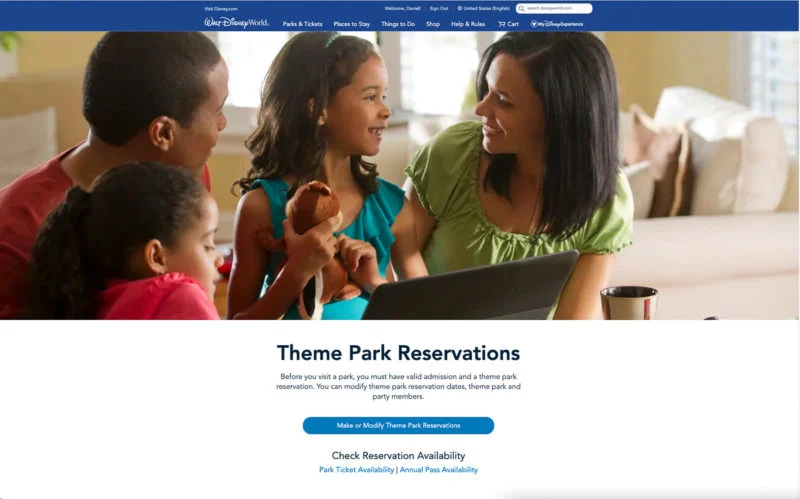 After January 9th, 2024, date-based tickets will NOT need to make park reservations anymore when entering the parks. Date-based tickets are the standard tickets for guests purchasing tickets these days.
The only time reservations will still be required after January 9th, 2024 is when guests are booking for student group tickets, convention tickets, or other types of ticket types.
And while we are glad the park reservation is mostly going away in 2024 it served a purpose during the pandemic, even if we felt it stuck around WAAAAAY too long.
But IF you still need to make park reservations based on your ticket type, I'd recommend doing so ASAP!
12. Use an Authorized Disney Travel Planner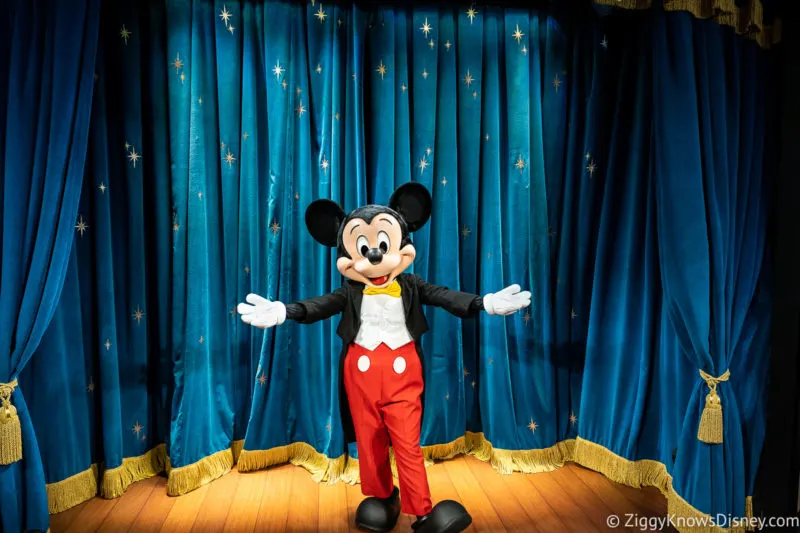 One thing we are HUGE fans of for Disney World guests is using an Authorized Disney Travel Planner such as Show You the World Travel.
With Disney World continually being a place that is changing and evolving practically by the day, it's important to have someone by your side that knows all the rules. With a travel planner, you not only get help in assisting you in planning your Disney World Vacation you can also save a ton of money!
They will help you find the very best promotional offers and discounts on your Disney World Vacation, and the best part is they don't cost even one dollar extra! Plus the personalized service they give will make your trip even more magical.
Ready to Start Planning Your Disney Vacation?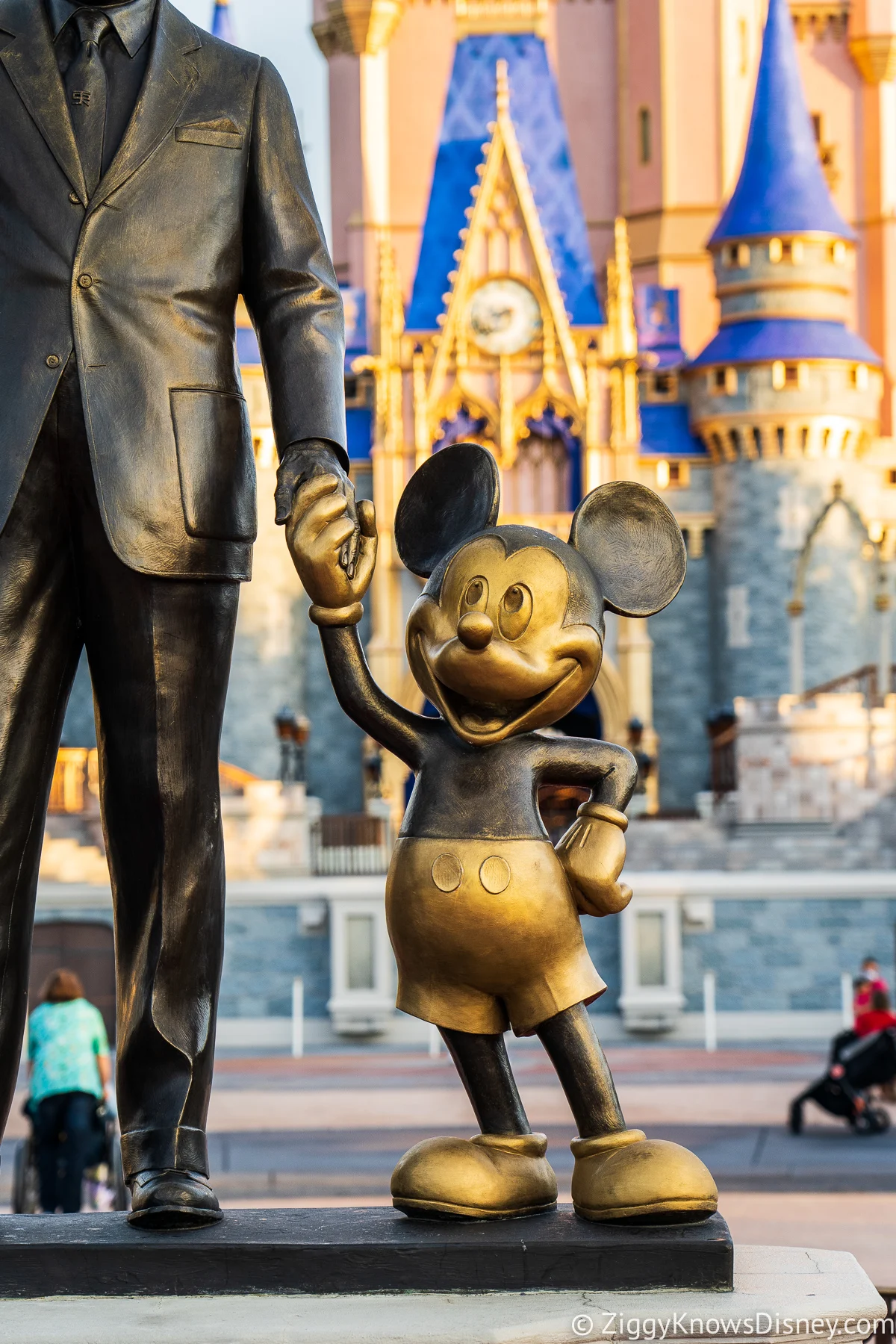 13. Don't Go Over Your Budget
Figuring out your vacation budget is important to maximizing your money. Trips to Walt Disney World can be incredibly pricey and if not budgeting properly, you can be in for a rude awakening when you get home.
There's no quicker way to ruin your wonderful vacation memories than to come home and wonder how you spent so much more money than you realized!
Even after paying for your hotel room, your park tickets, and your transportation, there are still additional costs once you get to Walt Disney World and that's why having a good vacation budget is imperative prior to your trip.
Our guide to Disney World costs will help plan your trip and understand the potential expenses involved.
14. You Can Book a Trip with Only $200
Many guests are surprised to know that if you book a Disney World Vacation Package you don't need to have the entire cost upfront, which can be incredibly overwhelming!
All you need is $200 to put down as a deposit, and then you can pay off the remaining balance incrementally, as long as it's completely paid off 30 days prior to the start of your trip!
15. Find Out the Latest Attractions & Changes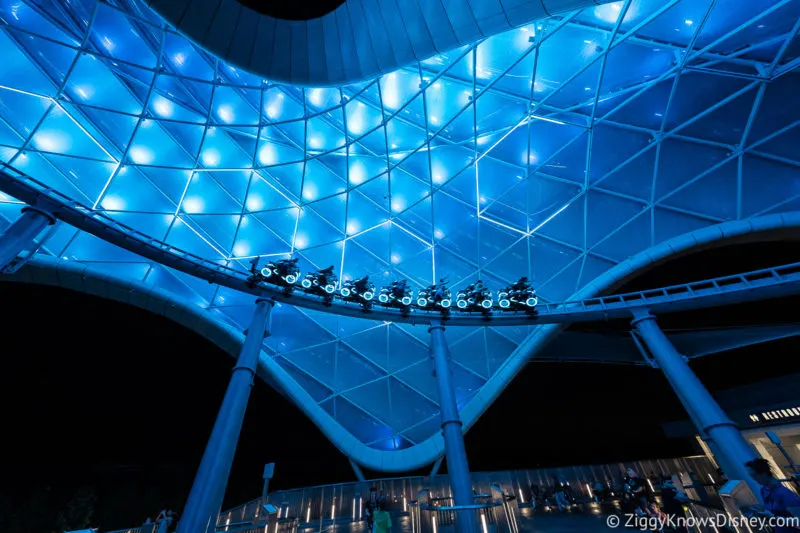 It's incredibly important to find out the latest and greatest attractions that have opened up in each of the parks. The wait times for these new attractions can be VERY long, so knowing exactly where they are located in the parks can be essential to planning out your day, assuming you are going to rope drop the parks in the morning.
A couple of the newer rides (TRON and Guardians of the Galaxy: Mission Breakout) are operating only with Genie+ Lightning Reservations or by joining a virtual queue. So finding out exactly how to do this prior to your trip will ensure you can get to enjoy both of these attractions.
Read my Disney World Virtual Queue Guide which is full of tips to show you how to get in the virtual queues.
In addition to the new rides, Disney regularly closes certain rides due to refurbishments and updates, closing them at certain times of the year. You could be disappointed expecting to ride on certain rides only for them to be closed during your visit for maintenance.
Read our Disney World refurbishment and closure guide to see what will be open on your next visit.
Traveling & Transportation
The next part of our series on Disney World Tips is going to focus on traveling and transportation. There are many different aspects of transportation when it comes to a Disney World Vacation.
You need to take some of them to arrive in Orlando, and others once you are officially on Disney World property. Let's touch on our favorite tips here.
16. Fly Into Orlando Airport (MCO)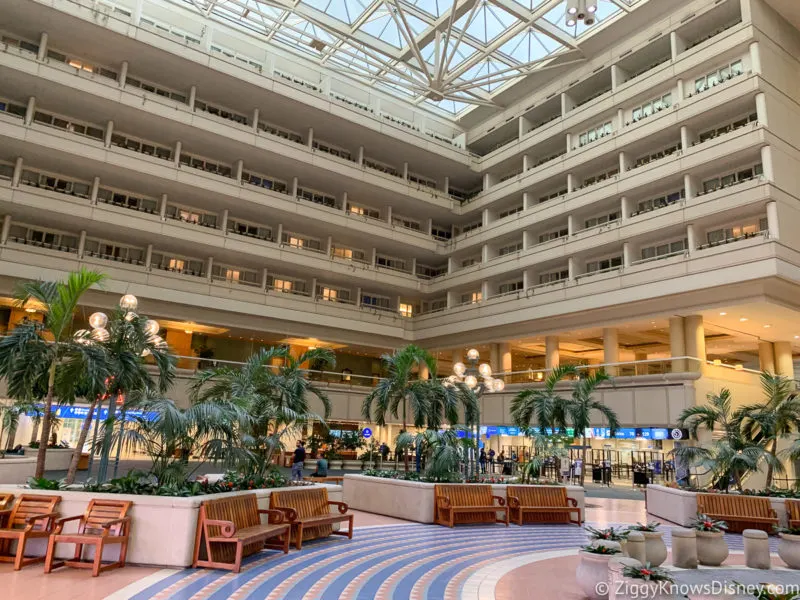 While certain cities provide discounted flights to Orlando Sanford Airport (SFB), the ideal scenario is flying into Orlando International Airport (MCO).
It's closer and is far more easily accessible to arrive at Disney World in a reasonable and efficient manner, whereas Orlando Sanford Airport (SFB) can take over an hour to arrive at your hotel and be far more costly for transportation options.
Orlando International Airport (MCO) is only around 30 minutes, depending on the traffic. Upon arrival at Orlando International Airport, you're main options for getting to your hotel around Disney (whether on-site or off-site) are:
Pay for a shuttle or bus service
Pay for a private town car or limo service
Rent a car
Pay for ride sharing (Uber or Lyft)
Pay for a taxi
Each of these available options has its positives and its negatives and we've used each of them from time to time. For a detailed explanation of each of these available choices, check out my guide on getting from Orlando Airport to Disney World to help you find the best pick for your situation.
17. Low-Cost Airlines Are Not Always So Low Cost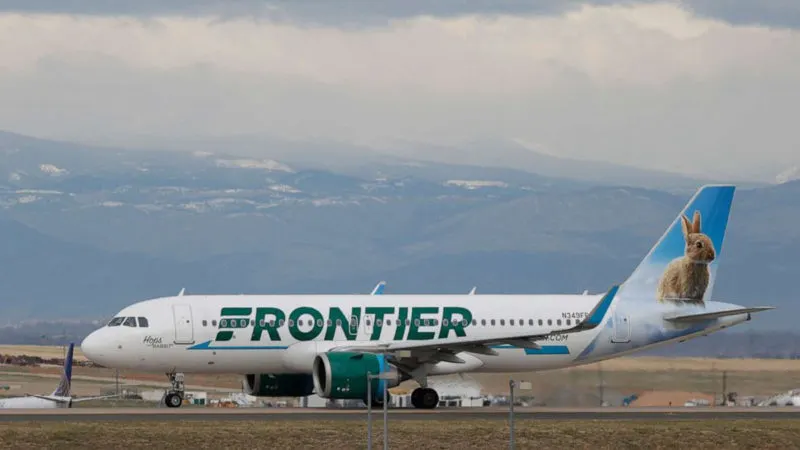 With popular low-cost airlines running a number of flight options around the United States to Orlando, it's important to fully 'count the count' when it comes to the total cost of your flight and not just the airfare cost.
Airlines such as Frontier, Sun Country, Avelo, Spirit, Allegiant, Breeze, etc… regularly run flights to Orlando Airport sometimes under $100 a ticket! These can sound unbeatable and a no-brainer, and in some instances, they are!
But unfamiliar travelers might not understand that these airlines charge a premium for literally EVERYTHING else. That means your seat assignment, carry-on bags, and checked-in bags, all can cost substantial amounts of money!
And if you don't plan ahead of time or fully inspect the airlines' rules, you can be out a LOT of money unexpectedly at the very start of your trip. Unfortunately, most families can't pack extremely light to visit Walt Disney World, especially if they have small kids.
These low-cost airlines aren't always the way to go in these instances. My advice: do the research ahead of time, and check out the airlines' rules and hidden costs prior to booking your trip. The worst thing would be to book a low-cost airline due to the flight price, and then end up paying more than one of the better and more reliable airlines!
18. Consider Renting a Car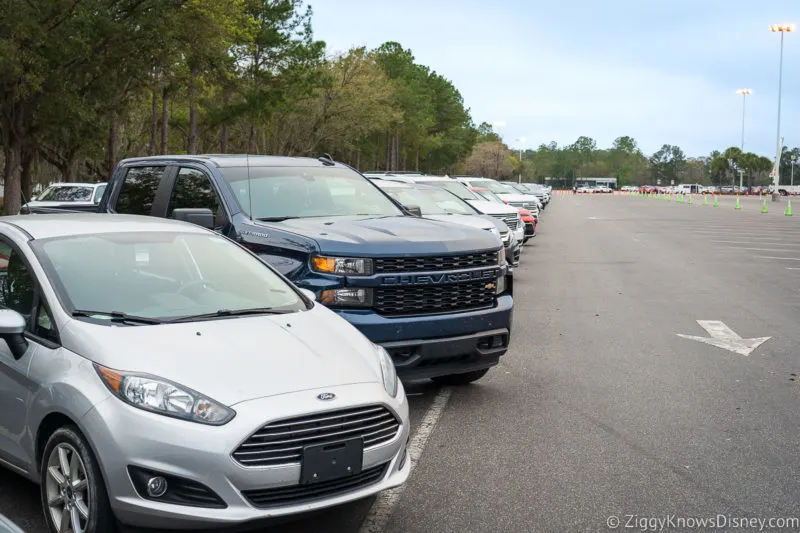 While we normally advise against renting a car for most families staying at a Disney World Resort, for some families it actually makes sense to rent a car. If you're planning on visiting other Orlando-based attractions, having a car on hand can be incredibly simple and easy to get around.
It also can save you time as opposed to having to rely on the slow and frustrating Disney World Transportation at times.
PROS:
Ability to leave the 'Disney Bubble' and visit other areas and attractions
Having complete control and not needing to be reliant on anyone else
The cost of parking a car at a Disney Resort is once again free
Can visit other Disney Resorts for meals more easily
Don't have to wait for slow Disney Buses
CONS:
Takes away the ability to fully be relaxed when having to worry about driving to places
There are additional costs such as parking at the Disney Parks, gas, tolls
Long walks from the parking lots to the front gates of Disney Parks
If staying onsite at a Disney World Resort, it makes far more sense NOT to need a rental car with free transportation practically everywhere. But if not staying at a Disney World Resort, we'd normally recommend having one, even if your hotel offers transportation to the parks.
Read our suggestions and tips in detail in our Guide to Renting a Car at Disney World.
Best Rental Car Company in Orlando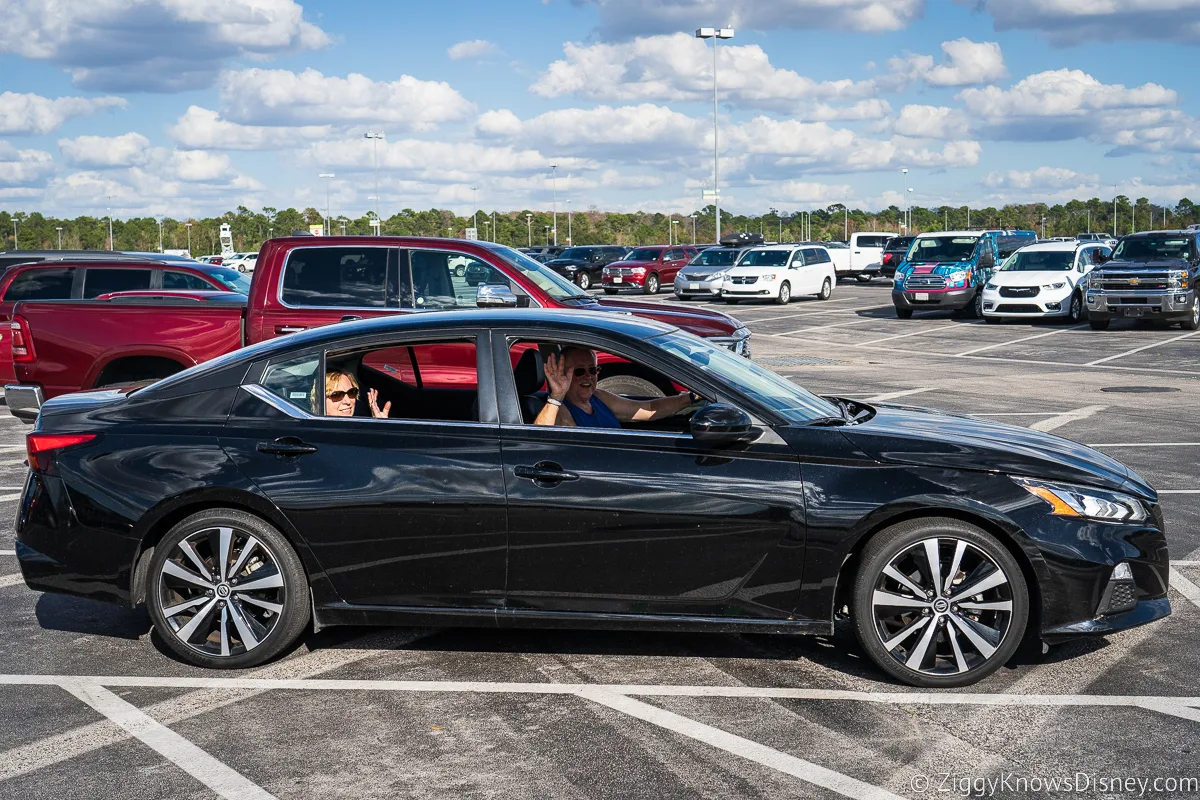 19. Use Disney's Free Transportation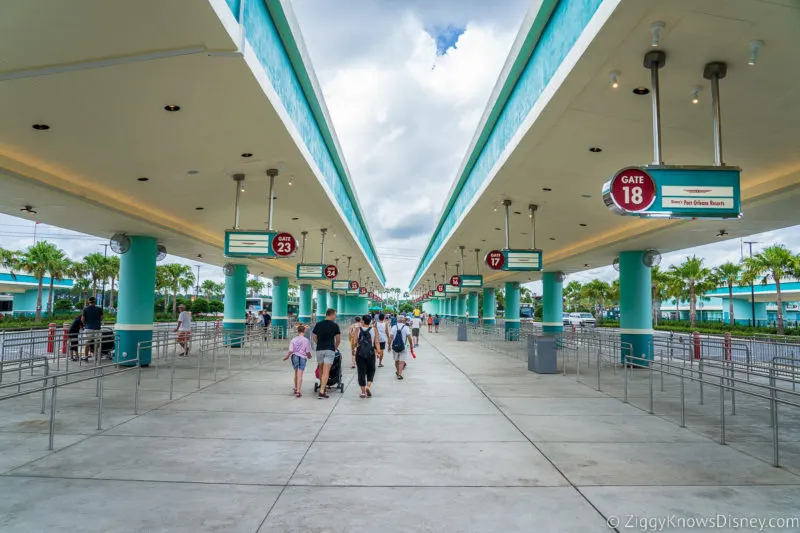 Many visitors would be surprised to know that Disney World Resort guests have free transportation to practically everywhere on Disney's property and taking advantage of Disney's free transportation is a smart and cost-effective way of maximizing your trip.
It also lets you fully embrace the hands-off mentality of not needing to do anything yourself and being fully immersed in "the world."
Yes, it can take a little bit of a learning curve to figure out how to get everywhere, but it's something you absolutely should spend time doing prior to your trip.
With Disney buses, boats, monorail, and Disney's Skyliner, you'll be able to reach any Disney Park or Resort you care to visit. And while it can sometimes be slow and frustrating, it'll save you money as opposed to needing to call an Uber or a taxi.
20. Don't Skip a Ride on the Disney Skyliner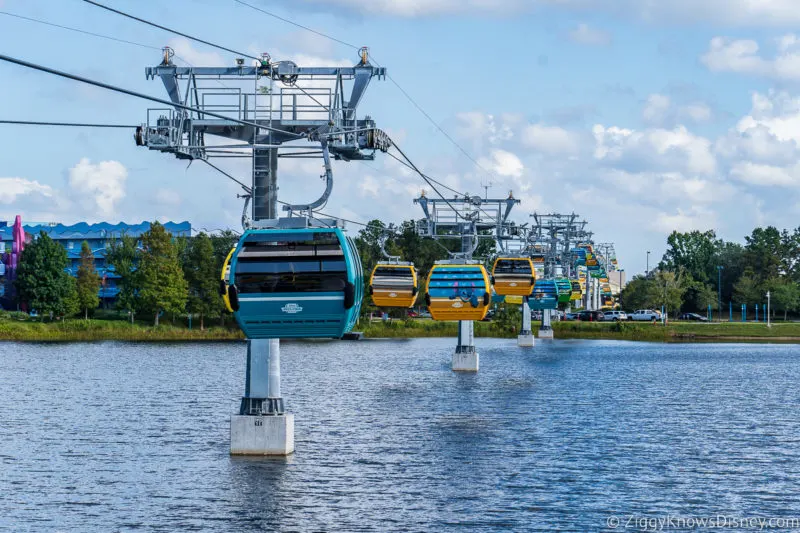 The newest in Disney's Transportation opened in 2019 and is called the Disney Skyliner. This gondola lift system takes guests around several of Disney's Resorts while also bringing guests to both Disney's Hollywood Studios and EPCOT.
If you get a chance to take the Skyliner on your Disney World trip, don't miss out on it! It's absolutely worth it and it's an incredibly fun and enjoyable way to get around while giving you some terrific views from 60 feet above the ground.
21. Check Bus Times on My Disney Experience Before Leaving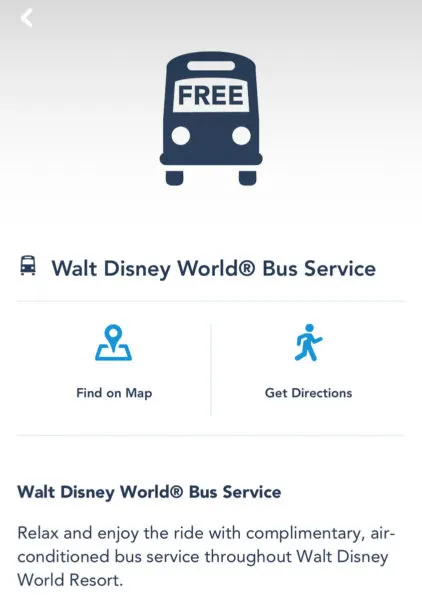 Gone are the days of needing to wait 45 minutes to an hour for the bus prior to your visit to the Disney Parks from your Disney Resort. Now you only need to check the My Disney Experience app for the next time the buses will be arriving at your resort.
By clicking on the My Disney Experience app from your resort room, simply follow these instructions to find out when the next bus is arriving for the park you plan on attending.
Click 'Resort Hotel' from the home screen
Then click 'See Bus Time'
This will allow you to see the next available bus time, allowing you to plan to make it to the bus stop in time!
Just remember, the bus times listed aren't always perfect, but they normally are close.
22. If You Are in a Hurry Use Ride-Sharing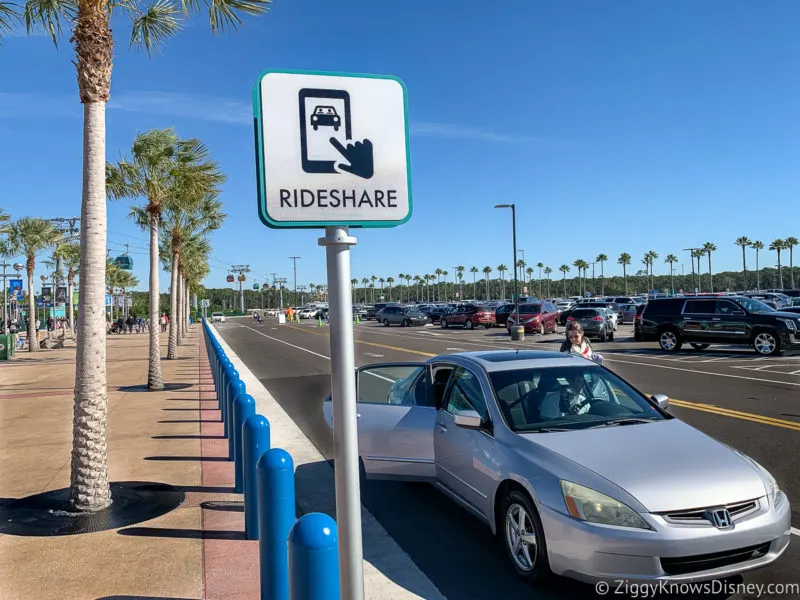 When you're in a rush, waiting for Disney transportation can be more frustrating and seemingly slow than ever! We've had far too many occasions when we've waited for a Disney Bus only to be late to a dining reservation or a show we didn't want to miss!
In these instances, use a ridesharing service such as Uber or Lyft. We normally use Uber and we've never had any issues. It's incredibly affordable to get anywhere on Disney's property, normally $10-$20 depending on the size of the Uber and the time of day you call one.
Even if you aren't in a hurry, and you need to visit another Disney World Resort, calling an Uber or Lyft can also be an efficient use of your time. With Disney transportation not normally allowing you to easily get from one resort to another, a ridesharing service can save you tons of valuable time for your trip.
23. Save Time in Line at the Airport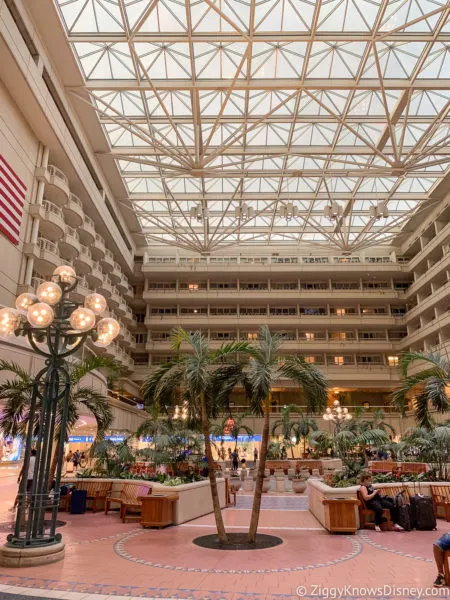 Last year, the Orlando International Airport (MCO) introduced a new reservation system called MCO Reserve that operates from 5:00 am to 5:00 pm each day allowing guests to make a dedicated reservation to go through security.
You simply go here and make your reservation. Flights between the times of 6:30 am and 8:30 pm are eligible for this service and you'll need to select your reservation slot at least 72 hours prior to your flight.
This can be an incredibly efficient use of your time, considering the fact that TSA Security lines can be easily 45-60 minutes for guests leaving Orlando International Airport. And if you're already running late, every minute counts!
Take advantage of this exclusive line so that you won't be spending unnecessary time at the airport.
24. Some Days Are Better for Booking Your Flight
While it's true that deals can happen at any time and any day, according to Skyscanner's data, historically, Tuesday is the best day to book flights for an upcoming trip. Normally airlines launch their discounts on Monday nights, meaning that on Tuesdays you will likely find the best savings.
In addition to Tuesdays being the best to find deals, it's also been said that around 5:00 am is the best time of day to find the very best prices. So if you can book on Tuesday at 5:00 am you'll likely be in the best shape!
25. Don't Lose Your Car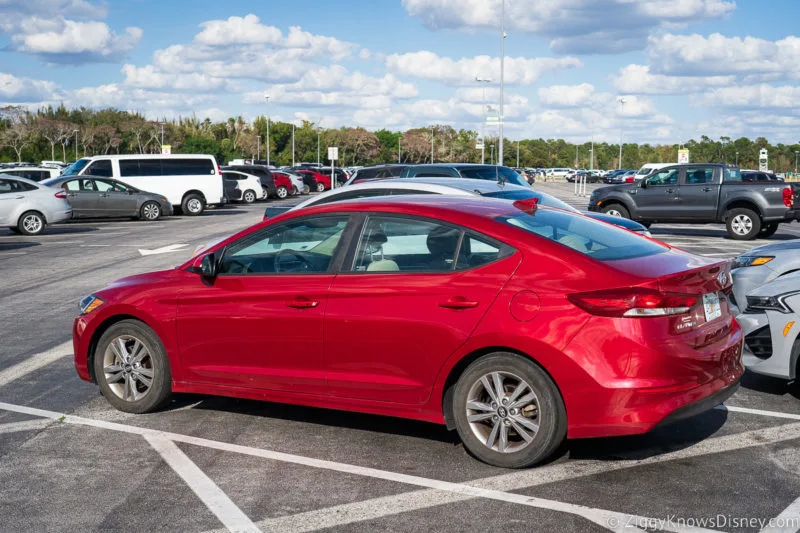 Ever lost your car in a parking lot before? When parking at a Disney World theme park, water park, or Disney Springs, there's a new feature on the My Disney Experience app that allows you to find your car at the end of the day.
It's super simple! All you need to do is open the app and tap the car locator card on your home screen. Once you follow the prompts and enter in your parking information, the car locator will help fill in the additional details.
When you're ready at the end of a long day to find your vehicle in a massive parking lot, simply go back to the car locator on the app, and it'll use 'Location Services' GPS tracking to help point you in the right direction to get back to your car.
26. Don't Forget About Walking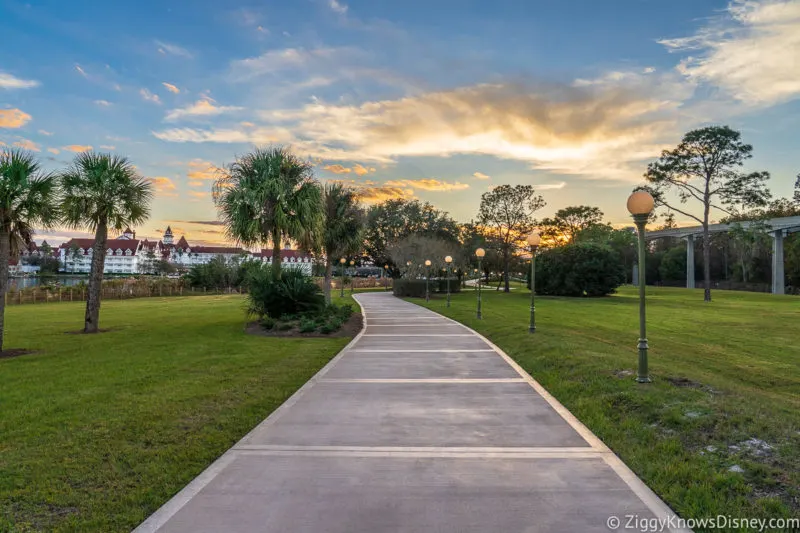 While you absolutely should take advantage of free Disney transportation when you need it, another solid option is walking! While you can't walk everywhere on Disney's property, there are many places you can walk efficiently, if walking is your thing.
For instance here are some of our favorite walks:
EPCOT to Hollywood Studios – With an easy walkway connecting both parks, you can simply get from one park entrance to the other in less than 30 minutes by simply walking. That also means all the EPCOT Boardwalk-area resorts are easily walkable to both EPCOT and Hollywood Studios including Yacht and Beach Club Resorts, Boardwalk Inn Resort, and Swan and Dolphin Resorts.
Magic Kingdom to all 3 monorail resorts – With the newly opened walking pathway from the Grand Floridian to Magic Kingdom, you can now easily reach Magic Kingdom from all 3 monorail resorts (the Grand Floridian, the Polynesian, and the Contemporary Resorts).
Saratoga Springs Resort to Disney Springs – One of our favorite walks is the easy walking path from Disney's Saratoga Springs to Disney Springs. It's an enticing reason to stay at Saratoga Springs, allowing you to easily access Disney Springs without needing to rely on Disney transportation.
Touring the Parks Tips
The next part of our Disney World Tips is when it comes to the many aspects of visiting the Disney Theme Parks. What are our favorite tips when planning your vacation to maximize your park days? Here are our favorites.
27. Book Enough Park Days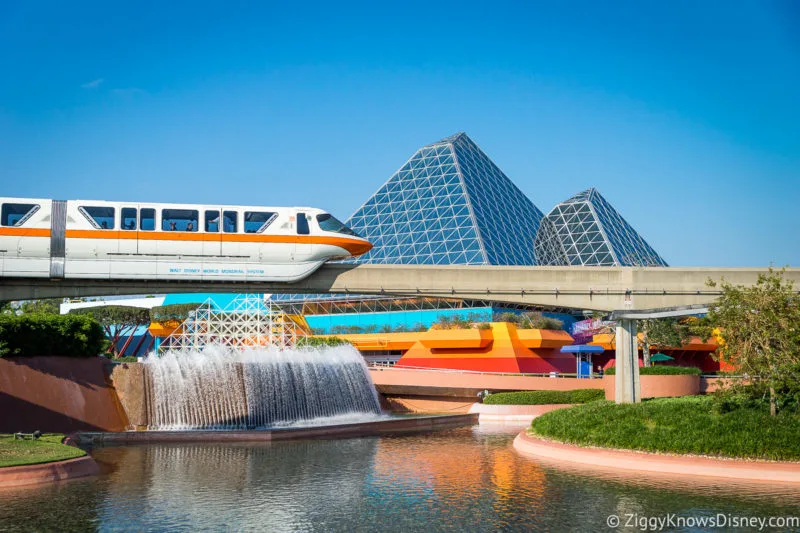 While there's certainly a balance needed when it comes to booking more park days, it doesn't hurt to book MORE days in the parks than fewer.
Our family gets exhausted generally after 6-7 hours in the parks, especially in the hotter months of the year. So rather than forcing ourselves to stay in the parks, why not go back to your hotel and relax and visit the same park another day?
Disney World Park tickets get incredibly cheap to purchase after the first 4 days per day, so purchase more park days than you think you'll need and if you can't see everything you want the first day you're there, make a backup plan to visit that same park on another day later on your trip.
28. Skip Park Hopper If Possible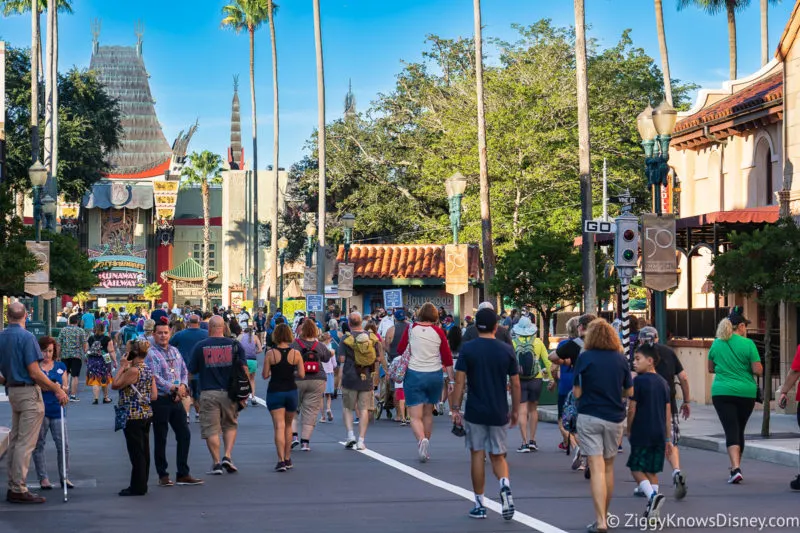 When purchasing the park hopper option on your tickets, it can add hundreds of dollars to your family's vacation costs, and in most instances, it is completely unnecessary especially if you're going to stay in Disney World for a week or more!
With careful planning and maximizing your days out as much as possible, you can easily spend a full day in every Disney Theme Park! With dining options, entertainment choices, nighttime shows, and more, by spending the full day in each park, you'll have more than enough to do and see!
Park hopping in Disney World does have its benefits, but worst-case scenario, you can always visit that park you were planning on attending another day instead of paying extra for this feature.
29. Use a Touring Plan
A touring plan is a cheat sheet that enables you to save hours visiting the parks each day. It factors in many different facets of your trip and your family's interests, to fully maximize your time each day while setting you up for the highest amounts of success without needlessly wasting time in lines.
We can't recommend setting up a touring plan highly enough!
A good place to start is by reading our touring plan for Hollywood Studios. This will help you to factor in the many things you want to consider when planning your day. You can then do the same thing when visiting EPCOT, Animal Kingdom, and Magic Kingdom.
30. Rope Drop is a MUST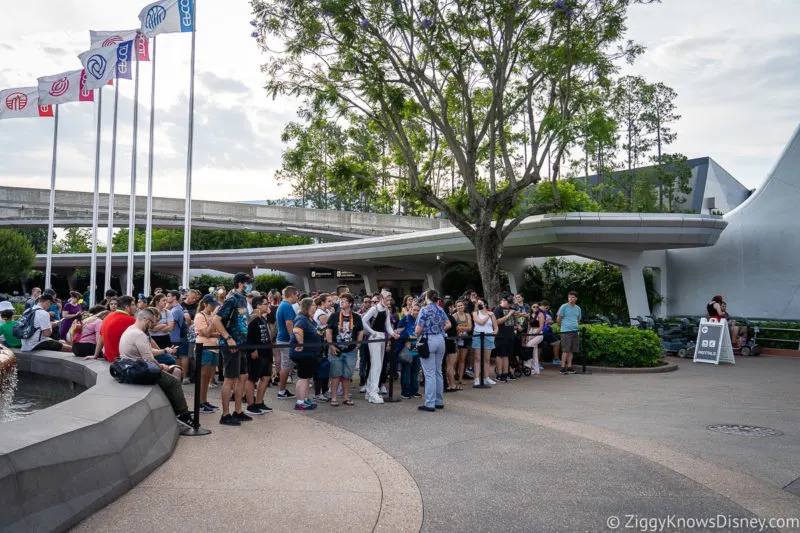 If you want to fully maximize minimal wait times and low crowds in the parks, 'rope dropping' is your very best bet! In short, rope dropping simply means that you arrive at the theme park PRIOR to the park's official opening time each day.
When a park opens in the morning, the first 30-60 minutes always have the shortest wait times and by rope dropping it you can effectively walk on many of the rides since you're there prior to park opening time.
Lines for certain attractions can easily reach 2-3 hours during busier times of the year, and by rope dropping you can knock out one or two of these more popular attractions by getting on them with minimal to no waits.
31. Rope Drop is Not Always the Best for the Most Popular Ride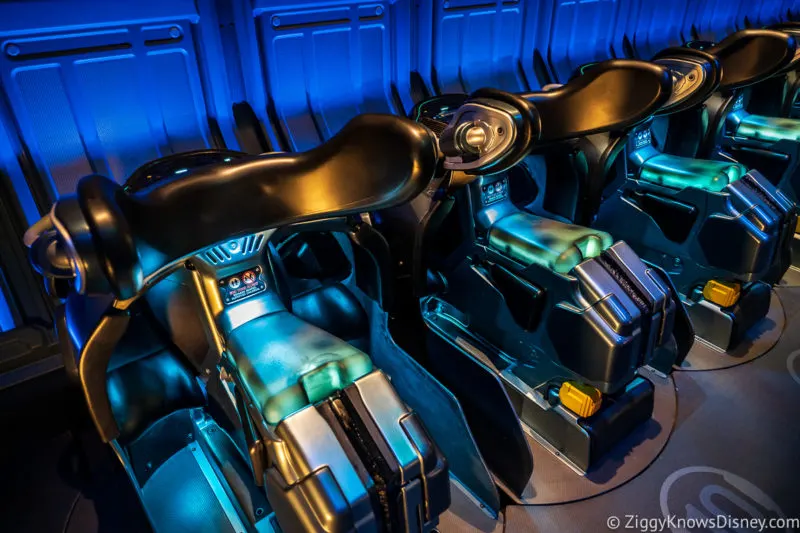 While we normally suggest rope-dropping the most popular rides, in some cases, it actually isn't the best strategy.
For instance, two of the most popular rides Star Wars: Rise of the Resistance at Hollywood Studios and Avatar Flight of Passage at Animal Kingdom have incredibly long queues, preshows, and overall ride experiences. The entire ride experience even if you practically walk into the pre-show videos is still likely over 20 minutes!
So if you choose to rope drop these two attractions, you'll lose your advantage of being able to get on multiple rides during your "rope dropping window" of time before the mass crowds of guests arrive.
If you have a long list of "MUST DO" rides, you may be better off taking advantage of getting on 2-3 other rides during the rope-dropping window, and saving the other for later.
And if possible, either pay for an Individual Lightning Lane for these rides OR wait until just prior to park closing time and get in line. A hidden secret is wait times at the end of the day are a fraction of their listed times!
32. Use Early Theme Park Entry and Extended Hours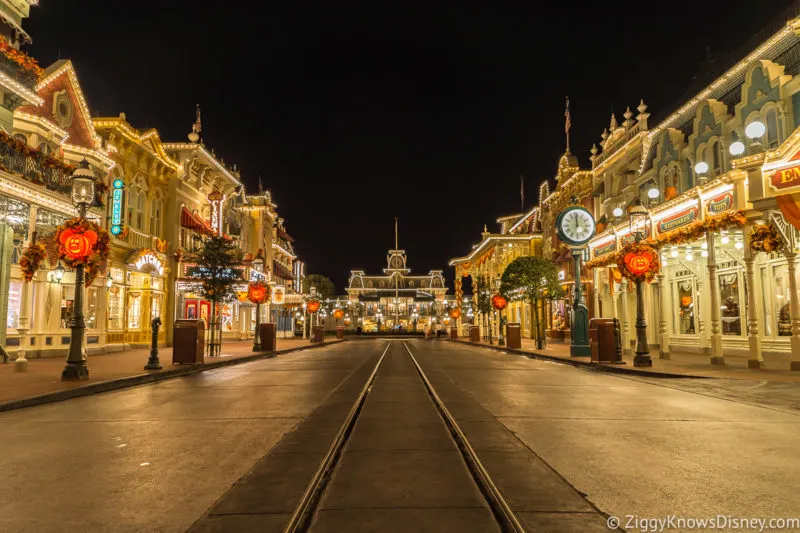 If you're staying at a Walt Disney World resort or another eligible nearby hotel, you'll want to make sure of Early Theme Park Entry which enables guests to enter the parks 30 minutes prior to the opening times.
This happens every day and at all 4 of the Disney Theme Parks! Meaning that if Magic Kingdom shows the official park opening time of 9:00 am, you'll be able to enter at 8:30 instead! Those 30 minutes can be vital to getting on a few additional rides with practically zero wait time!
For instance, if Early Entry is at 8:30 am, plan on arriving at the park between 8:00 and 8:15. If you are NOT staying at a Disney Resort, I'd suggest arriving 15-30 minutes prior to official opening time. If the official opening time is at 9:00 am, I'd suggest getting to the park between 8:30 and 8:45 am.
If staying at a Disney Deluxe Resort, you'll be able to enjoy another perk called Extended Evening Hours which runs on select nights each week. This perk allows you to enjoy the park two hours AFTER the official closing time of the park.
We love Disney nights in the parks, and having two extra hours with minimal wait times on the rides is awesome! Take advantage of both of these perks if at all possible!
33. Do One of the Water Parks if Staying for 7 Days or More
While we don't recommend the water parks on shorter visits, if you're visiting for a week or longer, we wholeheartedly recommend visiting one of the Disney water parks. While we enjoy both, we prefer Typhoon Lagoon for the overall theming and family fun!
These parks don't get the crowds of the theme parks and can be so much fun for families to enjoy a hot Florida day without baking in the sun.
34. Take a Midday Break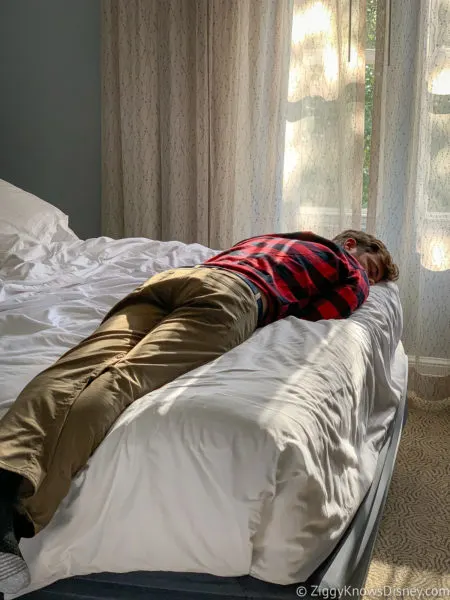 One of our families' favorite tips to enjoy the parks fully is by taking a midday break! The parks in the early afternoon can be brutal in the sun, taking away from your ability to fully enjoy your time without sweating to death.
Our advice: get to the parks early, leave the park in the early afternoon to go by the pool or take a nap, and go back to the parks later in the afternoon/early evening to enjoy the best possible time: evening time!
This will keep the kids and the adults happy and refreshed!
35. Do the Most Popular Ride at the End of the Night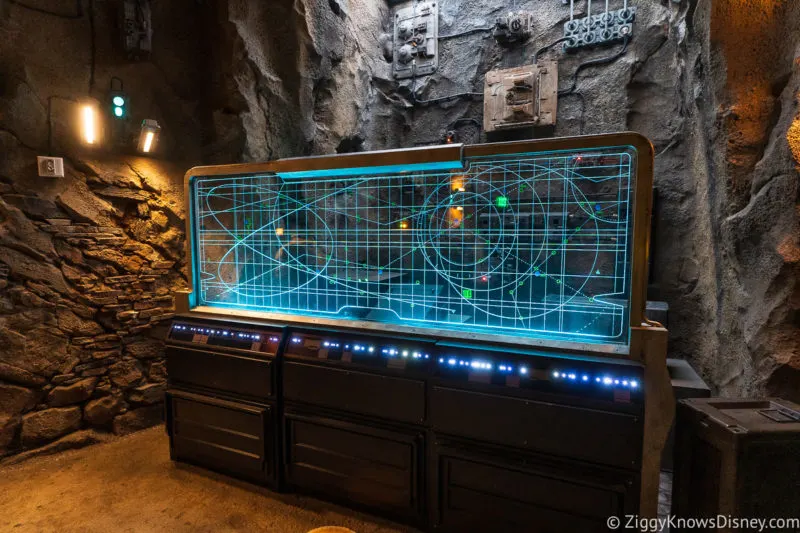 A well-known secret amongst hardcore Disney fans is to wait until the end of the night to enjoy the best rides. The wait times at the end of the night are greatly exaggerated to dissuade guests from getting in line prior to park closing and are in fact, MUCH SHORTER.
So if you can't get on Flight of Passage, Rise of the Resistance, Space Mountain, etc… first thing in the morning or during the day sometime, get in line 15-20 minutes prior to the park closing time. You'll be surprised how short the line is!
For instance, if Rise of the Resistance shows a 60-minute wait, it will likely only be 15 to 30 minutes long since Disney wants to discourage guests from getting in line that late.
36. Use Disney's Photographers for Professional Photos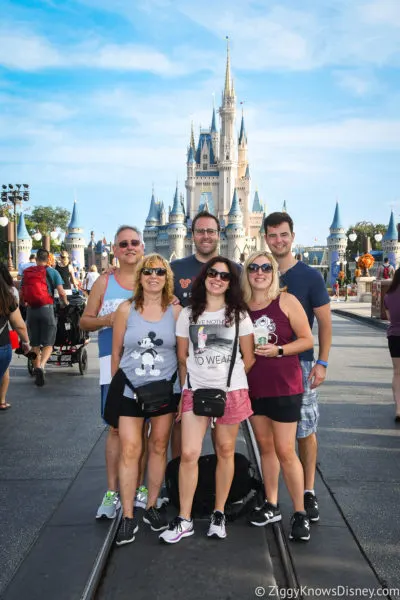 If choosing to get the PhotoPass package on your Disney Tickets, you can take advantage of the professional Disney photographers that are stationed throughout the Disney Parks. Sometimes there are lines, but these are usually very short.
These photos come out spectacular and you might as well take advantage of a perk you purchased.
But even if you DIDN'T purchase the PhotoPass package, you can still use these photographers! Say what?! Yup, if you get in line and hand them your smartphone, they'll use your phone to grab a great family shot for you! Free professional photos taken for you by a photographer? Yes, please!
37. Bring a Backpack to the Parks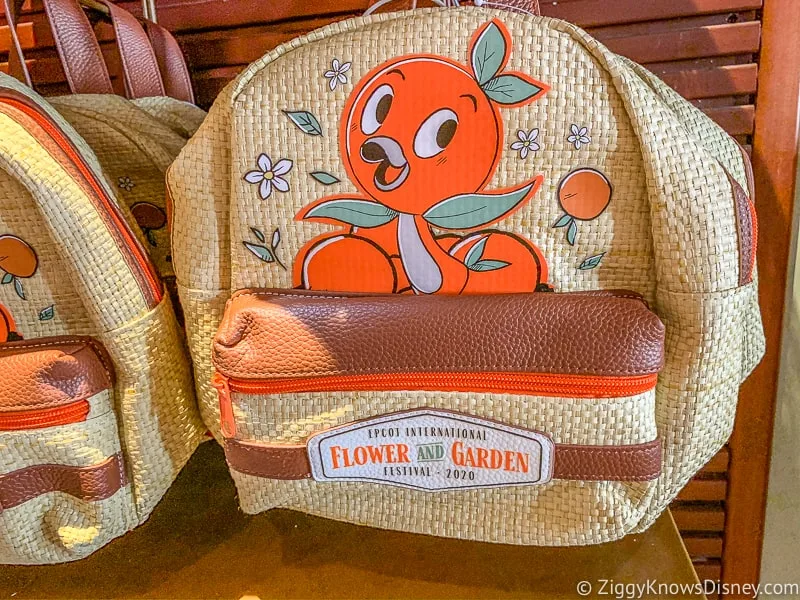 While I never used to bring a backpack to the parks, I actually am glad I do now! Yes, you'll have to do a 2-minute bag check upon arrival at the parks, but it's quick! And having a backpack can make your day a lot easier.
Having a backpack in the theme parks allows you to bring things such as:
Ponchos or umbrellas
Change of clothes for the kids
Sunglasses
Sunscreen
Handheld or battery fans
Spray misters
Wipes
Tissues
Prescription medications
First-aid kits
Wireless external chargers for your devices
Park maps
Pins or lanyards
Credit cards
Photo IDs
Autograph Books
Games for your kids
Snacks
Bottled waters
Gum
Camera
And so much more!
But keep in mind, there are some things you can't put in your bag and bring into the parks. The main ones are alcoholic beverages, glass containers, illegal substances, firearms, or weapons of any kind. There are some more, for a full list of prohibited items, see Disney's official list here.
38. Park-Hop to EPCOT in the Evening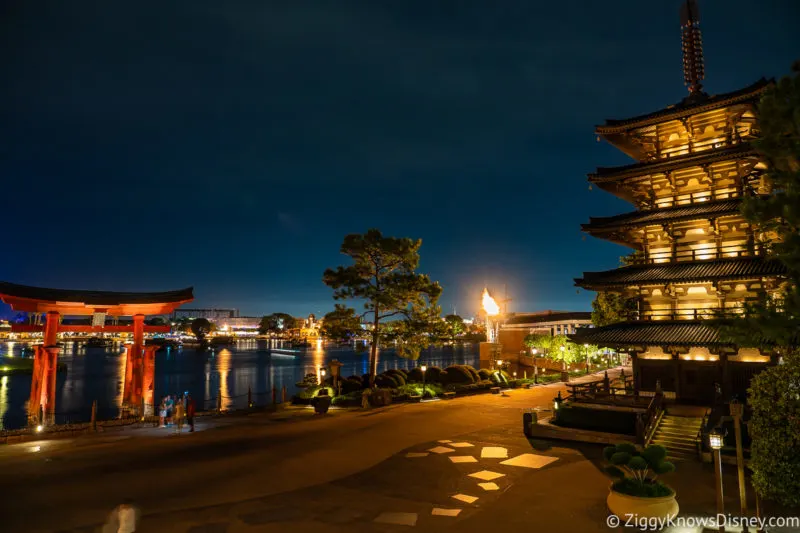 The absolute best park to get food in at Disney World is EPCOT! So what better way is there than to spend your evenings there walking World Showcase?
One of our favorite things to do is visit a different park in the morning, Animal Kingdom, Hollywood Studios, or Magic Kingdom, and then park hop to EPCOT in the afternoon and evening.
At EPCOT you can enjoy the nighttime fireworks while also taking a stroll around World Showcase and enjoying one of the 4 yearly festivals enabling you to take part in fun drinks and food tastings.
We love nights in EPCOT and we highly suggest you take advantage of them.
39. There are Two Entrances to EPCOT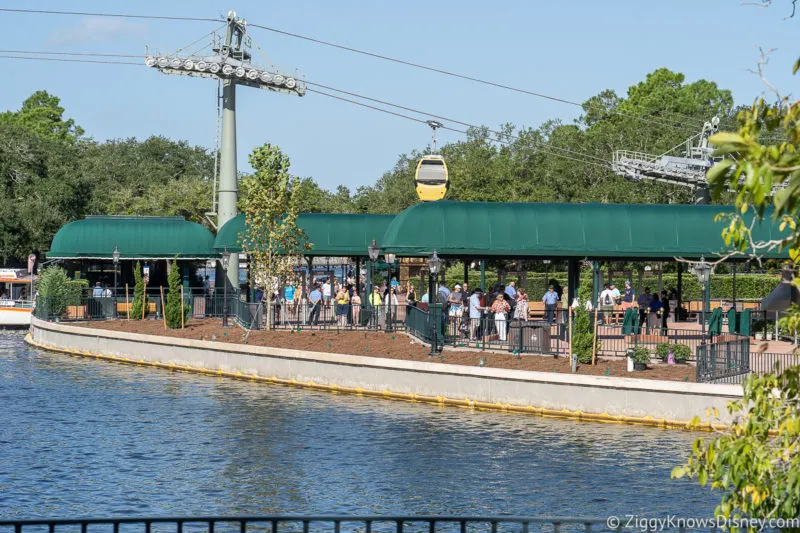 Many visitors are surprised to know that there are actually two entrances to EPCOT.
First, there's the front entrance which is where the bulk of guests will come from. All those that park or are coming into EPCOT from a Disney Bus will get dropped off. That entrance is near the giant sphere, known as Spaceship Earth.
Then there's the backside entrance which is called the International Gateway and it's near France in World Showcase. This entrance is where the Disney Skyliner will bring guests as well as the Disney Friendship Boats will drop off. It's also the entrance that guests coming from the Boardwalk-area resorts will walk into.
Knowing that there are two entrances and exits allows you to best plan your day, doing the attractions near that entrance first.
40. Don't Plan Too Much
While some families do better with tedious minute-to-minute planning, many do not. Even though it's hard to do nowadays, there is something fun and spontaneous about leaving certain days or times of the day open and relaxed.
By literally running nonstop you're going to take away some of the enjoyment of your trip and this enables grumpier parents or tired kids to take a needed rest or nap.
Less is more sometimes, and by giving your family some downtime, everyone will be in a better mood to enjoy the trip and have better memories from their trip.
Attractions
The next part of our favorite Disney World Tips is going to focus on specific attractions and how to get the most out of your days while in the parks. Let's discuss the DOs and DON'T when it comes to Disney World Park Attractions.
41. Determine Must-Do Attractions Ahead of Time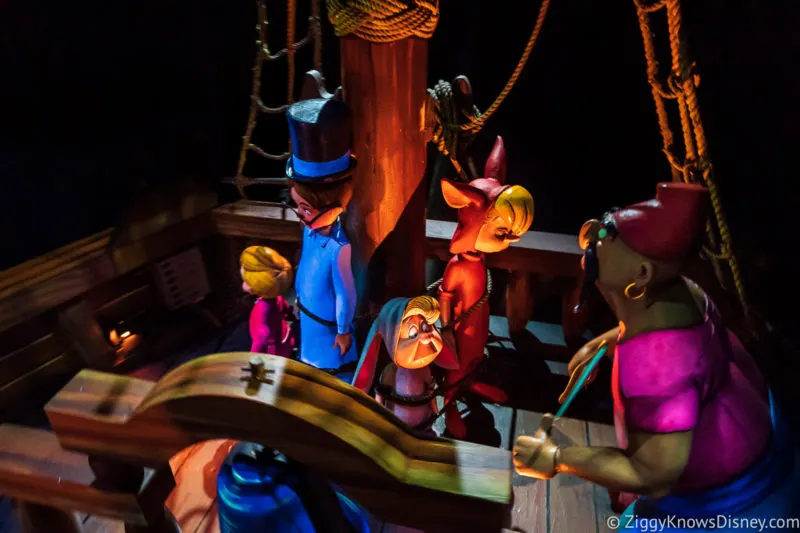 While I might REALLY look forward to certain attractions on a trip, you might not. The same holds true for every family. That's why it's essential to research rides and attractions prior to your trip.
It's possible you might be able to cross off certain things from your family's list prior to your day there. That will allow you to essentially do the things that are most important to YOUR family. Our Best Disney World attractions list will give you a good start on what to choose.
I suggest prioritizing the attractions in each park and perhaps even numbering them in order of preference. This ensures you get to do the very best rides and if you have time, do some of the ones you didn't have ranked as high.
Then as you do them, cross them off the list, and continue to do this until you get to do as many as you can in the course of a day.
42. Review Height Requirements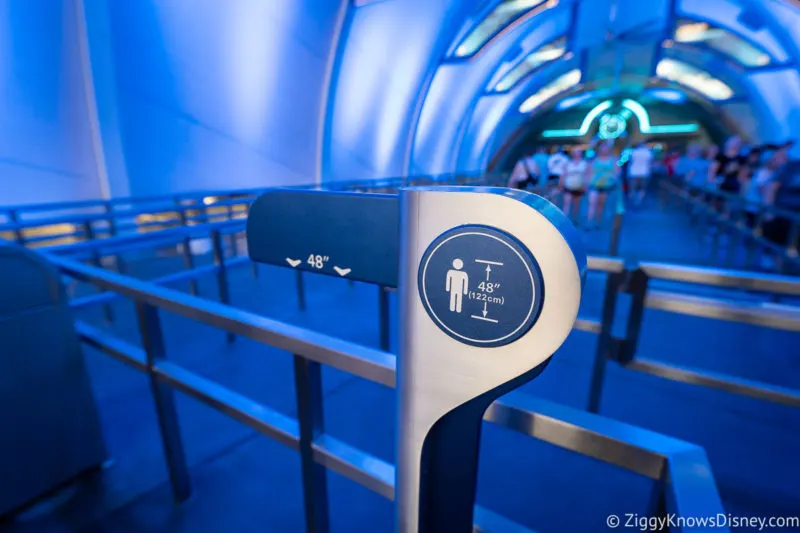 One of the worst ways to ruin the start of your day is by not checking and reviewing height requirements PRIOR to your day. It's a common occurrence to see parents frustrated that they've waited a long time for a certain attraction only for their little one not to measure up to the height requirement.
Rather than waiting in line and THEN finding out, check to see if your child meets the height requirements before you get in line for a certain attraction. Check our Disney World Heights Guide first. Doing this in the planning stages saves time and unnecessary frustration and tears.
43. Use Genie+ to Get More Done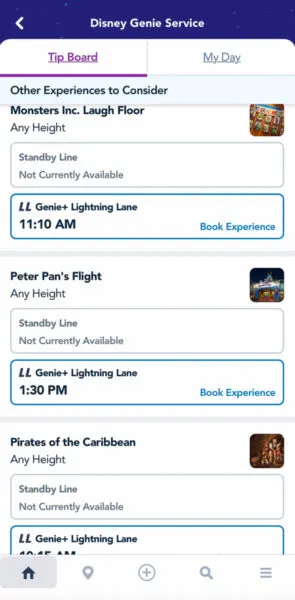 While FastPass and FastPass Plus are both things of the past, Disney has replaced them with a paid add-on service called Genie+ and Lightning Lanes (Previously Fast Pass Lanes).
While the idea of paying additional money on top of an already expensive Disney World Vacation and Disney Park tickets, purchasing Genie+ can be a worthwhile pursuit in some instances. The keyword here is "some."
If you do purchase Genie+ you'll be able to plan out your days and get a lot more done in less time.
We normally recommend it in Magic Kingdom and Hollywood Studios. EPCOT and Animal Kingdom in our opinion don't merit the purchase due to the sheer lack of attractions in both of these parks.
Keep in mind that just because you purchase Genie+ doesn't mean you'll have access to reserving EVERY ride. Some rides are so popular that Disney charges additional money and these rides need to be purchased a la carte as Individual Lightning Lane Reservations.
It's the age-old adage of time vs money. If you value maximizing your time as much as possible, even at the cost of paying extra money, the purchase of Genie+ can be worth it.
Read our article on whether it's worth it to purchase Genie+ where we go more in-depth on the topic.
44. You Can Modify Genie+ Reservations
Disney's rule for Genie+ Reservations has always been that you can make a new ride reservation either after you use your first one or after a 120-minute cool-down between making reservations.
Unfortunately, for a while, if you attempted to change a Genie+ Reservation the 120-minute rule would be completely reset every time you change your reservation.
That has now changed! You can now adjust your ride reservations and the 120 minutes will NOT reset! This makes it much simpler and easier to adjust reservations if you need to without worrying about getting on fewer attractions over the course of the day.
45. Use an Alarm for Genie+ Reservations
Seconds and minutes can make or break getting your Genie+ Reservations! That's why we recommend setting an alarm on your phone at 7:00 am when you can select your first Genie+ Reservation and then each subsequent booking time (normally 120 minutes after each one).
This will ensure you don't waste valuable time in getting your next reservation. Stacking reservation after reservation is your best way to line up your day with the highest amount of attractions possible.
46. Become an Expert of the Virtual Queue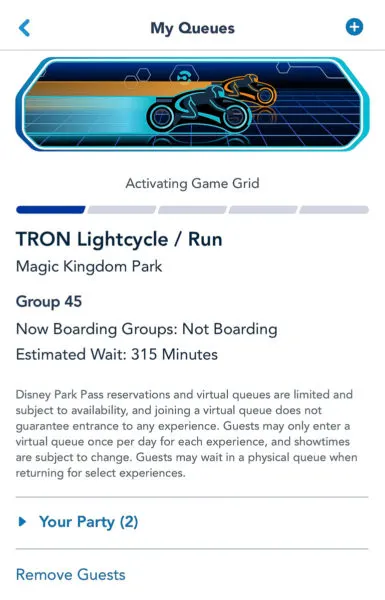 There are currently two attractions that utilize virtual queues, Guardians of the Galaxy: Cosmic Rewind and TRON Lightcycle Run. While you can also purchase Individual Lightning Lanes for these two rides, you don't need to if you're able to get in the virtual queue.
How do these queues work?
Literally within seconds at 7:00 am and then at 1:00 pm again when the queue reopens all spots are completely filled and there are no spots available left in the queue. Here's what you need to do:
Make sure everyone in your party has a park reservation for the park you're visiting that day
Get familiar with the virtual queue steps and where it's found on the My Disney Experience app
At 6:00 am click 'Confirm Your Party' to make sure everyone is found and connected so it's one less thing you need to do when the queue opens
Immediately at 7:00 am continue to click either 'Refresh' or drag down at the top to refresh the screen. Once you see "Join Virtual Queue" click on it immediately.
If you get in, you'll see a Boarding Group Number. If you don't get it, it'll say all boarding groups are filled.
That's really it! If you don't get in the queue at 7:00 am, try again at 1:00 pm and set an alarm a few minutes before so you don't forget. Keep in mind, you need to be in the actual Disney Theme Park at 1:00 pm to join the queue. In the 7:00 am queue, you can be anywhere to join the queue.
Once in the queue, you'll have an hour AFTER your boarding group is called to enter the attraction queue. You should receive a notification on the app that your boarding group was called, assuming you turn on your app's notifications. But if not, check the app from time to time and monitor it.
47. Use Single Rider to Save Time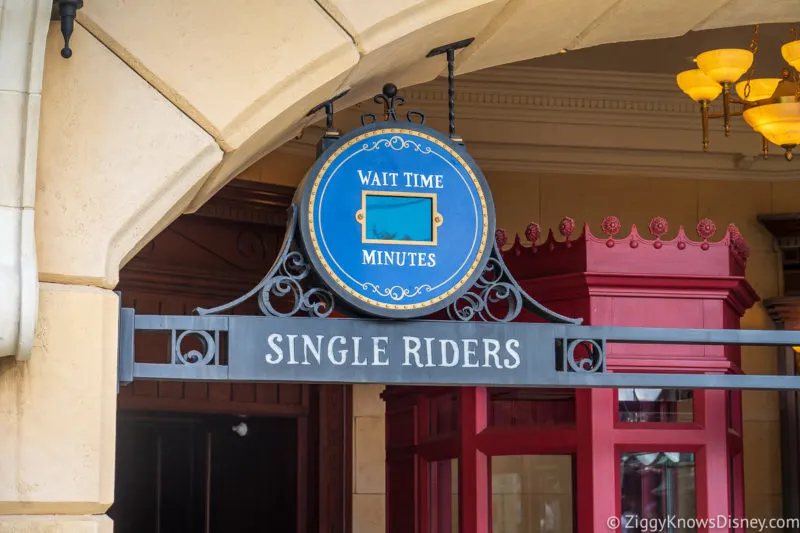 Another way to maximize your time in the parks is to use the Single Rider lines. There are currently four attractions that utilize single-rider lines that allow you to get on attractions incredibly fast, normally a tiny fraction of the projected wait times. The four attractions are:
Rock 'n' Roller Coaster at Hollywood Studios
Millenium Falcon: Smugglers Run at Hollywood Studios
Test Track at EPCOT
Expedition Everest at Animal Kingdom
Remember though, that your party will be separated by using the single rider lines. You'll be sitting with someone else in order to save time. This might only be an option for older kids, teens, and adults that would feel comfortable sitting with a stranger.
48. Find Characters in My Disney Experience App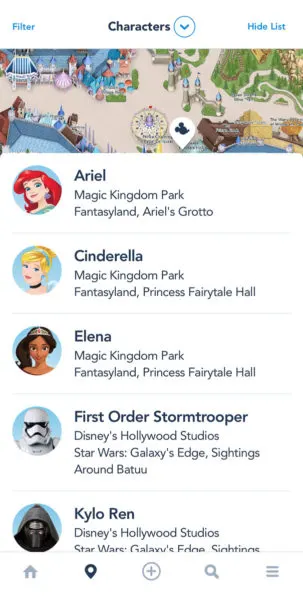 Meeting the characters in the parks can be a highlight for families with small children, but finding them has always been challenging. However, now with the My Disney Experience app, you can find most of the characters quite easily.
The app lists 'who' and 'where' the characters will be meeting in the parks. Simply quick the location services button at the bottom of the app. This will show you a map of the park you're visiting, then at the top, sort by 'Characters.'
This will show you the map with all the characters on it. You can then click on them and see the schedule with the times they will be in those locations and then plan to meet them at those times and locations.
49. Check Wait Times in MDE App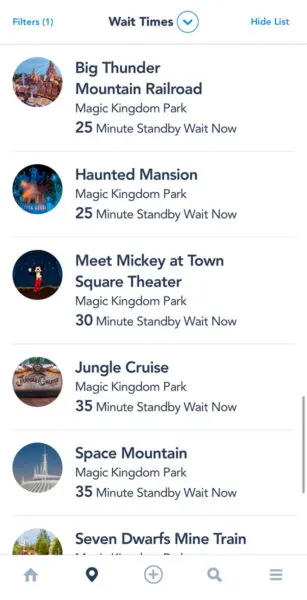 While you can of course see the wait times on posted boards throughout the parks as well as above the actual attractions, what's even easier is checking on the My Disney Experience app!
Simply go to the ride attraction 'Tip Board' and you'll see the current wait times for each attraction in the parks. If you need to change the park simply click on 'Change Park' at the top.
If you click on the individual attractions, you can even see the Forecasted Wait Times for the rest of the day. This can be a great way to plan the rest of your day. These aren't perfect, but they are normally good indicators based on historical data.
50. You Can Bail at the Last Minute
If something happens and you need to leave the line for whatever reason (Child gets scared, you have an anxiety attack, have to use the bathroom, etc…) you can exit the line up until you actually get on the ride.
Even if it affects just 1 person in the group, they can stay in line and exit at the very end right before you get on the ride. The rest of the group can still ride if they'd like.
51. Ask For a Front Seat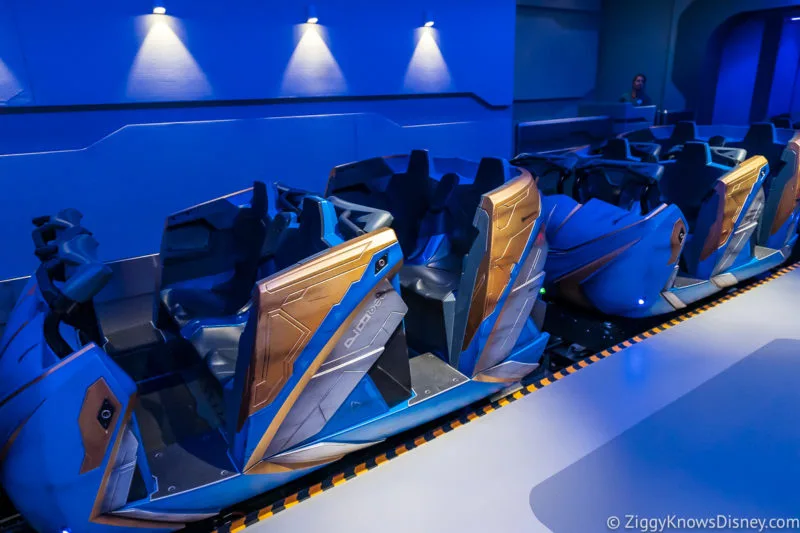 Some things are just better, and sitting in the front row is one of those things. If you didn't know, you can ask for a front-row seat on Disney attractions. You might have to wait a few minutes longer, but in our view, it's totally worth it!
Simply ask a Disney Cast Member as you're about to board where you'd like to sit, whether it's in the front, the back, or anywhere else!
52. How to Ride Rise of the Resistance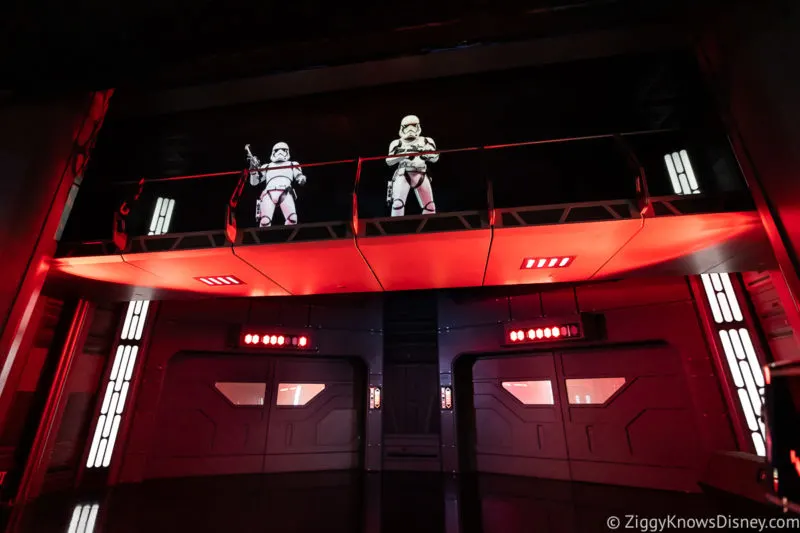 One of the crown jewels of the attractions at Disney World is Star Wars: Rise of the Resistance. This immersive ride experience is worth a visit even for non-Star Wars fans, but lines can get massively long!
Here are our tips to ensure you can ride it. Each of these ways will work, and here are our preferences in order of what we'd recommend:
Rope drop Rise of the Resistance as soon as the park opens in the morning. If you have the ability to come for 'Early Entry' get there a few minutes before the 'Early Entry' time begins. If you don't have 'Early Entry', then get there prior to the official park opening time.
Get in line less than 30 minutes before the park's closing time. This can be risky because there's always a chance the ride could be down and not reopen, which does happen quite a bit with this attraction. If the ride is open, it's likely your wait could be less than 20 minutes, even if the 'Wait Time' shows a lot longer.
If you arrive at the park too late in the morning and the line is already LOOOOONG, then check the 'Estimated Wait Times' in the My Disney Experience app. There will likely be lulls during the day, and go during one of those times.
And lastly to ensure you can get on it, purchase the Individual Lightning Lane for this attraction. The price will range from $20 – $25 per person depending on what day you are visiting Hollywood Studios.
All of these have their positives and their negatives. The first option will be the safest bet, but it will limit your ability to get on other rides with minimal wait times early in the morning. Our post on using the standby queue with Rise of the Resistance explains the strategies more.
Purchasing the Individual Lightning Lane is incredibly costly for a family, and it normally is the last option for families. But we can understand why some would just want to purchase it and not have to plan it out or worry about not getting on it.
53. Visit the Parks When It's Raining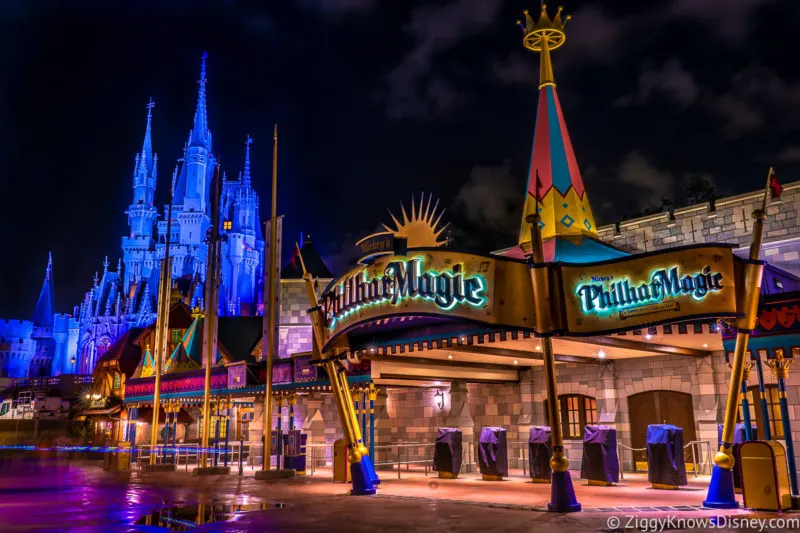 For our family, some of our favorite and funniest memories in Disney World have been during a storm, and most simply don't want to "ride it out" in a Disney World Theme Park. Storms can happen frequently in Florida, especially during the summer months. They come hard and they generally end quickly.
The best part about storms is people hate them and run for the exits as soon as the rain starts!
My advice: find a safe place to 'ride it out' and wait 20-30 minutes, and there's a good chance the sun will be back or at the very least the storm will be subsiding. You'll now have reduced wait times and likely a few degrees cooler weather.
And if you aren't currently in a Disney Park, consider going to a Disney Park prior to it raining or after it begins. You might look crazy initially, but you'll have a great Magical Day in just a little bit, assuming the storm is a shorter one.
54. Get Your Spot for the Fireworks Early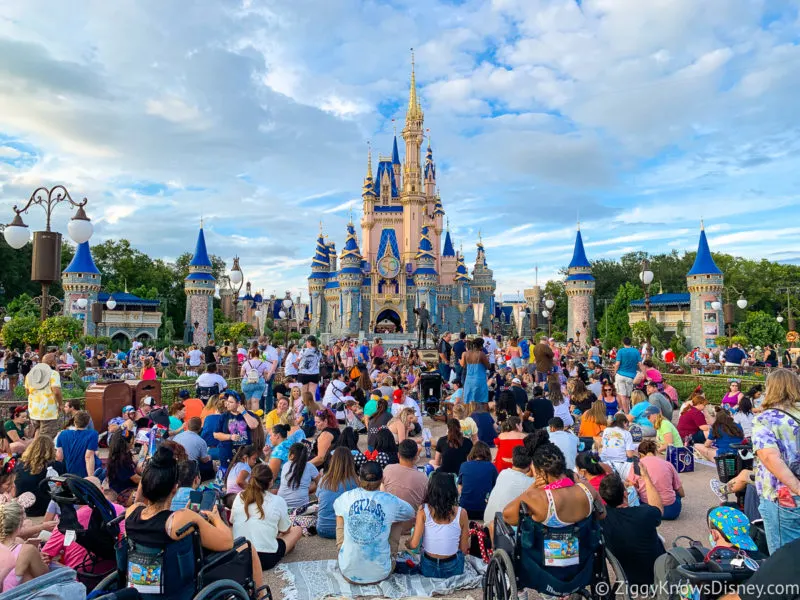 Don't be surprised on busier days in the parks if you see people camping out and staking their claims for spots for the fireworks hours before they start! While we find this unnecessary, we'd absolutely recommend getting there early to ensure you get a great spot.
Here is our suggestion for Magic Kingdom: Get there 60 minutes early to make sure you get a great spot at Cinderella's Castle on slower days. Get there closer to 90 minutes early if you are visiting Magic Kingdom during a particularly busy day or holiday time.
Try to be in a location where you can easily see the Castle's projections and the fireworks above. We normally like to be in the area around the Partners statue or Walt and Mickey directly in front of the castle.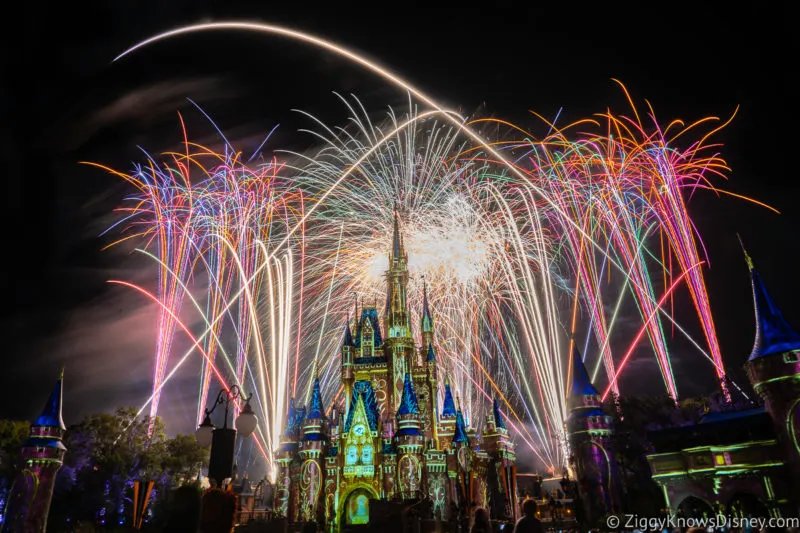 If you're in the center there or around that area, you will have an unbelievable view of Happily Ever After!
At EPCOT, you don't need to be there as early since the areas to watch them are plentiful around World Showcase. We'd suggest looking for a good place around the World Showcase Lagoon normally between 30 and 45 minutes prior to the show.
At Hollywood Studios, I'd suggest the same for the 'Wonderful World of Animation' show as in EPCOT.
For Fantasmic at Hollywood Studios, we almost always recommend trying to go to the 2nd viewing of the night if at all possible. Lines for the 1st viewing can get long. If you need to see the 1st viewing, get in line for it about an hour in advance of the showtime.
55. Skip the Fireworks to Ride More Attractions
While the fireworks shows can be incredible, it's possible that some families just have zero desire to see them or be crowded around thousands of people. If that's the case, skipping the fireworks could ensure you get on even more attractions with minimal wait times.
And it's possible you could simply walk on attractions while also getting a backdrop of the fireworks, which could make for incredible views! You'll likely feel like you have the park to yourself for 30-45 minutes as people watch the nighttime shows.
56. Ride Outdoor Attractions at Night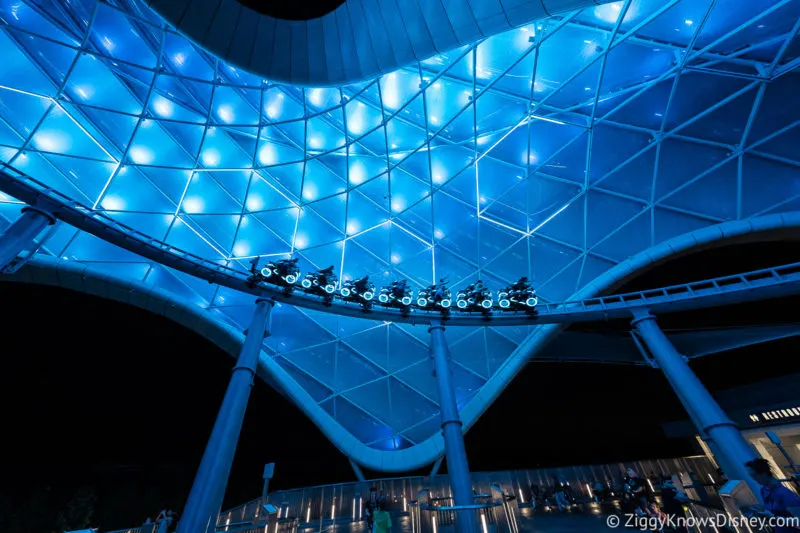 Some outdoor attractions are just more fun to enjoy at night. They're a little extra scary or just bring a completely different level of unpredictability to them.
My favorite attractions at night are Slinky Dog Dash and Tower of Terror at Hollywood Studios, Big Thunder Mountain, TRON Lightcycle Run, Seven Dwarfs Mine Train and the PeopleMover at the Magic Kingdom, Test Track at EPCOT, and Expedition Everest at the Animal Kingdom.
Disney World Resort Hotel Tips
This next section of our Disney World Tips will focus on our favorite tips for staying on-site at a Walt Disney World Resort.
57. Stay On-Site for Best Overall Experience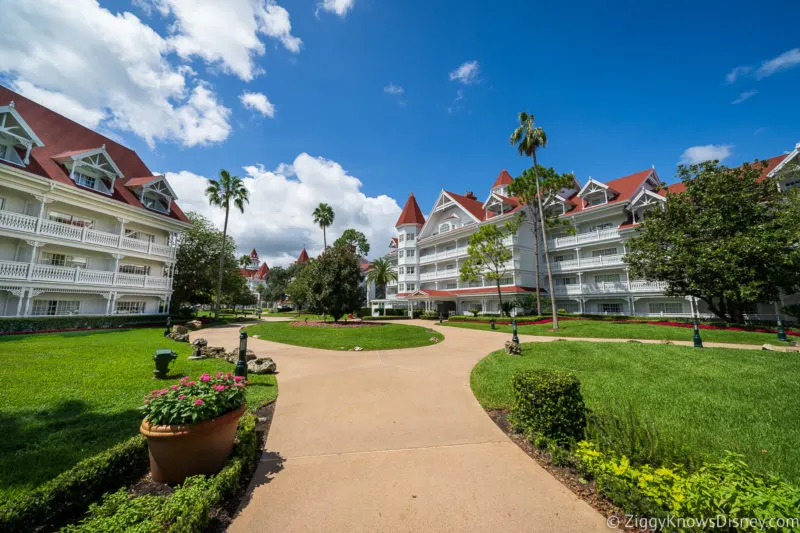 There are hundreds and hundreds of hotels near the Walt Disney World campus not to mention even more vacation rentals! These could offer spectacular deals at a fraction of the cost of staying at a Disney World Resort.
But if you truly want the best all-around experience and truly be immersed in the Disney Experience, we always suggest staying inside the 'Disney Bubble' and staying at a Disney World Resort. Practically every time we hear a bad Disney experience it involves staying off-site and driving back and forth with screaming kids.
While it adds expense to an already expensive trip, staying inside the bubble allows you to take advantage of Disney transportation, extended park hours, and so much more! At the very least, we suggest staying on-site at least once for your trip.
Best Way to Save Big $$$ on Disney Resorts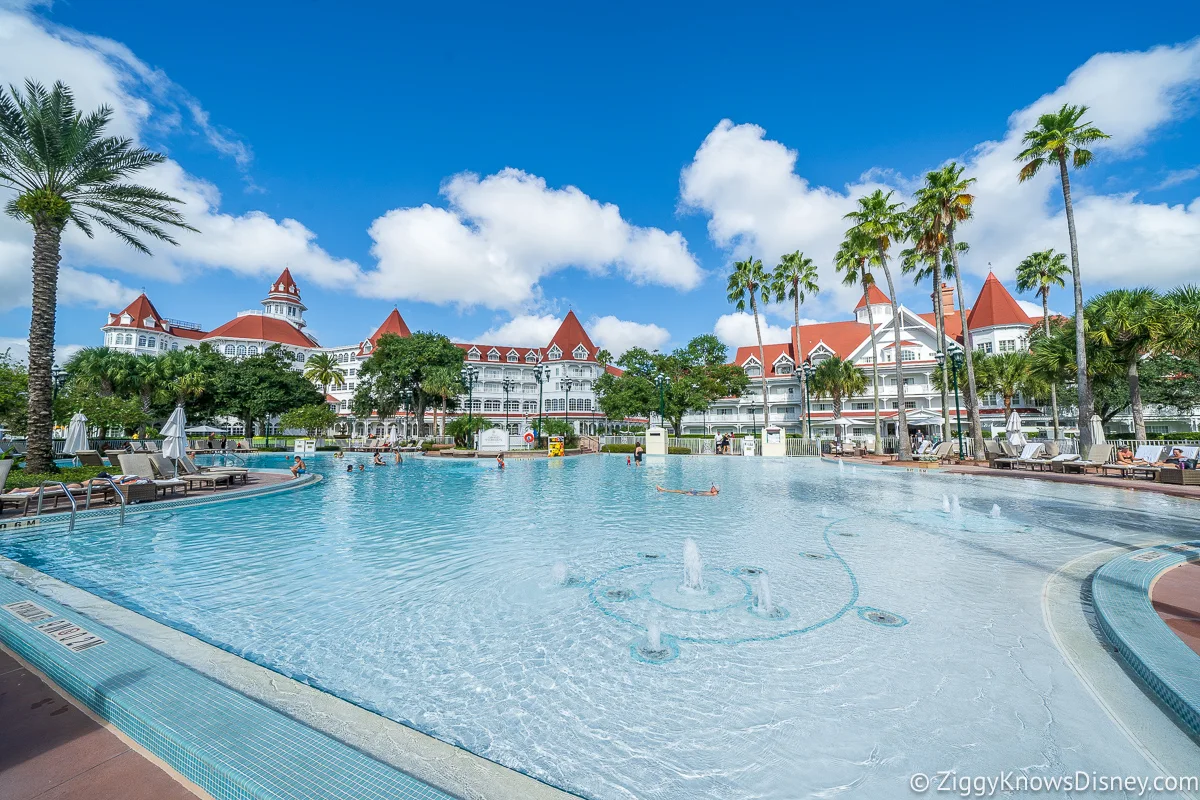 If you want to potentially save thousands of dollars on your next trip to Disney World, I personally recommend David's DVC Rentals. They consistently have the best prices and biggest selection of Disney Villas that will make you ask yourself: "How do they do it?"
58. Value Resorts for Avid Park-Goers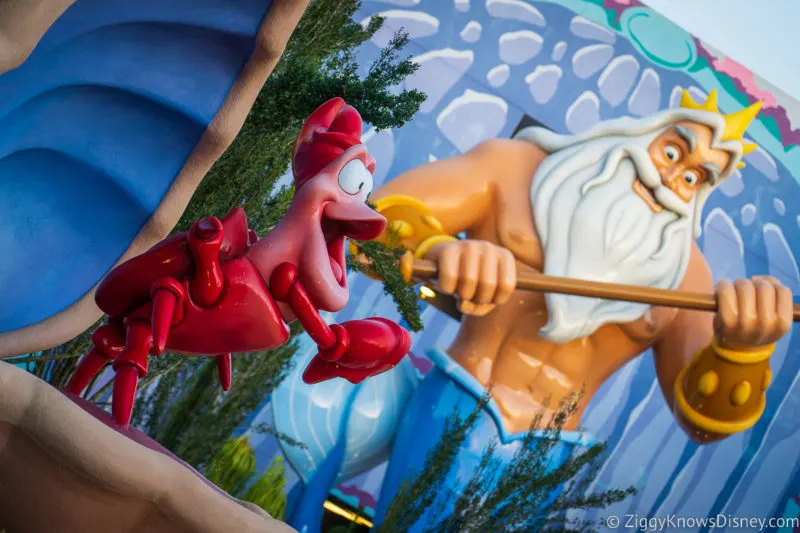 While the Disney Value Resorts certainly aren't fancy and don't exude luxury or sophistication, they can be a nice entry point for families looking to stay on-site.
While they can be a little gimmicky and feature over-the-top decorations, they are a lot of fun for the whole family, especially families with small kids. They are also incredibly clean in keeping up with the Disney Brand you expect.
Value Resorts are the cheapest Disney World Hotels, and they tend to be fairly affordable. You'll often find them at rates in the low $100s nightly.
59. Book a Split Stay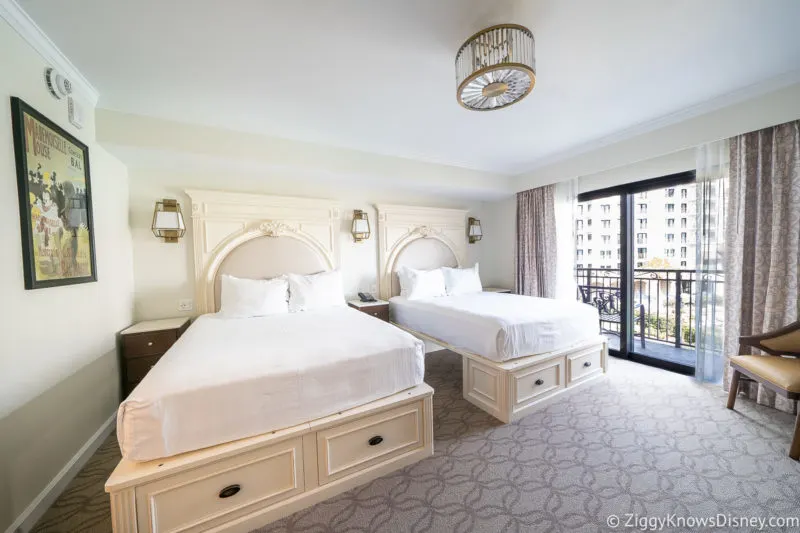 If your family is researching Disney World hotels and you can't decide between a few hotels, guess what, you don't need to! By booking a split stay, you can stay at multiple resorts! We've done this more times than I can care to count, sometimes staying at 3 different Disney Resorts on one trip.
This can also make a Disney trip more affordable by perhaps starting at a Value Resort and then splurging with a night or two at a Moderate or Deluxe Resort. Always start with the lesser of the hotels and end with the fancier one. It'll end your trip on a high note!
Perhaps even consider spending more time at the hotel as opposed to the parks when you're staying at the nicer of the resorts as well to fully enjoy your splurge.
Disney makes this so easy for guests to enjoy a split stay by transporting their luggage from their first hotel to their second one. Just call the bellhop as you finish packing your stuff up, and they'll come to get your bags and transport them for you automatically!
Now you can enjoy your day and go check into your second resort later in the day and find your bags there waiting for you.
60. Stay Club Level for More Luxury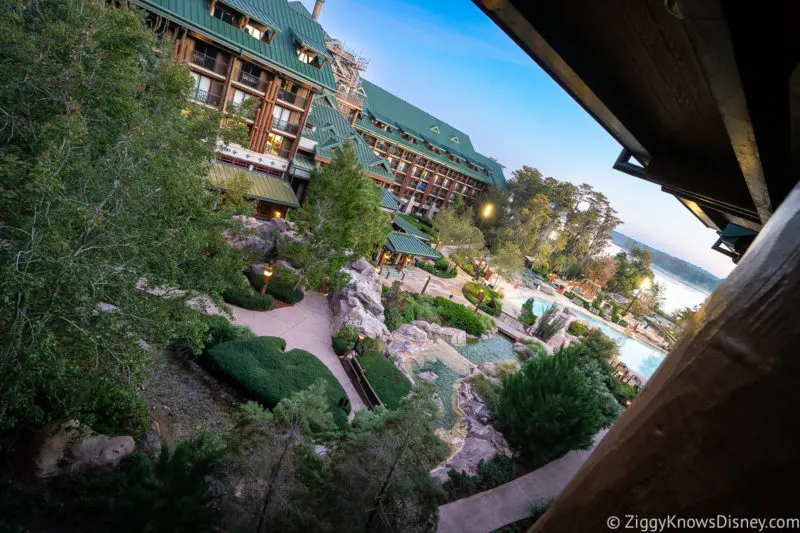 Another thing that's absolutely worth a splurge is to stay at Club Level during your Disney World trip. This could be a perfect idea if you're planning on spending more time at your resort. Club Level allows you to enjoy a few extra perks and amenities, such as snacks and even alcoholic beverages. But be prepared, it does come at a hefty cost.
Not all Club Levels are the same quality, and some are better than others. Our favorites are the Kilimanjaro Club at Animal Kingdom Lodge and the Chronos Club at the Gran Destino Tower.
61. Make Time for a Resort Day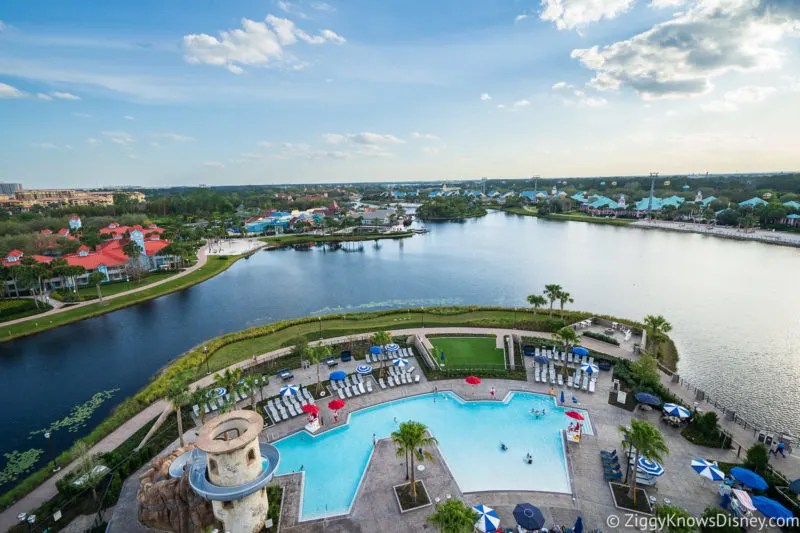 Park days are wonderful but a resort day can sometimes be even more wonderful! If you're going to spend the money to stay at a Disney World Resort, why not make time to actually spend at the resort relaxing?
What's surprising to us is that kids often enjoy their days by the resort pool more than they do in the Disney Parks! There are many amazing Disney World pools to choose from after all!
Don't take these days for granted, they can be a great way to explore and see the many activities and amenities your Disney World Resort has to offer.
You'll find yourself feeling refreshed at the end of the day, as opposed to being exhausted. It might give you and your family a much-needed refuel to start another park day the following day.
62. Do the Activities at Your Resort
Every Disney World Resort has an activities schedule for things that are taking place around the resort. These can be things such as pool games, campfire activities, arts and crafts, sports, and movies under the stars.
Make sure you check the daily schedule and see what things appeal to your family. Try to attend a few of these activities, and it could enhance the trip for the whole family or at least a few members of the family.
63. Explore Other Resorts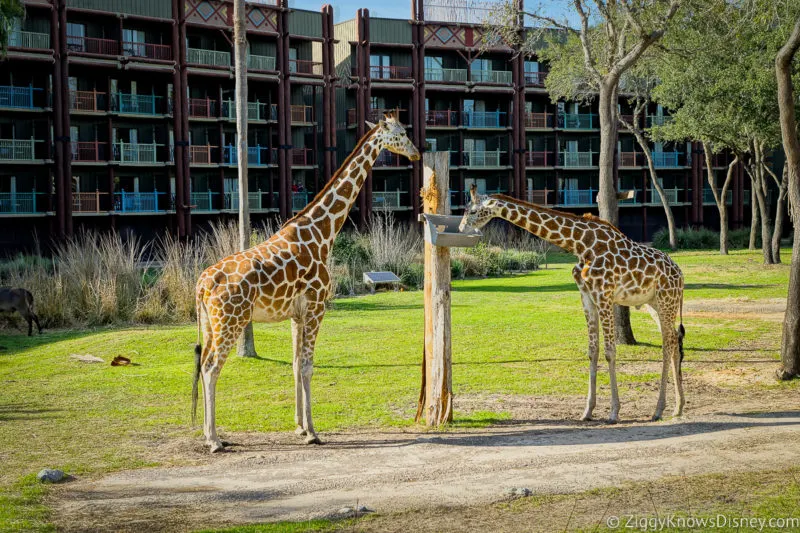 One of our favorite things to do is to visit the other Disney World Resorts. Whether it's to pin-trade, shop, go to other resort restaurants, or just explore the overall theming of the resort!
This is a great way to see the many different resorts that Disney World has to offer, and perhaps even give you an idea for a place you want to stay on a future Disney World Vacation.
64. Do Laundry and Pack Less
One way to ensure you don't need to pack MORE is to do a load or two of laundry. You can easily do this at Disney World Resorts as each hotel has a laundry area where you can do your laundry.
We've done this on most of our trips, allowing us to pack lighter than we normally would. It can be a lifesaver and allow you to bring a slightly smaller bag!
65. You Can Go Camping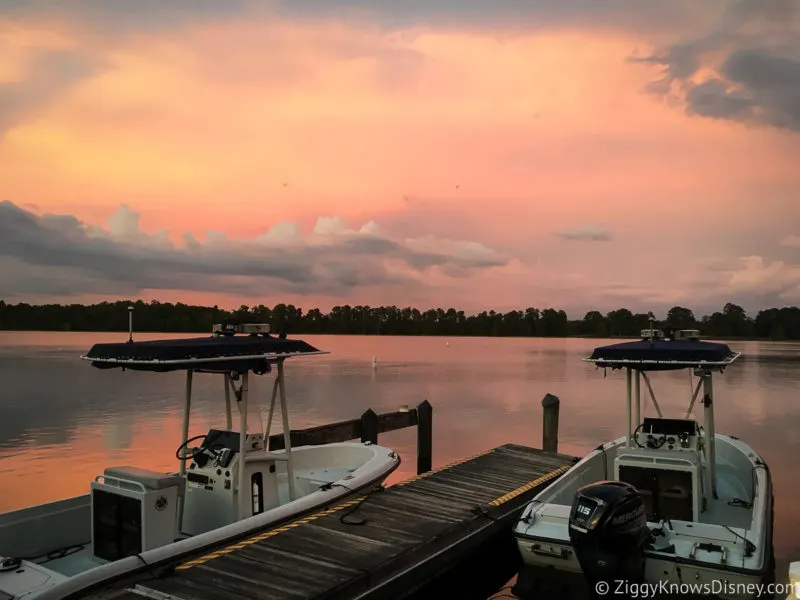 If you didn't know, Disney World has a campground on its site and it's considered the cheapest way to stay on Disney World Property! Yes, this is the Fort Wilderness Campground.
For less than $80 a night during the slower times of the year, you can have your own campsite that will sleep up to 10 guests! You can bring a pop-up camper or a camper van-type vehicle and up to 2 tents on a site.
Fort Wilderness is a great place for families that enjoy camping, as there are more entertainment and recreational options than any other Disney World Resort! With loads of things to do for kids and fun theming, guests will love Fort Wilderness.
And the best part of all is you are a simple boat ride away from the magic at Magic Kingdom, great if you will be spending a lot of time there.
Dining Tips
The next part of our Disney World Tips is our dining tips suggestions. These tips will focus on how to fully maximize your vacation by focusing on the most important aspects of Disney Dining by ensuring you save money and get the most out of dining at Disney World.
66. Make Dining Reservations 60+ Days in Advance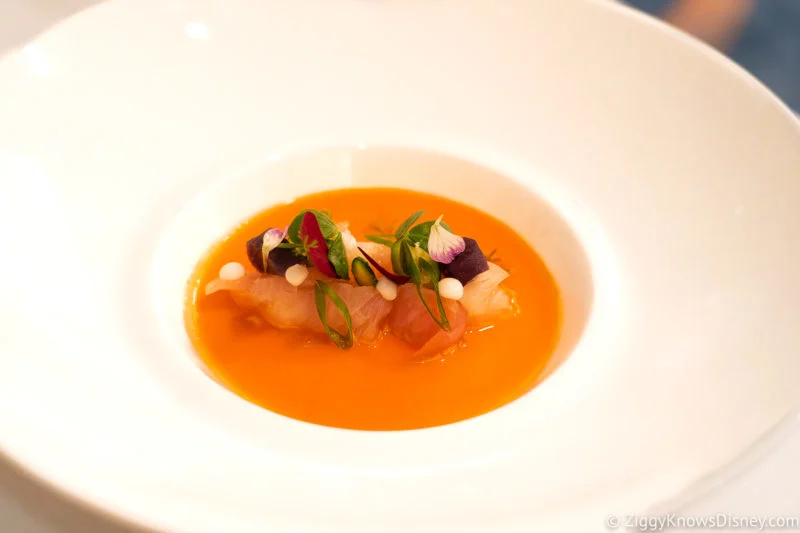 For guests that haven't been to Disney World since before 2020, you might remember a time when you could make advance dining reservations at the 180-day mark, 6 months prior to your Disney World Vacation. That has now changed and it's been dropped to only 60 days prior.
But for guests that have never been to Disney World, 60 days might be a shock! Yes, you should make your dining reservations at the 60-day mark if you truly plan on getting the best overall dining experience. This will give you the best chances of visiting the restaurants you truly want to visit.
Remember to make a note of the 60-day mark prior to the start of your trip so you don't forget. We also suggest setting an alarm or a calendar reminder to wake you up prior to 6:00 am on that day.
Go on the My Disney Experience app or the Disney World website to begin booking your restaurants. I'd suggest trying at 5:45 or 5:50 am, sometimes you'll be able to get in a few minutes early.
67. Keep Checking for ADRs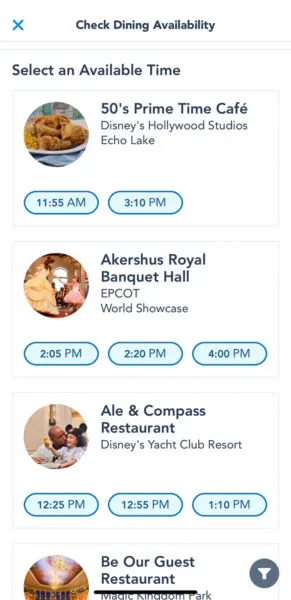 There's a good chance that one or a few of the restaurants that you wanted to visit had no dining reservations available when you tried to book them. The good news is you can keep checking and sometimes they'll pop up.
Guests often cancel their dining reservations the day of or the day before, opening up reservations for other guests and we've often had great results within the 24-hour mark of finding restaurants we didn't think we'd ever get!
Keep in mind that Disney charges a per-person fee if guests don't show up for their dining reservations and don't cancel at least 24 hours in advance.
Read more tips about booking restaurants in our Guide to Advance Dining Reservations at Disney World.
68. Eat Quick Service to Save Time & Money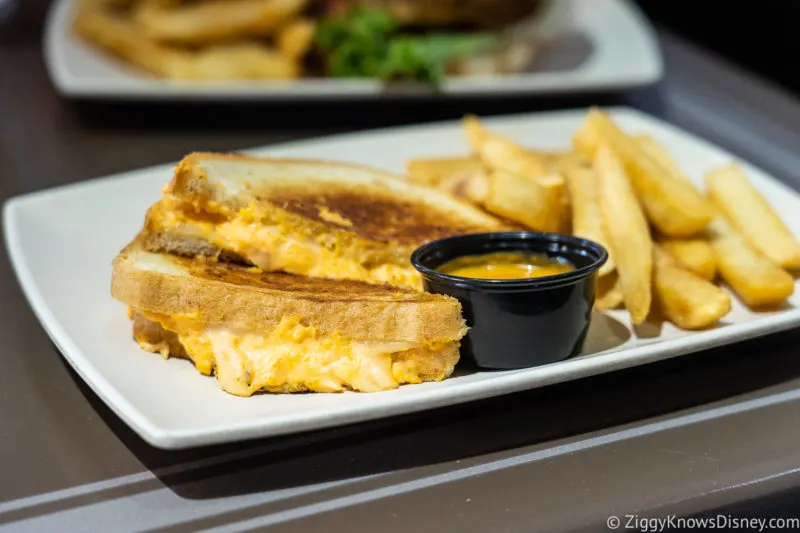 While we love the table-service restaurants throughout Disney World, don't discount the quick-service meal options as well. Quick-service restaurants at Disney World are more casual and fast-service meals that don't require a waiter and are more cafeteria-style in nature. These meals are significantly cheaper and sometimes not necessarily any lesser in quality.
While some of these meals can be your standard run-of-the-mill chicken tenders and hamburgers, there are truly some great quick service offerings these days at Disney World. For example, Disney Springs is loaded with terrific quick service options such as Pizza Ponte, The Polite Pig, D'Luxe Burger, and Chicken Guy.
But the Disney Parks have them as well, including two of our favorites: Satu'li Canteen at Animal Kingdom and Docking Bay 7 at Hollywood Studios.
69. Use Mobile Order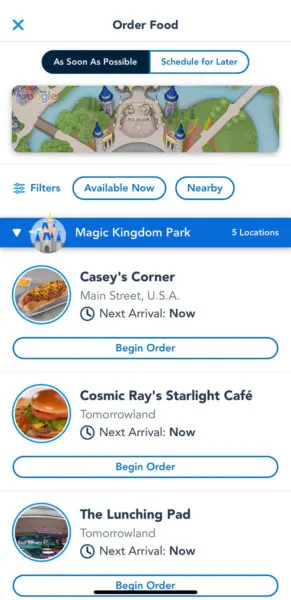 Almost all of the quick service options in the parks utilize Disney mobile ordering. What this simply means is that on the My Disney Experience app you can choose your restaurant and the time frame for what you'd like to order.
This will save you a TON of time as opposed to needing to wait in line (which you still can do if you prefer).
Once you are ready to order something go on the app and order your food and the time you'd like to eat. Then when your return window arrives make sure you are near the restaurant and inform the app by selecting "I'm Here" to let them know they can begin preparing your food.
The app will notify you when your food is ready and by telling you where to go to pick up your food. It's a quick learning curve, but it'll save you immensely once you get the hang of it.
70. Skip the Dining Plan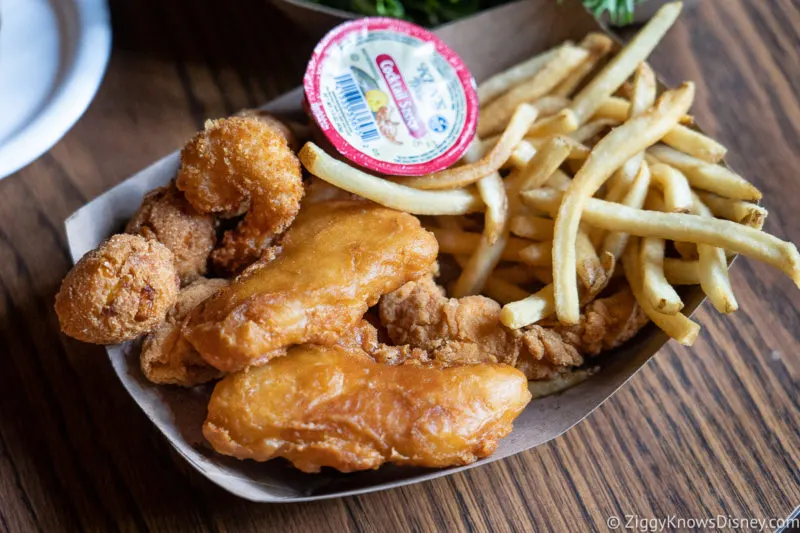 The Disney Dining Plan (DDP) hasn't returned yet since the reopening of the parks in 2020. But when it does return in 2024, I'd suggest skipping it. From our experience, the majority of guests spend MORE money when purchasing the dining plan than guests that do not.
There are tips and ways you can make the dining plan work that require careful planning and meticulous calculations, but the vast majority of people purchase the DDP due to the idea of simplicity and not having to think about paying once they arrive at Disney World.
They like the idea of an "all-inclusive" meal plan with known costs ahead of time as opposed to variables of their expenses. If doing Disney World on a budget is of top priority to you, I'd suggest skipping the dining plan altogether, you'll almost always save money!
71. Check In Online to Save Time
Guests staying at a Disney World Resort can use the online check-in feature through the My Disney Experience to save more time during the check-in process. This enables you to even skip going to the front desk altogether if you want to, informing you directly through the app when your room is ready.
The app will even give you your room number and tell you how to get to your room, so there is no need to visit the front desk when you arrive.
72. Try The Resort Restaurants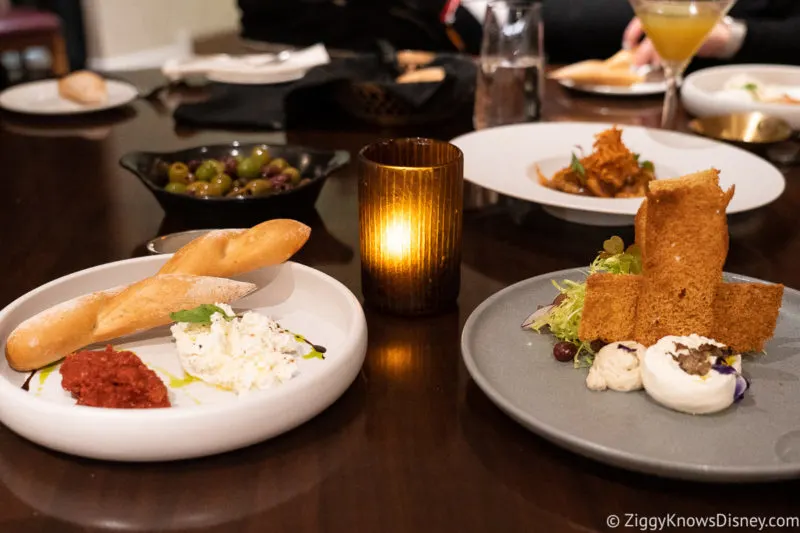 All of the Deluxe Resorts have restaurants on-site that you can enjoy and most of the Moderate Resorts also have a restaurant as well. Most of them are really good and I'd suggest eating at your resort's restaurants at least once!
In fact, some of the resort restaurants are the best restaurants on Disney World Property. Not to mention eating at them will save you considerable time and prevent you from having to leave your resort to grab food.
Another thing you can try is visiting other nearby resorts and eating at their restaurants. Many of the Disney World Resorts are conveniently located next to each other. Make plans to eat at one of those other restaurants if they look appealing and it will also allow you to explore a different Disney World Resort as well.
We cover our favorites in the post Best Disney World Resort Restaurants.
73. Do a Dessert Party for Premium Fireworks Seat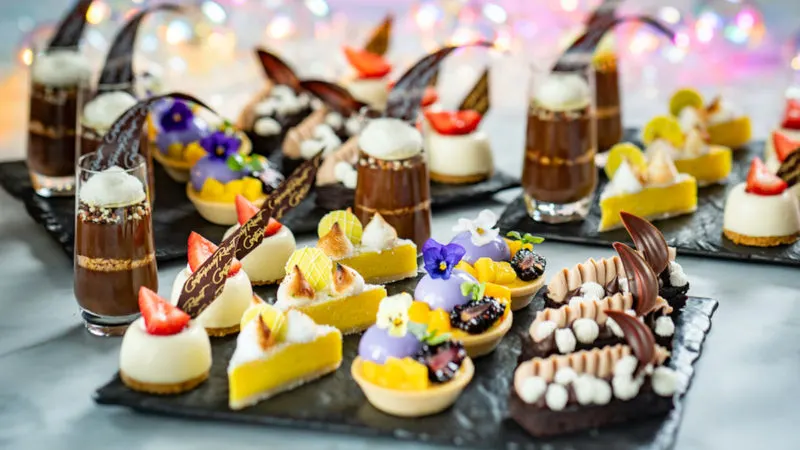 If you'd like to take the stress out of finding a good location for the fireworks or have to stand in place for an hour plus, then book a Dessert Party! These paid experiences allow you to enjoy a premium dining opportunity with the best viewing areas for the fireworks show.
While both EPCOT and Hollywood Studios have dining packages to ensure a seat for their nighttime shows, only Disney's Magic Kingdom has dessert parties at this time.
In fact, there are a number of different desert party options at Magic Kingdom, ranging in price from $99 to $129 per adult. Children between the ages of 3-9 are $59 to $75. Check out the Disney World site to see all of the different dessert party options.
74. Drink a Beer at the Magic Kingdom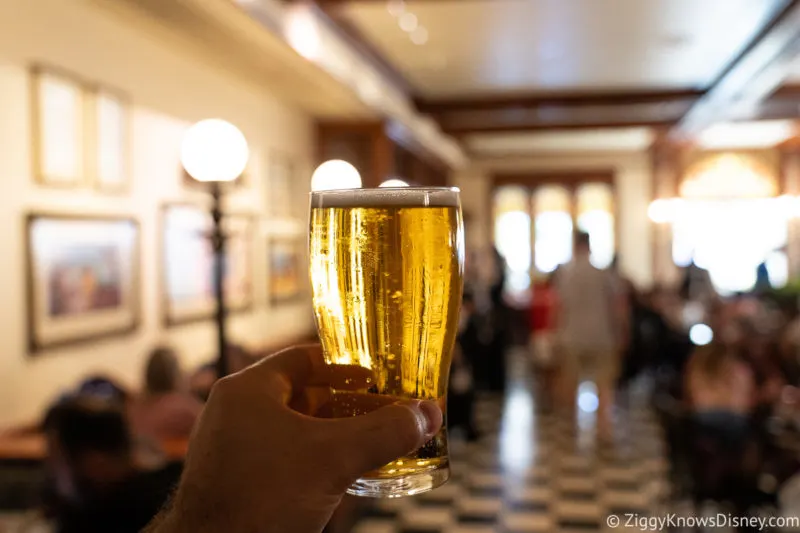 When Magic Kingdom opened its doors in 1971, it was known as a dry park, not selling alcohol of any kind. This tradition continued for 41 years until 2012 when Disney officially broke the rules and began selling alcoholic beverages at select restaurants.
Finally, you can now grab a beer or other alcoholic beverages at 7 different restaurants around Magic Kingdom! But keep in mind, you need to consume it inside the restaurant.
Read "Where to Buy Beer and Alcohol at the Magic Kingdom" for our top choices and what to drink in each restaurant.
75. Dole Whip and Other Famous Disney Snacks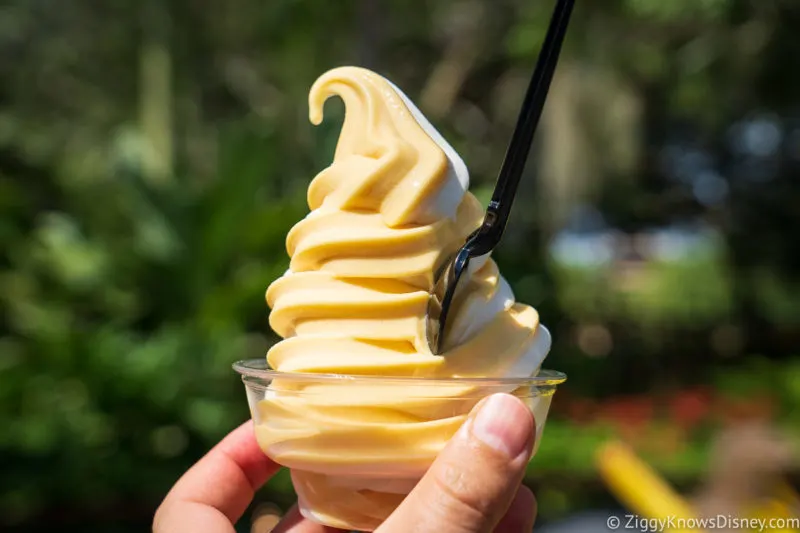 Disney World is known for its "snack culture" with a number of premium snack offerings that have guests coming back for more and more. While they do sell loads of traditional offerings such as popcorn, pretzels, and funnel cakes, Disney has a number of famous snacks you won't find anywhere else!
For example, Disney fans couldn't imagine their lives without the famous Dole Whip, which is one of our favorite snacks at the Magic Kingdom and is also found at multiple spots throughout Walt Disney World. This famous refreshing pineapple-based treat is incredibly refreshing on a hot Florida Day.
You'll also have to try a Disney Turkey Leg! These mouthwatering smoked treats are a tradition at Disney World and just taste better in the parks.
The most newly popular snack offering found at Disney Springs is a Gideon's Cookie! These giant half-pound cookies are incredible and every month they offer new flavors. Be prepared though, lines can get very long here!
To see all the many different snack offerings and our favorites at each of the parks, click here.
76. Some Restaurants Give More Value for Money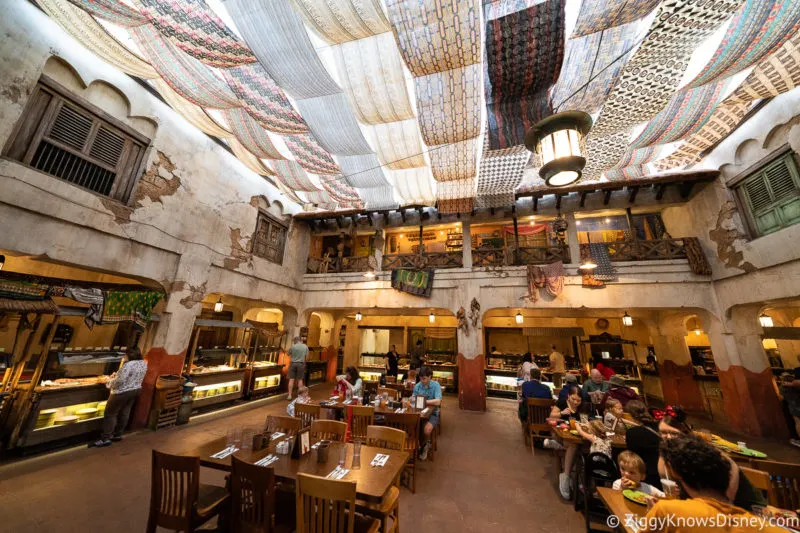 It's absolutely true that some Disney World Restaurants will make you feel as if you overpaid for what you purchased. That's why we recommend visiting the restaurants that will give you the most value for your money.
One thing we'd suggest trying is visiting one of the all-you-can-eat meals for either breakfast, lunch, or dinner, and then filling up as much as possible on that, and then eating lighter the rest of the day.
A few of our favorites in this category are: Boma at Disney's Animal Kingdom Lodge, Tusker House at Disney's Animal Kingdom Park, and Cape May Cafe at Disney's Beach Club Resort.
However, there are also some non-buffet meals that offer outstanding table service prices for incredibly good meals.
Check the menus first to see if they will appeal to you but our favorites in this category are: Sanaa at Disney's Animal Kingdom Lodge, Steakhouse 71 at Disney's Contemporary Resort, 50s Prime Time Cafe at Disney's Hollywood Studios, Ale & Compass Restaurant at Disney's Yacht Club Resort, and Spice Road Table at EPCOT.
77. Always Ask for Secret Menu Items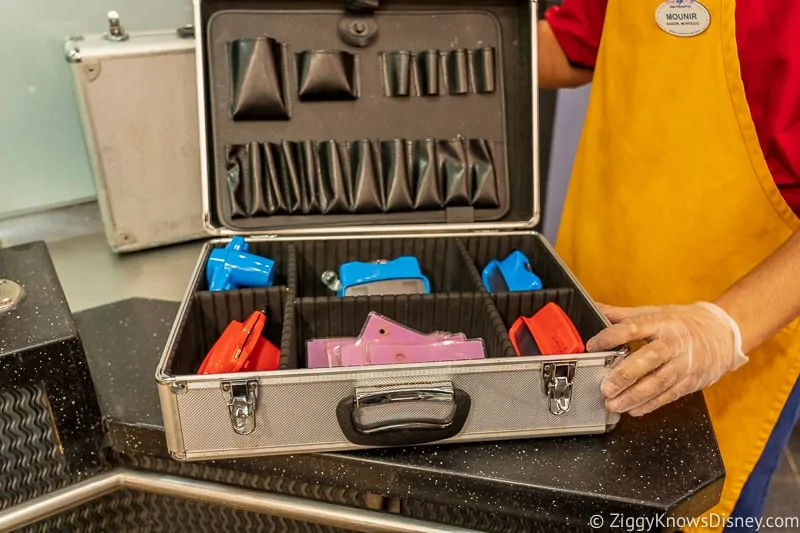 If you want to get in on a little secret, it's that many of the lounges and restaurants throughout Disney World offer secret menu items! Ask your waiter or a Disney Cast Member working at the lounge, quick service location, or table-service restaurant if there are any secret menu items.
The exciting thing about this is that they won't be posted or talked about anywhere or on another blog! So you can become the first person to discover a secret menu item! Talk about a fun discovery you can make with the whole family.
78. Always Book Reservations Near Your Location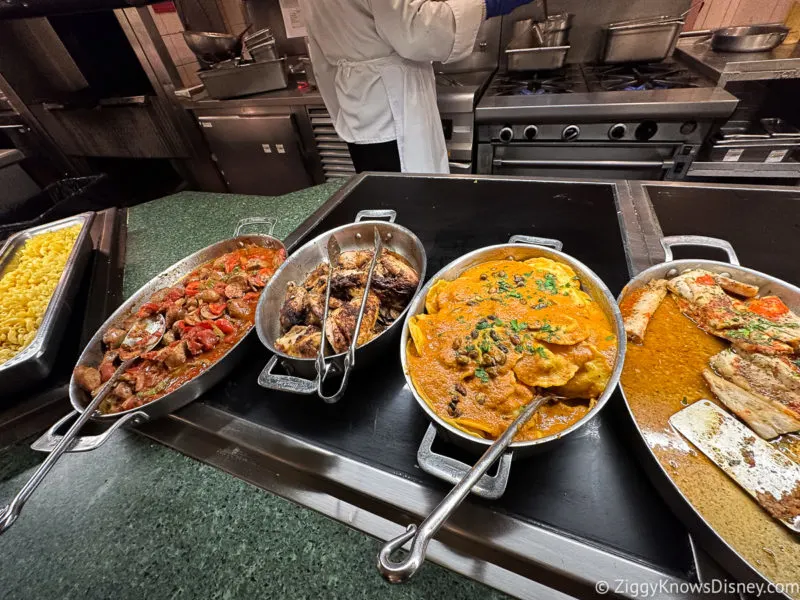 One of the most important aspects of booking your table-service restaurants is the proximity to where you are going to be on that day. Plan your restaurants so that they make the most geographical sense.
For instance, if you are visiting the Magic Kingdom during the day, it likely doesn't make sense for you to reserve a restaurant that will be in Animal Kingdom.
If you want to book one of the EPCOT restaurants, you may want to visit another park during the day, then go to EPCOT that evening for dinner.
The point is to plan out your days so that where you are eating is nearby and not too far in proximity. It'll save you time and hassle as there won't be a lot of travel time to get to your location.
79. If You Aren't Hungry Get the Kids Menu
Most adults think that they can only order from the kid's menu if they have children or if their kids want a particular item. That's not the case at all! Anyone can order from the kids menu and it's a great way to not waste food and save significant amounts of money.
While you won't get as much quantity of food if you have a larger appetite, kids' meals will likely give you just enough of a boost that you don't feel overstuffed as you continue on with your day.
80. You Can Split Meals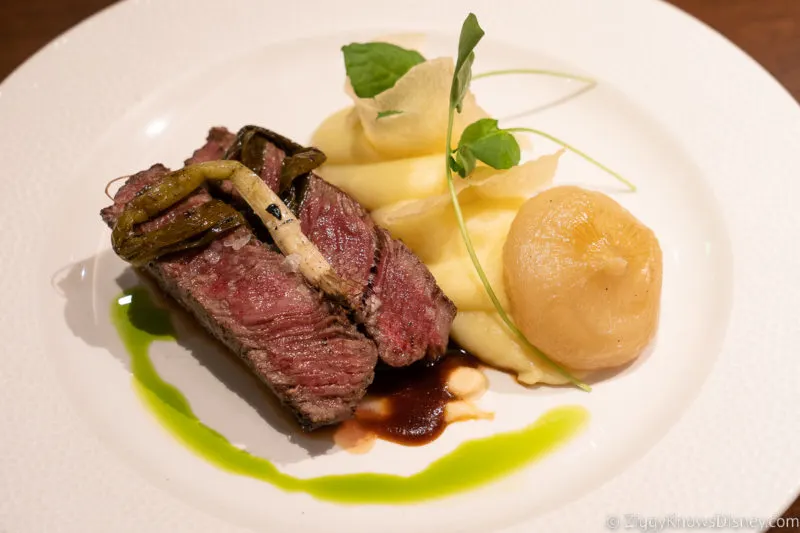 Certain restaurants outside Disney will charge you surcharges or plate fees if you split a meal with someone else, but not Disney! This is invaluable if you either have a smaller appetite or you want to limit the cost of your dinner.
My wife and I do this frequently to save money if we want to try something that looks amazing but we don't want to necessarily pay for (2) entrees. One of us will order an appetizer and one of us will order an entree and we can split both.
It's one way to be able to enjoy a really fancy dinner at a significantly more affordable price.
81. Eat During Non-peak Hours
Part of enjoying a Disney World Vacation is doing the opposite of what the common consensus is. For instance, if others are eating dinner at 6:00 pm, try eating at 4:00 pm or 8:00 pm. You'll get to enjoy quiet times in the parks while everyone else is at dinner.
You'll have less crowded lines for food and your wait times will be significantly less. You'll also have a much easier time if you're looking to visit a table-service restaurant during these non-peak hours.
82. Contact Disney for Allergy Concerns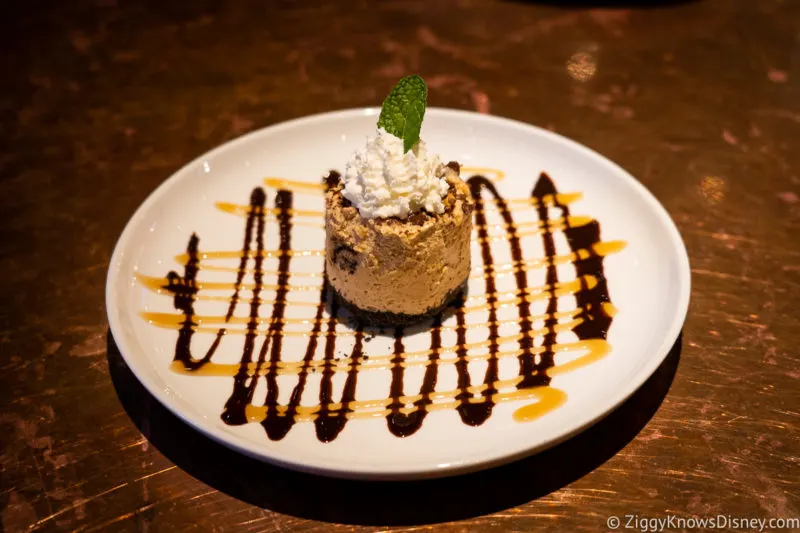 Disney World is terrific for guests that have a load of different allergy concerns when it comes to food. When you make your dining reservations, you can even note it so that the restaurant knows ahead of time. Also, upon arriving at the restaurant inform your waiter immediately. Oftentimes a chef will come over to your table and explain the different options.
Every time we've brought up dietary concerns, the chefs and waitstaff go above and beyond trying to cater to every guest's concerns, unlike any other place I've ever been. You can always call the restaurant in advance of your trip and inform them as well if you're worried.
83. Don't Sleep on the Lounges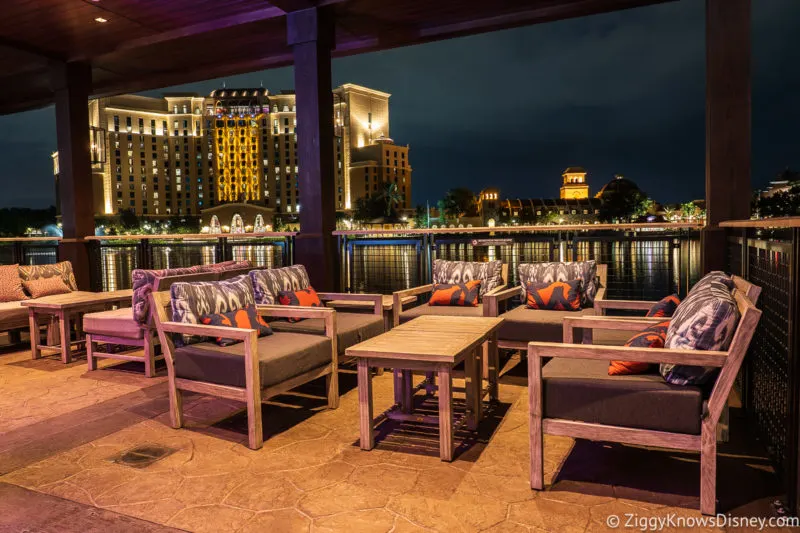 One of the most overlooked and underappreciated places to eat in Disney World is the various different lounges scattered all over the parks and the resorts. Often these lounges have terrific food, and the best part of all is there is normally minimal wait time or reservations required!
You'll often get similar quality food to the nearby table-service restaurants for a fraction of the cost! For instance, at Space 220 in EPCOT the cost of dinner is a set price of $79 per adult and $29 for children.
Instead, you can go to the Space 220 Lounge which is the same restaurant and experience, with the same awesome atmosphere and enjoy an appetizer that starts at only $12!
There are a number of awesome lounges with really quality food including some of our favorites: Nomad Lounge at Animal Kingdom, Geyser Point Bar & Grill at the Wilderness Lodge Resort, and Three Bridges Bar & Grill at the Coronado Springs Resort.
READ: Best Bars & Lounges at Disney World
84. Go Back in Time at 50's Prime Time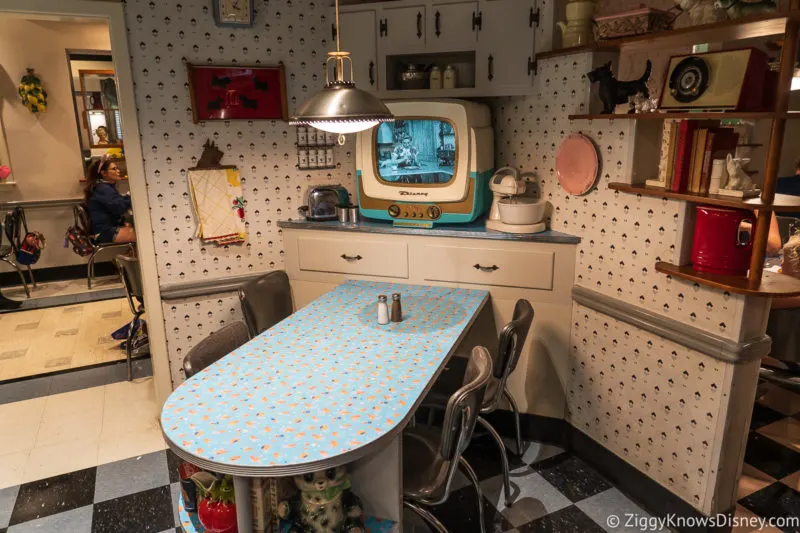 Practically a yearly tradition for our family is visiting the 50's Prime Time Cafe! If you want one of the truly unique experiences in all of Walt Disney World, the 50's Prime Time is absolutely worth a visit!
This 1950s-themed cafe will bring you back in time as you travel to Mom's house as she cooks up some of the classic family traditions. All the servers here are one big happy family, and don't be surprised if they tell you to eat your veggies and keep your elbows off the table.
It's a nostalgic place that will bring you back in time while bringing some family-friendly fun and it's a great place to bring the whole family from young kids to grandparents.
85. Make Multiple Reservations for Big Parties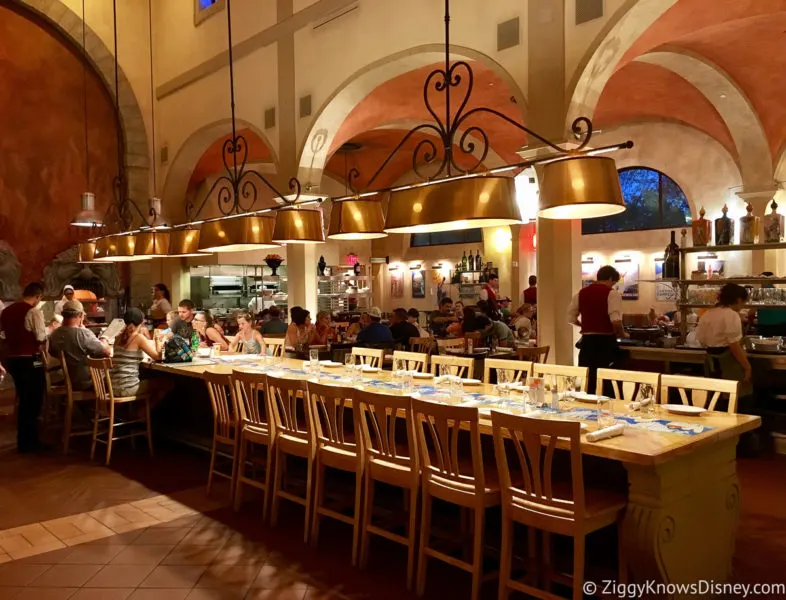 Trying to find larger reservations for bigger groups can be incredibly challenging in Disney World, limiting your opportunities to visit the restaurants you really want to go to. We often have this problem in our family as we travel in a pack!
Here's a piece of advice: make two separate reservations. If you can get both reservations for around the same time when you arrive at the restaurant you can explain the situation, and they will likely try to fit you in so that you can seat close to each other.
Sometimes they will give you a large table allowing you to all fit together, other times they can't. But at least with two reservations, you'll be eating in the same place at the same time.
86. Have Lunch at One of the Monorail Resorts if Magic Kingdom is Packed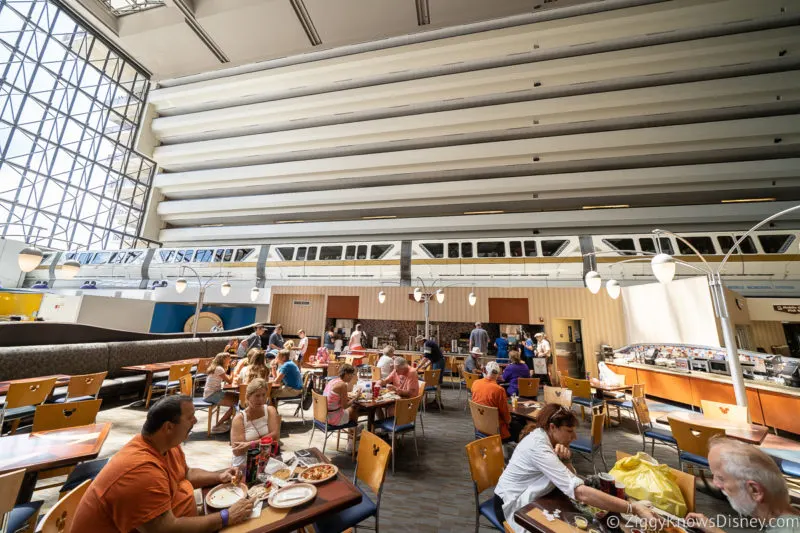 A good way to break up a long day in Magic Kingdom while also giving you a new Disney World Resort to explore is by having lunch at one of the nearby Monorail Resorts. There are three Monorail Resorts: Grand Floridian Resort & Spa, the Contemporary Resort, and the Polynesian Village Resort.
Each of these resorts has great options for food, both quick service and table-service restaurants. Doing this will break up your day, giving your family some R&R while also getting you out of the hot sun for a little while.
Then, by the time lunch is over and everyone is refreshed, you can take the monorail back into the park and enjoy more rides and attractions.
87. You Can Actually Eat Inside Cinderella Castle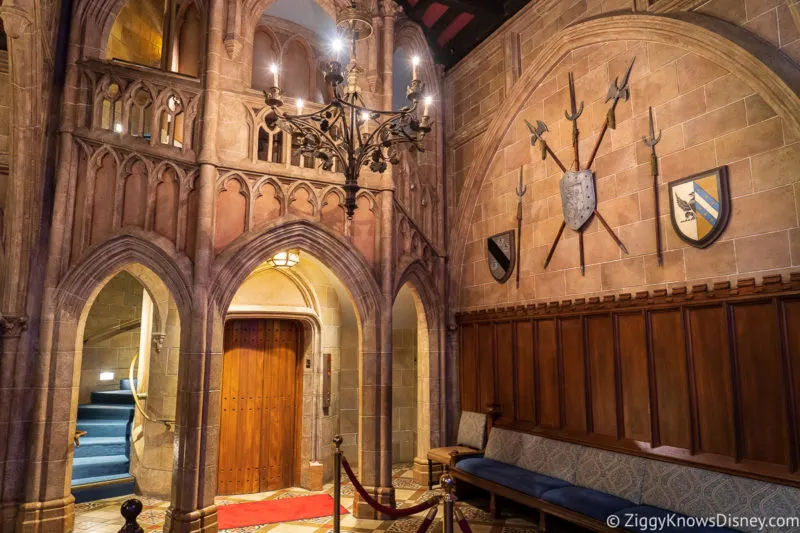 If you didn't know, you can actually eat inside Cinderella's Castle at the restaurant called Cinderella's Royal Table. The restaurant is open for breakfast, lunch, and dinner. The prices here are expensive and it is a fixed pricing menu, but it's an experience you won't forget
Young kids will especially enjoy seeing the beautiful interior of the castle. The princesses can vary but you could get to meet several Disney Princesses including Jasmine, Aurora, Snow White, Ariela, and of course your host Cinderella!
88. Make ADRs Right Before Park Close
If your family is OK with going European-style and having a later dinner, making a dining reservation in the parks just before the park closing time is an awesome way to end the night! Not only will you likely get the restaurant to yourself, but you'll also get to experience the park to yourself as you depart the restaurant.
There's something awesome about leaving Magic Kingdom or any of the Disney World Parks with practically zero guests in the park and getting some spectacular photos to end the night. These reservations are a hidden gem and are actually easier to get than the prime-time 5:00 pm -7:00 pm reservations.
Saving Money
In this next section, we will now talk about our absolute favorite ways to save money on your Disney World Vacation.
89. Keep Checking for Discounts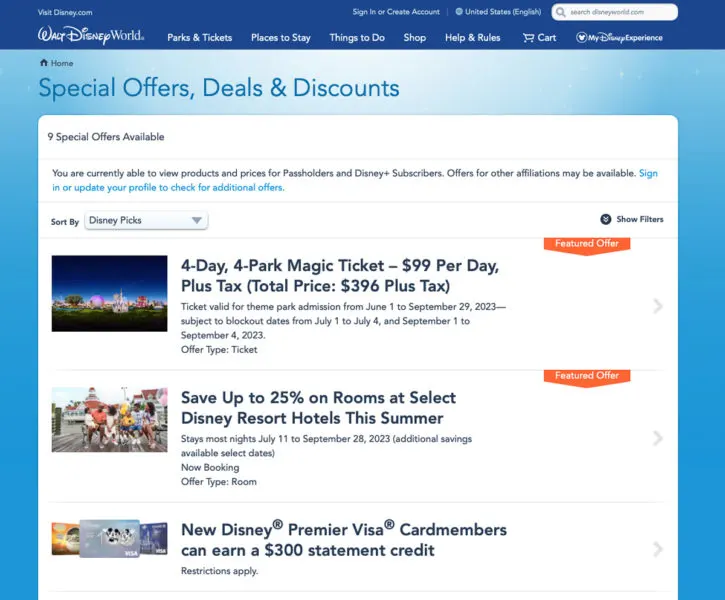 Some guests get worried if they book their vacation too far away they won't be able to take advantage of future discounts, and this actually isn't the case!
If you book a Disney World Vacation either through an Authorized Disney Vacation Planner, such as Show You the World Travel, or directly through Disney yourself, you'll be able to take advantage of future discounts if they come out.
The advantage of having a Disney Vacation Planner is they will be proactive in working for you and knowing when all the deals and discounts come out and then apply them retroactively for you, as opposed to you having to continue to monitor it and do it yourself.
By doing it yourself there's a good chance you won't see the newest deal and end up paying more than you need to.
90. Buy Discounted Disney Tickets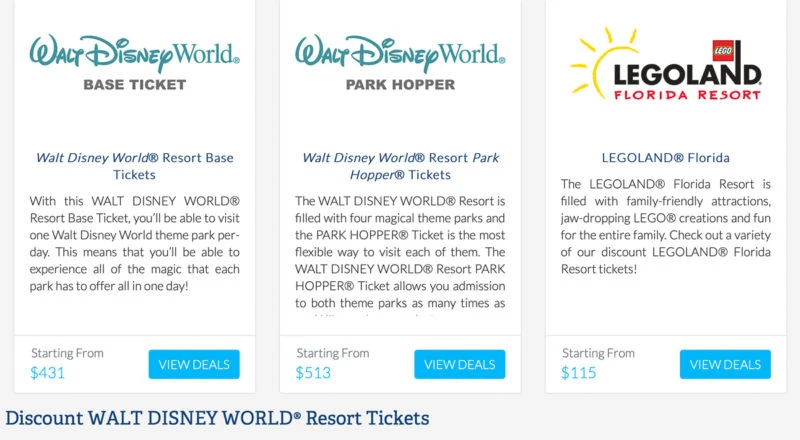 Buying Disney Park TIckets can be incredibly costly so if there's any way to save any money at all when it comes to buying tickets you should look into it! The problem is, there are a lot of scams when it comes to discounted Disney tickets, and unsuspecting first-time Disney guests can sometimes get caught purchasing these tickets.
There are a few reputable Disney Ticket sites that will allow you to save some money on the purchase of Disney tickets. We invite you to check out our Guide to Discounted Disney World Tickets which will show you what tickets to look for and if they're worth buying.
Cheapest Discount Disney World Tickets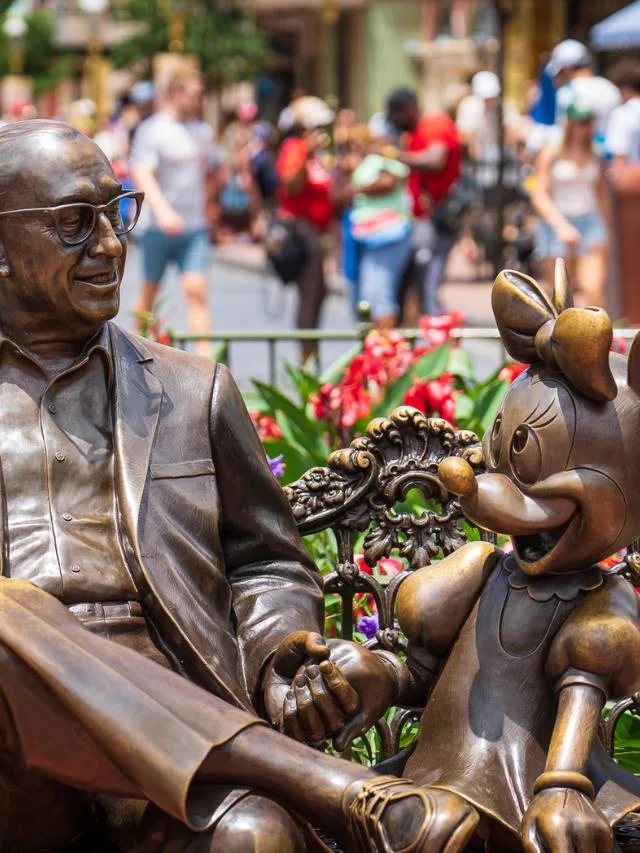 If you are looking to save money on Disney World theme park tickets, our personal recommendation is Orlando Vacation. They almost always have the best prices on multi-day tickets and can save you $20-$60 per ticket over buying direct from Disney.
91. Use Credit Card Points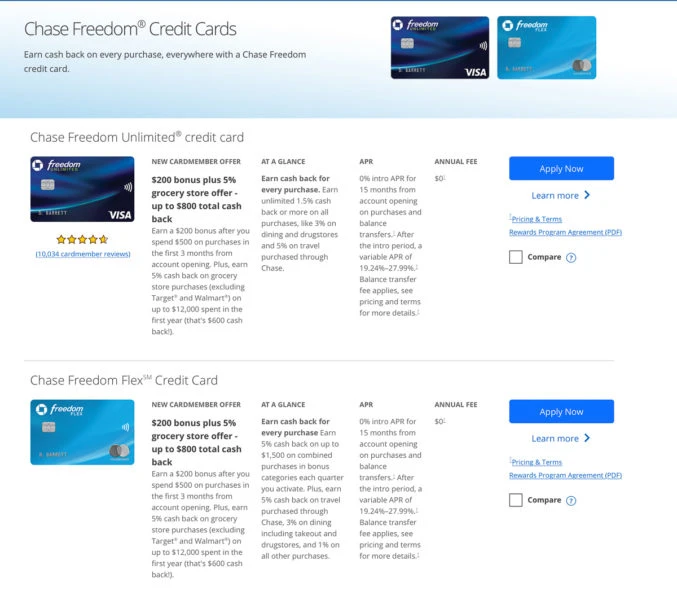 There are a number of different ways you can use credit card points to save on a trip to Walt Disney World. You can utilize travel credit cards that will mitigate the cost of your hotel or airfare costs. There are other credit cards that will reimburse you in the form of statement credits for any travel-related expenses.
There are also several hotel chains around Disney World that will enable you to use hotel rewards points, such as the Swan and Dolphin Hotels, which are owned by Marriott. And if you are a Marriott Bonvoy Member, you can book these hotels for normally 30-40,000 points per night.
Staying at the Swan and Dolphin Hotels is one of our favorite gems due to the fact that they are actually on Disney's Property and are within walking distance to both Hollywood Studios and EPCOT.
There are other popular hotel chains near Disney Springs, within walking distance including Holiday Inn (IHG), Hilton, and Wyndham.
For a full discussion of off-site hotels and the ones we recommend where you can use credit card points, I suggest you read our list of the best hotels near Disney World.
92. Take Advantage of Disney Visa Card Perks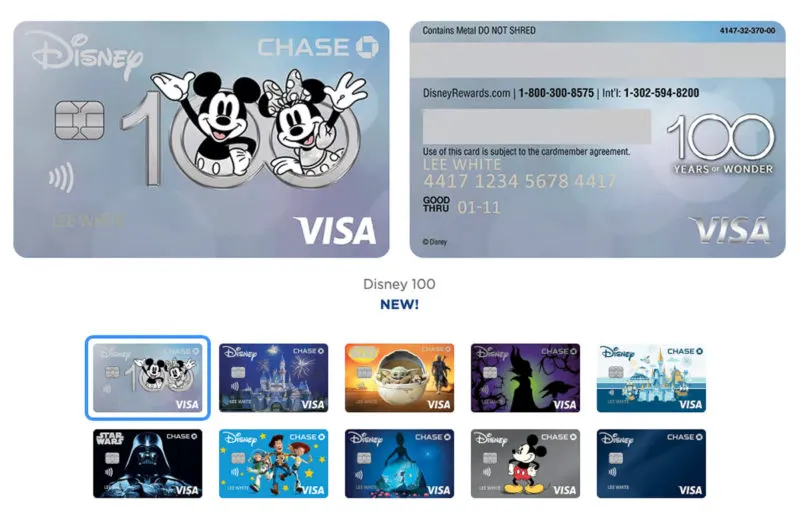 If you're a frequent Disney World guest, taking advantage of the Disney Visa Card could be a smart decision for you. With Disney Dream Rewards dollars being accrued on purchases and special financing and room discounts exclusive for Disney Visa Card members, it could totally be worth having a Disney Visa Card.
You'll also get exclusive access including special meet and greets in the park and complimentary photos from select locations. For a full list of benefits and perks and to see whether it's worth it to get the Disney Visa, go here.
93. Use Disney Gift Cards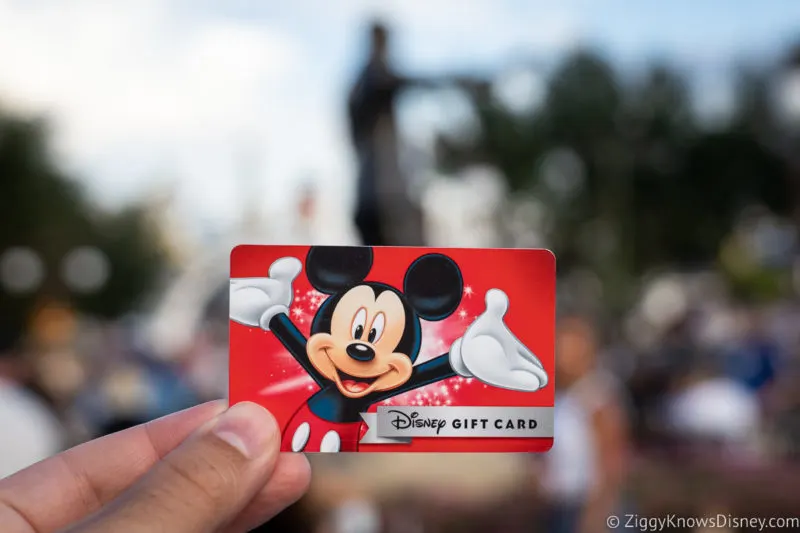 Something we've written about a lot if you want to save money is by purchasing Disney Gift Cards in advance of your trip. This is an easy way to save anywhere from 5-10% off your Disney World Vacation.
While it requires a little bit of effort and planning, it isn't exactly rocket science. The easiest way to do it is to get them at Target with a Red Card for an easy 5% off discount, but there are more than a dozen places to get them and save money.
94. Check All Options for Lowest Prices on Hotels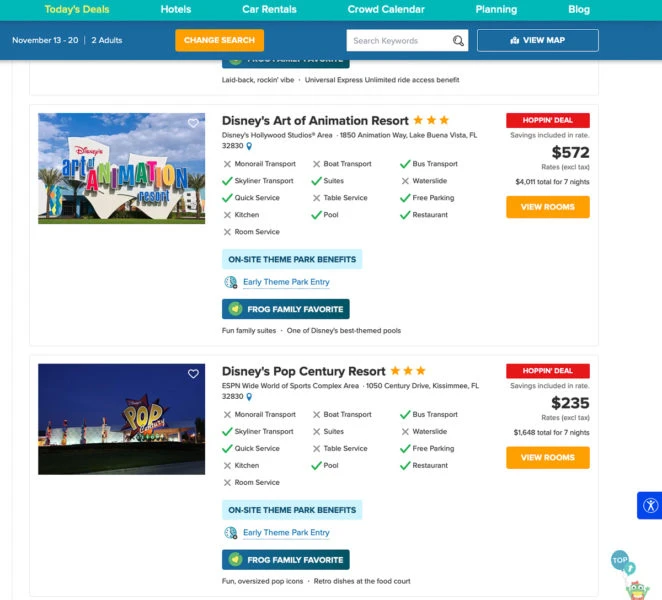 While most people looking to visit Disney World look directly on Disney's Official Site, and while this could be an easy and straightforward option, it isn't always the best and most affordable option. In fact, we'd encourage you to check several different options for the lowest prices including:
Through a Third-Party Company
Using an Authorized Disney Vacation Planner such as Show You the World Travel
Third-party sites such as Orbitz or Expedia can sometimes save you a little bit of money on the nightly rate for a Disney Hotel. Just keep in mind their cancellation policies usually aren't as loose as Disney's.
Always check all your available options first. Make sure when you are checking Disney's Official Site that you see if there are any special offers.
Booking with an Authorized Disney Vacation Planner might not save you money over the cost of the price through Disney immediately BUT it could save you money in the long haul because if there's a new promotion or discount that comes out prior to your trip, a good vacation planner will make sure you get the best possible rate.
95. Use DVC Points for Massive Savings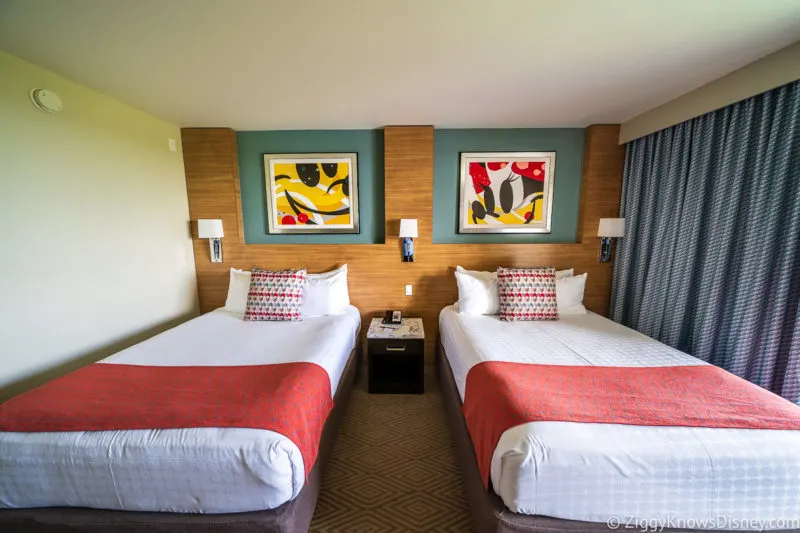 The 4th option for staying at a Disney World Resort is by using DVC Points to stay at a Disney Deluxe Resort. This has been one of our families' main ways of being able to afford to stay at nicer Disney World Properties.
Renting DVC Points from a reputable company or seller could save you substantial amounts of money, sometimes 50-60% off the cost of staying at the same hotel when purchasing directly through Disney.
It's a fairly simple process to do this. I'd recommend using a larger and more reputable company such as David's Vacation Club Rentals. They offer the best prices and have a huge selection of rooms available.
96. The Longer You Stay the Less You Pay
The cost of park tickets is substantially more expensive per day on the first 4 days. Disney has purposely priced tickets to make it more affordable for families staying longer periods of time.
For instance, 1-day park tickets start at $109 per day whereas 7-day tickets start at only $69 per day. Staying longer might not cost you as much money as you think.
97. Cook in Your Room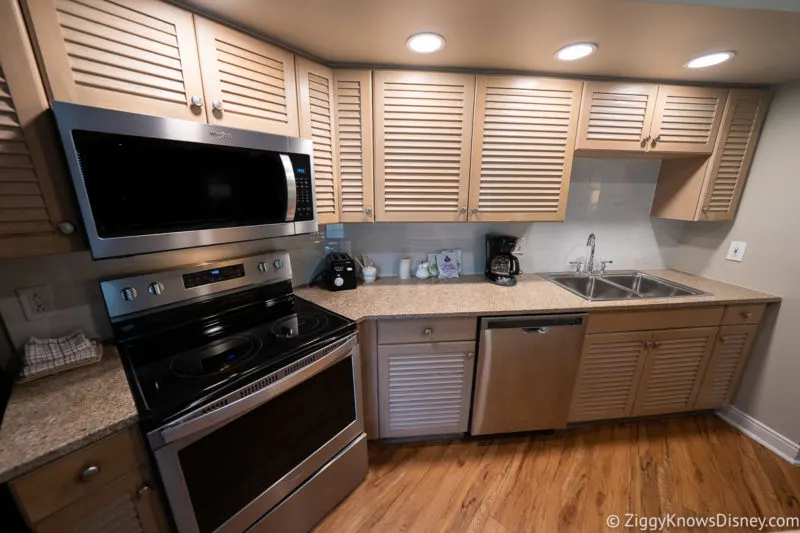 Something our family has been doing more and more on recent Disney World stays is ordering groceries and food. There are a number of different ways you can do this, including through apps such as Amazon and Door Dash in which you can order groceries and have them delivered at your resort. It's much cheaper than you'd think it would be!
You can of course also go out yourself if you have a vehicle and do some grocery shopping and bring food into your hotel room. Cooking in your room can be an incredibly cost-effective way to save significant amounts of money, but you'll need to book a resort with a kitchen, another reason to consider staying at a DVC Resort.
98. Bring Food to the Parks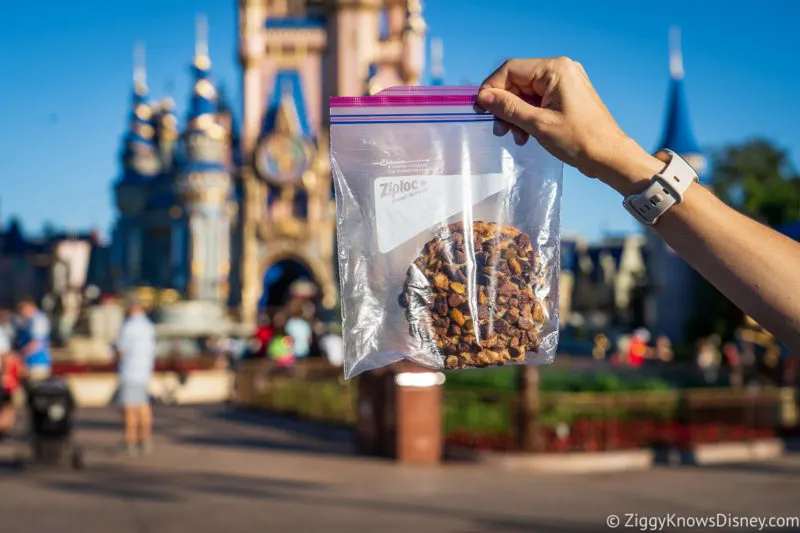 The thought of bringing food into the Disney Parks doesn't even cross the minds of most families. It's true, Disney has some rules on 'what' you can bring to the parks and what you can't bring (including loose ice or alcohol), as far as food goes, as long as it fits in your bag or a smaller cooler, you're good to go!
For example, packing snacks or food for kids or the whole family can be an extremely cost-effective way for budget-conscious families to not be reliant on Disney's high costs to feed the whole family. You can even bring a sandwich or salad if you don't want to buy lunch.
99. Stay Off-Site for Max Savings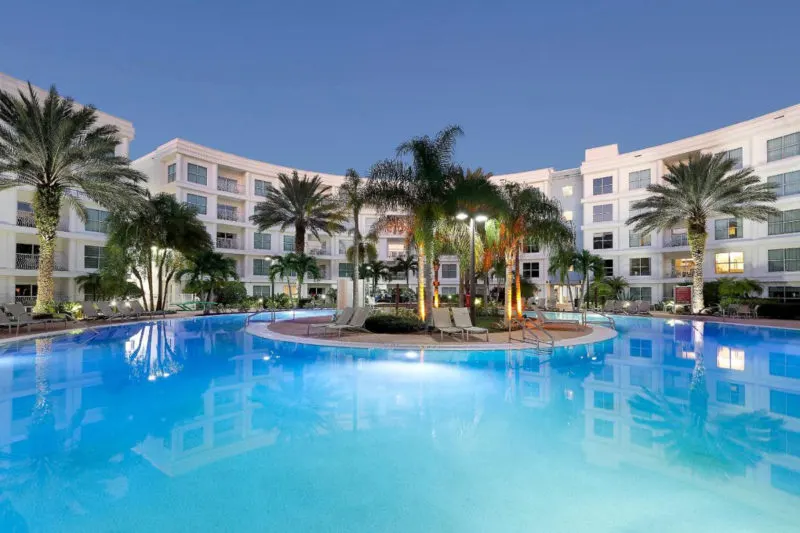 While most times we are bigger fans of staying on Disney's property, there are some times when we actually prefer staying off-site. And if you're looking for the best bang for your dollar, staying at some of the nearby off-site hotels will absolutely provide you with that.
Even some of the off-site hotels aren't even truly "off-site" as they are still technically on Disney World's property, giving you easy and convenient access without having to pay the same prices for similar quality as you would if it were an official Disney Resort.
There are a number of hotels around Disney that offer more space for larger families, including multiple bedrooms while giving some of the same perks of Disney Resort Guests by having the designation of being 'Disney's Good Neighbor Hotels.'
For a list of our favorite options to save money and stay off-site, check this post out here. Just keep in mind just because they seem significantly cheaper than Disney, almost all of the off-site hotels have hidden costs including nightly resort fees and additional taxes. Make sure you fully count the cost.
Top 3 Places to Stay in Orlando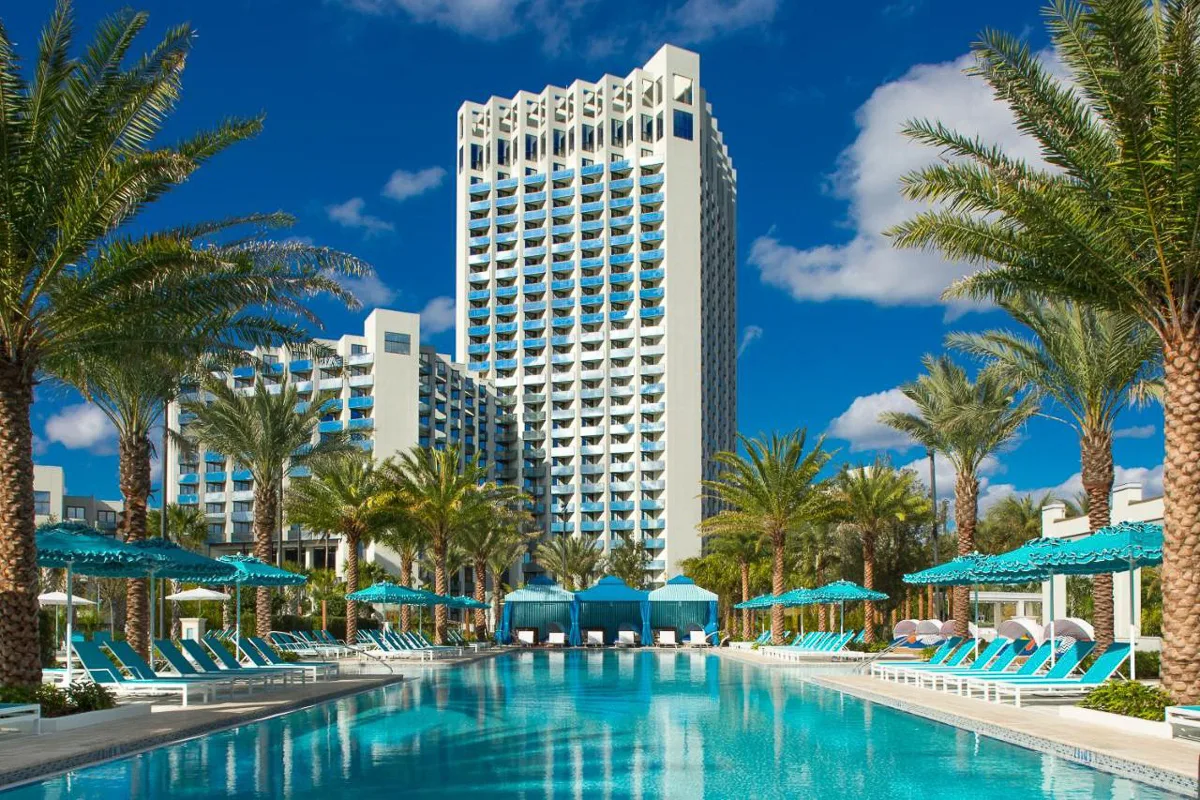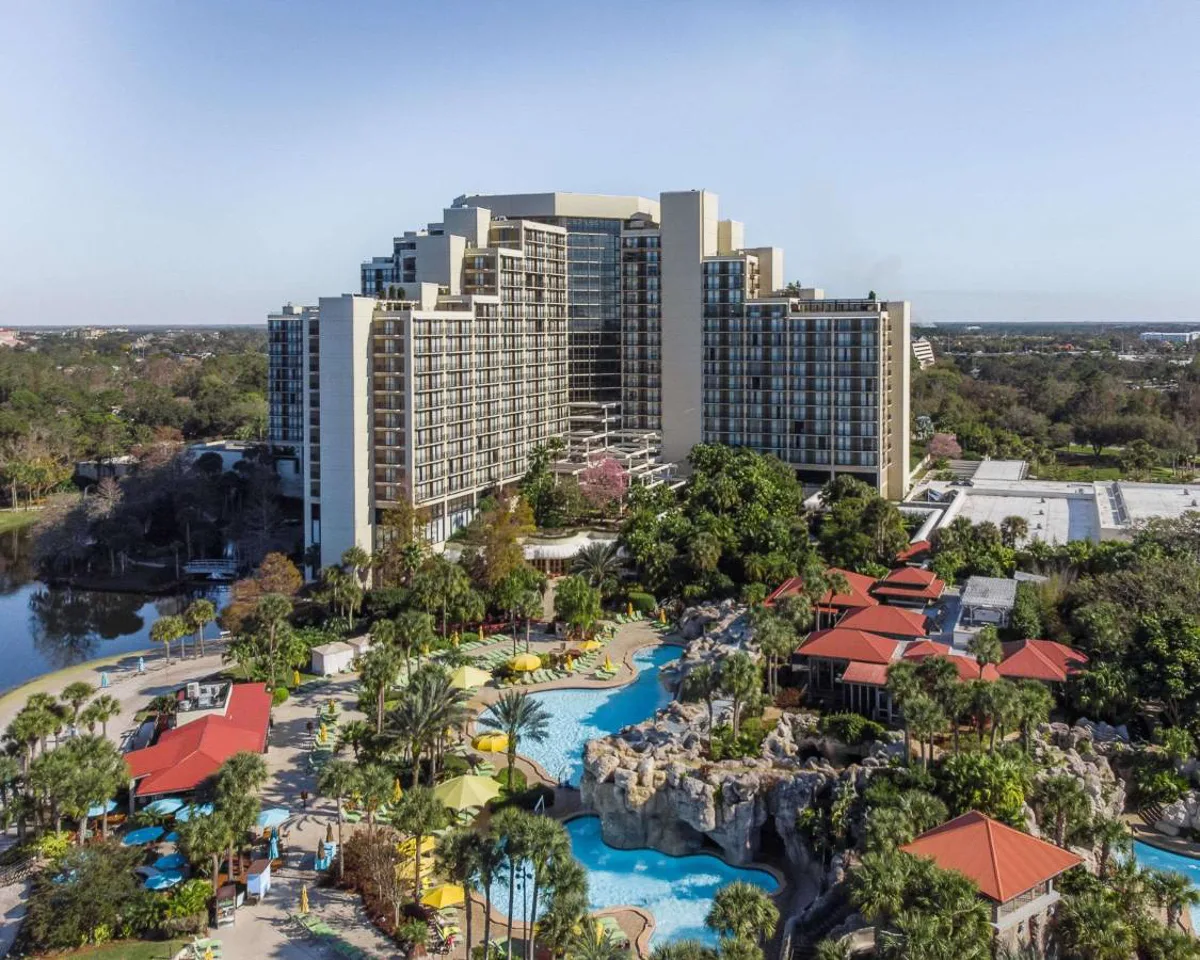 100. Get Free Water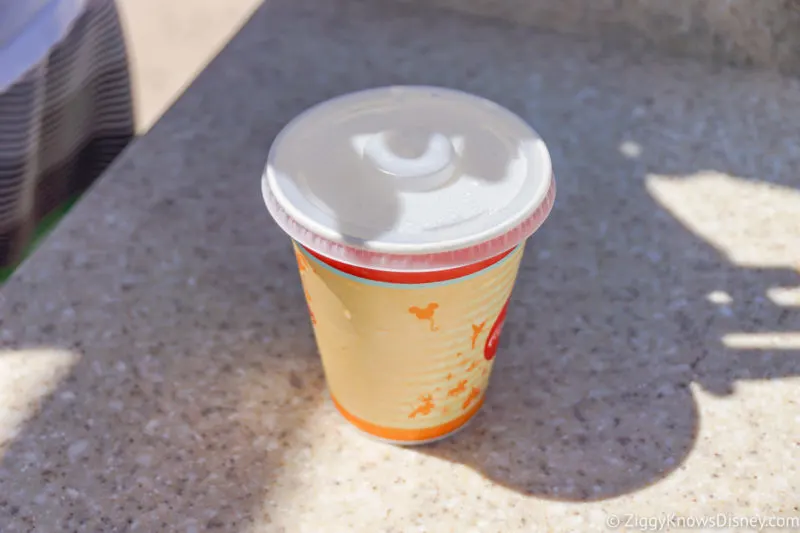 One of the most common hacks you'll find on every Disney Blog is asking for free water. It still irks me when I see people buying $4 bottles of water when you can literally just ask for a cup of free water.
You can visit practically any quick-service restaurant and many of the smaller snack areas and ask for a free cup of water and they'll likely give it to you. And if they can't, they'll inform you of where you can go and grab a cup of water.
Not to mention there are also water fountains located nearby almost every bathroom, great for filling up those water bottles.
101. Buy Disney Merch Outside the Parks
Disney merchandise in the theme parks and in Disney Springs can get incredibly costly for families that are looking for the greatest new merch. One thing our family does in preparation for every trip is purchase our merchandise ahead of time on the Internet.
A few of our favorite places that have great and unique designs, sometimes even better than official Disney Merch are Tee Public, Etsy, and Amazon. Many of the Amazon designs are official Disney Merch, but they're normally cheaper online than in the parks.
102. Buy Disney Pins on eBay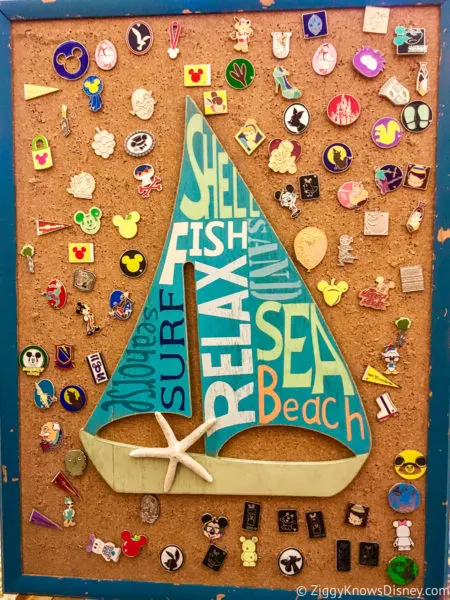 Pin trading at Walt Disney World is one of our favorite pastimes, and a great way to save money is by purchasing them ahead of time on eBay.
There are a number of sellers that regularly sell official Disney pins on eBay for a small fraction of the cost of purchasing pins in the parks. You can buy bulk packages and sometimes the seller will even bring them to your Disney Resort at the start of your trip.
If not, you can have them shipped to your house prior to your trip. This is a great way to have a bunch of trading pins that you can then use to trade for pins that you really want in the parks.
103. Get the Refillable Drink Mug Immediately
As soon as you arrive at your Disney World Resort, get your refillable drink mug! These fun multi-colored collectibles are a great way for everyone in the family to have their own mug that they bring everywhere with them.
You'll be able to use them to fill up on coffee, soda, tea, hot cocoa, and water whenever you want as your resort or other Disney World Resorts.
They are worth the money and will ensure you don't need to spend another dollar on non-alcoholic beverages at your resort. Just make sure you get them as soon as you get there to maximize its usage.
104. Don't Forget Your Annual Passholder Discounts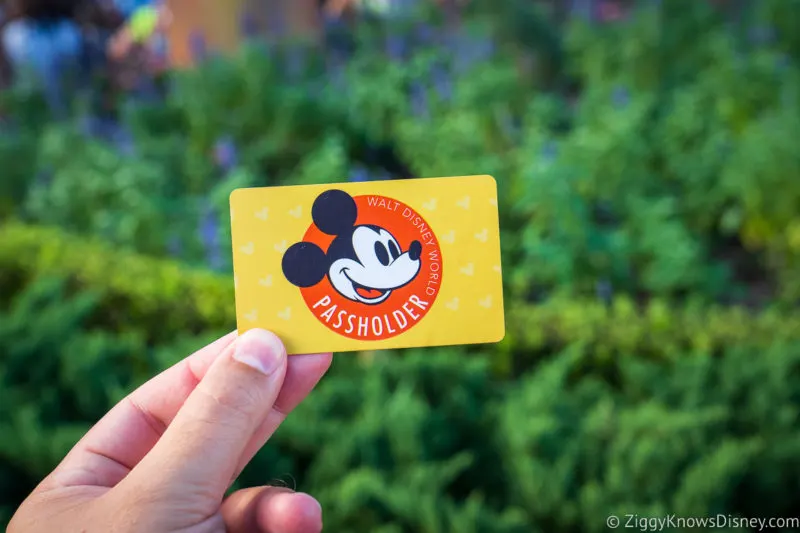 If you're a Disney World Annual Passholder, make sure you ask about discounts everywhere you go. There are plenty of discounts at merchandise stores and ordering food at restaurants.
Nothing would be worse than spending full price on something when you could have gotten 20%-30% off if you realized it! If you happen to make this mistake, you can usually return your item for free, then just re-buy it with the discount.
105. Don't Wait Too Long to Book Flights
There's a balance in booking your flights, you don't want to book too early and you don't want to book too late. One thing that helps is when you use an airline like Southwest, you can easily change your flights if a better deal comes out closer to your trip.
If not, it's better to buy them earlier rather than later, especially if traveling during a busier time of the year. It's rare that peak travel times get cheaper as the dates get closer, so it's far better to be locked into flights rather than worrying about the prices getting outrageous or there being limited options of flights available.
106. Take Advantage of the Freebies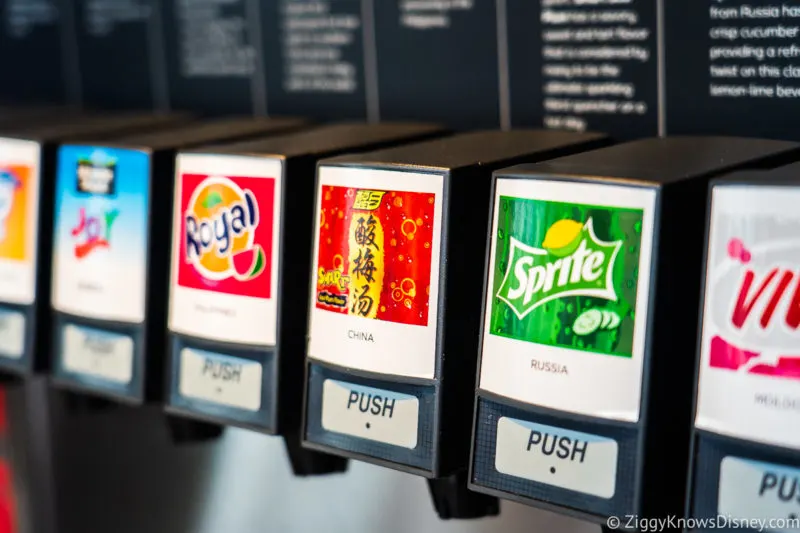 With trips to Walt Disney World getting more and more expensive, it's useful to know of the best freebies in the parks! What are our favorite freebies in the parks?
Celebration Buttons – If you're celebrating an important day or someone in your group is be sure to ask a Cast Member anywhere for a celebration button! They'll be given to you for free and it's possible you'll get some additional Pixie Dust from extra special Disney Cast Members.
Kidcot Stations – These fun stations around EPCOT allow kids to engage in some fun activities and take part in a scavenger hunt of sorts. It's totally free and involves some stickers and activities. The kids LOVE it.
Free Parking – Guests staying in a Disney World Resort receive free parking as well as guests with Annual Passes.
Coke Samples at Club Cool – Visit Club Cool in Epcot for free samples of Coke products from different countries around the world. Be sure to try the "Beverly" Coke from Italy. Some guests love it and some hate it!
Free Concerts – During both the Flower & Garden Festival and the Food & Wine Festival at EPCOT, they offer free concerts at EPCOT on the American Adventure Pavilion in World Showcase. They get some fairly popular performers so check the schedule prior to your trip and are worth seeing.
Transportation – This might seem like a no-brainer but having the ability to ride the Disney Skyliner, the Disney Monorail, or take a beautiful scenic boat ride around the various different lakes is a worthwhile perk that is certainly worth repeating. All of Disney's Transportation options are free and that's worth something.
There are loads more free things to do in the parks, but these are just some of our favorite freebies.
Traveling with Children
In our next section on our favorite Disney World Tips, we are going to focus on our favorite tips for Traveling with Children.
107. Do at Least One Character Meal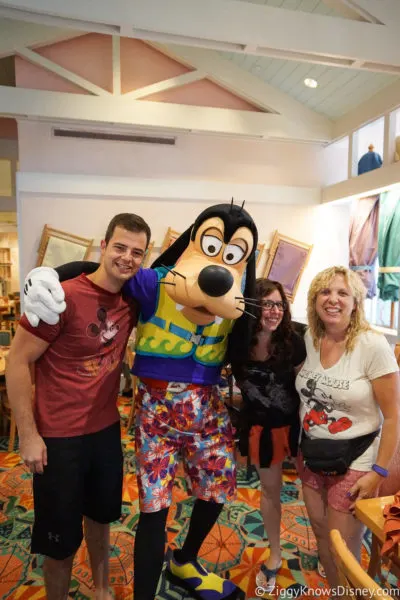 One of the highlights of our yearly Disney trips growing up was the character meals and many families regularly tell us that character meals are a highlight for them too. While they can be expensive and the food isn't necessarily "fine dining" they are a memorable time, especially for families with small kids.
We recommend booking at least one of them on your upcoming Disney trip. Ideally, you don't plan these character meals on the same day as a long park day. Trying to cram everything into an already full schedule, can make for an especially long day.
These character meals can be found both in the Disney Parks and at some of the Disney Resorts but don't plan too much on the morning or evening of your character meal. That way you can fully enjoy the experience without feeling too rushed.
Look at all the different menus and decide which one would be most appealing to your family and book it.
108. Get a Stroller Outside the Parks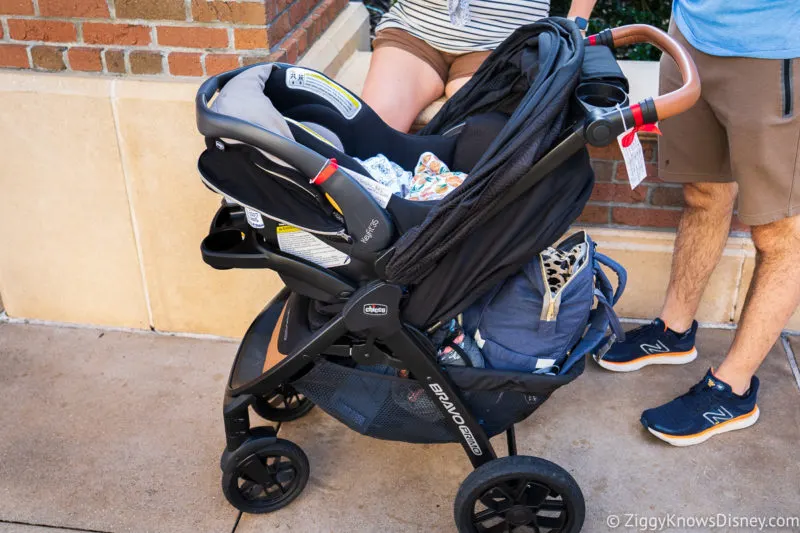 If you aren't going to bring your own stroller, the next best alternative is renting one outside of Disney. Disney rentals for strollers are incredibly costly and doing that day after day will rack up a high cost.
I'd recommend using a company like Kingdom Strollers, which has a great reputation and has been around for 20 years. They will bring your stroller directly to your hotel or they can meet you somewhere.
109. Decorate Your Stroller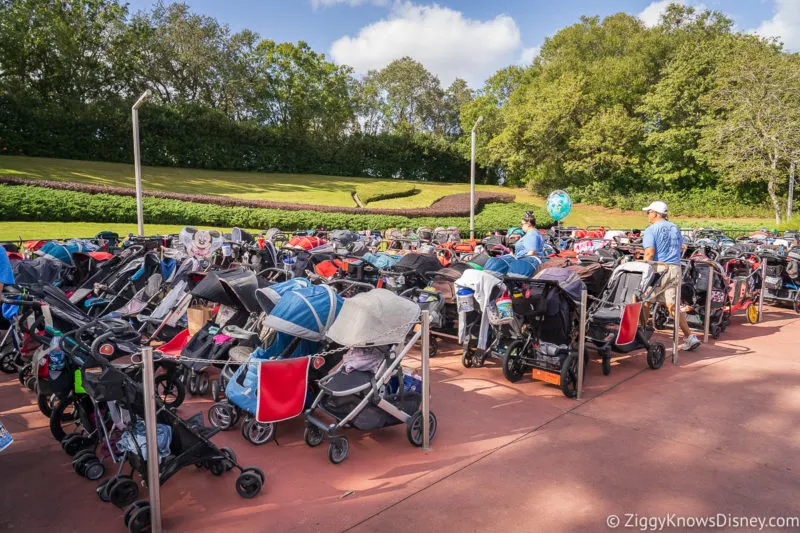 There aren't many stroller companies and chances are many other guests at the Disney Parks have the exact same stroller as you. There's also the chance that Cast Members will need to move your stroller if it's parked in the wrong spot.
Our advice is to decorate your stroller and make it stand out. This will make it easier to find if Cast Members have to move it, and it will prevent someone from accidentally taking it.
Use brightly colored ribbons or cloth to decorate the handle of the stroller or something shiny or even a sign so it stands out clearly as day.
110. Use Apple AirTags to Not Lose Anything (or Anyone)
One of our favorite tips we've recently heard about is using Apple AirTags. These little tags can be attached to a stroller, a backpack, or even your child!
If you are paranoid about your little toddler running off, by putting an Apple AirTag in a secure pocket of theirs, you'll be able to quickly and easily find them.
You can also use these on wheelchairs, strollers, or even your vehicle to help you find your things a lot easier.
111. EPCOT Isn't Just for Adults Anymore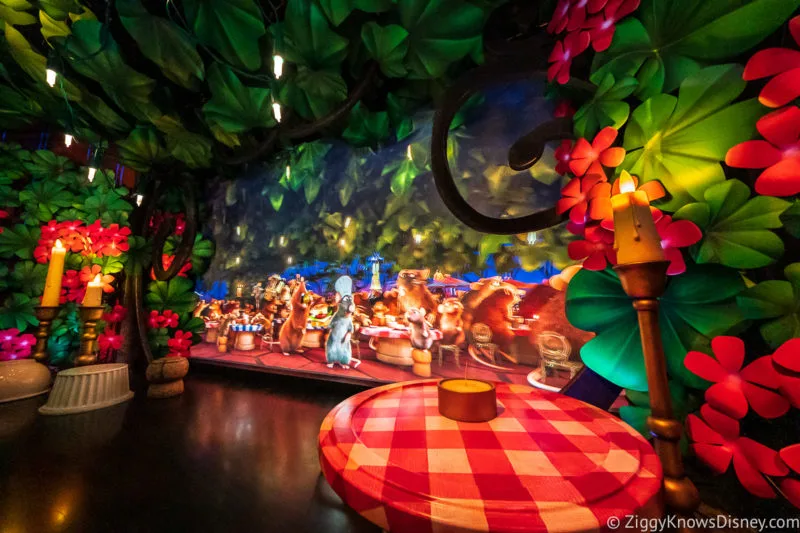 For many years EPCOT had the designation of being an adult park and quite boring for kids. Now with fun interactive experiences and scavenger hunts such as Kidcot around World Showcase, EPCOT has really upped it anty for families with small kids.
What are some of our other favorite activities that EPCOT has for kids?
Kidcot – This World Showcase scavenger hunts or sorts will have kids exploring and learning about the different 11 countries featured in World Showcase.
Project Tomorrow – Is at the exit of Spaceship Earth with a number of fun games and activities themed to the future.
ImageWorks – An entertaining interactive space at the exit of Journey Into Imagination with Figment.
Playground – There's a playground area near Test Track to let the little ones blow off steam.
Here are some of our favorite attractions that kids tend to love:
Frozen Ever After – A Frozen-themed boat ride
Gran Fiesta Tour Starring the Three Caballeros – A relaxing boat ride in the Mexico Pavilion that follows the Three Caballeros.
Remy's Ratatouille Adventure – This 3D ride is an adorable way to track down Remy in Gusteau's kitchen.
Turtle Talk With Crush – Here's a fun way for kids to be able to speak to Crush from Finding Nemo. Families and children of all ages will LOVE this.
Disney and Pixar Short Film Festival – An 18-minute 3D show of Disney and Pixar short films.
Beauty and the Beast Sing-Along – A singalong experience in the France Theater.
Journey Into Imagination with Figment – Enjoy meeting Figment on this cute dark ride as Figment take you on a journey through the senses and of course imagination.
The Seas with Nemo & Friends – Look for Nemo in this adorable clam-mobile vehicle that follows the characters of Finding Nemo. Be sure to explore the large aquarium after the ride.
Journey of Water – This is an interactive walk-through path that teaches about the water cycle using Moana to help. Relaxing and quite fun.
112. Prepare the Kids for Long Lines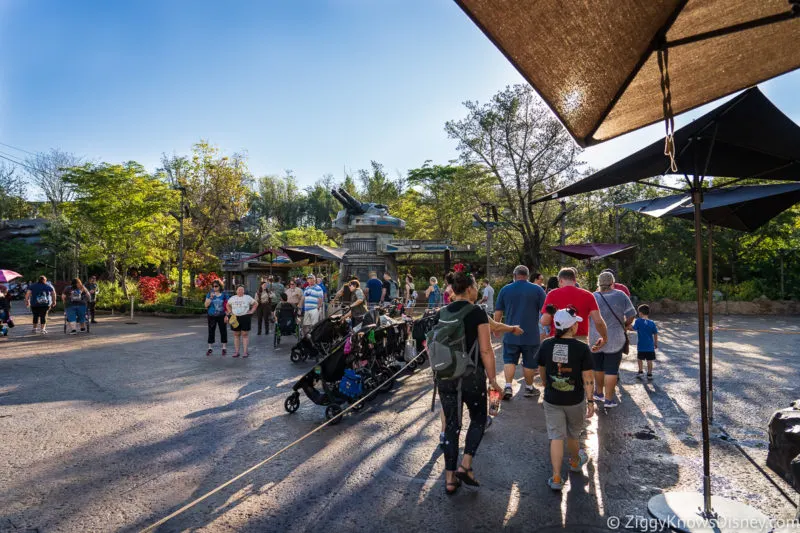 Whether or not you get Genie+ or Individual Lightning Lanes, chances are, you're still going to have to wait in some pretty long lines. And if you're visiting during a peak travel period, there's no getting away from them.
To make the time pass faster for everyone, I recommend downloading some fun games such as Heads Up and the Play Disney app that the whole family can enjoy while waiting in line. It'll make the line-waiting experience MUCH more enjoyable.
113. Tom Sawyer Island is Great for Kids
An oft-overlooked attraction area for kids is Tom Sawyer Island, and I'm here to tell you, kids LOVE it. They can run around, stretch their legs, and they'll feel completely removed from Magic Kingdom.
Kids will get to explore the caves and play in Fort Longhorn. It has hills to climb and a fun rope bridge to explore. They'll even get to play with noisy air rifles and cannons, what's not to love?!
114. Take Advantage of Rider Switch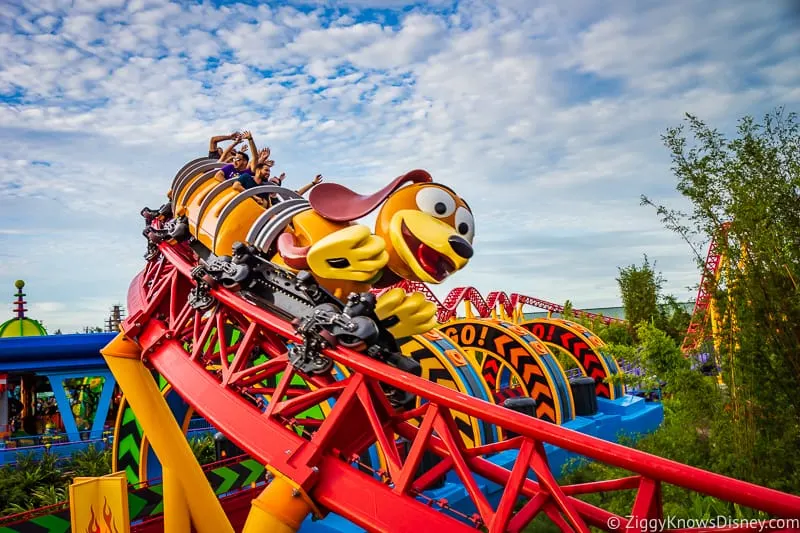 If you're not aware, Disney has a way so that everyone that wants to get on a particular attraction can do so without having to get in line multiple times and that's through a program called 'Rider Switch.'
Sometimes your young ones are too afraid to ride a particular ride or they don't measure up, and instead of one of the parents missing out on the attraction, by using Rider Switch you don't have to worry about anyone missing out on a ride.
Simply ask a Cast Member prior to getting in line to see if the ride offers Rider Switch. Once you're at the attraction, inform the greeting Cast Member with your entire group that you'd like to use Rider Switch.
The one adult and others who will not be riding initially will be issued a Ride Switch entitlement by the Cast Member and asked to wait in a designated area.
Once the first group rides the attraction they come back and the second group can then get on the attraction. The adult in the first group can then take over and watch the small child or children that couldn't ride so the 2nd adult and/or any kids can ride.
115. Get an Ice Cream Sundae at Beaches & Cream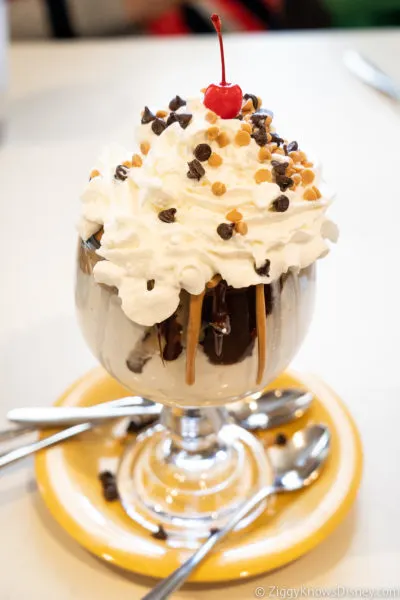 A tradition for our family each year is getting an Ice Cream Sundae at Beaches & Cream at Disney's Beach Club Resort! If you're not familiar, these tasty sundaes are unforgettable and to get the true experience order the Kitchen Sink Sundae!
It's an 8-scoop ice cream sundae that is literally topped with every single topping that they have. It's massive and can surely feed the entire family! It's worth doing and it's an unforgettable experience.
If you don't want something so big, go for one of the other sundaes. Our favorite is the No Way Jose, which is peanut butter sundae!
Bonus Tips
The section of our favorite Disney World Tips is the 'Bonus Tips' that don't necessarily fit in one of the other categories but can surely enhance your overall trip.
116. Use MagicBand+ for More Interaction in the Parks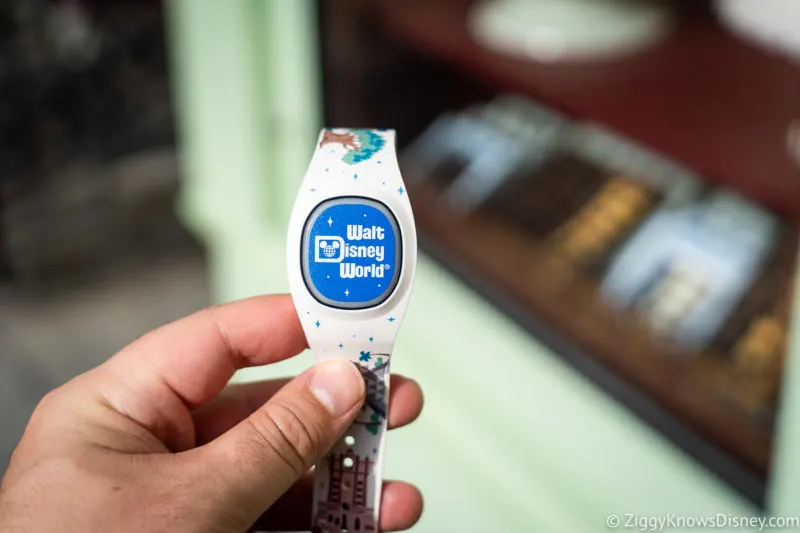 The new generation MagicBand system is called the MagicBand+ and it allows for even more interaction when visiting the parks.
This new system has many of the old features such as being able to open your Disney hotel room door, enter the Disney parks (with valid admission), pay for purchases around Disney World, check into your Lightning Lanes, and even connect your PhotoPass images to your Disney account.
You'll also be able to get some more interaction throughout the parks, including interaction with the 50th golden statues that were placed throughout the 4 theme parks in celebration of the 50th anniversary. You'll get special interaction during some of the nighttime shows and fireworks at the different parks as well.
And since this is an ever-evolving technology there will likely be more and more interactive activities throughout the parks with the MagicBand+ Technology.
117. You Can Get Your Starbucks Fix at Disney World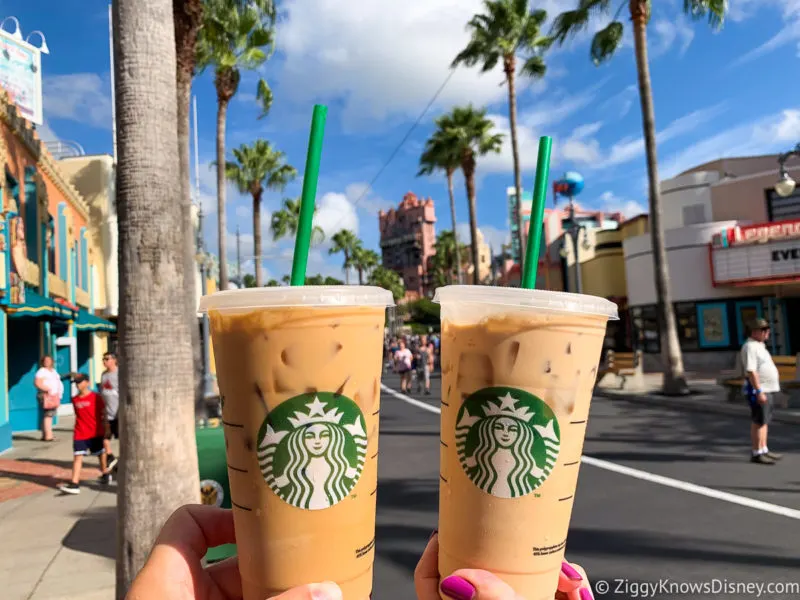 All four of Disney World's Theme Parks and Disney Springs have at least one Starbucks location in it. So if you aren't the biggest fan of Joffrey's Coffee, you can also visit a Starbucks location to get your fix.
You'll likely need some caffeine to keep you energized during long park days, and there's nothing like a morning and afternoon pick-me-up at Starbucks.
118. Play a Round of Golf
If you are looking for something relaxing to do, Disney has (4) golf courses on Disney World Property, and they are easy to book. Simply go here, fill out the information, and find the available tee times for the course you want to play at.
There are also discounts available for Disney Cast Members and Disney Annual Passholders, so make sure to ask.
The Oak Trail Golf Course is a 9-hole course, whereas Magnolia, the Palm, and Lake Buena Vista are all 18 holes. The first three are all found at the same location near Magic Kingdom whereas Lake Buena Vista is located at the Saratoga Springs Resort.
119. Plan at Least One Evening at Disney Springs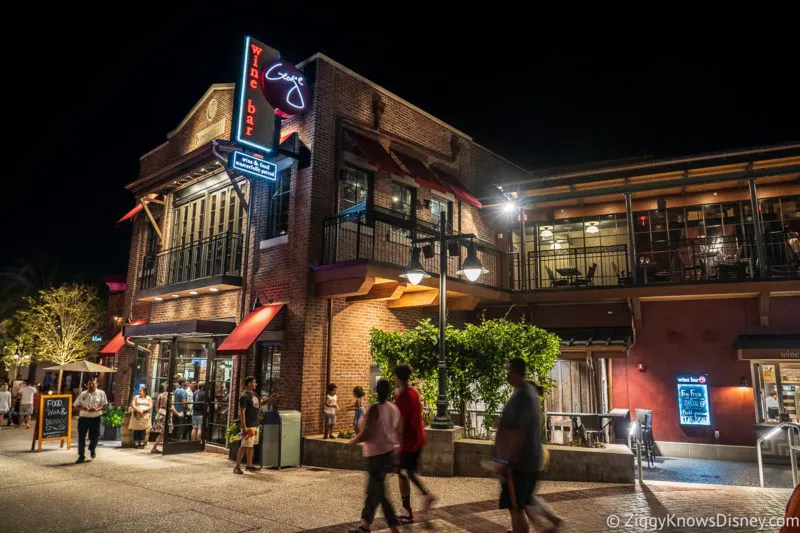 Some of our favorite evenings are our nights in Disney Springs. It's here that you'll find the very best of Disney Dining and restaurant options. Several of our top Restaurants in Walt Disney World are found in Disney Springs and you truly can't go wrong.
It's a great place for both adults and children with loads of shopping and dining opportunities. If you get there early and go on a weeknight you'll have the opportunity to enjoy some Happy Hour locations and grab a cocktail while you explore.
Read our list of the best Disney Springs restaurants to compare the best ones for your family.
120. Bring a Power Bank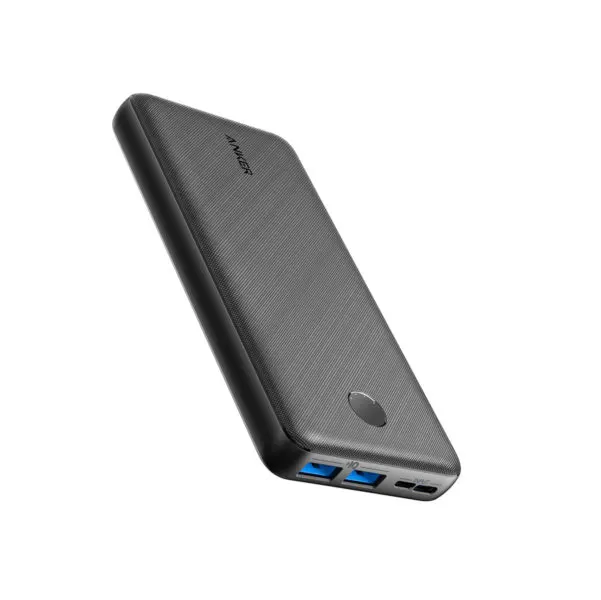 Long days in Disney World call for a lot of cell phone battery usage. With the constant need to use the My Disney Experience app and the likelihood of needing your cell phone throughout the day, I highly suggest bringing a power bank or some kind of portable phone charger.
If you forget one you can rent them in the parks (from FuelRod for example), but you'll spend a lot more money.
Our advice: order them ahead of time and charge them each night when you get back to the room. These banks will help get you through long days while keeping your devices charged, which is becoming more and more important with a trip to Disney.
121. Plan for the Weather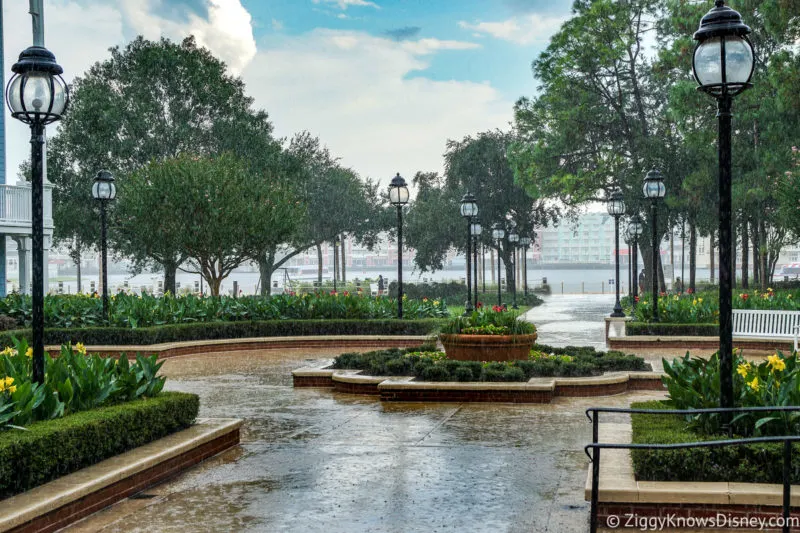 Planning for Florida's weather is MUST-DO for all times of the year. It will be either hot or EXTREMELY hot.
For families not used to the extreme sun or humidity, packing the proper essentials is vital to fully enjoy the trip for everyone in your group. This can include sunscreen, sun protection for small children, and perhaps portable fans.
If traveling during the busy periods, especially the hot summer months of June – September, you'll likely endure many sun showers during the middle of the day. These storms can be incredibly heavy and even lead to flooding at times.
That's why we recommend bringing ponchos and umbrellas from home. You can likely find them at your nearest dollar store and pay ⅓ the price as you would in Walt Disney World.
Hurricane season in Disney World is from July – October as well, which can affect or disrupt your trip. Make sure you plan accordingly and perhaps consider purchasing trip insurance if you're traveling during these times.
Then, from December to February, you actually could get some really chilly nights and early mornings while walking in the parks. The weather fluctuates more during these months and the lows of the day can be quite chilly. I'd suggest packing a few sweaters or hoodies if you are coming then.
122. Get Free Medical Care at a First Aid Station
All of the Disney Parks and water parks have First Aid Stations that can help you or your child in the event of an accident. A couple of years ago, I ripped up my foot pretty good at Blizzard Beach and the nurse seamlessly bandaged me up and I was good to go within 5-minutes.
Use these stations if you need to, you can stock up on medication samples, allergy medicine, cough drops, tissues, Band-Aids, pain relievers, or antacids. Even if you are just feeling dehydrated and run down, these stations will provide you with a free Powerade to build back up your electrolytes.
123. Use DAS If You Have a Disability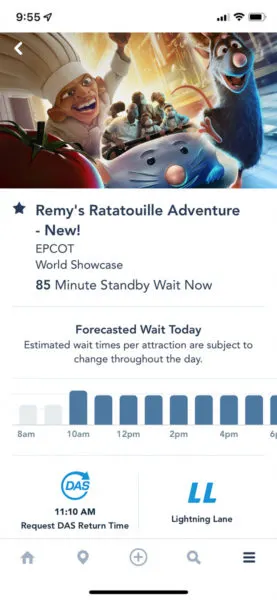 If you have any kind of disability, look into Disability Access Service or (DAS). This service is a wonderful service that will allow disabled guests to take their families on rides or attractions without needing to wait in line.
It is specifically designed to assist guests who have difficulty tolerating extended waits in a convention queue environment due to a disability. All qualifying guests along with up to 5 additional members of their party can schedule return times for expedited line access.
Simply visit any Guest Relations tent in the parks to add DAS if you have a disability to see if you qualify.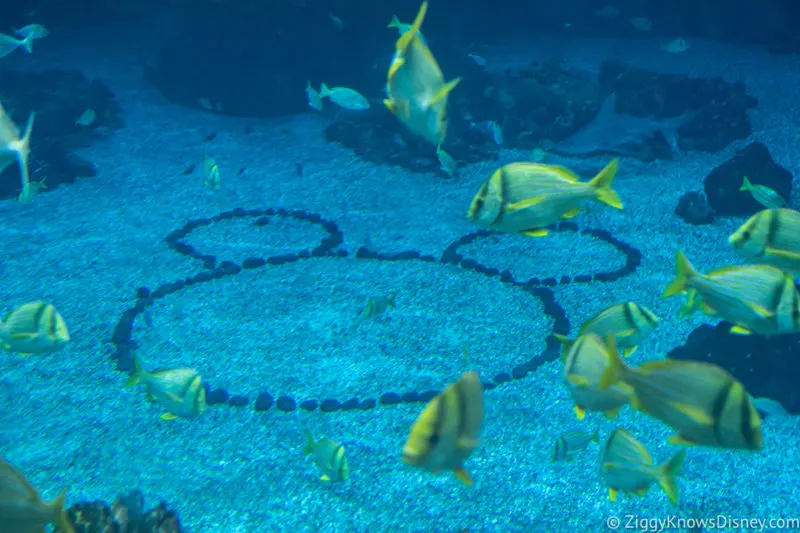 There are thousands of hidden Mickey heads throughout the Walt Disney World campus. There are even books showing you how to find all of the Hidden Mickeys.
A fun thing to do with kids is to attempt to find and spot all the secret and not-so-secret locations of the Hidden Mickeys throughout the Disney World property.
125. Free Wi-Fi in Parks and Resorts
For guests needing Wi-Fi, you'll be happy to know you can find a connection almost anywhere on the Disney World property. This is a wonderful perk, allowing International Guests to be connected immediately to their devices and contact their families back home via FaceTime or WhatsApp.
Many hotels offer Wi-Fi at an expensive nightly charge but Disney offers this for free both at the theme parks and at all of the resorts. The Wi-Fi has gotten better as they've recently increased the bandwidth and the quality of the speed.
126. Bring Your Own Chewing Gum
Many guests are surprised to find that Disney World does NOT sell chewing gum anywhere on the property.
So if you are accustomed to chewing gum during the day or would like it for any aspect of your trip, purchase it in advance and bring it with you. You can also order it on DoorDash and have it delivered to your room if you need gum during your vacation.
127. Use the Genie+ Extras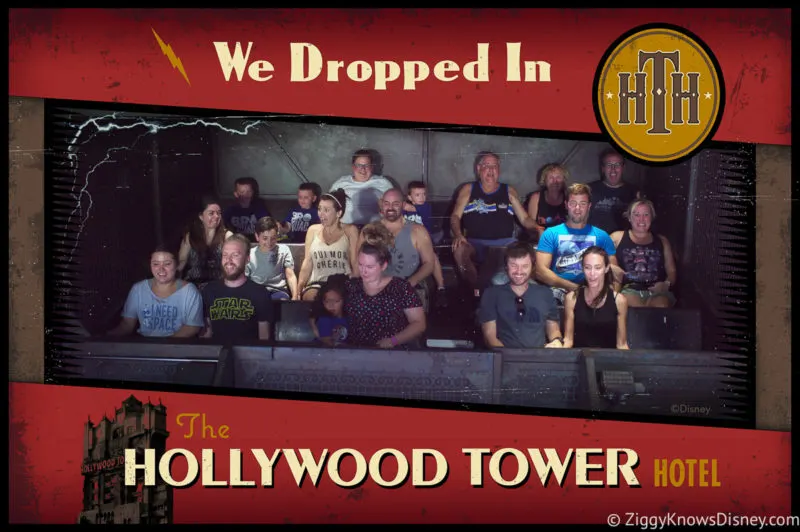 Starting back in March of 2023, guests who purchase Genie+ for the day will also be able to receive free digital PhotoPass downloads for attraction photos that are taken on the day they purchase Genie+.
This is a nice new perk that allows you to get some fun attraction photos that you can save to your phone and post on social media. There are also other extras like audio tours of the theme parks and AR filters for creating some pretty fun photos in famous spots like in front of Cinderella Castle.
128. Use the Exclusive Late Virtual Queue Distribution Time Slot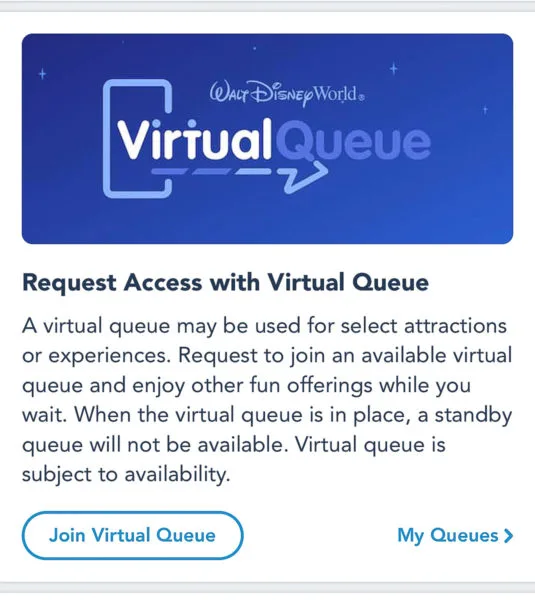 A quiet hidden gem for guests that want to get a third opportunity to join a virtual queue for Guardians of the Galaxy: Cosmic Rewind or Tron Lightcycle Run can now join a queue at 6:00 pm IF you qualify for Extended Evening Hours access at EPCOT or Magic Kingdom.
This third opportunity will not run EVERY night but only on the select nights that EPCOT or Magic Kingdom have Extended Evening Hours nights.
Keep in mind this perk is only for guests staying at Deluxe Disney Resorts or Villas. For a full list of qualifying hotels, our Extended Evening Hours Guide.
129. Use MDE App to Find the Nearest Restroom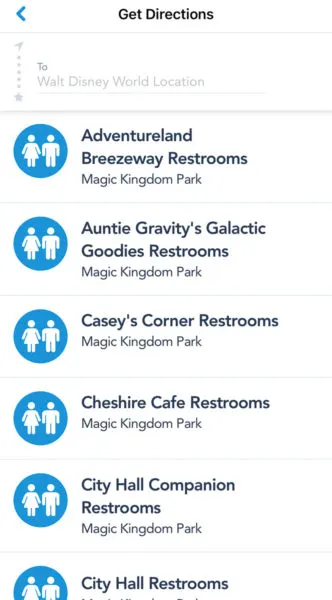 One thing Disney World does NOT have a shortage of and that is restrooms, and thank goodness for that!
To find the nearest restrooms from where you are currently standing, simply sort on the park map on the My Disney Experience by 'Restrooms.' The map will then show you all the restrooms near you. Simply walk to the nearest one.
130. Rent an ECV Outside the Parks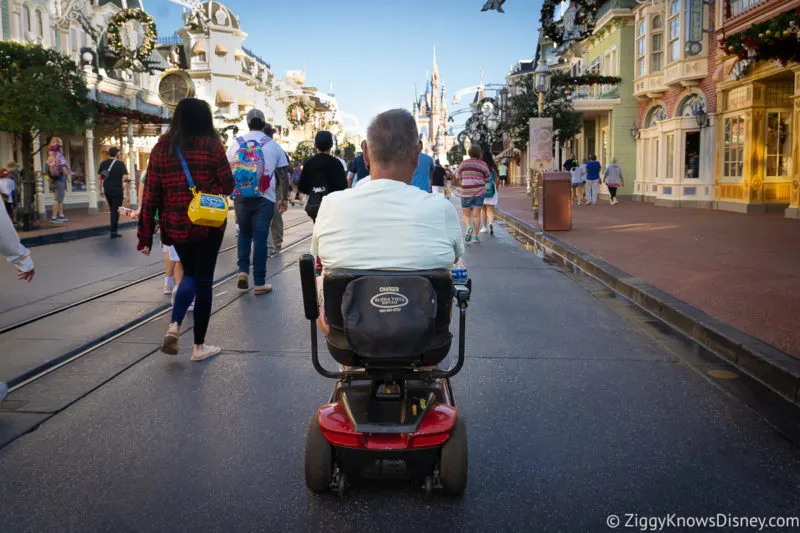 Just like strollers, ECVs or electronic conveyance vehicles can be VERY costly to rent at the parks. Not to mention they also can sell out very quickly in the morning if you don't get one first thing.
We recommend using a reputable outside company allowing you to save significant amounts of money while also being assured you will have an ECV for your entire trip. We like Buena Vista Rentals for ECV rentals as they are always reliable and at a good price. We cover all your options in our Guide to Renting a Scooter at Disney World.
131. Store Your Luggage with Bell Services for More Time in the Parks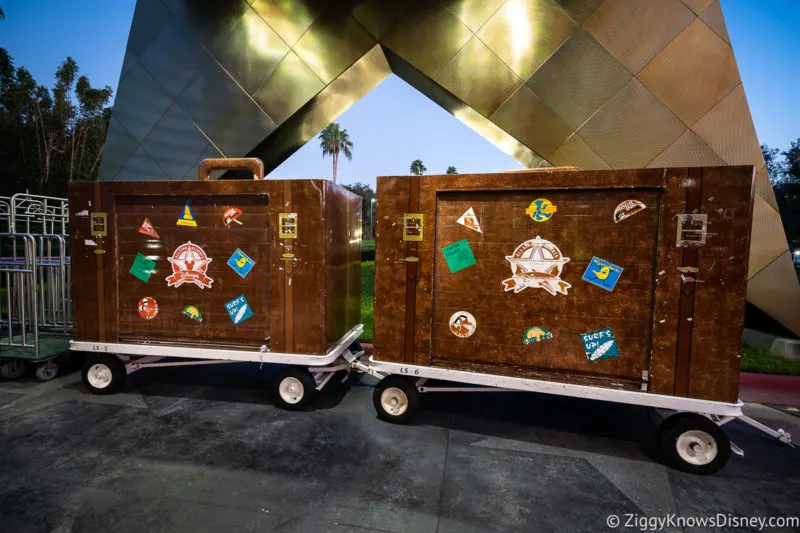 A popular thing our family enjoys doing is parking our luggage with bell services. This can be done either when arriving at your resort and your room isn't quite ready OR if you're leaving later in the day and you need to check out of your room.
This allows you to simply drop your stuff off without needlessly carrying it around or worrying about it. Spend your time enjoying every last minute as opposed to waiting around unnecessarily.
132. Book Extra Experiences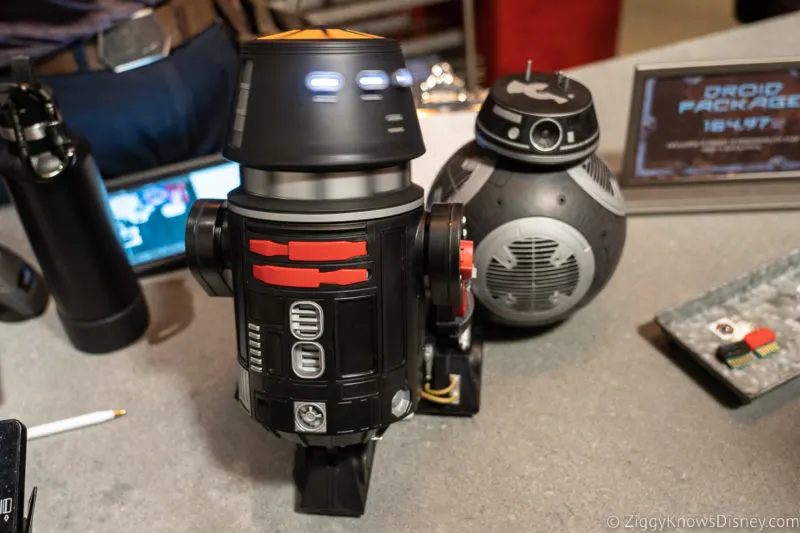 If you want to save time and plan the right way, booking your additional experiences prior to your trip is the smart way to go. Things such as building your own lightsaber at Savi's Workshop and the Droid Depot in Galaxy's Edge and Fireworks Desserts party can sell out quickly!
This also includes all of the VIP tours and Behind the Scenes tours. These additional experiences are very popular and you'll be ensured you get to do the things you want to do the most if you book them weeks or months prior to the start of your vacation.
133. Don't Miss Beacons of Magic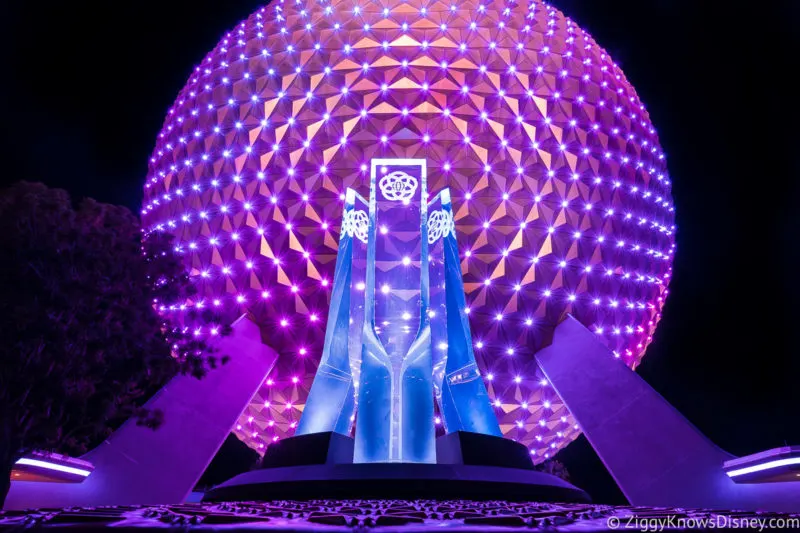 One of the greatest and most popular additions during the 50th Anniversary Celebration was the recently added Beacons of Magic on Spaceship Earth at night.
This nighttime illumination show features beautiful projections along the symbol of EPCOT and it runs from dusk until after the EPCOT Fireworks each night. It happens every 15 minutes or so and is absolutely worth watching!
134. Don't Forget The Electrical Water Pageant
An underrated gem that runs nightly on Bay Lake outside of Magic Kingdom is called the Electrical Water Pageant.
This nighttime light parade was originally created for the dedication of the Polynesian Resort in 1971, but due to its popularity, it still runs regularly. Check the My Disney Experience app for showtimes.
135. Be Flexible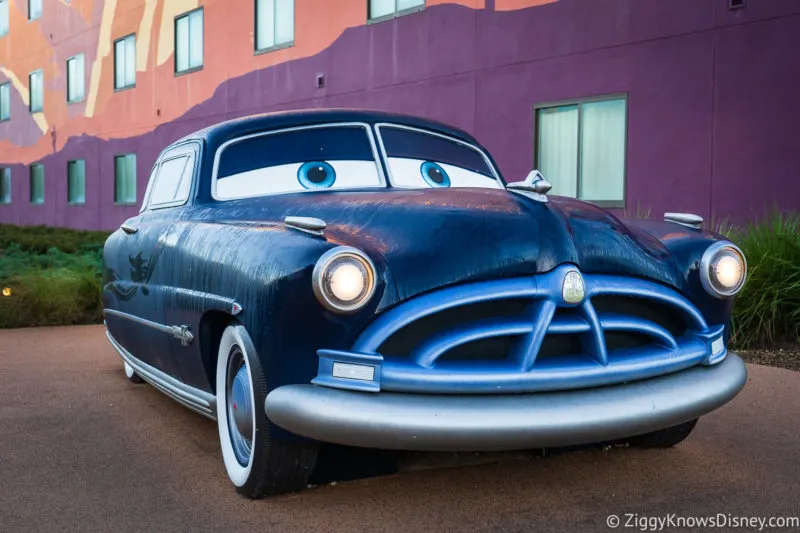 While a trip to Disney World these days requires careful planning and attention to detail, don't lose track of the fact that it's supposed to be a fun trip! If you're too inflexible things are going to come up that will completely derail your trip.
Rather than letting it ruin your day or your trip, try to remain flexible and spontaneous. Sometimes things happen and these things can be completely out of your control. Kids don't feel good, attractions break down, wait times end up longer than expected, the weather affects your day, etc…
Just remain flexible and go with the flow, and you'll have a great trip despite unexpected hurdles.
Tips for the Disney Pros
These last set of tips are focused on Disney Vacationers that aren't on their first rodeo. No, these are for seasoned Disney World travelers that know most of the ins and outs but are just looking for a little bit of that secret sauce.
136. Don't Carry Your Merchandise All Day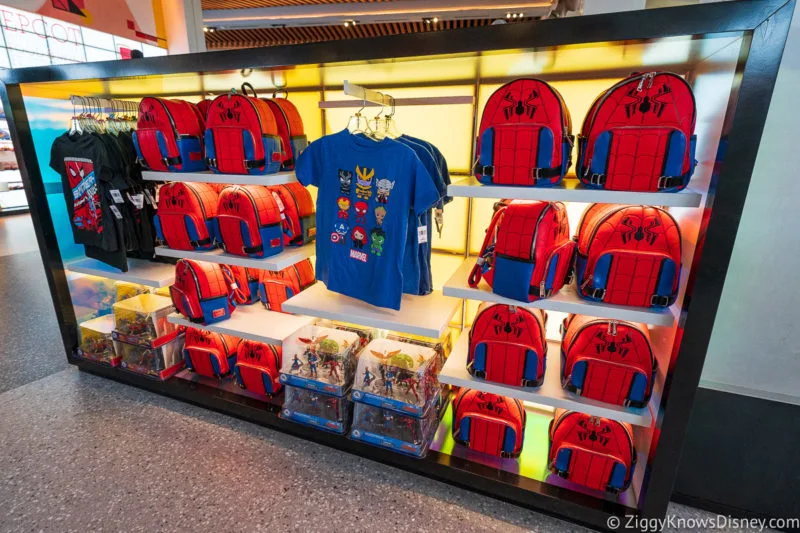 Rather than having to carry your recently purchased merchandise around with you all day, send it to your Disney World Resort! They'll do this for free for you if you're staying on-site, it'll likely get sent to your hotel gift shop.
If you're not staying at a Disney World Resort, you can still have your merchandise sent to the front of the park so you can simply pick it up at the end of the night.
137. Do Shopping at End of the Day
Rather than waste valuable time in the middle of the day to do your shopping in crowded stores, wait until the end of the night. Most Disney shops stay open at least an hour after the park closes. This is a great way to shop with far fewer people in the stores as well.
138. Learn Something New with a Tour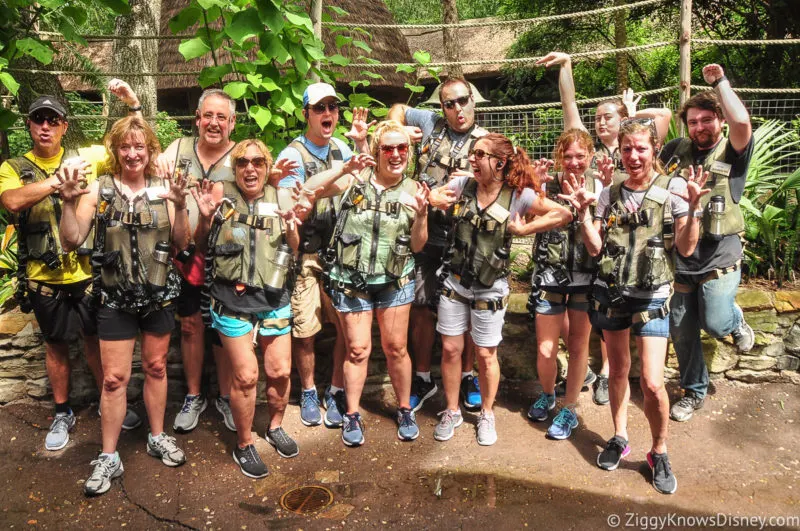 Our entire family has been to Disney World dozens if not 100+ times over the years and one of the ways we've recently been adding something new to our trips is with a tour! These backstage and VIP tours can be an incredible way to pick up on a little bit of extra Disney Magic.
While they do include an extra cost, in our view, it is well worth it! We absolutely loved the Wild Africa Trek in Disney's Animal Kingdom and the Keys to the Kingdom Tour at Disney's Magic Kingdom.
139. Skip EPCOT on Weekends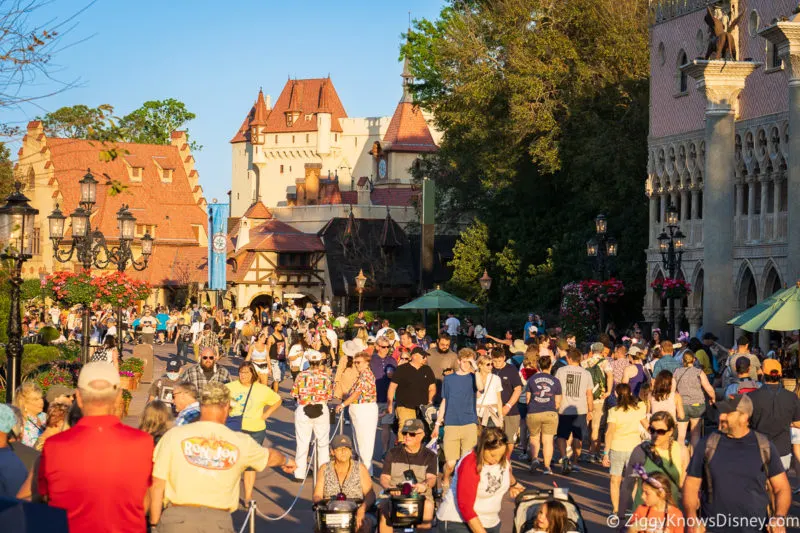 EPCOT is a favorite park on the weekends of Florida locals looking to hang out and enjoy the many yearly festivals. We've learned time after time from years of experience to avoid EPCOT on the weekends since it gets packed and lines are incredibly long for EVERYTHING.
Instead, if you go during the week and spend your time enjoying the festivals in the early hours from 11:00 am until the early afternoon you'll likely find yourself being the only one in line for the different themed kiosks. Trust me, it's the way to go!
140. Snack and Drink Around the World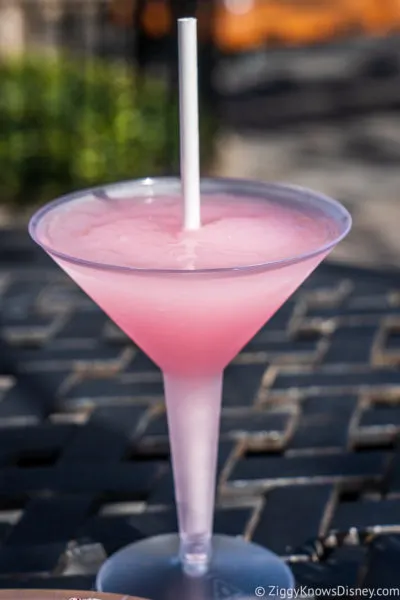 To fully embrace EPCOT I think two days are required. One day to enjoy all of the experiences and rides in the Future World Pavilions and another day to take your time in World Showcase to do shopping and snacking around the World Showcase.
While we understand not everyone has two days to dedicate to EPCOT, if it is all possible, it will absolutely be worth your while if you are a foodie! Drinking Around the World Showcase is also super fun, always done in moderation of course.
EPCOT has the best and most varied food and drink options out of all the Disney World Parks, and there's no way you'll be able to try everything you want.
141. Use a Notification Service for Hard Dining Reservations
There are a number of notification services available now to allow guests to snag those hard-to-get dining reservations. We've used several of them to varying degrees of success. They can be vital in the days before your trip to get some of the reservations you never thought you'd get.
Our favorite one that we've had the most success with is Mouse Watcher. It is a paid service but we've used it many times to score hard-to-get reservations, and in our view, it is worth it! They'll inform you immediately when a reservation pops up, allowing you to get it quickly, before anyone else.
142. Stay Late at the Magic Kingdom
While all the parks are magical after dark, the one that shines the most is Disney's Magic Kingdom. There's something special about being in the parks with Main Street U.S.A. completely lit up while being engrossed in the Happily Ever After fireworks and projection show.
The ambiance of Magic Kingdom is like nowhere else, and enjoying late nights in Magic Kingdom is unparalleled if at all possible. We'd suggest taking advantage of the later night hours at Magic Kingdom by using Extended Evening Hours if at all possible.
143. Watch the Magic Kingdom Fireworks from Outside the Park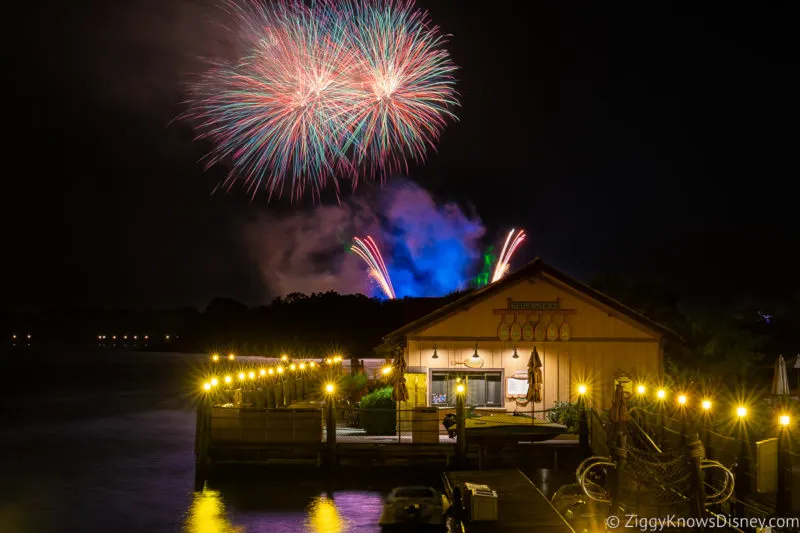 If you aren't in Magic Kingdom when the Happily Ever After Fireworks show is running, there are a number of other places you can watch it. A few of our favorites are:
The beach from the nearby Disney's Polynesian Village Resort
The Top of the World Lounge in the Bay Lake Tower at the Contemporary (Only for DVC Members)
The 4th-floor observation deck at the Contemporary Resort
Nearby signature restaurants California Grill and Narcosees, which can be found at the Contemporary Resort and the Grand Floridian Resort respectively
Fireworks dessert boat cruises
144. Best Location for Magic Kingdom Parades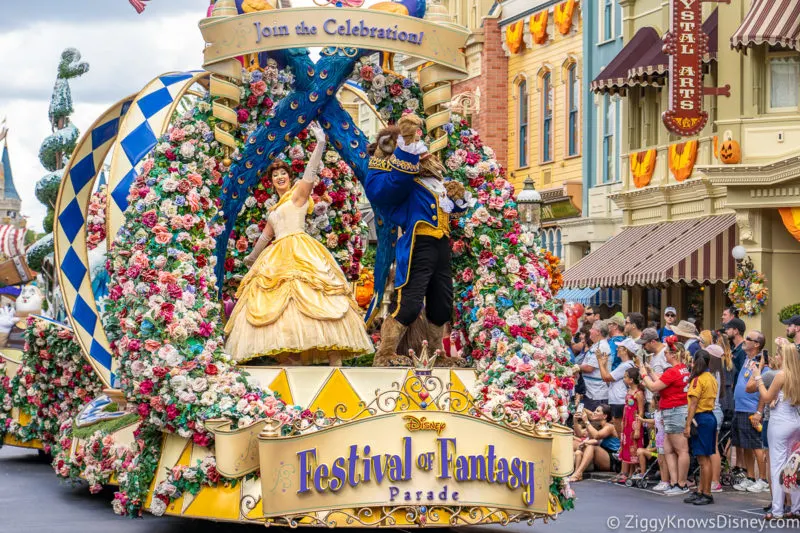 If you want the absolute best spot to be for Magic Kingdom Parades then go to the flagpole on Main Street U.S.A. and find a spot near the curb that is facing the castle.
From this location, you will be able to see the parades coming directly to you while having a beautiful backdrop of the castle behind the parade. You can't beat it!
145. Attraction Wait Times are Not Always What They Seem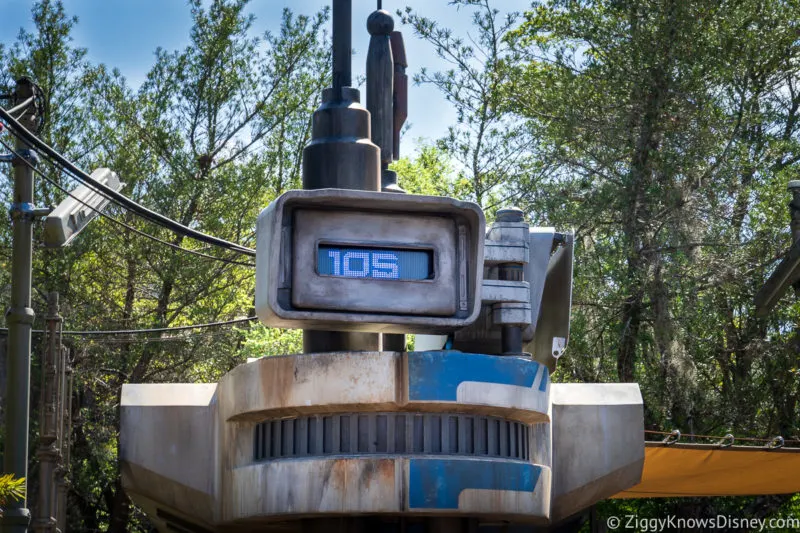 One of our favorite little-known facts is that wait times are deceiving. You can't always trust them and often times they are a fraction of the posted times.
This is especially true at the end of the night when wait times can sometimes show an hour plus but are in actuality less than 10 minutes! We've found this out time after time in the parks at night.
146. Let Disney Know If You Are Celebrating Something
By wearing those Celebration Pins you can let Disney Cast Members show you a little extra Disney Magic by informing them that you are celebrating something. Don't expect too much, but we've often found ourselves to be recipients of free desserts and other freebies while wearing our celebration pins. It's worth it!
147. Eat an Early Breakfast Inside the Parks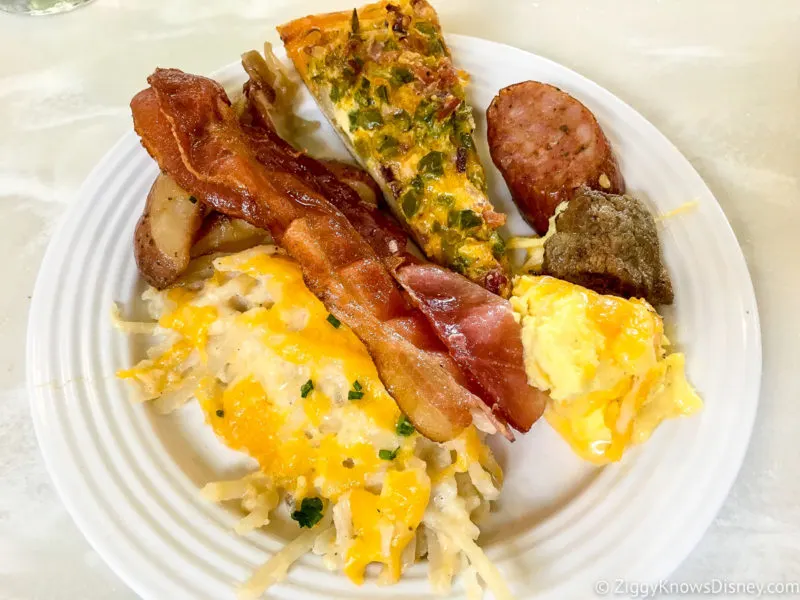 One of our favorite things to do is to snag early morning breakfast reservations in the parks. This will allow you to enjoy the parks completely to yourself while you walk to your breakfast location.
You can also use this window to allow yourself to get in line before other guests can even enter the park. Talk about a great way to be the first in line!
148. Always See the Second Showing of Fantasmic!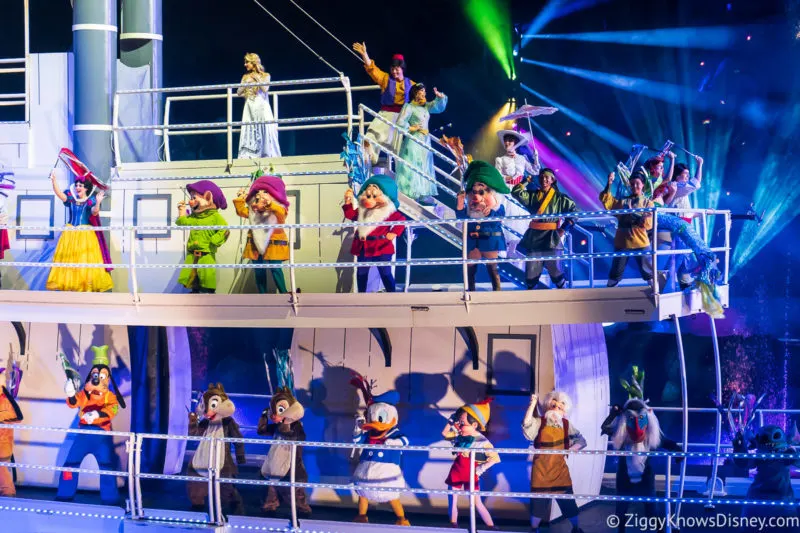 Lines for the first showing of Fantasmic at Hollywood Studios can be incredibly long! If your family can stand staying up later on your Hollywood Studios night, I wholeheartedly recommend you wait until the second showing of Fantasmic.
Yes, it will require you to stay up late, but it's MUCH more enjoyable with minimal waits. It will also be a lot easier to exit the park at the end of the night, with far fewer people in the park.
149. Have Dinner with a Disney Imagineer
Prior to the pandemic, guests visiting the Hollywood Brown Derby at Hollywood Studios could have dinner with an Imagineer. This was a wonderful way for guests to ask the questions they've always wanted to ask in regard to the attractions, shows, or anything about Walt Disney World.
While this hasn't come back yet, we hope it does soon!
150. You Don't Always Need a Dining Reservation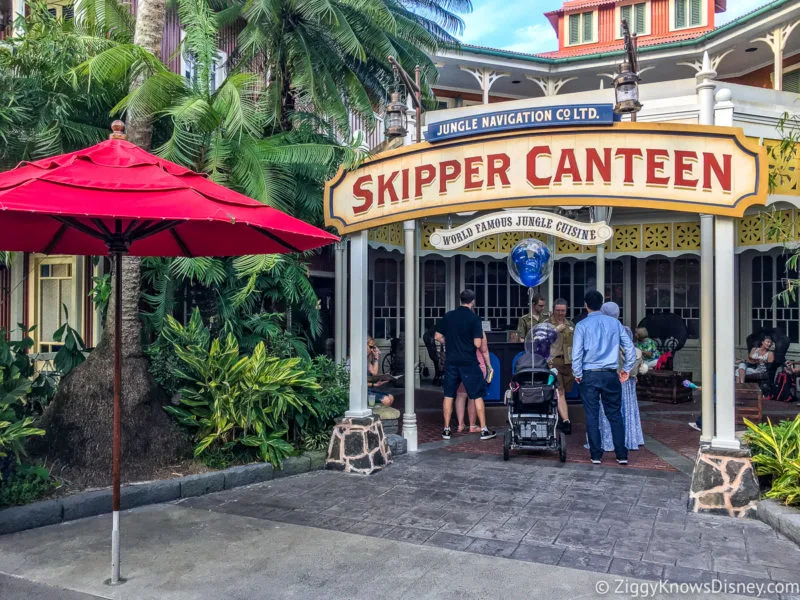 Disney recently added a Walk-Up Waitlist feature to the My Disney Experience app allowing you to get into restaurants that you didn't previously have a reservation for. This is a great way for you to sneak in and snag a table-service dining opportunity at a place you weren't able to get an advance dining reservation for.
Simply check the app and check the restaurants in the park. If they have Walk-Up availability, it'll show how long it'll be until you can get in, and it'll allow you to join the list if you so choose.
Another thing you can attempt to do is simply walk up to the restaurant if you are nearby and talk to the hostess. If you are with a smaller group, I think you'd be surprised how often they'll be able to accommodate you.
I've always been a reservation fan, but practically every time I attempt a walk-in when it's just the 2 of us, they're able to get us into the restaurant.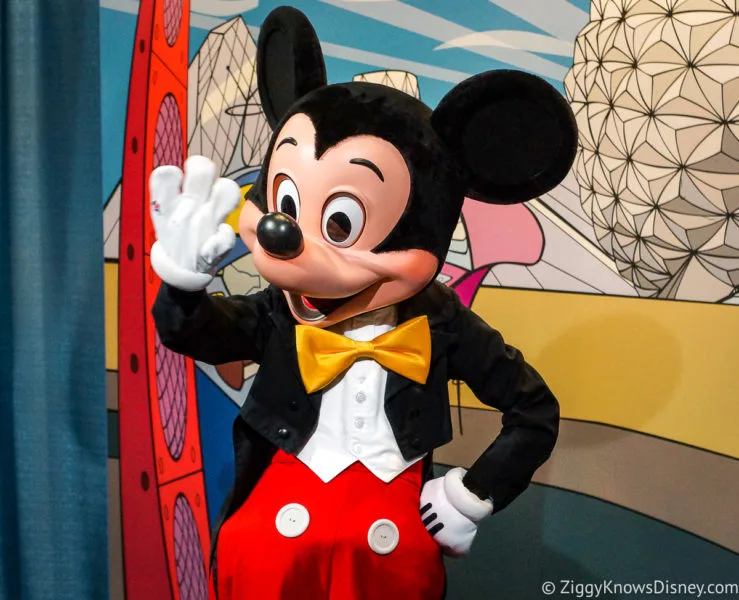 That wraps up our look at the best Walt Disney World tips. We hope that we shared some suggestions that will take your trip to the next level and save you some time and money along the way!
If you are thinking about going to Walt Disney World in the coming future, here are some other popular articles where you will find all the info and tips you need to plan your trip.
Your Thoughts
I want to know what you think about our best Disney World vacation tips…
Which is your favorite tip?
What tips you have learned over the years that can help others have a better vacation?
Let us know in the comments section below!
If you enjoyed this article, as always I appreciate it if you'd share it with others via social media. I work hard at making this website into a useful resource for you and your family to plan your visit to the Disney Parks and I hope it can help you! Thanks 🙂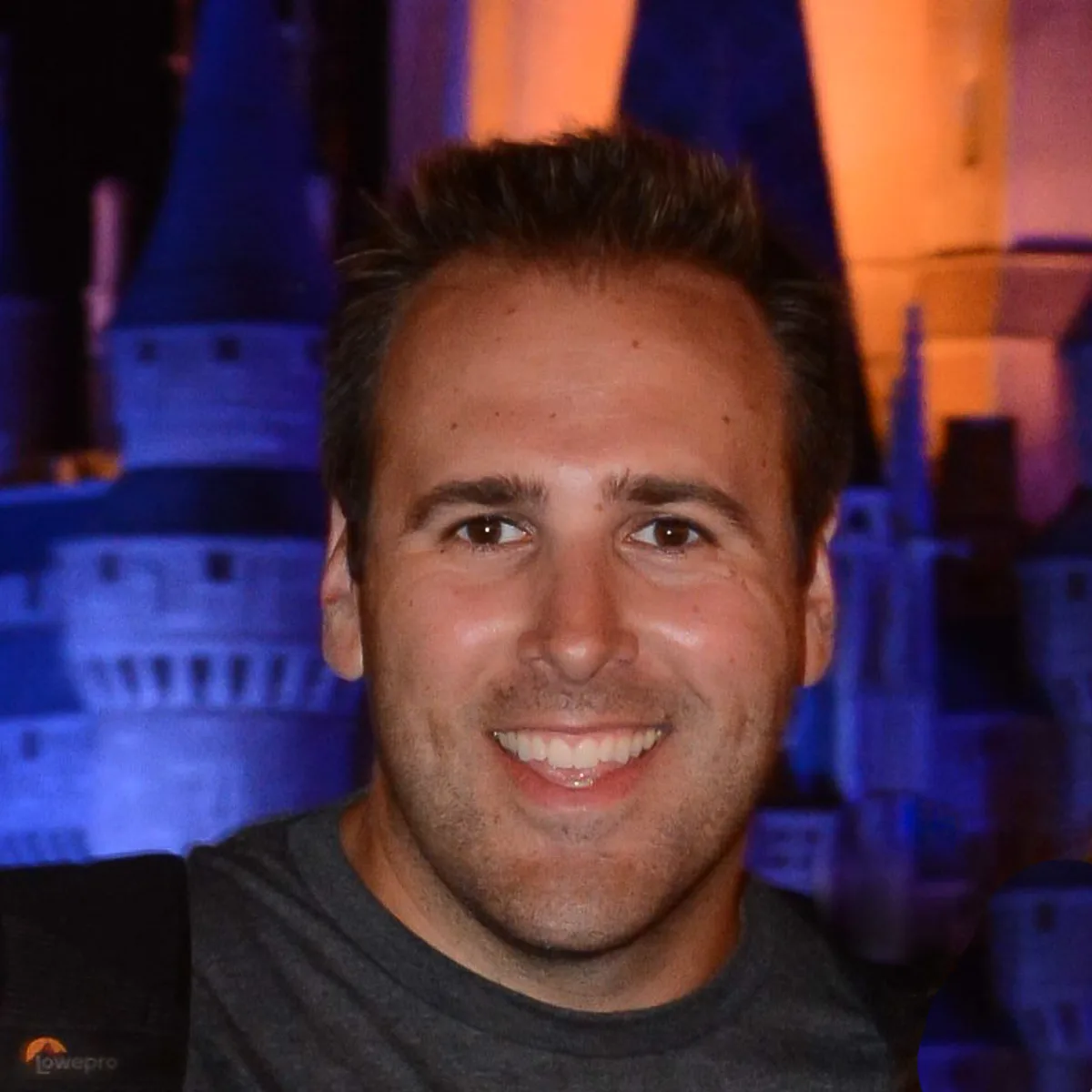 My name is Ziggy and I love Disney, everything Disney! I grew up on Disney and it has and continues to be a huge part of my life. I started young when my parents took me to Disney World when I was 18 months old. Little did they know that would be the first of an uncountable number of trips we would take. I have so many amazing memories going to Disney with my family and friends and it has been interwoven into my DNA.