During the Disney World vacation planning process, a big question you need to answer is: "Should you rent a car at Disney World?" After all, deciding how to get around Disney World and whether or not to rely on Disney transportation will make a huge impact on your budget and schedule flexibility.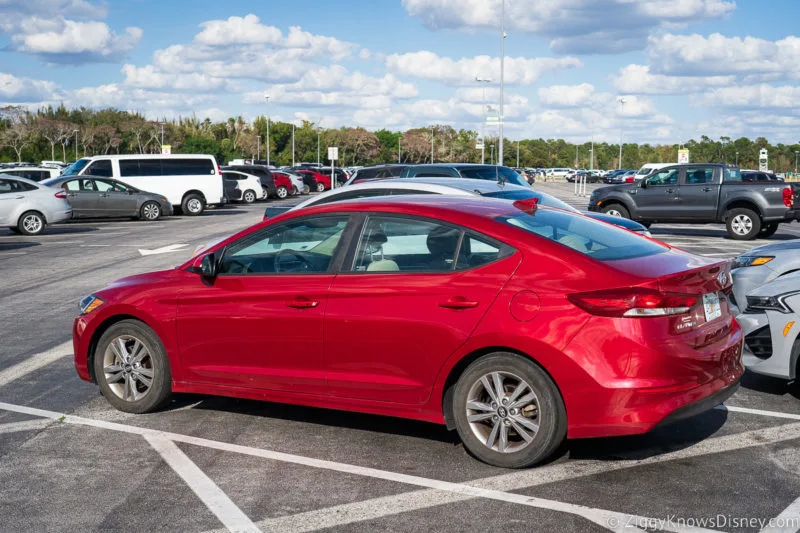 In this post, we'll explain everything you need to know about renting a car in Walt Disney World including the cost, rental locations, as well as our helpful tips and tricks we've learned over the years.
Since no two situations are the same, we'll break down all the reasons that you should rent a car in Disney World, and some more reasons why it may not be worth it for your family.
If you intend on booking a rental car, we'll show you the best places to get your car, how to pick up and drop off your car, and the best ways to save money. To get the best deals, a lot depends on when you book it and where you book it, but the difference can mean hundreds of dollars.
Things have also changed in the last few years with rental cars in Orlando during the shutdowns of 2020. At first, there was an oversupply of cars available which meant good deals were easy to come by. Now that people have started traveling again, prices have gone way up, making the question of whether or not to rent a car even more important.
We'll get into all the options later in this post, but our personal recommendation for rental cars in Orlando is Discover Cars. They have the best prices, are easy to use, and have a huge selection of cars to choose from. Click here to see the latest prices for your trip.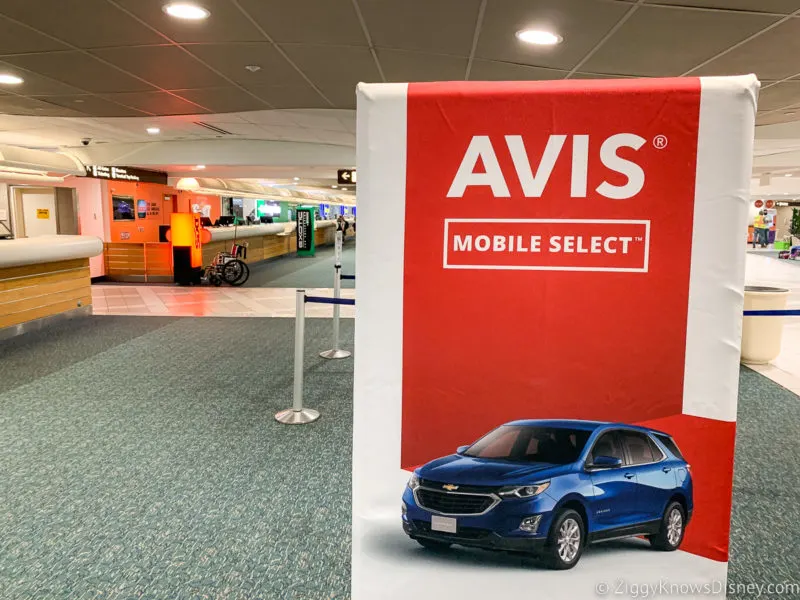 It's very possible to skip renting a car altogether since Disney has plenty of free transportation options available. Whether you need a rental car will just depend on where you are staying and where you are planning to visit during your trip and we'll help you to make that decision.
Before we start, we also recommend reading our Guide to Parking at Disney World and How to Get from Orlando Airport to Disney World. They both are essential reading in making your decision to rent a car or not.
Before we start, don't forget to sign up for our FREE Weekly E-Mail Newsletter. There we bring you the latest updates on Disney transportation as well as a ton of other Disney vacation planning tips. You can sign up here: Join our E-Mail Newsletter!
How Much Does It Cost to Rent a Car at Disney World?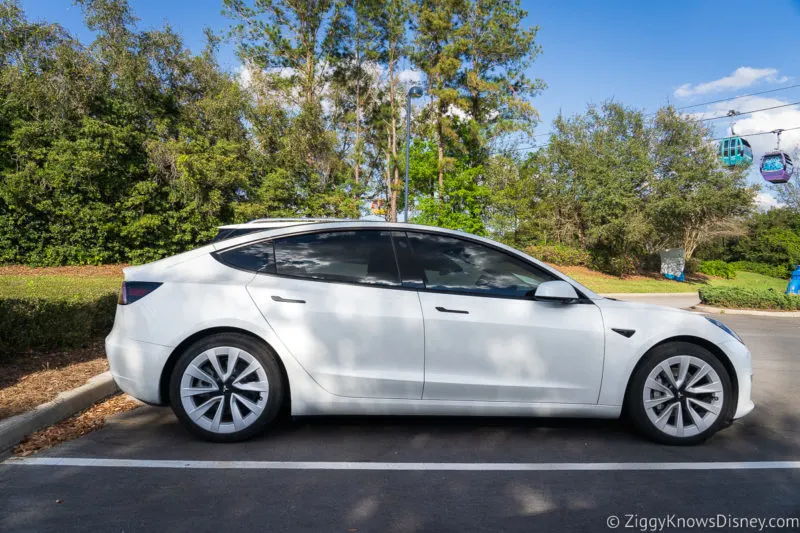 Like all things in Walt Disney World, car rentals are very seasonal and the prices can fluctuate substantially depending on when you plan on visiting Orlando.
When checking Priceline for 3 random weeks throughout the year, here is what we found for mid-size vehicles and minivans (using only the well-known car rental companies):
From January 14th to January 21st the media rate was about:

$65 per day for a mid-size vehicle
$116 per day for a minivan

From April 1st to April 8th the median rate was about:

$90 per day for a mid-size vehicle
$135 per day for a minivan

From July 22nd to July 29th the median rate was about:

$95 per day for a mid-size vehicle
$135 per day for a minivan
These are general estimates and can be cheaper or more expensive depending on the time of year you choose. Expect the rates to be substantially more during holiday times of the year which is why we recommend doing research and finding out the cheapest times of the year to visit Disney World.
Just remember in Orlando, it's best to stick with the bigger car rental companies. It can be tempting to utilize one of the smaller and cheaper companies and save a buck or two, but I'd strongly advise against it.
I've heard nothing but horror stories about the cheaper companies and it's not worth ruining your trip to save a couple of bucks.
Car Rental Locations at Disney World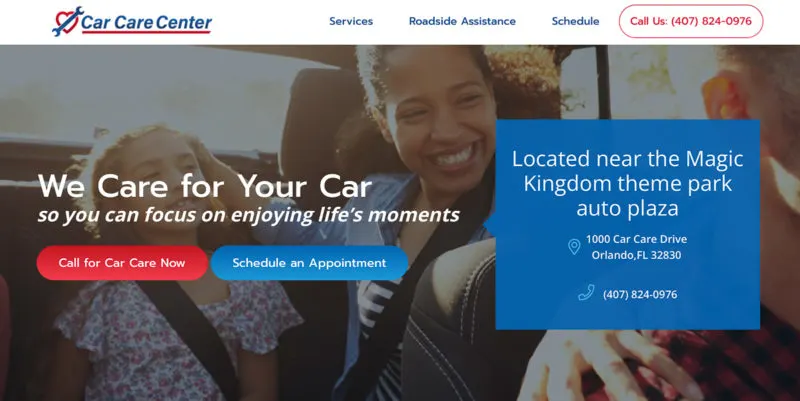 There are several on-site car rental locations within Walt Disney World's boundaries. The main option is at the Walt Disney World Car Care Center, which is almost directly next to the Transportation and Ticket Center at Magic Kingdom. (The address is 1000 Car Care Center Drive, Orlando, FL.)
There are many other options within Disney's Gates, particularly near the Disney Springs areas. Let's touch on all the available options.
Disney World Car Care Center
The easiest and best of the options is the Disney World Car Care Center. We frequently use this location, especially when only requiring a car rental for a part of our trip.
It's incredibly convenient, allowing you to not have to drive all the way back to Orlando International Airport unnecessarily if you need to rent a car on the fly.
The Car Care Center hosts some of the biggest rental partners: Enterprise, Alamo, and National.
You can book your car rental through the Car Care Center here, or you can call their phone number 407-824-3470. They operate from 7:00 am to 7:00 PM every day.
It is also located right next to the Magic Kingdom Speedway gas station, making it incredibly easy to fill up your vehicle when returning it, as opposed to paying for a full tank of gas at the start of your trip.
Free Shuttles & Pick-Up Service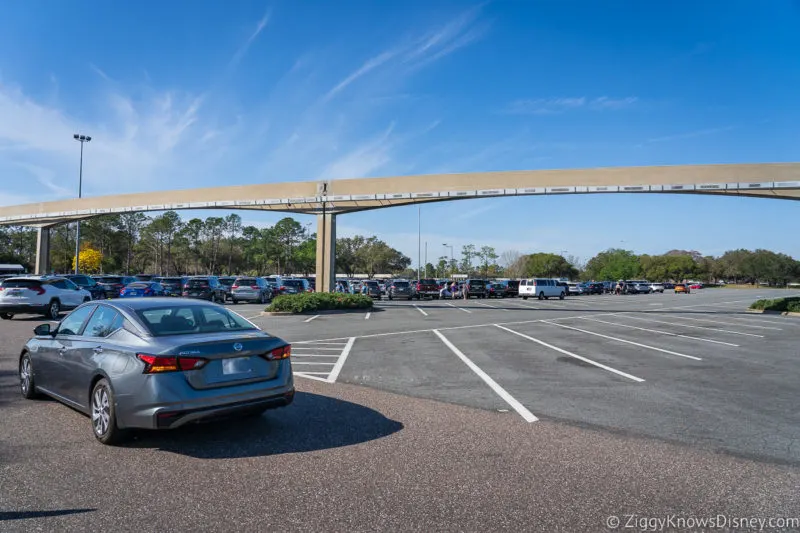 Disney World Resorts offer complimentary shuttle service to the Car Care Center facility, by calling the main line at 407-824-3470 and utilizing extension #1. Just remember to schedule at least one hour prior to pick up and be waiting at the pickup location at the time you requested.
If you cannot keep your appointment, call the Car Care Center to reschedule.
When getting picked up, just wait outside the main lobby of your Resort hotel. This is also where you will be dropped off unless you're staying at one of the three resorts below. In that case, meet at these specific areas:
Shades of Green Resort – Outside the upper level
Fort Wilderness Resort and Campground – Outside the Outpost
Saratoga Springs Resort and Treehouse Villas – Outside the Carriage House
You can also arrange for transportation to and from the parks. Here is where you will be picked up or dropped off:
Magic Kingdom – Transportation and Ticket Center
EPCOT – Taxi and shuttle parking
Hollywood Studios – Bus parking charter C-8
Animal Kingdom – Disabled parking
Blizzard Beach – In front of the main guest entrance
Typhoon Lagoon – In front of the main guest entrance
Disney Springs – Between AMC Theatres and Planet Hollywood
ESPN Wide World of Sports – In front of the main entrance
After Hours Return
Those renting through the Car Care Center can return their rental keys after hours by simply utilizing their drop box.
Just remember that when dropping off your keys and the vehicle, you will need to arrange your own transportation back to your destination as Disney Transportation will not pick you up here after hours.
Swan & Dolphin Hotel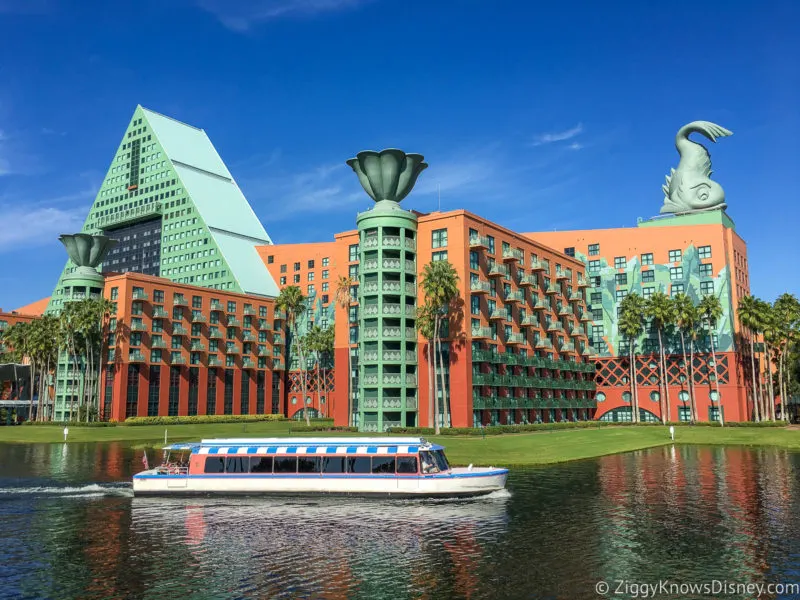 Another option for your rental car needs is found at the Dolphin location. They offer car rental assistance, in addition to having agreements with Alamo and National.
We've been able to use this location to drop off our vehicles in the past. Feel free to give them a call at 407-934-4930 to ask questions.
*As of this writing, it appears this location is currently closed for new rentals, but could still be used as a drop-off location.
Shades of Green
Those that are in the military and stay at the Shades of Green Resort have access to renting vehicles through Hertz Car Rental. Simply stop by the company's office at the Resort.
Other Hotels On Property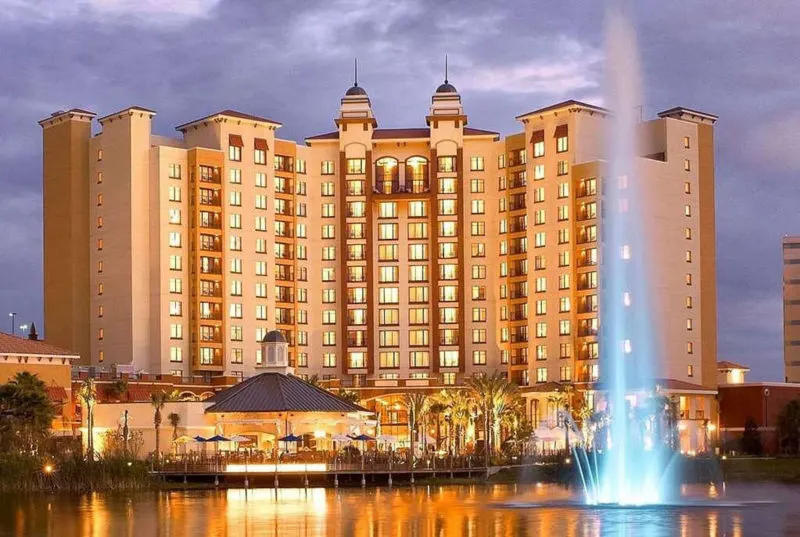 There are a few other additional options that are on Disney property, but they aren't at a Disney World Resort. Instead, they are nearby Good Neighbor Hotels.
Hilton Bonnet Creek – Nearby to Art of Animation, Pop Century, Caribbean Beach, and Riviera Resort. At this location, you can rent from Hertz Rental Car. Their address is 14100 Bonnet Creek Resort Lane, Orlando, Florida
Wyndham Grand Orlando Bonnet Creek Resort – Nearby to Art of Animation, Pop Century, Caribbean Beach, and Riviera Resort. At this location, you can rent from Enterprise. Their address is 14651 Chelonia Parkway, Orlando, Florida.
Car Rental Locations Near Disney World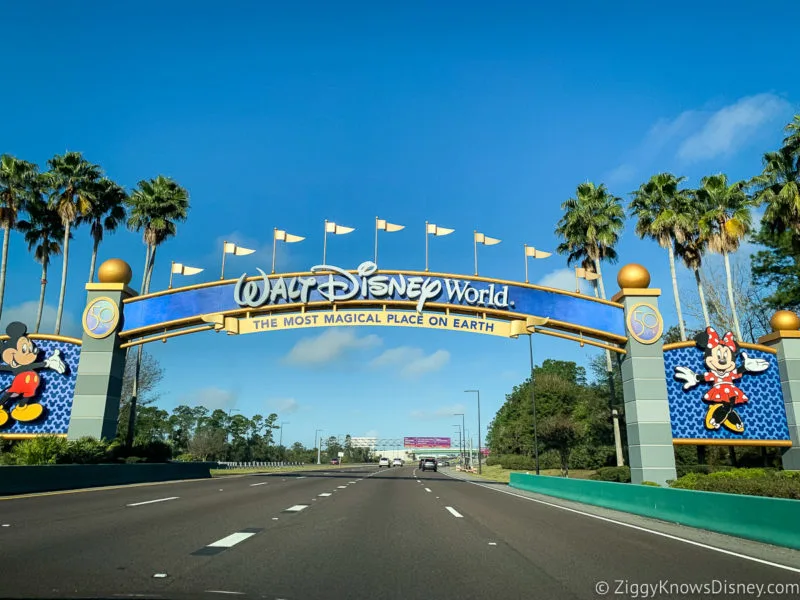 There are several other car rental locations in and around Walt Disney World! If you are willing to leave Disney property, there are dozens of additional options from a wide variety of rental car sites and there are also some additional alternatives nearby Disney Springs.
Disney Springs Locations
The Disney Springs car rental locations are all within walking distance of Disney Springs, allowing you to easily access Disney Transportation utilizing passenger walkways.
Here are your options, in order of closest walking to least close.
Dollar has a location at the Wyndham Lake Buena Vista. (Street address is 1850 Hotel Plaza Blvd, Lake Buena Vista, FL) The walk is only about 5 minutes away from Disney Springs Entrance.
Avis has a location at the other Hilton resort near Disney Springs, Hilton Orlando Lake Buena Vista. (Street address is 1751 Hotel Plaza Blvd, Lake Buena Vista, FL) The walk is only about 8 minutes away from the Disney Springs Entrance.
National, which is found at the Hilton Orlando Buena Vista Palace, located right next to Disney Springs. (Street address is 1900 E. Buena Vista Drive, Lake Buena Vista, FL) The walk is only about 10 minutes away from the Disney Springs Entrance.
Hertz, which is found at the Holiday Inn Orlando Disney Springs. (Street address is 1805 Hotel Plaza Blvd, Lake Buena Vista, FL) The walk is about 10 minutes away from the Disney Springs Entrance.
Enterprise, which is found at the B Resort and Spa. (Street address is 1905 Hotel Plaza Blvd, Lake Buena Vista, FL) The walk is about 12 minutes away from the Disney Springs Entrance.
Budget has a location at the DoubleTree Suites by Hilton, which is near Disney Springs. (Street address is 2305 Hotel Plaza Blvd, Lake Buena Vista, FL)
Renting a Car at Orlando International Airport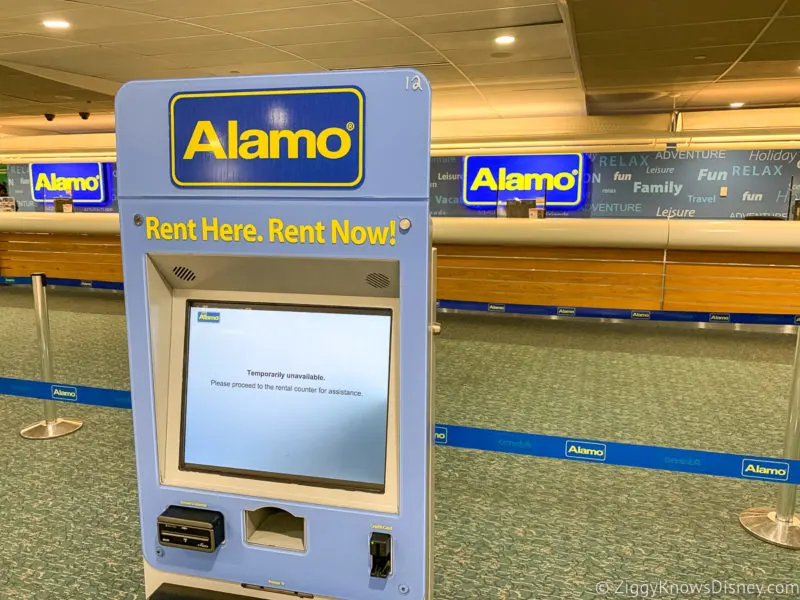 Likely, the easiest and most convenient place to rent a car for going to Disney World is directly at the Orlando International Airport when you arrive from your flight.
All of the largest and most well-known rental car companies have ticketing counters on the ground floor of Orlando International Airport (MCO) at both Terminals A and B, including:
Alamo
Avis
Budget
Dollar
Enterprise
Hertz
National
Payless
Sixt
Thrifty
There are also several other small companies that are less reliable also found on-site. Besides that, there are 34 other agencies located off-site that require a shuttle to get to their locations.
On-Site Airport Car Rentals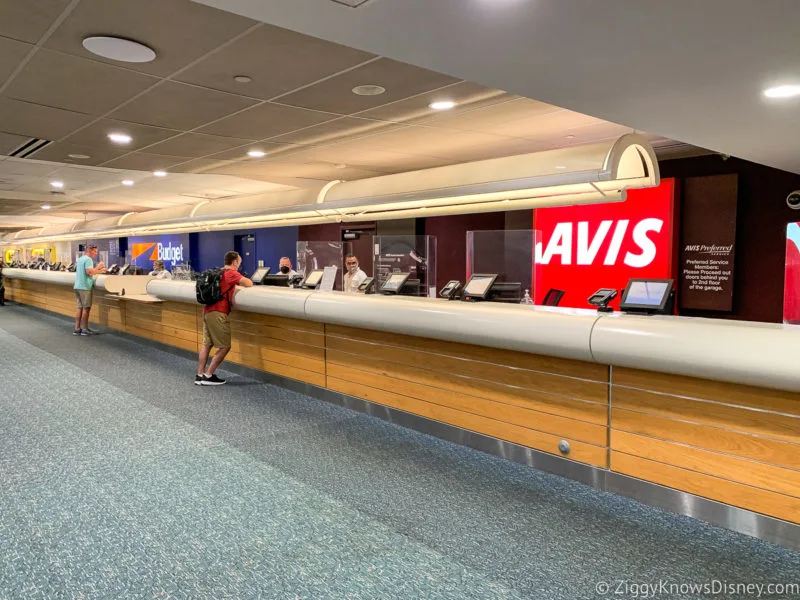 There's no convenience like the on-site rental companies at MCO airport, and it is our 'GO-TO' choice for renting a car.
The on-site car rental companies allow you to check-in in advance, allowing you to completely skip the desk or kiosk and go straight to the garage to pick up your car. Not to mention the most reliable and better all-around car rental agencies are all found on-site.
If you don't check-in in advance, it's very simple to just get in line and go to the ticketing desk of your agency and sign some paperwork and grab your vehicle. Sometimes these lines can be long though, especially during a heavier travel period.
Off-Airport Car Rentals
There are 34 other agencies near the airport that are off-site, requiring you to take an airport shuttle to get to. The off-airport car rental companies are located on Level 1 at Terminal A in spaces A11-A13 and Terminal C in spaces C279-C280.
These locations are not as convenient and can consume additional time on your trip, making the monetary savings seem less important. To look into these, visit here.
Booking Car Rental Online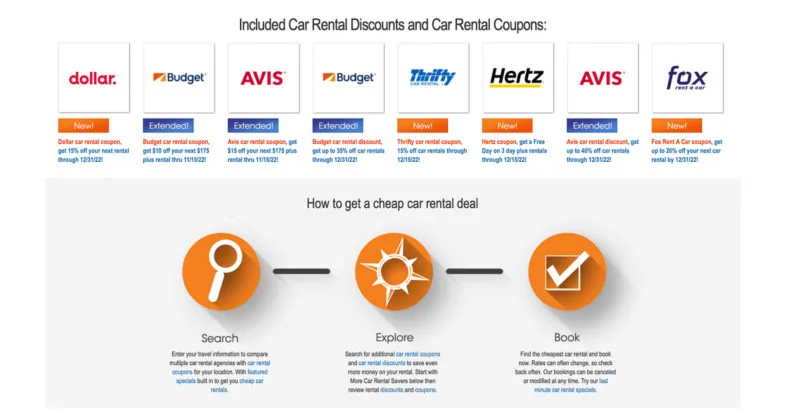 Our favorite way to book car rentals is online! It's simple, easy, and several sites will allow you to cement in your rate without any type of cancellation fees or even credit card holds.
It's also going to save you money rather than waiting until you actually get to the airport. If you don't book online ahead of time, you also may not get the type of car you are looking for so there's no reason to put it off.
While it's been thought that booking car rentals far in advance online is the best and cheapest way to do it, that's not always the case! Several times our family has booked a car rental far in advance and we've routinely checked in the months leading up to our trip and we've found better deals!
Our suggestion is to book a car rental online but don't sit back on the rate at booking. Routinely check over and over again. You might save hundreds of dollars!
Reasons to Rent a Car at Disney World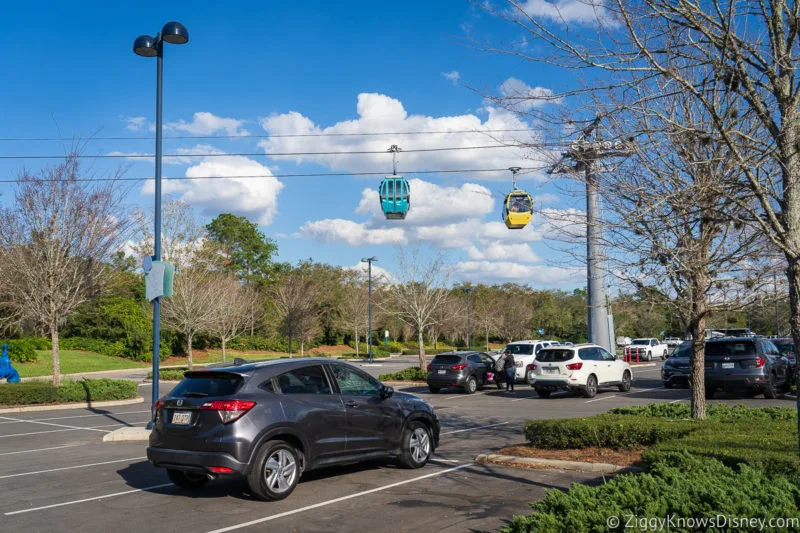 Renting a car at Disney World is a difficult decision. We have struggled with the choice at times, and while it's not the best in EVERY situation, it can be advantageous in the right situations.
You will have to weigh the extra cost with your family and see if it's right for you. Here are some scenarios when a careful examination of whether you should rent a car could be worth it.
You are Staying Off-Site
When staying off-site, whether it's at a rental house, Airbnb, or outside a hotel, transportation to Disney World can be impossible without a car, or at least a big hassle.
In these cases, you're almost always going to need a vehicle unless you want to use a ridesharing service, like Uber or Lyft, but that can get expensive quickly if you use them a lot and for far distances.
Having a car can give you so much more flexibility when staying off-site, especially when visiting the parks multiple days while off-site.
If you're staying at an off-site hotel, consider and research whether that hotel has transportation to the Disney Parks. If they do, check the frequency of their trips back and forth to the parks. This will allow you to examine if it's still worth having a car.
Explore Outside Disney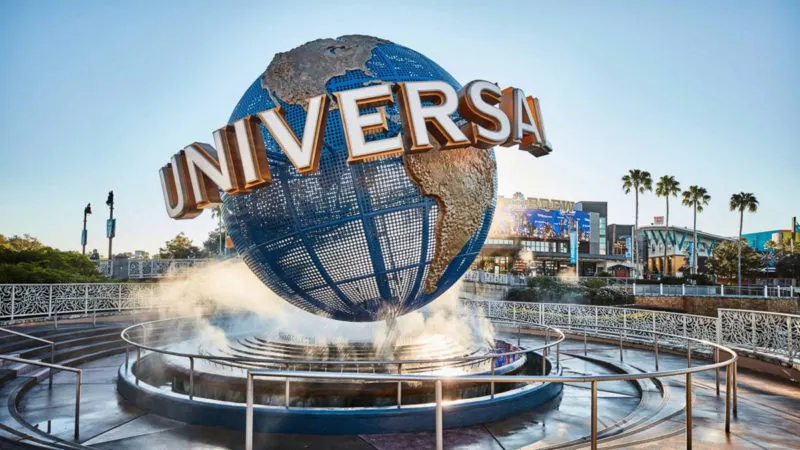 There are so many other Orlando and Florida attractions within a short drive from the Disney Parks, including Universal Studios, Sea World, Legoland, the various shopping outlets, downtown Orlando, beaches in either direction and the Kennedy Space Center.
Visiting these locations and more would be incredibly inefficient without a car, forcing you to rely on others to get you to where you want to go.
Some of these locations can take you a bit of time to get to, so utilizing a ridesharing service can be very costly and in most instances, you'd be better off renting a car.
Saving Time
When you're staying off or on-site at Disney World, having a vehicle and coming and going at your leisure or your own pace will save you time, and it's just flat-out nice!
Disney transportation can be long and tedious, taking forever to get to destinations. Not to mention, you could be sitting in lines for LONG periods of time just to get on.
Having a car allows you to get there quickly, leave when you want, and have more time to spend doing the things you love while maximizing your vacation time.
More Freedom
Having a car at your disposal gives you freedom and additional options when planning your schedule. For example, you can easily check out the different resorts or visit them for meals without having to worry about the difficulties of navigating Disney transportation.
You can choose to spend a day elsewhere, such as going to the beach or visiting Universal Studios. Or you can get to the parks earlier in the morning than the buses will take you, minimizing the possibility of not being able to get on some of those early morning buses for park openings.
It Can Save Money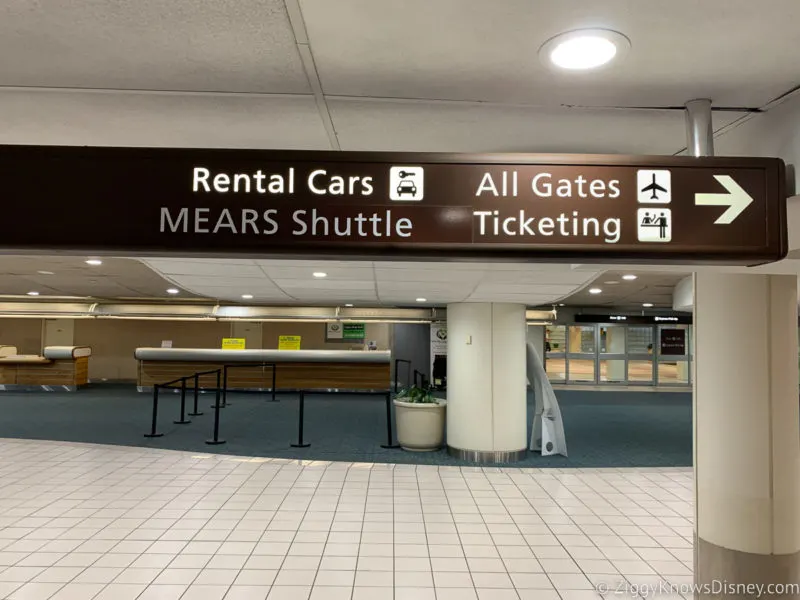 While it's not always the case, renting a car can save you money, you'll just have to factor in the additional cost of having a car and see if you can save in other ways.
For example, having a car allows you to utilize local grocery stores to buy your own food. If this is your vacation style, and eating at the Disney World restaurants is just not something you enjoy, doing your own shopping and cooking can save you substantially, especially when staying in a room with a kitchen.
It can also save you if you enjoy eating at some of the Disney Resorts which can be hard to get to. Paying for Uber or Lyft Rides can be costly if done regularly, having your car allows you to easily get there yourself.
It can also save you money on your rides back and forth to the airport. Without the use of the complimentary Disney Magical Express anymore, paying for transportation to and from the airport is a necessity and having a car mitigates the cost of that particular ride.
Be at the Parks Earlier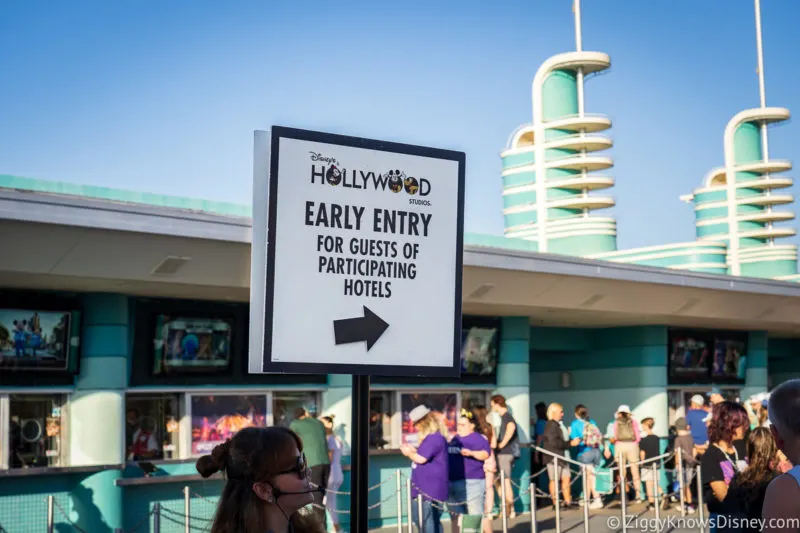 Many guests who do not visit Disney World frequently want to maximize their time in the best possible way. New attractions mean you are going to need to be at the parks early if you want to ride without waiting hours and hours.
The only problem with that is this puts you at the mercy of Disney Transportation which is not always running in time to get you to the parks for rope-drop. And if you aren't there in time, you will lose that early window to get you amongst the first to get into the park.
When you have a car, you can get to the parks early! In fact, you can get to the parks as soon as the parking lots open (usually one hour before the park opens). If you do this, they'll be few if any ahead of you for rope drop and you will maximize your time with Early Theme Park Entry.
For All Your Stuff
Stressing about watching your kids, grabbing and folding the strollers quickly, and making sure you have all your essentials at all times can be an extra burden. Having a car makes things much easier and gives you a place for your stuff.
A car can become an extra piece of luggage for families, especially ones with small children, allowing you to easily store your bags, strollers, and car seats!
Good for Park Hopping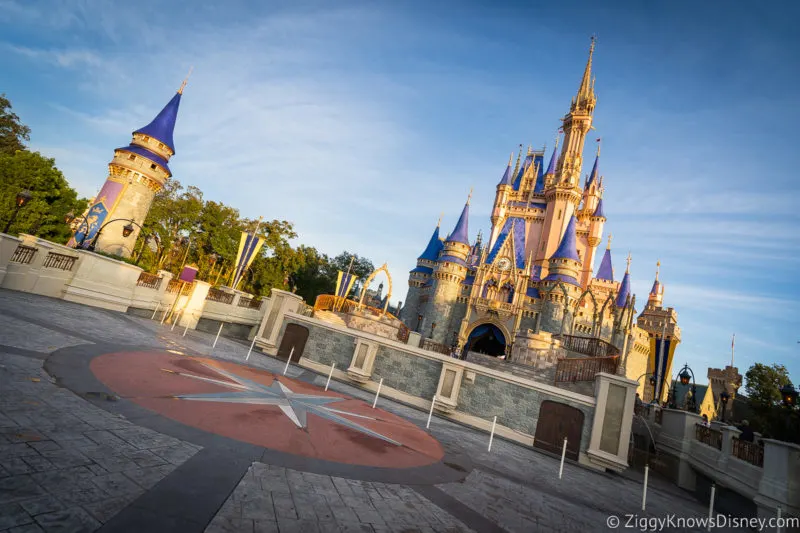 Park hopping at Disney World is simple when you have a car, minus, of course, Magic Kingdom. Traveling to Magic Kingdom by car is never quick. However, when it comes to the other three parks, park hopping is incredibly straightforward and fast with a car, and in almost every case, it's faster than Disney Transportation.
Neither the Disney Skyliner nor the Monorail allows you to reach all four of the Disney Parks from each other, and buses are notoriously slow. A car on the other hand allows you to visit whichever park you want to visit, and on your timetable.
Visit the Disney Resorts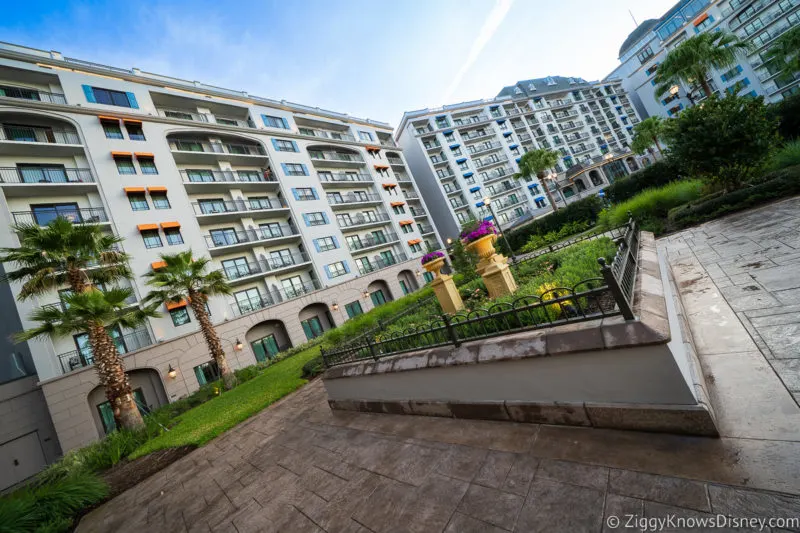 Being able to go from resort to resort is no simple nor easy affair for guests attempting to utilize Disney Transportation. While it can be done, it just takes MUCH longer in most instances and it typically requires multiple segments of your journey.
And for something that may only be a mile or two away from where you are, this can be frustrating! This is where having a car opens up additional ideas for your trip.
Say for instance you want to go to a character dining destination at one of the resorts, having a car allows you to easily get there. You may just want to take a non-park day and explore some of the Best Disney World resorts to get a better idea of where to stay on your next trip.
These are just a couple of ideas, but in most cases, visiting the Disney Resorts is just easier and more simple with a car.
Visit the Grocery Store
If you're a budget-conscious or health-conscious traveler and would prefer to cook at your hotel or resort, having a car allows you to easily go to the grocery store or the liquor store to get your items for the room!
Even if you just want to supplement your room with some snacks or the ability to have a cocktail (MUCH CHEAPER) in your room, this is much easier to do with a car. This could save you a ton of money, and with many Disney rooms having kitchenettes, this is entirely possible!
Traveling to and from the Airport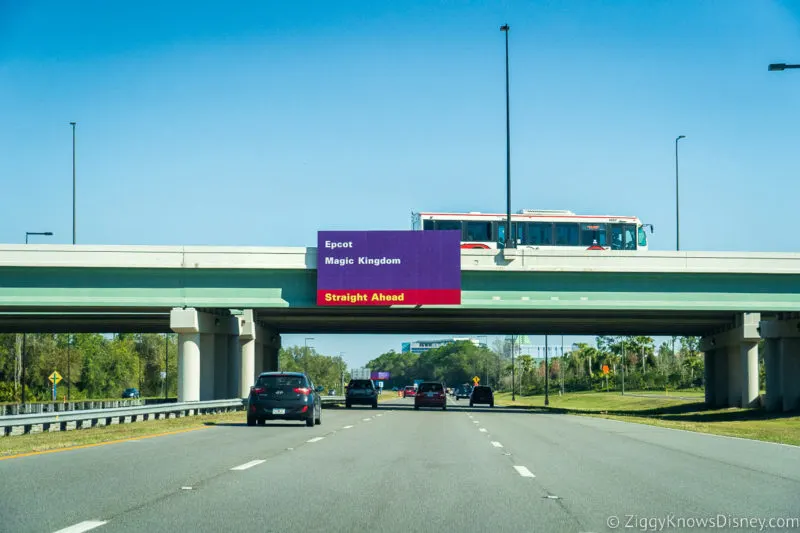 With the Complimentary Disney Magical Express being canceled to and from the Orlando International Airport, providing your own transportation is a requirement for Disney guests.
While there are several different options when it comes to doing this, having your car can make it much more cost-effective and it definitely saves you a ton of time!
READ: How to Get from the Orlando Airport to Disney World for more details.
It's More Comfortable
Let's face it, Disney transportation, while being free, is anything but comfy and cozy. Having your vehicle is certainly going to be more comfortable than wooden benches or plastic seats.
Whether you're young or old, having something that is "yours" where you can stretch out and enjoy your own space is going to be more comfortable. This is especially true when you have small children or you just like to roll down the windows and crank the tunes!
Guests with Special Needs
While some guests with special needs would prefer using Disney Transportation, others need certain amenities that only having your vehicle provides. Look at your situation and needs and decide if it's a better solution to rent a car.
Remember that if choosing to drive and get a rental car that all the theme parks and hotels have ADA-compliant designated parking areas near the front of the parking lots so you can easily access the front gates.
Go Back for a Nap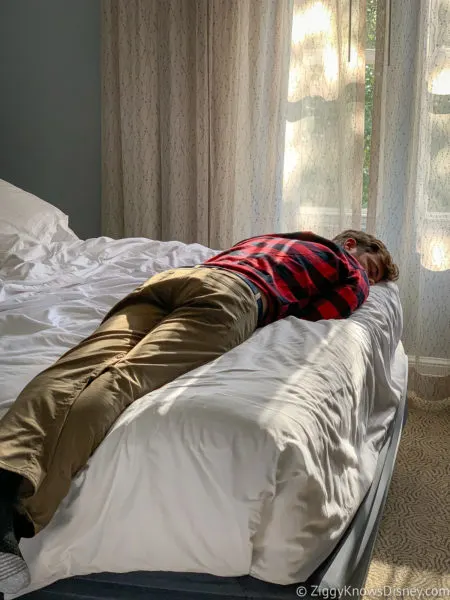 Who doesn't love a nap? We all do, but our kids especially need them! Many parents find out that having a vehicle allows them to head back to their hotel to get a much-needed nap before the 2nd half of their day more easily with a car than with Disney transportation.
This can make mealtime more enjoyable for dinner, and it provides families with a much-needed burst of energy. Getting up early for rope drop has its perks but you'll likely have to pay a price if you don't get a nap.
Good in an Emergency
What if, on vacation, someone in the family gets hurt or gets ill? You've likely not thought of what you'd do or how you'd get to the hospital or emergency room.
Well, things are a lot easier if you have a car at the hotel with you, this can be especially true if someone you are traveling with is a high-risk person!
No matter what the situation is, if someone gets hurt or if someone has special needs, you can easily leave and use that car to get where you need to get.
Reasons to NOT Rent a Car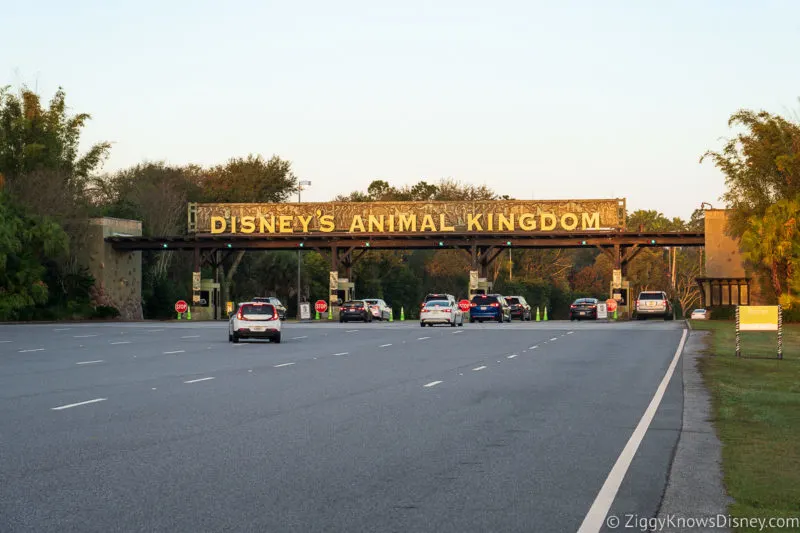 While we just touched on the many reasons 'TO' consider renting a car, there are many reasons not to rent a car. In this section, we will talk about all of those reasons.
You Have to Be Connected with the Real World
While this might sound trivial to some, the idea is that being completely immersed in the Disney experience can be somewhat lost when having to worry about driving your own car. Suddenly the "Disney Bubble" can burst when you're stuck in traffic or attempting to closely follow parking signs.
For many people, when you're fully in "vacation mode" these things are better left to someone else. I don't know about you, but I just want to get there and then completely unhinge from the rest of the world and let the magical Disney Cast Members handle the rest.
It Costs Money to Rent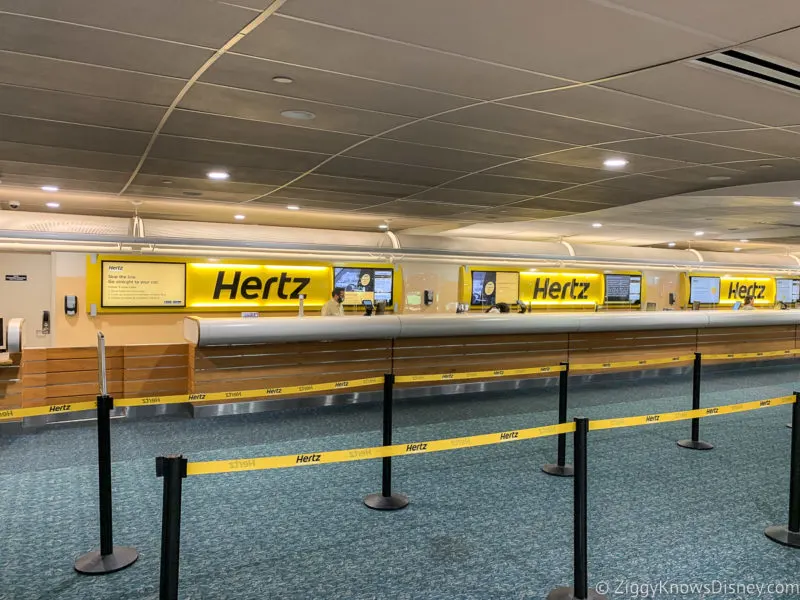 There's nothing complimentary about having to pay for a rental car. And while there are some time advantages of having your own car, those advantages can come at a very hefty price for travelers.
Remember, the price of the rental is only one of the expenses you'll have to cover.
In addition to the cost per day of your rental vehicle, you will also be liable for the parking fees each day, either at your hotel or at the parks.
You'll have to worry about potential tolls, if leaving the Disney area, and you'll have to worry about the costs of gas. These things can add up significantly so figure out your budget ahead of time and see if it's worth it.
Dealing with Car Seats
Attempting to figure out what you do or don't need is challenging for any Disney family for their upcoming trip, especially ones with small children! Parents struggle with the question of bringing their car seats and/or booster seats or paying the additional costs of renting them.
They aren't cheap to rent and can add over $100 to your trip to rent! Not to mention they take up more room and carrying them around in addition to all the rest of your family's luggage can be stressful!
Paying for Parking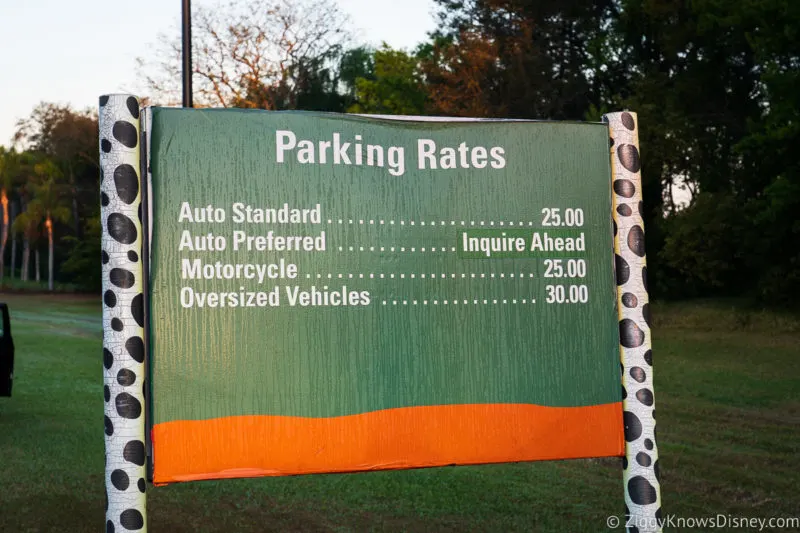 Paying for parking at Disney World can be the most expensive aspect of the car rental, and in some cases, even more expensive than the cost of the car rental itself.
Factor in the cost per day both at your hotel and/or the Disney Parks and you can easily be looking at $40-$60 per day just for parking if you're not staying at a Disney Resort.
This can get very expensive, especially when you add the other costs of renting a car.
Staying at Disney Resort is your better option in that case since Disney Resort guests get free parking at the theme parks AND their resort hotel.
Less Magic
Being in the Disney bubble without any of the common concerns and anxieties of everyday living is a unique experience. Worrying about all the non-magical things can be a way to slightly lessen the greatness of our trip.
Worrying about getting into a car accident or worrying about parking between thousands of other visitors in a giant parking lot aren't the definitions of "magical" as far I'm concerned.
This is especially the case when bringing a car to Magic Kingdom! The hassle and time required can start and end your day frustratingly!
Drinking Alcohol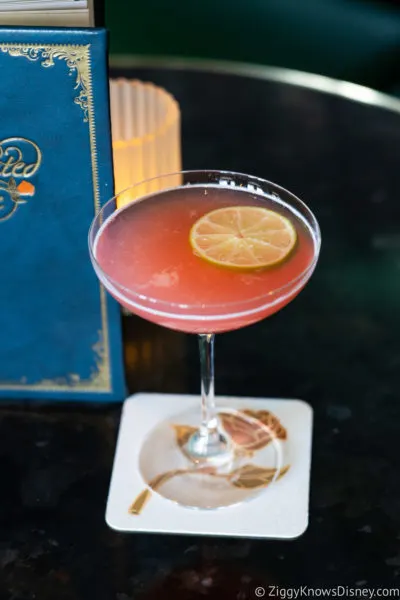 If you're going to be drinking either at the parks or before coming to the parks, it's important to know who is going to be drinking and who is the designated driver. If neither you nor the driver or the group will be drinking during your park days, then having your own car is perfectly fine!
But if you at all will be tempted to have a drink, utilizing Disney's transportation is the better and more responsible way to do it!
This also goes for when you are taking your car to dinner at one of the Disney Resorts or one of the amazing Disney Springs restaurants. Be responsible no matter what.
Coming from Outside the U.S.
Those coming outside the U.S. have additional concerns when it comes to renting a car. Do you come from a country that drives on the opposite side of the road? Is your driver's license valid in the United States?
If these are concerns, you might feel better letting Disney's transportation do the work for you!
Also, many foreign visitors are unaware that most car rental companies will only allow rentals for people that are over the age of 25 in the states. Always check to make sure your current license allows you to drive out of your country.
Can't Stand the Heat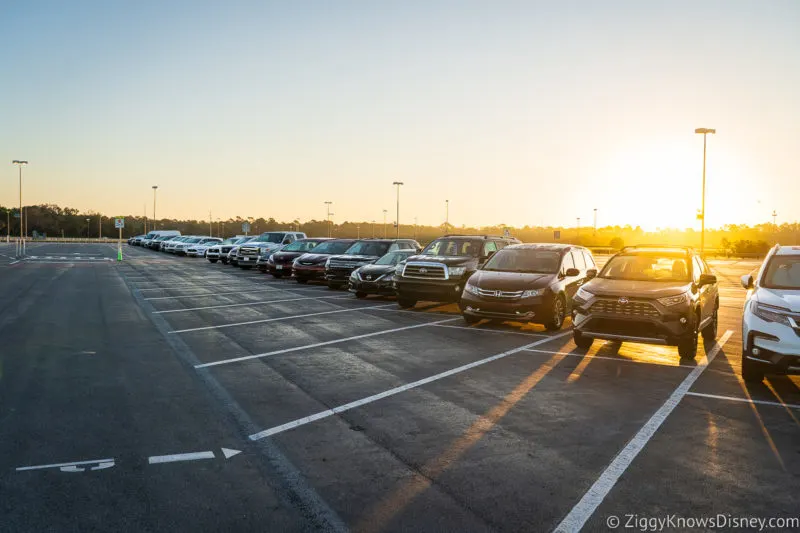 If you're not used to Florida heat, be prepared to blast the air conditioning in your vehicle at all times! Summers in Florida are incredibly hot!
If your rental vehicle has leather seats, it could be like literally sitting on top of a fire when you enter your car in the middle of the day. It could take a couple of minutes until the car cools down enough for you to feel comfortable.
The nice thing about Disney transportation is they crank up the air conditioning at all times, whether you like it or not! On a hot, hot day in Florida, there is something really refreshing about entering a Disney bus or the Disney monorail…and you'll feel better instantly!
Helpful Tips & Tricks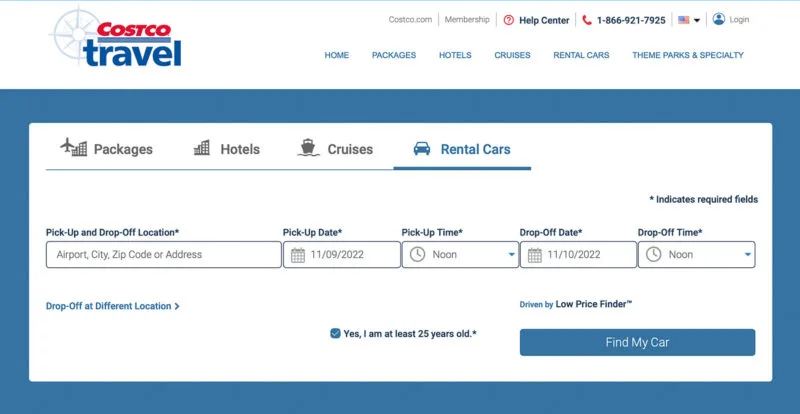 When it comes to booking a car for your Disney trip, we have several helpful tips and tricks to make your trip better and more cost-effective for your family. Here are a few of our favorites:
Book Online
With a few clicks of a button on your smartphone or your computer, you can easily book a car rental for your Disney World Vacation. This is going to save you time and money in the long run and we highly recommend it.
There are many sites we enjoy using and have had good experiences with…
We love Costco Travel (if you have a Costco Membership) and Car Rental Savers. Both sites scour the internet for the best deals on all the major car rental companies.
These companies allow you to reserve your car without needing to pay up-front. This is wonderful because in a lot of instances you'll be able to easily cancel it if you find a better deal in the coming weeks and months.
Choose the Right Size Car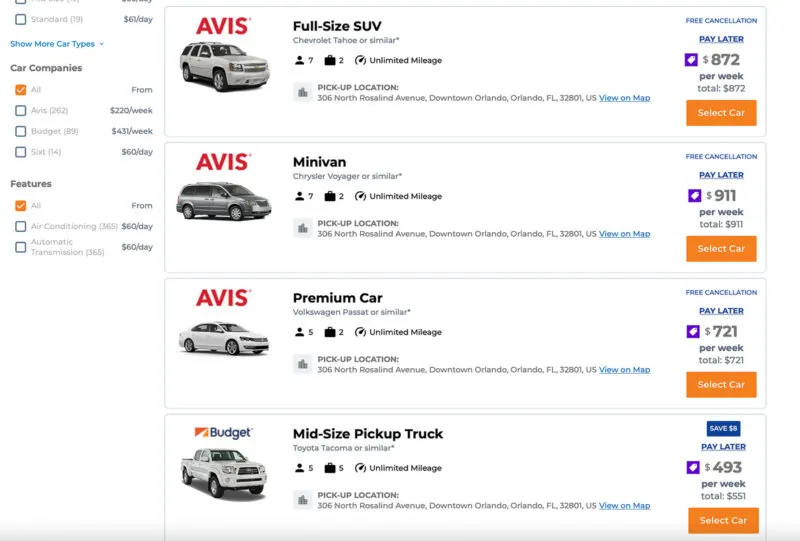 Depending on how big your family is, I recommend always renting a smaller vehicle than what you may think you need. It'll cost less to rent, be cheaper to fill up on gas, be easier to park in tight parking lots, and the air conditioning will be more proficient!
Booking a smaller car isn't always easy since some families have five or more family members, not to mention luggage. Don't book something smaller just to be cheaper, balance out comfort with your family's needs.
Prepay Gas or Not?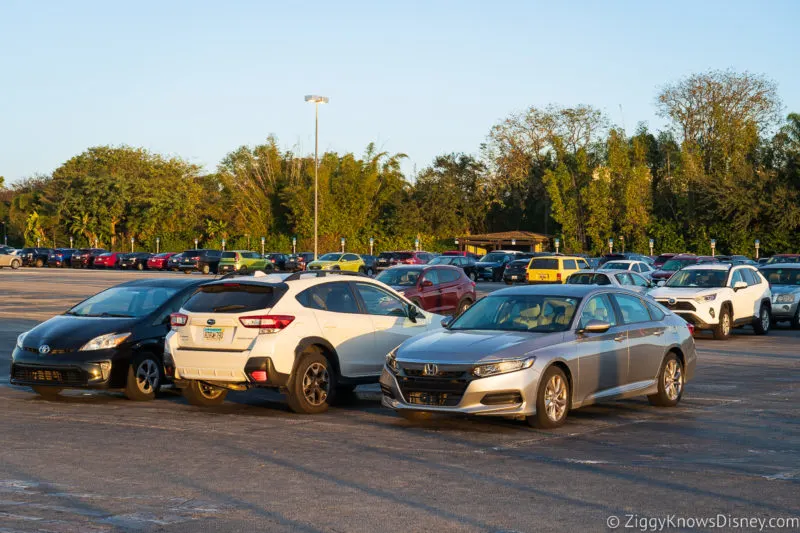 While on the surface prepaying your gas might appear to be a good idea as it's more convenient and adds one less worry to your trip, we always advise staying clear of this.
Prepaying for a full tank of gas means that you'll have to pay for a full tank of gas without knowing whether you'll ever need a tank of gas! That means that if you only used a quarter of a tank of gas, you will still pay for the full tank.
Whenever we drive in Orlando, we use very little gas due to the closeness of everything within Disney. So unless you plan on literally leaving the car empty, this isn't a smart financial decision.
And to alleviate your fears, there are a ton of gas stations conveniently located near Orlando International Airport to make it very simple to fill up near the airport.
In the worst-case scenario, if you drop off the vehicle without having a full tank of gas, it isn't the end of the world and you'll typically pay just $1-2 more per gallon.
Print Rental Confirmation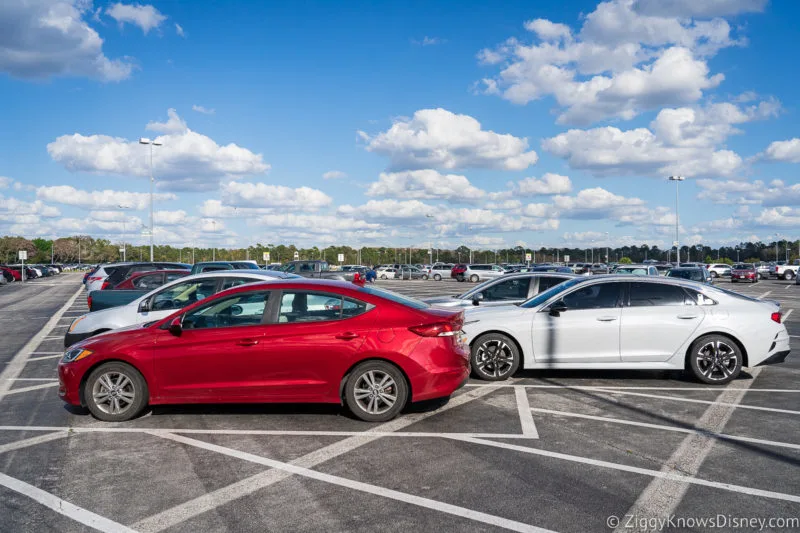 Either save the original email that shows you the exact rate you're getting or bring the rental confirmation with you. Trust me, it could end up saving you big time!
Online car rental sites utilize promotion codes to give you the rate that you were promised at booking. Unfortunately, many car rental agencies don't see these promo codes when you go to pick up your vehicle and attempt to charge you more money than you were promised.
By having your confirmation on hand, either by email or in print, you can prove that you were promised differently.
Don't Forget Your Driver's License
While this might seem fairly stupid, the truth is: you need to bring your driver's license! Many travelers frequently bring their passports as their means of identification while flying. Sadly, they forget that without their license they won't be able to rent a car!
Check Age Requirements
Check the different rental age requirements for each rental agency. Most of the bigger companies in the United States require drivers to be at least 25 years old.
Some companies will rent to guests under 25, but typically at a more expensive rate. Just make sure you check first before arriving so that you don't get declined your car at the desk.
Saving Money on Car Rentals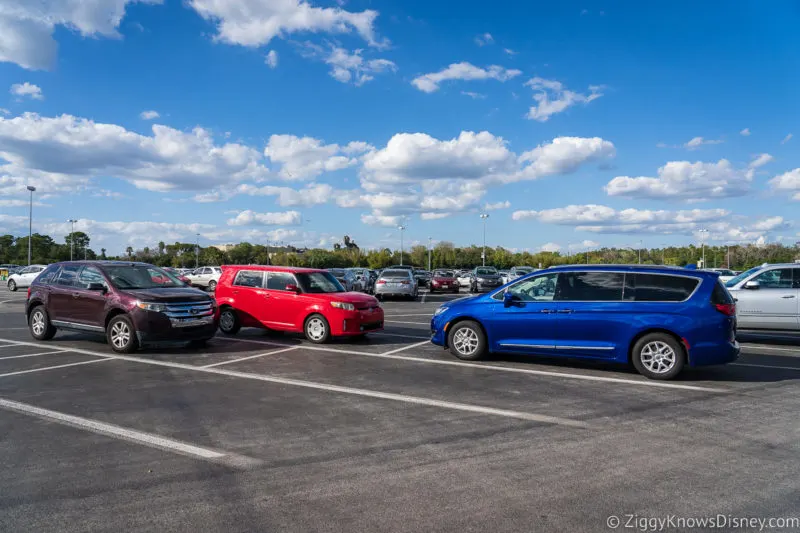 Disney World is one of the most expensive vacations your family will take and thankfully, there are several ways to save money on your car rental! In this section, we will examine our favorite ways to save money on car rentals in Disney World.
Many of the old-school ways of doing things when it comes to renting a car are no longer applicable and quite the opposite is now true. Let's check it out.
Check Prices Regularly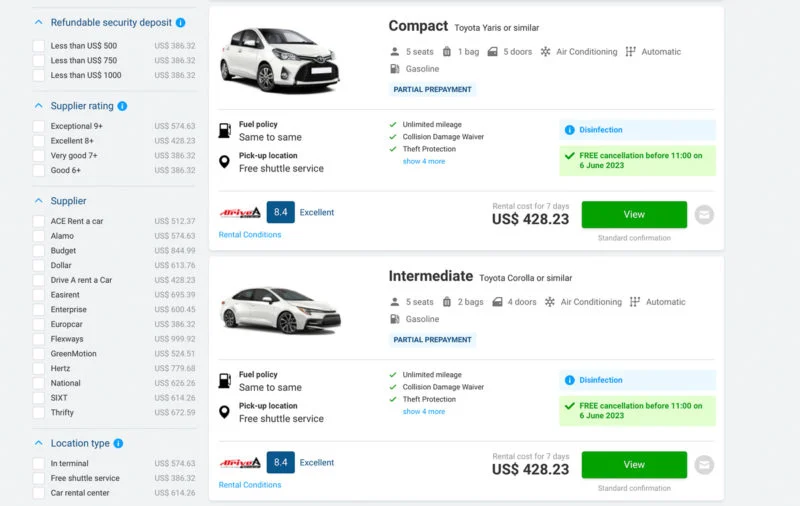 One of our absolute favorite ways to save money on renting a car is by checking the price regularly. It used to be a common fact that the earlier the better when it comes to renting a car. Many travelers would rent 3, 6, or even 12 months before their trip thinking they'd save money!
Now, we have repeatedly found that if you continue to check regularly in the months leading up to your trip, you COULD save significantly.
We recently rented a car for a couple of weeks, and we initially booked it for a certain price point and then we canceled and rebooked the exact same car at the exact same agency for over $700 less! That's the prime example of why you need to keep checking!
Use Discount Codes
Using discounts or promo codes is a great way to save significantly when renting a car at Disney World. Trying to research and find different discount codes can take a bit of time, but when using a site like Car Rental Savers, they will do all the work for you!
They automatically input the very best discount codes on all the different car agencies to save you the most possible amount of money.
You can also check to see if there are any other discount memberships you have such as AAA, USAA, or AARP discounts, and compare the costs when renting through them.
Club Savings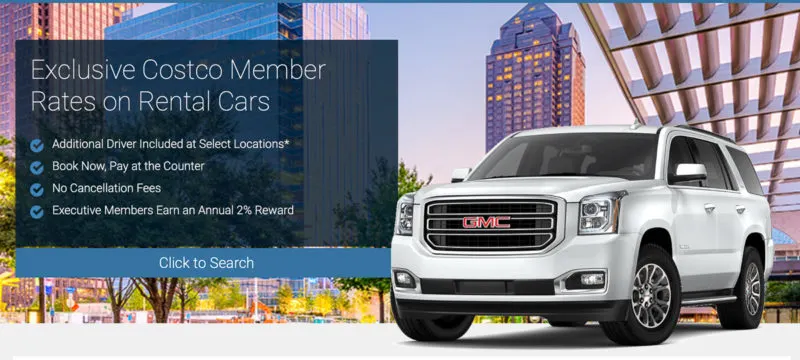 If you've found a particular car agency that you like, a good way to save is by joining their club or membership program!
That way you can build and accrue more and more points each time you rent a car through their club program and this could allow you to potentially rent a car in the future for free, using accrued points.
Certain rental agencies will also allow you to skip the lines and go straight to grab your car if you're a member of their club program so it will also save you time and you can get to Disney World even faster!
Stay the Right Days
Saving money on rental cars is also easier if you choose the right dates for your vacation.
Discounted rates on renting a car usually apply once certain rules are met. For instance, car rental companies offer the lowest rates for those who stay over on a Saturday night. If your car rental doesn't overlap a Saturday night, then it's possible the promo code isn't working to give you the best possible rate.
Weekend promo rates will only typically be applied when you stay for a full three-day minimum. And weekly rental rates will always be cheaper when you rent for at least five days.
Make sure to factor these into your decision-making, allowing you to plan your trip to get the best possible rates.
Play with the Return Times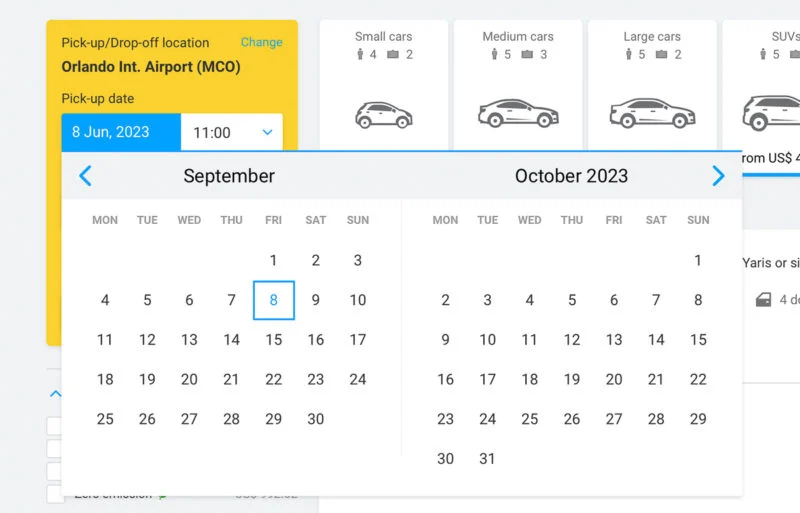 It's also important to look through the return times before locking in your rental car as this can play a role in the rate you get.
Car Rental Companies have "grace periods" before they charge you the costs of an additional day and all of the different companies have different periods of time before they charge you an additional day's rental fee.
For example, if you rent a car from Monday 10:00 am to Tuesday 10:30 am the following day, they may charge you a full day's rental cost since it's technically over 24 hours! Mess around with the times as long as you can adhere to those times, and see if the costs come down at all.
Be Careful of "Upgrades"
These agencies love to upsell you on all aspects of a transaction and one of the biggest ones they frequently try to do is "upgrading" you to a nicer or bigger vehicle. Maybe they'll say the current car which you requested would be too tight or not comfortable.
This could be because they only have more expensive or bigger vehicles on premises OR they just want to unload some of the less popular car types.
Don't let them bully you into getting a bigger car for a more expensive rate. Say no kindly and see if they offer you the same car type for no additional cost afterward. They usually do. Then decide if this is what you want.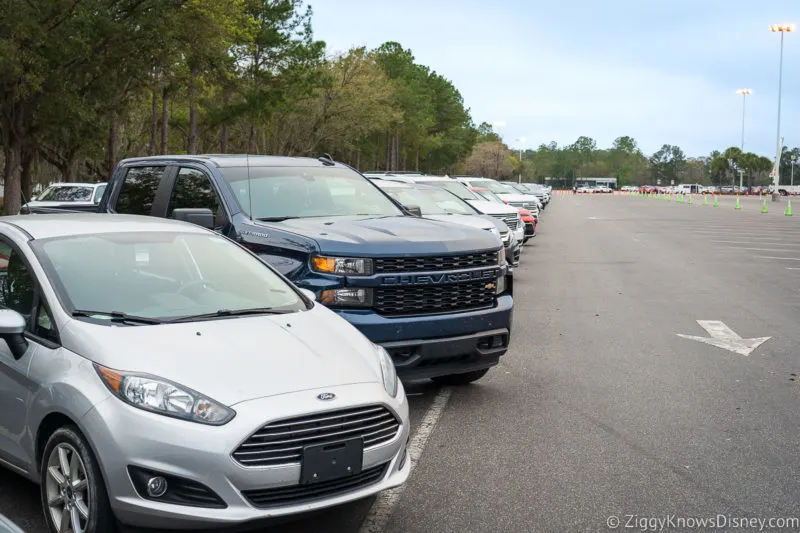 One thing I've frequently been hit with when it comes to renting a car is "hidden fees." When leaving the Disney Bubble, Florida has many toll roads that require visitors to have a SunPass or equivalent when traveling on them.
Many roads allow you to pay in cash or coins (if you have them), while some roads don't even give you the option, they instantly bill the license plate on file.
We've got caught a few times on these roads causing us to get hit with "Convenience Fees" from the rental car company. These fees can add up, with companies charging between $3.95 – $5.95 per day for going through these tolls.
Some companies even charge you this rate regardless if you've only been through just one of these tolls for the entire duration of your rental!
Our suggestion: research the rental car company you are booking with to find out how they deal with tolls. If you need to leave the Disney area and could be on tolled roads, bring your transponder OR pick up a Florida Visitor Toll Pass. It'll save you significantly!
*(Florida now accepts the SunPass, EZPass, QuickPass, PeachPass, EPass, or LeeWay Pass on any toll roads.)
Rent a Car Just for the Day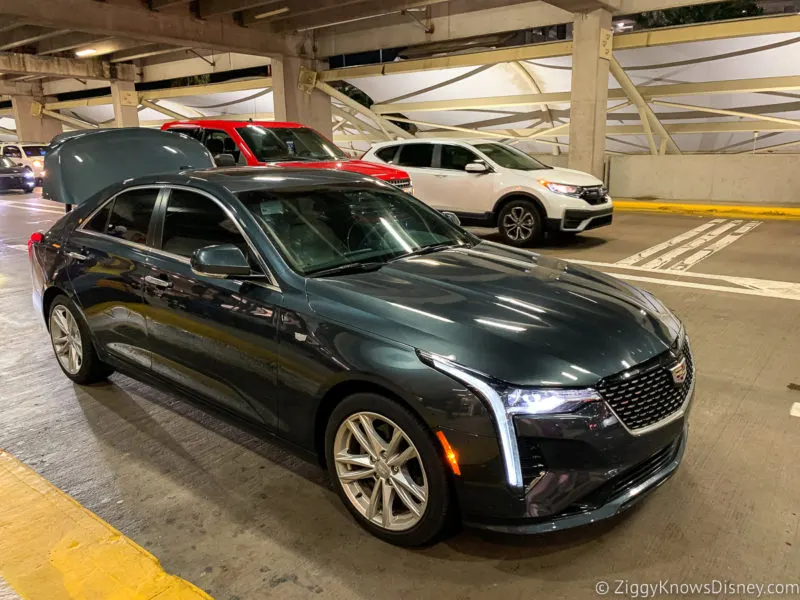 If you don't need a car for the entire time, just a day or two, then rent it just for that amount of time. This will save you a ton of money!
When needing to rent a car for just the day, our favorite option is the Disney World Car Care Center near Magic Kingdom. You can rent with either Enterprise, Alamo, or National Car Rental. By renting here, you'll be in the most convenient location to return to the Disney World bubble.
The nice thing too is they'll bring you back to your resort or to one of the Disney Parks, as the shuttle is completely complimentary. Doing it here makes it incredibly timely and efficient.
Finding a Rental Car Without a Credit Card
If you prefer not to use a credit card or don't have access to one, renting a car can be an additional challenge.
The good news is many companies now are allowing renters without credit cards to use debit cards. As always, do your research first to find out what companies you can use and what restrictions they have.
More and more companies have been making it easier for guests that prefer to use a debit card.
Companies that will allow you to use a debit card typically want a Visa or Mastercard logo and will require a larger deposit to hold your reservation. You might also have to show that you have a return airline ticket. Also, make sure that your driver's license address matches your current address.
Tips for Driving at Disney World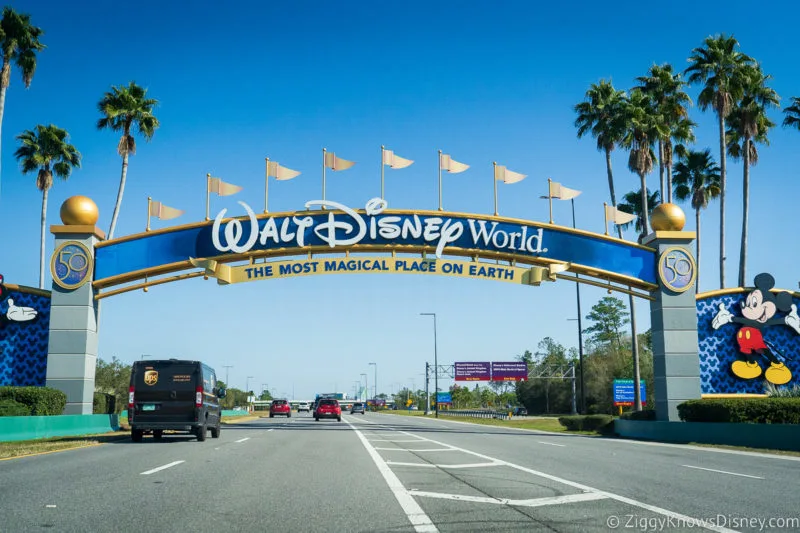 Driving at Disney World can be easy or challenging depending on your comfort level and experience in doing so. Some travelers have no issues at all and find it to be a breeze. Others can be highly stressed while doing so for the first time.
Here are some helpful tips for you when driving in Disney World.
Road Signs
One helpful thing is to stay within the Disney signs! What I mean by that is, you don't ever have to worry about leaving the Disney bubble by accident if you just always follow the overhead purple (or blue) signs!
If you are worried about getting lost, staying within these signs allows you to stay on Disney property, even if Google Maps may lead you in another direction which could save you a few minutes.
Driving to the WDW Parks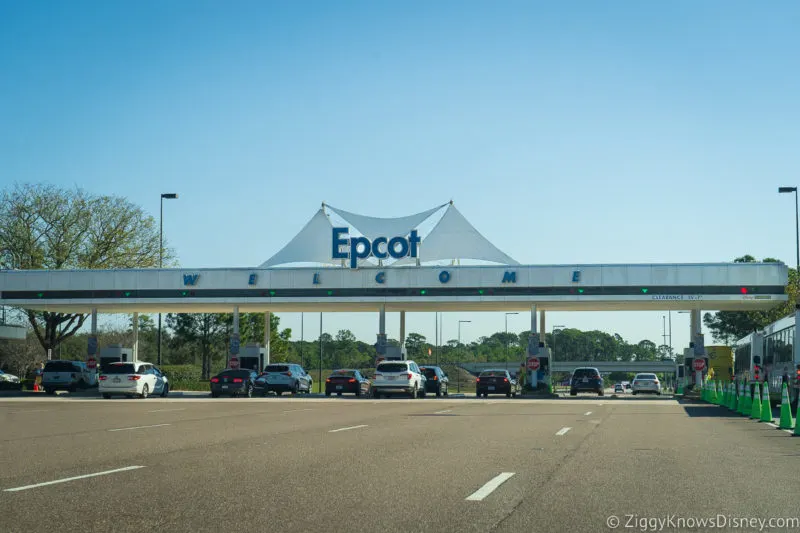 Driving to the Disney Theme Parks is relatively easy outside of going to the Magic Kingdom.
For the other three parks: EPCOT, Hollywood Studios, and Animal Kingdom, you will simply follow the signs for the parking lots. Once you are parked, you can easily walk or take the tram to the front of the park.
At Magic Kingdom, there is NO parking directly at the park, nor can you drop someone off at the front of the park. Instead, you will need to park off-site at the Transportation and Ticket Center.
It's there that you will then hop on either the monorail, a large passenger ferry, or a Disney Bus to get to the front entrance of Magic Kingdom.
List of Disney World Exits
Off Interstate 4, you will follow these exit signs to each of the different four main parks:
Exit 64 brings you to the Magic Kingdom
Exit 65 brings you to Hollywood Studios and Animal Kingdom
Exit 67 brings you to EPCOT
Remember the Local Laws
As is always the case, be careful when driving and follow the local laws. While Florida drivers can talk on their cell phones when they drive, they MUST use a hands-free device when driving in certain areas.
If utilizing a map app on your phone, it might be a safer option to have someone else be your navigator, rather than frequently needing to look down.
Parking at Disney World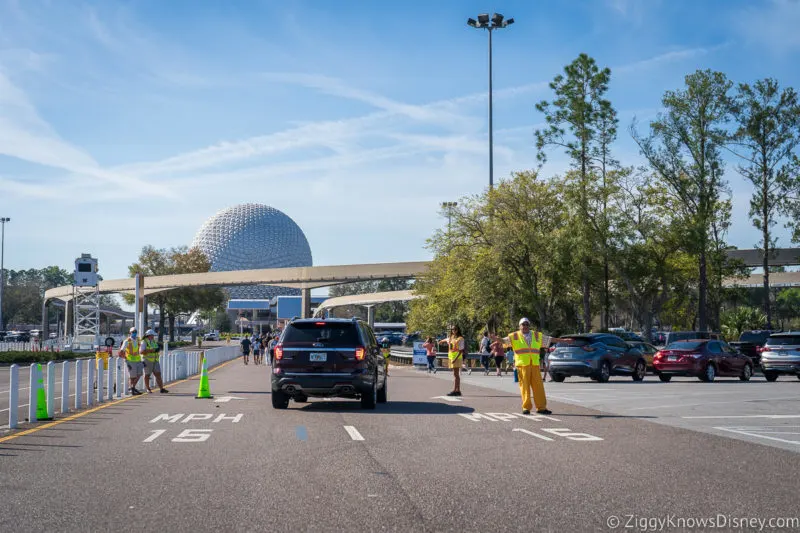 Parking at Disney World is complimentary for some guests, but it isn't for others. This depends on whether or not you are a WDW Resort hotel guest or not.
Guests staying at one of the Disney World Resorts get free daily parking to both the theme parks and the overnight parking at their resort. That's a huge plus and it can be a big savings ($200-$300 for a week).
If you are staying off-site, you will likely have to pay at your hotel and at the Disney theme parks. This can make the costs of renting a trip significantly more expensive and must be taken into consideration.
You will have to spend anywhere between $25-$50 a day to park in any of Disney's Four Theme Parks (Magic Kingdom, Hollywood Studios, EPCOT, and Animal Kingdom). And it will cost around $20-$30 per night to park at most off-site hotels.
Consider these costs when deciding whether to rent a car at Disney World. If renting, you can of course also utilize Disney Transportation, in addition to cutting down your costs.
Read our Guide to Parking at Walt Disney World for more detailed info and our parking tips & tricks.
Gas Stations
If you have a rental car you definitely will need to know where to fill it up during your vacation or at the end when you bring it back to the rental car drop-off location.
There are plenty of gas stations within Disney's Boundaries and a zillion other ones within a few miles.
The three within Disney are:
Magic Kingdom Speedway – Right by Transportation and Ticket Center at Magic Kingdom
EPCOT Resorts Speedway – Right off Buena Vista Drive at EPCOT Resorts Blvd
Disney Springs Speedway – Across the street from Disney Springs's main entrance
Electric Vehicle Charging Stations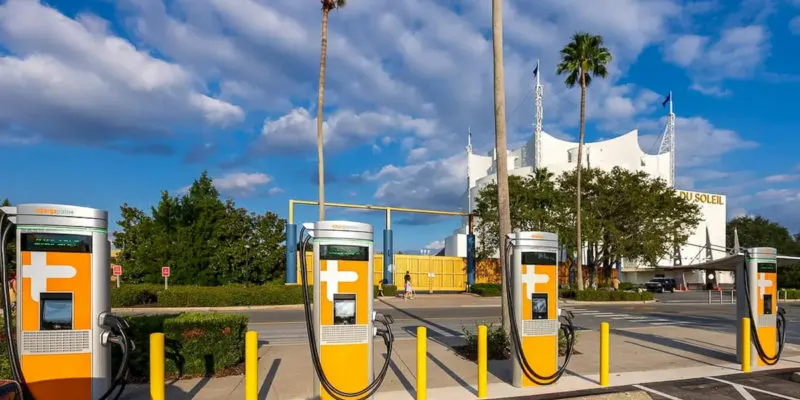 With more and more rental car companies offering electric vehicles, you are going to need to know where to charge them. Thankfully, Disney is getting better equipped every day to handle electric vehicles.
Each of the four theme parks has Electric Vehicle Charging Stations now! Also, the Coronado Springs and Wilderness Lodge resorts have ChargePoint Stations.
Upon arrival at any of the four parks or either of these two resorts, simply ask a Cast Member for directions to these charge ports. They are available always on a first-come, first-served basis.
You will need either a credit card or a pre-ordered ChargePoint card, available at chargepoint.com. The cost of using these stations is $0.35 per kilowatt hour, with a minimum service amount of $1.50.
Car Rental Insurance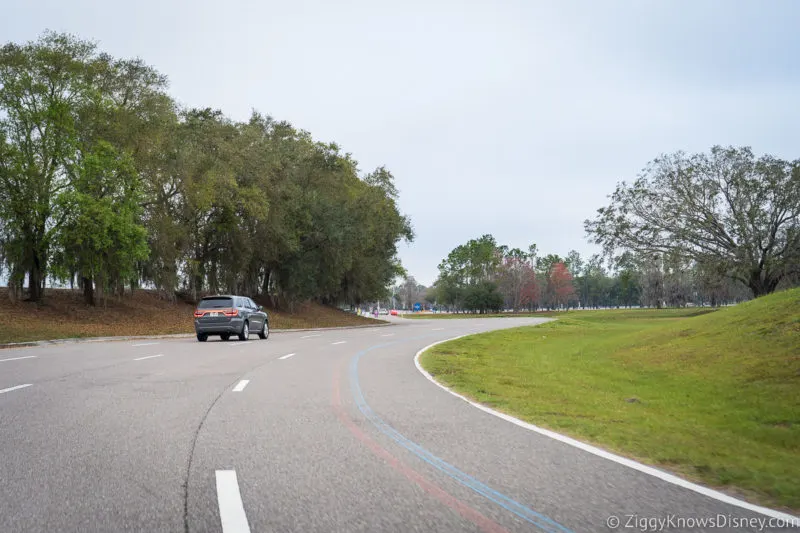 Another way car rental agencies attempt to upsell you into spending more money on your rental is by getting you to purchase car rental insurance (Collision, Personal Accident, and Liability). This once again seems smart but is not always necessary.
Here's the thing to keep in mind: you may already be covered without even knowing it! First, reach out to your car insurance company and there's a good chance your rental is already covered.
And if not, reach out to your credit cards. Many popular travel credit cards can be used as either primary or secondary rental insurance for travelers. This means you will be covered without purchasing the additional insurance directly from the car rental company.
Just make sure you do all your research ahead of time since you don't want to be liable if something happens to the car.
Paying Tolls
You won't have to worry about paying tolls if you stay in and around the Disney World property. But, and this is a big but: if you leave Disney and travel around a bit you'll likely get put on a toll road.
We've been caught on numerous occasions getting large charges from rental car companies due to being on toll roads in Florida without recognizing it.
I recommend two options: either bring your transponder from home OR sign up for a visitor toll pass ahead of time by using the app and picking up the pass at the Orlando International Airport. It's very simple! You can go here to sign up.
Child Safety Seats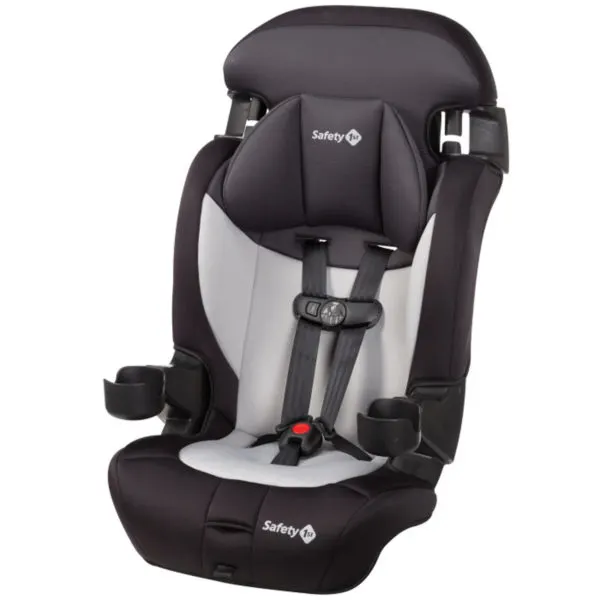 If you have small children, another huge factor to consider when renting a car is child safety seats and if you should bring your own or rent them.
You may be able to bring a car seat with you on the plane, in fact, the FAA actually encourages it. However, this can be cumbersome for some, and you will have to decide if your kids need one on the plane or not.
Parents should also look into the costs of renting child safety seats or booster seats for their kids. Each car rental agency could charge completely differently for these add-ons. Some car rental companies will charge by the day but include a max out-of-pocket rate.
Others might not have a max rate and charge you a set amount per day no matter how long the rental is. Be careful of this and it can add up quickly!
It might even be worth looking into getting a minivan, as these often include integrated child safety seats.
Best Cars for a Disney World Trip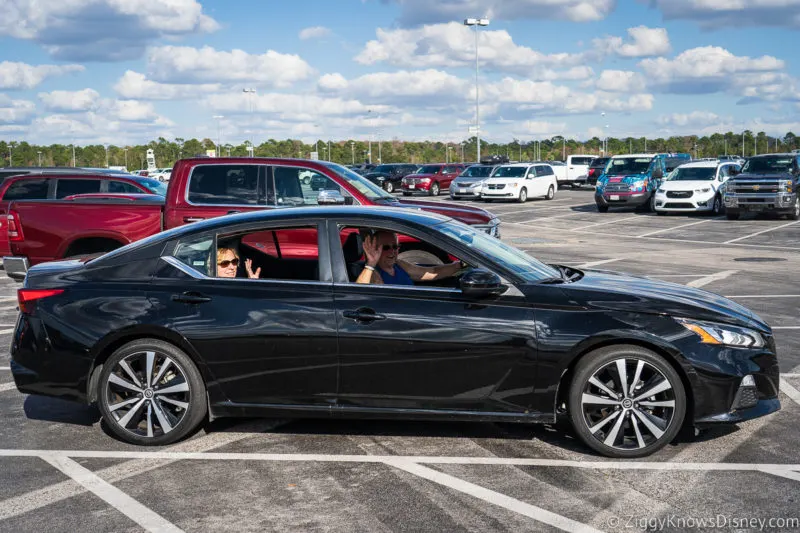 For smaller families, we generally recommend mid-size cars to save money. While they might not always be the most spacious and comfortable, they'll save you significantly on rental rates and be cheaper if you need to drive more.
For larger families, we typically recommend minivans. We've found them to be the most comfortable while also having built-in GPS navigation and child safety seats so we don't have any additional worries for our trip.
SUVs have more room for luggage, but we have found minivans to be the best of all worlds and the most accommodating for our family.
Renting a Car vs. Uber at Disney World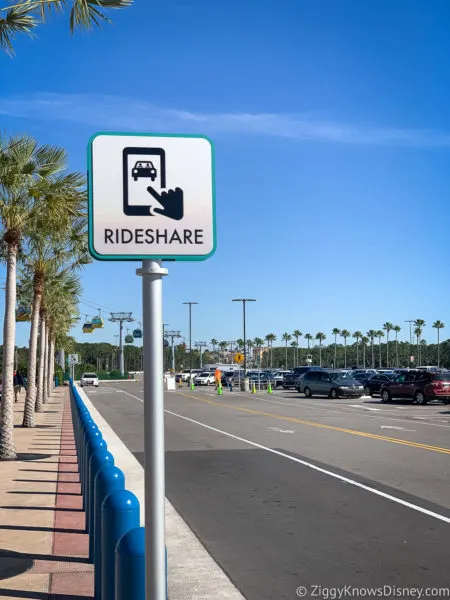 When weighing the decision of renting a car vs simply utilizing ridesharing (Uber or Lyft), one must consider several important points.
Will I be leaving the Disney bubble on multiple occasions?
Will the cost of renting a car significantly affect my budget for the rest of my Disney trip?
Does driving add additional stress and anxiety for me? Or do I enjoy driving?
Will walking long distances and parking in overcrowded lots ruin some of the "magic" for me?
These are some of the questions one should consider and the answers will determine if it's worth the extra cost or not.
In most instances, our family has not needed a rental car while staying exclusively in Disney. We enjoy and have had great experiences supplementing our Disney trip by using an additional Uber ride here and there when we need a ride when we are on the property.
Calling an Uber can be reasonable (if not traveling during surge pricing) and be time efficient to get wherever you want within Disney's imaginary walls.
If you will be taking multiple days, while staying within Disney, to travel considerable distances away from Disney's property, then renting a car is likely your best bet.
Should You Rent a Car at Disney World?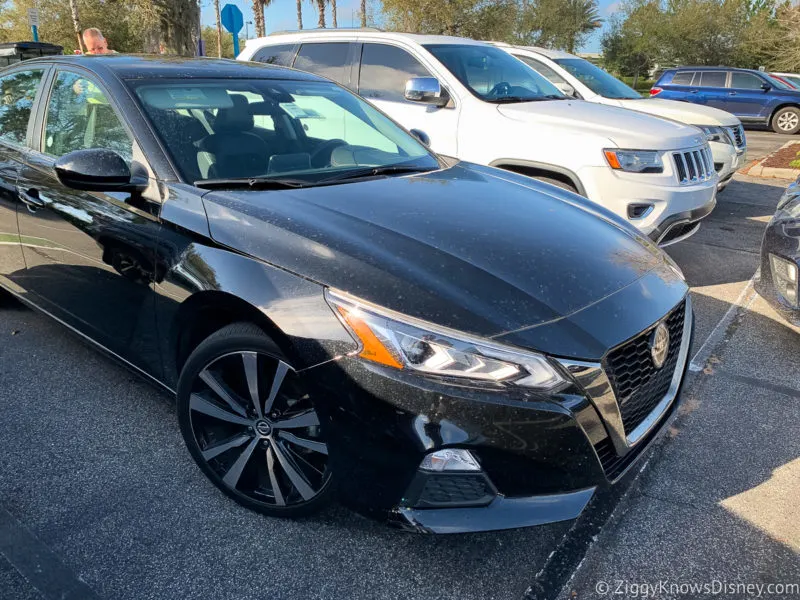 That's a question for you and only you. You have the information, and now it's time to 'count the cost' and do the math.
While not all things are quantifiable in terms of money, consider this: will having a car increase the quality of your trip?
If after reading this, the answer is YES: then maybe you just need to pay the extra costs and get the car!
If after reading this, the answer is NO: then utilize Disney Transportation! And if you really need a ride at times or if you're in a rush, call an Uber. It's fast, cheap, and is the next best thing to having your own car!
Many times our family has rented a car in Florida before a Disney World trip and we almost drop off our car at the start of our trip. Why? We find that we simply don't need it!
But your personal or family circumstances are likely different. Consider all the factors: cost, time, and just overall Disney Magic. Make your decision and go with it. You'll have a great trip, regardless of your decision.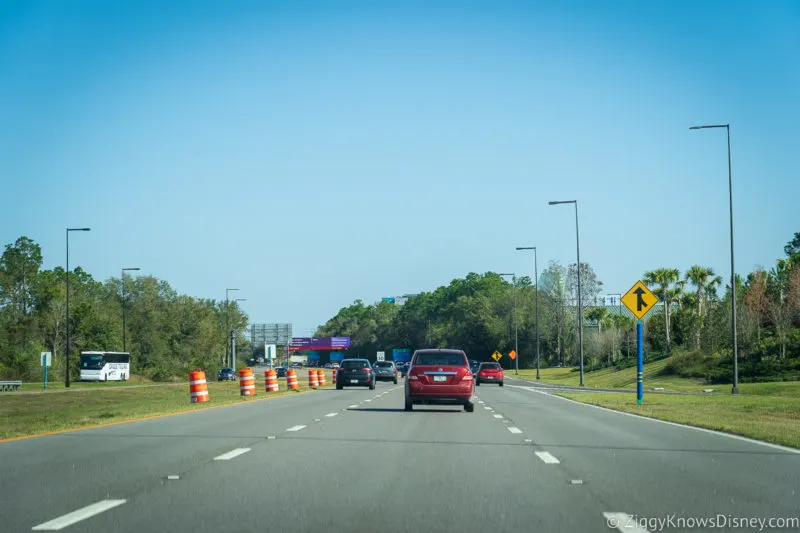 That wraps up our look at renting a car in Walt Disney World. I hope that it gave you a good idea of whether or not it's worth it for you and your family as well as other transportation options.
If you are thinking about going to Walt Disney World in the coming future, here are some other popular articles where you will find all the info and tips you need to plan your trip.
Your Thoughts
I want to know what you think about our guide for renting a car at Disney World…
Do you think it's worth it to rent a car?
What forms of transportation do you use to get around Disney World?
Let us know in the comments section below!
If you enjoyed this article, as always I appreciate it if you'd share it with others via social media. I work hard at making this website into a useful resource for you and your family to plan your visit to the Disney Parks and I hope it can help you! Thanks 🙂