Don't know where to eat at the Walt Disney World Resort hotels? We've got you covered. In fact, most of the top restaurants in Disney World are found at the resorts and not in the parks. That's why we've come up with our rankings of the Best Disney World Resort Restaurants!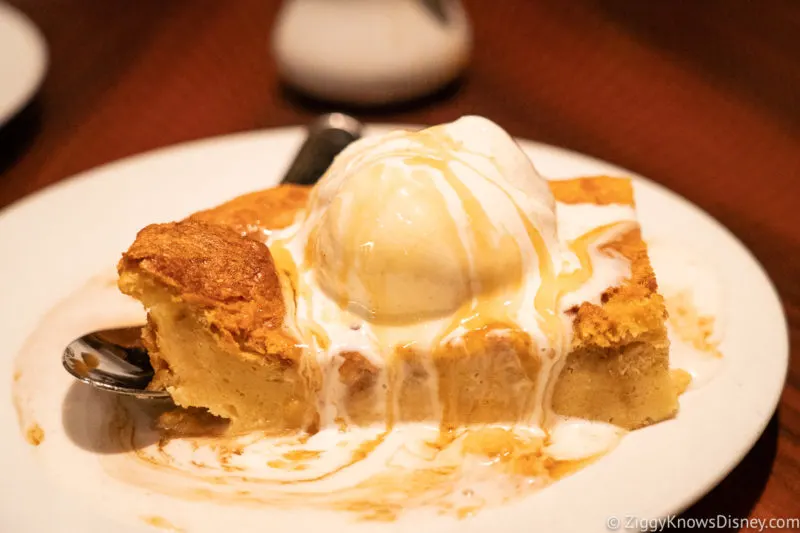 Figuring out which restaurant to eat at can be a challenge considering there are currently 34 hotels on-site at Walt Disney World, many with multiple restaurants to choose from.
When you add up all the table service restaurants, quick service locations and lounges in the hotels, there are more than 140+ places to grab something to eat. That many restaurants makes it almost impossible to choose between them all.
In this post, we're going to share with you the best Disney World Hotel restaurants and which food and drinks to order when you visit them.
Just like in the parks and at Disney Springs, some of the resort dining locations are excellent with amazing food, others are good but nothing special, and a few of them you just want to avoid altogether.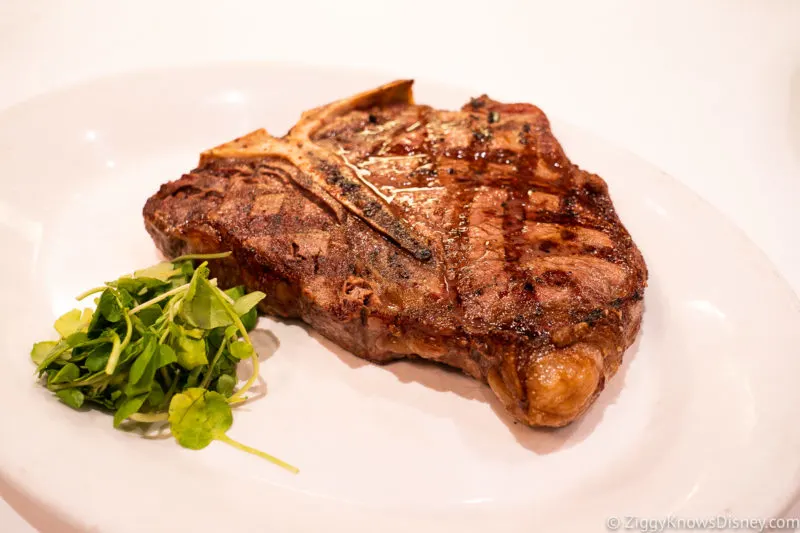 Over the years we've stayed at every Walt Disney World Resort hotel and have had the opportunity to try all the restaurants, multiple times even. Our personal experience will make it easier for you to decide where to go and where to skip.
As with all of our "best restaurant lists" we want to help you get organized for your trip, even if you aren't normally a planner.
We know a trip to Disney World is complicated and can be overwhelming, but it's actually easy if you just follow our tips and choose any of the restaurants in our rankings. We've only included the top 15 in this post which means all of them are exceptional and it's hard to have a bad experience at any of them.
Besides our overall rankings of the best restaurants, we'll also share with you the best places to go in the hotels for dessert, for a drink, where to go with kids, and which resort hotels overall have the best food.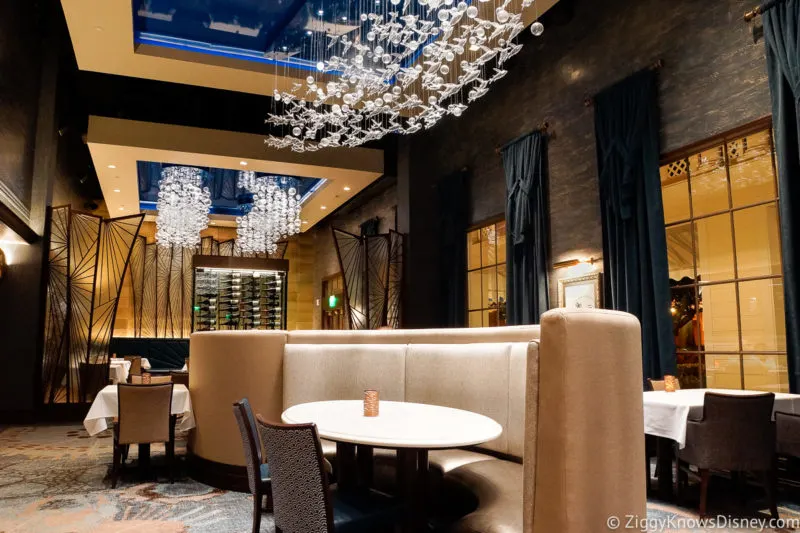 Keep in mind, this list is only our opinion and very subjective. We have our opinions about them where and where not to eat, but you likely have a completely different list of top restaurants. Let us know us your rankings in the comments section below so we can see if you agree or disagree with us!
If you are planning on visiting the other Walt Disney World restaurants at the parks, make sure to check out our rankings of the Best Restaurants at Disney World for the ultimate rankings guide.
Also, if you don't know where to stay on your trip, make sure to read our rankings of the Best Disney World Resort Hotels.
Also, don't forget to sign up for our FREE Weekly E-Mail Newsletter. There we bring you the latest updates on all the newest restaurants as well as our best Disney vacation planning tips. You can sign up here: Join our E-Mail Newsletter!
Disney Resort Restaurants Overview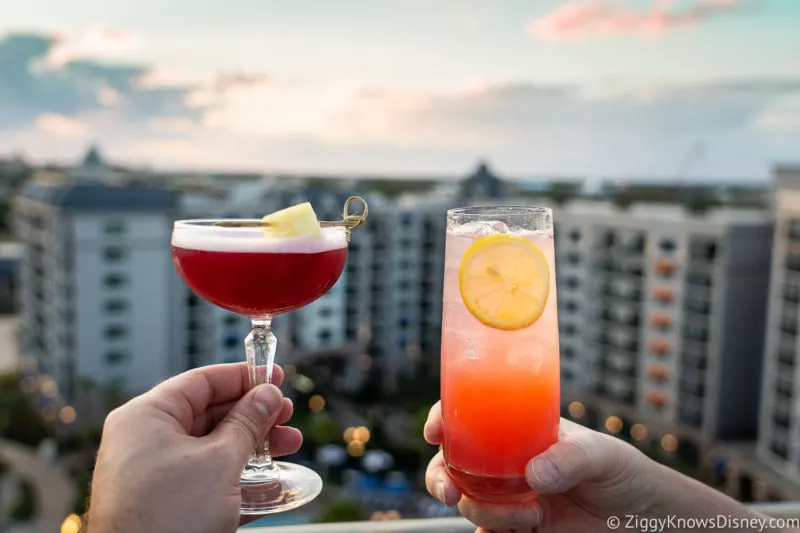 Even though many families choose to eat all their meals in the theme parks, most of the time we prefer the restaurants at the Disney Resort hotels. On average, the quality is much better, especially if you are looking for a fine dining experience.
It doesn't matter if you are staying near the Magic Kingdom, EPCOT, Hollywood Studios or the Animal Kingdom, all of the surrounding hotels have fantastic restaurants to choose from.
You will also find a large variety of cuisines including Italian, Seafood, African, Indian, Polynesian, BBQ, Steakhouses, and normal American fare. Some restaurants are buffets, some standard table service, and there are a myriad of counter service restaurants for something quick and lounges for smaller plates and drinks.
Honestly, if we are comparing Disney hotel restaurants against the 4 Walt Disney World theme parks, there is no comparison…the total of restaurants wins every time.
Can Anyone Eat at Disney Resort Restaurants?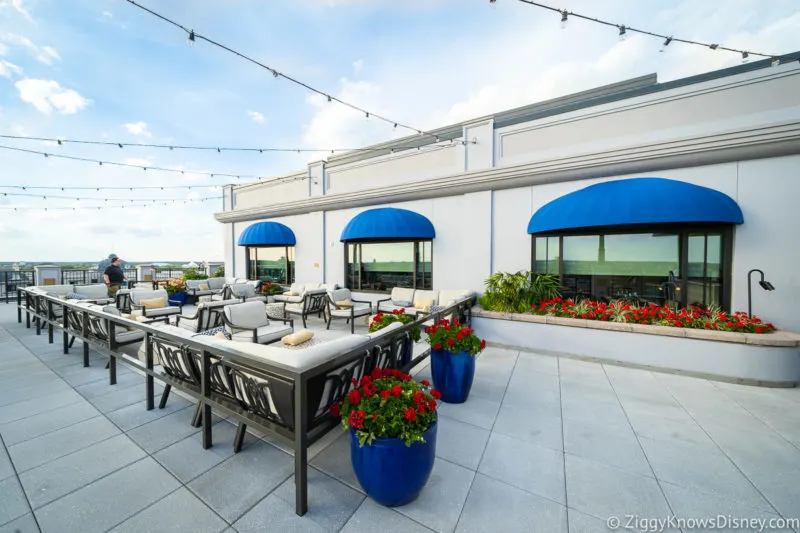 The nice part about dining at a Walt Disney World Resort hotel is that anyone can do it and you aren't restricted to dining only in the hotel you are staying in. Even if you are staying at a different Disney Resort or if you are staying off-site, you can visit one of the resort hotel restaurants to eat.
Just use My Disney Experience to book a table at the restaurant of your choice as you would with any other restaurant in Walt Disney World.
Once the day of your reservation arrives, the easiest way to get there is by Disney transportation from one of the other hotels or from the parks.
If you are going by car you will need to show your reservations on your phone to the parking attendant. Guests are given free parking for a few hours when dining at one of the resort table service restaurants.
This is one of our favorite things to do at Disney World and on every trip we book at least 2-3 meals at different resorts than where we are staying. It's a great way to visit the other Disney World Resort hotels and see what they are like. Then you will have more options for lodging on your next visit.
Our Ranking Factors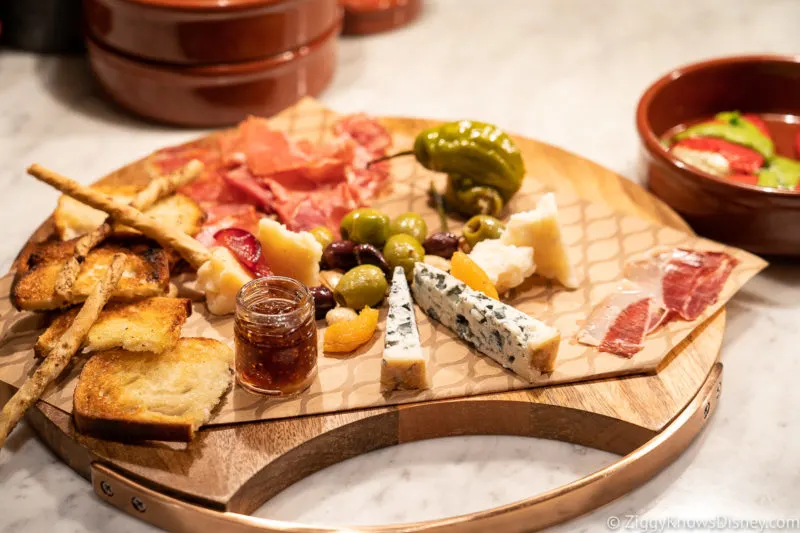 We narrowed down our rankings to the Top 15 restaurants at the Disney World Resorts. We've listed them in order from worst to best, so the lower the number, the better it is.
Putting them all in order was a tall task and a lot harder than we thought it would be. There are just so many restaurants that we absolutely love and it was mission impossible to narrow them down.
All of the restaurants in our Top 15 are really great dining experiences and there isn't much difference between even #2 and #10. You could make an argument to mix them all around and it wouldn't be easy to refute whatever combination you came up with.
The only one we absolutely would argue must stay in position is our #1 restaurant. Once you get there you will understand, but to us, it's indisputably the best restaurant in all of Walt Disney World and in a class of its own.
The way we chose the restaurants we really simple and if you have read any of our other "best restaurant" lists, you know the drill and how it works. No complicated spreadsheets or equations, just reviewing all our notes from our dining experiences and overall trusting our gut.
Some of the ranking factors we considered are:
Food Quality
Price to Quality Ratio
Portion Sizes
Restaurant Theming and Ambiance
Extra Disney Magic (special experiences, etc)
Our rankings in this list are for table service restaurants and dinner shows combined which cover the overall best dining experiences. Most of them would be classified as "signature dining" or "fine dining" as they tend to have better chefs and superior food.
Quick service is nice, but none of them are nearly good enough to bump off our top table service restaurants which all have superior food.
A lot of them are great for celebrating a special occasion, however are still suitable for children of all ages and families.
Best Disney World Hotel Restaurants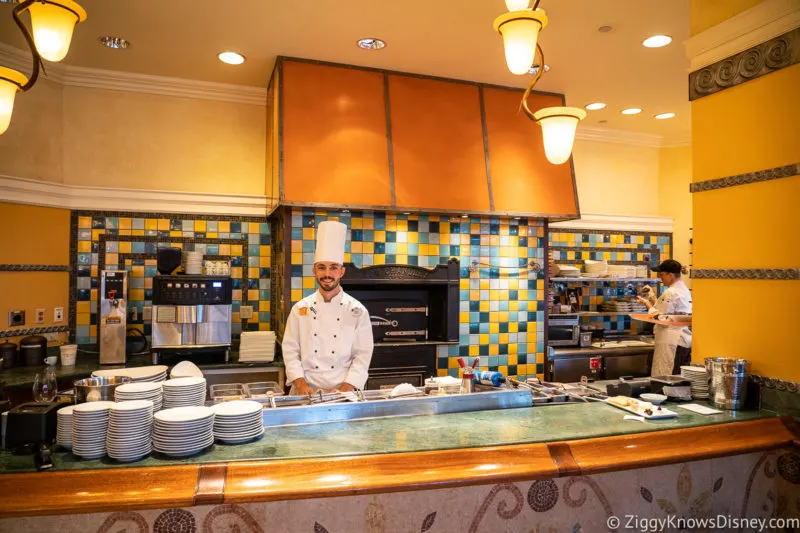 In each of our rankings, we've included the name of the restaurant and its location, plus some basic info such as the approximate cost, the cuisine type, and what the best food items are on each menu.
Of course, you won't get to all of them on one trip, but we suggest choosing a couple of them for your next trip and then keep working your way down the list on following trips.
Without further ado, here are the Top 15 best restaurants at Disney World hotels:
15. Cape May Cafe (Beach Club Resort)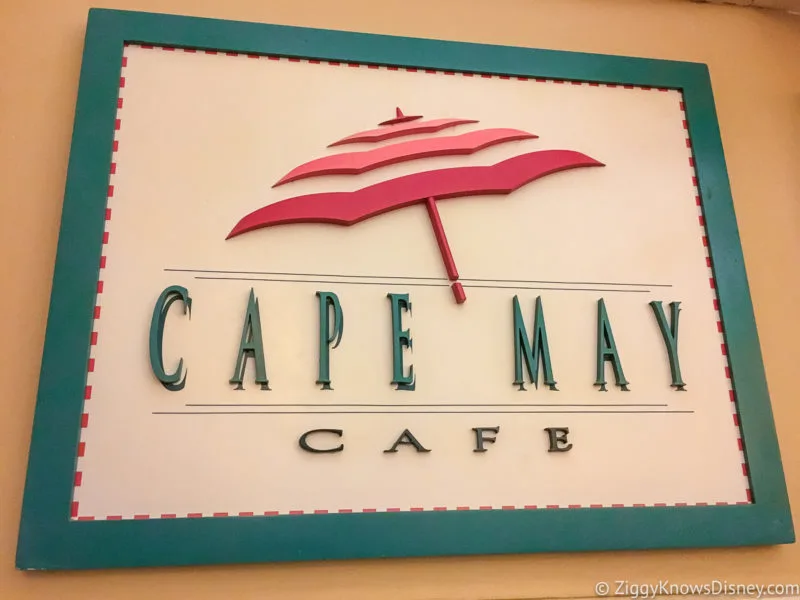 Cost: $$$
Type: Buffet (All-you-can-eat)
Cuisine: American (Seafood, Meats)
Cape May Cafe is home to a classic New England clam bake and one of our favorite buffets in all Walt Disney World. This is a very relaxed atmosphere, like being at a casual beachside restaurant and very kid-friendly.
The food here is great, especially if you are a seafood-lover like us. All-you-can-eat shrimp and crab legs…sign us up!
Breakfast is also a buffet, but this time some you can see some of your favorite Disney characters like Minnie, Goofy, Donald, and Daisy.
Just make sure you book a table months in advance if you want to go to the Cape May Cafe as it's one of the hardest to get reservations in Disney World, and for good reason!
What to Get: You have to get the all-you-can-eat Surf and Turf dinner. It has a ton of options and it is the best seafood buffet in Disney World. Enjoy the house-made parker rolls, cornbread, shrimp, crab legs, clams, roast beef, and much, much more. Don't forget the huge dessert table to top your meal off right!
14. 'Ohana (Polynesian Resort)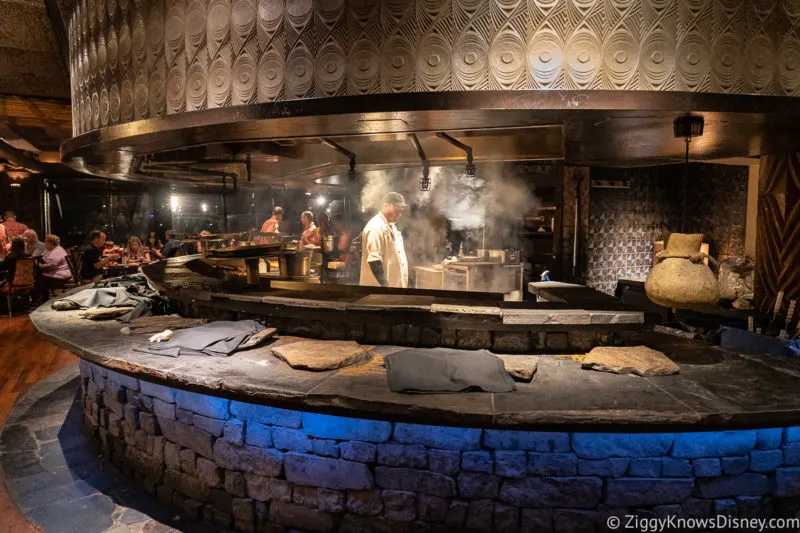 Cost: $$$
Type: Table Service Restaurant (All-you-can-eat)
Cuisine: Polynesian, American (Roasted Meats, Seafood, Noodles)
'Ohana is another great restaurant that's popular with both adults and children alike. It has a Polynesian-themed setting with tikis, lush greenery, and a wonderful fire pit where the smoked meat is cooked.
It serves breakfast and dinner, but both are very different experiences. In the morning it's a character breakfast with Lilo and Stitch so make sure to get a picture with them as they come around. The food is served family-style and includes, eggs, potatoes, Mickey waffles, ham, pineapple, and other fresh fruits.
At dinner, it is still an all-you-can-eat family-style meal, but this time with grilled beef, chicken, shrimp, and more.
We love the tropical atmosphere at 'Ohana as well as the food. Be sure to participate in the fun and games during dinner to make for a very memorable dining experience.
What to Get: The family-style meal at 'Ohana is legendary, and just about everything on it is fantastic. The Steak and Shrimp are both great and we fill our plates with them at least a couple of times each when we go. The appetizers however are even better and we really can't decide if we like the Noodles, Sweet Wings or Dumplings best. One thing is for sure, the 'Ohana Bread Pudding covered in a sweet caramel sauce is one of our favorite Disney desserts of all time!
13. Boma – Flavors of Africa (Animal Kingdom Lodge)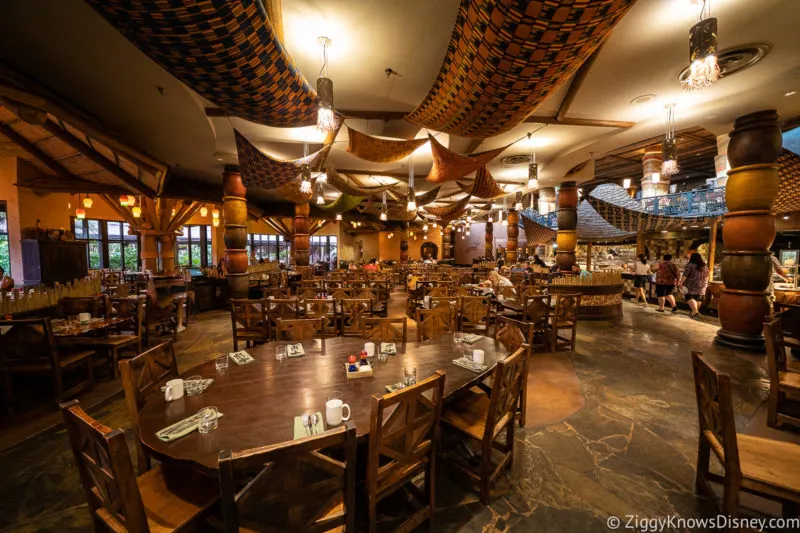 Cost: $$-$$$
Type: Buffet (All-you-can-eat)
Cuisine: African, Indian (Roasted Meats, Soups, Salads, Seafood)
This is the third buffet dining experience in a row on our list, but we've saved the best for last. Yes, in our opinion, this is the best buffet in Walt Disney World and a must-do.
Boma is located at the Animal Kingdom Lodge in the Jambo House and is open for breakfast and dinner. While you will find some of the usual buffet staples, the food at Boma is much different from the majority and features authentic African-inspired food with roasted meats, soups, salads, and vegetables.
The food quality is top notch and everything is served fresh. Best visited before or after your day at the Animal Kingdom if you are not staying at this resort, but definitely worth the trek out there.
What to Get: There are so many interesting food choices to explore at Boma including the Bobtie, Coconut-Chicken-Curry Soup, Tunisian Couscous Salad, Pap, and Chakalaka. We are huge fans of the roasted meats such as Pork Ribs and Spice-crusted Beef Sirloin. Boma also has the legendary Zebra Domes for dessert, which are super sweet and equally as addicting.
12. Hoop Dee Doo Musical Revue (Fort Wilderness Resort)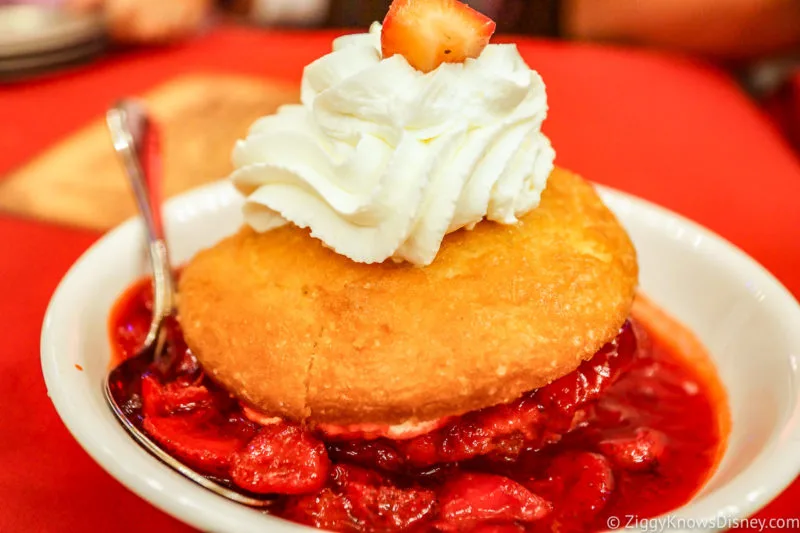 Cost: $$$
Type: Dinner Show (All-you-can-eat)
Cuisine: American (Fried Chicken, Ribs, Cornbread)
When you think about quintessential Disney dining experiences, one of the first that comes to mind is the Hoop Dee Doo Musical Revue out at the Fort Wilderness Resort. Whether or not you are staying here, it's absolutely worth a trip here.
This is a hilarious 2-hour dinner show which includes an all-you-can-eat menu of cornbread, salad, fried chicken, ribs, and all the sides you want. The food is good and comes in tin buckets that are slapped down on the table in front of you to share.
The real reason to come here though is for the show. Until Disney World temporarily closed in 2020, this was Disney's longest running stage show, and with good reason. The Pioneer Hall Players will have you clapping your hands, stomping your feet, and having just an overall hootin' and hollerin' good time, perhaps the best at any Disney Resort hotel.
What to Get: This is a fixed menu and everything comes to the table whether you eat each course or not. The Fried Chicken is excellent, very crispy outside and juicy inside, and the cornbread is surprisingly good too with a hint of sweet honey flavor. Our favorite on the menu though is the humongous Strawberry Shortcake which comes piled high in strawberries and whipped cream!
Hoop Dee Doo Musical Revue Menu
11. Shula's Steak House (Walt Disney World Dolphin Hotel)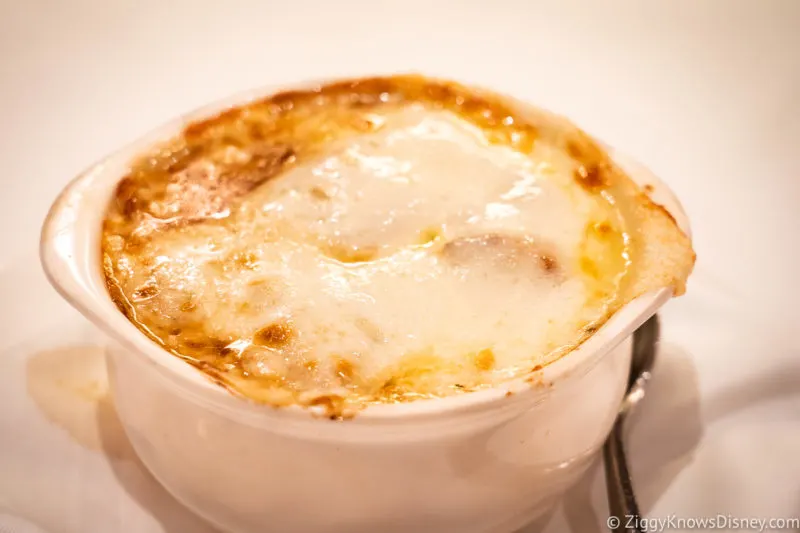 Cost: $$$-$$$$
Type: Table Service Restaurant (Fine Dining/Signature Dining)
Cuisine: American (Steaks, Seafood)
This is the first restaurant on our list that is classified as a signature dining experience and from here on out the food quality is much higher than the previous restaurants, but the prices are also matching.
Shula's is an often overlooked restaurant since it's found at The Walt Disney World Dolphin Hotel and is technically not owned by Disney. Instead, it was founded by none other than legendary Miami Dolphins coach Don Shula.
If you are a fellow carnivore then Shula's is one of the best places to go for steak at any of the Disney World Resorts and is similar to any high-end steakhouse back home. The beef is top-notch quality, always juicy and tender, and cooked exactly to our liking. The sides are also great as well as the underrated seafood options if you don't like beef.
If you are staying at one of the EPCOT-area hotels, it's definitely worth a walk over to Shula's for one of the best meals around.
What to Get: We always start our meal here with the French Onion Soup, easily one of the best in Disney World. All of the Steaks at Shula's are incredible, and you can't really pick a wrong one. We usually don't order a NY Strip Steak, but this one is USDA Prime and much more flavorful and tender than usual. The Prime Rib is always excellent and a healthy portion size.
10. Narcoossee's (Grand Floridian Resort)
Cost: $$$-$$$$
Type: Table Service Restaurant (Fine Dining/Signature Dining)
Cuisine: American (Seafood, Steaks)
If you are a seafood fan and staying in the Magic Kingdom area, you definitely will want to stop by Narcoossee's at the Grand Floridian Resort & Spa. This is another signature restaurant, so expect a high-end dining experience, but it has a little more casual feel to it compared with some of the others around the Disney hotels.
We love the location as it's right on the edge of the Seven Seas Lagoon and is perfect for watching the Magic Kingdom fireworks at night. The music is even piped into the restaurant so you get pretty close to the real experience.
The menu is great with plenty of both surf and turf options if you aren't a seafood person. Being in the #10 spot is no knock at all, but a few of the dishes aren't as consistent as some of the other restaurants. Again, a small complaint. The desserts, on the other hand, are spectacular and we'd even come here just for that plus a fireworks viewing if we'd already eaten.
Overall, Narcoossee's is a great, low-key restaurant, and perfect for a date night. That combined with the amazing food makes it one of the top Disney World Resort restaurants.
What to Get: Our favorite entree is the Surf and Turf with filet mignon and scallops or lobster tail. You also can't go wrong just ordering the Pan-seared Georges Bank Day Boat Scallops by themselves and they usually come over gnocchi or risotto. All the desserts are out-of-this-world, but the Almond-crusted Cheesecake may be the best dessert in Walt Disney World. Don't miss it!
9. Flying Fish (Disney's Boardwalk Inn)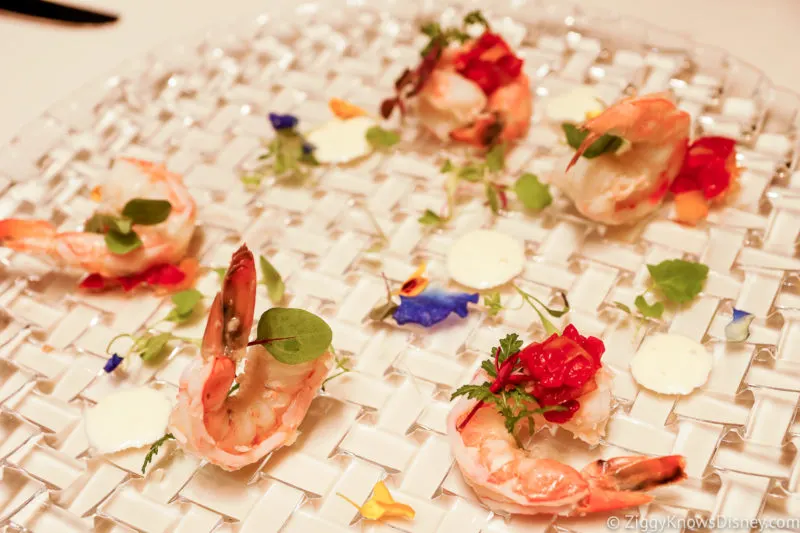 Cost: $$$-$$$$
Type: Table Service Restaurant (Fine Dining/Signature Dining)
Cuisine: Mediterranean, American (Seafood, Steaks, Pasta)
Speaking of good seafood, the Flying Fish over at Disney's Boardwalk Inn comes in even higher at #9. To us, this is the pinnacle of seafood at Walt Disney World. We've never had a bad experience and we've only been blown away time after time by the incredible quality and preparation that goes into each plate.
Choices of seafood usually include scallops, swordfish, mussels, oysters, salmon, shrimp among others. Even if you don't like seafood, there are enough land options to make you happy with steaks, chicken, and vegetarian dishes.
The restaurant has a much more modern feel to it after the refurbishment a few years back, and we think it's a big upgrade. We love the deep blues, and the delicate light fixtures hanging from the ceiling.
Flying Fish is deserving of a visit no matter where you are staying, and a "can't miss" if you are at one of the EPCOT area resort hotels.
What to Get: For an appetizer, the Lobster Bisque is one of the best you will try, and the Pork Belly will melt in your mouth! All of the seafood entrees are excellent, but we especially like the Seafood Pasta, which usually has some combination of shrimp, lobster, and scallops. The desserts are equally as yummy and our favorite is the S'mores Time at the Beach, which is actually on the kids' menu!
8. Sanaa (Animal Kingdom Lodge)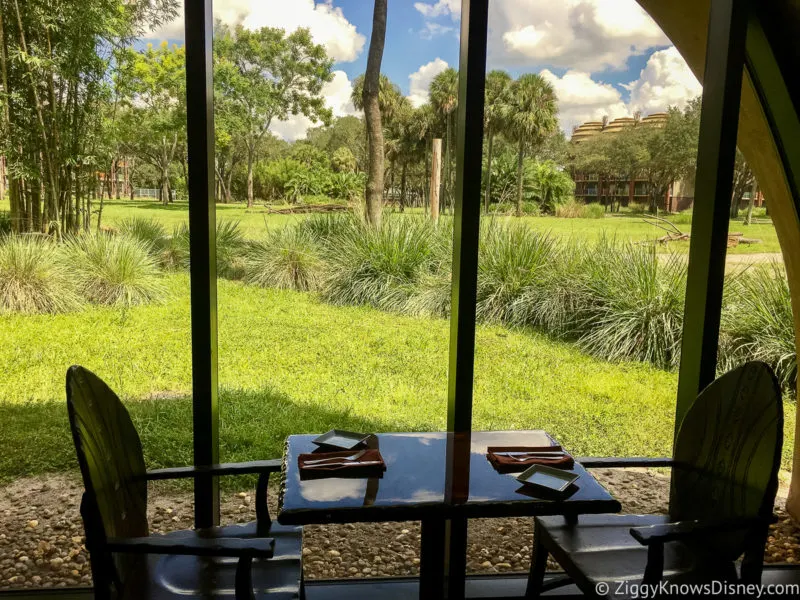 Cost: $$
Type: Table Service Restaurant
Cuisine: African, Indian (Bowls, Naan Bread)
Located all the way out at Kidani Village at Disney's Animal Kingdom Lodge, Sanaa is the most "far-out" restaurant at any of the resorts, but once you visit, you'll see why it was worth the trip.
Despite the distance, it's one of the most popular resort restaurants due to its unique atmosphere and incredible African and Indian-inspired cuisine. The food is perfectly seasoned, and not too spicy as you might imagine. It's one of the more adventurous meals at any resort so go with an open mind.
If you ask nicely, you might even get a window table where you can watch animals like giraffes during your meal! To most Disney World visitors not staying at the Animal Kingdom Lodge, Sanaa is a hidden gem restaurant yet to be discovered. To Disney vets, it's a must-do almost every time.
What to Get: The Bread Service at Sanaa is absolutely legendary and you MUST get it to start your meal. I'm not usually one to pay extra for bread, but trust us, the unique naan breads and dipping sauces will be the highlight of your meal. The Potjie-inspired Bowls are the best entree here and you can mix and match whichever flavor combinations you want. Just make sure the Butter Chicken is one of them!
7. Cítricos (Grand Floridian Resort)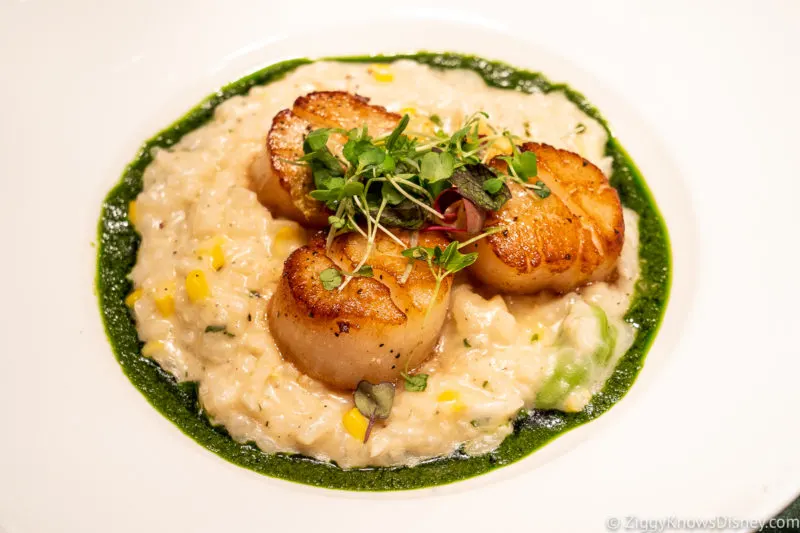 Cost: $$$-$$$$
Type: Table Service Restaurant (Fine Dining/Signature Dining)
Cuisine: Mediterranean, American (Seafood, Steaks, Pasta)
We're back at the Grand Floridian Resort again (get used to it), this time at the signature dining restaurant Citricos. The menu serves Mediterranean dishes in a lively and colorful atmosphere, and less stuffy than Victoria & Albert's next door.
Citricos is one of those restaurants that you love or you think is overrated and not worth the money. From our experience, we've always had excellent meals and it has consistently been one of the best restaurants in any Disney World Hotel.
Citricos was closed in 2020 and has just been completely refurbished, adding hints of Mary Poppins to the decor. The changes were desperately needed as before the change it screamed the 1990s, and it was due for a change. We like the new look and it was done in a tasteful way, without Disney characters in your face.
The menu has also been reworked, so we'll have to revisit its position in our rankings once we can try all the new choices. One of our complaints about Citricos was that it could benefit from a little more risk-taking, so we'll see if they addressed this with these new options.
What to Get: The Berkshire Pork Belly is our favorite appetizer on the menu, followed by anything tuna or duck. The Risotto is legendary here and is usually served with either scallops or shrimp. My wife is from Northern Italy, and even she says it's one of the best she's ever had! Our favorite entrees are the Beef Short Ribs and Oak-grilled Beef Filet, both rivaling the best in Disney World. For dessert, if the Lemon Cheesecake is on the menu, snatch it up quickly and thank me later.
6. Yachtsman Steakhouse (Yacht Club Resort)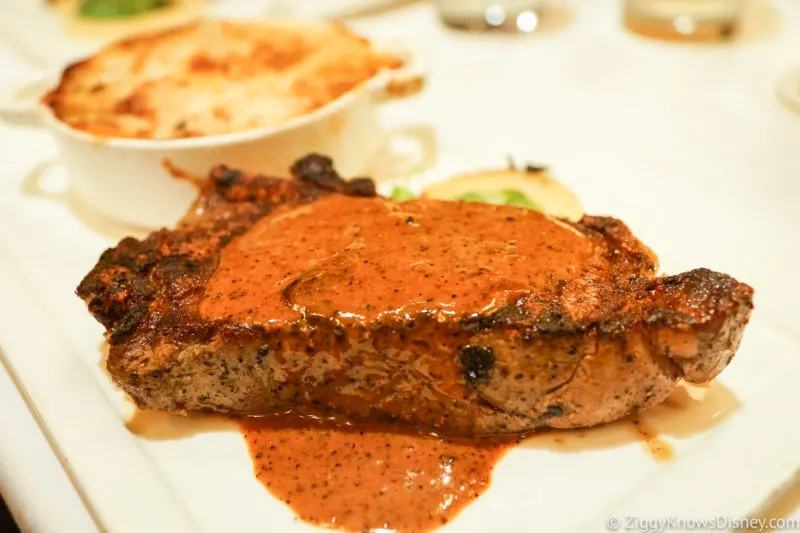 Cost: $$$-$$$$
Type: Table Service Restaurant (Fine Dining/Signature Dining)
Cuisine: American (Steaks, Seafood)
Yachtsman Steakhouse at the Yacht Club Resort is a carnivore's dream and it has what we consider to be the best steaks at any Walt Disney World Resort hotel. Your mouth will be watering from the moment you walk up the steps when you see the steaks on display to give you an idea of what's on the menu.
The restaurant ambiance is low on frills and fluff, and is decorated like a traditional New England-style steakhouse would be with lots of wood on the walls and yachts everywhere. We do however like the butcher room where you can see the meat being cut to perfection and also where it goes onto the flames in the open kitchen.
You didn't come here though for atmosphere, you came for steak, and Yachtsman is second to none. It may not be for everyone, but there are very few places we'd rather eat than here.
What to Get: I don't know what else you'd even consider ordering here besides Steak. That's right, big hunks of red, juicy, beef, grilled up perfectly. All of them are great, but we tend to go for the Ribeye, which is always the juiciest and most flavorful of the steaks. If you like soup, the Lobster Bisque and the French Onion Soup are a fantastic way to start your meal.
5. California Grill (Disney's Contemporary Resort)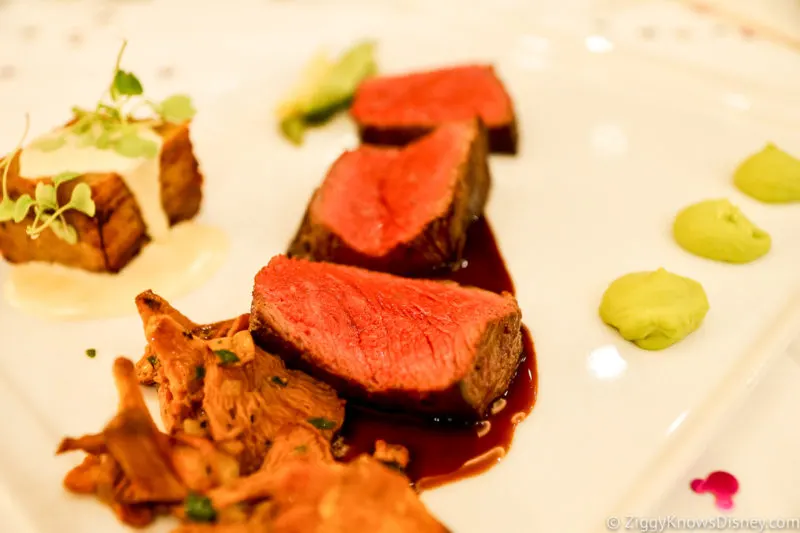 Cost: $$$-$$$$
Type: Table Service Restaurant (Fine Dining/Signature Dining)
Cuisine: American (Sushi, Seafood, Steaks)
The California Grill is always one of the best Disney hotel restaurants, and we've had it as high as #2 in the past. Due to a couple of so-so experiences recently and some stellar new restaurants opening up, we dropped it to #5 at the moment, which is still nothing to sneeze at.
The California Grill is another signature dining experience, and one of the most famous at Disney World due to its unique location on top of the Contemporary Resort. This is the location of the original Disney World rooftop restaurant and it offers tremendous views of the Seven Seas Lagoon and the Magic Kingdom.
The menu here is incredible and has a little bit of something for everyone. The Californian-inspired cuisine includes sushi, steaks, seafood, flatbreads, and more.
One of the highlights is coming to the California Grill for dinner and staying during the fireworks show at the Magic Kingdom. Our suggestion is to book a table a couple of hours before the fireworks start, that way you will be done with your meal in time and you can go out on the terrace to see them.
What to Get: The Sushi is perhaps the best at Walt Disney World, so if you are a fan of raw fish, this is the place to try it. The Sonoma Goat Cheese Ravioli is legendary and has been a menu staple for over a decade. The Filet is great, and so are the Grilled Pork Tenderloin, and Lamb Chops when they are on the menu.
4. Toledo – Tapas, Steak & Seafood (Coronado Springs Resort)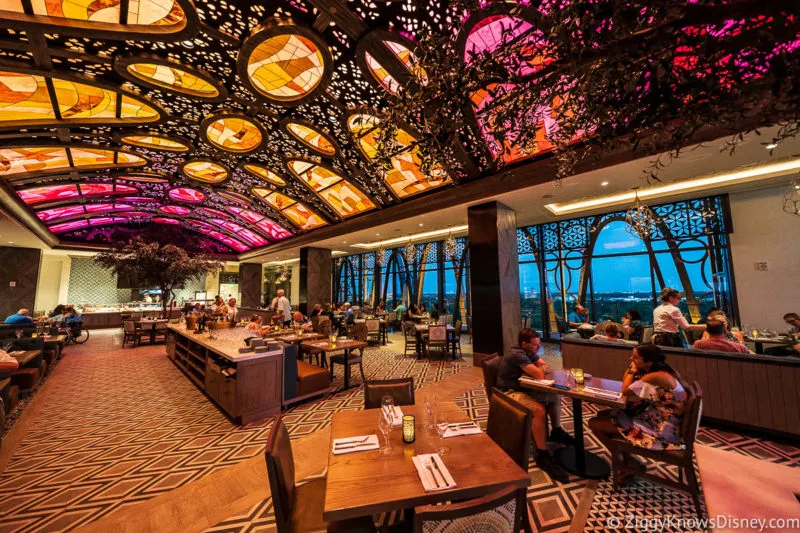 Cost: $$$
Type: Table Service Restaurant (Fine Dining/Signature Dining)
Cuisine: Spanish (Tapas, Steak, Seafood)
This is one of the newest Disney World Hotel restaurants, but that doesn't stop us from putting it toward the top of the list. This is a signature dining restaurant at the top of the new Gran Destino Tower at Disney's Coronado Springs Resort, with some of the most stunning views in Disney World.
In fact, we love the whole atmosphere and vibe going on here. The tall windows on both sides of the restaurant and the vividly-colored stained glass on the ceiling are both great, then the trees in the middle almost make it feel like a greenhouse.
Though the atmosphere is nice, we are here for the unique Spanish cuisine. Toledo specializes in tapas, which are basically small plates that generally are shared like appetizers. The regular entrees are equally as delicious, with only one or two we weren't crazy about.
Every time we've been to Toledo, we've had a wonderful experience and the quality of the food and unique atmosphere definitely merit a visit whether you are staying at the Coronado Springs Resort or not.
What to Get: You have to get some Tapas to start your meal. Our favorites are the Chorizo, Garlic Shrimp, and the melted Tronchón Cheese Gratinado which is mind-blowingly tasty. We hardly ever order chicken at a restaurant, but we were pleasantly surprised with the Red Wine Braised Chicken and its huge portion size. If you really want something special, get the 28oz Bone-in Ribeye for two. It's the most expensive item on the menu, but totally worth the money!
Toledo – Tapas, Steak & Seafood
3. Topolino's Terrace – Flavors of the Riviera (Disney's Riviera Resort)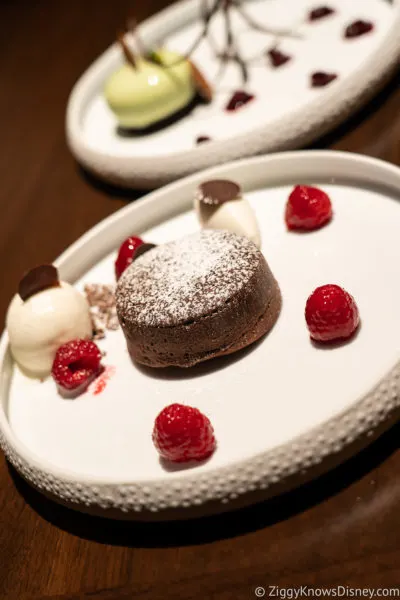 Cost: $$$
Type: Table Service Restaurant (Fine Dining/Signature Dining)
Cuisine: Italian, French (Steaks, Pasta, Seafood)
Topolino's Terrace is another new restaurant and located on the top of Disney's Riviera Resort. It has everything you want from a signature dining restaurant including amazing food and service, plus unbeatable views from the outdoor terrace, perfect to see the sunset.
You can come for breakfast or dinner and both experiences are superb. Their breakfast might be the best in Disney World, with higher quality dishes than you will find elsewhere. They also have a character breakfast, so it's a great place to see Mickey, Minnie, Donald, and Daisy.
Dinner is still our favorite though, and the menu is inspired by a Mediterranean mix of Italian and French cuisines, with a well-balanced mix of hand-crafted pastas, meat, seafood, and vegetarian options. Honestly, it's always outstanding and we haven't had a bad meal yet.
Between Topolino's and Toledo, they are both amazing and deserving of the top 5, but here you can go out on the large terrace and have a drink which puts it over the top for us. Definitely a Disney Resort hotel worth visiting just for the restaurant.
What to Get: The Root Bisque is one of the best soups at Walt Disney World, I kid you not. Other favorite appetizers include the Gnocchi with duck confit and pesto bianco, or the slinky-smooth Ricotta with tomatoes and aged balsamic.
For entrees any of the Pasta dishes are excellent, but our favorite is by far the Tomahawk Veal Chop which you could always wield as an axe if need be. The best dessert is the Warm Valrhona Chocolate Cake which has a molten caramel center that just pours out when you cut into it.
2. Jiko (Animal Kingdom Lodge)
Cost: $$$
Type: Table Service Restaurant (Fine Dining/Signature Dining)
Cuisine: African (Meats, Seafood, Curry, Flatbreads)
Jiko again comes in at #2 in our top Disney resort hotel restaurants at Disney World, and even though it's not the most popular signature dining experience, to us it's almost flawless.
Sure it doesn't have all the bells and whistles that some of the flashier rooftop restaurants have, and there are no fireworks to watch during your meal. This however, is a world-class restaurant that offers more unique and intriguing food than most of the rest.
The restaurant atmosphere is calm and low-key. The decor is styled after an African savanna at sunset, and the color palate changes as the night goes on. Now it makes much more sense why there are birds flying off into the horizon doesn't it?
The menu is sublime, and the most exotic of any of the signature dining restaurants. The food is always spot-on and consistent, which counts for a lot when you are paying Disney-level prices. Top off your meal with any of the hundreds of bottles of South African Wines in the inventory.
Jiko may not be for everyone, you have to have a somewhat adventurous palate, but it's not nearly as intimidating as it may sound the first time you go. Take a walk on the wild side and stop by the Animal Kingdom Lodge for dinner and you won't leave disappointed!
What to Get: Start out your meal at Jiko with the Tour of Africa bread service, which is a nice introduction to some of the unique flavors you will encounter during the rest of your meal. The Grilled Wild Boar Tenderloin is excellent, very tender and succulent.
For entrees, the Beef Short Rib might be the best we've ever tried, ditto for the Lamb Shank. One of the oldest menu items is the Oak-grilled Filet Mignon with four cheese macaroni and cheese, definitely a life-changing experience.
1. Victoria & Alberts (Grand Floridian Resort)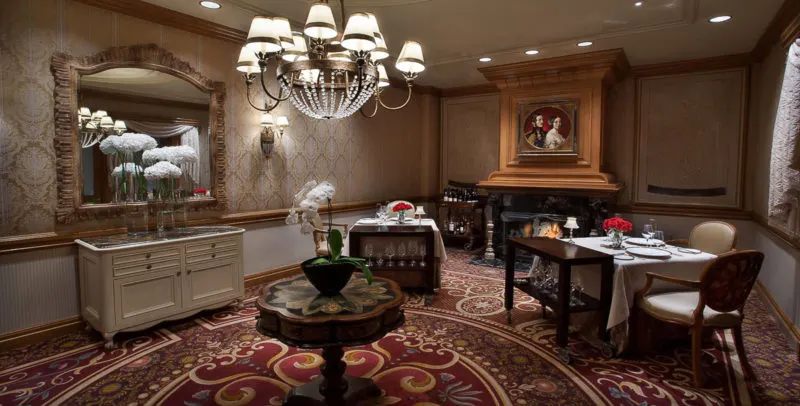 Cost: $$$$
Type: Table Service Restaurant (Fine Dining/Signature Dining)
Cuisine: American (Seafood, Steaks)
Anything from number 2 to 7 of our rankings for Disney World Resort hotel restaurants could be up for debate and mixed in any order with no problems for us. However, there is do debating that Victoria & Albert's is the #1 Disney Resort Hotel restaurant, hands-down.
Ever since Victoria & Alberts opened over 3 decades ago, it instantly became the best restaurant in any Disney hotel. Not only that, it's quite possibly the best restaurant in Central Florida and consistently wins the prestigious AAA Five Diamond award.
Why is it so good you ask? First of all the atmosphere and service are second to none. It's very romantic and you are treated like gold by the staff. You may only come here once in your life, but it's a perfect location for celebrating any special event like an anniversary or a honeymoon.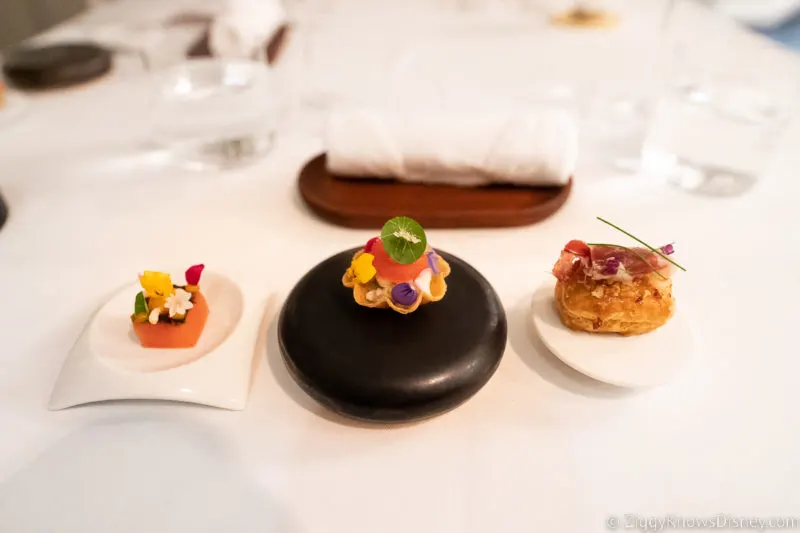 The food here is incredible with flavor combinations you've never dreamed of presented in ways that will leave you speechless. Honestly, it's a shame to even eat them most of the time they are so gorgeous. The food consists of a series of Chef's Degustation Menus with as many as 11 courses. Talk about a food coma!
There is a dress code here so put on your Sunday best. That means no casual wear at all, a jacket, collared shirt, dress slacks, and dress shoes for men and elegant evening attire for women. Also, be prepared for the price. This is a splurge meal so expect to pay a minimum of $200 per person, but likely much more depending on which menu you get and what you drink.
Victoria & Alberts is the best dining experience any Disney World guest could wish for. Unless you visit for yourself, you will not understand all the hype behind this restaurant. Yes, you might have to sell a few organs to pay for your meal, but in the end, it's worth it.
What to Get: The menu here changes daily, so it's hard to make any specific food recommendations as it will be different every time you go. Get the highest tasting menu that your budget and appetite will allow for.
Which Disney Resort has the Best Food?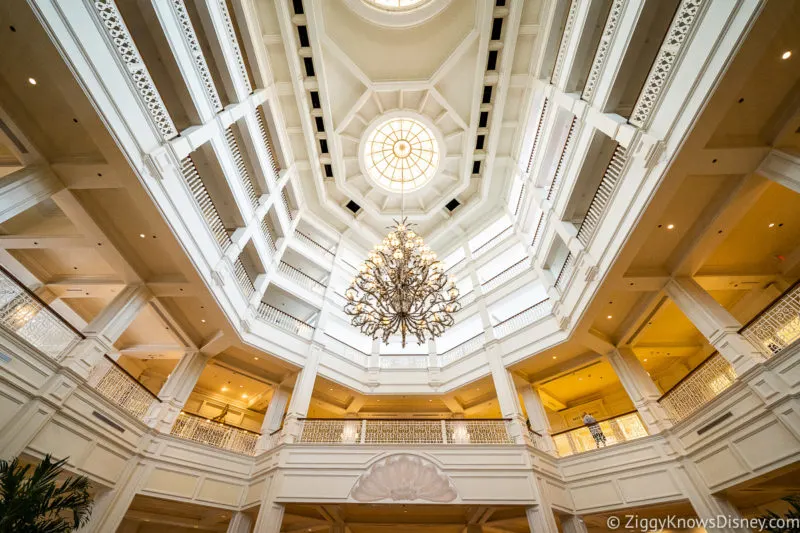 Now that you know which individual restaurants are ranked the highest, what about the hotel rankings themselves in order of dining.
Here are the top 5 resorts at Walt Disney World ranked in order of overall food:
Grand Floridian Resort & Spa – With 3 restaurants in the top 10 and home to the best overall restaurant in Disney World (Victoria & Albert's), this was an easy choice. Even the other restaurants we didn't list such as 1900 Park Fare and The Grand Floridian Cafe are all excellent.
Animal Kingdom Lodge – This resort may be secluded and far from most other places in Walt Disney World, but at least it has a ton of great dining options. Jiko and Sanaa both are in our top 10, while Boma is our favorite buffet on property.
Yacht & Beach Club – Technically these are two separate hotels, but they are sister hotels and always lumped together. Yachtsman Steakhouse has some of the best beef of any restaurant and Cape May Cafe is right up there with the top buffets.
Walt Disney World Swan & Dolphin Hotels – Two more sister hotels we included together. Many guests don't think of coming here to eat, but there are a bunch of great restaurants and they have you covered if you want steak, seafood, Italian, sushi, or even a simple burger, fries and milkshake.
Coronado Springs Resort – You probably didn't think we'd put a moderate resort in our top 5, but the restaurants here, unfortunately, go unnoticed. Toledo vaulted into the top 5 when it opened in 2019, and Three Rivers Bar & Grill, Maya Grill and Rix Sports Bar & Grill are all very underrated favorites of ours.
Best Places for Dessert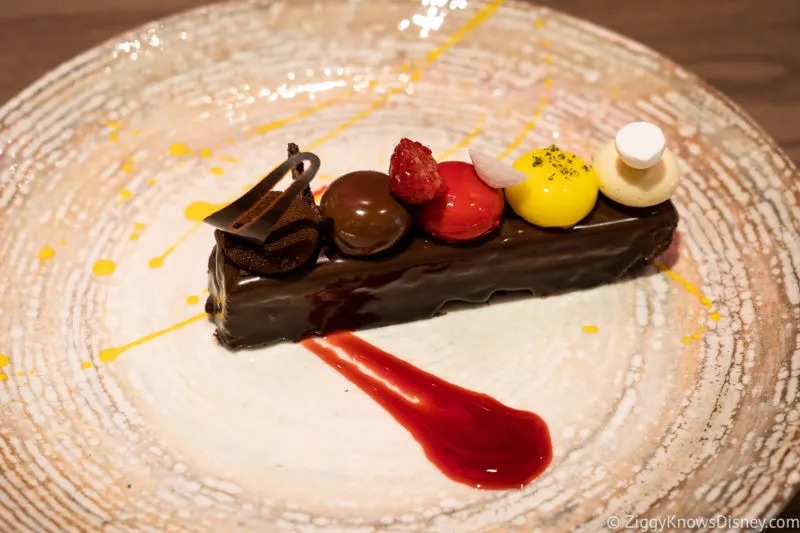 There are also plenty of good dining locations at the Disney resorts if you are looking for dessert. Here are some of our favorites:
Beaches & Cream Soda Shop (Beach Club Resort) – This is your classic soda fountain of yesteryear and they serve up scrumptious ice cream sundaes, milkshakes, and even boozy shakes! The Kitchen Sink is a legendary sundae so huge it can easily be split between 5-6 people.
Narcoossee's (Grand Floridian Resort) – At times the entrees at Narcoossee's are disappointing, but never the desserts. It consistently is our favorite table service restaurant for dessert, and the almond-crusted cheesecake will change your life.
Pineapple Lanai (Polynesian Resort) – Everyone gets a dole whip at the Magic Kingdom, but if you are staying at the Polynesian Resort, you can get it right outside the main lobby. It also has special flavors of dole whip you might not find in the parks as well as seasonal offerings.
The Fountain (Walt Disney World Dolphin Hotel) – Another great spot for ice cream that often goes unnoticed. They have a ton of sundaes and different flavors not found at beaches & cream.
Contempo Cafe (Contemporary Resort) – This quick service restaurant is famous for its specialty cupcakes. They have some of the biggest and best flavors found anywhere in Disney World.
Scat Cat's Club (Port Orleans French Quarter) – If you haven't tried the beignets here then drop everything and head over now. The flavors here change according to the season, and they even make boozy beignets if you want that extra kick.
Best Restaurants for Kids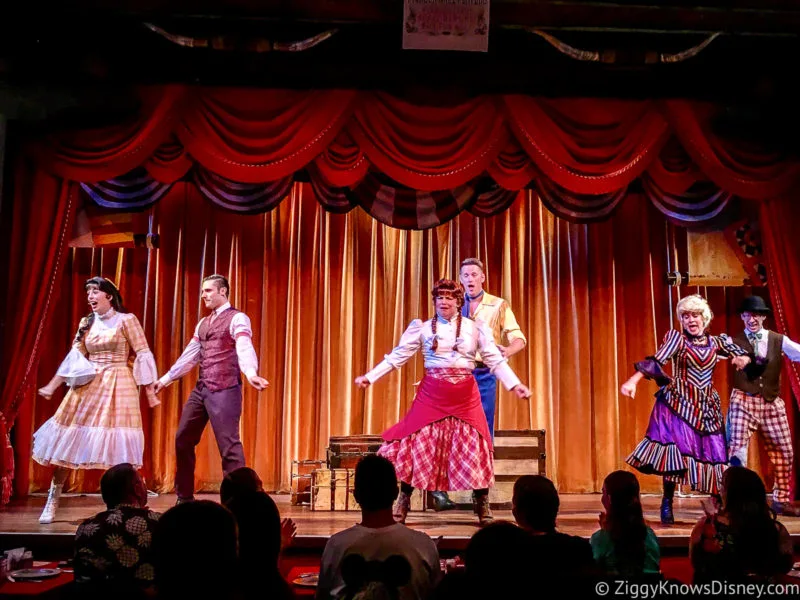 While there are plenty of great places for adults to dining at the Walt Disney World hotels, there are equally as many awesome restaurants for kids to enjoy. In fact, many of the restaurants are themed right from a Disney film and you can even meet your favorite characters too!
Here is a list of the best restaurants in Disney World Resorts for kids:
Hoop Dee Doo Musical Revue (Fort Wilderness Resort) – This of the absolute quintessential Disney dining experiences and definitely the most fun. Kids will love the fried chicken, the towel twirling and they may even may get invited to be in the show!
'Ohana (Polynesian Resort) – This is another top experience for families, after all, "'Ohana means family." The menu is kid-friendly and they will love the characters at breakfast or the entertainment and games for dinner.
Spirit of Aloha Polynesian Luau (Polynesian Resort) – Another dinner show and similar to the Hoop Dee Doo Revue, but just one notch below. This traditional Polynesian luau features hula dancers and fire-twirling performers which the kids will love.
Storybook Dining at Artist Point (Wilderness Lodge) – Right now this is our favorite character dining experience in Disney World. Guests will meet Snow White and some of her dwarfs, but the real star of the show is The Queen who is both funny and terrifying at the same time.
Trattoria al Forno (Boardwalk Inn) – If your little ones are princess fans, this is the place to be, with 5 or 6 of them regularly making the rounds at breakfast. It also has some of the best quality food for a character meal and isn't as crowded as the ones in the parks.
Chef Mickey's (Contemporary Resort) – While not our favorite dining experience from a food perspective, this is one of the best places to meet Mickey, Minnie, Goofy, Pluto, and Donald so it makes the list.
Whispering Canyon Cafe (Wilderness Lodge) – Your kids will feel right at home at the "old west" restaurants where the waiters put on a "show" with their antics and visual gags. The menu is also very kid-friendly, and if you have big eaters, they will love the all-you-can-eat skillets!
Best Places to Get a Drink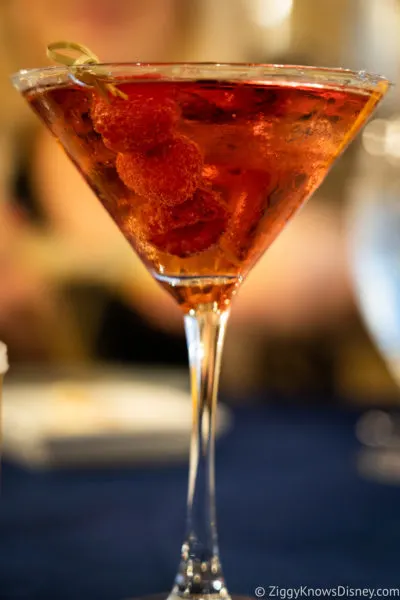 We love to go for drinks either before our meal or as a nightcap after dinner is over. Thankfully there are plenty of places to get a drink at the Disney World Resorts. Here are a few of our favorites:
California Grill Lounge (Contemporary Resort) – Even if you can't get reservations to the restaurant, you can still come up for drinks with one of the best views in Disney World. You can even watch the fireworks just like if you were here for dinner.
Trader Sam's Grog Grotto or Tiki Terrace (Polynesian Resort) – Trader Sam's is legendary and definitely one of the coolest places to get a drink. Inside you feel like you are on a tropical island with awesome storm effects. Outside is also great, with views of the Magic Kingdom fireworks.
Topolino's Terrace (Riviera Resort) – Go out on the terrace before dinner for a magnificent view of the Caribbean Beach Resort and the Disney Skyliner at sunset. The chairs here are also super comfy.
Geyser Point Bar & Grill (Wilderness Lodge) – If the rustic wilderness feel is more your thing, head down to Geyser Point for drinks which is located right next to Bay Lake.
Top of the World Lounge (Bay Lake Tower) – This DVC-member exclusive lounge is located at the top of the Bay Lake Tower and offers spectacular views of the Magic Kingdom and fireworks.
Enchanted Rose (Grand Floridian Resort) – This used to be Mizner's and was recently transformed into a Beauty & the Beast-themed lounge. It's the most high-end place for drinks on the list and is great for a special night out.
Ale & Compass Lounge (Yacht Club Resort) – This is an overlooked Disney World lounge and recently underwent a massive refurbishment giving it a modern, yet nautical theming. Try the Spicy Pomegranate Margarita for something out of the ordinary.
Three Bridges Bar & Grill (Coronado Springs Resort) – Another lounge located on the water with a fantastic view. Grab a table facing the Gran Destino Tower for sunset for the best experience. The food here is also excellent and you can make a whole meal out of it.
Banana Cabana Pool Bar (Caribbean Beach Resort) – This bar doesn't get too much attention if you aren't staying at the Caribbean Beach Club, we love the waterfront seats and all the rum drinks are great.
Victoria Falls (Animal Kingdom Lodge) – Located above Boma restaurant, Victoria Falls offers an intimate setting with a wonderful selection of African wines and cocktails.
Disney World Hotel Restaurant Reservations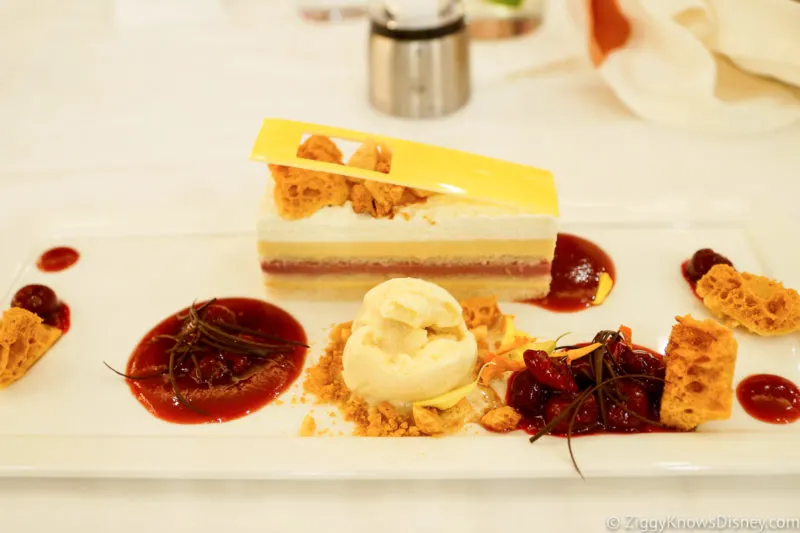 One of the most popular questions we receive about reservations is: "Do You Need Reservations to Eat at Disney Hotels?"
The short answer is no, you don't, but they are highly recommended for most table service restaurants, especially the popular ones. Disney World's Advanced Dining Reservations (ADRs) allow you to book a table at any restaurant for a specific seating time of your choice.
This is something that many Disney World first-timers take for granted and many try visiting without making advanced dining reservations. They are then left with availability only at the worst restaurants and all the best ones are booked up months ahead of time.
At The Walt Disney World Resort hotels, the most popular dining reservations are Chef Mickey's, Storybook Dining at Artist Point, 'Ohana, and the Hoop Dee Doo Musical Revue, among others.
Disney World Advanced Dining Reservations can be made online using The Walt Disney World Website or the My Disney Experience app. They can also be made on the phone by calling (407) WDW-DINE or (407) 939-3463.
Whichever way you choose to make a reservations, make sure you are online or on the phone the minute your booking window opens up. Even calling minutes later can mean the difference between getting your favorite restaurants or not.
Read our guide to Disney World Advance Dining Reservations for more tips and info on booking your restaurants.
Where Can You Eat at Disney Hotels Without Reservations?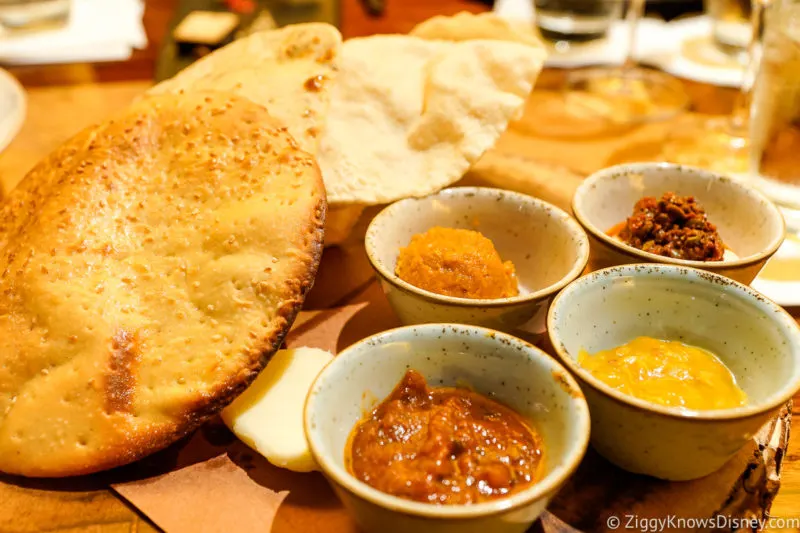 If you want to eat at a table service restaurant inside one of the Disney World resorts, dining reservations are a must and need to be booked months ahead of time.
There are however options if you aren't able to plan that far in advance or like to do things at the last moment.
The first option is to eat at a quick service restaurant or in one of the lounges or bars. This isn't optimal if you are looking for a full sit-down meal but many of the lounges share a kitchen with a restaurant and some of the appetizers may be available.
The other option is to try to walk in at one of the table service restaurants without a reservation. They may or may not be taking walk-ins that day, so you'll have to ask the host or hostess if there is a possibility of a table freeing up.
Our favorites places to eat without reservations at the Disney World hotels are:
Ale & Compass Restaurant – Disney's Yacht Club Resort
Grand Floridian Cafe – Disney's Grand Floridian Resort
Kona Cafe – Disney's Polynesian Resort
Olivia's – Old Key West
Rix's Sports Bar & Grill – Disney's Coronado Springs Resort
Sebastian's Bistro – Disney's Caribbean Beach Resort
Shula's Steak House – Dolphin Hotel
Todd English's bluezoo – Dolphin Hotel
Whispering Canyon – Disney's Wilderness Lodge Resort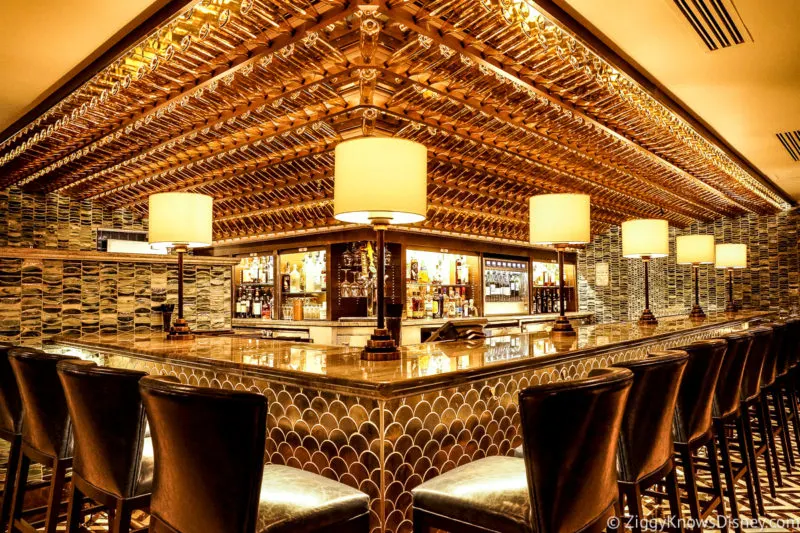 That wraps up our rankings of the best restaurants at Disney World Resorts. We hope you enjoyed it and that you now have everything you need to book all the restaurants for your trip. It was a lot of fun to make and there were a lot of popular places to eat we left off our list since we just couldn't name them all. We will continue to update it as new restaurants open up.
We want to hear what your top Disney World hotel restaurants are, so drop them in the comments!
For more great Disney Restaurants be sure to check out our other guides:
If you are going to Disney World soon, make sure to read our Disney World Planning Guide for all the tips and info you will need to cover everything! Also, check out our Disney World Crowd Calendar so you know when the best time to visit is!
Your Thoughts
I want to know what you think about our list of the best restaurants at Disney World Resort hotels…
What are your top Disney hotel restaurants?
What dishes are your favorite?
Let us know in the comments section below!
If you enjoyed this article, as always I appreciate it if you'd share it with others via social media. I work hard at making this website into a useful resource for you and your family to plan your visit to the Disney Parks and I hope it can help you! Thanks 🙂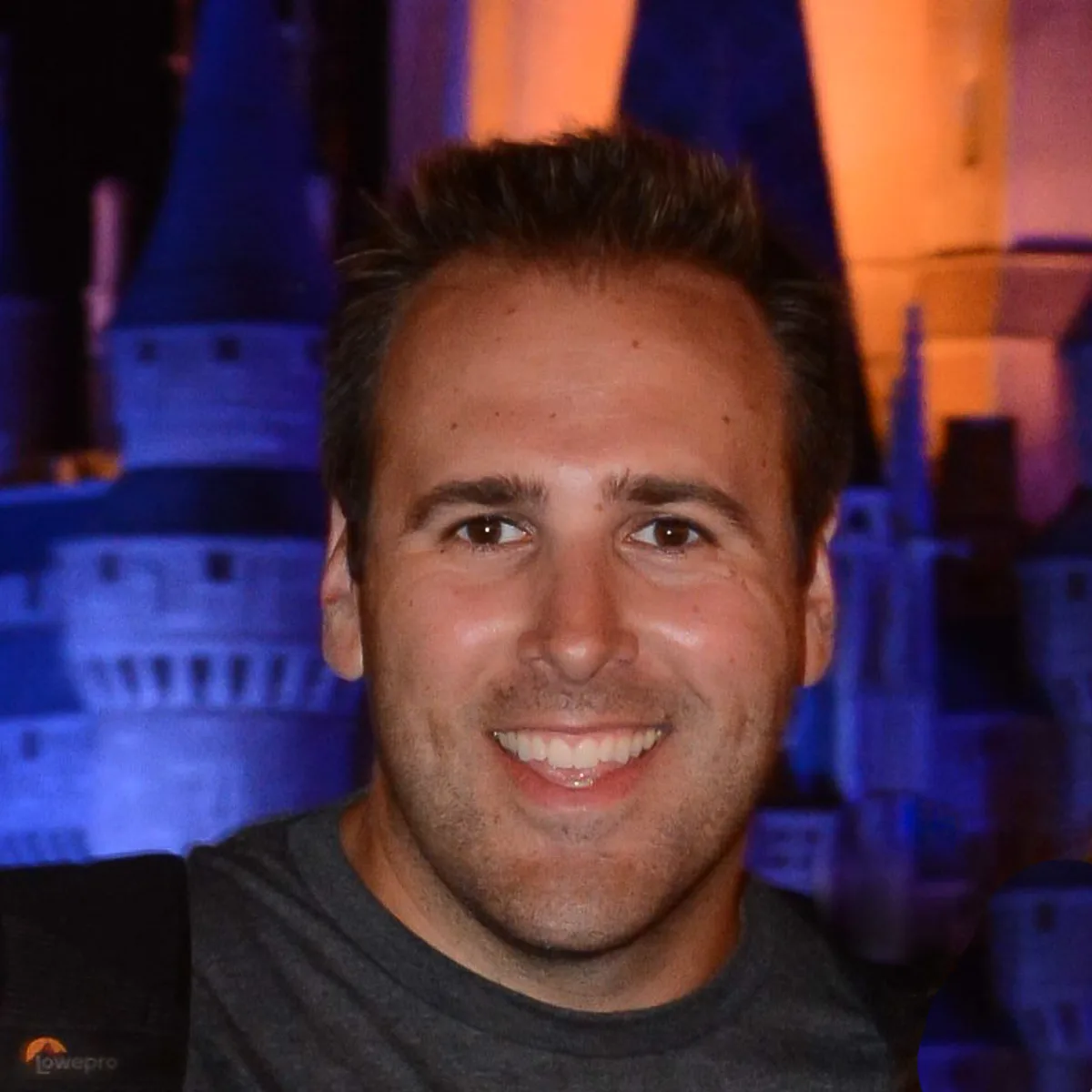 My name is Ziggy and I love Disney, everything Disney! I grew up on Disney and it has and continues to be a huge part of my life. I started young when my parents took me to Disney World when I was 18 months old. Little did they know that would be the first of an uncountable number of trips we would take. I have so many amazing memories going to Disney with my family and friends and it has been interwoven into my DNA.