Don't know where to eat at EPCOT in Walt Disney World? We can help you out with that! Many people go to Disney World for the rides, but we go just as much for the amazing food! That's why we've come up with our rankings of the Best Restaurants at EPCOT park!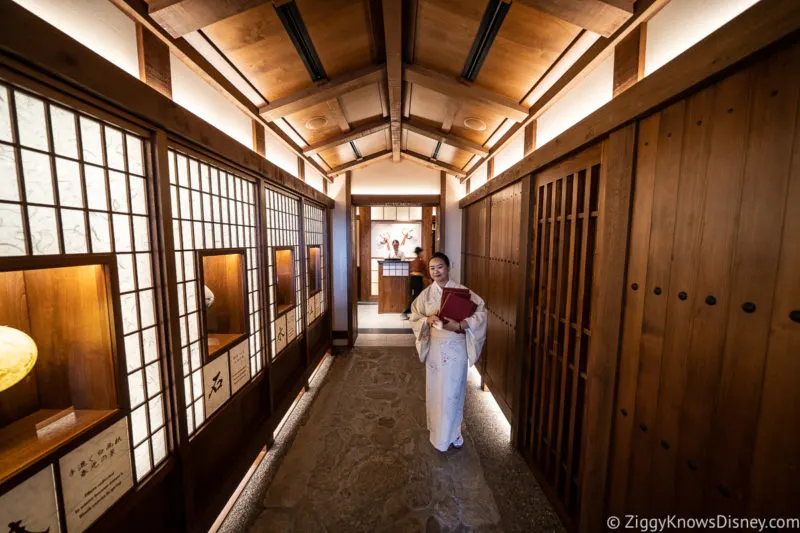 In this post, we're going to share with you the best EPCOT restaurants and which food and drinks to order when you visit.
We know some of you aren't big planners, but being prepared ahead of time is critical to having a good trip, even when it comes to figuring out where to eat.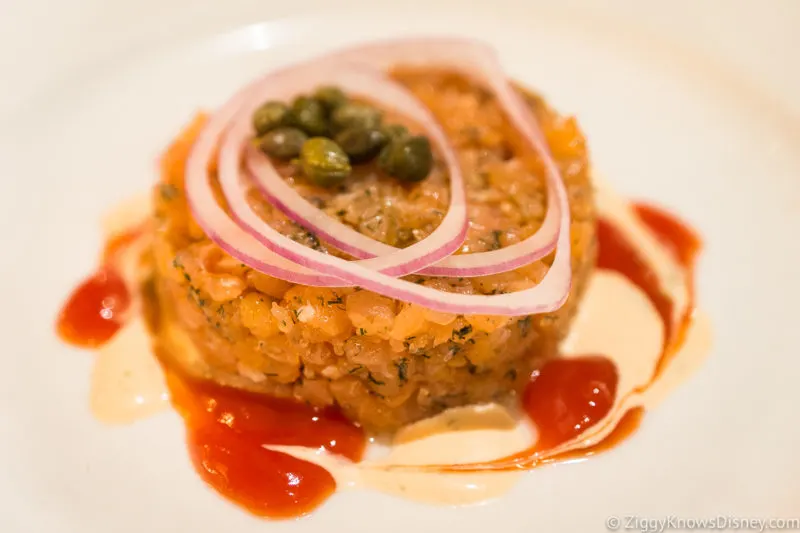 It all sounds very complicated, but it's actually really easy. Just follow our tips and prioritize the restaurants at the top of our list and you'll have a great time!
Besides our overall rankings of the best restaurants, we'll also share with you the best places to eat in EPCOT for breakfast, lunch, and dinner, and everything you want to know about the character meals.
Of course, this list is only our opinion and very subjective. We have our opinions about where and where not to eat, but you likely have a completely different list of top restaurants. Drop us your rankings in the comments section below so we can see if you agree or disagree with us!
If you are planning on visiting the other Walt Disney World restaurants at the parks and resorts, make sure to check out our rankings of the Best Restaurants at Disney World for the ultimate rankings guide.
Also, don't forget to sign up for our FREE Weekly E-Mail Newsletter. There we bring you the latest updates on all the newest additions to the parks as well as vacation planning tips. You can sign up here: Join our E-Mail Newsletter!
EPCOT Restaurants Overview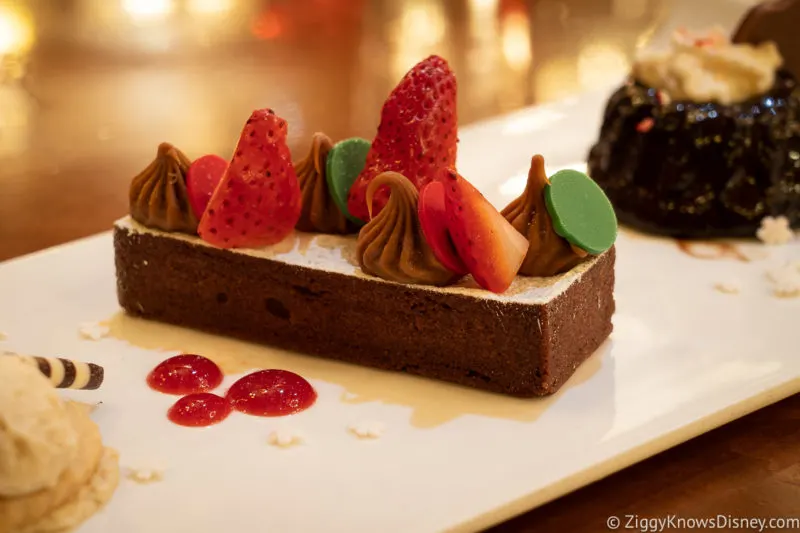 If there is one place at Disney World that is linked together with good food and drinks, it's EPCOT. I mean, there is a food festival going on here almost all year round and the entirety of World Showcase is practically devoted to dining.
Don't take it the wrong way, we are not complaining here. In fact, its food culture is one of the reasons why we go to EPCOT as much as we do, and why we have a really hard time losing those last few pounds.
There are a few good places to eat in Future World, but the majority of the magic happens in World Showcase where you can find almost any type of cuisine imaginable.
If we were comparing EPCOT with the other 4 Walt Disney World theme parks, it wouldn't even be close. EPCOT wins in a landslide with the others so far behind that you can barely see them in the rearview mirror.
Here is a list of all the current restaurants at EPCOT:
Table Service Restaurants
Akershus Royal Banquet Hall
Biergarten Restaurant
Chefs de France
Coral Reef Restaurant
Garden Grill Restaurant
La Hacienda de San Angel
Monsieur Paul
Nine Dragons Restaurant
Restaurant Marrakesh (Not Currently Available)
Rose & Crown Dining Room
Shiki-Sai: Sushi Izakaya
Spice Road Table
Teppan Edo
Tutto Italia Ristorante
Quick Service Restaurants
Connections Café
Connections Eatery
Crêpes À Emporter by La Crêperie de Paris
Katsura Grill
Kringla Bakeri Og Kafe
La Cantina de San Angel
Lotus Blossom Cafe
The Odyssey
Refreshment Outpost
Refreshment Port
Sommerfest
Sunshine Seasons
Traveler's Café
Yorkshire County Fish Shop
Bars & Lounges
Choza de Margarita
Enoteca Castello
Garden House Sake
Germany Weinkeller
Japan Sake Bar
La Cava del Tequila
La Maison du Vin
Les Vins des Chefs de France
Rose & Crown Pub
Space 220 Lounge
Trading Post Refreshments
Tutto Gusto Wine Cellar
Thankfully Disney World has practically gotten back to its pre-pandemic best once again. Although it took upwards of two years to get back to normal, they are pretty much 99.99% there.
The one exception of restaurants in EPCOT that have NOT reopened yet is Restaurant Marrakesh in Morocco. We still do NOT know if or when this will reopen.
Our Ranking Factors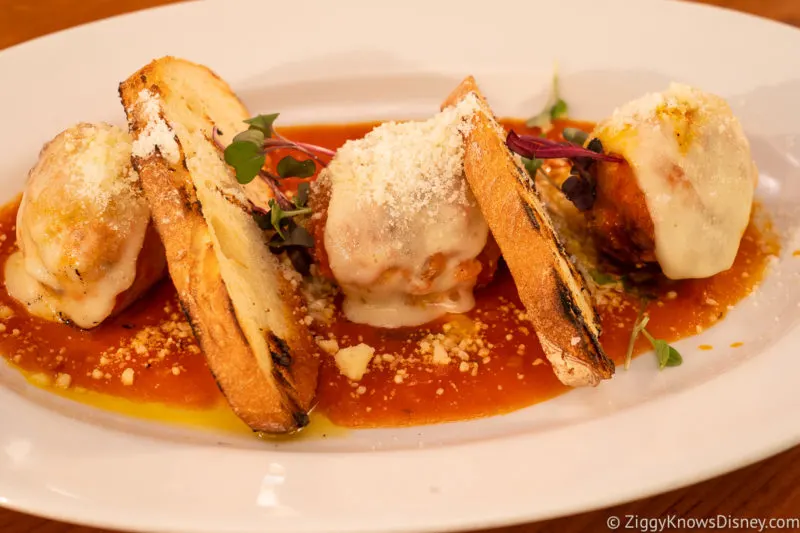 While coming up with our rankings of the best EPCOT restaurants was fun, it also proved to be a lot more difficult than it might seem. This is the fourth one of these best restaurants lists we've done for the theme parks, and it always is hard to get them in the right order, but none has been harder than EPCOT.
When you look at the full list of restaurants you realize there are so many good places to eat, even putting one at #10 is a great ranking and it would land in the Top 5 in other parks.
We didn't use any complicated mathematical formula to make our rankings, we just asked ourselves which restaurants do we always find ourselves going back to again and again, and which ones offer truly special dining experiences.
Some of the ranking factors we considered are:
Food Quality
Price to Quality Ratio
Portion Sizes
Restaurant Theming and Ambiance
Extra Disney Magic (special experiences, etc)
Our rankings are for table service restaurants and quick service combined so we give you the best of every kind of dining location. Some of them require reservations, while others you can just walk into and get food.
Unlike other parks, there are a few restaurants at EPCOT you would classify as "fine dining" and offer truly incredible experiences. Most of them are family-friendly and accept casual theme park attire, though we like to dress up when we go to Monsieur Paul as we find it the most elegant.
Best Restaurants at EPCOT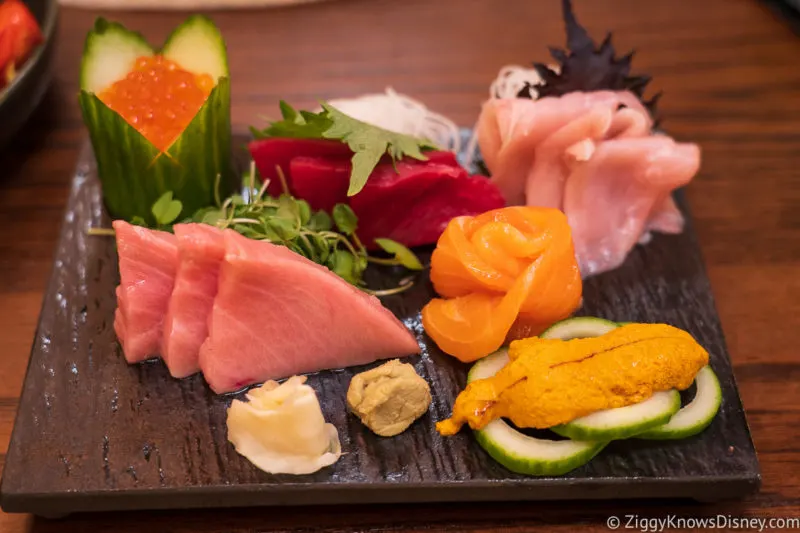 We narrowed down our rankings to the Top 37 restaurants at EPCOT. We've listed them in order from worst to best, so the lower the number, the more we like it.
We've included the names of the restaurants and their locations, plus some basic info about each place such as the approximate price, type of food, and the best food items on each menu. This should give you a good base before you go.
Though it's impossible to visit all of these restaurants on the first trip, or even on your second or third ones, it can help you prioritize them based on the type of food and experience you are looking for. Then on the next visit, you can try some more from the list.
Cost: $
Type: Quick Service Restaurant
Cuisine: Asian, Chinese (Fried Rice, Egg Rolls)
We think it's obvious that the Lotus Blossom Cafe is the worst restaurant at EPCOT. Now we aren't saying it's horrific or anything. There are a few good items on the menu. However, it's nothing special that you can't get at the bad take-out Chinese restaurant back home.
The food here is the usual suspects you would expect: egg rolls, fried rice, orange chicken, etc. It hits the spot if you are really craving Chinese food, but that's about it. There are a million better choices around World Showcase so don't settle here.
What to Get: The Orange Chicken is our favorite item on the menu and it's served with steamed rice, an egg roll, and broccoli. The Mongolian Beef Combo and a little more filling if you are hungry.
36. Nine Dragons Restaurant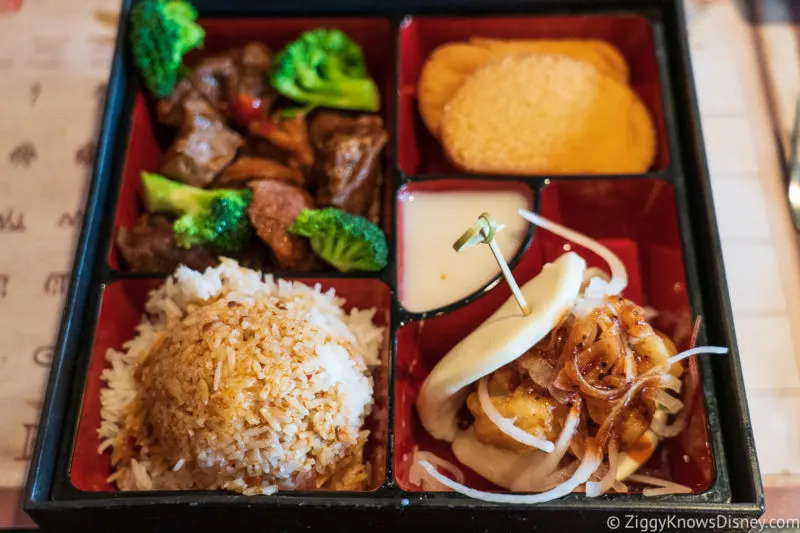 Cost: $$
Type: Table Service Restaurant
Cuisine: Asian, Chinese (Dumplings, Bao Buns, Stir-fry)
I swear we're not picking on the Chinese restaurants on purpose, but we feel that the Nine Dragons Restaurant is the worst table service meal in EPCOT. Again, not everything is bad here, but at least half of the menu is mediocre to bad.
The atmosphere is nothing extraordinary and pretty much what you would expect. We like the jade colors and the dark wood accents, but they could have done more with this like some other restaurants around World Showcase.
The menu is large and there are a lot of entrees on it that sound really good such as Pork Belly Bao Buns, Pepper Beef, General Tso's Chicken, Spring Rolls, Dumplings, etc. Unfortunately, most are hit or miss, and many of them do not live up to expectations.
We love Chinese food as much as the next guy, but try to branch out a bit more in EPCOT and try new things you can't already get back home. Don't settle for just OK Chinese food at theme park prices, you can do better.
What to Get: The Pepper Beef is very good, very tender and a big portion size. If you like spicy, get the Sichuan Dumplings which we could eat dozens of.
35. Tutto Italia Ristorante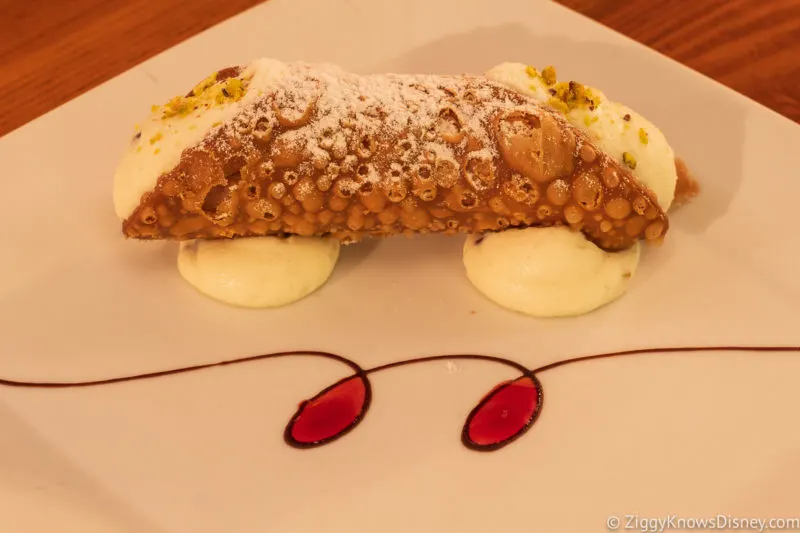 Cost: $$
Type: Table Service Restaurant
Cuisine: Italian (Pasta, Chicken Parmesan, Lasagna)
Here's another restaurant way down in our rankings and not really worth a trip. In fact, good Italian food is hard to come by in Walt Disney World, and it's hit or miss here.
The theming is average at best. The dining room features dark wood and big chandeliers which are straightforward but not fun and interesting like another restaurant close by.
The menu is quite large and features classic Italian dishes you would expect to find here. Appetizers include fried calamari, Caesar salad, and Caprese salad. There are plenty of pasta dishes like spaghetti and meatballs, ravioli, and gnocchi all Sorrentina. There are also some meat dishes like salmon, steak and chicken parmesan.
34. Sommerfest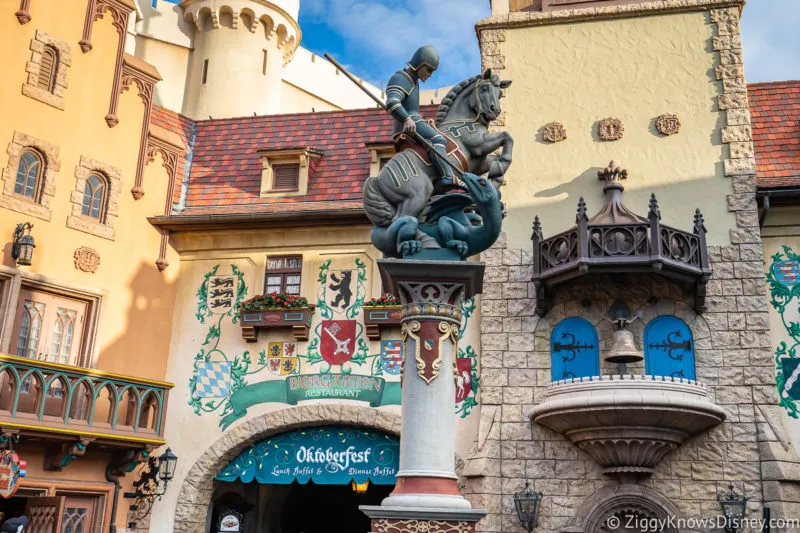 Cost: $
Type: Quick Service Restaurant
Cuisine: German (Beer, Bratwurst)
Sommerfest is a quick service restaurant in the back of the Germany pavilion with tasty options for something savory or sweet. Items such as bratwurst, jumbo pretzels, and other seasonal rotating options.
Even though the food is good here, our biggest complaint about Sommerfest is the limited menu. Most of the items are exactly what you get at the Germany food festival marketplaces too, so the "special" factor is taken away. If the menu was expanded we would rank it higher on our list, but for now, it sits at #30.
What to Get: If you like hot dogs, try the Bratwurst served with sauerkraut and house-made chips. A recent addition that was added to the menu that is VERY good is the Pretzel Bread Pudding. We LOVE this if you're looking for something sweet.
33. Refreshment Port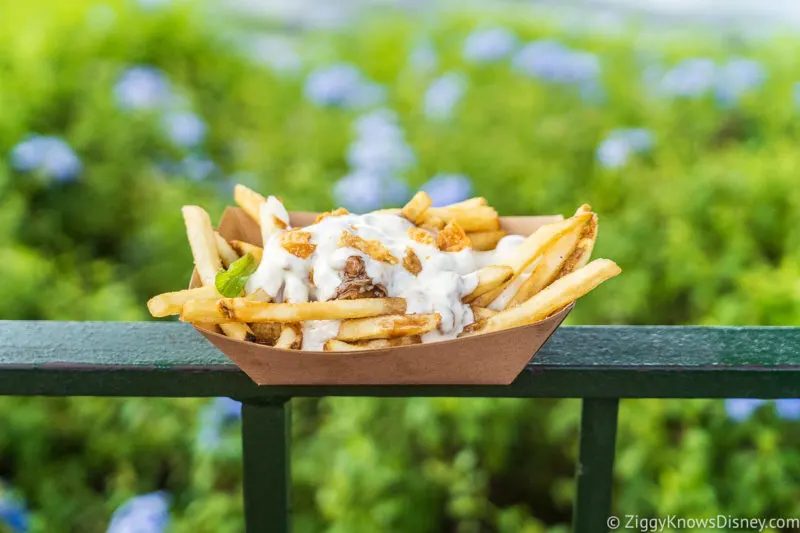 Cost: $
Type: Quick Service Restaurant
Cuisine: American, Canadian (Poutine, Chicken Nuggets)
This is another quick service in EPCOT without a big menu, but what they have is worth trying. The menu has chicken nuggets, poutine, and a variety of frozen treats such as dole whip. They also have some good alcoholic drinks which rotate from time to time.
Technically you won't be getting a full meal here and they are more like big snacks (at least for my appetite) but there is enough here to leave you satisfied for sure.
What to Get: You have to try the Classic Poutine, Canada's version of fries. They are stacked high and piled with gravy and cheese curds. Basically, French fries taken to another level! It's also the only place in EPCOT to get a Dole Whip, only here you can add rum to it and really have a blast!
32. La Crêperie de Paris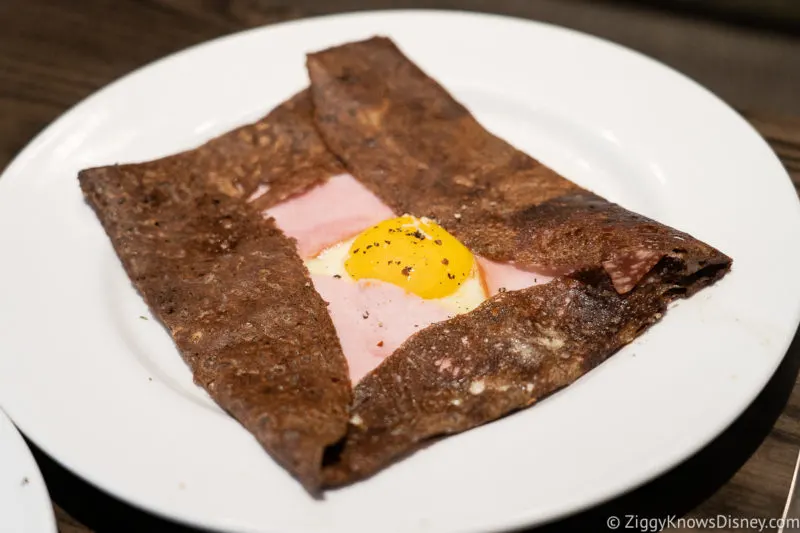 Cost: $$
Type: Table Service Restaurant
Cuisine: Frence (Crêpese, Galettes)
La Crêperie de Paris is the newest table service restaurant in EPCOT's World Showcase and is located in the new expansion area of the France pavilion and inspired by the real-life Brittany region of France.
This is an authentic crêperie featuring the cuisine of celebrity chef Jérôme Bocuse who is also behind the Chefs de France and Monsieur Paul restaurants.
There aren't a ton of options on the menu, just savory buckwheat crêpes which are called "Galettes," and sweet crêpes for dessert. The crêpes themselves were pretty good, similar to what we've had in France, though crêpes, in general, are not one of our favorite food items so it's hard to judge.
The decor here is pretty "blah." It feels very plain inside and we think Disney missed an opportunity to do something special with the space, especially considering the rest of the France expansion is gorgeous.
31. Crêpes À Emporter by La Crêperie de Paris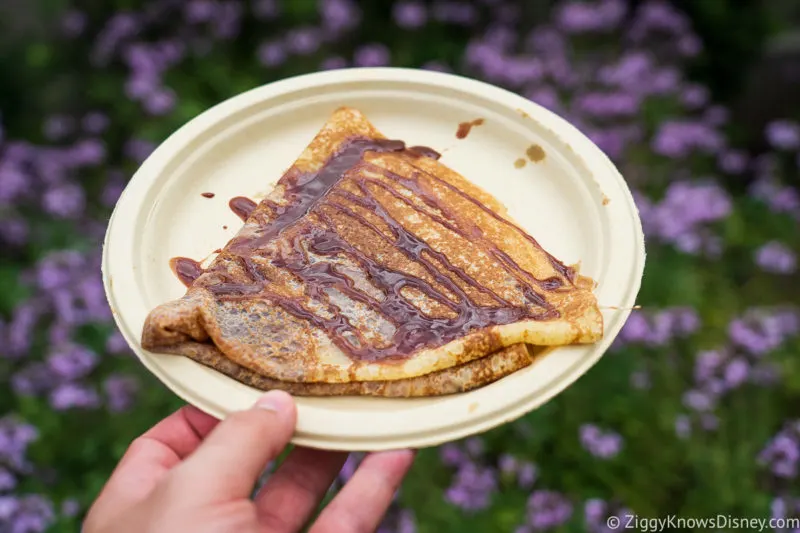 Cost: $$
Type: Quick Service Restaurant
Cuisine: Frence (Crêpese, Galettes)
Just outside the front door to La Crêperie de Paris, you will find its quick service cousin, Crêpes À Emporter. The menu here is smaller but still based on savory and sweet crêpes. The types of crêpes are a bit different than the ones inside, and a little smaller.
We prefer eating at the quick service location because it's much less expensive, especially when factoring in the tip. Plus we would rather eat our crêpes out on the better-themed street than inside in the plain "Holiday-Inn-style" restaurant.
What to Get: For savory crêpes, they are all good but the Bechamel, Cheese & Ham Galette is our favorite. The Ratatouille Galette is a nice choice for vegetarians and reminds us of our favorite rat next door. For desserts, again we like the Housemade Hazelnut & Chocolate Spread Crêpe (Nutella), but the Red Berries Crêpe is something you can't get inside and our go-to.
Crêpes À Emporter by La Crêperie de Paris Menu
30. Akershus Royal Banquet Hall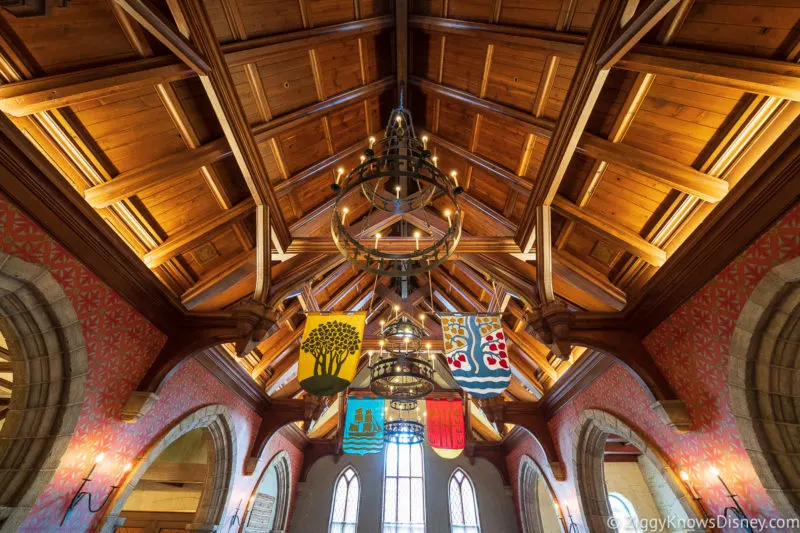 Cost: $$$-$$$$
Type: Table Service Restaurant (Character Meal, Buffet)
Cuisine: American, Norwegian (Roasted Meats, Potato Dumplings)
Akershus Royal Banquet Hall is one of two character meals at EPCOT and is located in the Norway pavilion. Of the two character meals, this is the one to come to if you want to meet the Disney Princesses, whereas the other has more traditional Disney characters like Mickey, Chip, Dale, and Pluto. Coming here will save you a ton of time instead of waiting in line for hours with other guests.
The architecture is gorgeous with a grand dining room, high ceilings all done in typical Norwegian style.
Akershus is open for Breakfast, Lunch, or Dinner and the menu is different in the morning. The food is traditional Norwegian cuisine and at breakfast, it's a buffet with eggs, filled Salmond, peppered mackerel, sausage, bacon, and baked goods. At lunch and dinner, there are items like filled salmon, oven-baked cod, herb-roasted chicken, and pork tenderloin.
In our opinion, the experience is good but the food here is just OK. Honestly, it's all a bit plain for us and there isn't really anything on the menu that we love. The bottom line is you come here for the princesses, not the food just be aware you are going to pay for that. With a more interesting menu Akershus could jump up in our rankings, but until then it stays here.
What to Get: For breakfast we like the Potato Casserole and the Smoked Pork Loin. For lunch and dinner we suggest you try the Flyt-stuffed Pasta, Cheese, and Spinach-stuffed Pasta or Tradisjonell Kjøttkake, their famous Norwegian meatballs.
Akershus Royal Banquet Hall Menu
29. Restaurant Marrakesh (Not Currently Available)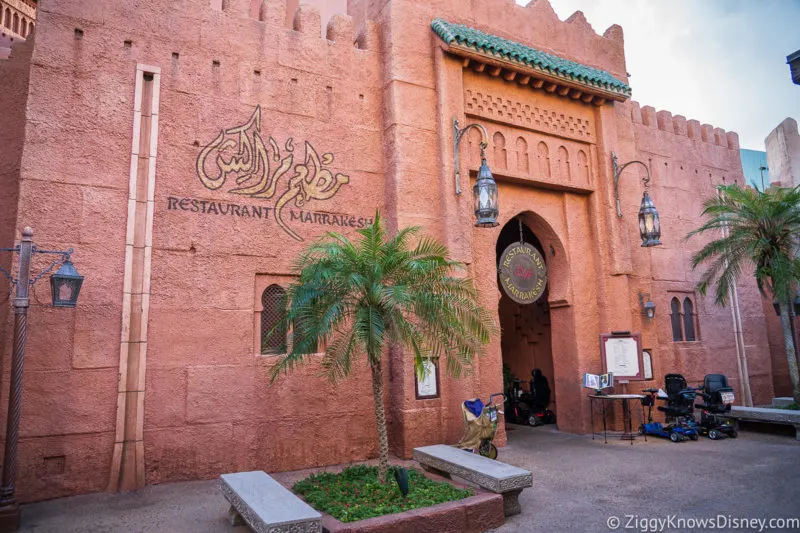 Cost: $$
Type: Table Service Restaurant
Cuisine: Mediterranean, Moroccan (Tangine, Shish Kebab)
While it's not at the top of our list, we do have to admit Restaurant Marrakesh offers one of the most unique dining experiences in Disney World. Unfortunately it has NOT been opened since prior to the pandemic in 2020. We truly hope it comes back, and for now, we will leave it on our list.
If you've had time to explore the Morocco pavilion, you'll realize it's one of the most authentic in EPCOT and it has extreme attention to detail. The same is true at its table service restaurant.
One nice thing is that Restaurant Marrakesh is usually not full so you should be able to get a last-minute reservation if you can't find anything else. Even if you are hesitant, give it a try, it's definitely an experience you won't forget.
What to Get: For something different we love the Lamb Loin Medallions and Hummus-Rosemary Pancakes. We also think the Grilled Beef Tenderloin Shish Kebab is worth trying and the Shrimp Chermoula Tangine with onions and potatoes.
For dessert try the Bastilla for One or Two, crispy leaves of pastry topped with vanilla cream and sprinkled with cinnamon, powdered sugar, and toasted almonds
28. L'Artisan des Glaces
Cost: $
Type: Quick Service Restaurant
Cuisine: American, French (Ice Cream)
L'Artisan des Glaces isn't really a full restaurant, it's an ice cream shop, but it's still one of the best places to eat at EPCOT. Tucked away in the back of the France pavilion the aromas of freshly pressed waffles will immediately get your attention and your appetite.
They have many flavors of rich handcrafted ice cream as well as specialty treats like macarons, waffle bowls, and ice cream martinis. The ice cream is excellent and among the best in Disney World.
This is more of an after-dinner stop, but a must-do nonetheless.
What to Get: Everything is great here, but to us, two treats really stand out. First, we love the Ice Cream Macaron Sandwich. It's essentially two chewy French macarons with ice cream in the middle. They come in seasonal flavors so make sure to ask.
Our favorite though is the Brioche Ice Cream Sandwich. It's a fluffy brioche stuffed with your choice of ice cream and raspberry or chocolate sauce and then pressed together hot. The contrast of the warm brioche and melting ice cream will get you hooked instantly.
27. Yorkshire County Fish Shop
Cost: $
Type: Quick Service Restaurant
Cuisine: British (Fish & Chips)
There aren't many options at Yorkshire County Fish Shop, but what they do have is out-of-this-world good! There is no special theming to this UK pavilion food stand, but that doesn't matter because we are here for the fish and chips.
What to Get: This is easy, the Fish and Chips! This is as close to real fish and chips as you will get on this side of the Atlantic. The batter is light and crispy with just the right amount of greasiness and the fish is thick and juicy on the inside. Grab a beer with it and you will swear you are in England!
Yorkshire County Fish Shop Menu
26. Kringla Bakeri Og Kafe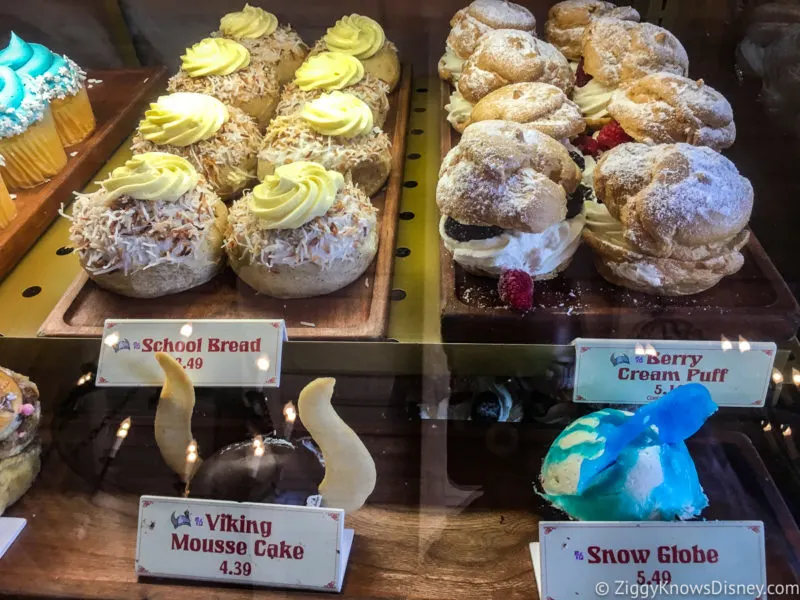 Cost: $
Type: Quick Service Restaurant (Bakery)
Cuisine: Norwegian (Pastries, Sandwiches)
Kringla Bakeri Og Kafe is one of the most popular places to eat in EPCOT, even if it's a bit overrated in our opinion. Tucked away in the Norway pavilion you can find a variety of sweet treats like pastries, cupcakes, cakes, most of which are very good.
Kringla also has some savory items such as Norwegian sandwiches, but the real focus is the sweets. The famous School Bread, Troll Horn, and Lefse are all popular choices that have reached "cult status" among Disney fans.
Overall it's a great place to get something to eat, and home to some of the best snacks in EPCOT. However, we don't think it's the best bakery in Disney World, not even the best in EPCOT. That title clearly belongs to Les Halles but Kringla is definitely worth a stop.
What to Get: School Bread is by far the most popular snack at Kringla, but we actually aren't huge fans and we think it's extremely overrated. We much rather prefer the decadent Norwegian Kringla, a pretzel-shaped pastry with cinnamon, almonds, or chocolate. The Troll Horn is also excellent and it's filled with orange marmalade cream.
25. Coral Reef Restaurant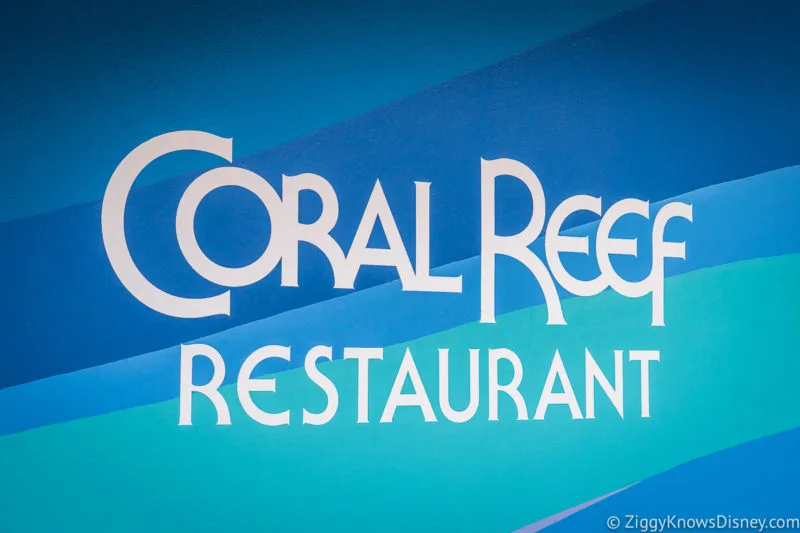 Cost: $$
Type: Table Service Restaurant
Cuisine: American (Seafood)
The Coral Reef Restaurant is definitely one of the most unique restaurants in EPCOT and it offers an amazing view as it's set right next to the giant aquarium in The Seas pavilion. That means while you are enjoying your meal you will get to see sea turtles, fish, and even sharks swimming right next to you.
The menu as you would expect is focused on seafood, even though it is weird to eat fish and then watch other fish swim by at the same. Don't think about it. There are also plenty of land options too such as chicken, veal, and steak.
Overall, we like Coral Reef, we just don't love it. The aquarium is something different you won't find elsewhere and the kids love it, but the food quality isn't as high as some other restaurants.
What to Get: We can never say no to Shrimp and Grits and these ones are sautéed to perfection and the cheddar cheese flavor is very rich in the grits. We also are big fans of the Grilled Mahi Mahi, which is fall-apart tender and cooked to perfection. If you like alcohol in your desserts try the Baileys Almande and Jack Daniel's Mousse, an unbeatable combo!
24. Sunshine Seasons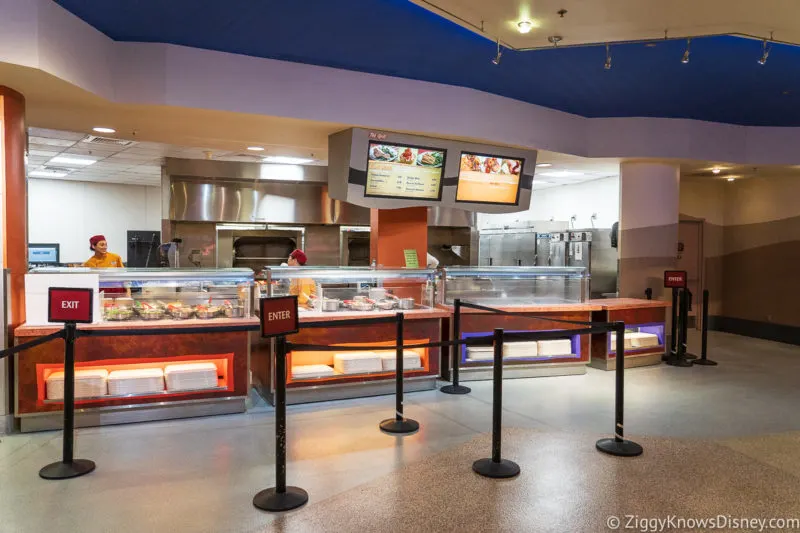 Cost: $
Type: Quick Service Restaurant
Cuisine: American (Burgers, Sandwiches, Roasted Chicken)
Even though it's one of the only quick service restaurants in the front half of EPCOT, that doesn't take away from how great Sunshine Seasons is. This has one of the biggest menus of any counter service in Disney World, and it's more like a food court than one restaurant.
The options are endless here and they have everything! They have flatbreads, burgers, roasted chicken, salmon, pulled pork, salads, and the list goes on and on. They also have a great selection of desserts, cupcakes, cookies, and pastries so don't skip those.
Don't expect a cozy setting or atmosphere as the seating is positioned right in the middle of The Land pavilion with hundreds of people passing by at any moment. It is relatively easy to find a seat however since the dining area is so large.
The overall menu size and the surprisingly good quality of the food here means that Sunshine Seasons is one of the best options for a quick meal at EPCOT.
Cost: $$
Type: Table Service Restaurant
Cuisine: Mediterranean, Moroccan (Small Plates, Hummus, Dips, Kefta)
Spice Road Table is a very underrated restaurant in EPCOT and one worth taking a look at on your next trip. It features Mediterranean cuisine and one of the best views of World Showcase Lagoon in EPCOT.
The menu recently underwent a major overhaul and now features only tapas-style dishes, small and good for sharing. Don't come here if you are looking for a traditional or huge meal, but it's a perfect place to grab a drink and enjoy small plates and snacks. The menu features hummus, olive platters, crispy cauliflower, kefta, naan spreads, and dessert platters.
We suggest coming to Spice Road Table for dinner and getting a table with a water view. This is perfect for fireworks viewing instead of having to fight for a spot somewhere on the promenade.
What to Get: We recommend trying the Sangria or any of the Greek, Spanish, or Moroccan Wines. There is also a big list of cocktails and other spirits to enjoy. For food, we like the Pomegranate-Chili Crispy Cauliflower much more than we ever thought, and we suggest the Naan Spreads and the Hummus Fries. All great for sharing, or not.
22. Choza de Margarita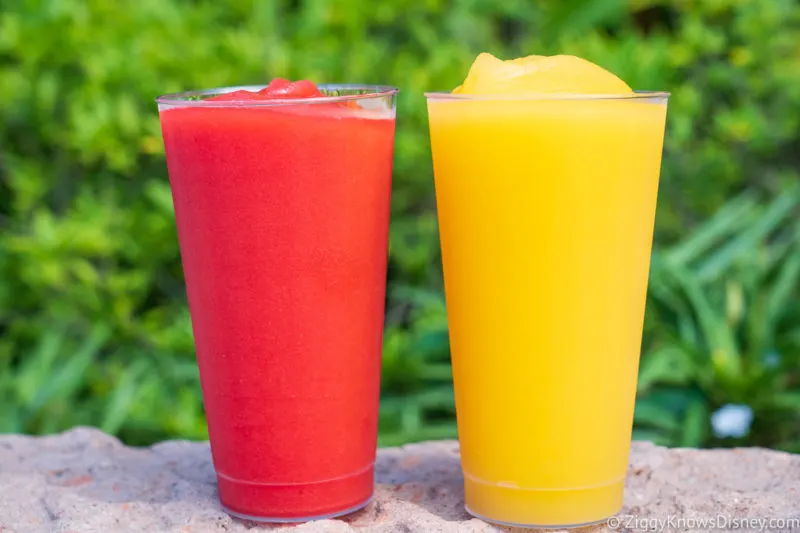 Cost: $
Type: Quick Service Restaurant
Cuisine: Mexican (Margaritas, Tacos, Empanadas)
If the name didn't give it away, the specialty here are the Margaritas. Yes, you absolutely MUST order a Margarita from Choza as they are the best in EPCOT, even better than next door.
You can get frozen or on the rocks and while they have the usual flavors, they also have much more exotic ones like Smokey Pineapple, Wild Strawberry, and Wild Passion Fruit.
Of course, you will need something to soak up all that alcohol and there are tacos, empanadas, and guacamole to enjoy.
Both quick service restaurants in Mexico are neck-and-neck and we really had a hard time choosing between the two. Ultimately we put Choza de Margarita just behind La Cantina de San Angel because the latter has a bigger selection of food, but we enjoy them equally as much.
What to Get: If you didn't get the message, you are getting a Margarita here. Our favorite flavor is The Cucumber with fresh Cucumber and Lime Juice, Orange Liqueur, and Agave. The Mango Loco is another top choice. The Tacos de Cochinita are incredible and are filled with tender citrus-marinated pulled pork.
21. La Cantina de San Angel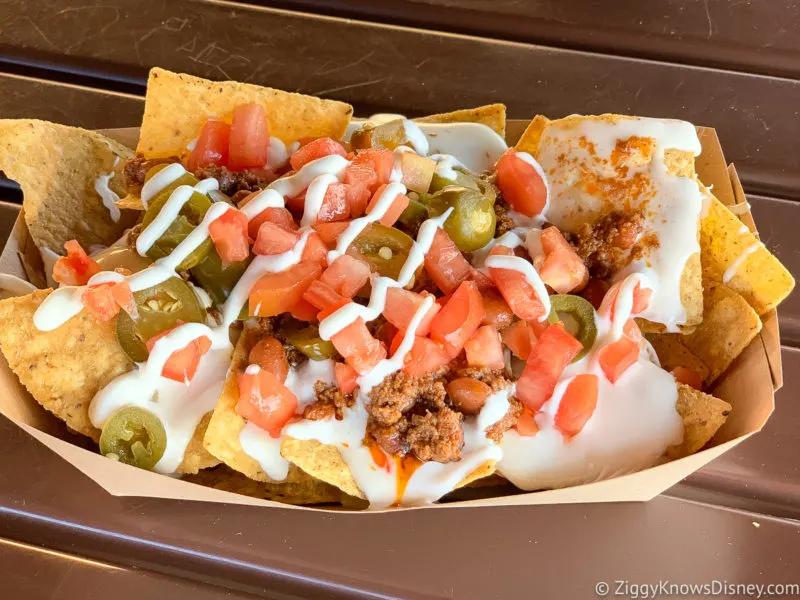 Cost: $
Type: Quick Service Restaurant
Cuisine: Mexican (Tacos, Nachos, Margaritas)
Another quick service in Mexico and another one of our favorite places to eat in EPCOT. The menu consists of various types of tacos, nachos, and empanadas. The quality is good, though it is a little expensive for the quantity you get. They also have incredible margaritas, though more basic flavors than over at Choza.
The location is one of our favorite parts about the restaurant and it has covered outdoor seating right on the water with an amazing view. During lunch hours you can also go in the back door to La Hacienda and sit inside if you want the air conditioning.
Again, we put La Cantina de San Angel just ahead of Choza because they have more food options to choose from. But you can't go wrong with either one.
What to Get: We love the Tacos de Camaron which have corn breaded shrimp in a corn tortilla. To try a little of everything get the Taco Trio instead. The Nachos are one of our favorite snacks in EPCOT, a big portion and topped with ground beef, nacho cheese, tomatoes, jalapeños, beans, and sour cream. For dessert grab an order of Churros with a Nutella spread for dipping!
20. Tutto Gusto Wine Cellar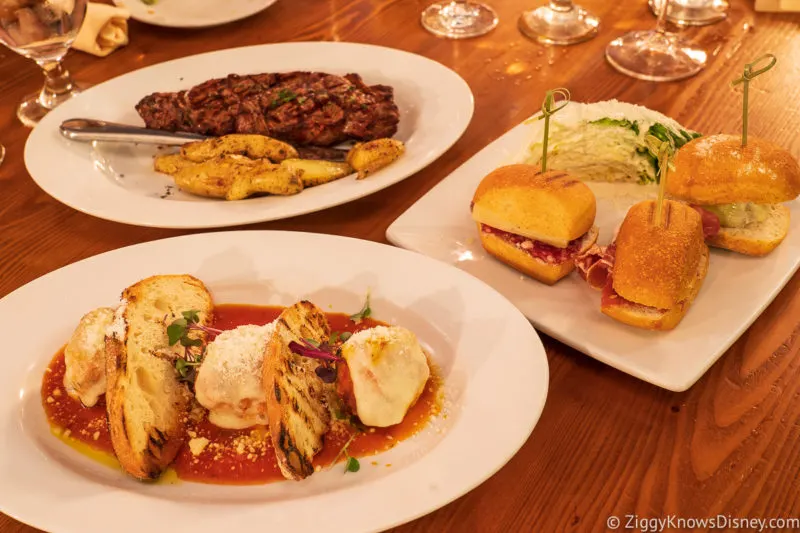 Cost: $-$$
Type: Bar/Lounge
Cuisine: Italian (Charcuterie, Wine)
The Tutto Gusto Wine Cellar is a much-overlooked restaurant in EPCOT, but we prefer it over its next-door neighbor Tutto Italia Ristorante.
First of all, we like the relaxed atmosphere. It's a bar/lounge and themed to an Italian wine cellar and you feel instantly comfortable. I know we felt like we were back home in Italy.
The menu is the same as Tutto Italia since they share the same kitchen, but for some reason, we've had better luck with the consistency of the food here than in the restaurant. It's also easier to get into without reservations. The wait staff is also super friendly and goes out of their way with recommendations or to answer any questions you have.
Our recommendation is to skip Tutto Italia and go to Tutto Gusto instead, especially if you are going without kids.
What to Get: Skip the main courses and get the Tagliere instead. It's a big board of Italian dried meats and cheeses and very much similar to what you would get in Italy. We love getting this and a bottle of fine Italian wine and can call it a night. If you want sweets, try the Tiramisu or the Torta di Ricotta which are pretty faithful to the traditional recipes.
19. Teppan Edo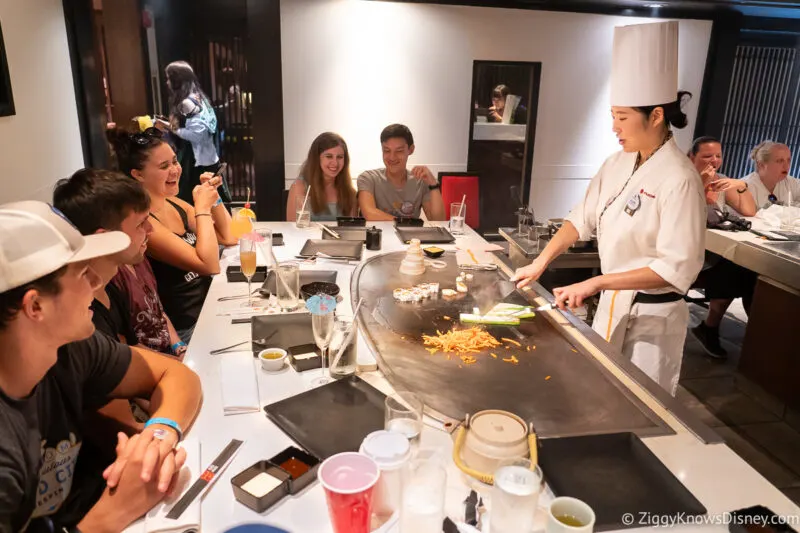 Cost: $$-$$$
Type: Table Service Restaurant
Cuisine: Asian, Japanese (Sushi, Teppanyaki)
Teppan Edo is the most popular restaurant in the Japan pavilion and it has one of the more unique dining experiences in EPCOT. It's a hibachi-style restaurant which means guests sit at a table around a grill and the chef cooks your food right in front of you.
It's like getting dinner and a show all in one!
Tables are in groups of 8 so if your party is smaller than that, it's likely you will have other guests sitting with you, making for a fun atmosphere.
The entrees all include udon noodles with vegetables, steamed white rice, and your choice of protein (steak, shrimp, salmon, scallops, etc) which gets cooked there before your eyes.
This is a must-do restaurant and a lot of fun, especially if you go with kids or a group. Your kids will be mesmerized by the incredible chefs as they slice and dice away with speed and precision.
What to Get: All of the entrees are excellent, however, we like to go with the Asakusa, combination shrimp and steak. That way we get some land and sea in our meal. Also, the Sushi is very underrated and some of the best on property.
18. Shiki-Sai: Sushi Izakaya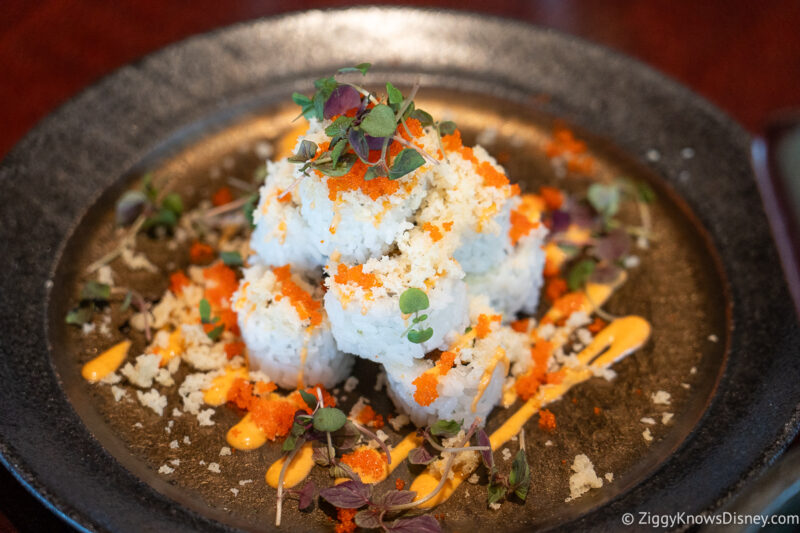 Cost: $$
Type: Table Service Restaurant
Cuisine: Asian, Japanese (Sushi, Sashimi)
Shiki-Sai replaced the former Tokyo Dining and is a pleasant new addition to the Japan Showcase, putting the Japan Showcase back up to three different table-service restaurants! And we enjoy each of them for different reasons.
Shiki-Sai is the "SUSHI" restaurant out of the three restaurants, so if sushi is your thing, Shiki-Sai is where you want to be! The menu has plenty of varieties with tuna, salmon, yellowtail, eel, and shrimp all showing up in the various rolls.
The options that are not sashimi, sushi, or nigiri are usually not great, so it's best to skip here if you don't plan on getting what they do best.
We love the stylish decor in the restaurant, although it is small. They've done a terrific job of modernizing it and making it more UPSCALE than the former Tokyo Dining. And while the restaurant is nice, it definitely is overpriced for what you're getting. But hey, that's Disney after all!
What to Get: If you want the ultimate in sushi, get the Sushi Boat which will feed 4-6 guests but costs a whopping $300! If you want something a bit simpler, try the Kobore Sushi, which is filled with Negi toro, tuna, and salmon roe.
17. San Angel Inn Restaurante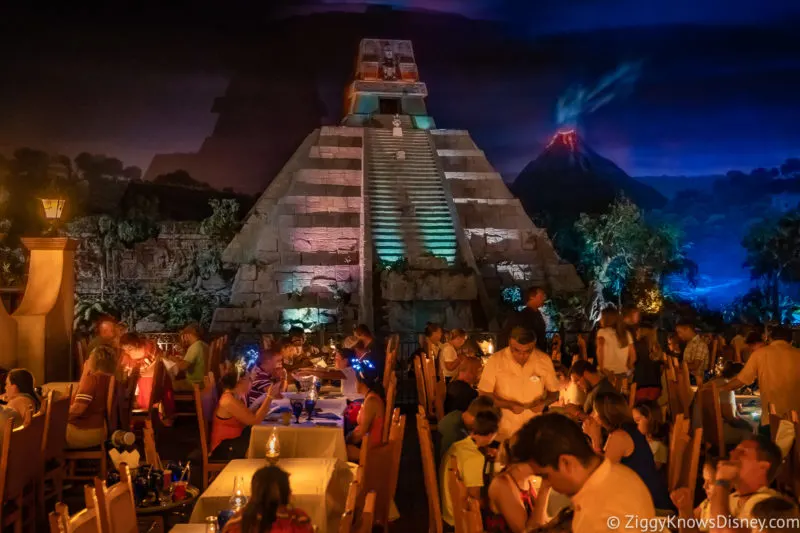 Cost: $$
Type: Table Service Restaurant
Cuisine: Mexican (Tacos, Enchiladas, Carne Asada)
This is the most popular restaurant in the Mexico pavilion, though it isn't our favorite. That's ok, its iconic pyramid still makes it a must-do EPCOT restaurant.
Even if you haven't eaten here, we know you've seen San Angel Inn Restaurante in photos or walking past it to ride the Gran Fiesta Tour. In fact, diners here have a front-row view of the boats passing by along the river and in front of the Mayan pyramids. The area is supposed to be a Mexican marketplace at nighttime, and the atmosphere makes you feel like you are really there.
The menu has many authentic Mexican dishes you are familiar with: tacos, enchiladas, carne asada, etc. The food isn't quite on the same level as the atmosphere though, and some of the dishes can be disappointing depending on what you get. Even so, it's worth a visit for the great theming.
Take your time dining here and soak up the unbeatable atmosphere for one of the coolest restaurants in EPCOT.
What to Get: The Tacos de Ribeye is great and it has Poblano peppers, red onions, bacon, and Monterey Jack cheese for toppings. The Enchiladas de Pollo is another good option which are served in corn tortillas covered in salsa verde, crema Mexicana, cotija cheese, and crispy onion straws. For dessert, the Tres Leche de Horchata is a classic Mexican dessert and sweet but not too sweet.
San Angel Inn Restaurante Menu
16. Katsura Grill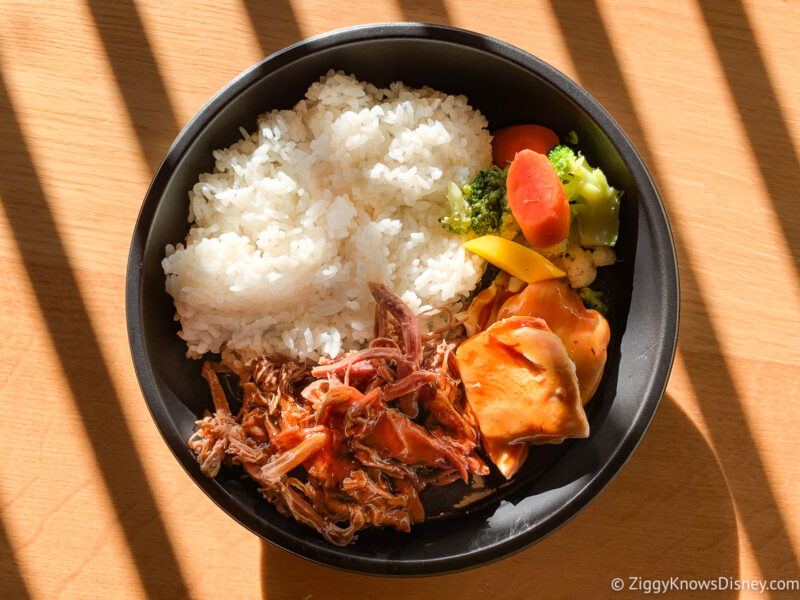 Cost: $
Type: Quick Service Restaurant
Cuisine: Asian, Japanese (Sushi, Noodles, Ramen)
If you are looking for consistently good food at decent prices and in one of the most peaceful areas of Walt Disney World, then the Katsura Grill is for you.
Set in the back of the Japan pavilion, the Katsura Grill is surrounded by lush gardens and a Koi pond filled with fish. It is a place you can just step into and forget you are in a theme park for a moment.
The menu is very solid and made up of classic Japanese food such as sushi, noodles, or teriyaki. The quality is very good for a quick service restaurant, and somehow it just feels like you are eating healthier than if you threw down a cheeseburger and fries.
There may be flashier options in EPCOT for a quick meal, but the Katsura Gill will give you a relaxing meal that doesn't cost an arm and a leg every time, and consistency counts for a lot in our book.
What to Get: Any of the noodle dishes are excellent, we prefer the Tonkotsu Ramen which is served with pork and vegetables. The Shrimp and Chicken Teriyaki is another favorite and is not too sweet.
15. Biergarten Restaurant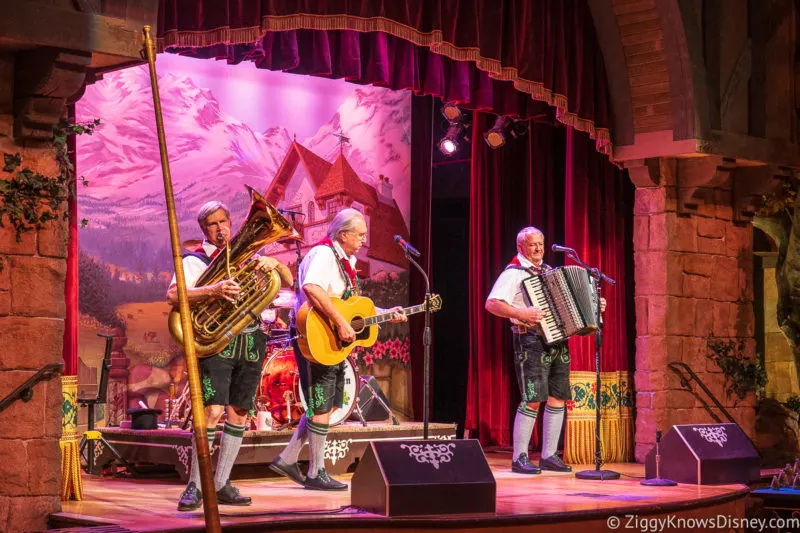 Cost: $$$
Type: Table Service Restaurant (Buffet)
Cuisine: German (Roasted Meats, Schnitzel, Potato Salad, Sauerkraut)
If you've ever wanted to experience Oktoberfest, now is your chance at Biergarten Restaurant in the Germany pavilion in EPCOT. It's themed to an outdoor beer festival in Germany and there is even a live band playing classic polka music. You can even get up and dance if you like!
This is not a place for a quiet intimate meal, but it's a lot of fun! The big wooden tables are set up picnic-style and shared with other guests if your group is not big enough.
The all-you-can-eat menu serves up classic Germain dishes like spätzle, schnitzel, bratwurst, sauerkraut, sausages, and more. Don't expect refined dishes, this is just about eating good food, and as much of it as you can!
You will definitely need reservations for Biergarten so don't forget to make them months in advance.
Biergarten is one of the most fun restaurants in EPCOT and great if you are going with a big group. We love the theming and the food here so grab a stein of beer and enjoy this all-you-can-eat banquet!
What to Get: Most of the food on the buffet is really good. We especially like the roasted meats, like the Chicken or Pork. The Bratwurst is great too. For sides, our favorites are the Spätzle which we then drown in gravy, the Nudel Gratin, and the Warm Potato Salad, all German classics. For dessert, it wouldn't be a trip to Germany without Apple Strudel with Vanilla Sauce or the Black Forest Roll.
14. Chefs de France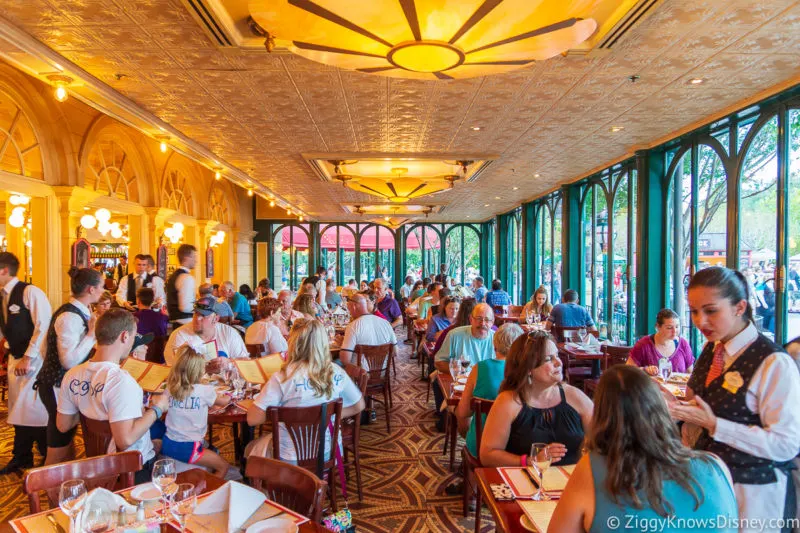 Cost: $$
Type: Table Service Restaurant
Cuisine: French (French Onion Soup, Ratatouille, Steak & Frites)
Chefs de France is a French bistro right along World Showcase Promenade and it will make you feel like you are having a meal on the streets of Paris. In fact, this is one of our favorite restaurants for people-watching in EPCOT and if you can get a window table it offers an excellent view.
The menu is authentic with many traditional French dishes like escargot, steak frites, cheese and charcuterie board, boeuf bourguignon, and more. And don't forget those crusty French baguettes!! As you can see, the food is pretty awesome here and we find it to be a good price for the amount of food you get too.
13. La Cava del Tequila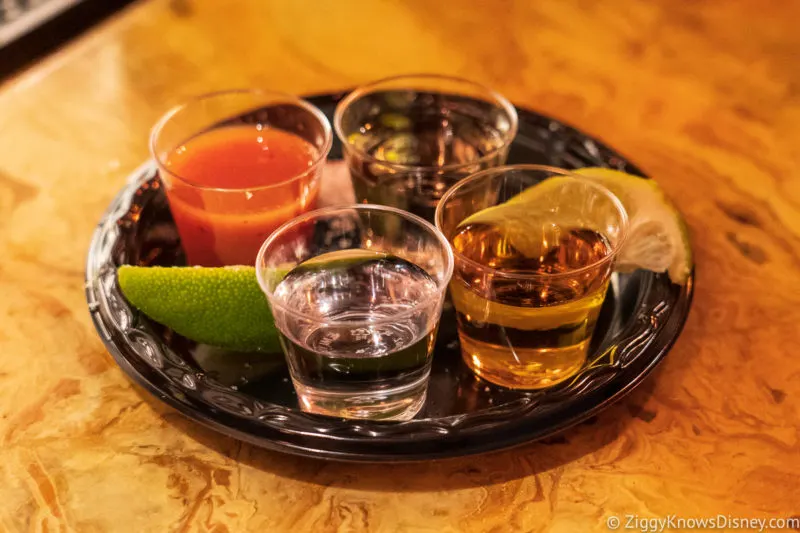 Cost: $-$$
Type: Bar/Lounge
Cuisine: Mexican (Tequila, Margarita)
If you are not looking for a whole meal and just want drinks and a snack, there is no better place in EPCOT than La Cava del Tequila. In fact, this might very well be at the top of our list for the best bars and lounges in all of Walt Disney World.
First of all the theming is incredible and a part of the Mexican marketplace inside the pyramid. When you step inside La Cava, it's just like being in a cellar and it feels authentic.
As you might imagine, La Cava specializes in tequila of every type and they have cheaper stuff used for drinking and the super high-shelf tequila that you might need to sell a kidney to afford just one shot. The margaritas are excellent here to as you might have guessed. The waitstaff is extremely knowledgeable and can answer any questions you have.
They do have some snacks, but it's limited to chips and salsa, queso dip, and guacamole.
This is the perfect place to unwind in the afternoon or early evening before dinner after a long day running around EPCOT. Sit back and enjoy some of the most delicious drinks in the park.
What to Get: Tequila of course. Our recommendation is to try a Tequila Sampler so you can really taste the difference between mediocre tequila and the good stuff.
12. Tangierine Café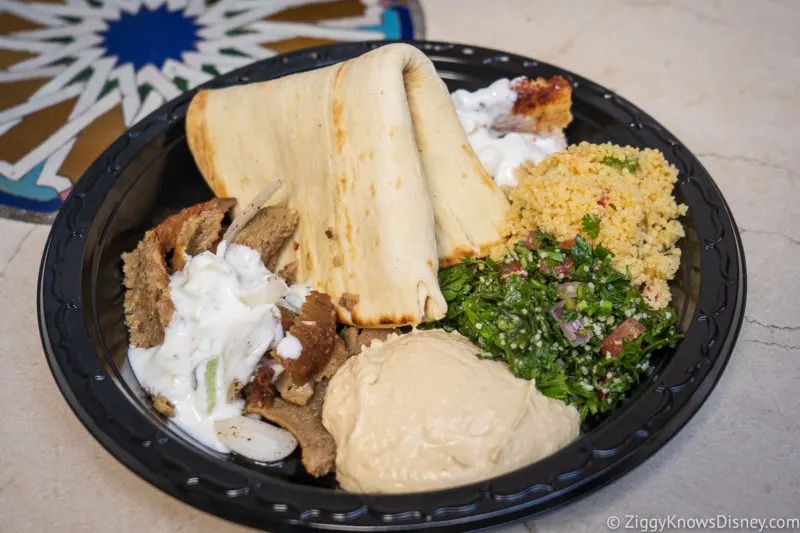 Cost: $
Type: Quick Service Restaurant
Cuisine: Moroccan (Kefta, Shawarma, Baklava)
The Tangierine Cafe has reached almost legendary status among Disney fans and is easily one of the top restaurants in EPCOT. Many people don't immediately think of the Morocco pavilion when thinking of the best food in World Showcase, but if you overlook this place, you are really missing out.
Right now the menu is only offering special items from the EPCOT festivals, but we hope eventually soon it goes back to the former full menu.
It's a quick service restaurant which means fast and casual meals, nothing fancy here. That's ok because we are here for the mouthwatering food. All the portion sizes are huge and easily shared if you aren't absolutely starving. The food quality is also excellent for counter service and all the ingredients fresh.
Besides the food, all the details at the Tangierine Cafe are incredible including the intricate mosaics and the beautiful stained glass windows. There is seating both indoors and outdoors depending on how hot it is outside.
You really can't go wrong here and we could make an argument that the Tangierine Cafe is the best overall restaurant in EPCOT when taking price and convenience into consideration. You know that makes it a must-try!
What to Get: Since the menu isn't the former full menu, they are limited to the festival offerings, but try all of them. They are usually really good! They almost always have kebabs and falafel, which are both excellent.
11. La Hacienda de San Angel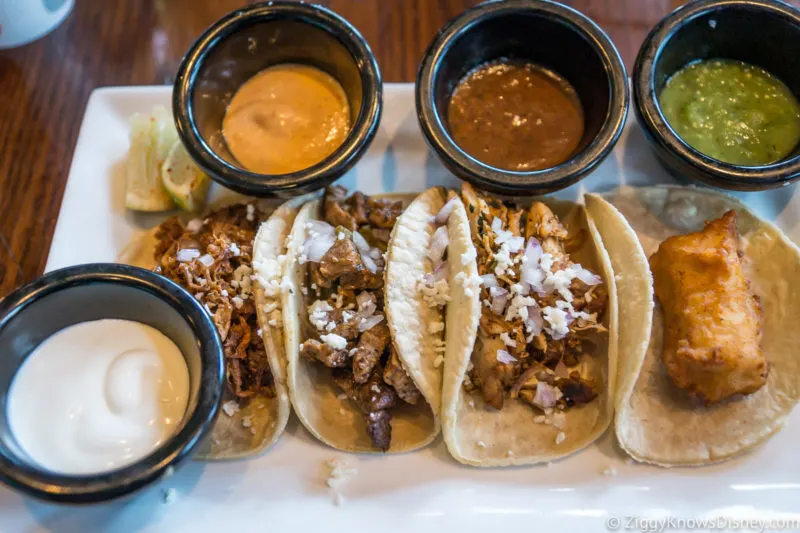 Cost: $$
Type: Table Service Restaurant
Cuisine: Mexican (Tacos, Carne Asada, Seafood)
While the San Angel Inn gets most of the attention from guests due to the dramatic setting, we actually prefer its cousins across the promenade, La Hacienda de San Angel.
First of all, it's situated right on World Showcase Lagoon, with incredible views of the other countries across the way. This also makes for a great fireworks-viewing spot so plan your meal during the fireworks and you'll get an incredible show.
The menu has classic Mexican dishes like tacos, carne asada, pollo poblano, and even a few seafood options. The food here is very similar to San Angel Inn, but in our opinion, it's even a small improvement. The entrees are more flavorful than the competition, and the margaritas are perfect.
Yes, there are better Mexican meals in many restaurants outside Disney World, but the combination of the location and food quality for sure make it a top EPCOT restaurant and one worth putting on your list.
What to Get: The Queso Fundido with melted cheese with chorizo, peppers, and onions, is our favorite appetizer and we could eat that all day long! The Osso Buco a la Mexicana is a unique Mexican take on a popular dish, including tasty short ribs! We also enjoy the Tacos de Carnitas de Pato, which features braised duck tacos!
10. Connections Café & Eatery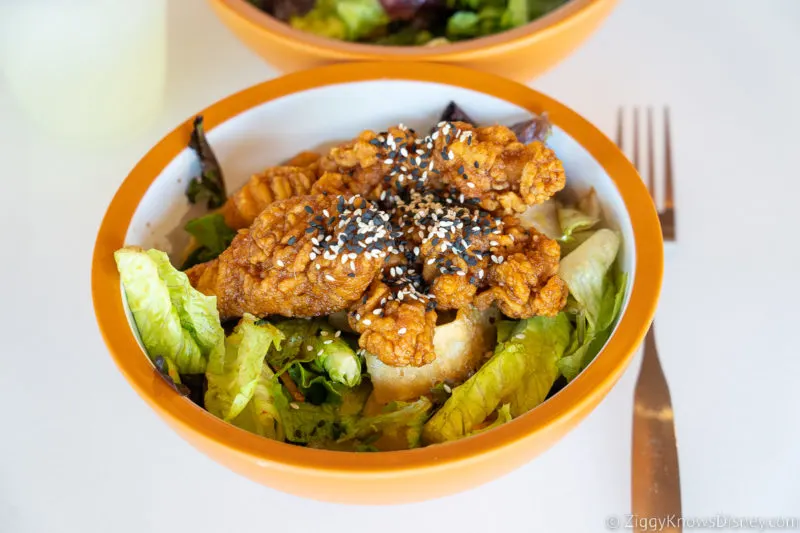 Cuisine: American & Mediterranian (Burgers, Pizza, & Salads)
This is the newest addition to EPCOT's quick service lineup and it instantly jumped into the top 10 restaurants in the park. Technically, it's two quick service locations in one (Starbucks and a traditional counter service restaurant), but for this ranking we are lumping them together as one.
We absolutely love everything about this location including the large open space with its huge windows that let in a ton of light and allow for beautiful views into World Celebration.
As for the food, it's a touched-up version of American cuisine that includes pizza, burgers, and salads, though they are a much higher quality than the majority of quick service restaurants in Disney World. In fact, it has the best selection of burgers at any quick service restaurant in Disney World and they all have unique and intriguing flavor combinations.
9. Rose & Crown Dining Room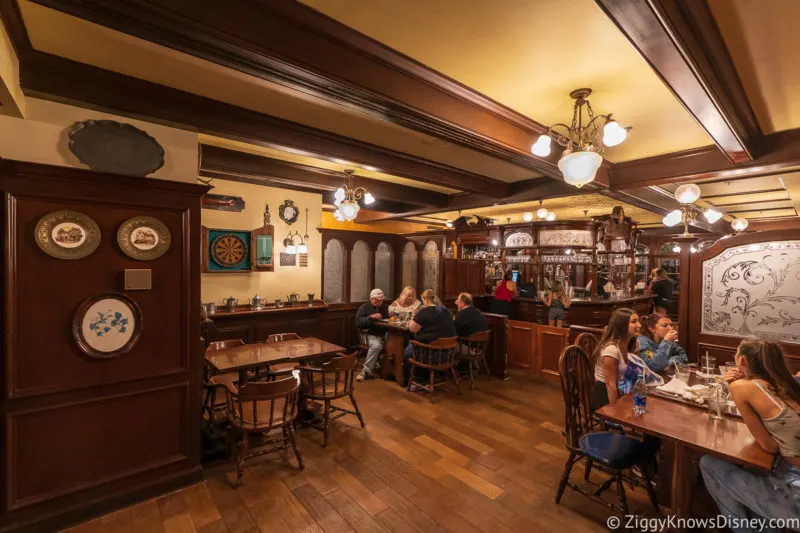 Cost: $$
Type: Table Service Restaurant
Cuisine: British (Fish & Chips, Bangers & Mash, Shepard's Pie)
The Rose & Crown Dining Room is your classic British Pub and one of EPCOT's top restaurants.
The menu is full of all the traditional favorites like fish and chips, bangers and mash, Shepherd's pie, and even some items you might not think of as British such as curry. All the dishes are good portion sizes and they have a home-cooked quality to them.
The location of the Rose & Crown is just as good if not better than the food. It's located right on the water and is another restaurant offering perfect views of the fireworks. If you can get a table during the fireworks, this is the best viewing spot of all the restaurants and it will be a meal you never forget!
What to Get: The Scotch Egg is one of the most unique appetizers you will find on the menu. It's a golden-fried egg wrapped in sausage…yes please! The Fish and Chips are incredible with mouthwatering fish covered in a perfectly crispy batter. They are the same as outside at the Yorkshire County Fish Shop though. The Bangers and Mash are a good option and the Cheeseburger is consistently stellar too.
8. Regal Eagle Smokehouse: Craft Drafts & Barbecue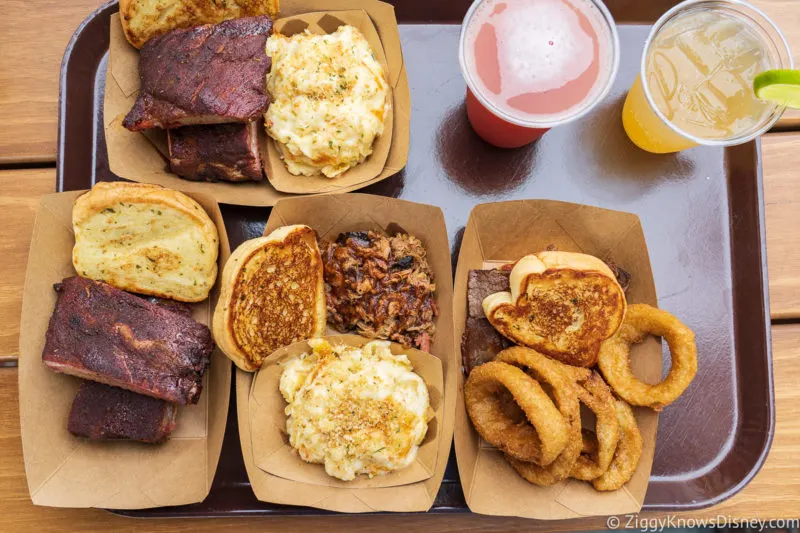 Cost: $
Type: Quick Service Restaurant
Cuisine: American (Barbecue)
Nothing says "American food" more than barbecue, and the Regal Eagle Smokehouse does it as well as any BBQ restaurant in Walt Disney World not called "Polite Pig." That's not an insult and almost everything on the menu is "finger-licking good."
Here you get most of the classics providing a tour of American BBQ so to speak. BBQ ribs, smoked chicken, smoked pork butt, and a brisket sandwich are entree options. They all come with garlic toast and a choice of sides such as baked beans, Mac and cheese, coleslaw, onion rings, and French fries.
The theming is well done and a vast improvement over the previous space. Keep an eye out for the many subtle Muppets references throughout the restaurant. After all, this is "A salute to all cook-offs but mostly barbecue."
The portion sizes are all big and the cheap prices make it one of the most affordable meals you can have in EPCOT. As far as traditional counter service restaurants go, it's hard to argue with Regal Eagle not being the best.
What to Get: Our favorite entree is the Smoked Pork Butt. It's very flavorful and falls apart in your mouth. Our favorite entree is the Memphis Dry-rub BBQ Ribs which feature a generous portion size of a half-rack of ribs. For dessert, you have to try the S'mores Brownie, which has the perfect blend of rich chocolate and marshmallow filling.
Don't forget to try one of the amazing cocktails at the outdoor bar attached to the restaurant.
Regal Eagle Smokehouse: Craft Drafts & Barbecue Menu
7. Garden Grill Restaurant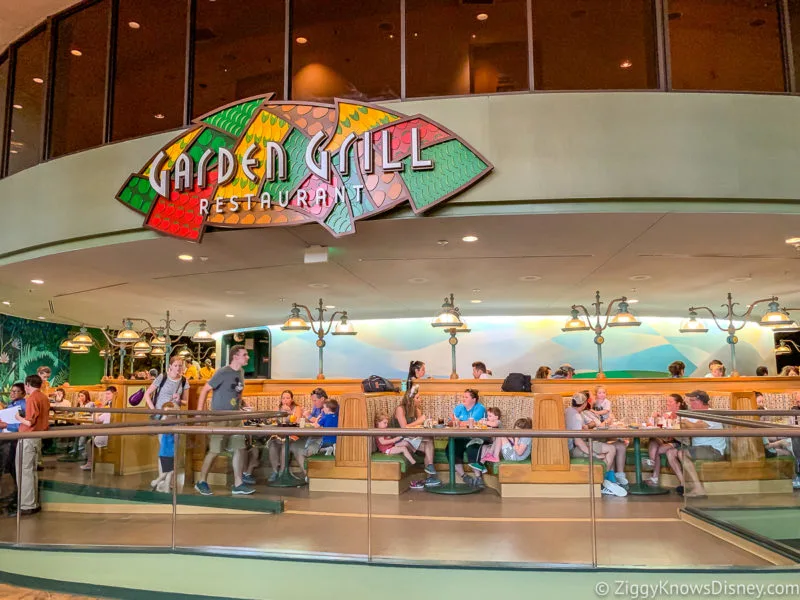 Cost: $$$
Type: Table Service Restaurant (Character Meal, Buffet)
Cuisine: American (Turkey, Mac & Cheese)
The Garden Grill is a table service restaurant located on the upper floor of The Land pavilion. Chip 'n' Dale's Harvest Feast is a character meal featuring Chip, Dale, Mickey, and Pluto and is normally served buffet-style, though recent changes have changed it to a family-style meal. All three meals (Breakfast, Lunch, and Dinner are served here).
Another cool thing about the Garden Grill is that it's a rotating restaurant. It's positioned above the Living with the Land attraction and it looks down on some of the scenes from the ride. That means you'll have a view that's constantly changing while you dine.
For breakfast, you get some of the normal staples like eggs, bacon, sausage, hash browns, and Mickey waffles. For dinner, the menu is mostly home-cooking American favorites like turkey with gravy, mashed potatoes, Mac and cheese, and stuffing. The food is very good quality, and although it's fairly expensive since it's a character meal, it's not anywhere near as expensive as Akershus.
We prefer the Garden Grill a slight bit more than Akershus due to more affordable pricing, better food and the rotating factor. We actually slightly prefer the breakfast to the dinner here, although both are solid. Since it's all-you-can-eat, make sure to fill up when you come!
What to Get: For breakfast, you can't go wrong with Mickey Waffles, but our favorite item is the delicious Chip's Sticky Bun Bake! For lunch and dinner, we love the Grilled Beef with Chimichurri and pair it with the Herb and Leek Stuffing.
6. Via Napoli Ristorante e Pizzeria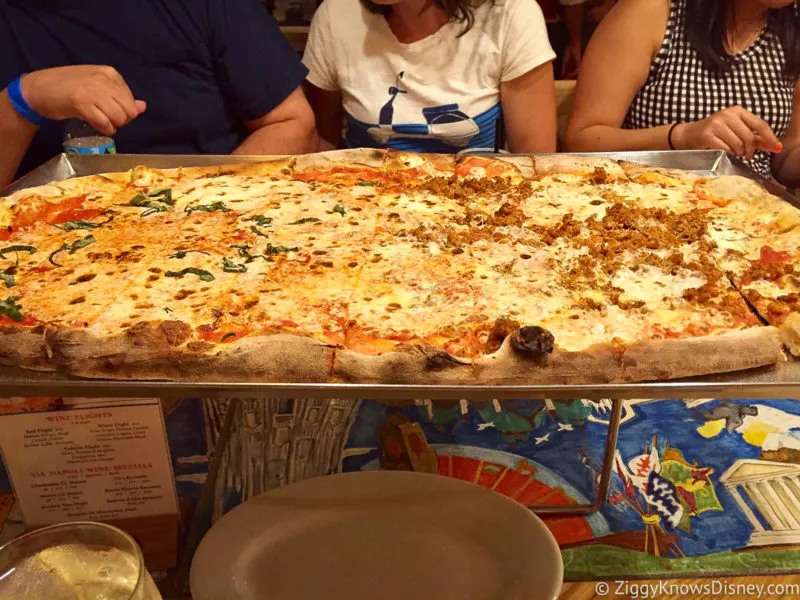 Cost: $$
Type: Table Service Restaurant
Cuisine: Italian (Pizza, Pasta)
Via Napoli is by far the most popular restaurant for families and large groups in EPCOT, and a must-try if you are looking for a fun atmosphere with great food.
The menu has salads, pasta, and some meat dishes, but the focus here is the pizza. This is as close to authentic Italian pizza as you can get in Florida and most of the ingredients are flown in fresh from Italy. Every detail is cared for and even the water used to make the dough has a similar alkaline level as found in Naples.
We love Via Napoli, but if you want to dine here you will definitely need a reservation as it's one of the hardest tables to book in the park. Be prepared the minute your booking window opens up months before your trip. It's worth it though and is one of the best places to eat in EPCOT.
What to Get: I guess you could come to Via Napoli and order something other than Pizza, but why would you want to?? The Mezzo Metro (half a meter) pizza is a great option to share and you can even get different toppings on each half. This is great to feed a family of 4 on the cheap. The Pasta is good but we aren't paying $30 for a bowl of pasta here.
Via Napoli Ristorante e Pizzeria Menu
5. Monsieur Paul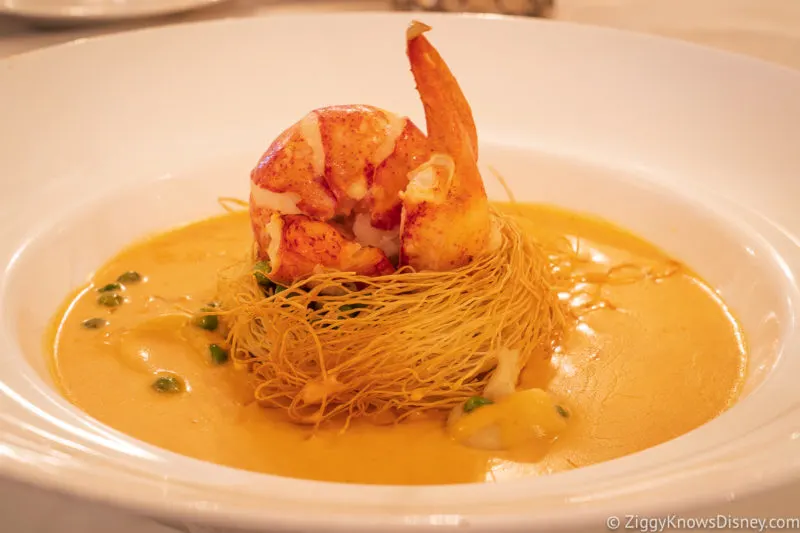 Cost: $$$-$$$$
Type: Table Service Restaurant
Cuisine: French/Fine Dining (Escargot, Steak, Seafood)
If you've already eaten at Chefs de France on the street level, the next step up is Monsieur Paul. Chefs de France is the more family-friendly restaurant and Monsieur Paul is where you go if you are serious about fine dining, something rarely found in a theme park.
The restaurant is done in the Art Nouveau design, with tall windows and elegant chandeliers hanging from the ceiling. It's not our favorite style but it fits the mold for a signature restaurant. Surprisingly, it's not an overly-stuffy restaurant and the wait staff is always super friendly.
Everything on the menu is refined and served with a gorgeous presentation that will make your mouth drop. Don't come here with the all-you-can-eat mentality as the focus is not on quantity, but the high quality of the food. It is one of the most expensive restaurants in the park, but in our opinion, there are few dining experiences that come close to this level.
What to Get: There are so many good choices and plenty of seasonal items on the menu. Keep in mind, now Monsieur Paul is only offering a Prix Fixe Menu with a set price. This allows guests to pick an option for the different courses.
All of the food here is truly fantastic, but it costs a pretty penny! The desserts are all mind-blowing but the best is La Sphère, a Milk Chocolate Sphere and Chocolate Almond Cake which is then covered in a warm chocolate and cognac sauce!
4. Space 220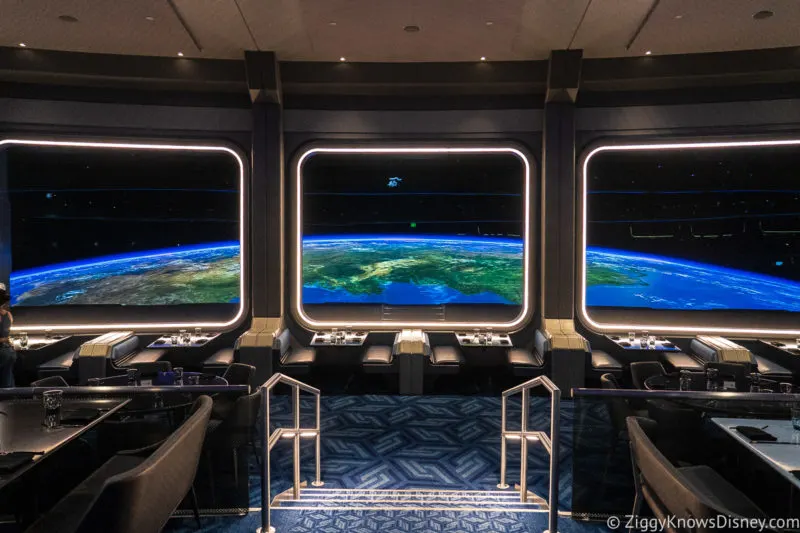 Cost: $$$-$$$$
Type: Table Service Restaurant
Cuisine: Modern American (Steak, Seafood, Pasta)
Ever want to dine in outer space? Now is your chance to eat aboard a space station 220 miles from Earth in a dining experience that is truly out-of-this-world!
This is one of the newest restaurants at EPCOT, but we enjoyed our visits here so much that it already finds itself in the top 5. Honestly, we wanted to be objective in our ranking Space 220 so we waited a few months to let some of the shine wear off, yet we still find ourselves in love with this place.
The concept alone makes it worthy of being considered near the top of the list and there is nothing else like it at Disney World or anywhere else on planet Earth. The details here are incredible, including the space elevator which simulates traveling up 220 miles in about 1 1/2 minutes.
You haven't seen anything though until you step inside the main dining room and look out into the space windows and realize you are hovering high above the Earth (in a Disney way). Keep watching those windows throughout your meal and you'll find other fictional guests outside playing, walking their dog, or just floating along.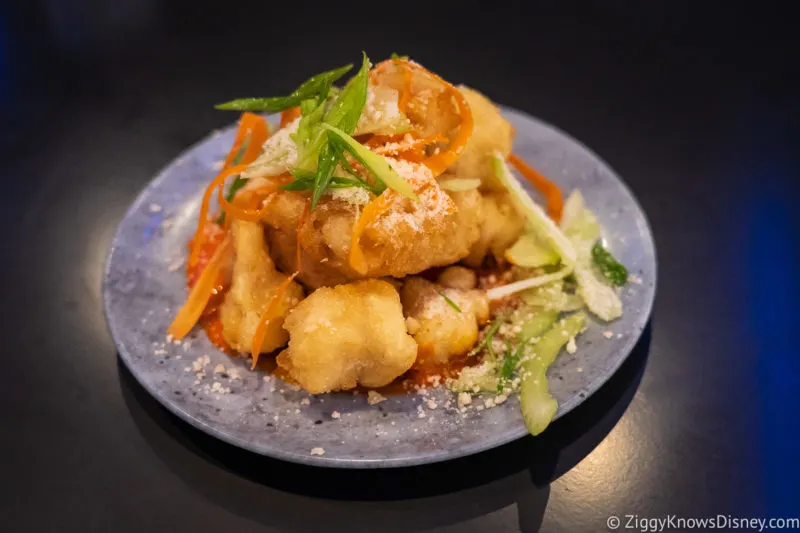 It's not all show here though, the food is on the same high level as the theming. The menu is prix fixe and either a 2-course or 3-course meal depending on if you come for lunch or dinner. You can order food a la carte if you're able to get into the Space 220 Lounge, which also requires reservations.
Though it's expensive, we think Space 220 is worth every penny and must be experienced at once on a trip to Disney World.
What to Get: One of our favorite appetizers is the Blue Moon Cauliflower which is perfectly battered and fried, served on top of buffalo sauce, and dusted with blue cheese. We'll eat our vegetables this way any day!
For entrees, at lunch we like the Galactic Miso Salmon which is seasoned and juicy, the Steak and Frites, or the Space Pad Thai if you want something really unique. At dinnertime, you can't beat the 8oz Filet Mignon with that succulent cabernet butter, it just melts in your mouth. The Slow Rotation Short Rib with cheddar grits is another amazing choice.
You can't go back down to Earth without dessert and the Carrot Cake was our favorite. If you want something more filling, we recommend the Blue Planet, which is a chocolate cheesecake with raspberry on it.
3. Les Halles Boulangerie-Patisserie
Cost: $
Type: Quick Service Restaurant (Bakery)
Cuisine: French (Pastries, Sandwiches, Baguettes)
You don't even have to set foot inside Les Halles Boulangerie-Patisserie to understand why we ranked it in the #3 overall spot, you can smell the freshly baked bread and sweet pastries practically from the other side of World Showcase lagoon.
It's literally impossible to walk into Les Halles and not come out with something that you love. There are dozens of delicious pastries, croissants, sandwiches, quiche, etc to choose from, so many you won't be able to get it all in one trip and will need to come back.
This is without a doubt the best counter service restaurant at EPCOT and one of the best places to eat hand-down!
What to Get: Pastries. Get ANY pastry and you will thank me later. We do have some favorites though. The Framboise is my mom's favorite and is a mix of chocolate cake, raspberry mousse, and raspberry jam. The Tarte au Citron is basically a mini lemon meringue pie and the perfect balance of tart and sweet. The Eclairs, Napoleons, Croissants…all amazing!
If you are looking for something savory get the Croque Monsieur, a toasted ham and cheese sandwich with creamy béchamel sauce in the middle. The Roulé au Fromages (bacon and cheese roll) is another must-try. We get these every time without thinking. To keep things simple, just get a freshly-baked Baguette and a Cheese Board and call it a day!
Les Halles Boulangerie-Patisserie Menu
2. Le Cellier Steakhouse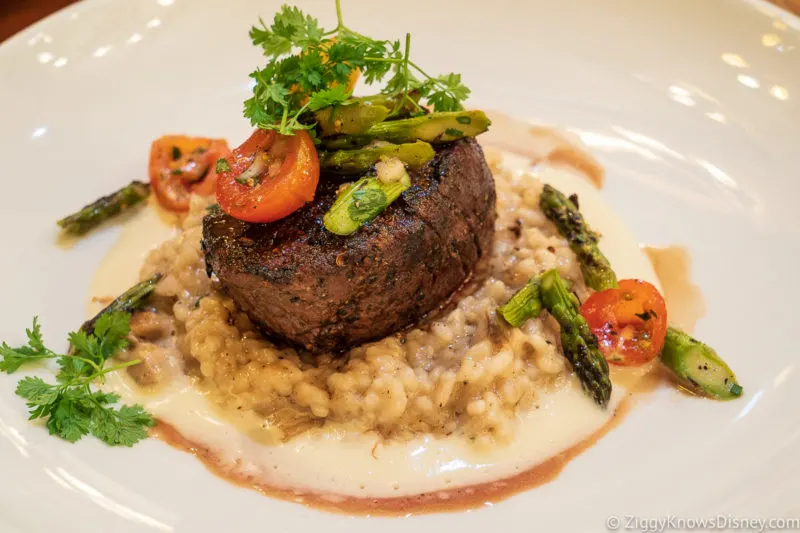 Cost: $$$-$$$$
Type: Table Service Restaurant
Cuisine: American/Canadian (Steakhouse)
You can't go to EPCOT without trying Le Cellier at least once as it is one of the quintessential dining experiences in Disney World. It's definitely one of the most popular restaurants and tables are extremely hard to come by here.
Le Cellier is synonymous with good steaks and is easily in the top 3 places to go on property for carnivores. All the cuts are of incredible quality, either USDA Prime or AAA Canadian beef.
For some people, Le Cellier is overrated and too expensive, but we think that is totally wrong. We've never had a bad meal here and it has consistently amazing food and service every time, something that's not always found in Walt Disney World.
The combination of mouthwatering food, plus the unique location makes it worth the extra money. It's our #2 overall restaurant at EPCOT and one of the best in Disney World hands-down!
What to Get: No visit to Le Cellier would be complete without getting a bowl of the rich Canadian Cheddar Cheese Soup. Take the warm pretzel breadsticks and dunk them into the soup for one of the best flavor and texture combinations you will ever eat. For an entree, you have to try one of the steaks. The Filet Mignon with truffle butter sauce or the Ribeye are our two favorites and both melt in your mouth.
1. Takumi-Tei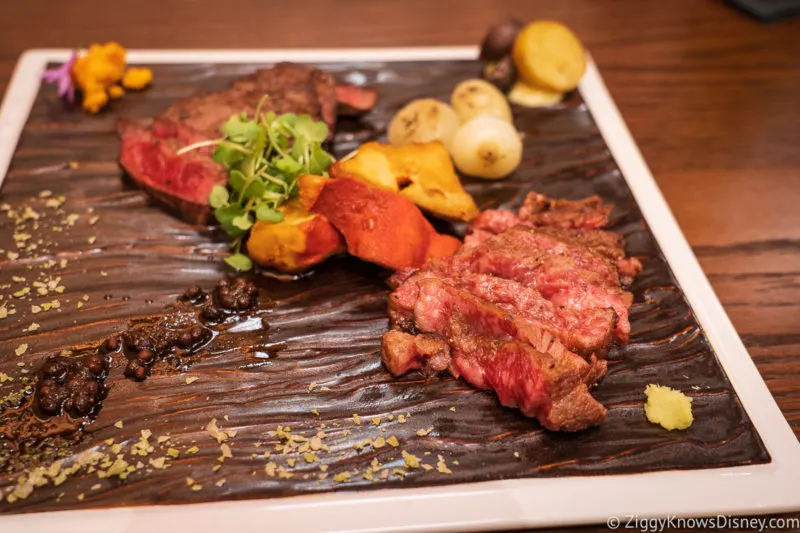 Cost: $$$$
Type: Table Service Restaurant
Cuisine: Asian, Japanese (Steakhouse, Sushi)
That leaves us to our top restaurant in EPCOT…Takumi-Tei. Huh? What? Yes, the best restaurant is a Japanese steakhouse that unfortunately not many people have been to yet, but believe us, it's worth it.
First of all, stepping inside Takumi-Tei is like being teleported out of a theme park and into a small village in Japan. This is where the chaos outside the doors disappears and one of the most exquisite dining experiences you will ever have begins.
The name of the restaurant is translated "House of the Artisan," and the decor is incredible. Each room represents an element from the Earth, and each one is more beautiful than the previous. The service is A++ and each table has two servers assigned to it where your every need will be taken care of.
The food here is expensive but the quality is equally as high as the cost. It's even a notch higher than the standard signature Disney World restaurant. The quality of the fish in the sushi and the Wagyu beef are seldom found outside of Japan. Not only is the quality pristine, but each dish is also served in a gorgeous presentation that almost makes you feel bad for eating it.
Outside of Victoria & Albert's, there is no dining experience at Walt Disney World that tops this. Between the service, atmosphere, and food quality, Takumi-Tei is hands-down the best restaurant at EPCOT.
Breakfast is of course the most important meal of the day, so it's a smart idea to fill up the tanks before running around EPCOT too much on all the rides. There are plenty of options here and it just depends if you want to have a quick breakfast or if you are looking for a sit-down meal.
Here are our top choices for breakfast at EPCOT:
Something Quick – There are two clear choices here and it just depends on which part of the park you are in during the morning. If you enter through the main gates and plan on staying in Future World for a while, Sunshine Seasons is your best bet. It has a ton of options including eggs, bacon, breakfast sandwiches, pastries, muffins, and more.
If you are looking for your coffee fix, Connections Café is the new Starbucks location in EPCOT, though it doesn't have very unique food offerings.
If you are coming in through the International Gateway, we highly recommend stopping at Les Halles Boulangerie Patisserie in the France pavilion. There are dozens of incredible pastries to choose from or grab something savory like the croque monsieur to satisfy your hunger.
Sit-Down Meal – The Garden Grill is our favorite table service restaurant for breakfast in EPCOT. It was between this and Akershus, but we went with the Garden Grill because we prefer the characters here (Chip, Dale, Mickey & Pluto) over the princesses at Akershus. The food is also a bit better here imo but either one is fine.
READ: Best Breakfasts at Disney World
Best EPCOT Lunch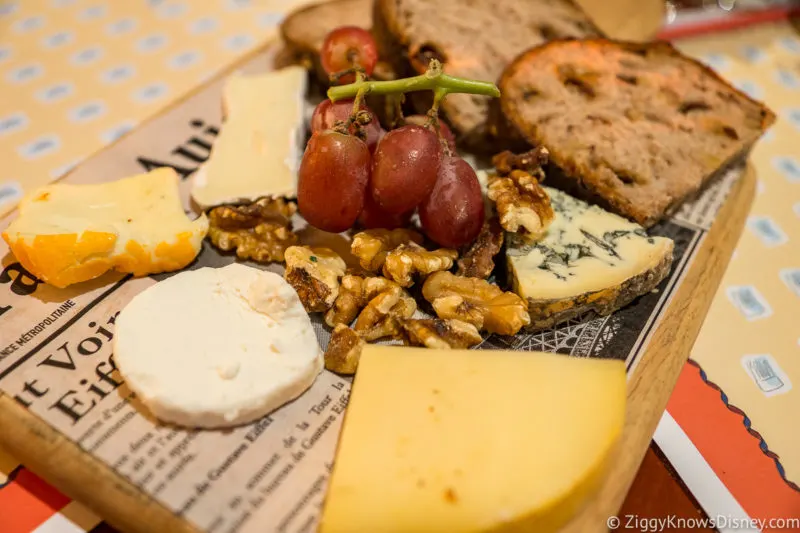 Just like the other parks, lunch is the busiest time at EPCOT. This is when peak crowds are in the park and of course, everyone is hungry and wants to eat before continuing into the afternoon.
Here are our top choices for lunch at EPCOT:
Something Quick – You'll most likely be in World Showcase by lunchtime, and if not, you should be. The food is much better there and there are more options. If one of the festivals is happening, I'd recommend snacking at several of the different festival booths. Each one is better than the last!
If you want something more relaxing the most beautiful place for lunch is at the Katsura Grill in Japan. Grab your sushi, noodles, or ramen and enjoy it in a tucked away area in the back of the pavilion in the middle of a lush garden. EPCOT doesn't get more peaceful than this.
If you are still in World Celebration, World Nature, or World Discovery, head over to the Connections Eatery for some of the best quick service burgers on property, and some unbelievable milkshakes!
Sit-Down Meal – For perhaps the most unique dining experience in the entire park, make a reservation at Space 220 and eat in outer space. We prefer lunch since it is less expensive than dinner in what is an already expensive restaurant. The kids will love it though since it's not every day they can eat in a space station.
If you want to do some people-watching, Chefs de France is the perfect place to have lunch. Eat in this authentic French bistro with a window table looking out over the World Showcase Promenade. Just like in Paris. It's also air-conditioned which you'll be happy about.
Le Cellier is another alternative and one of the most popular restaurants in EPCOT. It has some of the best meat in Disney World. You won't be disappointed!
Best Dinner at EPCOT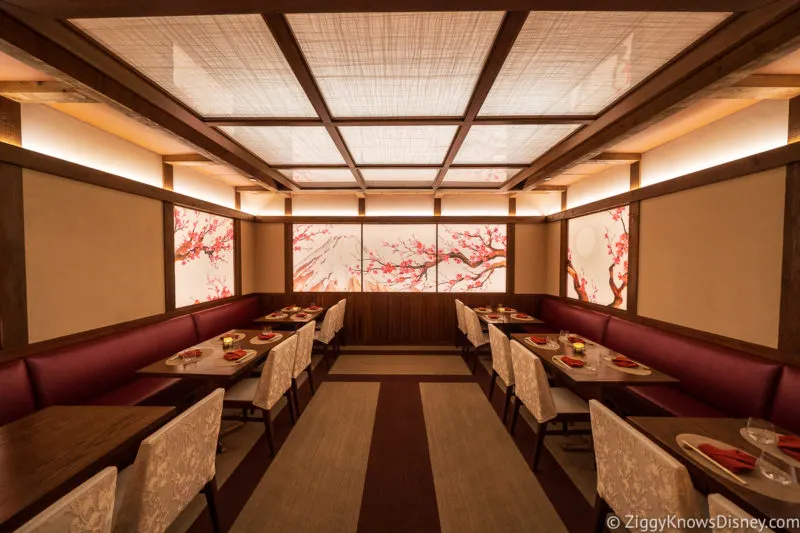 If you decide to stay in EPCOT for dinner, you are in luck. This is our favorite place in Disney World to have dinner. There is nothing like a great meal, then a stroll around World Showcase Lagoon, before watching the fireworks.
In fact, even if you go to another park in the morning or afternoon, we recommended coming to EPCOT
You may or may not stay for dinner when you visit, but if you do, there are many good choices. With limited nighttime entertainment at the Animal Kingdom, you can take your time to enjoy a meal without being in a big rush.
Here are our top choices for dinner at EPCOT:
Something Quick – Regal Eagle Smokehouse is great for any meal, but if you want to sit outside, it's better to wait until dinner when the temperature cools down. This has finger-licking-good barbecue which will definitely fill you up.
Sit-Down Meal – Our favorite family-friendly option for dinner is Via Napoli in Italy. You can get the "Mezzo Metro" pizza (half a meter) and split it between two adults and two kids. That makes it one of the most economical table service meals around.
If you are looking for a fine dining experience, EPCOT has two wonderful options. Takumi-Tei is great if you like sushi or the world-famous Wagyu Beef, and it's like being transported into Japan. Monsieur Paul is another awesome place for dinner and it offers exquisite French cuisine. Both are amazing it just depends on which type of food and vibe you like more.
Best EPCOT Character Meals
There are 2 character meals in EPCOT: Garden Grill Restaurant and Akershus Royal Banquet Hall.
Which one you choose depends on what type of experience you want and which characters you want to see.
Garden Grill – This rotating restaurant is located in The Land pavilion and lets you look down on different scenes while you eat. Characters found here include Chip, Dale, Mickey, and Pluto.
Akershus Royal Banquet Hall – This is the place to go if you want to meet princesses. Characters include Belle, Snow White, Ariel, Cinderella, and Princess Aurora. There is even a photo app with one of the princesses before your meal.
READ: Best Character Meals in Disney World
Recent New Dining Additions to EPCOT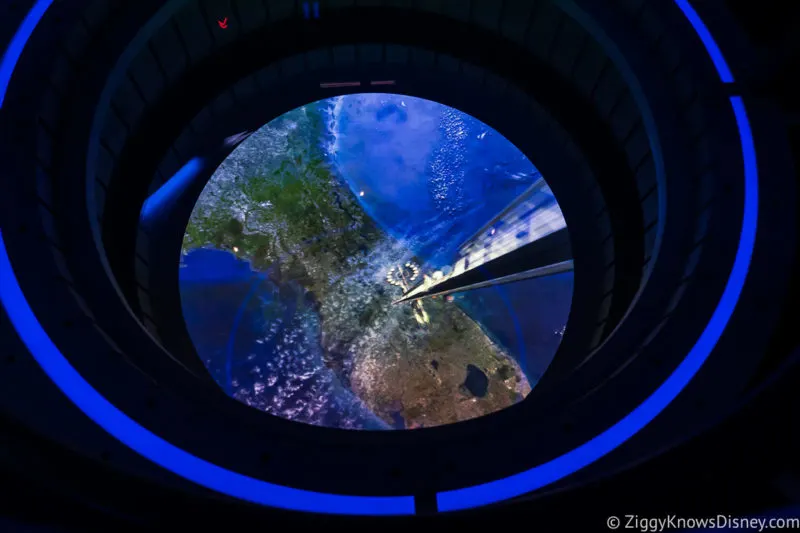 We've been spoiled with a ton of amazing new restaurants that have come to EPCOT in the last few years. Just in the past couple of years alone, we added Space 220 and Crepes des Chefs de France which have been big hits with guests so far and are always full.
Another new one that we absolutely love is Connections Café and Eatery. The front half of EPCOT finally got a new quick service restaurant as the Connections Café and Eatery has taken over the old location of the Electric Umbrella. Here you can find a twist on traditional American food with pizza, burgers, and salads the main options on the menu.
However, despite the fact that it's a cuisine you can find in any theme park, it's all very fresh with some really unique ideas on these traditional foods, and different from most Disney counter service dining spots. Don't forget to try the waffles and milkshakes to satisfy your sweet tooth.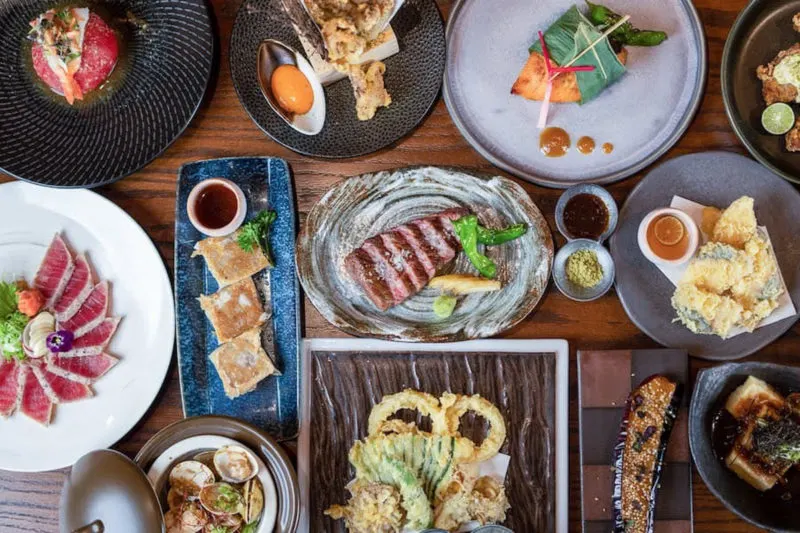 The newest restaurant Shiki-Sai: Sushi Izakaya is excellent and features a number of tasty sushi dishes including some of our favorites Kobore Sushi, Tokyo Negi Roll, Funamori, and The Monster Roll.
There are a variety of small plates to enjoy that is part of the traditional Japanese Izakaya cuisine including the savory Karaage Chicken, Salmon Misoyaki, even a refreshing Tomato Salad with Avocado. One of the highlights is also the popular Japanese pancake Okonomiyaki.
Disney is always adding new things to the parks. We look forward to announcing future restaurants here soon!
EPCOT Restaurant Reservations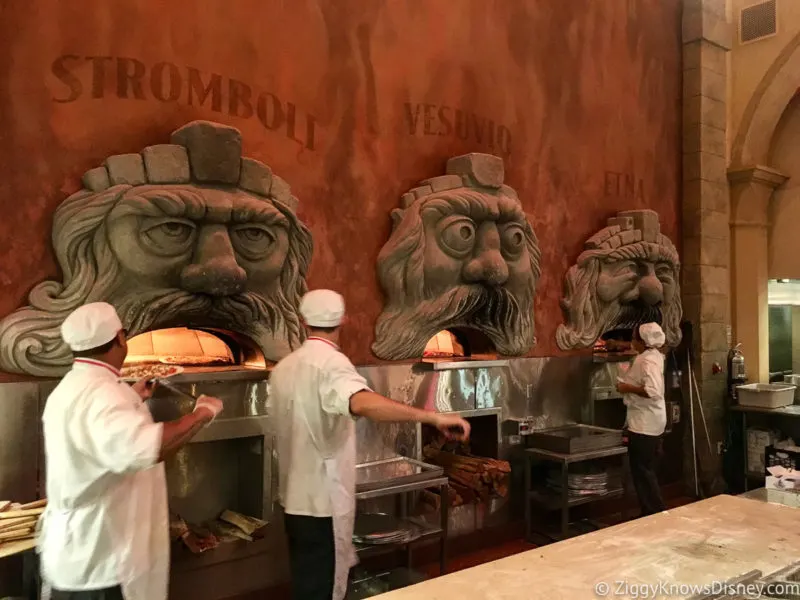 Now that you know where to eat in EPCOT, you need to start making your dining reservations. In Disney World ADRs (Advanced Dining Reservations) allow you to book a table at a restaurant of your choice for a specific seating time.
These often go overlooked by first-time visitors to Walt Disney World, but dining reservations are absolutely necessary to eat at the best restaurants. The majority of restaurants are booked to capacity months ahead of time.
In EPCOT the most popular reservations are Space 220, Akershus Royal Banquet Hall, Le Cellier, and Via Napoli. Don't even attempt to eat here without booking a table months before.
To make reservations, make sure you are online and ready to book your restaurants the minute your booking window opens up. This is a crucial step in planning a trip to Disney World.
Disney World Advanced Dining Reservations can be made online using The Walt Disney World Website or the My Disney Experience app. They can also be made on the phone by calling (407) WDW-DINE or (407) 939-3463.
If you want help making your dining reservations you need to look into using an Authorized Disney Travel Agent to book your trip. We highly recommend the amazing team at Show You the World Travel for an A+ experience.
Read our Disney World Dining Reservations Guide for more tips and info on booking your restaurants.
Where Can You Eat at EPCOT Without Reservations?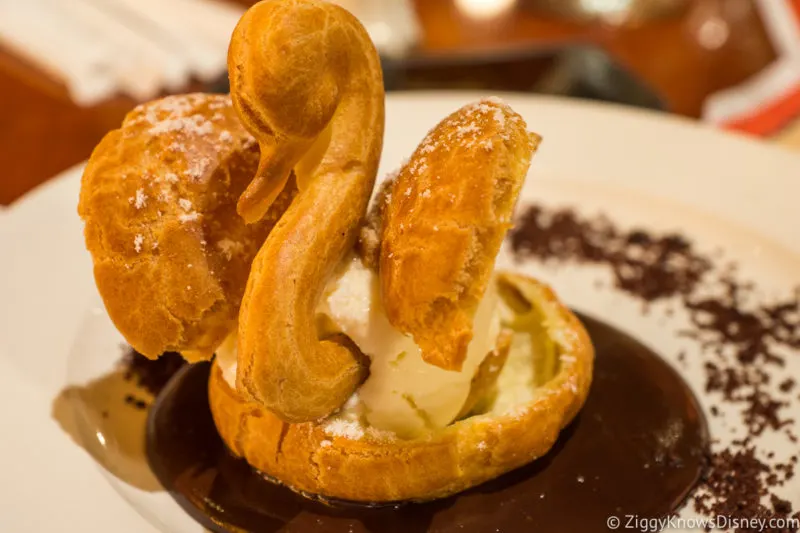 If you want to eat at a table service restaurant in EPCOT where you will get a sit-down meal, advanced reservations are a must, and require booking months ahead of time.
If you want to decide where to eat at the last minute without reservations, you will need to find a quick service restaurant or snack stand.
Our favorite places to eat without reservations in EPCOT are Katsura Grill, Connections Eatery, Les Halles Boulangerie Patisserie, or Regal Eagle Smokehouse.
Best Snacks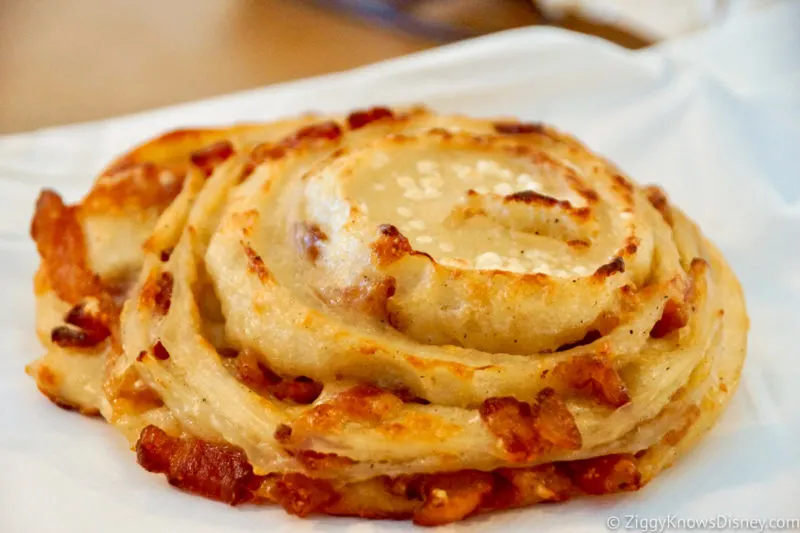 If you aren't hungry enough for a full meal and are just looking for a snack, EPCOT is like heaven on Earth. This park was built for never-ending snacking, so take a stroll around World Showcase Lagoon and pick one of the dozens of locations that each have mouth-watering treats.
Some of our favorite snacks include:
Cronut
Bacon and Cheese Roll
Funnel Cakes
Kaki Gori
Check out our post on the Best EPCOT Snacks for the full list as we go snacking through World Showcase!
That wraps up our ranking of the best restaurants in EPCOT. We hope you now have some good ideas of where to eat when you visit. Hopefully, looking at all that good food didn't make you too hungry either!
We want to hear what your top EPCOT restaurants are so drop them in the comments section below!
For more great Disney Restaurants be sure to check out our other guides:
If you are going to Disney World soon, make sure to read our Disney World Planning Guide for all the tips and info you will need to cover everything! Also, check out our Disney World Crowd Calendar so you know when the best time to visit is!
Your Thoughts
I want to know what you think about our rankings of the best restaurants at EPCOT…
Do you agree with our list?
What are your Top EPCOT Restaurants?
Let us know in the comments section below!
If you enjoyed this article, as always I appreciate it if you'd share it with others via social media. I work hard at making this website into a useful resource for you and your family to plan your visit to the Disney Parks and I hope it can help you! Thanks 🙂