While many people go to Walt Disney World for the attractions, the real reason we go is for the food! With so many amazing places to eat, it's almost impossible to choose. That's why we've come up with the definitive rankings of the Best Restaurants at Disney World!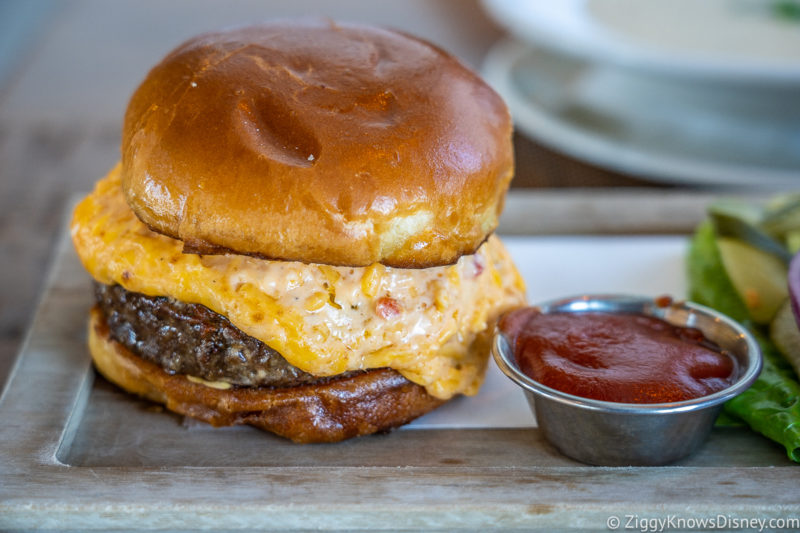 In our decades of visiting Disney World, we've tried all of the restaurants, most of them multiple times, giving us a decent amount of experience to share our recommendations with you.
In this post, we give you a list of the best places to eat at Disney World, including what to order at each restaurant. While there are too many places to eat to mention each one, our list has the 41 best Disney World restaurants, which should be more than enough to cover multiple trips.
While you can just wander through Disney World without any set plans on where to eat, most of the best restaurants book up quickly, so it's highly recommended to plan ahead of time.
We'll share with you the best restaurants for adults, the best buffets, and which character meals you must try. We'll also show you the absolute worst restaurants at Disney World that you definitely should avoid.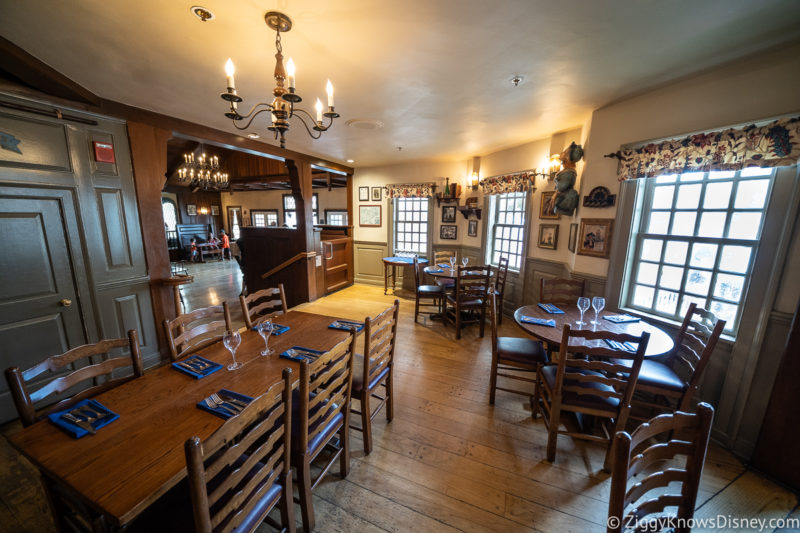 We've included restaurants from all 4 theme parks are in our rankings, as well as at Disney Springs, and the Disney World Resort hotels. So no matter where you are going to be spending your time, you'll be covered.
The fun part about going to Disney World is this list will keep evolving. This is the current rankings in 2021, but as more restaurants open every year, we will update the list with any newcomers. At least you will have more places to try on each returning trip!
Our list is very subjective, and depends on dining preference and taste form person to person. We definitely want to hear about your list of the top Disney World restaurants in the comments section below and where your favorite places are.
Also, don't forget to sign up for our FREE Weekly E-Mail Newsletter. There we bring you the latest updates in the park as well as vacation planning tips. You can sign up here: Join our E-Mail Newsletter
Disney World Restaurants Overview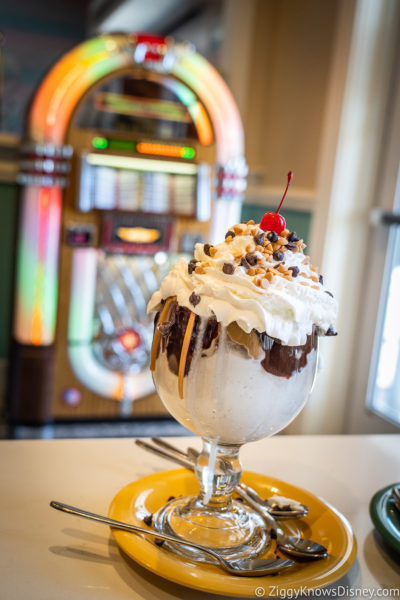 Before we look at the rankings for the best restaurants at Disney World, here is some basic info you need to know before making your choices.
Which Disney World Park has the Best Restaurants?
While there are plenty of restaurants to choose from in all 4 Walt Disney World theme parks, some of them stand up above the rest for dining options, especially table service restaurants.
Overall, EPCOT is the theme park with the best restaurants at Walt Disney World. This should come as no shock since World Showcase is practically dedicated to dining and has a food festival running in almost every month of the year.
EPCOT has the most restaurants of any theme park, the most diversity among them, and also the best quality restaurants. The park is a foodie's dream come true.
The worst theme park at Disney World for table service restaurants is probably the Animal Kingdom, just because even though they have two amazing restaurants (Tiffins and Yak & Yeti), they don't have a lot of choices.
Which Disney World Restaurants are Open?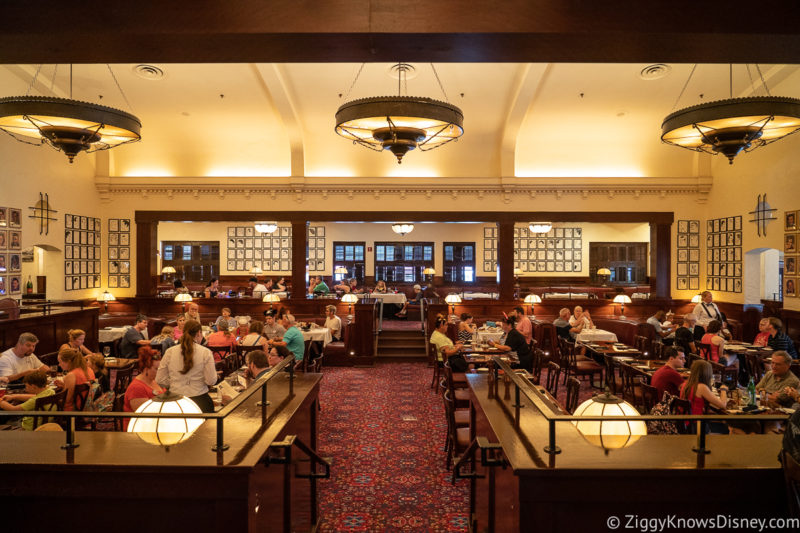 Right now Walt Disney World is still in the middle of a phased reopening, which means that not all of the restaurants are currently operating. With limited capacity, there aren't enough guests at this time to fill the 400+ restaurants on the resort's property.
To see which restaurants are currently open and all the changes, read our Guide to Disney World Dining During Reopening.
Some other articles that will be helpful to you at this time are:
Our Restaurant Ranking Factors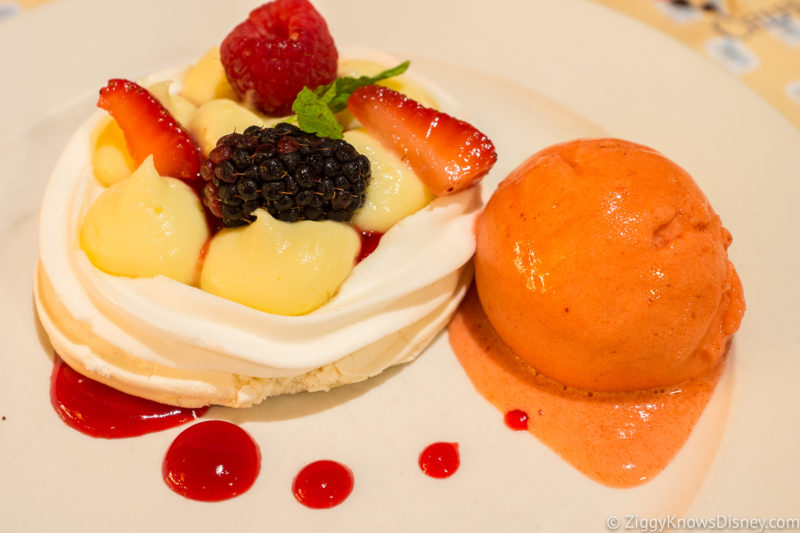 When we originally thought about writing this article it sounded like a lot of fun, but we soon realized it was much harder than we thought to rank the best restaurants in Disney World. There are so many amazing places to eat and to narrow them down took a big effort.
Of course with hundreds of restaurants to choose from, some of them are excellent, some good, and others just plain awful. Overall though, dining at Disney World is a great experience and it gives you a chance to try all sorts of food you otherwise wouldn't try back home.
We encourage you to branch out and try new cuisines outside the standard "American fare" traditionally found at theme parks. That's why we wanted to give you a definitive rankings so you know which restaurants are worth trying and which to skip.
We didn't use some scientific method or any fancy spreadsheets or charts. We used our gut (quite literally this time), in our hundreds of visits to Disney World throughout the years.
Some of the ranking factors we considered are:
Food Quality
Price to Quality Ratio
Portion Sizes
Restaurant Theming and Ambiance
Extra Disney Magic (special experiences, etc)
Our rankings are for sit-down or table service restaurants only as we have another list of the best counter service restaurants at Disney World. Some of them are fancy restaurants you go to for a romantic dinner, while others are very casual to take the whole family.
Best Restaurants at Walt Disney World Ranked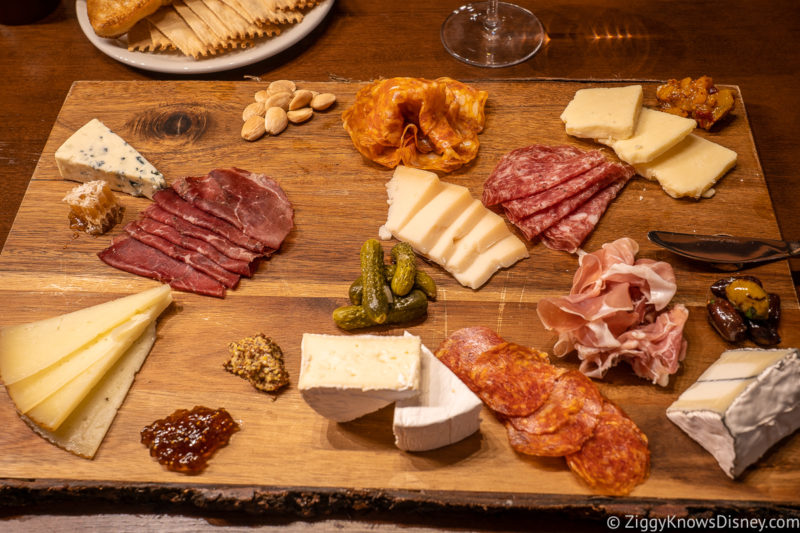 Besides the name of the restaurant and location, we've also included the approximate price, type of food, if it's kid-friendly and what the best food items are at each one. This should give you a good base in order to make a decision.
Obviously, this list is too long to visit all these restaurants in one visit to Disney World, however, over multiple visits you can try the majority of them. We highly recommend trying all of the ones in the Top 10 at least once as they are dining experiences you will never forget.
Without further ado, here are the top 41 best restaurants at Disney World:
41. Jungle Navigation Co., Ltd. Skipper Canteen (Magic Kingdom)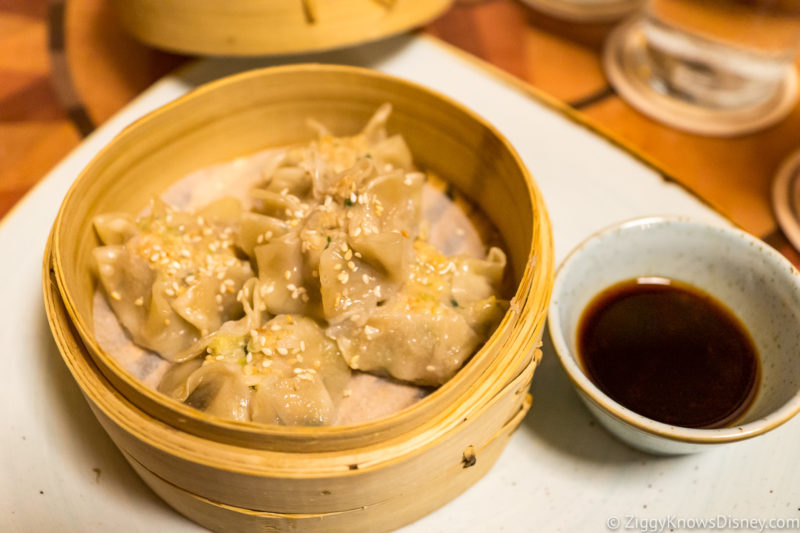 Cost: $$
Type of Food: Asian, African, Latin
Fans of the nearby Jungle Cruise attraction will want to make Skipper Canteen their choice for dining in the Magic Kingdom. This is far from your traditional theme park fare and many of the menu choices are exotic and more adventurous than usual.
The food has a mix of influences from around the globe including Asia, African and South American. However, the Jungle Navigation Co. Skipper Canteen is much more than just food and it's more about the whole dining experience. The servers are funny like the Jungle Cruise captains and the theming of the building is incredible with tons of cool artifacts.
There is even a room dedicated to the secretive S.E.A. (Society of Explorers and Adventurers!
What to Get: The SEA Shu Mai and Orinoco Ida's Cachapas are great appetizers to start your meal and the Thai Noodles is our favorite entree.
Is it Kid-Friendly?: Yes. The Jungle Cruise theme is popular with children and they will like to look at all the artifacts on the walls, including the giant butterflies.
40. Sci-Fi Dine-In (Hollywood Studios)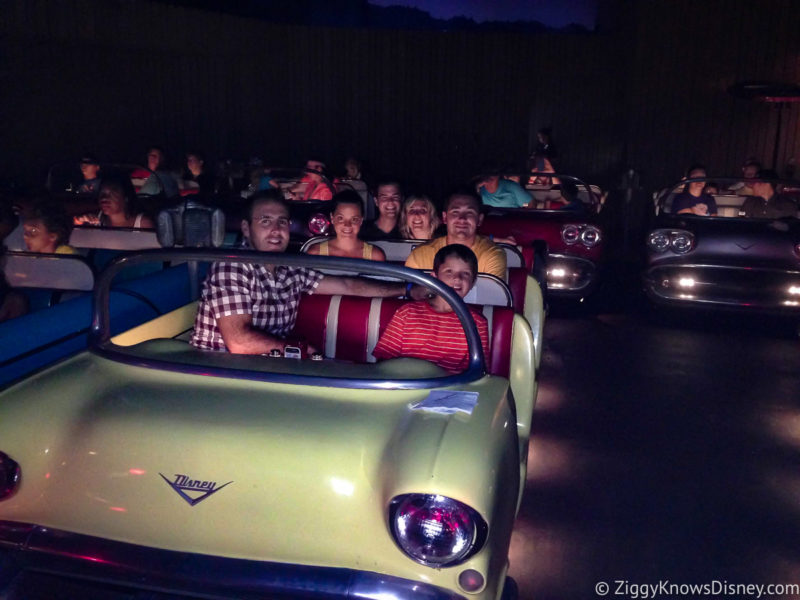 Cost: $$
Type of Food: American
If you have never been to a drive-in movie theater for dinner and a film, now is your chance. This is such an awesome throw-back restaurant that makes you feel like you are in the 1950s all over again. We love the old science fiction movies playing on the big screen and eating in our car has never been more fun.
The prices are not cheap for burgers and diner food, but you are paying for the atmosphere here. At least the portions are pretty big and you won't leave hungry.
What to Get: Any of the burgers here are excellent, ask for the specialty ones depending on the season. Order that burger with a shake too, they are some of the best! Save room for dessert and try the Warm Glazed Doughnut with warm apples and ice cream or the House-made Sci-Fi Candy Bar.
Is it Kid-Friendly?: Yes. This is one of the coolest places for kids to dine. They will love eating in car tables and the old movies and cartoons on the big screen are great to watch.
39. Cinderella's Royal Table (Magic Kingdom)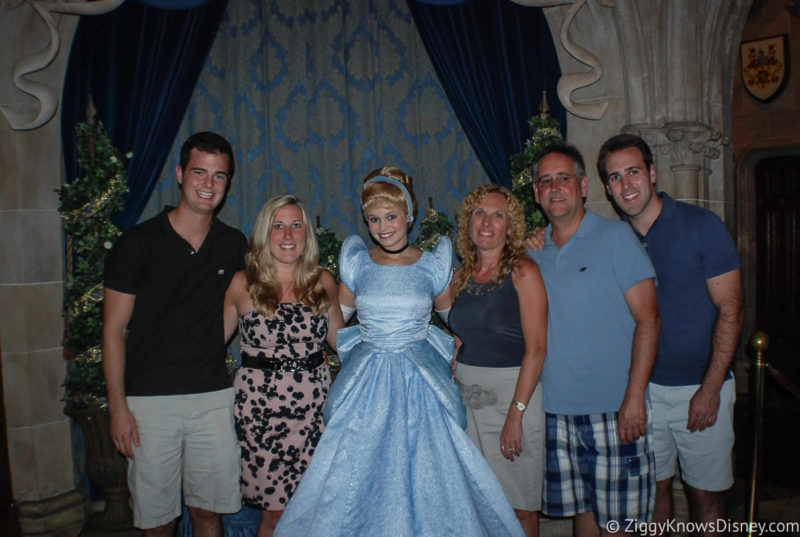 Cost: $$$$
Type of Food: American, Themed-dining
Eating at Cinderella's Royal Table is a dream come true for many Disney fans, young and old alike. I mean, when else can you eat in a castle? It's also a classic spot to meet the Disney princesses and makes a nice alternative to waiting in line to meet them all.
It's also one of the best restaurants at Disney World for a special occasion. It's special for my family since my sister and her husband got engaged here, with a specially engraved glass slipper and everything!
Of course, for a dining experience like this, it's not cheap. Cinderella's Royal Table serves a 3-course prix fixe meal and you get your choice of appetizer, entree and desserts included. We wouldn't put it on the list every vacation, but you have to do it at least once.
What to Get: The duck is absolutely divine and the beef tenderloin is one of the best values for your money on the menu. For dessert, go with the trio for the best all-around experience.
Is it Kid-Friendly?: Yes. Kid's love Cinderella's Royal Table, especially to see the princesses. Tell them you are eating in the castle and they'll be onboard for sure.
38. Be Our Guest (Magic Kingdom)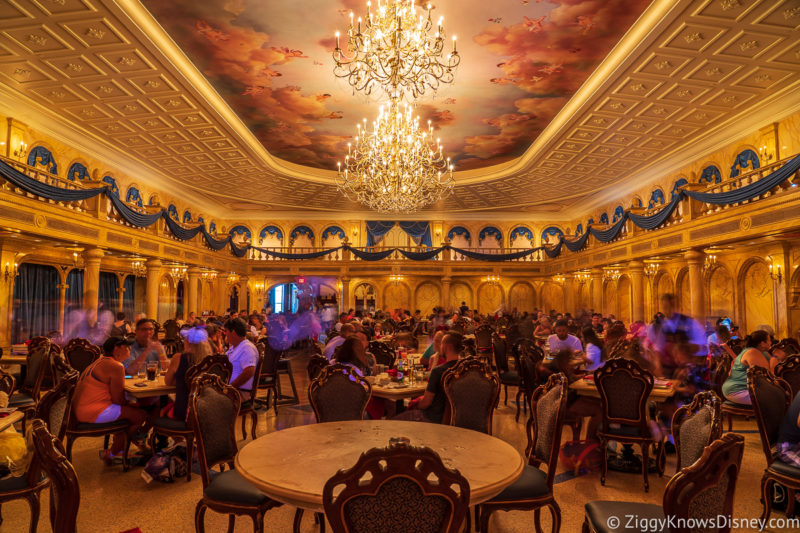 Cost: $$ (Lunch), $$$$ (Dinner)
Type of Food: American, French
Be Our Guest is another prix fixe dining experience at the Magic Kingdom, similar to Cinderella's Royal Table, but located in The Beast's castle instead. You get a choice of appetizer, entree and dessert for the same price.
Both restaurants are similar, but honestly, we like the theming of Be Our Guest every so slightly more than Cinderella's Royal Table since we are big Beauty and the Beast fans. You can explore the restaurant's 3 dining rooms, including the creepy West Wing complete with the enchanted rose and a scary lightning effect.
Don't forget to be on the lookout for The Beast as he roams from time to time and you can get your picture with him once you are done eating.
What to Get: The filet is good and gives you the best bang for your buck. We also like the scallops for an entree. Of course, no trip to Be Our Guest is complete without trying The Grey Stuff. Trust us, it's delicious!
Is it Kid-Friendly?: Yes. Your kids will love Be Our Guest as it looks just like you stepped into the film and are eating there at The Beast's Castle.
37. Kona Cafe (Polynesian Resort)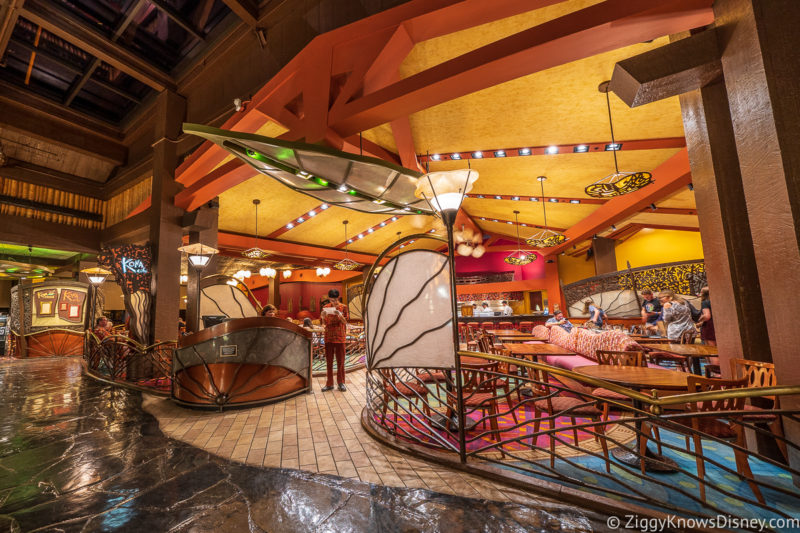 Cost: $$
Type of Food: American, Seafood
Located at Disney's Polynesian Resort, the Kona Cafe is an excellent choice if you are staying on the monorail loop and want a chance of scenery. The atmosphere in the restaurant is nothing special, but the food is better than average.
It has a wide variety of choices including seafood, burgers, Dashi bowls, and many dishes with an Asian influence. The staff is friendly and you can walk the gorgeous grounds of the Polynesian Resort after dinner and watch the fireworks from the beach.
What to Get: At breakfast you must try the Tonga Toast, and the pancakes are spectacular too. At dinner the sushi is surprisingly good and the Kona-braised Short Ribs are very succulent and moist.
Is it Kid-Friendly?: Yes. This is a standard family-friendly WDW restaurant. Nothing fancy and a relaxed atmosphere.
36. Liberty Tree Tavern (Magic Kingdom)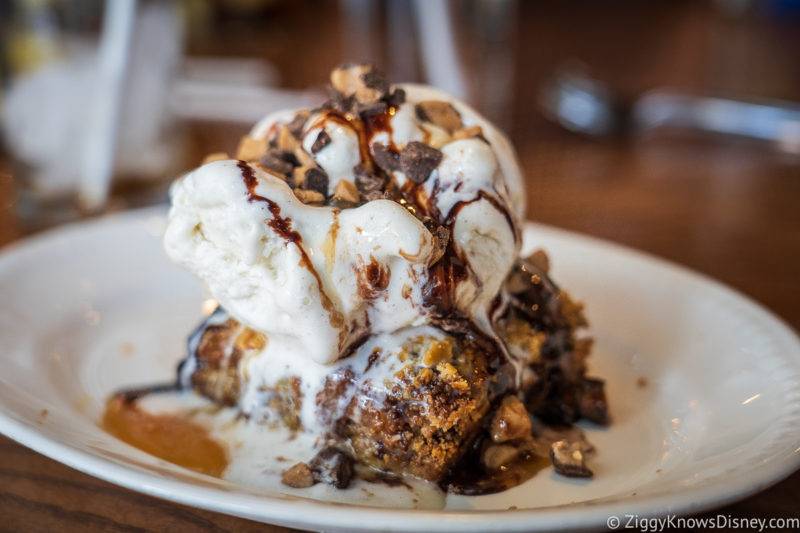 Cost: $$$
Type of Food: American
The Liberty Tree Tavern is our favorite table service restaurant at the Magic Kingdom and exceeds our expectations time and time again. Located in Liberty Square, the atmosphere has a Revolutionary-age theme and even the waiters and waitresses are dressed to play the part. It's like stepping back into 1776 all over again.
The food is just as good as the theming and the menu consists of traditional American classics like pot roast and turkey dinner. Come here when you are hungry as the portion sizes are massive.
What to Get: Almost everything is great here but we love the Loaded Tavern Fries for an appetizer and the Lobster Roll, Pilgrim's Feast or Revolutionary Meatloaf for an entree. If you are really hungry, get the all-you-can-eat Patriot's Platter for a taste of everything. And DON'T skip dessert. The Ooey Gooey Toffee Cake will change your life!
Is it Kid-Friendly?: Yes. They will have fun going through each room and looking at the revolutionary-age artifacts. Think of the Liberty Tree Tavern as a built-in history lesson for your kids, but in a fun way.
35. Chefs de France (EPCOT)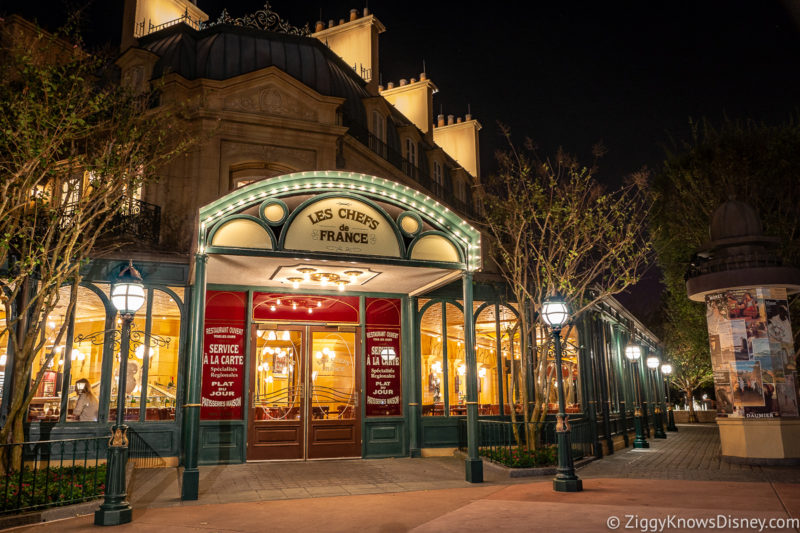 Cost: $$-$$$
Type of Food: French
Eating at Chefs de France is like stepping into a Parisian Bistro on a crowded street. We love to grab a window table here and watch the thousands of people walk by. Everything is authentic and the energy is bustling.
We love the menu here and there are many choices that are delicious. There are some more adventurous choices like Escargot, but most items are definitely welcome to an American palate.
What to Get: The French Onion Soup is piled high with melted cheese and is a must-get appetizer. The short ribs or the beef tenderloin are our two favorite entrees, but the Ratatouille also gets many compliments. The French are known for their desserts, so don't leave without a cream puff or creme brûlée.
Is it Kid-Friendly?: Yes. It's definitely kid-friendly, but they don't have the biggest Kid's Menu and there is nothing particularly attractive for them.
34. Todd English's bluezoo (Walt Disney World Dolphin Hotel)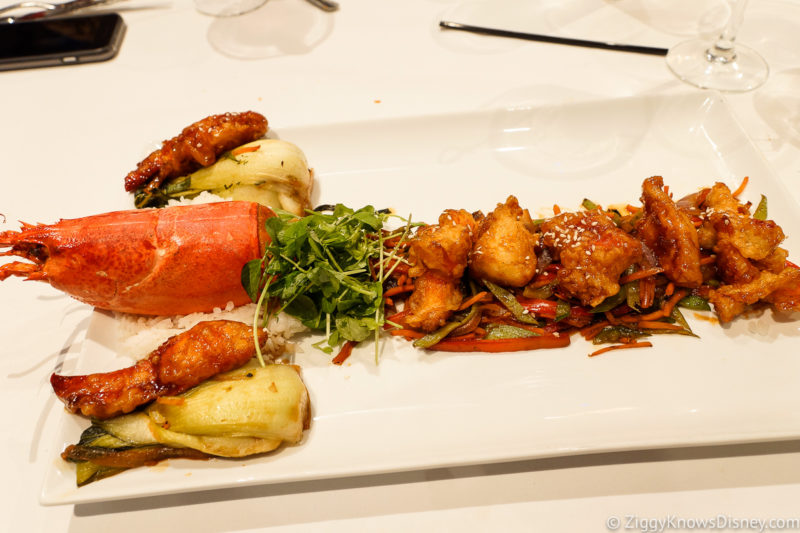 Cost: $$$
Type of Food: Asian, American, Seafood
This is one of the most underrated and forgotten restaurants in Disney World. Since it's over at the Dolphin hotel it doesn't get a lot of attention, which is a shame since the seafood here is oh so good!
The restaurant has a funky modern atmosphere with lots of blown glass and bright colors. The service here is excellent and the wait staff really knows the menu well. The seafood is extremely fresh, and there are also a lot of land options like steaks, chicken and pasta dishes.
What to Get: Try the Crispy Asian Pork Ribs for an appetizer and the Miso Glazed Mero or the two-pound "Cantonese" Lobster for an unforgettable dining experience.
Is it Kid-Friendly?: Maybe. Kids can dine here, but they probably won't want to as it's more of a fancy dining experience for adults.
33. La Hacienda de San Angel (EPCOT)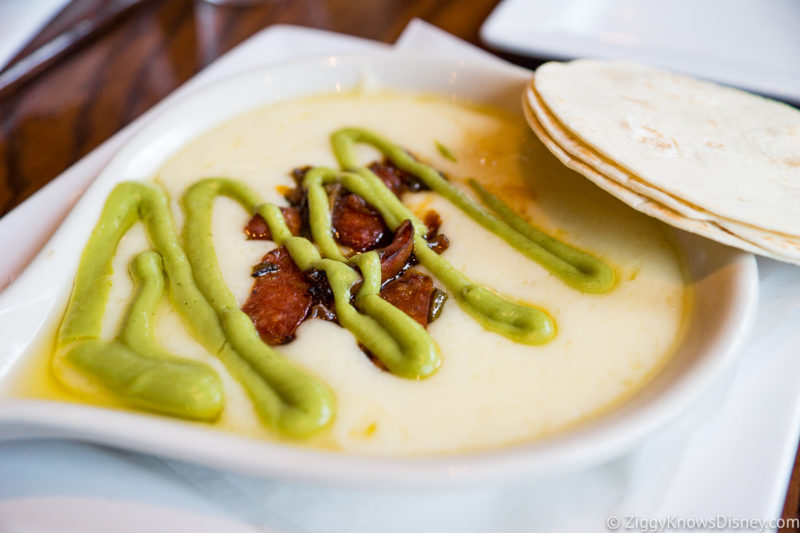 Cost: $$$
Type of Food: Mexican
Everyone likes the San Angel Inn at EPCOT, but while that's good, we actually prefer La Hacienda de San Angel right across the promenade. The food is slightly better quality and we love the location right on the water. It's a great spot to watch the fireworks show without having to wait for a spot outside.
You might be able to get a better Mexican meal back home for cheaper, but you can't beat the atmosphere which is close to the top at EPCOT.
What to Get: We could eat loads of the queso fundido with melted cheese with chorizo, peppers, and onions, no questions asked. The osso buco a la Mexicana is something different or you could go with either taco meal or the carne asada if you are in the mood for something more familiar.
Is it Kid-Friendly?: Yes. If your kids like Mexican food they will enjoy La Hacienda, although San Angel Inn is a better choice if you are going with kids.
32. Rose & Crown (EPCOT)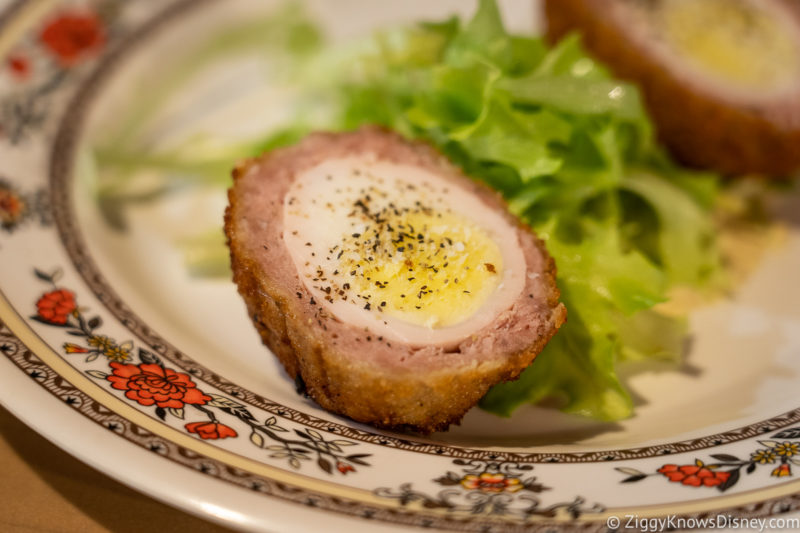 Cost: $$-$$$
Type of Food: English, Pub
EPCOT has many great restaurants, and Rose & Crown is right up there on the list. This is an English pub that serves traditional fare like fish and chips and bangers and mash. The menu is not too expensive and the dishes are hearty and feel home-cooked.
Even though the food is good, the location is even better. If the weather is nice, try to get a table out on the patio where you can witness an incredible sunset followed by a front row seat to the fireworks show.
What to Get: You have to try the scotch egg, golden-fried and wrapped in sausage. The fish and chips are excellent (the same ones from the Yorkshire County Fish Shop), so are the bangers and mash and the burger is one of the best in Disney World.
Is it Kid-Friendly?: Yes. Kids will like the outdoor tables better, but the inside is quaint and has the hole-in-the-wall feel to it.
31. Beaches & Cream (Beach Club Resort)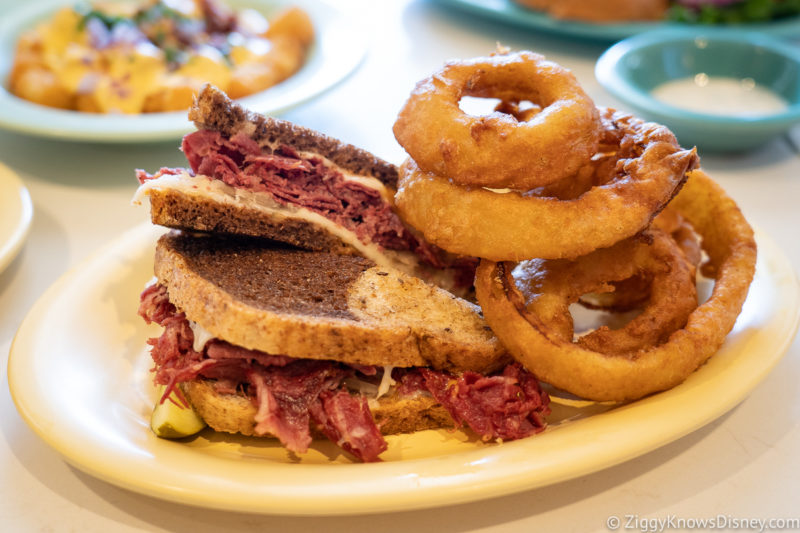 Cost: $$
Type of Food: American, Diner
We like stepping back in time when we are at Walt Disney World, and Beaches & Cream does a great job of transporting you to a 50s-era diner. Recently remodeled and enlarged, the dining room is bright and has cute photos of all the Disney characters in a classic soda shop.
The food here is excellent and not expensive compared to most of the restaurants on this list. It's probably one of the best value restaurants in Disney World. Mouth-watering burgers and sandwiches are on the menu as are ice cream sundaes and shakes.
What to Get: It's so hard to choose when you like everything here. Beaches and Cream is famous for its burgers, some of the best in Disney World. The onion rings are a must-get to accompany your sandwich. Leave room for one of the world-famous ice cream sundaes like the "No Way Jose" or if you are brave enough, get the "The Kitchen Sink." If you are of age, try one of the "Adult milkshakes."
Is it Kid-Friendly?: Yes. Absolutely a must-do for kids. They will love basically everything on the menu.
30. Via Napoli (EPCOT)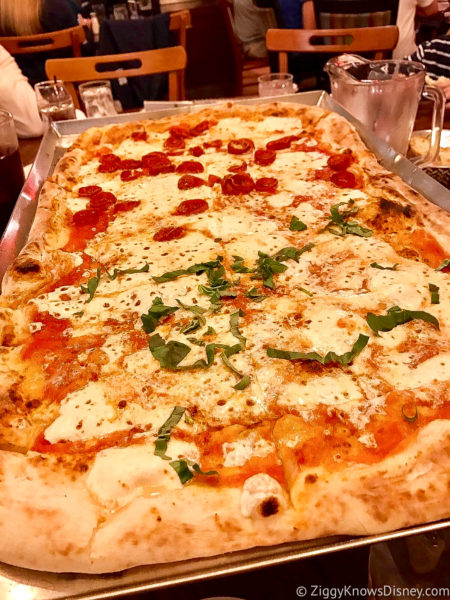 Cost: $$
Type of Food: Italian, Pizza
If you are in the mood for pizza at Walt Disney World, there is only one place to go, Via Napoli in the Italy pavilion at EPCOT. This is as close to authentic Italian pizza as you will get in Florida, which having lived in Italy for more than 9 years is hard to find in the states.
The mozzarella is flown in specially from Italy, and the water is from a source with a similar alkaline level as found in Naples.
The restaurant is a fun atmosphere and the wait staff is very friendly, again, flown in from Italy. The space is open and the overall experience very fun.
What to Get: Pizza of course! There are some nice pasta dishes, but come here for the pizza. If you are with a group, get the pizza a Mezzo Metro (half a meter). It's big enough to feed a family of 4 and a relatively cheap meal for Disney World.
Is it Kid-Friendly?: Yes. You kids will love the pizza at Via Napoli and probably be one of their favorite restaurants of the trip. Take them over to the pizza ovens named for Italy's most famous volcanos and watch the expert pizzaiolos as they perfect their craft.
29. Yak & Yeti (Animal Kingdom)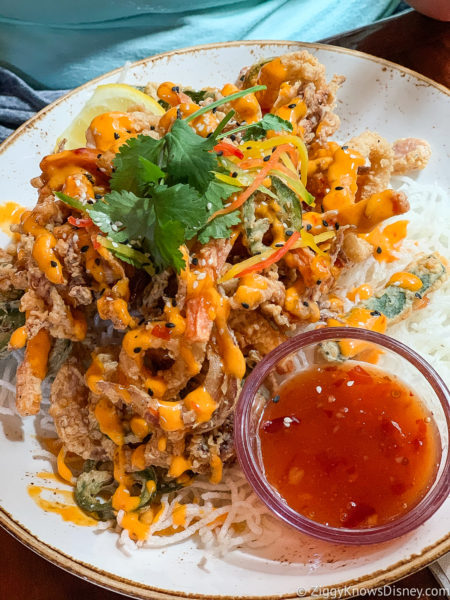 Cost: $$
Type of Food: Asian, Chinese, American, Seafood
Yak and Yeti is one of the most visually interesting restaurants on this list and features incredible pan-Asian food. It often goes overlooked by guests and is quite the hidden gem.
The atmosphere makes you feel like you are sitting in a Nepalese marketplace, with extreme attention to detail given by the Imagineers. The prices are modest, the portions are huge and the food quality is also very good. We suggest getting some of the shareable plates to save money and to try a lot of different things.
What to Get: Our favorite appetizer is the Ahi Tuna Nachos, easily sharable for 3-4 people. For entrees, any of the lo mien or bowls are great, and so are the Korean beef and the duck.
Is it Kid-Friendly?: Yes. There aren't a lot of choices for table service meals at the Animal Kingdom, but if your kids like Asian food this will be their favorite.
28. Grand Floridian Cafe (Grand Floridian Resort)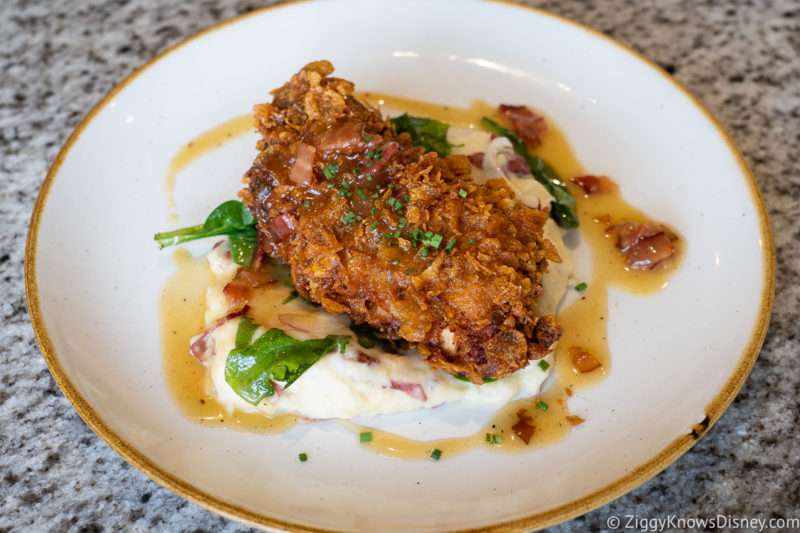 Cost: $$
Type of Food: American
When you think of restaurants at Disney's Grand Floridian, your mind immediately goes to fancy and expensive (don't worry we have those coming up later in our rankings). However, the Grand Floridian Cafe is a much cheaper alternative, perhaps the best at its price point in all Walt Disney World.
The Victorian-style decor is not for everyone, but we find it delightfully charming. We also like the big open dining room with lots of space and huge windows to let in the light. It's also not a very crowded restaurant and pretty easy to get reservations for.
You can get breakfast, lunch or dinner, but our favorite menu is at dinnertime.
What to Get: This is another menu where we love almost everything and it's hard to choose. The Buttermilk-fried Chicken is golden and crispy outside and juicy inside and one of the best at WDW. For a truly indulgent choice, get the Lobster 'Thermidor' Burger served on a buttery brioche bun.
Is it Kid-Friendly?: Yes. There is nothing special for kids at the restaurant, but they shouldn't have a hard time finding something on the menu.
27. Cape May Cafe (Beach Club Resort)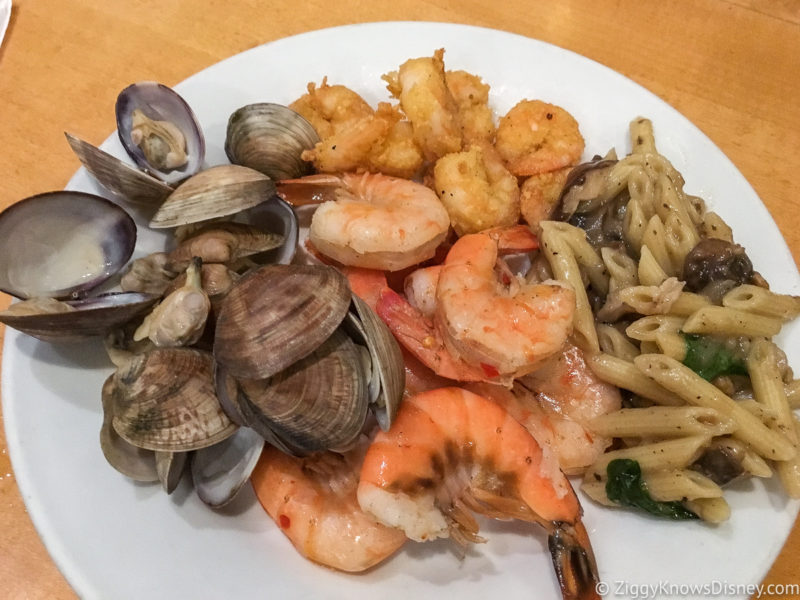 Cost: $$$
Type of Food: American, Seafood, Buffet
Cape May Cafe is one of the best buffets in Disney World and a seafood-lovers dream come true. This place is always packed every night, and one of the hardest to get dining reservations. The buffet has a wide variety of choices and the atmosphere is relaxed, especially away from the buffet tables.
What to Get: Everyone comes for the all-you-can-eat seafood feast which includes crab legs, shrimp, clams, mussels, salmon, and much, much more. There is a nice carving station for land-lovers with two or three types of meat. The dessert choice is more than you would expect.
Is it Kid-Friendly?: Yes. There are plenty of options for kids even if they don't like seafood such as a pizza station, chicken nuggets, etc.
26. 'Ohana (Polynesian Resort)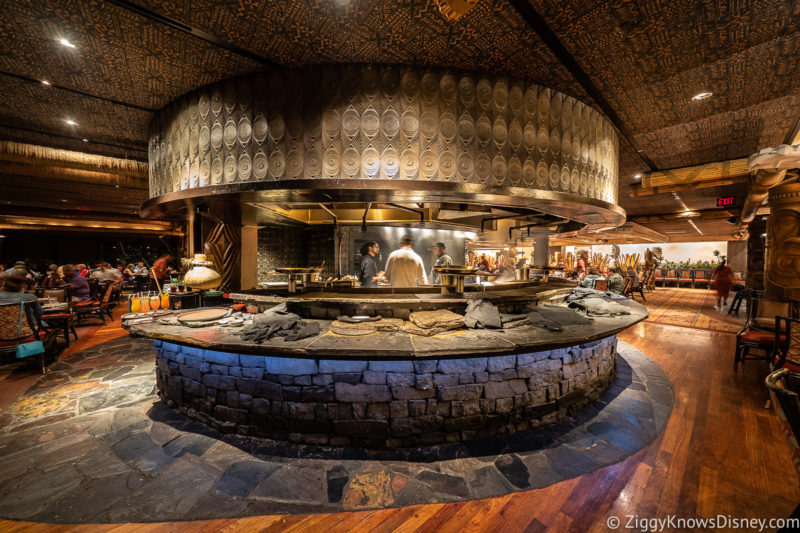 Cost: $$$
Type of Food: Polynesian, American
If we were doing a list of the most popular Disney World restaurants, 'Ohana might be number one. This place is always full and can be impossible to get a table for in busy times of the year.
The atmosphere is tropical, and very pleasing. At breakfast you get Lilo and Stitch plus some other Disney characters. At night for dinner you get a sort of luau, with live music and games to involve the young and the young a heart. Be sure to check out the giant barbecue at the entrance where the magic happens.
What to Get: We like both rounds of food at dinner but are partial to the appetizers. We like the all-you-can-eat skewers of shrimp and steak, but we think the potstickers, wings, and noodles all steal the show. Order as much as you want because it's all-you-can-eat. You have to try one of Disney World's most famous desserts, the banana pudding overflowing with a sweet caramel sauce.
Is it Kid-Friendly?: Yes. Ohana means family, and your kids will love this place, especially if you come for the character meal at breakfast.
25. Paddlefish (Disney Springs)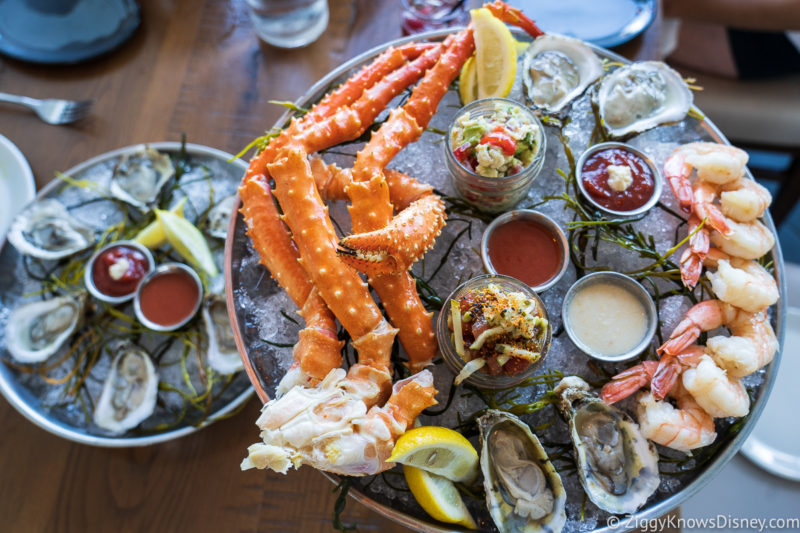 Cost: $$-$$$
Type of Food: American, Seafood
The former home of Fulton's Crab House and the Empress Lilly, Paddlefish completed renovated the famous paddle boat to a more modern, yet elegant decor. If you are looking for good seafood, this or The Boathouse are our two top picks at Disney Springs.
It's an elegant restaurant, but not overly fancy and not stuffy at all. The menu is very diverse with lots of great seafood options, but also a variety of sandwiches, burgers and meat. It is a tad pricy but that is the norm now at Disney Springs. We prefer The Boathouse over Paddlefish, but it's still good enough to make our list and has a few very unique offerings you can't get anywhere else in Disney World.
What to Get: Fresh raw oysters for an appetizer is a great way to start. The lobster guacamole is my wife's favorite and it's full of lobster. Any of the seafood is good including scallops or the giant seafood boils. If you are looking for something from the land, the pimento cheese burger is maybe the best burger in Disney World.
Is it Kid-Friendly?: Yes. Paddlefish is a good atmosphere for kids but can just as easily be a nice spot for date night. Bring the kids up to the top deck of the boat for an incredible view of Disney Springs.
24. Hollywood Brown Derby (Hollywood Studios)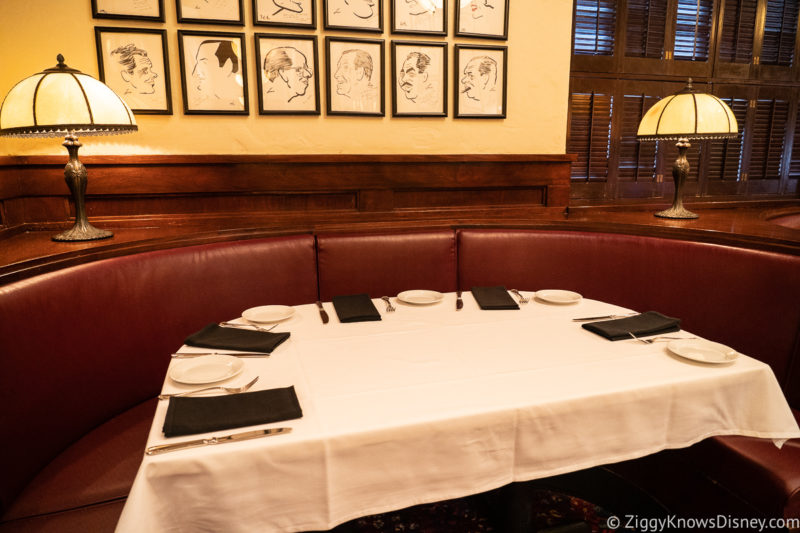 Cost: $$$
Type of Food: American
The Hollywood Brown Derby at Disney's Hollywood Studios is modeled after the real Brown Derby in Los Angeles and synonymous with the Golden Age of the film industry. It was THE place to be seen and always filled with movie stars. Disney's version doesn't have movie stars, but it does have an incredible menu and is one of the best places for a sit-down meal in this park.
You can choose from sandwiches, salads, seafood, or steak, all of which are top-notch. We've never had a bad meal at the Hollywood Brown Derby and always leave satisfied. For being in a theme park, it's one of the best restaurants you will find.
What to Get: The shrimp and grits are stupendous, very creamy, and cheesy, and the braised short ribs are another hit. Of course, no visit to the Brown Derby would be complete without the Famous Cobb Salad. For dessert, the Grapefruit Cake has been a staple here for years and great if you like a tart flavor.
Is it Kid-Friendly?: Yes. The Kid's Menu Kids has a nice selection so it won't be hard to find something they like. They will also enjoy the hundreds of drawings of movie stars on the walls of the restaurant. Try to see how many of them they know.
23. 50's Prime Time (Hollywood Studios)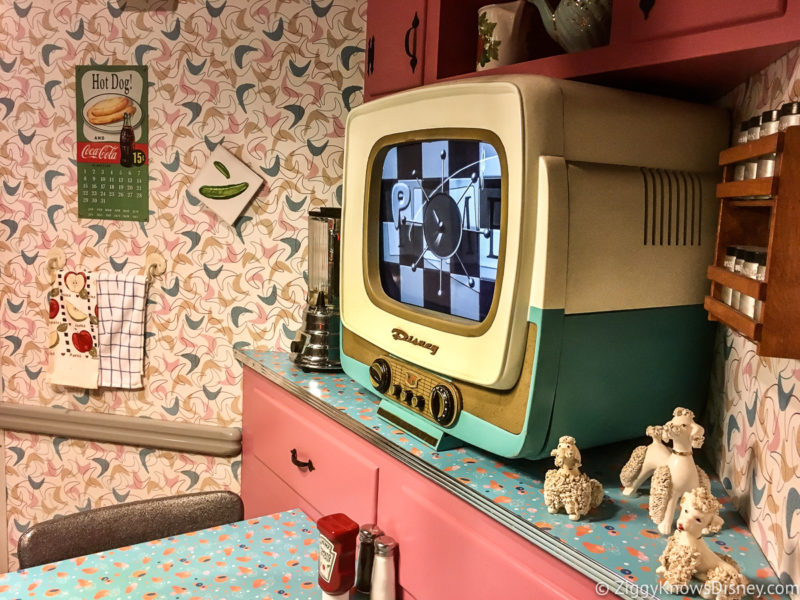 Cost: $$
Type of Food: American
We're staying at Hollywood Studios for our next restaurant, the 50's Prime Time Cafe. This feels like walking into the living of your grandmother's house that hasn't been remodeled since the 1950s but in a cozy and good way. You can watch the old black and white TVs with reruns playing of "Leave it to Beaver" or "The Andy Griffith Show."
The best part though is the interaction with the waiters and waitresses. In theme with the restaurant they give guests a hard time, tell you to wash your hands and make you do a special dance in front of everyone if you don't. They are truly hysterical and will entertain you throughout the whole meal.
The menu is made up of home-cooking comfort food like meatloaf and pot pies, all of which are very tasty. At this point in our rankings, it's the least expensive restaurant and a value for the food quality and fun atmosphere.
What to Get: While we love all the home-cooking at 50's Prime Time, our favorite dish is Aunt Liz's Golden Fried Chicken, perhaps the best in Walt Disney World. Try the sampler for a little bit of everything. You also have to get the peanut butter and jelly shake, again at the top of the list in any theme park. The desserts are solid, we recommend Dad's Favorite Chocolate-Peanut Butter Layered Cake À la Mode or Mom's Brownie.
Is it Kid-Friendly?: Yes, absolutely. 50's Prime Time Cafe is a hit with children and they will love the antics and attention paid to them by the wait staff. The whole menu is kid-friendly and they won't have any trouble finding something.
22. Boma – Flavors of Africa (Animal Kingdom Lodge)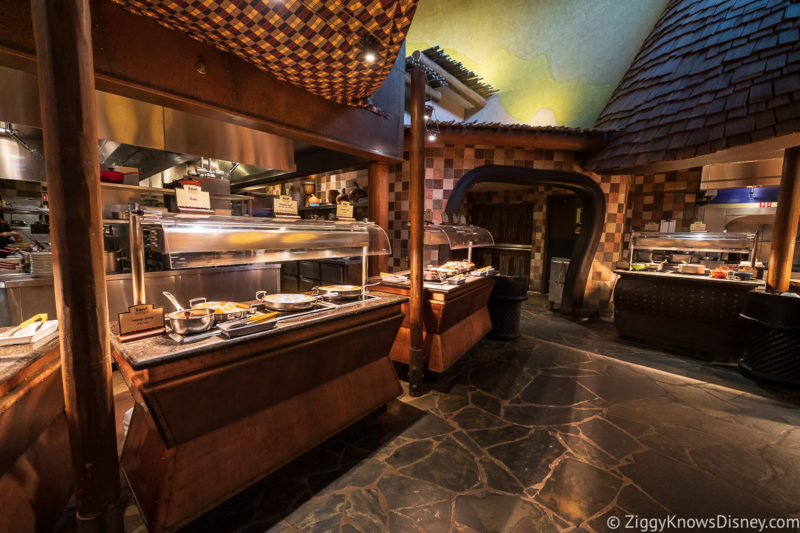 Cost: $$-$$$
Type of Food: African, Indian
Boma at Disney's Animal Kingdom Lodge is hands-down the best buffet at Walt Disney World. It's available for Breakfast and Dinner and it does both of them exceptionally well.
I don't know about you, but I get tired of the same old eggs, potatoes, and bacon you find at every Disney breakfast. That's not the case at Boma. The majority of items on the buffet are unique to Boma, which means you get a completely different experience here.
Expect a wide variety of African-inspired food with many salads and roasted meats. Everything is fresh and the whole thing feels overwhelming at times. It's a little out of the way, but worth it either before or after visiting Disney's Animal Kingdom park. Be daring and you won't regret it!
What to Get: You can't go wrong with anything on the menu at Boma, it's all amazing. Our favorites are the Coconut-Chicken-Curry Soup, Tunisian Couscous Salad, Pap and Chakalaka, Slow-roasted Pork Ribs, Spice-crusted Beef Sirloin and Bobotie. Make sure to save room for the famous Zebra Domes for dessert, and if going at breakfast they serve Simba waffles instead of Mickey waffles.
Is it Kid-Friendly?: Yes. Some of the menu items may sound intimidating for kids, but there are plenty of simple things that aren't too spicy they will like.