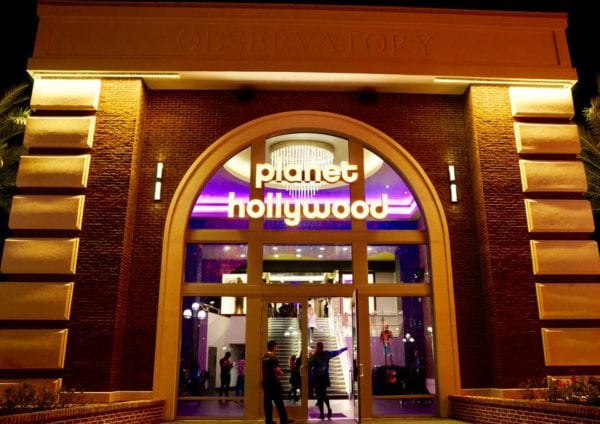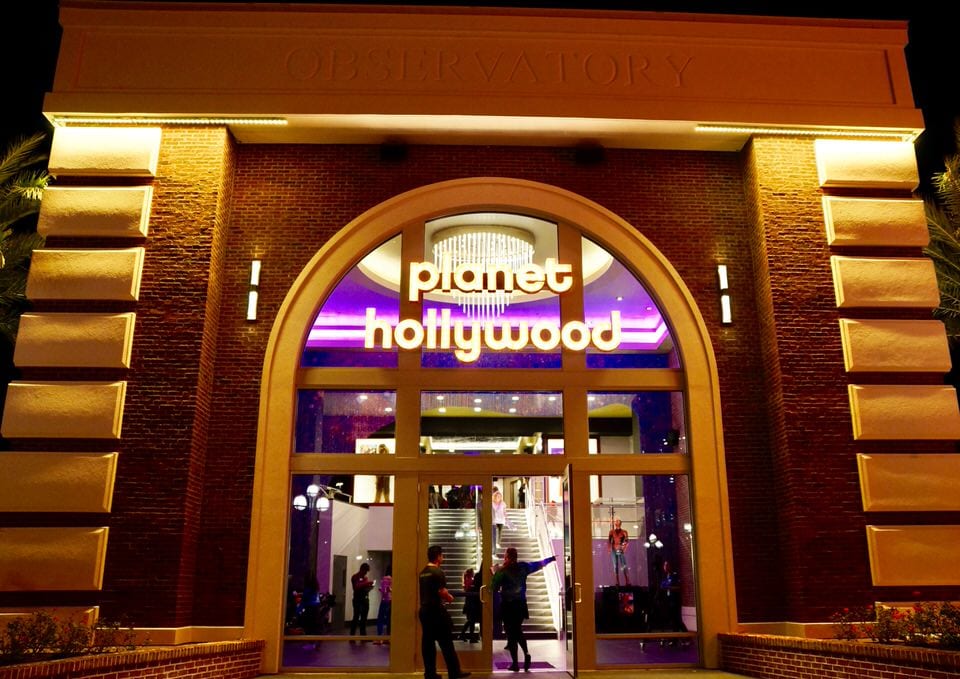 I was so excited when I heard that the old Planet Hollywood was getting a total refurb. It'd been 10 years since the restaurant had been relevant at all and was far from it's short-lived glory day. It had tons of potential with a huge and interestingly setup space with endless possibilities. So as I waited for the completion of the newly named Planet Hollywood Observatory and saw some of the concept art, I was thrilled to try it out and see if it could reclaim some of its past success. My hopes were dashed basically within the first 5 minutes of our experience there. Before getting into what was one of the most disappointing meals in Walt Disney World in a long while, let me give you a brief overview of the restaurant itself.
Planet Hollywood Observatory is a Table Service Restaurant in the Town Center section of Disney Springs. They do accept the Disney Dining Plan and requires 1 Table Dining Credit. They do not accept Tables in Wonderland which is just another reason why dining here isn't worth it. They do accept ADR's 180 days in advance but I can't imagine it being so packed you won't be able to get a table, maybe only in the busiest of seasons, but if you can't get in then count your blessings and go somewhere else!
Planet Hollywood Observatory got a complete menu overhaul while still keeping some of its long-time items like the L.A. Lasagna and Famous Crunch Chicken. You will find a typical classic American greasy comfort food menu, including the most hyped section of the new menu: the Guy Fieri designed "Big Bite Burgers" and "Knuckle Sandwiches."
Let's stop wasting time and get right into why Planet Hollywood is so disappointing…
Atmosphere:
Planet Hollywood Observatory is located in the Town Center of Disney Springs and it's across from the Coca Cola store on the way to the West Side. It's easy to get to from the Disney Springs bus stop as it's essentially right there entering Disney Springs.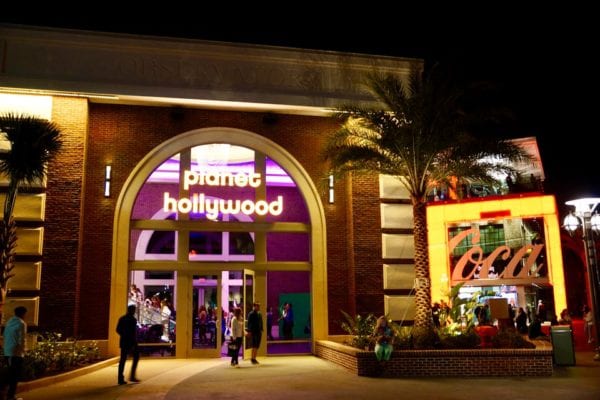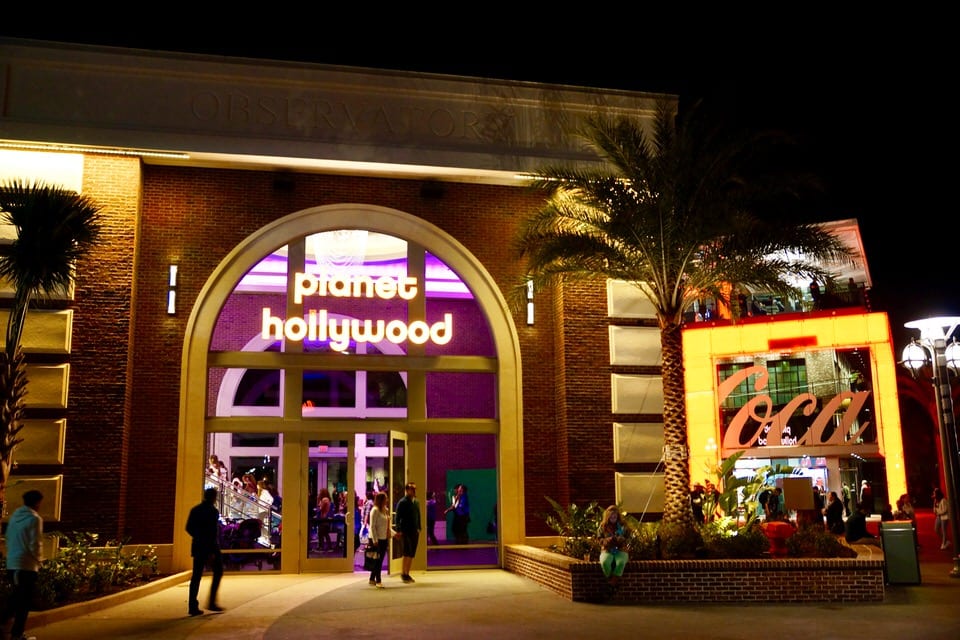 First I want to say that at least the exterior of the building has been cleaned up a bit after the renovation, it was really worn and dated before the change and at least coming up to it it looks much more interesting.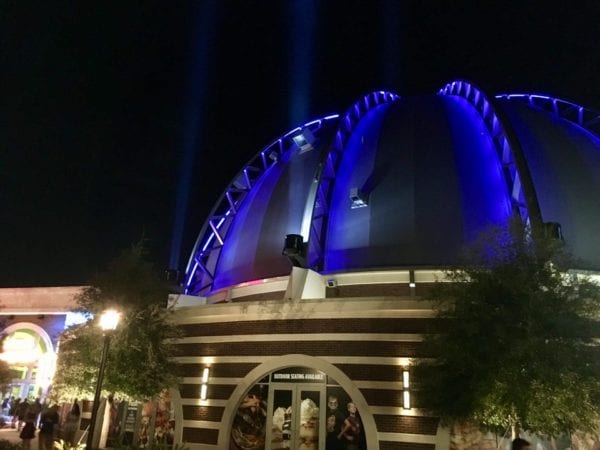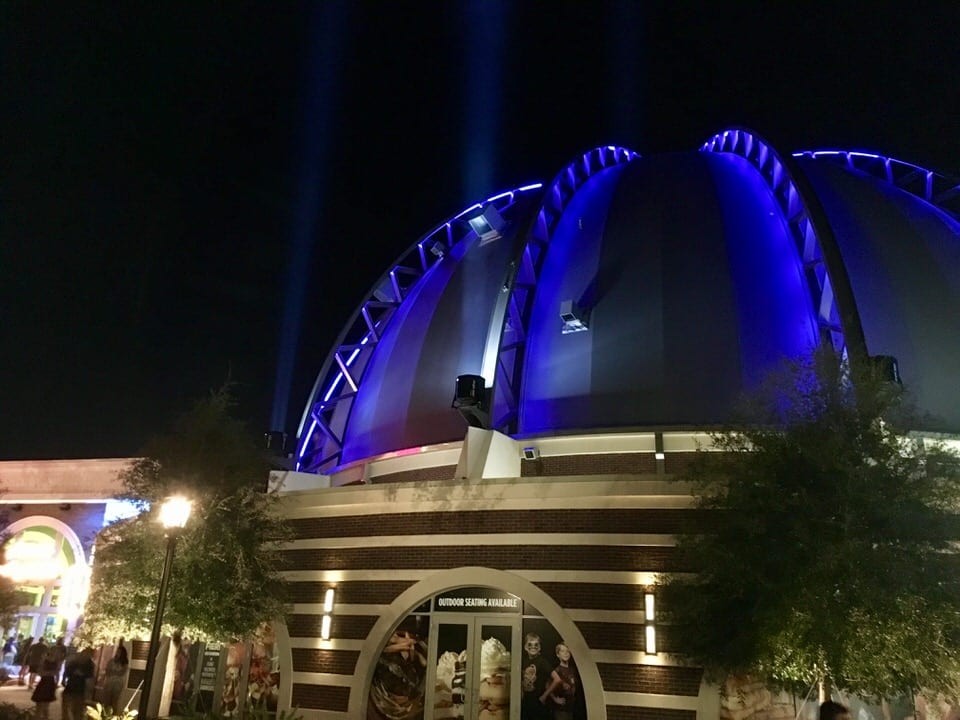 Before we go in we wanted to take a look at the Stargazers Lounge which you find around the building to the left of the main entrance.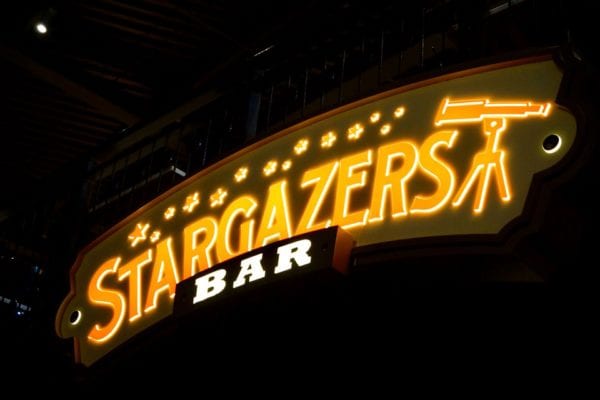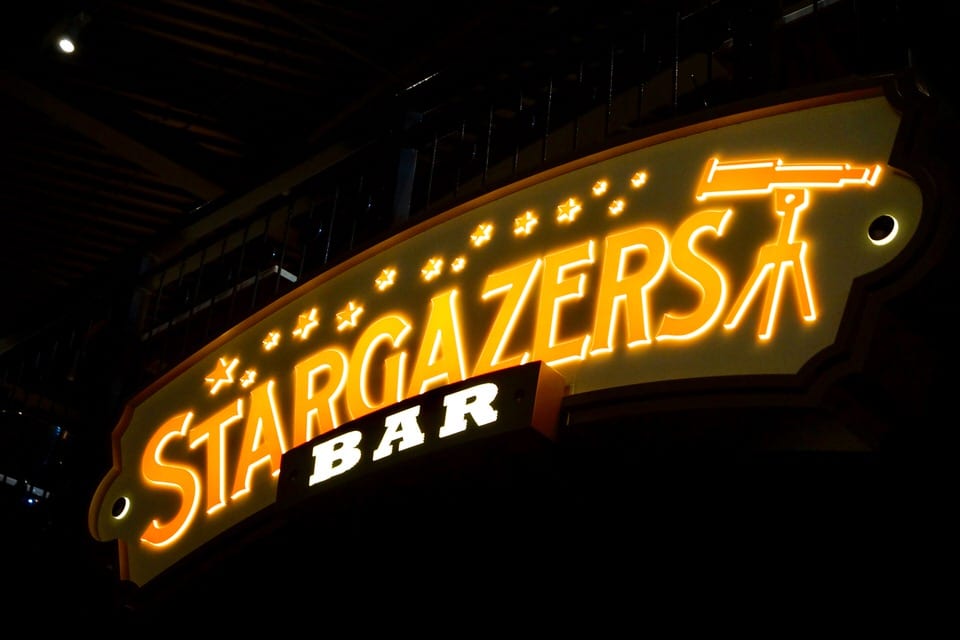 It was 9:30 pm and the place was really happening….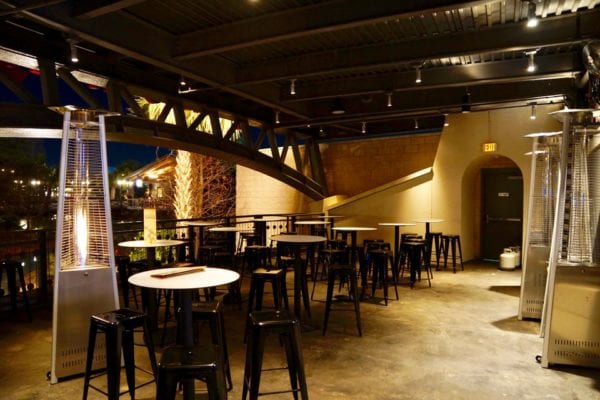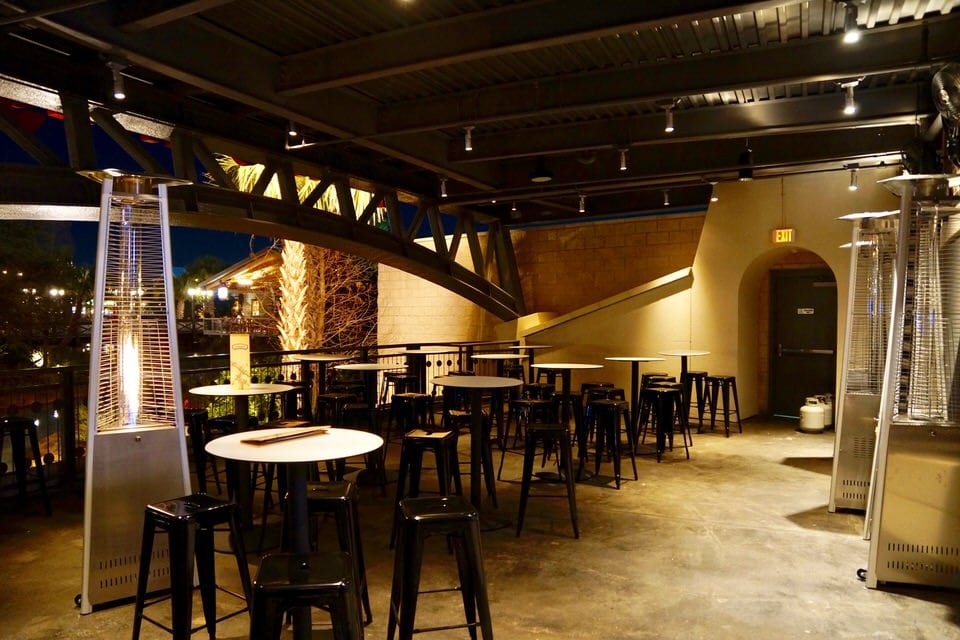 It wasn't exactly what I was expecting. I surely didn't see any stars there. This will go along with one of the biggest problems I have with Planet Hollywood "Observatory," it's not really an observatory. The theming in the lounge is really lacking, it's just a normal bar covered by a metal roof with some tables. Maybe if the bar was actually outside you could see the stars, but it's a bit hard in here.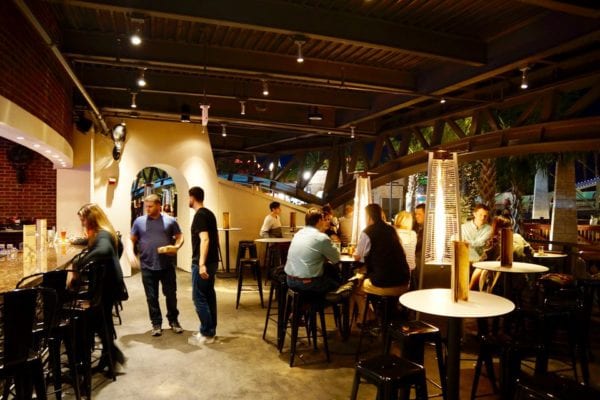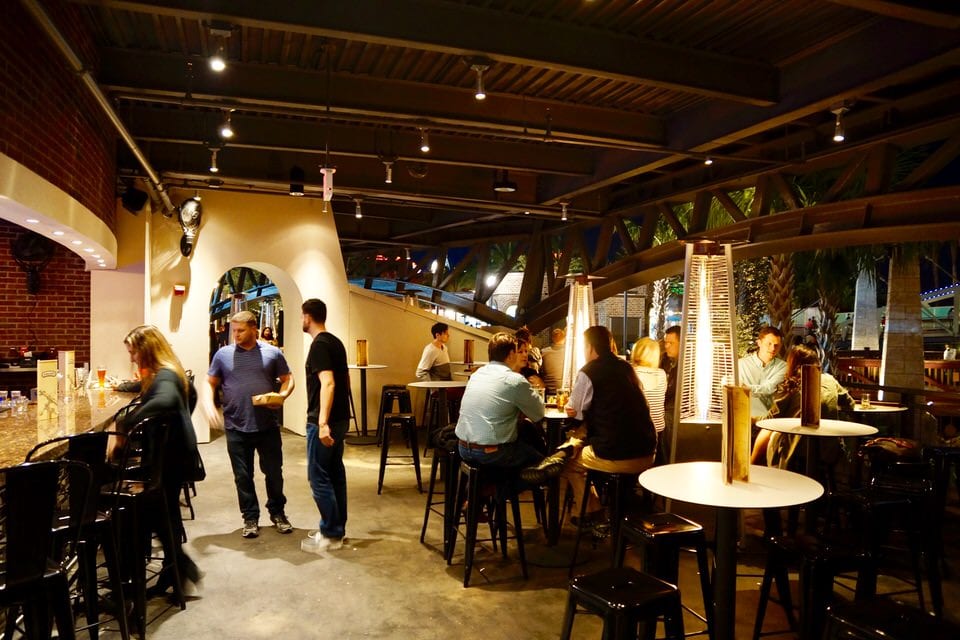 Let's go inside: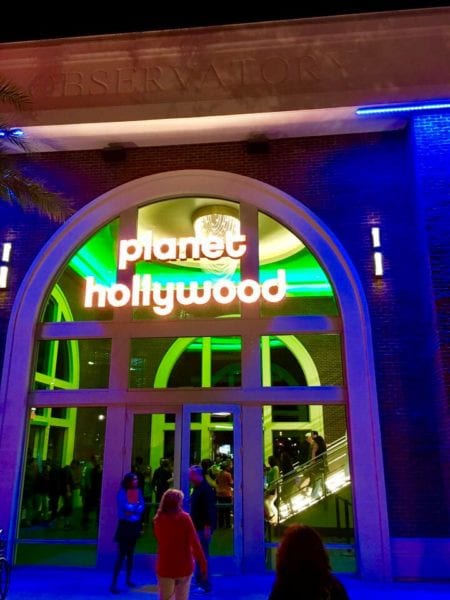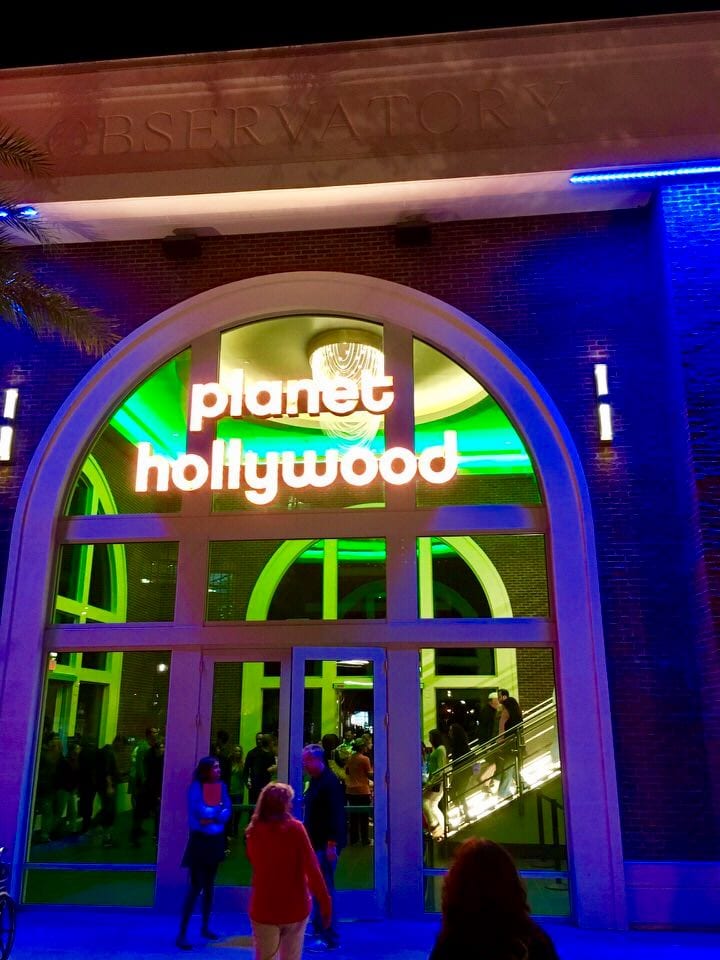 The entrance is kind of cool, it does make you feel like you are walking into some VIP event, but as you enter you see it's a pretty big space that's pretty much empty and could be used better:
It was pretty confusing too. There were a couple of hostesses that we at the bottom of the stairs but they weren't really directing people. It wasn't clear if you were supposed to check in with them first or go up. After a minute of waiting we just went up. I thought the color scheme here was pretty cool, I like the blues and purples that were all around: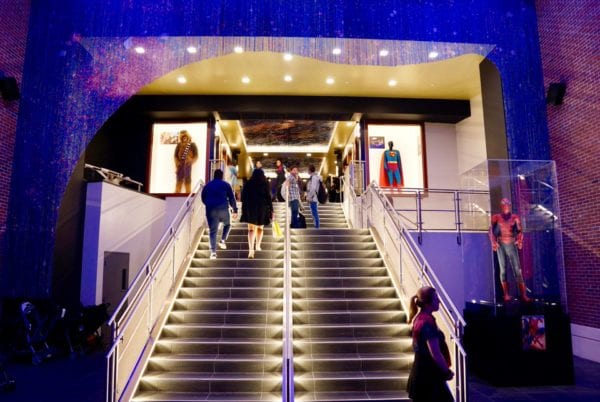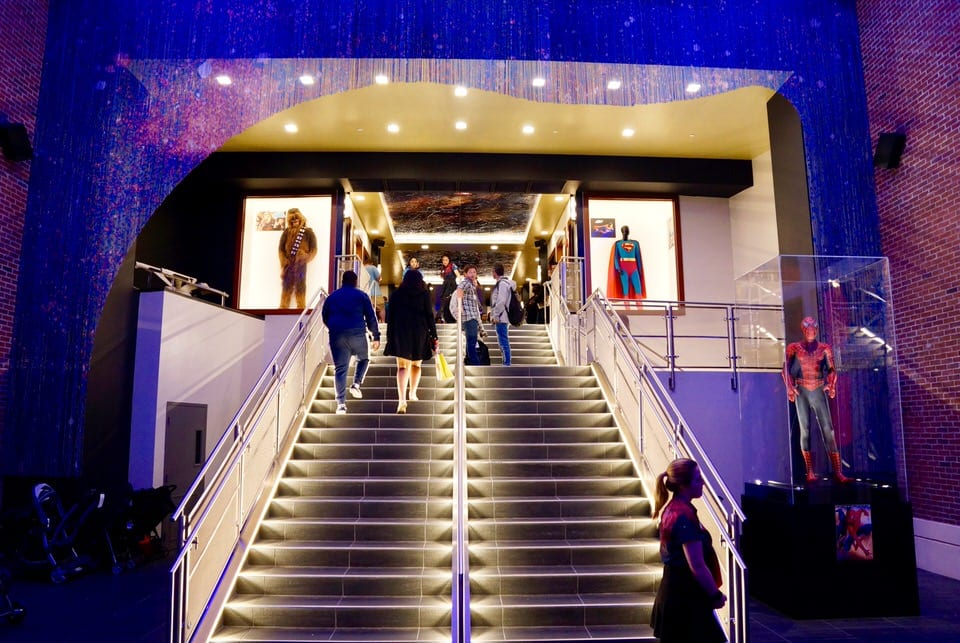 Probably the highlight of the whole night was seeing a full size Chewbacca at the top of the stairs: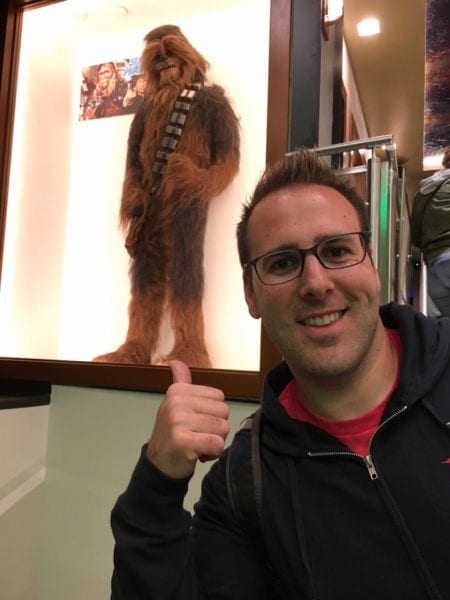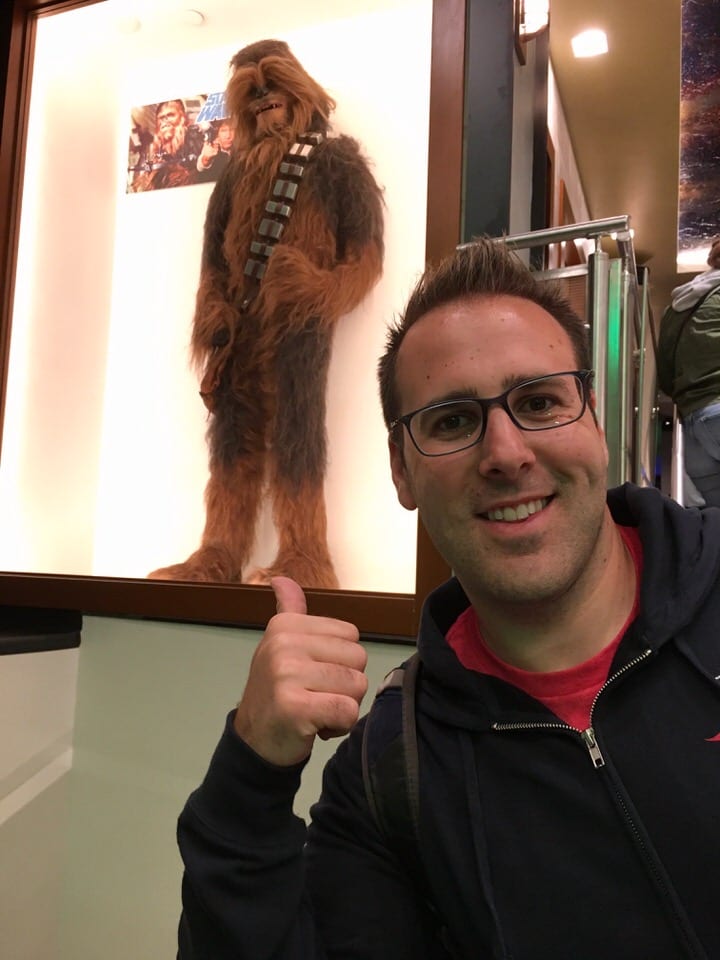 Once we got to the top of the stairs we saw probably the only hint that we were actually supposed to be in an observatory, the really cool ceiling that was glossed over to look like a galaxy with all the stars and planets: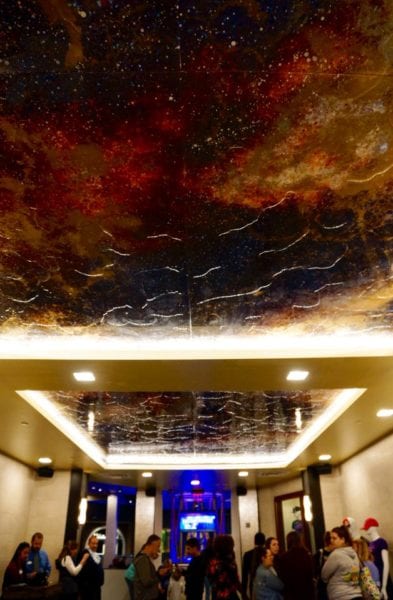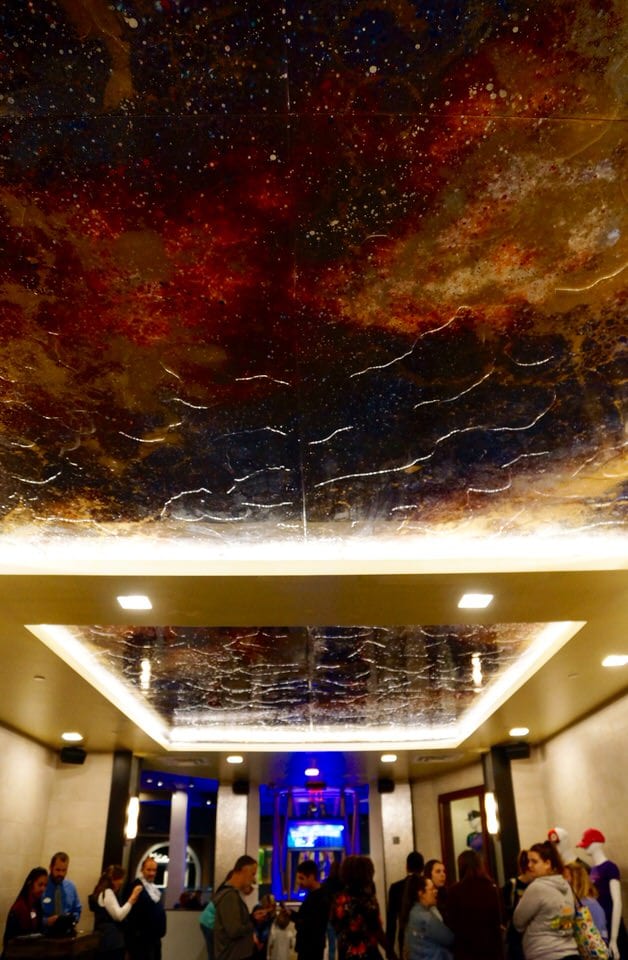 When you get past that and walk into the Main Dining area the rest of the design is extremely disappointing. Where the heck are the stars?? Isn't this supposed to be an observatory?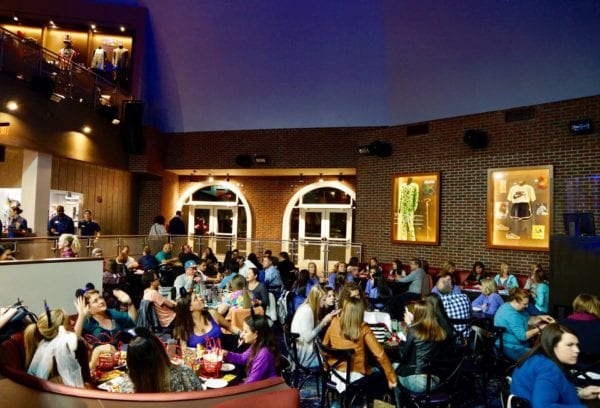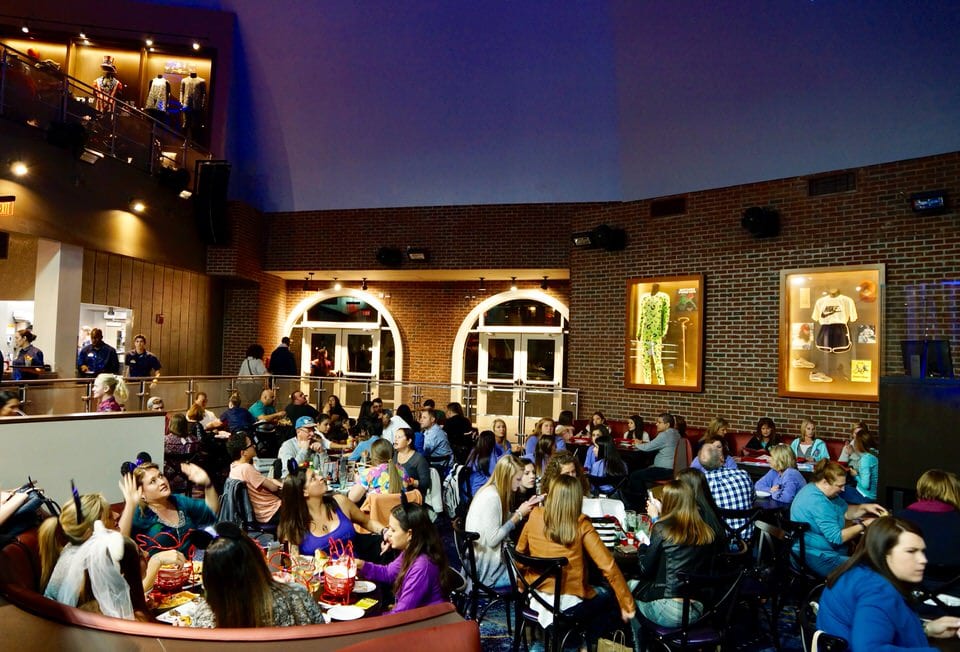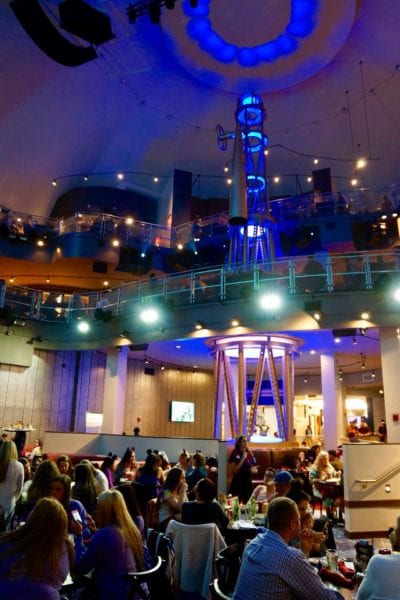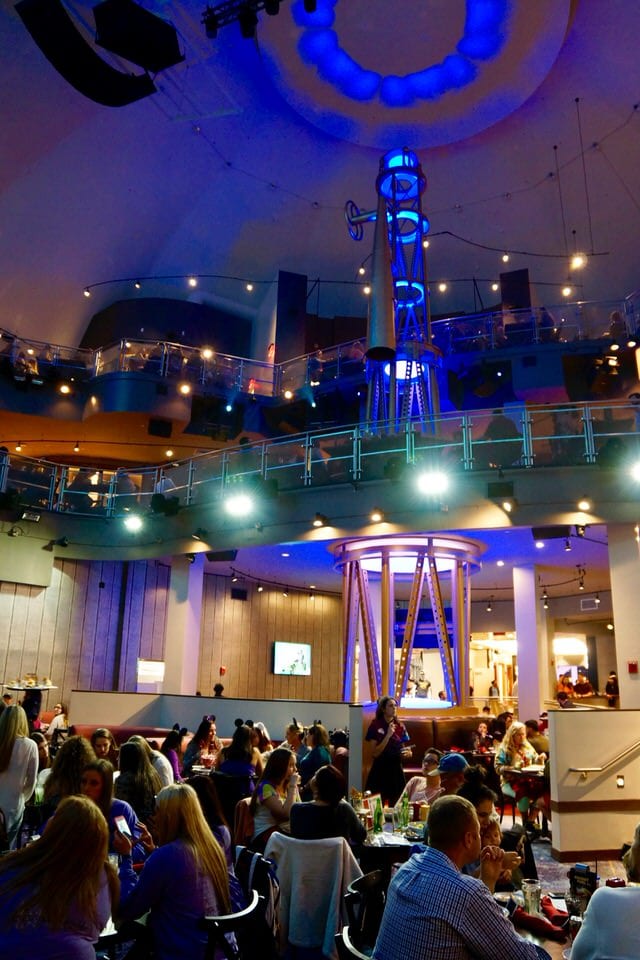 I mean look at the difference from one of the concept art photos: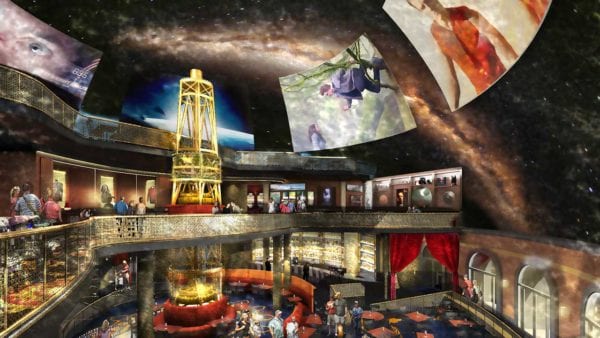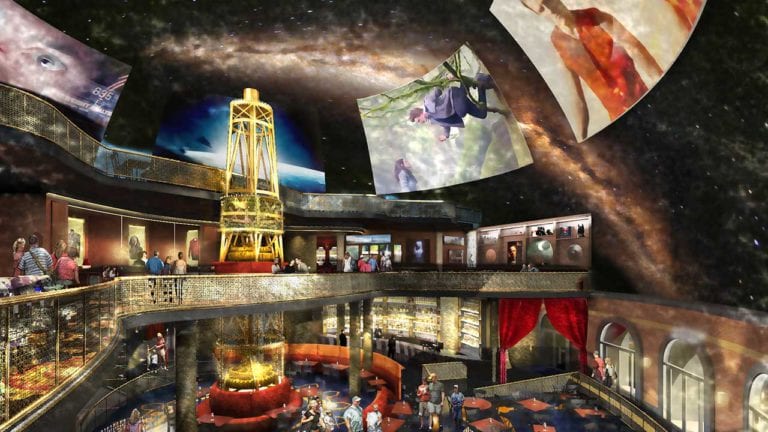 Look, in the concept art the walls actually have stars on them and it looks like a planetarium. Instead the finished product is just a combination of random Hollywood memorabilia, and a blank dome mixed with overly loud music. I don't know if the management team ran out of money during the construction but somebody messed up somewhere. Planet Hollywood suffers from an extreme case of not knowing exactly what it wants to be. There are those gigantic screens though: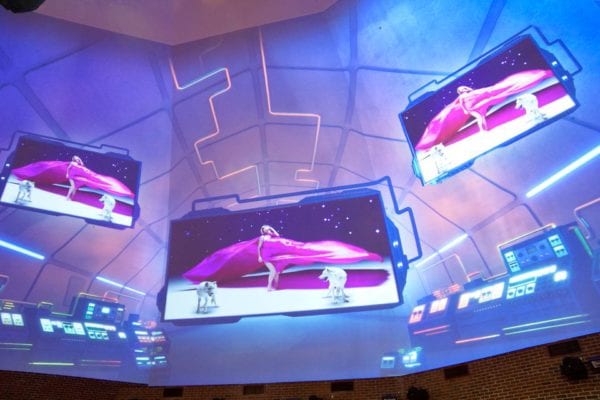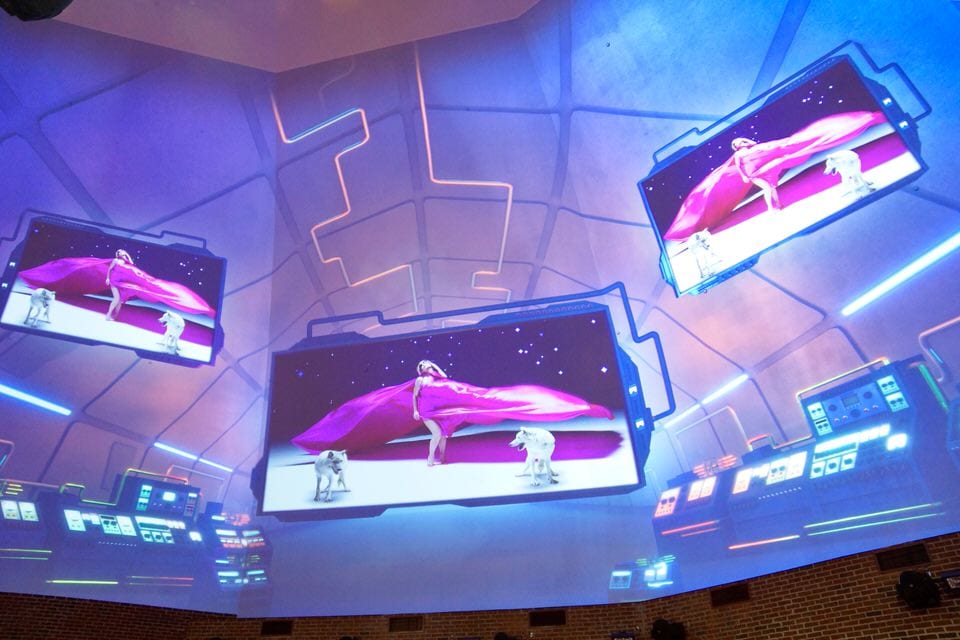 Apparently on whatever starship that is, they play terrible pop music videos from the 80's and 90's all at volume levels to high to hear the person next to you. I mean what even is this? The screen isn't even good quality, it looks faded, not bright and luminous. I found out after that they are 3D screens too, which you'd never be able to tell. Terrible idea by the designers.
Who wants to look at this while trying to eat your meal honestly?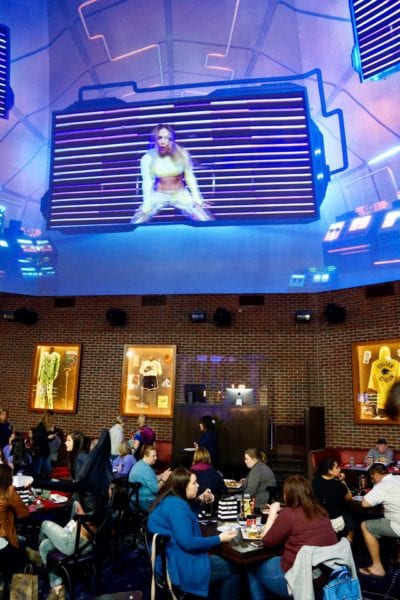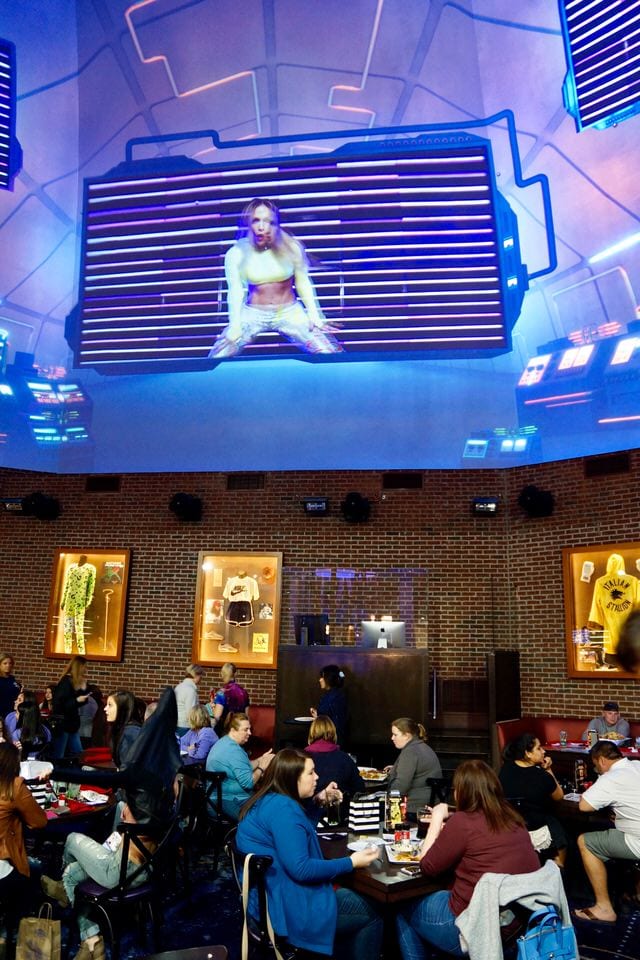 No really it was bad. We went with my parents and I could tell neither of them felt comfortable the whole night. It was so loud in there we couldn't hear the waitress when she came to the table and we couldn't have a normal level conversation between ourselves at the table either.
I guess all the music and action could be interesting for teenagers but anyone in their right mind could see it's not an ideal environment for an enjoyable evening.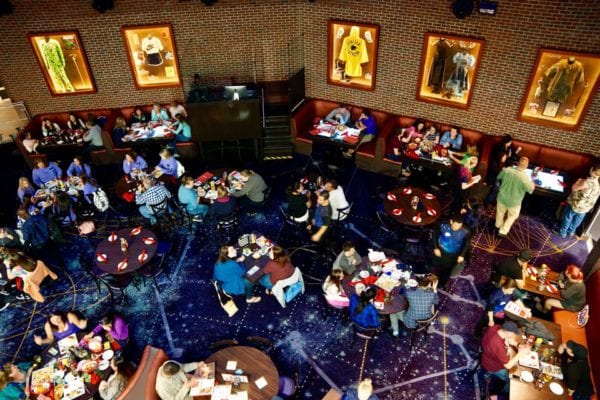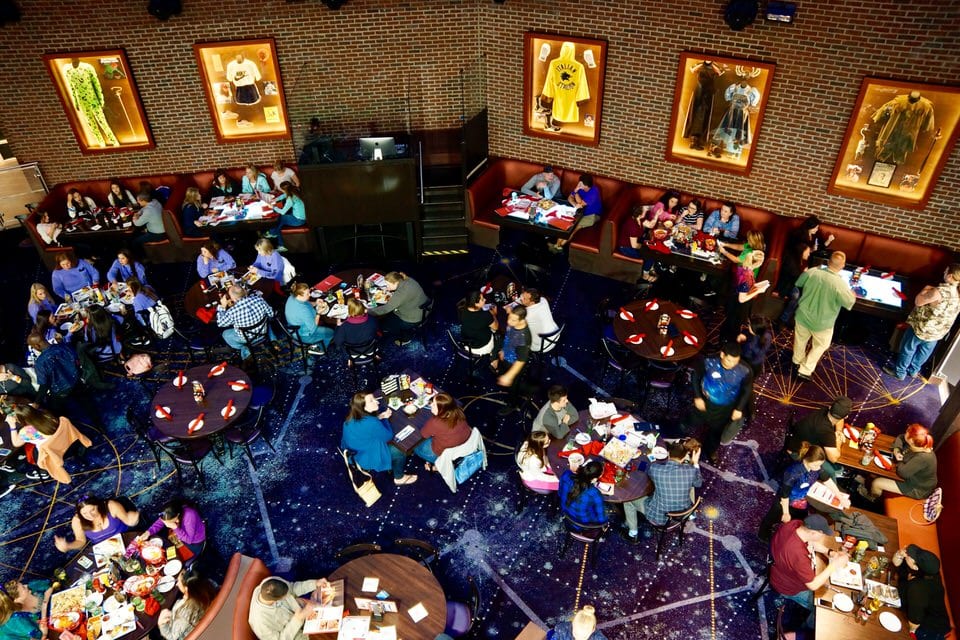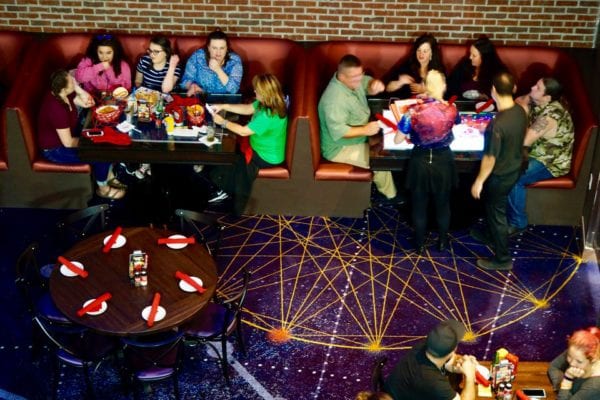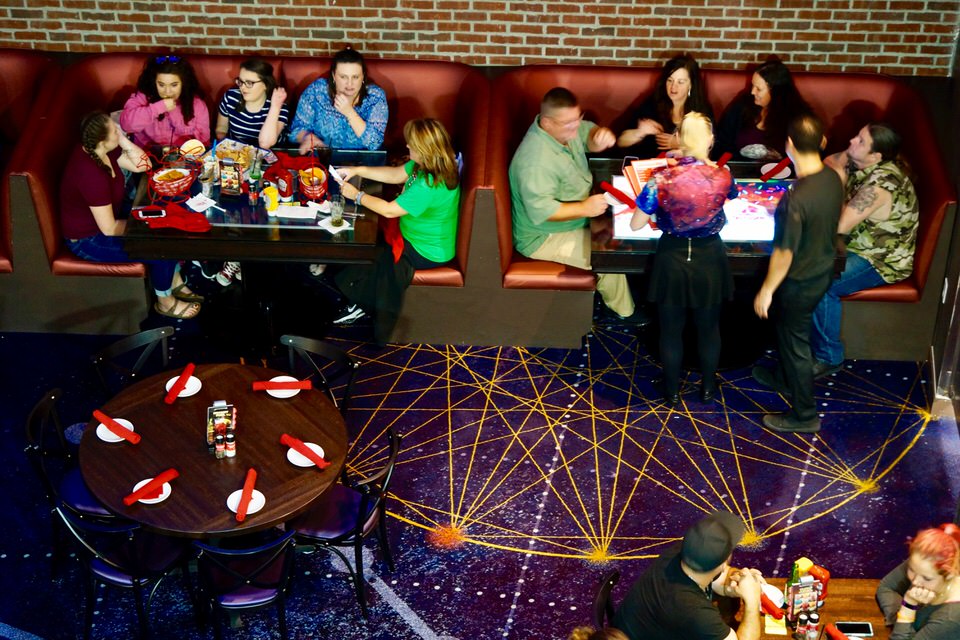 It's a shame because it's such a unique and interestingly shaped structure, it really could be a must visit place in Disney Springs but it falls short in the execution. The ground floor was by far the most chaotic of the three levels and of course that's where we were privileged to sit.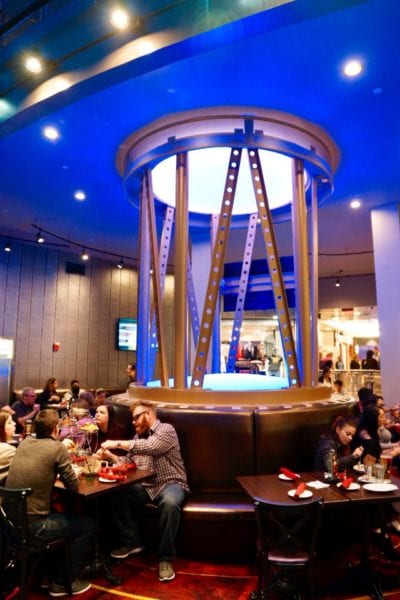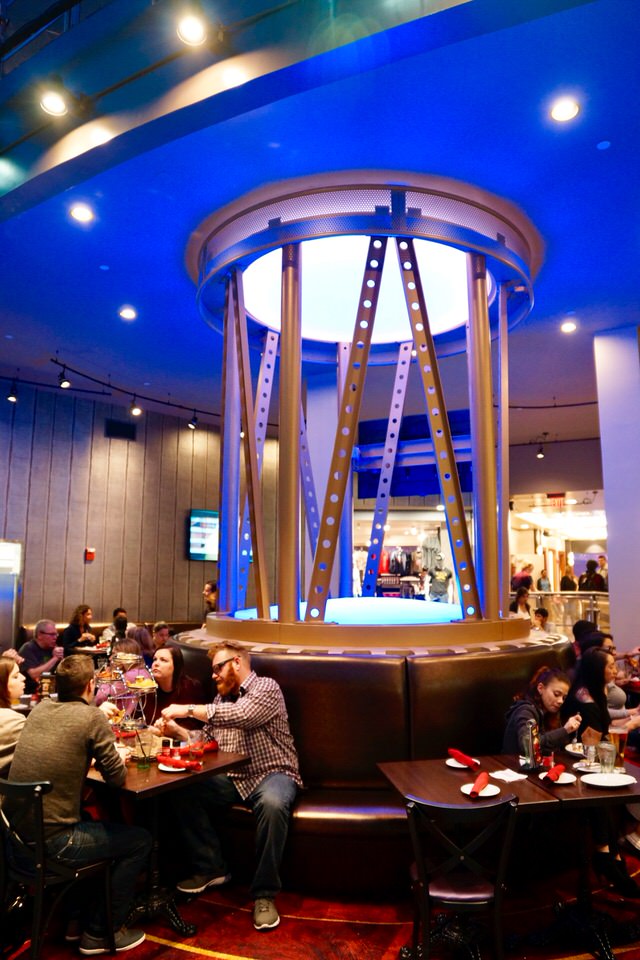 A look at some of the Hollywood Memorabilia: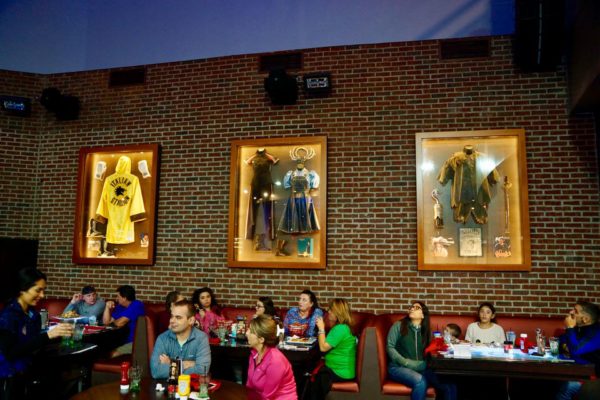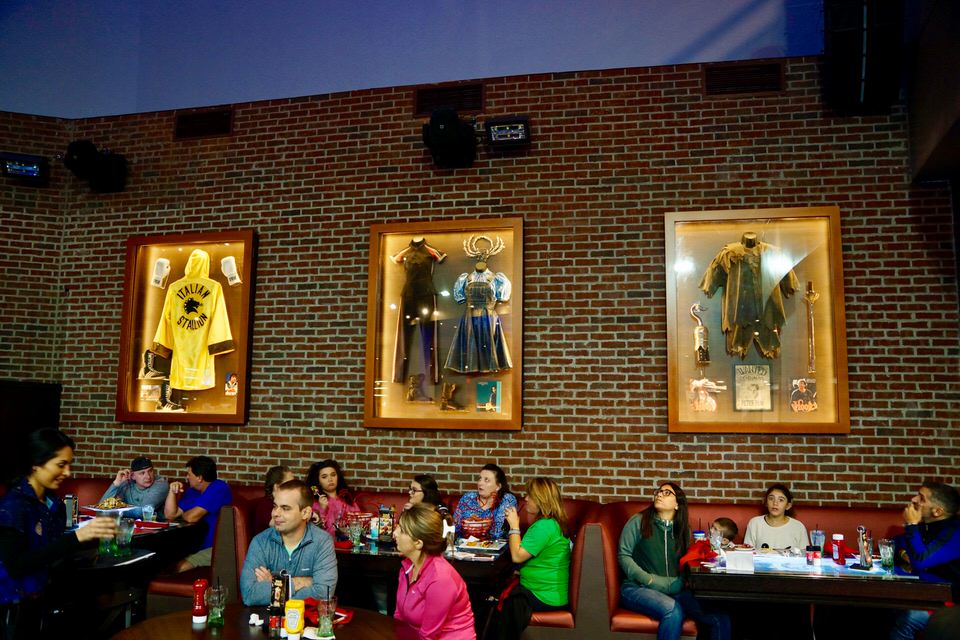 Rocky's robe and gloves: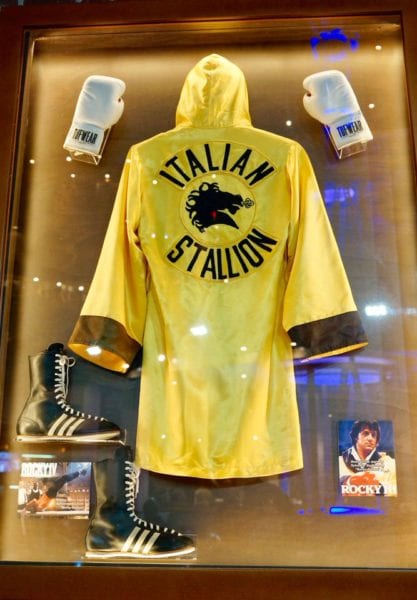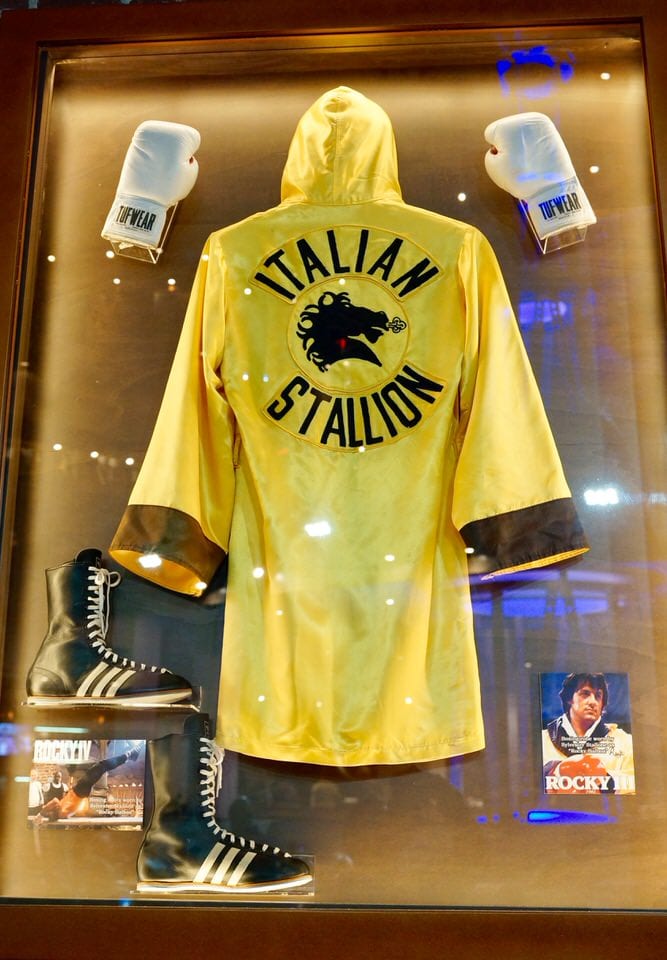 A look at the 1st Level Bar: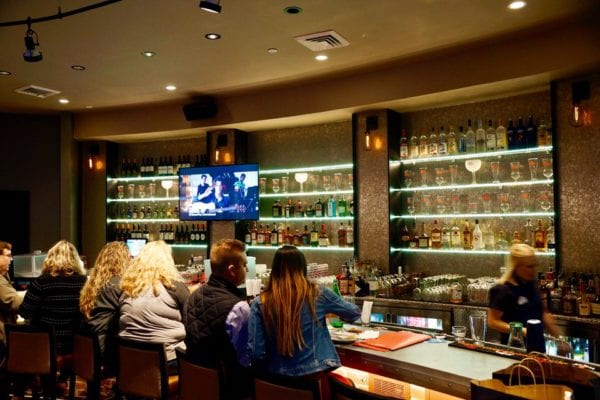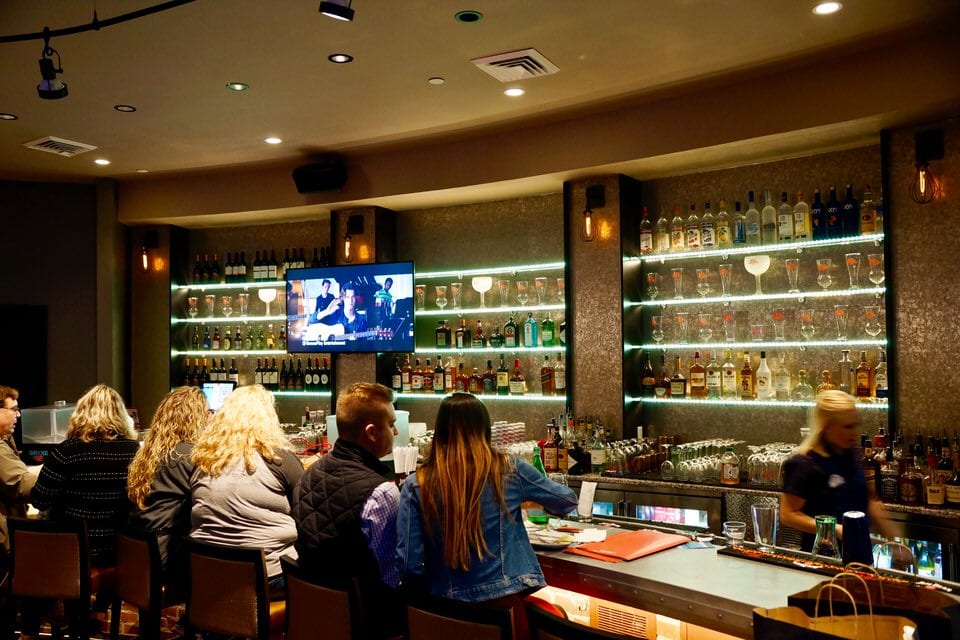 Let's head up to the 2nd Level and see if it's any better. If forced to choose I would have much rather sat up here than down in the chaos, it has a little more relaxed atmosphere, yet the still deafening music reaches you: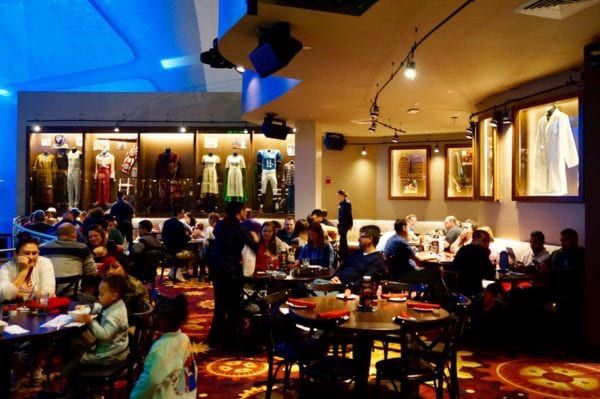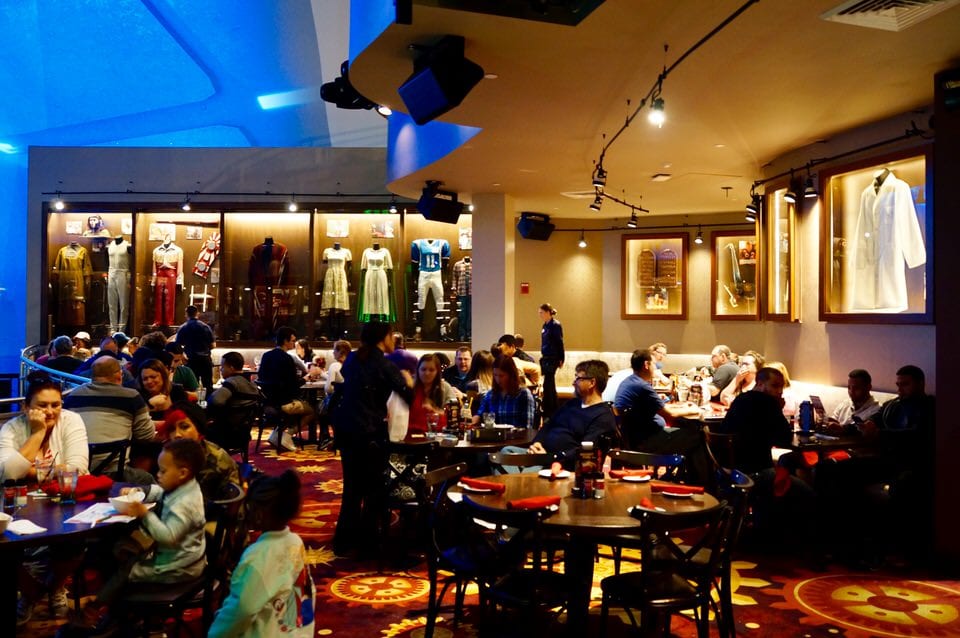 The left side: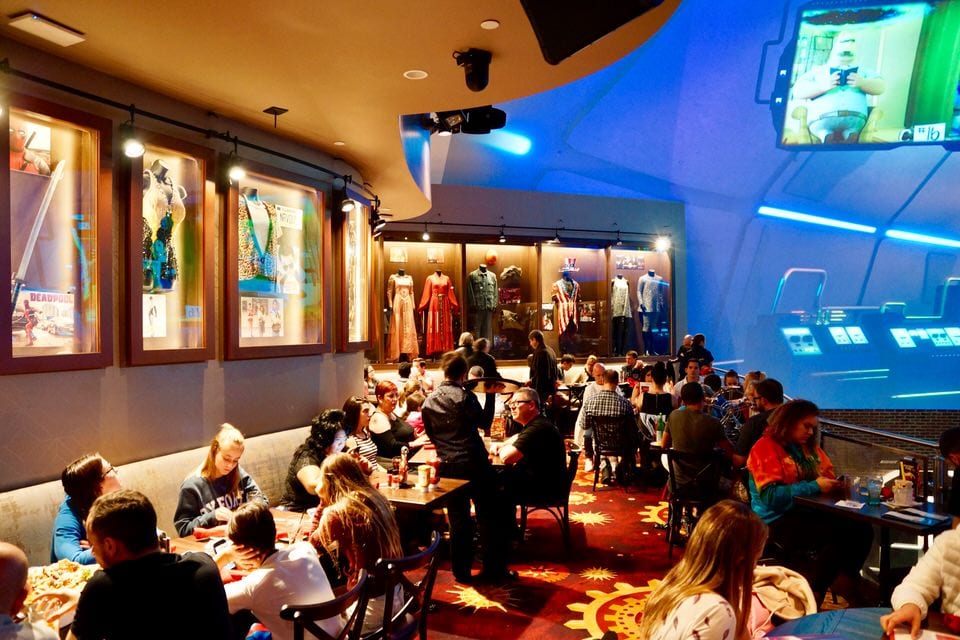 You can see the different celebrity outfits covering the walls: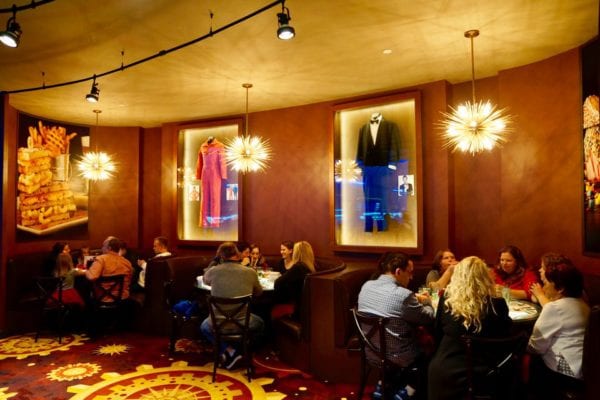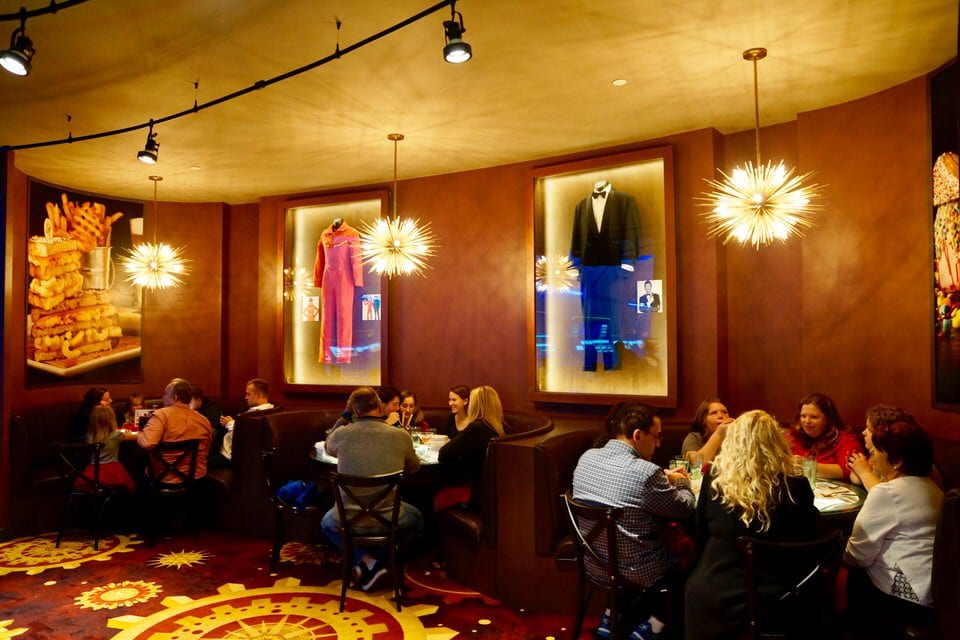 Probably my favorite is James Bond's Tuxedo from Live and Let Die: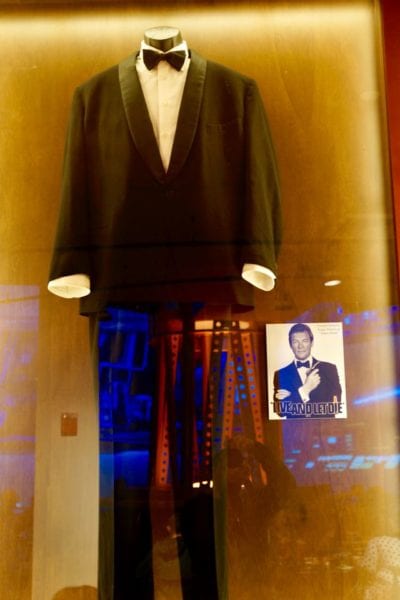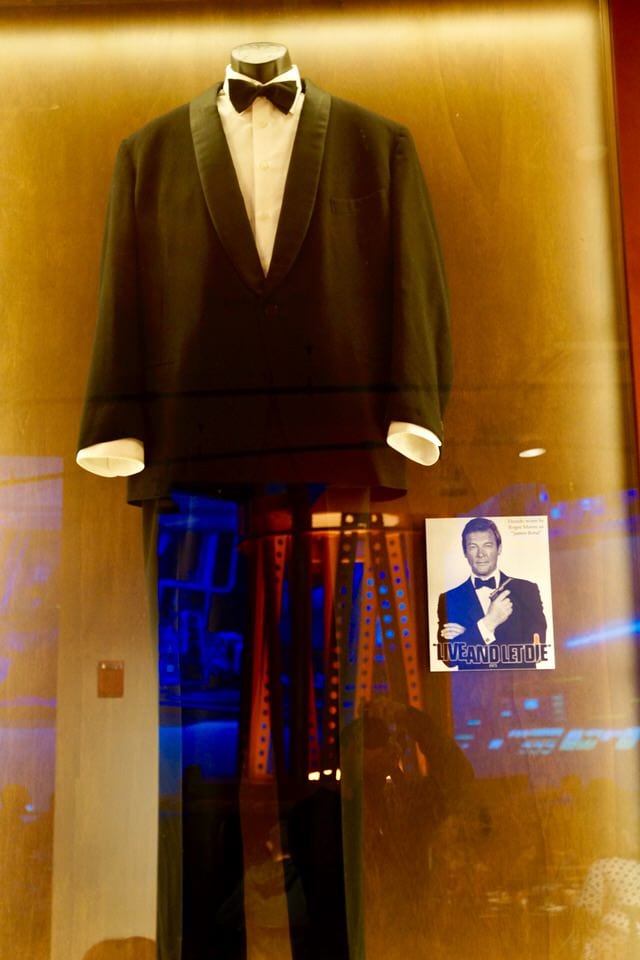 Madonna's uniform from A League of their Own: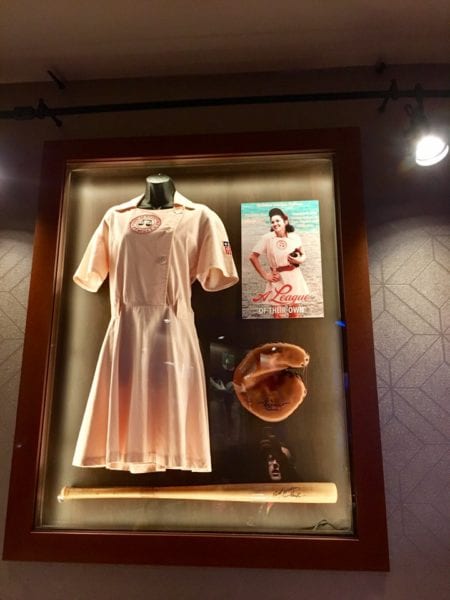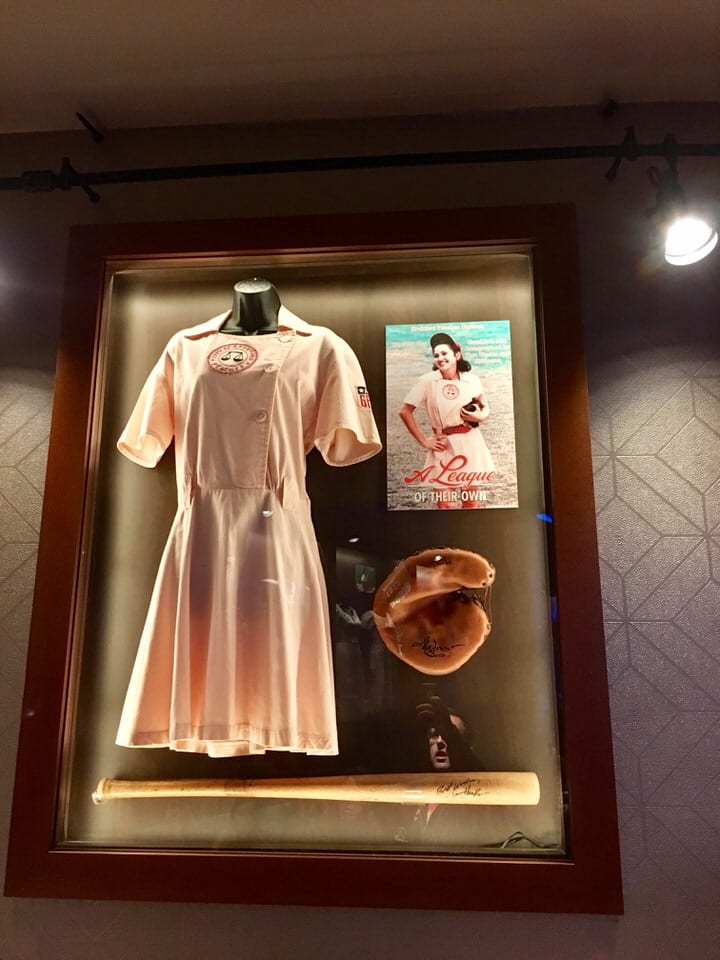 Shawshank Redemption: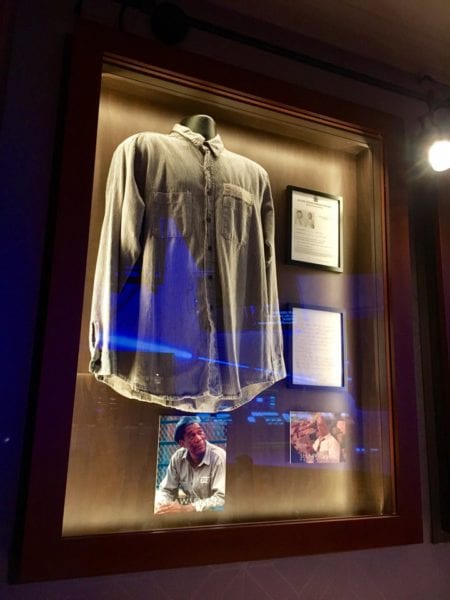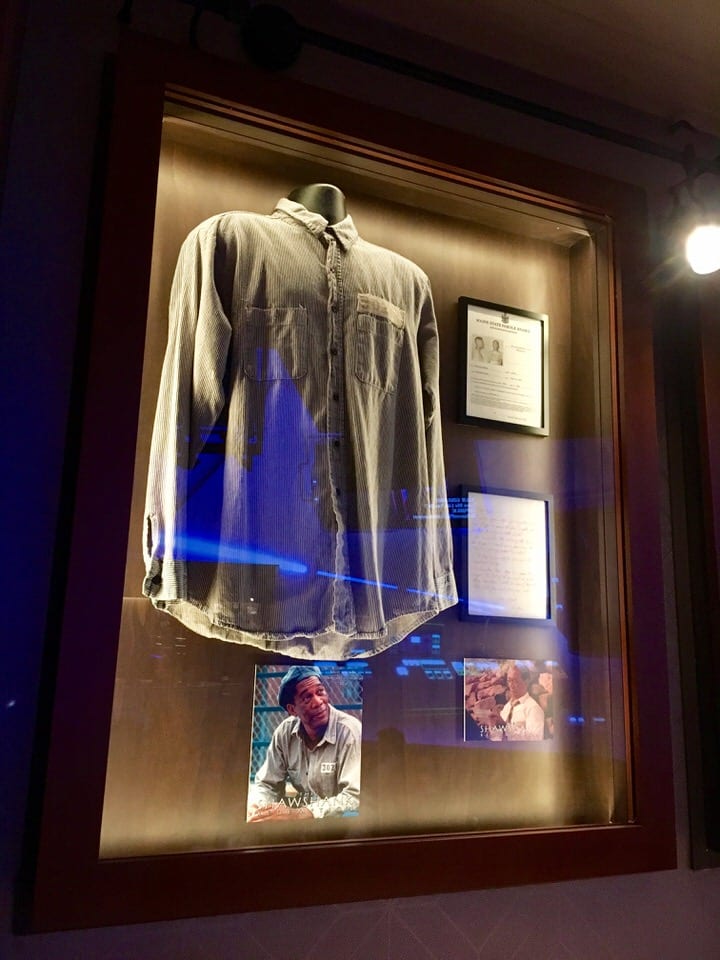 Marty's cowboy outfit and hoverboard from Back to the Future III: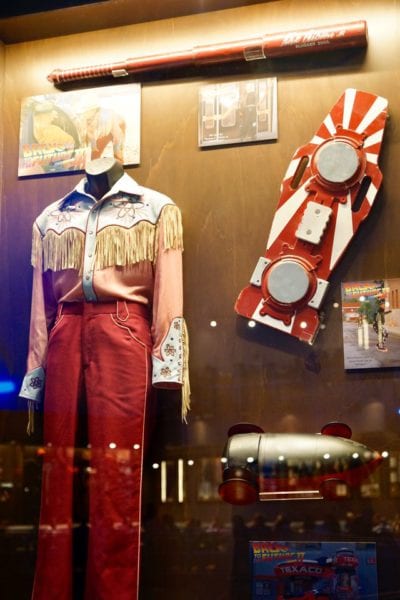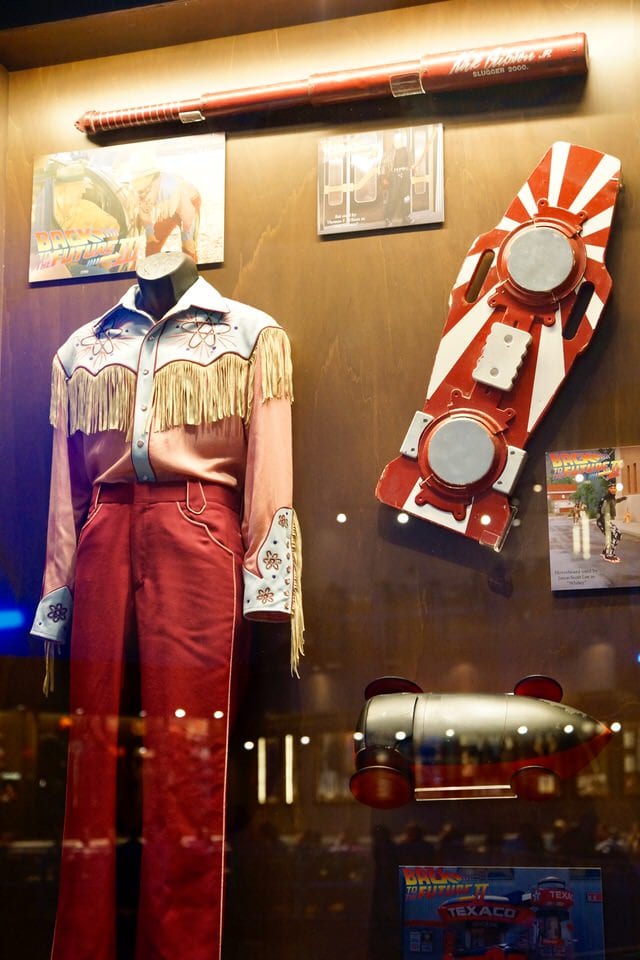 Kevin's sled from Home Alone: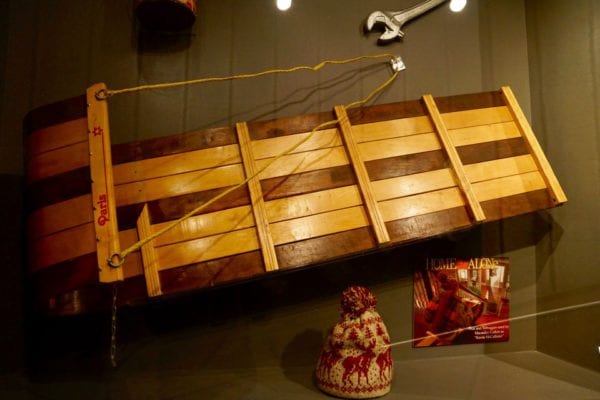 A look a the 2nd Level Bar: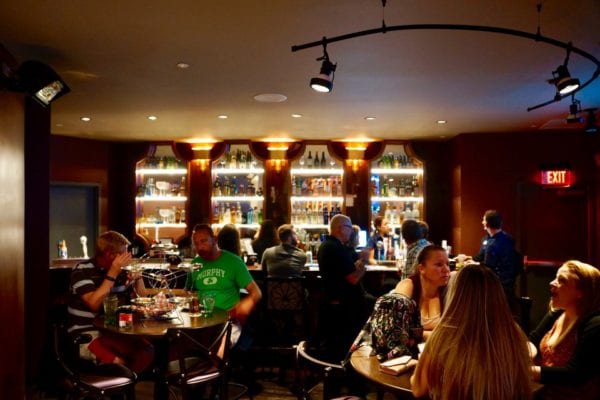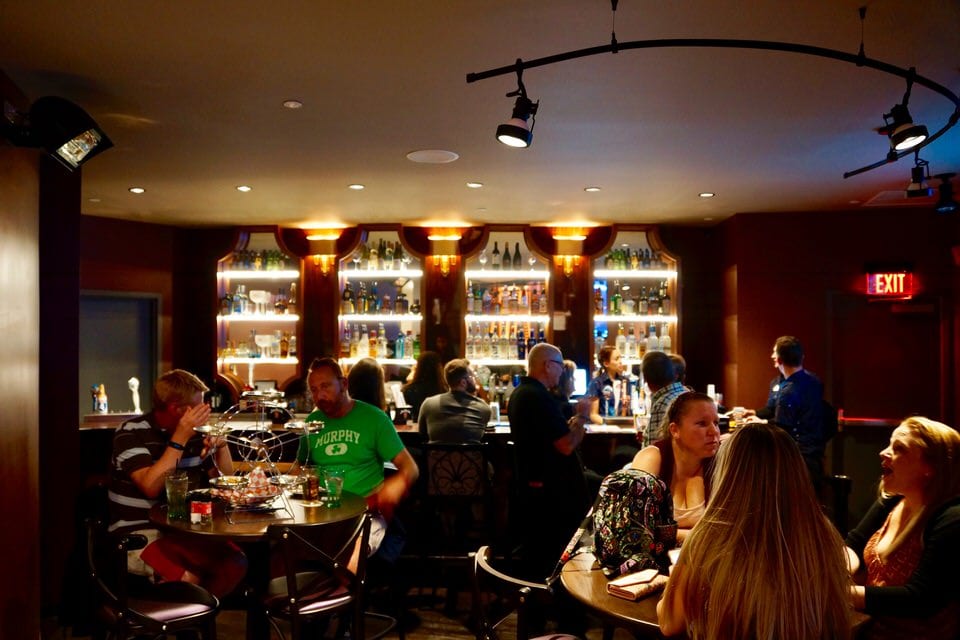 One of the Corner Booths: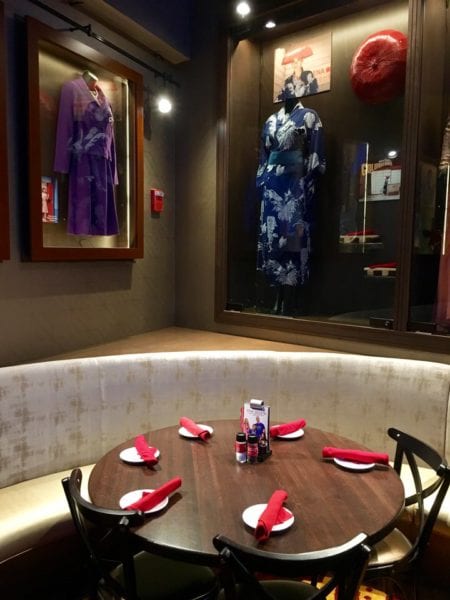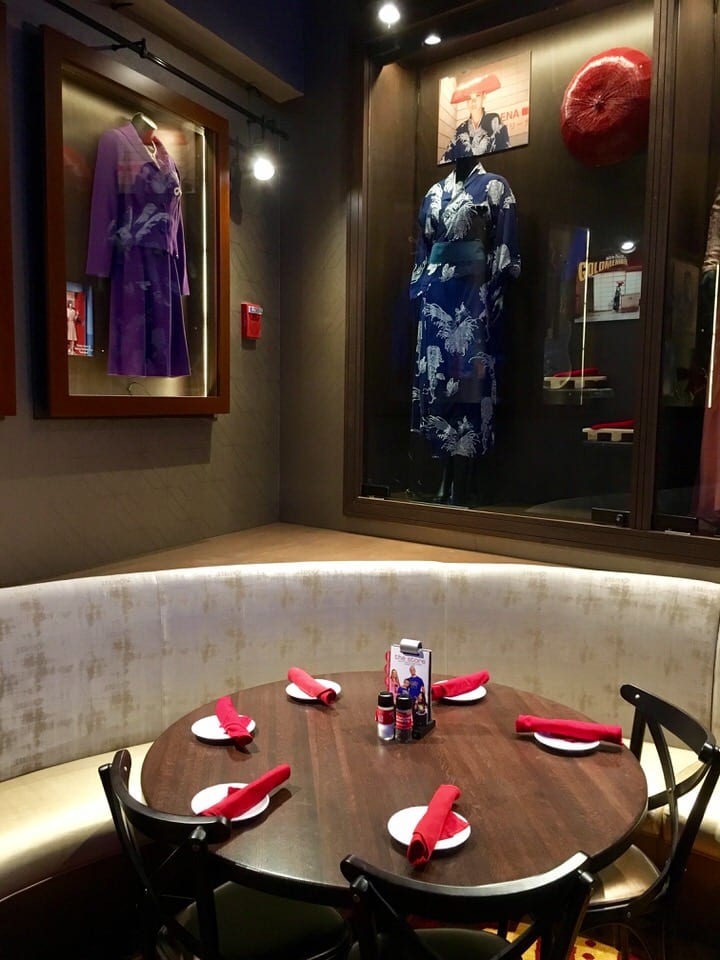 Our table: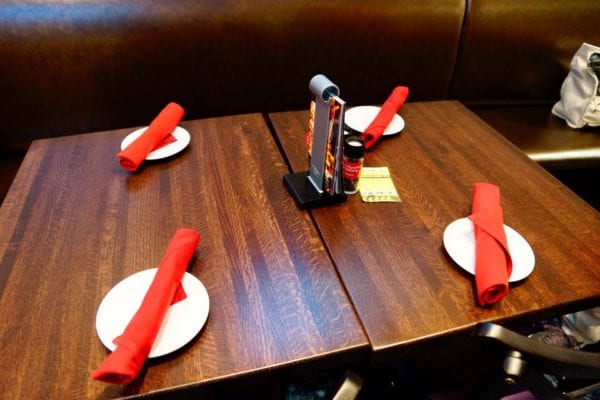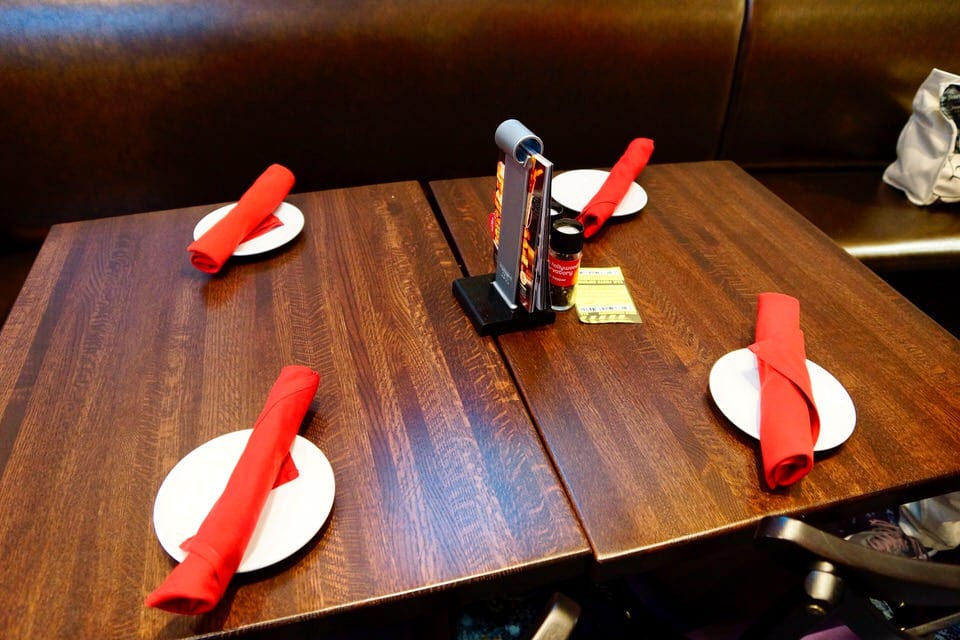 Food: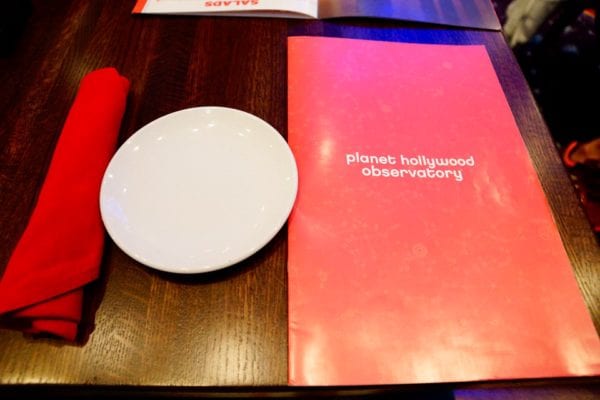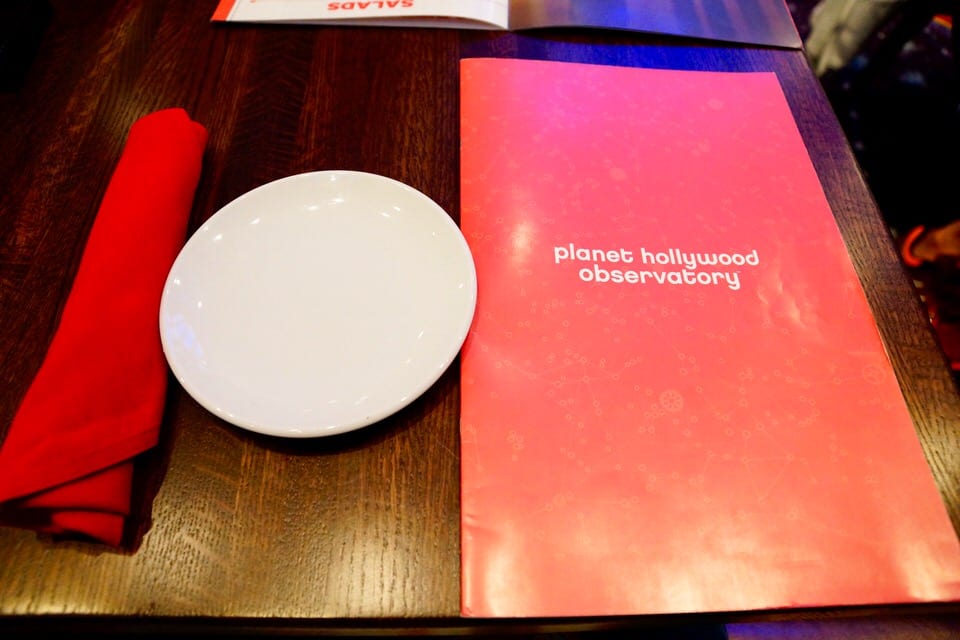 Planet Hollywood Observatory's menu is basically your typical American cuisine you would find in a place like Chili's or your local pub: Burgers, Sandwiches, Nachos, Wings, etc. Even though I love an expensive meal prepared by world-class chefs (something you'd find at California Grill for example), a great Burger and Wings to me is really hard to beat. Too bad Planet Hollywood Observatory doesn't do any of those things very well. As you'll see there are a few things that are pretty good, but overall it's overpriced and not tasty enough for me to recommend you a whole lot.
Again, another missed opportunity as for many Burgers and Fries happen to be the favorites of many guests in Walt Disney World and a place that can really do them well (D-Luxe Burger) is always welcome!
First the Cocktails List: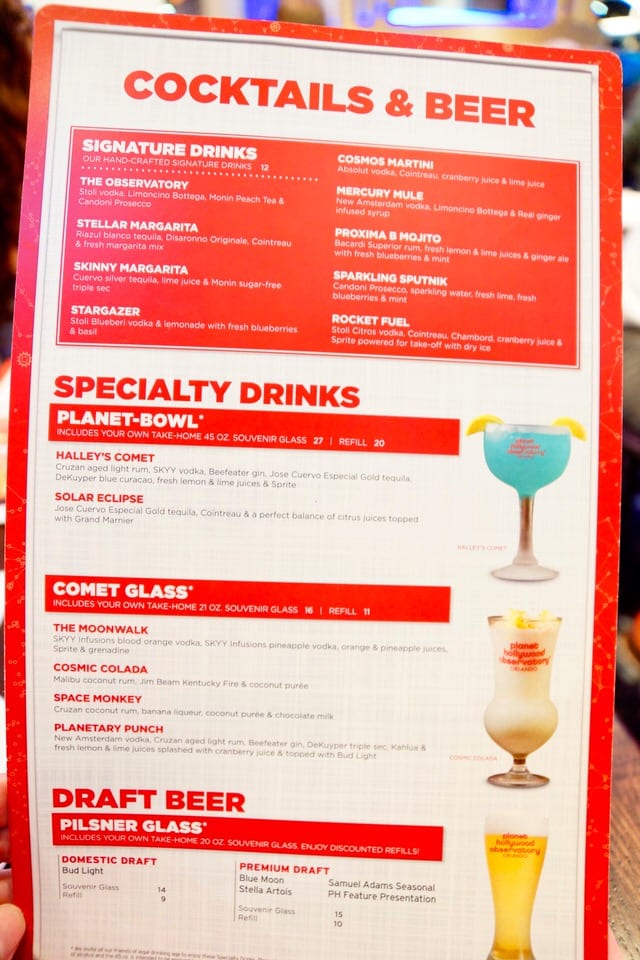 One thing that really irritated me was that they have some specialty drinks that come in souvenir glasses, but you can't order them without. I don't think it's right someone has to pay $16 for a Colada in a glass they won't be able to fit into their suitcase instead of $12 for the same drink just in a normal glass maybe a bit smaller like all the other cocktails. Ok…
The whole menu is a bit much, super huge menu with huge photos everywhere, like they have to convince me to try them. Here's the rest of the drink menu: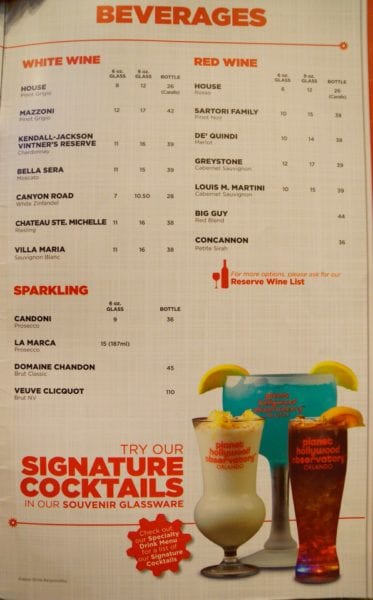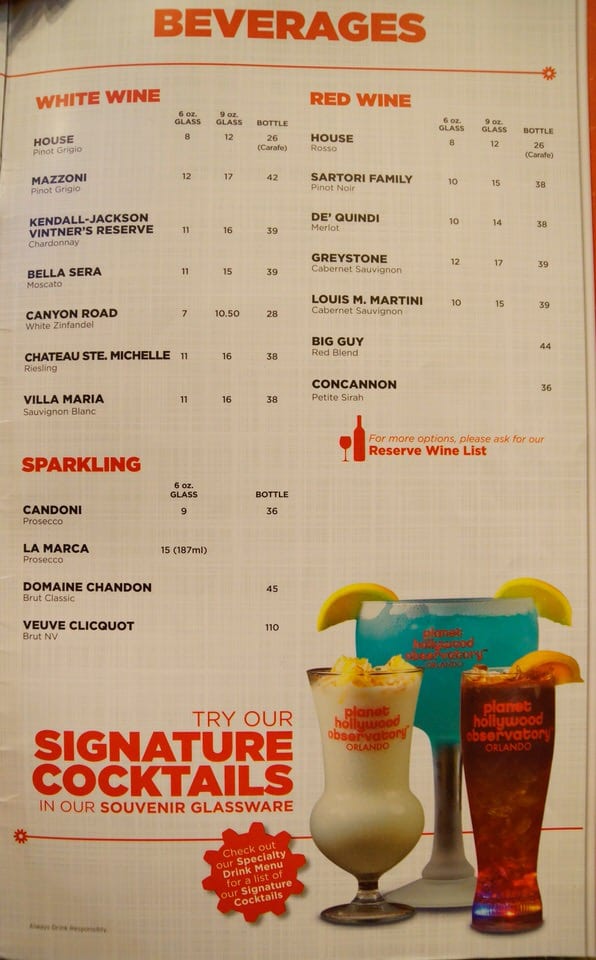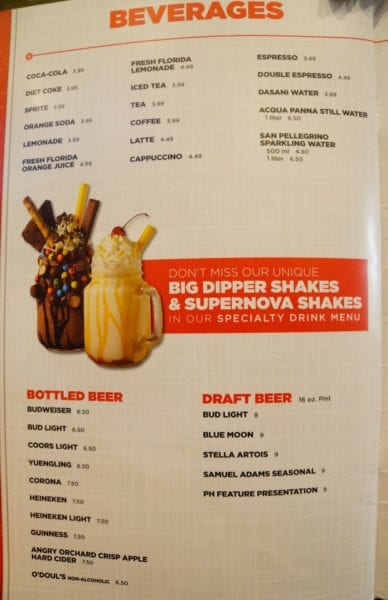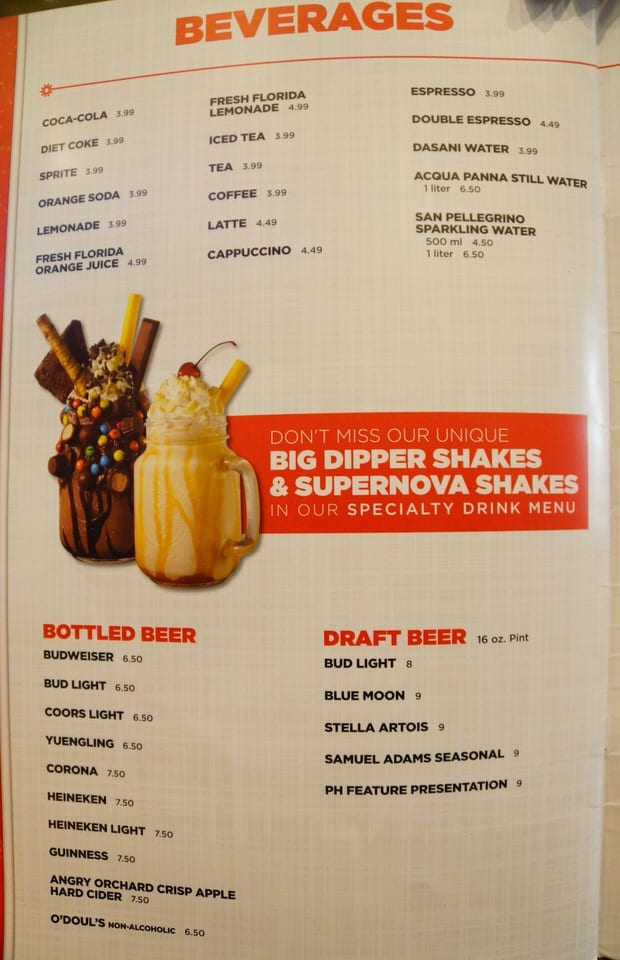 The Supernova Shakes are one of Planet Hollywood's calling cards, but since I've heard about 20 times already from others who have ordered them that they aren't any good, it seemed like a waste of money. $14 for a watered-down shake with frosting slathered all over the side of the jar with candy or sprinkles attached. The rest of the toppings like the cake and brownies aren't even any good.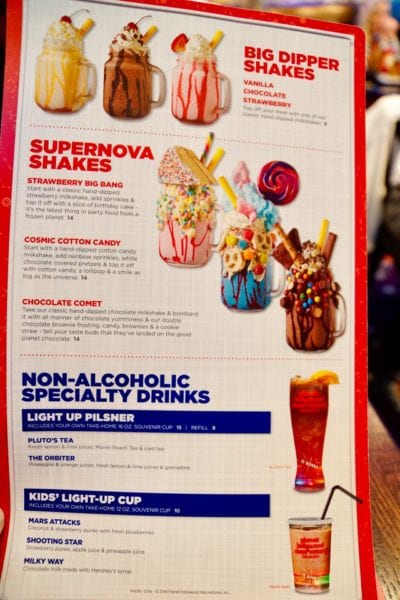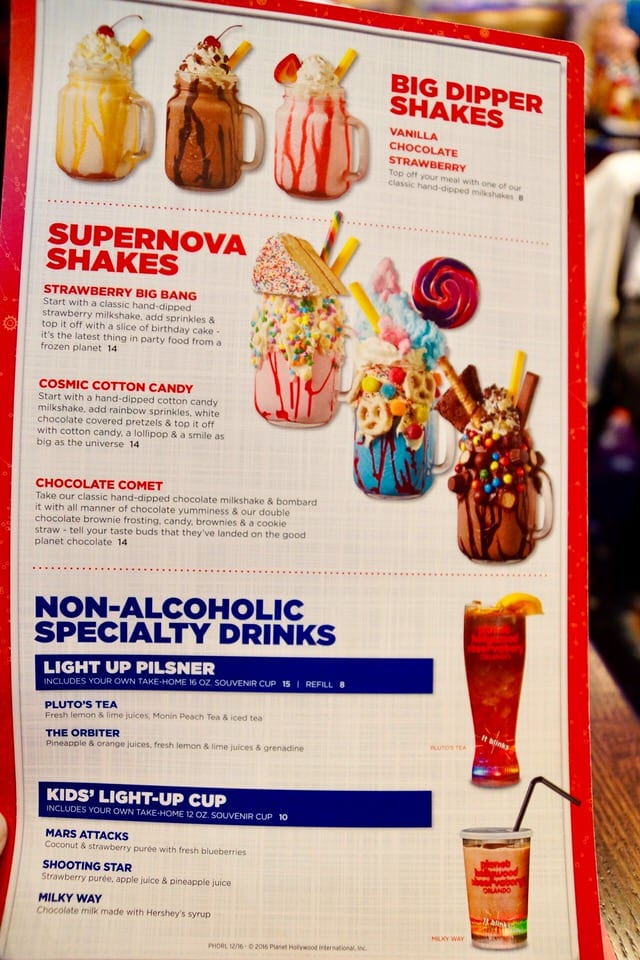 Again big on show, little on actual delivery of the product. Rather have a Smore's Gelato Shake from D-Luxe for $7!
For appetizers you'll find typical Wings and Nachos, as well as something a bit different like BBQ Pork Bao or Texas Tostados: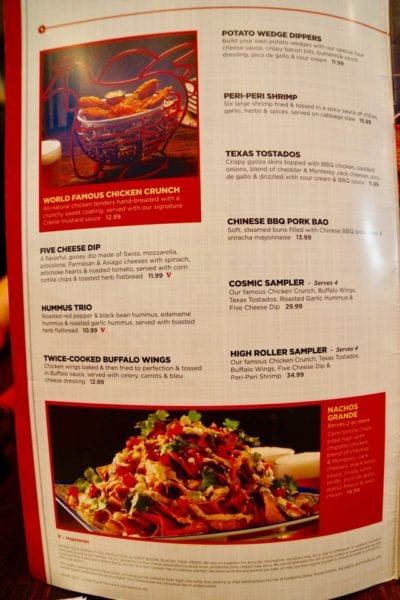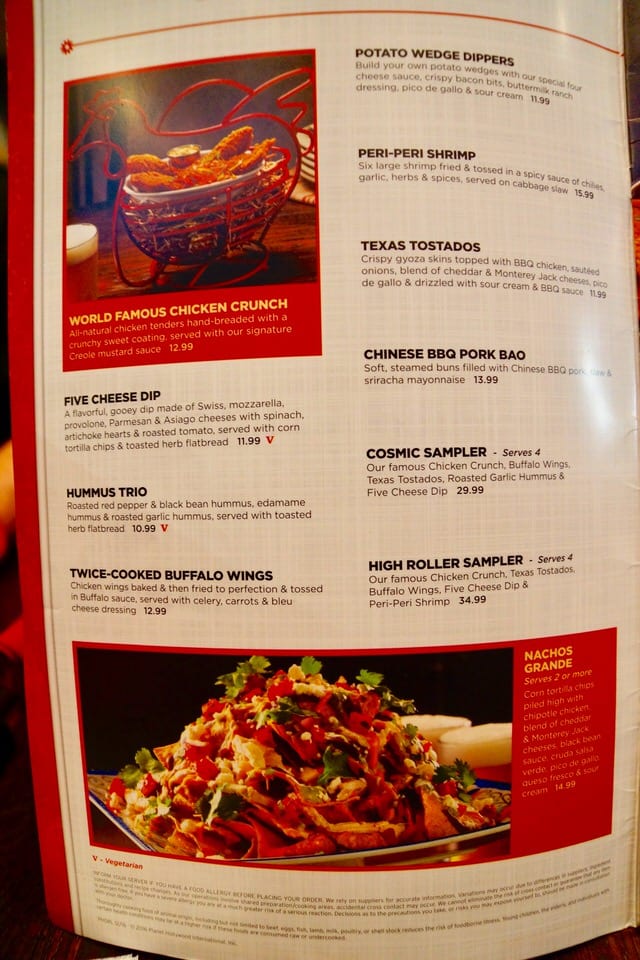 The huge selling point of the new Planet Hollywood Observatory Menu was the fact that celebrity chef Guy Fieri personally designed a new section with "Big Bite Burgers" and "Knuckle Sandwiches."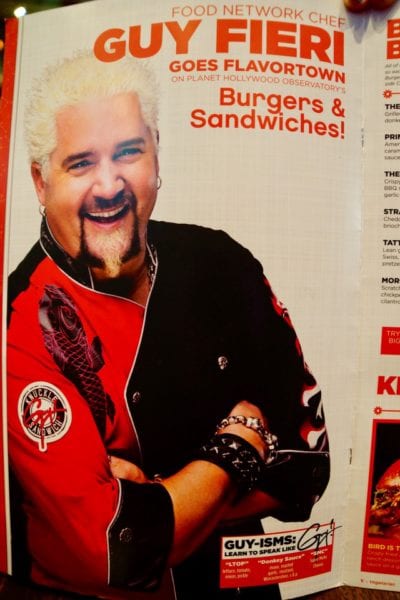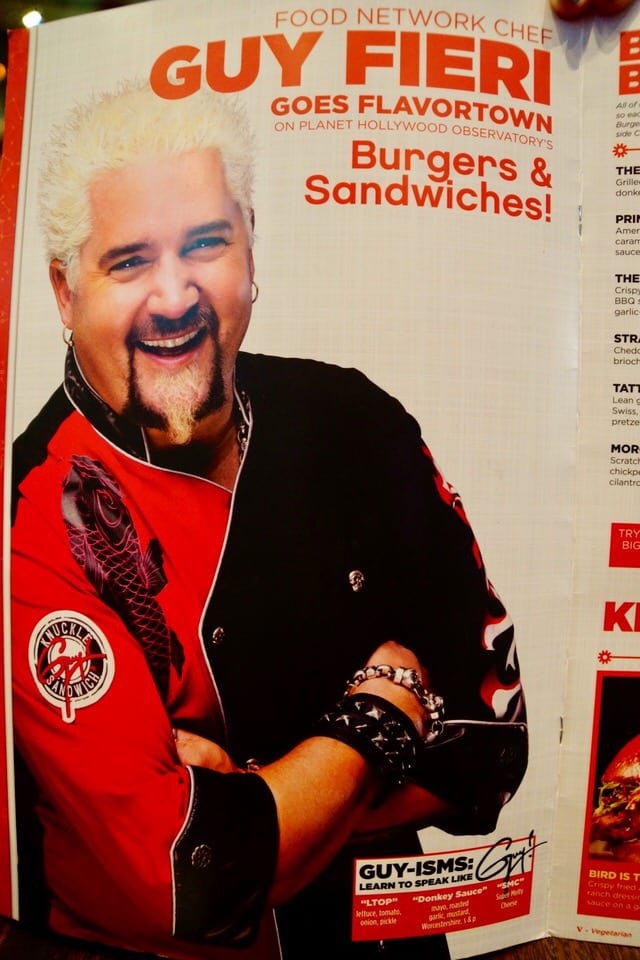 Here are some of his creations: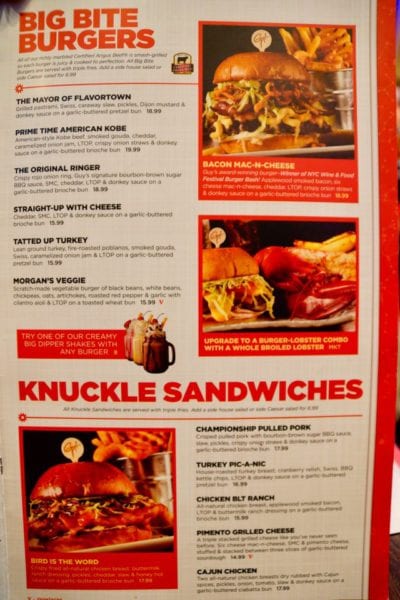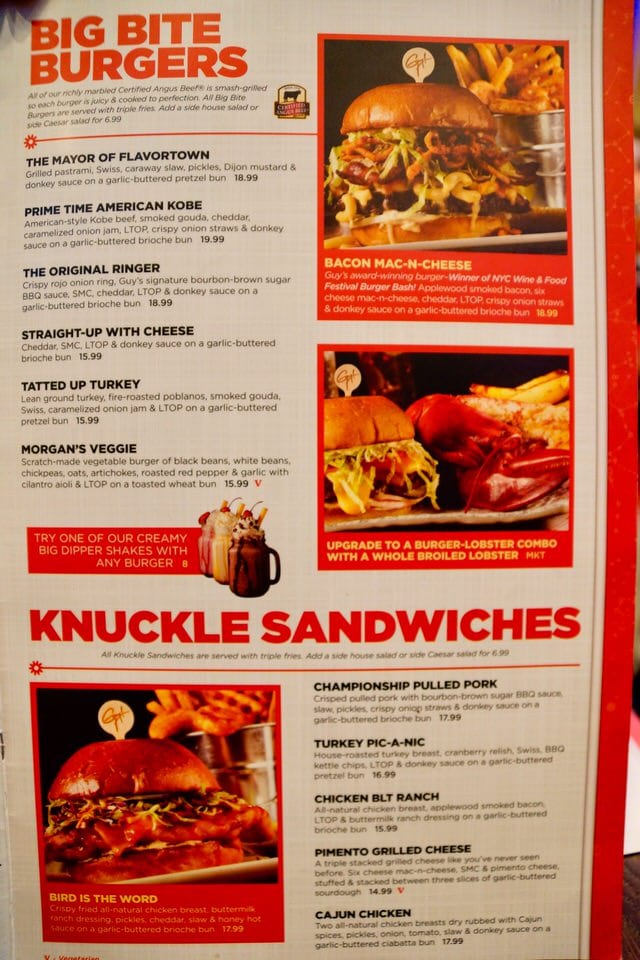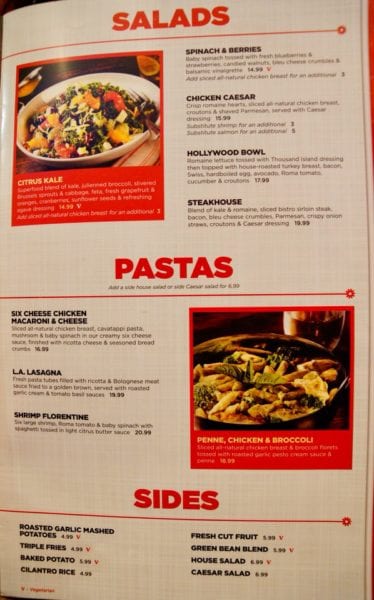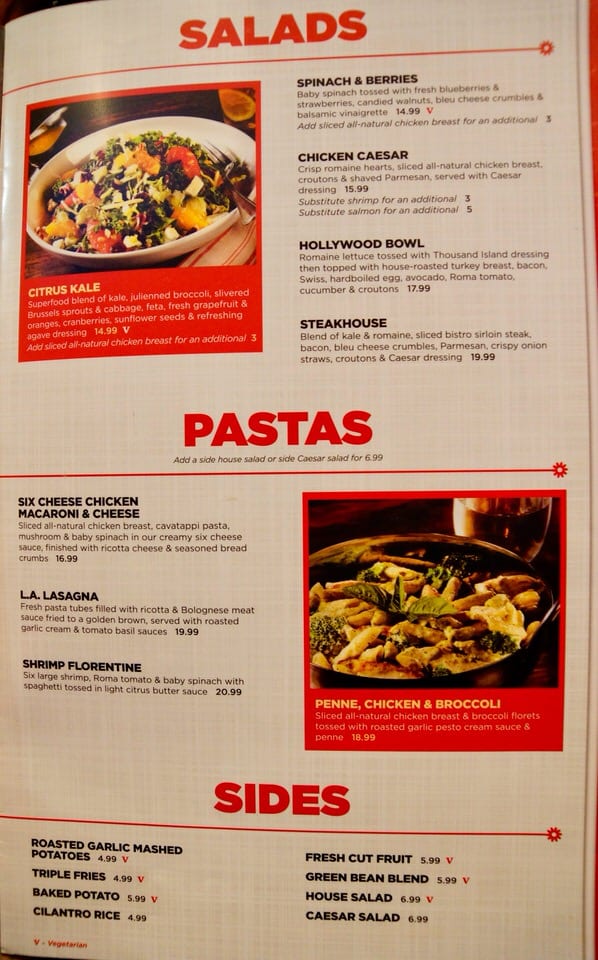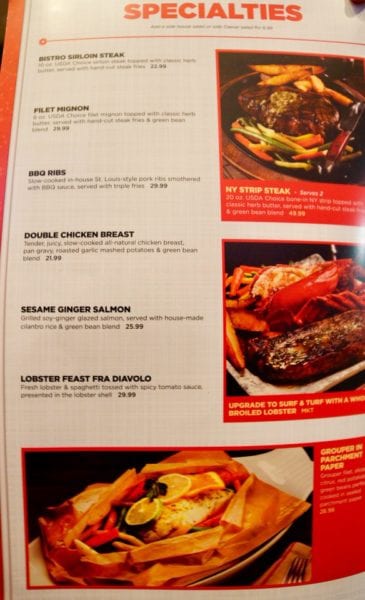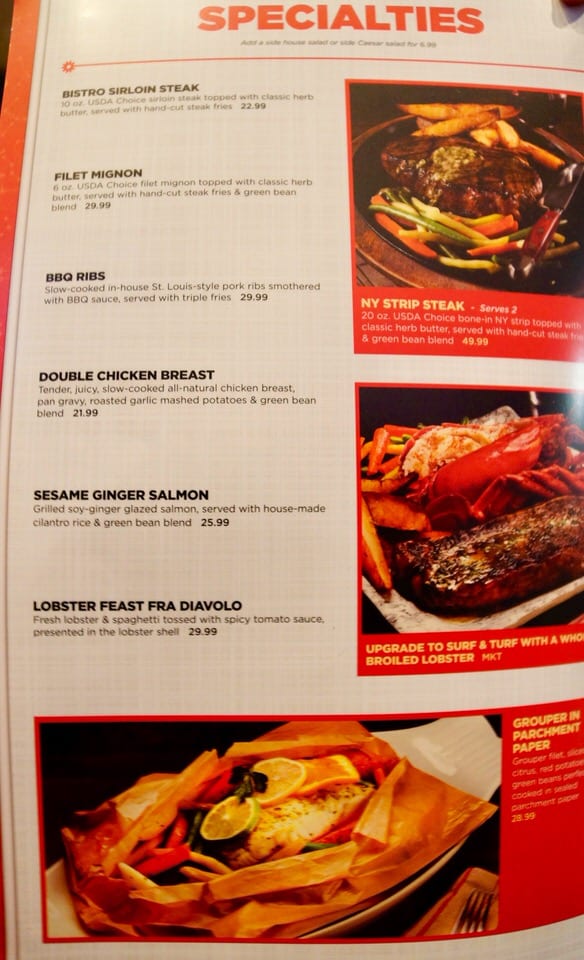 I didn't get the BBQ Ribs but heard they come with a nice presentation but are kind of dry. Not likely to wow real BBQ lovers: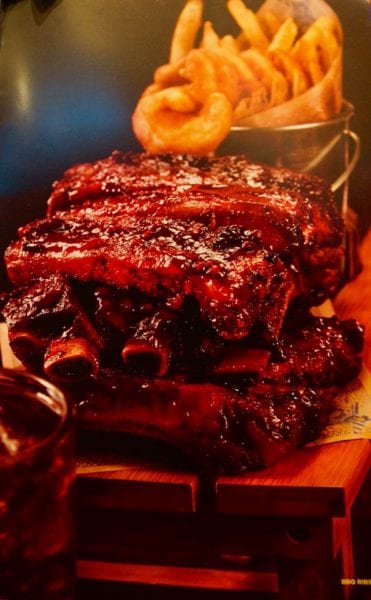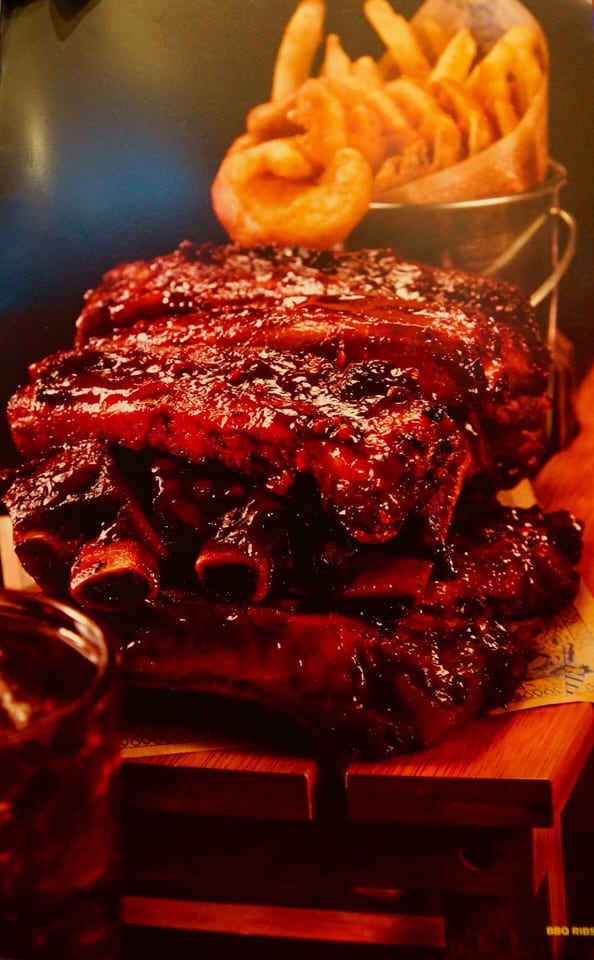 Also one of their already "famous" dishes is the L.A. Lasagna, basically lasagna rolled up and deep fried. This has mixed reviews: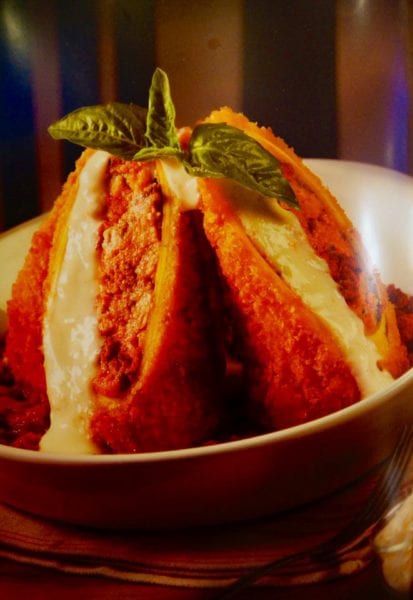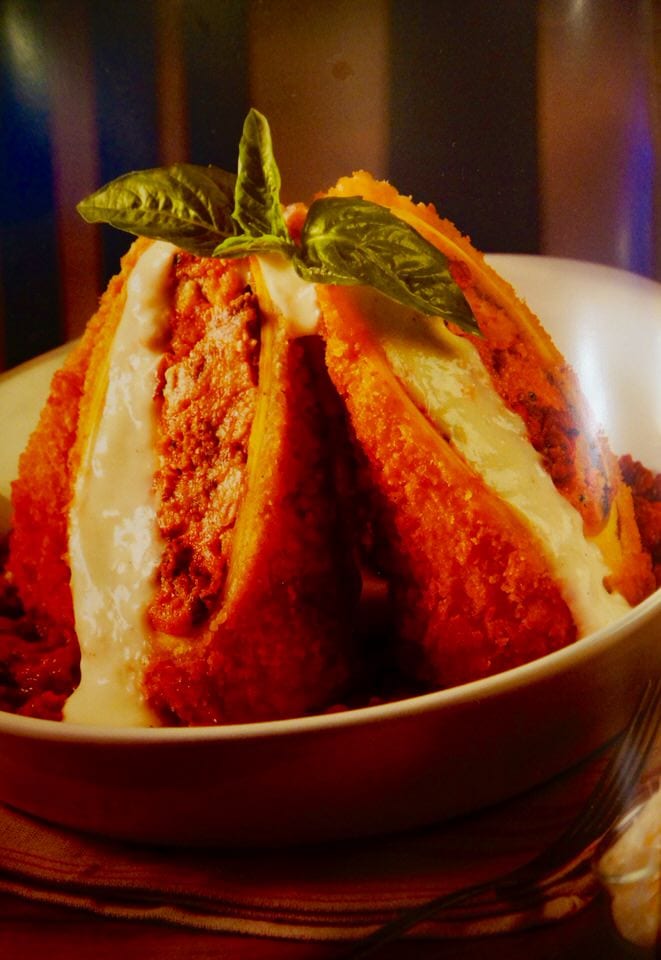 We got our drinks and first came the Stellar Margarita ($12):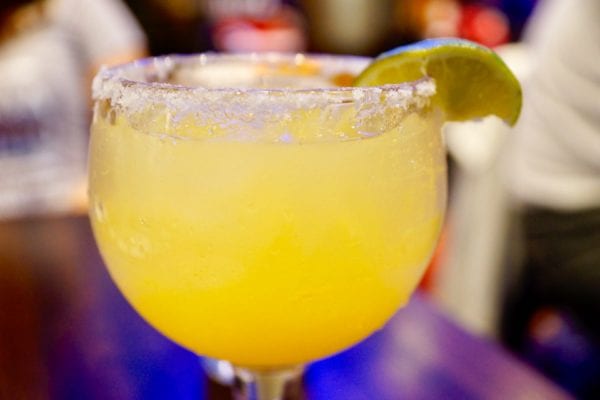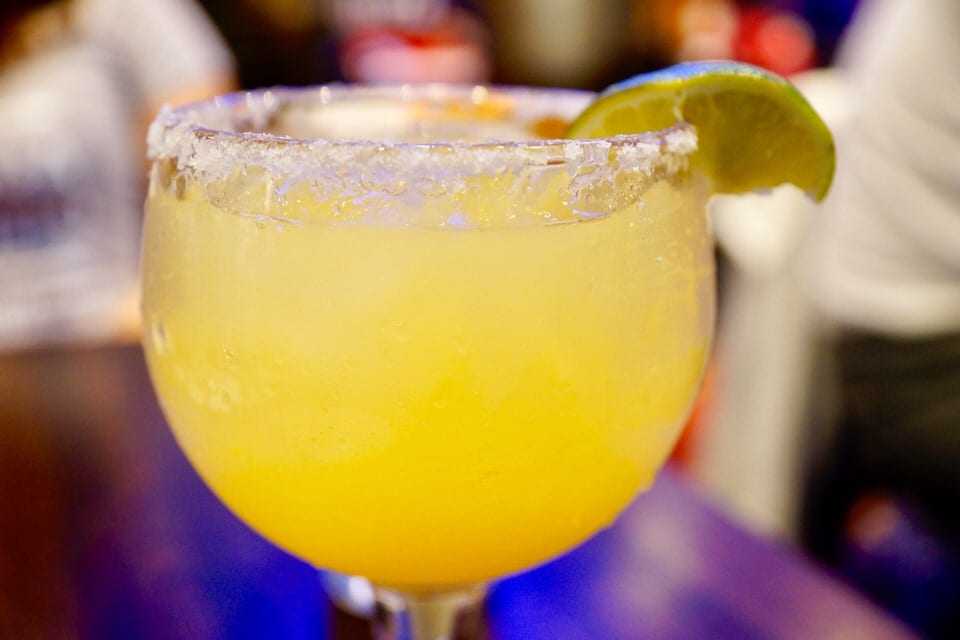 Love margaritas but wasn't a big fan of this one. It was a good size for the price but it was much too sweet and too much sour mix. Couldn't really taste the alcohol. Even though the Margaritas at Frontera Cocina are more expensive it's no comparison for taste and quality. Much rather have one there.
Next was a Pina Colada ($12):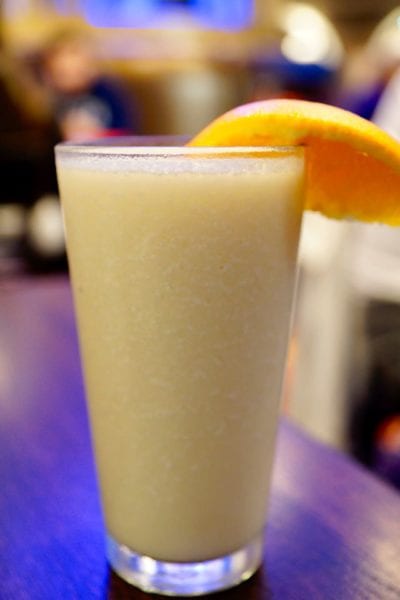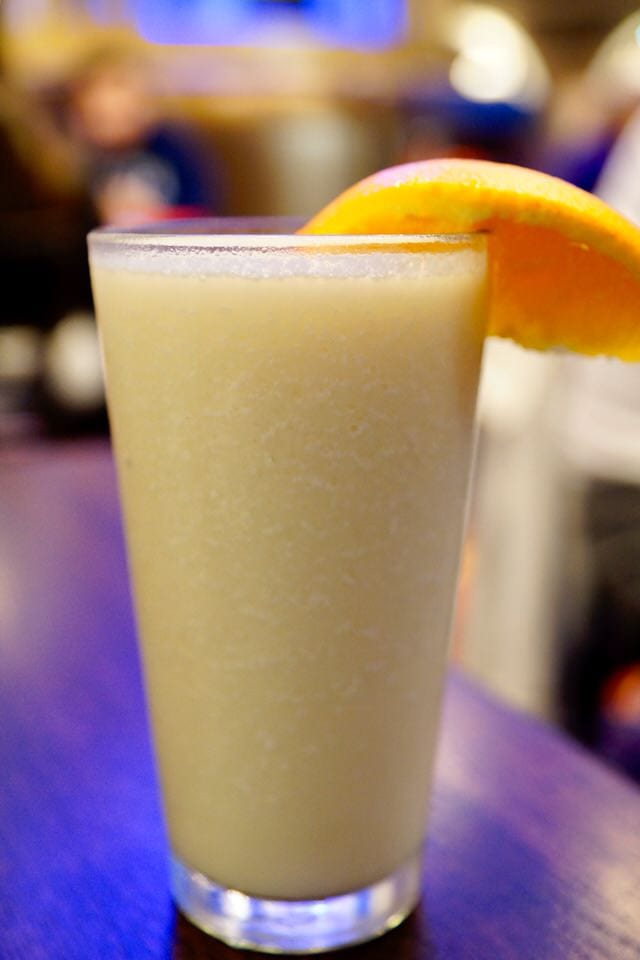 Stefy got this and it was an average Pina Colada. Again not what she wanted because they wouldn't give her the Cosmic Colada without the souvenir glass. It was decent, you could taste the coconut flavor and wasn't too strong for her.
One item that I'd been eyeing now for months online was the High Roller Sampler ($34.99):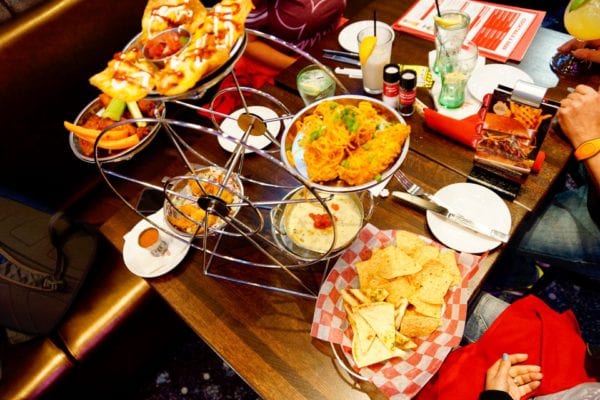 This comes with 5 different appetizers:
Peri Peri Shrimp, Texas Tostados, Twice-Cooked Buffalo Wings, Five Cheese Dip and the Famous Chicken Crunch.
As far as presentation I think this is a winner, I love the big Ferris Wheel it comes served on. Was kind of disappointing the fact that it doesn't spin though, I tried but to no avail.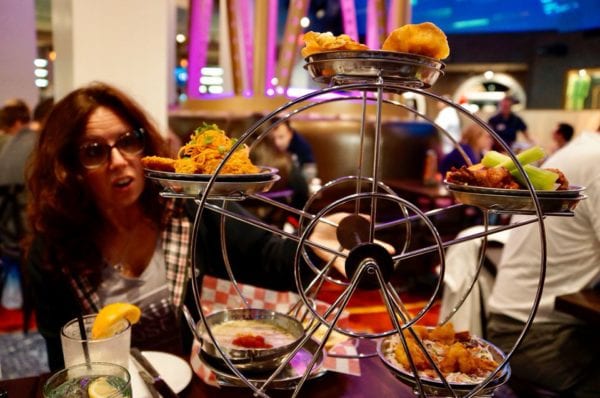 It says it serves 4 people but that is a bit of a stretch as we didn't have nearly enough to go around. It essentially meant we had one thing of each (1 Wing, 1 Shrimp, 1 Tostado and 1 Piece of Chicken), not really worth $34.99.
Five Cheese Dip: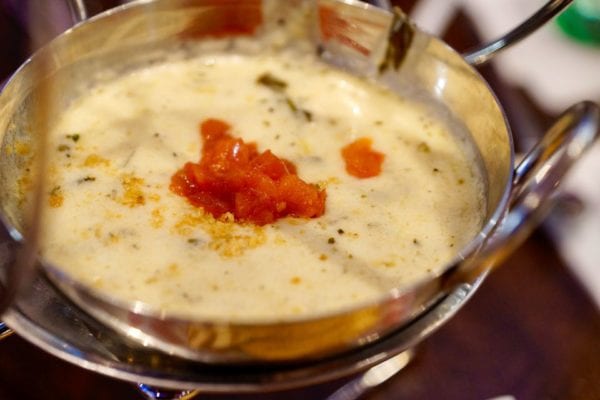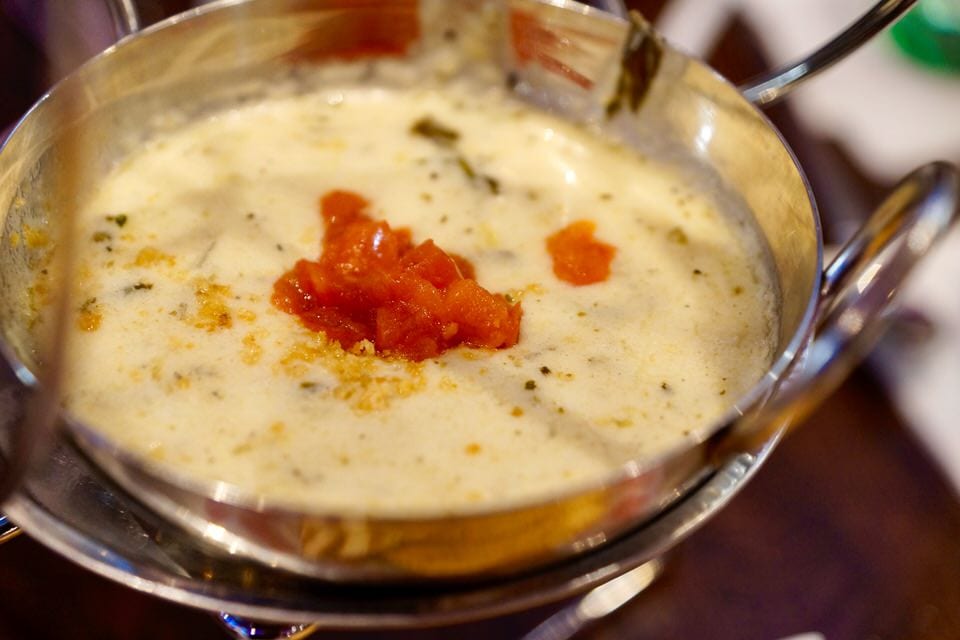 This was excellent. It's a Mix of 5 cheeses: Swiss, Provolone, Parmesan, Mozzarella and Asiago, with pieces of what seemed to be artichoke and tomatoes for sure. It was really creamy and quite delicious. You were given a basket of chips and pita bread to dip into it. Chips were fresh out of a bag, and not a Tostidos brand bag either, more like a value grocery store brand bag. The pita bread pieces were pretty good though.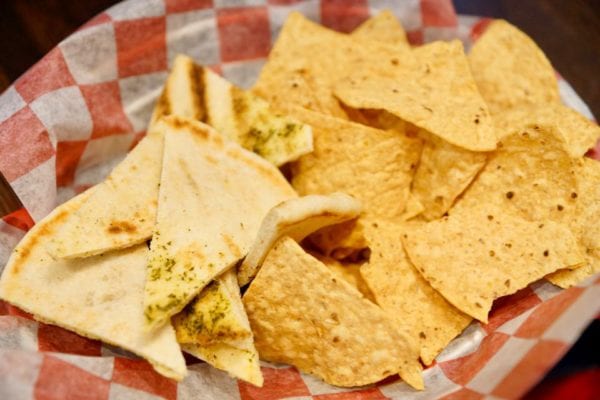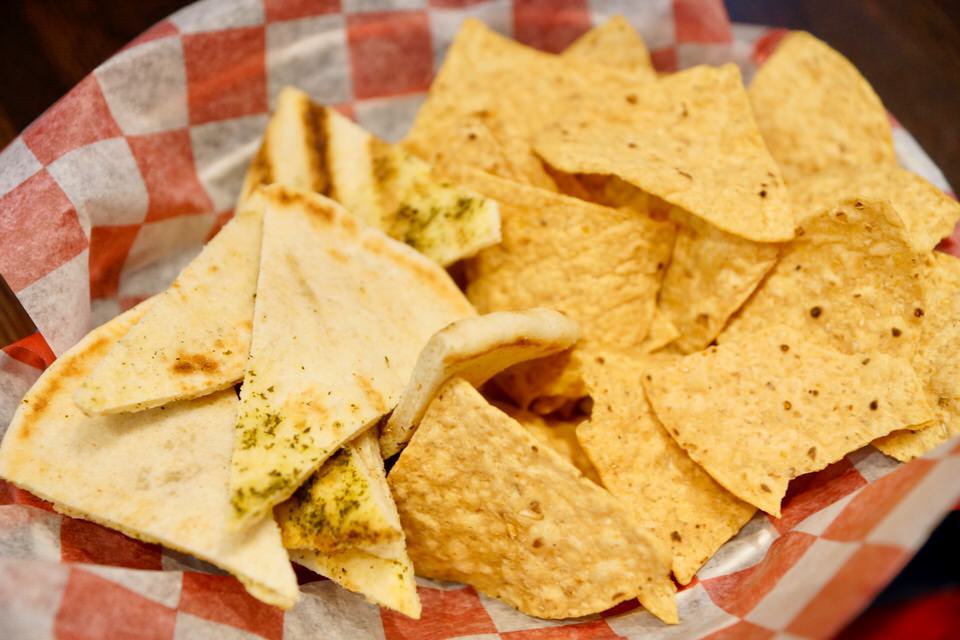 This was the winner for me of the sampler, although they don't give you nearly enough of it to go along with the amount of chips they give you. We had at least half the chips remaining and no dip…. no bueno.
Twice-cooked Buffalo Wings: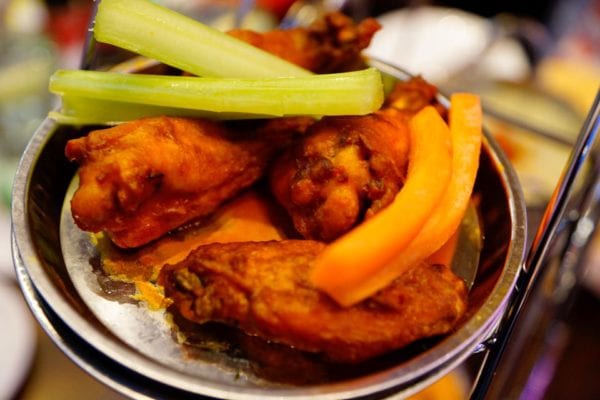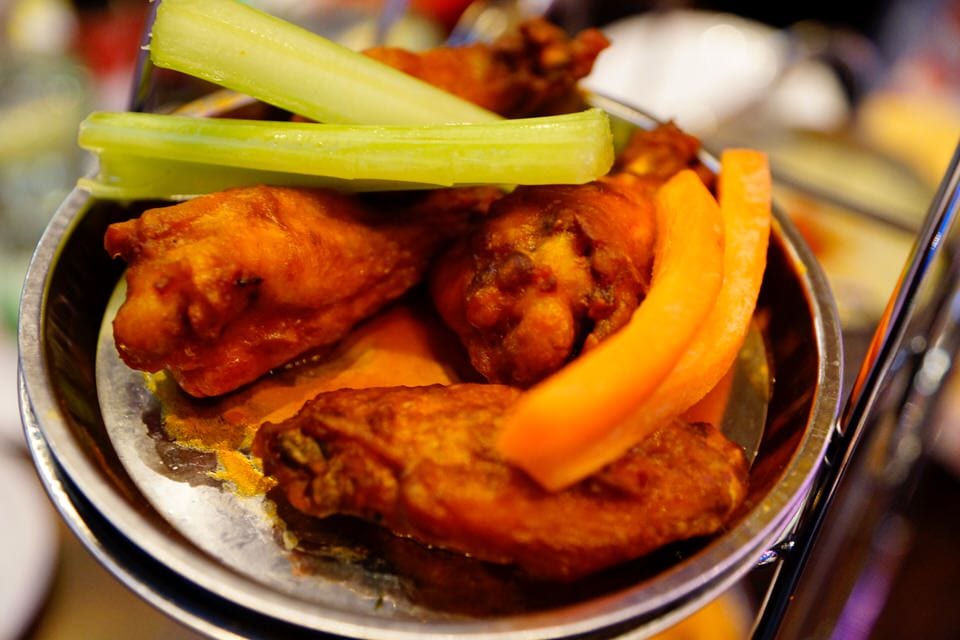 I love me some wings but these were just average, nothing great. Again, stingy portions as you can't expect a normal red-blooded American to have to divide 4 wings with 4 people, come on now…
Texas Tostados: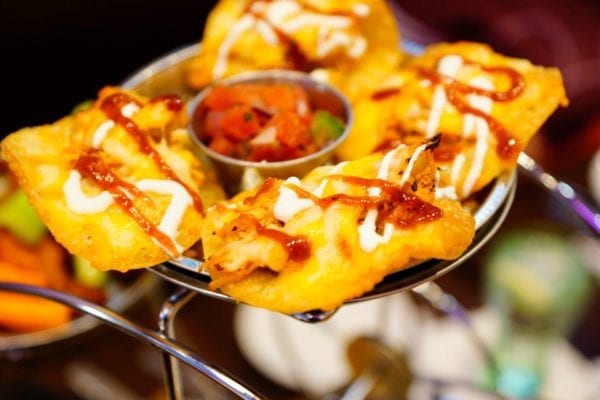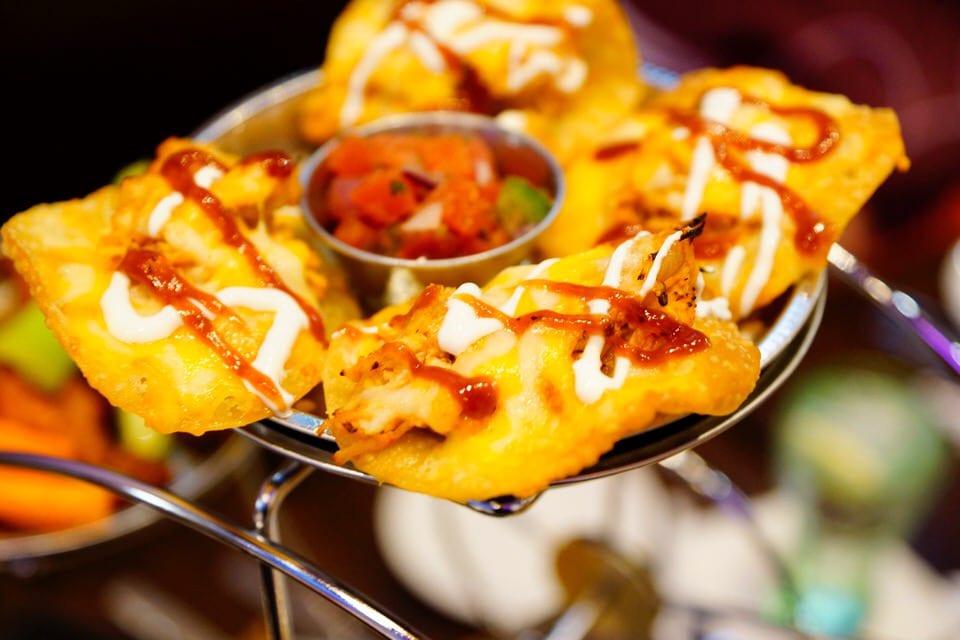 These came in second place for me and were very very tasty! Liked the shell, nice and crunchy not soggy, but not dry either. Flavor was great with the BBQ sauce and cheeses working well together. Just not enough…
Peri Peri Shrimp: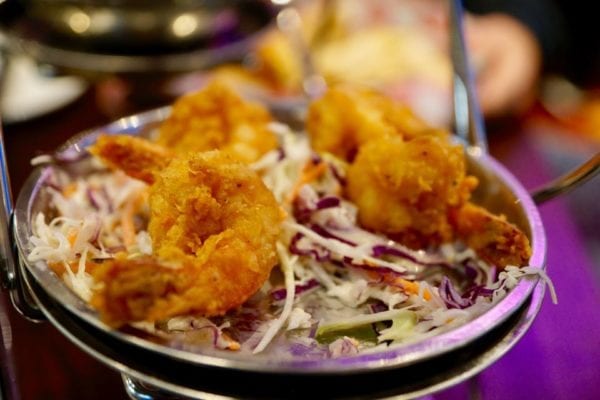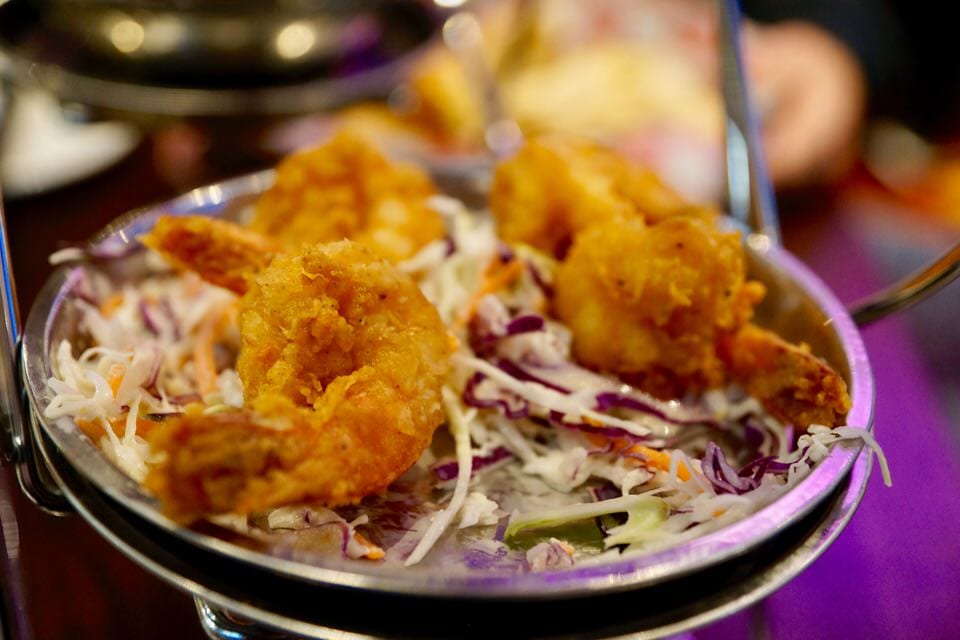 These were pretty good too, but came mis-advertised. Menu says they are large but they were actually pretty small, it also says they come with a spicy chili sauce with garlic, herbs and spices, but either it was very very little or it wasn't even there because I couldn't taste it at all. Shrimp were good but I wanted the spice. The slaw was there though..
Lastly on the Sampler was the Famous Chicken Crunch: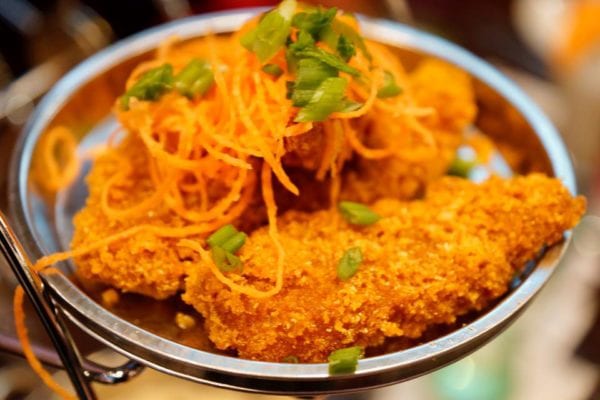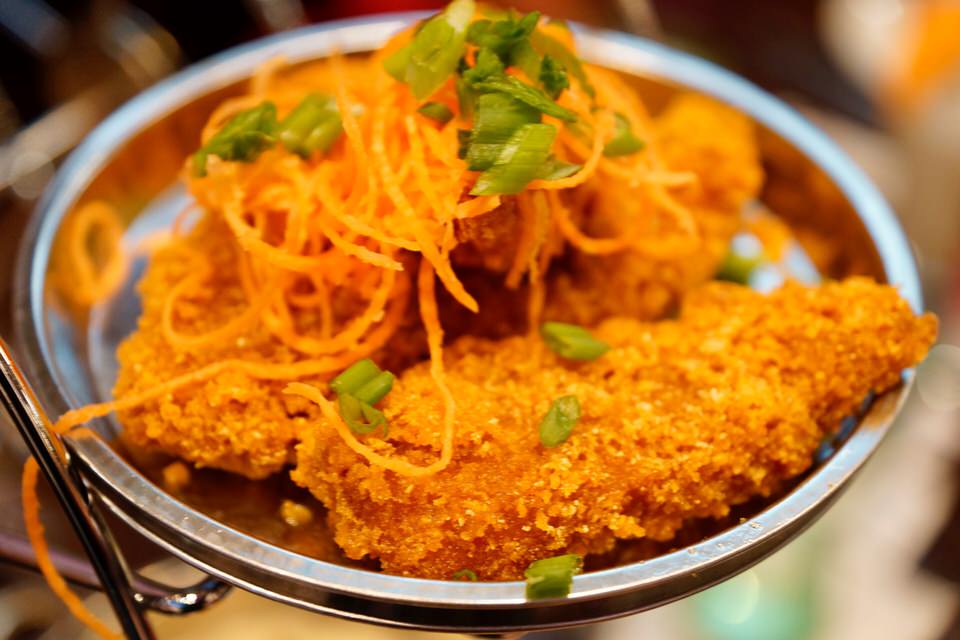 These are a little sweet, uses a Captain Crunch cereal mix for the breading. Solid chicken tender but nothing to write home about. Not crazy about the carrot garnish on top, didn't do it for me. My mom plain didn't like how sweet they were. Crunchiness yes, but just too sweet.
Overall I have to say the High Roller Sampler was a disappointment. Again most of the options were solid, but it's entirely too much money for the amount of food they give you. Not for 4 people imo.
Caesar Salad was next: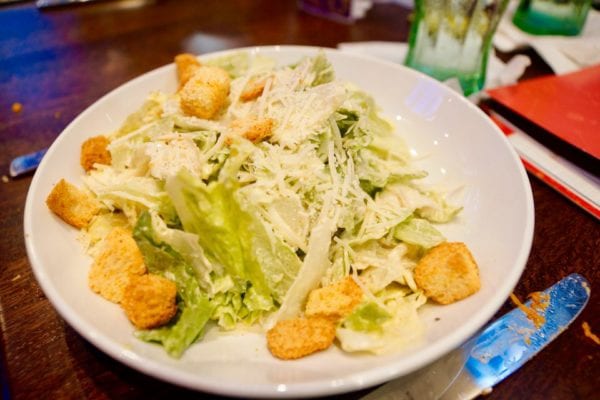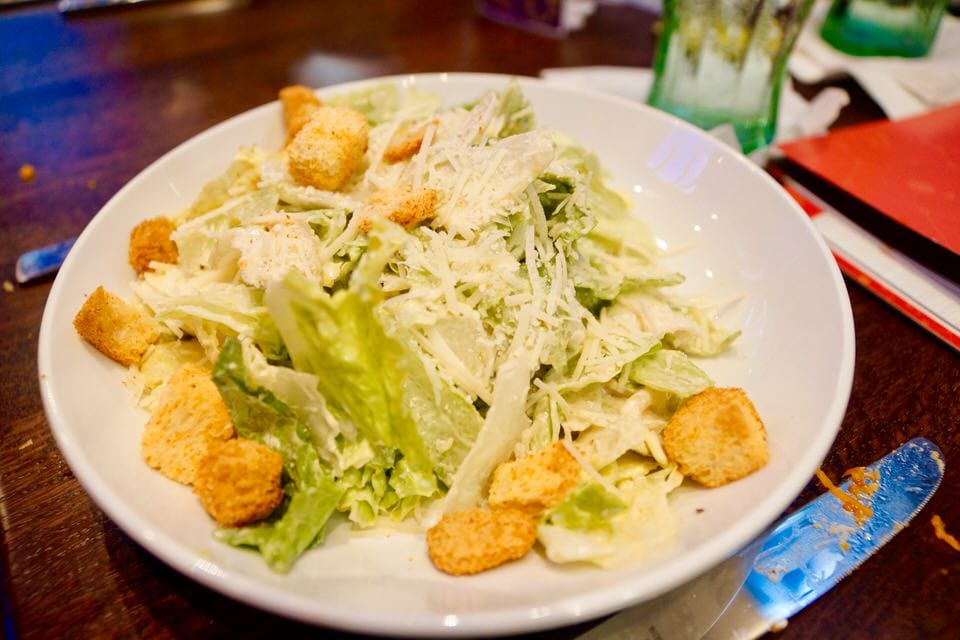 We got this plain, but you can get it also with Chicken, Shrimp or Salmon on top. It was a decent salad but not amazing. Croutons were out of a bag, and honestly the portion was a bit small. Dressing was good but not enough of it. Meh
While we tried some other food first, we were really here to try out these so called "Big Bite Burgers" they were talking so much about. Could they redeem a so far mediocre meal?
Bacon Mac and Cheese Burger ($18.99), Normally it comes with lettuce like this, but I got it without: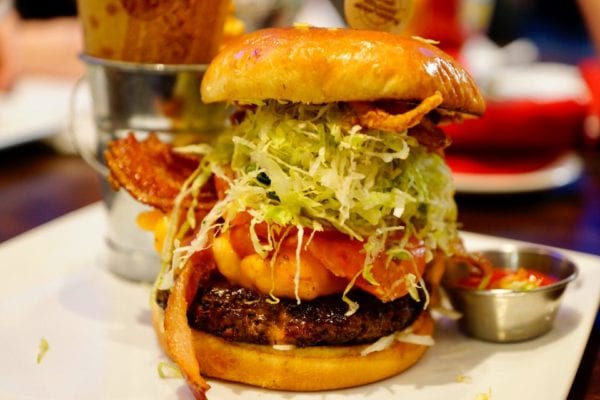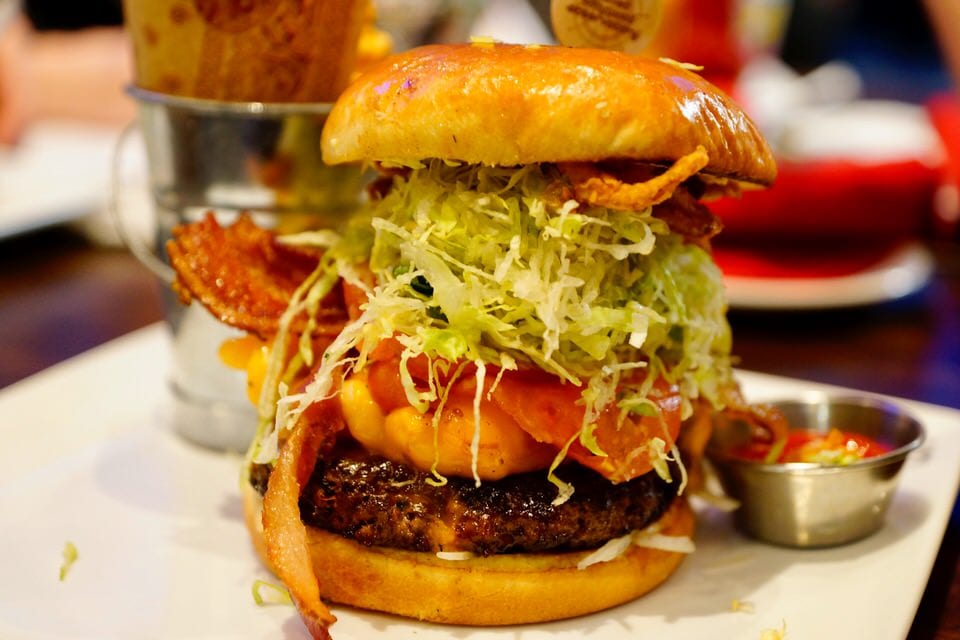 This is honestly something I had been dreaming about for some time now, I mean basically my 3 favorite things: Bacon, Burger and Mac and Cheese all put together to form one big super power of flavor, how could it not be good? I don't know how they did it, but it wasn't. I was extremely let down when I actually tasted it.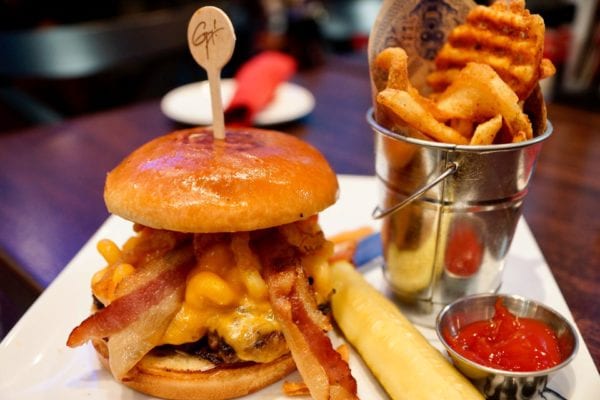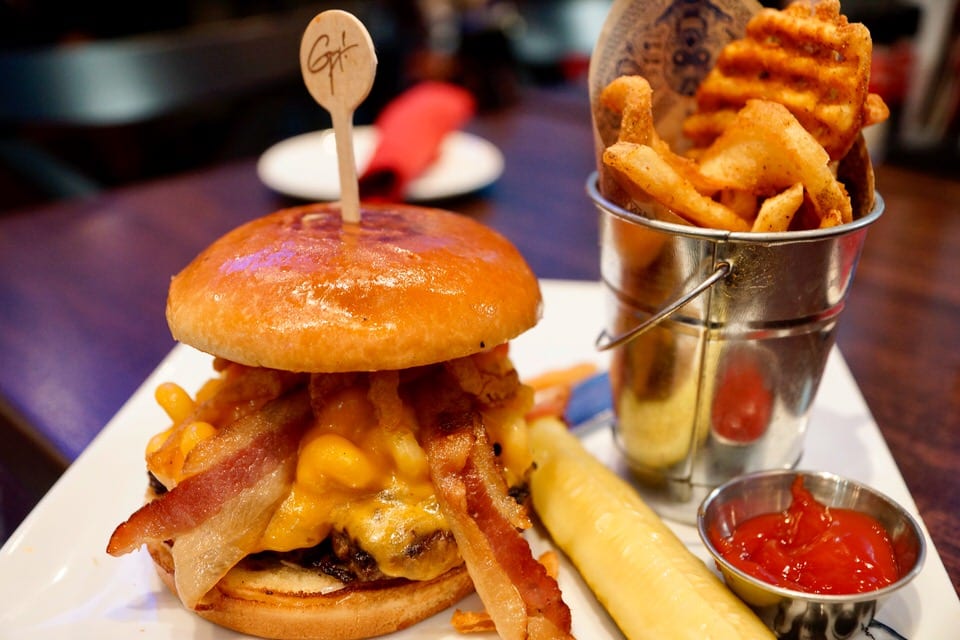 I mean it was just lacking flavor. The burger itself wasn't very flavorful or juicy despite the fact I asked for medium-rare, came out closer to well-done. The mac and cheese didn't really taste cheesy at all. It was a huge portion though, so if you care a lot about size then there's that at least.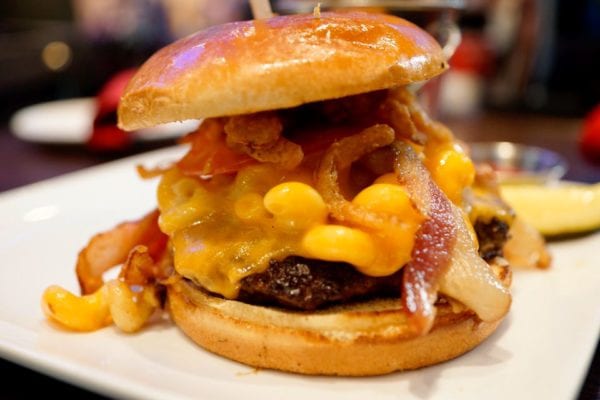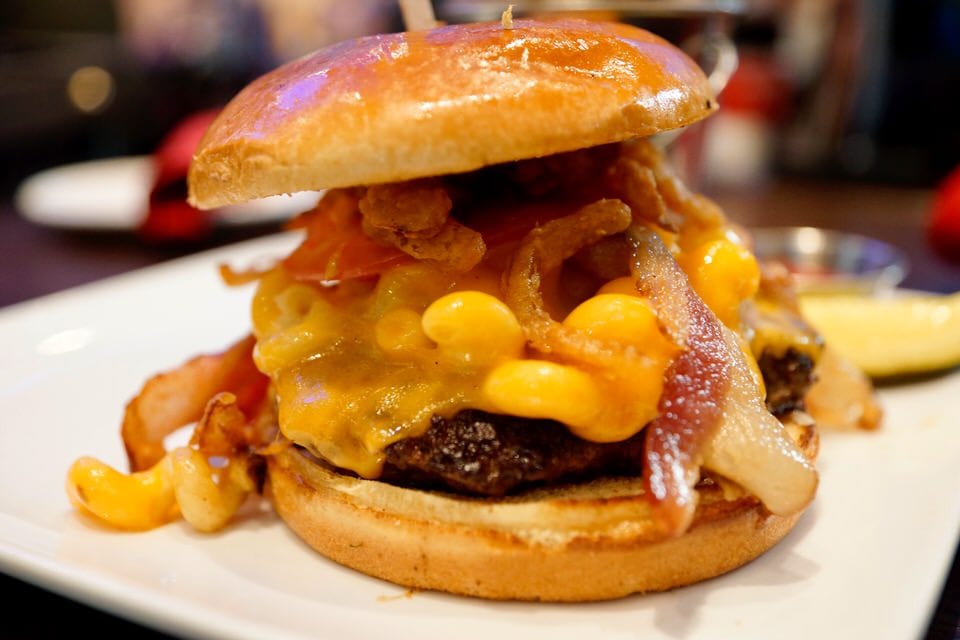 The bacon was abundant at least, and not overcooked.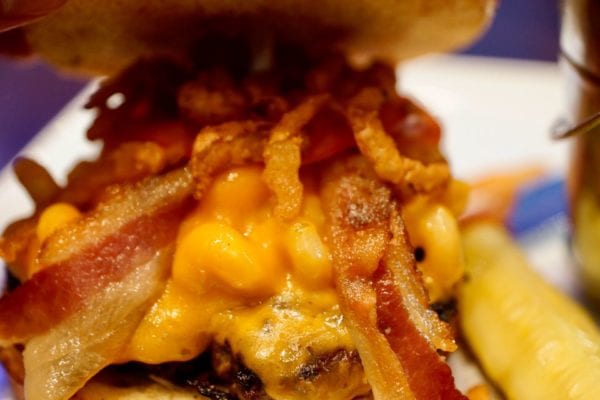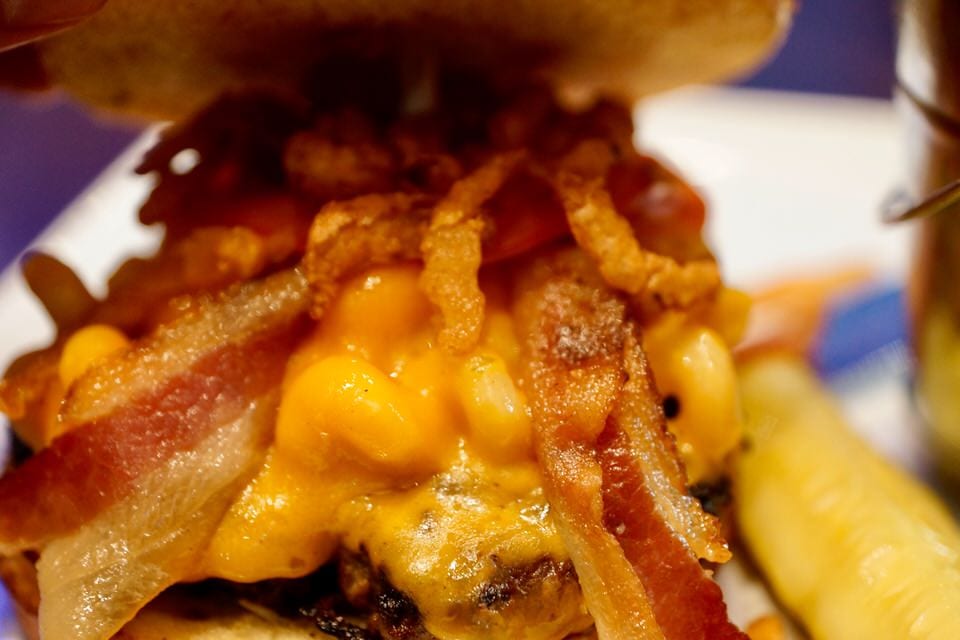 It comes served on a Garlic-buttered brioche bun which was pretty good, soft and buttery on the outside and you could taste the garlic flavor. Fries were a miss though. All the burgers on the menu come with Triple Fries, essentially 3 shapes of fries: Waffle, Wedges, and regular cut, which are seasoned. They were not good. I think the bag they took them out of was in the freezer too long or something because I found them to be dry and almost stale.
So much promise and such a big letdown…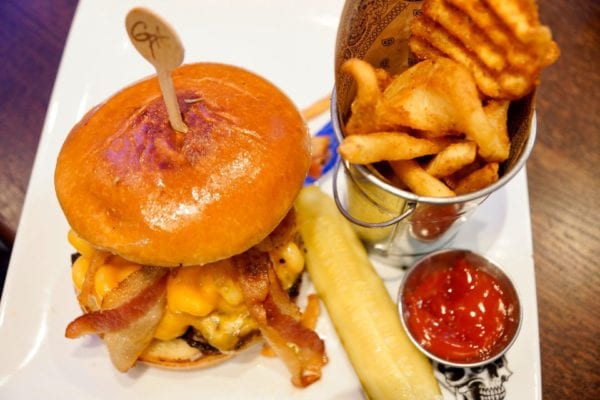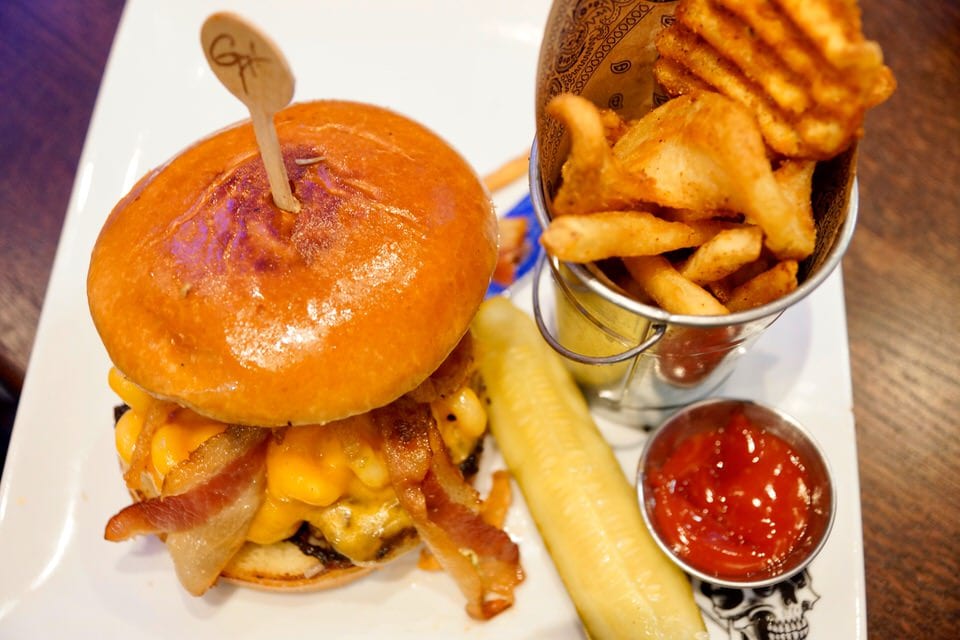 Maybe another burger would be better. We tried The Original Ringer ($18.99) with a crispy rojo onion ring, bourbon-brown sugar BBQ sauce, cheddar cheese, donkey sauce on a garlic-buttered brioche bun. We added bacon for an addition charge: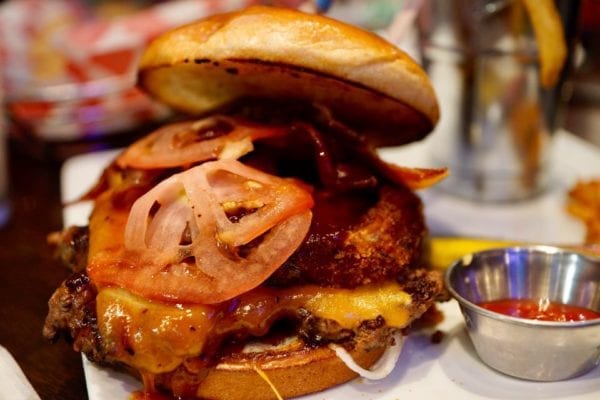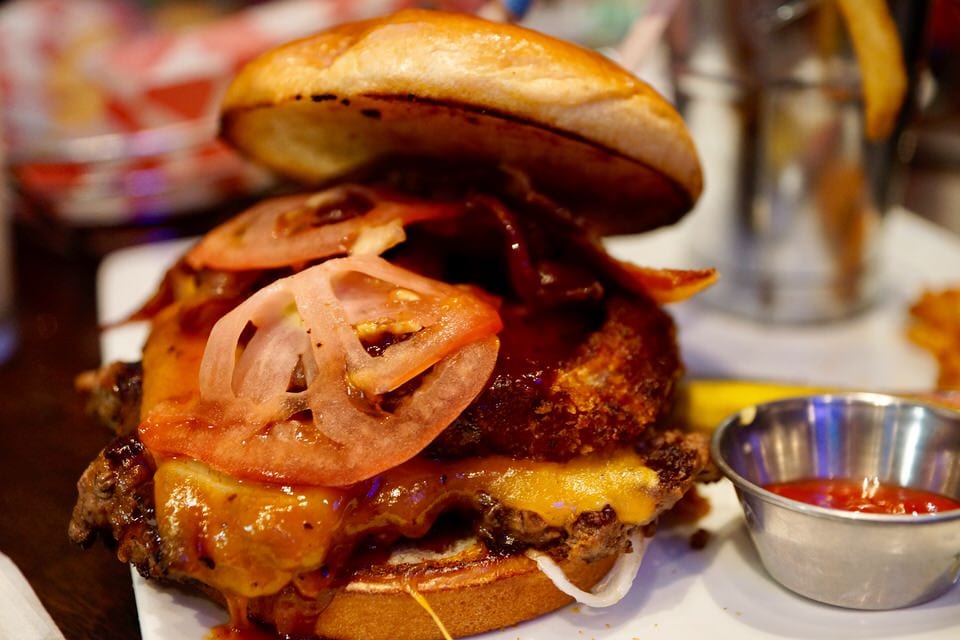 Again like the other one, this burger was huge and the bun was good again also (at least that's consistent).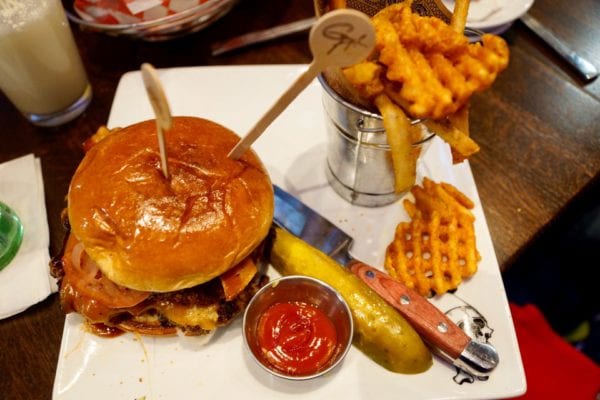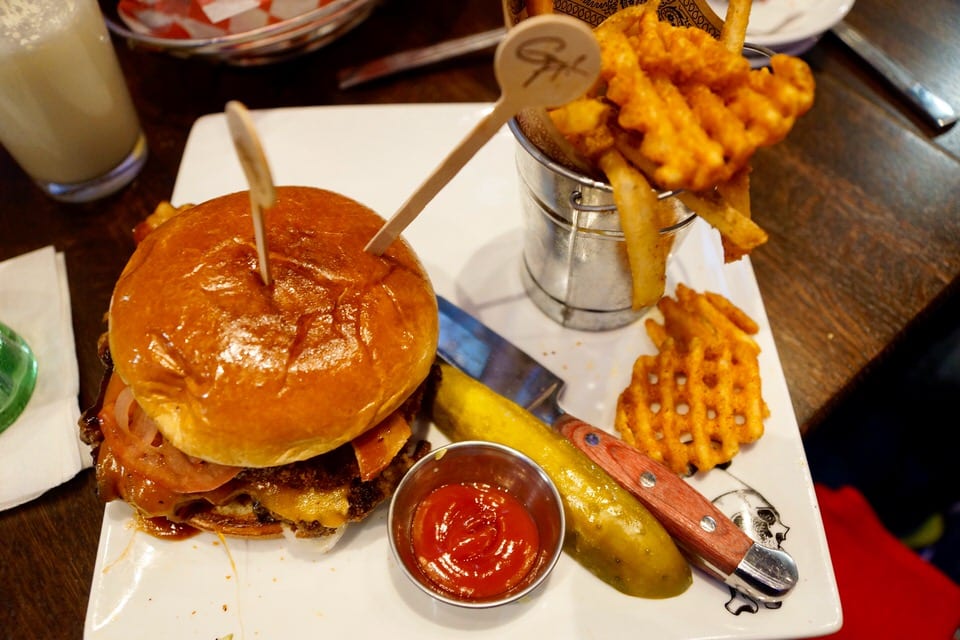 Honestly I couldn't really taste the onion ring, wasn't that flavorful. At least this one was cooked a little better and the meat was a bit more flavorful than the Bacon Mac and Cheese one, but still not up to the standard I was hoping for considering all the yummy sounding ingredients.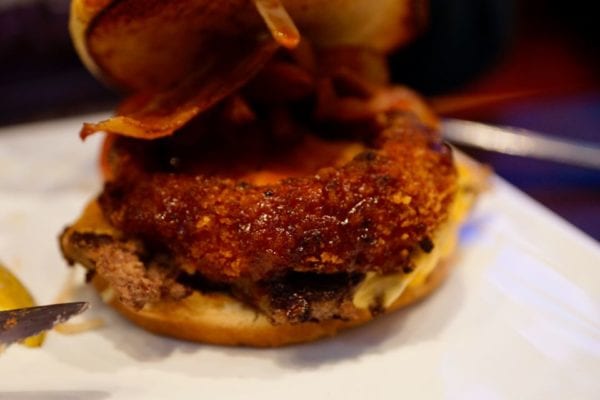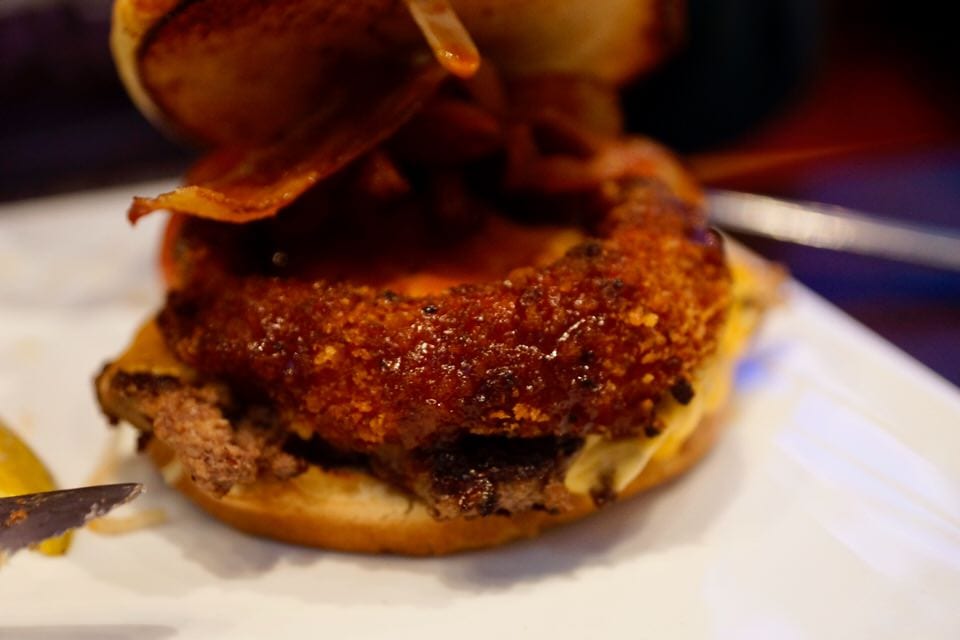 Overall both burgers were a let-down and an expensive one at that. If I'm paying $18.99 for a burger it better be one of the best burgers I've had in my life and these just weren't close.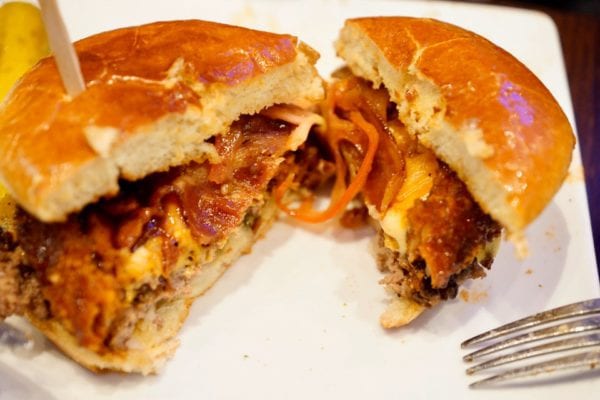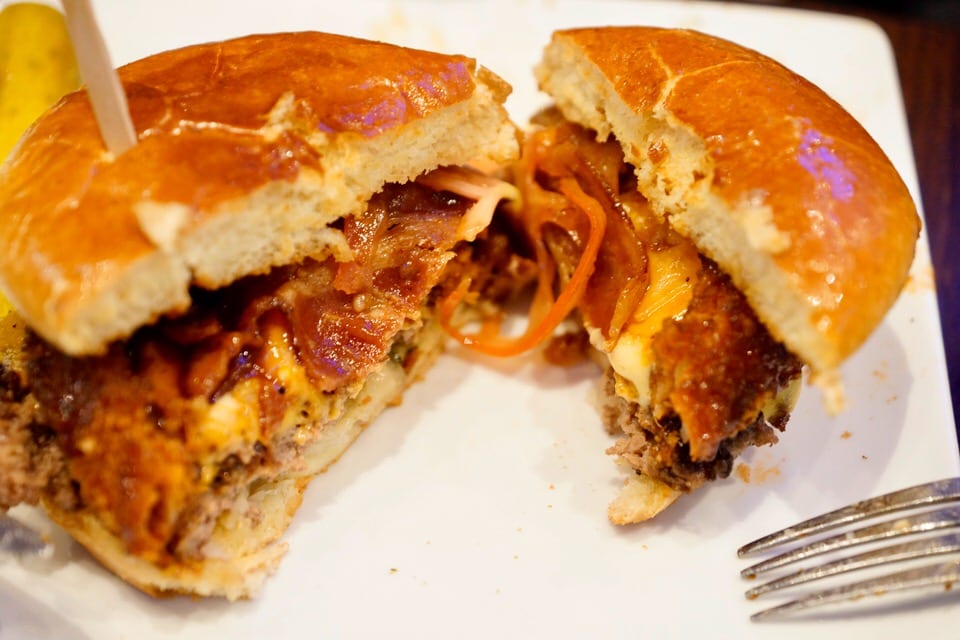 As part of the experience I have to mention the service at Planet Hollywood Observatory which was one of the worst we've had in Disney World in a while. The waitress just wasn't with it, didn't explain the menu at all and carded me and my wife even though it's quite obvious we are both well over 30. Not sure whether to take it as a compliment or question the waitress' comprehension.
Summary:
I had high hopes for Planet Hollywood Observatory going in and I really wanted to like it but I just couldn't. It suffers from severe identity crisis in its theming, not knowing whether it wants to be a museum of Hollywood memorabilia or a dance club for 18 year olds, neither which it does very good at all, and even worse is the title of observatory which is not tied in well with the structure at all. It could have been so good…
Service was bad and the food was totally forgettable. Drinks were average at best. The burgers did not come close to the high expectations I had going in. Everything in the restaurant was priced about $5 dollars more than it should have been, which you might get away with in another place that executes everything well, but here it failed at. Not all the food was bad, the Five Cheese Dip was really good, along with the Texas Tostados, but the other appetizers left me wanting more, especially for the price.
If you are going to Disney Springs this would be close to the bottom of the list for me of restaurants to try. If you are looking for a burger and milk shakes, D-Luxe Burger is definitely the way to go, better quality and lower cost. Almost all of the Disney Springs quick service restaurants will give you a better option, not to mention table service restaurants like Morimoto Asia, The Boathouse, Homecoming or Frontera Cocina.
I guess I wouldn't be totally against coming back and trying something different in the future, but it's going to be a long wait. Hopefully they can fix the problems that plague them before that time comes.
Planet Hollywood Observatory is open for Lunch and Dinner (11:00am – 11:45pm Daily). The Disney Dining Plan is accepted, it's a 1 Disney Dining Credit Restaurant. Reservations can be made via the Disney World website or by calling (407) WDW-DINE.
Click here for the Planet Hollywood Observatory Menu
I love to write Restaurant Reviews of Walt Disney World and I hope you found this one to be informative and helpful. If you liked this review then please visit my Disney Dining Reviews Page where I have many other Restaurant Reviews. I'm happy sharing with you what I love doing best…eating! ? I try to bring you the most thorough and unbiased reviews about the food and restaurants at Walt Disney World, so that as you are planning your vacation, you know the "can't be missed" places, and where you shouldn't waste your time. Hope you enjoyed this one and will enjoy many others in the future!!
Your Thoughts:
I want to know what you think about my Planet Hollywood Observatory Review. What has your experience there been? Did you think it was a letdown? Let us know in the comments section below!
If you enjoyed this article, as always I appreciate it if you'd share it with others via social media. I work hard at making this website into a useful resource for you and your family to plan your visit to Walt Disney World, and I hope it can help you! Thanks 🙂