Ever wanted to step into the scene from "A New Hope" where Luke and Obi Wan meet Han in the cantina on Tatooine? Well now you'll have your chance at something similar with Oga's Cantina coming to Star Wars Galaxy's Edge in both Disneyland and Hollywood Studios in Walt Disney World. We have all the latest info on Oga's Cantina including menu info, prices, food and drink options and more…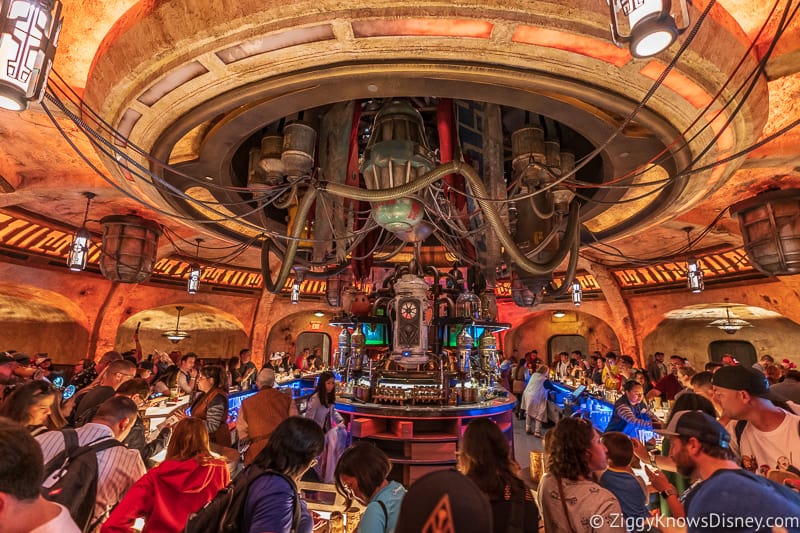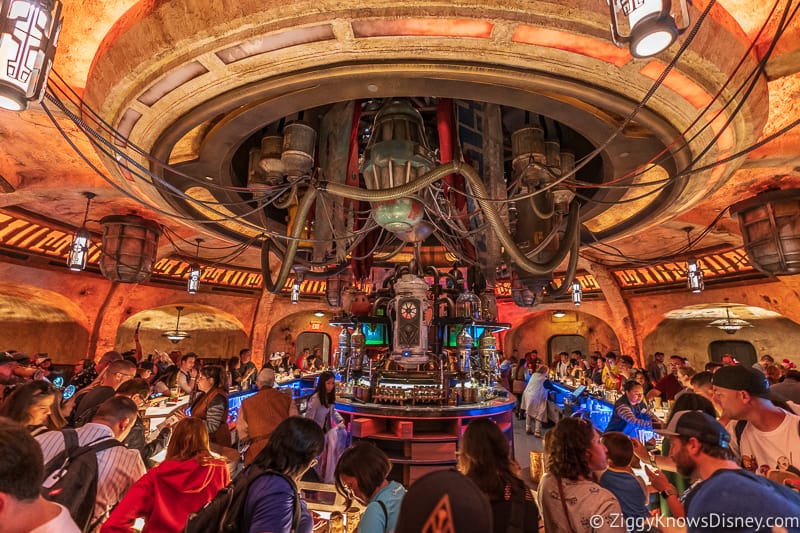 (UPDATED 8/7/19): Reservations for Oga's Cantina in Disney's Hollywood Studios Now Available 180 Days in advance!
Oga's Cantina Overview:
Location: Star Wars: Galaxy's Edge (Disneyland and Disney's Hollywood Studios)
Type: Lounge / Bar
Price: $
Cuisine Type: Drinks, Cocktails, Appetizers
Meals: Breakfast, Lounge
Dress Code: Theme Park Attire
Oga's Cantina is only one of the two dining locations located in Star Wars Galaxy's Edge, and is the a bar/lounge. There's also a Fast Casual Restaurant called Docking Bay 7 Food and Cargo which is opening at the same time.
Oga's Cantina is the first public dining venue in Disneyland that serves alcohol (Club 33 does but it's private).
Setting/Atmosphere:
Oga's Cantina is the perfect dining location on a remote outpost like Galaxy's Edge and serves pilots, bounty hunters, smugglers, locals and galactic travelers alike. Disney says you might even "encounter a friend…or a foe" which makes me think that we will be visited by random characters from the Star Wars universe from time-to-time.
Imagine you are enjoying a meal and all of a sudden a bounty hunter starts a fight in the cantina, creates chaos and gets hauled off to jail. Disney has a big opportunity to make this a great entertainment venue as well as dining.
This location also has an entertainment factor (think Mos Eisley Cantina in "A New Hope.") There will be lots of entertainment in Oga's and the main star is DJ R-3X, the former StarSpeeder 3000 pilot droid from Star Tours is now serving as the cantina's DJ who is a blast to watch and listen to.
Probably my favorite dining space in all Disneyland, this place is AMAZING!
Reservations:
Due to the extremely high popularity of Oga's Cantina, reservations are REQUIRED on most occasions to enter. You can make reservations for Oga's Cantina online 14 Days in advance, soon to be 60 Days ahead of time (Disneyland), and up to 180 Days ahead in Walt Disney World.
A Credit Card is required for booking and there is a $10 charge per person for cancellations or no-shows.
Guests with reservations can check in 15 minutes prior to their reservation time with the Cast Member at the end of the queue at Oga's Cantina.
If it's necessary to use the Virtual Queuing system to enter Galaxy's Edge, guests with reservations to Oga's Cantina can enter the land 1 hour before their reservation without waiting.
A strict 45-minute time limit is enforced inside Oga's Cantina and guests have a limit of 2 drinks per person. Once you reach either of those limits you will not be served anymore.
Dining Plan:
Not Yet Known (We don't know if Oga's Cantina will be on the Disney Dining Plan but we assume it will be eventually)
Discounts:
Tables in Wonderland – ?
WDW Annual Passholder – ?
Disneyland Annual Passholder – Yes, 10-15%
Disney Vacation Club – ?
Disney Rewards VISA – ?
Location/Directions:
Oga's Cantina is located in Star Wars: Galaxy's Edge in both Disneyland Park and Disney's Hollywood Studios in Walt Disney World.
It's located right in the center of Galaxy's Edge, in Black Spire Outpost, which is the marketplace in Batuu. It depends which entrance you take into Galaxy's Edge but it's located between the Milk Stand and the Millennium Falcon.
Hours of Operation:
This restaurant serves Breakfast, Lunch and Dinner
Breakfast: 8am – 10:00am
Lounge: 10:05am – 11:20pm
Oga's Cantina Must-Try Items:
The specialties in Oga's Cantina are for sure any of the elaborate cocktails. There are alcoholic and non-alcoholic varieties, even breakfast cocktails.
Our favorites are:
The Outer Rim
Bespin Fizz
Jedi Mind Trick
Oga's Obsession (this is a snack you can't skip!)
Scroll Down for the Menu and our Full Review of Oga's Cantina…
Oga's Cantina Menu:
*(Last Updated 7/24/19) – If you have any Menu updates or corrections please let us know!
Here are some pictures of Oga's Cantina Menu and coasters. This is the front of the Lunch/Dinner Menu: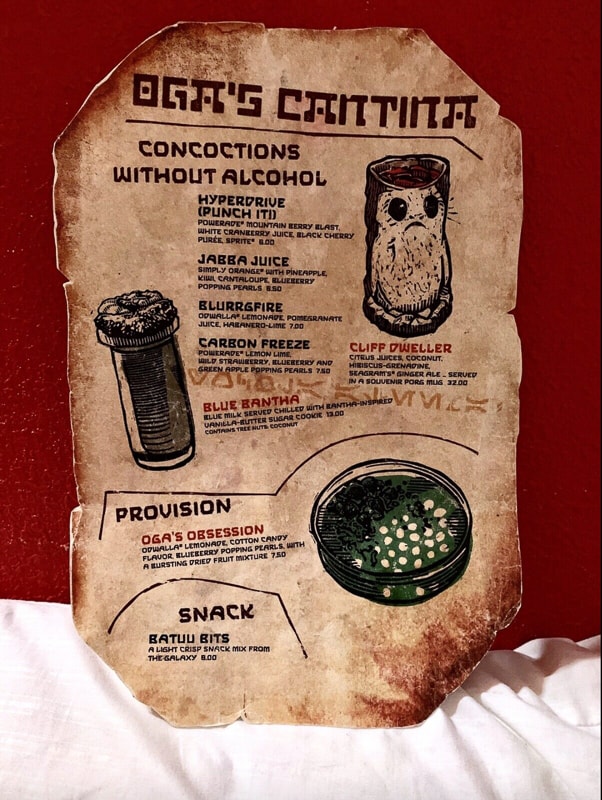 and the back: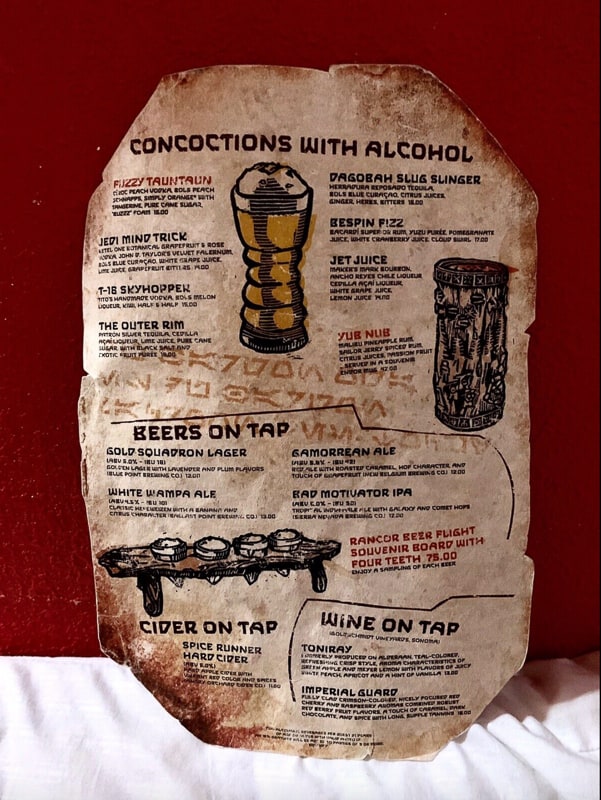 Of course you need a place too put your drinks in Oga's, and here are some cool coasters you can use or take as a souvenir: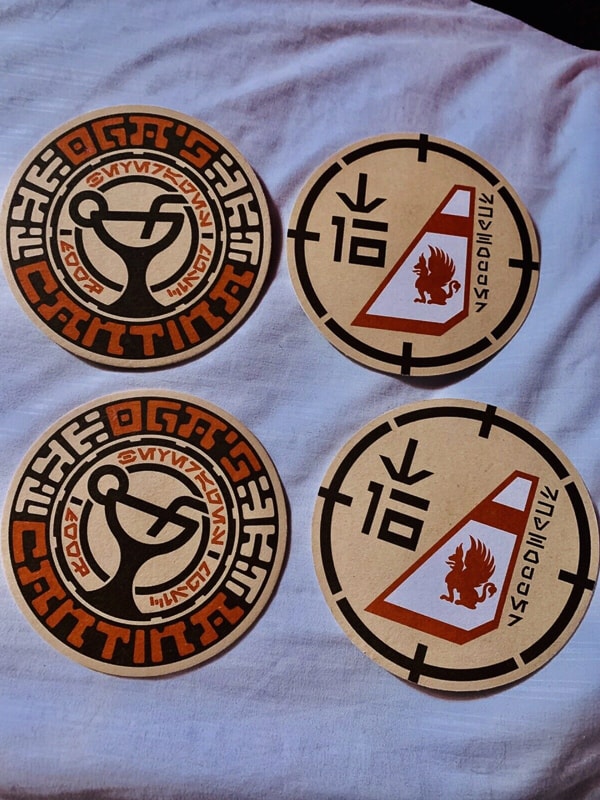 Breakfast Menu:

Drinks (Non-Alcoholic):
Black Spire Brew
Cold Brew Joffrey's Coffee, honey, falernum, passion fruit, and citrus
Moogan Tea
Gold Peak Unsweetened Tea, chocolate milk, vanilla, and cinnamon
Tarine Tea
Gold Peak Unsweetened Tea, peach, huckleberry, and mint
Blue Bantha
Blue Milk served chilled with bantha-inspired vanilla-butter sugar cookie
Drinks (Alcoholic):
Spiran Caf
Peru Alto Mayo Organic Joffrey's Coffee, orange marmalade, rum, vanilla whipped cream, and citrus zest
Bloody Rancor
Vodka, chile liqueur, spicy Bloody Mary mix, and rancor bone
Food:
Mustafarian Lava Roll
sweet galactic delight
$6.00
Rising Moons Overnight Oats
Oats, Dragon Fruit, Yogurt, and Seasonal Fruit
$7.00
Oga's Cantina Lounge Menu
Drinks (Non-Alcoholic):
Cliff Dweller(w/ Souvenir Porg Mug)
citrus juices, coconut, hibiscus-grenadine, and Seagram's Ginger Ale
$32.00
Hyperdrive (Punch It!)
Powerade Mountain Berry Blast, white cranberry juice, black cherry purée, and Sprite
$6.00
Jabba Juice
Simply Orange with pineapple, kiwi, cantaloupe, and blueberry popping pearls
$6.50
Blue Bantha
Blue Milk served chilled with bantha-inspired vanilla-butter sugar cookie
$13.00
Blurrgfire
lemonade, pomegranate juice, and habanero-lime
$7.00
Carbon Freeze
Powerade Lemon Lime, wild strawberry, blueberry, and green apple popping pears
$7.50
Drinks (Alcoholic):
Fuzzy Tauntaun
peach vodka, peach schnapps, orange juice with tangerine, pure cane sugar, and "buzzz" foam
$15.00
Jedi Mind Trick
grapefruit and rose vodka, falernum, blue curaçao, white grape juice, lime juice, and grapefruit bitters
$14.00
The Outer Rim
silver tequila, açaí liqueur, lime juice, pure cane sugar, black salt, and exotic fruit purée
$16.00
T-16 Skyhopper
vodka, melon liqueur, kiwi, and half & half
$15.00
Dagobah Slug Slinger
reposado tequila, blue curaçao, citrus juices, ginger, herbs, and bitters
$18.00
Jet Juice
bourbon, chile liqueur, açaí liqueur, white grape juice, and lemon juice
$14.00
Yub Nub (w/ Endor Souvenir Mug)
pineapple rum, spiced rum, citrus juices, and passion fruit
$42.00
Bespin Fizz
rum, yuzu purée, pomegranate juice, white cranberry juice, and cloud swirl
$17.00
Small Bites:
Batuu Bits
a light crisp Snack Mix from the galaxy
$6.00
Oga's Obsession
lemonade, cotton candy flavor, and blueberry popping pearls with a bursting dried fruit mixture
$7.50
Rodian Ration
vodka, sour apple liqueur, Sprite, and green apple popping pearls
Beer, Cider & Wines On Tap:
Gold Squadron Lager
(ABV 5.0%) Golden Lager, Blue Point Brewing Co., Patchogue
$12.00
Gamorrean Ale
(ABV 5.8%) Red Ale, New Belgium Brewing Co., Fort Collins
$12.00
White Wampa Ale
(ABV 4.5%) Hefeweizen, Ballast Point Brewing Co., San Diego
$13.00
Bad Motivator IPA
(ABV 6.0%) IPA, Sierra Nevada Brewing Co., Chico
$12.00
Toniray, Goldschmidt Vineyards, Sonoma
$13.00
Imperial Guard, Goldschmidt Vineyards, Sonoma
$16.00
Spice Runner Hard Cider
(ABV 5.0%) Cider, Angry Orchard Cider Co., Walden
$11.00
Rancor Beer Flight Souvenir Board (w/ Four Teeth)
A sampling of all four beers
$75.00
Photo Gallery: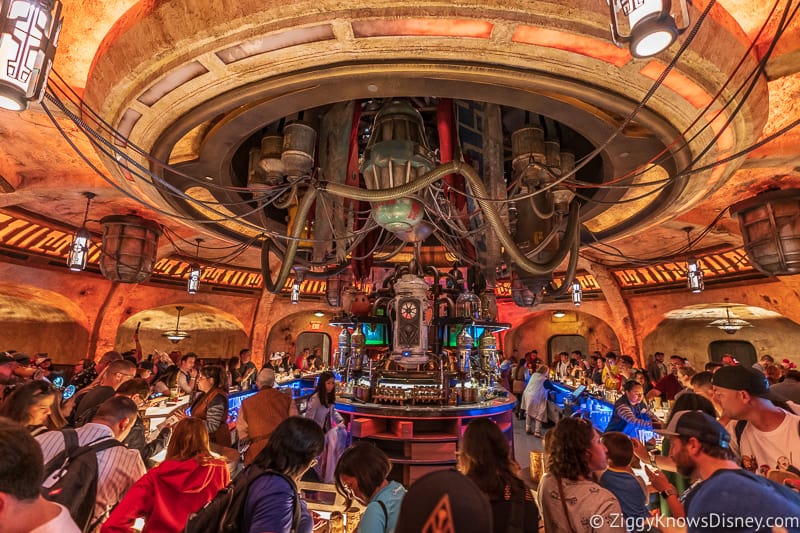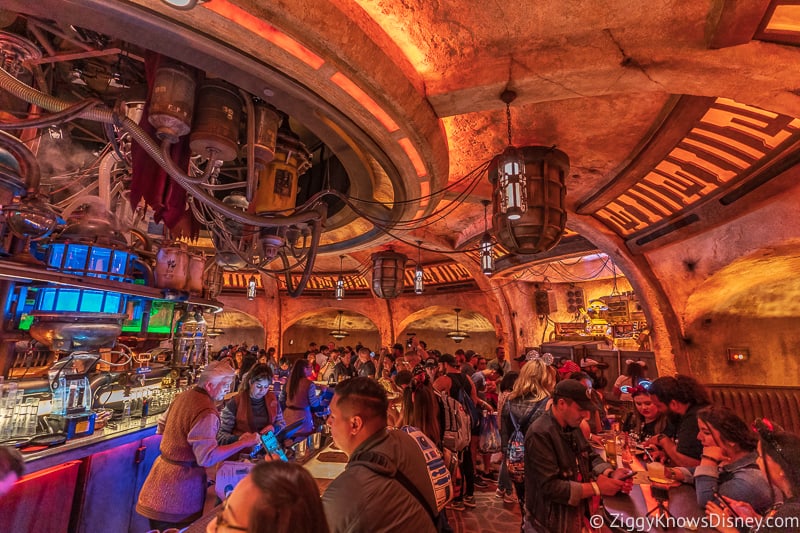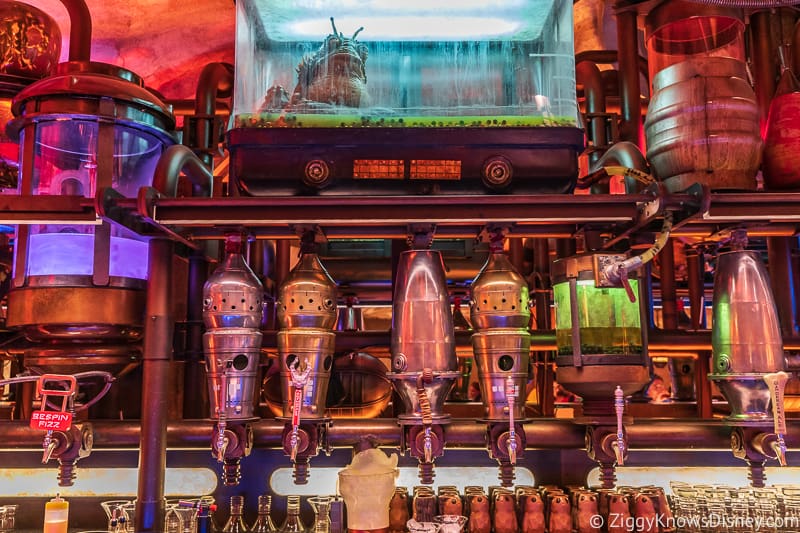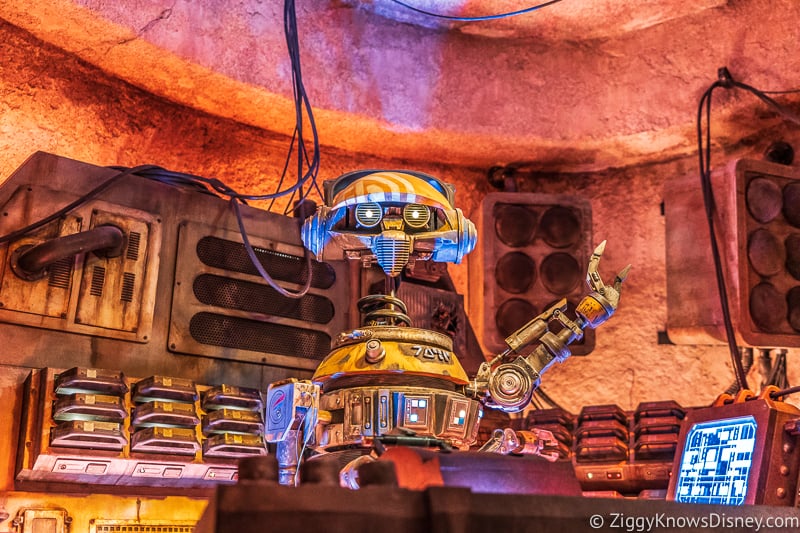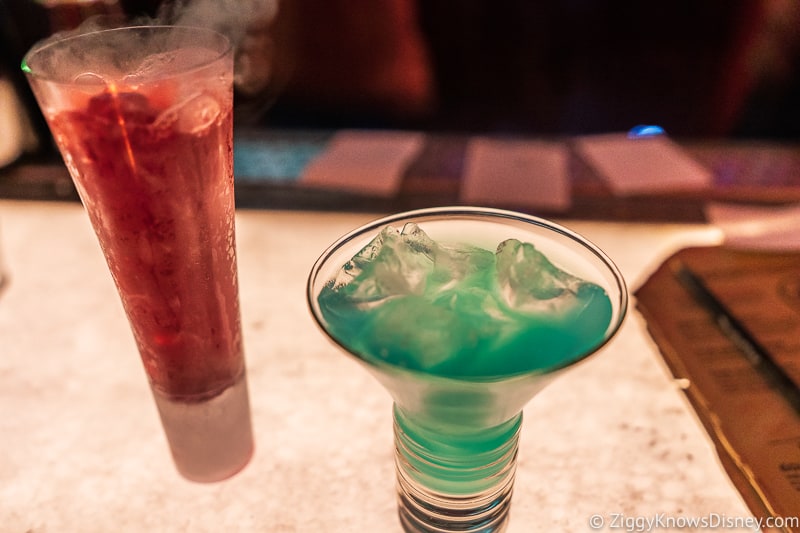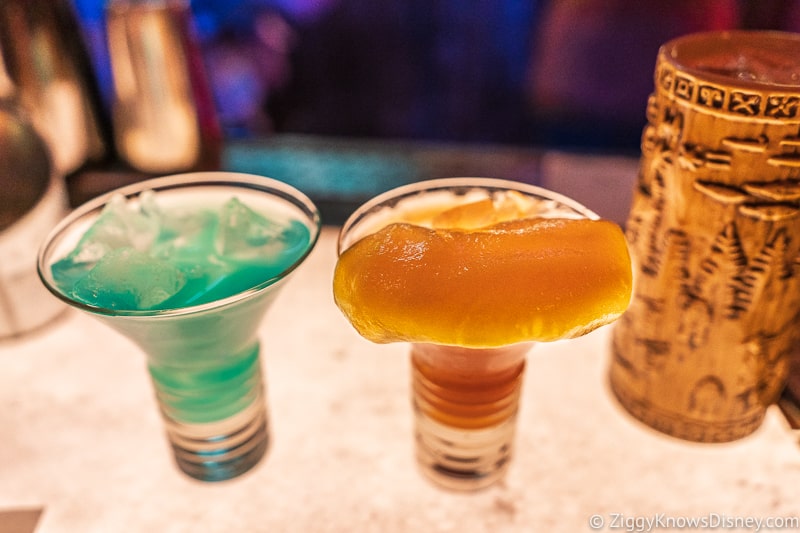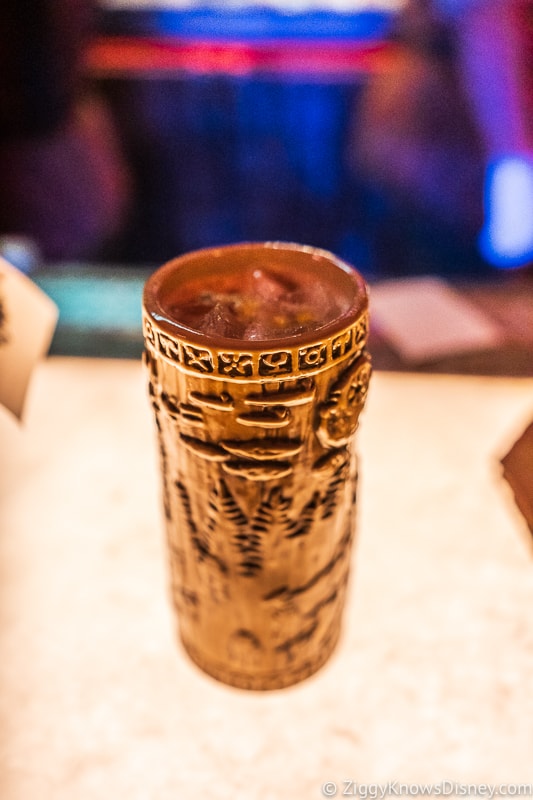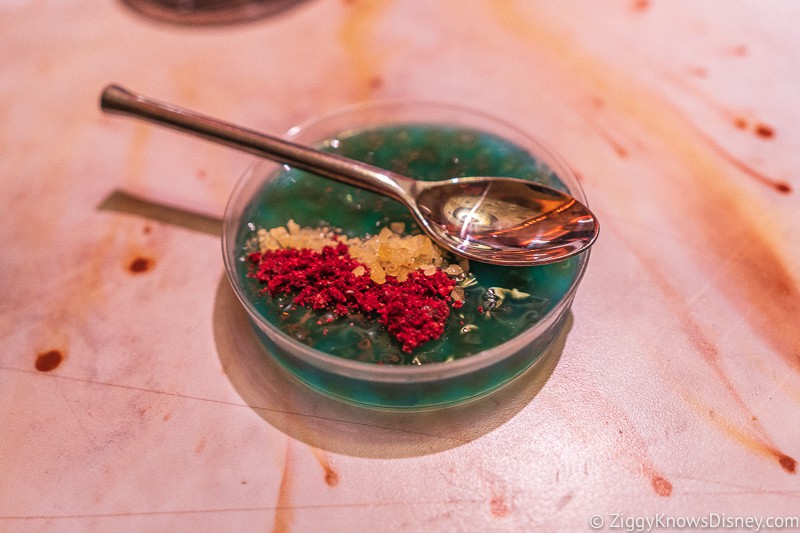 Oga's Cantina FAQ's:
Does Oga's Cantina Serve Alcohol?
Yes it does. They many types of alcohol including exotic cocktails, wine and beer. It's only the second restaurant in Disneyland to serve alcohol, and the only one accessible to the general public. The other restaurant is Club 33, but you need a private membership to enter.
Oga's Cantina Review:
This is my Oga's Cantina Review in Star Wars: Galaxy's Edge:
I fell in love with Oga's Cantina from the moment I first laid eyes on the concept art many months before opening. Just the idea of entering into a bar similar to the one in Mos Eisley in "A New Hope" got my inner Star Wars fan boy all excited, and I new it was a place I absolutely HAD to visit during my trip to Galaxy's Edge, and it didn't disappoint.
We were in Star Wars: Galaxy's Edge for opening day, and it was very clear, very soon that Oga's Cantina was going to be a success. We were in the second boarding group so there was already people inside the land when we got there. I had been hearing that Oga's Cantina was one of the most popular experiences during the Cast Member Previews so we had it pretty high up on our list, right along with building a lightsaber.
By the time we got to Oga's, it was no surprise that the line to get in was already all the way down the streets of Black Spire Outpost: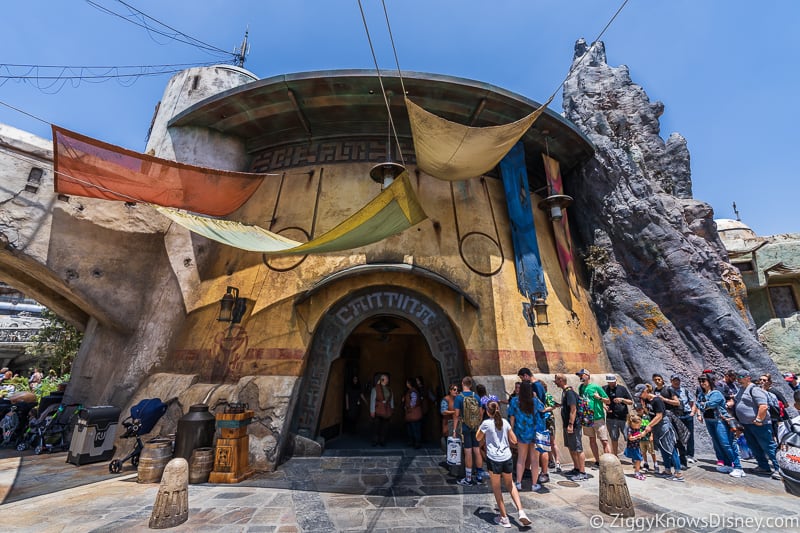 This was a common theme throughout the first few days as getting into Oga's Cantina was possible just by getting in line and waiting. Lines were up over an hour often (even up to 2 hours) and it proved to be probably the most popular place on Batuu.
UPDATE: Now though it's a bit different as there is no more waiting in line outside Oga's Cantina. Instead they've adopted a reservation system to get in. If you want to get in, you need to make a reservation using the Disneyland app or Disneyland.com the day of your visit. Reservations are released daily beginning at 7:00 AM Pacific Time.
You also need to provide a credit card now at time of booking. If you cancel your reservation or don't show up, your card will be charged $10 per person on the reservation so pay attention to that.
Also note that due to the high popularity of Oga's Cantina, there is a strict 2-drink and 45 minute total time limit inside. You are given a card with the time you enter and where the bartender will mark down the drinks you have. If you reach 45 minutes or they see you've already ordered 2 drinks, you won't be served anymore.
So with all this effort to get in, let's see if Oga's Cantina is worth the wait:
Atmosphere: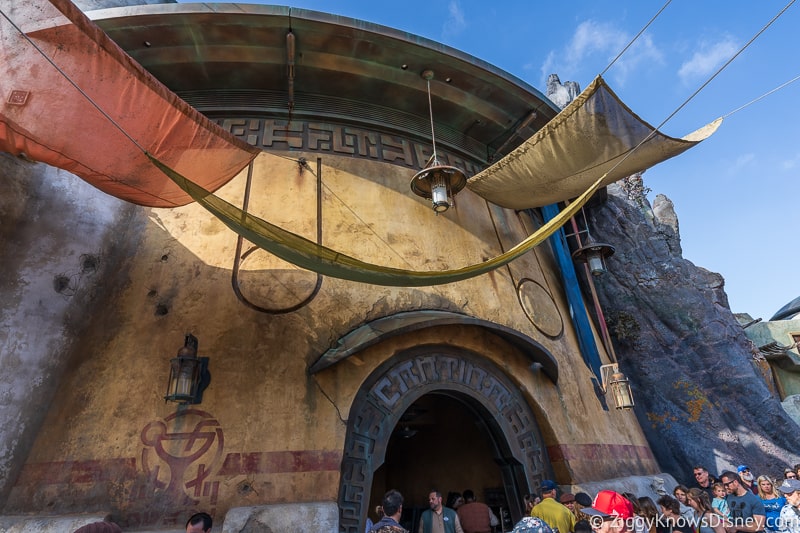 You'll find Oga's Cantina right in the heart of Black Spire Outpost in-between the Milk Stand and Millennium Falcon Smuggler's Run. You can't miss it, it's the yellow, round building and it has the word "Cantina" written above the door. It'll also be the one with loud music blasting out into the street, so I don't think it'll be hard to find! 😉
There are a few theming elements outside the door, but the best stuff is yet to come.
As you know, Oga Garra is the alien owner of the Cantina, and she makes it clear even before you enter that she's not going to put up with any mischief in her club: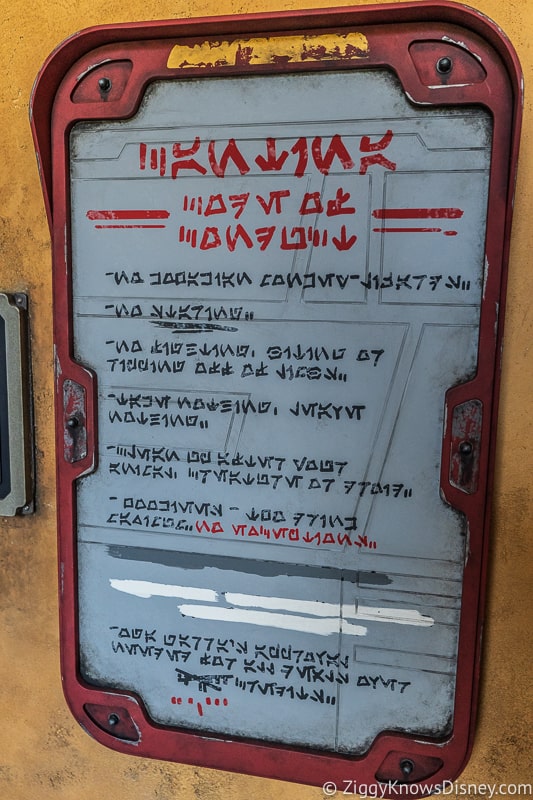 You'll never see Oga in the Cantina, but her presence is everywhere and you'll even hear her every once-and-a-while…
I love the details on the outside of the buildings in Galaxy's Edge like this control panel here. All hackable with the Play Disney Parks app too.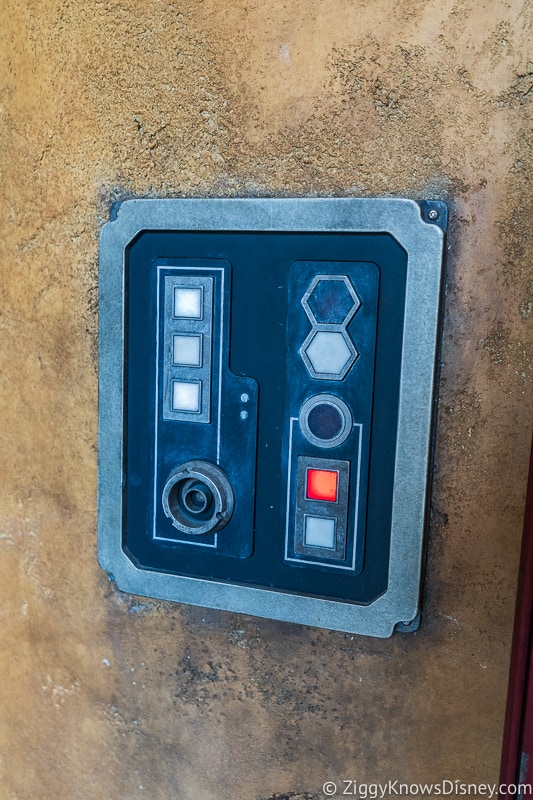 Our turn is up and we finally step into Oga's Cantina: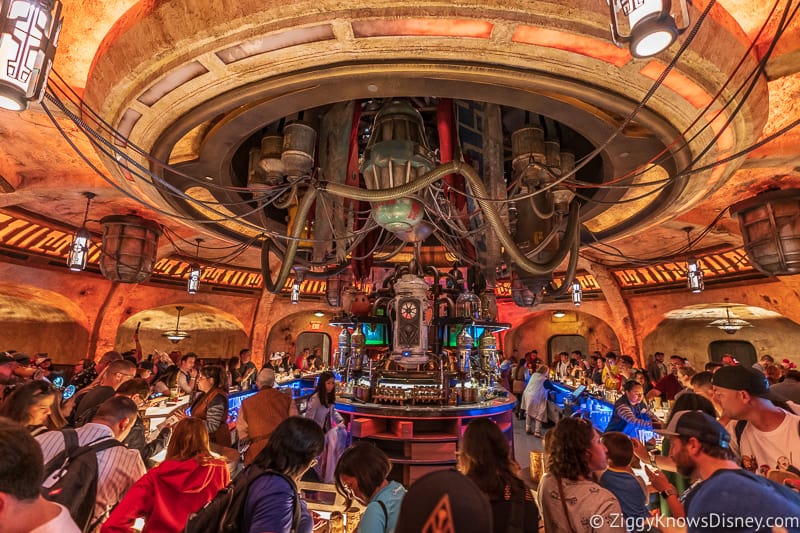 Obviously I thought this place was going to be awesome well before stepping foot inside, but that moment when I walked into Oga's for the first time was a feeling like I hadn't imagined. I think the first words out of my mouth were: "holy crap, this place is amazing!" I think I then repeated those words a few dozen times in the next few minutes.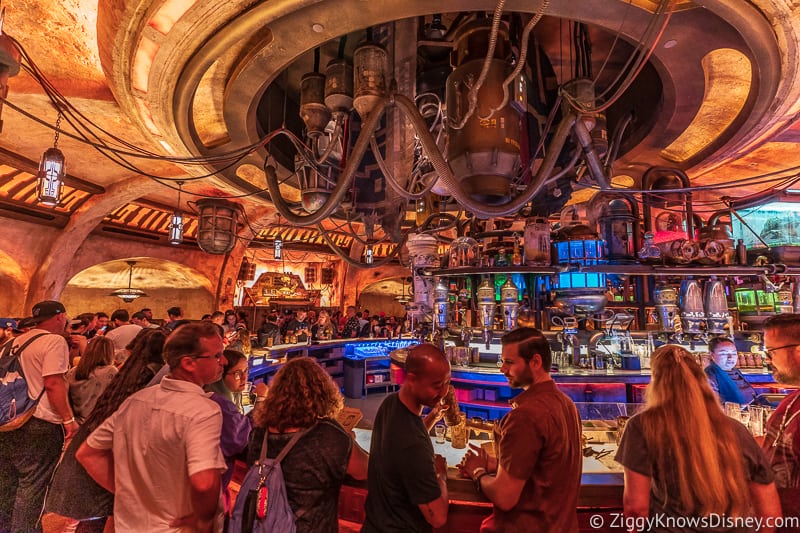 I'm sorry that you have to look at these pictures through a computer or mobile device, because I can assure you they don't do it justice how incredible this place really is!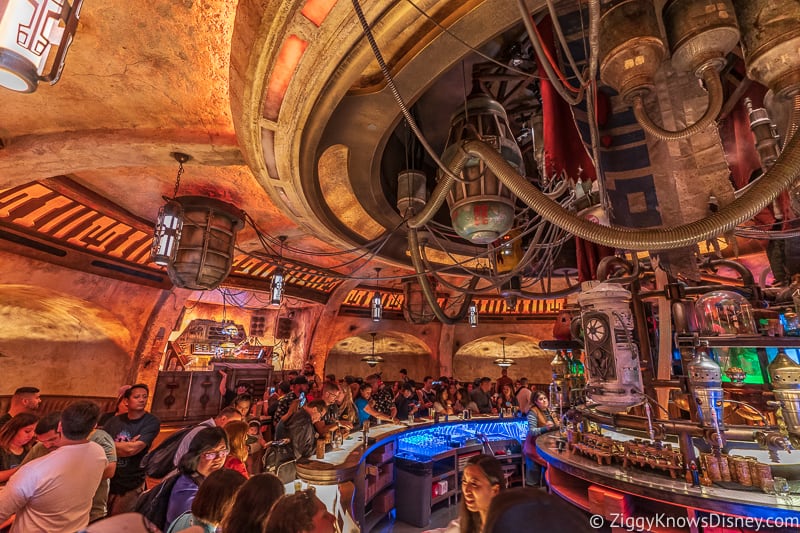 The bar is the focal point of the room, being right smack in the center. There is only only giant room in Oga's Cantina and it holds about 100-150 guests, but the energy was so high you thought there were twice as many people inside.
This is where all the magic happens and the room is setup with the bar in the middle, and flanked by a big bar counter which goes 90% around it. There are also some standing tables behind that and a few booths along the wall, but there's a good chance at the bar is where you'll be spending most of your time.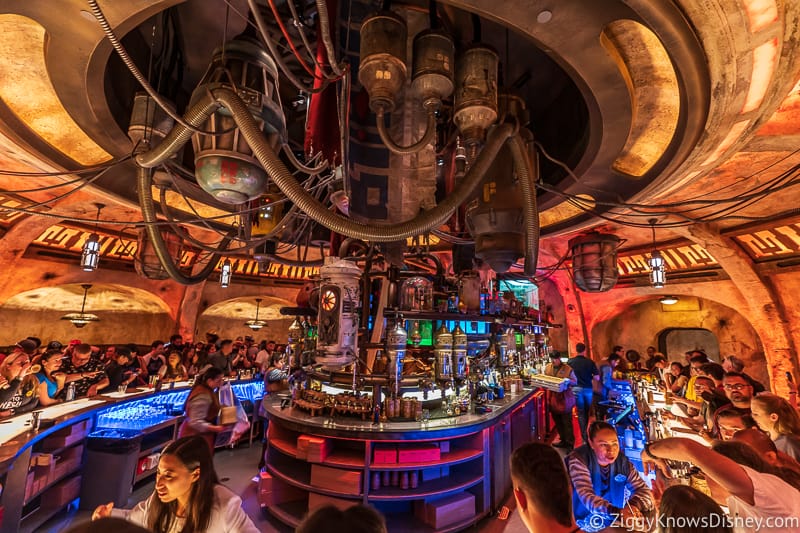 The colors in Oga's are really amazing. It seems like everything glows from the drink containers, your drinks and the ceiling above: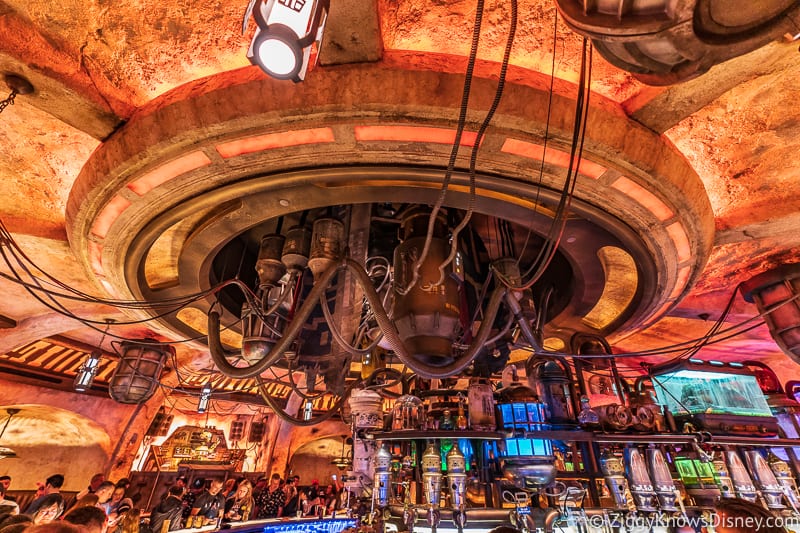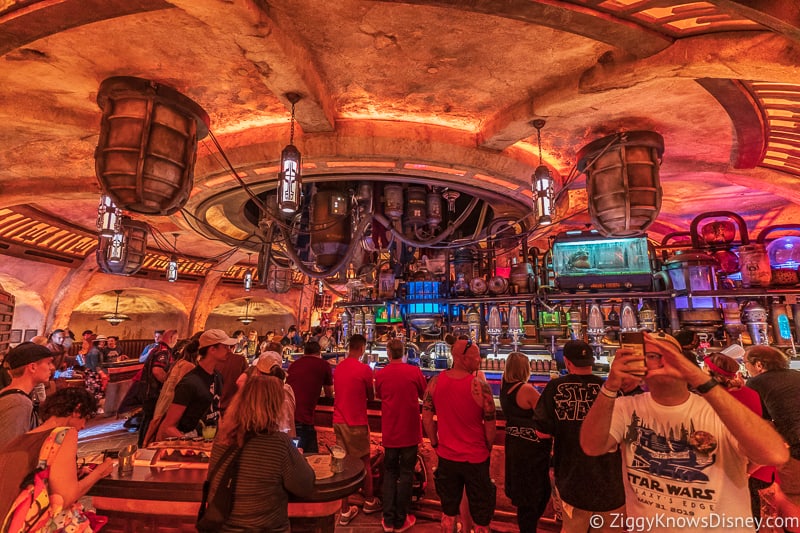 The bar is really the highlight of the room and all the drinks flow down into the containers from the tubes above: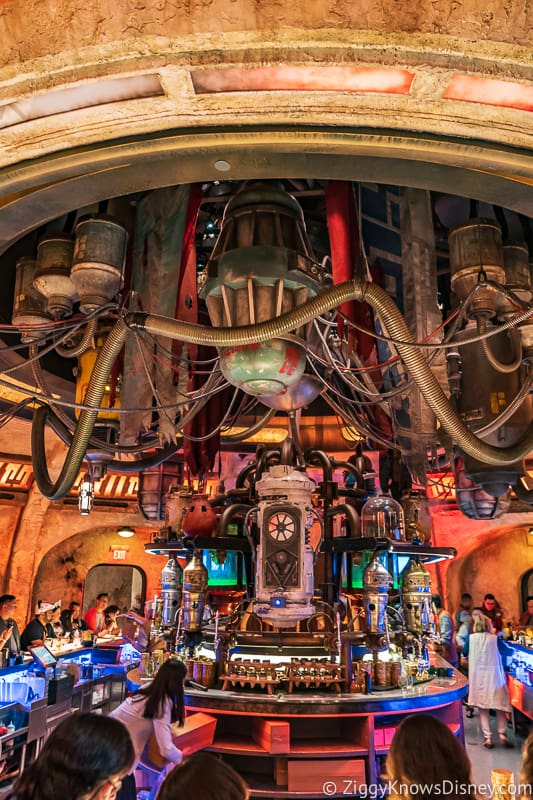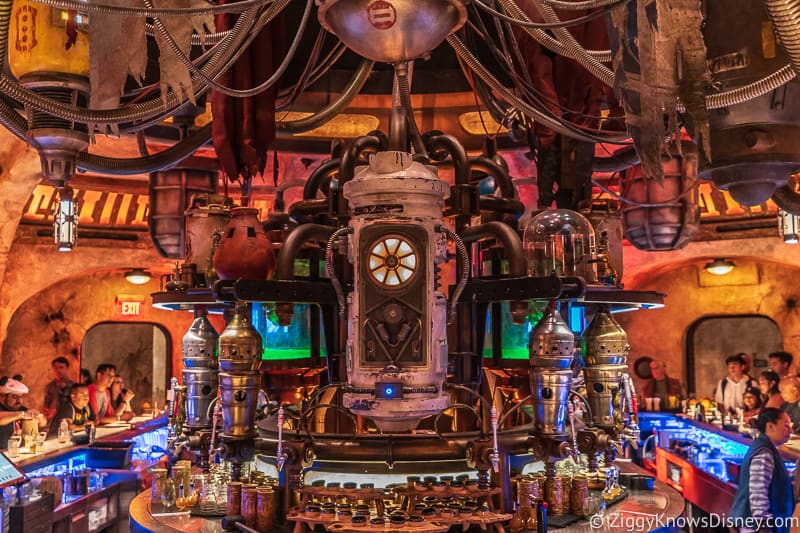 A really cool effect is when too much power is being used and ehe whole space shuts down when it's overloaded, and then kicks back into action!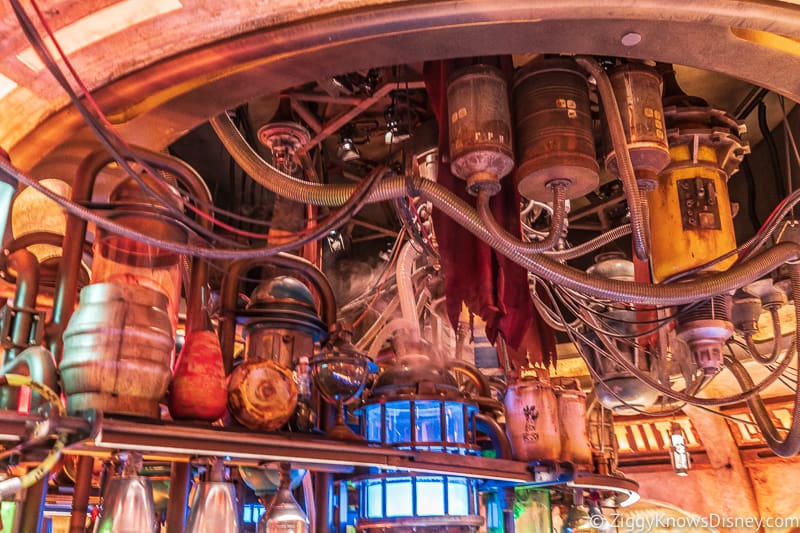 As you can see there isn't usually a ton of space, so you'll have to be a bit aggressive when it comes to finding a place to stand.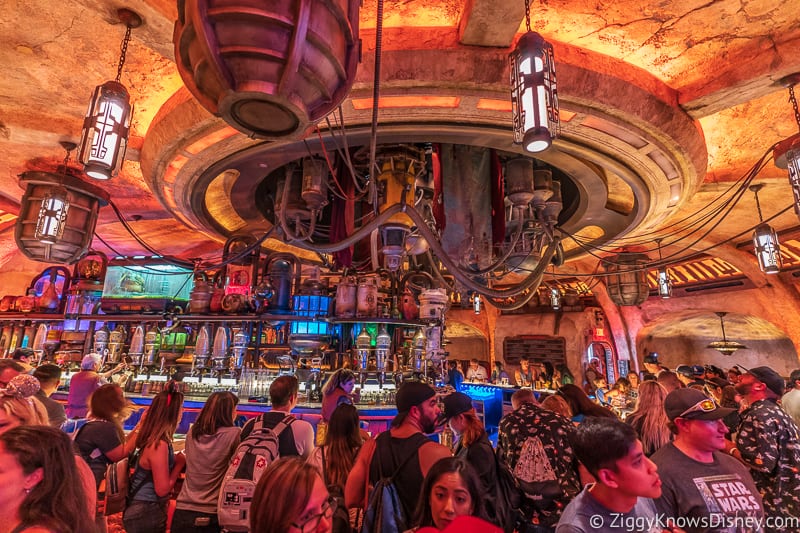 I've honestly never seen this many selfies going on in one place and everyone had their phones out and were snapping pics or taking videos of the place, and it was quite understandable given the circumstances: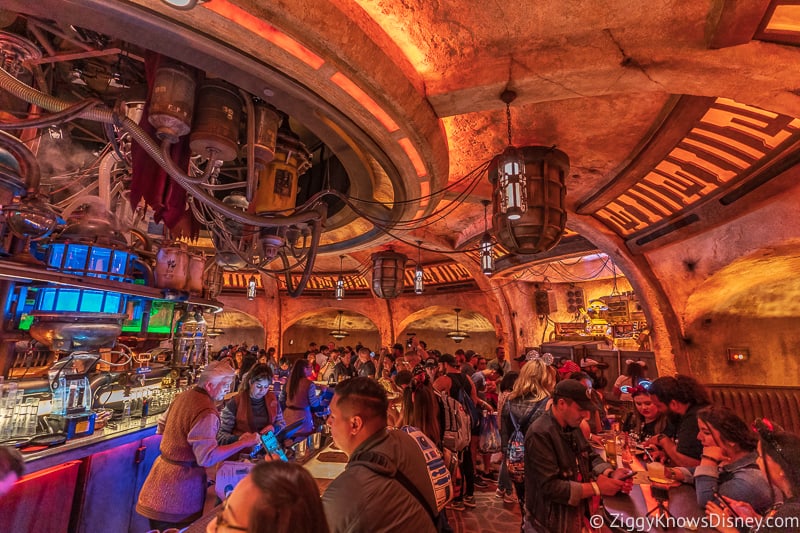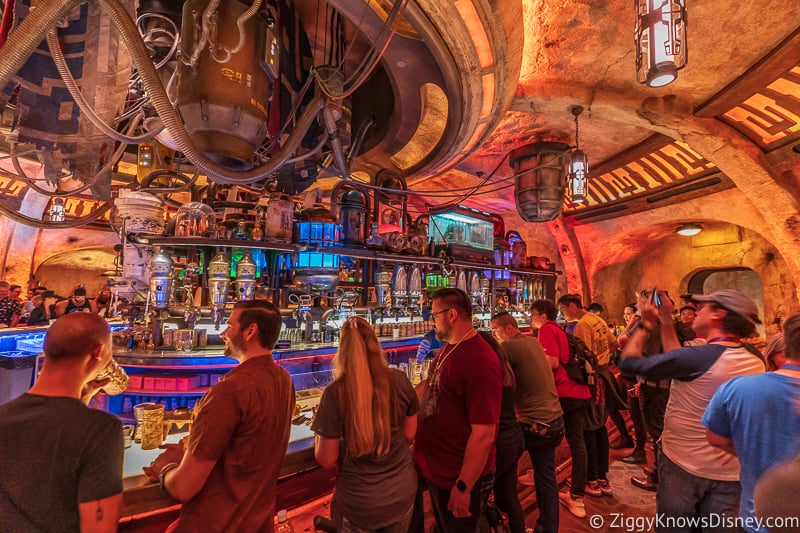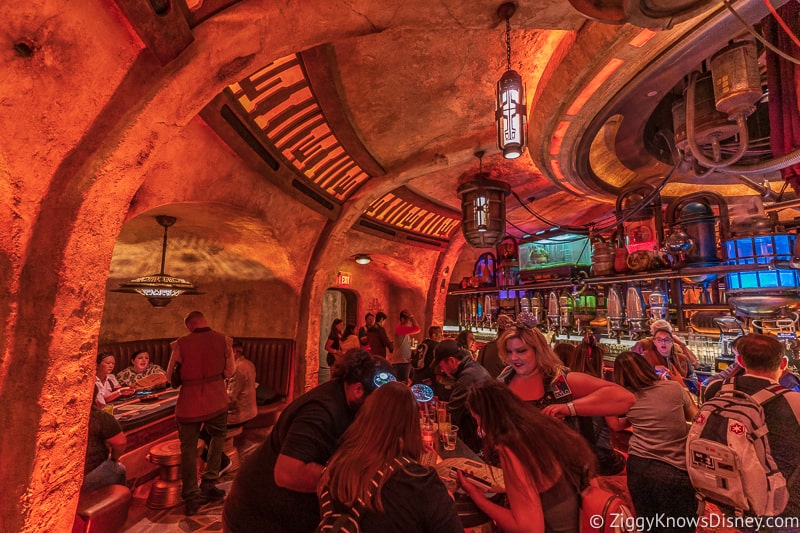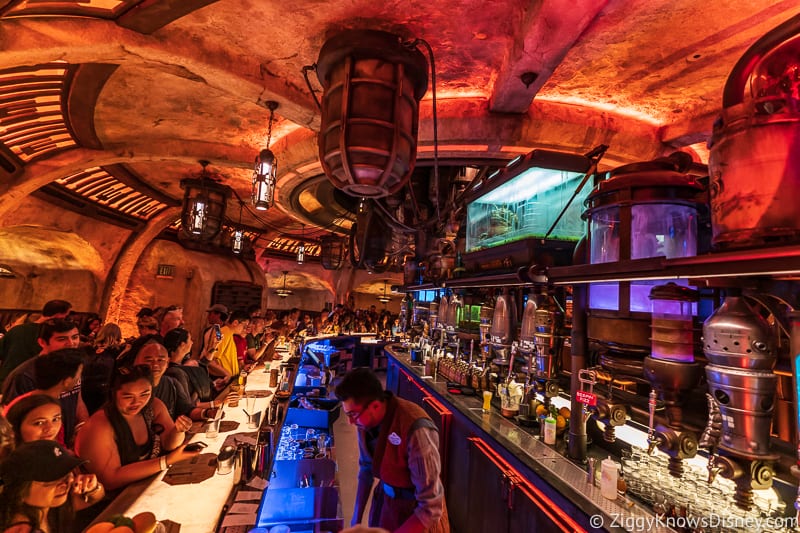 Another cool feature of Oga's are all the aliens that are a part of the place. A Swamp Slug, apickled Mynock, or a Worrt are all ones that are hidden throughout Oga's, usually hanging out in some kind of slimy liquid.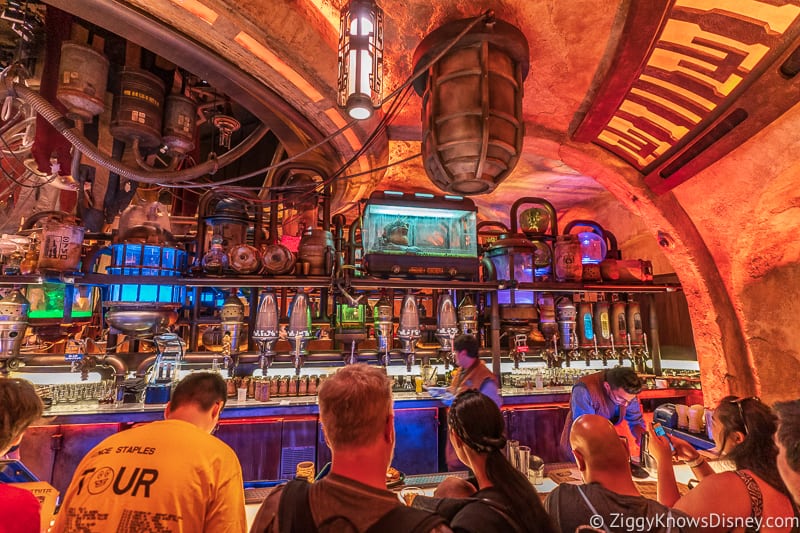 My favorite is the Worrt just chilling behind the glass above the bar: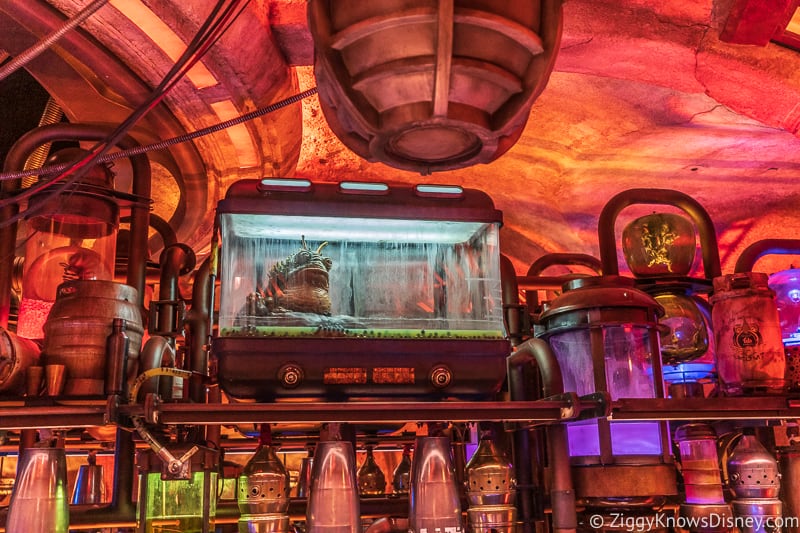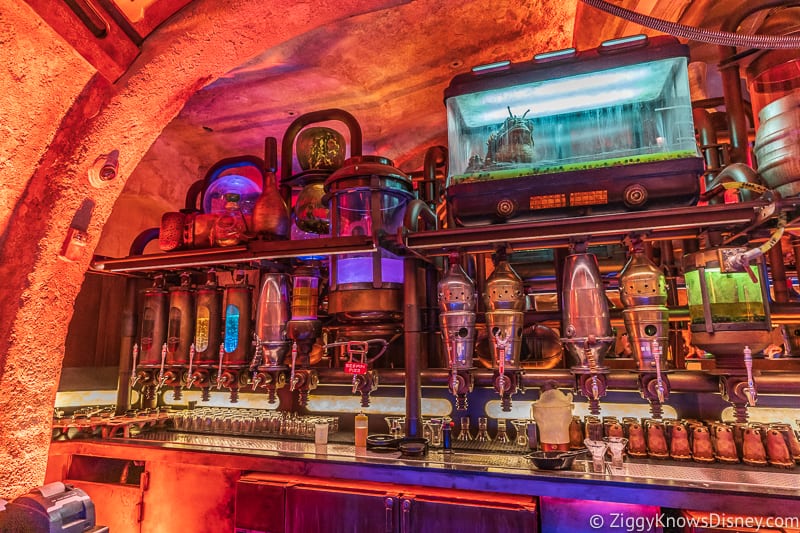 Notice those little green balls floating in the water with him? Let's just say the Word made them, and don't be surprised to find some in your drink… 😱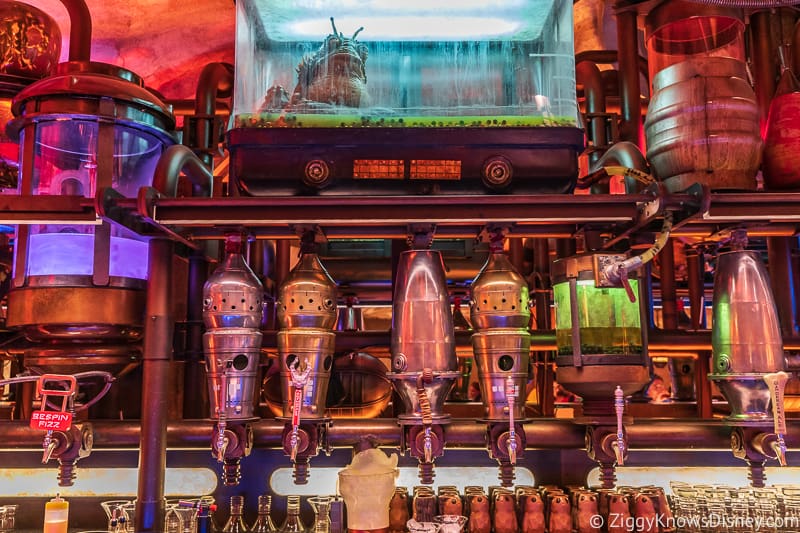 Speaking of drinks, this is where the magic happens. Disney knew how popular this place was going to be and to help get you in and out quickly, all the different cocktails you can try at Oga's come down already mixed from the tubes above and end up in these taps ready to pour.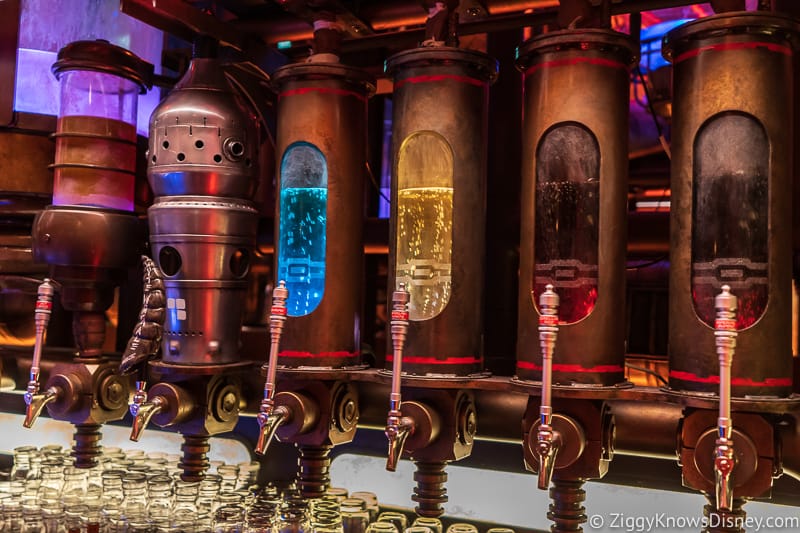 A look at some of the lighting fixtures on the ceiling above: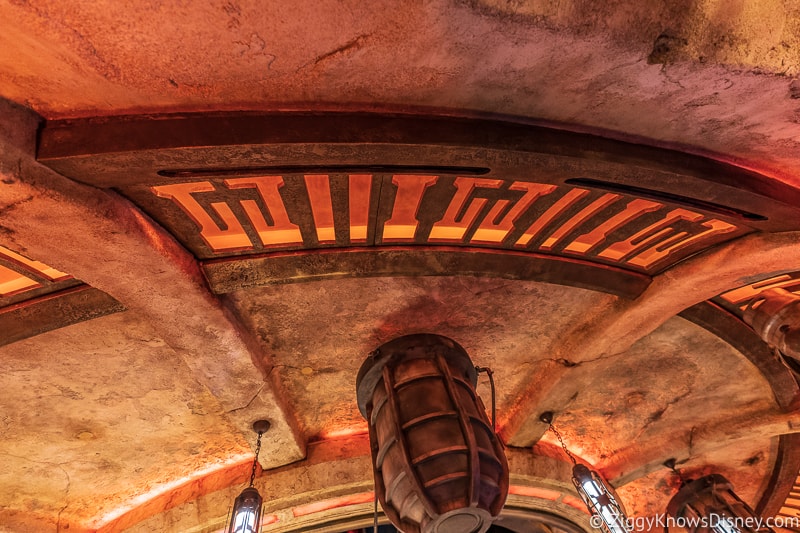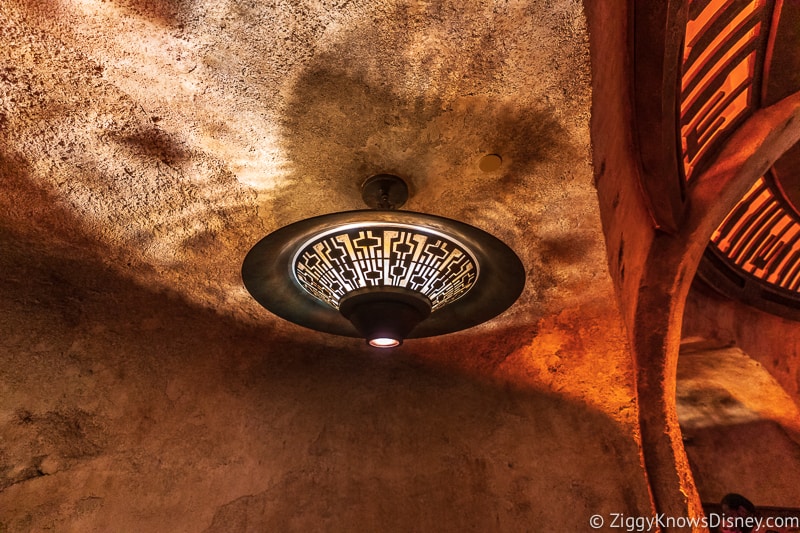 Besides the bar, the standing tables and booths also have a glowing ring in them which make your drinks light up even more: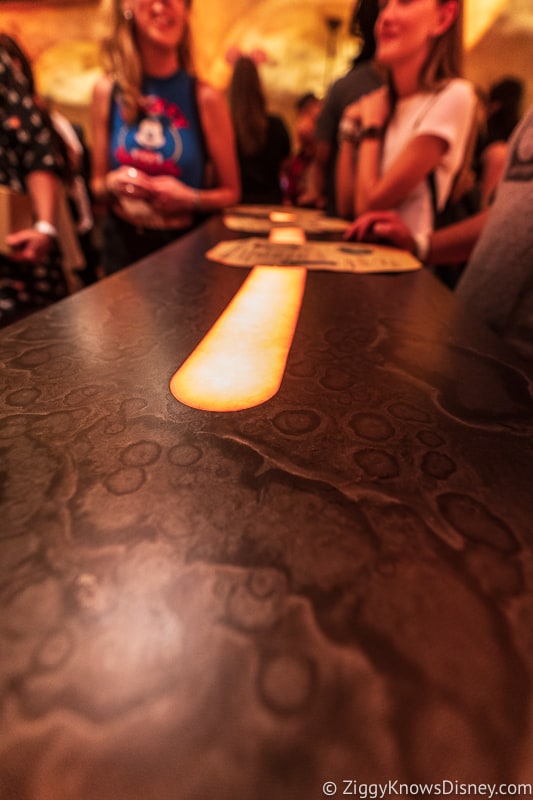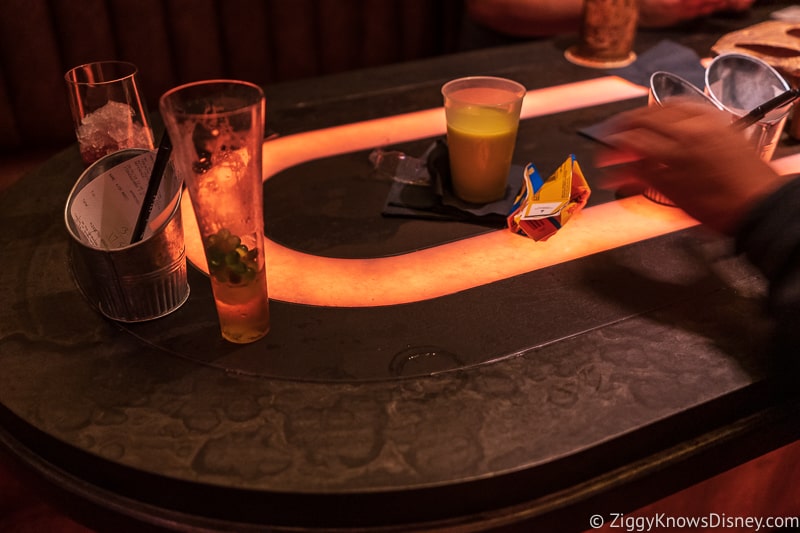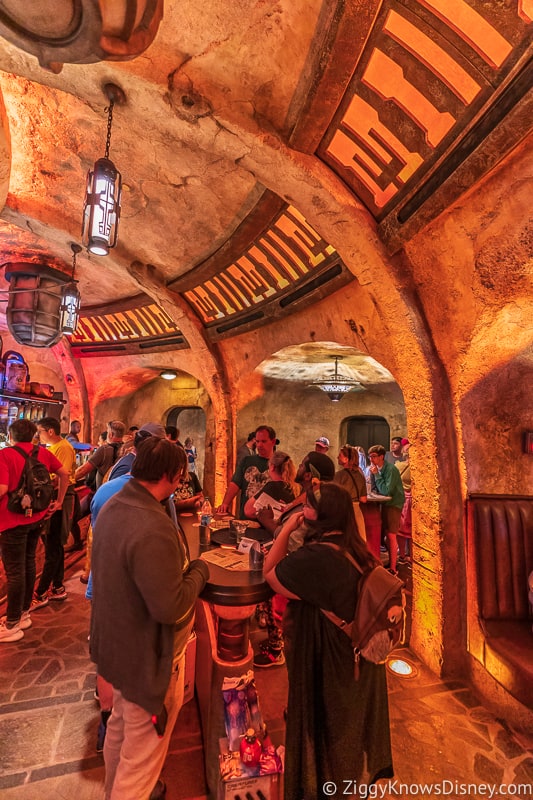 If you're lucky enough you can score one of the booths along the wall: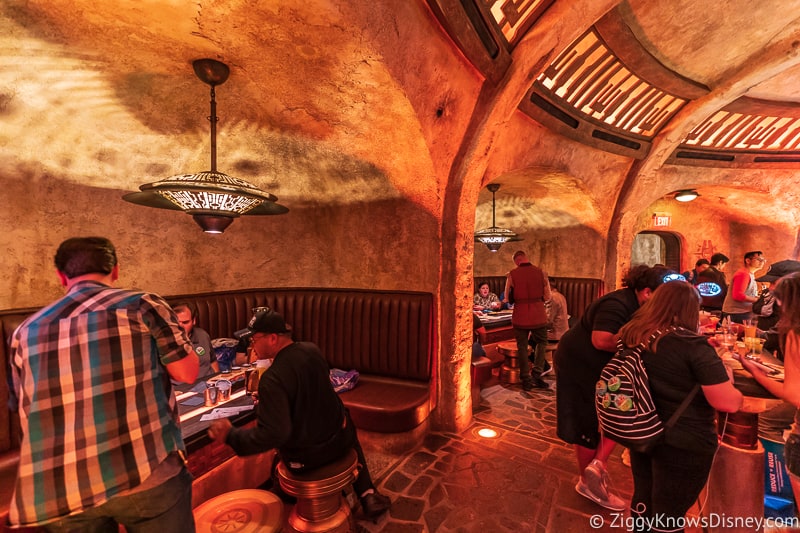 The booths are HUGE and fit easily 8-10 people. How do you get one?? You have to be lucky though to get one as every time we went it seemed as if they were just giving them out randomly, so it was just a matter of being picked.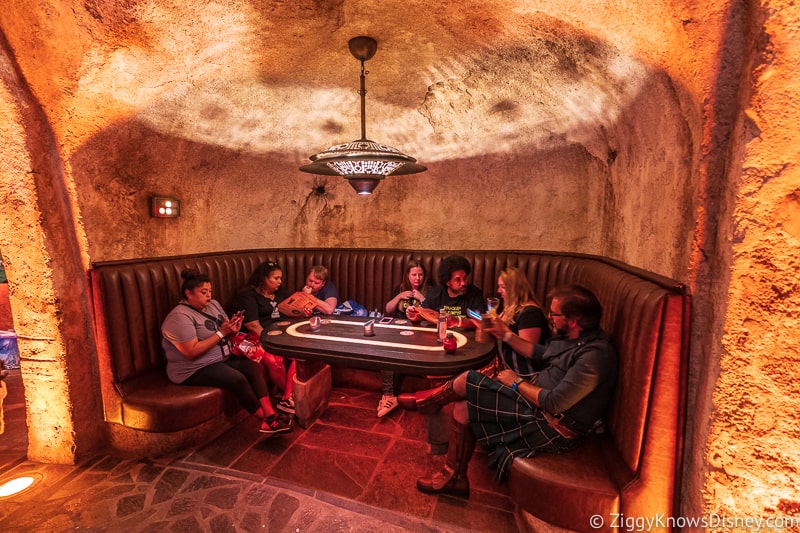 I hope we get one next time…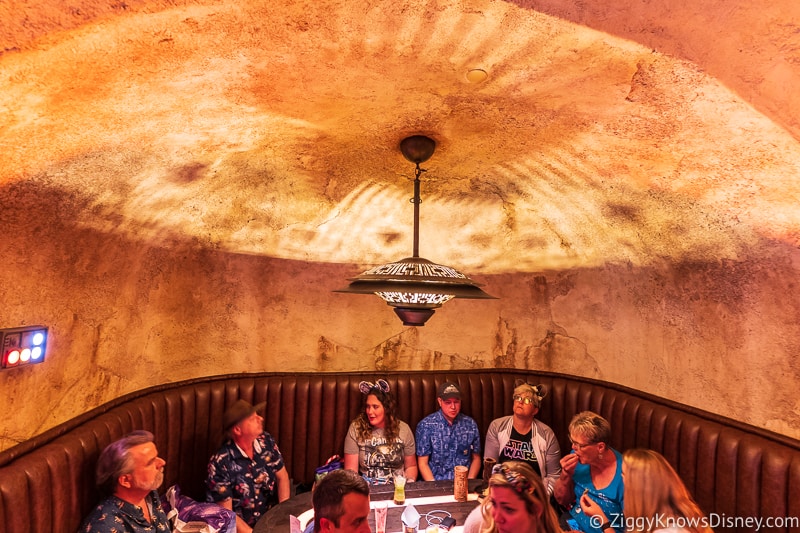 While sitting in a booth is nice, for the most part you can't get a view of the real star of Oga's Cantina: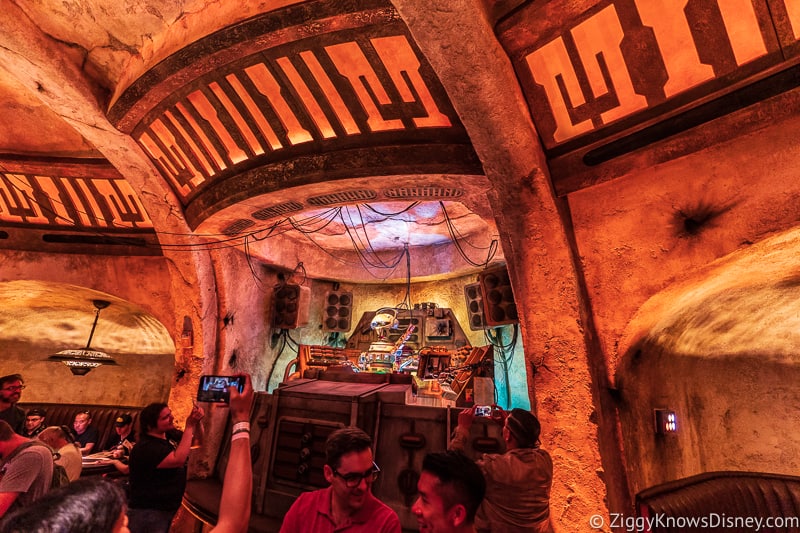 DJ R-3X!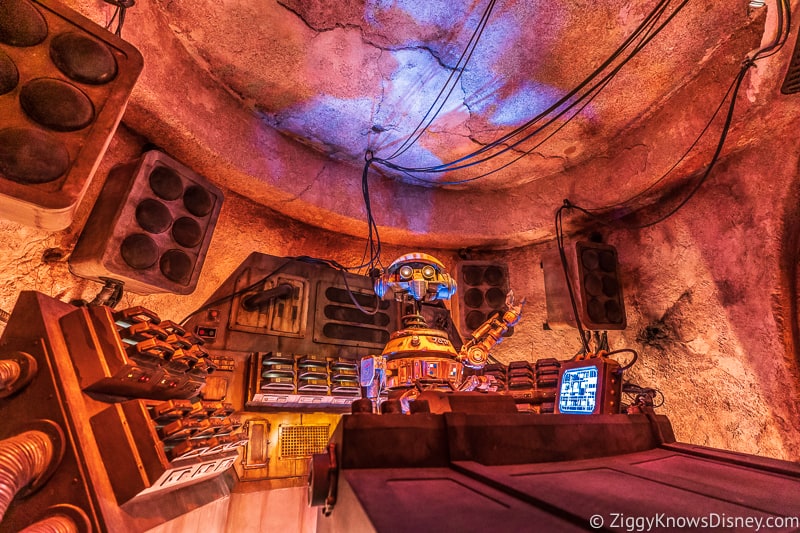 So you heard all the sweet space jams from all the way outside? Those were being played by DJ R-3X himself!
If he looks familiar to you that's because DJ R-3X was formerly the tour guide pilot on Star Tours. He left his duty on Star Tours and then joined the Resistance in the Battle of Jakuu. Eventually Rex crash-landed on Batuu where he was then found and repaired and became the star DJ of Oga's Cantina.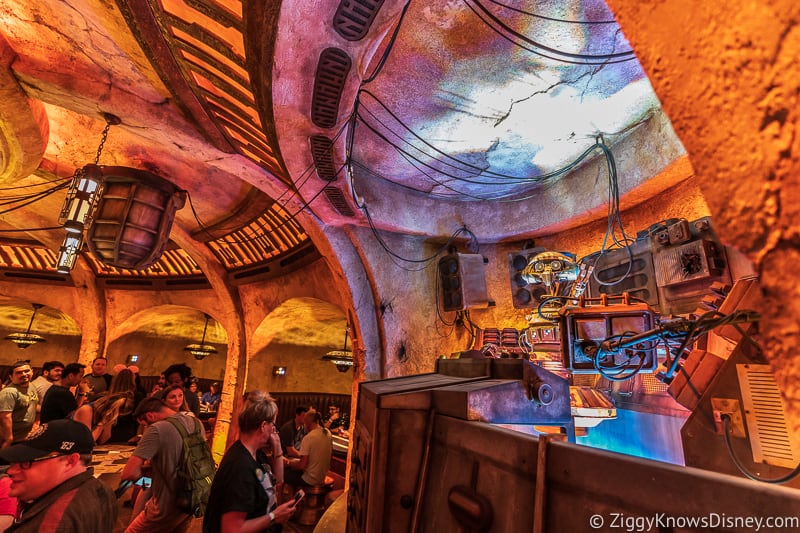 I have to say I just stared and stared at DJ R-3X as he played tune after tune, he was so entertaining. Honestly you have to get a table on his side of the Cantina as it's 10x more entertaining being able to watch him perform.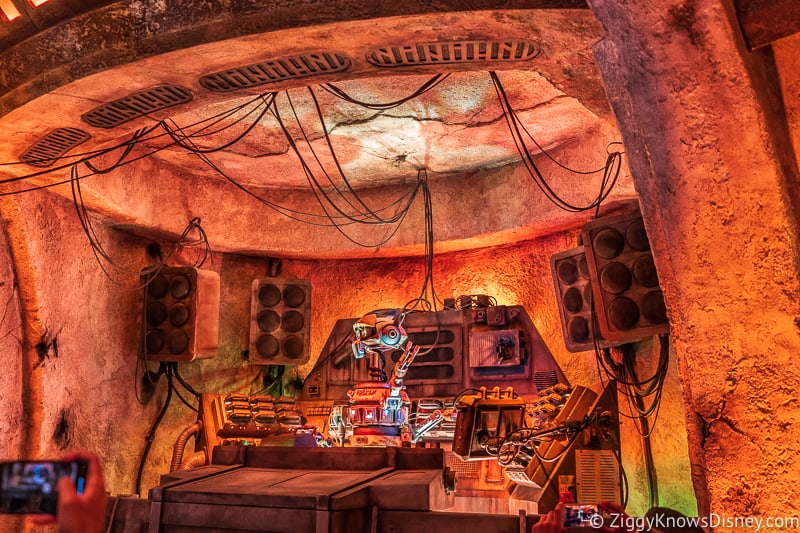 He has a ton of personality, he makes jokes, gets people involved and is a pleasure to watch.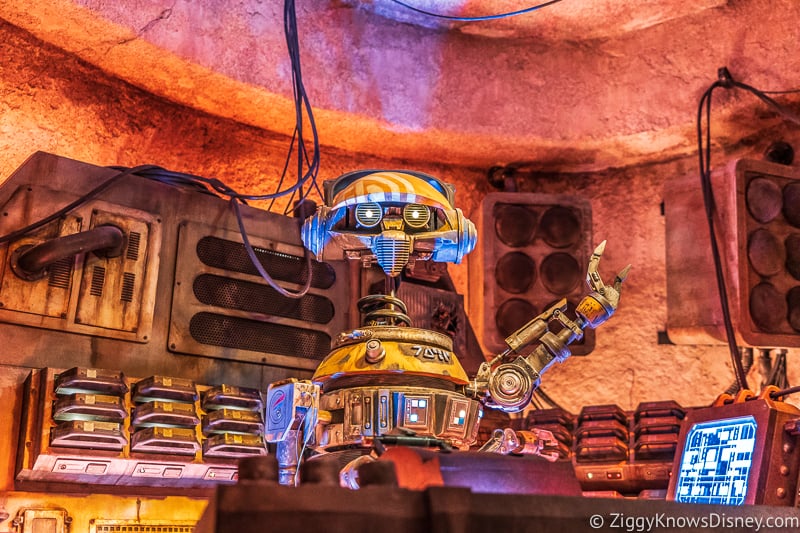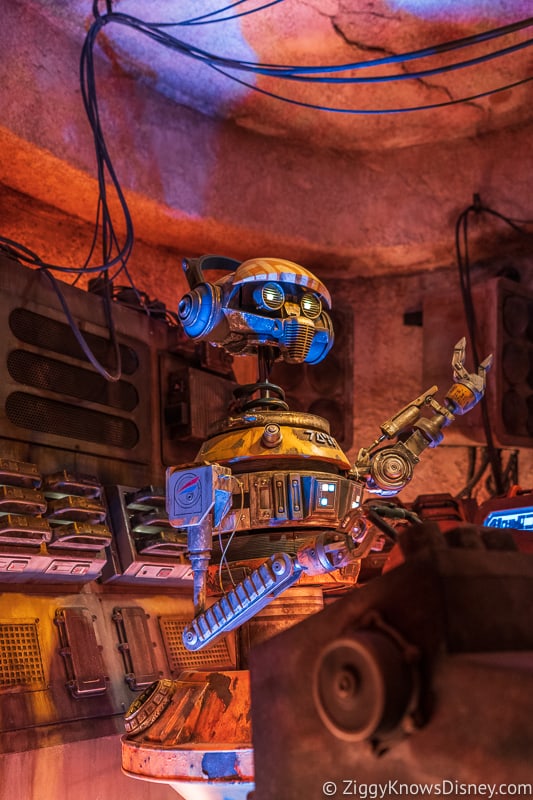 Food and Drinks:
While we could check out the atmosphere in Oga's Cantina, we are under a strict 45-minute limit so we have to make our time count and order some drinks!
Interestingly, Oha's Cantina is the first dining establishment open to the general public in Disneyland to serve alcohol (Club 33 is the only other place you can get alcohol). This is a big change for guests and you're limited to a 2-drink maximum per ID.
The also have two different menus, one for breakfast and one for lunch/dinner, both with alcoholic drinks and different choices on them. Make sure to get to Oga's Cantina for both.
So the menu at Oga's is divided into 2 parts: Concoctions with Alcohol and Concoctions without Alcohol. Here are the alcoholic choices first :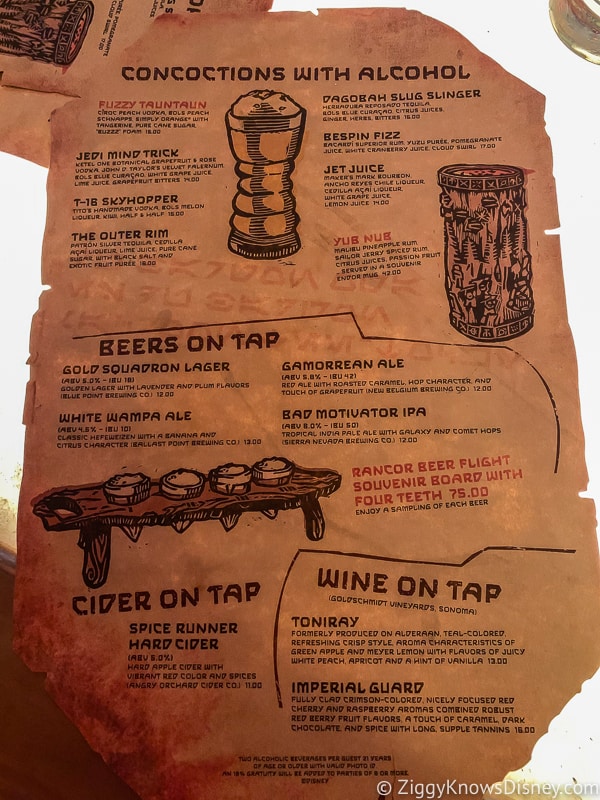 The menu is divided into Cocktails, Beer and Wine, with each section holding some unique choices to the Star Wars universe. Some of the cocktail choices are the Fuzzy Tauntaun, Bespin Fizz, The Outer Rim and Yub Nub.
The Rancor Beer Flight Souvenir Board with Rancor teeth serving as the glasses has been so much of a hit that supposedly it's already sold out of stock for the summer!
Here's the Non-Alcoholic menu: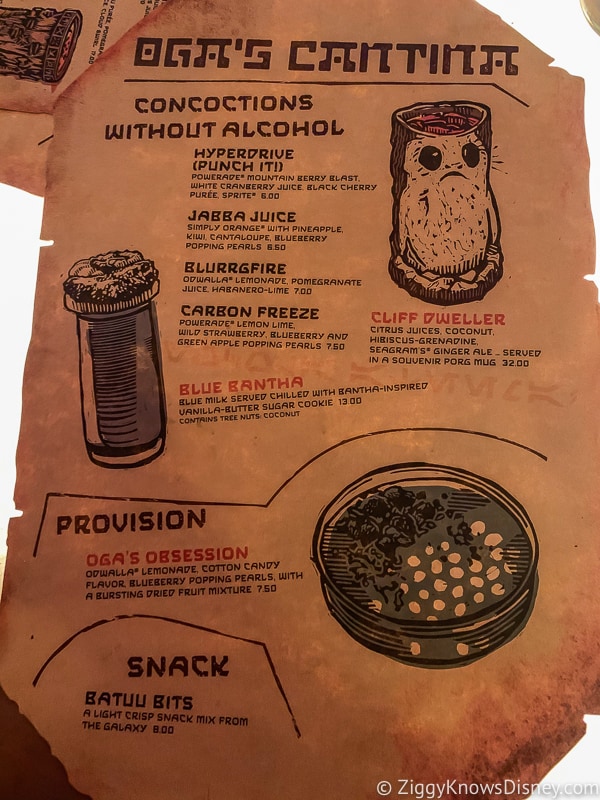 Some of the standouts include: Cliff Dweller, Blue Bantha, and the Jabba Juice.
While the menu at Oga's is mostly focused on drinks naturally, there are two snack options available which are quietly addicting: Oga's Obsession and Batuu Bits.
Service:
Before I talk about the drinks I wanted to mention the service. Obviously my experience is within the first few days of Galaxy's Edge being open so of course things were chaotic with cast members still getting used to the guest flow etc.
Still service is pretty slow at times, and we found that the bartenders are so busy that you have to be really aggressive to order to get their attention. That's understandable, but since there is a 45 minute limit, it can be a challenge. Make sure you are respectful but assertive in ordering to make the best use of your time.
Let's jump in and taste some of the drinks…
Drinks: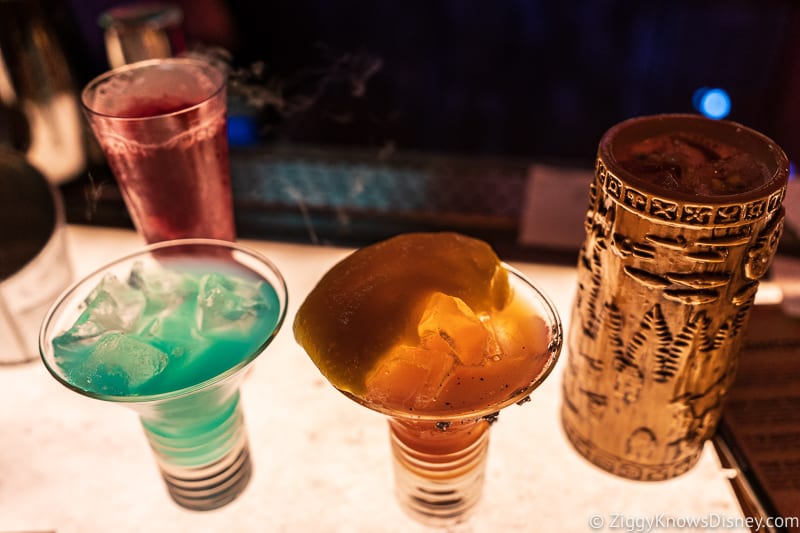 The presentation of the drinks in Oga's Cantina is awesome! I love the glasses they are served in, they are very sleek looking and definitely have a "space-vibe" going for them. Some of the drinks come in special souvenir glasses too like the Yub Nub or Cliff Dweller.
The presentations of the actual drinks themselves is equally as impressive and almost all of them have some kind of "gimmick" to keep your attention and make you feel like you are being served something truly special.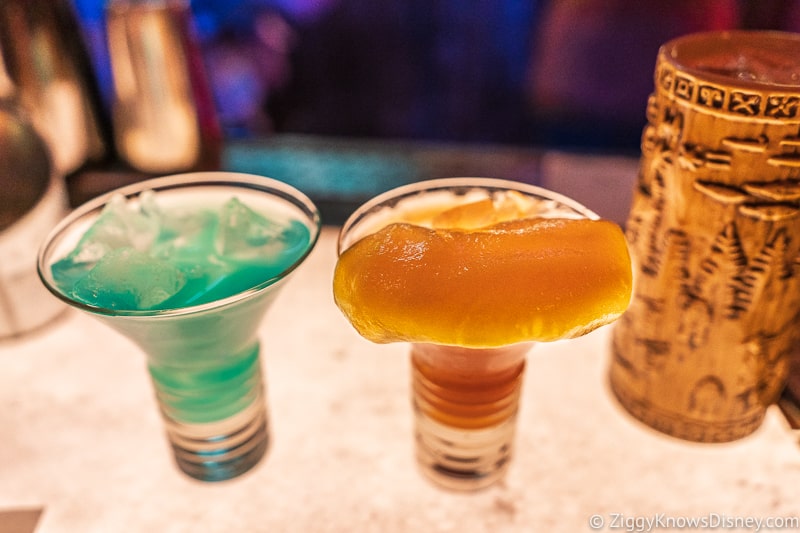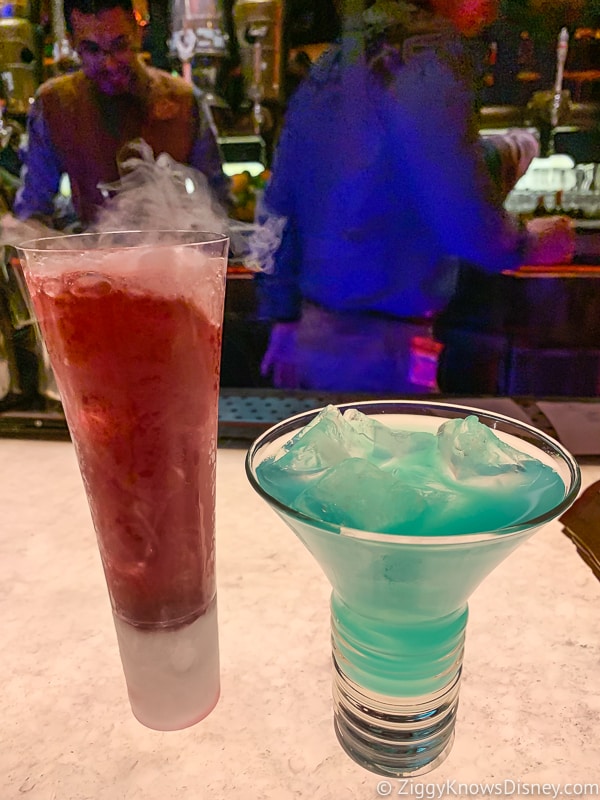 Jedi Mind Trick: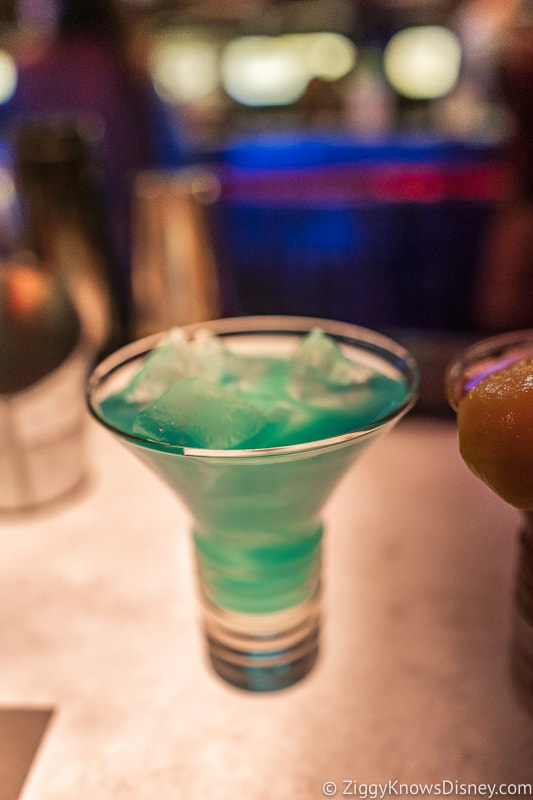 (grapefruit and rose vodka, falernum, blue curaçao, white grape juice, lime juice, and grapefruit bitters)
Yeah the Jedi Mind Trick doesn't seem to be anything special outside it's attractive light blue color, but it certainly packs a punch. Some of the drinks I didn't find to be particularly strong, but not so with the Jedi Mind Trick. The vodka stands out and is blended perfectly with the blue curaçao and fruit juices.
A winner and will get again.
Bespin Fizz: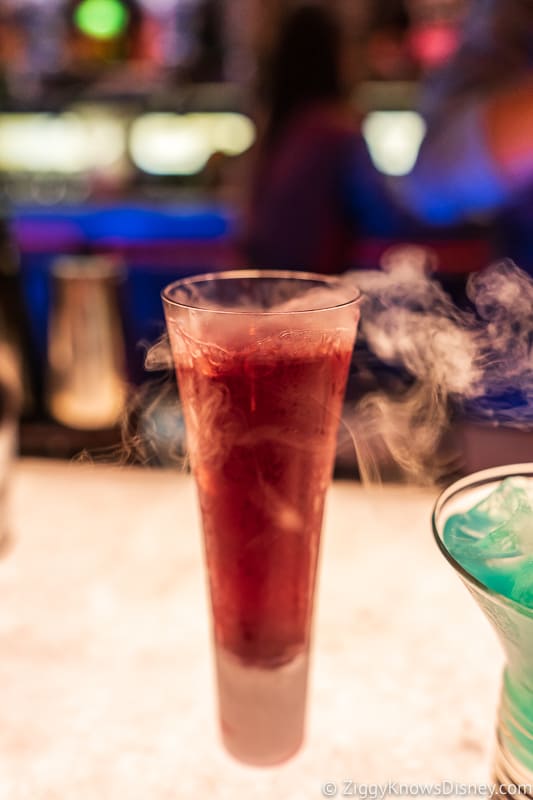 (rum, yuzu purée, pomegranate juice, white cranberry juice, and cloud swirl)
In the opposite way, to me the Bespin Fizz wins the award of "coolest" drink in Oga's Cantina because of its continuous bubbling that can be hypnotizing at times. It's served in a tall thin glass with a false bottom on the inside which hides its secret weapon: dry ice.
The dry ice is what gives the Bespin Fizz its unique feature of bubbling. I thought the balance of bubbles was done right where it shakes your hand as you raise the glass, but you can still drink it without the drink splattering you in the face.
The taste was right on here with a great mixture of rum, pomegranate and white cranberry juice. Excellent choice!
The Outer Rim: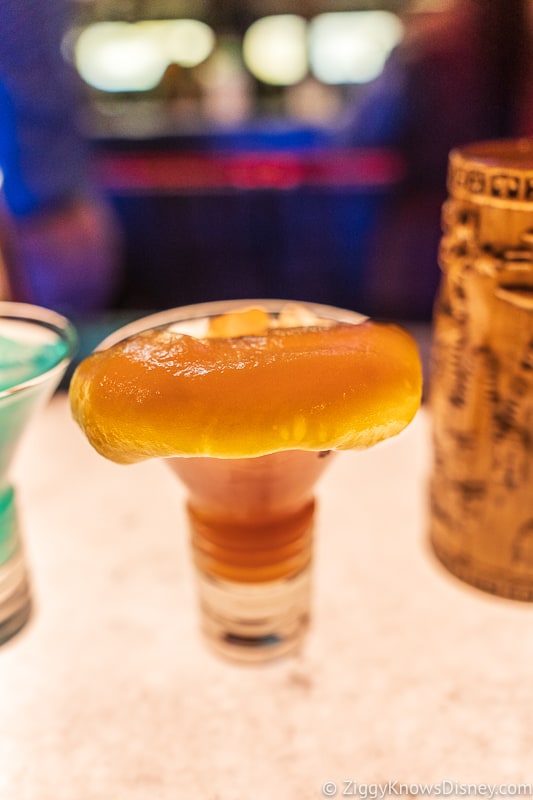 (silver tequila, açaí liqueur, lime juice, pure cane sugar, black salt, and exotic fruit purée)
We kept hitting with our drinks and The Outer Rim was probably our favorite of all. First of all it gets its name from the crazy foam texture on the outer edge of the glass. It was almost a creamy texture and is an exotic fruit blend.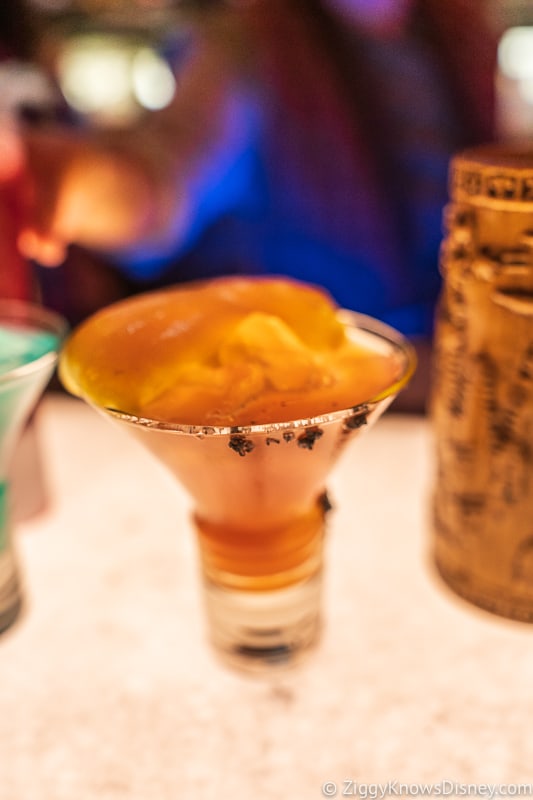 I love margaritas and that's essentially what The Outer Rim is. Everything is balanced perfectly imo and the black salt on the rim is a nice touch. This is the drink that ended up being everyone's favorite at the end of the night, and for good reason!
Fuzzy Tauntaun: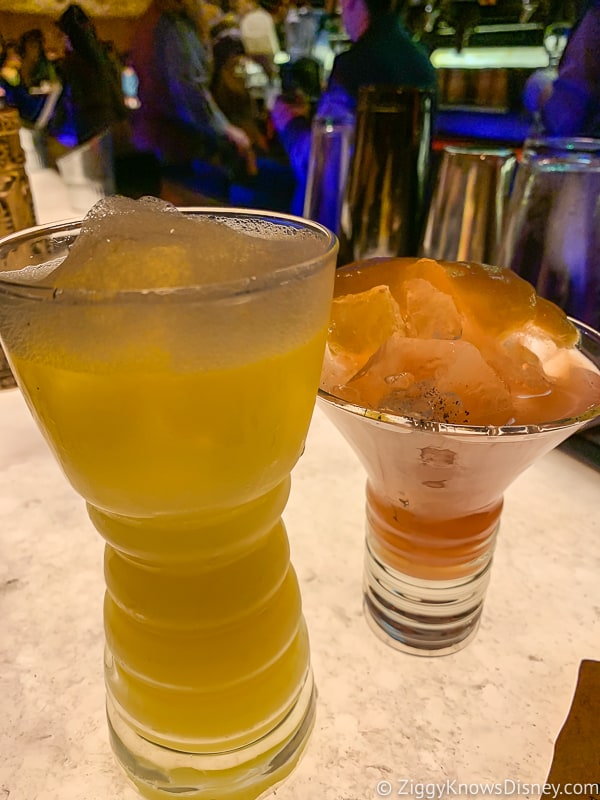 (peach vodka, peach schnapps, orange juice with tangerine, pure cane sugar, and "buzzz" foam)
Before going to Oga's Cantina I was probably most looking forward to the Fuzzy Tauntaun, and honestly I was a little disappointed in it. I would say it might have been the bartender, but all the drinks are pre-mixed so it wasn't that.
It was sweet and just didn't have a real distinct flavor to me besides that. Ours also didn't have much foam on it, which had a crazy tangy flavor that leaves your tongue a bit numb. That could be positive or negative for you, but it's definitely different!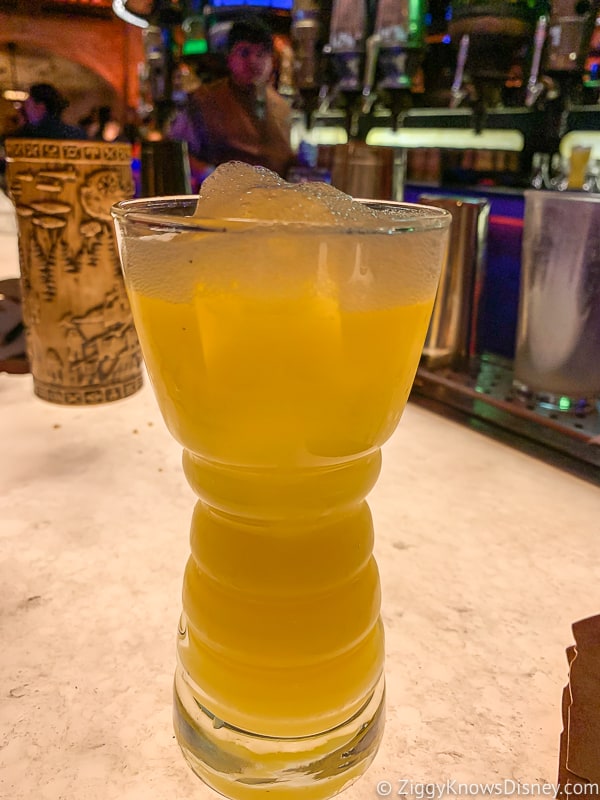 Yum Nub: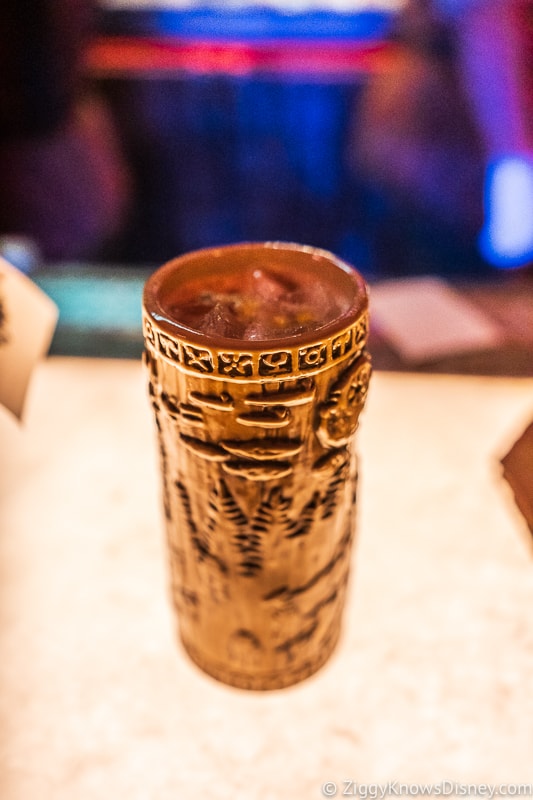 pineapple rum, spiced rum, citrus juices, and passion fruit
The Yub Nub is by far one of the most popular drinks in Oga's because of the souvenir tiki mug which celebrates the battle of Endor from Return of the Jedi. If you want the mug it comes in at a whopping $42, which can be bought at that price with or without the glass. If you don't want to keep the glass the drink is a normal $15 and you just give the glass back when you are done.
As for the Yub Nub itself, it was pretty good. It was strong so you feel like you're getting your money's worth, but the blend of rum to fruit juices can be tweaked a bit with perhaps a touch too much spiced rum for me.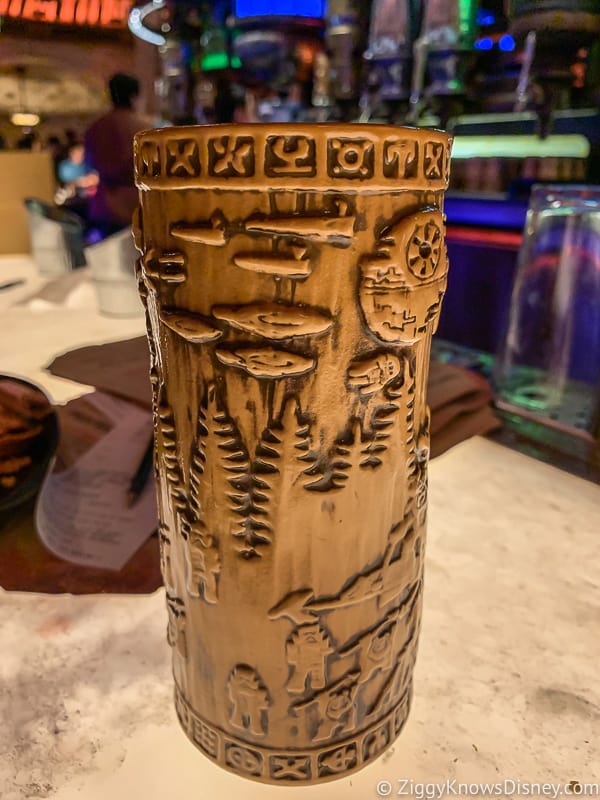 Overall good, not great.
Rancor Beer Flight Souvenir Board (w/ Four Teeth):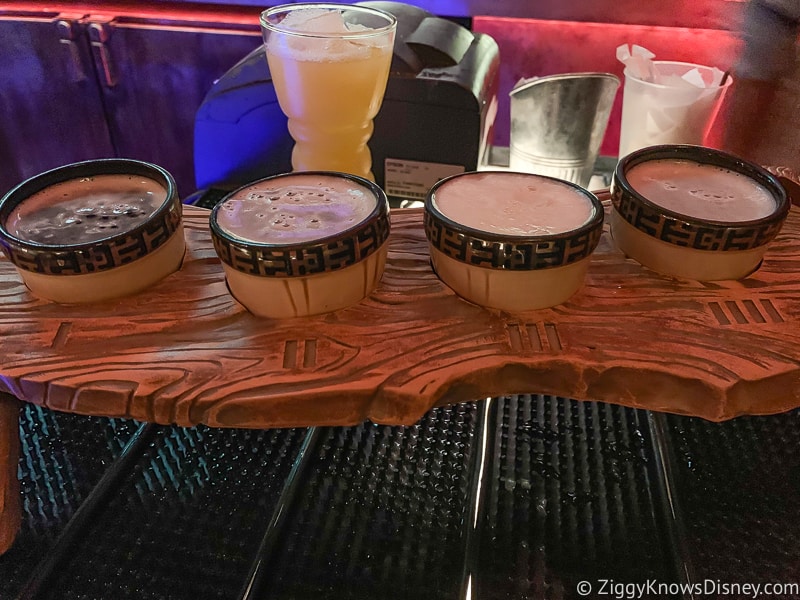 (Sampling of: Gold Squadron Lager, Gamorrean Ale, White Wampa Ale and Bad Motivator IPA)
So if you looked at the menu above, I'm sure the first thing that stuck out to you was the price tag: $75. Yes, that is no joke, $75 for a beer flight. The thing is though, this board is insanely awesome and you get to take home these collector's edition Rancor Tooth glassed and the board.
Of all the beers we preferred the Gold Squadron Lager the best, it was by far the smoothest, and since I m not a fan of full-flavored beers it was my fav. I'm not a big IPA guy but I heard a few others raving about it, so you might want to give it a try.
Snacks: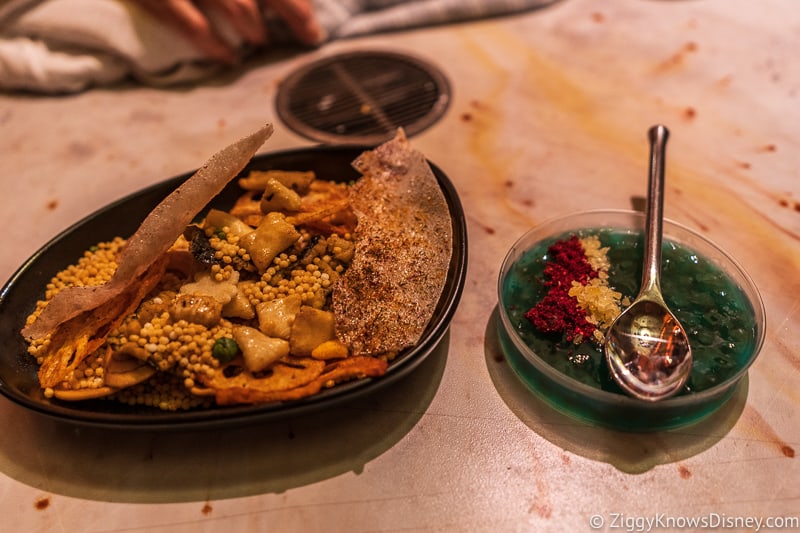 Oga's doesn't have many food options, but the two snacks are both really interesting, and surprisingly tasty…
Batuu Bits: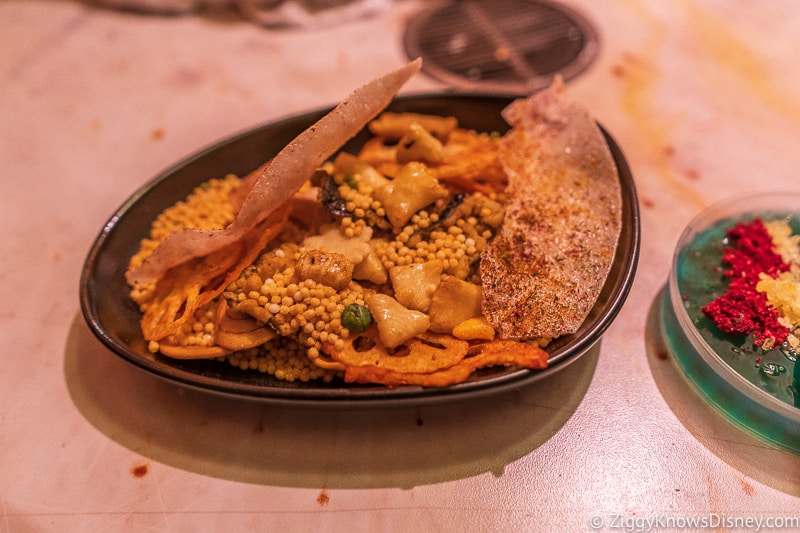 Described as "a light crisp Snack Mix from the galaxy" I honestly didn't know what to think when they first put the Batuu Bits down in front of me, but it was surprisingly good. It was like an alien party mix or something with crisps, wasabi peas and the like.
I will say I really liked all the spices and flavoring on them, but they were extremely hard to eat. A good portion of the Batuu Bits were the really tiny beads, and they were extremely hard to scoop up. So while it tasted good, logistically it was a mess.
Oga's Obsession: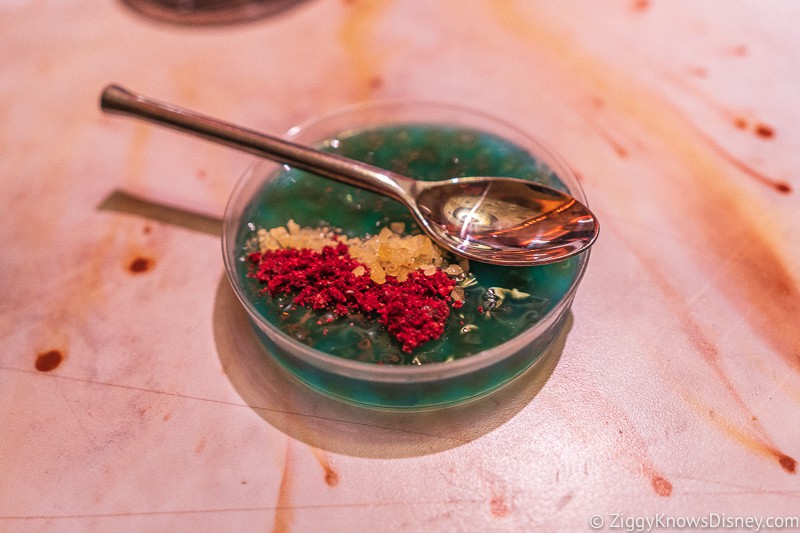 (Odwalla® Lemonade, Cotton Candy Flavor, and Blueberry Popping Pearls with a bursting Dried Fruit Mixture)
My brother-in-law gave this a look and immediately snubbed his nose at it like saying: "what in the world is THAT stuff." I dove in and I have to say it was AWESOME! Think of it as some sort of Star Wars Jello, with fruit boba balls underneath. The dried fruit on top was in crystalized form. The whole thing just worked though and I scarfed it all down looking for more.
My only gripe is it's pretty expensive at $7.50 for something so small, but it's so unique that I think you definitely need to try it at least once for the experience.
Our 45 minutes are up and we make our way towards the exit.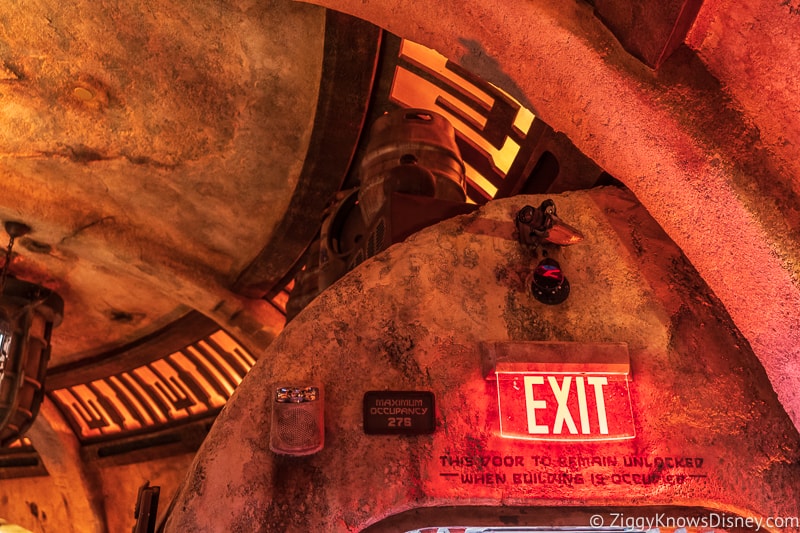 We're extremely disappointed we have to leave Oga's Cantina so soon and could easily spend a couple hours in here just soaking up the atmosphere and having a few drinks. Such an amazing space!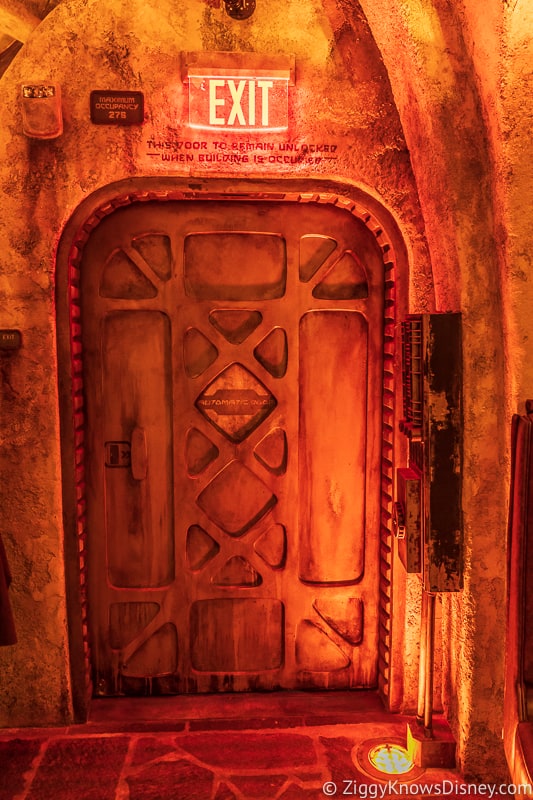 Conclusion:
Despite the long wait and reservations that are required to get in, Oga's Cantina doesn't disappoint. Everything about this place screams "Star Wars" and it really is like stepping into a legit cantina like the one in Mos Eisley.
For me only stepping into the cockpit of the Millennium Falcon for the first time is on the same level as the moment you enter Oga's Cantina. I just kept walking around with my mouth open and my camera out taking picture after picture while saying at the same time: "this is insane!!"
There is crazy buzz going on in here, the music the vibe from the guests and DJ R-3X all make this a must-do experience. The drinks themselves were for the most part really good and some of the most original in a Disney park.
The price is very expensive and you're looking at $15-17 for most alcoholic drinks BEFORE tax and tip. But while the drinks are mostly really good, you're paying for the unique atmosphere which in my opinion makes it worth every penny.
It also stinks having to stand the whole time but you understand why there are so many people trying to get in here and why it's so popular.
I can't wait to come back to Oga's Cantina time and time again and get a booth next time so I can just sit and relax and take in the scene! Definitely an experience you have to do when visiting Galaxy's Edge and it jumps to #1 for me in best dining space in Disneyland!
If you are looking for more Galaxy's Edge info you can read our Complete Guide to Star Wars Land for more planning tips, or our Galaxy's Edge Dining Guide to see the other food, drinks and dining locations on Batuu.
Stay tuned here at Ziggy Knows Disney for more details on Oga's Cantina and all the other Star Wars Galaxy's Edge news right here!
Your Thoughts:
I want to know what you think about Oga's Cantina in Star Wars Galaxy's Edge…
Are you excited to try Oga's Cantina?
What was your experience like there?
Let us know in the comments section below!
If you enjoyed this article, as always I appreciate it if you'd share it with others via social media. I work hard at making this website into a useful resource for you and your family to plan your visit to the Disney Parks and I hope it can help you! Thanks 🙂