Have you ever watched "A New Hope" when Luke is staying with aunt Beru and uncle Owen Lars and thought to yourself: "I wonder what that blue milk he's drinking actually is?" Well now in Star Wars Galaxy's Edge in both Disneyland and Disney World you have the chance to taste Blue Milk and Green Milk for yourself!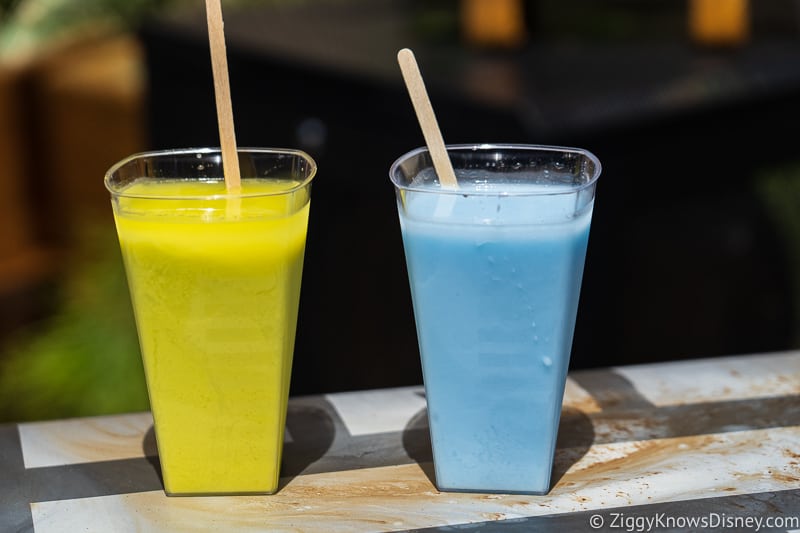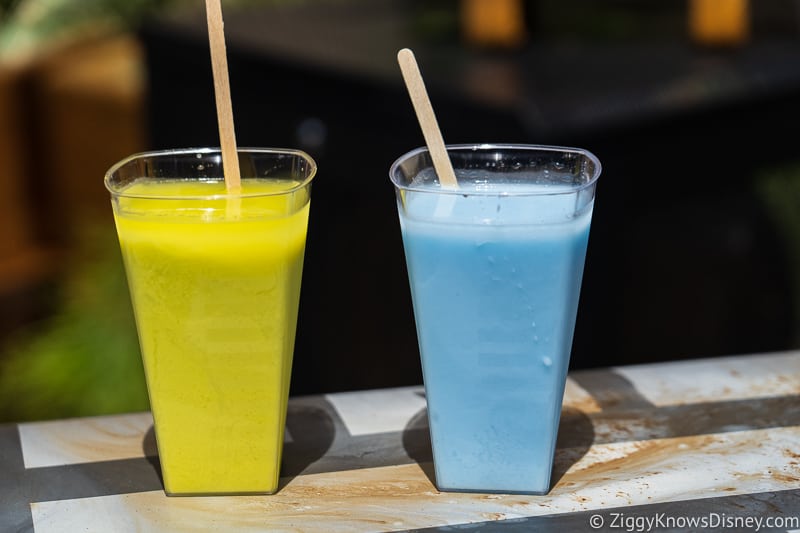 (UPDATED 02/26/20): In this post we are going to share everything there is to know about Blue and Green Milk in Star Wars Galaxy's Edge. What is it made from? What does it taste like? What ingredients are in Blue and Green Milk?
We're also going to give you a review of the Milk Stand in Galaxy's Edge including the full menu, prices and all 4 types of Blue and Green Milks: the regular versions and alcoholic green and blue milk (only available in Hollywood Studios).
(NEWS) – Milk Stand Adding Breakfast Options
With all the crowds rushing to Galaxy's Edge in Hollywood Studios every morning, Disney has announced that some new breakfast items are coming to the Milk Stand, and they certainly sound interesting to say the least.
The first new menu item is the Green Milk Bread Pudding. We have no idea exactly what this is going to be like, and quite honestly it has us a bit nervous to say the least. How do you even make a bread pudding with green milk?? We'll have to find out.
Also among the new options are the Saka Farm Egg Bite, which has a spicy tomato sauce, crumbled feta cheese, and garlic bread crumbs. That sounds a bit more appealing to us.
Lastly, there is a Wamba Yogurt Cup which is made from a plant-based coconut milk yogurt, green milk and fruit.
We'll be trying those items and giving you a review soon, so keep checking in. There is no date for these new items yet, but they should be any day now. We also don't know if any of these new breakfast items will be coming to the Milk Stand in Disneyland as well, or only Hollywood Studios.
In the meantime, you can scroll down and see them on the menu, including prices.
History of Blue Milk
Where does green milk come from in Star Wars? The original Blue Milk you see Luke drinking in "A New Hope," is actually called Bantha Milk, because it was produced by the giant beasts in the outer rim territories, like on Tatooine.
In the famous scene in "A New Hope," Luke Skywalker's aunt Beru is seen pouring blue milk into a canister on the table. Luke then grabs a pitcher of the same stuff and pours himself a glass and then proceeds to drink it.
Here's the scene for you:
Mark Hamill commented on the experience and said that the milk there was actually just milk with food coloring in it. It tasted terrible however and he admitted to having a hard time not vomiting while drinking it. Blue milk has lived in Star Wars lore ever since.
What about Green Milk?
Green milk is much newer, and made its debut in "The Last Jedi." Luke Skywalker is seen taking the milk directly from on of the female Thala-Sirens that produce it, thereafter drinking it.
When shooting the film, it's said that the green milk was actually coconut milk which was then edited with a computer after the fact to look green in color.
Here is the scene from The Last Jedi, just don't watch it after just eating:
What Ingredients are in Blue and Green Milk from Galaxy's Edge?
Obviously the blue and green milks we have seen in the Star Wars movies, are different than what you'll find in Galaxy's Edge. So what are they exactly? What are Blue Milk and Green Milk actually made from?
Don't worry. I know the last thing you want to drink while walking around Disney World is a glass of milk. Think of these, not even as a milkshake, but more like fruit smoothies. Here's why:
First, it's important to know that there is no milk in either blue milk or green milk. That's right, even though the word milk is in the name, there is no dairy whatsoever in either Galaxy's Edge drink.
Both the blue and green milk are also vegan, so there are no animal products used at all in making them. Vegans, vegetarians and people who are dairy-free or lactose intolerant can feel free to enjoy a blue milk in Star Wars Land. So what the heck do they put in it then?
Green and blue milk are made from a base of rice milk powder and coconut oil, no dairy involved. That's why they have a sort of an oily consistency to them. Besides those ingredients, they also have sugar, natural flavors, and other thickeners and stabilizers.
The Flavors
Both flavors of milk are actually very similar and are basically like drinking fruit smoothies. the Blue milk has Pineapple, Lime, Dragon Fruit and Watermelon.
The Green milk, on the other hand, has Passion Fruit, Grapefruit, Mandarin Orange and Orange Blossom flavors.
How do they Get the Blue and Green Colors?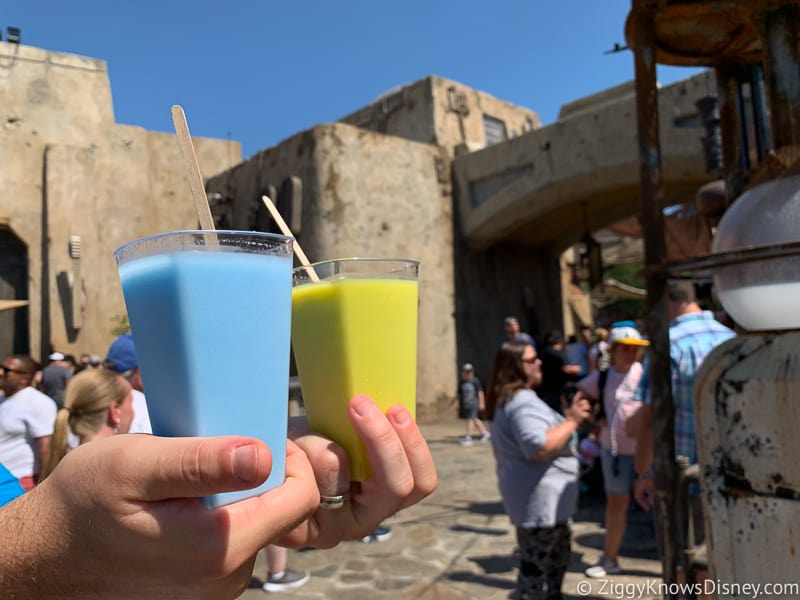 Now that we know what's in them, what ingredients give them their bright green and blue color? The green milk gets its color believe it or not from beta carotene. Meanwhile, the blue milk is blue from spirulina, which actually is made from blue-green algae that people can take as a dietary supplement.
It's remarkable they were able to achieve those colors without using any artificial colorings, only through natural ingredients! Keep reading for a full description of the taste in our full review below.
How much is Blue Milk and Green Milk at Galaxy's Edge?
So now that I know what Blue and Green Milk are, how much doo they cost when visiting Galaxy's Edge?
So it's important to know that there are 4 types of milk in Galaxy's Edge. First there is a regular Blue Milk and Green Milk. Those are non-alcoholic and served in both the Disneyland and Hollywood Studios versions of Galaxy's Edge and they cost $7.99 each.
Then exclusive to the Hollywood Studios Star Wars Land, there are alcoholic versions of both the blue and green milks, and those cost $14.00 each
Now at first glance that seems expensive, and it certainly is for the non-alcoholic blue and green milks, but it is to be expected in such a high demand place like Galaxy's Edge, everything there is more expensive than even in other areas of the park.
In fact, there was a lot of controversy around the opening of Galaxy's Edge over the price of some of the food items throughout the land, including the Star Wars milks. Some people really lost their minds over the high cost. Is it worth the price? Read my full review below to find out.
Milk Stand Overview
Location: Star Wars: Galaxy's Edge (Disneyland and Disney's Hollywood Studios)
Type: Snack Stand
Price: $
Cuisine Type: Non-Alcoholic Drinks
Meals: Breakfast, Lunch and Dinner
Dress Code: Theme Park Attire
Mobile Order: Yes
The Milk Stand in Star Wars Galaxy's Edge is where you have a chance to taste both the blue milk. As unappealing Luke made the green milk seem, I promise you that drinking them in Galaxy's Edge is a much more pleasant experience.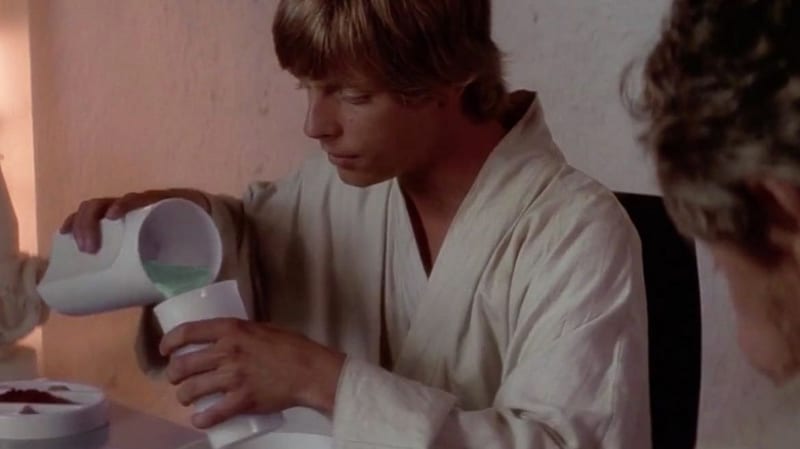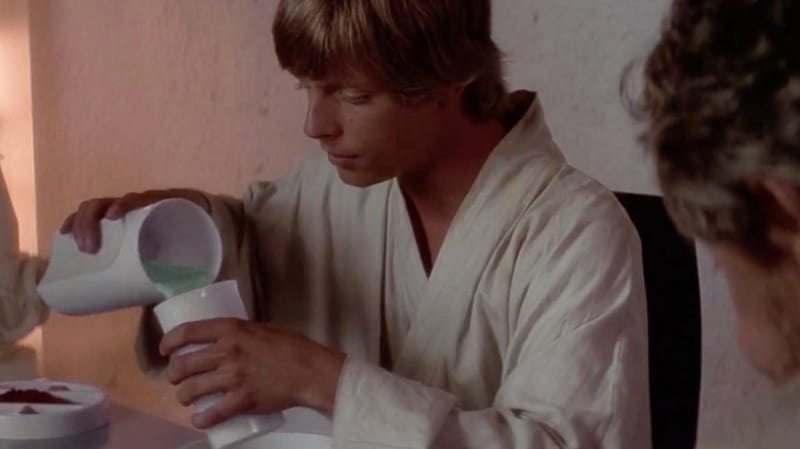 The Milk Stand is only one of the three snack stands coming to Star Wars Galaxy's Edge. The other two are Ronto Roasters (sandwiches) and Kat Saka's Kettle (Popcorn). There is also a bar/lounge (Oga's Cantina) and a quick service restaurant (Docking Bay 7). You can read more about them all here in our guide to Galaxy's Edge food.
Setting/Atmosphere
The Milk Stand is a pretty cool looking stand to look at, with elaborate decorations all around.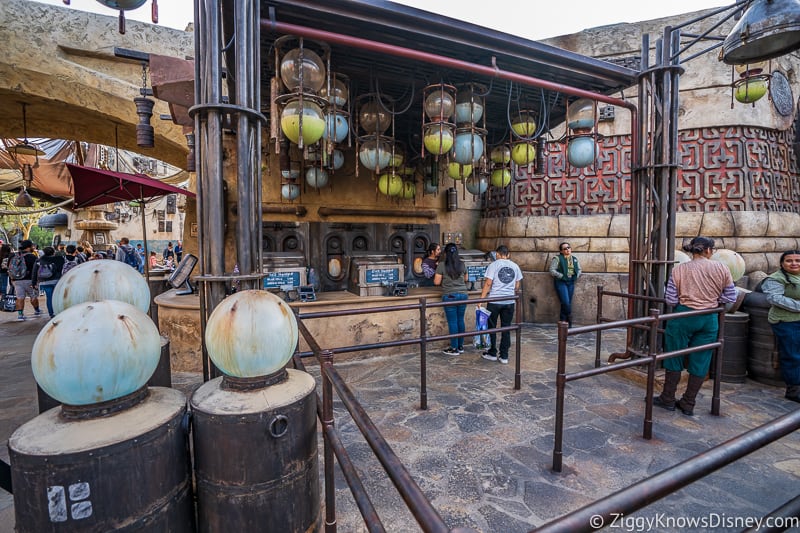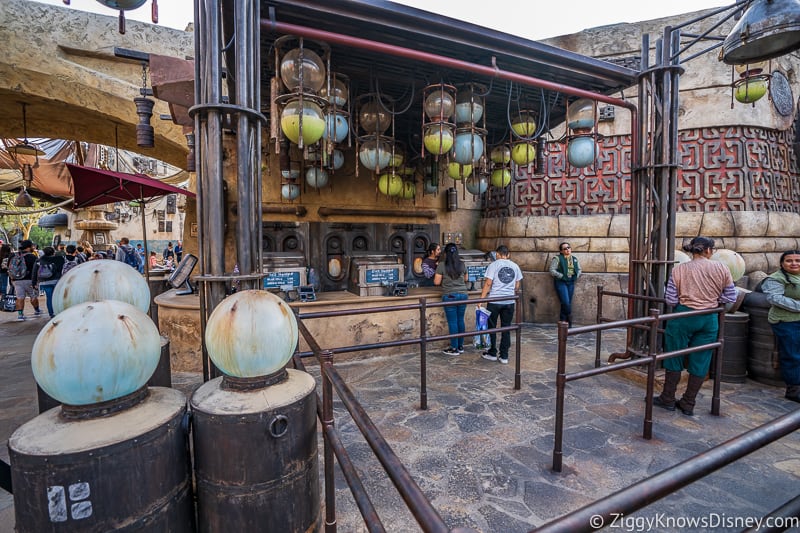 There are tubes and canisters everywhere, which are used to store the milk. Unless it's a super busy time of day or season, there shouldn't be much of a line. Also the vendors at the Milk Stand are super friendly and are happy to enlighten you with any information you need about the blue and green milks.
Dining Plan (WDW)
Yes, both the Blue and Green Milks are accepted snacks on the Disney Dining Plan and take 1 snack credit to purchase.
Discounts
Tables in Wonderland – No
WDW Annual Passholder – No
Disneyland Annual Passholder – No
Disney Vacation Club – No
Disney Rewards VISA – No
Location/Directions
The Milk Stand is located in Star Wars: Galaxy's Edge in both Disneyland Park and Disney's Hollywood Studios in Walt Disney World. If you are going to Star Wars: Galaxy's Edge, then you absolutely must stop at the Milk Stand and taste one of the flavors for yourself.
It's a perfect location for the Milk Stand as it's right near the stage where the new TIE Echelon is and it has a great view of the small stage show that the stormtroopers and Kylo Ren put on.
Hours of Operation
The Milk Stand is open all-day long for Breakfast, Lunch and Dinner.
All-Day Hours: 9am – 10:00pm (as early as 6am during Extra, Extra Magic Hours)
Milk Stand Must-Try Items
There's really only once thing to get here…the Milk of course! Ok, two things: Green Milk or Blue Milk.
The question is which one is better, the green or the blue?
Milk Stand Menu
*(Last Updated 02/26/20) – If you have any Menu updates or corrections please let us know! This is the menu for Disneyland and Disney World.
Food (Breakfast)
Saka Farm Egg Bite
Egg-White Bite with Spicy Tomato Sauce, Crumbled Feta, and Garlic Bread Crumbs
$6.99
Green Milk Bread Pudding
Bread Pudding made with Green Milk
$6.49
Wamba Yogurt Cup
Plant-based Coconut Milk Yogurt with Green Milk, topped with Seasonal Fruit
$6.49
Drinks (Non-Alcoholic)
Blue Milk
Plant-based blend of Coconut and Rice milks. Dragon Fruit, Pineapple, Lime, and Watermelon flavors.
$7.99
Green Milk
Plant-based blend of Coconut and Rice milks. Mandarin Orange, Passion Fruit, Grapefruit, and Orange Blossom flavors.
$7.99
Bubo Wamba Family Farms Light-Up Souvenir Sipper
with choice of Blue Milk or Green Milk. Limit one (1) per Guest per transaction.
$24.99
Drinks (Alcoholic)
Blue Milk Cooler (Available in Hollywood Studios Only)
Plant-based Dairy blend of Coconut and Rice Milk with alluring fruity characteristics featuring Bacardi Rum
$14.00
Green Milk Cooler (Available in Hollywood Studios Only)
Plant-based Dairy blend of Coconut and Rice Milk with zippy Citrus and tropical characteristics featuring Corazon Blanco Tequila
$14.00
Milk Stand Review
Ok, we're finally going to get to taste the green and blue milk and find out if they are awesome, or awful!
Honestly before Star Wars Galaxy's Edge opened, we had heard so much about these drinks that we knew it would have to be a priority for us on our visit. Heck, we've seen them in the movies, and especially the blue milk its a thing of Star Wars lore. This surely would be some sort of Star Wars rite-of-passage that any true fan would have to do!
The experience starts by walking up to The Milk Stand. There usually aren't too many people in line, and you might wait 5 minutes, maybe 10 minutes on a busy day.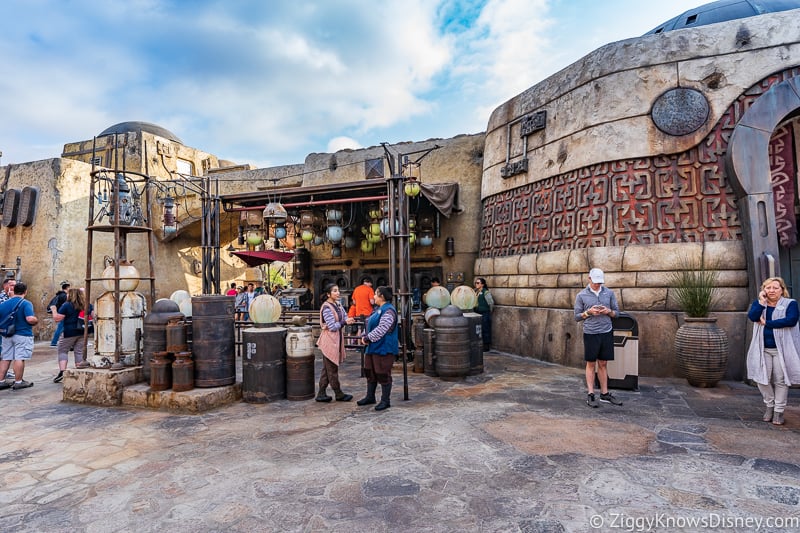 These canisters are supposedly filled with the milks. You can even hear sound effects from them as you walk by: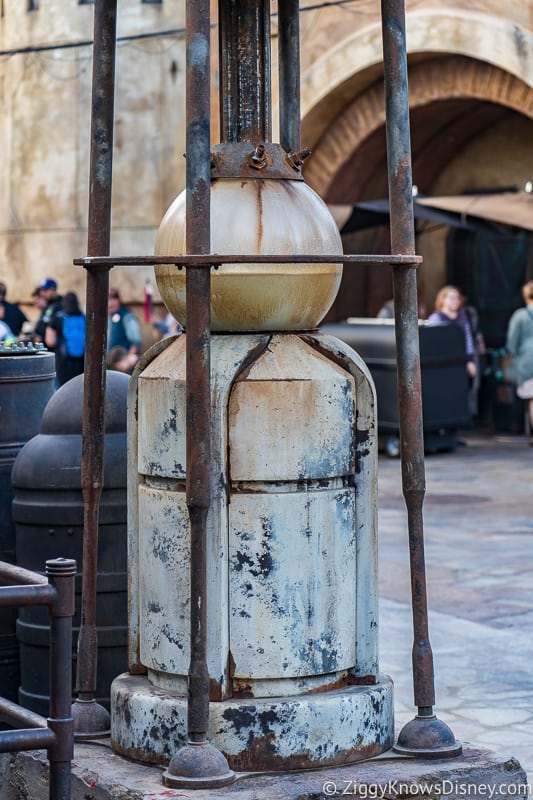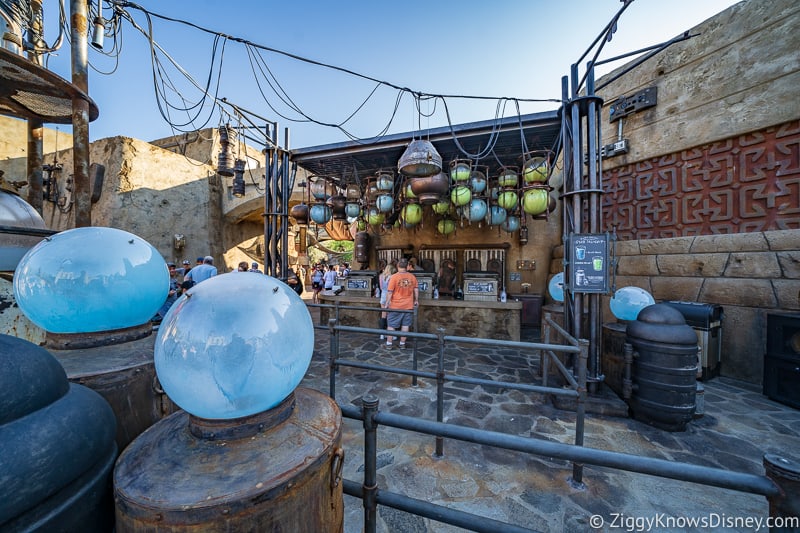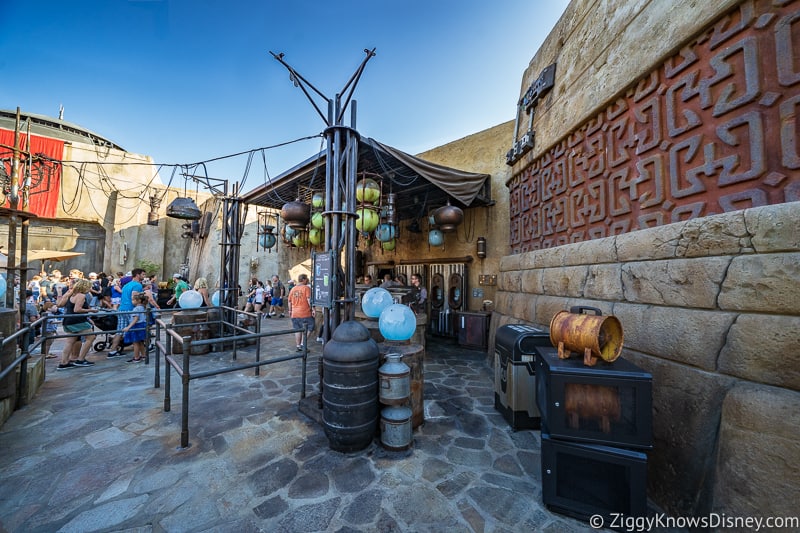 More canisters on display, those these you can actually see the milk really well: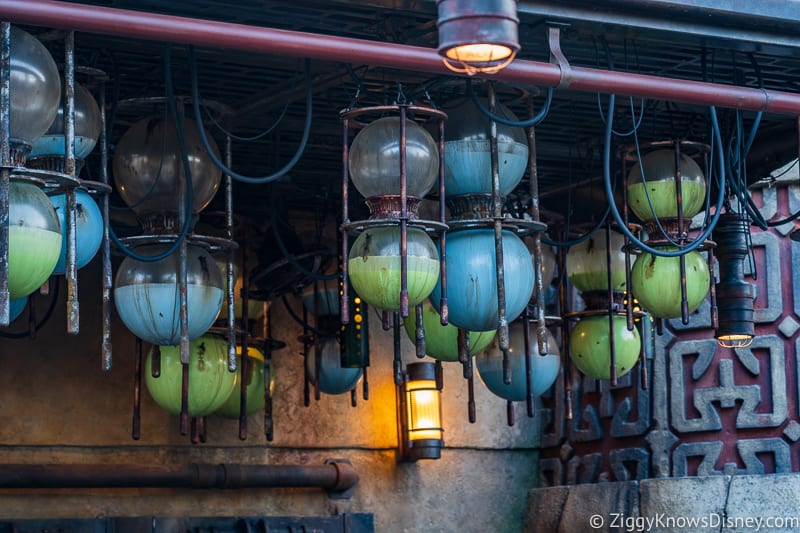 Looking down at the menu we see both the Blue and Green Milks cost $7.99. That's a pretty high price for a non-alcoholic drink so they better be delicious!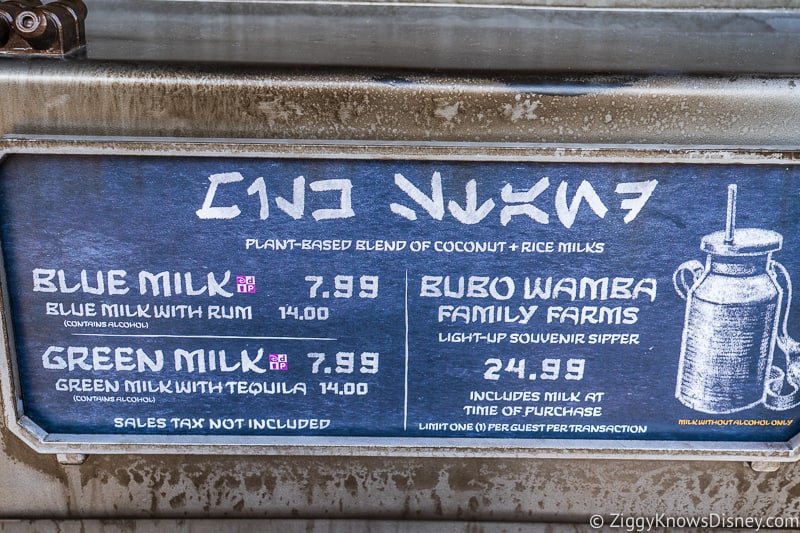 The Alcoholic green and blue milks each cost $14.00
You can also get one of the Bubo Wamba Family Farms souvenir sipper for $24.99.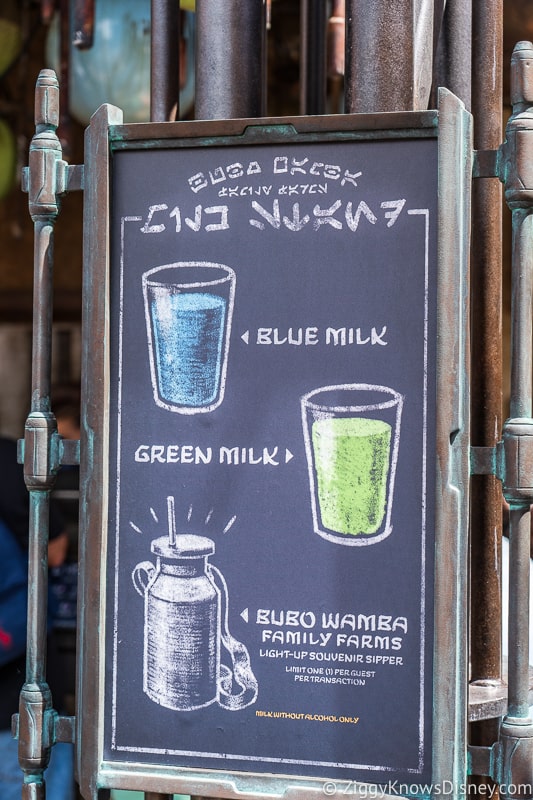 Both milks are mixed up ahead of time and then dispensed from the machine. Here's a look at the mixing machine for the Blue Milk: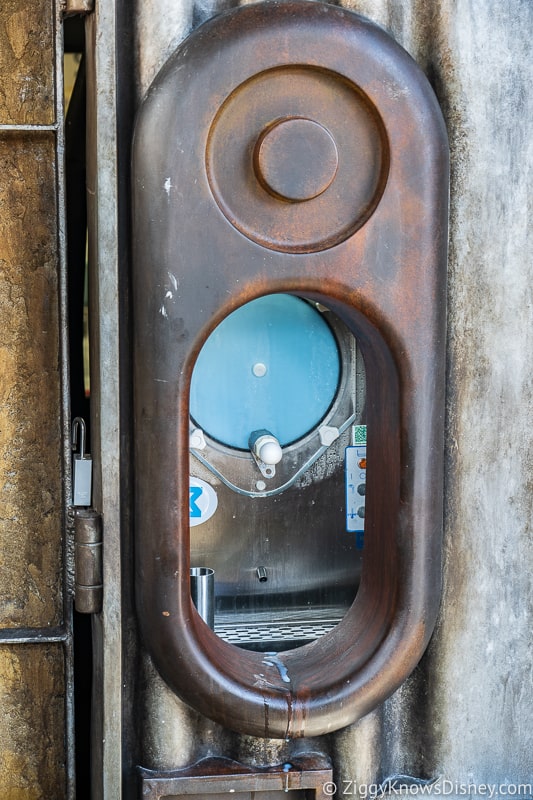 and here is the green milk dispenser: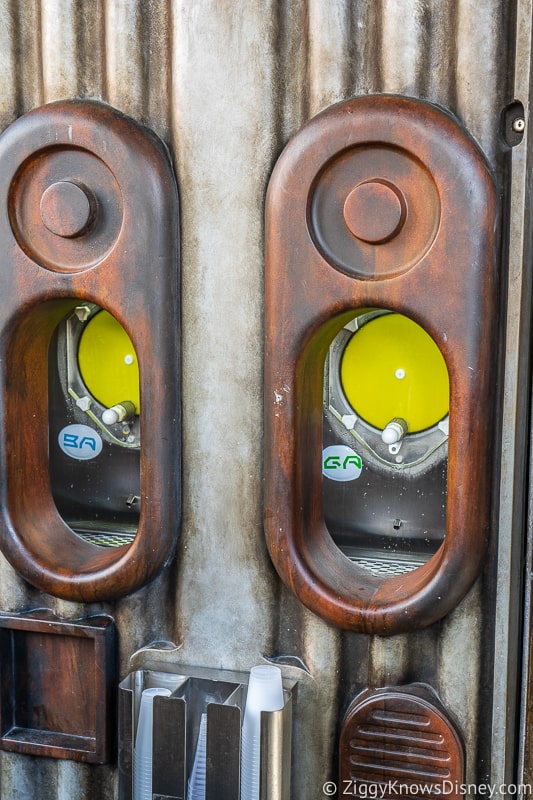 Ok, let's see what these Star Wars milks taste like!
Blue Milk – $7.99
We have to start with the blue milk, since it was in fact chronologically first in the Star Wars films. Before we tell you what we thought of the Star Wars Blue Milk, we thought it would be funny to show you what Luke Skywalker himself said:
So Mark Hamill gives it his seal of approval, so is it actually good tasting? Yes and no.
On first taste it's not bad. It's very cold and icy, and has the consistency of a fruit smoothie. As we told you before it is filled with all tropical fruits and it definitely has a strong tropical taste to it. I think the dragon fruit and watermelon you taste the most. It's also sweet to the tongue.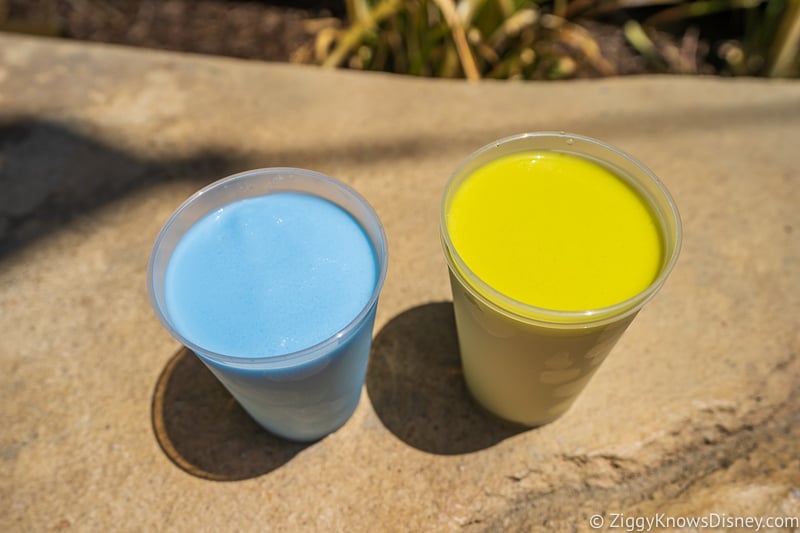 I think it could be a nice option under that oppressive Florida sun when you are really looking for something cold to drink. But besides that, honestly I wasn't that impressed. I think the fact that it's so fruity kind of hurts it. Plus the consistency obviously isn't like a regular smoothie that has milk in it, it's a bit more oily.
That and the steep $7.99 price for what is not a very big glass also doesn't help.
Maybe I'm not used to it and other who are dairy-free would feel different. Let me know in the comments.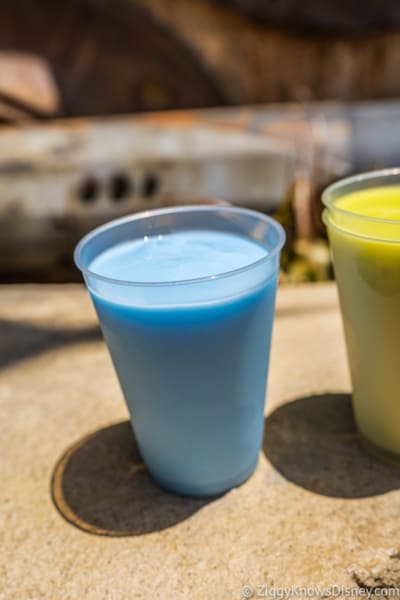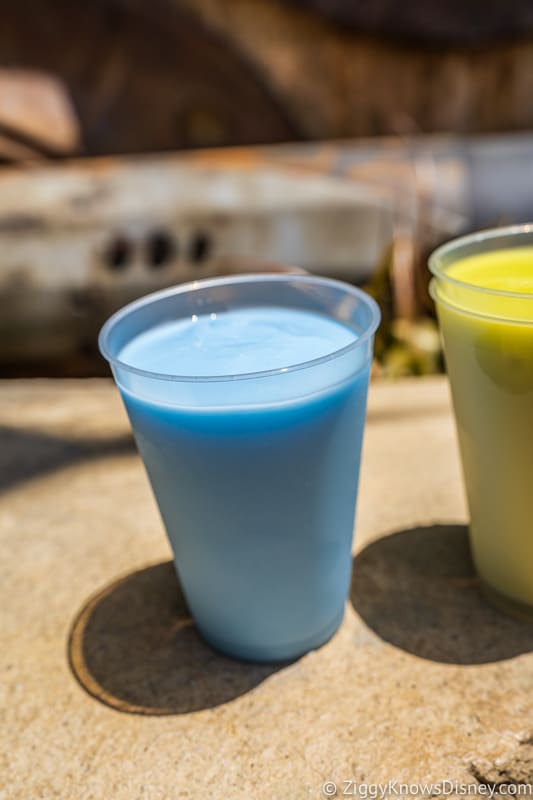 Ok, so let's move on to the green milk and see if it's any better.
Green Milk – $7.99
We take our first sip of green milk, and immediately wish we hadn't! It's not good at all. It's definitely the more adventurous drink of the two, but not in a good way.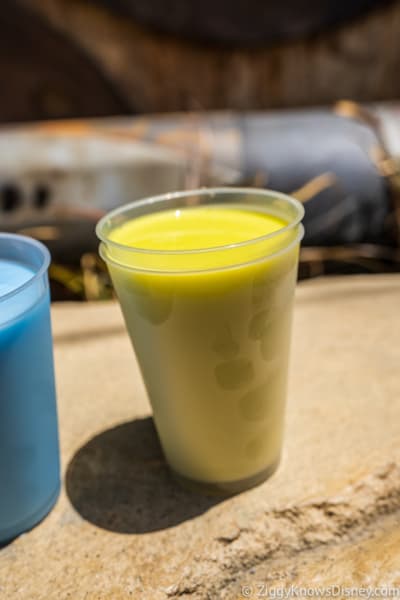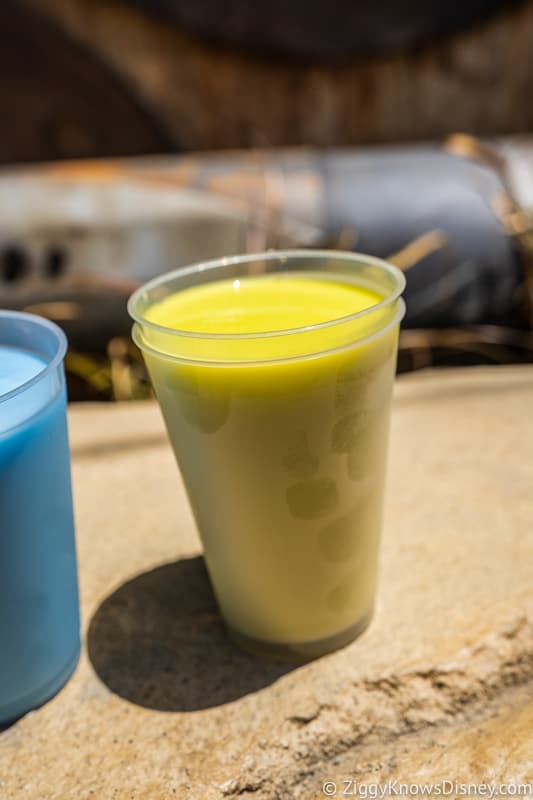 Now it's still basically the same smoothie consistency, served cold and icy like the blue milk. And it actually is high in citrus flavors, which you'd think I would like since I always go for the citrus-flavored things. It's not terrible on first touch to tongue, but there is just something in there that comes to your palette when it's going down that leaves an almost bitter taste in your mouth.
It may be an herbal or floral taste, I don't know. I've tried it multiple times, and it just doesn't grow on me.
Mixing the Galaxy's Edge Milks
Having tried blue and green milk many times and not really being crazy about either of them, we decided to try an experiment and mix both milks together!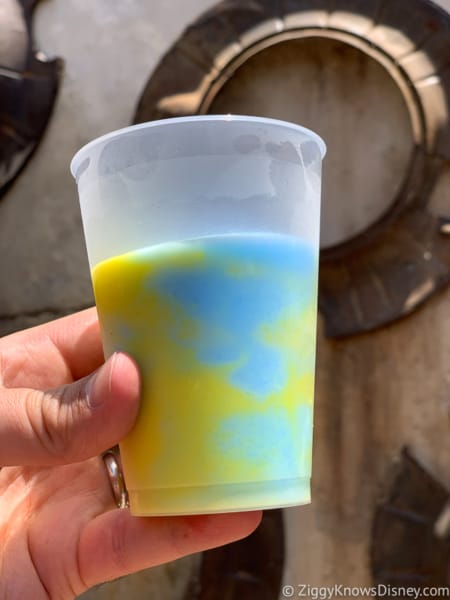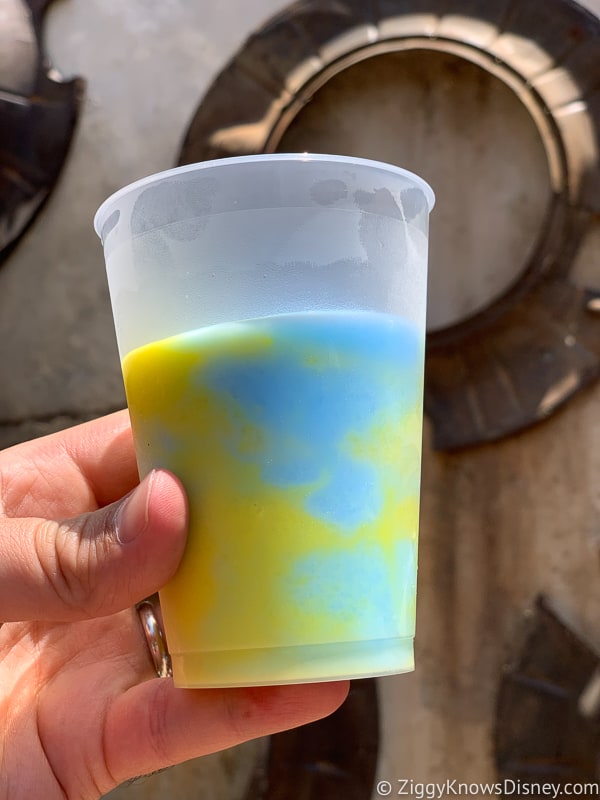 Believe it or not we actually liked them better this way! Something about cutting the consistency of the green with the blue and the way the mix together made drinking them together a more pleasant experience.
Which Star Wars Milk is Best?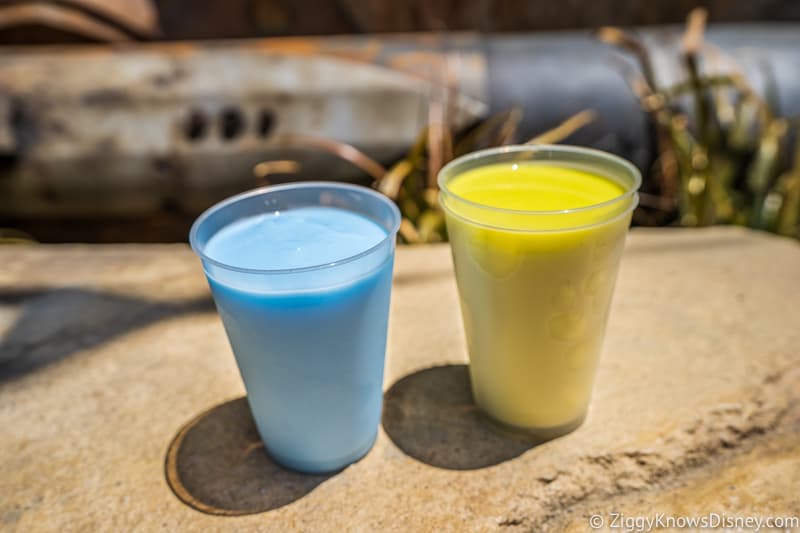 So while I don't love either one of them, for me the Blue Milk is hands down the better choice. It doesn't have a bad taste, it just doesn't stand out to me against the thousand other better drink choices the Disney Parks have to offer.
I think it's a "must-try" thing to do, just at least to say you tried blue milk, and it keeps you cool. However I'm not willing to shell out $7.99 on a regular basis for a drink I don't love.
Ok, let's move on to the alcoholic versions and see what differences there are…
Alcoholic Blue Milk – $14.00
If you're in Disneyland, I'm sorry to tell you that you don't have the alcoholic green or blue milks available to you. I'm also sorry to tell you that these are actually an improvement over the normal versions. Let's take a look…
The alcoholic versions of the blue and green milks start out with the same frozen, fruity base as the non-alcoholic ones, but then something special is added to them: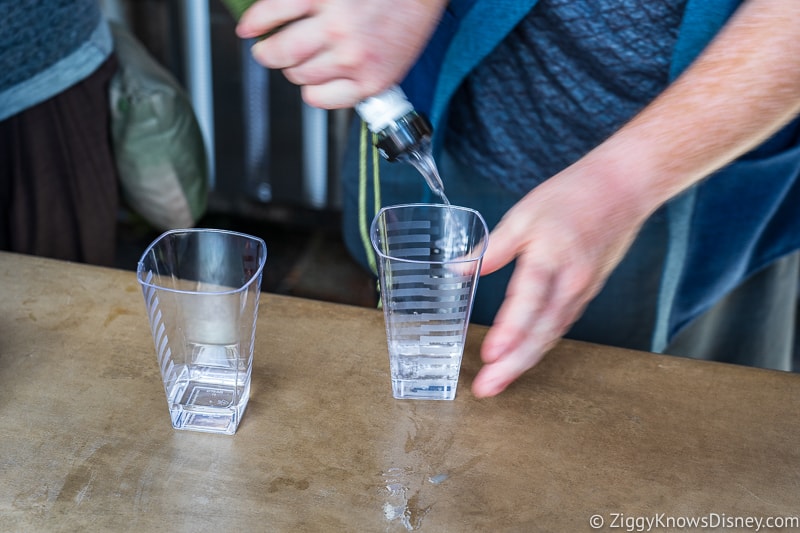 Bacardi Rum is added to the Blue Milk to make it alcoholic. They way they pour it might depend on who you get serving you. We've seen it in pre-measured quantities, and also poured by hand. This is going to make a difference how strong or weak your blue milk is.
The glasses are totally different for the alcoholic versions. They are served in longer, thinner and slightly squared glasses, whereas the regular milks are served in round glasses: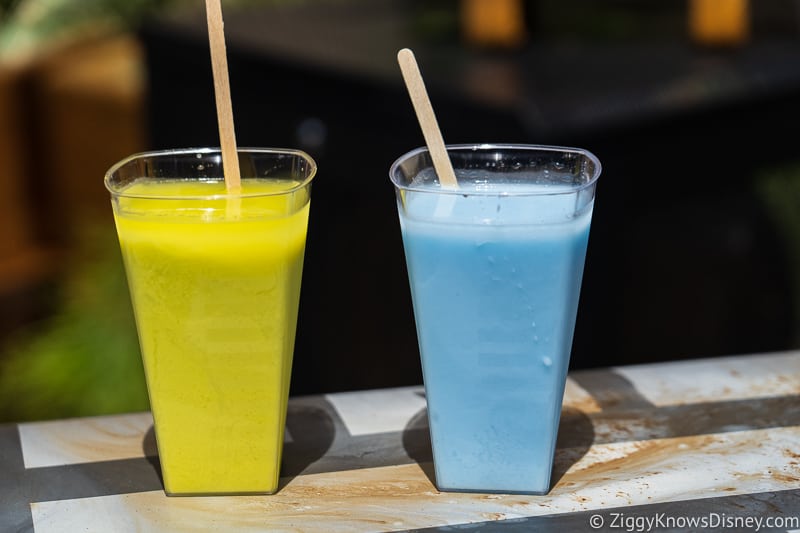 The consistency totally changes from the regular one too, and the alcoholic version is a a lot more runny rather than slushy/smoothie-like. They don't really mix them that well for you and you have to really stir both alcoholic milks up to mix in the alcohol well before drinking.
So what does it taste like? The first thing we noticed was how strong the alcohol taste in the milk was. It was very strong and almost overpowering. The fruity base is the same, but it's covered by the rum.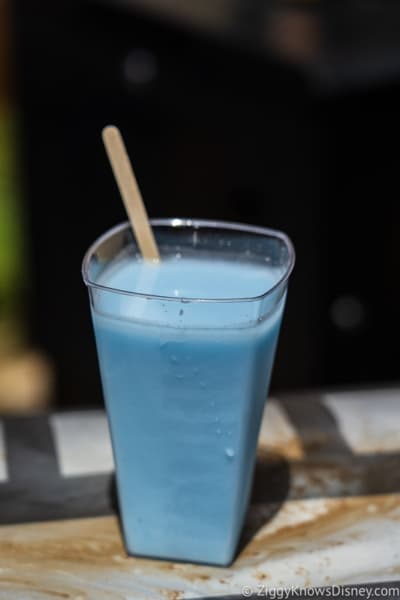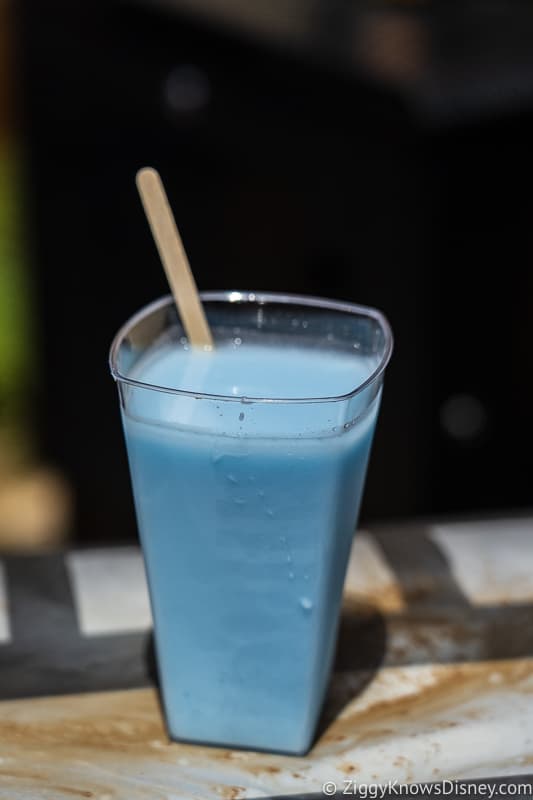 Now, we've had the alcoholic blue milk multiple times, and it hasn't always been this strong, again depending on who is pouring.
The taste changes though from the normal blue milk. This version is still refreshing, but the normal blue milk is much sweeter, and tastes better to our palate.
Regular Blue Milk is the winner between these two.
Alcoholic Green Milk – $14.00
The alcoholic green milk on the other hand is a different story. This one has the same fruity (herby an floral) base, but Corazón Blanco Tequila is added.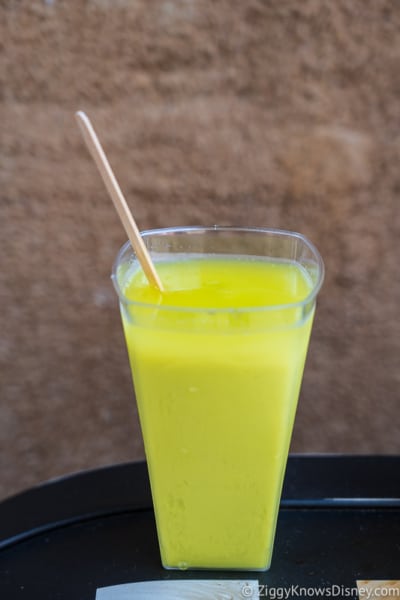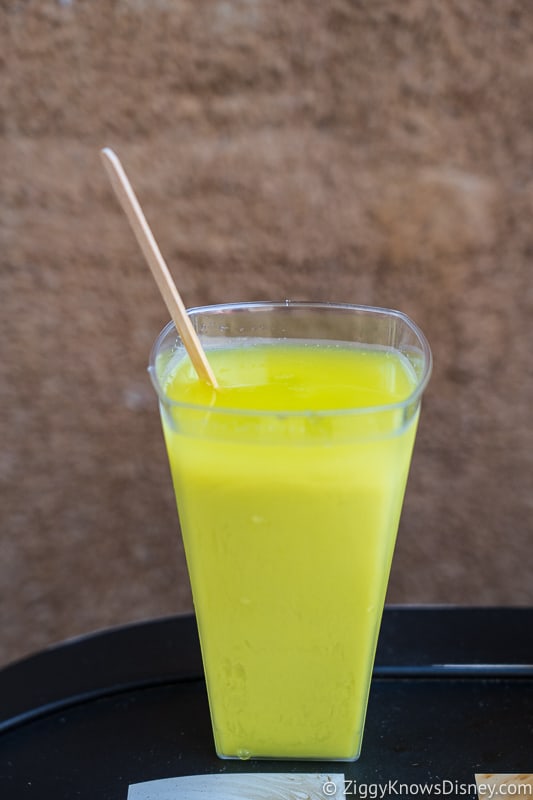 It too has a much more runny consistency to it and needs to be stirred up well before drinking.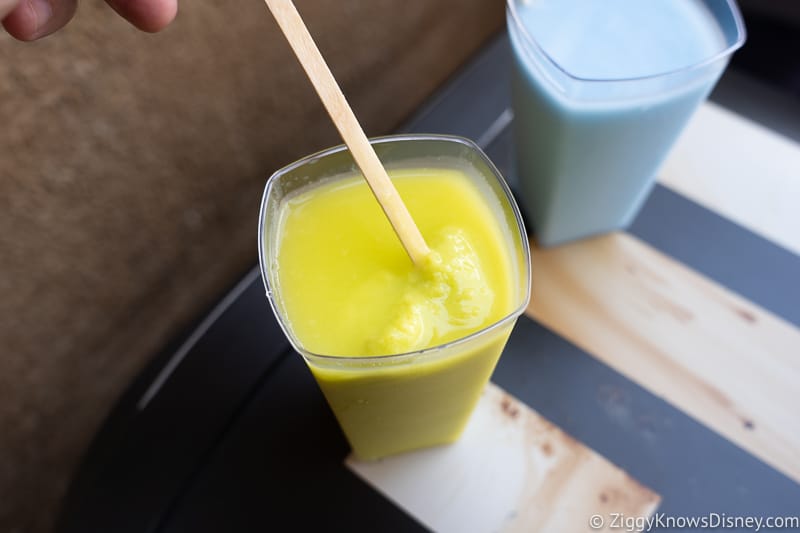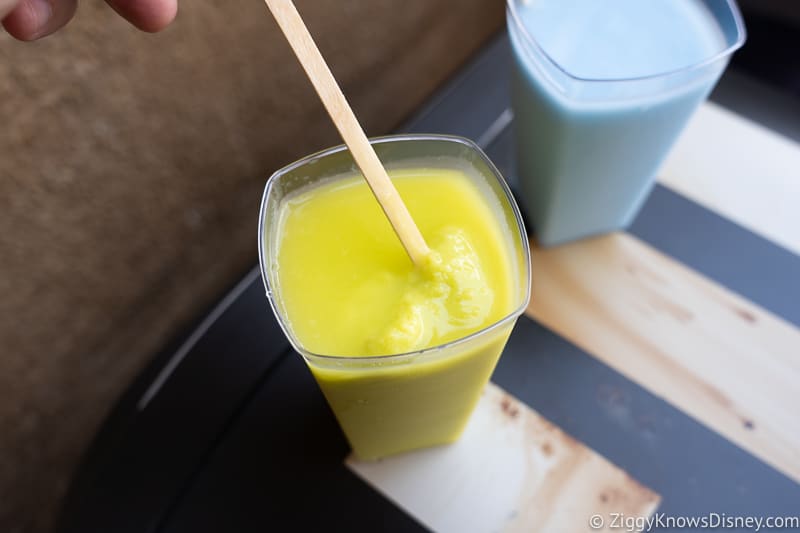 What' crazy is, we really didn't like the regular green milk, but the alcoholic version is a major upgrade! In green milk they add tequila, and strangely enough it really improves the overall taste of the drink.
The tequila enhances the fruity taste, the citrus comes out more, and it all blends together much better, to the point where we actually like this one. I'm not sure it justifies the $14.00 price tag, but it's definitely an improvement over the blue one.
Final Conclusion:
To wrap up…we like the regular blue milk more than the green one. However, when it comes to the alcoholic versions we prefer the green one much more than the blue. Crazy how just adding a little alcohol changes something for the good or bad! I think of all 4 of them, I like the Green Alcoholic version the best.
In the end though we do feel that Disney missed a golden opportunity with both the blue and green milk. They were really trying to make a signature drink that people would fall in love with (like the Butterbeer in Universal). In the end though both normal versions are just ok, and while fun to try once, they aren't something you're going to want to come back for time and time again.
We'll see if Disney picks up on this down the line and perhaps tweaks the recipe to make them more appealing to guests.
How to Make Your Own Blue Milk at Home
If you want to try to make your own blue or green milk at home, there are some recipes online you can try which might even come out better than the Galaxy's Edge version.
Here are 5 Blue Milk recipes you can try to make at home which you might actually prefer!
We also have more detailed info about the attractions, shopping and food throughout the land. So make sure to read our Review of Star Wars Galaxy's Edge for more.
Read our Complete Guide to Galaxy's Edge for all the tips and tricks you need to make your visit to Batuu a great one!
Your Thoughts
I want to know what you think about the Blue and Green Milk in Star Wars Galaxy's Edge…
Which milk sounds the best to you, Blue or Green? Alcoholic or Regular?
Is $7.99 or $14.00 too much to pay?
Let us know in the comments section below!
If you enjoyed this article, as always I appreciate it if you'd share it with others via social media. I work hard at making this website into a useful resource for you and your family to plan your visit to the Disney Parks and I hope it can help you! Thanks 🙂