Just sitting down to write my review of Star Wars Galaxy's Edge seems surreal. Was it really 4 years ago when Disney made the epic announcement at the 2015 D23 Expo? Following something for so long can give you unrealistic expectations that the final product can surely never fully live up too. Let me start out by saying that is absolutely not the case with Galaxy's Edge.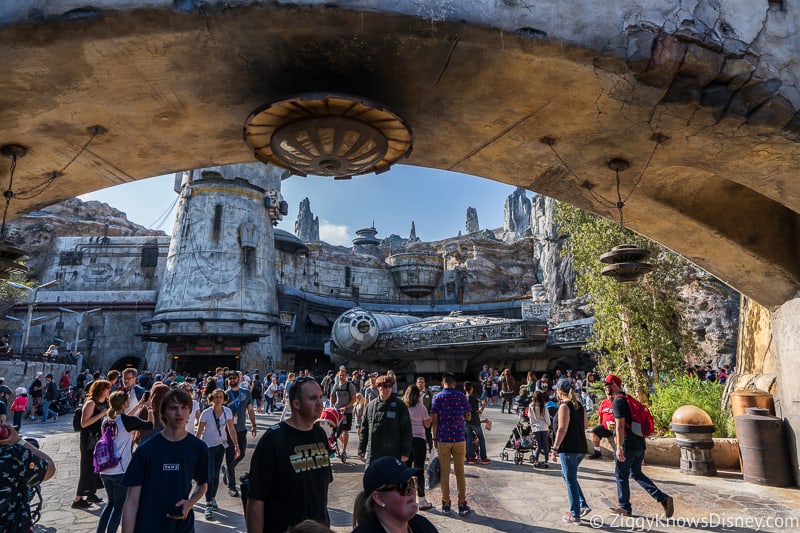 Disney has built the most realistic, immersive theme park land to date. Everything about Galaxy's Edge lived up to my almost impossible to meet expectations I had going in. Disney like Babe Ruth aimed into the bleachers and called its shot, and then connected with a home run.
Now that's not to say it's a perfect land, it isn't. It does have some minor flaws we'll get into a bit later, but there is no doubt the theme park gauntlet has been thrown down and Disney and others are now scrambling to catch up.
In my Star Wars Galaxy's Edge review we're going to break down our first impressions of it, why we are so thrilled, everything we liked and the few things we didn't so that you know what you have to look forward to.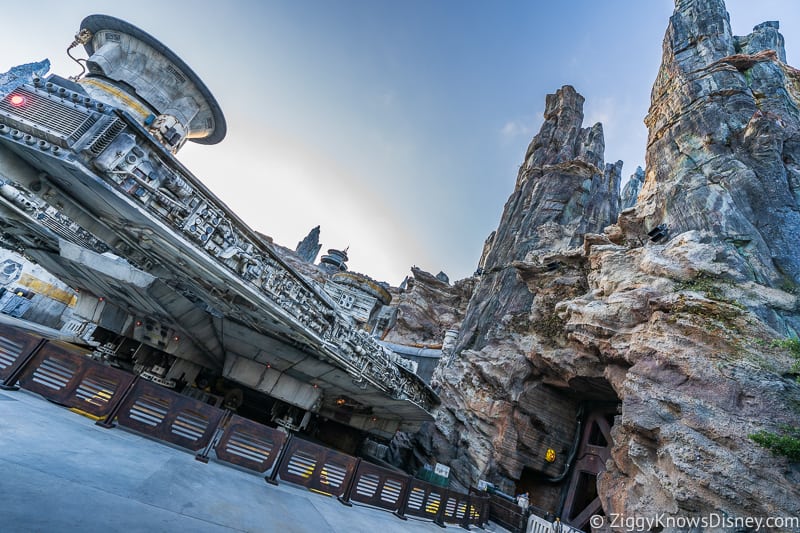 If you're looking for more general information about Star Wars Land then check out my Ultimate Guide to Star Wars Galaxy's Edge which goes into detail about planning your trip, and how to make the best use of your time when visiting. In this post we're going to focus just on our thoughts about Disneyland's newest gem.
Before we actually go into Galaxy's Edge I want to talk about the wonderful job Disney did organizing the way crowds were handled with the reservation system. It was super difficult to actually get reservations, but if you did, actually getting into the land was a breeze for the most part.
Disney had set up the check-in at the Star Wars Launch Bay and we showed up about three hours before our reservations. We were the first people in line and it took us 2 minutes max to check in. We waited by the entrance to Galaxy's Edge, but it's not necessary. At about 30 minutes before our time slot they moved us down into the very beginning of Galaxy's Edge where we got a glimpse of the new land. Just the way Disney moved us was really smooth and things went on without a hitch.
This proved true also once inside Galaxy's Edge. Before opening we were really worried about the wait times in Galaxy's Edge but it seems like they are letting in the right amount of people per group, and because of that the lines for most everything is pretty manageable. Since the first hour and last hour of the 4 hour windows are overlapping with other groups, those tend to be the busiest and lines for all the attractions spikes.
The middle two windows are pretty empty feeling with Smuggler's Run even at 20 minutes wait at times. The only thing that's difficult is getting into both. Savi's Workshop and Oga's Cantina in the same 4 hour window. Those take much longer and if you want to do them you won't have much time for anything else.
But overall I didn't feel crushed by Galaxy's Edge being overrun with people and I was happy that at least in the 4 hours that each turn lasts, you have room to breathe. I was originally skeptical about Disney's decision to make these reservation windows, but they do a nice job at keeping the crowds at bay and I think it was the right choice.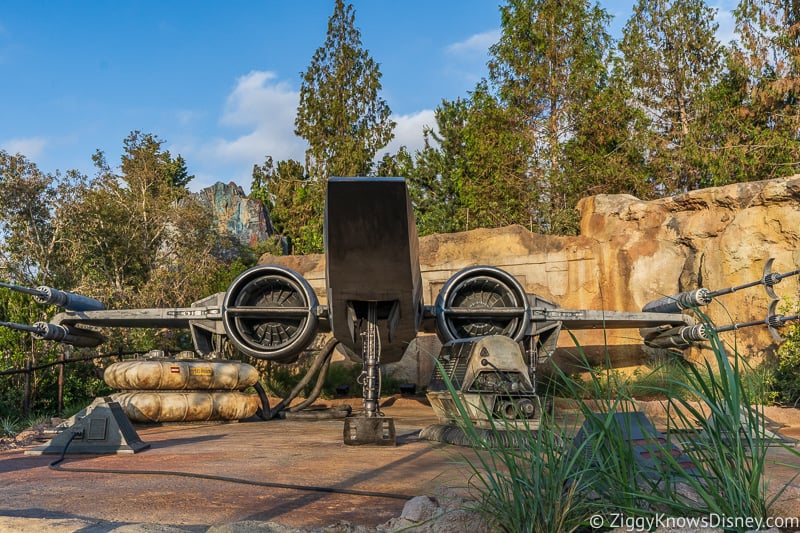 So really the whole appeal to Galaxy's Edge is that it promised to put you in the middle of the Star Wars universe, in an incredibly detailed and immersive environment, where you could develop and live out your adventures, your own story. I have to say that for the most part Disney absolutely nailed this and it was everything they described and more.
Of course people are going to make comparisons to Pandora: The World of Avatar, because up to a week ago it was the most immersive and detailed land Disney had ever built (at least stateside). After all very much in the same manner, Pandora is transports guests to an alien world filled with strange lifeforms, and a foreign language. But with all due respect to Pandora (which I love btw), that was just a dress rehearsal for Star Wars Galaxy's Edge and Disney has taken that and 10x'd it for this newest land.
I don't know how Disney did it, but from the moment you step into Galaxy's Edge, you really do feel like you are on another planet and no longer in Disneyland. There are only one or two very small areas inside Galaxy's Edge where you can see something else from Disneyland (Big Thunder Mountain and the Matterhorn) but the average person will never see them and you really need to be looking hard to see them.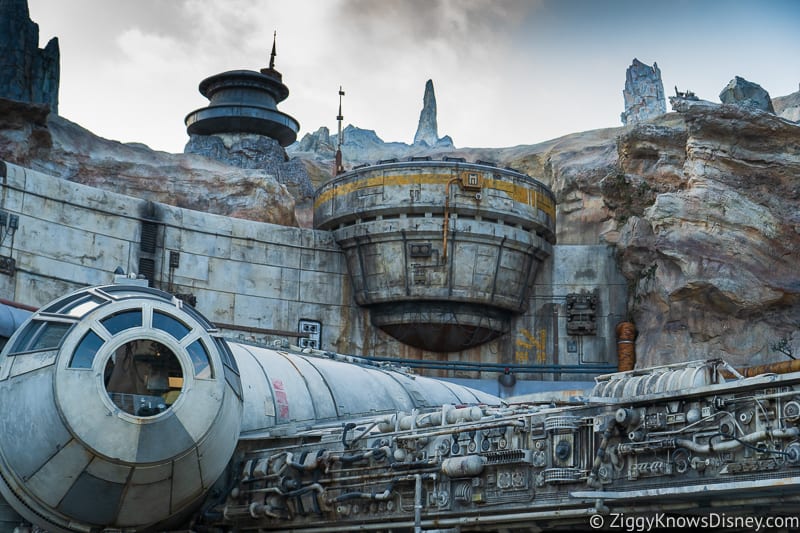 A few times I really had to stop and remember that I was in fact in Disneyland, it does that good of a job transporting you're away. It also feels like a real village when you are walking around. The narrow and winding streets, the bustling marketplace and the cast members who play the locals all are fantastic and believable aspects that make Black Spire Outpost come alive.
There are droids everywhere, some smashed from a crash, others lined up outside buildings. The mechanic's where you can find some speeders being worked on is a must see and another element that makes this a real village.
The details in the buildings are incredible. Even though it was the first day Galaxy's Edge was open, every building, wall and surface looked like they had been there for hundreds of years. The stone walls are crumbling, the walls are uneven, weathered and riddled with blaster marks and the floors worn down. One wall even had alien blood splattered on it from a trade gone wrong. Super believable and realistic of a town like this.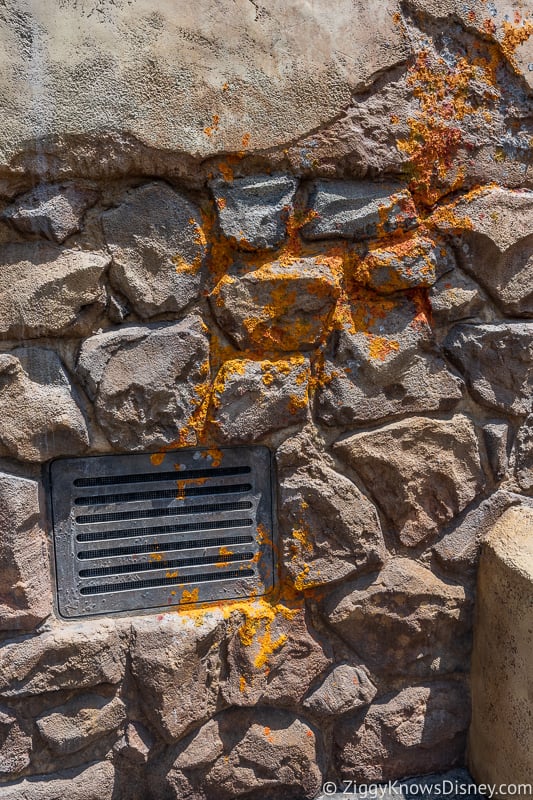 Each building had details on it that went above and beyond reasonable expectations. There are details like electrical conductors and wires installed on the top of buildings 50+ feet in the sky where the majority of guests will never even look. Stuff that imagineers didn't have to waste time on, but did and which greatly multiplied the experience.
If it's not the style and architecture of the buildings that sell you, it's the cast members then for sure. Of all the dozens of cast members we talked with, we couldn't get anyone to break character. They really make you believe the story that you are in Black Spire Outpost and they are amazing at improvising to keep their story going.
For example we had a detailed discussion with two cast members about the difference between bantha and cow stomachs. Stormtroopers and Kylo Ren search the crowds for a resistance spy who is known to be hiding out in Black Spire Outpost (Rey).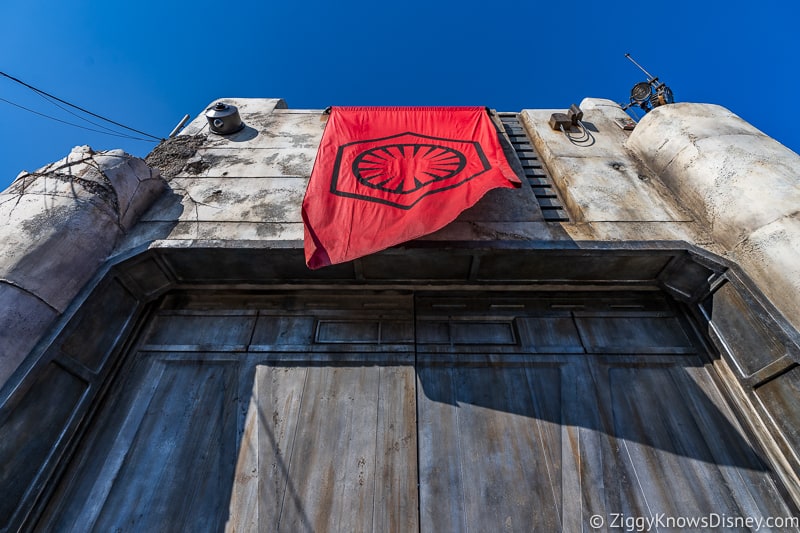 When in line for the lightsaber experience in Savi's Workshop, the cast members working there will prep you to say that you're there to buy scrap metal and then disperse the crowds when stormtroopers approach. They even have their own language and use greetings with you that only Batuuans would know.
Now to be fair Pandora was more like this at its opening and then some of the storytelling faded away with time, but I really hope that this continues in Galaxy's Edge because it really adds to the feel of the land and sells you on being where you are.
The music in Star Wars has always had a huge part of what immersed you into the films and the music is also a big part of the storytelling in Galaxy's Edge, and is executed brilliantly. The master John Williams created an unbelievable soundtrack for Galaxy's Edge and there are different tracks playing everywhere you go that get stuck in your head all day long. I found myself humming and tapping my foot to the beats all day.
Not only the music though, Galaxy's Edge is full of wonderful sounds that also immerse you in the experience much like Pandora does. You can hear ships taking off into space, droids communicating and the sound of alien species in the forest. You hear droids communicating with one another, the bass of ships taking off, aliens conversing in their native tongues, and the relaxing sounds of nature back in the Resistance Forest.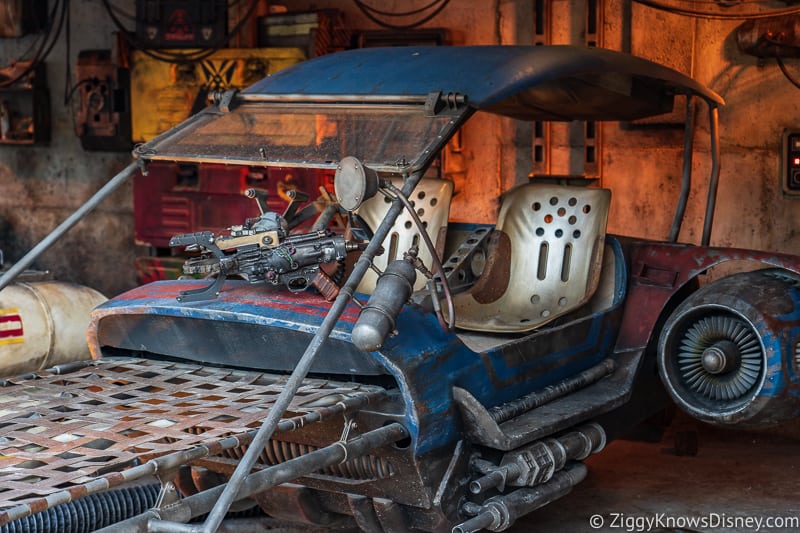 If you're visiting Star Wars: Galaxy's Edge before Rise of the Resistance opens, my strong recommendation would be to spend some time back here. It's unlikely that you'll totally escape the crowds in the forest, but it's probably the least-crowded you'll ever find this area–and it's blissful and serene when few people are around.
There were a couple of real WOW moments for me in Galaxy's Edge, the first was right at the beginning when we were waiting to be let totally in. They purposefully stop you right at the edge so you can see the spaceships, Rise of the Resistance entrance, and Chewie and the other characters. It gives you a moment of "wow, this is really happening!"
Another was walking through the marketplace. I couldn't get over how realistic the whole place was. I kept looking up and around at all the details hanging from the ceiling, all the shop keepers outside trying to get people in, and it really sold me on being in the Star Wars universe.
However, coming up the stairs near Ronto Roasters and Dok Ondar's and then seeing the Millennium Falcon sitting below with the towering rock spires over the top will be the moment I remember most from my first trip to Batuu. It's absolutely HUGE and incredibly realistic and detailed that you almost expect it to take off right in front of your eyes. It's that good.
This is a good transition into the attractions and we might as well start with the Millennium Falcon Smuggler's Run ride. I go into more detail in my Smuggler's Run review, but I would say that it lives up to expectations.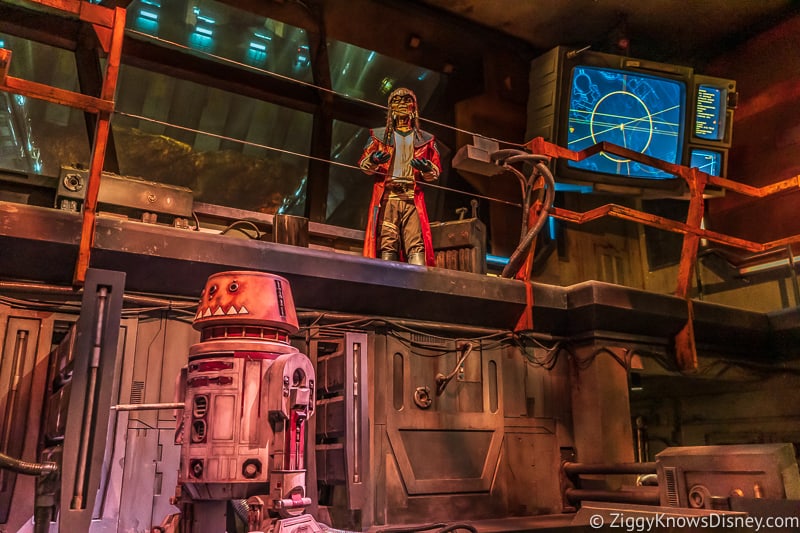 The ride queue is amazing, and just moved to #1 of all time, passing out the queue for Flight of Passage. Everything in here is meticulously set up and the way the bring you through the story is awesome. The Hondo animatronic figure is brilliantly executed, though I would have liked him to be a bit closer to the crowd to see him better.
Then that feeling when you step into the hallways, waiting room and cockpit of the Millennium Falcon was like a dream come true. My inner 12-year old was crying for joy and I had a smile on my face the whole time! The ride itself is nice, not on the level of Flight of Passage, but it's a solid addition to Disneyland.
Besides this isn't the attraction that is supposed to carry Galaxy's Edge anyway, we'll see that later this year when Rise of the Resistance opens up.
I also wanted to talk about the dining and restaurants in Galaxy's Edge. This was a mixed bag for some and touches on some of my own complaints for the land, but overall it was a great experience. The two main dining establishments, Oga's Cantina and Docking Bay 7 I thought hit it out of the park.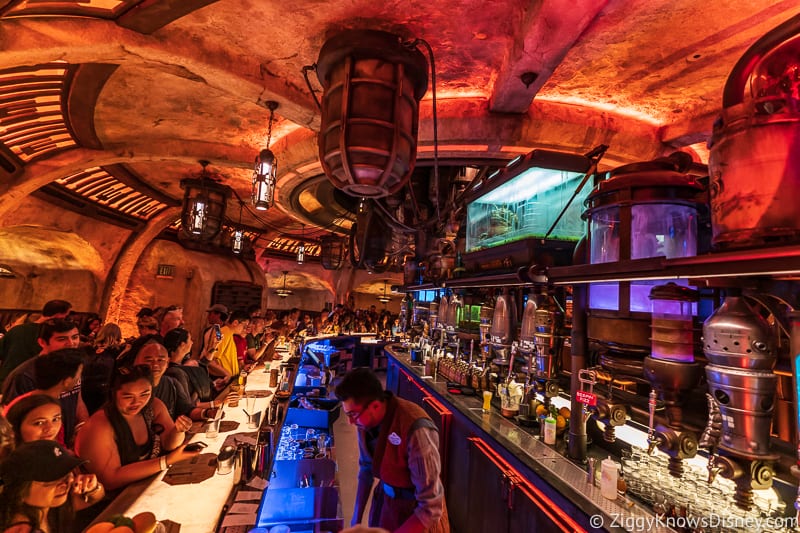 Oga's Cantina is an attraction by itself, and quite possibly the best thing in Galaxy's Edge. Now that might sound disappointing knowing that a bar is the best thing in a nearly $1 Billion newly constructed land, but you have to experience it to understand what I'm talking about. The atmosphere, the music by DJ Rex, everything screamed Star Wars and we enjoyed it thoroughly.
My only complaints here were the price/value ratio of the drinks and the slow service. The service is understandable as they are still trying to get a grip on running the place, but the high prices were a bit much with most of the drinks in the $15 – $17 range before tax and tip.
Some of the drinks were great, but some were just ok and small to say the least, so whether you are happy will depend a lot on what you order. If I'm paying $20 for a drink when all is said and done, it better be life-changing.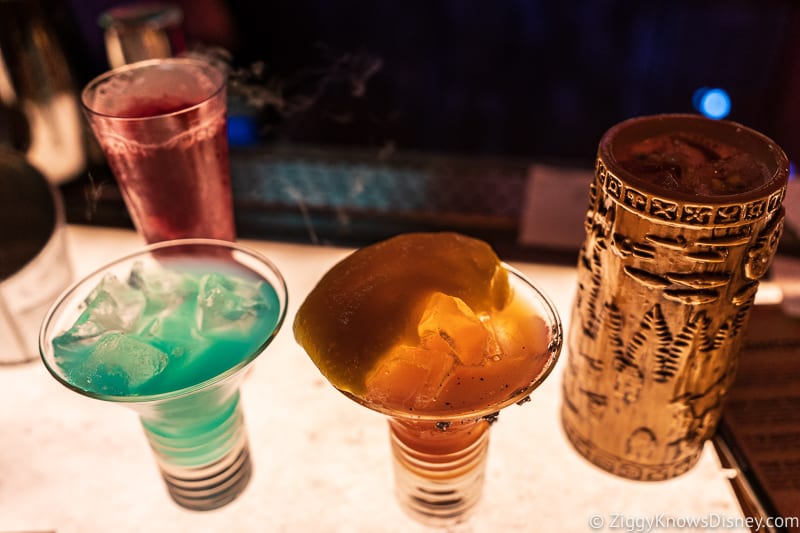 That said you are paying for the atmosphere and experience which are both exceptional. The line was out the door all weekend and this is going to be the hot spot here for some time.
Docking Bay 7 was also great and a total winner. The portions are decent sized, the food quality is excellent, and the atmosphere is really unique. We loved everything we got except one so we consider this a success and will be back here for sure!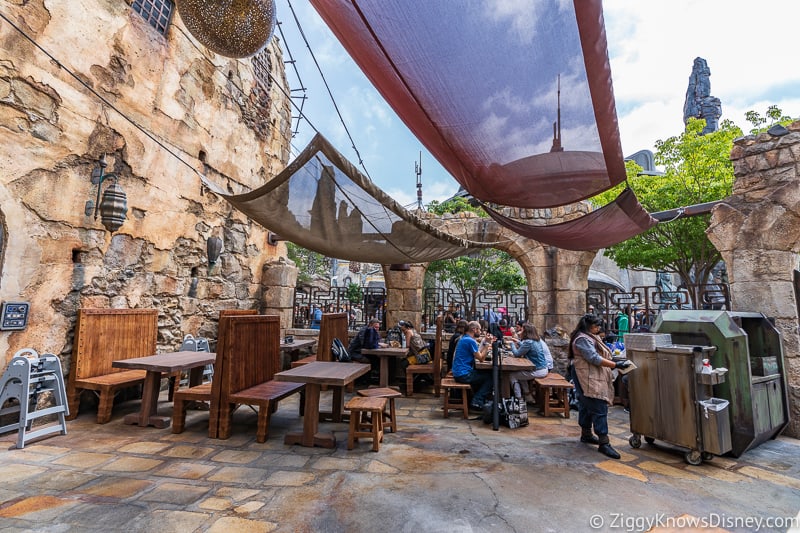 Ronto Roasters has great atmosphere once again and one of the most unique scenes in Galaxy's Edge with meat being roasted in the middle of the room from the fire of a huge pod racing engine. The kicker is that an animatronic droid is turning the spit with the meat on it over and over. It's a really cool effect and fun to watch. I wasn't impressed with the beef jerky, but the sandwiches are not to be skipped.
The other two snack stands were disappointing imo. The blue and green milk are at best ok, and not worth the high $7.99 price tag attached to them. Let's hope this changes into blue and green dole whip in the future or the drastically overhaul the recipe. I also wasn't a fan of the popcorn at Kat Saka's. It looked cool, but it tastes like fruit loops which might be popular in Batuu but it's not what I'm looking for.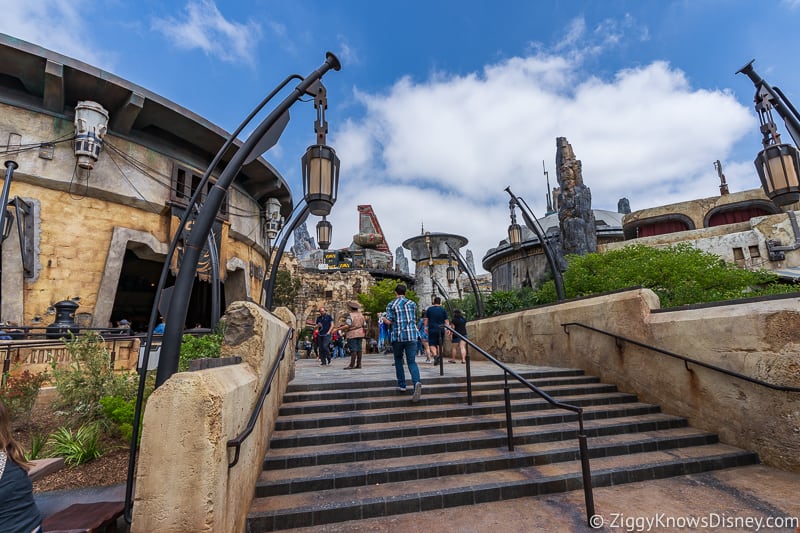 The shops are really cool and we had a great time just browsing through everything. Honestly you could spend hours looking through all the merchandise, and the nice thing is you won't find anything branded: "Star Wars" or "Galaxy's Edge" in any of the shops. Everything is "handmade" local merchandise like what you would see in a real spaceport.
I thought Dok Ondar's was a major success and this is where you'll find all the rarest stuff in the galaxy's such as legacy lightsabers, Jedi and Sith artifacts, cyber crystals and the like. The Dok Ondar animatronic figure is beyond impressive, and in some ways surpasses the Hondo figure in Smuggler's Run. You can just go in and stare at him for minutes and to watch his movements and reactions is really spectacular.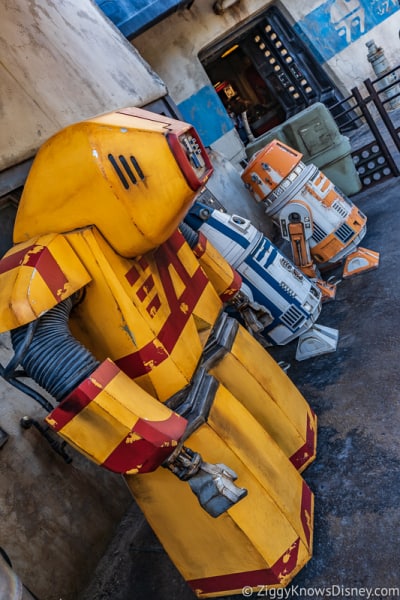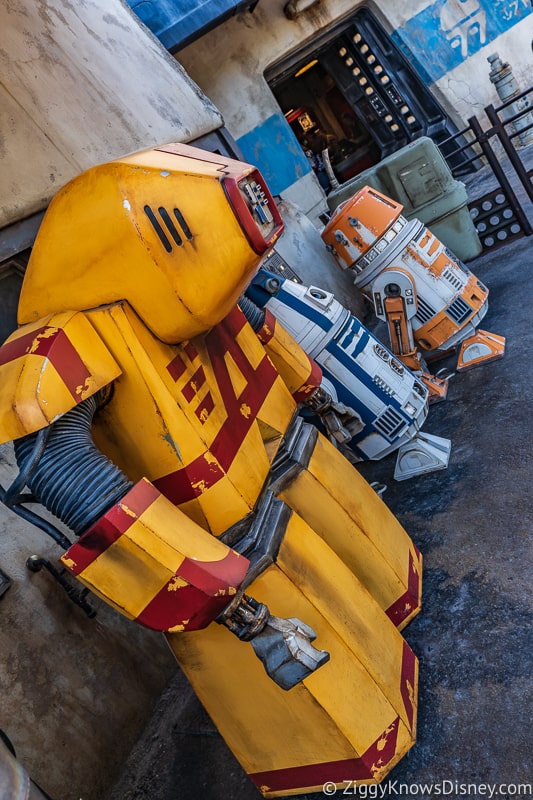 Another can't miss is the Droid Depot. You can't miss it as the outside is lined up with droids of all shapes and sizes on a wall which will surely become one of the most instagramable places in Galaxy's Edge.
Inside is equally as impressive with droid parts hanging on an overhead conveyor system. Inside there is a conveyor belt filled with droid parts that you grab and put together yourself at a build station. This whole experience was super fun and though $99 is no chump change, well worth the experience.
You can bring the droids with you in Galaxy's Edge and they can actually communicate with various elements of the environment, and based on their personalities they will act in different ways and help you uncover some of the secrets in Galaxy's Edge. It's a shame have to carry them around and can't let them roam free as it would be a much cooler experience than having them cooped up in bags, but it's obvious why that would be a problem in high trafficked areas.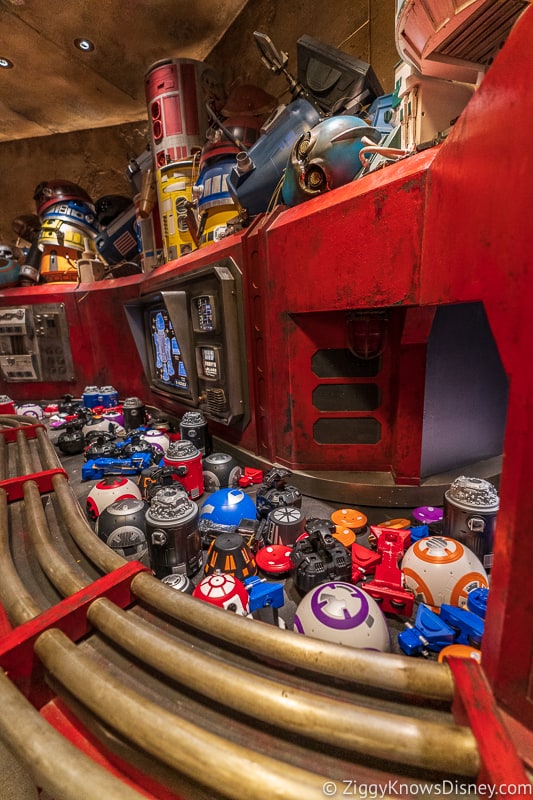 One of the disappointing things with the droids is that in the initial plans for Galaxy's Edge we were promised full-sized droids that would roam around and interact with guests. That part of the plans has been cut for now, but we can just imagine how awesome of an experience that would be. Let's hope Disney figures out a way to introduce them in the future as it would add a whole other layer.
In our review of Galaxy's Edge I don't want to skip mentioning the lightsaber building experience at Savi's Workshop – Handbuilt Lightsabers. Along with the Droid Depot Disney actually has this listed in the Galaxy's Edge Guidemap as an "attraction." I was skeptical about this, but after having experienced it for myself I have to say it lived up to the hype.
Of course $220+ for a lightsaber (after tax) is a steep price to pay, but I thought it was quite possibly the most immersive experience we had in Galaxy's Edge, and something a true Star Wars fan will appreciate and not want to miss. The gatherers sneak you into their headquarters where each guest gets to custom design their own lightsaber. I thought it was very well created, the story behind everything was really cool and there were tons of options and ways to customize your lightsaber.
I don't think it's something you will do more than once, but doing it that one time was really special. Just be aware that if you plan on doing this it will take up a big part of your day, though it seems that Disney has changed up the reservation system in order to let guests go away and experience other things in the mean time.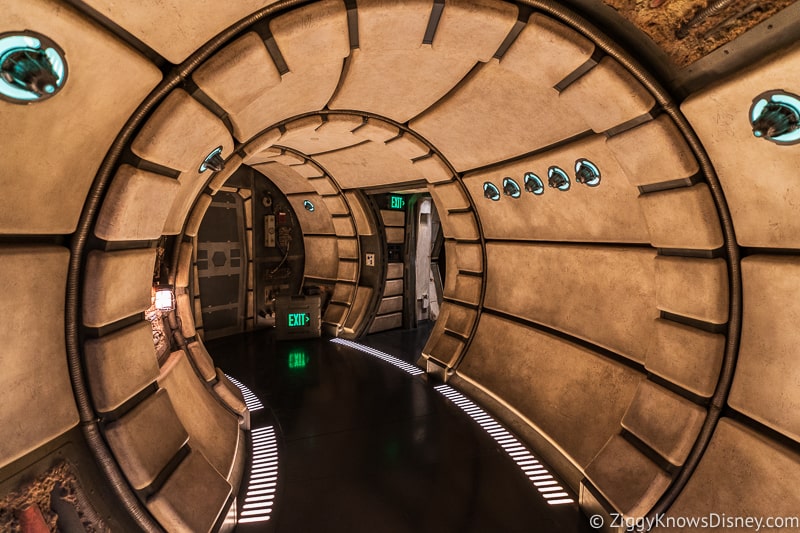 Before ending our review of Galaxy's Edge I just wanted to comment on the "build your own story" aspect of Galaxy's Edge. I thought some aspects of this were handled excellently as I mentioned above about Savi's Workshop. However the interactivity in other parts of the land wasn't immediately clear.
Like in Millennium Falcon Smuggler's Run, how well you do in the ride is supposed to have consequences in the land. We did get a comment from a random cast member about our performance, but in the ride you earn credits for completing the mission, but then you don't really know how to use them.
The same with the credits when hacking stuff using the Play Disney Parks app. Yes you can use those credits in the game to "buy" more game stuff, but why not give away actual prizes in the park like free snacks or something that would give people more of an incentive to play?
Again this is a very small critique and something that can be added on very easily by Disney in the future.
Overall in our review of Galaxy's Edge I was very pleased and don't think I've ever found myself being that much a part of a theme park land since I was a little kid. I think Disney has answered the call by Universal and the Wizarding World, and taken it to another level with Galaxy's Edge. The amazing part is that this is only the beginning, and when Rise of the Resistance opens later this year guests will be spending whole days in this incredible environment.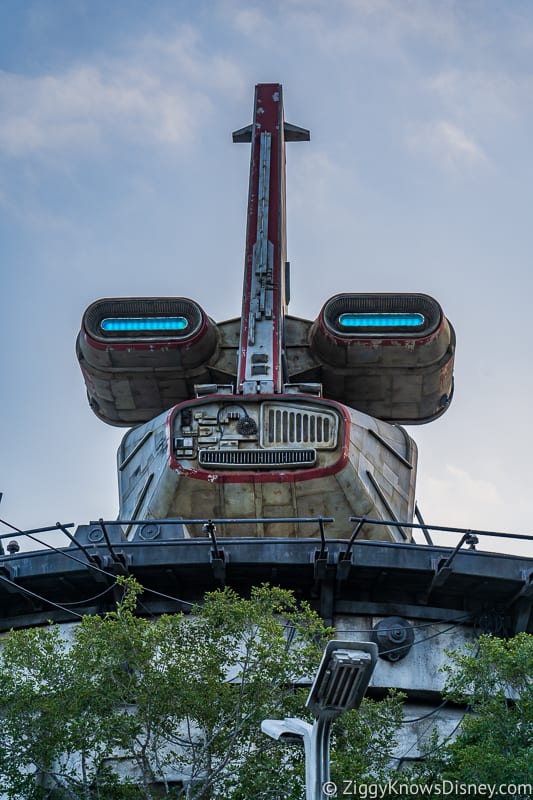 If you are on the fence about whether to visit Star Wars Galaxy's Edge in the near future or wait till crowds die down, I'm going to talk you off that ledge. Don't do it. Go to visit Batuu as soon as possible and experience theme parks like you never have before.
Check out our walking tour of Star Wars Galaxy's Edge with about 200 pictures showing you details from every area of this incredible new land!
Your Thoughts:
I want to know what you think about our review of Star Wars Galaxy's Edge…
What are your thoughts on this new land?
What are your favorite and least favorite things about Galaxy's Edge?
Let us know in the comments section below!
If you enjoyed this article, as always I appreciate it if you'd share it with others via social media. I work hard at making this website into a useful resource for you and your family to plan your visit to the Disney Parks and I hope it can help you! Thanks 🙂