(UPDATE 2/28/19): Last week we told you big news was coming in Disneyland, and last night at a private event, Disney revealed the Star Wars: Galaxy's Edge Cast Member Costumes and gave a first look at how each one would look when Star Wars Land opens in Disneyland this Summer and later in 2019 in Walt Disney World.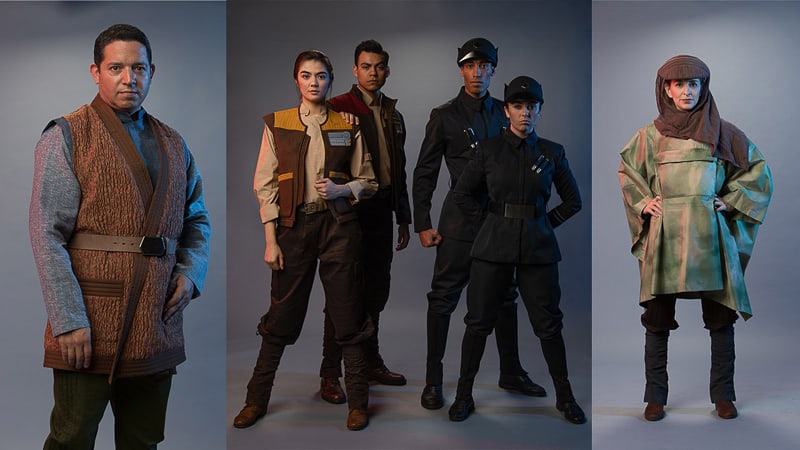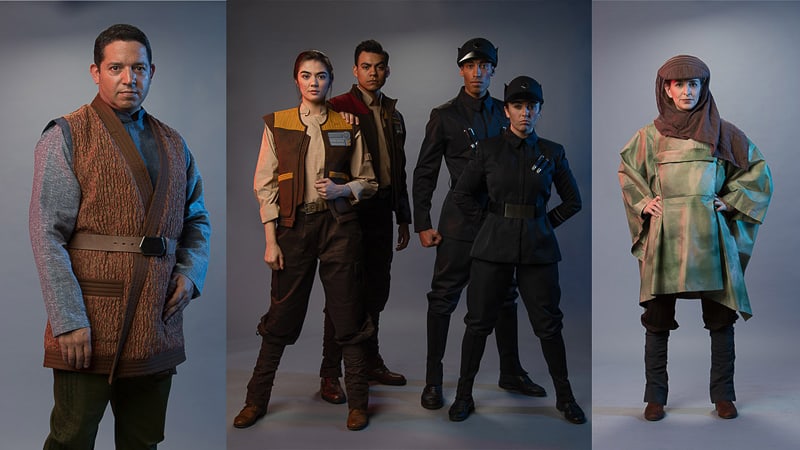 The big cast member-only event was held in the Tomorrowland Starcade and resembled a fashion show in the way it was run and gave a deep look into how the cast members will be dressed when stationed on Batuu.
The costumes are broken up into 3 different sections: The Village, Millennium Falcon: Smuggler's Run and Star Wars: Rise of the Resistance.
The cool thing is that for some cast members each costume will unique from the others. Depending on which attraction they are stationed at or which part of Galaxy's Edge, there are different styles available.
Cast members in The Village (Black Spire Outpost and the main market areas) will have a "Mix and Match Collection" of costumes. There will be an option of 4 different tops and 5 different bottoms available to them which they can mix and match as they like.
There are also going to be accessories they can combine with them leading to an almost endless combination of styles to wear. They can even select a new outfit every day if they so please which is really awesome!
The design team behind the creation of the Galaxy's Edge cast member costumes used some and innovative fabrics and techniques to make the costumes as unique and comfortable for the cast members. For example Mesh panels make vests lighter, nylon makes a stretchy pant more unique, cotton allows the shirts to breathe better. The main focus was on comfort and durability with many tests being run to find the best combination.
Galaxy's Edge Name Tags:
Besides the clothes, Star Wars Galaxy's Edge cast members are going to have their own name tags of course. Let's first take at what they look like: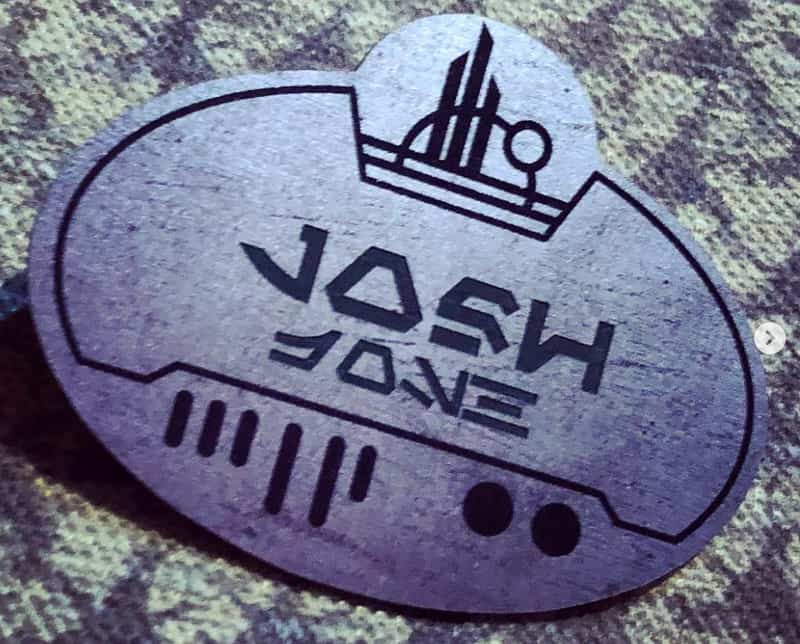 This is cool because it looks like their names will be written in English and also in the one of the languages of the Star Wars Universe!
The Village Costumes:
(UPDATE New Pics added from Disney). Here we get to see some of the various styles and combinations which will be available to cast members:
@Disney Parks Blog

@Disney Parks Blog

@Disney Parks Blog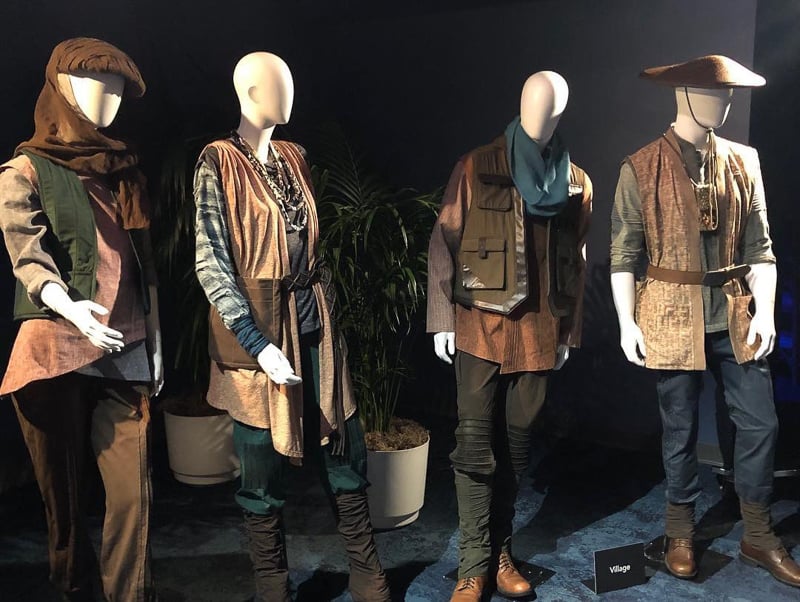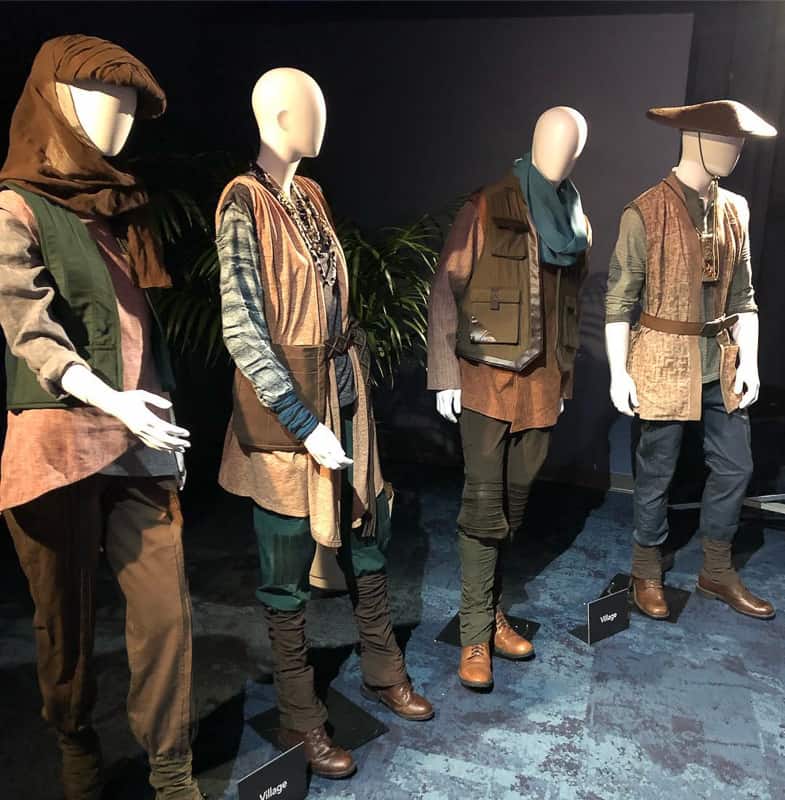 I think the hats, necklaces and scarfs are all so cool, though I'm not sure a scarf in Florida is going to be used all that often!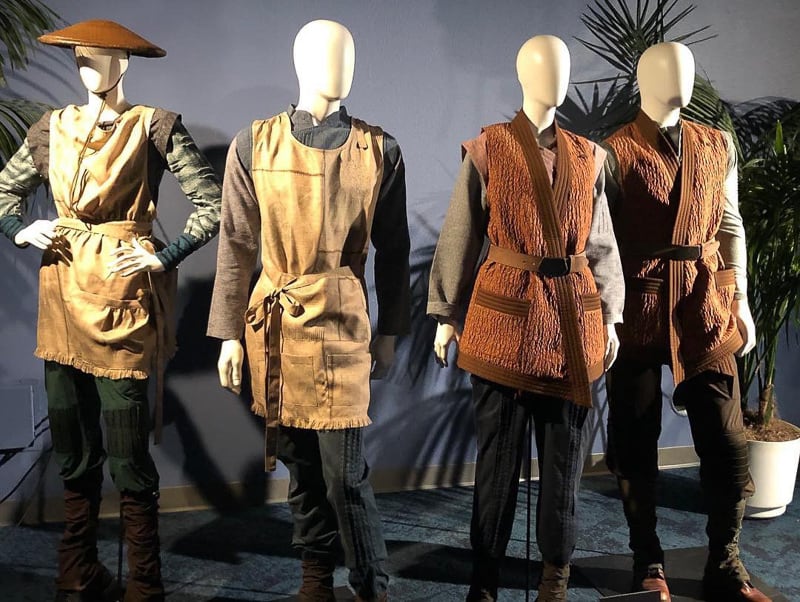 In fact looking at them I think they are really cool looking and I know the designers said they are using light-weight materials, but it looks like many of them have multiple layers which makes me think they will melt most of the year. It's less of a problem in California than Florida obviously, but hopefully they can remove layers as they see fit.
This coat for example is going to get zero use even though it's pretty cool looking: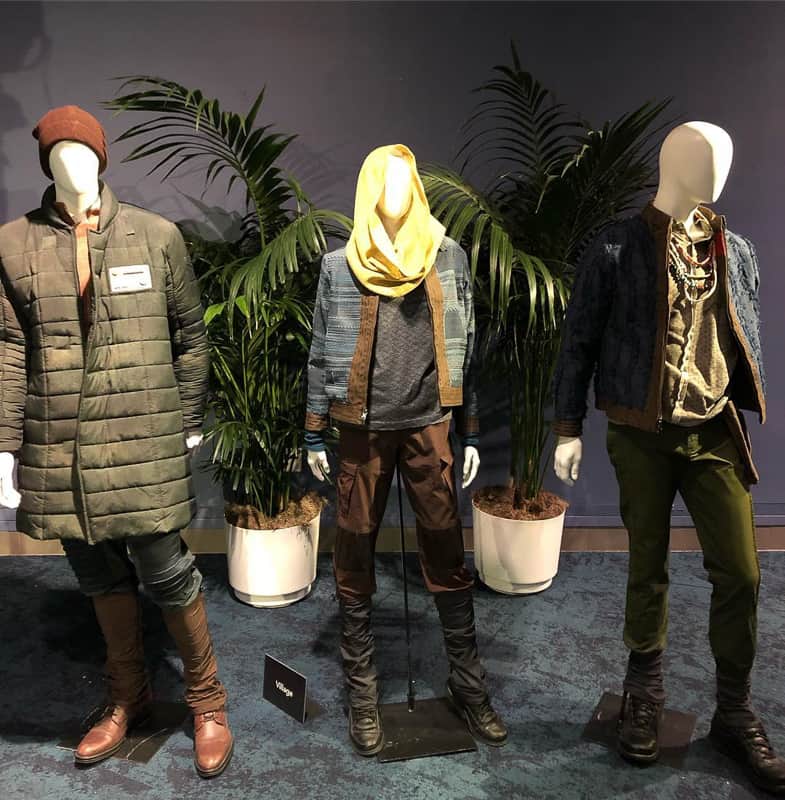 These ones are cool , literally as a couple pairs of shorts are included: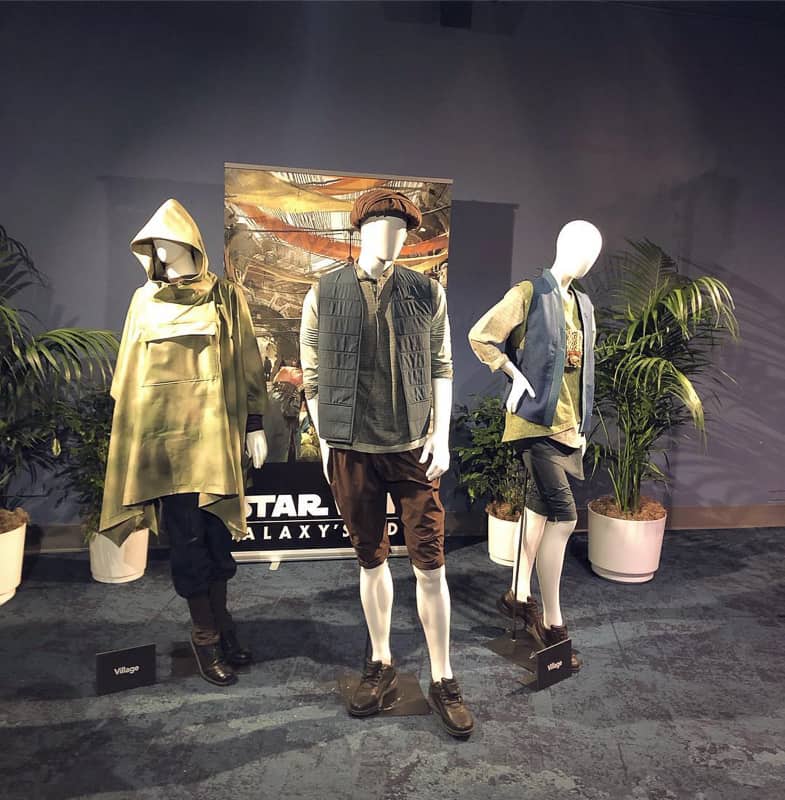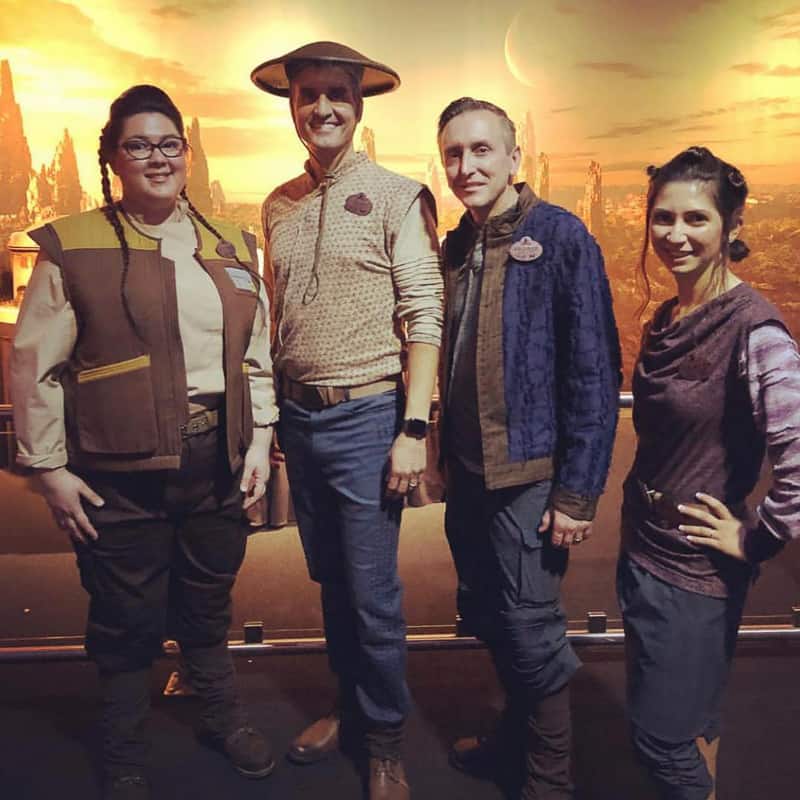 These costumes should lead to an almost never-ending combination for the cast members and make every trip into Black Spire Outpost a unique one and more authentic, just like a real town.
Millennium Falcon: Smuggler's Run Costumes:
The next two groups of costumes are much less mix-and-matchable and they all pretty much look the same except for some slight changes.
The Millennium Falcon: Smuggler's Run costumes has pants and a brown or orange shirt, with a teal vest and hat combination: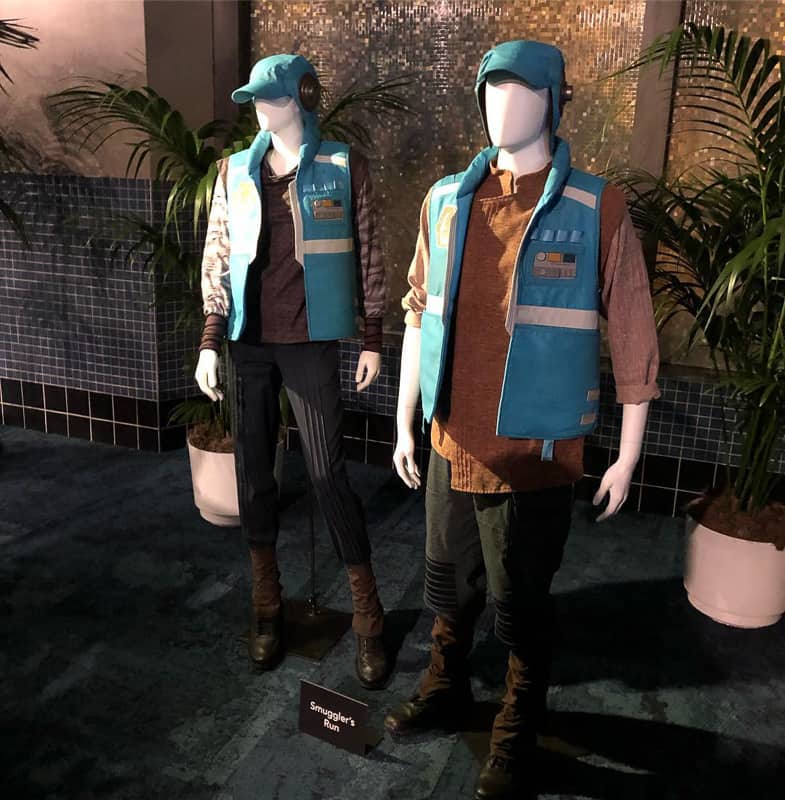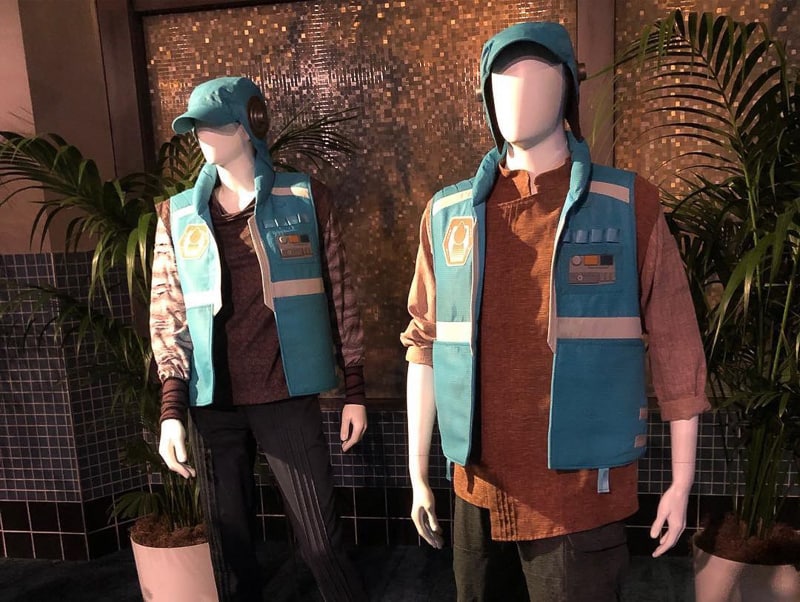 No big changes between them, though looks like the hats are optional as down below: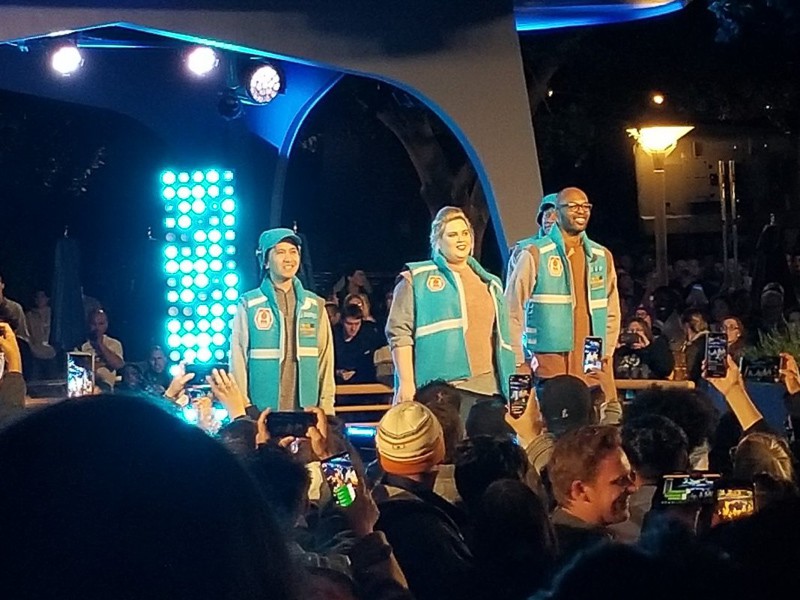 Star Wars: Rise of the Resistance Costumes:
These ones are the best of the two attractions, and you can see two distinct styles, one for the Resistance and one for the First Order: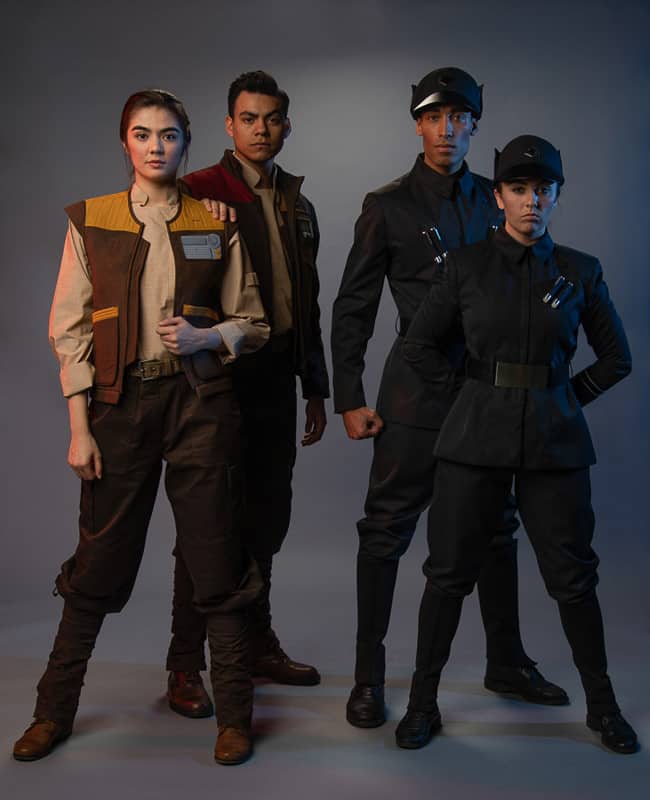 The two different costumes for the Resistance and the First Order are being described like this:
The Resistance
Resistance costumes are rugged, military-inspired uniforms, with a soft, well-used feel. Vests and jackets feature patch details inspired by communicators worn in the films, and there is an optional hat to protect from the elements.
The First Order
This costume is a powerful, charcoal grey military-style uniform with structured shoulders taken directly from the looks we've seen on screen. In stark contrast to the other costumes seen on the planet of Batuu, First Order costumes are pristine, polished and orderly.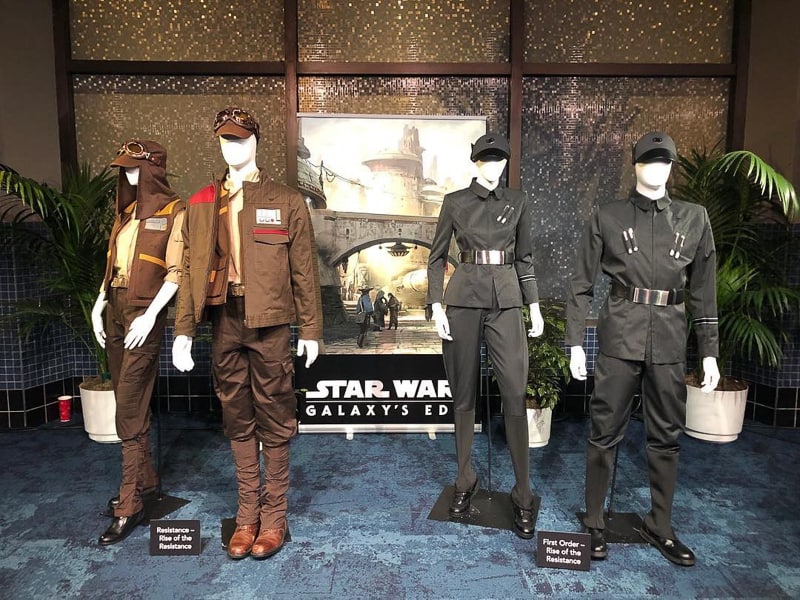 As you know in Rise of the Resistance you will be going on a secret mission aboard a First Order ship. So I'm guess we'll be seeing the costumes on the left first as the Resistance gives you your mission briefing, then when you go on the starship you'll be running into First Order troops.
I don't expect a lot of changes and variations between them, they will be pretty much standard across the board.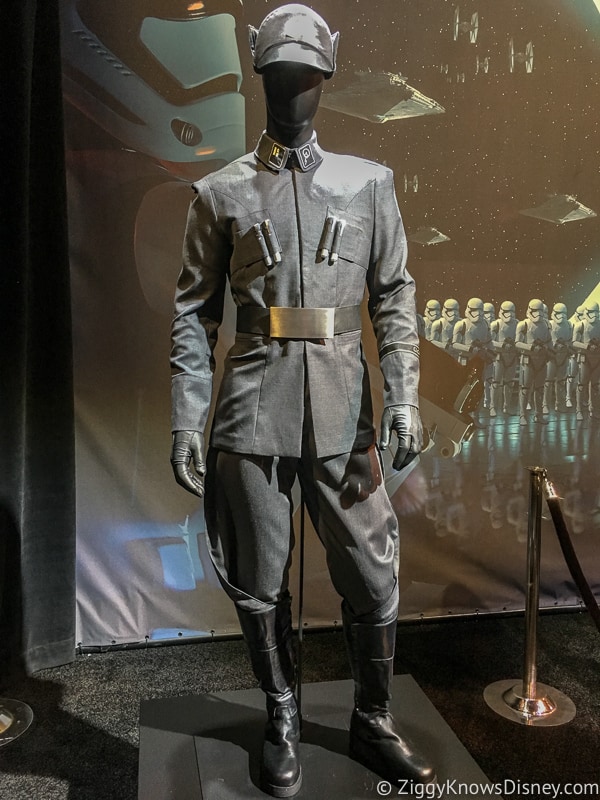 This is going to be probably my favorite attraction in Disneyland and Disney World when finished as we just found out Rise of the Resistance is going to have a height limit, which means it will be a pretty intense ride!
So that's it for now on the Star Wars Galaxy's Edge costumes. Overall I'm pretty pleased with the choices. I think it's natural for the cast members working on the attractions themselves to have less choice, but for the ones working in Black Spire Outpost I think it's really cool that they have so many stylistic choices which will make working there fun!
Don't forget to check out our latest Galaxy's Edge construction update for February as you can see lots of cool new details for the land coming into place and the Millennium Falcon almost finished too.
Disney still hasn't given us an exact date for the opening yet, but they have dropped some clues for us that can help to answer the question: When is Galaxy's Edge Opening? We know it's going to be Disneyland May 31, 2019 and in Hollywood Studios on August 29, 2019, and that post goes into more depth in narrowing down the dates.
For more info read our Complete Guide to Star Wars: Galaxy's Edge for a detailed look at the rides, restaurants, tips and touring strategies.
Stay tuned here at Ziggy Knows Disney as we'll be bringing you tons more updates on Star Wars: Galaxy's Edge and the costumes the more things come out.
Supposedly there is another big announcement coming today so stay tuned…
Your Thoughts:
I want to know what you think about the Star Wars Galaxy's Edge cast member costumes…
Do you like them?
Which one do you think is the coolest?
Let us know in the comments section below!
If you enjoyed this article, as always I appreciate it if you'd share it with others via social media. I work hard at making this website into a useful resource for you and your family to plan your visit to the Disney Parks and I hope it can help you! Thanks 🙂