Are you looking for the best places to eat at Disney's Hollywood Studios? You've come to the right place! When visiting this park you'll definitely need to take a break to fill up and that's why we've created a list of the Best Restaurants at Hollywood Studios so you'll know exactly were to eat.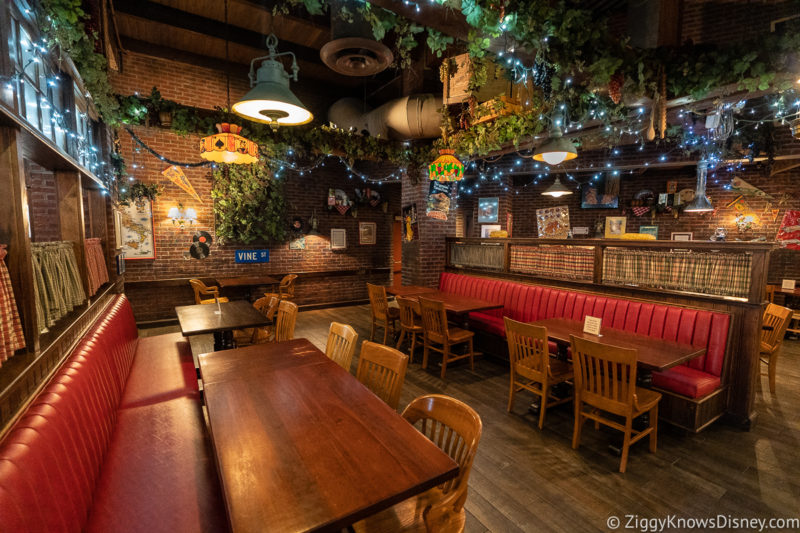 In this post, we're going to share with your the best Hollywood Studios restaurants and what to order when you go there.
When you add up all the table service restaurants, counter service and snack locations, there are over 30 places to eat at Hollywood Studios Magic Kingdom. Results vary from great, to ok and to "just plain bad."
We've tried them all so you don't have to and you can just go straight to the best options and not waste your time and hard-earned money on the bad food.
Depending on your schedule and how much time you want to spend eating at Hollywood Studios, you'll need to know ahead of time where you want to eat and also get reservations for those restaurants. That's why you need to study up ahead of time so you are prepared when you arrive.
Besides our overall rankings, we'll also share with you the best places to eat at Hollywood Studios for breakfast, lunch and dinner, and which character meals you must try.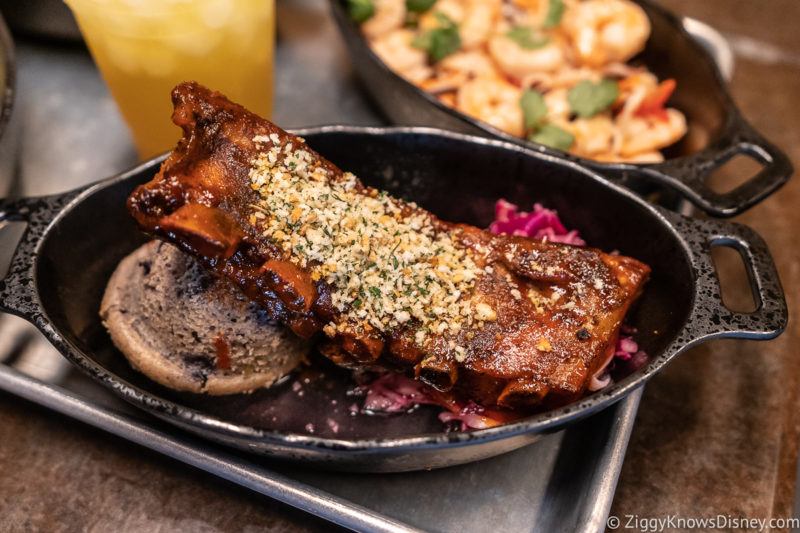 A few years ago, the selection of restaurants here was really suffering, but thankfully Disney has made a marked effort to improve the quality of food in the park and things are looking up. This is the current rankings in 2021, but as more restaurants open and change every year, we will update the list with any adjustments.
Of course, this list is very subjective and is only our opinion. You might have a totally different top restaurant than us. We want to hear your list, so make sure to tell us where your favorite places to eat are in Hollywood Studios below in the comments section.
If you are planning on visiting the other Walt Disney World parks and resorts, you will need a more comprehensive list. Make sure to check out our rankings of the Best Restaurants at Disney World for the ultimate rankings guide.
Also, don't forget to sign up for our FREE Weekly E-Mail Newsletter. There we bring you the latest updates in the parks as well as vacation planning tips. You can sign up here: Join our E-Mail Newsletter
Hollywood Studios Restaurants Overview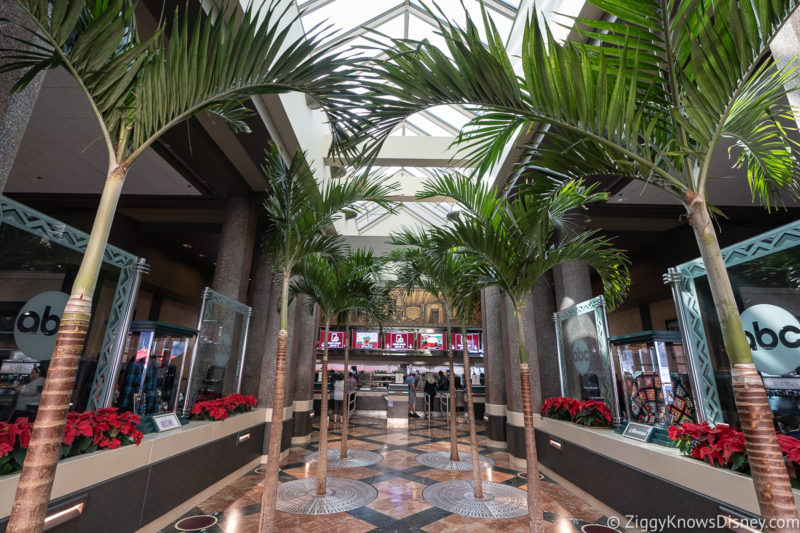 Great food awaits you around every corner at Disney's Hollywood Studios. Whether you are on Hollywood Blvd, Toy Story Land, or Galaxy's Edge, there are plenty of good restaurants to choose from.
If we were ranking each of the 4 Walt Disney World theme parks against one another, Hollywood Studios might come in last place, but that doesn't mean it's bad and there are no good restaurants. Of course, there are all the regular theme park foods like burgers, pizza, hot dogs, etc, but there are also some very unique choices you won't find anywhere else.
Here is a list of all the current restaurants at Disney's Hollywood Studios:
Table Service Restaurants
50's Prime Time Café
Hollywood & Vine
Mama Melrose's Ristorante Italiano
Sci-Fi Dine-In Theater Restaurant
The Hollywood Brown Derby
Quick Service Restaurants
ABC Commissary
Backlot Express
Catalina Eddie's
Docking Bay 7 Food and Cargo
Dockside Diner
Fairfax Fare
PizzeRizzo
Ronto Roasters
Rosie's All-American Café
Woody's Lunch Box
Which Restaurants are Open?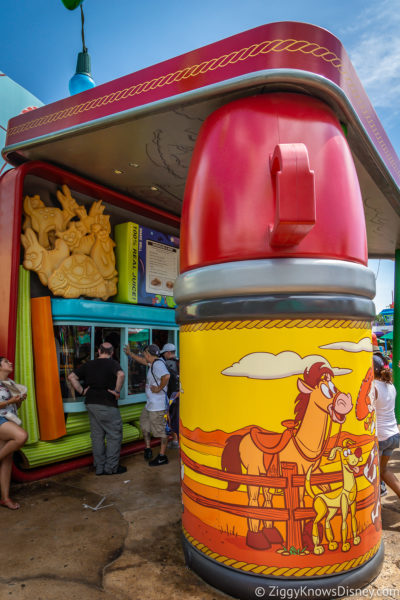 Right now Walt Disney World is still in the middle of a phased reopening, which means that not all of the Hollywood Studios restaurants are currently operating. With limited capacity, there aren't enough guests at this time to fill all of them.
To see which restaurants are currently open and all the changes, read our Guide to Disney World Dining During Reopening.
Our Ranking Factors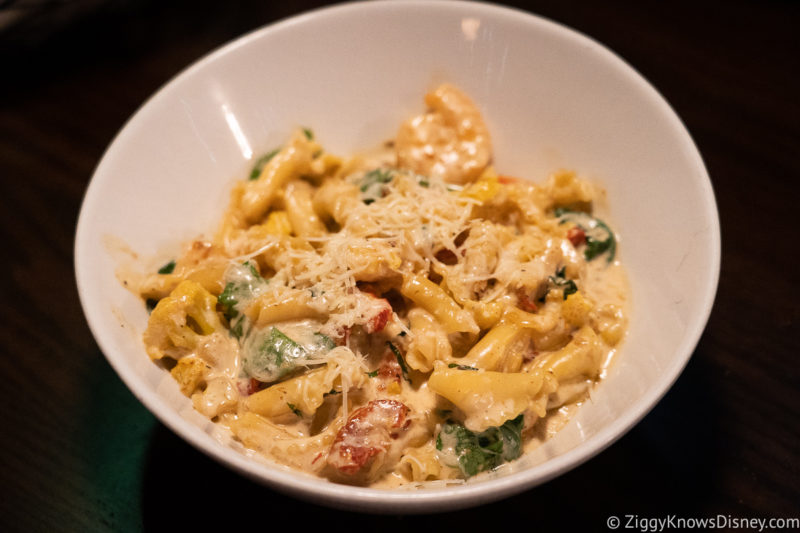 When we first came up with the idea to rank all the Hollywood Studios restaurants, it really seemed like fun! What could be so difficult about it? We soon found out it was a lot easier said than done and we were really torn between writing down which ones were our favorites.
We don't have any complicated mathematical equation to come up with our rankings, we just wrote down in order what we feel are the overall best restaurants in the park.
Some of the ranking factors we considered are:
Food Quality
Price to Quality Ratio
Portion Sizes
Restaurant Theming and Ambiance
Extra Disney Magic (special experiences, etc)
Our rankings are for sit-down restaurants (table service restaurants) and quick service combined. Most of them are not hard to get reservations for, and others you can just walk in and get food right away.
There are not many fancy restaurants at Hollywood Studios and all of them are family friendly and accept casual theme park attire.
Best Restaurants at Disney's Hollywood Studios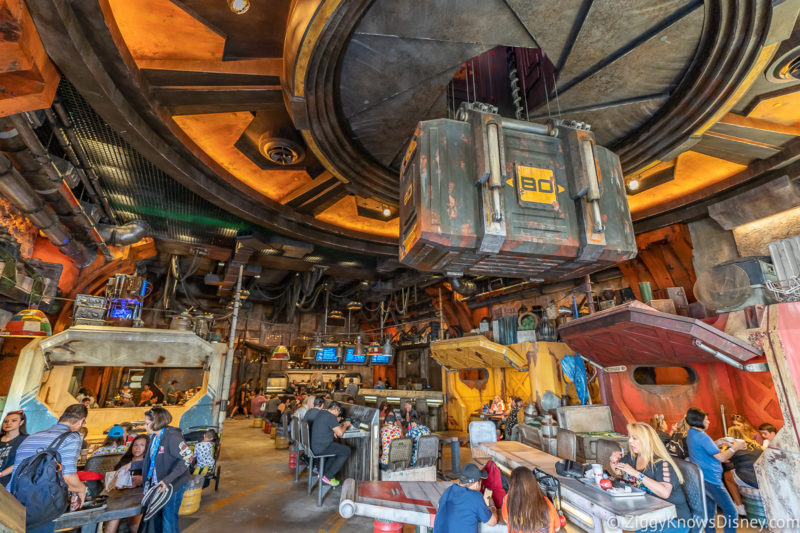 Below we've listed the name of the restaurant and location, and we've also included the approximate price, type of food, and what the best food items are on each menu. This should give you the basic info you need before you go.
Obviously, you won't be able to visit all these restaurants in just one trip to Walt Disney World, however, with a few visits you can try the best ones. We recommend trying all the restaurants in our Top 10 at least once so you get to see the best this park has to offer.
Let's get into the Top 15 best restaurants at Disney's Hollywood Studios:
15. PizzeRizzo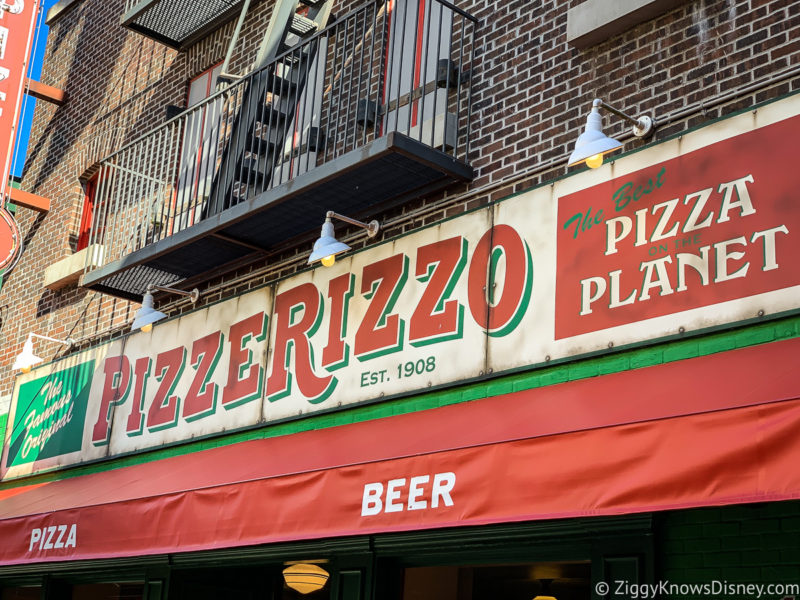 Cost: $
Type: Quick Service Restaurant
Cuisine: Italian (Pizza, Sandwiches)
When we think about the worst restaurant at Disney's Hollywood Studios, only one restaurant comes to mind, PizzeRizzo. The combination of bad food and non-existent theming make this a place you do not want to visit.
First of all, it's supposed to be a restaurant inspired by The Muppets, but there are only a few very subtle hints of The Muppets around that most people won't even see. It's a big empty shell of a building and we think Disney missed out here big-time by not capitalizing more on The Muppets brand. Tons of lost potential here.
At least if the food was good we could forgive them, but sadly, that is not the case. The pizza here is arguably the worst in Walt Disney World. The crust is thick and doughy and you get better overall ingredients from your local Domino's. Needless to say you shouldn't visit PizzeRizzo when there are so many better places to eat in Hollywood Studios.
What to Get: If we are forced to eat something at PizzeRizzo, we are skipping the pizzas altogether and going with dessert instead. The cannoli is not bad and the tiramisu is surprisingly tasty.
14. Catalina Eddie's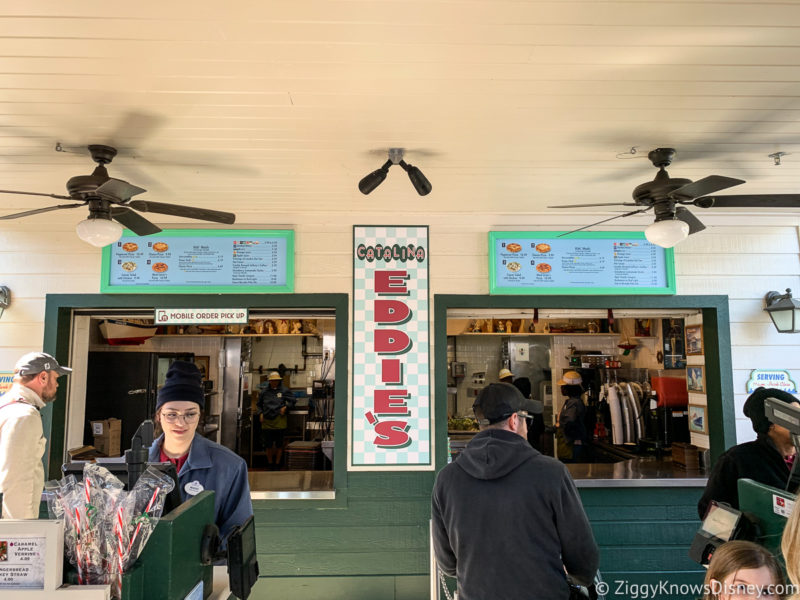 Cost: $
Type: Quick Service Restaurant
Cuisine: Italian (Pizza)
Catalina Eddie's is a quick service restaurant over on Sunset Blvd. but unfortunately it doesn't stand out against its neighbors. I'm not sure why we need two pizza places at Hollywood Studios, especially two bad ones.
This restaurant only offers outdoor seating so don't come here on really hot days (which is about 85% of the year). The seating is spacious and you should be able to find cover in case it rains.
The menu is pretty limited and only offers pizzas, Caesar salad and breadsticks. They are also pretty pricy in the $15 range and not good quality. Only come to Catalina Eddie's if your kids won't eat anything besides pizza.
What to Get: The pizza isn't much better here than at PizzeRizzo and will only do if you are starving and for some reason don't like burgers, hot dogs, or anything at the other nearby restaurants. Honestly, we are getting the breadsticks with Caesar dressing and dunking those bad boys!
13. Dockside Diner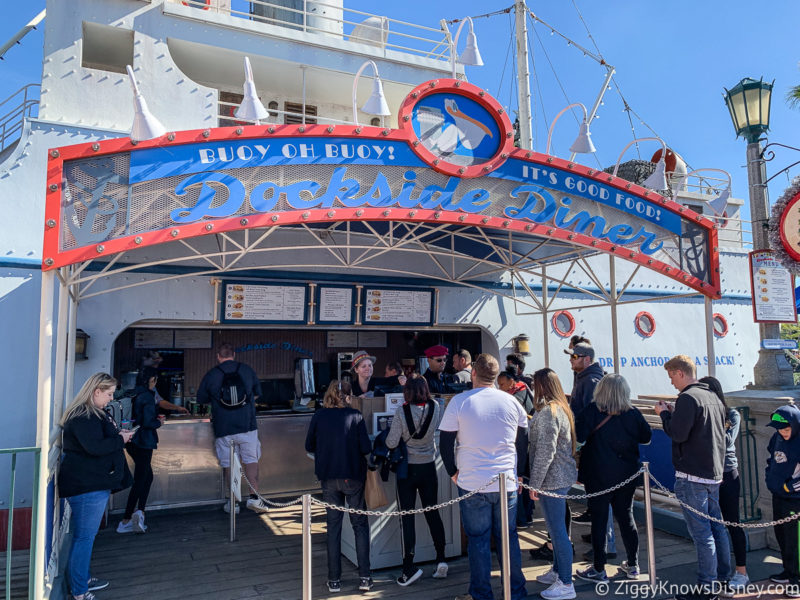 Cost: $
Type: Quick Service Restaurant
Cuisine: American (Hot Dogs, Sandwiches, Nachos)
There isn't much separating the bottom 3 restaurants in Hollywood Studios from each other, but we ranked Dockside Diner slightly ahead of PizzeRizzo and Catalina Eddie's. Don't expect much in the way of revolutionary cuisine here, it's your standard theme park fare.
The structure itself looks like an upscale food truck, which isn't saying much. The outdoor seating is not ideal either and offers little protection from the elements. There are some Easter eggs from classic films over by the cargo, so check that out!
Food is solid but not spectacular here. Hot dogs, nachos and sandwiches are what you should expect when you go. Skip Dockside Diner for one of the better quick service restaurant on the list, especially since this gets pretty long lines.
What to Get: The hot dogs are standard Disney dogs, but they aren't bad. If you are hungry, go for a foot-long chili cheese dog. Also try one of their seasonal milkshakes which are great on a hot day.
12. Rosie's All-American Cafe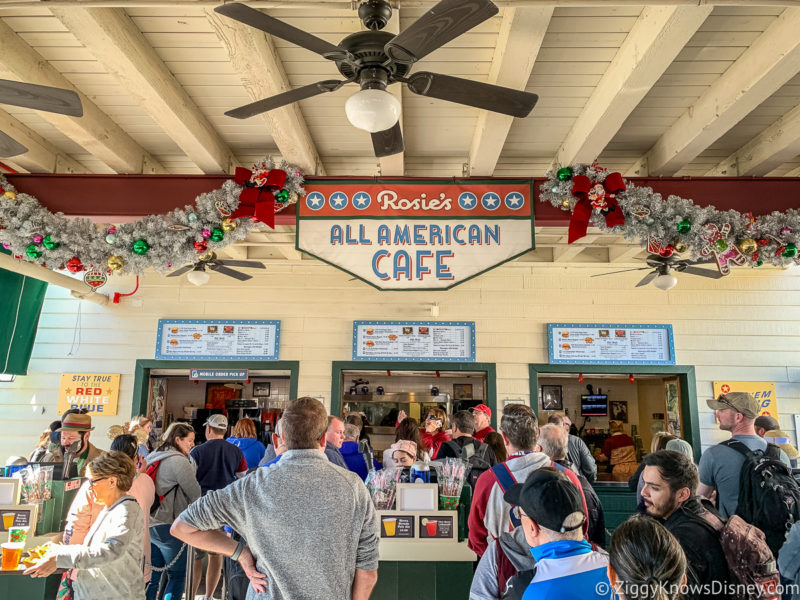 Cost: $
Type: Quick Service Restaurant
Cuisine: American (Burgers, Hot Dogs)
Rosie's All American Cafe is another quick service restaurant on Sunset Blvd and a reference to Rosie the Riveter, a fictional wartime icon representing the women who worked to support the war efforts back home.
The menu is a standard theme park menu with burgers, hot dogs and salads being the main choices. There are also usually plant-based options too. We find the quality to be fair, but it is a bit pricy considering.
There is plenty of seating as it shares tables with the surrounding quick service locations and it is all outdoor seating so no air conditioning.
What to Get: Burgers are your bet bet at Rosie's. We like the Angus Onion Straw Cheddar Cheeseburger, a good size and one of the most economical choices. There are some vegetarian options like the fried green tomato sandwich which is surprisingly good or the plant-based lobster roll. For dessert you have to try the Strawberry Shortcake Verrine, a classic at Rosie's.
Rosie's All-American Cafe Menu
11. Mama Melrose's Ristorante Italiano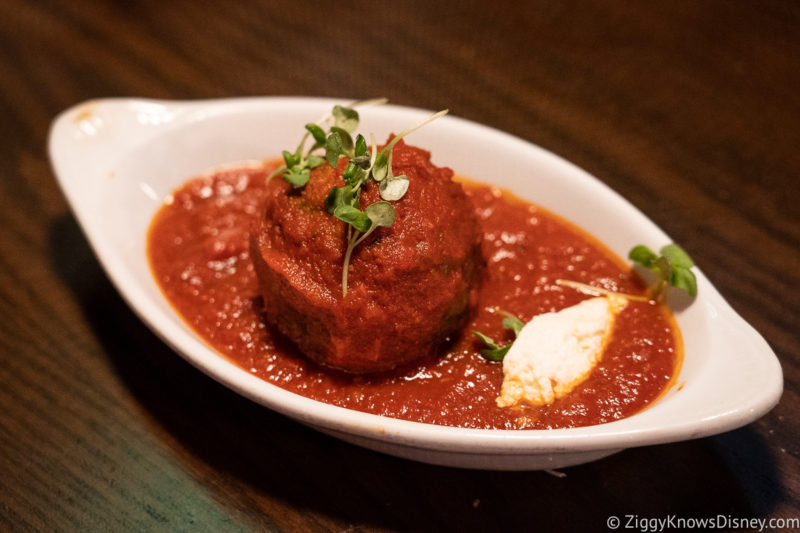 Cost: $$
Type: Table Service Restaurant
Cuisine: Italian (Pasta, Meat, Seafood)
Mama Melrose's Ristorante Italiano is the worst table service restaurant at Hollywood Studios and generally a big disappointment. The idea behind the restaurant is a good one, combine an interesting, family-friendly atmosphere with good food, but the food part falls behind.
Originally, Mama Melrose's was supposed to become a Muppets-themed restaurant, but things fell apart with the death of Jim Henson and it never got off the floor. Instead, Mama Melrose's tells the story of a Sicilian girl who comes to Hollywood in hopes of becoming a star, and instead opens an Italian restaurant with her family's recipes. Let's just say it would have been better if she made its an actress.
The food here is just ok. It's not even as good as some popular Italian restaurant chains across the United States, let alone does it resemble anything close to authentic Italian cuisine. The menu is pretty big with a number of pasta dishes, steak, seafood and some vegetarian dishes too. The quality though need helps and it's overpriced too.
It's a shame because the atmosphere is really fun and the decor is a mix of film memorabilia with an Italian flare, all put together in a very eclectic way. The only way we really recommend coming here though is if you are doing a Fantasmic dinner show package which isn't a bad deal. Other than that, it's best to find somewhere else to eat.
What to Get: Unfortunately, the starters are the best part of the meal and most of the entrees are disappointing. The free bread service is great and served with oil and spices. We love both the Caesar salad and calamari, the top appetizers on the menu. For entrees, the pasta with shrimp is the best and has an olive oil-based sauce with crushed tomatoes and loads of crushed garlic.
Mama Melrose's Ristorante Italiano Menu
10. Fairfax Fare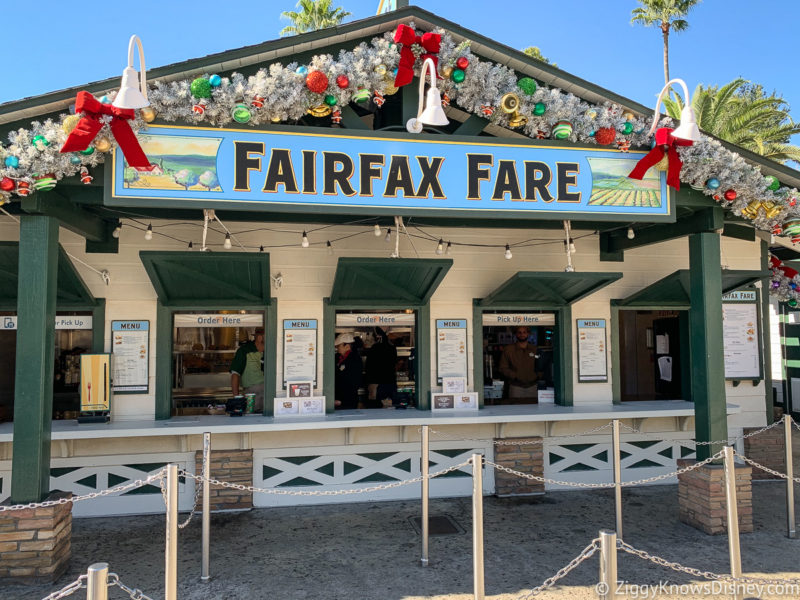 Cost: $
Type: Quick Service Restaurant
Cuisine: Mexican (Fajitas, Rice Bowls, Empanadas)
Starting with the number 10 spot in our rankings, the food starts to get better. If you are looking for Mexican food at Hollywood Studios, Fairfax Fare is your place. It's a quick service restaurant on Sunset Blvd that combines good food at a reasonable price. In fact, it might be the best value restaurant in the park.
The restaurant itself is just an outdoor stand that shares seating with other nearby restaurants, so don't expect tons of great theming here. The menu is Latin-American inspired and has fajitas, empanadas and huge rice bowls with everything from pulled pork to chicken to a vegetarian version.
This is a good alternative to burgers, hot dogs and pizza if you are looking for something different. We recommend showing up just before or just after the lunch crowd to avoid long waits.
What to Get: We like practically everything on the menu at Fairfax Fare but we are partial for the Fajita Combo Platter or the empanadas platter. Both are a good portion and packed with the flavor you would expect.
9. Backlot Express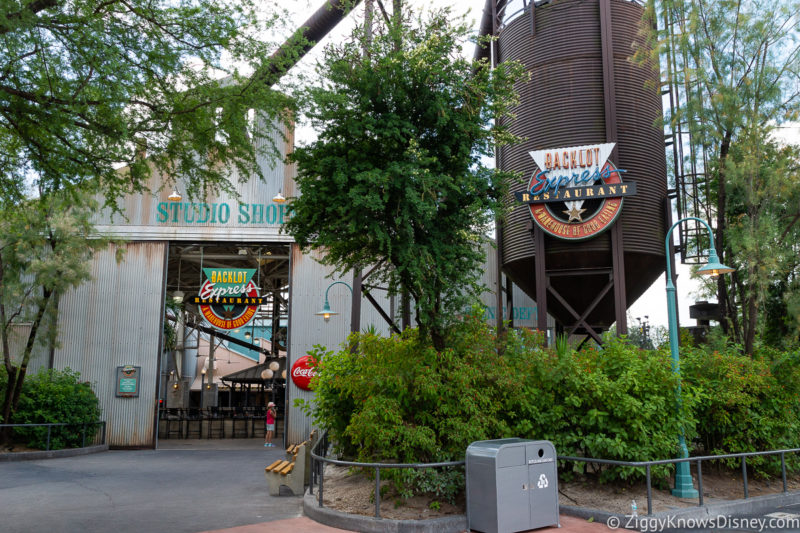 Cost: $
Type: Quick Service Restaurant
Cuisine: American (Burgers, Salads)
The Backlot Express s a quick service restaurant built inside what appears to be an old film prop room. If you are looking for a place to eat that reminds you of the old MGM Studios based on the movie industry theme, this is a good choice. It offers better atmosphere than most of the counter service restaurants in the park.
The menu is pretty standard with burgers, sandwiches and salads your main options. Occasionally there are some special items too, so keep an eye out for those. The menu is one of the cheapest at Hollywood Studios, so a nice choice if you are on a budget.
Both indoor and outdoor seating is available, the best of both worlds. We feel Backlot Express offers guests good prices, decent food and excellent theming, all which rank this inside the top 10.
What to Get: If you want a sandwich, we are split between the Backlot Burger and the Cuban Sandwich. Both great choices. If available, the Dark Side Chicken and Waffles are awesome, Darth Vader-shaped waffles topped with chicken nuggets and maple syrup. Watch for the Wookie Cookie which is one of our favorite seasonal snacks in the park.
8. Ronto Roasters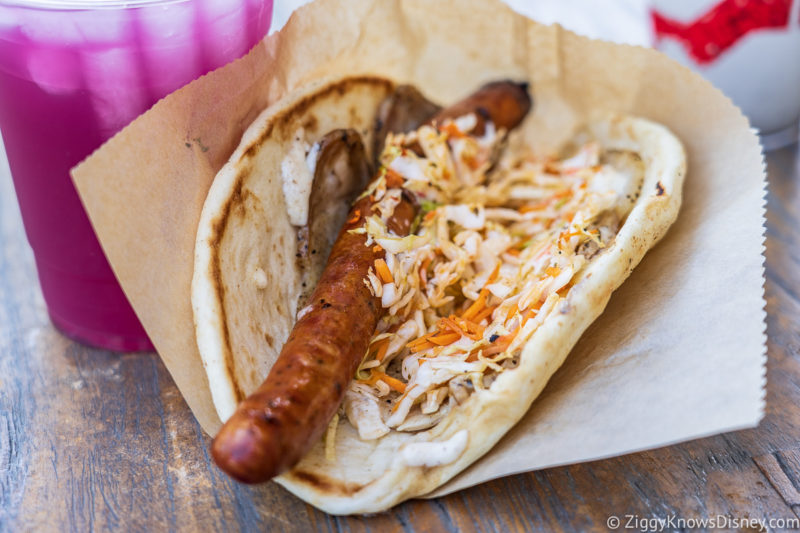 Cost: $
Type: Quick Service Restaurant
Cuisine: American (Wraps)
Ronto Roasters is a quick service dining location home to the famous "Ronto Wrap," and located in Star Wars: Galaxy's Edge.
The backstory for Ronto Roasters is that it is owned and operated by big pod racing fan Bakkar. It's full of fun and interesting theming elements such as the podracing flags hanging from the ceiling. The coolest part is the giant, modified pod racing engine on display in the center of the restaurant. It shakes and fumes from time to time and it's fun to watch 8D-J8 turning the rotisserie spit over the fire.
The menu at Ronto Roasters is not huge, but the quality of the food you get here is excellent. If the idea of delicious wraps filled with roasted meats (hello Ronto Wrap!) and some meat-less ones appeals to you, then this is the place. There are also alcoholic drinks to choose from which are very tasty.
What to Get: No trip to Hollywood Studios is complete without getting a Ronto Wrap. It doesn't matter if you get the breakfast version which has eggs, sausage and cheese or the lunch/dinner version with sausage, pork and coleslaw, they are both outstanding and one of our favorite Disney foods ever!
7. Hollywood & Vine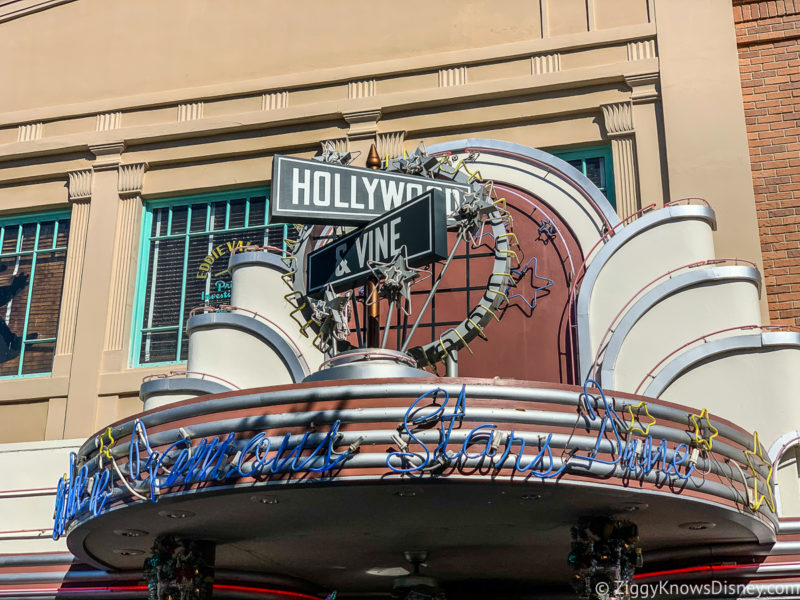 Cost: $$$
Type: Table Service Restaurant (Character Meal)
Cuisine: American (Roasted Meats, Seafood, Mac and Cheese)
Hollywood & Vine is a step up from Mama Melrose's and a decent option for a table service meal in Hollywood Studios. It's also the only character meal in the park and available for breakfast, lunch and dinner.
It's usually served as an all-you-can-eat buffet which has changed to a family-style meal with a choice of entree and dessert. The whole menu is solid and the food quality is surprisingly good, better than some other character meals (hello Chef Mickey's).
The real draw here however, are the characters. You get a different lineup of characters depending on if you choose breakfast or lunch/dinner. The cool thing is that the lineup often changes and many of the characters have seasonal outfits depending on what time of year it is.
If you are looking for a unique dining experience in Hollywood Studios, or if you have kids, Hollywood & Vine is the place to go!
What to Get: For breakfast try the Hazelnut Spread-stuffed French Toast, our favorite on the menu, or the Four-egg Cheese Omelette served with potato hash and bacon or sausage. For lunch and dinner get the Garlic and Cracked Black Pepper Filet of Beef with sour cream and chive whipped potatoes or the Spice-rubbed Pork Loin, both excellent choices. For dessert the Chocolate S'mores Pie will fill your sweet tooth perfectly.
6. ABC Commissary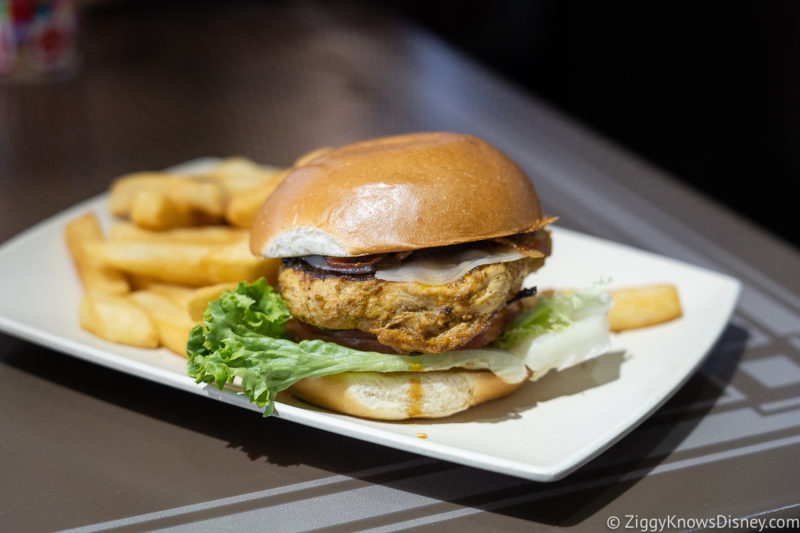 Cost: $
Type: Quick Service Restaurant
Cuisine: American (Sandwiches, Tacos, Salads)
The ABC Commissary has come a long way over the years and has gone from a counter service restaurant we normally would skip to a regular stop for us when visiting Hollywood Studios.
The reason for the change in opinion has been the updated menu, with much better choices and much better quality food all around. They have sandwiches, tacos, rice bowls, all of which are not done in the typical theme park way and a little more creative.
Don't expect great theming here, it's supposed to resemble having lunch at ABC Studios. It has a very defined Art-deco style to it, but it's nothing special. The dining rooms are indoors which means air conditioning and a break from the heat. The decor however, is not the point here, it's the food.
We recommend ABC Commissary if you are looking for no-frills and just good food at a good price. It's right near the top of our favorite restaurants at Hollywood Studios.
What to Get: We love the Buffalo Chicken Grilled Cheese Sandwich. It's basically a cheesy buffalo chicken dip in-between toasted bread. The Shrimp Tacos are also a favorite here and have grilled shrimp with a garlic aioli. Try one of the Seasonal Margaritas if you are in the mood for an alcoholic drink.
5. Sci-Fi Dine-In Theater Restaurant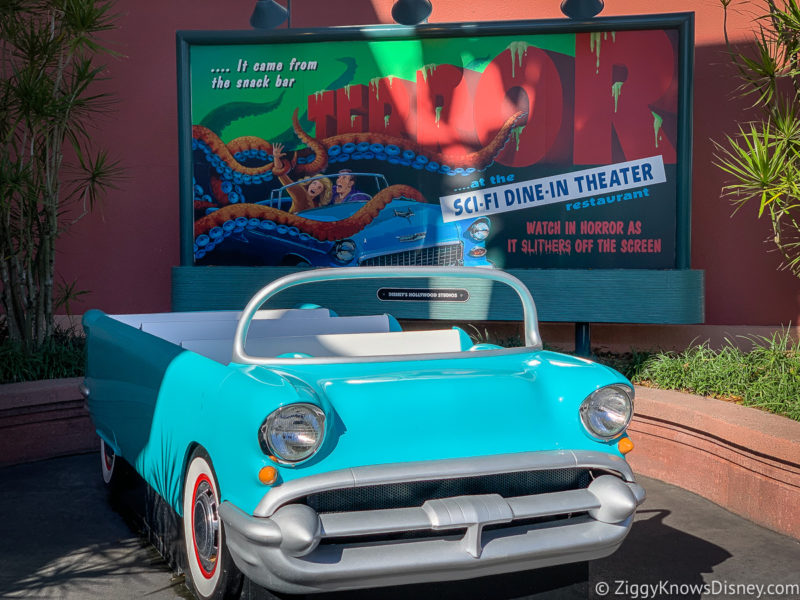 Cost: $$
Type: Table Service Restaurant
Cuisine: American (Burgers, Pasta, Salads)
Kids and adults will both love the Sci-Fi Dine-In Theater as it gives you a real drive-in dining experience as you eat out of your car while watching old science fiction movies on the big screen. It's really cool.
The menu is what you would expect from a drive-in with burgers, fries and sandwiches being the main focus here. The food quality is good, not great, and the prices are a little high for what you get. The portions are big though, so at least you won't leave hungry.
The food though is not the main focus, here, it's the extraordinary atmosphere you get. This is one of the most immersive dining experiences anywhere in Disney World, and in our opinion, you have to try it at least once.
What to Get: We recommend sticking to burgers here as they offer the best price/quality ratio on the menu. Try one of the seasonal burgers as they usually change depending on when you go. Don't forget to get a milkshake, the perfect accompaniment to your burger! The desserts here are incredible and we love the Warm Glazed Doughnut with warm apples and ice cream or the House-made Sci-Fi Candy Bar.
Sci-Fi Dine-In Theater Restaurant Menu
4. Woody's Lunch Box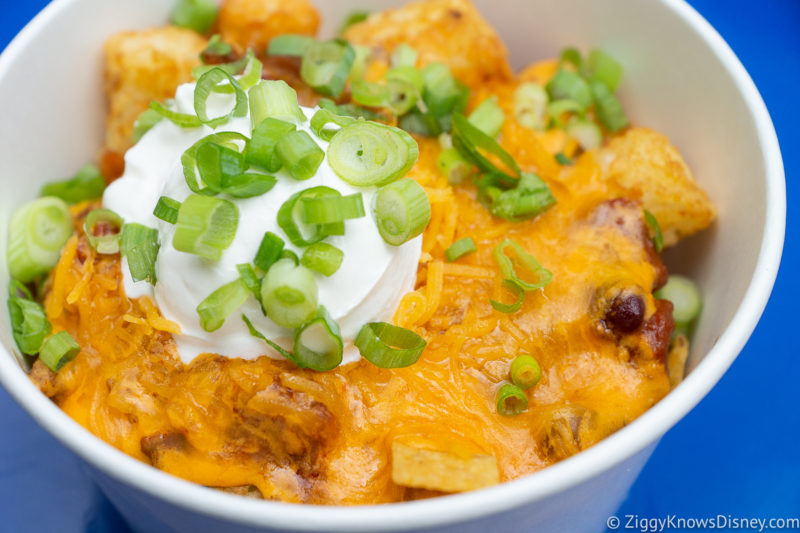 Cost: $
Type: Quick Service Restaurant
Cuisine: American (Sandwiches, Potato Barrels)
Going to Woody's Lunch Box is like returning to your childhood and thinking back to what mom used to pack for you to bring to school and it is different from the normal theme park fare like chicken nuggets and hot dogs.
Menu options include the Grilled Three-Cheese Sandwich, BBQ Brisket Melt, and Smoked Turkey Sandwich. There are also a couple of plant-based options such as Plant-based Totchos and Plant-based Toasted Cheddar Sandwich.
There is also a nice variety of alcoholic drinks including: Grown-Ups' Lemonade, Angry Orchard Crisp Apple Hard Cider, Bud Light Lager and Blue Moon Belgian White Ale.
The atmosphere was what you'd expect from a dining location in Toy Story Land and there are a bunch of really cool and hidden theming elements to find. You could spend a long time just studying it all and it fits in really well with the overall theming of Toy Story Land.
Not too long ago, Woody's Lunch Box was our #1 dining option for a fast meal at Hollywood Studios and it still ranks high to this day. Few things are better if you are looking for a quick meal, good food and at a reasonable price.
What to Get: The best thing on the menu at Woody's Lunch Box are the Totchos. They are tater tots smothered in chili and cheese, then topped with sour cream and scallions! We also really like the Lunch Box Tarts (a homemade pop tart basically) for something sweet.
3. Docking Bay 7 Food and Cargo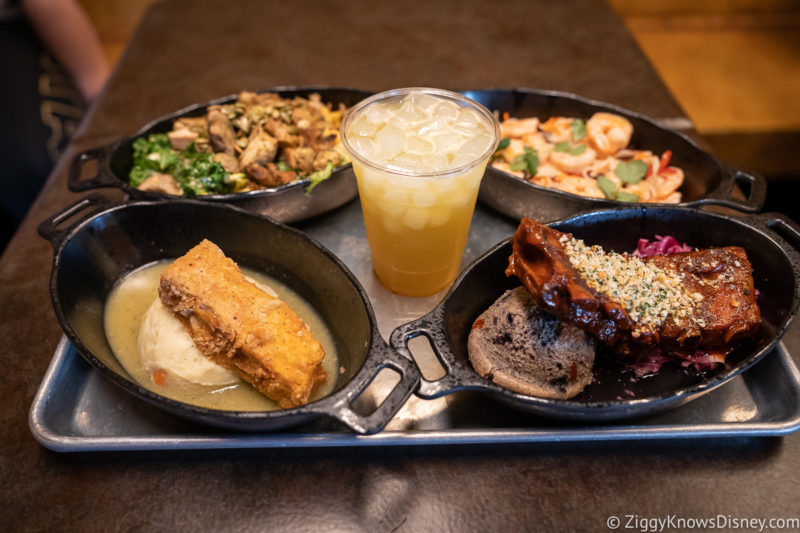 Cost: $
Type: Quick Service Restaurant
Cuisine: American (Ribs, Fried Chicken, Salads)
Docking Bay 7 is a Fast casual restaurant is one of the two dining locations located in Star Wars Galaxy's Edge and one of the best places to eat in Hollywood Studios.
Docking Bay 7 Food and Cargo is definitely one of the most unique dining locations in any Disney park and the minute you step inside you realize how cool it is. It fits in perfectly with the overall story of Galaxy's Edge and is a hanger bay used to provide produce to Black Spire Outpost.
You can choose to dine indoors in the hangar bay or outside in a shaded courtyard. Both the outside and inside are awesome, I mean, it's not everyday you can eat on a shipping crate!
The menu has something for everyone and the options are some of the most creative and unique we've seen at any Disney restaurant. Ribs, fried chicken, salads, pot roast and pasta are all options and they are all excellent. It's pricy for a quick service restaurant, but the overall quality of the food is a step above anywhere else in the park.
Overall, Docking Bay 7 is an incredible place to eat. It has an unbelievably immersive atmosphere and food that rivals Satu'li Canteen for the best quick service in Disney World. There isn't much else to say except: Don't miss it!
What to Get: You literally can't go wrong with anything on the menu. The Ribs are awesome, tender and they fall off the bone. The Fried Chicken is probably our favorite and we love dipping it in the herb gravy that it comes in. Even the Plant-based Meatballs are incredible and something we get often even though we don't have any dietary restrictions.
Docking Bay 7 Food and Cargo Menu
2. The Hollywood Brown Derby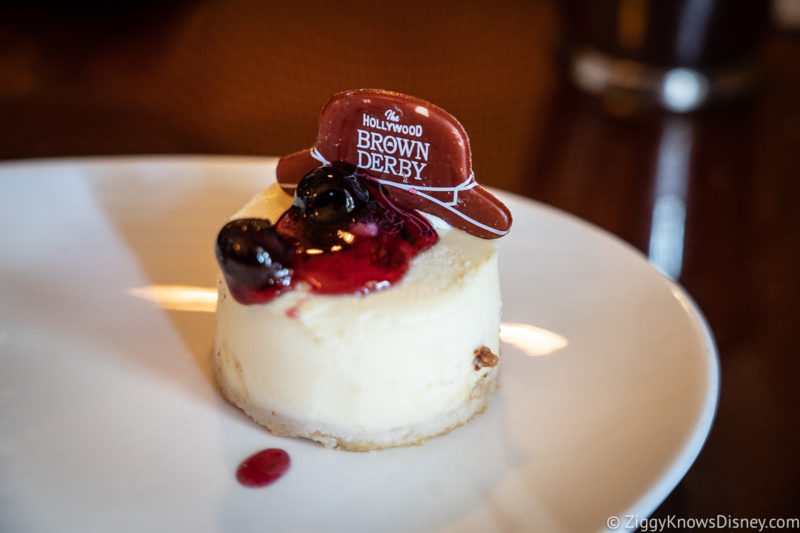 Cost: $$$
Type: Table Service Restaurant
Cuisine: American/Fine Dining (Steak, Seafood, Salads)
At this point in the rankings, we had a hard time picking the overall best Hollywood Studios restaurant, but in the end we settled on The Hollywood Brown Derby in the #2 position.
It's a fine dining/signature restaurant, which means the overall quality of the food is better than anything else you will find in the park. It also comes at a higher price point which may or may not be in your budget.
The decor is inspired by the original Los Angeles restaurant and makes you feel like you are in the Golden Age of Hollywood and hobnobbing with movie stars. The stars' drawings on the wall are interesting to look at. Try to find as many actors/actresses as you can.
We've never had a bad meal at the Hollywood Brown Derby and always leave satisfied. As far as theme park restaurants go, it's right near the top.
What to Get: The most famous dish at The Hollywood Brown Derby is the Famous Cobb Salad, a callback to the original restaurant. We also love the Shrimp and Grits, Ahi Tuna or the Seafood Cioppino which is a seafood lover's dream. The most famous dessert is the Grapefruit Cake, a must-try for citrus fans.
The Hollywood Brown Derby Menu
1. 50's Prime Time Café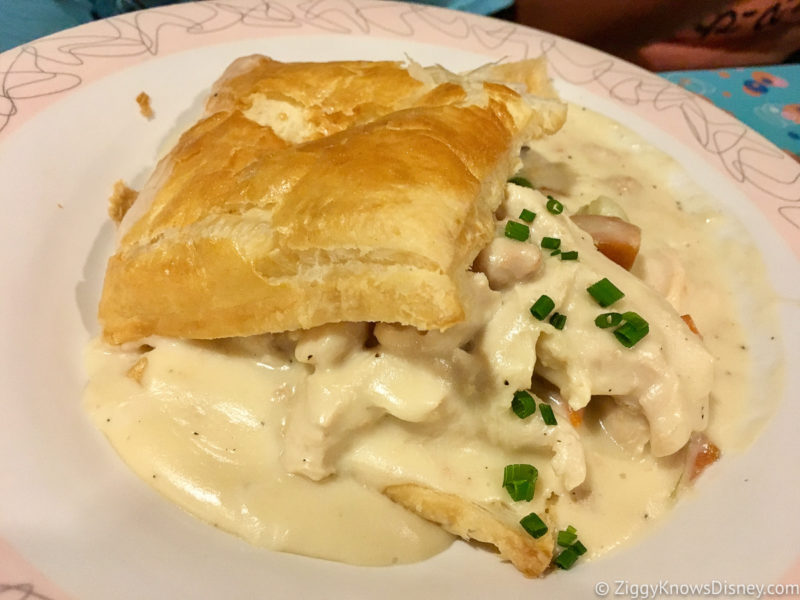 Cost: $$
Type: Table Service Restaurant
Cuisine: American (Fried Chicken, Meatloaf, Pot Roast)
There are few dining experiences more quintessential in Walt Disney World than a meal at the 50's Prime Time Cafe. I mean where else can you go to get treated badly by the waitstaff on purpose and actually like it?? It's all part of the show and hilarious, don't worry.
The theming is exactly what you want from a Disney restaurant and it feels like you've stepped back in time to the 1950s. Everything is authentic from the black and white TVs that play reruns from "Leave it to Beaver" or "The Andy Griffith Show" to the old knickknacks you'd find over your grandmother's fireplace.
The funniest part though are the waiters and waitresses. If you don't behave they will give you a hard time, ask if you washed your hands, and even make you do a dance in front of the rest of the guests.
The food is excellent at 50's Prime Time and offers great a value to quality ratio. This is old-school home cooking with meatloaf, pot roast, chicken pot pie and fried chicken on the menu. The desserts are also great and big enough to share.
Overall, it was clear to us that 50's Prime Time Cafe is the best restaurant at Disney's Hollywood Studios and an absolute must-try when you visit. You won't be disappointed!
What to Get: We love everything on the menu, but if we are forced to choose, we will go with the Fried Chicken, which is among the best at Walt Disney World. It has a perfectly crispy outside and the chicken is tender and juicy inside. Also, you have to try one of their famous Milkshakes, the peanut butter and jelly one reaching iconic status.
Best Breakfast at Hollywood Studios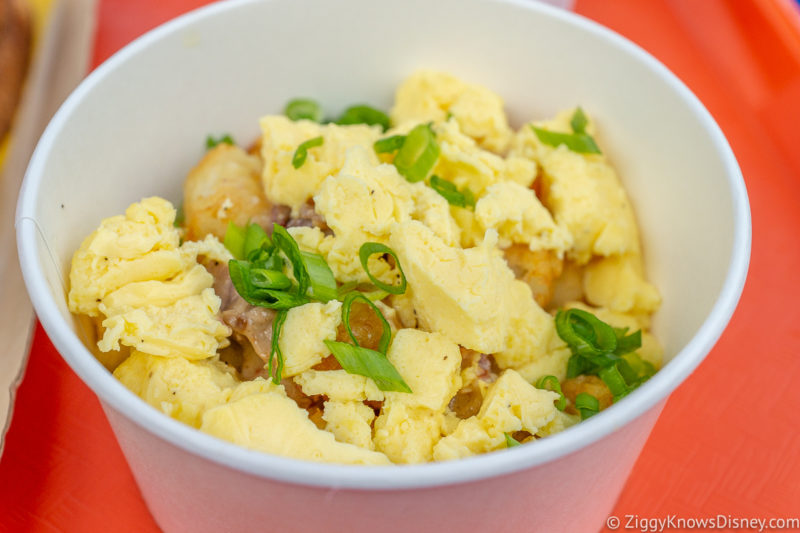 Looking to start off your day at Disney's Hollywood Studios with something tasty to eat and drink? You're in luck. There are a bunch of great places for breakfast to choose from depending on how much time you have and what your plans are.
Here are our top choices for breakfast at Hollywood Studios:
Something Quick – The fastest and most convenient place to get breakfast at Hollywood Studios is right at the Trolley Car Cafe on Hollywood Blvd. This is the Starbucks in the park. If you show up for rope drop (which we highly recommend) the crowds tend to gather right in front of it and you can send one member of your party to get coffee line while the rest wait for rope drop.
If you are going to Toy Story Land in the morning, we suggest breakfast at Woody's Lunch Box. The lunch box tarts are fantastic, and we love the breakfast bowl which has tater tots loaded with eggs and smoked brisket country gravy.
If you are going to Galaxy's Edge then you absolutely MUST stop by Ronto Roasters and get a Ronto Wrap! The breakfast version is a grilled pork sausage, eggs, shredded cheddar, and a peppercorn sauce wrapped in Pita Bread!
Sit-Down Meal – The only real option her pin our opinion is Hollywood & Vine. The big draw here are the Dinsey Junior characters which give you some great interactions. The meal is a fixed price and includes a pastry basket, entree, and drinks.
Only do a table service meal for breakfast if you are not interested in doing the most popular rides at Hollywood Studios. We think it's a better use of your time to ride Slinky Dog Dash and some of the other big ones in the first hour of opening, before the crowds arrive.
Best Hollywood Studios Lunch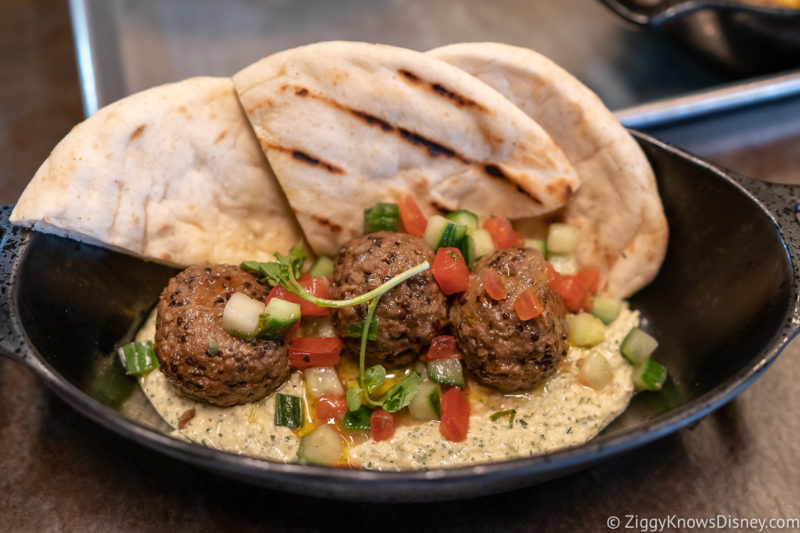 After a long morning of riding attractions, you'll need a place to refuel at lunch before the next round. This is the busiest time of the day to eat at Hollywood Studios so you'll need to be prepared.
Here are our top choices for lunch at Hollywood Studios:
Something Quick – Docking Bay 7 Food & Cargo is a quick service restaurant in Galaxy's Edge and one of the most unique dining experiences in the park. There is plenty of space in the dining room, or you can enjoy the outdoor patio which is set back from the crowds walking by.
The menu here is awesome and everything is good. Our favorites are the ribs, chicken or the impossible meatballs which are better than some meat-based ones we've had at Disney World.
Sit-Down Meal – If you re going to have a sit-down meal at Hollywood Studios, we actually prefer lunch. It's the hottest time of the day and it gives you a nice 1-2 hr break in the air conditioning. It's also when lines for rides are the longest so less time waiting in those.
You can go to any of the table service restaurants, but we really like Hollywood Brown Derby for lunch. The food is great and it makes you feel like you are really in Hollywood having an important lunch with the stars.
Best Dinner at Hollywood Studios
If you stay for dinner, Hollywood Studios has some good options, again depending on how much time you have. If you are going to see the fireworks or "Fantasmic" make sure you book an early dinner at least a couple of hours before the show time. That way you have enough time to get there and find a spot.
Here are our top choices for dinner at Hollywood Studios:
Something Quick – Any of the quick service restaurants are fine for dinner but we like the ABC Commissary. The menu here has really improved over the the last few years and most of the items are actually really good.
Other options here include Docking Bay 7 and so are Woody's Lunch Box and the Backlot Express.
Sit-Down Meal – You have to try 50's Prime Time Cafe, a quintessential Disney meal and a great option for dinner. You also can't go wrong with the Sci-Fi Dine-In Theater, nothing like eating dinner in your car!