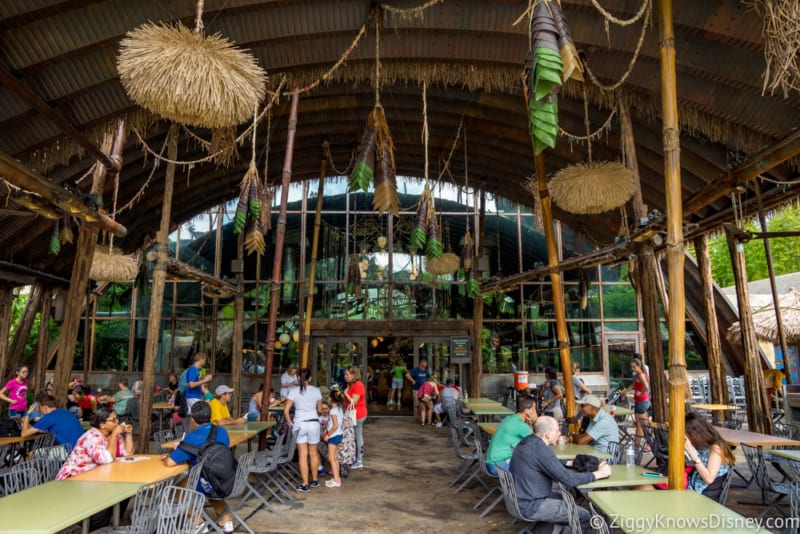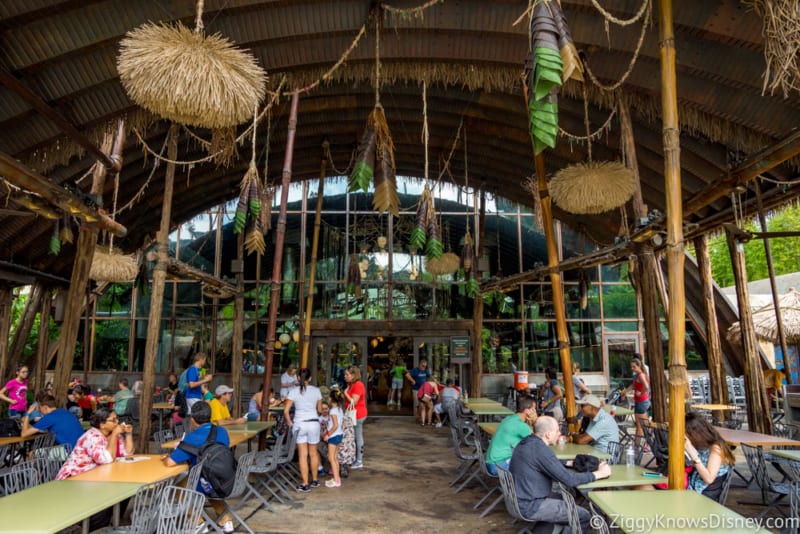 I've really been looking forward to doing a Satu'li Canteen review in Pandora: The World of Avatar, and right away I could see it was going to be a different type of quick service meal, different from the normal theme park food. It's not every day restaurant in the middle of a Disney park decides to skip the burgers and fries and opt instead for whole grain rice, quinoa kale salad and crispy fried tofu. Please don't stop reading the review, I promise it's much better than it sounds! Eating at the Satu'li Canteen of course is all made possible because you are a guest of the ACE: Alpha Centauri Expeditions, and as we found out, they have it pretty good living out here!
The Satu'li Canteen is a Fast Casual Restaurant located in Disney's Animal Kingdom, inside Pandora: The World of Avatar. Fast Casual means that you order your food at the counter and then someone brings it to you at your table when your ready. Some Disney restaurants already have that title like Be Our Guest and D-Luxe Burger. But for some reason that was not the case here as we had to bring our own food to the table.
It requires 1 Quick Service Dining Credit if you are using the Disney Dining Plan. For right now anyway it doesn't participate in Tables in Wonderland, though I'm hopeful that changes down the road. Satu'li Canteen doesn't accept ADR's, but it does utilize Disney's most recently advancement in Quick Service Dining: the Mobile Order system. Basically it allows you to order your food ahead of time using the My Disney Experience App, therefore skipping the normal wait lines. This makes it great to work around whatever Pandora FastPass+ reservations you have. We'll explain this more later on.
Here you can find what Disney describes as "healthful dishes and familiar flavors from another world." Cheeseburger and Vegetable Steam Pods, and "Create Your Own Satu'li Bowls" are the focus, the later combining your choice of a Protein, Base and Sauce all in a hearty yet healthy bowl!
Let's get into our Satu'li Canteen Review so we can see what the fuss is all about!
Atmosphere:
The atmosphere at the Satu'li Canteen is like no other, because you are no longer in a Disney theme park, but you are on the planet of Pandora, specifically in the Valley of Mo'ara!
This is a sight that never gets old…
As you make your way down through Pandora, you'll find yourself in a hub area in front of Satu'li Canteen..
As you know, the RDA were exploiting Pandora for it's natural resources of unobtanium. Now however after years of war, the RDA are gone and the peaceful ACE: Alpha Centauri Expeditions have now taken over. However the RDA remains can still be seen…
I can't say enough amazing things about Pandora, I absolutely love it and think Disney hit it out of the park on this one. All the extra details are what make this place amazing to me.
Finally we arrive at the Satu'li Canteen! This used to be an RDA Mess Hall inside a Quonset-hut structure, but the ACE: Alpha Centauri Expeditions turned it into the Satu'li Canteen:
It's an impressive structure and quite big. There is seating for 190 guests outside and another 330 inside for a total of 520!!
Hanging above you get a feel for that Na'vi touch!
As you step in you get a sense for the big space the Main Dining Room is. It has high arched ceilings and is just full of space…
The day that we went it was really cloudy outside, but on a bright and sunny day the huge windows allow for plenty of sunlight
Na'vi artwork and decorations are on display throughout the Satu'li Canteen: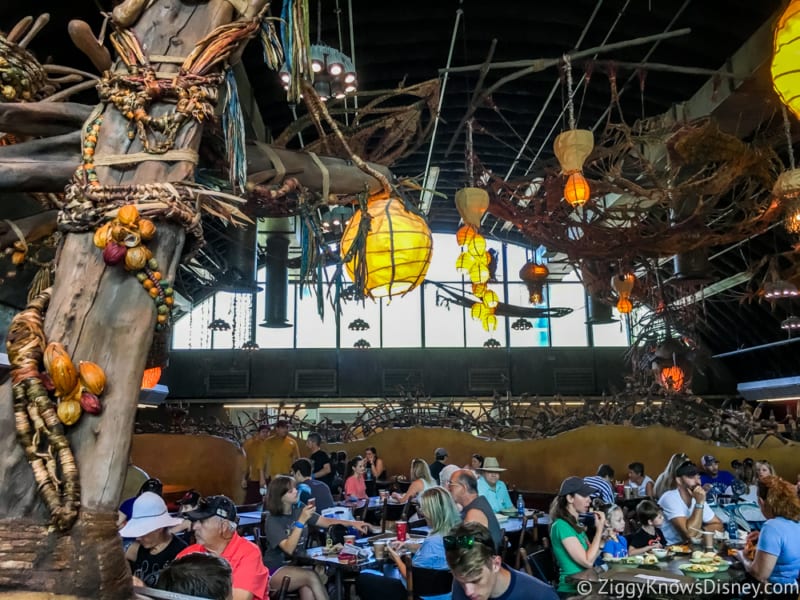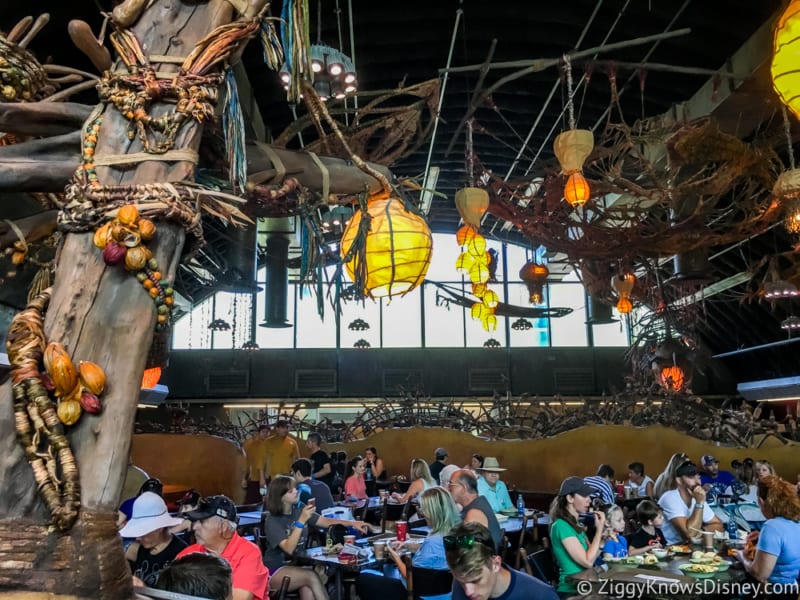 Just look up and see how beautiful they are:
There are many tables throughout the Satu'li Canteen, this is a typical table for 4 with half bench and half chair seating:
Or if you prefer you can find one of the spacious booths, which is huge and easily seats 6-8 people:
Enough of the surroundings, you're reading a Satu'li Canteen review for The Food, so let's jump in!
Food:
On the Disney Website it lists Satu'li Canteen as 'American Cuisine,' but we all know this is Pandoran food (made that up)! As I mentioned at the outset, don't come here expecting to find the normal theme park food like Burgers and Pizza (although they do have an amazing twist on the Hot Dog and Burger), but instead they are focused on offering natural, healthy options to travelers visiting Pandora.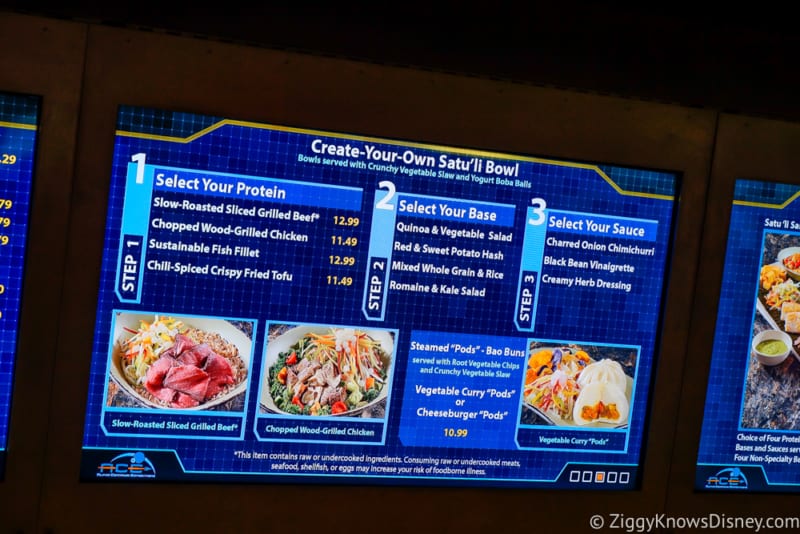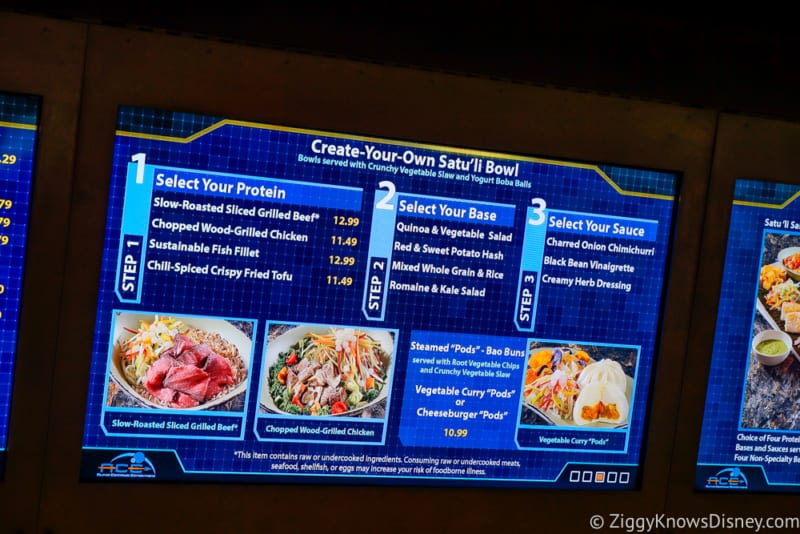 Some choices are the Cheeseburger and Vegetable Curry Pods, which are bao buns stuffed with one of the two fillings, and the popular 'Create-your-own-Satu'li Bowl', where guests choose from a Base, Protein and Sauce creating any combination they want. Meals are not expensive, running from $10.99 to $12.99.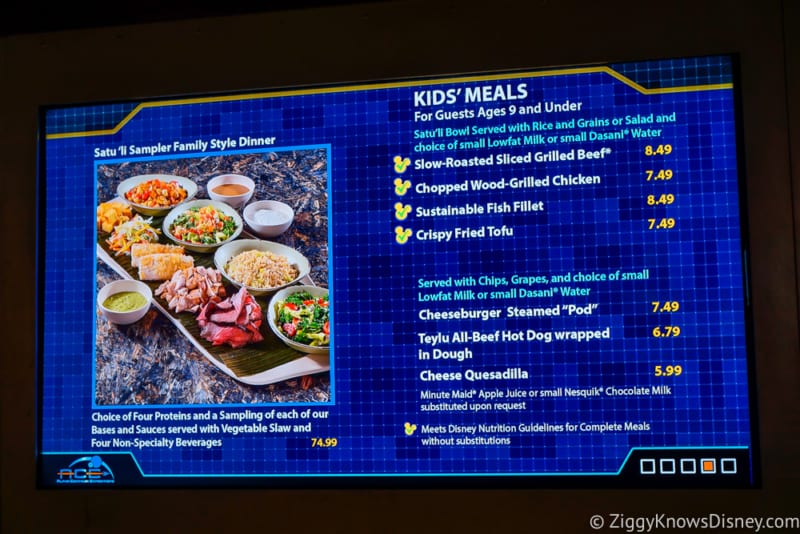 The Kid's Menu also offers the Bowls, and Pods, but it includes a Cheese Quesadilla and an All-Beef Hot Dog wrapped in Dough!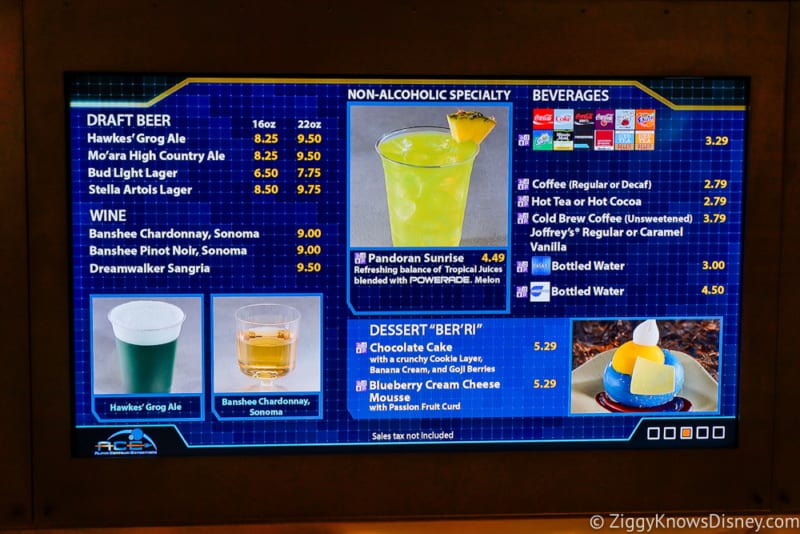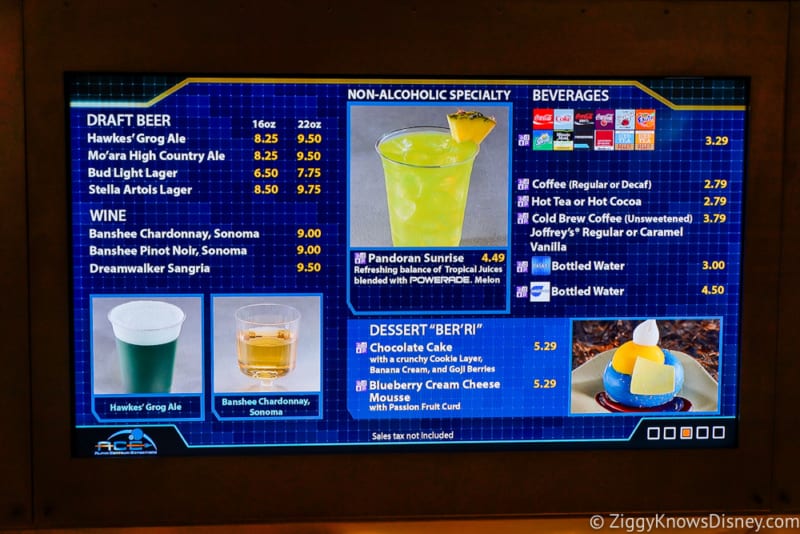 To drink Satu'li Canteen offers some nice Draft Beers like the Hawke's Grog Ale, Mo'ara High Country Ale, Stella Artois Lager and who knew Bud Light Lager was served on Pandora! If the jungle air has you more in the mood for Wine, that's ok too with the Banshee Chardonnay, Banshee Pinot Noir and Dreamwalker Sangria rounding out the selections. And there's also one Cocktail worth trying: Pandoran Sunrise w/ tropical juices and Powerade.
Disney's Mobile Ordering Service is also a great new feature of the Satu'li Canteen. Here like in select locations throughout the Disney parks, you can order your food ahead of time with your phone in order to skip the line!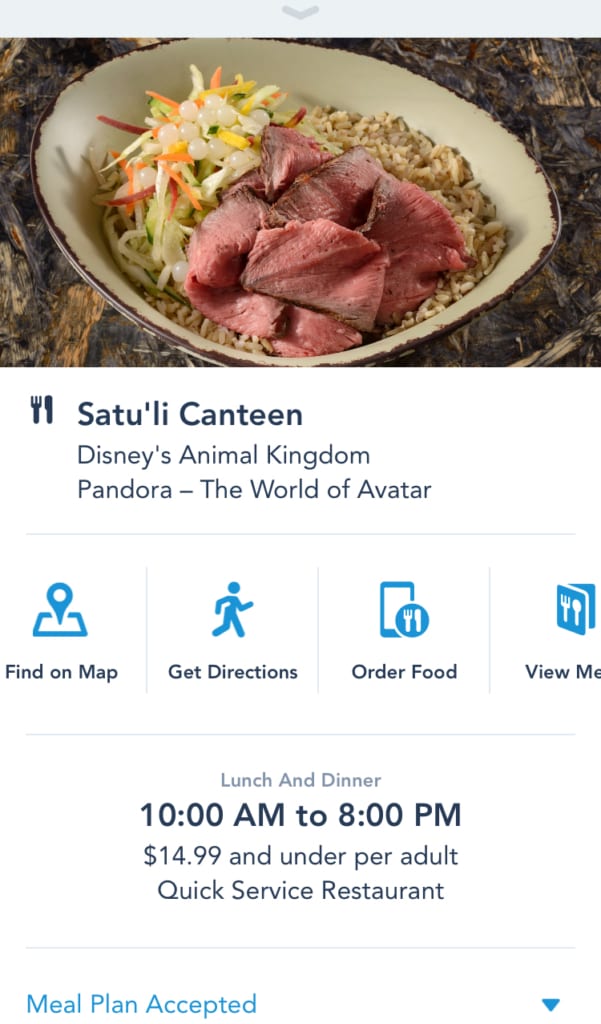 Just login to your My Disney Experience App and find the restaurant of your choice. In this case the Satu'li Canteen. You'll then notice an 'Order Food' button. Click that which takes you to the Menu Page: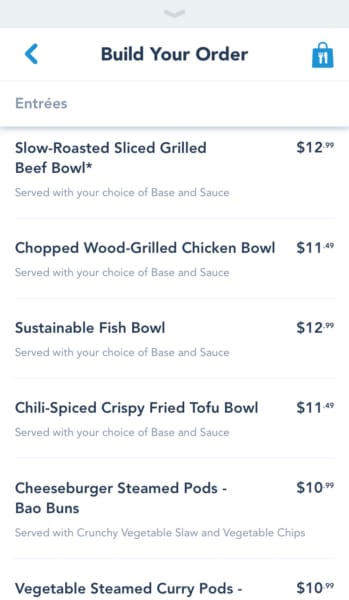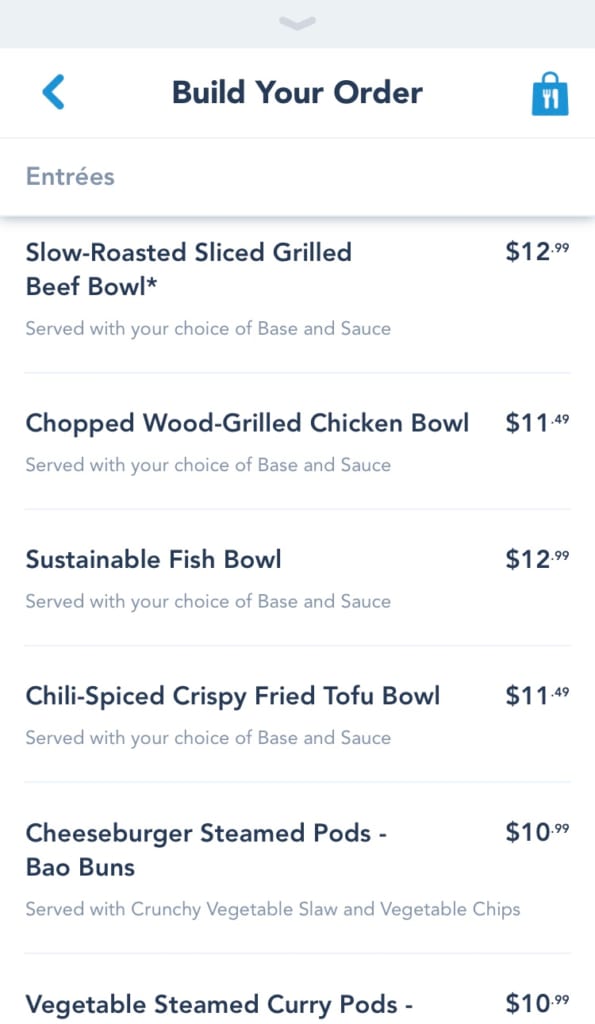 Choose whatever food you like, and click: 'Add'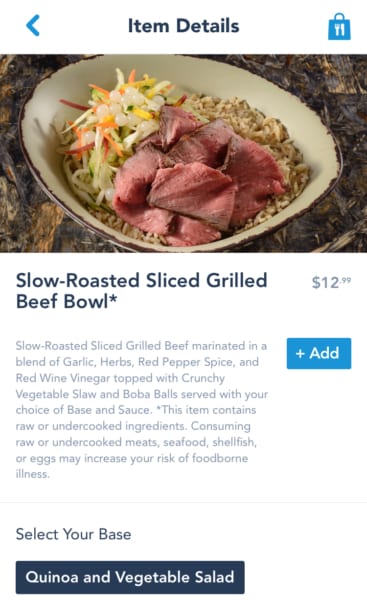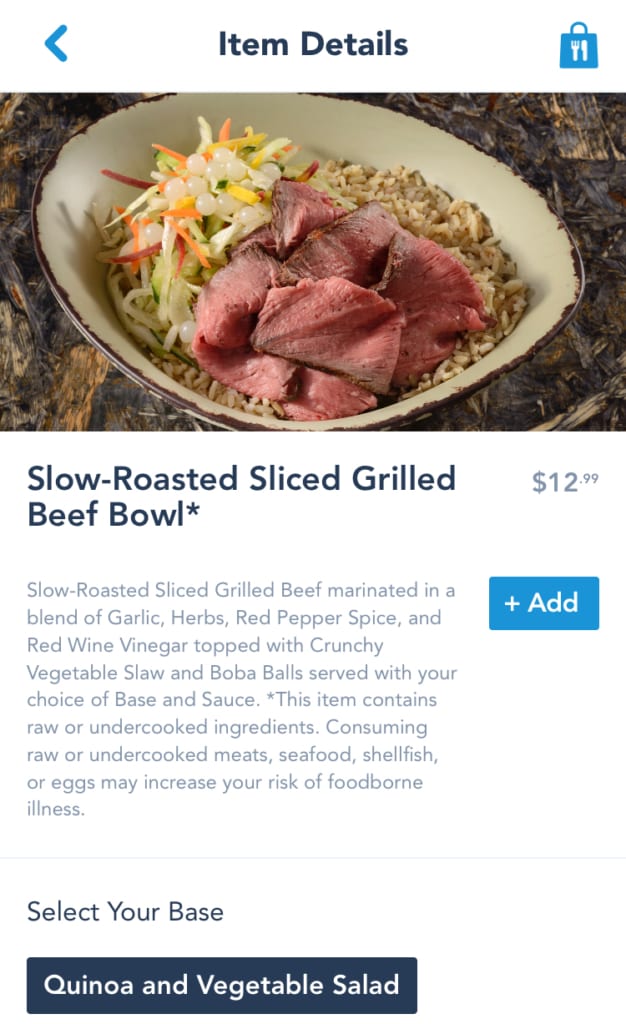 Once you are done you just go to 'Complete My Order', choose your payment form and you are on your way.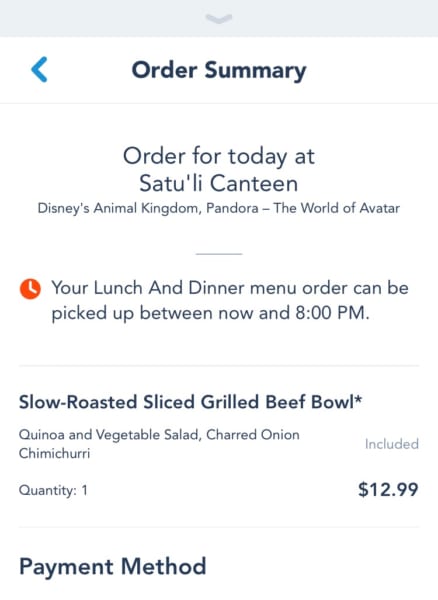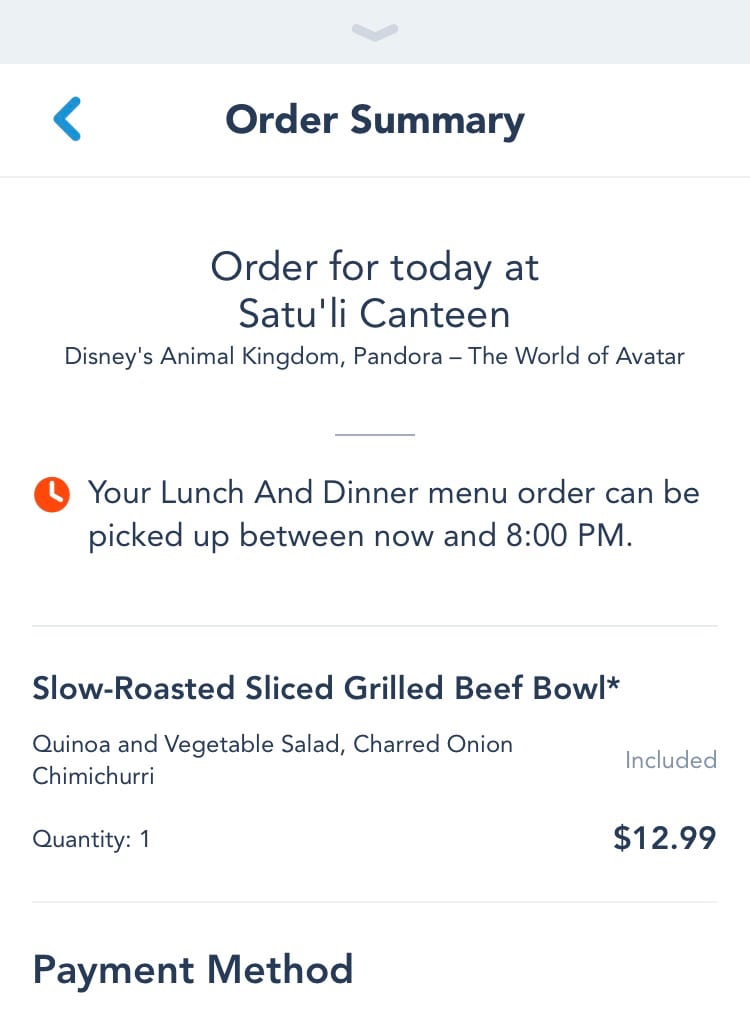 Continue your day doing whatever attractions you like, and when you arrive at the restaurant just log back into My Disney Experience and select the "I'm Here, Prepare My Order" button, and pick up your food in the queue! It's really that simple!
We got our food now so let's dig in!
First up was one of our 'Create-your-own-Satu'li Bowl' selections.
So with the 'Create-your-own-Satu'li Bowl' you choose:
Protein: Chopped Wood-Grilled Chicken, Slow Roasted Sliced Grilled Beef, Sustainable Fish Fillet and Chili-Spiced Crispy Fried Tofu
Base: Quinoa & Vegetable Salad, Red and Sweet Potato Hash, Mixed Whole Grain and Rice, Romaine and Kale Salad
Sauce: Charred Onion Chimichurri, Black Bean Vinaigrette and Creamy Herb Dressing
It's really full of unlimited combos, and they pretty much all work awesome together, so have at it and see what combos you like best!
First we tried Slow Roasted Sliced Grilled Beef Bowl w/Red and Sweet Potato Hash and Black Bean Vinaigrette:
The portion size was huge!! The beef was cooked nice and medium rare, very fresh very tender. There was also a good amount of beef for ratio of potatoes given.
The potato hash was also excellent, full of flavor and cooked just right! Loved the chopped up onions and peppers throughout, made it really flavorful. The black bean vinaigrette was good, not too strong. We had also tried the beef bowl before but with another base, and changing the base really changes the whole meal! Incredible choice!
Next Satu'li Bowl we tried was the Chopped Wood-Grilled Chicken w/Romaine and Kale Salad and Charred Onion Chimichurri:
This was a beauty! The salad was fresh and crispy and struck a nice balance with romaine and kale. They didn't skimp on the chicken at all, and it was tender and juicy and the wood flavor wasn't overpowering either. Very impressive because it's hard to find chicken at a quick service that isn't dry. Felt like you are really getting your money's worth.
The last bowl we tried was the Sustainable Fish Fillet w/Red and Sweet Potato Hash and Creamy Herb Dressing: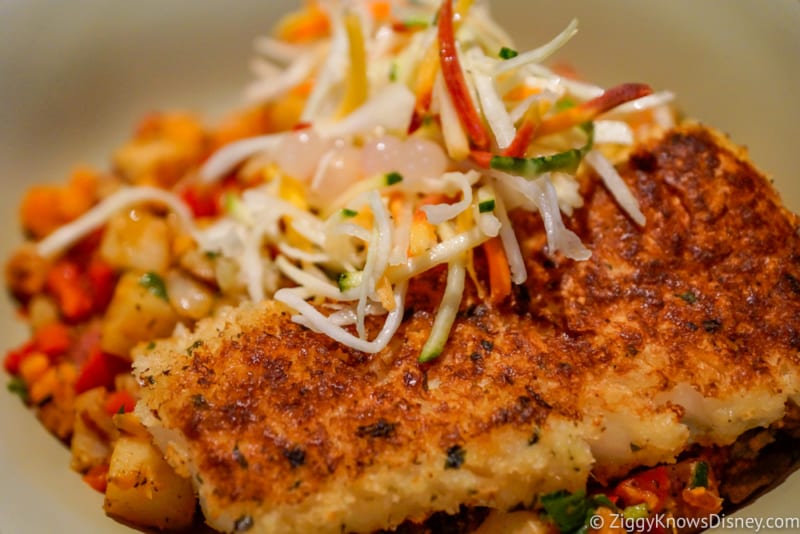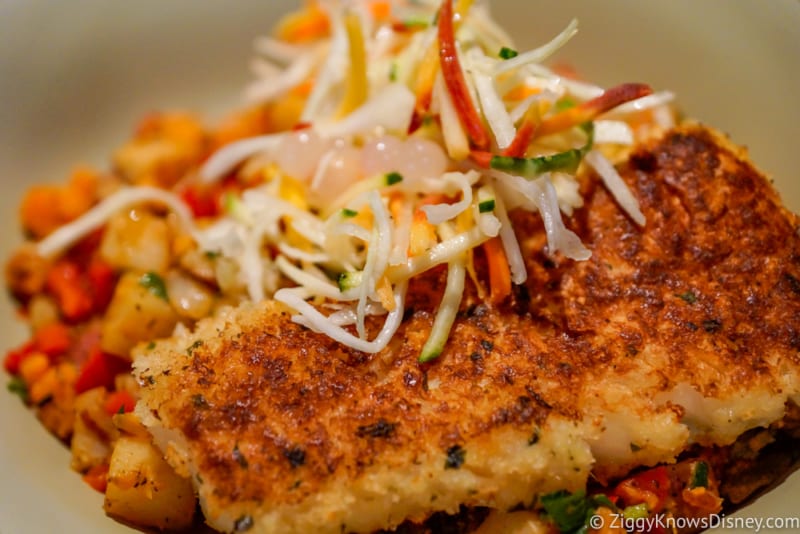 Seems to be a common theme, but the size was huge again on this one. I usually have a hard time being filled up with a Disney quick service meal, but this did the trick for sure, you won't leave hungry! The portion of fish was great, and the fish itself was cooked to perfection, nice golden crispy outside, and even the creamy sauce worked great with the fish. We went potatoes again on this one cause they were our favorite of all the bases. I'm not a big Quinoa guy and the Mixed Whole Grain and Rice is a good choice too, but the Potatoes take #1 for me!
Overall I loved all the Bowls, and highly recommend them, you can't go wrong!
Next up we had to try the Cheeseburger Steamed Pods:
I'm a huge fan of bao buns, I've even been known to eat them for dessert I love them so much, and I thought this was a very interesting take on the cheeseburger. I thought they were excellent too, packed with flavor. Stefania absolutely went crazy for them, and was talking about them for days after. My one complaint is they could have been just a bit softer, but they were great overall!
I LOVED the Root Vegetable Chips that come with them too!!! They come in three flavors, but hands down the purple ones are the best!
TIP: If you ask for the pods only they give you two of them for only $4. One of the best deals in Walt Disney World!!
You can see that inside and the juicy cheeseburger meat mixture:
Even the fresh slaw mixture that came with all the plates was tasty. Who knew eating healthy could taste so good??
Even though we loved all our selections to this point, our absolute favorite was something you find on the Kid's Menu: Teylu All-Beef Hot Dog wrapped in Dough:
This is like taking pigs in a blanket to a totally new level, and I'm super jealous that the kids have an option this good on their menu and it's not on the adult one! It's a really good quality hot dog, packed with all-beef flavor. But that dough they wrap it in is the stuff dreams are made of! Golden brown outside, and braised with just a little butter makes for a perfect meal! If you like Hot Dogs you'll fall in love, so either bring a kid along with you or pretend you have one cause you don't want to miss this!
Of course no Satu'li Canteen review would be complete without some dessert and you have two very high quality choices for a Fast Casual restaurant.
First up was the Chocolate Cake:
We assume this is some kind of new alien chocolate or something. It was a very rich dark chocolate, like ganache. We were mixed on it with some saying it was too bitter and rich and the others saying it was perfect, so I think it just depends if you are a Dark or Milk Chocolate fan. The mousse was very smooth though, and creamy. I'm not a fan of banana at all, but I didn't find the banana mousse on top overpowering at all. If you are a chocolate fan then I say go for it!
Lastly was a dessert I've been craving ever since I saw the Satu'li Canteen menu preview in the spring, Blueberry Cream Cheese Mousse w/Blueberry Cream Cheese Mousse with Passion Fruit Curd:
The presentation is incredible! I mean, this thing just screams Pandora with those bright colors and begs to be eaten! I absolutely LOVED this! Even Stefania, who doesn't even like fruit desserts was surprised at how good it was!
The whole thing was really creamy and smooth, and the fruit wasn't overpowering. My favorite part was the mango curd on top which I wish they would just give me a whole bowl of!! Hmmmm, gonna have to ask about that next time…
Again this was a big hit and both desserts were fantastically prepared, rivaling some of the best restaurants in Walt Disney World.
Summary:
Satu'li Canteen completely re-invents what we think as theme park food and does it in a way that's a tasty and refreshing change. Everything from the atmosphere to the food quality was outstanding. Everything was incredibly fresh tasting. It was also nice not having to eat the same old burger and fries you usually do, but walk away from the meal not feeling like you just ate 2 weeks worth of calories.
We loved the 'Create-your-own-Satu'li Bowls', Cheeseburger Steamed Pods, and Hot Dog wrapped in Dough, and highly recommend all 3! Even the desserts were both amazing. Honestly I have a hard time finding something I didn't like here.
The Satu'li Canteen is a can't-miss restaurant when coming to Disney's Animal Kingdom, and to me the best Quick Service dining option in the whole park, and right up there for best in Walt Disney World. Don't miss it!
Satu'li Canteen is open for Lunch and Dinner (10:00 AM – Park Closing Daily). The Disney Dining Plan is accepted, it's a 1 Disney Dining Quick Service Credit.
Click here for the Satu'li Canteen Menu
I love to write Restaurant Reviews of Walt Disney World and I hope you found this one to be informative and helpful. If you liked this review then please visit my Disney Dining Reviews Page where I have many other Restaurant Reviews. I'm happy sharing with you what I love doing best…eating! ? I try to bring you the most thorough and unbiased reviews about the food and restaurants at Walt Disney World, so that as you are planning your vacation, you know the "can't be missed" places, and where you shouldn't waste your time. Hope you enjoyed this one and will enjoy many others in the future!!
Your Thoughts:
I want to know what you think about my Satu'li Canteen Review. What's been your experience there? What's your favorite item on the menu? Let us know in the comments section below!
If you enjoyed this article, as always I appreciate it if you'd share it with others via social media. I work hard at making this website into a useful resource for you and your family to plan your visit to Walt Disney World, and I hope it can help you! Thanks 🙂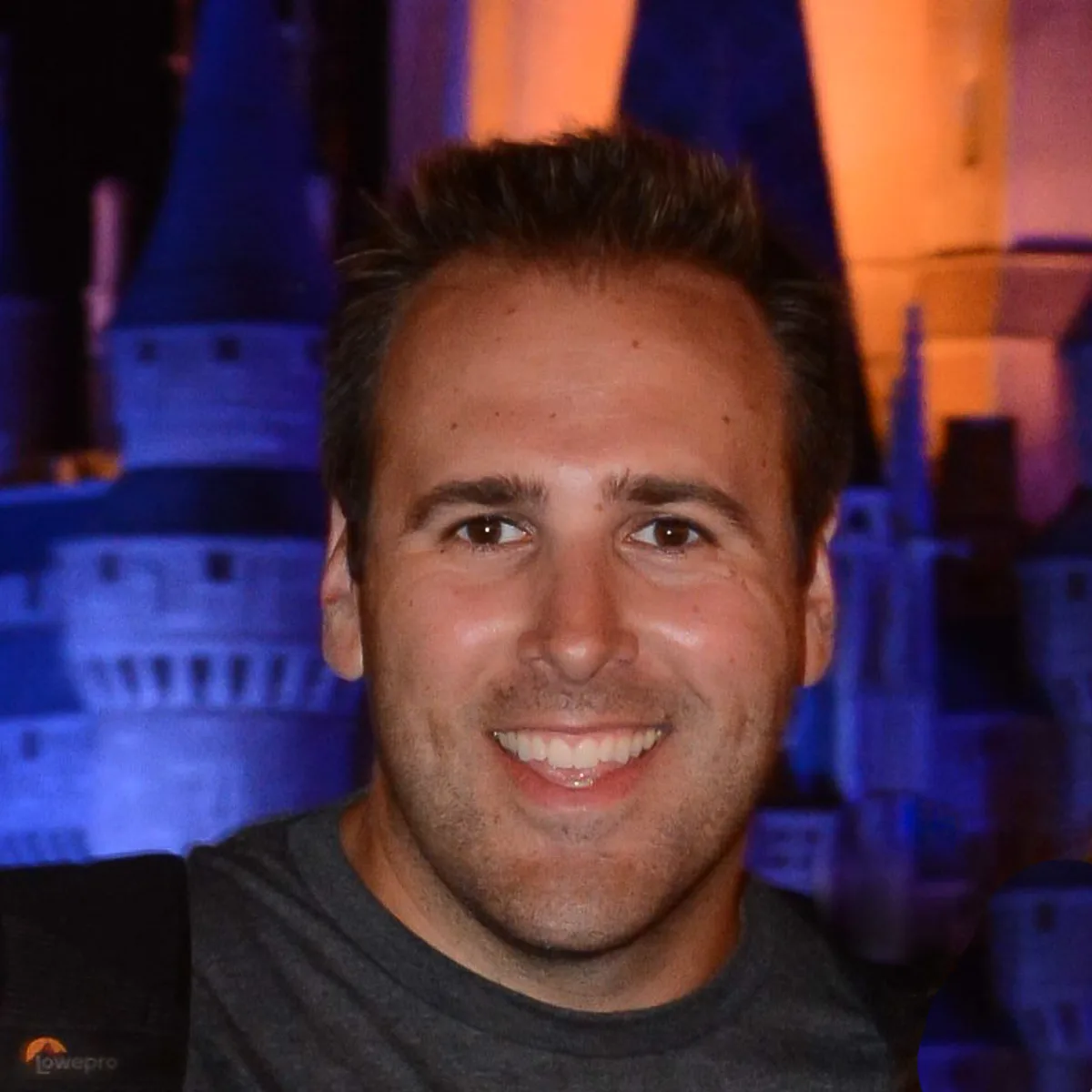 My name is Ziggy and I love Disney, everything Disney! I grew up on Disney and it has and continues to be a huge part of my life. I started young when my parents took me to Disney World when I was 18 months old. Little did they know that would be the first of an uncountable number of trips we would take. I have so many amazing memories going to Disney with my family and friends and it has been interwoven into my DNA.