Even though it's no longer MGM Studios, Disney's Hollywood Studios at Walt Disney World remains one of the premier theme park destinations in the world and a must-visit vacation destination.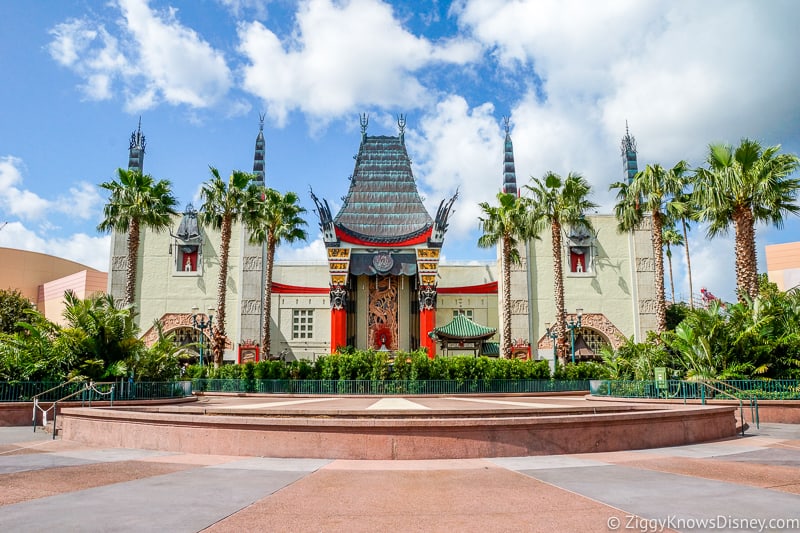 Disney World Hollywood Studios is fun for the whole family and is where you are immersed in exciting worlds based on your favorite films. There is plenty to do for kids, thrill-seekers, and people that just want to relax and take it all in.
From its inception in 1989, Hollywood Studios gone from a working film studio to a theme park only, all the while still keeping that Disney magic alive, and finding new ways to amaze the millions of guests that visit each year.
In this post, we'll cover everything you need to know about Disney's Hollywood Studios Orlando, including all the rides and attractions, entertainment and restaurants you will find when you visit.
It's been hard to visit Hollywood Studios at times in the recent past. The park has undergone more transformations than any of the other 3 Disney theme parks in Florida, with a name change, and no original MGM Studios opening day attractions left today.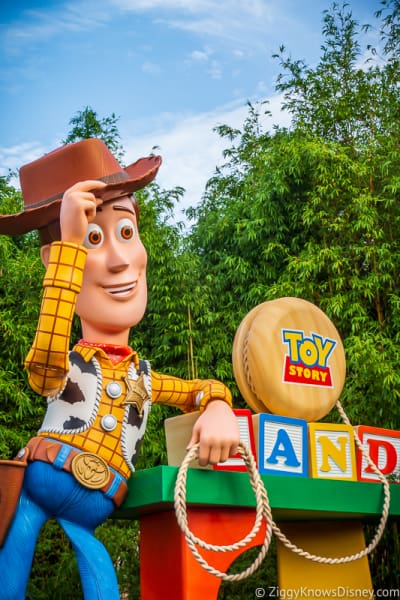 Instead, Hollywood Studios has transformed into the home of Star Wars (Galaxy's Edge), Toy Story, and some of the best rides in Walt Disney World. There is still some work left to do, but we're excited for the future of the park and where it will be moving forward
We'll also share with you the history of Hollywood Studios and how MGM Studios started, explore each one its themed areas, and share some of our favorite tips and tricks we've learned in the decades we've been going to the park.
Before we get started make sure to read these other useful resources we've put together on Disney's Hollywood Studios to help you plan your visit:
Also, don't forget to sign up for our FREE Weekly E-Mail Newsletter. There we bring you the latest updates on Hollywood Studios as well as Disney vacation planning tips. You can sign up here: Join our E-Mail Newsletter
Overview
Location: Walt Disney World, Bay Lake, Florida, United States
Opened: May 1, 1989
Lands: 9
Attractions: 21
Restaurants: 42
Status: Operating
Operated By: Walt Disney World Resort
Park Capacity: 60,000
What is Hollywood Studios?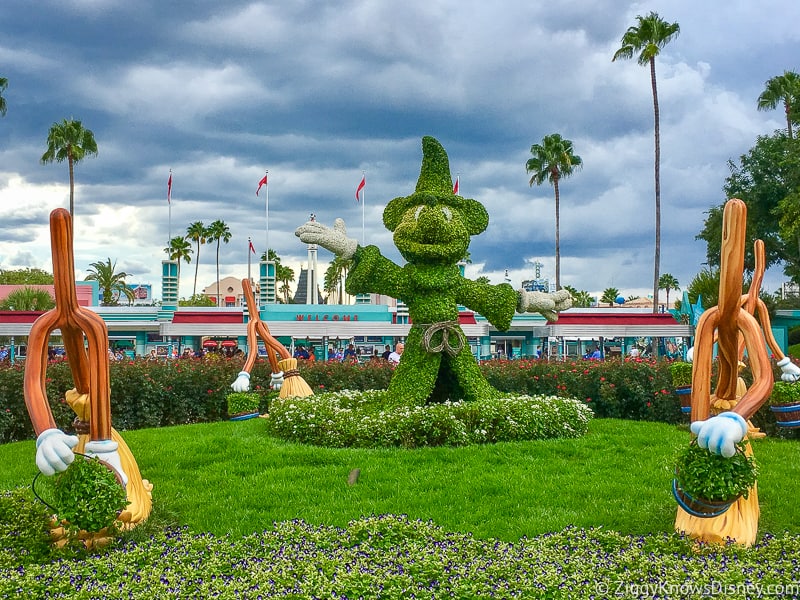 Hollywood Studios is the third theme park at the Walt Disney World Resort in Bay Lake near Orlando, Florida, USA. Its theme is based on the Golden Age of Hollywood of the 1920s and 30s.
Disney-MGM Studios opened on May 1, 1989, from an idea brought to life by Michael Eisner, Marty Sklar, and Randy Bright. The concept was to create a park centered around a real, working television and film production studio.
The design of many of the buildings at Disney's Hollywood Studios is based on historic landmarks in the real Hollywood, especially at the entrance plaza. On opening day, Michael Eisner declared: "Welcome to the Hollywood that never was and always will be."
The park has since shifted away from being a production studio to a traditional theme park. Hollywood Studios is home to 9 themed-areas each with a unique look and feel, all based around the movies or film industry.
It's the second-smallest Walt Disney World theme park at only 135 acres, but home to award-winning attractions like Rise of the Resistance, Tower of Terror, and Slinky Dog Dash.
Where is Hollywood Studios Located?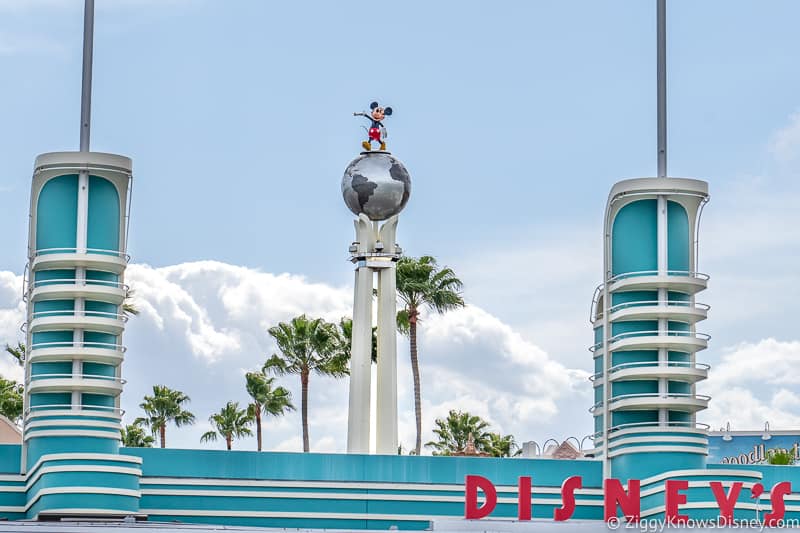 Disney's Hollywood Studios in Florida is just one of the 4 Disney theme parks in the Orlando, Florida area. People sometimes get confused, but the park is part of a larger complex of other parks and hotels.
The official Hollywood Studios address is: 351 S Studio Dr, Lake Buena Vista, FL 32830.
When looking at a map of Walt Disney World, Hollywood Studios is close to the middle of the property.
To the immediate North East is EPCOT, and farther North is Disney's Magic Kingdom. Disney's Animal Kingdom is to the West. Close-by there are multiple Disney hotels with convenient travel to the park.
Hollywood Studios or MGM Studios?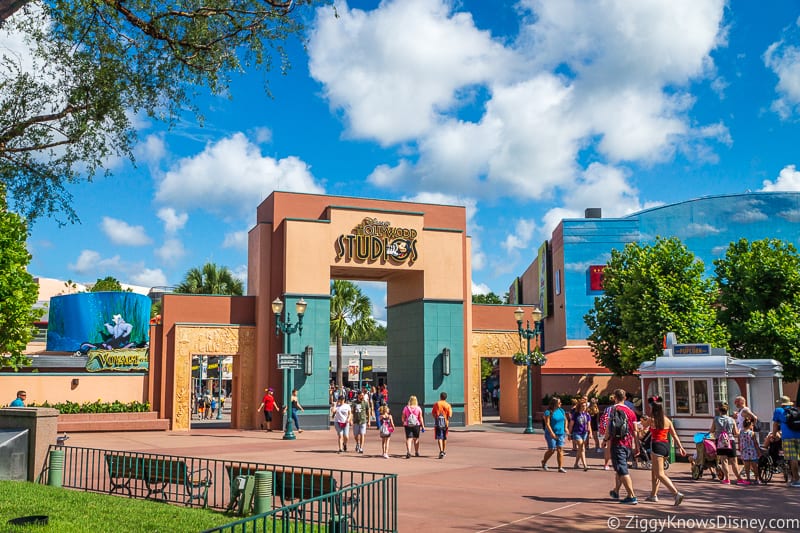 You may be wondering: "What was Hollywood studios called before?" That's right, "Hollywood Studios" wasn't always the park's name.
In fact, when it opened, the park was actually called Disney-MGM Studios. Disney entered into a partner relationship and licensing agreement with production company Metro-Goldwyn-Mayer in order to increase credibility in the film industry.
You have to remember, Disney was a struggling studio during the 1980s, with very few big hits. This was before it became the record-breaking box office juggernaut that people recognize it as today, and they needed the branding help.
Once Disney started changing the focus of the park from a film and studio production area and into a normal theme park, they dropped the name MGM Studios and officially adopted the new name "Hollywood Studios" on January 7, 2008.
What is Hollywood Studios Known for?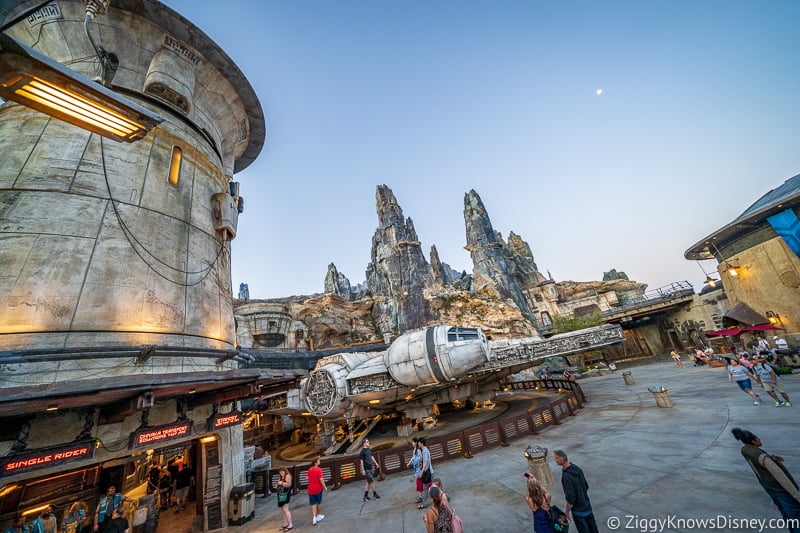 When the park first opened up, it was known for not having many attractions, and that hasn't changed much over the years. Even though the size of Hollywood Studios has doubled, it still remains the Disney World park with the least amount of attractions which guests often complain about.
As far as park icons, when MGM Studios opened, the Earful Tower was the park's symbol. That changed in 2001 when the Sorcerer's Hat became the park icon, until 2015 when it was taken down. Since then, the Chinese Theater has become the main symbol associated with Hollywood Studios.
In recent years, Hollywood Studios has become the most-crowded park in Walt Disney World due to the extreme popularity of Star Wars: Galaxy's Edge, and more specifically, the Rise of the Resistance attraction.
Getting Tickets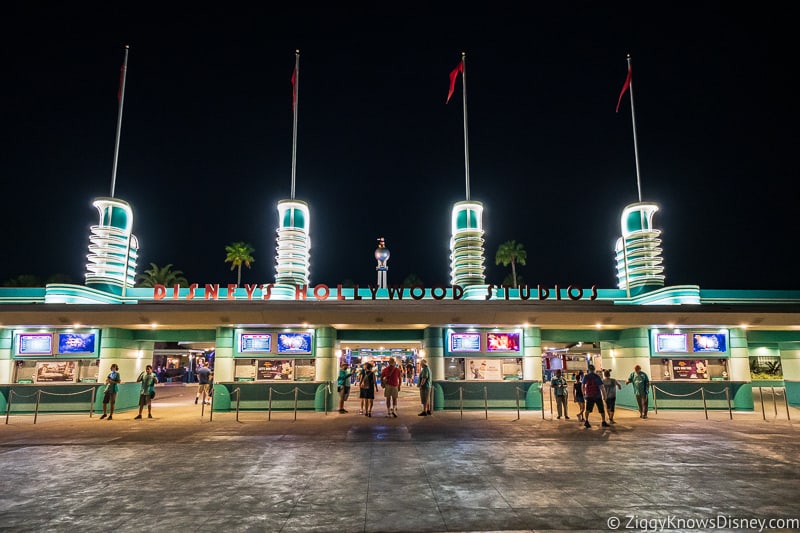 To go to Disney's Hollywood Studios, you first need to buy park admission. That means you need to decide how many days during your trip to spend there.
Hollywood Studios in Disney World is definitely a full-day park, especially if you want to see all the shows and attractions. In fact, as long as it remains hard to ride Rise of the Resistance, you might want to schedule two days just to be sure.
You might want to consider purchasing a Park Hopper Ticket which allows you to visit multiple parks in one day. That would allow you to visit Hollywood Studios multiple times in your trip, without having to spend a full day each time.
Since we often stay at one of the Skyliner hotels, this makes it easy to go to Hollywood Studios in the morning, do a bunch of rides, and then go to a different park in the evening, like EPCOT for dinner.
(Park Hopper Tickets are temporarily unavailable at the moment).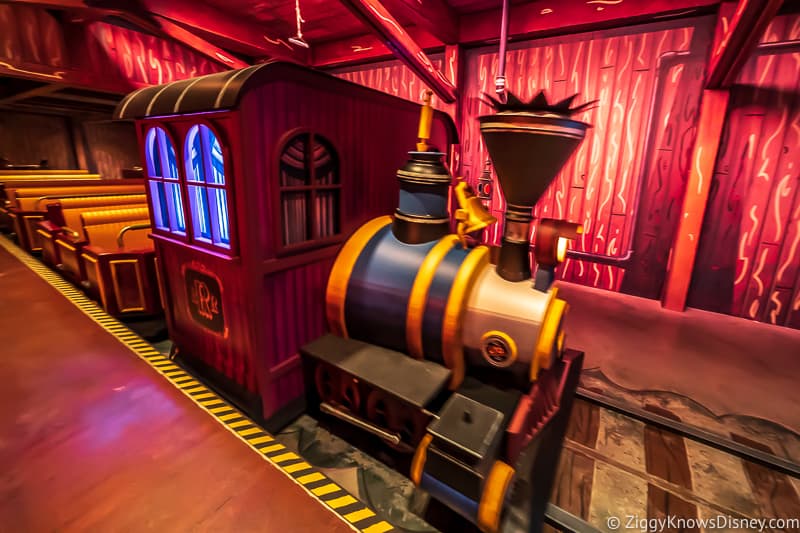 Both Single and Multi-Day tickets are available to purchase dates for 2020 or 2021. Tickets are available right now through December 31, 2021.
Disney World park tickets use dynamic pricing which means the cost changes depending on the date you go. If you are trying to get the best value for your money, visit in the off-season when ticket prices are cheaper. The closer you go to a holiday, the higher ticket prices will be.
Make sure you buy Walt Disney World tickets from the official Disney World website or a trusted reseller. If you see an offer on a third-party website that looks "too good to be true," it probably is. Some resellers even try to sell unusable tickets.
How Much Does it Cost to Go to Hollywood Studios?
Like all Disney World parks, a day in Hollywood Studios is not cheap, especially if you are going with your whole family.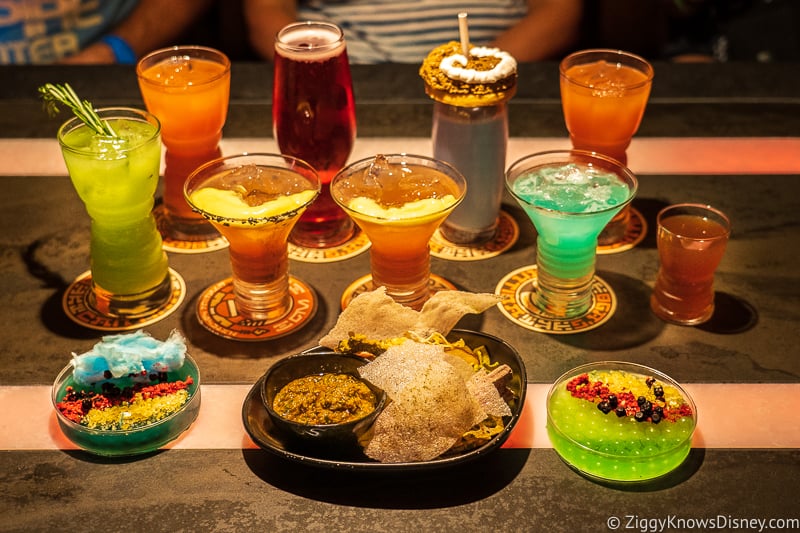 Depending on what date you choose to go, a 1-Day ticket to Disney's Hollywood Studios can cost anywhere from $109 to $159.
And that is only the cost of admission. On top of that, you have to remember that food will cost a lot, and vary depending on if you eat at table service restaurants or quick service. Prices for food at Hollywood Studios can range anywhere from $40-$100 per day, per person.
If you are taking a car or a motorcycle as transportation, parking will cost $25 per vehicle, per day.
All of these things add up and you should plan on a day at Hollywood Studios costing you between $150 and $200 per person.
Park Pass Reservations
At this time, visiting Disney World Hollywood Studios requires not only a regular park ticket, but also a park pass reservation.
The Disney Park Pass Reservation System was implemented recently due to the current health restrictions and helps Disney manage the crowds and keeps them from exceeding the new capacity limits.
Park reservations can be made on the Disney World website, but again, you'll need to have a valid park admission before making a park reservation.
Read our post on How to Make Disney World Park Reservations for a detailed walkthrough on the new system.
Park Hours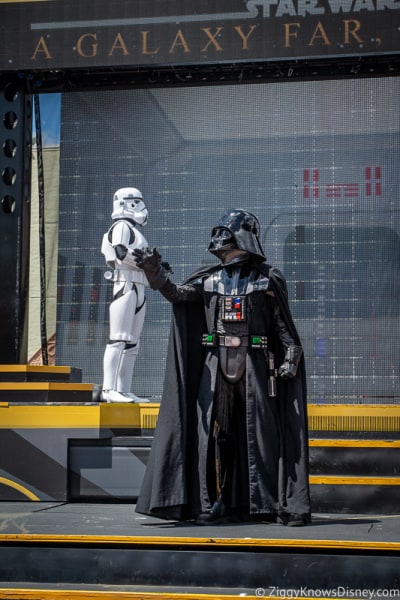 Like all Disney World theme parks, park hours at Hollywood Studios can vary a bit depending on the season and if any special events are happening. This should always be factored into any visit so familiarize yourself with the hours before you go.
2020 & 2021 Hours – Disney has modified theme park hours due to the current health crisis, which overall has meant reduced hours for all the parks, including Hollywood Studios.
Here are the typical Hollywood Studios Park Hours during this reopening phase:
Hollywood Studios Hours: 10:00 am to 7:00 pm or 8:00 pm.
On some select days around holidays, the opening hours are also extended to 9:00 am. These times are going to vary greatly in the coming months, so make sure to check with the Walt Disney World Park calendar on the official website for the most updated hours.
Normal Schedule – When Walt Disney is operating normally, on most days, Hollywood Studios opens at 9:00 am and often closes at 9:00 pm.
Occasionally it has later closings at 10:00 or 11:00 depending on the season.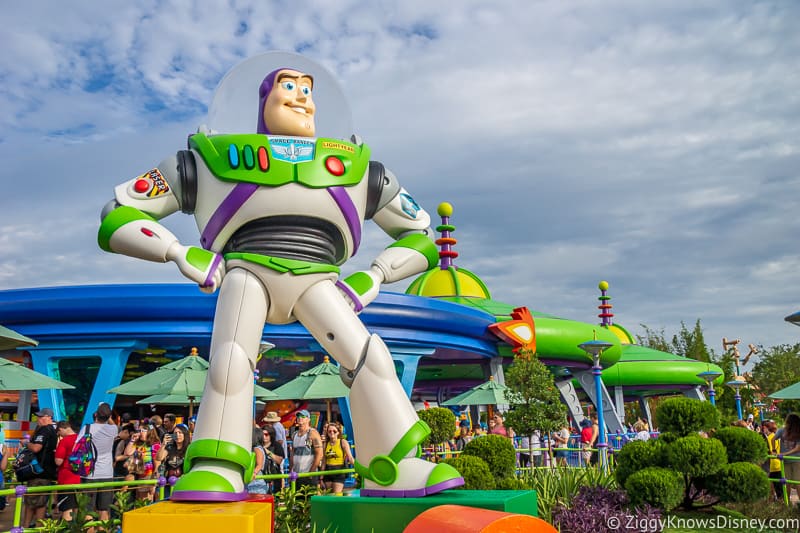 Holidays and Busy Days – Hollywood Studios park hours can vary during the holidays and the busy season with earlier openings and later closings.
Extra Magic Hours – Hollywood Studios usually runs Extra Magic Hours on Sunday Mornings and does not typically run evening Extra Magic Hours.
Morning Extra Magic Hours: from 7:30 am to 9:00 am
Evening Extra Magic Hours: Not available
Special Events – Hours also vary when Hollywood Studios is running a Disney After Hours event or another special event.
What Time do the Gates Open? – Often, guests showing up at Disney's Hollywood Studios early will be let in before the official park opening time. Typically they start letting guests in 30 minutes early and line them up on Hollywood Boulevard.
Check the official Walt Disney World park schedule for the latest Hollywood Studios Hours.
Lands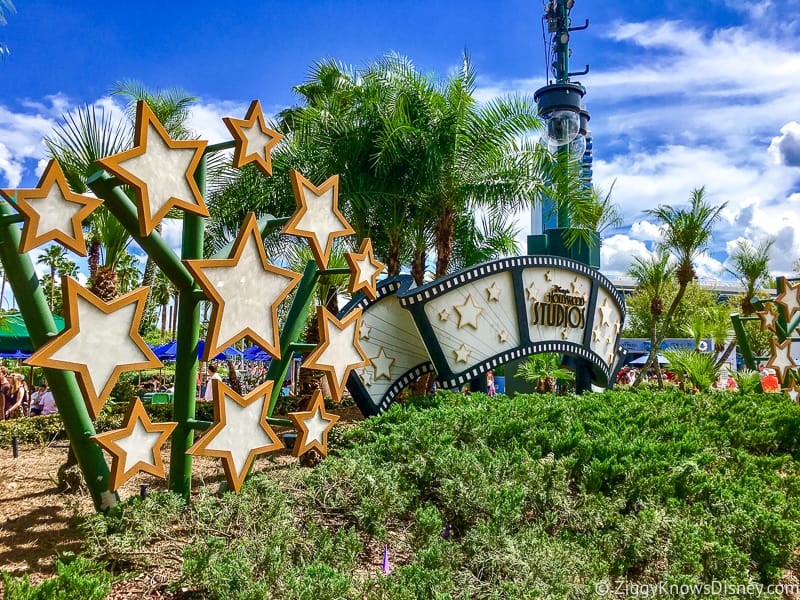 Like any Disney theme park, Hollywood Studios is separated into distinctly themed lands that change the look and feel of every area of the park.
Here are the 9 themed lands at Hollywood Studios:
Animation Courtyard
Commissary Lane
Echo Lake
Grand Avenue
Hollywood Boulevard
Pixar Place
Sunset Boulevard
Hollywood Studios has changed quite a bit from the early days of MGM Studios. At that time, each area of the park was different, but for the most part, they all revolved around a romanticized version of 1920s or 30s-era Hollywood.
Now there is a much bigger difference from area to area and Disney has paved over some of the original lands in the park for more specific movie-themed areas like Toy Story Land and Galaxy's Edge. Let's take a look at all the lands at Hollywood Studios.
Hollywood Boulevard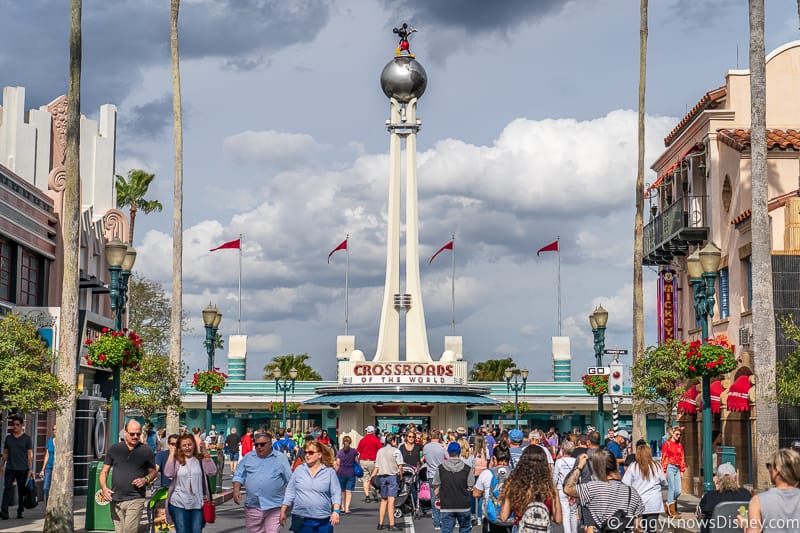 Any trip to Hollywood Studios starts on Hollywood Boulevard. This is the Studios' version of Main Street, U.S.A., operates much in the same way, and sets the stage for the rest of your day here.
The entrance gate is inspired by the Pan-Pacific Auditorium. Don't miss a recreation of the Crossroads of the World tower in the entrance plaza.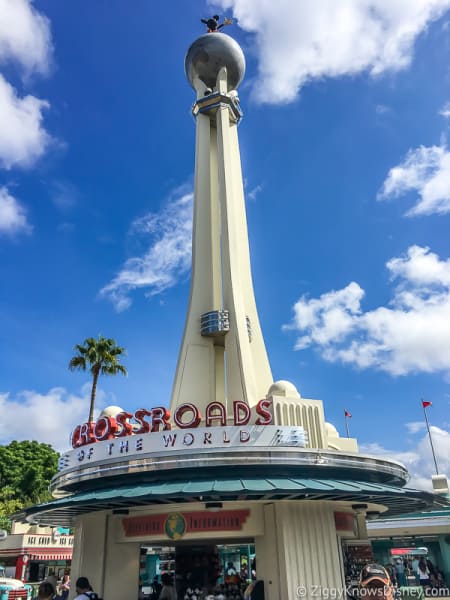 Modeled after the real street with the same name, Hollywood Boulevard is the main shopping area in the park and the main access to the rest of the park. Its colorful buildings are a mix of Art Deco and modern architecture and make you feel like you are back in the 30s.
One of the highlights on Hollywood Boulevard are the entertainers, including the incredibly talented Citizens of Hollywood street performers.
You'll definitely want to stop at the Trolley Car Cafe (Starbucks) on your way through and get your caffeine fix for the morning. Grab one of their amazing pastries or cupcakes too!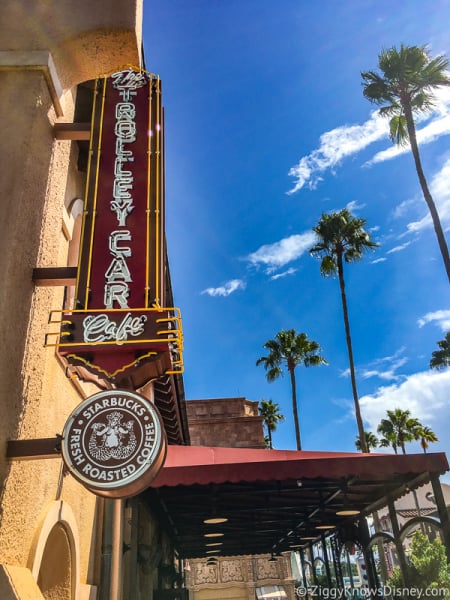 Down further on the right you'll find the Hollywood Brown Derby, a recreation of the original VIP hang-out in Hollywood.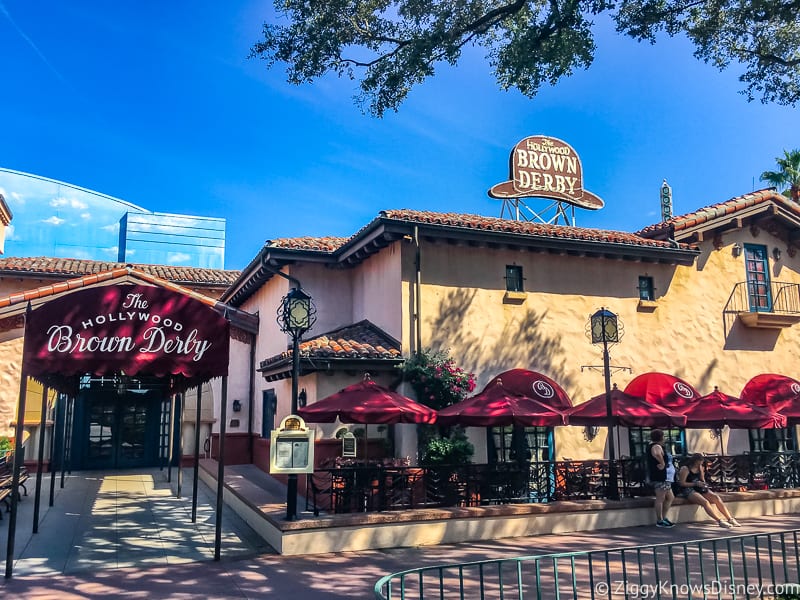 At the very end, you'll see the park's current icon, the Chinese Theater, which is now home to Mickey and Minnie's Runaway Railway.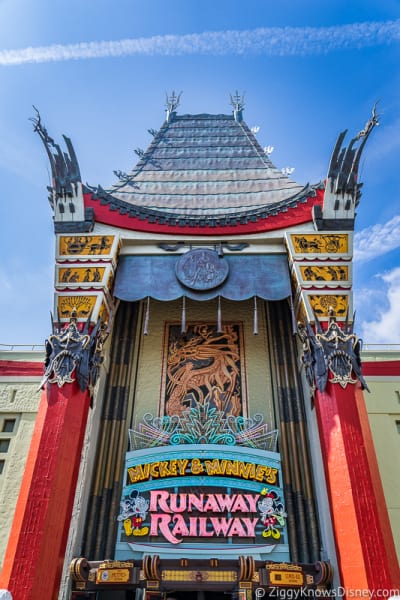 Echo Lake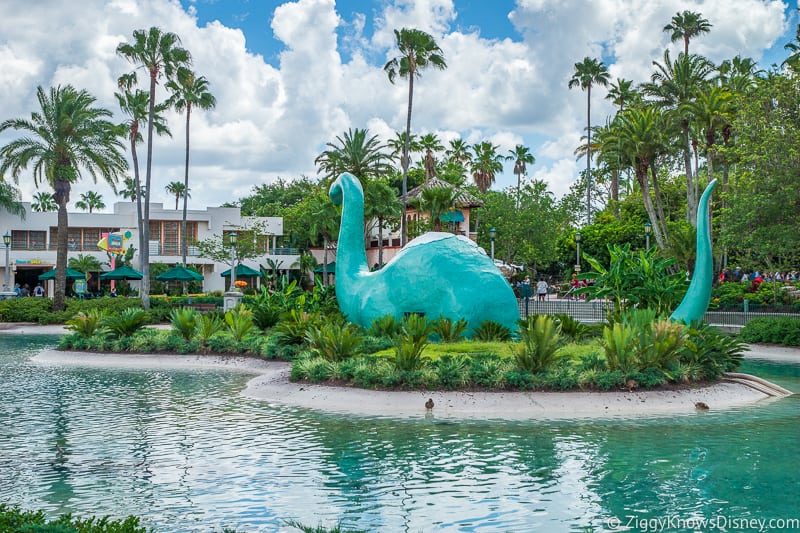 To the left of Hollywood Boulevard is Echo Lake. The first thing that's immediately apparent is Gertie, the giant dinosaur in the middle of the lake.
Echo Lake has two very popular restaurants in the 50's Prime Time Cafe and Hollywood & Vine. Both worth visiting, but we are particularly fond of 50's Prime Time.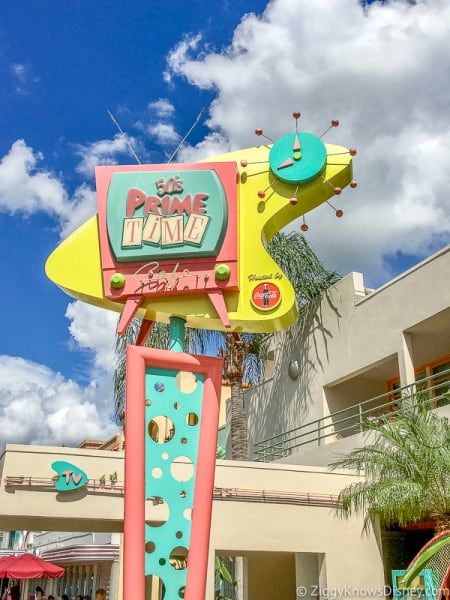 On the right of the like you'll find A Frozen Sing-Along Celebration and the new Mickey Shorts Theater.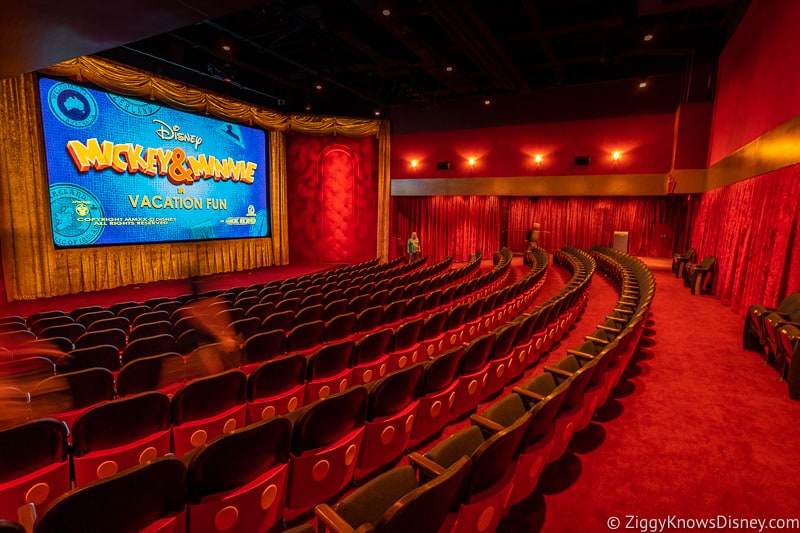 Can't miss attractions on the far side of the lake include the Indiana Jones Stunt Spectacular show and Star Tours: The Adventures Continue, a big hit with Star Wars fans, but only a taste of what is to come.
Sunset Boulevard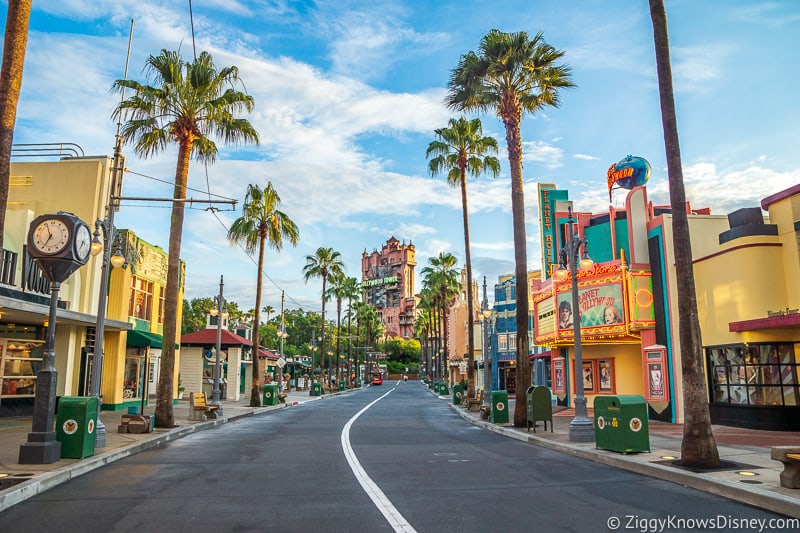 The first right-hand turn off Hollywood Boulevard brings you to another one of Hollywood's historic streets…Sunset Boulevard.
This is another street that is nice if you are looking to do some shopping while visiting the park as there are gift shops themed to old Hollywood and the film industry.
On the left-hand side of Sunset Blvd you'll find a number of quick service dining options at the Sunset Ranch Market, so stop and have a snack if you are hungry.
Further down on the right you'll find arguably Hollywood Studios' best nighttime spectacular, Fantasmic! It's located in an open amphitheater after walking down a winding path.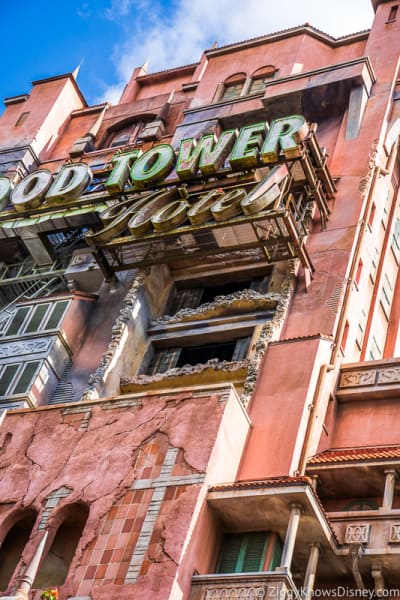 Sunset Boulevard is also home to some of Hollywood Studios' most beloved attractions. The Tower of Terror is impossible to miss as the Hollywood Tower Hotel is straight-ahead from the minute you step onto the street. This is a must-do classic Disney attraction.
Before arriving at the Tower of Terror, if you turn on the left-hand side and proceed under the arches, this will lead you to the Rock 'n' Roller Coaster and Lightning McQueen's Racing Academy.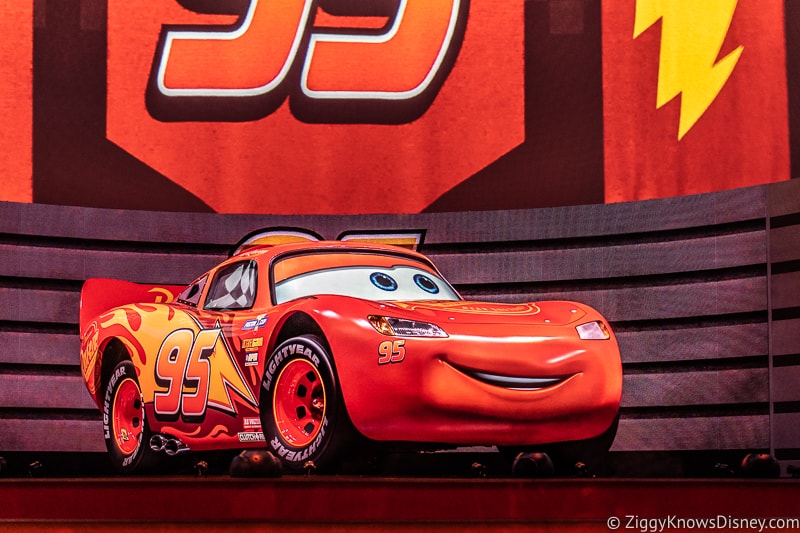 The Rock 'n' Roller Coaster is the biggest thrill ride in the park and the Racing Academy is a cute show for anyone who is a fan of the Cars film franchise and even has an animatronic Lightning McQueen leading the show.
Animation Courtyard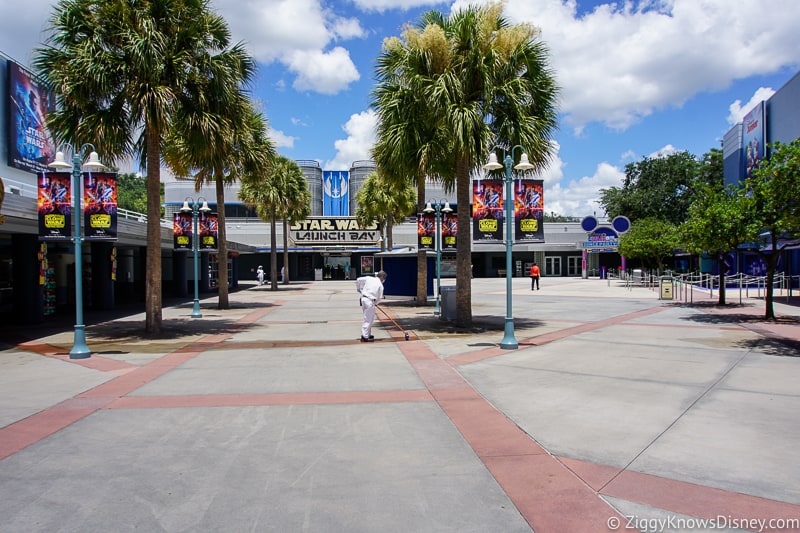 At the end of Hollywood Boulevard and through the iconic giant gate on the right is Animation Courtyard. There isn't much going on here these days, but it is home to a few important entertainment venues in the park.
Immediately on the left, you'll see the entrance to the Voyage of the Little Mermaid show. You'll find the Disney Junior Dance Party! show on the right side of the courtyard. At the very end is the entrance to the Star Wars Launch Bay, a prop museum for Star Wars fans and it holds various Star Wars character meets.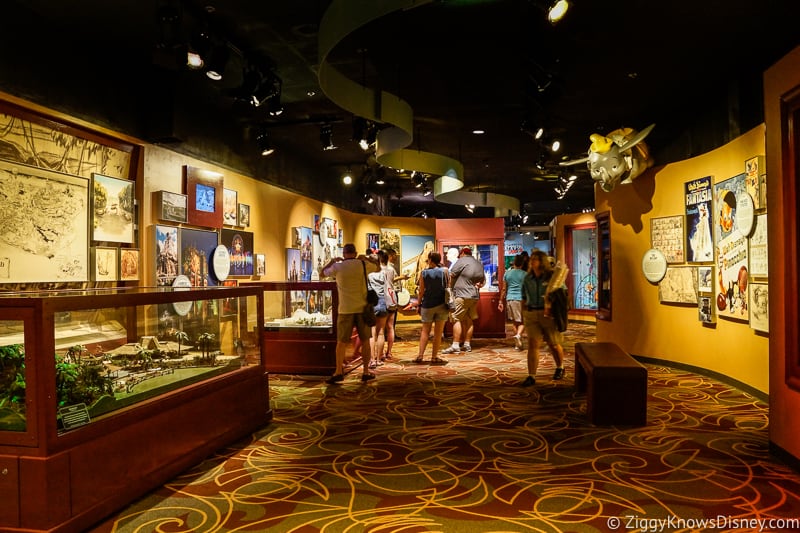 Our favorite area of Animation Courtyard is The Walt Disney Presents attraction. This is really a museum to Walt Disney and shows the evolution of Walt Disney Studios as an animation and film studio and the creation of the Disney Parks. At the end is a touching tribute film to Walt Disney himself.
Pixar Place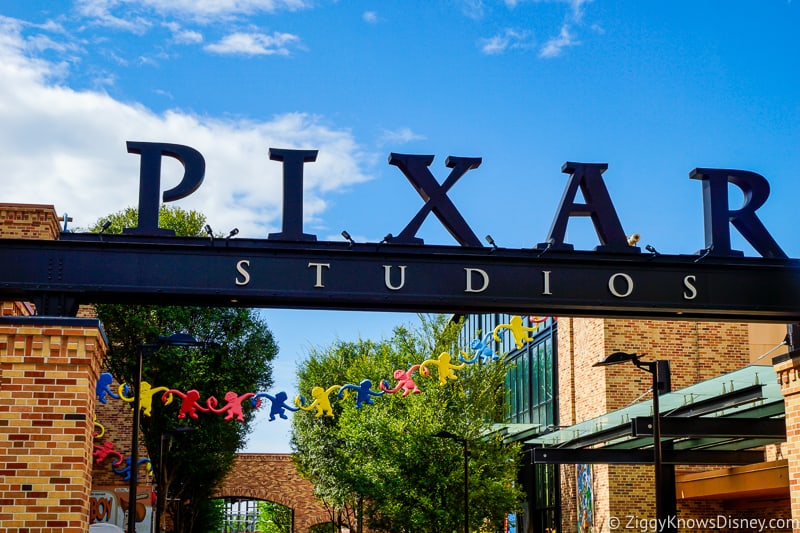 The importance of Pixar Place has reduced over the last few years with the Toy Story Land expansion essentially taking away its only attraction, Toy Story Mania! Now it mostly serves as a gateway to Toy Story Land.
If you are looking for characters, this is where you will find the Incredibles, including an Edna Mode meet.
Pixar Place is also home to one of our absolute favorite snacks in Walt Disney World, the Jack-Jack Cookie Num Num! Don't leave here without one!
Toy Story Land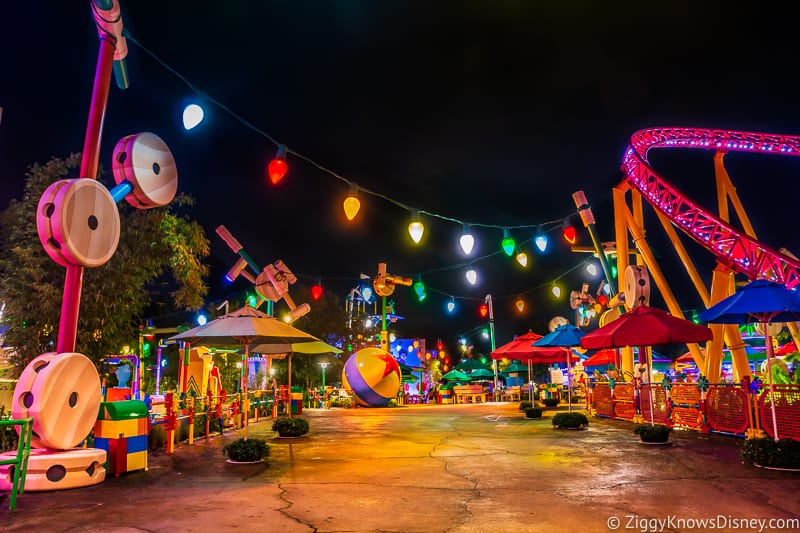 Opened in 2018, Toy Story Land was an expansion of Pixar Place and became a full Toy Story-themed area. Guests here walk into a version of Andy's Backyard where he has set up his various toy sets for you to play on.
You'll see reminders of your favorite childhood toys throughout the area, as well as Christmas lights strung up over decorating the area and Andy's giant footsteps on the walkways.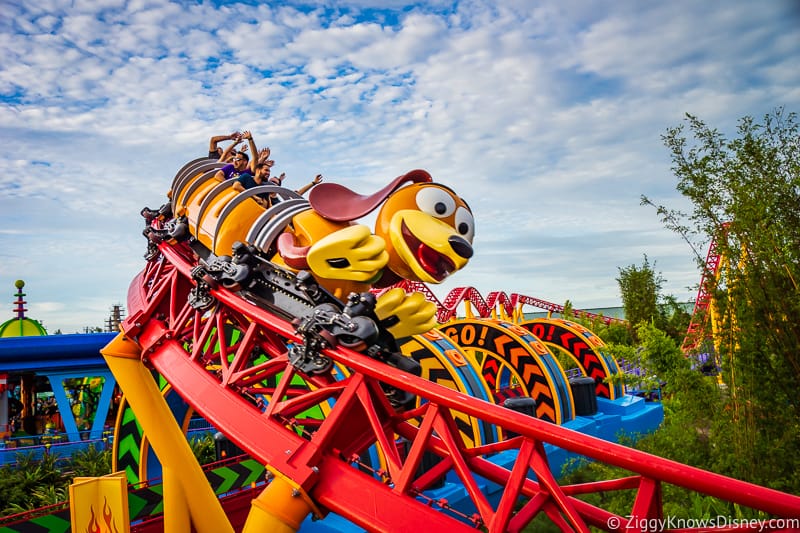 The new land kept Toy Story Maina!, just moving the entrance to the other side of the building. There were also 2 new attractions added in Alien Swirling Saucers and Slinky Dog Dash, which quickly became one of the most popular attractions in the park.
If you are hungry, Woody's Lunch Box is also one of our favorite quick service restaurants at Hollywood Studios with yummy sandwiches, lunch box tarts and totchos!!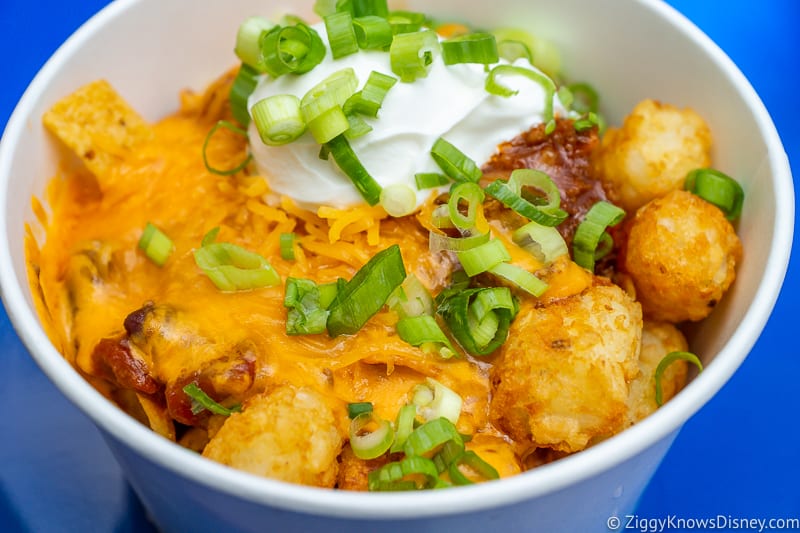 We think there were some shortcuts taken with the design of Toy Story Land and there are things that will hopefully be improved on in the coming years, but it definitely has been a positive addition to the park, giving kids more things to do.
Commissary Lane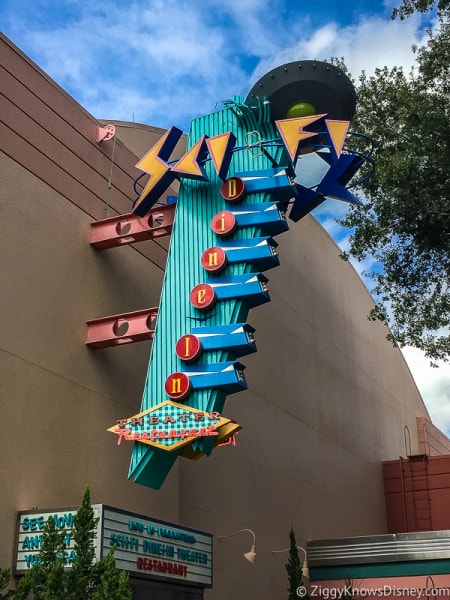 This is not really a full-blown land, but more like a mini-area that is located in-between the Chinese Theater and the upcoming Grand Avenue.
There isn't much to see here, but it is home to the Sci-Fi Dine-In restaurant, and the ABC Commissary quick service restaurant.
Grand Avenue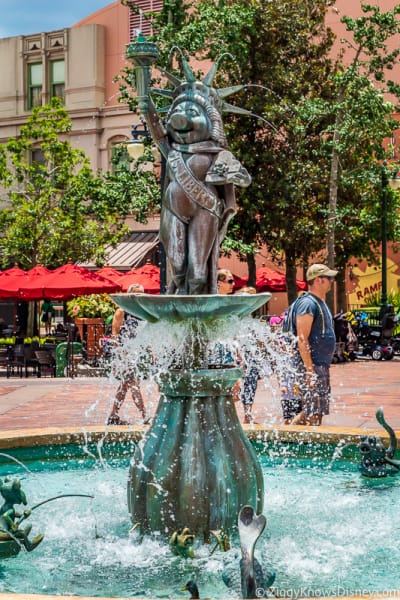 Grand Avenue is the former home of the Streets of America area, and styled after a version of present-day Los Angeles, and tries to recapture the look and feel of the city.
It's home to multiple dining options with a quick service restaurant (PizzeRizzo's), a table service restaurant (Mamma Melrose's Ristorante Italiano) and one of our favorite lounges (BaseLine Tap House).
Muppets Courtyard is now a part of Grand Avenue and it's where you will find the timeless MuppetVision 3D. This is a hilarious show that is full of cheap 3D tricks that you just can't help but laugh at.
The tunnel at the end of Grand Avenue is a recreation of the famous Figueroa Street Tunnel in Los Angeles, only here it brings you into a whole other galaxy…
Star Wars: Galaxy's Edge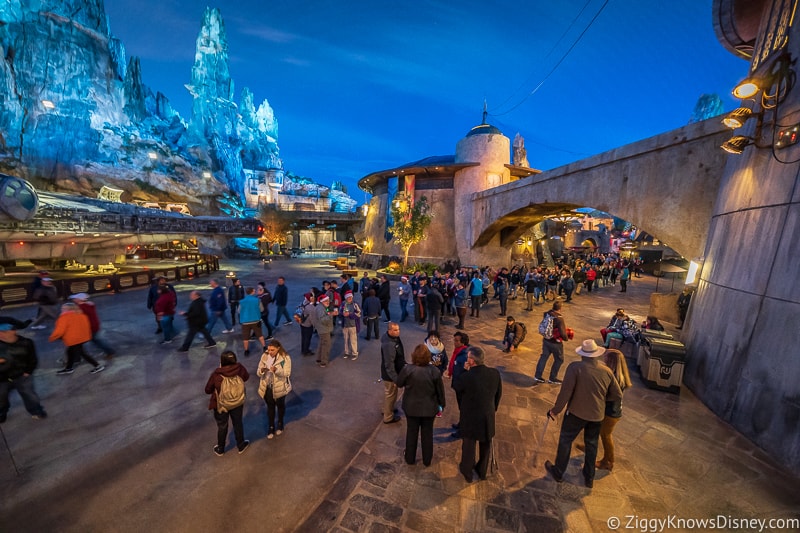 This is the crown-jewel of theme park lands, and Disney's newest addition to Hollywood Stars. As the most ambitious new land in Disney history, Galaxy's Edge transports you to the planet of Batuu and into the smuggler's hideout of Black Spire Outpost.
This is definitely the most immersive land in the park and it merits a few hours to fully explore. Everyone is in theme here, even the cast members sell you on the idea you are in another world.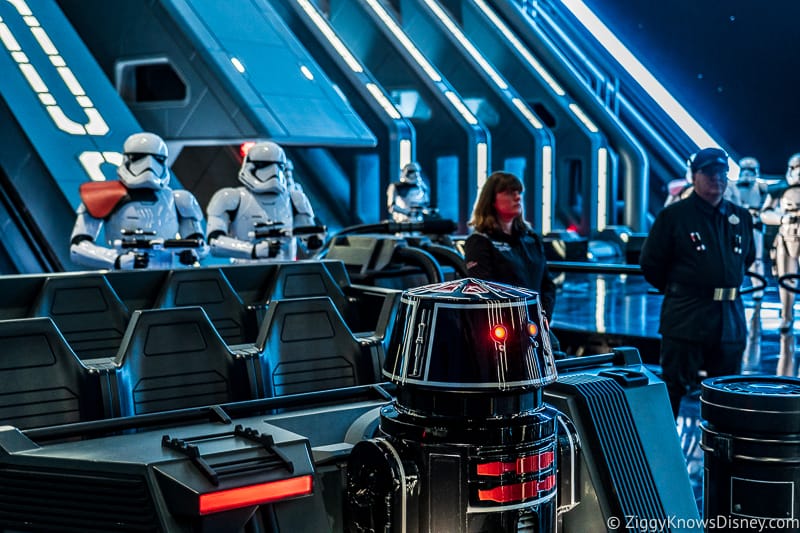 Right now, Star Wars: Galaxy's Edge has two rides, Rise of the Resistance and Millennium Falcon: Smugglers Run. Both are exceptional, but Rise of the Resistance is in a league of its own and has set the bar extremely high for future Disney attractions.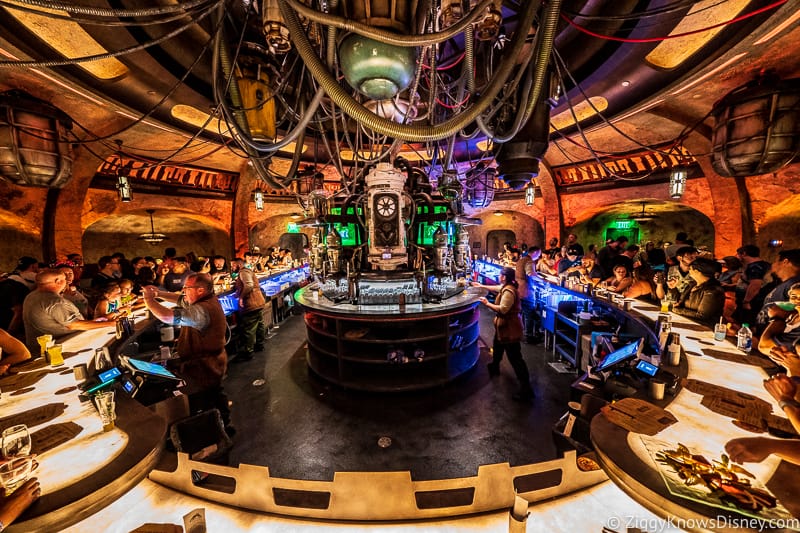 There are plenty of dining options in Galaxy's Edge with Docking Bay 7 and Ronto Roasters both solid options for a quick meal. The star however is Oga's Cantina, a bar that makes you feel like you are right in the middle of a Star Wars film.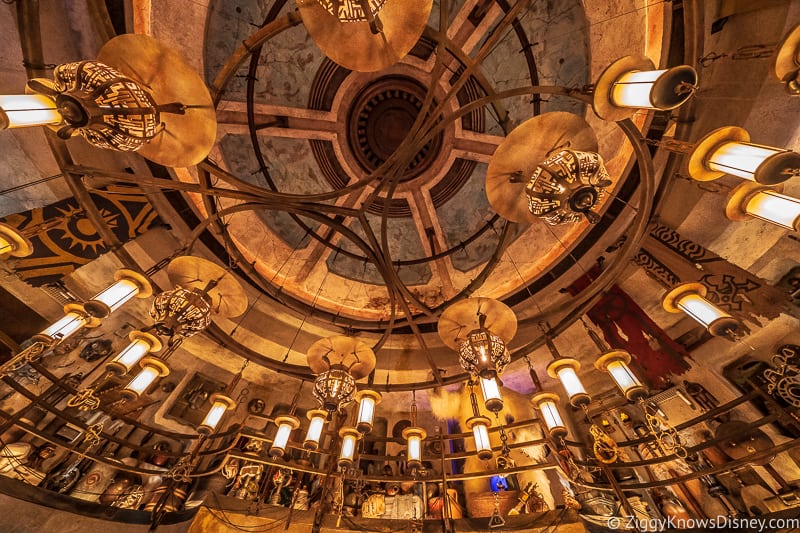 Galaxy's Edge is also full of unique shopping experiences, with the Droid Depot, Savi's Workshop and Dok-Ondar's Den of Antiquities all extremely popular with guests.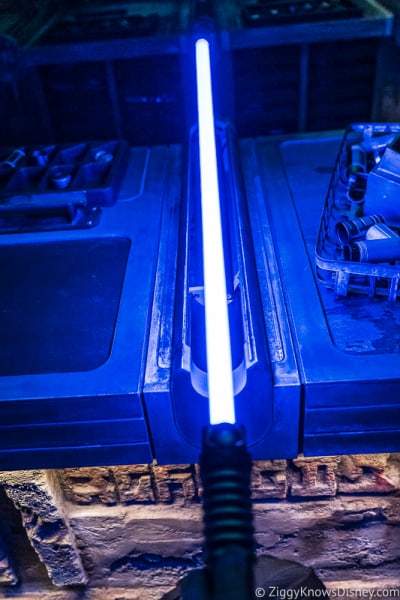 There is no mistake that Star Wars: Galaxy's Edge is where you will want to spend a good portion of your time when visiting Hollywood Studios. Read our full guide to Star Wars: Galaxy's Edge where we share more details and all our best tips when visiting.
Rides and Attractions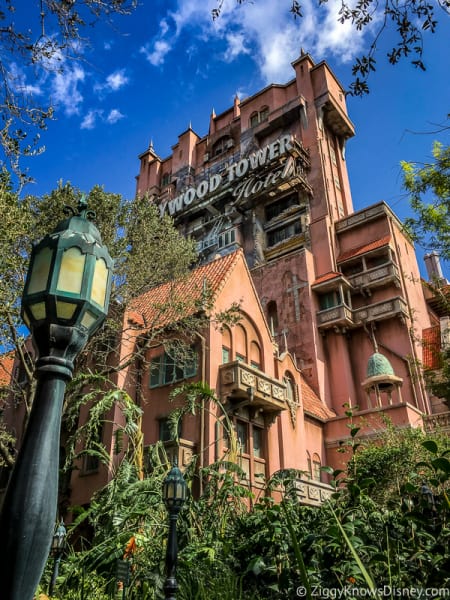 Alien Swirling Saucers
Lightning McQueen's Racing Academy