Of course we are all excited about Star Wars Galaxy's Edge for the mind blowing attractions, stunning visuals and immersive environments it will have. But let's face it, I'm just as excited for the Food! Thankfully we don't have to wait any longer as last night Disney gave a first look at the Star Wars: Galaxy's Edge dining including the food, menus, and all the snacks coming to this far away galaxy!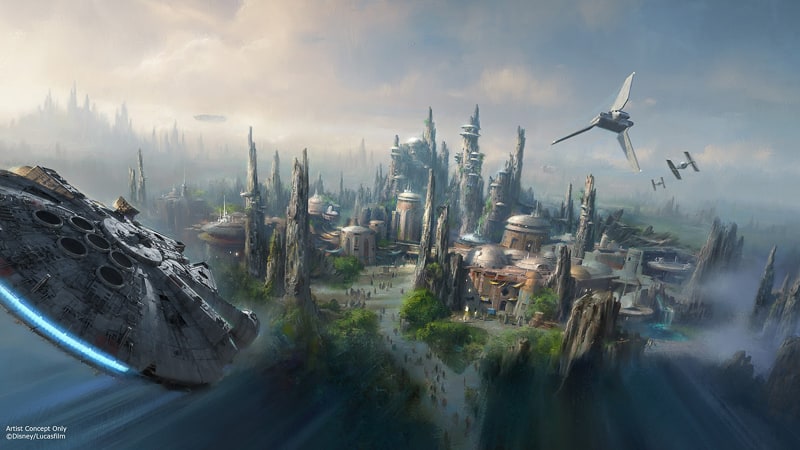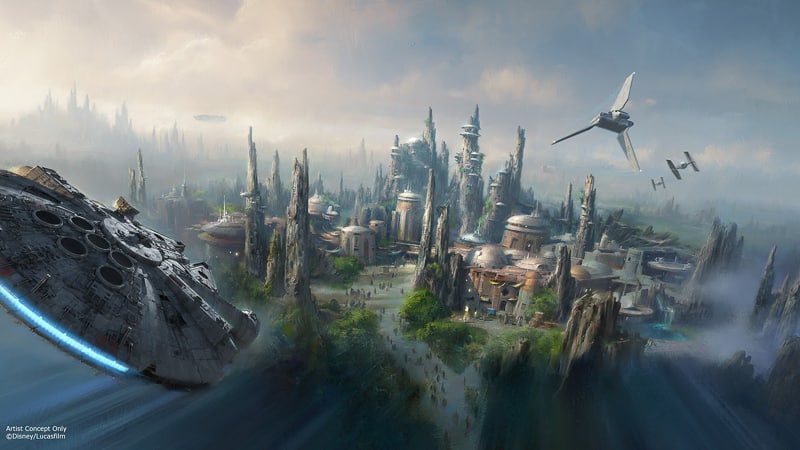 We learned more about the two restaurants coming to Galaxy's Edge. We learned a bit more about Oga's Cantina as well as the name and all the food from the main dining establishment in Black Spire Outpost: Docking Bay 7.
If you don't have time to sit down and enjoy a meal, don't worry! There will be various locations around Star Wars Galaxy's Edge where you can grab a quick bite to go as you are running off on your next mission.
Let's break it down by each Star Wars: Galaxy's Edge dining location:
Oga's Cantina: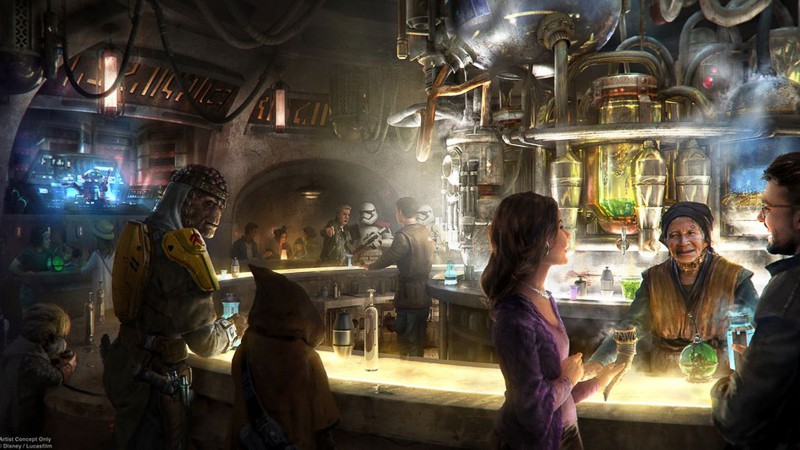 Oga's Cantina was the first of the dining locations we heard about coming to Galaxy's Edge. We already knew that this is going to be a location much like the space cantina Luke and Obi-Wan go into in the original Star Wars movie, and it will have entertainment too!
Of course alcoholic drinks are going to be a big part of the menu here at Oga's Cantina, and we recently found out that it will break away from the norm in Disneyland and allow its guests to consume alcohol (though they won't be able to bring their drinks outside the restaurant.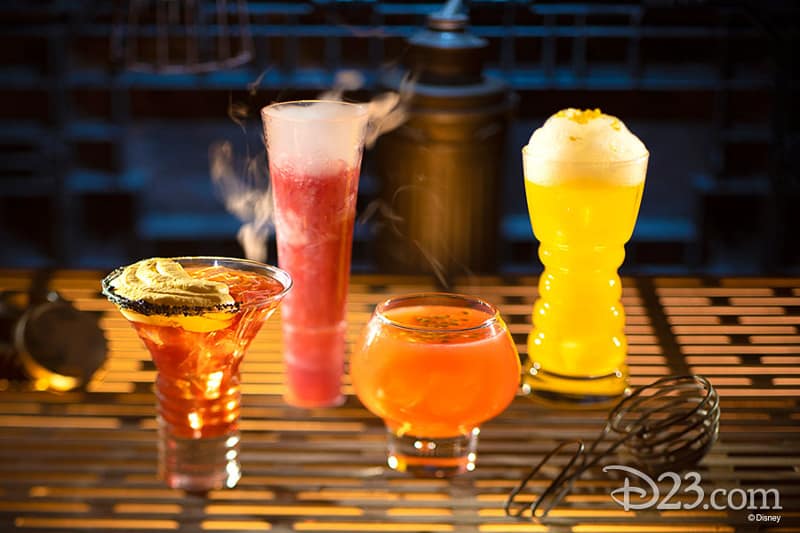 Some of the drinks include:
Bespin Fizz
Bloody Rancor
Dagobah Slug Slinger
Fuzzy Tauntaun
Jedi Mind Trick
Jet Juice
Spriran Caf
The Outer Rim
T-16 Skyhopper
Yub Nub
Just hearing the names isn't enough, thankfully we have a look at the drinks in these photos, and I have to say they are pretty stunning!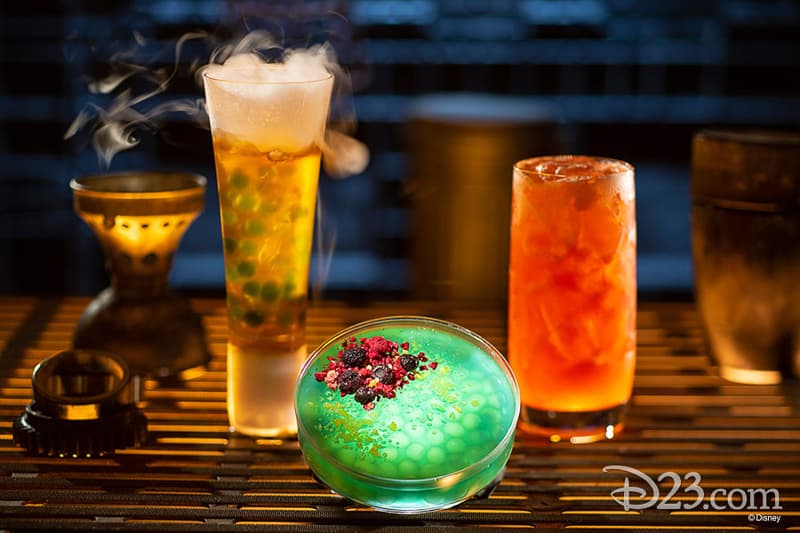 There will also be non-alcoholic drinks for kids including:
Black Spire Brew
Tarine Tea
Blue Bantha
Cliff Dweller
Hyperdrive Punch It!
Jabba Juice
Moogan Tea
Carbon Freeze
Since Star Wars Galaxy's Edge is going to be open for breakfast as well as the other meals, guests are going to need something to get them started. And food options include:
Oga's Obsession
Rodian Ration
Each option looks more tempting than the other! It sure looks like we're going to be spending a whole lot of time in Oga's Cantina when it opens!
Docking Bay 7:
We finally got some information on the other table service restaurant that nobody had heard really anything about till yesterday: Docking Bay 7.
First of all we get the explanation behind the name "Docking Bay 7." Remember that famous space shuttle we saw land in Galaxy's Edge on top of one of the buildings months ago? Turns out it belongs to Chef Strono "Cookie" Tuggs, the owner of Docking Bay 7 and he uses it to fly in his food to this cargo hanger from the roof.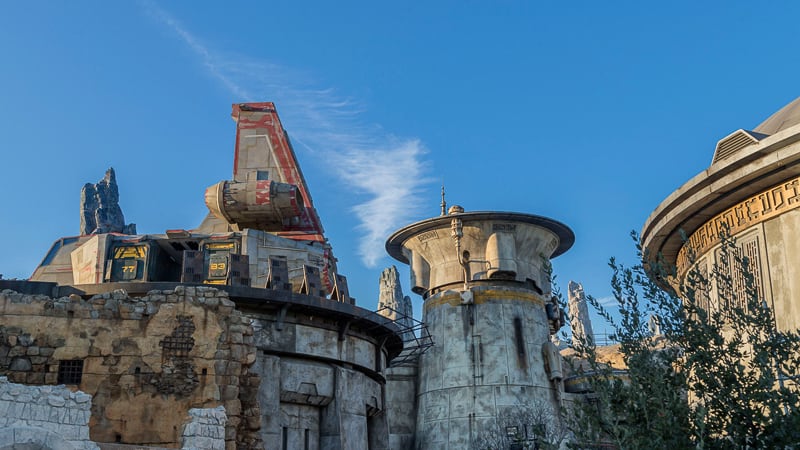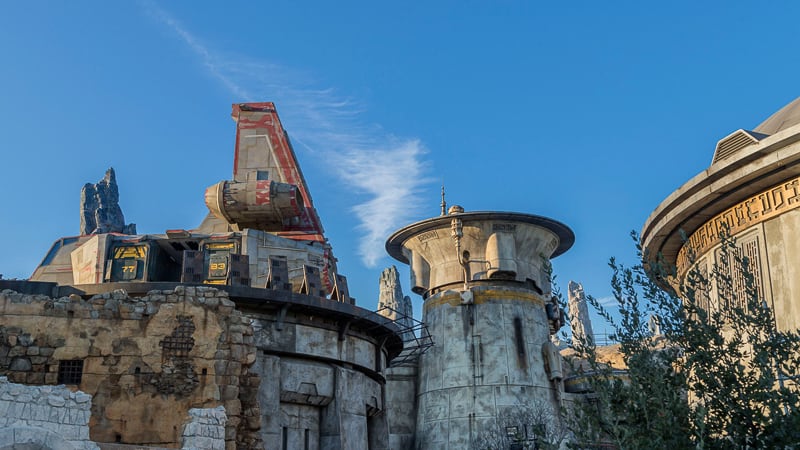 This is an important hanger bay in general to Black Spire Outpost as it's used to provide produce, provisions, and equipment to incoming freighters to the hangar
Chef Tuggs is in high demand as a highly trained culinary master, and he's excited to show off some of the new dishes he created during his time working in May Kanata's kitchen.
Docking Bay 7 is being called a Fast-Casual restaurant on the same line with Satu'li Canteen in Pandora: The World of Avatar. Guests may choose to dine indoors in the hangar bay or outside in a shaded courtyard.
Not only did we get the name and background, but we also have photos of each of the menu items. Take a look!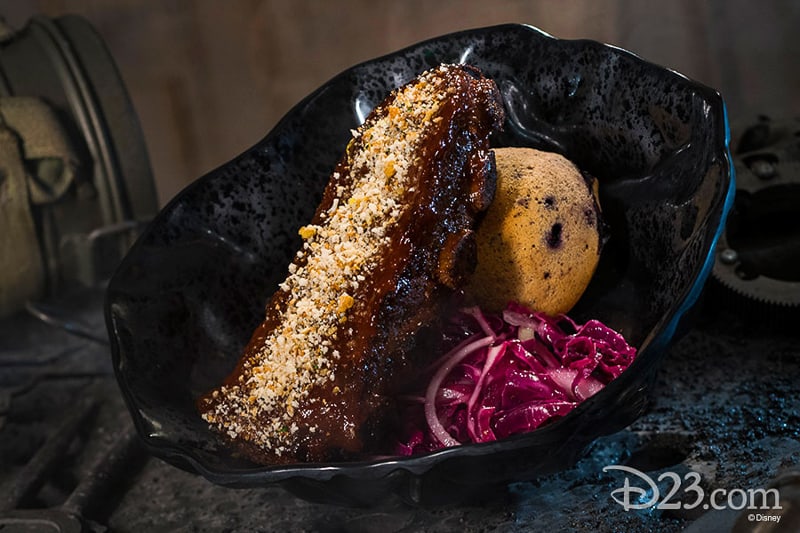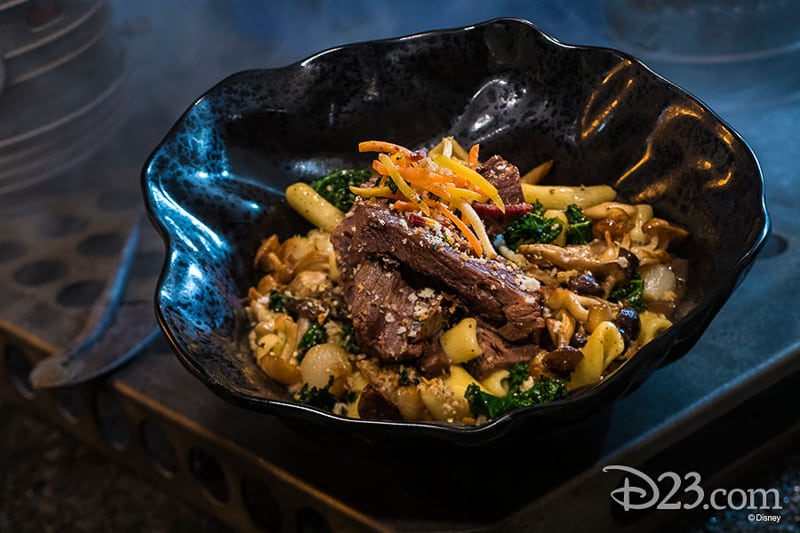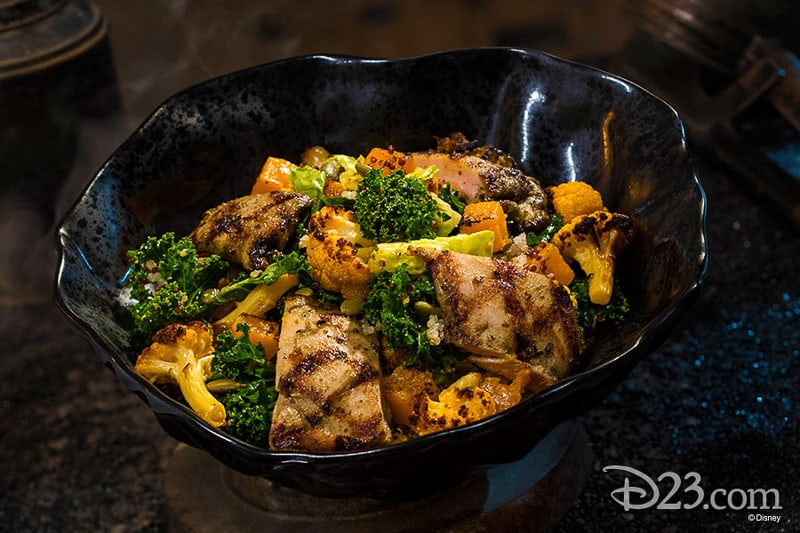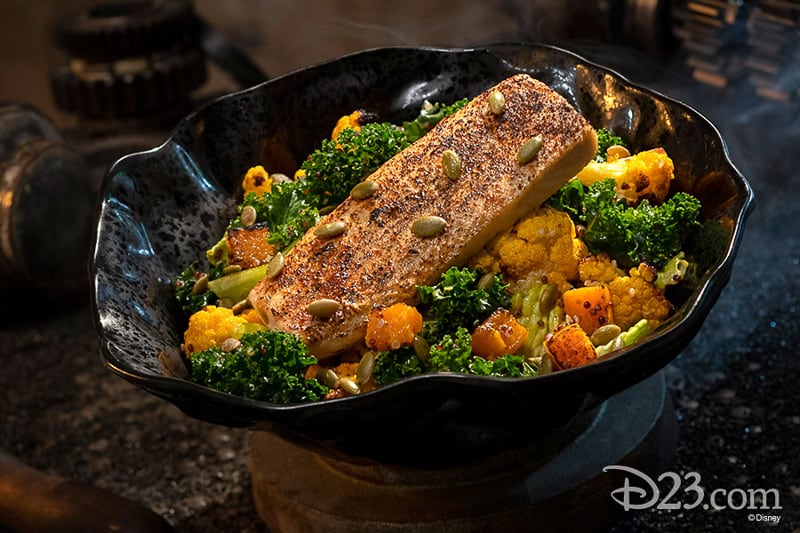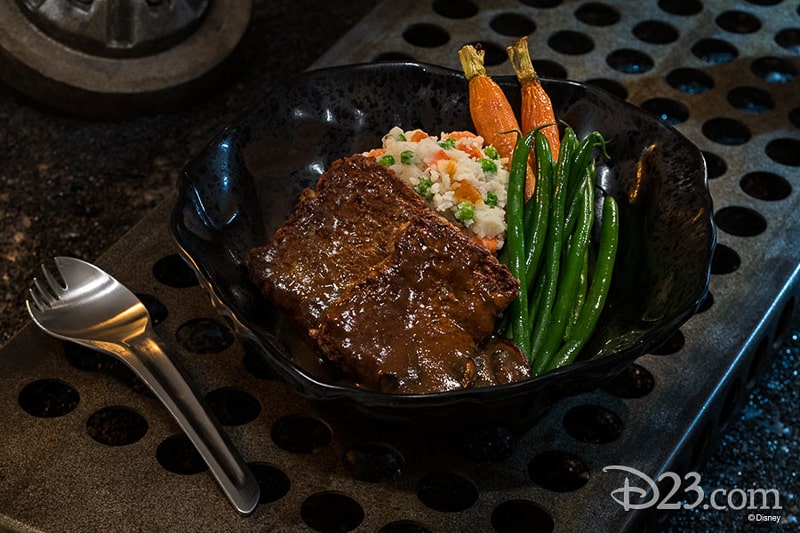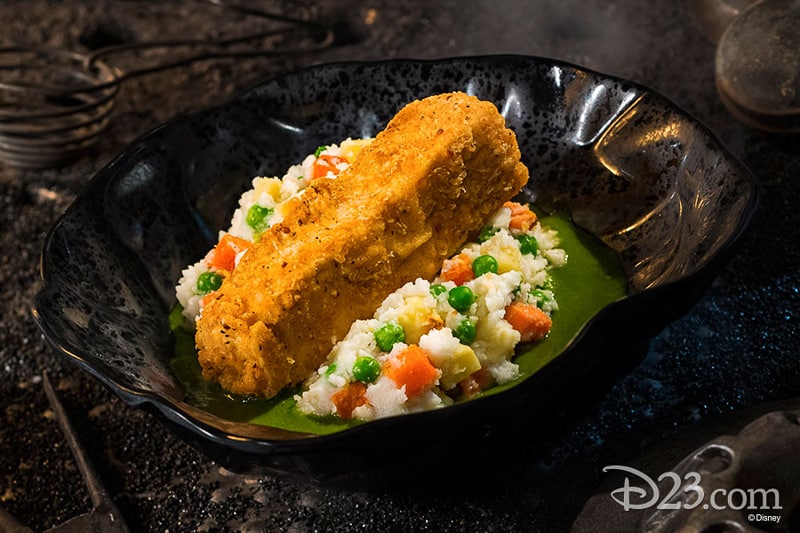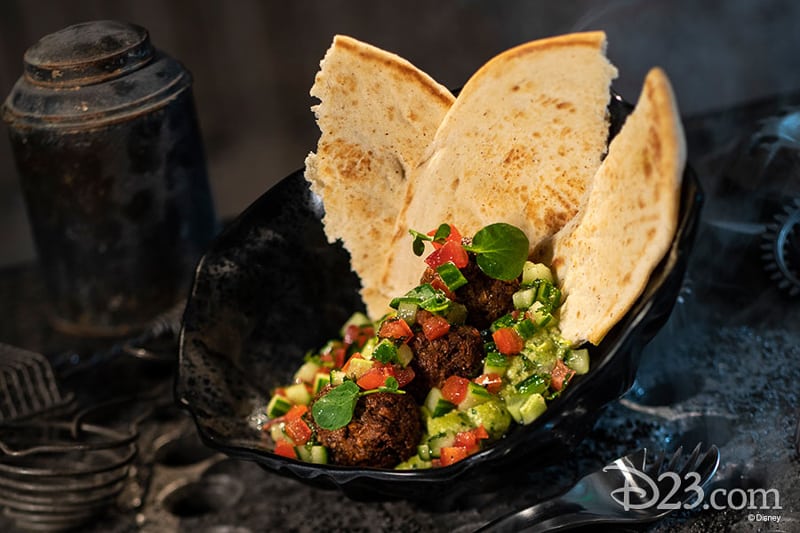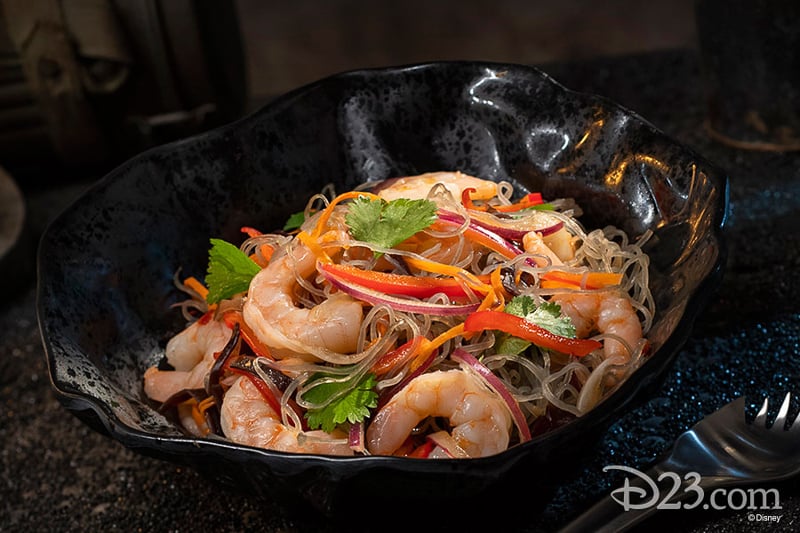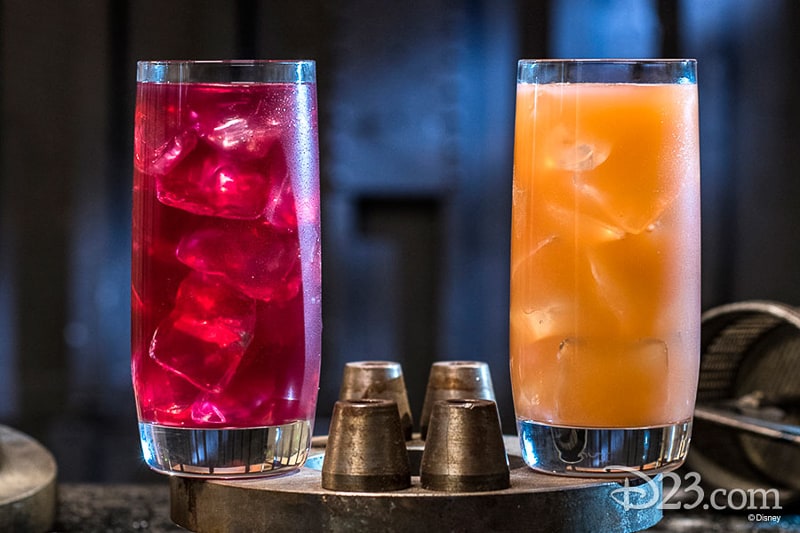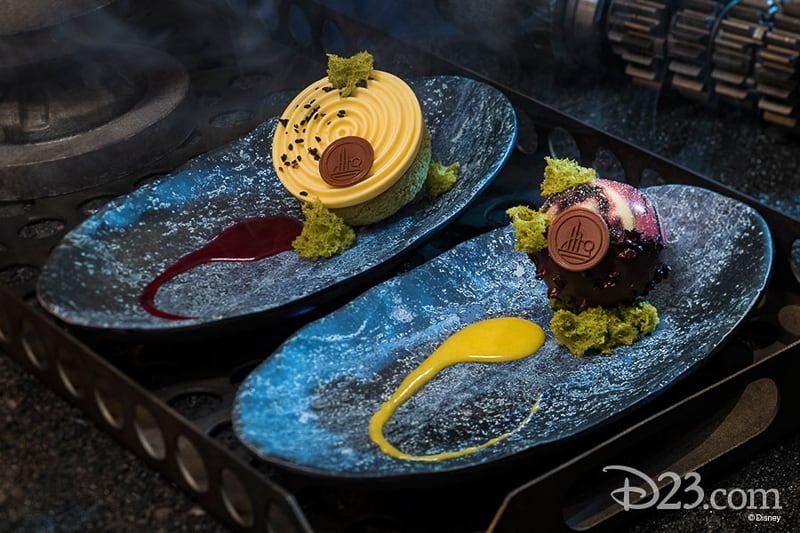 The options remind me of a higher scale Satu'li Canteen, with lots of seemingly healthy options that will appeal to a wide variety of palates. I'm excited to try it out!

Ronto Roasters: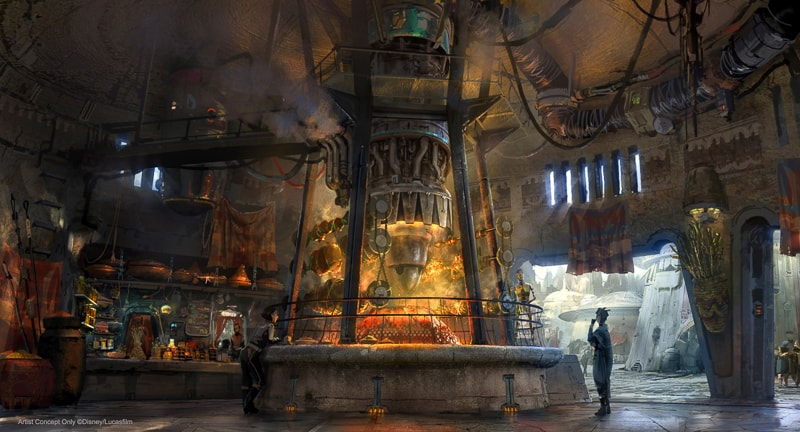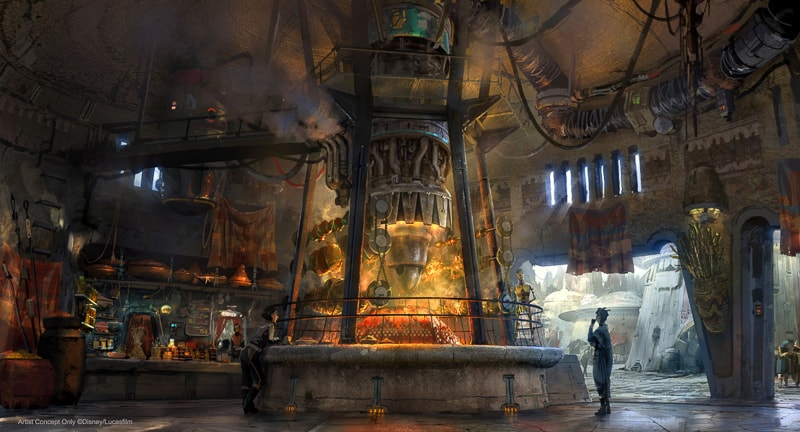 Ronto Roasters is run by Bakkar and his droid: 8D-J8. What you'll notice immediately is the huge pod-racing engine in the middle of the restaurant firing up a barbecue pit for mouth-watering Ronto sandwiches. Finally pod-racing put to good use!
The cool thing about this place is that droids are going to be part of the experience as guests will encounter a former smelter droid turning the spit of meats!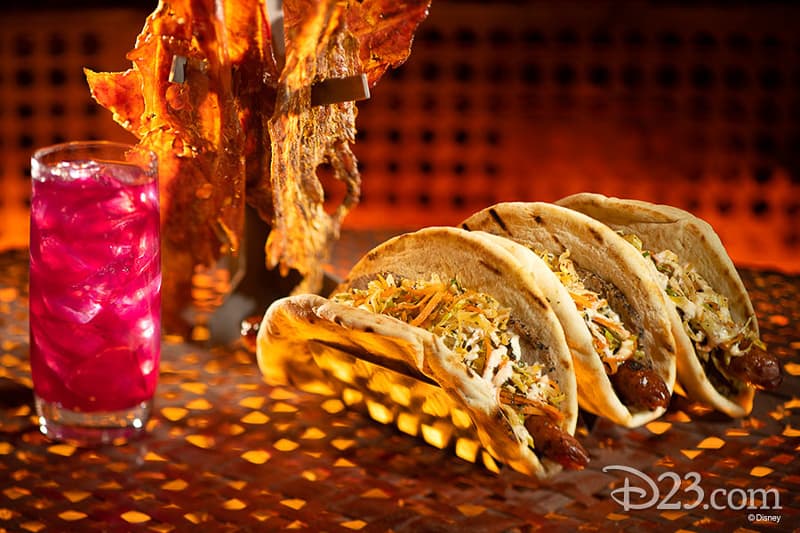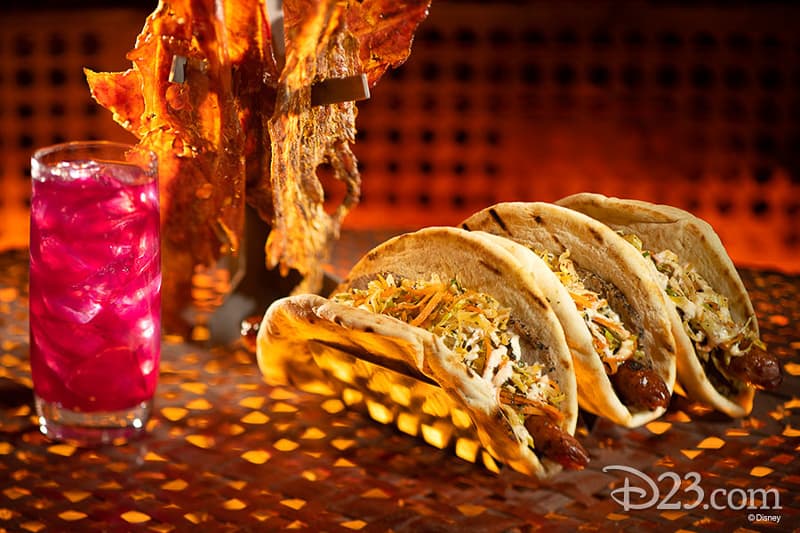 Expect some awesome sandwiches which will be a must if you can't get into Oga's Cantina or Docking Bay 7. Guests can also choose from a variety of exotic non-alcoholic drinks like the Sour Sarlacc or Tatooine Sunset.
Kat Sakas Kettle: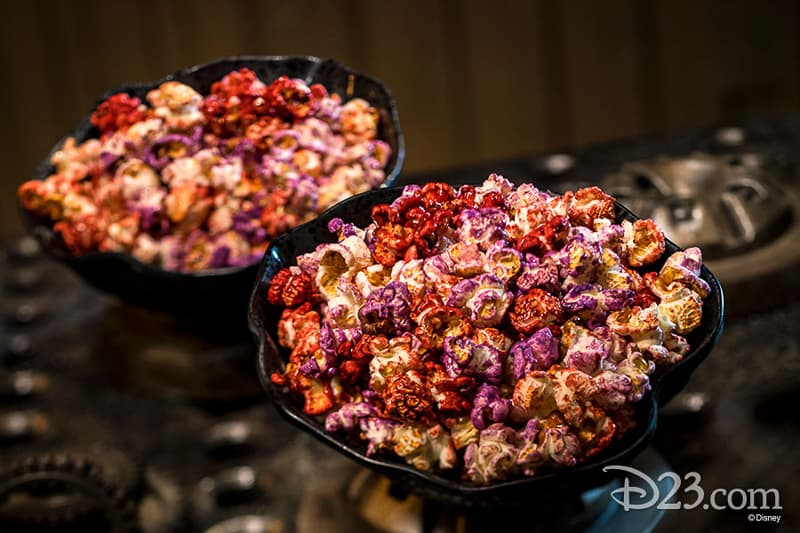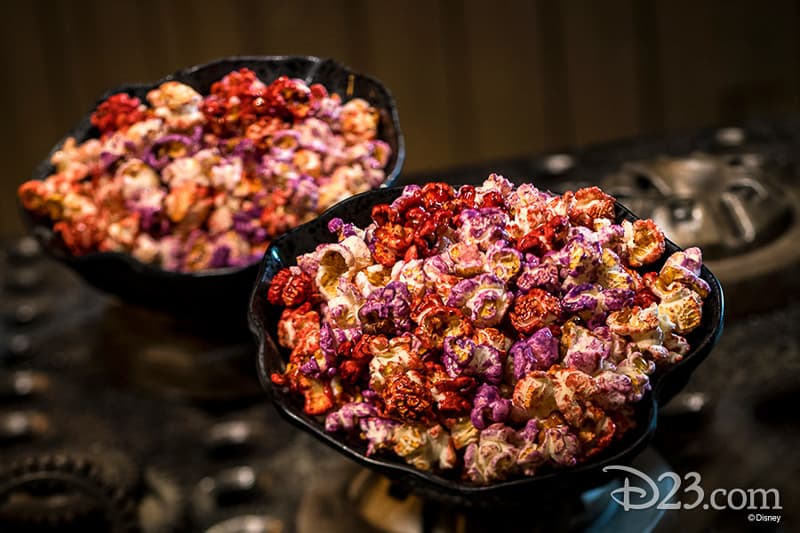 Kat Saka's Kettle sounds like it's going to be the snack stand in Galaxy's Edge. It's described as having an Outpost Mix of uniquely flavored popped grains– a combination of sweet, savory and spicy popcorn flavors.
I'm always in the mood for popcorn when visiting a Disney park, and I have no doubt this is going to be outstanding. I hope there are even more flavors too, and I would imagine some other snacks will be introduced later, if not right away!
Milk Stand:
You didn't think you'd get out of Star Wars Galaxy's Edge without trying some Blue Milk (or Green) did you??
Blue milk and green milk of course are local favorites in Black Spire Outpost, and The Milk Stand will offer both varieties.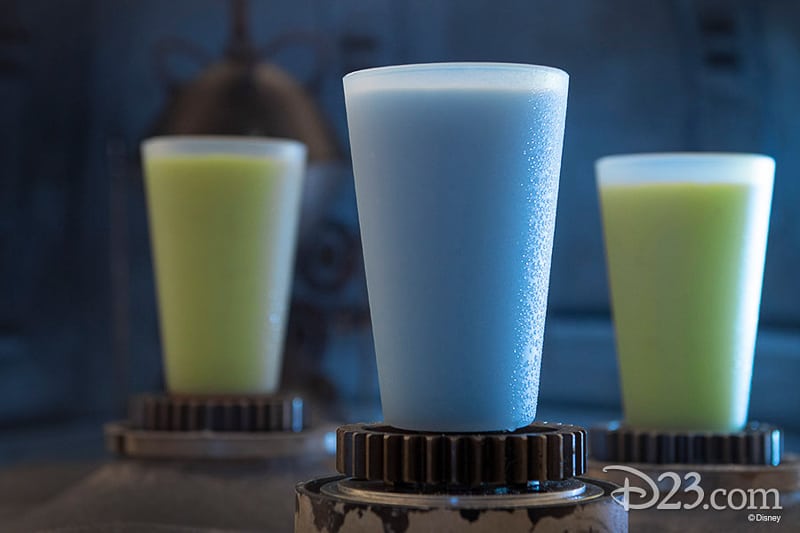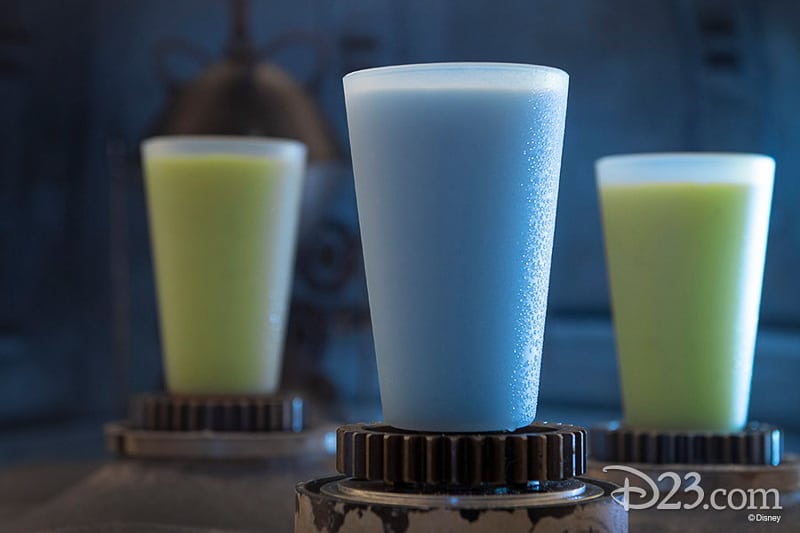 Even though I can't get the image out of my head of Luke Skywalker milking that space cow in Episode 8, I have to say I'm pretty tempted to try this stuff. There is even a story behind the place with the Bubo Wamba family farm that runs the Milk Stand!
I don't know about you but I'm pretty hungry after reading all that and I can't wait to see what other delicious treats are coming to Star Wars Galaxy's Edge!
This is just one of the big pieces of news that was revealed today regarding Star Wars Galaxy's Edge. Others include:
Disney still hasn't given us an exact date for the opening yet, but they have dropped some clues for us that can help to answer the question: When is Galaxy's Edge Opening? We know it's going to be Disneyland in June 2019 and in Hollywood Studios in Fall 2019, and that post goes into more depth in narrowing down the dates.
Stay tuned here at Ziggy Knows Disney as we'll be bringing you tons more updates on Star Wars: Galaxy's Edge and all the details as soon as things come out.
Your Thoughts:
I want to know what you think about the Star Wars Galaxy's Edge dining and food…
Which food item looks the best?
Which dining location are you most excited to try?
Let us know in the comments section below!
If you enjoyed this article, as always I appreciate it if you'd share it with others via social media. I work hard at making this website into a useful resource for you and your family to plan your visit to the Disney Parks and I hope it can help you! Thanks 🙂