(UPDATED 6/21/19): Of course we are all excited about Star Wars Galaxy's Edge for the mind blowing attractions, stunning visuals and immersive environments it will have. But let's face it, I'm just as excited for the Food!
Thankfully we don't have to wait any longer as Star Wars Galaxy's Edge is now open in Disneyland and we got to try a lot of the food throughout the land ourselves and it was delicious!
We're going to give you an overview of all the Star Wars: Galaxy's Edge dining including the food, menus, and all the snacks that you can try when visiting this far off galaxy!
We've also added New Breakfast Options to both Docking Bay 7 and Oga's Cantina!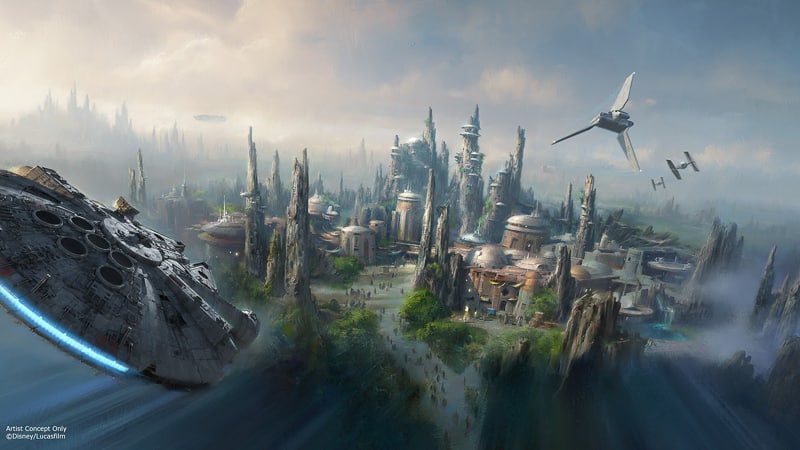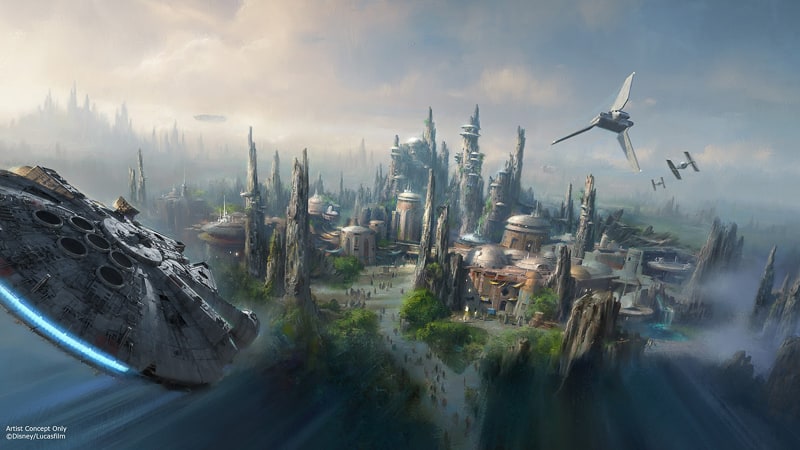 Reading about all the food before Galaxy's Edge opened and then actually trying it all after the fact was like night and day. We love the majority of things we tried but were especially blown away by Oga's Cantina as well as all the food from the main quick service dining establishment in Black Spire Outpost: Docking Bay 7 Food and Cargo.
If you don't have time to sit down and enjoy a meal, don't worry! There are various locations around Star Wars Galaxy's Edge where you can grab a quick bite to go as you are running off on your next mission.
Let's break it down by each Star Wars: Galaxy's Edge dining location: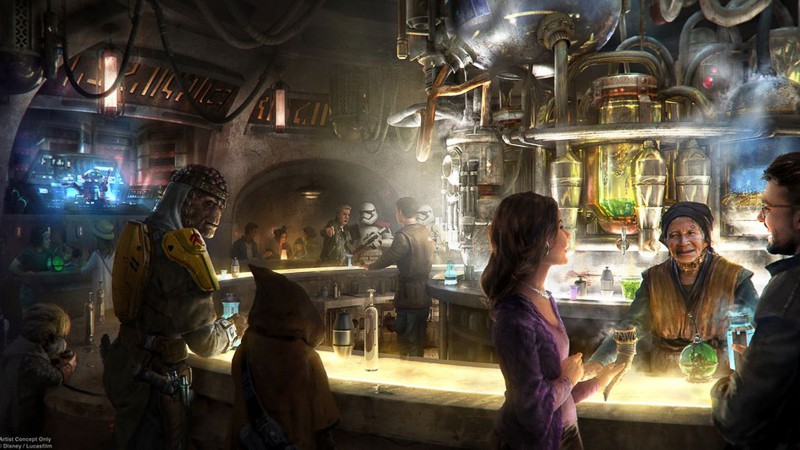 Oga's Cantina was the first of the dining locations we heard about coming to Galaxy's Edge. We already knew that this is going to be a location much like the space cantina Luke and Obi-Wan go into in the original Star Wars movie, and it will have entertainment too!
Of course alcoholic drinks are going to be a big part of the menu here at Oga's Cantina, and we recently found out that it will break away from the norm in Disneyland and allow its guests to consume alcohol (though they won't be able to bring their drinks outside the restaurant.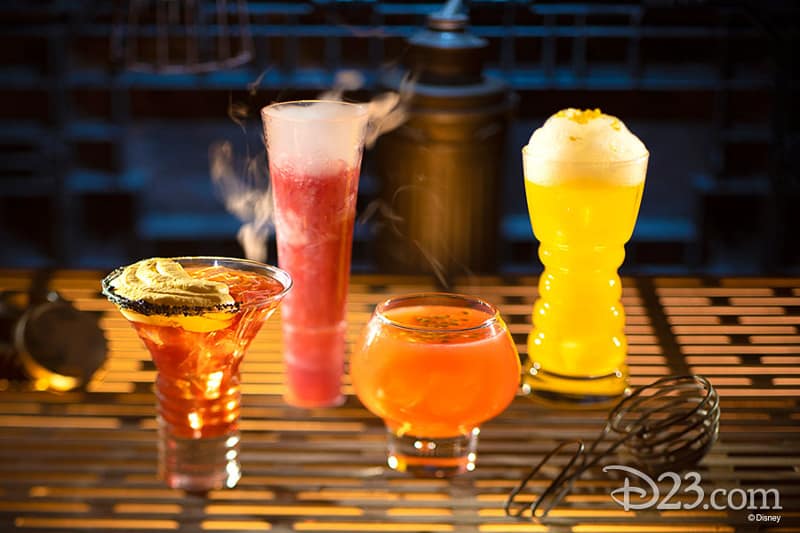 Concoctions with Alcohol:
Featuring a wide range of classic and unique spirits found throughout the galaxy with a mixture of tastes and flavors to liven your taste buds.

Morning Specialties
Spiran Caf – Peru Alto Mayo Organic Joffrey's Coffee, orange marmalade, rum, vanilla whipped cream, and citrus zest
Bloody Rancor – vodka, chile liqueur, spicy Bloody Mary mix, and rancor bone
Afternoon and Evening Specialties
Fuzzy Tauntaun – peach vodka, peach schnapps, orange juice with tangerine, pure cane sugar, and "buzzz" foam
Jedi Mind Trick – grapefruit and rose vodka, falernum, blue curaçao, white grape juice, lime juice, and grapefruit bitters
The Outer Rim – silver tequila, açaí liqueur, lime juice, pure cane sugar, black salt, and exotic fruit purée
T-16 Skyhopper – vodka, melon liqueur, kiwi, and half & half
Dagobah Slug Slinger – reposado tequila, blue curaçao, citrus juices, ginger, herbs, and bitters
Jet Juice – bourbon, chile liqueur, açaí liqueur, white grape juice, and lemon juice
Yub Nub – pineapple rum, spiced rum, citrus juices, and passion fruit
Bespin Fizz – rum, yuzu purée, pomegranate juice, white cranberry juice, and cloud swirl
Beers on Tap
Gold Squadron Lager
White Wampa Ale
Gamorrean Ale
Bad Motivator IPA
Cider on Tap
Wine on Tap
Just hearing the names isn't enough, thankfully we have a look at the drinks in these photos, and I have to say they are pretty stunning!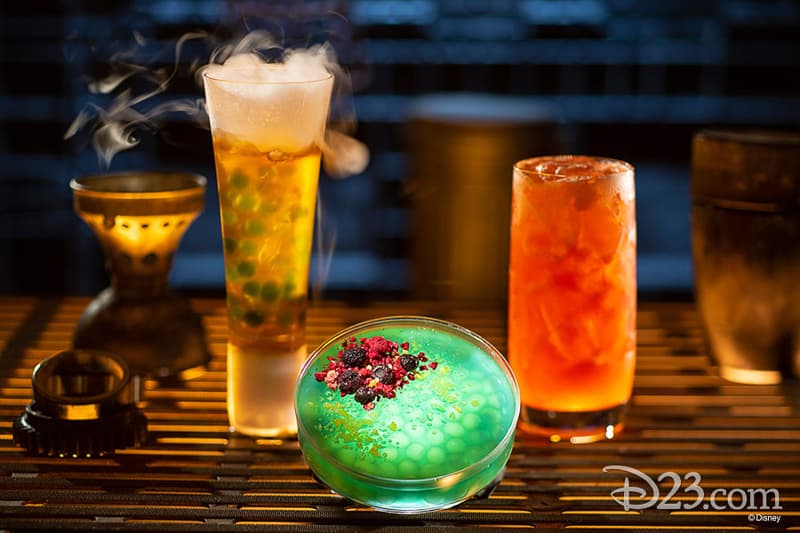 Concoctions without Alcohol:
There will also be non-alcoholic drinks for young and old alike, showcasing a combination of beverages found throughout the galaxy which yield vibrant colors along with sweet, tangy, or savory taste and fruity or spicy flavors. The options include:

Morning Specialties:
Black Spire Brew – Cold Brew Joffrey's Coffee, honey, falernum, passion fruit, and citrus
Moogan Tea – Gold Peak Unsweetened Tea, chocolate milk, vanilla, and cinnamon
Tarine Tea – Gold Peak Unsweetened Tea, peach, huckleberry, and mint
Blue Bantha – Blue Milk served chilled with bantha-inspired vanilla-butter sugar cookie
Afternoon and Evening Specialties:
Cliff Dweller – citrus juices, coconut, hibiscus-grenadine, and Seagram's Ginger Ale
Hyperdrive (Punch It!) – Powerade Mountain Berry Blast, white cranberry juice, black cherry purée, and Sprite
Jabba Juice – Simply Orange with pineapple, kiwi, cantaloupe, and blueberry popping pearls
Blue Bantha – Blue Milk served chilled with bantha-inspired vanilla-butter sugar cookie
Blurrgfire – lemonade, pomegranate juice, and habanero-lime
Carbon Freeze – Powerade Lemon Lime, wild strawberry, blueberry, and green apple popping pears
Provision
Oga's Obsession – lemonade, cotton candy flavor, and blueberry popping pearls with a bursting dried fruit mixture
Black Spire Brew
Tarine Tea
Blue Bantha
Cliff Dweller
Hyperdrive Punch It!
Jabba Juice
Moogan Tea
Carbon Freeze
Since Star Wars Galaxy's Edge is going to be open for breakfast as well as the other meals, guests are going to need something to get them started. And food options include:
Food / Breakfast:
Rising Moons Overnight Oats –Oats, dragon fruit, yogurt, seasonal fruit
Mustafarian Lava Roll – Sweet galactic delight
Food / Lunch and Dinner:
Oga's Obsession
Rodian Ration
Each option looks more tempting than the other! We love our time here and it sure looks like we're going to be spending a whole lot more time in Oga's Cantina!
We finally got some information on the other table service restaurant that nobody had heard really anything about till yesterday: Docking Bay 7.
First of all we get the explanation behind the name "Docking Bay 7." Remember that famous space shuttle we saw land in Galaxy's Edge on top of one of the buildings months ago? Turns out it belongs to Chef Strono "Cookie" Tuggs, the owner of Docking Bay 7 and he uses it to fly in his food to this cargo hanger from the roof.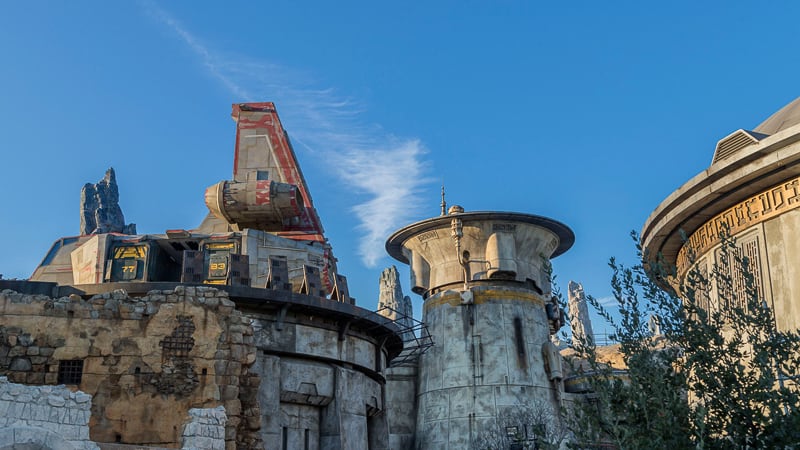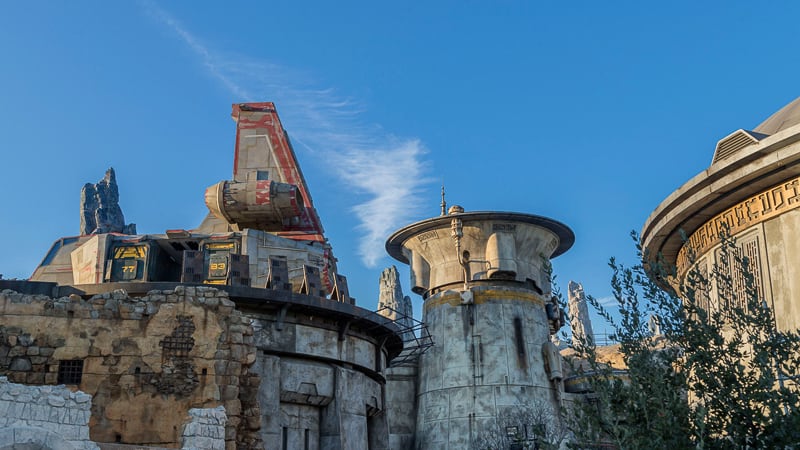 This is an important hanger bay in general to Black Spire Outpost as it's used to provide produce, provisions, and equipment to incoming freighters to the hangar
Chef Tuggs is in high demand as a highly trained culinary master, and he's excited to show off some of the new dishes he created during his time working in May Kanata's kitchen.
Docking Bay 7 is being called a Fast-Casual restaurant on the same line with Satu'li Canteen in Pandora: The World of Avatar. Guests may choose to dine indoors in the hangar bay or outside in a shaded courtyard.
Not only did we get the name and background, but we also have the full menu, plus photos down below. Take a look!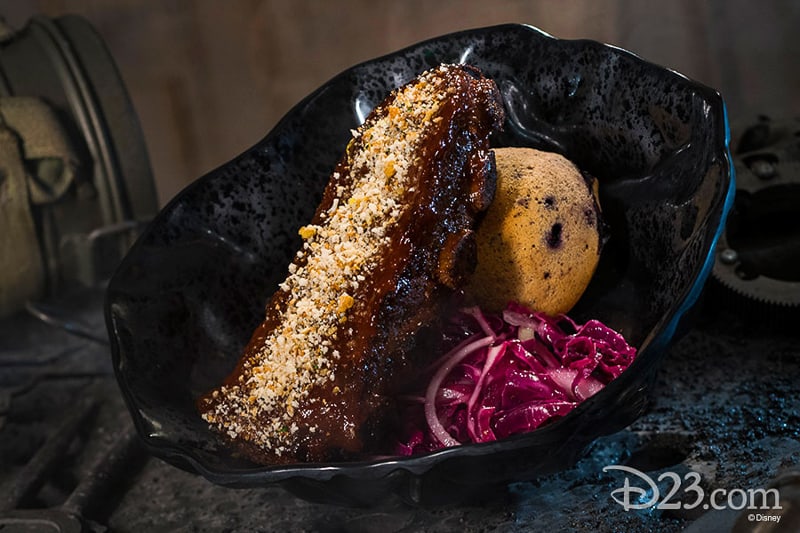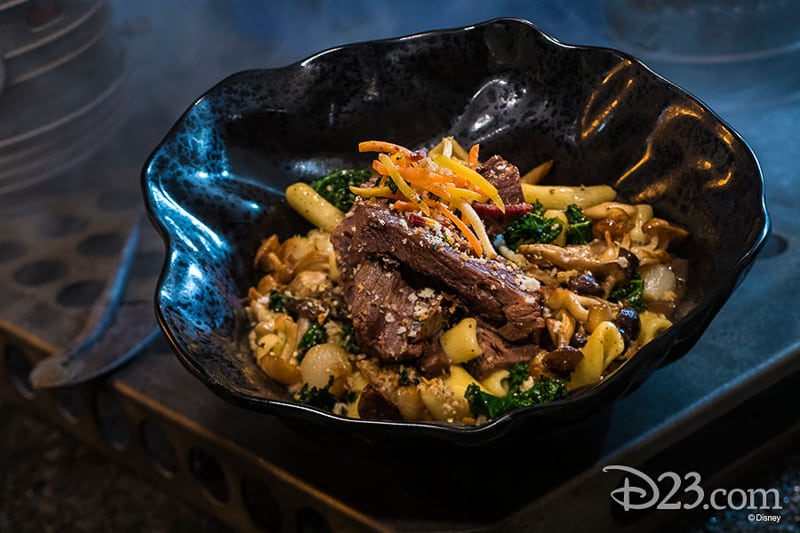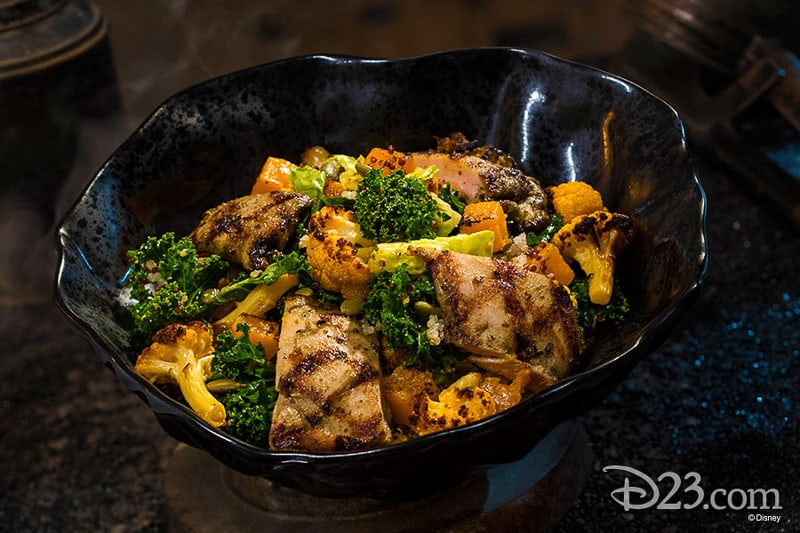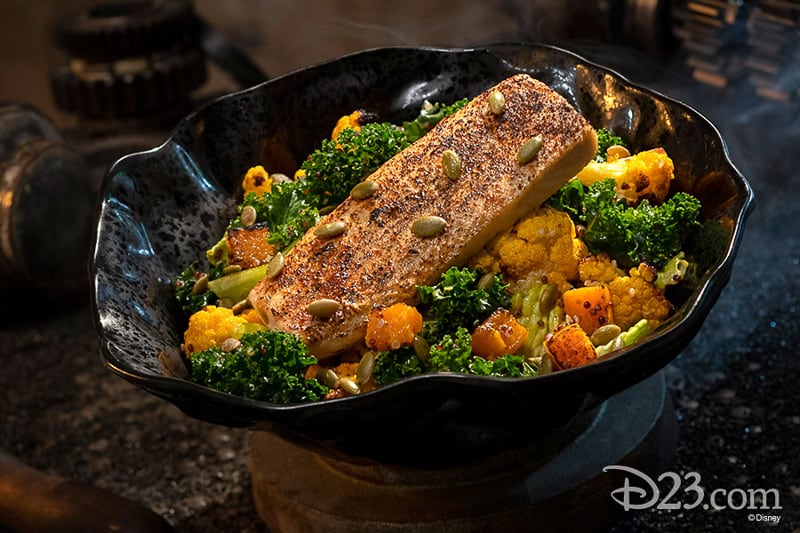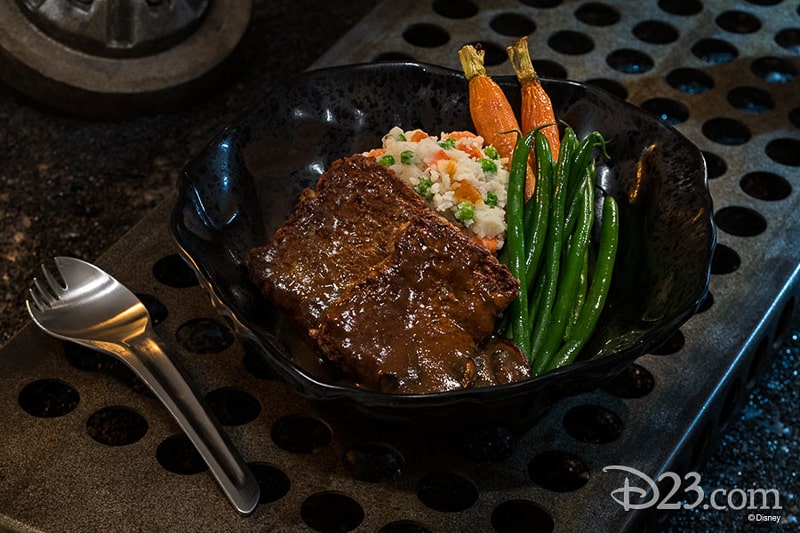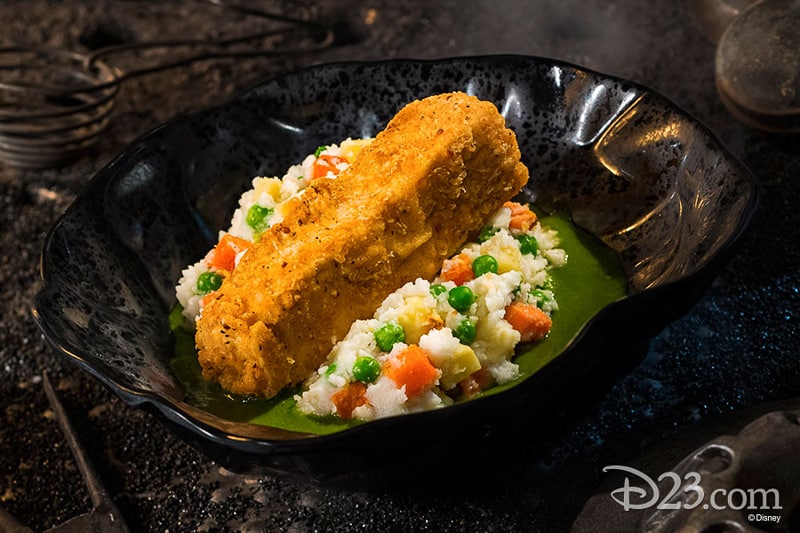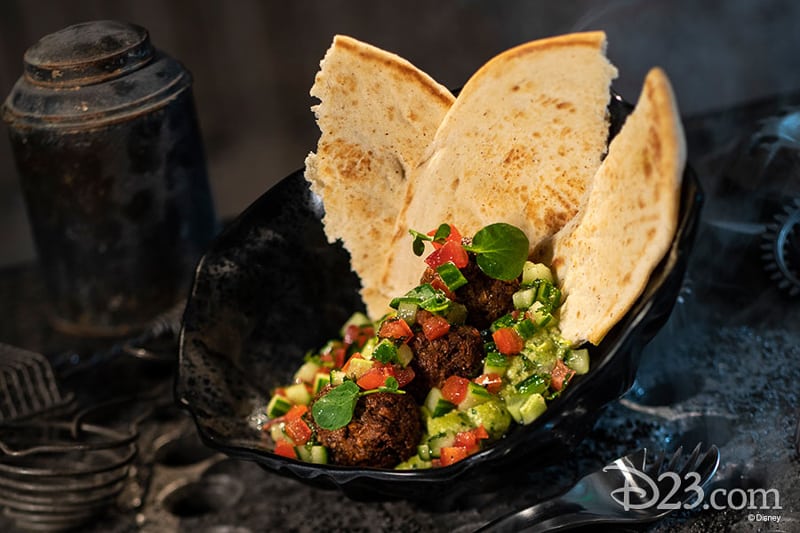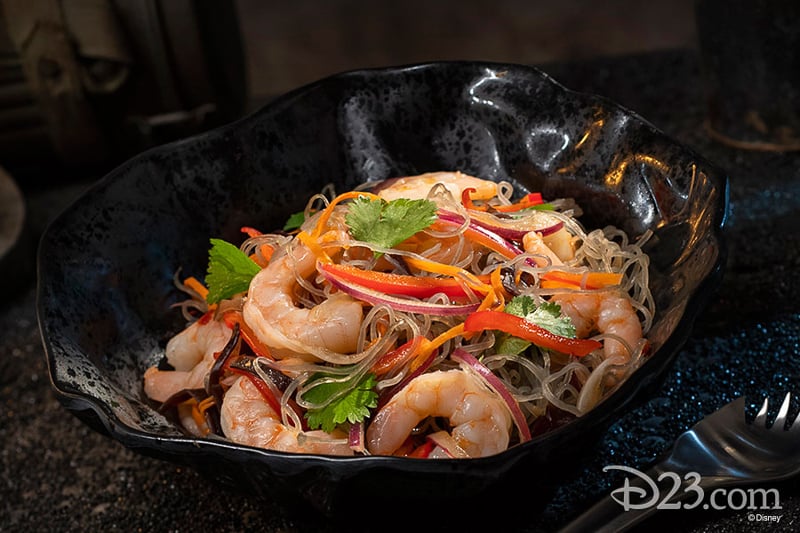 Breakfast
Entrées:
Bright Suns Morning –Three-cheese egg bite, pork sausage, purple potato hash, mini Mustafarian lava roll
Rising Moons Overnight Oats –Oats, dragon fruit, yogurt, seasonal fruit
Mustafarian Lava Roll –Sweet galactic delight
Bright Suns Youngling Breakfast – Scrambled eggs, purple potatoes, fresh fruit
Specialty Beverages without Alcohol:
Moof Juice – Simply Fruit Punch and Simply Orange with chipotle-pineapple
Phattro – Gold Peak Unsweetened Tea, Odwalla Lemonade, and desert pear
Batuubucha Tea – Suja Pineapple Passionfruit Kombucha
Lunch / Dinner
Entrées:
Smoked Kaadu Ribs – sticky pork ribs served with a blueberry corn muffin and cabbage slaw
Fried Endorian Tip-yip – crispy chicken served with roasted vegetable potato mash and herb gravy
Yobshrimp Noodle Salad – chilled shrimp served with marinated noodles and vegetables
Roasted Endorian Tip-yip Salad – marinated chicken served with mixed greens, roasted seasonal vegetables, quinoa, pumpkin seeds, and green curry ranch
Felucian Garden Spread (lunch only) – plant-based "kefta" served with herb hummus, tomato-cucumber relish, and pita
Braised Shaak Roast (dinner only) – beef pot roast served with cavatelli pasta, wilted kale, and mushrooms
Ithorian Garden Loaf (dinner only) – plant-based "meatloaf" served with roasted vegetable potato mash, seasonal vegetables, and mushroom sauce
Desserts:
Oi-oi Puff – raspberry cream puff with passion fruit mousse
Batuu-bon – chocolate cake with white chocolate mousse and coffee custard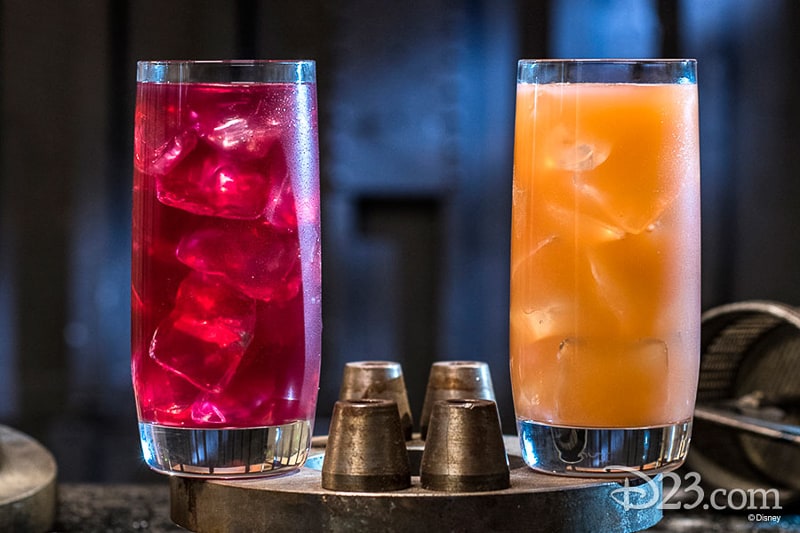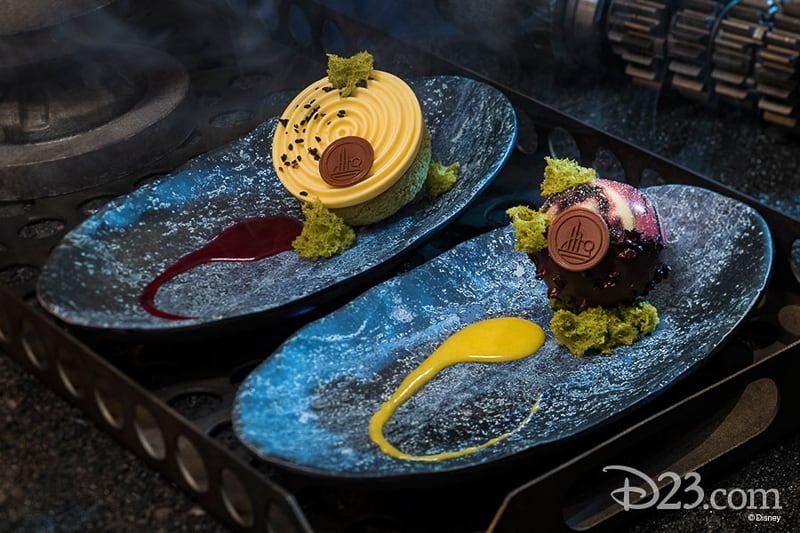 Kids' Meals:
All Meals include choice of Small Lowfat Milk or Small Dasani Water
Yobshrimp Noodle Salad (Disney Check) – chilled shrimp served with noodles, vegetables and sweet orange dressing
A Taste of Takodana (Disney Check) – black bean hummus served with edible soil with nuts, chilled dipping vegetables, and multi-grain crisps
Fried Endorian Tip-yip – crispy chicken served with macaroni & cheese and seasonal vegetables
The options remind me of a higher scale Satu'li Canteen, with lots of seemingly healthy options that will appeal to a wide variety of palates. I'm excited to try it out!

Ronto Roasters: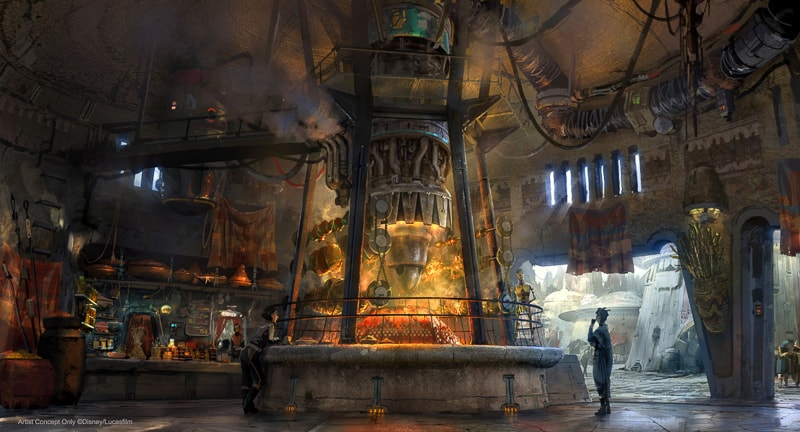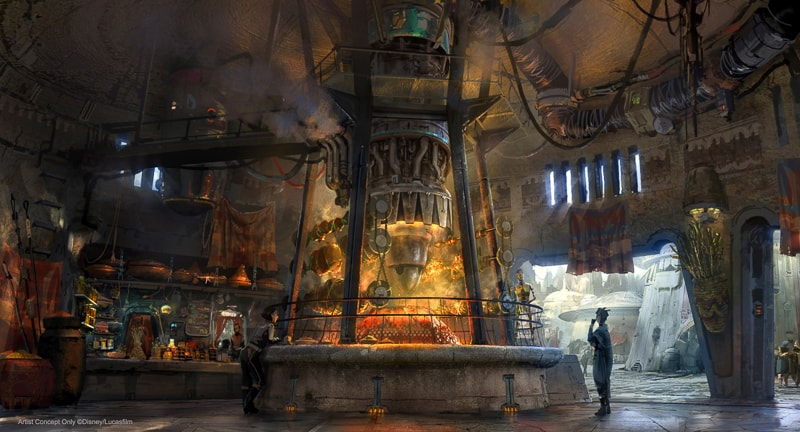 Ronto Roasters is run by Bakkar and his droid: 8D-J8. What you'll notice immediately is the huge pod-racing engine in the middle of the restaurant firing up a barbecue pit for mouth-watering Ronto sandwiches. Finally pod-racing put to good use!
The cool thing about this place is that droids are going to be part of the experience as guests will encounter a former smelter droid turning the spit of meats!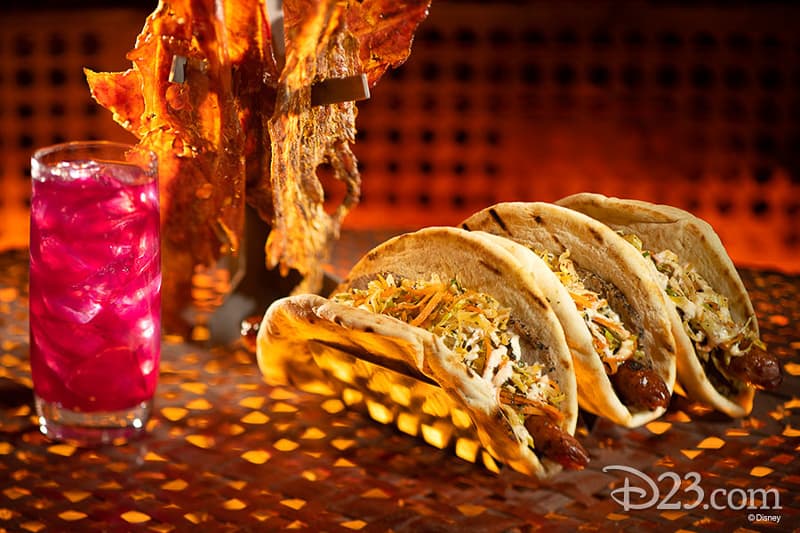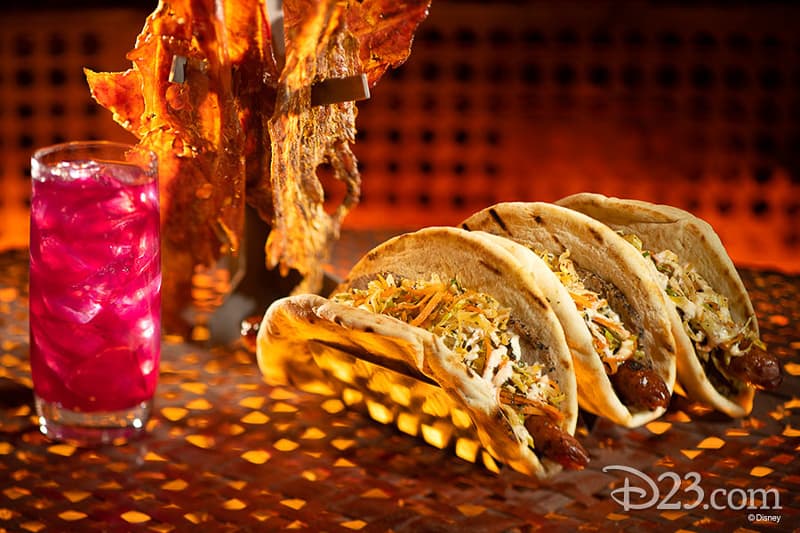 The Ronto Roaster Menu includes:
Food
Ronto Wrap – roasted pork and grilled sausage with peppercorn sauce and tangy slaw wrapped in pita
Nuna Turkey Jerky – choice of sweet or spicy
Specialty Beverages
Tatooine Sunset – Gold Peak Unsweetened Tea, Odwalla Lemonade, melon, and blueberry
Sour Sarlacc – Minute Maid Limeade, raspberry, and spicy mango
Meiloorun Juice – pineapple, Simply Lemonade with blueberry, white cranberry juice, lemon juice, and desert pear
Expect some awesome sandwiches which will be a must if you can't get into Oga's Cantina or Docking Bay 7. Guests can also choose from a variety of exotic non-alcoholic drinks like the Sour Sarlacc or Tatooine Sunset.
Kat Sakas Kettle: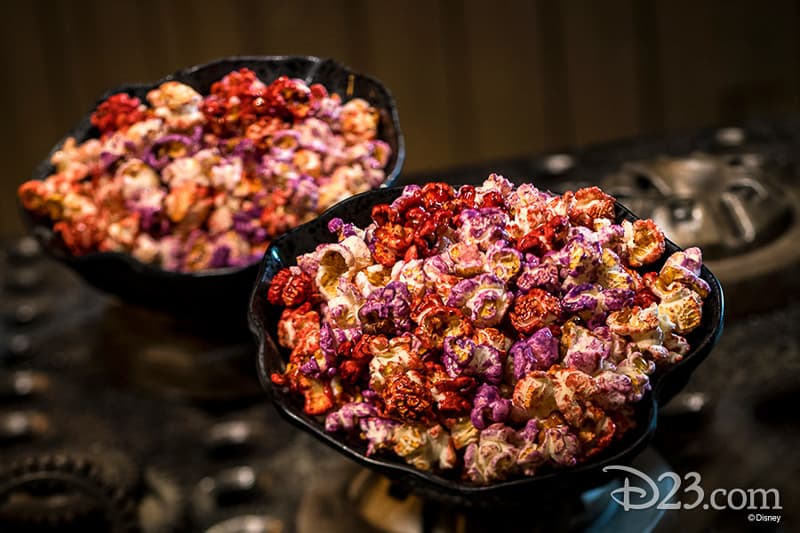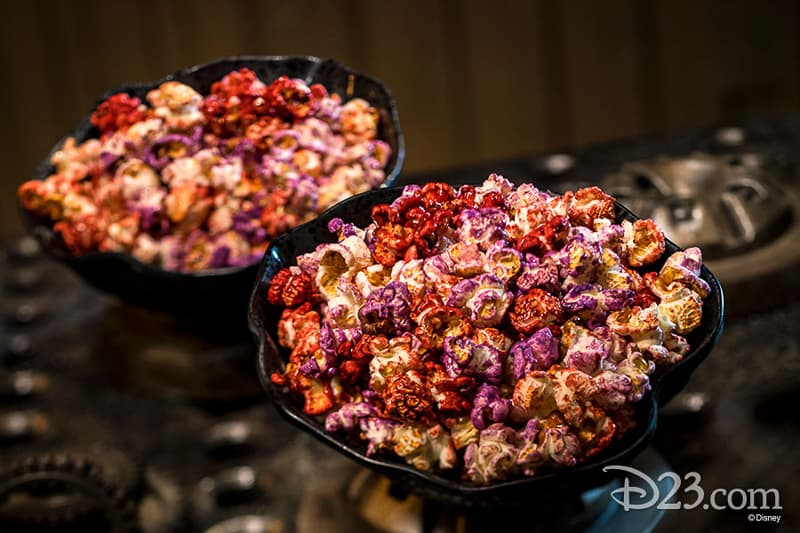 Kat Saka's Kettle sounds like it's going to be the snack stand in Galaxy's Edge. It's described as having an Outpost Mix of uniquely flavored popped grains– a combination of sweet, savory and spicy popcorn flavors.
Kat Saka's Kettle Menu:
Outpost Popcorn Mix – colorful blend of sweet and spicy flavors, popped in coconut oil
MSE-6 Series Repair Droid Souvenir Popcorn Vessel
Specialty Bottled Beverages – Coca-Cola, Diet Coke, Sprite, and Dasani
I'm always in the mood for popcorn when visiting a Disney park, and I have no doubt this is going to be outstanding. I hope there are even more flavors too, and I would imagine some other snacks will be introduced later, if not right away!
You didn't think you'd get out of Star Wars Galaxy's Edge without trying some Blue Milk (or Green) did you??
Blue milk and green milk of course are local favorites in Black Spire Outpost, and The Milk Stand will offer both varieties.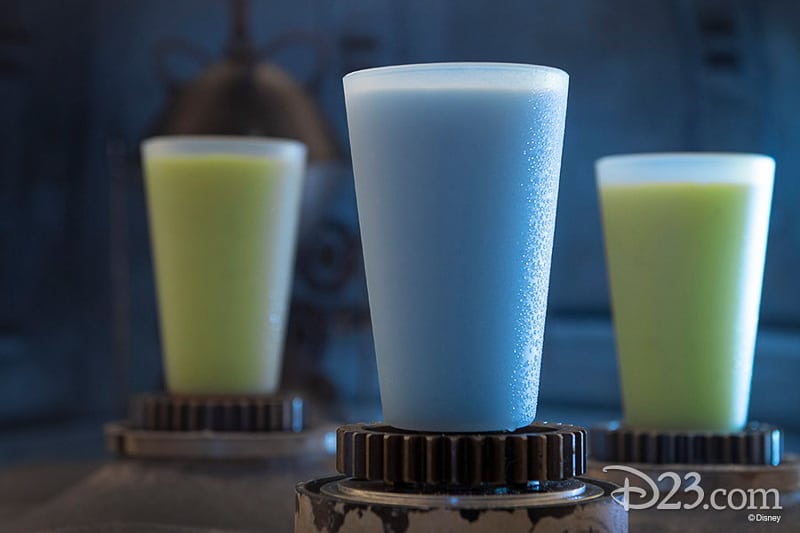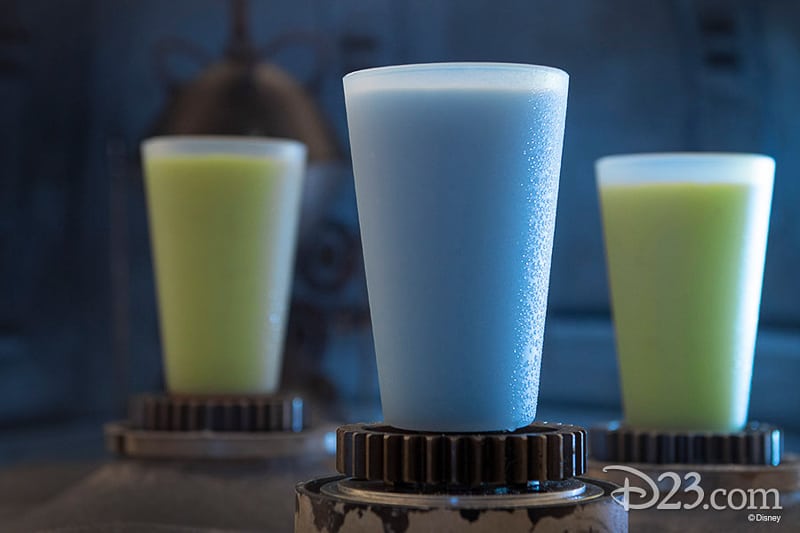 Milk Stand Menu:
Serving a frozen plant-based blend of coconut and rice milks
Blue Milk
Green Milk
Bubo Wamba Family Farms Novelty Drink Vessel
Even though I can't get the image out of my head of Luke Skywalker milking that space cow in Episode 8, I have to say I'm pretty tempted to try this stuff. There is even a story behind the place with the Bubo Wamba family farm that runs the Milk Stand!
I don't know about you but I'm pretty hungry after reading all that and I can't wait to see what other delicious treats are coming to Star Wars Galaxy's Edge!
Star Wars Galaxy's Edge is opening in Disneyland on May 31, 2019 and in Hollywood Studios on August 29, 2019. For more information about the opening and getting in, you can read our post on How to Make Reservations for Galaxy's Edge.
For more info read about the dining in Star Wars Land and more, read our Star Wars: Galaxy's Edge Complete Planning Guide for a detailed look at the attractions, dining, planning and touring strategies.
Your Thoughts:
I want to know what you think about the Star Wars Galaxy's Edge dining and food…
Which food item looks the best?
Which dining location are you most excited to try?
Let us know in the comments section below!
If you enjoyed this article, as always I appreciate it if you'd share it with others via social media. I work hard at making this website into a useful resource for you and your family to plan your visit to the Disney Parks and I hope it can help you! Thanks 🙂