Of course, we all go to Star Wars Galaxy's Edge for the mind-blowing attractions, stunning visuals, and immersive environments it has. But let's face it, the food and drinks are what keep us coming back. This is the complete guide to Galaxy's Edge Food and Restaurants.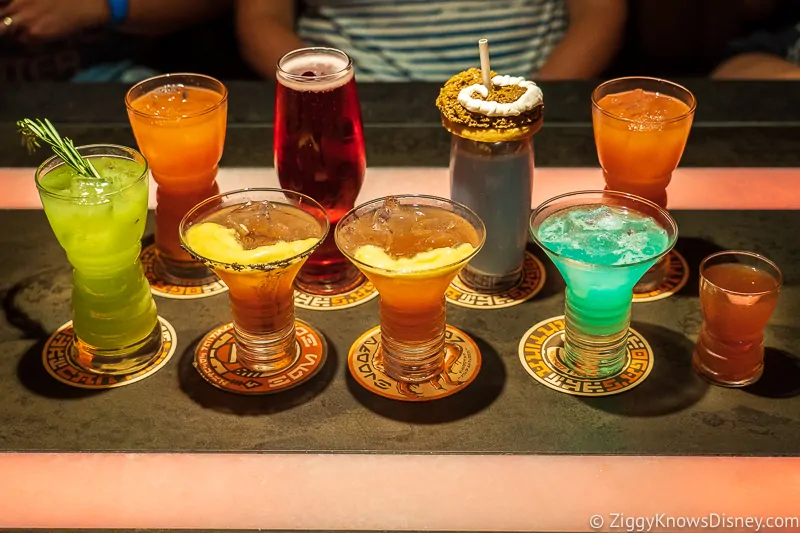 We've spent the few years eating everything in Star Wars Land, and in this post, we are going to give you an overview of all the Star Wars: Galaxy's Edge Food and Dining options including each restaurant and dining location, and the absolute best and worst food and drink options you will find there.
Reading about all the food before Galaxy's Edge opened and then actually trying it all after the fact was a completely different experience. We love the majority of the food in Galaxy's Edge but are especially blown away by Oga's Cantina as well as all the food from the main quick service dining establishment in Black Spire Outpost: Docking Bay 7 Food and Cargo.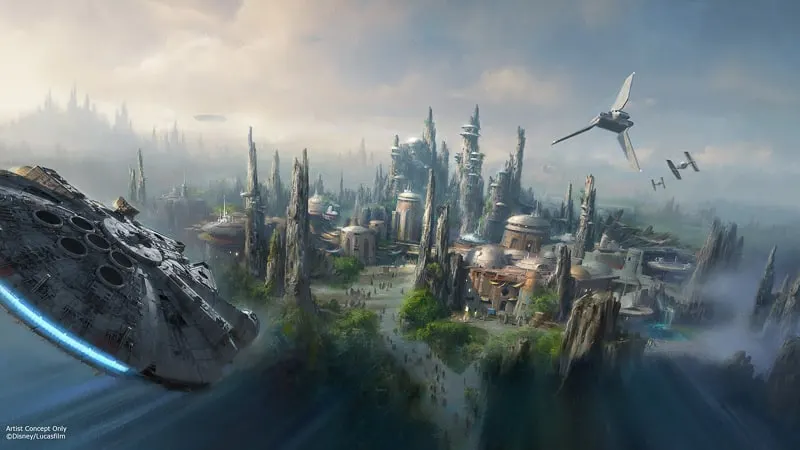 Star Wars: Galaxy's Edge is great because even if you don't have time to have a sit-down meal, there are plenty of snacks to take and bring with you on your next mission.
Ok, first let's break down each Star Wars: Galaxy's Edge restaurant and dining location, and then we'll talk about the must-try food & drinks, and also what you should definitely not eat in Star Wars Land.
Before we get started, make sure to sign up for our FREE Weekly E-Mail Newsletter for the latest updates on Star Wars: Galaxy's Edge and our best Disney vacation tips. You can sign up here: Join our E-Mail Newsletter!
Restaurants
Even though there is a Galaxy's Edge in both Disneyland and Walt Disney World, each location has the same restaurants. There are some slight changes to the menu however in the two locations and we'll make a note of that down below.
There are 5 restaurants/dining locations in Star Wars: Galaxy's Edge which includes:
Docking Bay 7 Food and Cargo (quick service dining)
Oga's Cantina (bar/lounge)
Milk Stand (snack stand)
Ronto Roasters (quick service)
Kat Sakas Kettle (snack stand)
I'm going to give you a brief summary of each Galaxy's Edge restaurant and let you know what kind of food you will find there and their most popular dishes.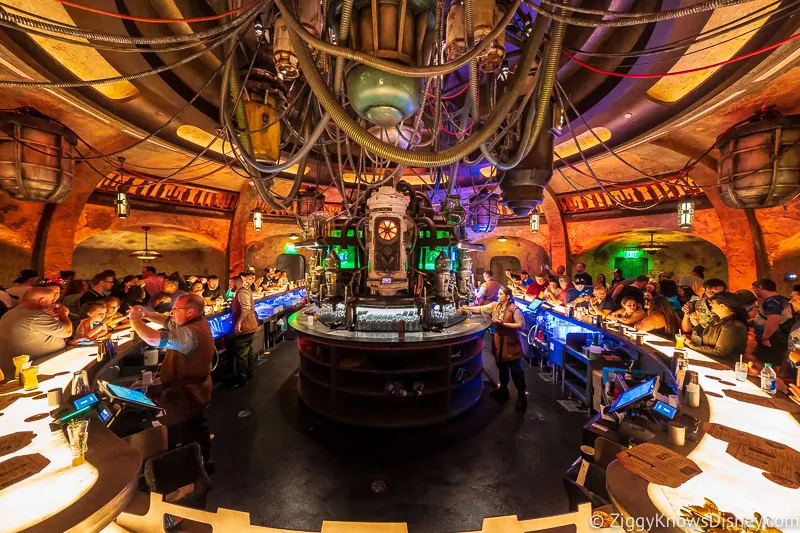 Oga's Cantina was the first of the dining locations we heard about coming to Galaxy's Edge, and after the short time it's been open, it has quickly become our favorite dining location in Star Wars Land, and our favorite bar in Walt Disney World or Disneyland, period!
Think of a place like you saw in the Mos Eisley Cantina that Luke and Obi-Wan go into in the original Star Wars movie, but a lot more fun! The drinks are flowing, music is playing, and D-J3X is the hottest DJ in the Galaxy. You won't find many food options here, but they no doubt have the best drinks in Galaxy's Edge.
This is also one of the only places where the public can drink alcohol in Disneyland, so you're definitely going to stop here if you would like an adult beverage while in the park.
You absolutely have to come to Oga's Cantina at least once on your trip to Galaxy's Edge, it's a can't-miss place. You could even argue that Oga's Cantina is more must-do than even the Millennium Falcon: Smugglers Run. The lines have been out the door since opening and it's not going to slow down anytime soon so make sure this is your first stop when visiting Star Wars Land.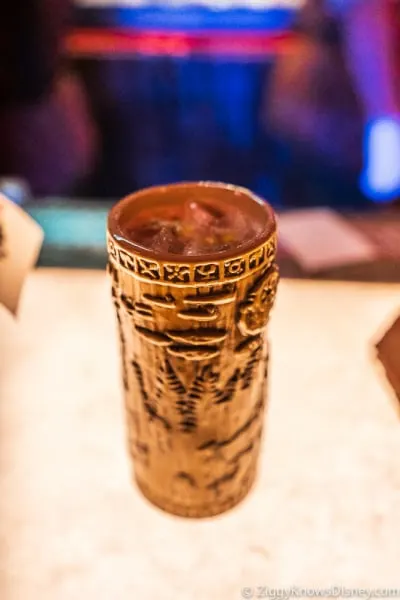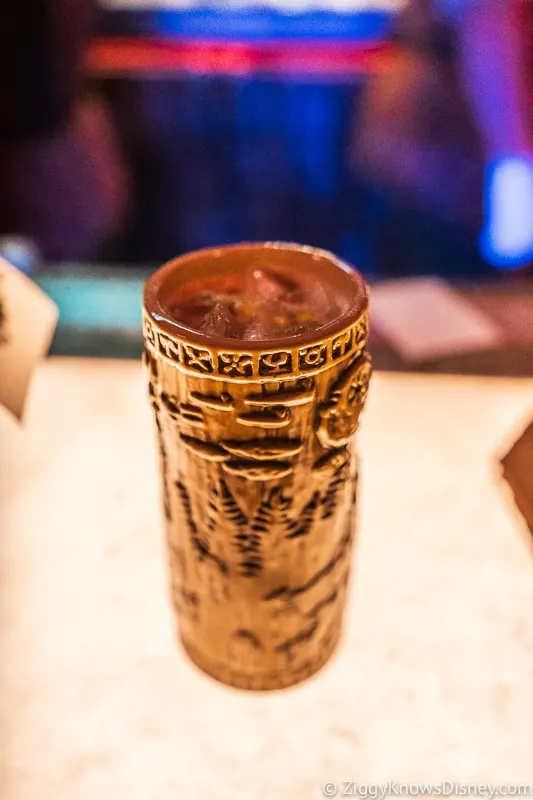 Most Popular Food/Drink Options:
Oga's Obsession
The Outer Rim
Jedi Mind Trick
Blue Bantha
Fuzzy Tauntaun
Check Out our Full Review of Oga's Cantina here!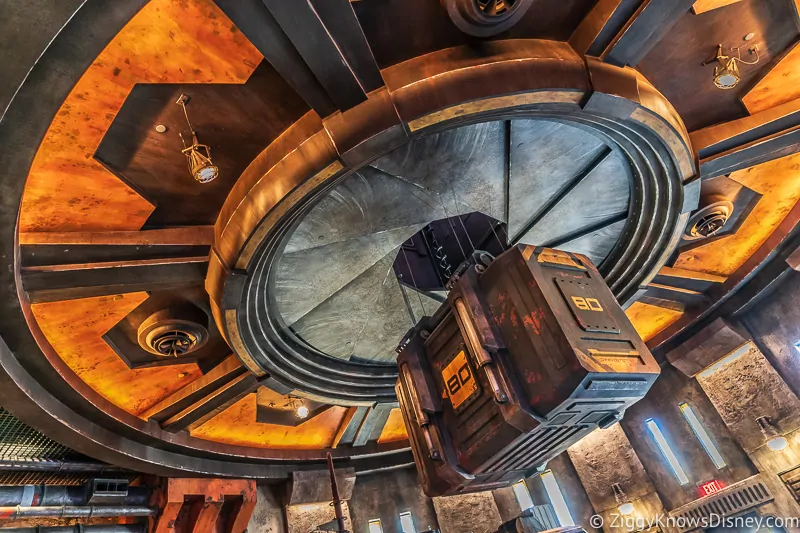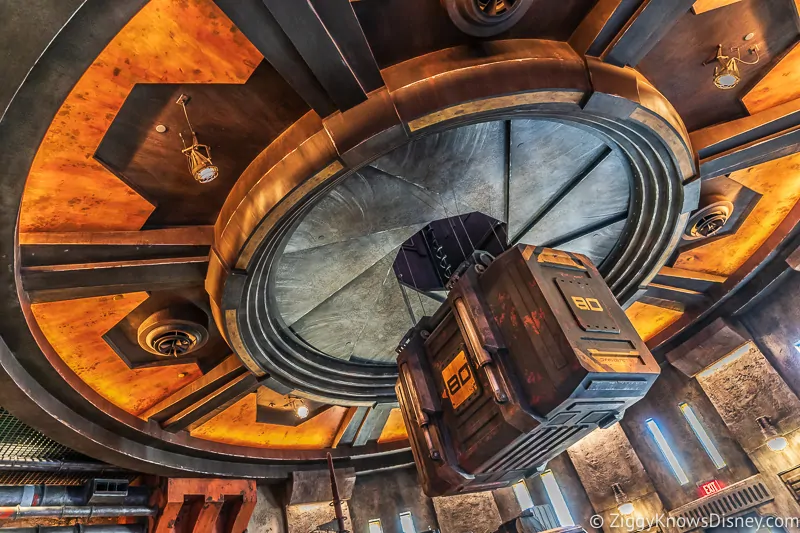 Have you ever noticed that shuttle parked on top of the roof of one of the buildings in Black Spire Outpost? Turns out it belongs to Chef Strono "Cookie" Tuggs, the owner of Docking Bay 7 and he uses it to fly food to Galaxy's Edge using this cargo hanger from the roof.
This is an important hanger bay in general to Black Spire Outpost as it's used to provide produce, provisions, and equipment to incoming freighters to the hangar. Chef Tuggs is in high demand as a highly trained culinary master, and he's excited to show off some of the new dishes he created during his time working in May Kanata's kitchen.
Docking Bay 7 is a Fast-Casual restaurant in Star Wars Land on the same line as Satu'li Canteen in Pandora: The World of Avatar, and has quickly become our favorite quick-service dining in Hollywood Studios.
You really can't go wrong with any of the food choices here (except for one which we'll tell you about later), they are all hearty portions and not your typical fast-food fare. The atmosphere is also done incredibly well here as you are eating essentially in the middle of a shipping bay, and shipping containers make up your tables too.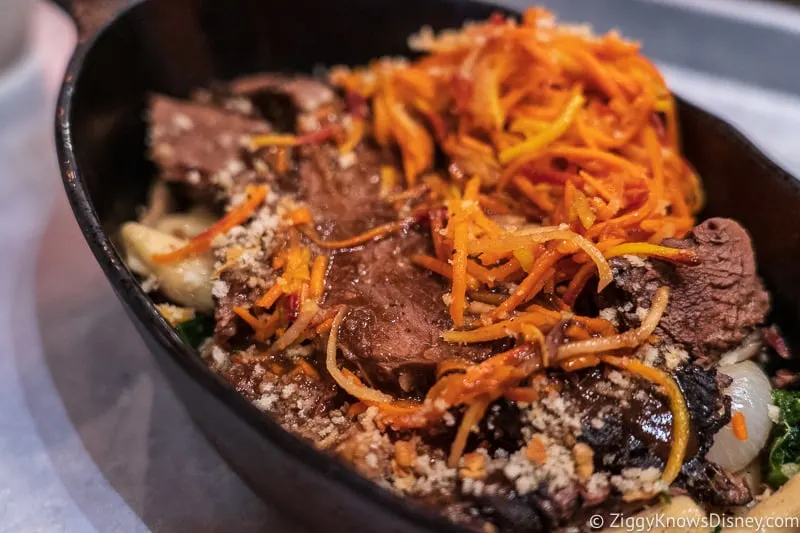 If you are going to eat lunch or dinner in Galaxy's Edge, this is where you want to do it!
Most Popular Food/Drink Options:
Fried Endorian Chicken Tip Yip
Smoked Kaadu Pork Ribs
Felucian Kefta and Hummus Garden Spread
Outpost Puff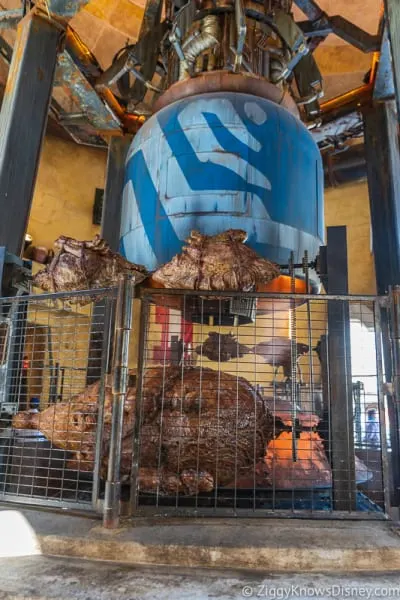 Ronto Roasters is run by Bakkar and his droid: 8D-J8 in what is definitely one of the more interesting places to eat in Galaxy's Edge. It's located right in between the marketplace and Dok Ondar's Den of Antiquities.
What you'll notice immediately is the huge pod-racing engine in the middle of the restaurant firing up a barbecue pit for mouth-watering Ronto wraps (a must-try food in Galaxy's Edge). Finally pod-racing put to good use!
I love watching 8D-J8 turning the "meat" turn on the spit, it's a very cool effect and makes guests feel immersed in the atmosphere.
Expect some awesome sandwiches which will be a must if you can't get into Oga's Cantina or Docking Bay 7. Guests can also choose from a variety of exotic non-alcoholic drinks like the Sour Sarlacc or Tatooine Sunset. And don't forget the Ronto Wrap, one of our favorite foods in Galaxy's Edge.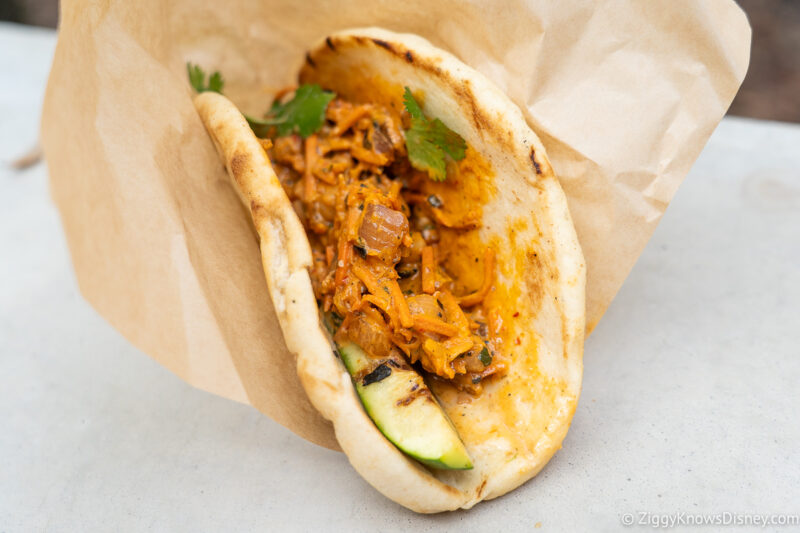 Most Popular Food/Drink Options:
Ronto Wrap
Ronto Morning Wrap
Surly Sarlacc (Alcoholic Beverage)
Kyryll Pork Rinds
Triple Suns Breakfast Wrap (vegan)
Kat Sakas Kettle: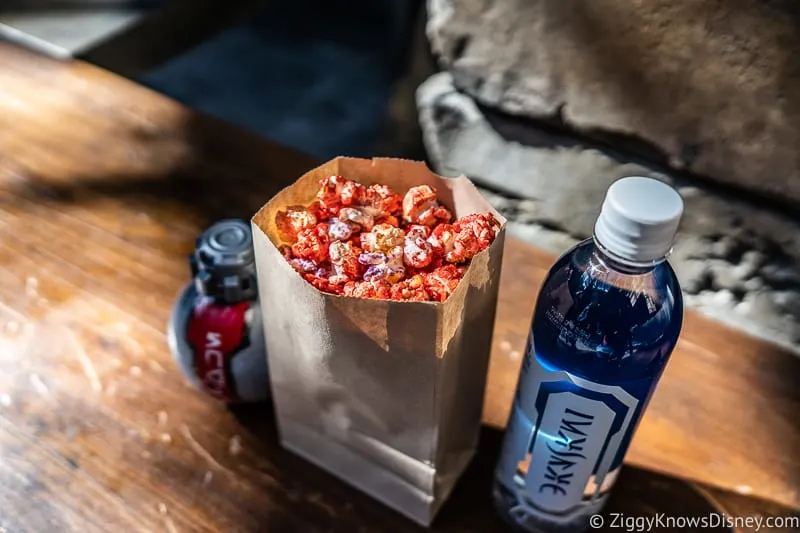 If you are looking for a snack to munch on in Galaxy's Edge, Kat Saka's Kettle is the place. Depending on which park you are in the menu is a little different, but some flavor of Star Wars popcorn is always what's being sold.
The Outpost Mix Popcorn is currently only available in Hollywood Studios. It's a blend of sweet, savory, and spicy flavors all into one. The first thought that came into my head is that it tastes a lot like fruity pebbles but in popcorn form!
Hollywood Studios also currently offers Buttered Blue Grains, which is essentially your standard butter-flavored popcorn, just blue.
Currently, in Disneyland, you'll have two entirely different options. They offer the Niamos Mix, which is sour cream and chive popcorn. You'll also see Surabat Valley mix, which is essentially sweet kettle corn popcorn.
Grab a bag and take in the sights, as the popcorn from Kat Saka's Kettle is the perfect walk-around snack in Star Wars Land.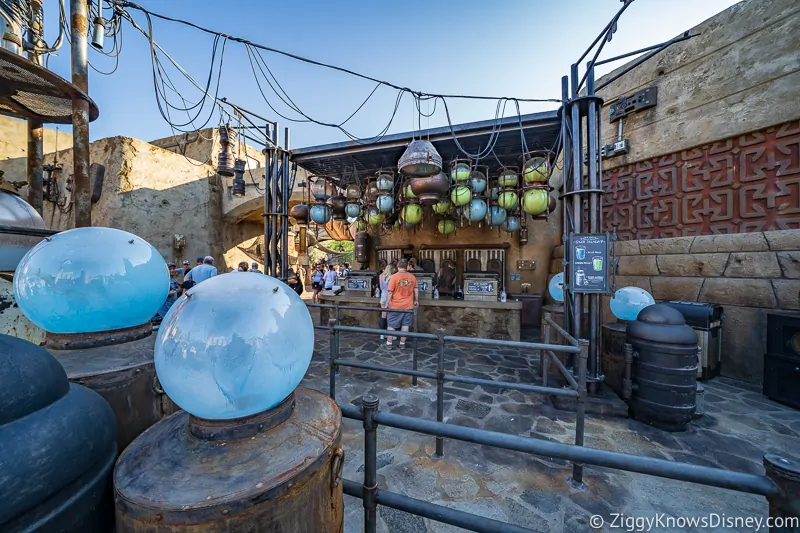 You didn't think you'd get out of Star Wars Galaxy's Edge without trying some Blue or Green Milk, did you?? This is the most polarizing of all the food or drink choices in Galaxy's Edge, and also the most controversial.
Either you love Blue and Green Milk or you hate them, although many more belong to the second group.
The Milk Stand serves both alcoholic and non-alcoholic versions of Blue and Green Milk* (which FYI isn't even really milk), both with a unique fruity taste. We aren't huge fans of the milk in general, but we couldn't talk to you about the Galaxy's Edge food without at least telling you to try it and see what you think for yourself!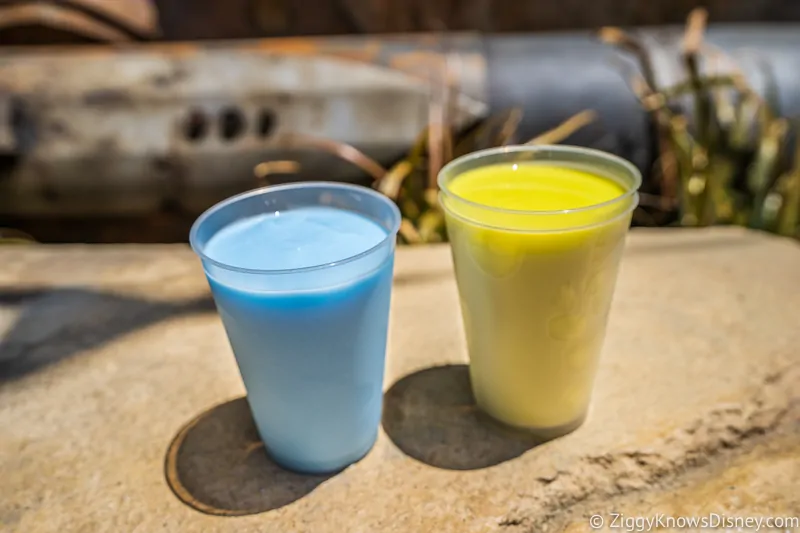 Even though you probably can't get the image out of your head of Luke Skywalker milking that space cow in The Last Jedi, you have to try this stuff. There is even a story behind the place with the Bubo Wamba family farm that runs the Milk Stand, so go and ask about it.
One of the newest additions is the Tenoo Swirl Crunchies Cereal. No, it's not some kind of Star Wars cereal you have for breakfast, but it's a glass of blue milk topped with Raspberry Jelly and Mini Rainbow Crunchy Candies.
I don't know, maybe they do have it for breakfast on Tatooine although I feel like a trip to the dentist would be in order right after.
Most Popular Food/Drink Options:
Blue and Green Milk
Alcoholic Blue and Green Milk*
Tenoo Swirl Crunchies Cereal
*Alcoholic Blue and Green milk is not served in Disneyland but only in Disney's Hollywood Studios.
How to Make Dining Reservations for Galaxy's Edge
If you are taking a trip to Star Wars: Galaxy's Edge to eat or drink, you generally don't need to make dining reservations as there are no table service restaurants, only quick service, snack stands and one bar/lounge.
The only dining location in Galaxy's Edge you need to make reservations for is Oga's Cantina. This is highly recommended as it can be very hard to get reservations there.
Read our guide in the link for instructions on how to make advanced dining reservations for Oga's Cantina. Also, check out our post on making Disney World Dining Reservations for all the restaurants.
Does Galaxy's Edge Have Alcohol?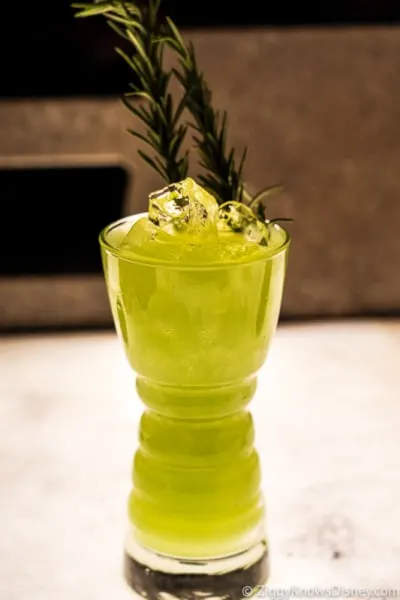 Both versions of Star Wars: Galaxy's Edge in Disneyland and in Hollywood Studios do have alcohol, but not all the same options and not in all the same dining locations.
Galaxy's Edge in Disney's Hollywood Studios has alcohol in:
Oga's Cantina
Ronto Roasters
Docking Bay 7 Food and Cargo
and The Milk Stand
Galaxy's Edge in Disneyland only has alcohol in Oga's Cantina. The rest of the restaurants only serve non-alcoholic drinks.
Star Wars Coca Cola Bottles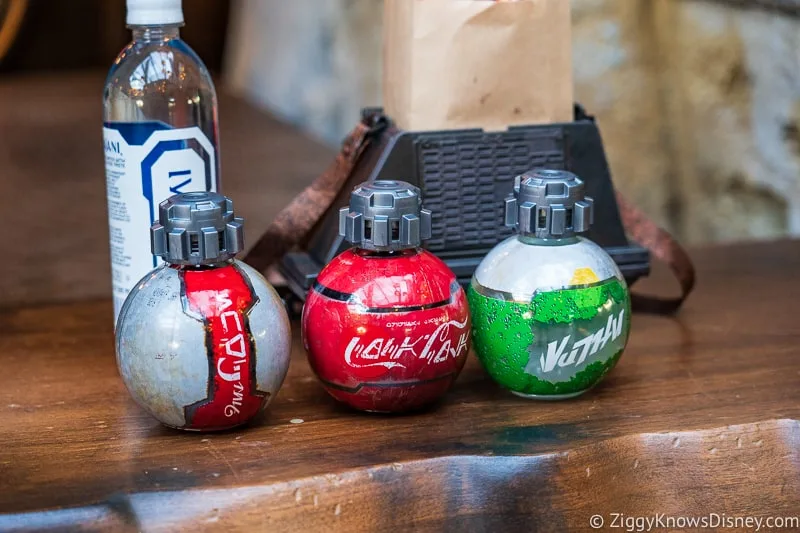 If you are looking for a cool souvenir, the coolest one in Galaxy's Edge may be the thermal detonator Coca-Cola bottles! The bottles have been a huge success so far, despite their higher cost ($5.79) compared to other places in the parks.
Probably the biggest news surrounding the Galaxy's Edge Coke bottles was when the TSA announced that they would be banned from airplanes. Originally TSA put the grenade like soda bottles on the no-fly list, meaning you couldn't bring them on an airplane, empty or full.
They have since retracted that ruling and can either be sent in your checked baggage, or emptied and put in your carry-on bag to bring home as a collectible.
There is no doubt though, that they are one of the coolest souvenirs you can bring home from Galaxy's Edge, so make sure you try one at least once!
Best Galaxy's Edge Food and Drinks
Okay, now that we talked about all the restaurants in Star Wars: Galaxy's Edge, it's time to talk about the best and worst food items you will find there. We created this list in no particular order, but they are all things you should get at least once to fulfill the Star Wars experience!
11. Ronto Morning Wrap – Ronto Roasters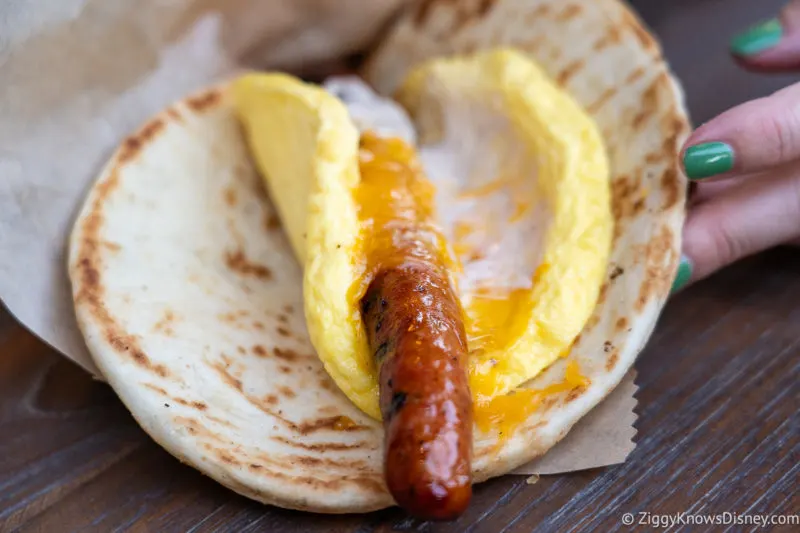 You can get the Mustafarian Lava Roll for breakfast at Docking Bay 7, Oga's Cantina or Ronto Roasters, and the result is always the same: finger-licking yumminess! The pastry dough is very light and flaky, and the roll is topped with chocolate crumbles and a raspberry glaze! Do I need to say anything more?
10. Blue Bantha – Oga's Cantina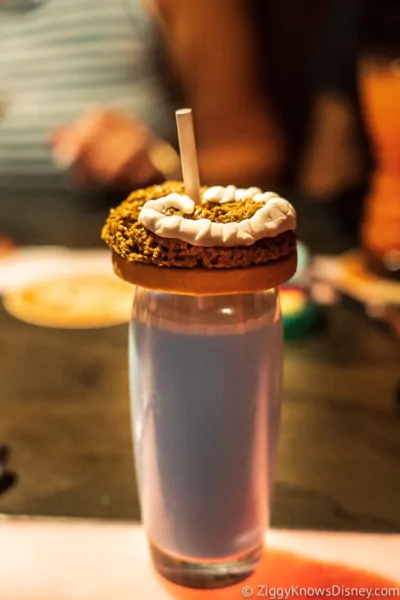 Why is it better to get the blue bantha than the regular blue milk? One word: Cookie! The buttery sugar cookie on top of the blue bantha more than makes up for the milk's "ok" taste. It also has a sweet, chewy, toffee-like layer on top which makes it one of the best snacks in Galaxy's Edge.
9. Green Milk with Alcohol – Milk Stand (WDW only)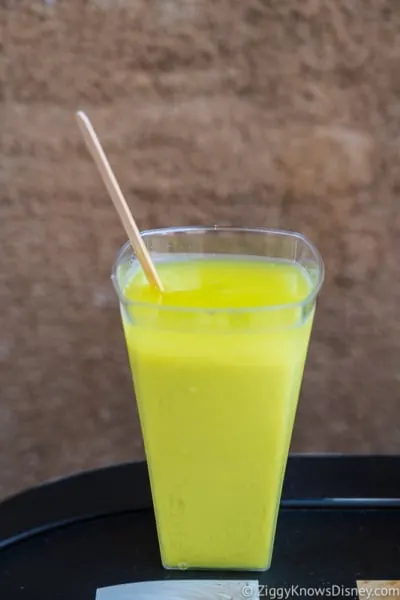 The regular green milk in Galaxy's Edge is not one of our favorite drinks, but somehow the alcoholic version is a winner and a must-try when visiting. The tequila brings out the citrus flavor more and diminishes the floral taste. If you're going to try one of the Star Wars milks, then you might as well make it this one.
8. Roasted Endorian Chicken Salad – Docking Bay 7 Food and Cargo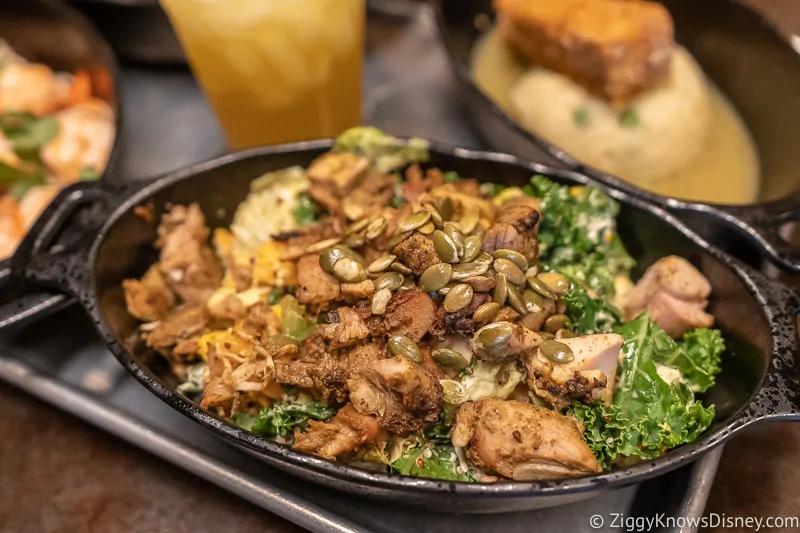 There are so many great options at Docking Bay 7 (Kaadu Pork Ribs, Endorian Chicken Tip-Yip, Batuuan Beef Pot Roast, etc), but believe it or not, I prefer the Endorian Chicken Salad to all of them.
The portion is hearty, there is lots of chicken in there, and the dressing is so creamy and delicious. This salad is like eating a really good Caesar salad and deserves to be counted among the best food items in Galaxy's Edge.
7. Fuzzy Tauntaun – Oga's Cantina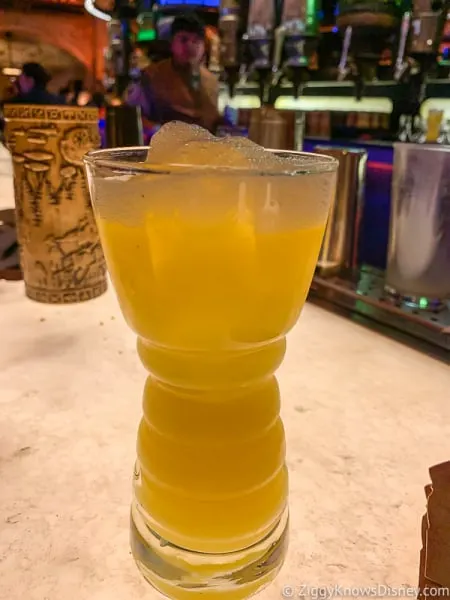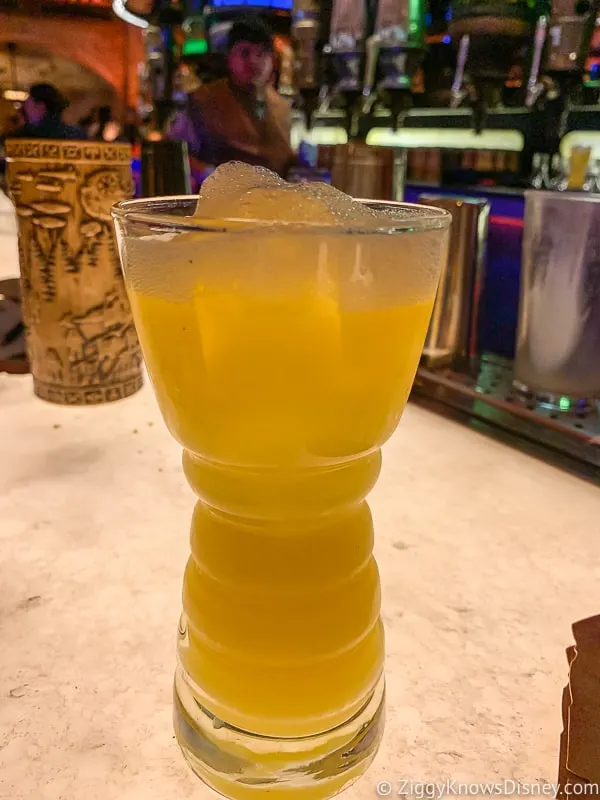 Just on taste alone the Fuzzy Tauntaun probably doesn't make the top 10 food/drinks in Galaxy's Edge, but the uniqueness of the drink makes it impossible not to include. The drink is a mix of peach schnapps, orange juice and tangerine, but it's the foam on the top that makes it special.
Just try to drink it and then tell me if your tongue doesn't go numb!
6. Oga's Obsession – Oga's Cantina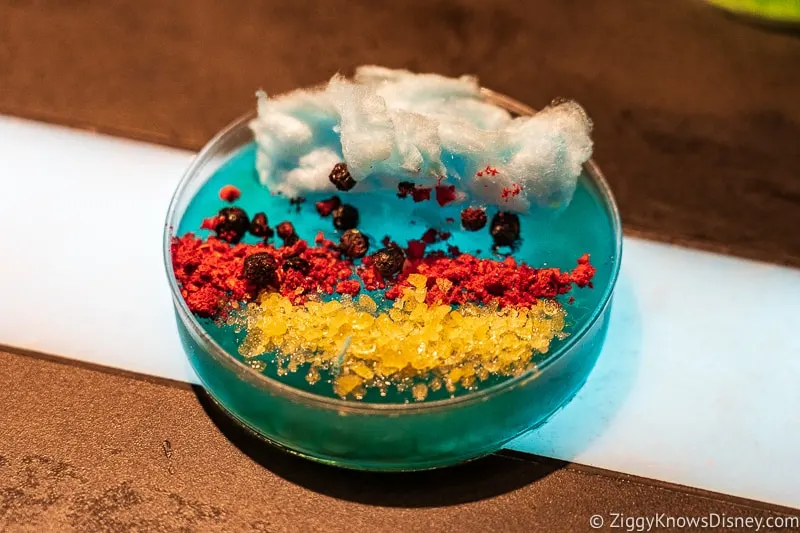 This has quickly become Ziggy's Obsession too, as I seriously can't go into Oga's Cantina without getting one. Think of Oga's Obsession as Star Wars' version of jello. It has a lemonade and cotton candy flavor, but the blueberry popping pearls underneath and the crystalized dry fruit on top make it irresistible!
5. Tenoo Swirl Crunchies Cereal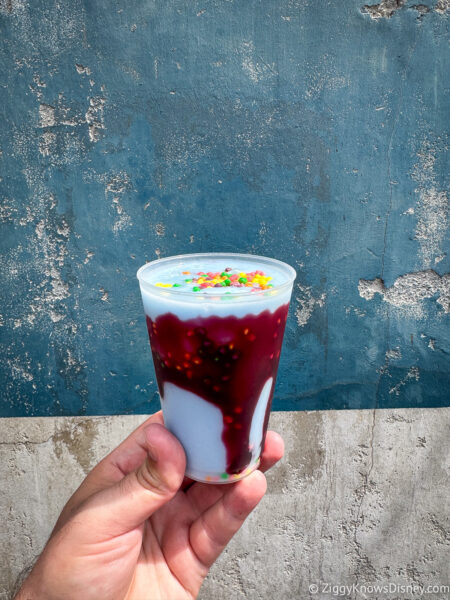 While we aren't fans of the blue milk in general, who knew that by throwing raspberry jelly and nerds inside one would make it 100x better than the original?
I think that was my complaint with the standard Blue Milk, it's just a little blah. Not much flavor going on. That completely changes here and the added raspberry along with the sugary candy give both taste and texture we love.
Those changes and the fact that it was already cold and refreshing make this a winner for us!
4. Felucian Garden Spread – Docking Bay 7 Food and Cargo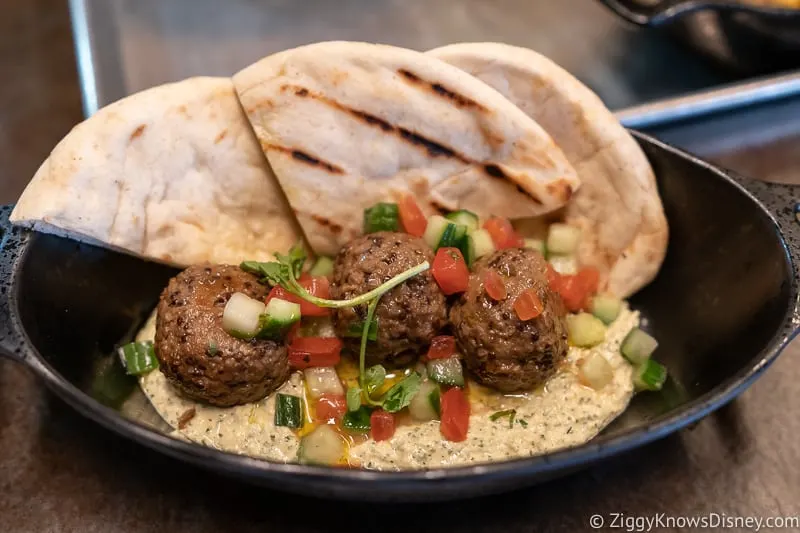 So it's pretty rare that I put a vegetarian option towards the top of any food list, especially one that passes itself off as being meat. The Felucian Garden Spread though is an exception, and the "meatballs" are so good, I honestly thought they were real meat the first time I tried them.
This is absolutely one of the best food choices in Galaxy's Edge and you should try it whether you are vegetarian or not.
3. Cold Brew Black Caf – Docking Bay 7 Food and Cargo (Disneyland), Kat Saka's (WDW)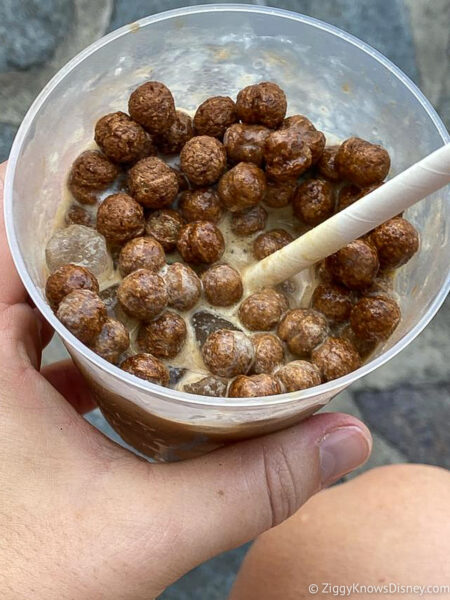 A newer addition to Galaxy's Edge in both Disneyland and Hollywood Studios, this tasty cold brew coffee is the perfect amount of bitter and sweet. It's not overly sweet despite the yummy sweet cream topping in this iced coffee.
This is a wonderful coffee that will give you something different than the standard Starbucks or Joffrey's options you'll normally get in the parks. We LOVE the cocoa puffs on top as well! For extra credit, get the Spiked Cold Brew Black Caf in Hollywood Studios. It's extra tasty and chocolatey!
2. Outer Rim – Oga's Cantina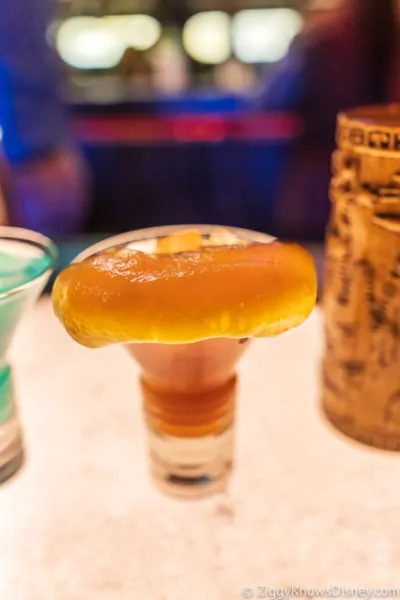 Margaritas are my favorite mixed drink, and the Outer Rim from Oga's Cantina is one of the most unique and tastiest margaritas you will have in Disney World. The mix of silver tequila, açaí liqueur, lime juice, pure cane sugar, black salt, and exotic fruit purée makes it really hard not to keep ordering one after another.
The coolest part is the crazy foam on the "outer rim" of the glass which is made from exotic fruit puree. Sooooo good, and the best drink in Galaxy's Edge hands down!
1. Ronto Wrap – Ronto Roasters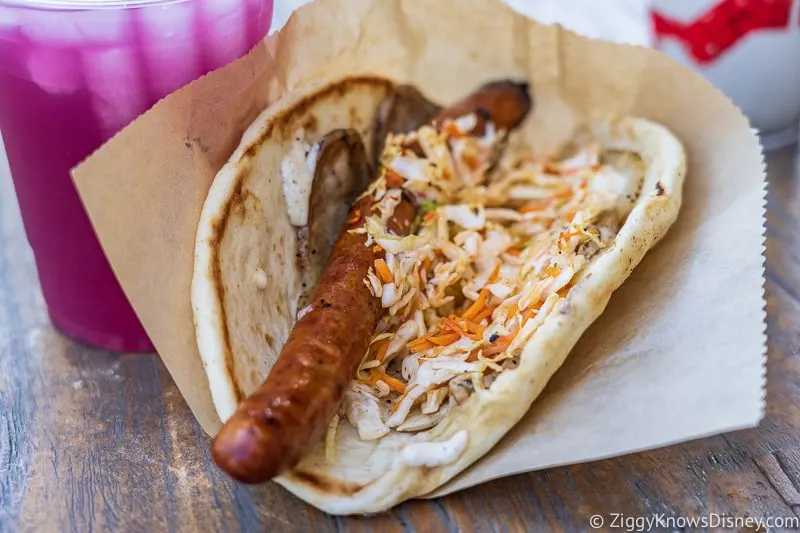 I'm sorry but I don't care how many fancy drinks or alien snacks there are in Star Wars Land, the best thing you can put in your mouth is the Ronto Wrap from Ronto Roasters. It's a spicy sausage, wrapped in a moist pork loin, topped with coleslaw and peppercorn sauce, and then held together by a pita wrap.
By far the Ronto Wrap is the best food in Star Wars: Galaxy's Edge, and a must-try!
Honorable mentions:
Jedi Mind Trick
Outpost Puff
Outpost Popcorn Mix
I could have easily put any of these in the list, and they are also among the best food items in Galaxy's Edge.
Worst Galaxy's Edge Food and Drinks
Along with the must-try food from Galaxy's Edge, there are also a few you should stay away from at all costs. Here are the worst food and drinks in Galaxy's Edge:
5. Rising Moon Overnight Oats – Ronto Roasters (WDW Only)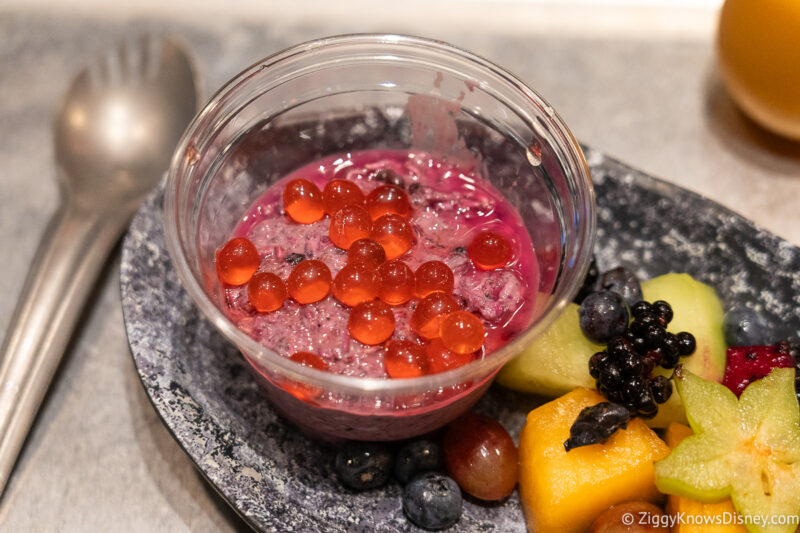 While we are glad that Galaxy's Edge in both parks has continued to refine its menus and take off some of the less desirable items, there are still a few that are just 'EH.' While the Rising Moon Overnight Oats aren't bad per se, they just aren't shall I say desirable.
While I tend to like Overnight Oats, on a hot Florida day the idea of eating yogurt and oats doesn't tend to be high up on my list. While you could do WAY worse, we tend to avoid this option, but we've heard some guests really enjoy them.
4. Blue Milk – Milk Stand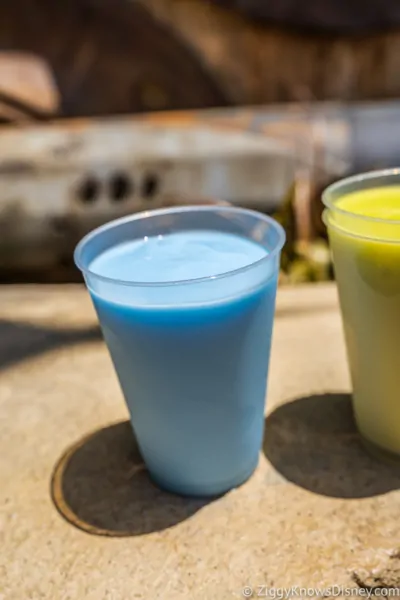 While we don't hate the Blue Milk, the chances of us getting it aren't on the higher end of the spectrum. Unless it's been a REALLY long time since we've had it. The alcoholic version of it is a bit more tolerable, it just still isn't something I run to get. If I'm drinking both of them without alcohol, I SLIGHTLY prefer the Blue Milk over the Green Milk. But it's not by much….
3. Green Milk – Milk Stand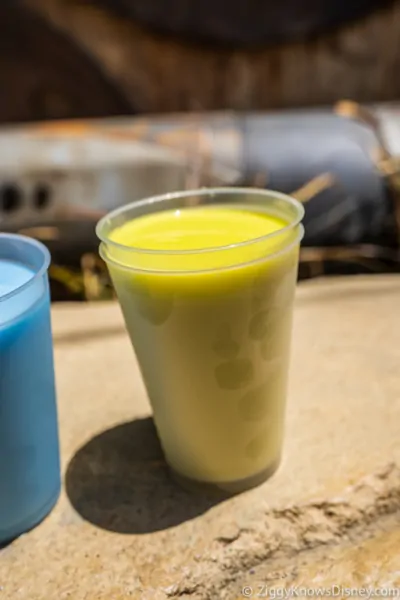 So this doesn't make a whole lot of sense now does it, seeing as we put the alcoholic green milk on our must-try Galaxy's Edge drinks list, but trust me, if you try the green milk without the tequila, you will regret the choice big time.
The regular green milk from the Milk Stand is drinkable, but I don't know why you'd want to do it with so many better options. Somehow the tequila in the alcoholic version pulls everything together, but without it, this drink is a mess. Move along here.
2. Kyryll Pork Rinds – Ronto Roasters (WDW Only)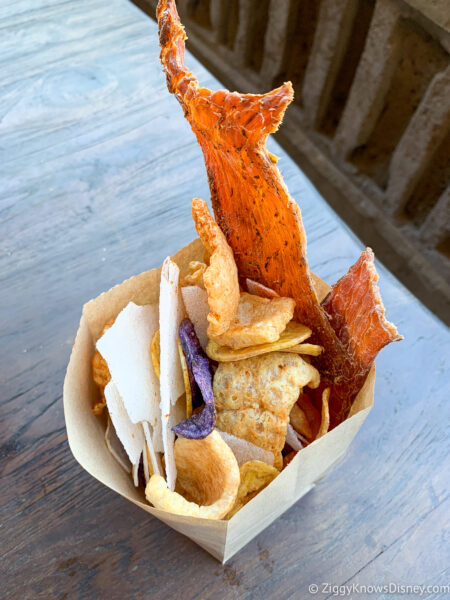 We are big fans of pork rinds and it's something we often have in our pantry as a snack. And while the Kyryll Pork Rinds at Ronto Roasters might sound enticing with their savory blend of Ancho Chile, Cheddar, Smoke, and Cinnamon, they aren't worth getting.
They aren't awful but for nearly $8 you can get MUCH better snack options throughout Galaxy's Edge. They are just OK let's just say.
1. Fried Endorian Chicken Tip Yip – Docking Bay 7 Food and Cargo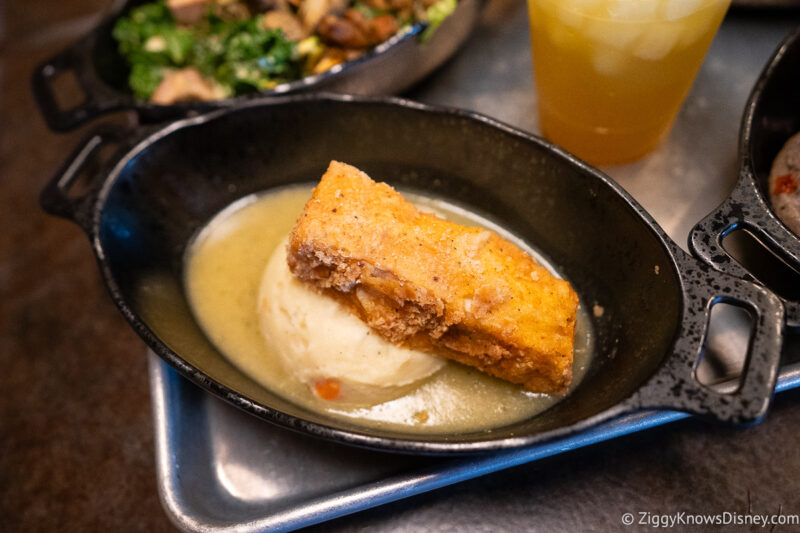 I hate to pile on to Docking Bay 7 with these bad food options because most of the food there is really amazing, but the Fried Endorian Chicken Tip Yup at both Hollywood Studios and Disneyland is remarkably subpar and I certainly wouldn't recommend it go guests coming here for the first time.
It's essentially glorified chicken nuggets on top of disappointing macaroni and cheese that is almost reminiscent of what you'd make from a box at a grocery store. While it isn't BAD, in fact, I've enjoyed this entree in the past, it just certainly isn't something that will rival other entrees on the mostly wonderful Docking Bay 7 menus.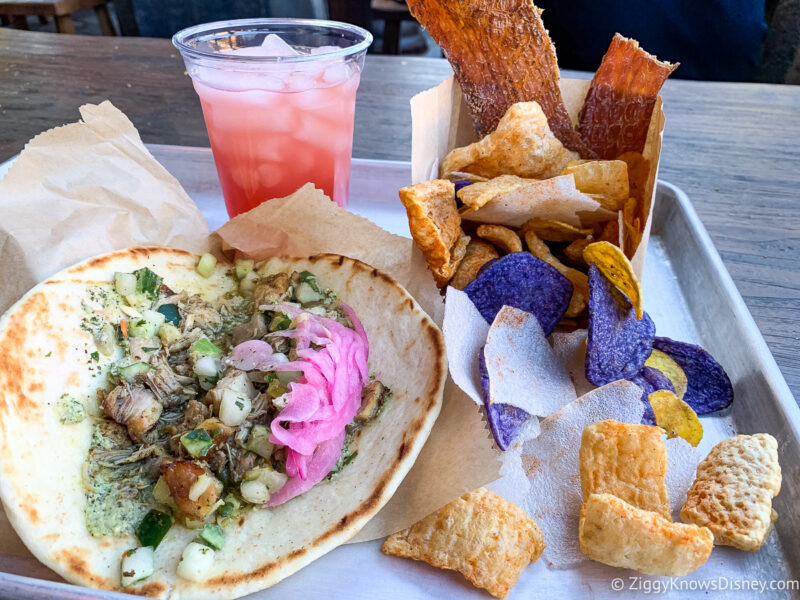 Galaxy's Edge is still in its infancy as a theme park land and in the coming months and years, more restaurants and food and drink items will be coming. I don't know about you but I can't wait to see what other delicious treats are coming to Star Wars Galaxy's Edge in the near future!
Star Wars Galaxy's Edge is open in both Disneyland and Disney's Hollywood Studios in Walt Disney World.
For more info read about the dining in Star Wars Land and more, read our Star Wars: Galaxy's Edge Complete Planning Guide for a detailed look at the attractions, dining, planning, and touring strategies.
Check out our Disney World Vacation Planning Guide for all the best tips and trip planning info.
Your Thoughts:
I want to know what you think about the Star Wars Galaxy's Edge Food and Restaurants…
Which food or drink is your favorite?
Which is the worst?
Let us know in the comments section below!
If you enjoyed this article, as always I appreciate it if you'd share it with others via social media. I work hard at making this website into a useful resource for you and your family to plan your visit to the Disney Parks and I hope it can help you! Thanks 🙂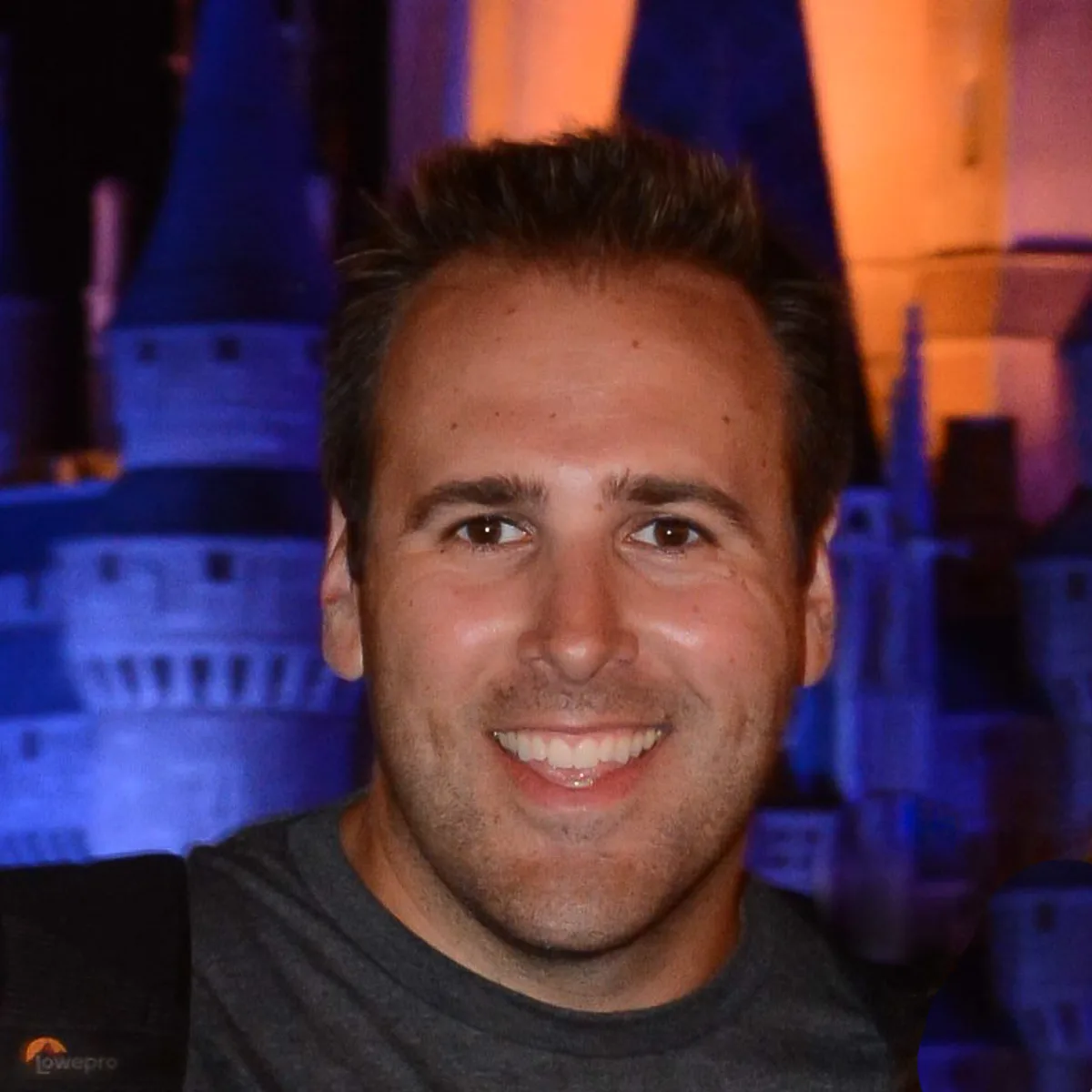 My name is Ziggy and I love Disney, everything Disney! I grew up on Disney and it has and continues to be a huge part of my life. I started young when my parents took me to Disney World when I was 18 months old. Little did they know that would be the first of an uncountable number of trips we would take. I have so many amazing memories going to Disney with my family and friends and it has been interwoven into my DNA.