If you are looking for the rarest Star Wars artifacts in the galaxy, Dok Ondar's Den of Antiquities is the place to be! They have collectors' items that even the biggest Star Wars fan would go crazy over like Galaxy's Edge Legacy Lightsabers, Kyber Crystals, Holocrons, Jedi Busts, Sith Artifacts and more!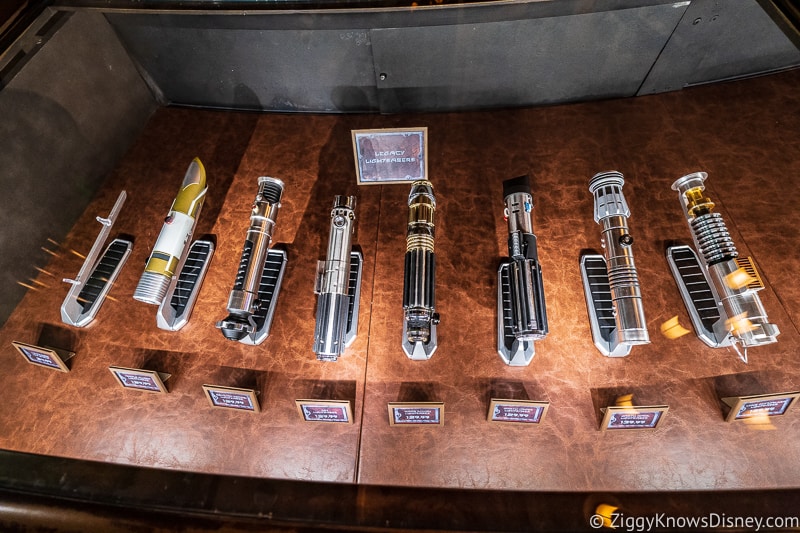 In this post we are going to explain everything you need to know about Dok Ondar's including all the different legacy lightsaber models, prices and options, relics, all the kyber crystal colors you can buy, and all the other incredible merchandise located here!
Dok Ondar's Den of Antiquities Overview
Location: Star Wars: Galaxy's Edge (Disney World and Disneyland)
Store Type: Rare and Legacy Star Wars collector's items
Price: $ – $$$$ (Some cheaper options but also very expensive ones too)
Dok Ondar's Den of Antiquities is home to the largest collection of relics and artifacts on this side of the Galaxy and is a major trading point on the black market.
The collection here is second to none, holding rare items such as Jedi and Sith Holocrons, the rarest known Kyber Crystals, tools, blasters, helmets, wild beasts, ancient jewelry, and more.
The Legacy Lightsabers however are probably the most prized possessions in Dok Ondar's, coming from Jedi and Sith legends such as Darth Vader, Mace Windu, Luke Skywalker and more.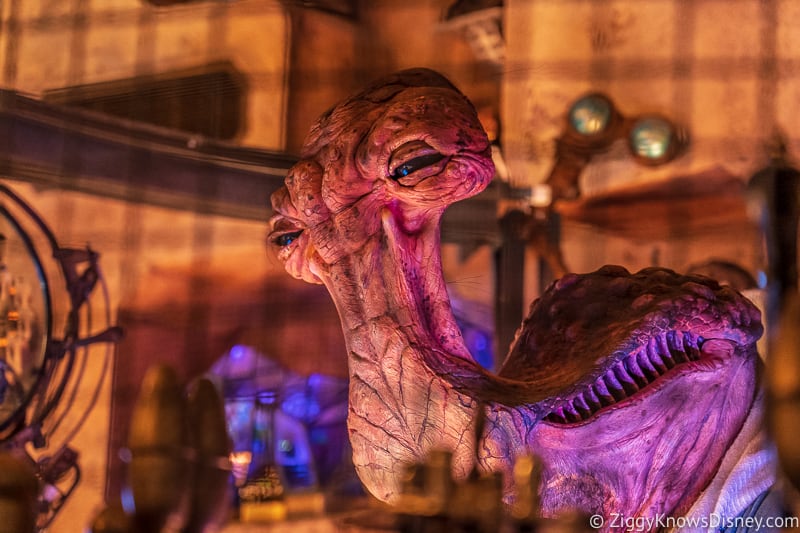 How exactly was this unmatched collection gathered? That's a secret only Dok Ondar himself could tell you!
(NEWS: 10/16/20) – 3 New Legacy Lightsabers Coming to Dok Ondar's
Dok Ondar is always looking for new pieces to add to his collection, and Disney has just announced 3 new Star Wars Legacy Lightsabers coming to Dok Ondar's Den of Antiquities, starting this Fall.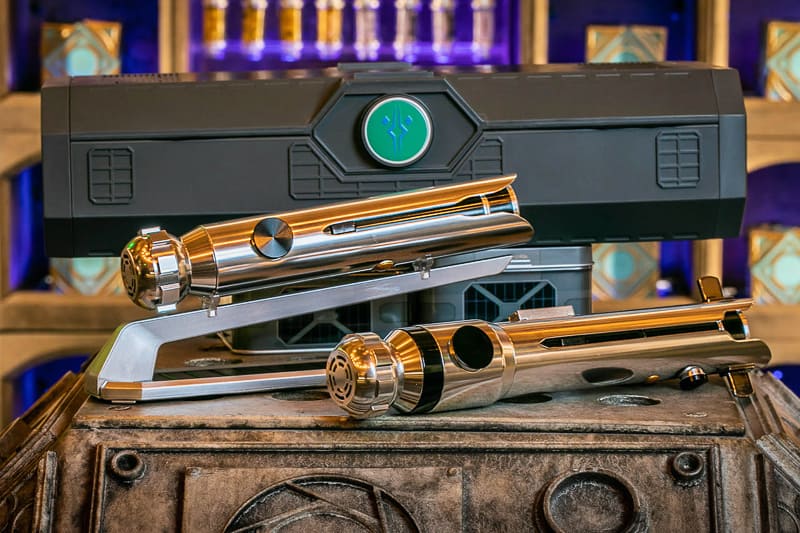 The first set are the new Ahsoka Tano legacy lightsaber hilts that Disney previewed a little while back. These are the same lightsabers that Ahsoka uses in season seven of "Star Wars: The Clone Wars," and are the first legacy lightsaber hilts that change color.
Look for them this Fall at Dok-Ondar's Den of Antiquities in Star Wars: Galaxy's Edge.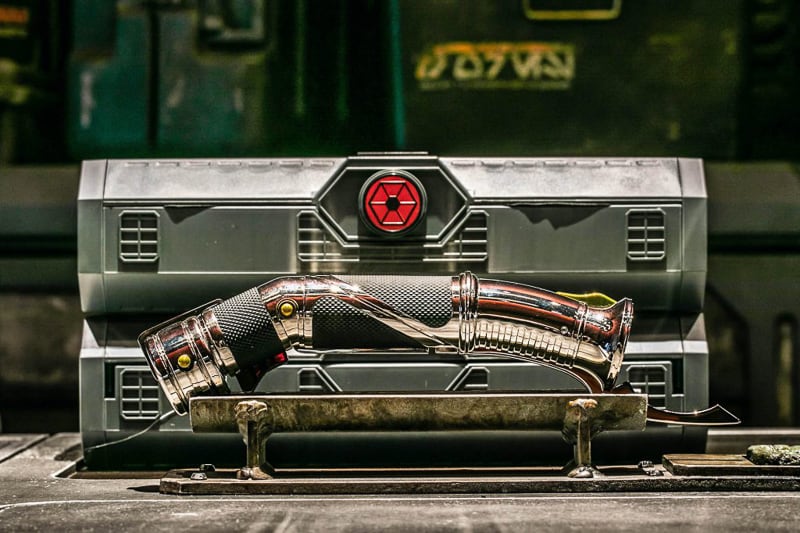 The second all-new legacy lightsaber coming to Dok Ondar's this Fall is the red blade belonging to Sith Lord Darth Tyranus, aka Count Dooku!
You notice the patented curved handle right away and the blade-emitter guard, making this lightsaber truly unique.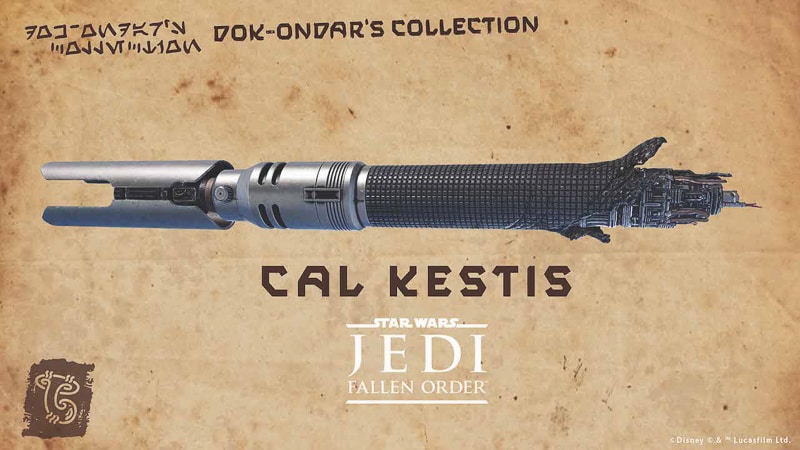 The third new legacy lightsaber coming to Dok-Ondar's Den of Antiquities is one that the fans voted in, and the first lightsaber in the collection from a video game-based character. The new lightsaber is from Cal Kestis.
Unfortunately, the Cal Kestis saber won't bee arriving until Fall 2021, but you can add the other two to your collection soon.
Lastly, with these 3 new legacy lightsabers arriving, it means that some of the old legacy lightsabers will be leaving Dok-Ondar's. At this time we don't know which ones are going, but if you've been waiting for a certain lightsaber for a while now, we recommend you getting it soon as it might not be there for very long.
(NEWS: 10/4/20) – Legacy Lightsabers Now Available in Disney Springs
If you've been to Star Wars: Galaxy's Edge then you know one of the highlights is building a custom lightsaber at Savi's Workshop or looking through the Legacy Lightsabers at Dok Ondar's Den of Antiquities.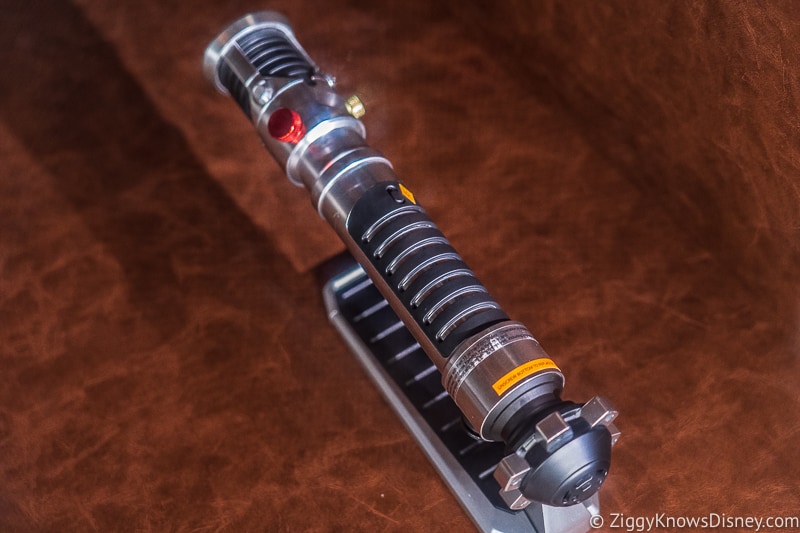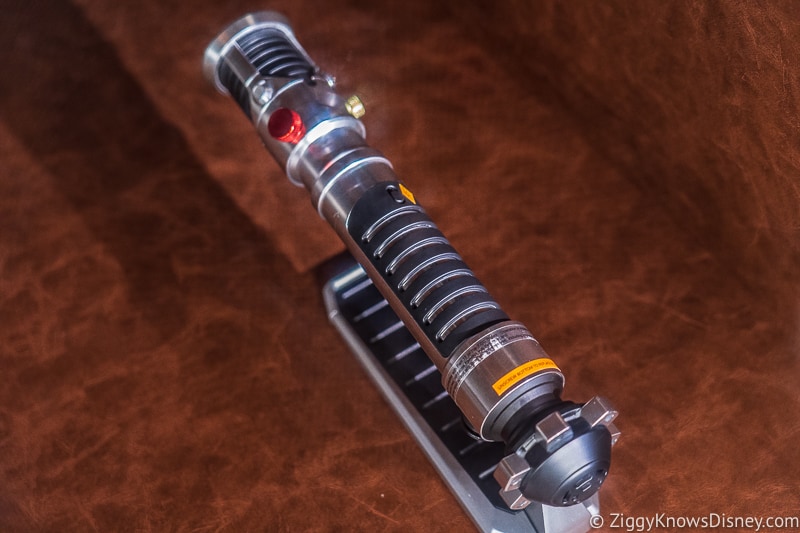 Well, now you don't even have to go to Galaxy's Edge to get one, as the Star Wars Legacy Lightsabers are now available in Disney Springs too.
Star Wars Legacy Lightsabers have become so popular with guests that they are now available at the Star Wars Trading Post in Disney Springs and the Star Wars Trading Post in Downtown Disney.
All the legacy lightsabers from Dok Ondar's are here including ones from Luke Skywalker, Darth Vader, Obi-Wan Kenobi, and Kylo Ren.
That's not all, you will also be able to get the Reforged Skywalker Lightsaber and the new color-changing Ahsoka Tano legacy lightsabers.
Buying legacy lightsabers from the Star Wars Trading Post in Disney Springs works pretty much the same way as it does in Dok Ondar's. There is a display with all the lightsabers to look at and a cast member will then show you any lightsaber you choose to make sure it is working properly.
Legacy Lightsabers still cost between $129.99 and $199.99 depending on the model you choose.
While we know these lightsabers are extremely popular with guests, we aren't happy with the fact that Disney decided to start selling them in other locations outside of Galaxy's Edge. One of the promises to fans was that the merchandise sold in Galaxy's Edge would be special and not found in other locations in Disney World or Disneyland.
We prefer to see Galaxy's Edge merchandise stay in Galaxy's Edge only, as it makes for a more unique experience instead of trying to just make every galactic credit possible.
Read below for more detailed descriptions of all the Star Wars Legacy Lightsabers.
(NEWS: 9/1/20) – Color-Changing Ahsoka Tano Legacy Lightsabers Coming to Dok Ondar's
Dok Ondar's is definitely the place to be for Star Wars legacy lightsabers, and we now found out that new color-changing Ahsoka Tano legacy lightsabers are arriving this Fall!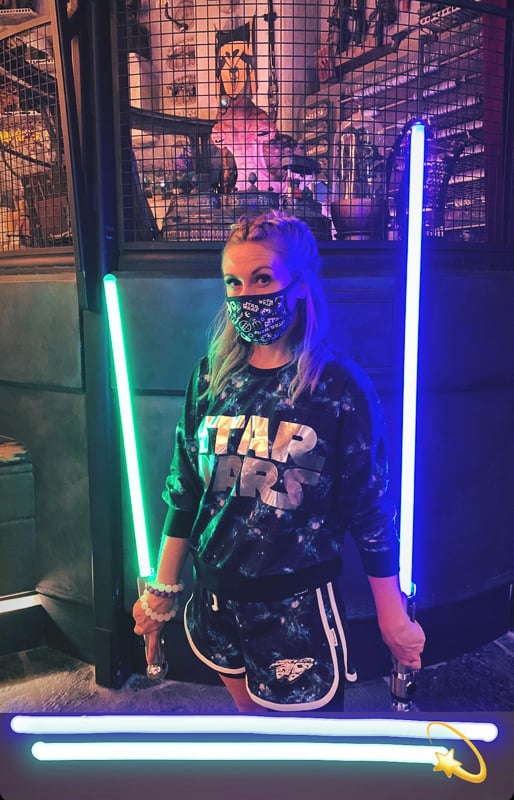 Ahsoka Tano is a popular Star Wars character from the "Clone Wars" animated series who is famous for her duel lightsabers. Dok Ondar's was already selling her lightsabers, but these will be the first color-changing lightsabers in Galaxy's Edge.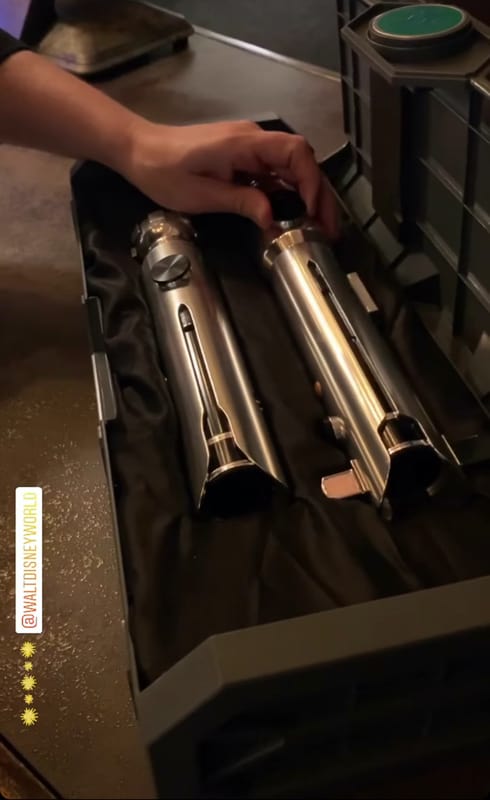 Ashley Eckstein, the voice for Ahsoka Tano on the "Clone Wars" series showed them off on Instagram yesterday during the land's one-year anniversary and we can see what they look like.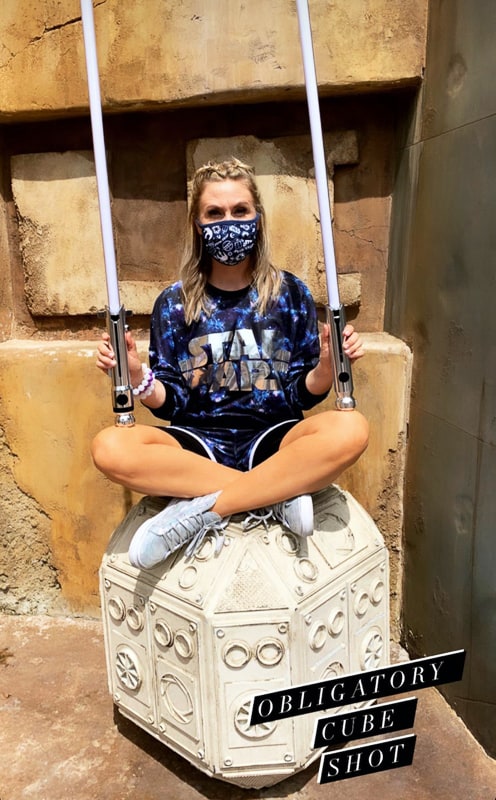 No price has been revealed yet for the color-changing lightsabers, but they will probably cost more than the current Ahsoka Tano legacy lightsabers which sell for $199.99.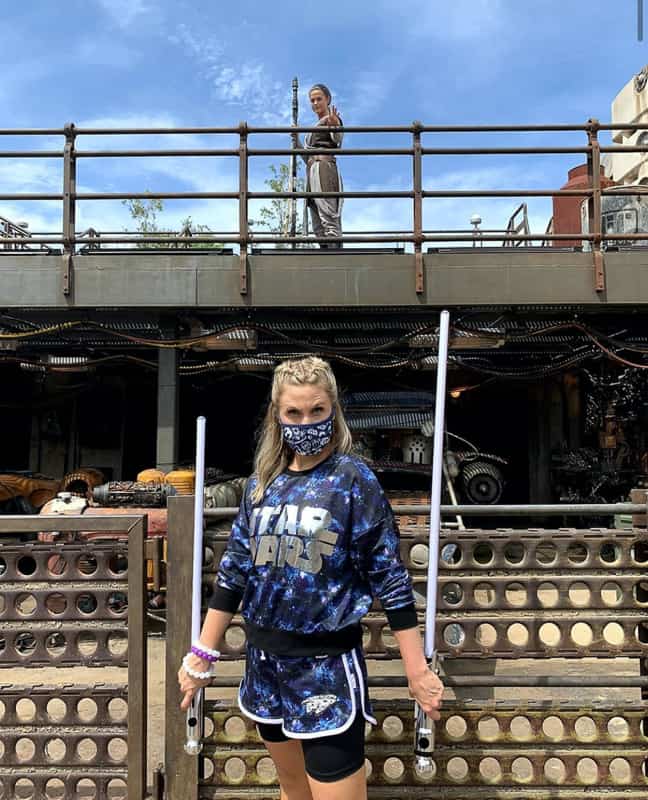 We're curious to see these in action and wondering if Disney will also start offering color-changing options in other legacy lightsaber models. Stay tuned for more soon.
Location/Directions:
Dok Ondar's Den of Antiquities is easy to find as it's located right in the center of Black Spire Outpost in Star Wars: Galaxy's Edge in both Disney's Hollywood Studios and Disneyland Park.
It's located right across the street from Ronto Roasters and Docking Bay 7 Food and Cargo, and up the stairs from Savi's Workshop where you can build your own custom lightsaber. If you are looking for a Star Wars Legacy Lightsaber in Galaxy's Edge however, Dok Ondar's is the place.
Hours of Operation:
Dok Ondar's opens and closes with the Galaxy's Edge every day, so there are no particular hours, just show up before park closing and it'll be open.
Atmosphere and Tour:
Ok, now that we have a basic understanding of what Dok Ondar's Den of Antiquities is, it's time to take a look inside for ourselves.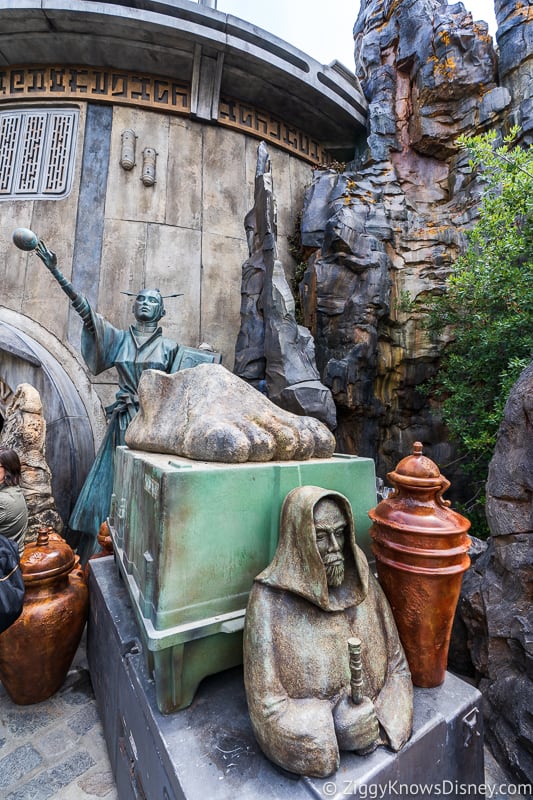 Dok Ondar's is easy to spot as statues and boxes full of ancient relics are waiting outside the shop either just arriving to be added to the collection, or waiting to be shipped off. Hey, this is the black market, you can't expect things to stay the same, and new shipments are always coming and going.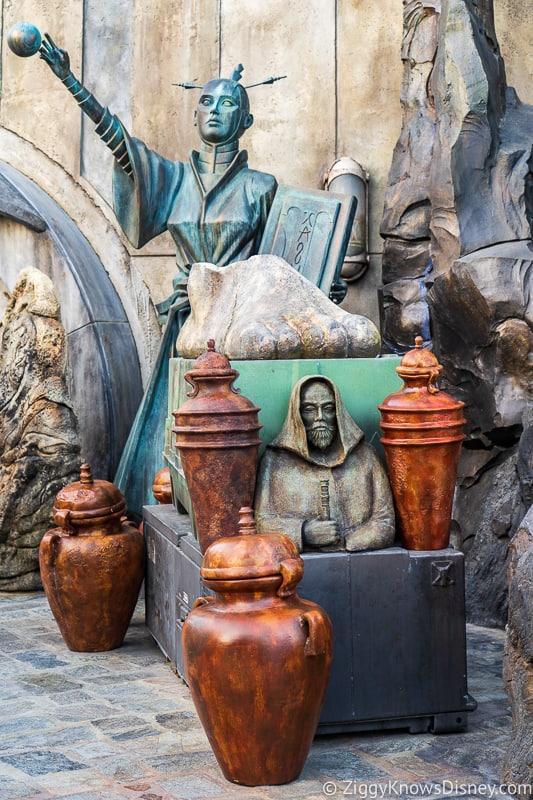 Two of the more notable items outside are the huge sculpture from the Jedi Temple on Coruscant. We aren't sure exactly who she is, but the statue does make a brief appearance in Revenge of the Sith.
The last item before walking in the door is an Ithorian gravestone. An acquaintance of Dok himself perhaps?
As you walk up to the big circular door where the entrance to Dok Ondar's is, you can make out the word: "Antiquities" in Aurebesh, the native language of Batuu.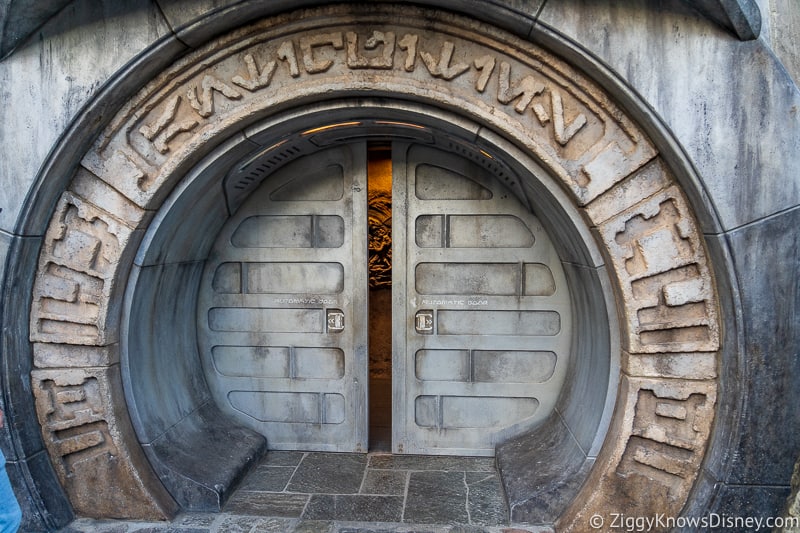 Let's step inside….
Right away we are greeted with the first piece of the collection, a sculpture showing the Jedi in a fierce battle against an alien race: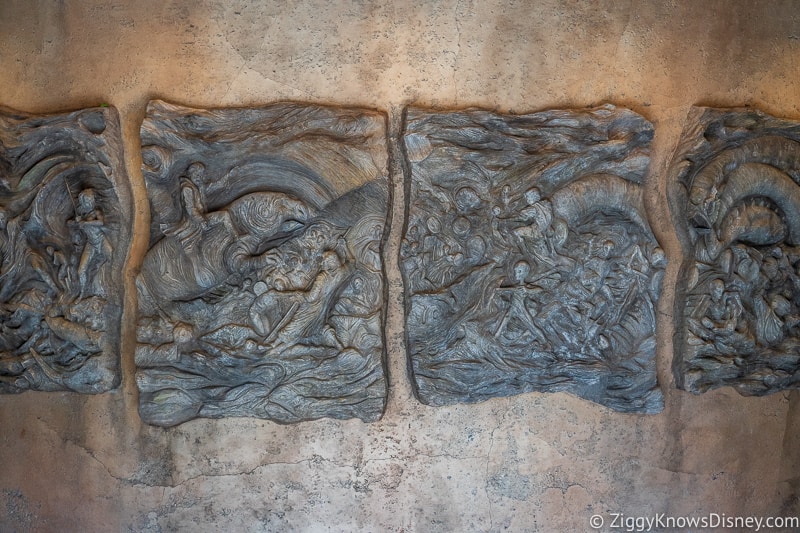 Does it look familiar? That's because it used to be hanging on the wall of Palpatine's office on Coruscant.
Why did it break into four pieces and how did it end up in Dok Ondar's Den of Antiquities? That's a story for another day…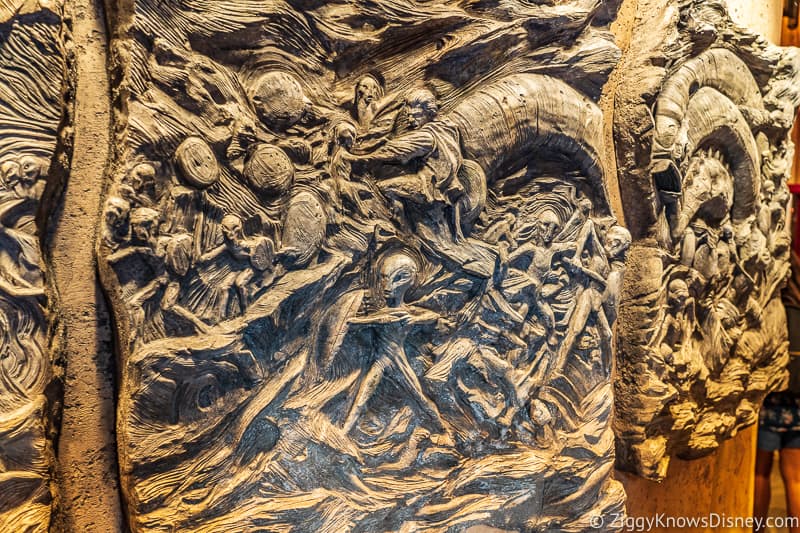 One thing is for sure, the details on the sculpture are really incredible. Make sure to stop and look closely before just rushing by: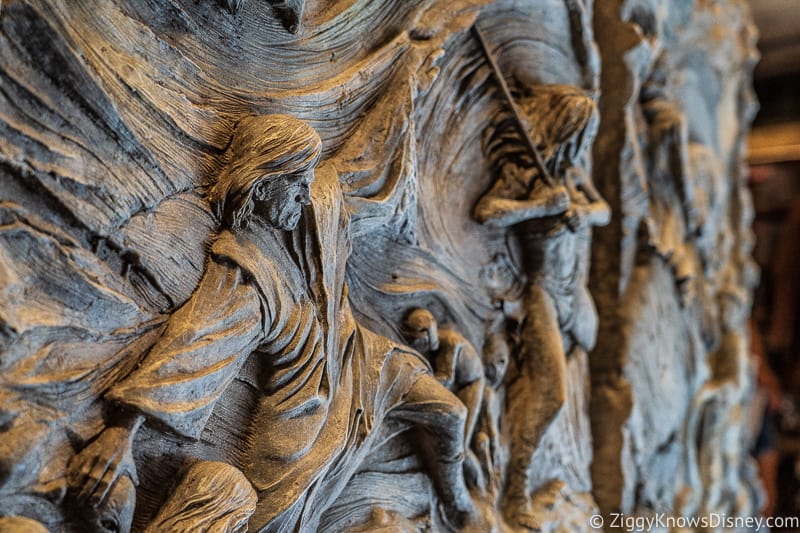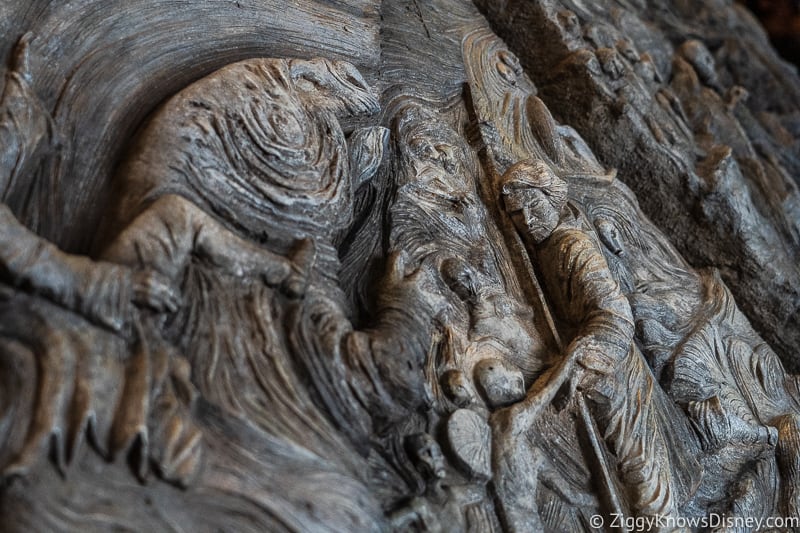 Ok, now we're past the sculpture and inside Dok Ondar's! Oh man, is this place awesome!!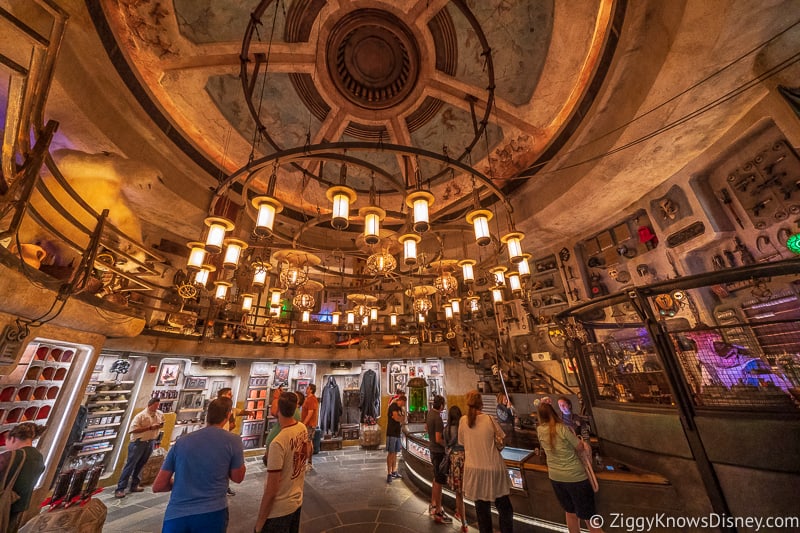 There are two levels to the shop, the floor level which is where all the shoppers stay, and also an upper level where many of the more rare items are held, away from reaching distance.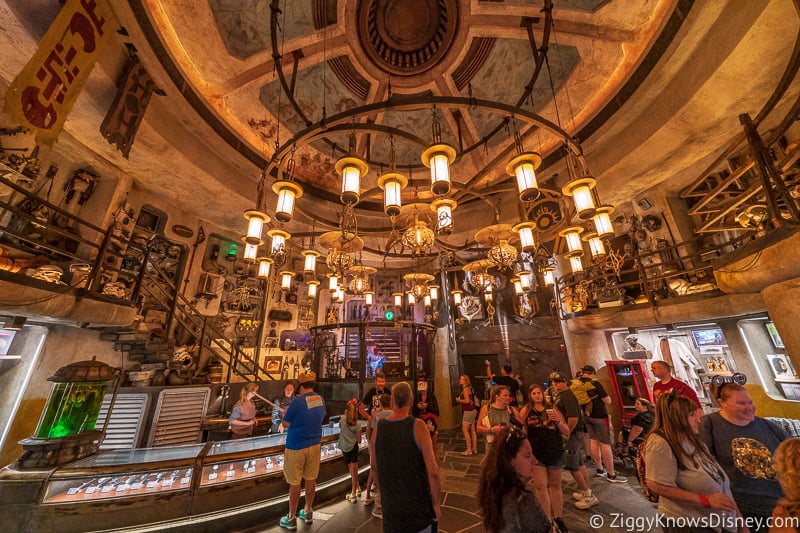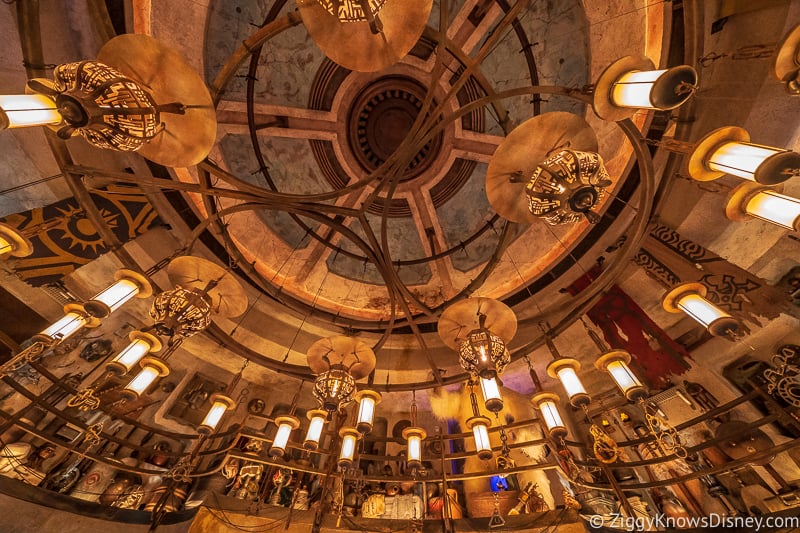 Step in and just start looking around at the treasure trove of Star Wars Easter eggs, which will challenge even the biggest Star Wars fan. Literally everything in Dok Ondar's has a story to it, so snoop around and look int he boxes, and read the labels carefully.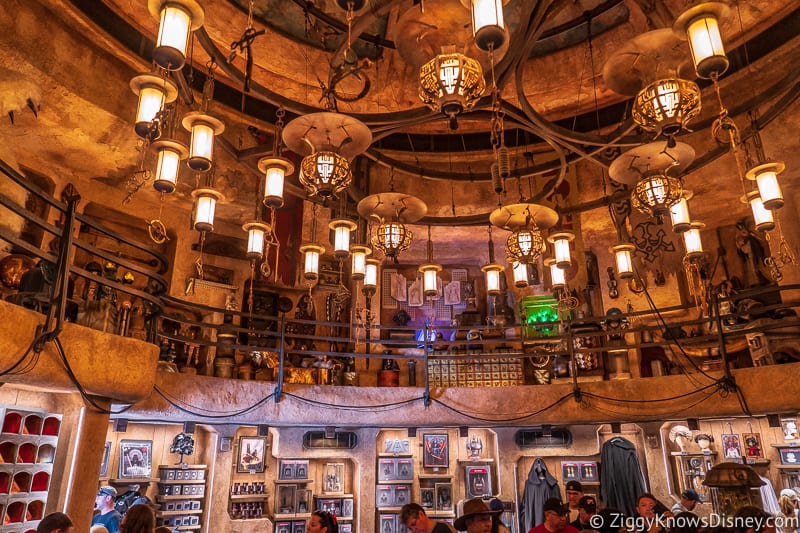 There are relics from the First Order, the Resistance, bounty hunters, smuggler's along with ancient Jedi and Sith relics alike.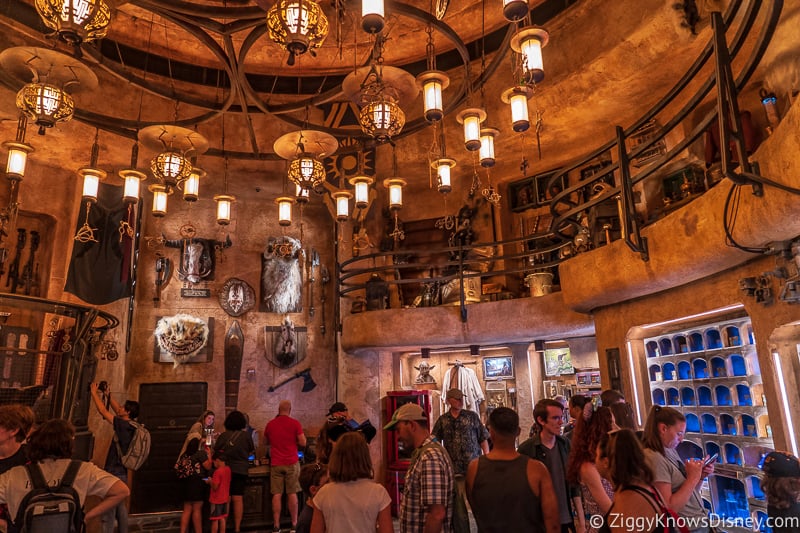 As we said, everything in Dok Ondar's has a backstory, so before we start looking at the legacy lightsabers and other merchandise you can buy, let's take a look at some of the items away from the public but equally as interesting.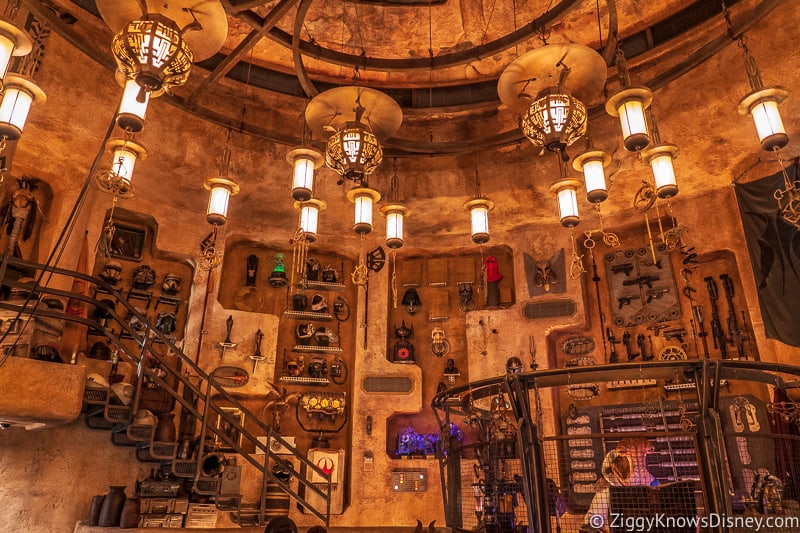 Starting on the wall behind the counter, we can see a collection of helmets. The group on the left are Imperial helmets from various troop types and from different films in the Star Wars franchise.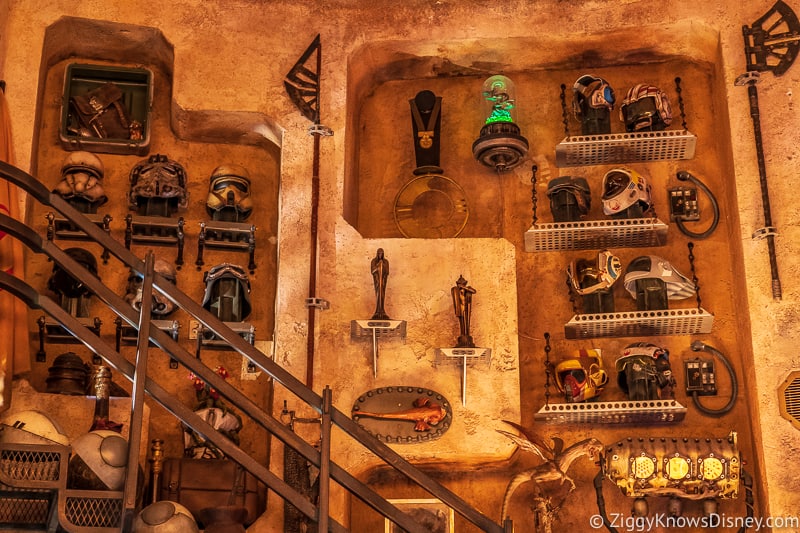 On the right side in in the center are:
the Yavin Medal which was given to Luke, Han and Chewie at the end of of Star Wars: A New Hope
a statue from Jedha's Temple of the Kyber
various Rebel and Resistance infantry and pilot helmets
the Four Sages of Dwartii
Helmets worn by Jedi younglings on the step
a Sketto
In the next picture to the left of the helmets is an Ewok headdress and medicine bag: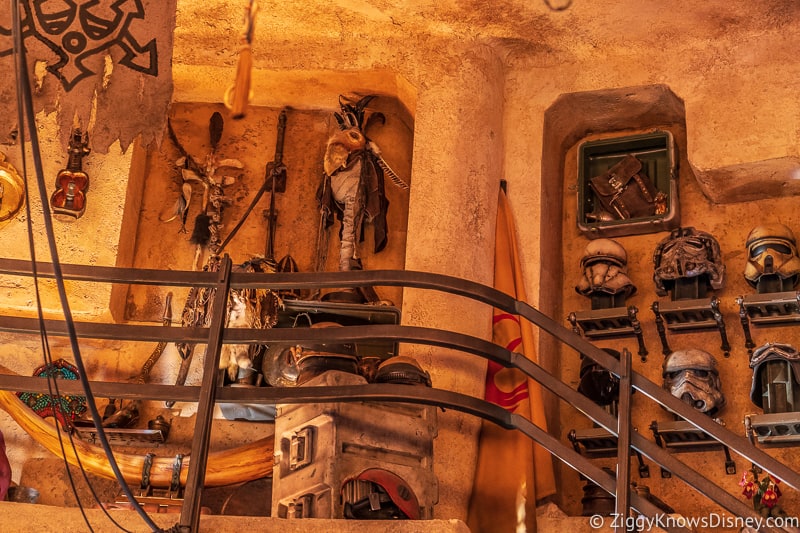 To the right there are more helmets, these however have Imperial or Sith origins. There is:
Unknown Sith helmet,
Seventh Sister-style helmet
Kaleesh mask
A Helmet worn by one of Emperor Palpatine's Imperial Royal Guard
Sith Chalice
Mythosaur skull.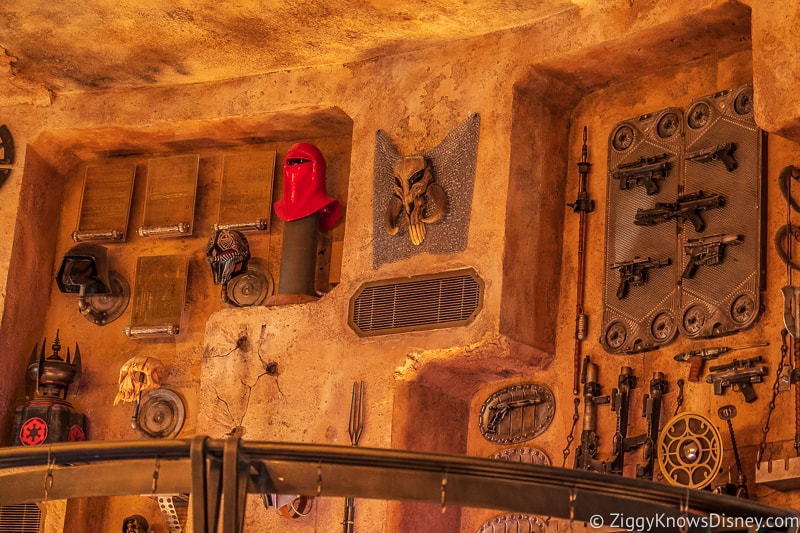 To the right we have some pretty famous blasters from Star Wars universe including weapons used by:
Han Solo
Lando
Cassian Andor
Jyn Erso
Wookiees
Stormtroopers
Jango Fett
Imperial Death Troopers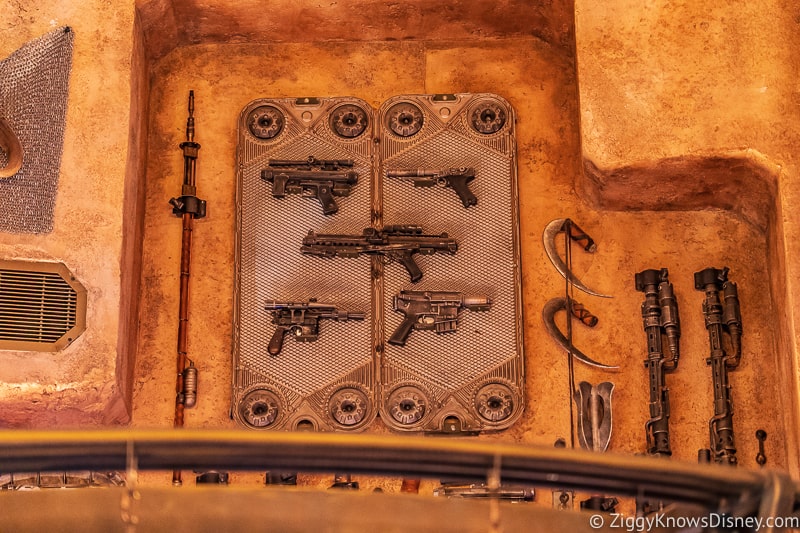 Some relics here include: a Gold Gungan bust, Tusken Raider artifacts and the Sword of Kashyun from Marvel's Star Wars: Galaxy's Edge series: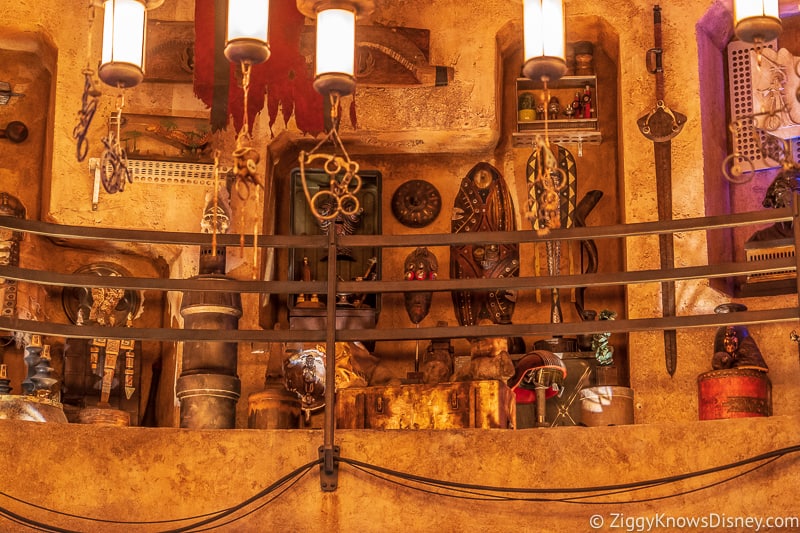 In this corner we can see various musical instruments played in the Mos Eisley Canteen in A New Hope, plus other musical instruments throughout the Star Wars universe like the Ommni box and chindinkalu flute, bandfill and the seven-string hallikset.
We can also see some Imperial helmets, on the far left a Dok Ondar security droid and on the right the bust of Yaddle who was a member of the Jedi Council before the Clone Wars: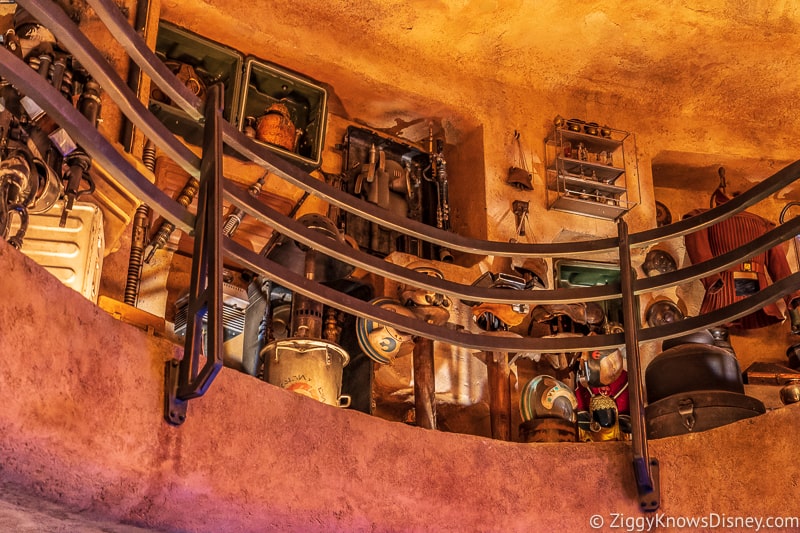 If the Boushh helmet in the middle looks familiar, that's because it's like what Leia wore when attempting to reuse Luke from Jabba's Palace in Return of the Jedi.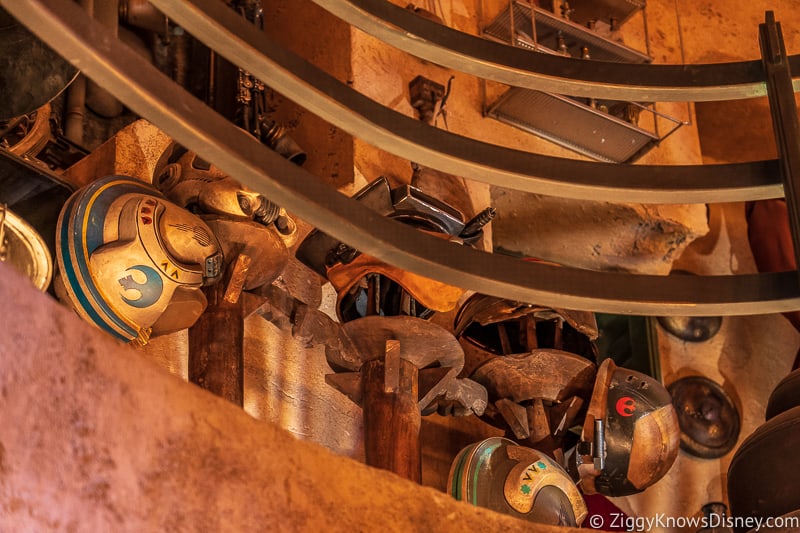 One of my favorite relics is the Ark of the Covenant in the center, hidden in the back behind that crate: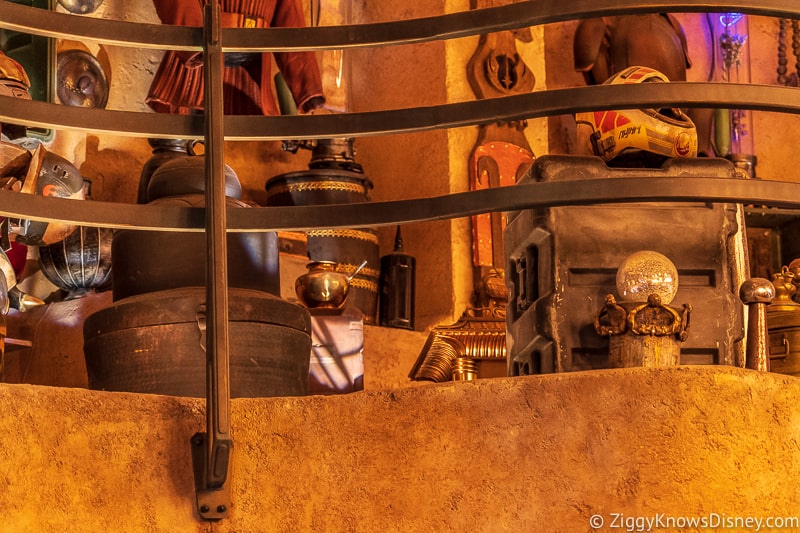 This is the same artifact Indiana Jones found in Raiders of the Lost Ark!
UPDATE: On my last visit to Dok Ondar's however, the Ark of the Covenant had been removed from the collection. When I asked one of the shop assistants what happened, they were very vague on details and wouldn't even acknowledge its previous inclusion in the Dok Ondar collection.
One person did crack though and told me it was there but had been removed and they don't know if or when it will be re-added to the collection.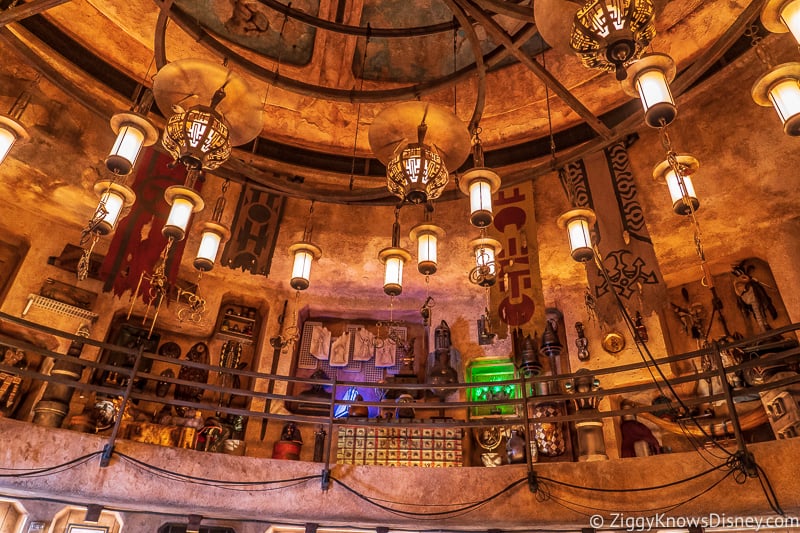 More artifacts are located here with a Jedi bust and a helmet from the battle of Hoth: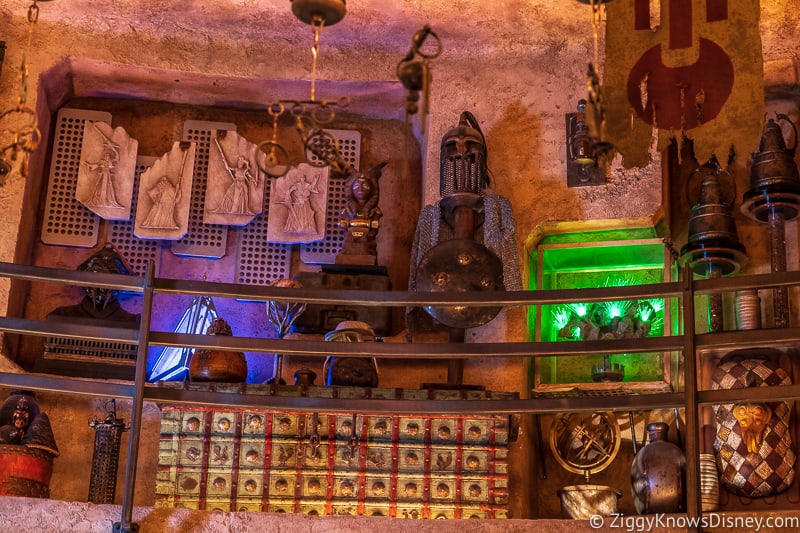 I don't think you could miss Dok Ondar's biggest artifact….a full-sized Wampa! You remember them from the cave on Hoth where Luke almost became dinner for a Wampa: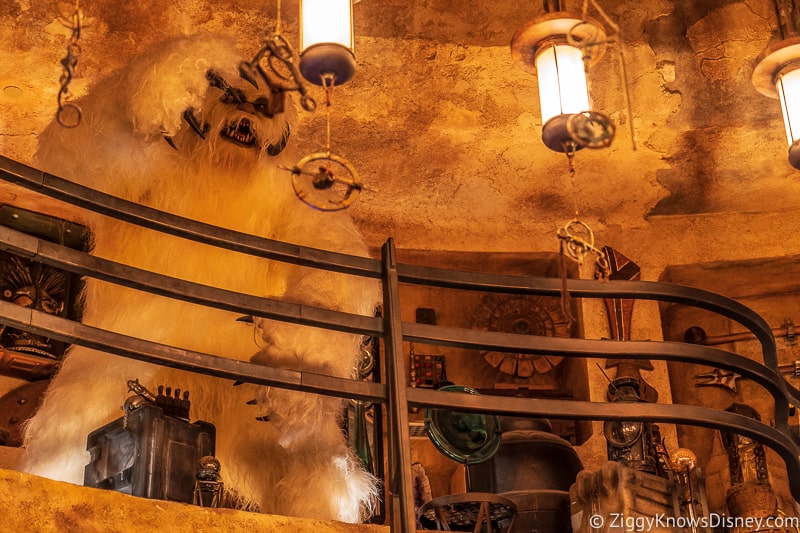 He looks as ferocious as ever!!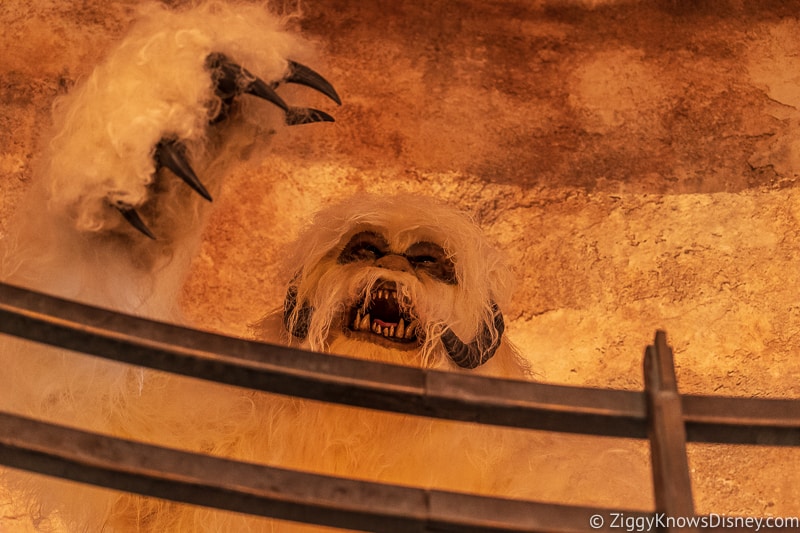 The Wampa isn't the only animal on display. This wall is full of the heads of various animals from Star Wars lore: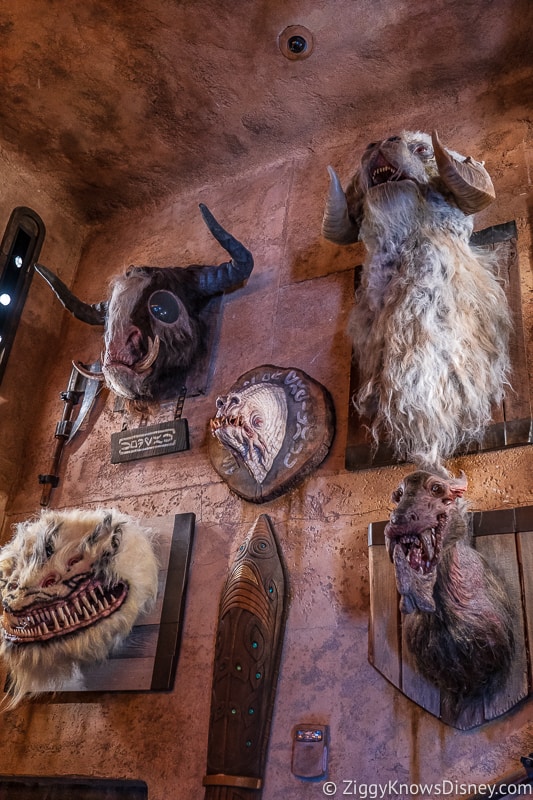 This one you should definitely remember chasing Natalie Portman up a pole in Attack of the Clones, it's a Nexu: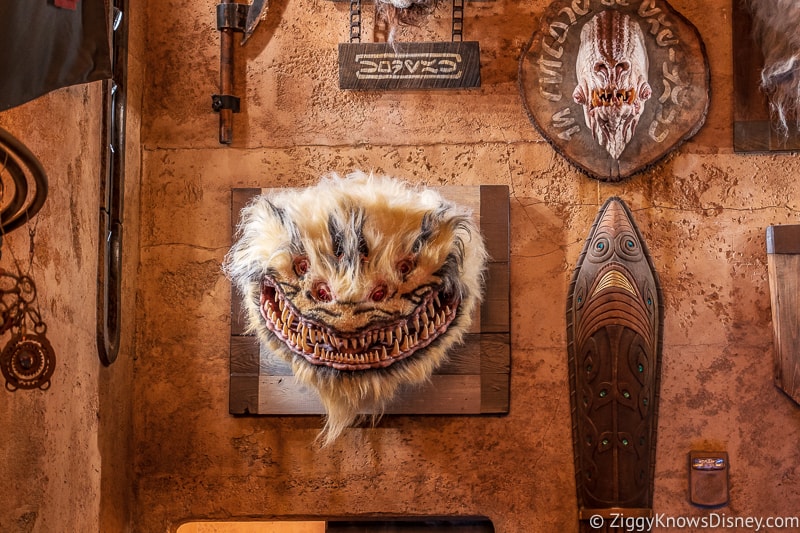 He's still as ugly as ever!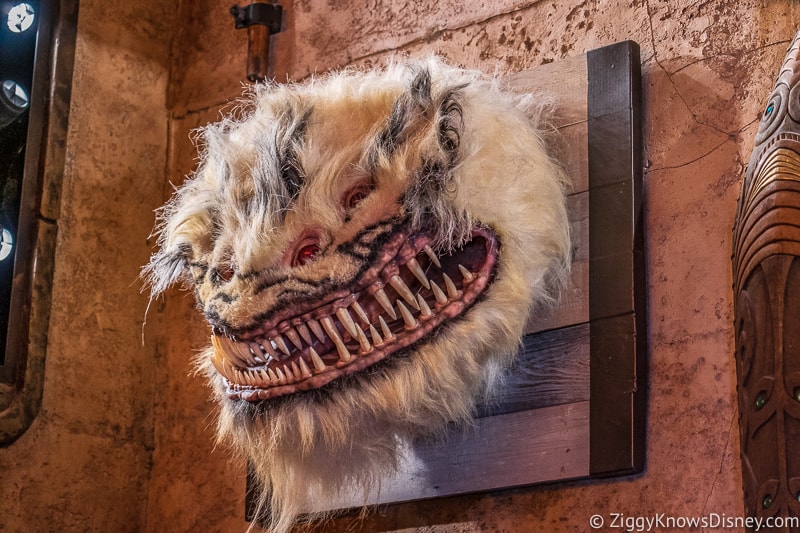 This one is a bit more obscure and it's called a Anooba. One of these appears in the TV series Star Wars: The Clone Wars and Star Wars Rebels: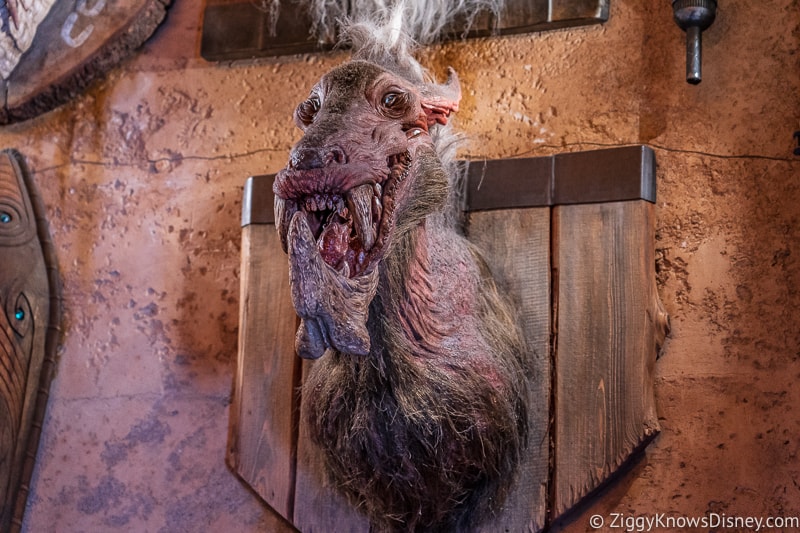 Tauntauns you'll remember from the planet Hoth, and what Luke Skywalker rode out into the wasteland before Han came to rescue him: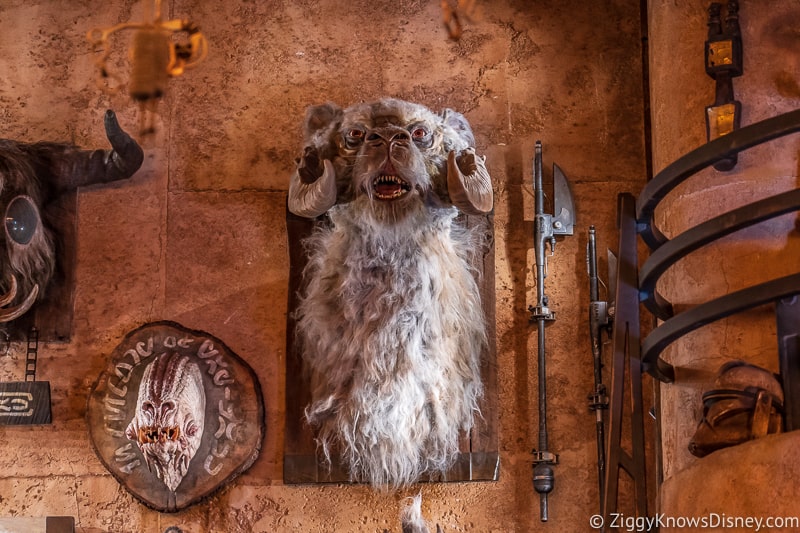 Lastly we have a Kod'yok, which is featured in Solo: A Star Wars Story: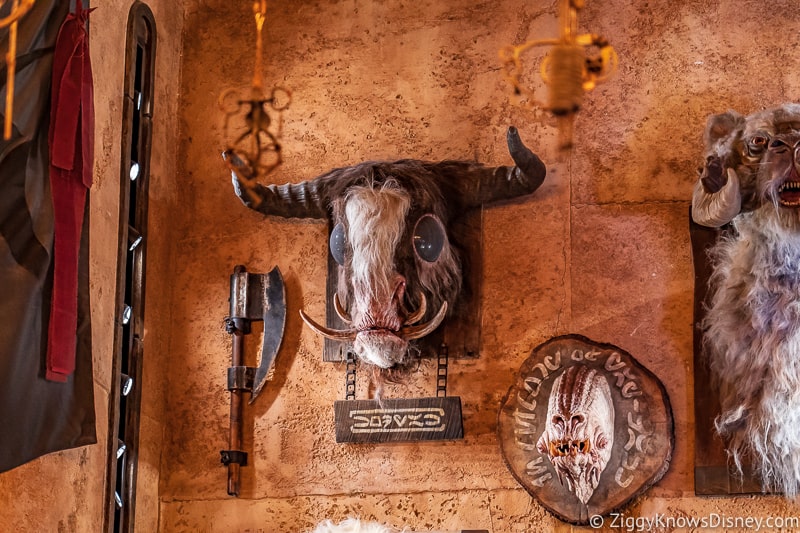 Who is Dok Ondar?
So we keep hearing about this "Dok Ondar" guy, but who is he exactly?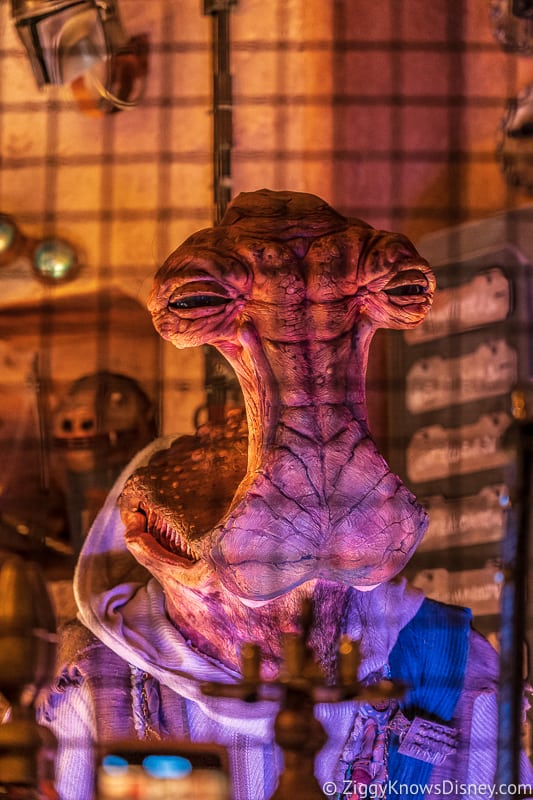 Dok Ondar is the owner of the Den of Antiquities and the biggest relics and antiques trader in Black Spire Outpost and on this side of the Galaxy for that matter.
He is of the Ithorian race which are known for their "hammerhead" shape and twin mouths on each side of their faces.
Not much is known about Dok Ondar's past, he he has a mysterious past, and is known to have many connections throughout the galaxy which has enabled him to amass such an impressive collection.
Dok knows everything happening in his shop and he is known to be a shrewd business man, always looking for a deal. He sometimes has quite a temper, so don't get on his bad side. Even his assistants are afraid of making him mad and he keeps a close eye on everyone from his desk.
Outside Galaxy's Edge, Dok Ondar also is mentioned very briefly in Solo: A Star Wars Story and in the Galaxy's Edge comic book series
The Animatronic
As you approach his cage where Dok is busy at work counting his money and making deals, you get a feel for just how advanced this animatronic figure is. He goes about his business looking through his things and sometimes even goes under the desk for stuff.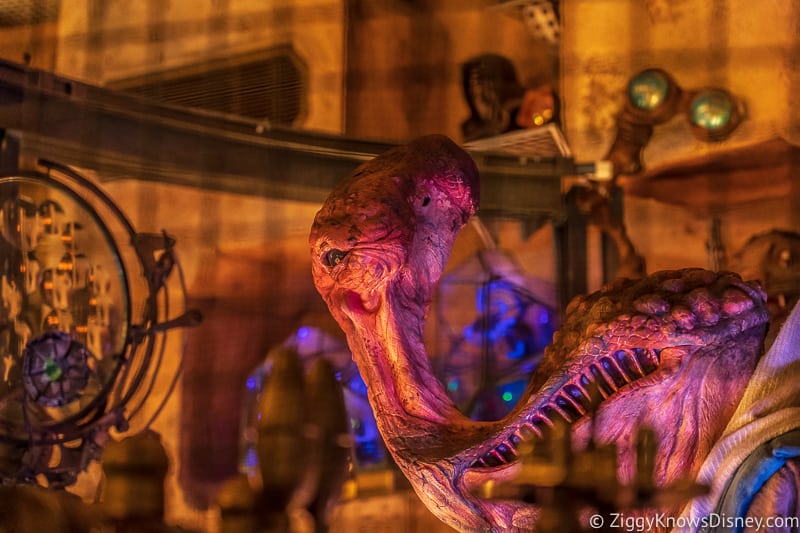 The movements he makes are so incredibly realistic that it's scary. The subtle movements of this head and eyes are so amazing to watch. You also hear him grunting and complaining to passersby and his employees.
In oder to get a good photo or video of Dok you need to get as close to the cage as you can and if you put the lens between the bars, you should be able to get something to come out good.
The only disappointment with the Dok Ondar figure is that when Disney described him before the opening of Galaxy's Edge it seemed like he would interact much more with the visitors than he actually does.
You were supposed to be able to barter with him in something similar to a conversation, but so far that hasn't materialized.
He is still really awesome and needs to be checked out when you visit Dok Ondar's Den of Antiquities.
Dok Ondar's Assistants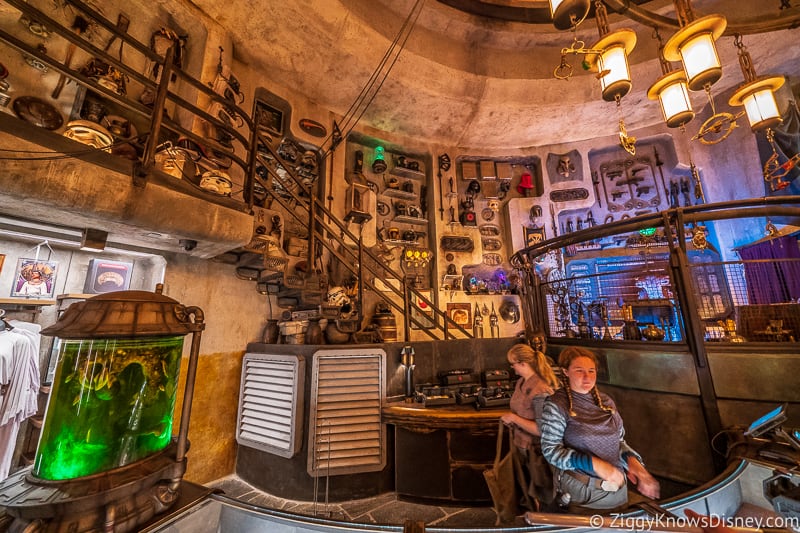 Since Dok doesn't really do any of the sales himself in his shop, there are plenty of assistants who will help answer any questions you have about any of the merchandise in the shop.
They are especially helpful when it comes to understanding all the options available for the Legacy Lightsabers…
Galaxy's Edge Legacy Lightsabers
While there are a ton of really cool relics and artifacts both to look at and to buy in Dok Ondar's, what most people really come for are the Star Wars Legacy Lightsabers!
We're going to show you each model of Legacy Lightsaber in Galaxy's Edge, but first let's answer some basic questions about the Legacy Lightsabers themselves.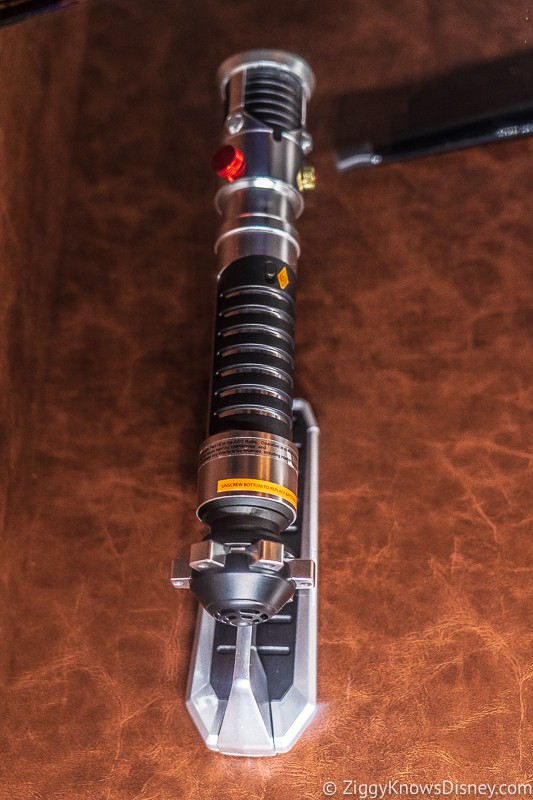 *(Star Wars legacy lightsabers have bene temporarily move to Savi's Workshop)
Are Legacy Lightsabers Custom-built?
No, the legacy lightsabers at Dok-Ondar's are not custom-built. The custom lightsaber building experience is next door to Dok Ondar's in Savi's Workshop.
There you can choose the style saber and all the accompanying pieces, and then get to put it all together yourself. There is also a big show element to the experience.
The Legacy Lightsabers in Dok Ondar's instead are pre-built replica lightsabers of famous characters from the Star Wars Universe. They are scarily similar to the versions used in the films.
Which Characters have Legacy Lightsabers in Galaxy's Edge?
There are a total of 12 different legacy lightsabers in Galaxy's Edge. Here is the complete list:
Darth Vader
Darth Maul
Obi-Wan Kenobi
Luke Skywalker
Mace Windu
Kylo Ren
Rey
Asajj Ventress
Asoka Tano – (twin lightsabers)
Jedi Temple Guards
Cal Kestis – (Coming Soon)
Darth Tyranus/Count Dooku – (Coming Soon)
Do Legacy Lightsabers have Kyber Crystals?
The legacy lightsabers do not come with a kyber crystal when you buy them. In fact, the kyber crystals sold in Dok Ondar's will not work in a legacy lightsaber and are only made for the custom lightsabers.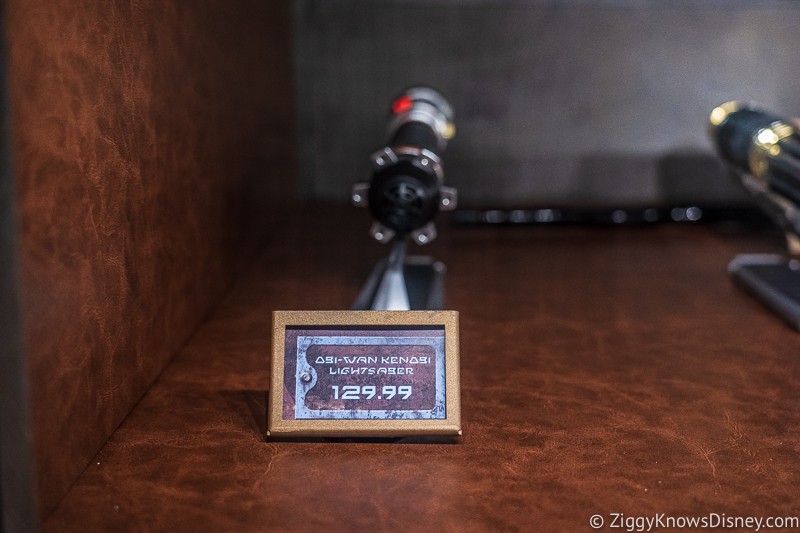 Do the Legacy Lightsabers Come with a Blade?
Legacy lightsabers are sold without a blade, however Dok Ondar's does sell two blades you can choose from. There is a 36 inch blade with sells for $50 and a 26 inch blade for $45.
The custom sabers from Savi's Workshop are 31 inches for comparison.
Do they Run on Batteries?
Yes, legacy lightsabers run on 3 AAA batteries which are included with purchase of the lightsaber hilt.
How Much are the Legacy Lightsabers in Galaxy's Edge?
Prices for the legacy lightsabers in Galaxy's Edge vary depending on the model. They range in price from $129 to $199 plus tax. Keep in mind however that price does not include the blade however which will cost either $45 or $50 more.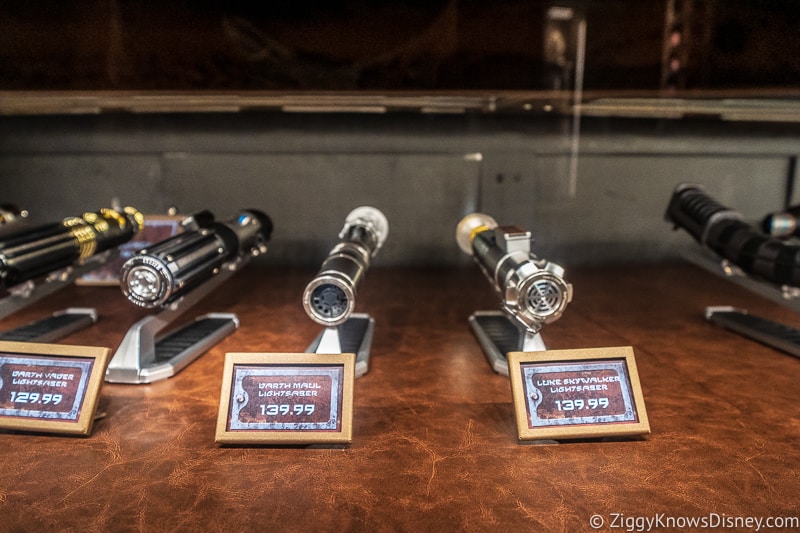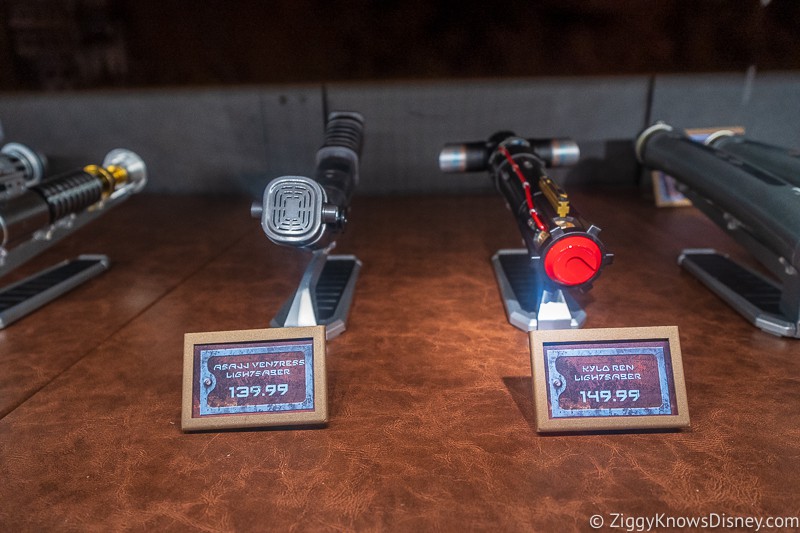 What Accessories are Available for Legacy Lightsabers?
There are a few accessories available for the legacy lightsabers:
Lightsaber Stand
Display Case
Shoulder Carrying Case
Belt Clip Attachment
Ok, let's see all the saber models now….
Legacy Lightsaber Models:
In the display window from left to right: Jedi Temple Guard, Obi-Wan Kenobi and Rey: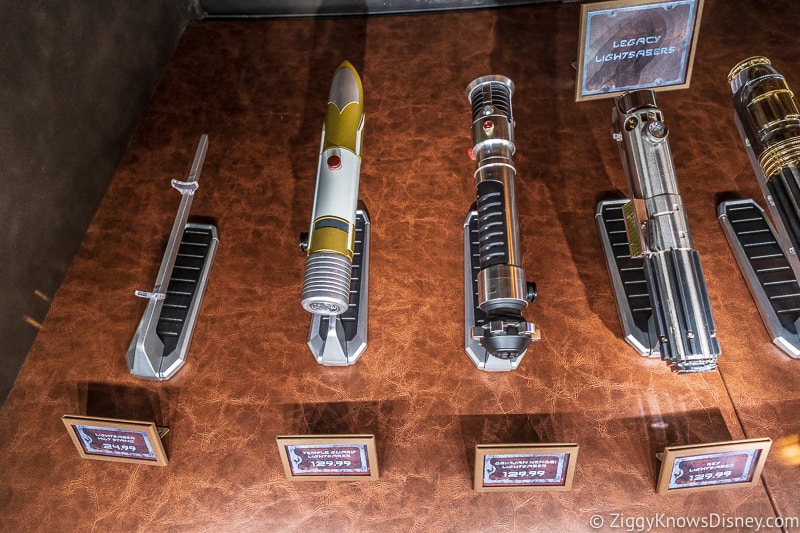 Darth Vader, Darth Maul and Luke Skywalker: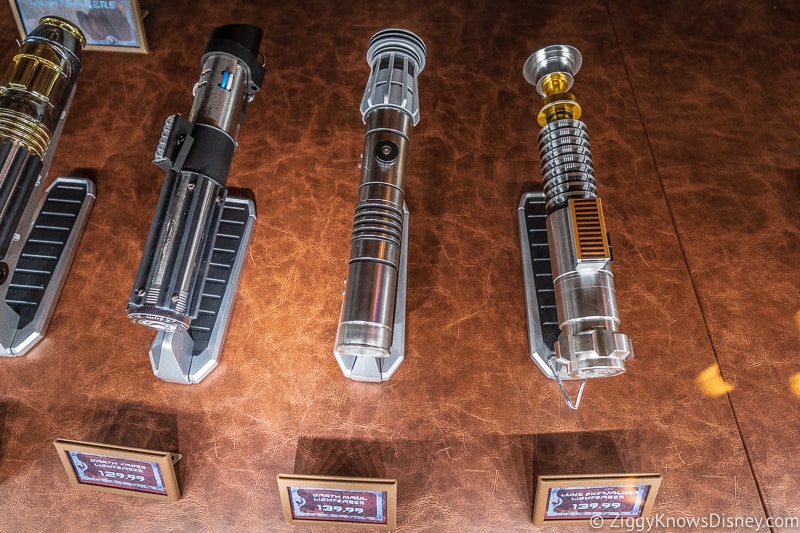 Asajj Ventress, Kylo Ren and Ahsana Tano: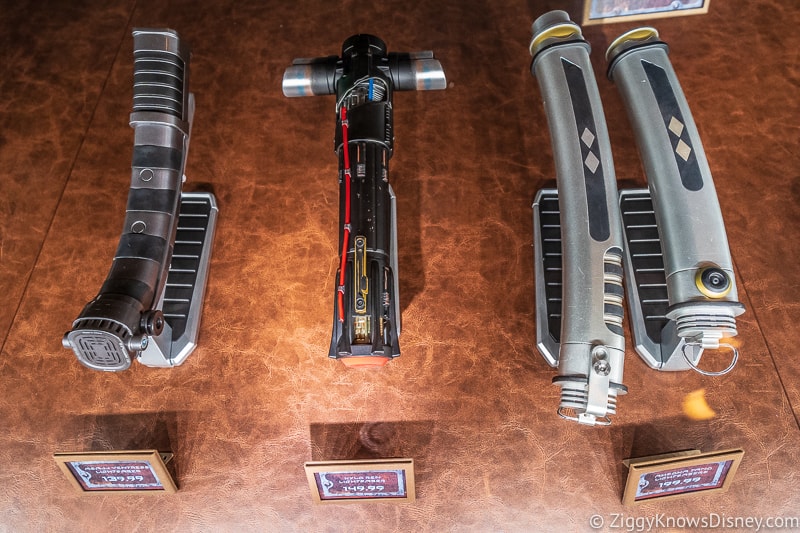 Let's take a closer look at the 6 Light Side Lightsabers first, and then we'll look at the Dark Side ones…
Obi-Wan Kenobi – $129.99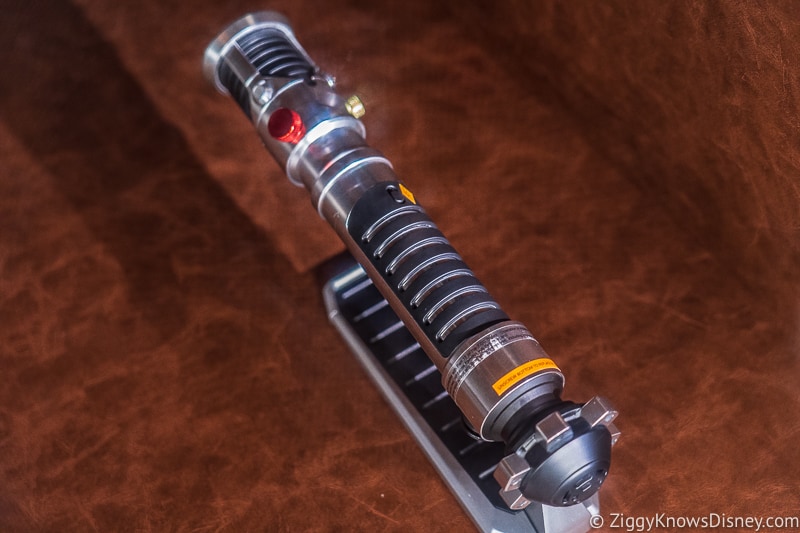 This is the weapon Obi-Wan used as a padawan and Jedi apprentice. He used it in the fight with Darth Maul, but it fell down the ventilation shaft and was lost.
Mace Windu – $129.99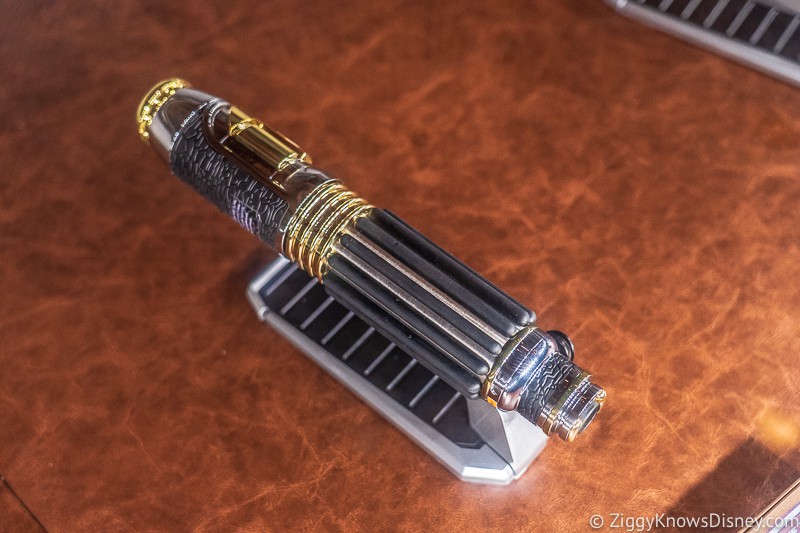 This is the saber Mace Windu used in Attack of the Clones and Revenge of the Sith. It Wass presumed lost after the lightsaber fight between Mace Windu and Darth Sidious.
Jedi Temple Guards – $129.99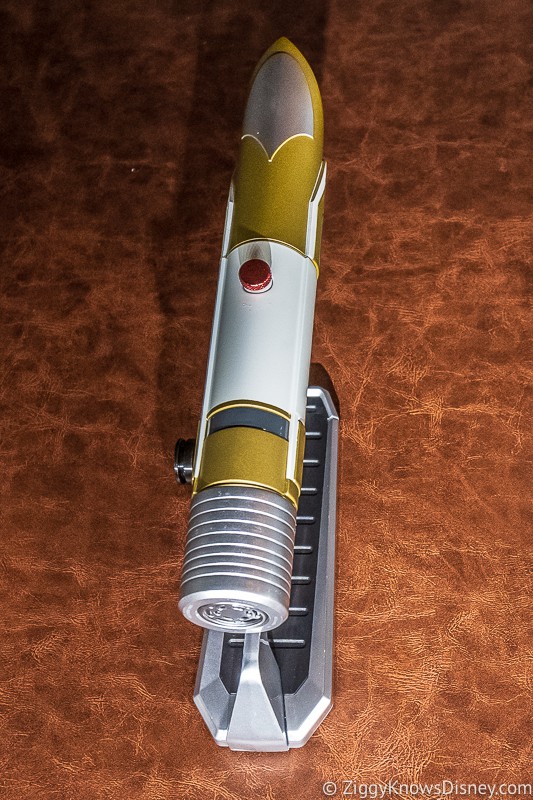 Jedi Temple Guards used these lightsabers in their role when protecting the temple. The guards had double-sided versions, however Dok was only able to find a single-sided one so far.
Ahsoka Tono – $199.99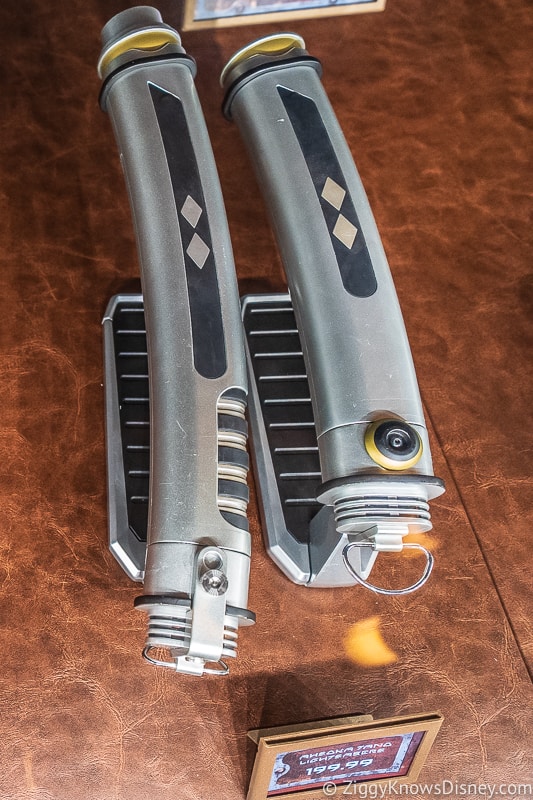 Ahsoka Tano was Skywalker's apprentice during the Clone Wars and famous for wielding two lightsabers. She was forced to abandon them after order 66 in order to go into hiding.
These are the most expensive legacy lightsabers, but you get 2 hilts for the $199 price tag.
Rey – $129.99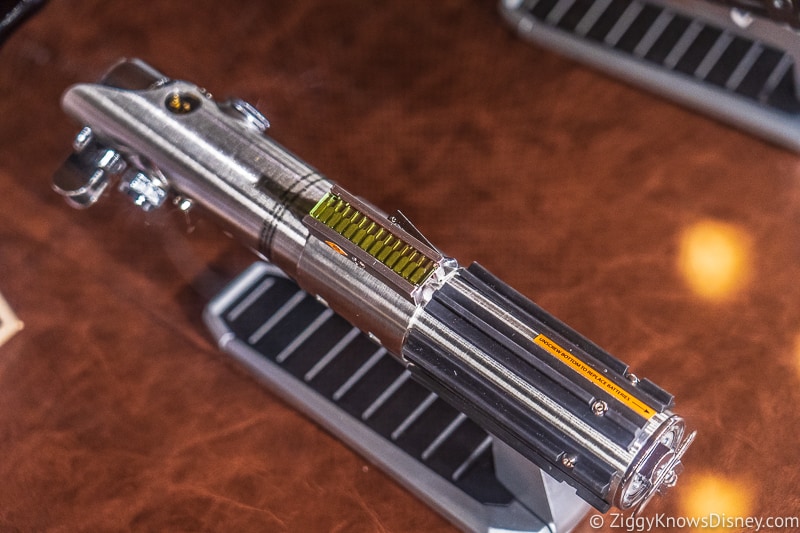 This lightsaber has passed down to Anakin, Luke, and then Rey. It originally went missing in The Empire Strikes Back when Luke lost it in Cloud City while fighting Darth Vader. It then was given to Rey where she was last seen using it in The Rise of Skywalker.
Luke Skywalker – $139.99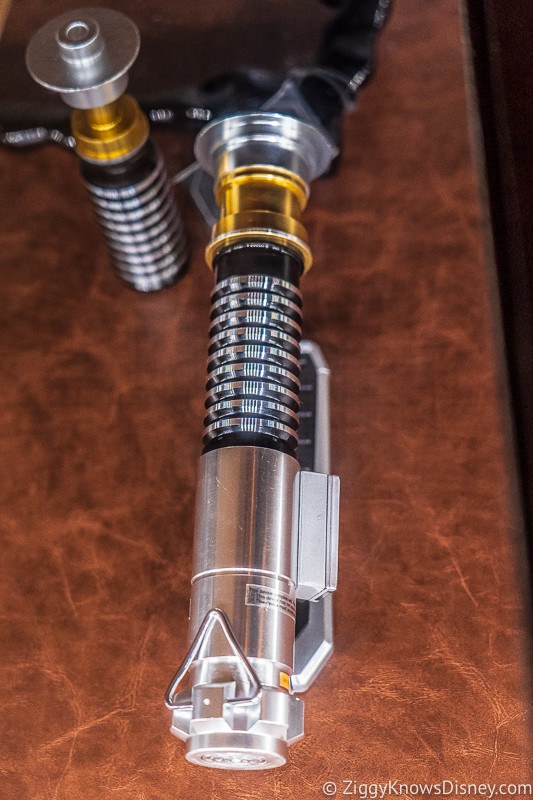 This green lightsaber was built personally by Luke Skywalker himself and was used in Return of the Jedi in his battle against Darth Vader. It was last seen during The Last Jedi and was in the custody of the caretakers of Ahch-To.
Now let's look at the 4 Dark Side Legacy Lightsabers:
Kylo Ren – $149.99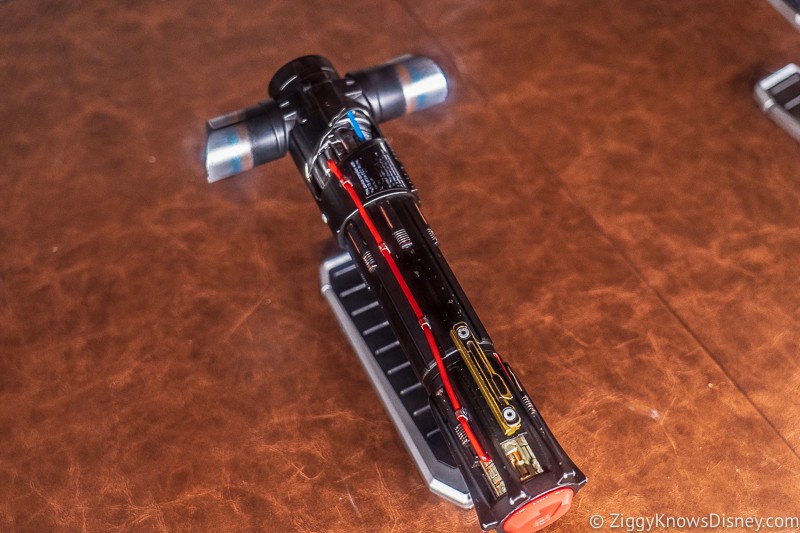 This is Kylo Ren's cross guard lightsaber with its unique 3-blade design. Since it draws power from a "dangerously flawed kyber crystal," the hilt requires side vents to release excess energy, therefore the unique design.
This hilt includes the 2 side blades but not a main long blade which needs to be purchased seperately.
Asajj Ventress – $139.99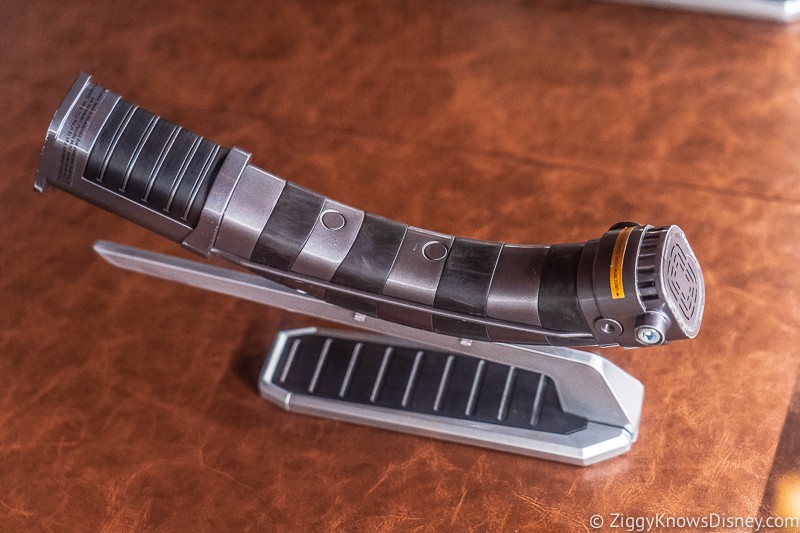 Asajj Ventress wielded identical curved red-bladed lightsabers which could be joined to produce a double-blade. Her curved blades were stolen in an attack and went missing.
In Dok Ondar's you can purchase Ventress' glad which still has the ability to connect the other half.
Darth Vader – $129.99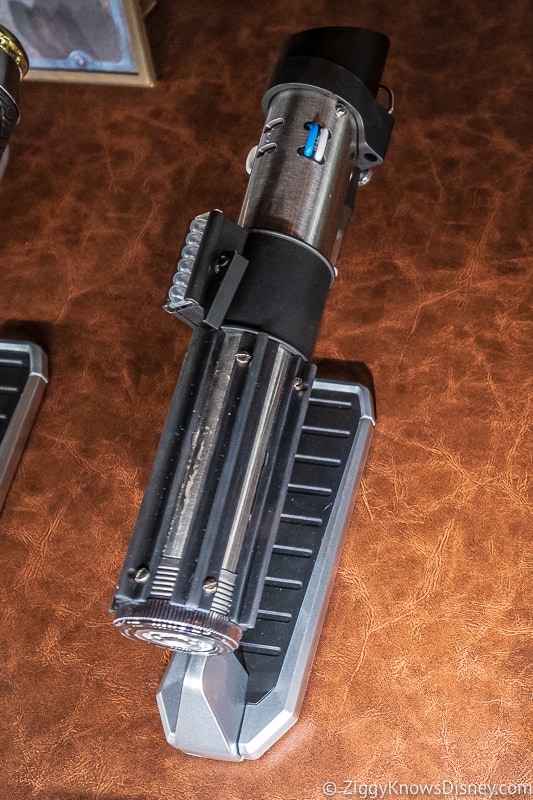 Very similar to his original lightsaber from Attack of the Clones, Darth Vader created this new saber using a red Kyber crystal from Master Kirak Infil'a.
Darth Maul – $139.99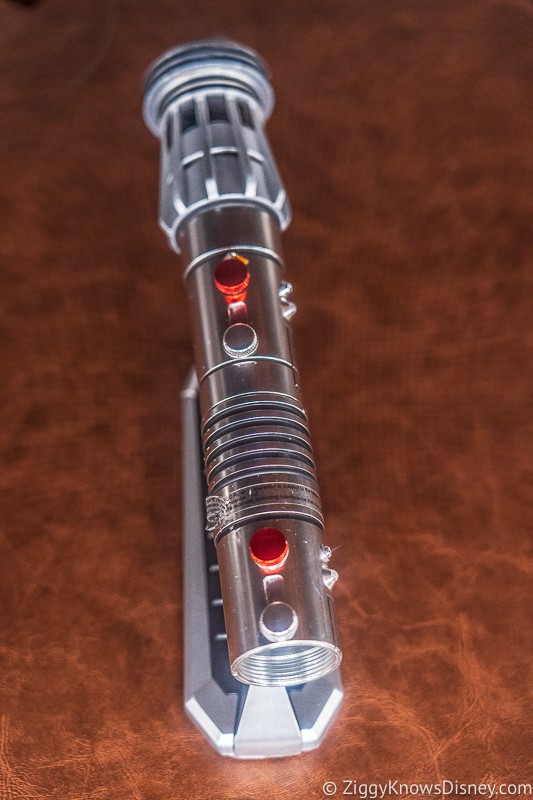 This is Darth Maul's lightsaber he used in The Phantom Menace. Originally it was a double-sided blade but it was split in half during his fight with Obi-Wan Kenobi.
There is an attachment that comes with this hilt which lets you attach the second half of the blade, making it a full double-sided lightsaber.
Kyber Crystals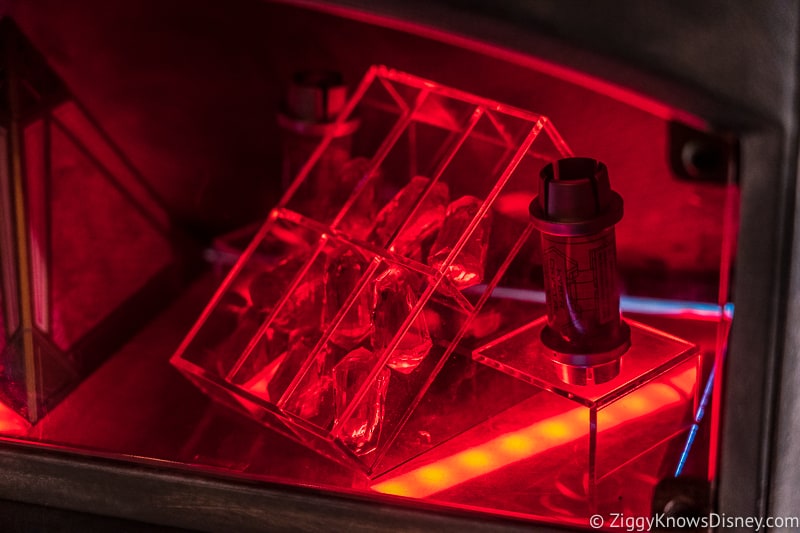 Even though the Kyber Crystals don't fit in the legacy lightsabers, Dok Ondar's has a full supply of them which can be used in the custom-built lightsabers from Savi's Workshop.
They can be bought individually in one of the 6 available colors, or you might even find the rare Black Obsidian Kyber Crystal.
We're going to explain the Kyber Crystals, the different color options and how to get a rare black Kyber Crystal.
What Color Kyber Crystals are there in Galaxy's Edge?
You can choose to purchase one of the 6 available Kyber Crystal colors:
Blue
Purple
Green
Yellow
White
or Red
Blue, Purple and Green crystals: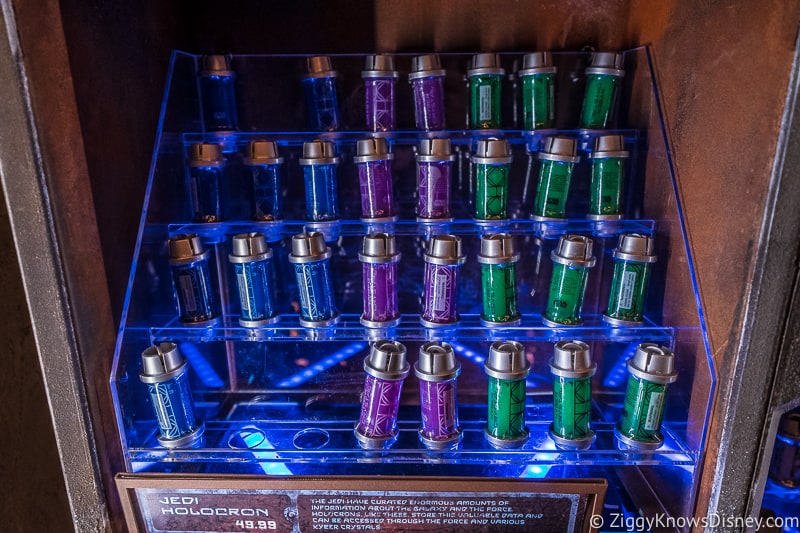 White and Yellow: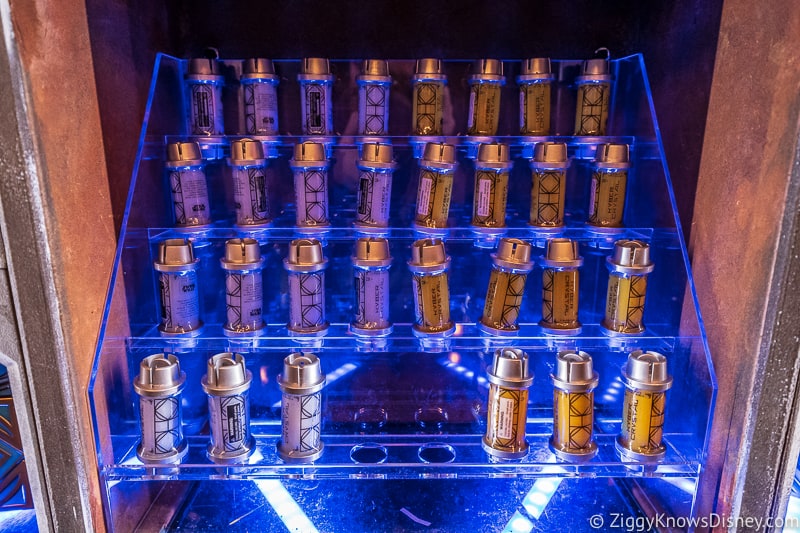 Red: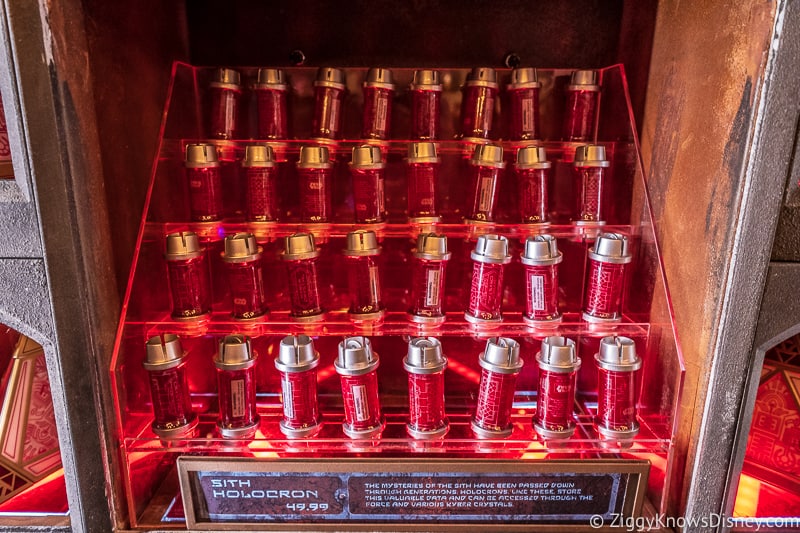 How much is a Kyber Crystal at Galaxy's Edge?
Kyber Crystals cost $12.99 in Dok Ondar's. This is the same price for every color crystal.
How do you get White Kyber in Crystal Galaxy's Edge?
White Crystals are very rarely used in the Star Wars universe, but can be purchased in Dok Ondar's Den of Antiquities for $12.99.
There isn't always a supply of them as they tend to sell out do to high demand, so if you want one and see it when visiting, grab it quick. The same goes for the yellow crystals.
How do you Get a Black Kyber Crystal in Galaxy edge?
Black Obsidian Kyber crystals are extremely rare to find, but occasionally Dok Ondar will have one in his stock. They are randomly found in red Kyber crystal canisters, and only a few of them are put out each day.
How Rare is the black Kyber crystal? According to cast members, the odds are about 1 in 100 to pull a black obsidian Kyber crystal.
When you open the canister you will get a message:
"Today, you have found something truly special. This small fragment of obsidian is infused with the power of the dark side. When placed inside a lightsaber or Holocron, this rare fragment with unnatural powers, mined from a dark side shrine, will have similar properties as a red Kyber crystal."
The black Kyber crystals look different from the red ones on the outside but make the same noises and has the same color as a red one, making it indistinguishable once inserted in the lightsaber.
There used to be a hack where guests could use a phone flashlight to see through the red canister to pick out a black crystal immediately. That trick however has been prevented and the process is much more random now.
Here is a video showing the black Kyber crystals in action:
Holocrons
Holocrons are import Jedi and Sith artifacts which can be used together with the Kyber crystals to reveal secrets to the wielder. We're going to show you which ones are available in Galaxy's Edge.
Jedi Holocrons: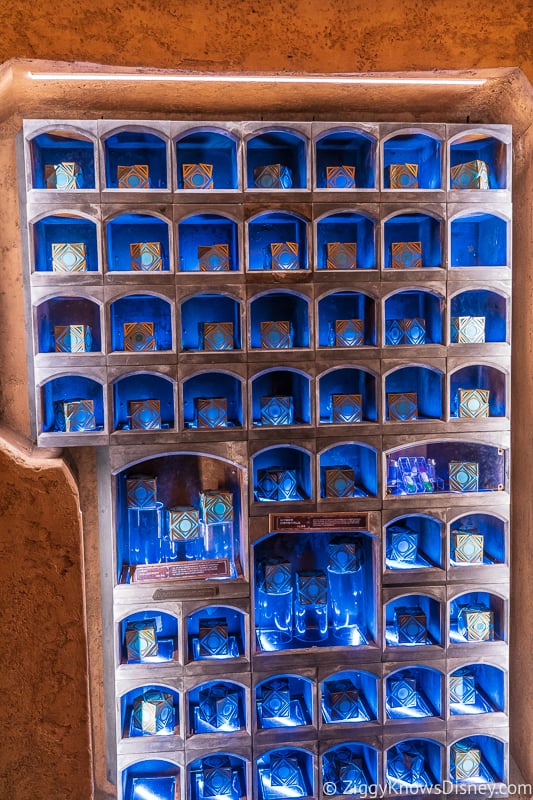 Jedi Holocrons are easily identifiable by their blue color.
Sith Holocrons: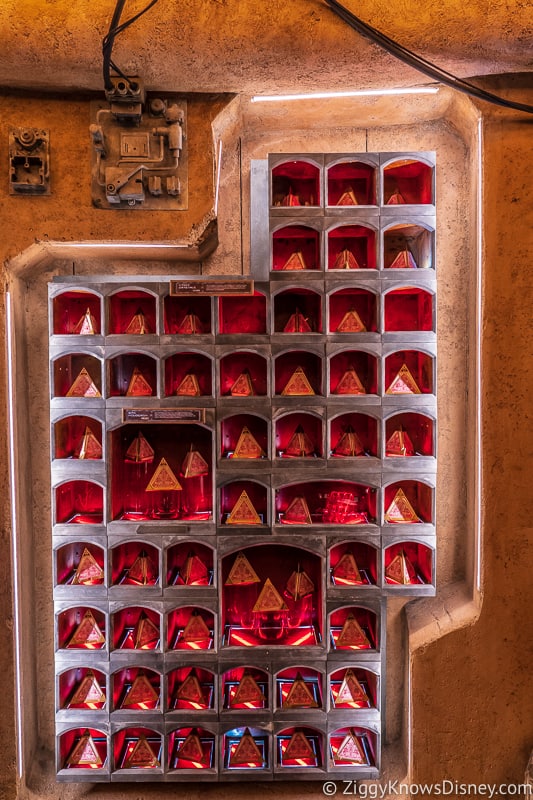 You guessed it, Sith Holocrons are red in color.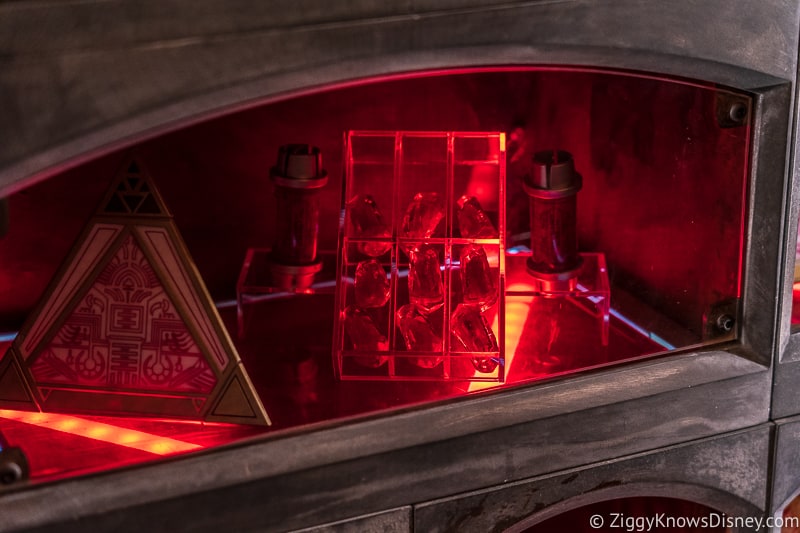 How Much is a Holocron at Galaxy's Edge?
Holocrons can be purchased from Dok Ondar's for $50. The look is really cool along with the voices and sounds it makes. However it would be better if there were more variety of messages available to play, so the replay value isn't great.
Other Items in Dok Ondar's Den of Antiquities:
Besides the Legacy Lightsabers, Kyber Crystals and Holocrons, there are plenty of other cool merchandise to check out and bring home from Dok Ondar's, some of it much more expensive than even the lightssabers.
Let's take a look around at the rest of the stuff.
Each side of the store is divided into two halves with Jedi merchandise on one side and Sith ones on the other: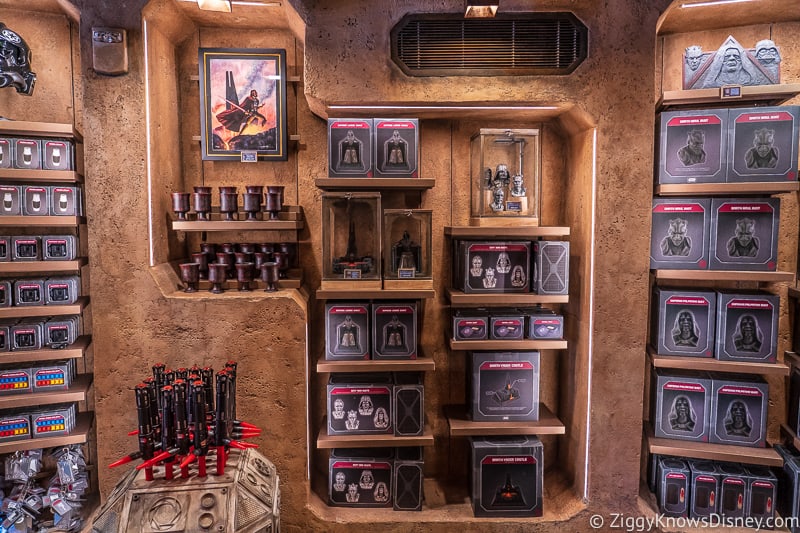 Sith Busts – $130.00, Sith Chalace – $200 and "You Underestimate the Power of the Dark Side" Painting by Craig Fraser – $395.00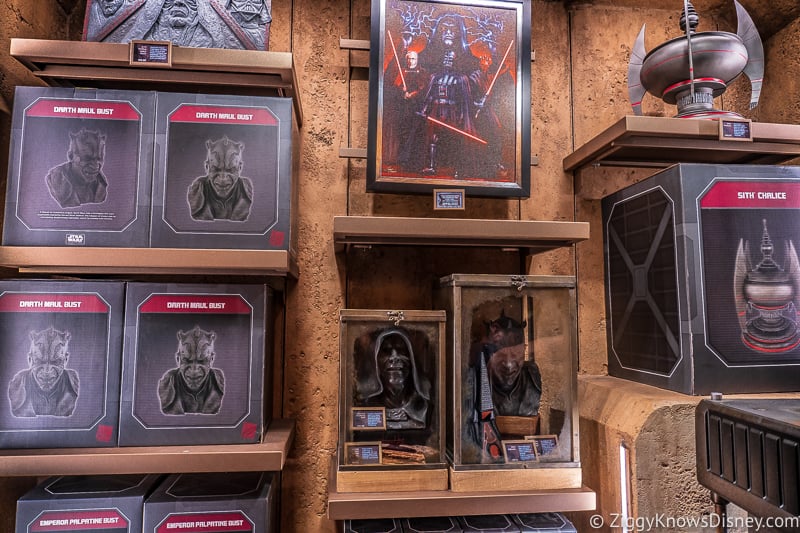 Sith Mini Busts – Darth Tyranus, Darth Vader, Darth Sidious and Darth Maul $110: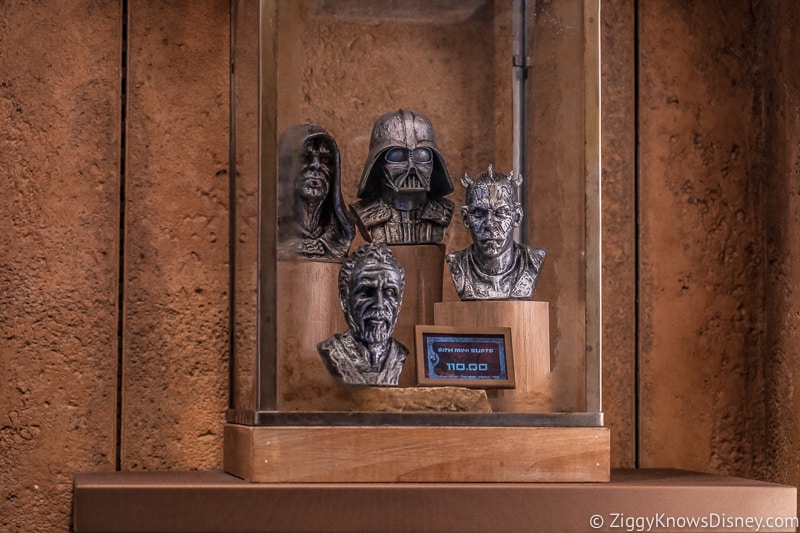 Darth Vader's Castle – $200.00 and Supreme Leader Snoke Statue – $150.00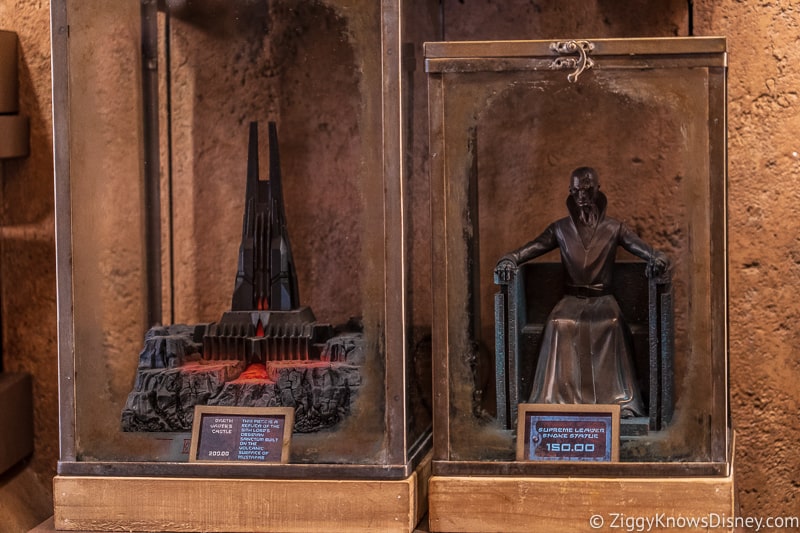 Imperial TIE Fighter Helmet – $450.00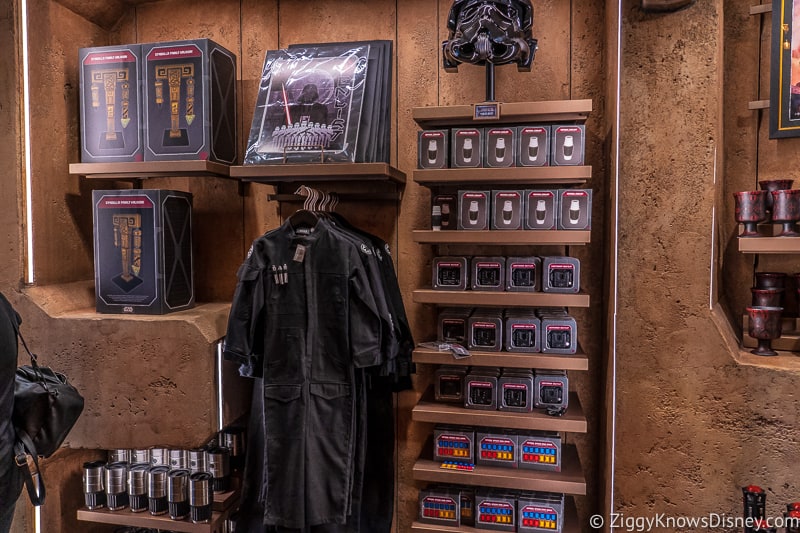 Jedi Temple Wall Relic – $160.00 and Jedi Mugs – $27.99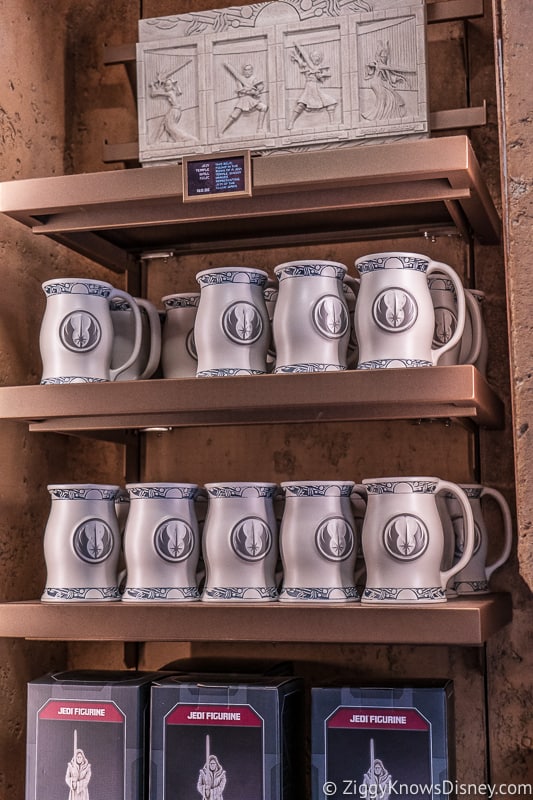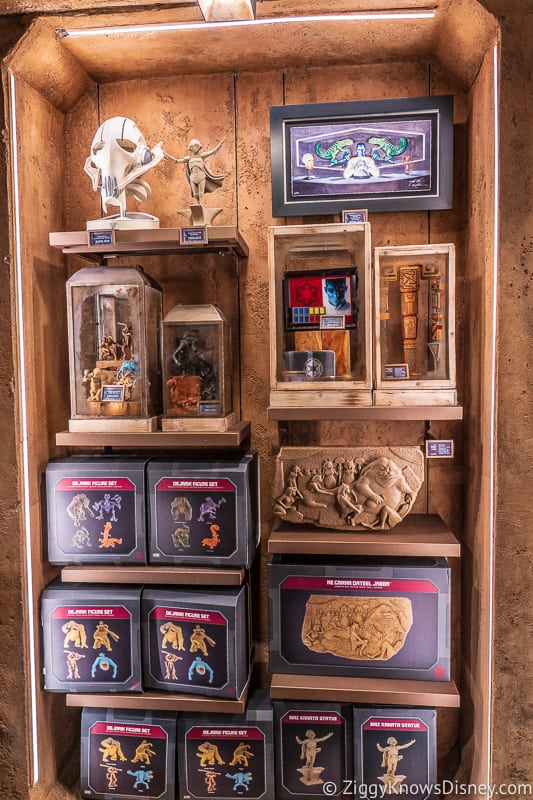 General Grievous Mask – $325.00 and Maz Kanata Statue – $130.99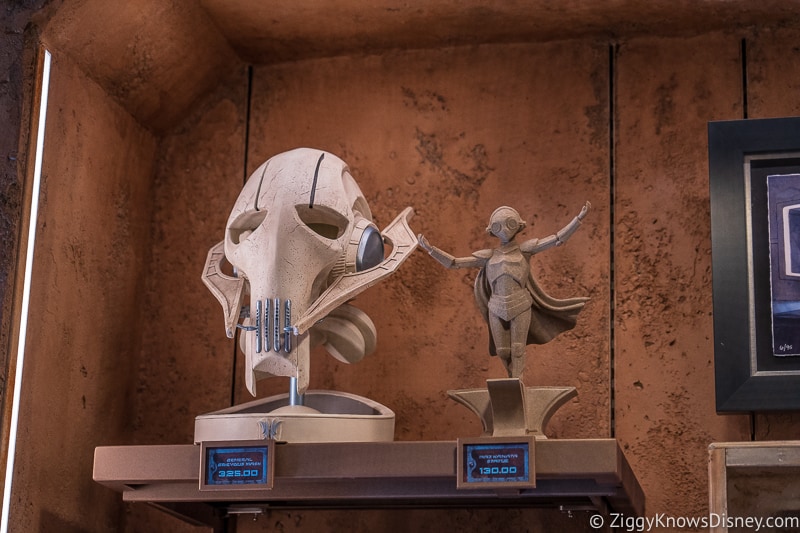 Jedi Temple Mask – $130 and Jedi Figurines – $19.99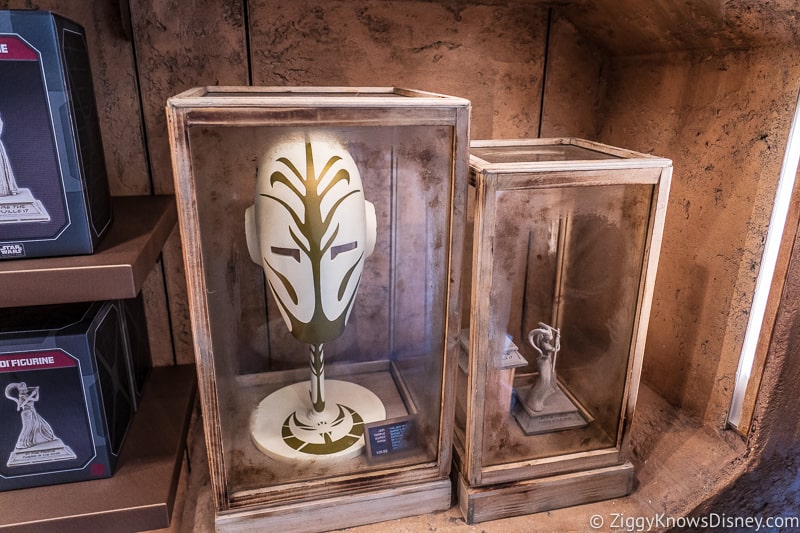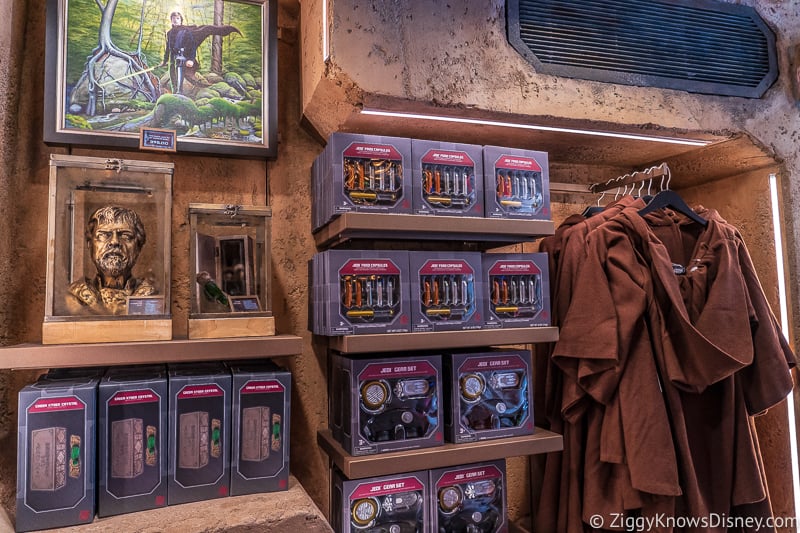 Jedi Bust – $130, Kyber Crystals With Light Effect – $85.99 and "The Force Lives On" Painting by Charles Wissig – $395.00
Jedi Mini Busts – $110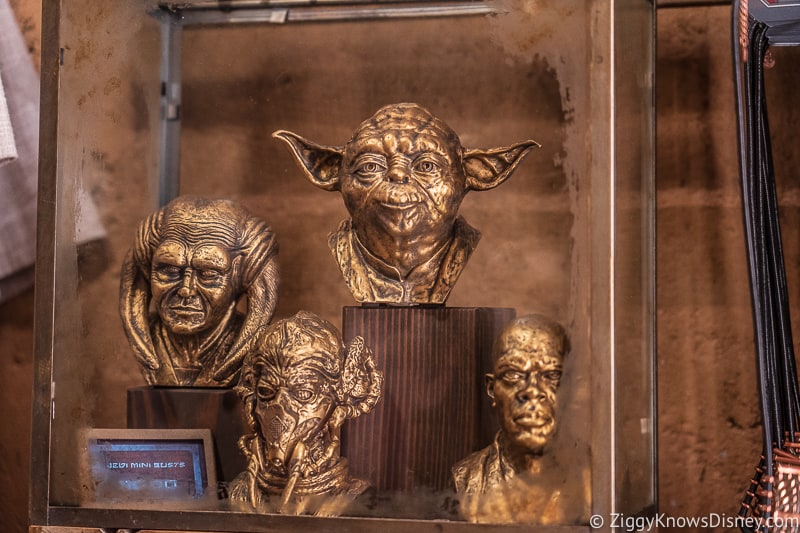 Emperor Palpatine Cloak – $249.99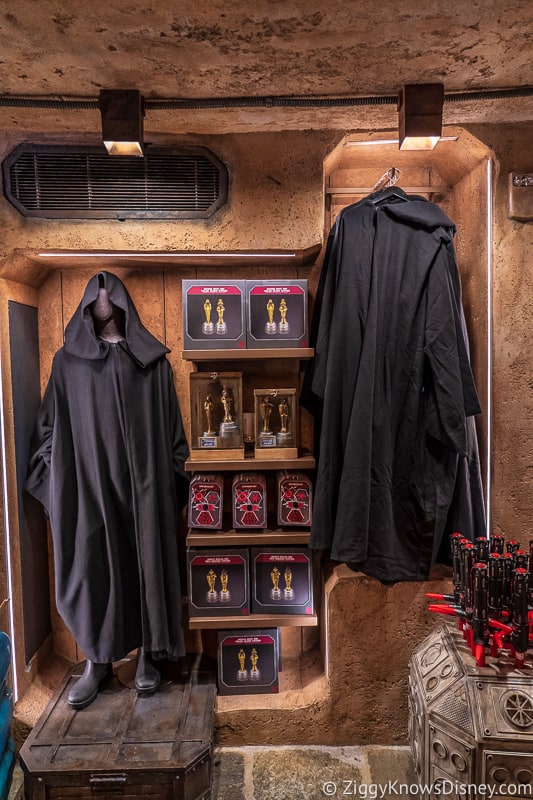 Just watch out when visiting Dok Ondar's, you never know what Sith is going to be lurking about…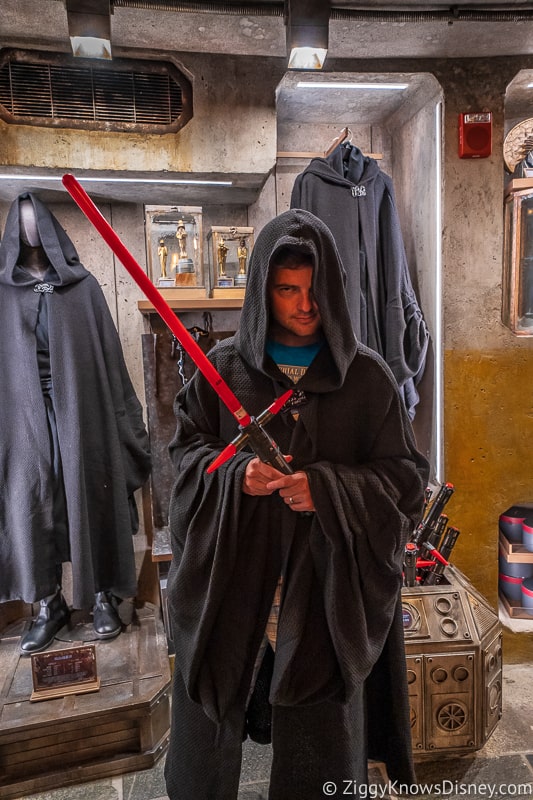 Your Thoughts:
I want to know what you think about the legacy lightsabers, Kyber crystals, holocrons and all the merchandise in Dok Ondar's…
What is your favorite item or detail from Dok Ondar's?
Which Galaxy's Edge Legacy Lightsaber is your favorite?
Let us know in the comments section below!
If you enjoyed this article, as always I appreciate it if you'd share it with others via social media. I work hard at making this website into a useful resource for you and your family to plan your visit to the Disney Parks and I hope it can help you! Thanks 🙂