After patiently waiting for 2 and a half years, Disney has announced that 'Fantasmic!' is finally returning to Disney's Hollywood Studios in November 2022!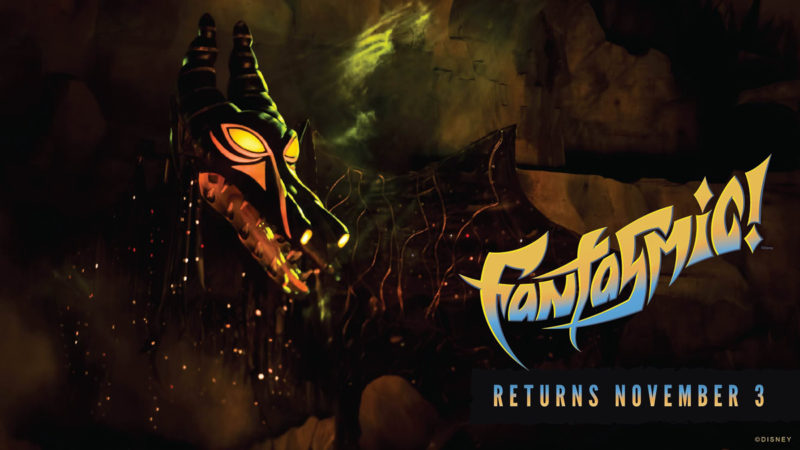 In this post, we will go over everything we know about Fantasmic! coming back to Walt Disney World and what you need to know before seeing it.
We will break down the latest announcement from Disney, the new scene, showtimes, and any other changes and improvements that are being made to the show for its return. We'll also answer any FAQs you may have about Fantasmic!
The important thing to know is that Fantasmic! is coming back to Disney's Hollywood Studios starting November 3, 2022. There will also be some cast member previews which we'll break down later.
Keep in mind, that right now we are still finding out all the details, and more news will probably come in over the coming days, so keep checking back for the latest.
Overview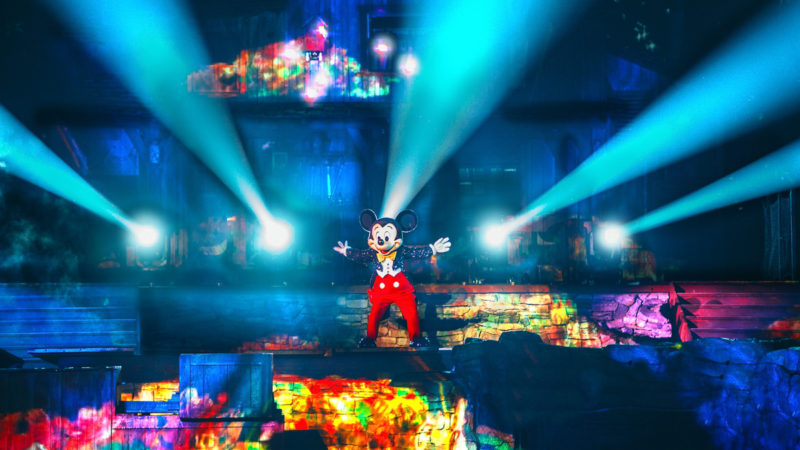 Location: Disney's Hollywood Studios
Opening Date: Opened November 3, 2022
Attraction Type: Nighttime Spectacular with Fireworks & Projections
Show Duration: 29 minutes
Designer: Walt Disney Creative Entertainment
"Welcome to Fantasmic!…" Oh, how we, along with millions of other fans have longed to hear those iconic words once again! We already got the great news that Happily Ever After is coming back to Disney World this year, now with this news about Fantasmic! we are ecstatic!
If you haven't seen the show before, Fantasmic! is a nighttime spectacular at Disney's Hollywood Studios held in the theater off Sunset Blvd. It features Mickey Mouse and other Disney characters in a battle against good and evil with plenty of pyrotechnics, projections, and water effects to show off.
Not only is Fantasmic! back, but it's better than ever, with many new improvements being made to the original show. This larger-than-life nighttime spectacular will boast the live performers, stunning effects, rousing music, and dazzling pyrotechnics you know and love – complete with a brand-new show sequence!
Fantasmic! has been rumored to return for over a year now, but due to factors such as a labor shortage and capacity changes at the Disney parks, its return was delayed longer than expected.
This is great news for a park that is sorely missing nighttime entertainment and it will be great to have a reason to stay after dark there once again. We saw fireworks return to Disney World last year, but Fantasmic! has been mysteriously missing from the lineup of nighttime spectaculars since 2020.
Fantasmic! Showtimes
Fantasmic! at Disney's Hollywood Studios runs nightly but can vary based on the park's operating hours or special events happening on a given day. At times there are two performances of Fantasmic! per night, and at less busy times only one.
When there is 1 Show: Fantasmic! runs at 8:00 pm.
When there are 2 Shows: Fantasmic! runs at 8:00 pm and 9:00 pm.
Here are the current hours for Fantasmic!:
Now through December 25: 7:30 pm and 9:00 pm
December 26 through January 7: 8:00 pm and 9:00 pm
January 8 through March 2: 8:00 pm
Check the My Disney Experience app or the Walt Disney World website for the most updated times during your vacation.
New Sequence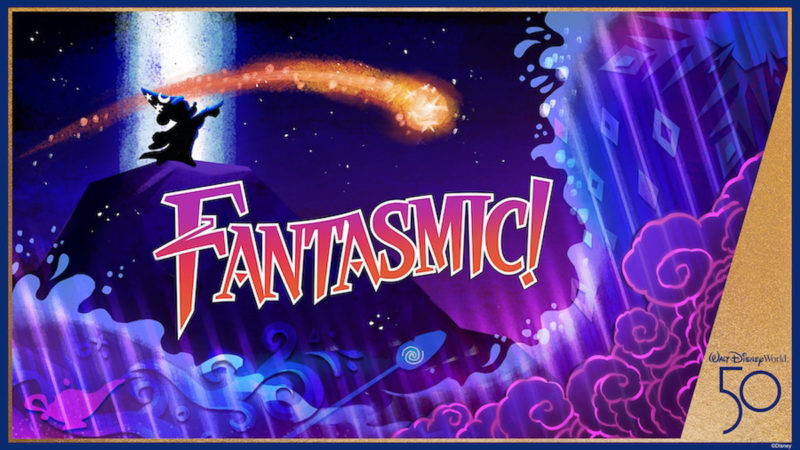 One of the new additions to Fantasmic! is a brand-new sequence featuring Moana, Aladdin, Pocahontas, Mulan, and Elsa from Frozen. Here is how Disney describes it:
"Through this entire sequence, we go on a journey with our heroes. We see them faced with a decision, and how hard that can be for them, then watch as they find that strength within themselves to push through in a truly spectacular way," says Disney Live Entertainment Show Director, Matthew Hamel.
I don't know about you, but I can't wait to see how it looks and flows within the structure of the existing show.
Other New Additions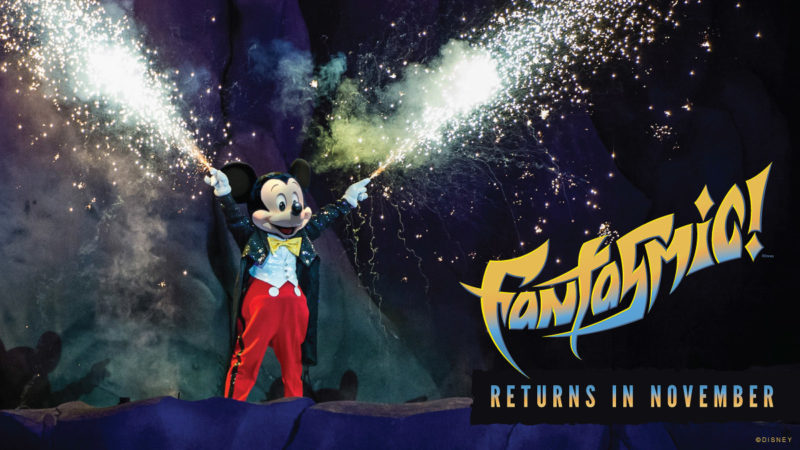 Not only is it getting a new sequence, Fantasmic! will also have other technical improvements when it comes back!
"We know this show means so much to people, and we've kept that in mind every step of this journey." says Disney Live Entertainment Producer, Laurice Marier.
"Even beyond the new scene, we've taken this time to upgrade the lasers, the lighting, the sound, all to bring this show back even more beautiful than it's ever been. We're all really just so excited for guests to see it."
Even though it took some time to come back, it sounds like it will be worth the wait.
Fantasmic! Preview Events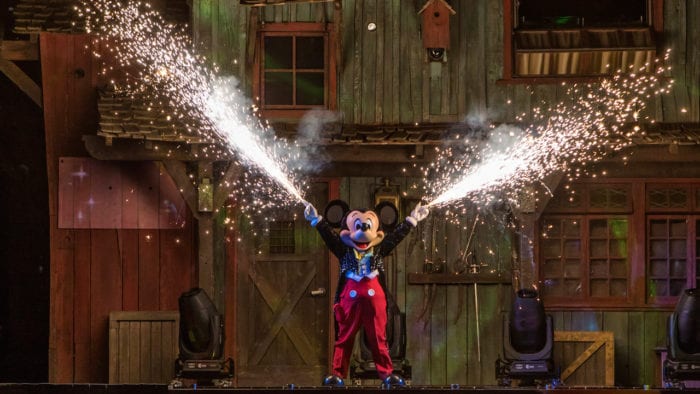 Sure, millions of guests are stoked to get to see Fantasmic! once again, but the Disney cast members are also thrilled to see it return!
As Disney often does with new rides or shows, cast member previews have been set up making them among the first to see the Fantasmic! and all its changes.
Previews for eligible Cast Members will begin at 9:30 pm on November 1, 2022, and November 2, 2022. Cast members can sign up for the event starting Friday, October, 21. That means cast members will get to see the show 1 or 2 days ahead of the general public.
Cast members are also allowed to register up to 3 guests to bring along with them to the show, and the cast member needs to be present for admission.
Fantasmic! Dining Packages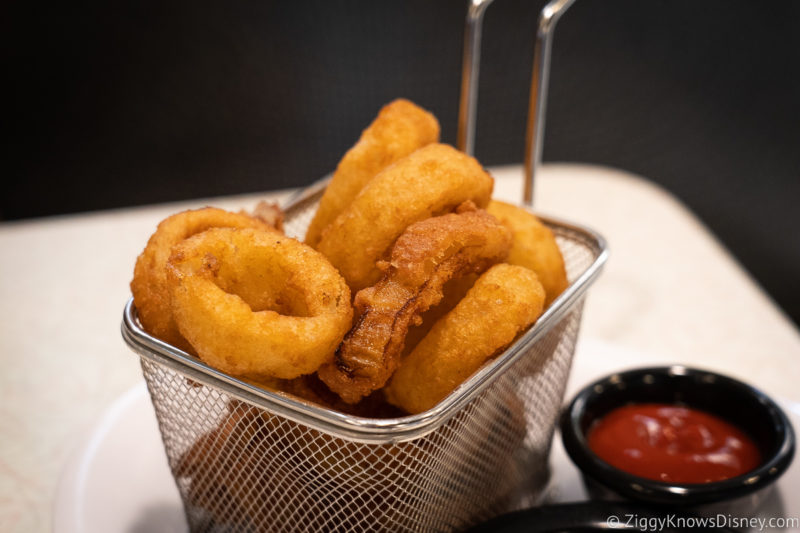 Like with many Disney nighttime shows, there is a Fantasmic! dining package available for guests who want to combine dinner and a show.
Dining packages for Fantasmic! start at $49 per person, and are offered in 5 restaurants at Hollywood Studios.
Participating Restaurants:
50's Prime Time Cafè – $51 per adult, $22 per child (ages 9 and under)
Mama Melrose's Ristorante Italiano – $54 per adult, $22 per child (ages 9 and under)
Sci-Fi Dine-In Theater Restaurant – $49 per adult, $22 per child (ages 9 and under)
The Hollywood Brown Derby – $73 per adult, $29 per child (ages 9 and under)
Hollywood & Vine –

Breakfast: $54 per adult, $36 per child (ages 9 and under)
Lunch & Dinner: $71 per adult, $47 per child (ages 9 and under)
What's Included?
(1) entrée and (1) appetizer or dessert at select full-service restaurants; or one (1) full buffet (where applicable), along with a non-alcoholic beverage.
One voucher for guaranteed seating at Fantasmic! in a reserved area.
It sounds like a pretty standard dining package. You get dinner at one of the restaurants and a "guaranteed seat" for Fantasmic! For example, depending on what you order, you would spend close to $49 per adult anyway at Sci-Fi Dine-In, so getting a seat at the show as well isn't bad.
However, there is no mention of a special reserved section, so we'll have to wait and see if it is worth it for the view or if it's just to skip waiting in line.
Reservations for Fantasmic! dining packages go on sale beginning October 26, 2022.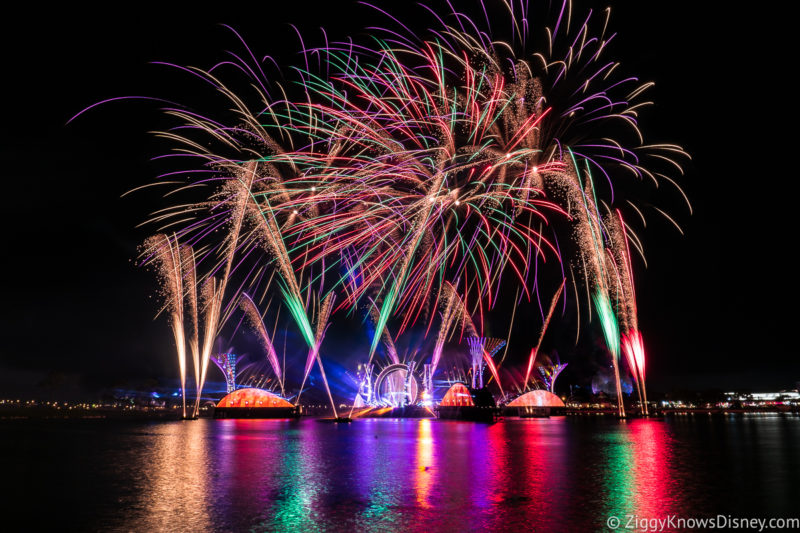 We've got a ton of announcements this year about the Disney World nighttime shows this year and Fantasmic! is only the beginning of the changes coming to the parks. At the D23 Expo, Disney announced that both Disney Enchantment and Disney Harmonious are not sticking around long-term and are going to be replaced.
To make that happen, Happily Ever After is coming back to Disney's Magic Kingdom, while a new nighttime spectacular is being developed for EPCOT.
That wraps up our look at the new Fantasmic! in Disney's Hollywood Studios. When the show finally opens we'll have more coverage, so stay tuned for more soon!
If you are going to Disney World soon, make sure to read our Disney World Planning Guide for all the tips and info you will need to cover everything! Also, check out our Disney World Crowd Calendar so you know when the best time to visit is!
Also, don't forget to sign up for our FREE Weekly E-Mail Newsletter. There we bring you the latest updates on Fantasmic! at Walt Disney World as well as vacation planning tips. You can sign up here: Join our E-Mail Newsletter!
How do you feel about it?
Your Thoughts
I want to know what you think about Fantasmic! finally returning to Hollywood Studios…
Are you happy it is coming back?
Which fireworks show are you most excited to see on your next trip?
Let us know in the comments section below!
If you enjoyed this article, as always I appreciate it if you'd share it with others via social media. I work hard at making this website into a useful resource for you and your family to plan your visit to the Disney Parks and I hope it can help you! Thanks 🙂
Meet the Author of Ziggy Knows Disney!