Everyone loves to finish the night with fireworks at Disney's Magic Kingdom, and now a new nighttime spectacular has debuted called 'Disney Enchantment.'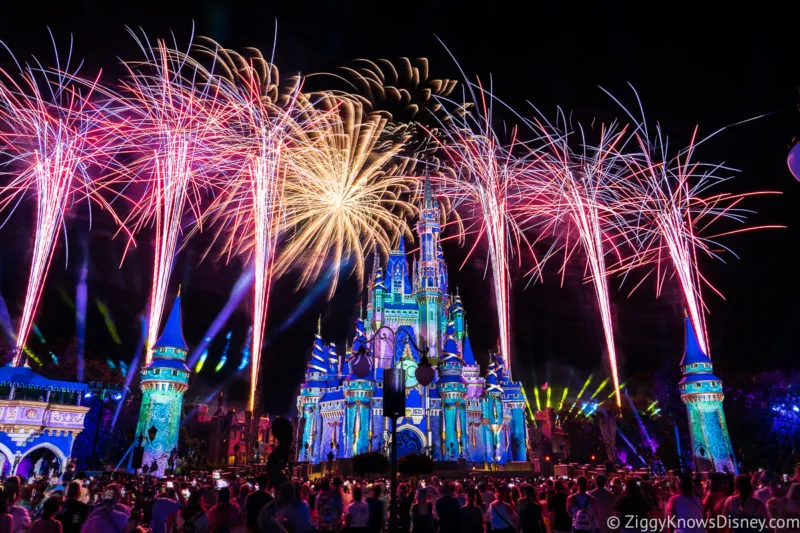 Fireworks are one of the things that makes a trip to the Walt Disney World parks so special, and it's a rite of passage to gather in front of Cinderella Castle with your friends and family at the end of a long day of riding attractions and touring the park.
In this post, we are going to tell you everything you need to know about Disney Enchantment, the newest fireworks show at the Magic Kingdom.
(NEWS) – Disney Enchantment is now closed and Happily Ever After is the current Magic Kingdom fireworks show. Read our Happily Ever After Guide here.
We're going to explain the fireworks times, the music from the show, the new song 'You are the Magic', the Disney characters and films represented, and the technology behind the show.
We'll also share the best places to watch Disney Enchantment, photos from the show, explain how the dessert parties work, if it's worth it to stay for this new show, and answer any other FAQs you might have.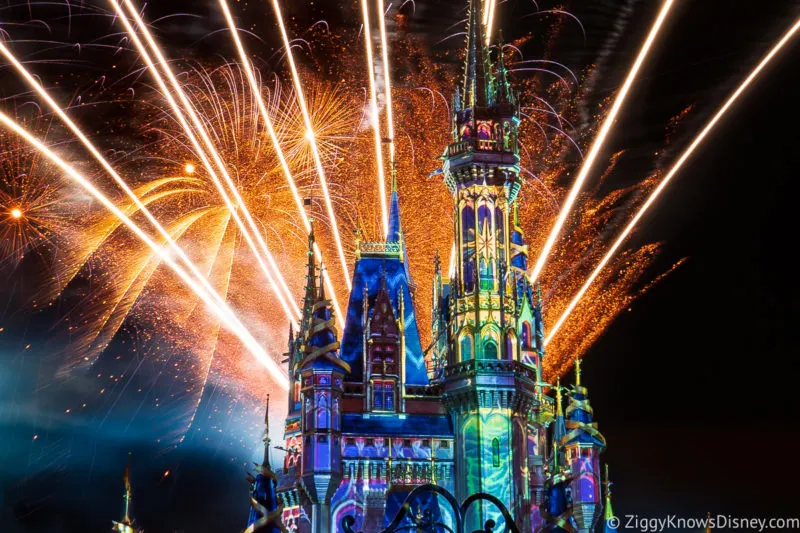 A lot of people are sad to see the Happily Ever After show leave the Magic Kingdom and we'll talk about if Disney Enchantment lives up to its beloved predecessor in our full review, and also how it compares to the new Disney Harmonious over in EPCOT.
After everything fans of the Disney parks have put up with over the last couple of years, it's just great to have fireworks back at Walt Disney World and it's not until something is taken from you that you really appreciate it.
Before we get started, don't forget to sign up for our FREE Weekly E-Mail Newsletter. We will update you with any changes to the nighttime spectaculars at Disney World, and share the latest vacation planning tips. You can sign up here: Join our E-Mail Newsletter!
(NEWS) Happily Ever After Returning to Magic Kingdom and Replacing Disney Enchantment
Today at the D23 Expo, during the Disney Parks, Experiences, and Products panel, Chairman of Disney Parks, Experiences, and Products Josh D'Amaro announced that the nighttime spectacular Happily Ever After is returning to Disney's Magic Kingdom and replacing Disney Enchantment.
This comes as a surprise since Disney Enchantment was supposed to be the long-term replacement at the Magic Kingdom and Happily Ever After was not supposed to be returning. However, we are not complaining since Happily Ever After is a much superior show.
The final show of Disney Enchantment will be on April 2, 2023, and Happily Ever After will return to the Magic Kingdom on April 3, 2023.
Read more about Happily Ever After returning to the Magic Kingdom and what changes are coming.
(NEWS) New Updated Disney Enchantment Includes Walt Disney Tribute
Starting August 22, 2022, a new version of the Magic Kingdom nighttime firework show "Disney Enchantment" debuted which includes a tribute to Walt Disney and the construction of Walt Disney World.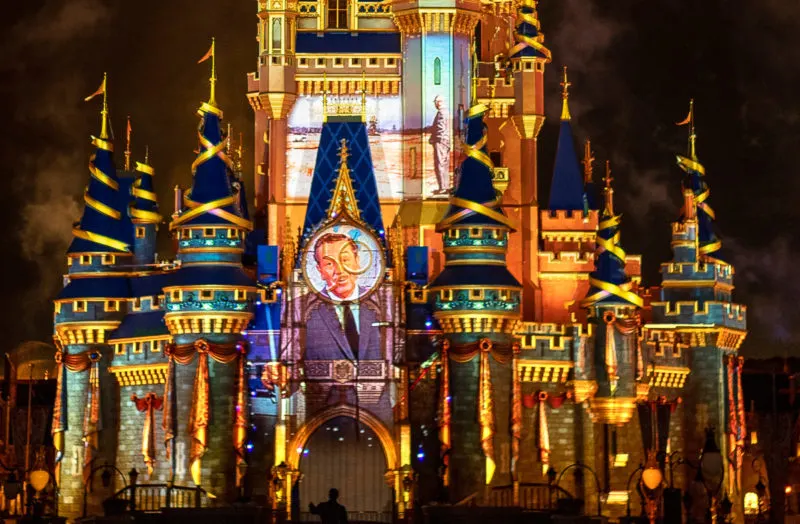 The new version of Disney Enchantment includes an updated introduction with new projections of Walt Disney introducing the "Florida Project," Roy Disney's Walt Disney World dedication ceremony, and it finishes up with Mickey Mouse telling guests "you are the magic!"
Before the update, many fans were complaining that Disney Enchantment doesn't touch on any of the Walt Disney World nostalgia you would expect from what is supposed to be a 50th Anniversary fireworks show. It was basically just a montage of B-Side songs from Disney and Pixar films, and a downgrade from Happily Ever After in the opinion of most guests.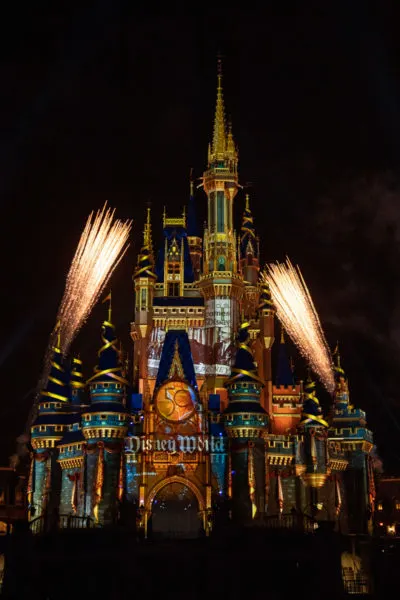 This update does add a little nostalgia and we are happy to see Walt, Roy, and Mickey up there, but it's really just a bandaid for what is a pretty mediocre show.
The bottom line is if you weren't a fan of Disney Enchantment before, this probably won't make you change your mind and it's just minor inclusions of people/characters that should have been more thoroughly woven into the show in the first place.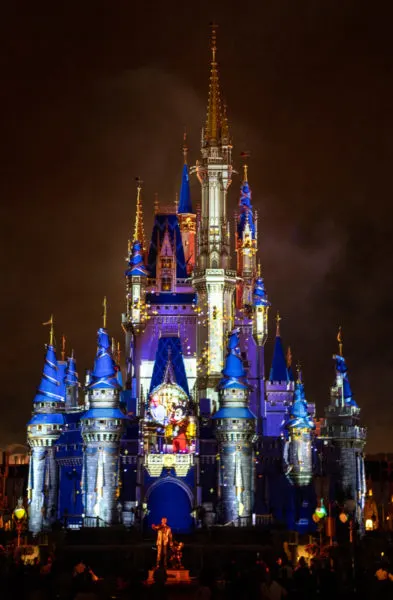 Disney Enchantment is still running at 8:15 pm on most nights, except for when Mickey's Very Merry Christmas Party is running. Stay tuned for more updates to Disney Enchantment if any other changes are made.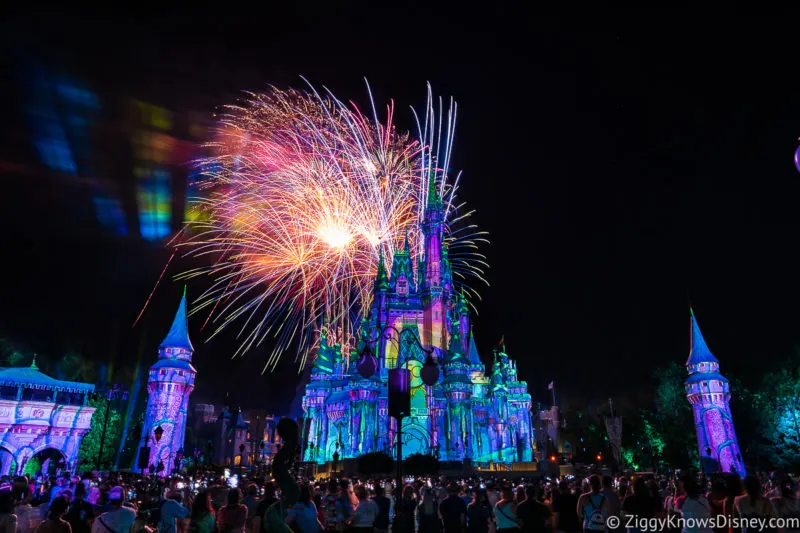 Disney Enchantment Overview
Location: Magic Kingdom Park
Opening Date: October 1, 2021
Closing Date: April 2, 2023
Attraction Type: Nighttime Spectacular with Fireworks & Projections
Show Duration: 15 minutes 40 seconds
Replaced: Happily Ever After
Designer: Walt Disney Creative Entertainment
What is Disney Enchantment?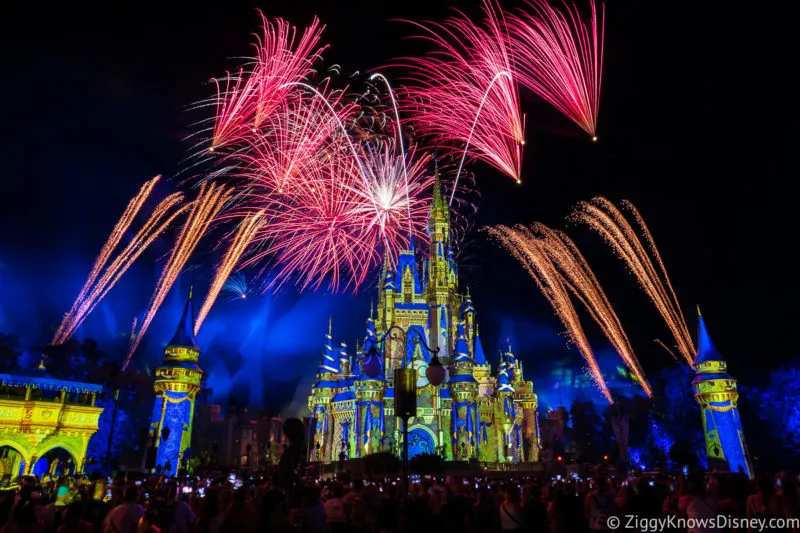 Disney Enchantment is a fireworks and projection mapping show which debuted at Disney's Magic Kingdom on October 1, 2021. The show uses music and characters from a wide variety of Disney and Pixar films to tell its story along with fireworks, pyrotechnics, lasers, and projection mapping.
It is the successor to the popular Happily Ever After and adds even more projection effects across Cinderella Castle and now also down Main Street U.S.A. similar to what you can see in the Disneyland Forever show.
Besides Disney classics, the music also includes a new original song from Philip Lawrence and Kayla Alvarez entitled: "You Are the Magic."
The timing of this new show is key because it was created to kick off the Disney World 50th Anniversary celebration with a bang! Disney has been preparing for the "The World's Most Magical Celebration" for years and they are hoping it is the perfect welcome to all returning and new guests.
Per the description of the show, Disney Enchantment takes guests on a journey "filled with adventure, wonder, and empowerment. Inspiring everyone to believe in magic."
How Long is the Show?
From start to finish, the Disney Enchantment nighttime spectacular has a show length of 15 minutes and 40 seconds. That is approximately 2 minutes shorter than its predecessor Happily Ever After.
Is Disney Enchantment Open at the Magic Kingdom?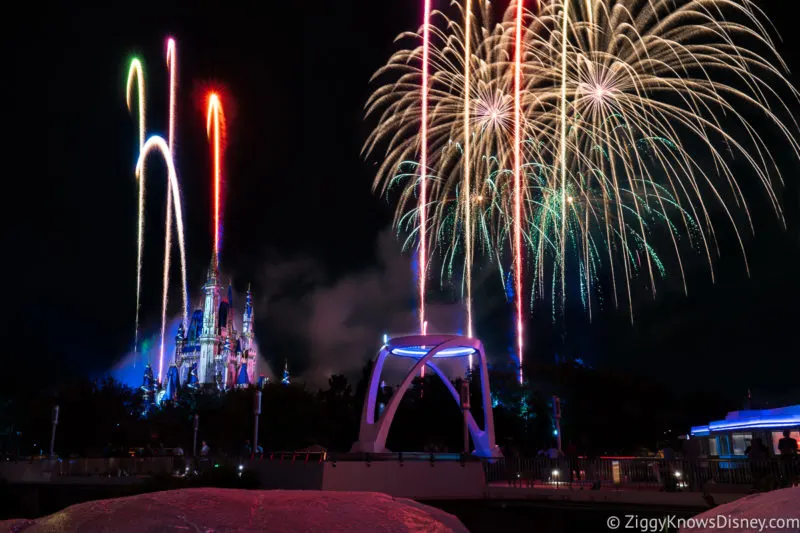 Disney Enchantment debuted on October 1, 2021, and is running at Disney's Magic Kingdom nightly.
This show was announced in 2021 and kind of came out of nowhere. Disney wanted to make a splash for the 50th Anniversary and that's why they decided to come up with an all-new show.
Disney Enchantment Hours
Firework shows at Disney's Magic Kingdom run nightly but can vary based on the park's operating hours or special events happening on a given day.
Here are the current hours for Disney Enchantment:
Under normal circumstances, Disney Enchantment runs at either 8:00 pm or 9:00 pm nightly.
From now through April 2, 2023: 8:15 pm
Check the My Disney Experience app or the Walt Disney World website for the most updated times during your vacation.
Show Scenes & Music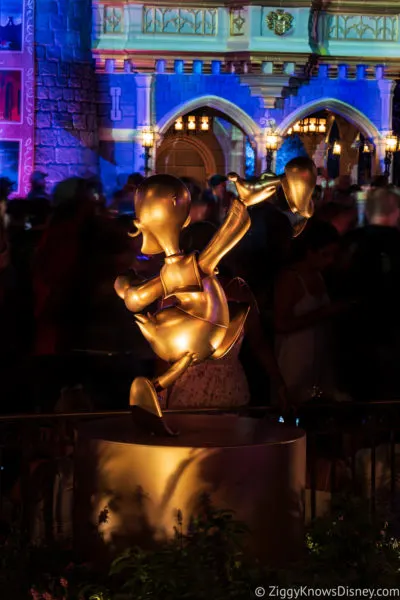 There are 14 songs in Disney Enchantment, including a new original song: "You Are the Magic." GRAMMY-winning songwriter and music producer Philip Lawrence wrote the original song for the show which compliments the fireworks and immersive projection effects.
Here is the list in order of all the music in the show:
"You Are the Magic"
"When You Wish Upon a Star" (Pinocchio)
"Almost There (Princess and the Frog)
Just Around the Riverbend (Pocahontas)
We Know the Way (Moana)
Epiphany (Soul)
Be Our Guest (Beauty and the Beast)
Under the Sea (The Little Mermaid)
You've Got a Friend in Me (Toy Story/Toy Story 4)
A Whole New World (Aladdin)
You Can Fly (Peter Pan)
Into the Unknown (Frozen 2)
Night on Bald Mountain/Ave Maria (Fantasia)
I Am Moana (Moana)
Reprise of "You Are the Magic"
Films Represented in the Show
Even though they couldn't fit songs from every film into Disney Enchantment, there are a total of 36 films represented by the character projections or music during the show.
Here is a list of all the films that have representation during Disney Enchantment:
Aladdin
Alice in Wonderland
Beauty and the Beast
Big Hero 6
Brave
Cars
Cinderella
Coco
Dumbo
Finding Nemo/Finding Dory
Frozen II
Hercules
Inside Out
Lady and the Tramp
Lilo and Stitch
Luca
Moana
Monsters University
Mulan
Onward
Peter Pan
Pinocchio
Ratatouille
Raya and the Last Dragon
Sleeping Beauty
Snow White and the Seven Dwarfs
Soul
Tangled
Tarzan
The Lion King
The Princess and the Frog
The Sword in the Stone
Treasure Planet
WALL-E
Wreck-It Ralph/Ralph Breaks the Internet
Zootopia
Review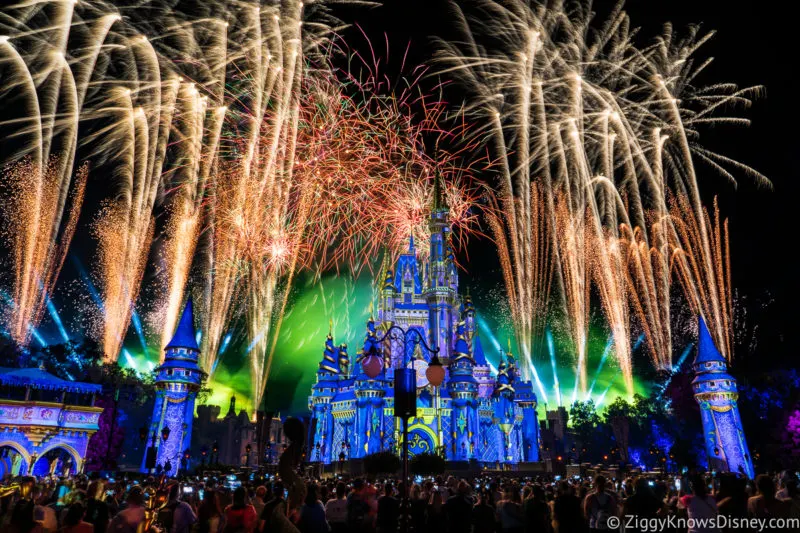 So after all this build-up and hype around Disney Enchantment, how is the actual show?
I have to say, going into it, we had big expectations for Disney Enchantment. After all, putting together a show specially for Walt Disney World's 50th Anniversary, the biggest celebration the resort has ever had, gave us high hopes that it would knock our socks off.
It also was following one of the most beloved shows, Happily Ever After, so whatever Disney did, needed to be even better than that. No small task to undertake.
We waited a few weeks after the debut because we didn't want to be prisoners of the moment and we wanted to see the show a few times before passing our judgment. Unfortunately, Disney Enchantment let us down and did not live up to our expectations for what a show of this magnitude should be.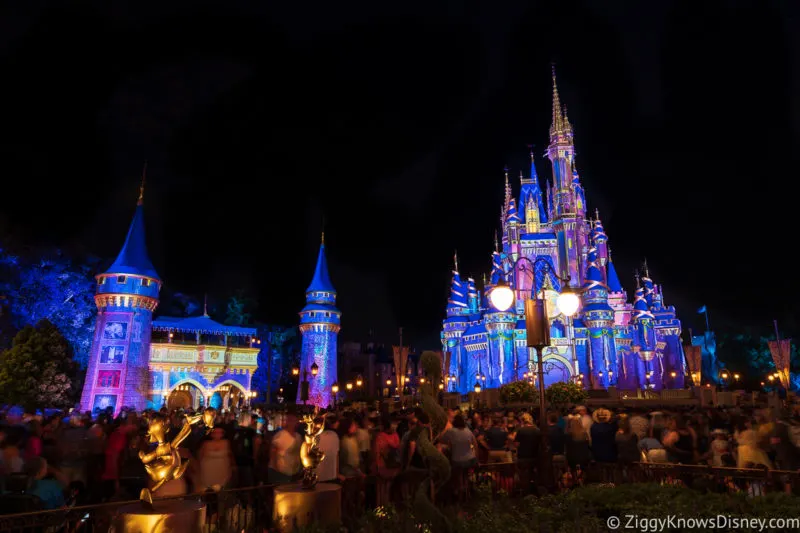 While we are definitely nostalgic as any seasoned Walt Disney World fans are, we like to consider ourselves pretty open-minded and we embrace change, as long as it is worth embracing.
For example, in our original review of Happily Ever After, we made the bold statement that is was the best fireworks show Disney has ever done. Years later, we stick by that statement. We really loved Wishes, but we recognized after 20 years, a change was needed and we loved it right from Day 1.
We couldn't be further from that opinion in regard to Disney Enchantment.
That doesn't mean the show is BAD, it's hard to make fireworks bursting over the castle in an environment as beautiful as the Magic Kingdom bad in the true sense of the word. The show is still entertaining and has its moments, it just isn't nearly as good as it could or should be.
Let's look at the various aspects of the show…
Special Effects:
Let's get this one out of the way first. The special effects in Disney Enchantment were incredible. Disney recently upgraded the projection technology and the fireworks infrastructure, and it shows.
The projection effects on the castle were incredible. The colors seemed even richer and more vivid than before. The lasers were also awesome and it all keeps you glued to the castle to see what is going to happen next.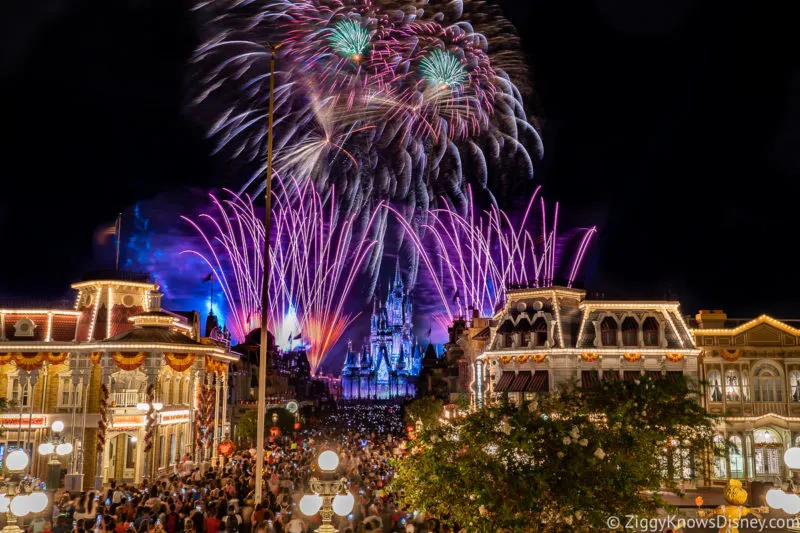 It seemed like there were fewer fireworks than before, but we enjoyed some of the new spray effects they made, even though they weren't always synced correctly with the music.
The big selling point here is the projections on Main Street U.S.A., taking a page out of the Disneyland playbook. They aren't essential to see so I wouldn't go back there in the place of standing in The Hub, but they do make the show more interesting if that's the best spot you can find for the show.
However, while extremely important, special effects are not the only thing that matters when judging a nighttime spectacular…
Music:
The original song "You Are the Magic" was ok, but nothing special. Yes, it has a good message like so many other Disney spectaculars that you have what it takes inside yourself to make your dreams come true, but it just wasn't memorable.
The first two times we saw the show I couldn't even remember the tune to hum on the way out of the park. This is a big downgrade from Happily Ever After which had one of the most memorable original songs and that was both uplifting and had you singing it the whole ride home.
What's even worse however is the song choices and music from the Disney films. Many of the songs chosen were from films that were already in Happily Ever After, only the ones in Disney Enchantment are mostly B-level songs from those films.
For example, Moana had a big song in HEA, and going from "How Far I'll Go" to "We Know the Way" and "I Am Moana" is a downgrade. Also, why are there 2 songs from Moana represented in the show anyway? Why not give one of those spots to another classic film that will resonate with fans?
We were not fans of "Into the Unknown" either and the whole arrangement felt very chaotic and messy. There are too many voices going at once and not at all in unison.
"You've Got a Friend In Me" is also a holdover from Happily Ever After, but again, a worse version of the song. It's much faster and makes less of an impact.
Flow:
Perhaps the worst part of Disney Enchantment and what really ruins it for us is the flow or lack thereof.
The show gets off to a bad start within the first 2 minutes. The music starts and we have the first scene, and then we get a pause with an introduction to the show. While I thought Angela Basset does a great job as narrator, the decision to place here after the first scene takes us out of the moment and brings everything to a grinding halt.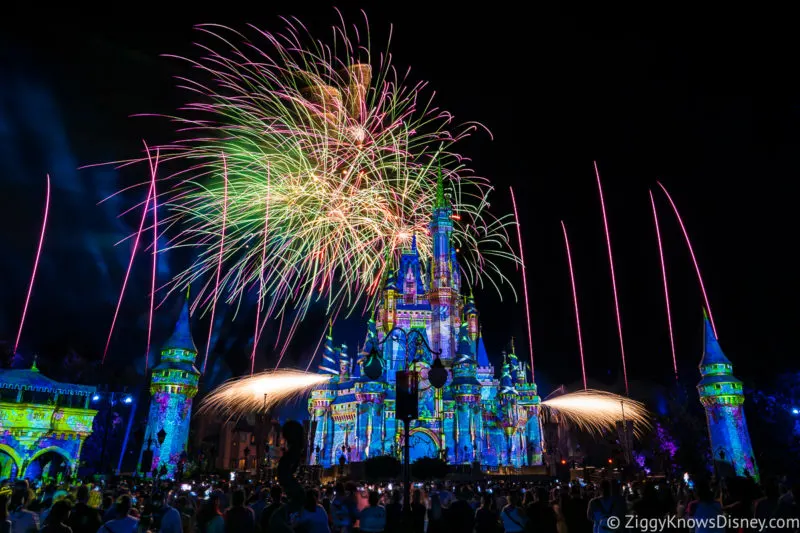 It would have been better to have her introduce the show and then actually start the show and let it go on. Not get us into it and then tell us that we need to be getting into it.
Unfortunately, the show is plagued with moments like this. While many of the scenes are gorgeous, there is a severe lack of storytelling in Disney Enchantment. It seems more like random songs from random Disney films thrown together without taking much time to think about creating scenes that would make one cohesive whole and complement each other.
Too Much New IP:
The show also is heavy on songs from the last decade, and while some of those films we already consider Disney classics (Frozen, Moana), some of them are definitely not. We know they need to sell those Disney+ subscriptions and everything, but it's not necessary to shove every new IP the company has down our throats.
The soundtrack from the first Frozen film is far superior to Frozen 2, but again the decision comes down to promoting the newest IP instead of what will actually make the best show.
It's also way too similar to Disney Harmonious, and besides changing a castle for a lagoon, it feels like you are watching the same show.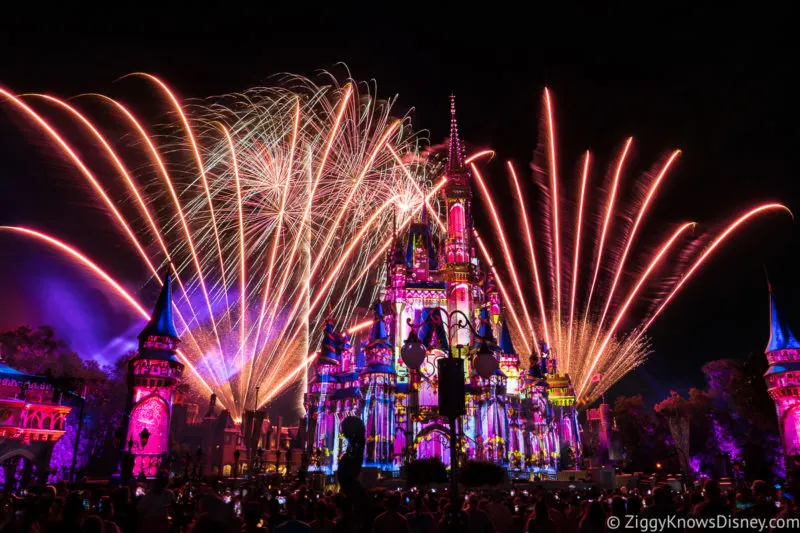 Missing Parts:
Beyond these things, there was a lot missing from Disney Enchantment that if included, could have made forgiving some of our complaints about the show much easier.
My critique here has changed slightly with the addition of the new intro. After almost a year of showing the original version of Enchantment, Disney has added on a 3-minute part during the intro with Walt Disney, Roy Disney, and Mickey Mouse.
They are projected onto the castle as well as images from the Florida Project map, the New York World's Fair, and Roy Disney during the Walt Disney World dedication. There is also a projection of the famous photo of Walt, Roy, Joe Fowler, and Card Walker surveying the land before the construction of Walt Disney World.
Attractions like Pirates of the Caribbean, "it's a small world", Haunted Mansion, and Carousel of Progress all make brief appearances, and so does Mickey Mouse who has a couple of lines.
While those are definitely an improvement over the original version of the show, it's more like a band-aid for a much more serious wound. Yes, they included some 50th Anniversary throwbacks, but sticking them in there for a couple of minutes doesn't make up for all the other flaws that are still so obvious.
It would have been nice to see more nostalgia and callbacks to the Walt Disney World Resort throughout the show and not just as an asterisk at the beginning after Disney execs finally came to a realization that Disney fans as a whole are mostly disappointed by it.
Working more of these things elements into the show would have made it a lot more palatable, instead of making me feel like I'm watching a 15-minute commercial for Disney+ after the intro.
Conclusion:
Believe me, we are some of the most positive Disney fans you will meet. We aren't the types to sit back and nit-pick every decision or change that Disney makes, because we also know you must move on and embrace the future.
However, we also expect the future to be amazing, especially since we are talking about the company's flagship vacation destination in the world.
We went into it with an open mind and we really wanted to like Disney Enchantment. We just can't do it. Apart from the special effects, the show disappointed us in every way. We know that some fans really like it, but we felt absolutely no emotional connection to the story or the music, and it doesn't resonate with us.
Even though that is about as negative a review as you can read, it still is a fireworks show at the Magic Kingdom which automatically makes it fun. It's still entertaining and enjoyable to watch, and I don't think anyone visiting should skip it.
Disney Enchantment just isn't on the same level as what we have come to expect from Magic Kingdom fireworks shows and lacks that "it" factor that should leave you breathless no matter how many times you've seen it. Unfortunately, it also highlights the ever-so-widening disconnect between Disney management and the fans who have made the company the giant it is today.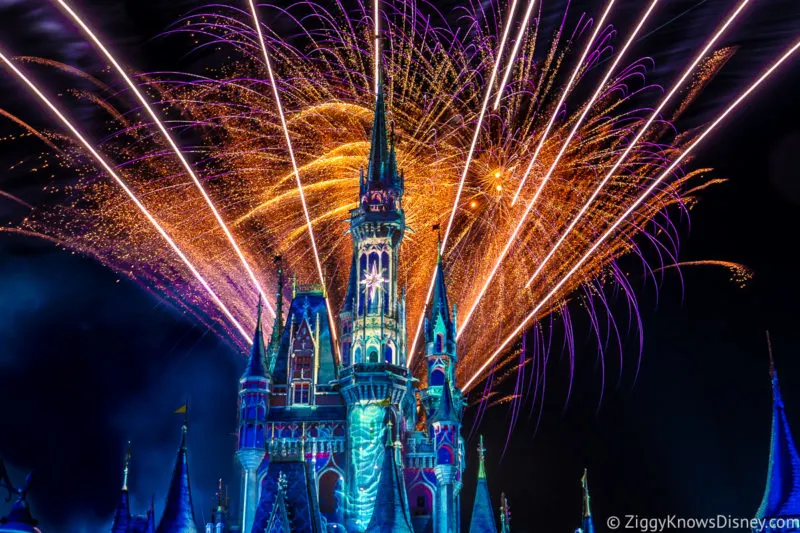 Disney Enchantment vs. Happily Ever After
This is a no-brainer for us. Even though Disney Enchantment is the newer show and has some technological advantages, Happily Ever After is by far the better show from top to bottom.
For one, it's shorter than Happily Ever after coming in at only 15 minutes and 40 seconds, rather than 18 minutes. Of course, length isn't everything (I feel a joke coming on here), it's what you do with that time that counts.
The music in Happily Ever After is better on all levels. The original song "Happily Ever After" is miles ahead of "You Are the Magic" and is much more gripping, memorable, and has a much more climactic finish.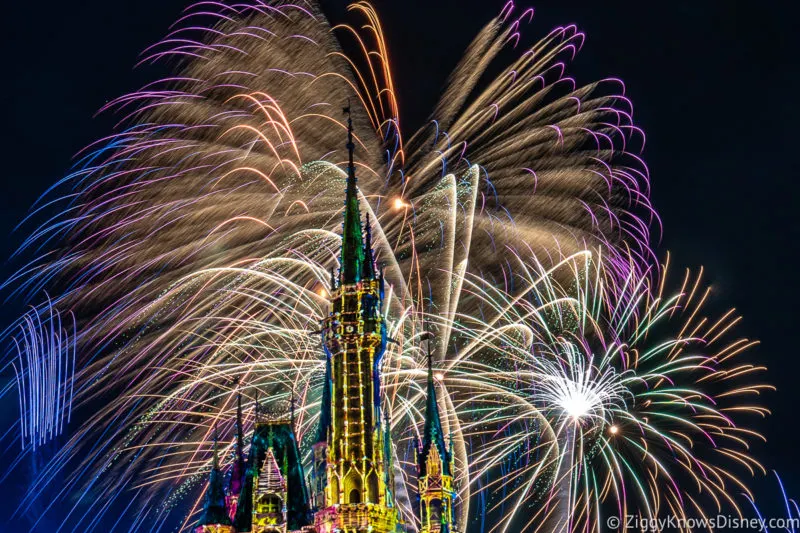 The soundtrack from the Disney films is also superior in every way in HEA. It uses only the best songs from those films, and the arrangements are impeccable. All of the songs were perfectly chosen and each scene flowed to the next one seamlessly.
Disney Enchantment on the other hand is a mess. None of the scenes flow together and there are multiple times when the show feels interrupted by awkward pauses.
Perhaps most important is the emotion behind Happily Ever After. We wanted to sing each song at the top of our lungs and it always put a big smile on our faces. I also don't think there was one time when watching it that our eyes didn't water up because of its sheer emotion and beauty.
Will Happily Ever After Come Back?
What will happen to the previous fireworks show 'Happily Ever After'? Will it ever come back to the Magic Kingdom? What happens when "The World's Most Magical Celebration" comes to an end in 2023?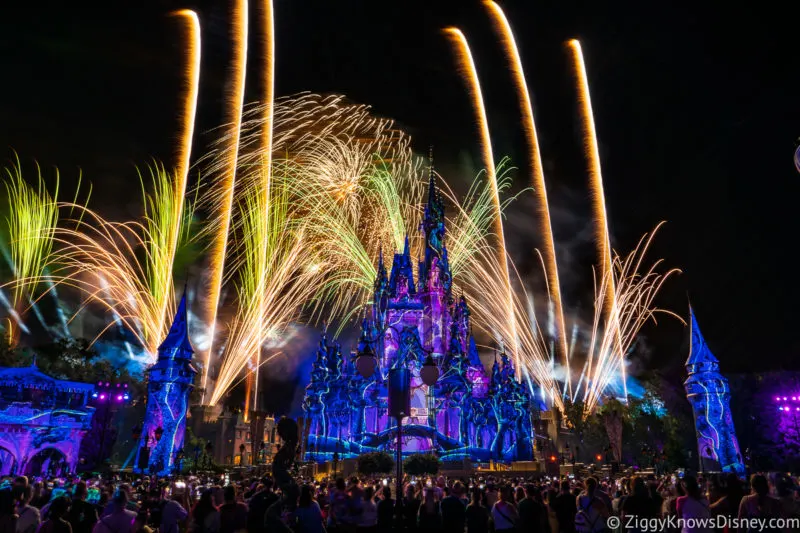 Before Disney Enchantment debuted, Disney had originally announced that Happily Ever After was permanently closed and it would be permanently replaced by Disney Enchantment. It wasn't supposed to be coming back to the Magic Kingdom and its last show was on September 29, 2021.
We knew this was a possibility, but we were hoping that 'Disney Enchantment' would just be a special limited show that would last throughout the entire 50th Anniversary, and then things would go back to normal after that.
In fact, about a year after its debut, things changed, and Happily Ever After fans rejoiced when Disney announced that 'Disney Echantment' is now only going to be a temporary replacement and 'Happily Ever After' is indeed returning once the 50th Anniversary is over in 2023.
In fact, Happily Ever After will officially return on April 3, 2023.
That isn't to say that we will be getting the exact old version of Happily Ever After that was playing before Disney Enchantment came out. Some of the new technology Enchantment uses could be adapted to Happily Ever After if so desired when it returns.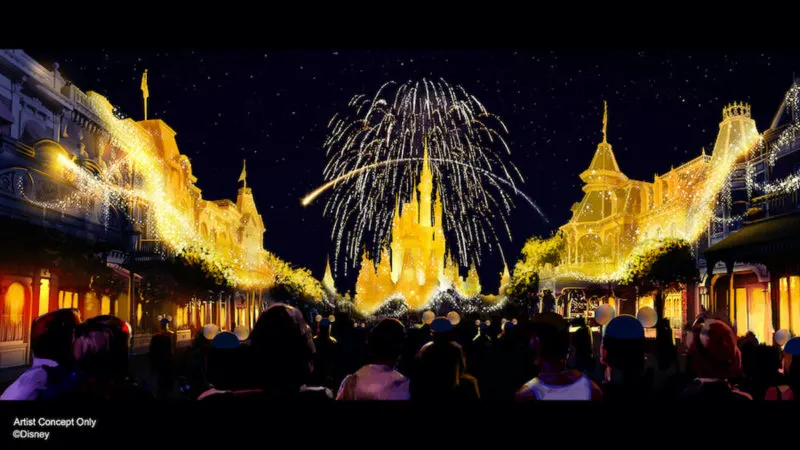 Of course, many Disney fans share the joy in hearing this good news as they have for the most part been disappointed with Disney Enchantment overall as a show. For a while, there was even an online petition to bring Happily Ever After back. Whatever it was, Disney decided to side with the fans and Happily Ever After is coming back!
Disney has not given too many details about what Happily Ever After will be like when it returns, but we do know there will be some changes. For example, it will use the new projection mapping system on Main Street U.S.A. that Enchantment introduced. Stay tuned as we'll be updating you with that info and more as soon as we find out more.
Disney Enchantment vs. Disney Harmonious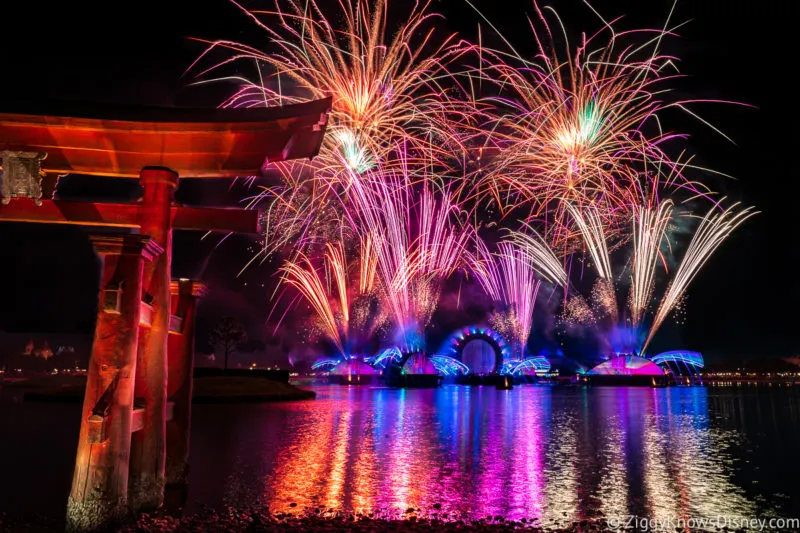 This is a really hard choice to make between Disney Enchantment and Disney Harmonious. Both are similar, too similar for our taste, and at times it's like watching the same show.
Both shows mirror each other in the way they focus on the Disney characters. This has always been the case at the Magic Kingdom, but it's a new undertaking at EPCOT. The message they are trying to convey is slightly different (one about your own inner power and the other unifying people), but in the end, the flow and feel of both shows are remarkably similar.
That's our biggest complaint about both of them, is neither stands out from the other. They are both "greatest hits of Disney IP," and it just feels like they moved the same show from one park to the next.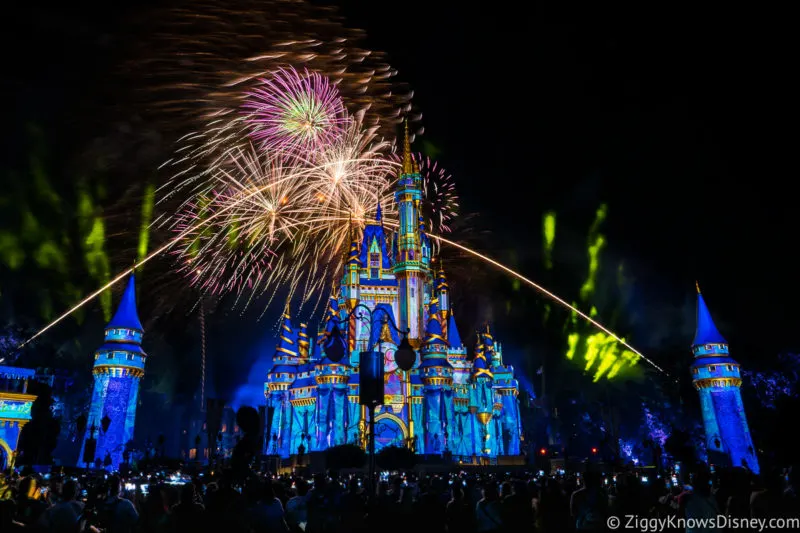 Despite all its flaws, when push comes to shove, we are picking Disney Harmonious over Disney Enchantment. Even though it pales in comparison to its predecessor Illuminations, we reward the creative team for trying to go in a different than what the park is used to, and in the end, we have more fun watching Harmonious.
Enchantment feels like a cheap knock-off of a show that was superior in every way (Happily Ever After), and we don't see the point of changing it.
Though we say we prefer Harmonious, both shows are full of flaws, and though at a high level technologically, they lack continuity, flow, and heart. It will be interesting to see which one outlasts the other in the coming years.
FAQs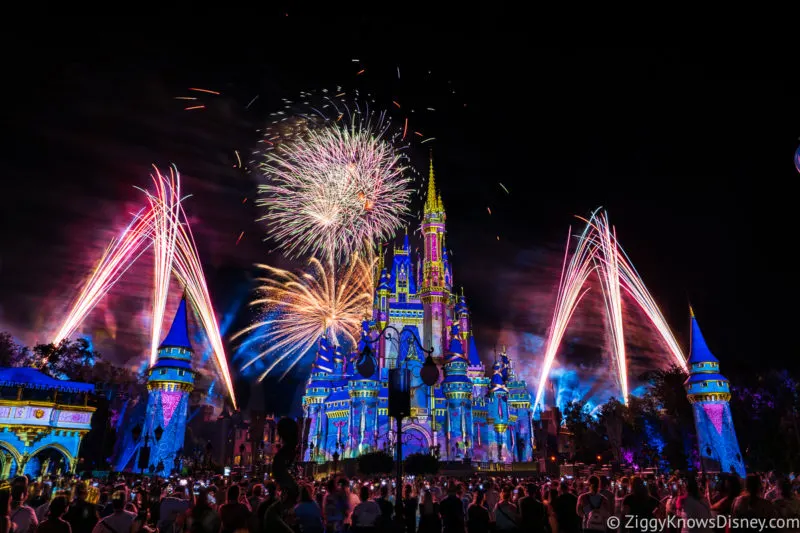 Here are the answers to some of your most common questions about the Magic Kingdom fireworks and Disney Enchantment in particular:
Does Tinker Bell Still Fly?
Yes, Tinker Bell still flies in the Disney Enchantment fireworks show as she has for almost the last 40 years. Just like during Happily Ever After she appears on the top of Cinderella Castle, spreads her wings, and flies down the zipline and over the audience.
Even though she is still in the show, to us it feels less dramatic than during Happily Ever After and the build-up isn't as strong or emotional.
What Time Should I Pick a Spot?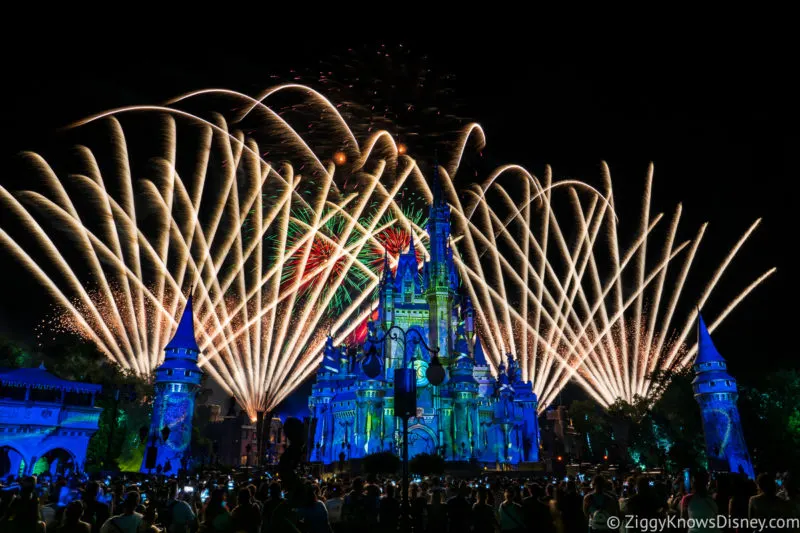 What time you need to get a spot for the fireworks at the Magic Kingdom depends on what season it is, how busy the parks are when you visit, and where you would like to stand.
If you are visiting during a slower time of the year and the crowds aren't too bad, you can usually get a decent place to stand up to 60 minutes before the start of the fireworks.
If you are going during a holiday or another really busy time of the year, you should start looking for a place to watch the show as many as 2 hours before it starts, or more.
The hardest place to get a spot to watch the fireworks is in The Hub around the gardens near the Partners Statue. If you want to stand here and have a view of the castle with no one in front of you, get there between 3-4 hours ahead of time.
Full Video
I didn't want to post this until the end in case you didn't want to be spoiled by the show but here is the full video of Disney Enchantment:
For more information on planning your vacation to Walt Disney World here are some of our most useful posts:
Your Thoughts
I want to know what you think about the new Disney Enchantment fireworks show at the Magic Kingdom…
Do you like the show?
How do you rate Disney Enchantment?
Let us know in the comments section below!
If you enjoyed this article, as always I appreciate it if you'd share it with others via social media. I work hard at making this website into a useful resource for you and your family to plan your visit to the Disney Parks and I hope it can help you! Thanks 🙂