Get ready for the biggest party you've ever seen as we are now celebrating the Walt Disney World 50th Anniversary! This is going to be a celebration like non-other and we're excited to see what Mickey and friends have in store for us!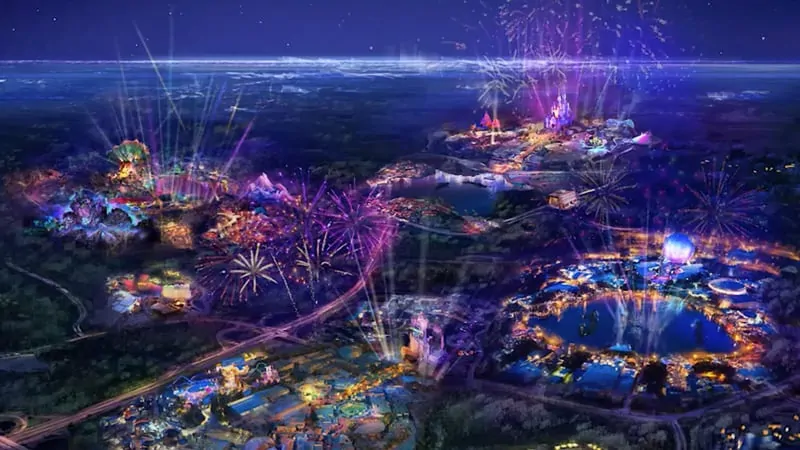 Can you believe that 50 years have already passed since Walt Disney World opened up on October 1, 1971?? Since that day, the resort has become one of the most visited vacation destinations on Earth with tens of millions of visitors annually.
When Disney does a celebration, they do it BIG, so we can only imagine everything that's in store during the 50th Anniversary celebration of the Magic Kingdom and Disney World which started October 1, 2021.
Since the festivities are already underway, you need to start planning now for all the new attractions, entertainment, merchandise, and food you will find there.
In this post, we have a complete guide to the Disney World 50th Anniversary where we will explain everything you need to know. We'll cover the 50th Anniversary dates, when it started, how long it will last for and all the confirmed changes coming to the parks for the celebration.
We'll also go over a touring strategy including when is the best time to go during the 50th Anniversary and all the rumored changes we might see by that time.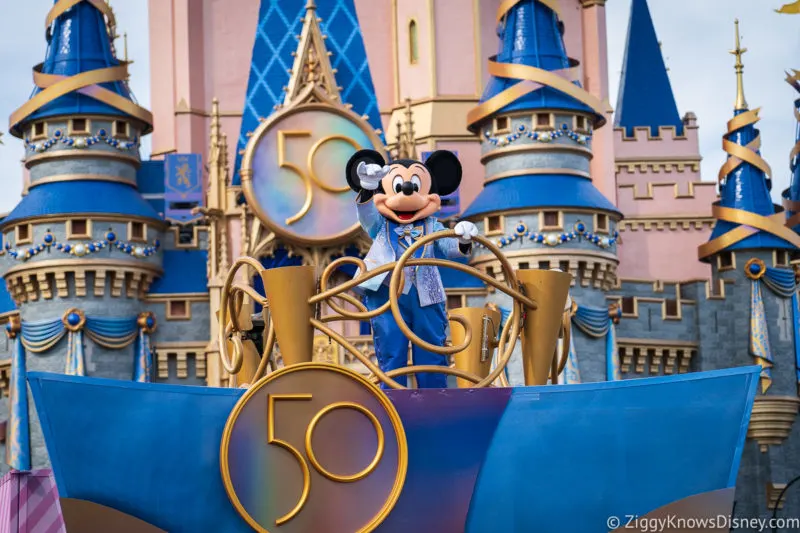 Now that the party has started, we've had the chance to visit the parks many times and so we have a good idea of the most important things you need to see and experience during this celebration.
Sadly, there have been some changes to the plans for the festivities after the Disney parks closure, so we'll go over what all that means and how it affects the celebration.
In order to bring you up to speed on what you might find in Disney World for the 50th, make sure to read our guide on the Next Best Disney World Rides and Attractions coming in 2022 & 2023.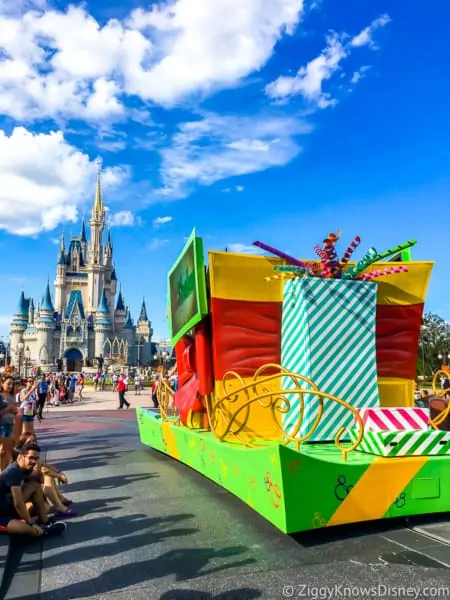 If you are planning your trip during that time, make sure to consult our post on the Best Times to Visit Disney World where we cover the basics, plus a ranking of our favorite months to go to the parks.
Before we get started, here are some of our other useful posts about the 50th Anniversary which will help you as you are planning your trip:
Also, don't forget to sign up for our FREE Weekly E-Mail Newsletter. We will update you with any changes to the 50th Anniversary, and share the latest vacation planning tips. You can sign up here: Join our E-Mail Newsletter
Hopefully, this article gives you a head start in planning your trip for Disney's 50th Anniversary. As more information comes out, we'll update this post so you always have the latest information! Now let's see the biggest celebration at the most magical place on earth!
(UPDATE) Official End Date for Disney World 50th Anniversary Announced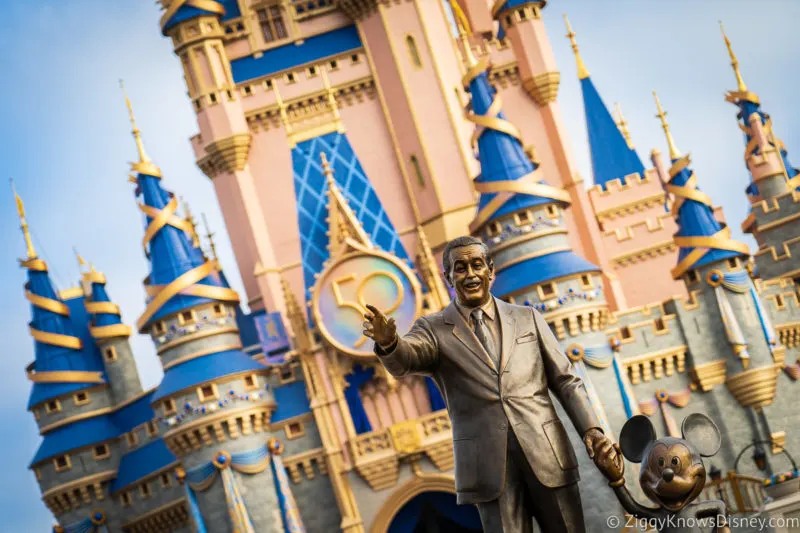 Walt Disney World's 50th Anniversary celebration has been going on strong since October 1, 2021, and we now know when "The World's Most Magical Celebration" is going to conclude.
Walt Disney World's 50th Anniversary celebration will officially end on March 31, 2023. That means it will last a full 18 months in total.
Before this latest announcement, the official end date was listed as "March 2023" but without a specific date. We thought that it would run through the end of March, and now we know that to be correct.
Disney has not stated what exactly is going away after March 31, 2023. It's likely that most of the 50th-themed snacks, entertainment, decorations, and costumes will leave the parks, but we'll have to wait and see if anything will stick around after the official end of the celebration.
(UPDATE) Disney World 50th Anniversary New Entertainment Details
Right before the celebration started, a bunch of new details were announced about The Walt Disney World 50th Anniversary celebration including new entertainment and shows coming to the theme parks, a new character cavalcade, new lighting packages for park icons, costumes, and more!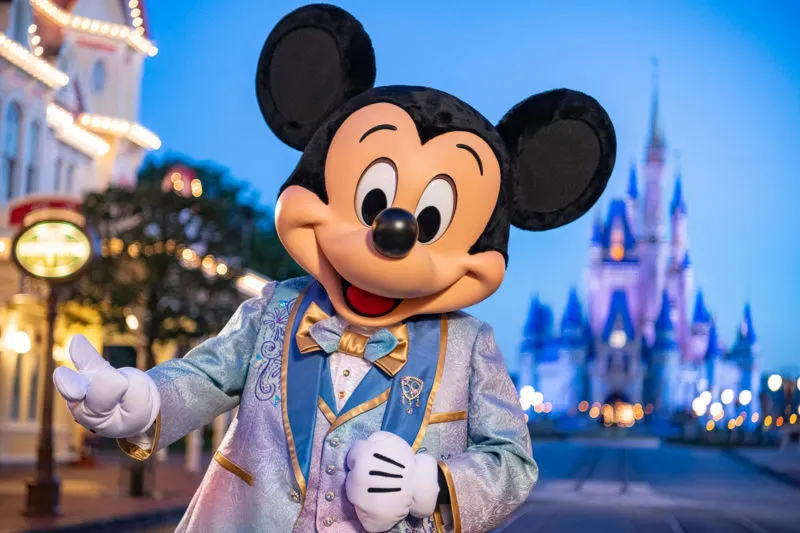 The Walt Disney World 50th Anniversary celebration started on October 1, 2021, and it will last a full 18 months. The celebration will run through March 2023.
The length is about what we expected since most big Disney anniversaries run a least 14-16 months. This one is the biggest celebration we will see in the park for quite some time so it makes sense Disney wants to make it last.
The fact that it started on October 1, 2021, the exact date when the Magic Kingdom originally opened also makes sense from Disney's point of view and for guests. Disney originally planned on starting the event earlier, but since many guests are putting off their trips because of the current health crisis, it gives them more time to plan a trip.
New Entertainment and Shows
Now that it's underway, here are some of the new entertainment options you can expect to see when you visit. This is a quick overview and you can scroll down further in the article for a more detailed look at all the projects:
New Magic Kingdom Firework Show 'Disney Enchantment' – There were rumors of a special show coming to the Magic Kingdom for the 50th anniversary, but this is even more than we were expecting.
Disney has debuted the brand new fireworks show 'Disney Enchantment' which uses the latest technology in pyrotechnics, lighting, fireworks, and an enhanced projection lighting package that projects images not only on Cinderella Castle but all down Main Street U.S.A. as well.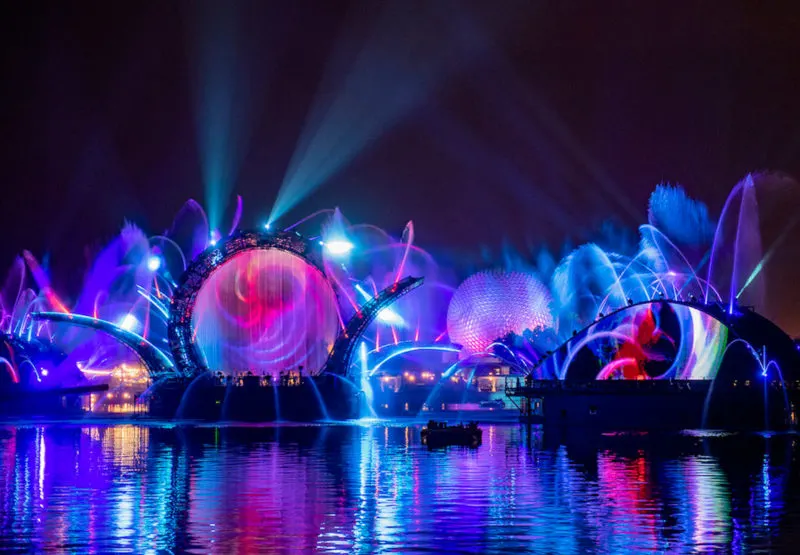 New EPCOT Fireworks Show 'Disney Harmonious' – We already knew that this new nighttime show was coming to EPCOT, but Disney was finally able to finish it in time for the 50th opening date.
Disney Harmonious debuted on September 29, 2021, as guests gathered around World Showcase Lagoon for one of the biggest and fireworks shows they have ever created. Reviews have been mixed but it's a show worth seeing.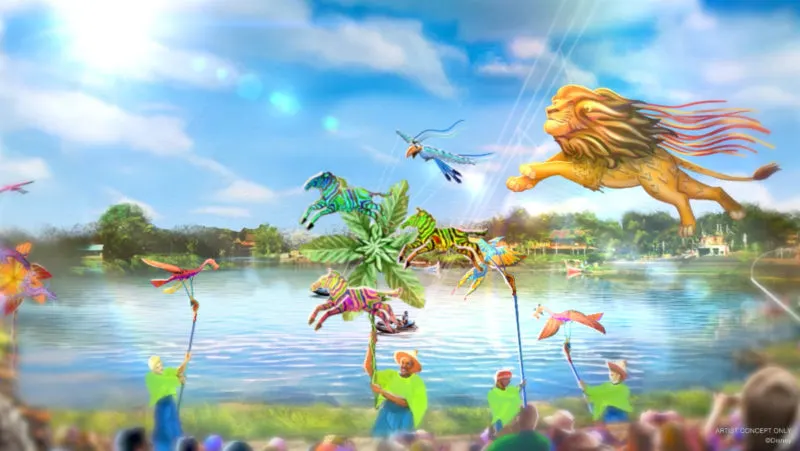 New Animal Kingdom Daytime Show 'Disney KiteTales' – As you know, the Rivers of Light nighttime show is now closed at the Animal Kingdom, and taking its place is a new daytime show with elaborate three-dimensional kites flying through the air.
These kites are as big as 30 feet long and shaped to some of your favorite Disney characters. Plus you can watch the crash landings of all the kites which is pretty entertaining.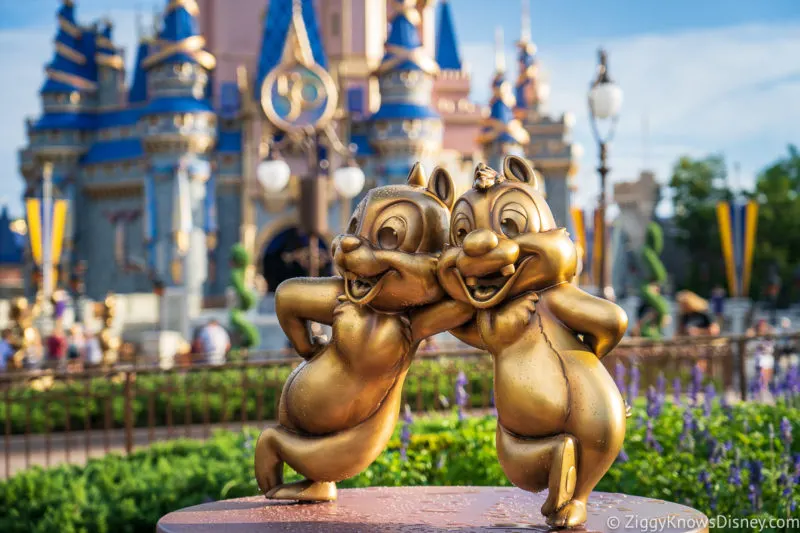 50 Golden Disney Character Statues – Another announcement we were not originally expecting is that 50 of your favorite Disney characters have been embodied in golden sculptures throughout the Disney World theme parks.
You can see Mickey and Minnie statues in front of Cinderella Castle along with many more of the "Disney Fab 50" which have been scattered in locations in all 4 parks. You can even interact with them in new and exciting ways. Here is the full list of characters and where to find each of the Fab 50 Golden 50th Anniversary Statues.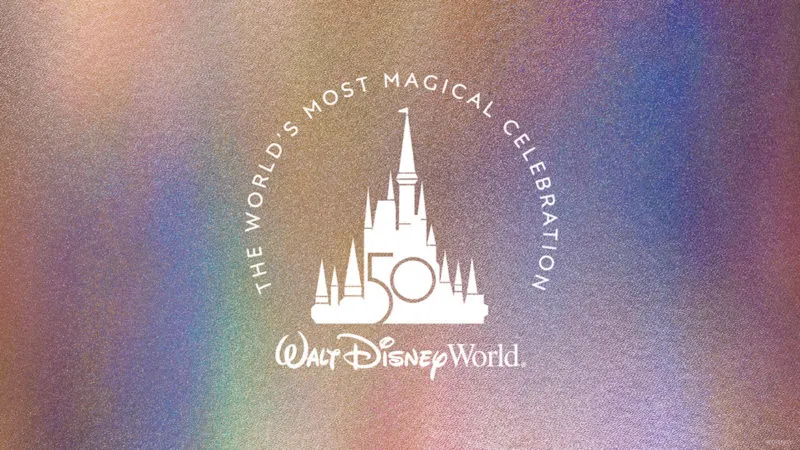 Logo – Disney released some new artwork for the 50th Anniversary logos that can be found throughout the parks. The logo features the celebration's iridescent and rainbow colors, and a big art deco-style "50".
Projection Lighting Packages
The park icons in all 4 Disney World theme parks have each gotten special projection lighting packages for the nighttime shows. This includes lighting for Cinderella Castle (Magic Kingdom, Spaceship Earth (EPCOT), the Hollywood Tower of Terror (Hollywood Studios), and The Tree of Life (Animal Kingdom).
Here are some of the concept artwork for them, and we have to admit that seeing them in person we were even more impressed as they really look amazing!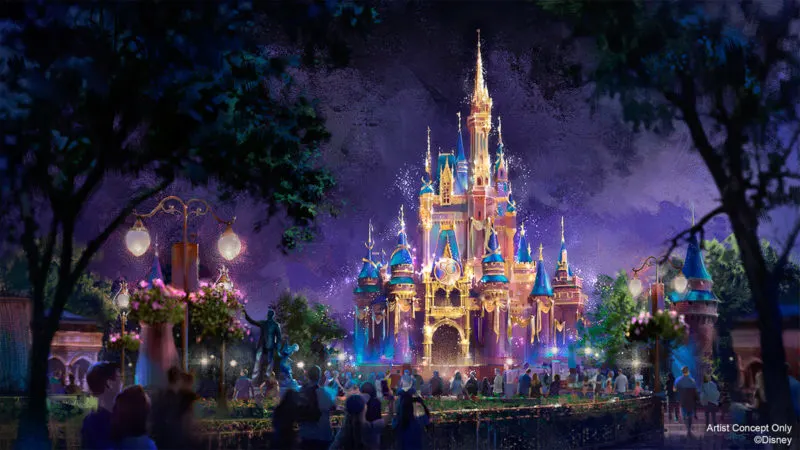 Cinderella Castle illuminates the Magic Kingdom with a dazzling radiance that sparkles with pixie dust.
And at EPCOT, new lights shine across the reflective panels of Spaceship Earth, connecting to one another in a symbol of optimism resembling stars in a nighttime sky.
This is our favorite of the new lighting packages and we are happy to say that the iconic structure's new lighting will continue beyond "The World's Most Magical Celebration" as a defining feature of the park.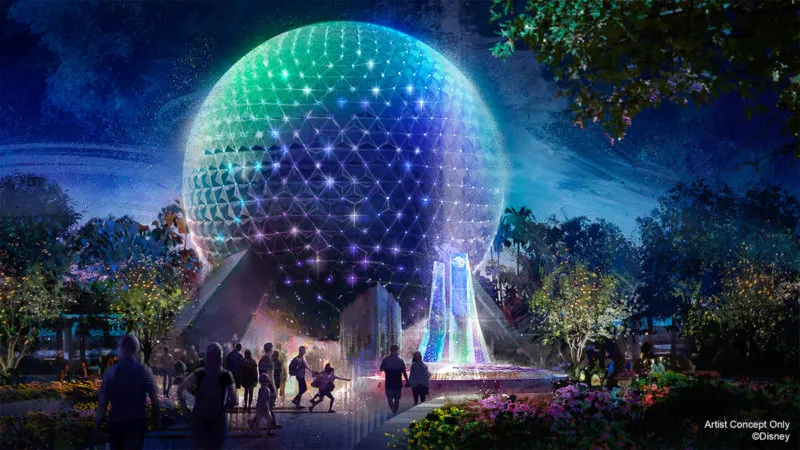 The Hollywood Tower Hotel at Disney's Hollywood Studios is awash in a brilliance, evoking the golden age of imagination and adventure.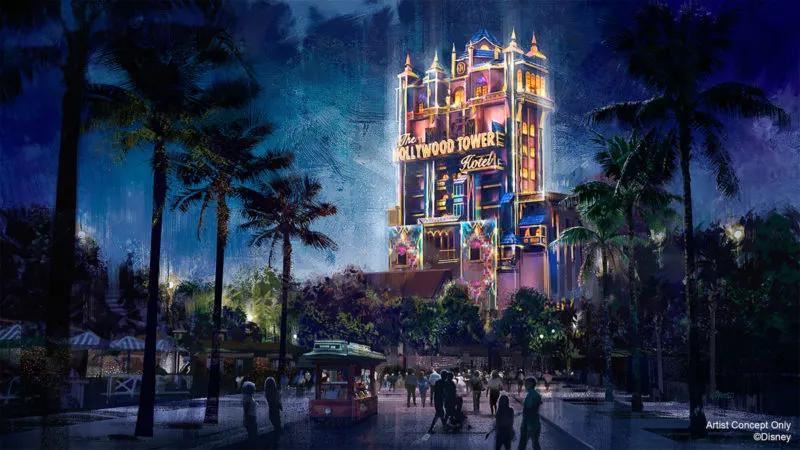 At Disney's Animal Kingdom Theme Park, a warm light emanates from the Tree of Life as magical fireflies gather to usher in the magic of nature.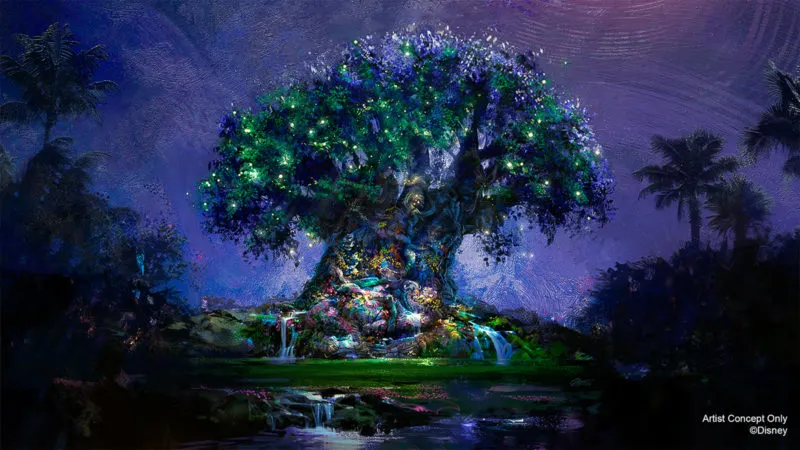 We also really like the ornaments, special anniversary crest, and gold bunting on Cinderella Castle. All of them look amazing and it's worth a trip to each of the parks at night to see these changes.
Character Costumes
Of course, Mickey and Minnie Mouse are going to be front and center for the entire celebration and we have new images of them along with other Disney characters showing off their 50th Anniversary costumes.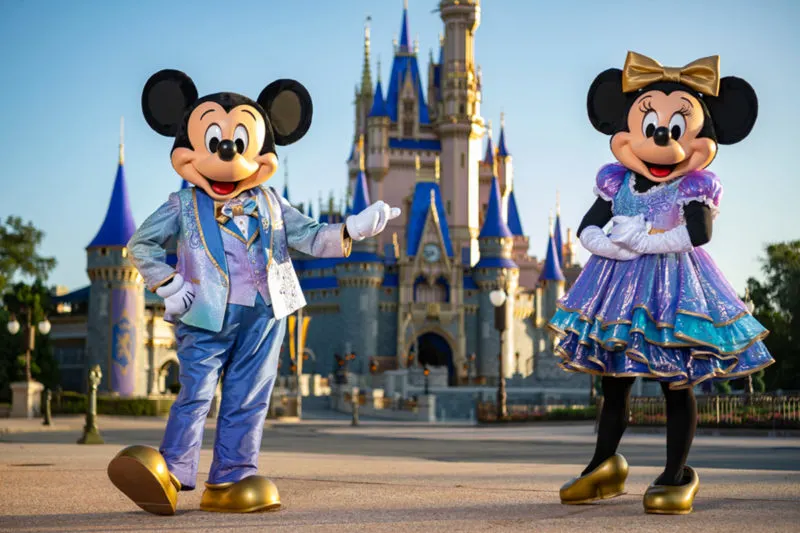 Their costumes are a shade of what Disney is calling "EARidescent" purple and teal.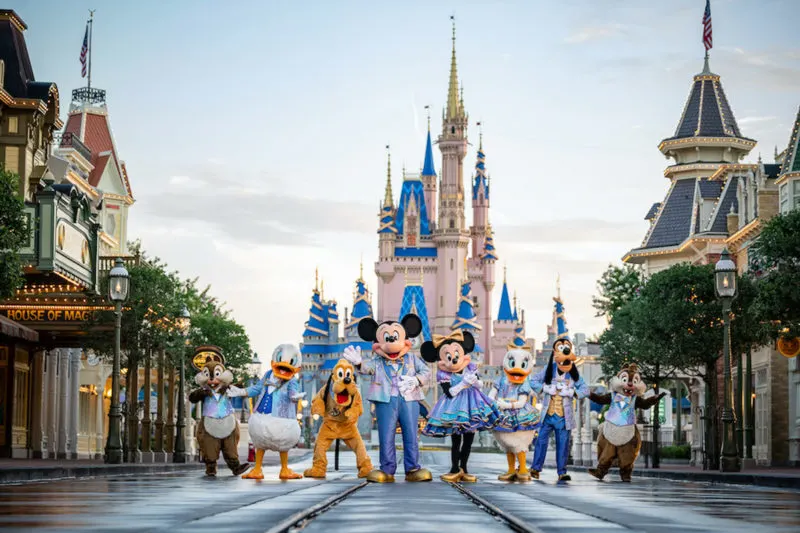 As you can see in the photo above, their friends such as Donald Duck and Daisy Duck, Goofy and Pluto, and Chip 'n' Dale are all sporting their own custom-made EARidescent looks too. Disney has made it clear that these 8 Disney characters will be in the spotlight throughout the entire celebration.
That is a brief overview of the new details for the celebration. Stay tuned in the coming weeks as we continue to add new information for you. In the meantime, continue reading below for a more detailed look at the 50th Anniversary of Walt Disney World and what to expect.
What Does Disney Have Planned for the 50th Anniversary Celebration?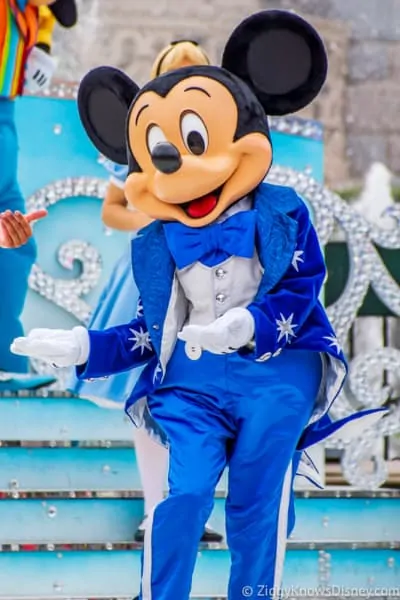 The Walt Disney World 50th Anniversary is one of the biggest celebrations Disney has ever had, and rightly so. October 1, 2021, was the 50th anniversary of Disney's Magic Kingdom, Contemporary Resort, Polynesian Resort, and the entire Walt Disney World Resort as a whole. This was the beginning of the vacation capital of the world!
The Magic Kingdom celebrated its 10th, 15th, 20th, and 25th anniversaries with milestone celebrations, the later called "Remember the Magic" which lasted a full 15 months long!
What Disney World has planned for its 50th Anniversary should outdo all previous celebrations and is something you absolutely will not want to miss. All 4 theme parks in Orlando have gotten updates for the celebration, so if you haven't been in a few years, this might be a good time to go.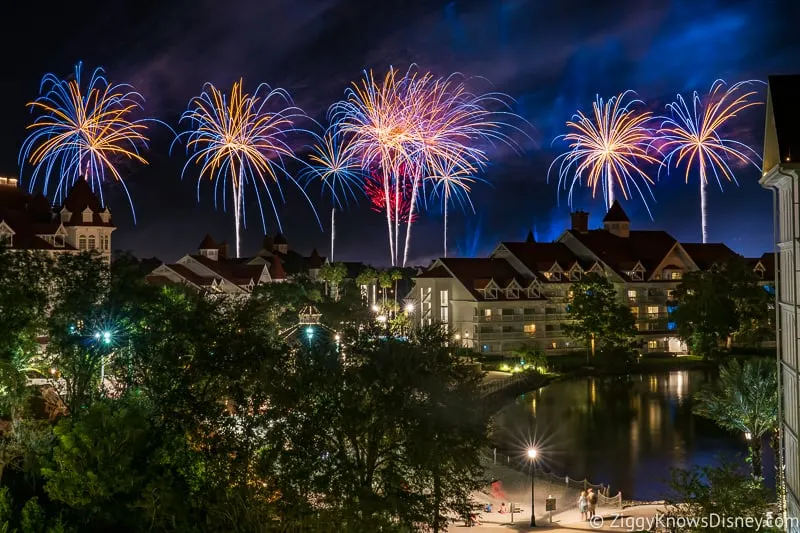 For the 50th anniversary, Disney is working on new attractions, entertainment options, merchandise, food, and a plethora of updates and refurbishments to the theme parks and existing attractions. As has been done in the past, everything will be decked out and themed to the 50th, including character costumes and decorations for the buildings.
Besides the new, Disney is sure to bring out some old fan favorites such as rare characters for this one-time event. And as always is to be expected, you will probably see some attractions or shows retire as well, so it might be your last chance to see so some of your favorite things in the park.
Because of all of these changes, Disney is expecting millions of extra guests to make a visit to this historic event!
Whatever Disney does to pull it off, it's going to be incredible, unlike anything that has ever happened to the Walt Disney World Resort before! We'll be updating you on all the changes here so stay tuned!
Disney World 50th Anniversary Dates – When Does it Start? How Long will it Last?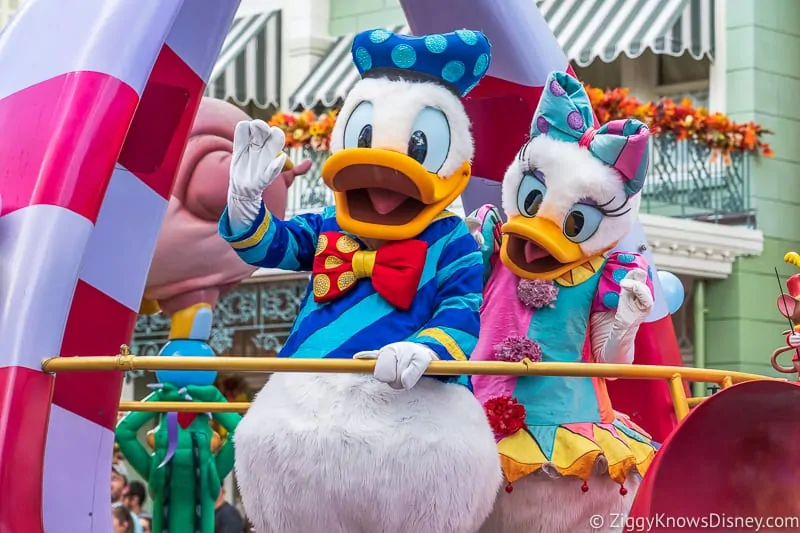 The biggest question on peoples' minds is when will the 50th-anniversary celebration actually start and how long will it last. Thankfully, after waiting months for the answer, the celebration has already started!
The official day of the 50th Anniversary for Walt Disney World and the Magic Kingdom is October 1, 2021. The actual Walt Disney World 50th Anniversary celebration also started on October 1, 2021.
That doesn't, however, mean that the festivities are only going to last one day. Whenever Disney celebrates a big anniversary, it always lasts months, and oftentimes up to one year or more.
The Walt Disney World 50th Anniversary celebration will last a full 18 months from the start date. Walt Disney World's 50th Anniversary is officially running through March 31, 2023, which means it will be over on April 1, 2023.
This is similar to the Disneyland 60th Anniversary which lasted almost a full 16 months from start to finish. The plan for Disney World's 50th tops that.
If this was a normal time when all the parks were fully operating, the 50th Anniversary would have started around August, a couple of months before the actual anniversary date in October, or maybe even a bit sooner.
Again looking to Disneyland's 60th, we see the festivities started in May 2015 when the actual anniversary date wasn't until July.
That, however, was most likely Disney's original plan, which had to be modified some, as attraction enhancements are now behind schedule and were not ready in time.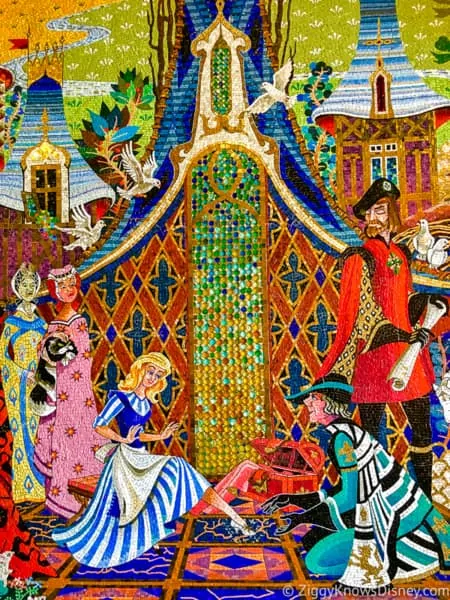 We think waiting until October 1, 2021, to start the 50th celebration was the smart move on Disney's part. It would have been nice to start a few months earlier to create some buzz and excitement for guests to return back to the parks, but that just wasn't possible in the current climate.
There were too many uncertainties at that time, and Disney needed all the time they could get to be ready for the 50th.
Pushing it off until October 2021 made more sense.
Because of this, not everything was ready for the start of the event, but at least some of the new rides got finished in time. Disney will open the rest of the new attractions currently under construction in 2022/2023 while the celebration is still going on.
It also makes sense for guests since many people are still nervous about traveling. Giving them a few more months means the parks are closer to returning to "normal" conditions without all the safety guidelines.
Disney has already said this is likely in 2022, which means that will be the case for the majority of the anniversary.
When Will it End?
Especially since the Disney World 50th Anniversary got off to a later start than originally planned, Disney is making it last longer on the backend to make up the difference.
The Walt Disney World 50th Anniversary will end on March 31, 2023.
Our original guess was that the 50th celebration would last until the end of 2022, but 18 months from October brings us to March 2023, which includes the entire month.
Disney has spent millions on the preparations for this party, and you can be sure they will use those costumes and keep the decorations up as long as they reasonably can. At 18 months, this is going to be the longest anniversary celebration Disney has ever put on.
If you were waiting to hear the dates before booking your trip, you no longer have to do so. I would start making plans immediately since the hotel rooms are going to fill up very quickly.
Changes to 50th Anniversary Plans Since Park Closures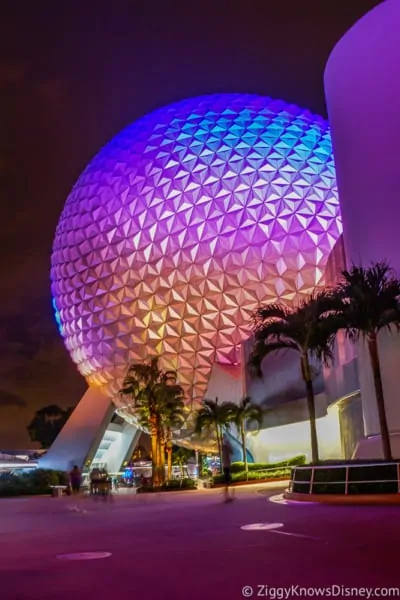 Since the Walt Disney World closure happened back in 2020, you may be wondering: "How does this affect the 50th Anniversary celebration?" Are they still going to have the celebration as scheduled? Will it get delayed? Will the attractions originally planned for the 50th get built-in time, or even built at all?
First of all, we want to ease your minds, at least to a degree. Disney World's 50th Anniversary obviously is still happening, though it's true some things might be a little different than how the company originally planned them to be.
This closure couldn't have come at a worse time for the company and it has put a huge financial strain on management. Not only were all the domestic parks closed, but all Disney theme parks in the entire world were forced to shut down for months. Because of these closures, the company lost tens of millions of dollars each day by not being open.
The problem isn't only the short-term loss in revenue, but many analysts are predicting it could be up to two years before attendance is back to normal in Disney World.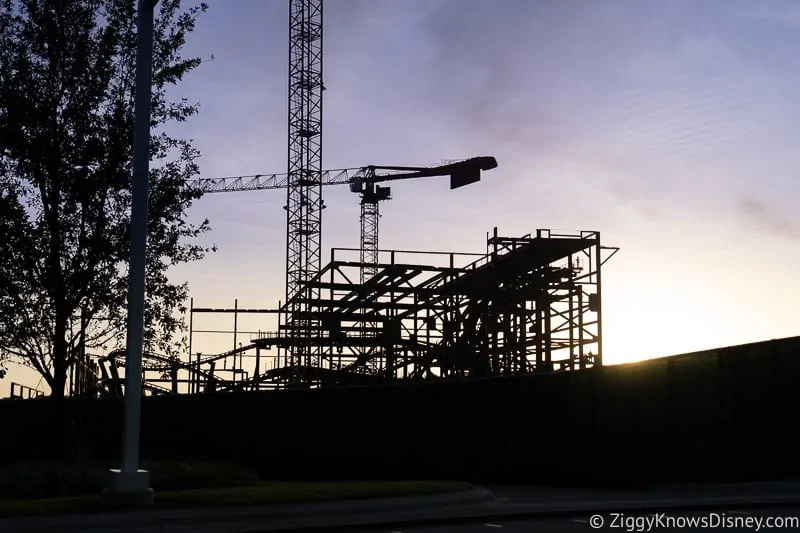 Because of this, Disney has had to reduce their budget for current and future construction projects in the parks right now. This includes many new attractions they were hoping to have ready in time when guests arrive at Disney World for the 50th Anniversary.
The first change then is that some of the new upcoming attractions have been delayed. Disney hasn't announced the exact opening dates of most of the projects planned for 2022 and beyond. Nevertheless, all projects are now months behind schedule in comparison to where they should be, and that is why most of those new rides were just not ready in time for the 50th.
That's not the worst of it though. When companies meet tough economic times, often they are forced to put projects on the back-burner, or even shelve some altogether. In fact, Disney CEO Bob Chapek recently revealed that the company spent $700 million less on construction and refurbishments in 2020 because of the lack of revenue across the company.
Last year, Chapek also announced Disney was also spending significantly less money on new projects in 2021, and the same is happening in 2022 as well.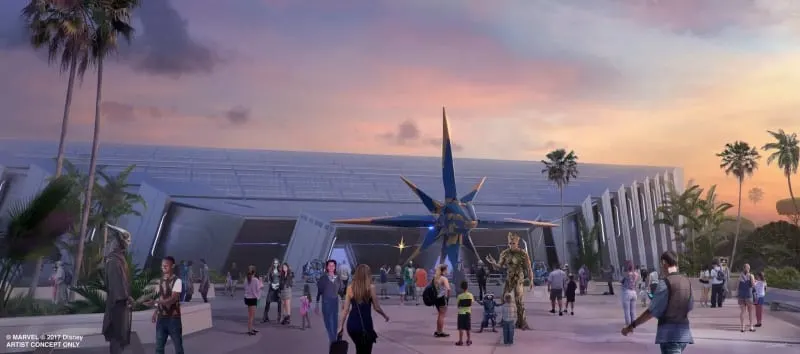 Some of the new attractions will be built with much less budget than originally planned and other upcoming attractions that Disney has already announced will not even get built. We go more in-depth in a recent post about the Disney Rides Most Likely to be Canceled or Delayed due to the park closures.
The good news is that Disney is going to need to give guests an incentive to bring them back to the parks, and just saying you are throwing a big party is not going to cut it. People are going to be cautious about traveling for some time, and only amazing new attractions and experiences for the 50th Anniversary are going to make that happen.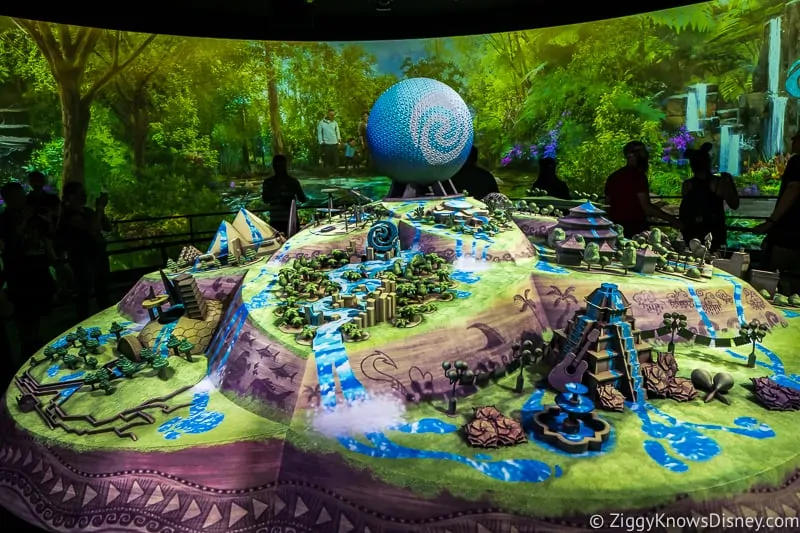 The great majority of projects that are far along in the construction process (TRON and the Guardians coaster for example), have already recommenced construction and are full-steam ahead. Those are going to be the calling cards that start to bring guests back to the parks and a sense of normalcy. Some of the other ones that are still in the planning stages have instead been postponed or cut.
We also have heard that Disney might be reallocating some of the budget away from new projects and instead for enhancements to the existing attractions. They can refurbish these to make them as nice as possible for the 50th and have a future impact too. There are a lot of decisions left to make.
Disney has already invested millions of dollars into the preparation of this event, and you can be sure they are going to do everything possible to recoup that investment. It may take longer than expected, but most of the attractions will get built.
At least Disney World is now open again, and Disney is finally getting some revenue flowing to the parks. It will take some time to get back to normal, but things are moving in the right direction.
Right now it may seem like Disney's 50th Anniversary is happening at the wrong time, but we may find it's the perfect medicine to get people back to the parks and help the company correct its finances sooner than would have otherwise happened in a different year.
New Logo and Theme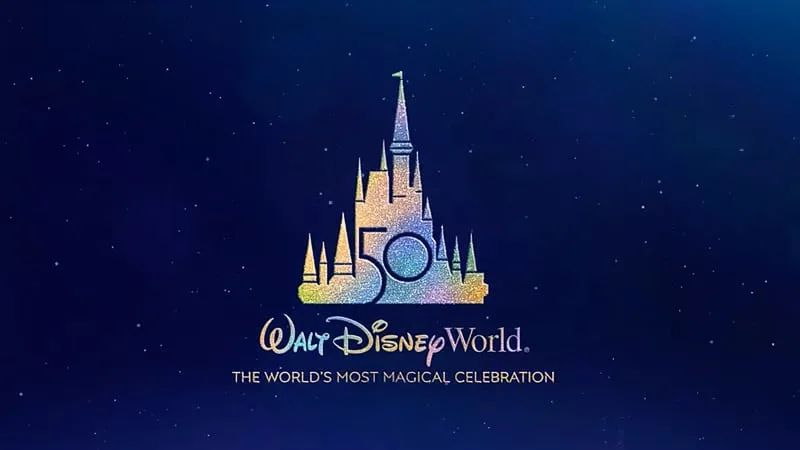 Along with any anniversary celebration comes a new logo and overall theme. Disney's World's 50th Anniversary is called: "The World's Most Magical Celebration."
The 50th Anniversary logo features Cinderella Castle upfront and center with iridescent and rainbow colors, and a big art deco-style "50" in the middle of it.
We love this look and think it is a fitting representation of the celebration going on. As you look around the parks you will see more park logos and signs in the same style which is a seamless fit for all of them.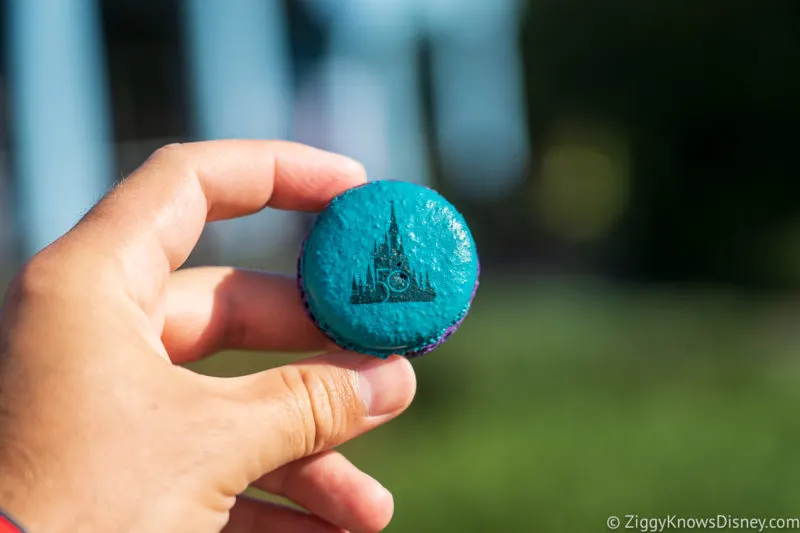 New merchandise and food carry the 50th-anniversary logo and color pattern including drinks, banners, cupcakes, MagicBands, and even the castle itself has those rainbow colors in it: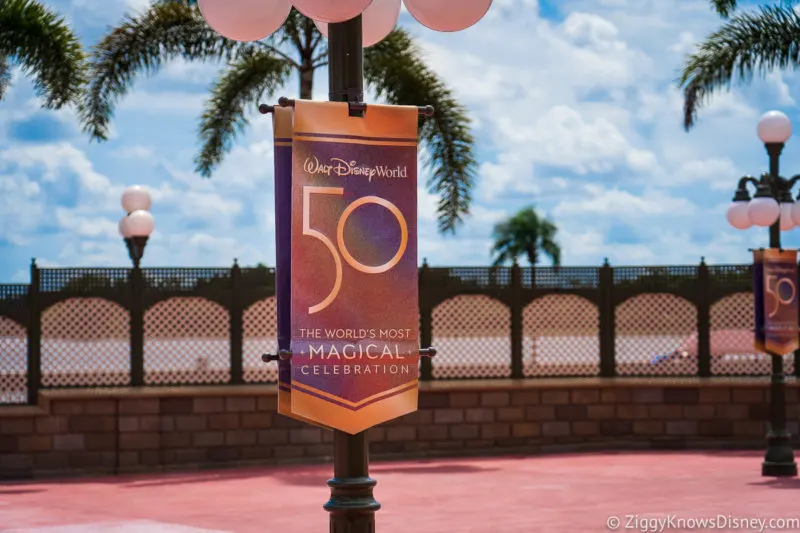 Banners are also up all around Disney World property in the same color scheme and style as we see on the food and merchandise. As the event goes on, expect Disney to release lots of similar merchandise and food and beverage options.
This is sure to be one magical celebration!
Confirmed Changes for the 50th Anniversary – Park by Park
Ok, so now that we know what the parks look like, just exactly what changes and new additions are coming to Walt Disney World for the 50th Anniversary celebration?
We're going to go park-by-park and look at the confirmed additions we know about so far. Things are probably going to be added to this list, and maybe a few taken off too as we get closer to the start. Things will also change greatly once we find out more about the construction schedule for the new attractions.
Not all of these changes and additions will necessarily be open at the beginning of the 50th Anniversary, but they should be open at least at some point during the celebration.
Magic Kingdom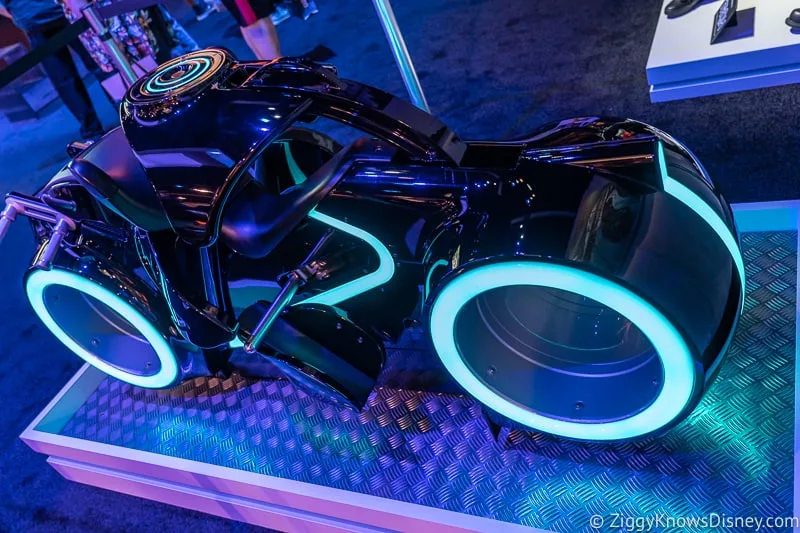 TRON Lightcycle Run Roller Coaster
New Fireworks Show 'Disney Enchantment'
Tomorrowland Makeover
Walt Disney World Railroad refurbishment
Cinderella Castle Refurbishment & Projection Lighting Package
Mickey's Celebration Cavalcade
New Entrance
As of now, Disney has announced some of the additions coming to Magic Kingdom Park for the 50th, but you can bet there will be a lot more of them considering this is the anniversary of this very park. Something really incredible has to be done to wow visitors and a few things are already in progress.
Tomorrowland is going to see the majority of the changes in the Magic Kingdom. Already a makeover has begun throughout the land, slowly transforming it from a steam-punk futuristic style with harsh metal theming, to a more classic and modern future with white accents. These are most noticeable by looking up at the decorative columns of the PeopleMover.
Staying in the future, Disney has also recently updated the Tomorrowland Speedway, refreshing the track and making room for the attraction we are the most excited about, the TRON Lightcycle Run roller coaster.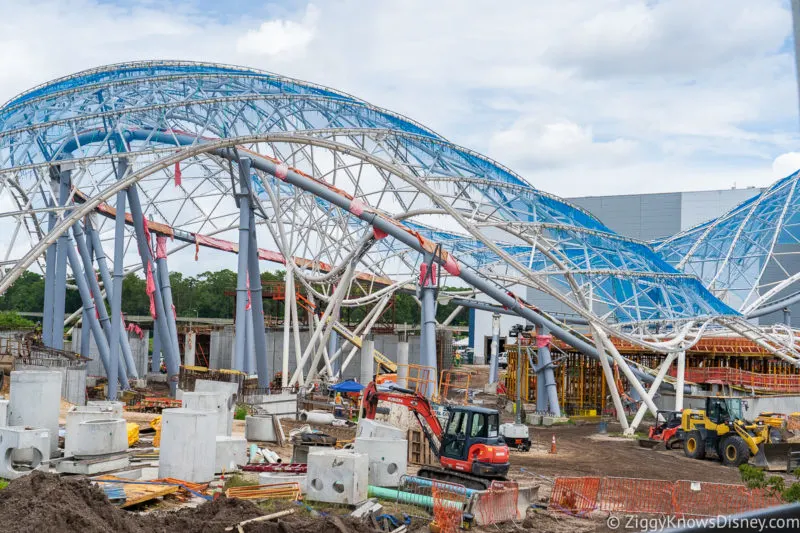 This is the crown jewel of the 50th Anniversary celebration and a clone of the guest-favorite ride of the same name in Shanghai Disneyland. The TRON coaster will be the biggest addition to Tomorrowland since Space Mountain and will breathe new futuristic life back into what has always been a troublesome land.
Right now, Disney is behind schedule with TRON, and it wasn't ready in time for October 2021. Hopefully Disney will use it as one of the attractions opening in intervals during the remaining 18 months of the celebration, though they have been quiet on any opening date.
We also know that the Walt Disney World Railroad will be back up and operational at some point in 2022 and it will look newer than ever.
We know that the Character Cavalcades have been a popular addition to the parks since reopening and now get ready to see Mickey and all his friends ride down Main Street U.S.A. in their shiny new costumes on the brand new Mickey's Celebration Cavalcade.
Something not quite as attractive as the rides is the new entrance built at the Magic Kingdom. This now streamlines the entrance process between the various transportation methods and makes it easier to get those 50th Anniversary crowds into the park.
New Fireworks Show 'Disney Enchantment'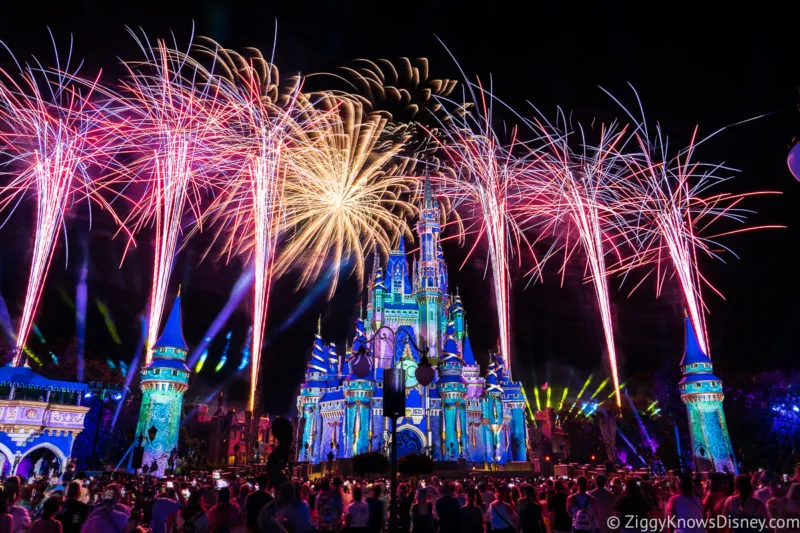 The 50th Anniversary celebration is getting off to a bang at the Magic Kingdom with an all-new nighttime fireworks show called 'Disney Enchantment'. Happily Ever After is now gone and guests can see the new show Disney Enchantment every night.
New technology has been worked into the show and it includes a new and enhanced lighting program, music, and fireworks. It also the first time, includes new immersive projection effects that travel all the way from Cinderella Castle and onto Main Street U.S.A., much like at Disneyland Park.
Some of the effects are really cool, however, we still prefer Happily Ever After and are sad this left the park. This was one of the more surprising additions to the Magic Kingdom and Disney is planning on keeping this show after the 50th is over.
Will the Castle Change?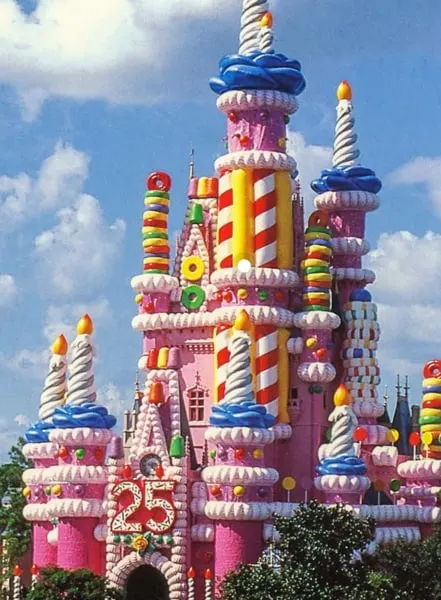 One common question people want to know is if Cinderella Castle in the Magic Kingdom is going to change for the 50th anniversary. This is valid considering what's happened in the past. Let's just say that Disney World management and the fans have a rocky history when it comes to anniversary celebrations and Disney Park icons.
While Disney has had backlash over some pretty poor decoration choices in the past like the Birthday Cake Castle, putting a magic wand next to Spaceship Earth, or Sorcerer's Hat in front of the Chinese Theater, Disney is not making the same mistake again and has much more modest plans for Cinderella Castle.
Disney has in fact done a refreshing to Cinderella Castle, and the work is now done and visible to guests in the Magic Kingdom.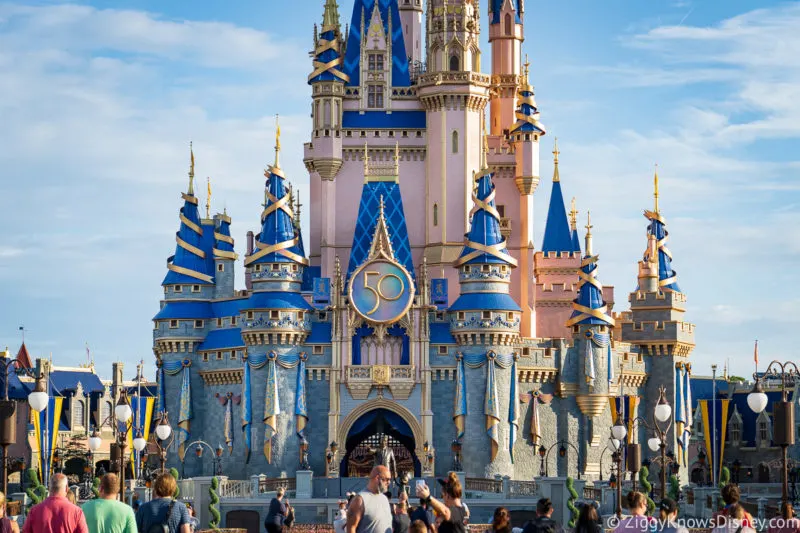 The colors on Cinderella Castle are now more brilliant than ever with the top portion of the castle getting a subtle rose pink color and the roofs a much more vibrant blue. We also love the gold trim around the castle's features, honoring the "golden anniversary" of 50 years.
Disney has also introduced new nighttime projection lighting packages for each of the 4 theme park icons, including new projections and lights for Cinderella Castle. Cinderella Castle has been decorated with ornaments, a special anniversary crest, and gold bunting.
Seeing the castle in person, the roof at times looks like it's projecting the same iridescent rainbow colors that are in the actual 50th Anniversary logo. It's a really cool effect and changes depending on the lighting outside.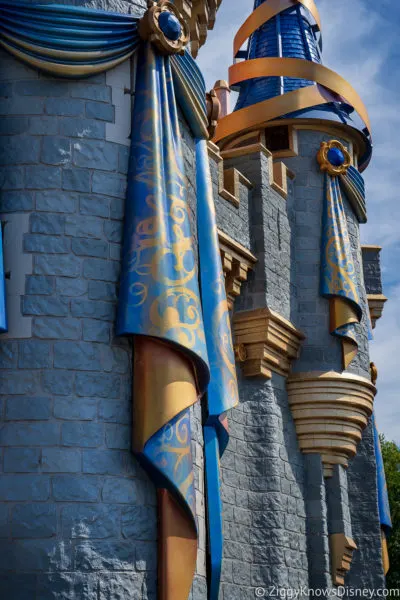 It looks a lot different from the original concept art below, and more details were added to the spires, as well s the big "50" on the front of the castle that was not in the art.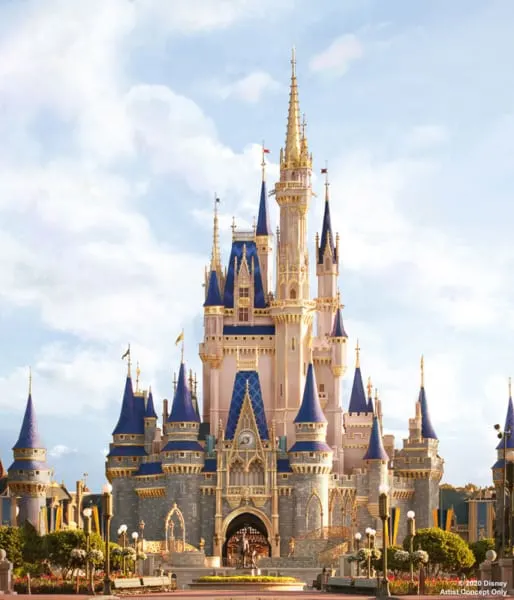 Again, this makeover is already finished, so you can get a look at it up close when you visit and decide if you like the change or not.
You can read more about the Cinderella Castle refurbishment in our updates post dedicated to it.
We're excited about the changes coming to the Magic Kingdom and this will make the Resort's most famous icon even more beautiful than ever!
EPCOT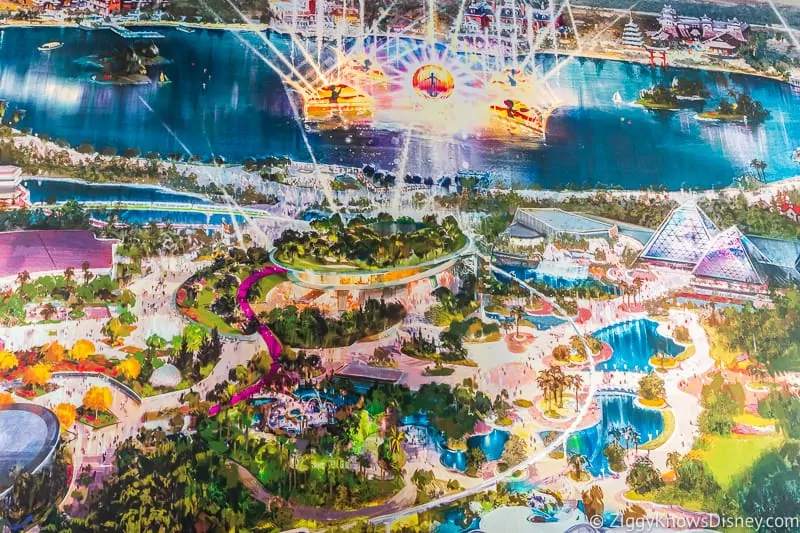 Future World transforming into 3 New Neighborhoods
Spaceship Earth Refurbishment
Guardians of the Galaxy: Cosmic Rewind Coaster
Remy's Ratatouille Adventure
Moana: Journey of Water
France Pavilion Expansion
Space 220
Play Pavilion
Disney Harmonious Fireworks Show
Dreamer's Point
"Awesome Planet"
"Canada Far and Wide in Circle-Vision 3D"
"Wonderous China"
New Entrance
While the Magic Kingdom is the park actually celebrating its 50th Anniversary, it's EPCOT that is getting the Resort's biggest overhaul. In fact, this is the most extensive project ever done to a Disney World park and something that was greatly needed since it was ignored for so many years.
We are afraid of things getting cut from the plans after Disney's recent comments, let's just hope they don't neglect the park and still give it the care and attention it needs in the long-term, just to save money in the short term.
Starting out upfront, the new Epcot Entrance is now complete and it has a new fountain to greet guests that screams "Classic EPCOT!"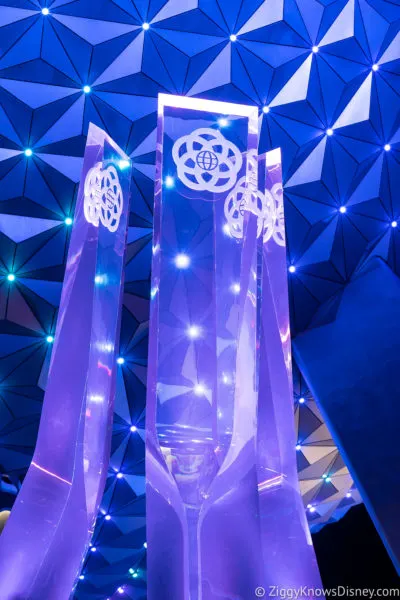 Future World is now no more and has instead been replaced by 3 new neighborhoods, World Celebration, World Discovery, and World Nature. The new entrance should be ready in time, but the overall transformation of Future World will take more time and might not be ready for the 50th.
The super ambitious new festival center for example has already been put on hold and rumors are that it won't get built for another 3-4 years minimum, if at all.
The biggest addition and one that will be a big draw for guests coming to the 50th Anniversary celebration is the Guardians of the Galaxy: Cosmic Rewind ride taking over the old Universe of Energy building. This attraction won't be ready in time for the start of the 50th Anniversary, but it's opening on May 27, 2022.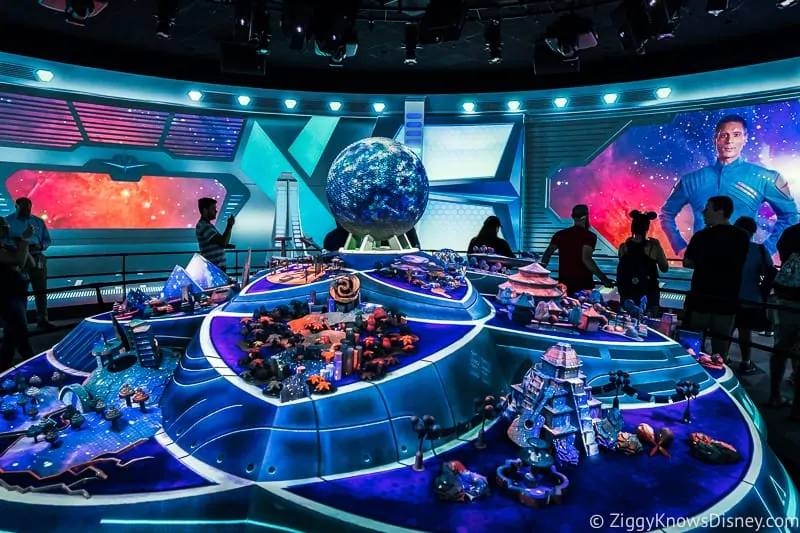 Remy's Ratatouille Adventure has been a big draw as it's an IP that's popular with Disney guests and adds a new family attraction to EPCOT. That and the France expansion both officially opened in plenty of time for the 50th on October 1st.
When you are visiting France, make sure to stop and eat some crêpes along the way. You have two options: La Crêperie de Paris which is a sit-down restaurant, or Crêpes À Emporter which is the quick service place located right next to it.
Disney had already announced the Spaceship Earth refurbishment would be starting in May 2020 and it was believed they were hoping for a target opening of 2022, putting it in the middle of the 50th celebration. Those plans have since changed and the Spaceship Earth refurb has been put on hold. No word yet on when or if those plans will move forward.
The new EPCOT fireworks show Disney Harmonious was supposed to debut in 2020 and instead officially debuted on September 29, 2021. It's a far cry from Illuminations but it has some really cool parts in it (even if we aren't crazy about the octopus arms).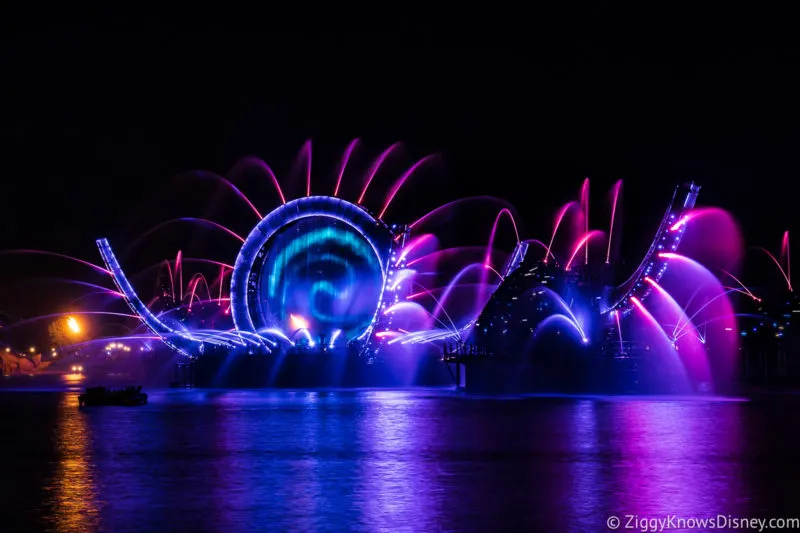 Even though it seemed like we were waiting forever for the Space 220 restaurant, that finally opened on September 20, 2021 and it has been the hottest advanced dining reservation in Walt Disney World since.
We aren't quite as sure however about the Moana: Journey of Water attraction or Play Pavilion, both of which Disney has been silent about since their announcements at the D23 Expo. I supposed Disney could cut some costs and postpone both attractions if need be.
Sadly, the Cherry Tree Lane addition to the U.K. pavilion and the Mary Poppins attraction have now been shelved and will not be built for the 50th Anniversary. It's disappointing to see, but not surprising that things ended up this way with all the budget cuts.
Hollywood Studios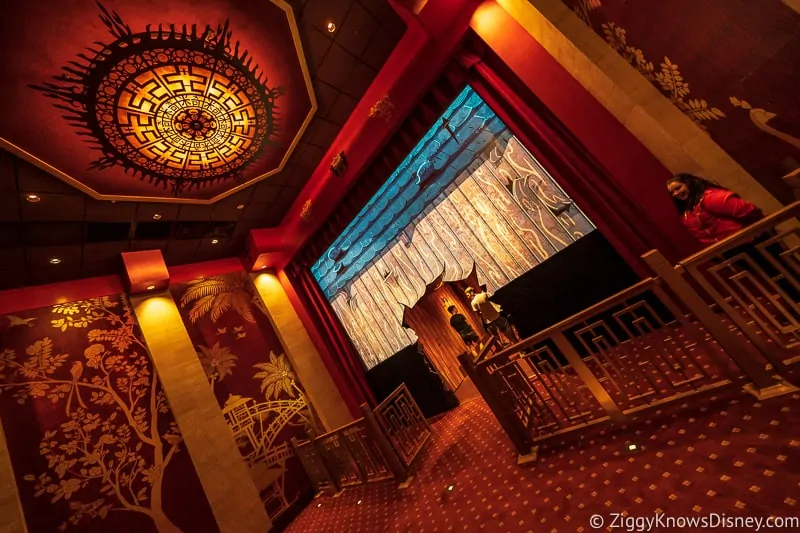 Star Wars: Galaxy's Edge
Millennium Falcon: Smugglers Run
Star Wars: Rise of the Resistance
Mickey and Minnie's Runaway Railway
Mickey Shorts Theater
Thankfully, most of the improvements needed in Hollywood Studios for the 50th Anniversary have already been finished, and to rave reviews.
Biggest of all is the amazing new Star Wars land: Star Wars: Galaxy's Edge which has lived up to most of the hype we heard for the 5 years before it was built. It has amazing and realistic theming, wonderful restaurants and shopping options, but most of all, two incredible new attractions.
The Millennium Falcon: Smugglers Run ride will have you living out every childhood dream of riding this iconic spaceship. Star Wars: Rise of the Resistance though, takes things to a completely other level and is probably the best ride in Walt Disney World at this time. Both attractions plus Galaxy's Edge as a land, are valid reasons to visit Disney World during the 50th celebration.
In 2020 we saw the debut of Mickey and Minnie's Runaway Railway, a charming new attraction filling in some big shoes for the Great Movie Ride. While it isn't a reason in-of-itself to come all the way down to Disney World, it's a must-do once you are there.
Animal Kingdom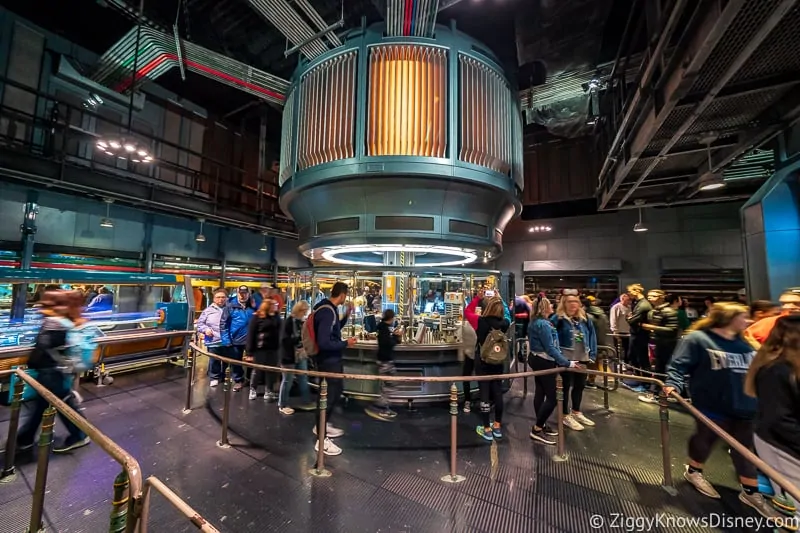 New Show – Disney KiteTales
Disney's Animal Kingdom is the park that will see the fewest additions for the 50th Anniversary, this is mostly because of more urgent attention in the other three parks.
The Animal Kingdom is doing well thanks to the huge success of Pandora: The World of Avatar with its two rides: Flight of Passage and Na'vi River Journey. Both are incredible additions and Flight of Passage is definitely one of my favorite rides anywhere. Think of it as a souped-up version of Soarin'.
We did however get a new daytime show at the Animal Kingdom called 'Disney KiteTales.' This show is performed several times daily in the Discovery River Amphitheater and features giant kites of your favorite Disney characters flying around (and crashing).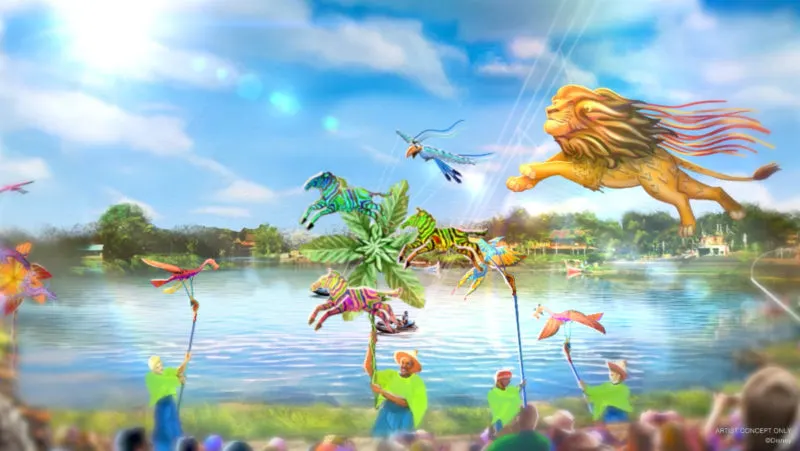 Elaborate three-dimensional kites as large as 30 feet take to the air in the shape of your favorite Disney animals including Simba, Zazu, Baloo, and King Louie. They dance through the sky to the beat of classic Disney songs that are fun for the whole family. It's more entertaining that it sounds, trust us.
Like the Magic Kingdom, one other addition at the Animal Kingdom for the 50th is the new entrance. This makes it easier for visitors coming from the buses or parking lot in this expanded area.
You can read more detailed descriptions about all the new rides and attractions coming to Disney World in the next few years in a recent post.
Disney World 50th Anniversary Rumors – "50 Magical Enhancements"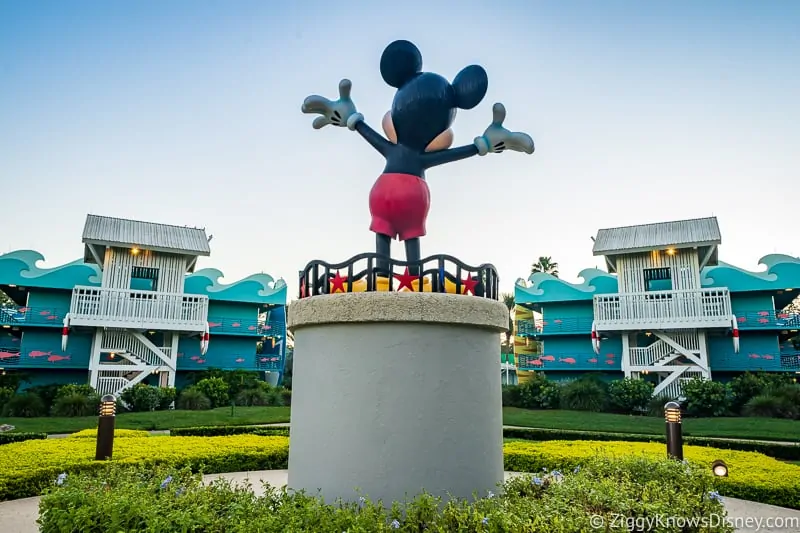 Even though there are many plans for the Walt Disney World 50th Anniversary we already know about, there are plenty that are rumored that Disney has yet to announce. In fact, the biggest rumor is that Disney is planning "50 Magical Enhancements" for the 50th Anniversary.
Some of these enhancements aren't completely new attractions but renewing and refurbishing existing ones so they are in top shape for the celebration. Enhancements that beautify the Magic Kingdom and the other parks are also included, as well as special 50th Anniversary-specific entertainment and shows.
It looks like Disney has shifted some focus away from making new attractions for the 50th, and instead wants to emphasize the existing attractions by bringing them up-to-date as much as possible. Some of the budget has now been moved into the "improvements" category.
In fact, Disney has already given a nickname to their infrastructure improvements and are calling it "Project Nugget." This is a catchall for all the various construction and refurbishments related to the 50th Anniversary.
It's important to note that we still don't have an official list of all the enhancements. Some of these projects have already been put in the parks, while others could still be on their way. Many were on the table before the closure of the parks and now might not go through due to a lack of time and money, and the many changes of leadership within Disney recently.
In any event, let's look at some of the most talked-about rumors and what we potentially could see coming to the parks for the 50th.
Magic Kingdom
Cinderella Projection Lighting Package
New Nighttime Parade
Special Fireworks Show
Big Thunder Mountain – special effects additions
Jungle Cruise – scene updates
Walt Disney World Railroad – scene enhancements
Carousel of Progress – scene change
It's a Small World – Disney character addition
Swiss Family Robinson Treehouse – refurbishment
Walt Disney's Enchanted Tiki Room – refurbishment
Astro Orbiter – refurbishment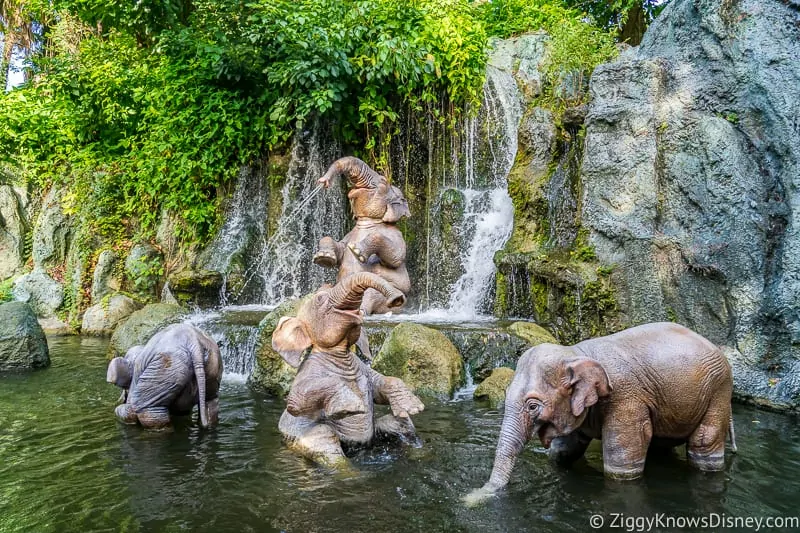 Since it is the Magic Kingdom's 50th Anniversary, and there is only one new attraction coming, Disney will take some time to refurbish some of the fan-favorite ones to make sure they are in the best shape possible.
They've been talking about adding special effects to the final show scene in Big Thunder Mountain with projection mapping effects like in the Disneyland version.
The Jungle Cruise, on the other hand, got a big update to make it more inclusive to guests. It doesn't look like we are getting an update to reflect the new film with Dwane Johnson, and if we eventually do, it won't happen in time for the 50th.
More scene enhancements could be added to the Walt Disney World Railroad once it finally opens back up, and would be an easy addition since it will still be closed for at least most of 2022.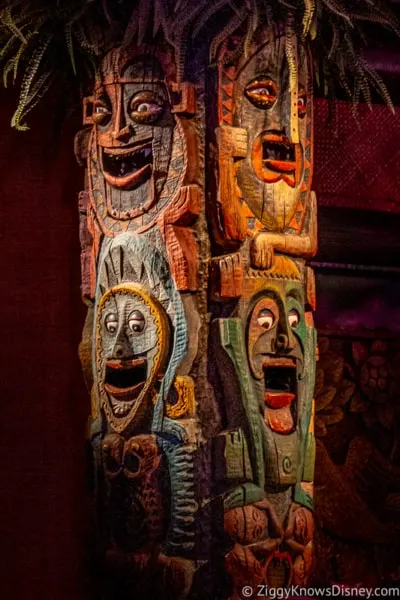 Both the Swiss Family Treehouse and Enchanted Tiki Room have been talked about, but we don't have any specifics at this time about what could realistically change. The same with any updates to the Astro Orbiter in Tomorrowland.
The Carousel of Progress is one of our all-time favorite attractions and well-deserving of some much-needed attention. For years they've talked about updating the final show scene and bringing it more up-to-date technology-wise, so we'll keep an eye on that.
One that I'm surprised hasn't been worked in already since it's already in Disneyland is adding the Disney characters to show scenes in It's a Small World. As controversial as it was in Disneyland, we think it's a good fit and a way to involve guests a bit more in the ride.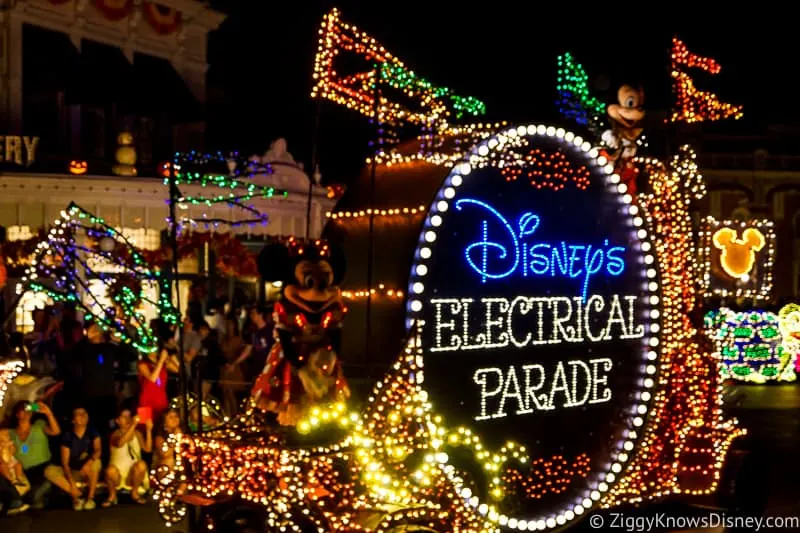 Maybe the biggest rumor, however, is a new nighttime parade for the Magic Kingdom. The park hasn't had one since 2016, and 5 years is way too long for the premiere park in the biggest theme park destination in the world to not have a nighttime parade. Disney was supposedly seriously considering this before the closure, but now that probably isn't going to happen.
As an alternative to a brand new nighttime parade in the Magic Kingdom, it looks like we might be getting "Paint the Night" to come over from Disneyland instead as a temporary option. The only snag is the "Mack" float from the Cars franchise, as it can't do the Magic Kingdom parade route. Either a new float needs to be made, or they can just drop him from the show.
You already know about the new projection lighting package on Cinderella Castle which has added ornaments, a special anniversary crest, and gold bunting, along with special effects.
Lastly, there have been two 50th Anniversary-specific shows announced, one at the Magic Kingdom and EPCOT. In similar past celebrations, Disney has included a new fireworks show to celebrate and the same thing has happened here.
Disney Enchantment and Disney Harmonious have now permanently replaced Happily Ever After and EPCOT Forever. These two shows will hopefully last well beyond the 50th anniversary and into the rest of the decade.
More possibilities are new stage shows or a new dance party. We'll have to see what develops in the coming months.
EPCOT
Spaceship Earth Projection Lighting Package
New World Showcase Country
Journey Into Imagination Overhaul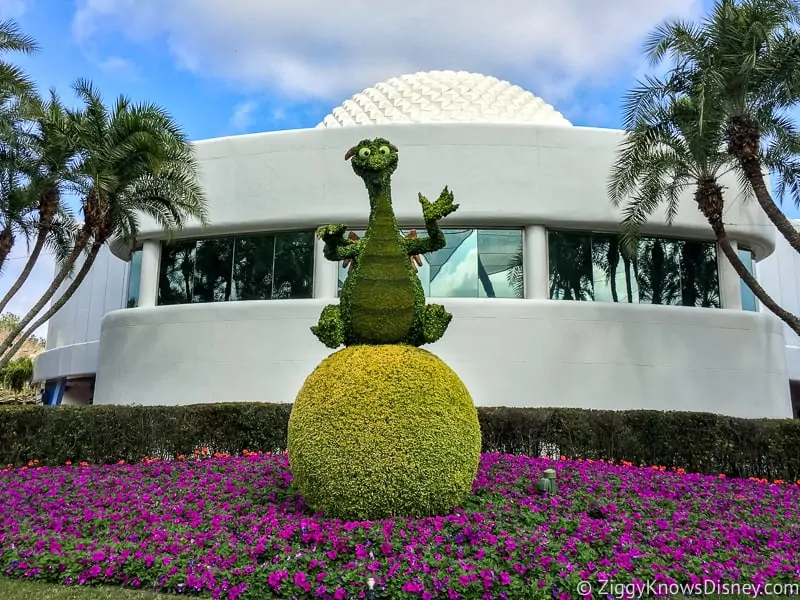 Most of the updates coming to EPCOT for the 50th Anniversary have already been announced. The most common two you always hear are an update to the Journey Into Imagination ride and a new country finally coming to World Showcase.
At this point, I think both of these are off the table and won't be built in time for the celebration. Out of the two, I think there was more of a chance to see a new country in World Showcase, but again, time and money are limiting factors and it looks like we'll have to wait a bit longer.
The same goes for a Journey Into Imagination refurbishment. A re-do is definitely needed, but it just isn't going to happen at this point. Besides these two, we aren't hearing much else as EPCOT needs to just concentrate on the Future World overhaul and the new rides they are already building. Those should be more than enough if they are able to be done in time for the 50th.
Hollywood Studios
Tower of Terror – New Projection Lighting Package
Tower of Terror – Ride Special Effects.
With all the enhancements to this park over the last few years, Hollywood Studios should be relatively quiet leading up to the big event. The only one that is definitely happening at this point is the new projection lighting package for the show on the outside of the Tower of Terror building.
We are also hoping for the rumored new special effects in the elevator shafts of the Tower of Terror ride, but nothing has been confirmed yet.
Animal Kingdom
Tree of Life – New Projection Lighting Package
Expedition Everest – Fixing the Yeti
When is Disney going to fix the Yeti? Your guess is as good as mine at this point. This one always gets talked about, but there are more pressing issues on hand and they won't have the budget to get this one done by Disney's 50th Anniversary.
What is confirmed is the new projection lighting show on the Tree of Life, similar to the projection lighting on the other park icons.
Resort Hotels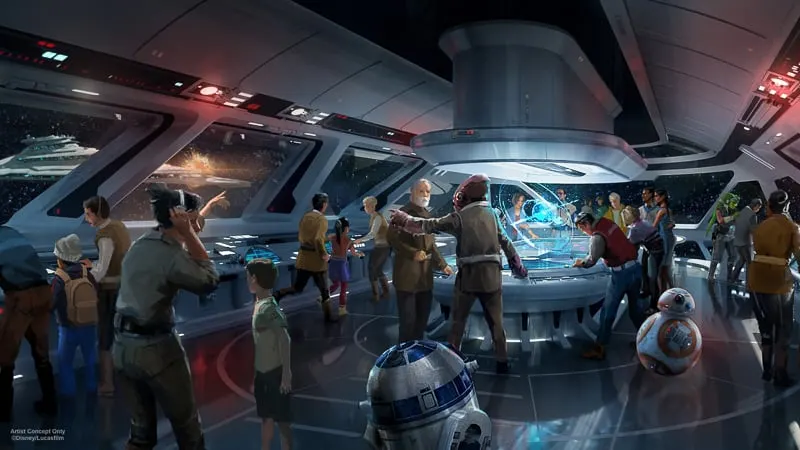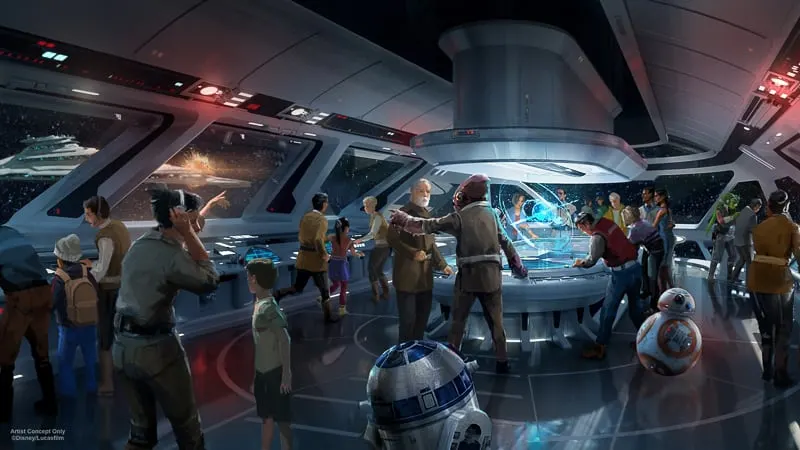 Star Wars: Galactic Starcruiser Hotel
Disney's Contemporary Resort
The Walt Disney World Swan Reserve
Reflections: A Disney Lakeside Lodge
With potentially fewer guests coming to Disney World in the next few years than originally planned new resort hotels would seemingly be at the bottom of the list for Disney to build. We've already found out that one of these hotels is not going to be built in time for the 50th Anniversary celebration.
The Star Wars: Galactic Starcruiser Hotel is the most hyped one of the group, and after experiencing it ourselves, we were left speechless. Time will tell if the market is there for such a high-end experience long-term. This new hotel experience opened on March 1, 2022, and will continue to be a big draw for the 50th.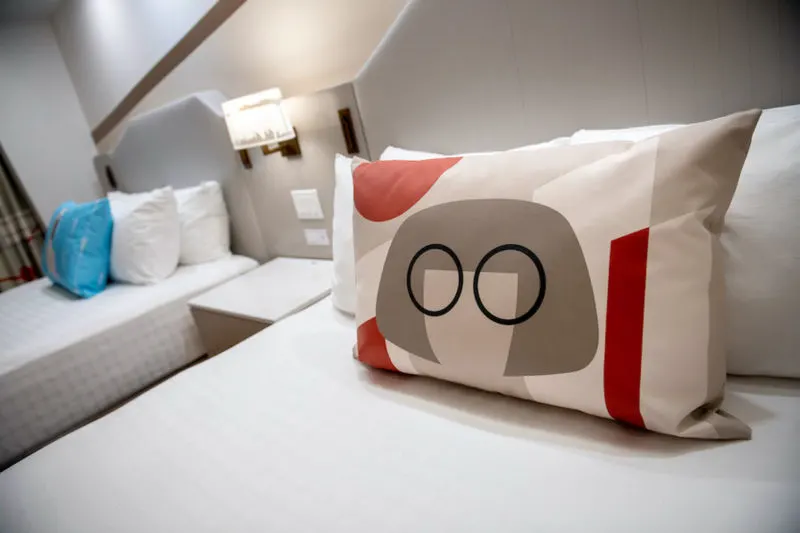 There is plenty of work going on right now at Disney's Contemporary Resort as all the guest rooms have been reimagined to The Incredibles theme. We are mixed about the change and while a great idea, there could be more details to make the rooms really stand out.
Also, The Wave restaurant has been re-themed to a casual dining concept called Steakhouse 71. We LOVE this place and it should be one of your must-try restaurants on your next visit.
The Walt Disney World Swan Reserve recently got a new name change, and the construction is now finished with reservations available to guests.
The construction on Reflections: A Disney Lakeside Lodge is a mystery as Disney hasn't come out and said officially that the project has been canceled the project. It doesn't make a lot of sense to go forward since Disney won't need more hotel rooms for a while.
The situation is strange since it was one of the only construction projects in Walt Disney World that continued during the park closures. It will probably get built eventually, but maybe not until 2024 or later.
Even if it's not built, if you are coming down for Disney World's 50th, there will still be plenty of new places to choose from!
Special Food for the 50th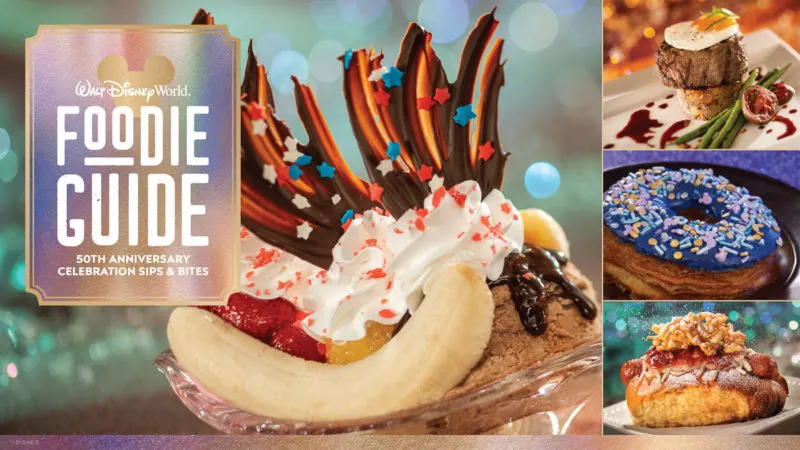 Disney always does special event-themed food for whatever kind of celebration they are doing, and this might be the biggest and best they have ever done. In fact, there are 150 themed food and beverage offerings for the 50th celebration!
Expect to see the iridescent rainbow colors on cupcakes, cookies, pastries, cakes, churros, pretzels, ice cream, dole whips, and just about any other Disney food item you can think of! There are a ton of great options including a myriad of new dole whips that you have to try!
Click here for the full Disney World 50th Anniversary Food & Drink Guide.
50th Anniversary Characters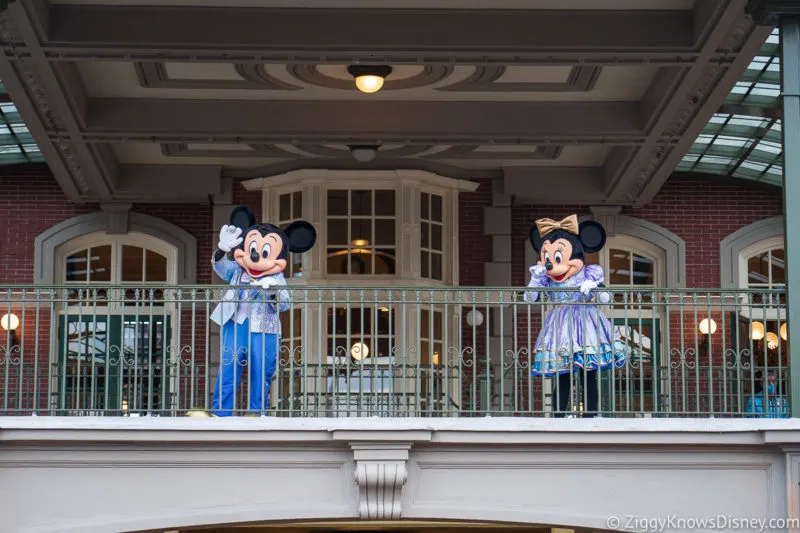 You can't have an anniversary party without the hosts, and they are all dressed up in new EARidescent costumes. Mickey and Minnie Mouse are going to be front and center for the entire celebration along with Goofy, Pluto, Donald, Daisy, Chip, and Dale.
Each of them has custom-made costumes and they are heavily featured during the celebration, including on the new 50th Anniversary Character Cavalcade. Let's take a look at them:
Mickey is looking dapper in his 50th tuxedo on top of the character cavalcade.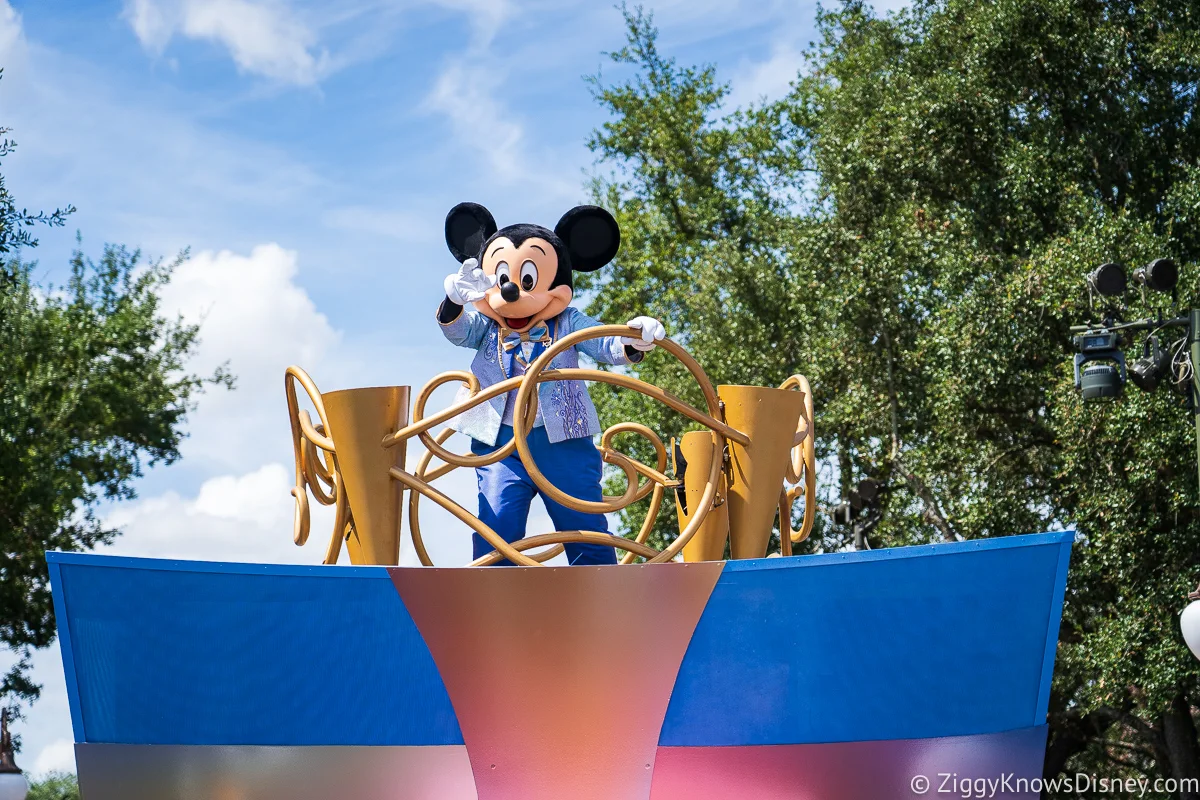 Minnie is looking as beautiful as ever in her EARidescent dress on her cavalcade in front of the castle: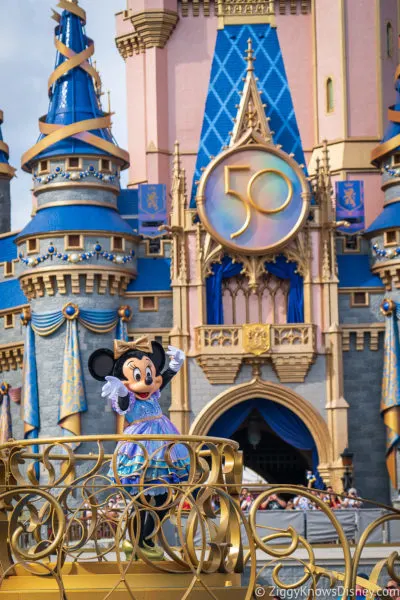 Mickey is joined on the cavalcade with Donald and Daisy Duck in their shiny new EARidescent outfits: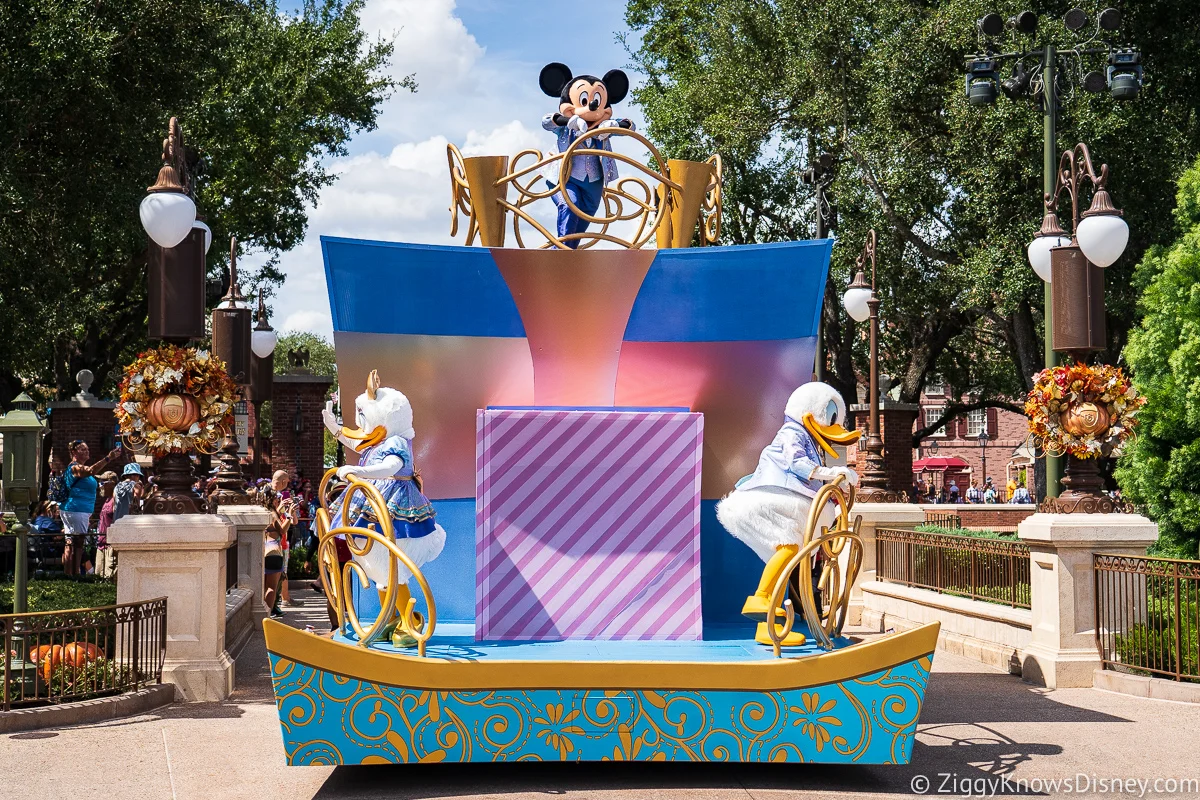 On the cavalcade with Minnie are Goofy and Pluto who also have received NEW custom-made EARidescent makeovers: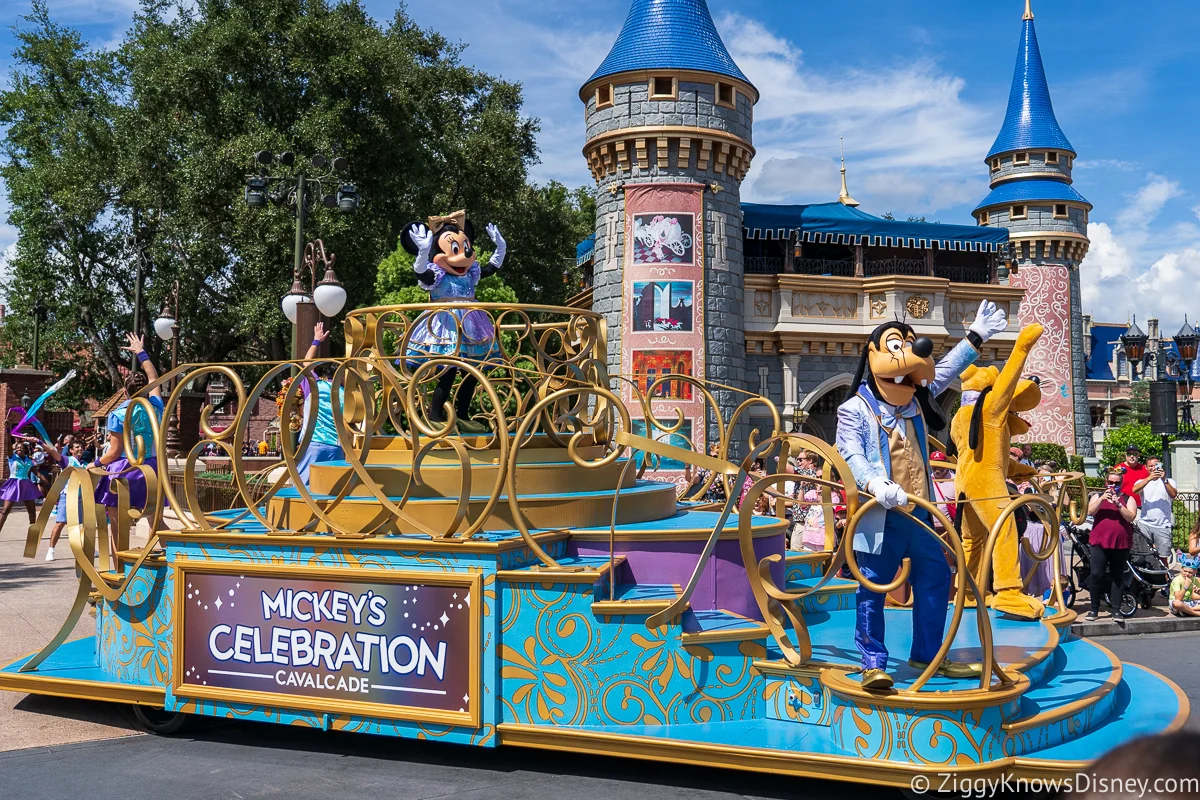 Many of the characters can be found at the Train Station on Main Street U.S.A. greeting guests. Here you can get a look at Chip and Dale with fancy tuxedo vests and bow-ties.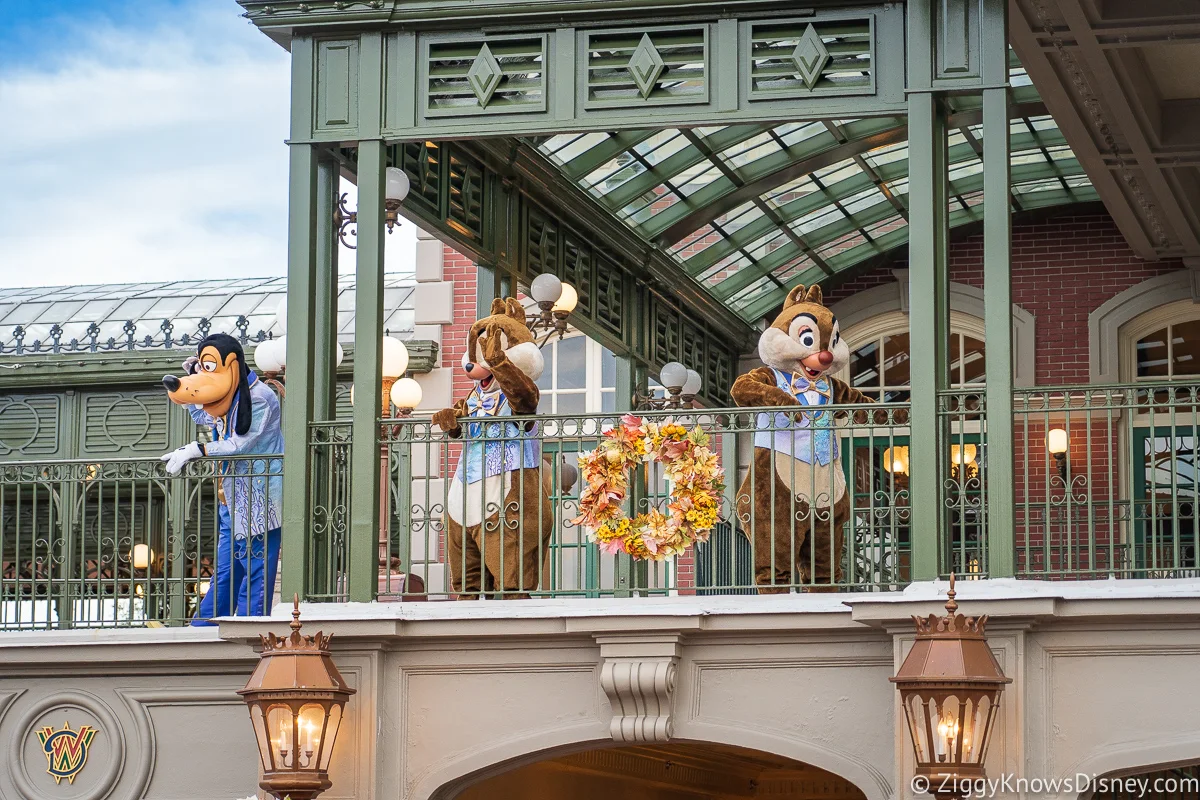 Character meets have returned to Walt Disney World, so you'll even be able to meet your favorites and give them a hug on your next trip!
Fab 50 Golden Statues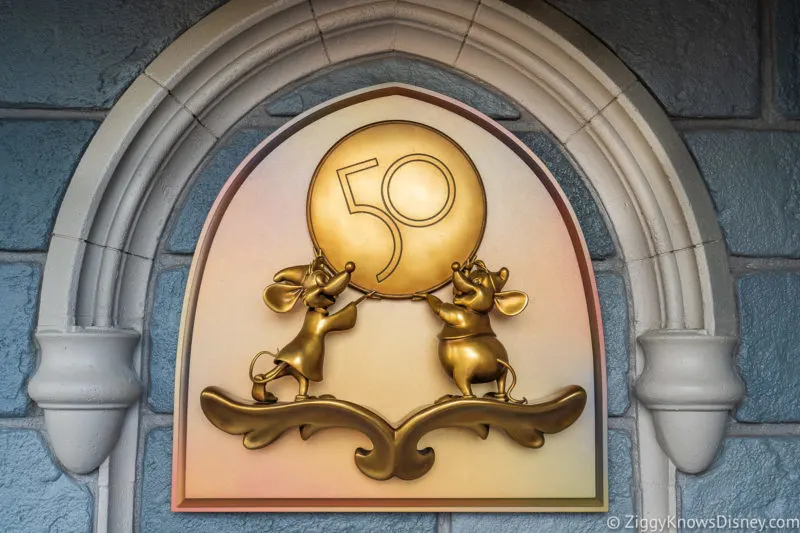 Not only can you see the characters in person during the 50th Anniversary, but there are also 50 specially-made golden statues scattered around the 4 theme parks featuring some of the most iconic Disney, Pixar, Star Wars, and Marvel characters.
In our guide, you can see all the Fab 50 Golden Statues and how to find them, but for now, here is a sample of some of them…
Magic Kingdom
Of course, you'll find Mickey and Minnie Mouse upfront and center near Cinderella Castle: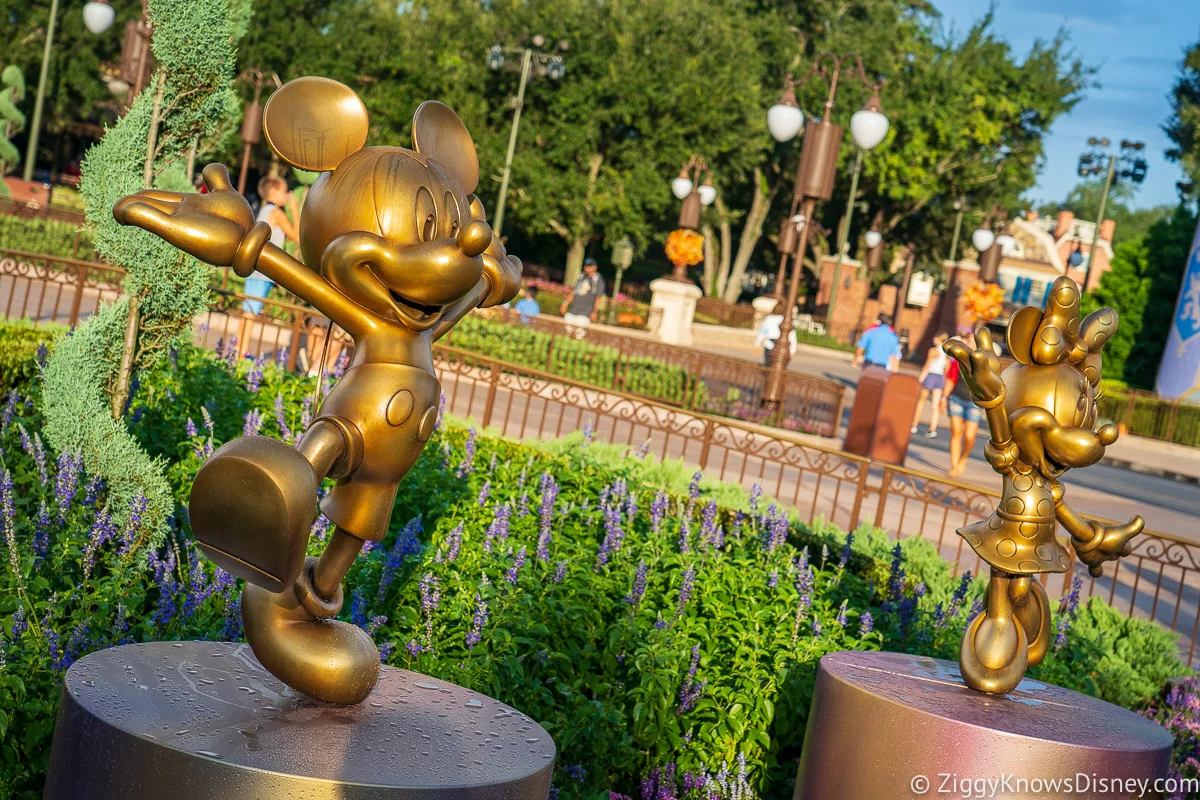 Lady and the Tramp are over at the town square on Main Street U.S.A: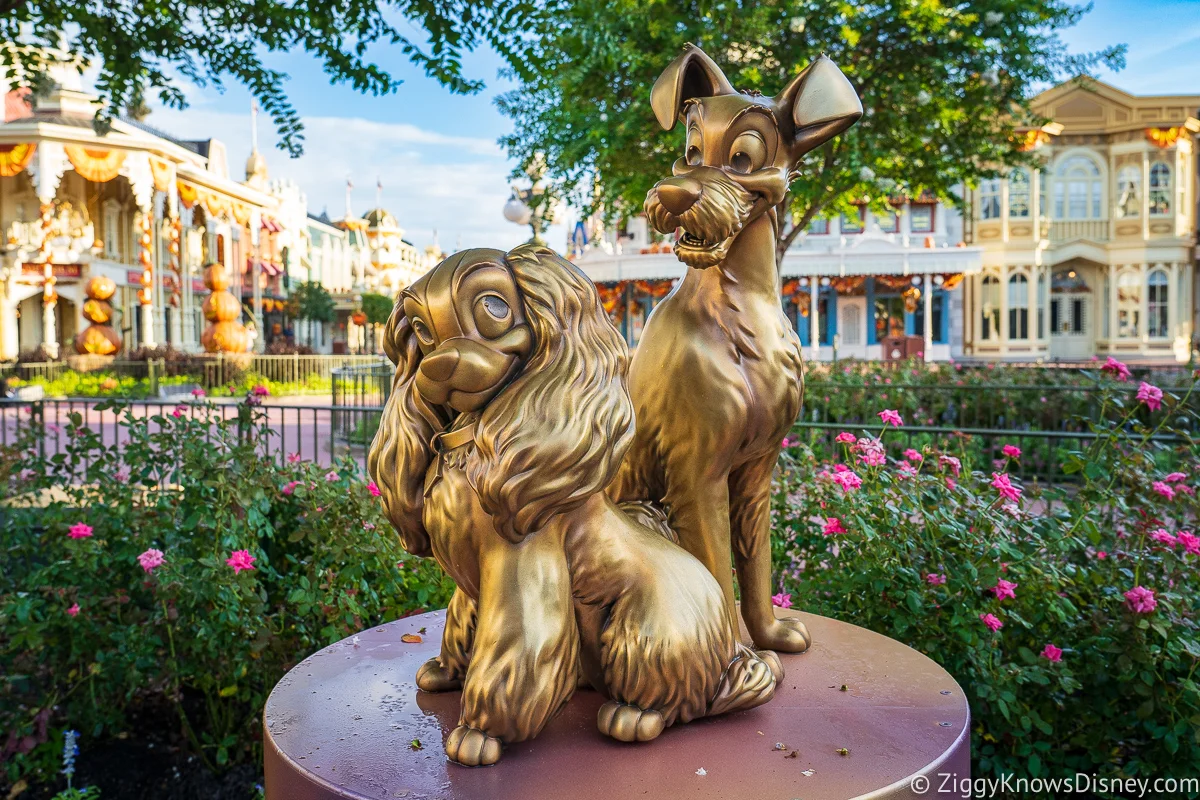 You can find characters in other lands like the Cheshire Cat in Fantasyland: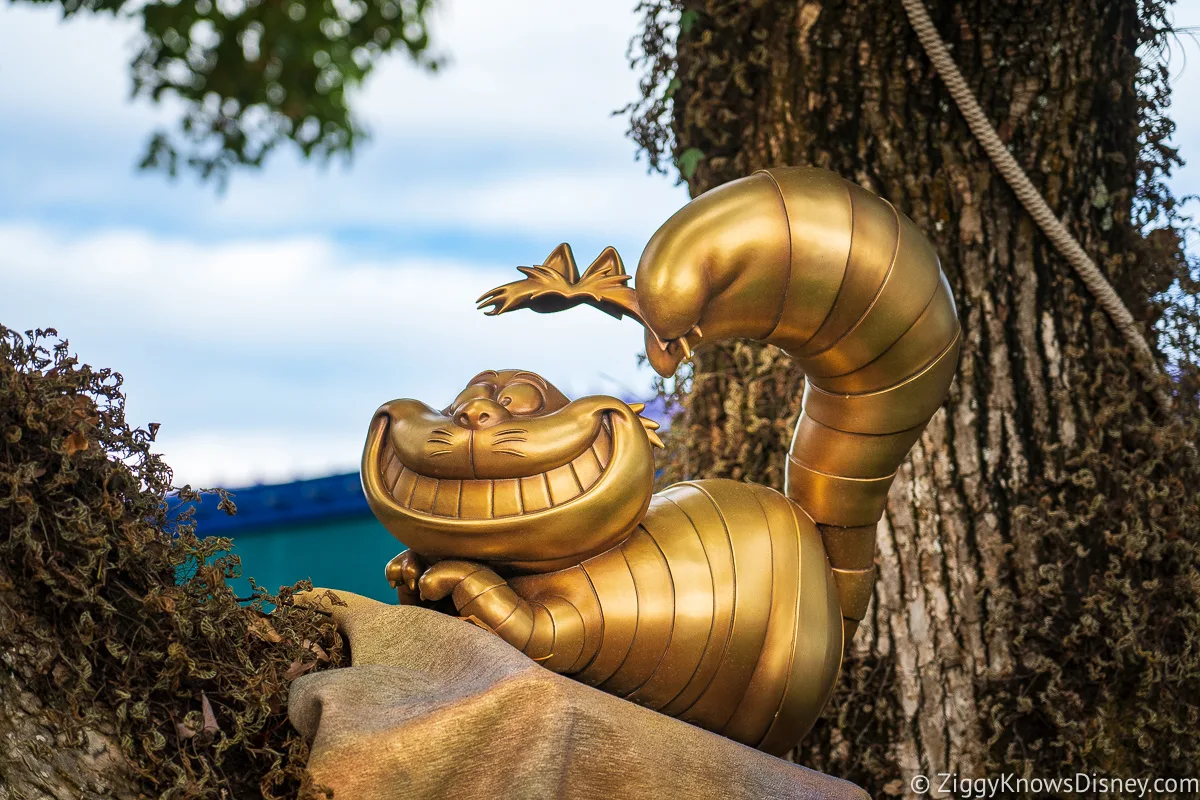 EPCOT
In EPCOT, who else would you expect to find but Figment?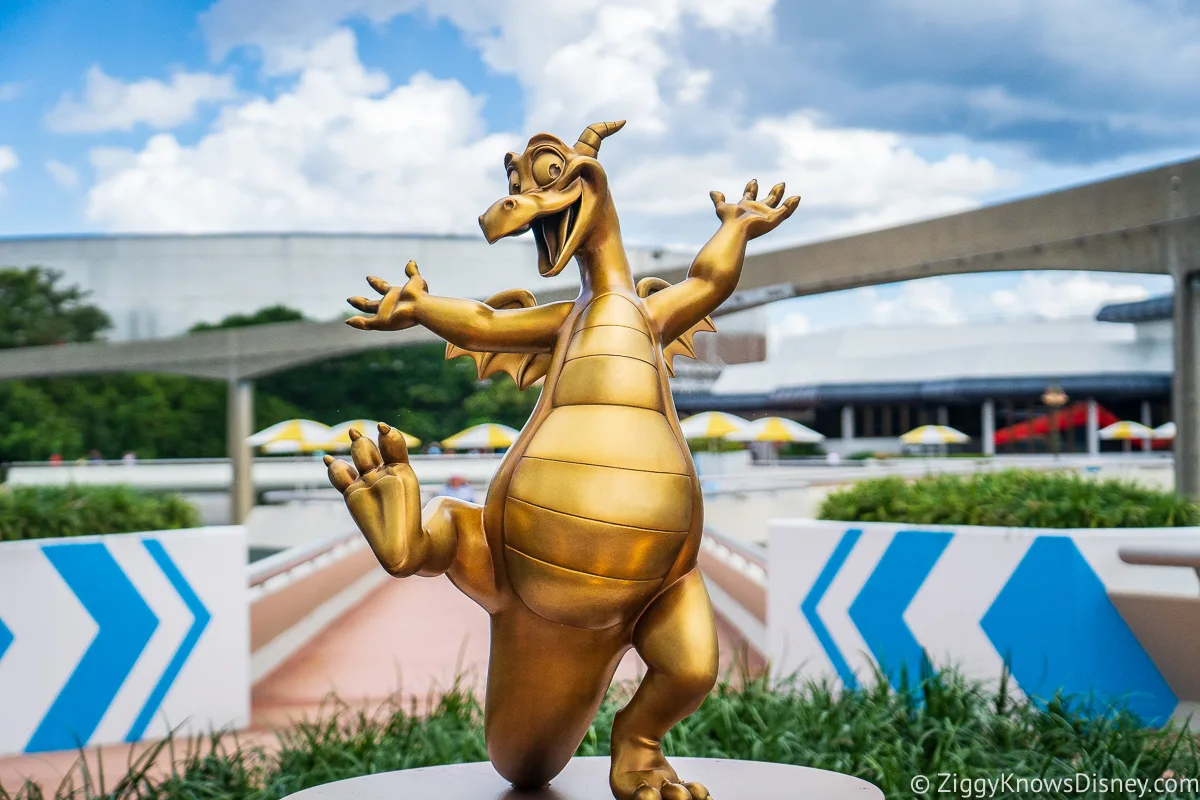 Miguel and Dante from Pixar's Coco are in World Showcase, along with Olaf, Rocket, Groot, and more: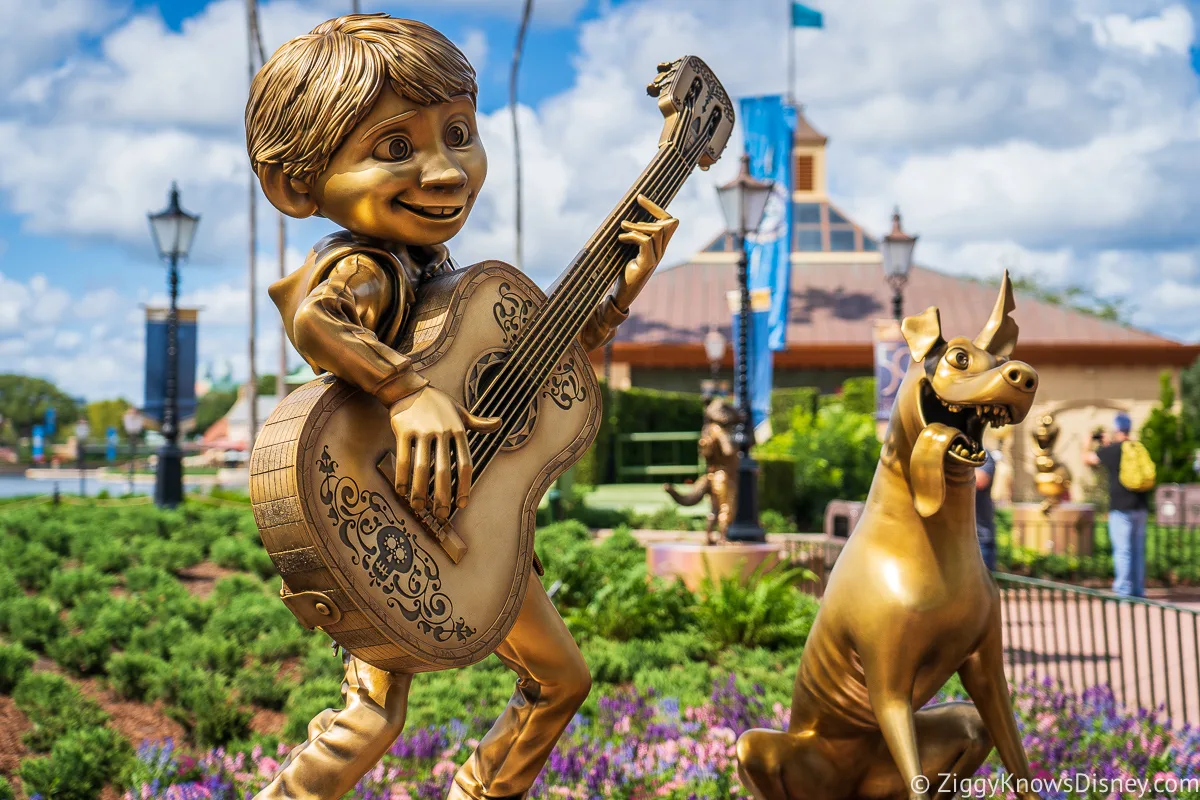 Hollywood Studios
Hollywood Studios features a nice mix of Disney/Pixar animated characters and even Star Wars. Here is Joe Gardner from Soul:
Flounder and Sebastian from The Little Mermaid are in Animation Courtyard: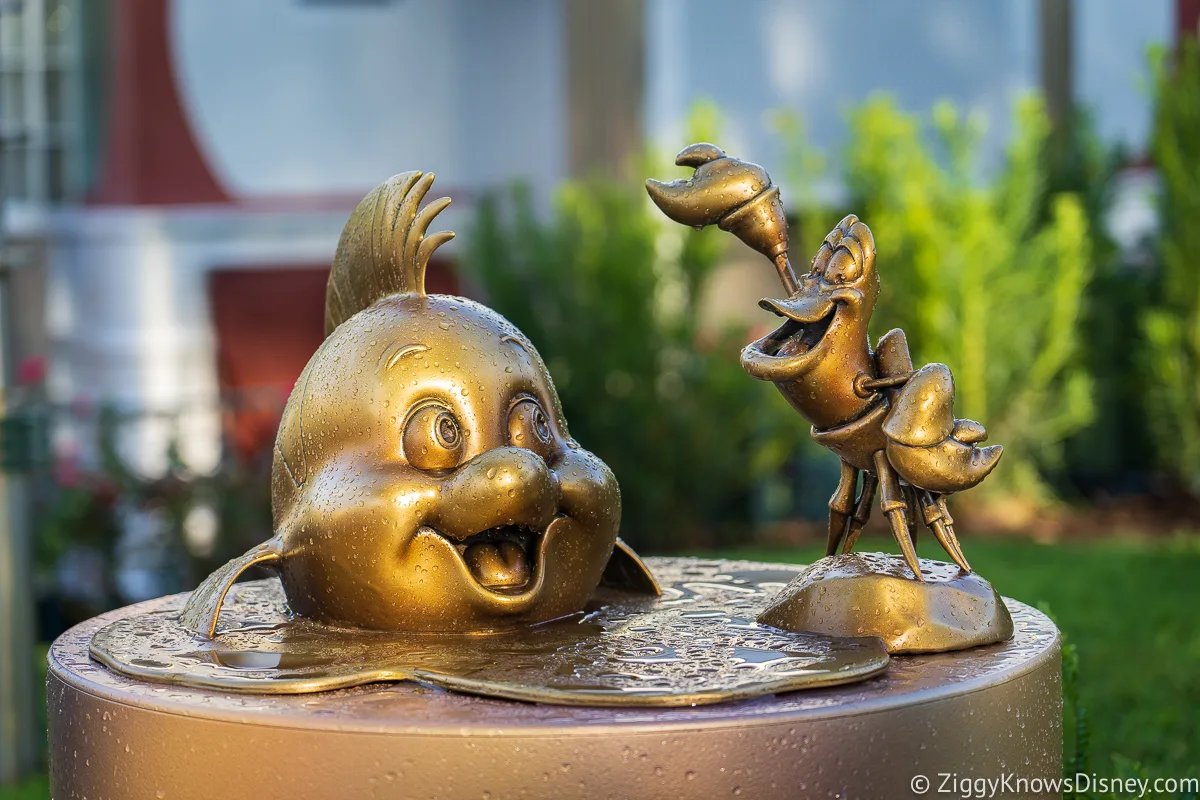 Our two favorite droids BB-8 and R2-D2 from Star Wars are also looking amazing: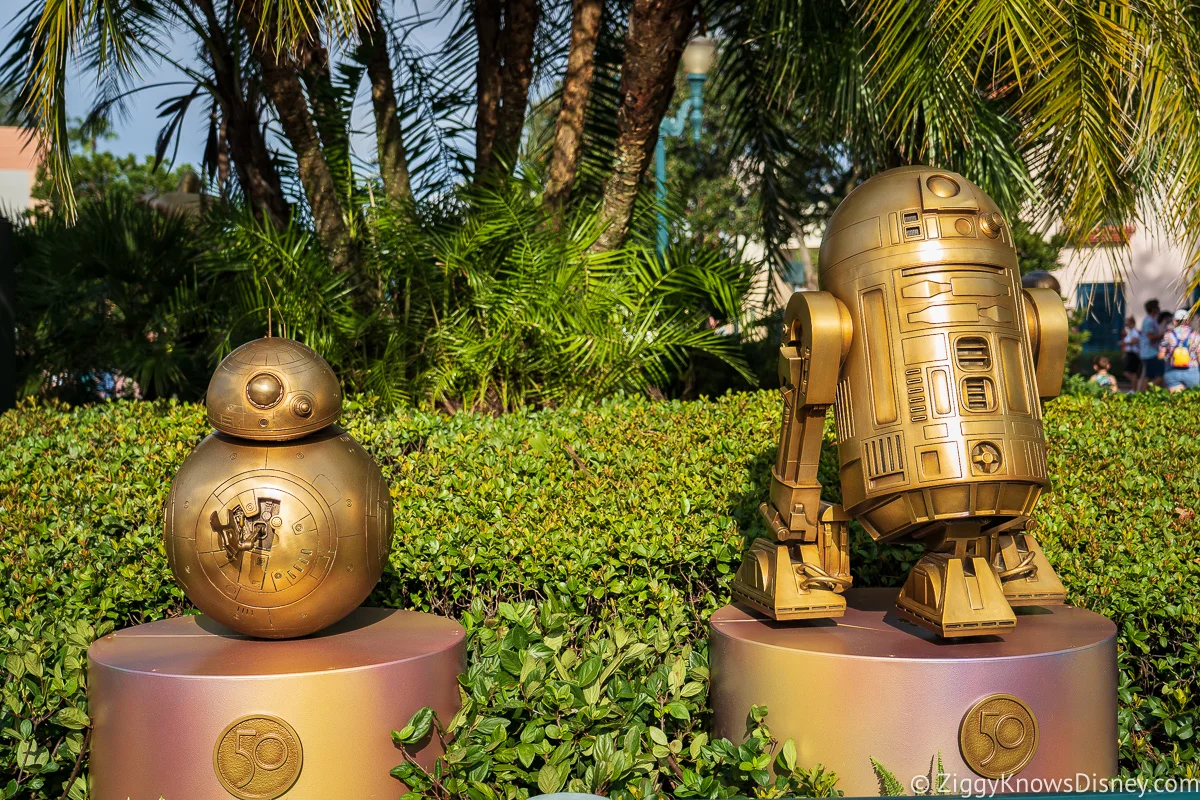 Animal Kingdom
Lastly, in the Animal Kingdom, all the characters are near The Tree of Life. Simba, Timon, and Pumba from The Lion King might be our favorites: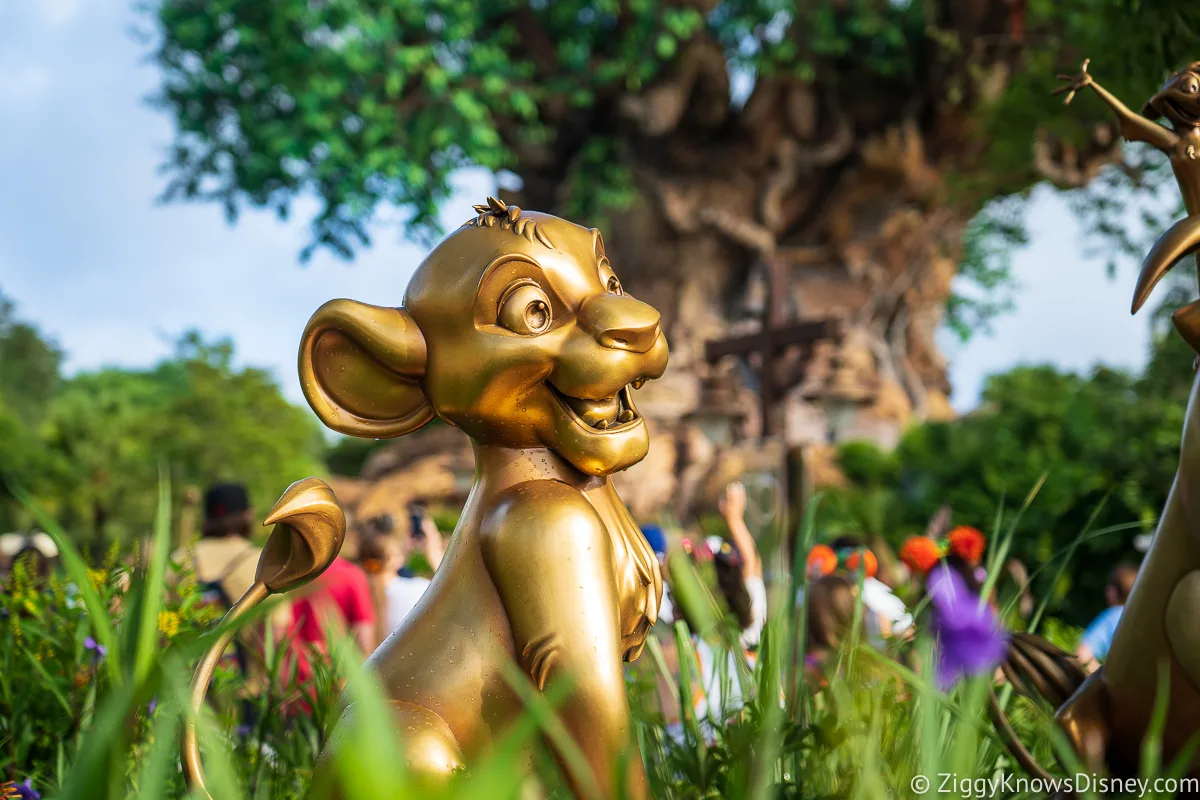 Bambi and Thumper are nearby: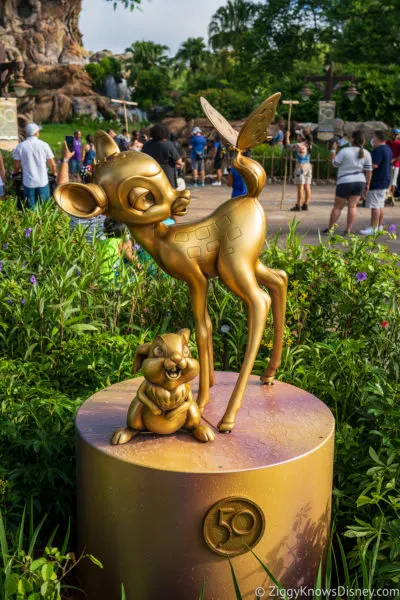 As well as Nemo and Dory: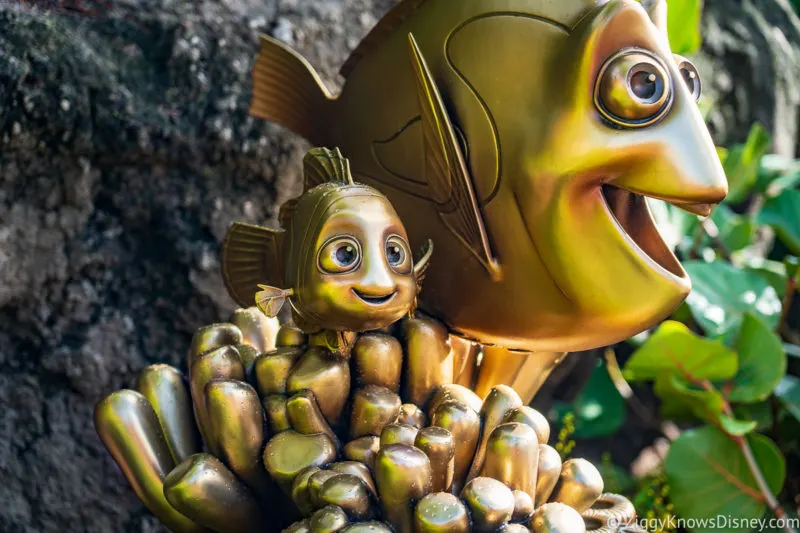 These sculptures are some of our favorite additions for the celebration and we hope they stay around long after it's over.
Decorations
Disney has got the parks all dazzled up for the 50th Anniversary celebration with decorations at every turn. Let's take a look at some examples.
Before you walk into the Magic Kingdom, you will see the Mickey and Minnie topiaries in front of the entrance, and the 50th Anniversary cake is right in the middle.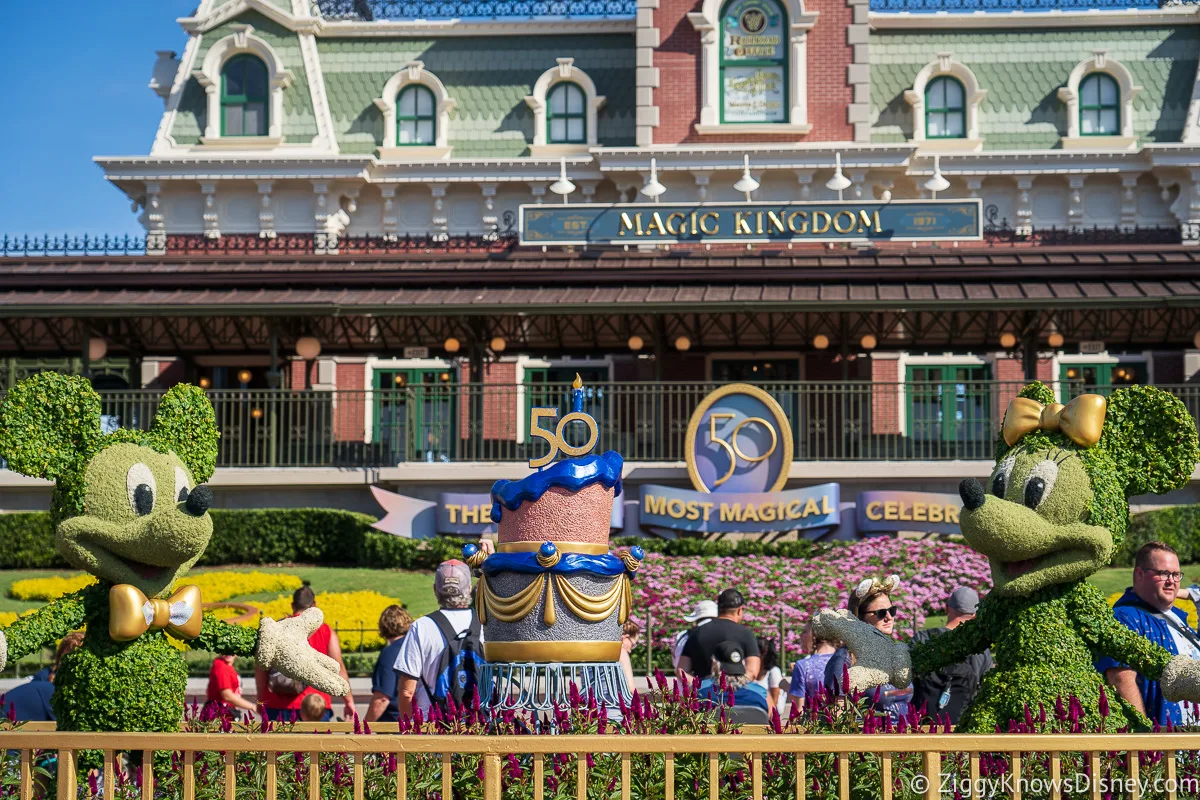 This is a photo op for guests so make sure to stop here before going into the park.
Then once you walk through the tapstiles you get a better look at the 50th Anniversary sign in front of the train station. It reads: "The World's Most Magical Celebration."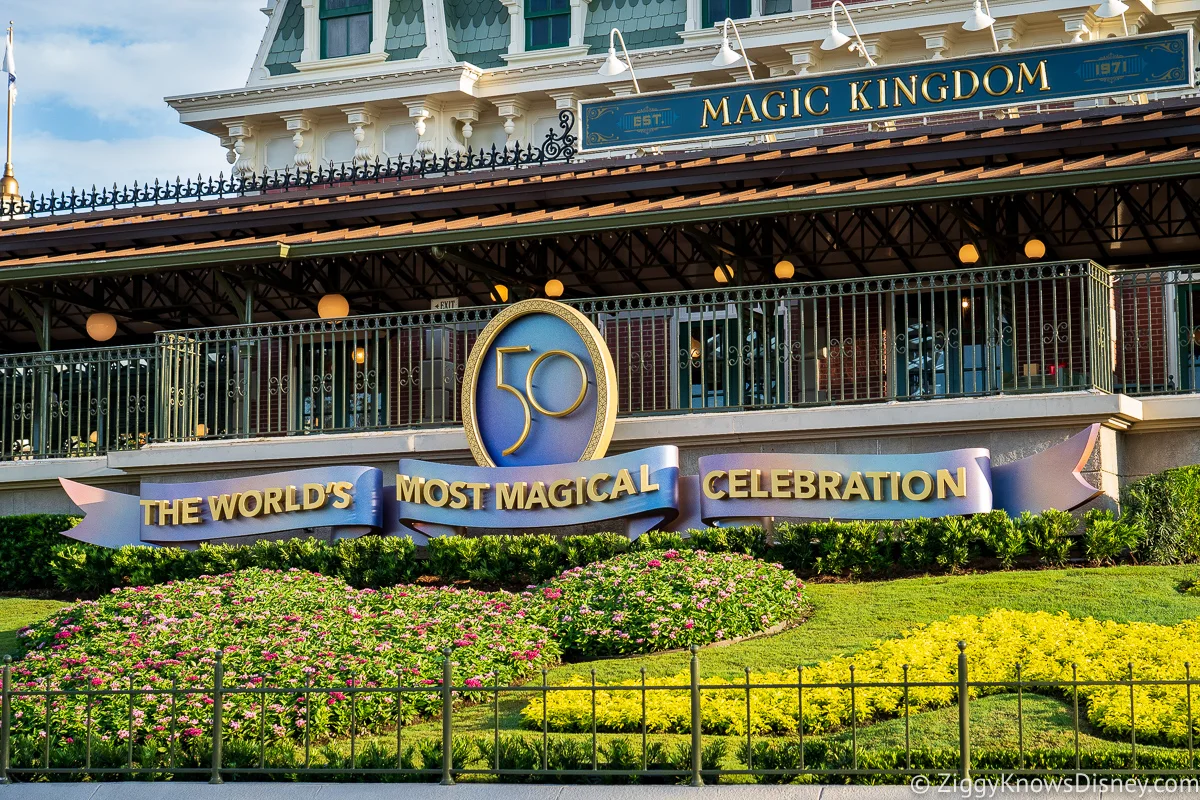 That is just the beginning, on Main Street U.S.A. the old gas lampposts have been turned into gold!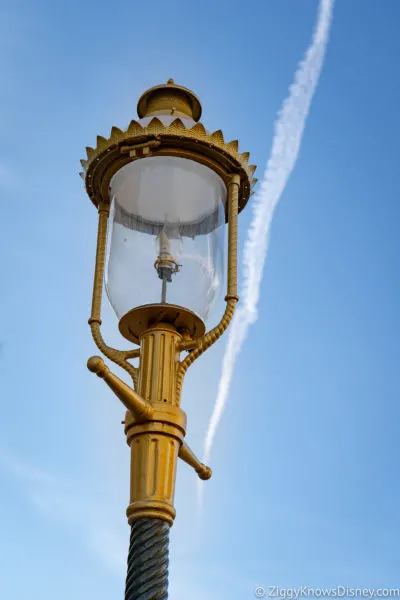 So has the Citizen clock tower on Main Street. It looks amazing painted gold!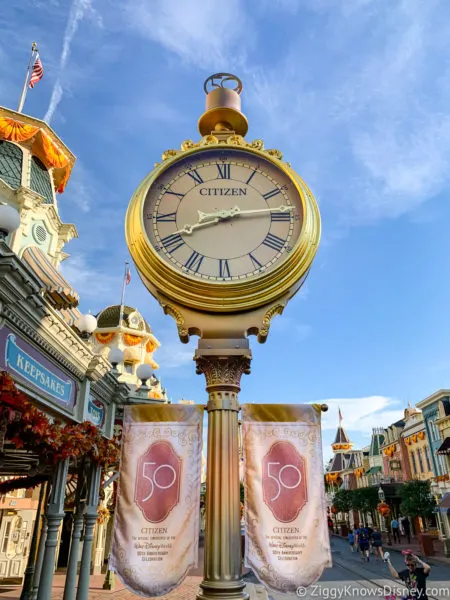 We already took a look at Cinderella Castle earlier, but check out the giant 50th Anniversary sign on the front: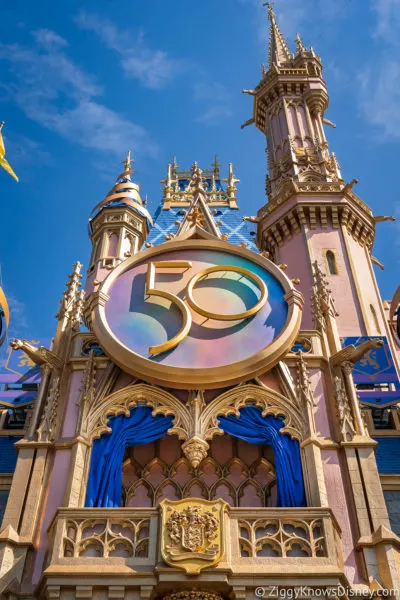 It has the EARidescent colors on the face.
The 50th Anniversary banners are found in and around all 4 theme parks like this one on Sunset Blvd at Disney's Hollywood Studios: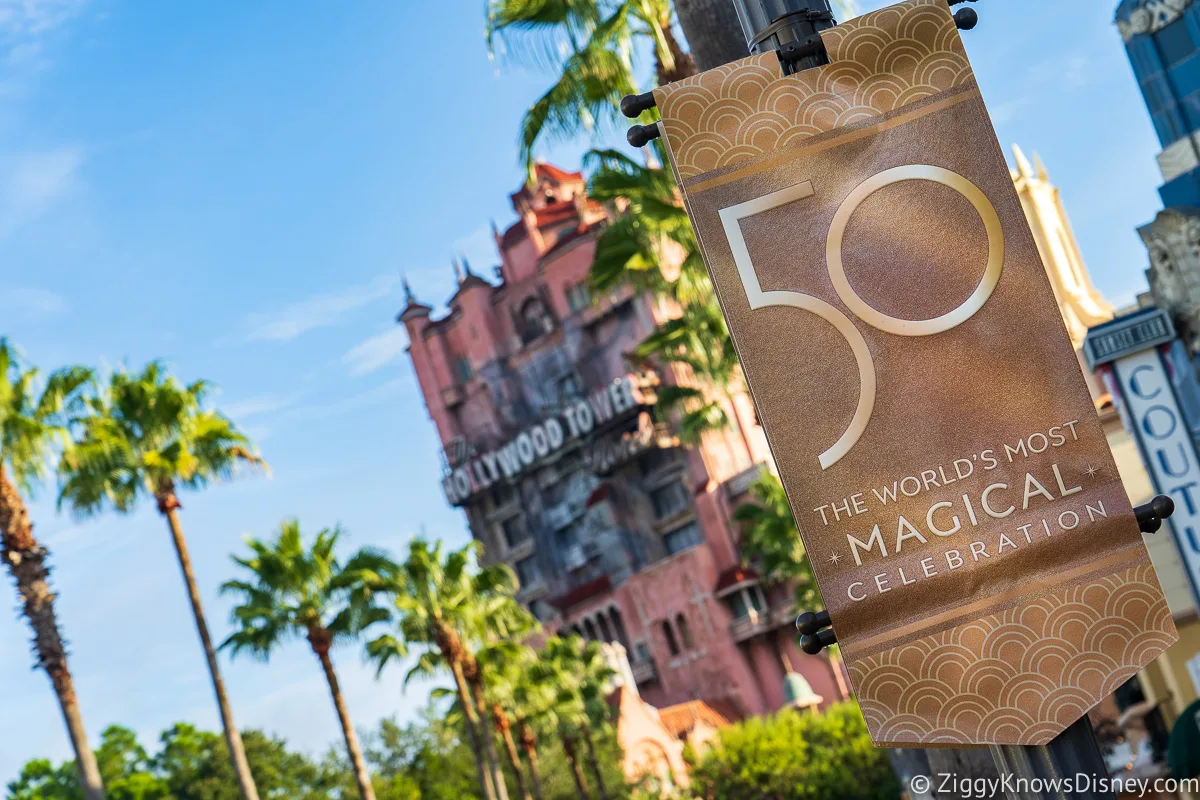 There are even 50th decorations up at Orlando International Airport at the shuttle station to the gates: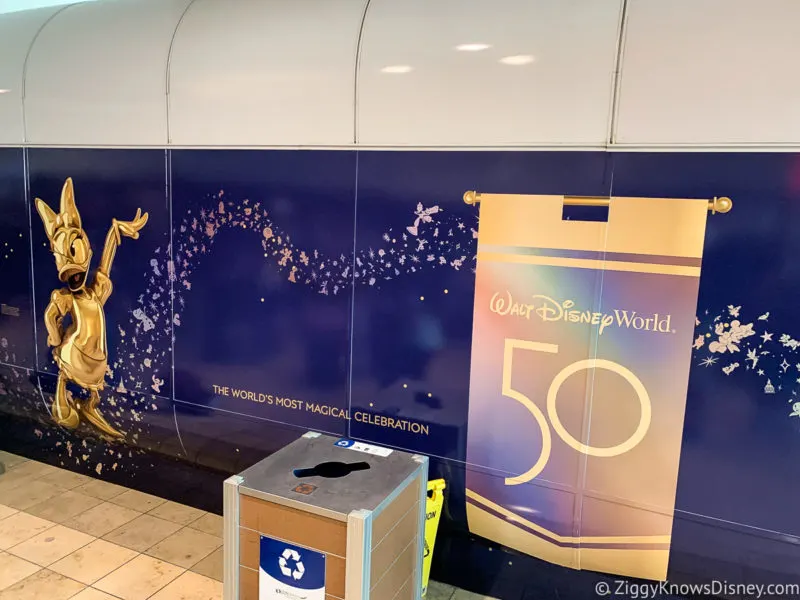 50th Anniversary Merchandise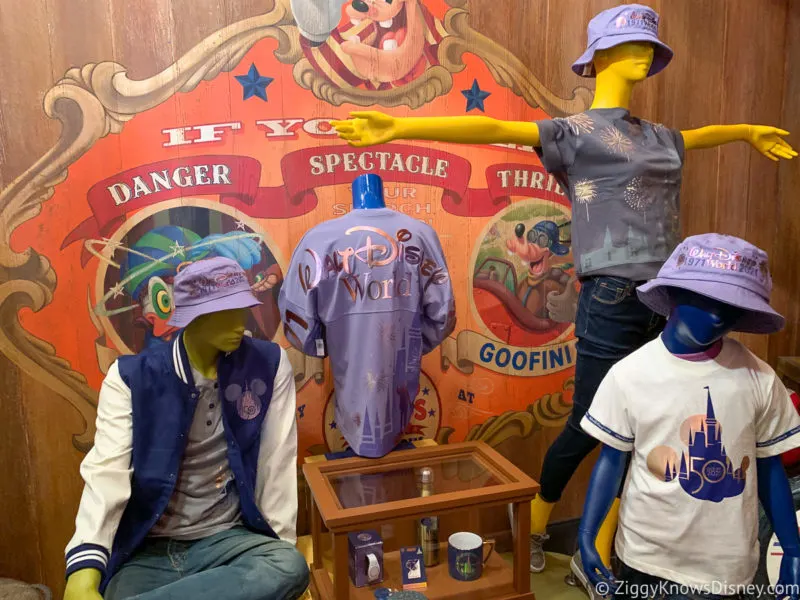 If you thought there is going to be a lot of food offerings, wait until you see all the Disney World 50th Anniversary merchandise that is for sale in the parks and resorts!
You'll see that same 50th Anniversary "EARidescence" rainbow design and the logos on sweaters, t-shirts, hats, pants, mugs, sipper cups, MagicBands, and more. There is plenty of limited-edition merchandise too, which will make this event a Disney collector's dream come true!
Here is a look at a few of the items you can expect to find…
Popcorn Buckets – These have been flying off the shelves and one of the most popular items for the 50th.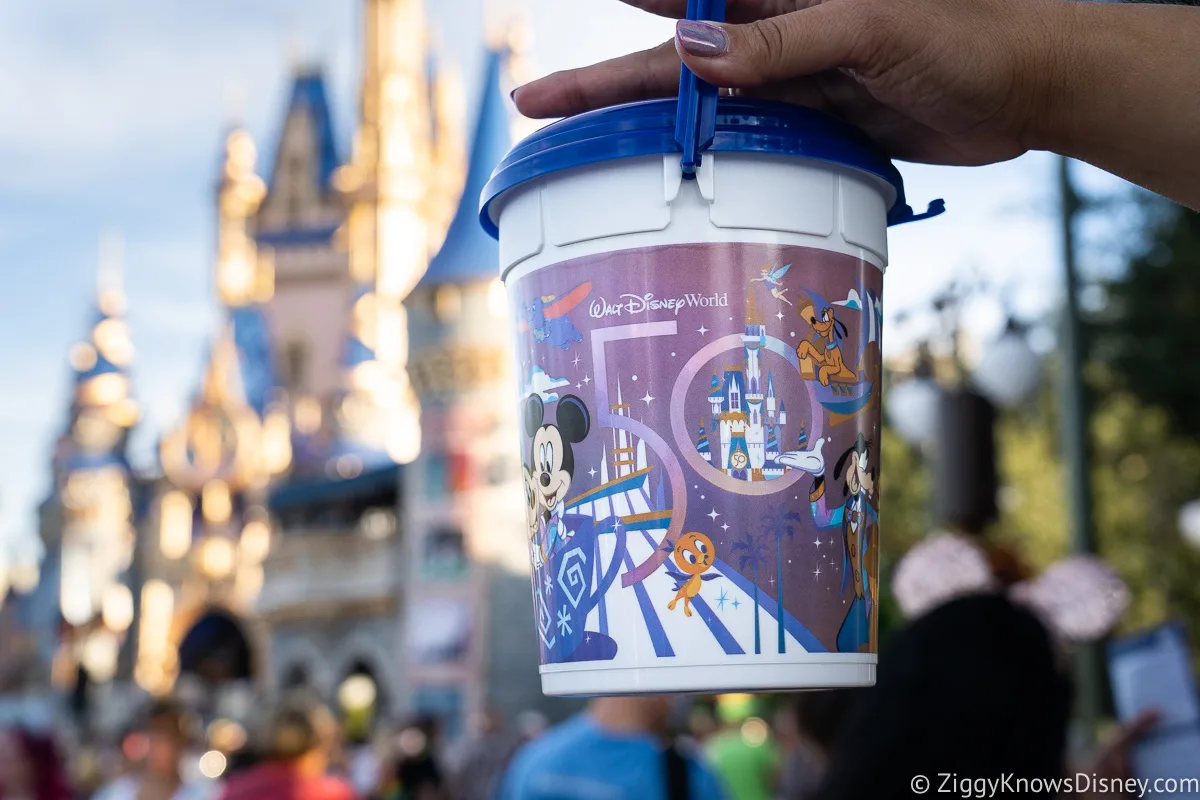 50th Anniversary Mugs: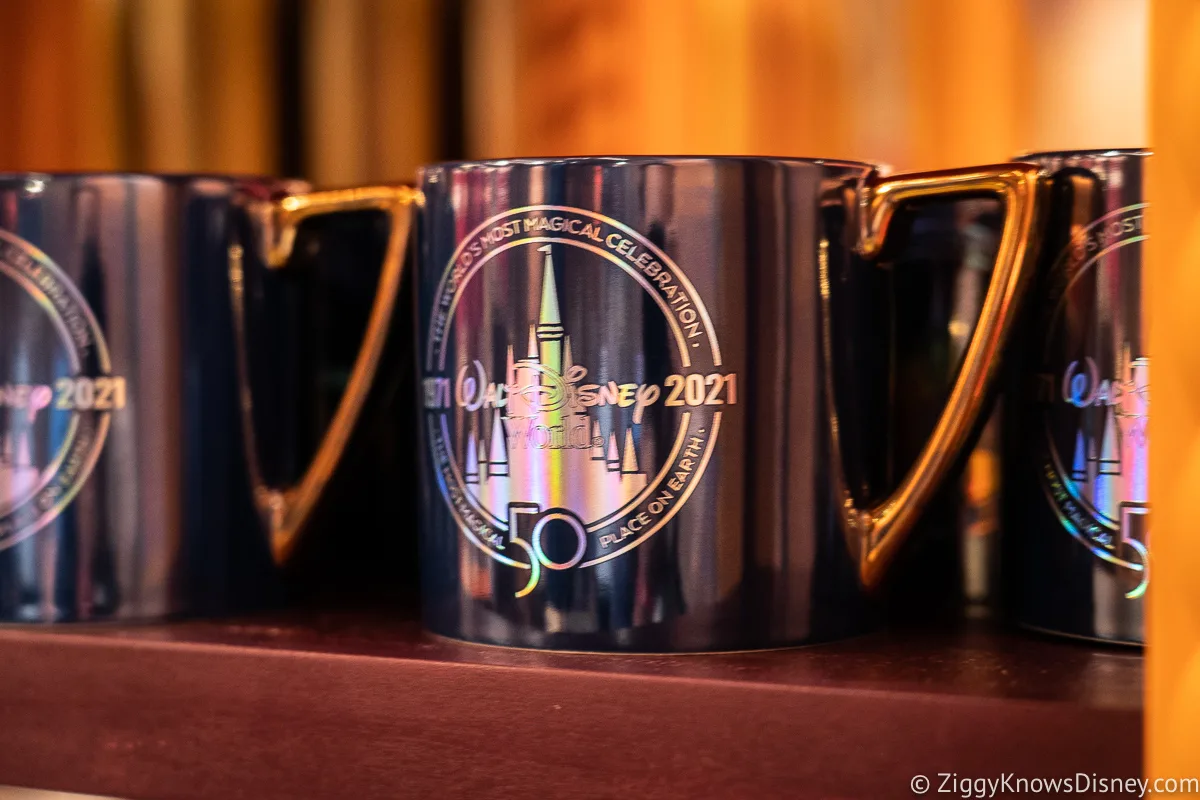 50th Anniversary Jacket: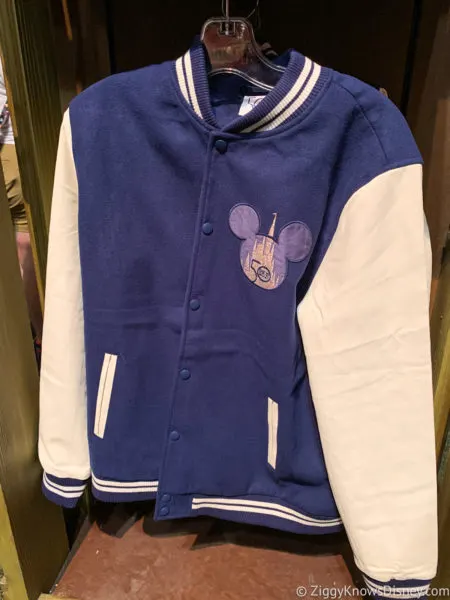 50th Anniversary T-Shirts – These are too many to count with dozens of styles for all tastes: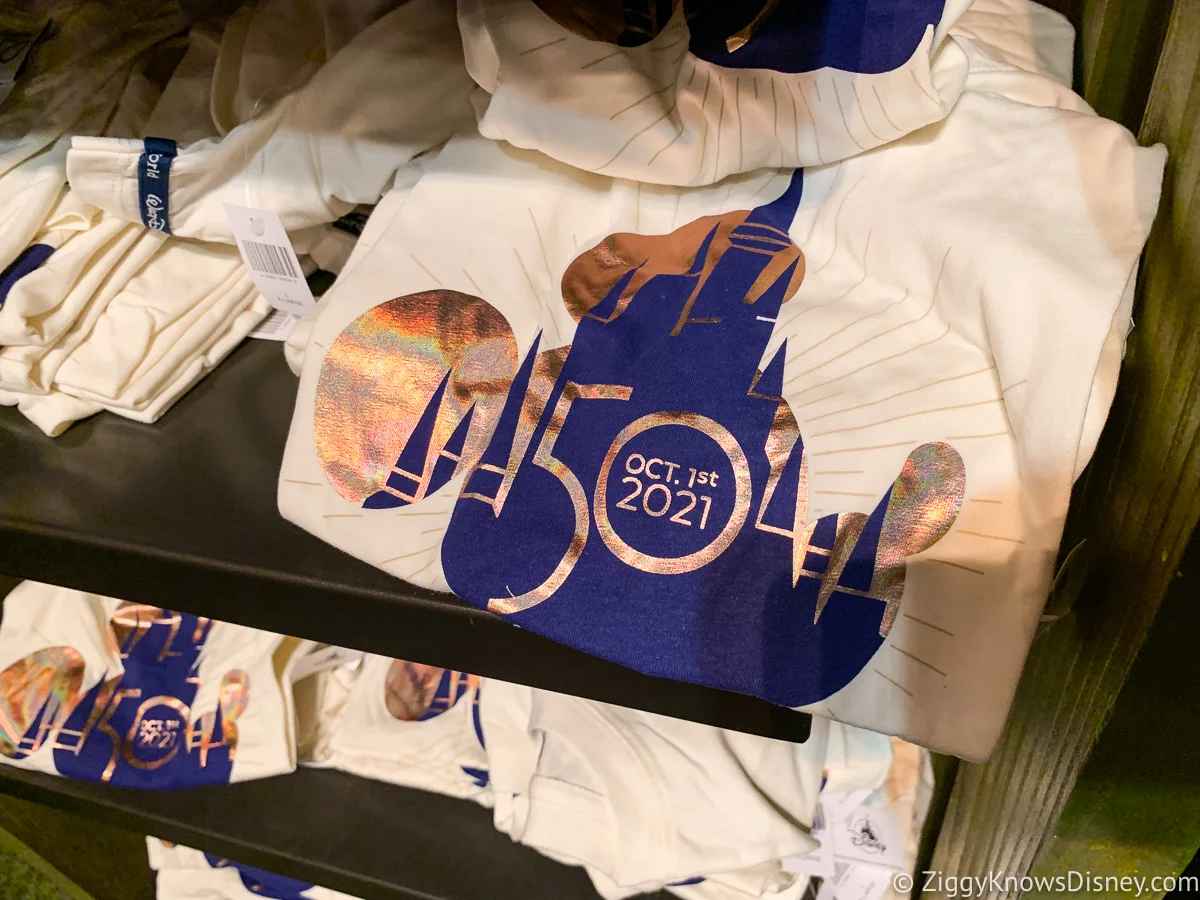 These are only a few of the 50th Anniversary merchandise items you will find when you visit. Make sure to bring some extra room in your luggage because you'll probably want to bring a few things back home with you.
MagicBand+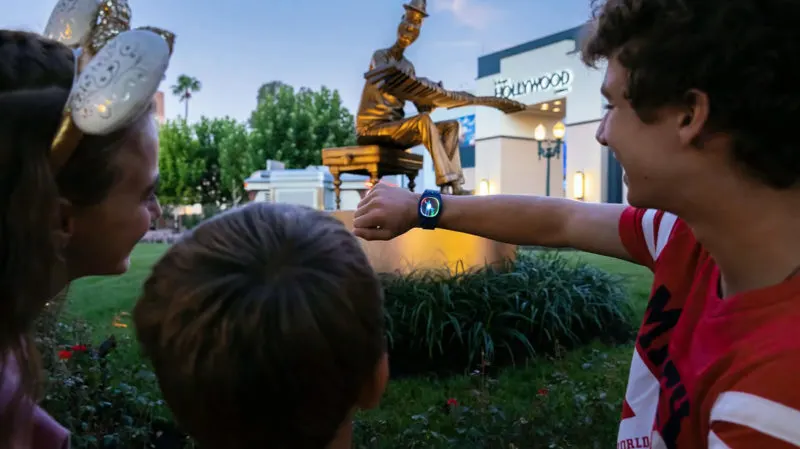 For some time it looked like MagicBands were going away with Disney looking for alternative options for guests to have the same functions. Well, MagicBands are going away, but they are being replaced with…MagicBand+.
This next generation of MagicBands will debut in Summer 2022 and will give guests all the features they are used to like park entrance, room key access, charging privileges, and of course, they look cool.
WIth MagicBand+ however, that's not all. They will have even more interactive features built into them which allow guests to have a more immersive park experience, including interactions with the Fab 50 golden character statues.
Read our Full Guide to MagicBand+ to learn about all the new features and differences.
Special Events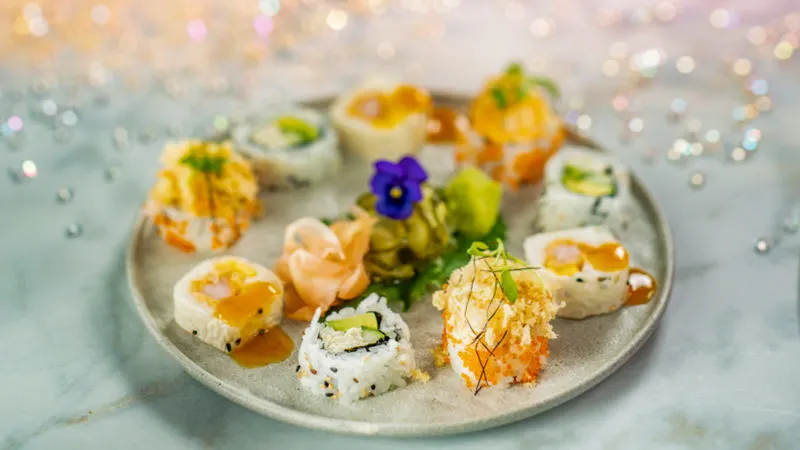 Right now, there are some special events to consider booking when visiting Disney World for the 50th.
California Grill 50th Celebration Menu – For the length of the celebration, the California Grill will be hosting a special dinner nightly that consists of highlights from its storied menu over the last 50 years. The 3-course meal includes an appetizer, main course, and dessert from the past and present.
50th Anniversary VIP Tour – With this special tour you will learn all about the history of the Disney World parks and resorts and customize your perfect day. All guests must be 12 years or more and parties are limited to 6 people. To book the VIP Tour call (407) 560-4033.
Possible Guest Promotions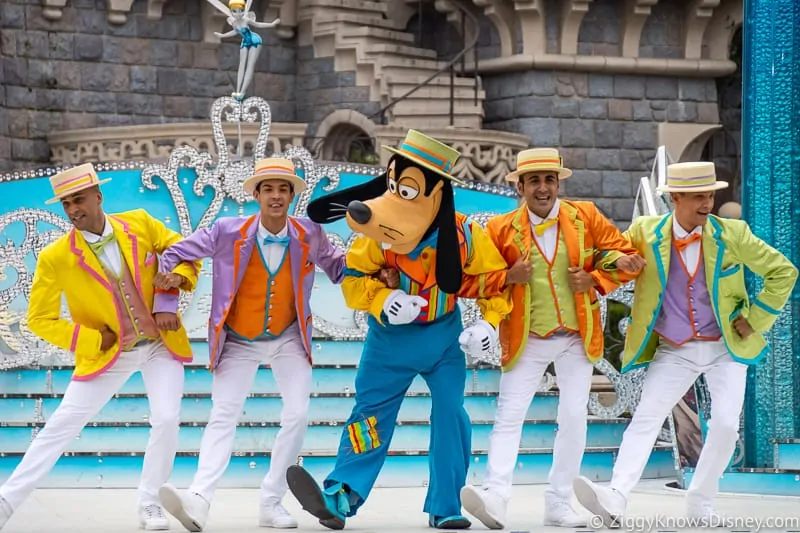 Before the 50th started, we thought Disney would need something extra to get visitors to the parks and that we would see some kind of special promotion aimed at the guests which could enhance their time while visiting.
Remember when Disney ran the "Year of a Million Dreams" that ran from late 2006 all the way through 2008? It was a special promotion in which Disney World and Disneyland guests were randomly selected each day and given special privileges and prizes to make their trip even more magical.
The prizes included extra FastPasses, being the Grand Marshall in the parade, and even a night's stay in Cinderella Castle or a free Disney vacation. That promotion brought a ton of buzz to the guests and it would be very smart on Disney's part to do something similar for Disney World's 50th.
So far though, we haven't seen anything out of the ordinary for promotions. Honestly, we are disappointed Disney isn't doing some "extras" to make this trip feel as special as this type of celebration should feel.
Let's hope Disney comes up with something extra here.
Disney World 50th Anniversary Touring Changes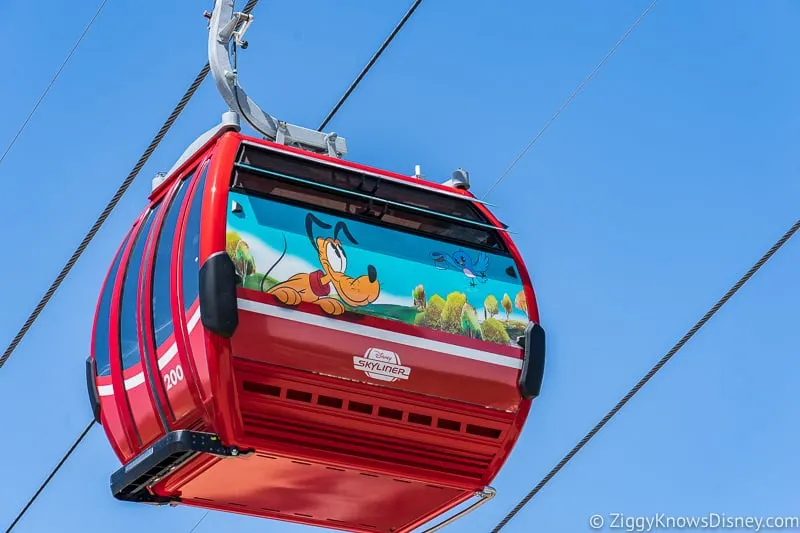 With all these additions for the 50th coming to Walt Disney World, there have been some big changes to how guests tour the parks as well.
Touring Disney World for the 50th Anniversary starts even before you leave for the airport. At the last D23 Expo the Disney Genie was announced, a digital vacation planning tool that will help guests make the most out of their trip.
It helps you create itineraries for the parks including attractions, food, etc, all based on your likes. That means you will get different suggestions based on if you are an adult, teenager, or have small children, and also the type of attractions and shows that appeal to you.
You also need to be aware of Disney's paid FastPass+ replacement Genie Plus and Lightning Lanes which can be a good way to skip the lines if used correctly.
One big change is how you will get around to two of the theme parks on the Disney Skyliner Gondola system. This fun new Disney World transportation system brings guests to and from EPCOT and Hollywood Studios and directly connects them with 4 resort hotels. After many rides, this is now the most magical ride in the sky!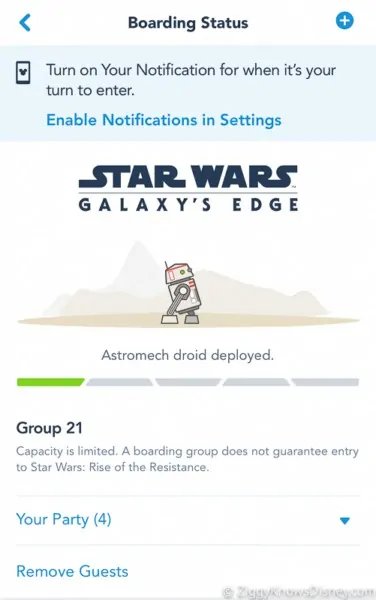 Once you get to the parks, there are going to be a lot of things that are different you will have to learn. The first up is the Disney Virtual Queuing System and Boarding Groups. Disney launched this with Galaxy's Edge back in 2019, and it will be crucial now with Disney using it for some of the new attractions.
The Virtual Queue allows you to hold a place in line for an attraction, while not having to actually wait in the line all that time. Disney will most likely be rolling this out to many different attractions and it will help when the parks get fuller during the 50th Anniversary celebration.
Guests will also have to be aware of other safety measures that could be in place during the 50th, although most of them have been removed at this point in time. Such things include using face masks and finding hand sanitizer stations in Disney World.
Read our post about the Disney World Reopening for all the potential changes guests will have to be aware of when they visit.
When Can I Book Disney Hotels for 2022 & 2023?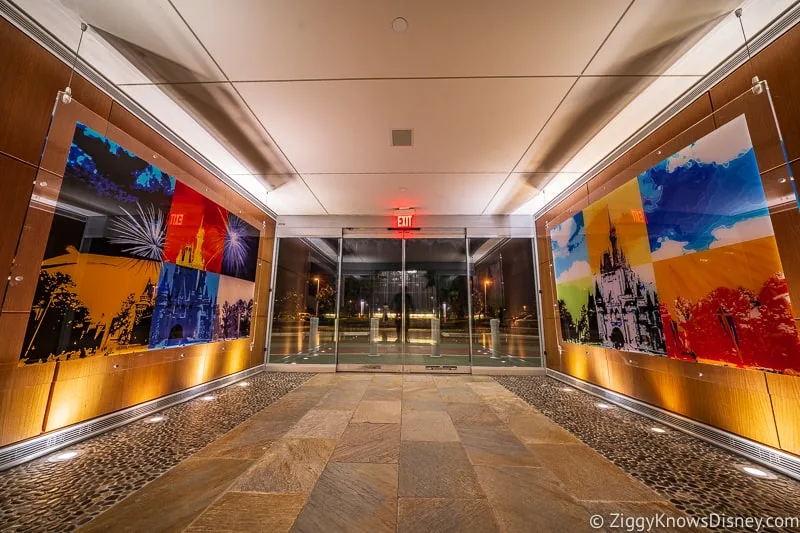 Of course, there will be plenty of deals to get visitors to visit Walt Disney World again during the Disney World 50th Anniversary celebration, so you may be wondering: "When can I book Disney hotels for 2022 or 2023?"
The good news is the answer to that question is: NOW! Walt Disney World vacation packages and hotel rooms are now available for booking through December 31, 2023, which takes you all the way through Disney's 50th celebration.
Typically, you can book a Walt Disney World Resort hotel room as many as 499 days before the desired booking date. If the dates you are looking for are not available yet, just hold on as Disney should be opening up more reservations soon.
Now that you can start booking, the best advice I can give you is to not delay in making your reservation. Hotel availability is already disappearing quickly for the Disney World 50th Anniversary, especially in during the holidays and busier times of the year like Spring Break and Summer.
Make these reservations as soon as you can.
If you need help planning your Disney Vacation you can contact René from Show You the World Travel for all your trip planning needs. All of the agents there are certified Disney Travel Agents and are super helpful with all your planning needs. I highly recommend them and the best part about it is they are FREE to use!
Disney Park Passes Selling Out During 50th Anniversary Celebration
The problem is not only hotel availability, but also park reservations are hard to get.
Disney Park Pass reservations came online not too long ago for Disney World's 50th Anniversary, but you better book yours soon as availability is constantly filling up.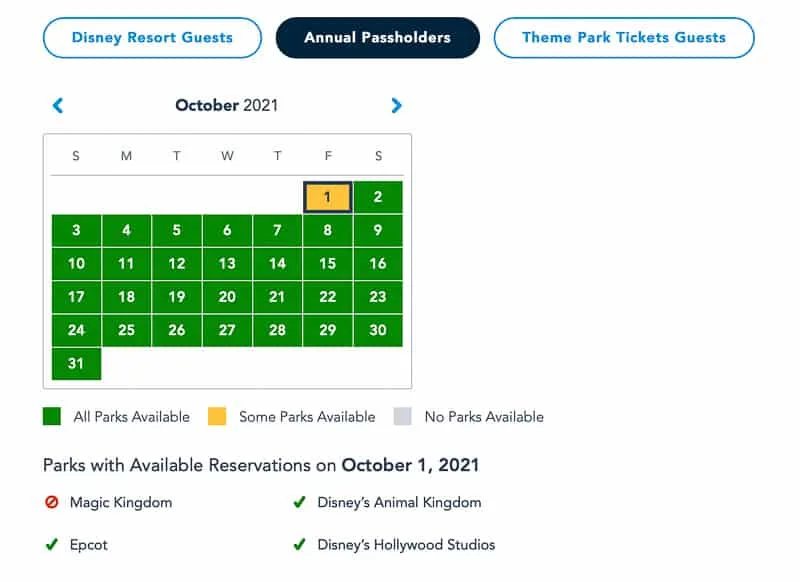 While the 50th celebration will be an event lasting many months, if you plan on going to the Magic Kingdom or other parks during a holiday season or a school break, you might not be able to get in depending on what type of ticket holder you are.
Right now park passes for all guests are hard to come by with many ticket types sold out. That's not to say that Disney won't make more available in the future. They have already added more park pass inventory multiple times and they could also increase park capacity in the coming months.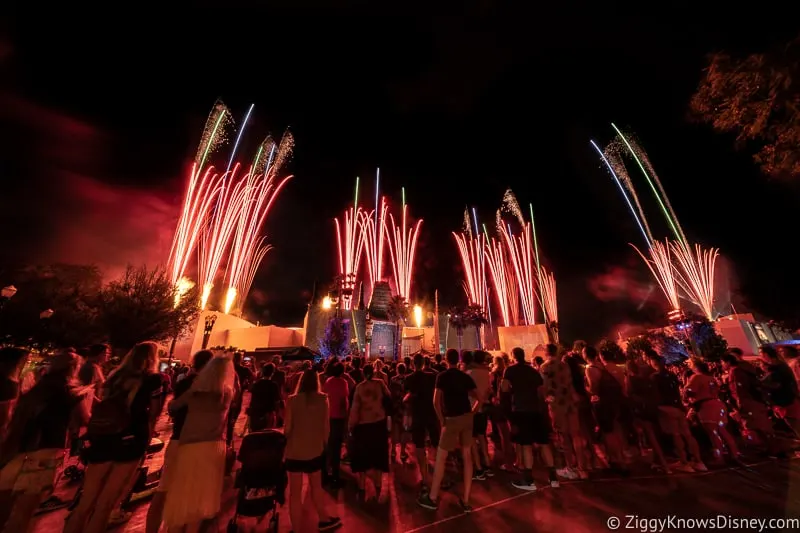 If you are planning to go during the 50th Anniversary, we suggest you start booking your hotel today as we are expecting hotel capacity to increase by then and most likely sell out.
If you want to go during the busier times of the year, you will have to be patient and wait for more availability to possibly open up. We suggest to keep checking for availability at the parks and seeing what happens.
When is the Best Time to Go During the 50th Anniversary?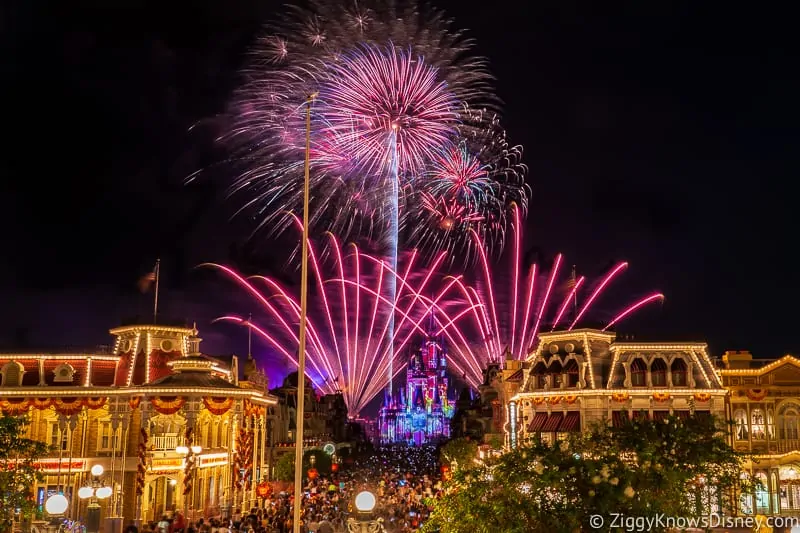 The only thing left to figure out is when the best time to go to Disney World during the 50th Anniversary is. The actual date of the 50th Anniversary was October 1, 2021, but you can still plan your trip in the months after that date.
The festivities are going to last for 18 months through March 31, 2023, so there is plenty of time to visit and you aren't locked into one date.
You will find useful one post that we wrote recently which covers the best year to go to Disney World and what it will look like in 2022, 2023, and beyond.
Unfortunately, if you wanted to experience the actual 50th Anniversary event, that was only 1 day on October 1, 2021. There was plenty of fanfare, and a really cool moment to be a part of in Disney history.
However, there are still plenty of ways to experience the celebration with the new attractions, entertainment, and other experiences going on at Walt Disney World right now.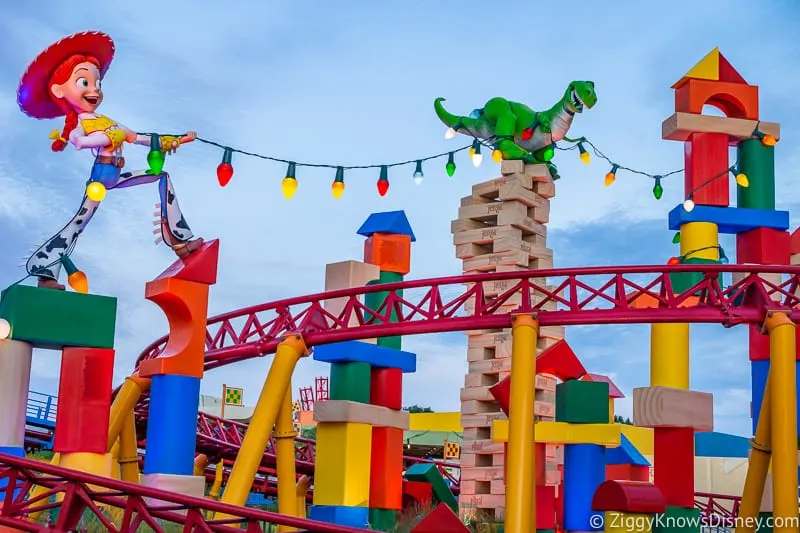 During this window, there will be a few more new things opening like the Galactic Starcruiser, but not many attractions that weren't already open in October.
That might be alright for you if you come to Walt Disney World on a regular basis, but if it is your first visit or you only come every few years, you might want to think about waiting until some of the bigger attractions are ready.
Sure, waiting means putting off your trip slightly, but if you time it right, you can avoid higher prices and crowds, and get to try the newest attractions like Cosmic Rewind in EPCOT. Plus, more entertainment, shows, etc will still be around in the second half of 2022, so you will get more bang for your buck. Here are some suggestions: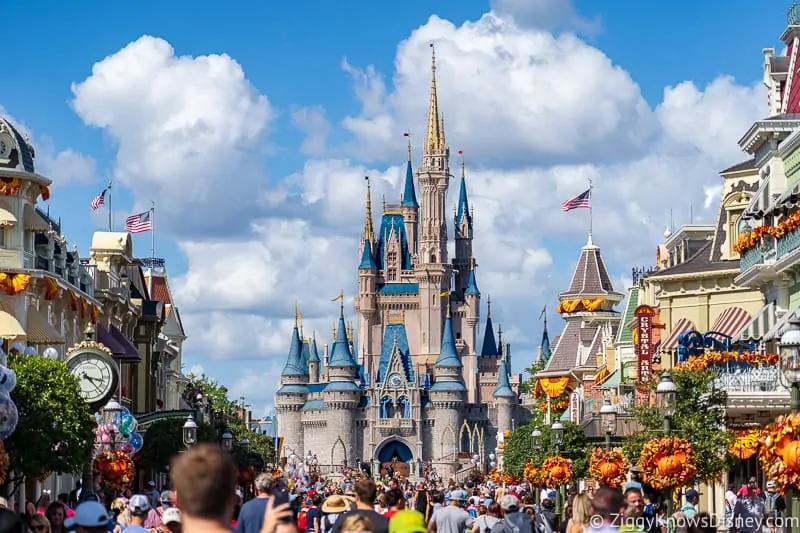 Best time for Price and Crowds – There is no doubt that the 50th Anniversary celebration is going to be busy, but there are some times that are good both for price and crowds. After all, finding the Cheapest Time to Go to Disney World is important to many guests.
Lastly, if you can wait until August or September 2022, that should be another low crowd time during the 50th Anniversary celebration. The weather will be hot, but you are bound to find some good deals compared to the rest.
Similar to any year, if you go to Disney right after the Thanksgiving holiday is over, into the beginning of December it should be good since there is a slight pause between the two holiday periods.
Likewise, January and February 2023 should also be relatively quiet times compared to the rest of the calendar, and as long as you don't go during one of the holiday weekends you should be ok.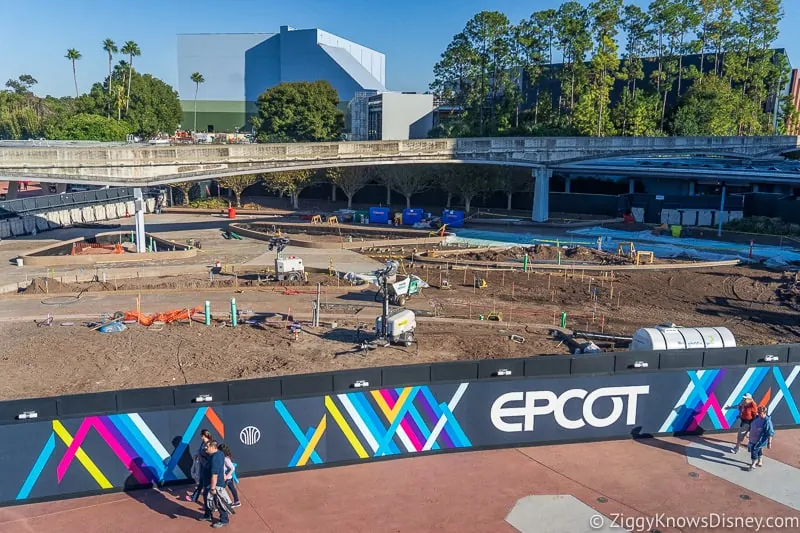 Best time for the New Attractions – Right now there is so much up in the air about the new Disney World attractions currently under construction that we can't say with any certainty when they will be ready. We will say that the later you go, the more likely new rides are to be open.
If you go after Summer 2022, Remy's Ratatouille Adventure and Guardians of the Galaxy: Cosmic Rewind will be open to enjoy. That means that most of the major new rides that have been announced will be open by the second half of 2022.
We don't know about TRON Lightcycle Run yet, but even that might be open by the end of the year.
To help you figure out the best time to go to Disney World during the 50th Anniversary, you should read our Disney World Crowd Calendar. There, we tell you when the most and least crowded times of the year are and do a month-by-month comparison.
Planning to Go on October 1st?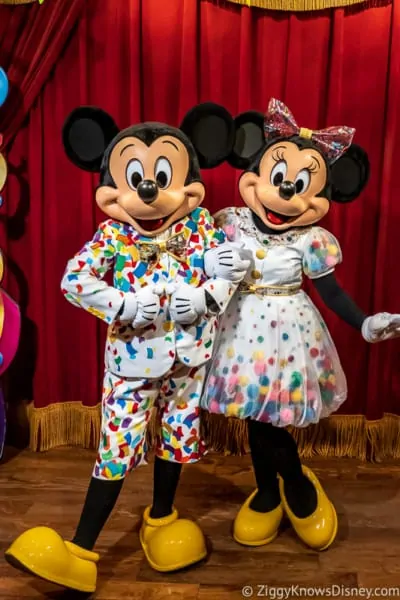 (This section was for planning the opening day of the celebration)
Going to Disney's Magic Kingdom for the official anniversary on October 1, 2021, is the ultimate Disney fan's dream. You will be able to buy a whole bunch of limited 50th Anniversary merchandise and even see the dedication ceremony live and in person. Though it sounds amazing, there are some things to consider if you decide to go.
Be prepared to get up early and deal with heavy crowds throughout the whole day. First, you'll have to decide if you want to go to the Magic Kingdom or EPCOT.
Long-time Disney World-goers will want to be in the Magic Kingdom on this most special of days and to celebrate in all the festivities there. On the other hand, EPCOT has a new ride opening up plus more new marketplaces at the Food & Wine Festival. Oh, did I mention each park has a brand new extravagant fireworks show starting on October 1?
All this means both parks going to be packed to the limit. This will be like Christmas Day crowds but to a whole other level and the park will close to capacity early in the day.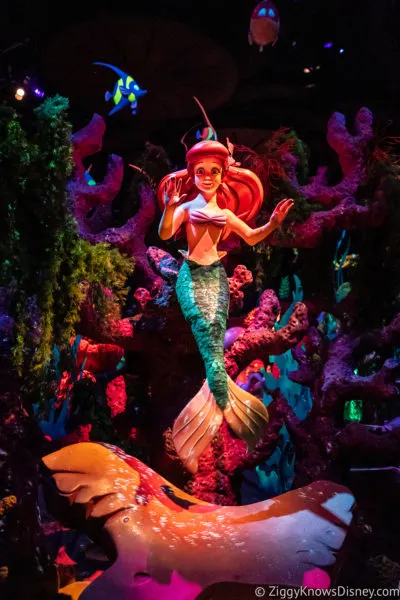 Now, it's not impossible, but you're going to have to wake up early to get inside either one. At the Magic Kingdom, I would plan on arriving no later than 5:00 a.m. to be on the safe side since Disney will most likely open the gates much earlier than will be publicized due to the high crowds that will be waiting outside.
Next, you're going to have to decide what your priority is when visiting each park. At the Magic Kingdom, the two main reasons you'll want to be there are for the special 50th Anniversary merchandise or to see the ceremony in front of Cinderella Castle. You won't be able to do both most likely, so you'll have to choose.
In EPCOT you'll want to get in line immediately for Remy's Ratatouille Adventure since lines could potentially get as long as 4-5 hours or more.
Whichever, park you choose, make sure to finish off your night watching one of the fireworks shows, either Disney Enchantment at the Magic Kingdom or Disney Harmonious in EPCOT.
In general, because of the massive crowds, it won't be a good day to ride the attractions. If that is your priority, you are going at the wrong time of the year and we suggest you pick another date. If you, however, want to experience a piece of Walt Disney World history and maybe bring some home with you, then you want to be in the Magic Kingdom on October 1, 2021.
Conclusion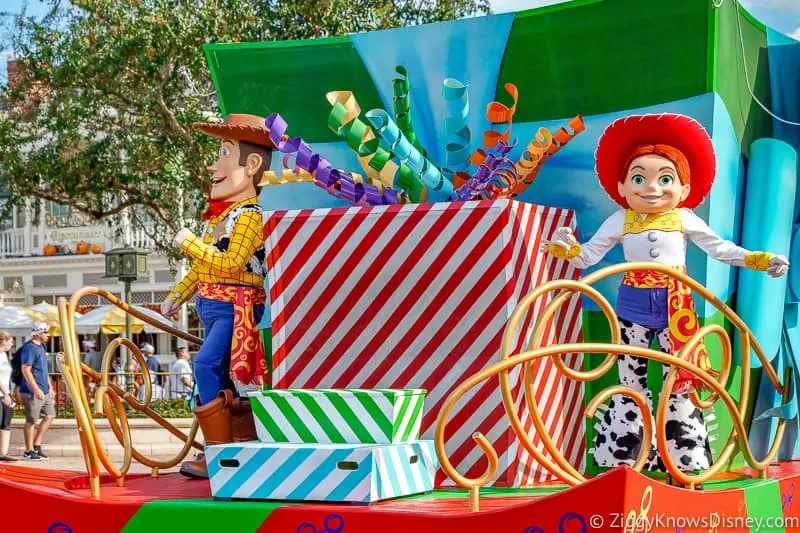 We are really excited for you to visit during Disney World's 50th Anniversary, and even though there are a lot of things up in the air right now, it still is an amazing event, and a great time to visit the parks.
We look forward to seeing what else Disney has in store and how the celebration will continue in the coming months. Even if it won't be exactly how it could have been, there is still some amazing food, merchandise, entertainment options, new attractions, and a few magical surprises along the way.
Stay tuned as we fill you in as soon as Disney reveals more about the celebration!
If you are going to Disney World soon, make sure to read our Disney World Planning Guide for all the tips and info you will need to cover everything! Also, check out our Disney World Crowd Calendar so you know when the best time to visit is!
Your Thoughts
I want to know what you think about Walt Disney World's 50th Anniversary Celebration…
Which changes are you most looking forward to?
Are you going to Disney World during the 50th Anniversary?
Let us know in the comments section below!
If you enjoyed this article, as always I appreciate it if you'd share it with others via social media. I work hard at making this website into a useful resource for you and your family to plan your visit to the Disney Parks and I hope it can help you! Thanks 🙂