You may have heard that Cinderella Castle is undergoing refurbishment this year in Disney's Magic Kingdom out in front of The Walt Disney World 50th Anniversary. In fact, the refurbishment is now complete and the castle has a brand new vibrant color scheme!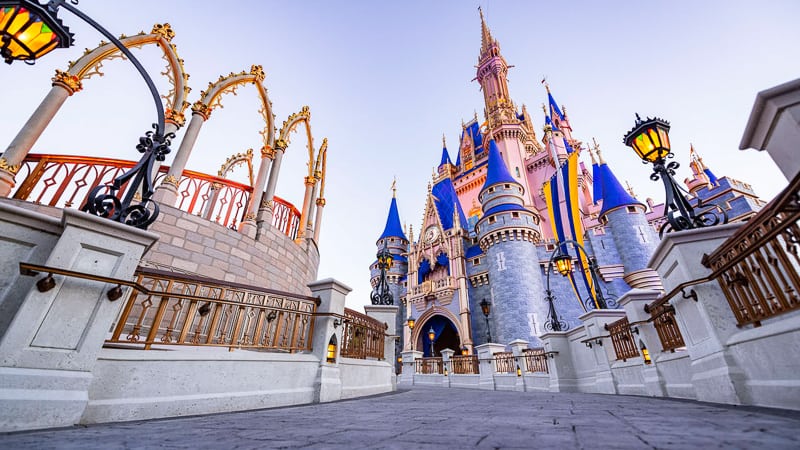 In this post, we will explain what's changed on Cinderella Castle and all the enhancements that Disney has made to it. After seeing it, you will probably think Disney World's most famous icon is more beautiful than ever!
Before we get started explaining about what's changing, make sure to sign up for our FREE Weekly E-Mail Newsletter. There we bring you the latest updates on the Cinderella Castle Refurbishment and more. You can sign up here: Join our E-Mail Newsletter
(Update 9/10/20): Cinderella Refurbishment Complete, Open to Guests
After visiting the Magic Kingdom and getting to see all the changes to Cinderella Castle up close and in person, I have to say it's pretty stunning! I was skeptical after looking at the concept art before the refurbishment, but now I can say we really like the new look.
Let's take a look at the latest on the Magic Kingdom Castle after all the new upgrades: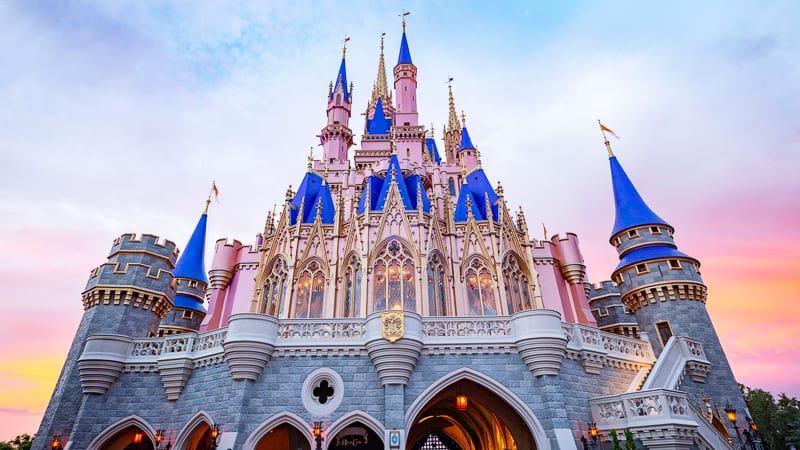 The first thing that stands out is the brand new color-scheme. The bright and vivid colors pop at you when you see it in person, and in a good way. While we love the original Cinderella Castle color-scheme, it was a little dull and faded, and this is a nice change.
You can see the fresh paint on the walls and how vibrant they look: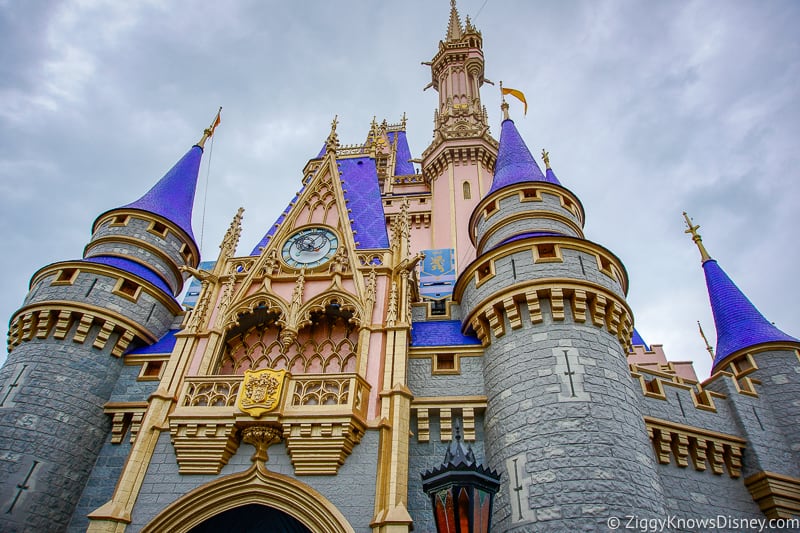 Our first reaction is that it looks stunning! No, you won't have to worry about a big pink birthday cake taking up the view, these are keeping closer to the original theming of the castle, and only adds to its beauty in our opinion.
All the colors have been refreshed and will be more brilliant than ever before. The top portion of the castle has been changed to a very subtle pink color. The pink definitely makes the castle stand out more than before, and the blue on the spire roofs is also much more brilliant.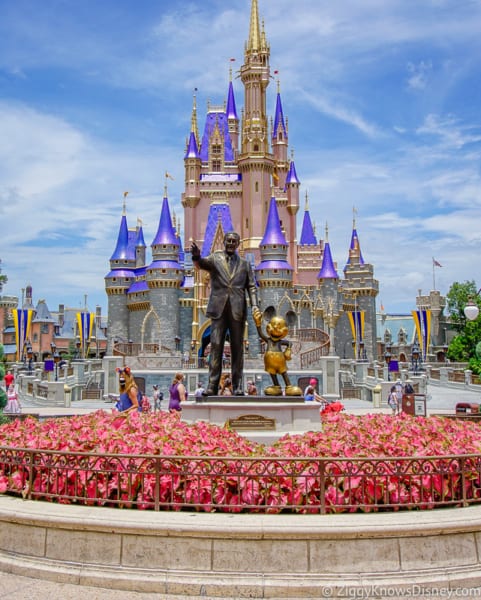 One other big change you can notice from the concept art is the gold trim featured on the accents and trim of the castle. The castle has always had some gold up near the spires, but never this much.
The change is fitting since the Magic Kingdom is celebrating its 50th anniversary, or the "Golden Anniversary" as tradition holds it.
Special elements, such as a sapphire dusting on the blue rooftops and gold trim, were added to make the spires of the castle sparkle in the sun.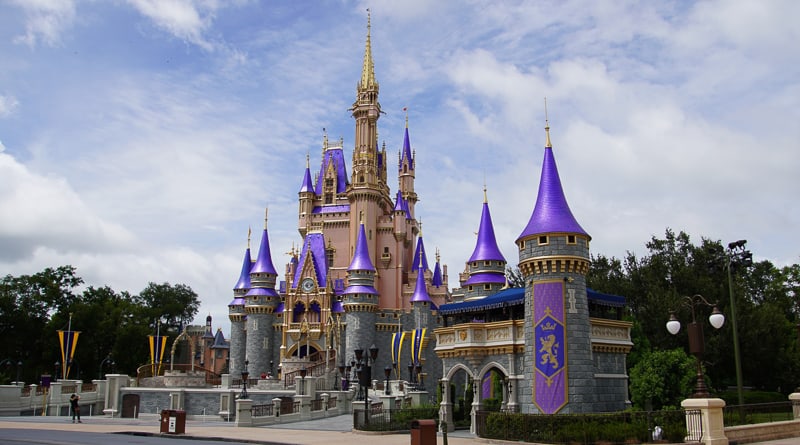 The castle also changes slightly depending on the type of light that hits it. Just in a few minutes time some of the features like the roof can go from looking blue, to looking purple instead.
Here is a view from the front of the roof. In this image it looks blue: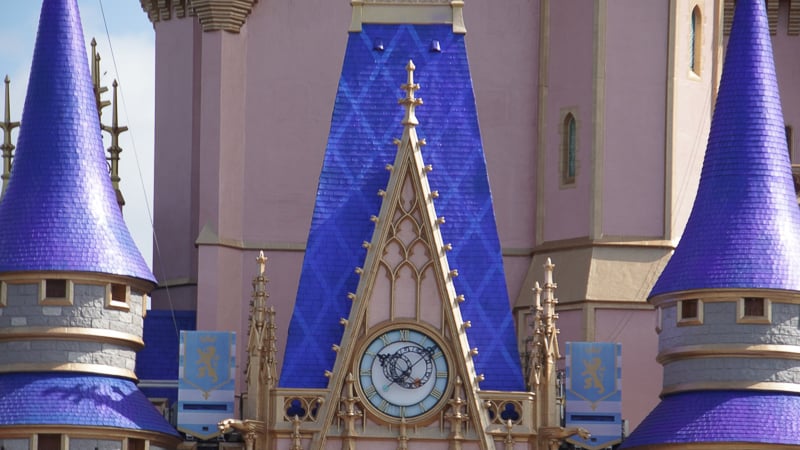 Now just minutes later as the sun changes, so does the color scheme of the roof, now giving off a more purple vibe.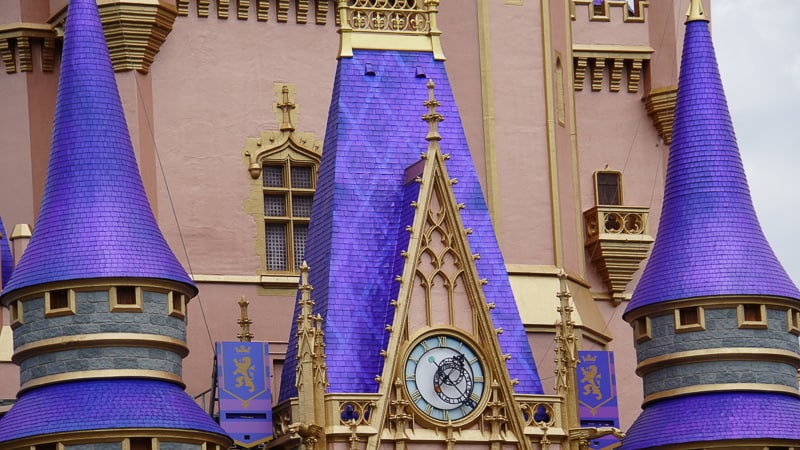 This effect is pretty crazy when seeing it in person and it will definitely give you some variation to your photos!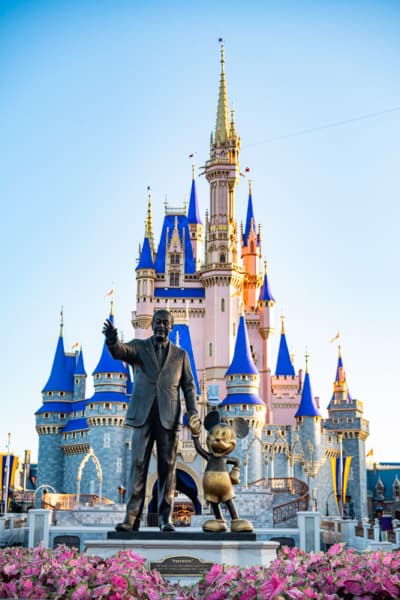 Lots of detail goes into a project like this and it was interesting to observe just how Disney goes about handling a massive undertaking like re-painting the entire castle. For example, when the Magic Kingdom reopened on July 11, we were able to get a look at how each individual brick is painted on the castle spires.
In order to get the colors right, a number is painted onto each brick which corresponds to the color that it will be getting.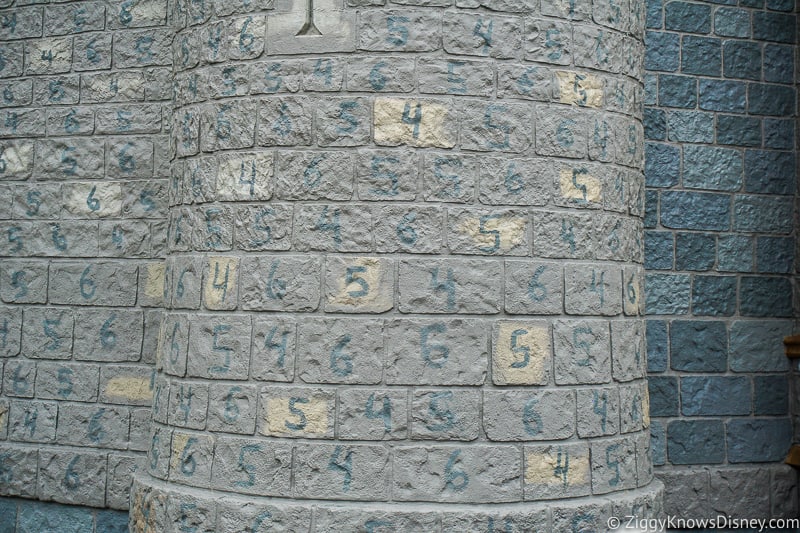 Not only was the castle painted with the new color scheme, but also the surround side towers got a well-deserved facelift.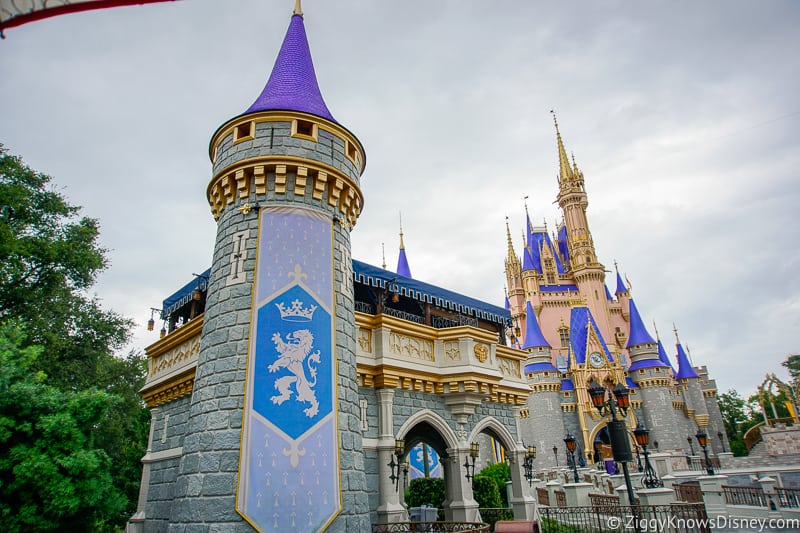 Now let's look back at the concept art that Disney released for the Magic Kingdom Castle before the work started on it.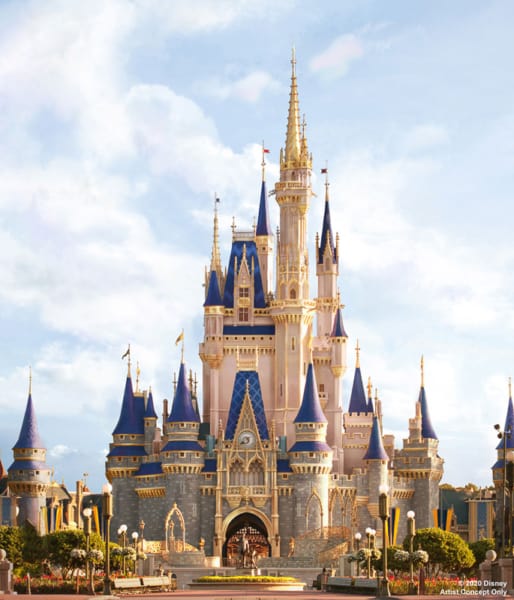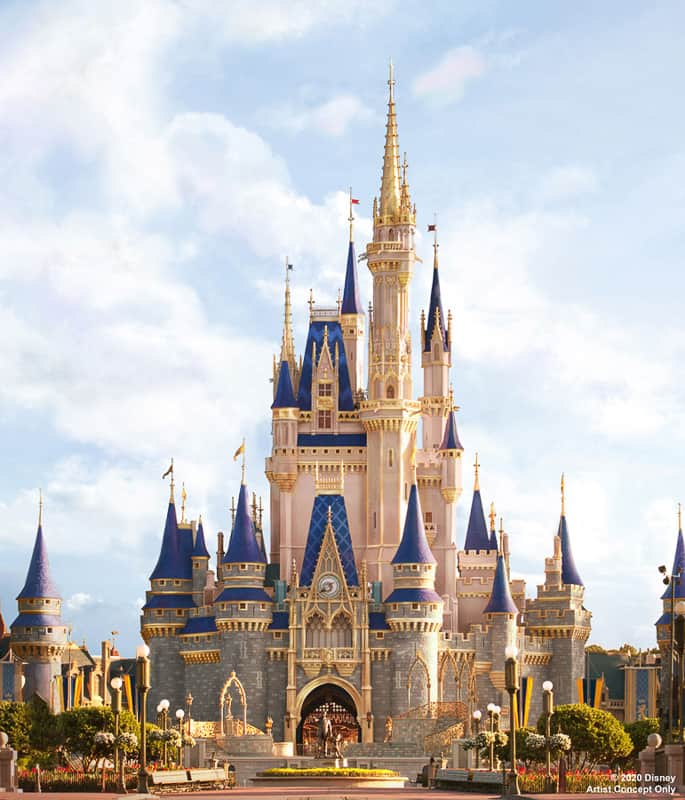 Looking at the concept art and now what we have, there is a difference. The concept art looks lighter and pinker in my opinion. What we actually got is darker shades of color and even more vibrant.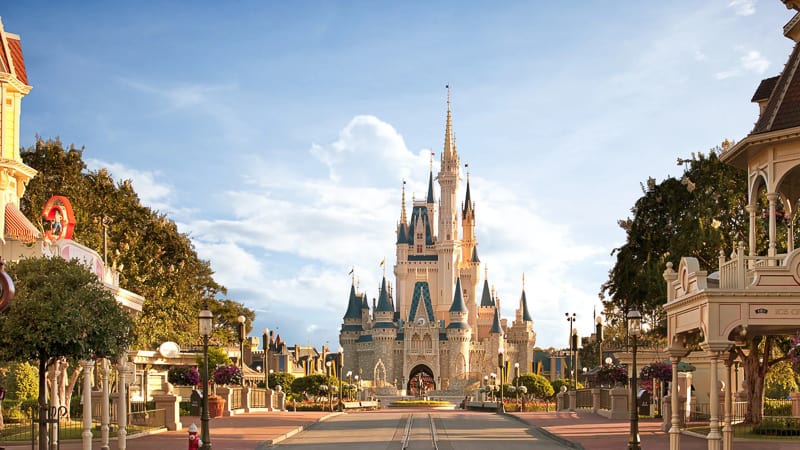 The concept art created somewhat of a split in the Disney community when everyone first saw it, but I think now the majority of fans have embraced the change surprisingly.
This may bring back memories of just one year ago when the Sleeping Beauty Castle in Disneyland also underwent a refurbishment, and in fact, the color scheme there looks similar but much more vibrant. The blue and pink colors on the Disneyland castle now stand out much more, as well as the gold trim.
Here is what the Disneyland castle looked like after the refurbishment: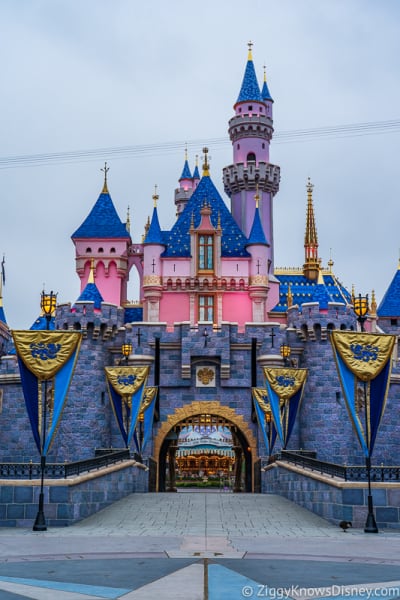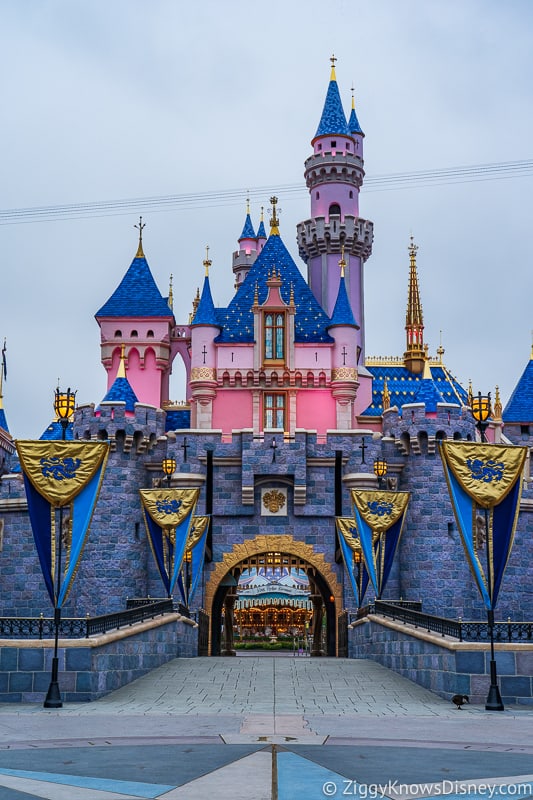 We think that Sleeping Beauty Castle came out fantastic and we are really happy about Cinderella Castle too.
The timing here is fitting since cinderella first transformed into a princess 70 years ago, when the animated classic was released. Disney then chose her castle to be the park icon in the Magic Kingdom and it's since been one of the most photographed places on Earth.
When Did the Refurbishment Start and How Long Did It Last?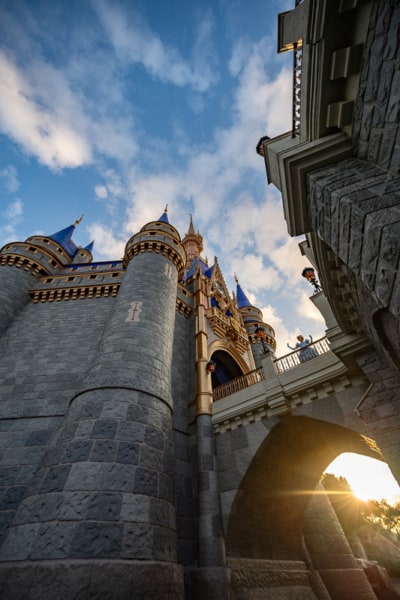 The work on Cinderella Castle started in February 2020 and finished in August 2020. This was almost what the originally anticipated time was expected to be, even despite the park closure and delay on any work being done inside the parks.
It was originally expected to last some months and continue on into the Summer. The Magic Kingdom Vice President has said: "Our work is expected to begin in the coming weeks and be complete before the end of summer."
Technically the Summer ends on September 21, so even though there was still some small working being done into August, I would say Disney did an excellent job finishing the castle in a timely manner and having it ready for the Magic Kingdom's reopening.
These types of projects often take longer than we hope, but in this case, Disney had everything finished by August 2020.
Sign Up For Our Newsletter Today!
That, however, leads us to our next and most important question…
How Long Will Disney Keep These New Colors on Cinderella Castle?
Since Disney did this refurbishment on Cinderella Castle specifically for the 50th Anniversary of the Magic Kingdom, this new color scheme will definitely stick around through the entire celebration.
Walt Disney World's 50th Anniversary is expected to last through 2022, so I would say the castle will remain this new color at least until then.
Is there a chance they won't go back to the old, lighter colors? Anything is possible, but we highly doubt it. Disney often changes icons in the parks for various celebrations, but then they usually end up changing them back.
We could be wrong and maybe these new bolder colors will be a huge hit with guests and they will want them to stick around. Ultimately, we'll have to wait and see.
How Will This Affect Your Trip to Disney World?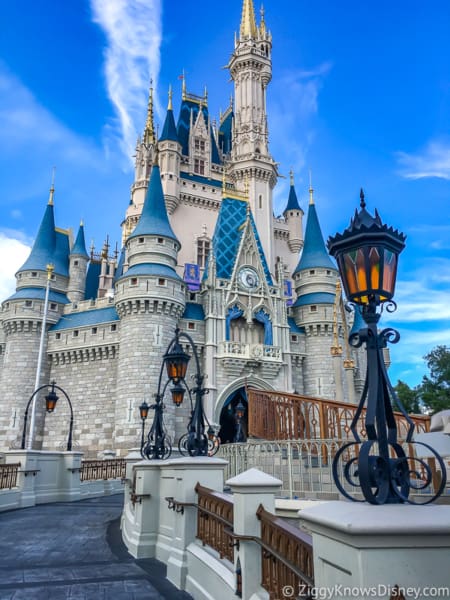 (Original comments): What you want to know is if there will be big ugly construction scrims and walls around and in front of the castle, blocking your perfect family photo.
Thankfully it doesn't seem like it will have as huge of an impact on guests as the refurbishment to the Sleeping Beauty Castle did. That was closed for a good 5 months with scrims and walls around the whole thing. There were quite a lot of angry Disneyland fans who were looking forward to having their picture taken in front of it.
Disney has said that while these enhancements are taking place to the castle, shows in front of it like "Mickey's Royal Friendship Faire" and "Happily Ever After" will continue to run. That means the castle projections will still work during this time too.
Once again, Magic Kingdom Vice President Jason Kirk made a statement on how much of the castle will be covered up:
While temporary construction equipment may be present while Cinderella Castle receives its royal makeover, it will remain uncovered and we will do our best to ensure guests are still able to capture special photos and memories in this iconic spot."
I'm not sure exactly how to take that. From his comments, it does seem like there won't be any scrims around the castle, but is that possible? When he says it will remain uncovered, does he mean it won't be covered 100% and there will still be some parts visible, or does he mean that no part of it will be covered?
If you take his words at face value it sounds like we can only expect to find construction equipment like lift booms and the like and not full-blown scrims covering it up. Kirk said that families would be able to get special photos of the castle, so here's hoping that remains the case.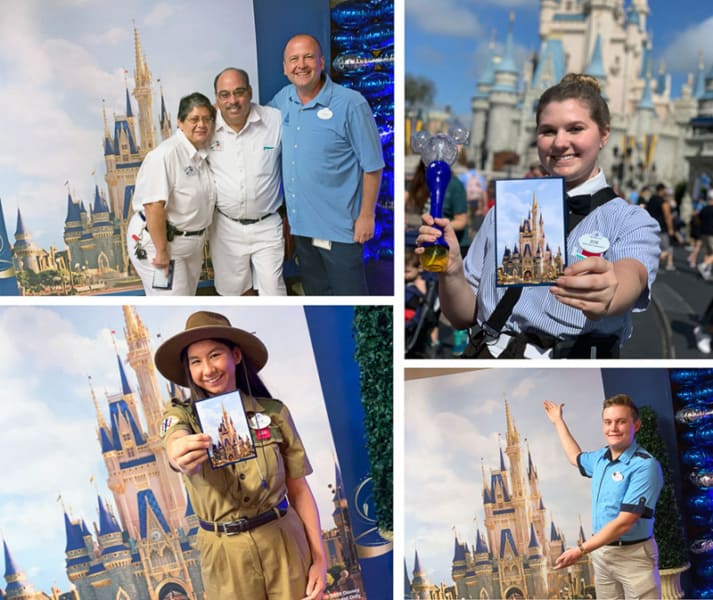 Maybe they will concentrate the work on one side at a time in order to let families still take pictures. Right now we just don't know to the extent views of Cinderella Castle will be covered up, but guests should prepare themselves for less than idea photos either way.
I know it isn't the best news, but the castle needs to be in top condition for the Magic Kingdom's 50th Anniversary. Try to understand that refurbishments like this have to happen from time to time, and though it may be upsetting to not get that perfect picture on your trip, these are things that are unavoidable and make for the betterment of the Magic Kingdom in the long run.
With the construction starting soon, we'll have to see just how much of it gets blocked and what kind of pictures are still possible.
FAQ's
Is Cinderella Castle in Disney's Magic Kingdom currently closed?
No, it isn't. The refurbishment of Cinderella Castle at the Magic Kingdom is now complete and open to guests to check out in person.
When Does the Work on Cinderella Castle Finish?
Restoration work on Cinderella Castle continued during part of the Disney World closure, and because of that it is now done.
How Long Will the Color-Scheme Last?
We don't have an exact date or time for how long Disney will keep the new colors on Cinderella Castle. Since they made the change to a more vibrant look for the 50th anniversary, we expect the colors to last at least through the celebration, which will last through 2022.
Is Cinderella's Royal Table Closed?
Guests will still be able to dine at Cinderella's Table when it reopens starting September 24, 2020.
We'll continue to update you on any other changes to the Cinderella Castle refurbishment in Disney's Magic Kingdom as soon as we have more information about it. Keep checking back at Ziggy Knows Disney for the latest news and updates!
The fact they are doing work on the castle, however, might influence your decision whether it's better to visit Disney World in 2020 vs 2021.
Check out the Full List of Disney World Refurbishments and Ride Closures to see what else might be down when you go.
You can also get the latest from around Disney World at more construction projects currently going on in our Walt Disney World Construction Updates page. And don't forget to check out all the coming attractions at Disney World in the next few years.
Your Thoughts
I want to know what you think about the refurbishment coming to Cinderella Castle…
Are you excited for the new enhancements?
What other changes would you like to see?
Let us know in the comments section below!
If you enjoyed this article, as always I appreciate it if you'd share it with others via social media. I work hard at making this website into a useful resource for you and your family to plan your visit to the Disney Parks and I hope it can help you! Thanks 🙂