Ever wish you could find out how long wait times are for Disney World restaurants? Well, now you can with Disney's new Mobile Dine Waitlist feature they've introduced to the My Disney Experience app.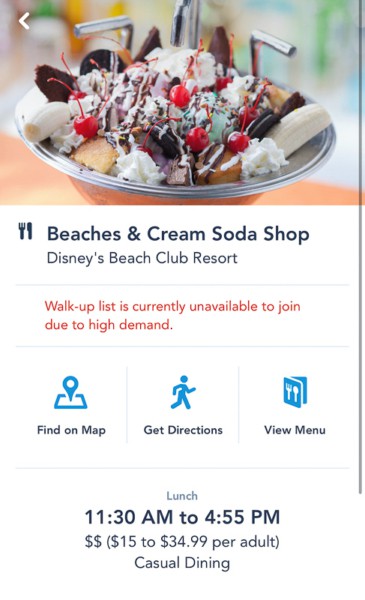 In this post, we are going to explain How to Use the Mobile Dine Waitlist and why it's especially beneficial at this time. We'll also share with you all the restaurants currently using the Mobile Dine Waitlist feature in Disney World and if it might make your vacation a bit more spontaneous now.
Keep in mind this is a new feature to the My Disney Experience app and Disney is still testing things out, so there may be a few bugs and things are likely to change and improve in the near future. At least we finally know how it works and which restaurants we can use it at.
What is the Mobile Dine Waitlist in Disney World?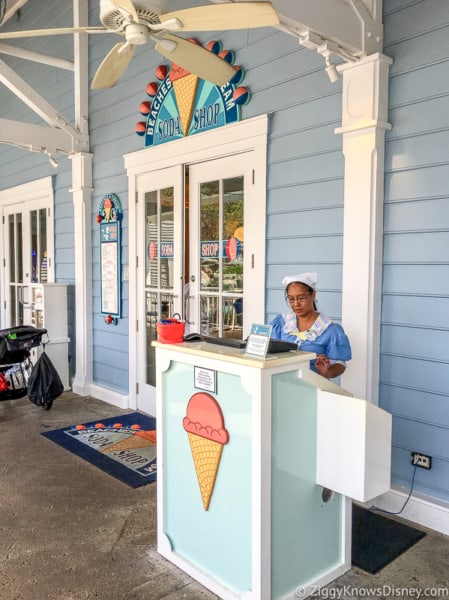 So, what is Disney's Mobile Dine Waitlist anyway? It's a new feature within the My Disney Experience app which let's you see current restaurant wait list times and join a list right from your mobile device.
That means instead of having to rely solely on Disney Advanced Dining Reservations, guests can look at the app and see the wait times at participating Disney restaurants near their current location.
Guests can then join the virtual wait list with their mobile device and without having to contact any Cast Members. They are then informed when it's their turn to dine.
The Mobile Dine Waitlist feature of My Disney Experience works for guests with parties of 7 people or less. If you have a group of 8 people or more and would like to be added to a restaurant wait list, you will have to go to the restaurant and speak with a Cast Member in person.
It's important to note that the Mobile Dine Waitlist is NOT the same thing as an Advanced Dining Reservation and can only be used for "at-the-moment" restaurant bookings.
Benefits of Using Mobile Dine Waitlist
Especially now since the Disney World Reopening, guests have been more concerned with distancing at the parks and in restaurants, as well as having as little personal contact with Cast Members and other guests as possible.
The Mobile Dine Waitlist at Disney World helps you to do just that!
It means no more large groups of people massed up at the entrance to restaurants trying to get a table or waiting to get in. Instead, everything is done on your mobile phone, and no contact with others is needed.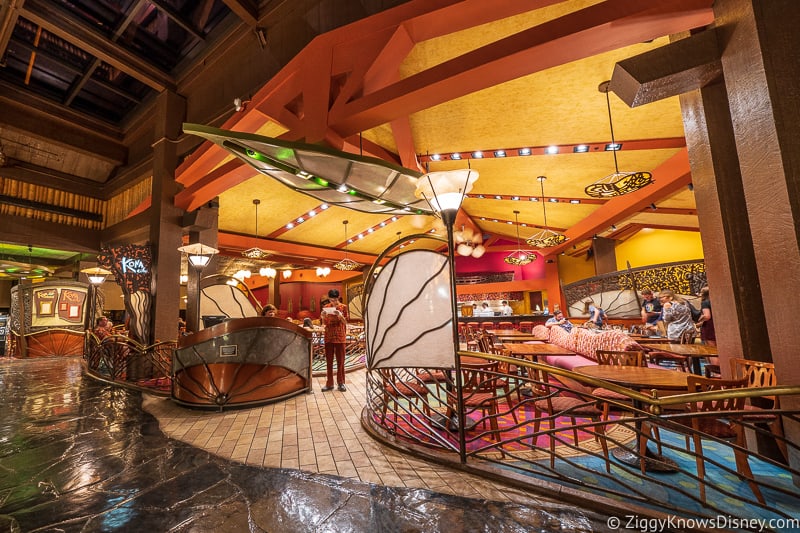 This isn't the first way Disney has used technology to help keep guests safe when visiting Walt Disney World recently. The Disney Mobile Ordering feature of the app lets guests order food at Quick Service Restaurants from their phones and skip the lines. The Mobile Dine Check-In feature lets guests seat themselves at Table Service Restaurants, again, without excessive contact with Cast Members.
Read our Guide to Disney World Dining After Reopening to see all the changes in the restaurants and what you need to know before going.
Which Restaurants Use Mobile Dine Waitlist?
When Disney first released the Mobile Dine Waitlist feature, it was only available at Walt Disney World Resort Hotel restaurants. Since things have been going smoothly with it, Disney has now started making it available to in-park restaurants too.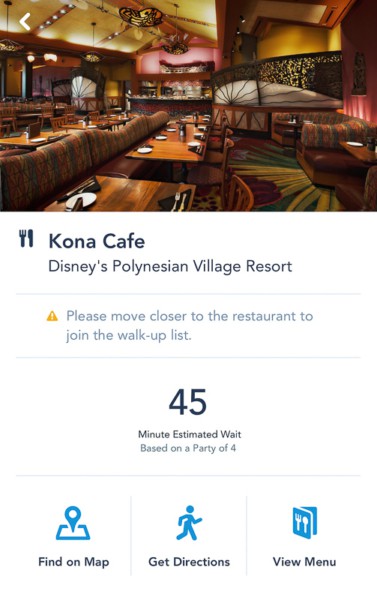 Here is a list of all the restaurants currently using Mobile Dine Waitlist:
Disney World Resorts
Ale & Compass
Chef Mickey's
Grand Floridian Cafe
Kona Cafe
Olivia's Cafe
Sanaa
Three Bridges Bar & Grill
Trattoria al Forno
The Wave…of American Flavors
Whispering Canyon Cafe
Cinderella's Royal Table
Liberty Tree Tavern
The Plaza Restaurant
Tony's Town Square
Biergarten
Coral Reef
Garden Grill
Rose & Crown Dining Room
Hollywood & Dine
The Hollywood Brown Derby
Mama Melrose's Ristorante Italiano
Sci-Fi Dine-In Theater Restaurant
Again, this is an incomplete list at the moment and more restaurants will soon be added.
Also, in the app it says that some restaurants may offer walk-up dining even though they aren't listed in the app. Feel free to check with a Cast Member at the check-in desk for more information.
How to Use Mobile Dine Waitlist in Disney World
Using Mobile Dine Waitlist is very easy and if you are familiar with My Disney Experience you should have no problem figuring it out.
What Do I Need?
The only thing you need to use it is a mobile device with Disney's My Disney Experience app downloaded on it. Of course, you then need to log in to your My Disney Experience account.
It's also important to note that you must be in the vicinity of the restaurant to actually join the waiting list. If you try joining from home, the app informs you that you are too far away.
Step-by-Step:
How to Use Mobile Dine Waitlist
My Disney Experience Check Dining Availability

Choose your Party Size

Your group must be from 1-7 people to use Mobile Dine Waitlist. Also, the bigger your party, the longer you will likely have to wait.



Select today's date on the calendar, and click "Now."

You must choose today's date, otherwise the "Now" button will not be available.

Browse Estimated Wait Times

Next, you are given the Available Walk-Up List which shows the walk-up status of all participating Disney World restaurants. The names of the restaurants and the Estimated Wait are listed below. If you are not near any available restaurants it will tell you "There are no walk-up-eligible restaurants near you.



Select Your Restaurant

Choose the restaurant of your choice and add your party to the waitlist. If there is no waitlist to join at that restaurant it will say: "Walt-up list is currently unavailable to join due to high demand."


Tips
If there is no walk-up availability for the restaurant of your choice when you check the app, check again periodically as sometimes spots open up.
The smaller your party is, the more likely you are to find space on the wait list
Should I Use It?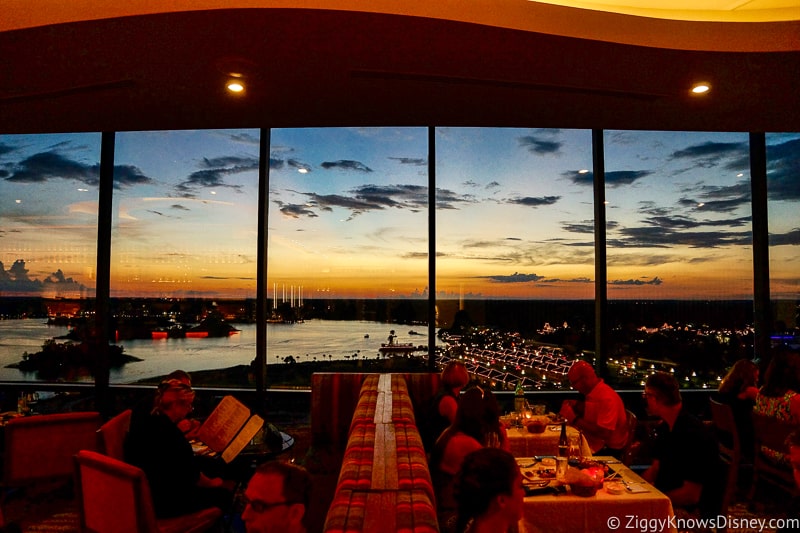 We think the Mobile Dine Waitlist at Disney World is a great addition to the features in My Disney Experience.
From a safety standpoint, it adds another layer of protection while visiting Disney World and will help you avoid crowded check-in desks at restaurants. Just for this alone we think it's a good idea.
Mobile Dine Waitlist is great for a last-minute table and will save you time knowing the wait times for all the restaurants in your location.
While we still highly recommend making Advanced Dining Reservations when planning your trip, this offers another option for guests who like to decide at the last minute (as much as that's possible at Disney World).
We expect more features and more restaurants to continue rolling out, so stay tuned for updates!
FAQs
What is Disney's Mobile Dine Waitlist
It lets you check restaurant wait times and join a wait list without having to go physically to the restaurant to put your name in.
Does it Replace Advanced Dining Reservations
No. Mobile Dine Waitlist is an option for people looking for a table at the last minute. We still recommend ADRs when possible instead.
How Many Guests Can be in My Party
The Mobile Dine Waitlist allows for groups up to 7 guests. For 8 guests or more you need to check at the restaurant to join a waiting list.
Your Thoughts
I want to know what you think about the new Disney Mobile Dine Waitlist app…
Do you like the idea?
What has your experience with the Mobile Dine Waitlist been so far?
Let us know in the comments section below!
If you enjoyed this article, as always I appreciate it if you'd share it with others via social media. I work hard at making this website into a useful resource for you and your family to plan your visit to the Disney Parks and I hope it can help you! Thanks 🙂