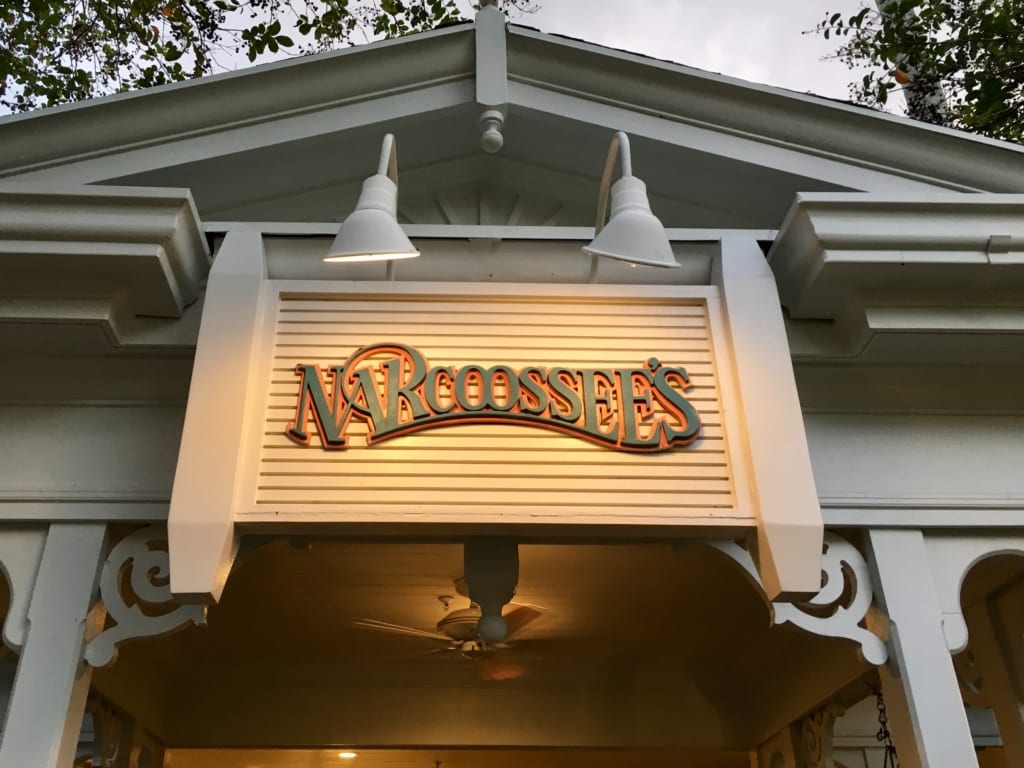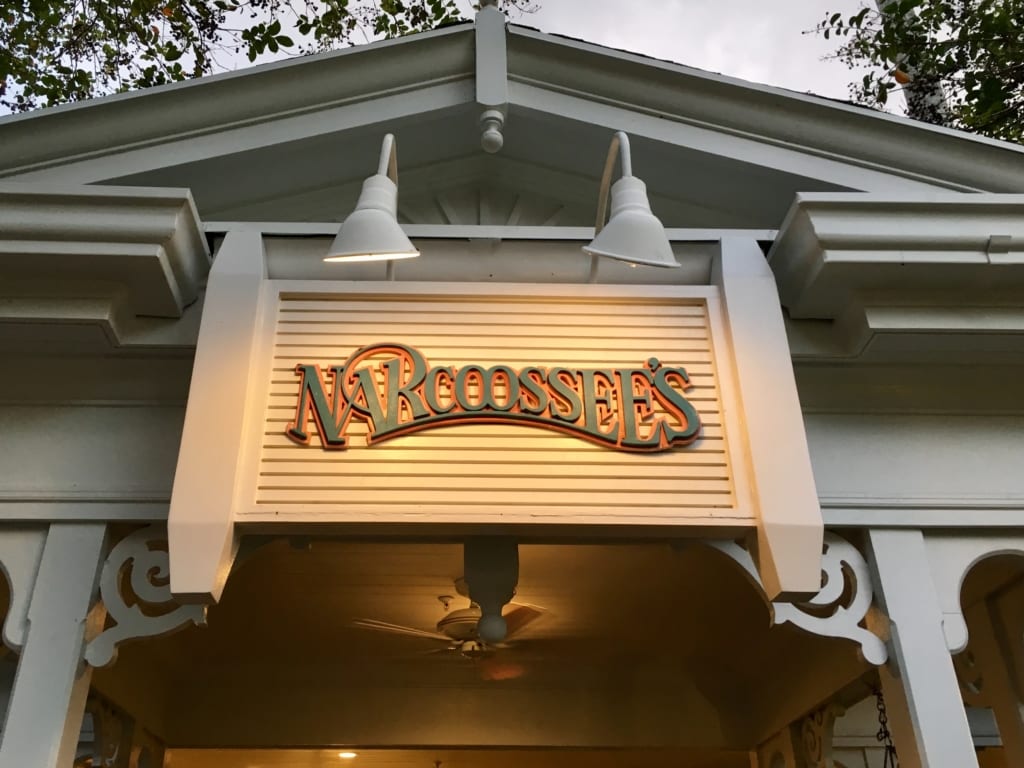 Recently I paid a visit with my wife and my family to one of our favorite restaurants in all of Walt Disney World…Narcoossee's! Narcoossee's is a signature dining restaurant at Disney's Grand Floridian Resort and Spa and costs 2 dining credits if you are using the Disney Dining Plan. It also participates in Tables in Wonderland which gives you a %20 discount on your food and drinks. It's often very crowded so I recommend making an ADR as far ahead of time as you can, even 180 days if you can.
Narcoossee's is considered by many to be one of the best dining experiences you can have in Walt Disney World. The restaurant is not located in the main lobby of the Grand Floridian but about a 5 minute walk away in a separate building down by the water. The location is absolutely gorgeous and offers stunning views of the Happily Ever After Fireworks Show over at the Magic Kingdom. A real "hidden gem" when it comes to fireworks watching!
Narcoossee's doesn't have an elaborate backstory, but is made to resemble a Florida seaside restaurant. It's business/casual, so feel free to dress up a bit or come in shorts and a polo if you like, just no tanks and flip flops please! Narcoossee's specializes in seafood and have some of the best on property. But even if you don't like seafood, there are many other great land options as well! Just bring your wallet, or Magic Band or at least someone else's because Narcoossee's is not cheap. For that reason Narcoossee's is really good for a special occasion like an anniversary, date-night or when you just really want to treat yourself! 😉
Let's check out the place….
Atmosphere:
When you head down towards the water you will find Narcoossee's, the Octagon-shaped building with the red roof. Just walking up, you know you're in for a real treat!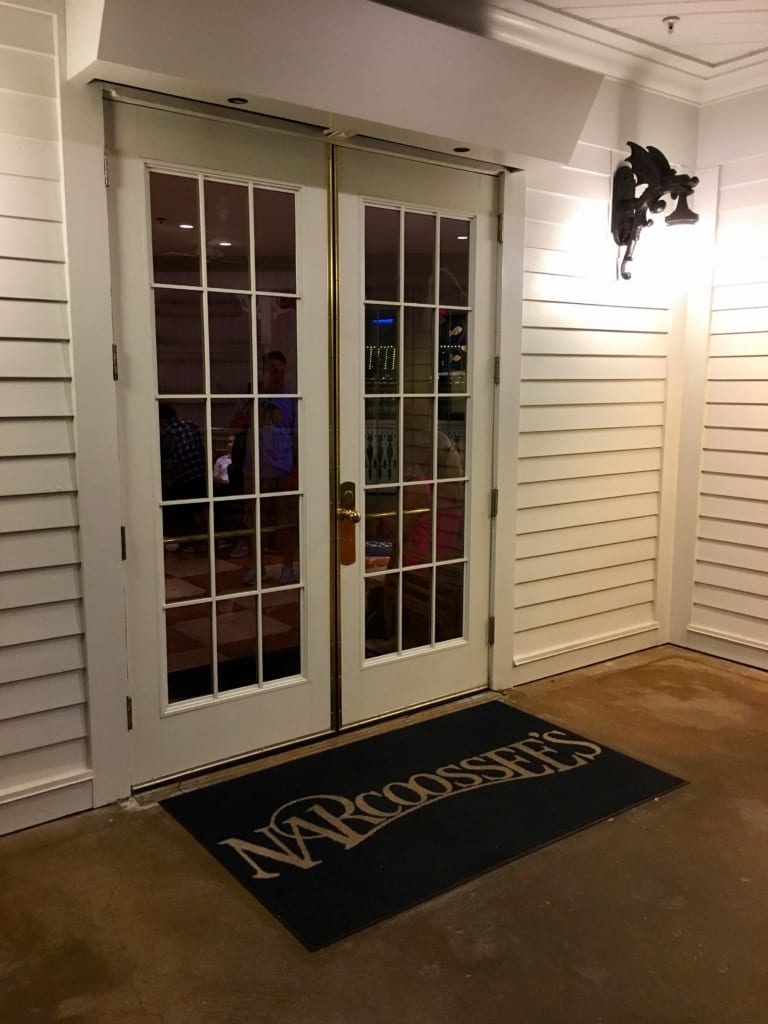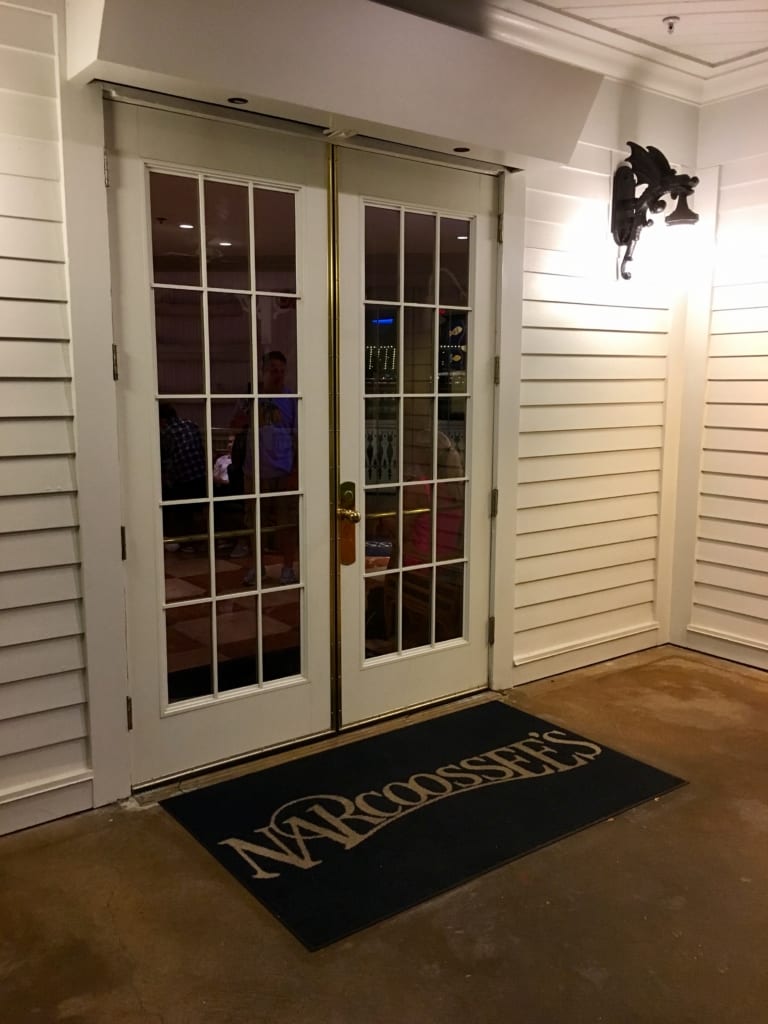 You can even see the menu on the outside before going in…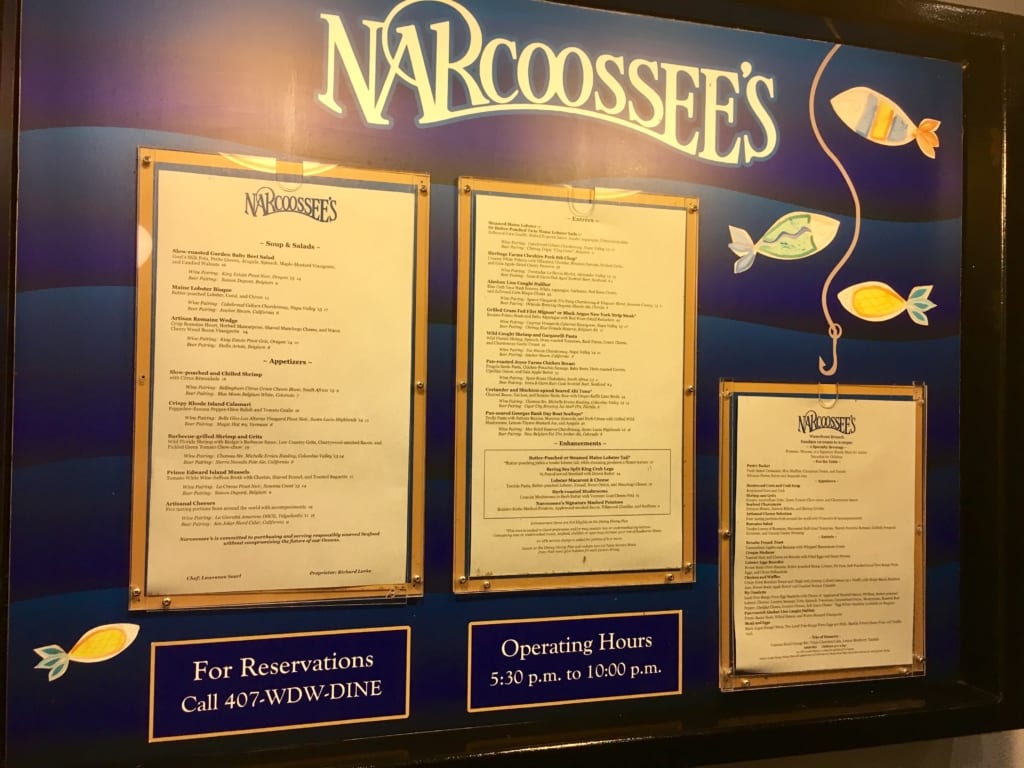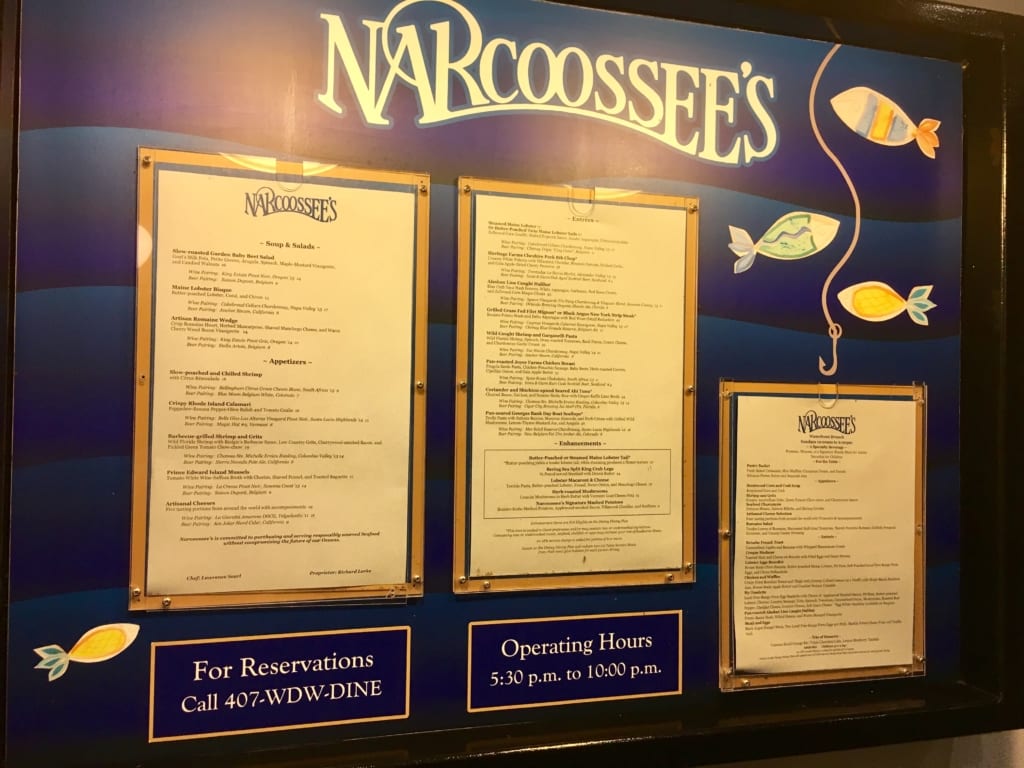 A friendly Pelican greets you when you enter: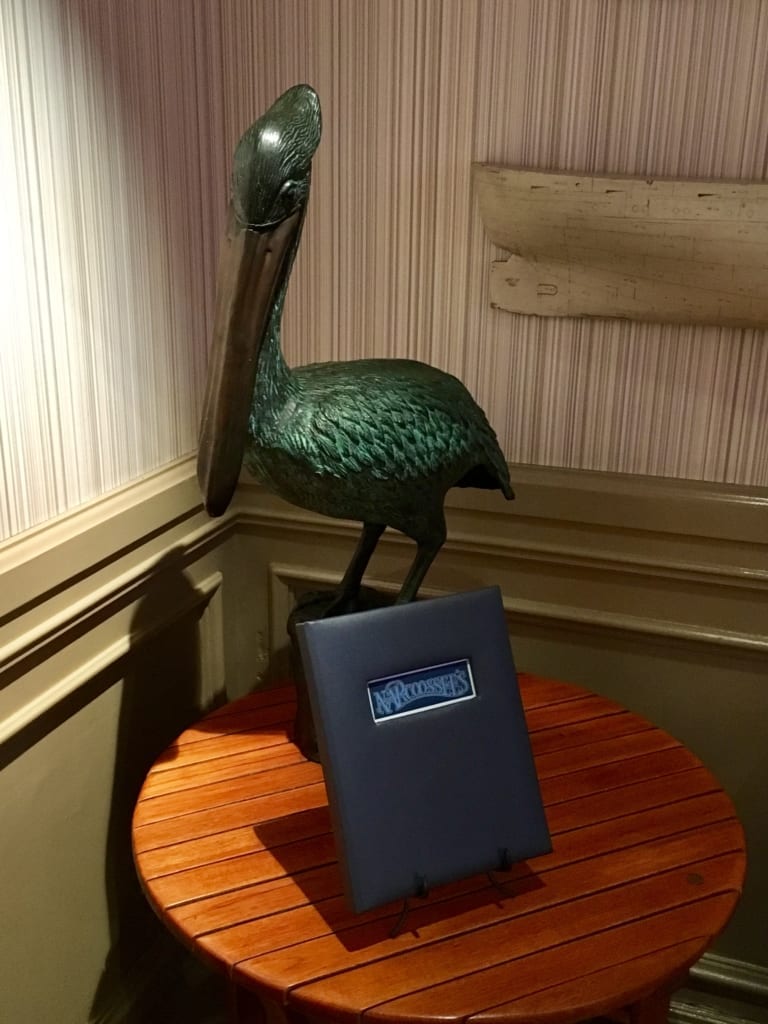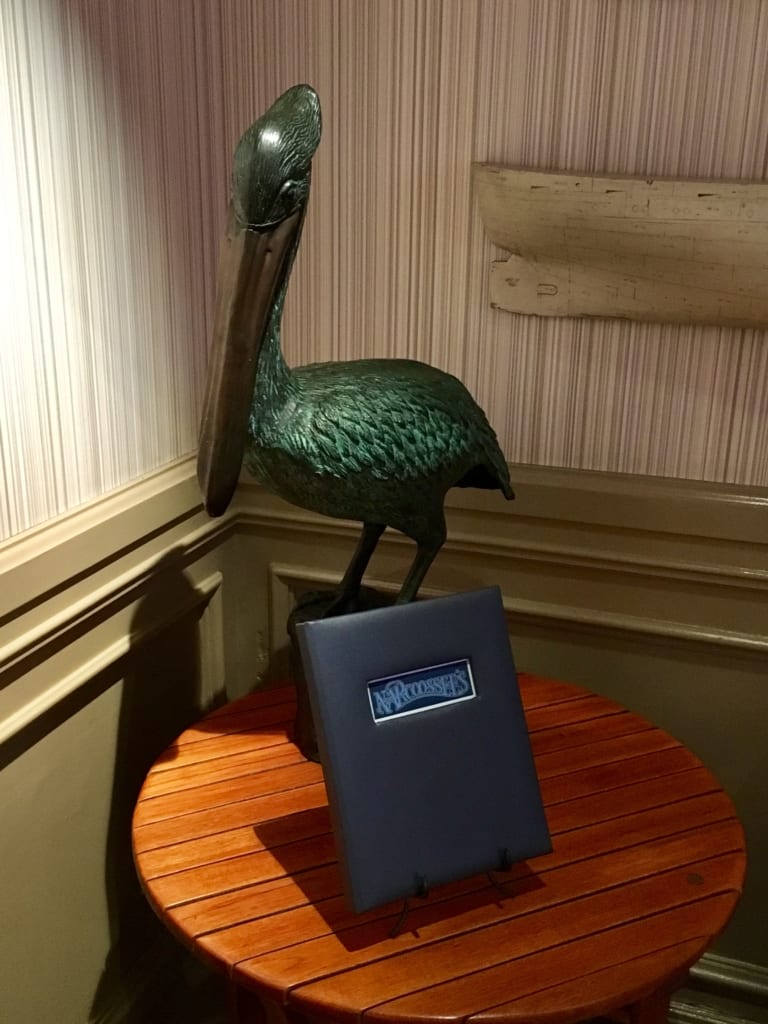 I don't know how long it will be here, but right now when you walk in, there's one of the most amazing culinary creations I have ever seen in my life: a 75-Pound White Chocolate Display of Nemo and his friends, and it's COMPLETELY EDIBLE….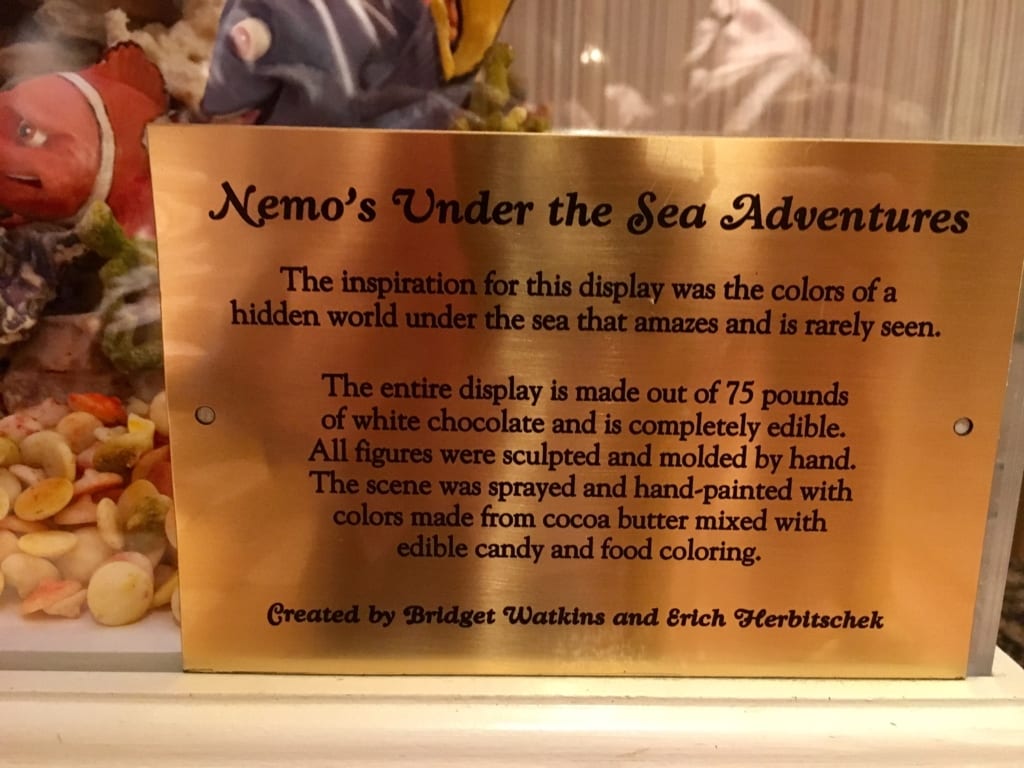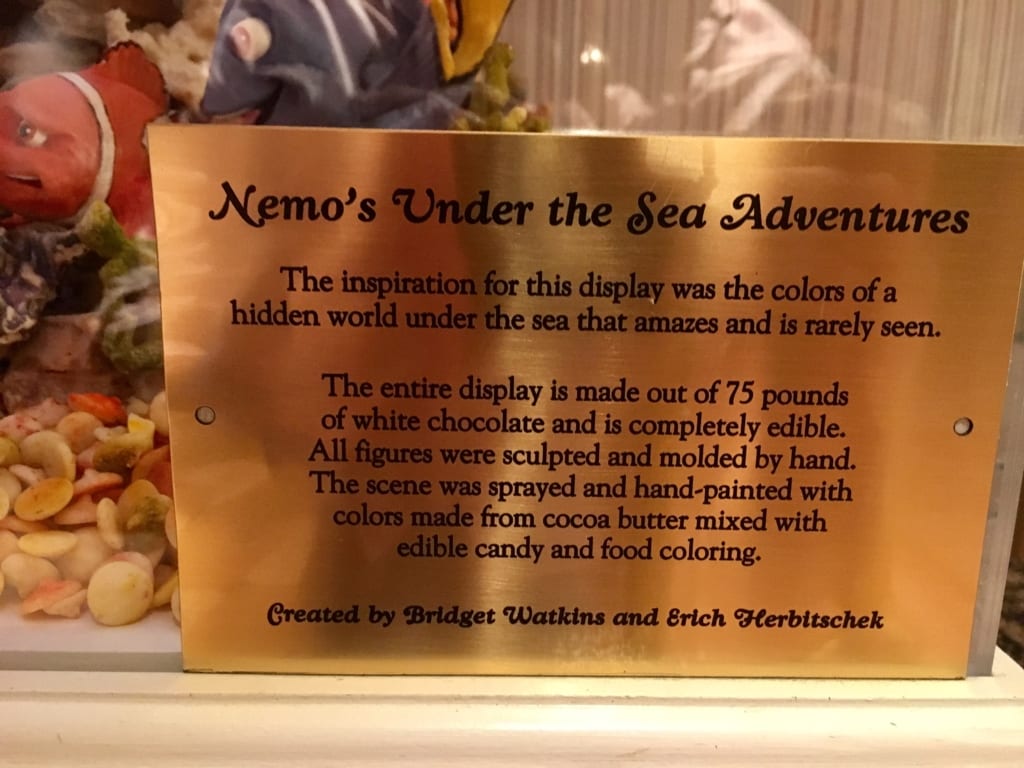 Get a load of this thing…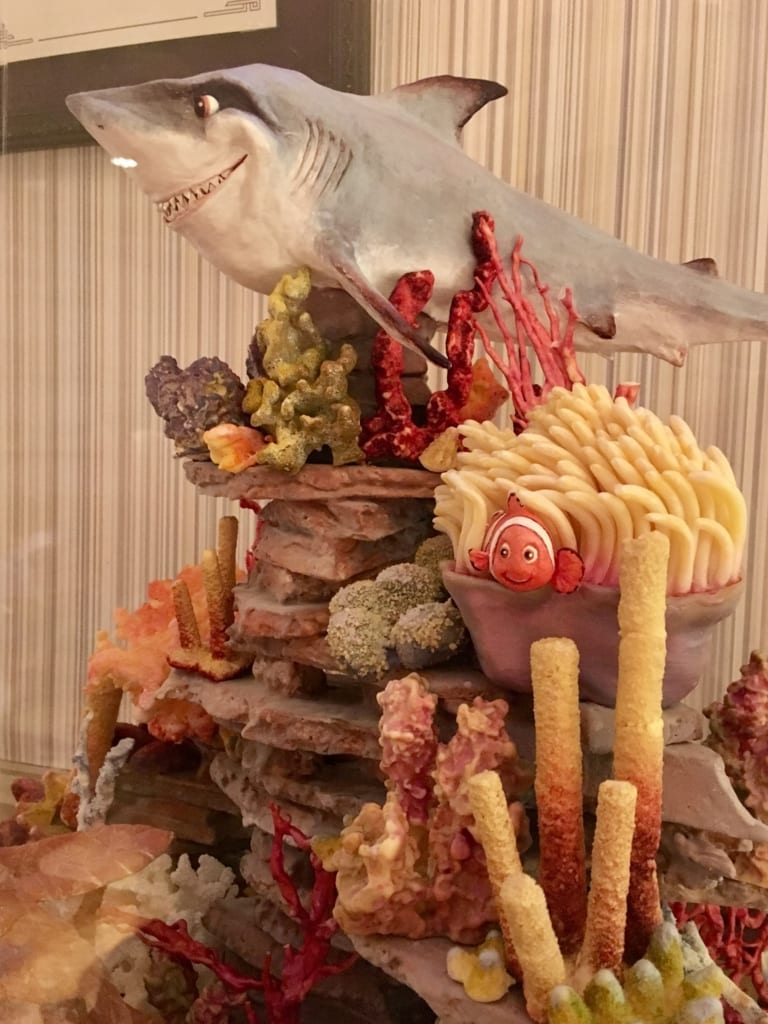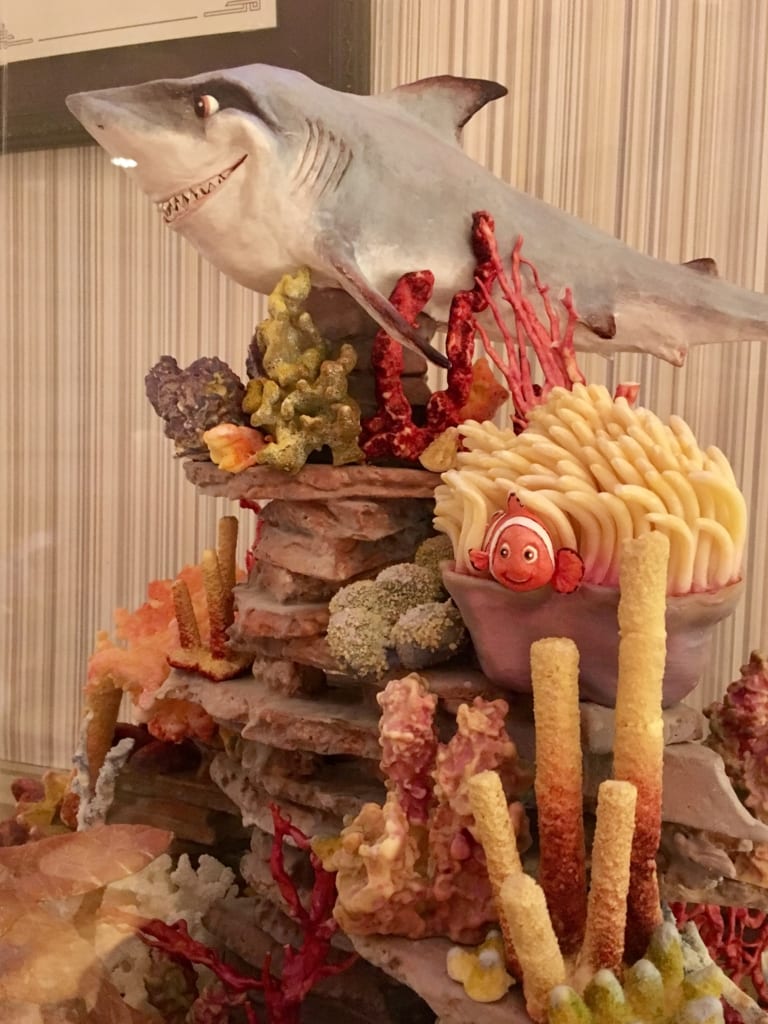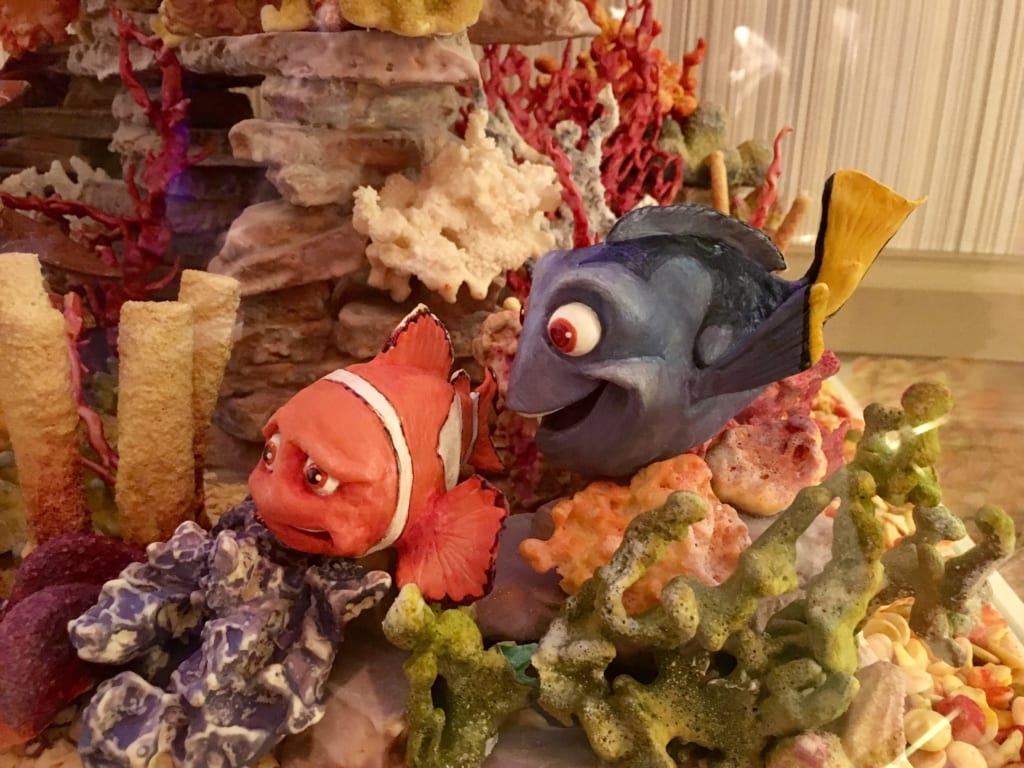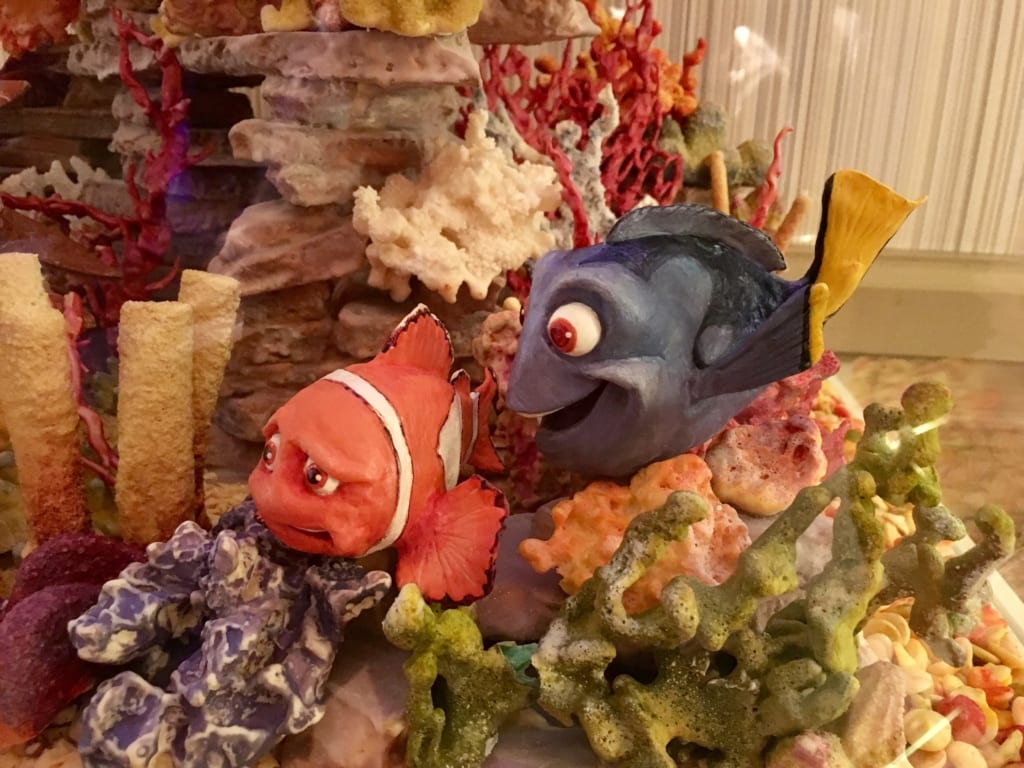 All the figures were sculpted and molded by hand…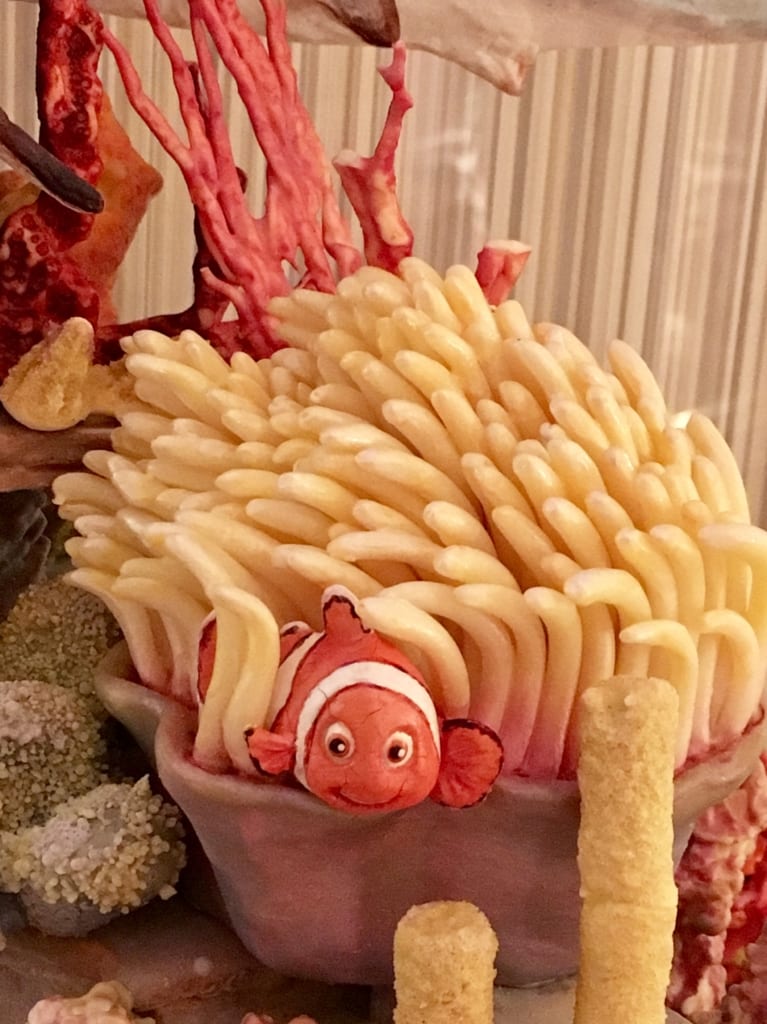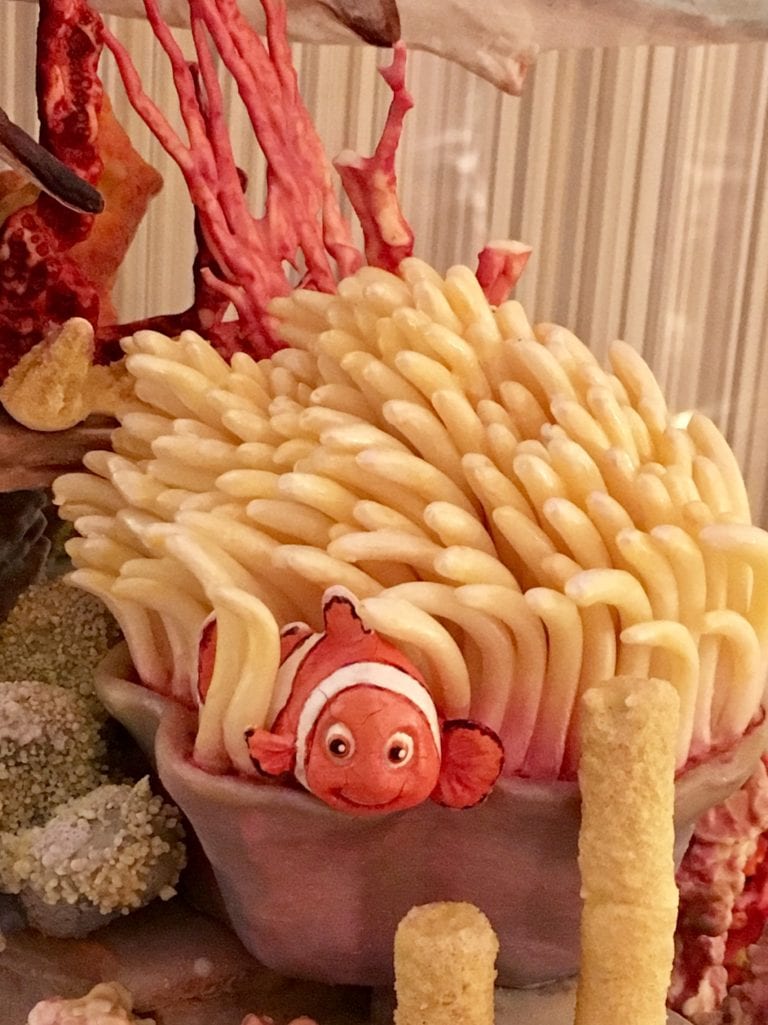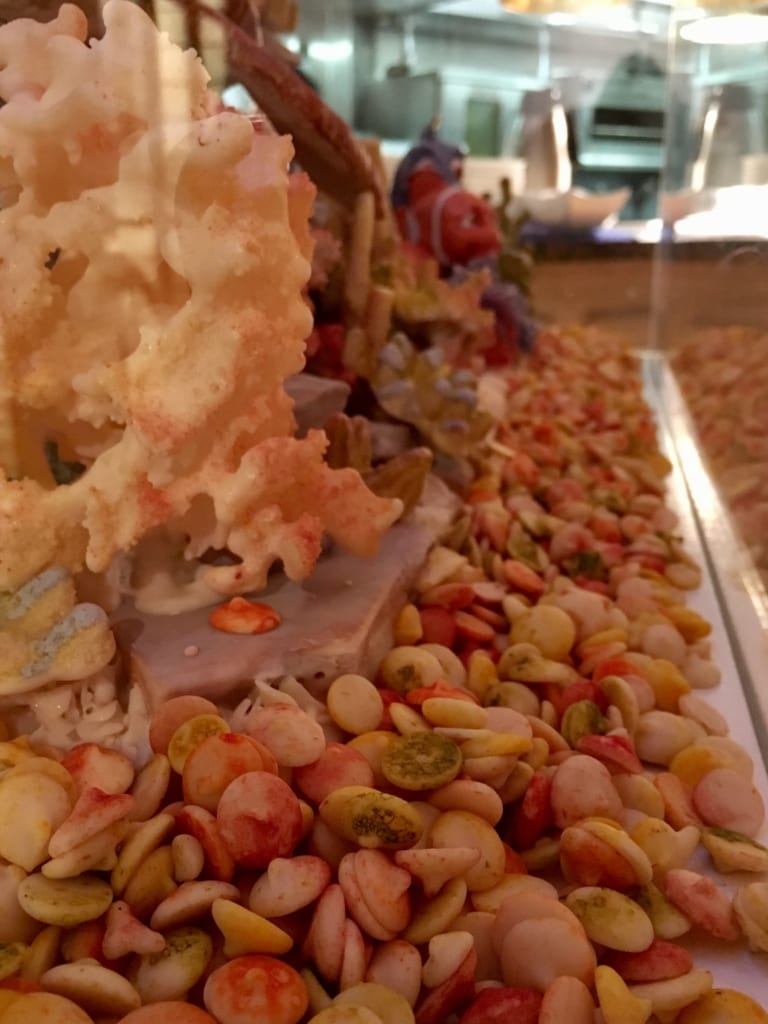 The scene was sprayed and hand-painted with colors from Cocoa Butter mixed with Edible Candy and Food Coloring…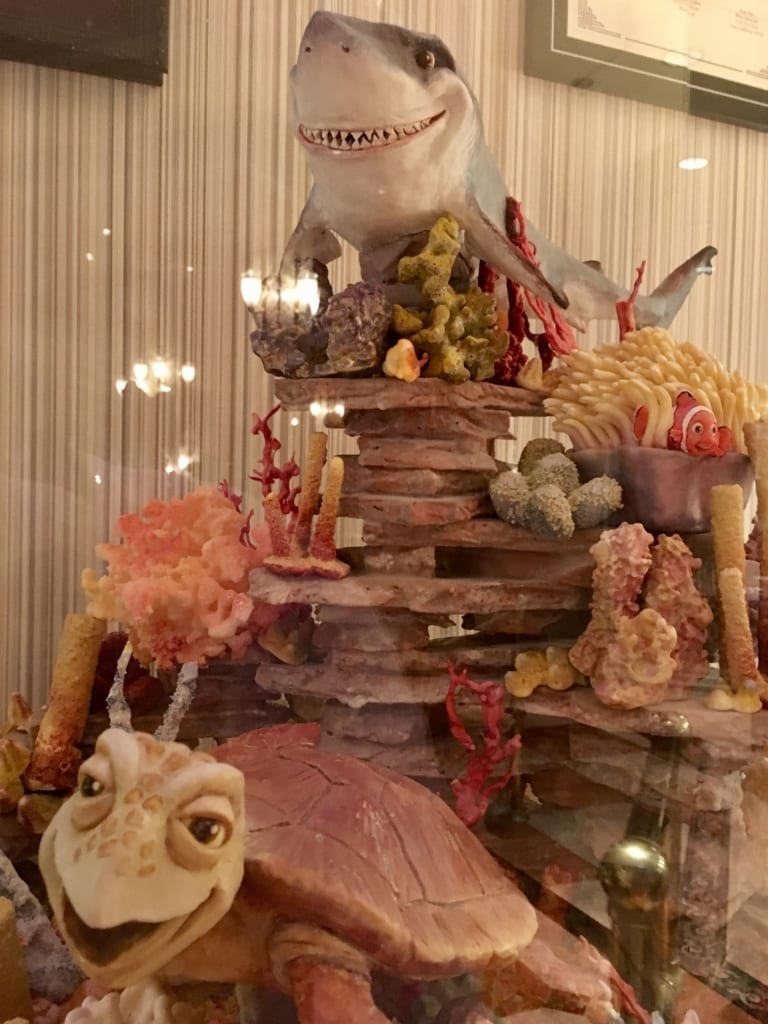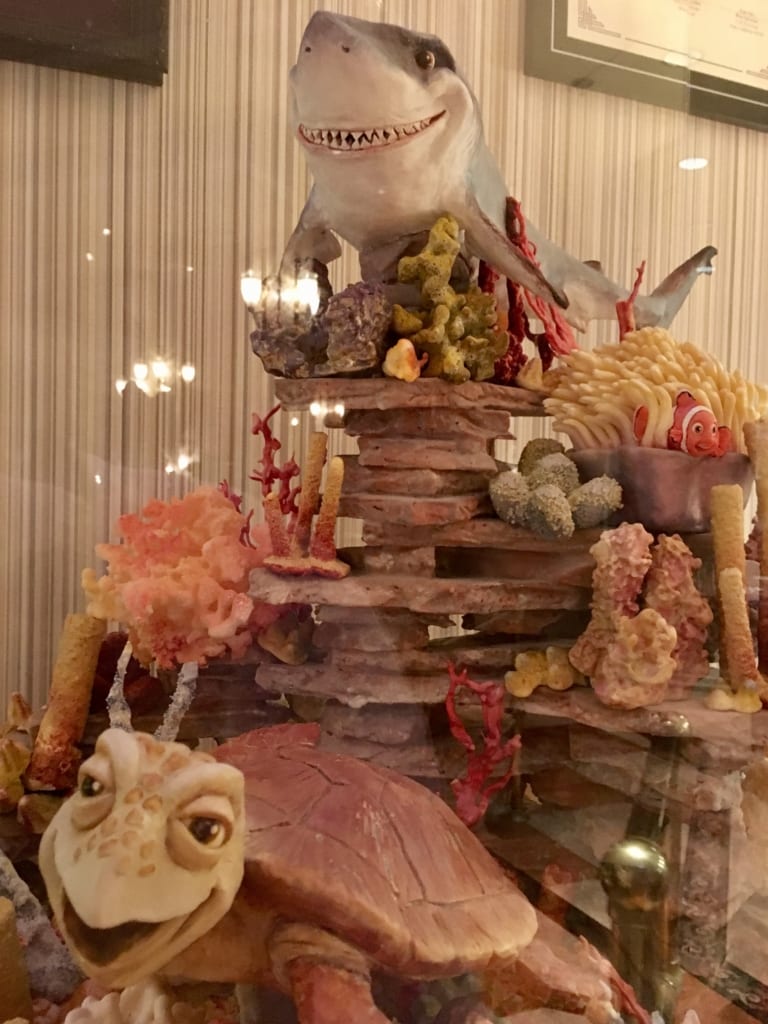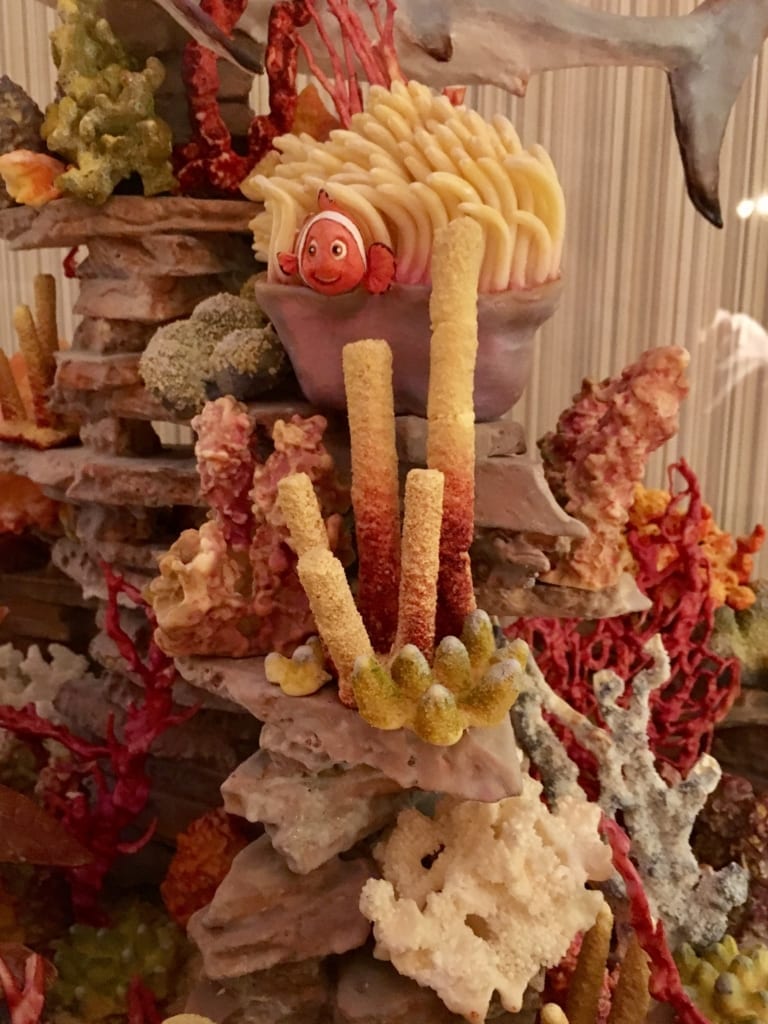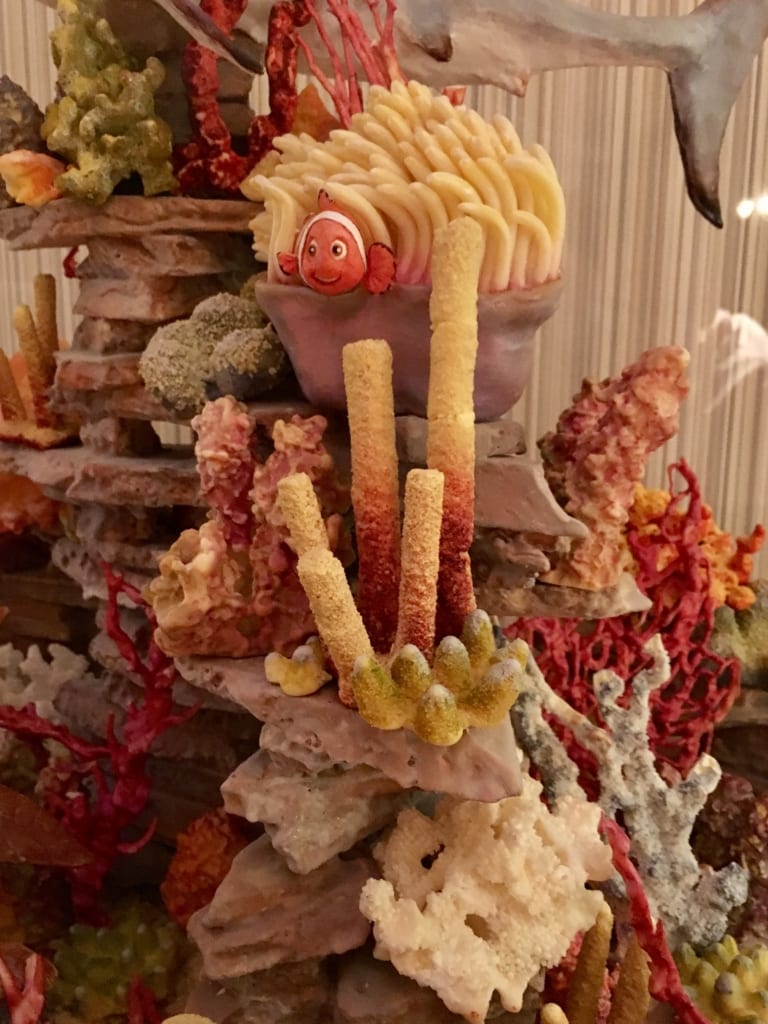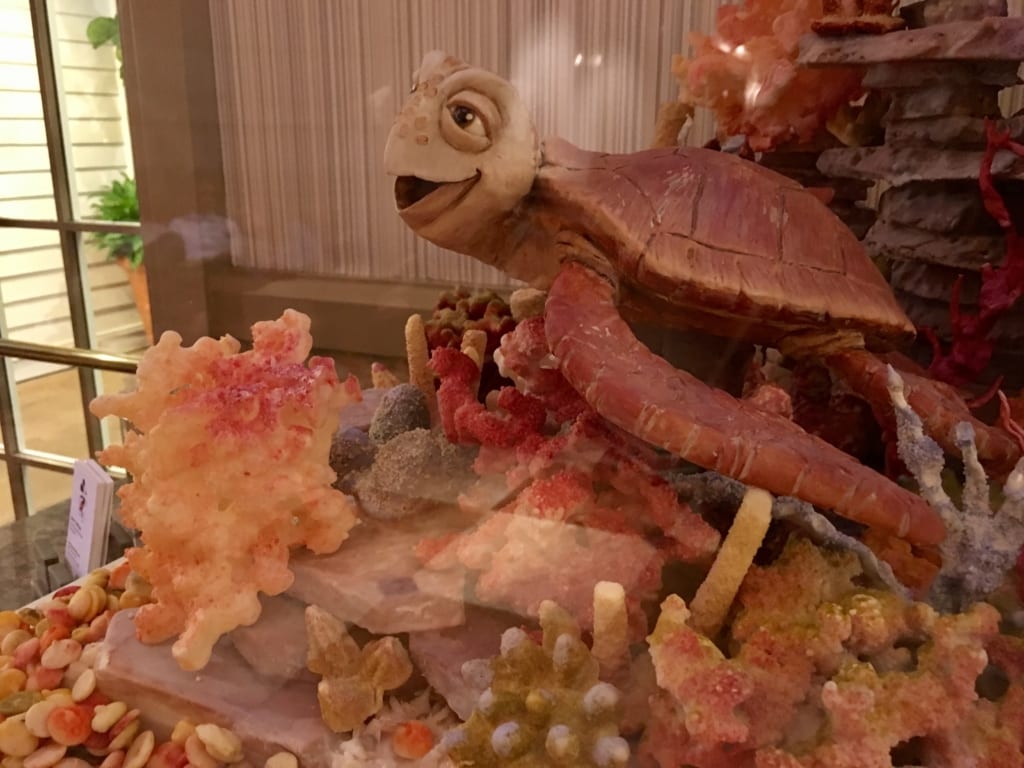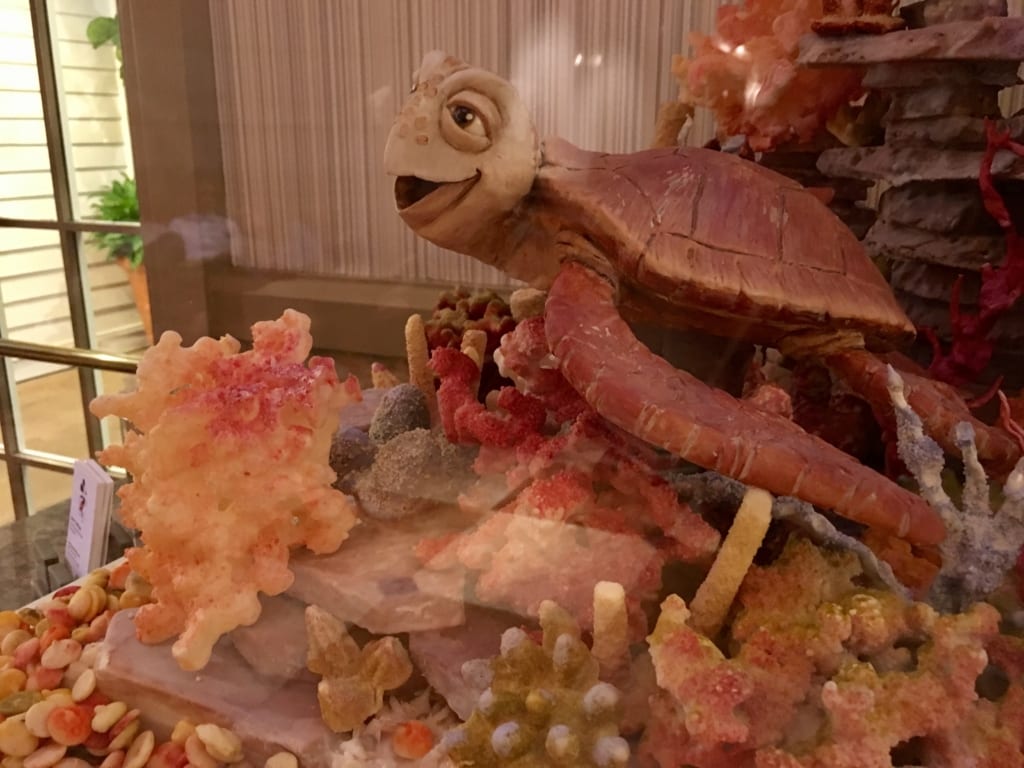 There's an Open Kitchen on your left which is cool to see the chefs hard at work…ok here they aren't exactly hard at work, but I swear they weren't like this the whole evening! 😉
You then head into the Main Dining Room which is either up the ramp to the Upper Level, or you stay on the Lower Level. The big tall windows also let in a great amount of light during the late afternoon/early evening hours so you get a nice open not stuffy feeling.
The lower level is the best place to sit imo because you have some tables right against the windows with amazing views of the Seven Seas Lagoon, and therefore also of the Happily Ever After Fireworks across the lagoon at the Magic Kingdom if you are there in time and are feeling too lazy to go outside and watch it. 😉 When you arrive ask the hostess for a window seat as they will gladly oblige if there is one available.
No matter where you are seated you have access to the outside balcony where you can relax while you are waiting and where you can go to see Happily Ever After. Check out these views:
If you want to see the fireworks show plan your reservation for sometime during Happily Ever After. Look up the Happily Ever After fireworks schedule on Disney's website for the day you want to book. Let your waiter know and he will gladly wait to place your order so it doesn't come out at the same time as you are watching the show.
Anyways this time we weren't able to score a window seat so we went up:
It's hard to see from the photos the shape of the restaurant interior, but the building is a hexagon, and on the inside one half of it is used for the dining room. It has gigantically tall ceilings and is a really cool structure.
The bar is equally cool, it's located on the upper level and is a bit sunken down from the dining room…
There's a really cool mural above the bar, that fits right in with the cuisine… 😉
Narcoossee's offers has a very nice wine selection too if you like wine: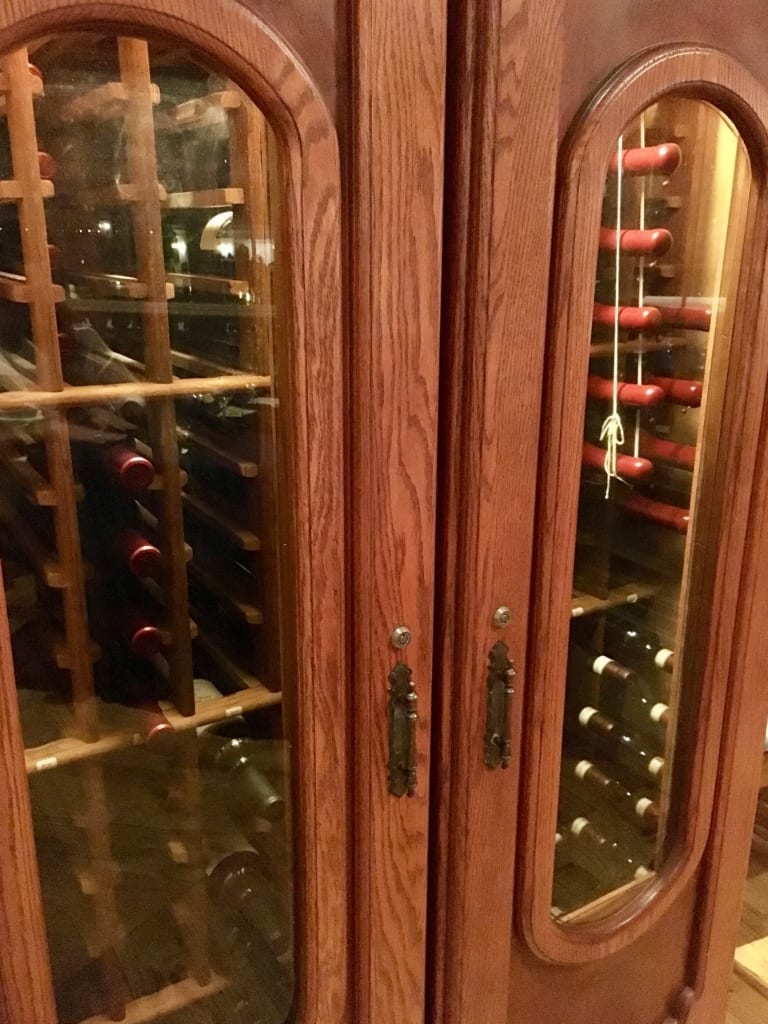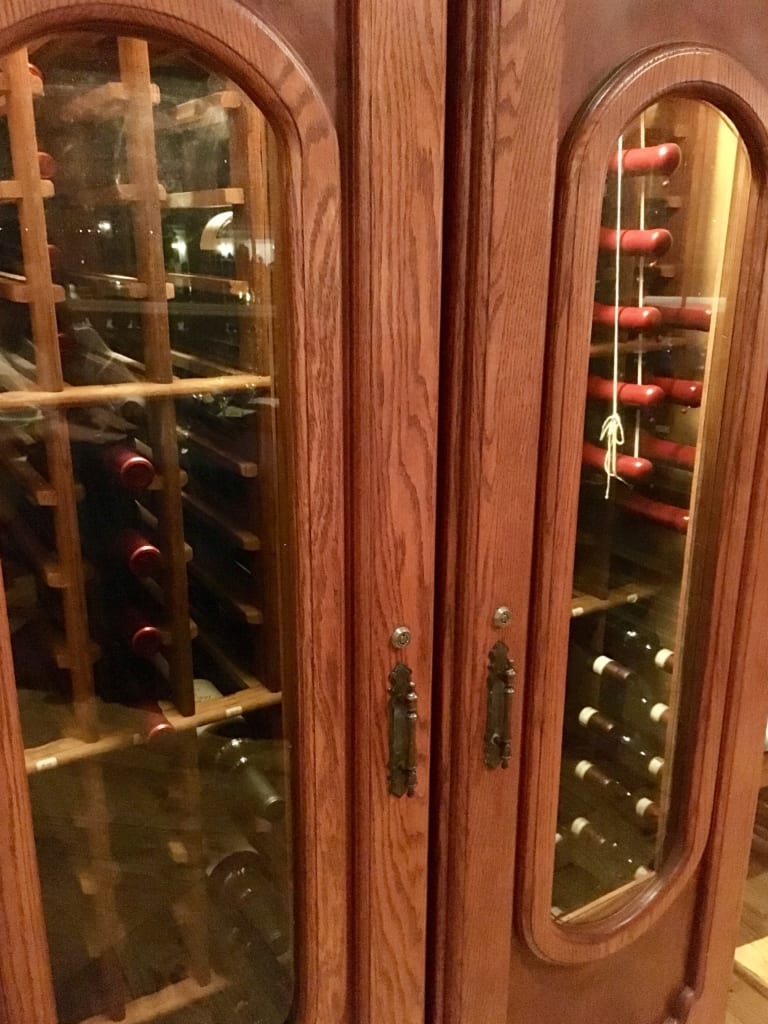 On to our table:
Overall I like the atmosphere. It's elegant enough, but at the same time not stuffy. You can wear a blazer if you feel like it, or more casual. I like the nautical theme of the restaurant also, as it fits in great at the Grand Floridian Resort and because of its position on the water. You can talk at a normal level and not have to whisper, yet at the same time it doesn't really get that loud in there either, probably because of its huge vaulted ceilings. The only complain we had about the atmosphere was that it was quite cold in there because of the A.C., so bring a wrap or a sweater ladies and even a jacket guys!
Yeah, yeah, I know guys…this is all great, now where's the good part?? 😉
Food:
Again Narcoossee's specializes in seafood, but there are plenty of other great options as well if you are a vegetarian or a meat-only kinda person. The menu changes seasonally and uses some great local ingredients, so when you're reading this the menu might not be exactly how it was for us, but it should be similar.
We have always found the service to be excellent at Narcoossee's, and this trip was no different. Our waiter was attentive to our needs, knew the menu very well and was able to explain to us and questions we had and make some great recommendations….more on that later! 😉
We were brought the bread service right away:
We all loved the bread. A big huge loaf was brought to us! It was full and crusty on the outside but warm and fluffy on the inside..
We paired the bread up with some amazing fresh butter which had coarse Pink Himalayan salt on top of it! Yes Pink! So good!
Since living in Italy for so long, I now appreciate when I'm in the States and can just slather (maybe it's a word?) butter all over my bread! Contrary to what many people believe, they don't even use oil on their bread either. I know, every Italian restaurant in the USA serves oil with the bread but it's what they want you to think! Nevertheless I was ecstatic with my bread and butter!
The Cocktails were next and Narcoossee's makes some really great ones. For drinks I had my Magical Star Cocktail!! Love that thing..
If you've never had a Magical Star Cocktail before, then I have to ask why not, then tell you to order one. It has a very fruity flavor, idk exactly which ones, probably mango, passion fruit and some other awesome tropical fruits. It's sweet but not overly and has enough of a kick so you don't feel like you're drinking just juice. But the best part is it glows!!! How does it do that you ask? The secret is in the ice cube…or plastic cube that is:
It's a plastic cube with a glowing light inside that flickers and changes colors. I know I'm still like 6 years old and it really doesn't take much to amuse me!! hahaha
We also had a Grand Martini:
I really loved it, especially the Raspberry flavor. It also had Champagne in it which Dan said was a little too powerful and masked the other flavors. Solid for me though.
Then we tried the Mango Mojito:
Stefania fell in love with this thing! It was very good, sweet, not too strong of a mint taste, which I hate. If you like mojitos and mango then you will love it!
All of the cocktails were hits and then out came the appetizers:
My sister had the Artisan Romaine Wedge Salad:
It was a huge Romaine heart which was fresh and crispy. It had Herbed Mascarpone, Shaved Manchego Cheese, and a warm Cherrywood Bacon Vinaigrette Dressing. There were bits of Crispy Bacon crumbled on top of it too! It was delicious! A very good amount for a salad you could only have that as an appetizer or even share it. The cheese was a standout!
Then we ordered the Calamari:
Again, another generous portion size, easily shareable. The calamari itself was crispy and crunchy but the rings were very soft on the inside.
It came with a Peppadew-Banana Pepper-Olive relish and Tomato Coulis which my Dad loved. They were a great addition!
Even though all the appetizers were good, the highlight by far the Lobster Bisque:
I loved, loved this! It had the perfect consistency, not too thin and not too thick and goopy either, really smooth. The flavor was rich and full. Even my sister who doesn't like lobster bisque like it! There were nice meaty chunks of lobster in there too:
I hate it when you order Lobster Bisque and you can't even find the Lobster! This bisque was full of it! The lobster also was nice and tender, not chewy and overcooked! The portion size was generous too. It was exceptional and we all loved it! Best Lobster Bisque on property! A++
Then out came our Main Entrees. First up was the Wild Caught Shrimp and Garganelli Pasta:
Out of everything we ate this was the only miss on the night. The Garganelli pasta is served with Wild Gulf Shrimp, Savory Spinach, Oven-Roasted Tomatoes, Basil Pistou, Comte Cheese in a Chardonnay-Garlic Cream.
My sister ordered it and in her opinion it's just "ok" and there was some flavor in there she didn't like. I found it to be decent, but I can't imagine eating the whole thing by myself as it was very rich. They do give you a big portion with a decent amount of shrimp as a positive. Wouldn't order it again though.
Our entree was incredible on the other hand, and that was the Pan-seared Georges Bank Day Boat Scallops:
This dish was unbelievable! The scallops cam on a bed of Trofie Pasta, and inside were Marcona Almonds, Sultana Raisins, Herb Creme, Grilled Elf Mushrooms, Hericot Verts and Lemon-Mustard Jus.
Honestly I have no idea what half of that stuff is (what the heck is a vert??), all I know is that I would eat it over and over again. There were five very large scallops in the dish. My wife who tends to always order scallops if they are on the menu was floored, she said they were marvelous! The scallops themselves had tons of flavor, and were cooked to perfection.
I thought all the flavors complimented each other and worked really nice. The Trofie Pasta (which is a specialty from Genoa Italy) was awesome and even seemed freshly made. A perfect dish!
So far Narcoossee's was living up to its billing…
I love the Enhancements part of the menu which gives you a bunch of great sides you can add to any meal. They are all big enough to share. We went all-out!
One of the things we ordered was the Butter-Poached Maine Lobster Tail:
You can get the Lobster Tail "Butter-Poached" which renders it more tender or "Steamed" which makes it firmer. I got it poached in butter and of course comes with a side dish of melted-drawn butter to dip!! It was a decent size tail, and at $27 I found it to be a decent bargain. In fact I felt that way about many of the Enhancements. It was great because that Bisque had really put me in the mood for some Lobster, but I didn't want a whole one nor the $72 price tag that came with it. So this way I was able to get my fix and have other stuff too.
The Lobster itself was silky smooth, so tender and flavorful!
One of my pep peeves is when you go to a really nice restaurant and order Lobster or Crab Legs and they make you do all the work to open them! So here I LOVE the fact that they do the hard work and open it for you so I didn't even get my hands dirty! Just popped that sucker right outta there and into the