This post is to share with you everything we know about the new signature dining restaurant coming to Disney's Riviera Resort called: "Topolino's Terrace – Flavors of the Riviera." We're going to share all the details about the menu, prices and a review once it's open. Let's check it out…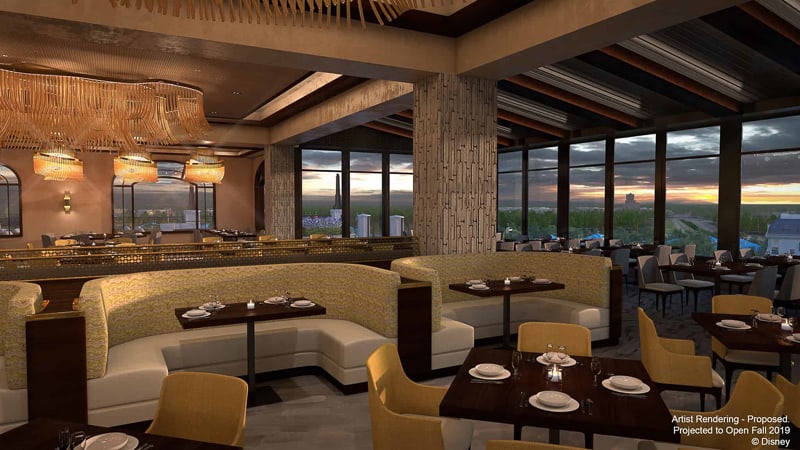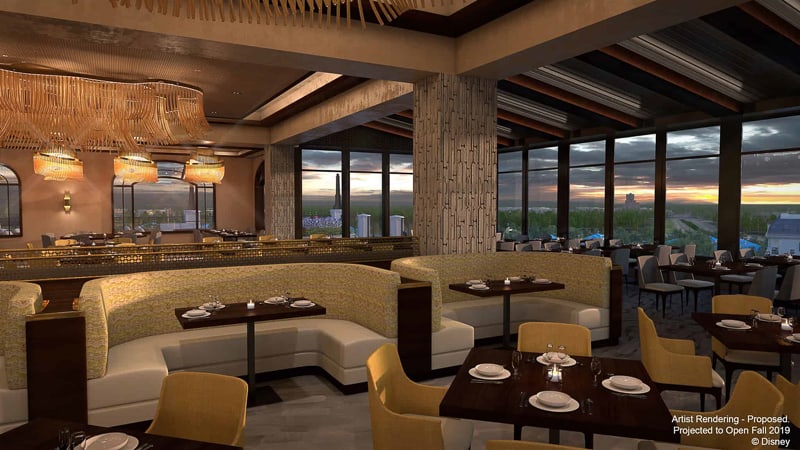 Topolino's Terrace – Flavors of the Riviera Overview:
Location: Disney's Riviera Resort (Rooftop)
Type: Signature Dining Experience
Price: Breakfast – $$$ ($35 -$59.99 per adult); Dinner – $$$$ (Over $60 per adult)
Cuisine Type: Mediterranean
Meals: Character Breakfast Experience and Signature Dinner
Dress Code: Elegant
Reservations: ADR 180 Days – Now Available!
Opening Date: December 16, 2019
Topolino's Terrace – Flavors of the Riviera is one of the many restaurants coming to the new Disney's Riviera Resort this Fall. Located on the top floor of the resort, it's named after "Topolino," Mickey Mouse himself. I don't know if I'd call it a "Mickey Mouse Restaurant" per se, but there will be some influence for sure.
Topolino's Terrace is going to be a signature table-service restaurant which will feature authentic dishes with French and Italian influences. There's also going to be a character breakfast experience here in the morning inspired by the Riviera, and at night it will turn into one of the most exclusive and elegant dinner locations in Walt Disney World.
It's funny when I first read the name: Topolino's Terrace – Flavors of the Riviera, because living in Italy for part of the year everyone there calls Mickey Mouse Topolino, which when translated means literally: "little mouse." They don't really know him as Mickey Mouse and it's written this way on most of their cartoons, especially the older ones.
Theming/Atmosphere: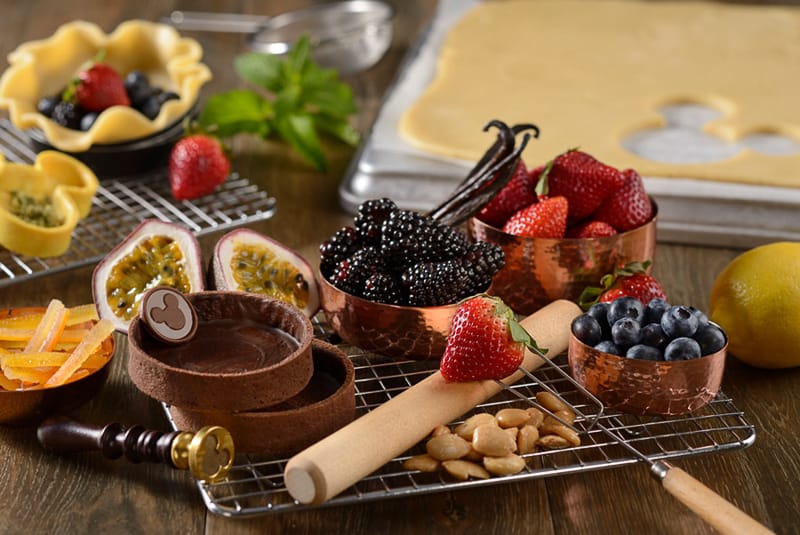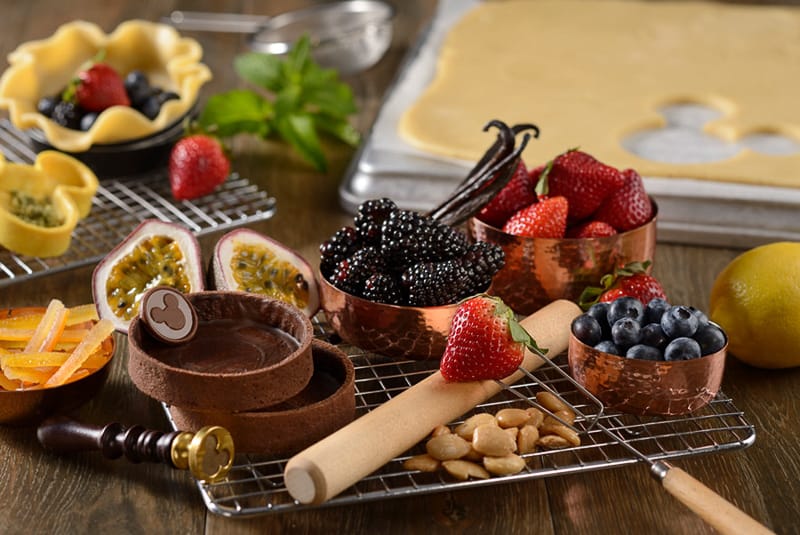 Inspired by the cliffside restaurants of France and Italy, Topolino's Terrace – Flavors of the Riviera helps celebrate the grandeur of Europe that has long inspired many beloved Disney stories over the years.
It is located on the top floor of the Riviera Resort hotel in a beautiful indoor terrace, which will have some of the most amazing views in all Walt Disney World. Being positioned so close, it's going to be a great place to take in the fireworks shows at both Epcot and Hollywood Studios.
Just looking at the concept art for the restaurant, it doesn't seem like it's really themed all that much to Mickey Mouse, but one would think if his name is in the title of the restaurant they will work it in there, probably besides the character dining too. I'm sure there will be lots of hidden Mickeys throughout and of course he will be coming out for the character dining.

Disney Dining Plan:
Character Breakfast: 1 Disney Dining Table Service Credit
Dinner: 2 Disney Dining Table Service Credits
Discounts:
Tables in Wonderland – Yes
WDW Annual Passholder – Yes
Disney Vacation Club – Yes
Disney Rewards VISA – ?
Location/Directions:
Topolino's Terrace – Flavors of the Riviera is located on the top floor of the new Riviera Resort hotel. Here are some transportation methods for getting there:
Walking: If you are at the Caribbean Beach Resort, you should be able to walk to the Riviera Resort in approximately 10 minutes.
Bus: Take a Bus to Disney's Riviera Resort from any Theme Park or Disney Springs
Disney Skyliner: Take Disney World's newest transportation the Disney Skyliner to the Riviera Resort from Epcot, Hollywood Studios, Pop Century, Art of Animation, Caribbean Beach Resort or the Epcot Area Hotels.
Hours of Operation:
This restaurant serves Character Breakfast and Dinner.
Breakfast: 7:30am – 11:00am
Dinner: 5:00pm – 9:30pm
Topolino's Terrace Must-Try Items:
We haven't tried any of the food yet as this restaurant is not yet open, so we can't give you our personal favorites and must-try dishes here yet, but so far from what we've seen, fit all looks really good. Some of the standouts so far look like the desserts and the yummy pasta dishes!
We've included some photos down below and we'll have a full review for you when it opens.
Topolino's Terrace – Flavors of the Riviera Menu
*(Last Updated 5/22/19) – If you have any Menu updates or corrections please let us know! Also prices have just been added!
Character Breakfast Experience Menu:
The character breakfast at Topolino's is a prix fixe menu offering delicious choices to please everyone in the family.
Price – $$$ ($35 -$59.99 per adult)
Pastries:
Entrees:
Quiche Gruyère
House-made Pancetta, Roasted Potatoes, Field Greens, Lemon Vinaigrette

Spiced Sausage Hash
Poached Hen Egg, English Muffin, Potatoes, Pearl Onions, Choron Sauce, Fines Herbes

Two Eggs Any Style
Roasted Potatoes, choice of Smoked Bacon, Ham, Sausage, or Plant-based Sausage
Sour Cream Waffles
Roasted Apples, Chantilly, Orange-Maple Syrup, choice of Smoked Bacon, Ham, Sausage, or Plant-based Sausage
JUST Eggs Omelet
Wild Mushrooms, Spinach, Daiya Cheese, Plant-based Sausage
Smoked Salmon
Everything Bagel, Tomato, Red Onion, Cream Cheese, Capers
Croissant au Jambon
Ham, Brie, Béchamel, Field Greens, Lemon Vinaigrette
Wood-fired Butchers Steak
Polenta, Pomodoraccio Tomatoes, Roasted Onions, Wild Mushroom Conserva, Watercress
Fruit Plate
Seasonal Fruits, Honey Yogurt, Seed Granola, Toasted Sunflower Butter
Wood-fired Butchers Steak
Drinks (Non-Alcoholic):
Peru Alto Mayo Organic Dark Roast French Press
Disney supports Conservation International's Alto Mayo Forest project in Peru, which promotes sustainable coffee growing and economic growth
Featuring Artisanal Roasted Joffrey's Coffee®

Sumatra Café Femenino® Organic Full Roast French Press
Café Femenino® – a gender-focused program to support social justice and empowerment for women coffee producers worldwide.

Drinks (Alcoholic):
Bloody Mary
Grey Goose Le Citron Vodka, Bloody Mary Mix with Mediterranean Soul
Mimosa
Saint~Hilaire Blanquette de Limoux Brut, Orange Juice
Bellini
Nino Franco Rustico Prosecco Superiore, Peach Juice, Raspberry Purée
Signature Dinner Menu:
The dinner at Topolino's offers a wide variety of Mediterranean cuisine inspired by the food of the Italian and French Riviera:
Price – $$$$ (Over $60 per adult)
Appetizers:
Carne Cruda
Aged Wagyu Tenderloin, Parmesano, Watercress, Cracked Pepper, Cured Egg Yolk
Mariné Olives
Lemon, Garlic, Marjoram, Bay Leaf
Heritage Hog Terrine
Brioche, Heirloom Apple, Celery, Endive
Ricotta
Tomato, Aged Balsamic, Cracked Pepper, Basil, Epi
Gnocchi
Duck Confit, Pesto Bianco, Garden Kale, Pinole
Burrata con Panna
Black Winter Truffle, Olio d'Oliva, Seed Lavosh, Sea Salt
Beets Barigoule
White Beans, Watercress, Garden Radish, Lemon Meringue
Romaine Insalata
Ricotta, Watercress, Acciuga, Lemon, Olio d'Oliva
Root Bisque
Parsnip, Celery Root, Heirloom Apple, Cocoa Nibs, Sorrel
Escargot en Coquille
Butter, Garlic, Lemon, Parsley
Winter Pumpkin Ravioli
Wild Mushroom Conserva, Brodo, Pumpkin Seed Oil
Kale and Stone Fruit Salad
Wood-fired Peaches, Quinoa, Almonds, Apricot Vinaigrette
Pasta:
Linguine Scampi
Shrimp, San Marzano Tomatoes, Shaved Garlic, Lemon, Olio d'Oliva, Torn Verbena, Bottarga
Herb Fettuccine
Clams, Mussels, Squid, Vino Blanco, Lemon, Pesto Genovese
Rigatoni
Braised Chicken Sugo, Dandelion Greens, Parmesano Reggiano
Bucatini
Pomodoraccio Tomatoes, Calabrian Chilies, Pecorino Toscano
Entrees:
Bouillabaisse
Seared Black Cod, Turbot, Clams, Mussels, Fennel, Saffron Rouille
Classic Sole Meunière
Sea Beans, Capers, Lemon, Confit Petit Potatoes
King Salmon Mi-Cuit
Artichoke Risotto, Sauce Vierge, Upland Cress, Huile d'Olive
AAA Filet
Truffled Mashed Potatoes, Charred Torpedo Onion, Fungi Purée, Vinaigrette
Braised Lamb Shank
Polenta, Charred Carrots, Pickled Dehydrated Pear, Jus
Tomahawk Veal Chop
Potato Gratin, Torpedo Onion, Lemon-Veal Jus
Vegetarian Cassoulet
King Trumpet Mushrooms, Plant-based Sausage, Tarbais Beans
Dessert:
Warm Valharona Chocolate Cake
Caramel Center, Chantilly, Raspberries
Fruits of the Forest
Black Currant Mousse, Blueberry Sorbet, Macerated Berries, Hibiscus Cake

Profiteroles
Vanilla, Caramel Sea Salt, Gelato, Dark Chocolate Sauce
Apple Tarte Tartin
Vanilla Gelato, Chantilly, Blackberries
Pistachio Mousse
Pistachio Cake, Lemon Curd, Morello Cherry
Painter's Palette
Milk Chocolate Mickey Mouse, Strawberries, Cookie
Drinks (Non-Alcoholic):
Strawberry-Cucumber Spritzer
Strawberry, Cucumber, Lime, Agave, Soda
Pomegranate Dip Cooler
Odwalla® Lemonade, Pomegranate, Mint
Fig and Melon Mocktail
Fig, Melon, Honey, Sweet-and-Sour, Soda
Drinks (Alcoholic):
Frizzante Anise Brezza
Ricard Pastis de Marseille, Cointreau, Lillet Blanc, Honey, Lemon, Prosecco
Euro Manhattan
Jack Daniel's Old No. 7 Tennessee Whiskey, Ramazzotti Amaro, Coca-Cola®, Aromatic and Orange Bitters
Pomegranate Paradiso
Figenza Vodka, Pomegranate, Lemon, Pineapple
La Petite Fleur
Tito's Handmade Vodka, Lillet Blanc, Camomile Tea, Lime Soda
Midi Spritz
Malfy Gin, Aperol, Grapefruit, Saint~Hilaire Blanquette de Limoux Brut
Wines
Various Italian and French Wines
European Ales, Lagers and Beer
Review:
Topolino's Terrace – Flavors of the Riviera is not currently open. As soon as it is we'll have a full review for you…
Storybook Breakfast Dining Experience:
If you're starting the morning off with the Storybook Breakfast Dining Experience, you'll find yourself dining in the beautiful indoor rooftop restaurant with bird's eye views and character greetings from some of your favorite Disney friends: Mickey, Minnie, Donald, and Daisy. Breakfast begins with fresh pastries including Danish pastries, croissants, blueberry scones, or Epi bread (a rustic pull-apart baguette shaped like a wheat stalk).
Entrées include dishes like quiche Gruyère with house-made pancetta, sour cream waffles, wood-fired butcher's steak, smoked salmon, plant-based omelets, and more.
The Storybook Breakfast Dining Experience will be offered daily 7:30–11:00 a.m. and can count as one table service entitlement for breakfast on the Disney Dining Plan.
Evening Dinner Experience:
For the evening dining experience, guests will enjoy a selection of fresh oak-grilled meats, classically-prepared seafood, handmade pastas, and decadent desserts infused with French and Italian flavors.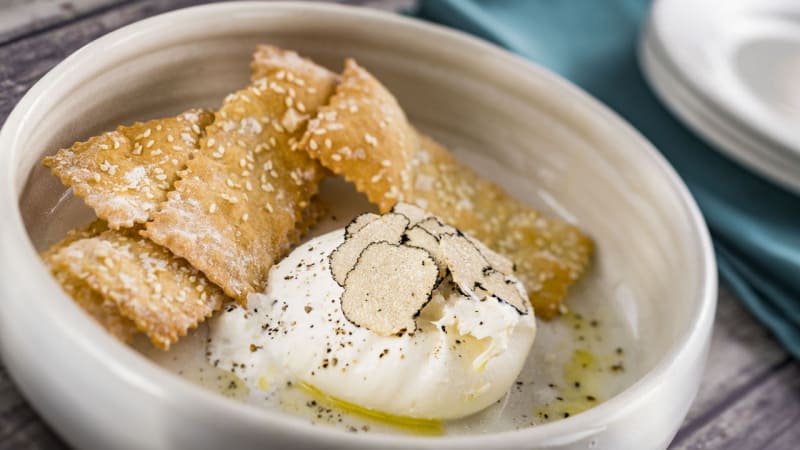 Start off your meal with a Burrata con panna with black winter truffle and sea salt or gnocchi with duck confit and aged parmesan.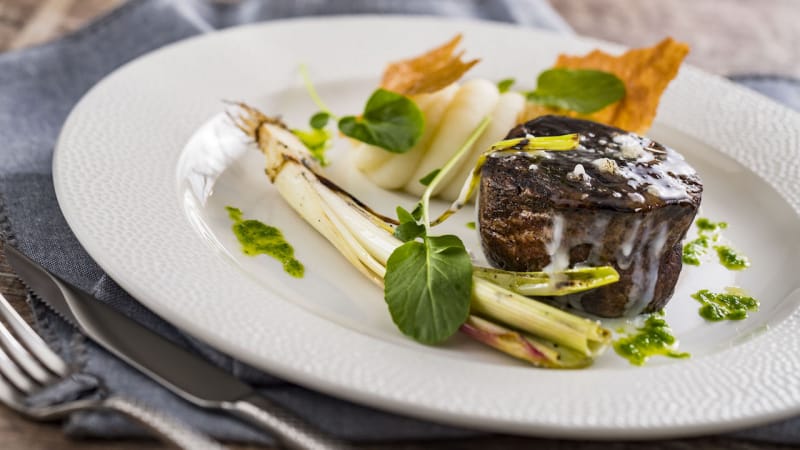 Entrées include options such as rigatoni (with braised chicken, charred artichokes, and crème fraiche), bouillabaisse (with seared cod, mussels, turbot, clams, and saffron rouille), king salmon mi-cuit, and beef filet. You'll also find a great selection of wine from the Mediterranean to pair with your meal as Topolino's carries many vintages from France and Italy.
One of the best parts of the dining experience is that it's going to be located on the top floor of Disney's Riviera Resort and will have amazing views of the fireworks shows both in Epcot and Disney's Hollywood Studios.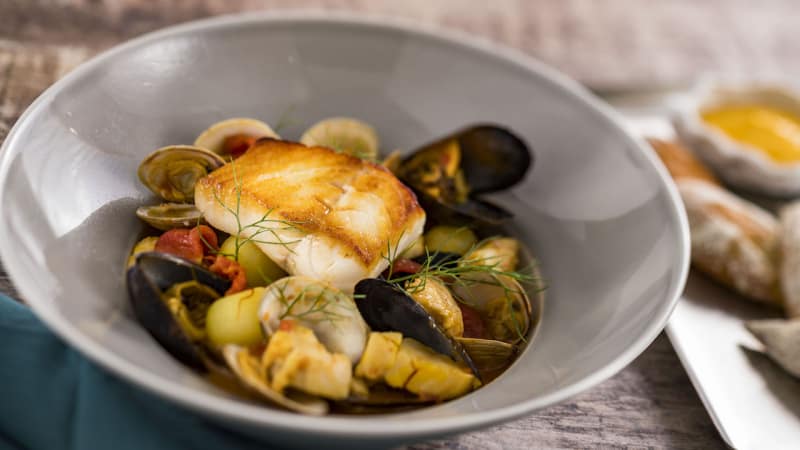 Though the entree selections look amazing, but the best part looks to me like the dessert course! The Fruits of the Forest with black currant mousse, blueberry sorbet, macerated berries, and hibiscus cake looks insane! Or try the pistachio mousse with pistachio cake, lemon curd, and morello cherry.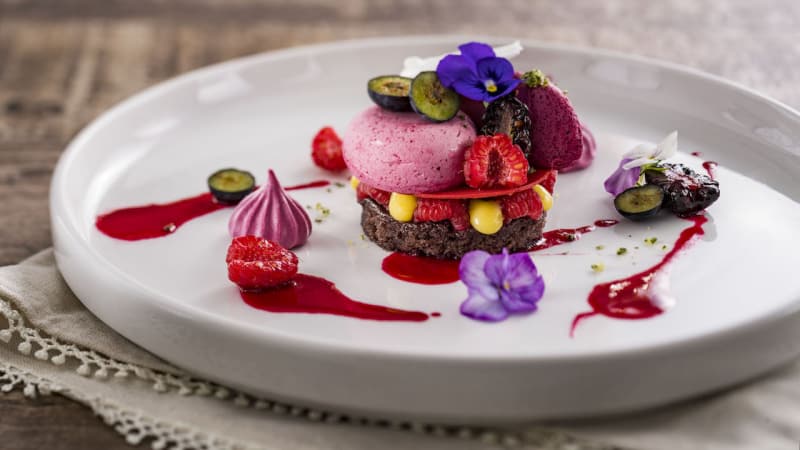 Evening dining will be from 5:00 p.m. to 9:30 p.m. and will count as two table service entitlements for dinner on the Disney Dining Plan. Discounts for Annual Passholders and Disney Vacation Club Members will also be available. There will also be a minimum dress code for evening dining.

I get that this is a signature dining experience and they don't want it turning into Chef Mickey's at night, but with a name like Topolino's Terrace – Flavors of the Riviera I would have thought they'd have worked him into the theming just a tad more. I'll have to wait and see the final product I guess…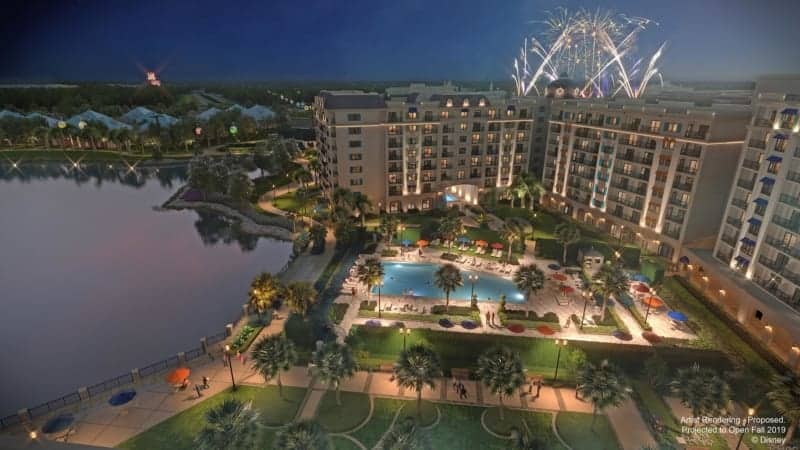 I do think that having a character breakfast here is great and will give parents with children staying at the new Riviera Resort a nice option which will be fun for the whole family. Smart move by Disney.
Reservations Now Available:
The first Dining Reservations can be made for Topolino's Terrace can be made for December 16. For more information on the dress code and the restaurant, visit the Walt Disney World Resort website or call 407 WDW-DINE (407 939-3463).
It sure sounds like there are some pretty good dining choices coming to Disney's Riviera Resort when it opens on December 16, 2019 and another great new venue…
One of the best things about the Riviera Resort is that it will be located right on the newest transportation system in Walt Disney World, the Disney Skyliner. That means it's going to be easy to jump on or off and be in Epcot or Hollywood Studios in less than 10 minutes.
Check out the new concept art Disney released today for the Disney Skyliner station at the Riviera Resort and see what are some of the designs coming to the gondola cars.
Also we got a first look at the Riviera Resort rooms which are very sleek and modern but promise at use Disney art too.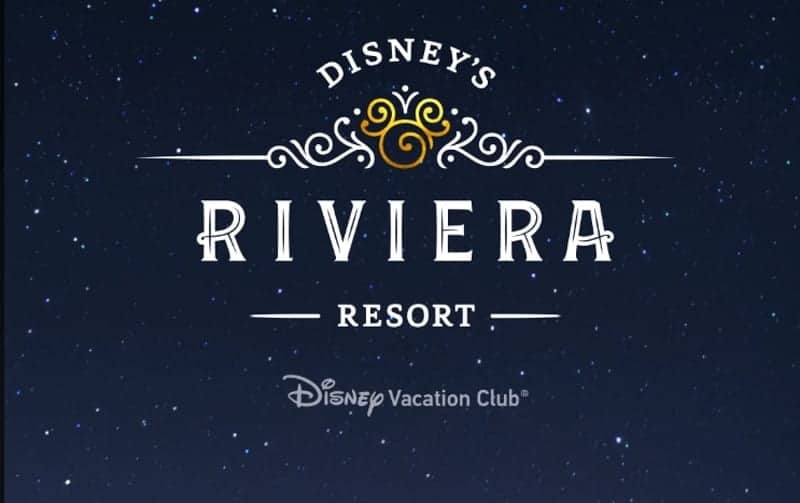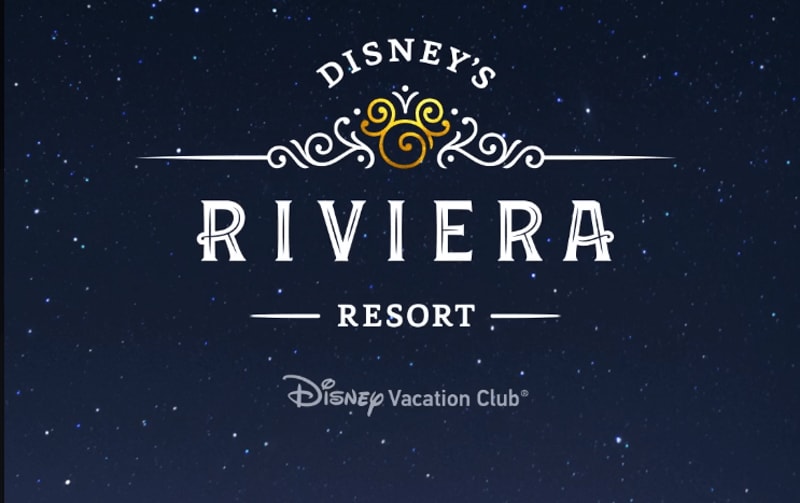 Disney's Riviera Resort opens December 16, 2019 and reservations are now available.
For any help on planning you trip to Walt Disney World to take advantage of the Disney Free Dining offer for 2019, I highly recommend a Certified Disney Vacation Planner like our friends at Show You the World Travel. That's who we recommend and they will help you with all your Disney vacation planning needs!
Your Thoughts:
I want to know what you think about the new Topolino's Terrace – Flavors of the Riviera coming to Disney's Riviera Resort…
Are you excited to try it?
What do you think of the dining choices overall at the resort?
Let us know in the comments section below!
If you enjoyed this article, as always I appreciate it if you'd share it with others via social media. I work hard at making this website into a useful resource for you and your family to plan your visit to the Disney Parks and I hope it can help you! Thanks 🙂