(UPDATED with More Photos and Prices): All sorts of good new info has come out today about Disney's Riviera Resort including a Mickey Mouse restaurant and the other dining options. Now Disney has just given a first look at the rooms in Disney's Riviera Resort, as well as more details about those rooms, as well as a look at the pool!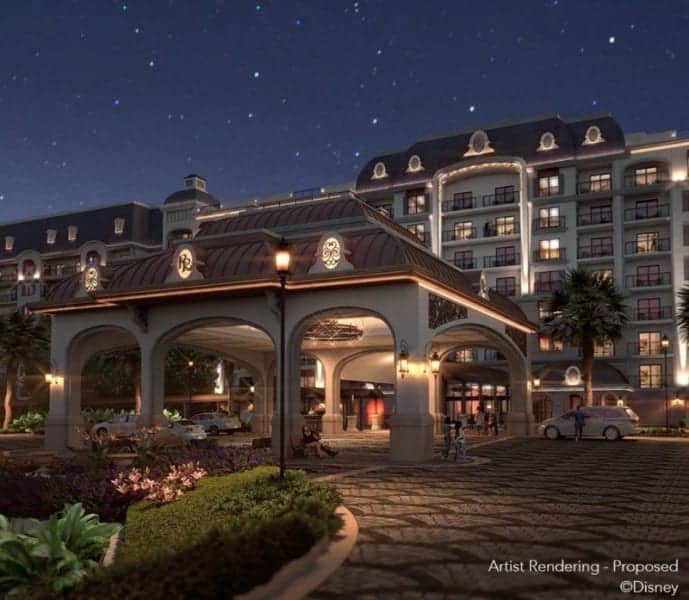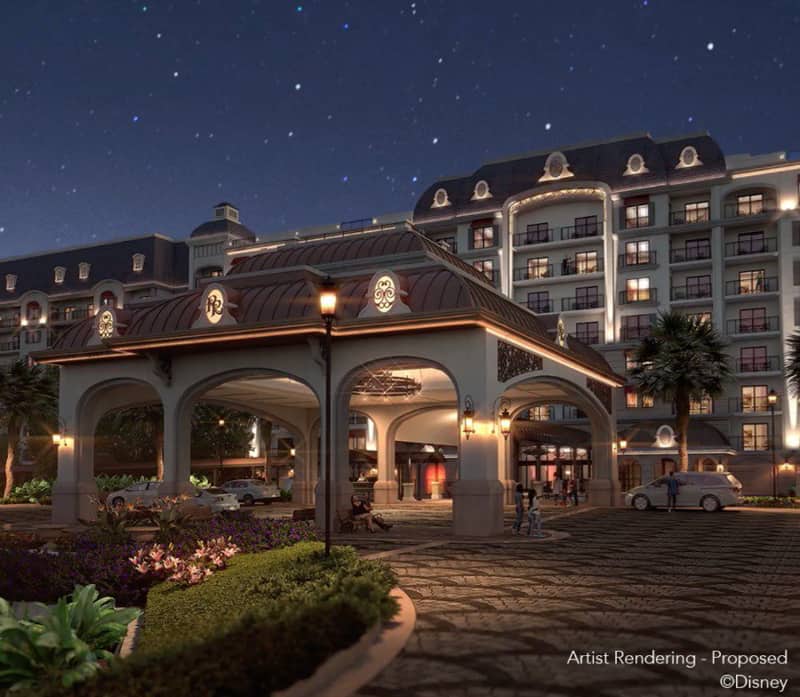 Disney's Riviera Resort will have a total of 300 family-friendly vacation homes with: tower and deluxe studios, one-bedroom and two-bedroom villas, and grand villas which can sleep up to 12 guests each. All bases covered for any family size.
Throughout the resort and inside the studios and villas, a unique art collection will celebrate beloved Disney characters and icons with one-of-a-kind pieces influenced by the works of master artists who also found inspiration along the European Riviera. There is a lot of potential that Disney can work with here, and I hope they work the Disney magic into the art a lot.
Let's take a closer look at each of those room offerings:
Tower Studio:
Prices starting at $486.00 per night
Disney is adding an all-new room category for the Riviera Resort— Tower studios, which sleep two guests each. Each charming, bright tower studio will include a private balcony with scenic views and seating for two, offering a more intimate, modern setting: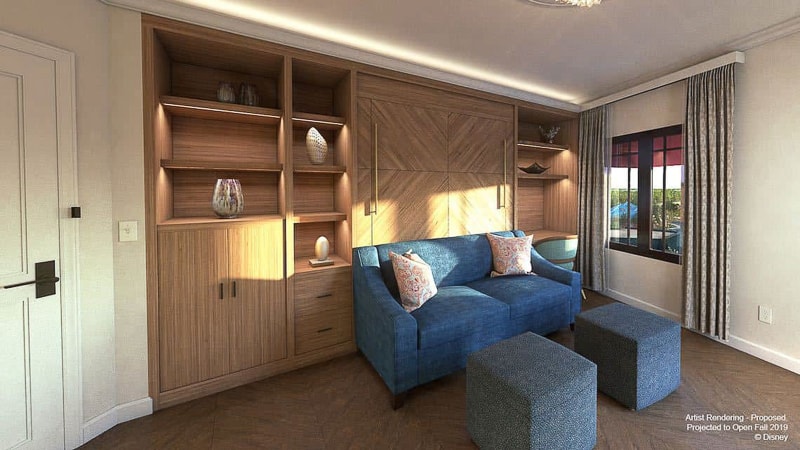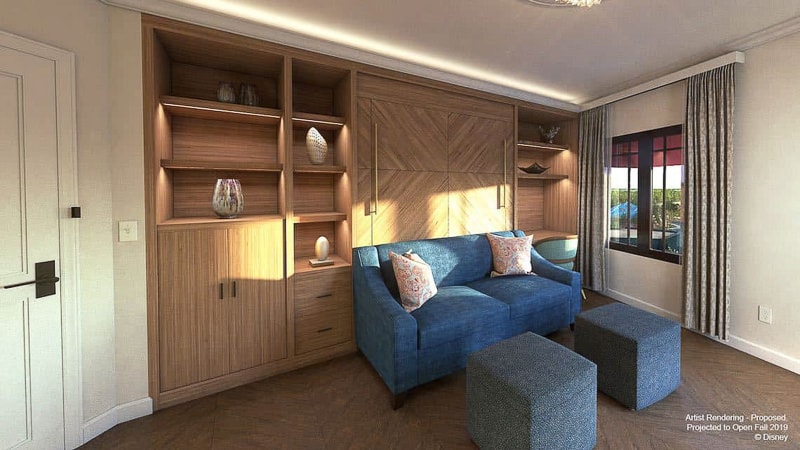 It doesn't look huge, but should be a nice option for guests who don't have any kids and don't want to do any cooking in their room therefore don't need the kitchen space.
Here is the same room with the Queen Bed out: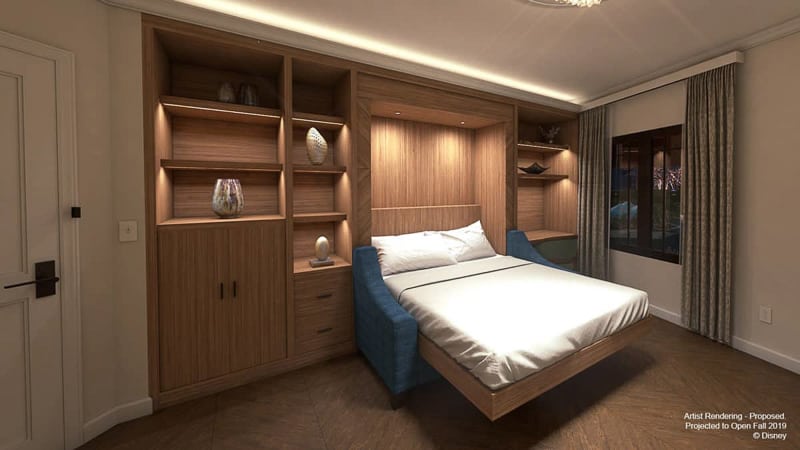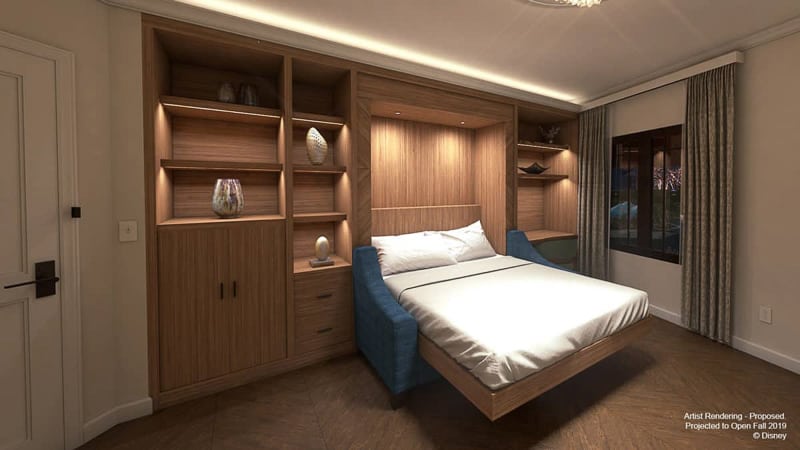 Room looks very clean and sleek. Lots of dark colors, including the wood. I like the fact that it has a balcony, I'm wondering about those "scenic" view though, they can't all be great views.
Tower Studio Floor Plan: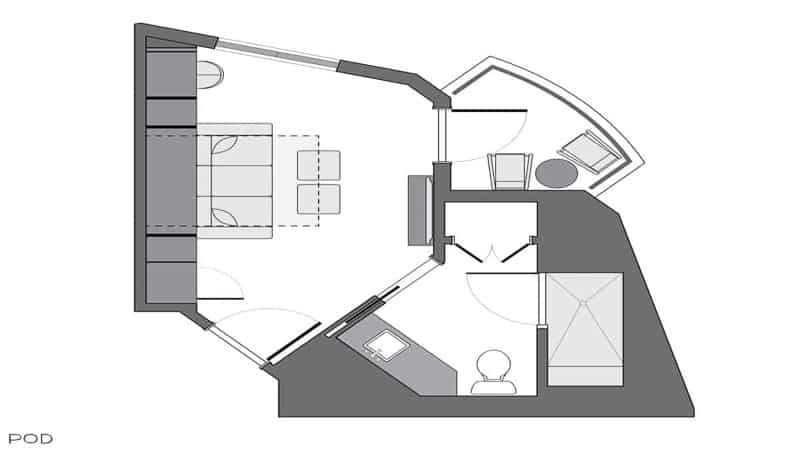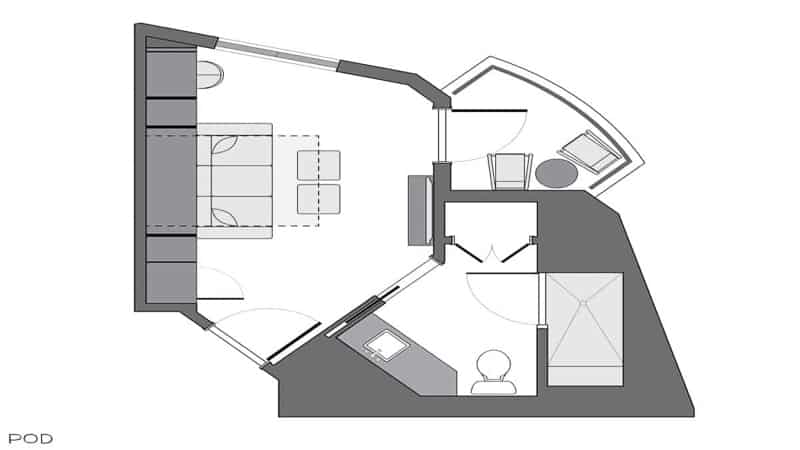 Deluxe Studio:
Prices starting at $662 and $770 per night.
The Deluxe Studio has: 1 Queen Bed, 1 Queen-Size Pull-out Bed and 1 Single Pull-out Bed and sleeps up to 5 adults.
Looking down at the Deluxe Studio the style is totally different. Lots of white, making the room cheery and bright: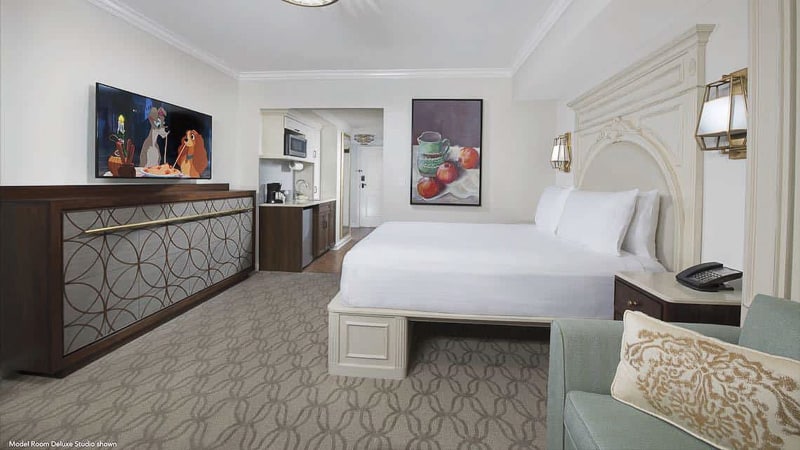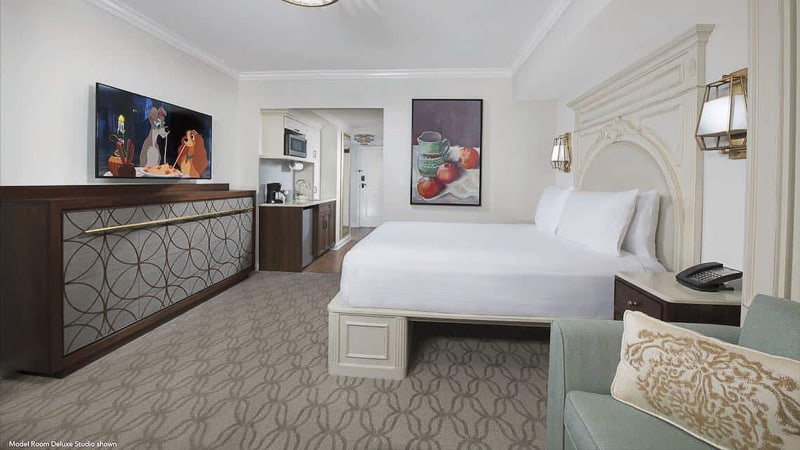 Deluxe studios sleep five, and will also have the kitchenettes, so not a full kitchen like the bigger rooms.
A look at the pull-out couch bed: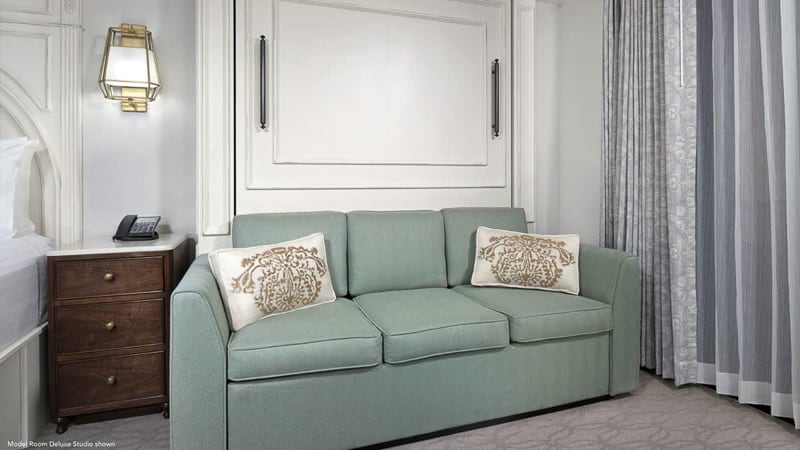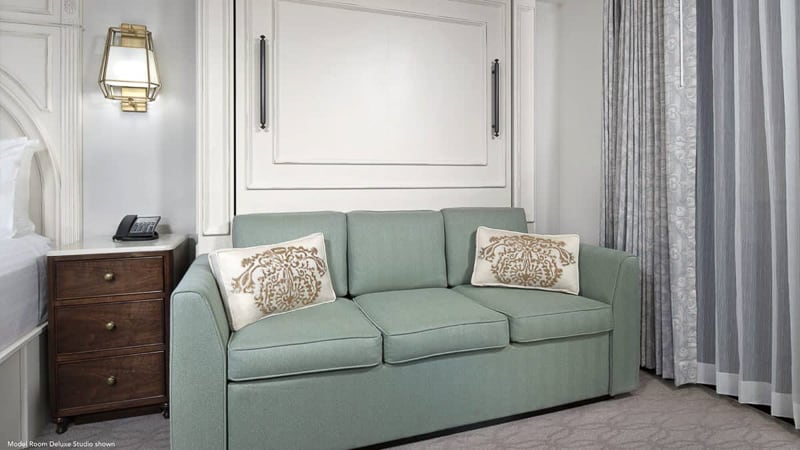 Deluxe Studio Floor Plan: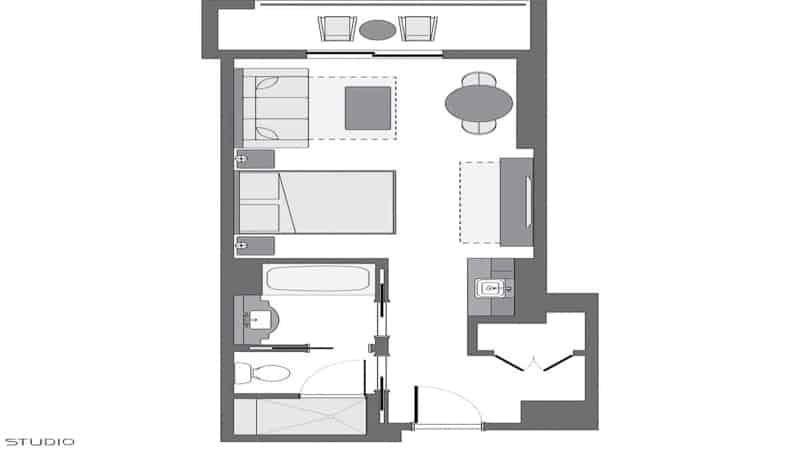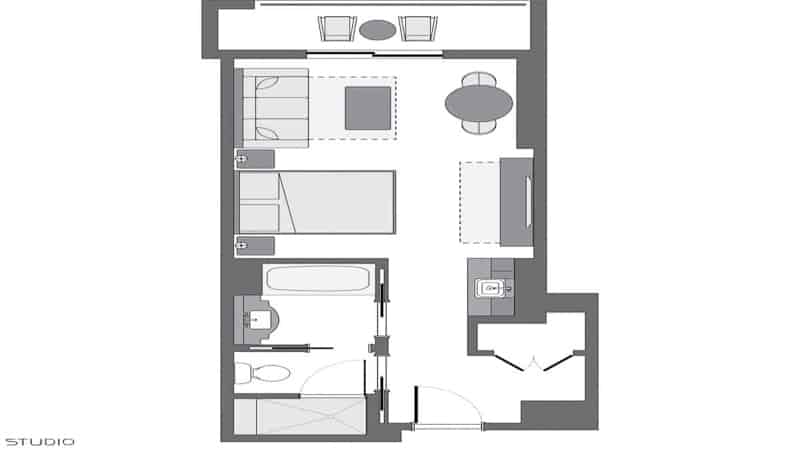 1-Bedroom Villas:
Prices starting at $984.00 and $1,079.00 per night
Looking at the 1-Bedroom Villas, the biggest differences are a bigger kitchen and a nice sized living room space. A lot of the rooms are the same as the 2 Bedroom Villas, just with one less bedroom obviously.
The 1-Bedroom Villas have 1 King Bed, 1 Queen-Size Pull-out Bed and 1 Single Pull-out Bed and sleeps up to 5 adults.
Here is the kitchen: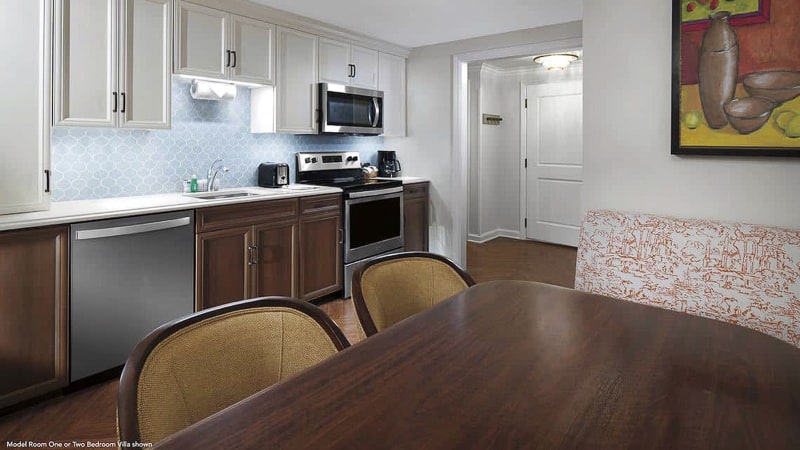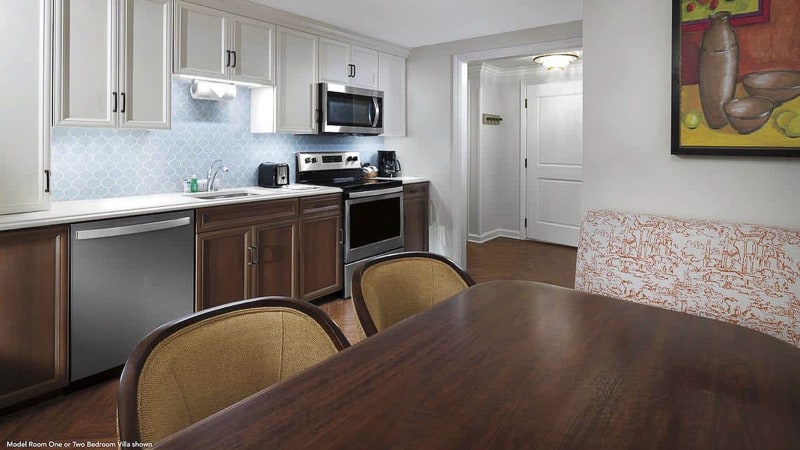 All villas (including 2-Bedroom) will have an en-suite luxury bathroom, including a freestanding soaking tub and walk-in shower, a private porch or balcony and a laundry area with a washer and dryer.
Bedroom: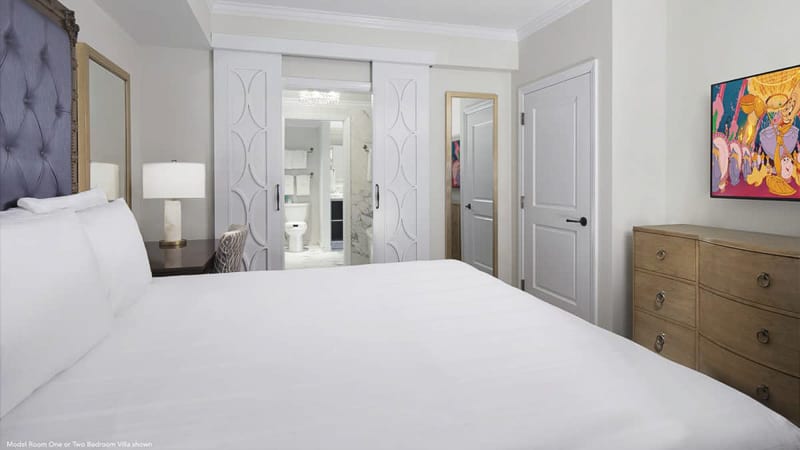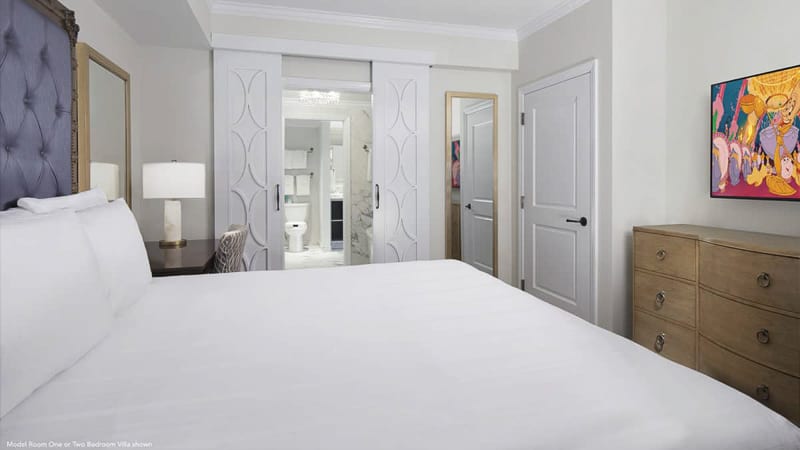 Bathroom: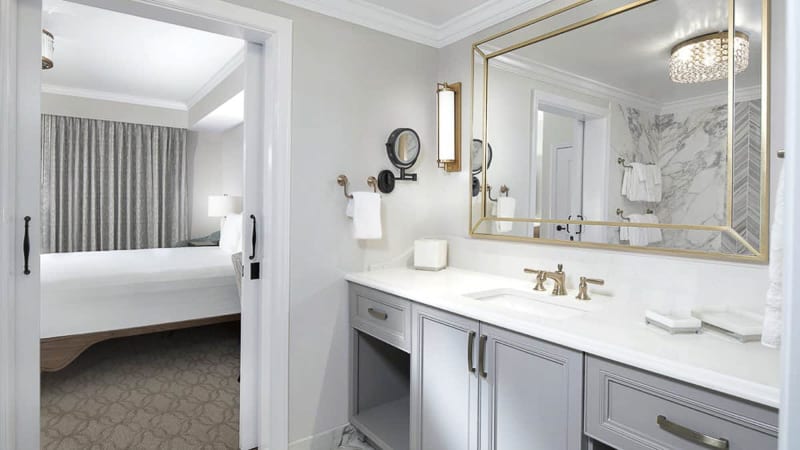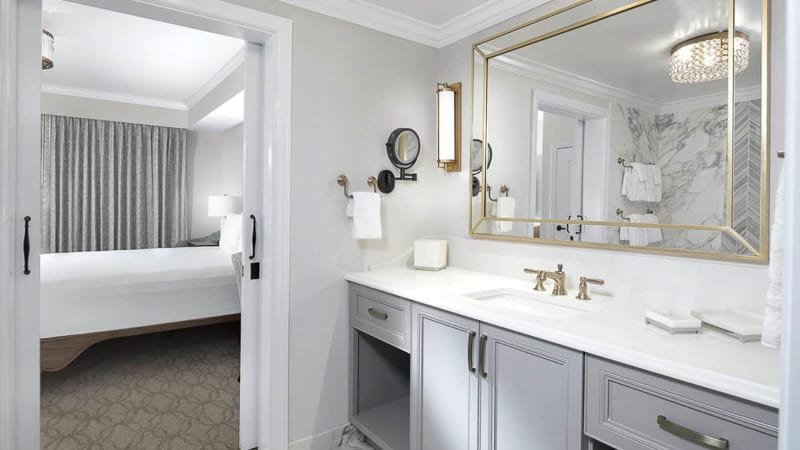 1-Bedroom Floor Plan: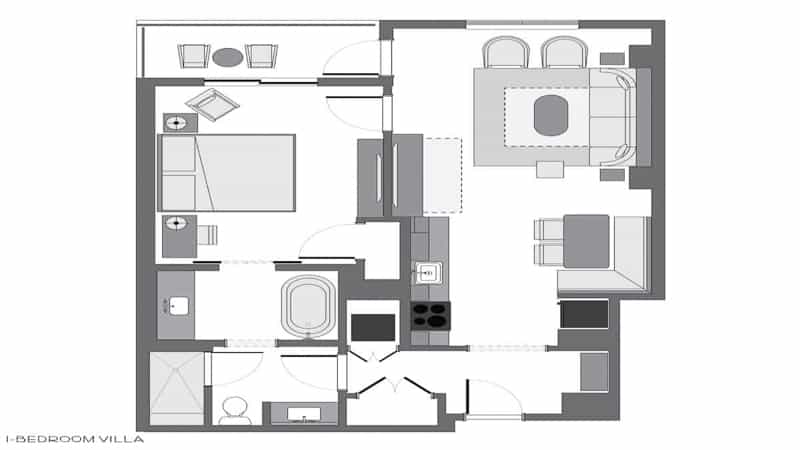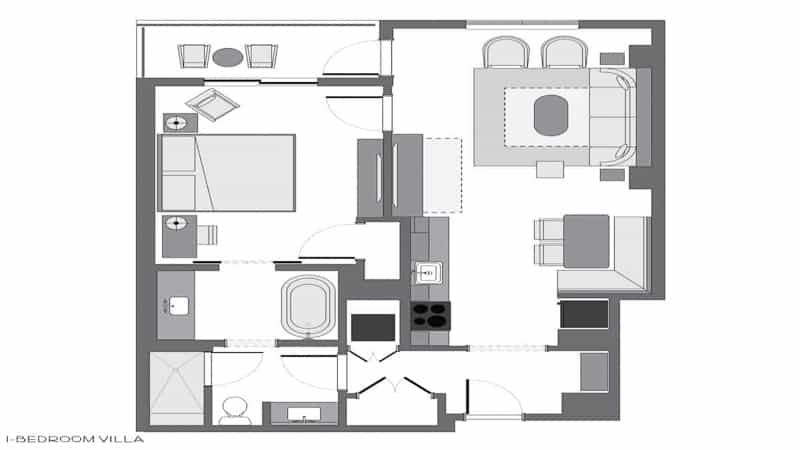 2-Bedroom Villas:
Prices starting at $1,519.00 and $1,714.00 per night.
The 2-Bedroom Villas are basically the same as the 1-Bedroom in style, just with one more bedroom. The 2-Bedroom Villas have 1 King Bed, 2 Queen Beds, 1 Queen-Size Pull-out Bed and 1 Single Pull-out Bed.
Here is the kitchen and living room area: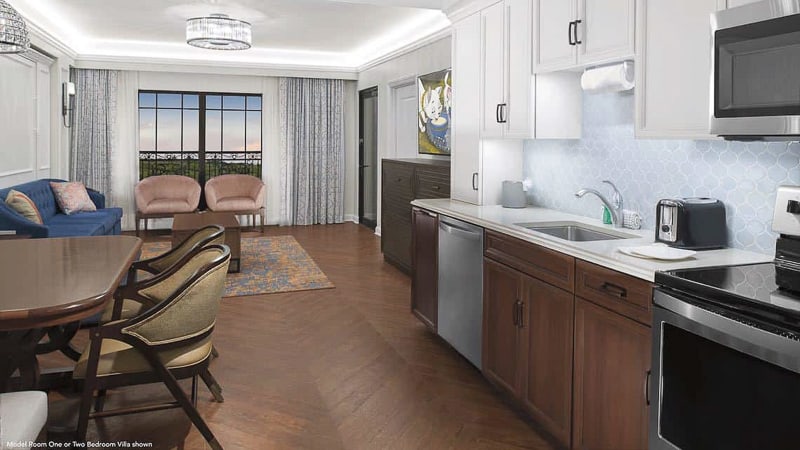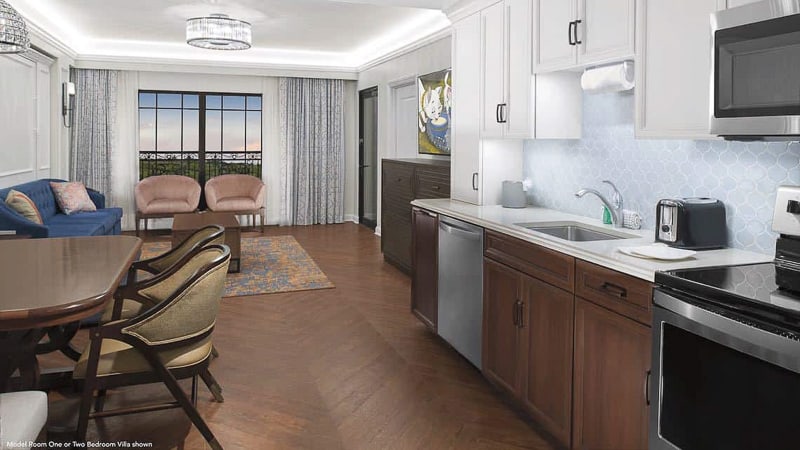 Bedroom: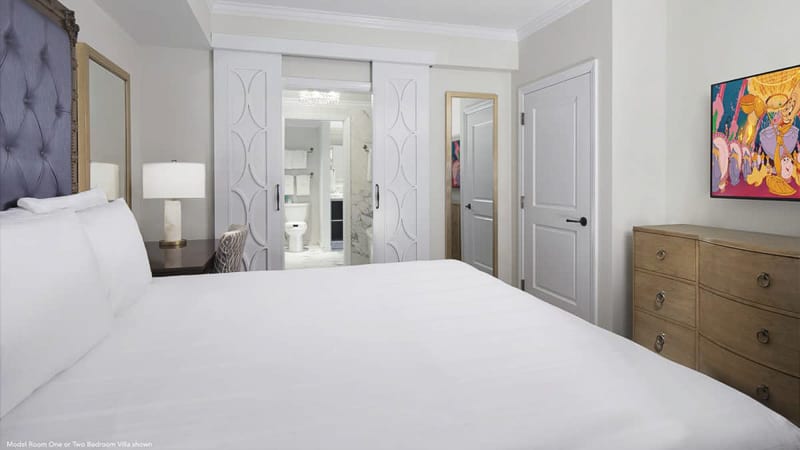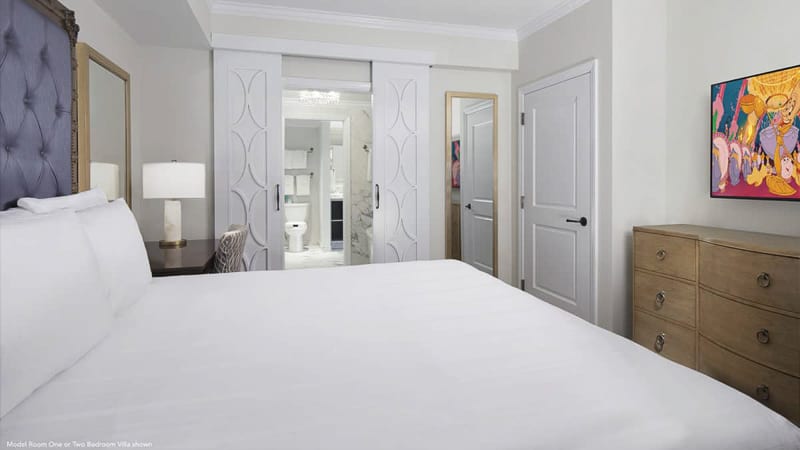 Bathroom: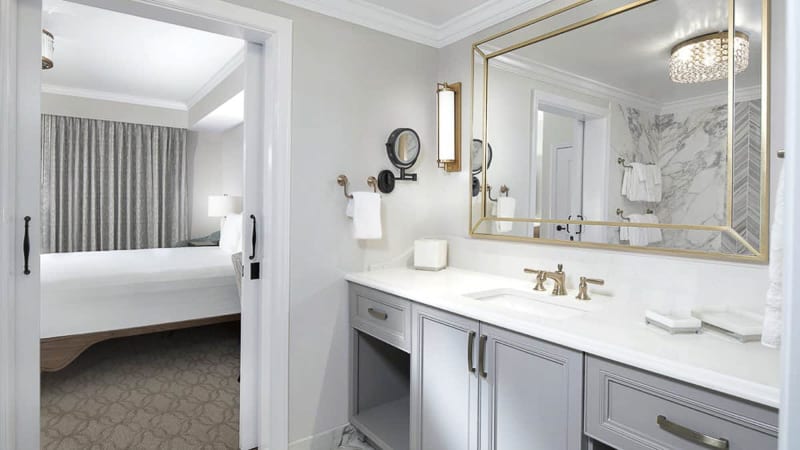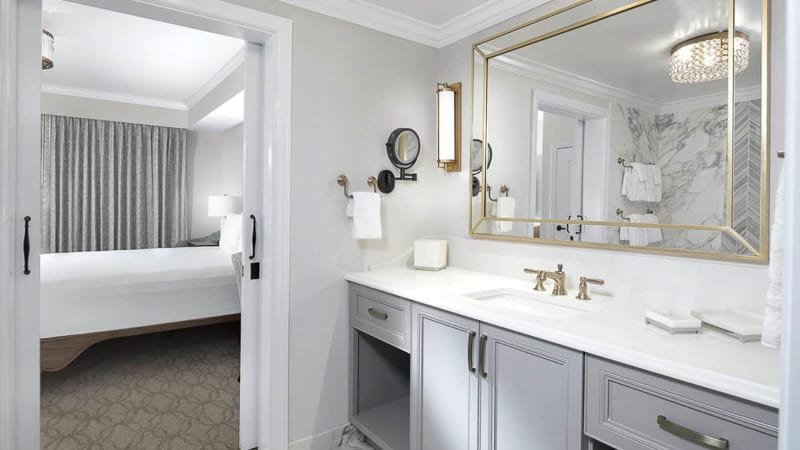 2-Bedroom Floor Plan: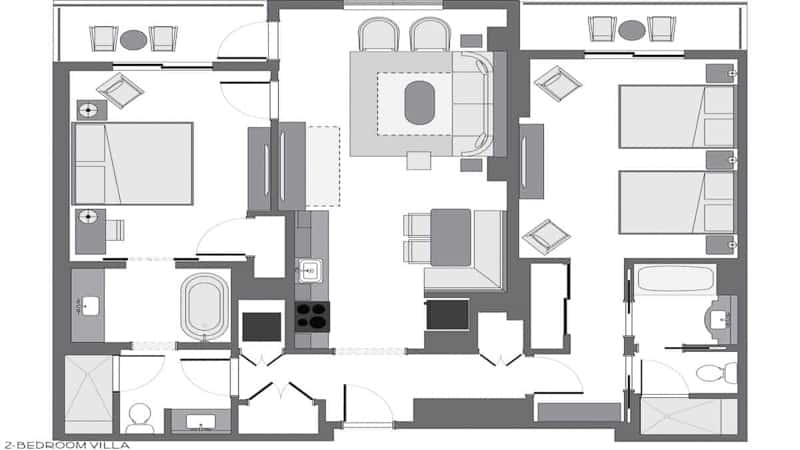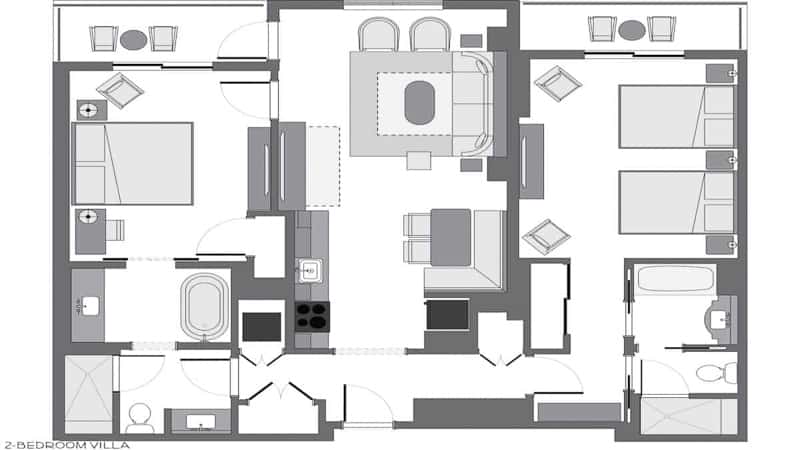 3-Bedroom Grand Villas:
Rates Starting at $3,110 per night.
This is going to be BIG, with enough space for 12 guests each.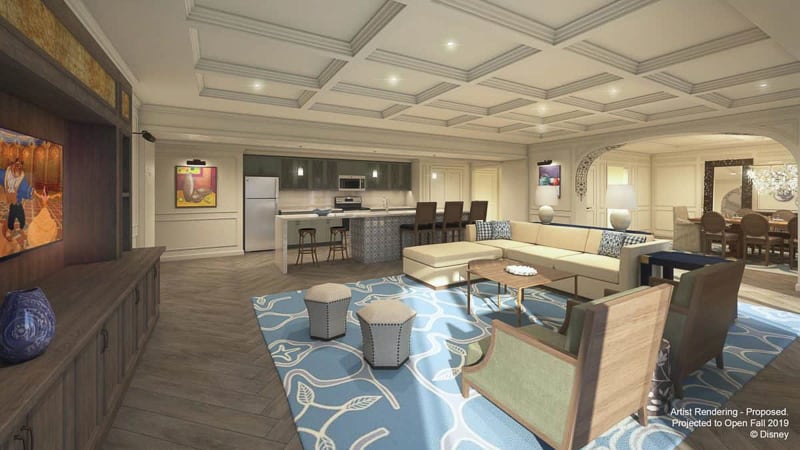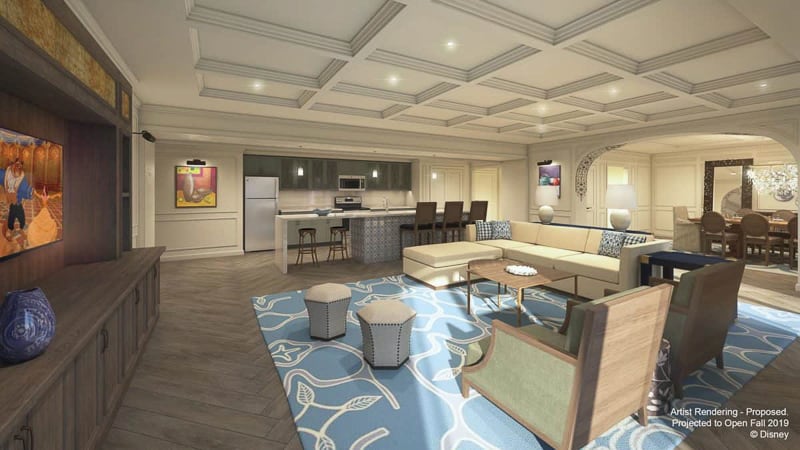 3-Bedroom Grand Villa Floor Plan: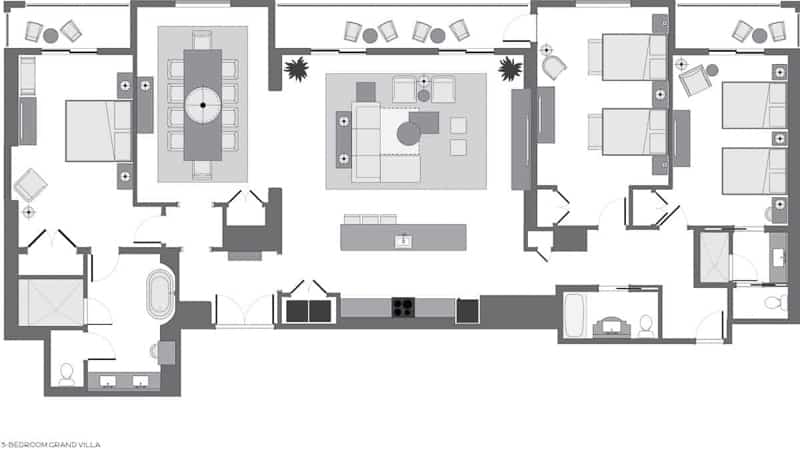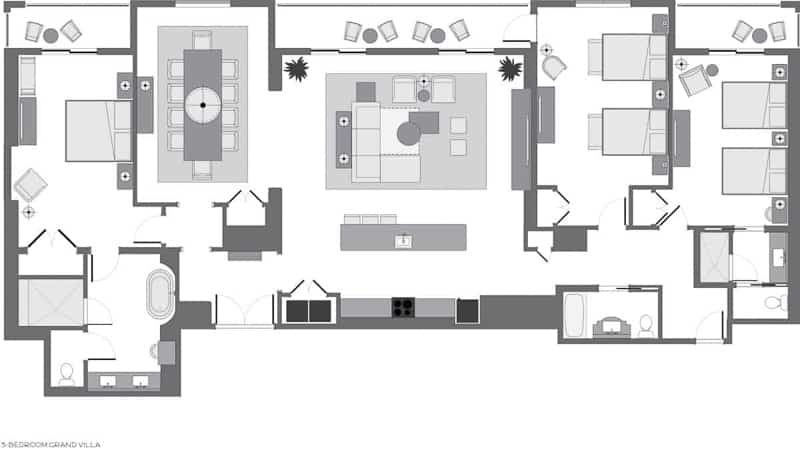 While I really like the look of all these rooms, I have to wonder and marvel about the high prices of them. I mean starting at $450 for a small Tower Studio room?? I know you can get cheaper prices by renting points, but still that's a ridiculous price to pay for such a small room, though if there is enough demand, people will pay it. It will be interesting to see how fast the rooms sell out at the Riviera Resort in comparison to others.
Pool:
Here is some concept art from the Riviera Resort Pool, located in the back of the resort near the water: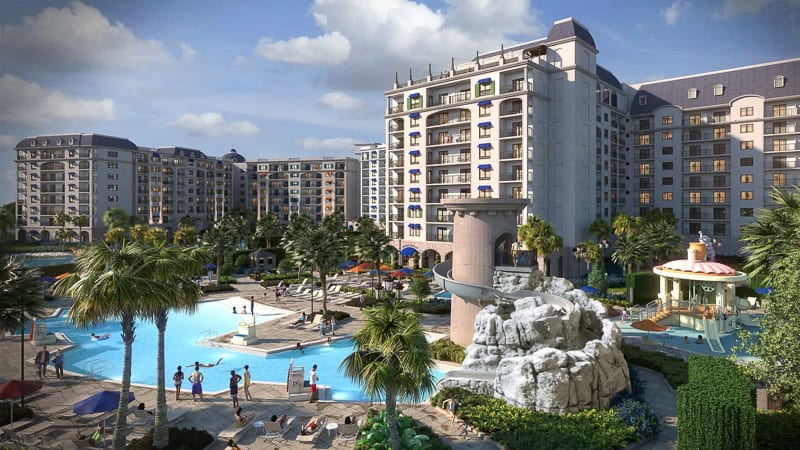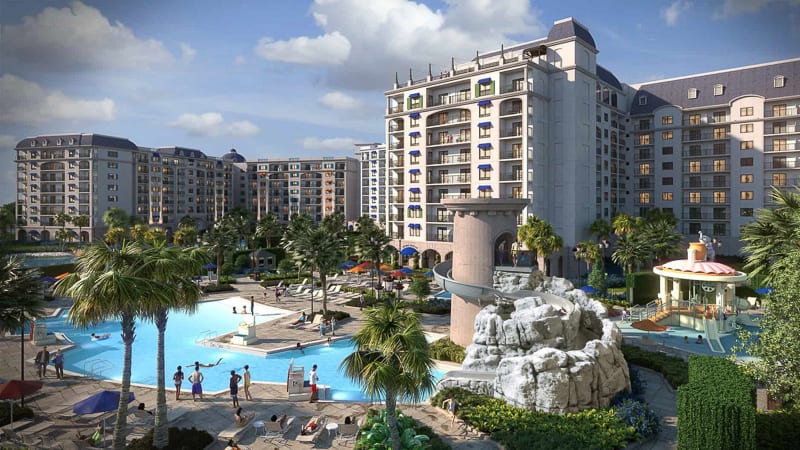 You'll notice a water slide curving around some rocks in the foreground on the right, which is a feature every Disney pool needs!
It looks slightly more appealing to me than the previous concept art Disney showed of the Riviera Resort. I'm happy with the quality of the rooms from the concept art and also intrigued to here that Disney art will play a part in the theming. I'm just hoping they make it unique because Disney has been going away from theming in their hotels a bit recently and we don't want them turning into life-less generic hotel clones.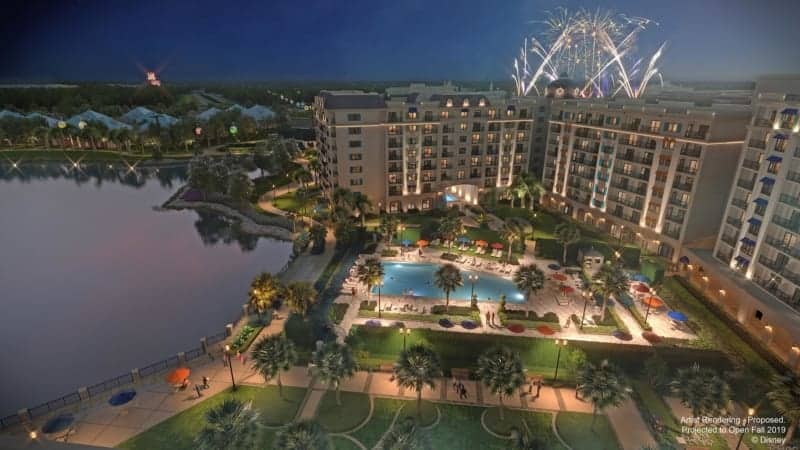 One of the strong points of the Riviera Resort is that it will be located right on the newest transportation system in Walt Disney World, the Disney Skyliner. That means it's going to be easy to hop on or off and be in Epcot or Hollywood Studios in less than 10 minutes.
Disney released some new concept art for the Disney Skyliner station at the Riviera Resort today, so check that out and see what are some of the designs coming to the gondola cars.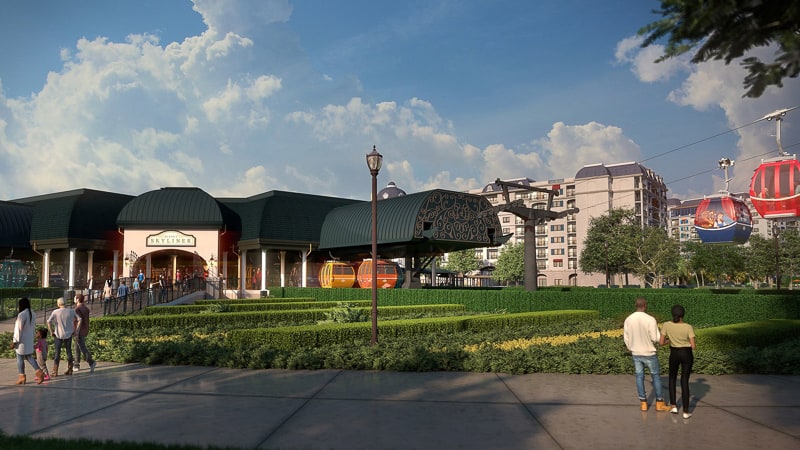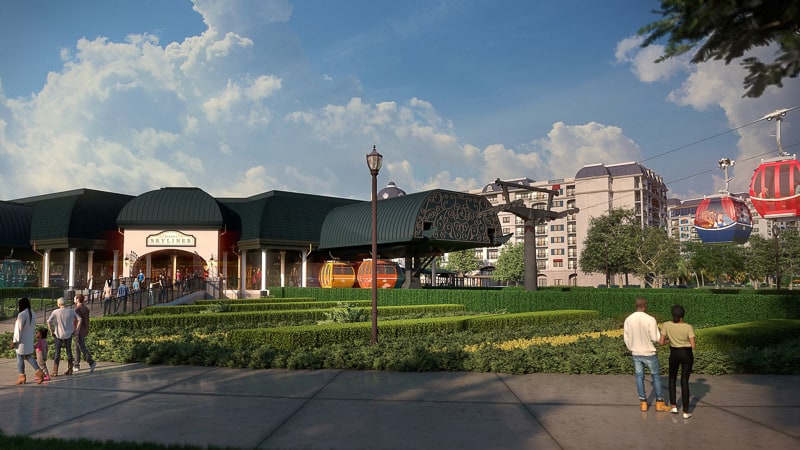 We really like the layout of the rooms at the Riviera Resort, and we got a first look at images from the rooms today, as well as new concept art for the pool area which sounds awesome!
Disney announced today that the Rivera Resort is now open for reservations and that the opening date for the resort is December 16, 2019.
For any help on planning you trip to Walt Disney World to take advantage of the Disney Free Dining offer for 2019, I highly recommend a Certified Disney Vacation Planner like our friends at Show You the World Travel. That's who we recommend and they will help you with all your Disney vacation planning needs!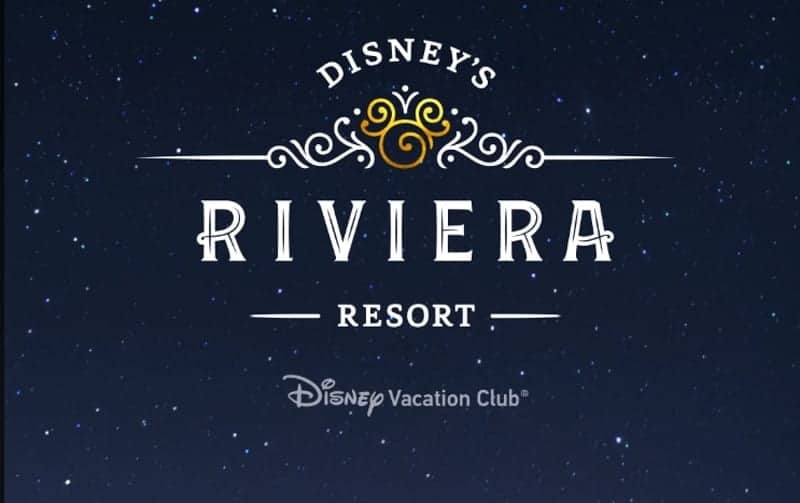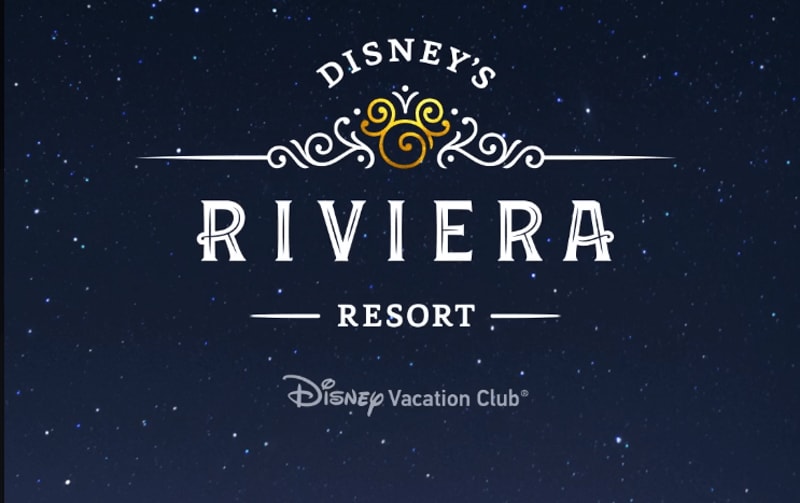 Your Thoughts:
I want to know what you think about the rooms at Disney's Riviera Resort and the overall design of the resort…
How do the rooms look to you?
Are you excited overall to stay here?
Let us know in the comments section below!
If you enjoyed this article, as always I appreciate it if you'd share it with others via social media. I work hard at making this website into a useful resource for you and your family to plan your visit to the Disney Parks and I hope it can help you! Thanks 🙂