Today Disney has released some new concept art for the Disney Skyliner including the station at Disney's Riviera Resort and a Beauty and the Beast design on the gondola cars.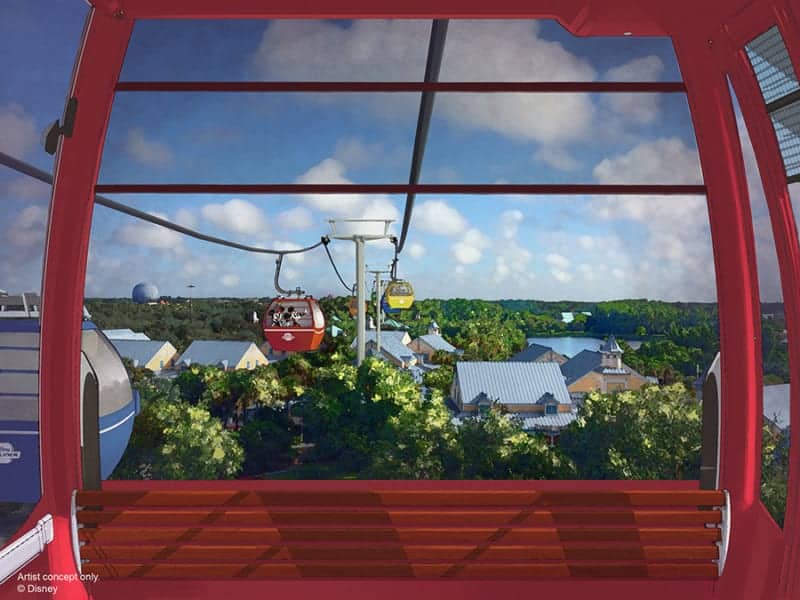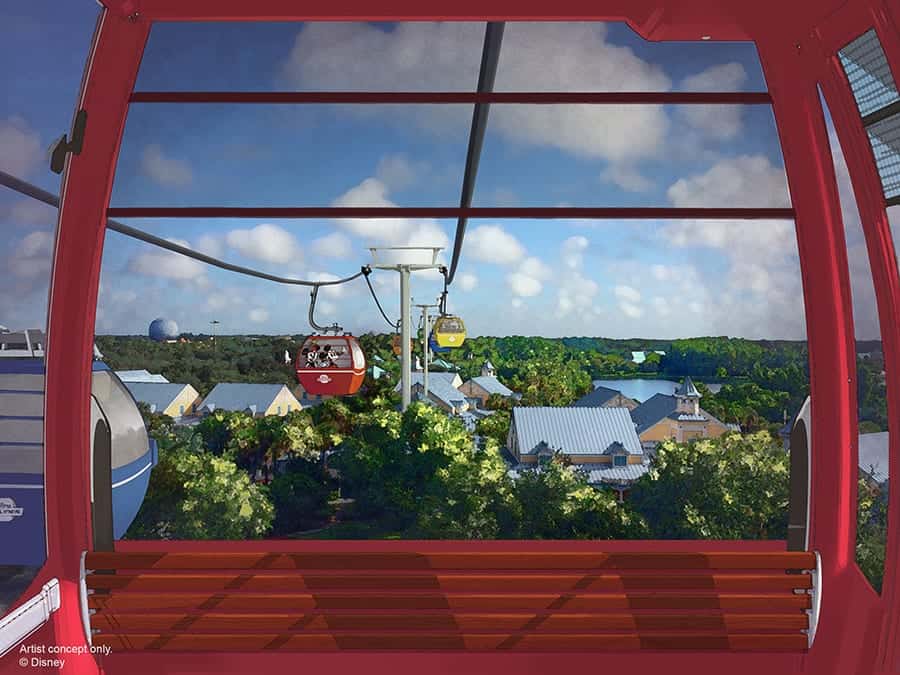 We're not going to get too much into what the Disney Skyliner is in this article but it's basically a new transportation system for Walt Disney Based on the old Skyway attraction in Disney's Magic Kingdom. It's going to connect Epcot and Hollywood Studios with 4 of the nearby Walt Disney World Resort Hotels nearby making it a fast and convenient way of traveling around property.
Because Disney dropped a bunch of new info about the Riviera Resort today, we now have a look at the Disney Skyliner Gondola Station which will be located there.
Let's look at some of that concept art:
Here you can see the front of the Skyliner station and where guests will be arriving to and from: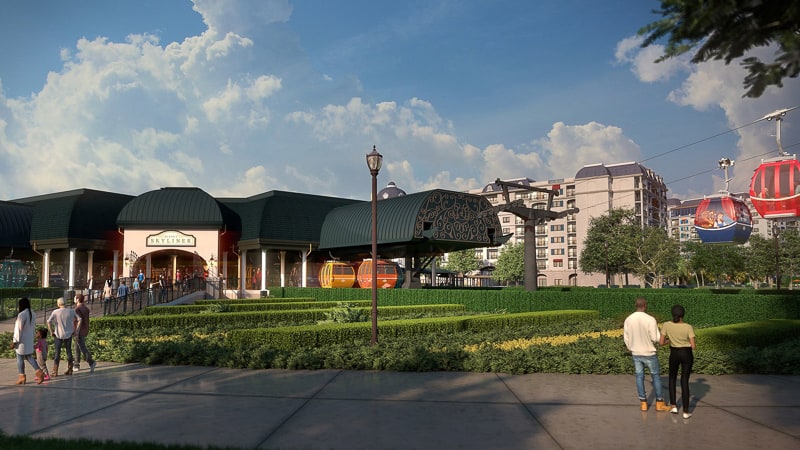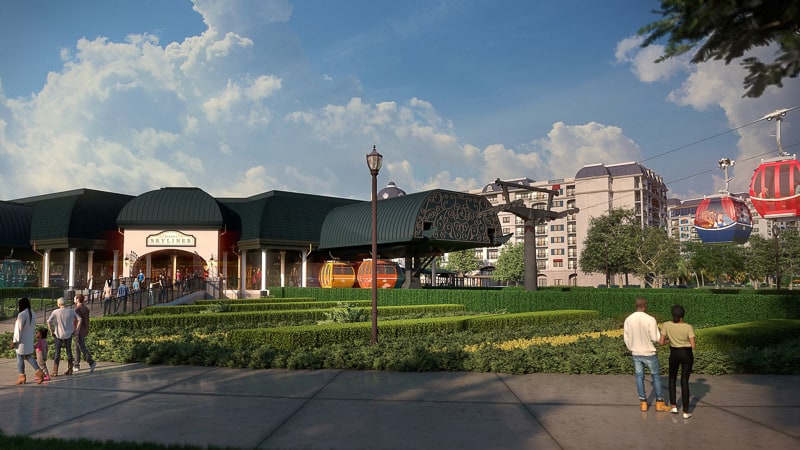 A closer view of the walkway shows a light pink exterior with a green metallic roof. If you look at the gondola cable cars on the right you can see the many colors which will be used in the designs. Here I can see orange, green and yellow, but we've also seen red and blue in past concept arts: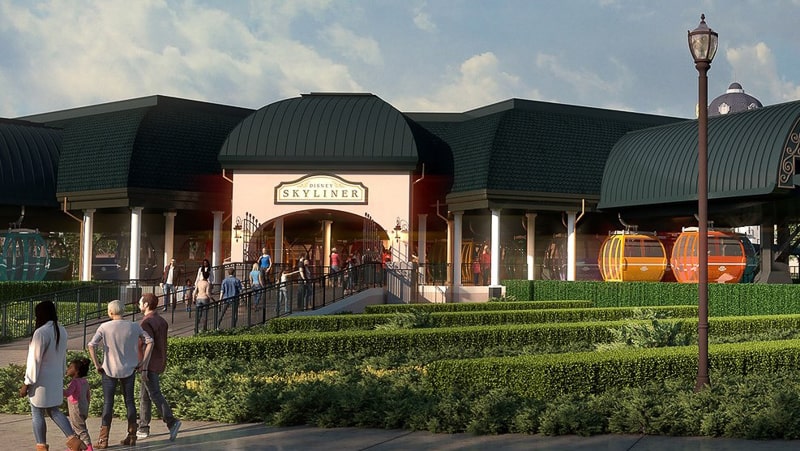 Each Disney Skyliner station is going to have it's own design and flare, and the one here at Disney's Riviera Resort is really cool looking because it has a hidden Mickey weaved into the front of it right in the center: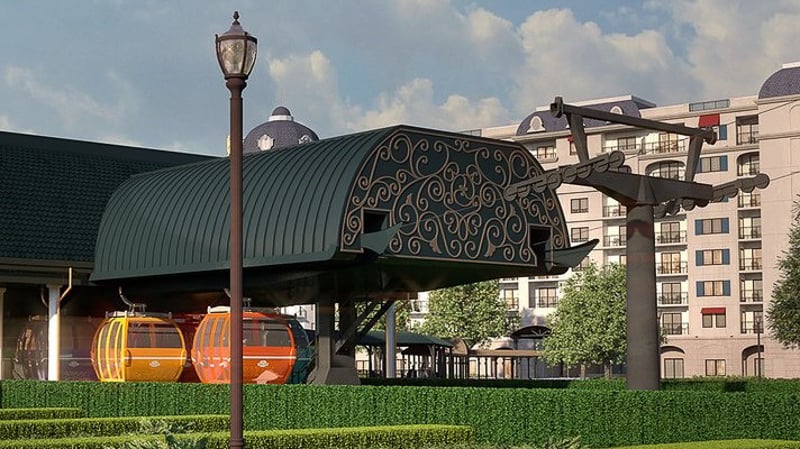 I love when Disney Imagineers add things like this for a nice touch!
We've been promised that some (not all) of the Disney Skyliner gondola cars are going to have Disney character designs on them. In the past we've seen the Fab 5, Grim Grinning Ghosts and Marvel characters. So many people want to know, who else is going to be on the outside of the cars?
In the next image we can see Beauty and the Beast are going to be included: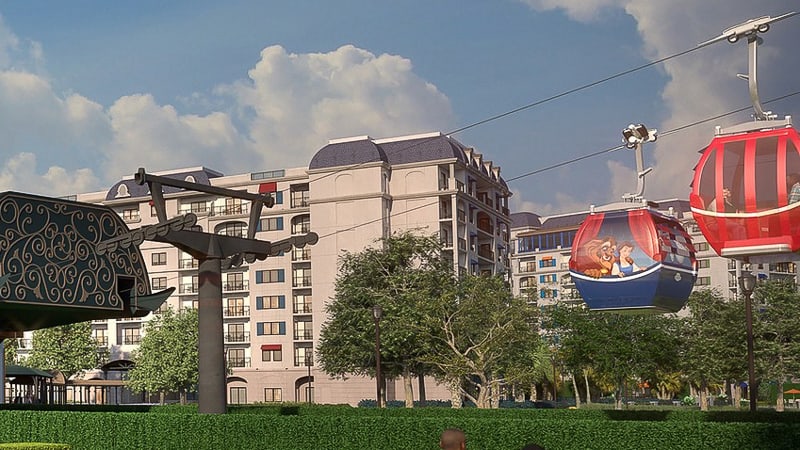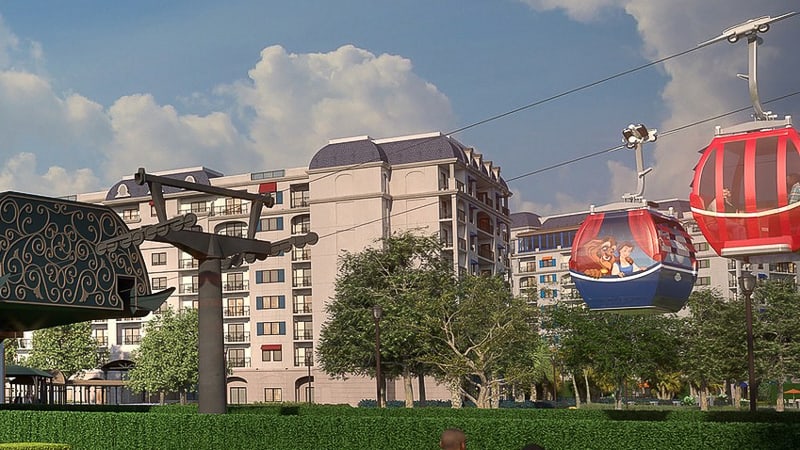 I'm hoping that Disney really puts a lot of variety into the choices for gondola card designs and it would be nice to have at least 20 or so unique designs, making every trip different. I also like the fact that they aren't on EVERY car. It makes the times you get one with a character design all the more special!
Some more information was also released today about Disney's Riviera Resort including a Mickey Mouse restaurant and Character Dining Experience.
If you want to know more details about the Disney Skyliner you can read that here. And don't forget to check my latest Disney Skyliner Construction update for January 2019, which has the latest progress on this new transportation system.
Though we don't have an exact opening date yet for the Disney Skyliner, seeing as we found out today that Disney's Riviera Resort is opening on December 16, 2019, that means the Disney Skyliner has to be open before that date. I think everyone assumed that would be the case already, but one more clue to the opening of this new transportation system.
Your Thoughts:
I want to know what you think about the new Disney Skyliner concept art for Disney's Riviera Resort…
Do you like the Beauty and the Beast design?
What other Disney characters do you want to be included on the cars?
Let us know in the comments section below!
If you enjoyed this article, as always I appreciate it if you'd share it with others via social media. I work hard at making this website into a useful resource for you and your family to plan your visit to the Disney Parks and I hope it can help you! Thanks 🙂