Looking to find all the Fab 50 golden statues for the 50th Anniversary in Walt Disney World? We've got the info you need including a list of all the statues and how to find them in all 4 theme parks.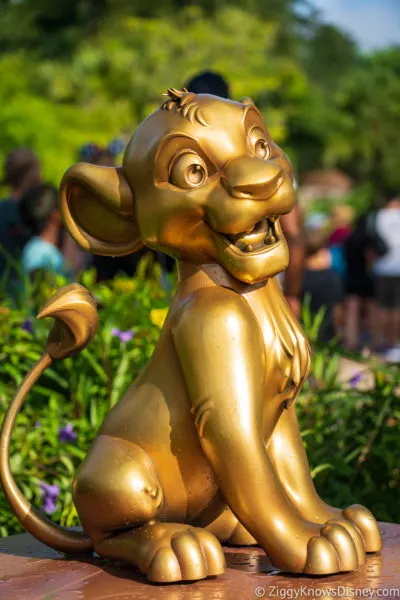 Right now, Walt Disney World is in the middle of its 50th Anniversary celebration and you can find everything from new attractions, specially-themed snacks, and merchandise. One of the absolute highlights however is the Fab 50 golden character statues.
The statues can be found in all 4 Walt Disney World theme parks including Disney's Magic Kingdom, EPCOT, Hollywood Studios, and Animal Kingdom. They have already been installed and are scattered around each park for guests to discover.
They are amazing to look at and make for great photo opportunities that you and your family will remember for a lifetime. Many of them have Disney photographers there just waiting to take your picture.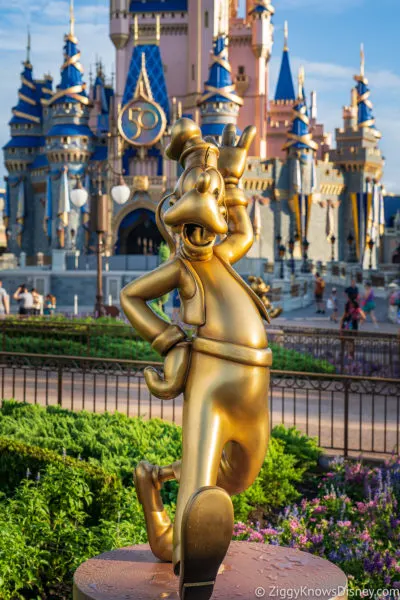 In this post, we will tell you everything you need to know about these Disney Fab 50 golden statues. We have a list of all the statues in each park, where to find them, how long they are going to be around, and if it's worth making a trip to Disney World to see them.
Before we get started, here are some of our other useful posts about the 50th Anniversary which will help you as you are planning your trip:
Also, don't forget to sign up for our FREE Weekly E-Mail Newsletter. We will update you with any changes to the Fab 50 statues, and share the latest vacation planning tips. You can sign up here: Join our E-Mail Newsletter!
Complete List of Fab 50 Statues in Every Park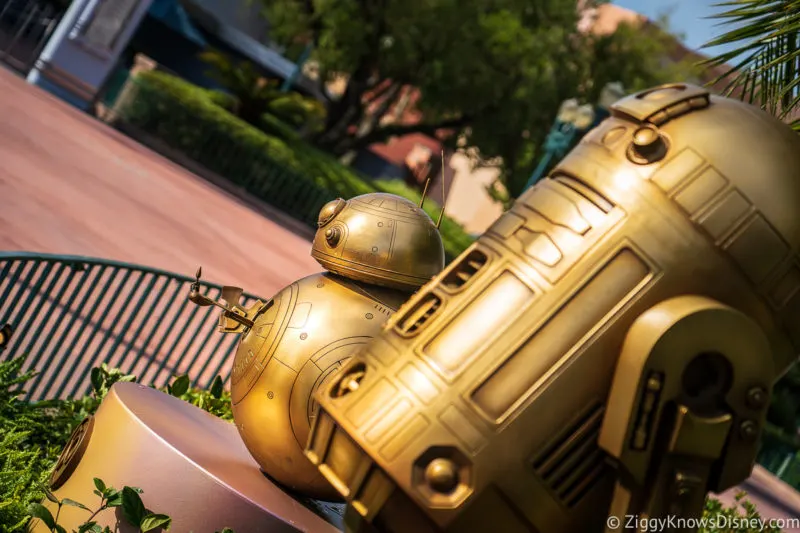 There are 36 total Fab 50 statues spread across the 4 theme parks with 50 characters represented on them. Some of the statues depict one Disney character, while on other 2 characters are represented (these are famous Disney duos).
Each statue sits on a pedestal painted with the 50th anniversary EARidescent paint and with a round 50th emblem on the front of the base.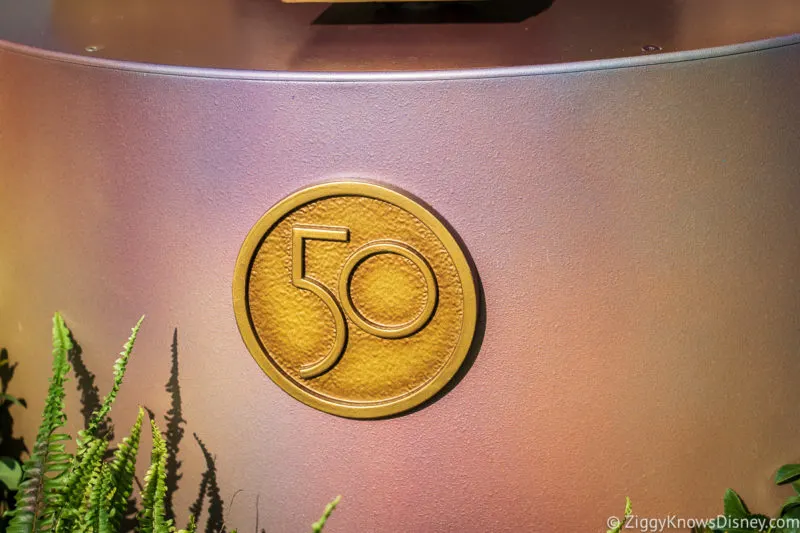 Here is the full list of the 50th Anniversary golden statues and which park you can find them in:
Magic Kingdom
Lady and Tramp
Chip and Dale
Pluto
Goofy
Mickey Mouse
Minnie Mouse
Dumbo and Timothy
Pooh and Piglet
Tinker Bell
Gus Gus and Jaq
Stitch
Abu
Orange Bird
Mad Hatter
Cheshire Cat
Pinnochio
Cogsworth and Lumiere
EPCOT
Figment
Miguel
Dante
Rocket and Groot
Olaf and Bruni
Pua and Hei Hei
Hollywood Studios
BB-8
R2-D2
Frozone
Edna Mode
Joe Gardner
Flounder and Sebastian
Woody and Bo Peep
Animal Kingdom
Bambi and Thumper
Simba
Timon and Pumba
Dory and Nemo
Magic Kingdom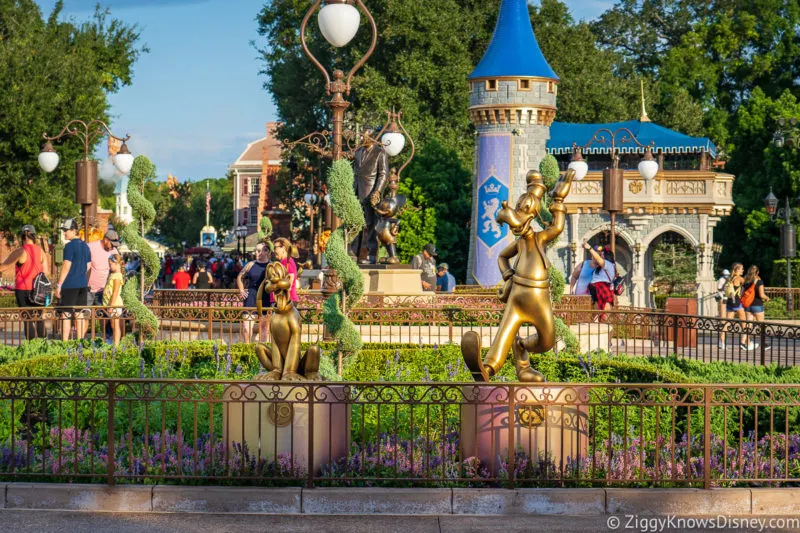 We're going to start out in the Magic Kingdom.
You may have noticed that there are many more character statues at the Magic Kingdom (17) than any other park. This is natural as it's the most character-heavy park of the 4 and you can integrate them in a lot easier than parks like EPCOT and Animal Kingdom.
Most of them are either in The Hub in front of Cinderella Castle or in Fantasyland. The more classic Disney characters are in The Hub, whereas the ones that naturally fit into Fantasyland because of their story were installed there.
There are also some statues in Adventureland, Main Street U.S.A., and Tomorrowland, but much fewer than the other two locations. The only lands without Fab 50 statues are Liberty Square and Frontierland.
Let's take a look at how to find all the golden character statues…
Lady and Tramp (Main Street U.S.A.)
You will find the first Fab 50 golden statues right when you first enter the Magic Kingdom and walk through the tunnels into the town square on Main Street.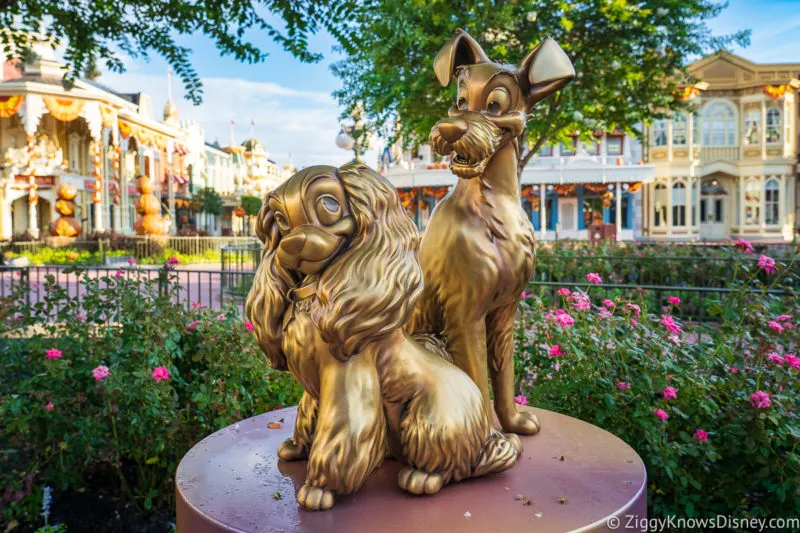 They are located to the right side of the green in the center of the square and are ready to greet guests. Don't they look so cute??
These are the only statues on Main Street, let's move over to The Hub where we will find a bunch of them.
Chip and Dale (The Hub)
There are four groupings of characters in the green sections around the Partners Statue. As you approach the center of The Hub, the first group on the left are Chip and Dale.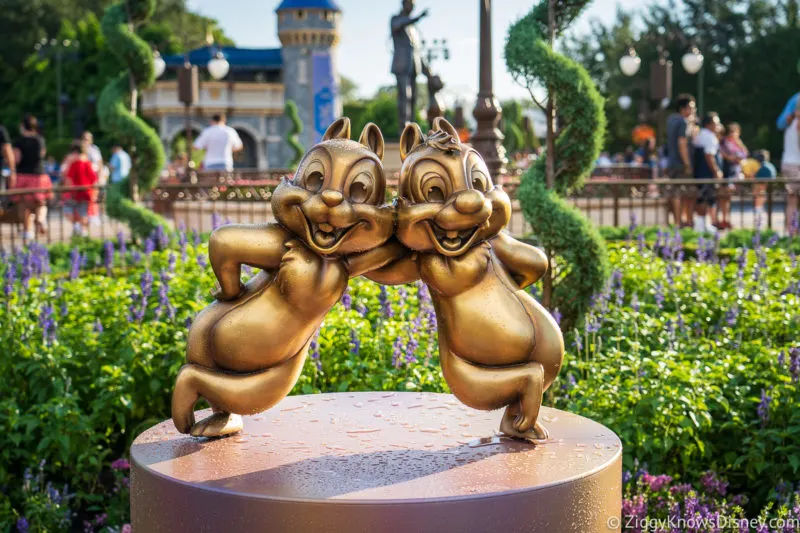 These guys are 2 characters but made together in one statue.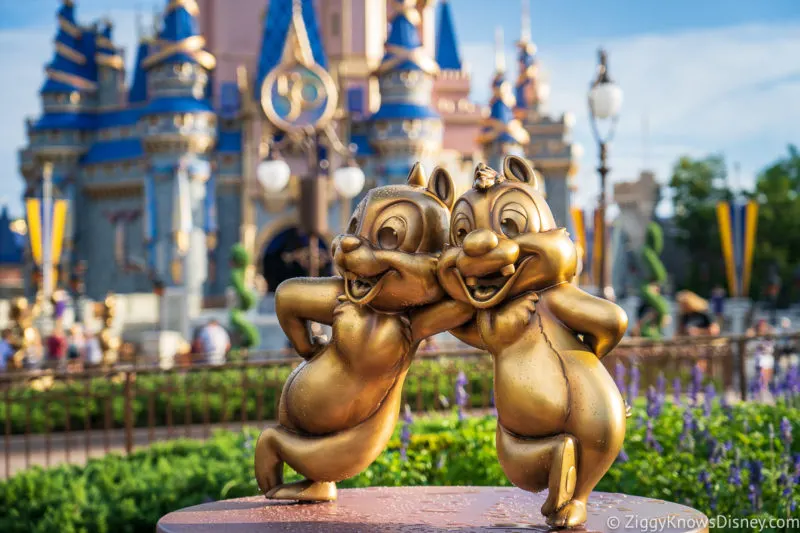 You can get some really great pictures of everyone's favorite chipmunks with Cinderella Castle in the background.
Mickey Mouse and Minnie Mouse (The Hub)
Also arriving in the center of The Hub but on the right side are Mickey Mouse and Minnie Mouse.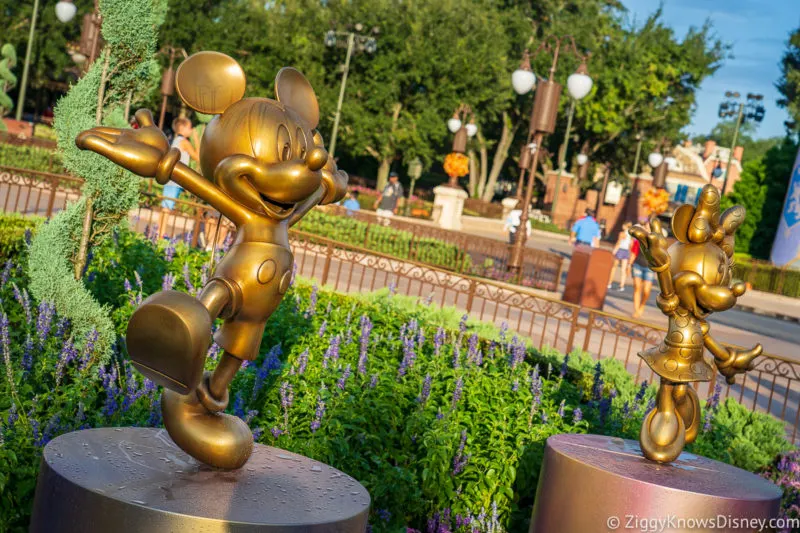 They are on two separate pedestals and are striking a pose on one foot and with their arms spread out.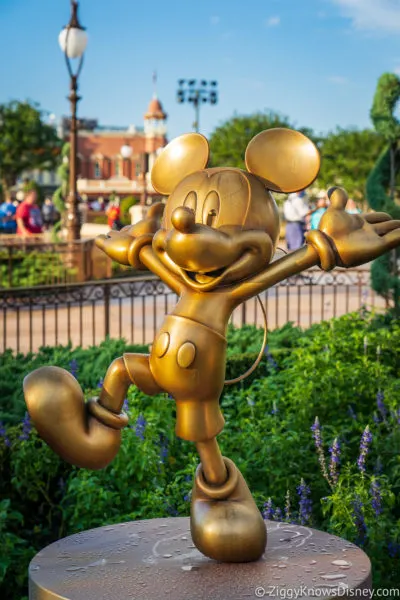 You just knew that Mickey would be at the center of the 50th Anniversary celebration, and rightly so.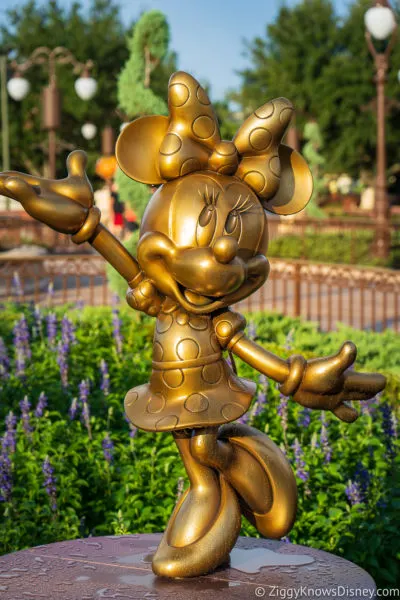 And wherever Mickey is, you'll also find the fashionable Minnie Mouse.
Pluto and Goofy (The Hub)
To the front right side of The Hub you will find Pluto and Goofy. Even though he is technically Mickey's dog, he is located right next to Goofy.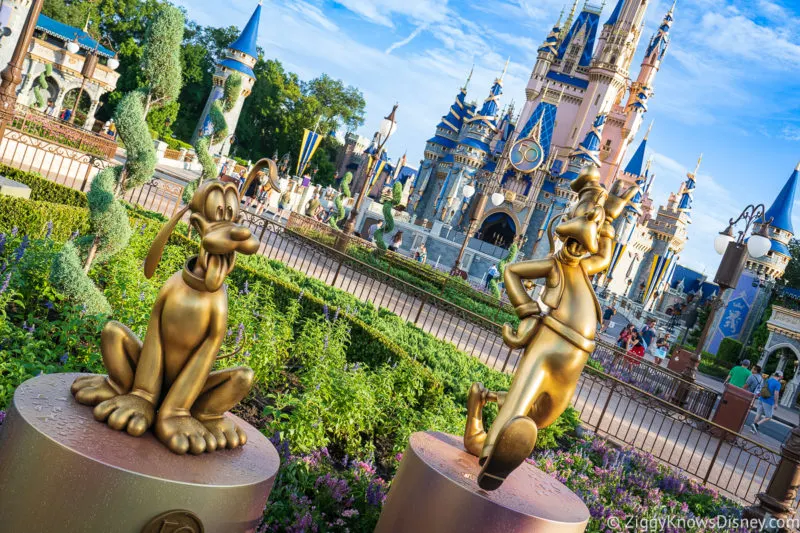 Pluto is on all fours and looks like he is watching something fun in the distance.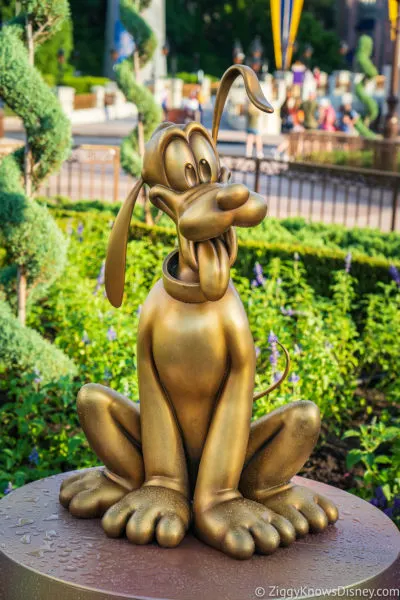 Goofy on the other hand is striking a pose with one hand in the air, another good photo opportunity with Cinderella Castle.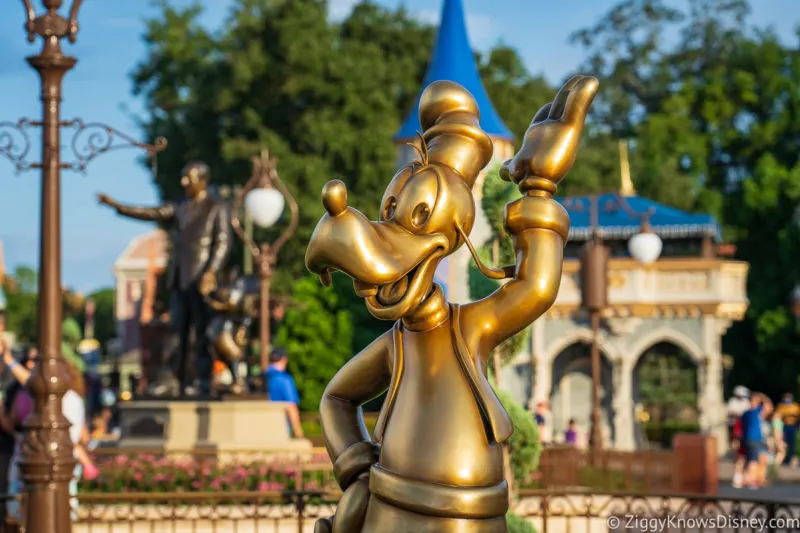 Donald Duck and Daisy Duck (The Hub)
At the front left of The Hub you will find Donald Duck and Daisy Duck, the last of the statues here in the center.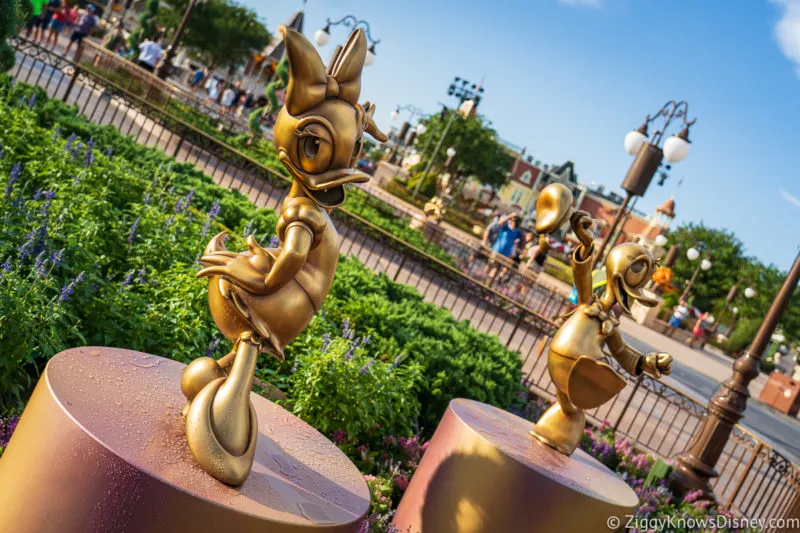 Donald is on one foot and leaning back in a pose while tipping his hat in the air.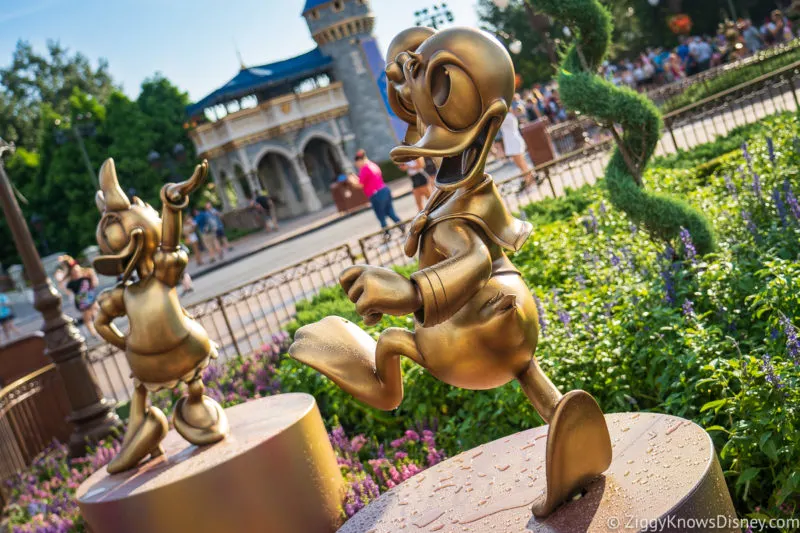 Daisy looks fabulous as always and has one hand on her hip and the other in the air.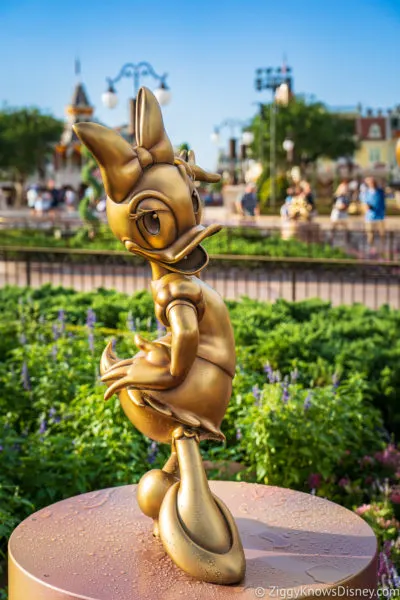 Dumbo and Timothy (The Hub)
Dumbo and Timothy the mouse can be found leaving the center of The Hub and heading toward the right side by the entrance to Tomorrowland.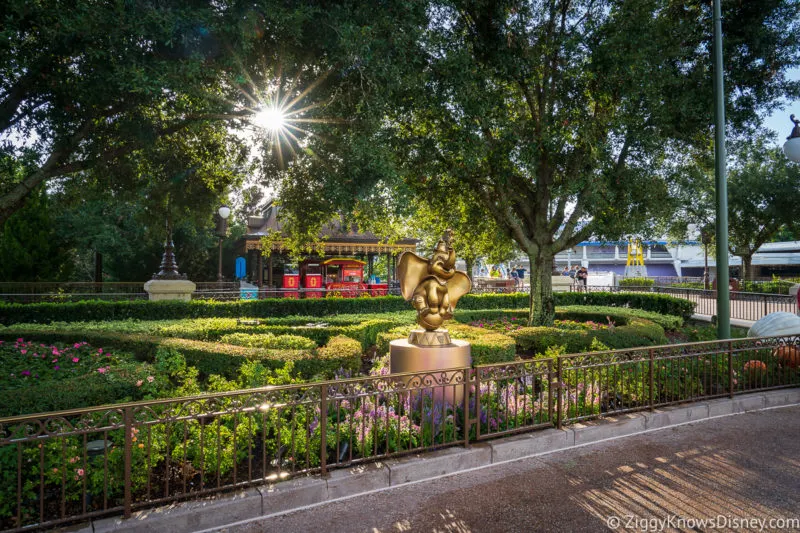 These two are together on one statue with Dumbo balancing himself on a ball while Timothy is balancing himself on Dumbo's nose.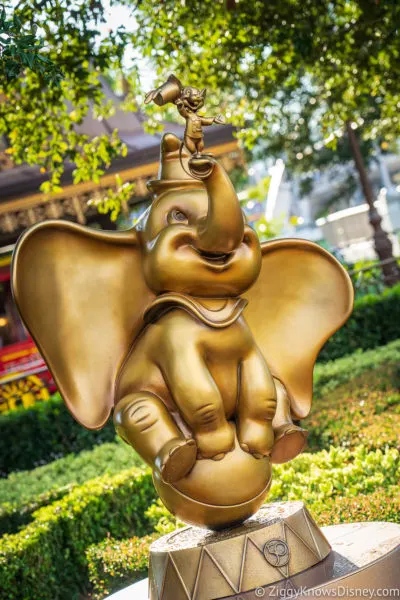 A closer look at Timothy reveals he is tipping his hat to the crowd.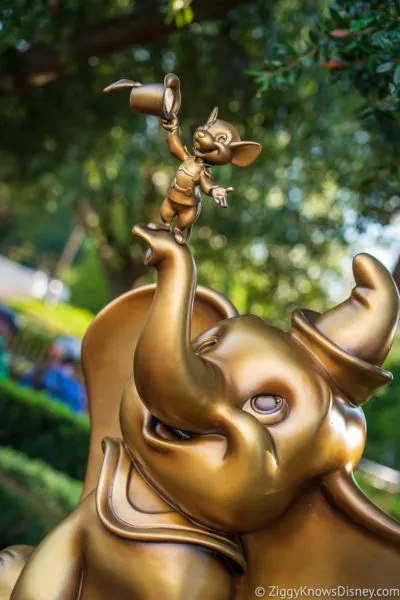 Gus Gus and Jaq (The Hub)
At the front of The Hub and to the right you will find Gus Gus and Jaq from Cinderella.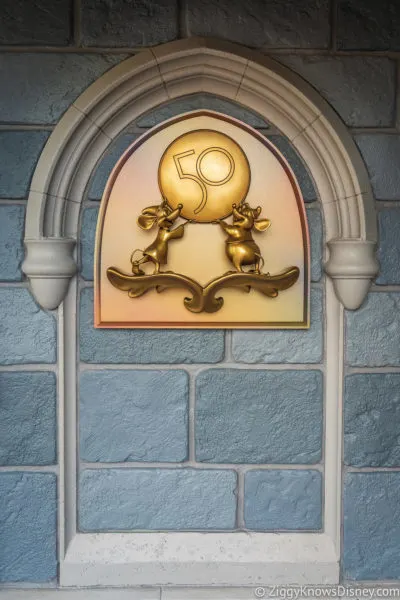 They are inside one of the walls at the front of the castle and to the left of a door. Their statue is more like a plaque as it is hanging from the wall.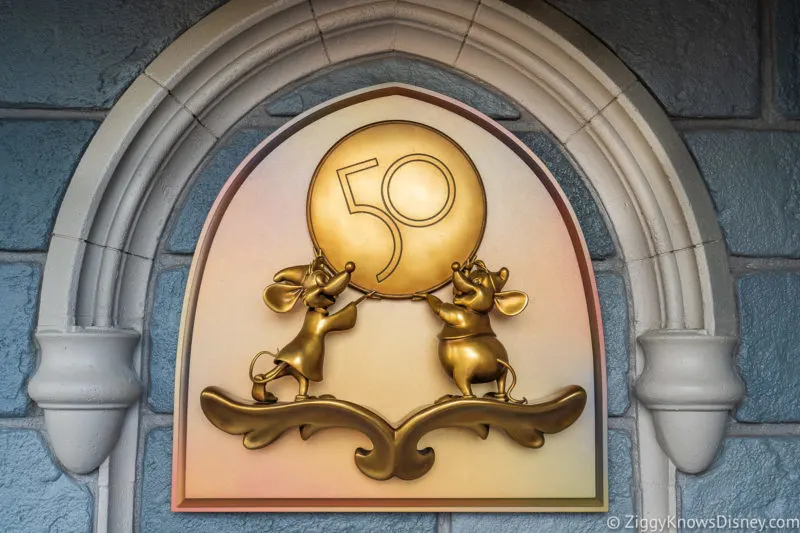 The two mice are holding up the 50th Anniversary symbol, or maybe trying to find a place on the wall to hang it.
Tinker Bell (The Hub)
Still inside The hub, we make our way around the left of the castle and over to Tinker Bell. She is the hardest to find of all the golden character statues and is located on a pedestal in the trees.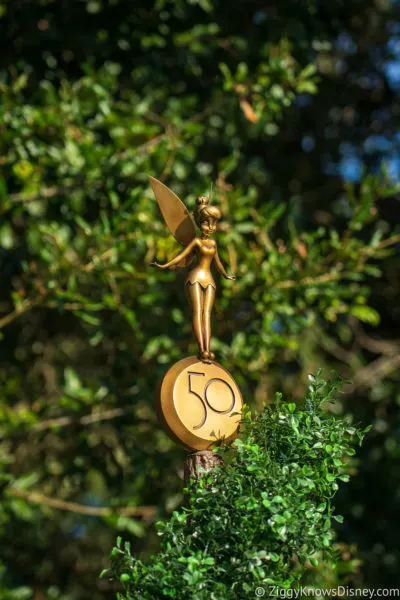 To find her, stand between Donald and Daisy and Chip and Dale, and then turn to the left side of The Hub. You have to look closely because she is made to size and by far the smallest statue.
Pooh and Piglet (The Hub)
Winnie the Pooh and Piglet are the last of the golden statues in The Hub and can be found near the Crystal Palace. This is naturally a good location for them as they normally have a character meal inside the popular Magic Kingdom restaurant.
They are the best of friends and their statue is one with both characters hugging.
Abu (Adventureland)
Since we are on this side, we may as well head into Adventureland to find the 2 statues located there. The first is Abu from Aladdin. He is another one that is hard to spot and can be found above the Adventureland sign and to the right.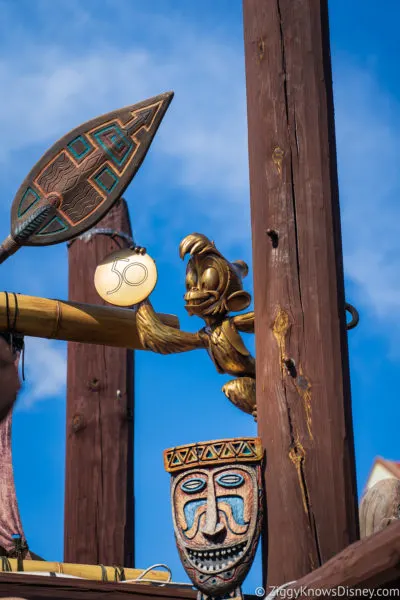 He's hiding behind the post and holding up a 50th gold coin.
Orange Bird (Adventureland)
Keep walking down the main pathway in Adventureland and just past the Sunshine Tree Terrace you will find the Orange Bird.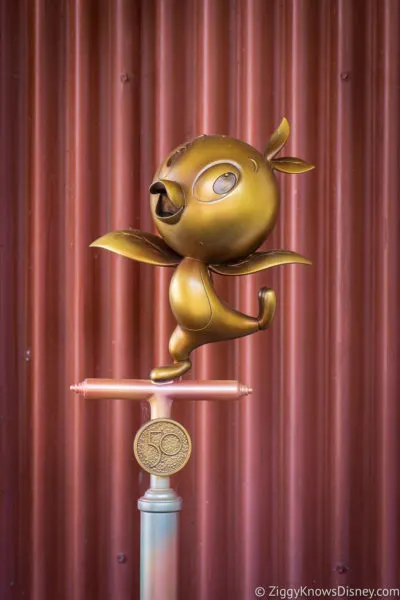 He's located on the veranda and posing on a tall skinny post.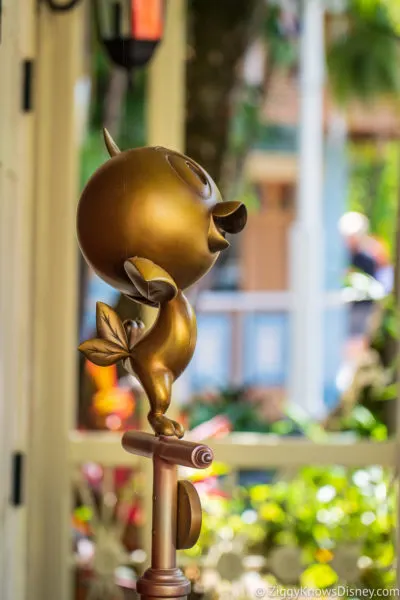 Originally, the Orange Bird was created by Disney for the Florida Citrus Commission as a mascot and has been a prominently featured character at the Sunshine Tree Terrace and other locations in Disney World.
He is one of the only Fab 50 statues not attributed to a Disney film of any kind.
Stitch (Tomorrowland)
Now let's head back across The Hub and into Tomorrowland.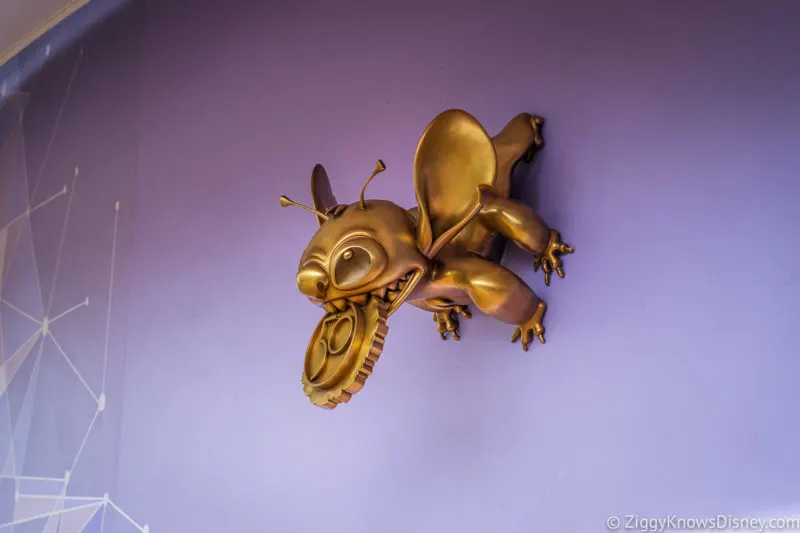 Attached to the famous purple wall near the entrance to Tomorrowland you will find Stitch from the Disney film Lilo and Stitch.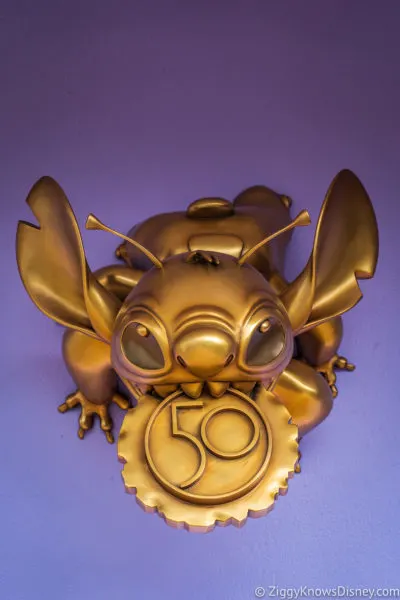 Stitch is always getting into a mess and this time he has a gold disk with the 50th emblem on it. He probably ripped it off one of the statues somewhere in the Magic Kingdom!
Cheshire Cat (Fantasyland)
There are 4 groups of Fab 50 golden statues in Fantasyland and the first one you will find is the Cheshire Cat from Alice in Wonderland. He is located between the Mad Tea Party attraction and the Cheshire Café snack stand.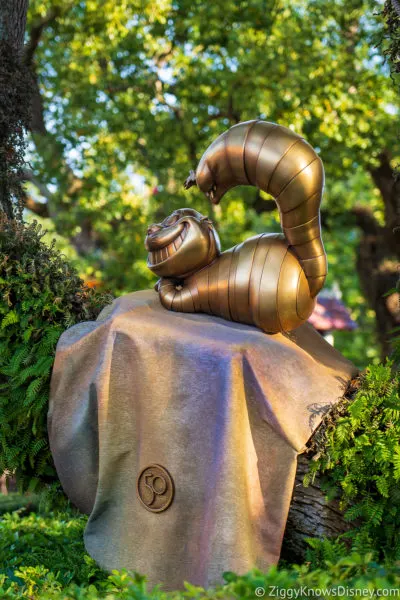 He isn't on a pedestal, but instead, it's more like a cloth draped out over the tree stump. It still has the EARidescent colors and the 50th emblem at the bottom.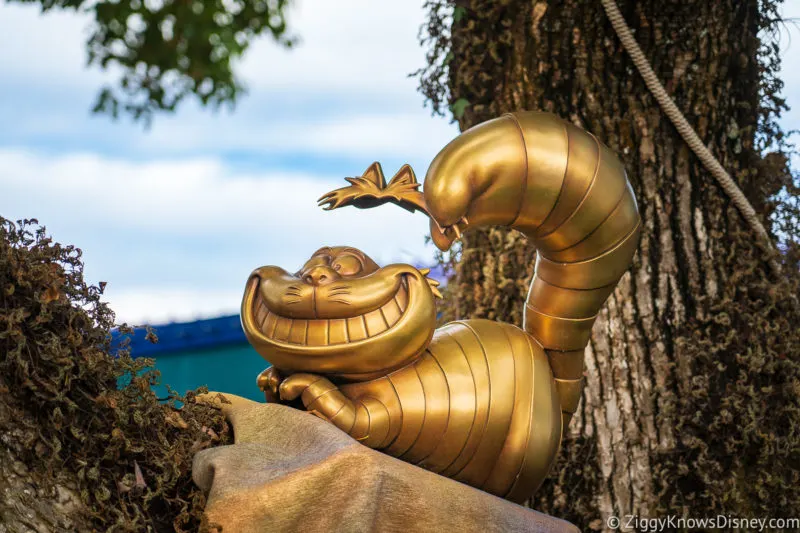 Of course, the Cheshire Cat always has a grin on his face and he is smiling from cheek to cheek.
Mad Hatter (Fantasyland)
Also in the same area and just past the Cheshire Cat you will find the Mad Hatter, also from Disney's Alice and Wonderland.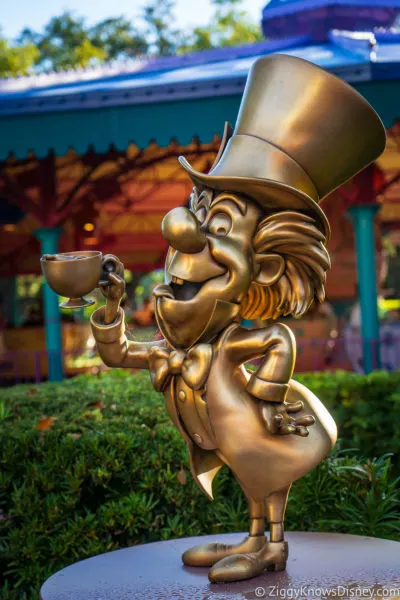 It's appropriate to find him next to the Made Tea Party, and the Mad Hatter is having a cup of tea himself.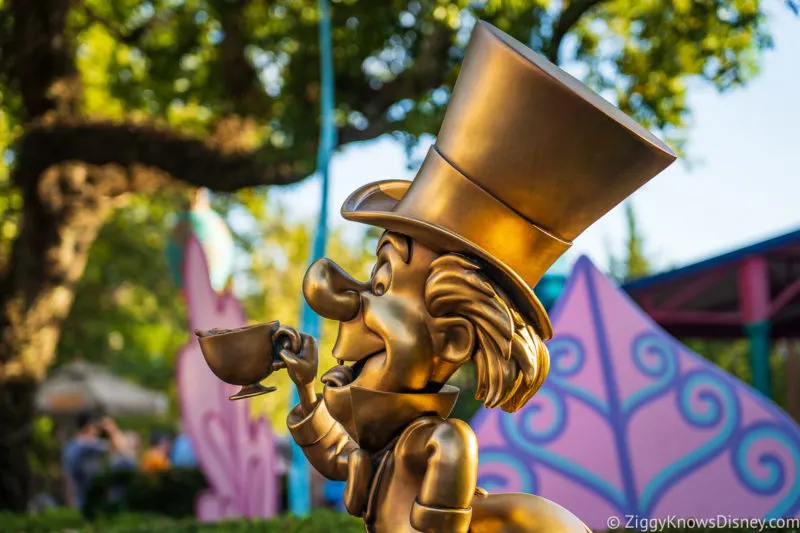 Cogsworth and Lumiere (Fantasyland)
Walk past the Seven Dwarfs Mine Train and over by the little sections of the castle wall and you will find Cogsworth and Lumiere from Disney's Beauty and the Beast.
These guys are also great friends and located on the same pedestal over near Prince Charming's Carousel.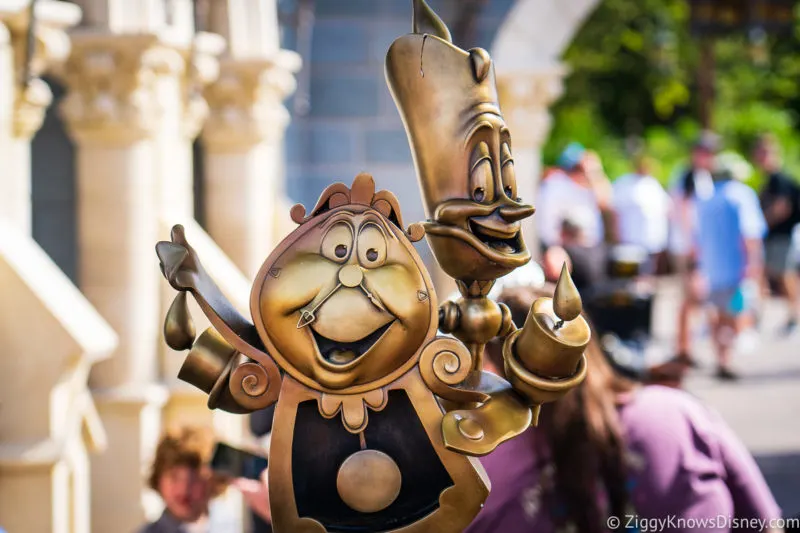 This is a good location for them since they are also close to the Enchanted Tales with Belle attraction.
Pinnochio (Fantasyland)
The last Fab 50 Disney character statue at the Magic Kingdom is another classic, Pinocchio.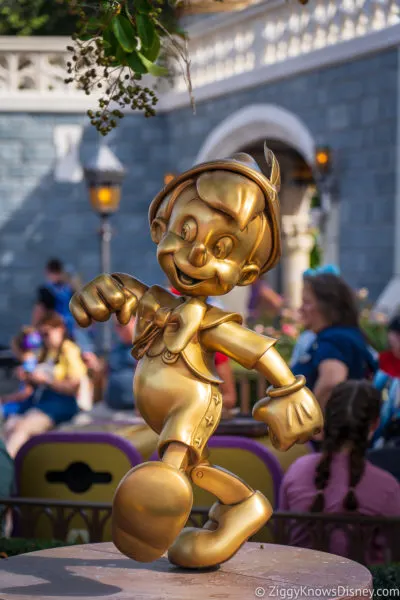 Pinocchio is showing how he is in fact a real boy and strutting his stuff.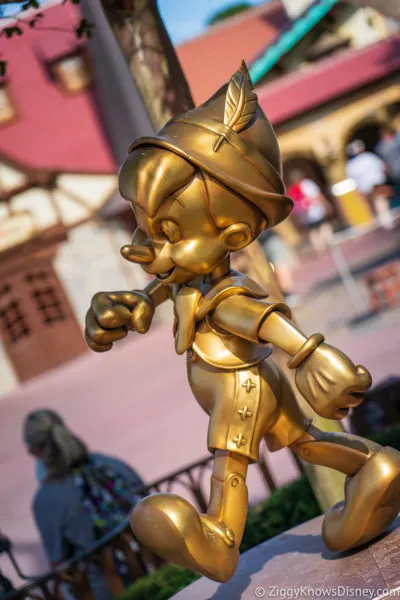 There certainly are no strings on him and it looks like he is going to walk right off the pedestal.
Now let's walk on over to EPCOT and see where all the statues are there.
EPCOT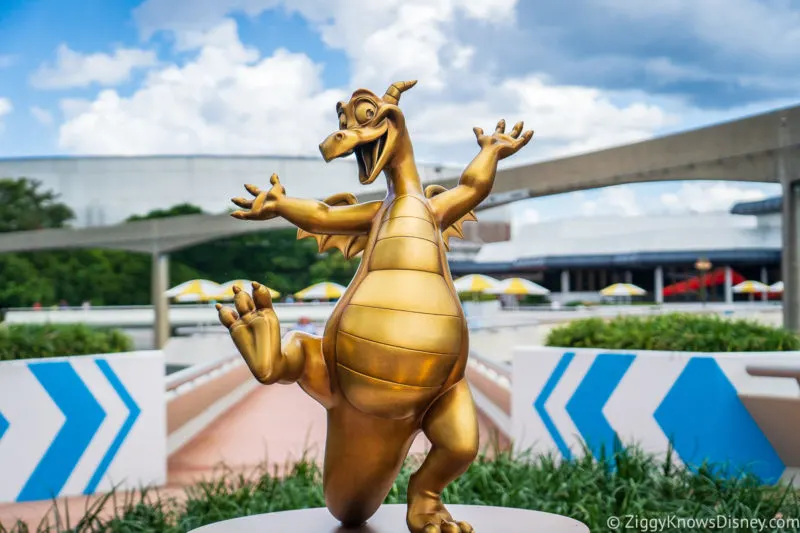 There are 6 Fab 50 golden statues in EPCOT with 9 total characters on them. EPCOT isn't a place you would normally find a ton of characters, and in fact, there are fewer characters here than at the Magic Kingdom.
They are all located relatively close to each other with 8 characters in Showcase Plaza right at the entrance to World Showcase, and 1 character on the walkway into World Celebration.
Miguel and Dante (Showcase Plaza)
Miguel and Dante from Disney/Pixar's Coco are front and center in Showcase Plaza between Disney Traders and Port of Entry. They are the easiest statues to spot since they are bigger than the others in the area.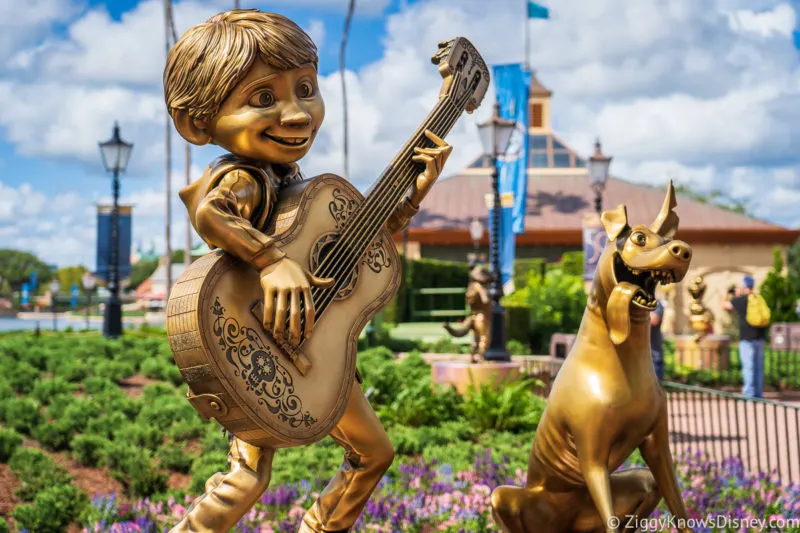 Miguel has a guitar in his hand and is playing a song.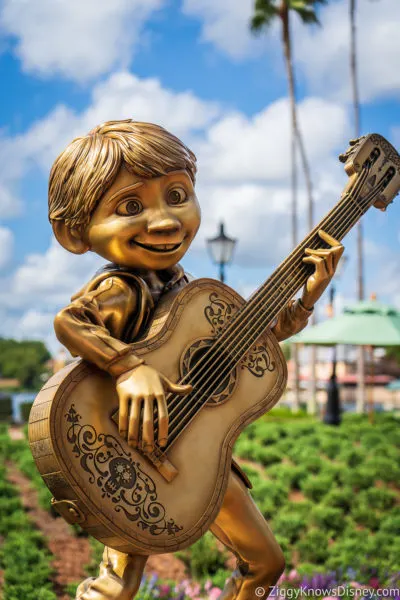 Dante is Miguel's canine friend and spirit guide. He has his own statue and has that wild look on his face that makes him so funny in the film.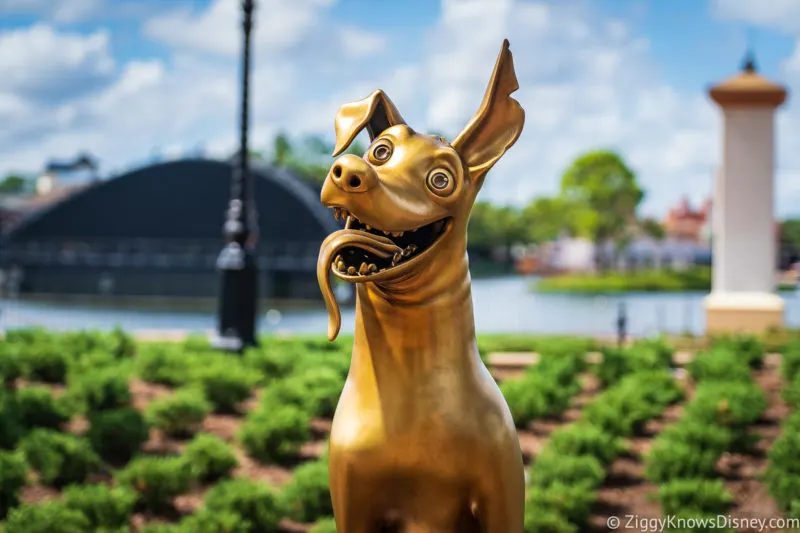 We are a little surprised to not find them over in the Mexico pavilion instead of here, but it may have been a compromise to keep the characters out of the countries in order to keep "character-free."
Rocket and Groot (Showcase Plaza)
There are even two representatives from the Marvel universe with Fab 50 statues, Rocket Racoon and Baby Groot from the Guardians of the Galaxy franchise.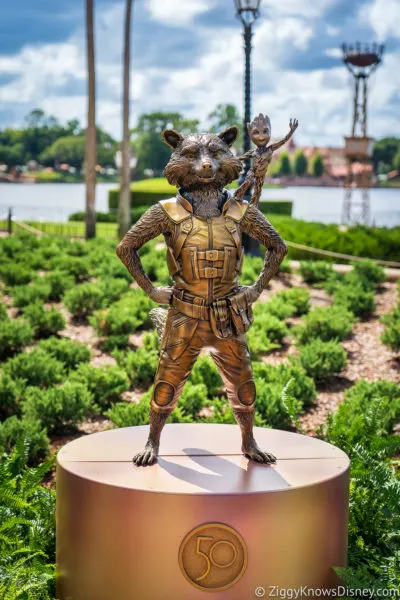 Rocket and Groot share a platform and Baby Groot can be found sitting on Rocket's shoulder.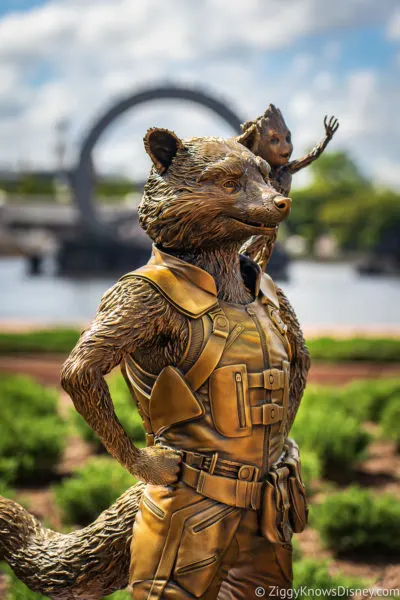 These two are a hilarious combo and we are happy they made it into EPCOT.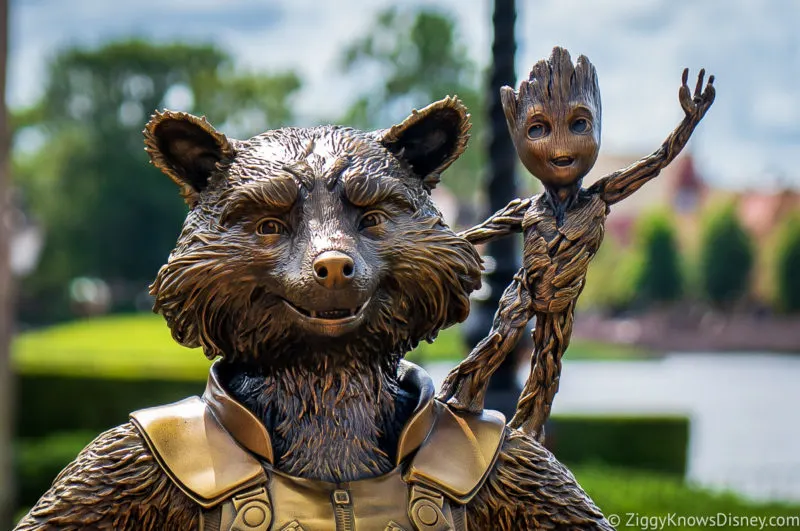 Right now they are located in Showcase Plaza, but it wouldn't surprise us if they are moved over to the Xandar pavilion when the Guardians of the Galaxy: Cosmic Rewind coaster opens up in 2022.
Olaf and Bruni (Showcase Plaza)
Fans of the Frozen films will immediately recognize Olaf and Bruni who are also located in Showcase Plaza. They are on the same pedestal but they are two separate statues.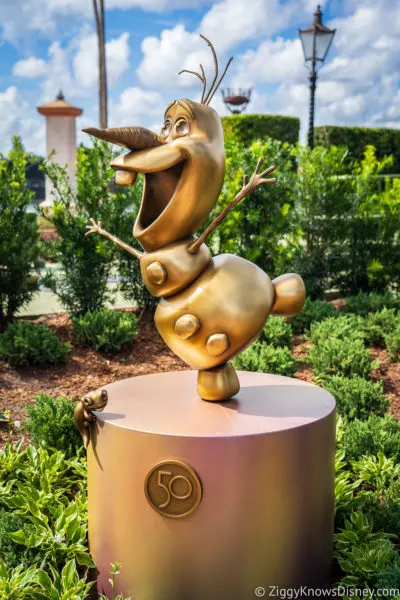 Olaf is doing a pose in the air…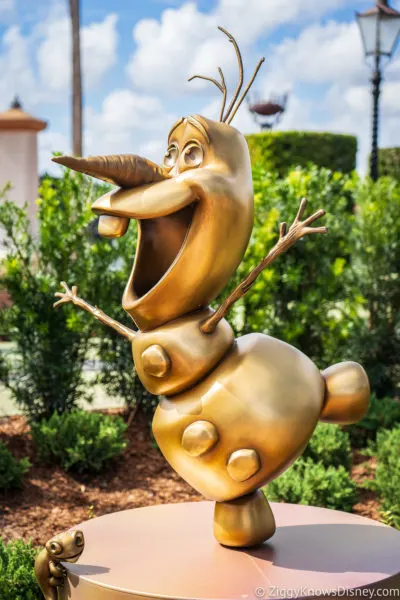 While Bruni is hiding down on the side of the pedestal. In fact, he is so small that you might actually miss him unless you are really looking.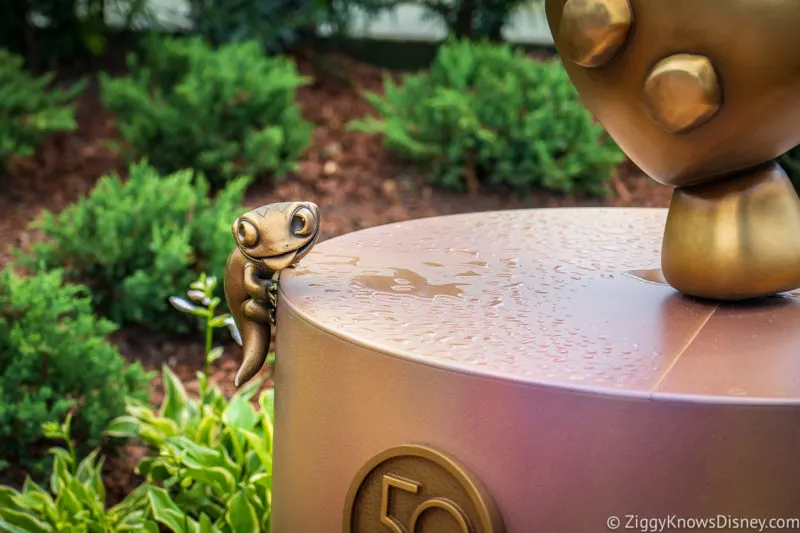 This is another one that easily could have ben place in the Norway pavilion instead of here in the middle with the others.
Pua and Hei Hei (Showcase Plaza)
The last Fab 50 statue in this area is Pua and Hei Hei from Moana. There is no Hawaii pavilion, but they are located near the Hawaii food marketplace normally found at the Food and Wine Festival, so I guess their location makes sense.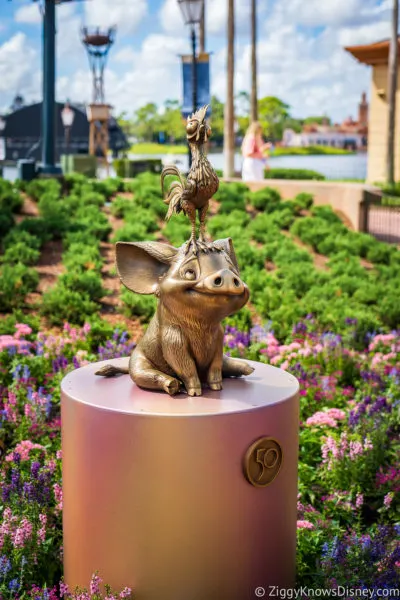 Pua is at the base of the statue looking up at Hei Hei on top of his head who looks as lost as ever.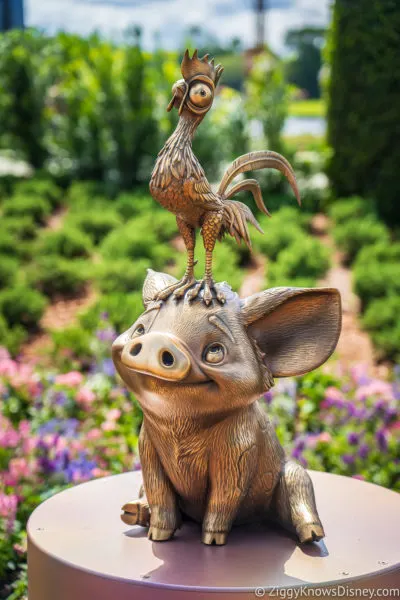 Figment (World Celebration)
The last golden character statue in EPCOT is of course Figment! I mean, how could you not have figment since he is practically the mascot of the park.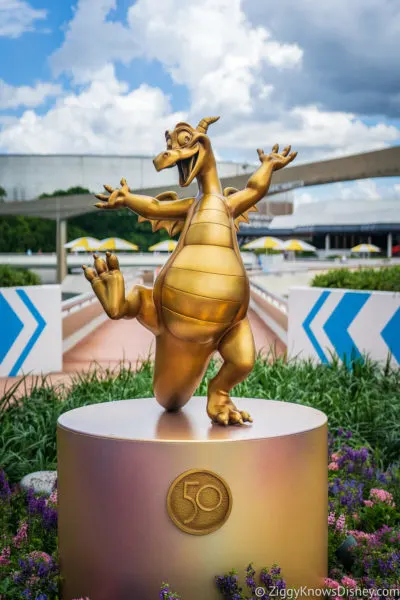 Figment is a good size statue and hard to miss walking the center of World Celebration toward World Showcase and the other statues we've already seen.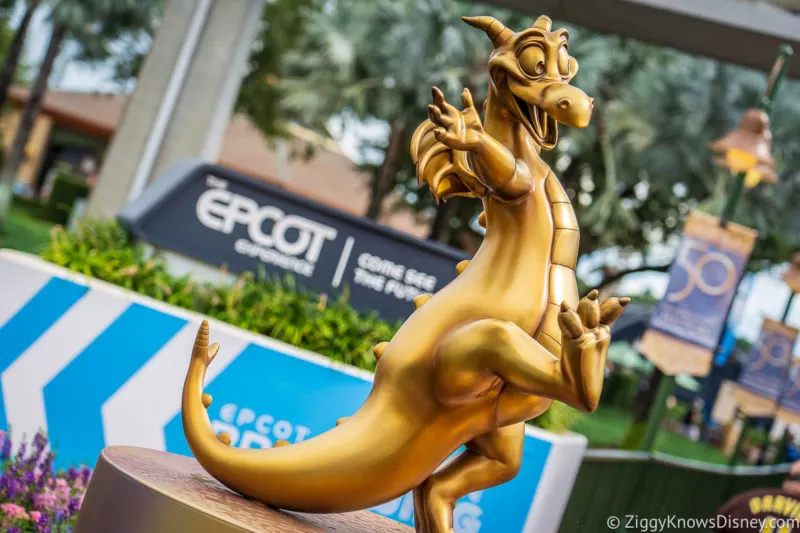 I'm once again puzzled with the choice in location as it would have been more fitting to find him over by his attraction "Journey Into the Imagaination with Figment." I guess Disney knows that not too many people actually go over there so he will be muc hmroe visible here on the main walkway.
We are done in EPCOT, now let's go to Hollywood Studios and see who we can find.
Hollywood Studios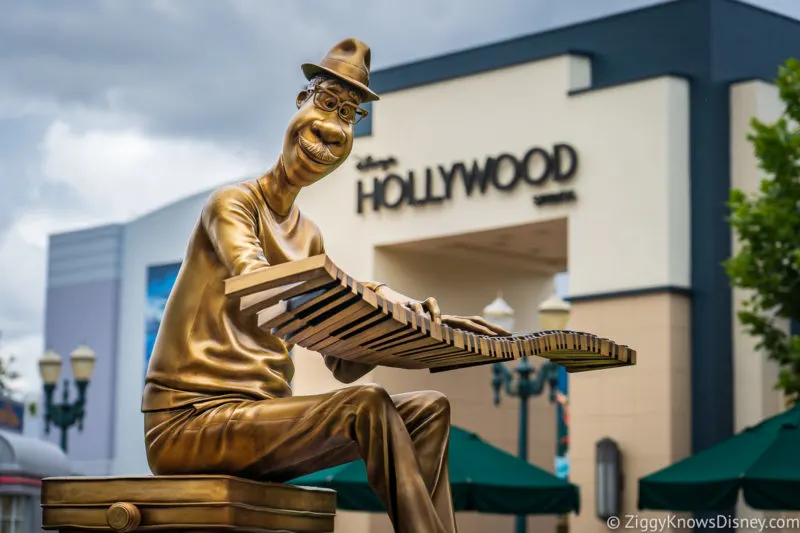 At Disney's Hollywood Studios there are a total of 8 Fab 5 statues and 9 characters represented. This is also a really easy place to find them since they are all located in the Animation Courtyard area of the park and near the Chinese Theater.
Pixar characters are heavily represented at Hollywood Studios and there are even a couple of statues from the Star Wars franchise. There is only one statue connected to the traditional Disney Animation studios.
BB-8 and R2-D2 (Animation Courtyard)
Walk down Hollywood Blvd from the park entrance and head toward the Chinese Theater. Just past the two projection towers on the left and in front of A Frozen Sing-Along Celebration and Dockside Diner you will find a group of statues, two of them being BB-8 and R2-D2.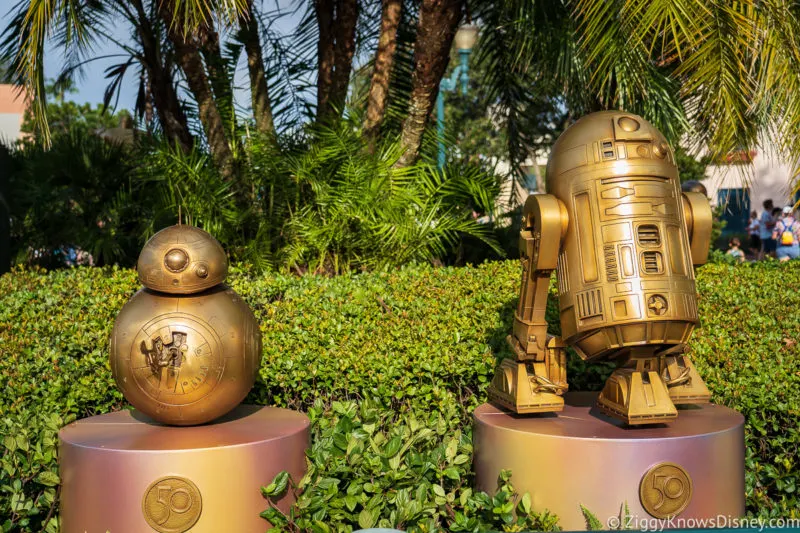 BB-8 has quite a presence in the park. Not only is he in the pre-show for Rise of the Resistance, he now has his own golden statue. He is opening his front door and holding out a lighter as he does in the films.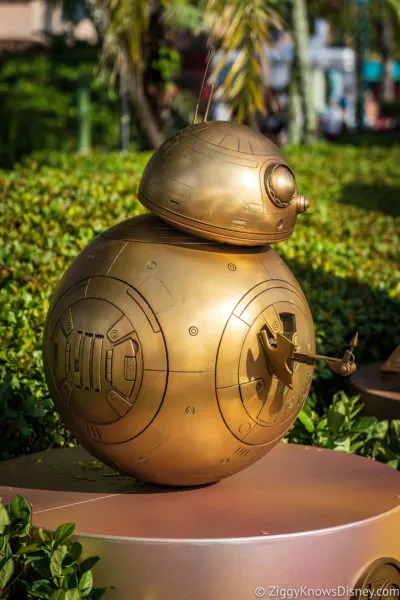 Right next to him is the OG of Star Wars droids, R2-D2.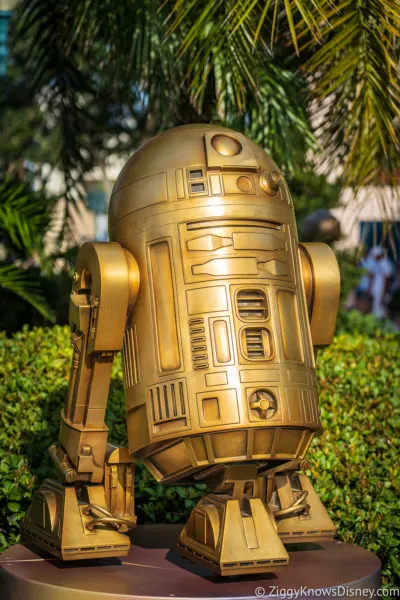 It's interesting how the droid pairing used to always be R2-D2 and C-3P0. Now with this newer generation of films, Disney brought in one droid from the old films and one from the new ones to appease fans of both trilogies.
Frozone (Animation Courtyard)
Located just on the other side of the trees is Frozone from Pixar's Incredibles franchise.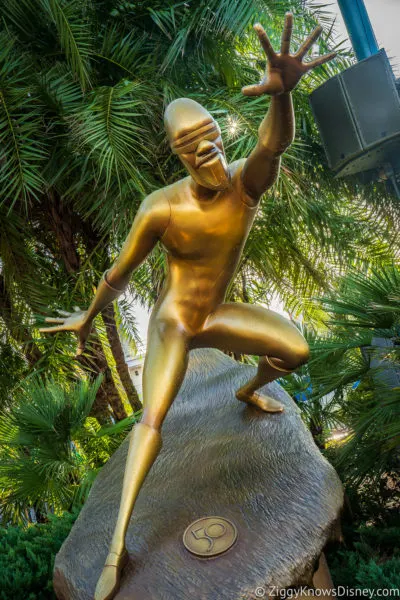 In the films, Frozone has the power to shoot ice from his hands, and it looks like he is in the middle of surfing down an ice wave as he is out to get the bad guys.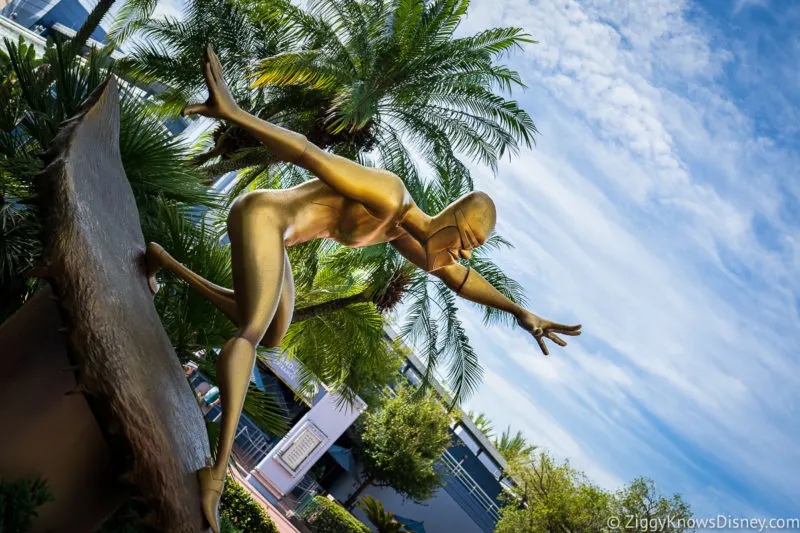 You know it's not a coincidence that is located right near the Frozen Sing-Along show.
Edna Mode (Animation Courtyard)
Frozone is not alone and right next to him and also from the Incredibles franchise is Edna Mode.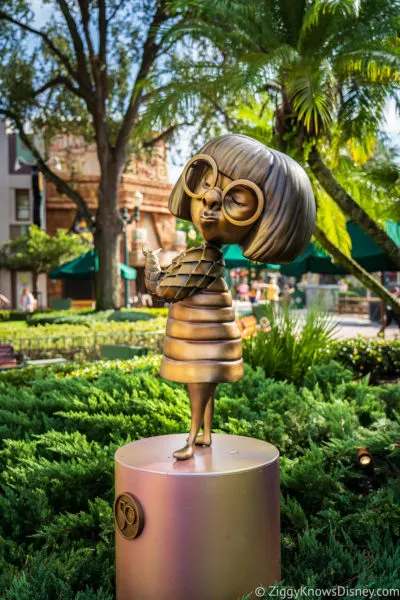 This fashion queen is the creator of the super hero suits worn by Mr. Incredible, Elastagirl, Violet, Dash, and Jack-Jack wear in the films.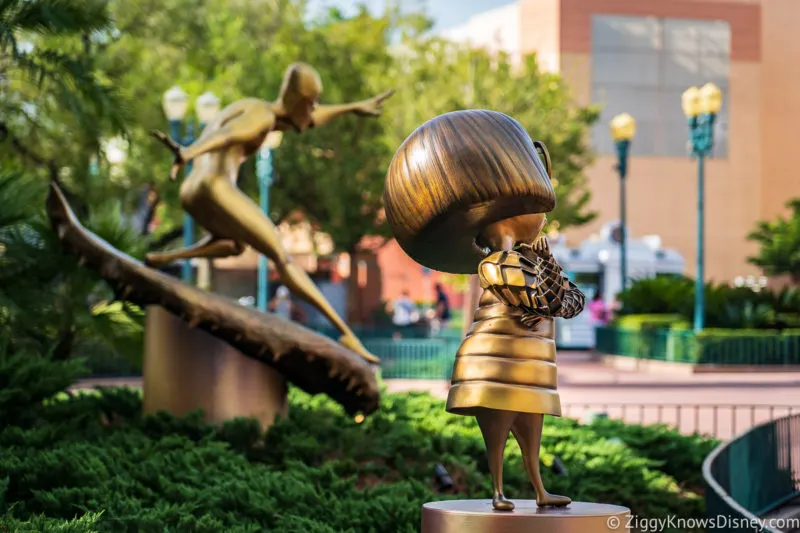 She doesn't look like she wants to be bothered at the moment and she is probably working on another idea for the latest fashion designs as we speak.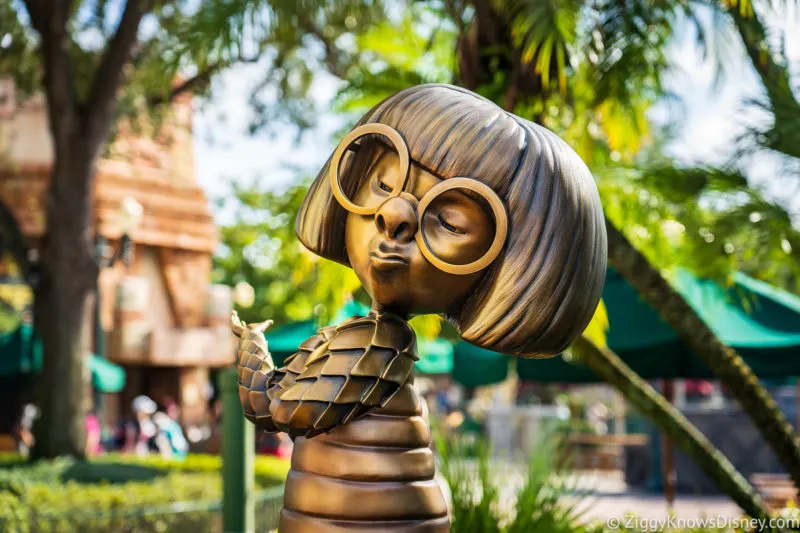 Joe Gardner (Animation Courtyard)
Just outside the entrance to the Hollywood Brown Derby restaurant you will find Joe Gardner, the main character from one of Pixar's latest films, "Soul."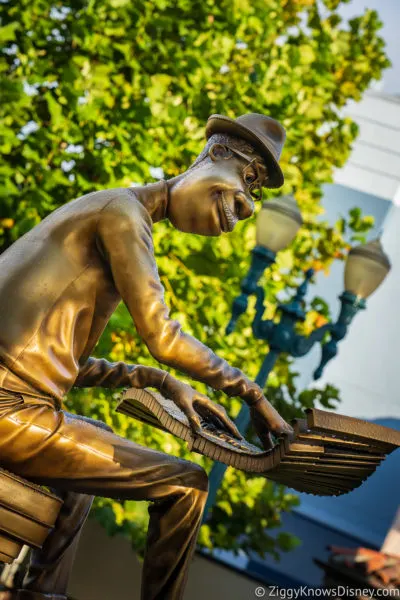 Joe is doing what he does best, playing the panio. This to us is one of the coolest statues and had to be one of the hardest to make. Look at the way the piano keys are floating in the air and look like theya re in movement as he is playing them. Incredible stuff here.
Flounder and Sebastian (Animation Courtyard)
Also in Animation Courtyard and heading toward the Voyage of the Little Mermaid show are Flounder and Sebastian from Disney's "The Little Mermaid."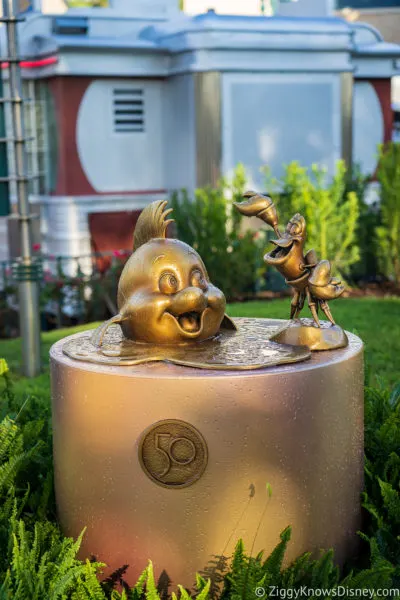 They are together on the same statue and have water underneath them.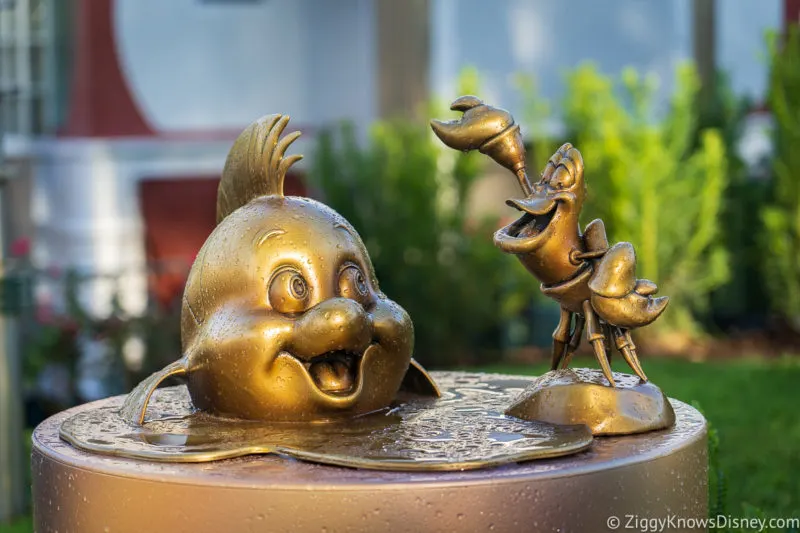 Woody and Bo Peep (Animation Courtyard)
Last but not least at Disney's Hollywood Studios are Woody and Bo-Peep from the "Toy Story" franchise. They are located in Animation Courtyard between the Chinese Theater and the big Hollywood Studios arches.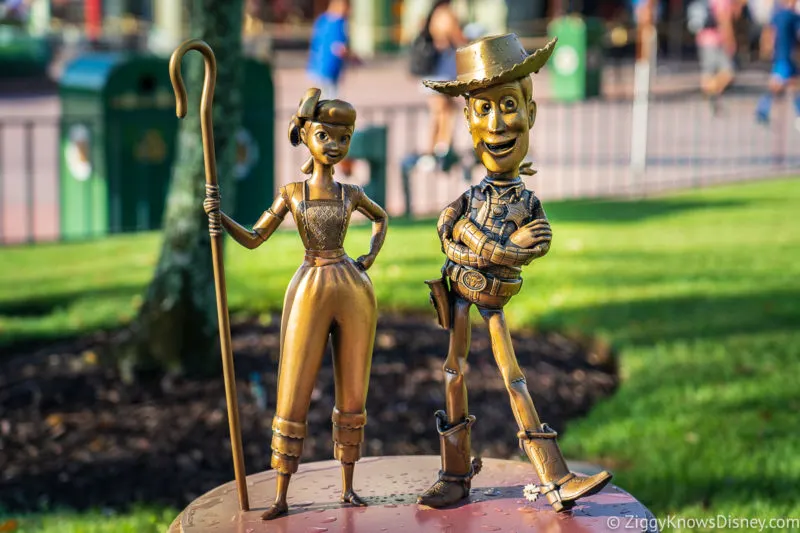 These guys are two separate figures but located on the same pedestal. Woody has his arms crossed and his classic cowboy hat on his head.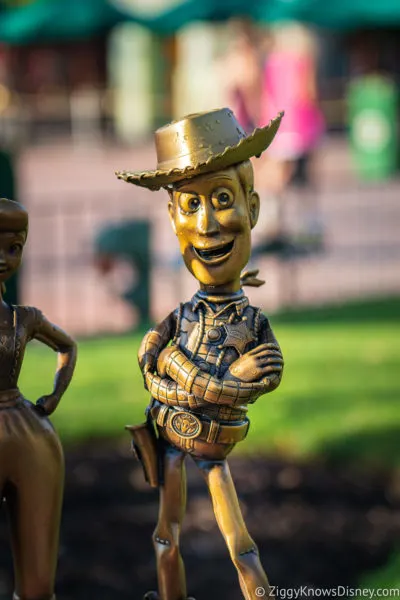 At his side is Bo Peep who we last saw in Toy Story 4.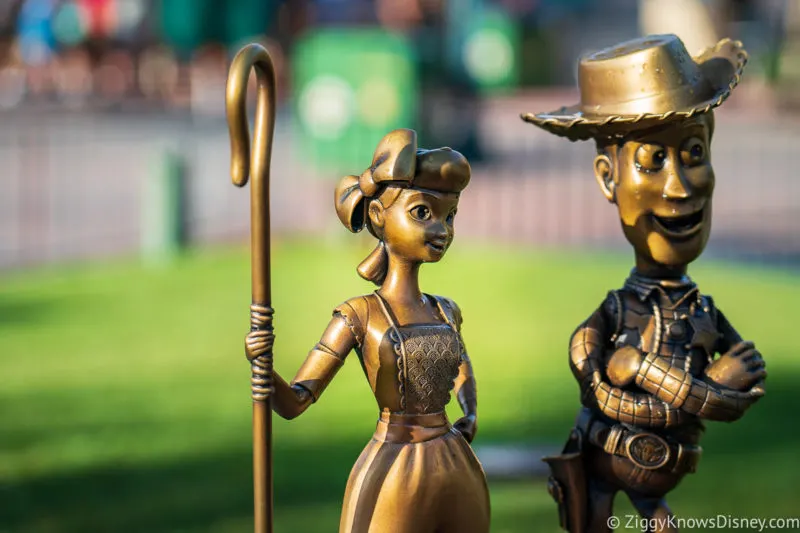 We do wonder why they are not located in Toy Story Land, but having them here with the others makes them easy to find.
Now let's head to the last park on our list, Disney's Animal Kingdom.
Animal Kingdom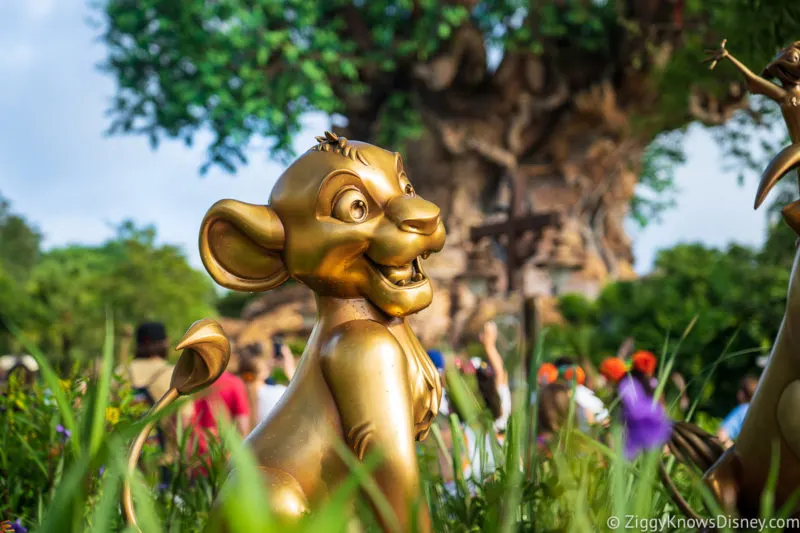 At Disney's Animal Kingdom you will find 4 Fab 50 golden statues with 7 different Disney characters represented on them.
Luckily they are easy to find as all of them are on Discovery Island near the Tree of Life and all close to each other.
Bambi and Thumper (Discovery Island)
Bambi and Thumper are just in front of the tree and share the same pedestal.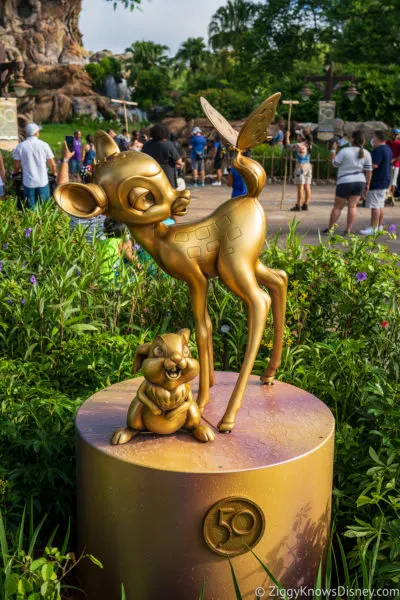 Bambi just noticed that a butterfly has landed on his tail and he is turning around to see it.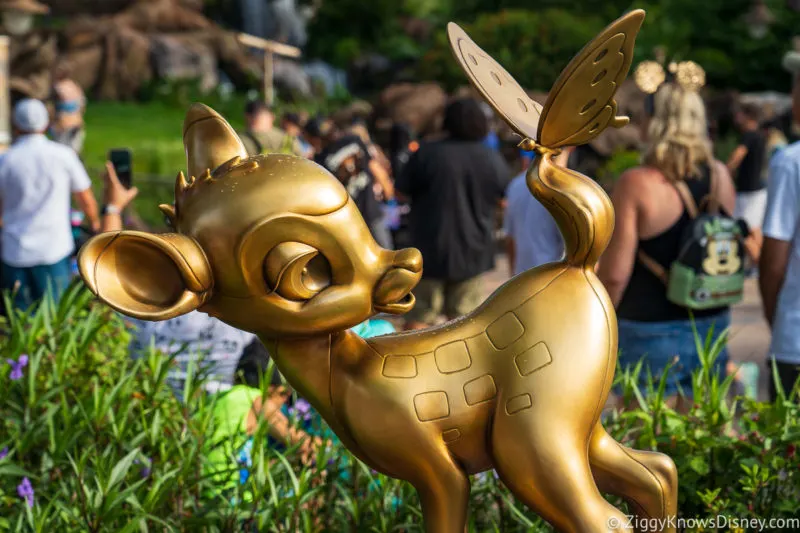 Thumper on the other hand is at Bambi's feet and laughing.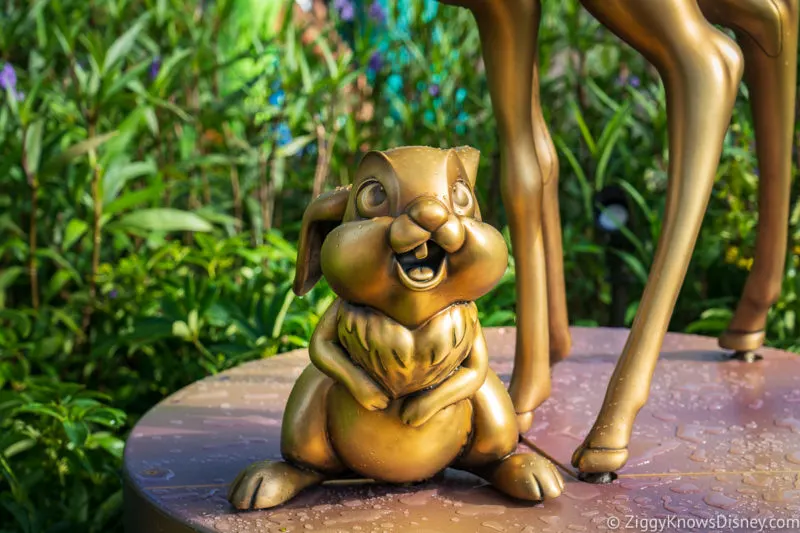 Simba, Timon, and Pumba (Discovery Island)
Also in front of the Tree of Life you will find three characters from Disney's The Lion King. Simba, Timon, and Pumba are together on two different pedestals. They are located right on Discovery Island, near Discovery Trading Co and easy to find.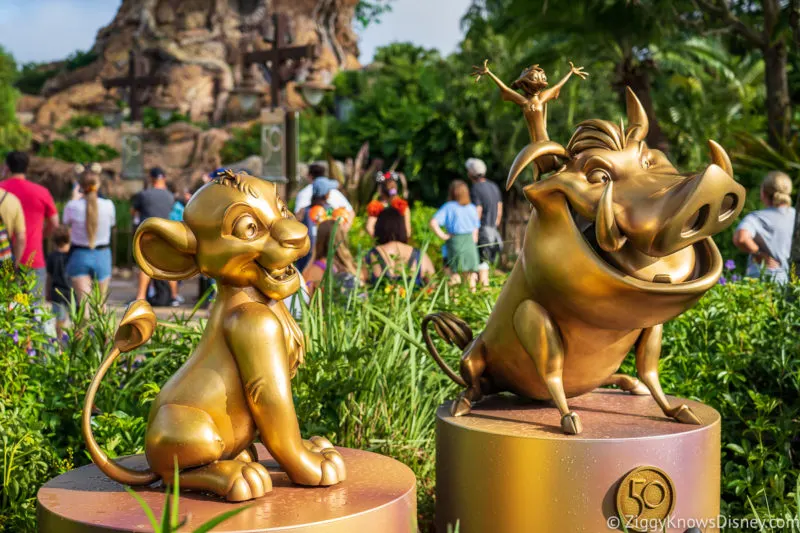 Simba is basking in the sun and dreaming about the day he will become king.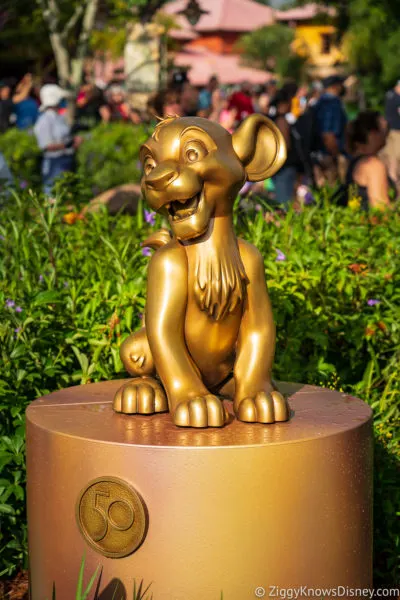 Timon and Pumba are right next to him.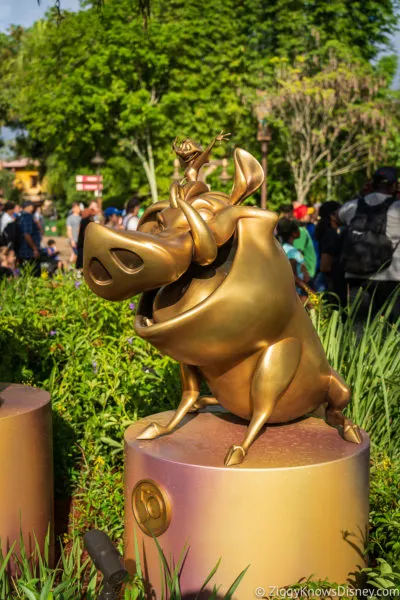 They are joking around and laughing as usual and Timon is riding on top of Pumba's head.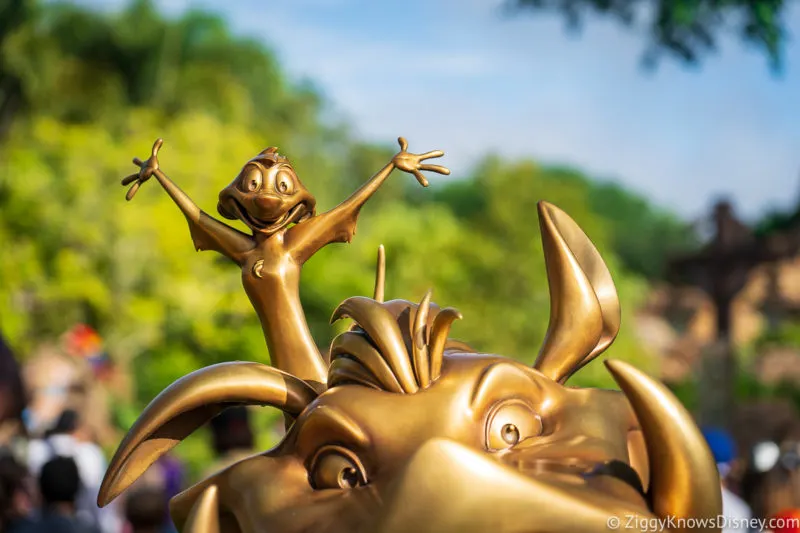 Dory and Nemo (Discovery Island)
Dory and Nemo are a little harder to find than the others. They are off to the right of the Tree of Life, right near the Wilderness Explorers Club House.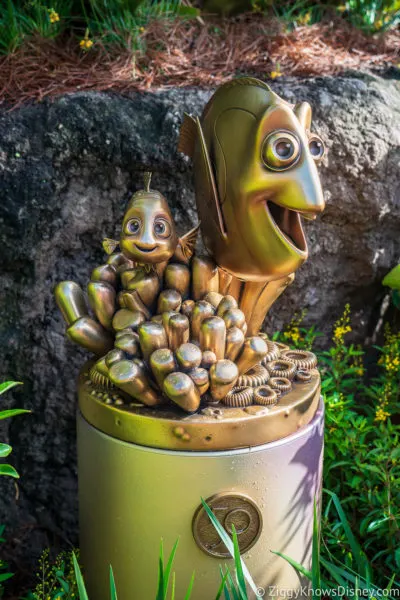 Make sure you look down though as they are close to the ground and easy to walk right past without seeing them.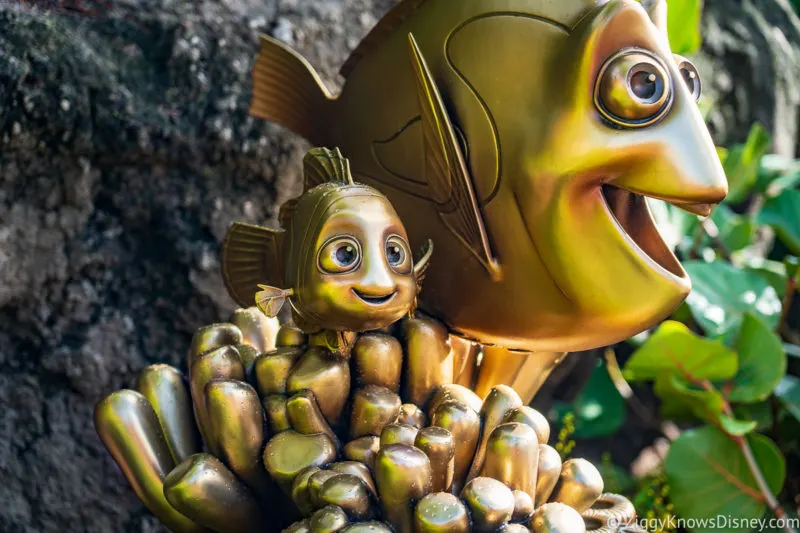 Nemo and Dory are together in the same statue and swimming above a bed of coral.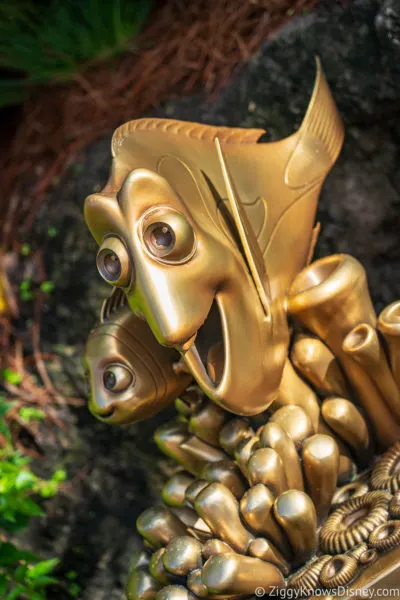 Now you know how to find all 50 characters in each of the 4 parks!
Is It Worth It to Visit for the Fab 50 Statues?
While we absolutely love these golden character statues in the parks, we would not make a trip all the way down to Disney World just to see them. They are definitely worth checking out if you already have a trip planned, but we wouldn't come down just for them.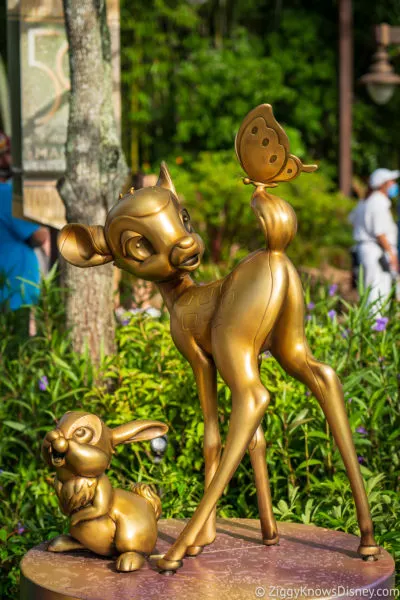 If you live within driving distance and you are an annual passholder, that's a different story. In that case, I think it's worth it to make a separate visit to each park and get your photos with your favorite character statues.
The good news is that there are a ton of other reasons to take a trip to Walt Disney World at the moment. If you haven't been to the parks in a few years, there are a bunch of new attractions you need to check out like Remy's Ratatouille Adventure, or Rise of the Resistance and Millennium Falcon: Smugglers Run in Star Wars: Galaxy's Edge.
That's not all, throughout the rest of the 50th Anniversary, there are even more new attractions coming to Disney World that will make the trip worth it. Then while you are there you can look at all the Fab 50 statues too.
How Long Will the 50th Golden Statues Stay in Disney World?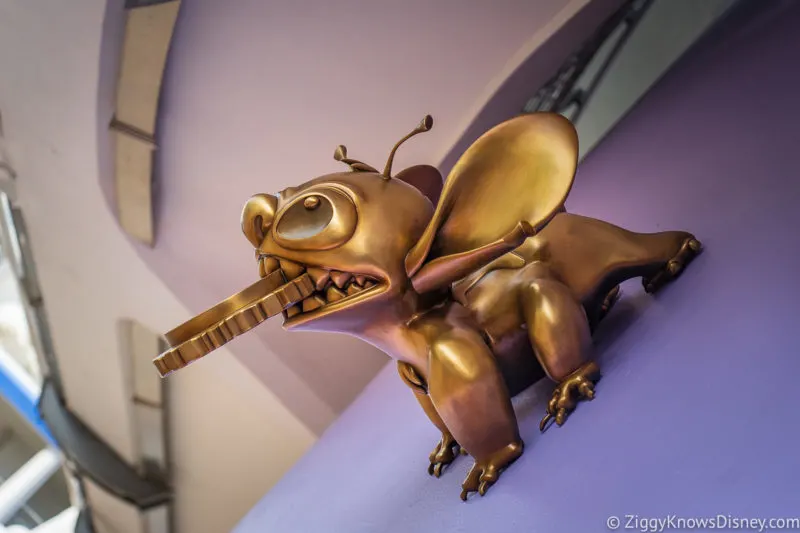 So how long are the Fab 50 golden statues going to be in Walt Disney World? Will they still be there when the 50th Anniversary celebration ends?
At this time Disney has not shared any information about how long they are going to stay in the parks and if they will be removed once the 50th is over.
What we do know is that the 50th Anniversary celebration will last until March 2023, and the Fab 50 statues will be in the parks at least until then. That means you still have plenty of time to book a trip to Disney World and see them.
After that it's anyone's guess what will happen to the statues. We personally think they fit well in the parks and they would be fine as permanent fixtures. Disney wants to add more characters into the parks, and we find them to be a very classy way for them to do it.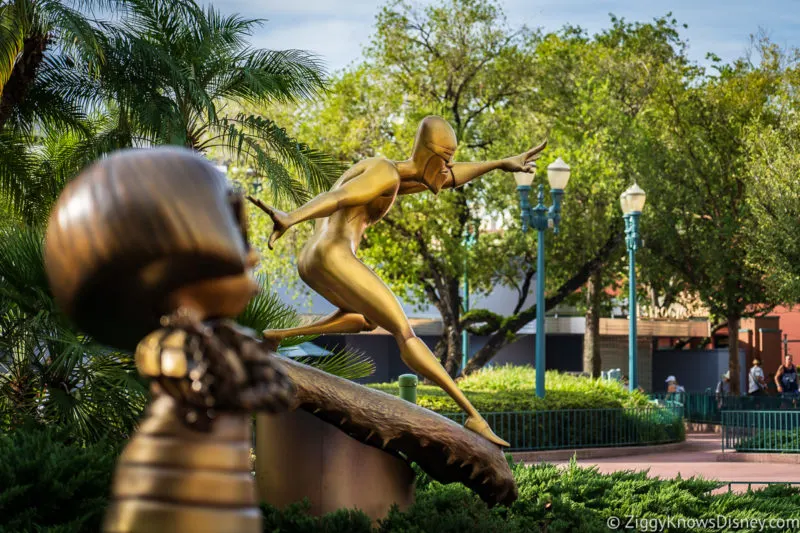 Even though they were technically built for this celebration, it also wouldn't be the first time something was created for a Disney World anniversary and ended up staying in the parks well beyond the end date of the celebration.
Does anyone remember the Icon Tower in EPCOT? That was installed in 1999 for the Millennium Celebration and it remained until 2007.
Or how about the Sorcerer's Hat in Disney's Hollywood Studios? That was put in on September 28, 2001, as part of the 100 Years of Magic celebration at Walt Disney World Resort, and it wasn't taken down until January 7, 2015!
From those examples, we can see Disney isn't exactly quick at removing some of the special structures from the parks, and these Fab 50 statues could easily end up staying past the end of the 50th celebration too, though nothing is guaranteed at this time.
As soon as Disney updates us on if they will stay or not, we will let you know!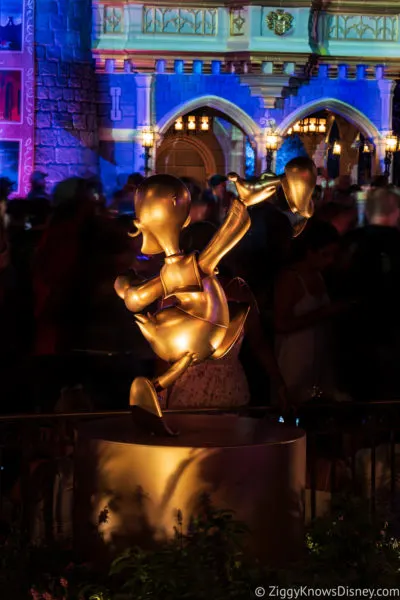 That brings to a conclusion our look at riding Rise of the Resistance in a standby queue. We hope this guide will help you to ride this amazing attraction, it's worth it no matter what you need to do!
For more information on planning your vacation to Walt Disney World here are some of our most useful posts:
Your Thoughts
I want to know what you think about the new Fab 50 golden character statues in Disney World…
Which statue is your favorite?
Which characters do you think were left out but should have been included?
Let us know in the comments section below!
If you enjoyed this article, as always I appreciate it if you'd share it with others via social media. I work hard at making this website into a useful resource for you and your family to plan your visit to the Disney Parks and I hope it can help you! Thanks 🙂