Get ready for your favorite space-based superheroes to invade Disney World when the Guardians of the Galaxy: Cosmic Rewind comes to EPCOT. This new Marvel-based roller coaster is currently under construction and will bring you on a ride like you've never experienced in this galaxy!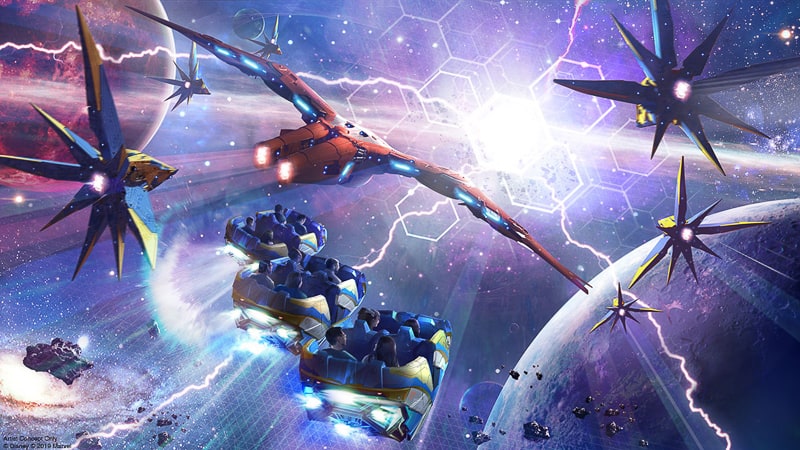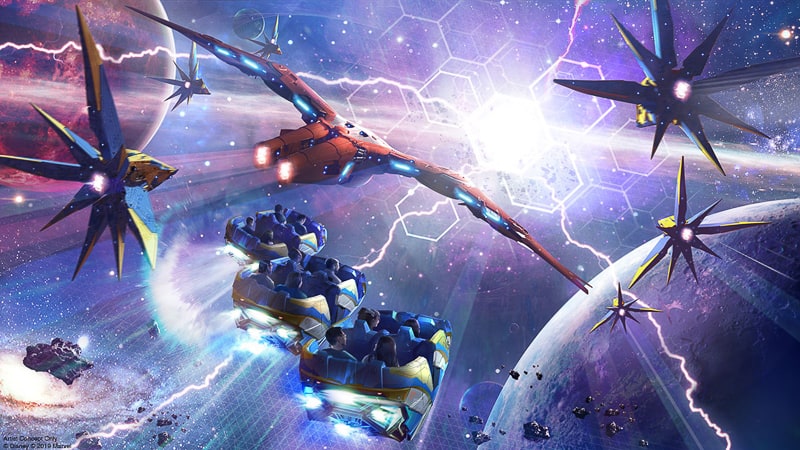 Ever since this Guardians of the Galaxy roller coaster was announced in 2017, we have been extremely excited to see what Imagineers have dreamt up for guests when experiencing EPCOT's newest E-Ticket attraction.
In this post, we are going to share everything you need to know and the latest updates about the Guardians of the Galaxy: Cosmic Rewind ride including the location, story, ride vehicles and the one-of-a-kind, revolutionary new ride system.
We'll also talk about a touring strategy for Cosmic Rewind including FastPass+ information, tips, crowds, wait times the best time to visit, and a walkthrough of the attraction so you know what to expect when you ride.
You also want to know the opening date for the Guardians of the Galaxy coaster, so we'll talk about when you can actually expect to ride it. Since it's not currently open, we'll do our best to answer any questions you have about the Cosmic Rewind ride. Then once it opens we'll add more info including a full review including all our thoughts.
If forced to choose, we think the Guardians of the Galaxy roller coaster is the attraction we're most looking forward to in the next few years, and our list of Disney World's best new and upcoming rides is a long one!
A lot of people are pretty negative about it coming to EPCOT, but we think it's going to have huge success and quickly jump close to the top of the list of everyone's favorite attractions.
If you want to get the latest updates about this amazing new ride, don't forget to sign up for our FREE Weekly E-Mail Newsletter. We'll send you the latest news about Cosmic Rewind and any other Disney vacation planning tips. You can sign up here: Join our E-Mail Newsletter
Guardians of the Galaxy: Cosmic Rewind Overview
Location: EPCOT Park, Walt Disney World
Status: Under Construction – ETA: 2022
Ride Type: Roller Coaster, Indoor
Thrill Level: High
Disney Genie+: TBD
Lightning Lane Purchase: TBD
Ride Length: TBD
Height Requirement: TBD
Capacity: 4 riders per vehicle. Hourly capacity TBD
(NEWS) Guardians of the Galaxy: Cosmic Rewind Opening in 2022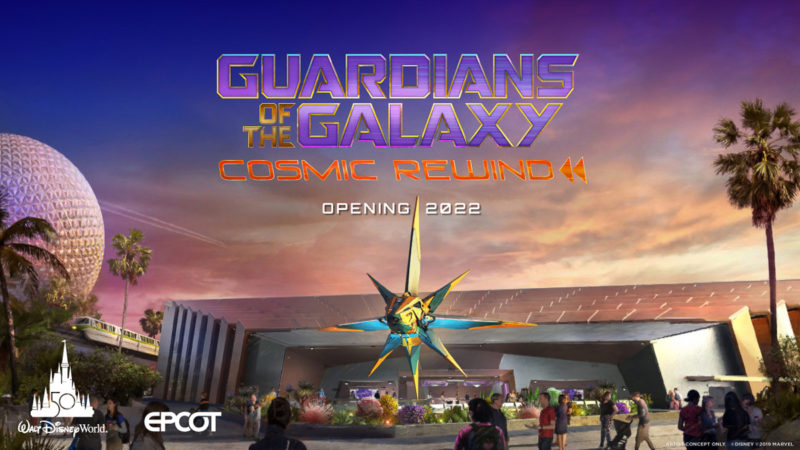 After many months of silence, we finally got an update on EPCOT's first roller coaster. Guardians of the Galaxy: Cosmic Rewind is opening in 2022 at EPCOT.
Before this announcement, there were rumors that Disney was deciding whether to open the ride in 2022 or 2023. This is good news as the delay in construction is not going to be as long as some envisioned.
Disney also announced that the old Universe of Energy pavilion is going to be called the "Wonders of Xandar" pavilion. It will be located in World Discovery, one of the new 4 neighborhoods of EPCOT.
Imagineer Zach Riddley said about the ride: "Guardians of the Galaxy: Cosmic Rewind, will debut in 2022. That's right, our friends from Xandar will open the first 'other-world' showcase pavilion at EPCOT next year, inviting us on an intergalactic chase through space and time!"
Cosmic Rewind is being described as a "family thrill coaster," just a tad more intense than the Seven Dwarfs Mine Train over at Disney's Magic Kingdom.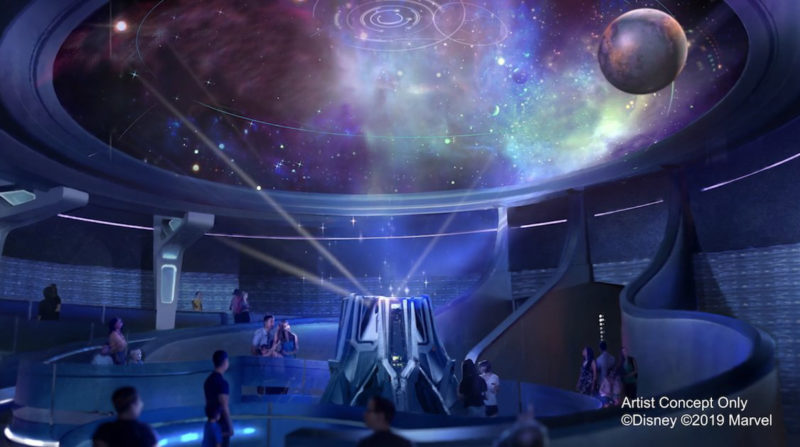 We also got a new look inside the Wonders of Xandar pavilion, in the Galaxarium. This will be a key part of the queue and tell part of the story leading up to the Cosmic Rewind ride and where the Xandarians will introduce Guests to their world and technology.
Disney Imagineers Tom Fitzgerald and Scot Drake shared how excited they are for guests to experience this advanced new attraction.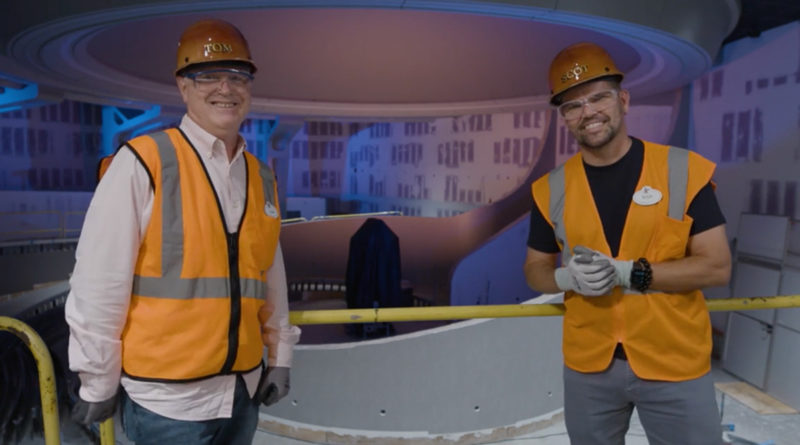 As for the exact opening date, so far Disney has not given one. This is on purpose as there is just too much that can still go wrong in the next year for Disney to lock in a date this early.
Since they didn't give an exact date, you can almost surely rule out an opening date in the winter or early spring. We already have an opening date for the Star Wars Hotel in March, so if Cosmic Rewind was going to be ready by then, we'd probably know it.
Plus they won't open both major projects super close to each other, they need to spread out the good press.
More realistic is Guardians of the Galaxy: Cosmic Rewind opening in Summer 2022. A June opening would be nice as it gives guests something big to come out for in the summer.
At the very latest, we see Cosmic Rewind opening by October 1, 2022. That is the 40th anniversary of EPCOT, and Disney will want this project done by then to put into the promotional material.
Stay tuned for more as we will continue to update you as we get more info.
(News) First Look Inside Guardians of the Galaxy Cosmic Rewind Ride
Guardians of the Galaxy: Cosmic Rewind is the biggest new E-Ticket attraction currently being built in Walt Disney World, and it sounds like it's going to be even better than we have imagined so far!
Thanks to a special presentation by Disney recently, we now have a first look inside the Cosmic Rewind attraction building and can see what the track looks like.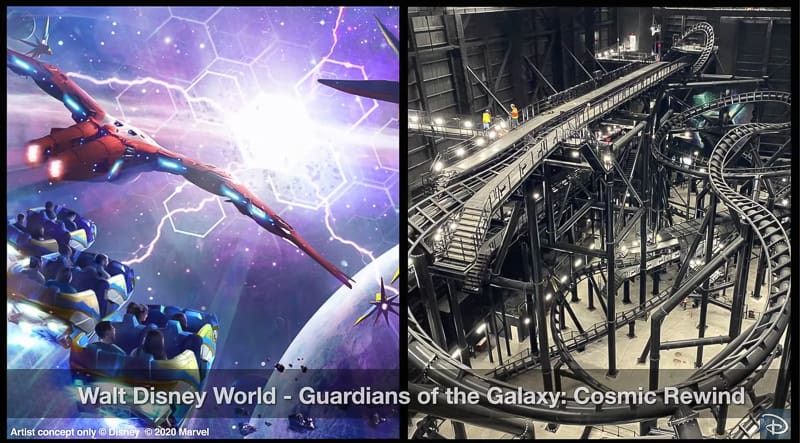 This is going to be one of the longest indoor roller coasters in the world, and we can see all the twists and turns happening in this massive show building.
The building itself is more than 12 stories high, and what you can see in the photo is only a very small part of it.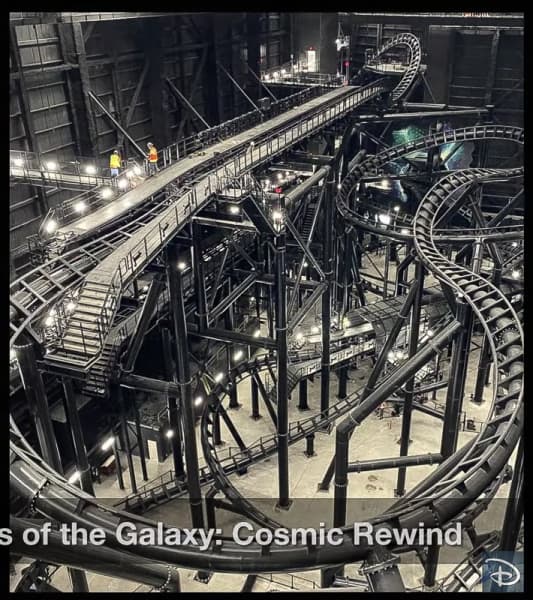 There are also going to be plenty of projection effects, screens and other tricks that Disney will use to tell this immersive story set in the Marvel universe.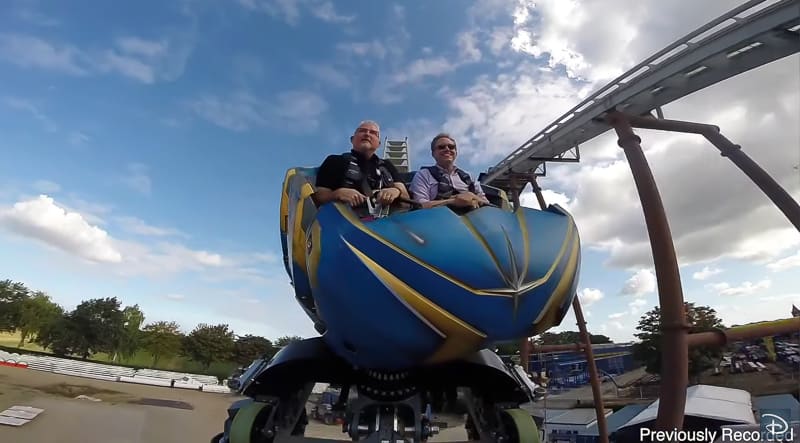 The cool part about the ride is that its unique ride vehicles will allow guests to spin in different directions throughout the ride which will enhance the story telling and help them to see the show elements more clearly.
Already this is the new project we're most looking forward to in Walt Disney World, and it sounds like it's going to blow everyone away.
In fact, Guardians of the Galaxy director James Gunn said that Cosmic Rewind is "Utterly mind-blowing. I mean it. You guys are going to freak out. It's incredible."
(News) – Cosmic Rewind Ride Vehicles Arrive at Disney World
While we are still a ways away from riding it, we now have a first look at the ride vehicles for the Guardians of the Galaxy: Cosmic Rewind coaster coming to EPCOT.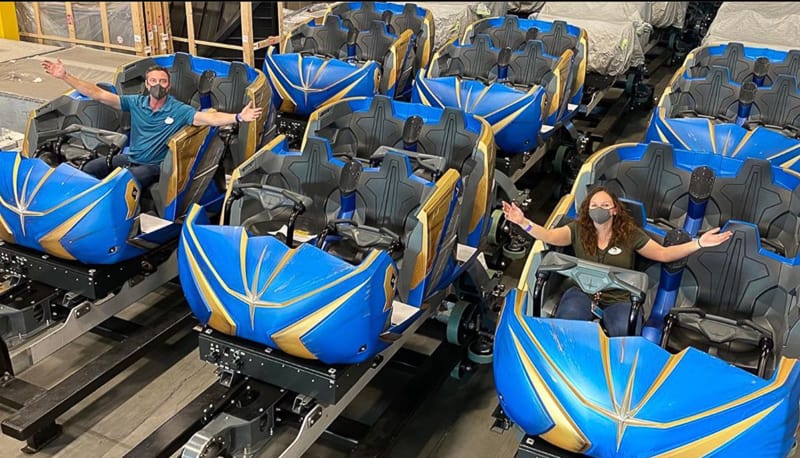 Disney Imagineer Zach Riddley posted some pictures on his Instagram account showing the new revolutionary ride vehicles have now arrived at Walt Disney World and engineers are working on them as we speak.
Disney showed off concept art for the Cosmic Rewind ride vehicles over a year ago, and they are truly one-of-a-kind. They may look like regular roller coaster trains, but they are specially designed and allow for 360-degree rotation along the track.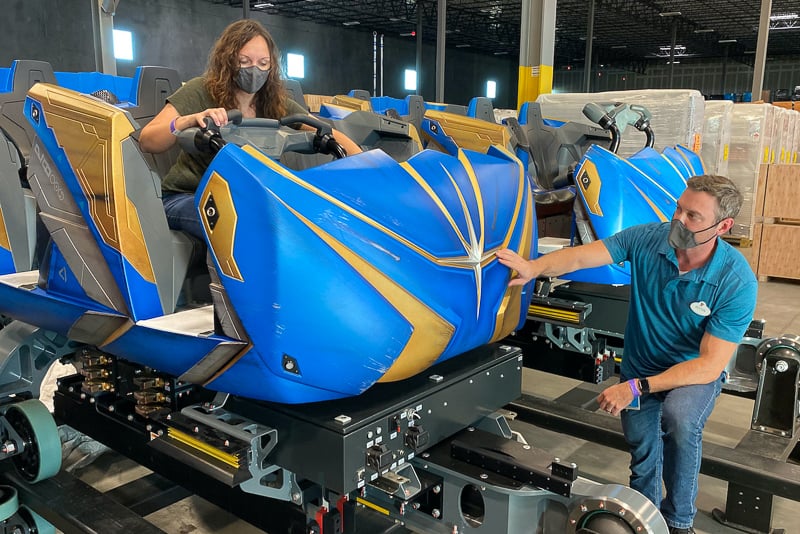 This allows Disney unique storytelling opportunities as they can direct the guests' attentions to various show scenes throughout the ride. The launch for example in Cosmic Rewind will rotate backwards!
This is what Riddley had to say:
"Here is an exclusive sneak peek of two of our ride engineers as they prep some of EPCOT's Guardians of the Galaxy: Cosmic Rewind vehicles at our warehouse in Florida. If you look closely at the colorful paint design on the vehicles (called coaches in roller coaster engineering parlance), each one is unique with different wear patterns and impact marks.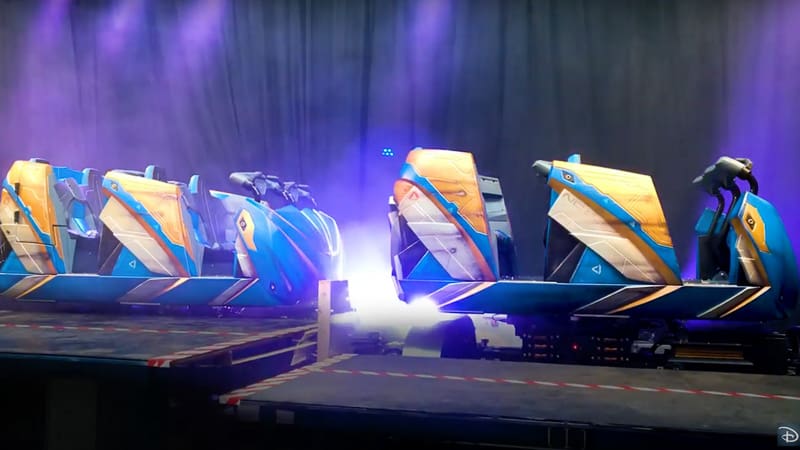 Imagineers were inspired by markings that appear on NASA Space Shuttles and other spacecraft upon re-entry into Earth's atmosphere. We can't wait to share more on this truly out-of-this-world, awesome attraction as we make progress on construction and put these coaches on the track!"
We also got a look at these revolutionary new ride vehicles being tested out on the track and their spinning capacity is really showcased: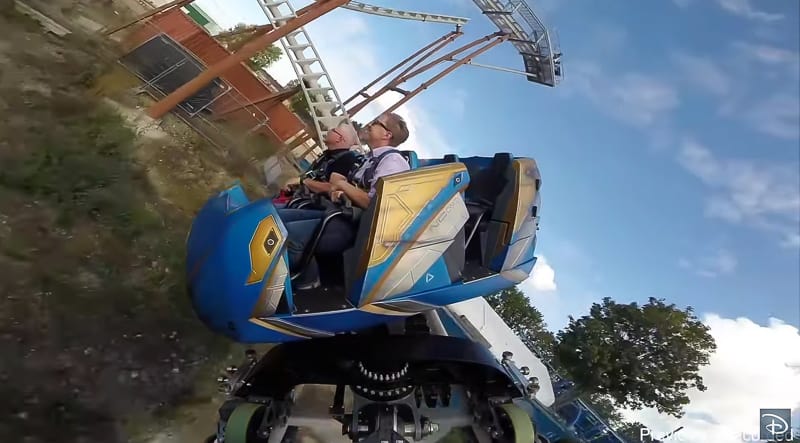 You can see how guests will be able to be directed toward whatever show elements are installed.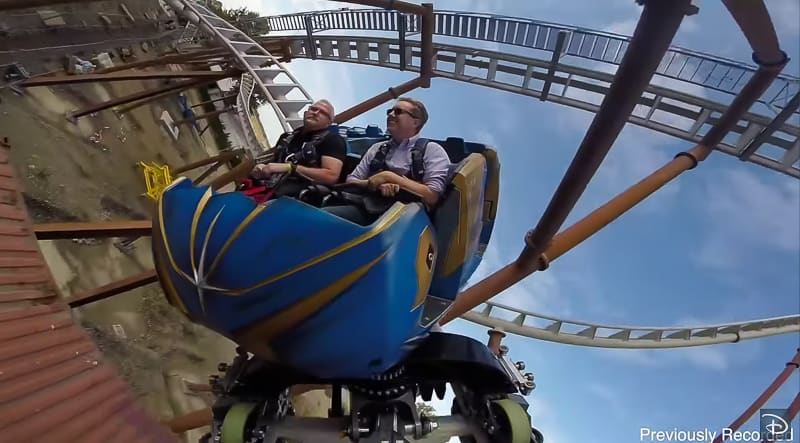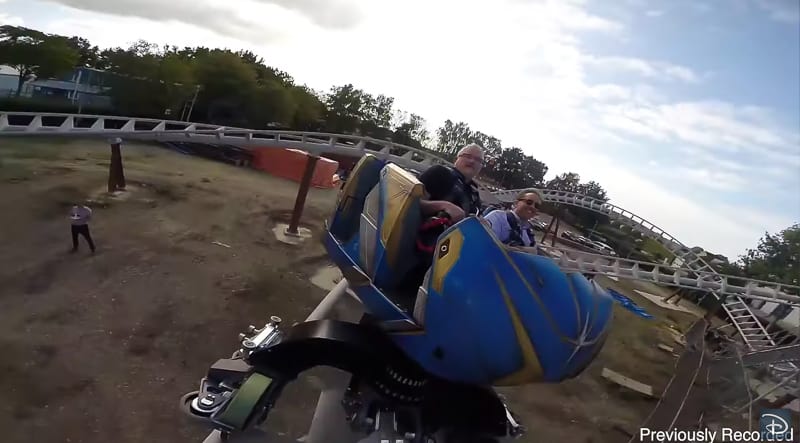 We can't wait for Cosmic Rewind as it is one of the most anticipated rides coming to Disney World in the next few years.
Stay tuned for more info soon, including an update on the opening date! Keep reading for a more detailed look at Cosmic Rewind…
What is Guardians of the Galaxy: Cosmic Rewind?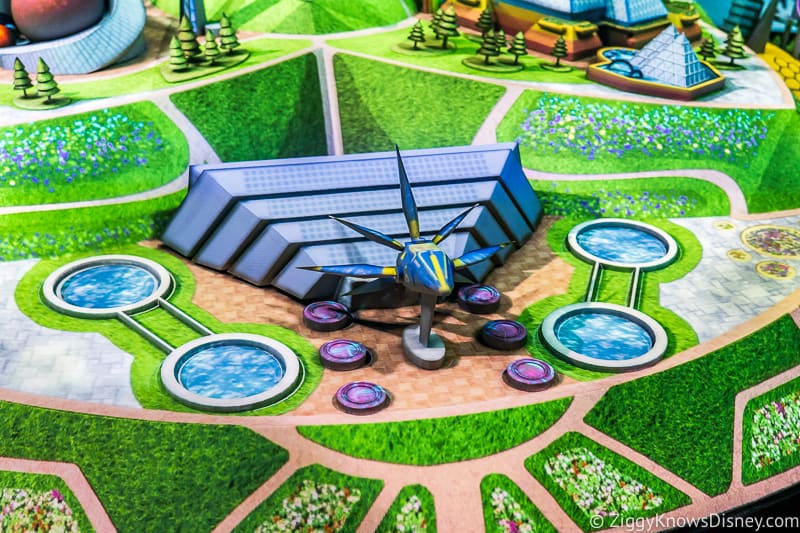 Guardians of the Galaxy: Cosmic Rewind is an indoor roller coaster based on the popular Marvel MCU franchise "Guardians of the Galaxy." In fact, this is one of the longest indoor roller coasters in the world!
Not only that, but it will also feature the first-ever backward launch into space on special ride vehicles which allow for side to side and 360-degree movement.
What's perhaps even more impressive than the thrills, is this will be a ride that's completely different than anything you've ever seen before with a totally new concept. This is not your traditional roller coaster. Cosmic Rewind will bring guests on an adventure in what Disney is calling a "storytelling coaster."
Cosmic Rewind also features the cast of the MCU's Guardians of the Galaxy film, so you'll be witness to all sorts of galactic mischief throughout the ride. Again, if you are familiar with Mission: BREAKOUT and know what a light-hearted, fun ride that is, you can expect something similar here.
We are incredibly interested to see what kind of unique story Disney can tell with this revolutionary ride system and still keep it connected to Epcot. I think it will be perfect timing for the Walt Disney World 50th Anniversary!
We have no doubt that an E-Ticket attraction based on the world of Guardians of the Galaxy is going to be a home run with guests and instantly become one of the most popular attractions in Disney World. Think about what an amazing job the Imagineers did with Mission: BREAKOUT in California Adventure, and how much they can do now starting on a blank canvas.
Where is it Located?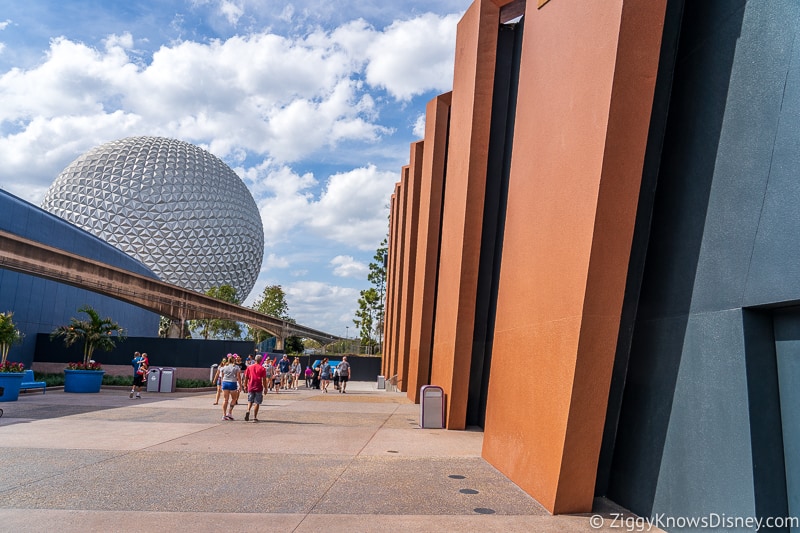 Guardians of the Galaxy: Cosmic Rewind is located in the new World Discovery area of EPCOT, in what is currently Future World East. It's on the same side of the park as Test Track, Mission: SPACE, and the upcoming Play Pavilion.
The Guardians coaster takes over the Universe of Energy pavilion where the attraction's entrance, queue, pre-show rooms, and loading area is held. The actual attraction is in an all-new "gravity building" behind the pre-show building and is where the roller coaster track is held.
The ride fits in well in World Discovery since that area of EPCOT is focused on exploration, science, and technology. It wouldn't go at all in the other two neighborhoods World Celebration or World Nature, and we think it's a pretty decent location.
Is this the Same Ride as in Disney California Adventure?
While there is another Guardians of the Galaxy ride in Disney California Adventure, the Guardians of the Galaxy: Cosmic Rewind ride is completely different.
Mission: BREAKOUT in Disneyland is a remodel and built on the old Tower of Terror attraction ride system. Cosmic Rewind, on the other hand, is a roller coaster. It's unclear if Disney will try to connect the two attractions in some way through the story, but rides themselves are not the same.
What Attraction Did the Guardians of the Galaxy Coaster Replace?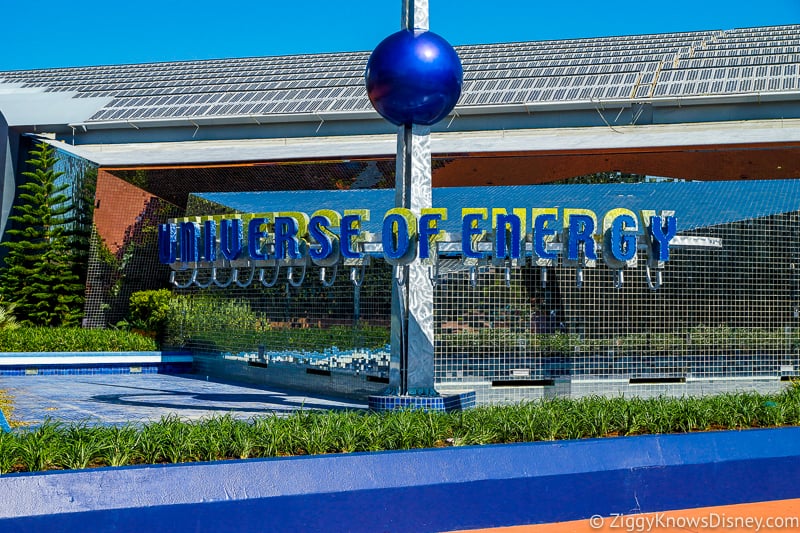 If you are a long-time Epcot visitor, then you know the Guardians coaster is being built where the old Universe of Energy building stands. This building has been home to two attractions, Universe of Energy (from opening day on October 1, 1982, through 1996), and Ellen's Energy Adventure (1996 – 2017).
The former Universe of Energy building is only holding the queue, pre-show and ride vehicle loading areas. The majority of the roller coaster is in a separate, newly constructed building.
Before it was announced, there were all sorts of rumors to where the Guardians of the Galaxy ride would go. The popular thought was that it would also take over the Tower of Terror ride in Disney's Hollywood Studios. It also looked like it could possibly take over for Aerosmith in the Rock 'n' Roller Coaster.
Disney eventually decided that it would be a perfect fit in Epcot and since Ellen's Energy Adventure had seen better days, this move made the most sense.
What Is the Ride About? Story?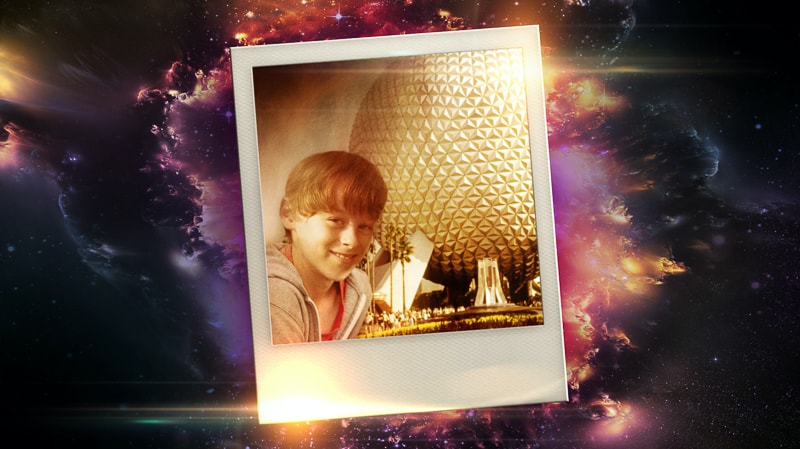 What makes the Guardians of the Galaxy: Cosmic Rewind so different from traditional roller coasters is the fact that it heavily emphasizes the element of storytelling.
Everything about Cosmic Rewind is laid out in a way so guests will feel like they are being taken through a long and intricate story, fully immersing you in the action, even before you are launched away onto your adventure.
The story for Guardians of the Galaxy: Cosmic Rewind starts out as guests enter the "Galaxarium," which is a "planetarium-like exhibition," where they will witness a presentation showing them the formation of the galaxy, as well as the planet Xandar, one of the many fictional planets in the MCU universe.
The concept art for the structure looks impressive, and I imagine a pre-show similar to the explanation The Collector gives the Guardians of the Galaxy about the Infinity Stones in the first film.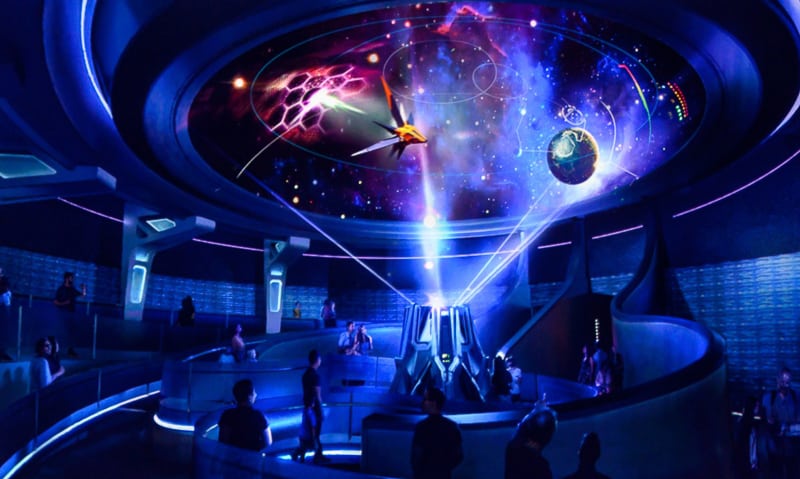 Xandar's presence is made known before you even enter the queue for the ride as a Nova Corps ship is parked right outside the front entrance. Guests are then invited to learn more about the treasures of Xandar, in a museum-like experience. This is a nod to the original mission statement of Epcot and their focus on Edutainment, helping enlighten guests, while also entertaining them.
At this point is where the Guardians come in. The presentation is interrupted and you go along with the Guardians on an adventure through the cosmos.
As described, guests will "rocket back to the Big Bang with the Guardians of the Galaxy." The exact details of the mission are not known yet, so speculation runs wild about what the overall story could be. Since the word "rewind" is included in the title, perhaps you will go back in time to when the Infinity Stones were created? Maybe you will have to grab one as part of the mission.
Ironically, the Big Bang was also featured in the former Ellen's Energy Adventure, the exact location of Guardians of the Galaxy: Cosmic Rewind.
Why is a Guardians of the Galaxy Ride Coming to Epcot?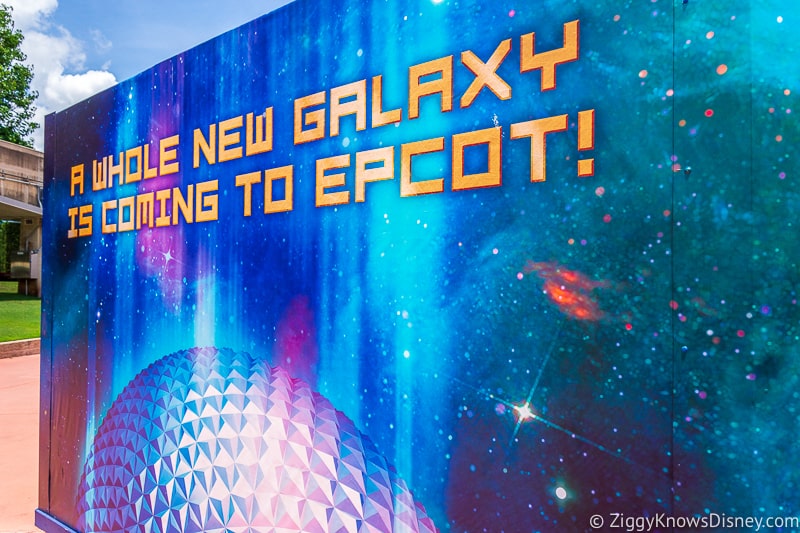 Let's be realistic, Epcot needs attractions. The park was let go for so long and has been struggling to stay relevant over the past decade, aside from its annual festivals. Even more than ever, visitors are looking for rides that are engaging and ones that young people can relate too.
Epcot has never had a roller coaster in its almost 40-year history, so this is a very drastic change, breaking away from the park's original vision from the 1980s.
However, Epcot has been trying to make the park more relevant for young people in recent years adding Frozen Ever After, Remy's Ratatouille Adventure and now the Guardians of the Galaxy roller coaster.
The Guardians of the Galaxy and the Marvel brand are extremely popular across all age groups, and it happens to be one of the only Marvel franchises that can be built in Walt Disney World. This and the fact that they deal with space travel, make it a logical pick for Epcot's Future World/World Discovery.
Will Guardians of the Galaxy Ruin Epcot?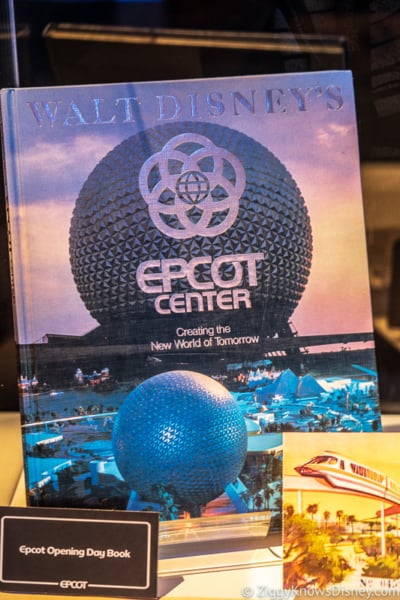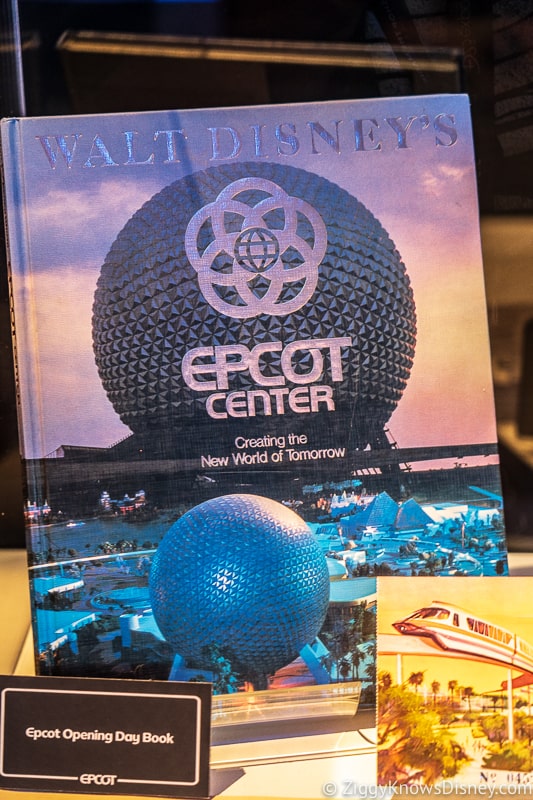 For months before the Cosmic Rewind ride was even officially announced, Epcot purists were outraged at even the idea of a super hero franchise infiltrating their beloved Future World, and ruining the original vision for the park. Once it was actually announced at D23 Expo 2017, fans were up in arms over the decision.
What they failed to realize is that vision is long dead and buried, and it's not coming back.
I too consider myself a fan of the original Epcot. I grew up in the 1980s and visited Epcot every year. I loved everything about it, the promise of a better tomorrow through human invention, exploration, and ingenuity. There is no doubt it was brilliantly executed and was able to reach wide audiences in a way that had never been done.
However, I've accepted that the 1980's version of Epcot is never coming back again. Times have changed and I'm not sure you can do edutainment in the same way as you could decades ago. People today, for good or bad, have short attention spans. On my most recent ride through Spaceship Earth, the girl in front of me was literally on her phone the ENTIRE ride, not even looking at the scenes once. I was outraged since it's one of my favorite rides, but that is the audience that Disney is now forced to entertain.
I don't think we can definitely say at this point that the Guardians are just being thrown in Epcot without an intelligent plan behind it. According to Disney Imagineer Tom Fitzgerald, "the Guardians are going to take our guests on an out of this world adventure. But it will still be very rooted in an Epcot story." At least there is an effort being made to include it in the theming for the park, whether Disney can pull it off remains to be seen.
Yes, it would be nice to have uniform theming across the park with each pavilion somehow tying into the next. Are the Guardians of the Galaxy a perfect fit in World Discovery, going along with some larger, over-arching theme of Epcot as a park. I don't know. To be fair we haven't seen the entire plan for the park at this time and we don't know exactly how all these attractions and pavilions are going to be tied in together yet. Maybe it won't happen at all, we'll have to see.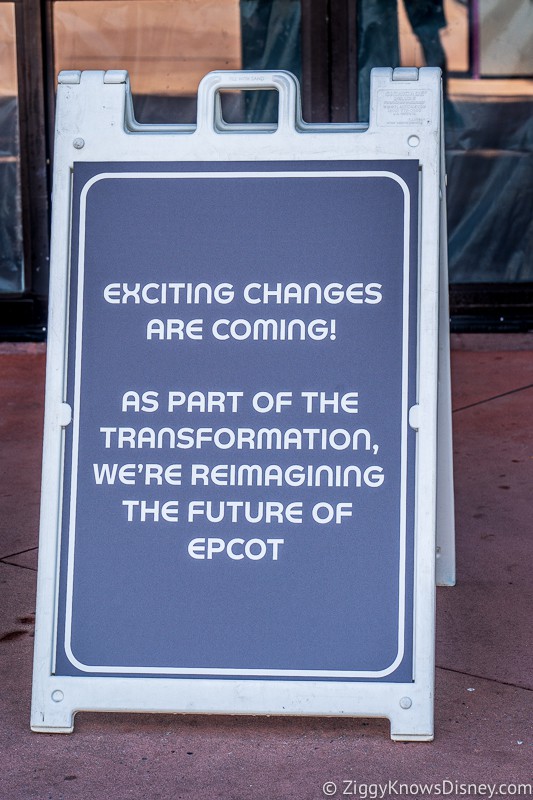 Another big negative with fans is characters continually being inserted into Epcot. I wasn't crazy about characters coming into the park, but I've realized that Disney is going to add them because that's what the majority of people want, and if done right, they can actually be a big plus.
What's more important than the theme or the franchise Disney chooses to use for its attractions, is that it's done well. Properties can be used in attractions that you or I might not care about, but if done well, they can open a world of new storytelling and transform us to that world.
I hate the movie Avatar for example, but you can't pull me out of Pandora in Disney's Animal Kingdom. It's currently my favorite Disney "land" in any park and executed brilliantly. As long as Disney can do something similar with Cosmic Rewind and other future attractions, that's what actually counts, not if we like super heroes or feel they don't belong in Epcot.
My guess is that Guardians of the Galaxy: Cosmic Rewind will turn out to be an incredible new ride and will instantly become the most popular ride in the park. Just like when people didn't want Mission: BREAKOUT, Avatar or Star Wars entering their parks, those people will be the same ones in line at 5 am in the morning to make sure they get on it on every visit.
Ultimately, it comes down to execution. If Disney puts in the time necessary to develop Cosmic Rewind, it has the potential to be one of the best attractions in Disney World and will not ruin Epcot at all. No pressure Disney.
Giant Building Size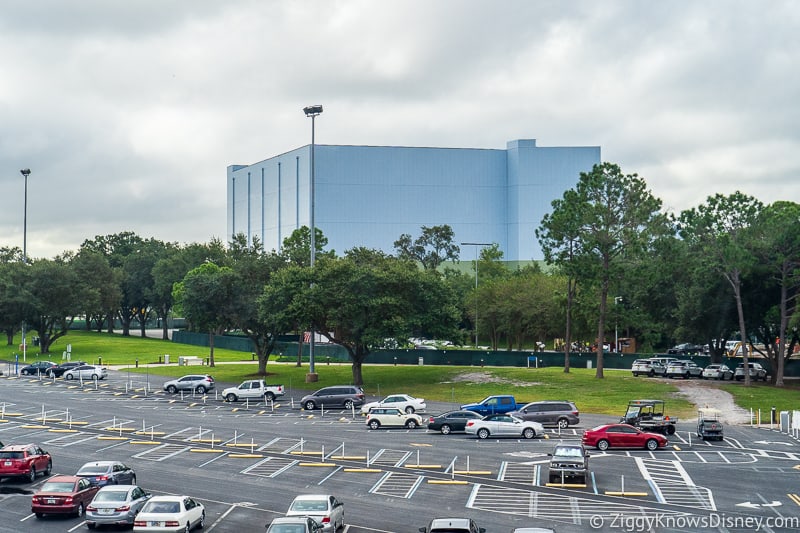 Simply put, the Guardians of the Galaxy: Cosmic Rewind show building is gigantic, and that is an understatement. Maybe "it blots out the sun" is a more correct description of the gravity building which houses the roller coaster track.
The building itself is approximately 130 feet tall and is easily the biggest structure in Future World. It's not quite as tall as Spaceship Earth which stands at 180 feet, but the Guardians of the Galaxy coaster has a significantly bigger footprint that Spaceship Earth. In fact, some say that it's big enough to hold the volume of four Spaceship Earths.
I am not in the group of Disney fans that doesn't want Guardians to come to Epcot, I am actually really excited about it. However, seeing the size and scope of the project I am a bit worried it will become the main focus on the skyline and take attention away from Spaceship Earth.
Disney has tried hard to mask this by painting the building blue and green, trying to blend it into its natural surroundings, but you can see it from almost anywhere in World Showcase and Future World. It is what it is at this point and it's the only problem I really have with the project at this point.
Ride Length
Disney hasn't yet said how long the Guardians of the Galaxy: Cosmic Rewind attraction will be. It definitely won't be as long as its predecessor, Ellen's Energy Adventure which start-to-finish ran 45 minutes long.
Most of the roller coasters in Walt Disney World are from 2 to 2 1/2 minutes long. Big Thunder Mountain is the longest in the four parks and comes in at a cool 3 min 25 sec.
If we were to guess, we think Cosmic Rewind will be around 2 1/2 minutes in total ride length. We think the pre-show area will have an extended show scene or two which will add to the overall experience, but the ride itself most likely won't top 3 min.
What Type of Ride System Does it Have?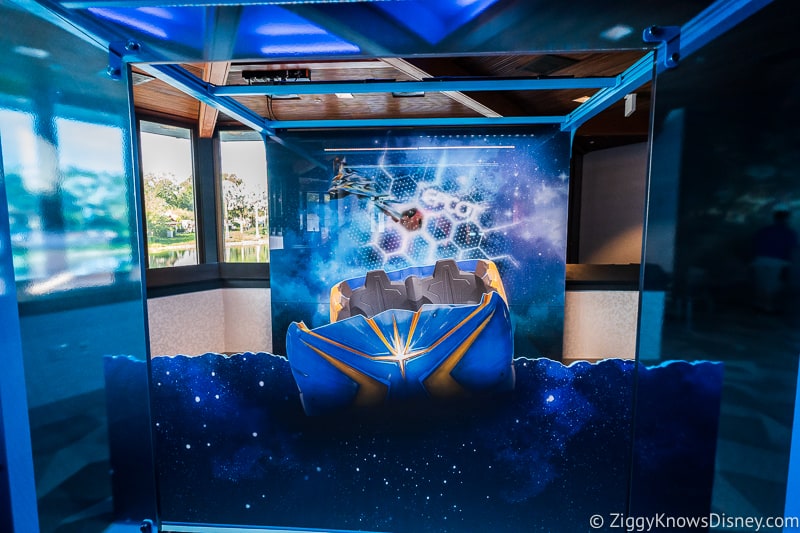 Even though everything leading up to the ride is cool, the ride system is why guests are going to fall in love with it. Guardians of the Galaxy: Cosmic Rewind features a ground-breaking new ride system that allows guests to spin around 360 degrees. It also will be the first Disney coaster to feature a backward-launch.
Think about it. Most roller coasters stick you in a train that then takes you up high, takes you on some drops, curves, and maybe upside down. Then your ride is over. Even when the way the roller coaster does have some story to it, the vehicle points straight ahead, and you never get a chance to actually see what's going on.
Cosmic Rewind uses what Disney is calling an "OmniCoaster ride system" to guide the guests on their galactic journey. There have been roller coasters that tell a story and coasters that tell a story but never done in a way where the cars are programmed to turn and focus your attention on the story elements like this.
Expect to find plenty of lasers, screens, lights and animatronic figures throughout the ride, which you'll actually be able to enjoy thanks to this revolutionary ride system.
Ride Vehicle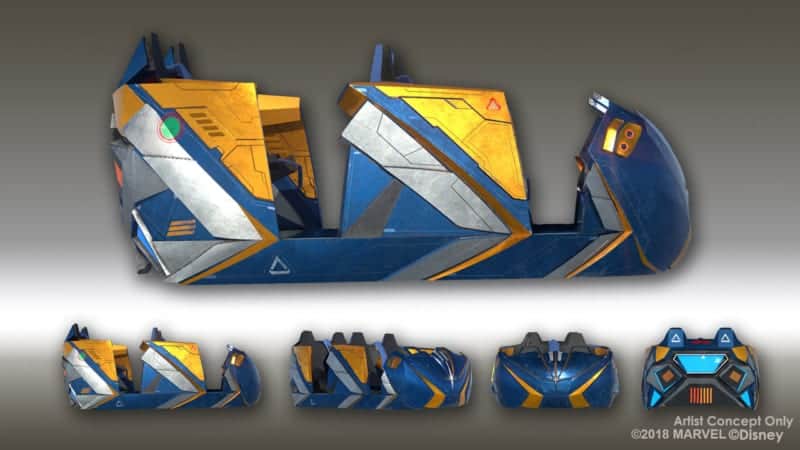 Of course, to make all this magic happen on this new ride system, it takes an equally revolutionary ride vehicle. Concept art images of the new Guardians of the Galaxy: Cosmic Rewind ride vehicles were first shared in 2019 and you won't believe what they can do!
They were designed in collaboration with Vekoma and are modeled after the Guardians of the Galaxy's starship the Milano. They can rotate a full 360 degrees at any time and even launch riders backward at the beginning of the ride.
Each roller coaster train holds 5 cars or 4 riders each (2 rows of 2) for a total of 20 riders per train.
The only problem with getting the cars to rotate is they need a power source which is a very complicated process for a whole train full of cars. In order to get the ride vehicles to swivel and rotate on command the way Imagineers wanted them to, a new power source was required on each vehicle to perform their movements.
The design Disney has come up with would allow the vehicle to use both the bus bar charging system for when the vehicle is in motion and a track-based capacitor while it's at the loading station. Essentially charging up and then storing that energy to make movements when needed on the go.
All of this points to a ride system that Disney Imagineers are saying is unlike anything guests have ever experienced before.
How Scary is the Guardians of the Galaxy Roller Coaster?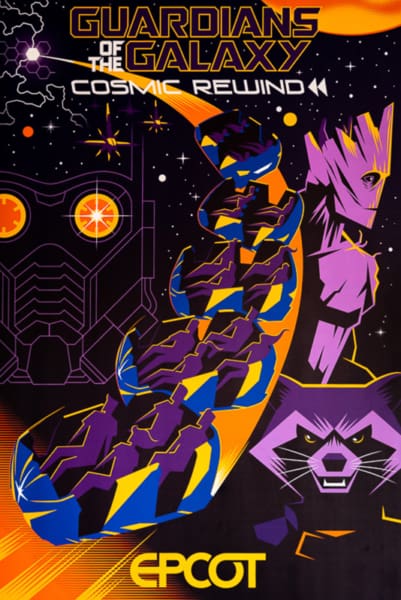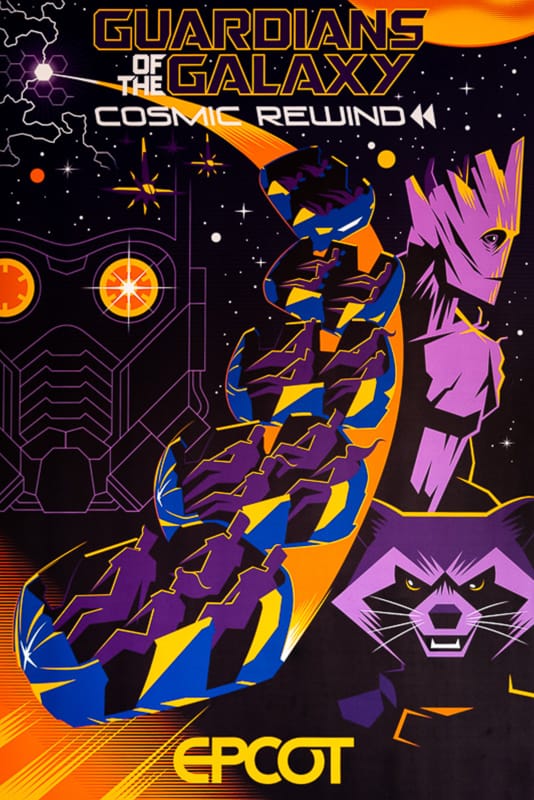 While Guardians of the Galaxy: Cosmic Rewind probably won't be on the same level of intensity as Rock 'n' Roller Coaster or the Tower of Terror, it definitely is a thrill ride. It's hard to say at this time just how many thrills you'll experience on it.
While we don't know exactly how intense it is yet, Disney has designed Cosmic Rewind to be family-friendly and it will attract a variety of park guests in the same way that Flight of Passage does. On the other hand, it is a dark roller coaster with a backward launch shooting you up to a height of 120 feet, which then spins you around in every direction throughout the ride.
Our guess is that it will fall somewhere between Expedition Everest and Slinky Dog Dash in scariness. While not super scary, it definitely isn't for the feint of heart or whoever has a fear of heights.
Does the Guardians of the Galaxy Roller Coaster Go Upside Down?
Cosmic Rewind is a roller coaster, but it's not going to have any loops or inversions in it. Think of it a more modern version of Space Mountain with heavy show scene elements.
How Fast is the Guardians of the Galaxy Ride?
Disney hasn't given a top speed yet for Guardians of the Galaxy: Cosmic Rewind. Since Disney wants to keep it family-friendly it won't be as fast as the Rock 'n' Roller Coaster or the TRON coaster, both reaching speeds of around 60 mph.
We expect it to be just a little slower than Expedition Everest and have max speeds of somewhere between 40 mph – 50 mph.
Who Will Like Guardians of the Galaxy: Cosmic Rewind?
Everyone from kids to adults should really enjoy Guardians of the Galaxy: Cosmic Rewind. It is a family-friendly ride, but we expect it to be especially fun for teenagers and those who like a few thrills in their attractions.
Even if you haven't seen the Guardians of the Galaxy films before, that's ok. You don't need to have any experience with the story of the film in order to enjoy this new ride in Epcot. Obviously, if you are a fan of the MCU and the Guardians franchise in general, you will really enjoy this ride as Imagineers are putting in all sorts of hidden gems to enjoy.
Will this Ride Make Me Sick?
If you don't like spinning or going backward, then Guardians of the Galaxy: Cosmic Rewind is not the ride for you. We don't know exactly how much you will be spinning or how often, but if you get nauseous easily, this ride might make you sick.
Height Requirement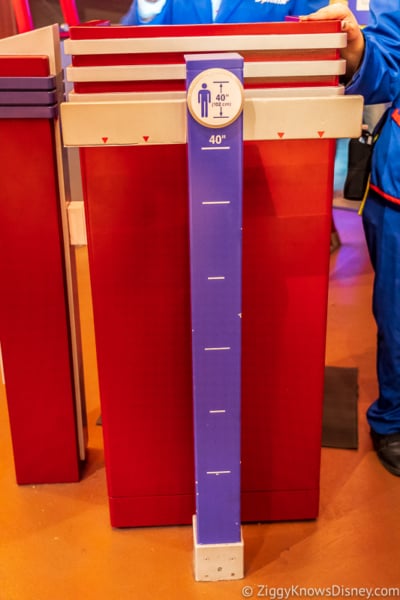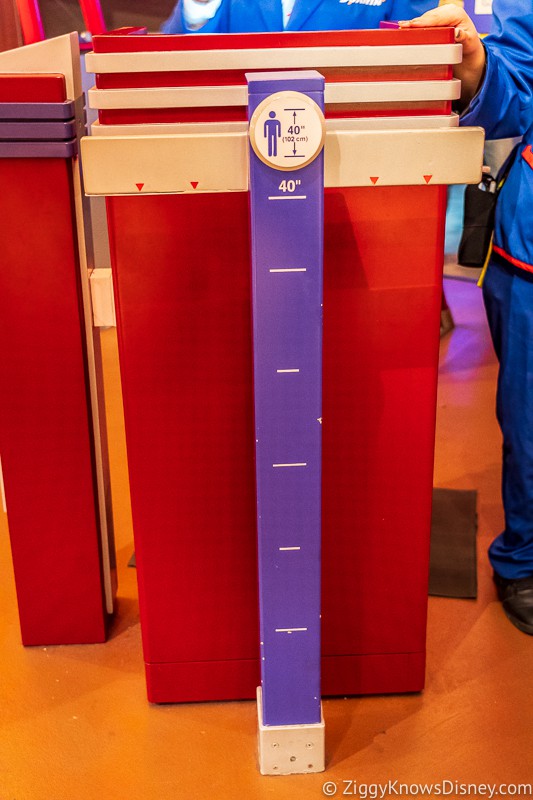 At the moment, Disney hasn't announced the height requirement for Guardians of the Galaxy: Cosmic Rewind. However, looking at other similar attractions around Disney World gives us an idea of the requirements.
Let's look at the facts. It's an indoor roller coaster, one of the biggest in the world. It reaches heights of over 100ft. It's expected to be a fast coaster, with speeds potentially 50 mph or more. And oh yeah, it has a backward launch.
Judging by that description we expect Guardians of the Galaxy: Cosmic Rewind to have a 44″ or 48″ height restriction. 44″ would put it with Expedition Everest in terms of thrills, while 48″ would be the same as the Rock 'n' Roller Coaster and the expected height requirement of the TRON coaster in the Magic Kingdom.
It's not going to have any inversions, so we tend to think it will be 44 inches when all is said and done. Nothing is written in stone yet so we'll have to wait for the official word from Disney to what the height restrictions will be for this attraction.
Does the Guardians of the Galaxy Ride Have FastPass+?
Disney has not yet confirmed whether Guardians of the Galaxy: Cosmic Rewind will have FastPass+ or not. However, just like every other major Disney World attraction, the Guardians coaster will have the FastPass+ system built into it, it's just a matter of whether or not it will have it when it first opens.
Will Cosmic Rewind use FastPass+ immediately when the ride opens? That is difficult to say at this point and it could go either way. Looking at some recent Disney attractions like Smugglers Run we see Disney chose not to use it right away. Neither does Rise of the Resistance. Mickey and Minnie's Runaway Railway, on the other hand, did use FastPass+ from Day 1.
Even if it might not use FastPass+ immediately at the opening, we are confident that Cosmic Rewind will use it at some point after that.
It's a guarantee that Guardians of the Galaxy: Cosmic Rewind will be an Epcot FastPass+ Tier 1 attraction when it does open up and it will join Remy's Ratatouille Adventure, Frozen Ever After, Soarin' and Test Track. It's also possible that one of the existing Tier 1s gets dropped to Tier 2 to make room.
Cosmic Rewind should be your #1 FastPass+ priority once it opens. It will instantly become the park's most popular ride and you should do everything you can to get a reservation at the start of your 60-Day window.
Boarding Groups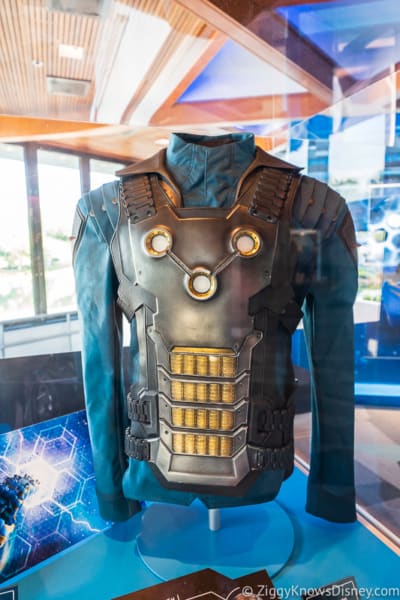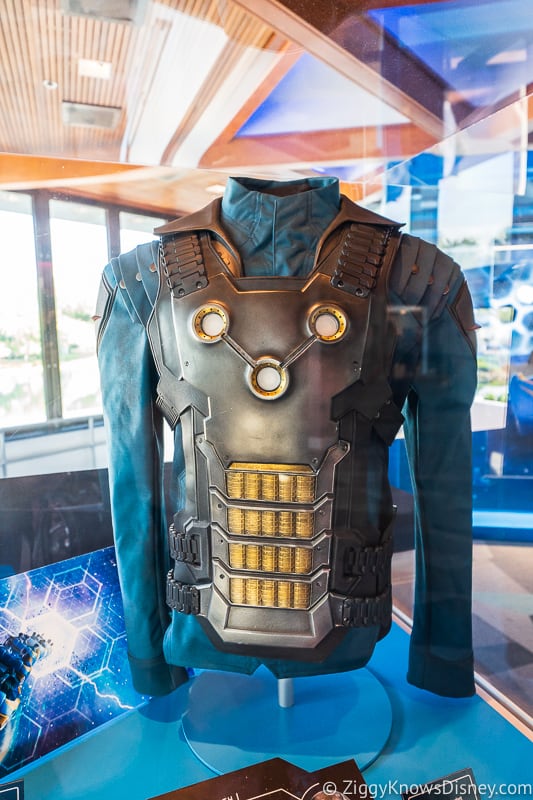 Another popular question is if the Guardians of the Galaxy roller coaster will use boarding groups and the virtual queue. It's a definite possibility due to the extreme popularity it will have with guests. It has worked with boarding groups for Rise of the Resistance so far and it seems like Disney will continue to use them in various attractions moving forward.
It's even been rumored that Disney will use the virtual queues for more or even all attractions once the parks reopen, so by the time we see Cosmic Rewind we could all really be used to this new way of queueing.
You can read our post on the Disney Virtual Queue which explains how to use it and the benefits of boarding groups. We'll update you when they decide what they are going to do with Cosmic Rewind.
Does It Have a Single Rider Line?
At this time Disney has confirmed whether Guardians of the Galaxy: Cosmic Rewind will have a Single Rider line or not. Usually, Disney includes Single Rider with all new E-Ticket attractions so we assume it will be included here too.
Usually, the Single Rider line is a great option for families with only one person going on the ride or when making a trip to WDW solo. It allows the guest to enter through the FastPass queue instead of having to wait through the whole length in the regular attraction queue.
Almost assuredly, Cosmic Rewind will have a Single Rider line, but it just might not be accessible upon the ride's opening.
Does it Have Rider Switch?
Rider Switch is a great program for parents with small kids who both want to experience a thrill attraction that they can't bring little kids on. Disney hasn't mentioned if Guardians of the Galaxy: Cosmic Rewind will have Rider Switch or not, but if they don't have it immediately at the opening, they will surely add it in the future. We'll have to wait and see.
Guest Accessibility
Disney has to have some kind of guest accessibility option available for all its attractions, so it should be the same for the Guardians of the Galaxy coaster too. At this time Disney hasn't mentioned what options will be available.
One thing we will keep an eye on is if there will be a special loading station for riders needing assistance. We assume that guests will have to transfer out of their accessibility devices to get into the ride vehicle, but we'll keep you updated to know for sure.
What Characters are in the Guardians of the Galaxy Coaster?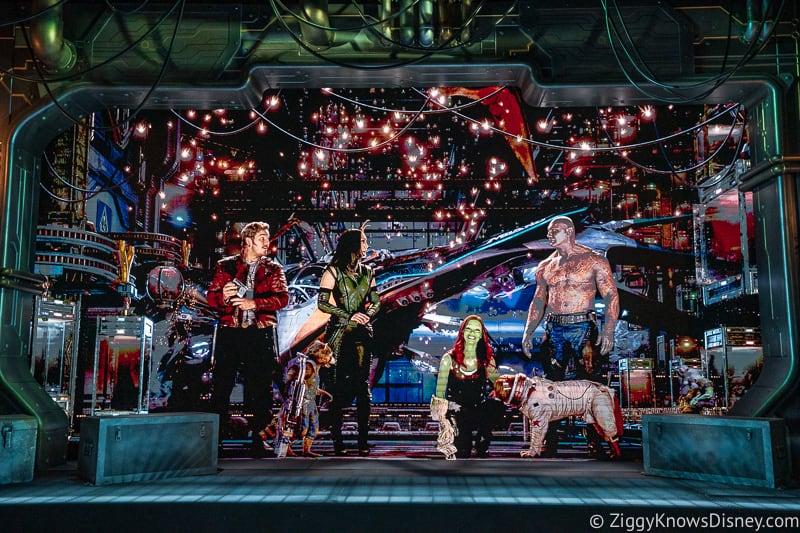 It wouldn't be a Guardians of the Galaxy roller coaster without….you know, the Guardians of the Galaxy, so expect to find most of your favorite characters from the franchise on this ride. Just like in Mission: BREAKOUT in DCA, Disney is bringing the actual actors from the Guardians movies to film and motion capture their movements for their role in the ride.
While Disney hasn't yet confirmed it, the following characters are almost surely all going to be in the Cosmic Rewind attraction in some way:
Star-Lord
Gamora
Groot
Rocket
Drax
Nebula
Mantis
We know Rocket and Groot show up during the mission briefing, while the rest of the group will show up at various points throughout the ride. What about some of the smaller characters in the franchise like Yondu or The Collector? I personally think they will stick to the current cast of GotG and where they are in the timeline right now, so we probably won't see any characters that are no longer alive.
Guardians of the Galaxy Coaster Songs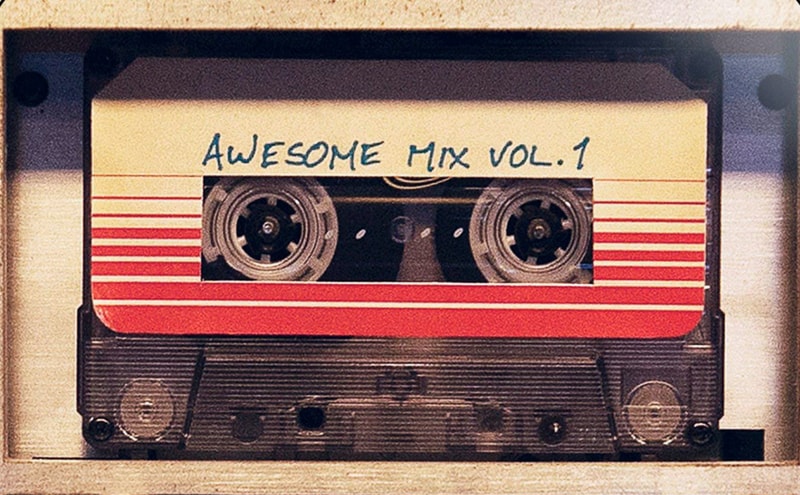 Now let's talk about what everyone wants to know…what about the music? The Guardians of the Galaxy films are almost as famous for the soundtracks as the story, so naturally, we want to know which songs will be in the ride.
Right now Disney hasn't announced what songs are going to be included in the Guardians of the Galaxy: Cosmic Rewind coaster, but we're sure it's going to be an incredible soundtrack with hit songs from the '70s and '80s.
Guardians of the Galaxy: Mission BREAKOUT in Disney California has 7 songs that rotate including:
"Thank God It's Friday" by Love & Kisses
"Hit Me with Your Best Shot" by Pat Benatar
"Give Up The Funk" by Parliament
"Born to Be Wild" by Steppenwolf
"I Want You Back" by The Jackson 5
"Free Ride" by The Edgar Winter Group
"Burning Love" by Elvis Presley
We imagine Guardians of the Galaxy: Cosmic Rewind will be similar to Mission: BREAKOUT and will include a rotating list of songs, giving you a slightly different ride experience each time.
Guardians of the Galaxy: Cosmic Rewind Ride Walkthrough
Even though the Guardians of the Galaxy roller coaster isn't open yet in Epcot, we already have good idea of some of ride's layout, at least the queue and pre-show areas. Once it opens and we can ride for ourselves we'll have a more in-depth look at the attraction, but for now let's go on a walkthrough of what we know so far.
Outside/Entrance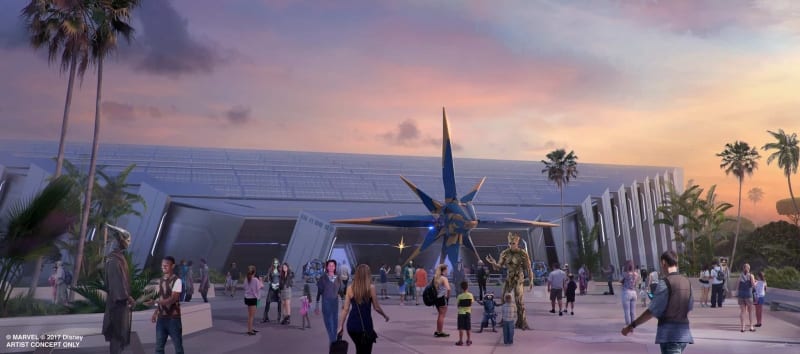 Even though the outside has gotten a major facelift, guests will immediately recognize the outside of the building as the former home of the Universe of Energy. The first thing you will notice is the Nova Corps ship parked right outside the front entrance. That will come into play the further you go into the experience.
Once you spend some time in the courtyard, you will walk through the front entrance in a similar way as the old attraction and is where you enter the ride queue.
Queue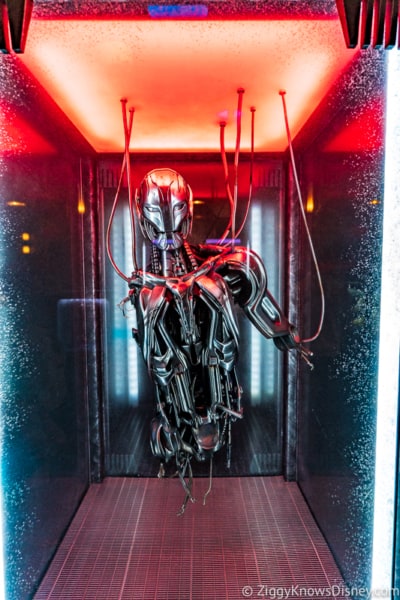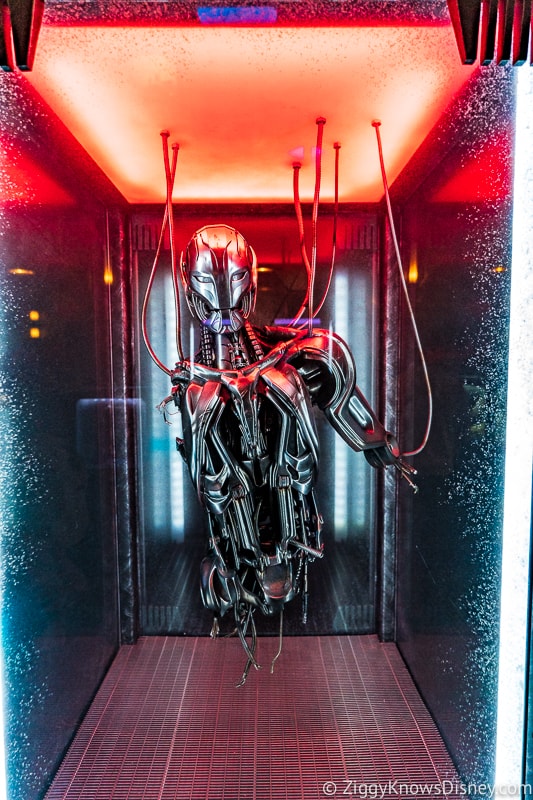 Once you walk through the door, you enter into the Welcome Gallery. This room will have ramps taking them to the next level, as the structure seems to have multiple levels, with multiple galleries and showrooms.
Next you enter the Xander Gallery which is sure to bring back memories from the first Guardians of the Galaxy film will relics from Mandarin culture.
We hope the queue is as entertaining as the Mission: BREAKOUT one is, with relics from the Guardians films and around the MCU!
Pre-Show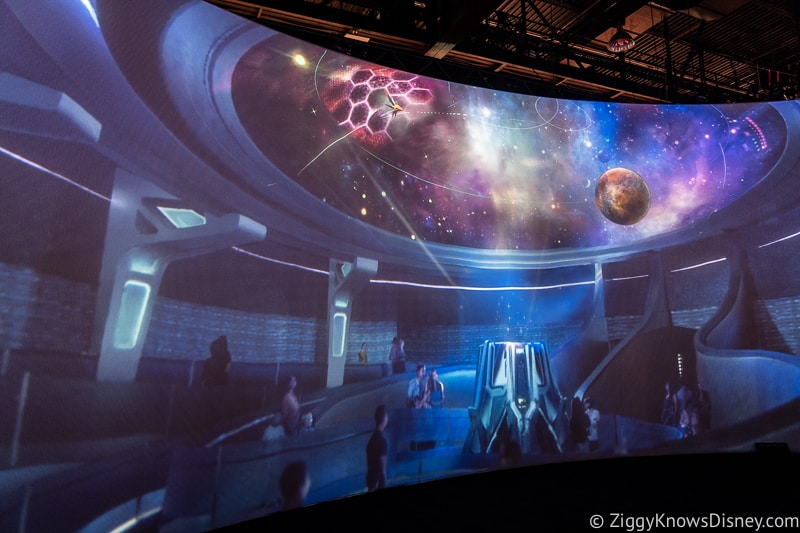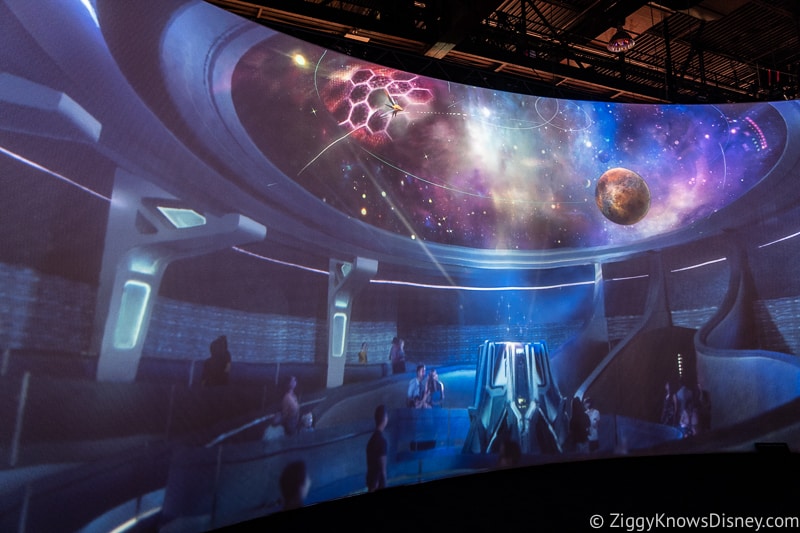 From the concept art, it looks like there are going to be 2 main pre-show areas that will start off the story you are about to go on.
The first is the attraction's elaborate show building called the "Galaxarium." Here this planetarium-like exhibition explores the similarities and mysteries of the formation of Earth's galaxy and Xandar. Early plans were calling this room "singularity," which is a possible reference to the Infinity Stones.
We expect a big display using projections here in the Galaxarium. Since Disney has said we are going "back to the Big Bang with the Guardians of the Galaxy," there could easily be a connection here in the story to the Infinity Stones, perhaps guests being witness to their creation.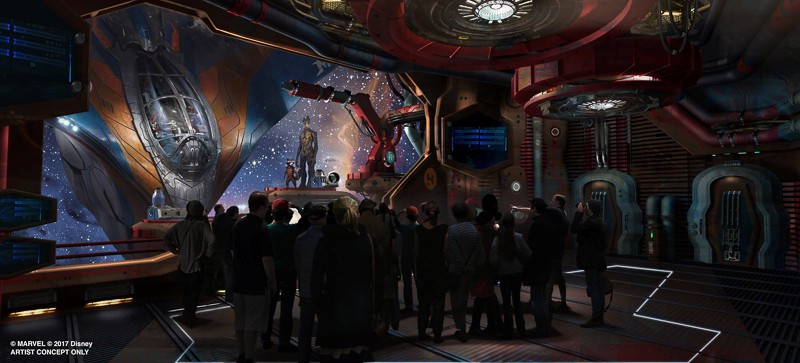 The second pre-show room is being called the Transformation Room. There are two of these to help with capacity. This is what is seen in the concept art with Groot, Rocket and the Milano ship you'll be taking on your mission.
It's unclear if the Groot and Rocket figures will be animatronics or projections, but we are hoping for the former. It seems like the Milano ship will be a projection, so we'll have to wait and see.
The Load Area is next and is located down the hall. There will be a dual-load system for 2 trains simultaneously at the same time. Each train holds 20 passengers with 5 cars of 4 people each.
The Ride
Now you are in your ride vehicle and ready to go! The train moves over to the launch tunnel which will bring passengers from the initial show building and launch them to the main attraction (Gravity) building.
The two buildings are connected by the launch tunnel in the same manner as the Rock 'n' Roller Coaster is, only this time the launch tunnel is on an incline and propels riders into the gravity building backward, up to the attraction's peak height of 133 feet.
Disney has confirmed the ride vehicles will not travel backward throughout the entire ride, so most likely, when you get to the top you will be turned around and then go through the main part of the ride with all its storytelling elements.
Once your ride is over, the train returns back to the initial show building and guests unload and return downstairs.
Just describing what we know so far has got me super excited and I can't wait to experience this for myself!!
When Will Guardians of the Galaxy Coaster Open?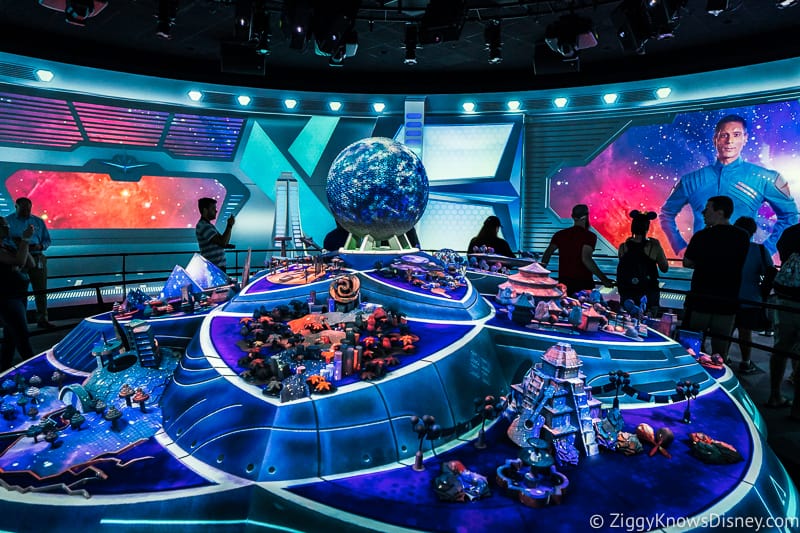 All of this sounds incredible, but when is the Guardians of the Galaxy: Cosmic Rewind opening? At this moment Disney hasn't given an exact date, but it's now most likely going to be longer than originally planned.
The original plan was to open Guardians of the Galaxy: Cosmic Rewind sometime in 2021, in time for Walt Disney World's 50th Anniversary. This ride, along with others, was supposed to be the headline attractions that would bring record crowds back to the theme parks during the festivities.
However, since the Disney World closure, those plans for Cosmic Rewind have surely changed and there is no doubt the ride will end of getting delayed. How much depends on how long it takes for construction to get back underway.
Before the closure, rumors were that Cosmic Rewind might be done by Summer 2021. However, the more months pass with no construction going on, the less likely that seems. Disney World's 50th officially happens on October 1, 2021, so even if Cosmic Rewind was delayed 3-4 months, it's technically possible we could see it in October.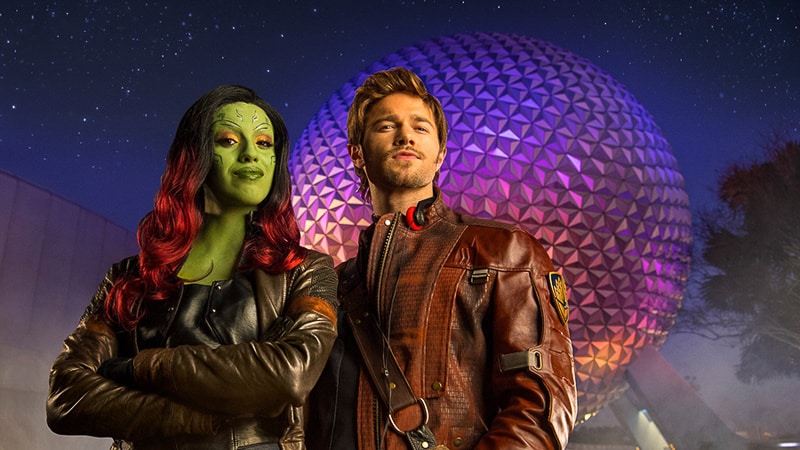 I think the more likely scenario is that it will debut sometime in Fall 2021 after the start of the 50th, or even now in early 2022. Disney can still package the ride as opening during the 50th because the actual celebration will most likely take place over an 18-month period, leaving plenty of room for interpretation.
Some have been speculating that Guardians of the Galaxy: Cosmic Rewind will not only get delayed but because of the tight financial pressure the company is currently under, it will be one of the Disney attractions likely to be cut during the parks' closure. We don't feel that is probable at all for two reasons…
One, the construction on the ride is so far along at this point it doesn't make sense to not see it through until the end. The entire gravity building and roller coaster track have already been installed and Disney will not leave it like this unfinished.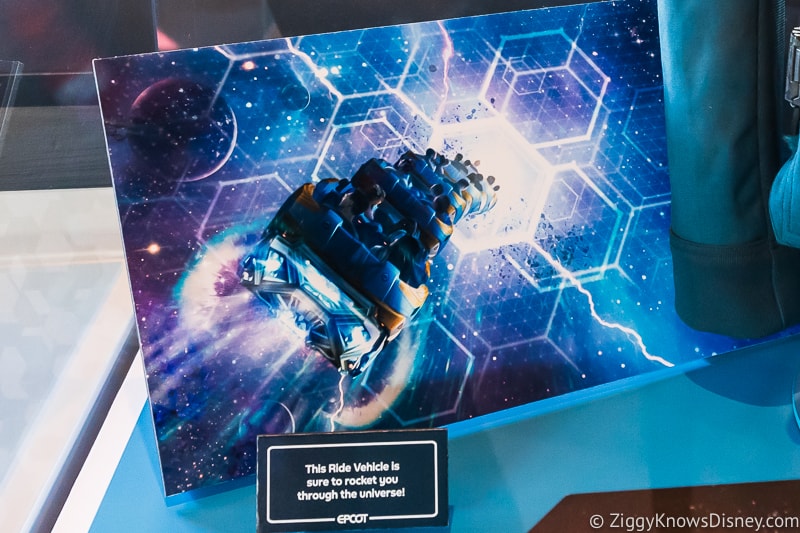 Two, if attendance is really going to fall as much as analysts think, Disney will need some new headliner attractions to draw people back to the parks in the next 2-3 years. The yearly festivals aren't going to cut it, and Cosmic Rewind will give Disney and Marvel fans alike something new and exciting to make the trip for.
The only other hang-up is figuring out when Disney will be able to film the Guardians actors for their roles in the ride. James Gunn was supposed to film their parts during the filming of Guardians of the Galaxy Vol 3, but since that is taking longer than expected, Disney may have to bring in the actors and have them do a special shoot to get the footage.
We don't have any insider info into it, but if we were forced to guess a date, we think Guardians of the Galaxy: Cosmic Rewind will open in Early 2022 at this point. There is a chance we could still see it in Late 2021, but the next weeks and months are critical.
We'll keep you updated as soon as we have more and when Disney announces an opening date.
Will There be Annual Passholder Previews?
Sometimes when Disney opens new attractions, it has soft openings to let some guests try it before the main public. At times, these are done in the form of Annual Passholder preview events where AP holders come for a special event letting them ride the attraction.
While it's still possible, our gut feeling is that there won't be any Annual Passholder previews for the Guardians of the Galaxy roller coaster. With the project already behind schedule, we think Disney is going to want it open to the public as soon as possible, leaving very little for soft openings.
Cast members will probably get a chance to ride before others, but that's it. We'll let you know when Disney makes an announcement about this.
Construction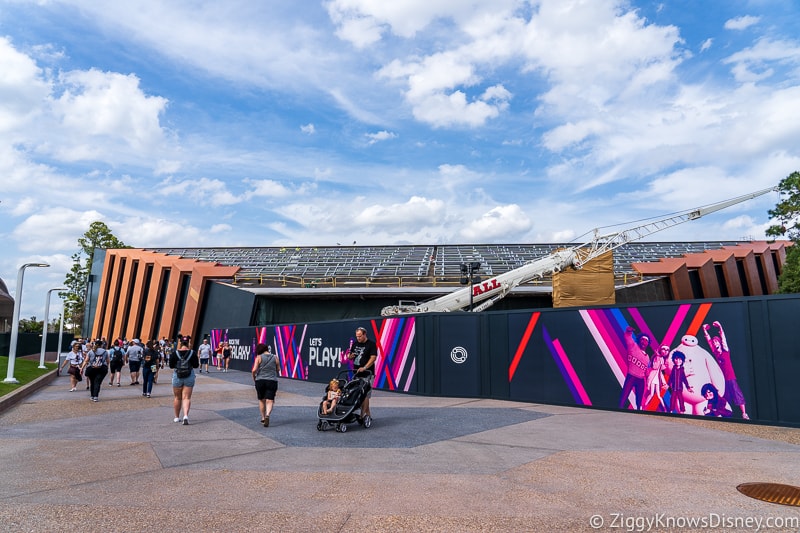 Construction on Guardians of the Galaxy: Cosmic Rewind started in late August 2017. Demolition started on the former Universe of Energy building, as well as preparation for the new gravity building where the roller coaster track is held.
This has been a historic construction project due to the sheer size of the building. In fact, it took 960 truckloads of concrete to construct the foundation for the gravity building!
Right now the show building is finished on the outside and the roller coaster track installed. In the attraction queue building, the exterior is almost finished, with solar panels now on the roof. The interior of both buildings is now what needs attention between now and the opening.
You can follow the latest updates in the construction of the Guardians of the Galaxy coaster in our blog post. There we have pictures of the latest work.
If you want to see the progress on more projects going on around property, check out our Walt Disney World Construction guide.
Wait Times and Crowds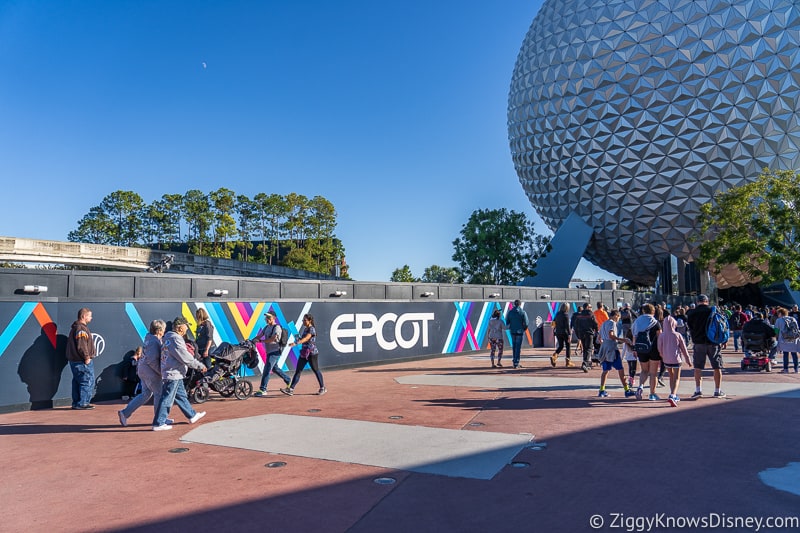 When Guardians of the Galaxy: Cosmic Rewind does open in Epcot, we expect it to attract huge crowds and see extremely long wait times. A bump in attendance happens with almost every new attraction, but we think this is going to be particularly evident with this ride in particular.
I'm not sure Cosmic Rewind will see the same level of hype as Rise of the Resistance got, but it will be close. It will be stiff competition between this and the TRON coaster, both of which should open within months of one another.
Just think, Epcot has never seen a new ride of this magnitude come to the park and it will instantly become the most popular ride there, and one of a handful in Disney World. As long as Disney delivers on the quality of attraction we are expecting it to be, what happened for Frozen Ever After, Test Track and Soarin' won't be anything compared to this.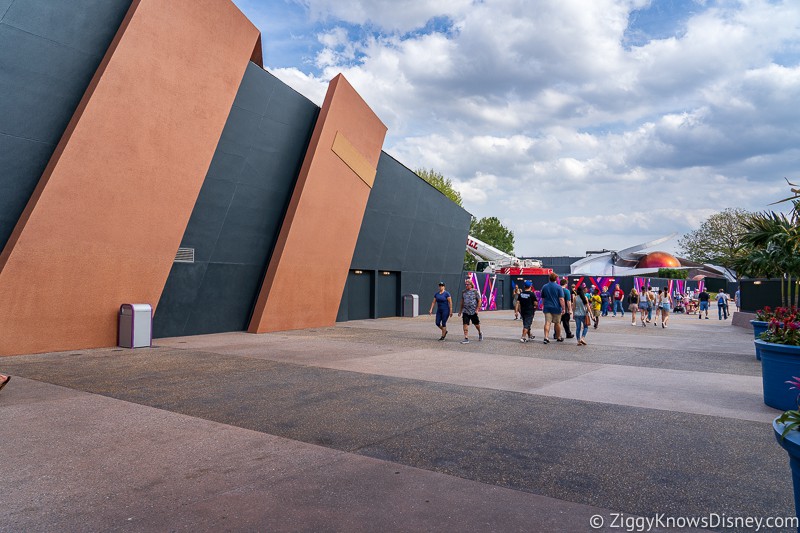 Predicting what crowd levels will look like 1-2 years from now because we don't know the full economic impact that will be on the U.S. and international markets. However, I think that even if Walt Disney World crowd levels as a whole don't recover by the time Cosmic Rewind opens, whatever people are going to the parks will flock to Epcot to ride this and it will be the busiest park at that point.
This ride will be a huge drawing point for visitors to start coming back to the parks, and if it is executed properly, I think it will do just that!
If a normal FastPass+ and Standby queue system is implemented, expect Cosmic Rewind wait times to be in the 4-5 hour range on busy days. It will probably follow in the footsteps of Flight of Passage and still have 2-3 hour wait times years after opening.
If instead, if they decide to use the Boarding Groups and Virtual Queue, expect similar crowds that came out for Rise of the Resistance, with guests arriving hours before opening to get a pass.
Naturally, the crowd levels will be much higher right when it opens, but I think Cosmic Rewind has big staying power and will be a fan favorite for years to come.
Touring Strategy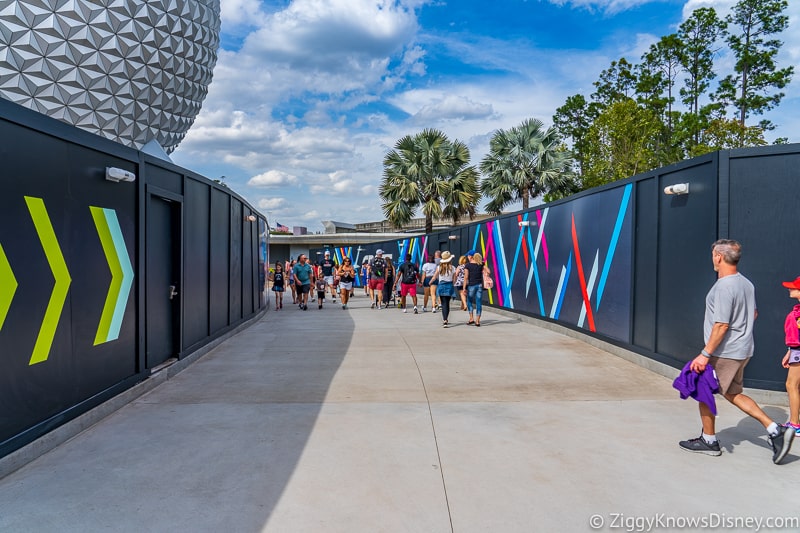 Since the Guardians of the Galaxy coaster isn't open yet, we can't make a complete touring plan for you. There are a lot of unanswered factors to consider like if it will use FastPass+, Standby queues, Boarding Groups, etc. For this guide, we will assume that FastPass+ is available.
The best advice we can give is to make Guardians of the Galaxy: Cosmic Rewind your number one priority for FastPass+. It will be considered a Tier 1 attraction, meaning you will have to choose between selecting it or Frozen Ever After, Test Track, etc. Cosmic Rewind will have by far the longest wait times, so you want it as your FastPass+ selection.
If you get a FastPass reservation for it, you then should rope drop one of the other Tier 1's. At that point one of the two big World Showcase attractions (Remy's Ratatouille Adventure or Frozen Ever After) will probably be your best bet.
If you can't get a FastPass+ for Cosmic Rewind, then you are going to have to rope drop it if you don't want to wait hours and hours in line later in the day.
To rope drop Cosmic Rewind, you are going to start at the Epcot main entrance and follow the red signs to the left of Spaceship Earth leading you to World Discovery/Future World East. This will bring you right to Cosmic Rewind where there is sure to be an enormous line waiting outside the attraction.
We don't recommend coming to Epcot through the International Gateway for rope dropping this ride as it puts you on the exact opposite side of Epcot from the Guardians of the Galaxy coaster. That means riding the Disney Skyliner won't be a good option for this attraction and it will be better to ride the bus from your hotel.
What Time Should I Get In Line?
Whenever we are suggesting a rope drop strategy for the Disney parks, we recommend getting there 90 minutes before park opening. If Cosmic Rewind uses a traditional stand-by queue, that might not even be enough time, at least not in the first few weeks of operation.
I know that sounds like a lot to get in line that early for an attraction, but being one of the first people in line for the park will really help you to make the most out of your day, getting on the most popular attractions before the crowds get even larger later on in the morning.
If you are planning on riding Cosmic Rewind on opening weekend, we recommend getting there at least 2 hours before park opening as there will be way more guests than normal who are eager to ride for the first time.
We will update our strategy for riding this once it actually opens which will give us more insight into exact crowd levels, wait times, and the best rope dropping strategy.
Should I Visit Disney World for Guardians of the Galaxy: Cosmic Rewind in 2022?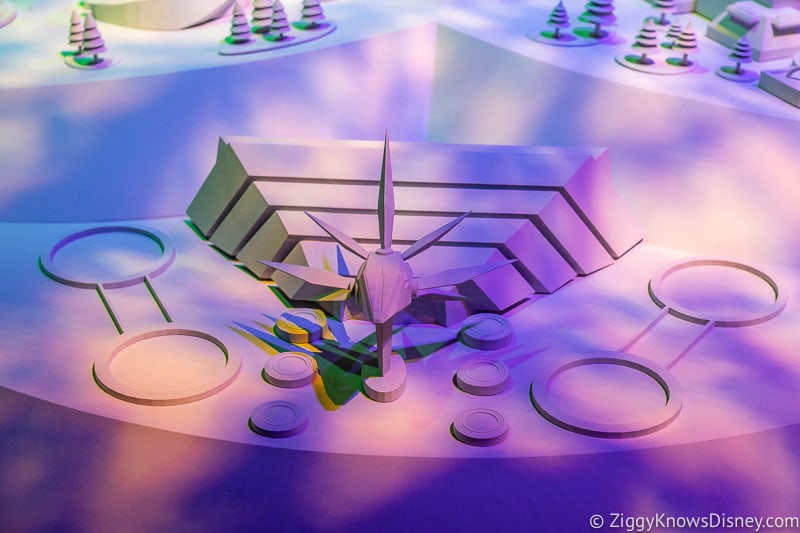 This is going to be an easy answer, Yes! IWhenGuardians of the Galaxy: Cosmic Rewind opens in 2022, we definitely think you should plan a trip to Disney World to experience it. Unlike Remy's Ratatouille Adventure, this is a true E-Ticket attraction and merits a visit to see it as soon as you can.
Unfortunately, the ride is not opening in 2021 like it was supposed to. However, we say it's worth coming in 2022 for it when it's still brand new. The reason we say that is that 99% of the time, you will never see any given attraction running better than within the first few months of it opening.
At that time, all the animatronics and special effects should be running perfectly, and sad to say, that is not always the case 1 year or more later. That's why we always make sure to experience a new attraction as soon as possible. And even for the casual Disney World-goer, we think that Cosmic Rewind will be worth a special trip to ride.
Of course, by 2022, Disney World will have all sorts of new attractions open in celebration of the resort's 50th-anniversary. Rides like TRON Lightcycle Run, Remy's Ratatouille Adventure, plus all the Galaxy's Edge stuff will all be open by then. If you haven't seen any of these attractions, it will be a great time to go.
To get a better understanding of which of these two years you should come, read our post on Visiting Disney World in 2021 vs 2022, Which is Better? There we'll break down all the pros and cons to help you make the best decision.
Review
Since Cosmic Rewind isn't open yet in Epcot, we can't give you a review at this time. Once it opens we will be there to give you our opinions on this new attraction and if it lives up to the massive hype around it.
FAQs
Is the Guardians of the Galaxy Ride in Epcot Open?
No, it isn't. At the moment we don't have an opening date for Guardians of the Galaxy: Cosmic Rewind. It is scheduled to open in 2021, in time for the Walt Disney World 50th Anniversary.
Is Guardians of the Galaxy: Cosmic Rewind a roller coaster?
Yes, it is. The new Guardians of the Galaxy ride is one of the longest indoor roller coasters in the world and uses a special OmniCoaster ride system that turns this into a "Story Coaster."
Does it Have FastPass+?
At this time we don't know if it will use FastPass+ immediately, but it will most likely be available at some point.
Overall we are extremely excited about the Guardians of the Galaxy roller coaster coming to Epcot, whether that ends up being in 2021 or later. We think it will be a fantastic addition to the park, finally giving it another big E-Ticket attraction it desperately needs.
Guardians of the Galaxy: Cosmic Rewind is going to be a huge hit when it opens up, the centerpiece of the huge Epcot transformation currently underway. We look forward to this next chapter in this beloved park and are eager to see what Disney can do.
Further Reading:
Stay tuned for more updates on this attraction soon!
Sign Up For Our Newsletter Today!
Your Thoughts
I want to know what you think about the Guardians of the Galaxy roller coaster coming to Epcot…
Are you looking forward to this new ride?
Do you think it belongs in Epcot?
Let us know in the comments section below!
If you enjoyed this article, as always I appreciate it if you'd share it with others via social media. I work hard at making this website into a useful resource for you and your family to plan your visit to the Disney Parks and I hope it can help you! Thanks 🙂