While we love the attractions in EPCOT, nowadays, most people come here for the vast amount of things to eat and drink. In fact, drinking around the World Showcase has practically become a Walt Disney World sport and a favorite pastime of most adults visiting the park.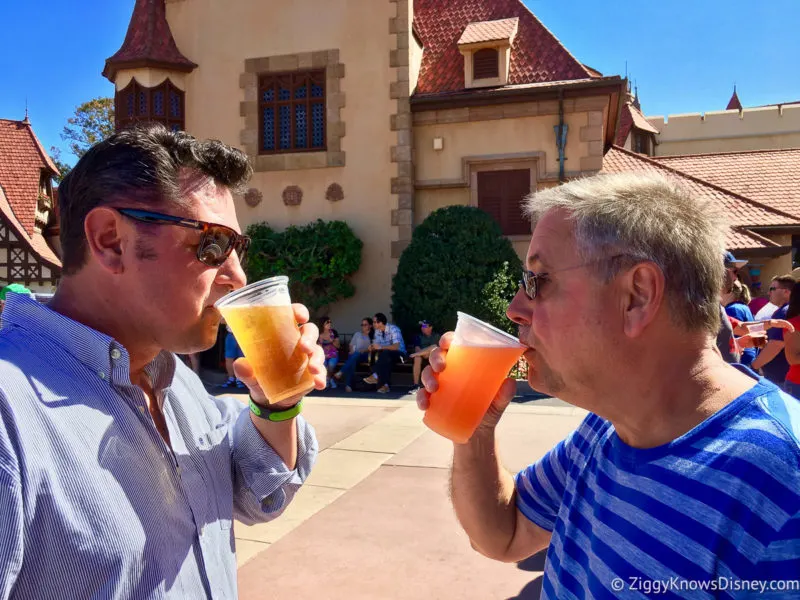 Yes, there really is nothing like grabbing a cold beer, a glass of wine, or a refreshing cocktail and strolling around World Showcase Lagoon, all the while soaking in the amazing ambiance of the 11 countries represented in EPCOT.
In this post, we are going to share with you the very best drinks in EPCOT and everything you need to know about Drinking Around the World Showcase. There are so many different drinks, both alcoholic, and also non-alcoholic than everyone in the family can join in on the fun.
I don't know which one I like to do more in EPCOT, Drinking Around the World or Snacking Around the World. Good thing there is no one making you choose between them, so feel free to do both simultaneously!
Before we get started, we wanted to share some general info about the drinks on our list. The name of this activity is "Drinking Around the World", so you'll notice that most of our best EPCOT drinks are located in the World Showcase. We did include some options in the front of the park (World Celebration, World Nature, and World Discovery), but that's more of a side note.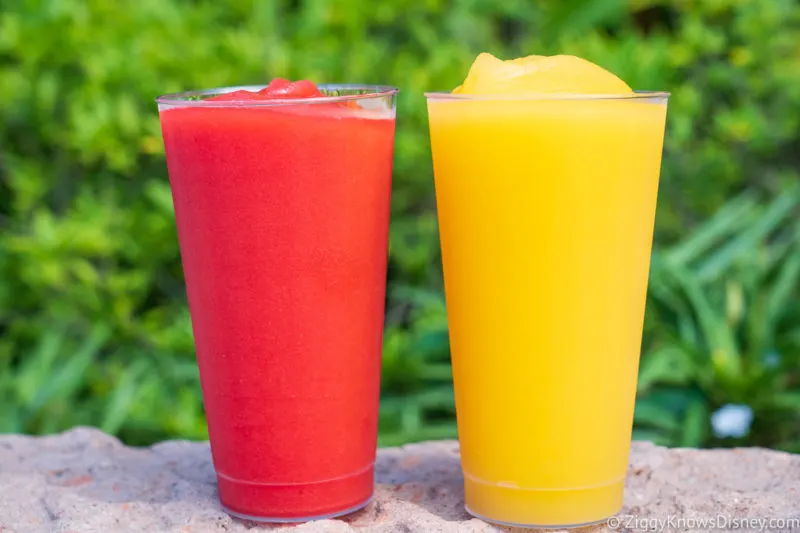 This of course is because World Showcase is the dominant location when it comes to eating and drinking in the park. In fact, most of the must-get drinks are located there, so if you are looking for a drink, head there immediately.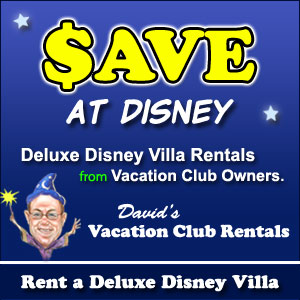 To make things simple, we've grouped our drinks by country, so they will be easy to find. In reality, there are at least 4-5 drinks worth getting in almost every country, but we tried to limit the ones on our list to the very best 2-3 in each place.
We've also limited our drinks list to the ones that are available all-year-around and not the ones that are unique to the EPCOT Festivals such as Food and Wine or Flower and Garden. The drinks available there are limited and may not be available when you visit so we wanted to make our list drinks that are always available.
Also, don't forget to sign up for our FREE Weekly E-Mail Newsletter. There we bring you the latest updates in all the parks as well as vacation planning tips. You can sign up here: Join our E-Mail Newsletter!
What Is Drinking Around the World?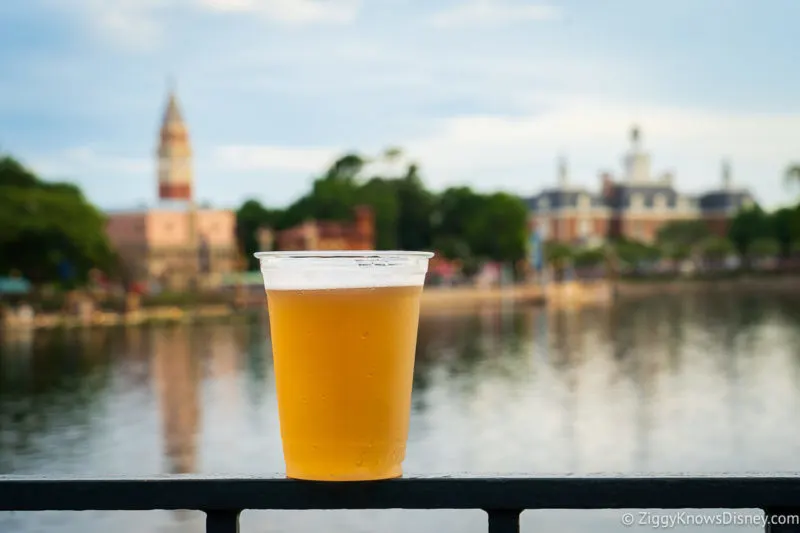 Drinking Around the World as it's been popularly known is a common pastime amongst Disney fans, which essentially means having at least one alcoholic beverage in each of the countries around EPCOT's World Showcase.
While Disney doesn't personally advertise this, nor do they sell merchandise encouraging it, it's a pretty commonly accepted experience that is done by many guests daily. It is especially popular among younger Disney guests, and it is highly popular on the weekends and busier times of the year.
To successfully complete the drink around the world challenge it's expected that you will get some kind of alcoholic beverage, whether it's wine, beer, or a cocktail around each of the countries around the World Showcase Lagoon.
How Many Drinks Does it Take to Drink Around the World?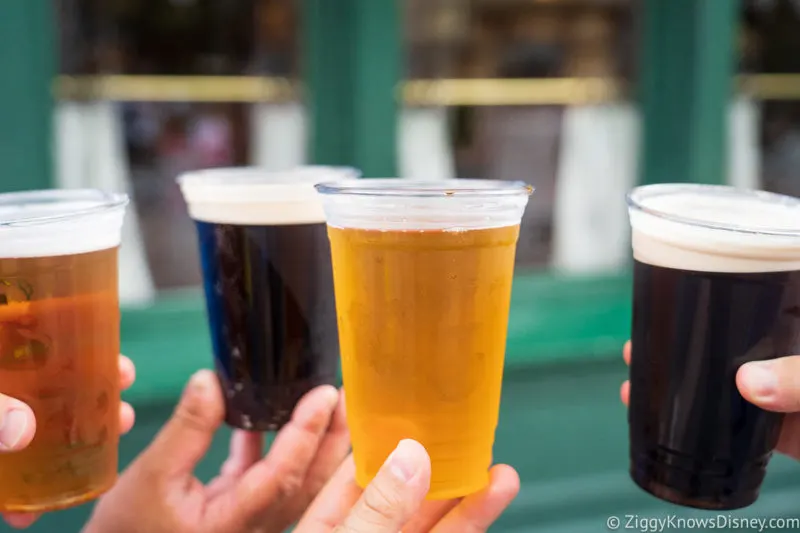 Since there are 11 countries in World Showcase, to do it right, you'll have at least one drink in each of the countries, so 11 drinks.
It doesn't really matter 'which kind' of alcoholic drink as long it is alcoholic. Trust me, it won't be easy and many guests have fallen along the way (I meant that figuratively, but we've seen it happen the other way too)!
Some guests clearly have a higher tolerance for alcohol and will end up having more than one or they'll have additional drinks at some of the other pavilions and locations around EPCOT. We certainly don't recommend this as 11 drinks in one day is already A LOT!
Which Direction Should I Start?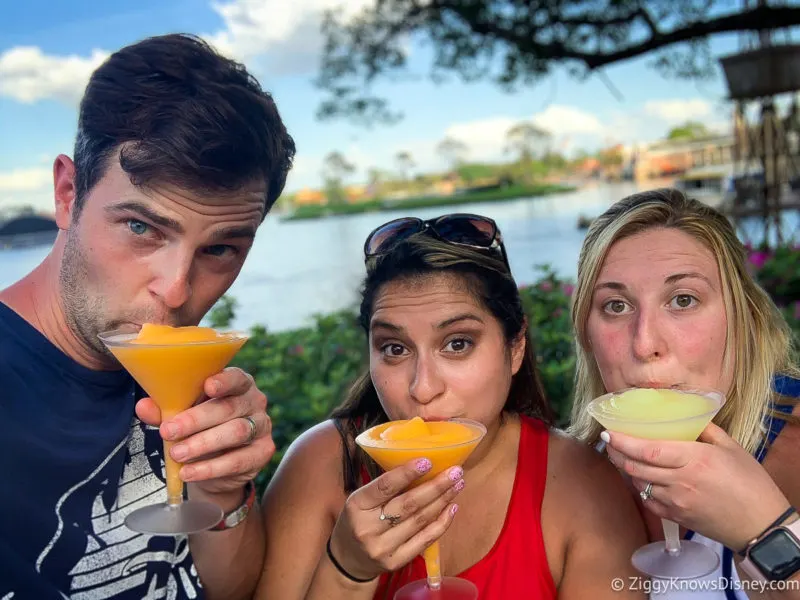 Now that you know what Drinking Around the World Showcase is, which direction should you start? Honestly, it's a matter of personal preference and there is no "right" way to do it.
Remember, EPCOT has two main entrances, they have the front entrance plus they also have the International Gateway Entrance, which has you entering the back of the part already inside the World Showcase Pavilion.
We will assume you are entering the park at the front, which is where the Disney buses drop guests off as well as guests park their vehicles.
When you enter the World Showcase lagoon from the front of the park, you are faced with two decisions:
1. Go right towards Canada
2. Go left towards Mexico.
Much like we brought out in our Snacking Around the World Showcase article, you can't go wrong with either choice and it really depends on what kind of mood you are in and which drinks are your favorite.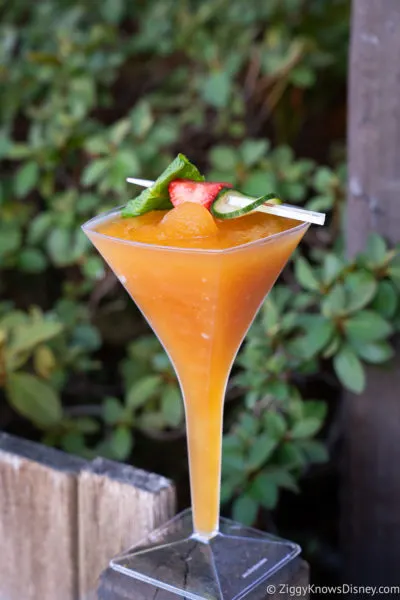 Most blogs and articles will have you starting in Mexico, and you certainly can't go wrong with that suggestion! But we believe going to the right and starting in Canada is the smarter bet. Why?
First off, Mexico is one of our favorite pavilions in all of EPCOT, plus it has some of our favorite drink options and we feel that by leaving it until the end we save the best for last! Why start at the best and then go downhill from there?!
Also, the Mexico Pavilion tends to be one of the most crowded pavilions in all of World Showcase due to its location and its numerous food and drink options. Lines for drinks in the popular margarita locations can sometimes get LOOOOOOONG.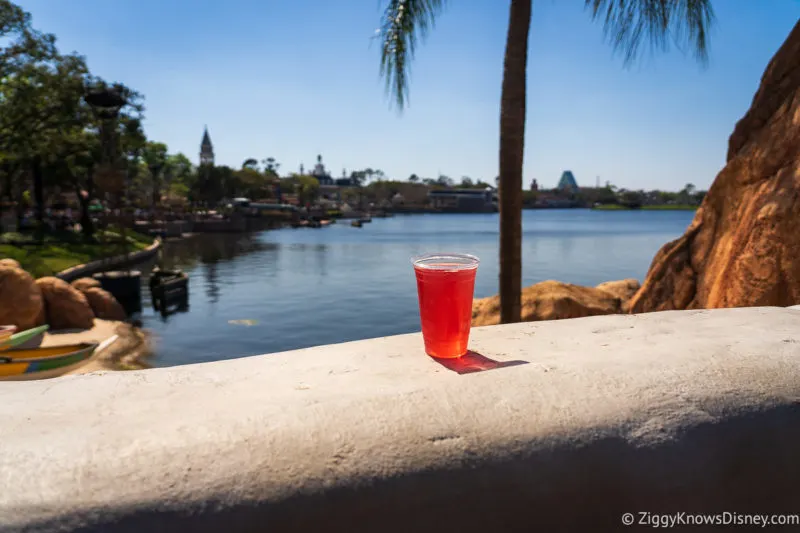 Waiting in Mexico for a cocktail on a 90+ degree weather day is NOT fun. So going at the end of the day or in the evening when the weather has at least cooled down a bit is a much better option imo!
By starting in Canada, you can go at a more relaxed rate and you can end up in Mexico while exiting out of the World Showcase Lagoon as you finish your tasty margarita!
Ok, let's get these drinks flowing!
Best Drinks in EPCOT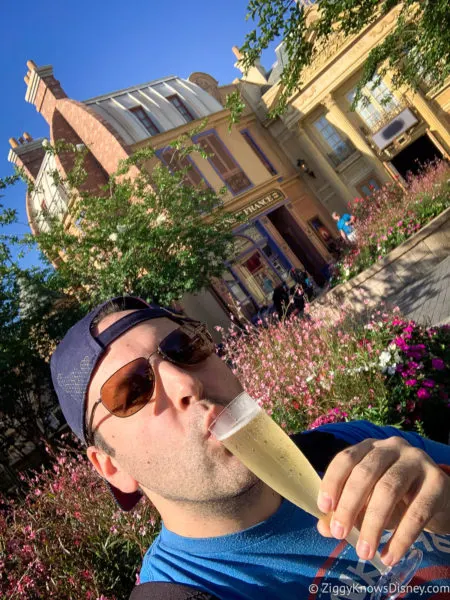 Being that we suggested that you start to the right in a counterclockwise rotation around the World Showcase Lagoon, we are going to start with Canada and end in Mexico. In addition to our favorite drinks in these pavilions, we will also give you our favorite things to do and eat in these pavilions.
Sometimes it takes a little while to finish and drink, and if you're paying Disney's prices for drinks, you're better off enjoying them! So take some time to explore and see the many different things in each of these pavilions while you enjoy your drinks around the world.
Canada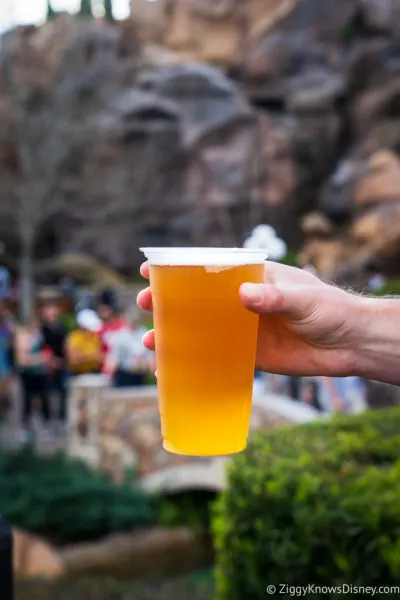 Our first stop around the world brings us to Canada! Unfortunately, they don't have a quick-service location, just a snack cart and of course the table-service steakhouse Le Cellier.
While Canada doesn't have as many drink offerings as some of the other stops along the World Showcase lagoon, they still have a few good options that are worth tasting.
Ottawa Apple
Location: Popcorn Cart or Le Cellier
Cost: 14.50
Rating: 7.5/10
The Ottawa Apple is a mixed drink that has a nice blend of Cranberry Juice, Crown Royal Whiskey, Maple, and Apple Infusion. It's an easy drinker that isn't too strong and is a nice walking and drinking cocktail that most can stomach without it being too strong.
La Fin du Monde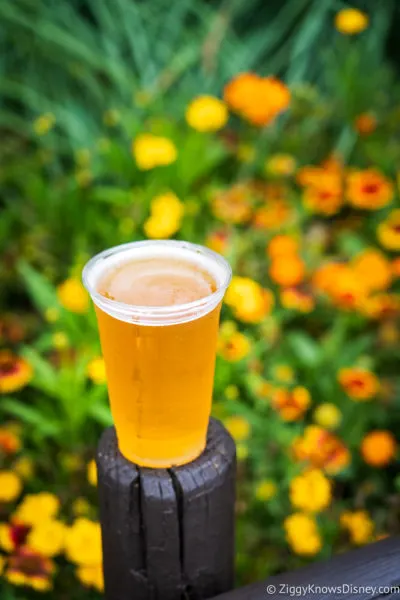 Location: Popcorn Cart or Le Cellier
Cost: $10
Rating: 9.5/10
One of our favorite beers in all of Walt Disney World, we love the La Fin du Monde and the fact that it's on tap is even better! It tastes like a typical Belgian-style ale, despite the fact that it's a Canadian Beer.
The fact that it's 9% ABV makes it even better and it's a much easier sipper than you'd expect from a 9% beer.
Non-Alcoholic
While they don't always have it, the Maple Popcorn Shake is a fantastic drink for kids and adults that don't want an alcoholic drink. They normally have it at one of the EPCOT Festivals, as it tends to be a popular fan favorite.
They normally have one with alcohol and one without, so great for kids and adults alike.
Food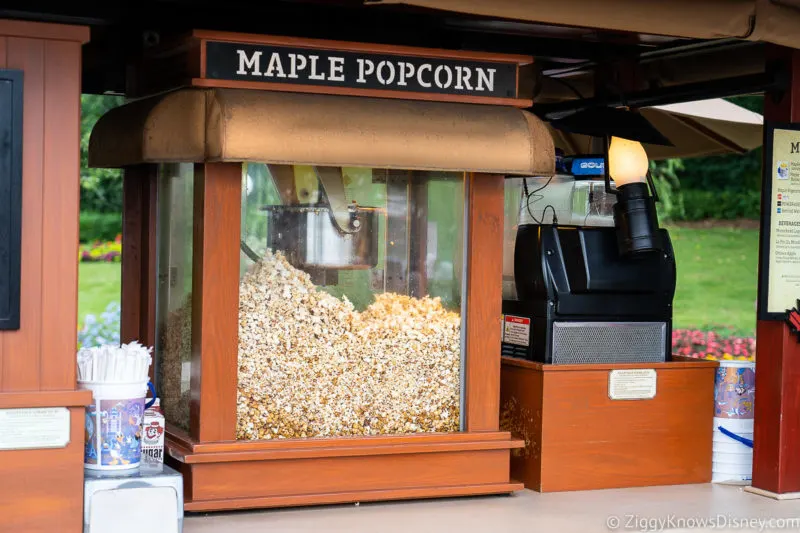 Maple Canadian Popcorn at the Popcorn Stand in Canada – If you at all like the flavors of maple, you'll love this popcorn. The perfect blend of sweet and salty, the Canada Popcorn will go together perfectly with your cocktail.
Things to Do
Canada Far and Wide in Circle-Vision – This is a 12-minute film attraction that shows off the beauty of Canada. It's a good show that was recently redone in 2020, and there is lots of air conditioning.
The 2nd stop on our Drinking Around the World challenge is the U.K. Pavilion. As you would expect, the U.K. Pavilion has a few stand-out spots for guests that want to grab a beer and enjoy the wonderful vibes of this authentic World Showcase Pavilion.
Black and Tan Beer
Location: Rose & Crown Pub
Cost: $10.50
Rating: 7.0/10
There are a number of great pub blends at the Rose & Crown and we feel that you really can't go wrong with going with the traditional Black and Tan, which is Bass Ale and Guinness Mixed.
We really like the Snake Bite Imperial Pint as well, which is a nice mix of cider and harp beer, it's an easier sipper for non-beer lovers.
Leaping Leprechaun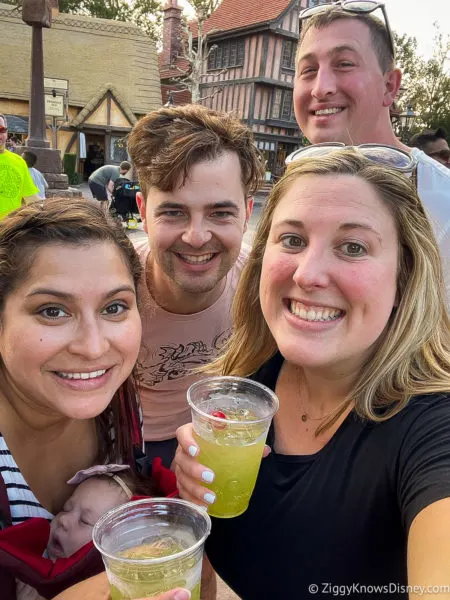 Location: Rose & Crown Pub
Cost: $14.50
Rating: 9.0/10
This has turned into one of our favorite drinks in EPCOT, and it's ideal for people that don't want beer. It's an easy sipper and has a mix of Sprite, melon liqueur, rum, whiskey, and vodka.
While it might sound very strong, trust us it's not. It's got a good mix of sweet, but the alcohol is definitely present.
Non-Alcoholic
The Twinings of London English Breakfast Tea at the Yorkshire County Fish Shop – A fun authentic English tea that will provide you with a completely different type of drink but equally delicious.
Food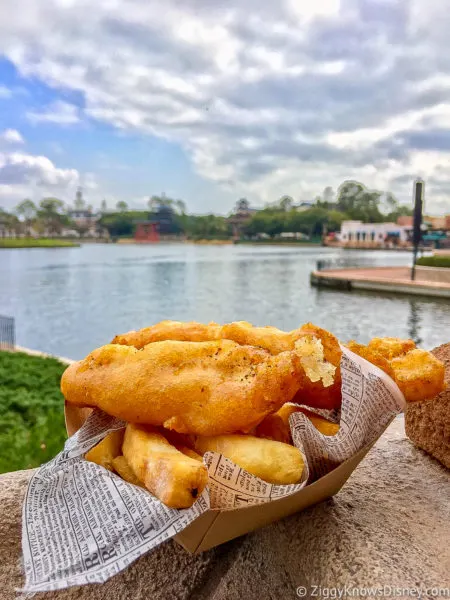 Fish and Chips at the Yorkshire County Fish Shop – This flaky and oh-so-good fish will practically melt in your mouth. The crunch on the batter is absolutely perfect, and you won't find any better outside the U.K. Just add some malt vinegar and you'll be in heaven!
Scotch Egg at Rose & Crown – If you're going to the table-service restaurant Rose & Crown, we'd absolutely recommend you try the Scotch Egg, for a truly authentic U.K. experience. The Sticky Toffee Pudding is also very popular here among guests that are looking for a yummy dessert.
Things to Do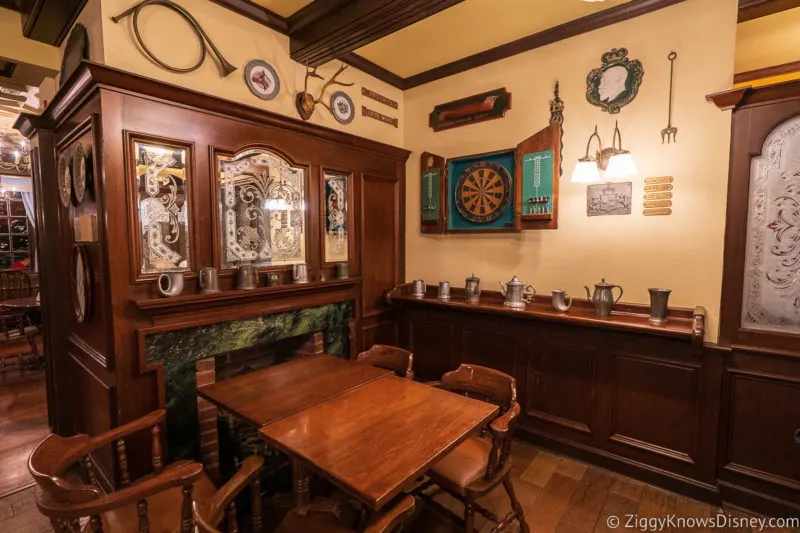 Watch the Band – We love sitting outside and watching the UK Band (Currently it's a band called Command Performance), as they play all your favorite British hits from the 1960s through the 1990s. They play underneath the gazebo 4-5 times per week.
Go to Rose & Crown Pub – We enjoy the pub actually more than the actual restaurant. The pub takes walk-ins, so just follow the line, and if there isn't a line just walk right inside to order.
It's a truly unique and authentic English bar where you can enjoy a pint and beer with some other guests or talk to some of the terrific Disney Cast Members who work here.
Walk the Grounds and Shop – With beautiful flower beds that make up the gardens and true English architecture all around you, it's nice just to walk around and enjoy Victorian and Georgian-style castles.
There are also a number of great shops in the U.K. Pavilion that are worth looking through, one of which is a great place to stock up on U.K. candy.
France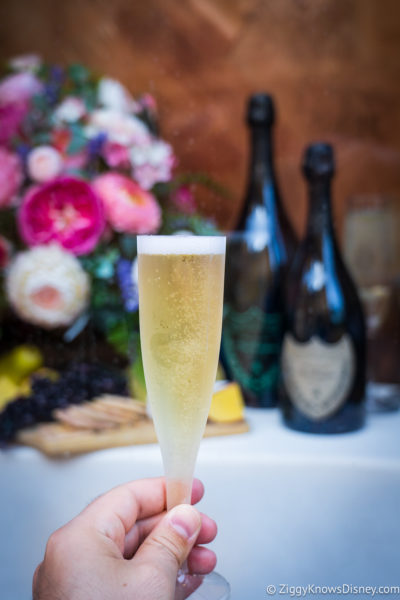 Third on our list is the France Pavilion. The France Pavilion is also home to the back entrance of EPCOT, which is called the 'International Gateway.' This makes France a convenient location for guests coming on the Disney Skyliner or from the Disney BoardWalk.
In France, you'll have a number of terrific options for guests that are looking for drinks to continue their quest of drinking around the world. It's always a must-stop for us both for the festival drinks and regular ones.
Grand Marnier Orange Slush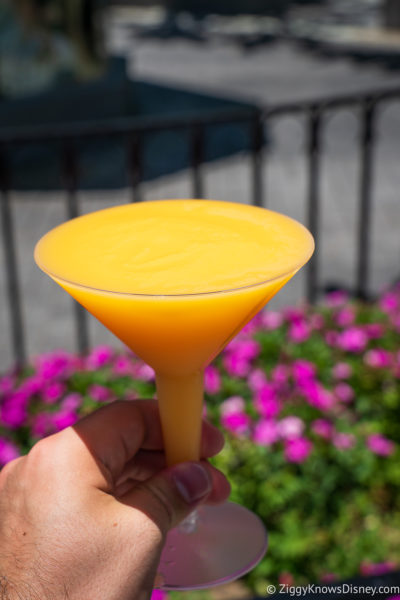 Location: Les Vins de Chefs de France
Cost: $14.75
Rating: 8.5/10
How can you go wrong with a refreshing slushy made up of Grand Marnier, Rum, Grey Goose Orange, and Orange Juice? While it's a little sweeter and more expensive than what we would like, it's still so refreshing and tasty! It's definitely a go-to drink!
Frosé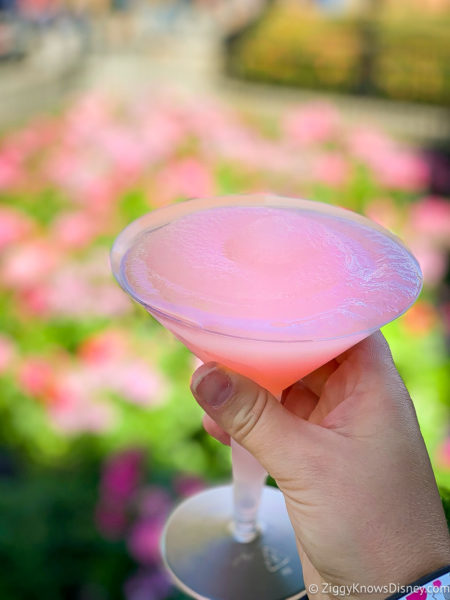 Location: Les Halles Boulangerie
Cost: $15.75
Rating: 8.0/10
Made with a mix of Frozen Côtes de Provence Rosé, Vodka, and Peach, this Frosé is so tasty and will cool you down on a hot day! While it's a little expensive like the orange slush, it's still so yummy and we can never say no.
Ice Cream Martini
Location: L'Artisan des Glaces
Cost: $14.95
Rating: 8.5/10
This combines a cocktail with dessert into one yummy glass! You pick 2 scoops of ice cream of your preference and then choose from a shot of Grand Marnier, Whipped Cream Vodka, or Rum. You can't go wrong with this, and it's great for photos.
Non-Alcoholic
Chocolat Chaud at Les Halles Boulangerie – This authentic French Hot Chocolate is a sweet and tasty drink for those that want something chocolatey without liquor. It's great in the winter when evening temperatures get cool.
Food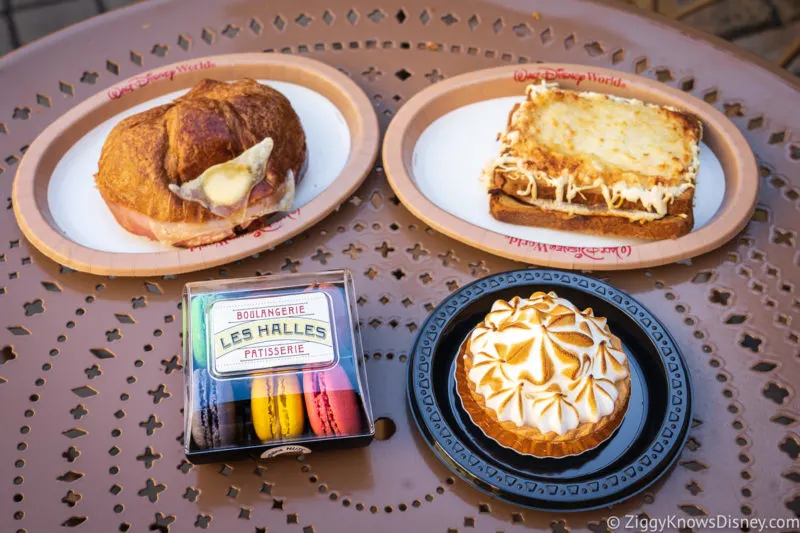 Any treat at Les Halles Boulangerie – It's impossible to pin down a treat at our favorite bakery in all of Disney World. Les Halles, as it's often called, is an amazing French Bakery that has so many terrific items, it's really impossible to choose.
We'd recommend trying the Croque Monsieur or the Pain Lard Fromage if you want something savory. If sweet, try the Chocolate Eclair, Napoleon, or Citron Tart.
Croque Glace at L'Artisan des Glaces – This brioche ice cream sandwich is outstanding! A warm pressed brioche with ice cream and your choice of topping, how can it get any better?!
Things to Do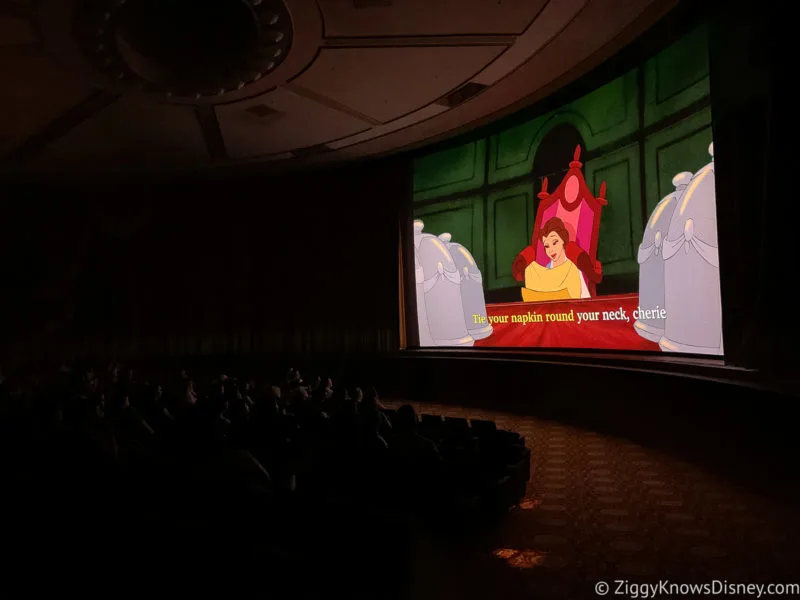 Meet Belle – You'll find Belle meeting guests at a few different times of the day near Crescent Lake.
Impressions de France – This 18-minute widescreen film plays inside the France Pavilion and showcases the charm and romance of France. Keep in mind, it only plays at certain times of the day (mostly in the evenings).
Beauty and the Beast Sing-Along – Here you'll sit inside the same cinema that plays Impressions De France but instead you'll watch songs from the animated film Beauty and the Beast as you sing along.
Morocco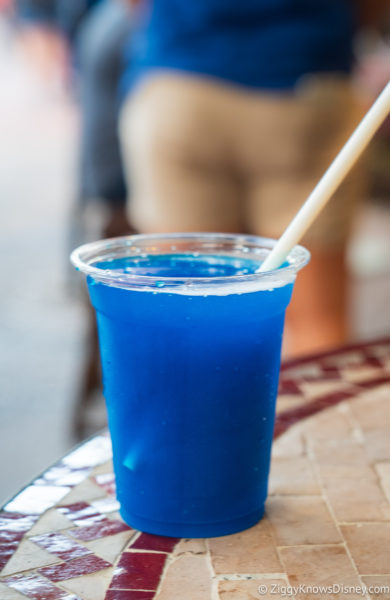 At our 4th stop on our 'Drinking Around the World' tour in EPCOT is Morocco. This one was really a surprise for us. On the surface it might appear as this would be one of places where you likely won't find very many drinks, but that wasn't the case at all.
I think you'll be pleasantly surprised at some of the tasty offerings found here. While it's not one of our top picks, it's still a solid place to find a desirable drink! Here are our picks for Morocco:
Moroccan Mule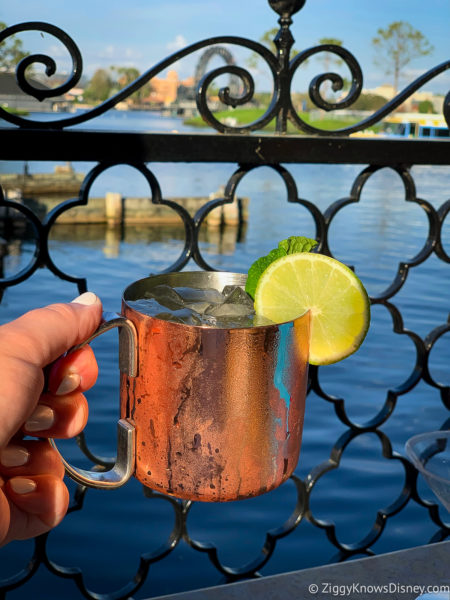 Location: Spice Road Table
Cost: $15.50
Rating: 7.5/10
A Moroccan take on the classic mule cocktail, this style one adds a Fig vodka which adds a little bit of a jammy taste to it, which I have to say works!
House-made Sangria
Location: Spice Road Table
Cost: $14
Rating: 8.5/10
With the choice of red, white, rose, or sparkling wine sangrias, we prefer the red one at Spice Road Table. The one at the Morocco quick-service location is NOT the same, and not nearly as good. They utilize a boxed sangria, so just make sure you get this one inside the restaurant as it's homemade and tasty!
Non-Alcoholic
Frozen Mint Tea – While it normally comes with gin, you can ask for it without. This tasty frozen drink is a wonderfully minty mojito of sorts, and it also cools you down in the Florida sun.
Food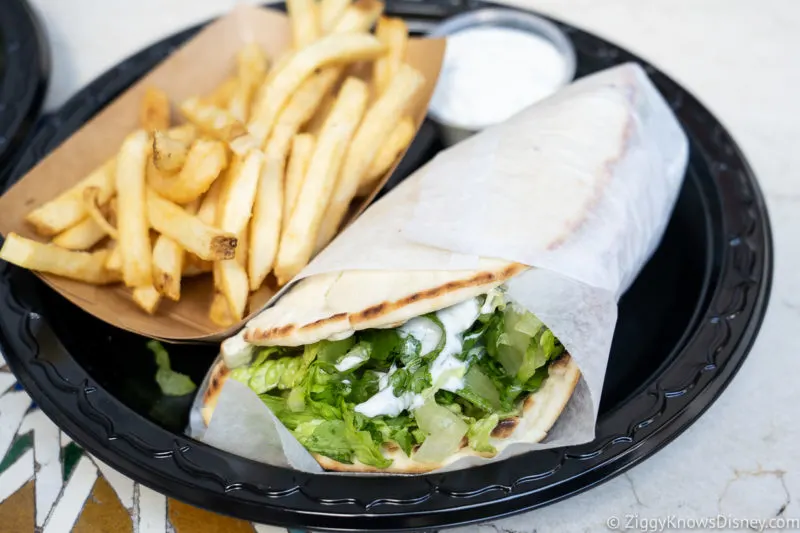 Kebabs at Tangierine Cafe – While the menu fluctuates at the Tangierine Cafe routinely with the different EPCOT festivals, they normally have different types of kebabs. They're all tasty! We especially like the lamb ones.
Meet Jasmine – The popular princess comes over to the Moroccan Pavilion for a few meet and greets during different times of the day.
Shopping – You'll truly feel as if you are shopping in a bazaar in the middle of Morocco with the shopping found here. It's completely different than anywhere else as you'll see rugs, lamps, and traditional Moroccan attire.
It has a very authentic feel and the architecture here is awesome! It's fun to check out the different outfits and so different from anything else you'd find in Disney World.
Watch the Belly Dancer – Watch the Moroccan band Atlas Fusion, as they play their music from the stage while the belly dancer engages the crowd.
Japan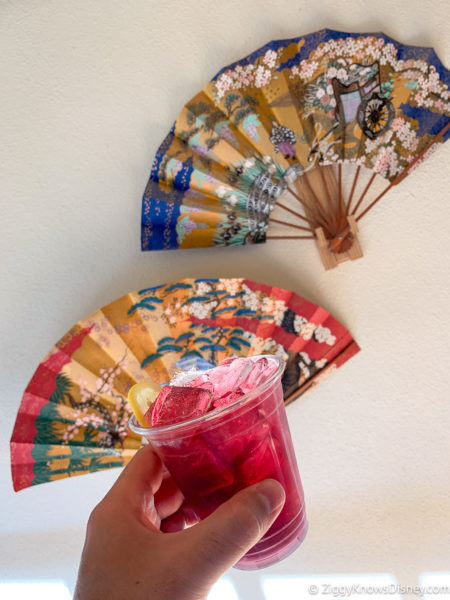 Our next country along our stop along the World Showcase Lagoon takes us to Japan. And while Japan might on the surface not seem like a great place to grab drinks, there are a couple of solid options you really should try.
As a whole, Japan is one of the most beautiful and scenic pavilions and one of our personal favorites, so we have no problem spending time here just lingering about. Here are our picks for Japan:
Sake Mist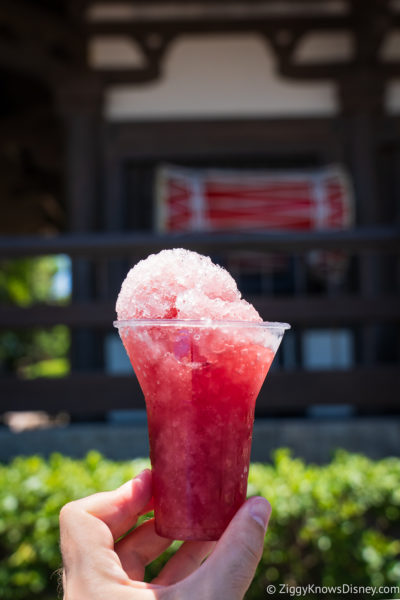 Location: Kabuki Cafe
Cost: $11
Rating: 7.5/10
Located at the Kabuki Cafe, which is an outdoor kiosk in Japan, the Sake Mist is an Alcoholic Shaved Ice that comes in Blood Orange, Coconut Pineapple, or Blackberry. These are refreshing iced drinks that are crowd favorites, although the alcohol is a bit limited.
Violet Sake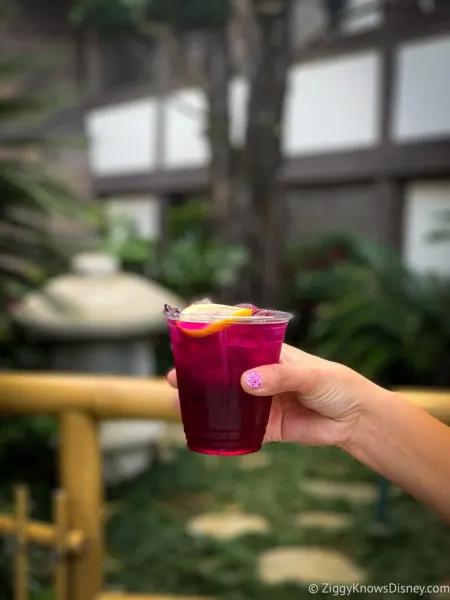 Location: Garden House
Cost: 8.50
Rating: 8.5/10
We love the Violet Sake in Japan, and it's one of the best-priced drinks in the World Showcase. It's not an overly strong drink, in fact, it tastes almost like a Jolly Rancher candy. We also like it because it's an easier entry point for first-time sake drinkers.
Non-Alcoholic
Ramune Sodas – Inside the Mitsukoshi Department Store, these sodas come in a variety of different flavors including Melon, Strawberry, and Peach. These are true Japanese sodas that you should try if you haven't before. They are really addictive and are quite tasty!
Food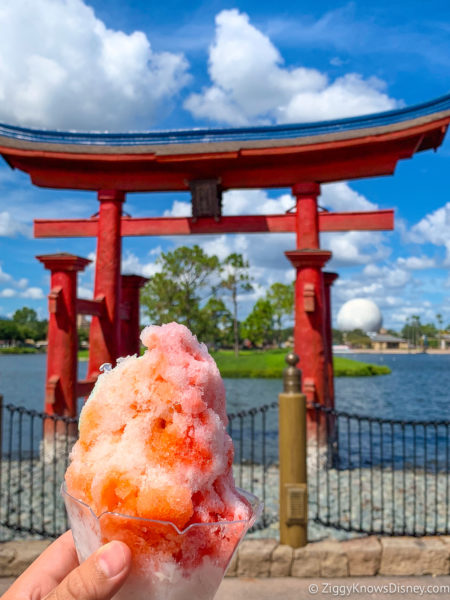 Kakigori – This classic shaved ice found at the Kabuki Cafe is a wonderful treat for those hot summer days in EPCOT. For $5.50, this shaved ice comes in a variety of different flavors. It's a true Japanese Classic Snack you must try!
Sushi at Katsura Grill – Get one of the different sushi rolls at the Japanese Quick-Service location Katsura Grill. We love the sushi here, and if you're going to get something in Japan, it only makes sense to get sushi!
Things to Do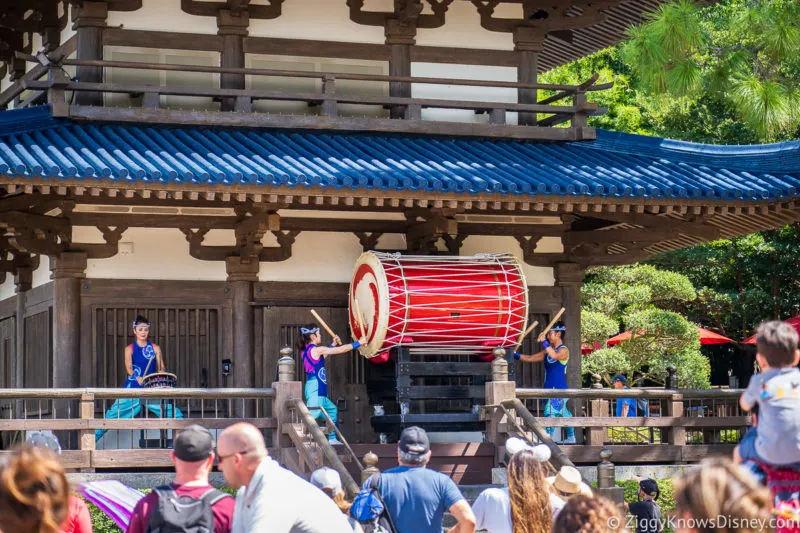 Shop at the Mitsukoshi Department Store – Shopping at the Mitsukoshi store in Japan is a truly unique experience. It's just like walking into a real department store in Japan, and this store has just about everything! From clothing to authentic Japanese snacks to Samurai Swords, it's all here!
Japanese Taiko Drummers – These incredible drummers generally perform several times a day at the top of one of the buildings in Japan. They are quite hypnotic and don't want to miss them playing!
American Adventure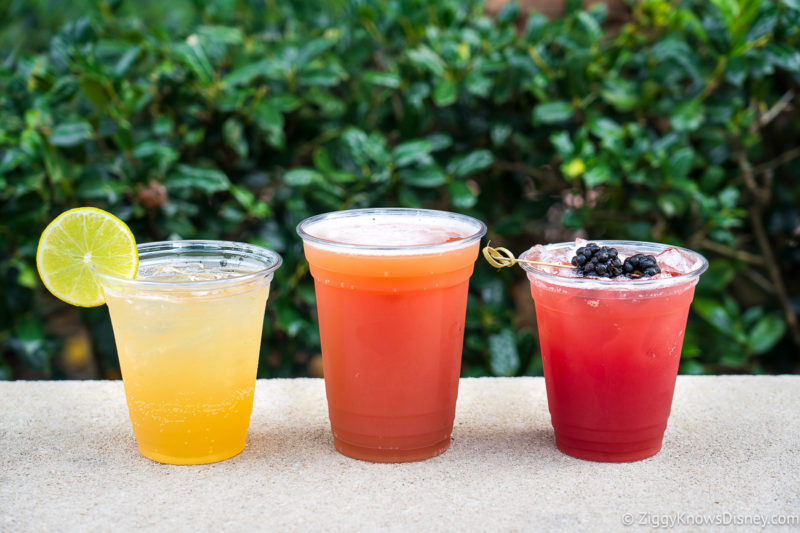 Ok, so you've officially made it to the halfway point! Hopefully, you are taking your time and soaking up all that alcohol with some food!
Now, you're at the American Pavilion in EPCOT, and the American Pavilion brings it when it comes to drinks. While there are a number of wonderful options, we will pick our couple of favorites.
Moonshine Sour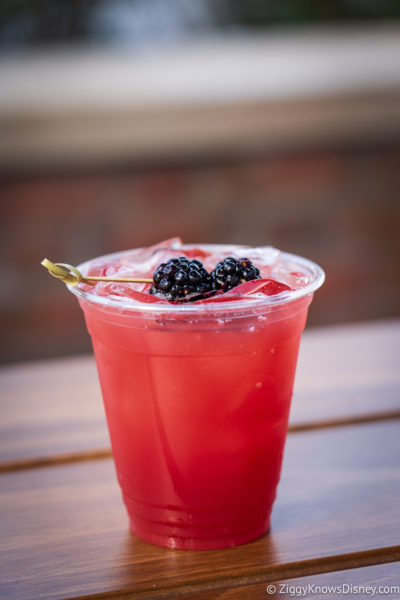 Location: Regal Eagle Smokehouse Outdoor Bar
Cost: $14.00
Rating: 8.5/10
The Regal Eagle outdoor bar has a number of really tasty drinks, but my favorite is the Moonshine Sour. A tasty mix of Blackberry Moonshine, Blood Orange, Blueberries, and Lemon. It's the right mix of sweet and sour and perfect with a plate of BBQ.
Beer Flight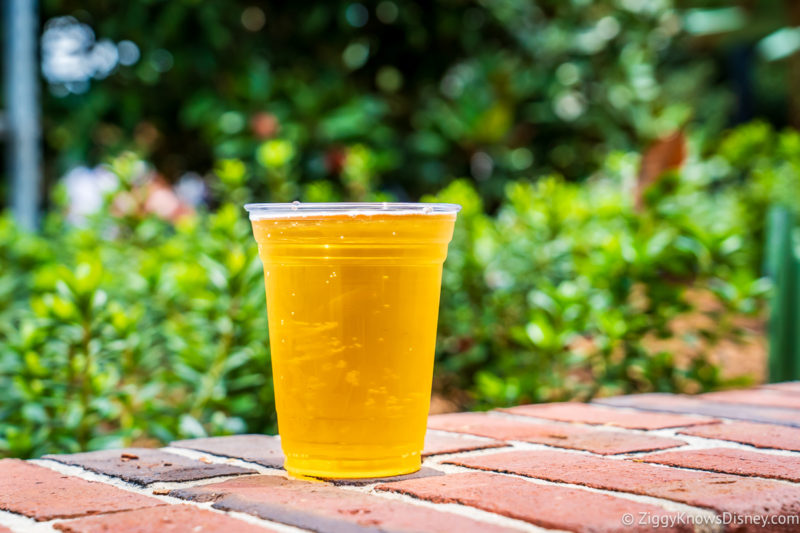 Location: Block & Hans
Cost: $11.25
Rating: 8.0/10
The Block & Hans stand in the American Pavilion has a number of good beers on tap. To try several of them, get a flight.
Non-Alcoholic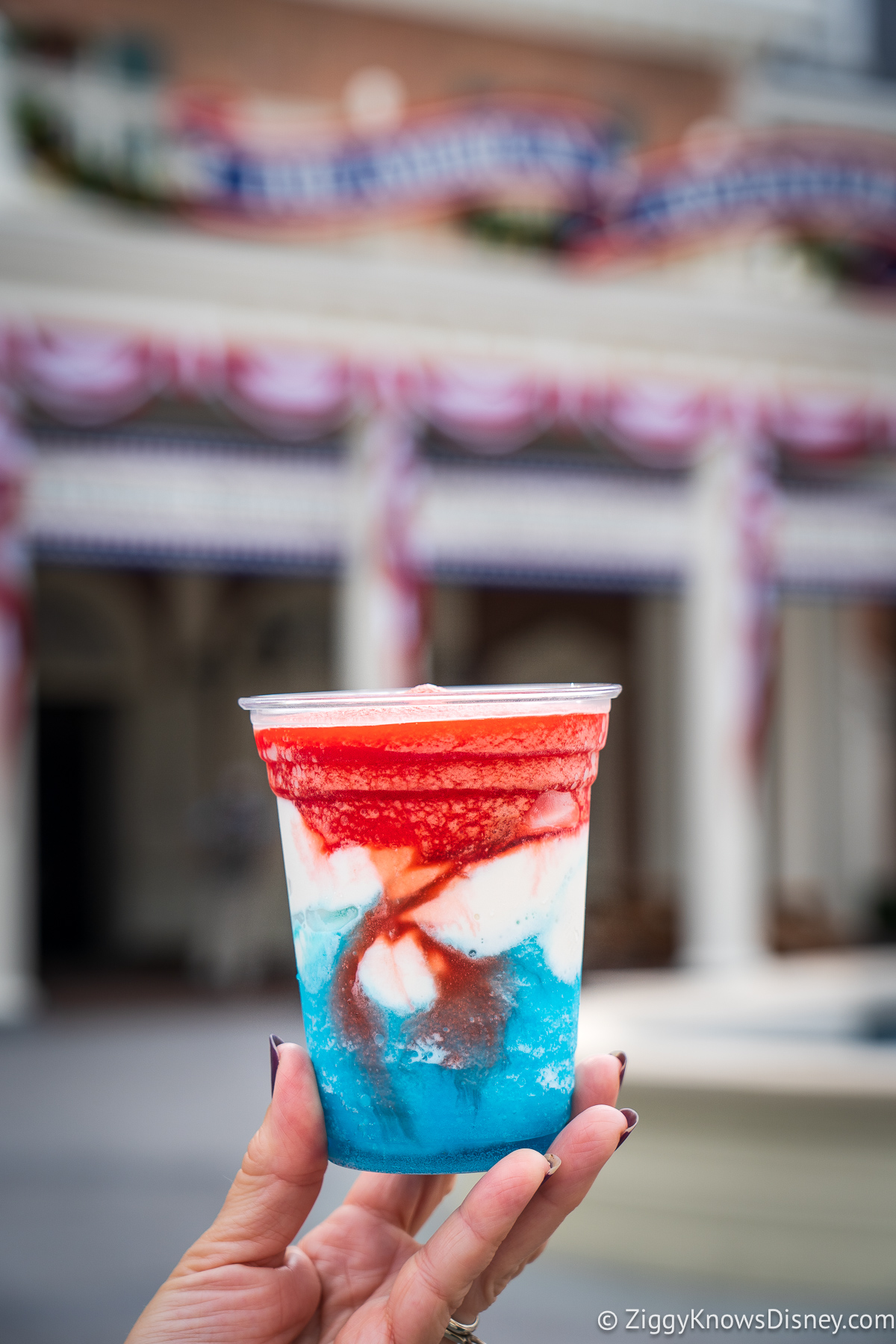 The American Dream at Fife & Drum Tavern – Wow, we really love this thing and it's been a favorite of mine for years! This red, white, and blue drink is made with strawberry Fanta soda, ice cream, and a Fanta blue raspberry slushie and can't be missed.
Food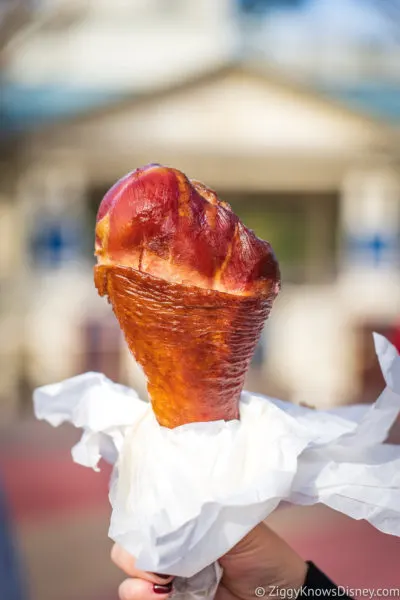 Loaded Burnt Ends Fries – The Regal Eagle Smokehouse has some great options for food but our favorite is the loaded burnt-end fries. These are a new addition to the menu, and they're massive! An awesome shareable plate for families.
Jumbo Turkey Leg – There's something special about having a turkey leg in the American Pavilion in EPCOT (or anywhere in Disney World for that matter). You'll find it at the Fife & Drum Quick-Service stand and it's just as huge and savory as always.
Things to Do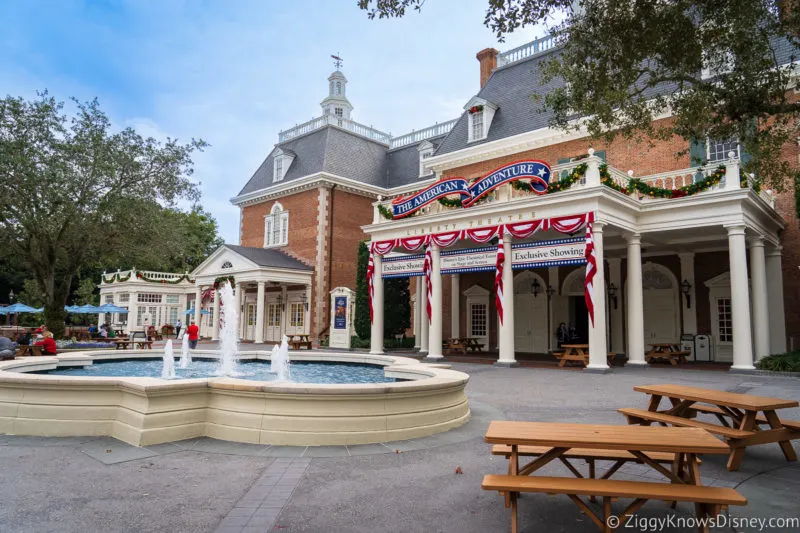 Watch the American Adventure Show – Even though it may seem boring to some, this 29-minute stage show is an enjoyable history lesson narrated by Benjamin Franklin and Mark Twain and should absolutely not be missed.
With terrific animatronics and wonderful storytelling, this is a smart way to get out of the Florida sun.
Rounding out the 2nd part of the Drinking Around the World tour is the Italian Pavilion. Another fan-favorite, the Italy Pavilion is home to some terrific food and drink options.
We have a number of things we love to get in Italy, here are our favorites:
Italian Margarita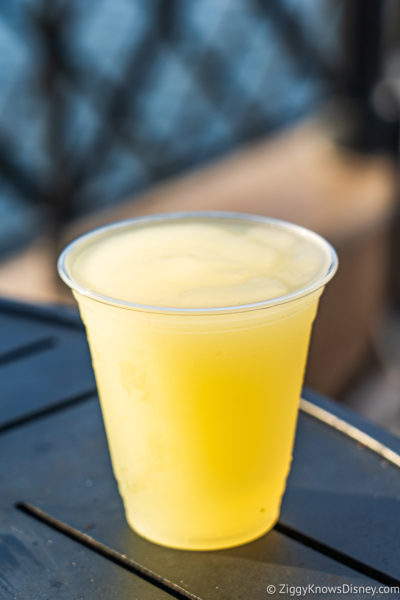 Location: Gelateria Toscana
Cost: $12
Rating: 8.5/10
This is one of my all-time favorites! How can you say no to a frozen drink that is made with a combination of Limoncello, Tequila, and Margarita? It's a really good blend, albeit it's a bit sour.
If you don't love citrus and sour-tasting drinks you might not be ready to pucker up with this drink.
Sangria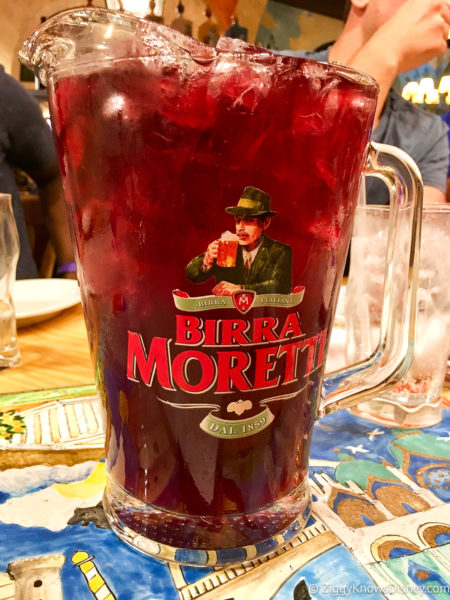 Location: Via Napoli
Cost: $13 by the glass, $39 for a pitcher
Rating: 9.0/10
With your choice of red or white, this homemade sangria is tasty! And for $39 a pitcher, it's a very fair price considering Disney's typical prices. A pitcher will get you generally 4-5 glasses.
Non-Alcoholic
Affogato Espresso Gelato at La Gelateria Toscana – Located inside the new Gelato stand, this espresso drink is a great mix of ice cream and coffee.
Food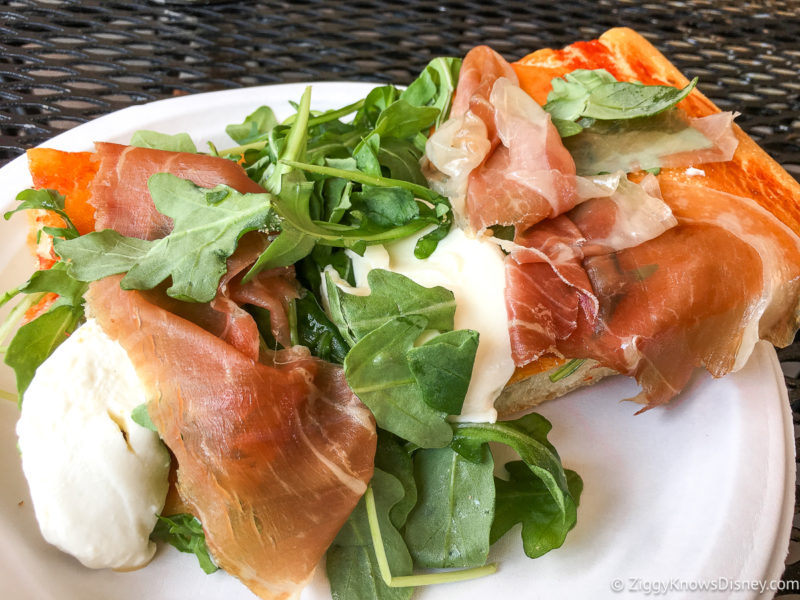 Pizza – The pizza at Via Napoli or at the take-out window (if it's open) Pizza al Taglio is fantastic! It's up there with the best pizza in all of Disney World, and it's absolutely worth getting! They have a number of different specialty pizzas, and they are all great!
Cannoli – Located at the gelato quick-service location Gelateria Toscana, getting a cannoli in Italy is a right of passage! It's actually pretty good here too!
Things to Do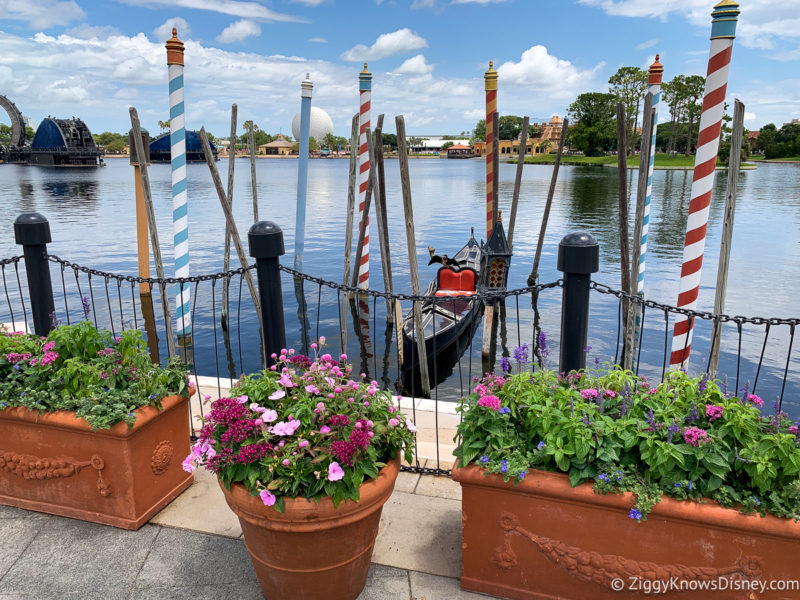 Take a Stroll Along the Piazza – Enjoy the many different replicas of famous Italian architecture such as the St. Mark's Square, the Venetian Bridge, and the Trevi Fountain to name just a few.
Watch Sergio – The famous Master Juggler Sergio performs throughout the day. You won't want to miss him, as he's a great time to watch!
Germany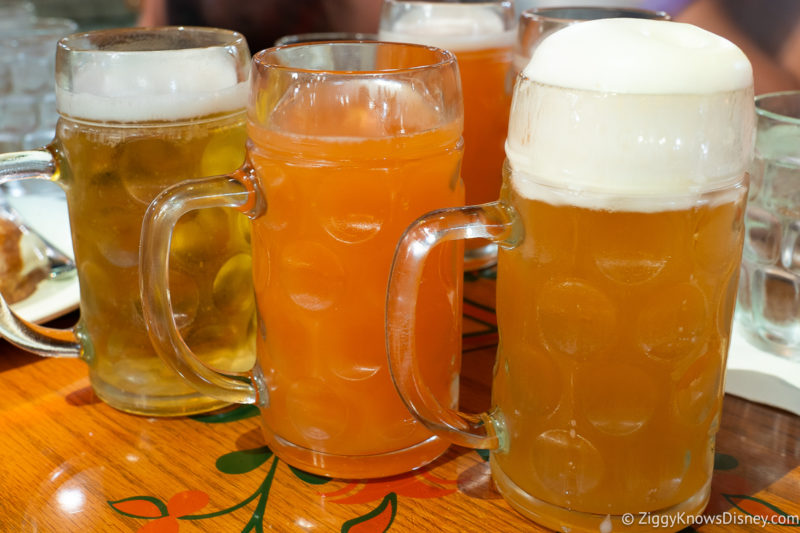 Germany is no doubt one of the most popular drinking countries in EPCOT due to its popular beer culture. And despite being a good distance from the front of the park, the German EPCOT Festival Booths and quick-service locations are always amongst the busiest.
With authentic Bavarian architecture and a number of standouts for us, here are our picks in Germany:
Schöfferhofer Pink Grapefruit Hefeweizen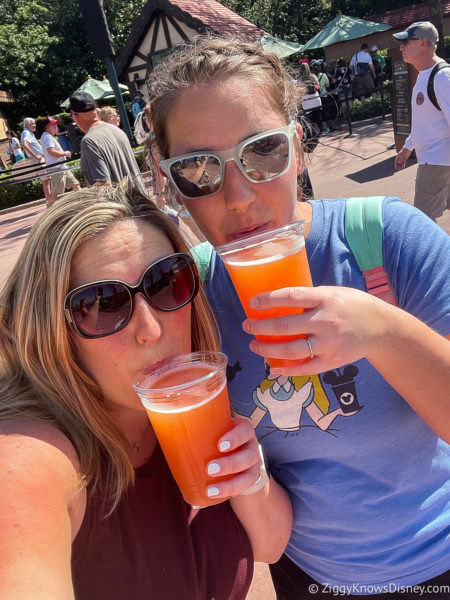 Location: Bier Carts, Sommerfest, Biergarten
Cost: $10.75
Rating: 8.0/10
A popular German Grapefruit Beer, while light on the alcohol at only 2% ABV, this grapefruit fruit is tasty and awfully refreshing. While it is found in other areas of Disney World and quite possibly your local liquor store, it's still good, and getting it on draft and in Disney just tastes better, even if you're a non-beer lover.
Warsteiner Dunkel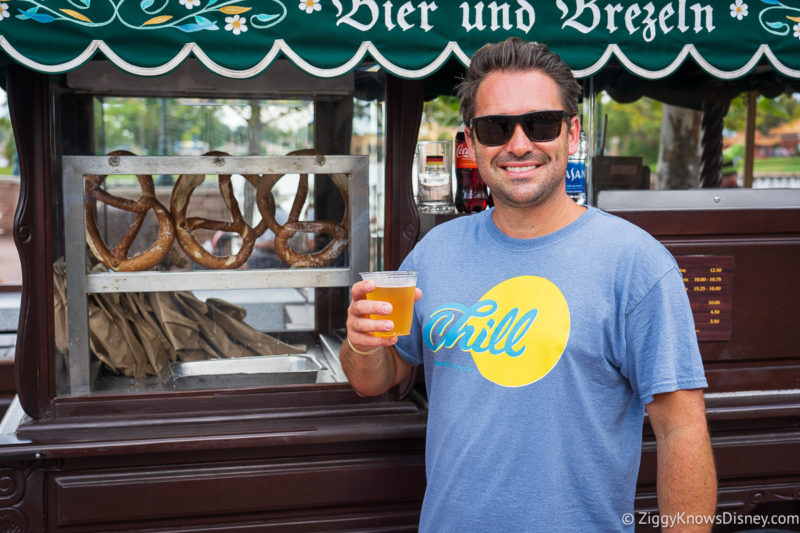 Location: Bier Carts, Sommerfest, Biergarten
Cost: $10.75
Rating: 7.5/10
We have to add a true German Beer to the list and we enjoy the Warsteiner Dunkel. We also love the Oktoberfest they sometimes have, but they don't have it all the time.
The Warsteiner Dunkel is a classic dark German-style pilsner that has hints of chestnuts and mocha in it. It's rich but good!
Non-Alcoholic
German Spezi – Found inside the Biergarten Restaurant, the German Spezi is a tasty concoction made up of Coca-Cola and Fanta Orange Soda that kids will love.
Food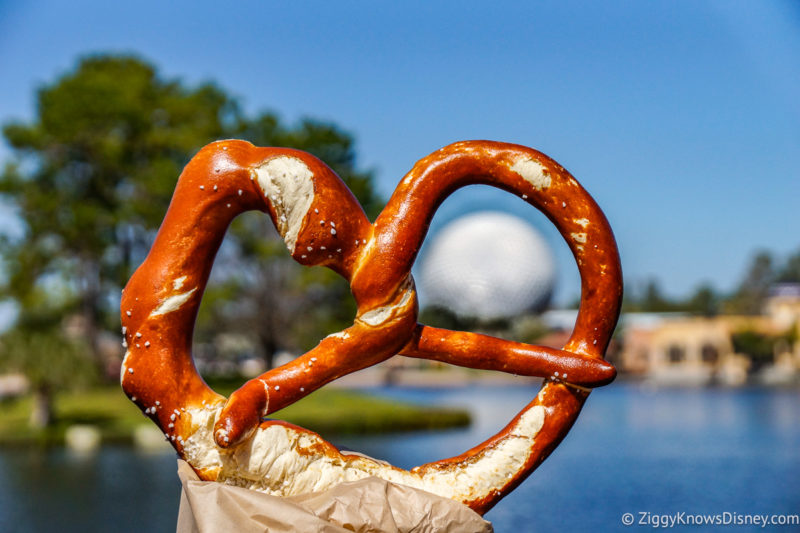 Pretzel Bread Pudding – A recent addition to Sommerfest, the German Quick-Service location, we LOVE this sweet treat. At only $4.79, this treat is so tasty but at the same time not overwhelming for guests!
Jumbo Pretzel – If you are looking for an absolute monster snack, get the jumbo pretzel! They have these both at the Bier Stands and at Sommerfest, and they are YUMMY! They are massive and perfectly shareable.
Things to Do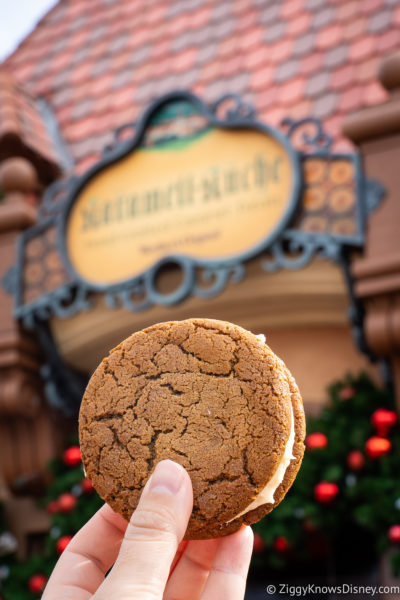 Go to Karamell-Kuche – While often overlooked due to Les Halles in the France Pavilion, Karamell-Kuche is certainly a must-stop on your way by! It has some really terrific stand-outs especially if you love caramel!
Their Werther's Popcorn is addicting and you can smell it all the way from the Italy pavilion!
Visit Biergarten Restaurant – We love visiting Biergarten for lunch or dinner, in fact, it's one of the best dinner shows in Disney World. While the food is good, it's the fun atmosphere and the performers that are the standouts here.
Enjoy the Oktoberfest Vibes as you enjoy a live Polka Band and some tasty German Brews.
Refreshment Outpost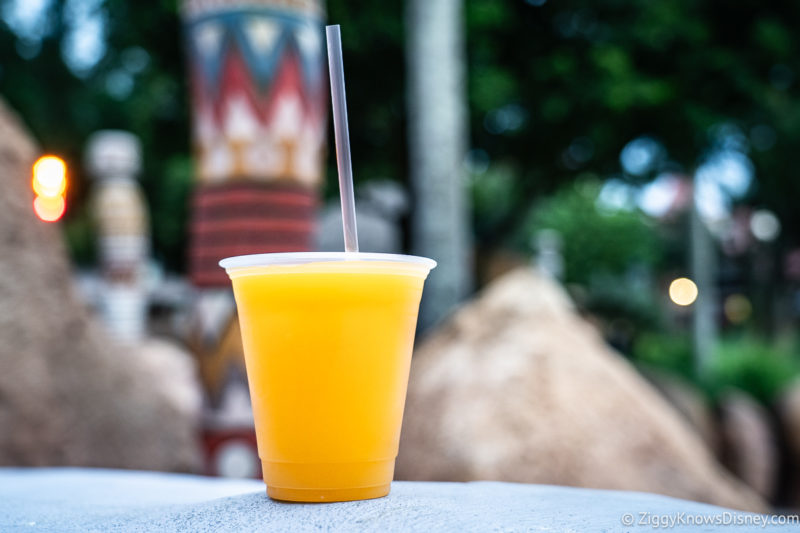 While technically not a "country", the Refreshment Outpost is an African-inspired Outpost that is situated between the German and China Pavilions.
They don't have much here, but they have a quick-service location that has a few different food and drink items. Their foods rotate with the different EPCOT Festivals, and they only have a few staples that don't rotate.
Mango Starr
Location: Refreshment Outpost
Cost: $14.25
Rating: 7.5/10
This African-inspired rum drink is tasty, albeit a bit sweet. You'll have Rum in addition to the strong mango flavor. It's a refreshing drink to sip around the World Showcase and we always stop for it on our way by.
Outpost Lemonade
Location: Refreshment Outpost
Cost: $15.50
Rating: 7.0/10
This is basically what you'd expect with a vodka lemonade, and that's exactly what you'll get. They also have some seasonal beer offerings that rotate with the different EPCOT Festivals that are worth trying.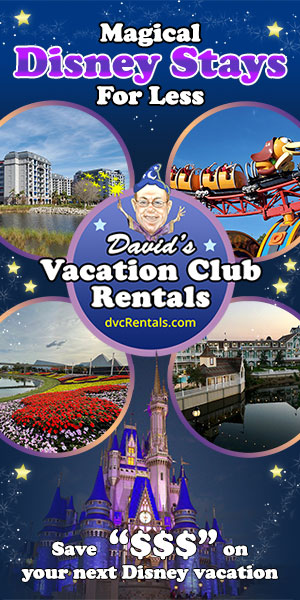 Non-Alcoholic
Coca-Cola Frozen Slushy – If you are a big Coca-Cola fan, you must try this. It's not the most innovative drink in EPCOT, it's pretty much what you'd expect it to be, but it's quite refreshing on a hot day around the World Showcase. They also have a lemonade slushy as well if you want to mix it up.
Food
Waffle-Cone Ice Cream – One of the items that is on the menu at all times of the year is just your standard run-of-the-mill ice cream inside a Waffle Cone. While it's not unique or anything special, it's nice to have a place to get a standard ice cream cone.
Things to Do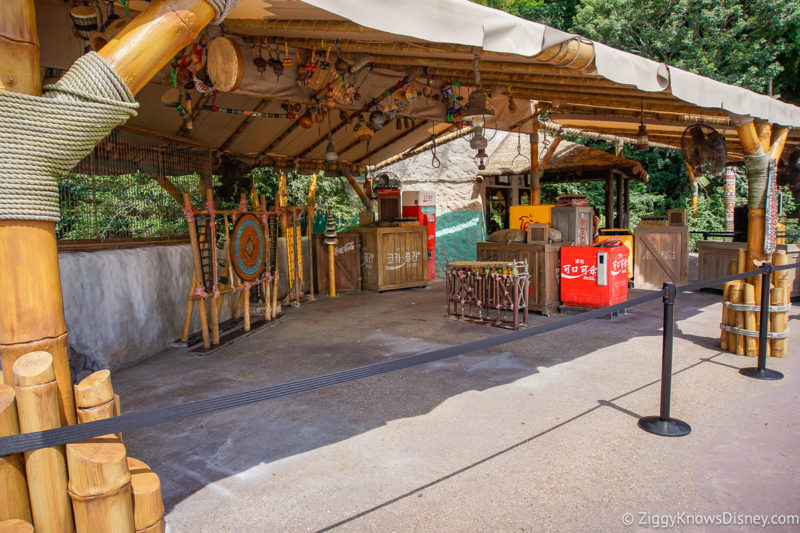 Play the African Drums – Directly left to the Refreshment Outpost, there are a number of African-inspired Trinkets including African Drums. This is a fun thing for kids to do if they want to get a break from the sun or just want to exert some energy.
China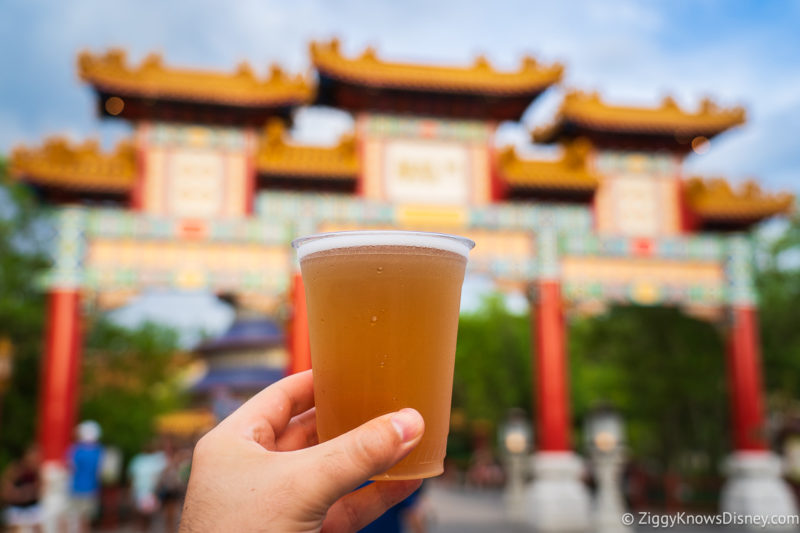 Our next stop along our 'Drinking Around the World' tour is found in China. While on the surface, you might expect that China doesn't have much to offer for drinks, I think you might be pleasantly surprised with some of the offerings.
Here are our favorite picks for drinks in China:
Tipsy Ducks in Love
Location: Joy of Tea
Cost: $13
Rating: 8.0/10
This is a unique coffee alcoholic beverage that has a blend of bourbon, black tea, coffee, cream, and chocolate. While we aren't the biggest fans of coffee drinks, we know a lot of people that LOVE this one.
It also might give you just the pick-me-up you need after a long day of drinking around the world!
Canto Loopy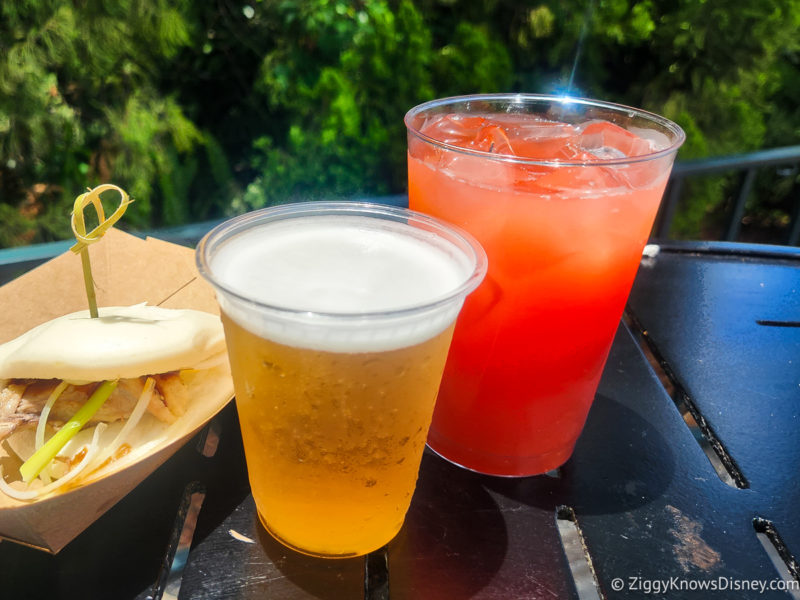 Location: Joy of Tea
Cost: $11
Rating: 7.5/10
An easy drinker that is made with vodka and cantaloupe. It is a sweeter drink that isn't overly boozy, but at only $11 we find it's a good value and a solid drink option.
Non-Alcoholic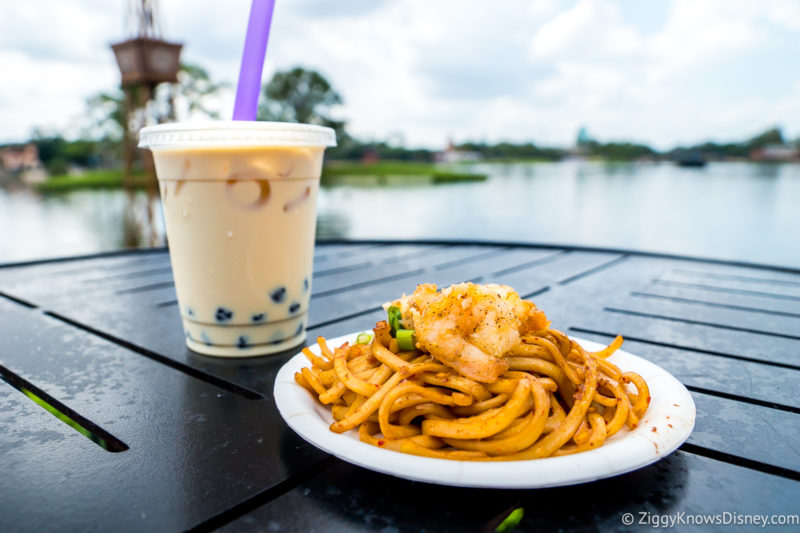 Milk Bubble Tea at the Joy of Tea Booth – This unique bubble tea drink will provide kids and non-alcohol drinkers with a great way to try a tasty authentic Chinese drink. It's not my personal favorite, but it is incredibly popular so we couldn't leave it off the menu.
Food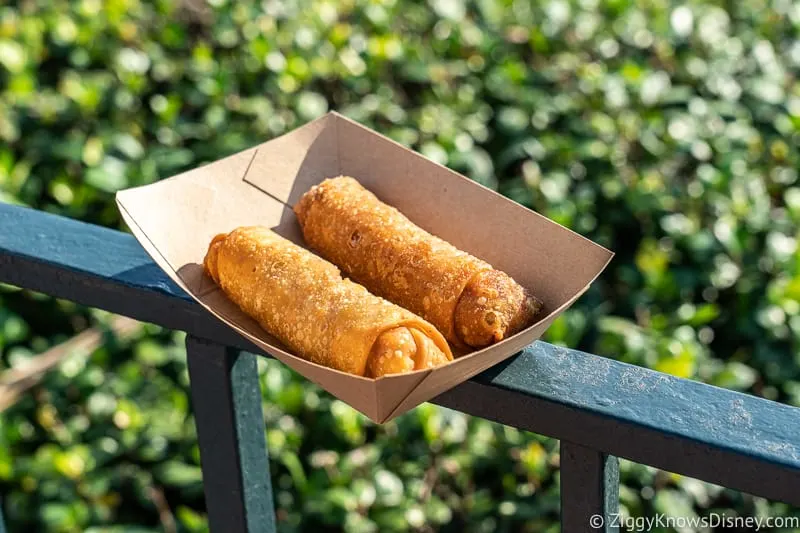 Egg Rolls – The Egg Rolls at the Joy of Tea are a nice quick option for guests that enjoy these Chinese trademarks. While they aren't anything "special", we love them and they are just what you need for a quick bite.
Mongolian Beef Platter – This combo platter that is found at the China Quick-Service location the Lotus Blossom Cafe is our favorite option on the menu. It'll give you something a little heartier and be a good lunch or dinner option.
Things to Do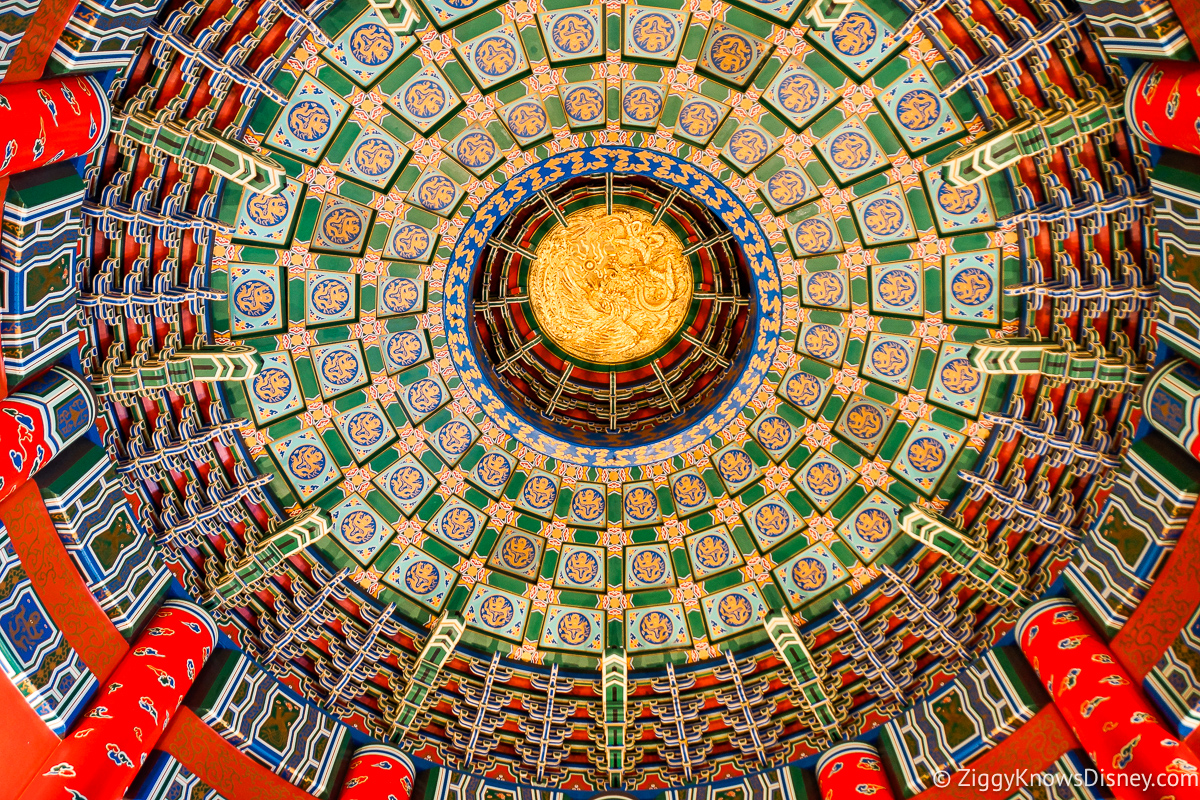 Reflections of China – Another 360-degree Circle-Vision film, the Reflections of China is a 14-minute film that will take you around China and show you some of the most popular tourist sights.
Shop at the House of Good Fortune – Similar to the Japan Pavilion, the House of Good Fortune in China is loaded with authentic Chinese items that you'd find in the actual country.
We've found a ton of great gift items here as you wouldn't expect to find these types of things in Disney. And most of them are fairly reasonable too!
Norway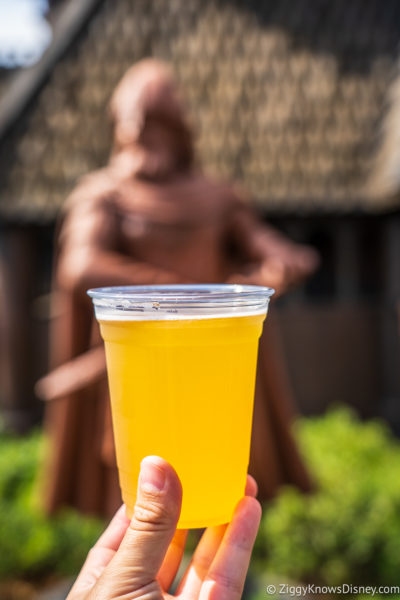 Our 2nd to last country that will have you rounding out your drinks from around the world will take you to Norway. While Norway has a few options, their options certainly aren't as plentiful as our final stop along our tour.
Here are our favorite picks when visiting Norway:
Frozen Viking Coffee
Location: Kringla Bakeri og Kafe
Cost: $15
Rating: 8.0/10
Part coffee and part dessert, the Frozen Viking Coffee mixes frozen coffee with chocolate. It's more sweet than it is boozy, so don't be afraid! If you like coffee-based cocktails, you'll really enjoy this, but it is a bit on the sweeter side.
Nordic Draft Beer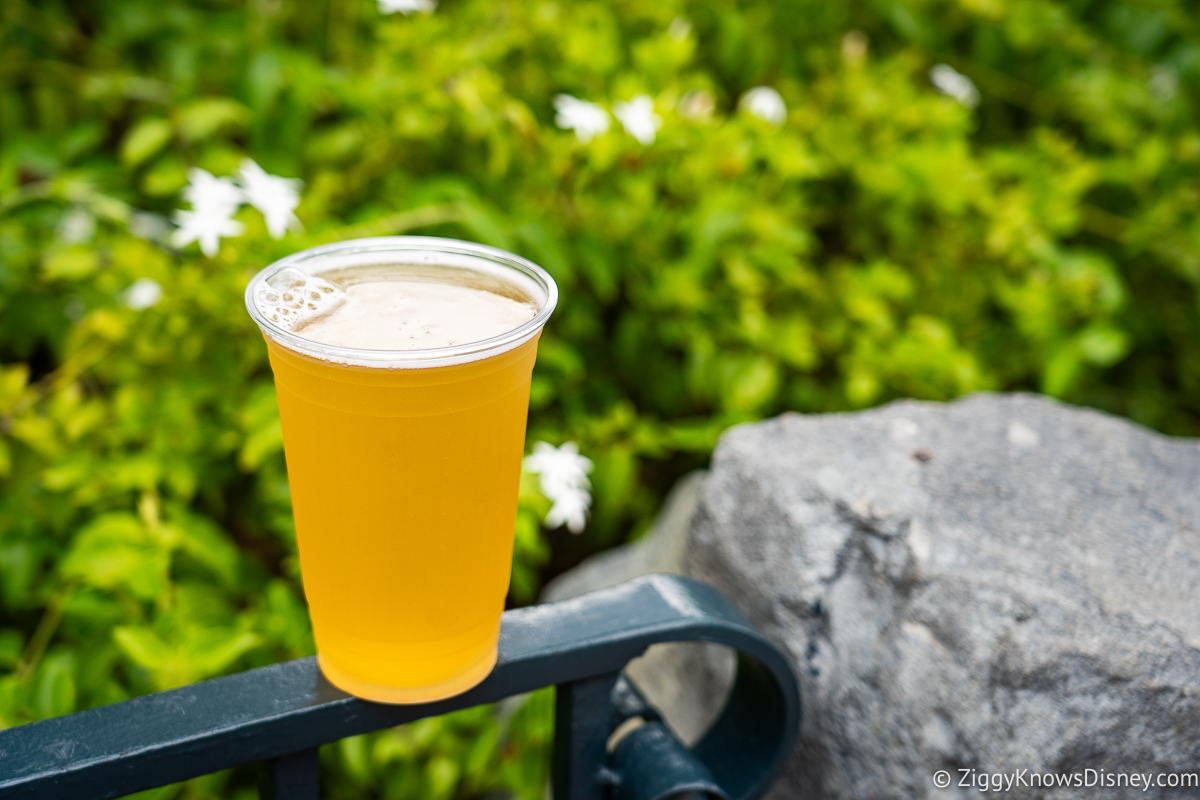 Location: Kringla Bakeri og Kafe
Cost: $11.25
Rating: 7.0/10
It's really nothing special, but this is a solid Norwegian Pilsner that tastes exactly as you'd expect. If you're going down the beer route, this isn't a bad way to go in Norway.
Non-Alcoholic
Kristoff Kaffe – The same thing as the Viking Coffee except this one does NOT have any liquor in it. And it's less than half the price at only $6.
Food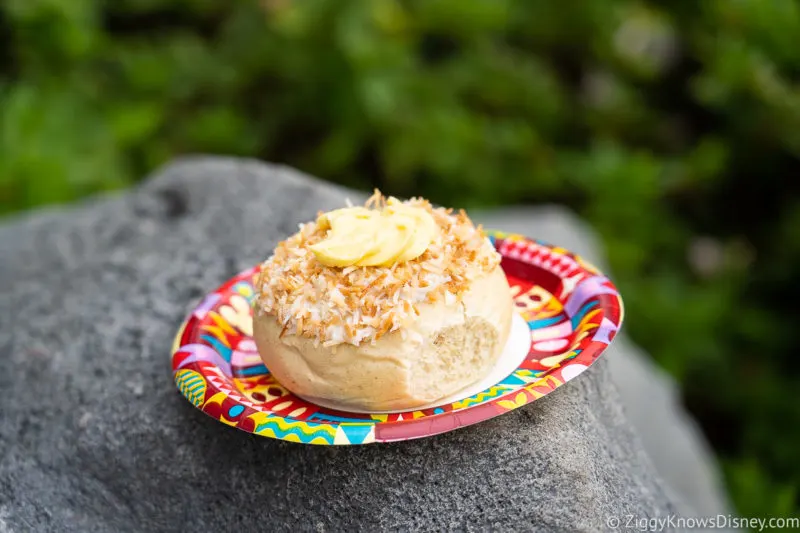 School Bread – One of the most popular sweet treats in all of EPCOT is the School Bread found here at the Norway Bakery Kringla Bakeri og Kafe. It's a sweet roll that is filled with custard and coconut.
Some love it and some don't. We aren't the biggest fans of it, but it's certainly worth trying so you can give your judgment!
Lefse – A little bit of a Norwegian churro of sorts, Lefse is a flatbread that is rolled with cinnamon, sugar, and butter. How can you go wrong?!
Things to Do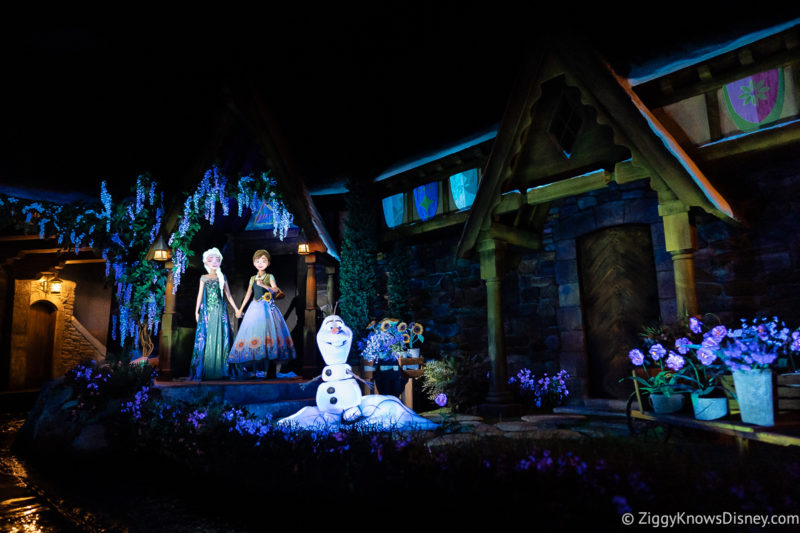 Frozen Ever After – This ever-popular attraction is based on the movie, and it is one of the most popular attractions in EPCOT. If you have kids you definitely can't skip it.
Dine With the Princesses – One of the best places to eat with the various different Disney Princesses is found at the Akershus Royal Banquet Hall. This signature table-service restaurant is worth visiting if your kids want to dine and eat with the princesses.
Mexico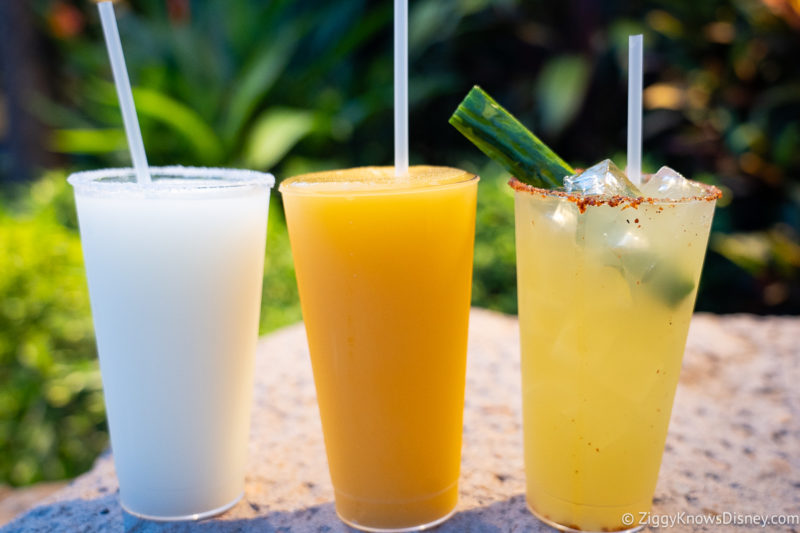 And finally, we've reached our final country, and quite possibly, the best country for drinking and that's Mexico!
With multiple places to grab liquor and grab food, including both inside and outside, Mexico is a solid place to both start or end your 'Drinking Around the World' tour. Or better yet, perhaps start AND end here. (Please don't do this of course if you're driving or have already had too much to drink.)
La Cava Avocado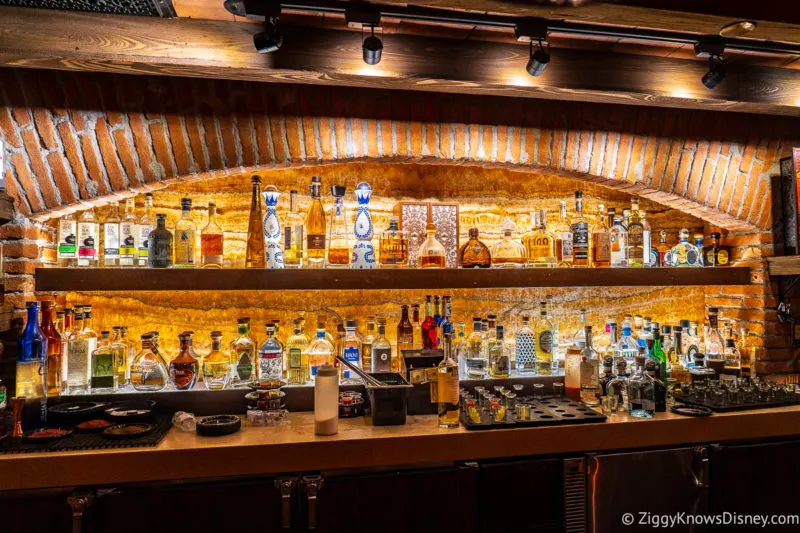 Location: La Cava del Tequila
Cost: $17
Rating: 8.5/10
A true Mexican Tradition and that's an Avocado Margarita! While it might sound weird, I assure you, it's pretty terrific! The avocado doesn't take on a strong flavor profile, although the color is green. It's a popular and iconic drink in EPCOT that is worth trying!
La Cava also has a ton of other margaritas to choose from that are all incredible, as well as tequila shots which we highly recommend!
Top Shelf Clasica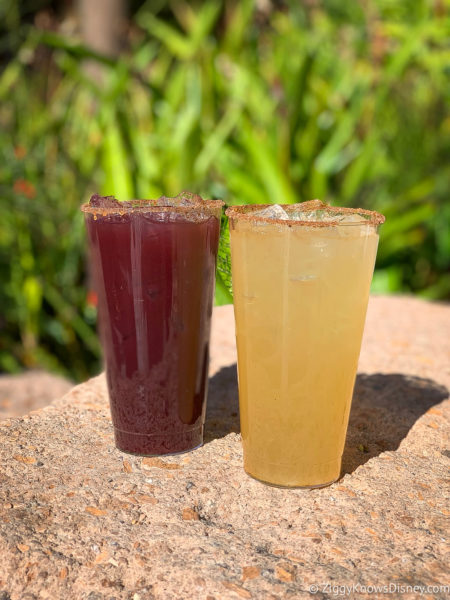 Location: Choza de Margarita
Cost: $18
Rating: 9.0/10
If you're looking for a classic margarita on the rocks, it doesn't get much better than the Top Shelf Clasica. With reposado tequila, Combier orange liqueur, and agave, this is a great margarita that is found at the outside margarita stand, Choza de Margarita.
Again, the options for margaritas here are endless and they are all excellent. Try the Spicy Blackberry Margarita which features a black ant salt rim. I kid you not.
Non-Alcoholic
Conga at Choza de Margarita in Mexico – This is a non-alcoholic Mexican fruit punch of sorts that is blended with different juices, including orange, pineapple, and lemon juice.
Food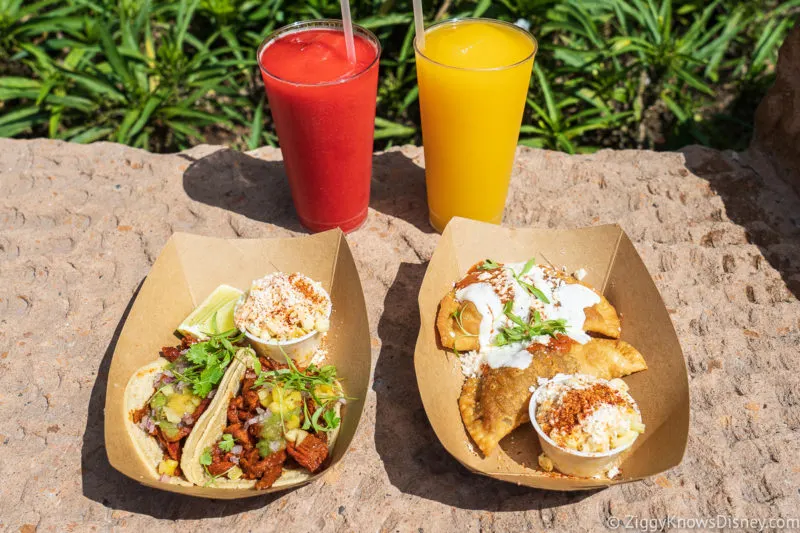 Empanada de Barbacoa – These empanadas are found at the outdoor quick-service location Choza de Margarita. They are a true hidden gem and combine Barbacoa Beef and a number of fresh Mexican ingredients. They are REALLY good!
Nachos – Whenever I am really hungry in Mexico, I head to La Cantina de San Angel and get an order of the terrific and massive nachos. These are loaded with beef, nacho cheese, beans, tomatoes, jalapenos, and sour cream.
Things to Do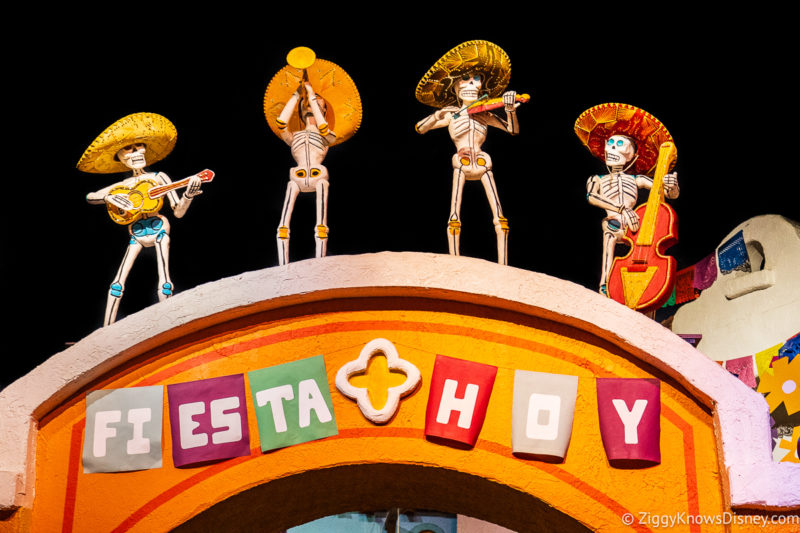 Go On The Gran Fiesta Tour Starring The Three Caballeros – Very underrated, one of the true gems of EPCOT is the Gran Fiesta Tour! Join Donald and the other Caballeros as you take a relaxing boat ride around the Mexican Pavilion and around the country of Mexico.
Just because the World Showcase is the most popular place to drink in EPCOT, doesn't mean it's the only one.
The three locations of World Celebrate, World Nature, and World Discovery are found at the front of EPCOT. They are the OTHER lands of EPCOT and are loaded with rides, attractions, and other places that are worth visiting.
While World Showcase is geographically positioned in the back of EPCOT, these three lands are positioned in the front of EPCOT, and there is still a nice selection of drinks to choose from.
If you want to continue your 'Drinking Around the World' tour or if you want to visit some other worthwhile spots, we will cover those here. Here are our favorite drink choices in the lands of World Celebration, World Nature, and World Discovery:
Mango Mai Tai
Location: Connections Eatery
Cost: $14.50
Rating: 8.5/10
This specialty cocktail can be found at the Connections Eatery, which is a solid quick-service location in EPCOT, found in the World Celebration at EPCOT. This drink is made up of different types of Rum, Orgeat, Mango, Pineapple, and Lime Juice.
Galaxy Spritz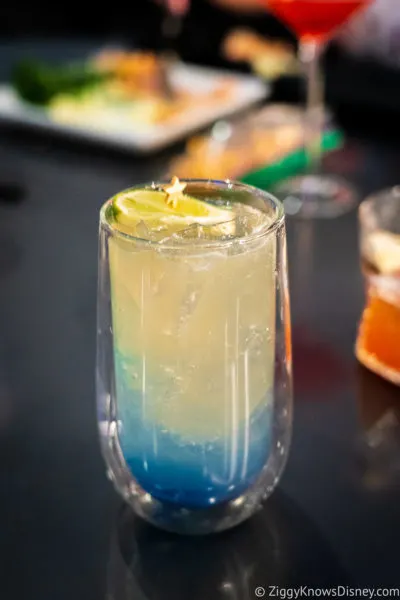 Location: Space 220
Cost: $17
Rating: 10/10
We love the Galaxy Spritz located at Space 220, as it's the perfect type of refreshing drink. It's not overly bitter as you'd expect from a spritz, and it's the perfect mix of refreshing and sweet. If you can't get a reservation for Space 220, you can head to the lounge and grab a seat at the bar.
Coral 'Rita
Location: Coral Reef Restaurant
Cost: $16.50
Rating: 8.5/10
Located at the table-service restaurant Coral Reef, the Coral 'Rita is their signature drink. It's a margarita that is built with Anejo Tequila and Cointreau. It's quite tasty and comes with top-shelf ingredients which we prefer for margaritas.
Non-Alcoholic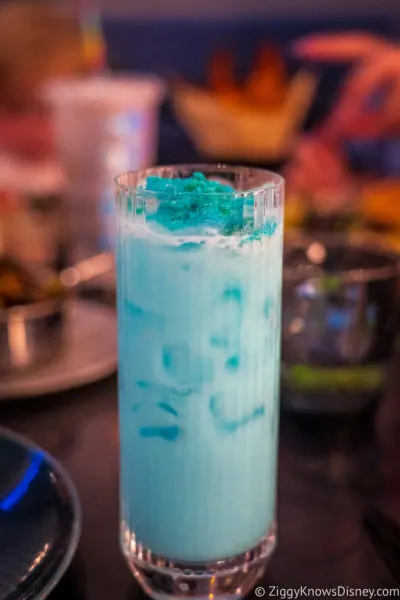 Moon Rocks – This zero-proof cocktail is a crowd favorite for the kiddos. It's found at the table-service restaurant Space 220 and features cotton candy, sprite, pineapple juice, and pop rocks! Talk about a sugar high!
Tastings at Club Cool – Visit Club Cool at World Celebration where you can try Coca-Cola Flavors from around the world. This is completely free and a fun experience for families!
READ MORE: Guide to Club Cool in EPCOT
Food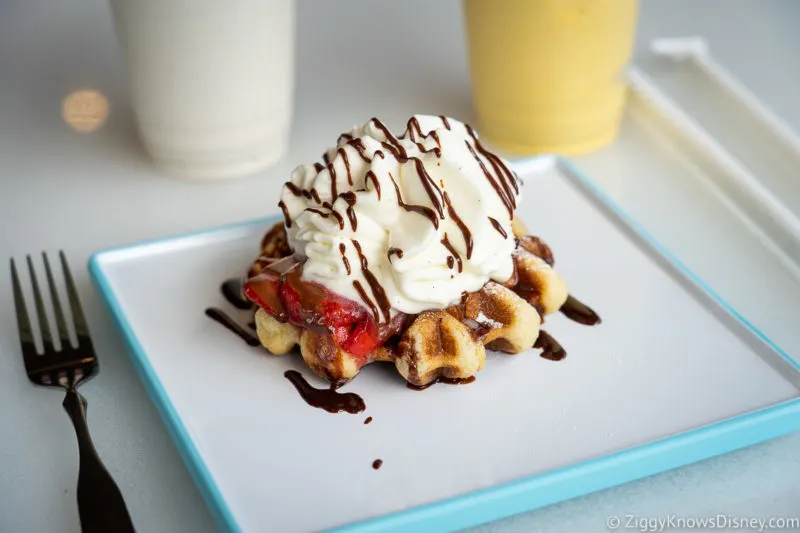 Turtle Brownie – Located at Sunshine Seasons in The Land Pavilion at EPCOT, this massive and rich turtle brownie is only $4.99 and completely shareable! It's very yummy!
Pepperoni Pizza Roll – Also located in Sunshine Seasons, the pepperoni pizza roll is on the kids' menu, but it's great for everyone! It's a hidden gem that will bring you back to your childhood.
Liege Waffle – The Liege Waffle is my newest snack on this list and it is truly outstanding! Found at the Connections Eatery, it often comes in seasonal flavors and different toppings, but we've enjoyed every one of them. They are unique and oh-so-good and fluffy.
Things to Do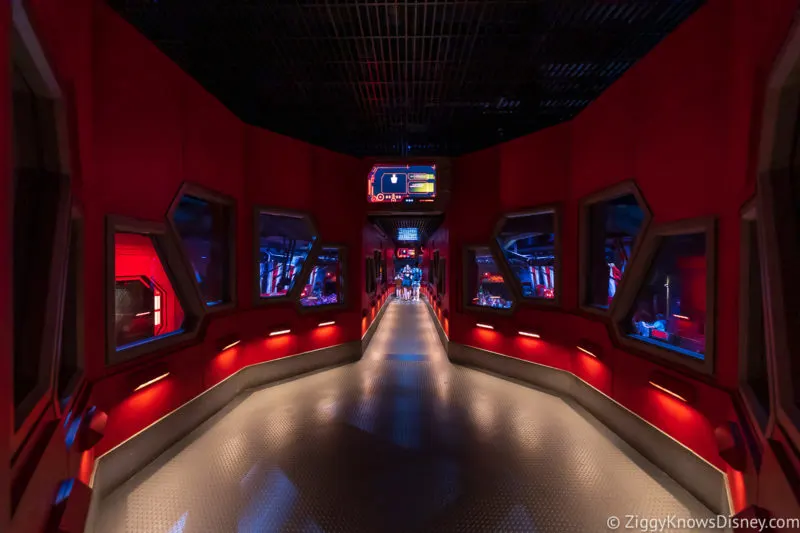 Journey of Water – Visit the new walkthrough attraction that will be opening in late 2023 and is based on the animated film, Moana. It's located between Spaceship Earth and the Seas with Nemo & Friends.
Go on Guardians of the Galaxy: Cosmic Rewind – While there are a number of worthwhile attractions in the front of the park away from World Showcase, our favorite and the newest is Guardians of the Galaxy: Cosmic Rewind. This outstanding indoor roller coaster is so much fun and a real crowd-pleaser.
Managing Your Time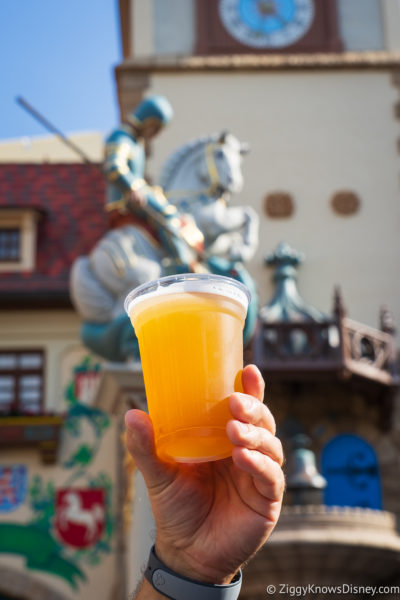 Drinking Around the World in EPCOT is super fun, but it can take a really long time. So when it comes to managing your time, there are a number of things to consider. It's certainly not a fast process nor should it be rushed.
In this section, we will touch on the important factors when it comes to being efficient with your time.
What Time Should I Start Drinking Around the World?
We'd recommend starting 'Drinking Around the World' on the earlier side, preferably when the majority of the World Showcase restaurants and quick-service food locations open at 11:00 am or noon.
This allows you to spread out the drinks over the course of the day, while not feeling overly rushed to finish within a few hours.
Let's face it, if you start too late, you probably will not be able to get through 11 drinks, even if you are sharing them, or you will be too sloshed to even remember it. Start early and take your time.
How Many Hours Does It Take to Drink Around the World in EPCOT?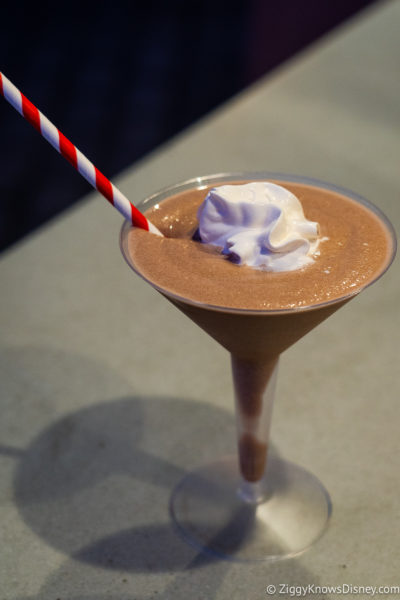 While it could take anywhere from a few hours to all day, we'd recommend taking at least 5-6 hours to do it, more if possible. I'd plan for the afternoon and evening to be in the parks.
Spacing out the drinks is clearly the smart play for obvious reasons, and getting to the point of drunkenness or feeling sick is certainly not a fun way to spend a day in EPCOT, and it's not respectful of other guests.
An often overlooked aspect of 'Drinking Around the World' in EPCOT is the financial cost. Here's a hint, it isn't cheap. If you plan on Drinking Around the World you really need to make sure it's in your budget.
Spending too much money can happen easily in World Showcase, especially when one gets drinks at every EPCOT World Showcase Country. You may start shopping and buying more than you really should.This can be even more expensive when you have a spouse to pay for as well!
In this section, we will focus on the 'cost' when it comes to embarking on this journey around the world!
How Much Does it Cost to Drink Around the World in EPCOT?
While the cost can fluctuate depending on whether you share drinks and what type of drinks you get. If you're drinking mostly beer, it'll be on the cheaper end of the spectrum. If you're getting mostly cocktails, it will be on the higher end of the price range.
Alcoholic Beverages in EPCOT typically range between $10-$20. If we multiply that by 11, for the 11 World Showcase Countries, you'll have a range of $110 – $220.
As you can see, this can be an expensive day especially when you have to pay for 2 people!
How to Budget throughout the Day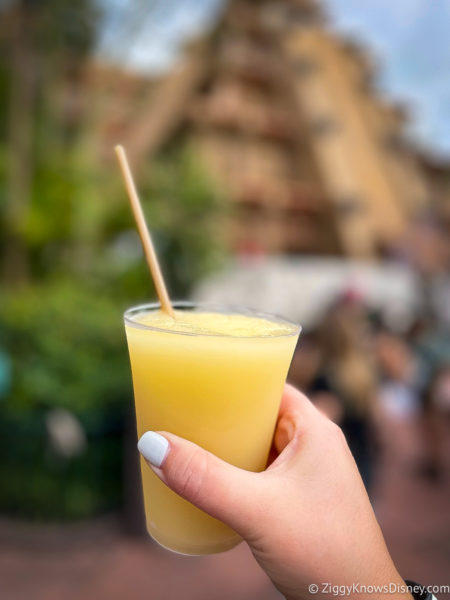 If you'd like to save some money, consider sharing drinks or getting more budget-friendly drinks such as wine and beer. It's best to budget on the higher end of things to account for possible food that you'd like to purchase WITH the drinks.
It's awfully hard not to get anything to eat when you're ordering drinks at all of these locations, with most of them offering different tasty items as well.
Spending less is always a priority for us, so check out my Guide Doing Disney World on a Budget for more tips that will help you save money.
Drinking at the EPCOT Festivals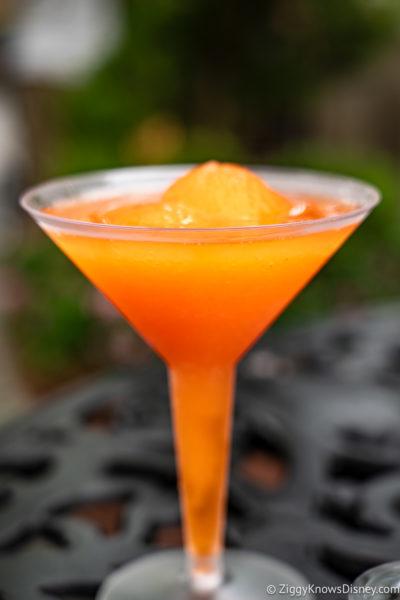 While we focused throughout this post on the best drinks that are served all year long at EPCOT, there are even more that we left out!
It's important that there are (4) Festivals that run from January – December every year now in EPCOT an at each of these Festivals, there are additional food kiosks where you can get a number of different food and drink offerings.
Drinking Around the World becomes an even easier task when you have the additional options of the EPCOT Festivals.
The 4 yearly EPCOT Festivals are:
EPCOT Festival of the Arts (January – February)
EPCOT Flower and Garden Festival (March – July)
EPCOT Food and Wine Festival (July – November)
EPCOT Festival of the Holidays (November – December)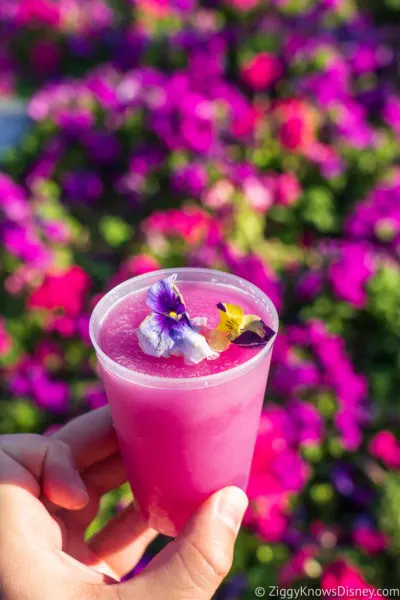 Here are a few of our favorite drinks during each of the festivals. While the menus can sometimes change, these drinks tend to be around year after year. Next to each of the drinks is the location in which you can find these drinks during these particular festivals.
Festival of the Arts

Frozen French Martini – France Kiosk
Blue Raspberry Blonde Beer – Refreshment Outpost

Flower and Garden

Maple Popcorn Shake with Rye Whisky – Canada Kiosk
Rose Frozen Slush – France Kiosk
Pomegranate Mimosa – Tangierine Cafe in Morocco
Frozen Desert Violet Lemonade – Pineapple Promenade (Ask for Alcoholic Version)

Food and Wine

La Passion Martini Slush – France Kiosk
Fiery Dream – China Kiosk
Sweet Brine featuring Jim Beam Bourbon – Flavors From Fire
Strawberry Rose Mimosa – France Kiosk
AULANI Sunrise – Hawaii Kiosk

Festival of the Holidays

Frozen Hot Chocolate Martini – France Kiosk
Hot Cocoa with Peanut Butter Whiskey – Chestnuts & Good Kiosk
Beer Flights – Holidays Sweets & Treats
Drinking in EPCOT for Kids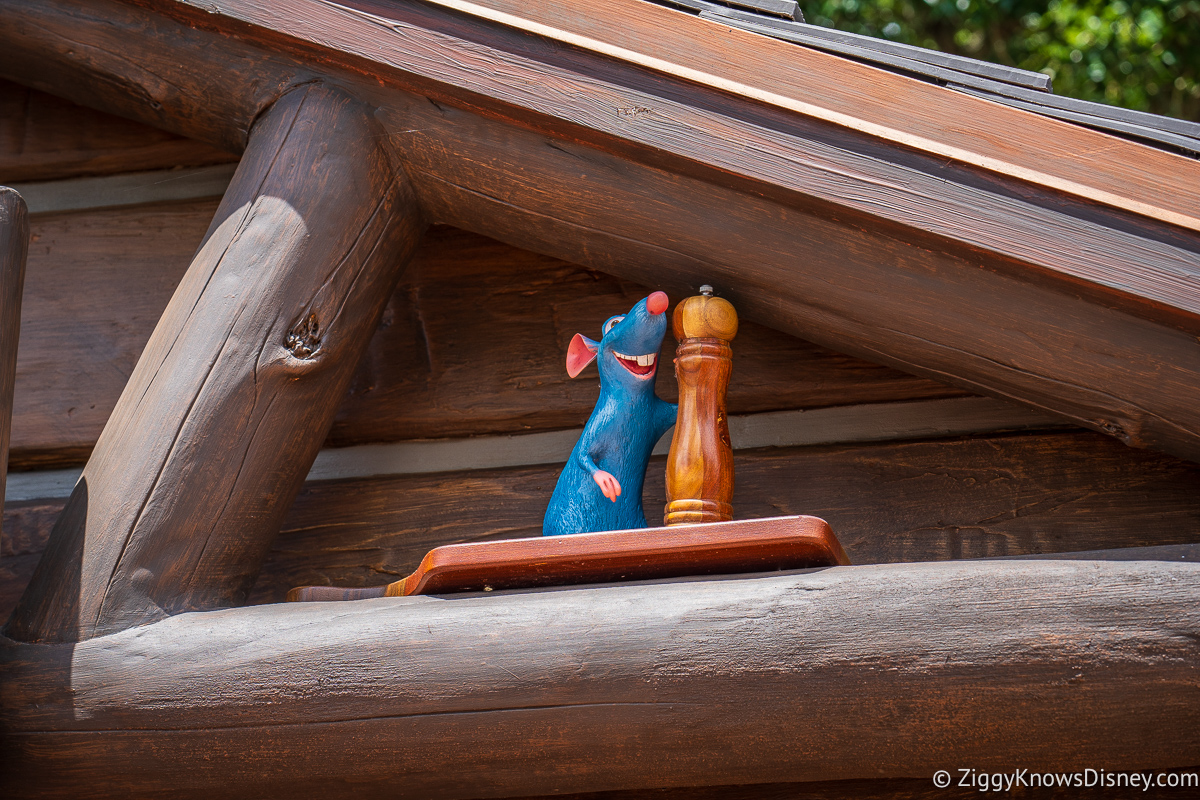 While 'Drinking Around the World' can seem like an adult-only activity, some parents do choose to bring their kids with them while they embark on this fun boozy tour! And while that might seem crazy, there are things you can do to keep your kids busy, and things without alcohol they can drink.
The EPCOT Festivals generally have a number of fun 'mocktails' for kids to enjoy, including some unique shakes and smoothies that they'll no-doubt love!
In addition to the non-alcoholic drinks that kids can enjoy, there are also Festival Scavenger Hunts, such as the Remy's Ratatouille Hide & Squeak Scavenger Hunt that they are running during the Food and Wine Festival.
Another popular thing for kids to enjoy are the Kidcot Fun Stops. These fun craft stations can be found at each of the World Showcase Pavilions. They can draw, color, and collect stamps for each of the countries. This will help keep your children engaged while you 'Drink Around the World.'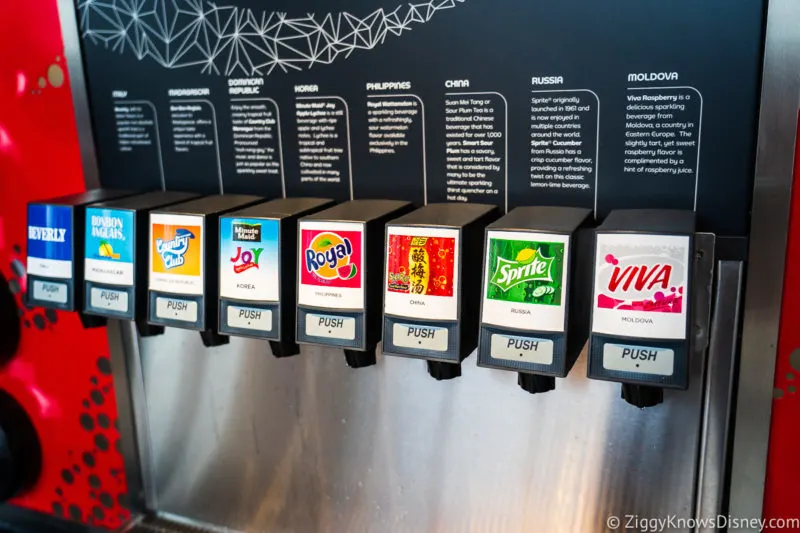 And if you are in the front of the park, make sure to stop by Club Cool where your kids can do a challenge of their own, trying different flavors of soda from around the world.
In this section, we will review our favorite last-minute tips for you to completely maximize your time around the World Showcase Lagoon. Following these tips will allow you to have the best possible time while you drink your way around the 11 Countries of the World!
Take Your Time/Stay All Day
The longer you stay in EPCOT the better. Trying to do this fast will not only result in you likely getting sick, but it will also just not be as enjoyable. Part of the experience is taking your time and strolling through the different countries' pavilions.
By enjoying each of your drinks and relaxing at the same time, you'll set yourself up for the highest amount of fun and relaxation!
Eat Lots of Food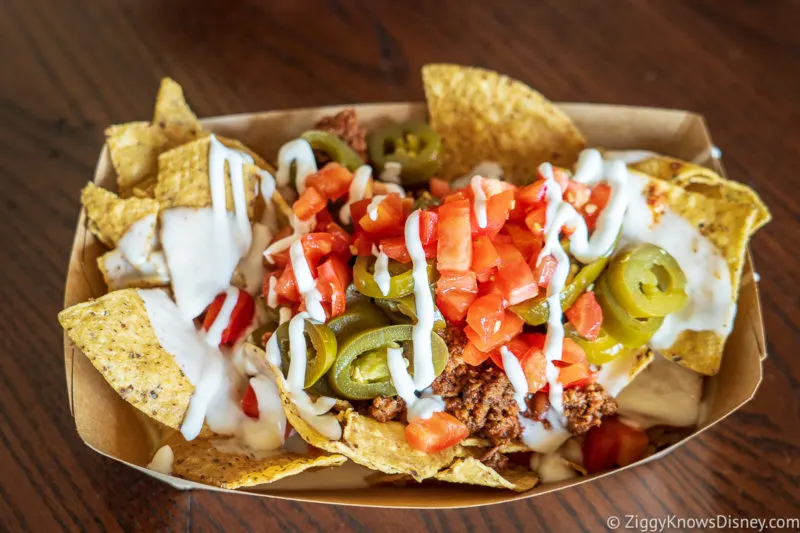 If you're going to take on this monumental task of getting 11 different drinks, it's imperative that you get food. A lot of booze on an empty stomach coupled with the hot Florida Sun is a recipe for MISERY. As long as you're continuing to drink it's important to put some sustenance into your body as well.
To help you get through the day, we recommend reading our EPCOT dining guides:
Stay Hydrated
Even more important than getting food is getting enough water! We try to follow the 1/1 ratio when it comes to drinking alcohol. For every alcoholic beverage, make sure you drink at least 1 glass of water.
This is simple to do by simply just asking the different quick-service locations for a glass of water. Or if you're getting a cocktail or a beer somewhere, just ask for a cup of water too. This kills two birds with one stone!
Split Drinks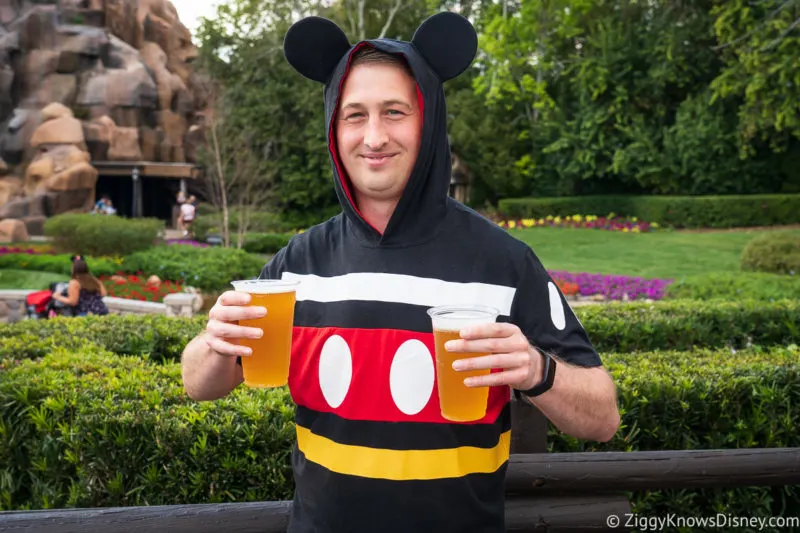 For low-tolerance alcoholic drinkers and many women, 1 or 2 drinks can be enough to put them over the top. If you're amongst those types, I fully recommend you split drinks.
This allows you to "Drink Around the World" at a much safer and more tolerable level without feeling the consequences of sickness, not to mention the cost!
Go with Your FUN Friends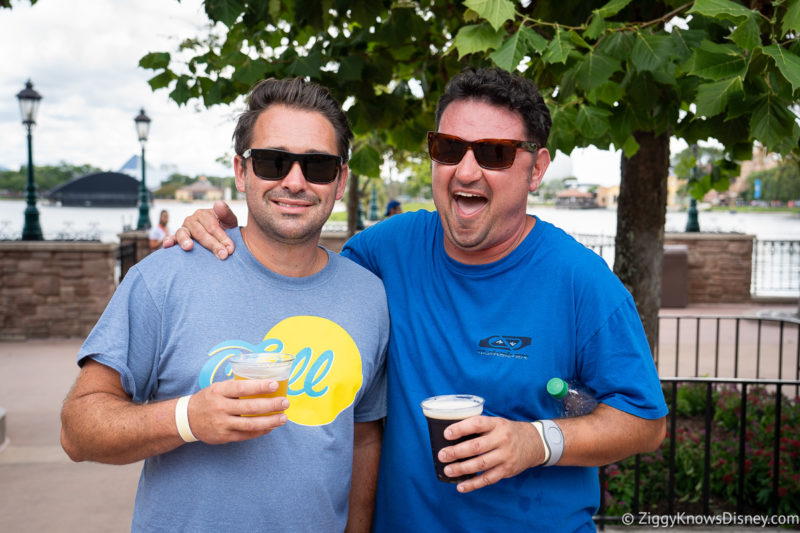 Enjoying a drink around the world isn't something that you want to do with just ANYONE. It's a fun and unique experience that requires you to pick people that you know you'll have a good time with.
You'll want your "Drinking Crew" to be relaxed and lighthearted while not taking themselves too seriously.
Not only just that, but it can also be rather expensive. If some of your friends are penny-pinchers and they're going to complain about every $14 drink, they might not be the person you want to bring with you on your Drinking Around the World tour.
Linger in the Pavilions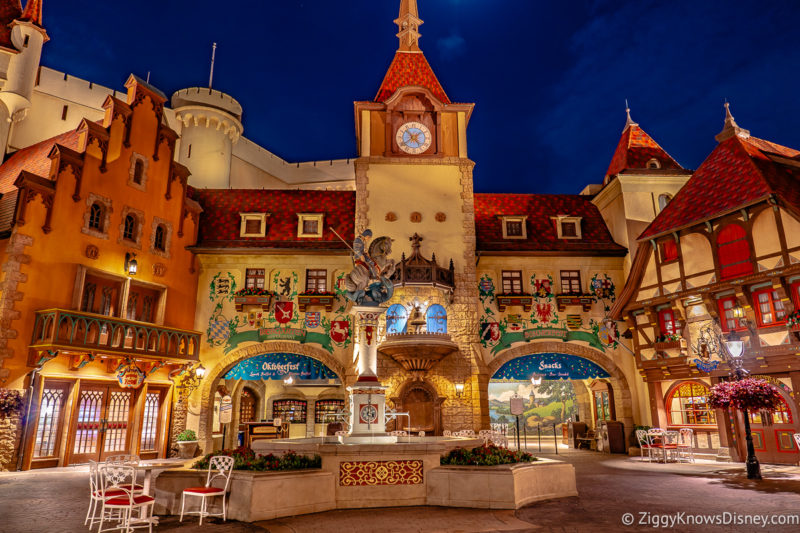 One of our favorite things in EPCOT are all the different pavilions in each country. They are all so unique, intricate, and jam-packed with details and storytelling.
Don't just simply grab your drink and then quickly move on. That's completely losing the essence of the experience. Immerse yourself in the culture of each land while lingering through the different pavilions. Shop, grab a snack, and just take in the many different sounds and sights of each pavilion.
READ: Complete Guide to EPCOT Countries
Please Drink Responsibly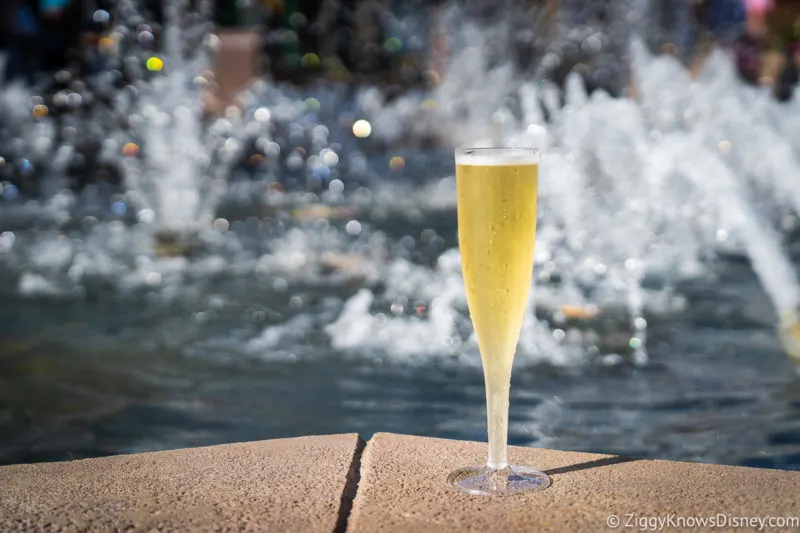 And finally, this goes without saying but "DRINK RESPONSIBLY!" There's a reason Disney does not encourage Drinking Around the World or sell merchandise relating to it. It can have terrible connotations and let's be honest, some Disney World Guests do not always put themselves in a positive light after drinking too much.
Disney World, including EPCOT, is a family-friendly place unlike anywhere else on Earth. Having adults stumble and drunk walking around EPCOT and making complete fools of themselves while making parents feel uncomfortable with their small kids is anything but magical.
So please don't ruin it for families that are taking their kids on a once-in-a-lifetime trip. Be responsible and if you've had too much to drink, be accountable for it.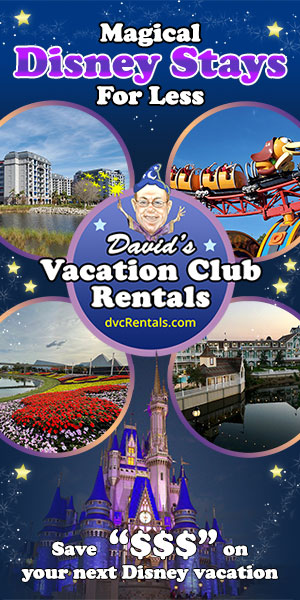 Take some time, go on a few rides, or find a place to sit and relax for a while. If you can't finish the Drinking Around the World challenge and fill your 11-country quota, it's OK I promise you.
This is why I recommend that you should strongly consider sharing drinks and space them out considerably throughout the day.
It absolutely should NOT be a quick "get drunk stroll" and then leave. It can and should be done in a way that's both fun and responsible.
FAQs
Can You Walk Around EPCOT with Alcohol?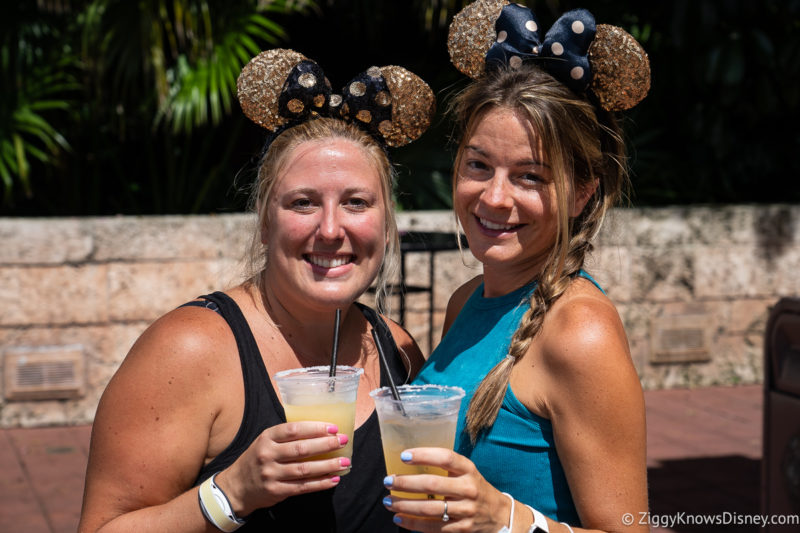 Yes! EPCOT is a drinking park that allows you to walk around with alcohol. At Disney's Hollywood Studios and Disney's Animal Kingdom you can also walk around with drinks like in EPCOT.
Only Disney's Magic Kingdom does NOT allow you to walk around with alcohol and you are limited to table service restaurants if looking for alcohol.
READ: Drinking Alcohol at Disney's Magic Kingdom
Can You Split Drinks in EPCOT?
Of course! Splitting drinks in EPCOT is generally a smart, responsible, and budget-friendly way for you to finish your Drinking Around the World challenge. Honestly, we recommend it so you don't get too tipsy, and you'll save money if doing it with a friend.
Can You Bring Your Own Drinks into EPCOT?
You cannot bring alcoholic beverages into any Disney World Park, including EPCOT. However, you can bring nonalcoholic beverages to the parks, such as water or juice.
What Other Disney World Parks Can You Drink At?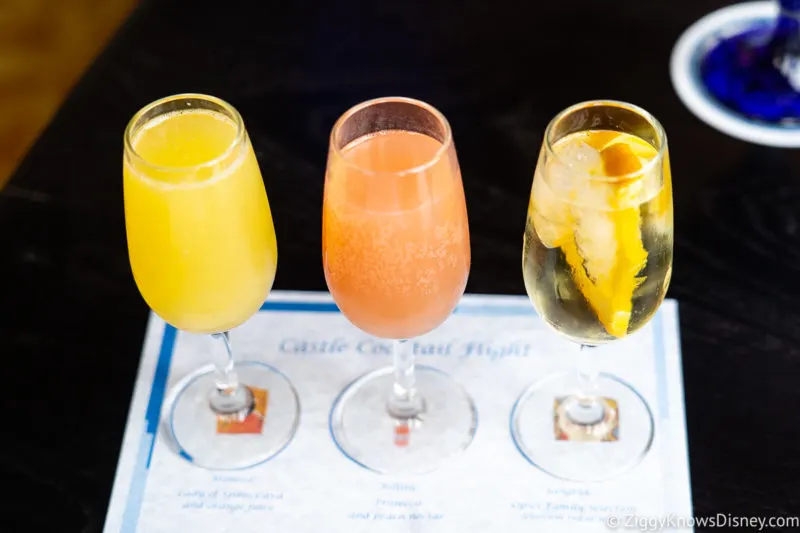 You can drink at every Disney World Park now! While you can't walk around and drink at Magic Kingdom, you can still drink inside table-service restaurants.
Can You Use Disney Dining Plan Credits for Alcohol?
While you can't use Disney Dining Plan Credits JUST for alcohol, the Disney Dining Plan does allow you to substitute an alcoholic beverage for a nonalcoholic beverage during Quick-Service or Table-Service Meals.
READ: Disney World Dining Plan Explained
Best Resorts for Drinking in EPCOT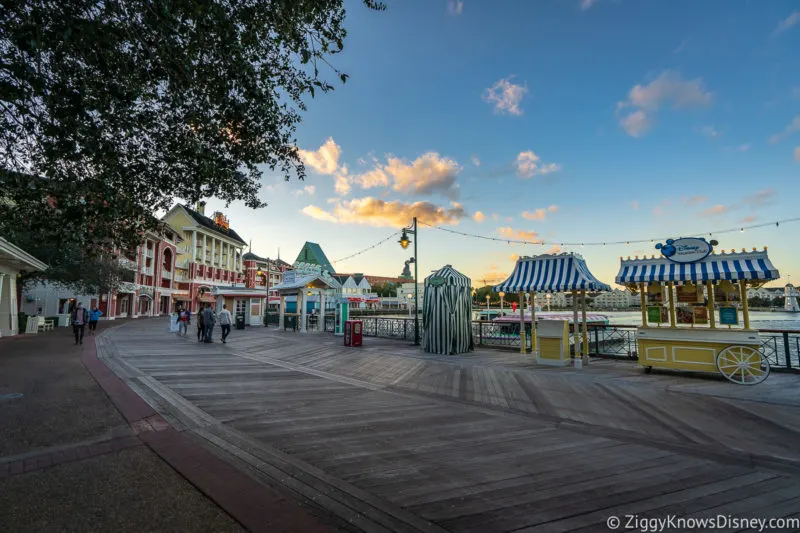 When drinking in EPCOT, it's always best to stay close, if at all possible. You won't have to worry about driving nor will you have to worry about taking a long bus ride or a long walk back to your Disney World Resort once you arrive at your resort.
If you can be at one of the EPCOT Resorts, it can make things extremely easy and SAFE. If you're staying right on the Disney BoardWalk, which is within walking distance of EPCOT, even better!
The Disney BoardWalk Resorts within walking distance of EPCOT are:
Disney's Beach Club Resort
Disney's BoardWalk Inn Resort
Disney's Yacht Club Resort
Walt Disney World Dolphin
Walt Disney World Swan
Walt Disney World Swan Reserve
The other EPCOT Resorts that are a short Disney Skyliner ride away are:
Disney's Art of Animation Resort
Disney's Caribbean Beach Resort
Disney's Pop Century Resort
Disney's Riviera Resort
These are the best options, but all of the Walt Disney World Resorts are good options, as you'll just be a short bus ride away from the other options. It's much better than having to take outside transportation, especially if you're drinking.
If you've decided where you want to stay or still need more help we we recommend using an authorized Disney Travel Agent, such as Show You the World Travel, and they'll help you from the very beginning to the very end and their customer support is A++. We use them to book our personal trips and the best part is they are 100% FREE to use!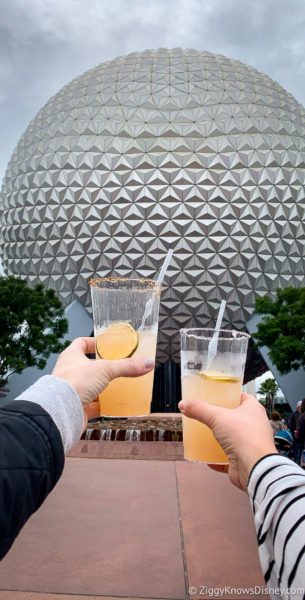 So you've finished our drinking around the World Showcase challenge and you now know all the best drinks to try in EPCOT. Of course, unless you are won't be able to get to all of them on one trip around, which means you'll get to come back time and time again and try the ones you missed the first time.
There are always new snacks in Epcot to try, so make sure to keep checking back as we add the new ones to our list for you!
We also want to hear from you, so when you do the challenge we want you to leave us a comment below telling us your favorite snacks in Epcot, and if you were able to make it all the way around World Showcase in one day! Also, let us know if we left something off the list that deserves to be there!
For more great Disney food be sure to check out our other snack posts like:
Ready to Start Planning Your Disney Vacation?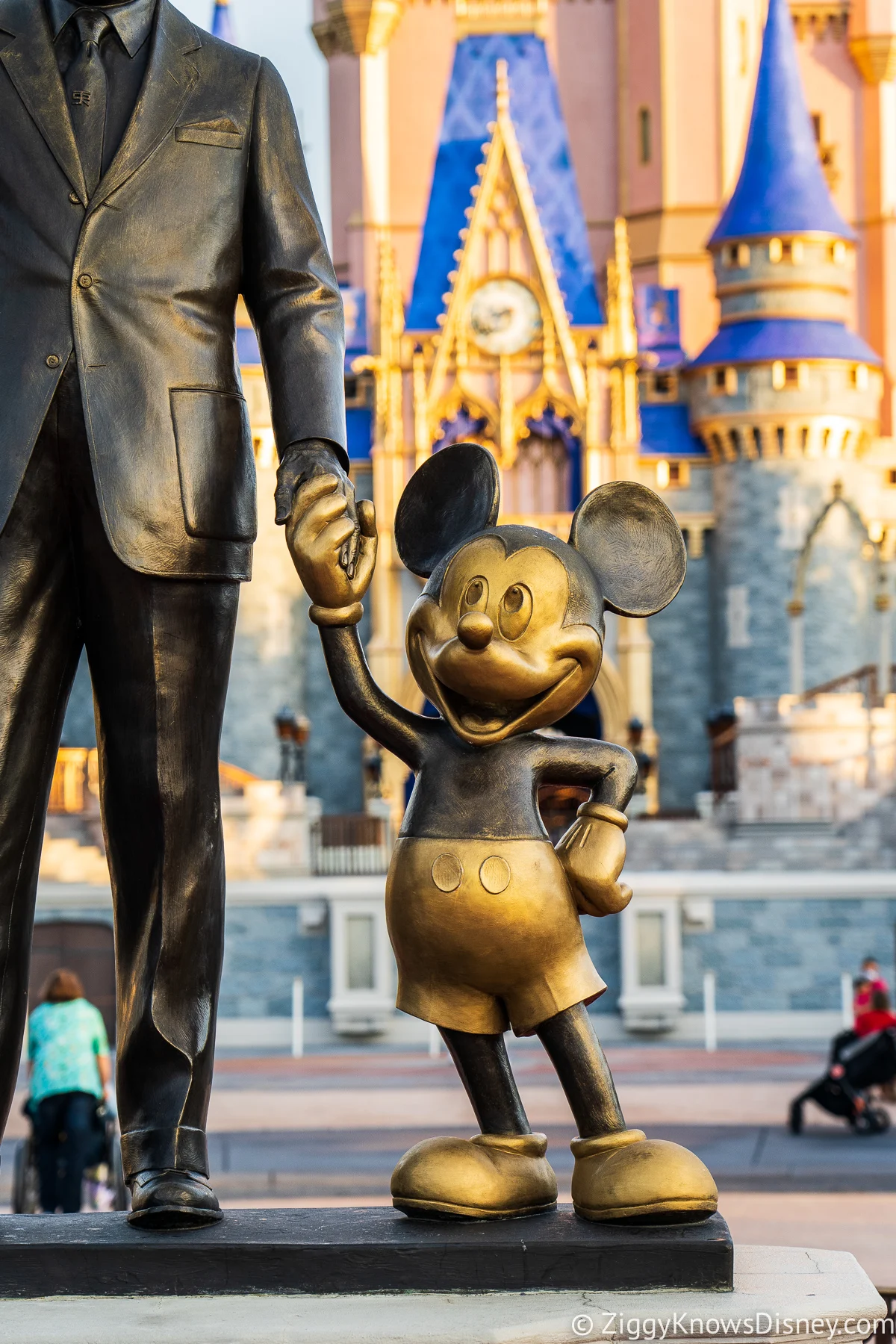 Your Thoughts:
I want to know what you think about my list of the Best Drinks at Epcot…
Which drink is your favorite?
Which ones don't you like?
Let us know in the comments section below!
If you enjoyed this article, as always I appreciate it if you'd share it with others via social media. I work hard at making this website into a useful resource for you and your family to plan your visit to the Disney Parks and I hope it can help you! Thanks 🙂