There are so many great treats to enjoy in the Disney Parks, that sometimes the best ones slip through the cracks. That's why we've made our list of the 19 Best Snacks at Hollywood Studios so you will have the complete guide of what to eat when visiting.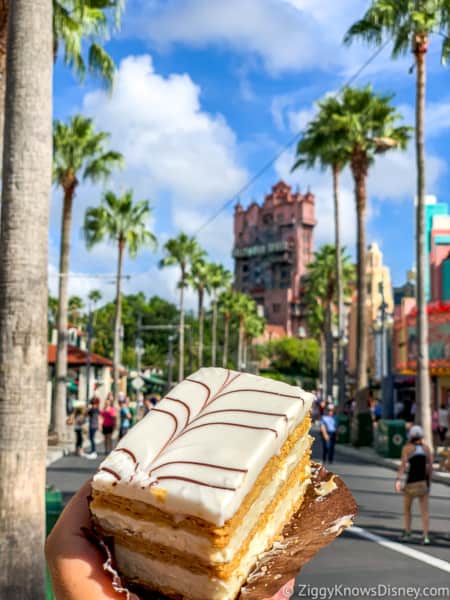 Honestly, Hollywood Studios hasn't always been the strongest player in the food game in Walt Disney World, but in the last couple of years with the addition of Toy Story Land and Galaxy's Edge, there has been an influx of awesome snacks to enjoy in Hollywood Studios.
In fact, looking at our list, 10 of the best snacks in Hollywood Studios have only been around in the park for 2 years or less, showing that even Disney has recognized this park's weakness in this area and is trying to fix it.
We think they've done a great job so far, and now there is an abundance of both savory and sweet treats you have to try when visiting Disney's Hollywood Studios.
Our list is in no specific order, so feel free to try whatever snacks look best to you. We haven't included many of the seasonal snacks but tried to include snacks that you'll always find when visiting Hollywood Studios no matter what time of the year you go. They should all be around for the near future so get snacking!
Please let us know down below what you think of our list and then tell us what your favorite must-have Hollywood Studios Snacks are!
1. Totchos – Woody's Lunch Box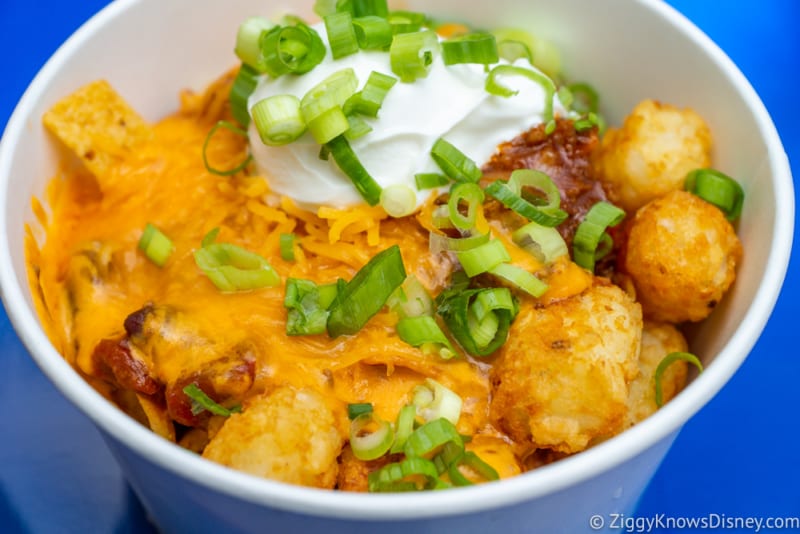 These Totchos "potato barrels" as Disney likes to call them can be found in Woody's Lunch Box in Toy Story Land, and are one of, if not the best snack in Hollywood Studios. Think about crispy tater tots, completely smothered in hearty chili, cheese, and corn chips, then topped off with a dollop of sour cream!
On top of that, the portion size is huge and can easily be split with others (though I don't think I've ever actually done that!) It's worth the trip over to Toy Story Land just for these alone!
2. Outpost Mix Popcorn – Kat Saka's Kettle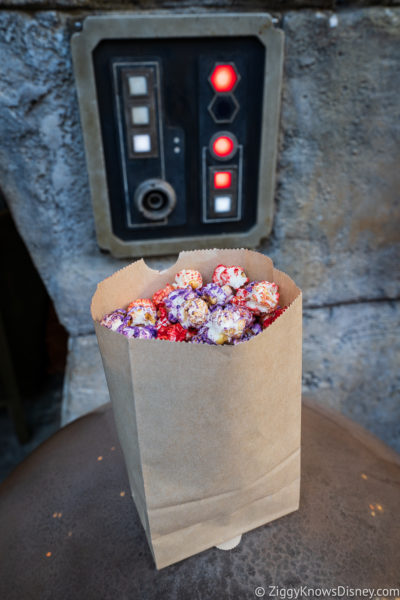 Popcorn is a timeless Disney snack, and you've likely had it while walking down Main Street U.S.A. The Outpost Mix Popcorn from Kat Saka's Kettle in Galaxy's Edge on the other hand is another story and you've never had anything quite like it.
The popcorn jumps out at you immediately with its bright red, pink, and purple colors and is definitely Instagram-worthy. The flavor is a mix of lemon pound cake and chili-lime seasoning. The best way to describe it is that it's like eating Fruity Pebbles popcorn.
At times they offer other flavors too such as butter, banana, or chocolate, so keep an eye out for the best popcorn in the galaxy!
3. Disney's Hollywood Studios 50th Celebration Sandwich Cookie – Rosie's All-American Café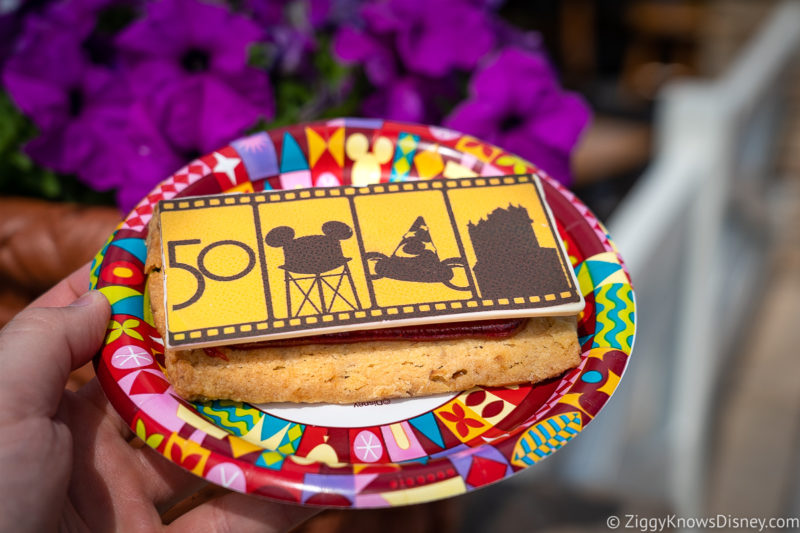 As you know, Walt Disney World is in the middle of its 50th Anniversary celebration, and to do things right, they've created this sweet treat. The 50th Celebration Sandwich Cookie is one of our favorites and is made from a pretzel shortbread cookie and stuffed with strawberry jam and a peanut butter-chocolate fudge.
Our favorite part though is the cute fondant piece on top of the cookie which shows a film reel of the "highlights' seen at Disney's Hollywood Studios throughout the years.
We love it and think it's the perfect combo of peanut butter, chocolate, and jam and the actual cookie was crunchy and crumbly while being both savory and sweet. Any fans of PB&J are going to want to stop by Rosie's on their next stop at Hollywood Studios.
4. Bavarian Pretzel – Baseline Tap House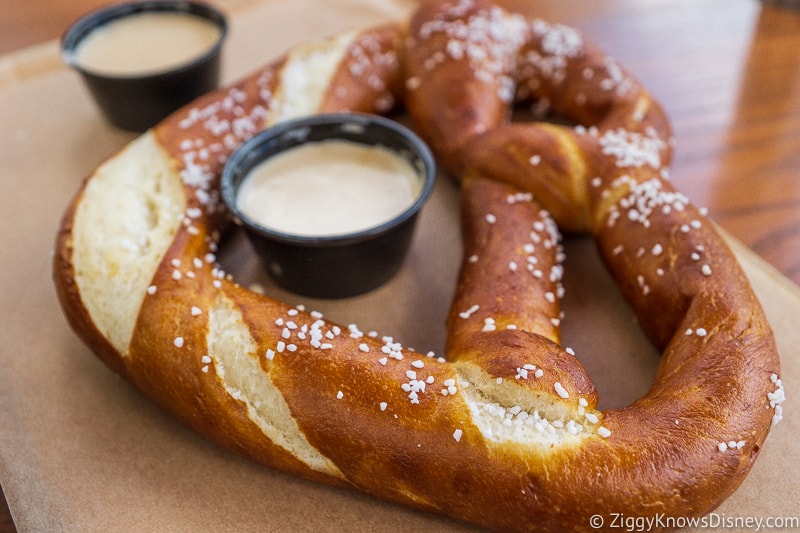 The menu at Baseline Tap House isn't the biggest as far as snacks go, but what they lack in quantity, they make up in flavor! I'm just going to say it, the Bavarian Pretzel here is the best pretzel in Walt Disney World, hands down!
While I do love me a Mickey pretzel, the dough that it's made of is just ok. The Bavarian pretzel here on the other hand is chewy outside, but has a super soft inside, and you know it was made fresh. Don't get me started on the beer cheese fondue and mustard dipping sauces that come with it!
5. Butterfinger Cupcake – Trolly Car Cafe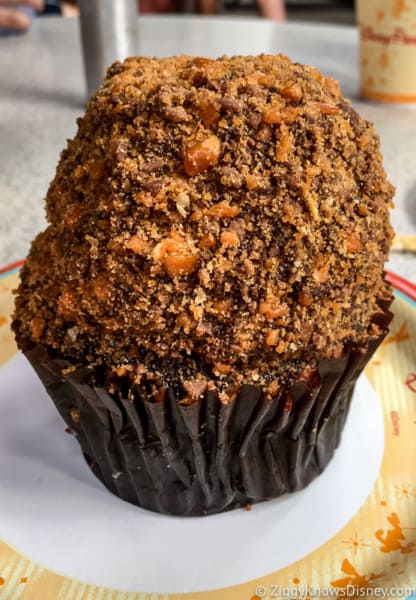 The Hollywood Studios cupcakes are legendary, and the Butterfinger Cupcake is the ruler of them all! This used to be found at Starring Rolls and then got moved over to Trolley Car Cafe, which is where you can find the cupcakes in Hollywood Studios.
It used to be a bit bigger, but this thing is still giant! The actual cupcake part is chocolate, and the inside is filled with chocolate and vanilla cream, and then of course covered in Butterfinger topping. This is a snacking rite-of-passage in Hollywood Studios you won't want to miss.
6. Lunch Box Tarts – Woody's Lunch Box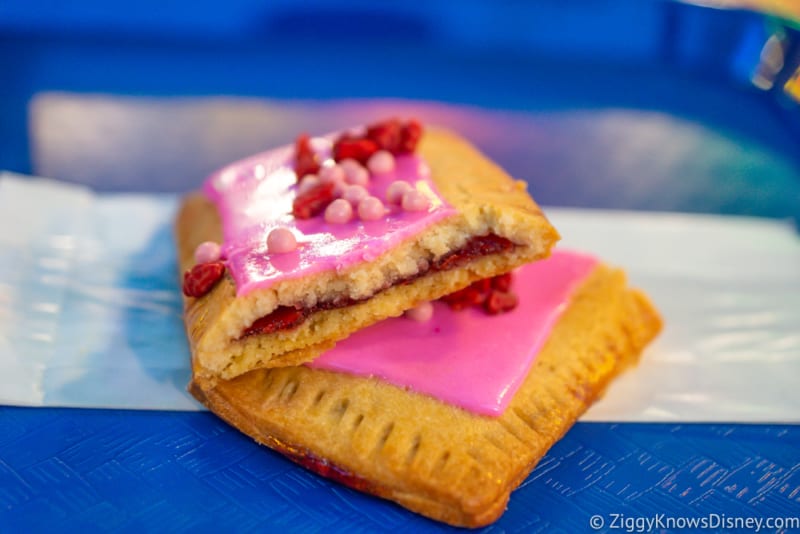 You may be thinking the Lunch Box Tarts over at Woody's Lunch Box are just pop tarts, but they are oh so much more my friend! The Lunch Box Tarts come in a variety of flavors, Raspberry, Chocolate-Hazelnut, and also seasonal varieties, and are made fresh in-house.
While we do love them all, our favorite is the raspberry tart with its sweet, buttery crust and the abundant tart raspberry jam filling inside. If you are in the mood for a sweet treat in Toy Story Land for breakfast or lunch, this is it.
7. PB and J Milkshake – 50's Prime Time Cafe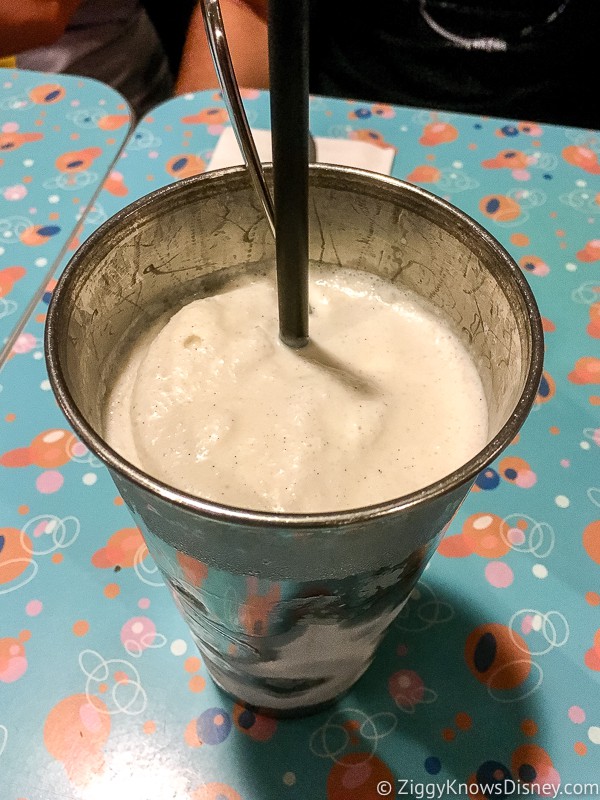 So technically you can't get this walking around Hollywood Studios, you have to go in and get a table at 50's Prime Time Cafe. However, the PB&J Milkshake is a quintessential Hollywood Studios treat and perhaps the best milkshake on property at Disney World.
Think of the best peanut butter and jelly sandwich, and then blend it up with ice cream and that's the flavor going on here. Yes, that really does taste great! Oh, go ahead and throw some chocolate in there to really kick this shake up a notch! One of the most surprising snacks you'll find in the park and perfect on a hot day.
8. Glimmer and Shimmer Blondie – Fairfax Fare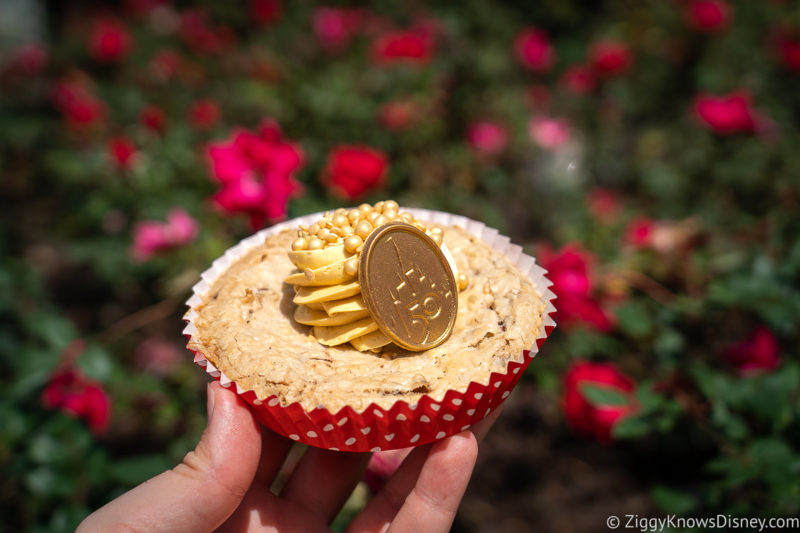 Next, we have another 50th Anniversary treat you need to try, the Glimmer and Shimmer Blondie over at Fairfax Fare. If you like caramel and toffee, this one is for you! It's a blondie served in a paper liner and made from gooey toffee, toasted coconut, with salted caramel buttercream, festive gold nuggets, and a 50th chocolate medallion on top.
Besides looking amazing, it's filled with the ooey-gooey goodness you'd expect. It's incredibly rich and sweet, so it may be too much to eat for one person all in one sitting, but that makes it one of the best snacks at Hollywood Studios to share if you are into that sort of thing! It's also under $5, making it one of the best bargains in the park.
9. Carrot Cake Cookie – Trolly Car Cafe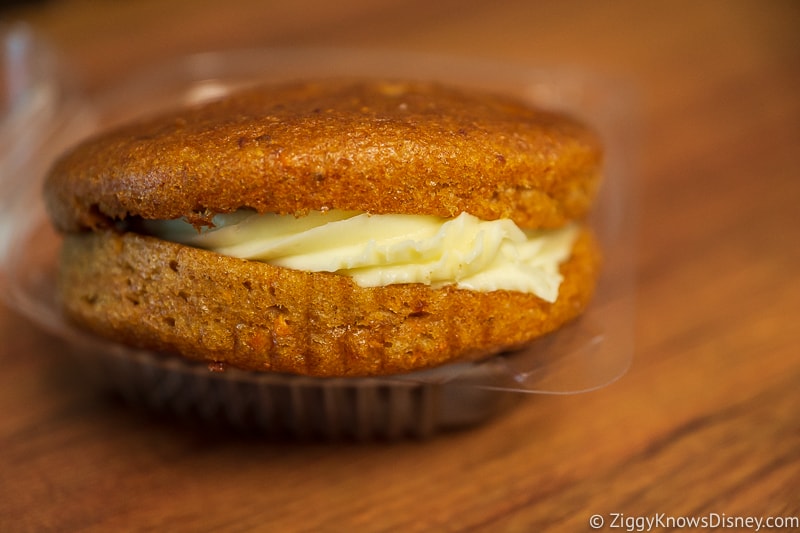 When you talk about old-school snacks in Hollywood Studios, the Carrot Cake Cookie is what first comes to mind. First I've got to say, don't try to eat this alone, it's absolutely huge and will destroy even the most ambitious eaters (myself included).
It's totally worth trying though as the soft carrot cake cookie is the perfect covering for the sweet cream cheese frosting on the inside. I didn't think they could make this better than it used to be, but it is! An absolute is a must-try!
10. Mustafarian Lava Roll – Docking Bay 7 Food and Cargo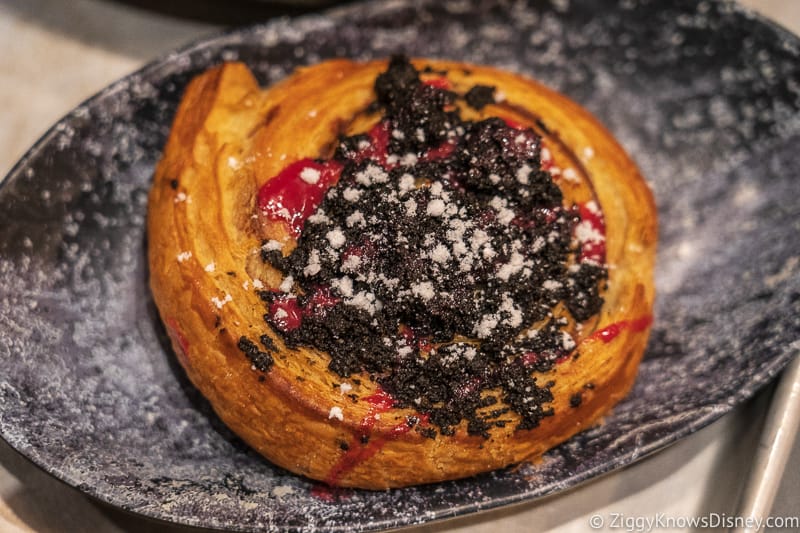 The Mustafarian lava roll is one of the more recent entries to the list of Hollywood Studios snacks, but don't take its age lightly, it can play with all the big boys. You can find it in multiple locations throughout Galaxy's Edge for breakfast (Docking Bay 7, Ronto Roasters, and Oga's Cantina) at just around $6.00.
The pastry dough is very light and flaky, it's covered with a chocolate crumble, and drizzled with an amazing raspberry sauce. My favorite breakfast snack in Hollywood Studios now and on I can never get enough of.
11. Funnel Cakes – Epic Eats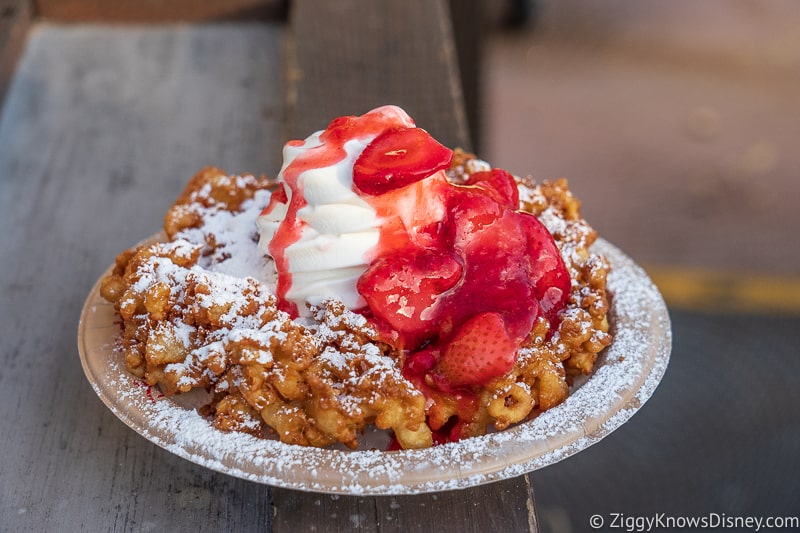 Who knew funnel cakes could be this good, as the ones over at Epic Eats near the Indiana Jones Stunt Spectacular! There are multiple flavors you can choose from strawberries and vanilla ice cream, cookies and cream, or the regular funnel cake with powdered sugar. We really can't decide between them so go with whatever topping you're feeling better about that day.
This is another one of those Hollywood Studios snacks that you totally can share with another person or two because it's really monstrous. Grab one and go watch the Jedi Training Academy while you attempt to finish one of the most indulgent treats in the park.
12. Wookie Cookie – Backlot Express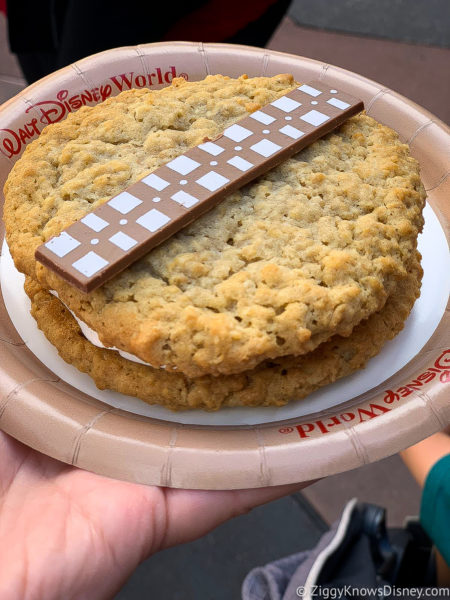 Did you know there is a cookie in Hollywood Studios named after our favorite fuzzball Chewbacca? In fact, we can't decide who we love more.
The Cookie Cookie is basically a huge oatmeal cream pie. Take two soft oatmeal cookies and match them together with a sweet vanilla cream filling and we are sold. On top is a decorated piece of chocolate-colored like Chewbacca's belt.
You can find the Wookie Cookie at the Trolley Car Cafe or Backlot Express but it's not always available. It's one of those snacks that comes and goes. Hopefully, they have it on your next trip because it's really incredible!
13. Enchanted Rose – Catalina Eddie's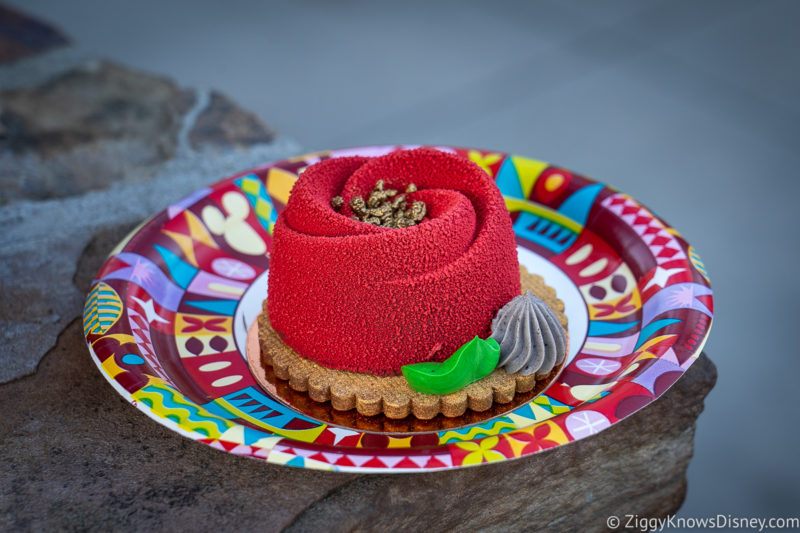 Fans of Beauty and the Beast will want to stop by Catalina Eddie's for a dessert that looks to be right out of the film, the Enchanted Rose. This is a must for chocolate lovers as it is made from dark chocolate mousse with a taste of black currant inside and served on top of a cherry-chocolate shortbread cookie. We actually tasted chunks of cherry in the mousse to which we loved.
Our favorite part though is the whipped cookies 'n cream fluff on the side that reminds us of the Grey Stuff. Can we get more of this please?
This is dessert is definitely sweet, but there is enough bitterness in the chocolate and in the cacao nibs on top to balance it out. It wouldn't be at the top of my list if you aren't a chocolate and cherry fan, but if you are it will hit the spot.
14. Napoleons – Trolly Car Cafe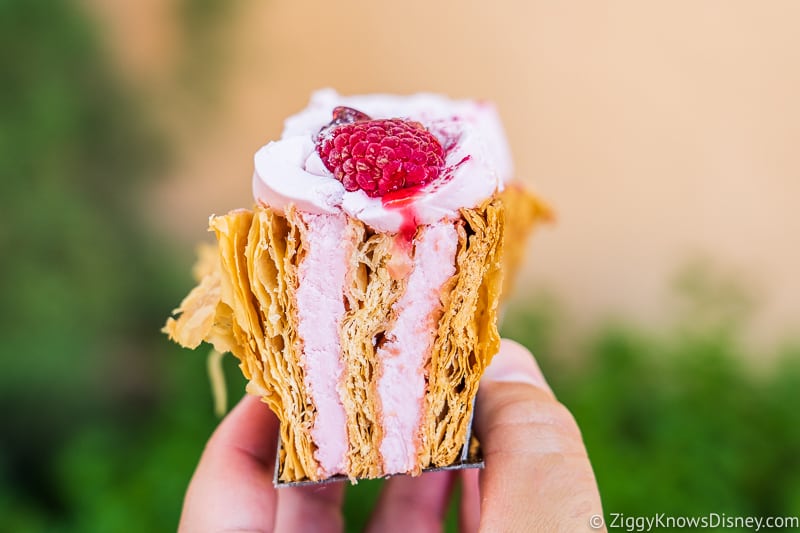 I've walked over to Hollywood Studios from the Beach Club more times than you can count, literally to get one of these and then leave the park and go back. That's how much I love the Napoleons from Trolley Car Cafe (Starbucks).
There are different versions such as the classic pastry cream version with the white frosting, or you might find the newest one, the raspberry Napoleon. Either way, they are to die for with the light flaky crust and its creamy center! Don't leave Hollywood Studios without trying this snack!
15. Ronto Wrap – Ronto Roasters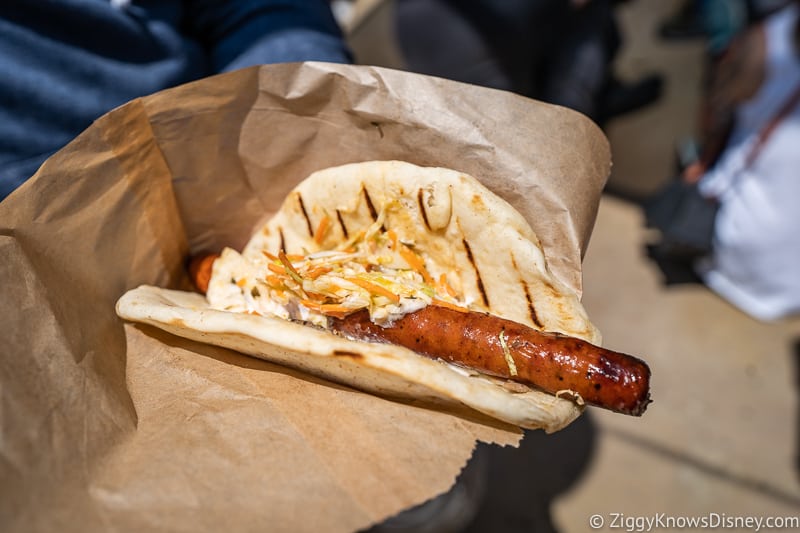 The Ronto Wrap! Another new entry to the park and probably my favorite food in Galaxy's Edge. I don't know why, but if you ever lose me in Galaxy's Edge, there is a 95% percent chance I'll be waiting in line at Ronto Roasters for one of these!
A crisp and spicy sausage, wrapped in pork loin, coleslaw, and a warm pita, then topped off with a creamy peppercorn sauce. It is a little expensive, but well worth it in my opinion. The force is strong with this snack.
16. Num Num Cookie – Neighborhood Bakery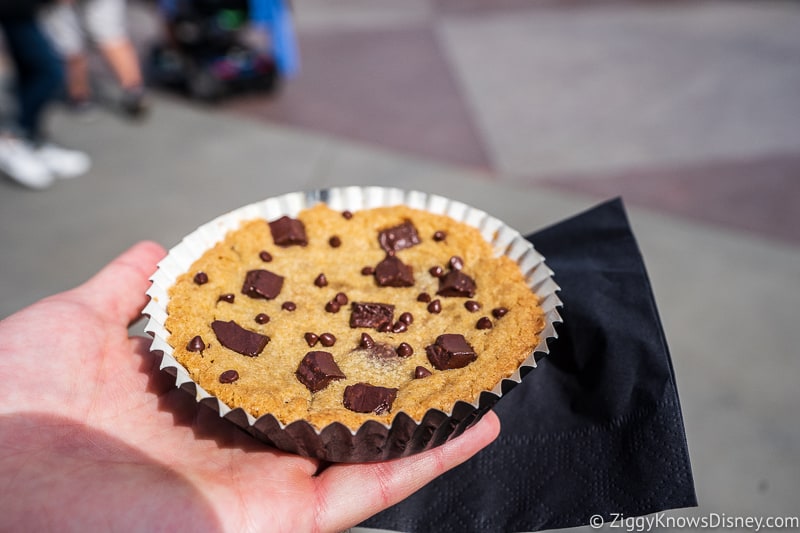 Originally introduced in Disney California Adventure as "Jack-Jack Cookie Num Nums," the "Num Num Cookie" as it's called at the Neighborhood bakery, has made its way into Disney World too, and we couldn't be happier!
The Num Num is a tall and thick cookie outside, but when you break into the middle, it's filled with gooey, chocolatey pieces that melt in your mouth, and all over your face sometimes! This has to be the best chocolate chip cookie on property and a snack you must try in Hollywood Studios.
17. S'mores Cupcake – Rosie's All-American Café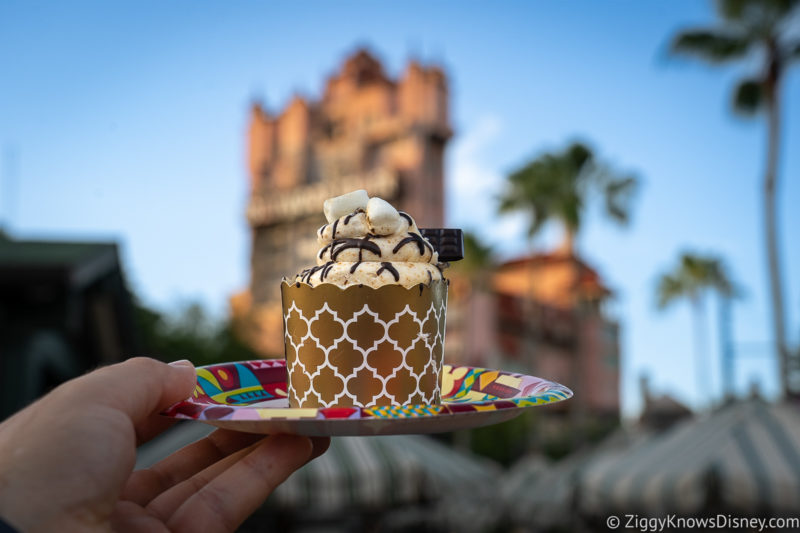 We are huge s'mores fans and also cupcake junkies, so when you put them both together, you know it's going to be high on our list of snacks. We've had a ton of different versions throughout the years, but this may just be our favorite.
The cupcake is chocolate cake and extremely moist which would have been great even on its own. It is however filled with a chocolate ganache which takes it to another level. The graham cracker marshmallow buttercream was incredible and breaks up the chocolate flavor perfectly.
We like it because it is sweet, but not too sweet like some Disney cupcakes, and the addition of the graham cracker in the buttercream frosting adds a whole other layer of goodness. If s'mores are your thing, you won't want to miss it!
18. Chocolate Chestnut Pinecone – Trolley Car Cafe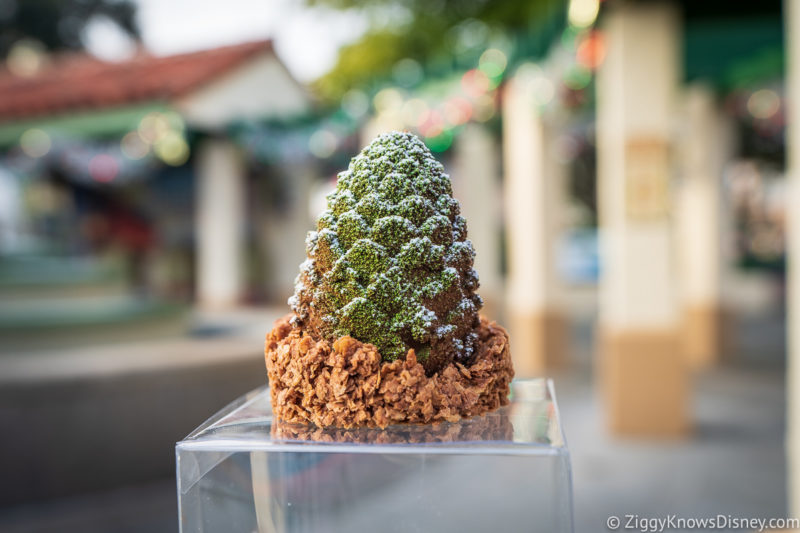 Ok, so we're cheating a little because this treat only comes out around the holidays, but it's so good that we couldn't bear the thought of leaving it off our list. It's one of the most unique snacks at Hollywood Studios and comes with one of the more elaborate presentations you will find, great for photos!
This snack is made up of a super-rich and creamy chocolate mousse in the form of a pinecone. It sits on top of a praline leaf which is a mixture of chocolate shavings and nuts. The chestnut flavor is very subtle but it's a chocolate lover's dream come true!
19. Oga's Obsession – Oga's Cantina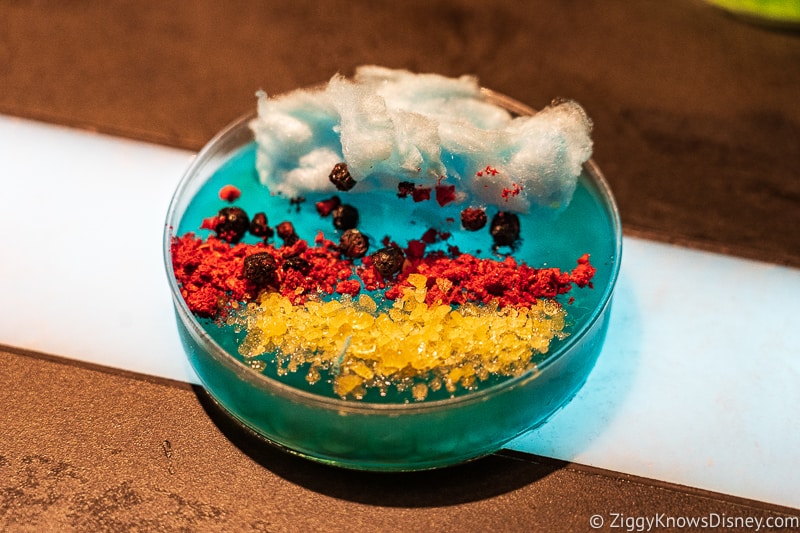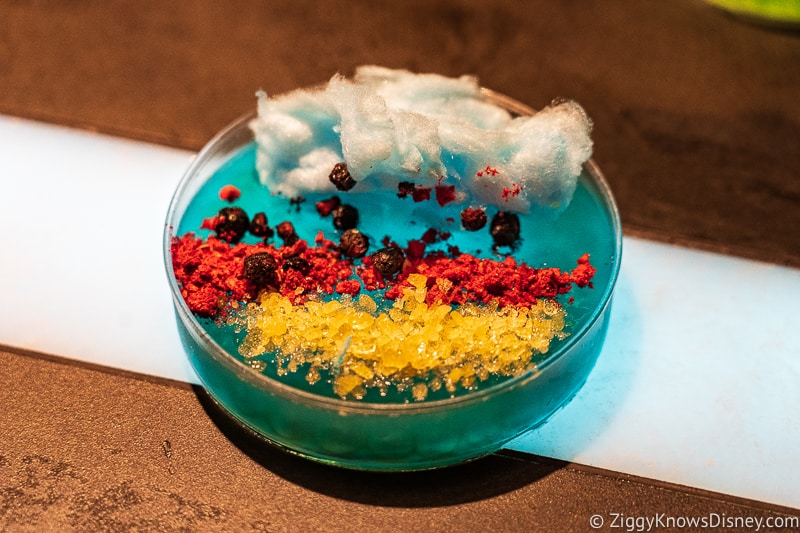 I can't remember a time I went into Oga's Cantina and DIDN'T get Oga's Obsession. It definitely wins the award for the most unique snack at Hollywood Studios and you can think of this as Star Wars' version of Jello.
The gelatin is flavored with lemonade and cotton candy, but it's the blueberry popping pearls at the bottom of the cup that keep me coming back for more. I also love the contrast in textures with the hard rock candies on top. Let's just say this is now Ziggy's Obsession too!
(BONUS to Avoid) Waffle Bowls – Fairfax Fare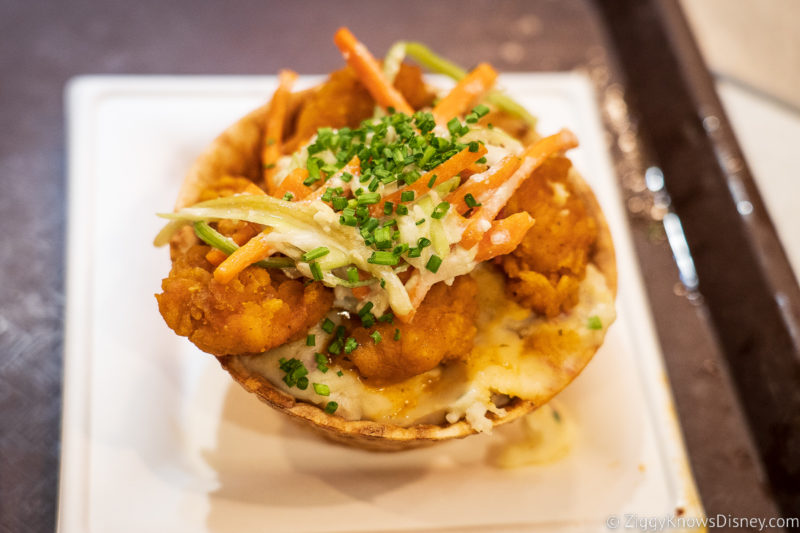 We decided to throw in an extra snack on our list, but instead of getting the Waffle Bowls from Fairfax Fare, we are recommending that you avoid them.
Now in theory, these sound really good. They are mixed savory ingredients piled high on top of mashed potatoes inside a waffle bowl. Some of the flavors include Barbecued Beef Brisket, Koren Barbecued Pork Belly, Buffalo Chicken, and Plant-Based Soba Noodles.
We've tried them all and most of the toppings are really good, but in the end, they just fall short. Our problem with them is that they are all very similar despite the different descriptions. They have way too many mashed potatoes and way too few toppings.
If they changed the ratio of toppings to mashed potatoes, or if they gave you an option of a different base, we would enjoy these much more. They are not terrible, but for the money, there are better options in Hollywood Studios.
That's the end of our list of the 19 best snacks at Hollywood Studios. We keep going back time and time again for these savory and sweet treats and we hope you do too! You should be well prepared now on your next visit with this complete list of snacks!
Please leave me a comment down below and let me know what your favorite Hollywood Studios snacks are and what you think I left off the list!
For more great Disney food be sure to check out our other snack posts like:
Your Thoughts:
I want to know what you think about my list of the Best Snacks at Hollywood Studios…
Which snack is your favorite?
Which ones don't you like?
Let us know in the comments section below!
If you enjoyed this article, as always I appreciate it if you'd share it with others via social media. I work hard at making this website into a useful resource for you and your family to plan your visit to the Disney Parks and I hope it can help you! Thanks 🙂
Meet the Author of Ziggy Knows Disney!