This is Woody's Lunch Box Breakfast Review in Toy Story Land in Disney's Hollywood Studios. We're still flying high over the excitement from the Toy Story Land opening in June and one of our absolute favorite things was Woody's Lunch Box, our now favorite quick service in Disney's Hollywood Studios. We did a whole review of Woody's Lunch Box for Lunch/Dinner and raved about basically everything we tried there and now we're back for a Woody's Lunch Box Breakfast Review!
Woody's Lunch Box is a Quick Service restaurant and where Andy has setup his lunch box in the backyard and turned it into a restaurant. For Breakfast there is a Breakfast Sandwich, Breakfast Bowl and the most intriguing…S'mores French Toast!! Also the delicious Lunch Box Tarts are back for Breakfast just like at Lunch and Dinner!
If you are using the Disney Dining Plan you're in luck as Woody's Lunch Box does accept it and uses 1 Quick Service Dining Credit. Since it's the only restaurant in a brand new land, if you're hungry, make a dash for Woody's Lunch Box as soon as you get there as the lines are sure to be long.
Also I really recommend that you use Disney's Mobile Food Order which will help you jump the lines as Woody's Lunch Box is always packed!
Enough talk, let's start with our Woody's Lunch Box Breakfast Review…
Atmosphere:
We went into more detail during our other Woody's Lunch Box Lunch/Dinner Review but this whole area like the rest of Toy Story Land is really adorable!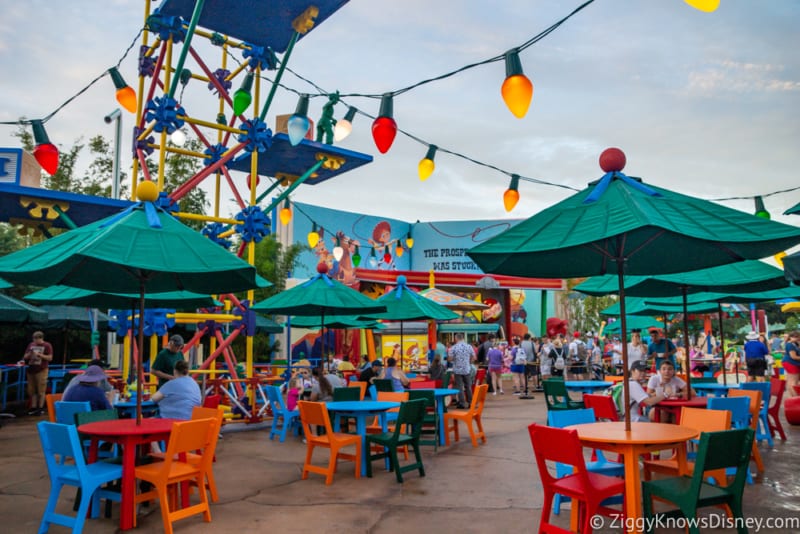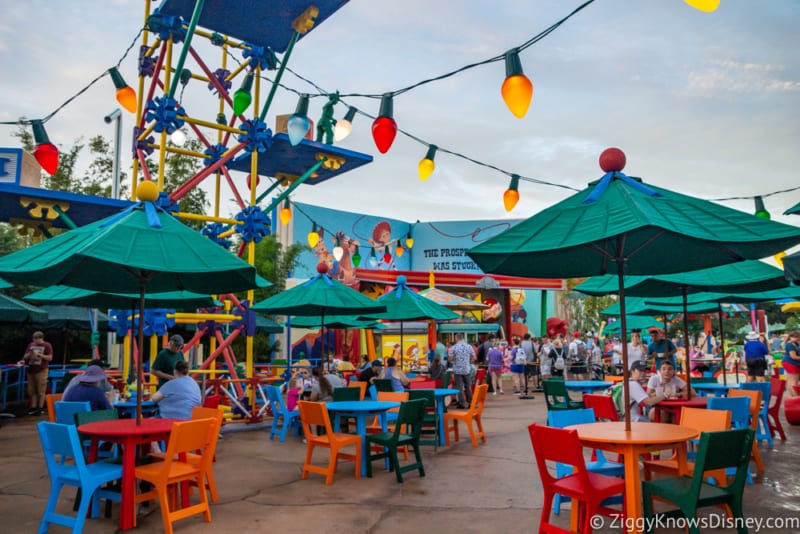 I love the streaming lights over the top of the tables and the gorgeous view of Slinky Dog Dash coaster: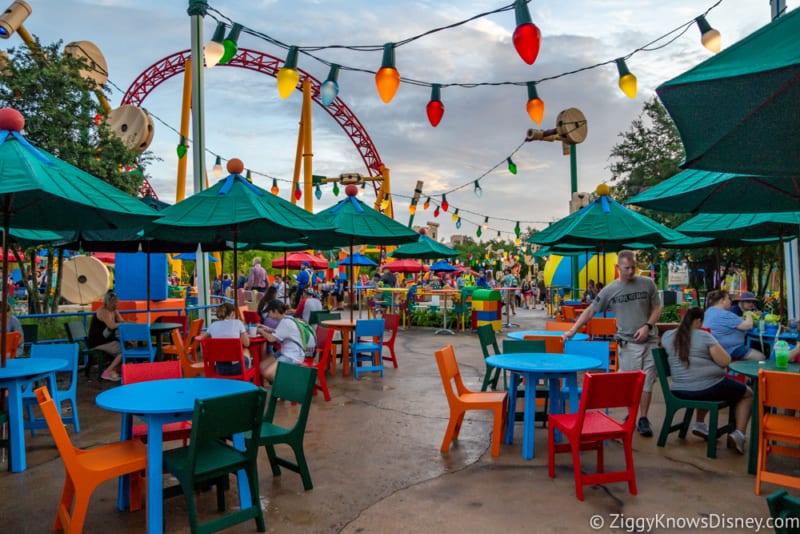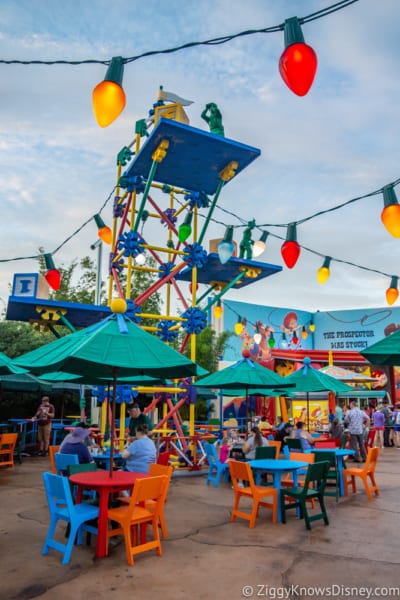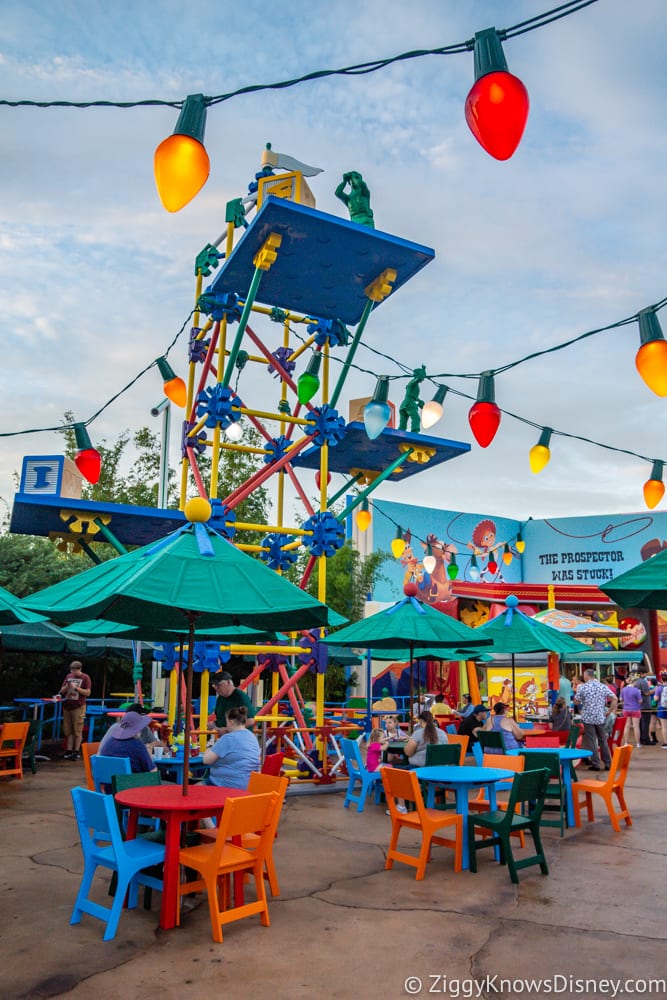 Looking out for Andy's return…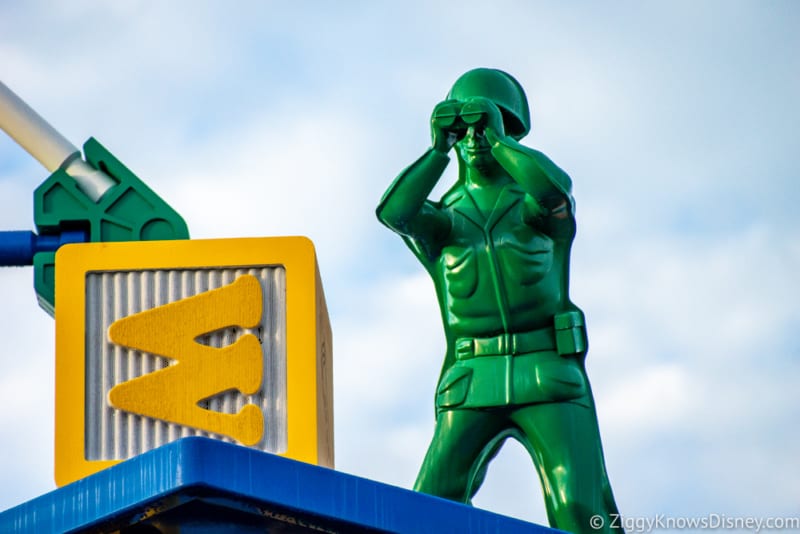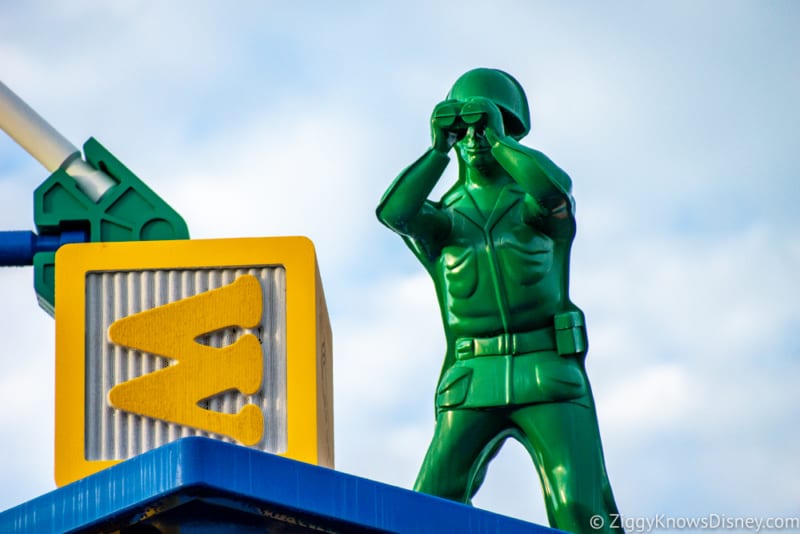 As one of the only shaded places in Toy Story Land each table is equipt with pretty big umbrellas, which also help from the rain: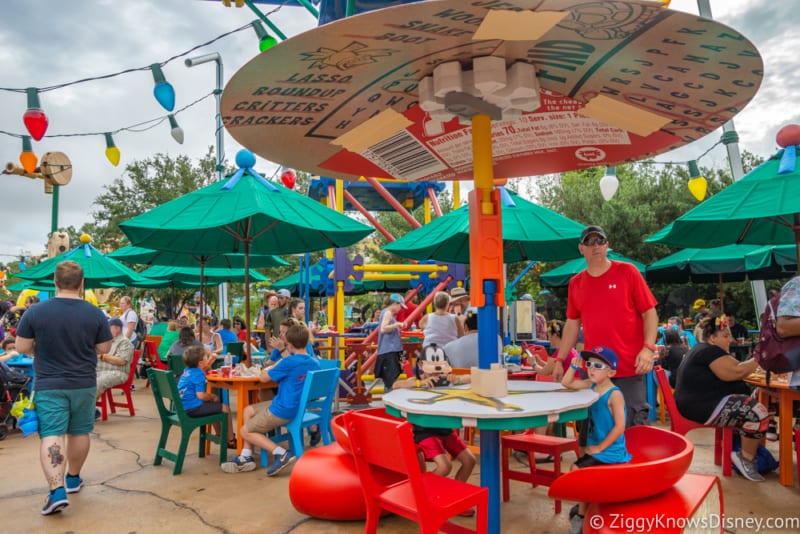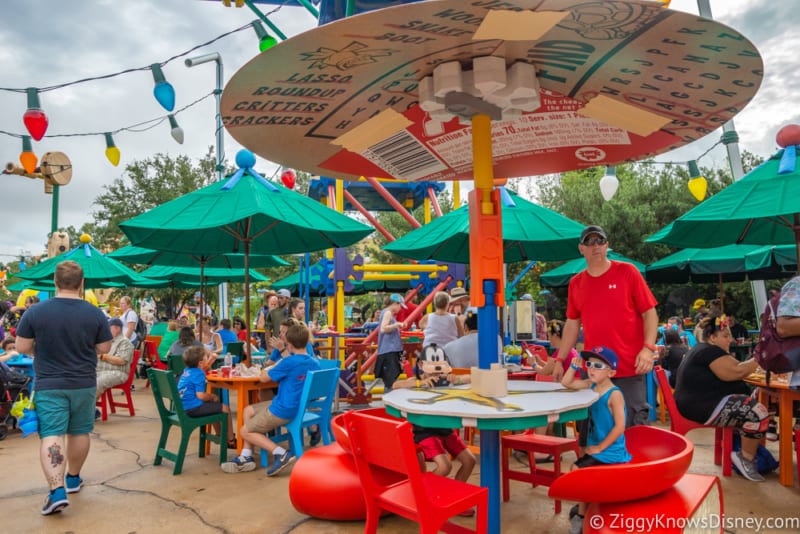 This one is made up from the packaging of a Buzz Lightyear action figure: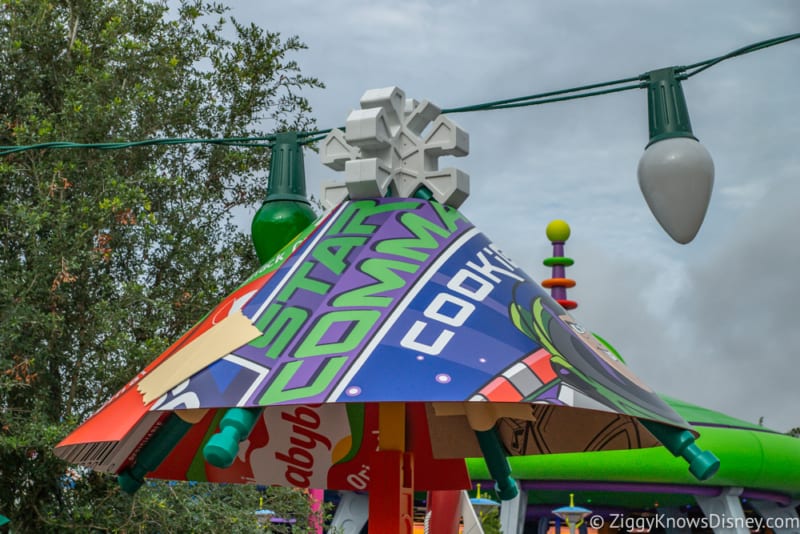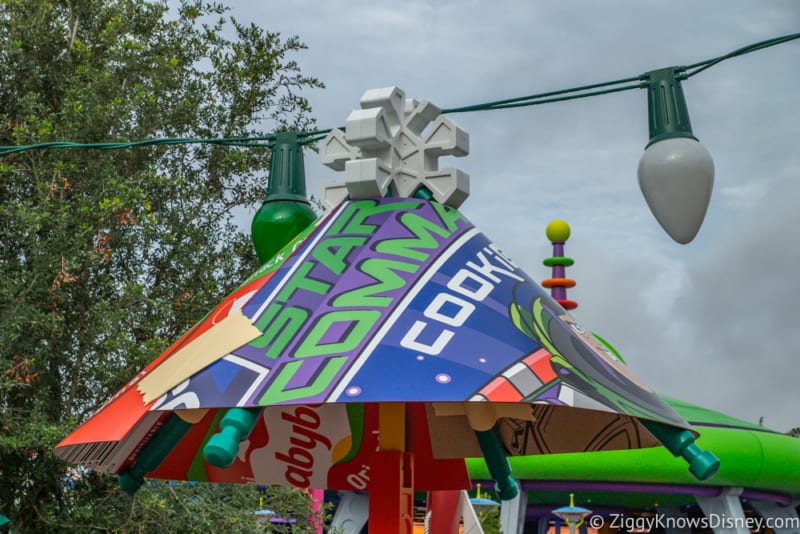 Here are the standard tables and chairs. Very colorful…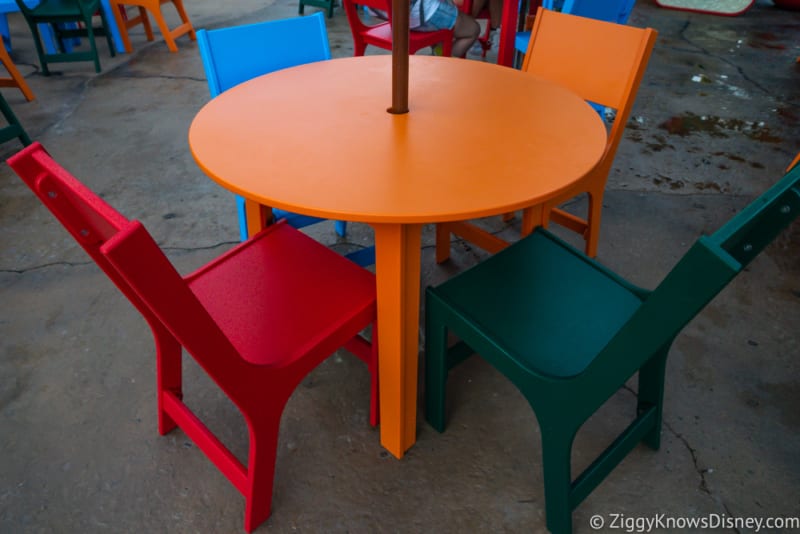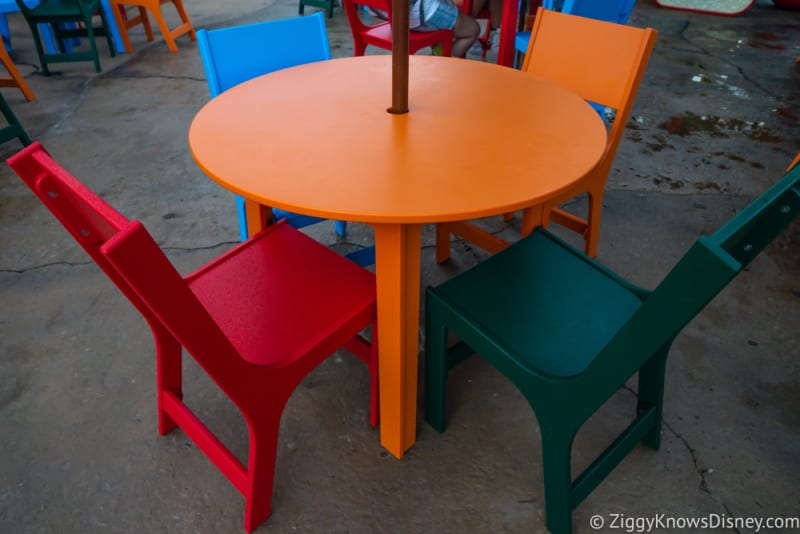 ABC blocks and dominoes are heavily involved in the theming: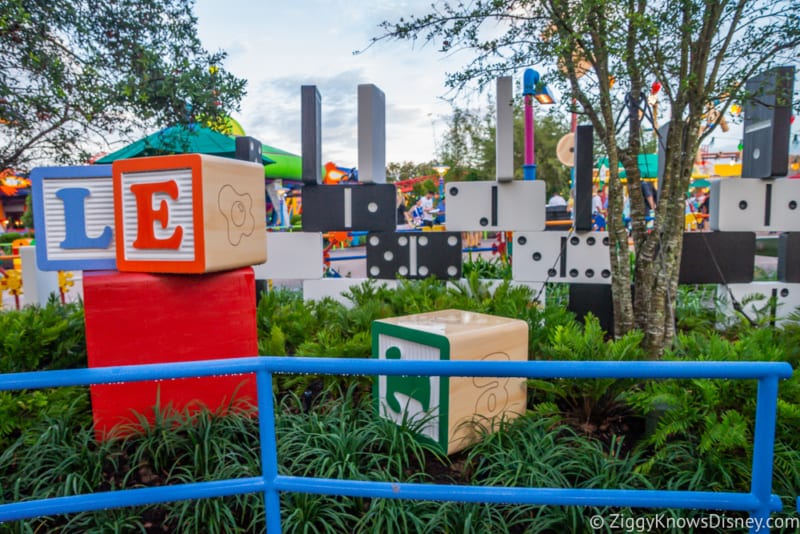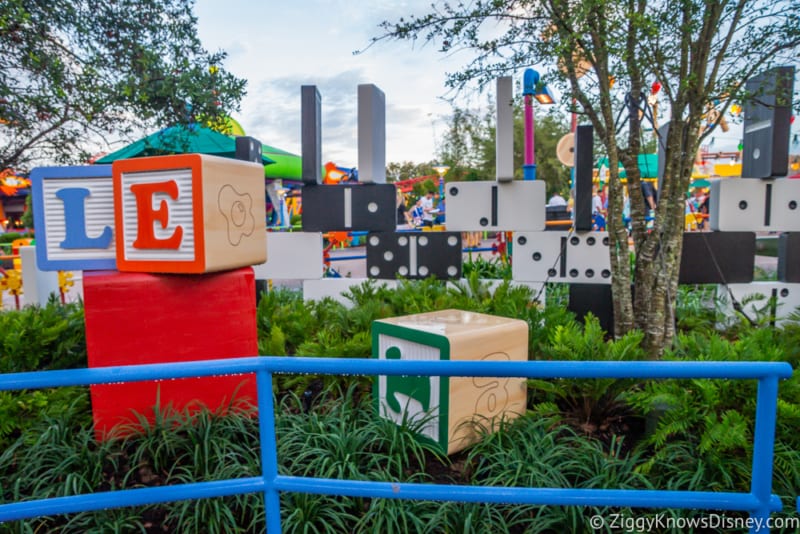 A line this size is basically always in front of Woody's Lunch Box: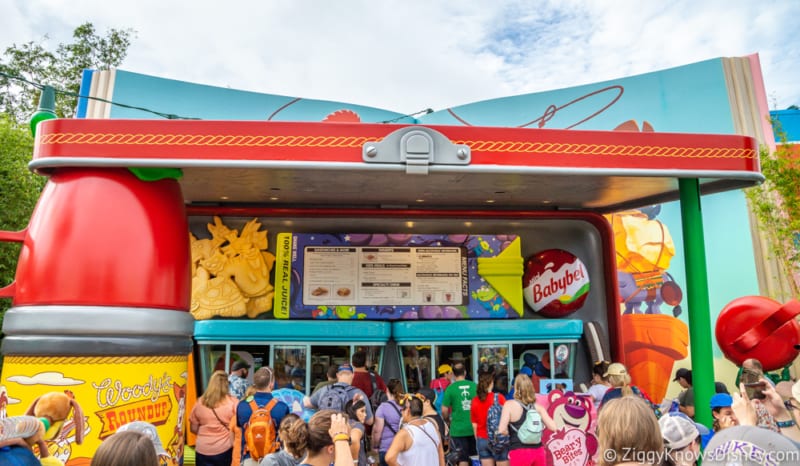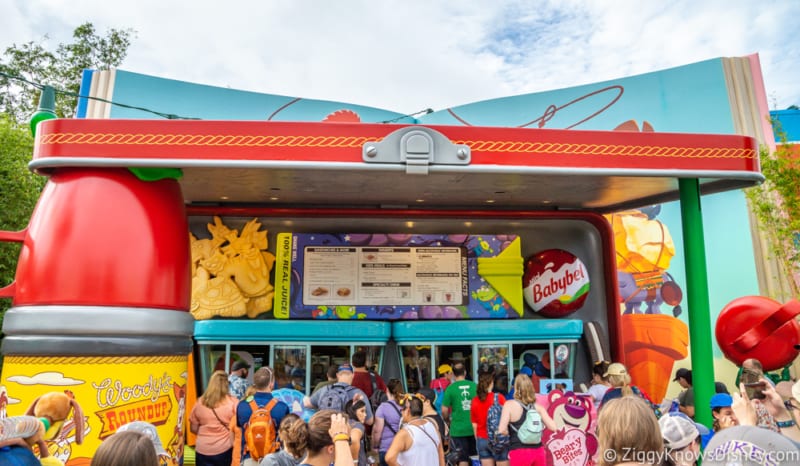 I love the Thermos holding up the side of the Lunch Box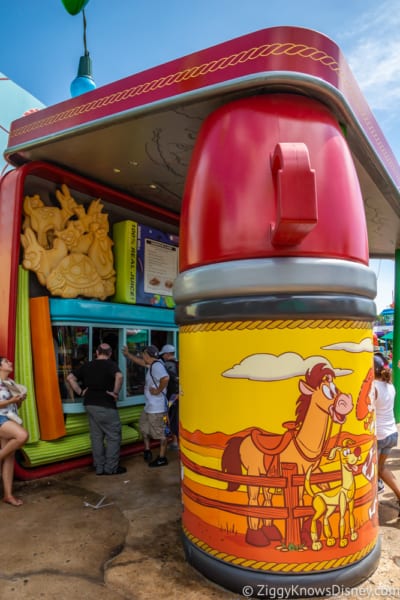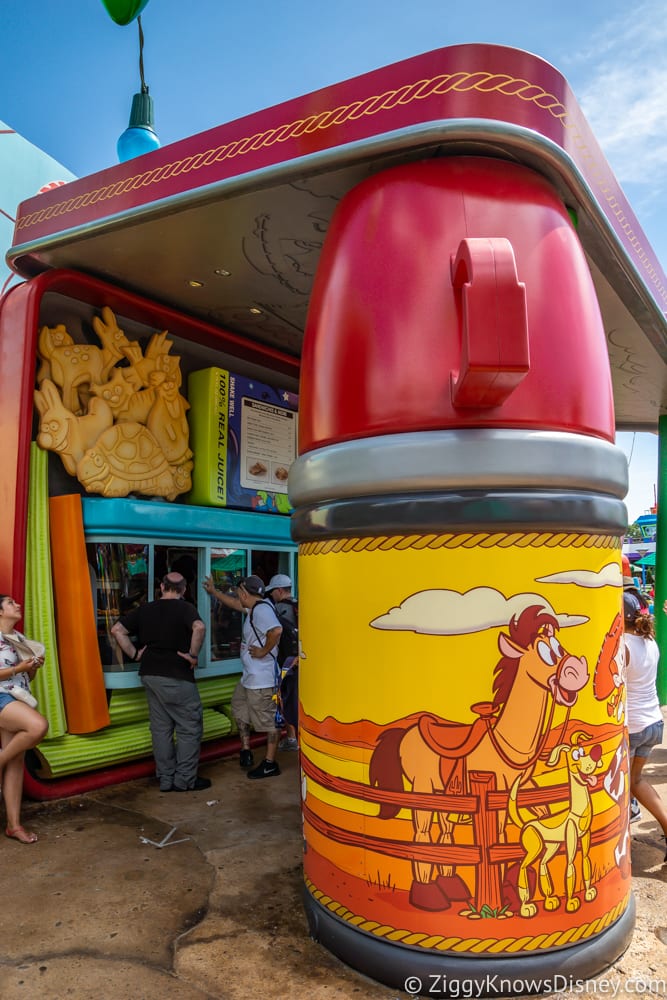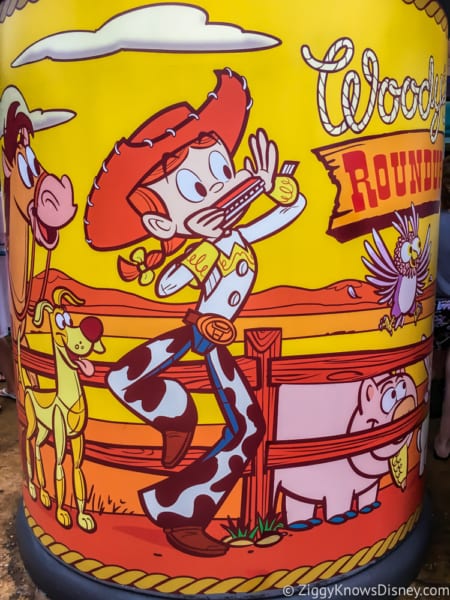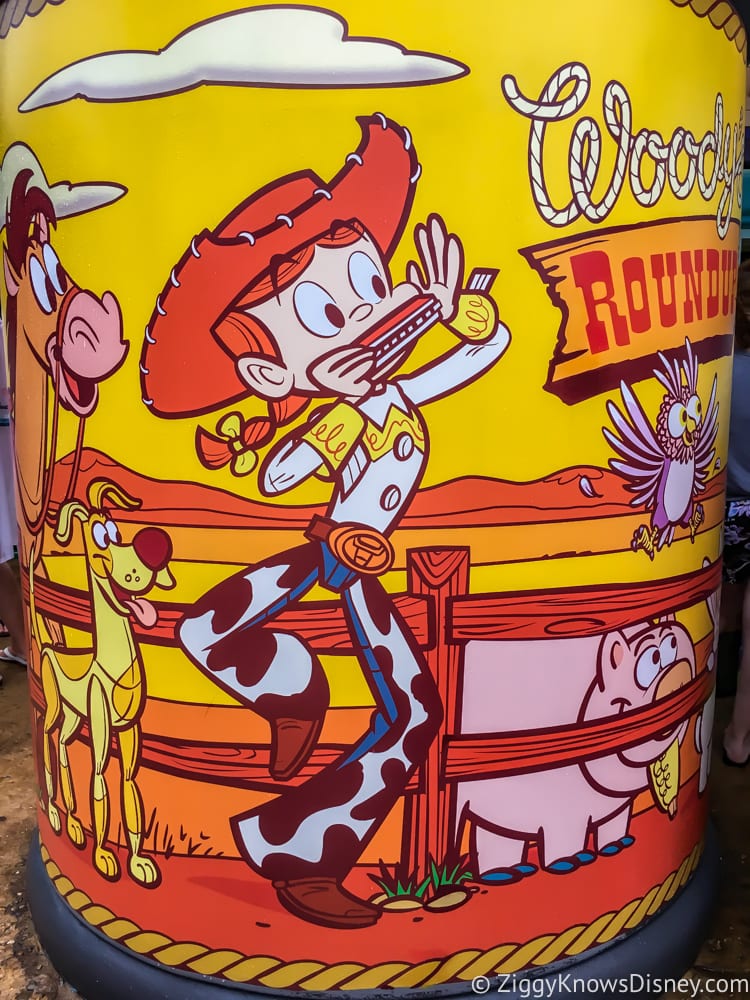 Lots of Babybel theming…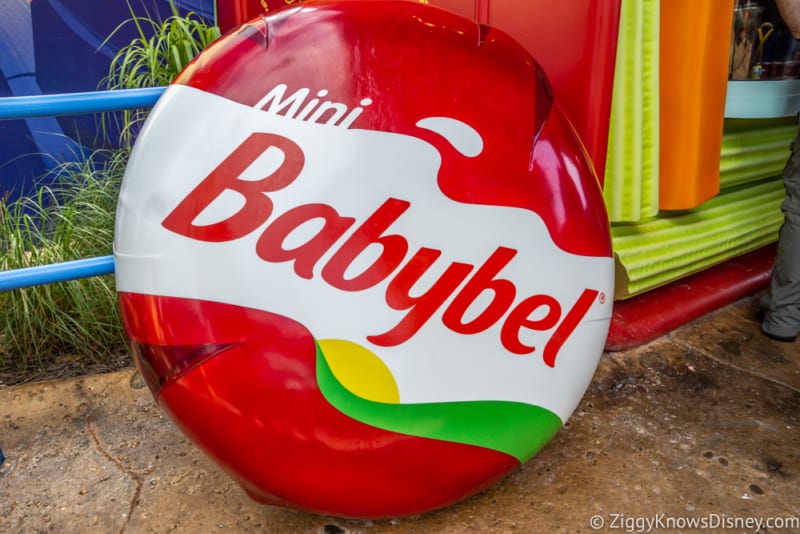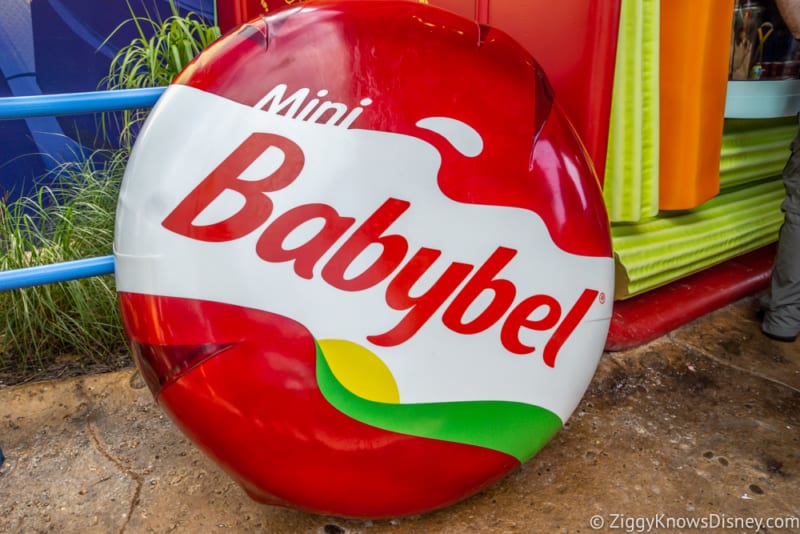 Aren't the Babybel cheese chairs awesome!!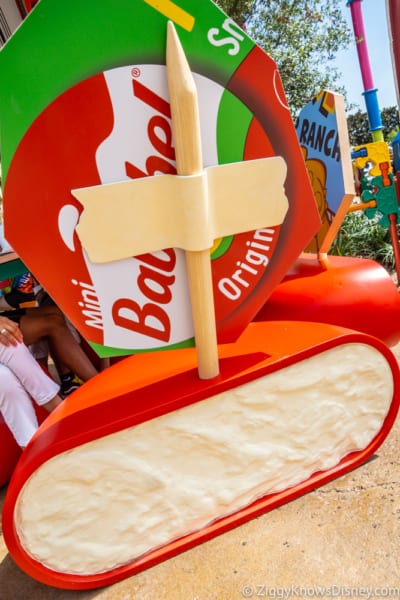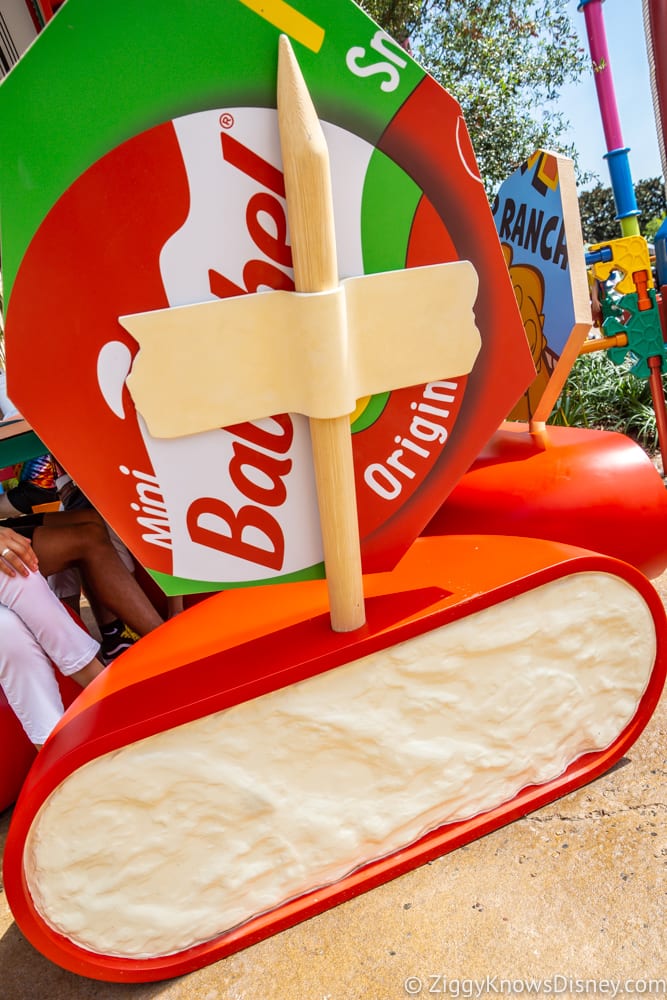 The cash register is even shaped like Trixie: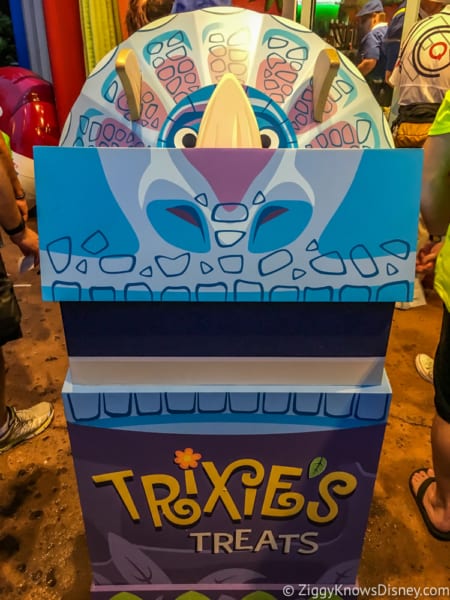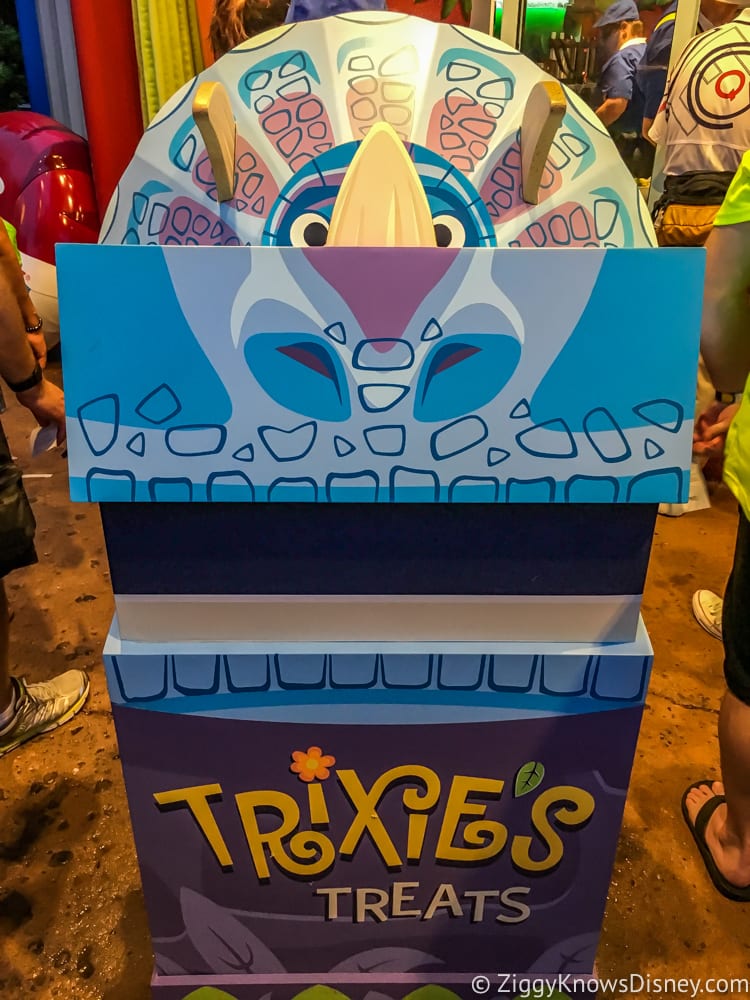 Food:
The menu for Woody's Lunch Box Breakfast is different, but takes its inspiration from the Lunch one for having Sandwiches, Bowls and it also shares the same Dessert options.
For example there's the Smoked Turkey Breakfast Sandwich with eggs and cheese and the very tempting S'mores French Toast Sandwich (yeah we're getting that for sure!!). The Breakfast Bowl also looks pretty good with the same "potato barrels" used in the Totchos, but this time covered in eggs and smoked brisket country gravy!
For anyone wanting a healthier option you can get the Banana Split Yogurt Parfait with pineapple, strawberries and dark chocolate chips. I guess Babybel Cheese goes good with any meal, and both Lunch Box Tarts are back too!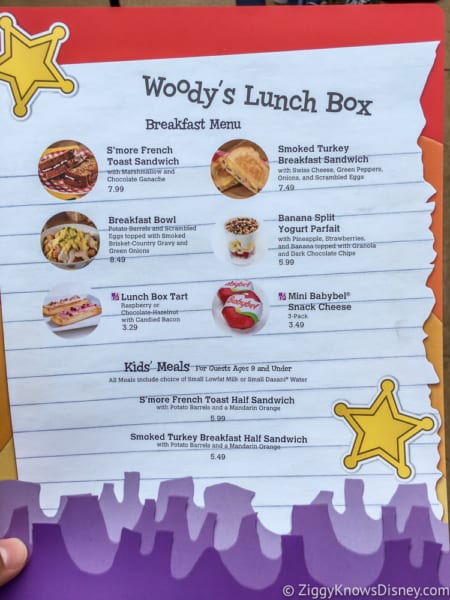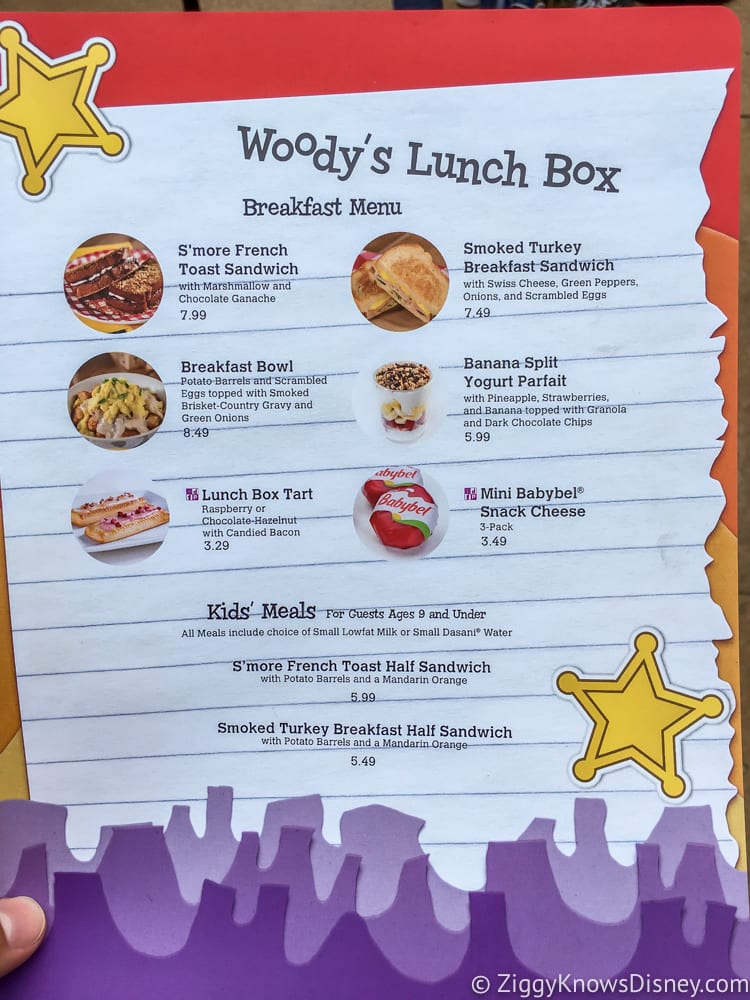 Let's dive in, we're hungry!!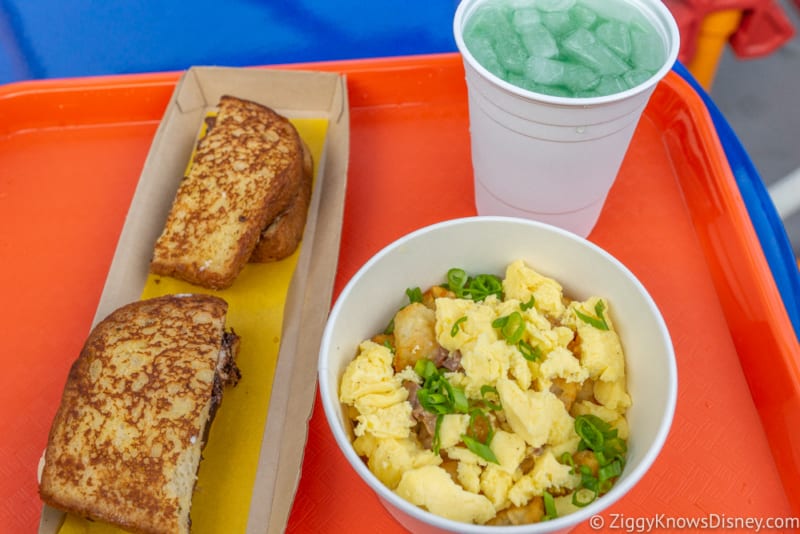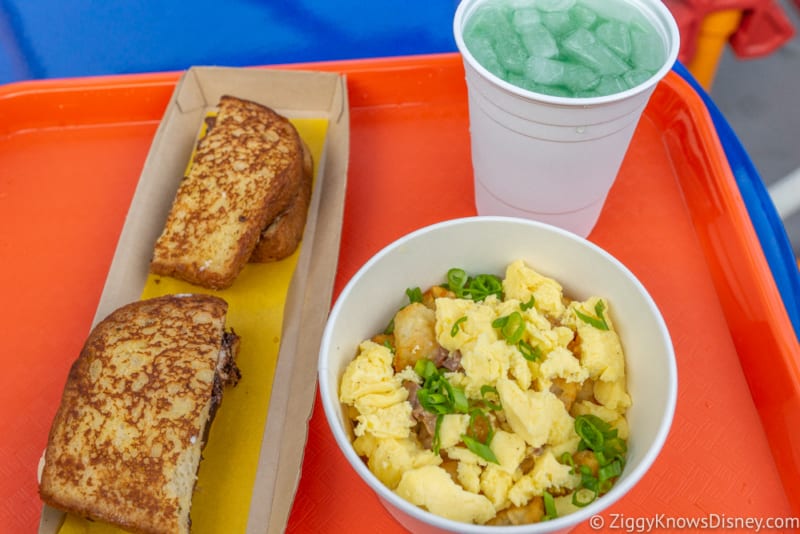 Mystic Portal Punch ($4.49)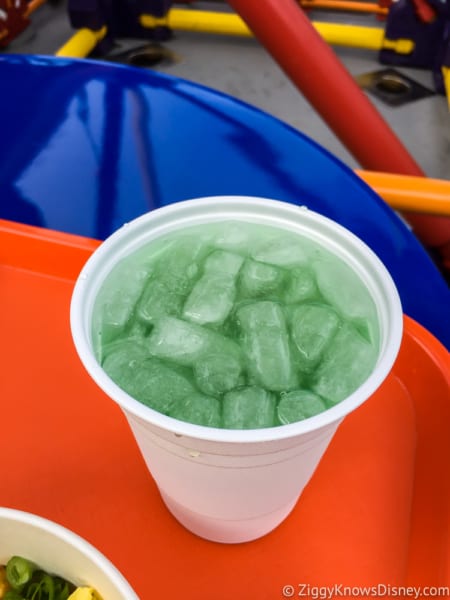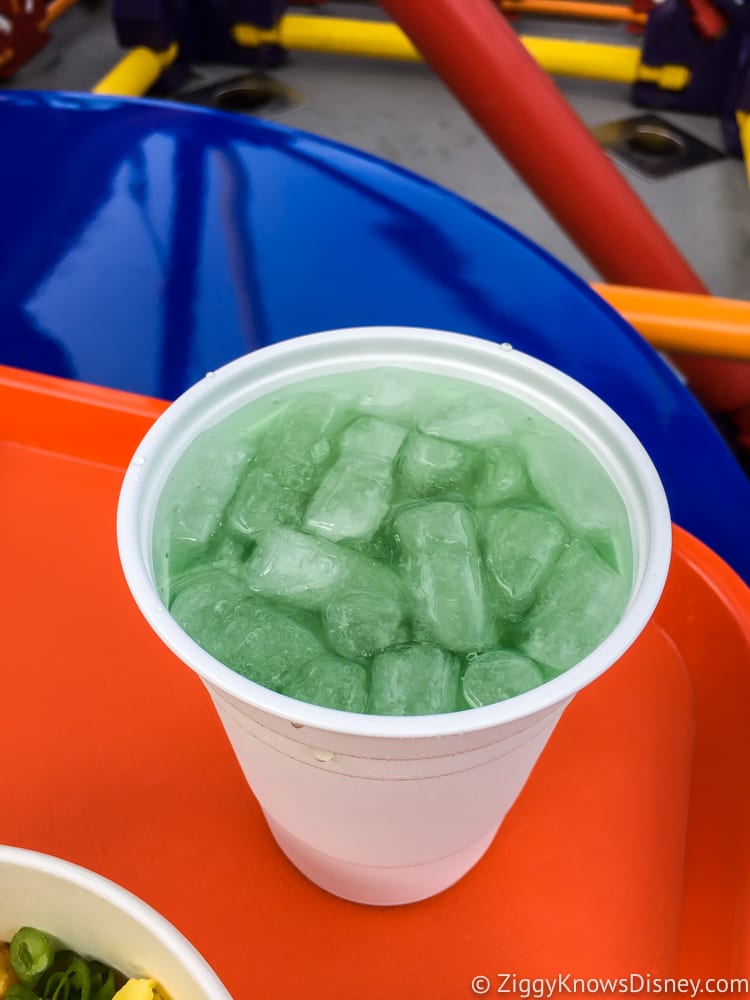 So I'm not gonna lie, it was about 10am but I don't understand why a POWERade drink can't go well early? It's hot here in Florida! This was super refreshing and was just what we needed to quench our thirst from the already deadly heat. The Mystic Portal Punch is POWERade® Mountain Berry Blast with flavors of Lemon-Lime and Tangerine which I love and a great mix! You can also get it in an Alien Sipper!
Breakfast Bowl ($8.49)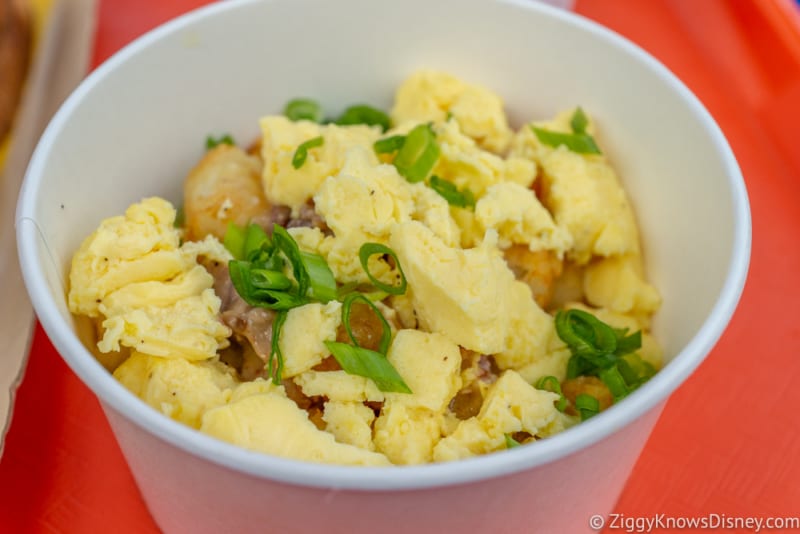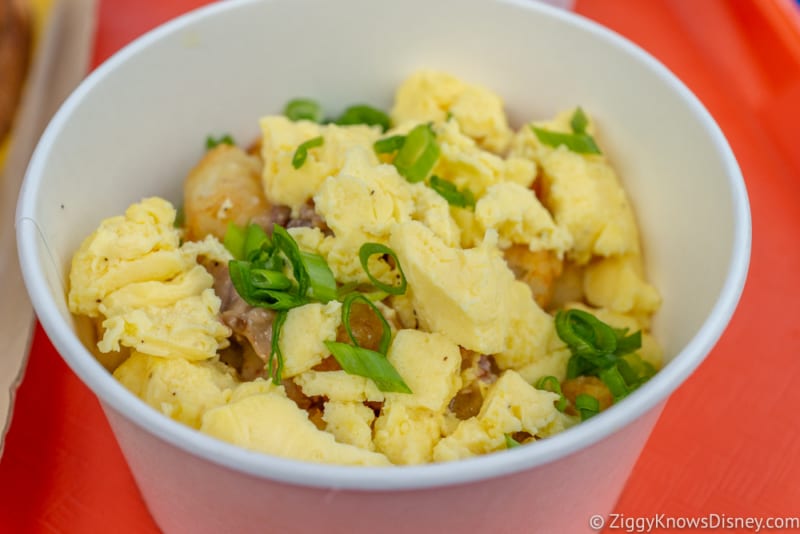 Ok, even though I LOVE those Totchos that are on the menu at Lunch and Dinner, my first thought was: "What's up with all these meals with Tater Tots (or Potato Barrels as Disney calls them)?" "Can't they come up with anything a bit more creative?"
Those thoughts quickly dispersed when I took my first bite! The potato barrels are smothered in Smoked Brisket Country Gravy, Scrambled Eggs and a sprinkling of Green Onions. Just like the Totchos, this is a HUGE portion that will fill up anyone but the very biggest eaters. The scrambled eggs were actually pretty fresh tasting like they did them at the moment.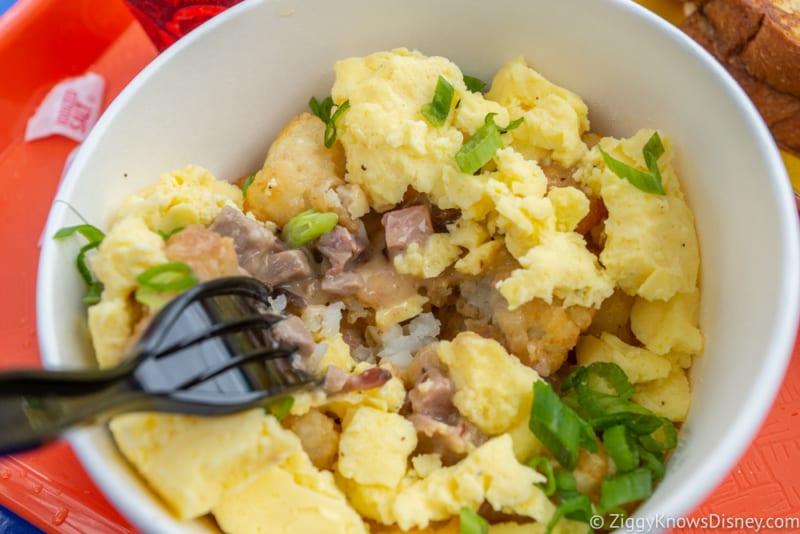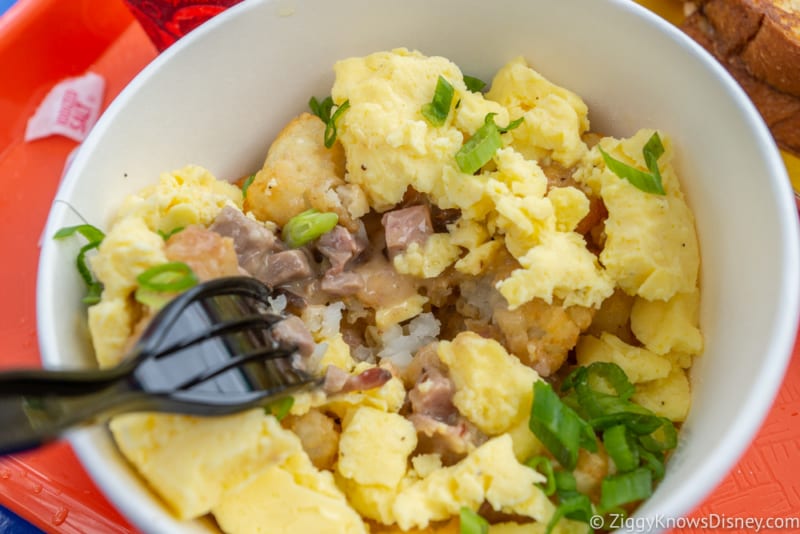 The gravy had a nice flavor to it, tasted like a pork gravy. It covered the potato barrels enough to give them flavor and not leave them dry, but not enough to make them soggy. I thought it was the right amount. My only complaint is there could have been more meat in there as my portion didn't have a ton. I love the green onion garnish on top and it brought the whole dish together.
A definite winner, a good value for the money and something I'll be getting next time I come back!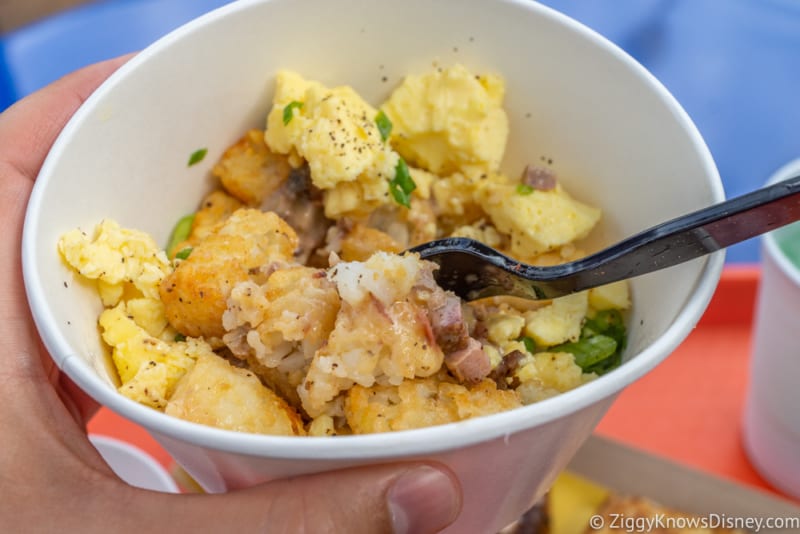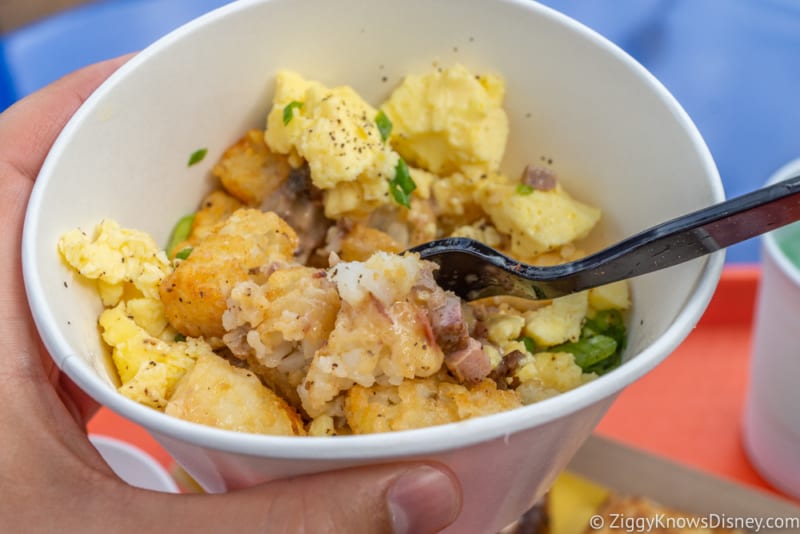 S'more French Toast ($7.99)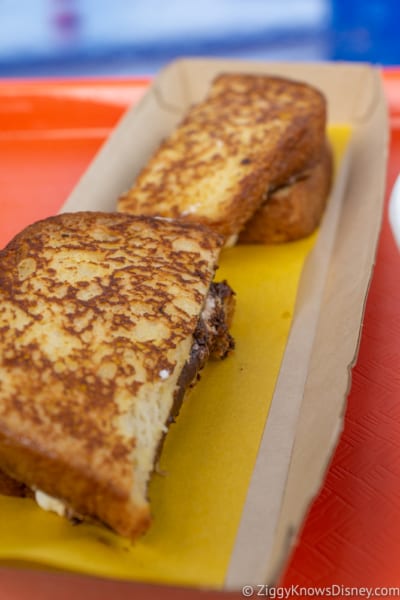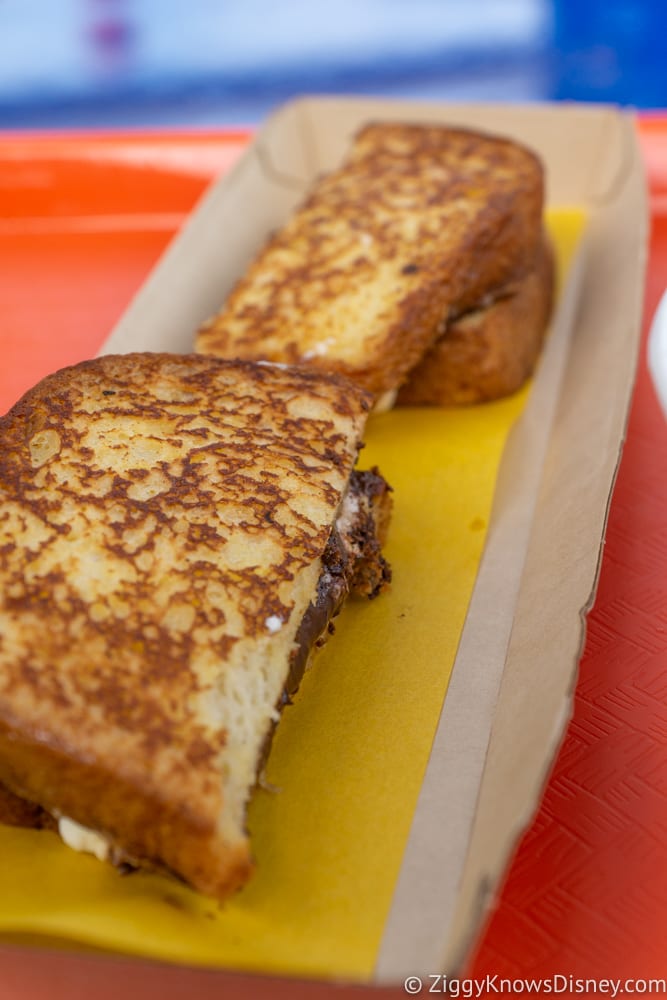 If reading Marshmallow and Chocolate Ganache stuffed in Grilled Custard soaked Brioche encrusted with Graham Cracker Crumbs isn't enough to make your mouth water then you have severe problems my friend, just saying! ?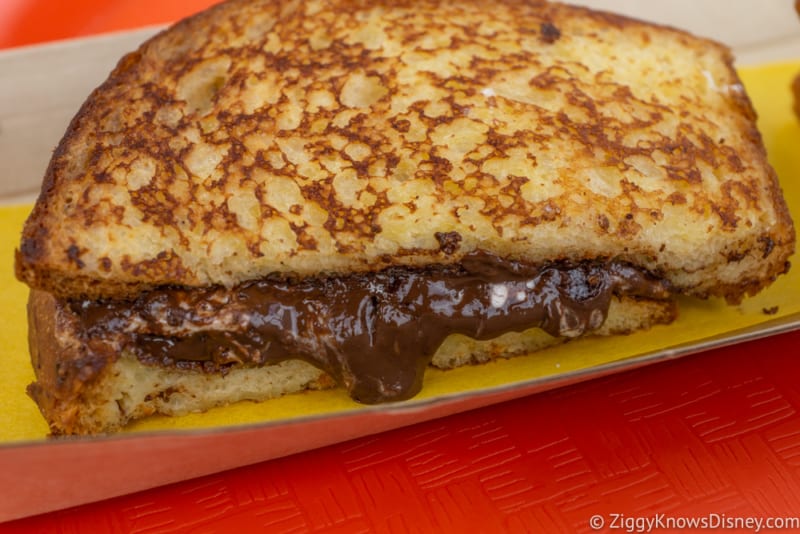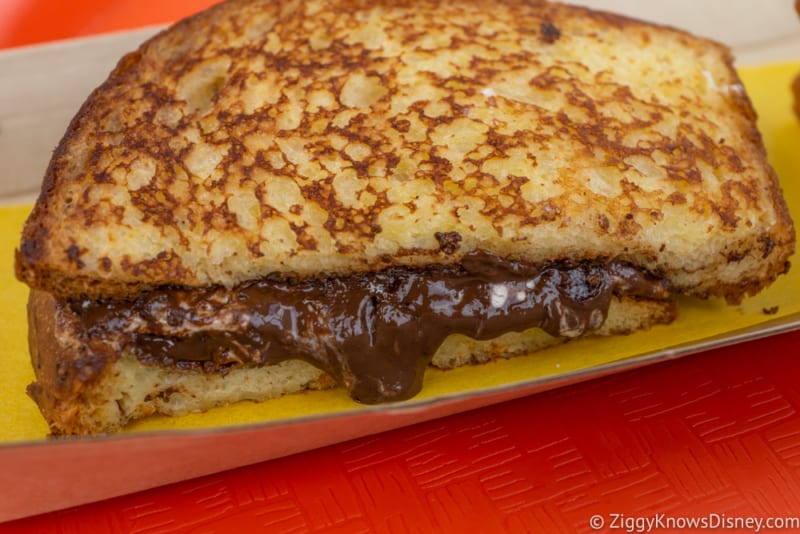 I really liked the S'more French Toast and think it's a great concept. I thought the brioche bread it was on had a great consistency, not squishy but definitely not dry, and it had that sweet custardy taste too.
The S'more French Toast is for the sweets eaters out there so be prepared. I love the combo of chocolate and marshmallow and I would gladly eat it again. M y only complaint is there was too much chocolate which overpowered the marshmallow a bit imo.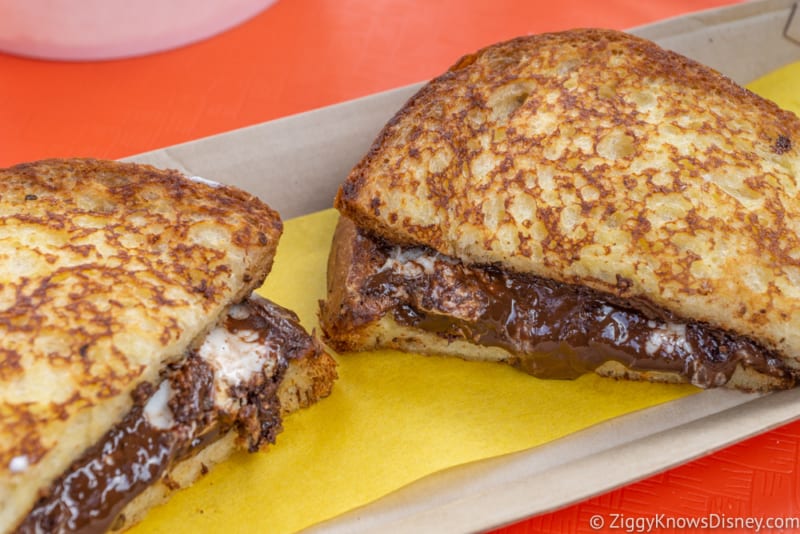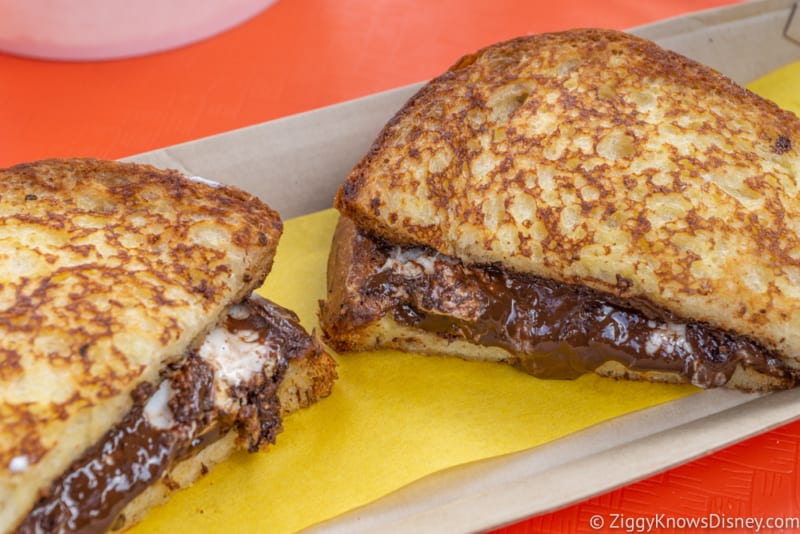 I guess that just means I'll have to sacrifice myself and try this again next time too!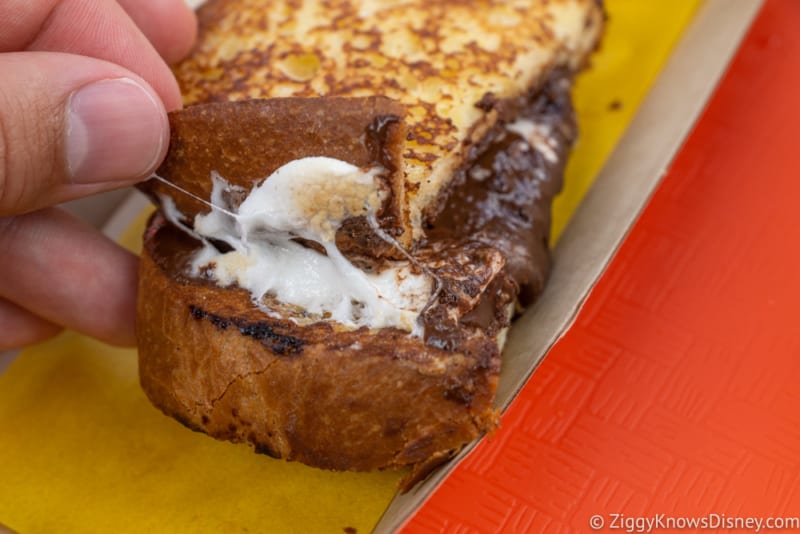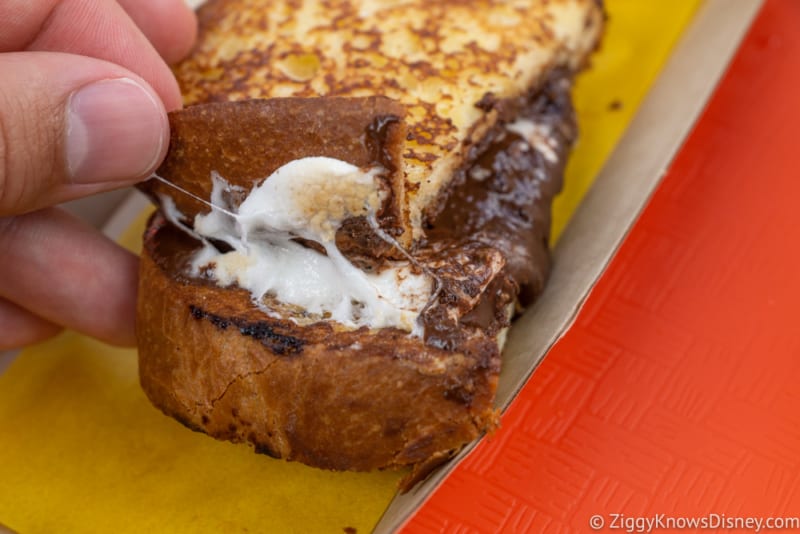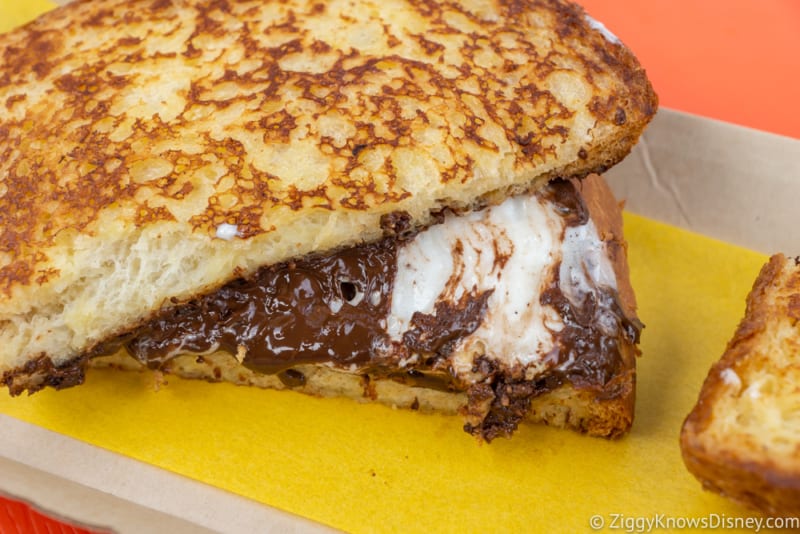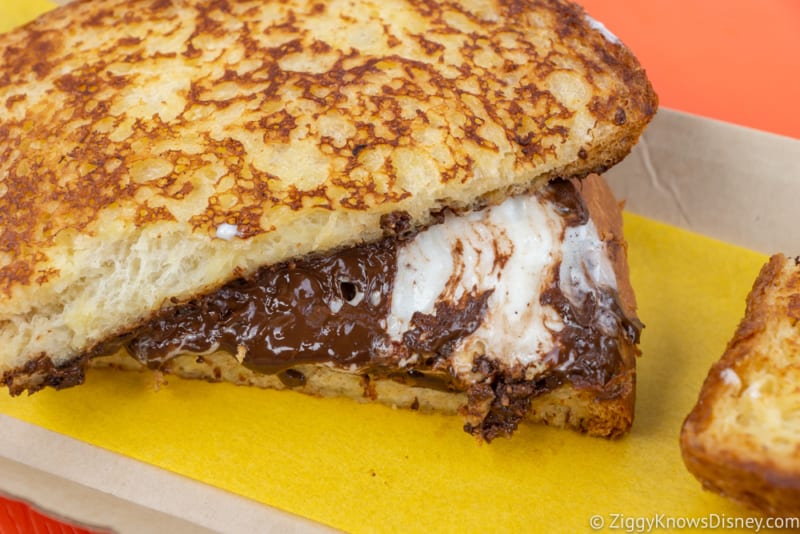 Pack of 3 Babybel Cheese ($3.49)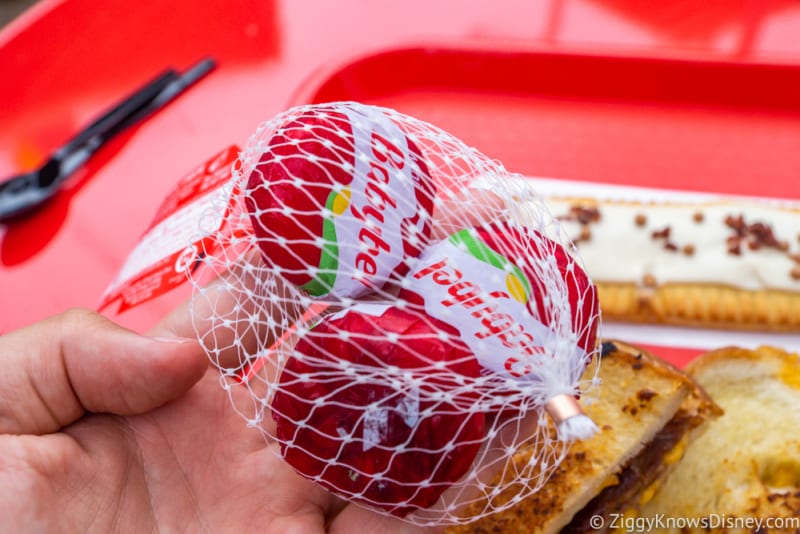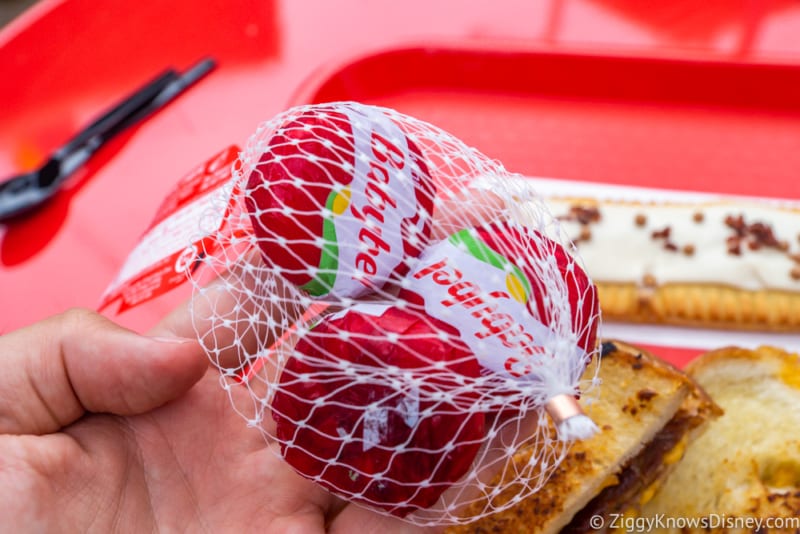 As you know, Babybel Cheese is the official snack cheese of Walt Disney World and you can find them at Woody's Lunch Box with any meal. I'm not a huge cheese eater in the morning but if you are just looking for something really light and not a hot meal then this will work.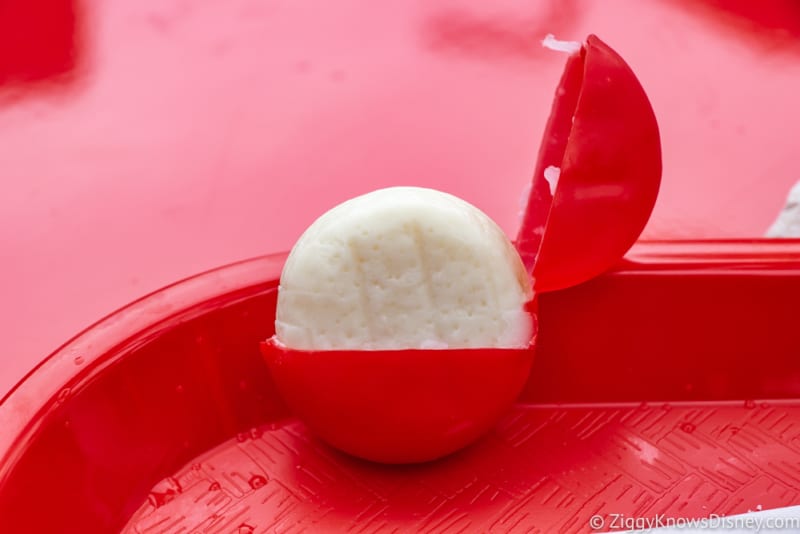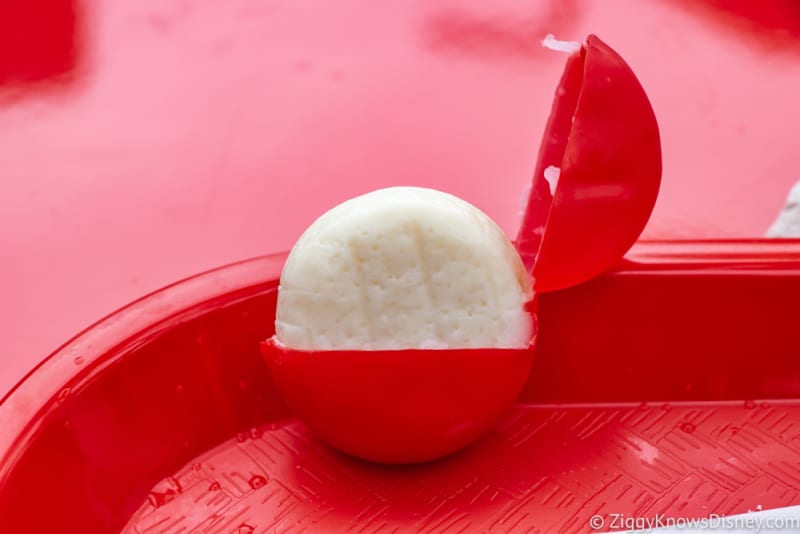 Chocolate-Hazelnut Lunch Box Tart ($3.29)

The Lunch Box Tarts are a play on traditional Pop Tarts that we all grew up with, but these ones are freshly made in-house by Disney every day. This one is Chocolate-Hazelnut (basically Nutella) coated in Maple Fondant and Candied Bacon.

I thought they skimped a bit on the filling with this one and there was more pastry. The maple icing on top is good not great, but I honestly couldn't really taste the bacon flavor which I was looking forward to.
It's an ok option, but it pails in comparison with its cousin….
Raspberry Lunch Box Tart ($3.29)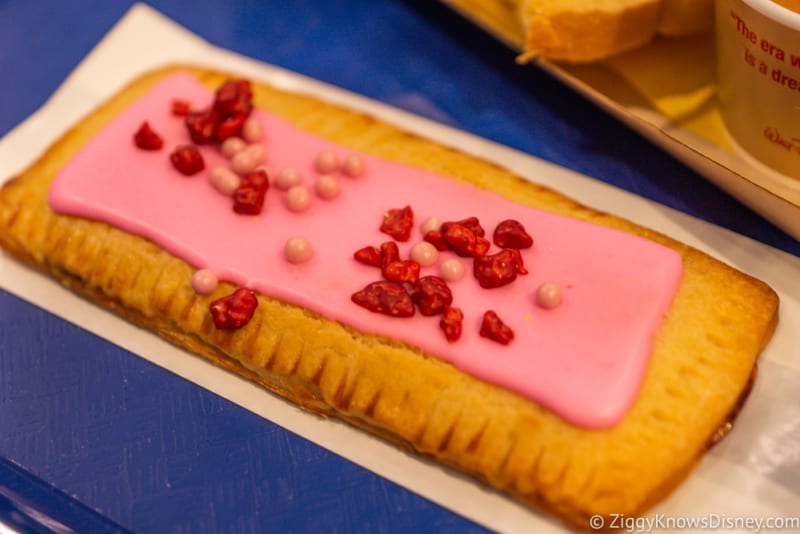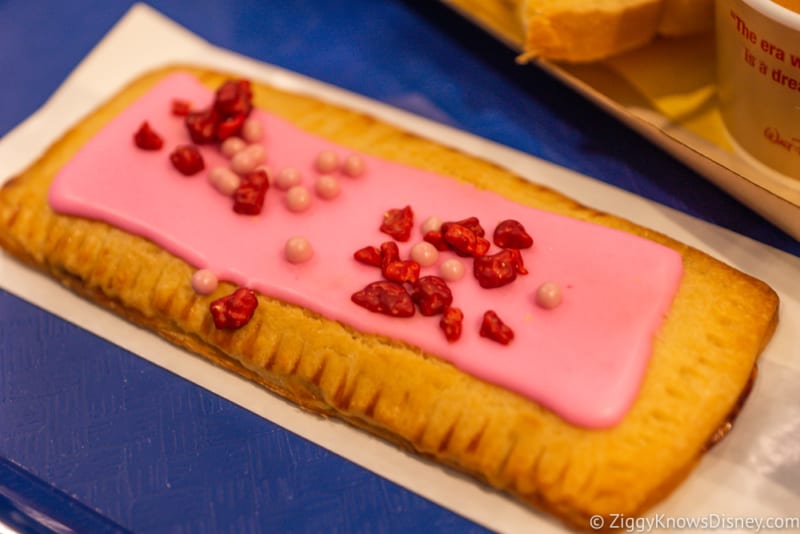 The Raspberry Lunch Box Tart is where it's at! I thought it might be too sweet, but it's really not. It has raspberry marmalade blended with the soft pastry shell and covered in Strawberry Fondant and Crispy Pearls. Just comparing the photos you can see how much more filling they put in here, and it's just amazing! The perfect combo!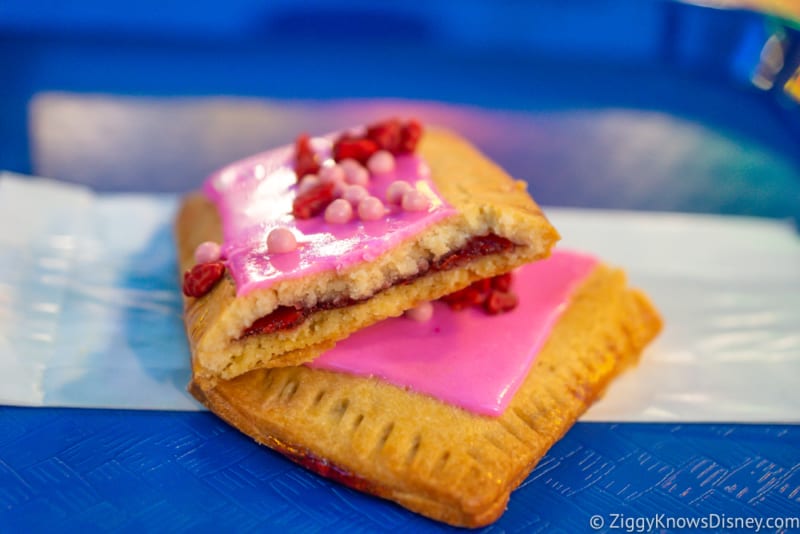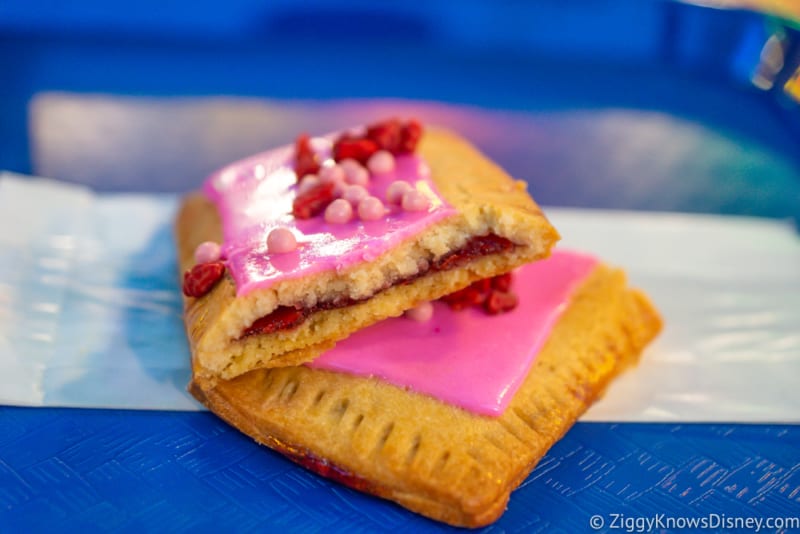 Literally everyone I talked to also preferred the Raspberry one over the Chocolate-Hazelnut version, so it's not just me. Don't leave Toy Story Land without getting a Raspberry Lunch Box Tart!
Summary:
Just like for Lunch and Dinner, a Breakfast at Woody's Lunch Box is a beautiful thing! We enjoyed everything we ate and would gladly come back and have everything again!
The atmosphere is really fun with all the tables and chairs setup the way they are and the lights hanging overhead are a great touch. I also love all the green army men watching over Woody's Lunch Box for Andy's return. You can spend all day really looking at the details from this really cool themed place. It's not quite as bad a problem in the morning for breakfast, but still it would have been nice for Disney to build some kind of air-conditioned seating here as all of Toy Story Land gets super hot. It's really a shame because lots of people after they are done eating just hang around as it's one of the only shaded areas in the land and people who need a table sometimes can't find one.
The food was great as usual. We loved both the Breakfast Bowl and the S'more French Toast and will get them again next time for sure. And you can't leave here without the Raspberry Lunch Box Tarts, and don't bother sharing either! It remains one of the most unique quick service locations offering guests something they might not normally find in other locations around Walt Disney World.
Our Woody's Lunch Box Review was a success. Not quite as good as for Lunch/Dinner nor as many options, but we'll be coming back time and time again I'm sure. The only other place that competes for Breakfast is the Trolley Car Cafe on Hollywood Blvd, and that's better if you want a pastry or cupcake (Napoleon how I love you…). Still, especially if you've already been there before, make sure you stop here next time you're visiting Hollywood Studios!
Woody's Lunch Box Breakfast Review
Food Quality -

8/10

Price/Food -

8/10

Atmosphere -

8.5/10

Disney Magic -

8.5/10
Woody's Lunch Box is open for Breakfast, Lunch and Dinner (Park Opening – Park Closing (Hours vary depending on the season). The Disney Dining Plan is accepted, it's a 1 Disney Dining Quick Service Credit.
If you are looking for a Review of Lunch or Dinner at Woody's Lunch Box then you can read that here.
Click here for the Woody's Lunch Box Breakfast Menu
I love to write Restaurant Reviews of Walt Disney World and I hope you found this one to be informative and helpful. If you liked this review then please visit my Disney Dining Reviews Page where I have many other Restaurant Reviews. I'm happy sharing with you what I love doing best…eating! ? I try to bring you the most thorough and unbiased reviews about the food and restaurants at Walt Disney World, so that as you are planning your vacation, you know the "can't be missed" places, and where you shouldn't waste your time. Hope you enjoyed this one and will enjoy many others in the future!!
Check out our Toy Story Land Page for all the Updates and Info from the Toy Story Land opening!
Your Thoughts:
I want to know what you think about our Woody's Lunch Box Breakfast Review
What are your thoughts on Woody's Lunch Box Breakfast?
What is your favorite item?
Let us know in the comments section below!
If you enjoyed this article, as always I appreciate it if you'd share it with others via social media. I work hard at making this website into a useful resource for you and your family to plan your visit to the Disney Parks and I hope it can help you! Thanks 🙂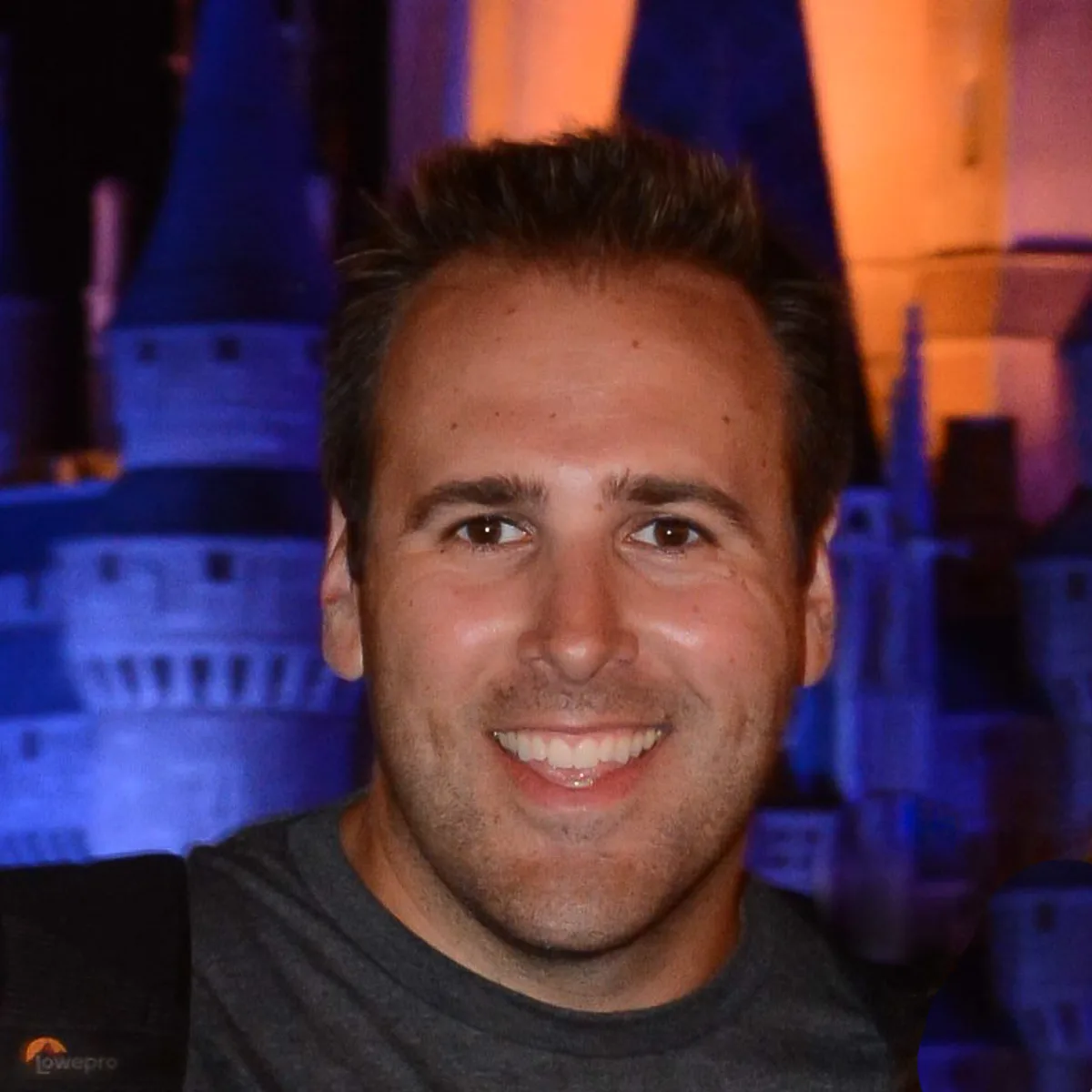 My name is Ziggy and I love Disney, everything Disney! I grew up on Disney and it has and continues to be a huge part of my life. I started young when my parents took me to Disney World when I was 18 months old. Little did they know that would be the first of an uncountable number of trips we would take. I have so many amazing memories going to Disney with my family and friends and it has been interwoven into my DNA.