We love to eat in the Disney Parks, and Disney's Animal Kingdom is quickly becoming one of, if not THE best park for snacks in Walt Disney World. For years it's been overlooked by fans, but there is no longer denying the amount of awesome treats to eat here now. That's why we've made our list of the Best Snacks at Animal Kingdom, complete with everything you MUST try while visiting.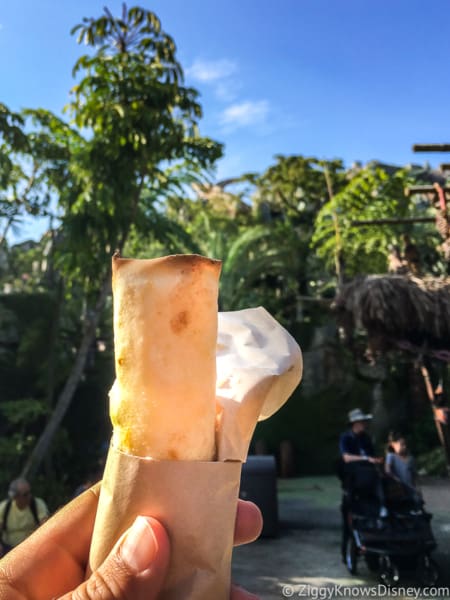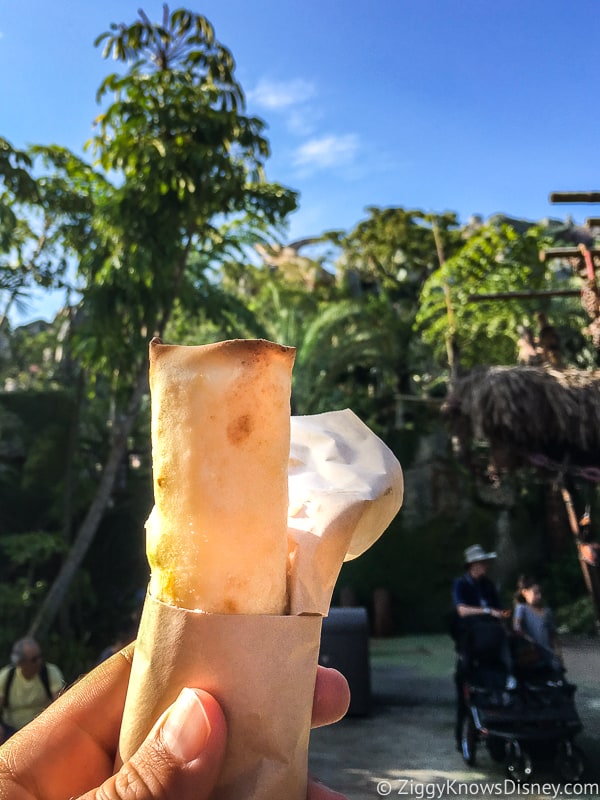 Just a short while, the snack game at Animal Kingdom was severely underrated. Now anyone who visits the Disney World theme parks regularly knows that it would take days to fully cover all the treats the Animal Kingdom has to offer between its food stands, trucks, carts and quick service options.
We've composed our list of the best Animal Kingdom snacks so that you can know exactly what to eat, and what treats are going to give you the best value for your money or your snack credits.
We've also divided all our favorite snacks in the Animal Kingdom into two groups: Savory and Sweet. That way depending on what mood you're in, you'll know just where to go!
Also, I want to tell you that trying the snacks in Disney's Animal Kingdom can be a frustrating experience due to the unpredictability of the food stands. Some of our favorites are only open during the busiest times the year, and even then you might show up hoping to get a specific item, only to find it's closed.
This has happened to us on multiple occasions and we've even made special trips out to the park only to be disappointed. If this happens to you don't worry, there are plenty of other must-try snacks on this list, and it'll take you days to complete it so keep coming back!
Lastly, keep in mind this list is for the best snacks in 2020, however Disney is constantly introducing new items and taking away some of our favorites, so we'll continue to update it with any new changes.
Without further ado, here are the top snacks in the Animal Kingdom…
Best Savory Snacks at Animal Kingdom
Mr Kamal's Seasoned Fries – Mr Kamal's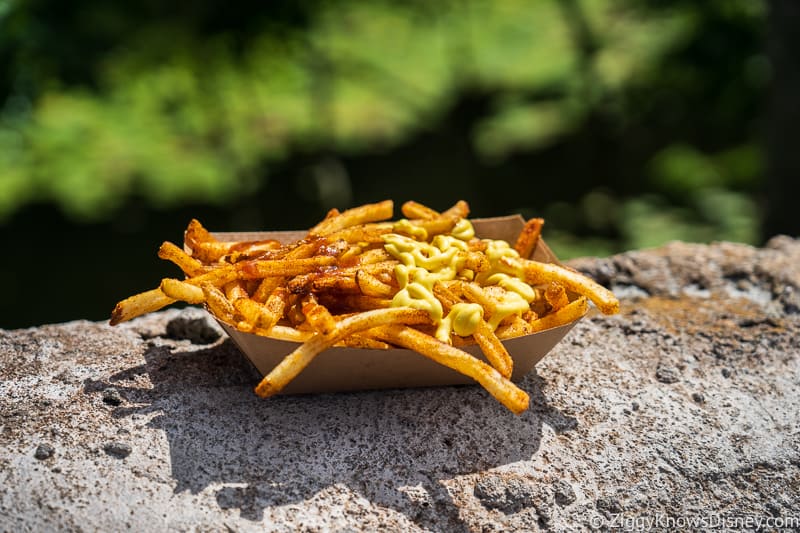 Who doesn't love French fries? And while I would eat almost any form of fried potato, the seasoned fries from Mr. Kamal's are definitely the best fries in the Animal Kingdom, maybe Disney World.
That said, they recently were changed from being smothered in tzatziki sauce, to being served plain but coming with 4 types of dipping sauce. Personally I preferred the old way, but these are still amazing. They are quite expensive for fries at $6, so this is one snack you'll want to use a snack credit on instead of paying for it out of pocket.
Chicken Fried Rice – Yak and Yeki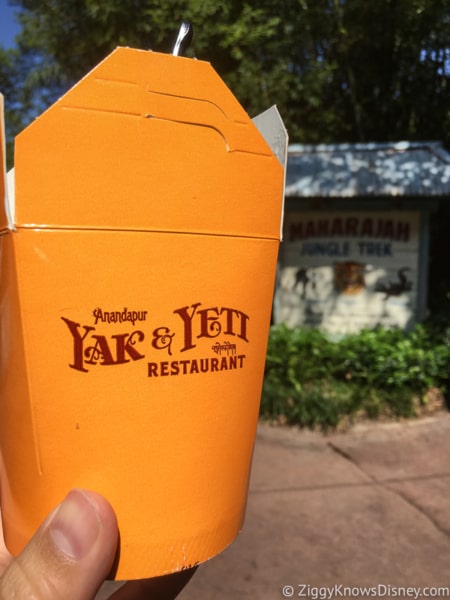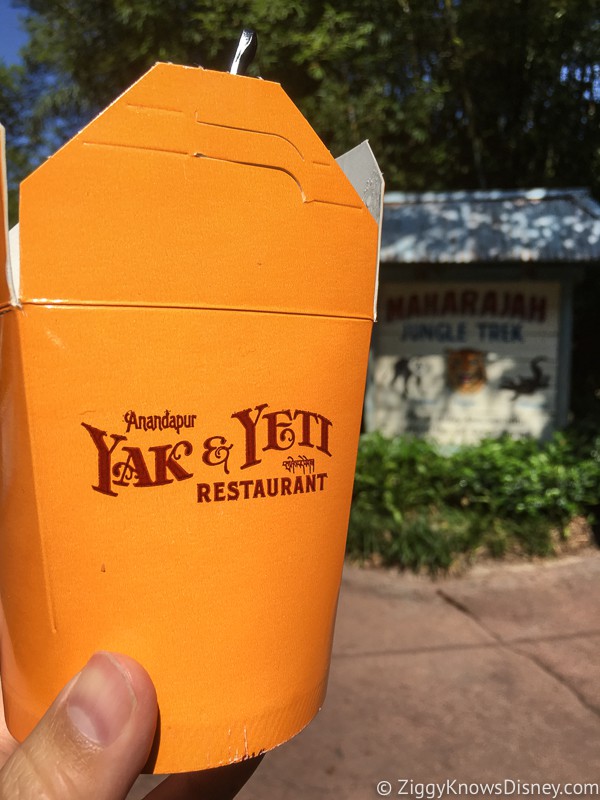 The chicken fried rice from the Yak and Yeti is one of the best value snacks in Animal Kingdom and a perfect item to share. It comes in a convenient package which makes it easy to bring with you throughout the park.
The rice itself is a huge portion and full of chicken too. You can have it for a snack or a light meal if you wanted to, and it goes great with another item on our list you will also find right here at Yak and Yeti.
Baked Macaroni & Cheese w/ Pulled Pork – Flame Tree Barbecue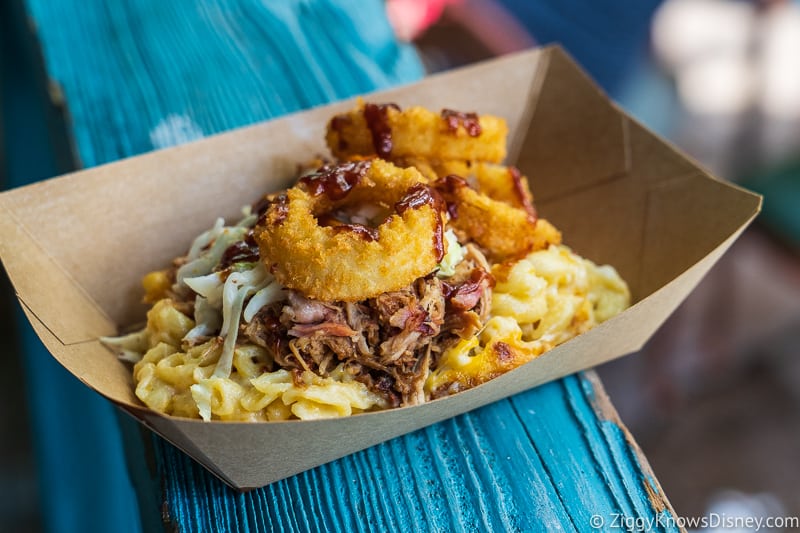 Rookies go to the Flame Tree Barbecue for the ribs, pros go for the Mac and Cheese! Your Mac and Cheese options in Animal Kingdom are abundant, and the one from Flame Tree is outstanding! You get a huge, heaping portion of this cheesy macaroni which is then piled on high with coleslaw, pulled pork and onion rings!
A bit more costly as it technically is an entree portion, but definitely worthy of getting and one of the best tasting foods in the Animal Kingdom!
Hot Dog Wrapped in Dough – Satu'li Canteen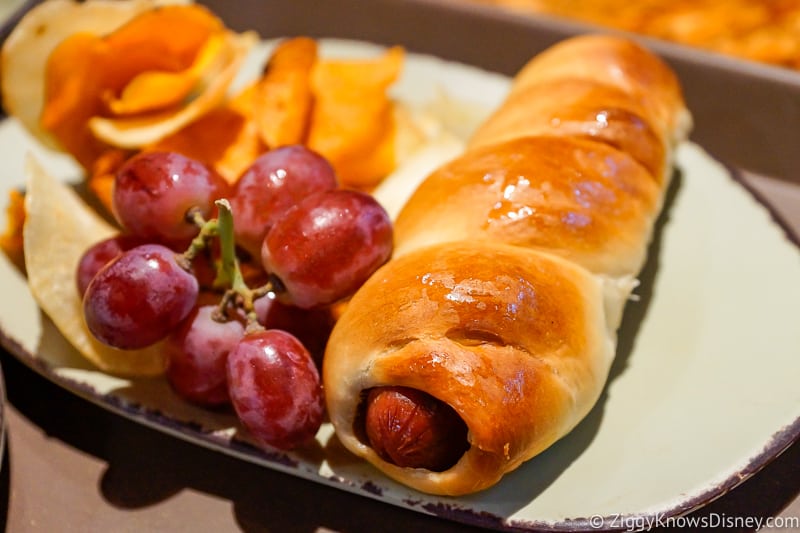 You'll find the all-beef hot dog wrapped in dough at Satu'li Canteen in Pandora: The World of Avatar, but don't let that stop you from getting it, it's one of the best snacks anywhere in Disney's Animal Kingdom.
The hot dog is very tasty, but it's the soft and buttery dough it's wrapped in that keeps us coming back for more. It also comes with those amazing chips making it a mini meal for some or a big snack for others like myself.
Mac and Cheese – Eight Spoon Cafe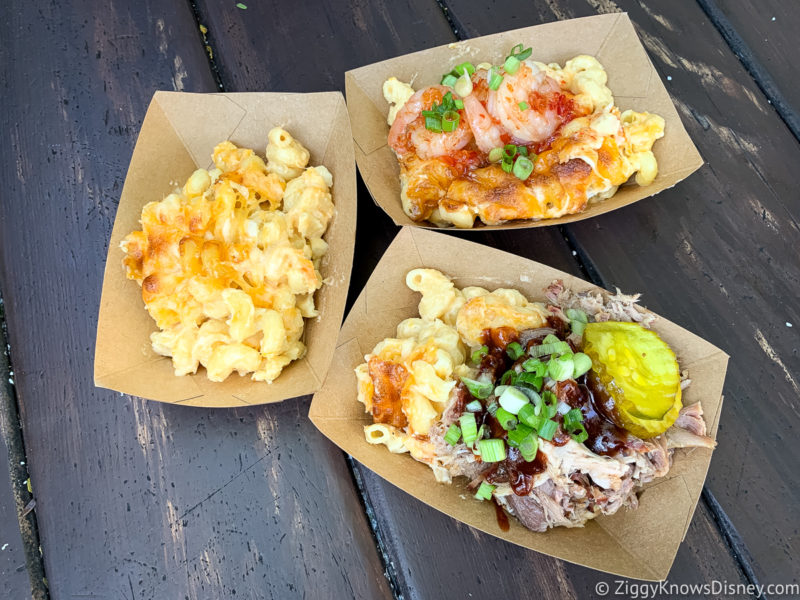 We told you that the Animal Kingdom was a hotspot for Mac and Cheese lovers, and no list of Animal Kingdom snacks would be complete without the one from the Eight Spoon Cafe! It's hotly debated which one is better between this on and the previous one we showed you from Flame Tree and we're on the fence.
The Flame Tree Mac and Cheese is bigger yes, but this one is creamier and gooier. It's also better as a snack portion and at just around $7, makes it a good use for a snack credit. Choose from the pulled pork version or the shrimp and chili sauce, both amazing, or the regular baked Mac and Cheese which is a bit cheaper and less filling.
Pork Egg Rolls – Yak and Yeki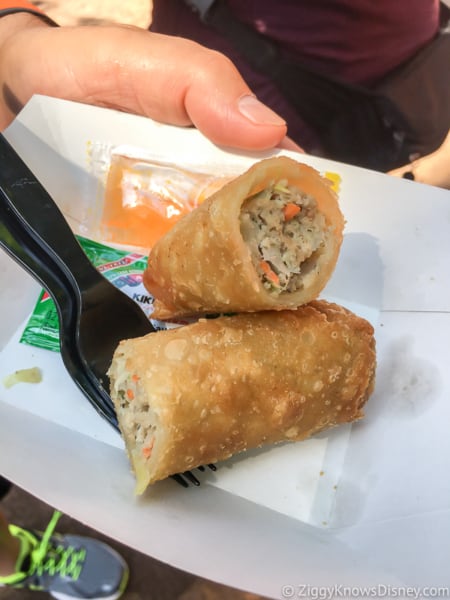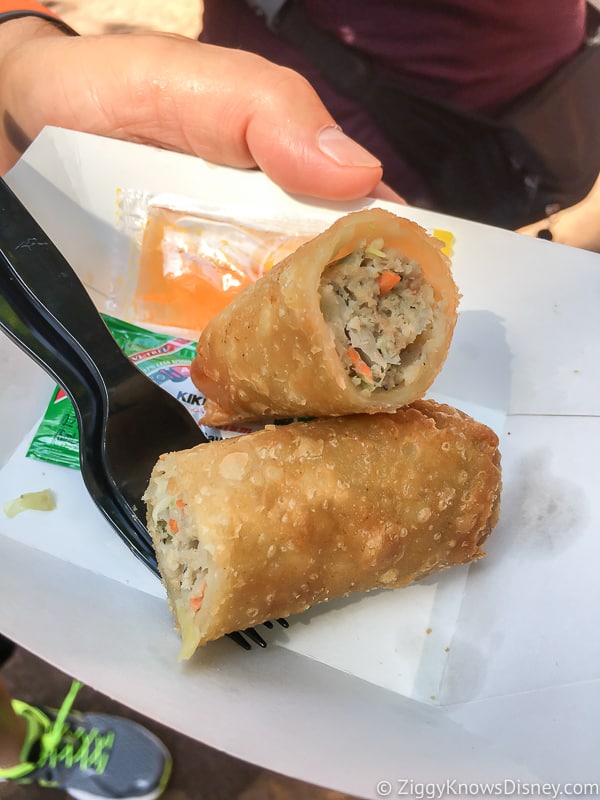 The Yak and Yeti quick serve has some awesome snacks for sure, and the pork egg rolls are right up there for us as the best. Disney does egg rolls fantastically and similar versions already ended up on our lists of best snacks for the other parks, these might be even better.
We love the crispy shell which isn't covered in grease, and the pork and veggie stuffing has a great taste. Get 1 for $4 or 2 for under $7, one of the best values you'll find.
Chicken Dumplings – Mr Kamal's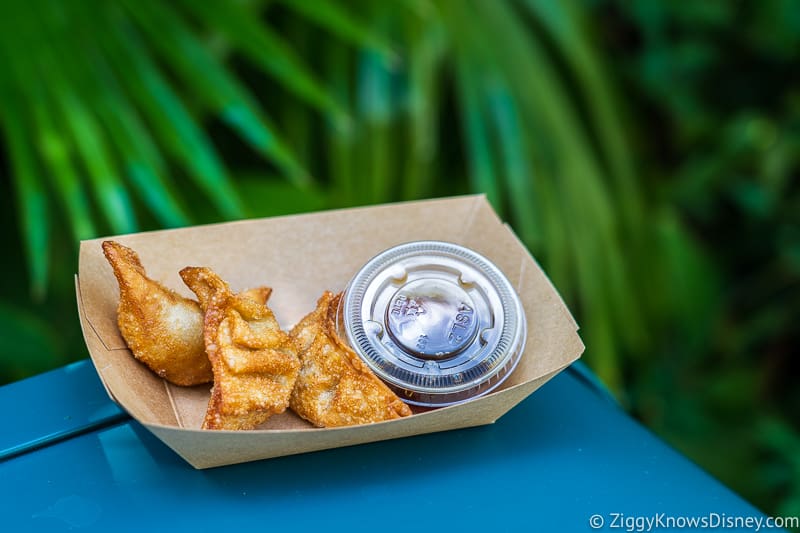 Not only does Mr. Kamal do fries, he also does dumplings, really, really well we might add! These are not normal Chinese dumplings you might be thinking of, but they have an awesome, crispy shell to them and are served with a Ponzu sauce (vinegar-based) for dipping.
The only thing we are down on about the dumplings is they only give you 3 in an order, making this a snack portion for sure. Good use of snack credits. They are so good though you absolutely can't leave the Animal Kingdom without trying them.
Colossal Pretzel – Pongu Pongu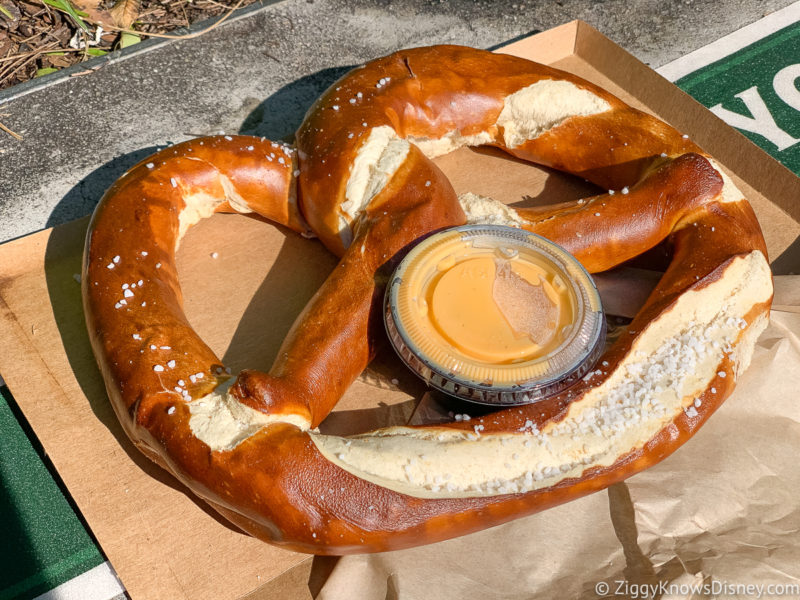 Is there anything more "Disney" than eating a pretzel while strolling through one of the theme parks? How about eating a colossal pretzel instead!? Honestly, this thing is HUGE, probably even bigger than my head and it usually takes 2 or 3 of us to gobble one down.
What we love about it besides the size is the pretzel is soft and super chewy. It has just the right consistency. We also can't get enough of the beer cheese sauce. This is a simple cheese sauce, yet oh-so-good. It has that little tang from the beer flavor and tons of cheesy goodness. Our only complaint is they only give you one which is never enough for this gigantic snack!
Ribs Bowl – Harambe Market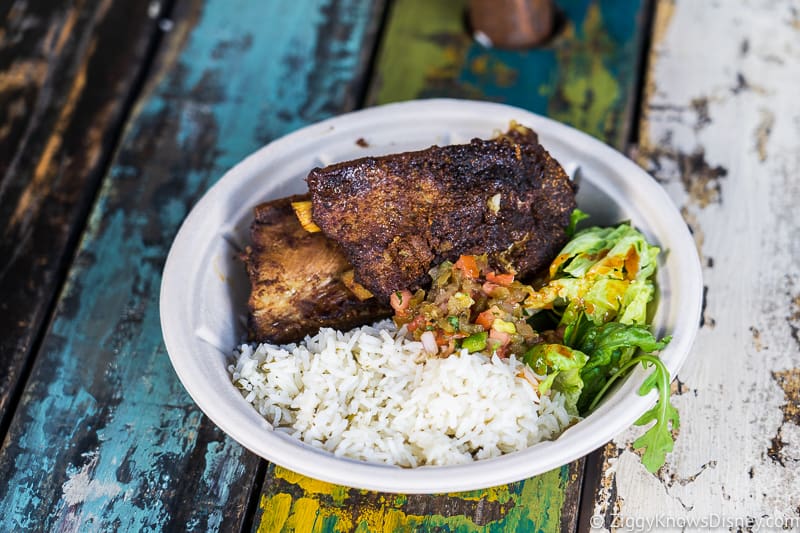 This is another item I'm not sure technically counts as a snack, but it's so stinking good that we have to put it one the list! I know plenty of people that eat ribs for a small treat, so don't judge! 😉
The portion of food you get in the Ribs is awesome, and the ribs themselves are seasoned perfectly, more a dry rub than the goopy ribs you normally think of. Anything at Harambe Market is outstanding, and these ribs are no exception!
Onion Ring Basket – Flame Tree Barbecue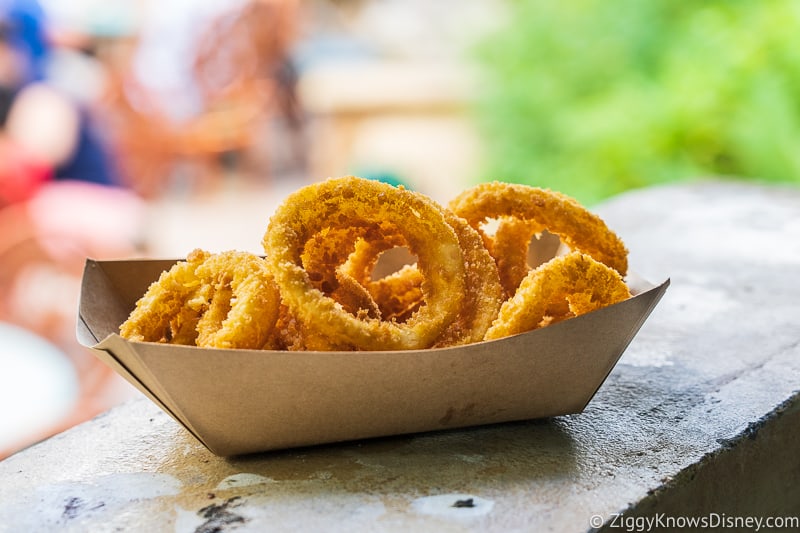 We're back at the Flame Tree and this time we're here for the incredible onion rings. These make our list for best Animal Kingdom Snacks because of the giant portion and the incredible fried batter on them.
They make a great side and at under $5, make one of the best value snacks you will find! We recommend paying out of pocket and saving snack credits for the more expensive items in the park.
Cheeseburger Pods – Satu'li Canteen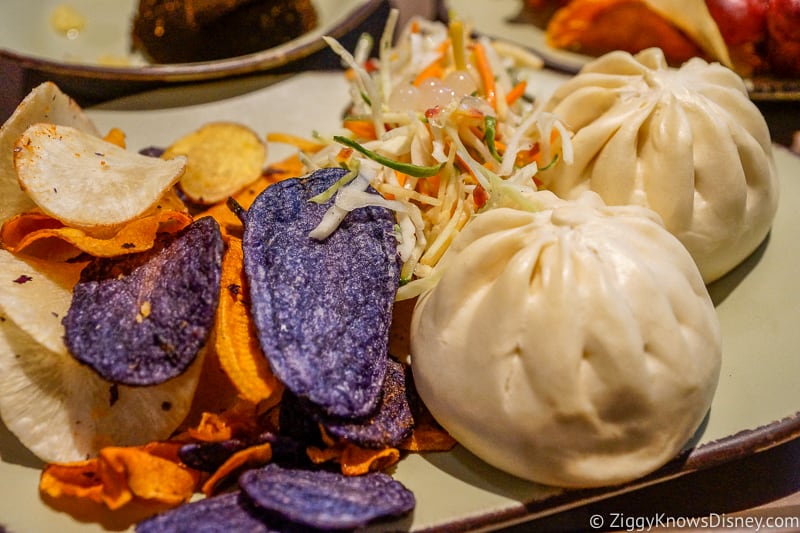 The cheeseburger pods were all the rage at the Satu'li Canteen when it opened, and are still one of our favorite food items in the Animal Kingdom. This is another children's menu item, and small enough to be a big snack if you have a large appetite.
Both of the pods are stuffed with ground beef, ketchup, mustard, pickle, and cheddar cheese, and served with some amazingly addictive veggie chips!
Ok, so that does it for our savory Animal Kingdom snacks
Best Sweet Snacks and Desserts in Animal Kingdom
Frozen Coca-Cola – Drinkwallah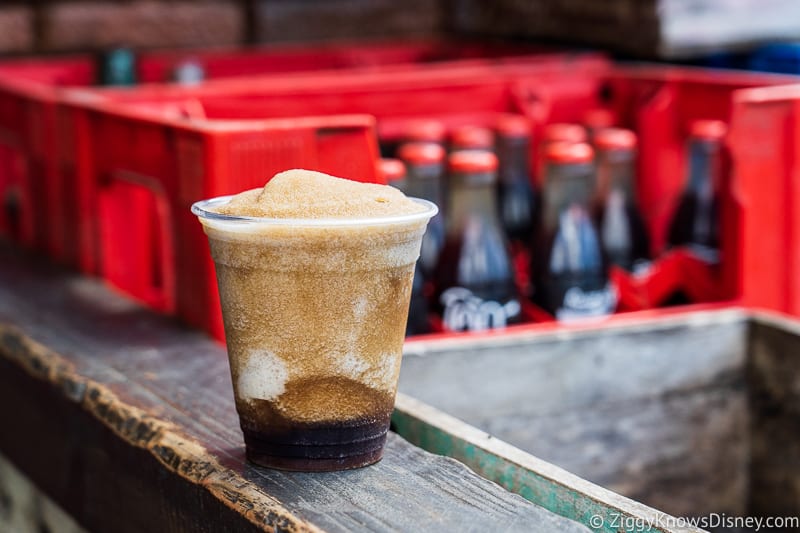 Let's face it, the Animal Kingdom just happens to be one of the hottest places on earth (slightly exaggerating) and at times you are looking for something to cool you down. Enter the Frozen Coca-Cola from Drinkwallah.
This is a great way to drink a Coke. It will cool you down fast and at only $5 a pretty good bargain. Definitely one of the most refreshing snacks in Animal Kingdom.
Simba Sunset – Tamu Tamu Refreshments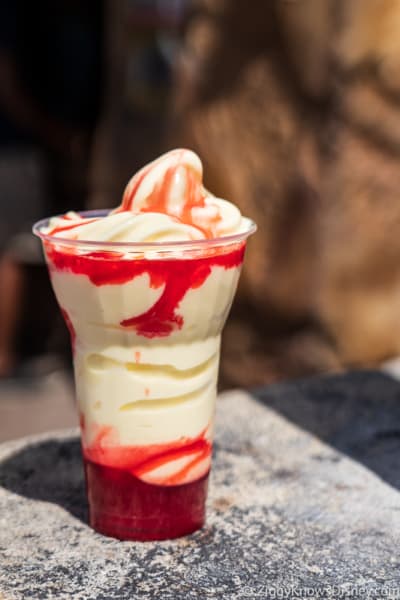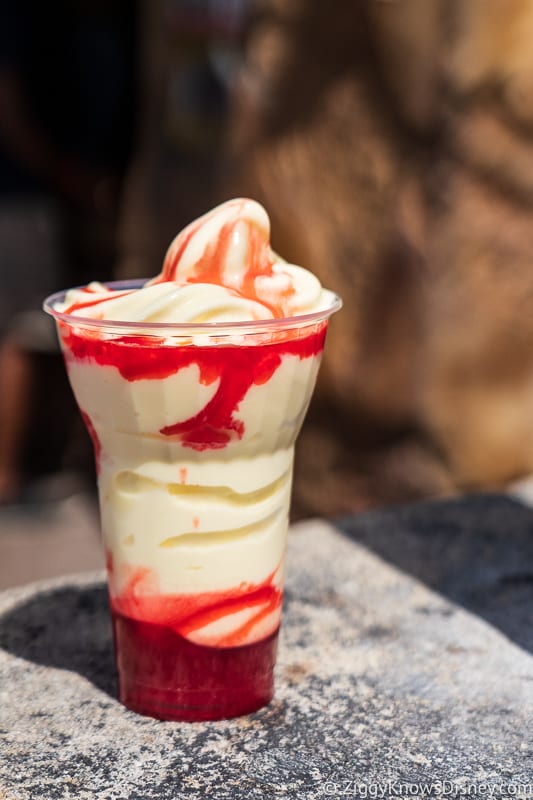 You know some form of the Dole Whip was going to make it on our list of the must-try snacks at Animal Kingdom, only we're leaving the classic one for the Magic Kingdom, and instead we've chosen the Simba Sunset.
It's pineapple flavored dole whip, but it's served with a sweet watermelon syrup over the top. A great-sized portion, and possibly the best ice cream treat in the park.
French Toast Sticks – Pongu Pongu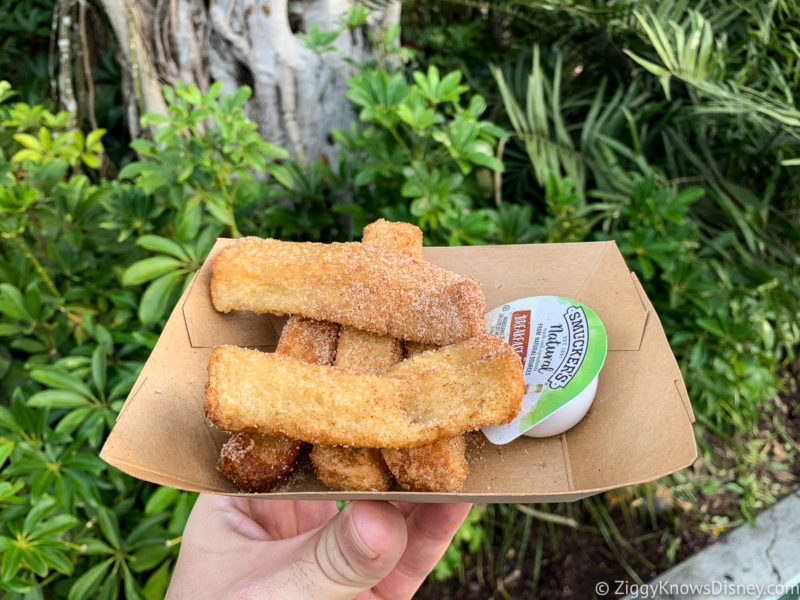 We also need some good breakfast snacks while visiting the Animal Kingdom and that's exactly what you'll find at Pongu Pongu in the French Toast Sticks. I'm not a huge French toast guy, but these were really incredible. Light and airy and they pack a great flavor. Don't forget to dip them in the maple syrup too!
Ice Cream Cookie Sandwich – Dino-Bite Snacks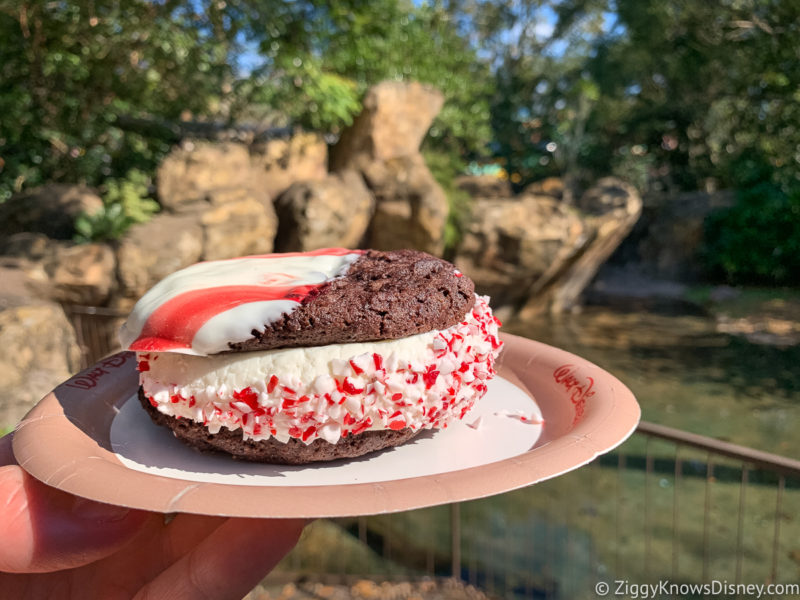 The Ice Cream Sandwiches from Dino-Bite Snacks are probably the biggest snacks in the Animal Kingdom, we're talking really massive! I honestly don't think it's humanly possible to eat one by yourself…I tried and failed miserably.
They are two giant cookies with hand-scooped ice cream in the middle. You can choose between the vanilla and chocolate chip cookie sandwich, the strawberry shortcake, or the peppermint one. These tend to be limited time items with flavors rotating. It's one of the best snack choices for using your dining credits in the Animal Kingdom, and since you can split it, you'll have more left over for other choices!
Pongu Lumpia – Pongu Pongu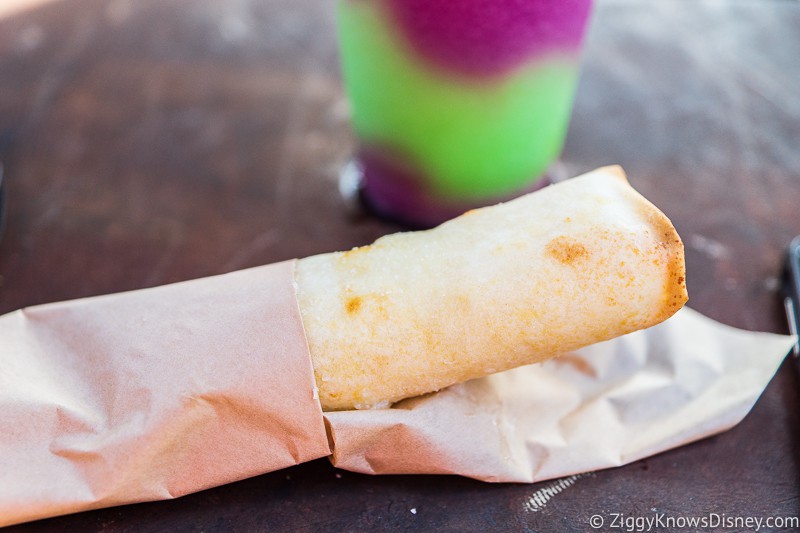 Pandora may not have tons of snack options, but the ones they do are really tasty. It may not look like much, and the pongu lumpia is a simple, sweet spring roll which is filled inside with a yummy mixture of cream cheese and pineapple, and dusted with sugar on the outside.
We put this on our list of best snacks at Animal Kingdom because every bite is a mouthwatering, flavor explosion of pineapple and cheese. It makes for a great treat at any time of the day either at breakfast or late at night. It also might be the cheapest snack on our list meaning you don't want to use a credit for it, better to pay out of pocket. Just don't skip it!
Cinnamon-glazed Nuts – Drinkwallah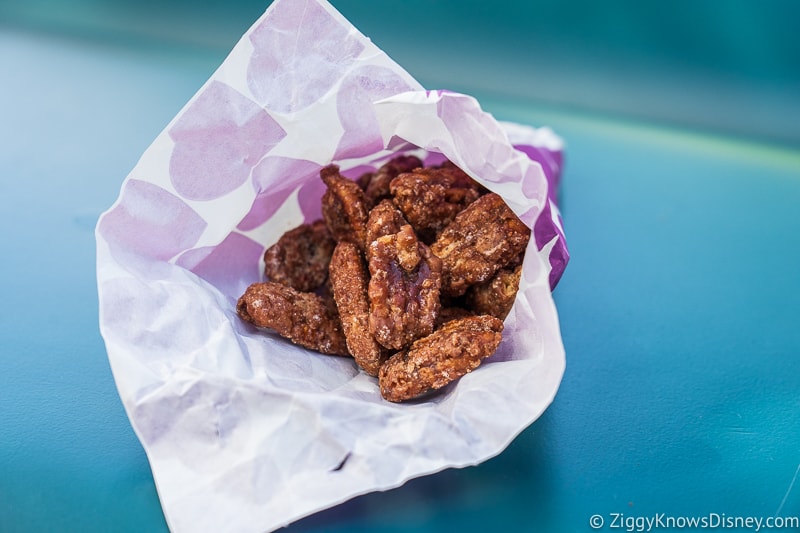 You can find some sort of glazed and roasted nuts in any Disney park, but the cinnamon-glazed nuts at Drinkwallah are perhaps our favorite! Choose between roasted and glazed pecans or almonds. They give them to you warm, and wrapped up in a cone which is easy to share from or take with you as you walk.
This isn't one of the more elaborate treats in Animal Kingdom, but it certainly is one of the tastiest. If you aren't near Drinkwallah, you can also find them at the Mahindi kiosk in Africa.
Colossal Mickey Cinnamon Roll – Tamu Tamu Refreshments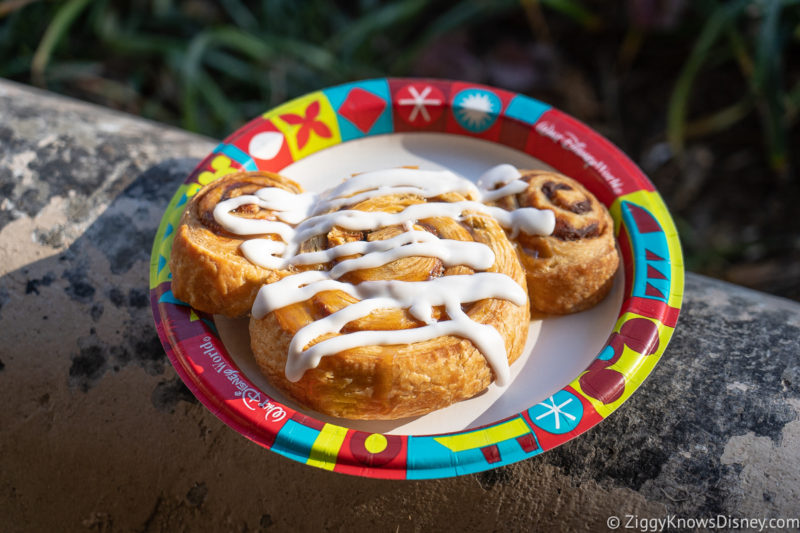 Cinnamon Rolls in Walt Disney World can be found just about anywhere, but my absolute favorite one is at Tamu Tamu Refreshments. The fact that they use the word "colossal" in the title should be telling, and this is beyond huge, perfect for sharing.
It's not only big though, it's also the best tasting cinnamon roll we've had in WDW. The whole served hot and is drowned in melted vanilla icing. It is hands-down one of the best snacks in Animal Kingdom and a breakfast favorite of ours. It's expensive at more than $7, but makes a good use of dining credits.
You can also find this at Creature Comforts Coffee Shop, but for some reason it never tastes as good so don't get it there. Get it at Tamu Tamu instead.
Blueberry Cream Cheese Mousse – Satu'li Canteen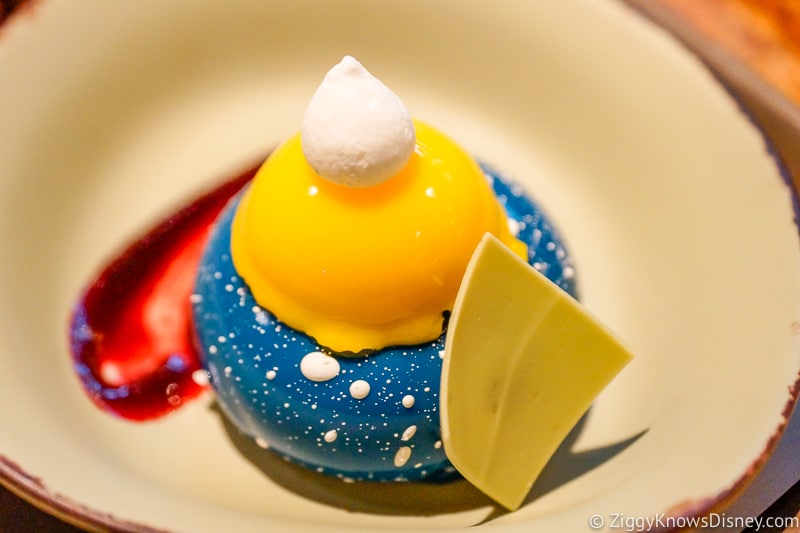 We're back at Satu'li Canteen, and this time for some sweet treats! The Blueberry Cream Cheese Mousse not only is gorgeous to look at, it also tastes incredible. We love the smooth blueberry cream cheese center, but the passion fruit curd on top really is what makes it extra special.
Of all the desserts in Animal Kingdom, this one might be at the top!
Most Beautiful Cake – Harambe Market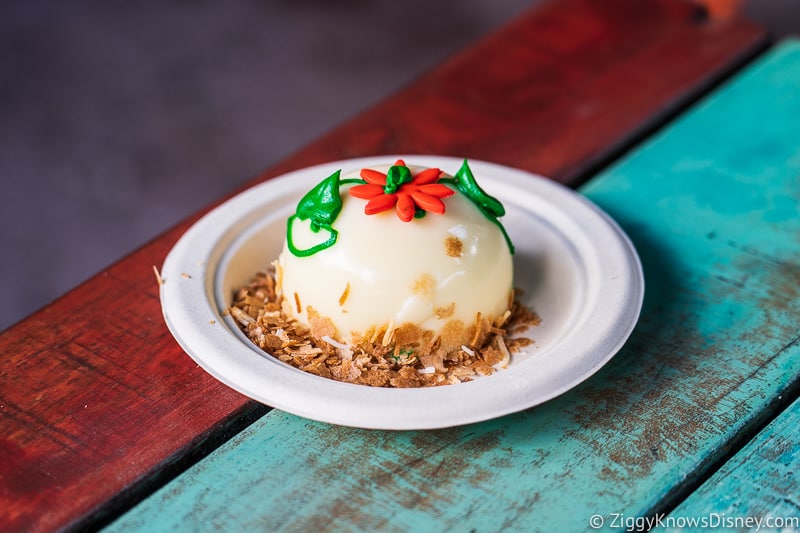 What's in a name? I was very skeptical when I first read that this cake is actually called "the most beautiful cake." I was sure it would be all look and not taste good at all. Boy was I wrong and if you like coconut and pineapple, this might end up being your favorite snack at Animal Kingdom.
We love everything about this cake from the coconut cake, to the pineapple filling, the coconut mousse outside and finally the shaved coconut flakes on the plate. Don't skip this one!
Mini Cinnamon Buns with Coffee-Caramel Sauce – Isle of Java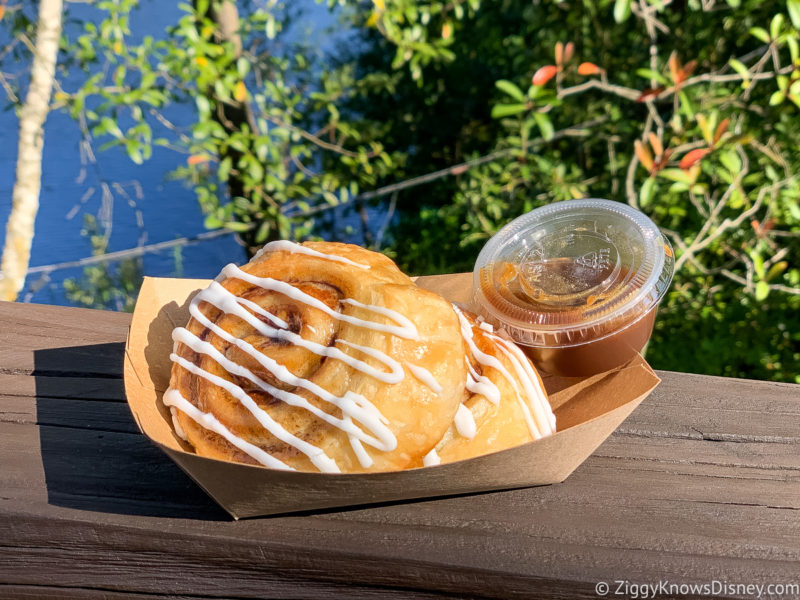 Wait, another cinnamon roll at the Animal Kingdom made our list? We tried to leave these mini cinnamon buns off the list, but we just couldn't say know. Instead of the colossal cinnamon roll, these are two smaller buns and much more manageable if you are not sharing.
The buns themselves are served warm and the dough is soft and chewy with just the right amount of glaze on top and overall stickiness for us. The coffee-caramel sauce however takes this snack to the next level. Pull these bad boys apart and dunk them in the sauce and you will have a snack experience that is rarely repeated elsewhere!
Chocolate Twist – Kusafiri Coffee Shop and Bakery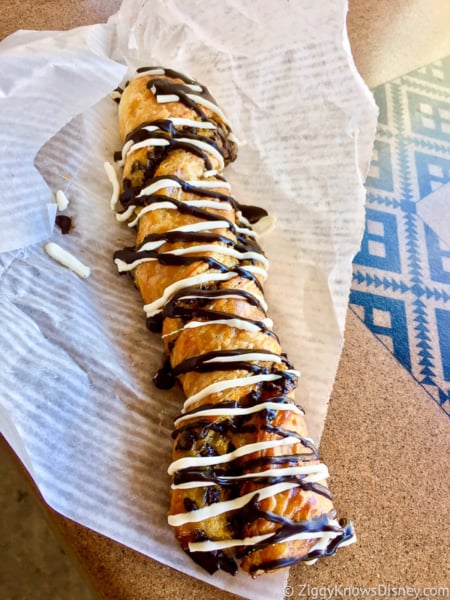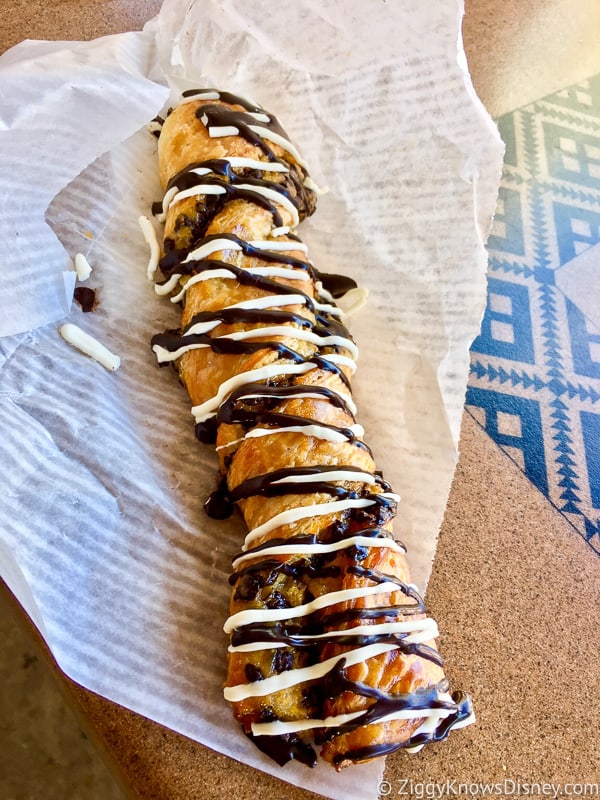 There are many amazing snacks at Kusafiri that it's hard to just pick one. They have a variety of different pastries that are always changing, including this chocolate twist that we have come to love.
Sweet, flakey pastry filled with chocolate chips, then drizzled with vanilla and chocolate icing on top. Just try to say no!
Night Blossom – Pongu Pongu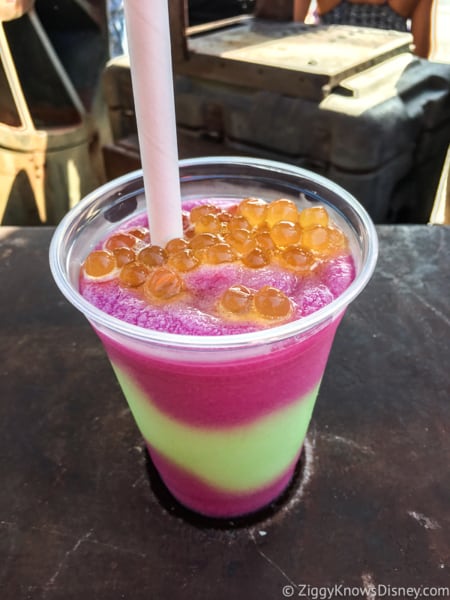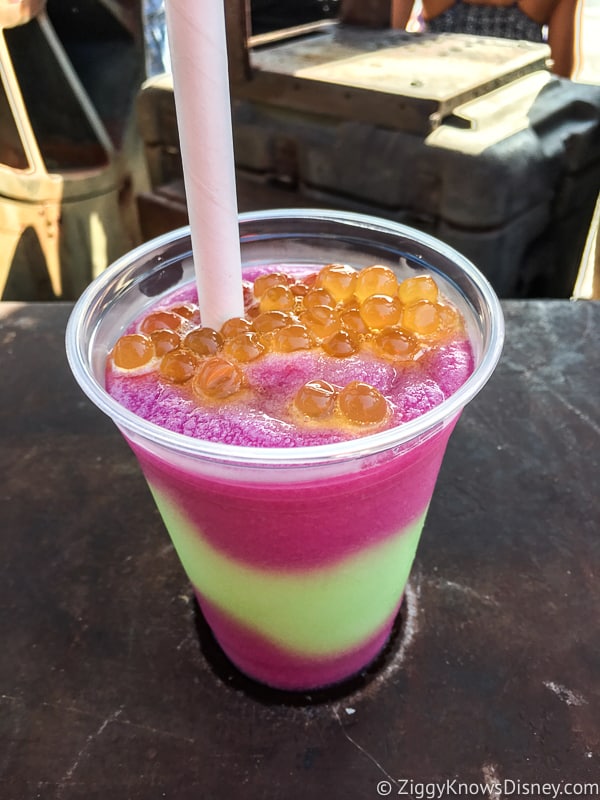 Last on our list is the Night Blossom, also found at Pongu Pongu in Pandora. Call us crazy but we have an unnatural obsession with the boba pearls that you find in various drinks throughout Disney World, and these passion fruit ones might be our favorite.
The mixture of limeade, apple and pear and the fact that it's super refreshing, make getting one a must almost every visit to Pandora!
We've come to the end of our best snacks in Animal Kingdom list, and we think that you will have your hands full (and stomachs) on your next few trips to the park.
As I mentioned before, not all of the snack carts will always be open, so if you don't get what you were looking for, try again the next time. Disney is always adding new snacks in the Animal Kingdom so keep checking back right here at Ziggy Knows Disney as we update the list to add any new ones we feel worthy of adding!
Now we want to hear from you and find out what your must-get snacks in Disney's Animal Kingdom are. Please let us know if you feel we forgot something that deserves to be there!
For more great Disney food be sure to check out our other snack posts like:
Your Thoughts:
I want to know what you think about my list of the Best Snacks at Animal Kingdom….
Which snack is your favorite?
Which ones don't you like?
Let us know in the comments section below!
If you enjoyed this article, as always I appreciate it if you'd share it with others via social media. I work hard at making this website into a useful resource for you and your family to plan your visit to the Disney Parks and I hope it can help you! Thanks 🙂