If you are like us then you spend much more time than you should in EPCOT's World Showcase. But what are the 11 countries in EPCOT? What is there to see and do when visiting World Showcase?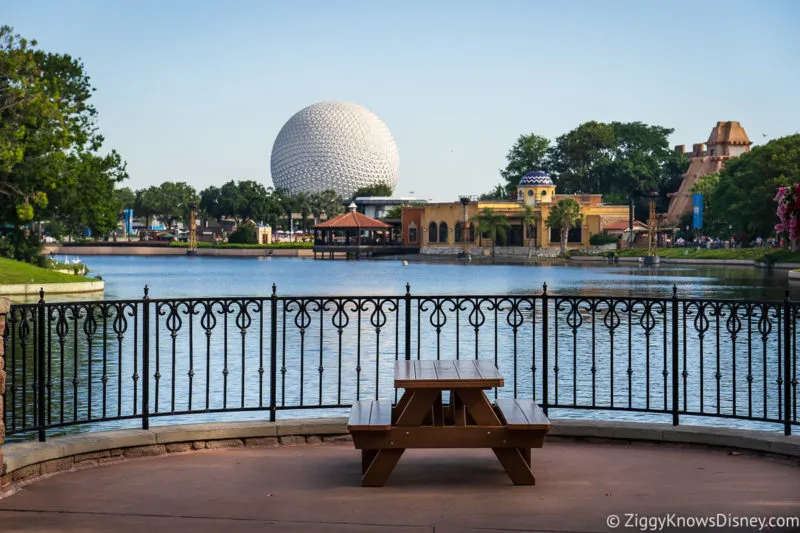 In this post we are going to share with you everything you need to know about the EPCOT countries and everything there is to do in World Showcase. And believe me, there is a ton to do, more than you can fit into one visit to Walt Disney World.
Your day will be full of dining, shopping, attractions, shows, street performers, as well as being able to soak up each country's culture and traditions.
When you have countries like France, Italy, Japan, Germany, Morocco, Canada, China, Norway, Mexico, America, and the U.K. all within walking distance, there is no reason to get a passport or hop a flight. Yes, just by visiting EPCOT you can visit 11 different countries all in one day!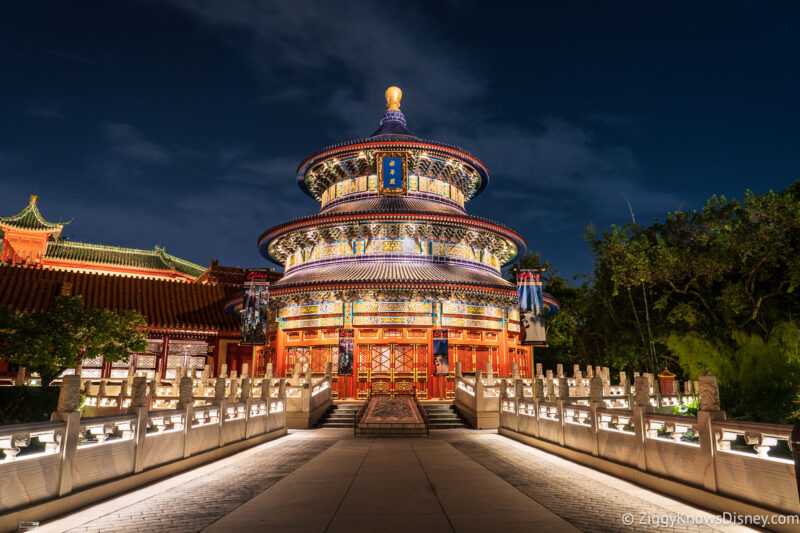 Of course, we are exaggerating when we say there is no need to actually visit those countries, EPCOT can't really compare totally, however, it gives you a preview of what to expect if you have never visited those locations in real life, or an opportunity to make you feel like you are back and visiting your favorites for the day.
Remember to allow for enough time during your visit, World Showcase is really huge. That's why we've compiled this guide of things to do in the EPCOT countries so you can prioritize your favorites and see the most things as is reasonably possible.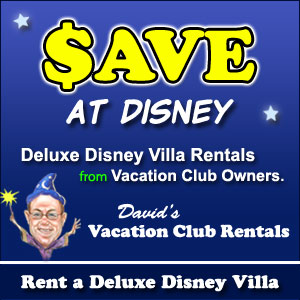 Before we get started on our trip around the World Showcase Lagoon, you may want to check out some of these other EPCOT guides we've worked on. They will give you a more detailed look at the various elements in the park:
Before we get started, don't forget to sign up for our FREE Weekly E-Mail Newsletter. There we bring you the latest Disney vacation planning tips including how to save money, where to stay, and the best things to do. You can sign up here: Join our E-Mail Newsletter!
World Showcase Overview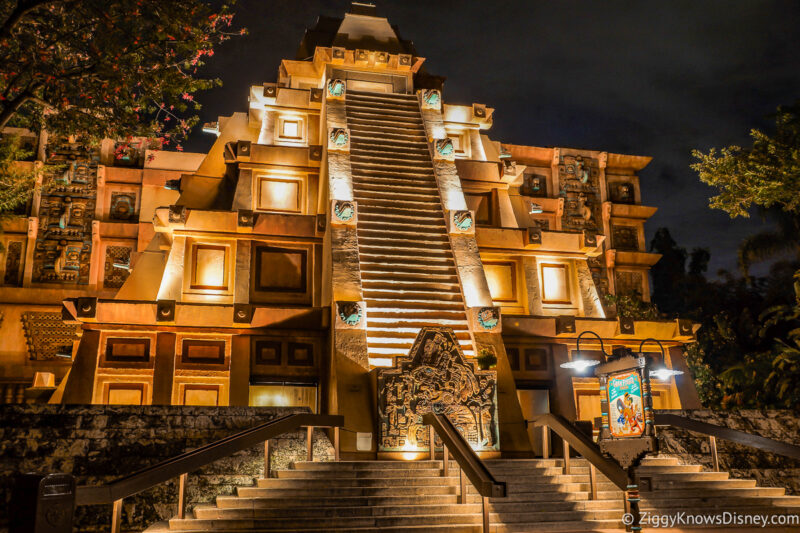 So what is World Showcase?
As you probably know by now, EPCOT is split up into 2 parts. The front of the park holds the 3 futuristic neighborhoods of World Celebration, World Discovery and World Nature.
The World Showcase Pavilion is a 1.2-mile loop around the picturesque World Showcase Lagoon that honors many different cultures from around the World. Think of it as a world expo of sorts.
It's located in the back of the park and behind the other three areas of EPCOT (World Celebration, World Discovery, and World Nature).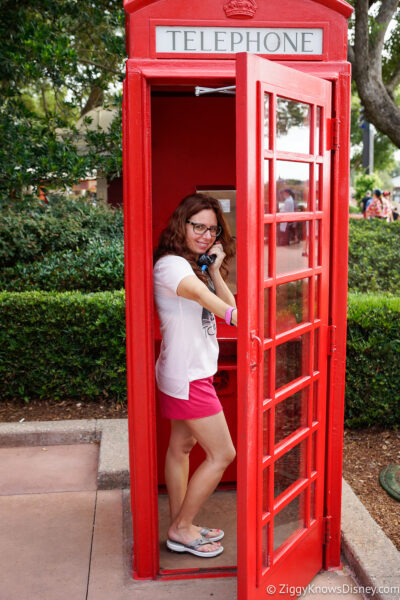 The World Showcase section of the park brings the authenticity of these different cultures at each country's pavilion through various cuisines, architecture, and even Disney Cast Members.
It can be a terrific way to spend hours of your day briskly walking through and exploring the many different themed areas that are all vastly different while giving you a taste of each country's culture.
EPCOT has been a park in flux for the last few years with significant changes being made. With EPCOT now having four distinct themed areas, the one area that has NOT made many significant changes is the World Showcase section of the park.
How Many Countries are there in EPCOT?
There are 11 countries in EPCOT's World Showcase. Each of these has elaborate theming and individuality that you won't find anywhere else outside of each respective country.
We find them to be incredibly authentic in keeping with Disney's terrific storytelling.
What are the 11 Countries in EPCOT World Showcase?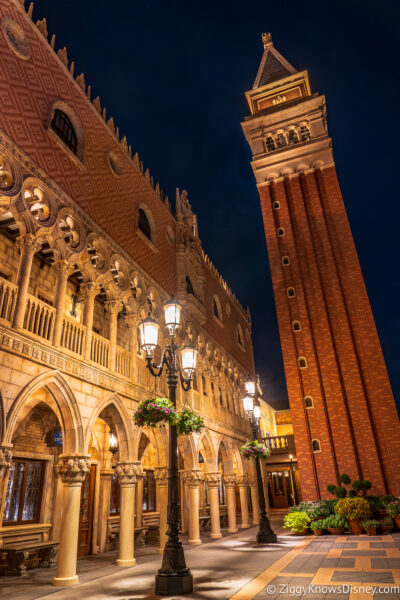 The 11 Countries in EPCOT's World Showcase are:
Mexico
Norway
China
Germany
Italy
The American Adventure
Japan
Morocco
France
United Kingdom
Canada
In each of these countries you'll find themed food spots, shopping areas, unique landscapes, and even entertainment offerings, and each one has a unique personality with a vastly different feel.
And while this area of EPCOT might seem of interest ONLY to adults, it's absolutely not the case, as the countries of EPCOT all provide family-friendly fun for each member of the family.
Throughout this post, we will help you maximize each of the different countries' pavilions while helping you truly experience the uniqueness of the World Showcase.
Trust me, it's one of the best places to spend some time in at Walt Disney World, and you may end up enjoying it even more than the other parks that are more attraction-heavy.
EPCOT World Showcase Map
Here is a map of EPCOT's World Showcase direct from the Disney World website: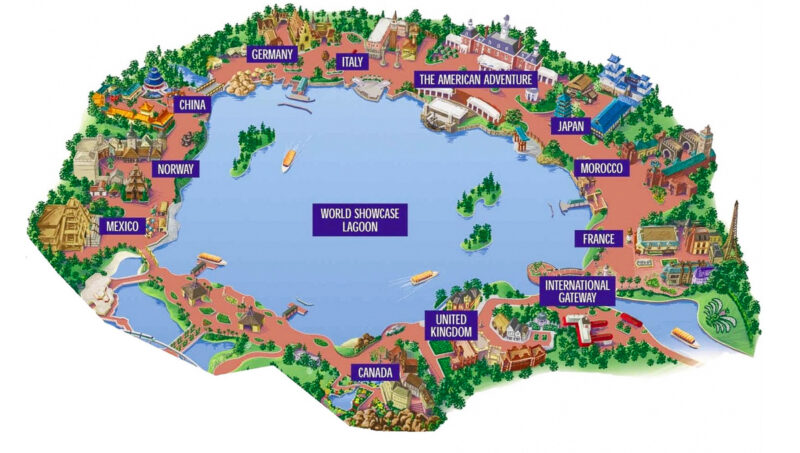 You can see all 11 World Showcase countries in clockwise order starting with Mexico and all the way over to Canada.
Which Country to Start in the World Showcase?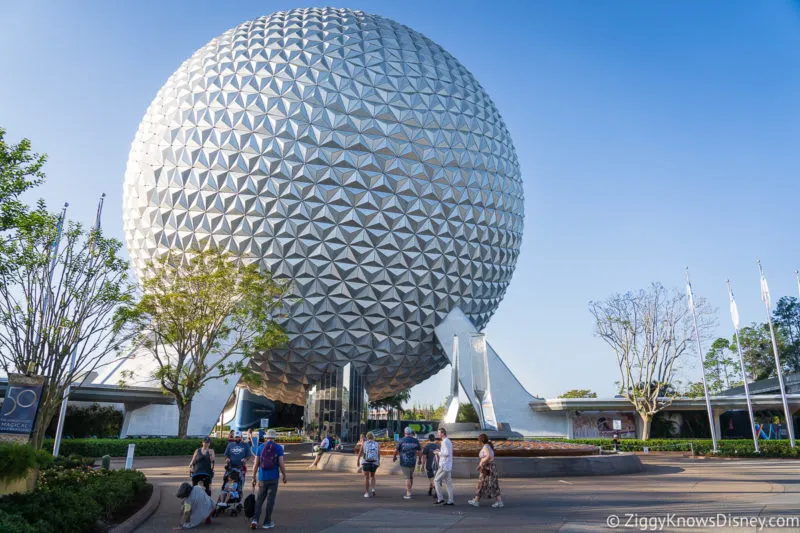 It's important to remember that unlike any other Disney World Theme Park, there are TWO entrances to EPCOT. There is both a front entrance and a back entrance giving guests options.
The majority of visitors come in through the front entrance, which is where the EPCOT Sphere (Spaceship Earth) is. That is where you will park your vehicles, where Disney Buses drop guests off, and where the monorail drop-off is.
Then there is the back entrance, which comes in directly through the World Showcase via the International Gateway Entrance. This is where the Disney Boats bring guests, and where guests who are staying at one of the EPCOT Resorts or the Disney Skyliner Resorts can enter.
For the sake of this post, we will assume you're coming in through the Main or the Front Entrance of EPCOT, which is the majority of EPCOT guests.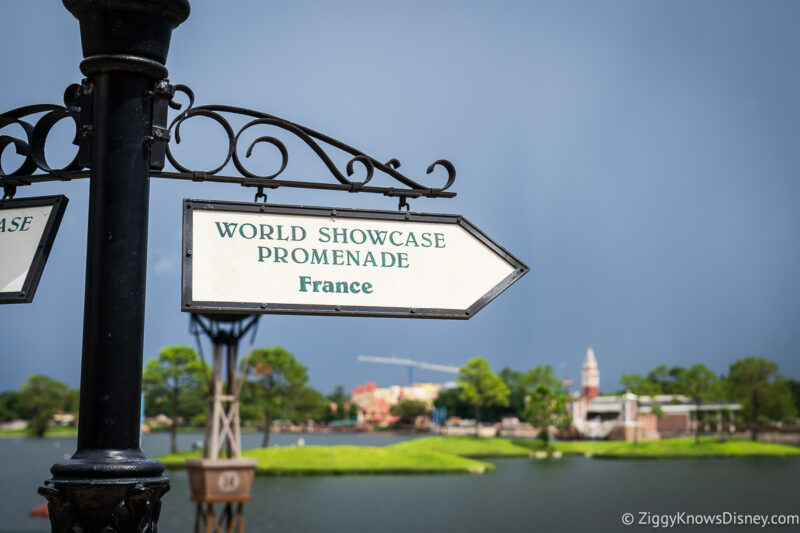 When coming through the park through this entrance as you approach the World Showcase lagoon, you'll have two options:
You can go to your left, and start in Mexico, and do a clockwise loop around the lagoon.
Or you can go right and start in Canada and do a counter-clockwise loop around the lagoon.
While neither option is wrong, we tend to follow the clockwise rotation and start in Mexico. This is just a personal preference, and you can go the option way too if that floats your boat. But we find Mexico is VERY crowded and visiting it during the earlier part of the day is quieter and less hectic than later on.
So let's get started on our trip around the world…
Mexico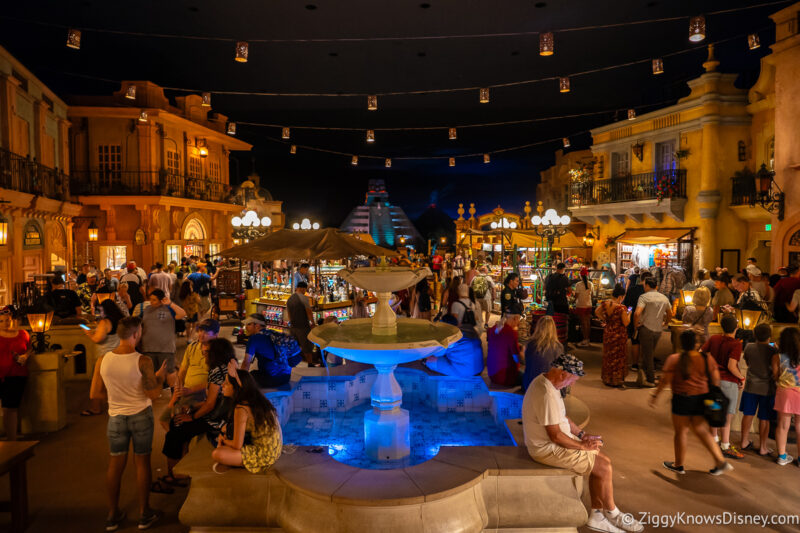 Our first stop along the World Showcase Lagoon brings us to Mexico! Mexico is a truly unique stop along our 11-country tour as it's the only country's pavilion in which the majority of the pavilion is indoors!
And being inside in air conditioning is a major win if you ask me as opposed to baking in the 90-degree Florida sun outdoors!
The Mexican Pavilion features traditional exhibits and shopping with the standout presence being a massive Mesoamerican Pyramid that allows guests to clearly identify Mexico from across the World Showcase Lagoon.
And while the majority of the sights are inside, there are a few noteworthy stops outside as well.
Attractions in Mexico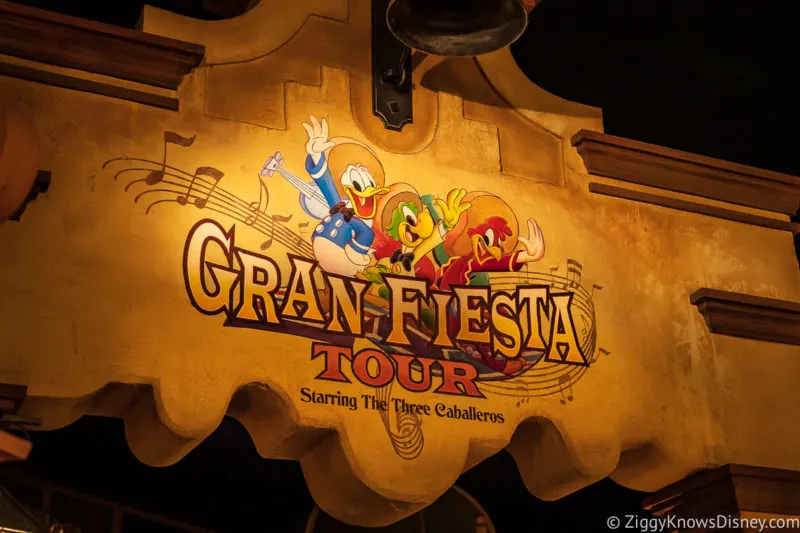 The Gran Fiesta Tour Starring The Three Caballeros – Mexico has the privilege of being one of only three EPCOT Countries with a ride, and here that's The Gran Fiesta Tour. This relaxing boat ride is found inside the Mexican Pavilion and takes you on a slow-moving boat ride around Mexico as you and the other two Caballeros search for Donald Duck.
Mexican Folk Art Gallery – This is a rotation exhibit along with a number of other galleries throughout the World Showcase Pavilion. You'll find this immediately at the top level of the Mexico Pyramid, right as you walk in.
Currently, the exhibit is Remember Me! La Celebración del Día de Muertos, which celebrates the work of prominent Mexican and Mexican-American artists.
DuckTales World Showcase Adventure – This fun interactive scavenger hunt with Scrooge McDuck encourages kids to use the Play Disney Parks mobile app to find different clues throughout the pavilion to help solve a mystery.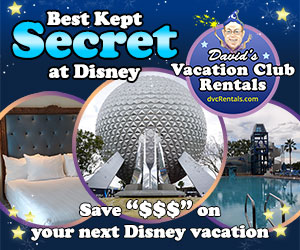 Dining in Mexico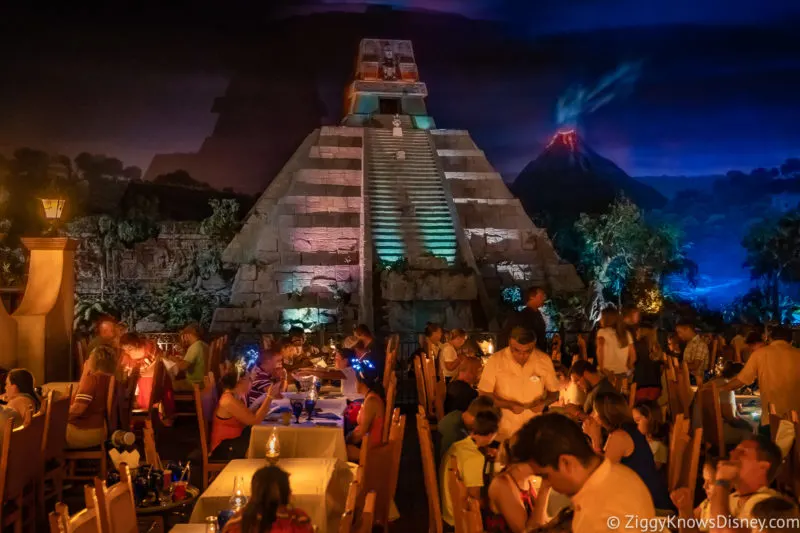 San Angel Inn Restaurante – The most popular sit-down table-service restaurant in Mexico is situated inside the Mexican Pavilion towards the back and near the pyramid.
This restaurant is known for its tremendous ambiance and decor, making you truly feel as if you are eating in an outdoor Mexican Market. They feature Mexican favorites, including a number of Mexican specialties that are relatively familiar to most American Palettes.
La Hacienda de San Angel – The other Mexican sit-down restaurant, La Hacienda is situated on the water and not inside the main Mexican pavilion. While the food is somewhat similar to San Angel Inn, the atmosphere is completely different. This is one of the better spots to enjoy fireworks from, if you can get a fireworks-view table.
La Cantina de San Angel – The quick-service spot for guests to get a number of different Mexican favorites such as nachos, tacos, etc… This spot is located outside along the lagoon, although there is cover from the sun and elements.
La Cava del Tequila – A popular tequila bar that is tucked away to the right of the Mexican pavilion inside. There aren't many tables, but you can grab a drink and go as well, if you don't feel like waiting for a spot at the bar or a table. Come early or be prepared to wait on busier days.
Choza de Margarita – The outdoor margarita stand that offers a number of tasty margaritas. They also offer a few quick-service snack offerings as well if you want to grab a quick bite.
Entertainment in Mexico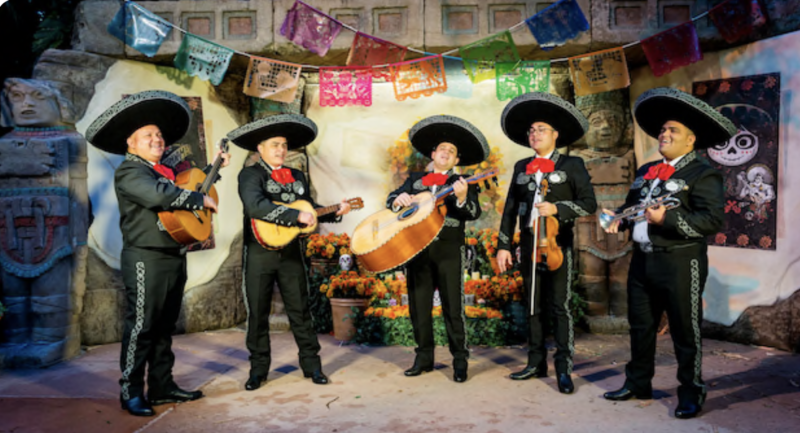 Mariachi Cobre – Enjoy some wonderful mariachi music as Mariachi Cobre delights guests for a 25-minute show several times a day outside. They play an assortment of famous arrangements that come from all across Latin America several times a day.
Character Meets in Mexico
Donald Duck – Meet Donald in his Three Caballeros outfit outside in the shady spot just to the right of the Mayan Pyramid.
Shopping in Mexico
Plaza de los Amigos – This is the popular inside market that is found in the main indoor Mexican Pavilion. There are a number of different stores and carts in the center that sell all kinds of Mexican souvenirs, from jewelry to crystals to glassware to leather goods to The Three Caballeros merchandise!
El Ranchito Del Norte – This is a store outside right next to the La Hacienda Restaurant, they sell different Mexican souvenirs including pinatas, maracas, and sombreros.
Rings Carver – Get your name or initials carved onto a ring here at Ring Carvers, which is another outdoor Mexican store.
Kidcot Location in Mexico
These Kidcot Fun Stops are found all over the World Showcase, in each of the 11 countries. They allow kids the opportunity to learn about the different cultures of the countries while giving them the opportunity to create their own art.
The Mexico Kidcot location is in the center of the indoor pavilion, near the Folk Art Gallery.
Mexico Tips & Secrets
The theming at the Mexico Pavilion features the two vastly different Mexican Regions of the jungle and the desert. You'll notice the regions that portray the desert with its native plants and general aesthetics near the areas of the Cantina de San Angel at the outside part of the Pavilion.
You'll also notice the jungle-theming and the Mexican tropics depicted while looking inside the Pavilion, particularly when looking towards the Mayan temple, with its palm trees and lush atmosphere.
Norway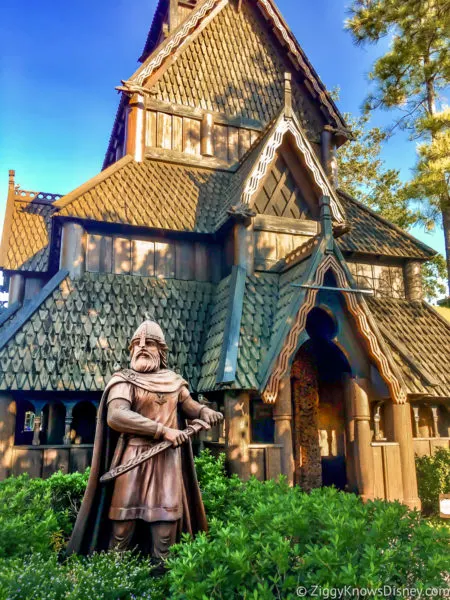 Our 2nd stop along our clockwise stroll of the World Showcase Lagoon brings us to the home of a famous 12th Century Stave Church as well as Vikings and that of course is Norway!
Modeled after a traditional-style Norwegian Village, you'll see numerous nods to Norwegian culture and tradition throughout the Pavilion.
There are a number of standouts here in Norway, including one of the most popular attractions in EPCOT, Frozen Even After. You'll also get some terrific photo opportunities, including the unique architecture that features its traditional-style housing with sod roofs that would be reminiscent of rustic Norway.
Attractions in Norway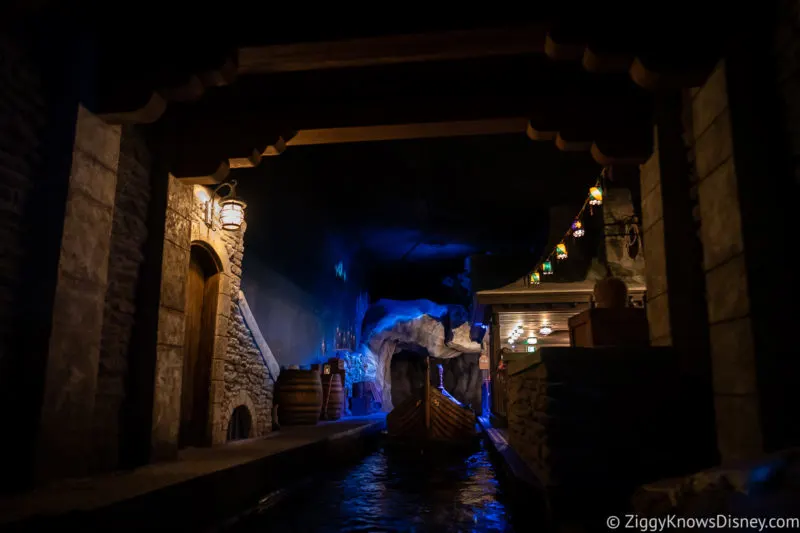 Frozen Ever After – Formerly Maelstrom, this boat ride was refurbished back in 2016 and reopened to a musical boat ride that takes guests through the famous scenes of the popular animated film Frozen, based in Norway. You'll ride both forward and backward through a mostly tame experience, although you might just get a tad bit wet.
Stave Church Gallery – Located inside the building and features a number of Viking artifacts that tell you about the famous stories of Thor, Odin, Freyja, and Loki!
DuckTales World Showcase Adventure – Find some popular clues throughout the Norway Pavilion as you play this fun interactive scavenger hunt on the Play Disney Parks app.
Dining in Norway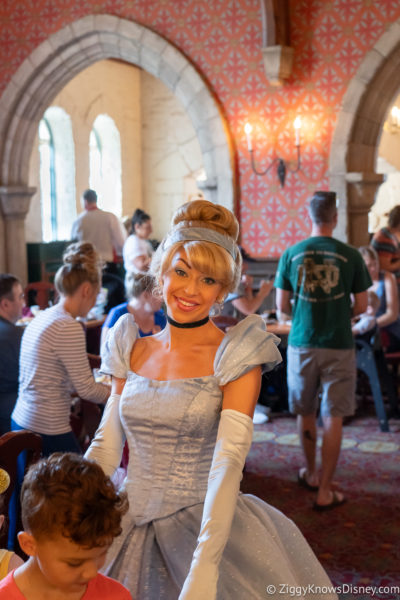 Akershus Royal Banquet Hall – An expensive all-you-can-eat character meal that gives you the opportunity to eat and enjoy breakfast, lunch, and dinner with Ariel, Belle, Snow White, Princess Aurora, Cinderella, or Mary Poppins.
This is a great option for guests with kids, especially girls who want to enjoy their time with the Disney Princesses. In fact, it's one of only two restaurants that allow you to eat with multiple princesses.
For more info, read where it lands on our list of the best character meals in Disney World.
Kringla Bakeri Og Kafe – One of the more popular bakeries in all of Walt Disney World, this quick-service stop offers a number of tasty Norwegian specialty ideas, such as the ever-popular School Bread! Try a few things here, especially if you have a sweet tooth!
Entertainment in Norway
The Norway Vikings – You'll likely find two different Norway Vikings that frequently roam the pavilion looking for their ship. Make sure to interact with them!
Character Meets in Norway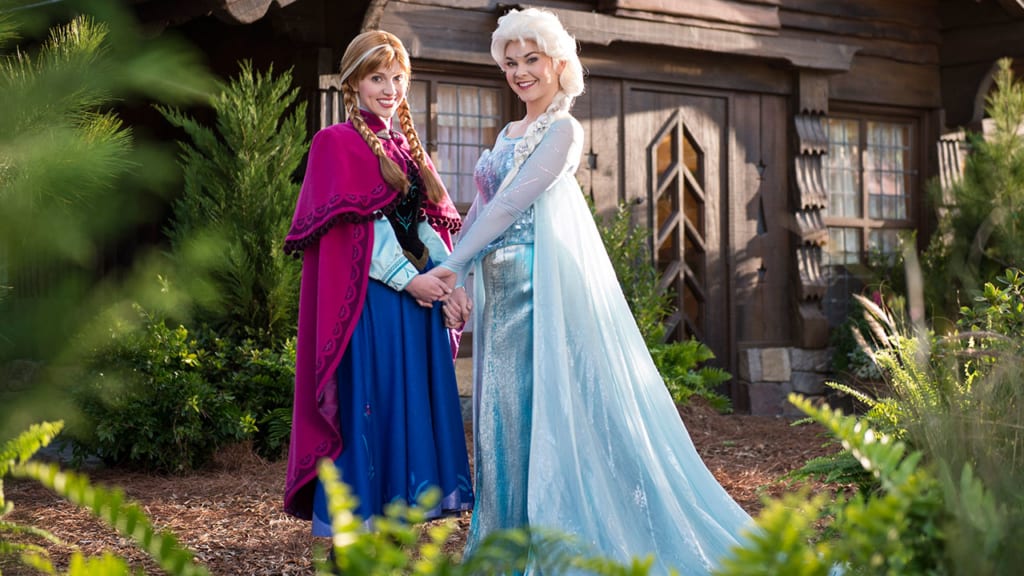 Anna and Elsa – Meet Anna and Elsa over at the Royal Sommerhus as they relax inside their summer cabin. Definitely one of the most popular character meets in EPCOT, so make it a priority if you are fans.
Shopping in Norway
Puffin's Roost – This store features a number of hand-knit wools, trolls, glass, toys, and porcelain. Many of these items are imported from Norway.
The Fjording – This store in Norway features a number of traditional Norwegian items, including clothing, Viking merchandise, sweaters, and other Norwegian handcrafted items.
The Wandering Reindeer – You'll find themed Frozen items from the movie, including different costumes and toys from the movie.
Kidcot Location in Norway
The Kidcot location in Norway is tucked away inside The Puffin's Roost with a number of featured crafts that are inspired by Norwegian folk art.
Norway Tips & Secrets
With Norway housing one of the most popular rides in EPCOT, Frozen Ever After, it's important to get here quickly upon park opening. The lines for Frozen Ever After can easily extend past an hour, so if you can get here early do so!

Another interesting tidbit about Norway was that when the country was added to the World Showcase in 1988, they used to have a huge Viking Ship that housed a great play area for kids. Unfortunately, they abandoned the ship, although they kept some of the remains, and put a flower garden in its place instead.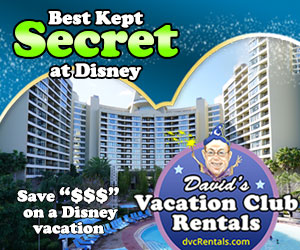 China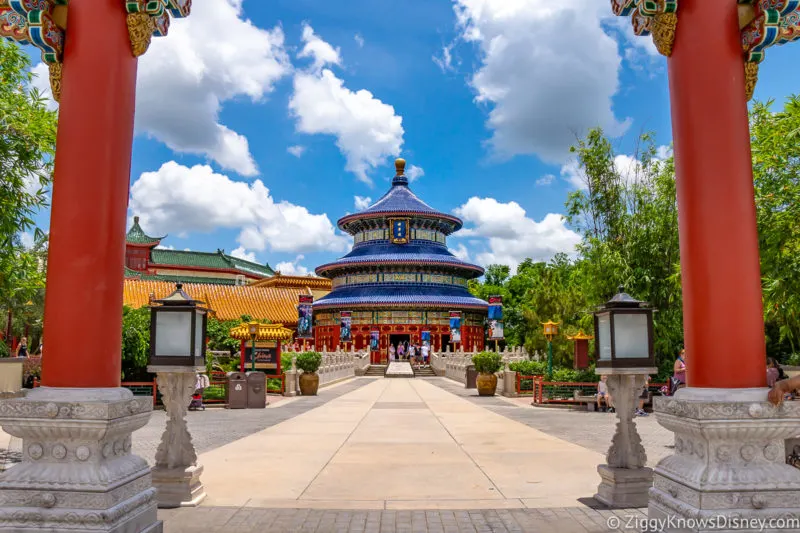 Our 3rd stop along our World Showcase tour is China! As you pass through Norway and make your way over here, you'll immediately see remnants of popular Chinese architecture. That includes the brightly colored replica of the Temple of Heaven, which is a museum that contains ancient Chinese artifacts.
The China pavilion is beautifully designed and maintained with traditional-style manicured gardens in addition to intricate theming through the inside of the pavilion. It's a photographer's dream inside the pavilion with gorgeous theming throughout. This place really has a number of highlights that are worth checking out!
Attractions in China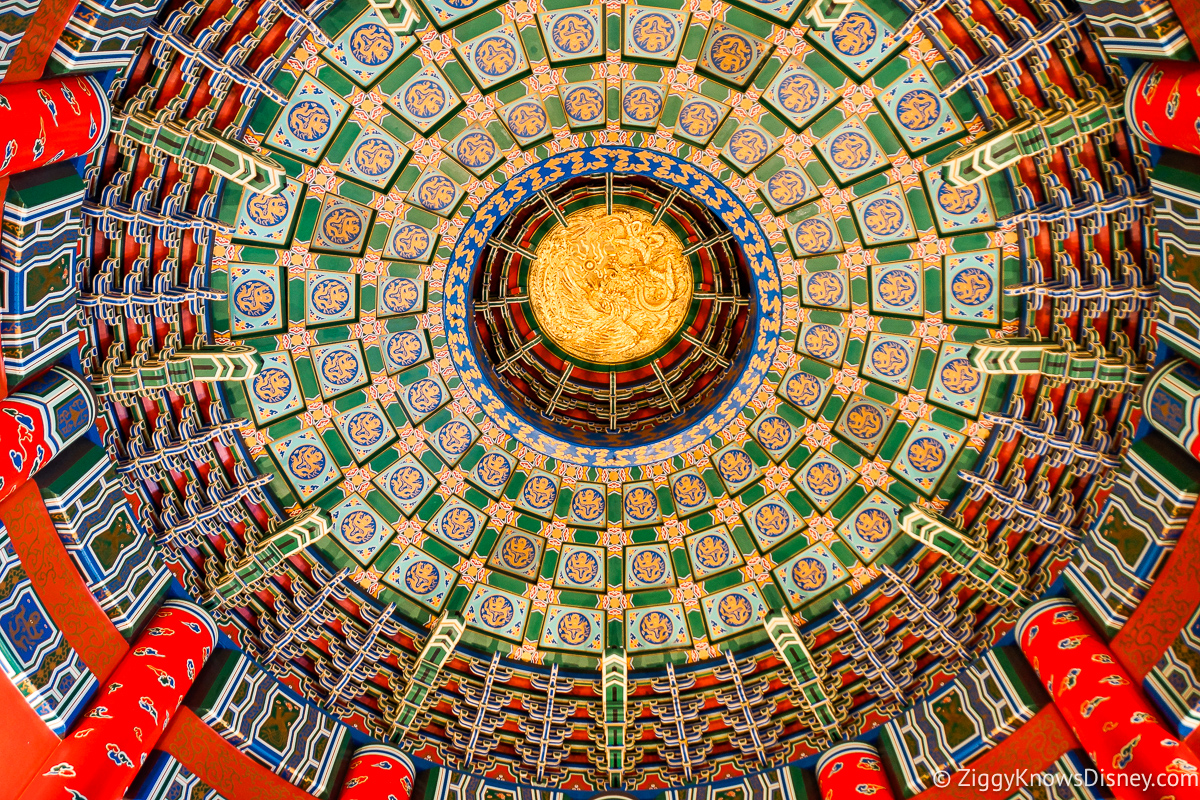 Reflections of China – This beautiful 13-minute CircleVision 360-degree film takes you on a journey around China with some of the spectacular things you can see on a trip there. It's expected to be replaced by an updated film called 'Wondrous China', but we don't know when this will be.
While there is NO seating, guests utilizing a wheelchair or an ECV can stay in it during a viewing of this film.
DuckTales World Showcase Adventure – Find some widespread clues throughout the China Pavilion as you play this fun interactive scavenger hunt on the Play Disney Parks app.
Dining in China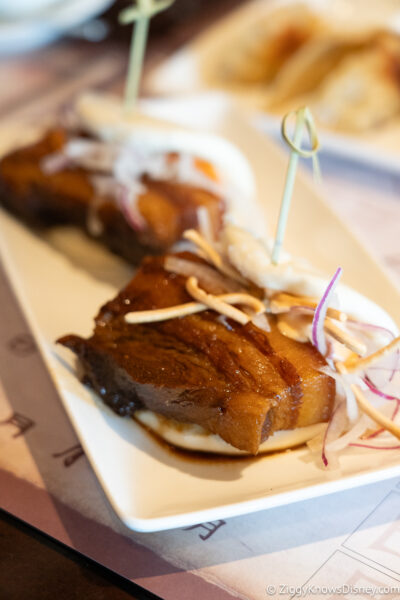 Nine Dragons Restaurant – A table-service restaurant with indoor-only seating that serves popular Cantonese cuisine such as Peking duck and Kung Pao chicken. You'll find popular favorites here in addition that you'll likely recognize from your local Chinese restaurant. The food as a whole here is OK, and we'd generally recommend you avoid it if possible.
Lotus Blossom Cafe – The quick-service restaurant in the China pavilion offering your classic Chinese dishes such as pot stickers, fried rice, and lo mein. A solid quick-service option with reasonable prices if you're craving Chinese food in the parks.
Joy of Tea – This outdoor kiosk is a tea cart that offers different tea-based drinks and some Chinese snacks as well. You'll also find some tasty cocktails here in addition!
Entertainment in China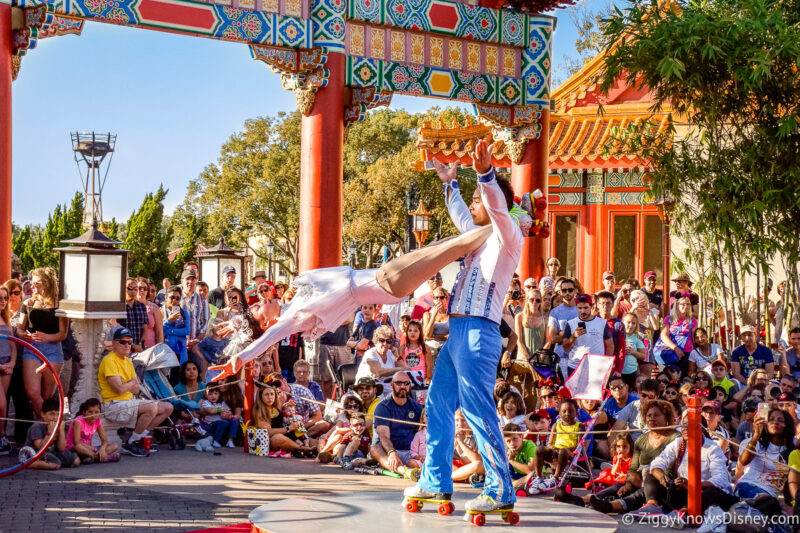 Jeweled Dragon Acrobats (Have NOT returned) – The popular Jeweled Dragon Acrobats were a fan-favorite who performed daily near the entrance of the China pavilion. Unfortunately, they have NOT returned since the parks reopened in 2020. We hope to see them back soon!
Character Meets in China
Mulan – Meet Mulan at a few various different points of the day over near the Chinese Gardens.
Shopping in China
The House of Good Fortune – This large shop is located at the back of the pavilion and features jade, umbrellas, authentic Chinese clothing, and other Chinese handicrafts.
Good Fortune Gifts – This outdoor shop next to The Joy of Tea offers traditional inspired gifts such as puppets, parasols, and different Chinese Toys.
Kidcot Location in China
The Kidcot location in China is located inside The House of Good Fortune shop near the exit of the Reflections of China video.
China Tips & Secrets
One of our favorite things to do in China is to head to The House of Good Fortune and get either a fan or a parasol and they will personalize it for you with your name in Chinese or with a personalized message! It's a great gift that no one talks about and is incredibly reasonably priced!
Germany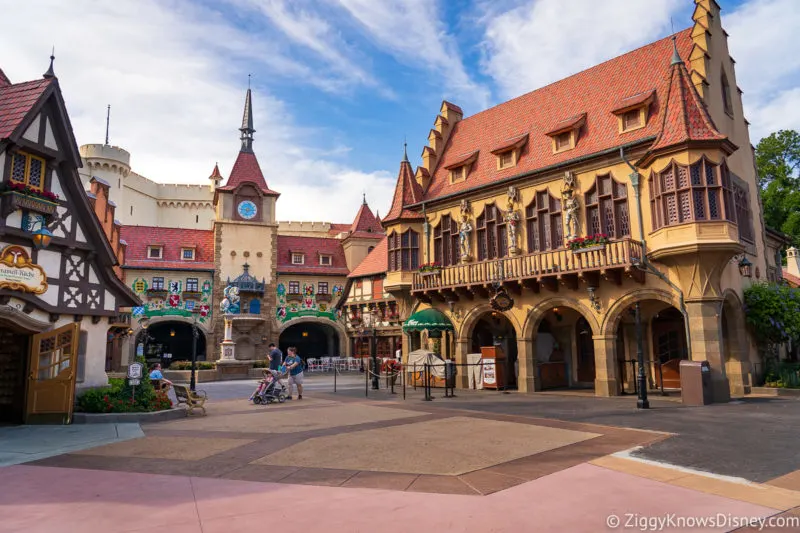 At our next stop along our World Showcase stroll around EPCOT is one of the most popular countries, Germany. This pavilion is modeled and themed to Medieval Bavarian-style Germany with its winding cobblestone streets and half-timbered buildings.
You'll feel as if you're stepping out straight from a fairytale, as you take in the sights and sounds of German architecture!
The center of the Germany Pavilion is built around the town square or the Platz, which is surrounded by various retail stores and places to grab a snack or a beer. You'll also find a replica of a classic German Biergarten, where guests can enjoy live music and have a pint of beer.
If you are worried about crowds, the Germany Pavilion is hopping at all times of the day, but especially in the evenings and the weekends!
Attractions in Germany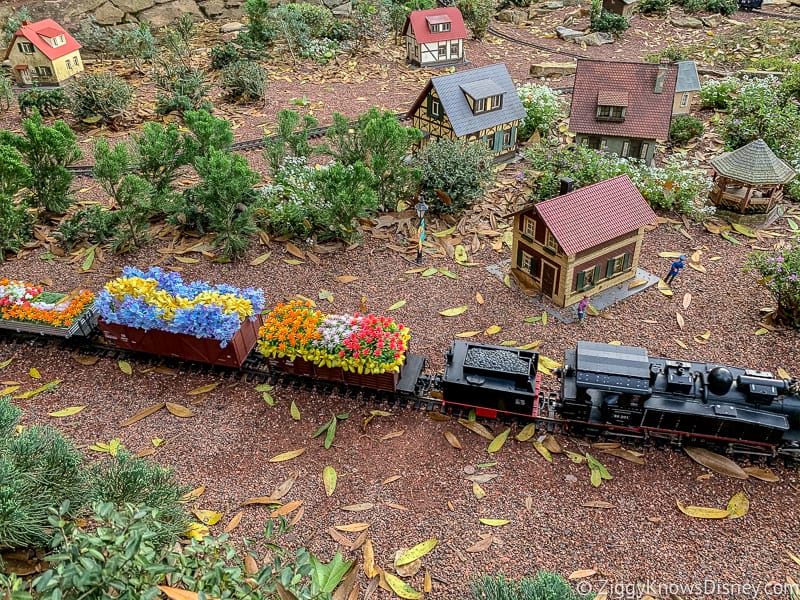 Romantic Road Miniature Train Village – This adorable outdoor model railway is located just near the bathroom stalls in Germany. It's got amazing and intricate theming through the little themed village as the various different themed trains go by.
DuckTales World Showcase Adventure – Find different clues throughout the Germany Pavilion as you play this fun interactive scavenger hunt on the Play Disney Parks app.
Dining in Germany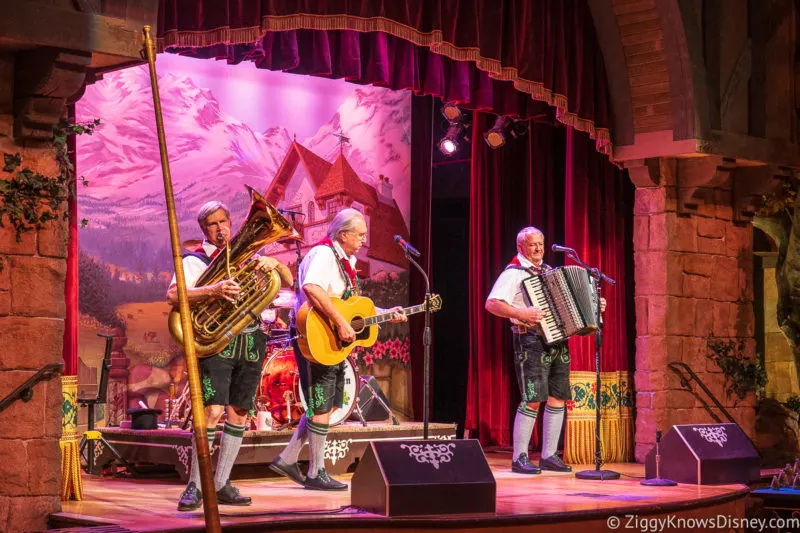 Biergarten Restaurant – This popular buffet is housed inside a German Biergarten which celebrates a classic Oktoberfest celebration, but all 365 days a year. This fun restaurant is open daily for lunch and dinner and features classic German dishes while listening to a live band play traditional German-style folk music. It's a must-do thing at least once, giving you a meal and a show!
Sommerfest – The German quick-service location that is found just outside of Biergarten in the back of the Germany Pavilion. You'll find pretzels, brats, and apple strudel here!
Karamell-Küche – Part bakery and part store, this spot allows you to enjoy various different cookies, cakes, Werther's Popcorn, and essentially everything Caramel you've ever dreamed of!
Entertainment in Germany
Live Music – Gather around the Germany Gazebo to see different bands perform some of the greatest hits of German Rock & Roll! The bands here fluctuate and rotate regularly.
Character Meets in Germany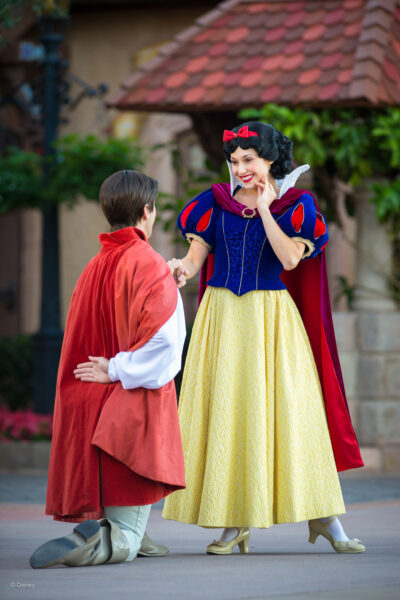 Snow White – Find Snow White just outside Karamell-Küche as she does various different meet and greets with guests.
Shopping in Germany
Die Weihnachts Ecke – A classic German-style Christmas shop that sells grass ornaments and a variety of Christmas-themed items such as nutcrackers.
Das Kaufhaus – They sell a variety of different toys, soccer-related merchandise, and other collectibles made in Germany.
Volkskunst – This popular clocks and crafts shop sells decorative clocks, in addition to clothing, glassware, and other German-themed gifts.
Der Teddybär – Known as the Teddy Bear store, find Teddy Bears and other German toys here.
Stein Haus – You'll find a variety of different German Steins in this store.
Weinkeller – A German wine store that features wines from all the different regions of Germany.
Kunstarbeit in Kristall – Here is where you will find different decorative crystals and glassware.
Kidcot Location in Germany
You'll find Germany's Kidcot Location inside Der Teddybär, better known as the teddy bear store.
Germany Tips & Secrets
Look for the Hidden Mickeys in the Romantic Road Miniature Train Village. You'll find several different hidden Mickeys, including hats and even Mickey Mouse himself! See if you can spot them.

Another fun Germany secret is once an hour, on the hour, inside the famous German Clock. If you stand here and wait you'll see that the clock opens up and a figurine of a German boy and a girl come out and dance around.
Italy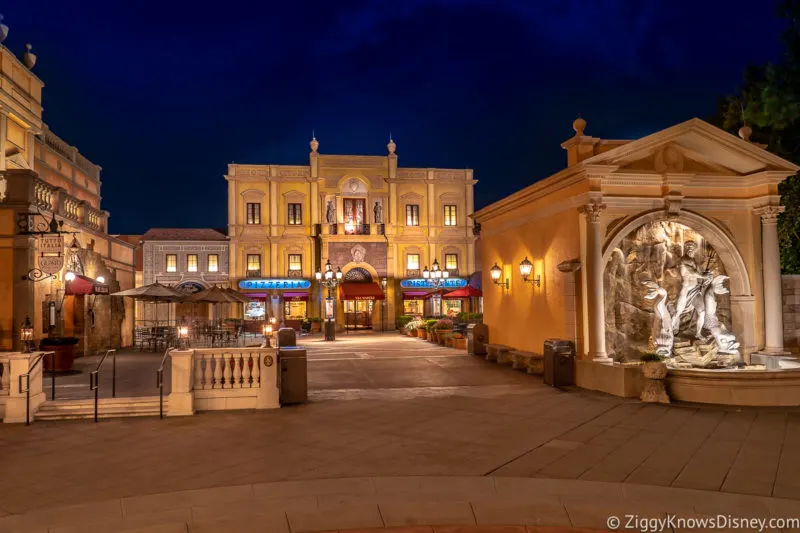 Our next destination along the World Showcase Lagoon brings us to a stop in Italy! With influences of Rome, Florence, and Venice scattered throughout Italy, you'll see homages to each of these famed Italian cities. There is no doubt that the Italy Pavilion is full of great sights, smells, and eats!
While there are no rides in Italy, we find Italy to be the perfect place to take a leisurely stroll through the cobblestone streets. Along the way you'll find replicas of St. Mark's Square in Venice, the Trevi Fountain of Rome, and of course the famous gondolas along the canal.
There is plenty to do in Italy, particularly when it comes to eating and shopping!
Attractions in Italy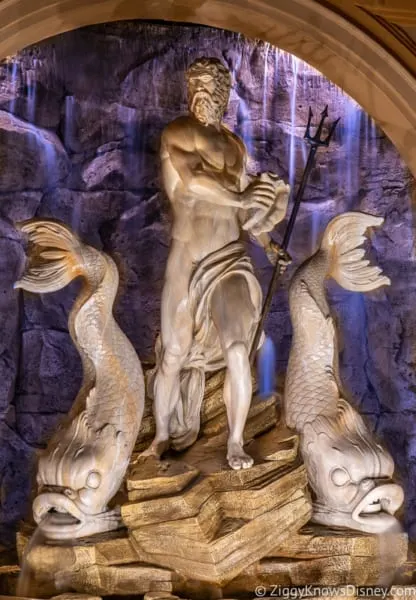 Architecture of Italy – While all of the EPCOT countries have some terrific architecture, we find that Italy is amongst the best in all of the World Showcase. From the various sculptures to the plentiful art, you'll find a number of places to take terrific photos including the Campanile Bell Tower, the Doge's Palace, and plenty more!
DuckTales World Showcase Adventure – Find different clues throughout the Germany Pavilion as you play this fun interactive scavenger hunt on the Play Disney Parks app.
Dining in Italy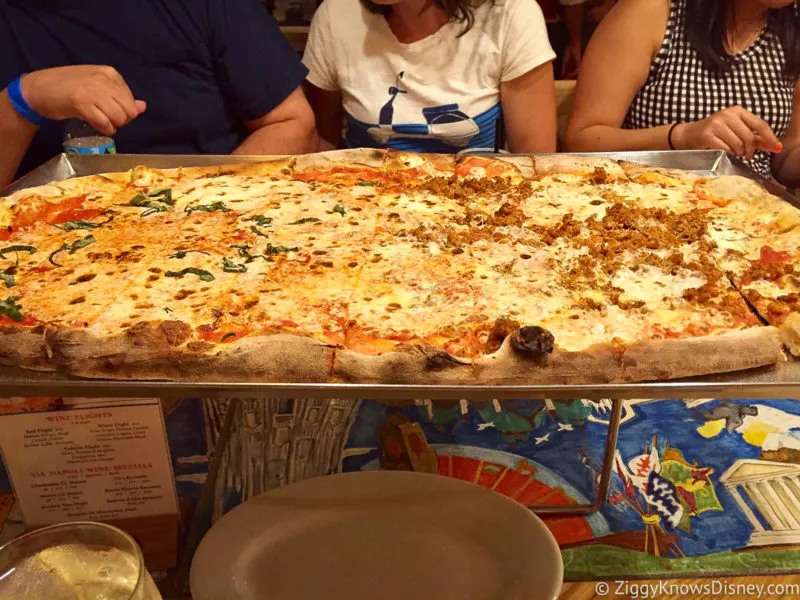 Tutto Italia Restaurant – This table-service restaurant is located at the front of the pavilion facing the World Showcase featuring popular Italian dishes created by celebrity chef Joachim Splichal. You'll sit inside an elegant dining room that will make you feel as if you're truly in Italy with its old-world elegance and ambiance.
Via Napoli – One of the more popular family-friendly table-service restaurants of EPCOT, serving outstanding wood-fired pizzas. They also feature a number of other Southern Italian dishes as well. We absolutely recommend you get pizza here in addition to their homemade sangrias!
Pizza al Taglio – This pizza window is connected to Via Napoli and serves up individual slices of pizza. They are only open seasonally. The slices here are the same pizza as Via Napoli, just in individual slice form. They are all excellent!
Tutto Gusto Wine Cellar – A cozy wine cellar that serves over 200 different Italian wines in addition to a number of other small plates on the menu. A true hidden gem!
Enoteca Costello – This wine bar and shop sells different wines from Italy in addition to many different wines from around the world. You'll find some good picks here and ask one of the Disney Cast Members for popular selections you can't find elsewhere.
La Gelateria Toscana – A newer gelato stand that is located along the World Showcase Promenade, making it easy to get to for guests. While there are some good options here, we find it pricey and a little disappointing overall.
Entertainment in Italy
Watch Sergio – One of our favorite performers to watch in EPCOT is Sergio! He performs regularly throughout the day at EPCOT with a wonderful 20-minute juggling show. He throws in a lot of fun and humor, getting guests involved along the way.
Character Meets in Italy
Pinocchio and Gepetto – While they aren't there all the time, they've been known to be there at times in the past. Keep an eye out for signs and character meets on the My Disney Experience app. It'll inform you if they're there when you're visiting.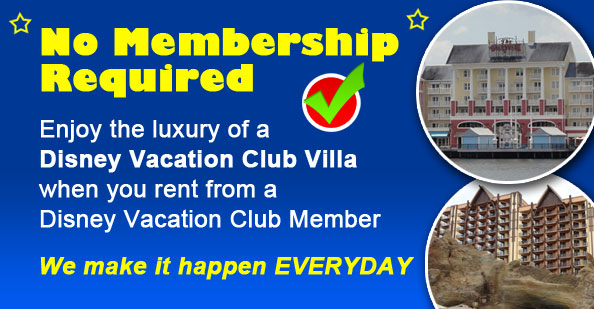 Shopping in Italy
La Bottega Italiana – This Italian store has a diverse set of decorative items, cookware, Italian foods, wines, and other cooking supplies. Grab a glass of wine here while your looking!
Il Bel Cristalio – You'll find different designer brands for a variety of items including purses, porcelain, sunglasses, and many more things!
La Gemma Elegante – This small shop is located inside Il Bel Cristallo and features Venetian masks, different Italian perfumes, and leather goods.
Kidcot Location in Italy
The Kidcot Location in Italy is found just outside of La Bottega Italiana and it allows kids to create some of their own artwork and learn about Italian culture.
Italy Tips & Secrets
A little-known fact about the Italy Pavilion is if you head into La Gemma Elegante and ask to use the Venetian Mask Props, you'll be able to take some wonderful pictures along the lagoon or beside the many sights of Italy for you to post on Instagram or your favorite social media platform.
American Adventure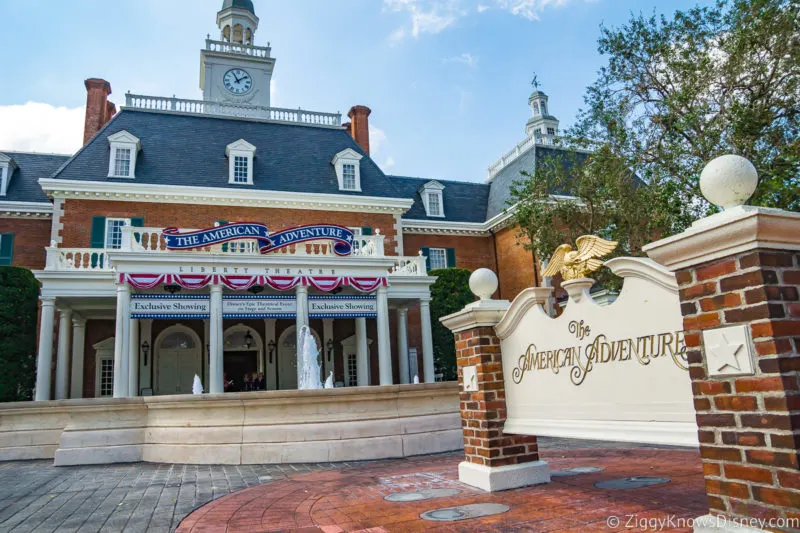 Well guess what?! You're officially halfway through the World Showcase Lagoon once you reach the American Adventure! The host nation and the centerpiece of the World Showcase Lagoon, America is home to a number of wonderful things to do and see.
Inspired by Colonial American architecture, the American Adventure offers a great place to relax and unwind before proceeding.
It's also home to the popular Concert Series event that they have during the EPCOT Festivals as well as the Candlelight Processional Show during the holiday season. It's here you'll find an incredible audio-animatronic show called The American Adventure that will take you on a history lesson about America.
Attractions in American Adventure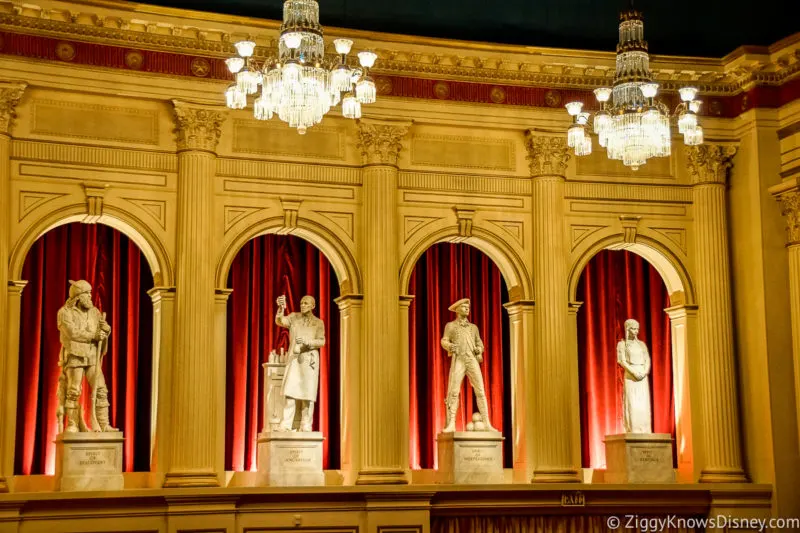 The American Adventure – This 29-minute audio-animatronic show tells the story of America through the eyes of narrators Ben Franklin and Mark Twain. It features 35 different audio-animatronics including patriotic songs and a video narration that is used to represent the spirit of American values.
It may not be considered by everyone visiting, but it's definitely one of the best attractions in EPCOT, and it's a nice air-conditioning break on those boiling hot days.
American Heritage Gallery – To the right of the American Adventure is the American Heritage Gallery which features an exhibit on American history. This gallery can seasonally change at different times.
Dining in American Adventure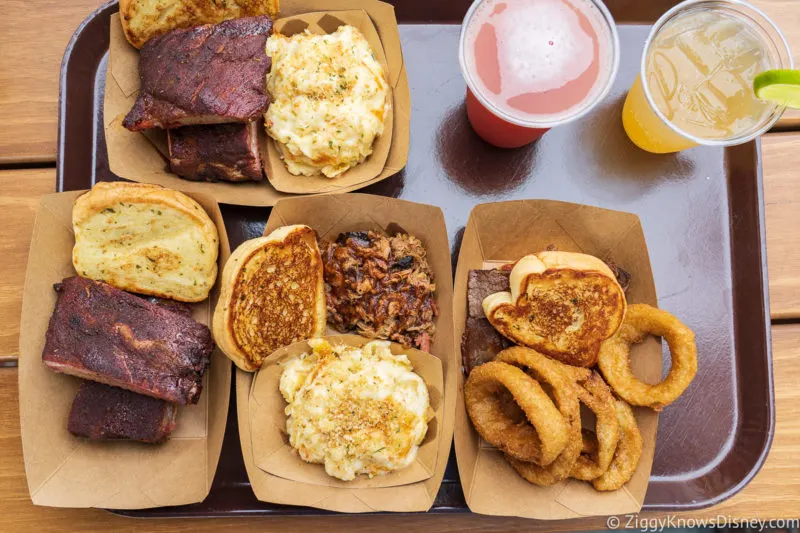 Regal Eagle Smokehouse – A new addition to EPCOT is the Regal Eagle Smokehouse, which is a quick-service location that serves up a number of barbecue-inspired eats. It's loosely based on The Muppets with some Muppets tidbits in the actual theming of the location. The food here is excellent and it's one of the best quick-service locations in EPCOT, particularly if you like BBQ food.
Fife & Drum Tavern – Another quick-service location in America, the Fife & Drum Tavern is a popular spot to grab a turkey leg. While they have some other 'American-style' offerings, it's the turkey legs and the beer that attract people here. And don't forget to try the "American Dream."
Block & Hans – This beer stand of sorts offers several different beers on tap in addition to pretzels. This is a great place to try one of the many different American beers that offer some differing options.
Funnel Cake Stand – What speaks AMERICA better than a funnel cake?! At this stand, you'll find a traditional funnel cake in addition to a seasonal one that often rotates based on the EPCOT Festival.
American Adventure Joffrey's Coffee and Tea Company – One of the Joffrey's in EPCOT is located inside the America Pavilion allowing you to get a pick-me-up coffee or tea in addition to some seasonal cocktail offerings and sweet treats.
Entertainment in American Adventure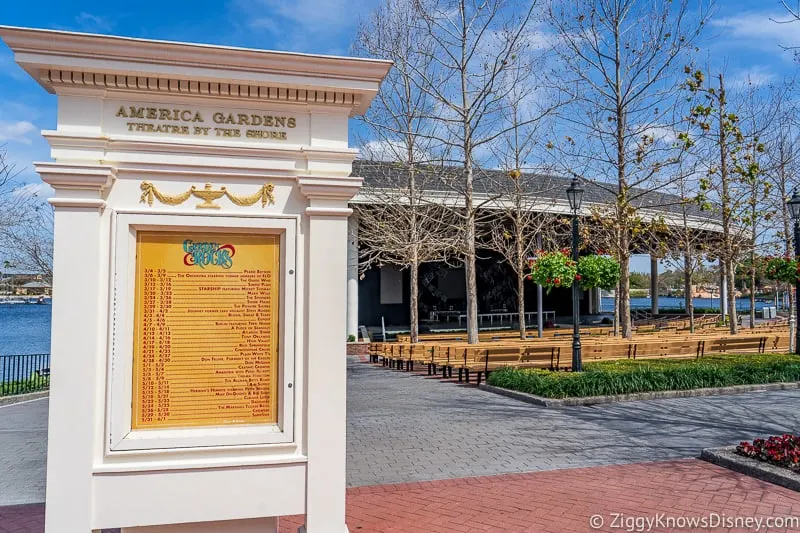 America Gardens Theatre – The largest stage area in EPCOT, there is normally a different show here each day. Whether it's a musical performer or some kind of dance performance, check the EPCOT schedule on the My Disney Experience app to see who's performing when you're there. You'd be surprised at some of the acts playing here!
Voices of Liberty – Singing inside the rotunda of the American Adventure Pavilion is the Voice of Liberty. The 8-piece acapella group performs 15-minute shows throughout the day, performing a wide variety of different timeless classics.
Character Meets in American Adventure
While there aren't any standard character meets in America, you might find them on rare special days. In the past, they've had Santa Claus during the holiday season as well as Chip and Dale during patriotic holidays.
Shopping in American Adventure
Art of Disney – This store features a number of limited-edition prints and collectibles that are often signed by the artist. It's well worth a visit and is the only real shopping area in the American Adventure Pavilion.
Kidcot Location in American Adventure
The Kidcot Location in the American Adventure Pavilion is located just outside the Art of Disney Store, allowing kids to create their own art while learning about American History.
American Adventure Tips & Secrets
An interesting secret about the American Adventure building is that it's actually 5 stories high! They utilize tall doors and windows to make it appear as if it's only truly 3 stories. If you ask someone to stand by the door of the gift shop while looking up, you'll see it more clearly. It was created very similar to the Cinderella Castle in Magic Kingdom using forced perspective.

Another interesting tidbit is that an American Flag that was taken from the rubble of 9/11 is on display here in the American Pavilion.
Japan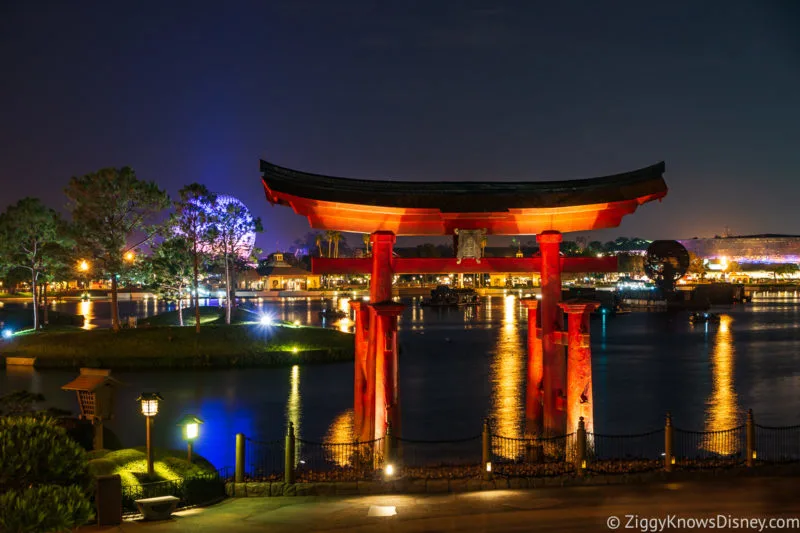 As we round the halfway point of our journey 'Around the World', we get to the enchanting Japan Pavilion.
Equipped with koi ponds, stone bridges, and pagodas, the Japan Pavilion offers much to the World Showcase of EPCOT. You'll notice some popular Japanese landmarks throughout the pavilion such as the Floating Torii of Itsukushima Shrine on Miyajima, as well as a 5-story Goju-no-to.
Throughout Japan, there are a number of things to do such as watching the Japanese Taiko Drummers and shopping in the world-famous Mitsukoshi Department Store, where you can find essentially everything authentically Japanese!
One of our favorite places to find gifts, including 'pick your own pearls' and the Sake Bar! You won't run out of things to do in Japan, including getting some terrific food!
Attractions in Japan
Bijutsu-kan Gallery – It's here you will uncover different Japanese cultures often referred to as kawaii. You will find an introduction to anime figurines and why they are an important part of Japan's culture.
DuckTales World Showcase Adventure – Find different clues throughout the Germany Pavilion as you play this fun interactive scavenger hunt on the Play Disney Parks app.
Dining in Japan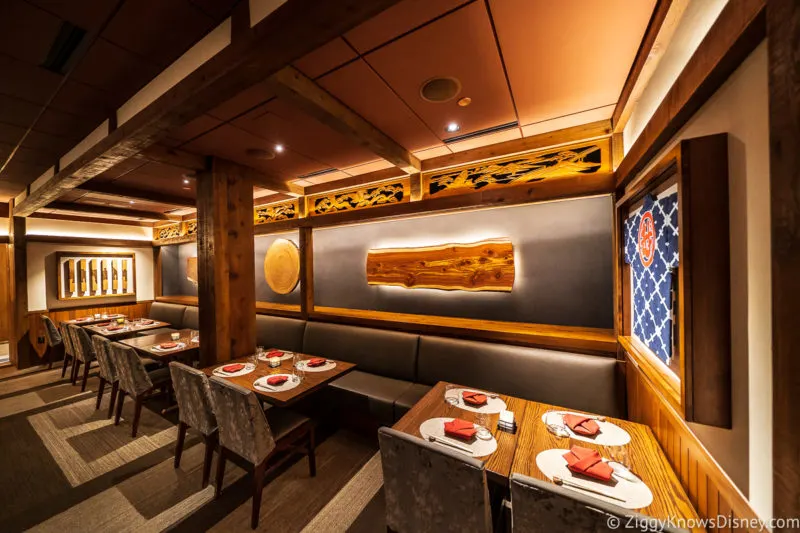 Takumi-Tei – A signature dining experience that includes a number of highlights such as wagyu beef, sashimi, unique desserts, and premium sake. Make no mistake, this is an authentic high-end experience more than just a restaurant. While expensive it's absolutely worth the experience and one of the very best restaurants in Disney World!
Teppan Edo – A traditional Japanese Hibachi restaurant in which the chefs prepare your dishes directly in front of you, showing off their incredible skills. It's a delightful experience that offers tasty options while giving you a fun show.
Shiki-Sai: Sushi Izakaya – The newest addition to the Japan Pavilion, having opened in the summer of 2023, this full-service restaurant focuses specifically on sushi. If you love everything sushi, you will enjoy this restaurant.
Katsura Grill – Located near the pagoda on the left side of the pavilion this quick-service location offers traditional Japanese bowls and sushi. They have some terrific outdoor table areas, and it's one of our favorite places to sit by the beautiful koi ponds and unwind.
Kabuki Cafe – Another quick-service location at an outdoor kiosk along the promenade that is famous for its Kakigori. Kakigori is essentially shaved ice that comes in a variety of flavors and is worth trying! It's a nice treat on a hot Florida day. They also serve different sushi, edamame, wines, and saki.
Garden House – A wine bar of sorts that allows you to try several different sake and plum wines as well as Japanese beers, cocktails, and sodas. Try the Violet Sake, it's really tasty!
Entertainment in Japan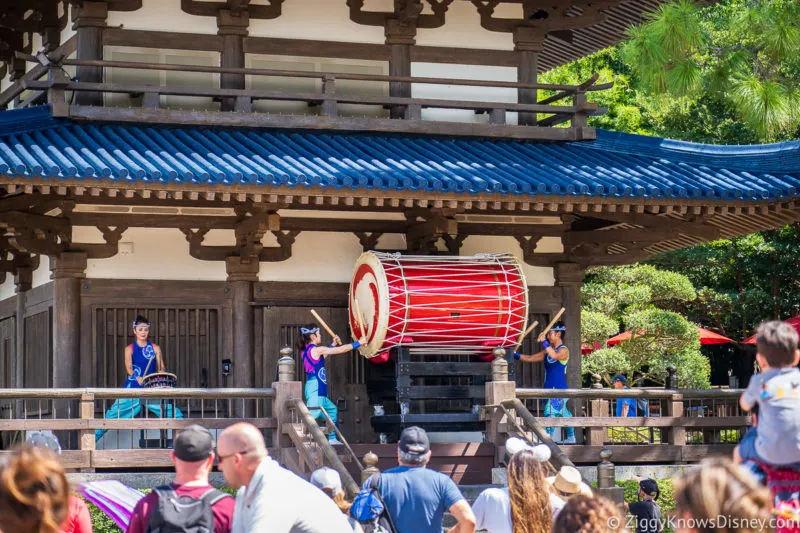 Watch Matsuriza – This is the group of Japanese Taiko drummers that perform throughout the day outside in 15-minute increments. They are incredible performing a large array of different musical arrangements in perfect synchronization. They utilize massive drums while putting on quite the show!
Character Meets in Japan
There are character meets in Japan sadly.
Shopping in Japan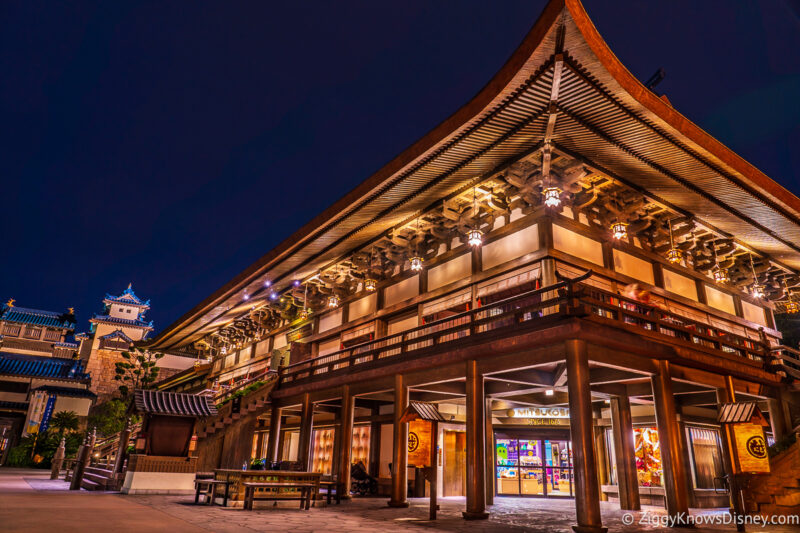 Mitsukoshi Department Store – This massive department store has everything you can imagine from Japanese clothing to Japanese snacks to samurai swords, etc… You'll find some truly interesting things here and it's a fun place to browse.
What's cool is that you won't feel as if you're in EPCOT when shopping here and it's a great retreat from the sun.
Kidcot Location in Japan
The Kidcot Location in Japan will teach kids all about Japanese culture while allowing them to create different art. You'll find the stop here in the Bijutsu-kan Gallery.
Japan Tips & Secrets
An interesting tidbit about the Japan Pavilion is that the pagoda has 5 stories, each of them symbolizing something. Each floor represents a different element that Buddhists believe created the universe: earth, water, fire, wind, and sky.

Japan is one of our favorite viewing spots for the EPCOT fireworks in the evening. It's generally quiet, and if you can find a spot along the deck outside of Teppan Edo propped a couple of floors up, you'll have a nice uninterrupted view of the World Showcase Lagoon.
Morocco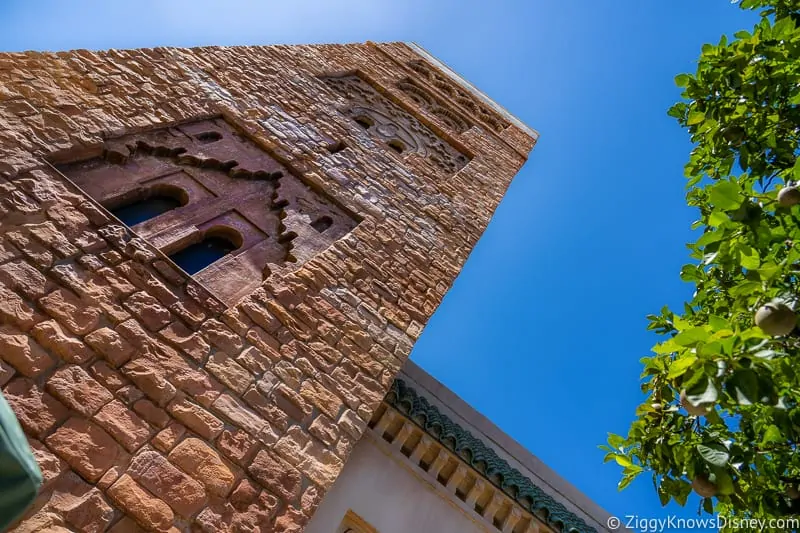 Perhaps the most authentic of all of the World Showcase Pavilions is Morocco. Why do I say that? Originally funded by Morocco which it represents, King Hassan II actually sent his royal craftsman directly from Morocco to EPCOT to personally complete all of the different tile mosaics and plaster carvings throughout the pavilion, making it perfectly resemble a Moroccan city.
While Morocco is often overlooked by guests walking through the World Showcase, it certainly shouldn't be! Between the intricate theming and craftsmanship including the replica of the famous Koutoubia Mosque from Marrakech, there is so much to see in Morocco!
Get lost in the pavilion and wander through the back of the Marketplace as you'll see how unique and authentic the Morocco Pavilion is.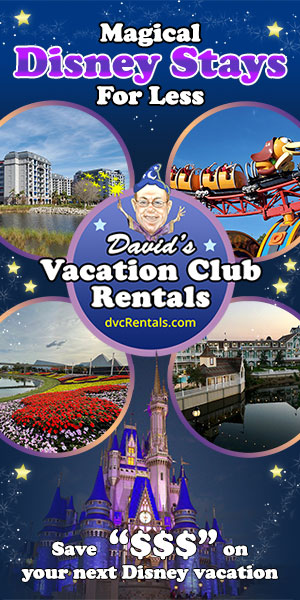 Attractions in Morocco
Gallery of the Arts and History – A rotational art exhibit that features different Moroccan artists while celebrating their accomplishments.
Fez House – A traditional Moroccan house that features a great place to relax and unwind while taking in the courtyard and fountain. It's usually very quiet and is a nice place to get a little bit of a break.
DuckTales World Showcase Adventure – Find different clues throughout the Germany Pavilion as you play this fun interactive scavenger hunt on the Play Disney Parks app.
Dining in Morocco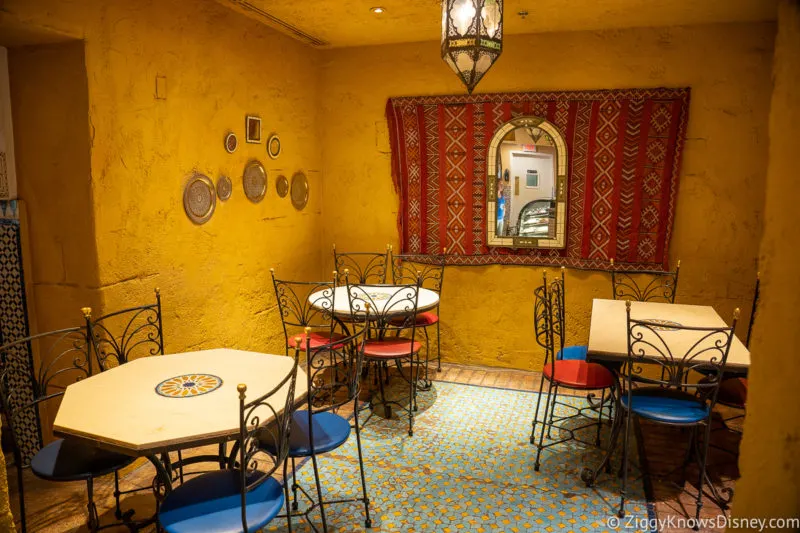 Restaurant Marrakesh – This was previously a full-service restaurant that offered traditional Moroccan dishes while being complemented by belly dancers. This restaurant has NOT reopened YET.
Spice Road Table – Currently the only table-service restaurant available in Morocco. This is an underrated restaurant that has a few real standouts on the menu such as the hummus fries and the cauliflower! There is seating both inside and outside here. Absolutely get the homemade sangria here, it's very good!
Tangierine Cafe: Flavors of the Medina – Features a rotational menu that fluctuates based on the current EPCOT Festivals. It's a quick-service location that always has a tasty lamb and chicken dish on the menu at all times.
Oasis Sweets & Sips – Grab a traditional Moroccan dessert such as baklava or better yet, grab a glass of sangria or frozen mint tea.
Entertainment in Morocco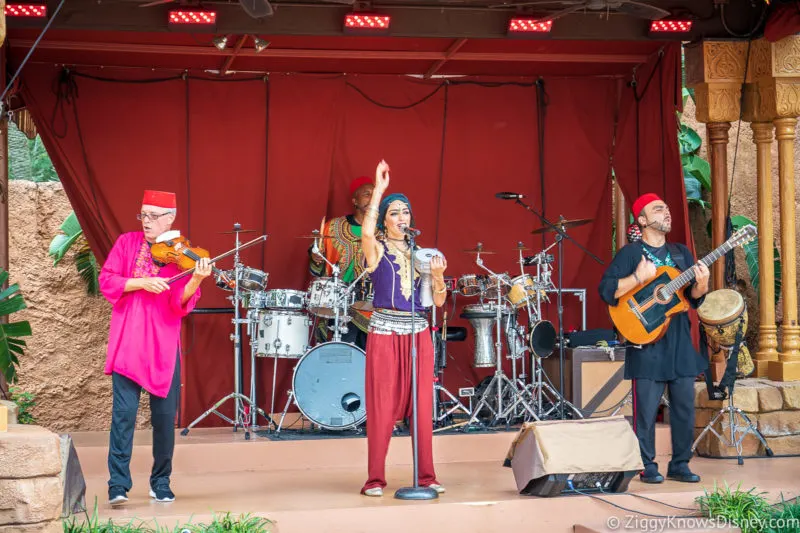 Musique Aramenco – This fusion Moroccan band will entertain you with some modern-style music while being accompanied by a belly dancer. The show lasts about 20 minutes and happens throughout the day at the outdoor pavilion.
Character Meets in Morocco
Aladdin and Jasmine – Meet Aladdin and Jasmine in the Marketplace in the Medina at different times throughout the day.
Shopping in Morocco
The Medina – The main retail location selling a variety of different souvenirs including woven baskets, sheepskin wallets, and a lot more.
Brass Bazaar – It's here that you'll find authentic hand-crafted items including a ton of homeware.
Casablanca Carpets – Find authentic handmade rugs and carpets in the different Moroccan styles. Maybe you'll find the Magic Carpet!
Tangier Trades – At this store, you'll find a number of different colorful ceramics as well as unique jewelry items.
Souk-Al-Magreb – Next door to Spice Road Table, this store sells an assortment of Moroccan souvenirs as well as some Aladdin merchandise.
Kidcot Location in Morocco
The Kidcot Location in Morocco will teach kids all about Moroccan culture while allowing them to create different art. You'll find the stop here at the Marketplace in the Medina.
Morocco Tips & Secrets
The Moroccan Government operated the Morocco Pavilion until their sponsorship ended at the end of 2020 when Disney officially took ownership back.

Hollywood Studios is right next to World Showcase and you can actually see the Tower of Terror directly behind the Moroccan Pavilion if you look closely. Your best view will be if you take one of the Friendship Boats on the World Showcase Lagoon. But you can also see it clearly from the other end of the Lagoon as well when looking back at Morocco.
France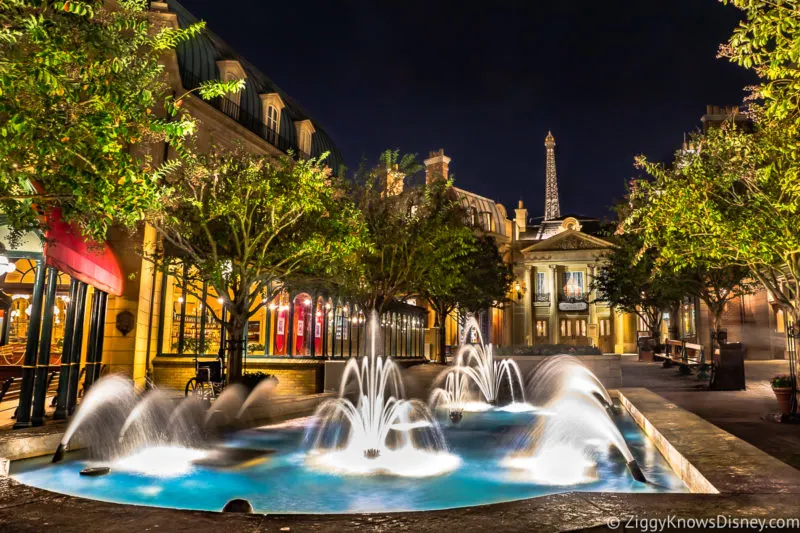 As we round the turn we get to our final country before we reach the International Gateway (the secondary entrance/exit for guests coming and going from EPCOT).
As you arrive in France, you'll see a full Parisian neighborhood including cafes, restaurants, and even the Eiffel Tower in the distance. France is one of the most popular pavilions in EPCOT, and for good reason!
Home to possibly the best bakery in all of Disney World, Les Halles Boulangerie-Patisserie, France has some terrific food and dessert options. And with the recent updates and addition of a whole new segment of the France Pavilion, France also has the ever-popular Ratatouille Ride now!
As you will see, there are endless options for things to do, eat, and see in France!
Attractions in France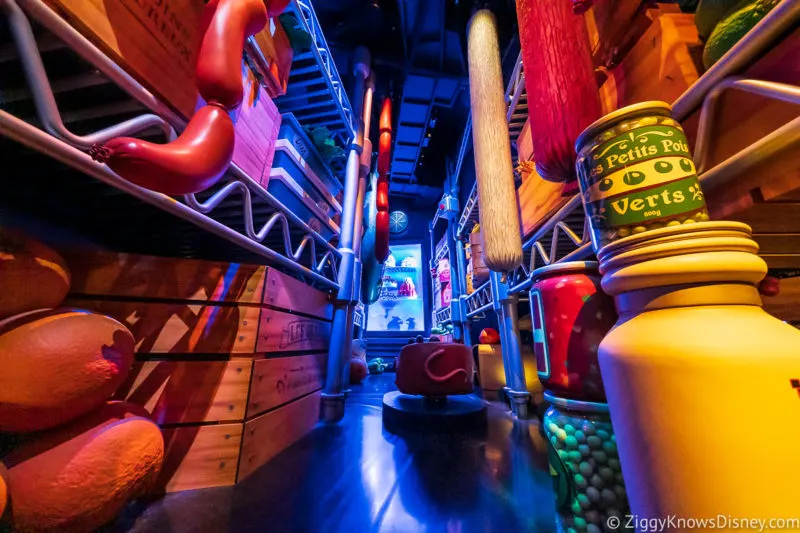 Remy's Ratatouille Adventure – Take a ride on this 3-D family ride as you follow Remy through Chef Gusteau's Kitchen. This is an adorable ride that is based on the Ratatouille movie. It just opened in 2021 and is one of the more popular rides in EPCOT. Try to get in line early if planning on going on this ride.
Impressions de France – This 18-minute film showcases the beauty of France from Paris to the French Riviera. Normally this film is only played at certain times of day as they share a theater with the Beauty and the Beast Sing-Along.
Beauty and the Beast Sing-Along – This show is a 15-minute screening that features the songs of the animated film Beauty and the Beast. It runs throughout the day and shares the main screen with Impressions de France, the Beauty and the Beast Sing-Along. The words will be up on the screen and everyone in attendance can sing along.
Palais du Cinéma Exhibits – You'll find six different cases of different items on display from Disney Films, which are dedicated to the adaptation of French literature on the big screen.
DuckTales World Showcase Adventure – Find different clues throughout the France Pavilion as you play this amusing interactive scavenger hunt on the Play Disney Parks app.
Dining in France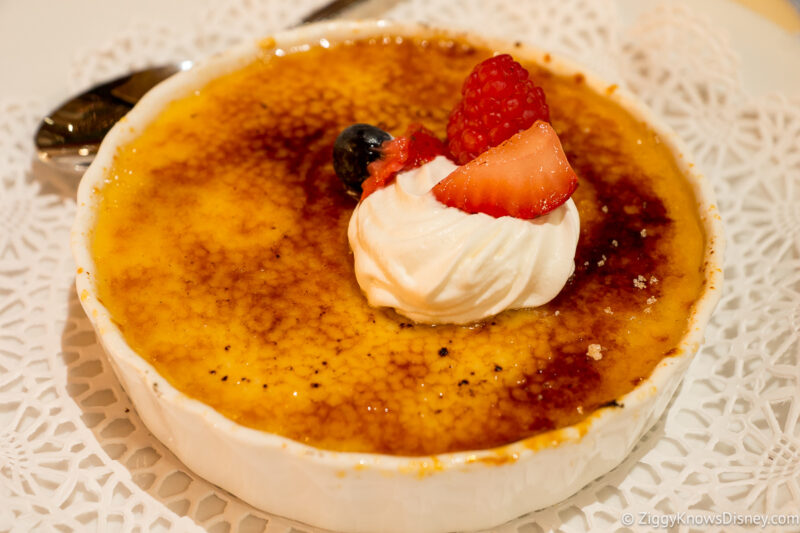 Monsieur Paul – This signature restaurant is tucked away above Chefs de France and pays respects to famous Chef Paul Bocuse. This is an expensive restaurant that is worth a meal for an extra special occasion. Be prepared though, there is a strict dress code. Ask for a fireworks view if you're eating around the EPCOT Fireworks time.
Les Chefs de France – The popular family-friend French table-service restaurant that is found on the EPCOT promenade with massive windows allowing for some good people watching. The food here is solid while being reasonably priced.
La Crêperie de Paris – While there is both the inside section here and the outdoor quick-service window called Crêpes À Emporter. The indoor seating area requires an ADR while the outdoor area allows you to take your crepes and walk around. This is in the new section of France and is worth a visit if you'd like to try both savory and sweet crepes!
Les Halles Boulangerie & Pâtisserie – One of the best, if not THE best bakery in all of Walt Disney World, Les Halles offers a wide variety of both sweet treats and quicker bites. Try some of the different options, you can't go wrong with the napoleons, the baguettes, or really anything!
L'Artisan des Glaces – Located just in front of Les Halles, L'Artisan des Glace is a French ice cream shop that offers a variety of different flavors. If you want the ultimate experience, get either the Ice Cream Martini or the Brioche Ice Cream Sandwich! They are both terrific!
Les Vins Des Chefs de France – This outdoor stand offers a couple of really tasty frozen concoctions that are made with Vodka! We love both the orange and the lemon ones!
Entertainment in France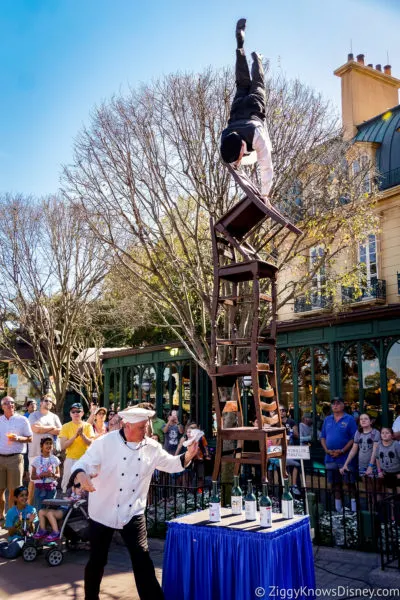 Serveur Amusant – This amazing outdoor performance is done by two Parisian waiters who perform an awe-dropping display of feats including balancing and juggling. It's normally done multiple times throughout the day and lasts about 20 minutes.
Character Meets in France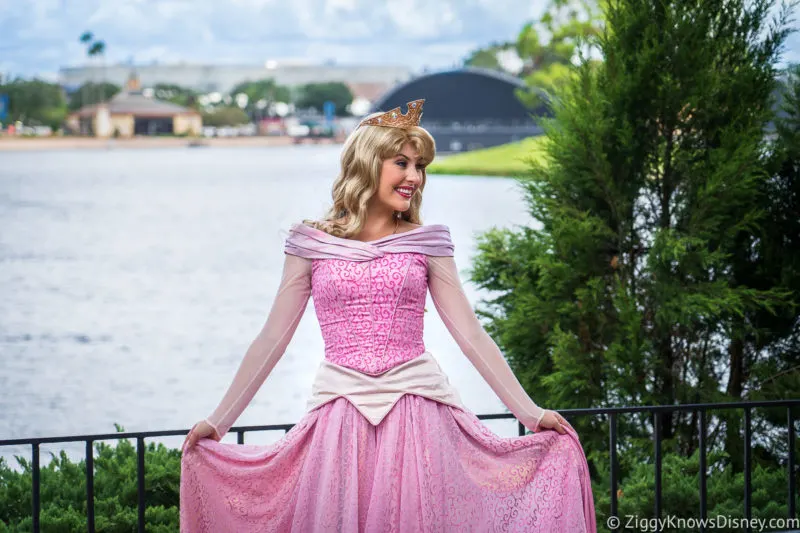 Belle – You'll often find Belle and Aurora doing meet and greets down by the water at the France Pavilion multiple times a day. Just be sure to check the EPCOT schedule when you're there.
Princess Aurora – Aurora meets guests in the France Pavilion in the France Fragrance Gardens Gazebo.
Shopping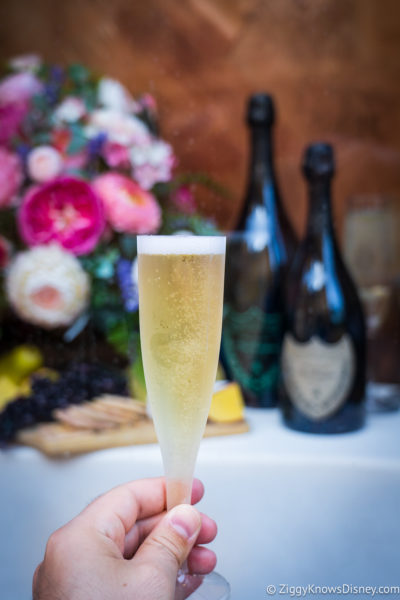 Les Vins de France – A wine shop that offers a variety of different French Wines. You can find some reasonable buys here. They also do some wine and champagne tasting as well.
Plume et Palette – A shop that sells a wide variety of different French products such as soaps, skincare, and perfume.
La Signature Shoppe – This shop offers different beauty-care products such as fragrances and makeup.
Souvenirs de France – Here is where you will find all your French-based souvenirs, including ones from Disney Movies such as Beauty and the Beast and Ratatouille.
Kidcot Location in France
The Kidcot Location in France will teach kids all about French culture while allowing them to create different art. You'll find the stop here at the Souvenirs de France.
France Tips & Secrets
If you notice carefully there is a small section of pavement that looks different separating the France and the Morocco Pavilion. This is supposed to represent the Strait of Gibraltar which separates these countries in real life.

While the Eiffel Tower might SEEM reachable, it in fact isn't. It's the only decorative piece in all of the World Showcase that guests can not physically reach.
U.K.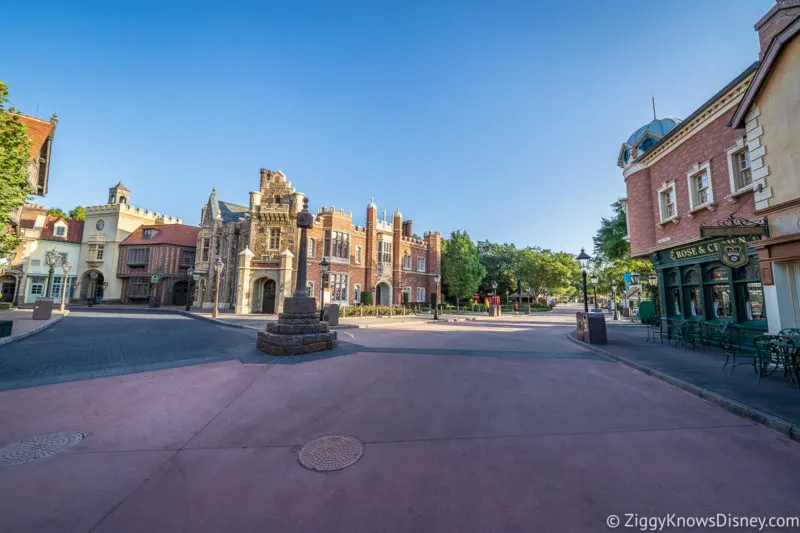 Right across the bridge from France, in both World Showcase is the United Kingdom pavilion or the U.K. The atmosphere and the decoration here will make you feel as if you're in the English countryside with its gardens and its thatched roofs.
There is also a significant amount of British Culture in the U.K. Pavilion, including both a tea shop and a pub!
You'll also see several other popular English sights such as the iconic red telephone booth that you'll frequently see in London. You'll also see the detailed architecture that represents several different time periods including the Victorian Era, and the Tudor and Georgian eras.
Though it doesn't have an attraction there is a lot to do and see in the U.K. Pavilion, and it's a great second-to-last stop for guests.
Attractions in the U.K.
DuckTales World Showcase Adventure – Find different clues throughout the U.K. Pavilion as you play this fun interactive scavenger hunt on the Play Disney Parks app.
Dining in the U.K.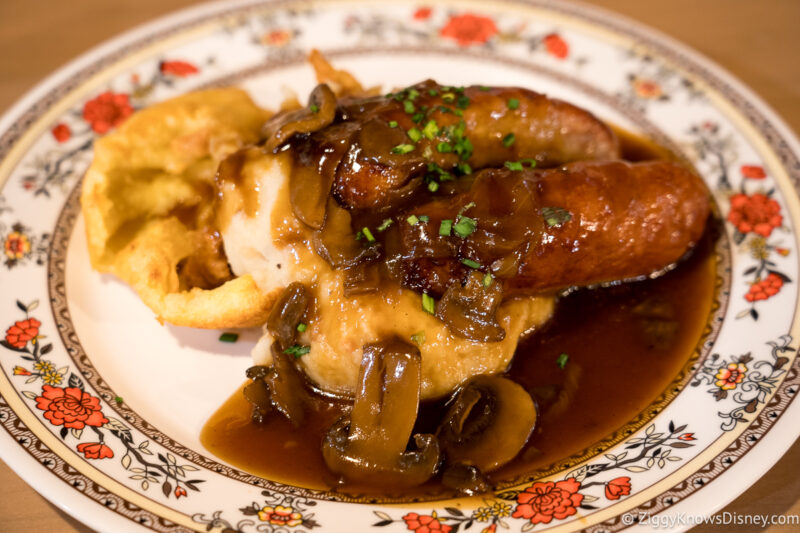 Rose & Crown Dining Room and Pub – The Rose & Crown is split between the dining room and the pub. The pub is a walk-up traditional English pub that allows guests to grab a pint and hang out or leave.
The dining room is a sit-down area that offers seating both inside and outside. There are true English classics here such as Shepherd's Pie and Fish and Chips. If you get outdoor seating, you can likely get a great spot to watch the EPCOT fireworks show.
Yorkshire County Fish & Chips – This outdoor quick-service location offers the same tasty fish and chips you'll find inside the Rose & Crown. These are the BEST fish and chips in all of Disney World. If you like fish and chips, grab them!
UK Beer Cart – A little outdoor beer cart outside of Rose and Crown that allows guests to grab a pint and just head out. There are only a few choices here, without the diversified options that the Rose and Crown Pub offers.
The Tea Caddy – This is the tea shop that offers a variety of different cold and hot teas, including some authentic English candy!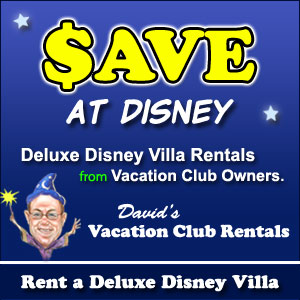 Entertainment in the U.K.
Watch the Band – Enjoy rocking out with the band 'Command Performance' as they perform a lengthy bevy of hits from the 1960s through the 1990s. They play in the back area of the U.K. Pavilion under the gazebo. Their sets are about 30 minutes at a time, but they normally play throughout the day.
Character Meets in the U.K.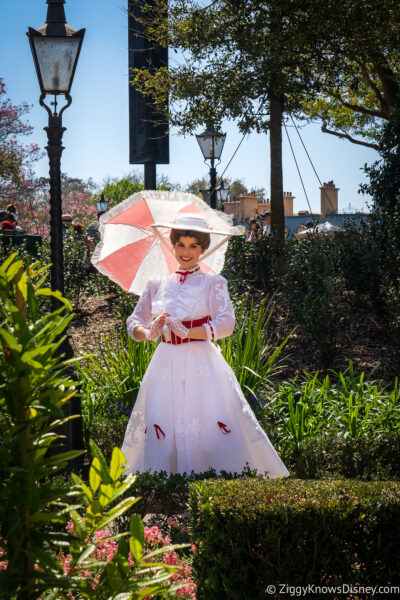 Alice in Wonderland – Greet Alice as she meets guests along the English gardens throughout the day generally near the thatched cottage.
Mary Poppins – Mary will greet guests in the United Kingdom Courtyard area during isolated times of the day.
Shopping in the U.K.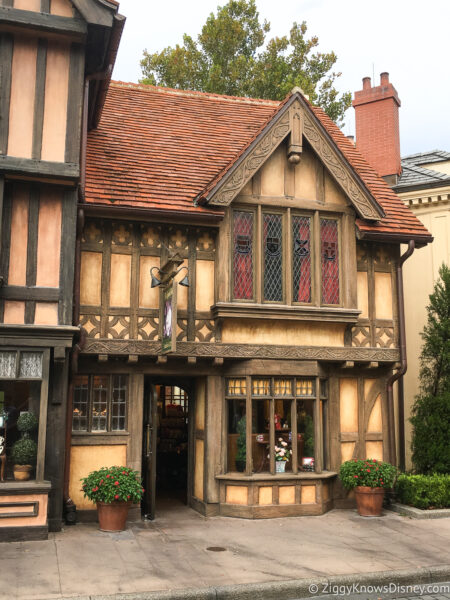 The Crown & Crest – You'll find a wide variety of different sports, pop, and royal memorabilia at this shop.
The Toy Soldier – It's here that you'll find all kinds of fun music memorabilia from famous British favorites such as the Beatles and The Rolling Stones.
Lords and Ladies – You'll find a number of different beauty products here that come from the U.K. including jewelry, perfumes, and colognes.
The Queen's Table – This shop sells high-end china such as teapots and tea cups. You'll also find some interesting Royal memorabilia as well.
Sportsman's Shoppe – This is the store for soccer and golf fans! You'll find a number of specialty U.K. sports items celebrating popular British events.
Kidcot Location in the U.K.
The Kidcot Location in England will teach kids all about English culture while allowing them to create different art. You'll find the stop here at The Toy Soldier store.
U.K. Tips & Secrets
A fun thing to do is check the database of last names at the Crown and Crest Store. See if your family name has a British family Crest of Coat of Arms.

Try some of the authentic British Candies that are found inside The Tea Caddy. You won't find these elsewhere in the United States, and there are some truly terrific chocolates.

Grab a pint at the Rose & Crown Pub, one of our favorite pubs in all of Walt Disney World. They have some terrific options for pints, even if you're not a big beer lover. It's an authentic experience that will transport you to a local pub in the U.K.
Canada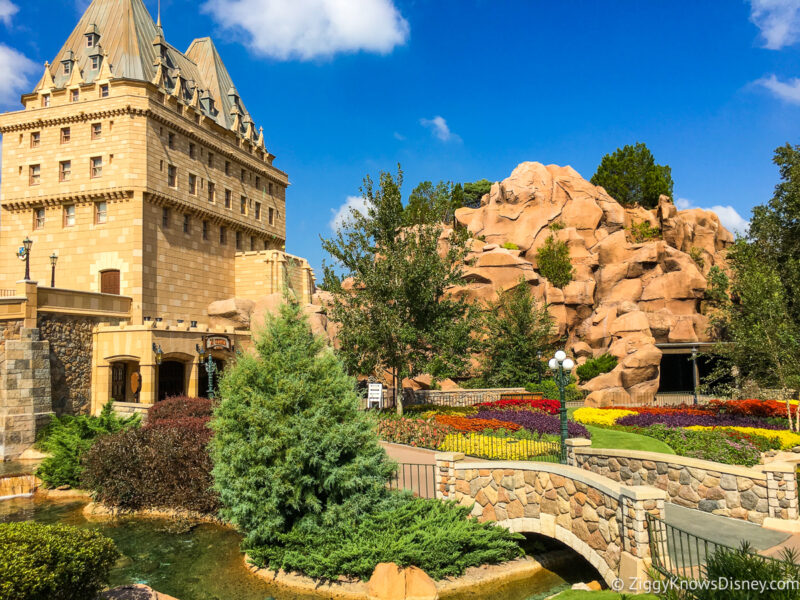 And finally, we have our last stop along our World Showcase Tour and that is of course the great Canada! Designed to be themed after some of the beautiful parts of the nation's outdoors including the Canadian Rockies, the Canada Pavilion as a whole is stunning and brimming with life!
The most iconic landmark is of course the Hotel du Canada which pays homage to the famous Chateau Laurier in Canada's capital Ottawa. You'll also be awed by the spectacular Victoria Gardens, which are modeled after British Columbia's Butchart Gardens.
Canada has a number of highlights, including arguably the best restaurant in all of World Showcase, especially if you like steak. Let's get into what Canada has to offer…
Attractions in Canada
Canada: Far and Wide – This 12-minute Circle-Vision film highlights the many different parts of Canada's landscape, taking you in with its beauty and splendor.
Dining in Canada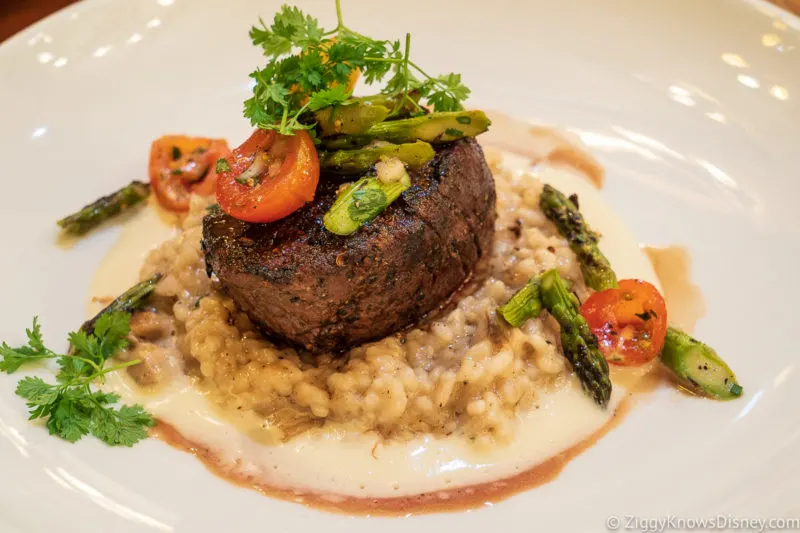 Le Cellier – This fantastic and ever-popular steak restaurant in Canada is one of the best restaurants in the World Showcase. Not only is it one of the best restaurants in World Showcase, it's also among the top 2 or 3 best steakhouses in all of Walt Disney World.
While it's expensive and difficult to get an ADR, if you can do so, it's absolutely worth the splurge. You can't go wrong with any of the steaks on the menu as well as the popular cheese soup and pretzel bread!
Popcorn Cart – Unfortunately this is the ONLY quick-service location in Canada. You'll find the popular maple popcorn here, which is quite good if you like sweeter popcorn. There are also a few good drinks and draft beers available here.
Entertainment in Canada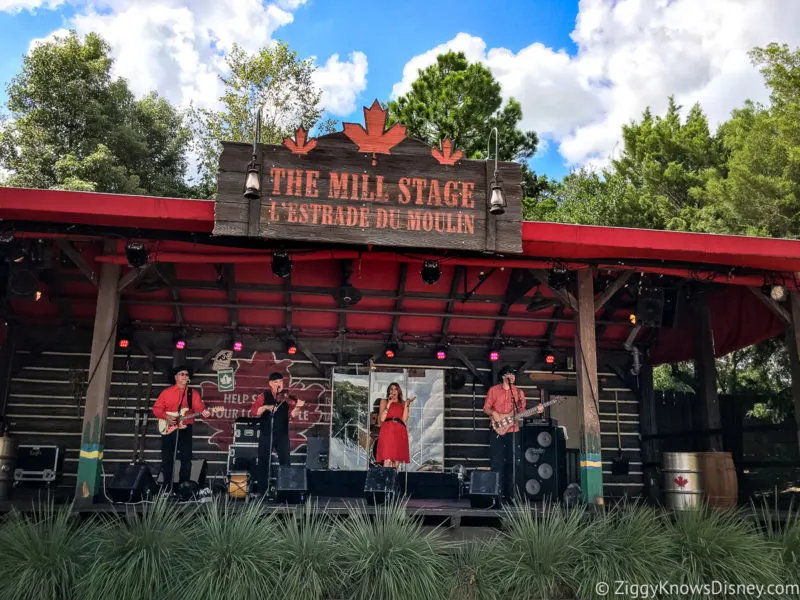 Live Music at the Canada Mill Stage – You'll find different bands, such as popular Canadian groups Alberta Bound and the Canadian Voyageurs as they play some entertaining hits on the Mill Stage.
DuckTales World Showcase Adventure – Find different clues throughout the Canada Pavilion as you play this fun interactive scavenger hunt on the Play Disney Parks app.
Character Meets in Canada
There are none, unfortunately.
Shopping in Canada
Northwest Mercantile – You'll find some really awesome Canadian merchandise at this stop, including odes to Canadian Culture with clothing featuring hockey, maple syrup, moose, etc… You'll also find some terrific hats and scarves that would be perfect for guests visiting for cooler areas for the winter time.
Kidcot Location in Canada
The Kidcot Location in Canada will teach kids all about Canadian culture while allowing them to create different art. You'll find the stop here just outside the Canada Far and Wide film.
Canada Tips & Secrets
There is a HUGE rock in the Canada Pavilion that will open up just prior to EPCOT's Fireworks show each evening. The sound and lighting equipment will pop out just prior to the show, it's quite a sight to see!

Take some time to enjoy the walking trail through the Canada Pavilion. It'll allow you to walk along the waterfall and see the beautiful Victoria Gardens while taking in all that the Canada Pavilion has to offer.
Ranking the World Showcase Countries in EPCOT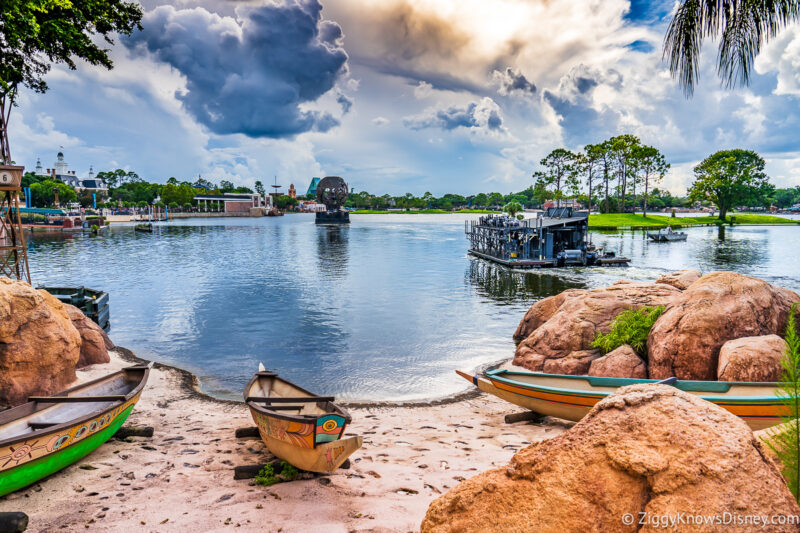 Ranking the World Showcase Countries is very subjective and it is completely based on our personal preferences, interests, and perhaps a bit of family sentimentality.
These things do change from time to time, based on a number of factors and so do our opinions, but we are ranking them based on our current feelings about the pavilion as a whole.
In this section, we will rank them from 11-1 and give you the reasons why we have them ranked where we do.
11. China
While we love the House of Good Fortune, one of the best shops in World Showcase, the pavilion as a whole greatly underwhelms these days. The Jeweled Dragon Acrobats (which we LOVED) have NOT returned, therefore giving China virtually zero entertainment options.
Plus the food choices here greatly underwhelm. The table-service option Nine Dragons is generally regarded as one of the worst table-service restaurants in EPCOT. While we like the Reflections of China film and the House of Good Fortune, China is currently our LEAST favorite World Showcase Pavilion.
10. Italy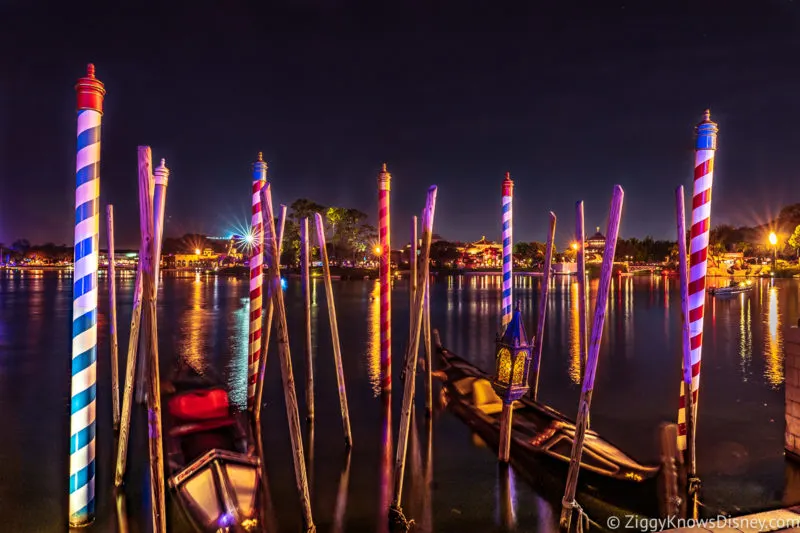 While you can make the case for Italy having some of the best sit-down dining options out of any of the World Showcase countries, the truth is as a whole Italy is disappointing.
The pavilion itself is a bit jumbled, attempting to blend in several different regions of Italy without having any kind of cohesion or consistent theming. It lacks the charm that you'd expect of a pavilion representing Italy as a whole.
The pavilion also lacks any kind of attraction, ride, or even video. The Food and Wine Italy booths typically have the most bland and generic Italian food imaginable while also being incredibly overpriced.
We are also highly disappointed with the newest addition La Gelateria Toscana, as the prices are incredibly high for subpar (putting it mildly) gelato. They missed a huge opportunity here.
9. Canada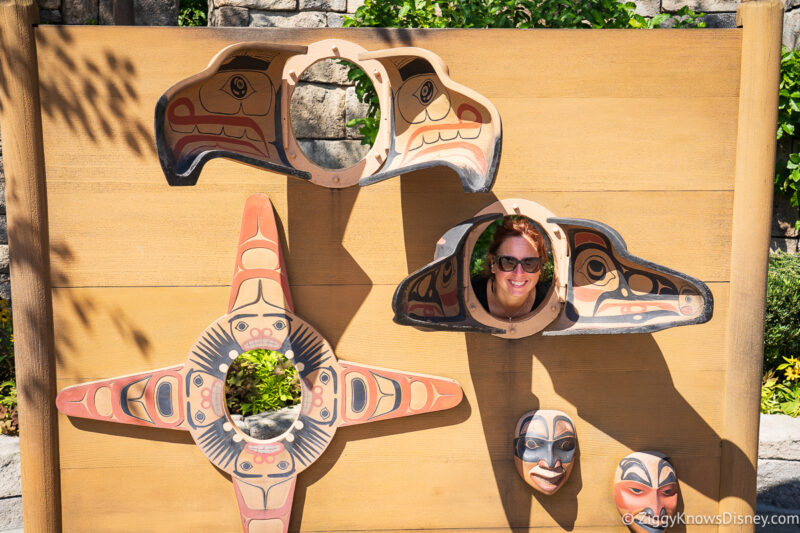 Canada has some of the most jaw-dropping and impressive theming out of any of the World Showcase countries. The spectacular Victoria Gardens and the immersive theming will transport you around the various different regions, and give you a taste of the diversity of the country as a whole.
We also of course LOVE Le Cellier, which is our favorite World Showcase restaurant.
The reason we have it ranked low is the shopping and dining options are limited. There is only one place to shop, and the only quick-service location to grab food is a popcorn stand!
While it's a great pavilion to explore, the limited amount of entertainment options and things to do bump it down pretty low on our list.
8. Norway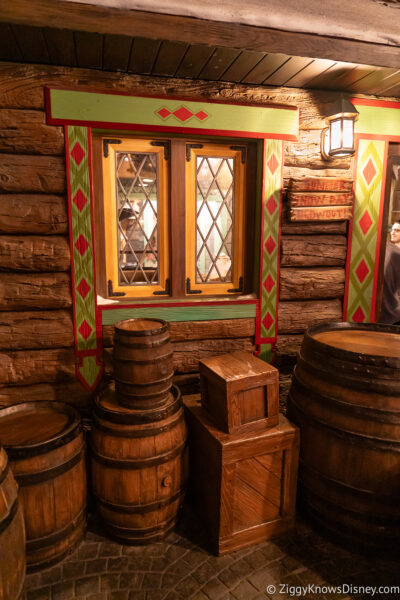 Norway is a solid all-around pavilion that features lovely authentic architecture that will make you feel as if you truly are in Norway. While it is a good mix of everything, it lacks any great or defining characteristics.
We love the fact that it has Frozen Ever After, an adorable family-friendly attraction that brings along a high amount of traffic. It also has a terrific bakery, the Kringla Bakeri Og Kafe as well as a solid character meal at Akershus.
Norway also features little in terms of entertainment offerings, making guests breeze through this pavilion as quickly as they get off of Frozen Ever After.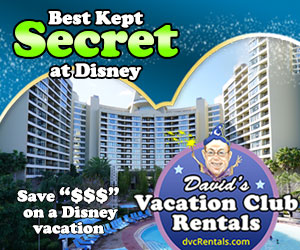 While we enjoy Frozen Ever After, the Norway Pavilion has lost some of its authentic Norwegian feel and has more or less turned into a 'Frozen Pavilion' with virtually everything themed to the animated film Frozen, which makes the pavilion lose some of its authenticity.
7. American Adventure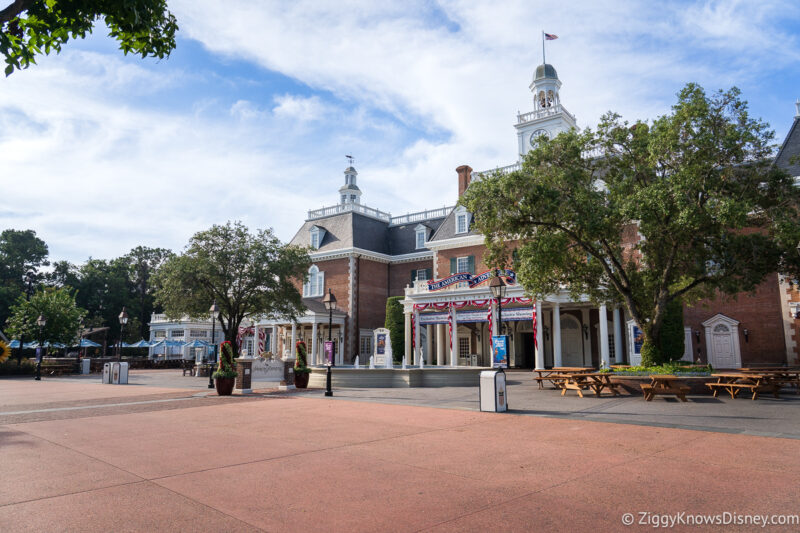 The American Adventure Pavilion has some things that are really good and really bad. The theming or 'lack of theming' bumps the American Pavilion down our list quite a bit. Rather than a truly authentic American feel, you'll almost feel as if you're paying homage to American History as opposed to a cultural representation of modern-day America.
We also don't like that the American Adventure lacks a table-service sit-down restaurant option. That's the bad.
Now the good… With The American Adventure Show, the Voices of Liberty, and the constant performers at the America Gardens Theatre, the entertainment offerings throughout the American Adventure are second to none in World Showcase.
Guests end up sticking around in America longer than any other pavilion. And with the addition of the recently opened Regal Eagle Smokehouse, one of the best quick-service options in all of EPCOT, we actually really like the American Adventure these days.
6. Germany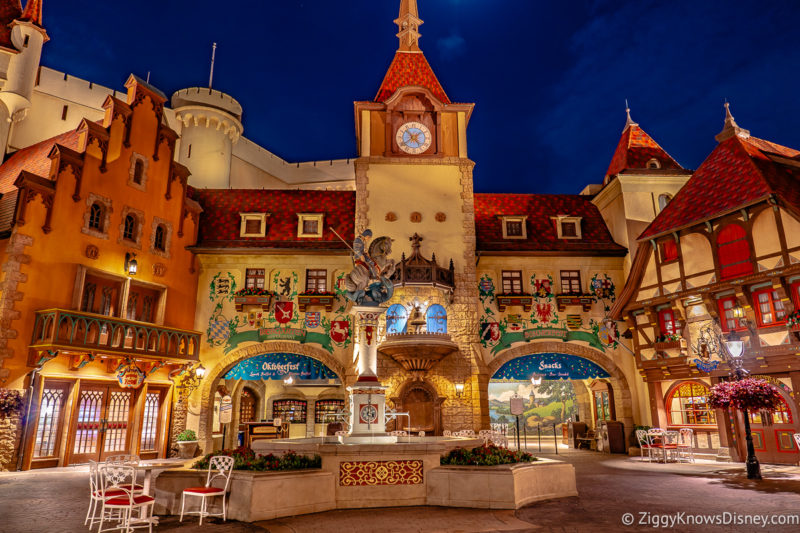 It's hard not to thoroughly enjoy Germany, between the authentic Bavarian-style theming and one of the most authentically-themed restaurants in all of EPCOT, Biergarten, Germany is a solid country albeit not perfect.
We enjoy the theming, it does a nice job of representing Western Germany's Bavarian-style feel and architecture while having some awesome nods to German culture such as the clock tower, the cuckoo clocks, and the trains!
We also love Karamell-Kuche as it's the perfect caramel lovers' dream! If you enjoy sweet treats, it's hard NOT to find something here. While we like Biergarten as a fun option for guests, it's really not a place you want to visit routinely as the food is just 'OK.'
In fact, the food in Germany as a whole is somewhat disappointing and with very limited offerings. We also don't always love the vibes in Germany, as it turns into a 'drinking pavilion' that frequently can get rowdy on the weekends. We like Germany, but it's not one of our personal favorites.
5. Morocco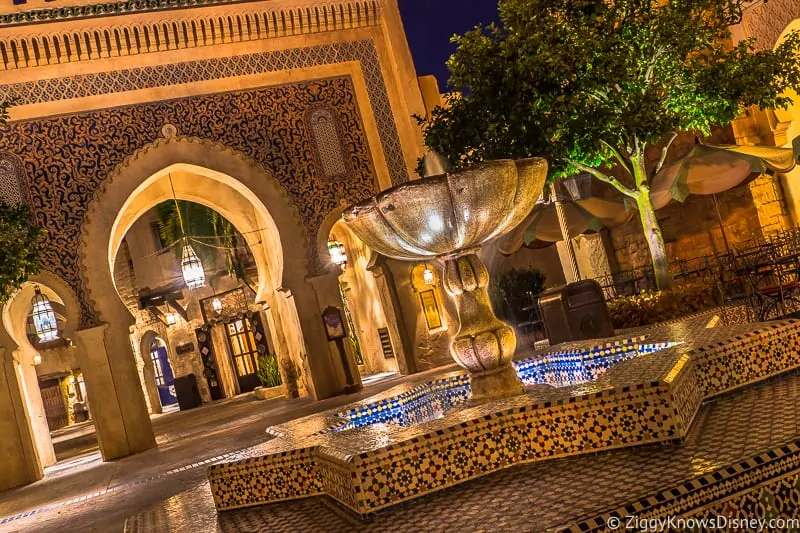 You can't top the theming in the Morocco Pavilion as it was designed, funded, and created by the Moroccan government themselves! With authenticity brimming from every section, it truly feels as if you are immersed in a Moroccan town with no expense spared.
We also think the table-service restaurant of Spice Road Table is one of the truly hidden gems. With as great as the theming is, there is something very disappointing about Morocco.
When the Morocco sponsorship ended in 2020 and Disney took over management, unfortunately, the quality of the pavilion also went down. Popular quick-service location Tangierine Cafe has turned into a seasonal offering that is only open during the festivals. Another table-service option Restaurant Marrakesh has NOT reopened.
And even the back part of the pavilion remained closed for a long period of time following the reopening of the parks in 2020.
The authenticity of the pavilion has also gone down as you likely won't even spot many Moroccan Cast Members here either. What's happened to Morocco is sad, and it would have been higher on our list if we were still in 2019.
4. United Kingdom (U.K.)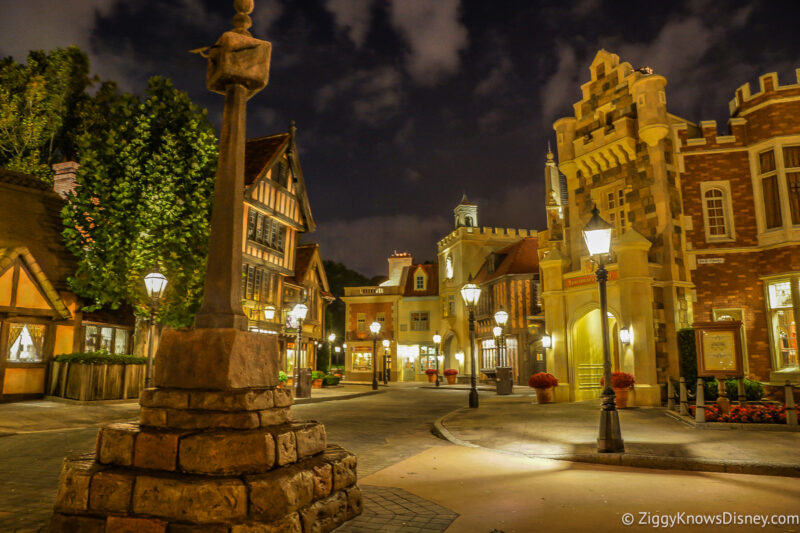 The United Kingdom Pavilion is a terrific all-around area that has a really nice mix of dining, entertainment, and authentic Imagineering. We love how immersive and diversified the buildings throughout the UK Pavilion are, as they'll progress you through the different English Cultural progressions.
From the tea room to the authentic British Bar, there's truly something for everyone in the U.K. Pavilion. Sure we wish they had a ride, such as the rumored Mary Poppins attraction, but they still have plenty to do and see.
Shop your way around the plentiful different shops with a pint in your hand, or sit around the gazebo and watch the British Band. We love spending time here, and we find it's got a superb balance for guests.
3. Japan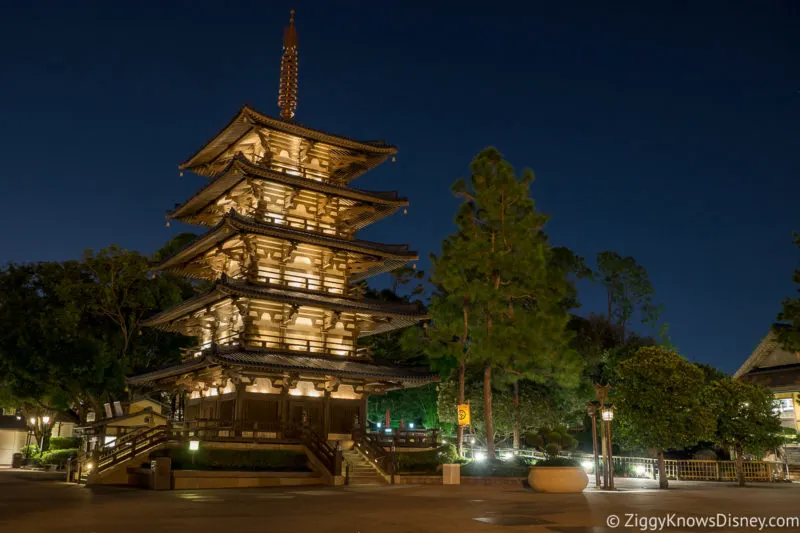 One of the most truly stunning pavilions in all of World Showcase is the Japan Pavilion. You'll feel as if you're walking through the streets of Kyoto with its 5-tiered pagoda and the taiko drummers playing overhead. The gardens and the koi ponds are immaculate and incredibly stunning.
We also find Japan to be one of the most relaxing retreats in all of EPCOT, as it rarely feels as overcrowded as some of the other pavilions do.
One of the highlights is the Mitsukoshi Department Store, which we LOVE, and could spend hours here browsing around and seeing all of the different Japanese goods, merchandise, and food.
And with the recent additions of Shiki-Sai and Takumi-Tei, there are now THREE table-service restaurants in Japan. All three are vastly different and will accommodate differing palettes and budgets. And don't forget the underrated quick-service option, Katsura Grill. We LOVE Japan, it's truly terrific!
2. Mexico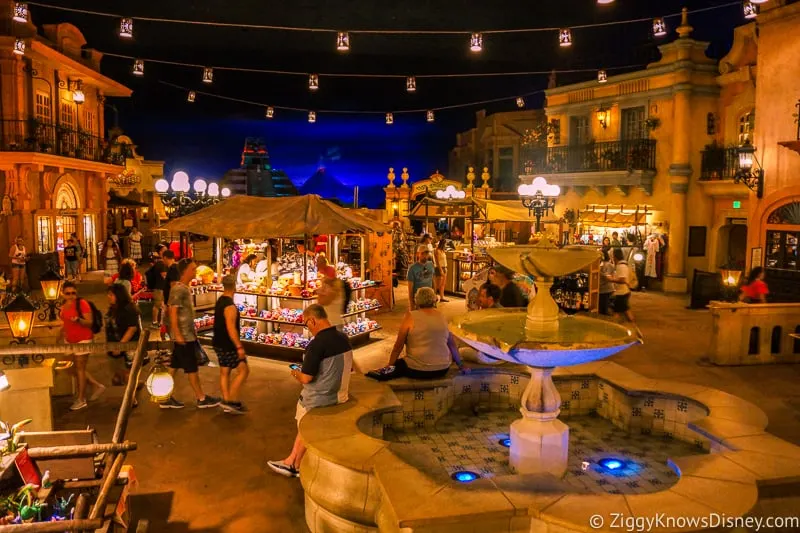 Our 2nd favorite pavilion in EPCOT is Mexico. I mean, it's hard to top a pavilion where most of it is inside air conditioning!
We love the immersive nighttime theming of Mexico, making you feel as if you're truly inside a Mexican Marketplace. Each section of Mexico is terrifically themed while feeling vastly different both inside and outside.
The recreation and entertainment offerings of Mexico are awesome between Mariachi Cobre and the Gran Fiesta Tour, so there's plenty to do.
It also has a wide array of dining options between La Cava, Choza de Margarita, La Cantina de San Angel, La Hacienda, and San Angel Inn. There's something for everyone to eat in Mexico…and of course to drink too!
There is just a fun vibe overall here and it's our favorite place to get drinks in all of World Showcase. We usually end up spending more time here than anywhere else when Drinking Around the World. Plus they always have one of the best EPCOT Festival Kiosks at all times of the year!
1. France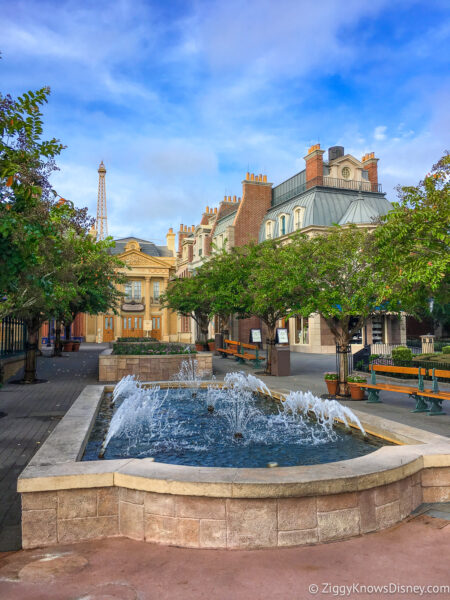 And last but certainly not least our favorite country in EPCOT… France! This is relatively easy for us as the France Pavilion literally has everything! From the incredible theming that fully showcases Parisian culture and architecture to the immersive winding paths of the pavilion, it's hard to top.
In fact, France has been the best pavilion in EPCOT for a while, and with the recent expansion to the pavilion including Remy's Ratatouille Adventure and La Crêperie de Paris, it's even more clear cut!
There are three table-service offerings, two are modest and family-friendly and the other more upscale and high-end. That's not even mentioning the variety of quick-service options, including the best bakery in all of EPCOT!
We also love Impressions de France, which is our favorite film in any of the World Showcase Pavilion. Plus you'll be able to watch Serveur Amusant who is likely the best, at least our favorite, street performer in EPCOT as well.
The bottom line is, France has the most to do, the most to eat, and the most replayability with guests coming and staying for hours!
Drinking Around the World Showcase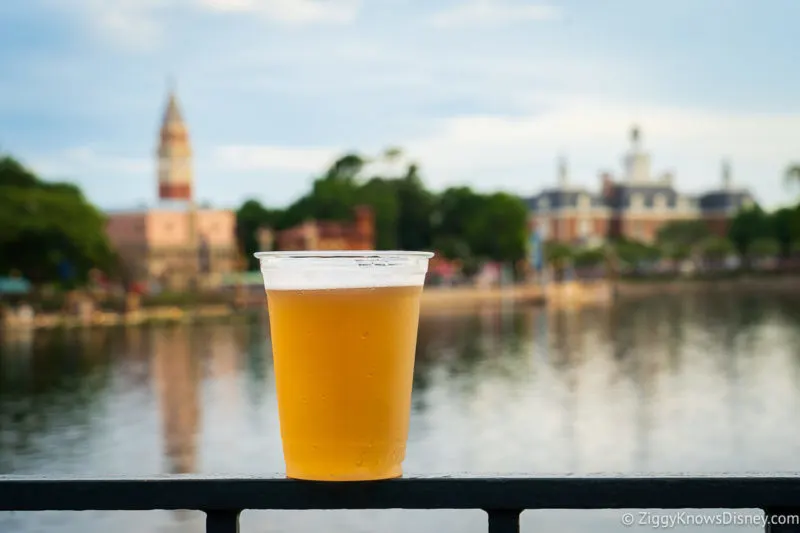 One of the most popular pastimes among EPCOT guests is Drinking Around the World. The idea is for guests to have an alcoholic beverage in each of the 11 countries around EPCOT's World Showcase.
While Disney doesn't personally promote this, nor do they sell merchandise encouraging it, it's a pretty commonly accepted experience that is done by many guests daily. It is especially famous among younger Disney guests (ones of drinking age), and it is highly popular on the weekends and during the EPCOT Festivals.
To fully "drink around the world" you will need to get some kind of alcoholic beverage, whether it's wine, beer, or a cocktail around each of the countries around the World Showcase Lagoon.
It doesn't really matter 'which kind' of alcoholic drink as long it contains some kind of booze.
To read about the full experience, check out our Guide to Drinking Around the World Showcase in EPCOT.
Snacking Around the World Showcase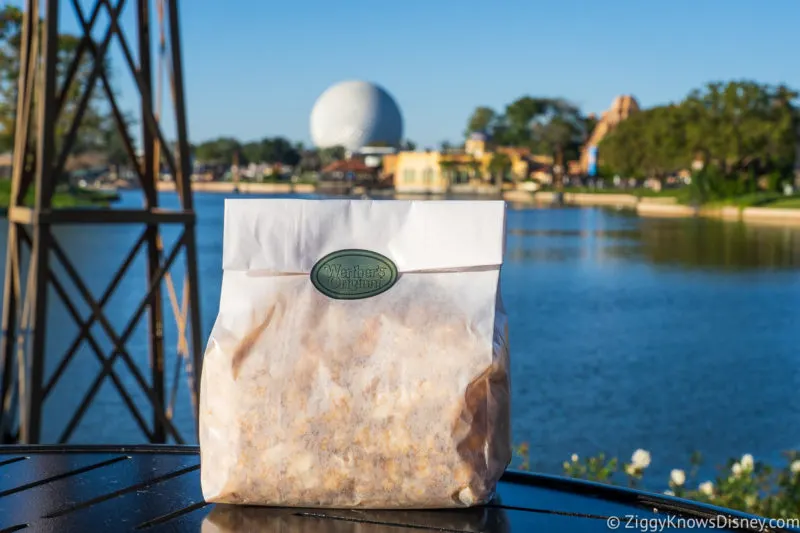 There are famous snacks in each of the World Showcase countries, and Snacking Around the World allows you to try the different country's snacks. You can do this yourself or better yet, you can share the different snacks with your family or travel party.
While not quite as popularly entrenched as "Drinking Around the World," Snacking Around the World is actually something that IS encouraged by Disney. This can be done in a number of different forms and is particularly common during the EPCOT seasonal festivals, although it doesn't need to be done during the festivals.
It essentially is the same thing as Drinking Around the World, except you're not drinking alcohol you're eating!
Check out our Guide to Snacking Around the World to see all our favorites!
Which Characters are in EPCOT World Showcase?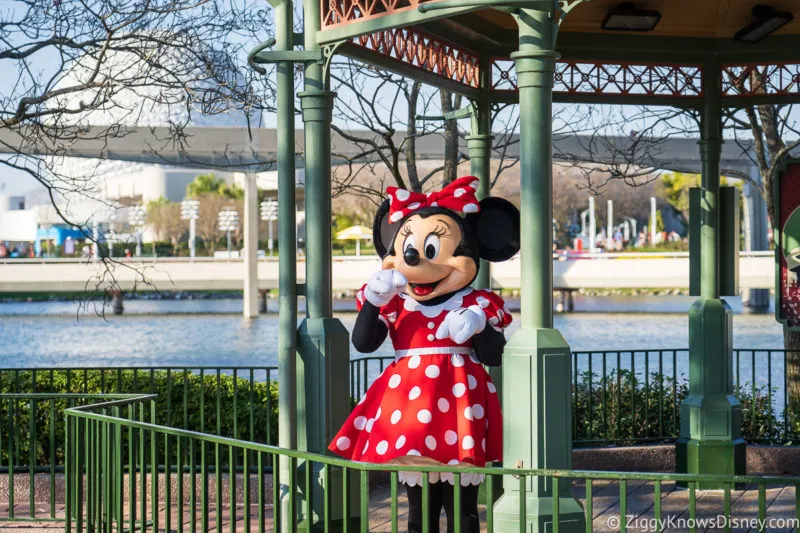 The character meets in the EPCOT World Showcase do change from time to time so it's important to go on the My Disney Experience app and check yourself the daily schedule to see which characters are going to be there on the day YOU will be there.
Simply go to "Characters" on the My Disney Experience app and sort by "EPCOT." It'll give you the complete list of characters that will be there.
If you click on the individual characters it'll show you exactly 'WHERE' in the country's pavilion they will be and what time they will be meeting guests. You will simply go to the spot they will be and get in line to meet your favorite character!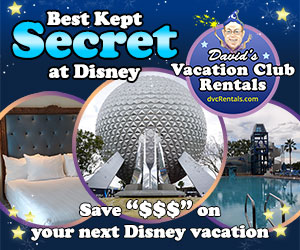 In general, here is where and who you can expect to meet in EPCOT's World Showcase (in alphabetical order):
Alice – The United Kingdom Pavilion inside the Gardens area
Anna – The Norway Pavilion inside Royal Sommerhus
Belle – The France Pavilion along the promenade by the water
Daisy Duck – The International Gateway between France and the U.K.
Donald Duck – The International Gateway between France and the U.K.
Elsa – The Norway Pavilion inside Royal Sommerhus
Mary Poppins – The United Kingdom Pavilion inside the Courtyard
Mulan – The China Pavilion inside the Great Hall of China
Pluto – The World Showcase Friendship Ambassador Gazebo in between Mexico and Canada
Princess Aurora – The France Pavilion in the Fragrance Gardens Gazebo
Princess Jasmine – The Morocco Pavilion
Snow White – The Germany Pavilion in the Wishing Well
EPCOT Festivals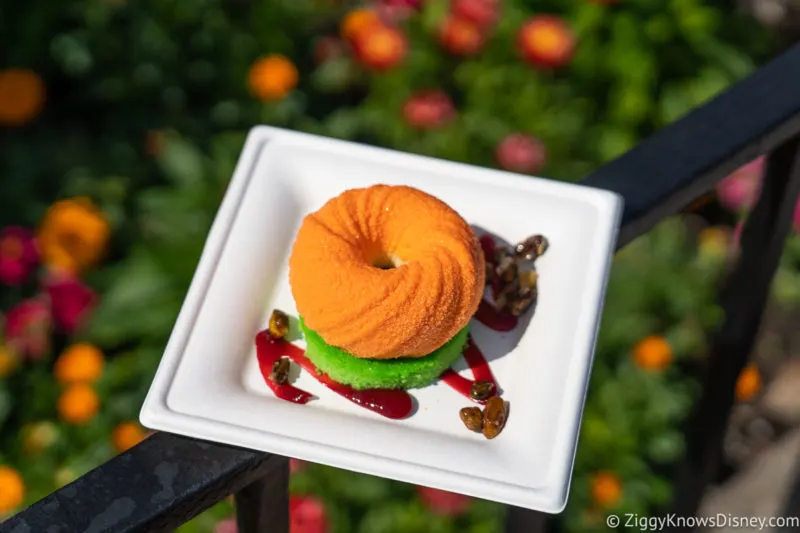 EPCOT Festivals have turned into an almost daily occurrence these days. In fact, there are actually very few days when there is NOT a festival going on.
These festivals are all generally located around World Showcase with each different festival having slightly different theming and they allow guests to taste and sip different foods and beverages from around the World.
The festivals are essentially themed kiosks that are set up and located throughout the World Showcase lagoon. While some of the kiosks have country names like the actual pavilions themselves, others are themed with slightly different theming.
For those that aren't familiar, there are 4 yearly EPCOT Festivals. They are:
EPCOT Festival of the Arts (January – February)
EPCOT Flower and Garden Festival (March – July)
EPCOT Food and Wine Festival (July – November)
EPCOT Festival of the Holidays (November – December)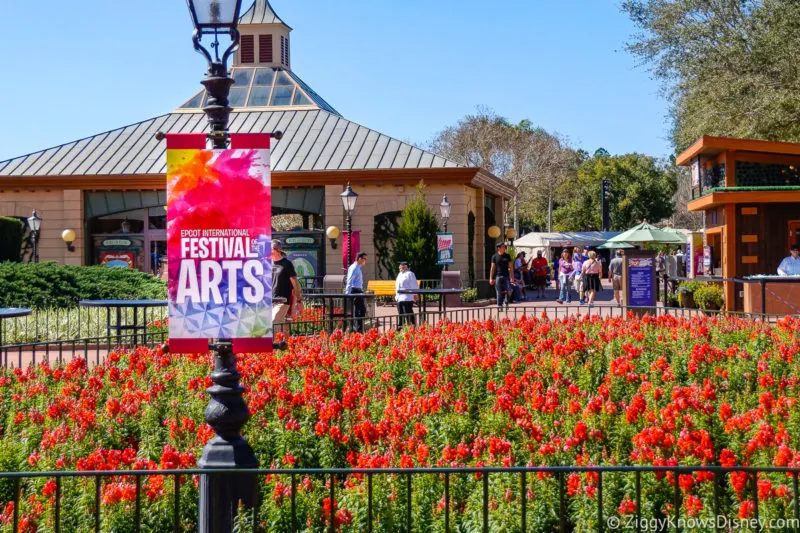 Festival of the Arts or FARTS as it's often referred to is a bright and colorful festival that focuses on the presentation of the actual dishes and a celebration of visual, culinary, and performing arts. You'll notice artwork displayed throughout the World Showcase through a variety of Disney Art Pieces. Guests visiting during this time can purchase art and even partake in creating art.
Flower and Garden Festival, which takes place in the spring and early summer focuses on the beauty of springtime with sweeping landscapes and nearly two dozen different-themed topiaries throughout the park. It's a beautiful festival that really magnifies the fresh flavors of locally sourced ingredients in their dishes.
The Food and Wine Festival is the summertime and fall festival that embarks guests on a culinary exploration throughout the world focusing on dishes served and crafted by famous chefs while allowing guests to taste and sip things from around the world.
Festival of the Holidays is the shortest festival of the year and runs only for a few weeks with a focus and celebration of the holiday time from around the world. You'll find some of the popular eats and drinks from the different countries of EPCOT during the holiday season.
What Hours is the World Showcase Open?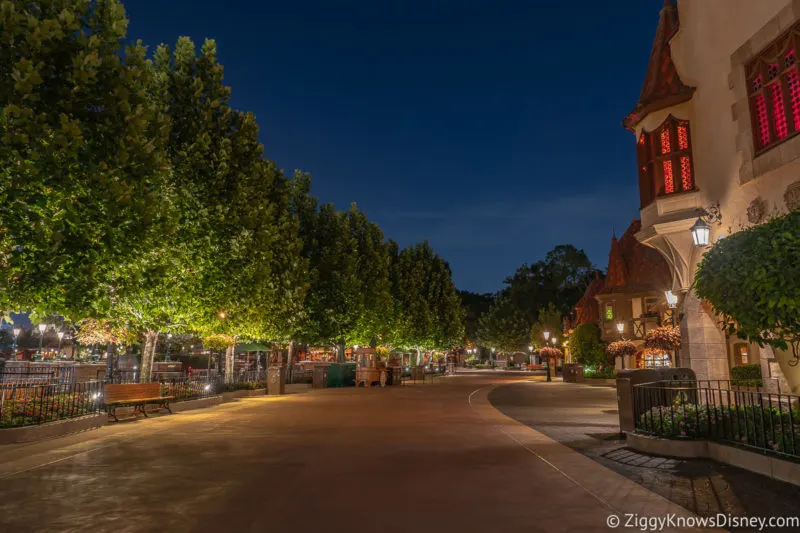 In the past, World Showcase would open up later in the morning typically at 11:00 a.m. Now World Showcase opens up at the same time as the rest of the park, which is normally at 9:00 am each day.
Check out the full schedule in our Guide to EPCOT Park Hours.
Best Time of the Day to Visit the World Showcase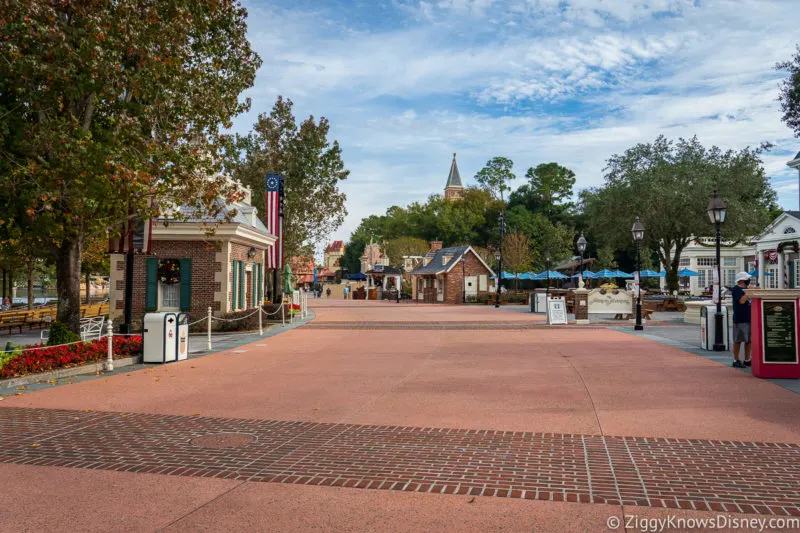 We generally recommend that the earlier guests visit the World Showcase each day, the better. Most of the food kiosks for the EPCOT Festivals and the additional quick-service locations open up at 11:00 am so we recommend guests spend the bulk of their time in World Showcase between 11:00 am and 1:00 pm.
These hours are ideal because World Showcase is still quiet and the lines aren't overly long. During the later hours of the afternoon and the evening, World Showcase can get VERY crowded, especially on the weekends since it's a frequent spot for locals to visit, especially during the different EPCOT Festivals.
And while there are advantages of being in World Showcase in the evening hours due to the fireworks and certainly the ambiance, we typically prefer those first couple of hours. If you want to spend time in the evenings, which we absolutely recommend, I'd try to do so on weekday evenings.
Best Way to Save Big $$$ on Disney Resorts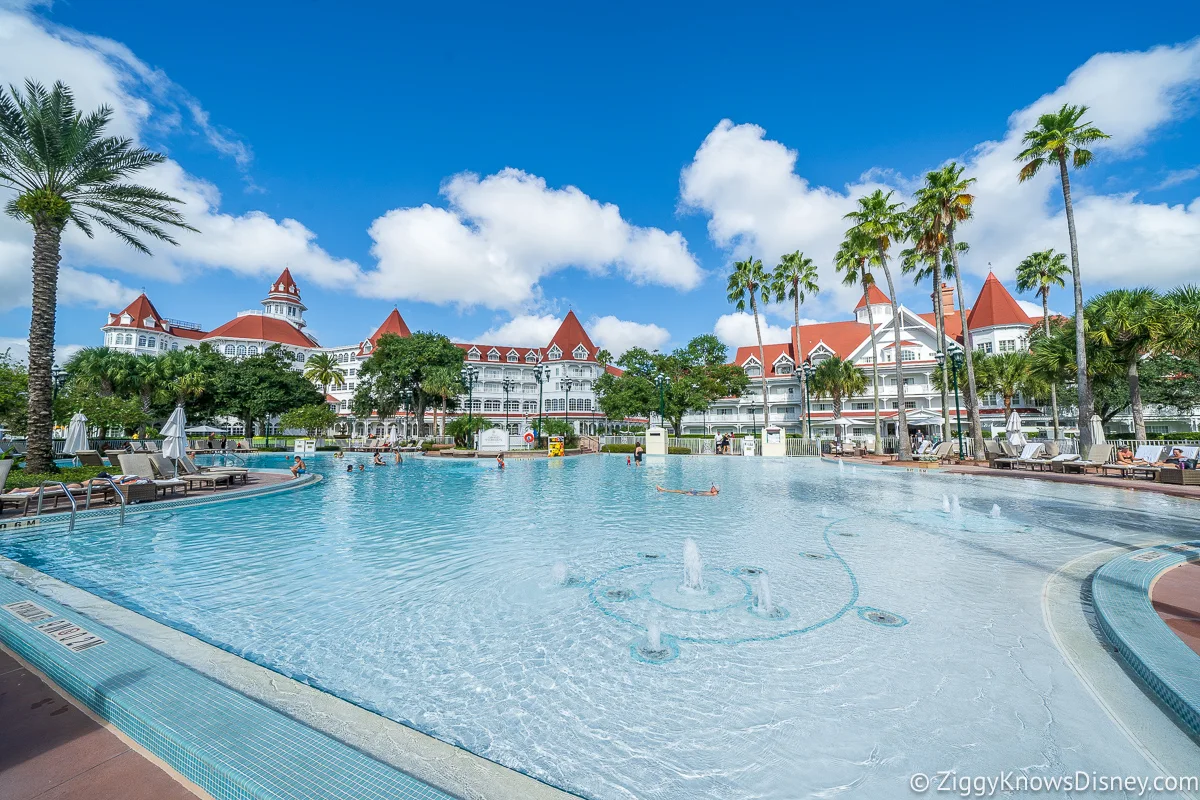 If you want to potentially save thousands of dollars on your next trip to Disney World, I personally recommend David's DVC Rentals. They consistently have the best prices and biggest selection of Disney Villas that will make you ask yourself: "How do they do it?"
Watching the Fireworks in EPCOT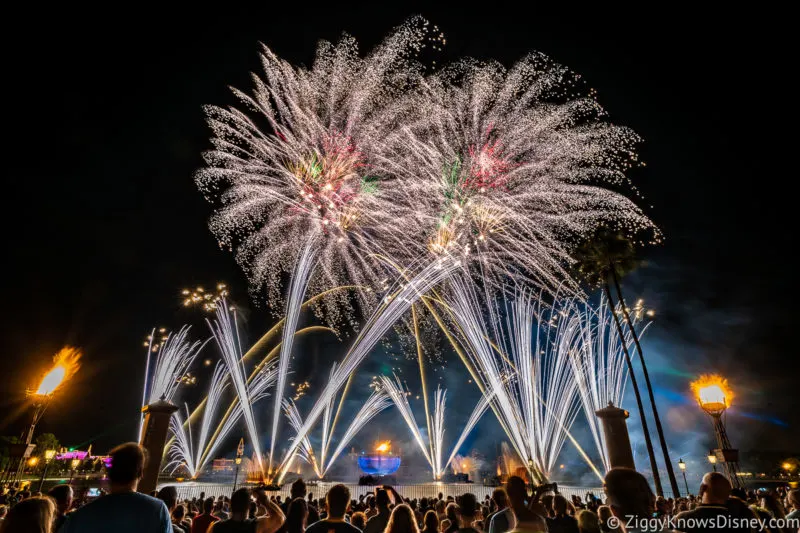 EPCOT, along with Magic Kingdom, are the two MOST well-known Disney parks for their fireworks. Getting a good fireworks view in EPCOT is far easier than at Magic Kingdom, as there are far more plentiful spots available around the World Showcase Lagoon. But it's still important to know where exactly to watch them from.
Another thing to keep in mind is that EPCOT is in the midst of currently revamping its fireworks show. As of now (Summer 2023), the current nighttime fireworks show is called EPCOT Forever. It's designed to celebrate the past, present, and future of EPCOT with fireworks and special effects.
However, this current temporary show will not last much longer as a new show, Luminous The Symphony of US is debuting on December 5, 2023.
Which Country Has the Best View?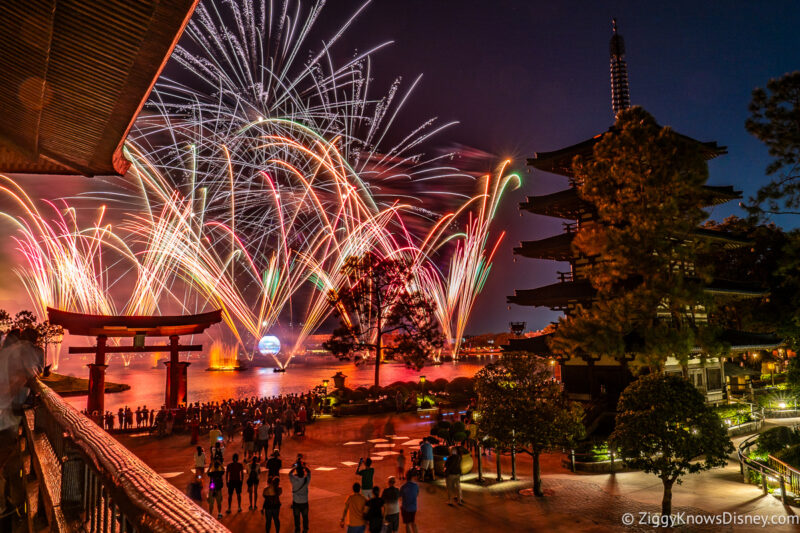 There are a few spots throughout the World Showcase that we thoroughly enjoy watching the EPCOT fireworks from, and there really aren't too many bad 'BAD' spots. We think there are good spots and there are better spots. Here are some of our favorites:
World Showcase Plaza – This is in between the two Disney gift shops as you enter World Showcase from the front of the park. You'll have a prime viewing spot here, as you'll be fairly centered and get to grab panoramic shots of the entire lagoon. Be prepared though, this spot fills up quickly, so get here early.
2nd Floor of Japan Pavilion – If you head to the 2nd floor of the Mitsukoshi Department Store or outside Teppan Edo, you'll find a nice viewing platform for guests. This is a small space so try to get here early.
Between Japan and The American Adventure Pavilions – There's a stretch between Japan and the American Adventure which has some really good spots with minimal tree disruptions to obstruct your views.
Italy Pavilion on the Bridge – While this area is often closed for special EPCOT events, if it's open snag a spot here, it's great!
The International Gateway Bridge – The bridge that takes you from the International Gateway into France is a terrific spot to get a great view. It also fills up fast so get here early.
These are some of our favorites, and absolutely try to snag one of these if you can!
Future EPCOT Fireworks Show
While Disney is utilizing a temporary fill-in show EPCOT Forever, it's supposed to be a short-term thing before it's ultimately replaced in late 2023. This new show according to Disney will:
"Unite us through commonalities of the heart in a dazzling display of fireworks, lasers, music, and light. An original composition along with select songs from the Disney songbook, this new spectacular will remind us that we're more alike than different, connecting our hearts together as one."
And while this sounds EXCITING, many Disney guests were disappointed with the last full-time EPCOT fireworks show Harmonious after lofty expectations.
Read our EPCOT Luminous Fireworks Guide for news on the official opening date, as well as the details, songs, and represented IP.
Extra Tips for Visiting the EPCOT Countries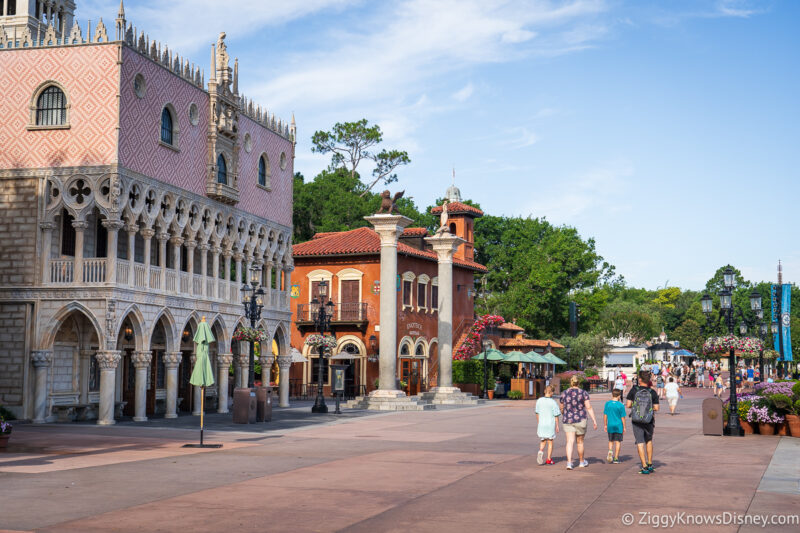 If you want to fully maximize your time throughout the various different EPCOT Countries, here are a few things you can do:
Take Your Time – I know this can be hard as everyone is in a rush to maximize every available second of your time with pre-planned itineraries, it's important. The EPCOT Countries are best enjoyed when they can be strolled through instead of rushing through to check off a list.

Rope Drop at the Back Entrance – While this can be almost impossible for some guests who are driving in if you can enter the International Gateway entrance, it'll put you immediately into World Showcase. This allows you to have the EPCOT Countries essentially to yourself! It also gives you a leg up on getting on Ratatouille in France, as you'll be RIGHT next to the attraction.

Get Pictures in World Showcase at Golden Hour – Golden Hour is the last hour of sunlight and Florida's Golden Hour is incredibly beautiful on a nice day! You'll get some stunning views of the lagoon and the different World Showcase Countries.

Book Dinner During Fireworks – Consider booking a restaurant with a view during fireworks times. If you can get La Hacienda in Mexico or the Rose & Crown Dining Room in the U.K. Pavilion, you can request a table with a view! These restaurants have roped-off areas where you can get some awesome and relaxed views of the fireworks while you enjoy your meal.

Book Dinner Late Night – Another alternative to option 4 is to book a restaurant LATE at night. If you can get an ADR for a late night at one of the World Showcase Restaurants around 9:00 pm or even after, you'll get to enjoy a wonderful walk through the EPCOT World Showcase completely empty as you depart!

And we love walking through the World Showcase and feeling as if we have the park to ourselves.

Watch One of the Concerts – The EPCOT Festivals have some terrific bands and shows during the festivals, particularly Food & Wine and the Flower & Garden Festivals. These shows are completely free, and allow you to enjoy a high-quality concert for no additional cost.

Avoid the First Few Days of the Festivals – The festivals all have a soft opening on Thursday and then a full opening on Fridays and the opening weekends are PACKED! Locals, Disney Bloggers, and everyone else want to check out the new festival. So if at all possible, steer clear of EPCOT on the first Friday – Sunday of a new festival.

Come During Non-Festival Times – While we love the EPCOT Festivals, sometimes it's nice to come at a non-festival time. You'll get to focus on the other things in World Showcase, besides just the seasonal festival food items. There are plenty of things to do and see that don't revolve around the festivals and EPCOT is MUCH quieter during these weeks as well.

Enjoy a Free Scavenger Hunt – During the EPCOT Festivals, there are free scavenger hunts in which guests can partake in around the World Showcase. These can be a great change of pace for families that want an alternative, and these can be done together without costing an extra dollar!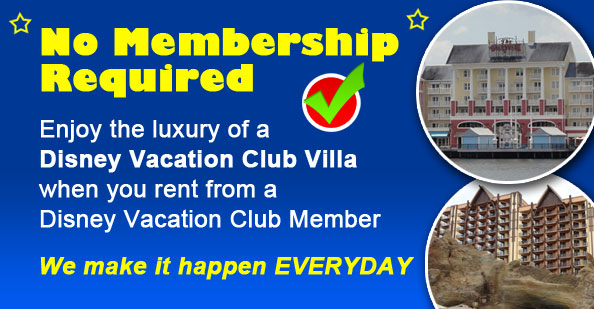 Changes We'd Like to See to EPCOT Countries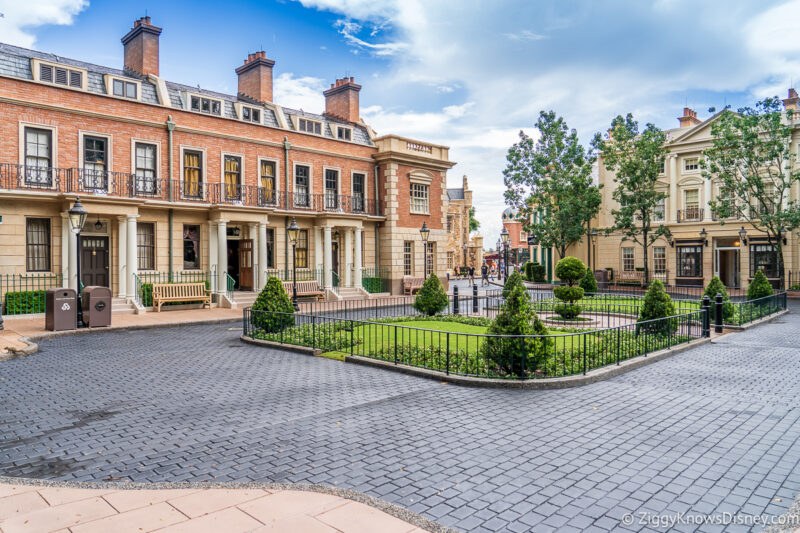 There are certainly some changes that Disney can and should implement to give World Showcase and the EPCOT Countries a much-needed facelift. This would greatly enhance the overall park experience for guests while allowing the EPCOT Countries to get the maximum exposure that they deserve.
Here are some things they can quickly implement:
Make Morocco Great Again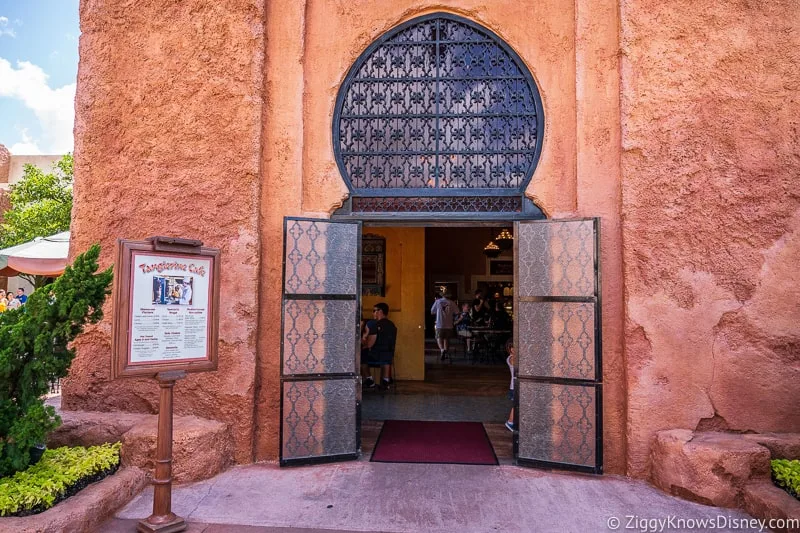 Ever since the cultural representatives left, sadly Morocco has gone WAY downhill. Despite the fact that we LOVE the theming of Morocco, sadly there isn't much else to do here anymore.
Disney has taken over the control of the pavilion and it's lost its place in the World Showcase. Stores were closed for far too long, restaurants are still closed, and the vibe just has sadly been lost by the wayside.
While we are happy the belly dancers and the band are back performing, they need to do something else to spice up this pavilion. For example, reopen Marrakesh or a better version of it! They could bring additional offerings, open up an Aladdin attraction, or do something!
Give the Canada Pavilion Additional Offerings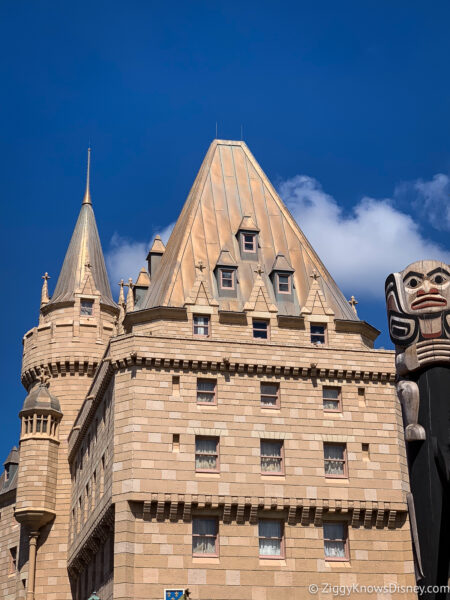 The Canada Pavilion is one of the most visually stunning pavilions in all of EPCOT, but the sad truth is, unless you are eating at Le Cellier, it has nothing to attract visitors. The overwhelming majority of guests simply walk right past it. They need to add something to give this pavilion additional offerings.
The best way they can do that is to add a quick-service location. Bring some exciting Canadian delicacies to the pavilion besides just steak, maple-flavored everything, and poutine, which represents a tiny sample of what Canadians actually eat.
Can they open up a dessert stand or a French-Canadian Bakery? How about an attraction instead of the video, and make better use of the back of the pavilion?
China Needs an Overhaul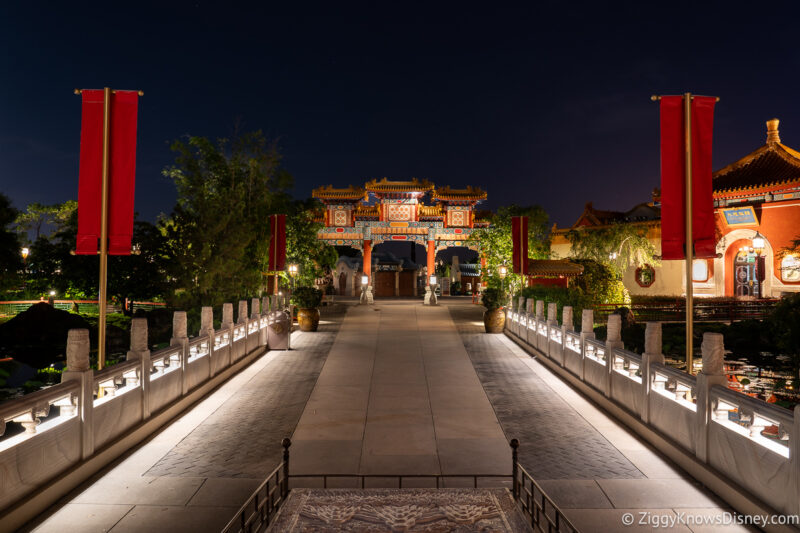 Unfortunately, China is a major disappointment like Morocco these days. Both their quick-service location, Lotus Blossoms Cafe, and the table-service restaurant, Nine Dragons, could be significantly better! Close them both down and significantly up the quality of the food and the offerings prior to reopening them.
Also, bring back the acrobats! These were incredible and guests would stay from beginning to end to watch this show while giving the China Pavilion a lot of love and attention.
Origins of the World Showcase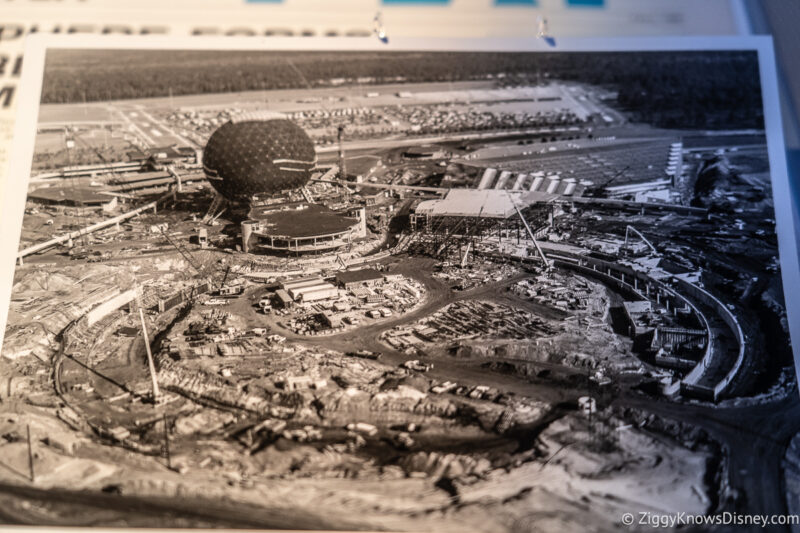 When EPCOT originally opened in 1982 there were only nine countries as part of the original World Showcase. These original countries were: Canada, China, France, Germany, Italy, Japan, Mexico, the United Kingdom, and the United States (The American Adventure).
In 1984, the Morocco Pavilion was created and added to the theme park as an addition. Then four years later in 1988, the Norway Pavilion was added. There have been no additional new countries or removals of an existing country.
Unbuilt Countries in the World Showcase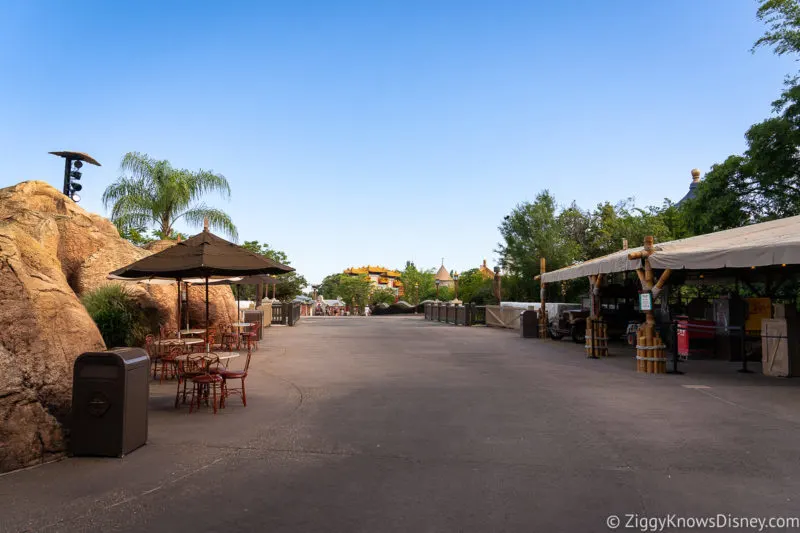 In addition to the 11 countries that are currently in World Showcase, there were two additional countries that were announced by Disney as 'Coming Soon' but sadly never opened.
These two additional unbuilt pavilions were Israel and Equatorial Africa.
Potential New Countries Coming to World Showcase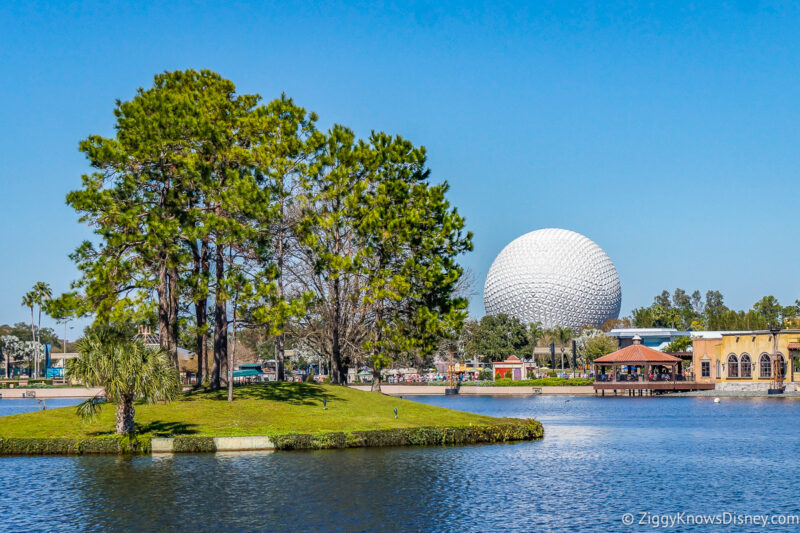 There is a LONG list of countries that have been rumored to be coming to World Showcase. The list seems to be growing during each subsequent year since EPCOT's official opening date. While we still think Disney will eventually add at least one new country, as there is certainly room, we can't imagine this happening anytime soon.
Considering it's been rumored since Norway's addition in 1988, we aren't holding our breath thinking it's going to happen tomorrow. But we certainly hope they do!
Rumored Countries
There have been at least 16 countries that have been rumored to be coming to EPCOT. They are:
Australia
Brazil
Costa Rica
Denmark
Equatorial Africa
Greece
India
Israel
Iran
Philippines
Puerto Rico
Russia
Spain
Switzerland
United Arab Emirates
Venezuela
There are a number of reasons WHY Disney has decided to pull the plug or hesitate when it comes to adding a new country to the World Showcase. Obviously, the world's scene is constantly changing, and committing millions of dollars of resources to a country's pavilion can be wrought with difficulty.
The days of hoping for different countries to contribute or even completely foot the bill for a pavilion in EPCOT are likely long overdue, and Disney will likely have to completely fund the expense themselves if they have hopes of adding a new country.
Disney also has to be incredibly careful since the countries in EPCOT are sponsored by various different countries and companies. These entities can have strict views of 'WHO' they are attached to based on political controversies and turmoil.
It's a tricky proposition to get the 'perfect' country that is both "safe" and financially viable. And as we've seen lately with Disney, their business model has been specifically catered to an IP-only strategy. So building or spending significant amounts of resources on an addition to EPCOT with limited upside just hasn't been at the forefront of their ideas.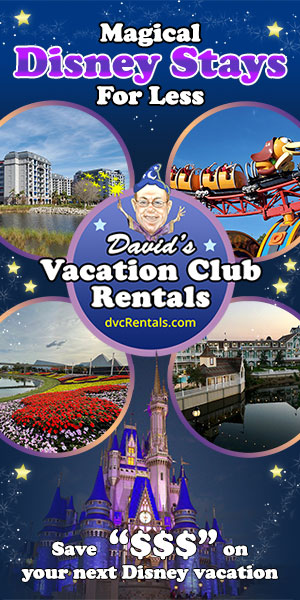 FAQs
How Many Rides are in EPCOT World Showcase?
There are three rides in EPCOT's World Showcase. They are:
Gran Fiesta Tour Starring the Three Caballeros in the Mexico Pavilion
Remy's Ratatouille Adventure in the France Pavilion
Frozen Ever After in the Norway Pavilion
How Many Countries Have Been Added to EPCOT Since it Opened in 1982?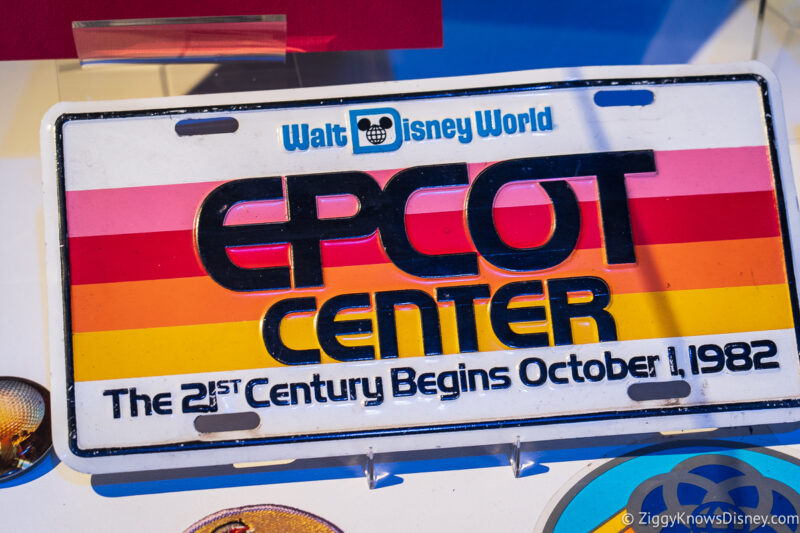 There have been only two additional countries in EPCOT that were later added. In 1984, the Morocco Pavilion was added and then four years later in 1988, the Norway Pavilion was added.
Are the Cast Members in the World Showcase Really from those Specific Countries?
Traditionally, almost all cast members working in the various International pavilions in World Showcase have been from those actual countries. In order to make this happen, Disney uses its Cultural Representative Program to bring people from those countries on a temporary work visa to fill the positions.
Yes! Disney ended the Cultural Representative Program in 2020 when the parks were closed and thankfully added the program back in 2022. While not ALL the Cast Members in the World Showcase will be from those specific countries, the majority of them are!
Why Is Spain Not at EPCOT?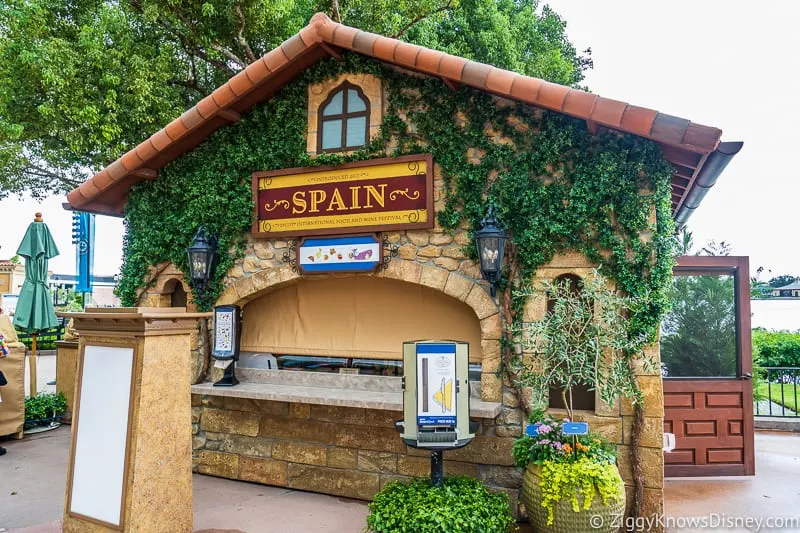 Disney has had plans to add Spain as a country in the World Showcase, but unfortunately, due to the changes in the Spanish government during the time period they were trying to add it, Disney could NOT get a sponsorship for the pavilion so it never got finalized.
There have since been rumors of a Spain pavilion coming to EPCOT, but when Disney scrapped its animated film Gigantic, which was based in Spain, all hopes of a World Showcase pavilion were swept away.
Is Russia in EPCOT?
While Disney even produced concept art for the Russia Pavilion in the early 1990s, it sadly never made it out of the development stages. There is NO Russia in EPCOT and with the way geo-political tensions are currently, don't expect one here, probably ever.
Does EPCOT Have Greece?
While Greece is a common marketplace during the EPCOT Food & Wine Festival, they do NOT have a pavilion in the World Showcase.
Does EPCOT Have Switzerland?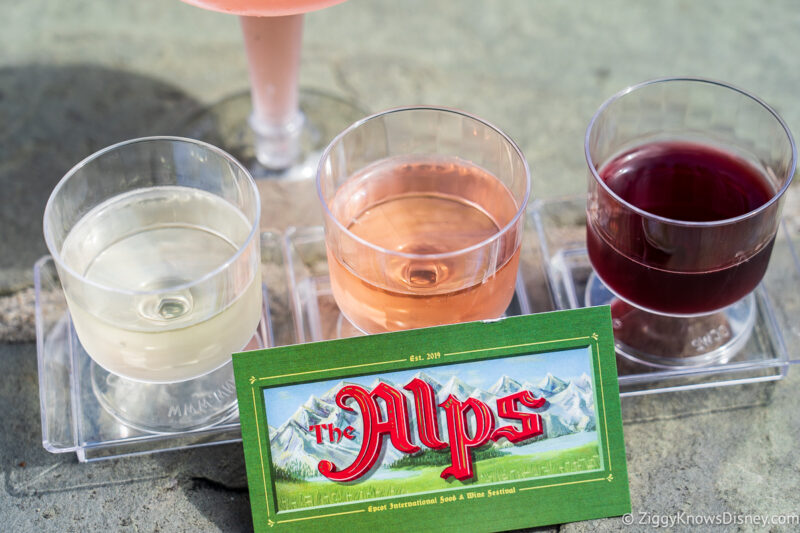 In the mid-1980s, Disney had plans to add the Switzerland Pavilion but it sadly never came about. The Swiss government and Disney could NOT come to an agreement, ending the plans to add it. This would be a perfect location though for an updated version of the Matterhorn Bobsleds!
Is Israel in EPCOT?
No. While there were talks to add an Israel Pavilion with it even having the country's sponsorship, it never came about due to rising political tensions.
Is Norway Still at EPCOT? Did Arendelle/Frozen Land Replace It?
Yes! Norway is still at EPCOT. And while the Frozen Ever After Attraction replaced the former attraction Maelstrom, the pavilion in Norway has virtually stayed the same.
Are they Adding Brazil to EPCOT?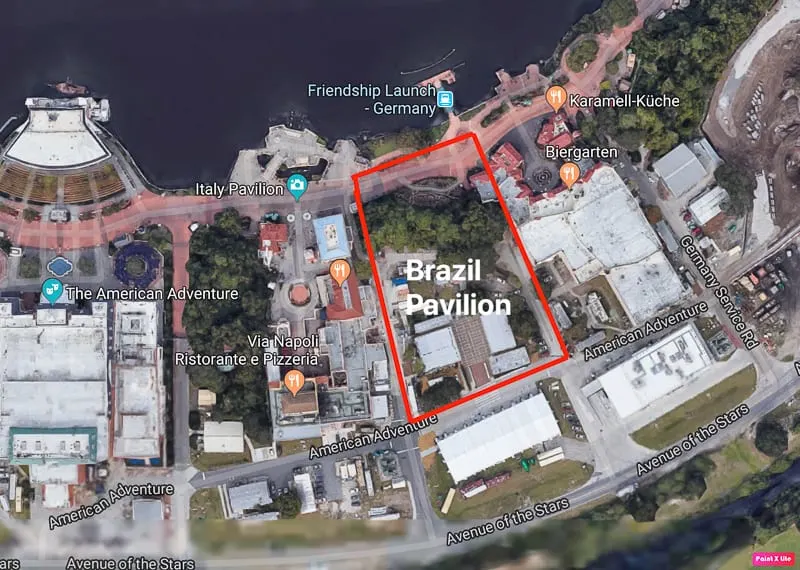 While there were serious talks of adding Brazil to EPCOT just a few years back at the D23 Event, it never came about. At this time, there are no definitive plans to add Brazil to EPCOT.
If they won't give me a full pavilion, maybe they can just open a Brazilian snack booth full time so I can load up on pork belly all-year round.
What Was the Last Country Added to EPCOT?
Norway was the last country added to EPCOT's World Showcase, and it opened in 1988.
Why Is Morocco in EPCOT?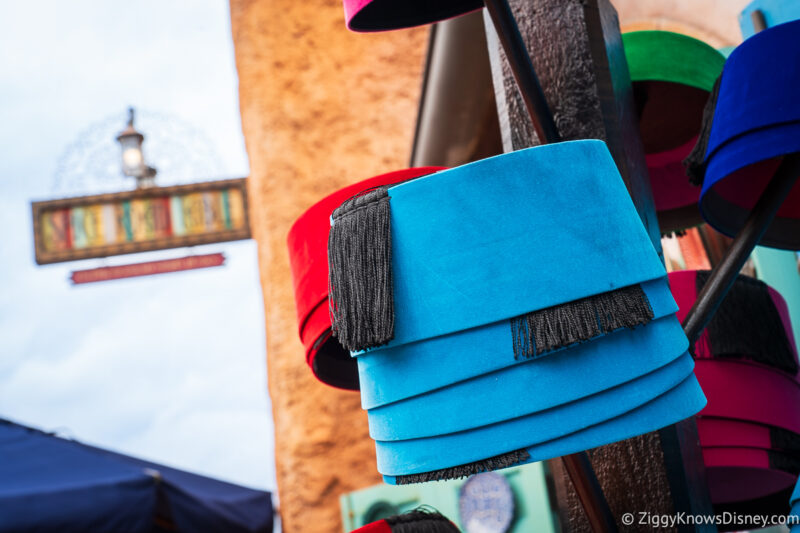 The first country that was added to the World Showcase after EPCOT's opening, the Morocco Pavilion was added in 1984. It was one of a few countries that was interested in funding a pavilion in EPCOT.
The king of Morocco at the time was very enthused about the project and sent his own designers and builders to help construct the pavilion. This ultimately helped them become the country that Disney ultimately chose to be added to the World Showcase.
It's a special pavilion because it's the ONLY country in the World Showcase that was entirely funded by the Moroccan government.
Ready to Start Planning Your Disney Vacation?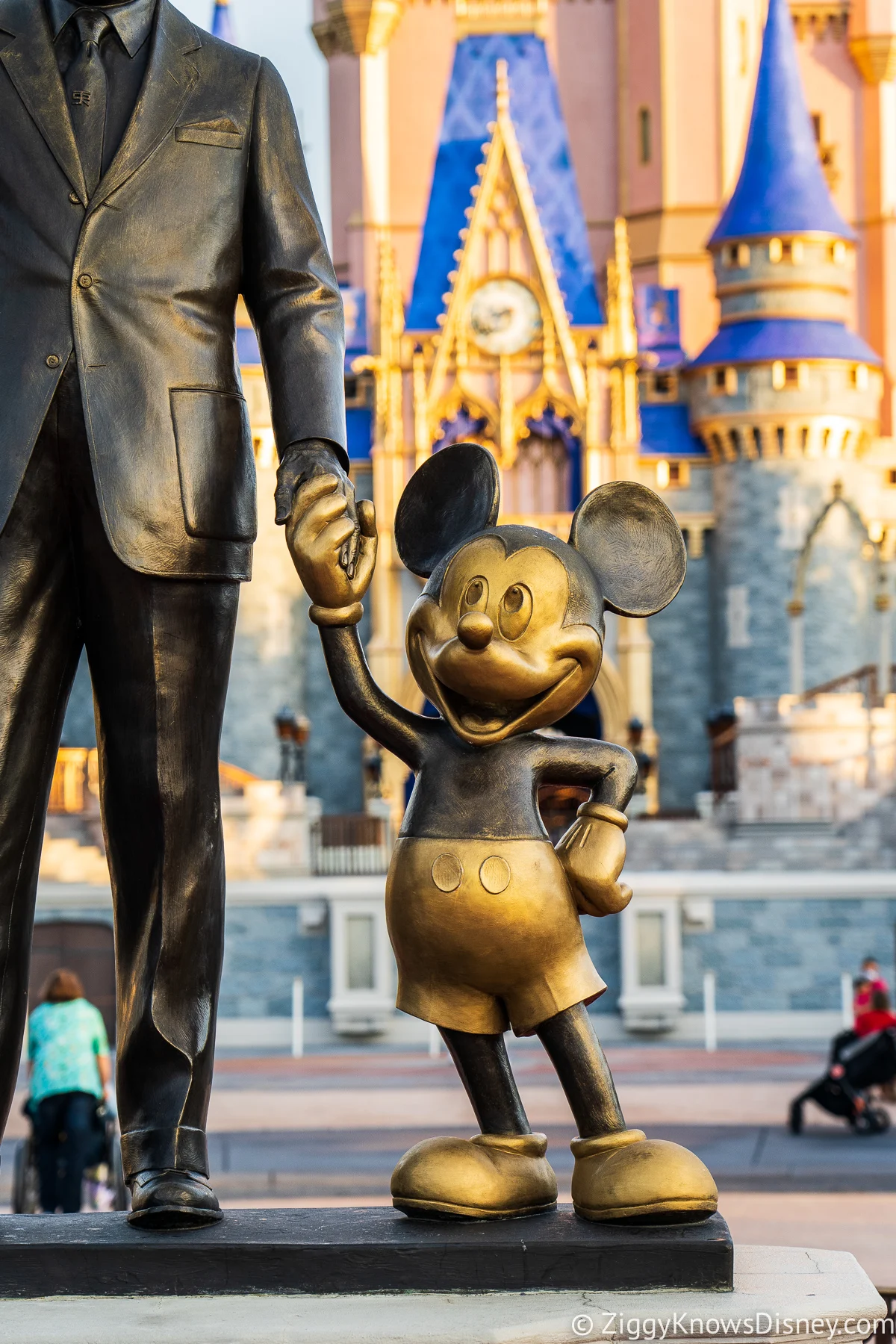 That wraps up our guide to the 11 EPCOT Countries in World Showcase. We hope you liked it and that we gave you some good ideas for things to do when you visit.
We want to hear what your top EPCOT Countries are so drop them in the comments section below!
For more great EPCOT guides be sure to check out our other articles:
If you are thinking about going to Walt Disney World in the coming future, here are some other popular articles where you will find all the info and tips you need to plan your trip.
Your Thoughts
I want to know what you think about our guide to the best countries at EPCOT…
What is your favorite EPCOT country?
What are your favorite things to do in World Showcase?
Let us know in the comments section below!
If you enjoyed this article, as always I appreciate it if you'd share it with others via social media. I work hard at making this website into a useful resource for you and your family to plan your visit to the Disney Parks and I hope it can help you! Thanks 🙂