There are lots of rumors surrounding the D23 Expo this weekend, but one of the most likely to happen is a Brazil Pavilion being announced as coming to Epcot's World Showcase.
Rumors about a new World Showcase pavilion in Epcot have been going on for years now, and it finally looks like this is finally going to happen. There are other countries mentioned (India, Spain, etc) but the most likely of them all is Brazil.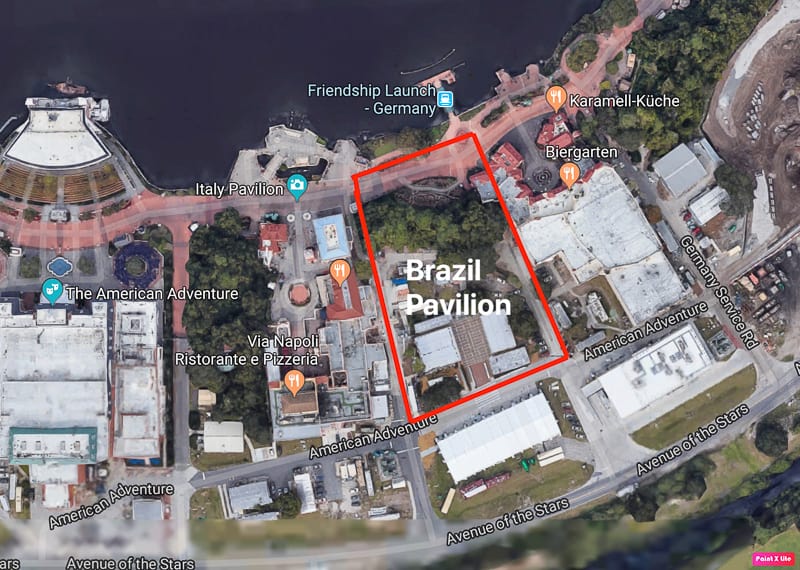 Looking at the Disney Parks pavilion at the D23 Expo you can see there are posters for all of the Epcot pavilions, both past, current, and future, or at least the ones that have been announced so far. There are two mysterious black poster with the writing: "Revealed Sunday."
That means that we might see as many as 2 new countries announced for Epcot's World Showcase this weekend, though I'd be happy with only one of the mystery posters being a new country in World Showcase.
Why Brazil? Well financially, Brazil makes the most sense because it's the country that brings the most amount of international visitors to Walt Disney World that still doesn't have its own pavilion represented in World Showcase yet. In fact, the idea has been tossed around for a Brazil pavilion for years now and it was rumored to have been one of the potential announcements they were going to make at the 2017 D23 Expo but never made.
Where would a Brazil pavilion go?
There are a few open expansion lots left around World Showcase lagoon still but the one that's most likely to hod Brazil is the spot in between the Italy and Germany pavilions.
This space in the recent past has been used to hold backstage trailers, but right now that space is cleared out and it's open for a new pavilion. We might even see construct start for a Brazil pavilion by the end of 2019 if it does get announced this weekend.
When Would it Open?
This is a harder question, but to build a whole new Epcot pavilion from the ground up is going to take some time, realistically 3 years. That means the most likely opening for a Brazil pavilion is 2022, not earlier.
While some would love it in time for the 50th anniversary of Walt Disney World in 2021, it's probably not feasible, and we already know that a lot of Disney's plans for Epcot won't be done in time for the celebration and will open after. Brazil would likely be one of them.
Again this is still unconfirmed as of now and Disney hasn't yet mentioned anything, but it's very likely we'll be getting an announcement for it on Sunday at the Disney Parks, Experiences and Products presentation.
Stay tuned as we bring you the latest on this story…
If you are looking for more information about the D23 Expo then check out these other useful links below with full updates for everything from the D23 Expo!
Your Thoughts:
I want to know what you think about a Brazil pavilion coming to Epcot…
Is Brazil a good choice for a new World Showcase country?
What other countries would you like to see?
Let us know in the comments section below!
If you enjoyed this article, as always I appreciate it if you'd share it with others via social media. I work hard at making this website into a useful resource for you and your family to plan your visit to the Disney Parks and I hope it can help you! Thanks 🙂