As you may have heard, EPCOT park in Walt Disney World is in the middle of the biggest transformation in park history over the next few years. Yes, there are many new changes coming to EPCOT in 2021 and beyond.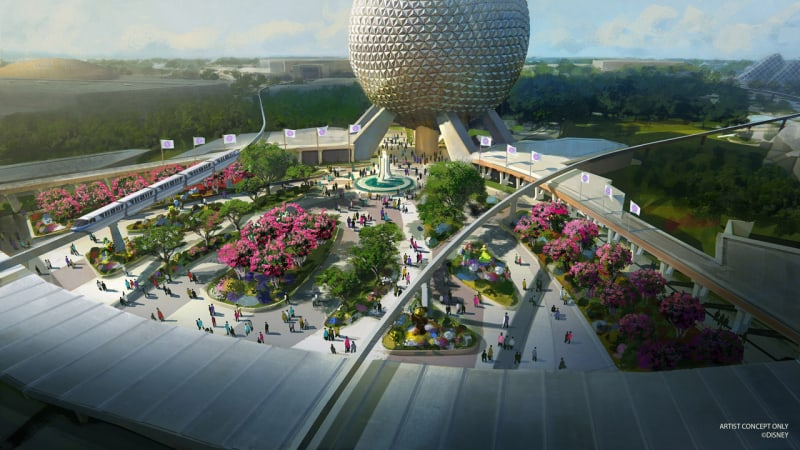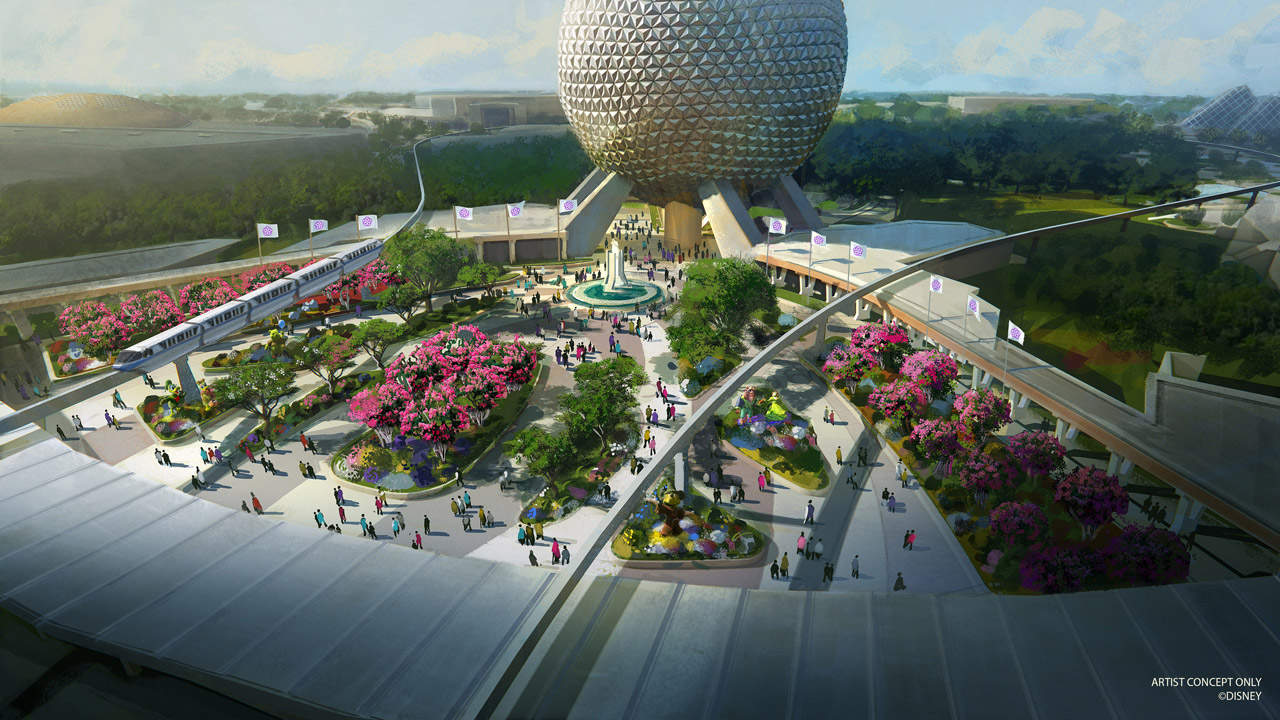 In this post, we are going to share with you all the details about the EPCOT expansion and all the new changes including new attractions, restaurants, themed areas, logos and more.
It's hard to believe that a huge EPCOT overhaul has been going on since 2019, but it's easy to understand once you set foot inside. The entire park has been a construction zone recently, but this remodel is going to prepare EPCOT to finally step into the 21st century.
The Disney World closure in 2020 has slowed down the EPCOT construction some, and we'll get into all the changes because of that, and what is and isn't getting built now.
We'll keep this post updated whenever new information comes out, so keep checking back periodically to see the latest EPCOT overhaul plans.
Also, EPCOT is not the only theme park with new changes on the way. Make sure to read about all the new rides coming to Walt Disney World in the next few years.
Before we get started, don't forget to sign up for our FREE Weekly E-Mail Newsletter. There we bring you the latest EPCOT updates as well as vacation planning tips. You can sign up here: Join our E-Mail Newsletter
What Changes are Coming to EPCOT?
Let's face it, EPCOT has been in dire need of changes and a massive renovation for the last decade, and really much longer than that. Ever since the park opened in 1982, Disney has struggled to keep up with technology in the park, and the futuristic vision of EPCOT.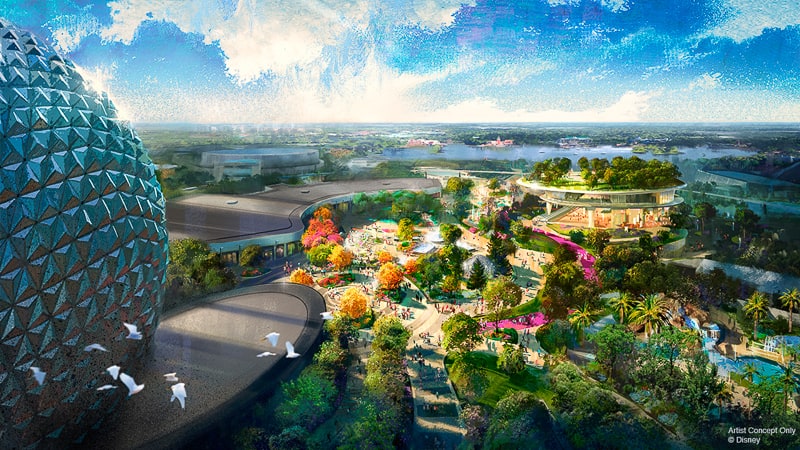 Most of Future World is tired out, and buildings such as Innoventions have been mostly empty for years now. Clearly, Disney had to make some changes to bring it up to date and use that valuable real estate.
EPCOT has been the most overlooked park in recent years as major expansions have happened already at the other 3 Walt Disney World theme parks, with little happening here. Now brand new attractions and refurbishments to old ones are actually coming!
Disney has also been trying to make EPCOT more kid-friendly for years and have been slowly working in more characters into the parks. That trend will continue during the EPCOT transformation, bringing in new characters.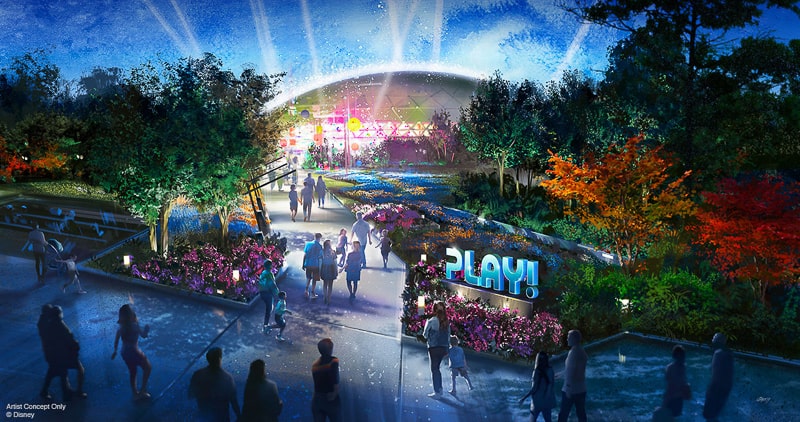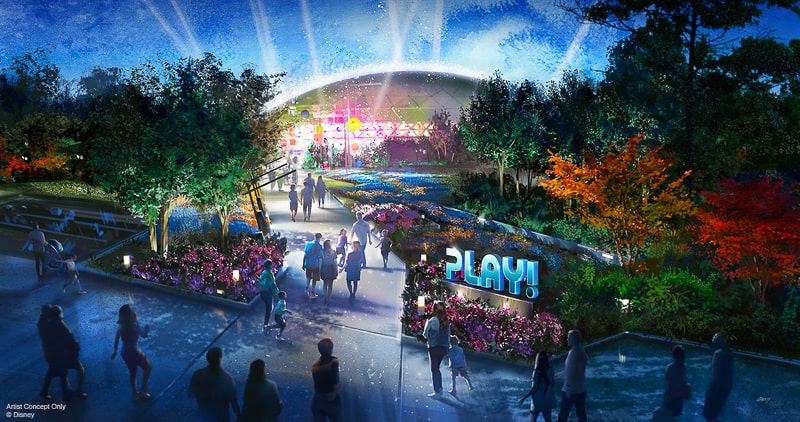 There are 2 very important dates coming up in the next couple of years, and Disney would like to have as many of the EPCOT changes ready by then as they can.
Disney's original plan for the first phase of the expansion was centered around Walt Disney World's 50th Anniversary coming in 2021. They were hoping to have some of the new attractions in place for what should be the biggest celebration the resort has ever seen.
On October 1, 2022, EPCOT has its own 40th Anniversary coming up, and whatever was not ready in time in 2021, Disney was hoping would be ready in 2022.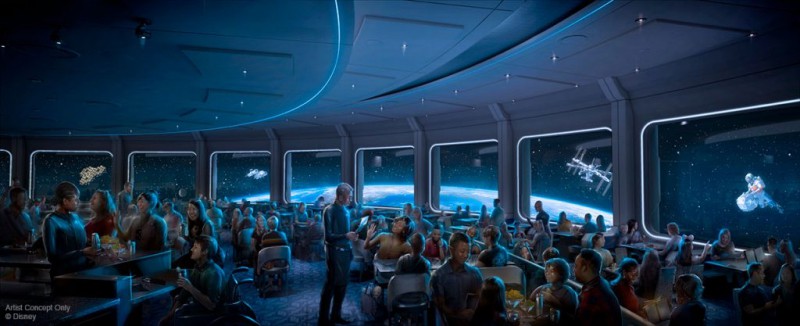 Of course, since the park closures in 2020, Disney greatly reduced its spending for new attractions and cut the budget by $900 million. Unfortunately, that means that all the new EPCOT attractions are being delayed, and some outright canceled.
One good way to keep updated on the changes is in our Walt Disney World Construction Updates guide. There we let you know the latest status on all of the current projects going on.
Without further ado, here is what's new and what's coming next to EPCOT in 2021 and beyond.
New Park Layout
The first new change to EPCOT affects the actual layout of the park. In the past it has been divided into 2 halves, Future World and World Showcase.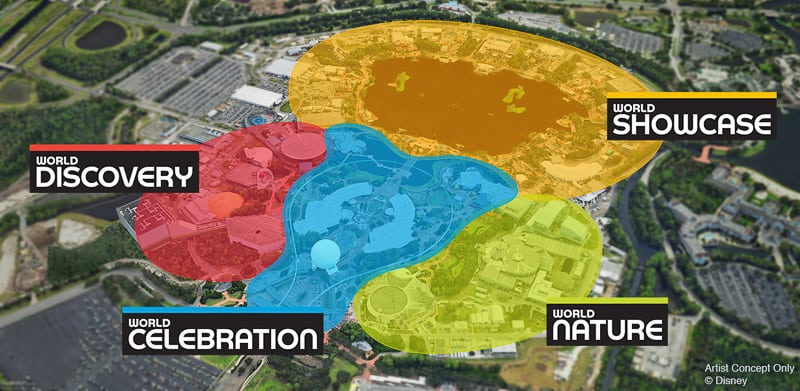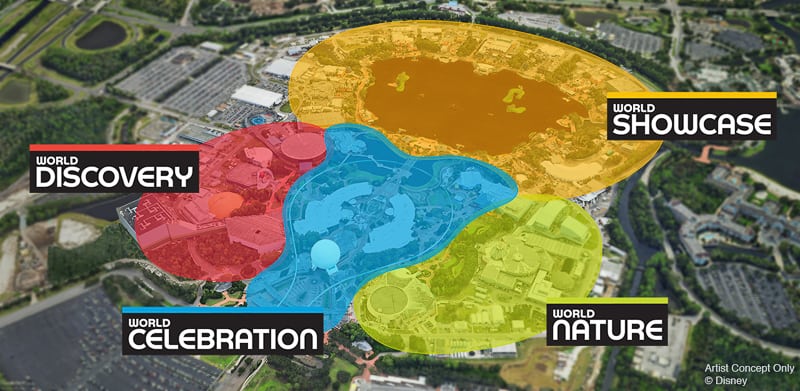 At the 2019 D23 Expo, Disney announced that Future World is being eliminated, and instead splitting up into 3 new neighborhoods. When we say eliminating Future World we don't mean the actual space, but the name Future World is going away.
Future World is splitting into:
World Celebration – From the entrance of the park through the center of old Future World, including Spaceship Earth and Innoventions areas.
World Nature – What is currently Future World West and home of The Seas, The Land and the Imagination! pavilion.
World Discovery – The is the current Future World East and where Guardians of the Galaxy: Cosmic Rewind, the Play! pavilion, Mission: Space and Test Track are located.
Together with World Showcase, this means EPCOT park will be made up of 4 separate neighborhoods, giving each area a unique look and feel.
For more info, read our blog post here where we explain more about the 4 EPCOT neighborhoods.
New Attractions Recently Opened
While we are excited for all the new EPCOT rides and attractions that are not yet open, there have been quite a few changes already to the park in the past year or so.
Awesome Planet – The first of the new EPCOT films and located in The Land pavilion. This film explores planet Earth, showing the impact that humans are having on the environment.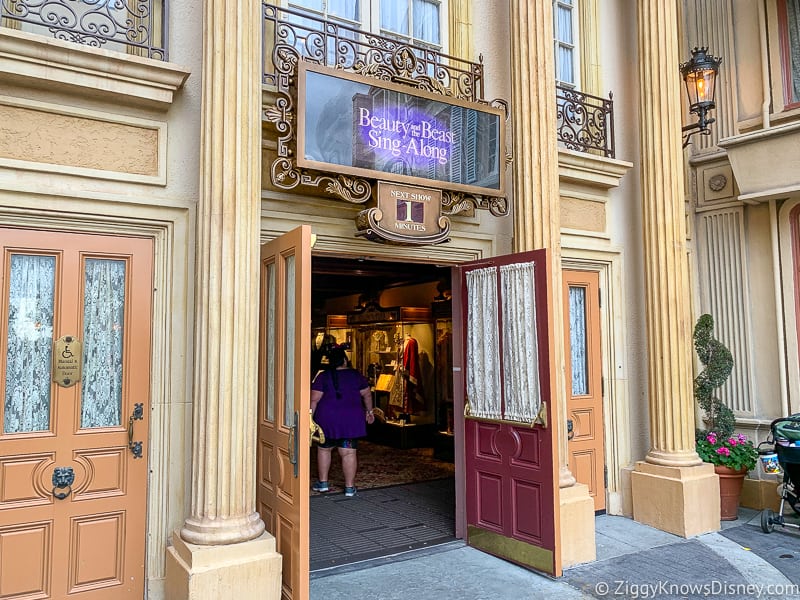 Beauty and the Beast Sing-Along – This new film shares a theater with Impressions de France and is a re-telling of the Beauty and the Beast story, from Lefou's point of view. This is one of the weaker new attractions and we aren't huge fans.
Canada Far and Wide in Circle-Vision 3D – New scenes and a new musical score and updated visuals make for an improved version of the old film.
EPCOT Experience – This is an exhibit located in the Odyssey Center which highlights all the new changes coming to EPCOT. There are models, posters, and even a film highlighting the future transformation of the park into 2022, 2023, and beyond.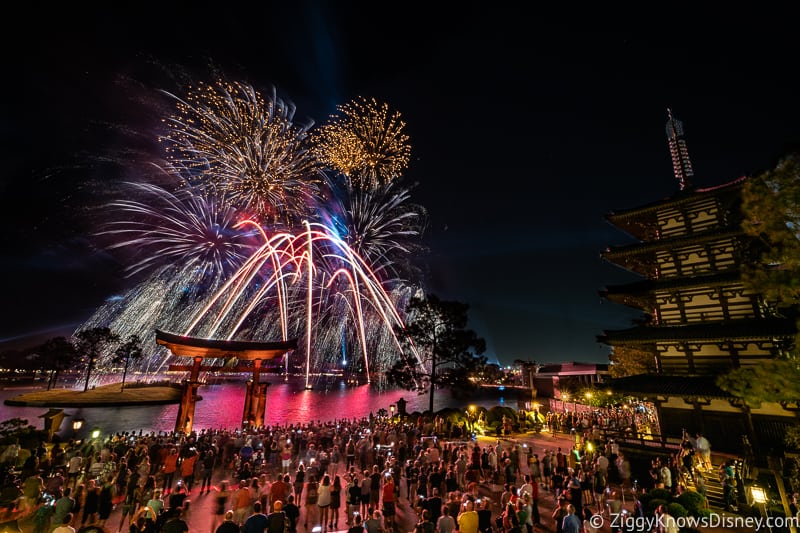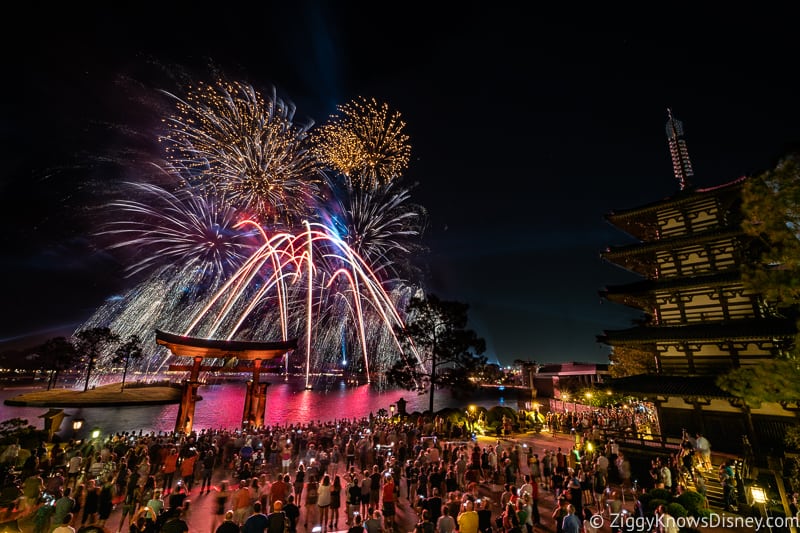 EPCOT Forever – Illuminations: Reflections of Earth closed in 2019, and was replaced by this temporary fireworks show. The theme is classic EPCOT and includes new special effects and a soundtrack from the original EPCOT Center attractions.
Regal Eagle Smokehouse: Craft Drafts & Barbecue – This new quick service restaurant opened at The American Adventure pavilion recently and is arguably the best BBQ in any Disney theme park. Oh yeah, and it's inspired by The Muppets too!
Takumi-Tei – This high-end Japanese steakhouse opened up in 2019 and is the most upscale restaurant in any Walt Disney World theme park, and offers the food quality to match. If you want a special meal in EPCOT, this is it.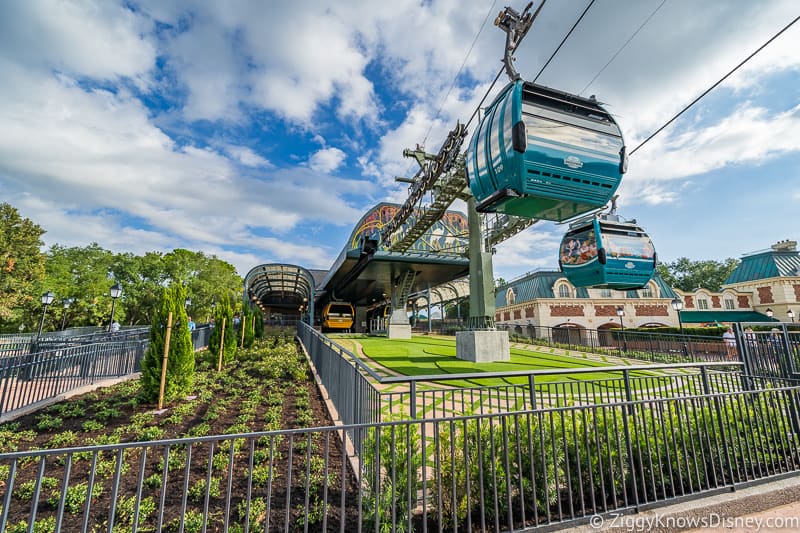 Disney Skyliner – This is Disney World's newest transportation, and it has turned into an attraction all on its own. These suspended gondolas bring guests to the back entrance of EPCOT and are connected to 4 Disney hotels and Disney's Hollywood Studios park. Definitely don't leave without riding it!
Read our Guide to the Best Rides at EPCOT for more information about all of these attractions.
What is Being Built at EPCOT?
Now that we looked at all the new stuff currently in the park, what new attractions are currently being built at EPCOT?
Below we've listed all the new changes and overhaul plans for the park and have broken them down by area.
Entrance Plaza
Before you even enter EPCOT, you will notice the completely overhauled entrance plaza. Gone are the Leave a Legacy stone monuments, and in are more trees, flowers and gardens. We love this change as the whole area feels much warmer and more welcoming than the cold stone from before.
The plaza has much more space to walk now which should help with crowds for some of the future projects.
Our favorite part of the entrance plaza is the renovated fountain at the end and in front of Spaceship Earth. The design of the acrylic pylons is almost identical to the old EPCOT Center fountain and will put a smile on the face of any classic fan of the park.
Disney has mentioned the EPCOT entrance fountain will be finished by the end of 2020, and we anxiously wait to see it in all of its classic EPCOT glory!
Read our EPCOT Entrance post for a better look at the whole area.
World Celebration
Let's start off at the front of the park in World Celebration. This is the first area you will enter as you pass the EPCOT entrance plaza and it starts with Spaceship Earth. It covers the entire center section of what used to be Future World and it will include a totally new Festival Center.
Disney describes World Celebration as having "experiences that connect us to one another in the world."
Spaceship Earth
Estimated Opening Date – Refurb Suspended, TBD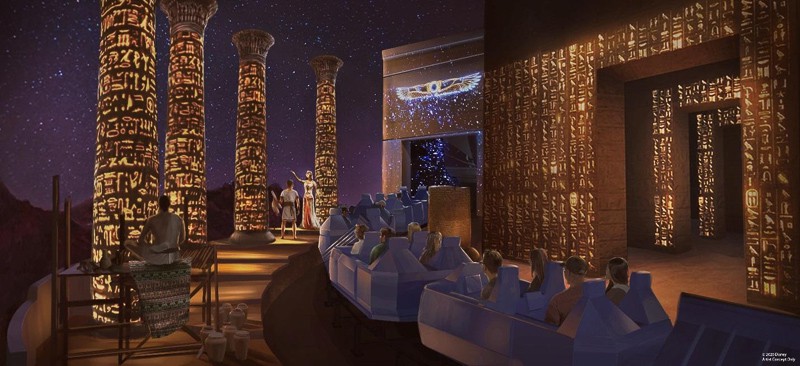 Spaceship Earth was scheduled for a refurbishment in May 2020 but that never ended up happening and the ride reopened with EPCOT in July.
The refurbishment planned will be the biggest one the ride has ever gone through with major scene overhauls, new scenes, new narration, and completely changing the way the story is told.
At this point, we aren't sure if or when the renovation will start or how long the project will last. At the moment, it doesn't seem like Disney is canceling the renovation, and at least most of the changes will eventually happen.
What has recently been confirmed however is that Spaceship Earth is getting a new lighting package that will include projections on the side of the structure.
Festival Center
Estimated Opening Date – Suspended, TBD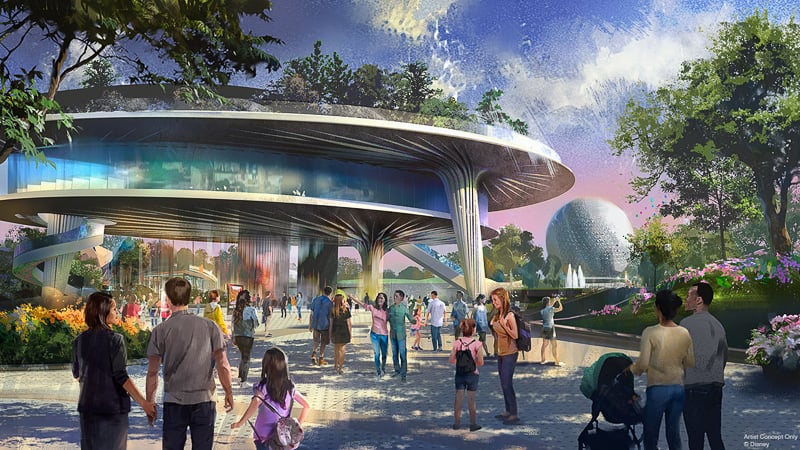 Possibly the most drastic of the EPCOT changes is the new festival center planned for World Celebration, though now it might not be happening anymore. Disney announced that they would be building a 3-story festival center to be the hub for the 4 annual festivals.
This building was to be filled with lush gardens, dining options, and shops. The highlight is a lookout point high above the park that gives guests stunning views of EPCOT park and over World Showcase Lagoon.
The budget cuts have altered the plans here and Disney has confirmed the previously planned festival center will not be built, or will at least be heavily modified. Disney has said they will "take a different approach" with the new Festival Center.
In fact, the press release leaves out the words "festival center" and now describes it as a "newly reimagined festival area." To us that doesn't sound like any building will be going there. I just hope they don't take the lazy way out by only putting in a few festival kiosks and calling it a day.
We are waiting on Dinsey to provide further details and an estimated opening date.
Dreamer's Point
Estimated Opening Date – 2022?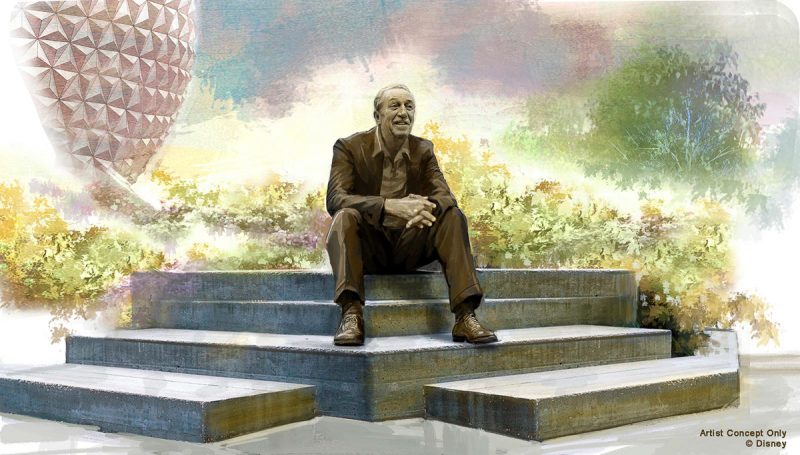 Dreamers Point will be an important area in the middle of World Celebration filled with lush gardens, a storytelling fountain and highlighted by a statue of Walt Disney.
Disney describes Dreamers Point as a "beautiful natural environment and global design elements filled with Disney magic and surprises, including a story fountain celebrating the power and music of iconic Disney storytelling."
Seeing as he never got to see EPCOT built, it's fitting that a statue of Walt Disney himself is being put in the park, and it is a great way to dedicate the newly renovated land once finished.
The only question we have is about the "wishing tree" which was previously mentioned in the description of this area but left out of the most recent release. We'll keep an eye out for more info on that and if it is still getting built.
World Discovery
What is currently known as Future World East is now being renamed to World Discovery. This is a place where "stories about science, technology and intergalactic adventure come to life."
World Discovery will include the current areas of Mission: Space, Test Track as well as the new Play! pavilion and Guardians of the Galaxy roller coaster.
Space 220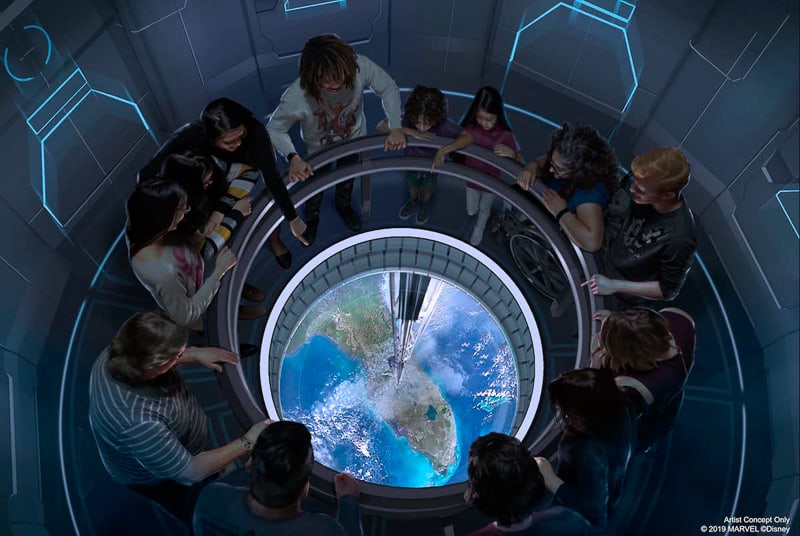 The Space 220 Restaurant will bring guests on an out-of-this-world dining experience 220 miles above the Earth! We are really looking forward to the giant LED screens acting as windows where diners can see out into space and the Earth down below!
While Space 220 was supposed to open in 2020, the opening has been pushed off until 2021. We'll have to wait until then for the most ambitious restaurant project coming to EPCOT.
Guardians of the Galaxy: Cosmic Rewind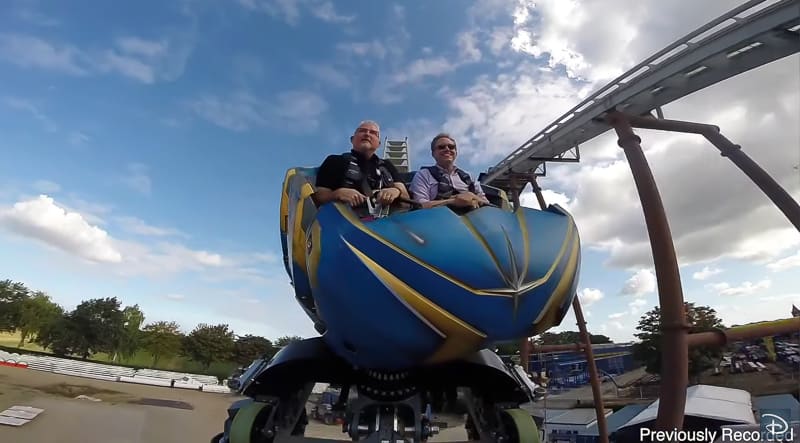 If you like roller coasters and are fans of Marvel, you are going to love the Guardians of the Galaxy: Cosmic Rewind coaster. Join Star-Lord, Groot, Rocket and all the Guardians on the most thrilling new ride coming to EPCOT.
Taking over the former space of Universe of Energy, this is going to be one of the world's longest indoor roller coasters. It also uses lots of screen technology and special effects, as well as ground-breaking new ride vehicles which turn in all directions so you never miss the action.
Construction is going well and vehicle testing is currently happening inside the show building.
Cosmic Rewind was supposed to come out in 2021 in time for the 50th Anniversary, instead it looks like it won't be open now until 2022.
Play! Pavilion
Estimated Opening Date – 2022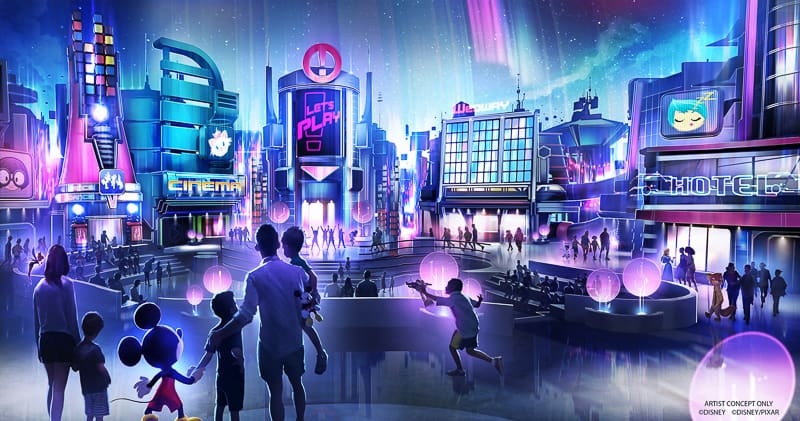 The Play! Pavilion is taking over the former Wonders of Life building and is going to be full of interactive attractions and experiences based mostly on Disney IP. It definitely will be a hit with kids and Disney describes it as an "immersive and interactive city," which makes us curious about all the possibilities.
This was missing in Disney's latest update for EPCOT, but we don't think that means it has been canceled. They are probably just having a hard time figuring out how to handle this space seeing that it is a very "hands-on" attraction and other similar ones are currently closed.
This will be one of the later attractions in the EPCOT overhaul, so don't expect to step foot inside until 2022. Expect more clarity on this as soon as the current health situation passes.
World Nature
While World Discovery is focused on science and technology, World Nature takes us to the animal and plants we find here on our planet Earth and understanding the beauty in the natural world.
The Seas with Nemo and Friends, The Land and the Imagination! pavilion are all found here, as well as one new attraction.
Moana: Journey of Water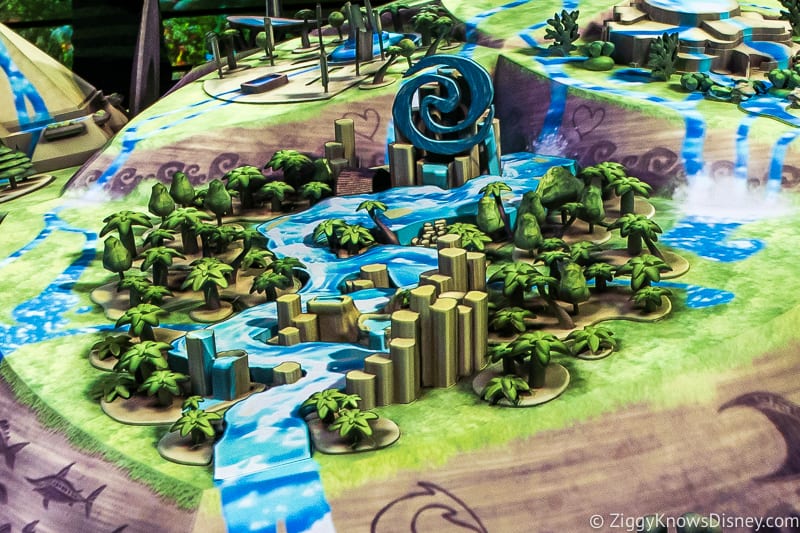 This is the very first Disney attraction featuring Moana. This will be a walkthrough in World Nature located near The Seas with Nemo and Friends.
Complete with lush gardens and water features that guests will interact with and be a part of. Disney's press release calls it a "lush exploration trail" that "will invite guests to meet and play with magical, living water."
With the Innoventions building all but demolished, there is no doubt this will end up getting built. However, there is still a lot of work to be done on this one so look for Moana: Journey of Water in EPCOT sometime around 2022.
World Showcase
Even though the front half of EPCOT is getting the biggest transformation, there are also quite a few changes coming to World Showcase including attractions, interactive experiences, and a brand-new nighttime spectacular!
The France Pavilion is also getting a huge expansion and practically doubling in size when it's finished. Could we also see new World Showcase pavilions??
Remy's Ratatouille Adventure
Opening Date – October 1, 2021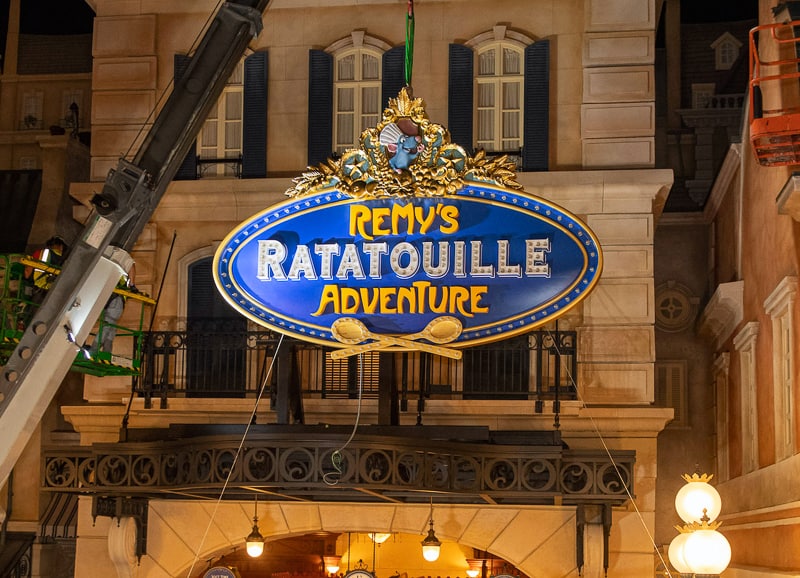 Remy's Ratatouille Adventure will shrink guests down to the size of a rat and bring them on a wild and crazy adventure through Gusteau's restaurant from the film.
This ride uses the same trackless technology that has worked so well in other Disney attractions and is a clone of the version already open in Disneyland Paris. Again, this should be an instant-hit with kids and families.
Disney has confirmed that the Ratatouille ride coming to EPCOT will open on October 1, 2021.
Disney's DuckTales World Showcase Adventure
Estimated Opening Date – 2021
This interactive experience is the replacement for the popular "Agent P's World Showcase Adventure," where you now will follow Scrooge McDuck, Huey, Dewey, and Louie and their friends on a thrilling adventure in search of treasure.
This will be ready in time for the 50th Anniversary and should debut sometime in 2021.
La Crêperie De Paris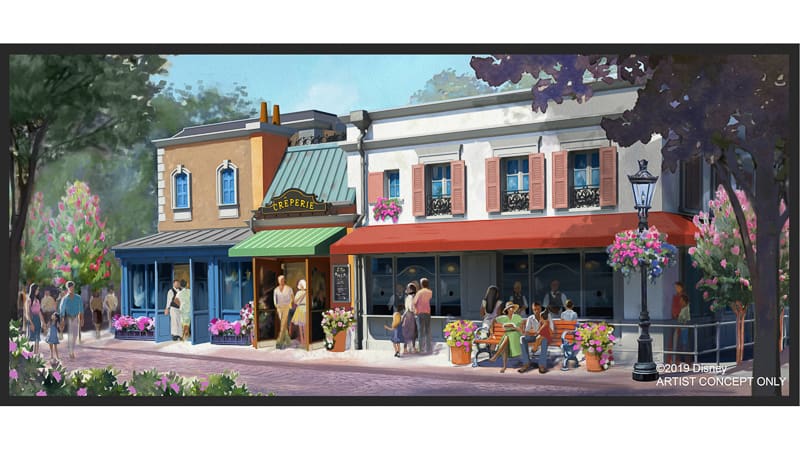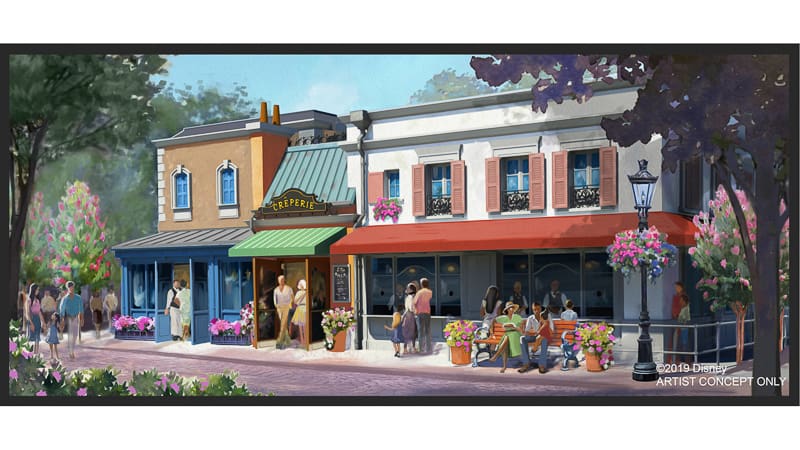 As part of the huge France Pavilion expansion, we are really looking forward to La Crêperie De Paris. Billed as an authentic crêperie, it will feature both savory and sweet crepes, good for whatever your mood.
One of the reasons we are so excited about this is that it's being run by Chef Jérôme Bocuse, who is already in-charge of Chefs de France and Monsieur Paul in the EPCOT France pavilion.
We'll be in line the first day it opens, sometime in 2021.
Wondrous China
Another new 3D film is coming to World Showcase, this one in China. The film "Wondrous China" is replacing the old China film with new visuals, new music and higher resolution video.
Disney hasn't announced an opening date yet for Wondrous China, but filming had been put on hold due to the global health situation. No mention of the film was made in Disney's latest press release, and it may be on hold. We expect it to debut in late 2021 or 2022.
Disney Harmonious
Opening Date – Spring/Summer 2021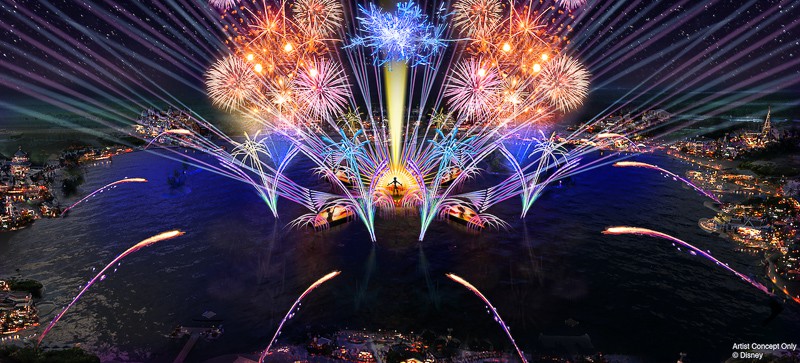 While we were all sad when Illuminations ended, its long-term replacement has the potential to be just as good. In fact, "Disney Harmonious" is going to be the biggest and most elaborate fireworks show that Disney has ever created.
Expect plenty of lasers, pyrotechnics, fountains, lights, and of course fireworks when this show finally opens. Disney recently shared that the show's water barges will have other entertainment value and will be used to create a daytime fountain show in the middle of the lagoon.
Since the infrastructure is so complex, it makes more sense to leave them in the lagoon, but at least they will get a second use out of them now. The "show" will include new EPCOT background music.
Mary Poppins Attraction
Estimated Opening Date – Suspended, TBD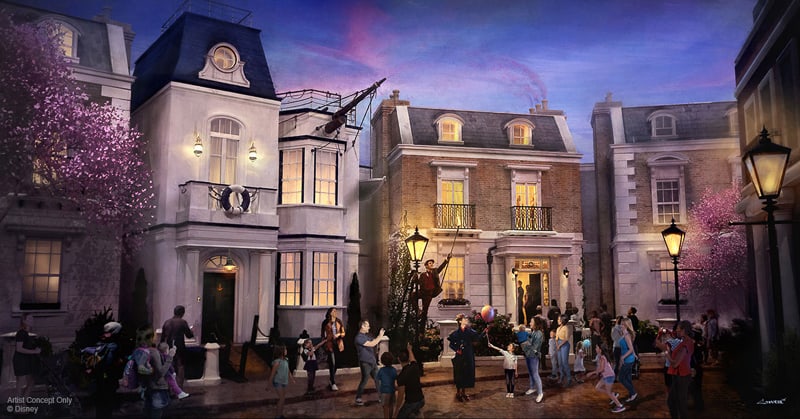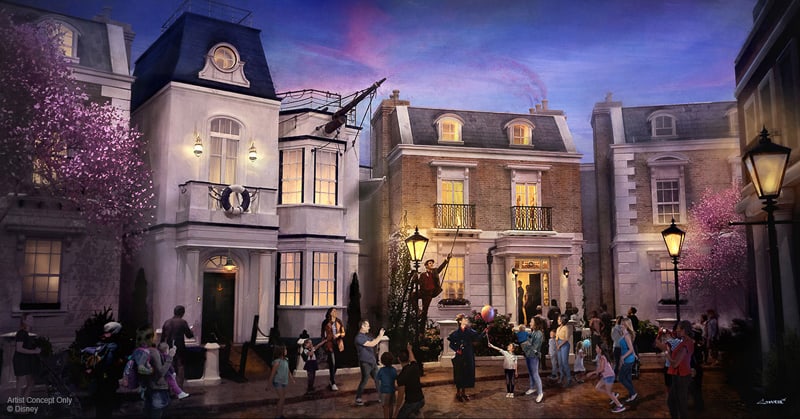 One of the biggest surprises that was announced for EPCOT was a Mary Poppins attraction coming to the U.K. pavilion. In fact, Disney announced they were reimagining the back area of the pavilion into a Cherry Lane replica.
At this time Disney has confirmed that the Mary Poppins attraction has been put on hold, or even outright canceled. There were no definitive plans announced for what type of attraction it was supposed to be, and it doesn't look like we will be finding out anytime soon.
Rumored Changes
Besides the official expansion plans EPCOT has already announced, there are some rumors for even more changes that we have yet to have confirmed. Here are a few:
Journey Into Imagination!
Is Figment staying in EPCOT or will he be replaced? Rumors have been circling for the better part of a decade about the future of the Imagination! pavilion and the character many guests consider to be the mascot of EPCOT.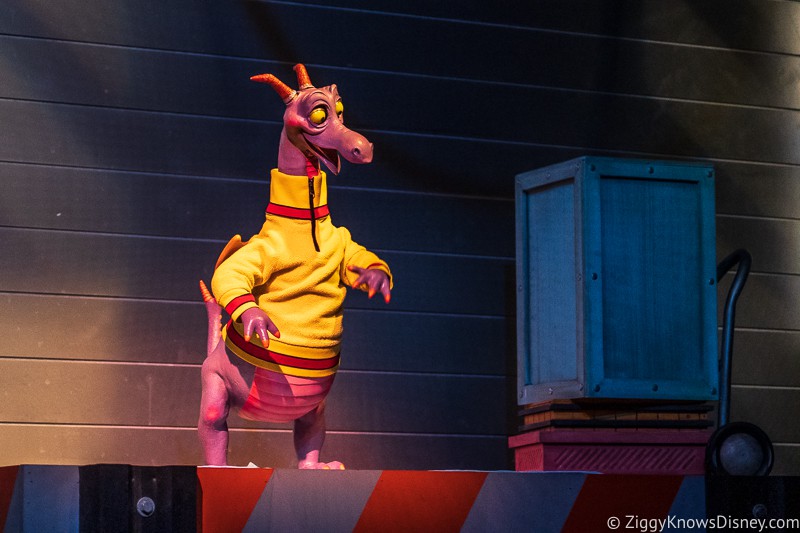 It's no surprise that fans are not thrilled with the current version of the ride and supposedly, Disney has plans for a Journey Into Imagination with Figment replacement eventually. Besides that we don't know if it will use the same ride system or turn into something more ambitious.
However, considering the financial state of the company at this time, it seems unlikely we'll get a new ride here until at least the half-way point in this decade.
New Countries Coming to EPCOT?
Since EPCOT opened, people have been talking about new countries coming to World Showcase, and in the 80s there were two expansions that added Morocco and Norway.
Is there a new country coming to EPCOT's World Showcase soon?
The most-rumored countries in recent years have been Spain and Brazil, with the latter seeming to be the more likely choice. We thought we would have had an announcement at the last D23 Expo, but there never was one.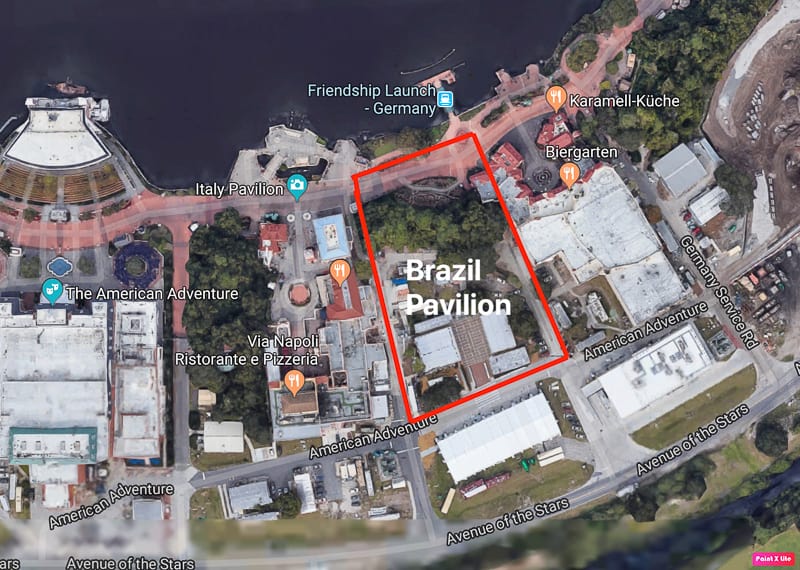 While we don't rule anything out, it doesn't seem like it's very high on Disney's list of priorities for EPCOT right now.
New EPCOT Logos
The first thing that Disney shared are the new logo for Epcot as a park, and also new logos for the different pavilions located throughout the park. they are old-school in look and feel, and I LOVE them!
Here is the one for Epcot itself:
and here are the individual ones for the pavilions throughout the park: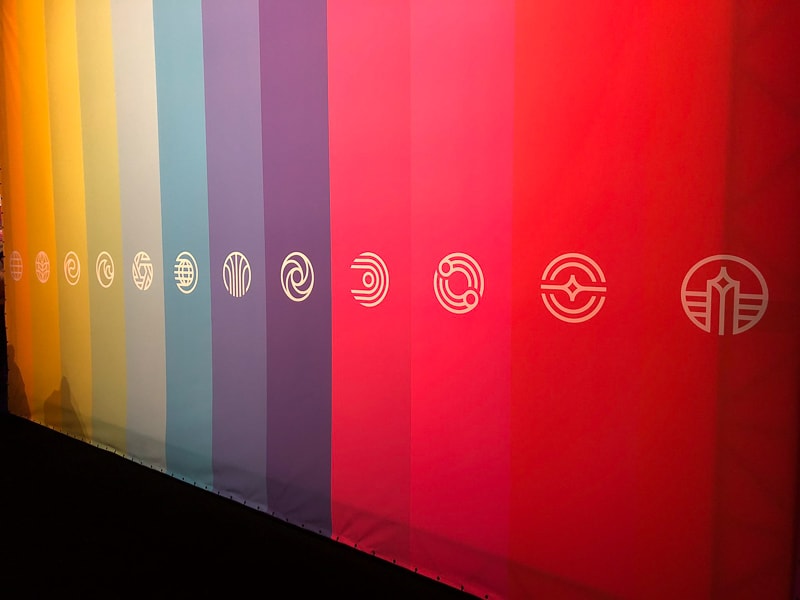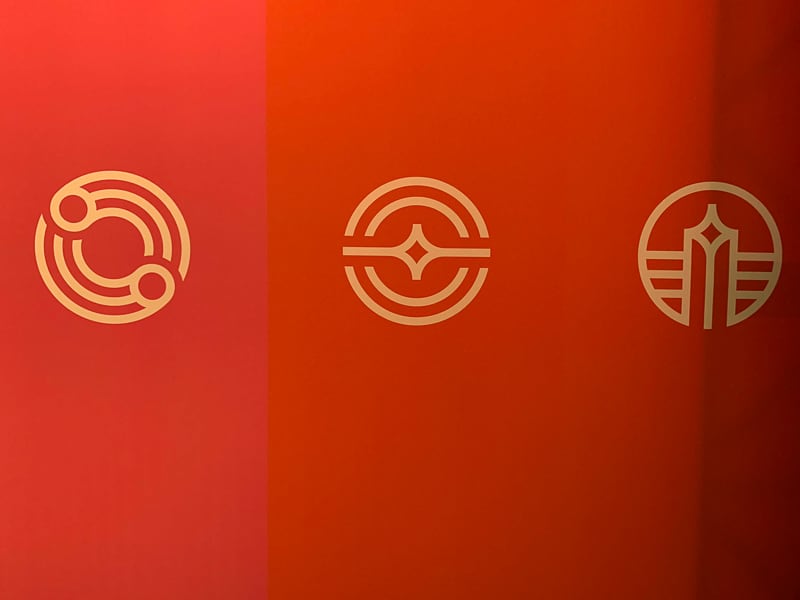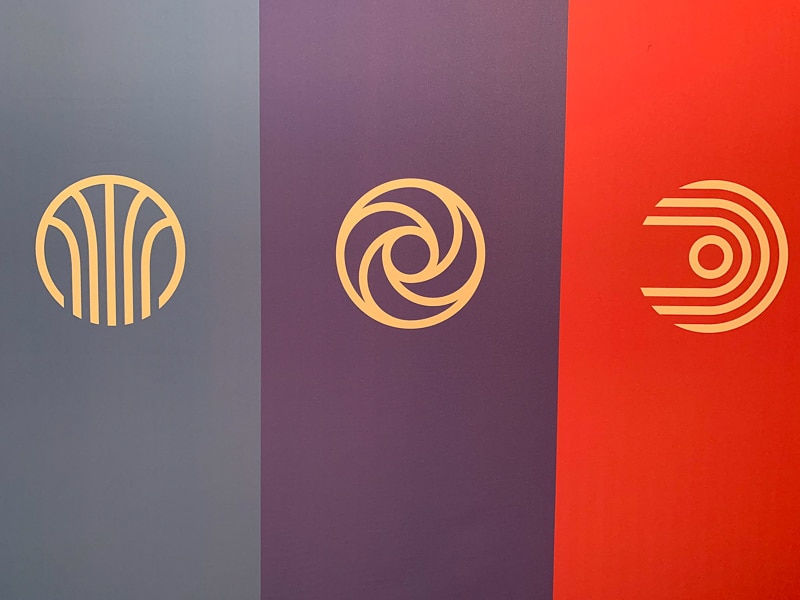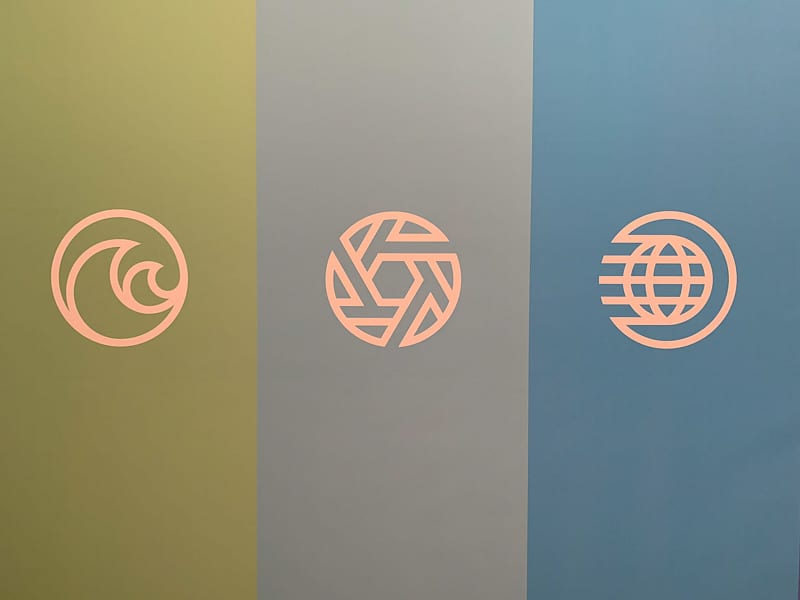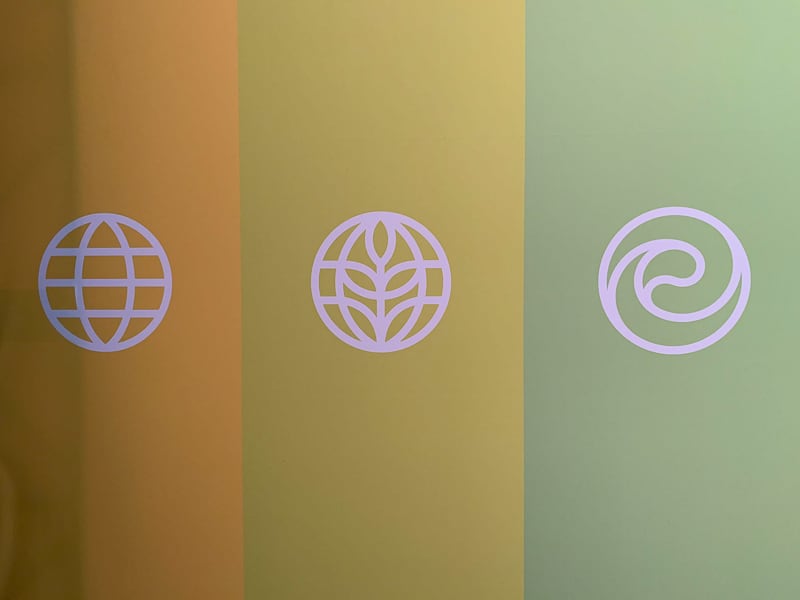 They all have a futuristic, yet retro look to them, borrowed very much from the original EPCOT logo.
Is EPCOT Closing?
You may be wondering: "With all this new expansion and construction work happening at EPCOT, with the park be closing anytime soon?"
The short answer is no.
Besides the necessary closure of all the parks in 2020, Disney has no plans to close EPCOT as a park during the expansion project. At times certain sections of the park will be closed, or certain attractions, but the park itself will continue running throughout the duration of the renovation.
What Will Be Closed at EPCOT in 2021?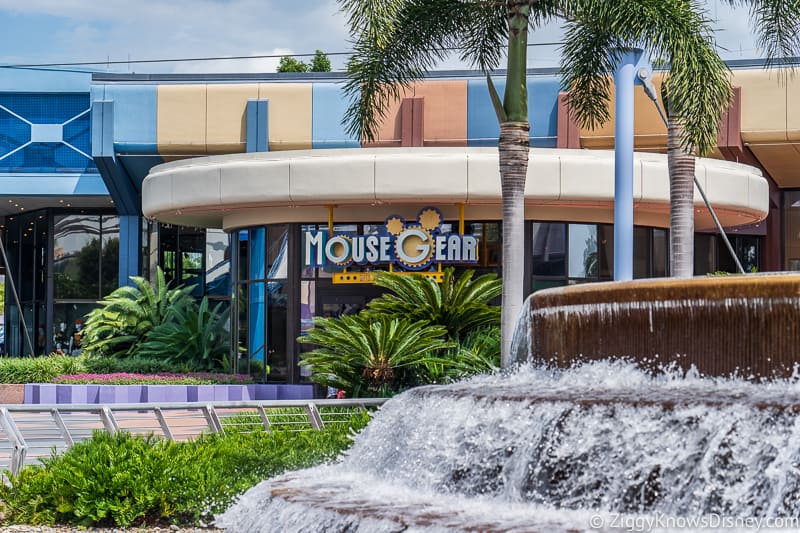 Even though we are excited for all the new changes coming to EPCOT in 2021 and beyond, that unfortunately means we also have to say goodbye some some other attractions in the park to make room for the new ones.
If you are visiting in 2021, here is a list of EPCOT attractions that have closed either temporarily or permanently.
Temporary –
Mouse Gear (Temporary location nearby)
Permanent –
Agent P's World Showcase Adventure
Club Cool
Electric Umbrella
EPCOT Character Spot
Fountain View Cafe
Fountain of Nations
Innoventions
Pin Traders
For the latest info on attraction refurbishments around the parks, check out our post on Disney World Ride Closures.
Is EPCOT Worth Visiting in 2021?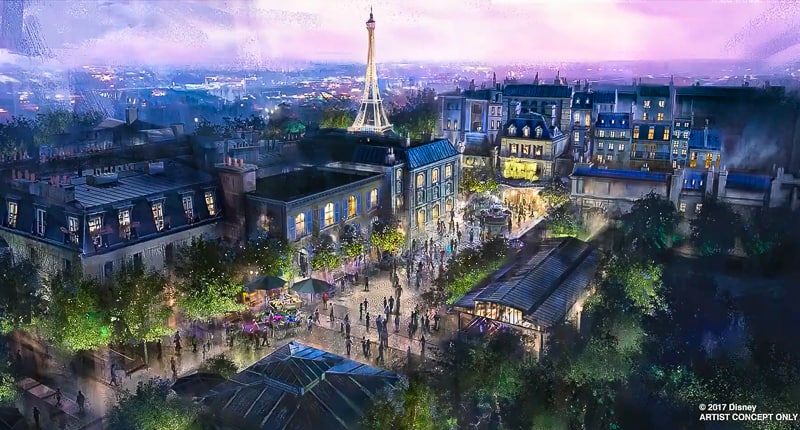 So with all the changes, all the construction currently going on in the EPCOT remodel, is it worth visiting in 2021?
The answer to that depends on your current plans, but I would not make a special trip to Walt Disney World just for EPCOT at this time.
If you were planning on coming to Disney World in 2021 specifically for the new rides and attractions in EPCOT, I would think twice about coming. Most of the new things on the list will not be ready in 2021, so if you were hoping to see them, you will have to wait until 2022 or later.
If on the other hand, you are already planning to go to Walt Disney World in 2021, I would set aside a day for EPCOT.
It's worth coming for one of the festivals, which are always fun, and some of the expansion projects will be ready in 2021. You can potentially go on Remy's Ratatouille Adventure, eat at Space 220, and see Disney Harmonious. Those are all excellent reasons to go.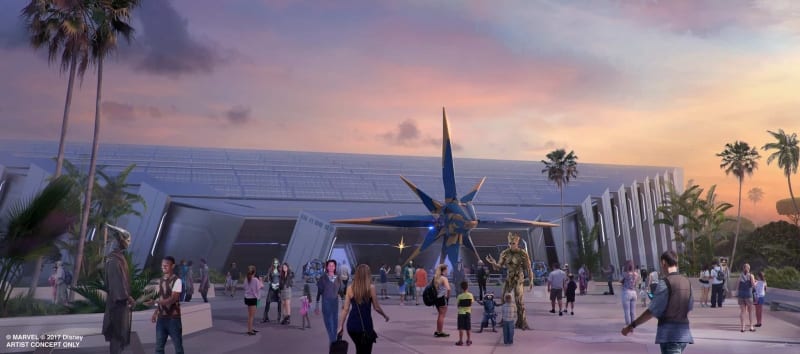 Now, this does depend on WHEN in 2021 you go. If you were hoping to experience some of the new attractions, I would not go early in the year. The later you go the better chance you will have that those things will be open.
You will probably see them open by the Summer, but if you want to be safe, wait until the Fall when they will have debuted in time for the 50th Anniversary celebration.
That wraps up our look at the EPCOT expansion, keep checking back as we will update this post with the latest info.
In the meantime, check out our complete guide to EPCOT, where we break down all the vacation planning tips you will need during your visit, plus we share the history of the park with you.
Your Thoughts
I want to know what you think about the new changes coming to EPCOT…
Which new ride are you most excited for?
What closing are you most upset about?
Let us know in the comments section below!
If you enjoyed this article, as always I appreciate it if you'd share it with others via social media. I work hard at making this website into a useful resource for you and your family to plan your visit to the Disney Parks and I hope it can help you! Thanks 🙂