(UPDATE: 08/25/19) – Rumors are that the Spaceship Earth attraction is going to get a BIG renovation as part of the Epcot overhaul have been going around for more than a year and today Disney confirmed that Epcot's Spaceship Earth is indeed getting a complete refurbishment as part of the biggest park transformation in Disney's history.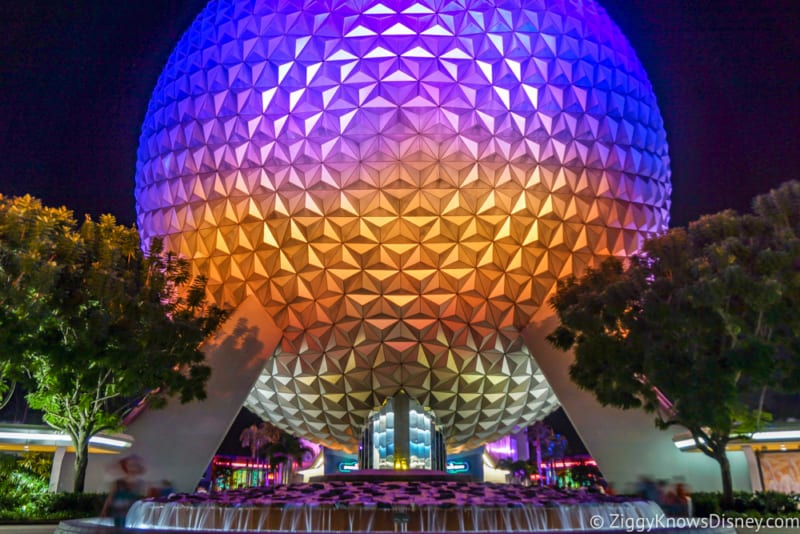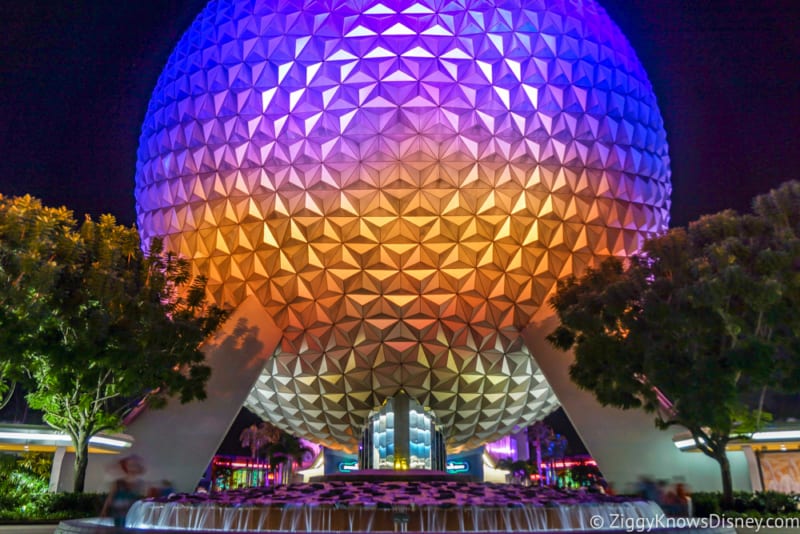 We learned that the fundamental story and feel of Spaceship Earth is not going to change and it will remain a voyage through time, relying heavily on the storytelling experience to bring its message home and will still show off some of the most important moments in time that define human history.
What will change quite a bit is HOW those stories are told. As Bob Chapek explained at the D23 Expo, there will still be show scenes similar to the ones we have, some remaining very similar to now, some scenes totally changing and some new scenes being added.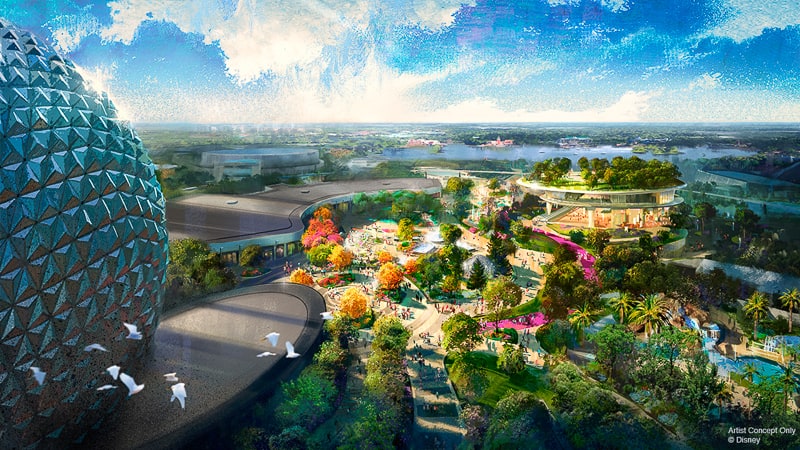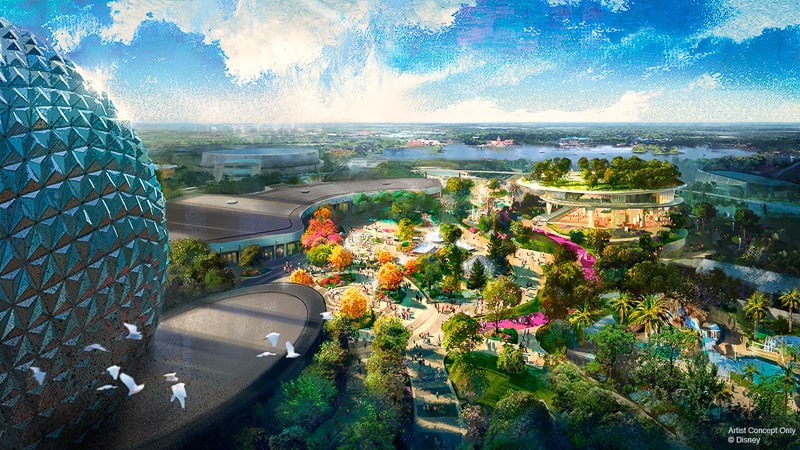 The narration will be totally different and instead of a normal audio monolog tell us the story, guests will follow the magical "story light" which will bring the scenes to life and help guests experience them in ways they never did.
They didn't go too far into the details and didn't say if there would still be an audio guide along with the light and if so if Judy Dench is now out and being replaced by someone else. I think it would be really weird to be able to tell a story as complicated at this without any audio, but we'll have to wait and see when we learn more.
Chapek didn't mention how long Spaceship Earth would be closed for to do this work and add the new scenes, but for a project as big as it is, it's going to have to be a long time, maybe even the 2 years that were originally rumored.
Though Spaceship Earth is one of my favorite attractions of all-time, I'm really happy about this news as the attraction is dated and in need of bringing it into a more modern version of the ride. I love the fresh ideas of changing the way the narration is done and this is maybe the announcement I'm most excited to know more about.
Spaceship Earth is the symbol of Epcot and deserves to be considered one of the Crown Jewels of the park.
This was only one of the exciting announcements made today at the D23 Expo. To hear what else was announced, please visit our D23 Expo News and Announcements page for all the other new things coming to the Disney Parks!
Below are the original rumors about the Spaceship Earth refurbishment and it's yet to be determined how much of them will happen. We'll keep you posted as this is a developing story.
(Original Rumors) The Spaceship Earth refurbishment will start in just over one year from now in early 2020 and not be done till at least the second half of 2022. Why is it going to take so long?
Rumor has it that a lot of the scenes in roughly the first half of the attraction (up until the Industrial Revolution scene) are getting a refurbishment. That means Rome, Phoenicians, the Renaissance, etc. Then from that point on till the end of the attraction the rest of the scenes are going to get completely re-done, including the parts about computers and technology in modern day. Also that final scene where you reach the top of Spaceship Earth and guests are looking down on the Earth is supposed to be getting an overhaul including new projection mapping and other technology.
It also looks like an entirely new track system will be put in, as well as the load/unload area could be totally different with Disney changing the location of it. Lastly Project Tomorrow will be taken out and a new post-show building built.
That's a heck of a lot of changes to make to Spaceship Earth and it's no wonder then why it will close for almost 2 1/2 years.
Epcot is right in the middle of an overhaul as a park and there are a lot of big changes coming including some that have been announced already (Guardians of the Galaxy Coaster and Ratatouille) and some others that haven't yet (Journey Into Imagination re-do, new World Showcase Pavilion and Illuminations replacement).
Word is too that Disney is using a new name for the Future World overhaul called "Project Gamma" and it will be significantly different from the concept art Disney shared with us at the D23 Expo in 2017: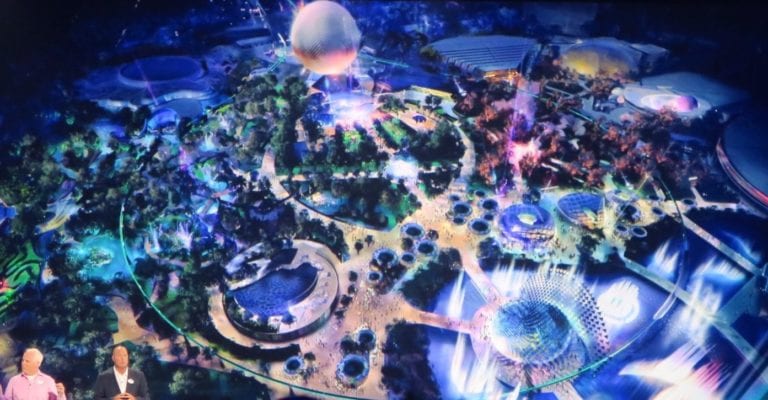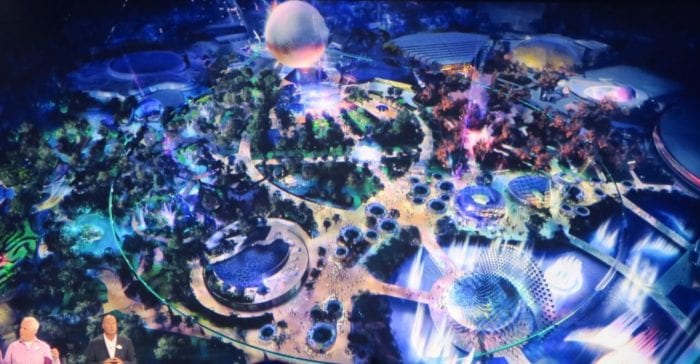 It's very possible that Disney will go the same route as it has been with every one of its parks lately and incorporate a projection mapping show onto Spaceship Earth too. It's the only Park in Walt Disney World without one and it would be a great addition to Epcot, along with the new Illuminations: Reflections of Earth fireworks show replacement.
An overhaul to the Spaceship Earth attraction would also makes sense, but I have to wonder if Epcot will resemble a theme park or more like a war zone with all these construction projects at once. Haven't we seen this somewhere else on property recently??
The only good thing is that while the Spaceship Earth refurbishment is taking place, at least we'll have the Guardians of the Galaxy Roller Coaster and the new Ratatouille attraction during that time. Still I have to wonder about the aesthetics in Epcot during this project, especially from the Future World side.
My only question is: Can they please bring back Jeremy Irons??? Please……
Again this is just a rumor at this point so take it with a grain of salt, you might want to get over there to experience Spaceship Earth in the next year while it's still around in its current form, because 2+ years is a long time! Stay tuned for more info….
Your Thoughts:
I want to know what you think about a Spaceship Earth attraction remodel coming to Epcot…
Does Spaceship Earth need a refurbishment?
What do you think of the changes?
Let us know in the comments section below!
If you enjoyed this article, as always I appreciate it if you'd share it with others via social media. I work hard at making this website into a useful resource for you and your family to plan your visit to the Disney Parks and I hope it can help you! Thanks 🙂
News Source: Disney