The classic Disney attraction Spaceship Earth attraction in EPCOT is scheduled for a BIG renovation as part of the Epcot overhaul and we now have many more details about the project. But is it actually still happening?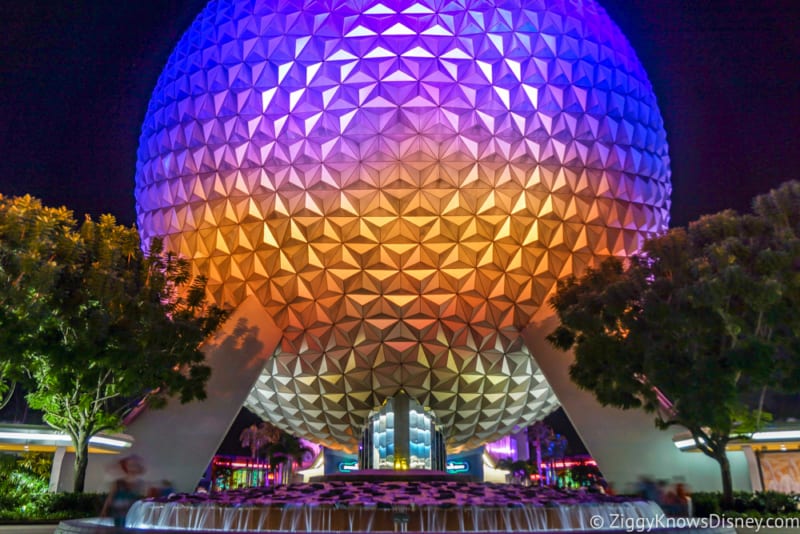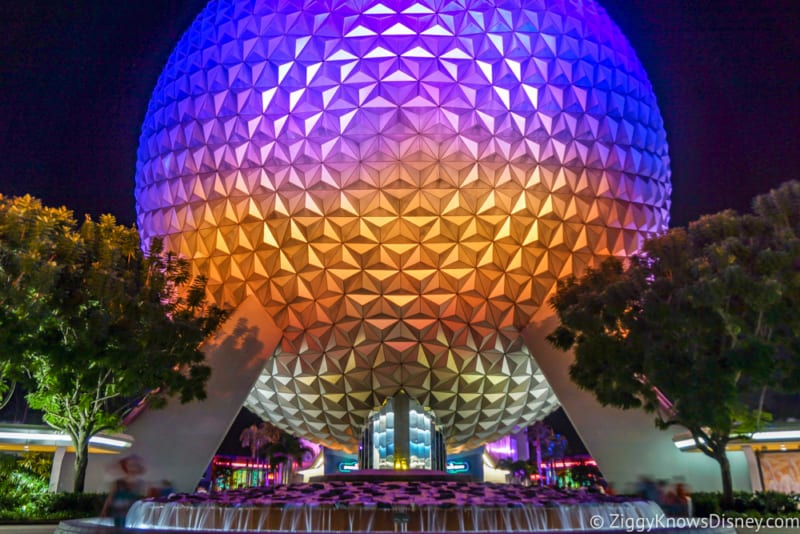 In this post, we are going to share with you everything we know about the Spaceship Earth refurbishment, including what's changing, new scenes, a new narration and the dates for the project.
Rumors had been going around for a couple of years before Disney confirmed at the D23 Expo that Epcot's Spaceship Earth is indeed getting a complete refurbishment as part of the biggest park transformation in Disney's history.
This is going to be the attraction's 5th refurbishment, and the most ambitious update since EPCOT opened in 1982.
With the latest updates, we now know that the construction work for the Spaceship Earth refurbishment is beginning on May 26, 2020. We'll break down what that means for you if you are taking a trip to Walt Disney World during that time later on in this post.
UPDATED: Spaceship Earth Refurbishment Postponed, Reopening with EPCOT July 15
The Spaceship Earth refurbishment was supposed to get underway on May 26, 2020, but since the Disney World closure, we haven't heard anything new from Disney.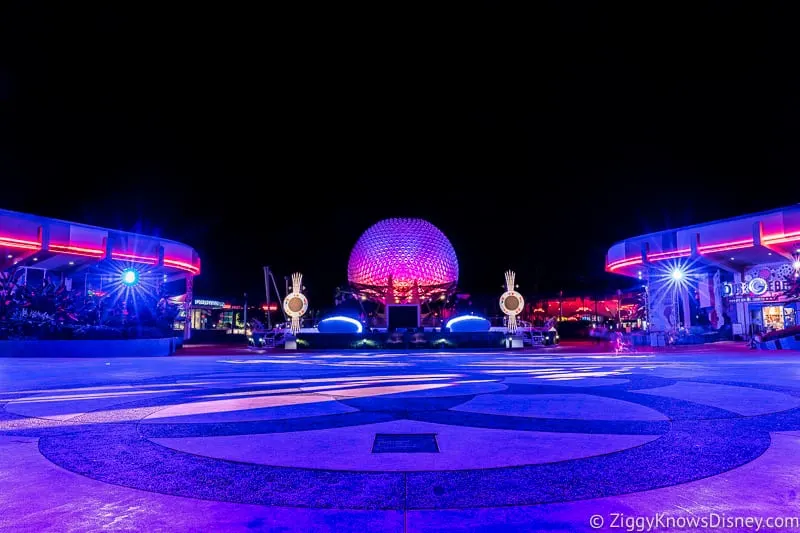 If you are going to EPCOT in the next few months, you now have at least one more chance to enjoy the park's iconic attraction Spaceship Earth!
Disney has now confirmed that the Spaceship Earth refurbishment has been postponed and will reopen with EPCOT on July 15, 2020.
The official announcement from Disney reads: "the iconic Spaceship Earth attraction at EPCOT will also continue to be available in its current state while we pause on its planned refurbishment."
This is to be expected after the announcement Disney CEO Bob Chapek made a while back that Disney is cutting $900 million from the construction budget in 2020. Even though the ride does need help, Spaceship Earth wasn't a NECESSARY refurbishment that had to be done at all costs in 2020.
Recently on the Walt Disney World website, we saw that the ride was "Closed for Refurbishment" but that was just a notification still in the system from before the park closure and the ride will be ready to go on July 15.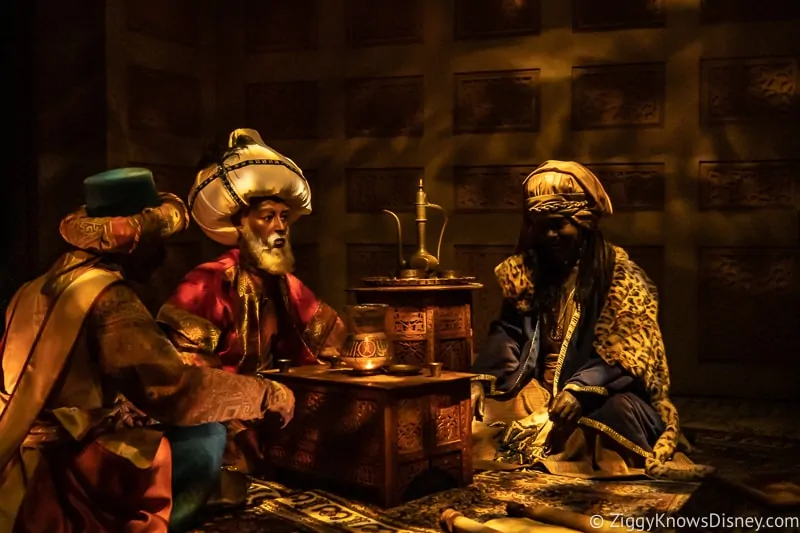 If you were looking forward to the update, it looks like Disney is still planning on doing it eventually as they did use the word "pause" and not "canceled."
At this point, it's unclear when the refurbishment will take place, but the entire project has not been scrapped altogether. Our gut says that it will eventually go forward, but it was one of the easiest attractions to postpone and a way Disney could save a lot of money in 2020. If we were to guess, we'd say Disney will wait a year until Spring 2021 before moving forward.
We'll update you with more as soon as we have it.
In the meantime, you can read the details of the proposed version of Spaceship Earth that is supposed to get built eventually...
Spaceship Earth is Closing
Spaceship Earth remains one of my favorite attractions in Walt Disney World and is a world-famous theme park icon. Just looking at the 165-foot geosphere will leave you in awe. It's also one of the remaining Epcot Day-1 attractions, which opened October 1, 1982.
For those reasons, you can imagine there are a lot of nervous people knowing that Spaceship Earth is closing for a big refurbishment.
Just looking around EPCOT, you can see the whole park is in a transition period. We found out that Future World is being transformed into 3 distinct areas, and World Celebration will be the center, where Spaceship Earth will be the main attraction in that area of the park.
This is all part of the bigger EPCOT transformation project, which will be the biggest changes that have ever come to the park. It will look completely different in 3-4 years from now. These changes might have an influence on whether you visit Disney World in 2020 or 2021, or skip them altogether until a later date.
Despite all the surrounding change, new Disney CEO Bob Chapek has assured worried fans that Spaceship Earth will continue to be the Disney World and EPOCT icon it has always been, just with "new magic" breathed into the original attraction.
When Is Spaceship Earth Closing?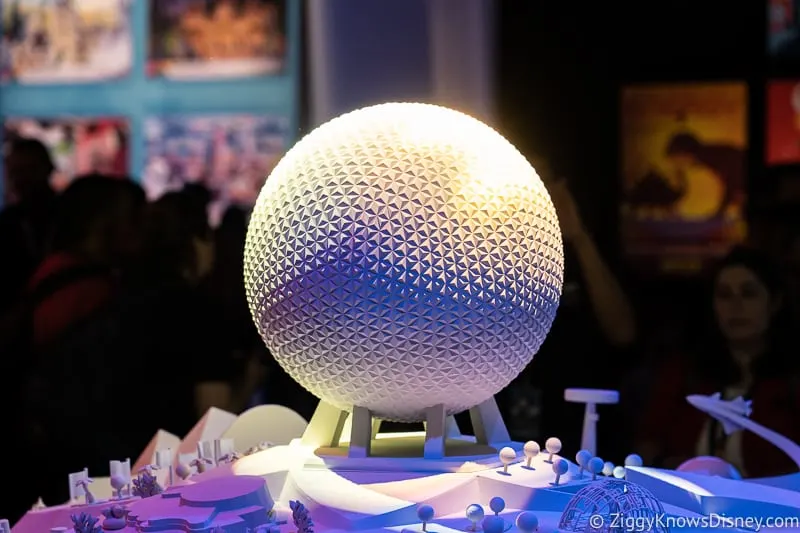 Seeing that the Spaceship Earth refurbishment will be a long one, many guests want to know just exactly when it's closing to perhaps get in one last ride on the original attraction. If you want to do that then you need to go on or before May 25, 2020.
The Spaceship Earth ride will be officially closing on May 26, 2020.
Why did Disney choose that date? Disney always makes strategic moves when it comes to opening and closing park attractions. From the start of the Flower and Garden Festival in March and through Spring Break, this is one of the busiest seasons of the year in Disney World. It makes sense then to at least wait until some of the crowds have passed before closing the ride.
Also, the fact that Remy's Ratatouille Adventure should be opening shortly after May 26 (probably June or July) offsets the loss that Spaceship Earth has on Epcot. At least knowing a new ride is opening up, distracts fans somewhat and gives them something to be excited for.
There is no good time for a ride closure, and this is the best time to do it in the foreseeable future.
How Long will Spaceship Earth Be Closed?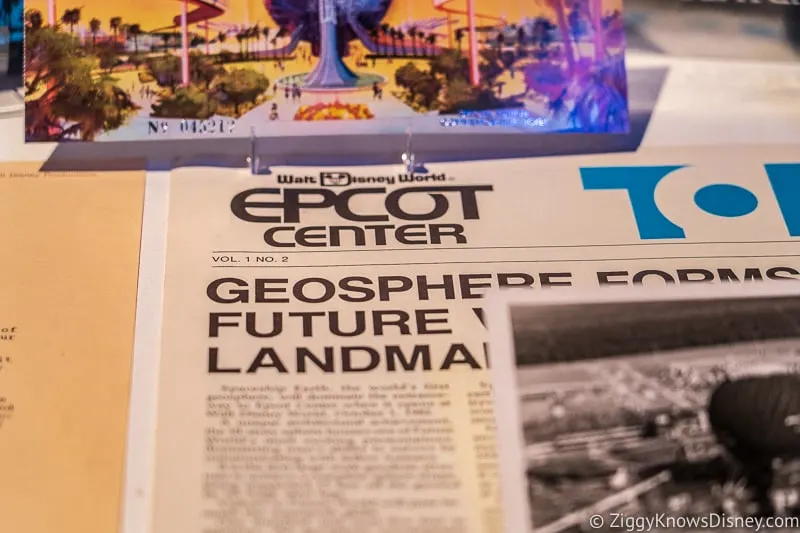 Right now there is no official reopening date for Spaceship Earth and no one knows exactly when it will be finished.
Disney hasn't mentioned how long Spaceship Earth would be closed for to do this work and add the new scenes, but for a project as big as it is, it's going to have to be a long time, maybe even the 2 years that were originally rumored.
Calculating out from the closing date brings us to May 2022 as a potential reopening date. That, of course, can change to earlier or later depending on the size and scope of the changes to the ride, and how well the work progresses.
I know many are hoping it will be ready in time for Walt Disney World's 50th Anniversary in 2021, but that just doesn't seem reasonable at this point. It's more likely the project will take a full 2 years which means that Spaceship Earth will probably reopen in Spring or Summer 2022.
A total refurbishment takes time, and when you're talking about adding new scenes, plus having to do all this work inside Spaceship Earth in the middle of a park that's undergoing a total transformation, the construction work is going to be slower than we'd all like to see.
We'll be sure to update you as soon as we know more about when Spaceship Earth will be reopening.
A New Name for the Ride
Up until now, the attraction has always been called: "Spaceship Earth," the same as the structure.
Now the attraction is getting a new name and will be called: "Spaceship Earth: Our Shared Story." So the attraction will still have the name "Spaceship Earth" in its title when it reopens, but in a slightly different way.
The First Changes Are Outside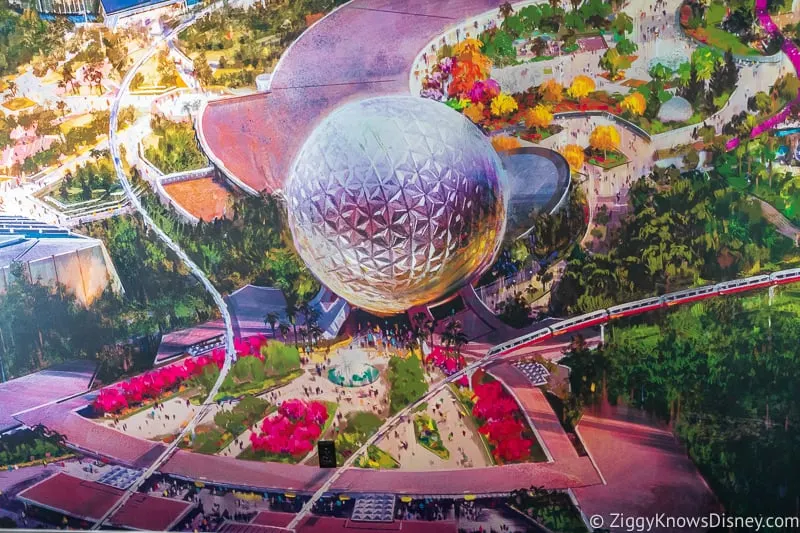 Spaceship Earth is the first thing you see when entering EPCOT, but even that is changing and will be totally different by the time the attraction reopens.
The Leave a Legacy monoliths have been removed from the park's entrance plaza, and are being relocated to outside the park. In fact, the whole entrance to Epcot has been changed with new drop-offs, new security checkpoints, and a whole new entrance plaza.
Not to mention the fountain that will have a new, yet old-school EPCOT-look to it when finished. You can keep up with all the changes in our Future World Construction Updates post which shows you the latest changes as they are going on.
Is the Outside of the Sphere Changing?
Not to worry, nothing on the outside of the Spaceship Earth sphere is changing. It will remain the same as it always has.
What Is Changing With the Ride?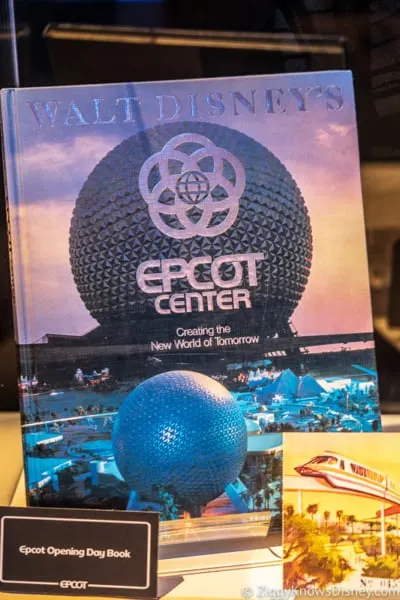 The fundamental story and feel of Spaceship Earth is not going to change and it will remain a voyage through time, relying heavily on the storytelling experience to bring its message home and will still show off some of the most important moments in time that define human history.
However, many single elements of the attraction are going to be drastically different. Here's what's being changed:
New attraction name
New ride narration
Updated existed scenes
Brand-new scenes
New ride exit
A lot of our favorite scenes are still going to be in the attraction when it reopens, just updated in what Disney is saying are "amazing ways." We think that of all the previous refurbishments to Spaceship Earth, this one will be the biggest, yet still have a similar spirit and message as the original attraction.
The New Narration and Story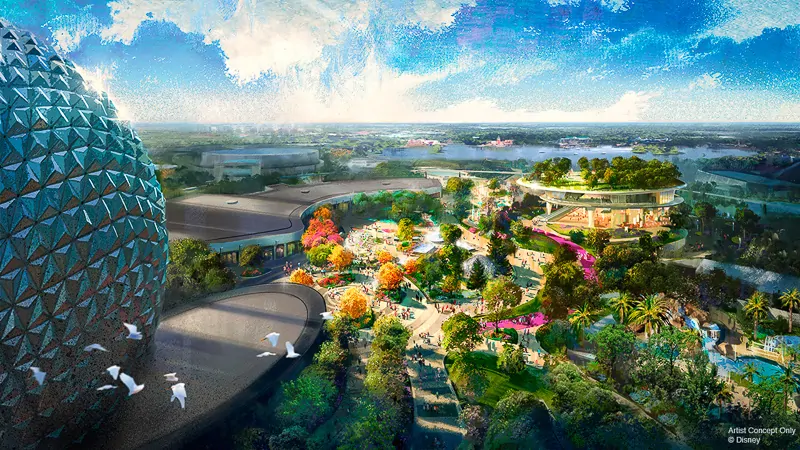 The first change to the ride is a new narration and story. Spaceship Earth will still tell the story of humanity, from the prehistoric humans all the way up to our times today. What will change quite a bit is HOW those stories are told.
Spaceship Earth is getting a brand-new ride narration which will be present throughout the whole attraction. I guess that means we can say goodbye to Judy Dench. This narration will explain to guests how light plays a central role in our shared human journey.
The whole thing will shift away from communication and technology to storytelling. The new message is that storytelling is what connects humans from all over the world together.
The narration will be totally different and instead of a normal audio monolog tell us the story, guests will follow the magical "story light" which will bring the scenes to life and help guests experience them in ways they never did. This is also being called the "Ancestry Light."
Disney has said it "will come to life in dynamic ways giving each scene energy and stunning beauty while creating a narrative that ties your journey together."
I'm interested in how they plan on making that come to life how they have promised. Disney has said that the lights will somehow tie-in with humans coming together, though not much more has been explained about it. We're expecting something similar to what guides you through Mystic Manor in Hong Kong Disneyland.
Who Will Be the New Narrator?
Disney hasn't gone too far into the details, but it does seem like there will still be an audio guide along with the story light. I think it would be really weird to be able to tell a story as complicated at this without any audio, and believe that it will be a combination of light and sound.
If that is the case, who will replace Judy Dench as the narrator? I have absolutely no inside information on this one and no clue to who Disney is considering for the role.
My personal preference would be to get Morgan Freeman for the narrator. He has one of the most iconic voices in the entertainment industry and I've been hoping for Disney to bring him into one of the attractions at some point. Another preference would be to bring back Jeremy Irons. I don't know if it is possible, but he did a fantastic job with the role before Judy Dench and was the best of the 4 narrators by far.
New Music
We don't know much about this yet, but we do know that Spaceship Earth will have a completely new musical score when it reopens. Disney is usually pretty amazing with their attraction music, so we have no doubt this will be amazing.
Changes to Existing Scenes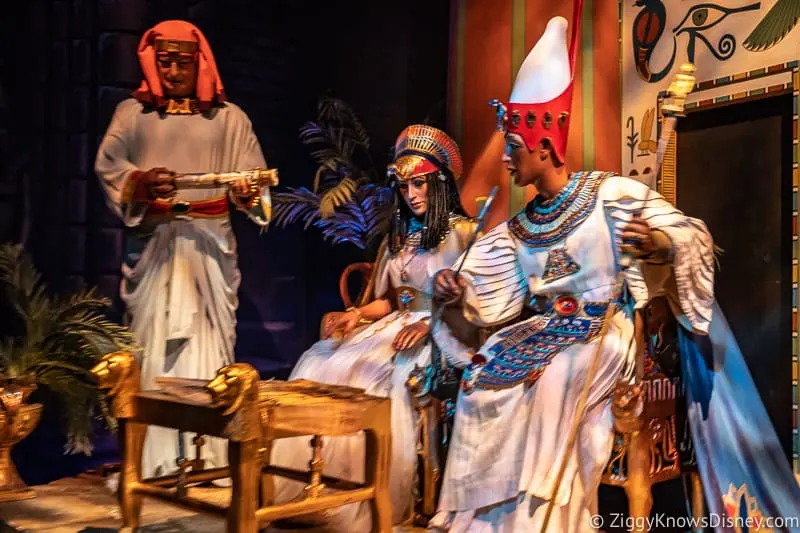 One of the biggest questions on people's minds is what changes will be made to the various show scenes? As Bob Chapek explained at the D23 Expo, there will still be show scenes similar to the ones we have, some remaining very similar to now, some scenes totally changing and some new scenes being added.
That means that some scenes are staying with new changes to them, but some scenes are also going away and will not be included in this new version of the attraction.
You have to understand, Spaceship Earth has very limited space inside. There is only so much that can be done with the small areas Imagineers have to work with in there. They aren't ripping up all the existing floors of the attraction and making brand-new rooms. The size of the show scenes will stay the same, but new props and effects will surely be added to them.
Rome? The Greek Scholars? Michaelangelo? The Sleeping Monks? Which ones are staying around? By looking at the concept art we have an idea of a few of the scenes that will still be there.
Things could change but so far these are the ones that are confirmed to be staying:
Cavemen
Egypt
The Phoenicians
The Phoenician and Cavemen scenes look similar from the concept art, only with new special effects and lighting.
We already have got a look at the Egypt scene and how these lights will work. Here is the concept art below: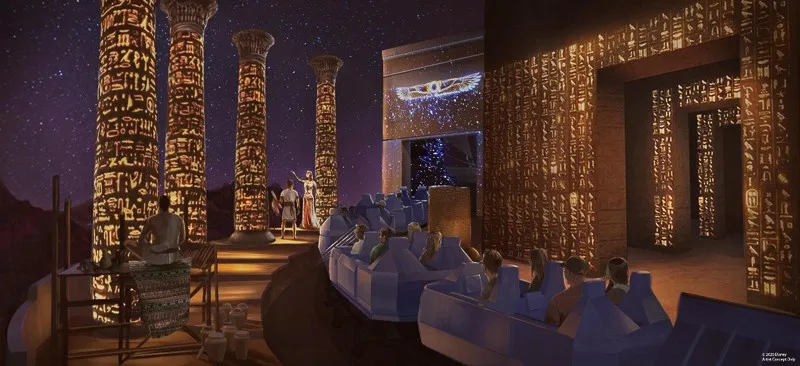 This is a scene that has been in Spaceship Earth from the beginning of the ride's existence, but Disney is giving it a big upgrade, making it an Egypt like you've never seen before, transformed through the power of light. In fact, it looks like the Pharaoh, the Queen, and their servants are missing though!
Besides these, they haven't told us yet what other changes are being made to the other existing scenes. Just PLEASE tell me Rome will still be burning in this new version!
What Are the New Scenes?
According to rumors, all the scenes before the industrial revolution would be updated and refreshed, meanwhile, the ones after that would be totally changed for new scenes. That would mean things like the moon landing, the 70's era computers and the silicon valley garage would all be going.
As we said before, there is limited space inside the ride so unless they remove something that's already there, they can only do so much.
We don't know what the new scenes are going to be yet, but one thing that might be done to make more room is to utilize the space at the very top of the dome better. That room where you are looking at the Earth could easily be fitted as a show scene and would be a better use of space imo.
New Attraction Exit
Where Spaceship Earth currently unloads you into Project Tomorrow is going to be gutted and replaced with something totally different. What that is is still unknown at this point in time. Maybe it'll be a gift shop?? I'm half-joking about that…
Whatever it is, it will have a great view into the center of World Celebration and the new Dreamer's Point. Guests will walk out of the attraction and be greeted by the lush gardens and trees, fountains and even the new statue of Walt Disney himself.
Will There Be Disney IP in the New Spaceship Earth?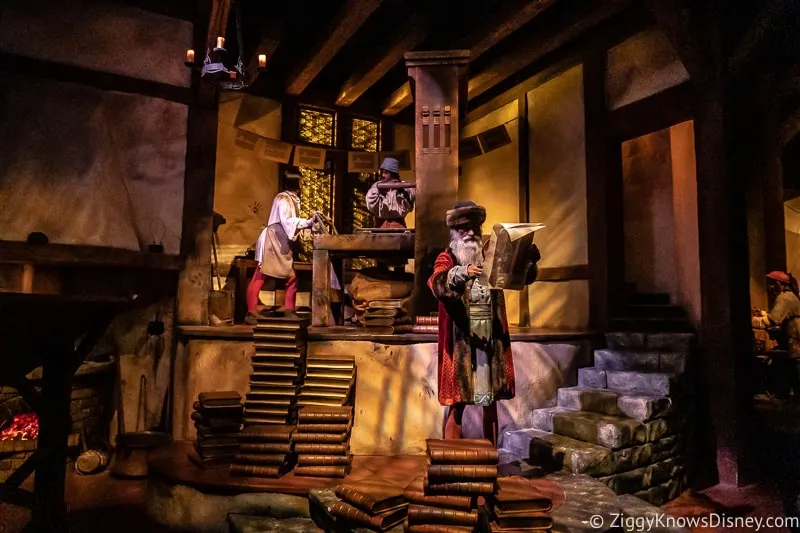 Thankfully, at this time there has been no talk of including any Disney IP into the new Spaceship Earth. We think this is the best course of action and at least if they could keep the park's most iconic attraction IP-free we would be able to swallow some of the other additions to EPCOT better.
This could always change, especially with Bob Chapek now in as Dinsey CEO, but for now, it looks like we are safe.
Who Will Be the New Spaceship Earth Sponsor?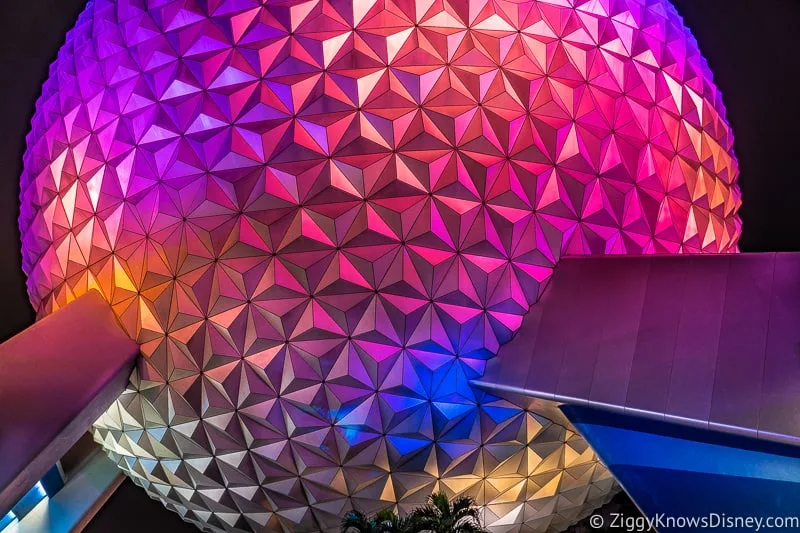 Right now Spaceship Earth does not have a corporate sponsor and there is no one lined up yet for the new version of the ride. We think it would be awesome to be able to keep it sponsor-free, but would also understand that it's a big opportunity for Disney to bring someone on if they so choose.
Our Thoughts on the Changes to Spaceship Earth
At first, when I heard the news that Spaceship Earth was getting a big refurbishment, I was a little disappointed. It remains one of my favorite rides and is THE icon of EPCOT. It symbolizes so much that the original vision of the park stood for that I would hate to see it touched.
In fact, if you look at how the different refurbishments for Spaceship Earth have gone through the years, it's gotten progressively worse each time. This is especially true for the attraction script, which has become more and more westernized with each update.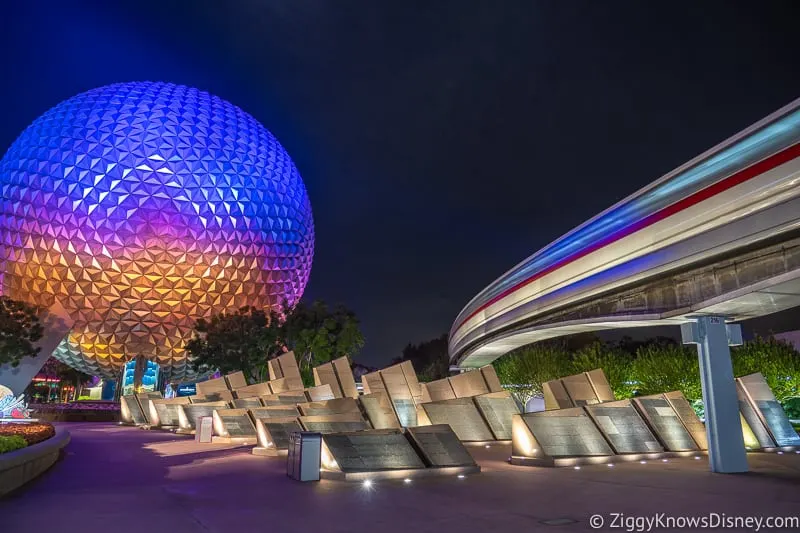 However, when you ride it now, you quickly realize Spaceship Earth is not what it once was. An attraction that is the icon of EPCOT deserves much more than it is in its current form. Those stupid screens in the cars don't work 50% of the times that I ride it, and the photos are a cheesy addition. I love the fresh ideas of changing the way the narration is done and this is maybe the announcement I'm most excited to know more about.
With a renewed interest in storytelling, new and updated scenes and a renewed vision and purpose, Spaceship Earth might once again return to the status it should hold as the best attraction in EPCOT. We'll have to wait and see.
Though Spaceship Earth is one of my favorite attractions of all-time, I'm really happy about this news as the attraction is dated and in need of bringing it into a more modern version of the ride.
For sure it's one of the most exciting changes coming to Disney World in the next few years!
Spaceship Earth isn't the only ride getting refurbished soon. Read the full list of Disney World Ride Closures and Refurbishments to see what else is being worked on.
If you want to be kept in the loop for everything regarding the Spaceship Earth refurbishment project, don't forget to sign up for our FREE Weekly E-Mail Newsletter. There we bring you the latest updates on this project and more. You can sign up here: Join our E-Mail Newsletter!
FAQs
Is Spaceship Earth Closing?
Yes, it is. Spaceship Earth is about to undergo a long refurbishment which will update the ride and give it a new vision of storytelling.
When is Spaceship Earth Closing?
It's closing on May 26, 2020, and will be down for an unknown period of time.
What Scenes are Changing and What are the New Scenes?
Right now we don't have too much information on which scenes are going and staying. We do know that the Egypt scene is being re-done with new lighting effects, but that's about it for now.
Your Thoughts
I want to know what you think about a Spaceship Earth attraction remodel coming to Epcot…
Does Spaceship Earth need a refurbishment?
What do you think of the changes?
Let us know in the comments section below!
If you enjoyed this article, as always I appreciate it if you'd share it with others via social media. I work hard at making this website into a useful resource for you and your family to plan your visit to the Disney Parks and I hope it can help you! Thanks 🙂