This is a Epcot World Celebration Construction Update for November 2019 which is currently underway in what is for the moment Future World. Today we're going to see some of the progress around the area, including the many construction walls that are up and a look at what's being demolished.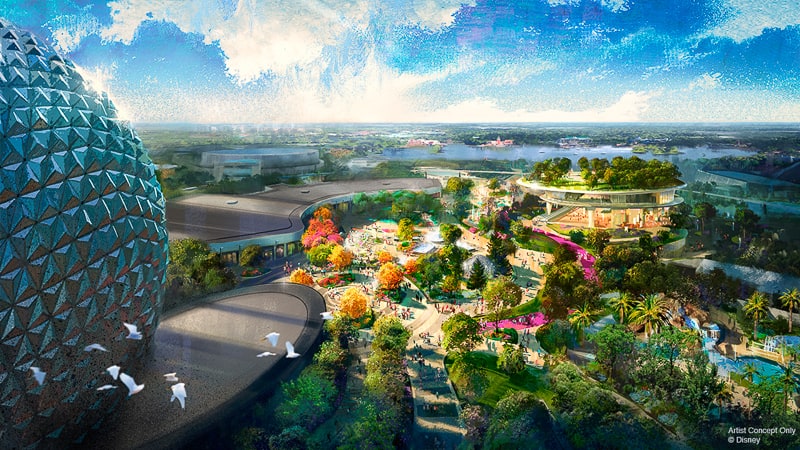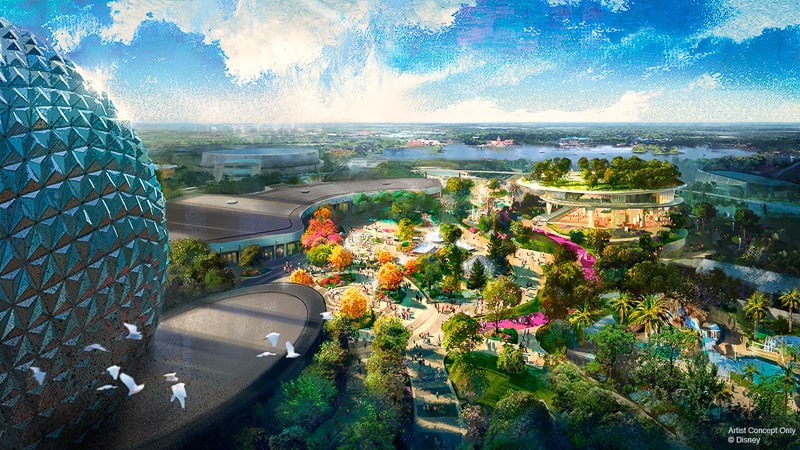 UPDATE 11/4/19: This week we are going to take a look at the demolition of the Fountain of Nations, which has been an Epcot icon since the park's opening. Please scroll down for the latest photos.
If you aren't familiar with all the construction projects happening around Epcot at the moment, there are a ton of them! We learned many new things at the last D23 Expo where a total overhaul of Epcot's Future World is underway.
Since then we've seen many closures in Future World and the demolition underway of structures that have been here since the beginning. Club Cool, Innoventions, Starbucks, the Character Spot, the Fountain of Nations and more have all closed down and construction is moving along at a fast rate.
We even found out that Future World will not be called Future World anymore, but Epcot will be divided into 4 neighborhoods: World Celebration, World Discovery, World Nature and World Showcase.
In this post we are going to give you continuing updates on all the construction updates in Future World/World Celebration as they happen and explain to you what it all means.
You can also get the latest from around Disney World at more construction projects currently going on in our Walt Disney World Construction Updates page.
Big thanks as usual to @Bioreconstruct who takes by far the best Disney World construction photos, especially the ones from up high, which keep us up-to-date with ever project around property. It let's us see these new attractions from start to finish which is amazing!
I'm constantly updating this post so you can scroll down for the latest Future World/World Celebration Construction pictures:
(NEW PHOTOS 11/4/19)
Well it didn't take long, but the Fountain of Nations in Epcot is now completely demolished. The work started a couple of weeks ago to tear it down, and it's now gone from Future World in Epcot.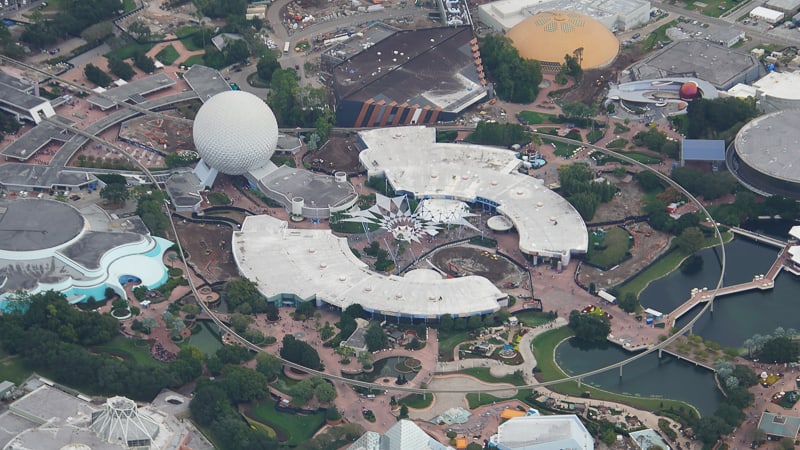 You can see from the above aerial shot the brown circle in the middle of Future World heading towards World Showcase. That's where the Fountain of Nations was.
Getting a bit closer to the ground we can see in behind the construction walls there is nothing left but dirt: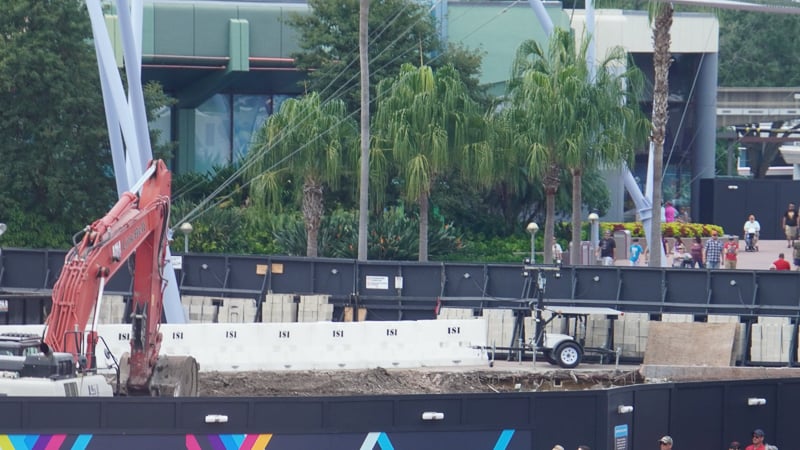 In fact there is a huge hole in the ground where the Fountain of Nations once stood: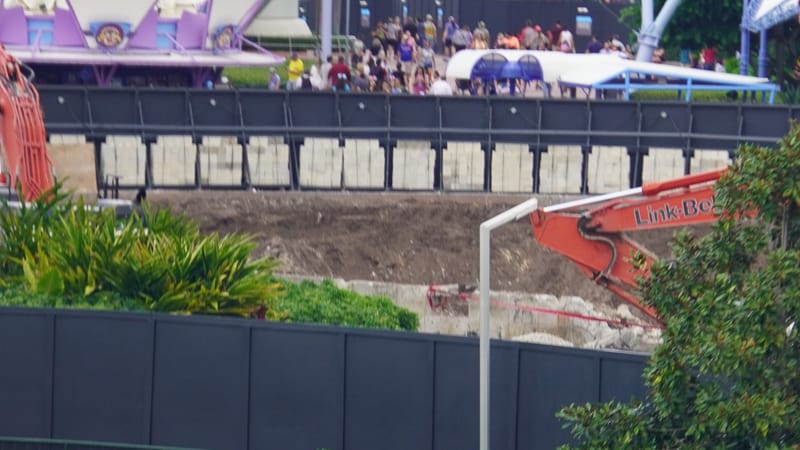 Getting a closer look from the air, it looks like that hole is slowly being filled in with heavy machinery close by.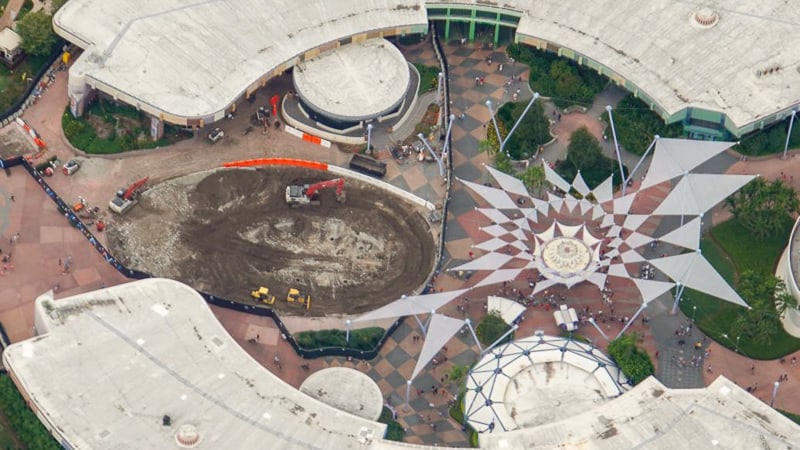 You can get a good sense for the construction work being done in Future World (soon to be World Celebration), with construction walls covering up what used to be Starbucks, Club Cool and the Fountain of Nations.
Expect to see this area like this for a while with that whole side of Innoventions going down soon. Stay tuned as we'll update you when t he next steps happen.
(NEW PHOTOS 10/27/19)
If you are squeamish, now is the time to look away. We told you a week or so ago that the Fountain of Nations demolition was underway, now it's almost finished as the former Epcot landmark has been reduced to rubble.
Ok, don't say I didn't warn you….
Looking at this aerial shot, we can see the Fountain of Nations has been completely destroyed on top, and half of the base structure is basically a pile of broken concrete and metal: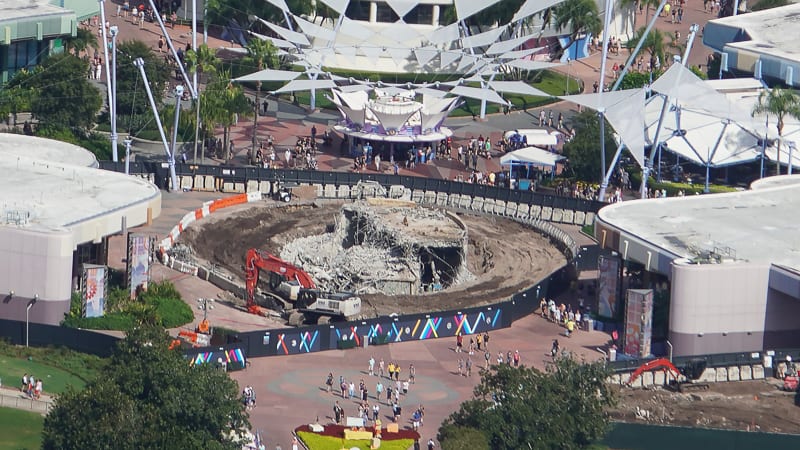 If you zoom in close, it looks like there is a sink hole underneath it, though it may have been designed that way.
Bulldozers have been working hard tearing this thing up over the last 10 days, and we've almost reached the end.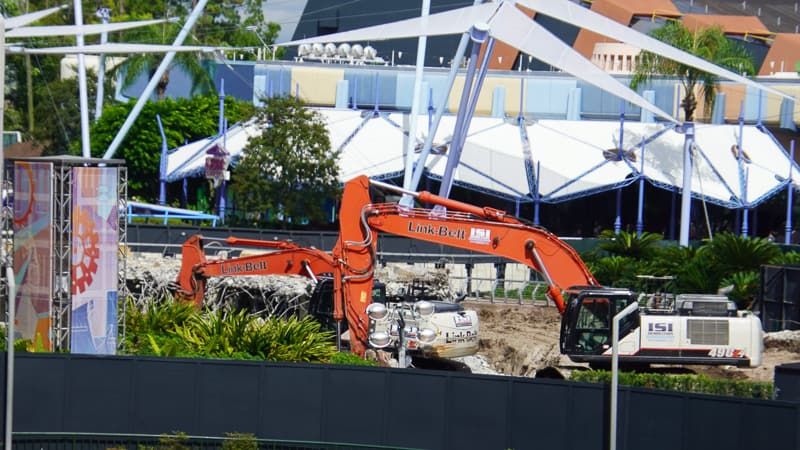 Looking closely you can see underneath the fountain structure which was basically hollow, with a large open space pump room there and a layer of concrete and metal on the sides and on top: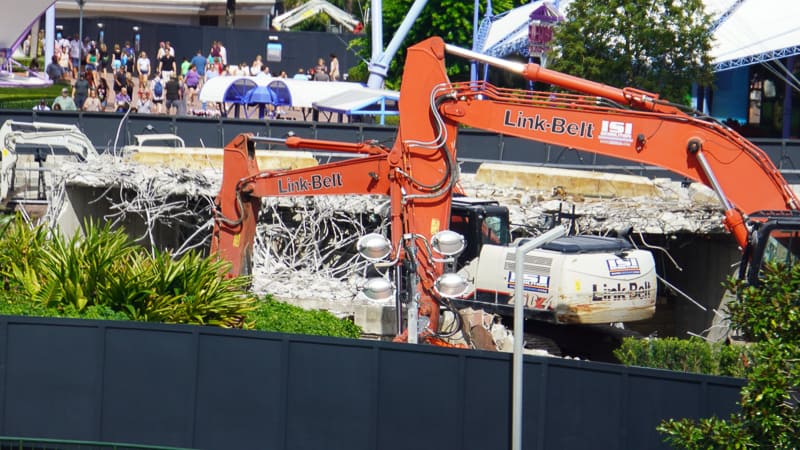 This view from straight on gives us another angle: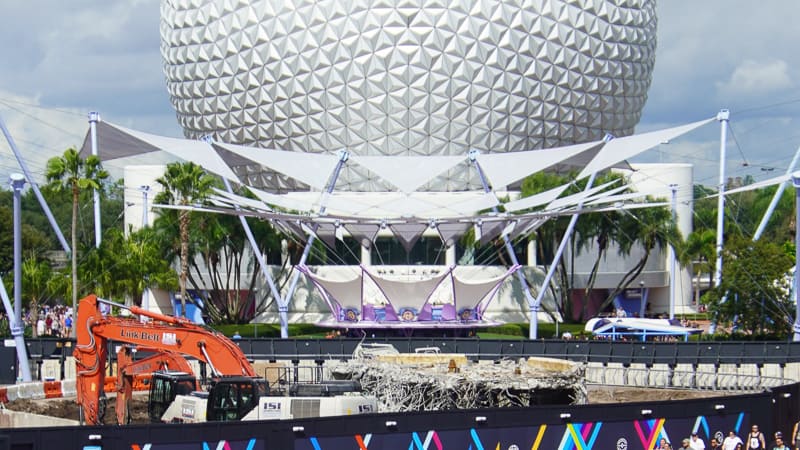 I have to admit it's going to be very strange not having that fountain in the middle of Future World or World Celebration. I have so many pictures of it with Spaceship Earth in the background and now it's not there.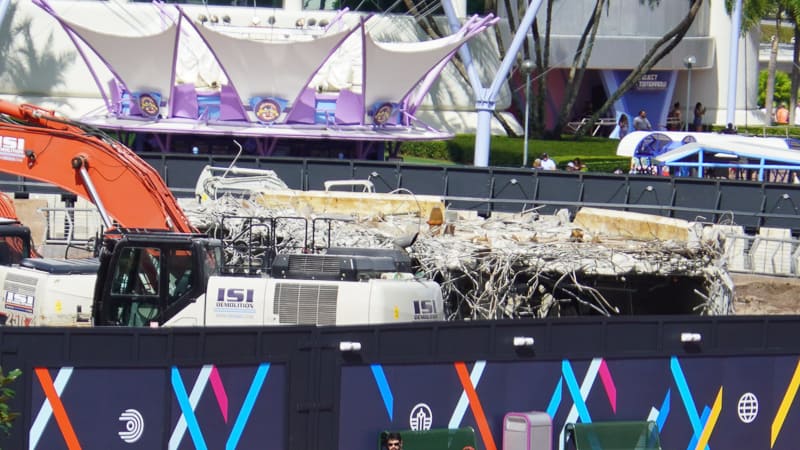 Right nearby next to Mouse Gear, there is another section of wall blocked off where another bulldozer is already tearing up some of the ground there: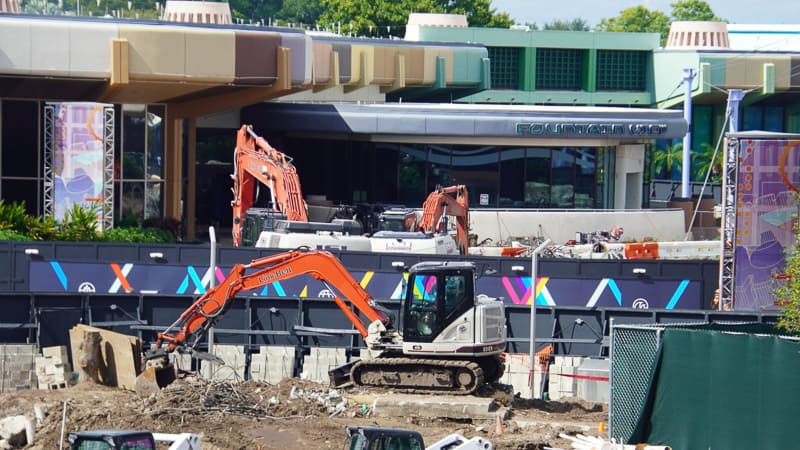 This too is going to be part of World Celebration and a new structure is going here too.
That it for our latest Epcot Future World construction update. Keep checking back regularly as we'll continue to update you on the latest work! Scroll down to read the past updates and see more pictures…
(NEW PHOTOS: 10/18/19)
If you haven't been in Epcot for a while, you'll immediately be taken back by the construction walls that greet you just beyond Spaceship Earth into Future World (this assumes you didn't faint over the other giant walls you see right at the park's entrance).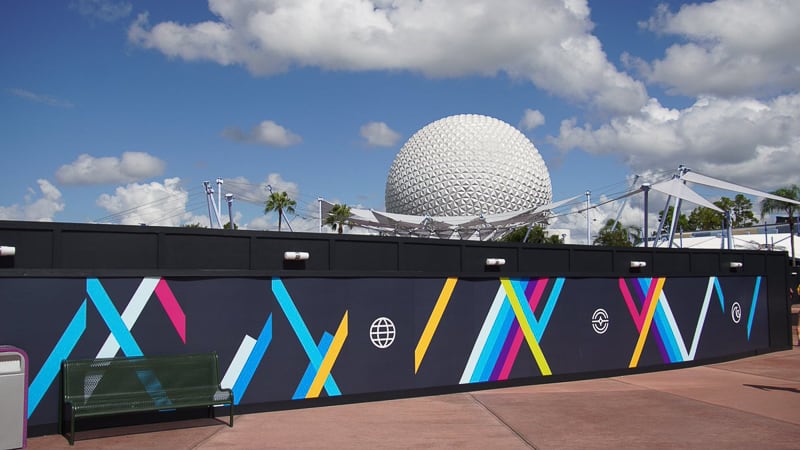 The walls have been up for over a month now, but they now have a bright new paint job with Epcot's new logos and colors on them which we see in these two photos from a couple of weeks ago.
Right now these walls take up the entire center of Epcot's Future World, where the Fountain of Nations, Starbucks, Club Cool and Innoventions West resided. This whole area will be part of the World Celebration we mentioned earlier.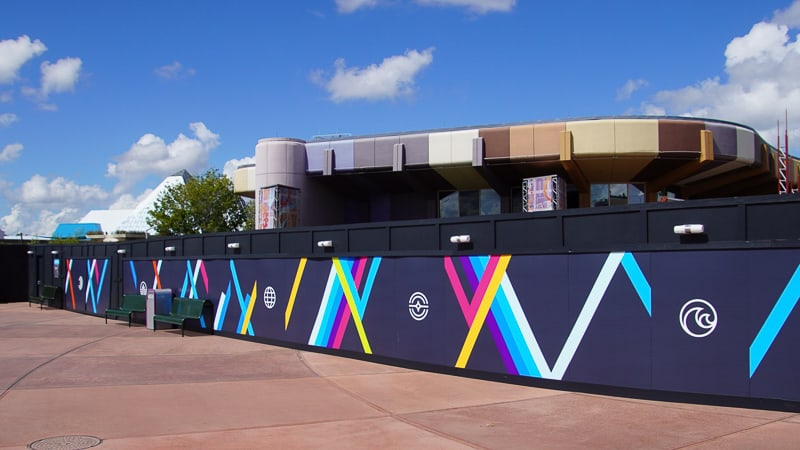 Today we can see from these new photos what's going on behind those walls.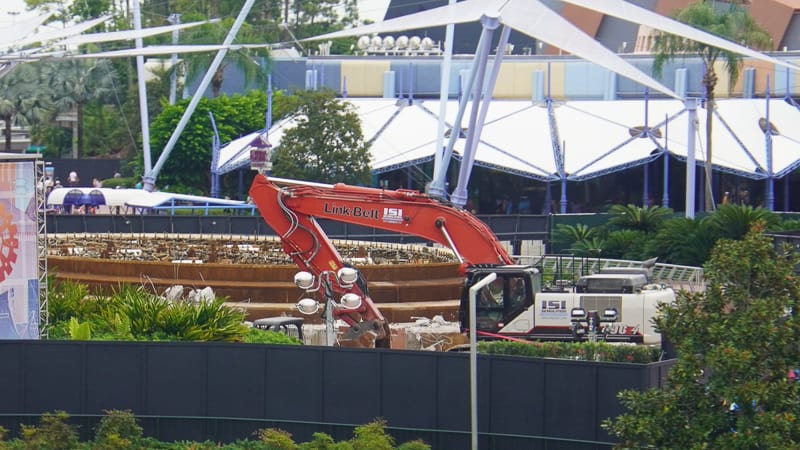 It looks like bulldozers are hard at work with the Fountain of Nations demolition and have also torn down the stage that was located in front of it (going towards World Showcase).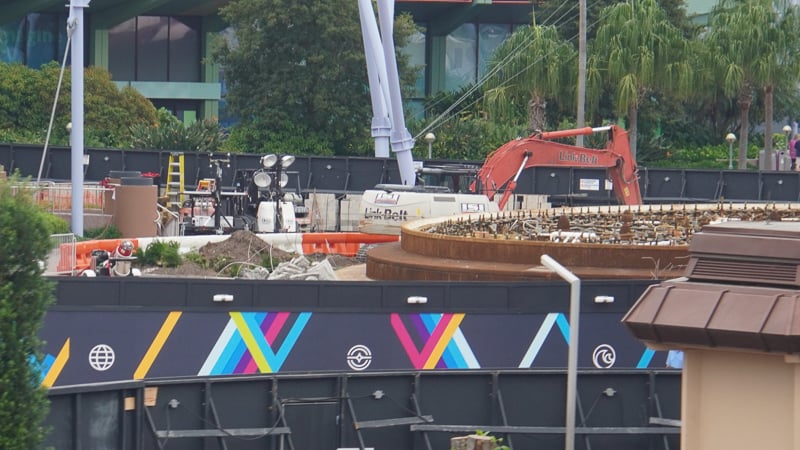 Looking closely at the fountain you can see the brown water staining of the metal and concrete over the years. Pretty cool stuff!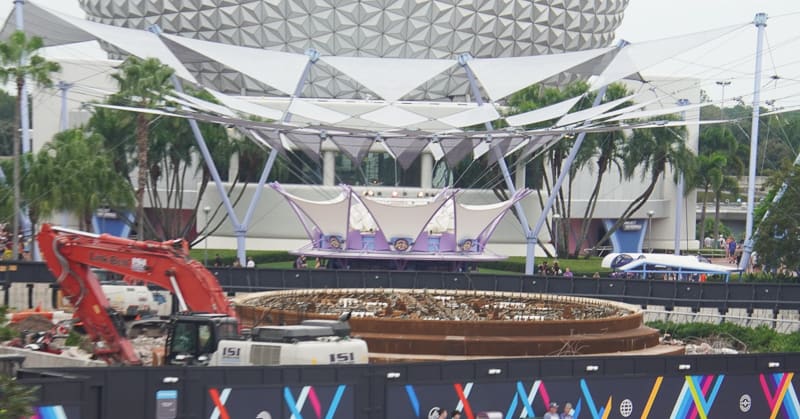 It's sad of course to see something go like the Fountain of Nations after so many years of having it in our lives, but it is exciting to see what's coming next for Epcot.
Here is some concept art showing what World Celebration will look like once completed: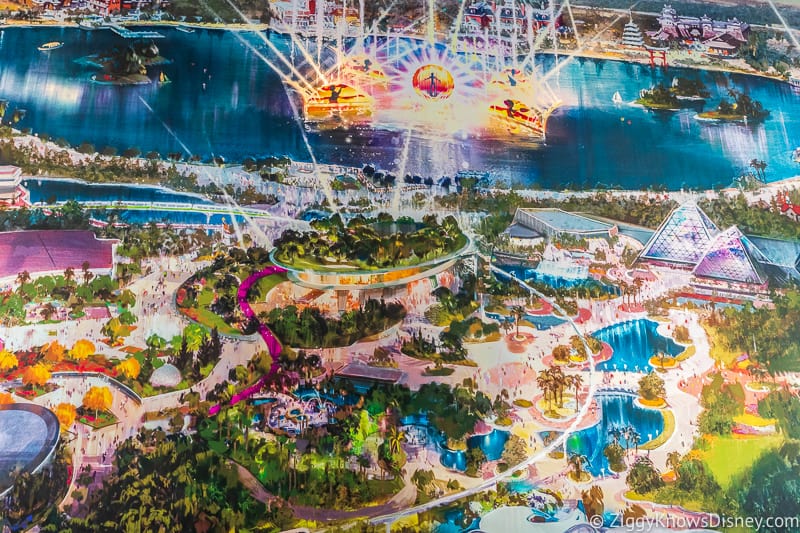 This area will be called "Dreamers Point" and will be filled with lush gardens, flowers, trees, and of course more fountains, a far cry from what it is today.
Perhaps the most interesting part will be the festival pavilion located in the back where guests will be able to climb to what will offer the best views in Epcot when finished: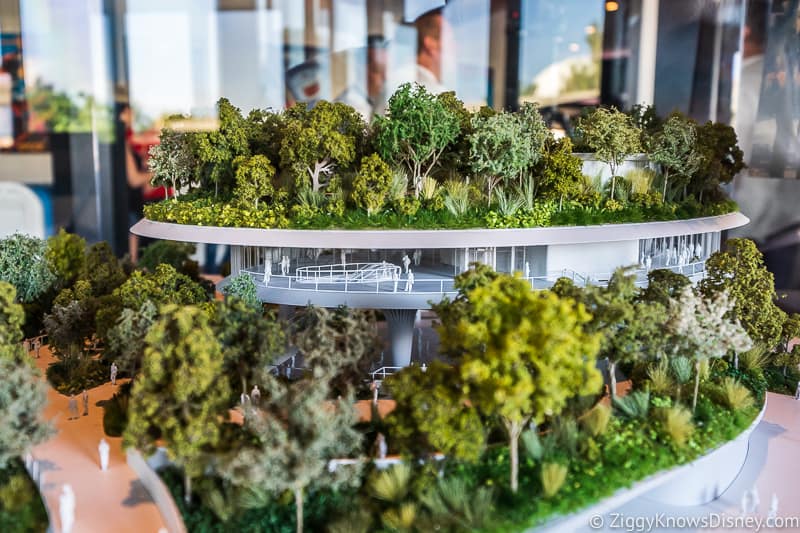 In fact there is a new model over in the new Epcot Experience exhibit in the Odyssey building where you can find out everything you want to know about the Epcot project, look at the model of the new pavilions and even watch a 360-degree movie showing what it will look like.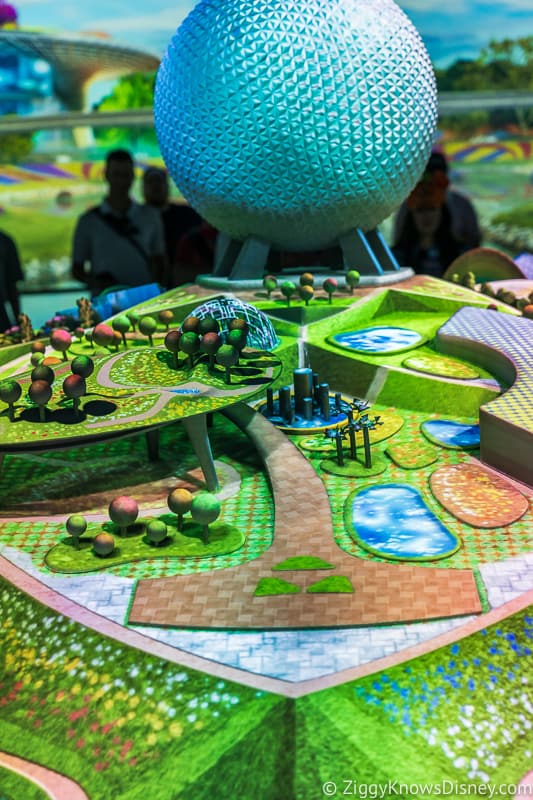 That's all for now from the World Celebration construction, but keep checking back here at Ziggy Knows Disney throughout the coming weeks as we'll be posting the latest developments with this project!
We don't have an exact date yet when all the parts of World Celebration will be open. Our best guess at this time is it should be ready by sometime around 2022, just after the Walt Disney World 50th Anniversary. We'll keep you posted as soon as we know more…
In the meantime check out some of the many projects coming to Epcot in the next few years:
Keep up with all the latest Walt Disney World Construction Updates in our post with links to all the projects and attractions currently being built!
Your Thoughts:
I want to know what you think about the demolition of the Fountain of Nations and the World Celebration construction…
Are you sad or happy about the changes?
Which part are you most excited for?
Let us know in the comments section below!
If you enjoyed this article, as always I appreciate it if you'd share it with others via social media. I work hard at making this website into a useful resource for you and your family to plan your visit to the Disney Parks and I hope it can help you! Thanks 🙂