Disney revealed at the last D23 Expo that they currently working on a new Moana-based attraction is coming to Epcot as part of its transformation called: Moana: Journey of Water. This was one of the most surprising new attractions coming to Epcot in the new few years and we are excited to share more with you.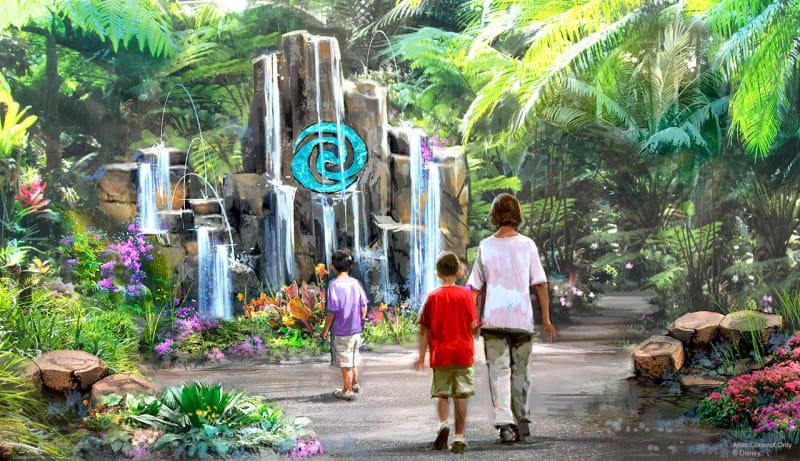 In this post we are going to share everything we know so far about the Moana: Journey of Water attraction with you including details, concept art and even rumored opening dates.
(Updated 4/7/20) – Yesterday while looking on the ShopDisney website, we saw some interesting information about the opening of Moana: Journey of Water attraction in EPCOT, which now has been retracted by Disney.
According to the original page, which has some limited-print editions of upcoming attraction posters and in the description, it read that Moana: Journey of Water is opening in 2021. Here is the original blurb:
"Celebrate the new aquatic adventure at the reimagined Epcot with this limited edition print promoting the forthcoming Moana-inspired Journey of Water walkthrough maze. Featuring the goddess Te Fiti from the 2016 movie, the poster is printed on archival paper and will whet your appetite for the attraction's 2021 opening at Walt Disney World."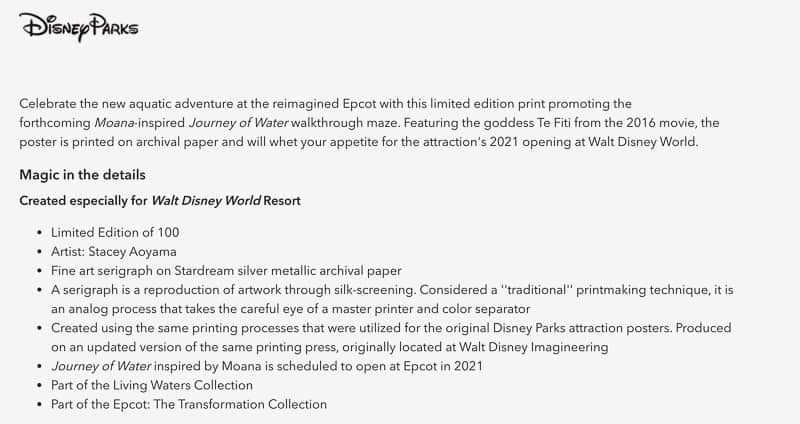 It looks like that 2021 date was put on there erroneously because Disney has since removed all traces of the 2021 date for Moana: Journey of Water and there is no date listed.
Prior to this new description, Disney hadn't yet said when Journey of Water was opening. It was largely thought that it wouldn't be one of the first attractions ready in the huge Epcot overhaul, and probably wouldn't make it to the park until 2022.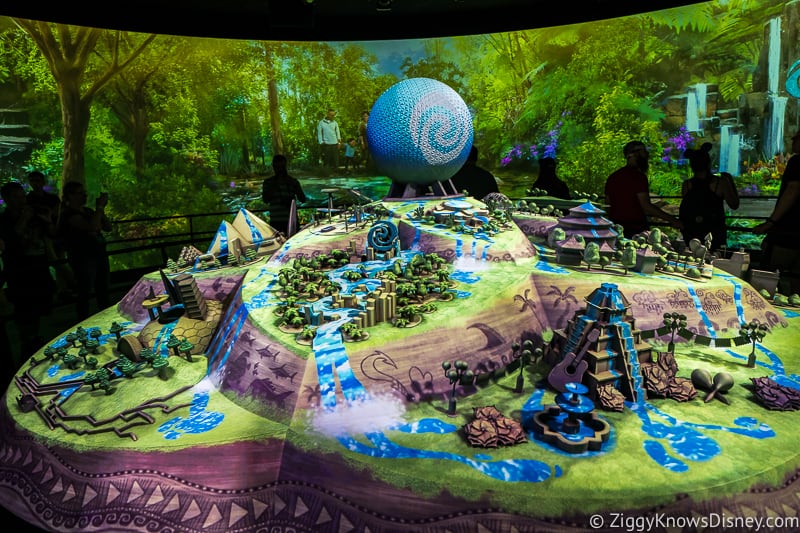 It was strange that Disney would let this information out on a page on the ShopDisney website and not through a Disney Parks Blog post like they usually do. It's also possible that 2021 was the timeline before the Disney World closure occurred, and this project will still get pushed off past 2021.
At this point, we don't have any accurate information about the opening of Moana: Journey of Water and there is no telling whether we will be seeing it 2021, in time for the Walt Disney World 50th Anniversary or not.
Here is a look at the limited edition poster for the attraction: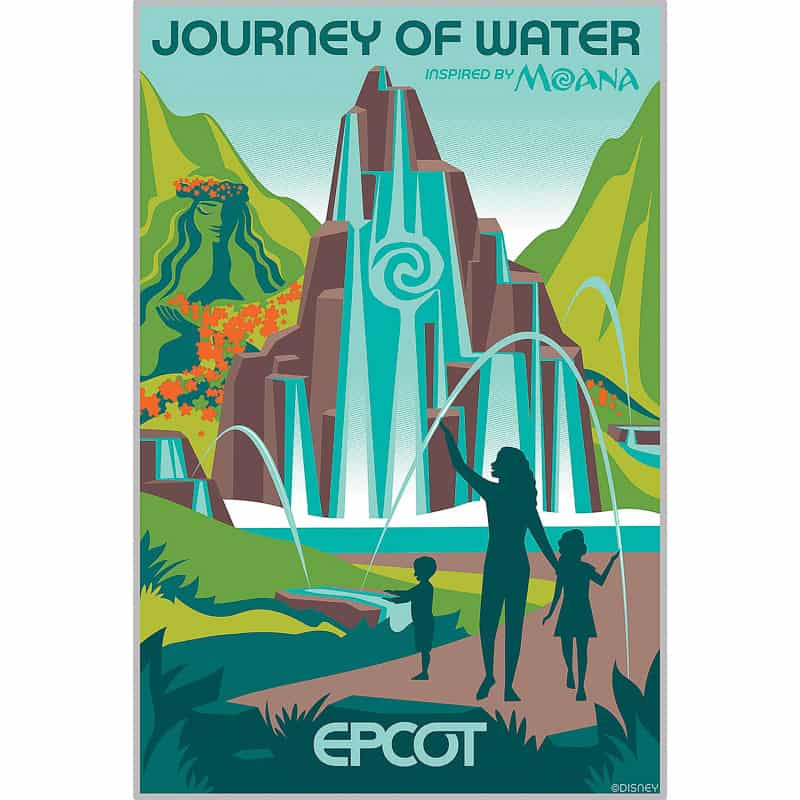 With construction in the parks currently at a standstill and no indication at this point when Disney World is reopening, we probably won't see the Moana: Journey of Water opening date until Disney can evaluate when construction will continue at full speed as before. In fact, we thought this was one of the attractions most likely to be affected or canceled by the closure, which still might be the case.
We'll keep you posted with any updates regarding Moana: Journey of Water as soon as we hear more. In the meantime, keep reading for more general info on the upcoming attraction.
(Original Post) – Not too many details have been given about the project yet, but this is the first attraction in any park based on the Walt Disney Animation Studios hit film, "Moana," and guests will be able to interact with magical, living water in a beautiful and inspiring setting.
Right away people want to know if this is a ride. No, from the concept art we can see, it doesn't look like a ride, but more like an interactive experience. It will probably be something to interact with along a walking path in Epcot's Future World (if that's what it will still be called).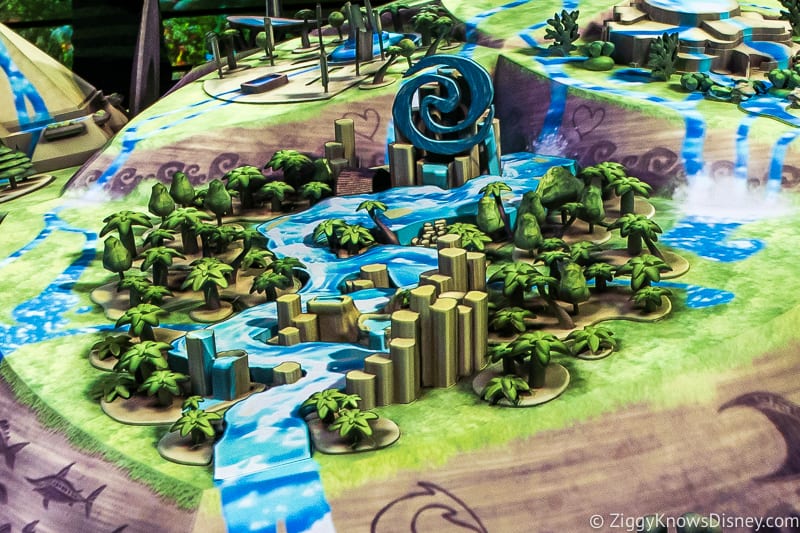 The most likely location for Journey of Water will be over by The Seas with Nemo and Friends pavilion. From looking at the concept art there are multiple fountains which kids and adults will be able to interact with. This is definitely a family-friendly addition to Epcot.
More details about Journey of Water will be shared throughout the D23 Expo and we can't wait to see what they are. If you want to see the concept art and models up close you can visit the Disney Parks "Imagining Tomorrow, Today" pavilion which is located on the show floor of the D23 Expo. There they have models of the Journey of Water area already set up to see.
Here is what it looks like:
Moana: Journey of Water is scheduled to open in 2021. More details will most likely be announced about this new Moana attraction, so stay tuned for that info.
In the meantime, check out all of the other New Disney World Rides coming in 2020-2022.
Your Thoughts
I want to know what you think about the new Moana: Journey of Water attraction coming to Epcot…
Are you looking forward to this new attraction?
Do you think Moana is a good fit for the park?
Let us know in the comments section below!
If you enjoyed this article, as always I appreciate it if you'd share it with others via social media. I work hard at making this website into a useful resource for you and your family to plan your visit to the Disney Parks and I hope it can help you! Thanks 🙂