Disney revealed at the last D23 Expo that they currently working on a new Moana-based attraction is coming to Epcot as part of its transformation called: Moana: Journey of Water. This was one of the most surprising new attractions coming to Epcot in the new few years and we are excited to share more with you.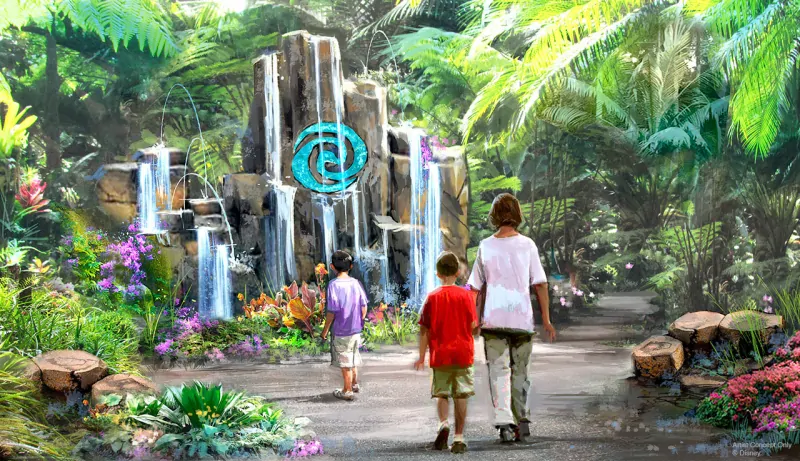 In this post we are going to share everything we know so far about the Moana: Journey of Water attraction with you including details, concept art, and even rumored opening dates.
Before we get started, don't forget to sign up for our FREE Weekly E-Mail Newsletter. There we bring you the latest Moana: Journey of Water updates as well as vacation planning tips. You can sign up here: Join our E-Mail Newsletter!
(Updated 5/5/22) New Concept Art for Moana: Journey of Water
Today Disney gave us the first updates about the new Moana: Journey of Water that we've had in two years including the most detailed concept art we've had of the attraction yet.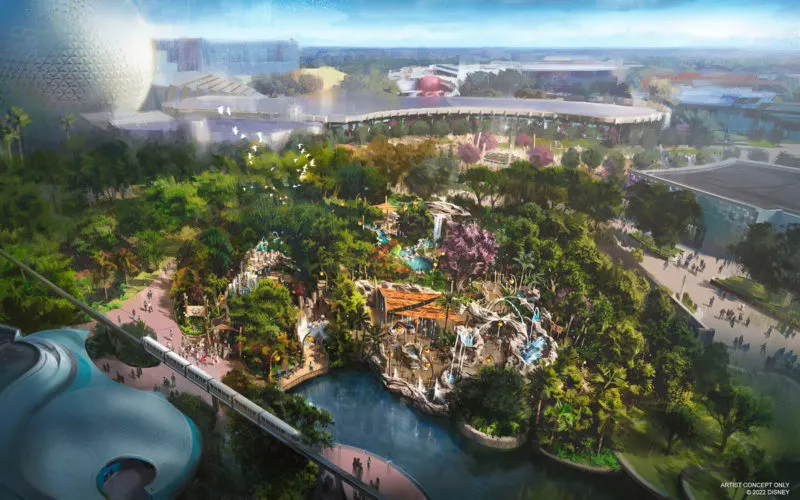 There are several interesting details included in the artwork including a wooden pavilion, and plenty of water features. Let's take a look: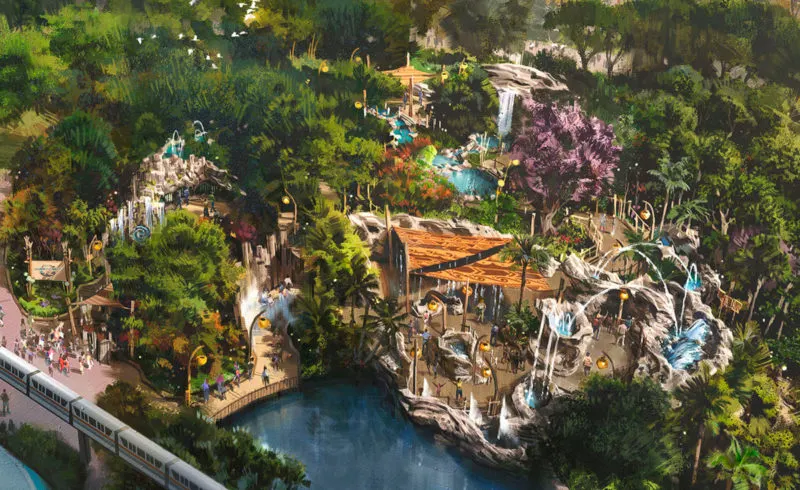 The area that Moana: Journey of Water takes up is on the site of the former Communicore West building, and it takes up a large footprint.
Here is the entrance to the experience: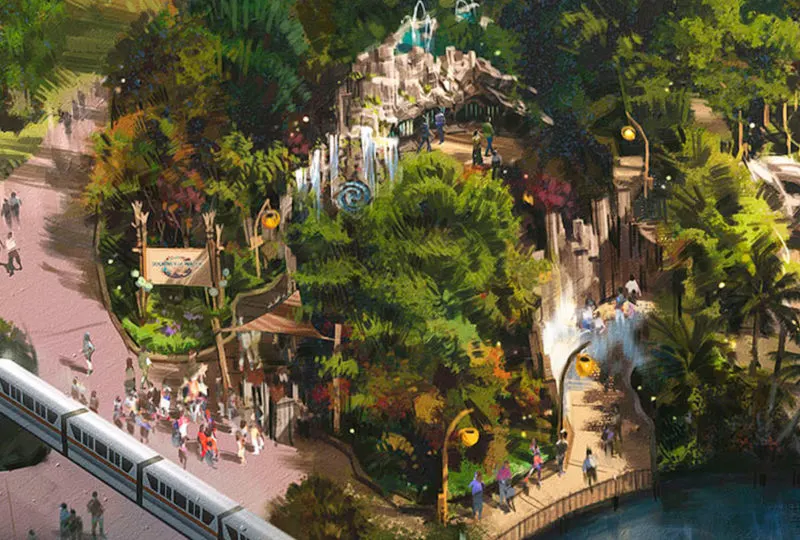 From its position, it looks like it will be on the pathway going toward The Seas with Nemo and Friends and guests can make a stop here before moving on.
We get a better look at some of the fountains and water features on the right side of the art: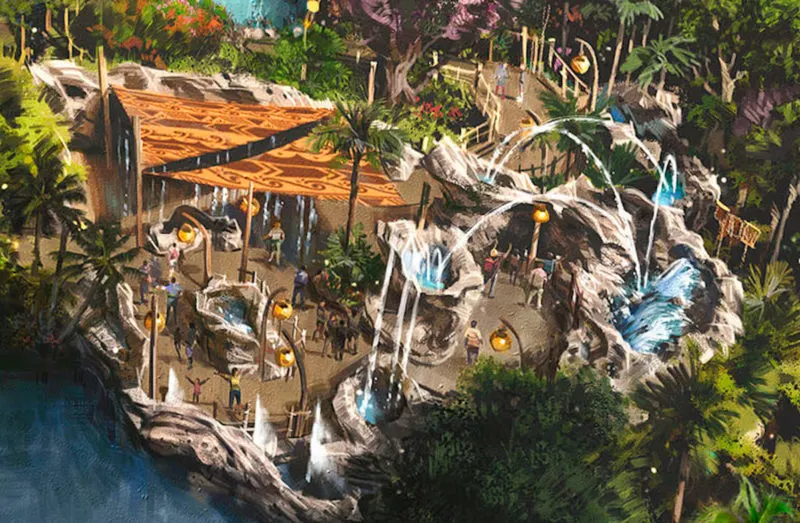 The wooden pavilion is interesting and it looks like smaller water features are located inside of it.
In the back of the experience is where the larger waterfall is located and the heart of Te Fiti as we've seen in previous concept art.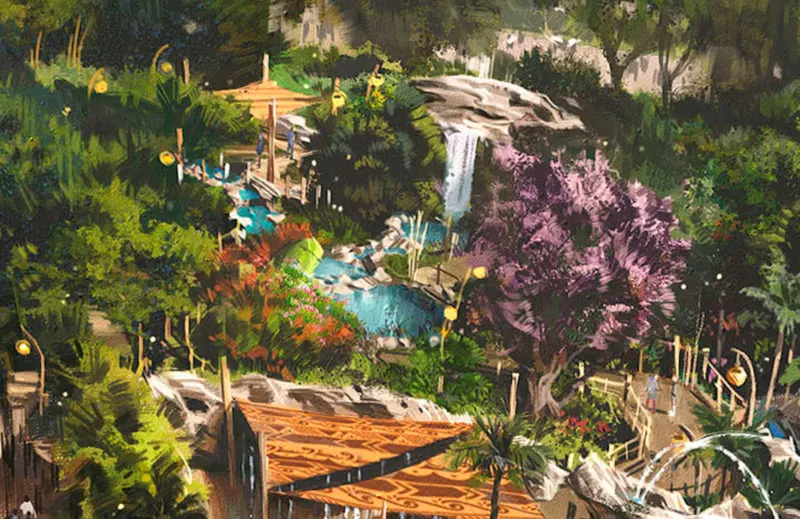 In this last image, we see what looks like the back of the attraction as it borders the new Festival Center there at the top of the artwork.
Besides the new concept art, Disney Imagineer Zach Riddley provided some new details about Moana: Journey of Water in an Instagram post, and it's starting to be a little clearer just what this new experience will be like:
"This new experience is coming to EPCOT during its historic transformation, and will find its home within World Nature, our new neighborhood dedicated to learning and supporting humanity's relationship with our planet.
Journey of Water will immerse guests in a lush environment, and it is here that the story of the global cycle of water will be brought to life in a story completely unique to EPCOT. We're creating an outdoor attraction for all ages, where you will be invited to play and interact with water as it travels from our skies to our oceans and back again.
The spaces and experiences within were inspired by Moana's friendship with water and her devotion to protecting nature around her. I often say that EPCOT is a park about people – the stories and curiosity that we share about our world, and the endless possibility that lives in each of us.
Since the earliest days of the park, pavilions like The Land and The Seas with Nemo & Friends have given millions of guests the ability to explore the far reaches (and depths!) of our planet, and it's through these unique encounters that we become inspired to protect the beauty and balance of our natural world. Journey of Water will build on that history of storytelling and conservation-focused education at EPCOT.
Currently, our Walt Disney Imagineering team is hard at work preparing the site and developing all the details that will give form to this new experience."
While we still didn't get too many specifics with this latest update, at least we have a much better idea of what the experience will look like as a whole. To us, it looks like it's going to be much more geared toward kids rather than adults, and we're a bit unsure about what the main draw is going to be here besides just water features.
We also are a bit skeptical right now about how much people will want to keep coming back here once they've experienced it already.
Stay tuned for more updates coming soon. In the meantime, keep reading for more details about what we know so far.
Moana: Journey of Water Overview
Not too many details have been given about the project yet, but this is the first attraction in any park based on the Walt Disney Animation Studios hit film, "Moana," and guests will be able to interact with magical, living water in a beautiful and inspiring setting.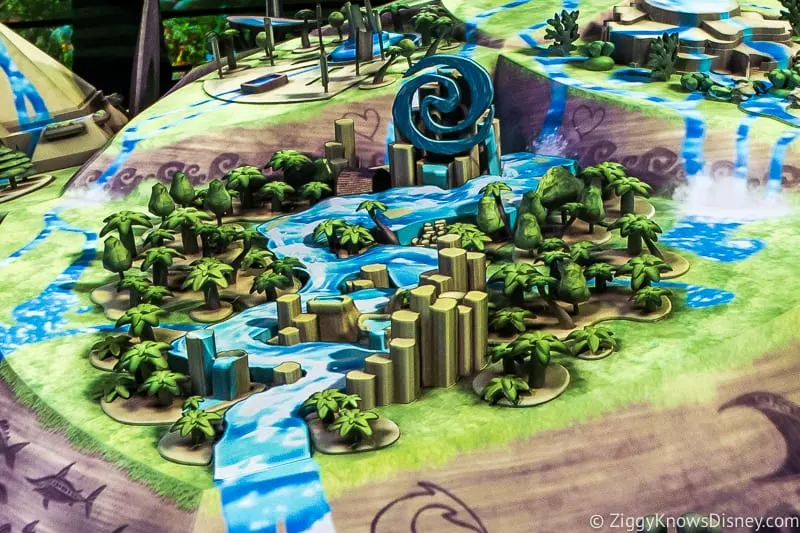 Right away people want to know if this is a ride. No, from the concept art we can see, it isn't a ride, but more like an interactive experience. It will be something to interact with along a walking path in EPCOT's World Nature.
The location for Journey of Water is over by The Seas with Nemo and Friends pavilion, on the site of the former Communicore West building. From looking at the concept art, there are multiple fountains which kids and adults will be able to interact with.
This is definitely a family-friendly addition to EPCOT and its latest push into getting more Disney IP into the parks.
There is an exploration trail with fountains and water arches that rise above guests' heads along the trail.
It also goes along with the original mission statement for EPCOT as there are "edutainment" elements to the experience. Disney says it will help "guests learn how to protect the natural water cycle in a fun and engaging way," and show them the role we all play in preserving our planet's water supply.
We got to see the concept art and models at the Disney Parks "Imagining Tomorrow, Today" pavilion which was located on the show floor of the last D23 Expo. There were plenty of models including one for the Journey of Water area already set up to see.
Here is what it looked like: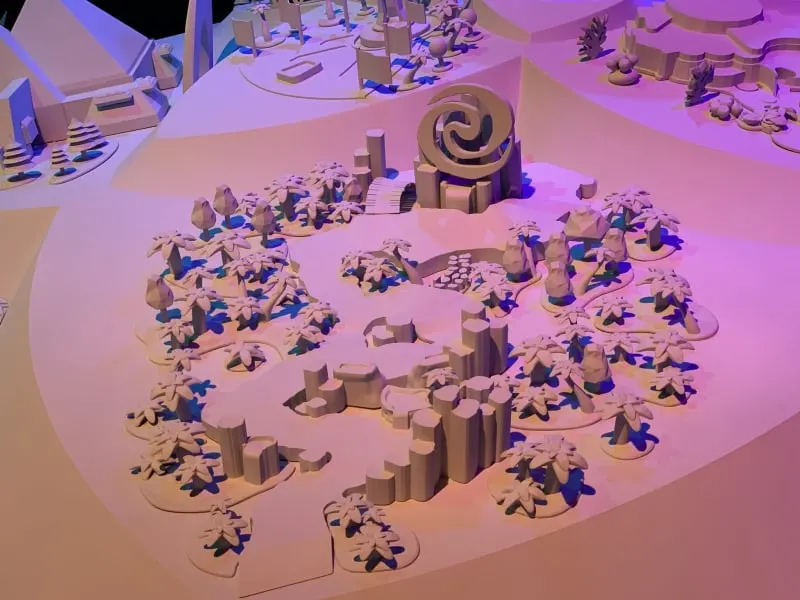 A similar Moana: Journey of Water model was also but for the now-closed EPCOT Experience in the Odyessy pavilion.
Here is a look at the limited edition poster for the attraction: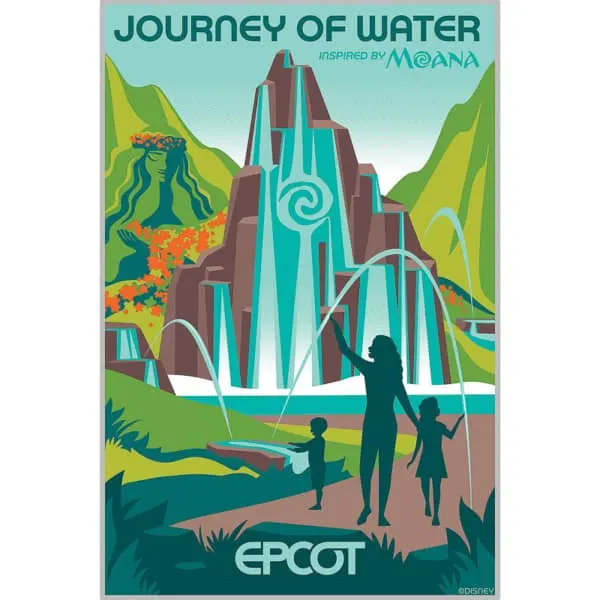 Will the Moana Character Be in the Attraction?
At this time, it's unclear whether guests will actually be able to see the Moana character while visiting Journey of Water or not.
As we mentioned, it's not a ride, and it really looks more like a walkthrough space with gardens than anything else. Is it possible that the whole thing is an elaborate queue for a character meet and greet with Moana?
While it wouldn't surprise us if Moana is in the space, it doesn't appear that is the entire point of the attraction. It's supposed to be an immersive environment that actually teaches guests about water and its important role on our planet.
It looks a bit more complicated than a character meet, but that doesn't necessarily mean that Moana still won't be there in some form or another, especially with Disney's strong push for IP in EPCOT right now.
If the Moana is included here, she will probably be located at the end in the small section where the rocks, waterfalls, and heart of Te Fiti are all grouped together.
When is Moana: Journey of Water Opening?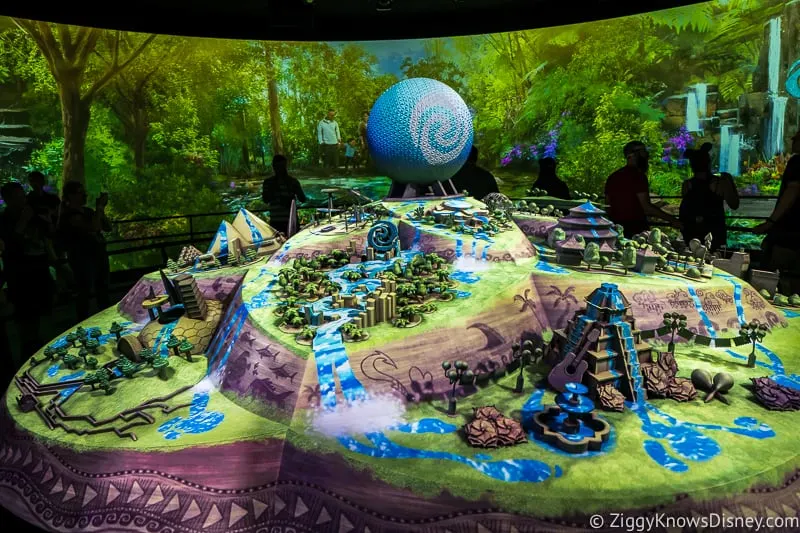 It's not a stretch to say that we've been waiting for this attraction to open for quite a while, and there have been multiple construction delays over the past few years.
When the parks closed down for a few months in 2020, all construction projects were put on hold, and even when they started up again, budget cuts put Moana: Journey of Water lower on the list of attractions to build than others that were already further along.
Originally, it looked like Disney was aiming for a 2021 opening for Journey of Water. We even saw some interesting information in a limited-print edition of upcoming attraction posters on the ShopDisney website with a description that stated Moana: Journey of Water was opening in 2021.
Here is the original blurb:
"Celebrate the new aquatic adventure at the reimagined Epcot with this limited edition print promoting the forthcoming Moana-inspired Journey of Water walkthrough maze. Featuring the goddess Te Fiti from the 2016 movie, the poster is printed on archival paper and will whet your appetite for the attraction's 2021 opening at Walt Disney World."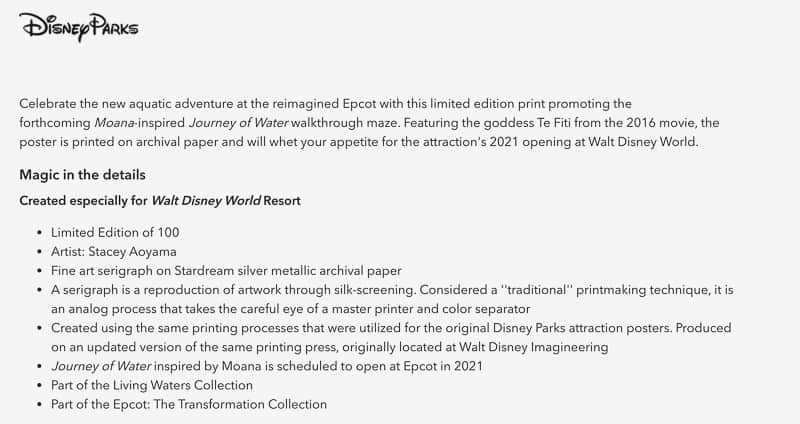 Of course, that turned out not to be true, and that 2021 date was put on there erroneously with Disney quickly removing all traces of it shortly after.
In reality, Disney hasn't officially said when Journey of Water is opening. For a while now, we've known that it wasn't going to be one of the first attractions ready in the huge Epcot overhaul, and probably wouldn't make it to the park until 2022.
At this point, we don't have any accurate information about the opening of Moana: Journey of Water but by looking at the construction progress, it doesn't seem that we will be seeing it in 2022. That means it probably won't be ready in time for the Walt Disney World 50th Anniversary or EPCOT's 40th anniversary in October.
It's likely that it won't open until sometime in 2023, especially since other attractions like Guardians of the Galaxy: Cosmic Rewind are already opening this year and Disney will likely want to spread around the new attraction openings.
We'll keep you posted with any updates regarding Moana: Journey of Water as soon as we hear more. In the meantime, keep reading for more general info on the upcoming attraction.
More details will most likely be announced about this new Moana attraction, so stay tuned for that info.
In the meantime, check out all of the other New Disney World Rides coming in the next 3 years.
Your Thoughts
I want to know what you think about the new Moana: Journey of Water attraction coming to EPCOT…
Are you looking forward to this new attraction?
Do you think Moana is a good fit for the park?
Let us know in the comments section below!
If you enjoyed this article, as always I appreciate it if you'd share it with others via social media. I work hard at making this website into a useful resource for you and your family to plan your visit to the Disney Parks and I hope it can help you! Thanks 🙂